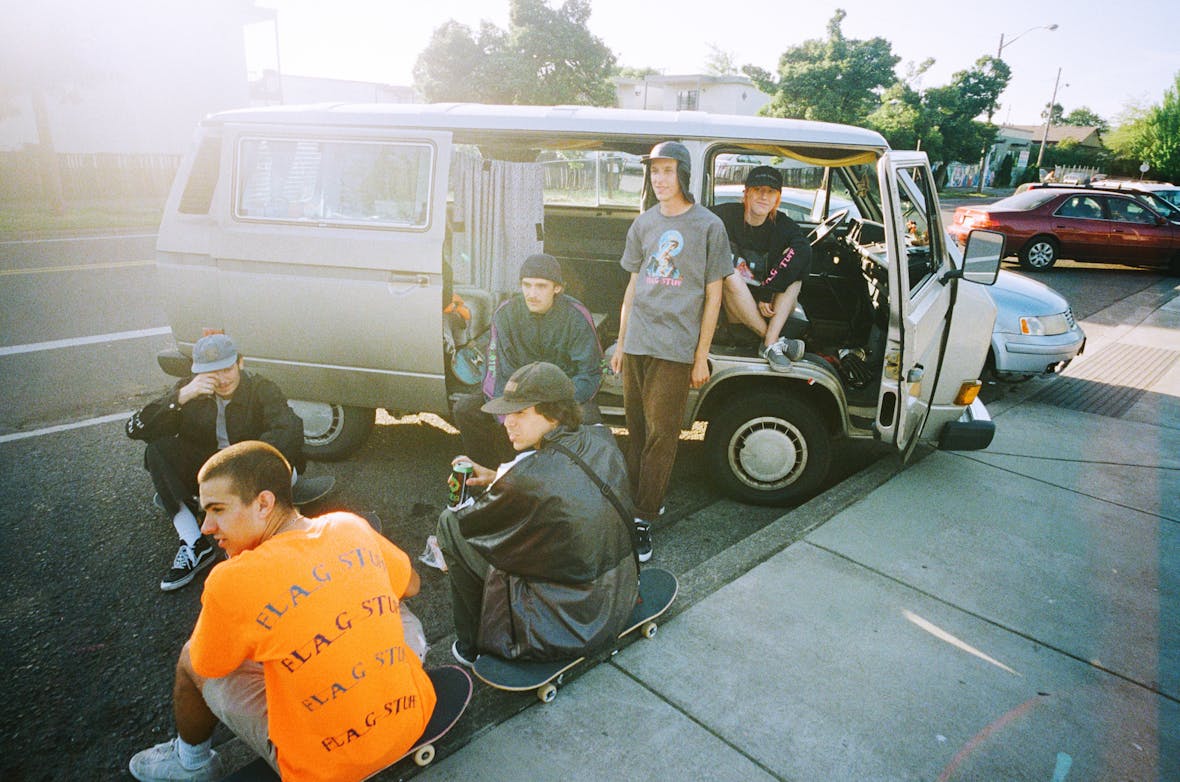 Fly­ing the flag with Japan's next big fash­ion brand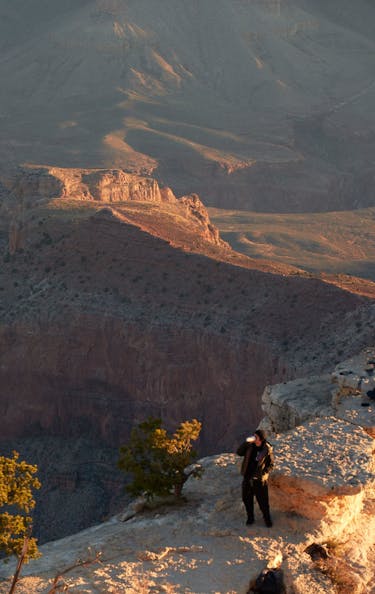 The brain­child of Nobuyu­ki Muraya­ma, F-LAGSTUF-F is the by-prod­uct of a life­long obses­sion with ani­me, ​'90s US skate cul­ture and music. Think camp col­lar print­ed shirts, Amer­i­can-inspired graph­ics and strik­ing colour com­bos across a range of streetwear silhouettes.
F-LAGSTUF-F's sig­na­ture is the graph­ic tee. Thanks to Murayama's for­mer posi­tion as head buy­er at cult Japan­ese vin­tage store Berber­Jin, the brand has a huge amount of ref­er­ences to take inspi­ra­tion from, built from years of trawl­ing Amer­i­can thrift shops and the vin­tage mec­ca of Tokyo's Hara­juku district.
A play on words, the name reflects the founder's time spent trav­el­ling the city of Flagstaff, Ari­zona, sourc­ing rare vin­tage pieces and orig­i­nal band tees. While the vin­tage Amer­i­cana influ­ences can be felt in each col­lec­tion, the design­er stress­es that the col­lec­tions are not con­fined to any coun­try or genre. (The most recent drop went from tac­ti­cal mesh vests and Lar­ry Clark-inspired ​"punk picas­so" tees, to a psy­che­del­ic pais­ley jacket.)
Stocked in bou­tique retail­ers such as END, GOOD­HOOD and Dover Street Mar­ket, F-LAGSTUF-F is ready to take-off.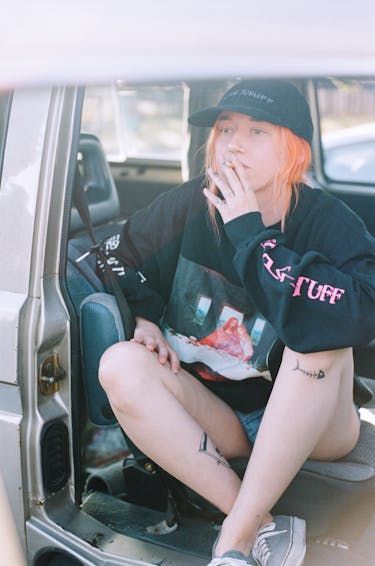 How did you first get involved in streetwear, then?
Through­out mid­dle school and high school, I was into skate cul­ture and played in a band, I guess in a nat­ur­al flow, I start­ed wear­ing brands like Supreme. At the time in Japan, there was the AIR­MAX craze and I remem­ber buy­ing the blue Air­max 95, that moment might have been the catalyst.
You use to be a buy­er at BerBer­Jin. What were your favourite brands?
More so than brands, I came across a pletho­ra of vin­tage, and was real­ly into a lot of items from the ​"true vin­tage" era (cir­ca. 1930 – 60s). I was very much into details that were dif­fer­ent. At the same time, I was also into band tees and film tees and that's when I start­ed col­lect­ing them. I still do now.

How do you see the dif­fer­ence between Amer­i­can and Japan­ese streetwear?
With the SNS [social net­work­ing ser­vice] boom, it feels like there's less of a dif­fer­ence glob­al­ly in recent years. But more so than a dif­fer­ence between Amer­i­can and Japan­ese streetwear, I think the dif­fer­ence boils down to each indi­vid­ual designer's expe­ri­ences, feel­ings, under­stand­ing of cul­ture and the way in which they exe­cute their ideas. That's prob­a­bly where you see the difference.
What are your favourite stores around Tokyo?
For vin­tage, my favourite shops are LABORATORY/​BerBerJinR, Step Ahead, SKRO­VA, Arms Cloth­ing Store, and my favourite place to drink is Ikenoya.
Give us five bands you enjoy lis­ten­ing to while working.
Bat­tles, Radio­head, Blur, Rage Against The Machine and Black Flag. I was lis­ten­ing to these all in day office today too.
What are you work­ing on at the moment?
I'm work­ing on a fun project with London's GOOD­HOOD for next year. The rest is a secret.
---