How George and Michael Heaton built a multi-million pound lifestyle label

Over the last decade, the Heaton brothers have grown Represent from a pipe dream printing T-shirts in their bedroom, to a multi-million pound global lifestyle brand with a legion of die-hard fans.
There's a palpable energy surrounding Manchester-born and-based clothing and lifestyle brand Represent, and that's not just because we're sat in Los Angeles' famed Viper Room – the West Hollywood whisky bar and live music venue that, over three decades, has hosted performances from the likes of Tom Petty, The Strokes and Johnny Cash. The setting is fitting: we're here to celebrate co-founders George and Michael Heaton's latest capsule collection, this one in collaboration with Sunset Strip hair metal legends Mötley Crüe.

But if you're wondering how all this LA glitz and American glamour slots into the story, well, then, it's time to strap in. The brothers have been building a proudly British – regional, even – streetwear empire and a die-hard community of fans since launching the label 12 years ago from their parents' garden shed with little more than £150 in the bank. Now, with an annual revenue that's just hit the £50 million mark and stockists including Selfridges, Ssense and Harrods, their hard graft and dedication has firmly paid off.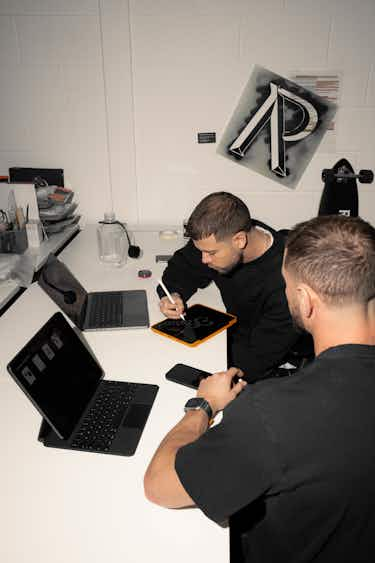 Driven by the Heatons' personal desire to meticulously craft a wardrobe that works for every eventuality in life – lazy weekends, gym workouts, outdoor leisure pursuits, summer holidays, hiking, nights out – the siblings' foundational graphic T‑shirt line, born out of their Salford University bedrooms and inspired by the rock and Brit-pop bands they grew up on, is now a global lifestyle brand spanning sub-brands encompassing everyday essentials (Owner's Club), fitness (247), footwear, denim, logo-less loungewear (Blanks by Represent) and, most recently, an elevated ready-to-wear line.
How have George, 29, and 32-year-old Michael – students who learned on the job, effectively – achieved all this? Call it intuition, because with no formal design or business training, the scale and output of their homegrown label now rivals the likes of Fear of God, Palm Angels and Aimé Leon Dore. And if you thought £50 million was impressive: Represent is forecast to turn over £250 million by 2025 under the guidance of its newly appointed CEO Paul Spencer, former European sales director at Puma.
Arguably, a key component of Represent's authenticity, and resulting success, is in the name.

"Me and Mike grew up skating, surfing and snowboarding. We didn't really look like everyone else in the North of England. Everyone had skinheads and wore tracksuits, whereas we had long hair and wore oversized tees, skinny jeans and big shoes," recalls George. ​"We used to sit there watching Scuzz and [the TV version of] Kerrang! – no one in our school did that," adds Michael.

"We really leaned into this look through school and college, and eventually that [aesthetic] became our brand: what personally represents us," George continues. He's dressed head-to-toe in Blanks by Represent, a division of the brand which focuses on oversized fits crafted from high-quality stonewashed cottons with no obvious logos or branding in sight.
Casting his mind back to 2011, George recalls an epiphany whilst studying graphic design at university: he realised he wasn't cut out for a run-of-the-mill office job.
"I didn't want to do graphic design. I didn't want that life. Our dad owned his own business and I thought: ​'I want to be like that, I want to do my own thing.' So I started printing T‑shirts and selling them to my friends via Facebook."

He soon shifted operations to a Big Cartel site. ​"It was, like, 20 quid to set up. I got the products up online, got some skaters and people I knew who were a bit influential to wear them, and told my mates to buy it. I even bought it myself, just to make it look like we were getting sales!"

Roping his older brother in to man the graphics, the duo formed a working partnership: Mike on visuals and George on marketing, sales, and suppliers. It's a split that's still reflective of their roles today: Mike heads up graphics and footwear, and George leads on the brand and product vision.

George and Michael's designs were a mainstay in their social circle in the northeast. Instagram had not long launched, and George took the reins on posting and the label picked up momentum. But, he clarifies, that's not to say it happened overnight.

"Instagram started the brand and that's how it grew: organically. I didn't have to pay for any kind of advertising or marketing – I didn't even know what that was. I didn't know what PR was. I didn't know anything about business. We had a PayPal account, a Big Cartel and Instagram, and it just started stacking slowly over time." For the next three years, the Heatons studied by day, and packed orders and responded to Represent's incessantly growing followers early in the morning and late at night.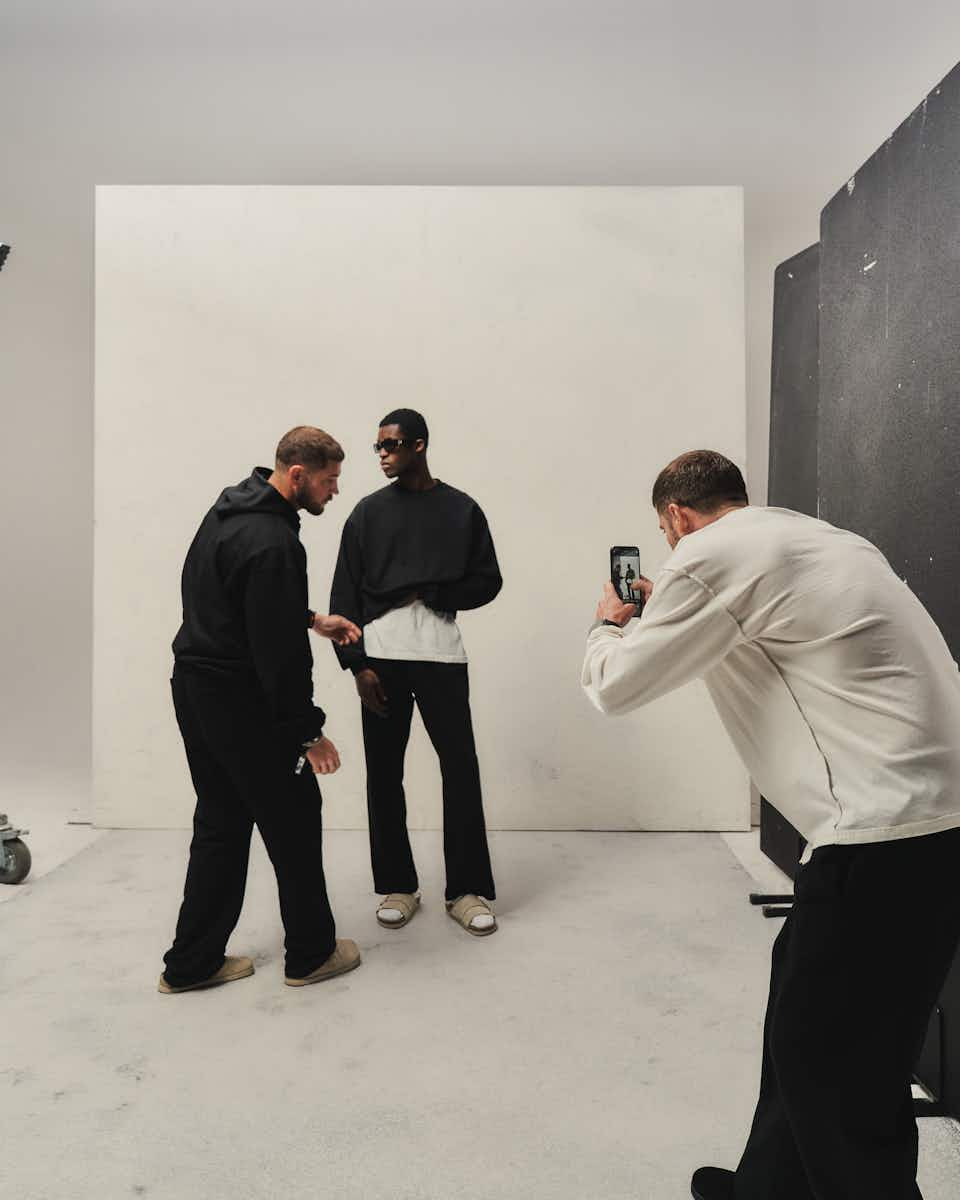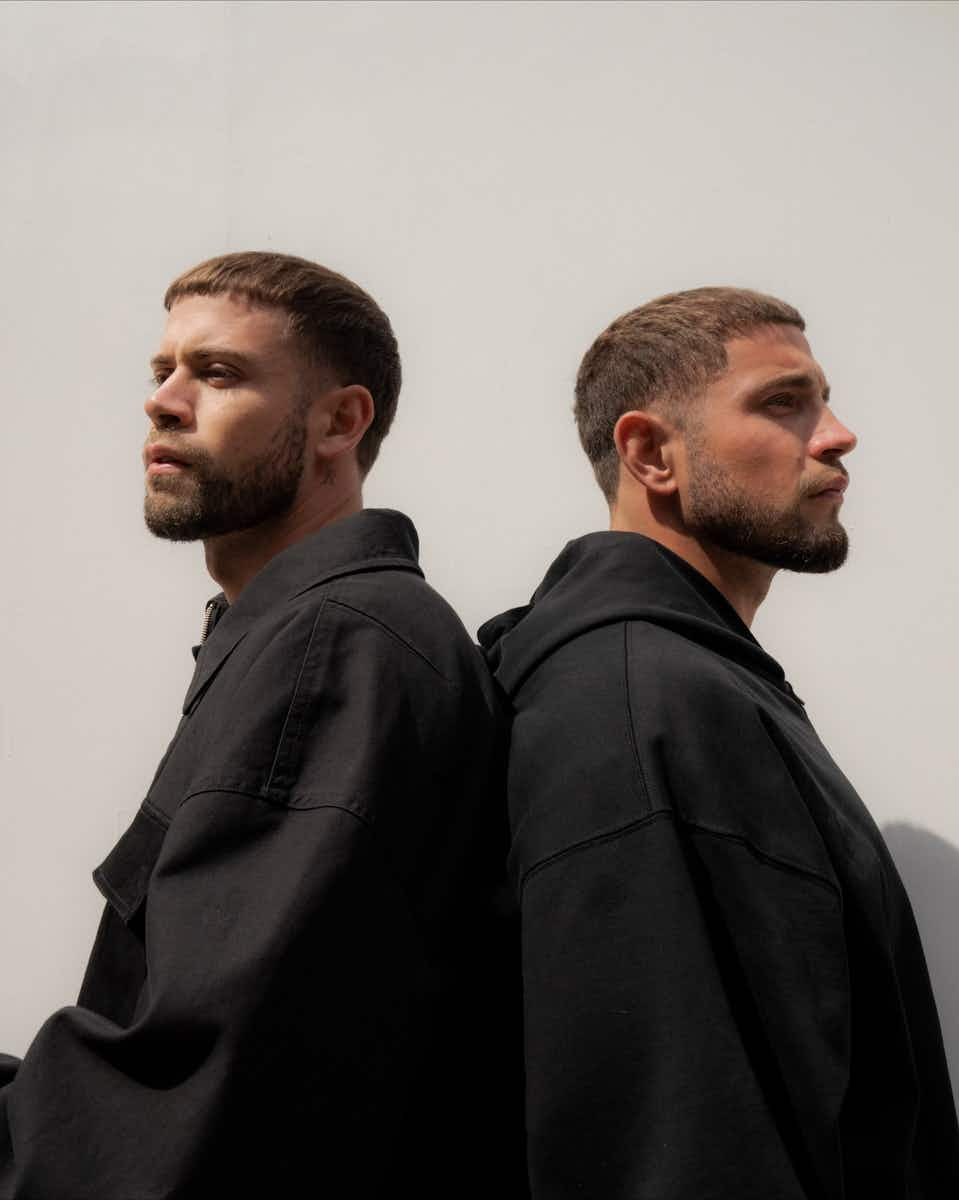 Upon graduating in 2014, Heaton Sr. encouraged his sons to set up Represent as a limited company. He dragged George and Michael to the accountants with a bunch of handwritten receipts and papers in tow. ​"The accountant turned around to us and said: ​'If you've not got, say, 50 grand in your account by now, this is probably not worth doing,'" recalls George, grinning at the memory. ​"I had £150,000 in my PayPal account, so I was like: ​'Looks like we're on, then!'"

George recalls the brand's transition from just T‑shirts to adding denim to their line as a formative experience. Having taken a pair of baggy jeans he'd bought at Manchester's Trafford Centre to his grandma, a tailor, to taper them at the ankle, George was so impressed with her handiwork that he sent the jeans to China to create Represent's first denim prototype. ​"It was through her that I learned how to make my own products!" he says with a proud smile.
"I'll never forget the day I got the sample back," George continues, still in awe at the memory. I was in my car at the petrol station and the DHL driver pulled up and he was like: ​'Oh, I've got a package for you!' I opened it in the station and put the jeans on in the toilets. I thought: ​'Oh my God, these are unbelievable.' I got back in my car and I texted Mike: ​'Fuck, we've done something!'"
Done something they had. Fast forward to 2015 and those denim jeans became Represent's best seller. ​"We relied on these jeans to be able to do everything else we were doing for the first four to eight years," explains George, referencing both a team and category offering that was multiplying by the month. ​"We would sell hundreds of pounds of black denim a day – it gave us the ability to employ people."

That's not to say it was all plain sailing – all success stories come the pinch-me highs and the surely-this-can't‑really-be-happening lows. The brothers have those stories in spades.

"The worst memory I have was when a huge shipment of jeans, probably 3000 pairs, arrived at my mum's house. Knee holes were our thing back then and the supplier had actually cut the knee hole lengthways, rather than sideways. Our dad had made us all these shelves, and we had stacked all these boxes in the garage. I opened one up and literally cried," George says, still rattled at the thought.

Luckily for the brothers, the hits outweighed the misses. Represent's next big moment came in 2016, in the shape of a leather and suede, crepe-soled Dusk boot. They sold out 900 pairs within minutes of launch on their website.

Over the next few years, Team Represent went global, travelling everywhere from London to Los Angeles for shoots, presenting off-schedule at New York, Paris and Milan fashion weeks, visiting factories and suppliers worldwide, and transitioning into a model that allowed for season collections, with the brand's upcoming AW23 collection set to take things to a whole new level.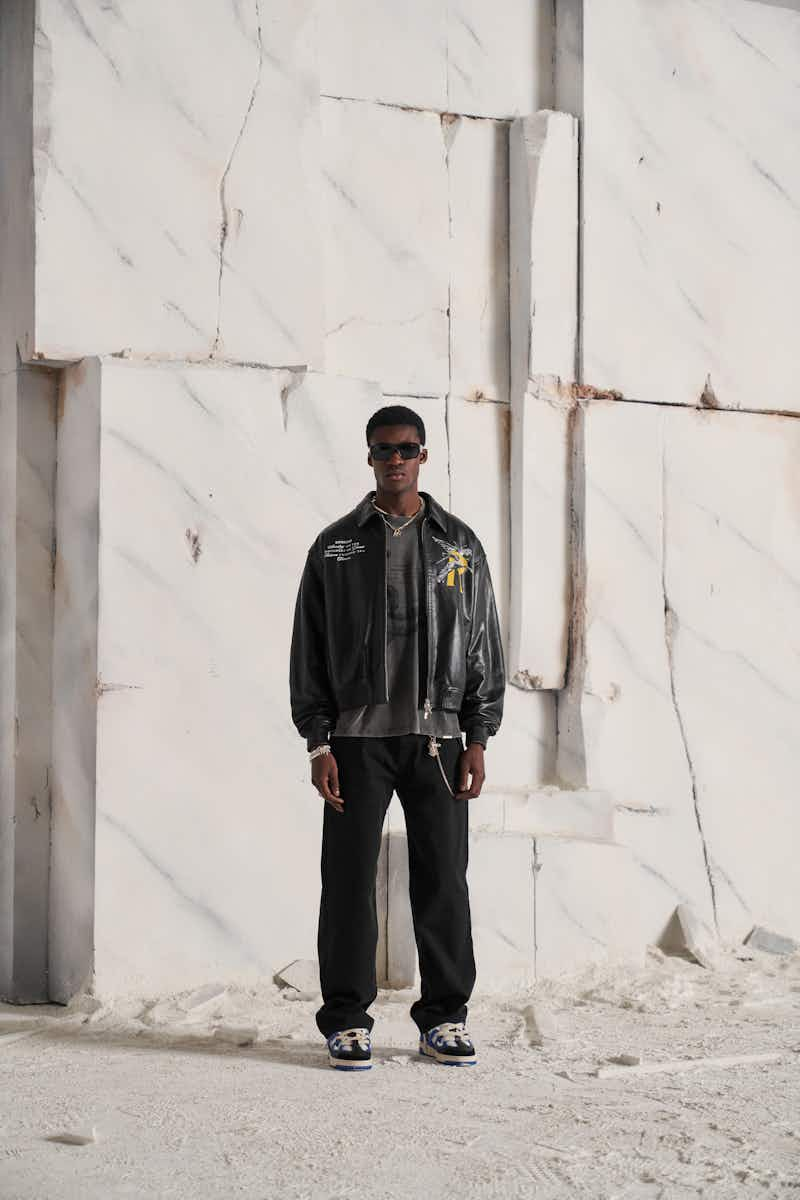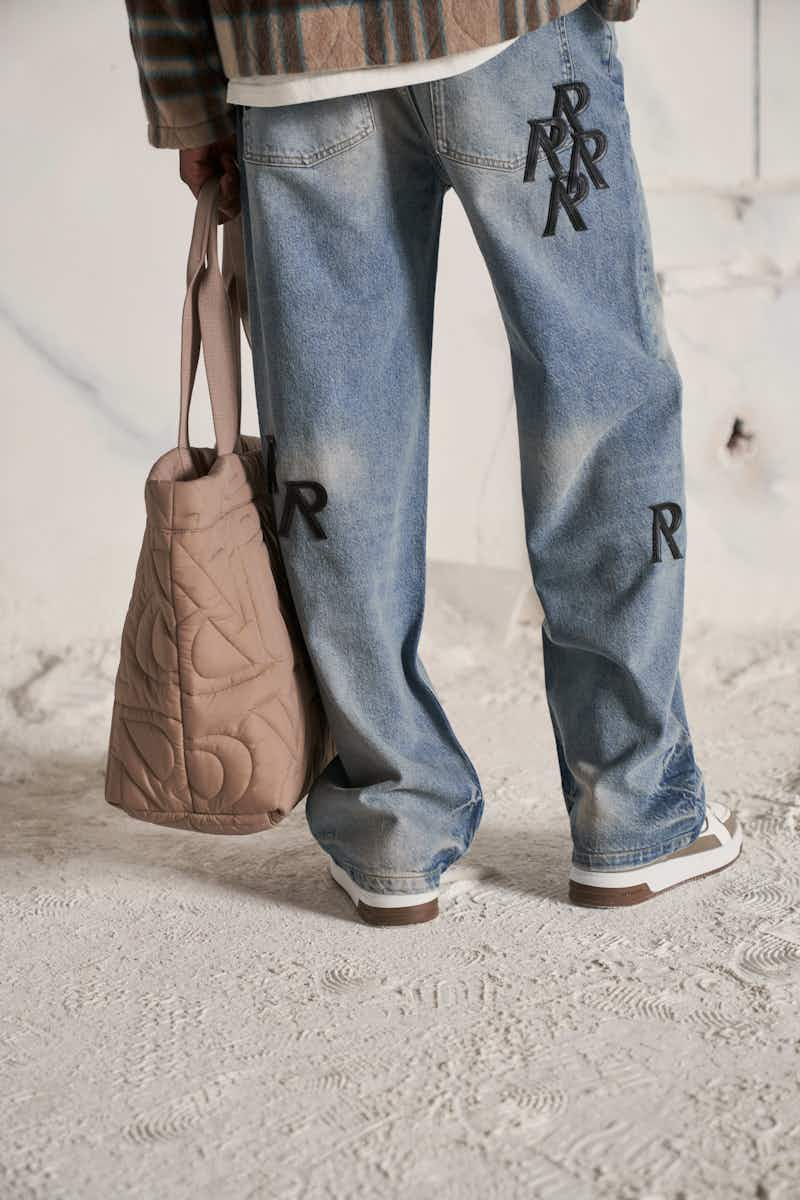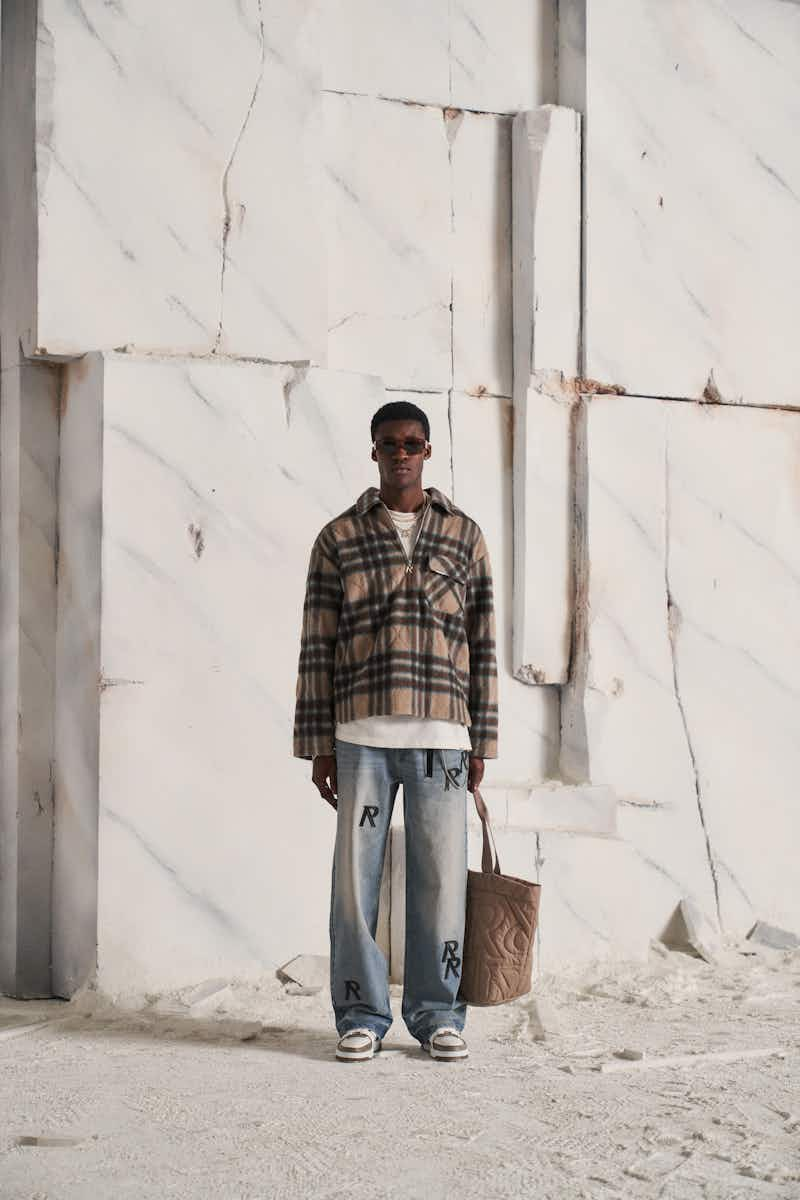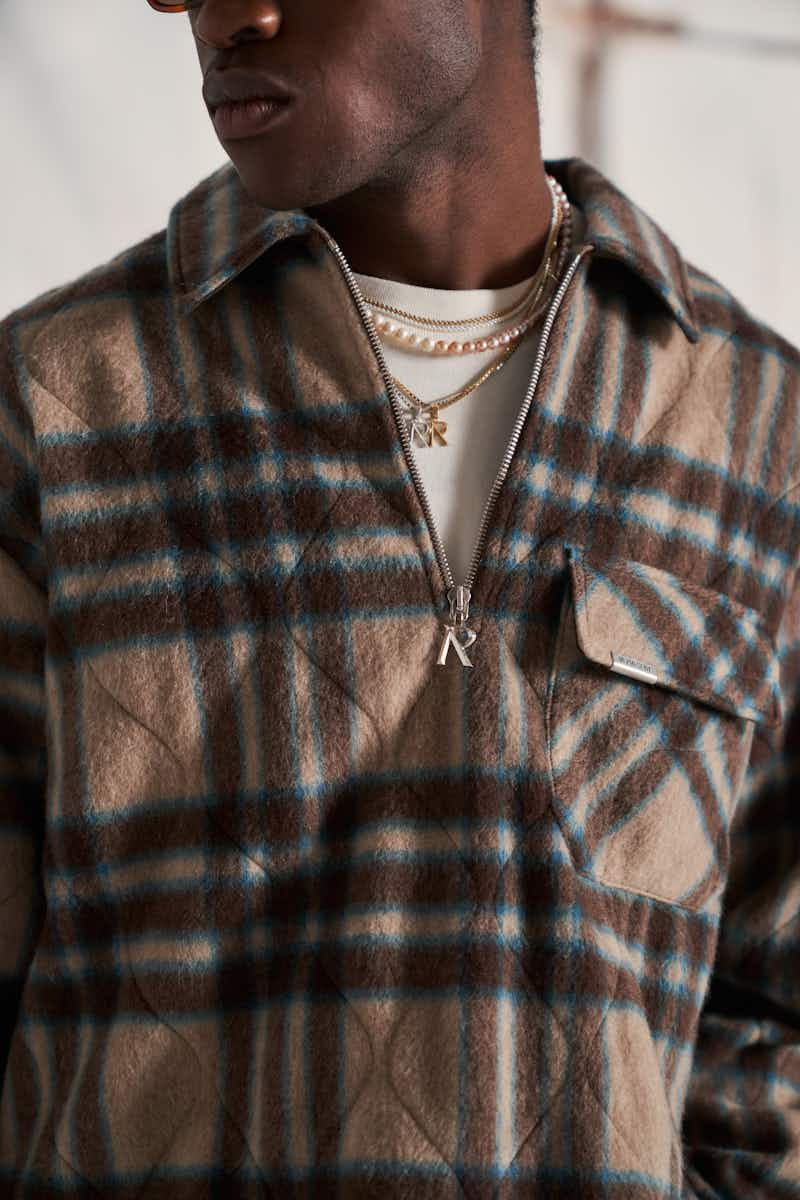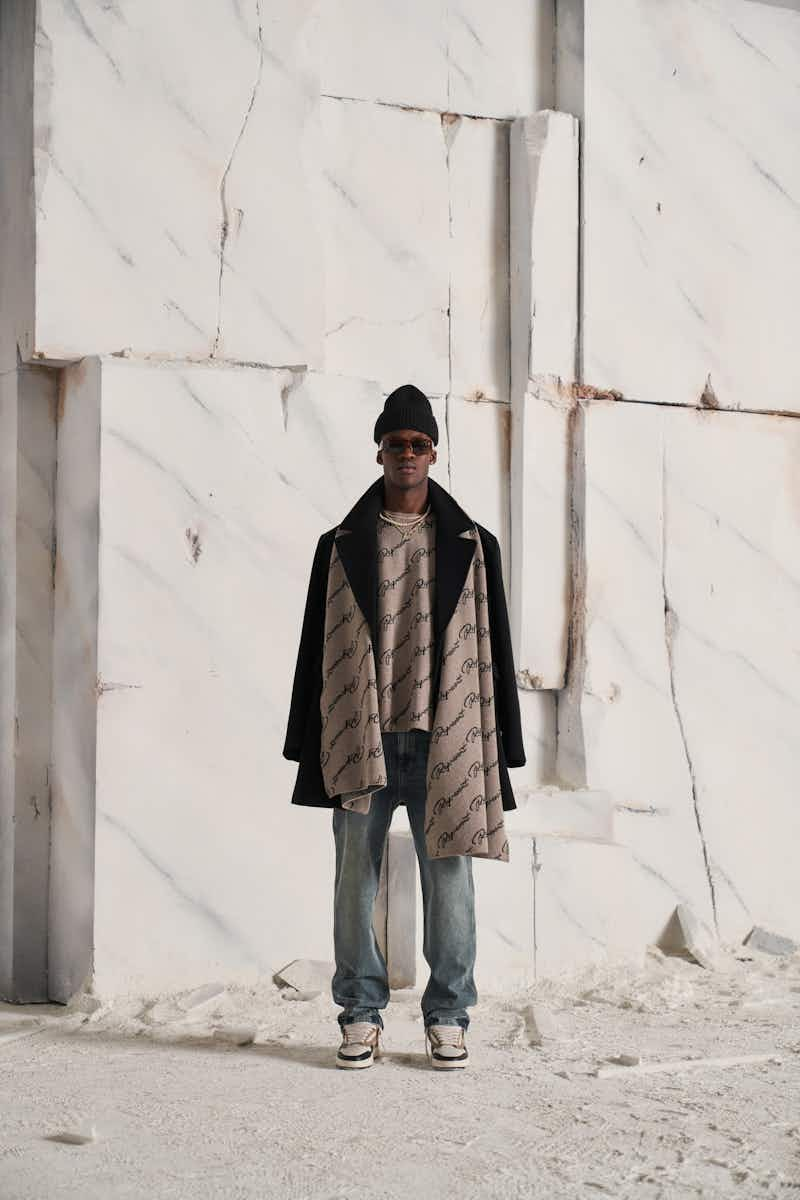 The brand turned 10 mid-pandemic, at which point George and Michael released a book, Decade of Dedication, filled with behind-the-scenes imagery and anecdotal accounts of their journey this far. It was during this time that the brothers, working – and working out – seven days a week, decided on a new category to conquer: gym wear.

"We were living in our parents' house [in Horwich] and we'd go on hikes every morning. We'd sit in the office – well, the living room," George clarifies with a laugh, ​"figure out designs, do a little zoom with five or six people, then at night we'd train. And one day I was like: do you know what? I feel like there are no pants that I can go for a hike in, come back, sit in the office in, or go to the gym in. Something that looks smart enough to be able to wear all day."

A couple of samples later and the 247 was put into production. A pair of trousers to be worn for anything and everything, right around the clock. Unsurprisingly, they're now a best-seller and the fully-fledged 247 fitness line, born from the pandemic athleisure-wear boom, is a massive hit. ​"It's where people feel like they're part of something, part of this family," notes George. ​"Part of this team."

With all bases covered, and rigorously thought-out and stress-tested products, it's no surprise, then, that hundreds of thousands of youngsters across Britain (and beyond) count themselves as Represent fans.

Scroll the brand and brothers' social accounts for proof. Whether the community's posting fire emojis in response to a new product drop, giving honest feedback on quality and fit (all of which is factored into product development), commenting on the name of an archive item they're desperate to see reissued, asking George for fitness advice, or trading styling tips in Rep Talks, a 15,000 strong community-ignited Rep Talks Facebook group, it all goes to show that Represent is so much more than a clothing label. It's a foresight engine, a community, a lifestyle, a Northern powerhouse. And a good bit more.
But to distil it to its purest form, Represent is a brand that, well, say it again, represents an aspirational lifestyle and a wardrobe that real people really want to wear.

The best bit? It will always be this way.

"The brand is me and it's Mike. So why not make everything we want to make? If we feel like something is missing, we'll go and create it. It's always been that way," explains George. ​"If I don't like the product, I won't put it out because it's not right. It doesn't feel authentic and the sales will correlate with that. It's very personal to us. It's very authentic to who we are."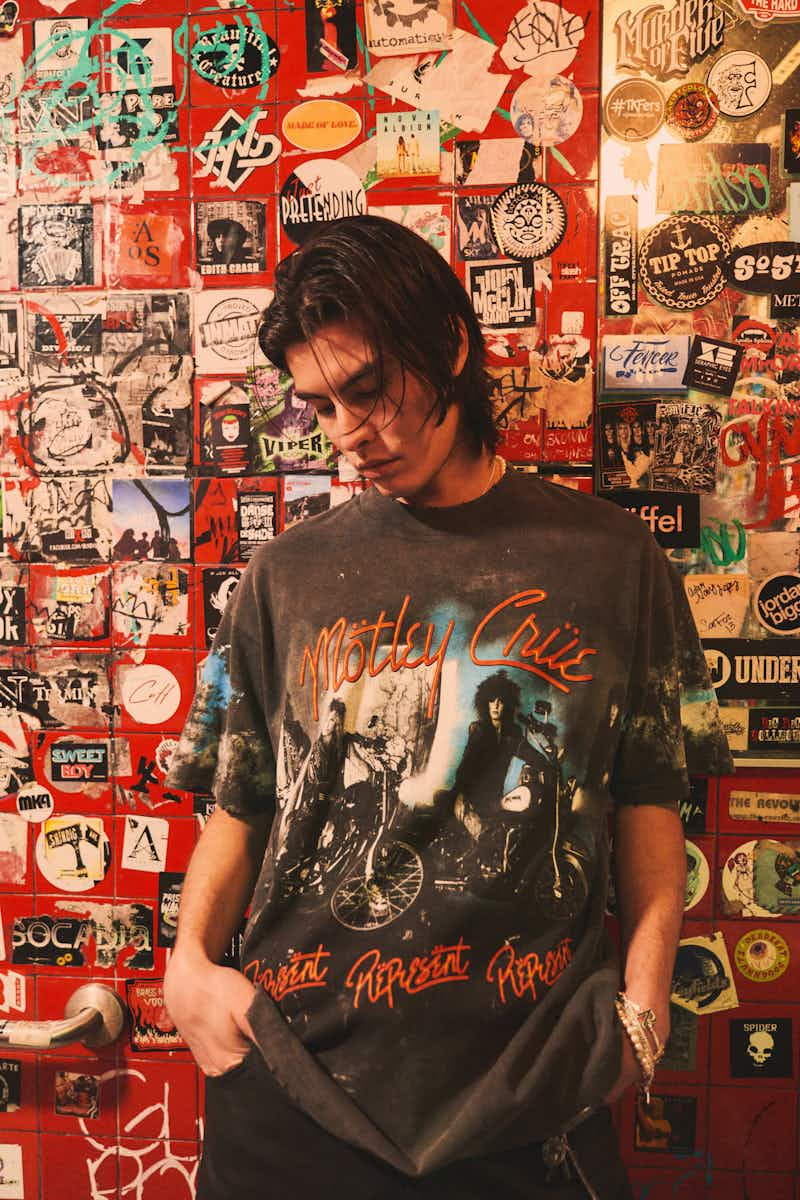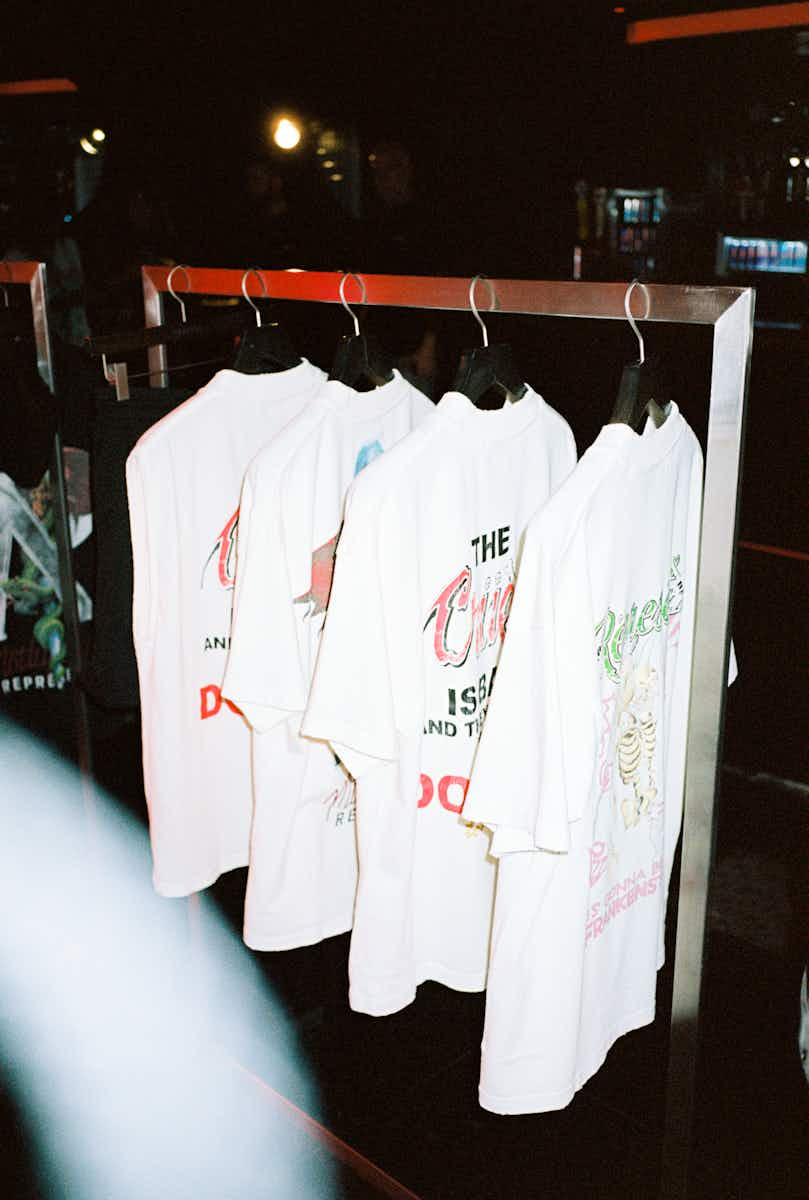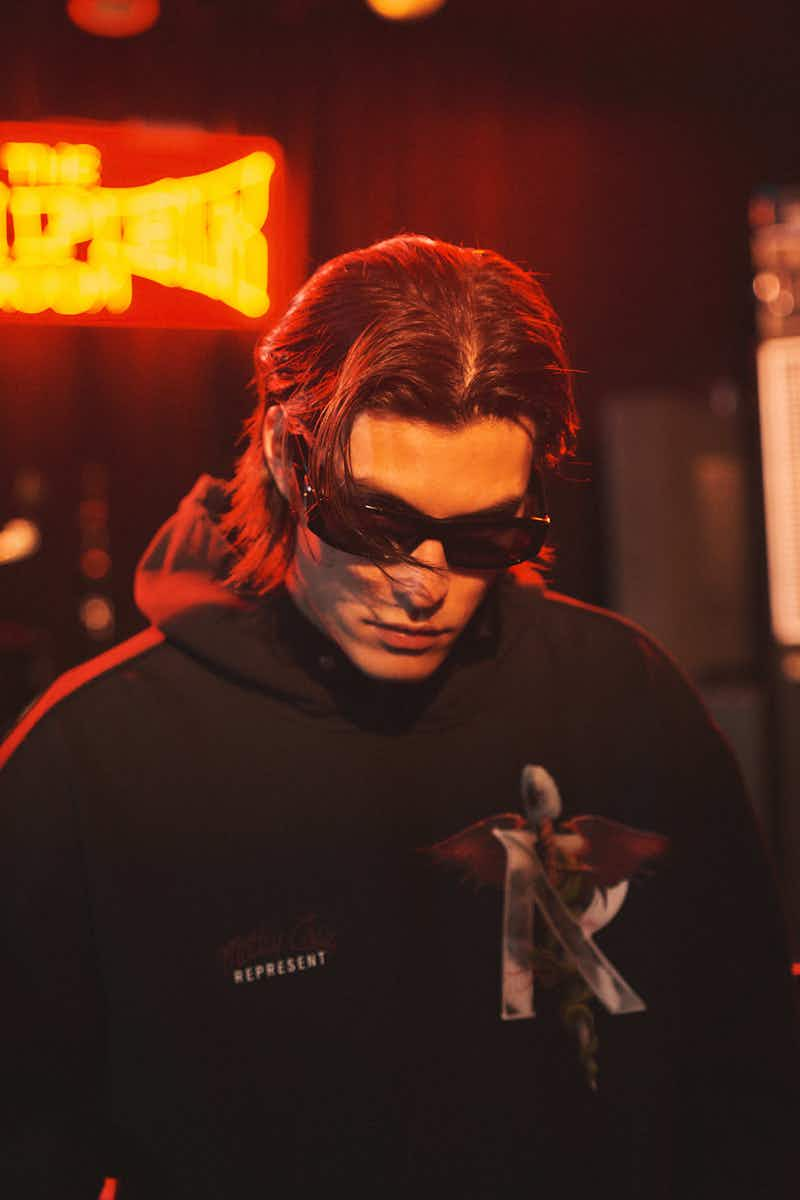 Given their core music passions, and Michael's specific love of eighties rock ("Guns N' Roses, Mötley Crüe, Poison … I can't tell you why I'm just into it. It's just cool as fuck"), the launch of Represent's Mötley Crüe collaboration is something of a full circle moment for the brothers. It's also the start of the next phase of the US expansion. During the last decade, LA has slowly become a big part of the Represent story. ​"Mike dragged me out here about eight years ago because he was like: ​'This is where Entourage is filmed, this is where all the rock bands are.' We had nothing and we didn't know what we were doing. We walked down Melrose and Fairfax and we loved it. We've been back every year since, and now I want to live here."

But that's not to say there's any less of a focus on home turf. Represent now boasts a concession in Manchester's Selfridges, an almost fully renovated Northern HQ located in Bolton, a 247 gym exclusively for Team Represent ("so that everyone can train together"), and a bricks-and-mortar London flagship store set to open early next year. There are currently 65 employees in the company, many of whom are close friends who've been involved since day dot. ​"They're chief officers of [departments]," says George. ​"I don't like using them kind of words, but they're the highest in the business, which is great." By the end of this year, that workforce will number around 100 as Represent brings not just cool clothing, but also some pretty cool jobs , too.

For the Heatons, reinvesting in the community that birthed the brand is paramount. As George puts it: ​"Still being able to work with some of my best friends and my brother, it's just – well, there's nothing better."

"That's the reason why I've not actually moved to LA," he admits. ​"I've always said I wanted to, but I've not done it because I'm a disciplined person. I would never go and do something that's not going to work for the brand. Because, above everything, the brand comes first. But I'm so excited for the next few years. At the moment it's just unbelievable. I feel like I'm actually living the dream I always had."


More like this