Kick it: Martine Rose becomes Clarks' first-ever guest creative director

Fashion news of the week: Plus! Versace and Dua Lipa, Celine's summer kit, a steely campaign from Alexander McQueen, Fendi and Marc Jacobs' Baguette, Asics' new line and Heat's big fat fund.
Martine Rose and Clarks: best of British design
Never one to follow convention, Martine Rose kicked the week off with news of an upcoming, off-schedule show in June, presenting to her cult-like fanbase during London's Men's Fashion Week. Following a ruptorously-received show at Pitti Uomo earlier this year, it's safe to say we're feeling all types of giddy for the designer's next showing. Her last show in London, in June last year, was held at a disused gay sauna in Vauxhall – so expect, well, anything really.

But that's not all Rose has up her sleeve. The day after the surprise show was announced, news broke that the British designer will be taking on a new role as Clarks' first-ever guest creative director, which will see Rose design three pairs of shoes for the much-loved footwear brand, each imbued with all her wicked idiosyncrasies.
Clarks has no doubt been a staple for UK subcultures over the years, as the shoe of choice for skaters, indie kids, ravers and rappers. And Rose knows this all too well – the designer has long subverted Britain's history of sartorial tribes. But this new role feels especially close to home for the British-Jamaican designer.

​"Clarks is something that's so intrinsic to British culture and obviously Jamaican culture, because it's huge in Jamaica because of the Commonwealth," she told Clarks. ​"There's a couple of British brands that are really big in Jamaica because Britishness is a sign of quality and, when you take it out of context, it takes on a life of its own, like a myth."
For now, all we know is that the designer has given Clarks the proper Rose treatment, using blown-up, cartoonish proportions on three timeless styles. Rose's footwear has been anything but ordinary in the past: elongated python loafers, ​'80s square-toes, holes cut above the toe on a pair of Derby's. So the possibilities are endless, really.
Hold tight. There's not long before the mighty collab debuts at the Martine Rose show in June, along with a brand-new collection. Talk about best of British, eh?


Dua Lipa's debut Versace collection is all about fun in the sun
The transition from mega-pop girlie to bonafide fashion designer isn't always seamless. They're two highly-skilled crafts in their own right – and we've seen it go tits-up many times before. But last night, Dua Lipa took her career to even higher heights, debuting La Vacanza, a collection co-designed with Donatella Versace for the Italian house's show in Cannes.
Lipa's been a muse for Versace's creative director for some time now, wearing a series of Versace's sexy designs on red carpets and featuring in the Italian house's AW21 campaign. Then, she took it a step further by opening the Versace SS22 runway show at Milan Fashion Week in September 2021. Co-designing a collection was the next logical move for the pop star, no?
Last night's collection launch was all about balmy nights – La Vacanza translates to vacation, after all. And the looks weren't short of pool-side pieces: embellished bikinis and cross-shoulder swimsuits, pink terry cotton sets with matching robes (plus towel turban) and silky printed head scarves.

With Lipa's upcoming role in Barbie fast approaching (the single she recorded for the soundtrack is out this Friday), there were also plastic-fantastic influences throughout. A nod to the doll's many career moves, there was CEO-style power shoulder suiting, workout instructor capri leggings with ​'80s butterfly and ladybug prints, heeled cowboy boots for the impractical jockey and a metallic skirt-jacket combo for a trip to outer space. Yeah, yeah, we know astronauts aren't wearing miniskirts – but this is fantasy.
"There's always an occasion to wear Versace and I know I'll be spending my days (and nights!) in La Vacanza all summer long," Lipa says. All in all, a killer effort by party girls, for party girls. Now, time to book that holiday…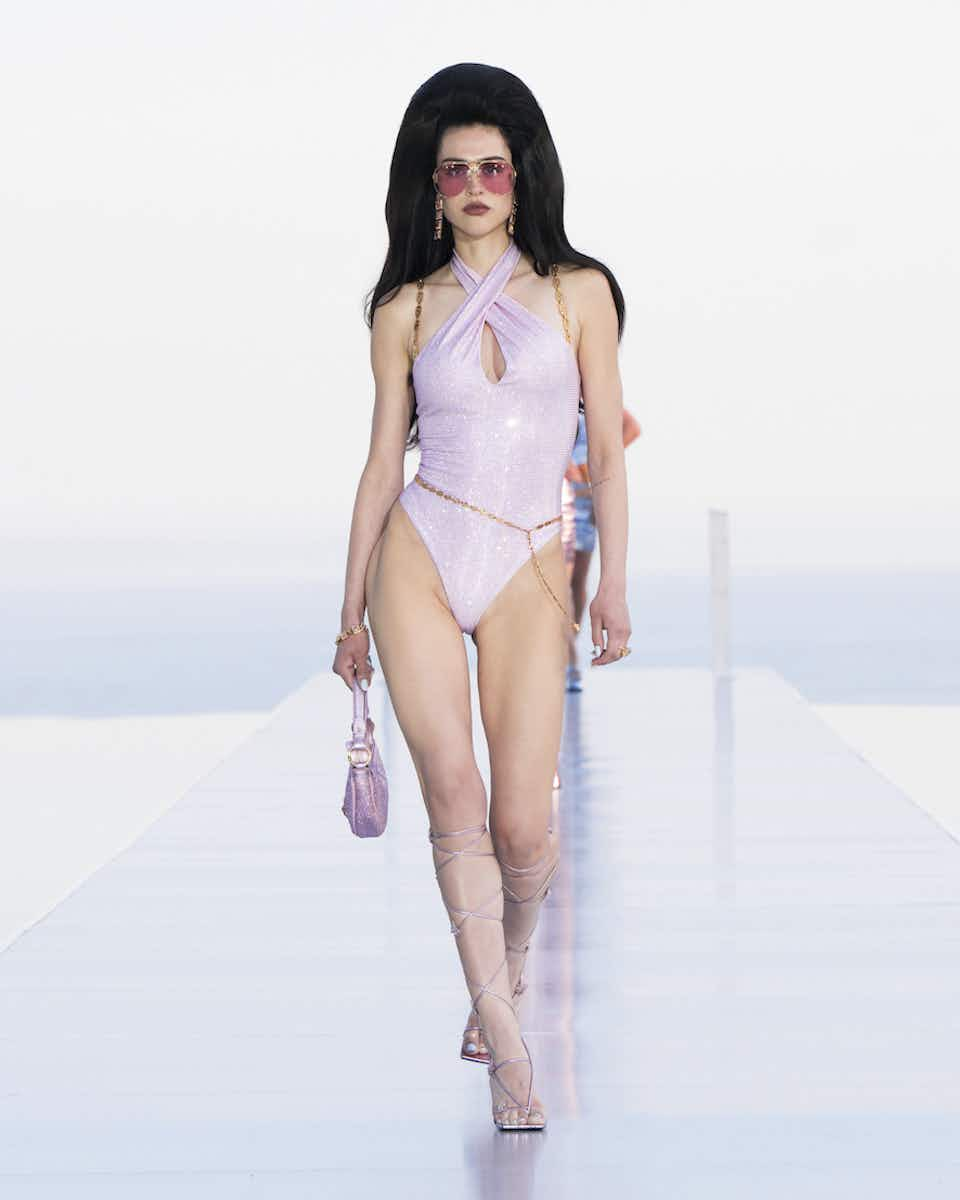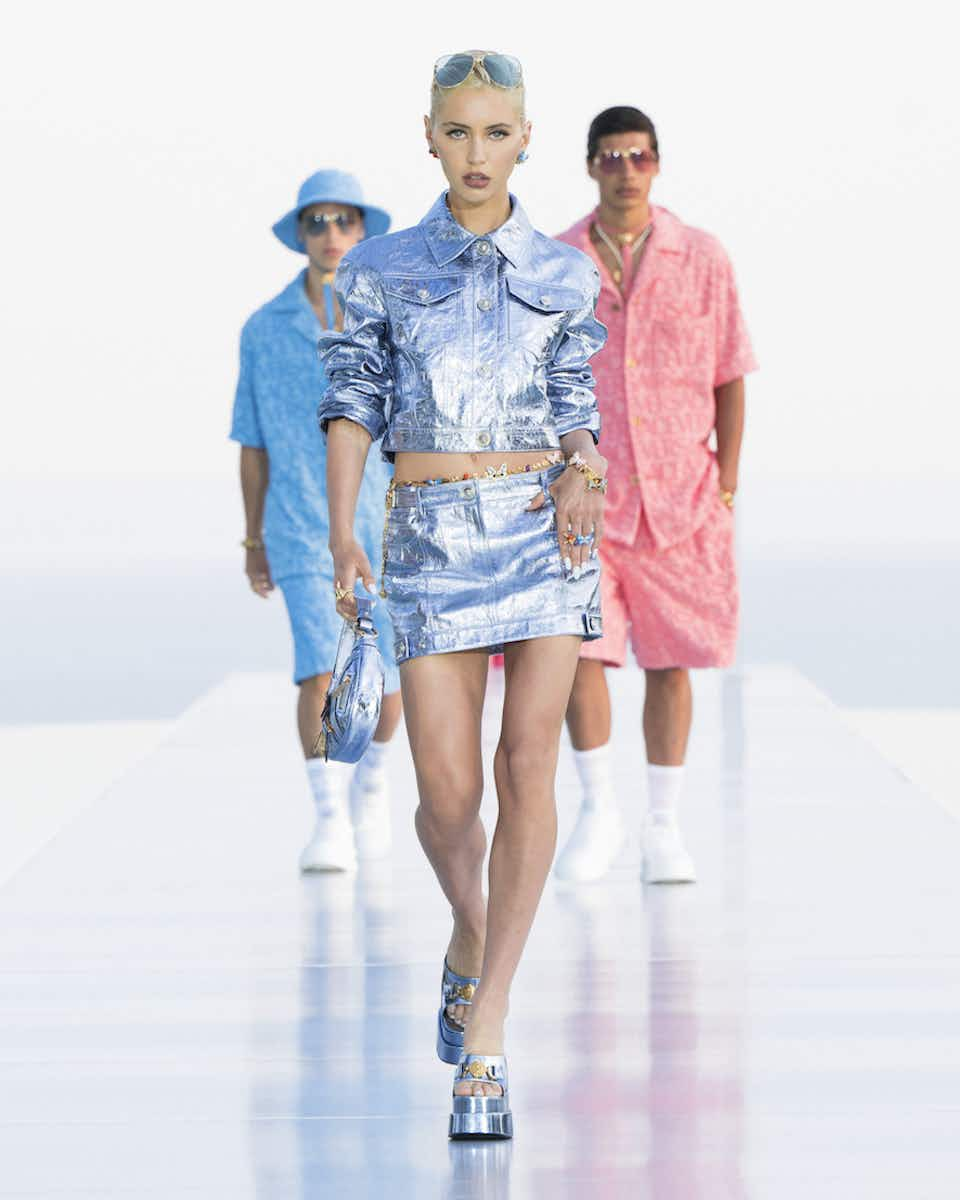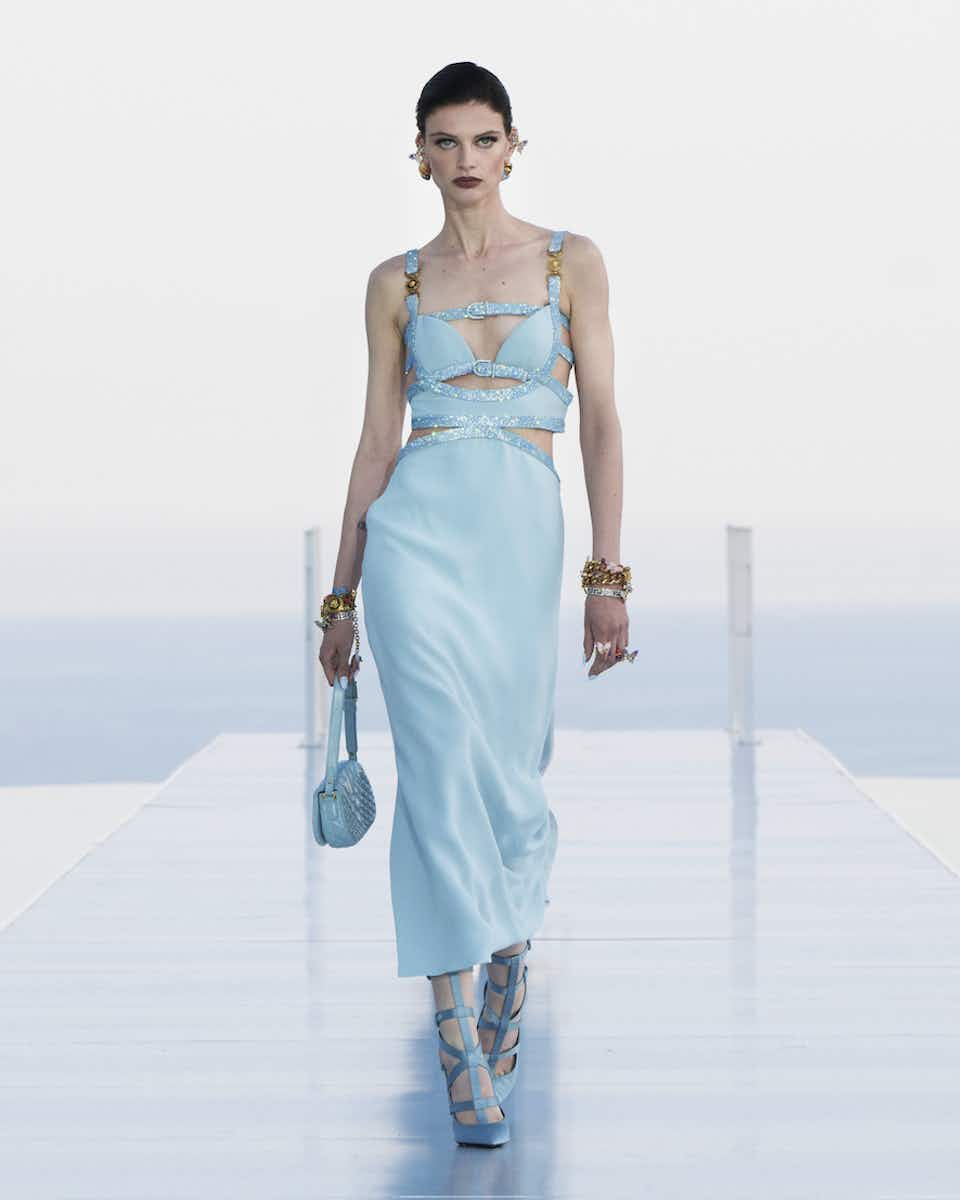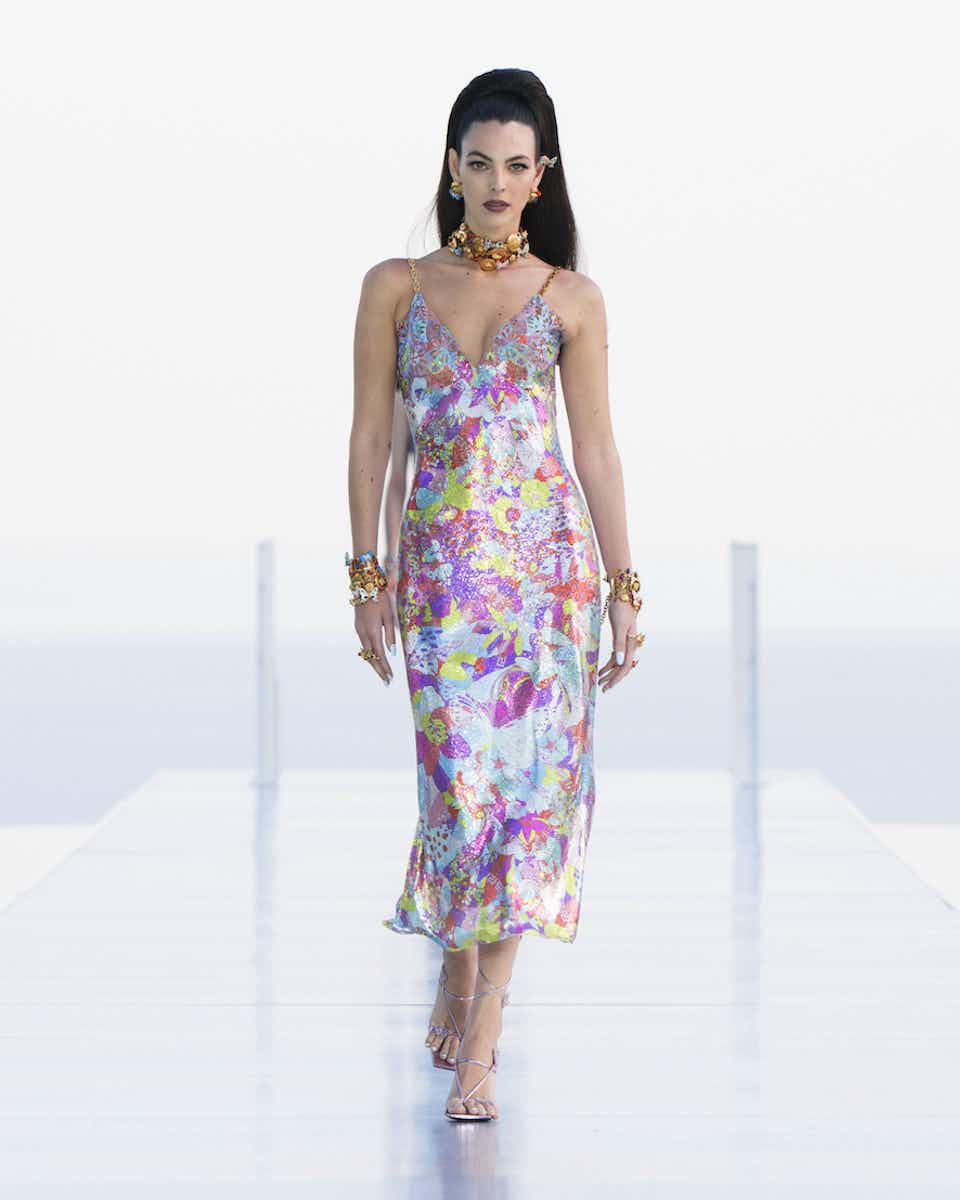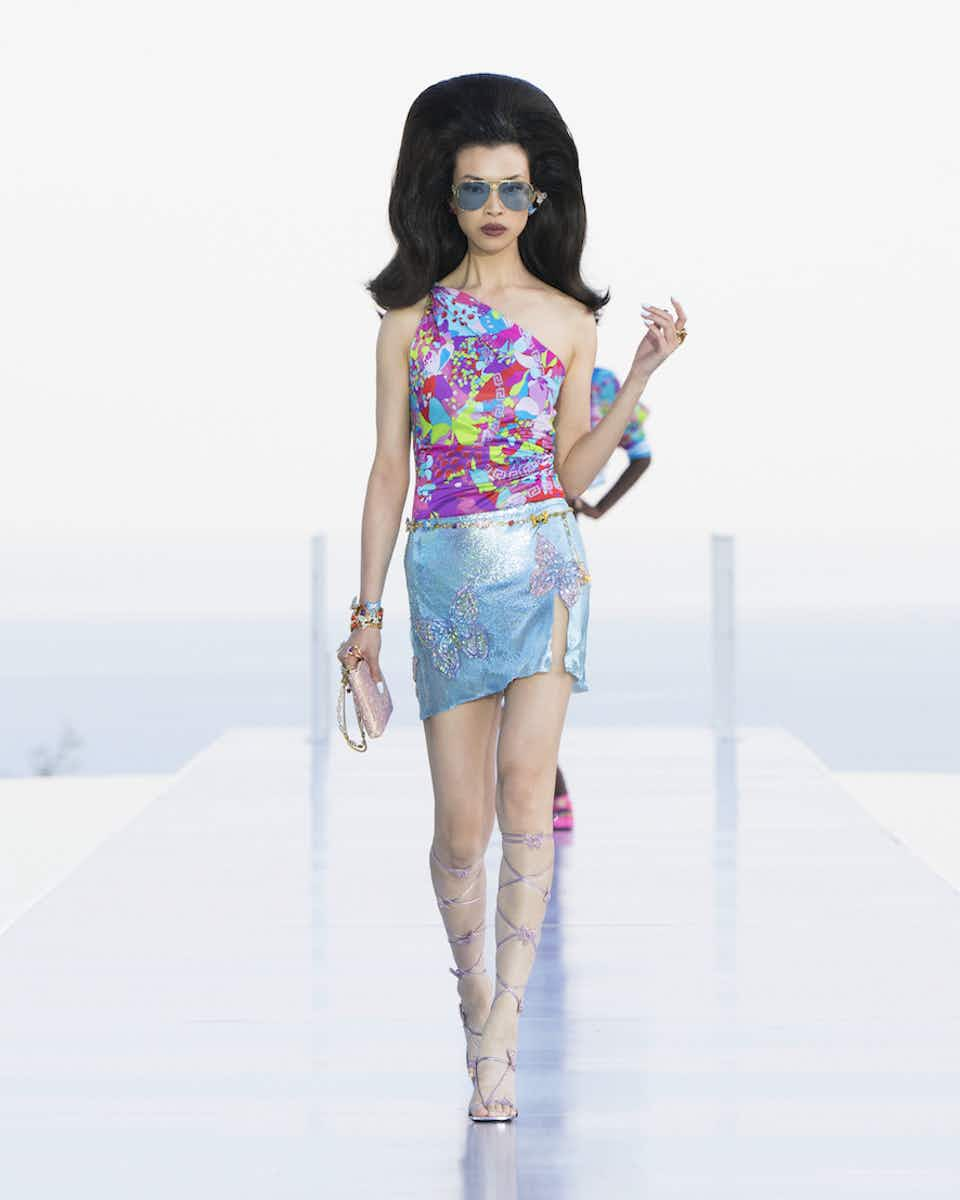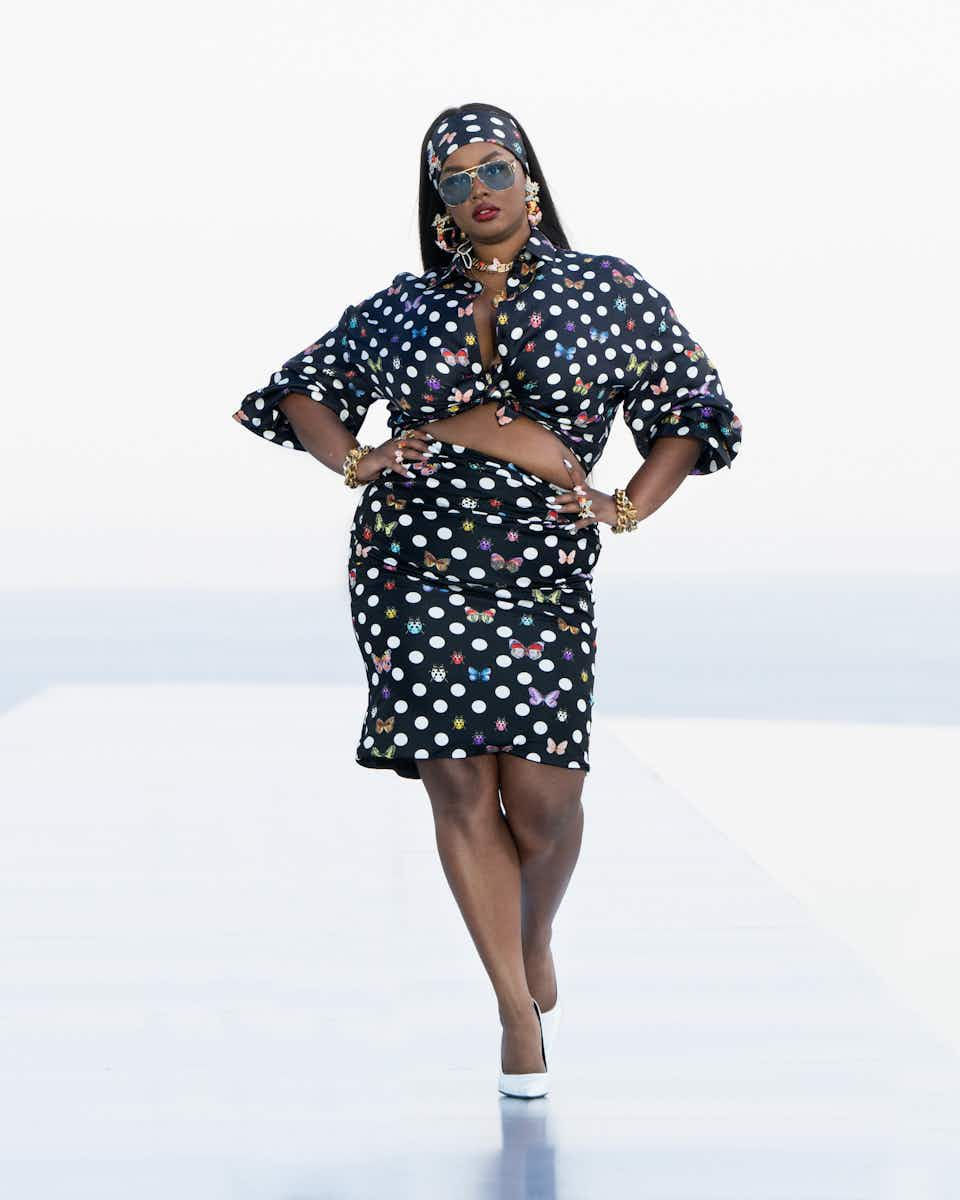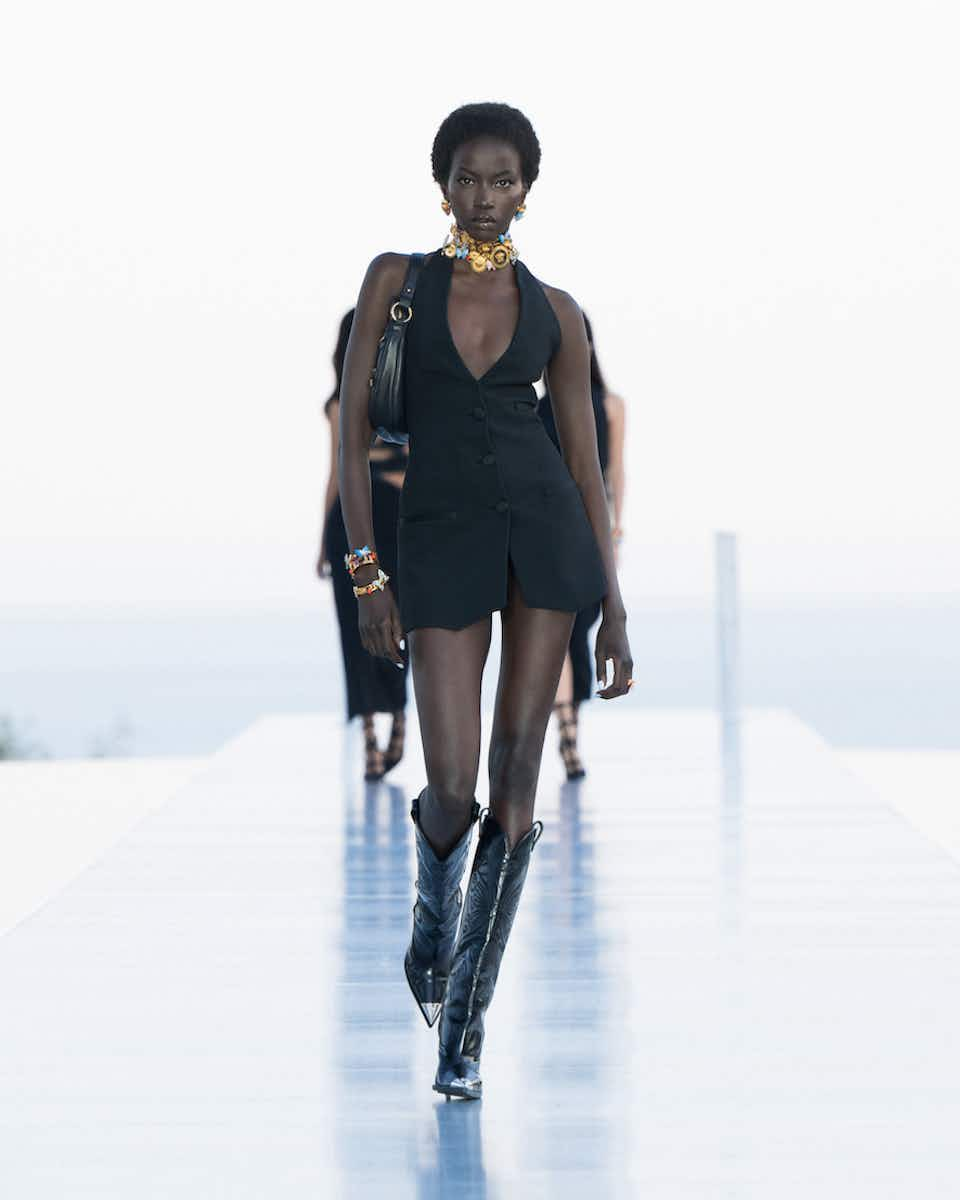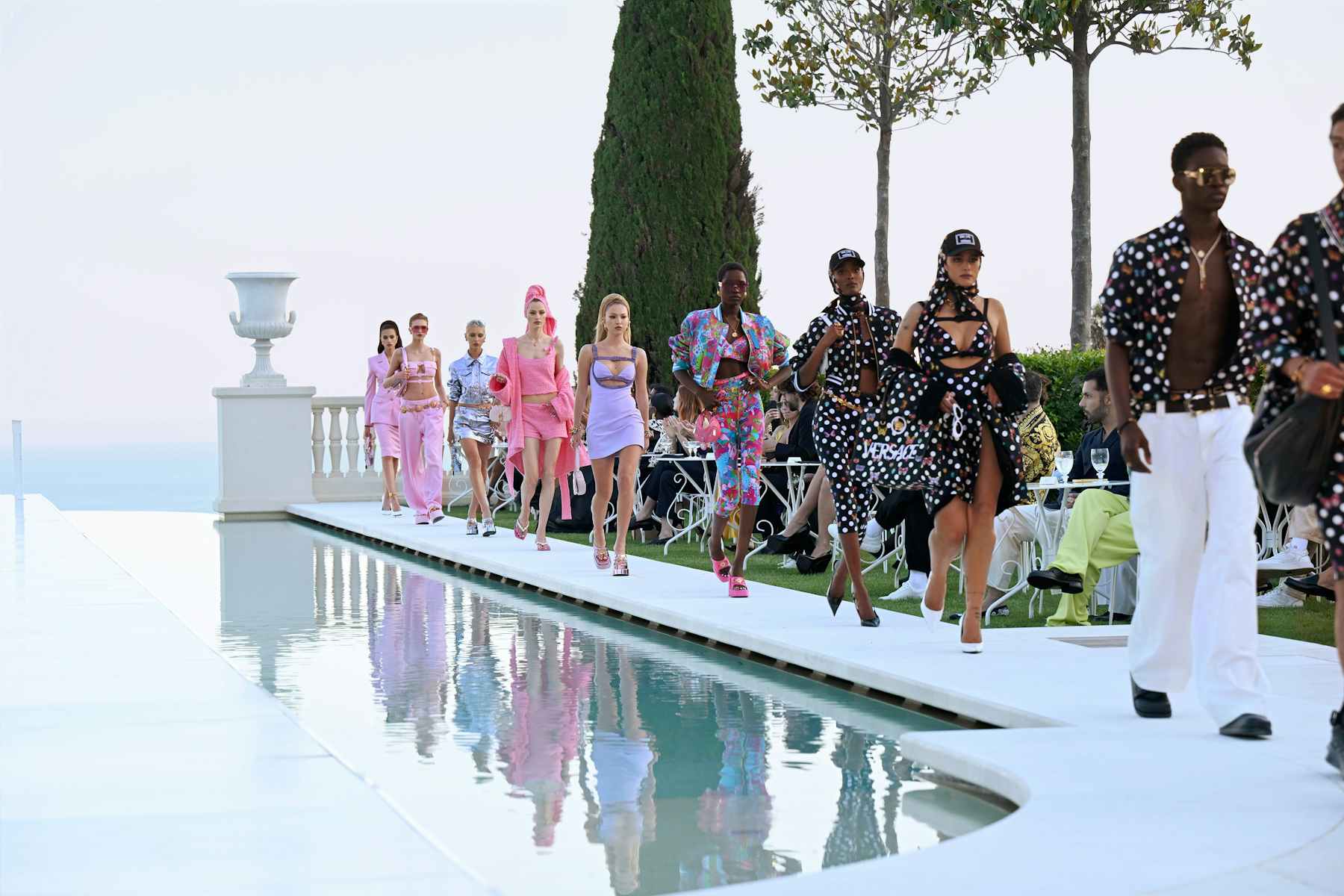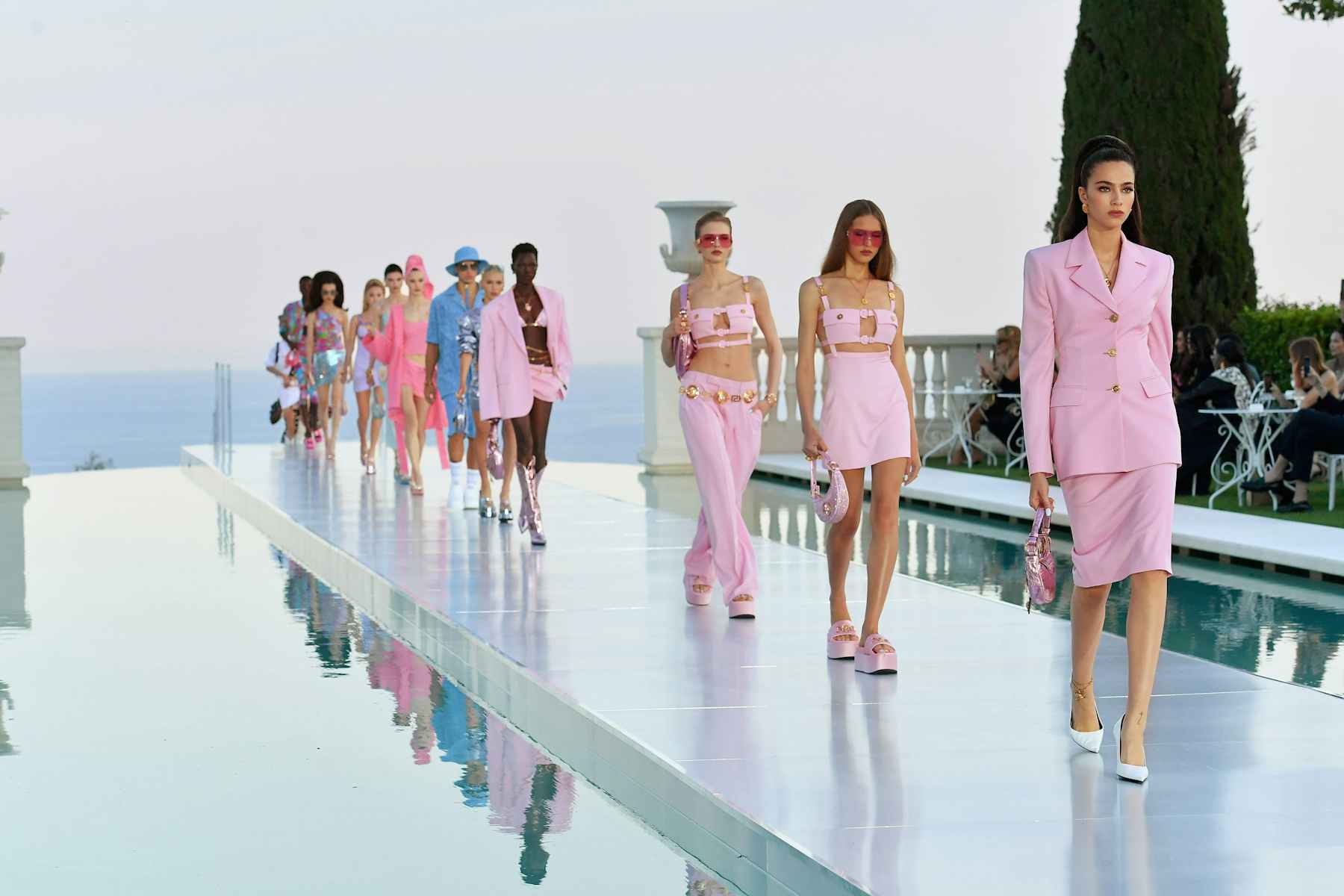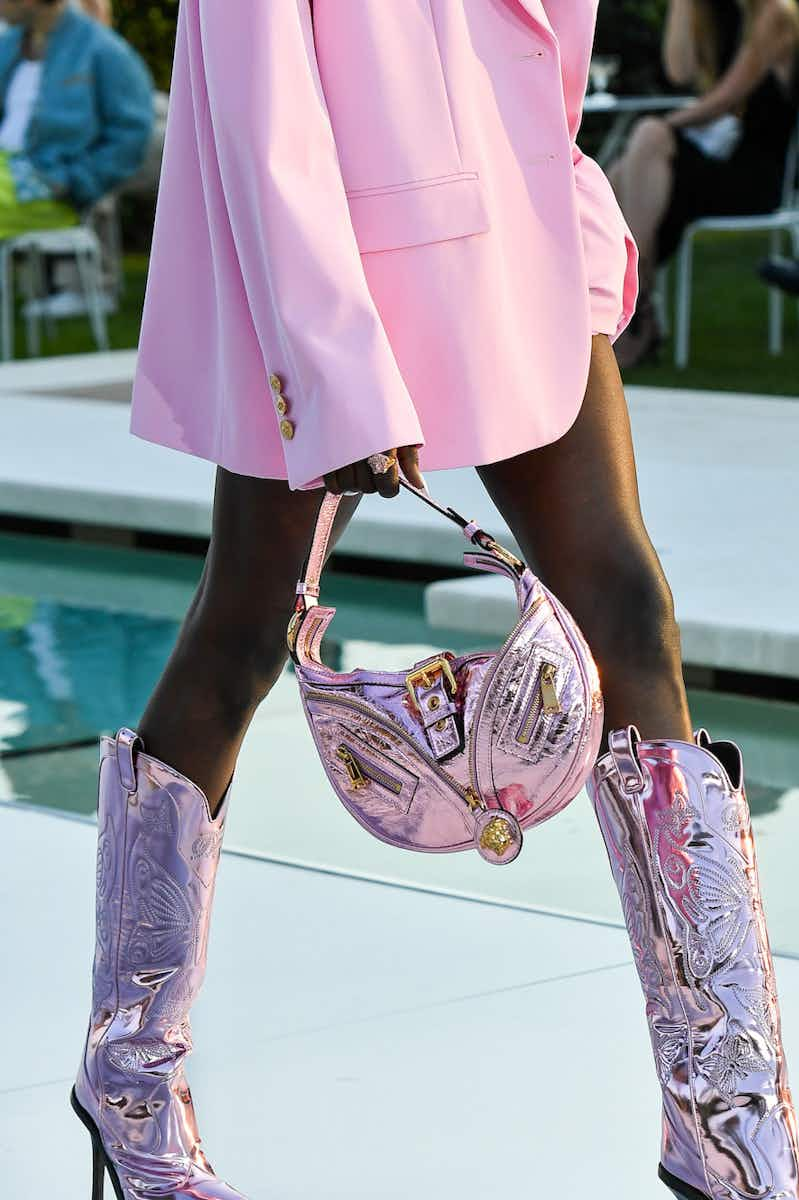 It's all summer's a‑go at Celine. Last Wednesday, the French house landed in Harrods with its Plein Soleil capsule, taking over the much-loved Ground Floor Exhibition Windows that have seen some epic transformations in the department store's 150+ year history. Throughout the warmer months, Celine is offering a full kit for the season, with a hammock, deckchair and a beach racket set all part of the collection. Not to mention casually cool accessories: the Hobo bag in raffia, suede sandals, monogram espadrilles and plenty of sunglasses and fine jewels influenced by creative director Hedi Slimane's beloved French Riviera, which inspired the house's SS23 La Collection de Saint-Tropez collection. Life's a beach. But with a spot of Celine, it's a total beach.

Celine's Plein Soleil SS23 capsule collection pop-up at Harrods is located at the Ground Floor Exhibition Windows from May 17th-June 14th. As well, Celine will be opening a dedicated permanent Celine Haute Parfumerie space in Harrods on June 14.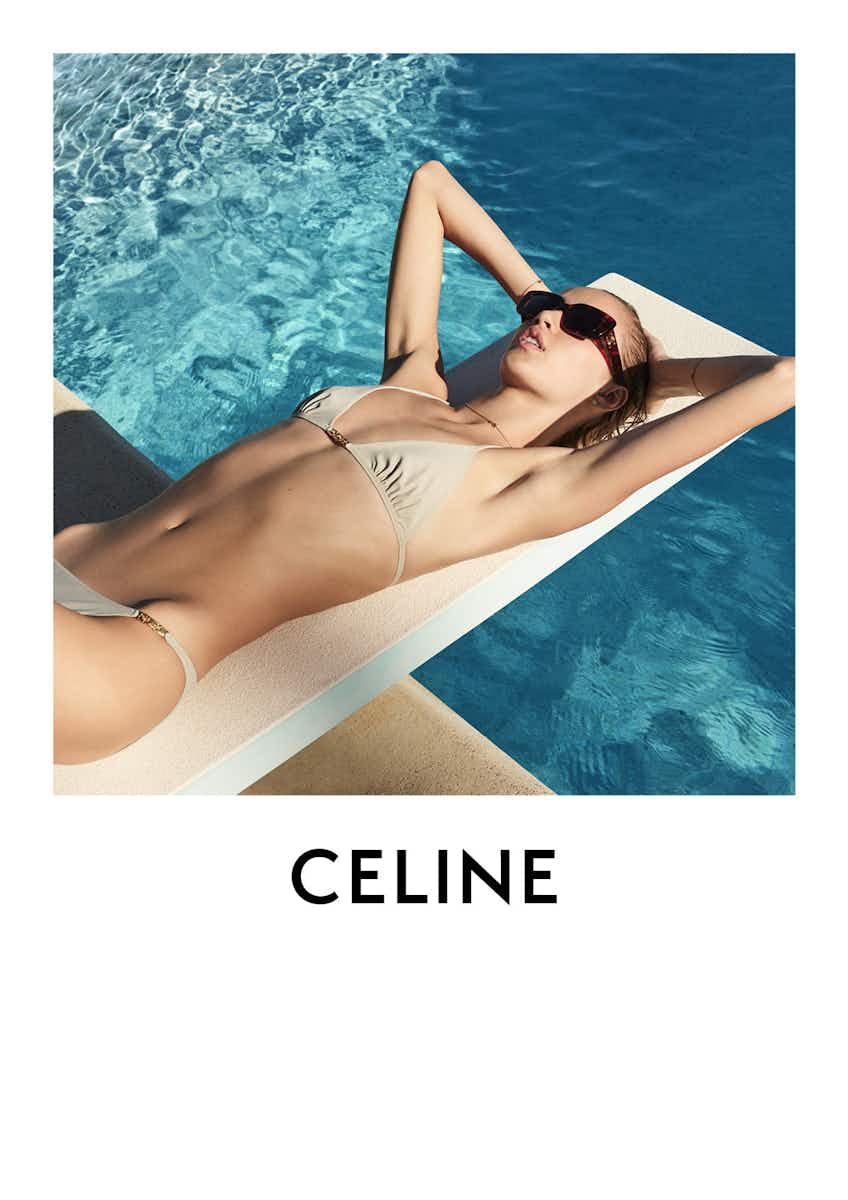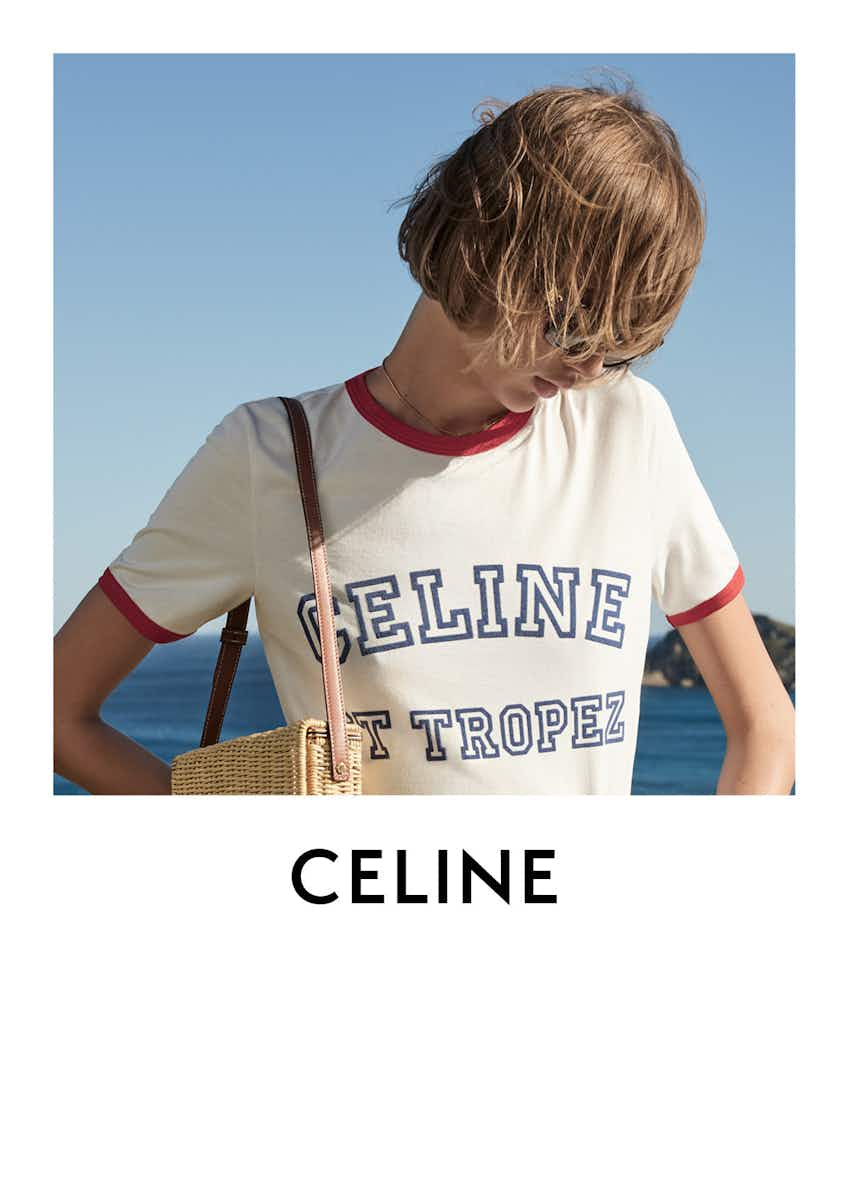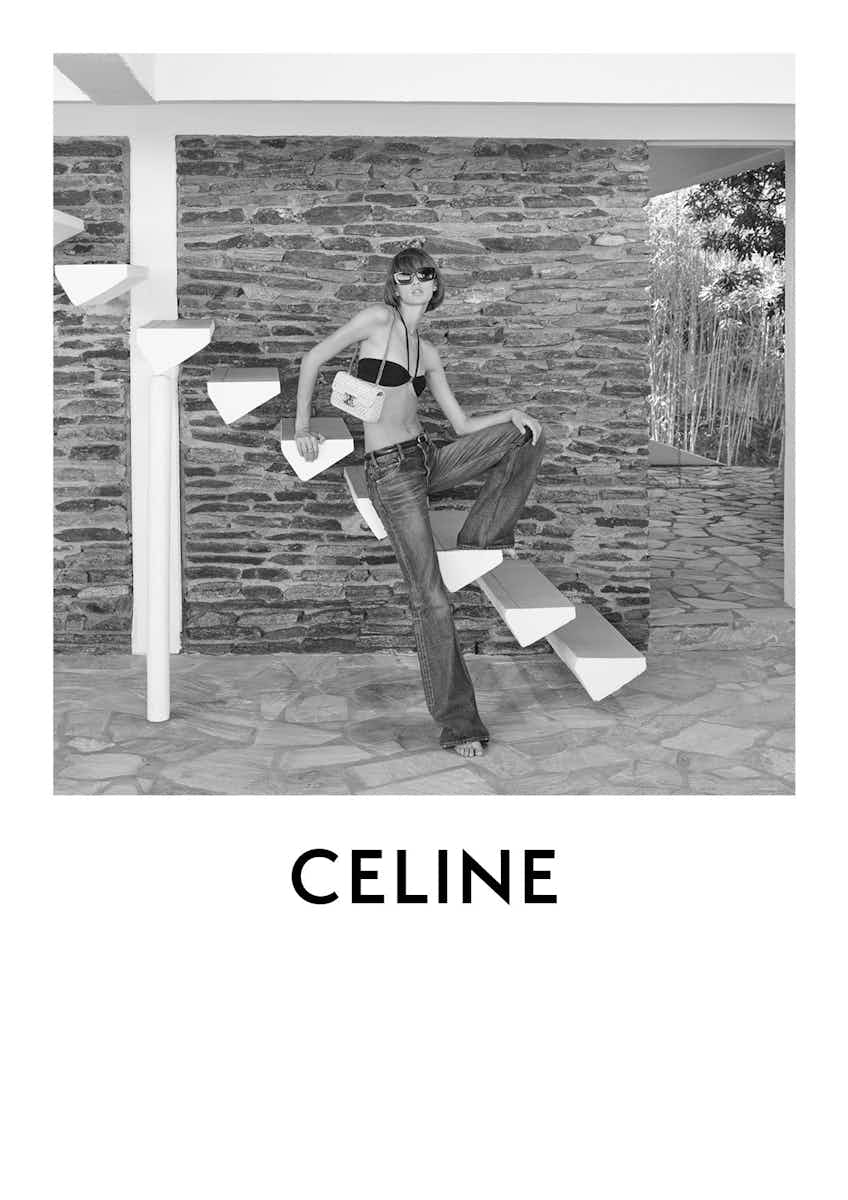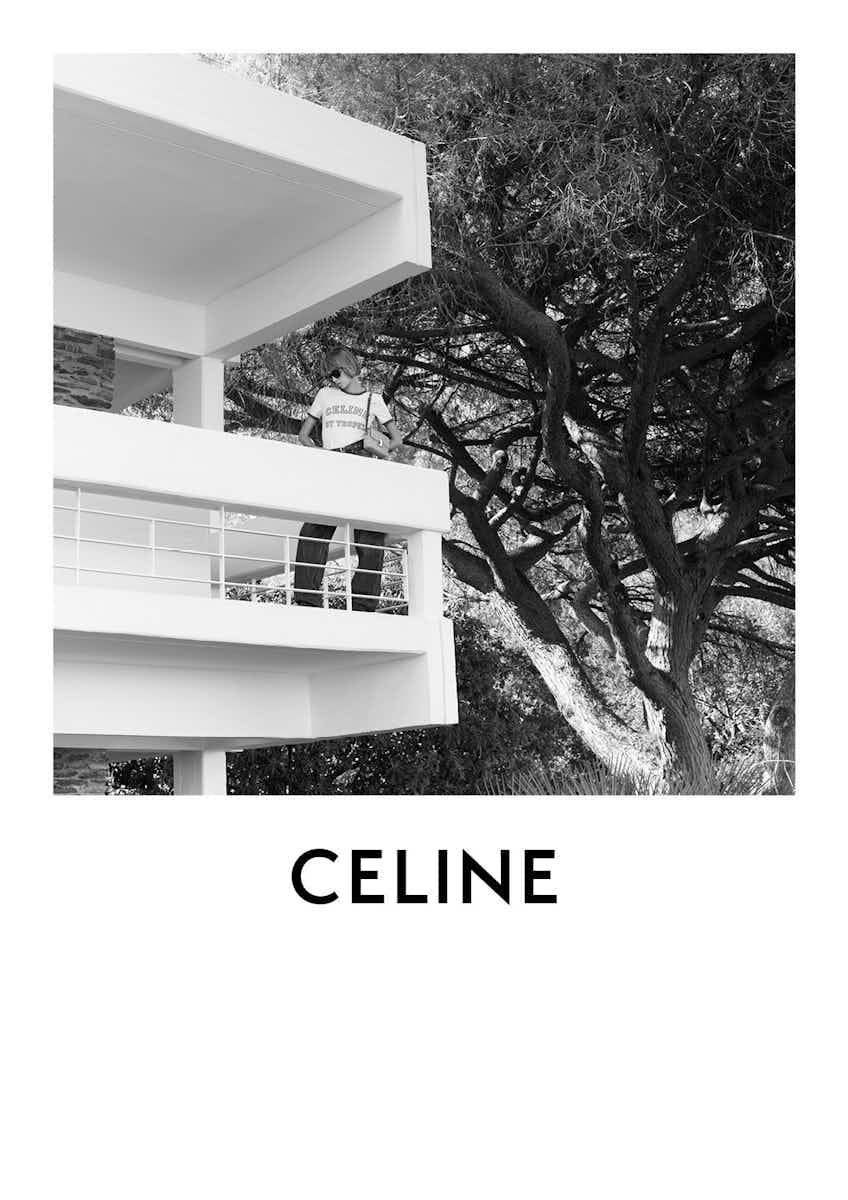 Alexander McQueen's power moves
McQueen is no stranger to a killer look; the British house's three-decade history has largely involved some seriously bold characters serving face. So, for its AW23 pre-collection campaign, an attitude-heavy gang was recruited to show off creative director Sarah Burton's high-powered tailoring, heavy embellishments and thigh-high leather boots worn on the likes of Florence Huntington-Whiteley, Sora Choi, Rejoice Chuol, Alaato Jazyper – and around 10 more – photographed by David Sims.
Alexander McQueen's AW23 Pre-Collection is available now at alexan​derm​c​queen​.com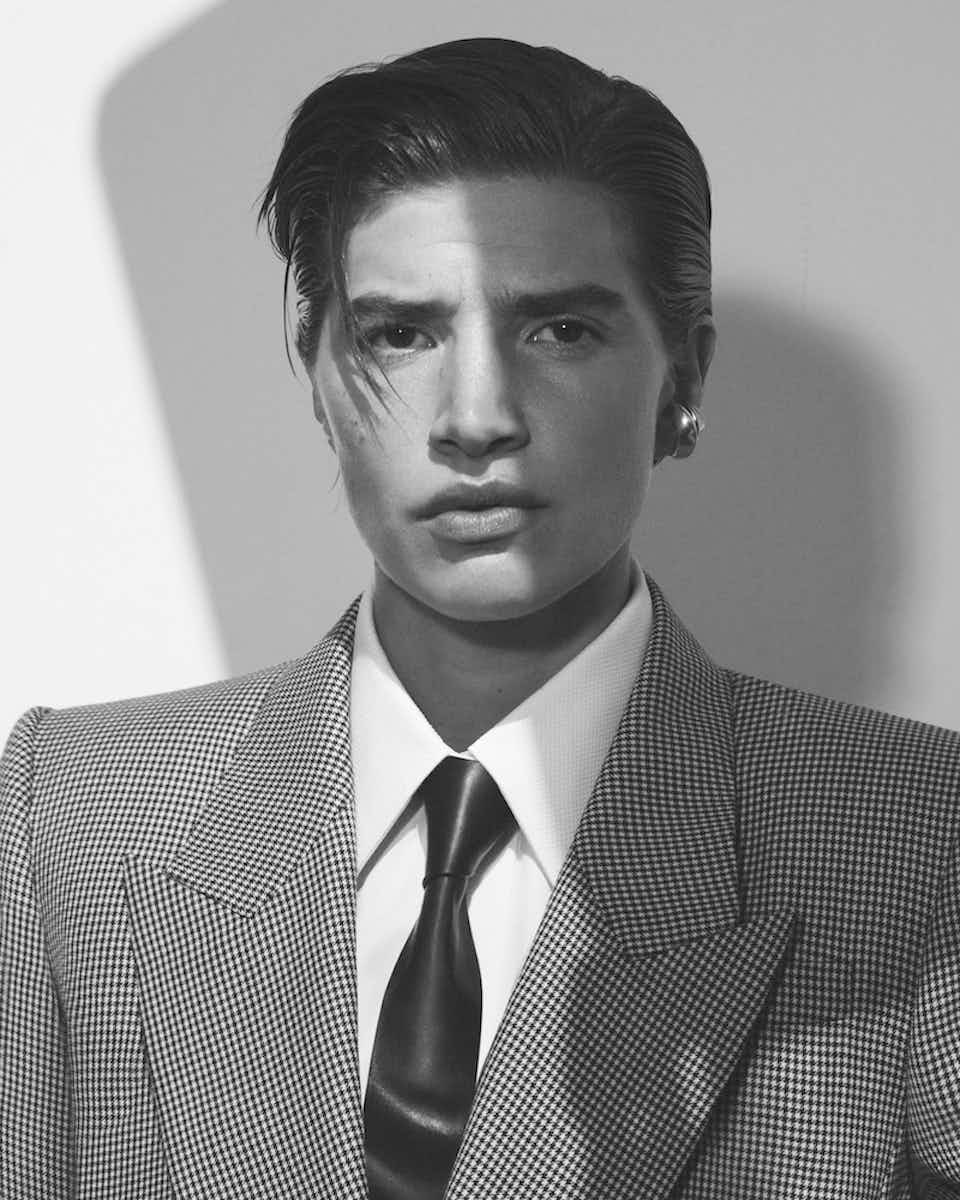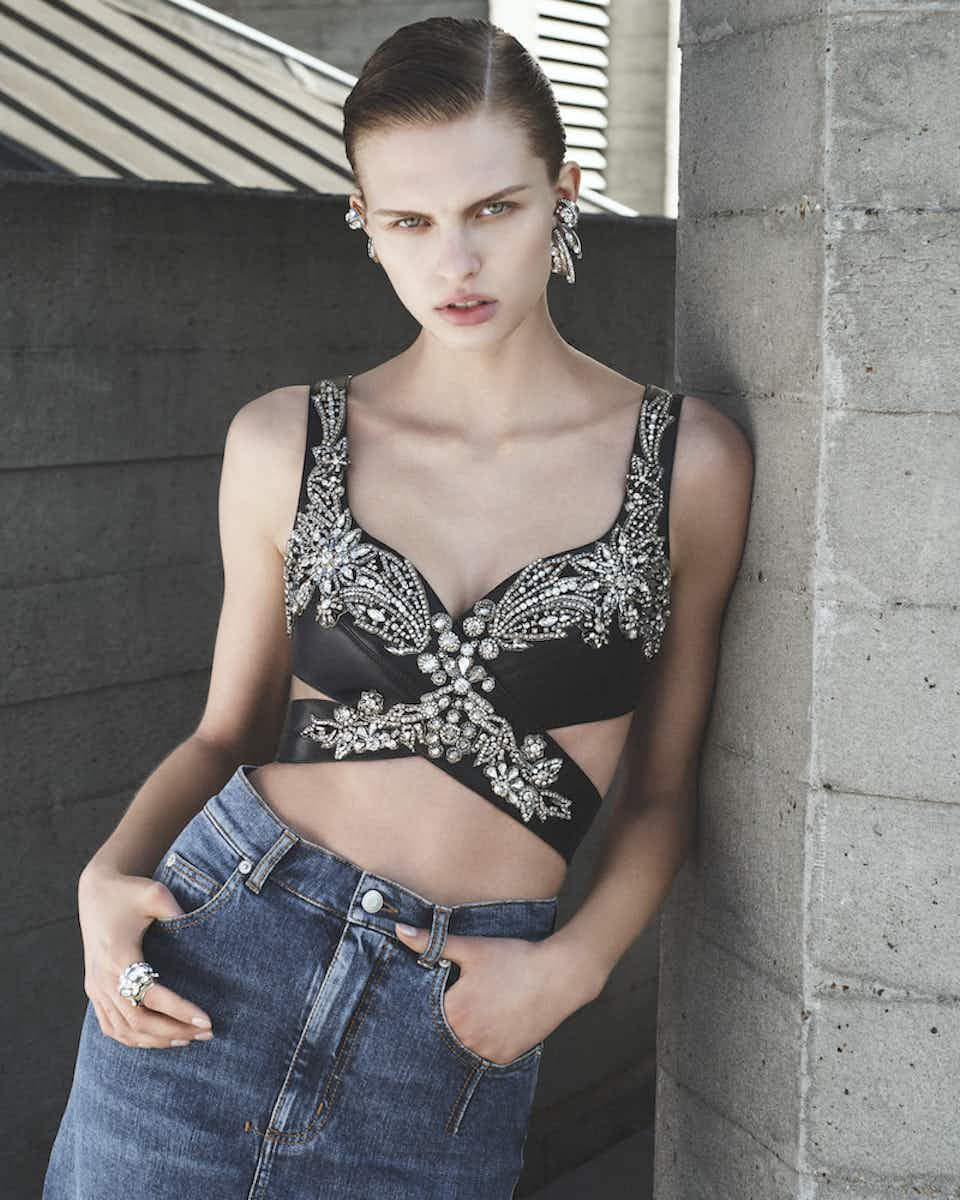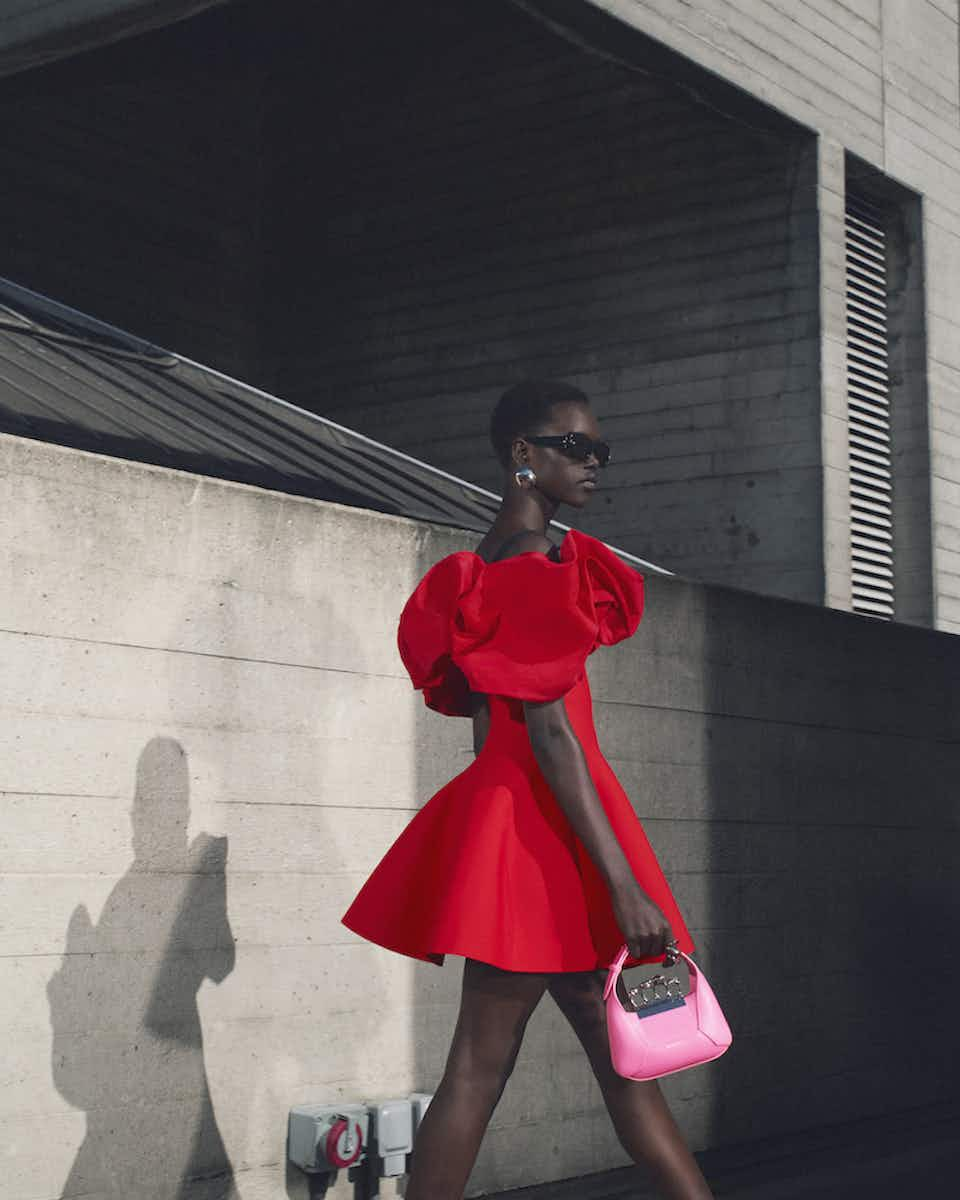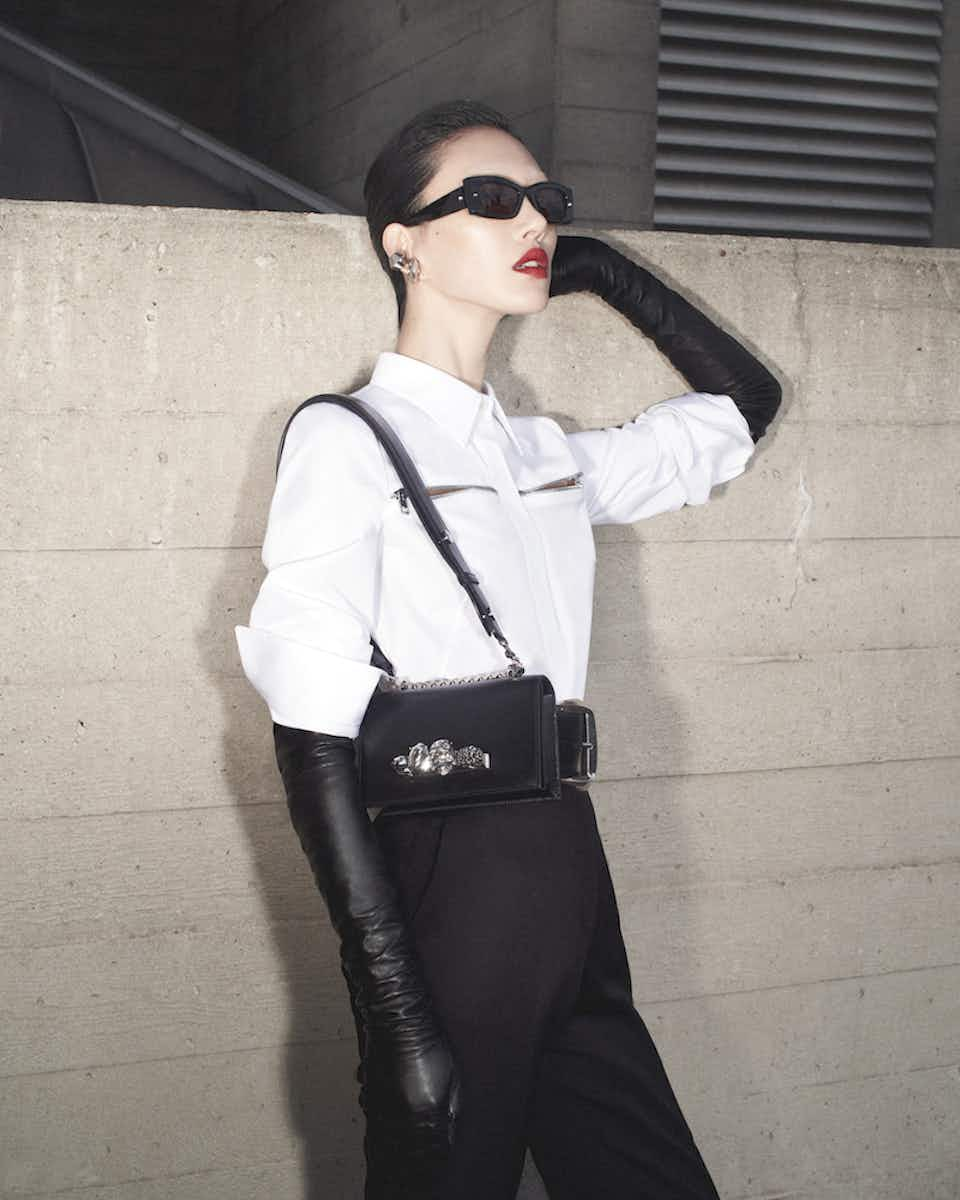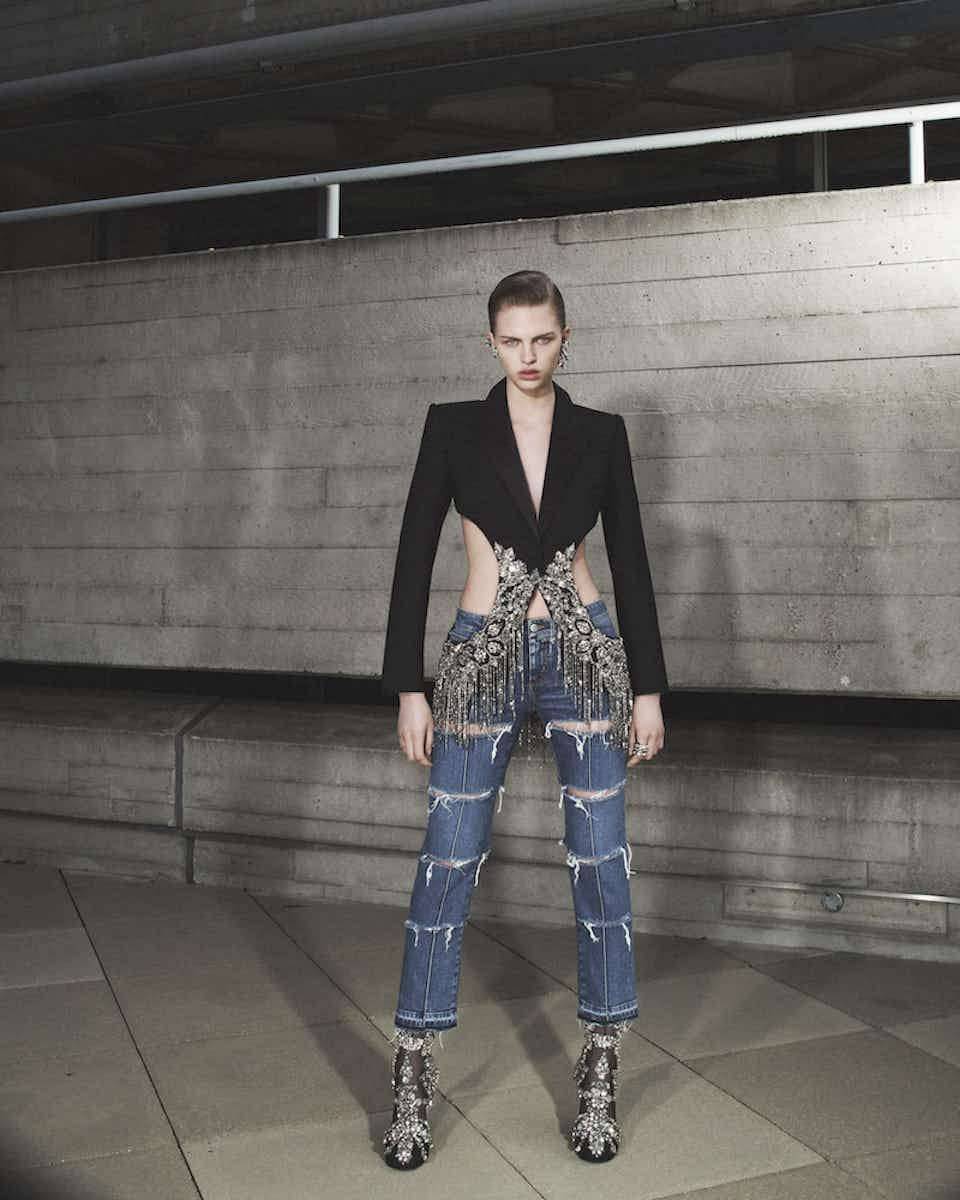 Take a bite of Fendi and Marc Jacobs' Baguette
It was a big moment for Mrs. Venturini Fendi last October, when her luxury house celebrated the 25th anniversary of its legendary Baguette bag. To mark the celebrations, Marc Jacobs (and Tiffany & Co and Porter) was brought in to interpret classic Fendi designs, which included some serious platforms, exaggerated proportions, a crisp white colour palette complete with fluoro lime detail and, of course, a Baguette for a new cohort of Y2K fans. Now, it's ready and waiting in a Fendi store near you. Don't cut the carbs.
Fendi's collaboration with Marc Jacobs is available at fen​di​.com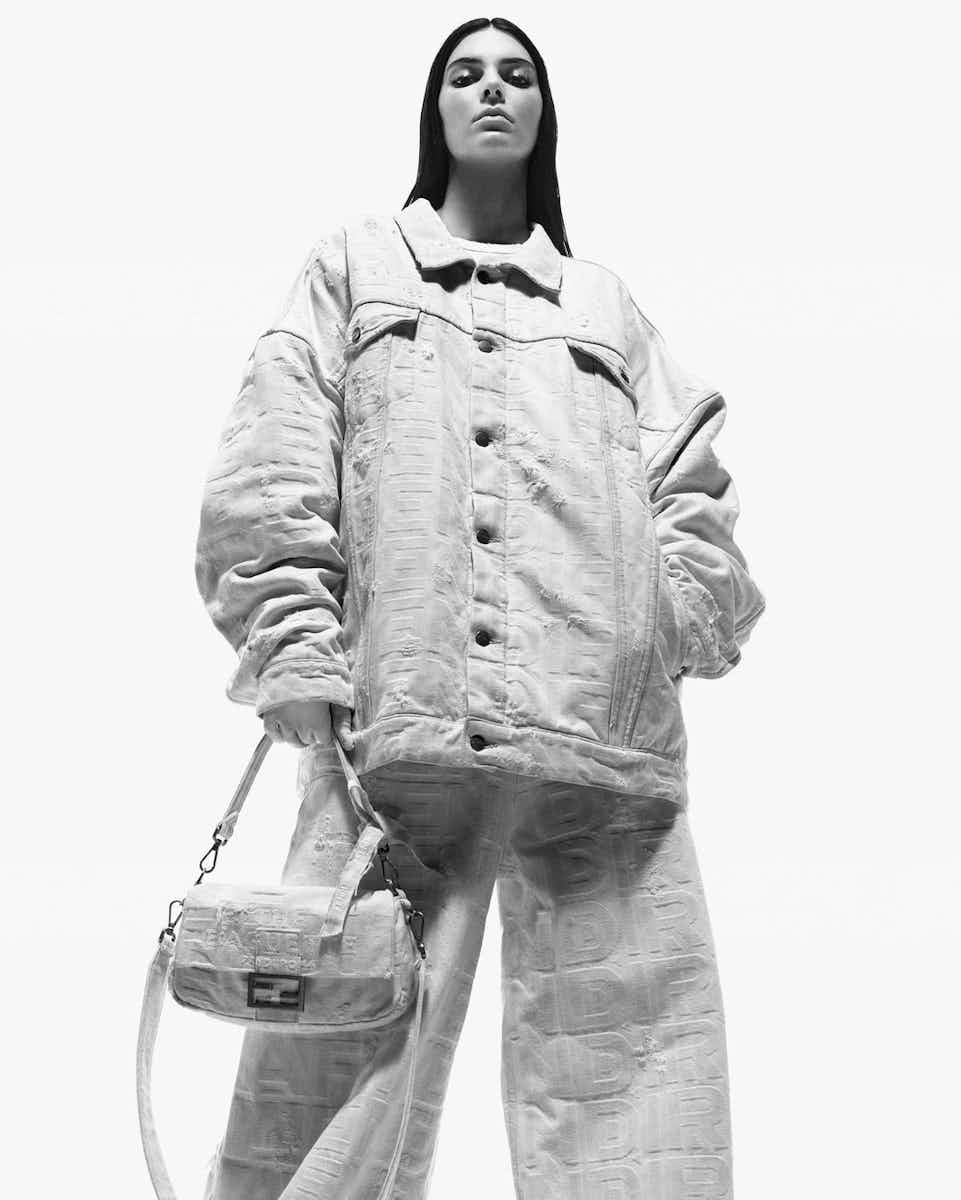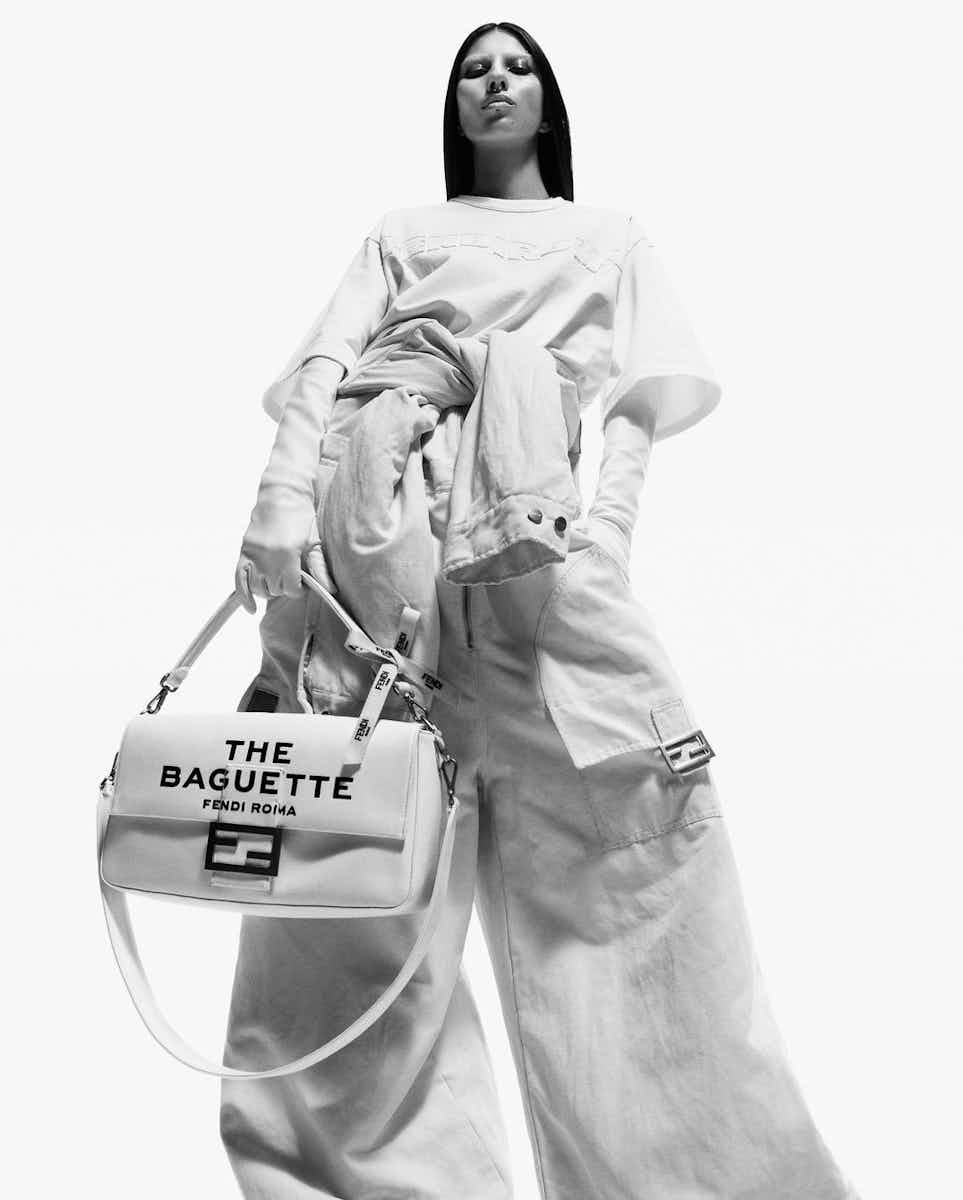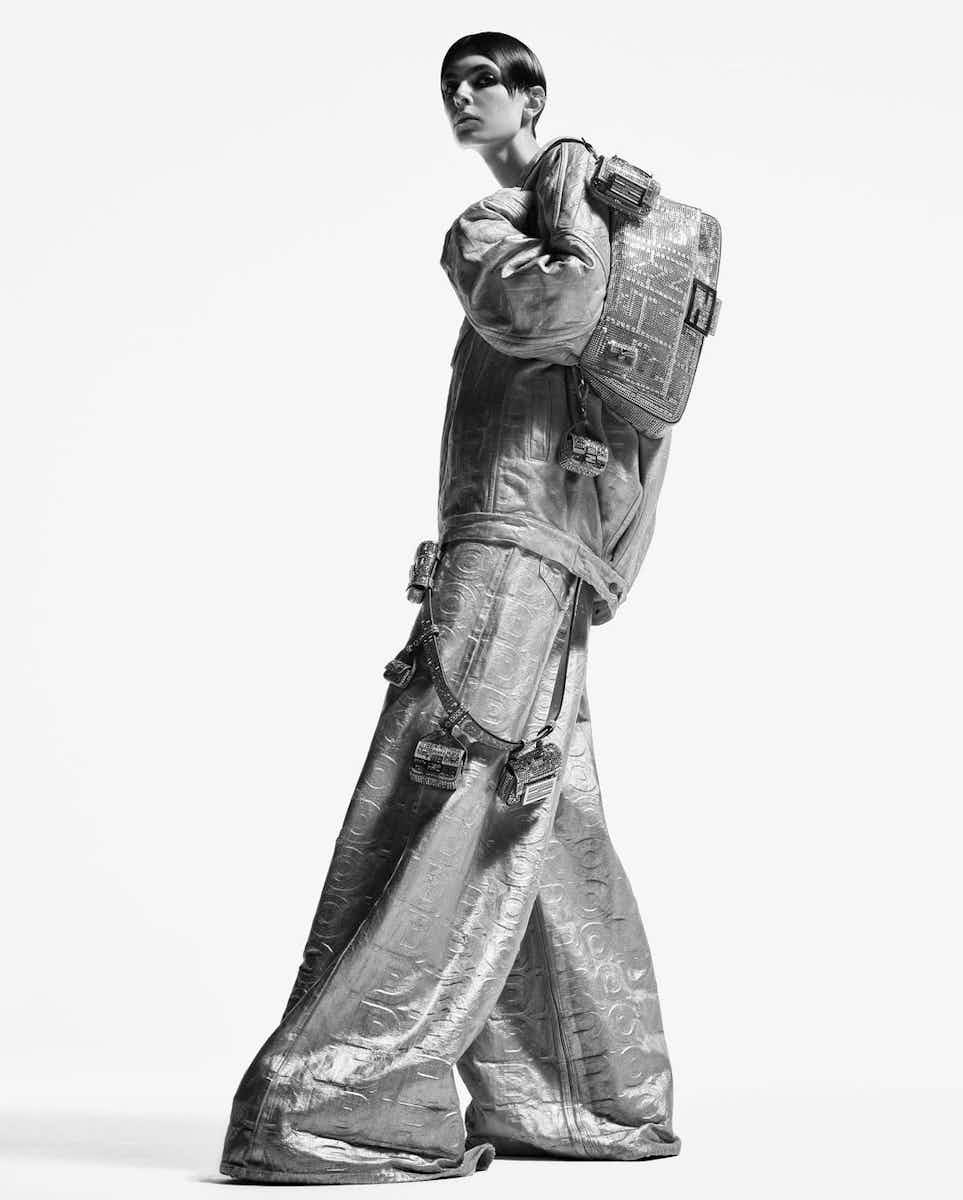 Saint Heron x Wales Bonner: off to the Ball we go...
Short-sleeve season is fast-approaching, and so there is no better time for Saint Heron and Wales Bonner to announce a collaborative capsule collection of T‑shirts. It's no secret both brands dive head-first into research in their respective works, and so Solange Knowles and Grace Wales Bonner's latest venture acts as a double-whammy documentation of the Eldorado Ballroom performance at Brooklyn Academy of Music's 2023 music series, which Knowles is curating. The T‑shirt, then, becomes a piece of archival history for Gen-Next. ​"One of the core purposes of creating Saint Heron was to establish archives for future generations to experience and reflect on the histories that continue to inform and inspire artistry of today and the future," says Knowles, who founded Saint Heron in 2013.

​"It has been very special for me to gather around the musical and artistic traditions celebrated at the Eldorado Ballroom series," Wales Bonner adds. ​"I cherish these moments of togetherness where the archive enables us to look forward with a new light and I am very grateful to Solange and Saint Heron for inviting me to participate."
The Saint Heron x Wales Bonner capsule T‑shirt is available exclusively on saintheron​.com and wales​bon​ner​.net now.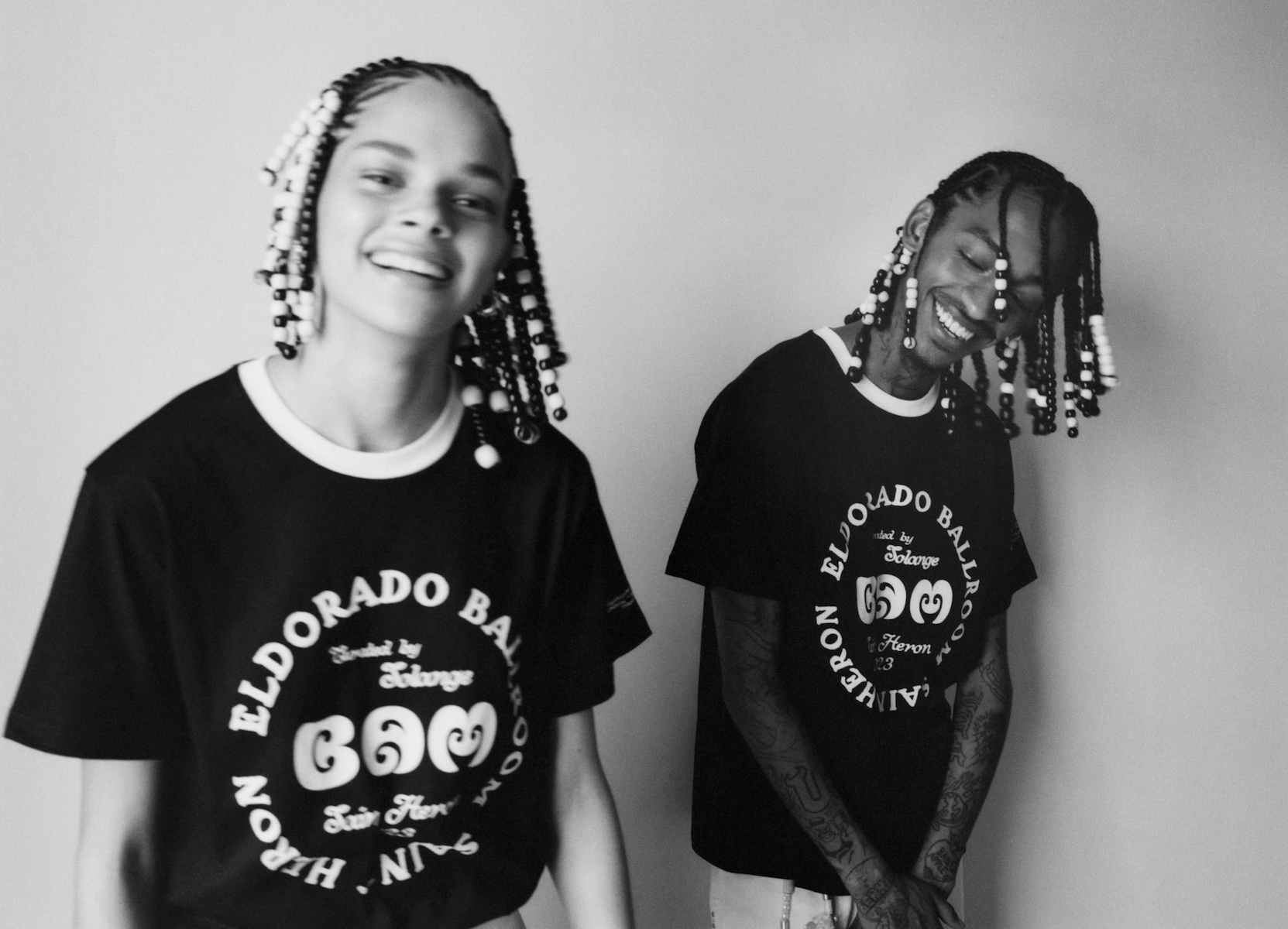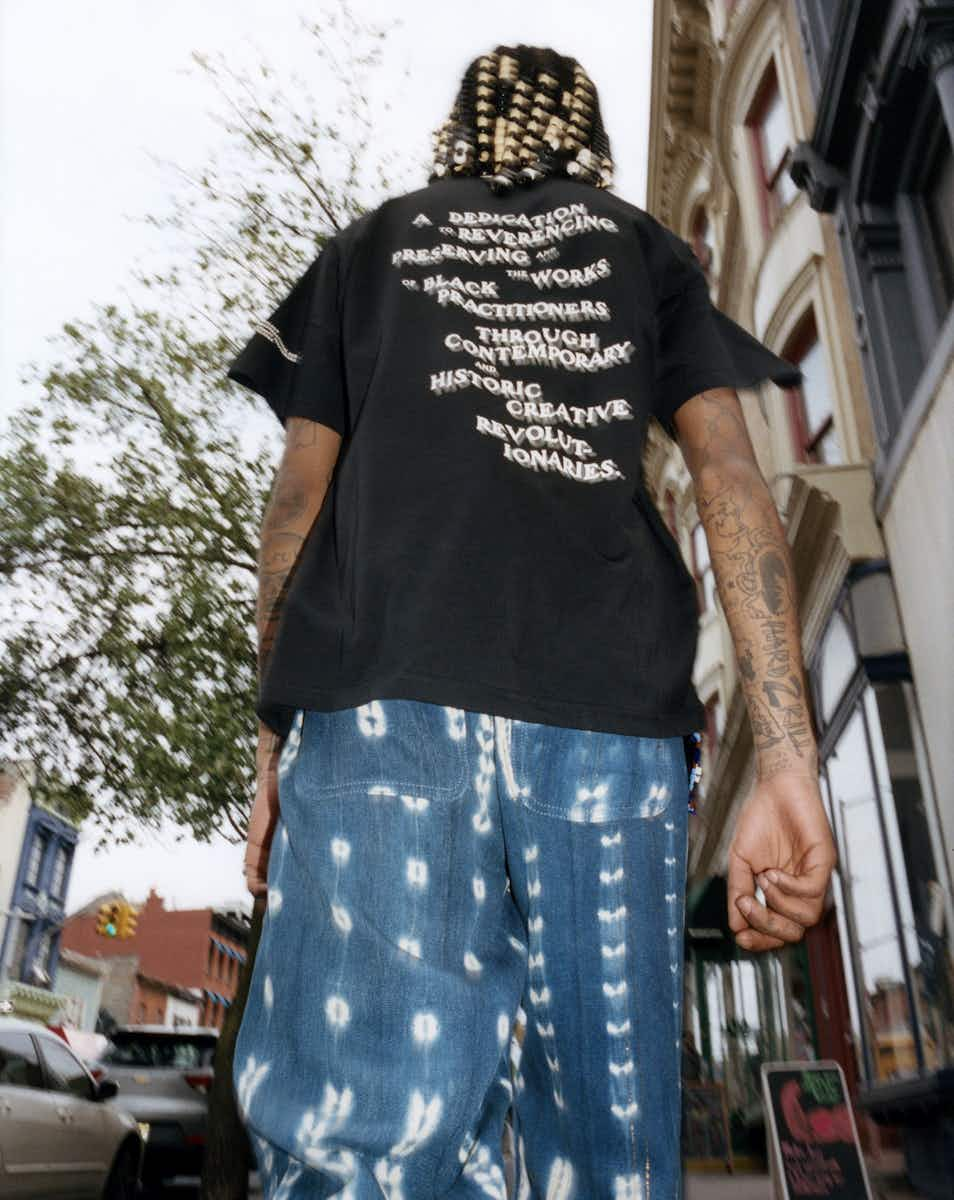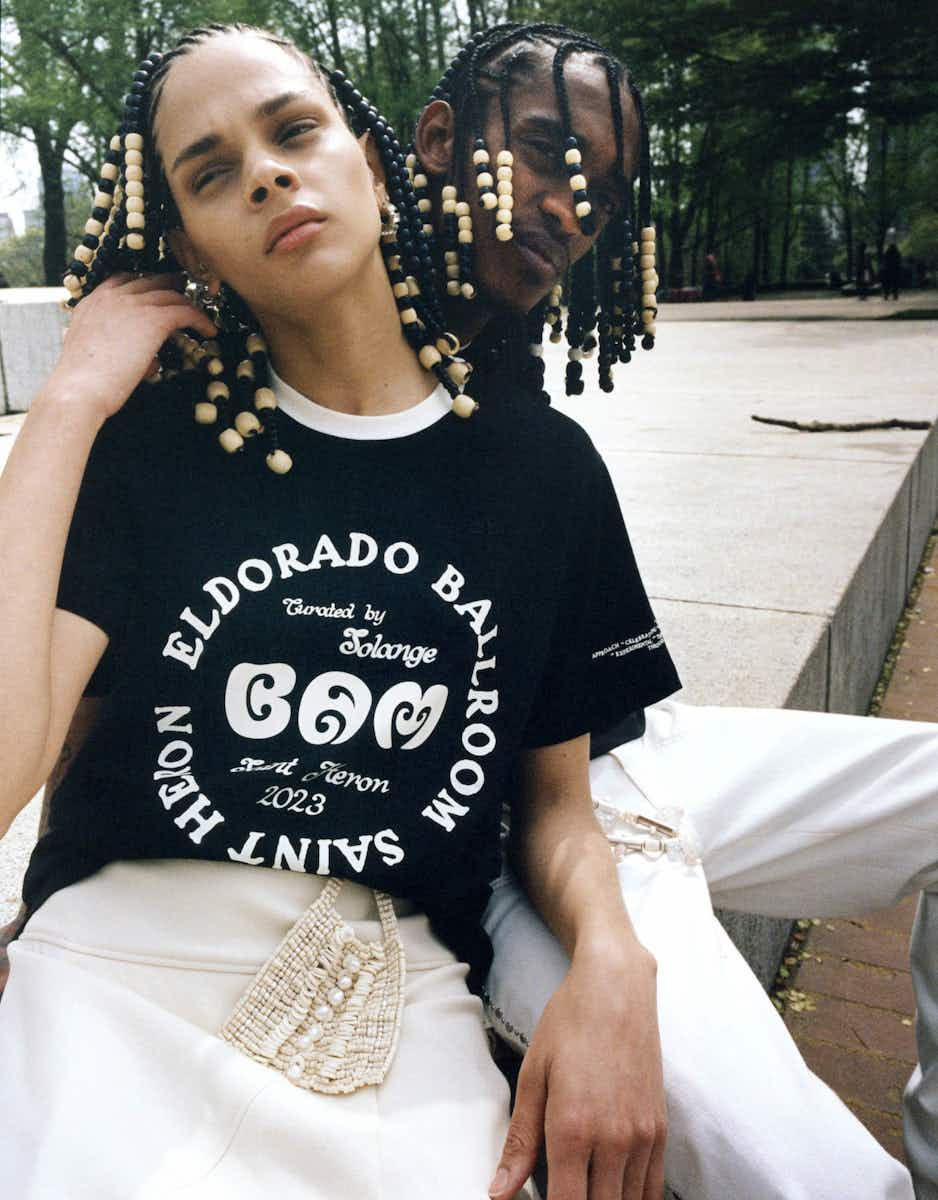 Heat and Flannels are calling all budding business-heads
Mystery-box brand Heat is full of surprises. Now, they've only gone and announced a stellar special project with Flannels: The Ignite Prize. As part of the department store's ongoing Youth-Phoria scheme, the Prize is a series of young entrepreneur grants centred around digital-first business ideas from 18 – 25-year-olds in fashion, innovation and circularity around the UK. With Heat and Flannels both born in the North of England, the scheme's mission is to find talent beyond London, with three prizes including a £10,000 financial grant, one year of business mentorship from Heat founders Joe Wilkinson and Mario Maher, as well as an opportunity to work within the Flannels business. Time to think outside the box, you lot!
For information on how to apply, visit heat​.io. Applications close 9th June.
Asics and Kiko Kostadinov announce a brand-new unisex line

As part of their ongoing partnership, Asics has announced a new unisex line created alongside eternally cool brand Kiko Kostadinov. It makes sense: Kiko creative directors Laura and Deanna Fanning have collaborated with the footwear brand on three previous collections – including one with Hysteric Glamour. Launching later this year for AW23, Asics Novalis will include a standalone capsule line designed by the Fanning twins, with, it promises, a significant shift into apparel. So, what can we expect? Wearability, function and an emphasis on performance, sure. But if Asics and Kiko Kostadinov's past pieces are anything to go by, it'll be full of attitude, inspired by youth and pop culture and, as always, highly innovative.

Turn your old to new at Nike Re-Creation
As part of Nike's sustainability goals – to get closer to a zero-carbon, zero-waste future – the brand has launched its Re-Creation programme in its UK flagship store, Nike Town on Oxford Street. Having got its start in LA last May, Nike Re-Creation collects local vintage and deadstock pieces and materials, using them to create new, upcycled pieces. Last month, for its launch, they invited London-based design project Greater Goods as special guests, who worked on a special capsule collection. Now, after a hugely successful month, Re-Creation is hitting Paris this summer, where designer Summer Moh has been invited to collaborate.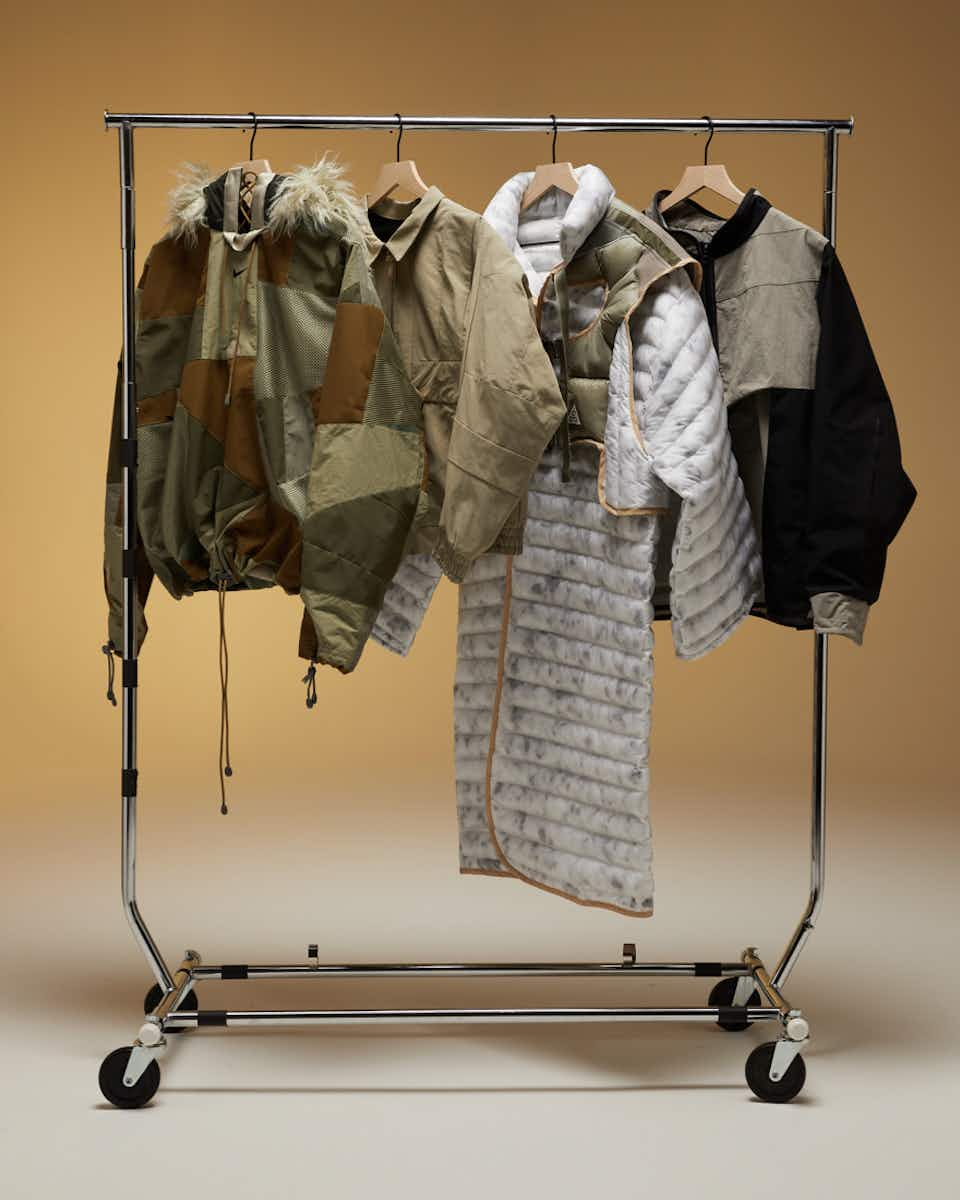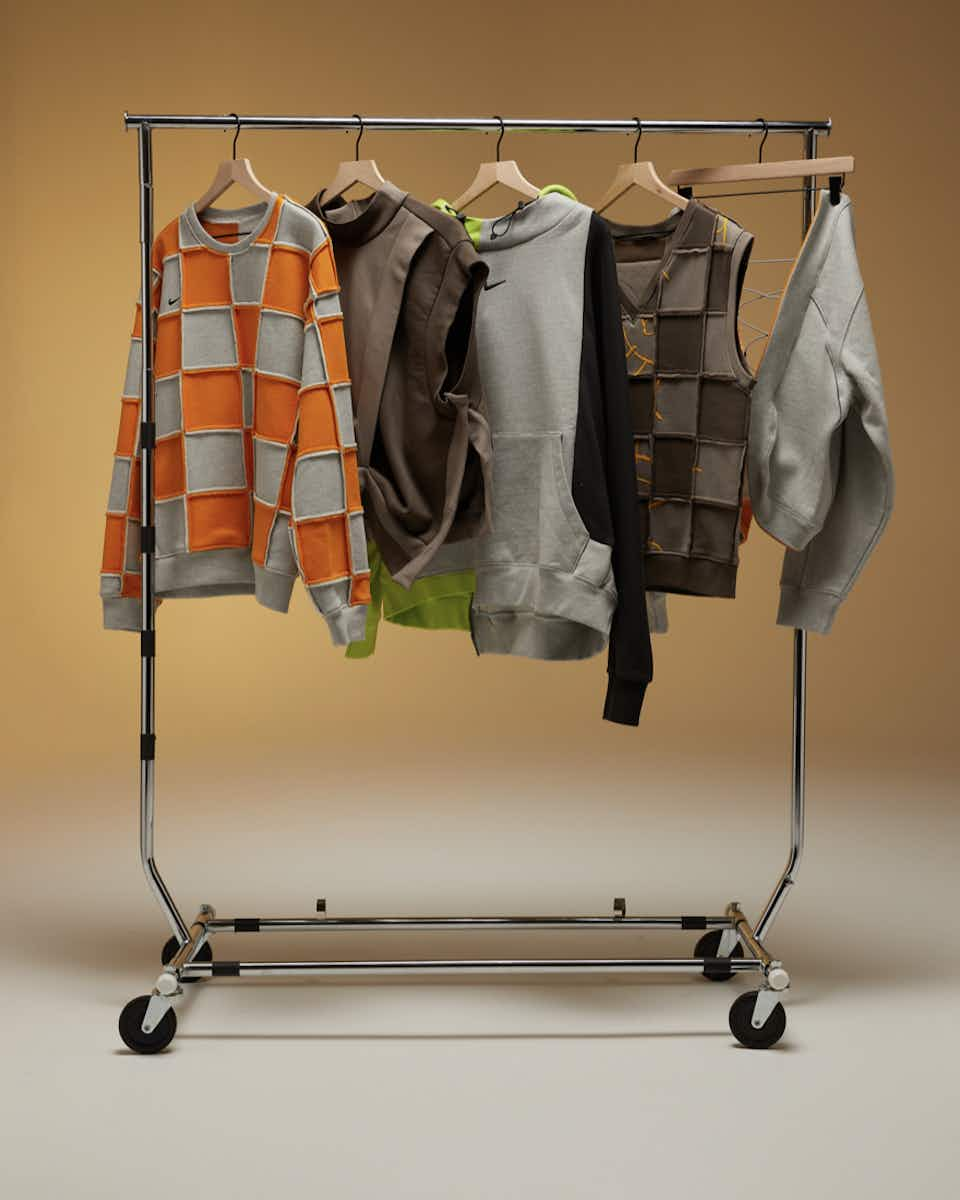 And in case you missed it...
Earlier this month, UGG launched a very special collaboration with cult one-stop-shop Opening Ceremony, revealing a stacked version of the footwear brand's much loved, sheep-lined slipper. Featuring a sizable platform and a chunky buckle, the UGG x OC Tasman is a hot on the heels take on a classic – with a kick.
The UGG x OC Tasman is available at ugg​.com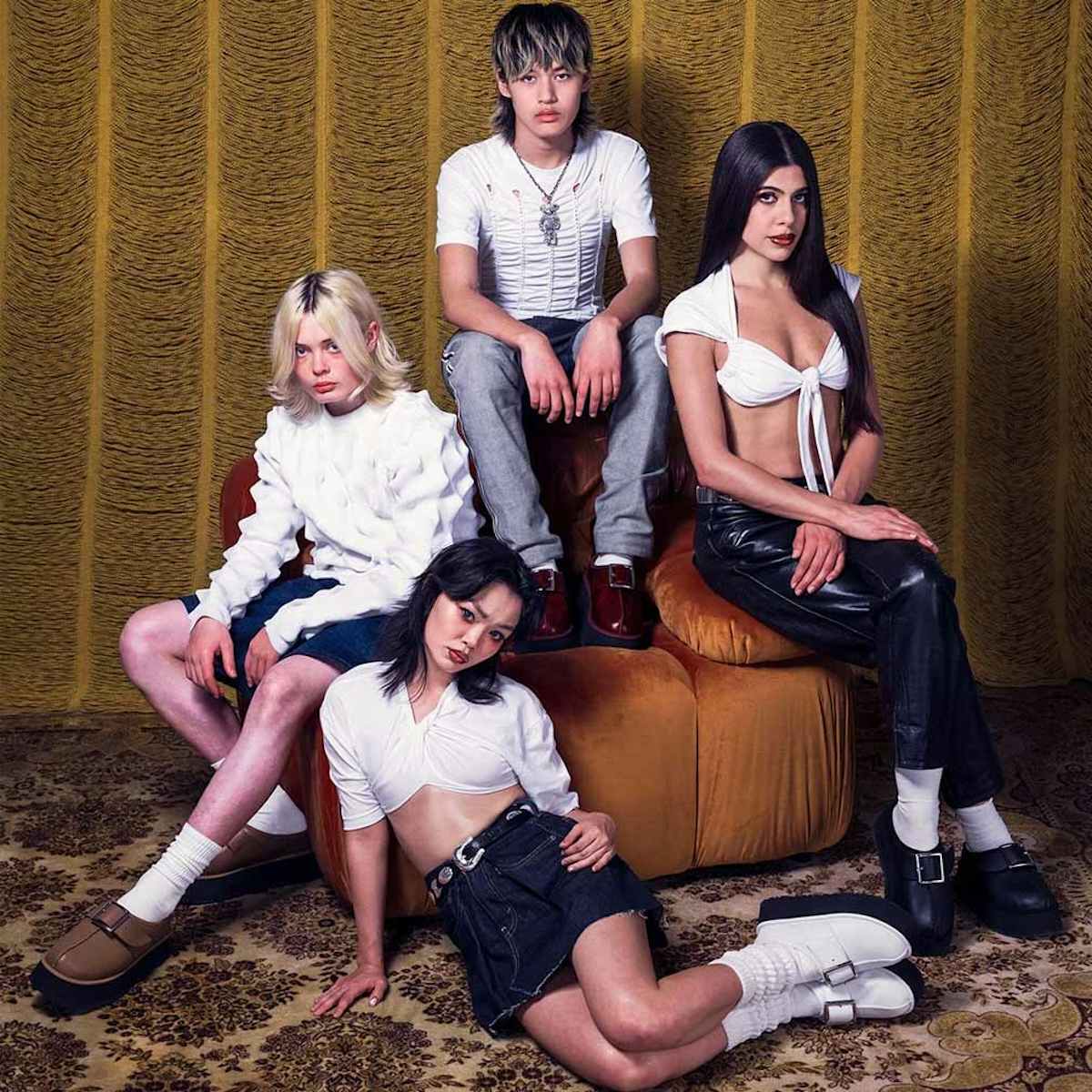 More like this