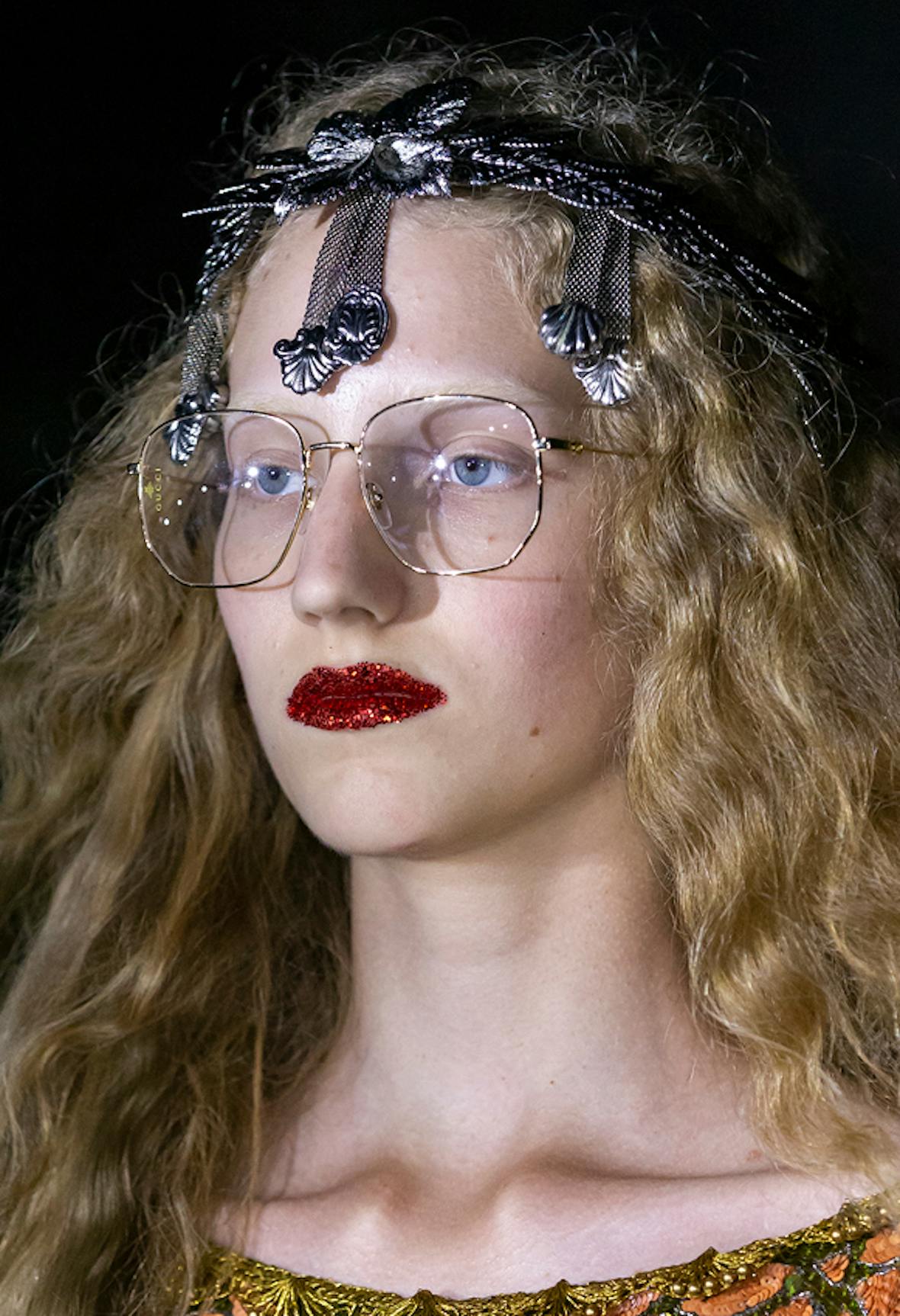 Guc­ci took us on a trip­py time­warp to ancient Rome
Cruise shows are already a fash­ion odd­i­ty, and Guc­ci Cruise shows are odd­er still. Wedged between the autumn/​winter col­lec­tion and the spring/​summer sea­son, ​'Cruise' shows osten­si­bly cater to wealthy clients who opt out of win­ter alto­geth­er by hop­ping on a boat some­where hot. If there are peo­ple under 70 who book such cruis­es, I don't know them; and so these stop-gap, inter-sea­son col­lec­tions often read as a gauche mar­ket­ing ploy to exo­ti­fy the con­sump­tion of ever more stuff. Guc­ci Cruise 2020, how­ev­er, was a very dif­fer­ent trip.





























The fash­ion jet set descend­ed on Rome – the eter­nal city of beau­ty, his­to­ry, schol­ar­ship, and Ani­ta Ekberg soak­ing in the Tre­vi foun­tain – where Alessan­dro Michele had tak­en over the Palaz­zo Nuo­vo, a spec­tac­u­lar­ly grand muse­um on Capi­to­line Hill. Hordes of super­fans, hop­ing to catch a glimpse of Har­ry Styles, cheered and screamed from behind a bar­ri­er as we filed into the muse­um, show­ing love for the oth­er Guc­ci mus­es – design­er Har­ris Reed, musi­cian Zumi Rosow, artist Olimpia Dior, and the pio­neer­ing musi­cian and mod­el Leslie Win­er – and for the glitzy front row guests: Saoirse Ronan, A$AP Rocky, Kai from K-pop boy­band EXO, Zoe Sal­dana, Elton John and David Fur­nish, and super­mod­el Mari­acar­la Boscono (with her new lover, 25-year-old Ital­ian-Tunisian rap­per Ghali).
A protest-style flag, daubed with the words of emi­nent his­to­ri­an Paul Veyne ("Only pagan antiq­ui­ty awak­ened my desire, because it was the world of before, because it was an abol­ished world") hung over the entrance, and a fawn-limbed Diony­sus, heavy with grapes, looked on (and teased the bac­cha­na­lia of the after­par­ty) as we wound up a can­dlelit stair­way into the show space. In the dark­ness, torch lights reflect­ed off the mir­ror cube seat­ing to dance around the fea­tures of ancient Roman stat­ues, mak­ing them seem eeri­ly life­like. The vibe was less school-trip-to-see-some-old-stones, and more like a heist movie (where we played the fugi­tives, unwise­ly invad­ing the sacred space of the watch­ful, impos­ing figures).










The usu­al fash­ion show flood­lights were ditched in favour of hand torch­es for each guest to shine at the mod­els as they walked past; their pres­ence announced Juman­ji-style, with a deep, throb­bing base­line straight out of film set antiq­ui­ty. A dra­mat­ic, Bob Mack­ie-inspired black feath­er and crys­tal head­dress crowned the first mod­el out, lead­ing a parade of char­ac­ter­is­ti­cal­ly eclec­tic and eccen­tric char­ac­ters. There were flower chil­dren in ​'70s peas­ant skirts; chic geek cord flares and jazzy knits; flo­ral gowns (hid­ing Mick­ey Mouse illus­tra­tions amid the foliage); sequin swim caps worn with out­ra­geous sun­glass­es that recalled Rocky Hor­ror​'s Uncon­ven­tion­al Con­ven­tion­al­ists; nun's wim­ples; retro sports­wear; Roman coin jew­ellery; and the most beau­ti­ful­ly draped, stone white toga coats.
Impor­tant­ly, the coun­ter­cul­tur­al ref­er­ences were paired with urgent con­tem­po­rary state­ments: a yel­low T-shirt was embla­zoned with the Chime For Change logo, a glob­al cam­paign for gen­der equal­i­ty sup­port­ed by Guc­ci; and a date print­ed across eccle­si­as­tic capes – 22.05.1978, known in Italy to rep­re­sent the sign­ing of Statute 194, the ​"law for the social pro­tec­tion of moth­er­hood and the vol­un­tary inter­rup­tion of preg­nan­cy" – sent a clear pro-choice mes­sage to the denizens of the Vat­i­can City next door.





From the show to the after­par­ty – and the sec­ond Roman palace of the evening. Palaz­zo Bran­cac­cio, a 19th Cen­tu­ry baroque dream­scape sur­round­ed by sweet smelling walls of jas­mine, with gar­dens set around a foun­tain. A fever dream of bohemi­an splen­dour, guests were ush­ered into an inti­mate (but still very fan­cy) space, where Brad­ford Cox (of Deer­hunter) and Zumi Rosow (Black Lips, Crush) warmed up for a sur­prise per­for­mance by Fleet­wood Mac leg­end Ste­vie Nicks, who was joined by Har­ry Styles for a Land­slides duet. Jump­ing in a car with Guc­ci muse Har­ris Reed, the after-after-par­ty brought us to a small, cabaret-style venue intend­ed for seri­ous danc­ing, presided over by a white suit­ed Mr. Styles, a benev­o­lent mob boss sip­ping tequi­la cokes among friends.
---