Gucci Guilty: self-expression and scent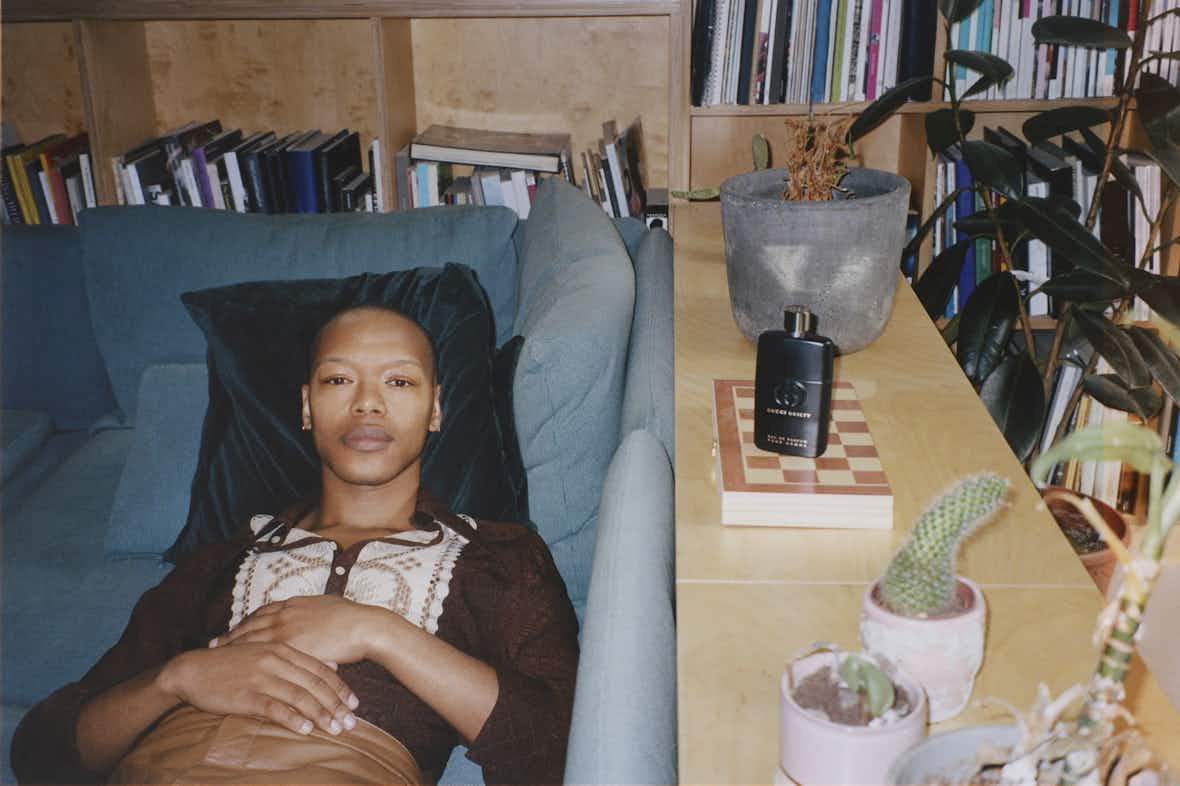 We caught up with three creatives – Nakhane, William Darby and Jack Taylor Lovatt – to discover their daily rituals, in celebration of Gucci's irresistible Guilty Pour Homme Eau de Parfum fragrance.
They say that our sense of smell harbours one of the most powerful connections to our memories and emotions. Coming home to fresh bedsheets after time spent away, a warm breeze and the scent of sunscreen on a balmy summer's day or even newly ground coffee beans might sound like mundane stuff, but these everyday scents and rituals can make all the difference to our headspace.
It's in this spirit that THE FACE has teamed up with Gucci to celebrate the Italian Fashion House's Gucci Guilty Pour Homme fragrance reimagined by Alessandro Michele, in all its glory. Gucci Guilty Pour Homme Eau de Parfum intensifies traditional codes of masculine beauty with mystery and unconventionality: masterfully combining orange blossom (widely considered to be a symbol of both innocence and romance) with top notes of chilli pepper and rose, honey tones, neroli, cedarwood, patchouli and French lavender (the flower Casanova used to scent his love letters), the intense fragrance is rooted in bold self-expression.
We chatted to creative individuals across several disciplines who express themselves daily through their work: dancer William Darby, about the meditative quality of Richmond Park; writer and actor Nakhane, about the strangely comforting smell of clean; and artist Jack Taylor Lovatt, who revealed the effortless pleasure of brushing his pearly whites.


Age and occupation?

I'm 19, and my occupation is a performance artist and a composer of movement and sculpture.
Describe yourself in one sentence.
That's really hard… I can't, really. I'm a bit all over the place. Spontaneous and ever-changing.
What's your favourite thing about what you do?
The ability to have a thought or an idea, and have it in your head for so long, and then making it a physical thing that you can see, hold or show. I think that's really cool.
Name three things that influence or inspire your work?

Life experiences, movement, sound, music. (That's four!)
What does happiness smell like?

The smell when you haven't been at home for a while. Or sex.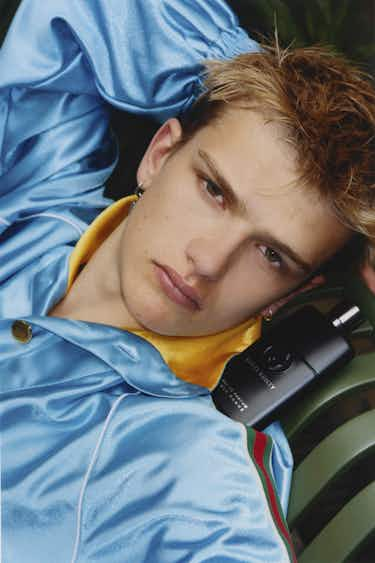 What's your favourite place in the world?
Anywhere that's far from people and things. Specifically, my favourite place at the moment is Richmond Park. So much of my life seems to come back to being there. I spend a lot of time there, I cycle there, I meditate there, I dance there, I have romanced there, I've spent time with my family there.
What's a part of your morning routine that you can't live without?

Music, for sure. This morning, it was classical piano. Sometimes I listen to some experimental South American music. Depending on what kind of day I want, I can control it by what kind of music I play when I start my day. I want to have a pumped-up day, I'll listen to Elton John or something.
What's your guilty pleasure?

Running away from things I'm supposed to do, my responsibilities.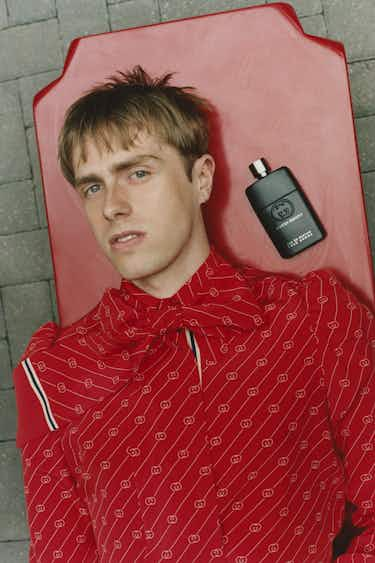 Age and occupation?

Artist, 26.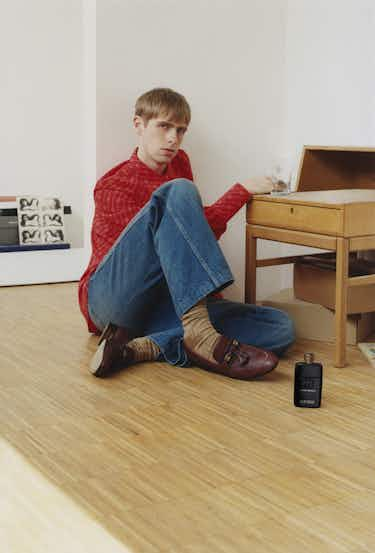 What's your favourite thing about what you do?
The freedom to express myself in any way I want to.

Name three things that inspire and influence your work.
Queer culture, the human form, and Northern people.

What's your favourite smell in the world?
Coming home and fresh air.
What part of your morning routine can you absolutely not go without?
Brushing my teeth after a morning coffee.
What's your biggest guilty pleasure?
Browsing charity shops.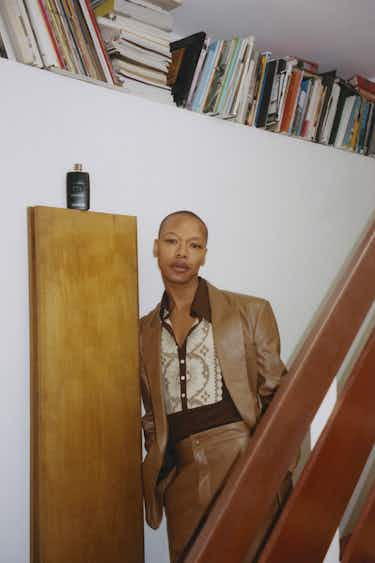 Age and occupation?
I'm a 33-year-old, multimedia artist working in music, literature and acting.
What's your favourite thing about what you do?
I am forced to be sensitive, in the moment and meditative whether I like it or not. I spend so much time having to resolve ideas to their logical or illogical conclusions, which takes a lot of concentration and meditation.
Name three things that inspire and influence your work.
Other artists really inspire me. A great work of art should initially make you feel like you want to give up, because it's so good, and then after you're done with that self-pity, it should make you want to go home and make your own masterpiece. Conversations with friends. Trauma and its resolution.

What's your favourite smell in the world, and why?
Clean! It reminds me of coming back from school in the summer when the light was pouring in from the windows, and there was so much safety. The house was clean, it was beautiful weather, I felt like the entire world was in front of me and I could do anything. I was probably about 12, and life was less complicated than it is now.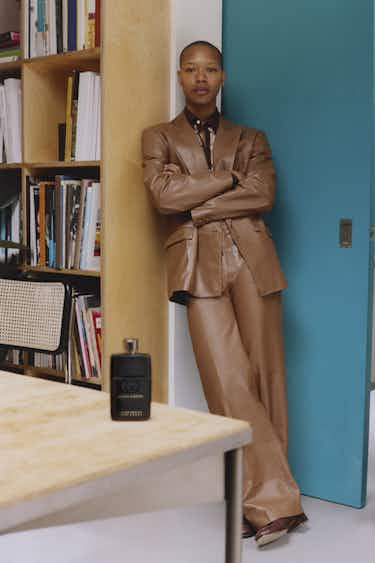 What's your biggest guilty pleasure?
I don't have one. Life is too short for guilty pleasures. It's all about enjoying things to the fullest.
Photo Assistant Jodie Hill, Stylist Danny Reed, Stylist Assistant Borys Korban, Grooming Kota Suizu