Gunge is the new grunge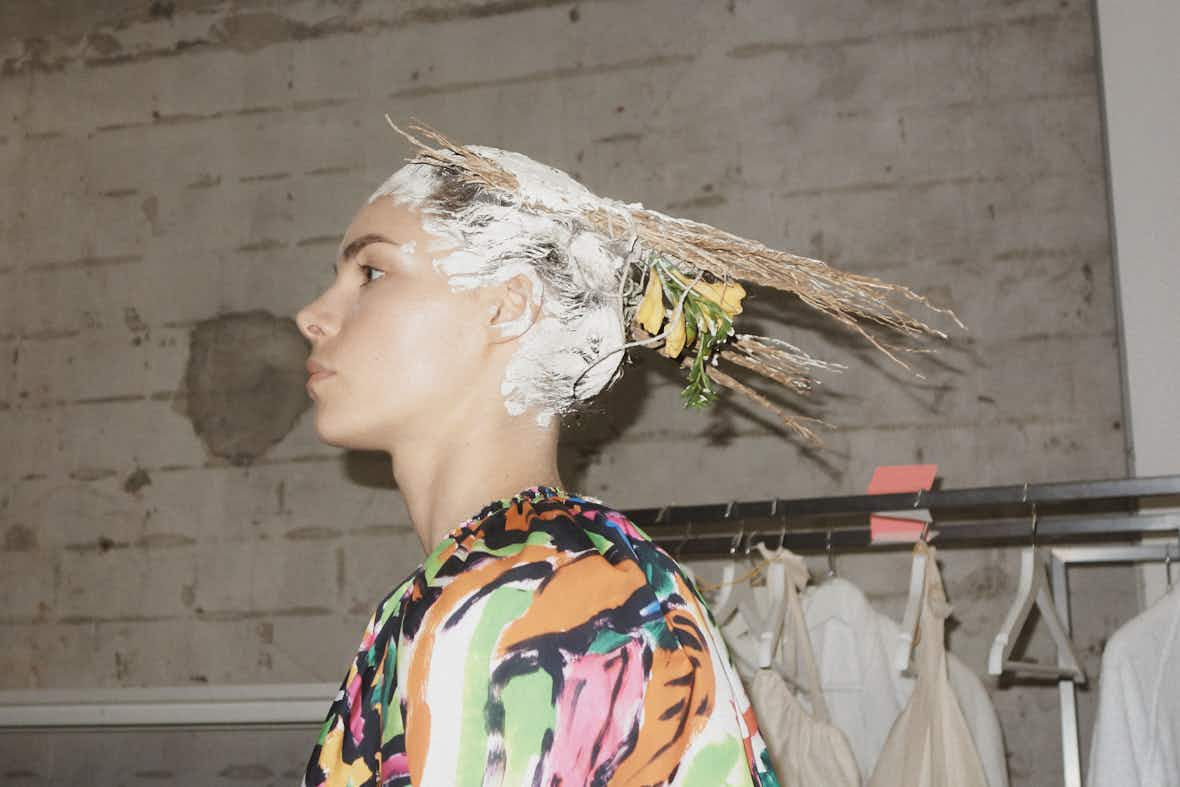 Maybe it's the influence of slime videos, but gunge has been creeping across the catwalk for SS20.
Gunge is oozing up into SS20, across beauty and accessories. At Marni's SS20 show in Milan, models' heads were plastered in paint, as if they'd washed their hair in a basin full of Dulux emulsion, while over at Ottolinger in Paris, beachy straw baskets and leather vanity cases were dipped in glossy solid slime. Christopher Kane's accessories came in the shape of gel-filled clutch bags and two-tone slime-loaded earrings that conjured a galactic trip back to the ​'90s. Meanwhile, Loewe's SS20 campaign incorporates a pair of graceful hands – with lethal looking false nails – running their fingers lasciviously through acid green gloop. The image comes from a series called A Show of Hands by Steven Meisel and, according to Loewe, is ​"a play on symbols of popular protest" (although no explanation is given for what those symbols are, any ideas?).
Anyone who's spent time on children's YouTube or on Instagram's Explore page during 2017 or 2018 will have seen the sudden explosion of slime videos. The mesmerising clips play on loop, with delicate fingers – often female, guessing from the creative manicures – pressing into gloopy substances in an array of different hues and transparencies. Just as kids like putting PVA glue all over their fingers and peeling it off when it's dry, so too do grown adults enjoy getting their hands dirty, whether vicariously or not. Gloopiness is an inherently playful quality – kids love Playdoh and Plasticine and mud-pies and squeezing all the bubble bath into the tub. Added to this, watching a slime video could be considered a waste of time, in that they have no educational value whatsoever. They're ultimately pointless and non-productive, which makes them so appealing. In an age of 24/​7 hustle culture, where time is money, there's a radical power to the joy of slime: it's pure, unadulterated entertainment. As seen in the Meisel image – even manicured hands can delight in the immaturity of slime. Why shouldn't we translate that glee into our daily look via painted hair or concrete-dipped bags?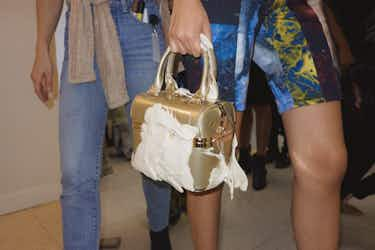 Likewise, there's something eminently satisfying about slathering on a face mask, or a thick moisturiser – coating the body in restorative potions and creating a barrier against the elements feels like a preservation tactic in an increasingly hostile world: hello, have you seen the climate crisis and the trash fire that is world politics? Beauty junkies will be increasingly familiar with makeup artists on YouTube mixing up their own formulations, whether it be in a petri dish or the back of the hand – the content we watch incorporates a hands-on approach to viscous textures. Getting mucky is a #mood and SS20 is getting in on that act.
An awareness of gunge has also led to another darker mood: gunge is dirt that sticks, and once present, can never be fully removed. While there wasn't any actual slime at Marine Serre's SS20 show, her models were decked out to be gunge-ready, wearing wetsuits and waders while walking through a rain-soused muddy nature reserve setting. Her collection was titled ​"Marée Noire", which means ​"oil spill" in French. What could be more gungey than that? Gunge may be fun on Instagram, but Mother Nature certainly isn't a fan. The polluting of oceans – the seabirds' wings slick with oil so that they can no longer fly – is where the alien nature of gunge becomes most terrifying.
On an aesthetic level, if you take the revulsion that gunge provokes and turn it into a creative approach, gunge is the antithesis of chic. It's in diametric opposition to clean, neat and law-abiding, and fashion loves a rebellion. In her seminal 1964 book Purity and Danger, the anthropologist Mary Douglas put forward the idea that things become taboo when they can't be neatly categorised. An object that exists in the grey area between two different spaces, that is neither one or the other, is powerful: its very existence calls into question just how meaningful the boundaries between those two spaces are. Slime, of course, is neither liquid nor solid. It is both entertaining and terrifying, fascinating and repulsive. Of course, a choice to style hair at a catwalk show probably isn't that deep, but the subconscious effect of seeing slime where it shouldn't be – whether that's slathered on hair or coating luxury bags – elevates the overall looks into something more cerebral.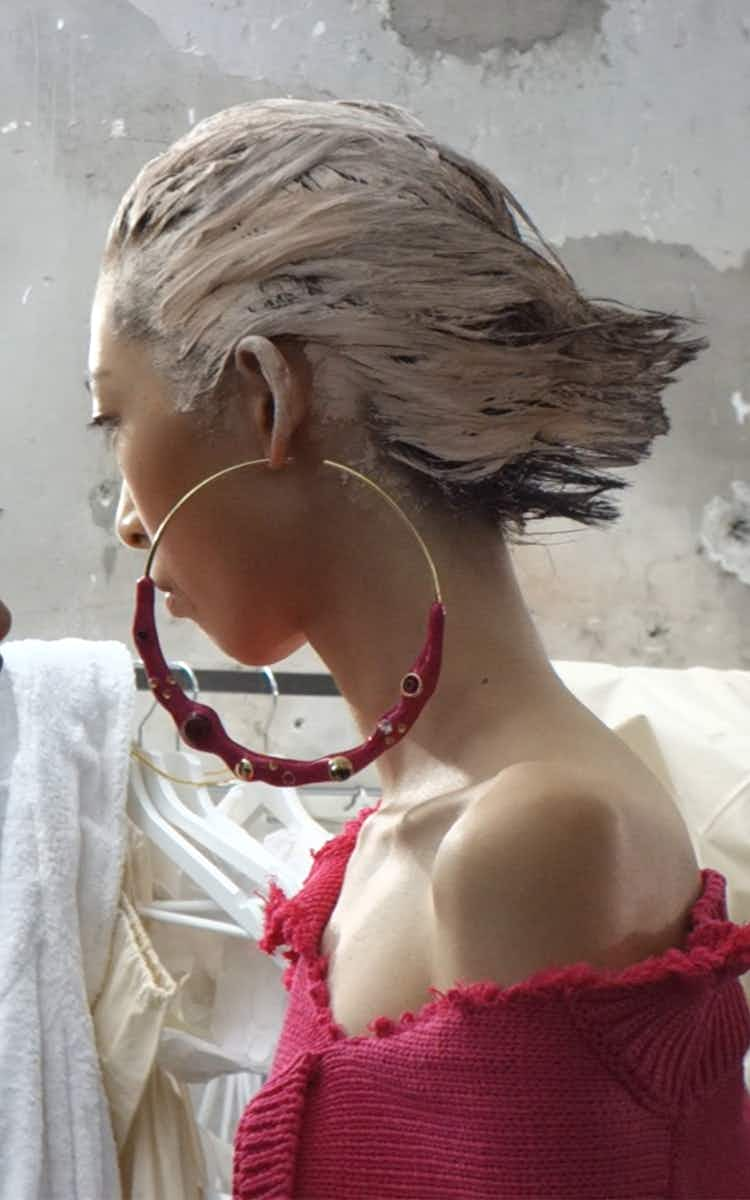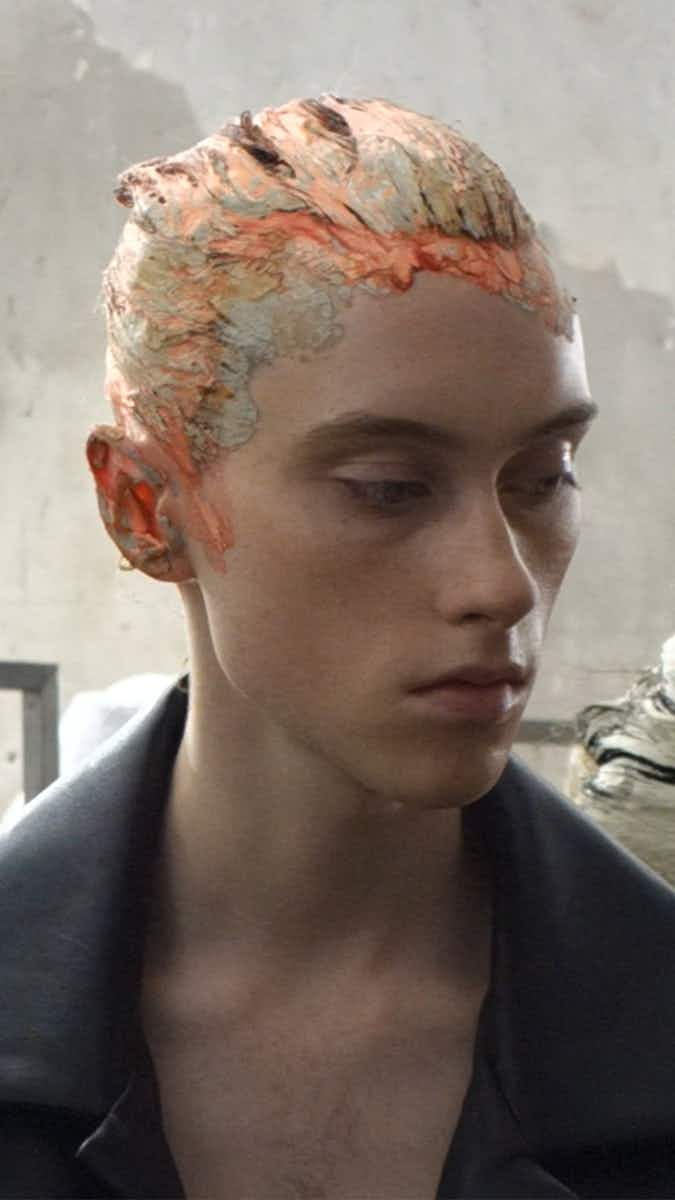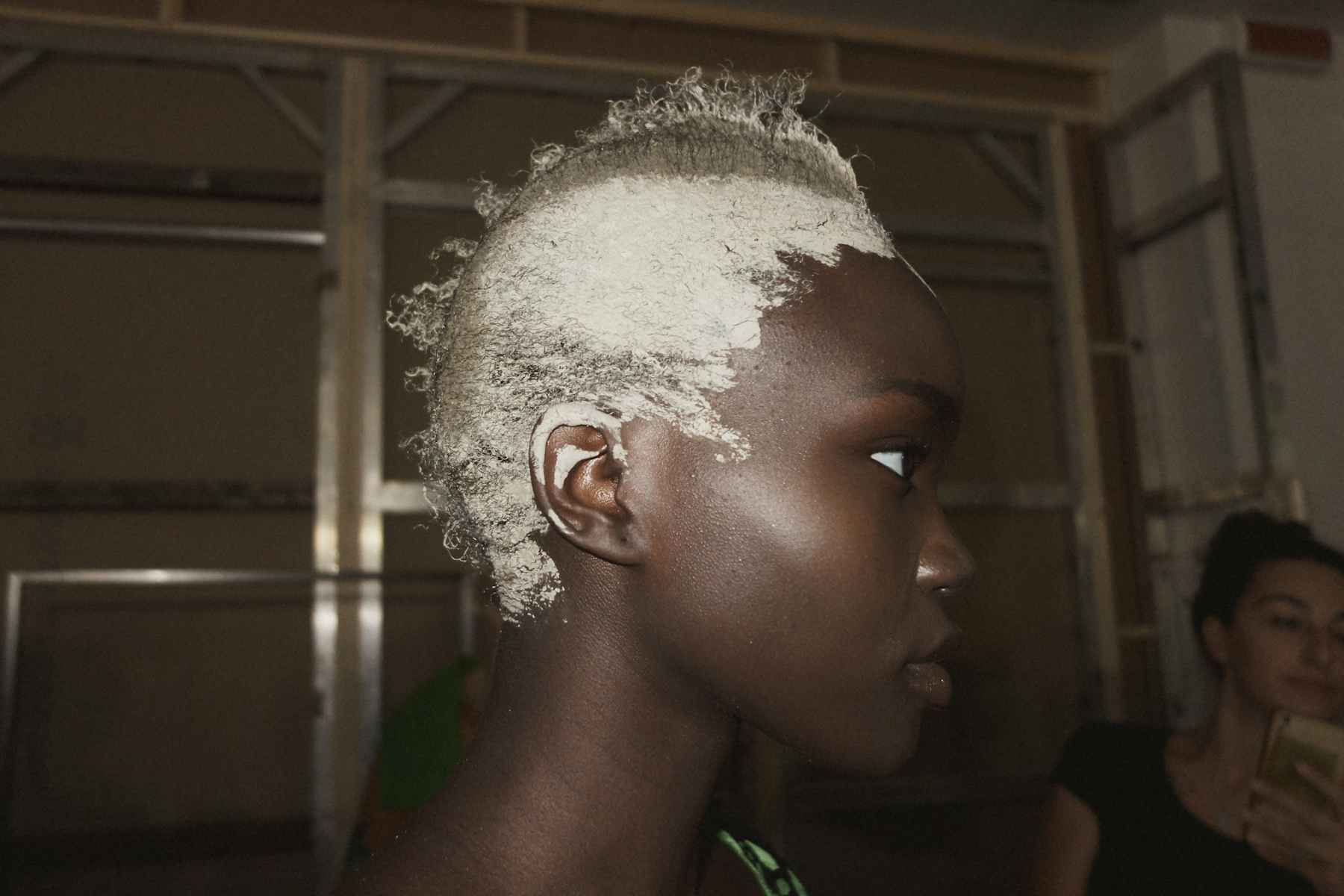 The catwalk is often a space where designers present visions that seem too wild for daily life and perhaps these gloopy explorations are no different. Outside of the rarefied air of scheduled presentations, however, we've seen a rise in people playing with the aesthetics of shock and disgust – an interruption in the superficial once-over we give to content, a visceral response to visual conformity. But given that fashion is always looking for a new boundary to cross in the quest for novelty, what better way to turn your back on aiming to be aspirational, by instead incorporating childish mess, ​"polluting" a hair do or a handbag with paste? Covering the typically beautiful in sludgy substances seems like an enthralling violation of the natural order of things. It's also very Dave Benson-Phillips in Get Your Own Back (rude to resist). Slime: get you an aesthetic that can do both.

More like this