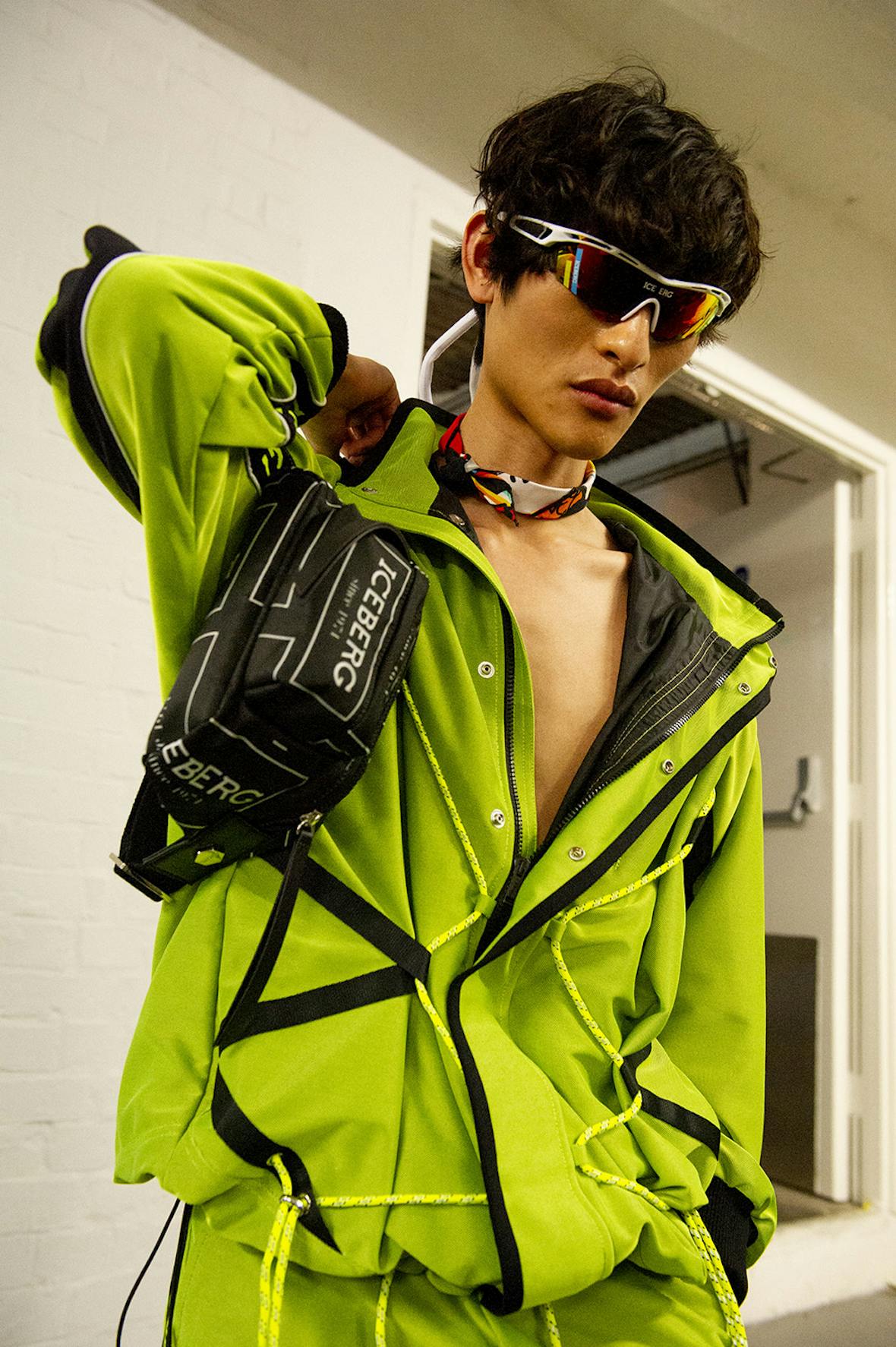 This sea­son, Iceberg's car­toon­ish play­ful­ness has a sex­i­er side
WHAT WAS THE VIBE?
Staged in a cav­ernous, white-washed hall in the heart of Shoreditch's Old Tru­man Brew­ery, the run­way was a long sheet of glossy, iri­des­cent black. It was just the tick­et to make sure the kalei­do­scope of acid colours run­ning through the lat­est col­lec­tion from James Long — the Brit-born design­er who serves as cre­ative direc­tor at the Ital­ian brand — shone as loud and proud as pos­si­ble. Mis­sion accomplished.
WHO DID THEY COL­LAB WITH?
This sea­son, Iceberg's world went pop: Long scored a (very) rare col­lab­o­ra­tion with the icon­ic British pop artist Peter Blake — he of the arrow tar­gets and rain­bows, and per­haps most famous­ly, the mas­ter­mind behind the art­work for The Bea­t­les' 1967 clas­sic Sgt. Pepper's Lone­ly Hearts Club Band. Some of Blake's most cel­e­brat­ed paint­ings and col­lages from the ​'60s and ​'70s came fil­tered through a very 2019 lens, print­ed across knitwear and den­im and styled with ban­dana neck­ties and Ice­berg-brand­ed belts.
WHAT DID IT SOUND LIKE?
A ref­er­ence to The Jam's mod clas­sic Going Under­ground in the show notes was a clue to where Long was going with the col­lec­tion: a cel­e­bra­tion of British sub­cul­tures past and present, all stuck in a blender then dialled up to the max to cre­ate head-spin­ning clash­es between punk and rave, mod and gab­ber. The sound­track reflect­ed this, begin­ning with a thump­ing hard house beat then segu­ing into some clas­sic punk rock — all com­ing togeth­er to cre­ate an atmos­phere of upbeat rebellion.
WHAT WERE THE CLOTHES LIKE?
Fol­low­ing the Peter Blake looks in the first sec­tion of the show, Long moved into more famil­iar Ice­berg ter­ri­to­ry. The brand's clas­sic over­sized sweaters and pop cul­ture-inspired prints (this time com­ing by way of Mick­ey Mouse and var­i­ous char­ac­ters from Looney Tunes) were present, although along with these more play­ful looks, there was some­thing a lit­tle sex­i­er going on too. The guys wore unzipped jack­ets with noth­ing under­neath, and the girls got body-hug­ging crop tops in neons for a lit­tle extra va va voom. It seems that Long is ready to give Iceberg's sig­na­ture youth­ful spir­it a more adult makeover.














---