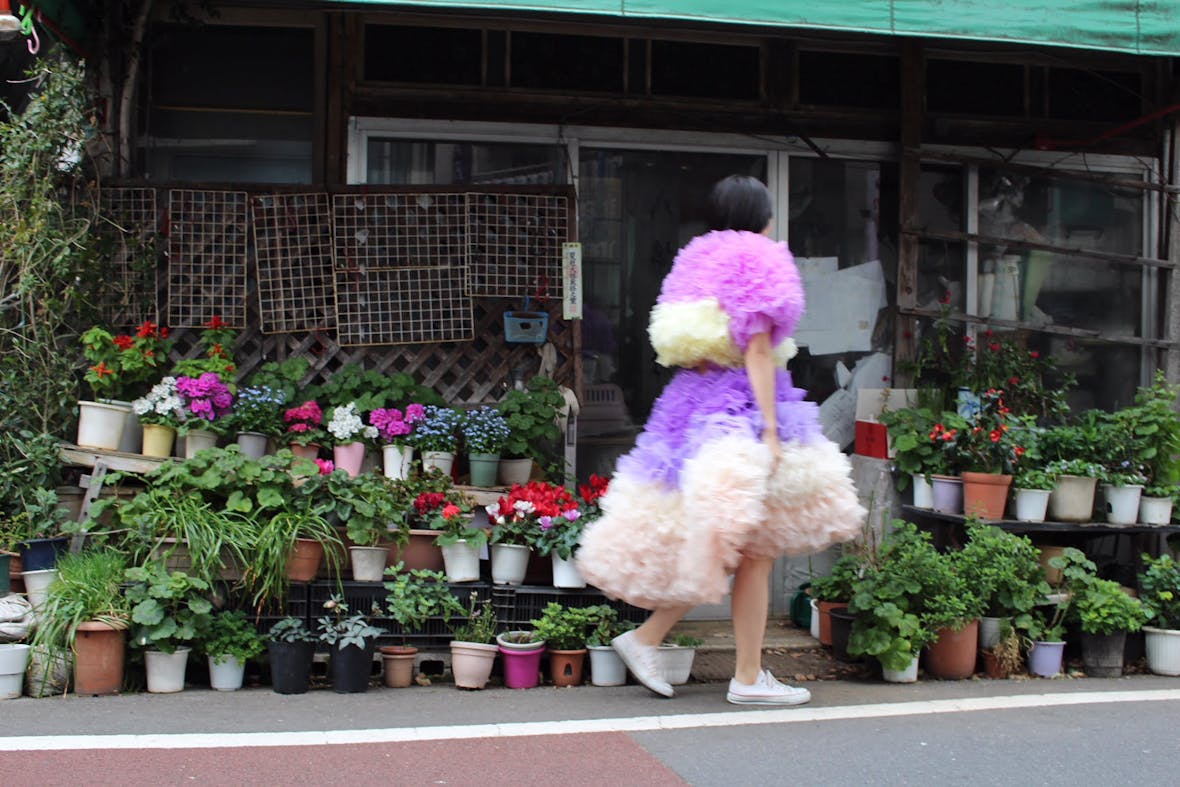 This is how a fash­ion show goes down in

2019
Tomo Koizu­mi is so thank­ful for his NYFW debut that he thinks of it as a ​"big gift." In short, it was a whirl­wind, an unex­pect­ed fash­ion week fix­ture that was noth­ing short of spec­tac­u­lar, despite the fact that Koizu­mi was only invit­ed to show his col­lec­tion three weeks before, with­out an offi­cial slot on the schedule.
Koizumi's debut was quite sim­ply aston­ish­ing, tak­ing place in the base­ment of Marc Jacobs' Madi­son Avenue store and fea­tur­ing 28 mod­els includ­ing Bel­la Hadid, Emi­ly Rata­jkows­ki, Gwen­do­line Christie, and Joan Smalls. The show went viral, crown­ing Koizu­mi the break­out star of AW19.
Whilst edi­tors were left won­der­ing whether they'd wit­nessed the peak per­for­mance of the sea­son with­in the first week (a rar­i­ty when con­sid­er­ing the usu­al NYFW line-up), Koizu­mi was left wide-eyed and thank­ful for the won­ders worked by styl­ist and edi­tor-in-chief of Love mag­a­zine, Katie Grand.
It all start­ed at 3am in Tokyo
Koizu­mi received a direct mes­sage on Insta­gram that read: ​"Lit­er­al­ly the best thing I've seen in years."
"I had been asleep and I hap­pened to check my Insta­gram, where I saw a mes­sage from Katie Grand," he explains. ​"I was so shocked I almost cried. We spoke and I felt so hap­py and encour­aged by her words, but super ner­vous at the same time."
Ini­tial­ly dis­cussing the idea of an exhi­bi­tion, with­in a mat­ter of min­utes, Grand and Koizu­mi moved on to the pos­si­bil­i­ty of Lon­don Fash­ion Week show, cook­ing up a con­cept in a quick­fire text chat. ​"Do you have 18 looks?" asked Grand, to which Koizu­mi replied, ​"Yes, I can bring them and I can include my archive."
Three weeks before, Grand got back in touch with Koizu­mi to con­firm that the show would be in New York, tak­ing place at Jacobs' store and she called in her mod­el army, Pat McGrath for the make-up, and Gui­do Palau to han­dle the hair.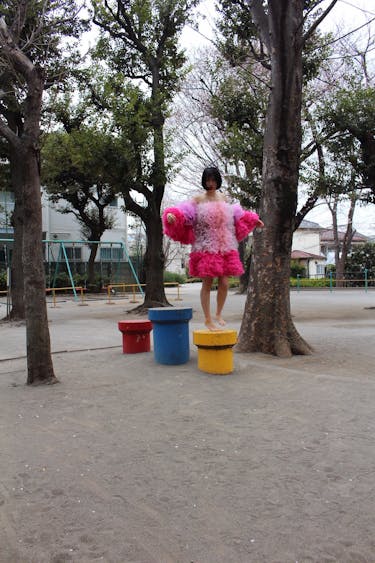 Koizumi's dress­es are from a dif­fer­ent world. ​"I grew up in the coun­try­side in Japan, in Chi­ba just next to Tokyo," he explains. ​"I have so many mem­o­ries of the colours I expe­ri­enced in nature as a child, and they've inspired my designs." Grow­ing up in a remote region, it was upon dis­cov­er­ing pho­tographs of John Galliano's Dior Haute Cou­ture Spring 2004 col­lec­tion at the age of 14, that Koizu­mi decid­ed he had no choice but to become a design­er. ​"It was a real­ly intense moment for me," he explains. ​"After that I start­ed teach­ing myself to make clothes. I didn't study fash­ion, but I was always into the fan­ta­sy of it."
Koizumi's psy­che­del­ic, super-ruf­fled dress­es are tes­ta­ment to this. Craft­ed from Japan­ese poly­ester organ­za – tak­ing colour cues from ​"abstract paint­ings and the colours of the sky", each avant-garde dress that Koizu­mi designs for his ​"mag­i­cal girl" is sole­ly his vision. He's a one-man show, cre­at­ing his own pat­terns and sewing his own sam­ples, always try­ing to evolve his sig­na­ture style.
When it comes to his next move, Koizu­mi is look­ing to take things slow. ​"I don't think I can have a big fash­ion show myself after that," he explains. ​"I'm so encour­aged by the show and every­thing that hap­pened after it, that I want to take some time to digest, while work­ing on some looks for the Met Gala too!"
---