Katie Roberts-Wood wears Roberts-Wood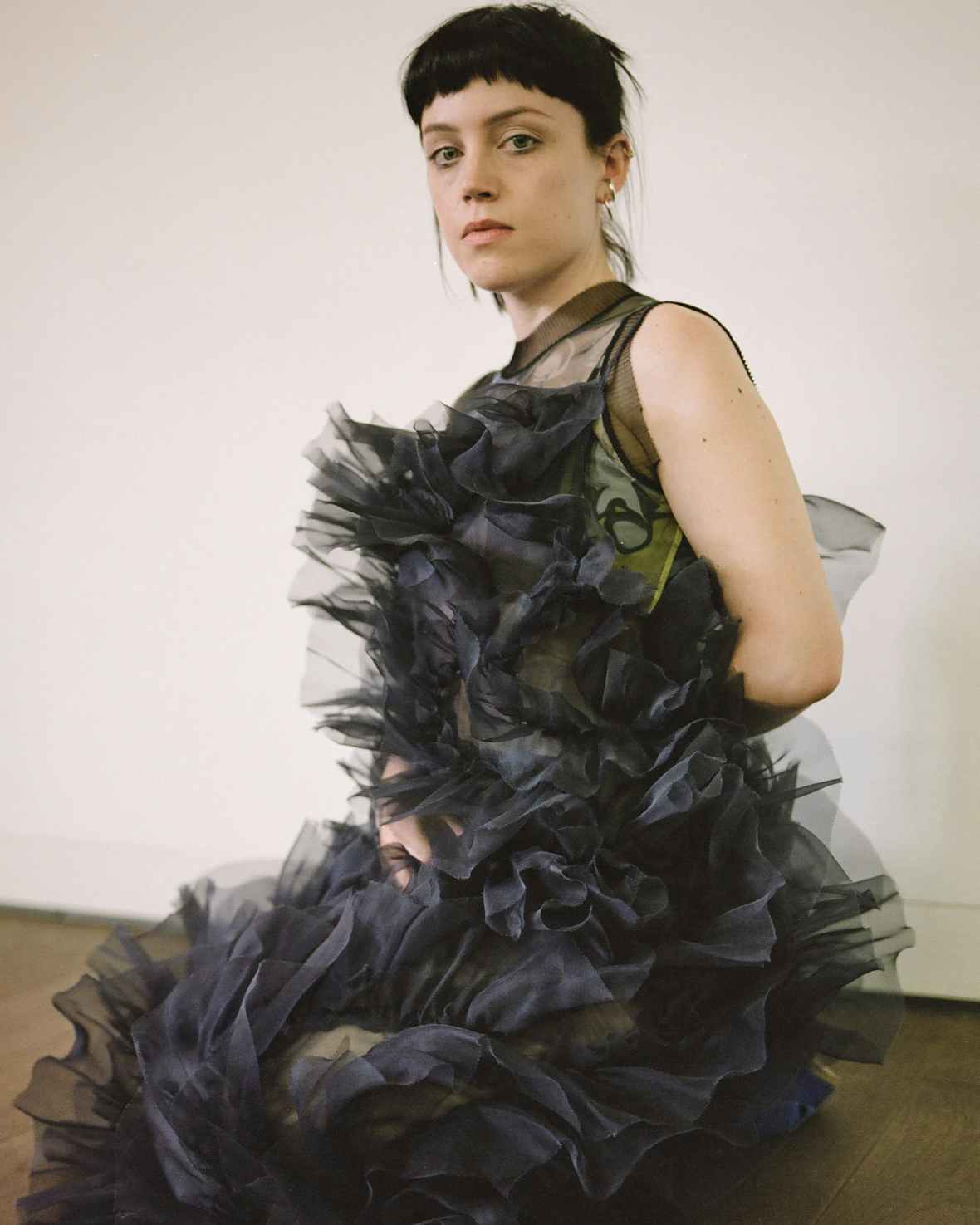 The Dover Street Market stocked designer meticulously crafts every single piece by hand without a stitch in sight.
"Everything happens for a reason," says Nottingham-born, London-based designer Katie Roberts-Wood who modestly describes her success as ​"part intention, part accident, part complete wild card." She's perched on a chair in her studio at East London's Lee Alexander McQueen Sarabande Foundation – at which she is a designer in residence – and is surrounded by intricate three-dimensional dresses, tops and coats. Featuring her ​"signature ruffles", they hang playfully from the ceiling in a palette that screams ​"gothic romance". ​"I don't regret the path that I took because I think it informs the very unique way that I work."
Katie's ​"path" was a medical degree – arguably not the most conventional route into fashion design (but who's judging?) – and the ​"unique" way in which she works makes for truly mesmerising designs; ones that have caught the attention of both Dover Street Market (where Roberts-Wood is now stocked) and Lauryn Hill (who wore one of her pieces to perform at this year's Glastonbury festival). ​"One of my first albums was by Lauryn Hill," says Katie. ​"I was super obsessed with her. My brother gave it to me. It was so surreal seeing her wearing it. She looked amazing, too."
It was upon graduating from Glasgow University ten years ago – and realising that medicine wasn't her true passion – that Katie made her first foray into fashion. Fuelled by an ​"obsession with creating and making" that she'd been nurturing since she was a nipper, Katie started buying and selling second hand materials from which she crafted upcycled accessories. Before long she signed herself up for a college course.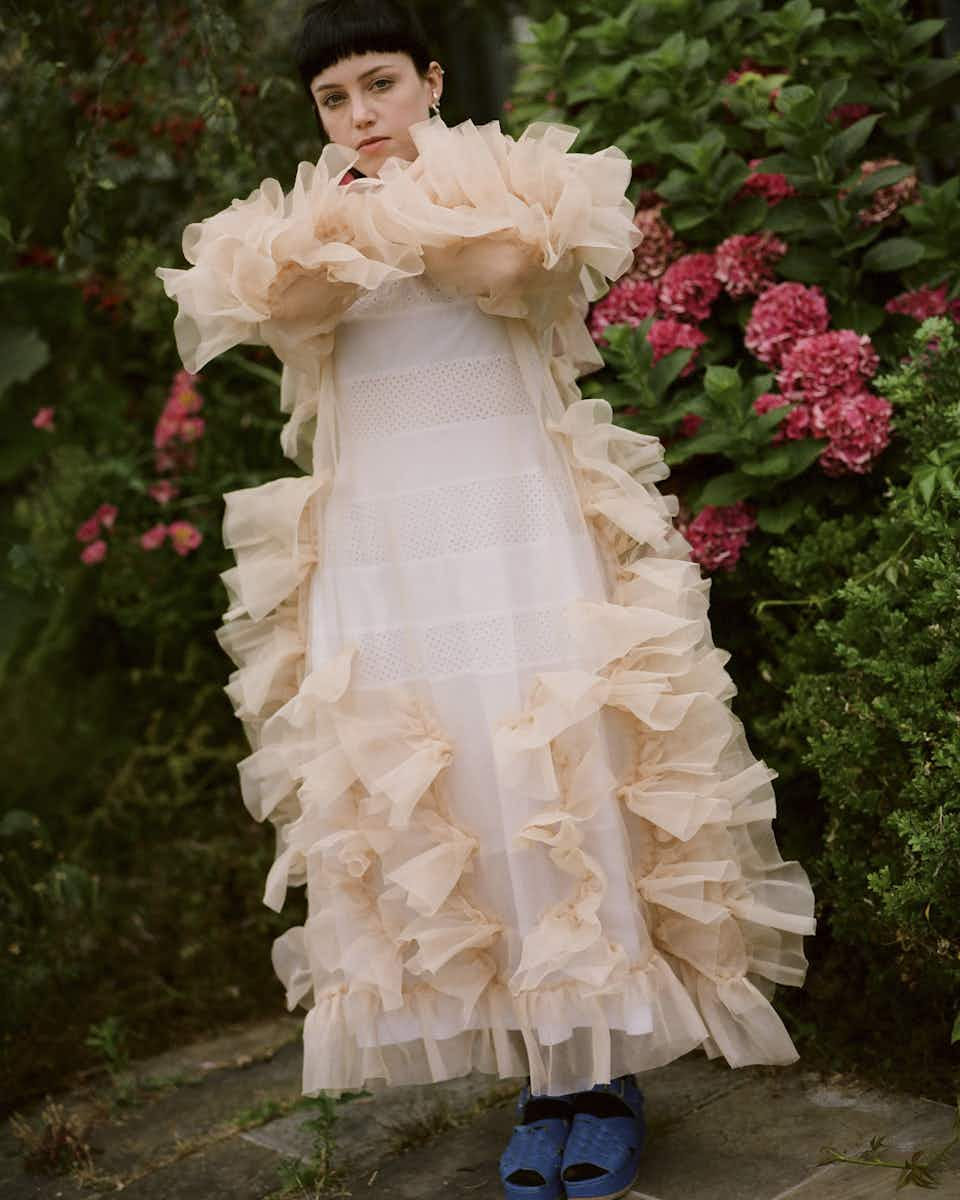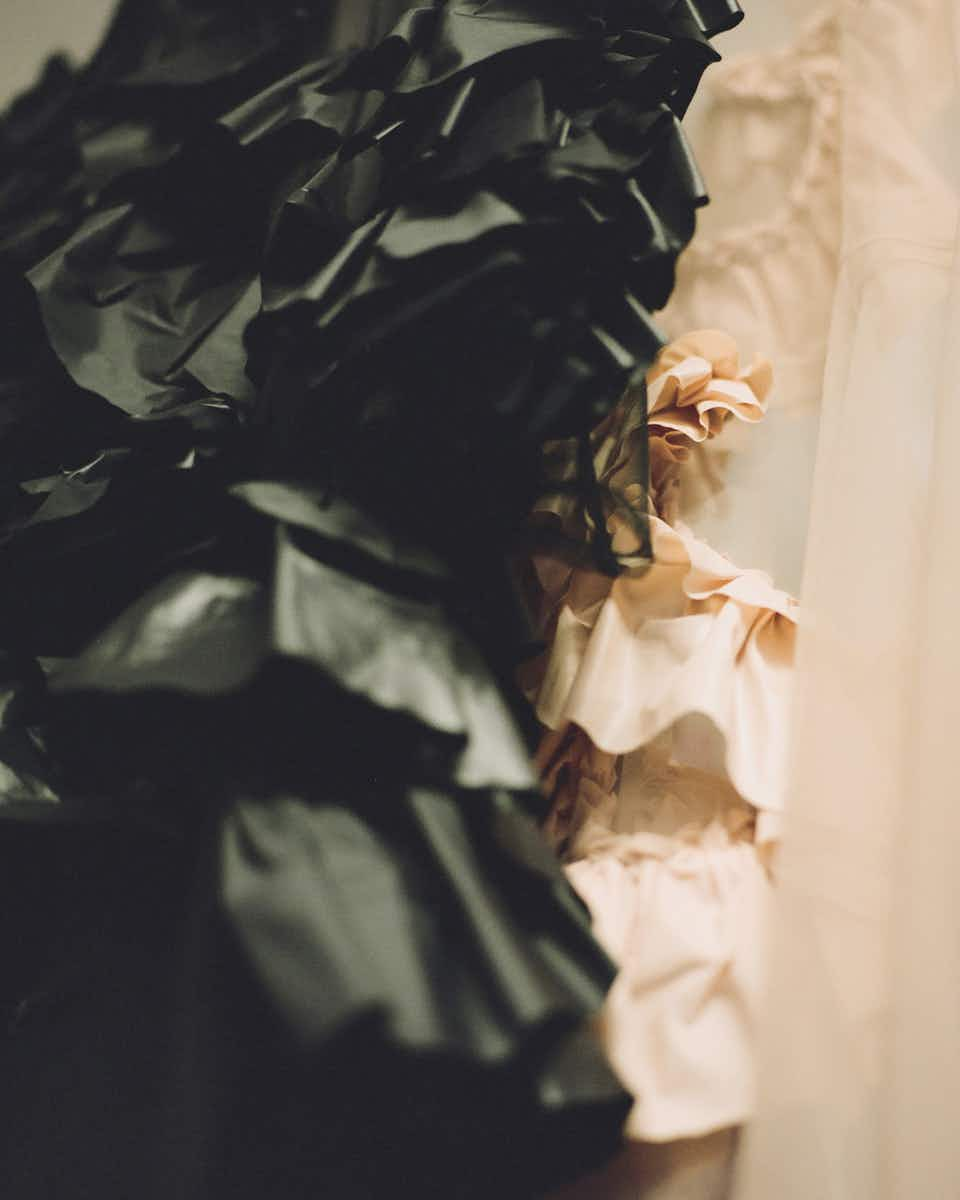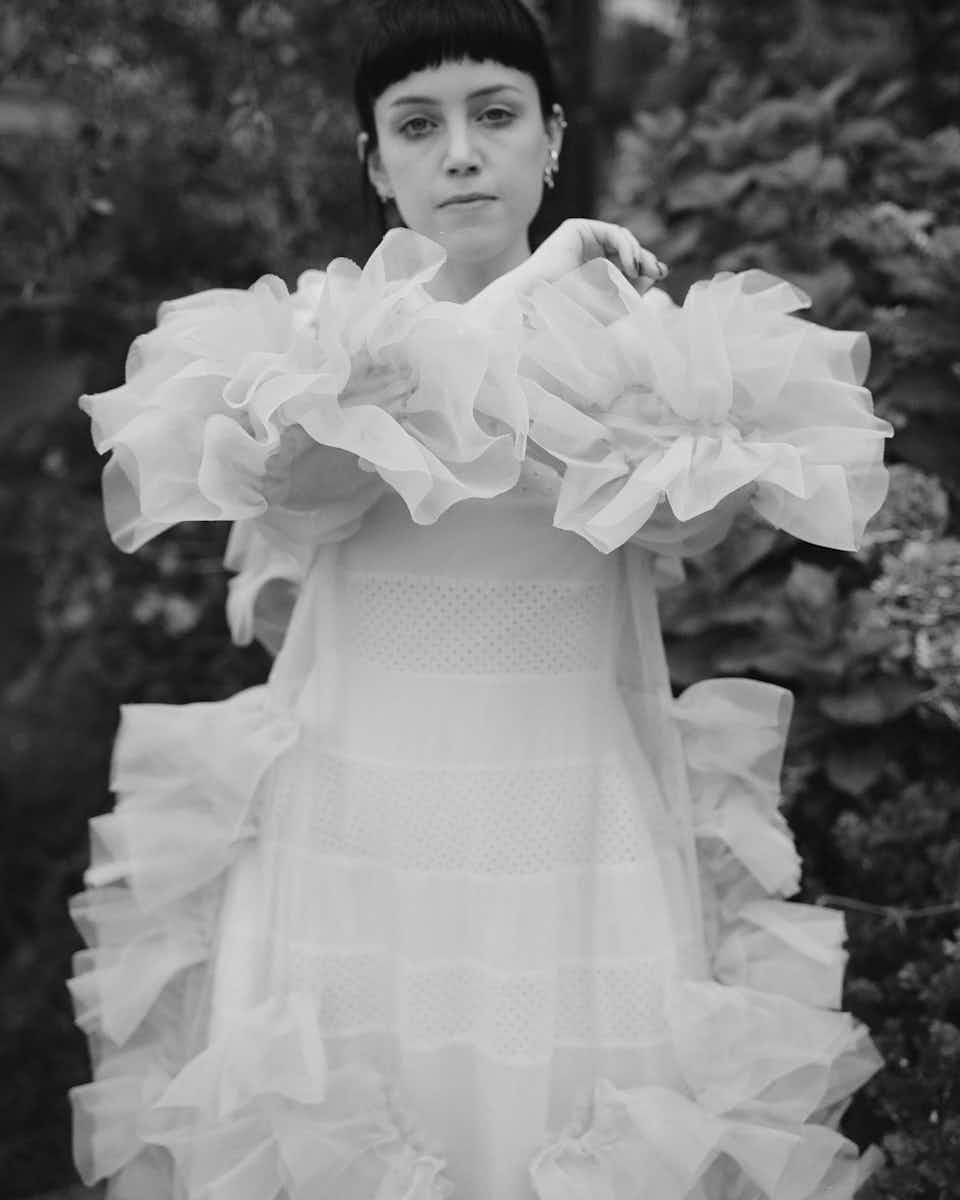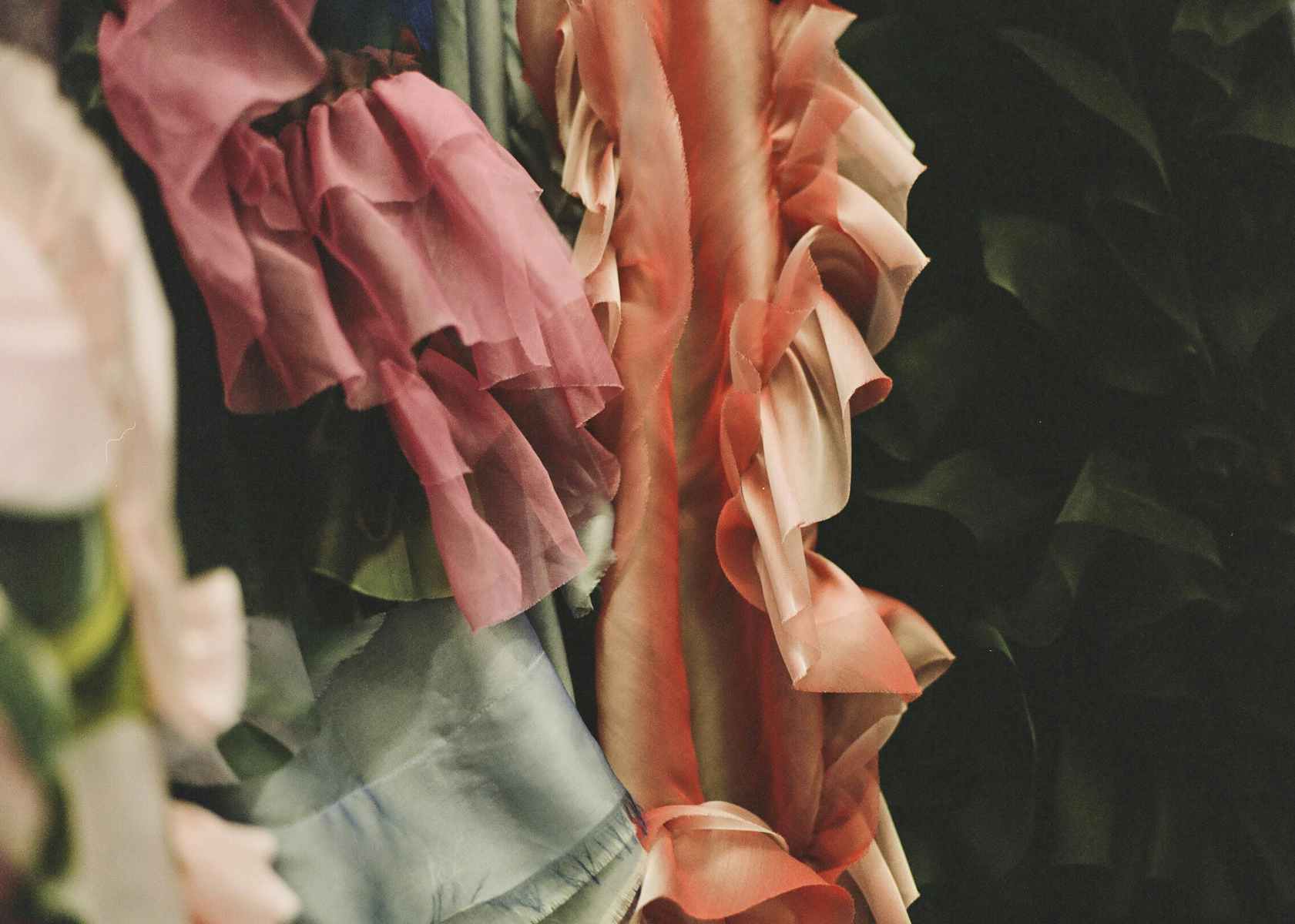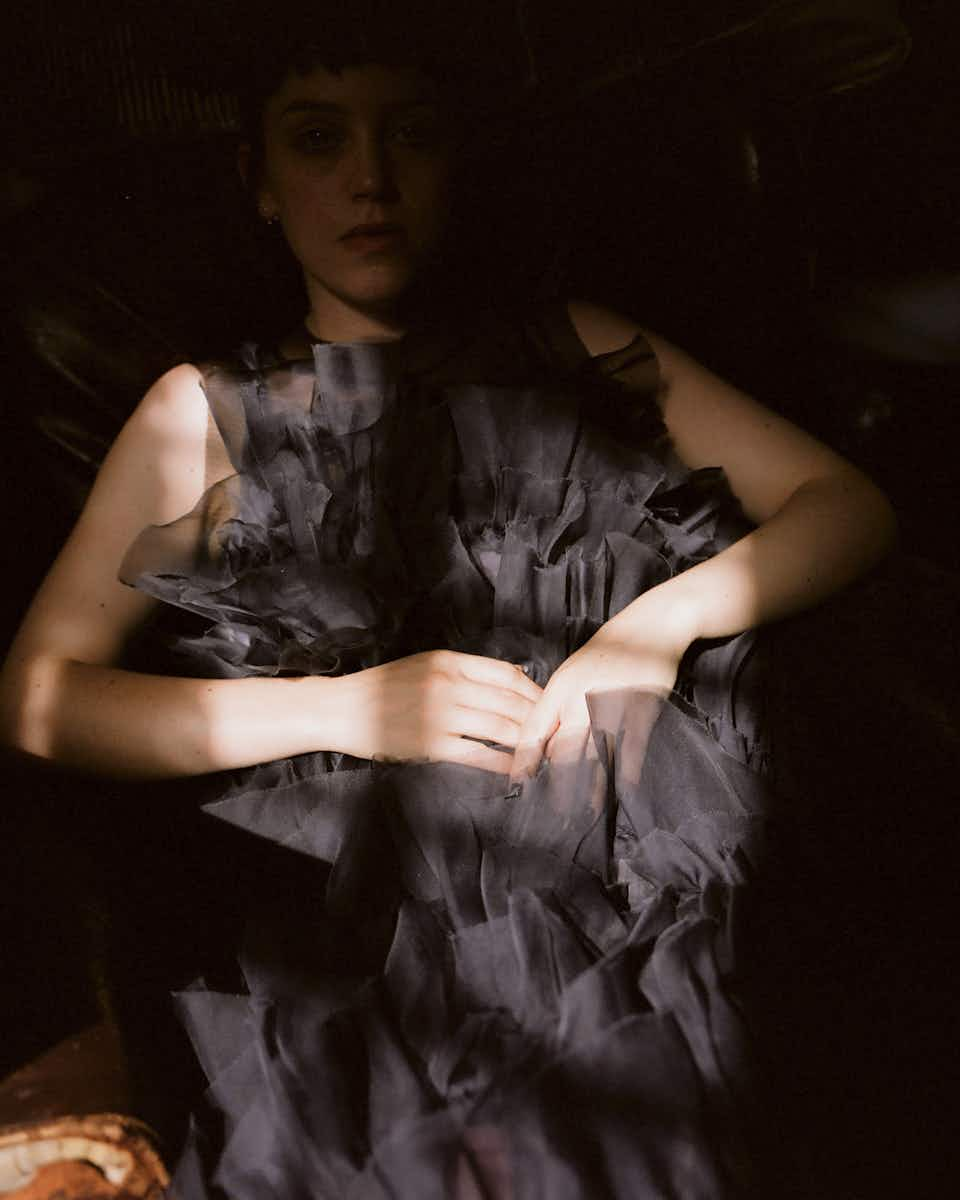 "I was very much self-taught," she explains. ​"One of my tutors suggested that I should apply for a masters in London. I'd never even heard of the Royal College of Art at that point, but I knew I didn't want to do another undergraduate degree. I thought it would be impossible to get in without a BA in fashion."
According to Katie, sending off her portfolio was a ​"complete stab in the dark". Unaware that a portfolio would typically consist of a series of A1 pages demonstrating one's design work, Katie's ​"portfolio" was a team effort that saw her family help pack a waist-high box full of ​"all this crazy stuff" that she had made over the Christmas holidays. ​"I have no idea what they thought when they opened it!," says Katie. ​"I didn't have a clue how this kind of thing worked, but I always maintained that it could be an advantage."
An advantage it was – Katie earned herself a spot on one of London's most prestigious fashion courses. But it was upon arriving – and realising that those around her had all undergone a formal fashion education – that she started to experience imposter syndrome. Katie did what she best knew how to do. Instead of succumbing to her internal struggles she ​"just started making stuff", and made that ​"stuff" up as she went along.
However, Katie did follow one rule. She tasked herself with what sounds like mission impossible: to create the entire collection without stitching a thing. ​"I felt that if I was going to do this, I wanted the outcome to be something completely new – not this rehashed style that so many other people have done."

Katie invented a whole new way of crafting clothes in the process, one that sees her assemble each striking sculptural piece by hand – or with any other tools necessary – without a stitch in sight. ​"This is the main technique that Roberts-Wood is known for, but more generally it's an obsession with textiles as construction, rather than just as decoration, and how the textiles used inform the structure of the garments," says Katie, who's most recent pieces have been inspired by the psychology of a whole group of organisms – like a flock of birds – moving as one thing.
Katie's first collection after graduating – an all-white offering crafted from one type of cotton organdy fabric, featuring zero stitches – was picked up by Dover Street Market for their London, New York, and Tokyo stores. ​"Suddenly you have a brand, you're selling pieces and you've got to make them at speed," says Katie.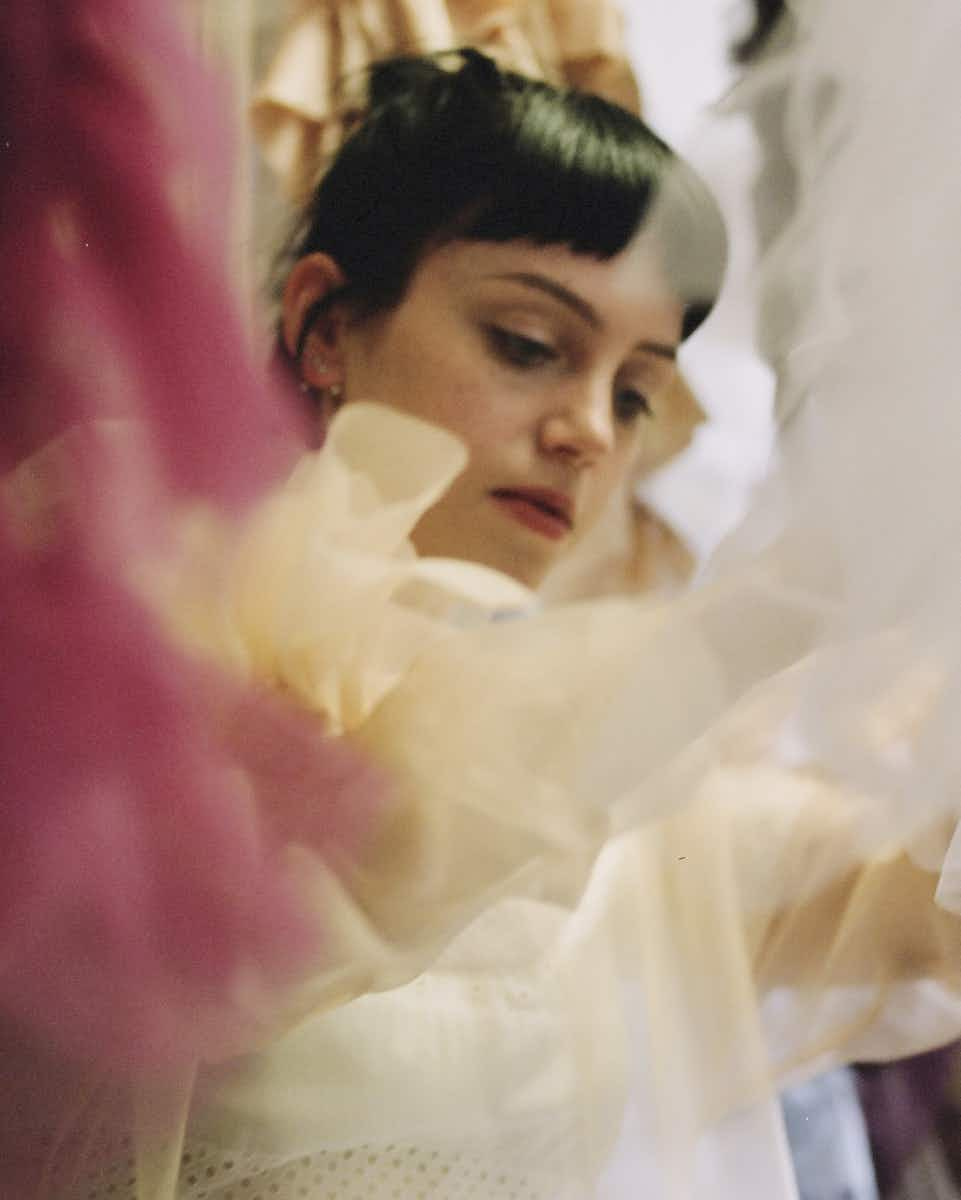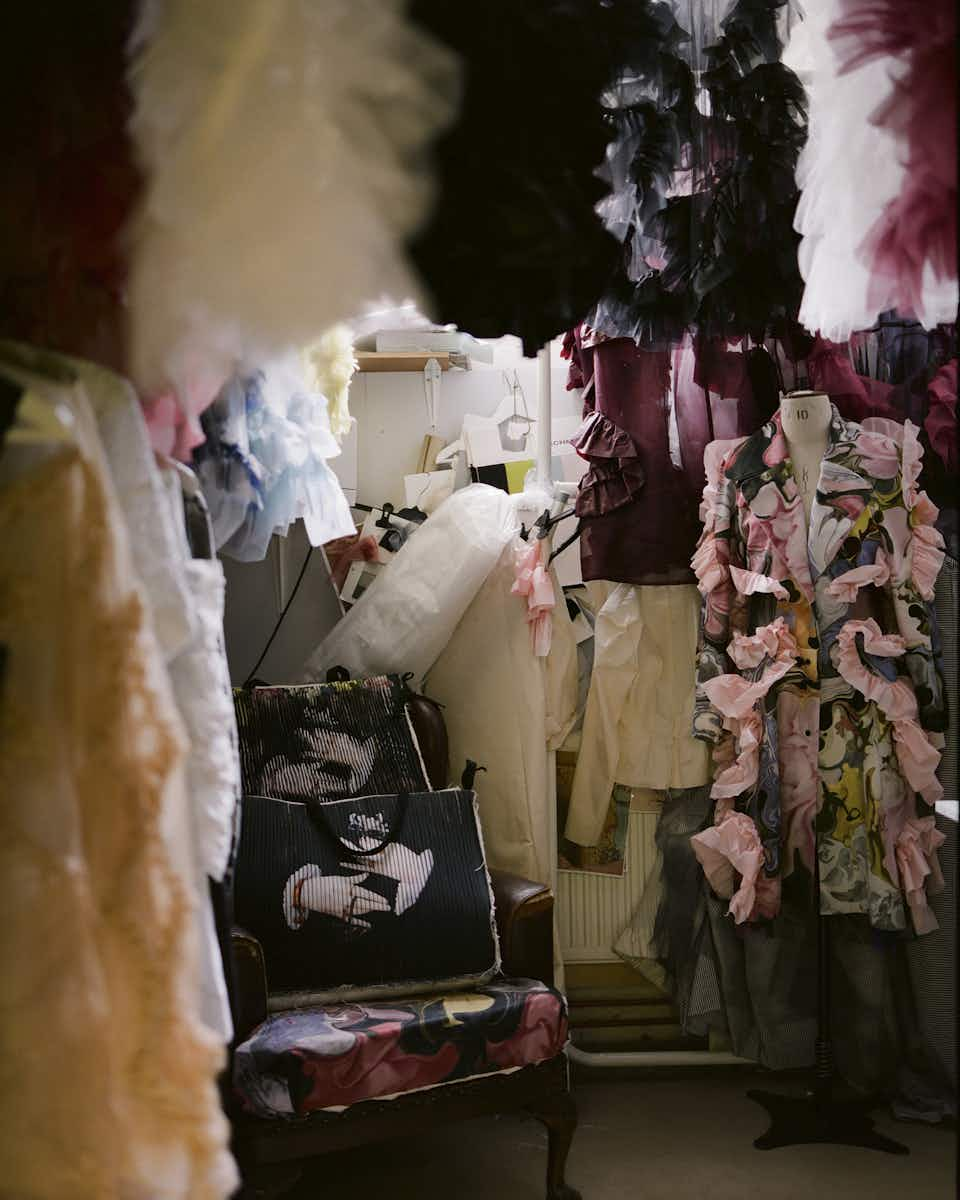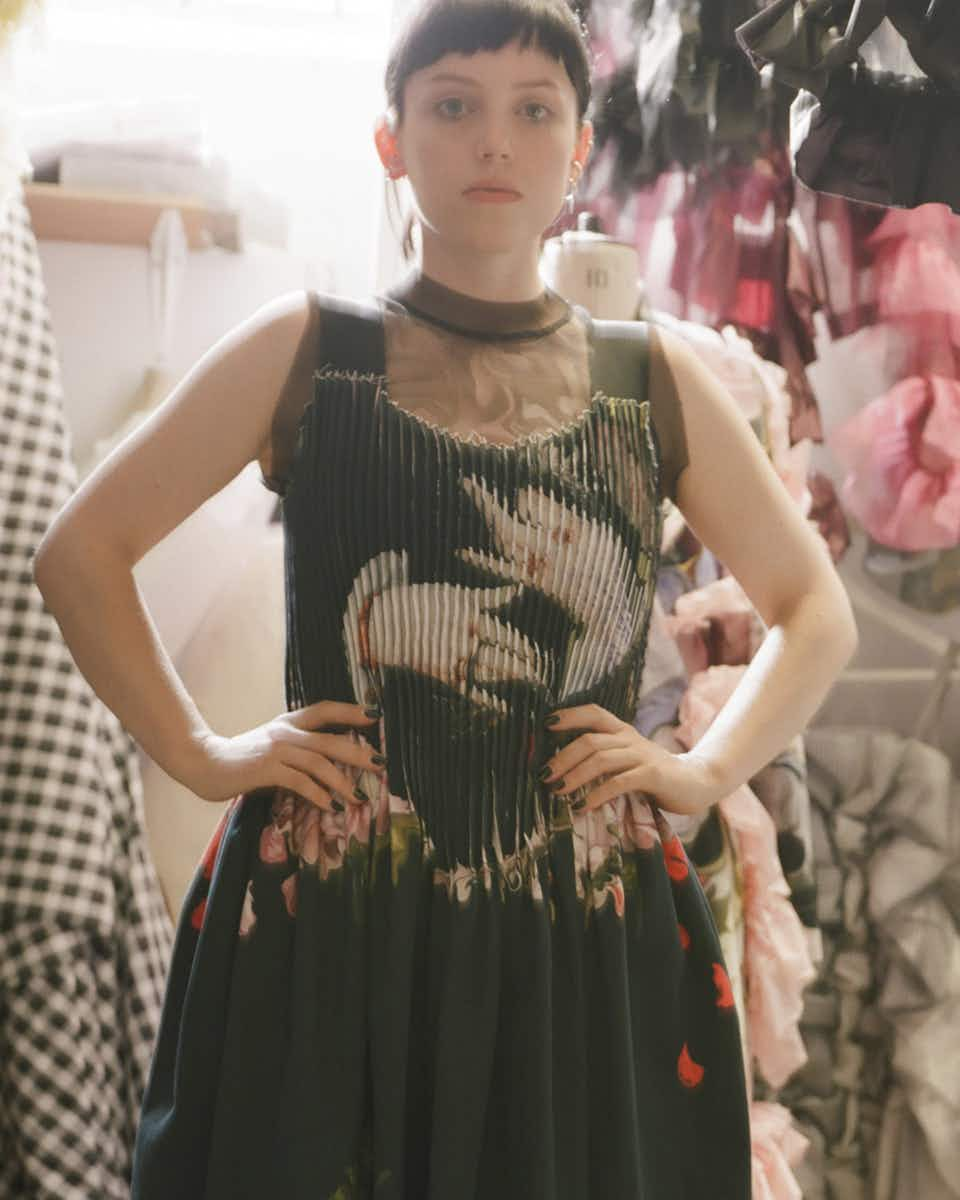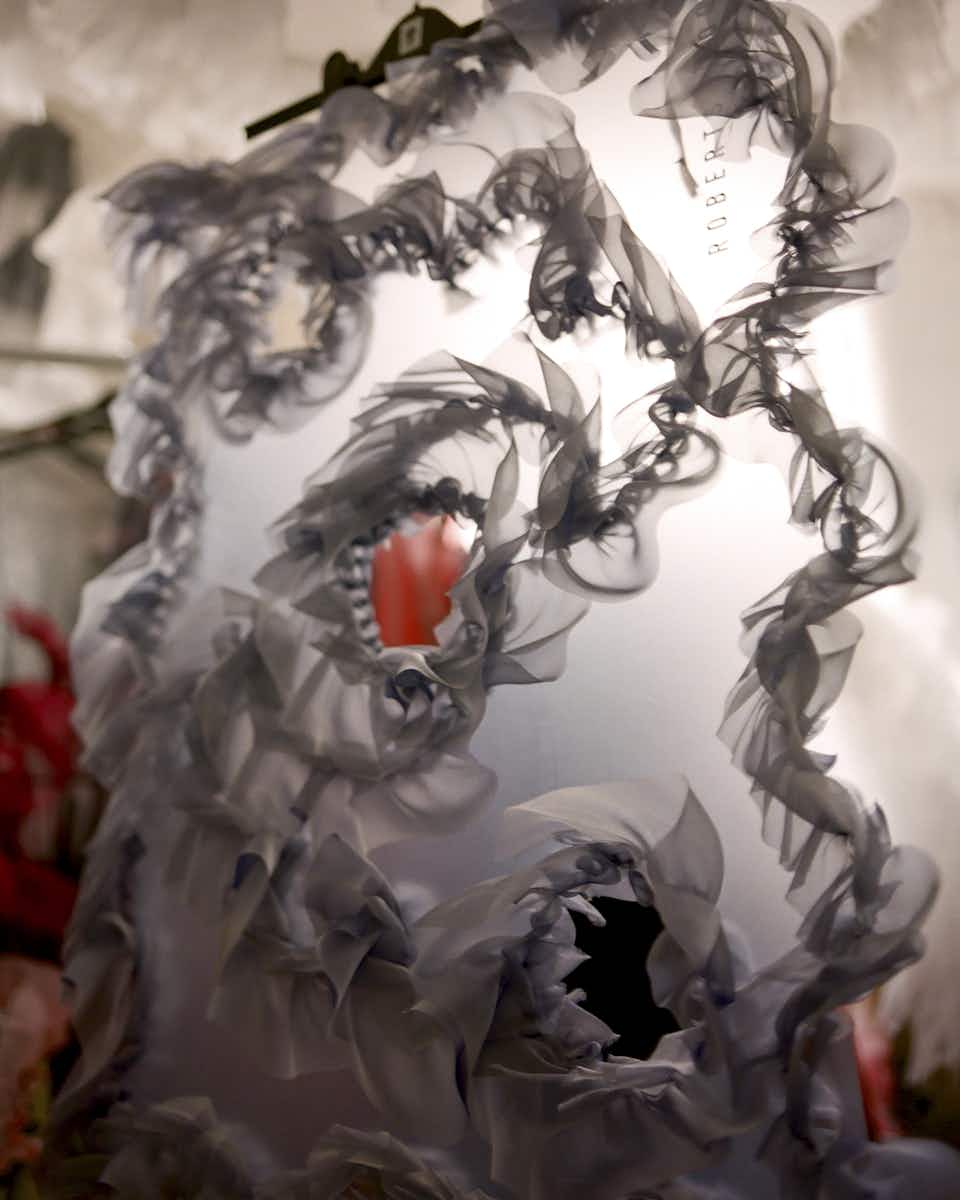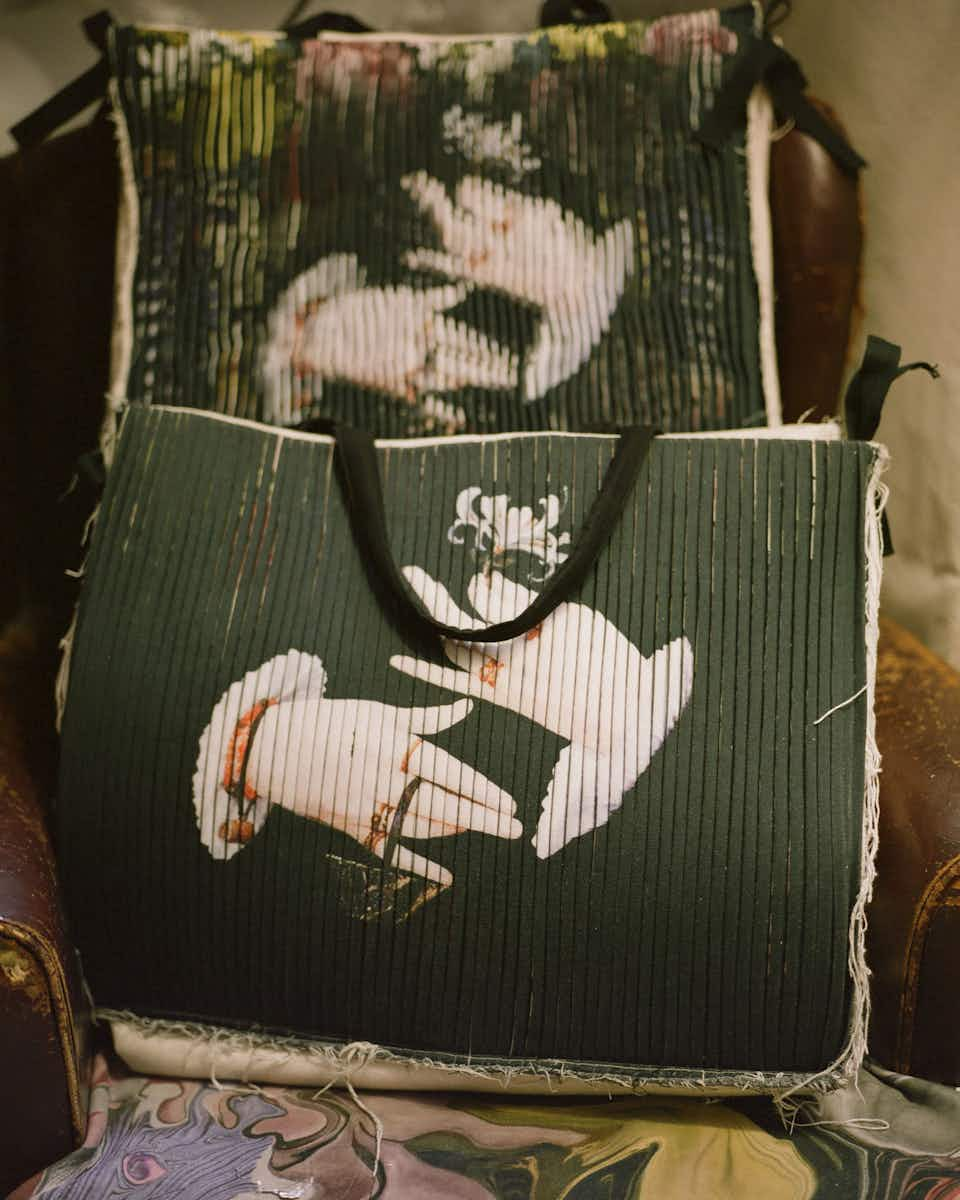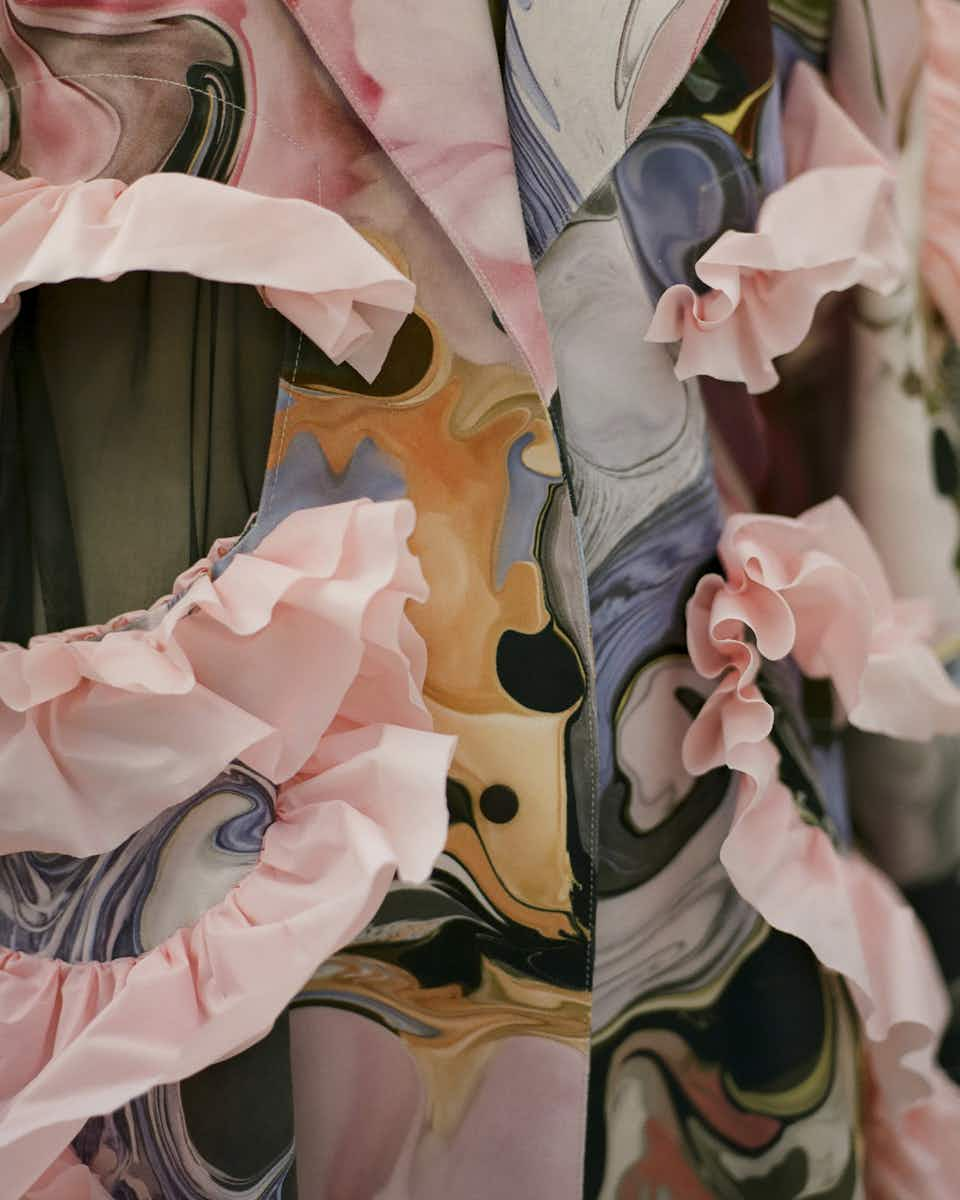 And when one piece can take anything from several hours to several weeks to create, making en masse is no easy feat. Katie has now taught two other people her technique so that she's able to accommodate orders. ​"They have to be people who enjoy doing it, because it's a repetitive thing. You also need to trust that they're not going to sell your ideas to other brands," she explains. ​"It's hard when a lot of the value that you have as a tiny brand is the ideas that you come up with, which could get completely stolen by someone else and there would really be nothing you could do."

Despite having to meet the orders sent in by her stockists, Katie is interested in designing on demand and is constantly striving to ensure that Roberts-Wood is a sustainable brand. She sources silks from Italy and linens from the UK and Ireland and once she finds a good quality fabric she uses it over and over again. ​"The idea is to build textiles from them. We're not looking at people who already make really fancy, luxury fabrics because that's part of the value we're adding to it. We use similar fabrics season on season and do something completely different with them. We keep all the waste and try and turn it into stuff. At the moment we're developing some textiles that are based on our own waste. Considering that I started my whole journey from upcycling, it's something I'm very conscious about."

Roberts-Wood is in its fourth year, but Katie only started wearing her own designs 12 months ago. Now, she wears them ​"pretty much everyday". ​"So this is all me," she laughs gesturing from her shoulders to her toes.
"I think the reason it took me so long to wear [Roberts-Wood] was partly a confidence thing. In fashion school you get told that you shouldn't be making stuff… you know, for yourself. That you're not the customer. But I am the brand. The ideas are inside my head, so I should want to wear the stuff! You also can't evaluate how good of a design you've made if you don't wear it. You don't know how it feels, and you don't know that it's not going to fall apart! So, last year I made a bit of a commitment to myself, to just wear it. I just can't believe it took me that long!"


More like this