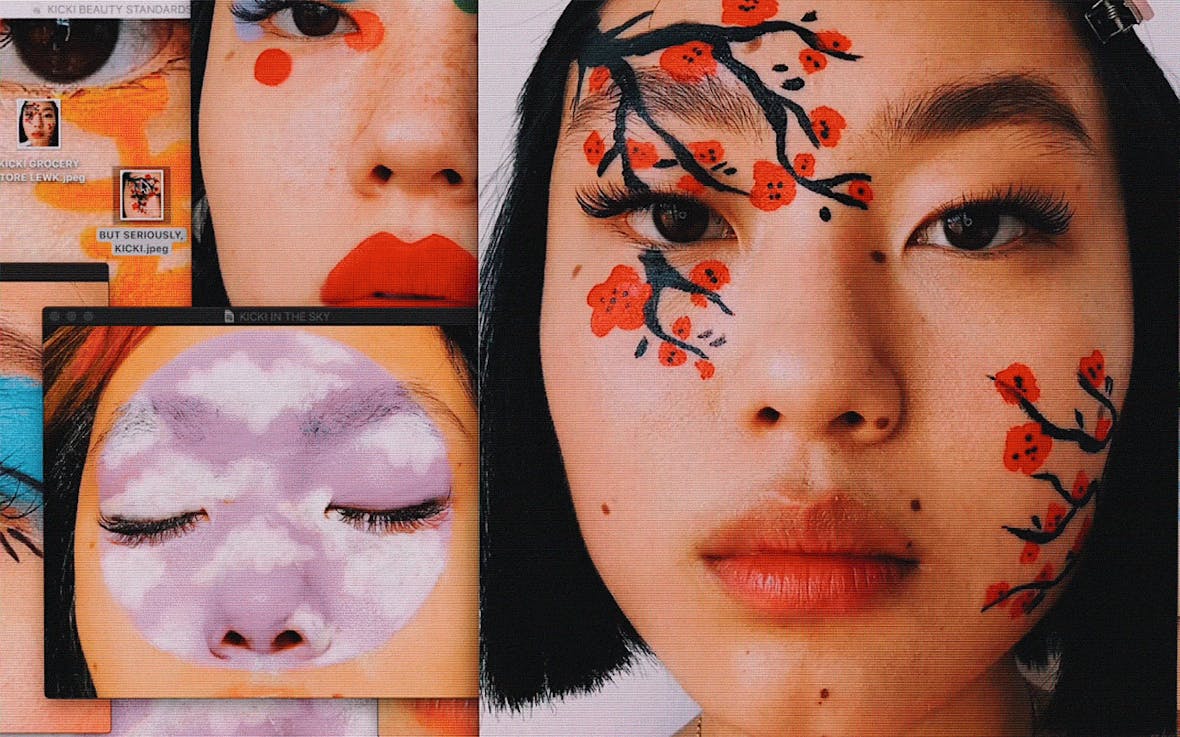 Kic­ki Yang Zhang's make-up mas­ter­piece in motion
Kic­ki Yang Zhang is rep­re­sen­ta­tive of the new age of mul­ti-hyphen­ate cre­atives using their dig­i­tal know-how to ampli­fy their artis­tic prowess. The Chi­nese born, Berlin-raised artist has gar­nered the atten­tion of 200k fol­low­ers, who look to her Insta­gram (@kickiyangz) for exper­i­men­tal make-up looks (and impec­ca­bly put togeth­er out­fits – all of which adhere to a chang­ing colour gra­di­ent that is present across her feed). The Face's Asia cre­ative-direc­tor-at-large, Mar­garet Zhang, caught up over a video chat to dis­cuss their shared affini­ties. Name­ly: explor­ing their her­itage through art, the ways in which social media has democ­ra­tised beau­ty stan­dards, and using dig­i­tal plat­forms as a force for good – all while Zhang fash­ioned up a beau­ty look inspired by Chi­nese guóhuà paintings.

Mar­garet Zhang: Hey Kic­ki, what's your first make-up look?
Kic­ki Yang Zhang: This look is inspired by Chi­nese guóhuà paint­ings. I live in Ger­many – and Ger­mans love Car­ni­val – and at Car­ni­val they have all kinds of clown paint­ings for your face. It's a thing here, espe­cial­ly in West Ger­many where I grew up.
Which came first: paint­ing or make-up?

Def­i­nite­ly paint­ing. I start­ed paint­ing when I was real­ly lit­tle because my mom was always super into it, she does land­scape painting.
Chi­nese land­scape painting?
Not real­ly Chi­nese, she does acrylics, and it's not real­ly in Chi­nese style but it's always some­thing she real­ly enjoyed. I feel like when she went to uni she just want­ed to study art. But when you grow up in a Chi­nese cul­tur­al evo­lu­tion, it's not real­ly some­thing you can approach, which is real­ly sad. But yeah she gave it up. Instead she did elec­tri­cal engineering.
My dad is a mechan­i­cal engi­neer. Isn't that funny?
Oh real­ly. I feel like for our par­ents gen­er­a­tion in Chi­na, the math and engi­neer­ing route was the way to go. My my dad did com­put­er sci­ence. He thought it sound­ed real­ly mod­ern. When you would go to buy food in uni­ver­si­ty, you had to use tick­ets, so when my mum joined this uni­ver­si­ty in West Ger­many she didn't know how to do that, so ad my dad came up to her and helped her.
Cute. I know that my par­ents don't ful­ly under­stand what it is that I do. They were nev­er opposed to it, but they always kind of saw my cre­ative route as a phase. Do you ever get that from your fam­i­ly at all?
Oh yeah sure. When I want­ed to move to Berlin I dropped out of uni­ver­si­ty and my par­ents were still super sup­port­ive because they know that I'm in a dif­fer­ent place and dif­fer­ent time. They said, ​"you're over 18", You have to make your own deci­sions so make sure you don't regret any­thing. Last year I was in a big cam­paign, in stores in Shang­hai. I was with my par­ents and we went in the store and my face was every­where… my dad was real­ly proud because that was some­thing phys­i­cal he could see! That as a real­ly cool moment. He actu­al­ly went up to the to the peo­ple who work there and was like, ​"Hey that's my daughter!".

Do you have a com­mu­ni­ty of friends or like mind­ed artists around you in Berlin that share your cre­ative inter­ests? Or do you ride solo?

So I moved here two years ago and I have a real­ly amaz­ing group of friends in Berlin. Like every­one that I'm involved with is doing some­thing cre­ative whether they're a styl­ist or a musician.

So where did you grow up?
When I was a kid I was in Shang­hai for five years and I used to be a Chi­nese cit­i­zen, which is some­thing that a lot of peo­ple don't know. Then in 2000, my par­ents decid­ed to ful­ly immi­grate to Ger­many. All the oth­er kids spoke Ger­man and I could only speak Chi­nese and it was, yeah, real­ly weird. But's the sick thing about kids, like they kind of know what you mean anyway.
And do you feel like being in Ger­many has influ­enced what you do now? For exam­ple, I love it when you do Chi­nese char­ac­ters on your face…
I'm real­ly thank­ful for my mom because she always want­ed my sis­ter and I to still have a very strong con­nec­tion to Chi­na and so she would teach us Chi­nese, Chi­nese writ­ing, and about Chi­nese cul­ture every­day after school. The weird thing is when I'm in Ger­many peo­ple see me as a Chi­nese immi­grant. They see me as a Chi­nese per­son rather than as a Ger­man per­son. But when­ev­er I'm in Chi­na they can tell I grew up some­where else.

I have the exact same.
At one point in my life I had this iden­ti­ty cri­sis where I didn't know where I real­ly belonged. There wasn't a place on this earth that I felt rep­re­sent­ed me. Then I realised it's total­ly fine. It's like the world is my home and I make things my home. Home is not real­ly a phys­i­cal place, it's like home is a feeling.
Explor­ing my iden­ti­ty through cre­ativ­i­ty has real­ly allowed me to rec­on­cile that cri­sis, and to be okay with being a glob­al citizen…
Oh def­i­nite­ly. When­ev­er I paint it's like I can express the con­flict inside me on a piece of paper. Maybe I'm draw­ing some­thing which seems west­ern, maybe when I draw a per­son it's about how they dress. But I always have these, you know Asian or Chi­nese ele­ments in there. My paint­ings don't have to be one thing.
Is that why you start­ed paint­ing on your face?
I realised my face can be a can­vas too. Why lim­it your­self to to paper? I thought make-up was real­ly fun. It's some­thing you can wear out­side. I can't car­ry my draw­ings out­side! So it's some­thing that you can present to oth­er peo­ple. My favourite thing to use to paint my face is liq­uid lip­sticks because they are high­ly pigmented.
How do you feel about the land­scape of beau­ty stan­dards right now? The inter­net has real­ly opened up the way that dif­fer­ent cul­tures see and under­stand beauty…
I have mono-lids, right. So from when I was real­ly small, igno­rant peo­ple in my fam­i­ly start­ed telling me, ​"When you're old­er you should get the dou­ble eye­lid surgery". It's real­ly pop­u­lar. I know it's one of the most com­mon surg­eries that you can get. At the begin­ning I was agree­ing, think­ing I would get the dou­ble eye­lid surgery when I was 18! Now that I'm old­er I think it's real­ly sad that that's this belief in Asia – that the beau­ty stan­dards leant towards the dou­ble eye­lid and the small noses that would make us look more Western.

Do you think it's to look West­ern? Some­times I feel like it's almost to look unreal.…
Yeah like more like a doll, you know?
Yeah, I used to think that it was about obtain­ing what you couldn't have. I thought it was to do with colo­nial­ism in Asia, clas­sism – I think you and I are quite tanned com­pared to the gen­er­al pop­u­la­tion of white that young Asian peo­ple want to be. But I think now in our gen­er­a­tion it feels more com­pli­cat­ed, no? There are so many dif­fer­ent influ­ences, whether it's plas­tic surgery or make-up, or this Face­Tuned ver­sion of ourselves…
I don't real­ly fol­low these trends myself because at some point every­one looks kind of the same to me. What I try to teach peo­ple in a way, over social media, is just to exper­i­ment and real­ly try to be the most truth­ful that you can be to your­self instead of just fol­low­ing a cer­tain trend.
I feel like it's every­where too… mass mar­ket­ing. Peo­ple are trained to see things through a fil­tered bub­ble of what Google wants them to see, or you know, what their com­mu­ni­ty, or friends want them to look like. How do you feel that the democ­ra­ti­sa­tion of that infor­ma­tion and the Inter­net has shaped the way in which you're able to com­mu­ni­cate with your audience?
I've met so many amaz­ing peo­ple all over the plan­et because of the Inter­net, so I'm thank­ful for my plat­form. I think what's amaz­ing about it is that you don't need to rely on anoth­er per­son to grow and to build your com­mu­ni­ty, it's just on you. So from day one it was just me. Back then I was an emo kid – I used to out on out­fits and make-up and take pic­tures for fun and I still feel like this is what I'm doing. I'm still the Emo kid from back then. I realised a lot of Asian girls are fol­low­ing me and then I got why, because Asian girls are not real­ly rep­re­sent­ed that well in main­stream media. Peo­ple go on social media to find inspi­ra­tion instead. No one should live out­side of beau­ty stan­dards. When I was mod­el­ling I learnt that a lot of make-up artists they didn't real­ly know how to put make­up on my face because I don't have eye creas­es. They gave me the weird­est make­up. I was lit­er­al­ly look­ing like a drag queen cause you know they tried to cre­ate a crease where there wasn't one. I tried to teach them. Some of them are real­ly nice and they real­ly want­ed to learn how to do it. But then I had expe­ri­ences on the oth­er hand where they were kin­da mad at me. It was like I was telling them that they were doing their jobs wrong. I was like, ​"No that's not what I mean," it's just that Asian eyes are different.

You cre­at­ed this look so quick­ly – I'm impressed. Nev­er take it off it's so beautiful.
That's why I take pic­tures of it as I know it's going to be gone in a day!

---