Kieran Tierney on adidas, the Euros and the best (and worst) dressed footballers

To celebrate adidas' latest Spezial collection, we tackled Arsenal's ace defender on all sorts. And no, we didn't stick the boot in.

If you were looking to get your mitts on adidas' new Spezial collection on the day of release then, um, tough luck. It sold out.
Thankfully a restock is now available on the adidas Confirmed App. We say thankfully because the German brand interpreted tropes old and new in a properly stellar collection. Saluting its mighty terrace heritage, it reinterpreted military styles in a bumper six footwear designs and five silhouettes.


In case you missed it: adidas had their fans cheering with last month's Moscrop SPZL, a totally reworked shoe influenced by the Raider silhouette from its archive. It was accompanied by the Winterhill SPZL, with speckled laces and techy bits like a ripstop upper, suede details and a trademark adi-Tex membrane. Meanwhile, the Lothertex SPZL gets all fancy with a leather upper, gusset tongue and more adi-Tex.
We all seem to be taking to the hills these days – go on, check your Instagram stories on a Sunday afternoon – and so, always quick off the mark, adidas duly got outdoorsy with the Carnforth SPZL. Then, to top it all off, please be upstanding for the Barrowland SPZL with a classic ​'80s terrace look – flat-soled and super fresh with suede uppers and gum outsoles.
Not to mention adidas have your back as well as your feet. The Barrowland Jacket parka is the torch-bearer of their Pre-Spring ​'22 collection: all technical, the outwear parka revels in its functionality, and shakes hands with the equally carefully constructed Trongate Jacket.
As future-facing as the pieces may be – as well as being named after two Glasgow landmarks, the former being the greatest music venue in the UK – you can't help but feel a salute to fans of every stripe, the ones helping build the cult following that Spezial has amassed over the years.
And now, their newest footsoldiers: to head up the campaign, adidas recruited Leicester City's Hamza Choudhury, Tottenham's Alfie Devine, and Arsenal's Kieran Tierney. We had a catch-up with the Gunners defender himself.

You're a cornerstone of a Premiership side – and a young squad – that has dramatically turned it round mid-season. What's the feeling like in the dressing room?
Very positive. We know what we're doing, we know where we want to be and we know it's going to be hard. But we're positive and we believe. We know we've got a young squad, but what we do have is that belief and that's the main thing.
Last summer you represented the first Scotland team to qualify for a major tournament since France ​'98. How was that?
That was one of the highlights of my career so far. The full qualifier over in Serbia on penalties, as well – it was amazing. So was the build-up to the Euros, because it was so important for us all to get there. The country came together as a national team for the first time I had seen since I've been involved, so you feel everyone behind you.
Every time I went up to Scotland before the Euros, they were all saying ​"good luck" and there was a great feeling about the place! Then when the summer came, the support from our country was amazing. Obviously, [it was] disappointing not to get through the group stages. But we did ourselves proud, and the performance against England at Wembley, against all the odds, was amazing.
The adidas Spezial collection is rooted in the style of football fan culture. Is this style something you were familiar with growing up?
Yes, I grew up going to football games home and away. When we were younger, we would wear our adidas trainers and Levi's jeans. You'd have a rain jacket zipped up, and that was the culture we grew up in – the casual culture. I loved it.
I loved collecting adidas trainers – I've still got my collection to this day. It reminds me of going to games with my friends, getting the bus or train, home and away, to watch Celtic in big groups. A lot of my friends went, so you were always dressed similarly and you'd always have adidas on your feet. Good times.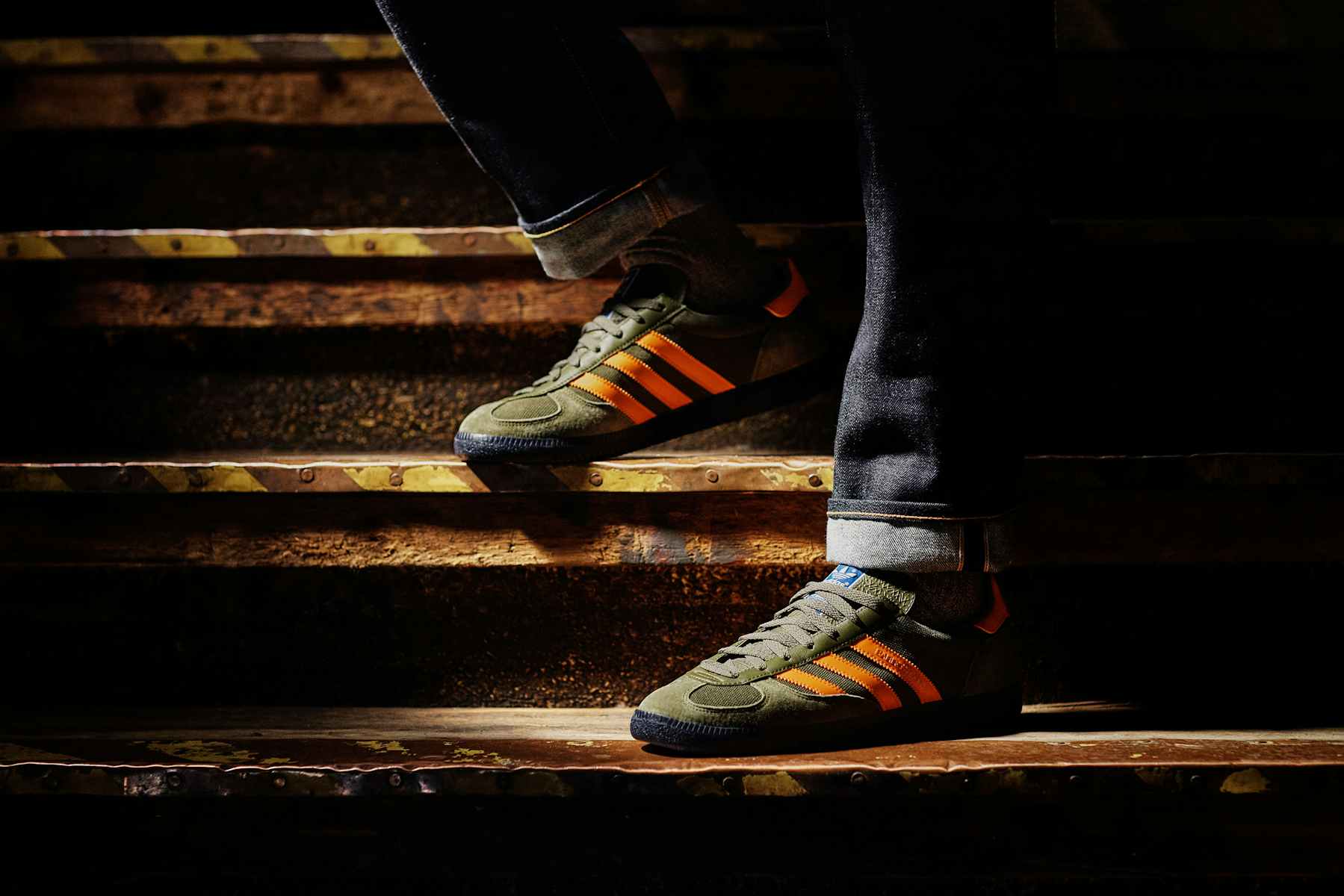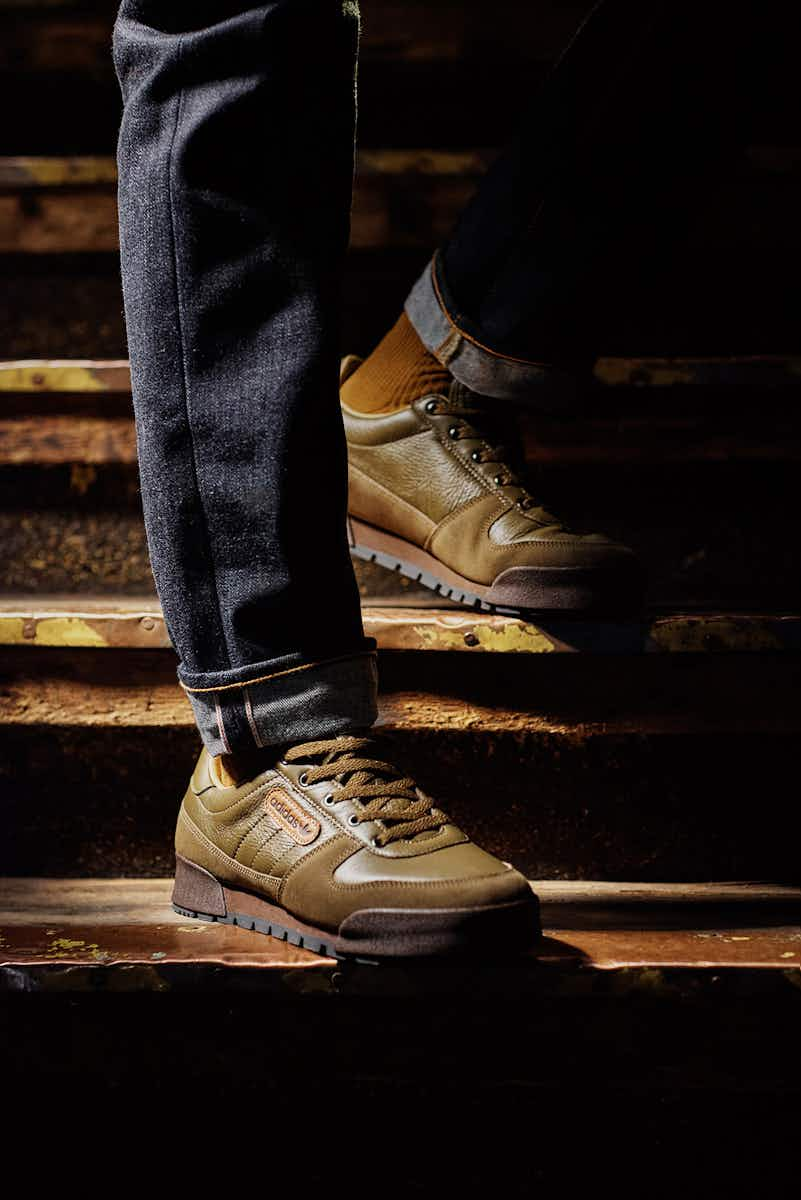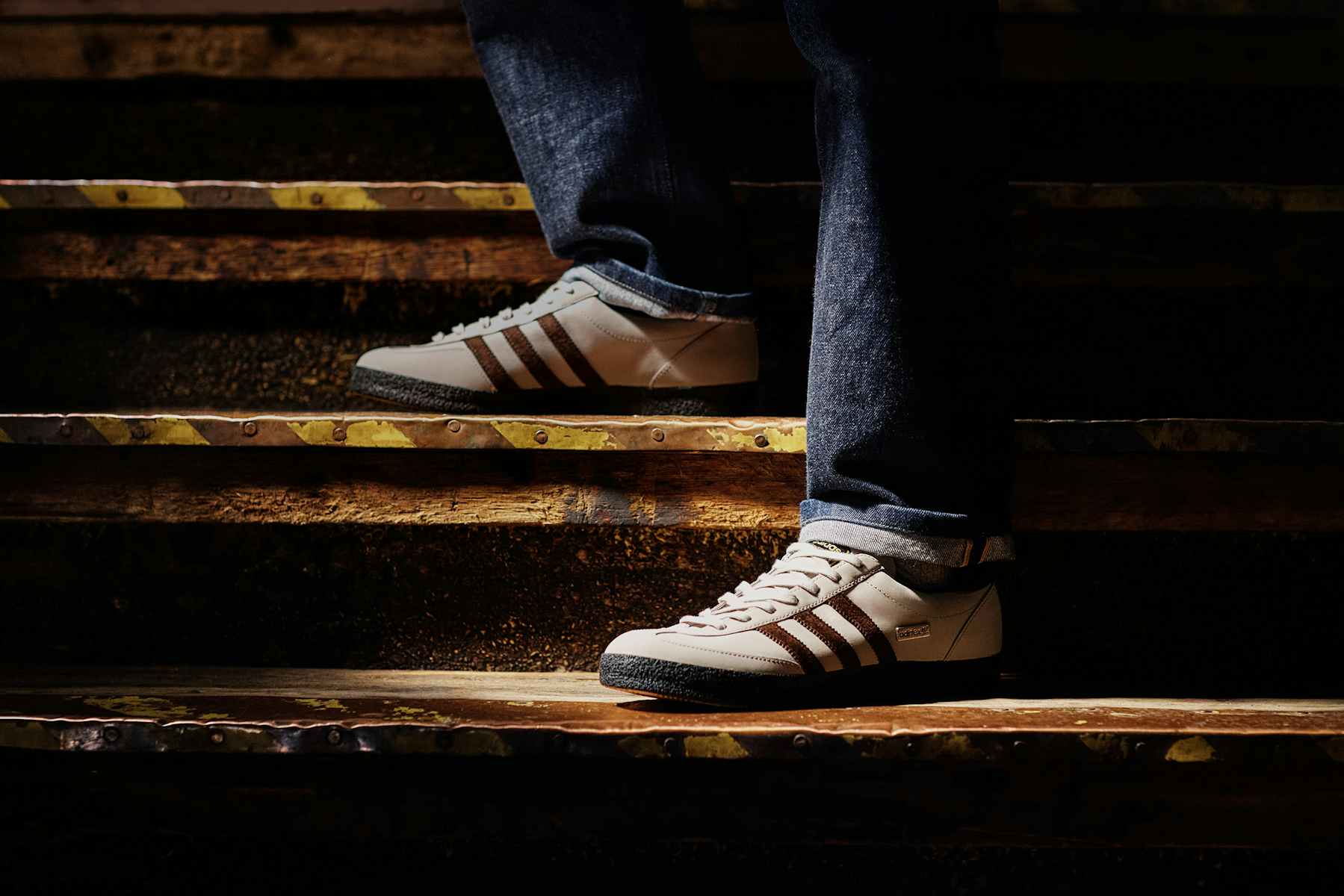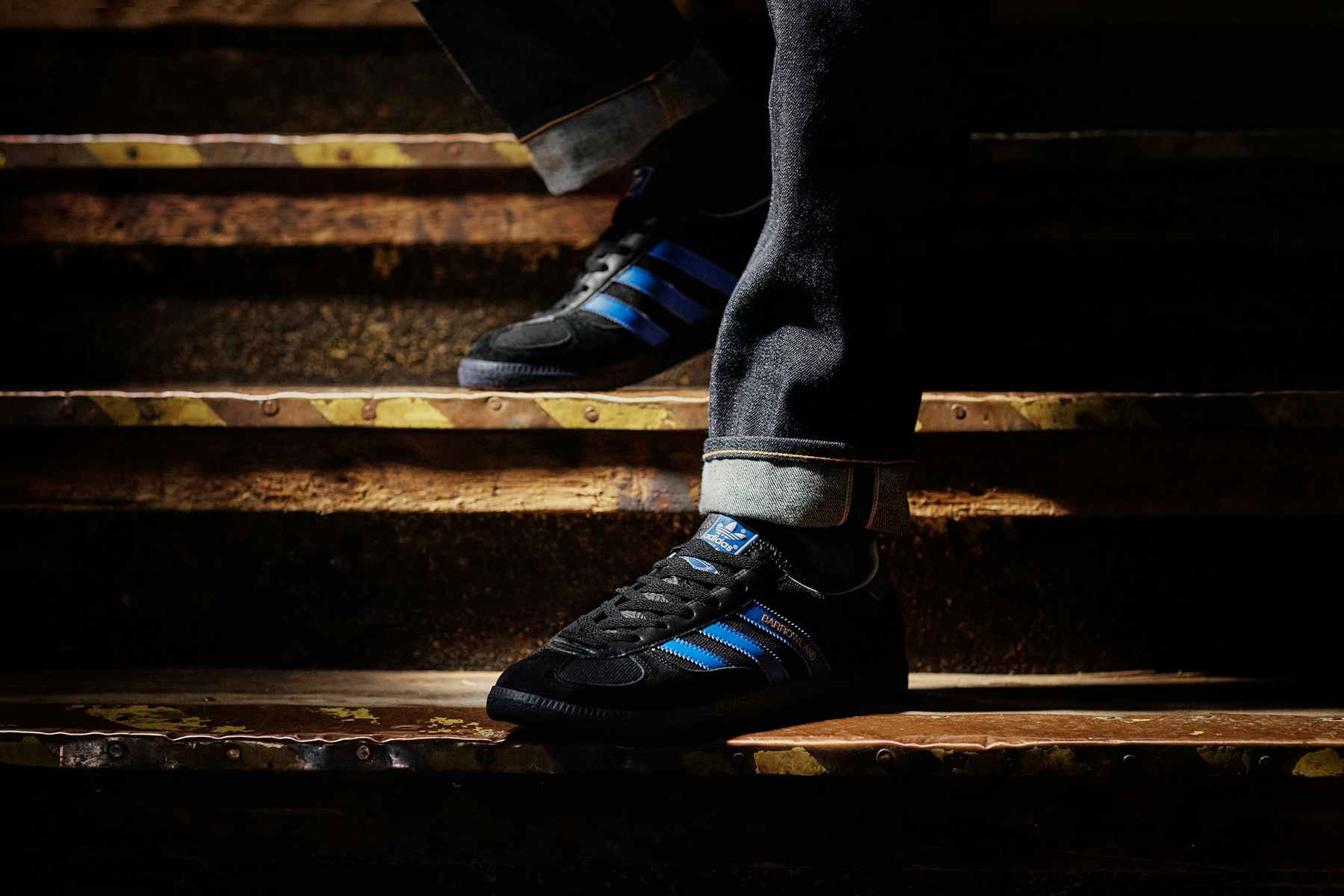 How would you describe your style off the pitch? I've noticed you wearing C.P. Company jackets, which is slightly atypical of the modern footballer.
When I go into training, they jokingly refer to me as a hooligan for what I wear. I like a lot of C.P., and an awful lot of Stone Island. I've got adidas jackets, and I particularly like the Spezial range.
And I like some old school Burberry and Aquascutum, but people mistake it for Burberry, as it's not as popular here as it is in Scotland. That's what I wear and that's what I've always worn. When [I was] young, I couldn't afford to buy a Stone Island jacket. [Now], I can treat myself and buy the jackets that I wanted when I was growing up.
Did your sense of personal style factor into your decision to sign with adidas?
A million per cent, yeah. I used to imagine all the free adidas trainers I'd get! There was a casual film called Awaydays, and they had these black Sambas on them with a brown sole. It's not the one with the big tongue that everyone thinks, and I was like: ​"I'm going to buy five pairs of these and just wear them all the time."
And you've got lots of different styles: Spezials, Trimm Stars, Trimm Trabs, Malmo, London, Glasgow. I used to be on adidas pages on Facebook with all the different trainers, looking at all the ones I could get. I wanted to join the brand so much because of my love for adidas.
Who would you say are your style icons, on and off the pitch?
People like Noel and Liam Gallagher, when they were in Oasis and dressing in Stone Island jackets. I look at Gerry Cinnamon and think he's cool. The stuff he wears when he's on stage is very similar to the things that I like.
Did you manage to get your hands on the C.P. Company x adidas Spezial collaboration last year?
I did not and I was gutted as that is the stuff I love! But if adidas have any spare then I would be more than happy to take it!


On the pitch, you're known for your stylish appearance: shirt always short-sleeved, always tucked in, socks always perfectly rolled. Is this a superstition, or just part of your character?
It's something I've always done from youth level. We always get told to tuck our shirts in and I was quite small then. My shirt was always down to my knees, so I'd always tuck it in. Then they always gave me a long-sleeve T‑shirt at youth academy and I used to roll that right up, too, to create that short sleeve, and tucked it in so I looked presentable. I've just carried that on.
What are some of your favourite adidas shoes?
The Barrowland SPZL are my current favourites. When I was younger, there was a series with shoes named after different cities. I had the yellow and blue Malmo's, they were hard to get. Then there was the adidas London's, and adidas Dublin's, as well – I've got a lovely pair of those. I've got a big collection: Trimm Stars, Trimm Trabs, München's. I still like to collect. If I see a rare pair going, I will get them and put my name down for the release.
What music are you listening to at the moment? And what do you listen to before a game?
Gerry Cinnamon, he's number one for me. And Oasis, Stone Roses, Fleetwood Mac, Ocean Colour Scene, Paulo Nutini, Jake Bugg. And I've always liked The Verve – they're a class band. I'm probably leaving a few out, to be fair. I also like a bit of The Beautiful South… I don't know if that would surprise people!
Who are the best and worst dressed at Arsenal?
Lacazette's cool – everything always seems to suit him. He's that guy that could wear anything and just pull it off, so I'd say he's the best dressed. Worst dressed is a hard one because there are a good few… Pepe wears a lot of tracksuits, but I respect the tracksuits, so he wouldn't be the worst. But he does wear a few too many tracksuits.
Any other offenders?
With Cedric Soares, everything is skin-tight – he must take skin-tight jeans to the tailor to get them tighter! Pablo Mari could be the worst but he's just left. And Aaron Ramsdale has got a mental dress sense. I respect the boldness but he puts on a full Gucci tracksuit with a Gucci bucket hat and Gucci trainers. So I would say the least best dressed is Cedric, because it's so tight!


More like this