Which ​

'

90s style tribe are you?
It's time for a fashion-focused pop quiz courtesy of THE FACE and Levi's®. Want to know if you're a preppy princess or a Kurt Cobain-inspired grunge geek? We've got the answers.
Classic teen movies always feature three things: an amazing soundtrack, outrageously good clothes and cliques. You'll have your jocks and your arty kids, your cheerleaders and your goths, but have you ever thought about which group you might belong to?
Your answer, thankfully, is right here. To mark the launch of the SS22 Levi's® campaign, which is fronted by Sex Education star Aimee Lou Wood and celebrates the time-honoured concept of ​"forever uniform" jeans and a nice top, we've put together a throwback, teen mag-type quiz (yes, the sort of thing you'd find between the agony aunt pages and the celebrity Crush of the Week posters…) to help you determine your style tribe.
Whether you're a preppy princess, a grunge girlie or a nouveau nerd, Levi's® have a combo for you, taking you from daytime in the corridors to after-school clubs, band practice or a gallery exhibit effortlessly. Count up your responses to the questions below and figure out where you'd sit in the teen movie canteen of your dreams.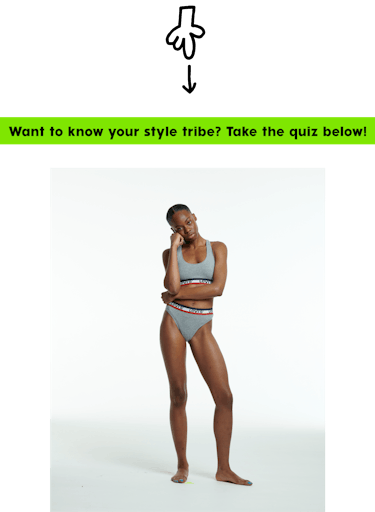 Question 1/10
Who's your '90s teen movie crush?
Question 2/10
Who would play the soundtrack to your life?
Question 3/10
Which Scooby-Doo character is your style icon?
Question 4/10
You need new jeans. What's your go-to style?
Question 5/10
What's your ideal Friday night?
Question 6/10
Which of these films is your favourite?
Question 7/10
What's the style opinion you'd defend?
Question 8/10
What does a look at your Instagram grid show?
Question 9/10
Which brand of player do you go for?
Question 10/10
Which hairstyle moves you spiritually?
Photographer: Raphael Bliss
Digital Operator: Harry Mitchell
Producer: Katherine Bampton
Associate Creative Director: Clara Goodger
Creative: Cassandra Joseph
Branded Content Editor: India van Spall
Runner: Rachelle Cox
Stylist: Danielle Emerson
Stylist Assistant: Borys Korban
Makeup: Mata Mariélle
Makeup Assistant: Marie Reitner
Hair: Shamara Roper
Set Designer: Phoebe Shakespeare