Louis Vuitton Cruise 2023: Nicolas Ghesquière's stealth-like fight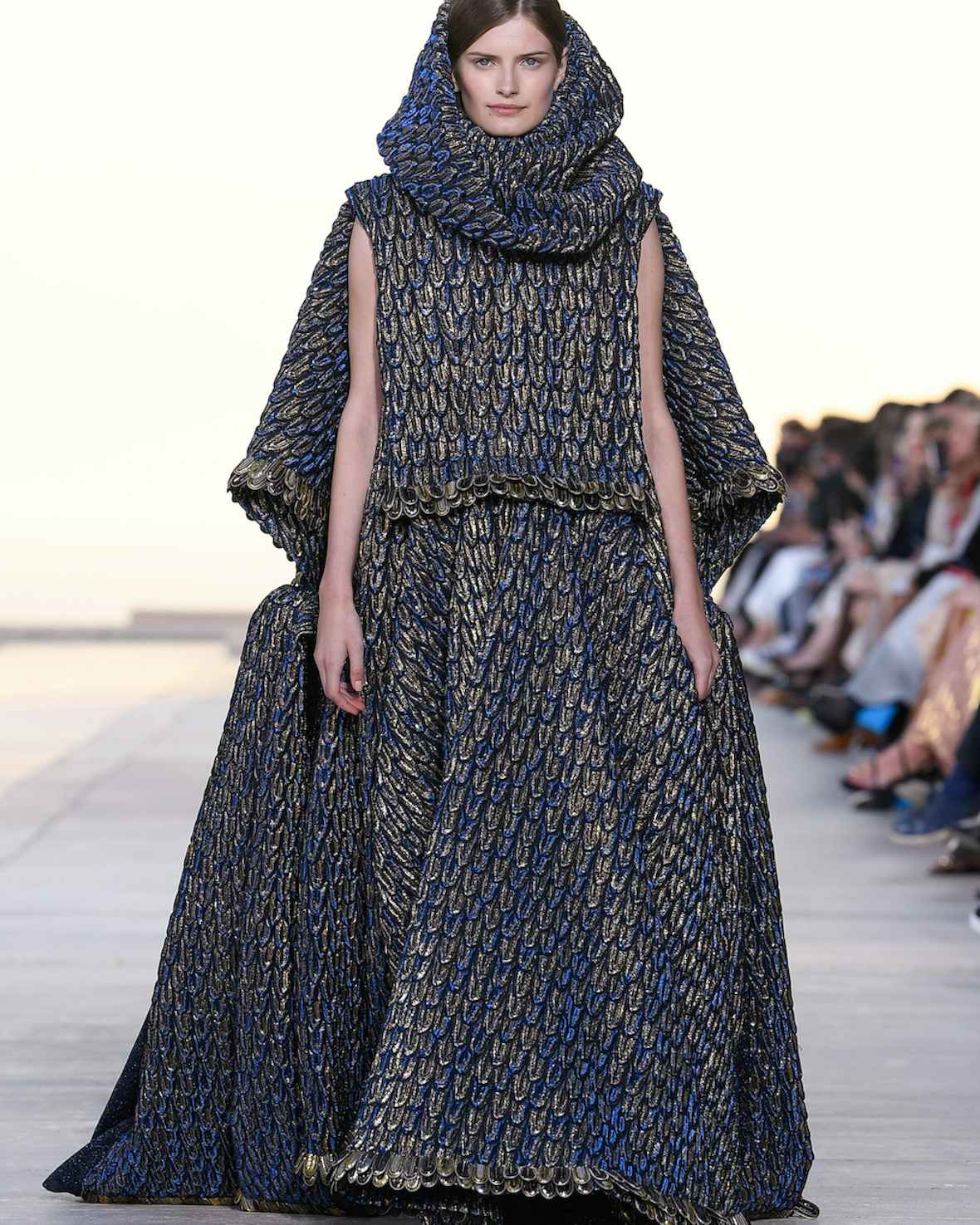 Designing for battle, this season was Ghesquière at his very best, amplified by a show location where the gleaming sun was guest of honour.

Nicolas Ghesquière rarely keeps his feet on the ground, instead transcending time during his creative director tenure at Louis Vuitton – not only in his future-bending designs, but in real-time, too.
Over the years, the Parisian house's Cruise collections have set up camp in Palm Springs in 2016, Rio de Janeiro's Niteroi Museum in 2017 and the I.M. Pei's Miho Museum near Kyoto, Japan, the year after. It's a tradition that harmoniously salutes the designer's aptitude for the far-and-wide – and sometimes even the unknown, when he's referencing a galaxy yet to be discovered.
This season, Ghesquière took to San Diego's Salk Institute for Biological Studies – a mammoth building designed by celebrated Estonian-American architect, Louis Kahn, and often cited as one of his most accomplished works. Split up into three buildings, its middle section, opening up onto a cliff edge, would become the main event of one of Ghesquière's most mesmerising shows for Vuitton to date – the golden sun and all its rays acting as the special guest of honour.
The building, home to fearless, ground-breaking research into medical cures and prompted by a futuristic ​'60s design, felt like a world far removed from the ordinary – its imposing cement surfaces almost alien-like when compared to the modern world. ​"In this place of biomedical research, questions on humanity lie at the forefront of the world's most illustrious scholars' minds," the press notes read. ​"Architect Louis Kahn puts the sun, the creator of natural life, at the heart of the Salk Institute as a serene concrete monastery for enlightened souls."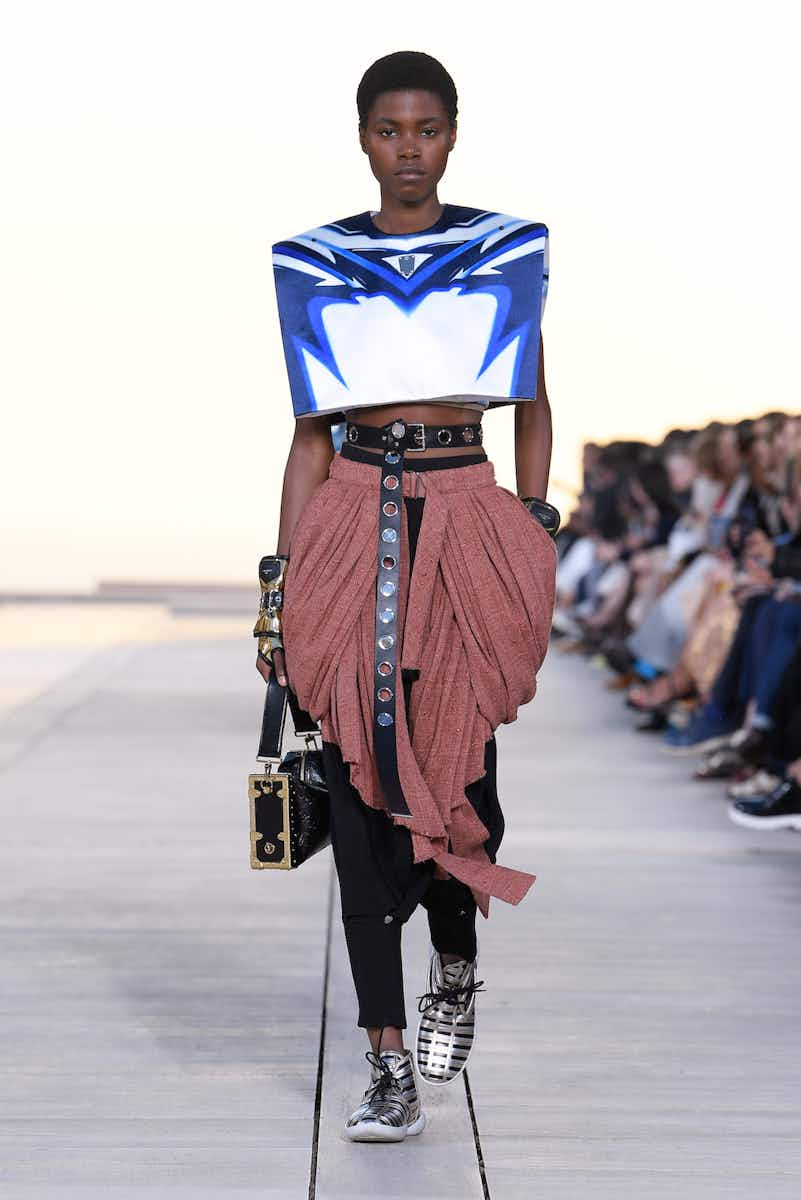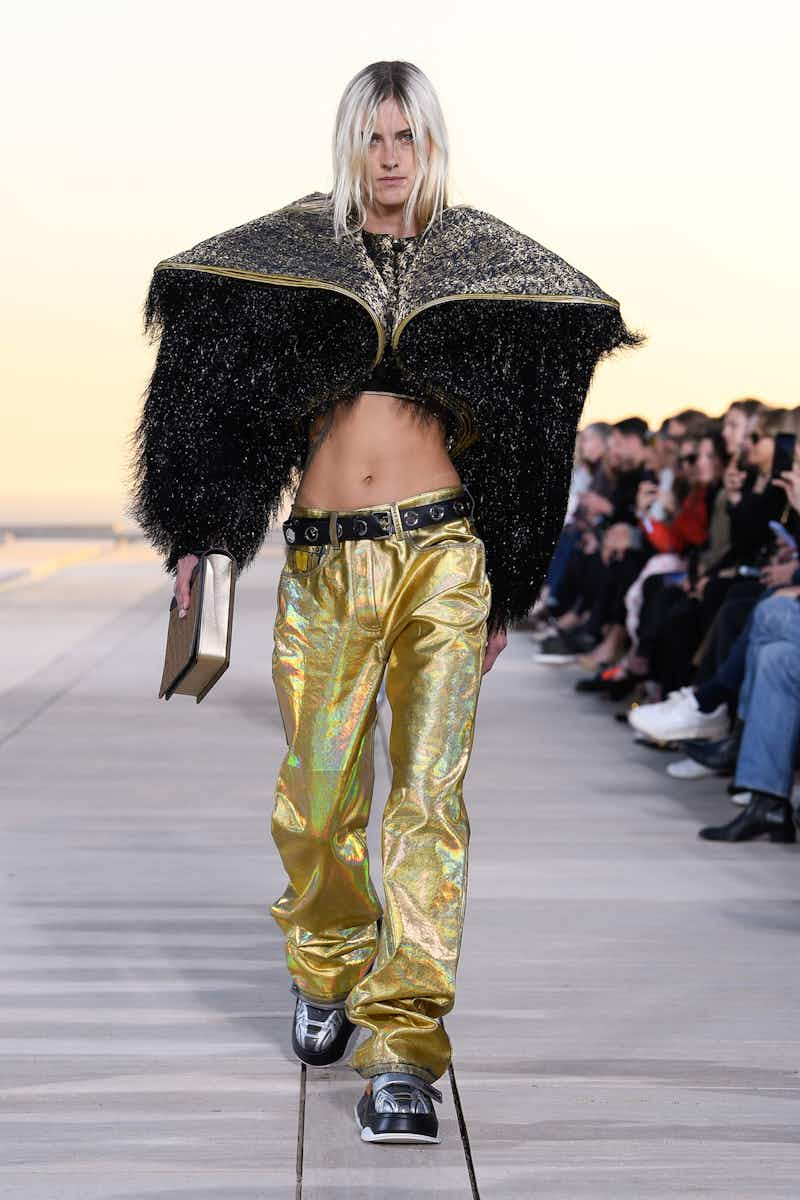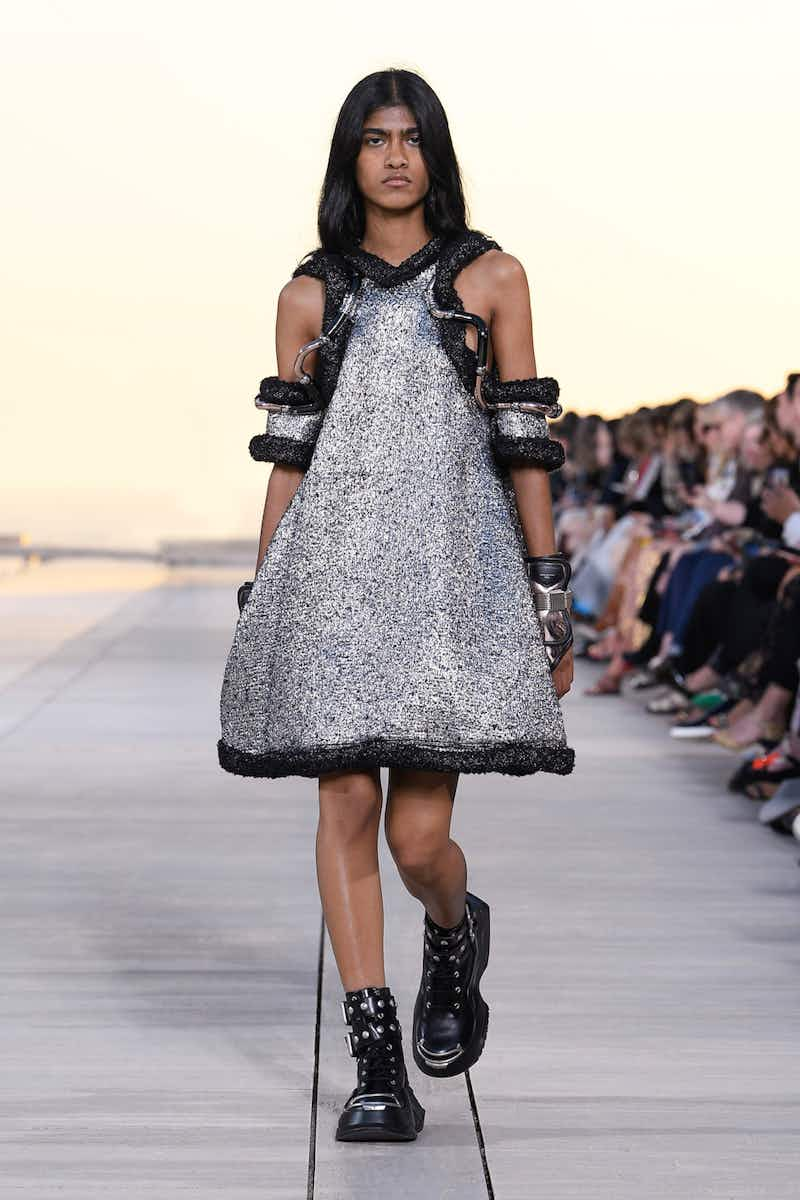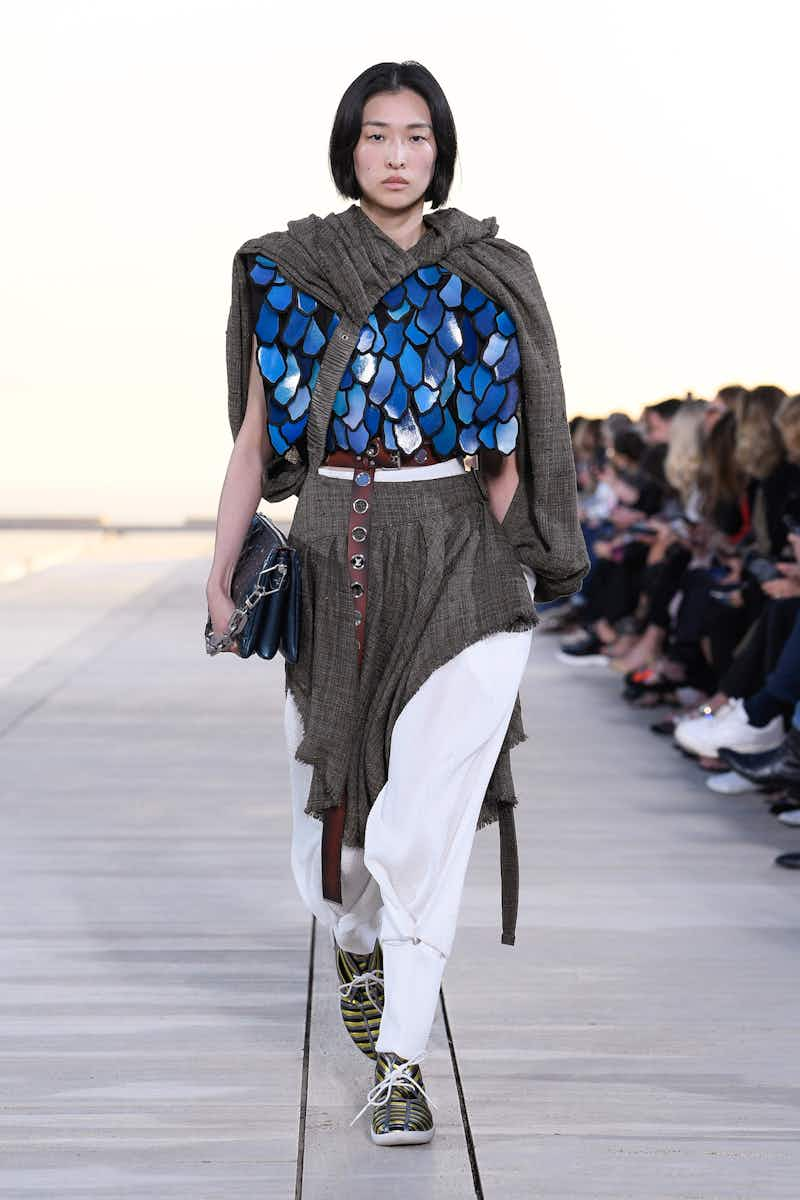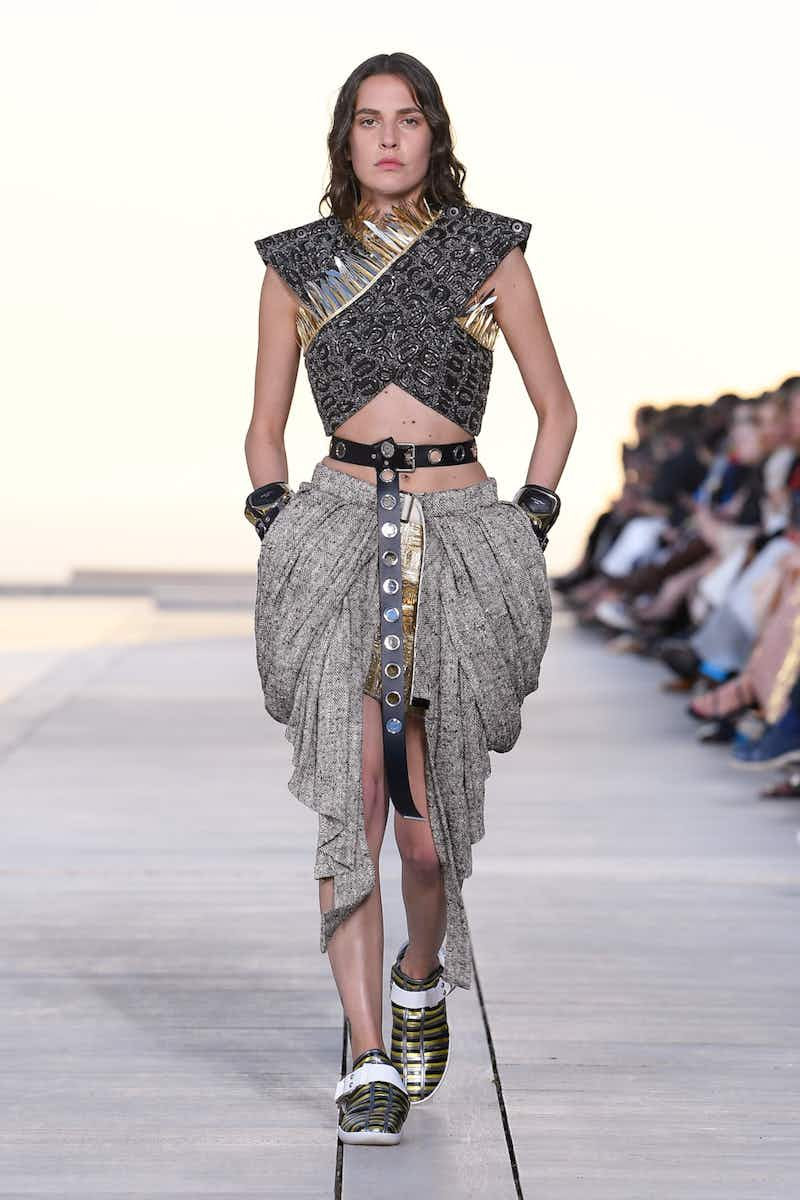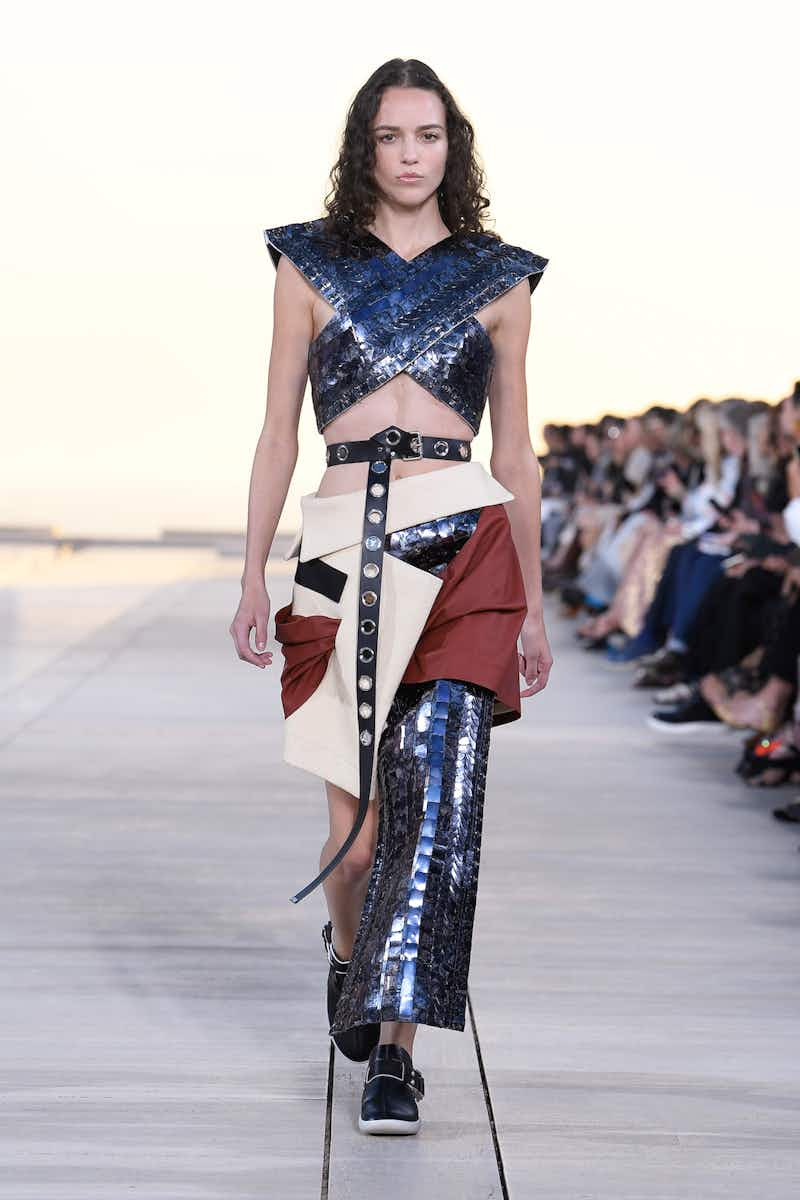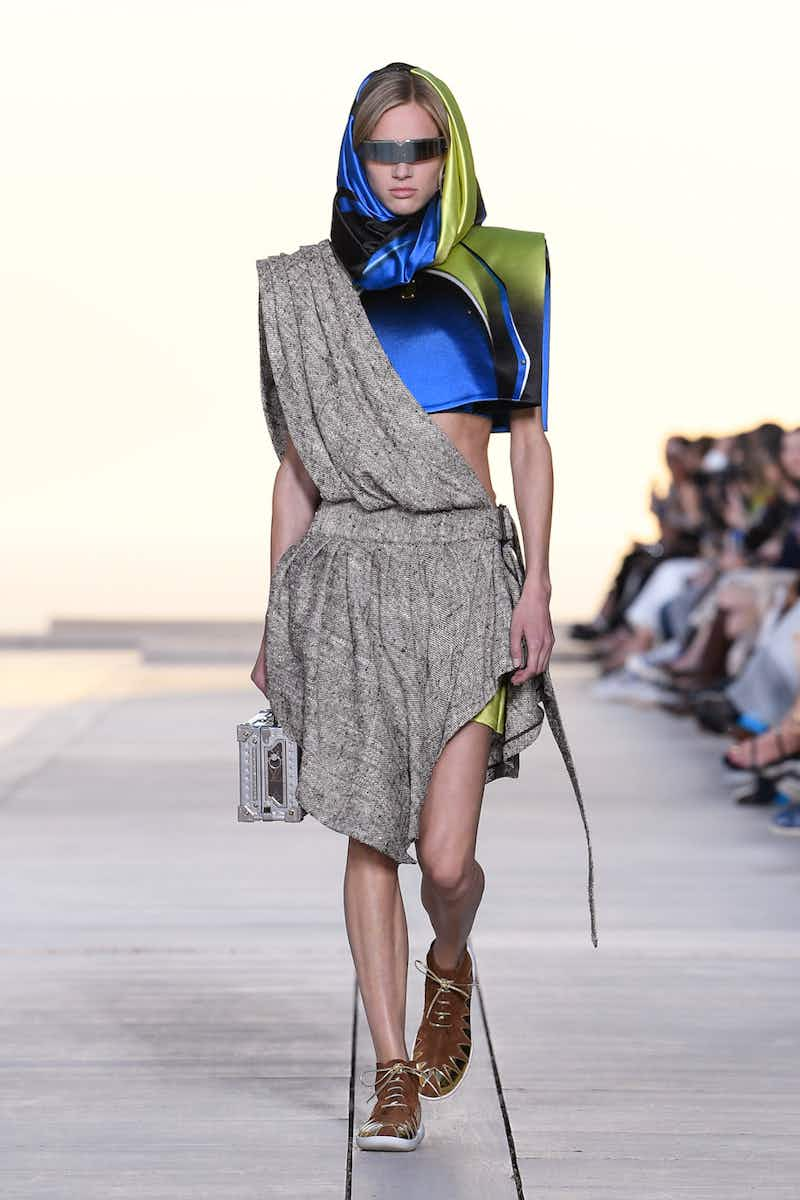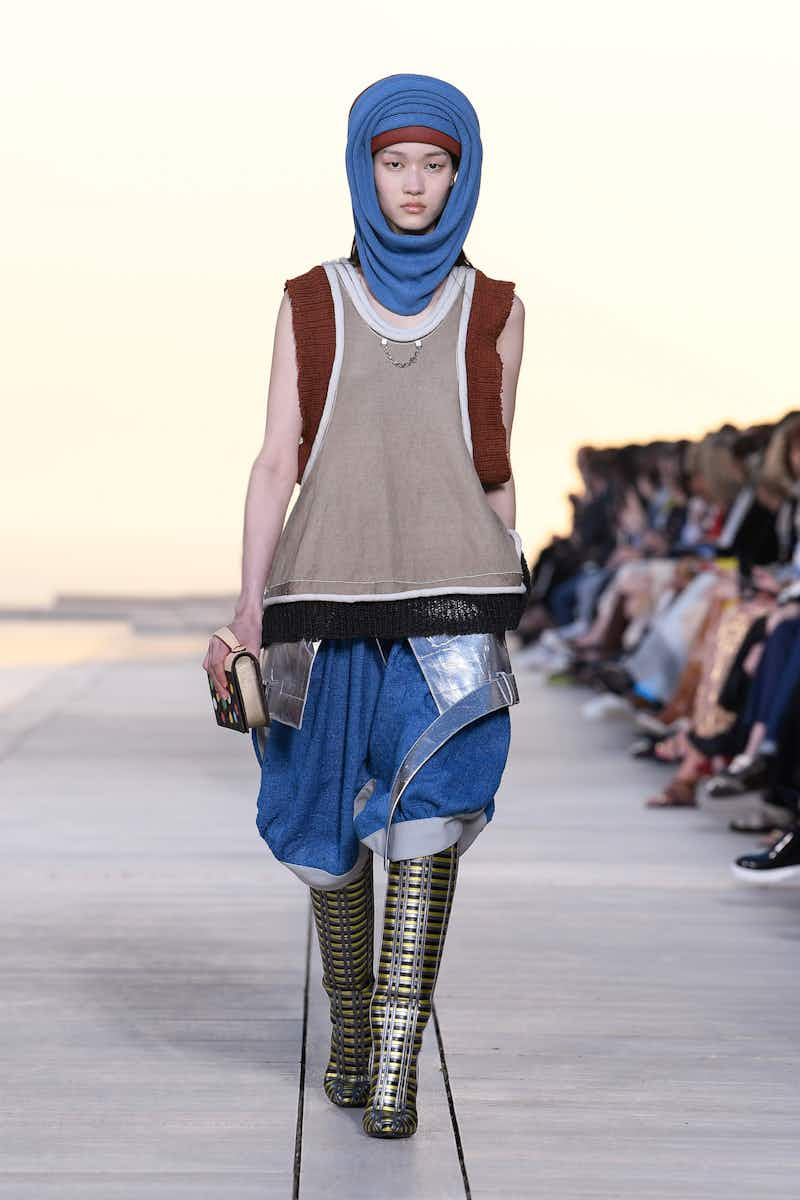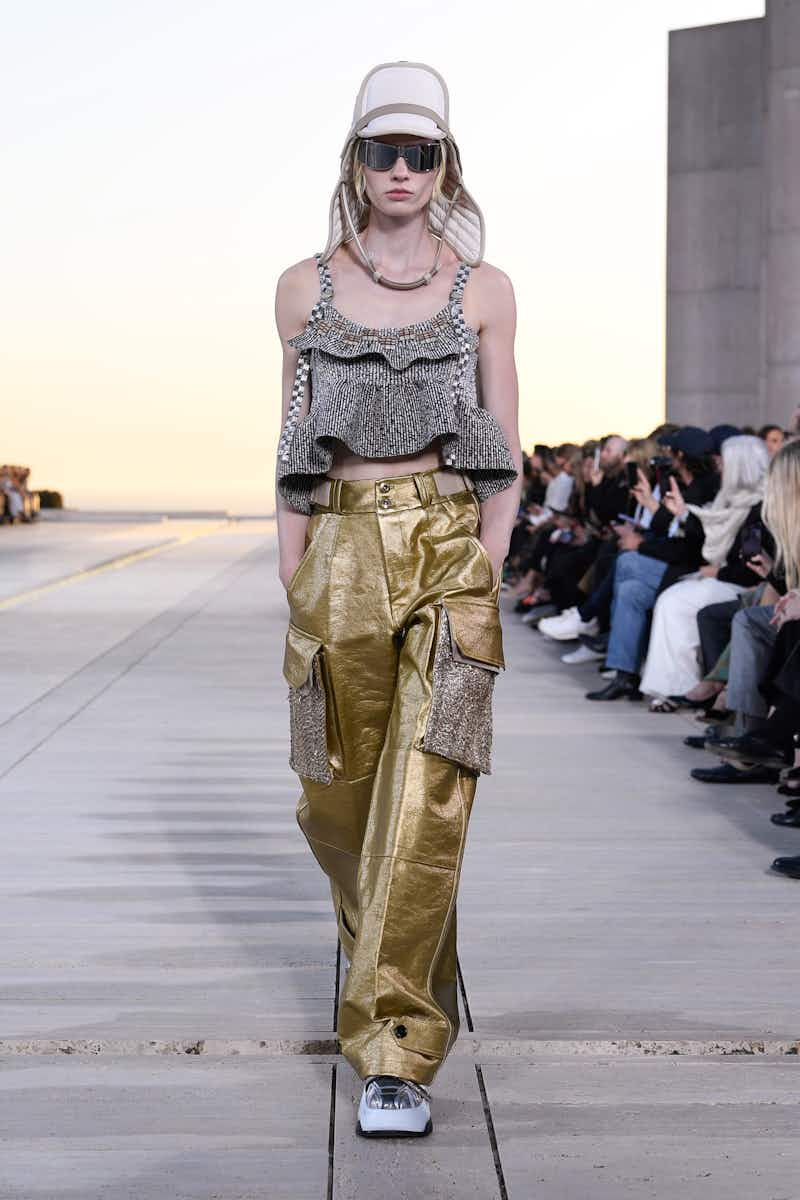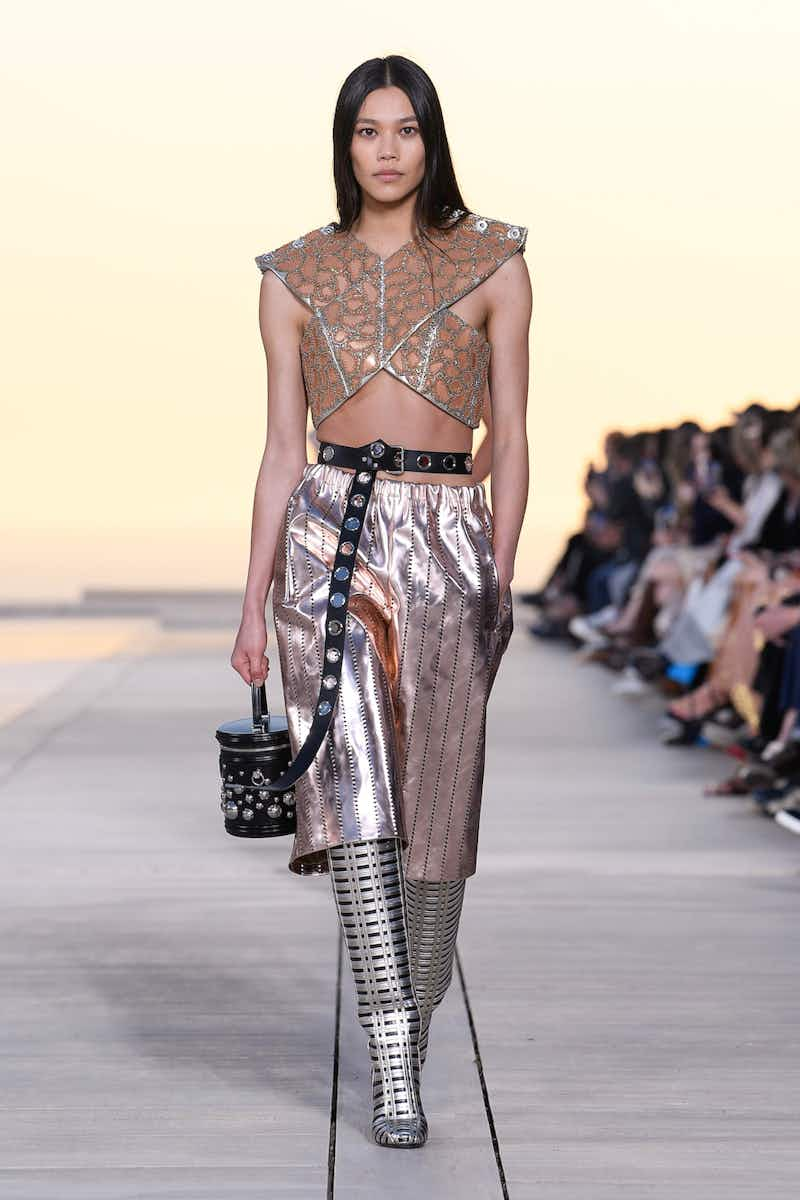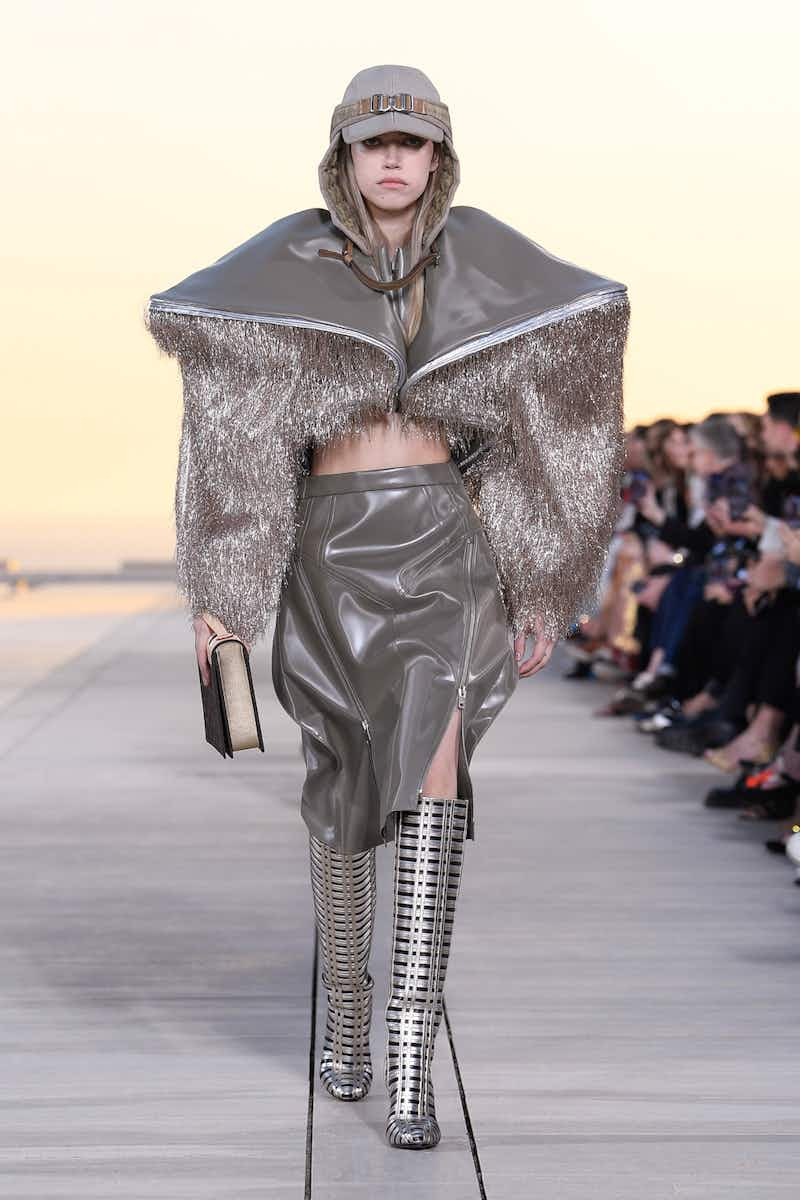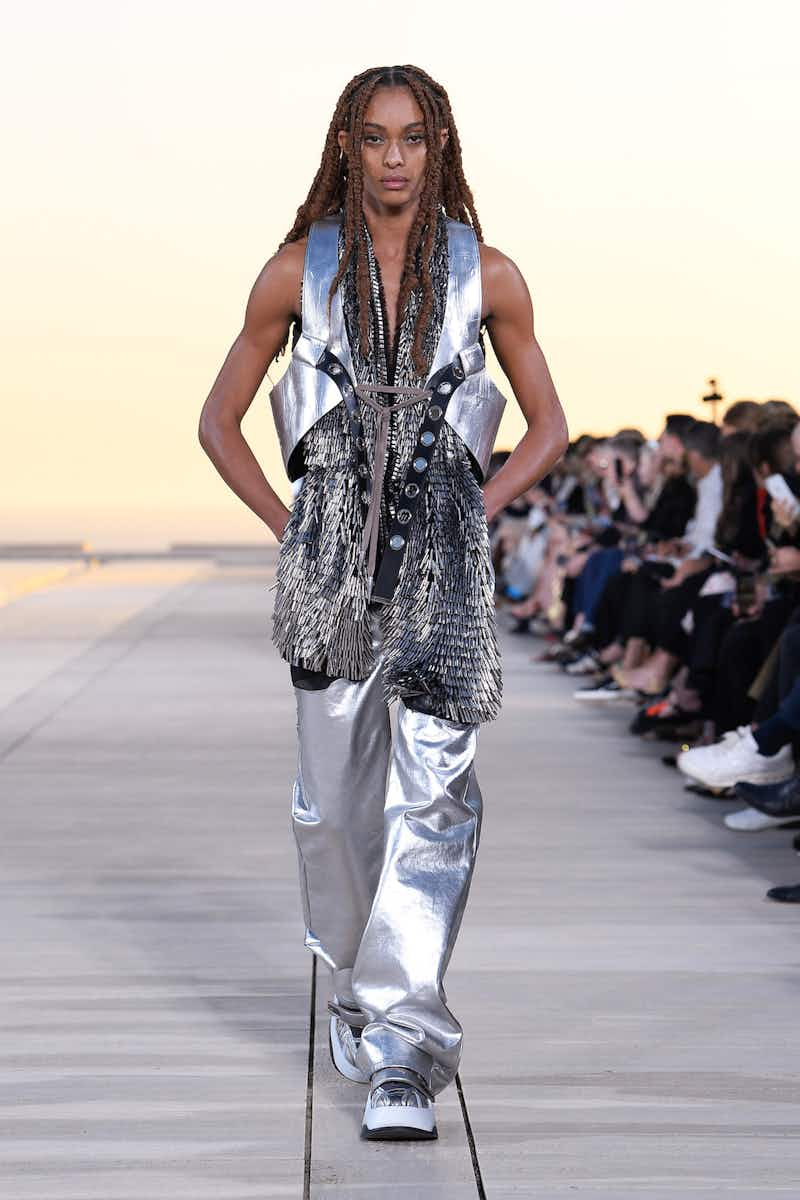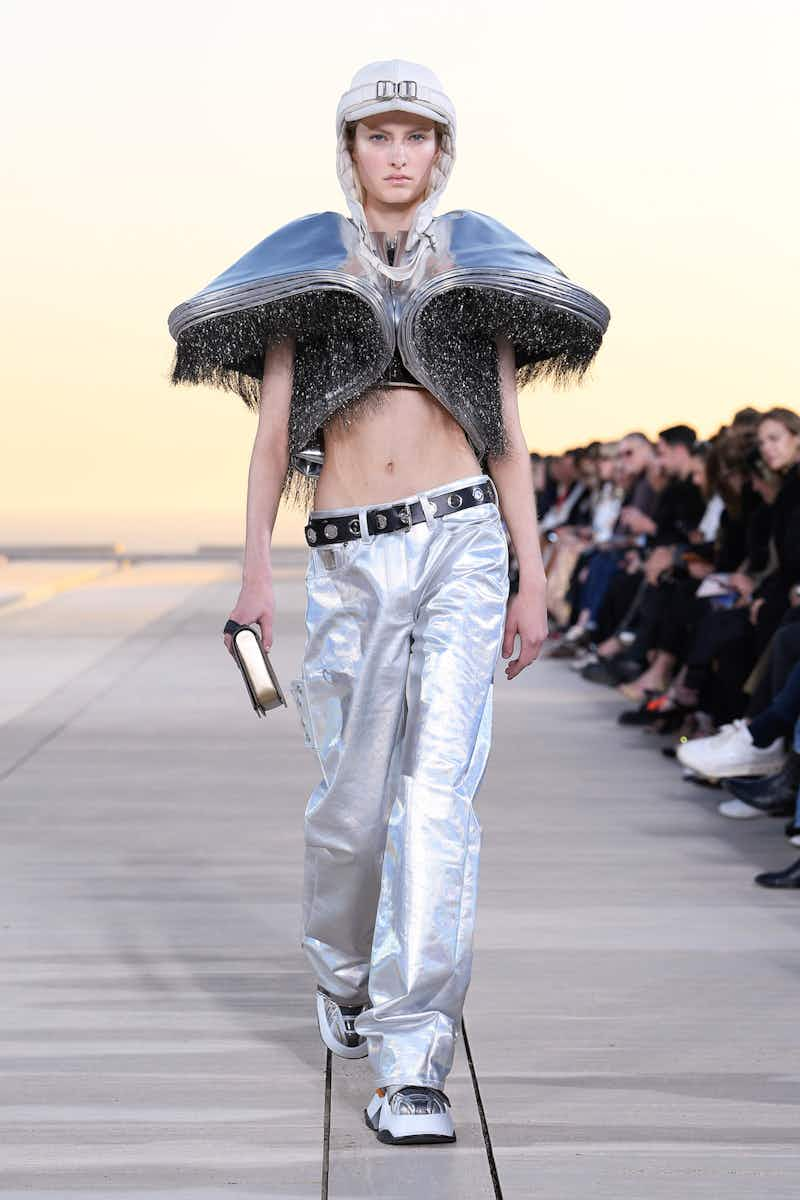 And so it became the ultimate location to bookend a collection with serious fighting spirit, not to mention Ghesquière's aptitude for otherworldly newness in each Vuitton collection. Against a twinkling soundtrack of ambient sounds, dancefloor house and classical, textural head wraps extended into heavy voluminous gowns, draping against the floor behind them: a pitch-perfect beginning to a hard-as-nails show.

Looking every bit Dune, Vuitton's woman is ready for battle this season, equipped with harnesses and warrior-esque structures in heavy shoulders and leather belts cinching the waist – and a decent selection of flat shoes. By the mid-section of the show, armour came in more obvious iterations, through metallic guards covering the shoulders, knee-high boots protecting the calves and the early headscarves now worn with visor-like sunglasses.

To no surprise, Ghesquière continued his quest for innovation, with liquid-gold trousers and shiny leathers stitched with embroideries that oxidise, changing colour over time and shimmering gleefully with every step.

Over the past year or so, designers have attempted to contextualise the fight many of us have endured since the pandemic reared its ugly head in 2020 – a fight only further exacerbated by the ensuing war, climate crisis, fear and anxiety for the near-future. Ghesquière's take is stealth-like, bolstered by the physical context of the show's salute-worthy fight for a cure. This was him at his very best.


More like this