Valentino is launching couture makeup

We chat to global MUA Raoúl Alejandre about how makeup could help you tap into your higher consciousness.

Have you been craving a bit of glamour? Well, it's back – and by the bucket load, courtesy of Maison Valentino's inaugural makeup collection which is now on sale. And it's everything you'd expect from the sixty-something year old fashion house. Think: rich, sumptuous textures in classic shades encased in handbag-ready packaging served in the house's distinctive crimson hue. There are 40 shades of foundation, 50 shades of lipstick, cheek-to-eye palettes, liquid brow liners, eye pencils and much, much more.
Described by Valentino's Creative Director Pierpaolo Piccioli as a collection for ​"the dreamers" the debut campaign – featuring 16 diverse faces – is an ​"ode to self-expression" and a demonstration of just how versatile makeup can be. ​"Dreamdust" eye glitters in moonshine-blue and rose-pink, shimmering highlighters and lipstick shades spanning nudes, oranges and purples make this varied collection as diverse as its campaign cast.

Featured within the campaign is Los Angeles-based makeup genius Raoúl Alejandre, who just happens to be Valentino's Global Makeup Artist. If you're a makeup junkie, you'll no doubt already be aware of Alejandre's impossibly refined painting skills; his soft-focus feminine glamour recalls the genius of Kevyn Acuon, but his mastery of shape, contour and trompe l'oeil-style-sensuality hint at something else entirely. Alejandre has painted the likes of Alexa Demie, Willow Smith, Rosalía, SZA, and Lil Nas X, but he's not caught up in the who's who, for Alejandre, authenticity always comes first.
Ask Alejandre how the collaboration came about and he'll assure you it was kismet: ​"I totally manifested it. It was unexpected but it was also at a point in my life when I was living my most authentic self." Existing on your own terms is at the core of both Valentino makeup and Alejandre's output. The makeup is there to be played with and adapted according to the user. ​"The brow trio, specifically the ink-sided, is great for mapping out your eyeliner, creating faux freckles and filling in your brows" explains Alejandre. "[With] the eye to cheek – I've never seen colours like this – the pay off is incredible. It's just about using the product instinctively and amplifying people's characters."
While Alejandre has only added finishing touches to this collection, he's already plotting future products and he's not had to look far for inspiration. ​"I was very inspired by the Valentino archives, I went and visited the Maison and took it all in. Fashion has always been a huge part of what I do," he explains. ​"I can mimic textures and fabrics through makeup, and to be able to bring that fashion world – a world that's brought so much authenticity into my life – into my craft was mind blowing."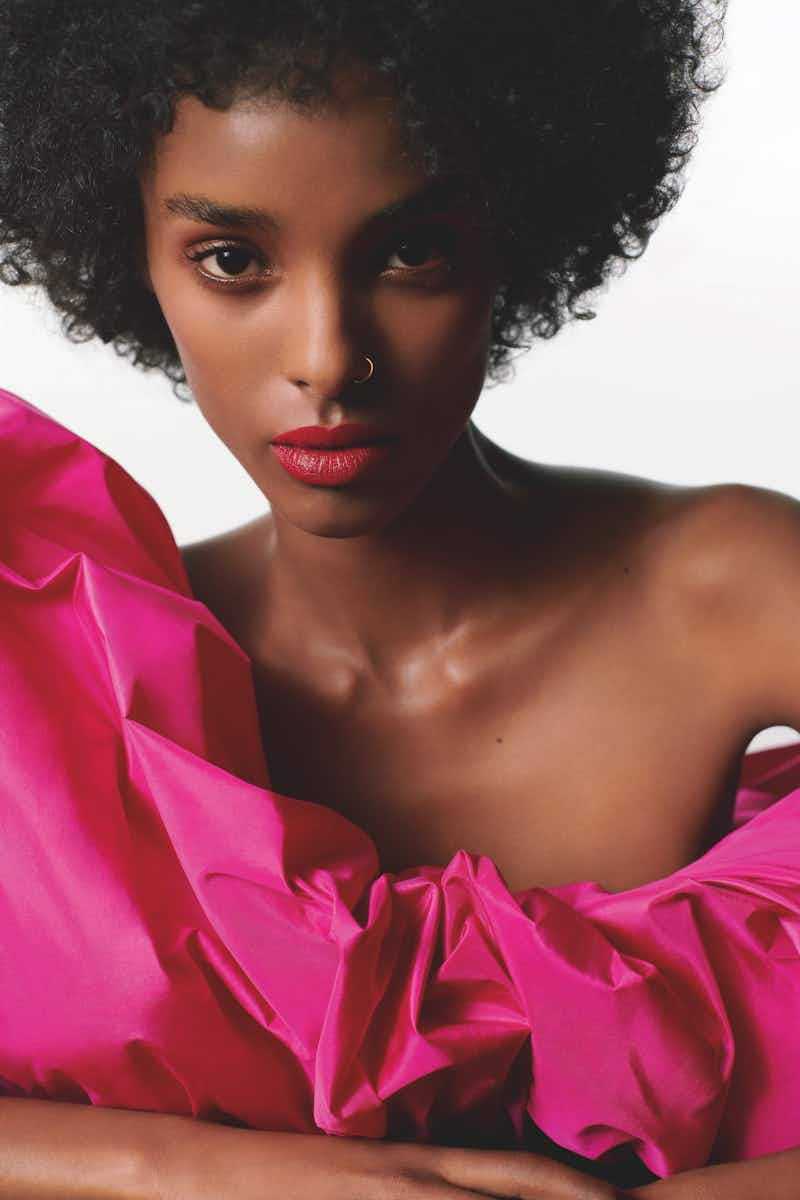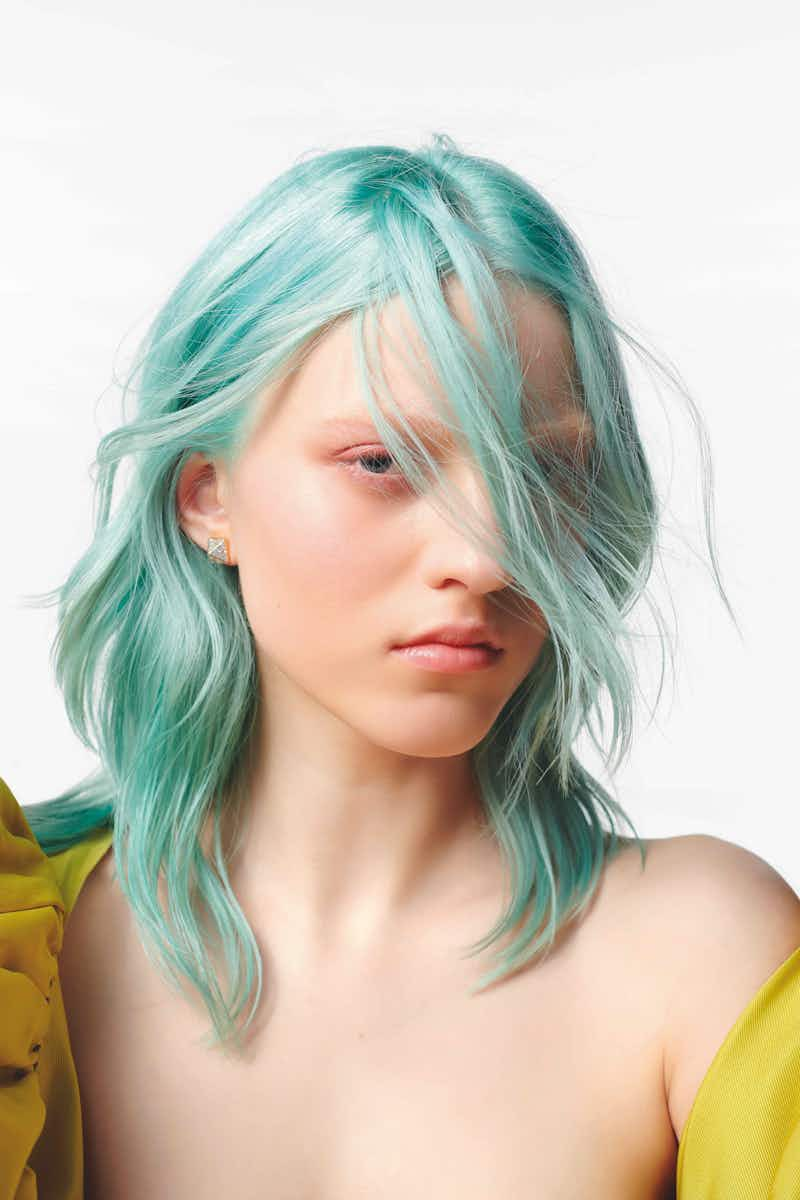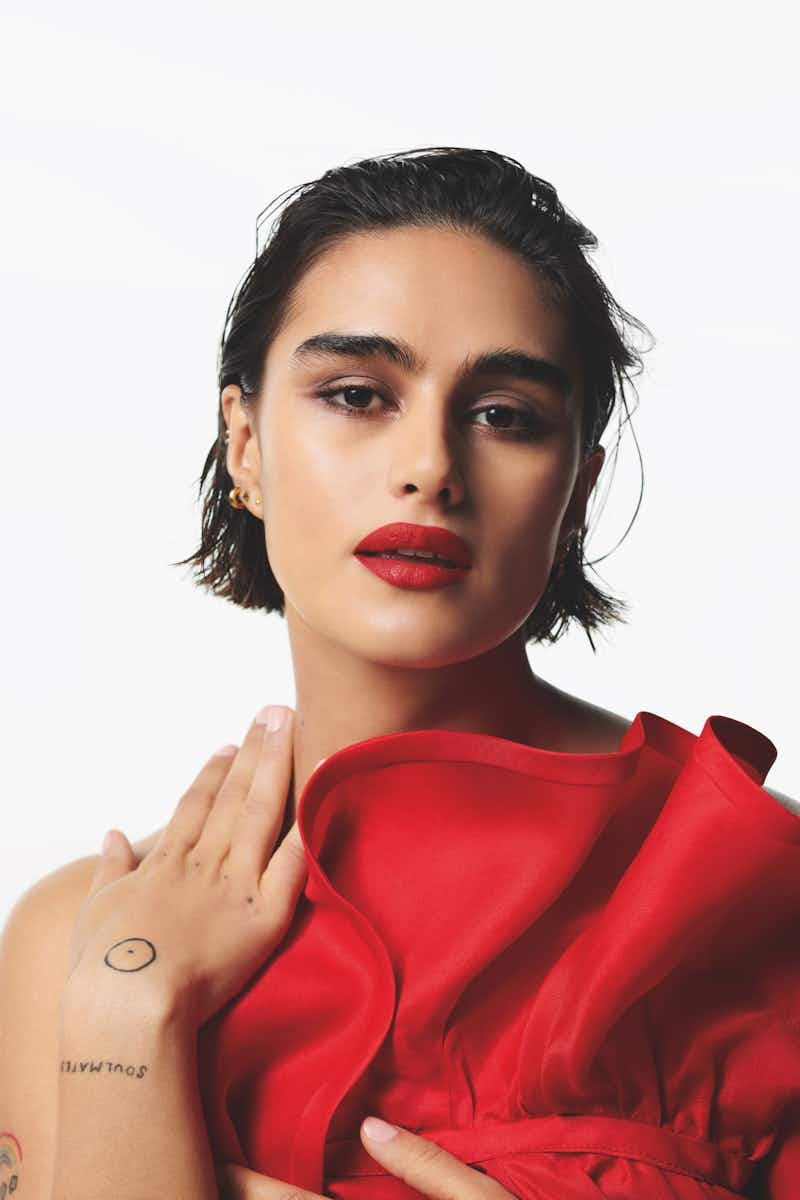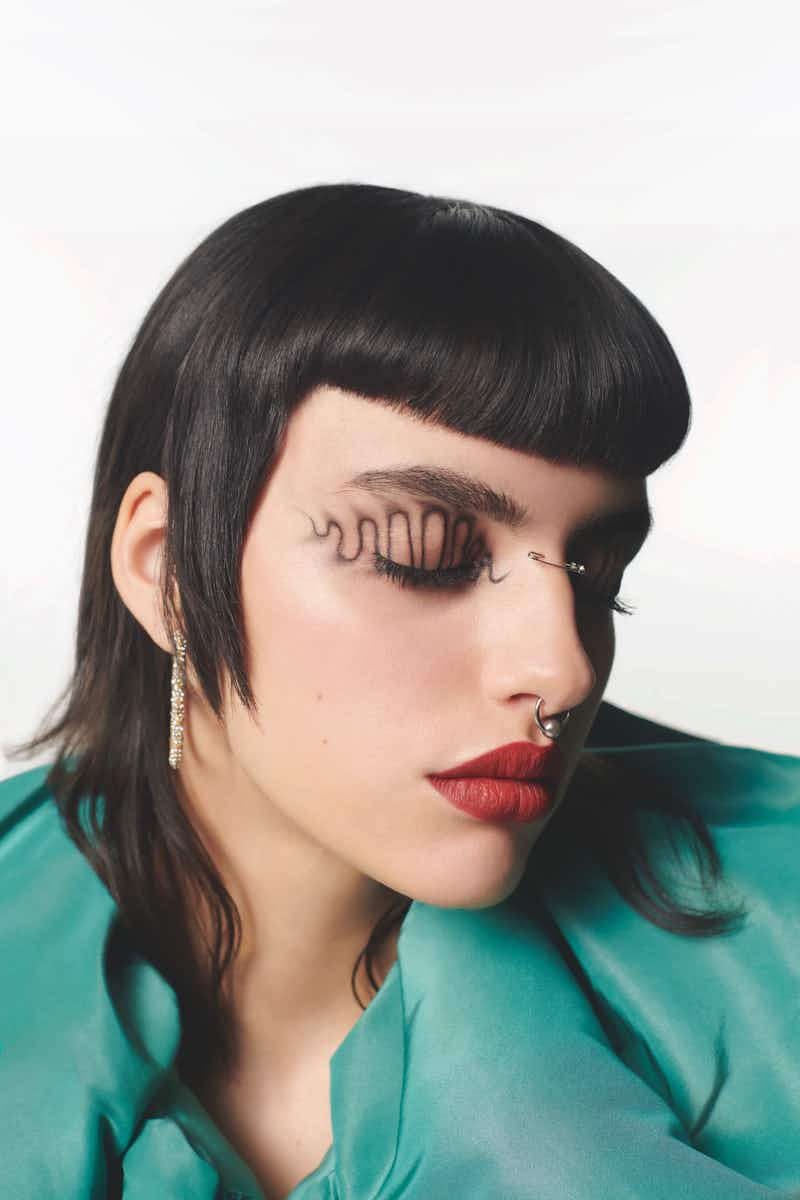 Alejandre, who's a beacon of creativity within the next cohort of beauty creatives, believes that makeup has nothing to do with self-improvement or concealment, in fact, he thinks it's quite the opposite. ​"I was always drawn to fashion because of the ability to transform yourself," he pauses to reflect on his formative years, ​"for so long, I thought of makeup as me turning into someone else and in reality it's me tapping into my higher consciousness, me tapping into my true self, and breaking down these walls that society has implemented around me. Because that's what makeup can do for you."
This attitude towards makeup as a tool for self-expression is something that skewers the next gen of young creatives intuitively playing with gender, identity and sexuality. ​"Makeup is a language," explains Alejandre, ​"it speaks volumes about who you are and what you want to represent."

I wonder how he manages to stay inspired and fresh in a day and age where we're inundated with imagery both old and new. It transpires that the California-based artist is constantly informed, challenged and inspired by the beauty of his personal heritage and culture. ​"Where I'm from we have this almond-shaped eye that people have in this specific region of Mexico," he smiles as he explains, ​"it's a natural cat-eye shape. I was so proud of having this eye shape when I was young that when I began to explore makeup, I was thinking, ​'How can I amplify this?' and so wings are at the core of what I do. It's such an important aspect of my culture!" Alejandre's sultry winged liner is much feted on Instagram and his fanbase love him for his commitment to a mega polished look.
However, it wasn't always perfect cat-eye flicks and celebrity clients for the makeup maestro.
"Look, I grew up poor and a weirdo and you know what, that pushed my artistry. I grew up in a family home that had very little resources. My parents couldn't take me to a Sephora and buy me the Guerlain bronzer I wanted at the time!" he reminisces. ​"They said pick something from the sale bin at the pharmacy and I made it work. I couldn't afford eyeshadow so I applied cheap bronzer into my creases and to this day I still do this!." Alejandre is insistent that his lack of financial resources at a young age have made him the artist he is now. ​"There is no limit when it comes to self expression," he reiterates, ​"if I don't have the false lashes on set, I'm going to go outside grab some leaves and spray paint them black."

Despite his steep ascent to success, Alejandre has both feet firmly on the ground: ​"I don't feel like I've ​'arrived' as such. I pride myself on keeping my circle small and I value my alone time. I feel more and more humbled as an adult and I just want to shine a light on those that don't have a platform." Being able to represent and give back to his culture is imperative. ​"Being one of the few people who gets to represent the Latinx culture, and the Mexican culture means a lot. I am so happy I have Valentino to back me up, a brand that believes in showcasing artists that don't have the biggest platforms."
Does he ever feel overwhelmed or stressed out? ​"I came to a point in my life two years ago when I was realising I wasn't taking the time to inspire myself. Now I come offline; I go into nature, listening to my grandparents' stories and talking to them about their era. I tap out of work and I sit in front of someone that has nothing to do with fashion – those experiences inspire my work, I'm taking in the food and my environment. We all need space."
For Alejandre the hope is that the next phase of beauty is ​"genderless, inclusive and unapologetic – this is me, take it or leave it" is the attitude. I ask what advice he'd give to a young aspiring makeup artist and he comes back immediately with ​"get off of your phone". He's only half-joking, and then very serious when he asserts, ​"you do not need every single product. All you need is yourself and your creative mind."


More like this