Martine Rose flips American history with Tommy Jeans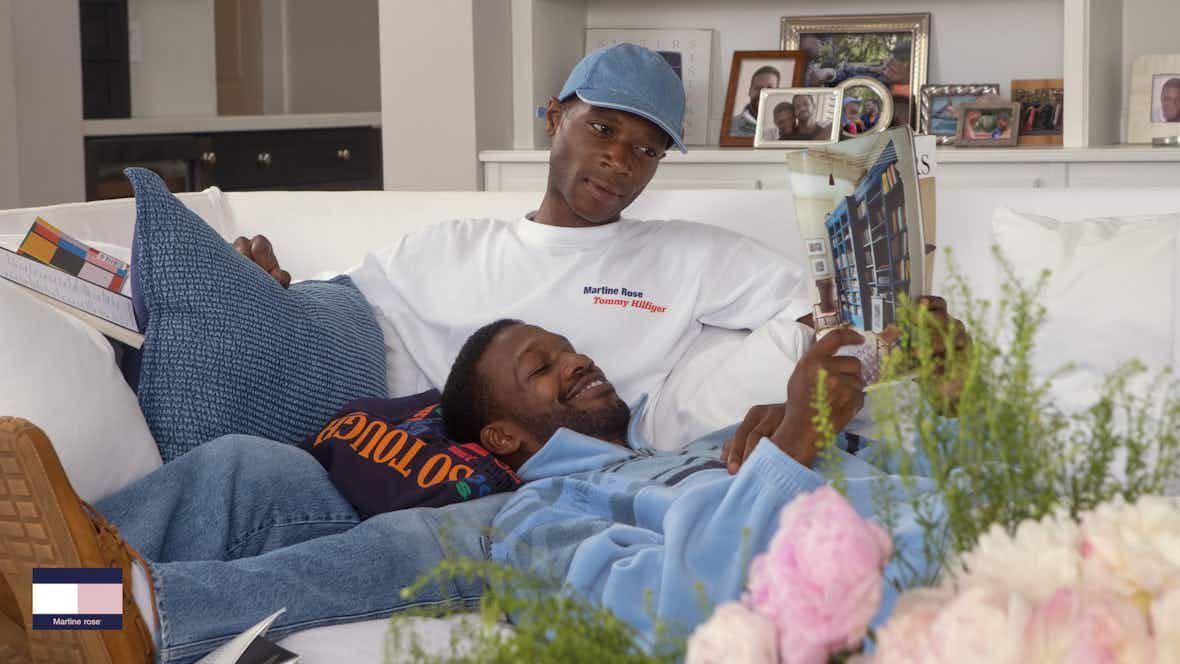 We speak to the designer about her latest collaboration, subverting the "Hamptons man" and spiking the all-American brand with her British DNA in a subtly political collection that unpicks US subcultures.

Martine Rose has long been influenced by the subcultures of Britain's past, but you could say that, by now, her brand is a fully-formed cult of its own. Taking the unpolished rage of punk, the romance of lovers' rock, the optimism and familiarity of football terraces and the unabashed hedonism of acid ravers, Martine Rose has cultivated an attitude that revels in sex, sounds and good times.
She is, after all, embedded in the best of Britain. And that's what makes the brand's latest collaboration all the more special, as Rose leaps over the pond and partners with Tommy Jeans for a capsule collection rooted in traditional Americana tropes. But with master subverter Martine Rose tugging from one side, it's not all varsity jackets and blue jeans.
Diving into Tommy's expansive archive, Rose drew from some of the subcultures the all-American brand has been influenced by in its 37 year history. ​"We wanted to avoid the more obvious approach of a ​'90s hip-hop revival," the designer says, ​"it felt too familiar." Instead, she explored the ​"preppy, collegiate Hamptons man as an exploration of American culture."
The longevity and influence of Tommy Jeans has certainly inspired Rose in her past collections. Oversized denim jackets, jeans subverted through sexy criss-cross detailing, and printed XL windbreakers have all been re-contextualised for the modern Martine wearer. That said, she's never been one for obvious design decisions, choosing instead to remix, blend, stretch or corrupt tradition.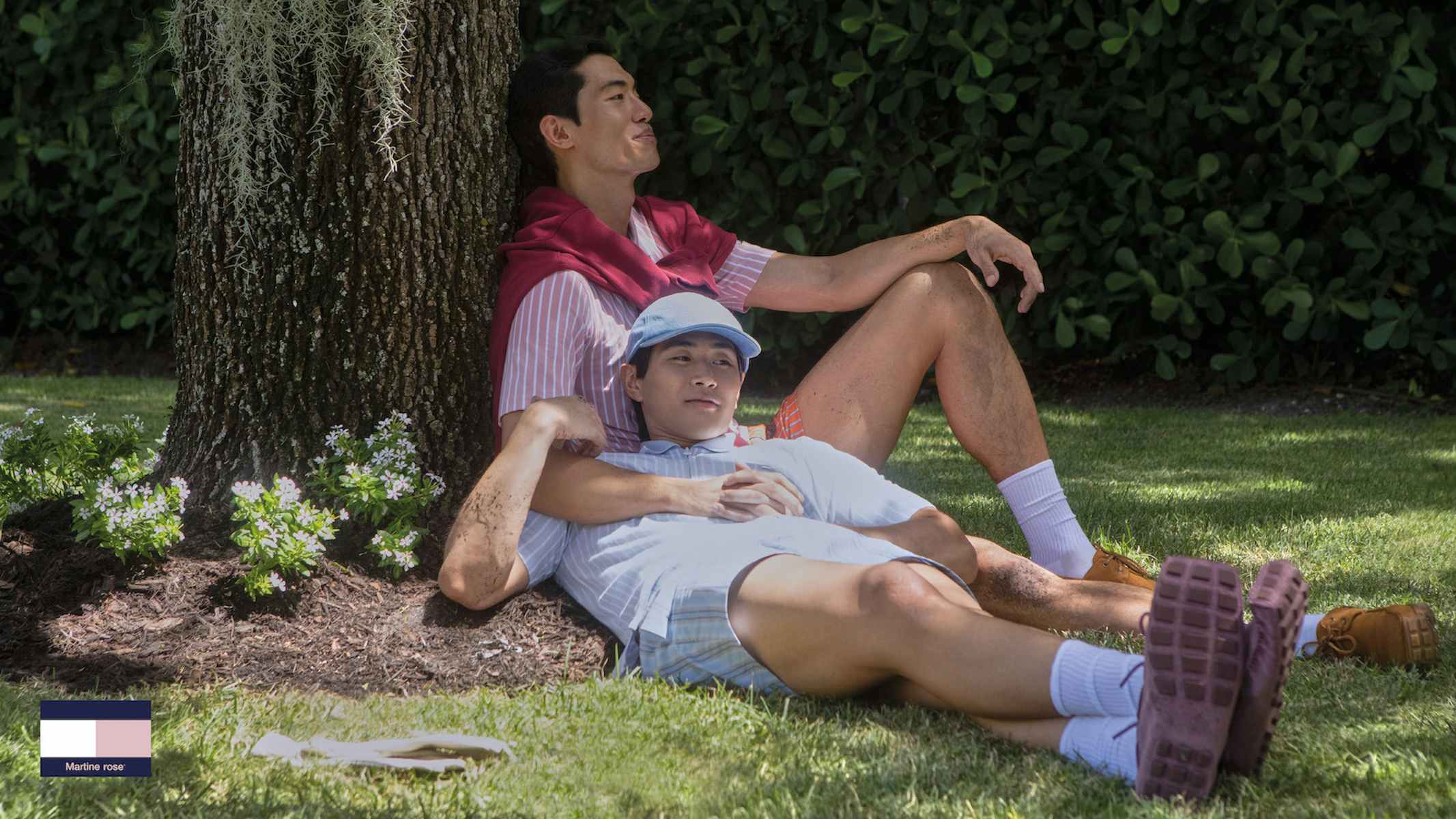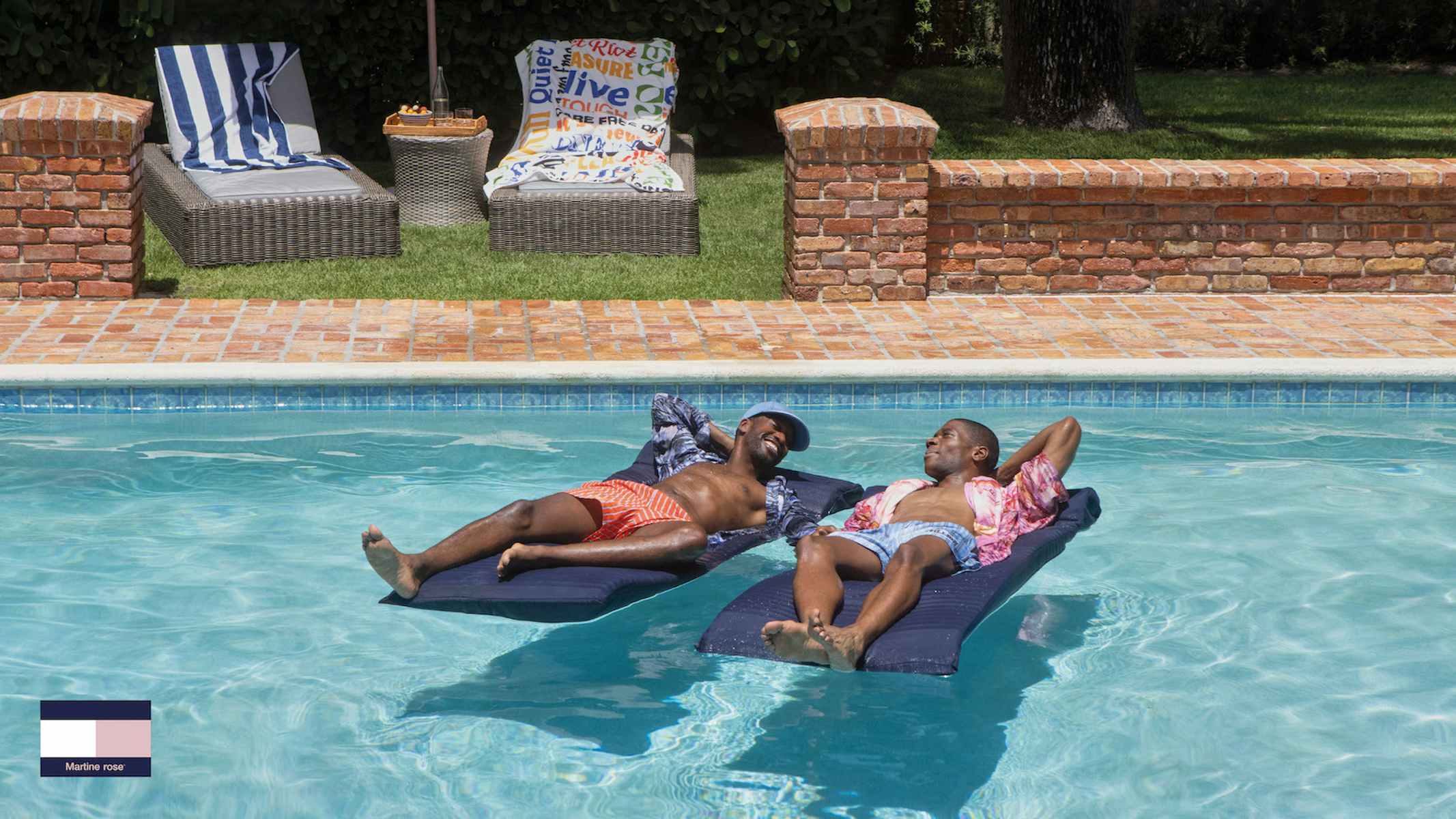 "The handwriting of Tommy was so familiar, there was an existing synergy that made the collaboration a very easy process," Rose says. ​"It was amazing to get access to the entire Tommy archive. We've worked on past collaborations where the brand does something completely different to us, but with Tommy it was a fluid process as it's a brand we already draw inspiration from."
There's striped shirting, both smart and casual, for poolside drinks or fancy dinners; cosy fleeces and jumpers to be thrown over the shoulder, and a towel robe for traipsing round the manor. But the traditional pieces are slashed with proper Roseisms: a garish dad print shirt with a matching tie for bonus points, and a denim jacket so oversized and boxy it almost resembles a blazer, sans lapels. Then there's the saucy chaps worn with a matching jockstrap underneath, carpenter jeans and trousers with a seductive opening around the crotch.

In the grand scheme of Martine Rose, this collaboration feels pared-back, a more casual approach to, well, casualwear. Instead, the subversion came from Rose's focus on the Hamptons man, as she twisted its connotations of white privilege and turned it into a message of love and inclusivity. ​"We wanted to explore people outside the realm of straight white privilege, a subculture not usually explored through an American cultural lens," she says.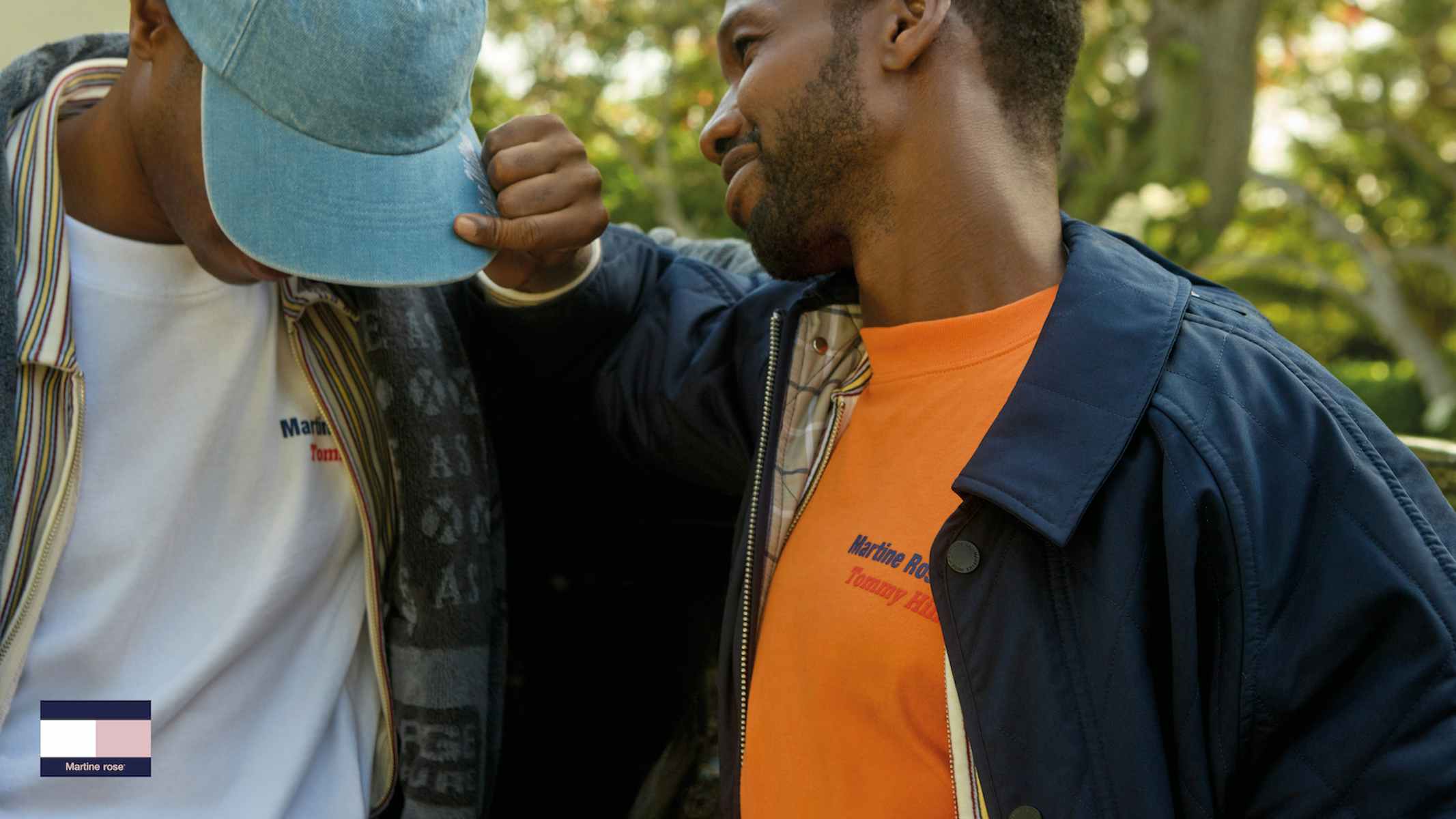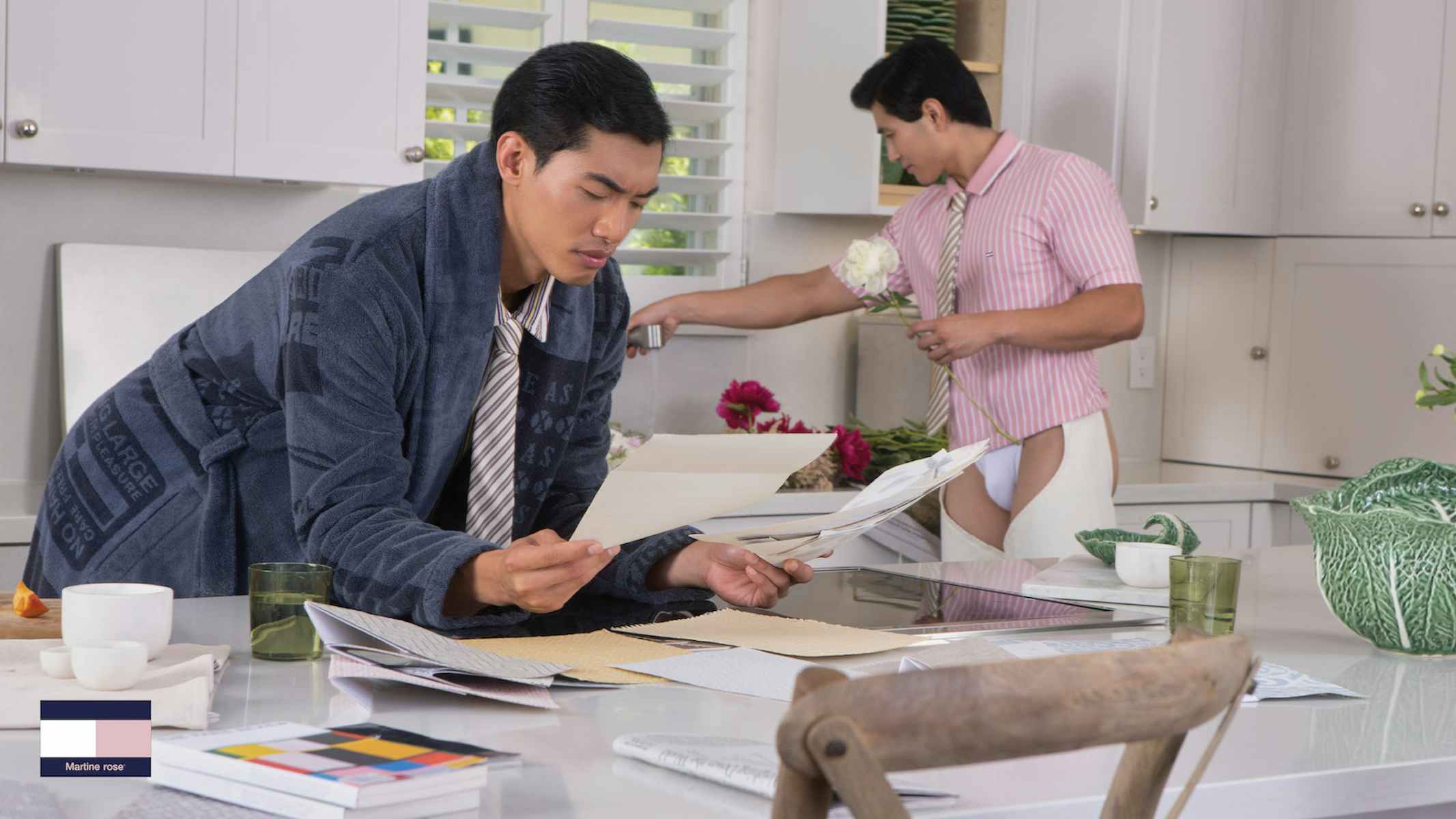 And so the collection's accompanying campaign flipped the Hamptons image on its head entirely. Shot by Buck Ellison and styled by Tamara Rothstein, it celebrated same-sex, interracial relationships against the affluent, preppy backdrop of a white picket fence and backyard pool, complete with a trusty Labrador and unmistakable look of love.
"Buck Ellison was able to bring our collective narrative vision to life, playing with social codes and delving into the minutia of collegiate culture," Rose says. ​"His work vividly captures the detailed mechanisms that quietly, even politely, obscure inequality in America. He helped us navigate and capture the immersive world of American culture that we wouldn't necessarily appreciate from the outside."
When she puts it like that, Martine Rose's collaboration with Tommy Jeans is a shake-up of tradition, a political message reminding us that, while we can't change history, we can certainly manoeuvre our future.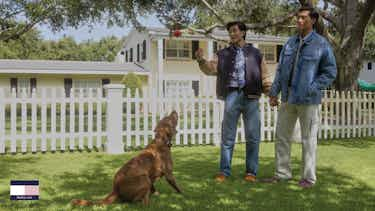 More like this