Everything going down at Milan Fashion Week AW21
Fendi, Prada, Moschino, GCDS, Dsquared2...
Dean and Dan Caten use the party as a conduit to spur themes of love, liberation and shared community
Dean and Dan Caten, twin-duo and creative directors of Dsquared2, were in the mood to party this season. And it's a serious matter for them, but that's not to be confused with taking oneself too seriously – which the Italian house's AW21, co-ed collection urges you not to. Presented as a short film, the buoyant boys and girls of Dsquared2 are liberated, and not just because they were all Covid-approved – its final credits assure us – as they point to an all-frills future that could be lurking somewhere in the distance. A nod to the insatiable feeling that someday soon, the ongoing pandemic will be one for the history books, and not a bleak reality.
Let's start with the moveable home – a concept proposed by the fashion house as the living, breathing object thrust at the core of the collection. A symbol of carefree nomadism, it moves with the times as a safe space to​"be your true self and possibly explore being something else entirely," as the press notes mention.
The brand's DNA is rooted in freedom of expression – and sexy – since the mid-'90s. But more than that, the brothers have proven an on-going dedication to rallying against bullying and their desire for individualism regardless of the status quo. Fuelled by their early experiences of bullying while in foster care, they have long-explored ways of emancipating their wearers from the constraints of side-eyed onlookers, often working with anti-bullying charity, Be Cool Be Nice. And don't let the bastards get you down. TJS
Click here to continue reading
And so a cosmopolitan utopia is born, where the party is merely a conduit to lose yourself a little bit, have fun, dance and slap a smile on your face – irregardless of who's around. The womenswear is characteristically shiny but decidedly relaxed, finding a middle-ground between party-appropriate attire, and the need to slip into something slightly more comfortable. After the past year of​'lax fits, it seems old habits won't die too quickly. Thick knitted sweaters, worn-in jeans and long check shirts (appliquéd with crystals) build a familiar, casual foundation for the brand's beginnings, subverted with generously collared jackets, a neon orange camo-print dress and a skirt suit in leather or mixed nylon.
A tiara headband and an all-over sequin drawstring bag gave a subtle reference to the school disco, interspersed with mature tailored jackets, tweed checks and wool and cashmere shirts. In another nostalgic nod, Patrick Cox restyled the celebrated Wannabe loafer – first launched in the​'90s at the height of the shoe brand's popularity – as a heeled loafer with a mini platform, a high and thigh boot, and a lower ankle boot with a chunky heel.
Dsquared2's men were dressed for the outdoors, presented in warming, oversized coats with a built-in check shirt, paired with dancefloor-ready wide-legged pants and smarter patch pocket chinos. In a sportier flex, zippered, colour-blocked jersey tops were worn under a puffer jacket, or a biker merged with a blazer. And tuxes follow suit (ahem) complete with the brand's signature knack for denim details, while a cowboy shirt's sequin embellishments suitably light up the nightfall once the sun's gone down.
Shine on.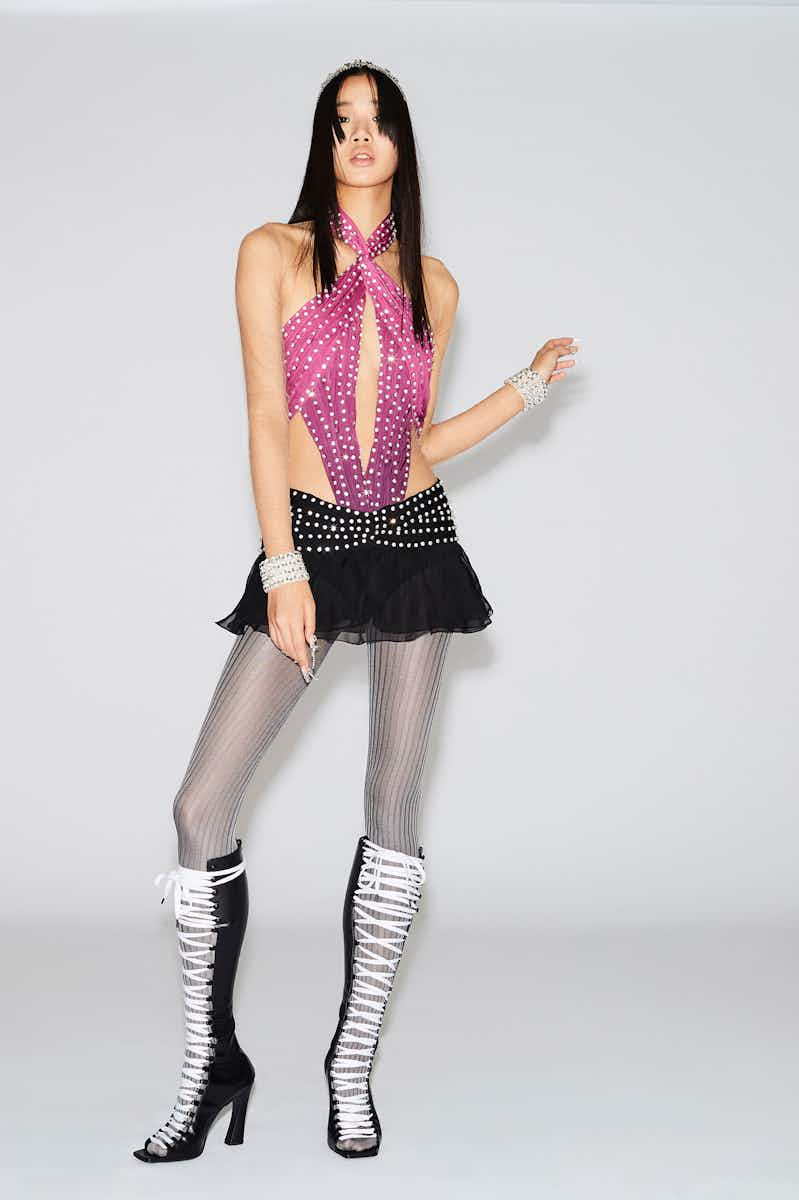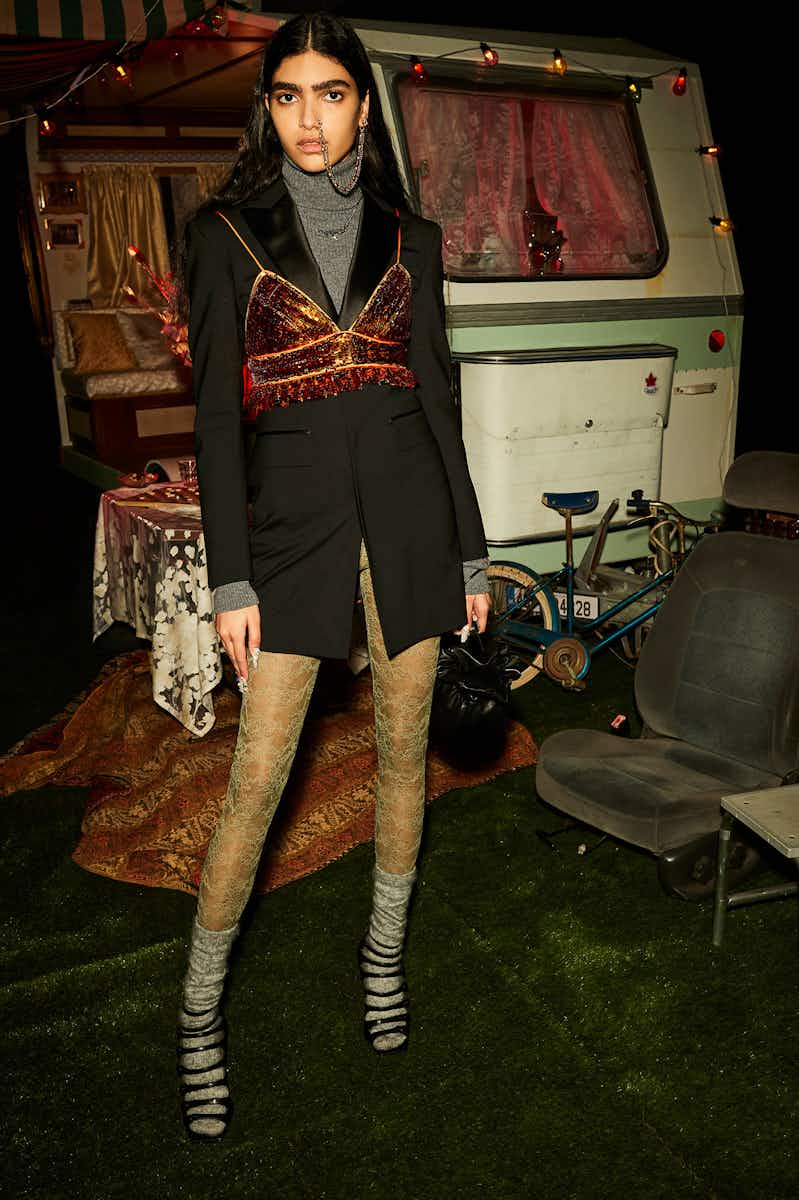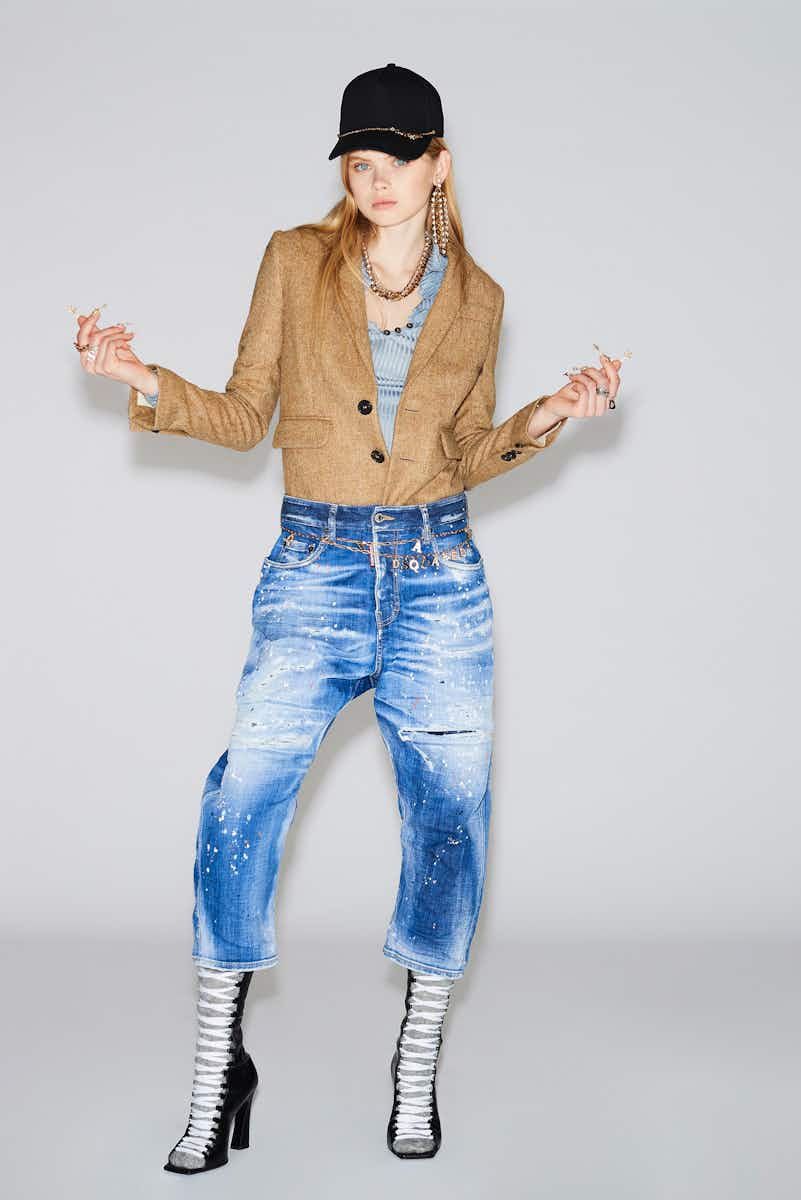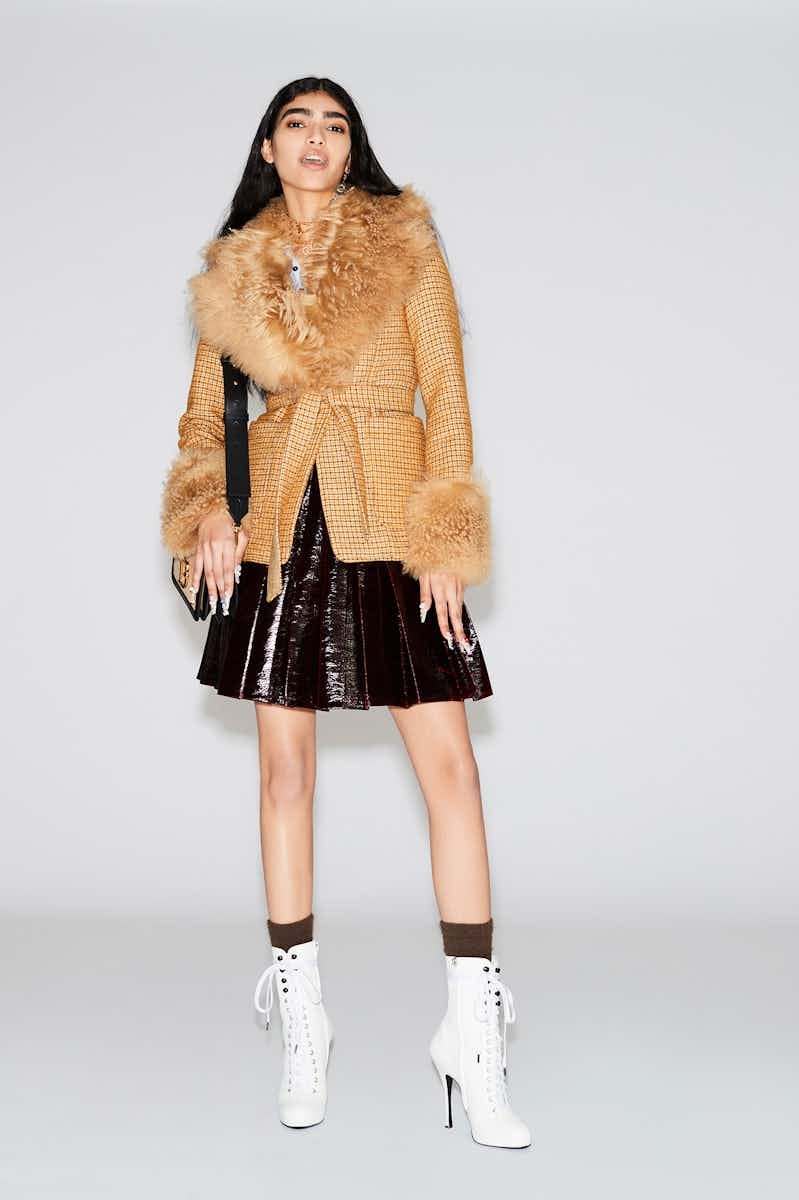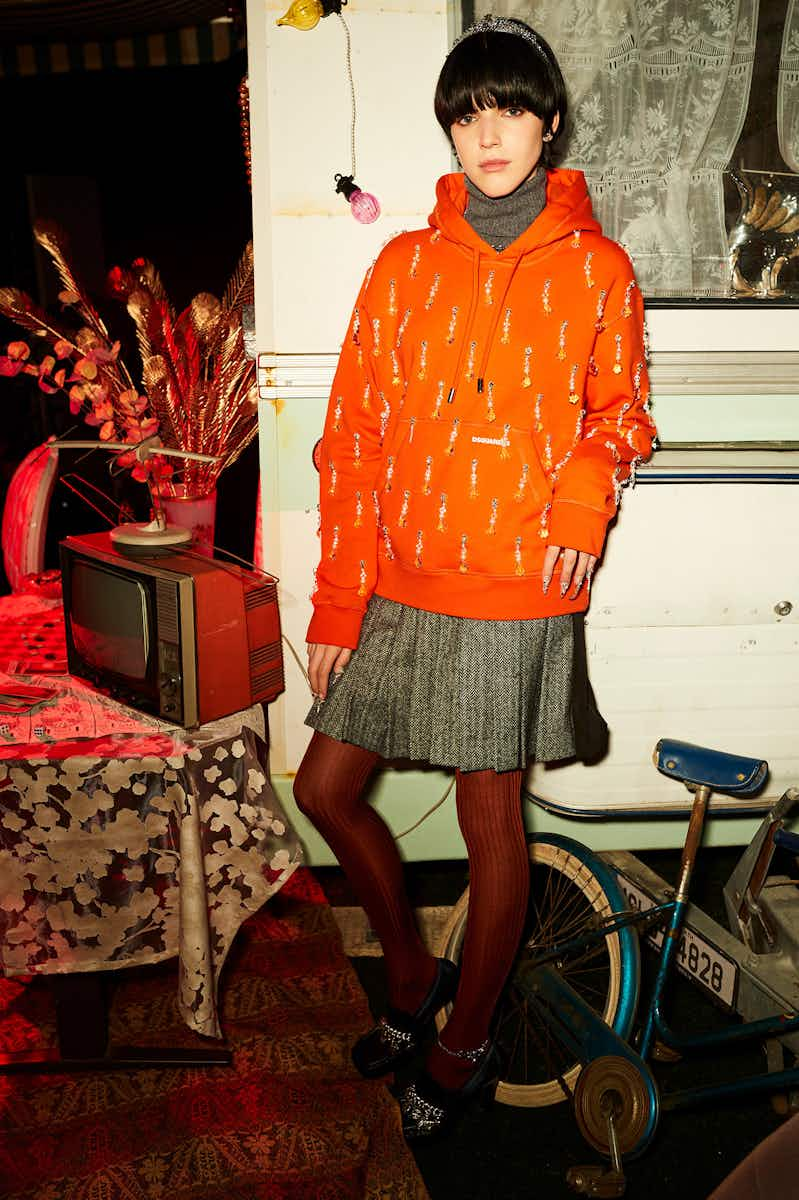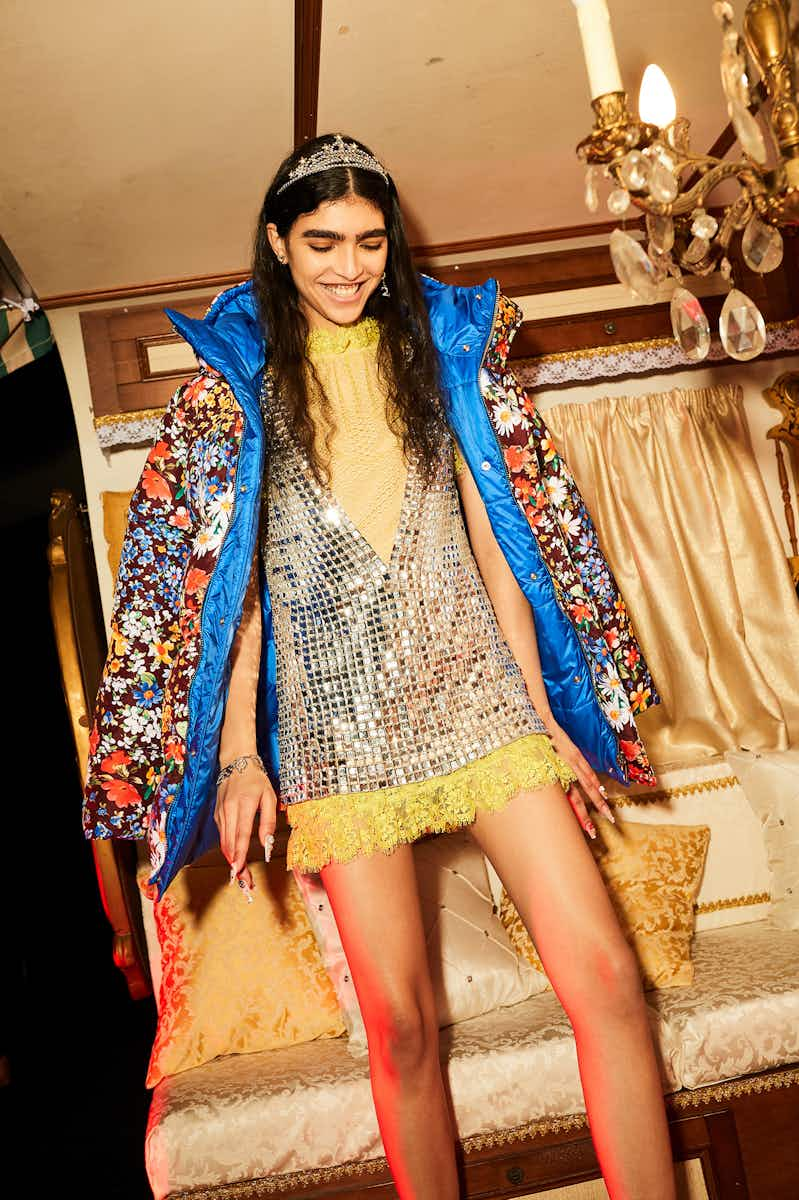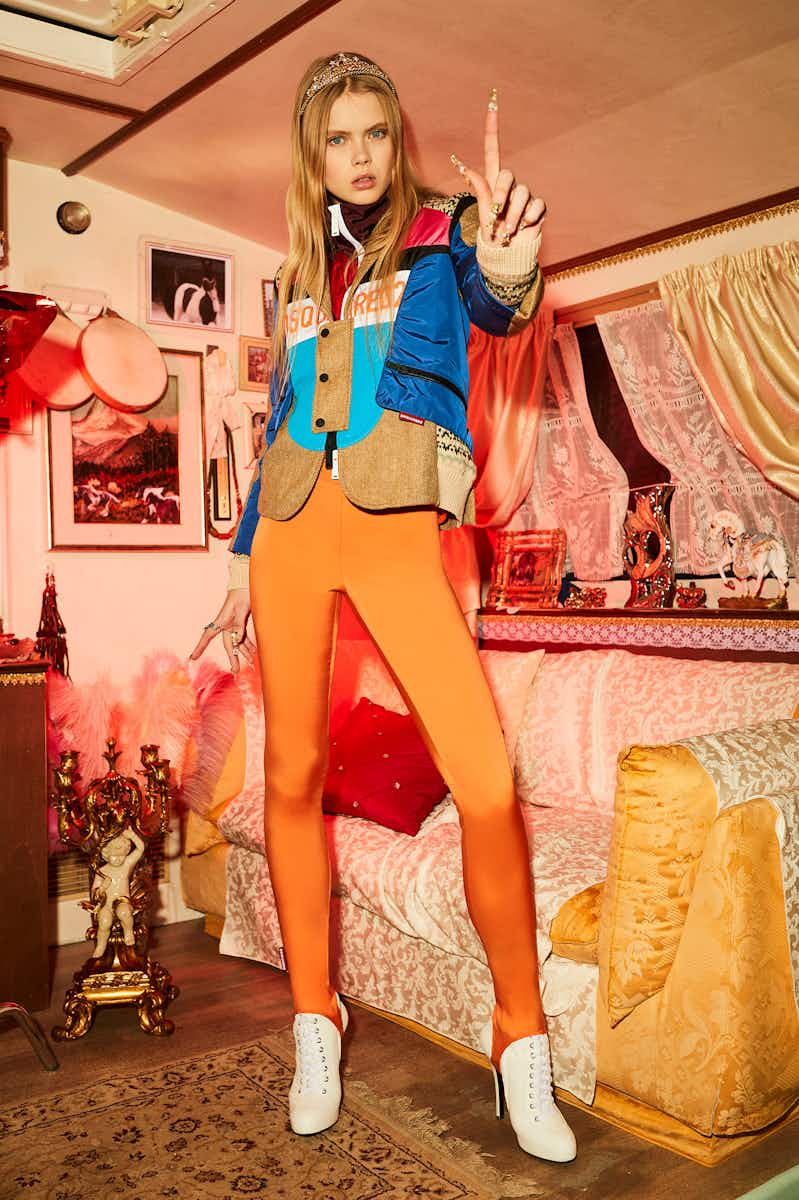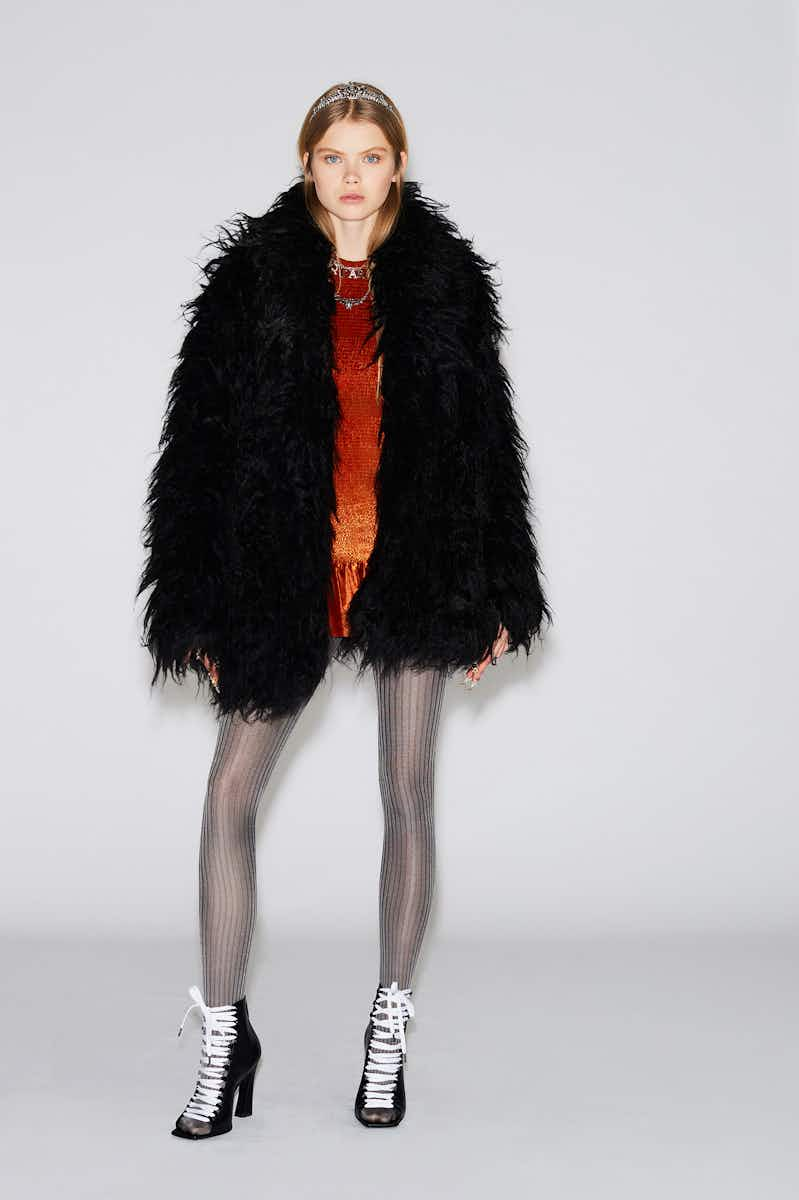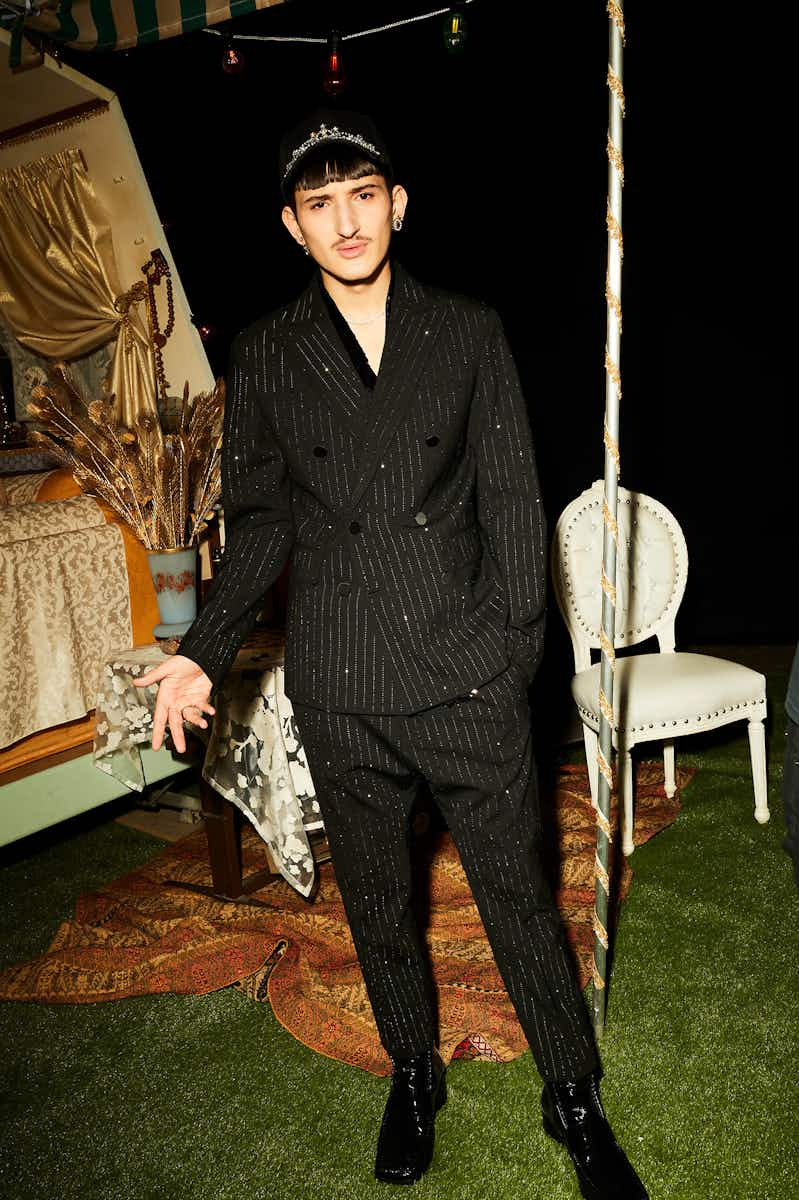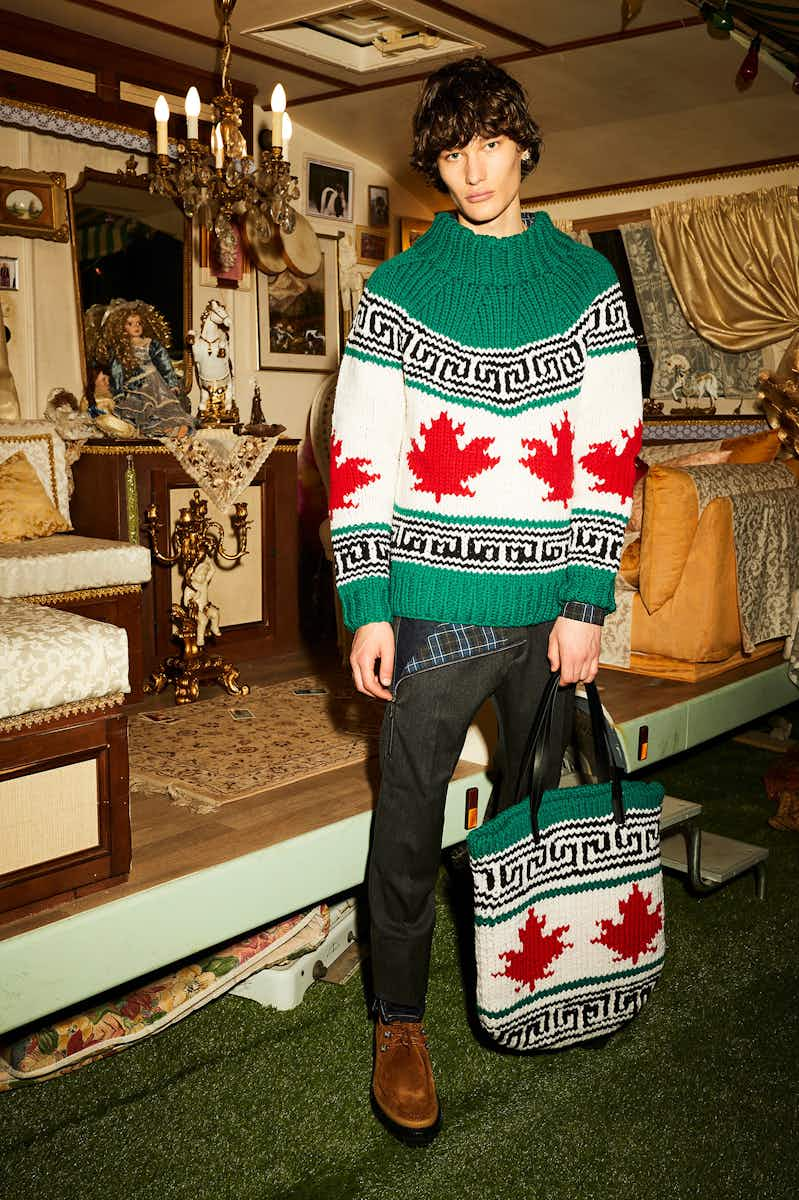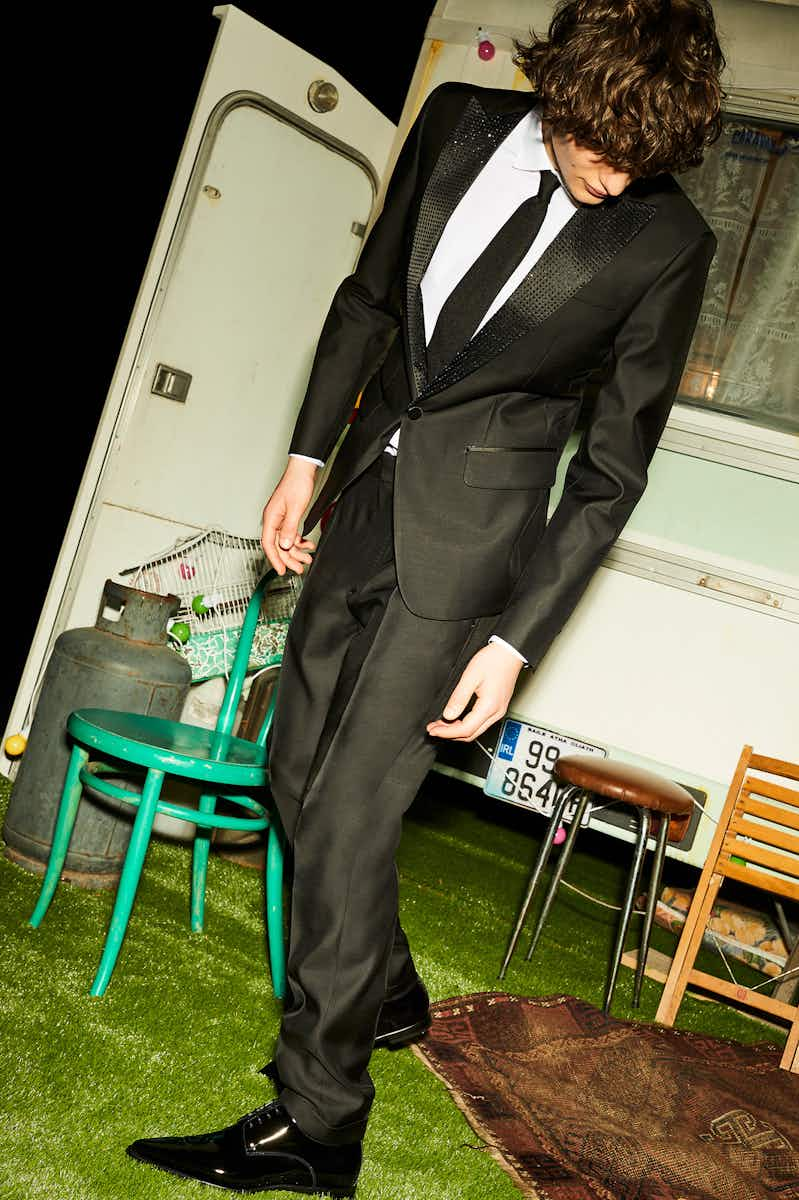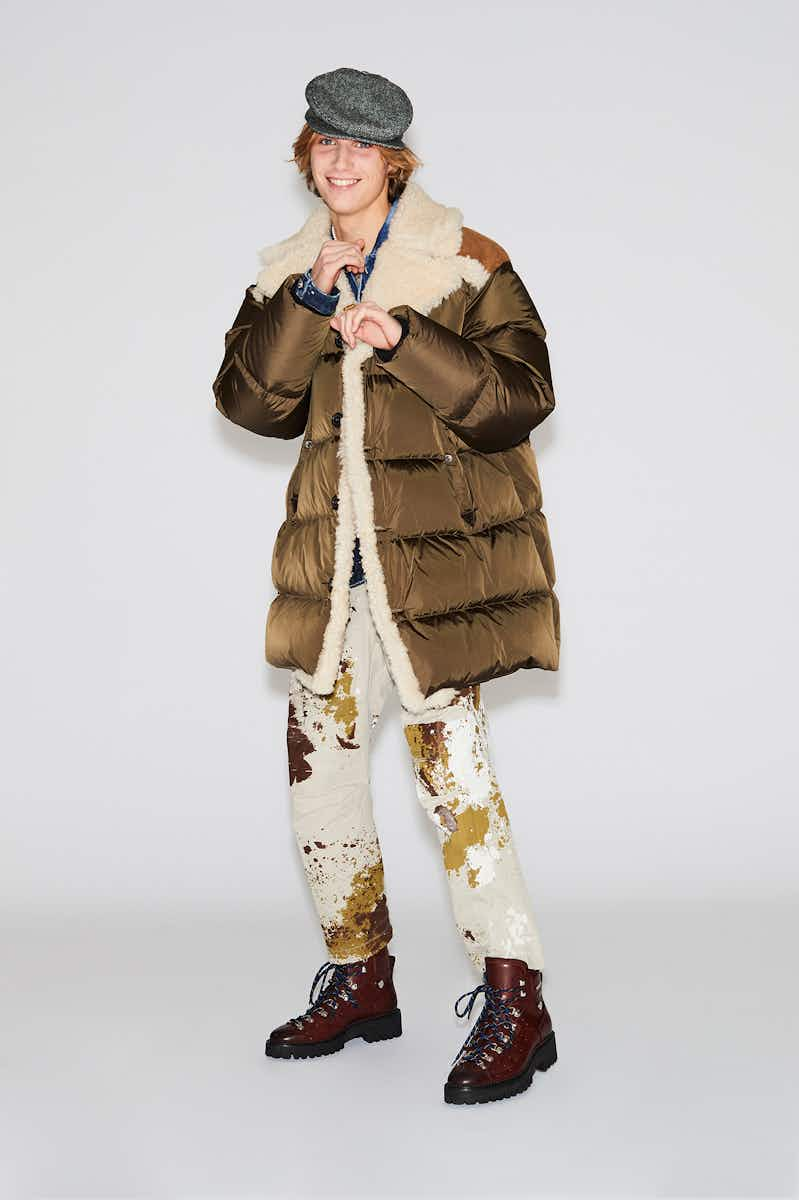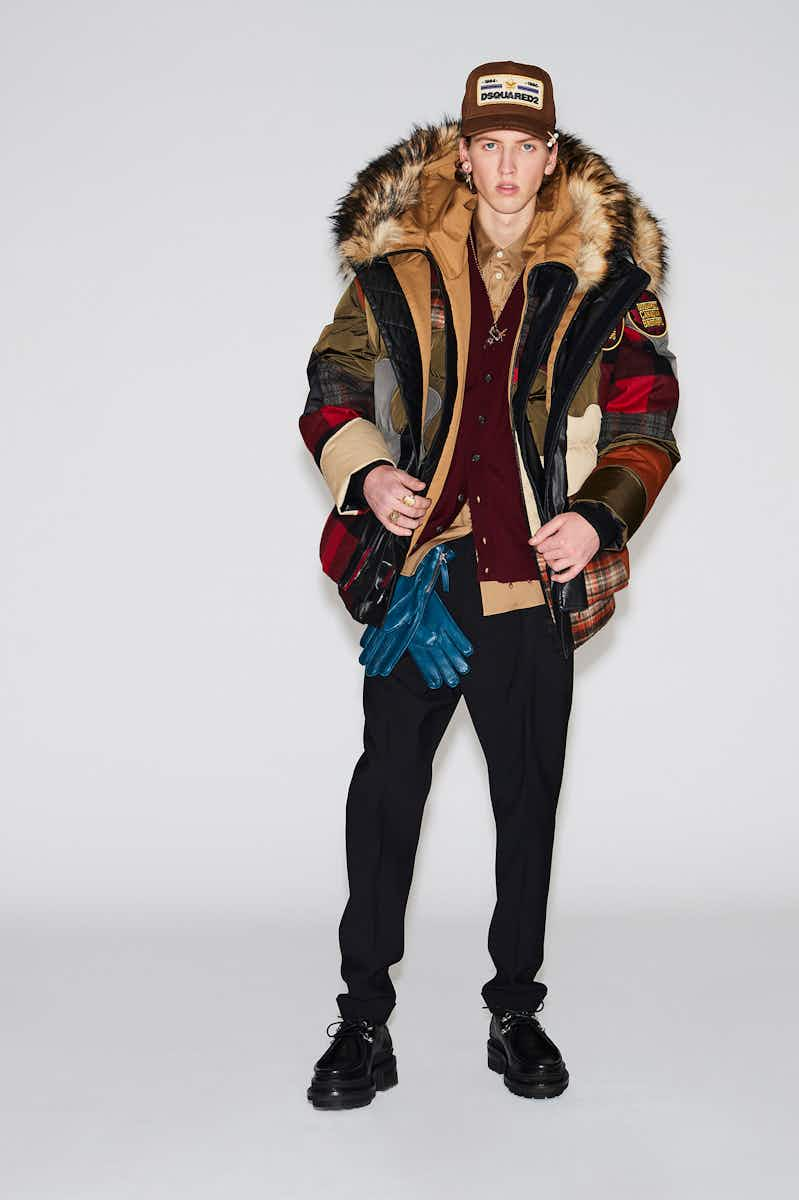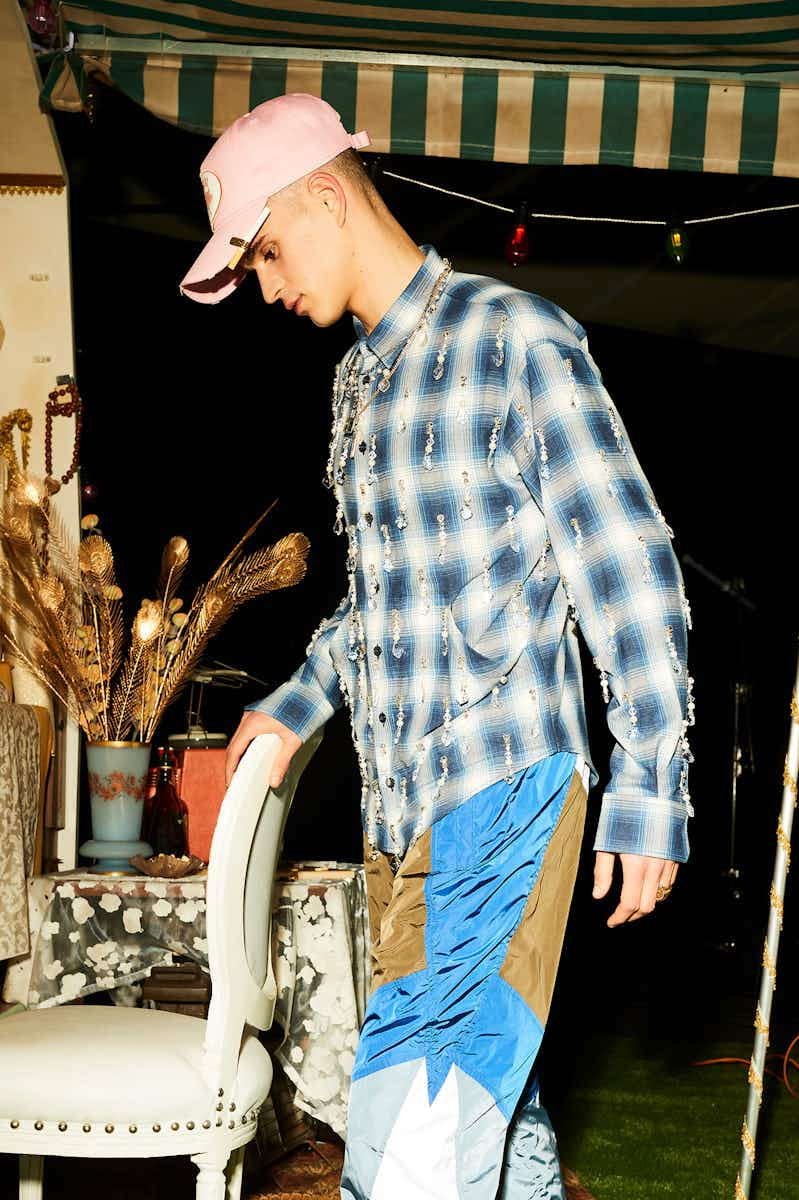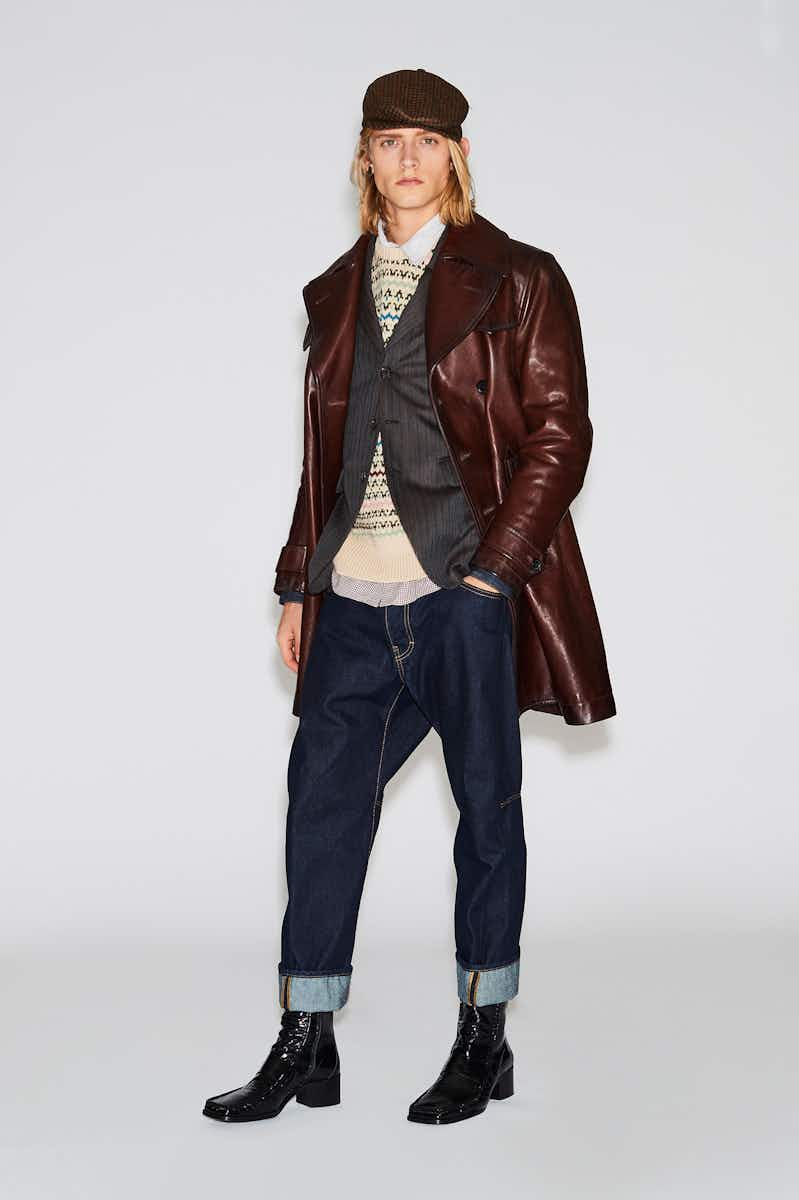 A dynamic symphony of emotion that captures the spirit of going out-out

GCDS' creative director Giuliano Calza took us tumbling down the rabbit hole with a trippy AW21 collection presented by way of a short film directed by Albert Moya. Technicolor Symphony was jam-packed with references to edibles and sweets, evoking sensations of euphoric sugar highs counter-balanced by crushing comedown lows. And fittingly, GCDS partnered with Italian confectionary brand Leone for the occasion.
Rina Lipa (sister of pop-sensation Dua) opened the show in a figure-hugging, khaki halterneck dress cut out to reveal a lavish diamante thong, setting the scene for a collection whose themes were that of optimism and escape, toeing the line between reality and fantasy, ​"akin to that first hit of candy", as per the press notes.
The co-ed collection centered around plush, rich materials awash with Y2K references, namely a provocative denim two-piece joined together by a chunky plastic chain, a skimpy diamante clamshell bra with swinging tassels and logoed shoulders, and a ruched asymmetrical dress in a super sweet shade of pink.
Actress Maisie Williams also walked down the runway, wearing a sunshine-yellow tailored suit with voluminous sleeves. In stark contrast stood a black asymmetric dress adorned with shimmering purple and silver tinsel, complete with a sexy hip-high slit, along with other darker, more solemn pieces such as all-black utility jackets, trousers and tank tops. Calza described the show as ​"an ASMR-fuelled symphony", featuring tactile garments where fabrics moved freely, accompanied by sounds of rain, sandstorms and whispering voices.
The designer added that the collection was a means for him to ​"reflect deeply on what it means to be alive" in this strange moment in time, adjusting his process accordingly in order to capture something personal, reflecting our ever-shifting sense of self, culture and style in the process. JW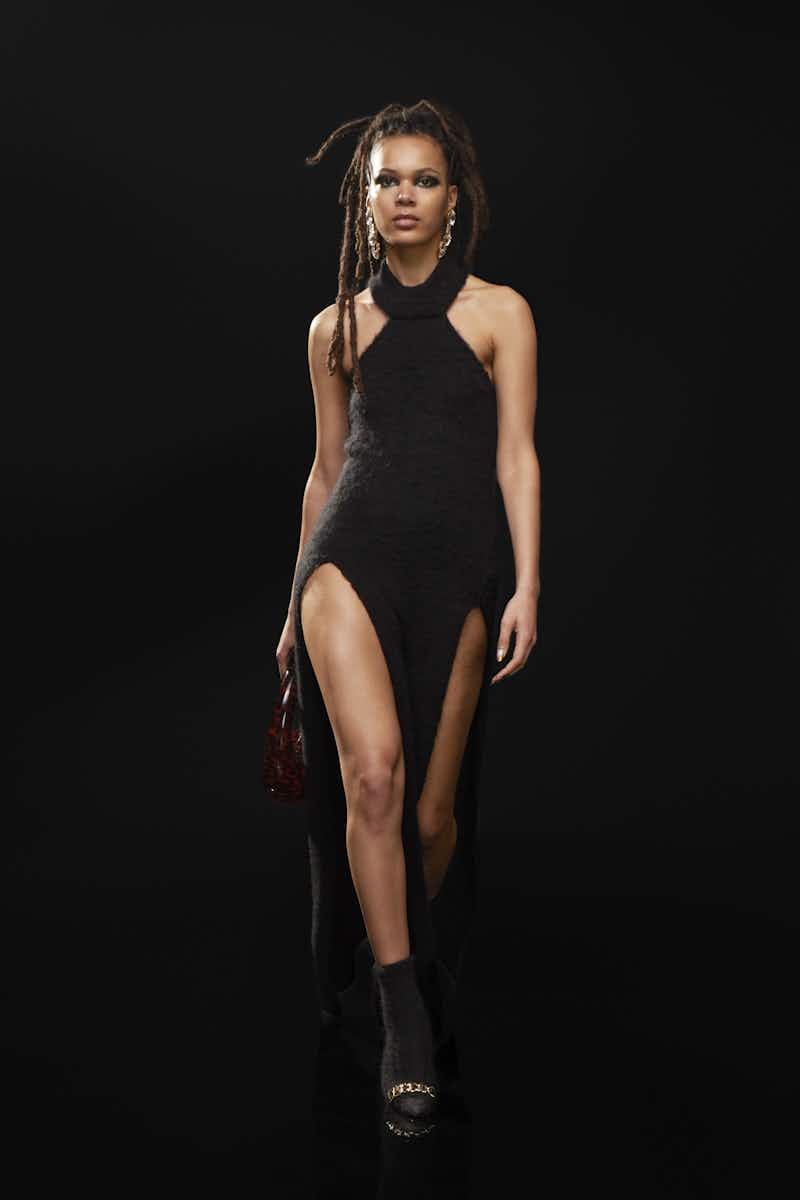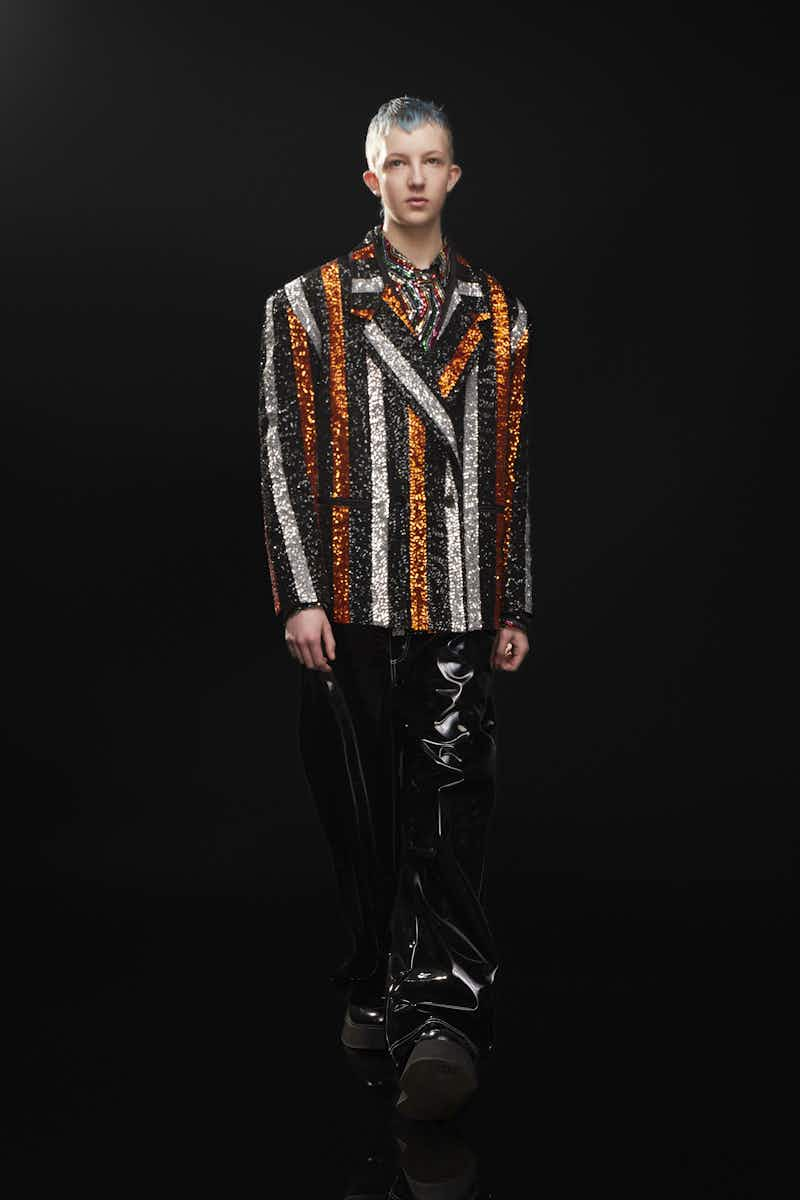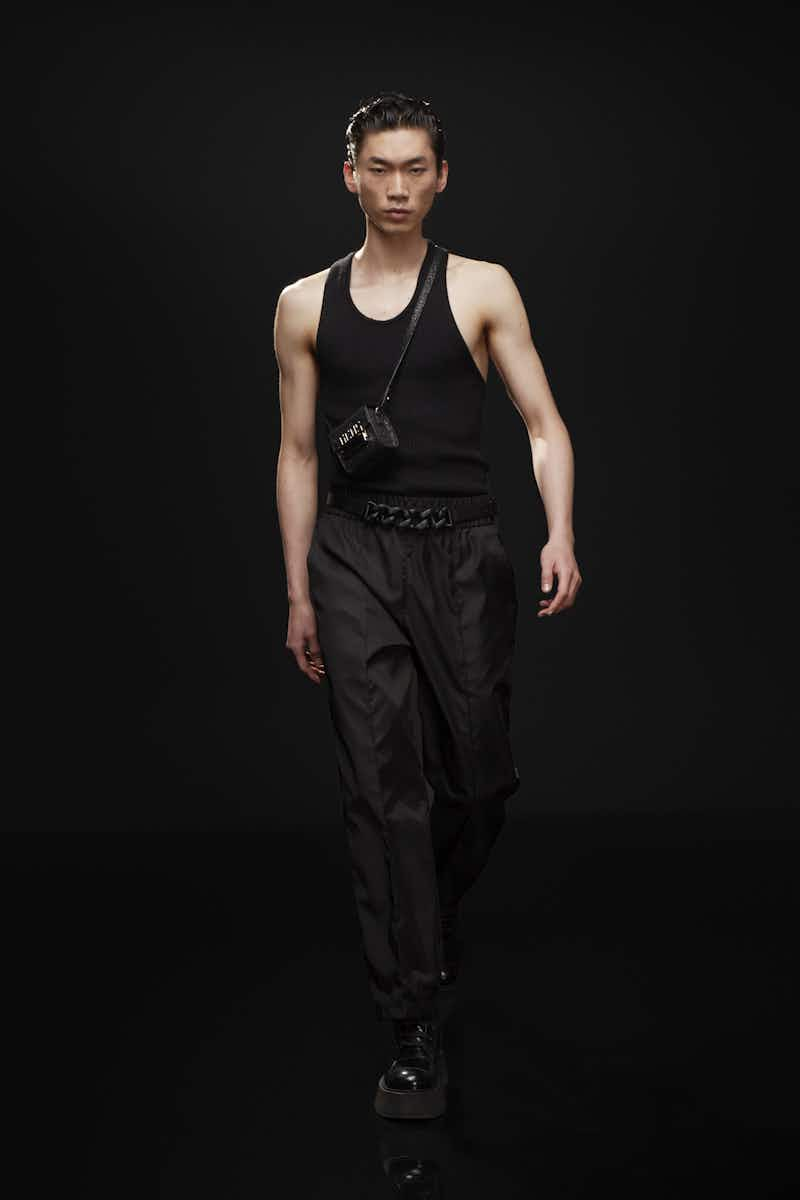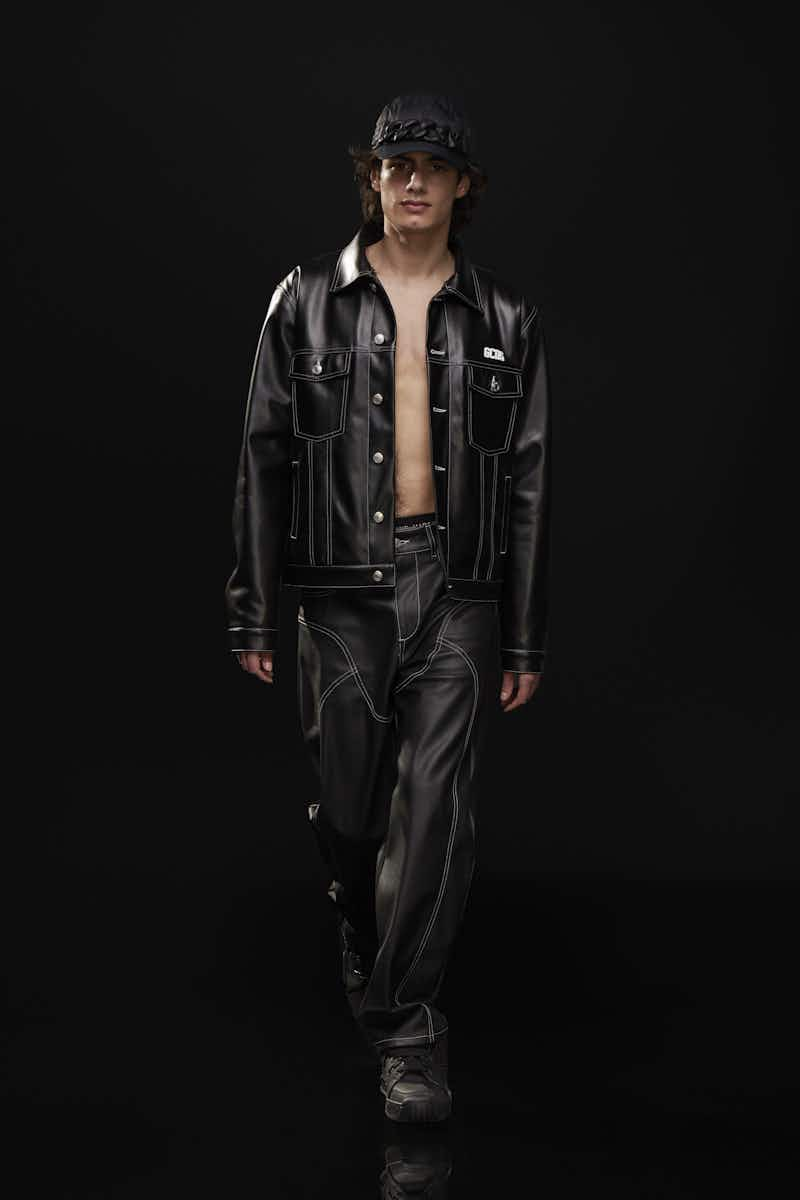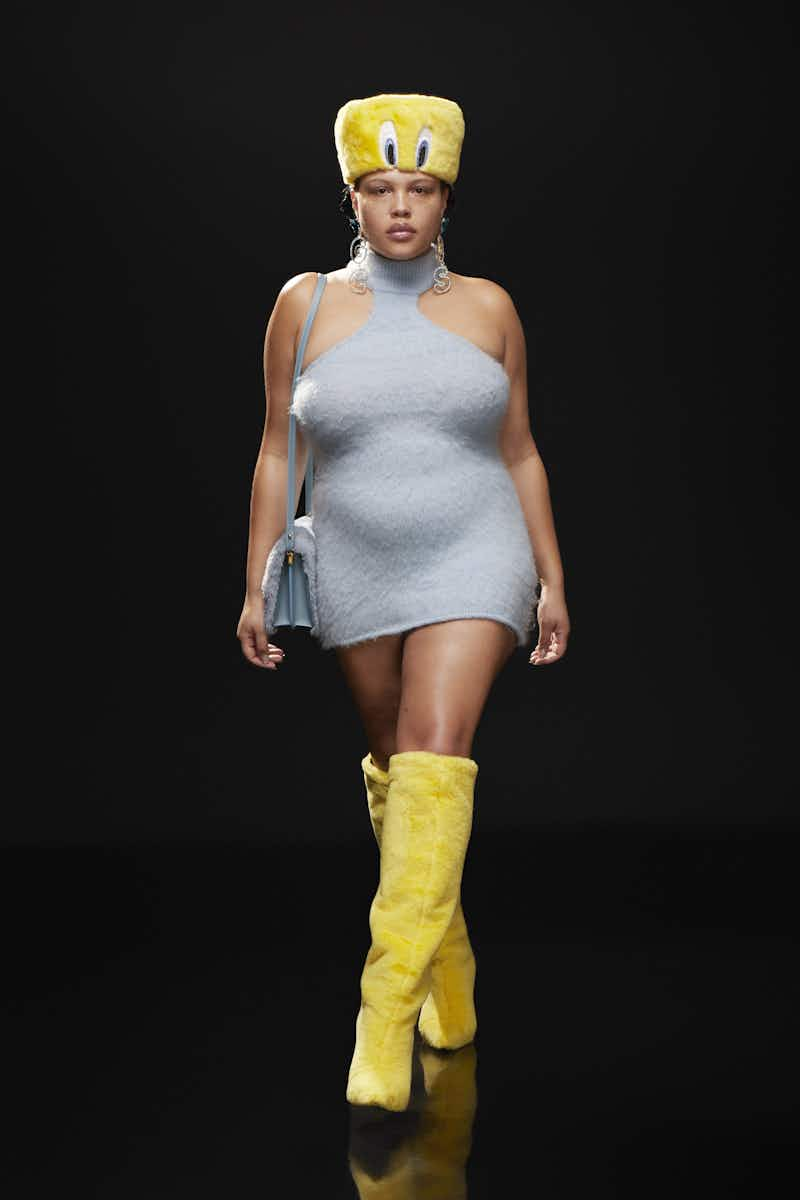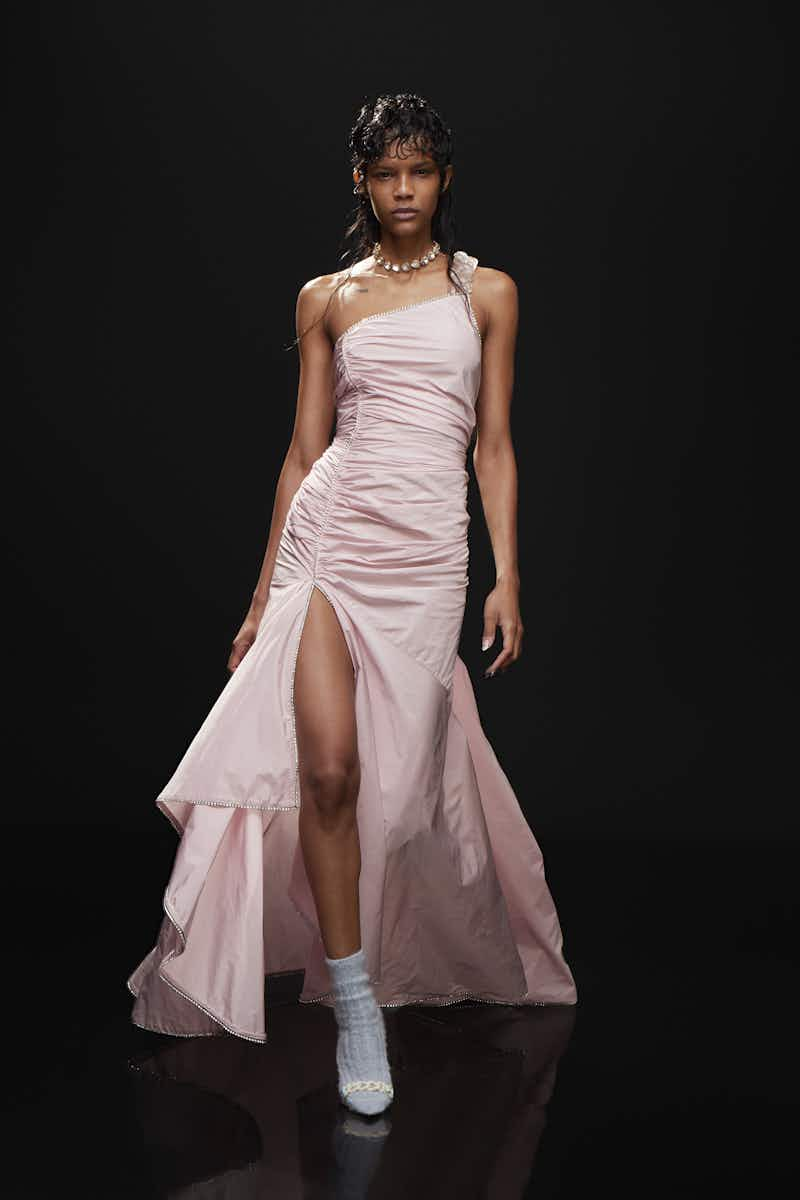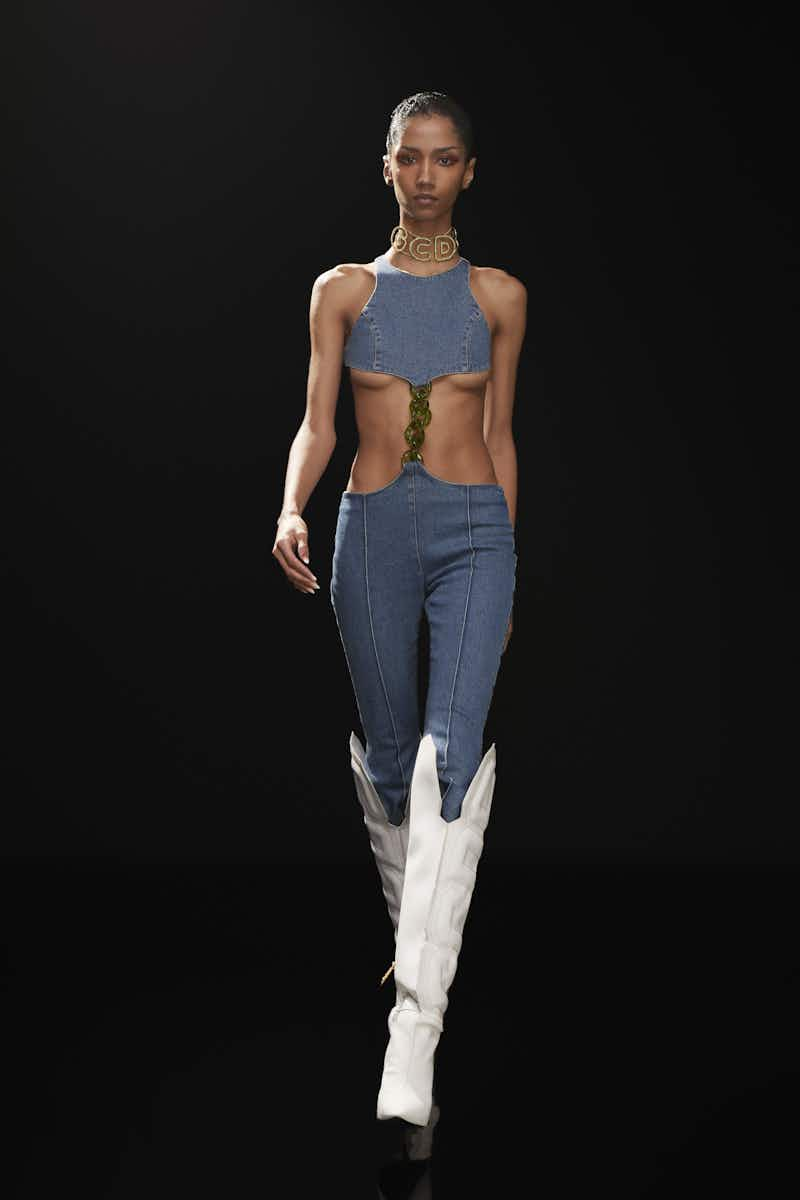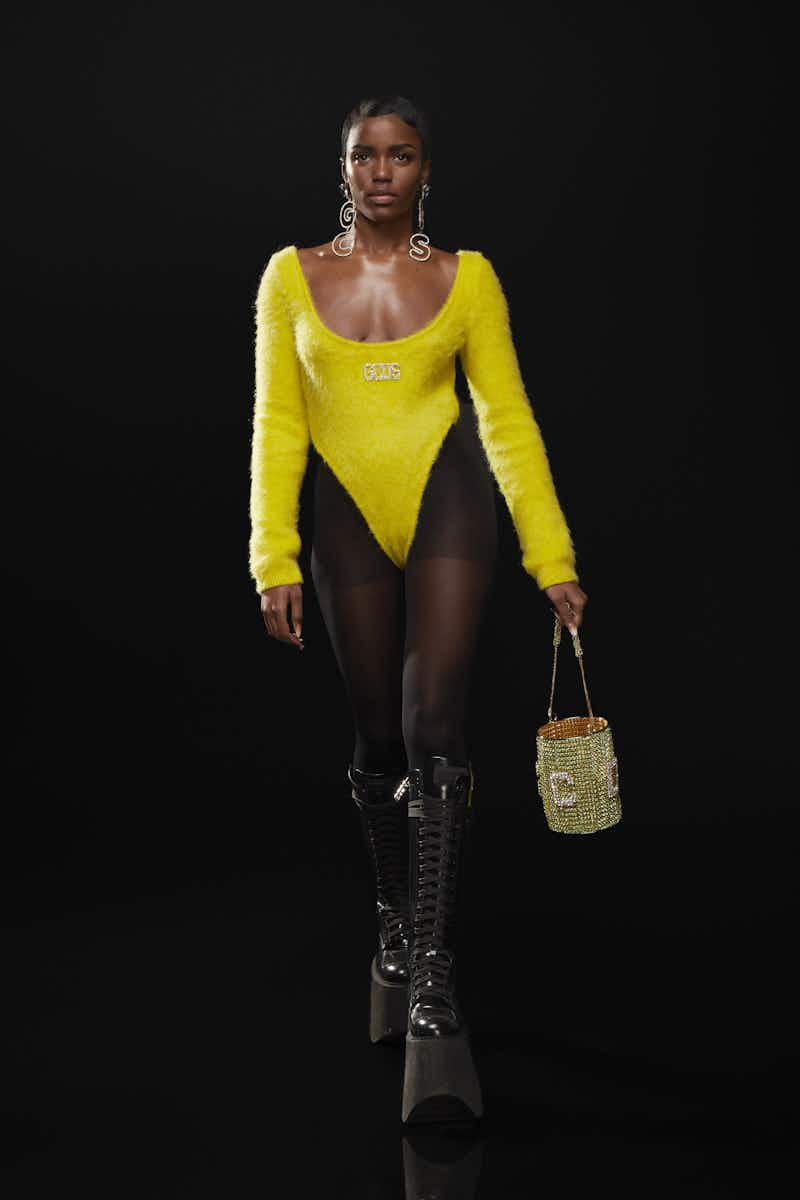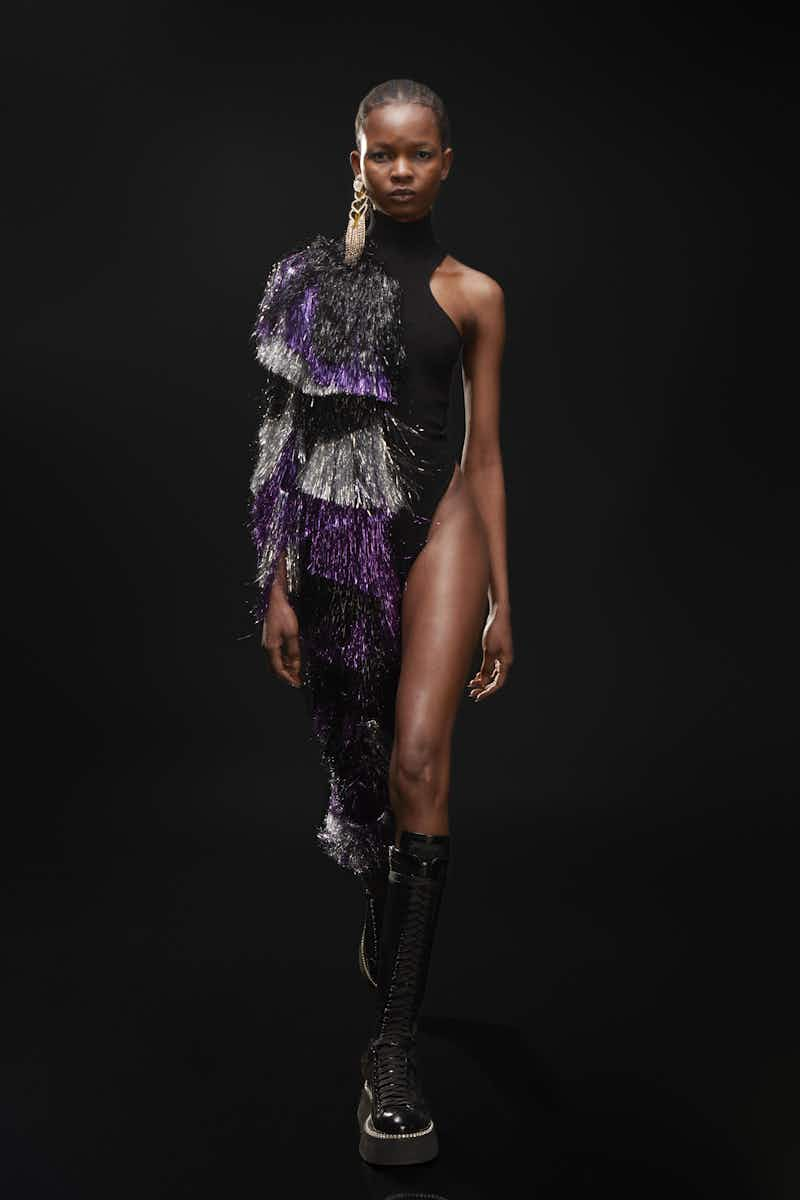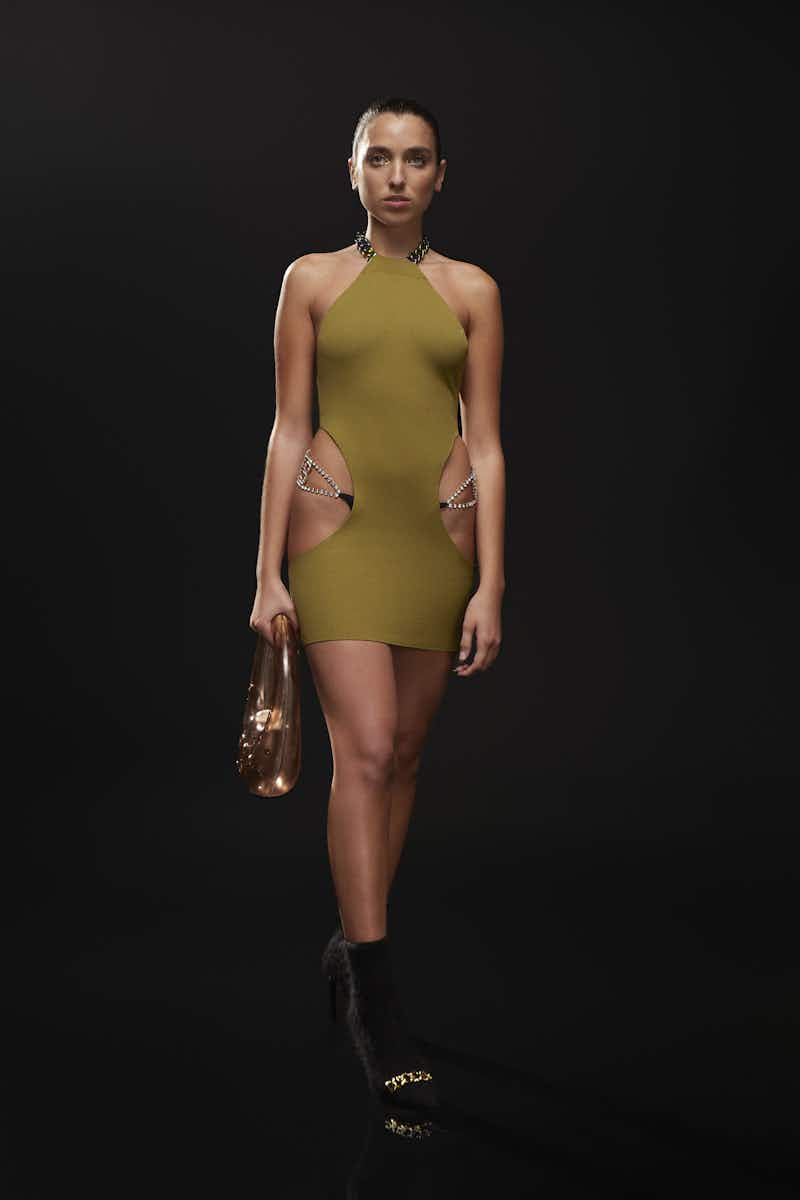 "It's so important right now, to fantasise and get carried away with your imagination. It's a survival mechanism in itself"
It's safe to suggest Jeremy Scott is the designer of escapism. Always one to make a scene, whether immersed in a pink plastic Barbie fantasy (2014), a luxury spin on McDonald's (same year), harking back to cake-eating enabler Marie Antoinette last year and, most recently, when Scott was stripped of his devotion to producing showstopping presentations in real life, he flipped the script and produced a collection worn by wooden marionettes, no bigger than a foot in height. Two fingers to Covid, the show must go on – even in puppet form.
"I'm a slave to the diva!", Scott told THE FACE when we spoke in the run-up to his SS21 collection last September. It's true – Scott's musings come thick and fast throughout his collections, seasonally bound by an over-the-top camp sensibility often drawn from his own technicoloured world. And this season is no different, as Scott references to The Women – a trailblazing 1939 film featuring an all-female cast – to bring glamour, whimsical fantasy and high fashion as a temporary respite from our daily struggles throughout the ongoing worldwide pandemic.​"We need escapism now more than ever," Scott says.​"We're all trying to escape one scenario or another, so this is my little gift for the season."
Steeped in old Hollywood, the collection and accompanying film, Jungle Red – a name taken from an infamous nail bar scene in The Women – takes the Moschino woman through the​"different possibilities they would have in their daily life", as the show opens with a Wall Street-inspired take on businesswear. It was Scott's intention to flip the gender roles for the women who would not have been allowed to work in these sectors during late​'30s America. And so he subverts a traditional suit jacket, cutting out the bustier and leaving the top as a bolero. Traditional crisp white shirts and ties are worn underneath, but humorously blown up in proportion – a nod to Franco Moschino's archive by turning a jacket upside down so the sleeves become a bustle. Throughout, prints of numbers and dollar signs appear on the fabric, which could be a reference to the western recession or an irreverent nod to the busy, money-making businesswoman in Scott's Moschino fantasy. TJS
Click to continue reading
Then it's off to the farm, with potato sacks elevated into glittering suits and cocktail dresses, mini-bags and headwear, nonchalantly bearing the remainders of their original form:​"potatoes", emblazoned across the midsection. And the Francoisms return, with Moschino's archival clouds and cows printed onto a flowing tea dress à la Julie Andrews, and a three-piece ensemble complete with a teeny-tiny bag.
But a day in the life of Scott's Moschino woman doesn't end there. He presents a selection of evening gowns rendered in an expressionistic style, painted with brushstrokes as though to emulate a canvas. A​"shopping safari" is the next pitstop, with zebra, cheetah and giraffe prints accompanying flamingo motifs on skirt suits, structured mini-dresses and thigh-high boots. Then comes Scott's grand finale: a night at the opera, where the likes of Winnie Harlow, Precious Lee and Dita von Teese slip into full length satin gloves, sweetheart busts and shimmering gold gowns.
It's an optimistic outlook to our unpredictable future – one that grants freedom, haphazardly swaying from work to play to party – and it only serves to grow Scott's imaginary world that he's been moulding since his first season as Moschino. There has been no better time for him to emphasise the power of escapism.​"It's so important right now, to fantasise and get carried away with your imagination," he says.​"It's a survival mechanism in itself."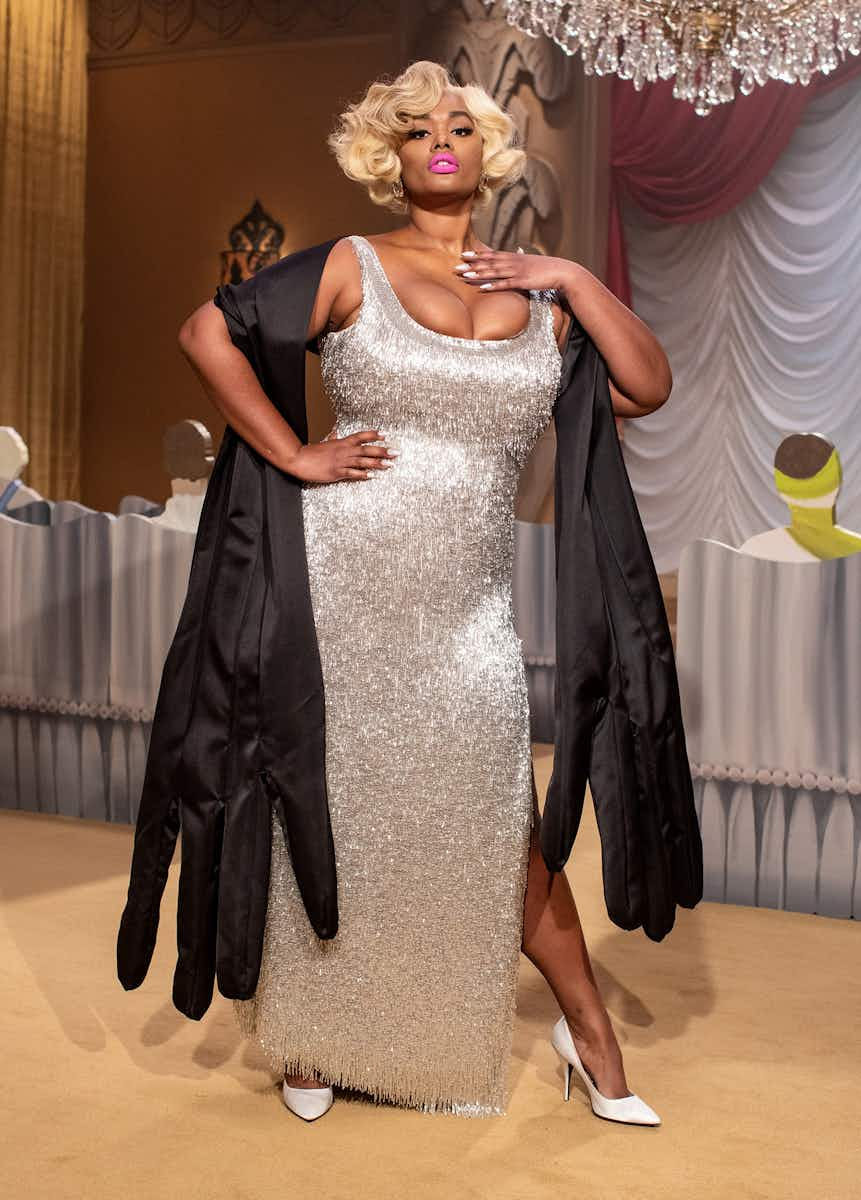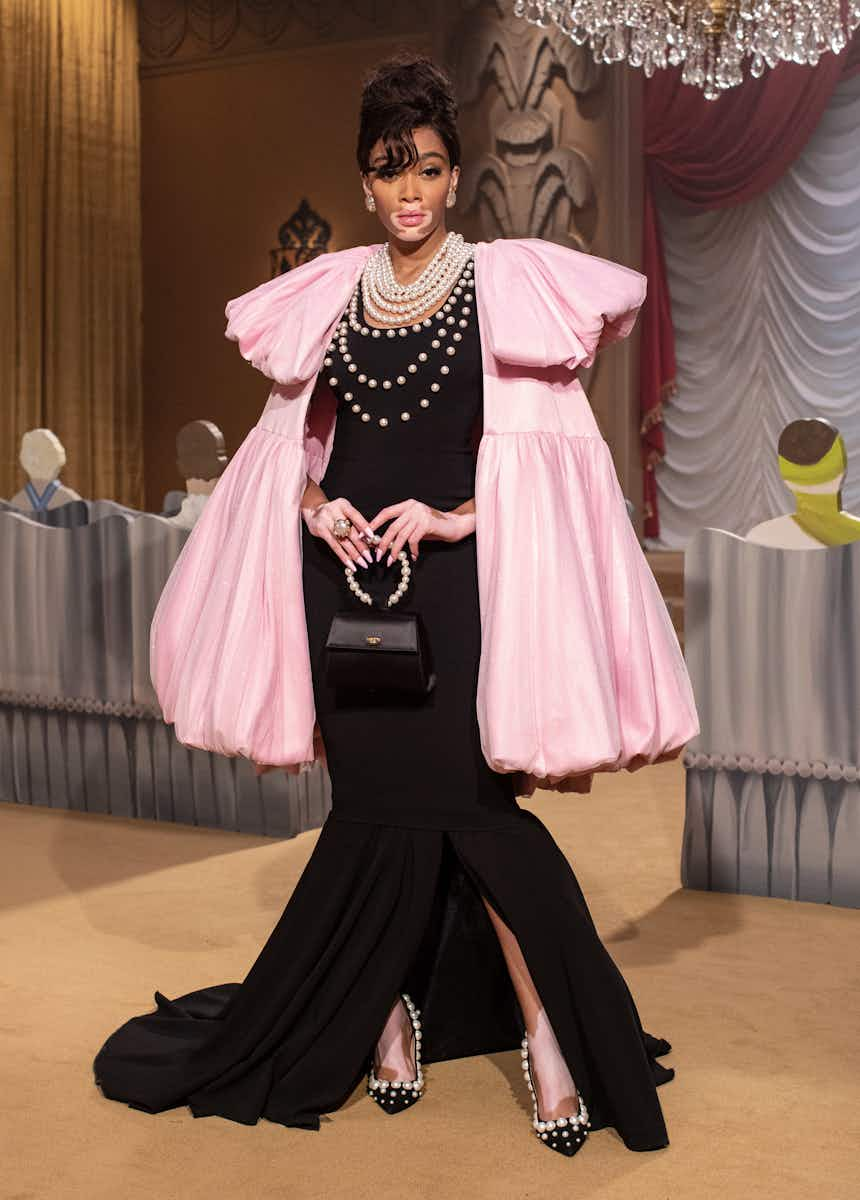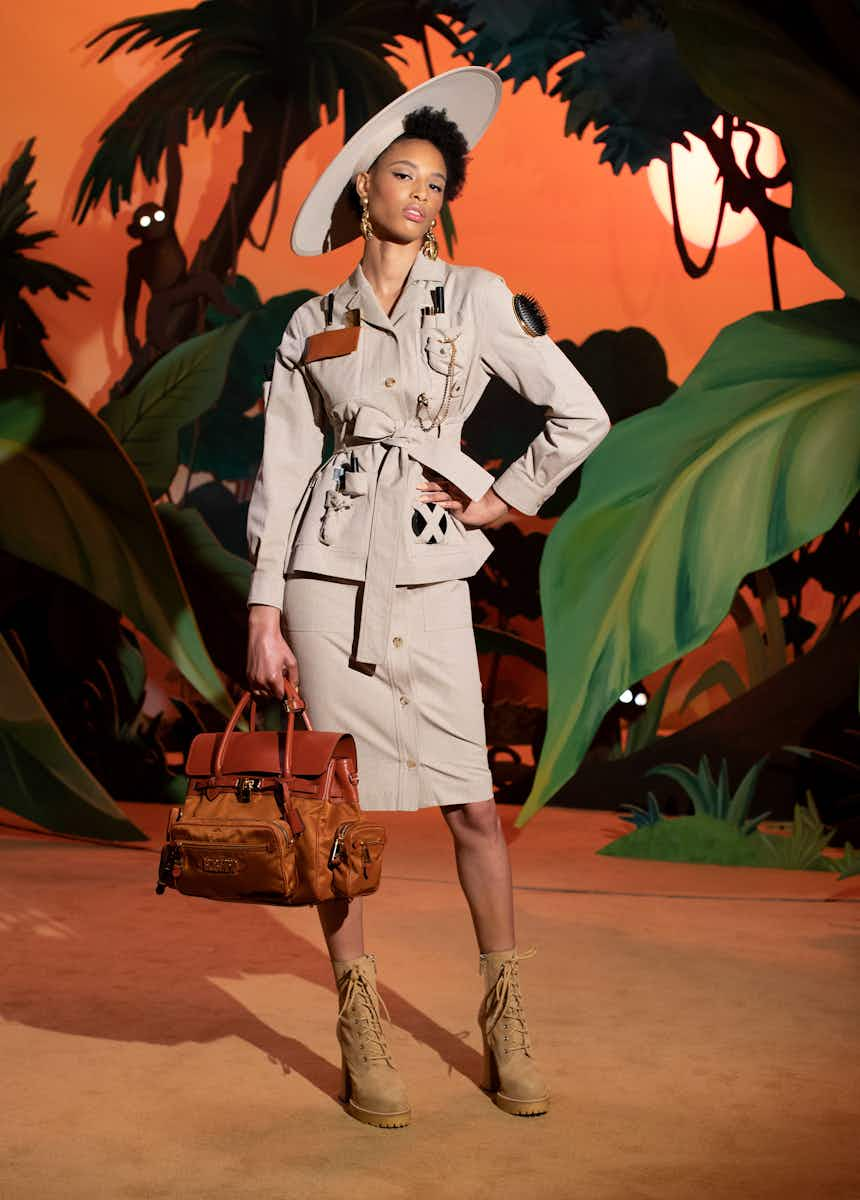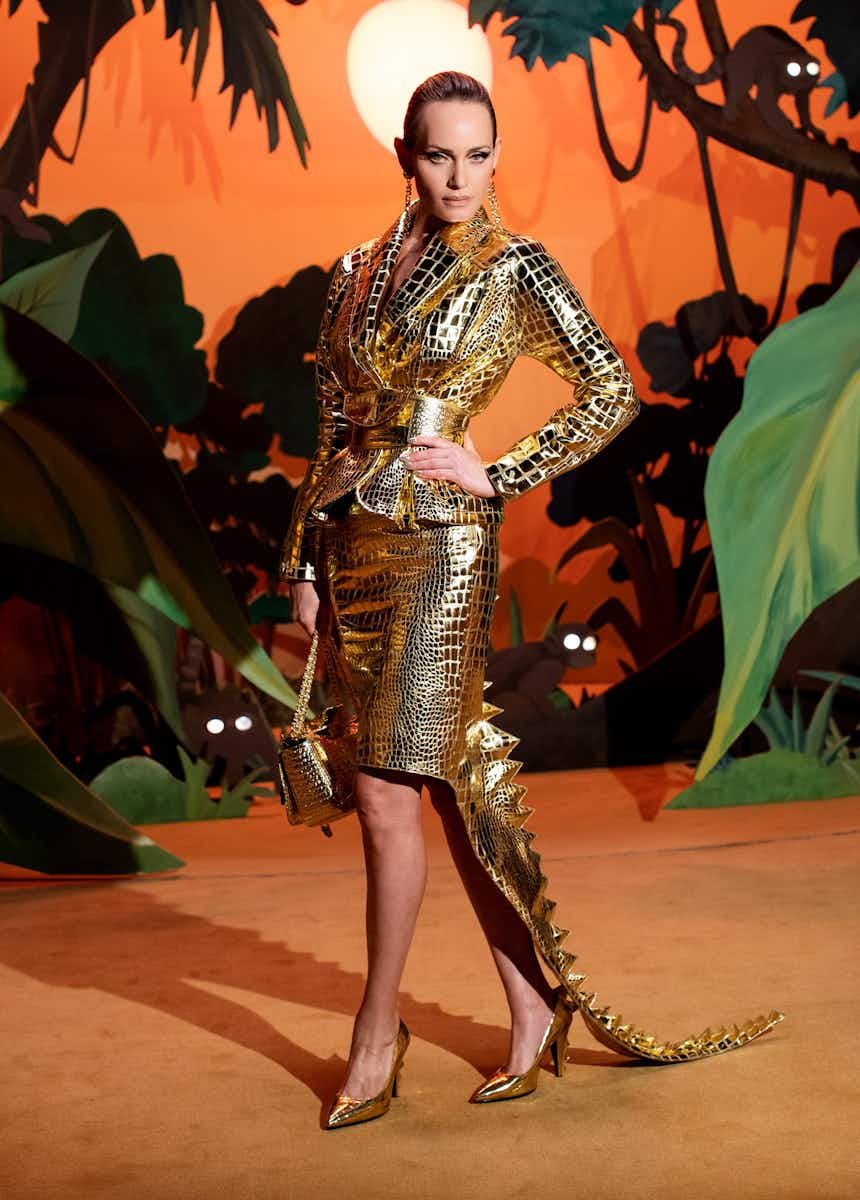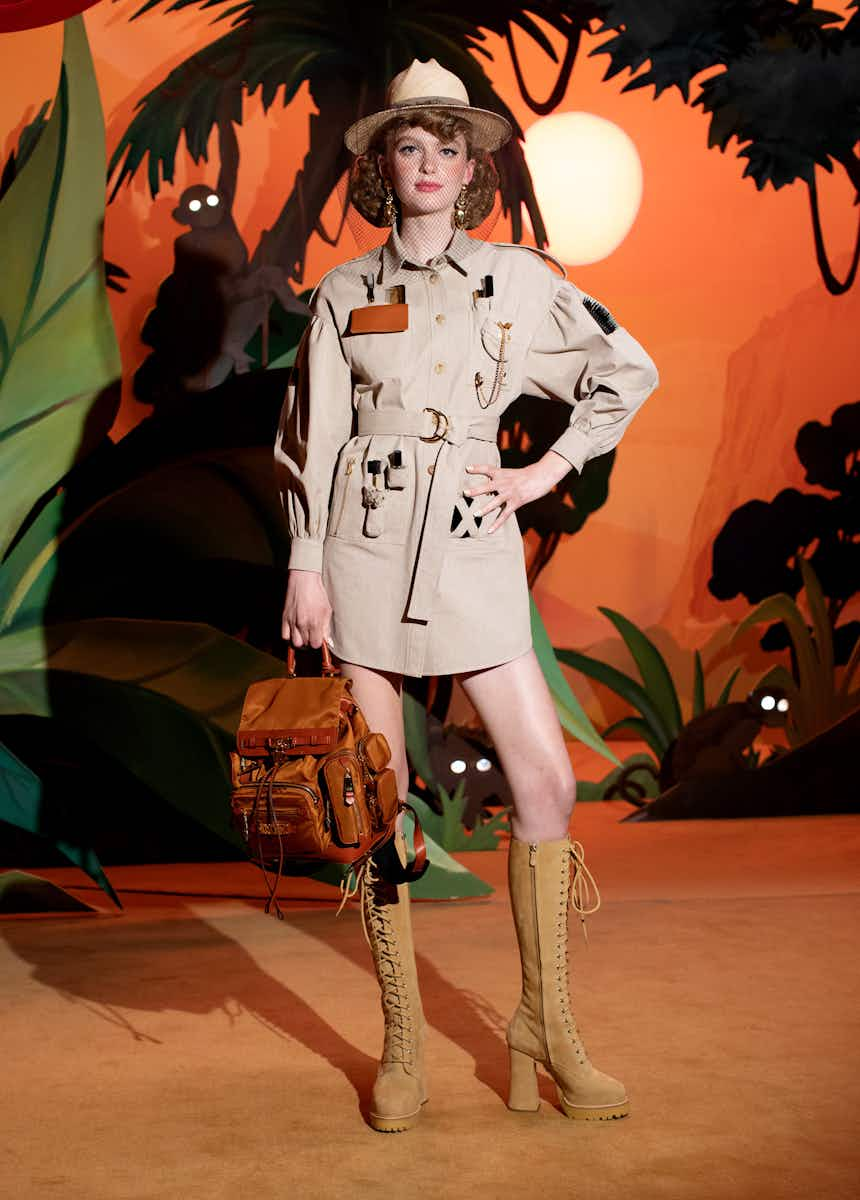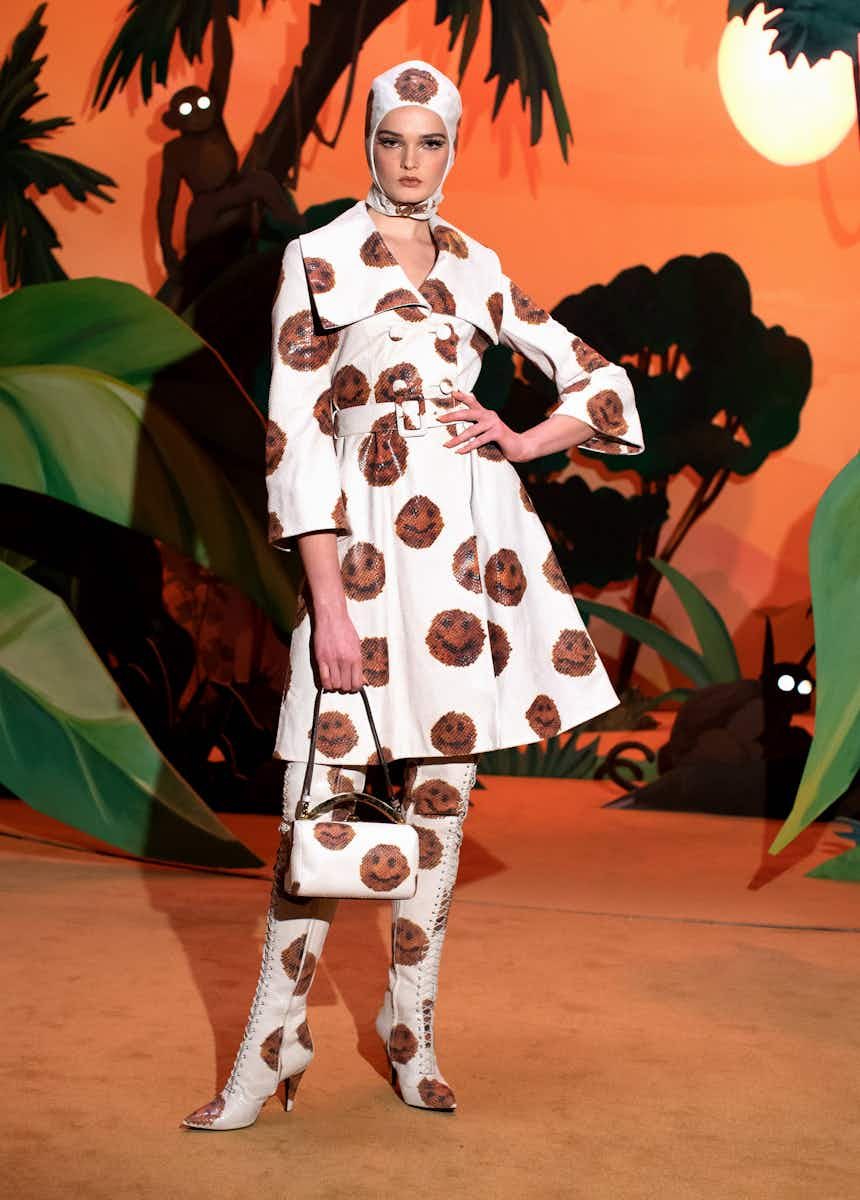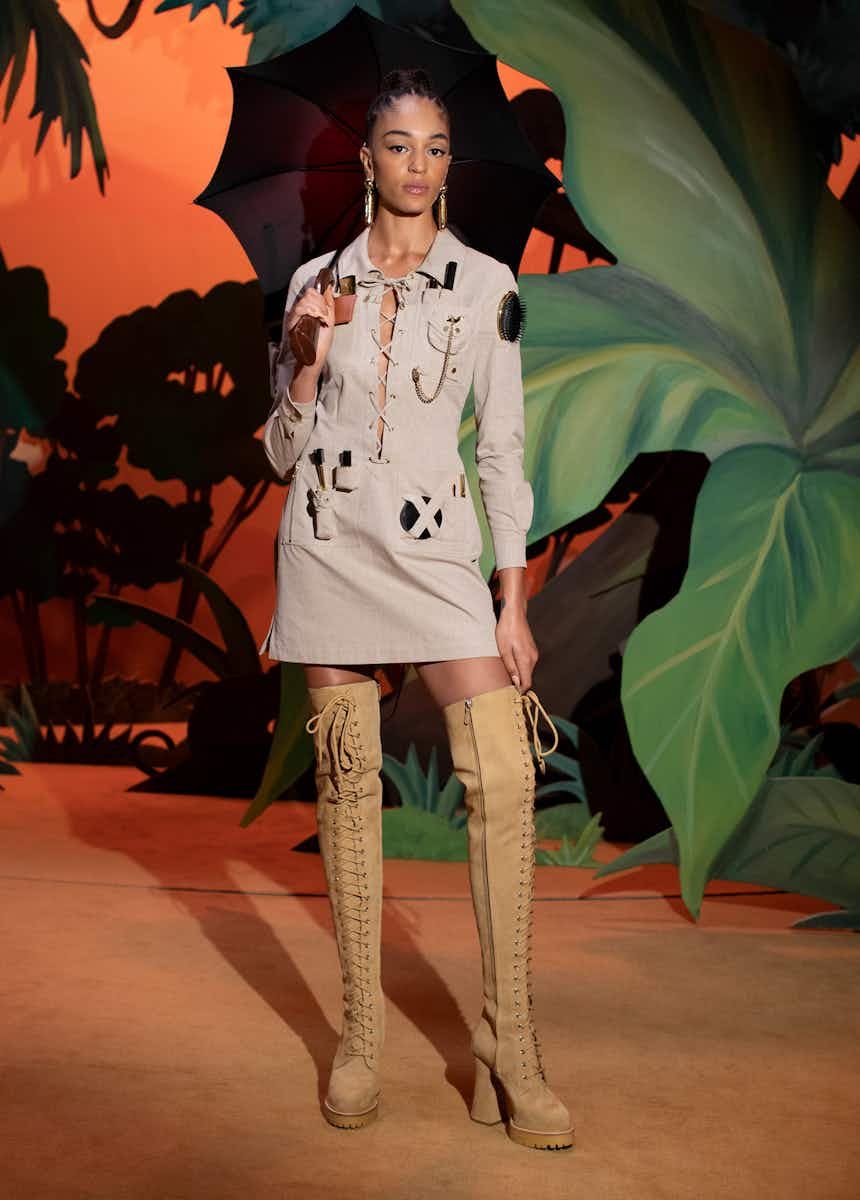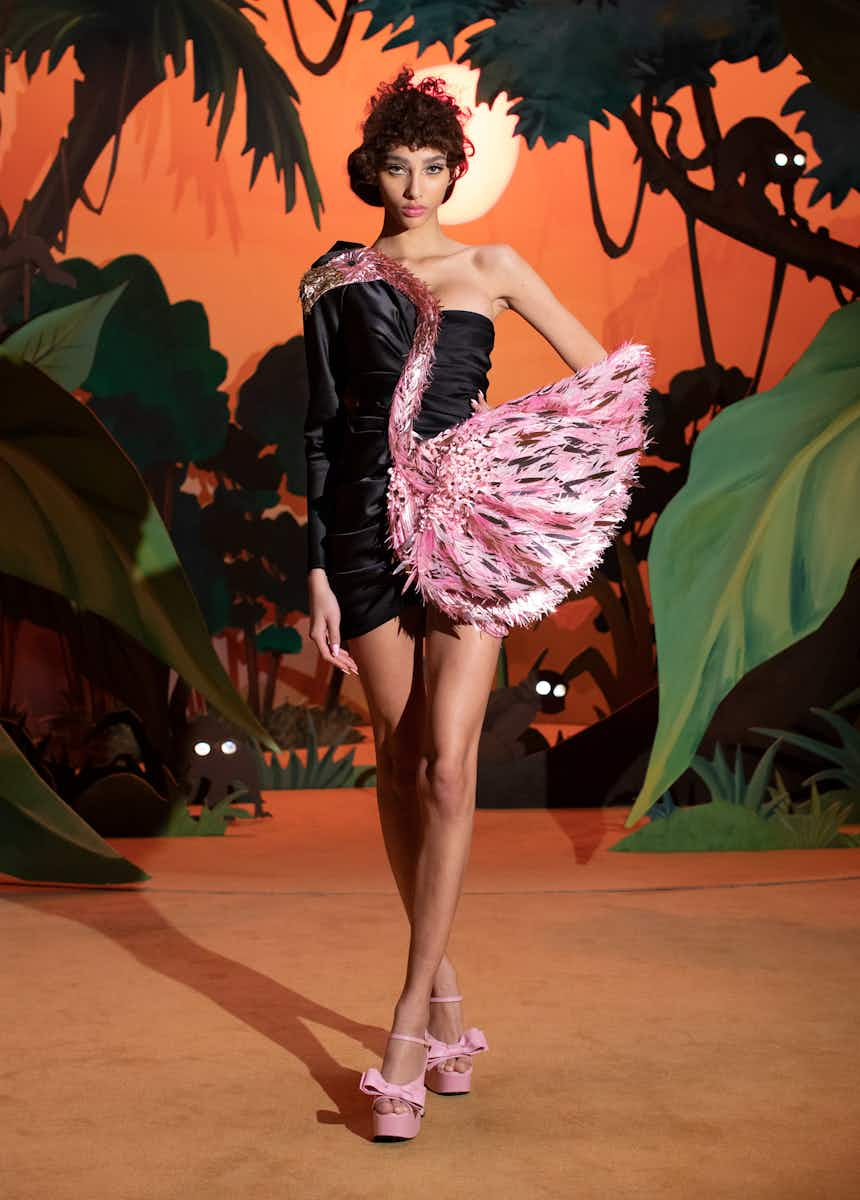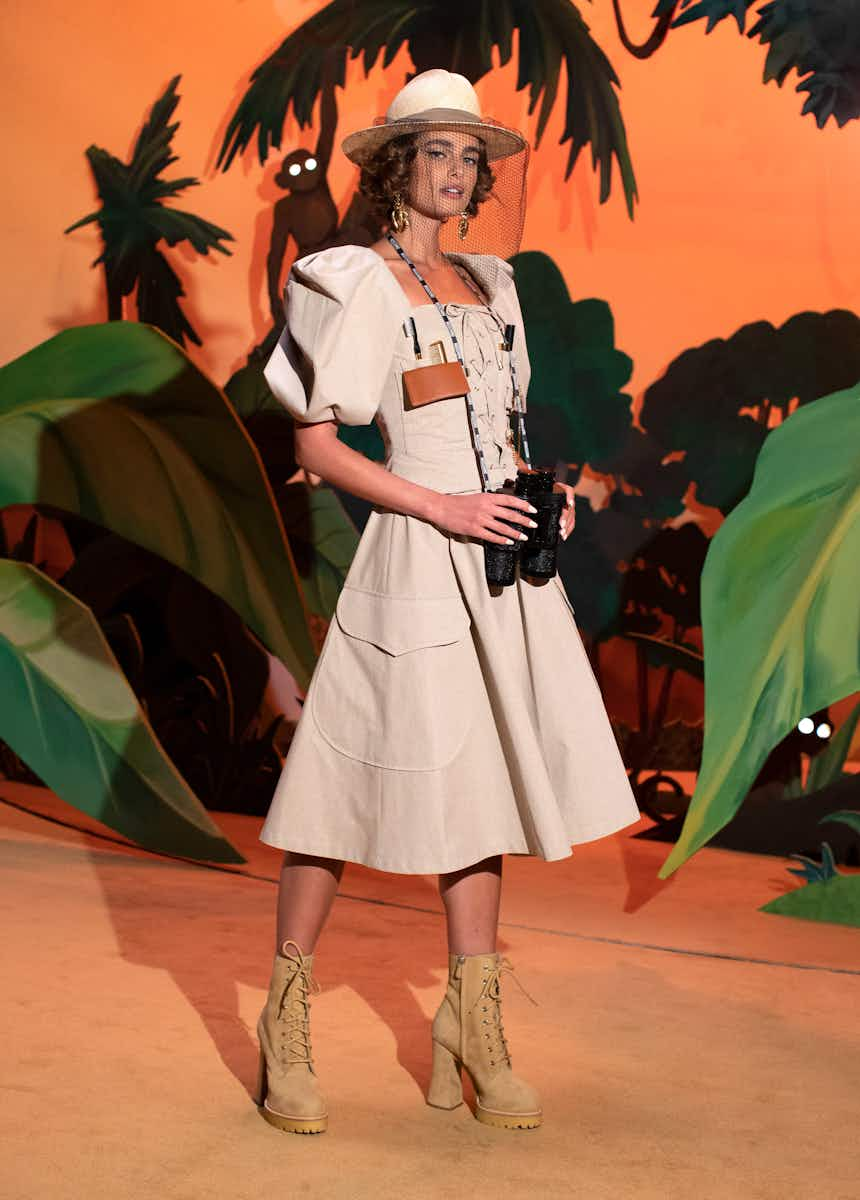 Cinematic glamour merges with a palpable optimism for a freeing post-pandemic world
Back in September, the unveiling of Miuccia Prada and Raf Simons' first collaborative collection was the hottest (virtual) ticket of Milan Fashion Week, with both of their cult followings coming together to praise their vision of kaleidoscopic outerwear, punctured knits and padded kitten heels. Part of the fun of observing that first collection was to decode the various Prada-isms and Raf-isms that found themselves combining for the first time: a graphic retro print! Bold, manifesto-inspired text! More nylon than you can shake a stick at!
And with their second womenswear collection that premiered earlier today, it seems the pair have settled into their mutual groove even more comfortably. Broadcast from their base of the Fondazione Prada in Milan, the Rem Koolhaas-designed set of faux fur and marble created a luscious, textural backdrop so visceral it left you wanting to reach out and stroke – even if that won't be possible for now – while the throbbing soundtrack of minimal techno courtesy of musician Richie Hawtin felt optimistically club-ready. (Again, for that, we'll have to wait a little longer.)
There were plenty of star pieces to be found for Prada obsessives: the return of the gloves from last season that come with tiny zip-up pouches attached; chunky printed boots with clog-like heels in a bold spectrum of colours; opera coats worthy of a Hitchcock heroine and jackets falling off the shoulders to be held in place with a single hand. A series of faux fur-trimmed shawls carried all of the dishevelled, cinematic glamour that is quickly becoming the duo's calling card, while bodysuits covered in Art Nouveau-inspired prints lent the collection an unexpected, if only slight, athletic edge, too. LH
Click to continue reading

In keeping with the pair's new tradition of hosting a post-show Q&A, this time the pair enlisted a number of starry guests and Prada superfans, including Marc Jacobs and Hunter Schafer, to talk through the collection, with conversation quickly turning to post-pandemic optimism and​"the art of living", as Jacobs described it.
The final note of the collection, then? A series of overcoats covered in spangly sequins for anyone looking to add a little glitz to their wardrobe come the autumn. If there's one thing Miuccia and Raf know, it's how to put on a show-stopping finale – and with these lavishly sequinned coats and gowns, they have their eye firmly trained on embracing the art of living once again.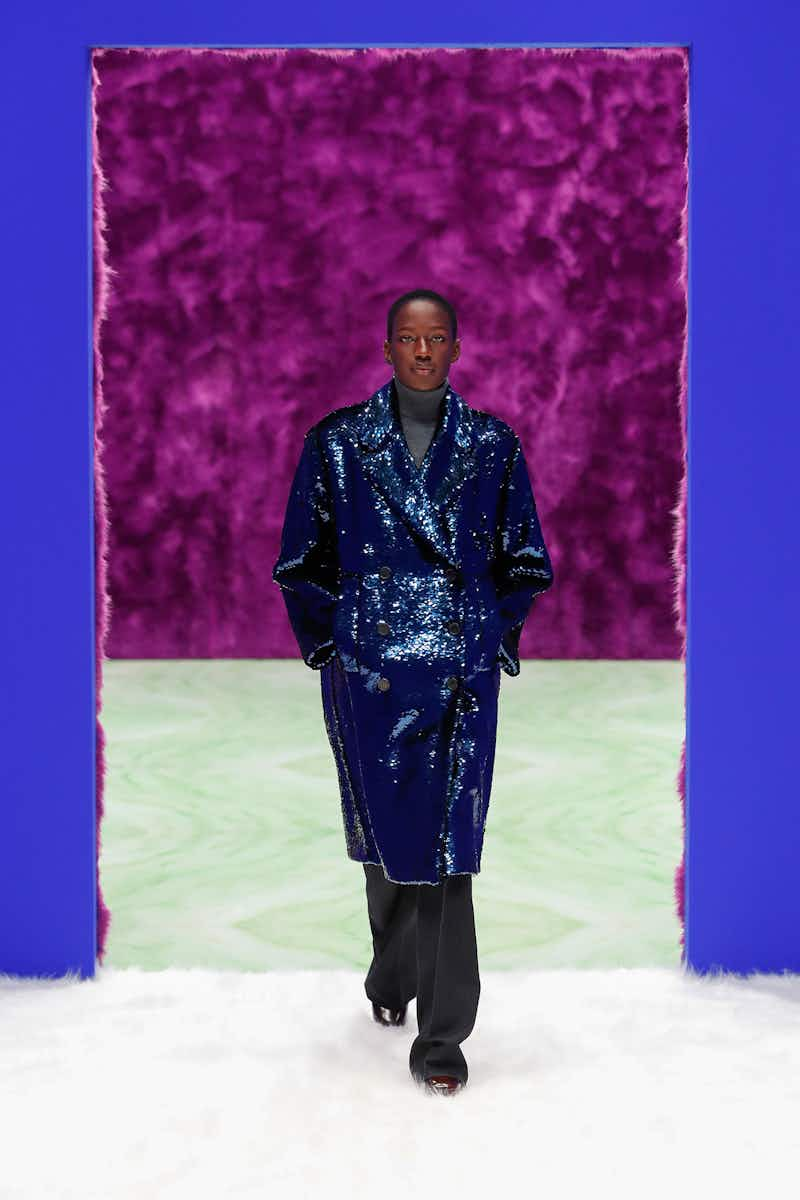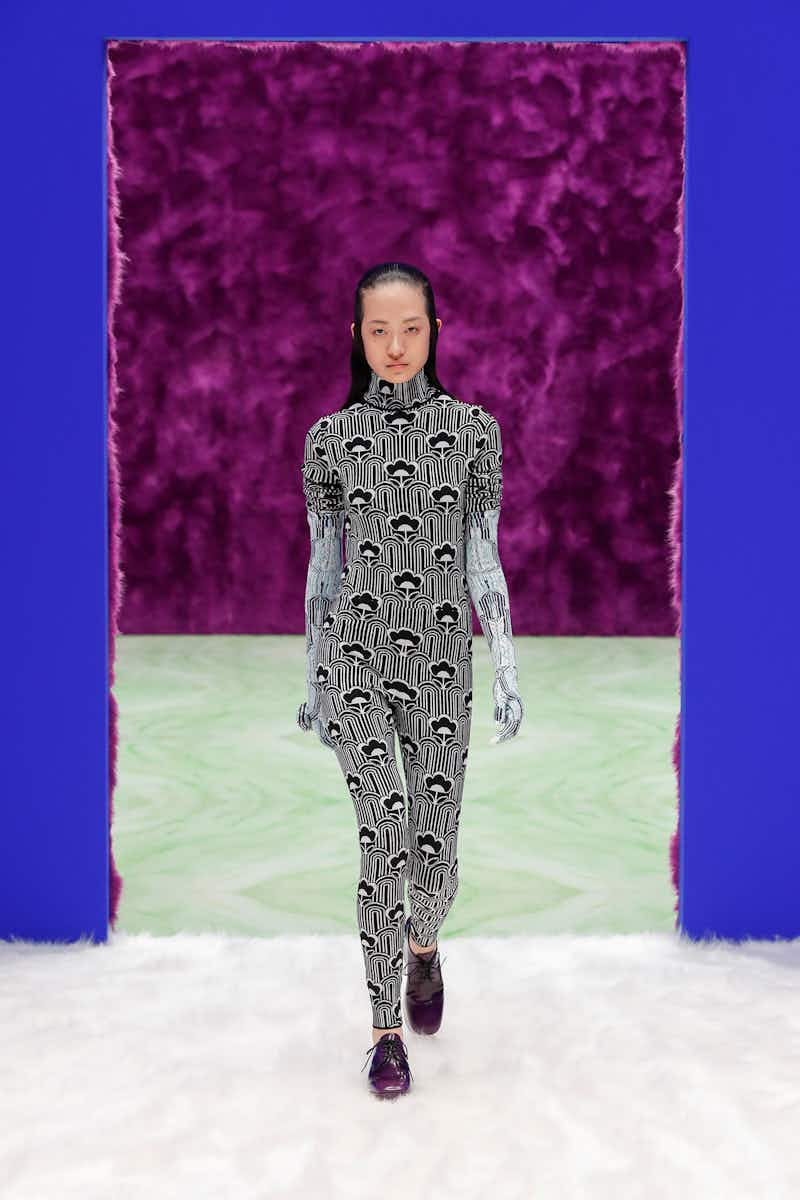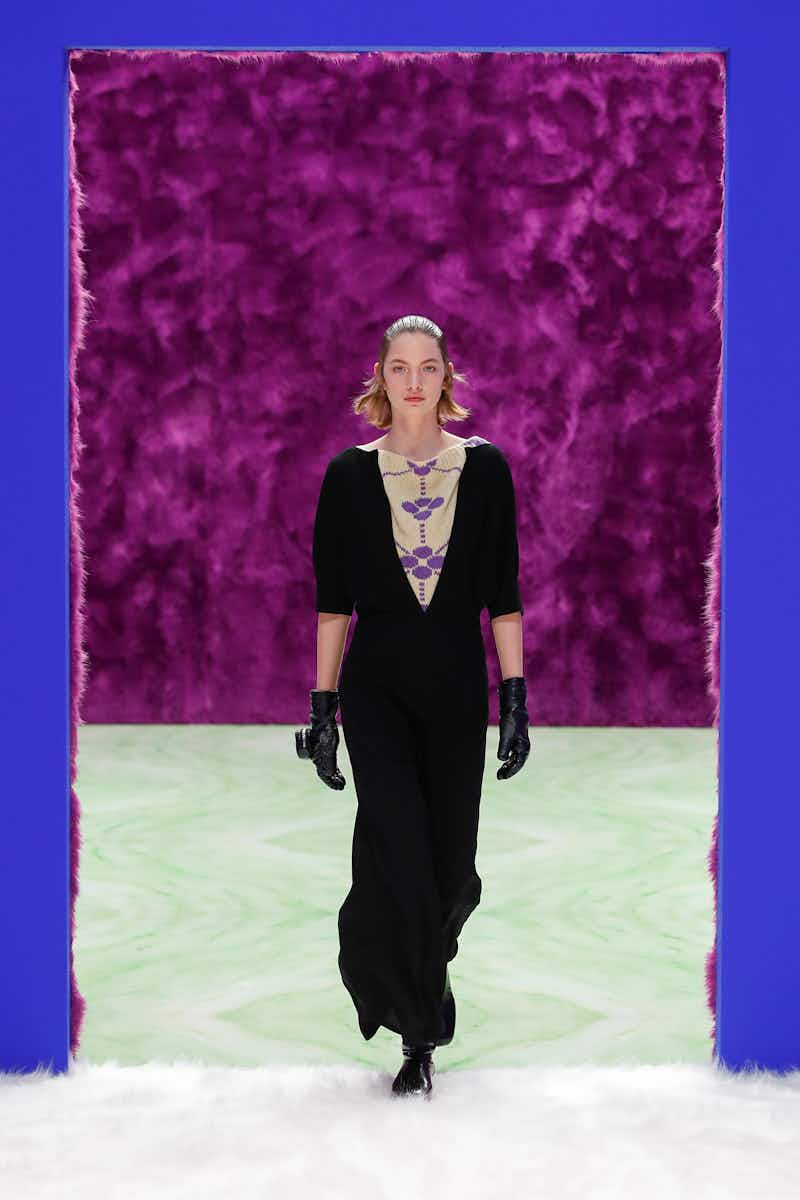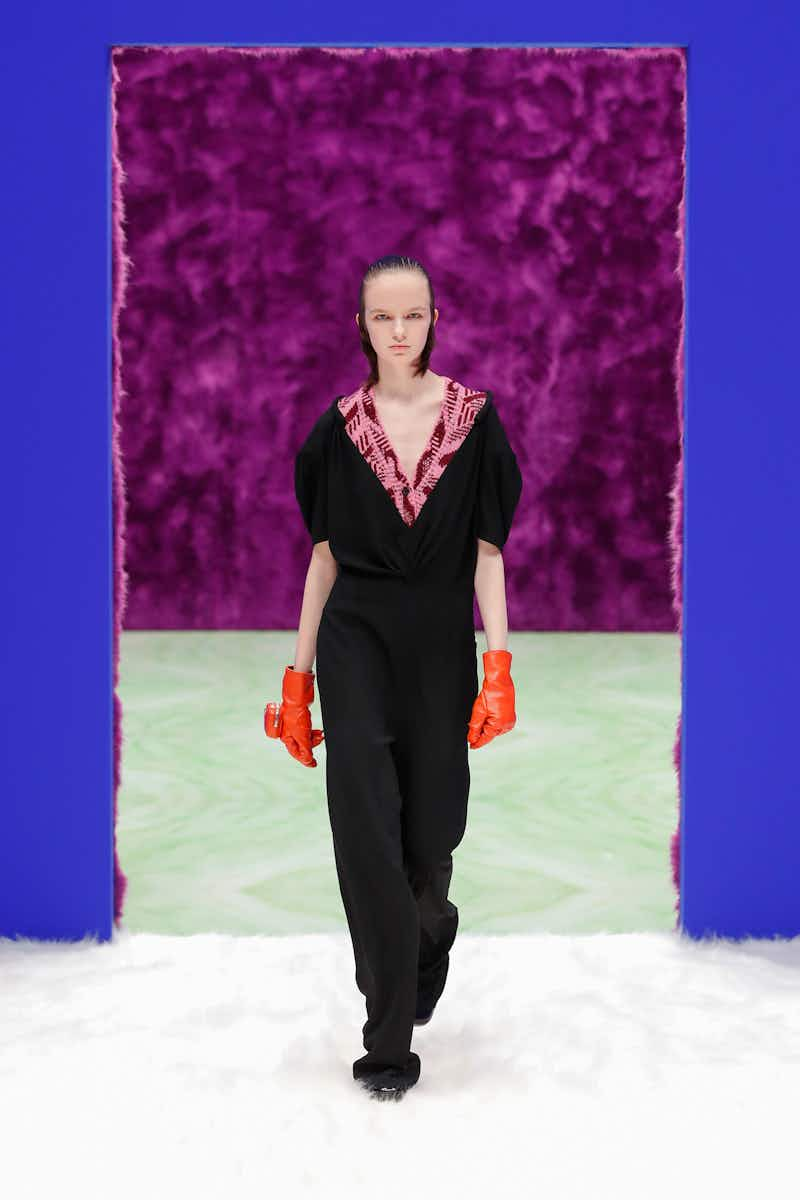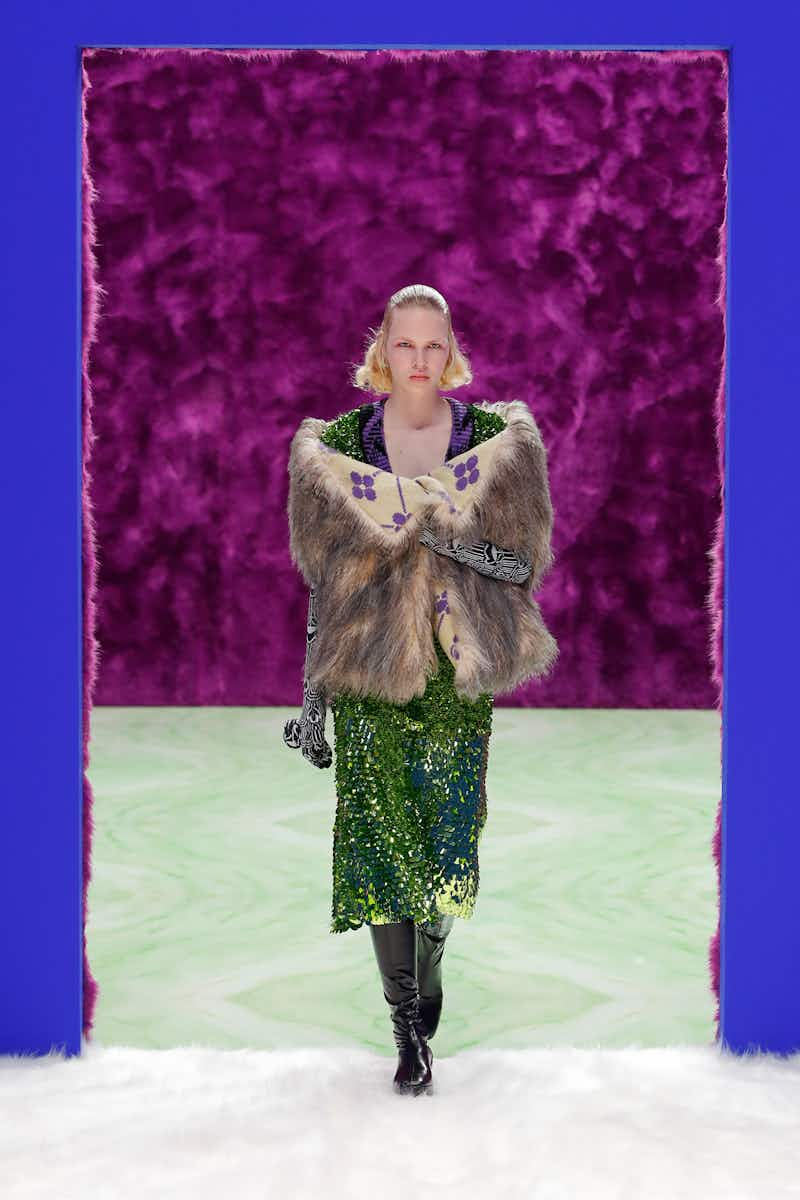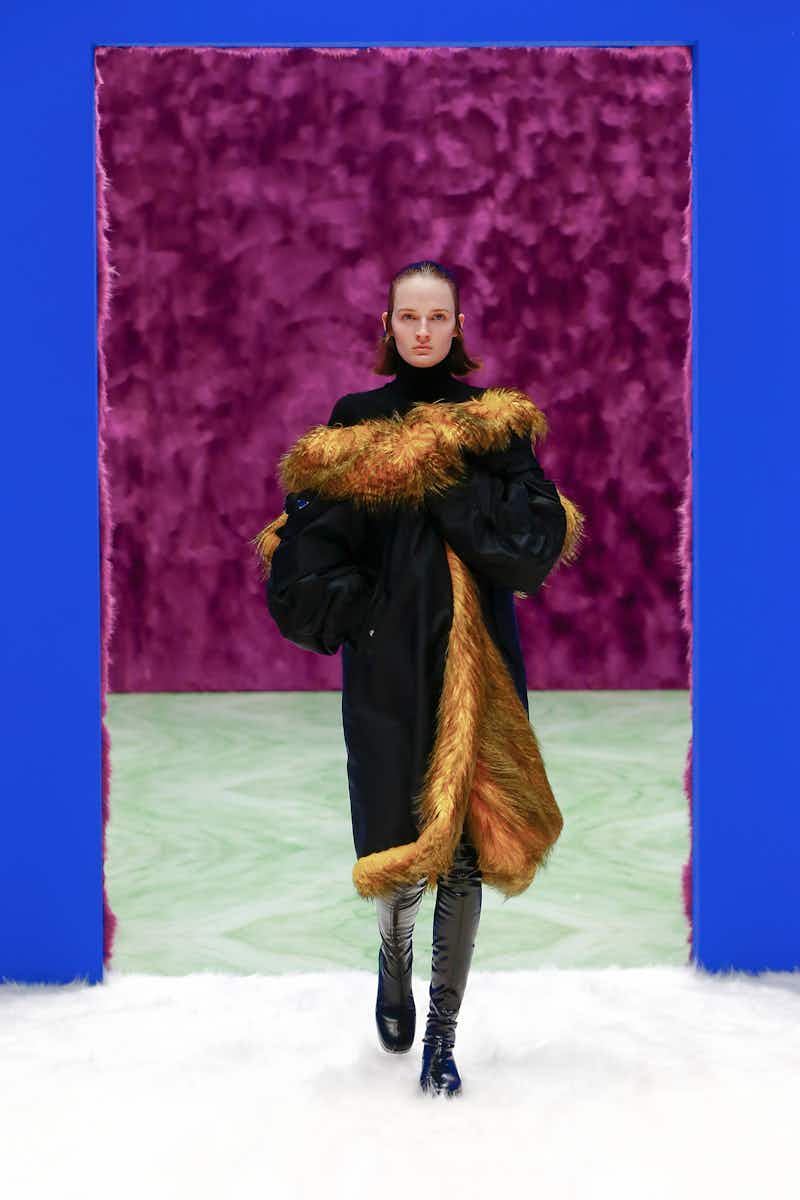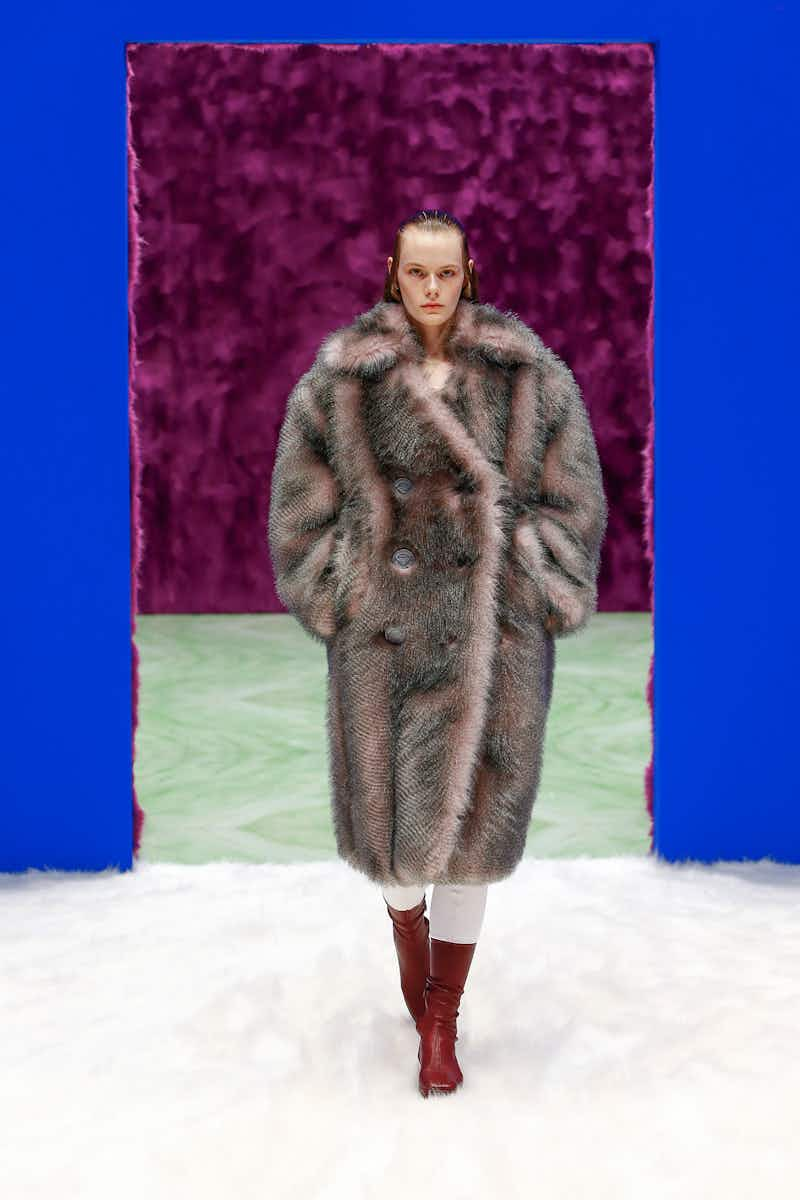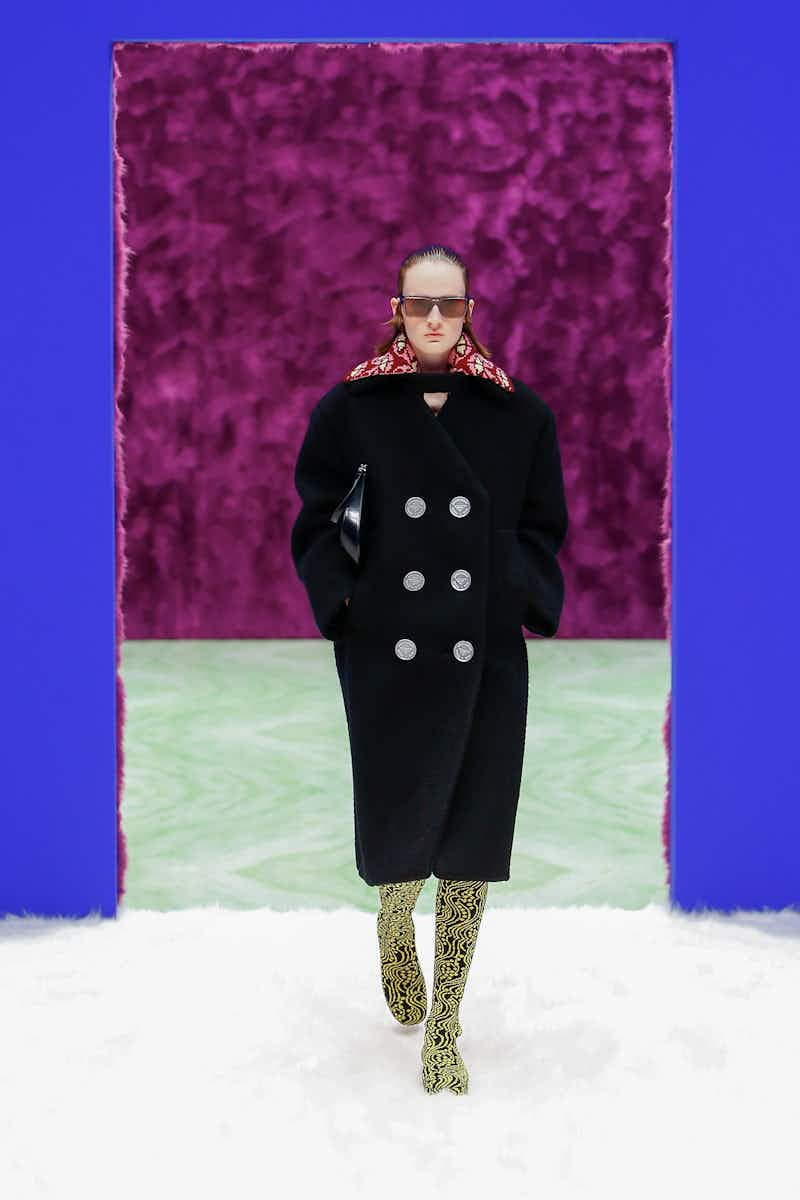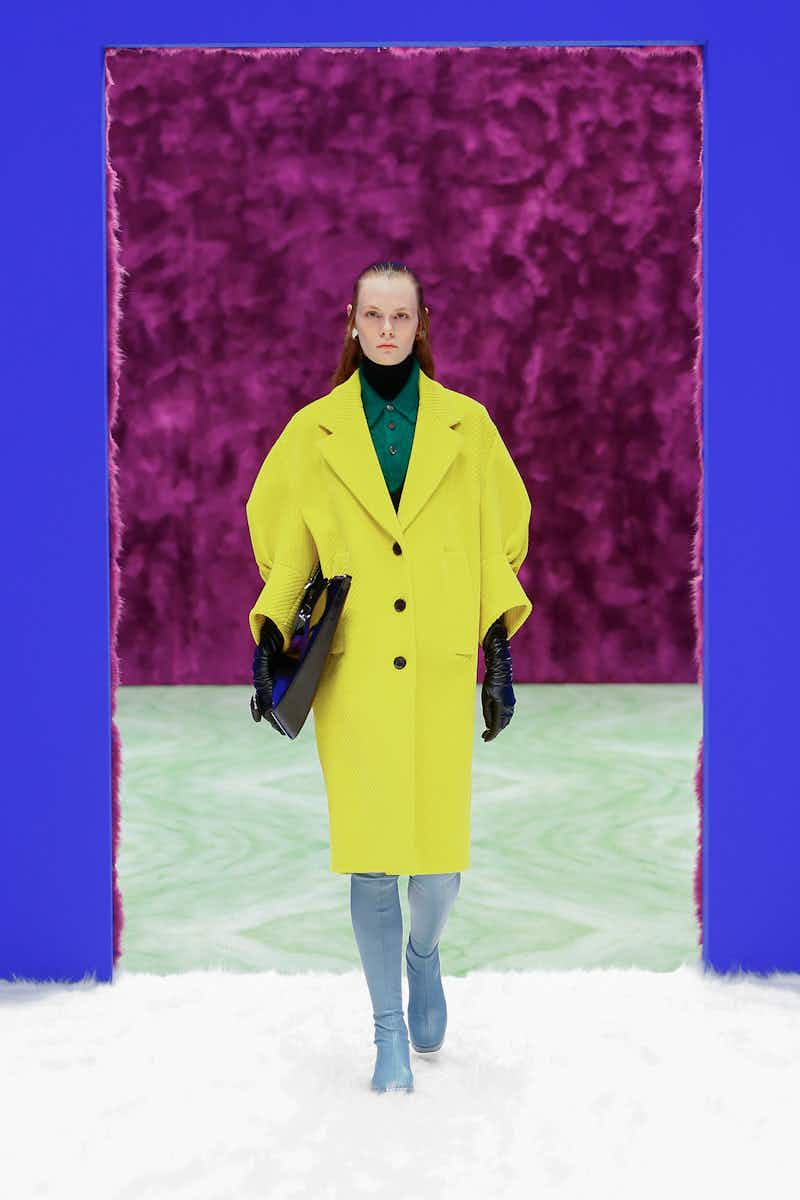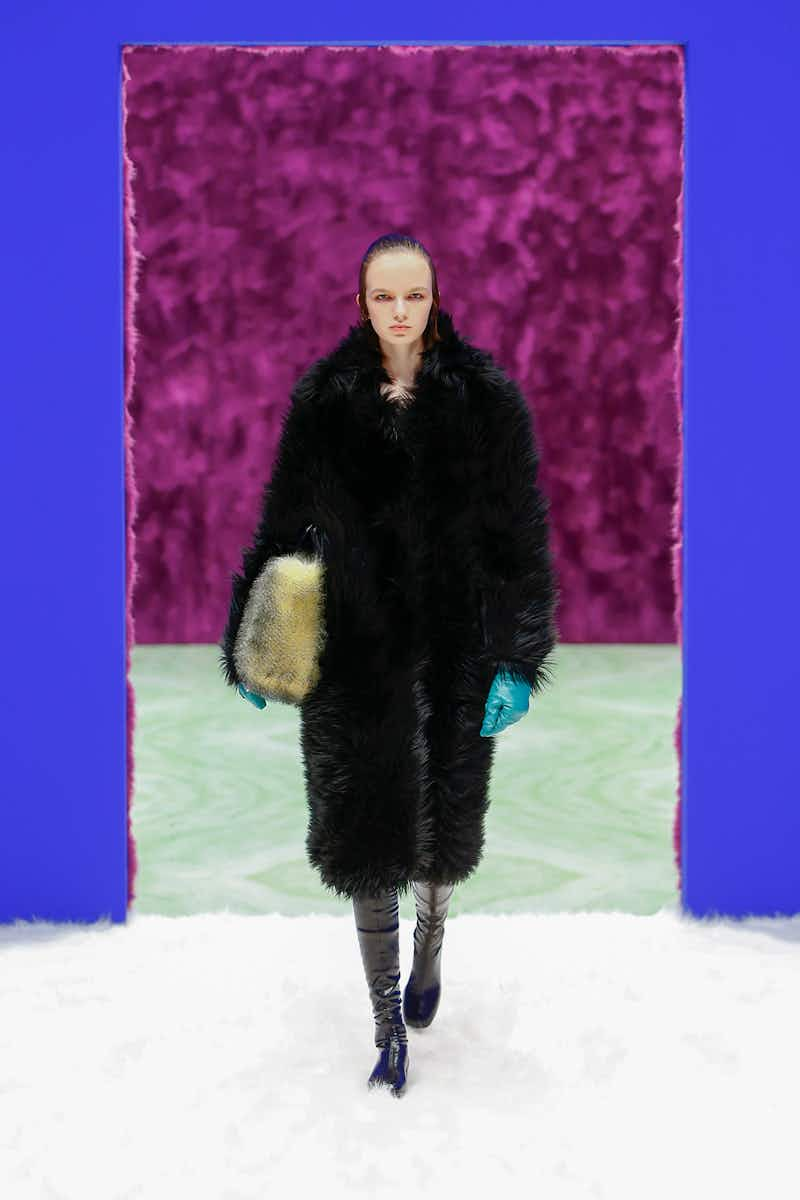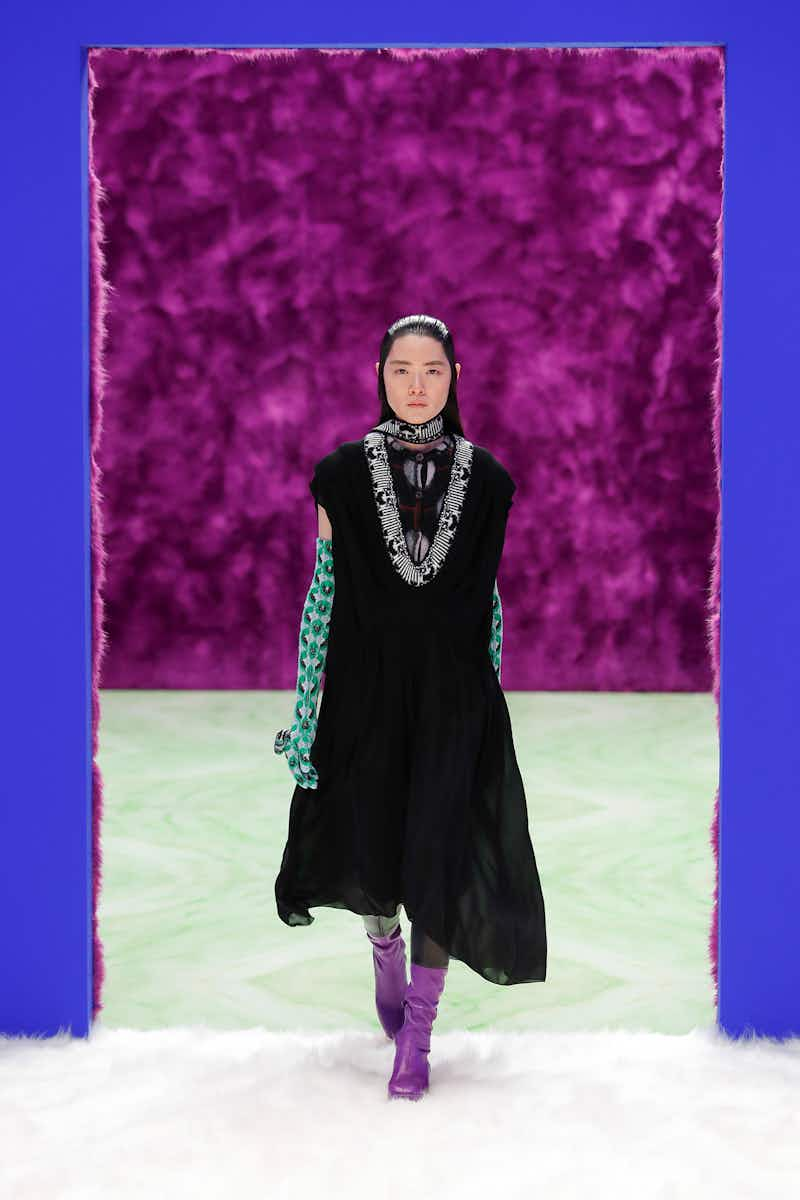 A full immersion into the house's ancestral roots
It may feel like just days ago that Kim Jones was making his womenswear debut with his first couture collection for Fendi – and that's because, well, it was (28 days, to be precise). Yet the maverick designer is back with a flash for his first ready-to-wear collection for the storied Italian house, kicking off Milan Fashion Week earlier this afternoon with a welcome dose of unabashed luxury.
While the couture collection looked largely to Jones's native England for inspiration, referencing Virginia Woolf's Orlando and the louche bohemianism of the Bloomsbury Group (albeit with a nod to Fendi's hometown of Rome via prints referencing the marbled patinas of Bernini sculptures) this time round, Jones paid a more direct tribute to Italy's eternal city. The maze of perspex, F‑shaped screens from the couture show returned, arranged askew to create the disorientating effect of a funhouse mirror maze, with crumbling columns and the broken body parts of classical sculptures as a nod to the ruins of Rome's ancient forum.
Also worth noting was that in lieu of Jones's typically starry line-up of models, the show was populated almost entirely by unknown or up-and-coming faces, ensuring all the attention was firmly fixed on the clothes. And across a spectrum of off-whites, tans, neutrals, and blacks – with the occasional pop of animal print or an embossed detail of the Fendi logo pattern to add a little oomph – there was something for everyone. The eclecticism of the collection makes sense when viewed in light of Jones's source of inspiration, which lay partly in the wardrobes of the five Fendi sisters.​"The Fendi family are women of intellect who work hard, and that's what I wanted to celebrate," said Jones.​"A powerful dynasty." LH

Click to continue reading
Appropriately, then, the clothes ran the full gamut from buttoned-up woollen trench coats and knee-length fur gilets for the more mature, long-term customer, all the way up to a number of swishy, silken mini dresses and artfully knotted cropped shirts perfect for any younger members of the Fendi dynasty to wear on their first post-lockdown night out at the discoteca.

Jones's eye for an immediately desirable​'it' accessory was also very much present and correct: highlights included backpacks and lunch box-sized bags covered in shearlings and furs, elongated micro bags to be tucked under the arm, and a series of leather carryalls with oversized gold clasps in the shape of the signature double‑F house logo.

So too did his ongoing collaboration with Delfina Delettrez Fendi – one of the previously mentioned sisters from which he drew initial inspiration for the collection – offering up a number of fanciful details, including carabiners crafted with the classic Fendi monogram, as well as wax seal pendants stamped with the alternate logo hand-drawn by Karl Lagerfeld to serve as a quiet nod to Jones's predecessor.
It affirmed that Jones's vision for Fendi is one of palpable luxury firmly rooted in the brand's heritage, serving as an interesting counterpoint to the bold iconoclasm of his artist collaborations and infusions of streetwear codes at Dior Men, offering a family-first, intergenerational vision of Fendi's future that is now fully ready to launch.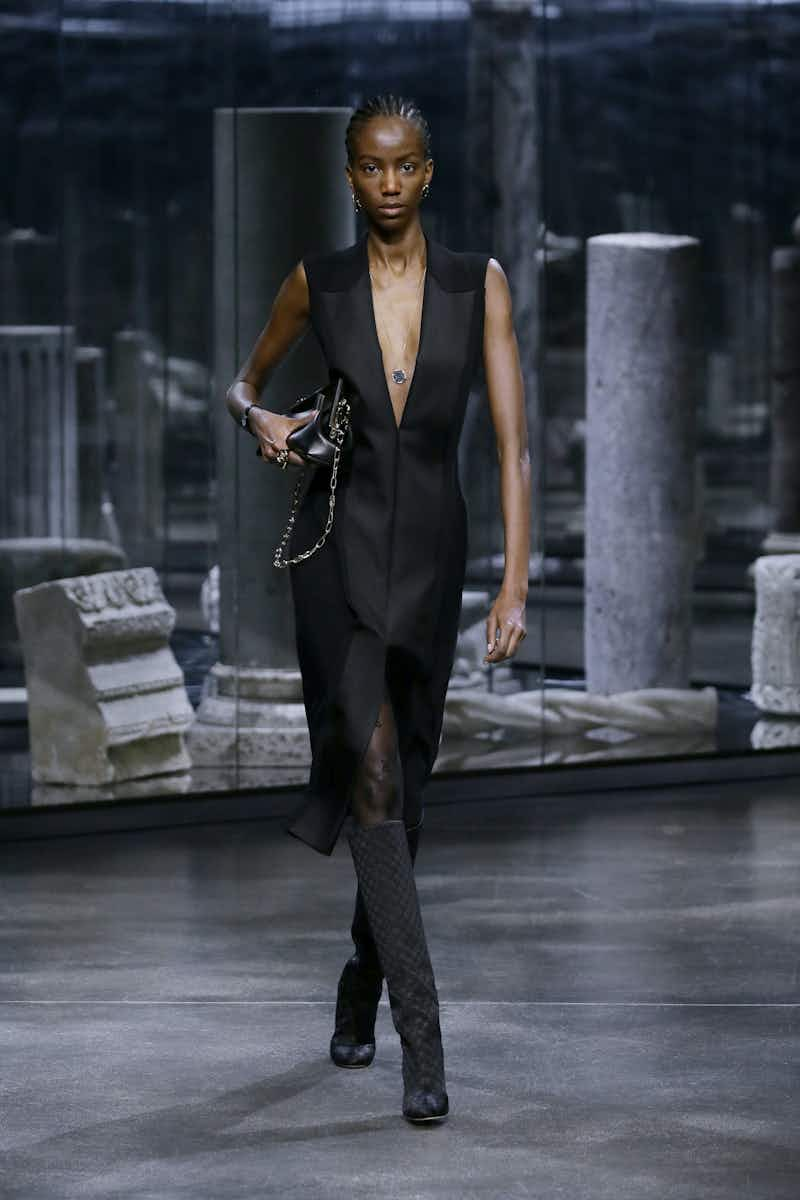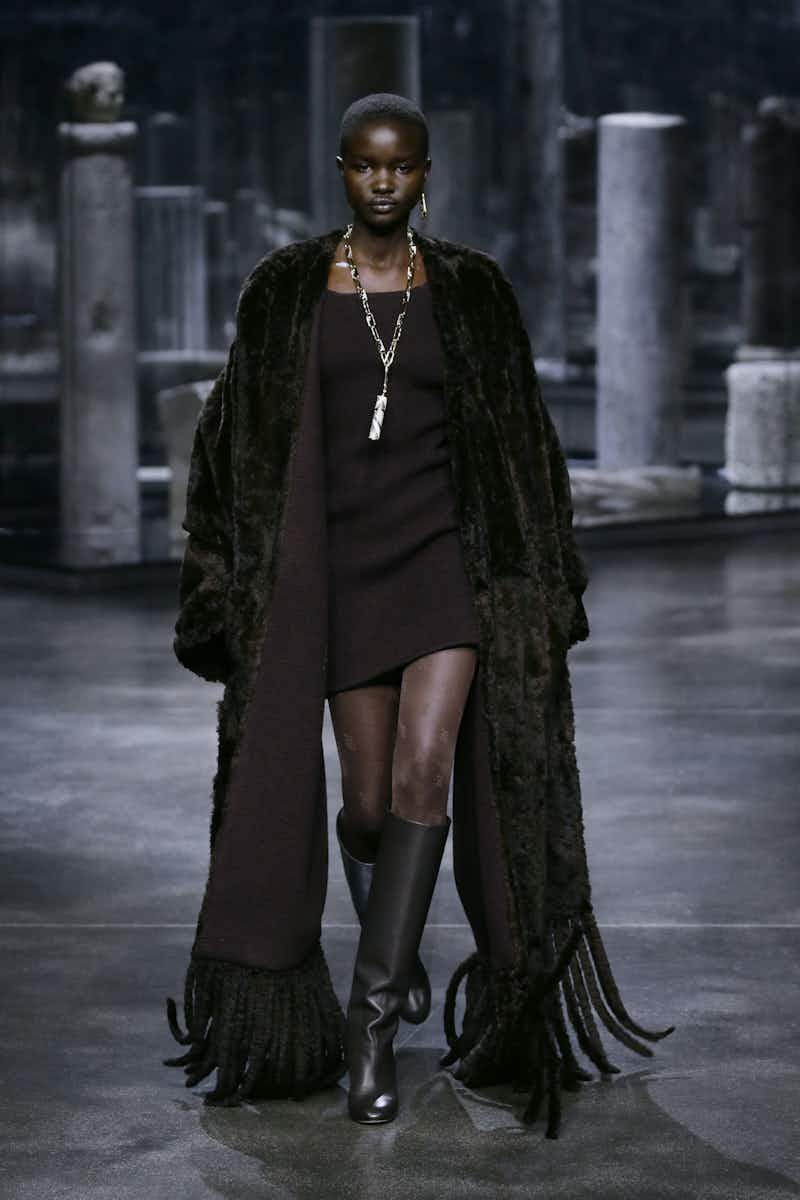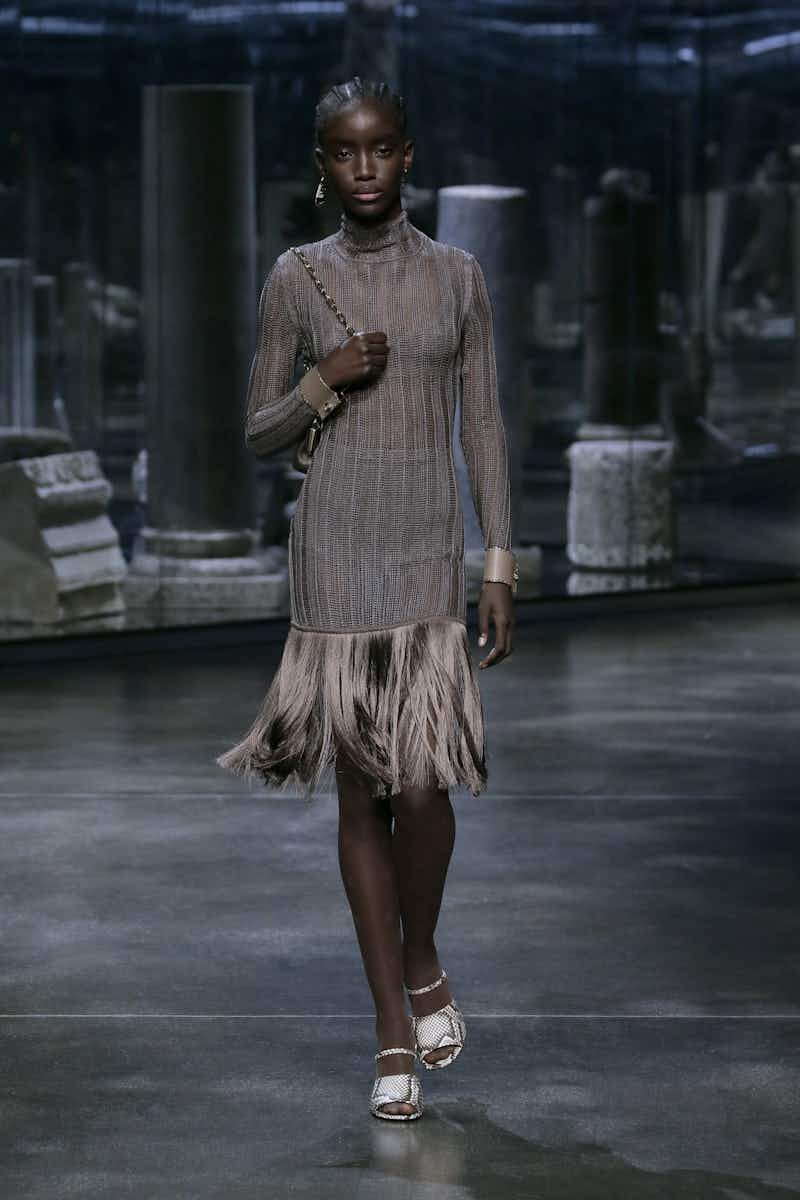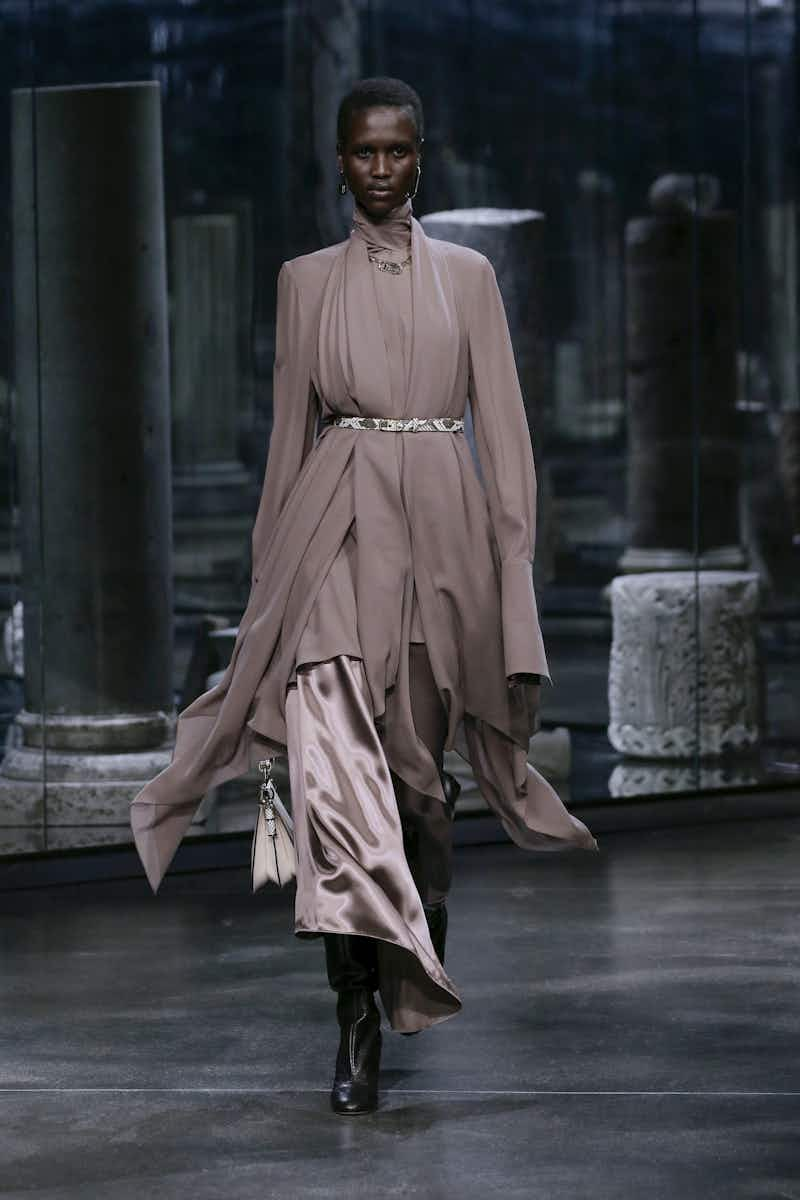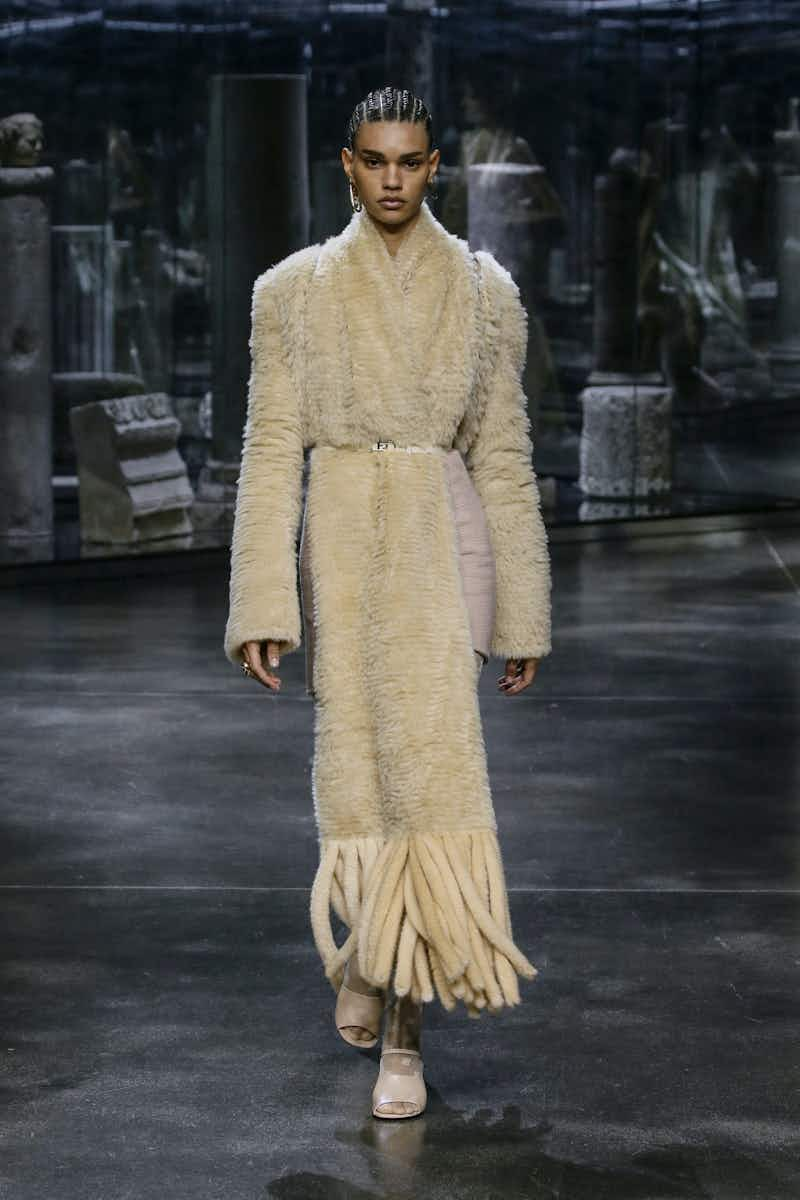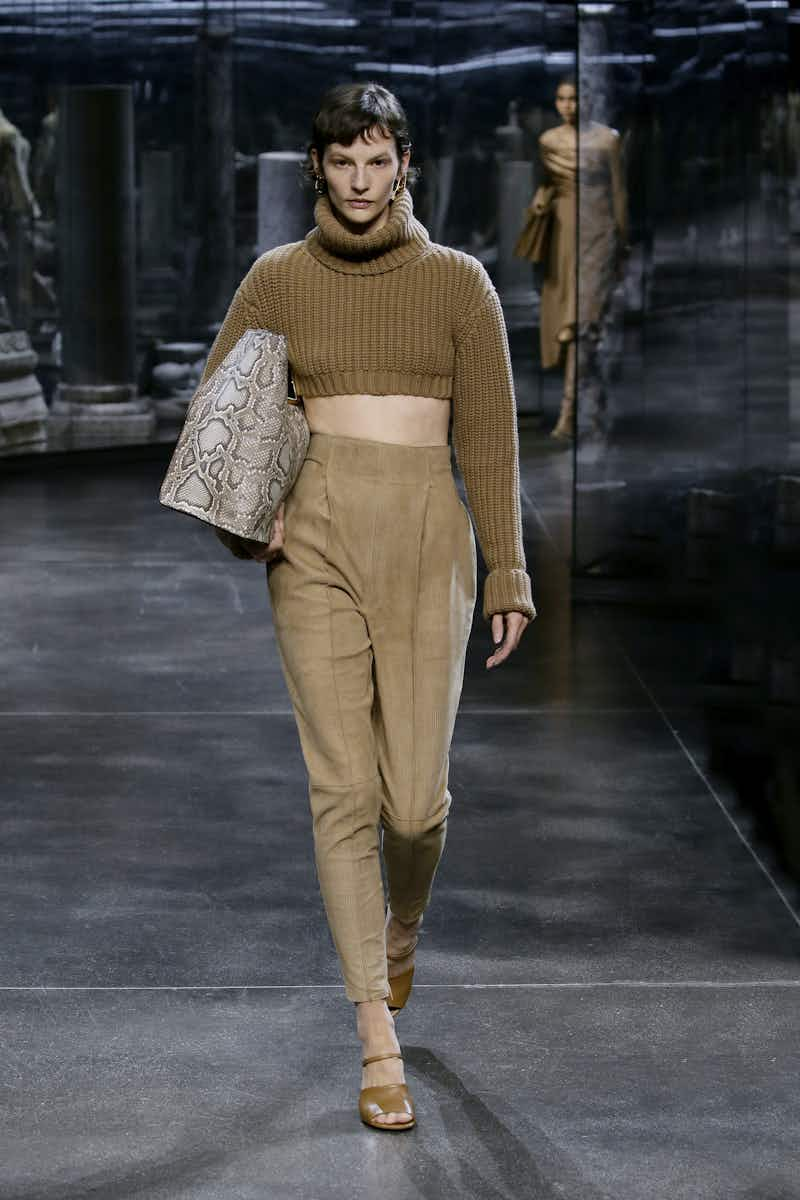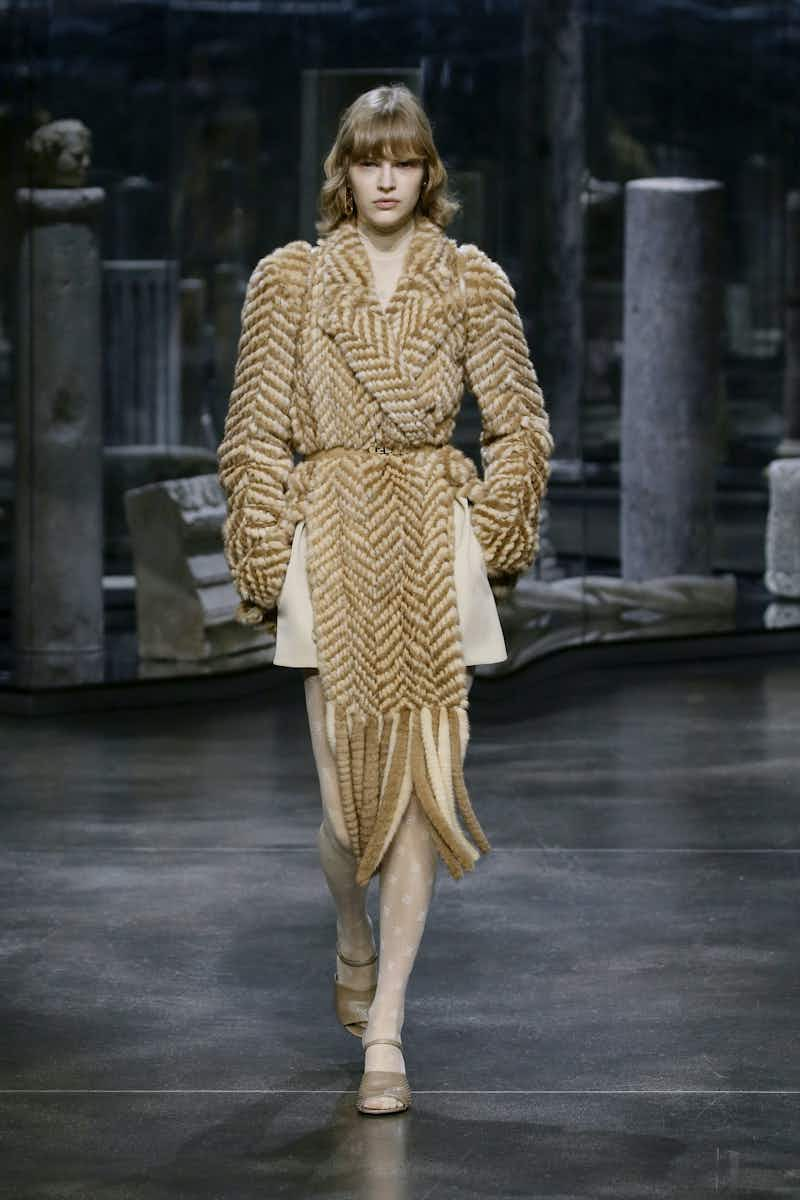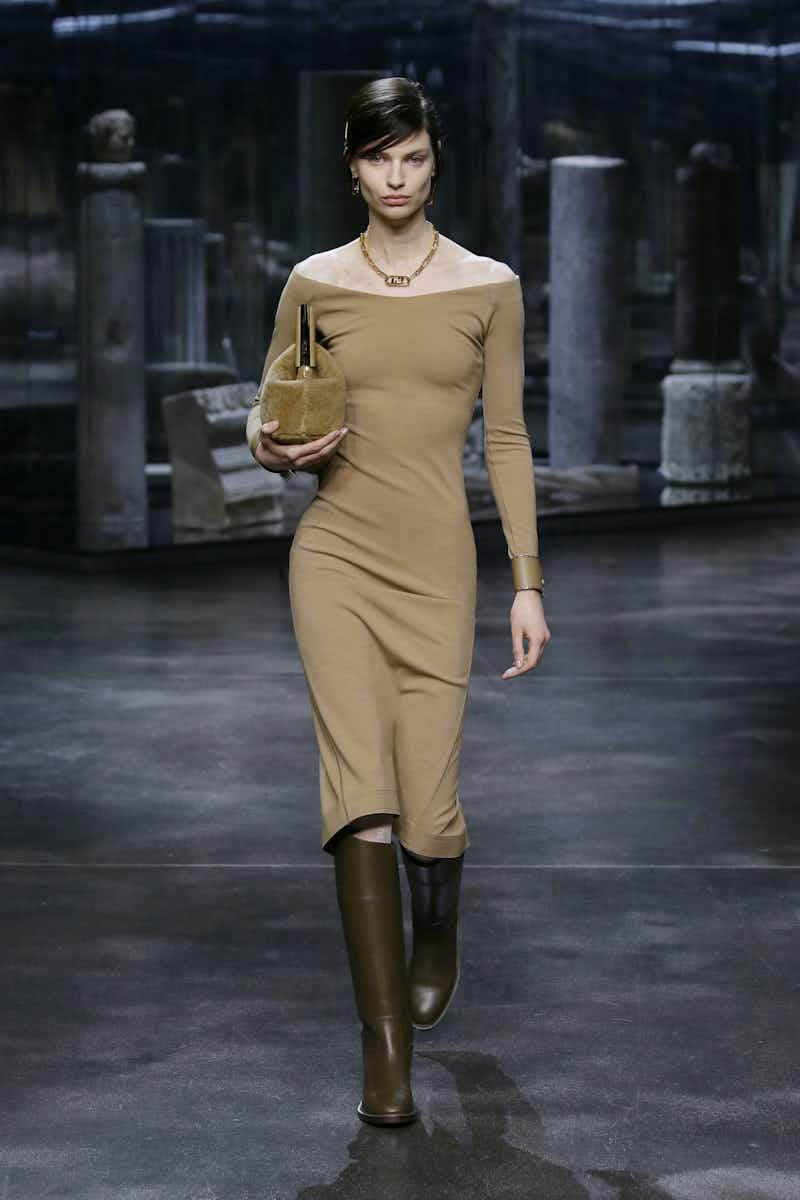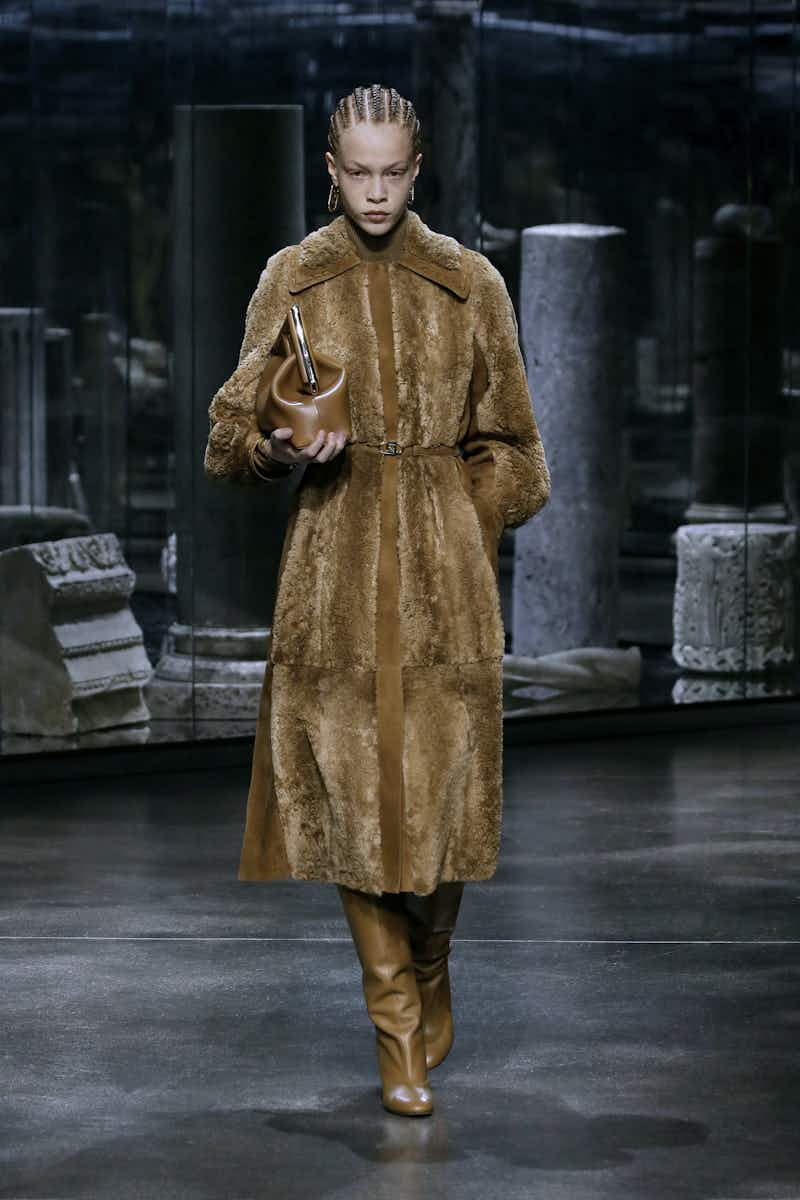 More like this