Feel your way through Raf Simons and Miuccia Prada's menswear debut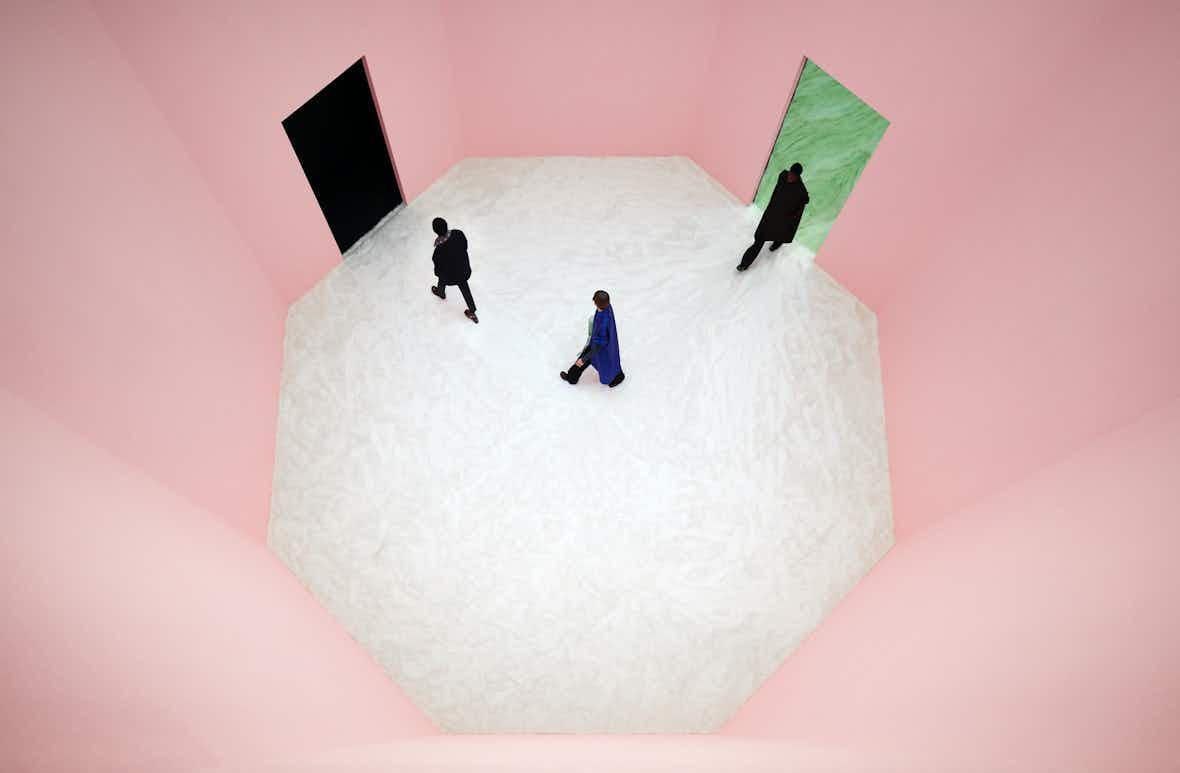 Titled "Possible Feelings", the duo's second collection zeroes in on tactility, sensuality and the physical and emotional way that clothes make us feel. All this, and long johns – soon to be the menswear piece of the season!

It's been almost a year since Miuccia Prada dropped the news that Raf Simons, the former creative director of Jil Sander, Dior and Calvin Klein, would be joining her as co-creative director at Prada – the ultimate power couple, many will agree. Having unveiled their first joint womenswear collection in September, today the duo revealed their debut menswear collection: a timely exploration of ​"an intimate and personal wish for contact, our urge to exchange and relate".
It goes without saying that the show took place digitally via a short film followed by a post-show chat that saw both Simons and Prada answer questions posed by university students who zoomed in from New York, Seoul, London, Tokyo, Milan, and Beijing.
It's fitting, then, that during a year in which we've experienced less human contact than ever before, the collection titled ​"Possible Feelings" was extremely tactile – a fusion of irresistible fabrics that will have you wanting to reach out and touch them through the screen. Think: ribbed velvet coats in regal tones, candy-coloured leather bomber jackets (with AirPods arm pockets) and Covid-safe gloves (with credit slots), bouclé tweeds twinned with pinstripe suiting (a pet hate of Prada's that she compromised on for the occasion) and teddy bear shearling coats.
A series of vibrant jacquard-knit pieces were key to the collection: a Prada-coined ​"second skin" worn as a base layer beneath tailoring and outerwear in contrasting proportions, over the top of polo necks shirts, and, somewhat unexpectedly, alone. That ​"body piece" translates to ​"long johns" for us everyday folk, and is totally reflective of the way we, or I, for one, dress now – comfy, but with something jazzy thrown over the top when popping to the, umm, corner shop.
Die-hard Raf fans will surely be satisfied with nods to his archive aplenty – namely the designer's penchant for outsized dimensions (see: leather and bouclé bombers and baggy knits), fetish‑y glossy gloves (see: Simons' AW18 collection) and tailoring layered over turtlenecks, all of which were masterfully combined with Prada's knack for subverting familiar tropes and love of (good) bad taste – you'll be slipping into a pair of knitted argyle long johns and wearing them as outerwear before you know it!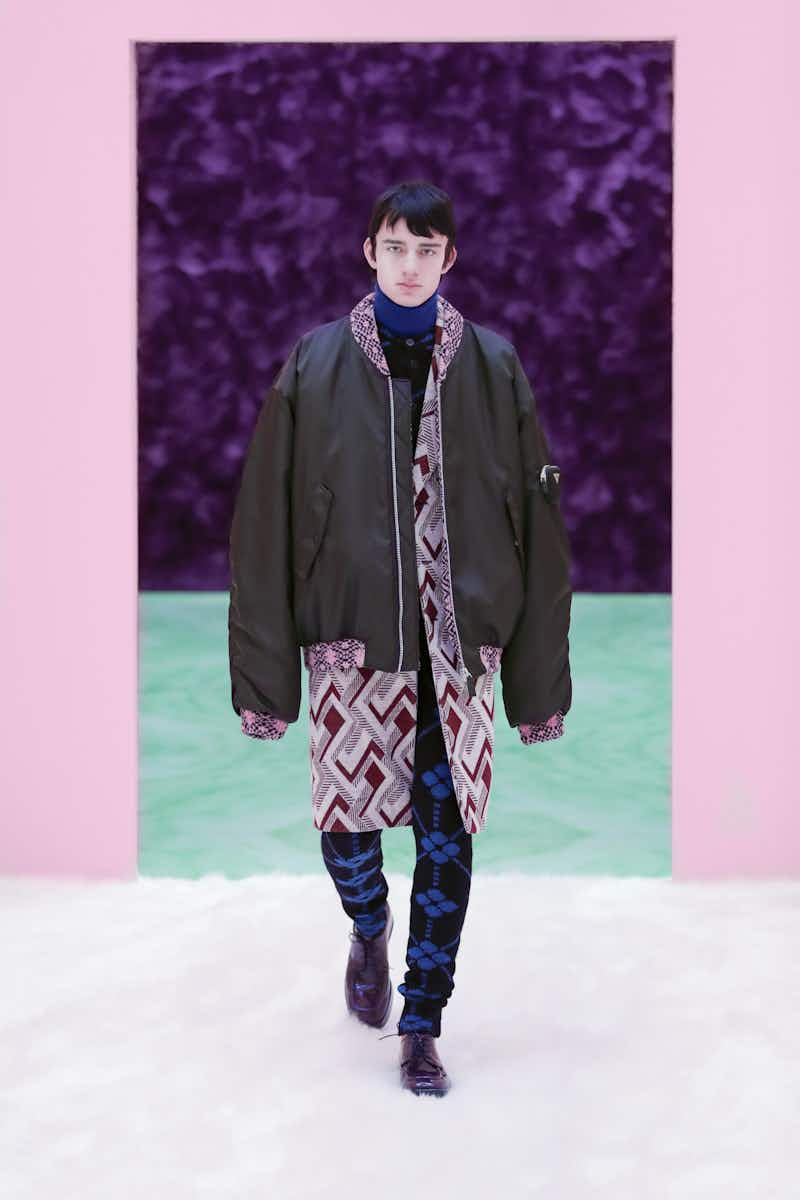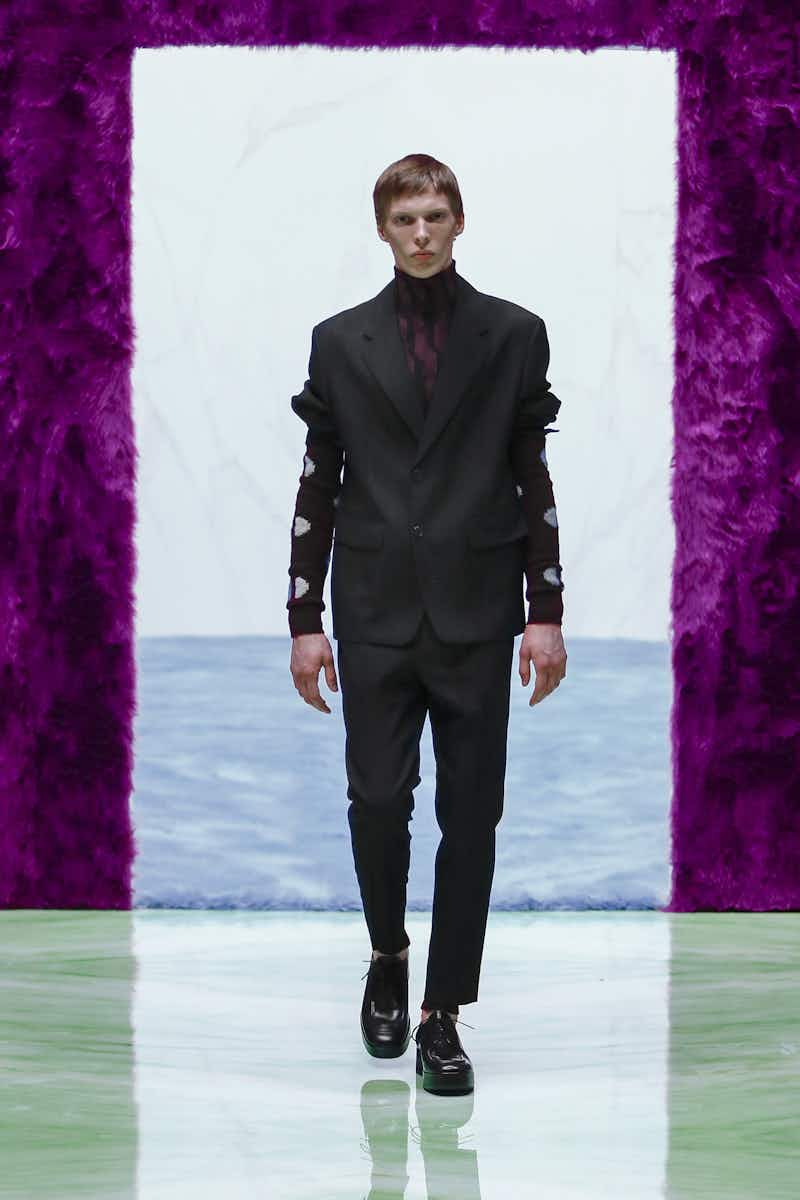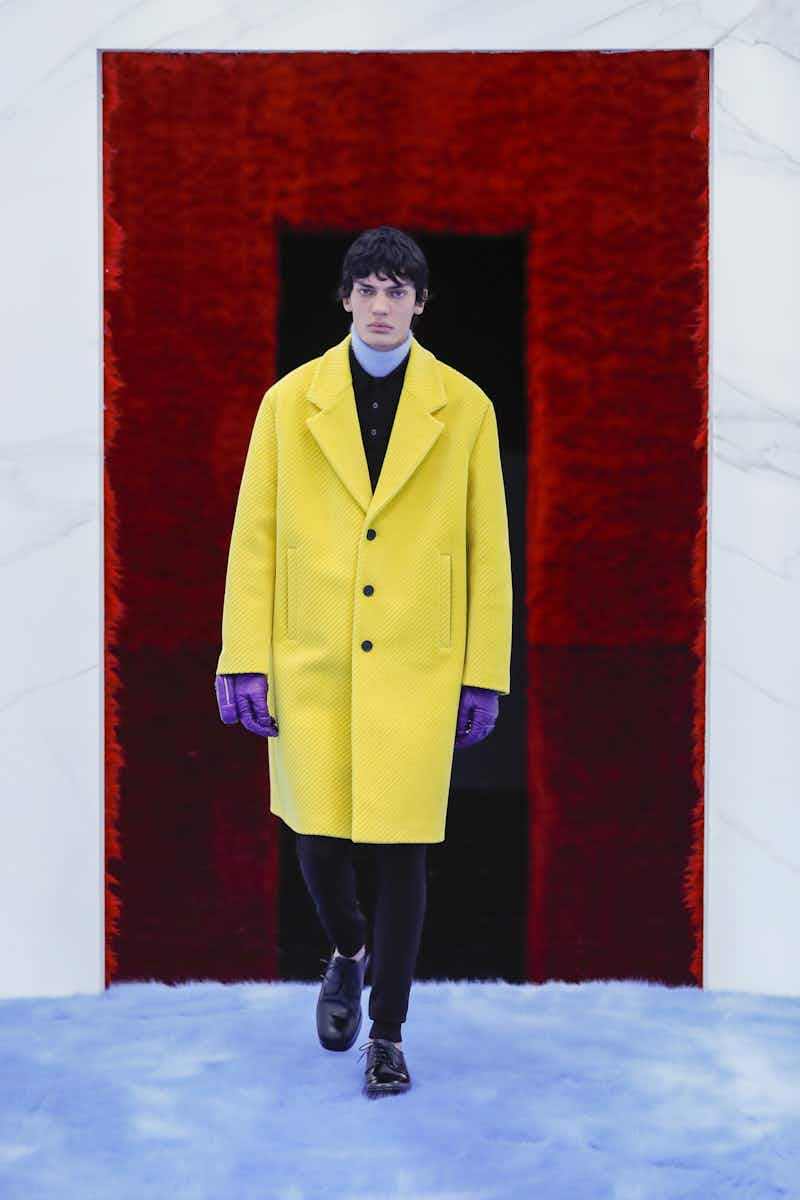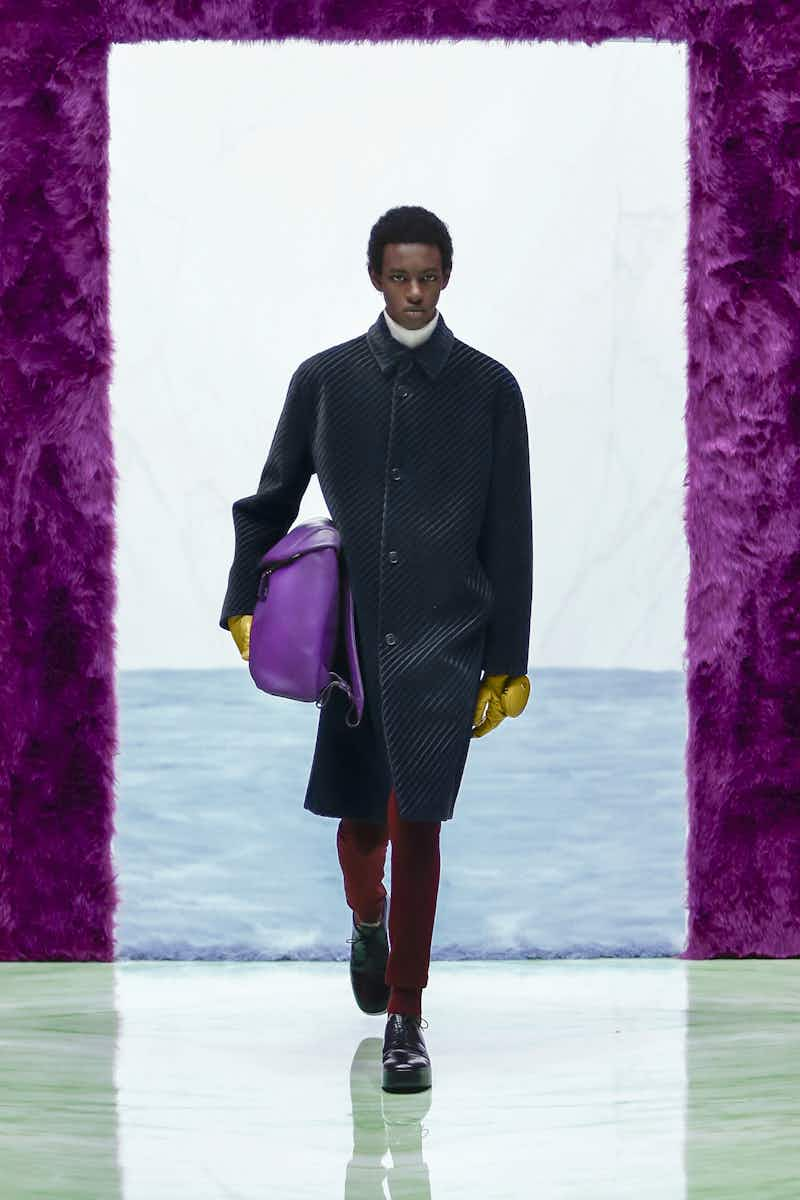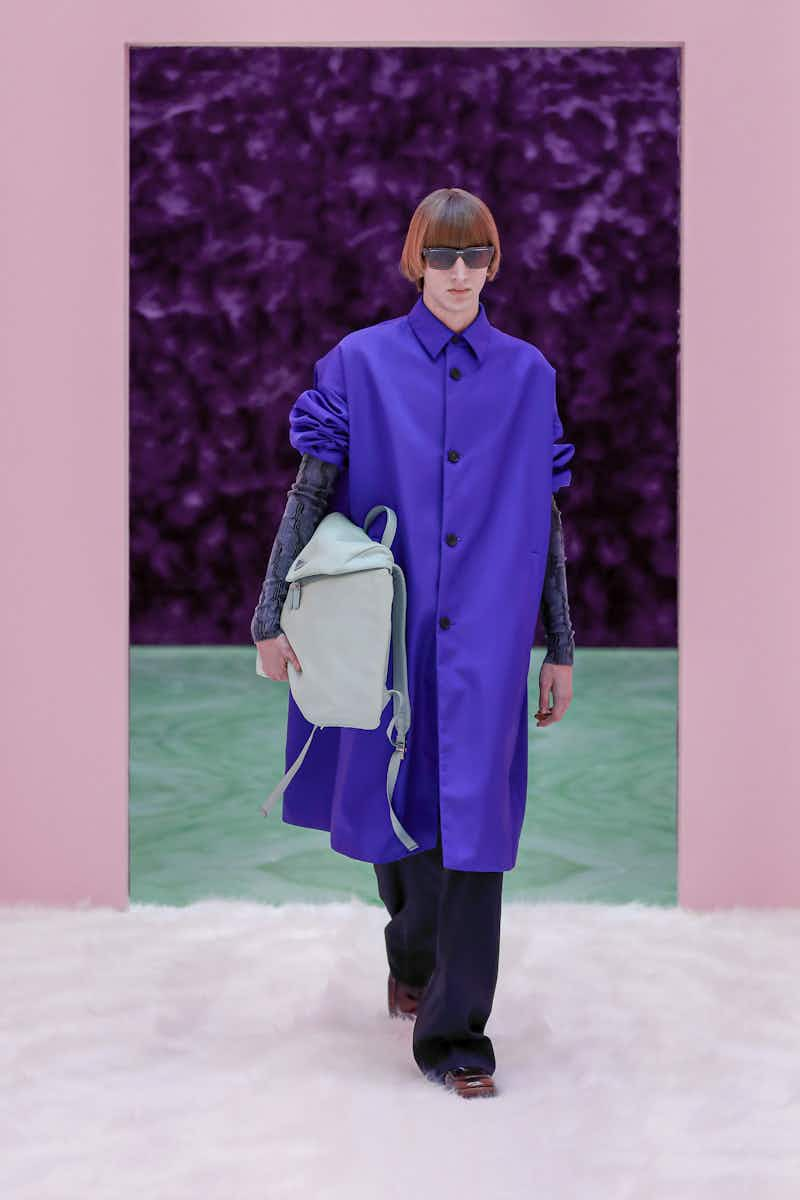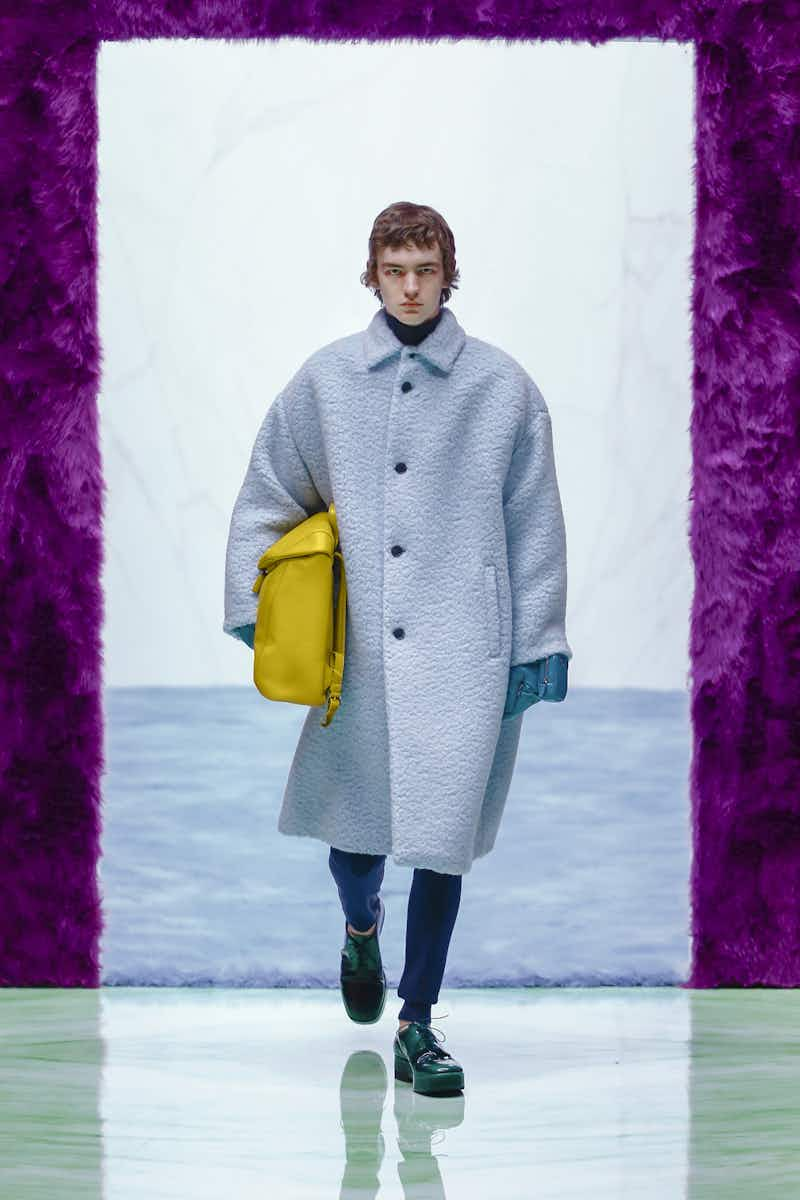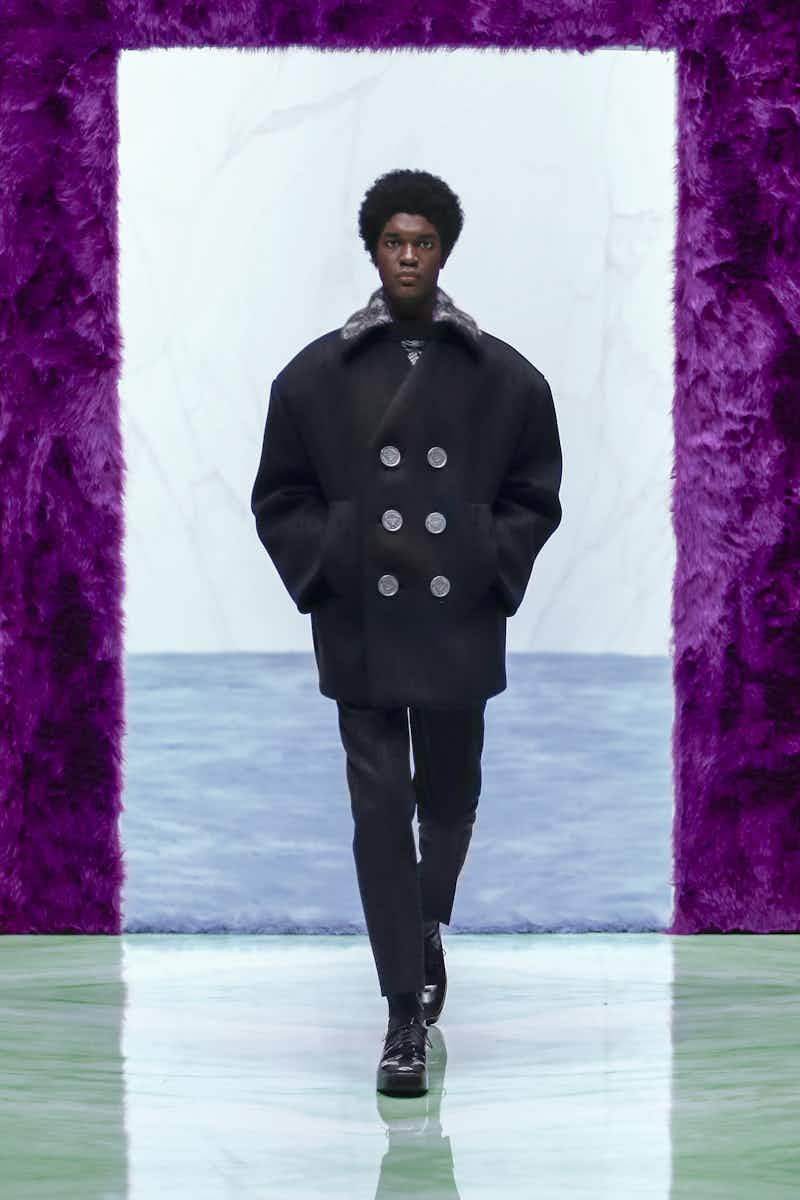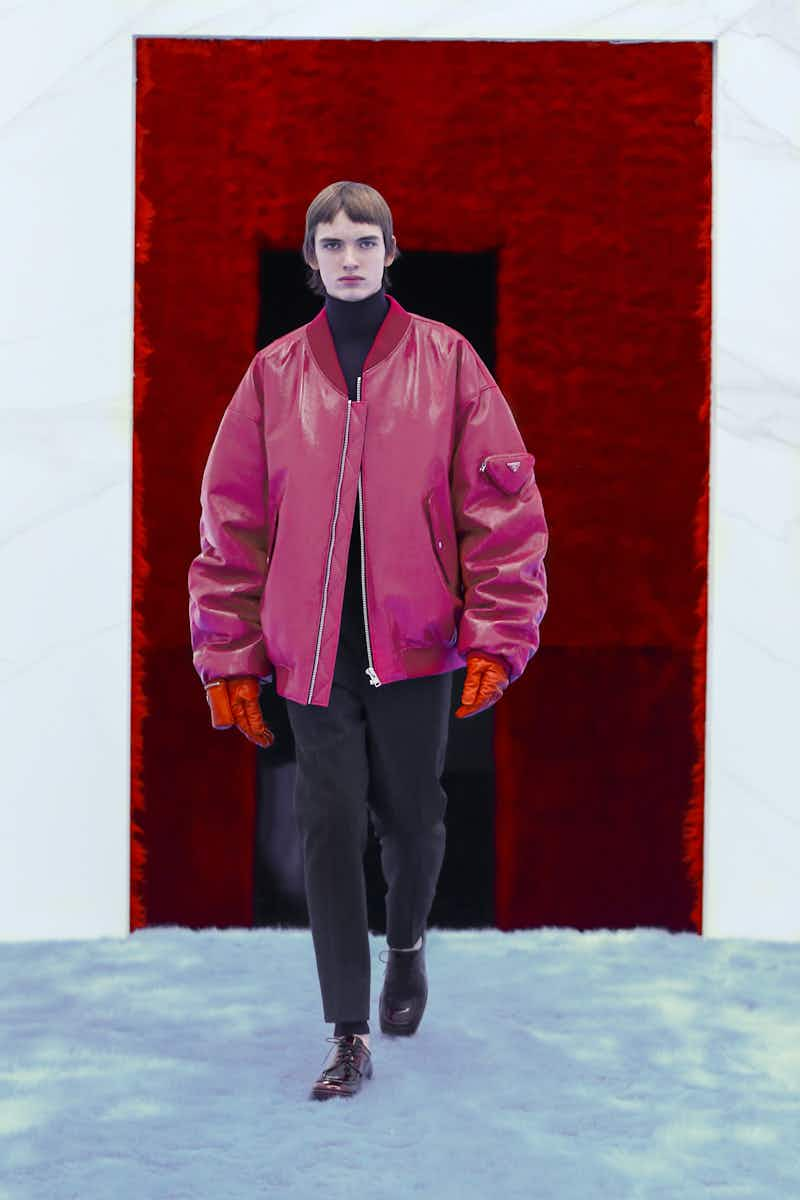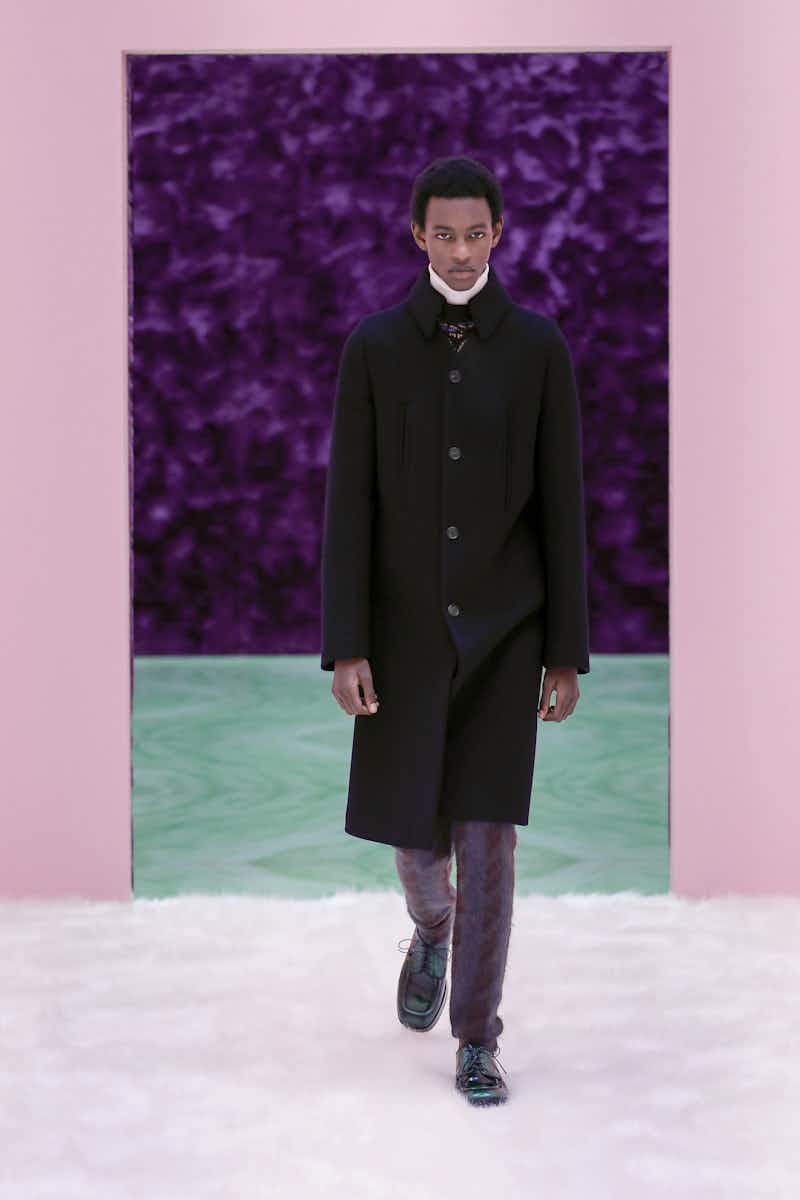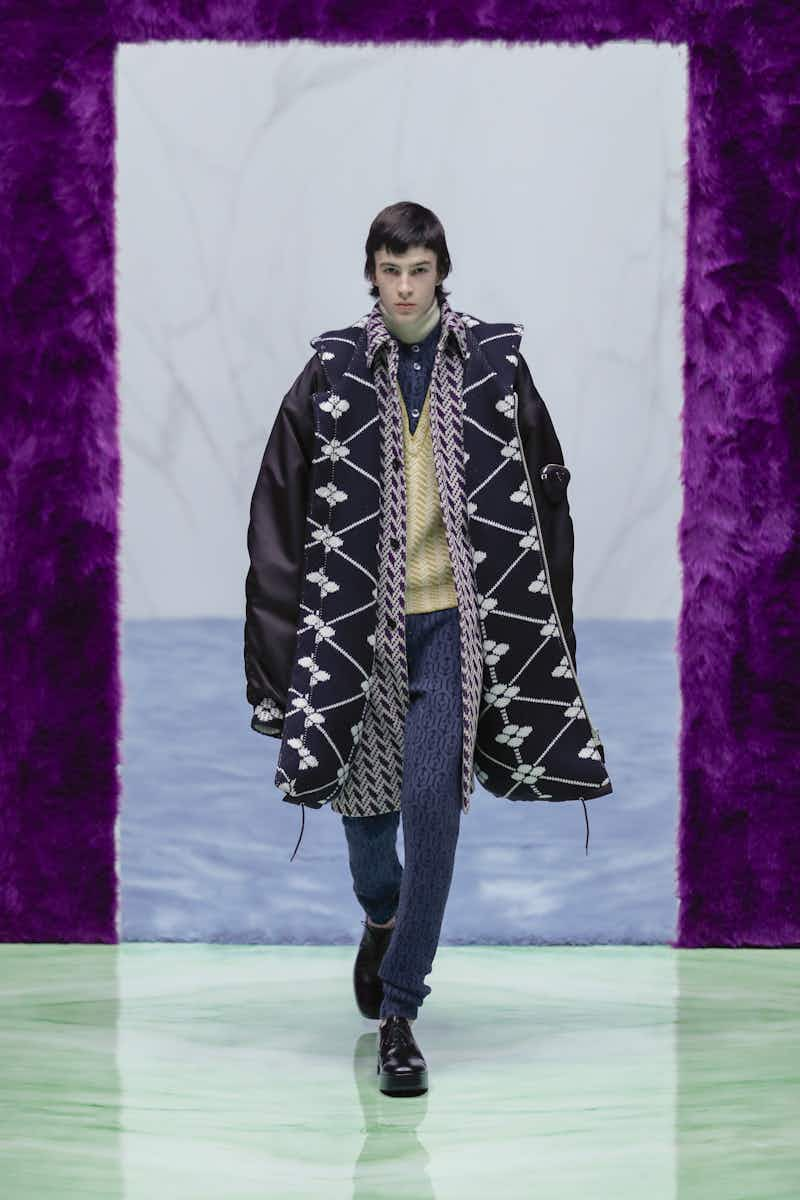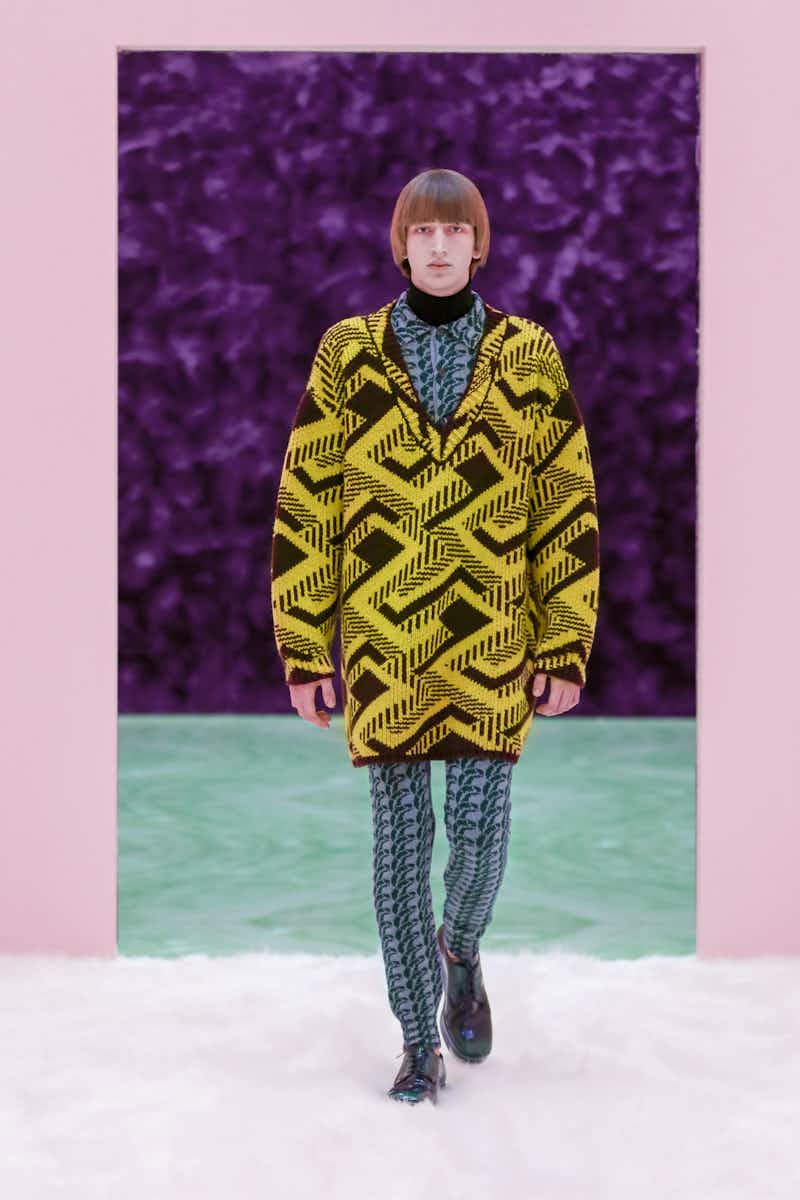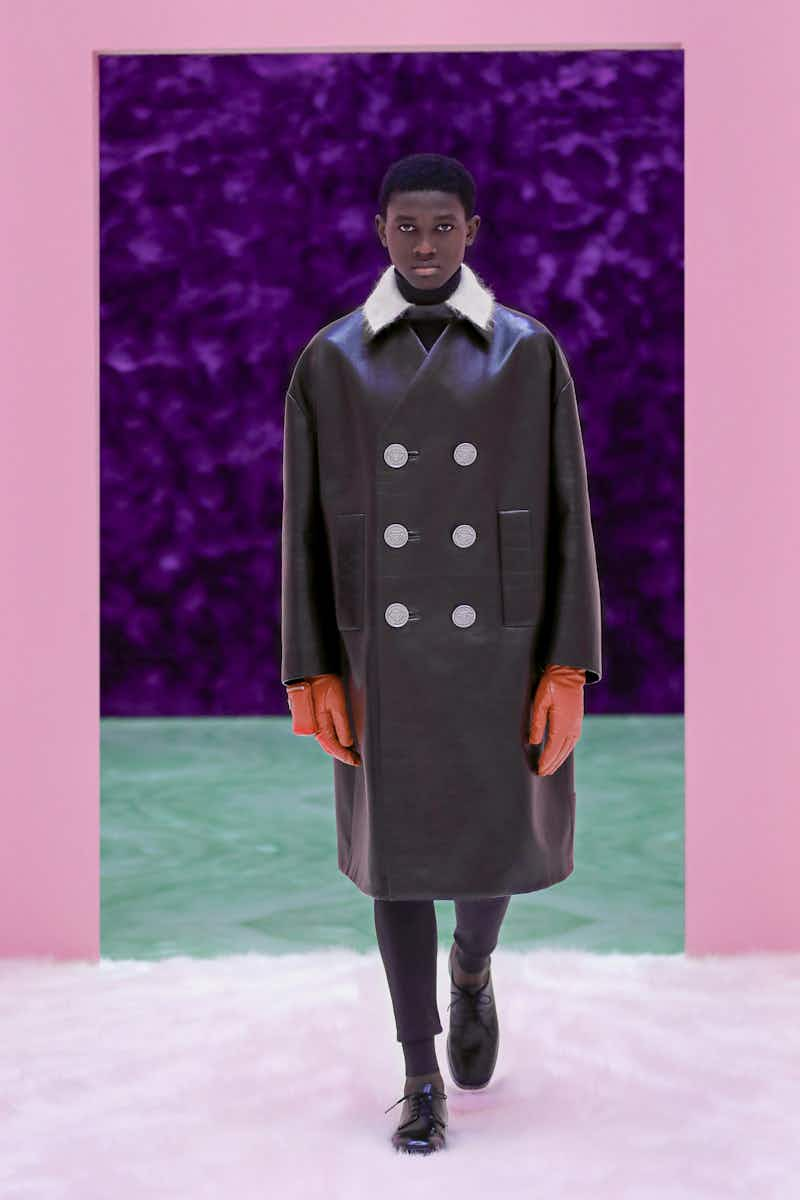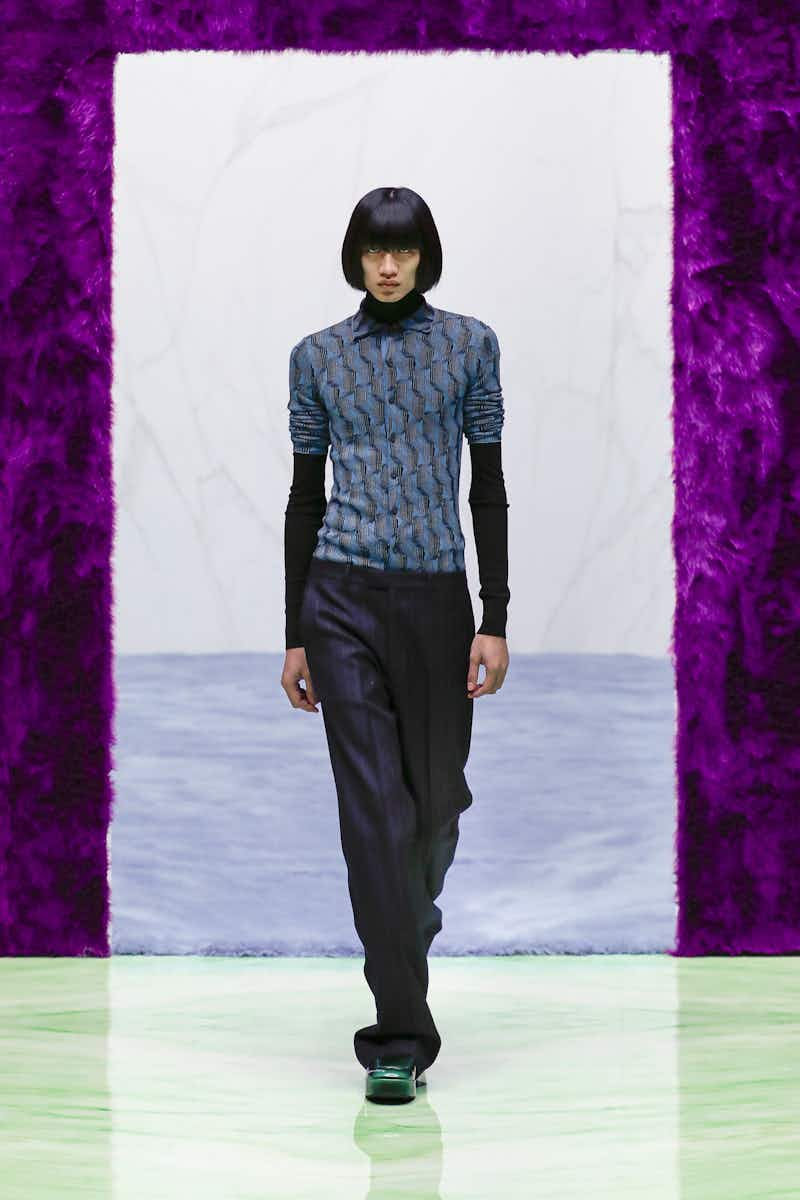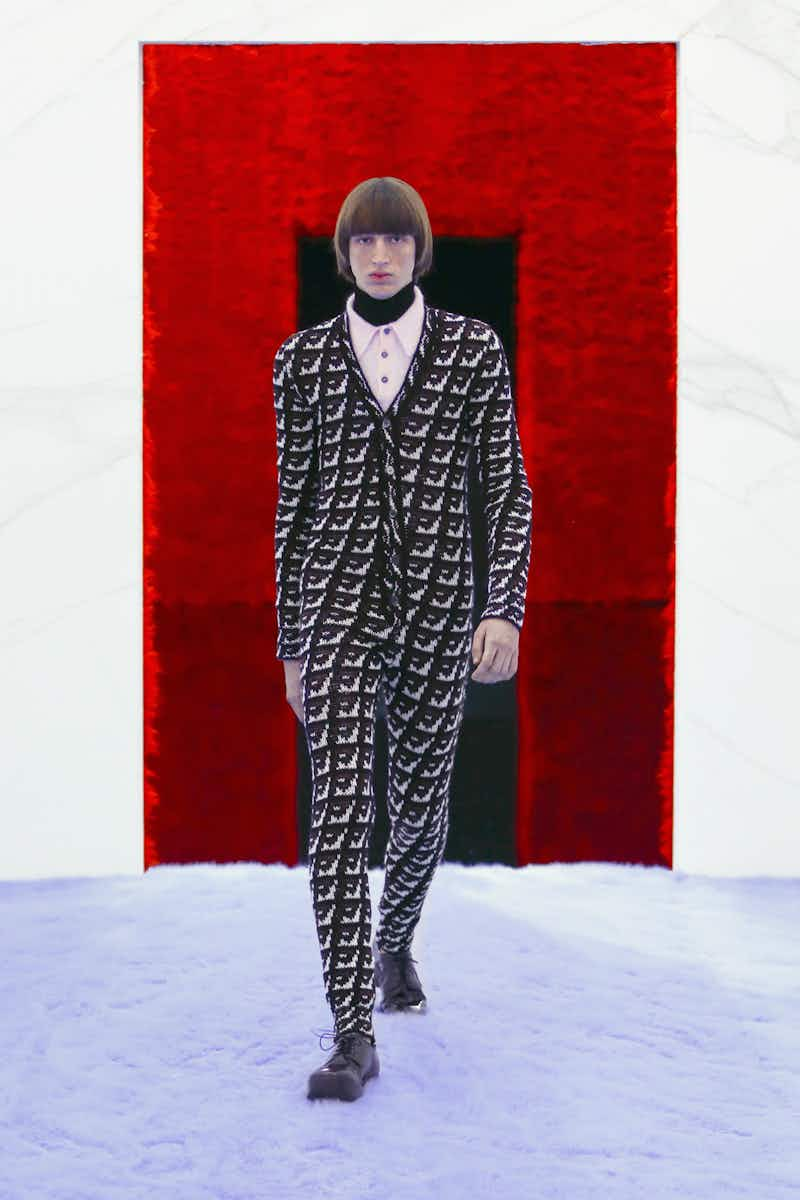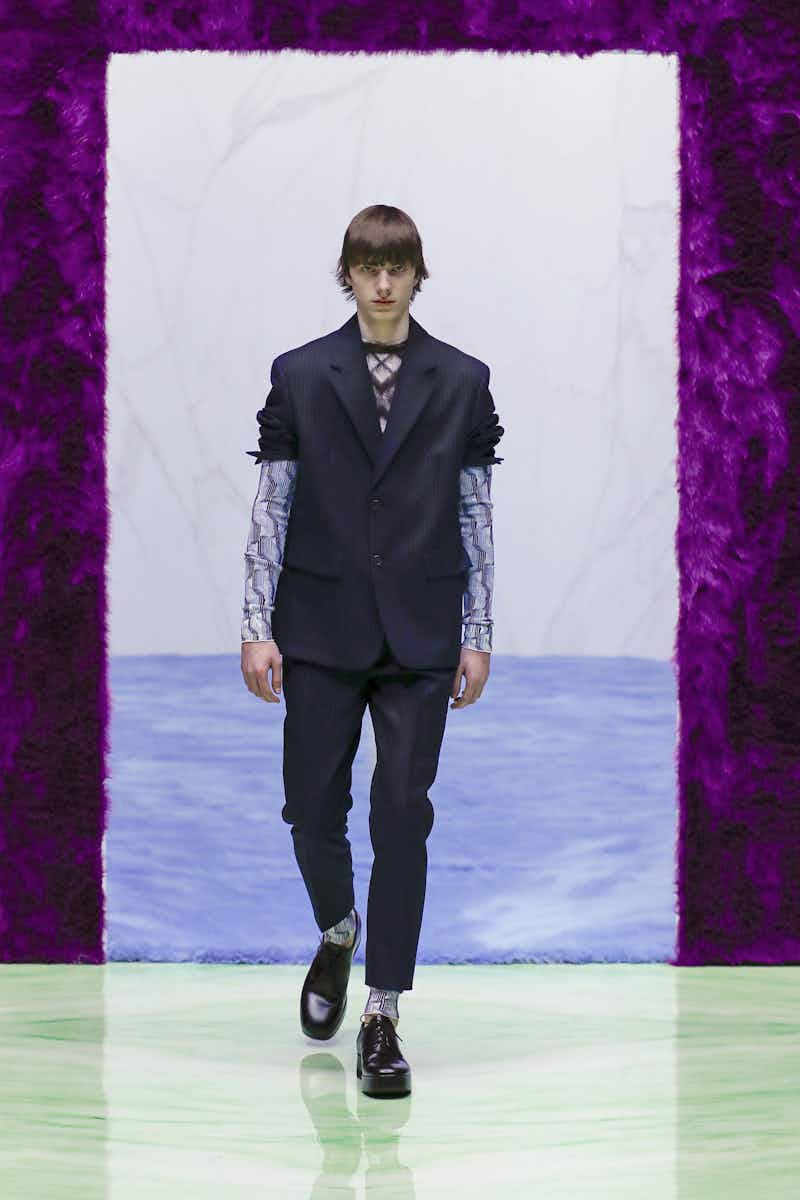 The Rem Koolhaas-designed show space (referred to by Prada as a ​"strange, abstract place [that's neither] inside, or outside") deserves a special mention. Carpeted walls – like those commonly associated with now-defunct local British nightclubs (RIP) – took on a whole new luxurious meaning, as models stomped and danced their way through a sequence of marble, resin and faux fur-padded cubes to a thumping electronic soundtrack by Plastikman (aka Richie Hawtin, who also composed the music for Prada's womenswear show in September). The panoply of surfaces and textures used to construct the AW21 set will either be upcycled and used in Prada stores around the world, or donated to students via Meta, a circular economy project based in Milan.
In the post-show discussion, Prada and Simons both spoke about the physical and emotional way clothes make you feel and the contrast between the comfort and softness seen in the collection and the harsh reality of the world we live in right now. No matter how isolated we might be feeling, no matter how much we might be craving contact beyond our immediate bubble, Simons and Prada's collection aimed to evoke sensations within us through movement, tactile signals and sound. For a minute, Prada's AW21 show was the perfect antidote to the cabin fever we've all been feeling.


More like this