Miu Miu: Brave Hearts run free

Taking to the snowy hills of Cortina d'Ampezzo, Miuccia Prada counterbalances warrior-like practicality with a playful sensuality: "The two do not have to be mutually exclusive."

Just a few weeks ago, Miu Miu debuted their 21st instalment of Women's Tales. Directed by trans Fillipino filmmaker Isabel Sandoval, Shangri-La is a romantic exploration of sexuality and power told through an intimate lens. It also made Sandoval the first trans woman of colour to direct a film for the Italian house's series since its 2012 inception.
A welcome move, the film also followed Miu Miu's AW21 collection, presented yesterday. In Brave Hearts, Miuccia Prada challenges the exclusivity of womanhood through practical pieces told through a whimsically romantic narrative – one where power and sexuality are not mutually exclusive, but rather old companions.
"It talks about the imagination of women, different places, different ideas," she notes of a collection presented on the snowy hills of Cortina d'Ampezzo, in the heart of Dolomites, northeast Italy. ​"Trying to execute your dreams is courageous – that takes bravery and strength."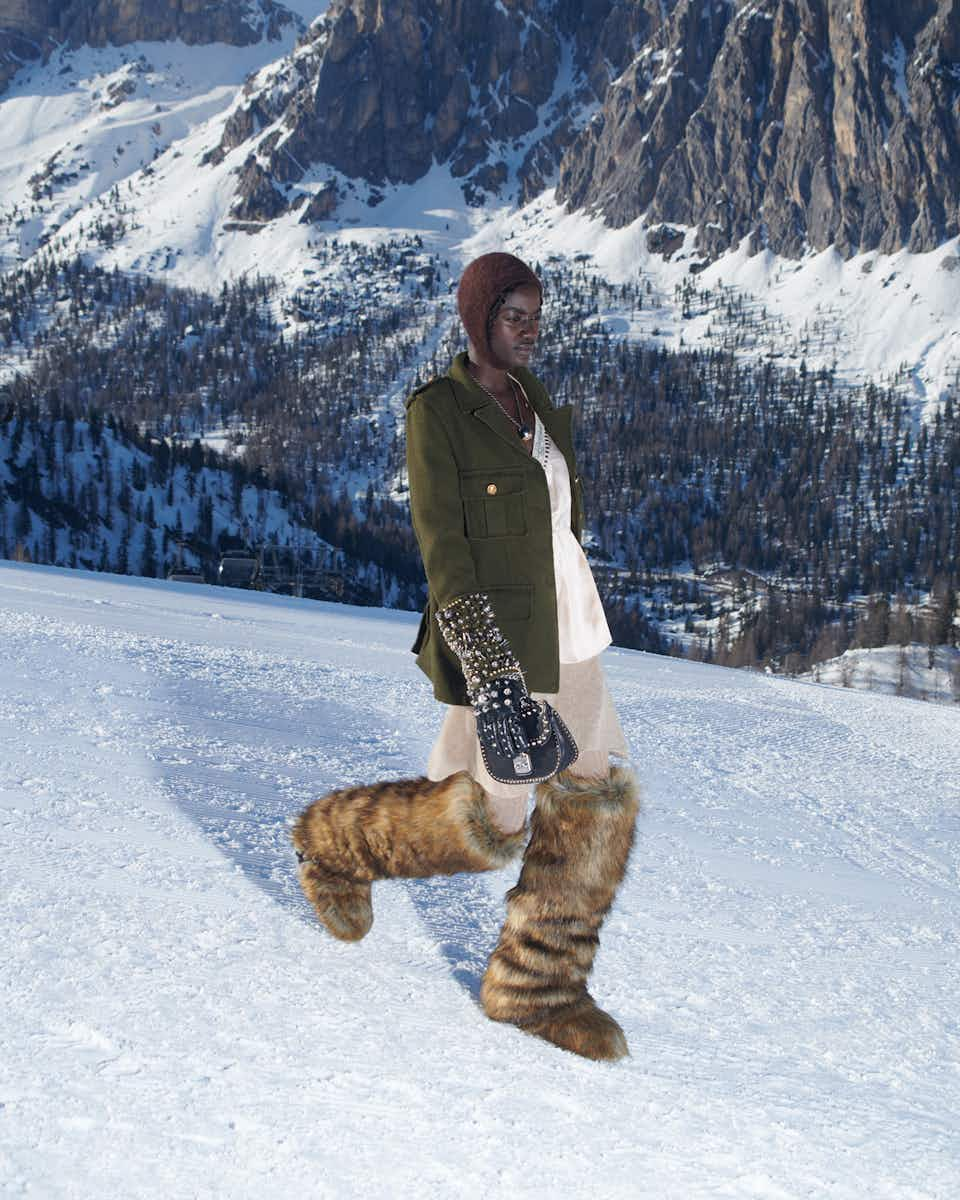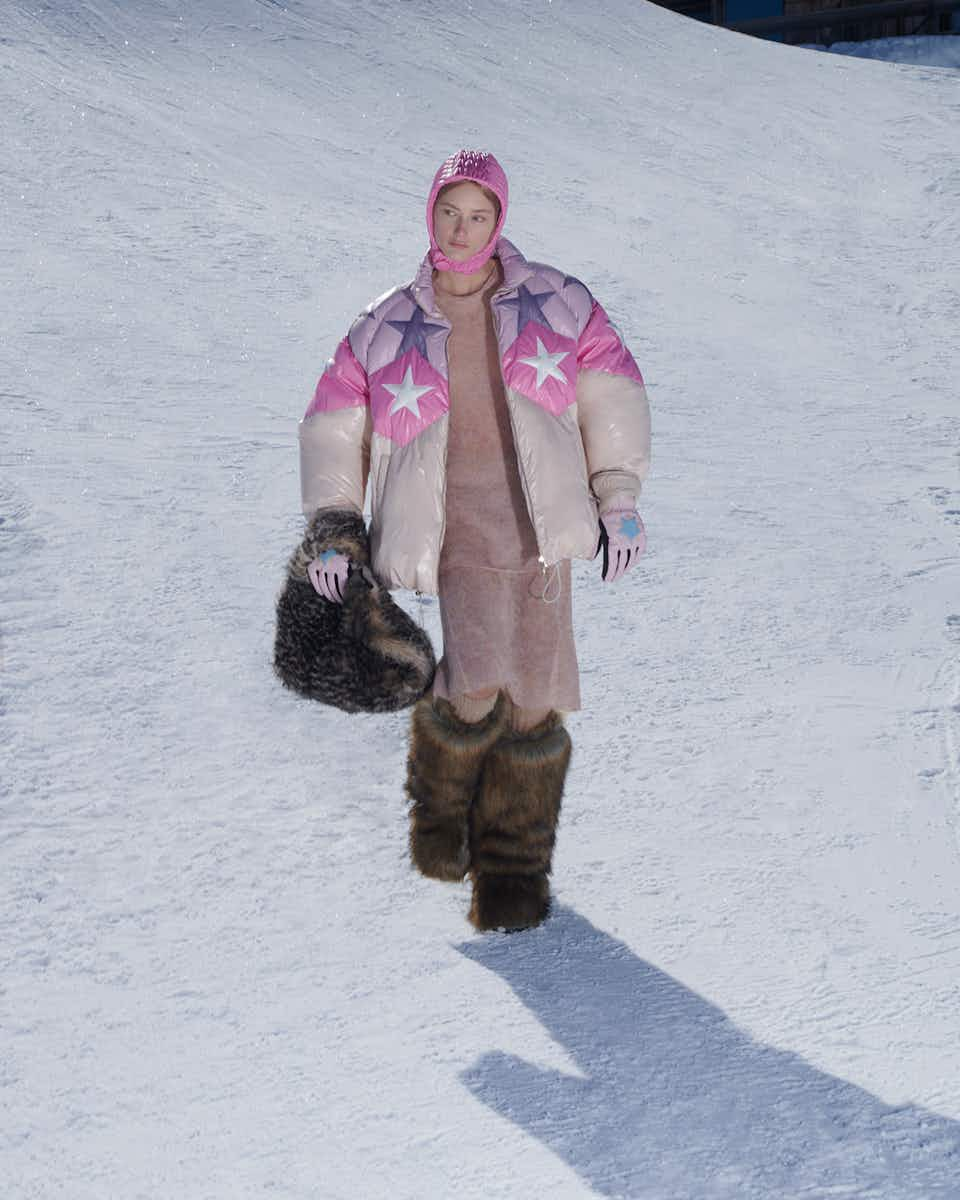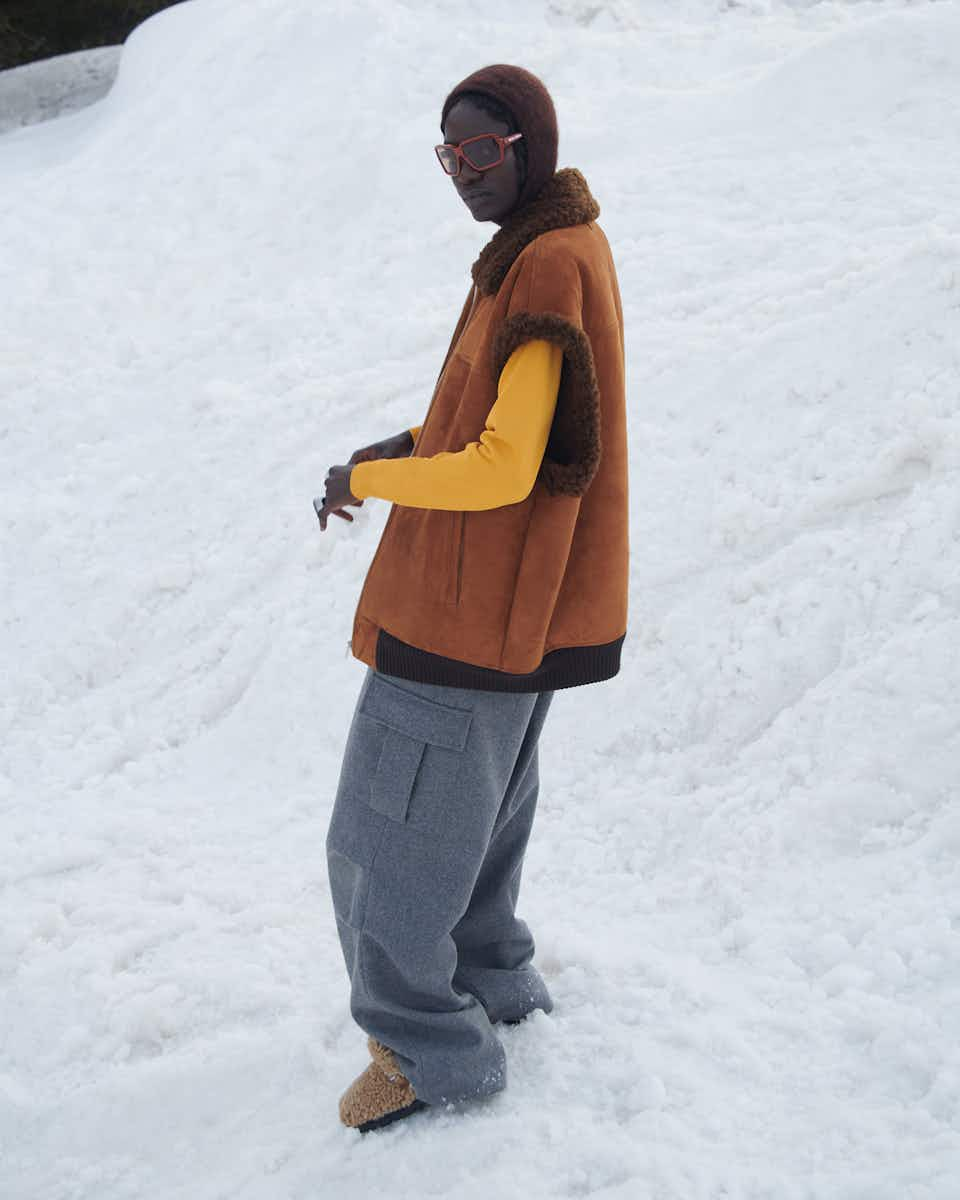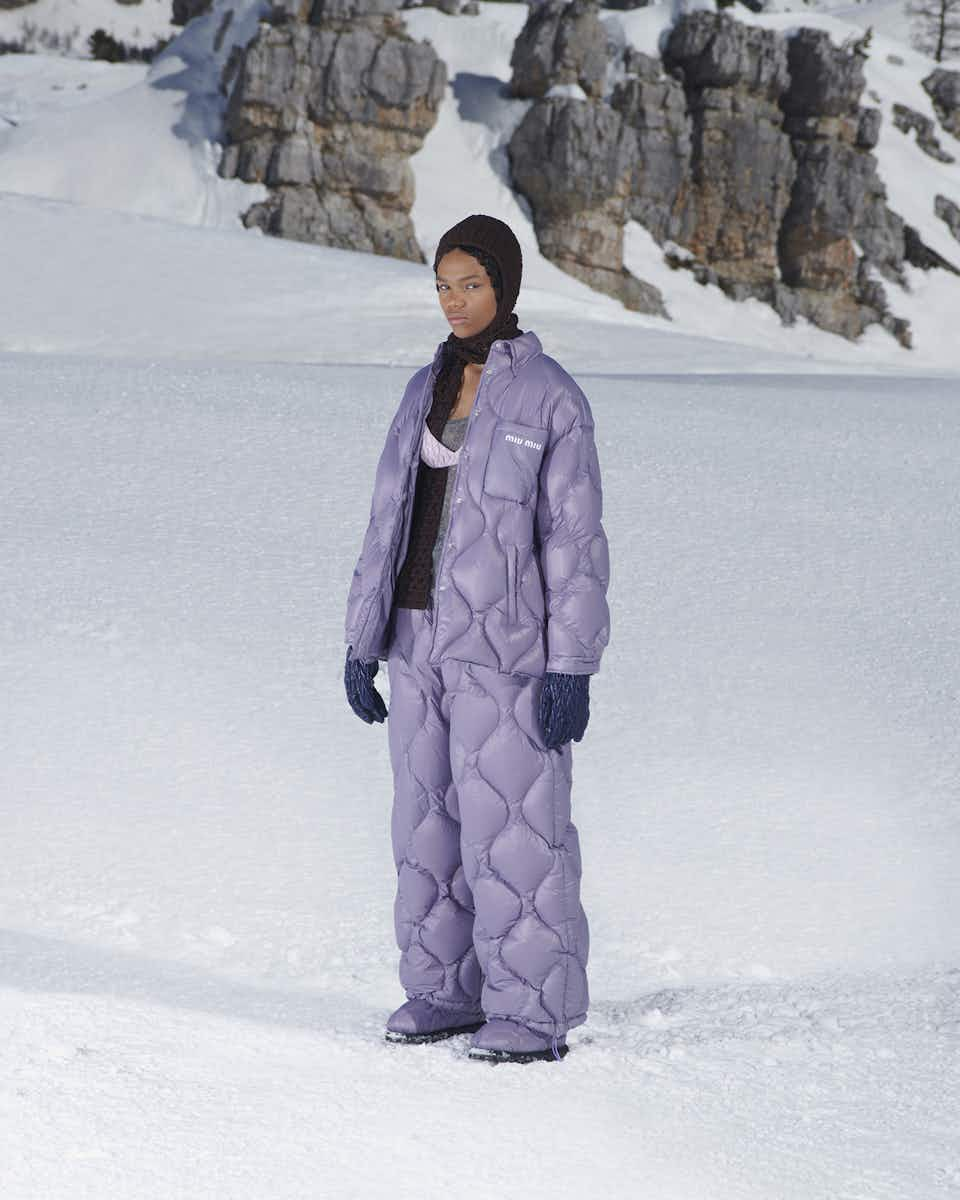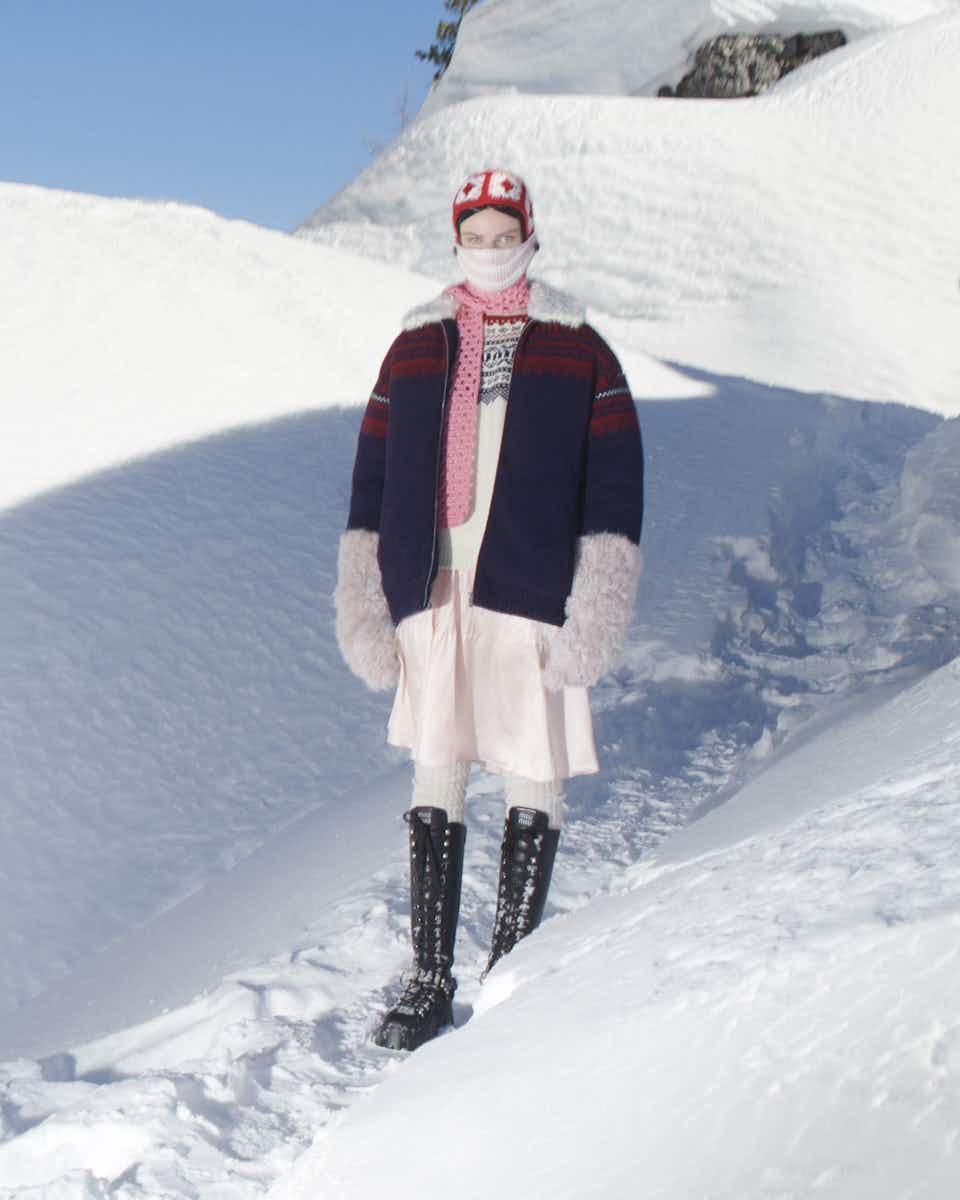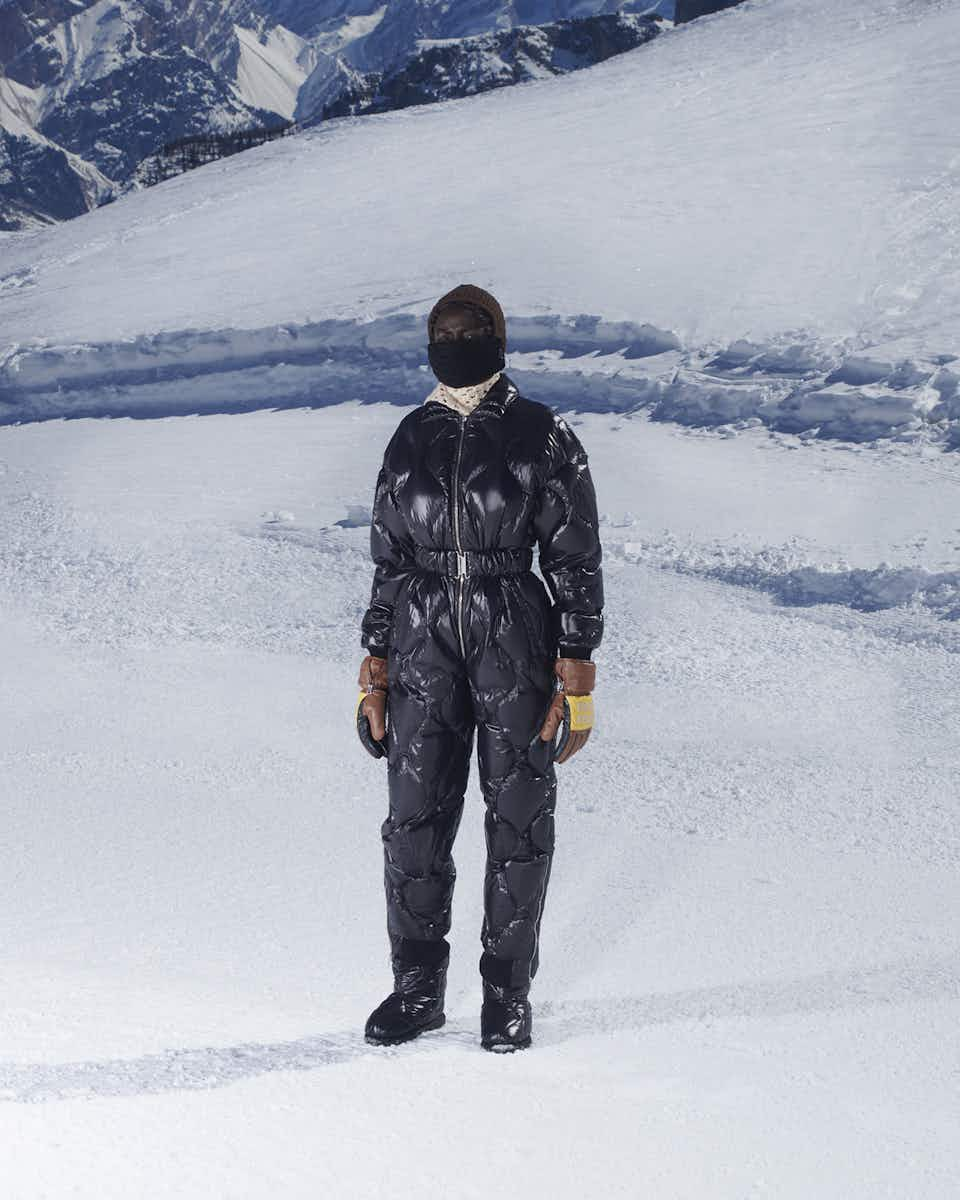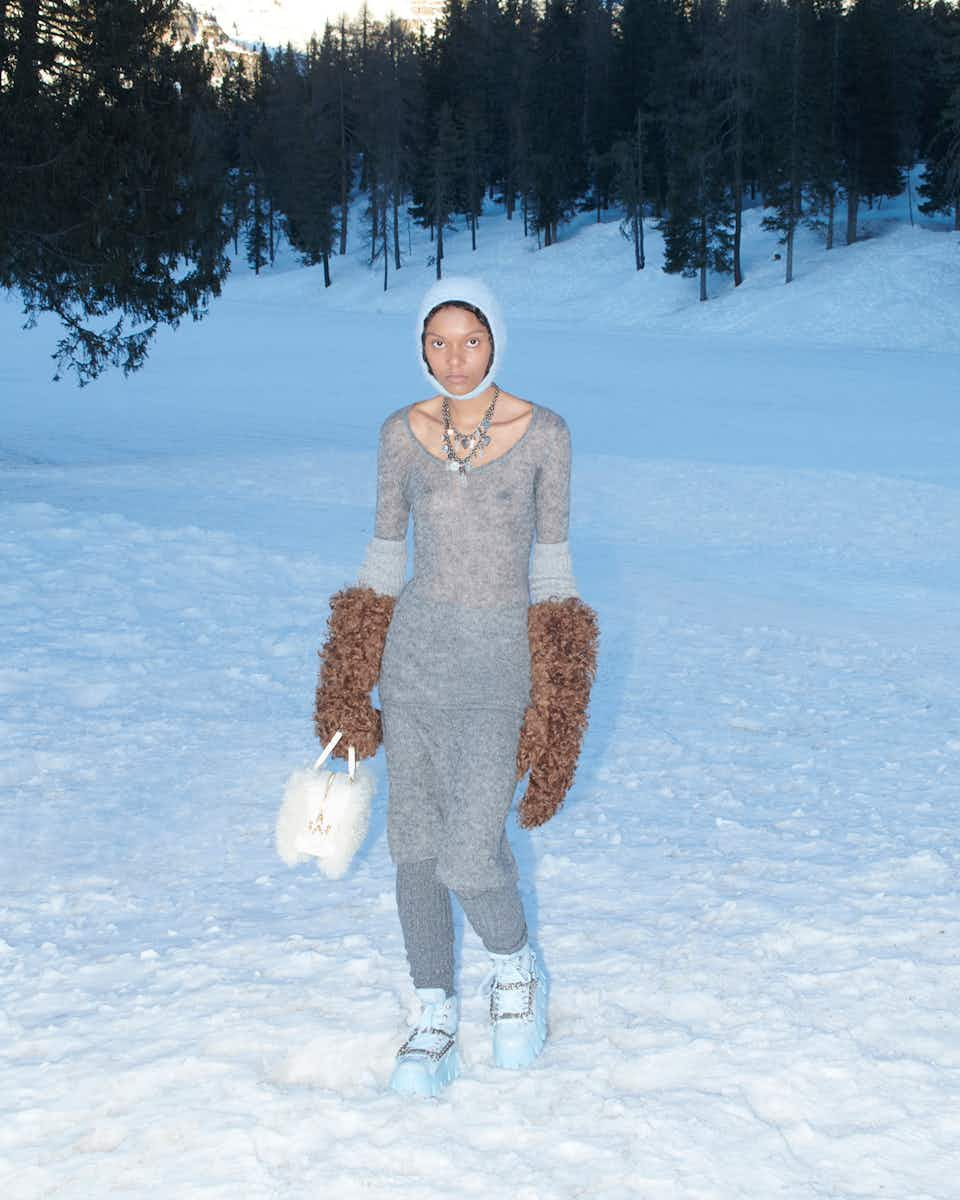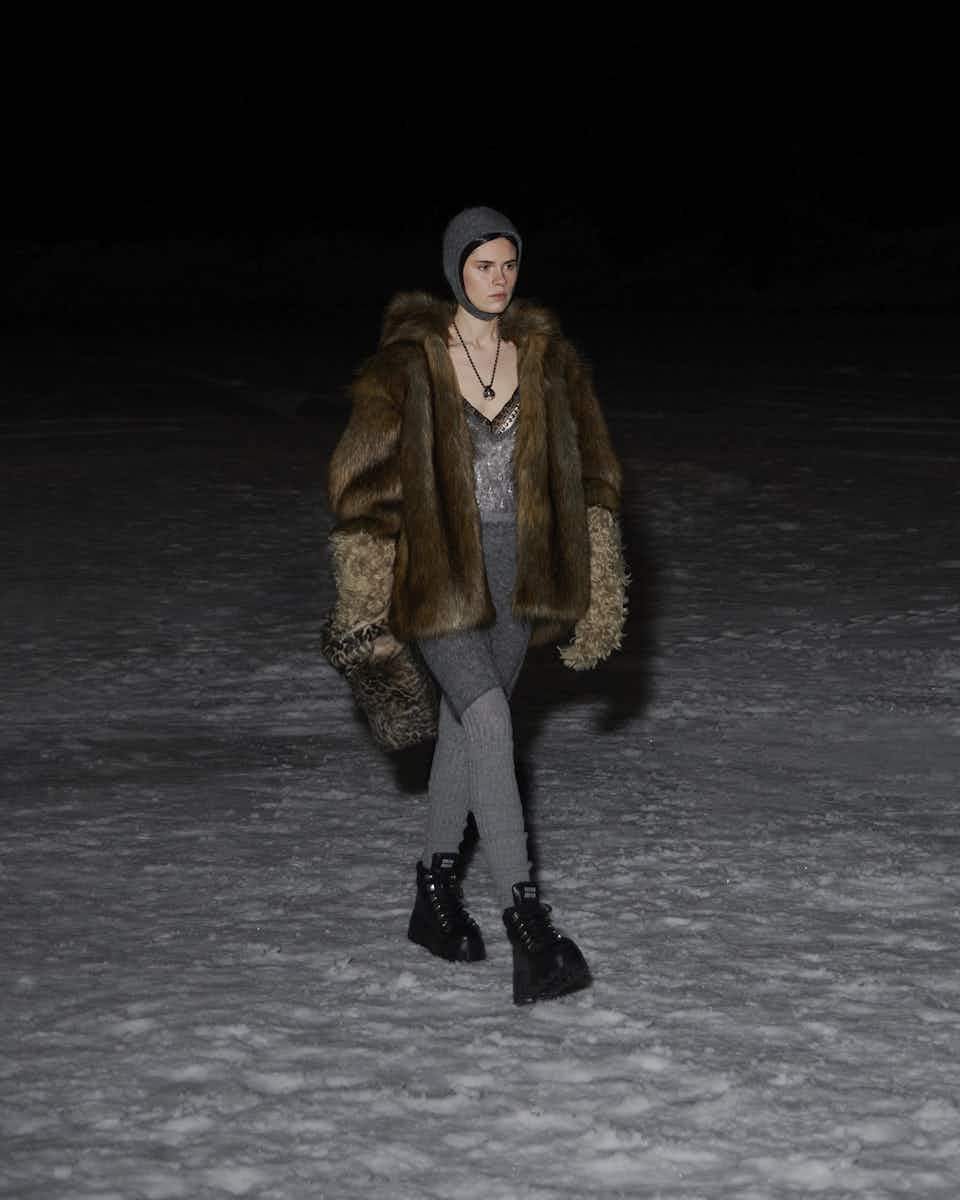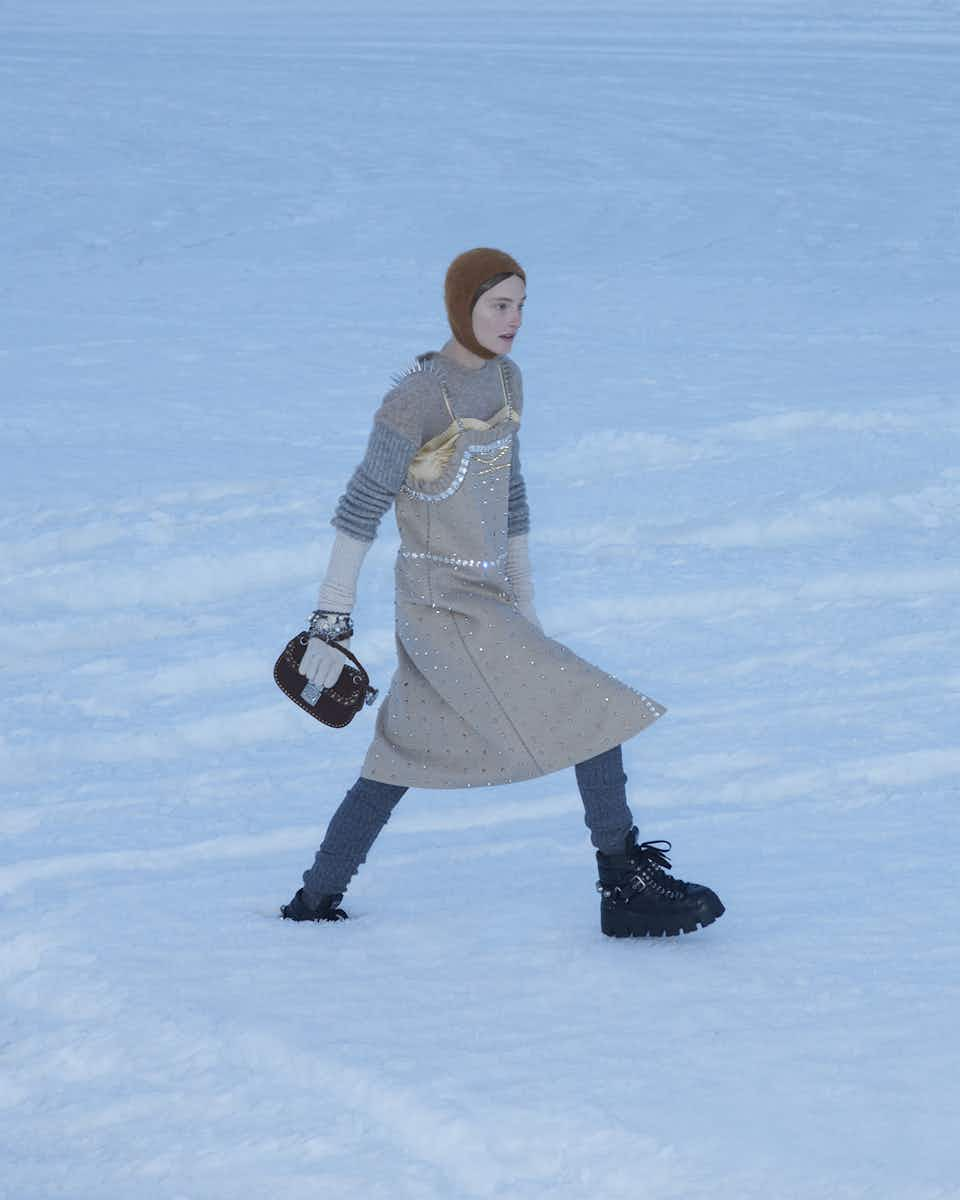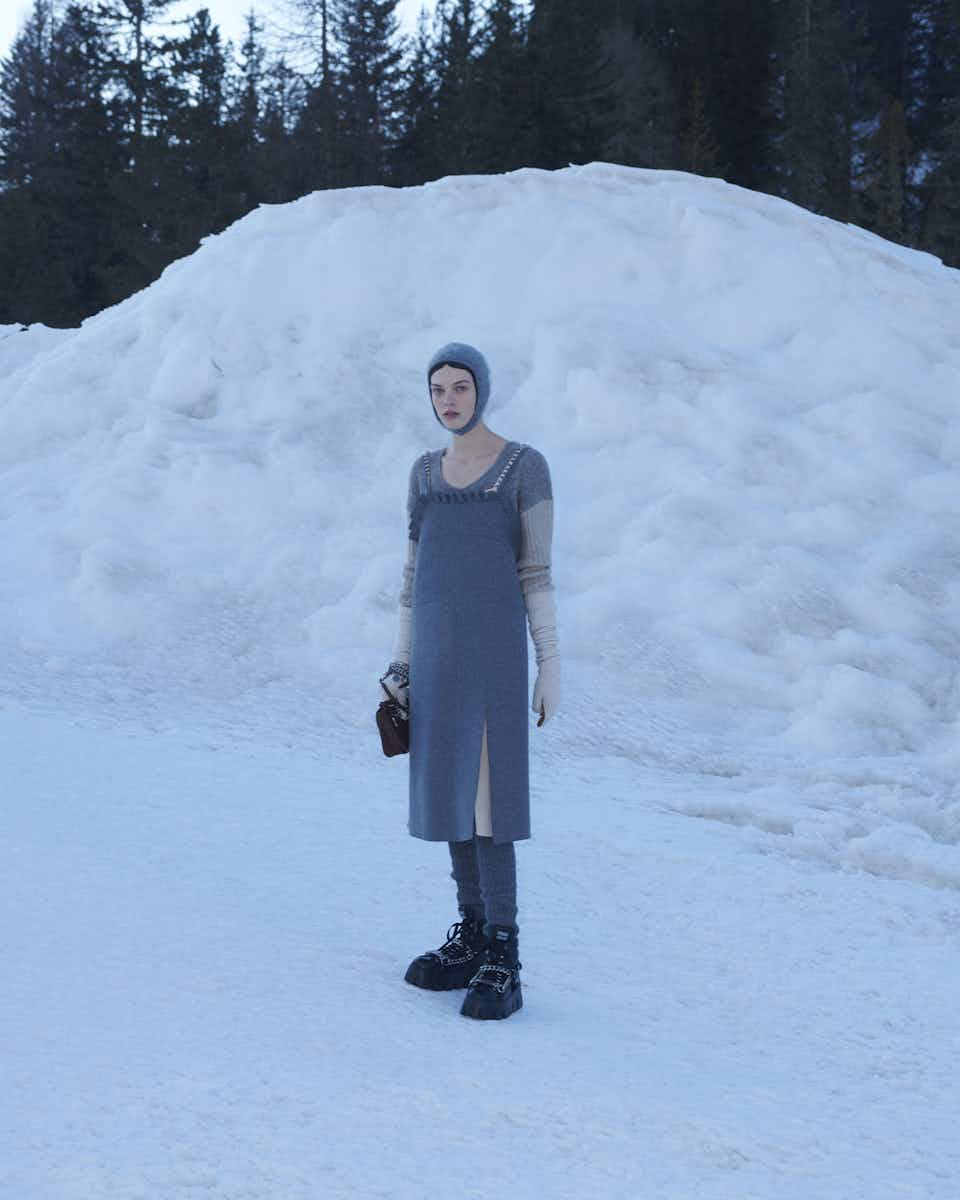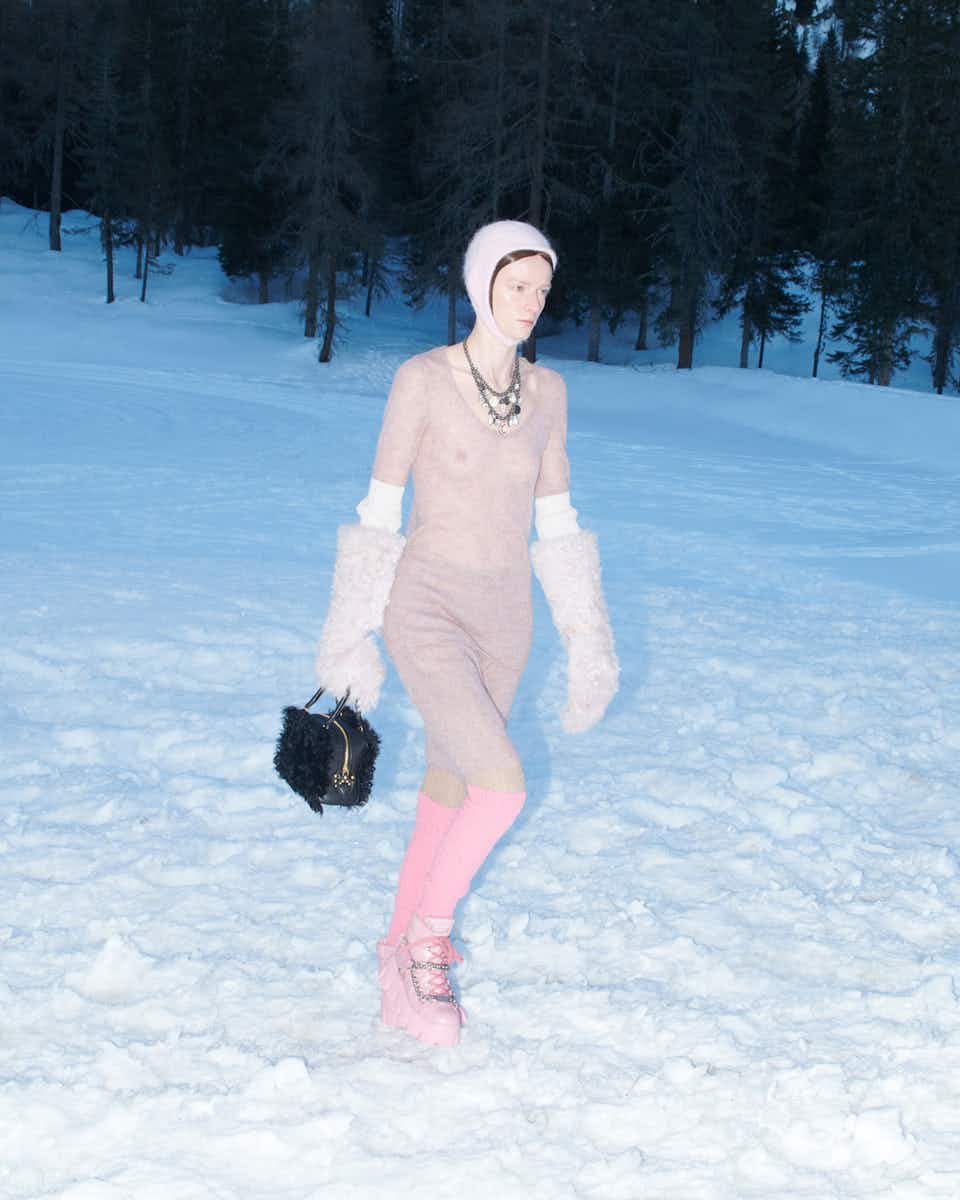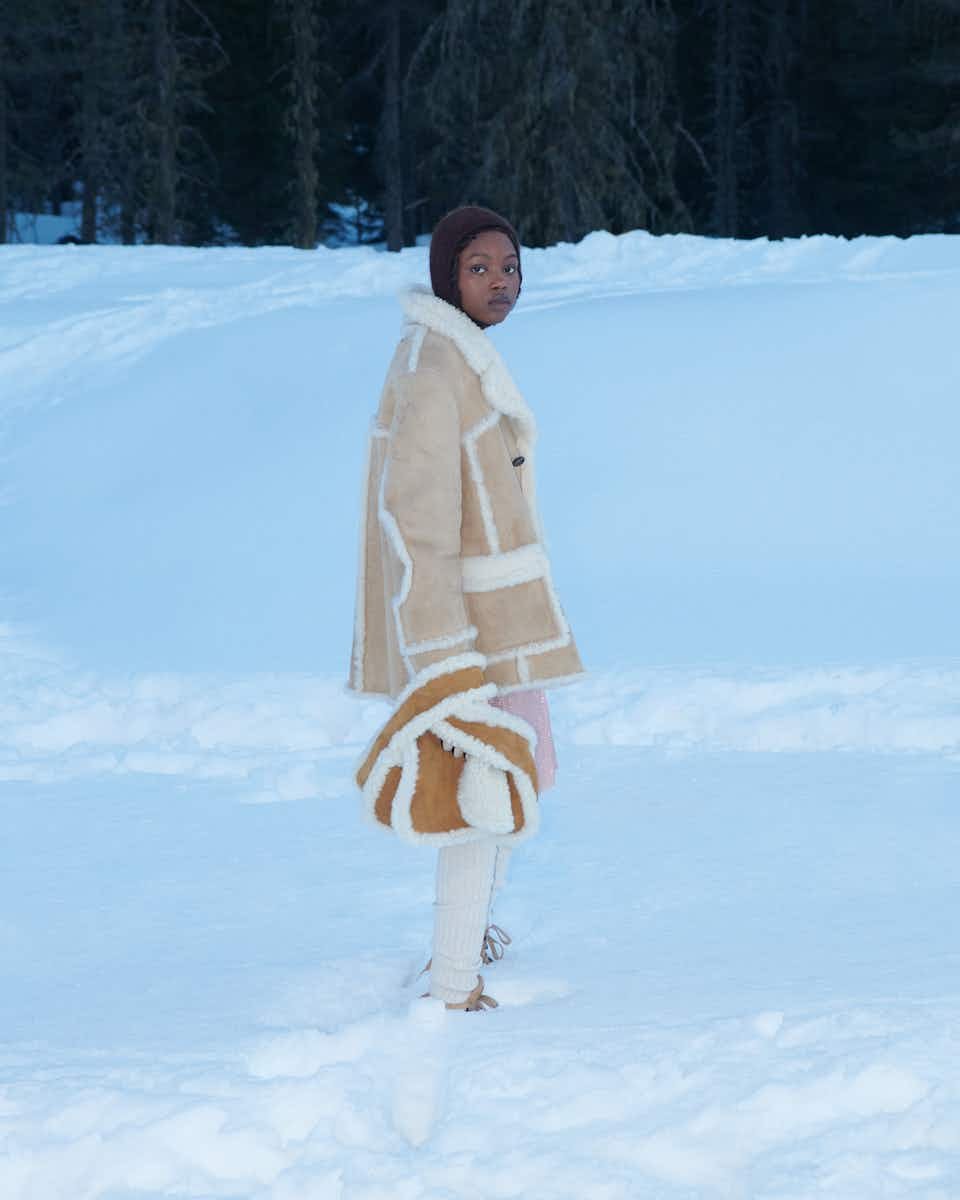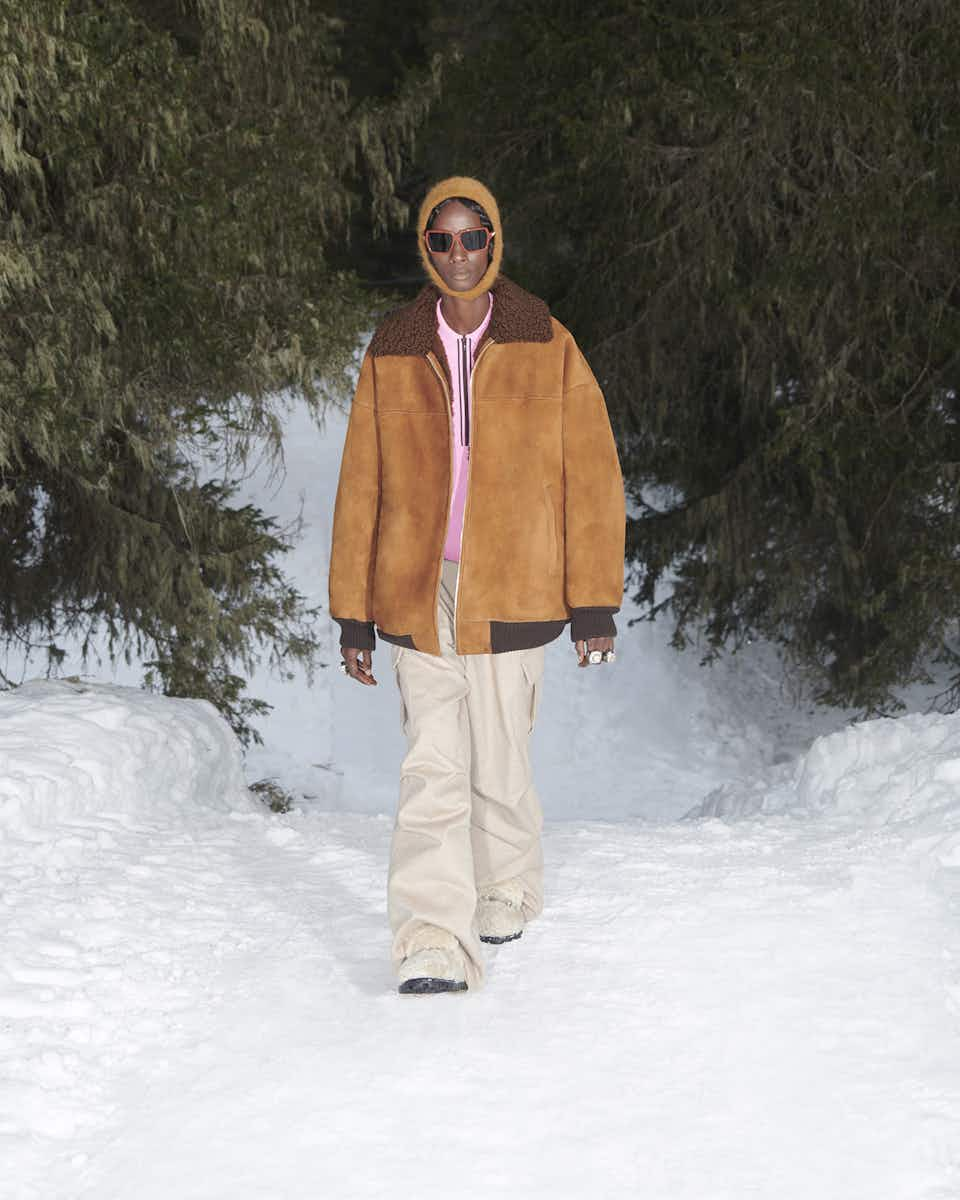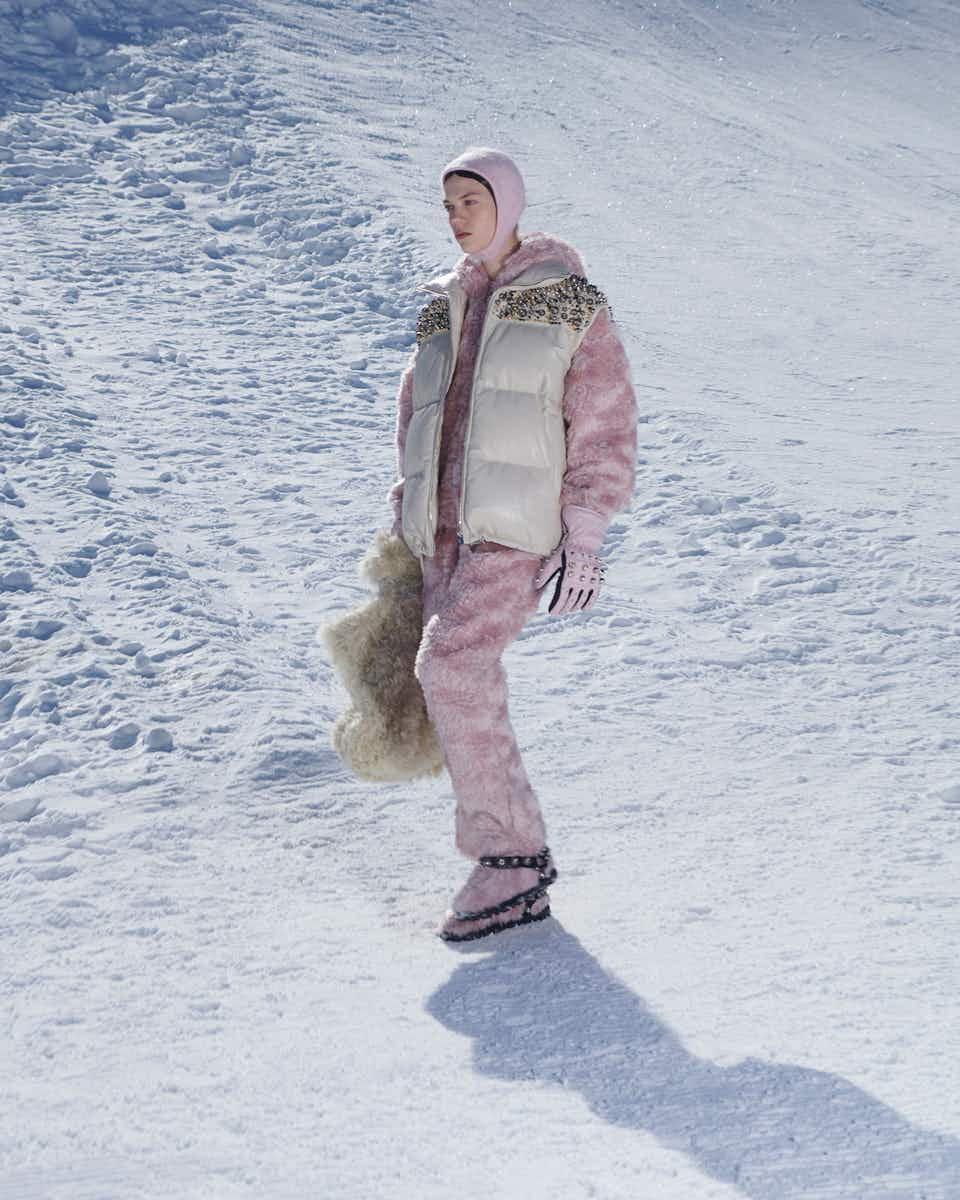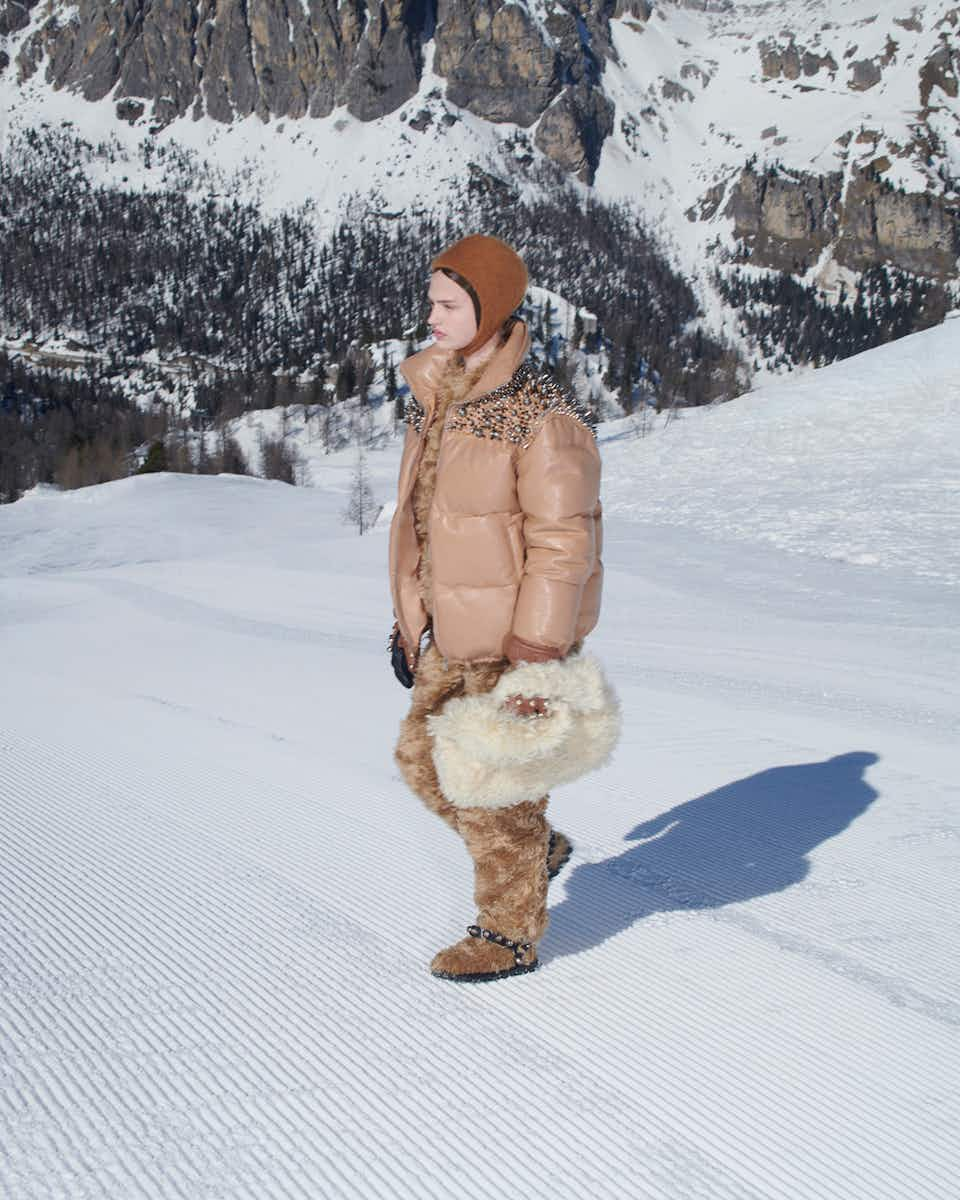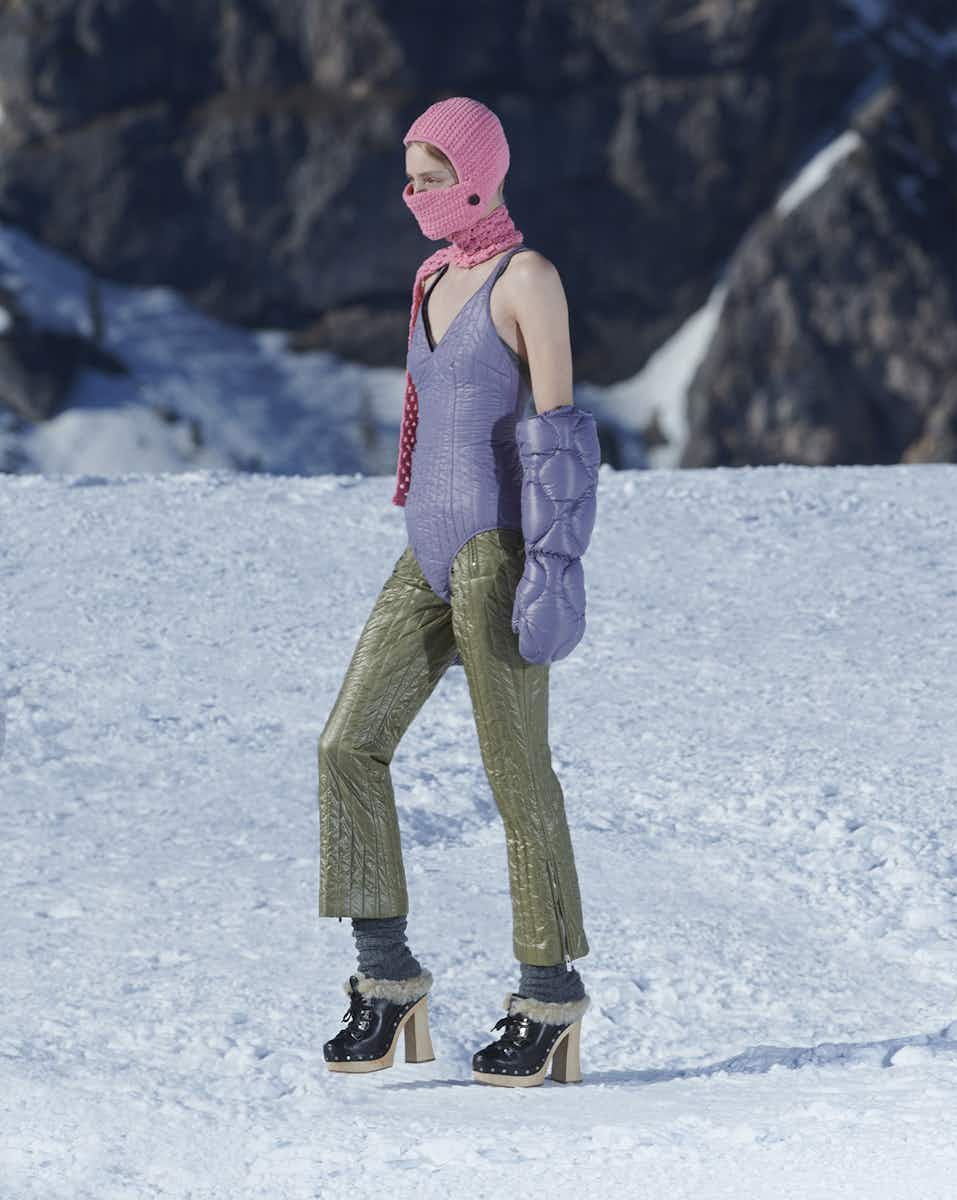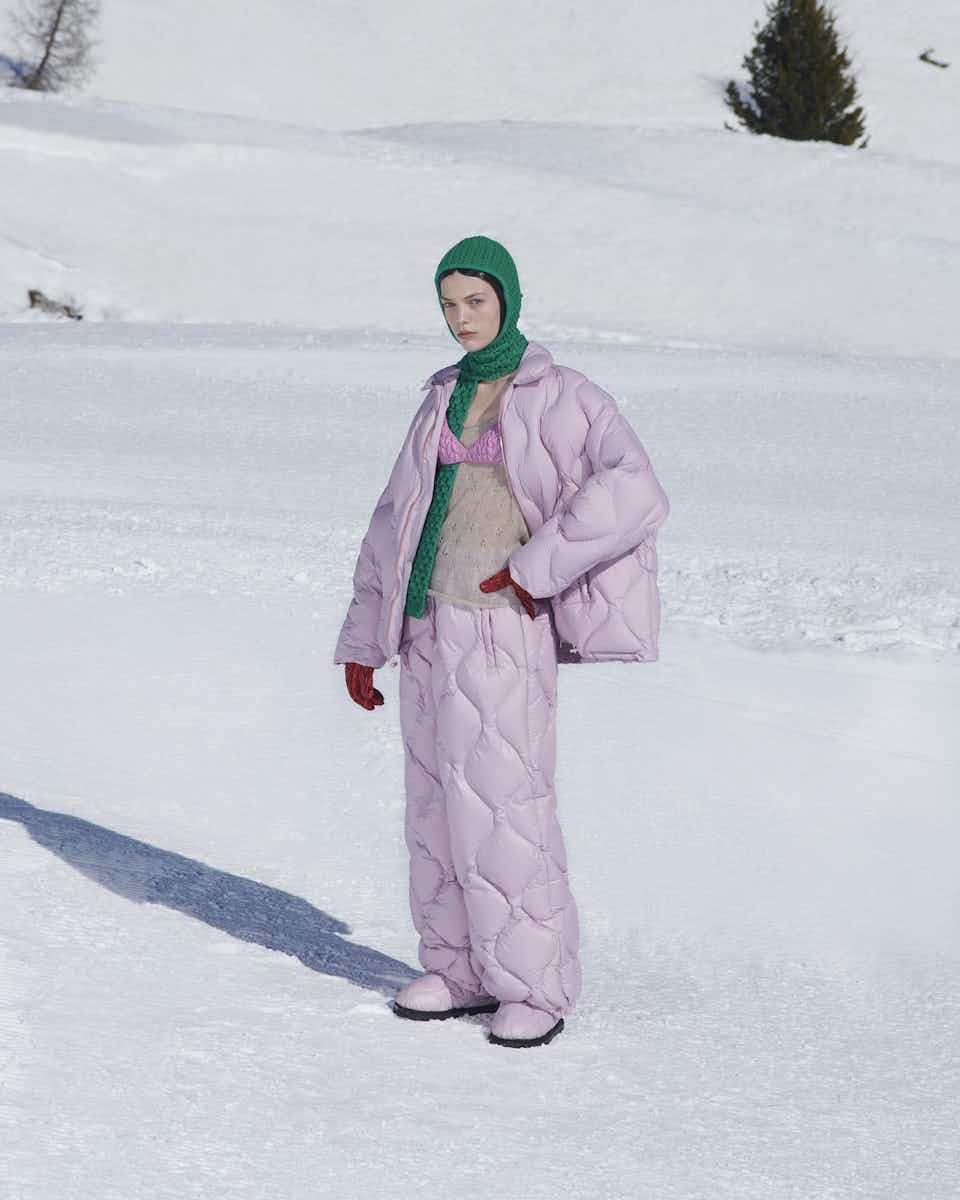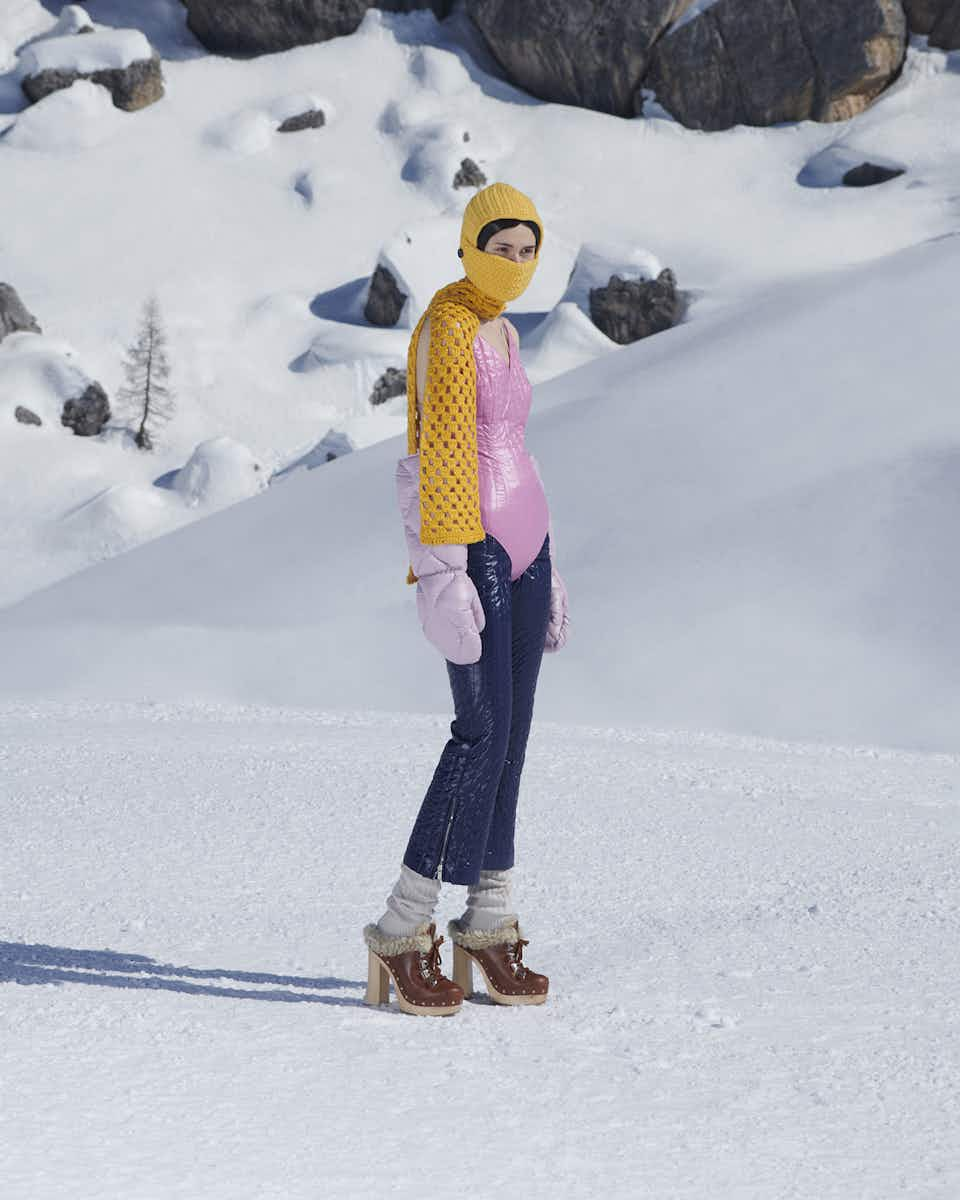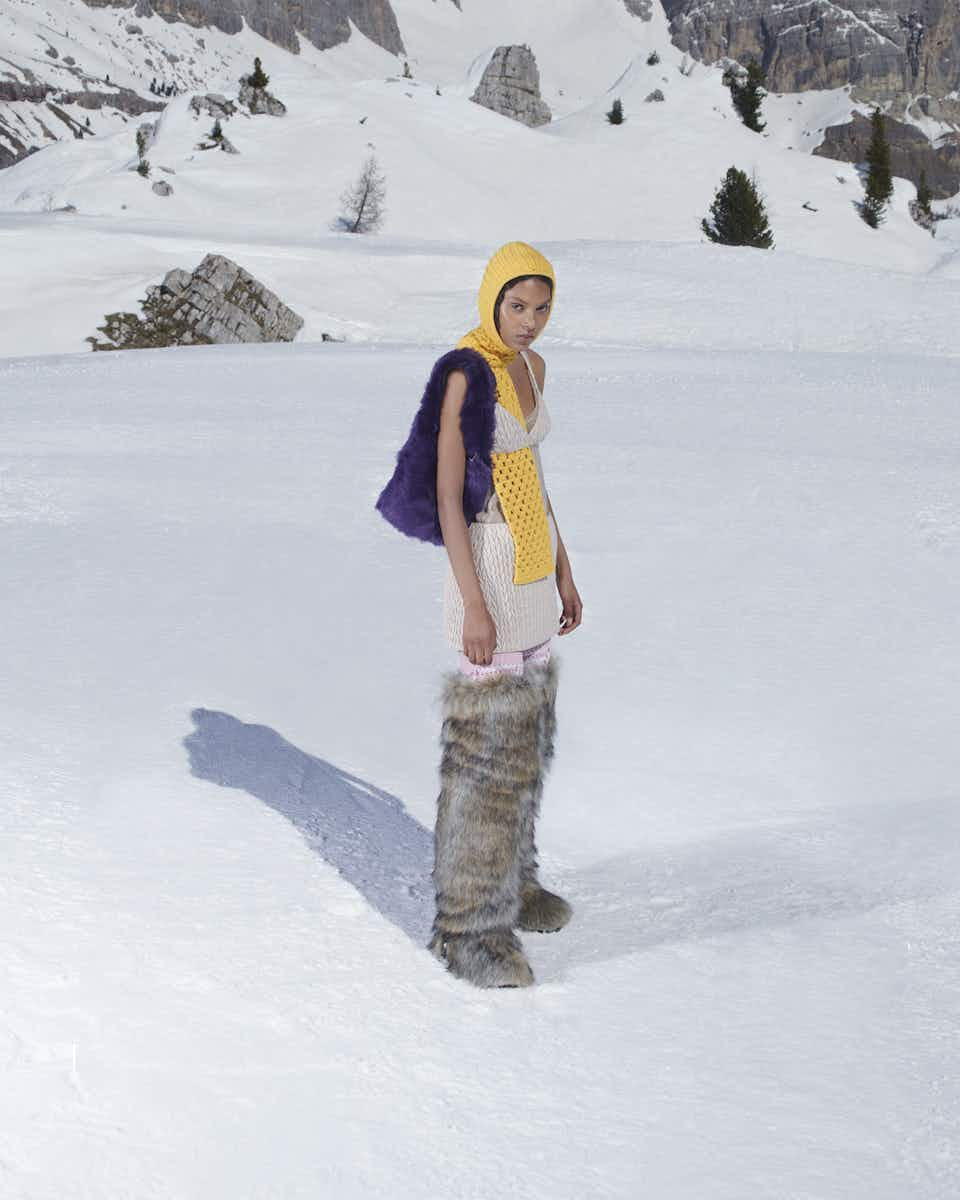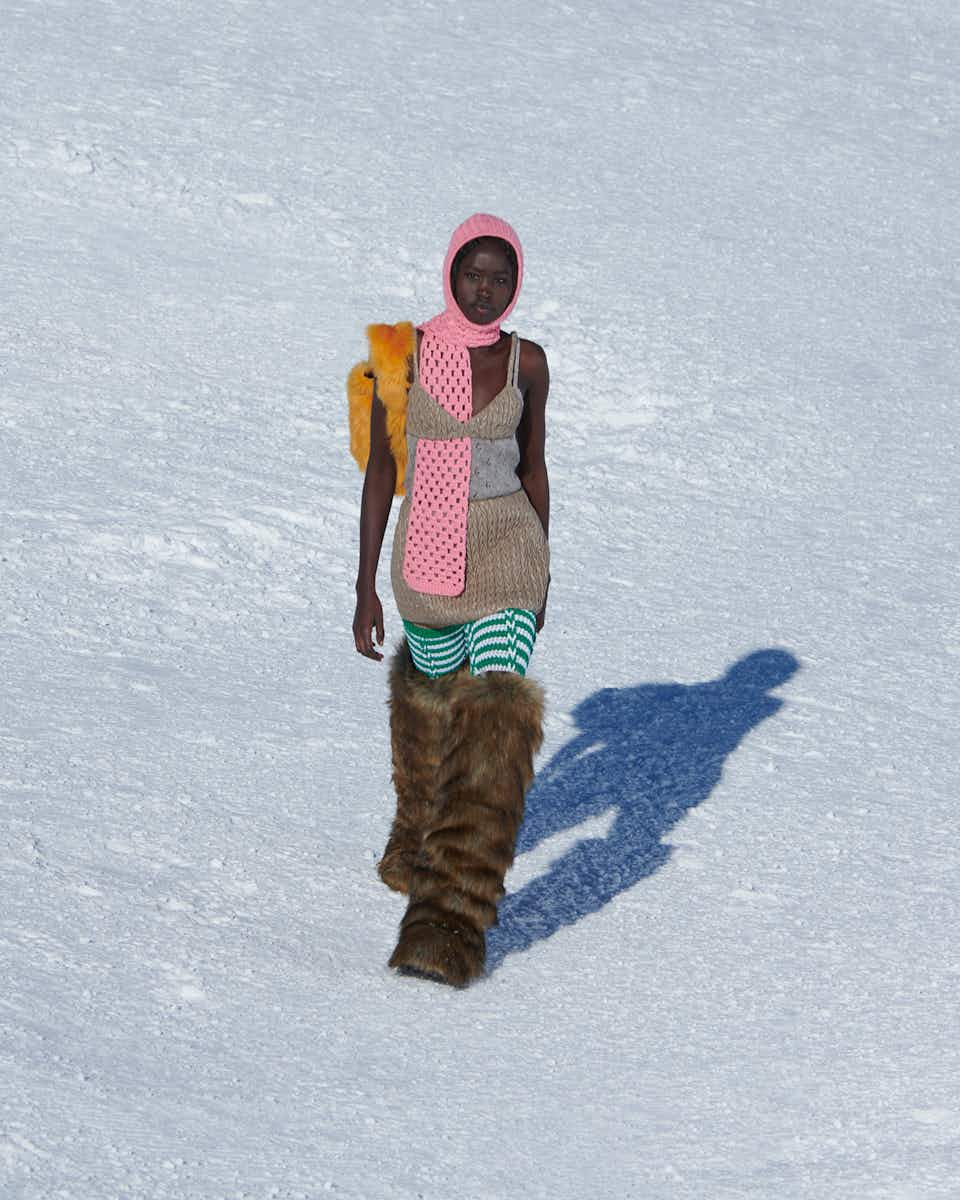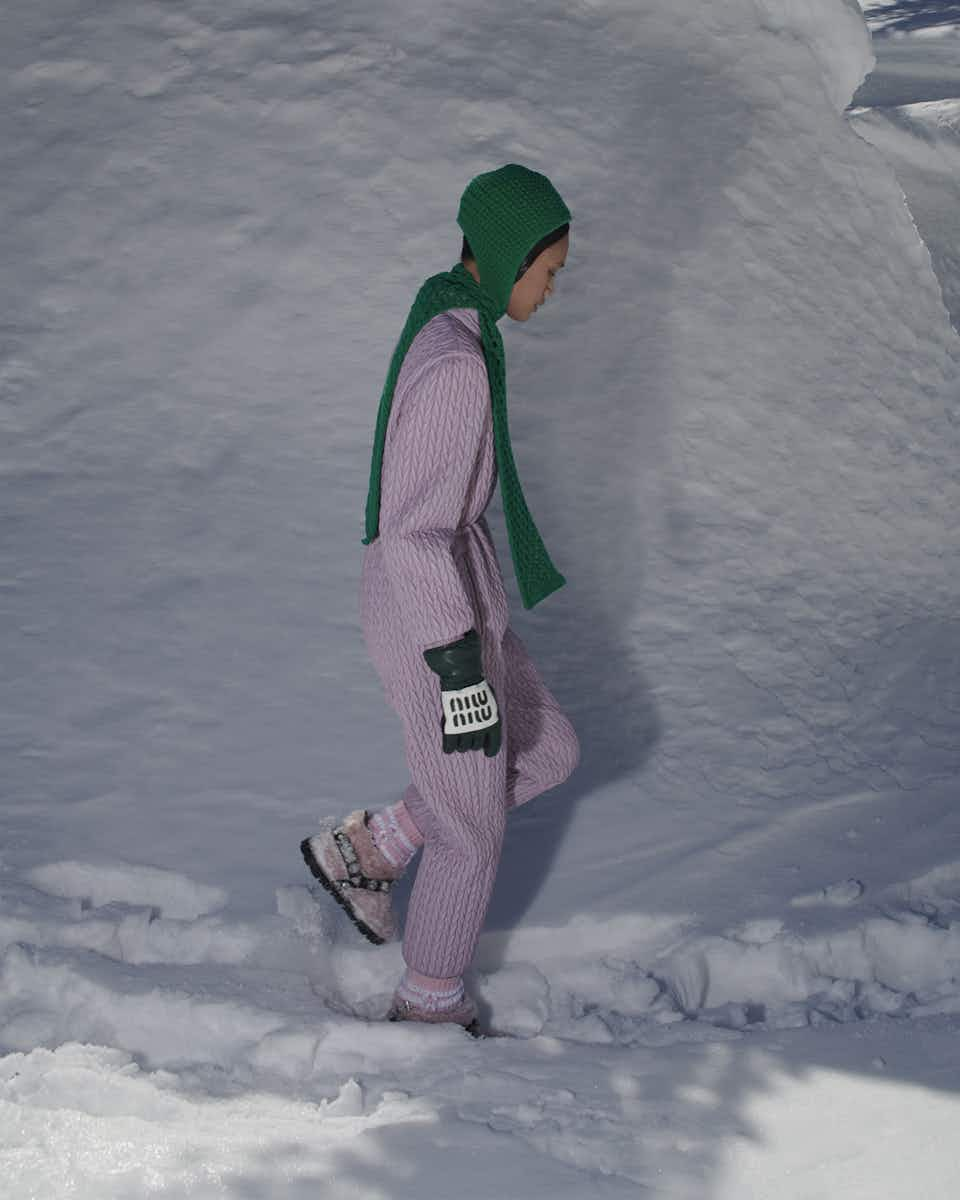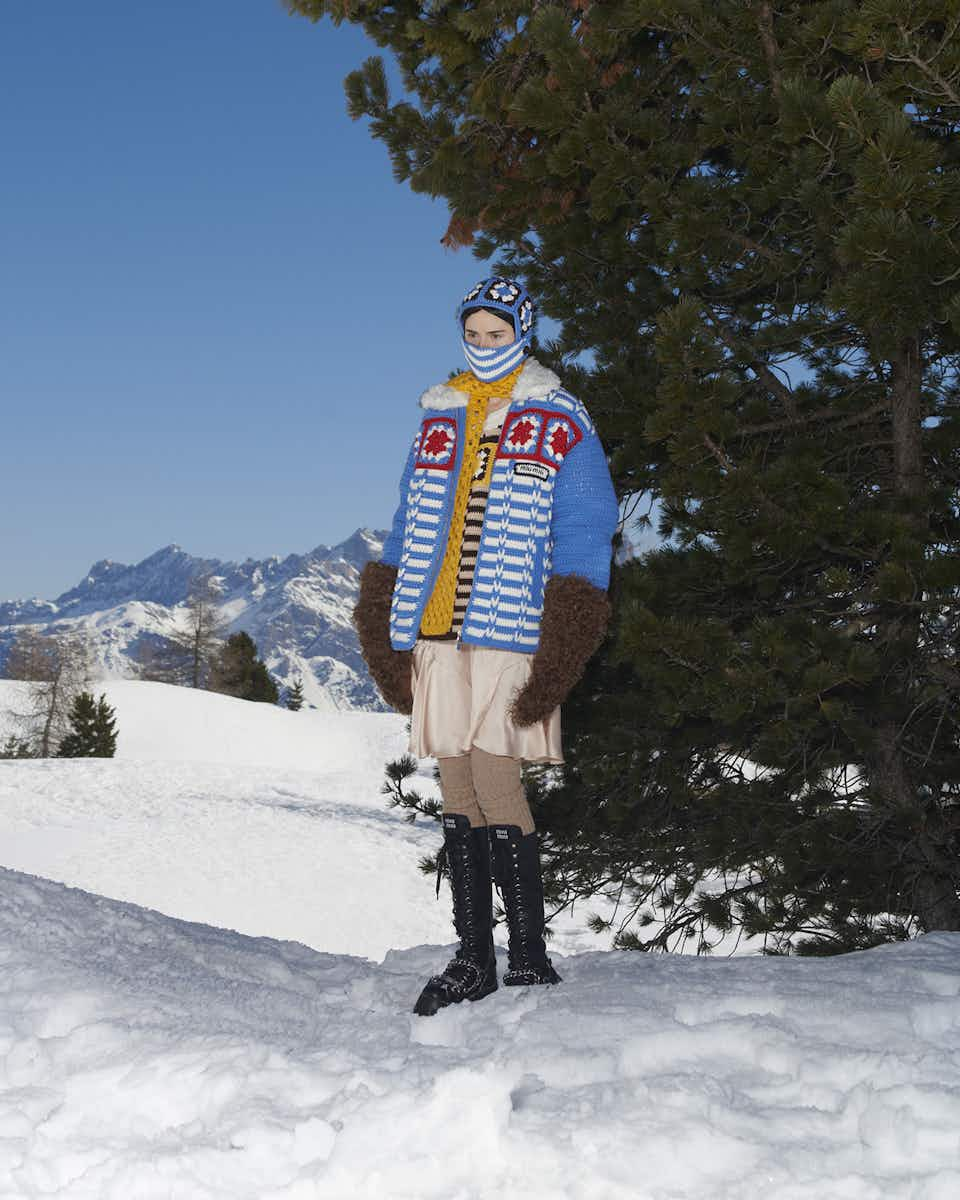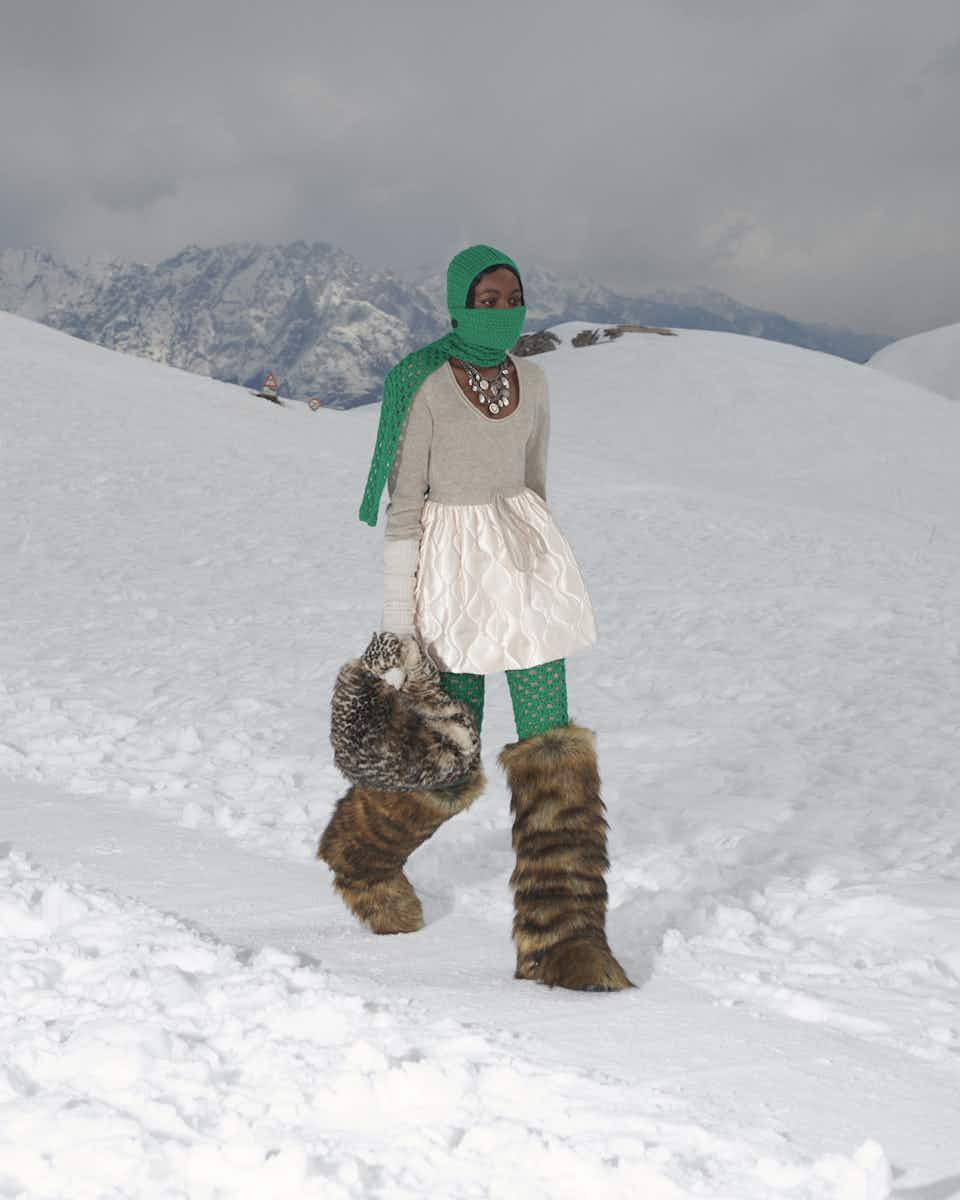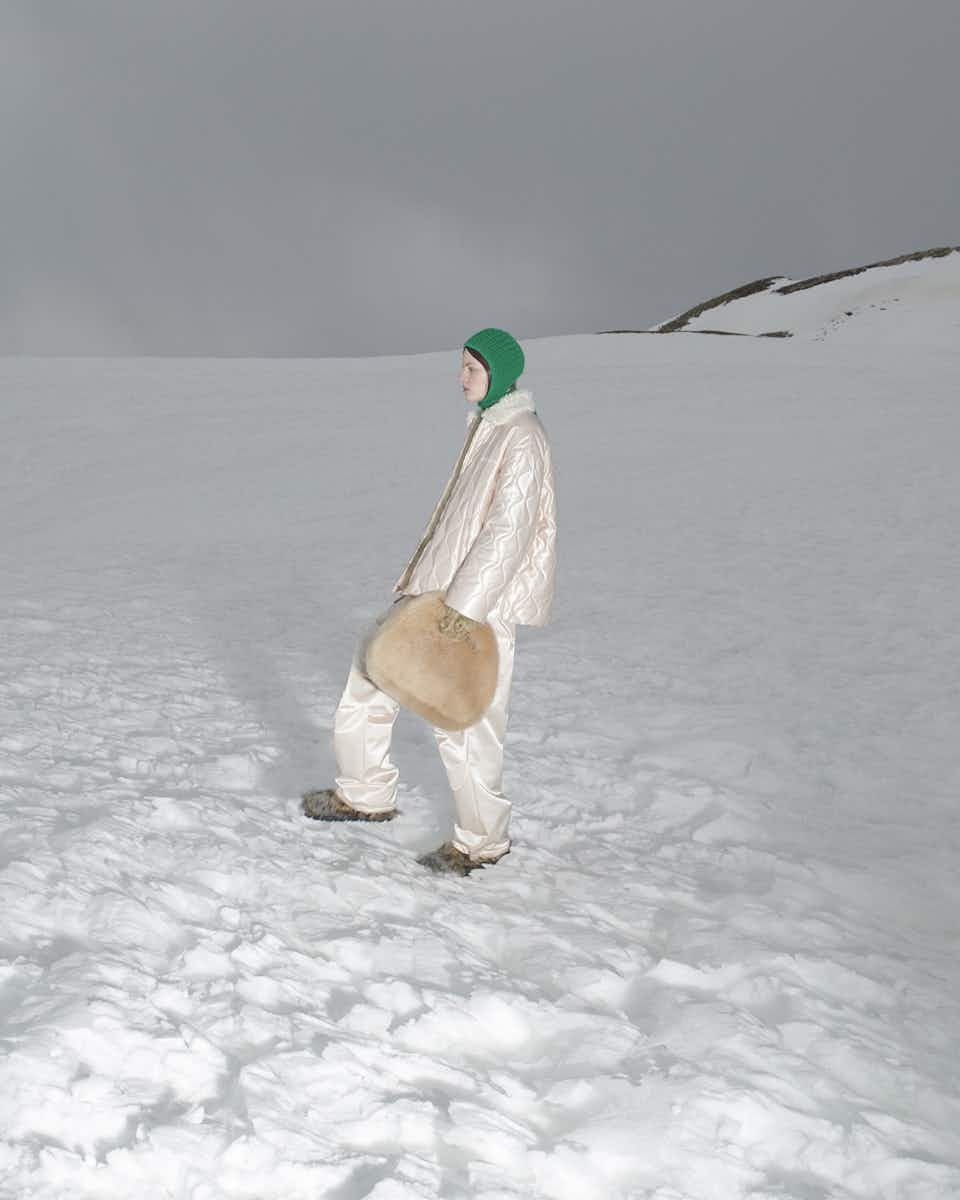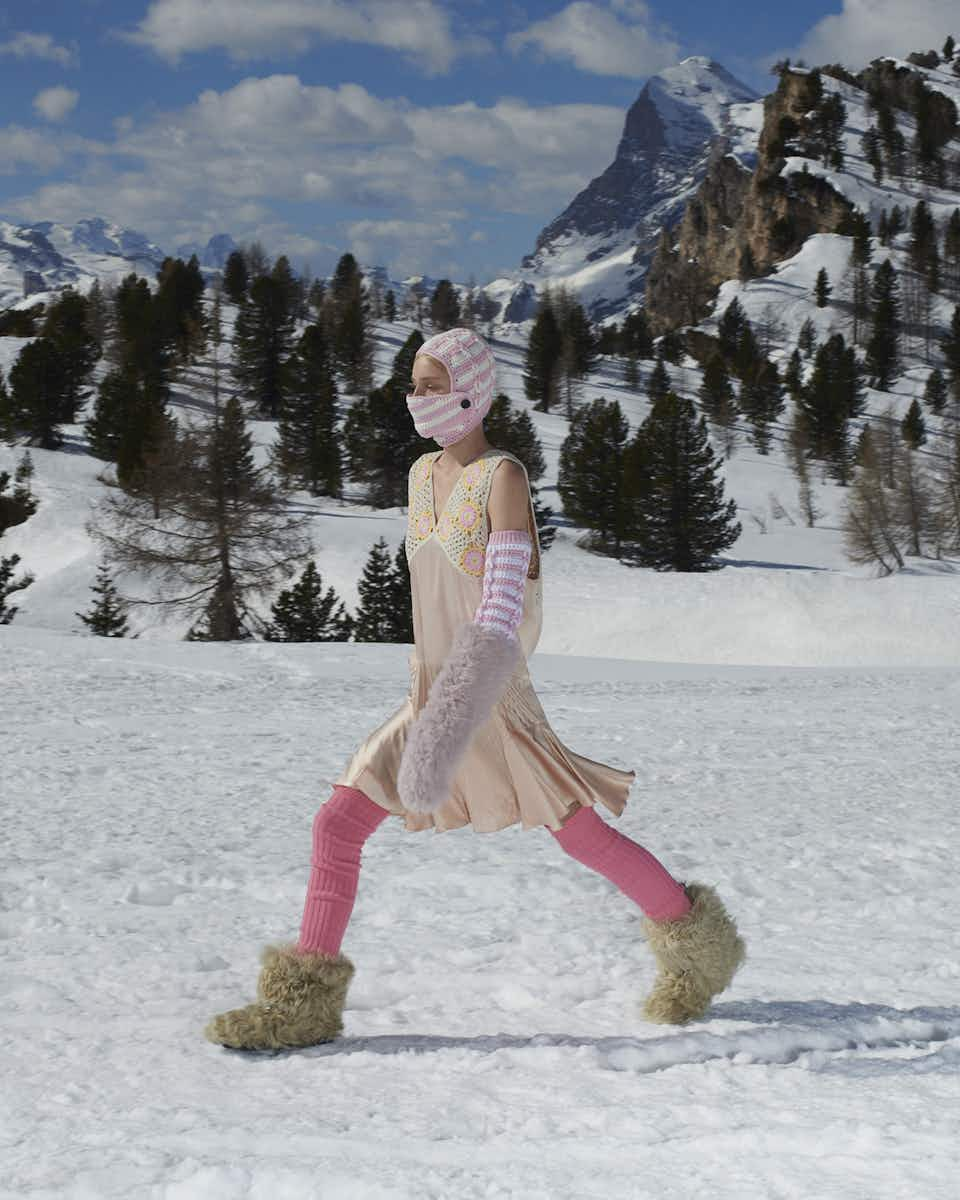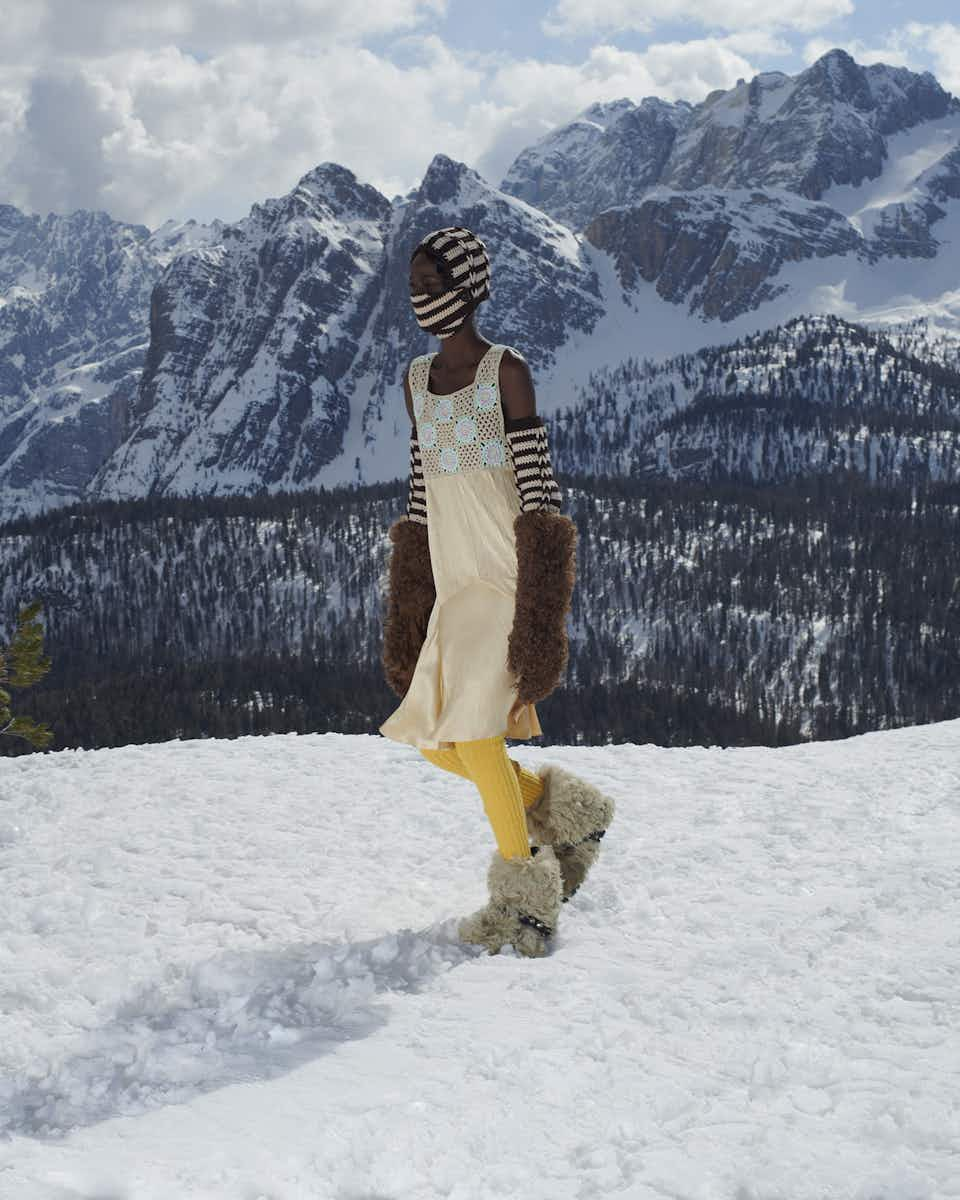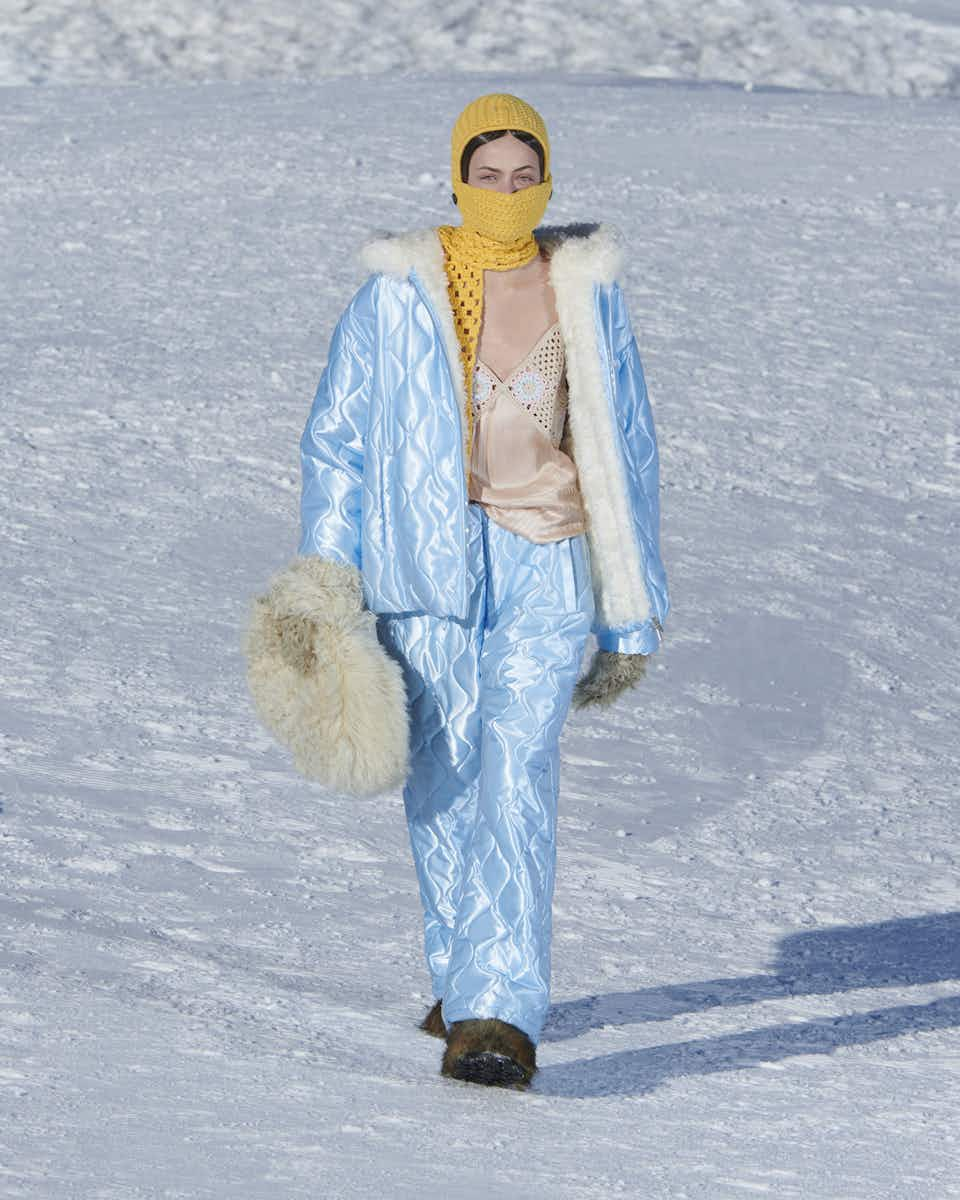 Perhaps it was the frosty climate, or the subverted styling cues courtesy of Lotta Volkova, but this season, Miu Miu's resilience was a tangible force. As models took bounding strides up the hilly landscapes, thigh-high yeti boots imprinting the pristine snow and pale brown, padded jumpsuits safeguarding the body from icy winds, Brave Hearts took Mrs Prada's ever-unravelling fantasies to its highest peaks.
Cast in a dreamlike state, Miu Miu's women embark on a journey with an unknown goal, making the film all the more abstract. With Mrs Prada's challenge this season came the perception of bravery, and it's told through protection from extremities, set in a pretence of practicality and dramatic pragmatism. Sportswear codes are interspersed throughout, like faux fur-lined ski jackets and deep utilitarian pockets lining the side of wide-legged felt trousers. Knitted ski helmets frame the face, and chunky knit scarves – in poppy pink, yellow and green – hang across the chest and neck, or tucked between a grey jersey bralet.
But throughout, Miu Miu's mission was to counterbalance attitude with environment. Protection becomes seduction, romance becomes exaggeration, and fragility, bravery. Coinciding with voluminous teddy-bear faux fur gloves, scoop-neck jersey tops and maxed-out, mashed-up knitwear came delicate silk satin dresses – a ghostly antidote to the practicality of Signora Prada's design DNA: ​"Practicality means strength, but that strength can be combined with dreams. The two do not have to be mutually exclusive," she reiterates.
And so goes Miu Miu's vision of womanhood this season, combining a warrior-like sensibility – spiky metal studs, leather gloves and vigilant layering – with pieces that present a playful romance. All the while, the collection reiterates the 71-year-old's inward approach to liberation through Miu Miu's progressive design ethos. It's refreshingly outward-facing, blurring the line between what denotes femininity in a politically polarising age.


More like this