Isabel Sandoval's romantic Miu Miu vision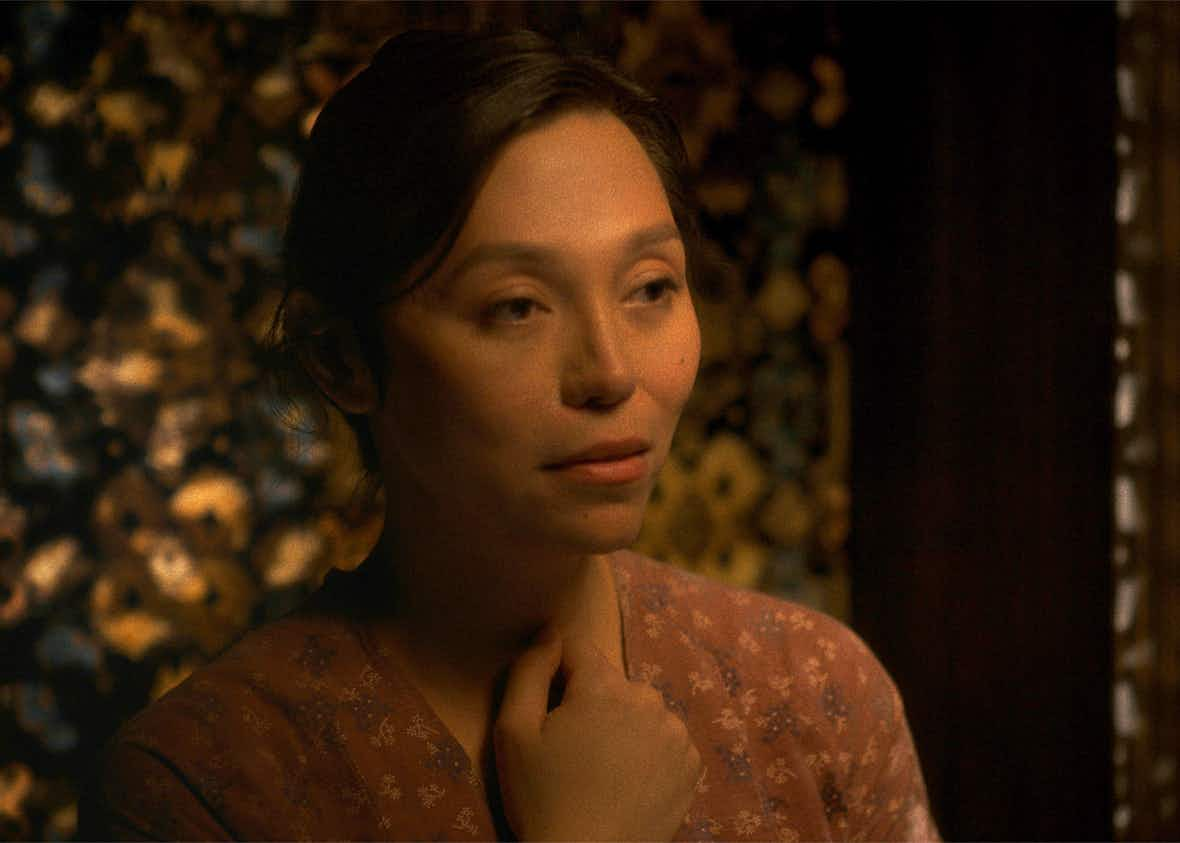 For the 21st instalment of Women's Tales – Miu Miu's short film series – the filmmaker presents Shangri-La, an exploration of sexiness and power through a trans woman's lens.
Filmmaker Isabel Sandoval is bringing sensuality back to the screen. Her third feature, Lingua Franca, about a transgender migrant woman in Brooklyn seeking a man to marry for citizenship, stunned Venice Film Festival in 2019. Her latest work, released Tuesday, imagines a Filipina farmhand in Great Depression-era California, when interracial sex was illegal, whispering about a better world where she may freely romance her white lover: ​"I'm one with the stars. I'm the moon, and the sun. I'm the whole universe. I'm magnificent, invincible, sublime. I will love who I want to, and I'll be loved right back," she says. Lying in the dirt, Sandoval's character wears a drab house dress. In her dreams, she's in a halter top embroidered with sequins sparkling gold.
Shangri-La is the 21st instalment in the ongoing short film series Miu Miu Women's Tales, where artists like Ava DuVernay, Agnès Varda and Lucrecia Martel are given creative carte blanche as long as their characters wear the iconic Italian label. Sandoval – who writes, directs, produces, edits and stars in her films – used the format to visualise desire and yearning in the face of repression, a journey she's been on since her own gender transition in 2015.
"When you're transitioning from male to female, I think you start to look at yourself differently – in a physical sense, in terms of your appearance, and how the people around you start to treat you. You see the power of attracting attention," Sandoval tells me over the phone from Yaddo, an artists' community in rural New York where she has a residency. ​"I became more and more in touch with my desire, and also allowing myself to feel sensual."

Clothes have long been hailed as a transformative device to take control of the way we are perceived, with an earring in the right lobe to signal queerness or a Telfar bag to let us know that you're in the know. For most of her life, Sandoval, who is now in her 30s, had an ​"ambivalent" relationship with fashion. ​"I am a filmmaker who grew up in a third world [country] and my films touch on social issues," she says, laughing. ​"So there's always a part of me that sees fashion as frivolous… It's almost always shown as glorious and glamorous, so I thought I'd give it more gravitas. I have my character wear it in her fantasies, as a sharp contrast to the hardscrabble reality she has to deal with. At the end of the film, even though [that reality] has not changed, she's come away with a better appreciation of herself and her worth and her value beyond the colour of her skin, as others see it."
Sandoval's work is not autobiographical, but its central scenes are deeply personal. With Shangri-La, if she had moved to the U.S. 90 years ago, she ​"could have been that woman", evading miscegenation laws by meeting furtively in the confessional. Lingua Franca literally depicts her growing more comfortable with her sexuality and expressing it.
Sandoval started writing Lingua Franca in the middle of her gender transition, and the United States' transition from a placative Obama presidency to a Trump campaign that brazenly denigrated immigrants, ethnic minorities, women and queer people. It could have been told as an agenda-heavy ethnography. Sandoval, instead, made a romantic drama. A convergence of individual lives, Sandoval's Olivia becomes involved with Eamon Farren​'s Russian recovering alcoholic against the quietly anxious backdrop of ICE raids and phone calls home. ​"My characters do not exist in a vacuum," she says.

Sandoval fell for cinema when she discovered Wong Kar-Wai, Chantal Akerman, James Gray and Rainer Werner Fassbinder – filmmakers often amplifying minute emotions, fleeting moments and inner worlds, too often described as ​"melodrama". But, really, it's the foregrounding of feeling.

Ava DuVernay understands Sandoval's endeavour of going small to go big. Her agency, ARRAY, hand-picked Lingua Franca for distribution, landing a streaming spot on Netflix and reaching hundreds of millions of global subscribers. They helped facilitate Sandoval's recent visit to the Criterion Collection closet, where she was ​"proud to penetrate the hallowed space for cinephiles".

Sandoval is right where she should be; in performing all the roles of filmmaking, she's a true auteur. Her singular vision is one that we need. In the 2020 documentary Disclosure, actress Laverne Cox explains that if you don't personally know any trans people – 80 per cent of Americans say they do not – your perception of trans personhood comes exclusively from media depictions. From Michael Caine as an MTF psychopathic murderer in Dressed to Kill (1980), to The L Word imagining a false war of trans women versus lesbians, the existing canon is a rotation of sensationalist plot devices.
"I make [my] films within a real ecosystem of show business and entertainment, and it's easy to push creators and artists like me to the periphery," Sandoval says. ​"Given how prejudiced our industry can be, I thought not only was it an artistic statement but a political one that I am in charge of telling the story both in front of and behind the camera, to make sure my vision is intact from the page to the screen."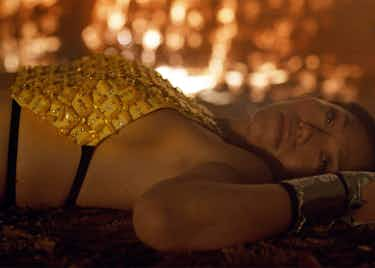 Disclosure took its name from the ​"gotcha" moment that plagues trans narratives in Hollywood: the cis character's realisation that their lover ​"isn't who they thought they were" down there. In Lingua Franca​'s first sex scene, the camera is trained on Olivia's face in ecstasy, and never leaves it. We see a glimmer of fear, that eventually melts into unencumbered pleasure. In Shangri-La, she floats against a greenscreen galaxy as her lover compares her to a star whose light is so brilliant, he can only surrender to its power.

There's been a tag popular around Oxford for a couple of years: ​"Trans happiness is real." Sandoval provides images of sexiness and power from, crucially, the trans female perspective. Her transition was a mostly positive experience, she says. ​"I am so grateful that I had the privilege, the support, the resources to go through with it with peace of mind. I want to show that feeling of gratitude and celebration in the characters that I play, and a certain resilience most of all. Remember the last line in Lingua Franca, where Olivia is saying to her mother in a voiceover: ​'We'll get there eventually.' That's kind of the hope that I want my cinema to convey."

More like this