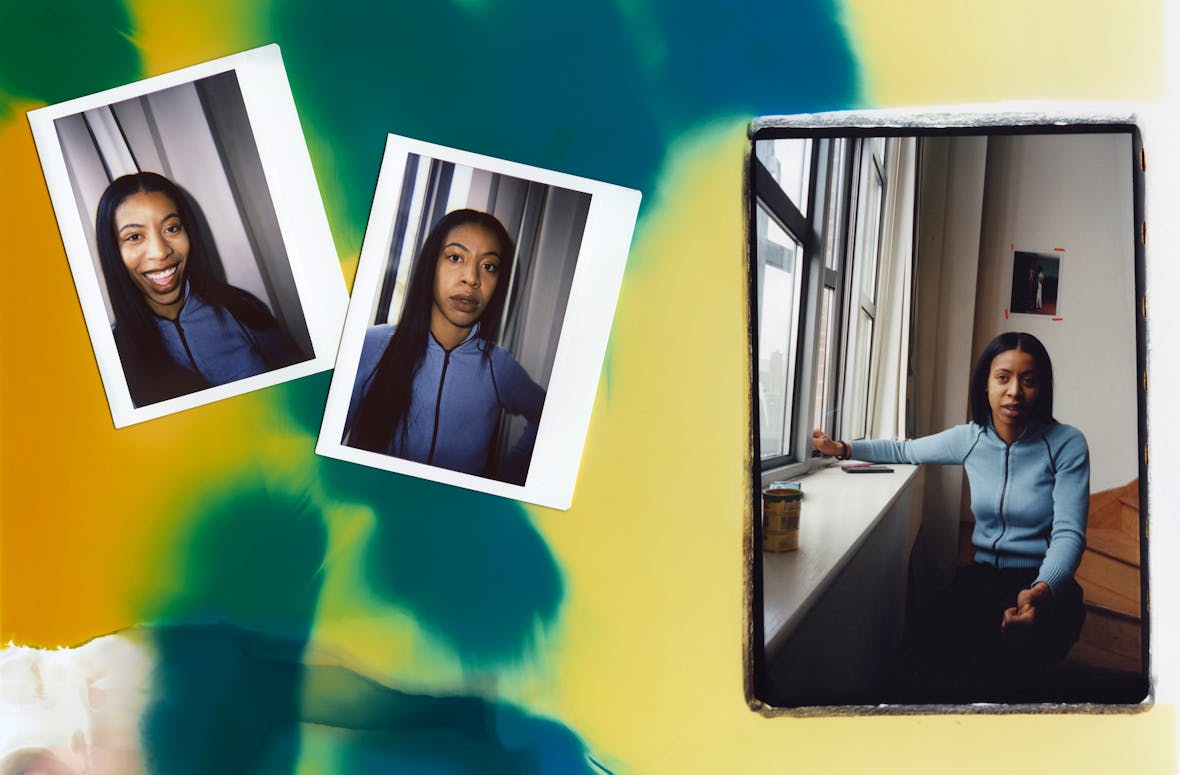 Sub­vert­ing stereo­types with Mowalola
When I ask Mowalo­la Ogun­le­si what has been the high­light of her admit­ted­ly short career, she paus­es for a peri­od. The 24 year old – who counts Drake as a fan – has a lot to con­sid­er. In the last two years, she has designed out­fits for Nigeria's World Cup team for Nike, worked on cos­tumes for Skepta's Pure Water video and fea­tured in Vogue.
"Hav­ing Solange in my clothes," she says after some time. ​"That was love­ly. When I saw them on Twit­ter I was so shook. I make my clothes for peo­ple like that."
"Peo­ple like that" appear to be big fans of the upcom­ing design­er, accru­ing the atten­tion of oth­er alt-black dar­lings like Dev Hynes, Kanye West and Kelela. Her run­way debut as part of Cen­tral Saint Mar­tins grad­u­ate show was an Afro-futur­is­tic, unabashed­ly erot­ic ode to Niger­ian rock music in the ​'70s and ​'80s; the low-slung, hand-paint­ed leather trousers were tight, the jack­ets were cut high, flash­ing an ample amount of nip­ple and greased tor­so. She described the col­lec­tion (titled Psy­che­del­ic) as ​"unapolo­get­i­cal­ly black and pan-African", a direct chal­lenge to an indus­try that is heav­i­ly cen­tred on white­ness, Euro-cen­trism and homo­gene­ity. The same homo­gene­ity, she says, led to her drop­ping out of Cen­tral Saint Mar­tins last June.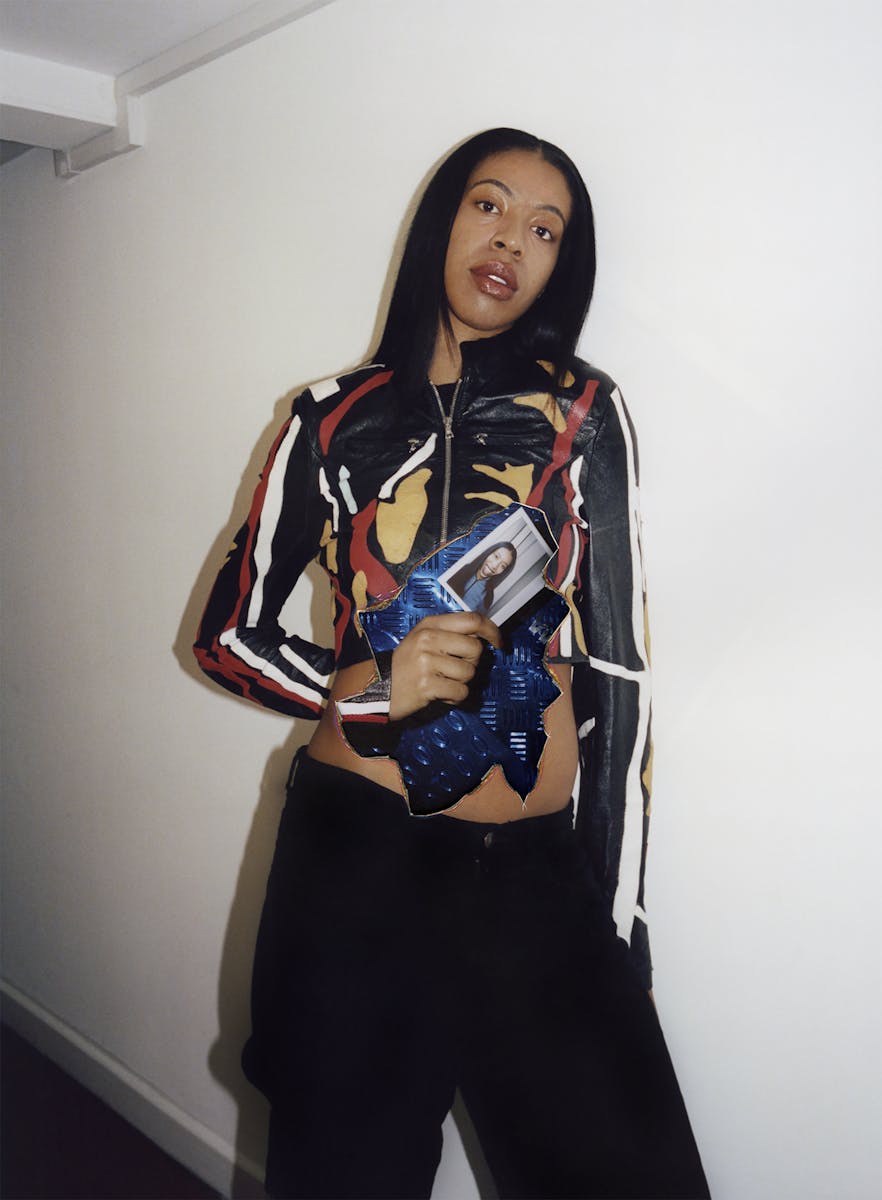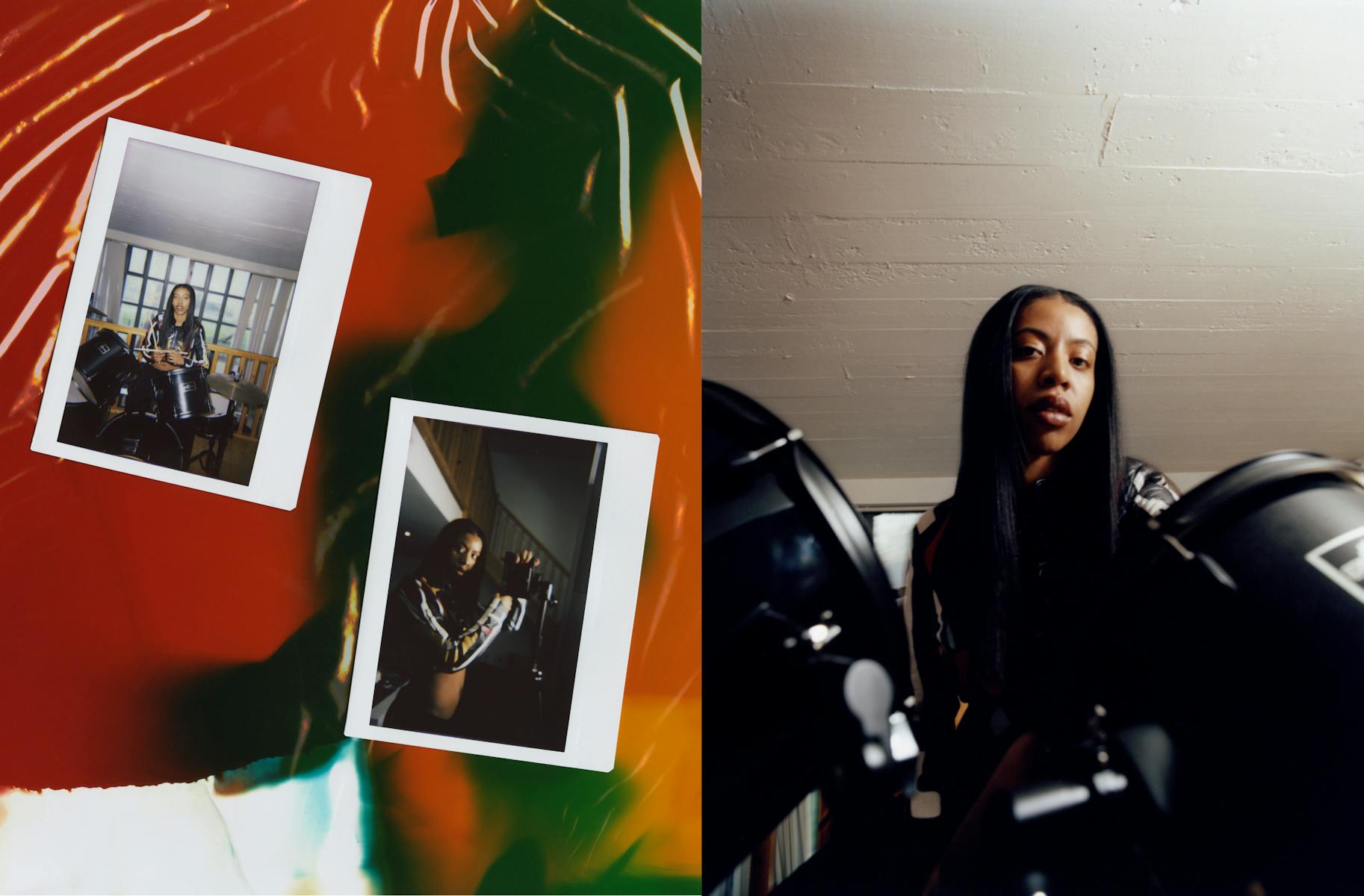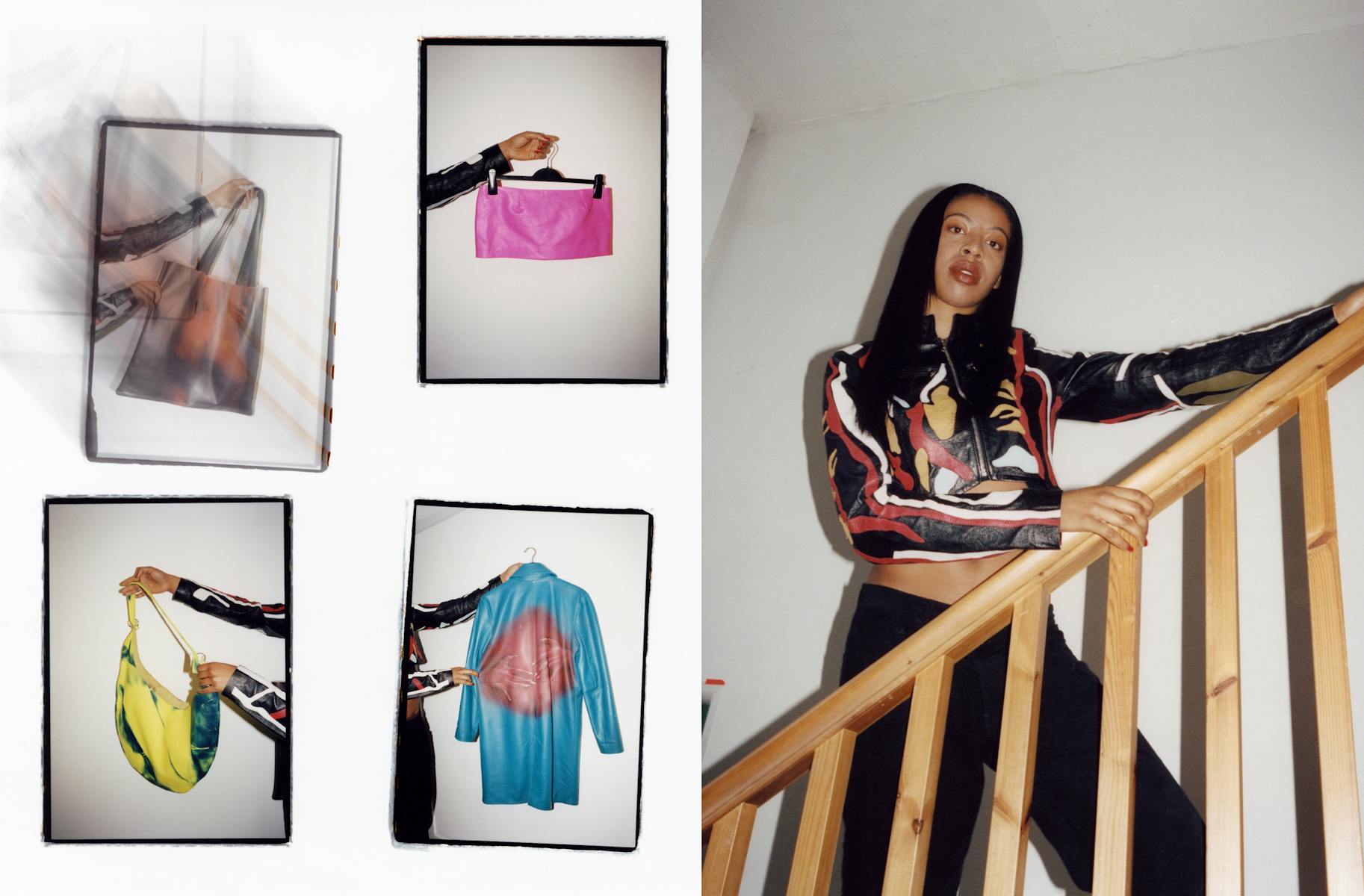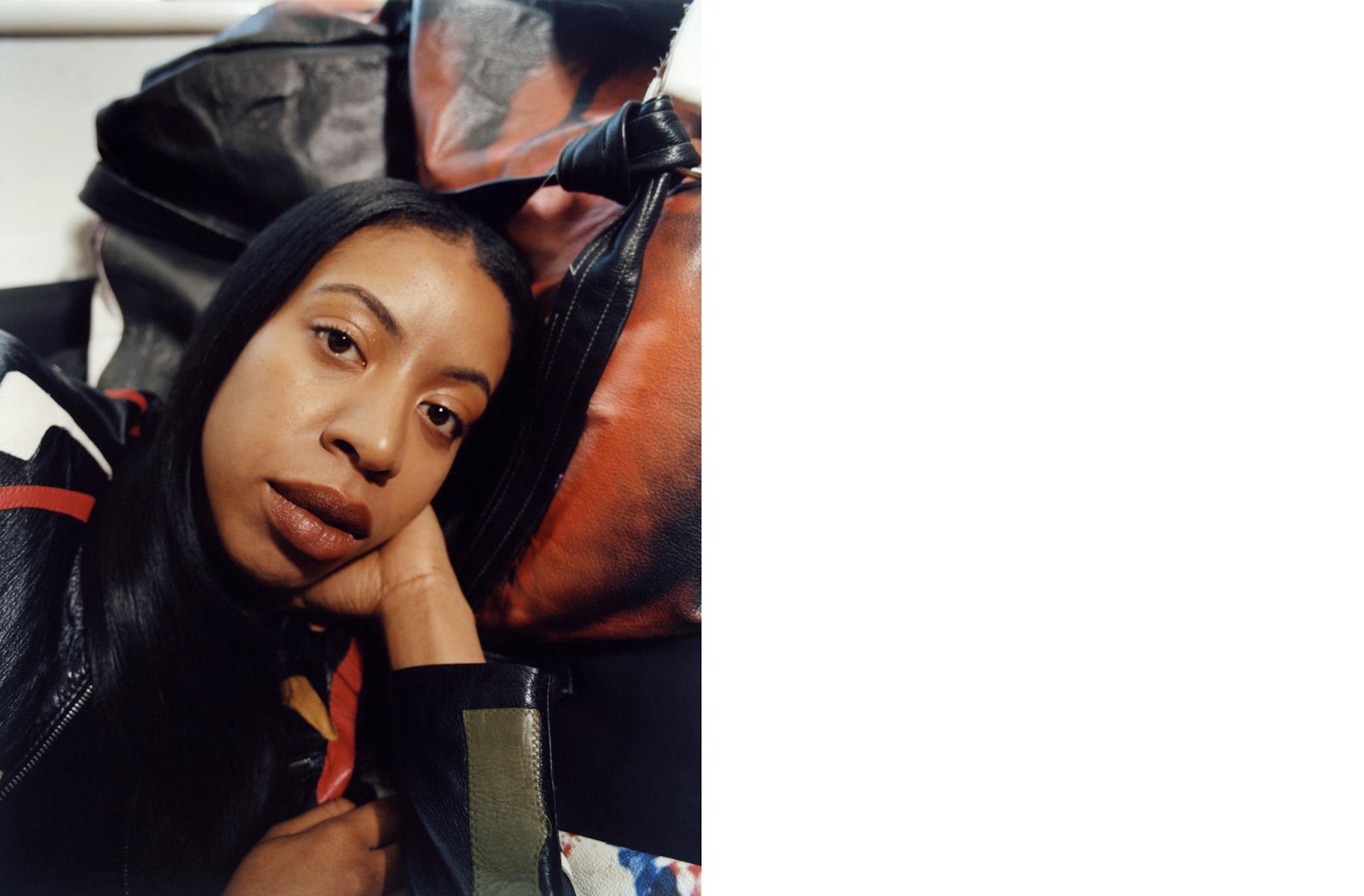 As a proud Lagosian, Niger­ian cul­ture is inte­gral to her work. From the age of 12, Ogun­le­si attend­ed an all-girls Catholic board­ing school in Sur­rey where she was the minor­i­ty, but says she has always been influ­enced by her her­itage: ​"My mum and my dad have also always been very proud to be Niger­ian," she says. ​"They real­ly cel­e­brat­ed that with me when I was younger. Every­thing that came from the west was ​'bet­ter' and ​'we should all aim to be like the west', so it was nice grow­ing up in a house that cel­e­brat­ed Niger­ian cul­ture and Niger­ian things."
"Nige­ri­ans and Africans have always been doing bits," she con­tin­ues. ​"It's nice to see it cel­e­brat­ed on a larg­er scale now, but it's some­thing that has always been there and will always con­tin­ue to be there."
Her family's influ­ence is pal­pa­ble. She's a third gen­er­a­tion fash­ion design­er – her moth­er is a chil­drenswear design­er and used to work in wom­enswear along­side Ogunlesi's Scot­tish grand­moth­er, who moved to Nige­ria in the ​'60s and launched a fash­ion label using local­ly pro­duced tex­tiles. Her father, like her, designs menswear. But Ogun­le­si doesn't feel her back­ground made her route to fash­ion any more obvi­ous. ​"I didn't real­ly know I'd go into fash­ion – I just knew I liked cre­at­ing things," she says. She was more into drum­ming and was also briefly inter­est­ed in becom­ing a plas­tic sur­geon after a fas­ci­na­tion with the ear­ly-aughts series Nip/​Tuck. Even when enrolling at Cen­tral Saint Mar­tins, she wasn't imme­di­ate­ly drawn to design, ini­tial­ly pick­ing tex­tiles instead.
She admits to hav­ing a nat­ur­al eye, how­ev­er, and her bright, sen­su­al cloth­ing embraces Niger­ian tra­di­tion as much as it ral­lies against it. Whilst she is heav­i­ly inspired by the coun­try, she speaks of want­i­ng to usurp the strict views of a nation that is high­ly con­ser­v­a­tive. She plays not just with male sex­u­al­i­ty, but gen­der flu­id­i­ty – con­tentious issues in West Africa. Nige­ria has a hand­ful of vis­i­ble men that chal­lenge gen­der norms (TV host Den­rele Edun, musi­cian Char­ly Boy, viral sen­sa­tion Bobrisky), but homo­sex­u­al­i­ty still remains pun­ish­able by up to 14 years in jail. She is keen­ly aware her work goes up against very rigid beliefs. ​"I would have con­ver­sa­tions with my fam­i­ly about what men should look like, about how women should dress," she says. ​"They weren't under­stand­ing why I was doing what I was doing — it wasn't until they saw the clothes they were like, ​'Oh, we get it. We under­stand it, we like it.'"
"I was like, ​'OK, I can change the way peo­ple think and try and have the con­ver­sa­tion like that.' I try to push the bound­aries of show­ing skin, being com­fort­able with your sex­u­al­i­ty, with menswear as well as wom­enswear, just to con­front the stereo­types a lot of Niger­ian par­ents impose on their kids and on each oth­er." It was a need to sub­vert this that roused her par­tic­u­lar inter­est in menswear as a means to defy the country's over­whelm­ing hyper-masculinity.
This Jan­u­ary marked her Lon­don Fash­ion Week debut with Fash­ion East, where she also show­cased wom­enswear for the first time. These days, the dis­tinc­tion between the two in her mind is increas­ing­ly mean­ing­less. The future, she feels, isn't nec­es­sar­i­ly female, but out­side of the gen­der bina­ry altogether.
"I'm just more into uni­sex cloth­ing – cloth­ing that is gen­der­less," she says with a laugh. ​"Because I wear a lot of menswear all the time. I don't think it real­ly mat­ters anymore."
---