The low-down on New York Fashion Week SS23
With killer shows from Tommy Hilfiger, Fendi, Maryam Nassir Zadeh, Coach and PRISCAVera.
NEW YORK

NEW YORK

NEW YORK

NEW YORK

NEW YORK

NEW YORK

NEW YORK

NEW YORK

NEW YORK

NEW YORK

NEW YORK

NEW YORK

NEW YORK

NEW YORK

NEW YORK

NEW YORK

NEW YORK

NEW YORK

NEW YORK

NEW YORK
Sex! Glamour! Glitter! Serious struts! Madonna on the front row, Chris Rock on the front row. A massive disco ball. Massive disco music. Massive hair, massive earrings, massive models (the Hadid sisters closed the show). Safe to say, Tom Ford delivered a heightened end to NYFW. It was a glitzy throwback to the past, sure – most notably the lace ​'n' lingerie of his Gucci years – but by God he knows how to put on a show. London, over to you.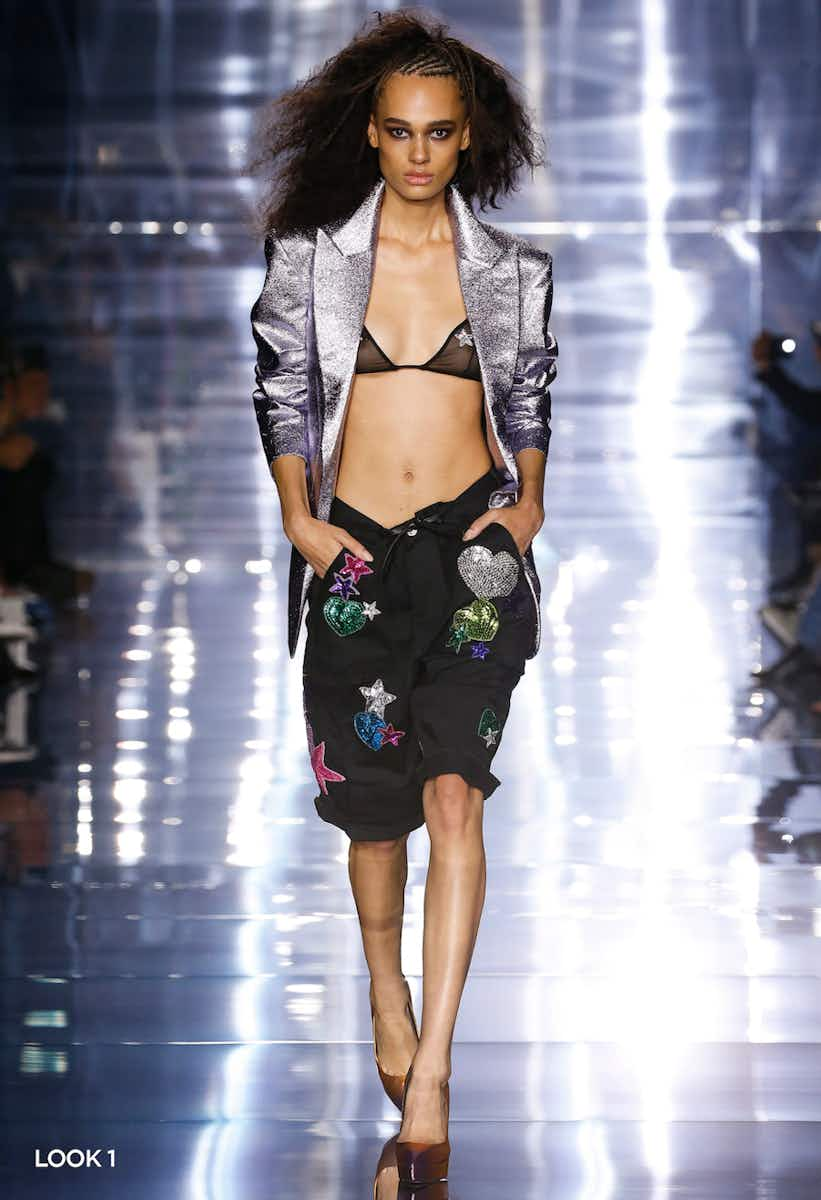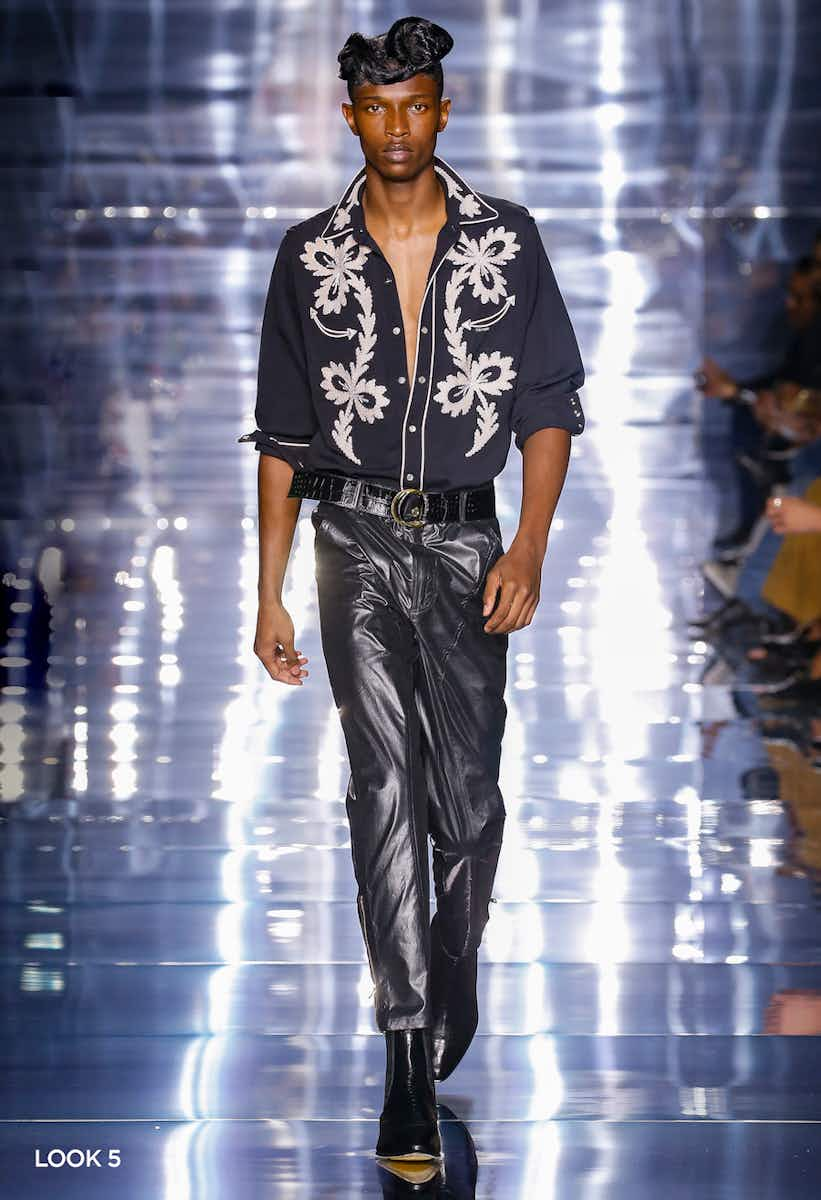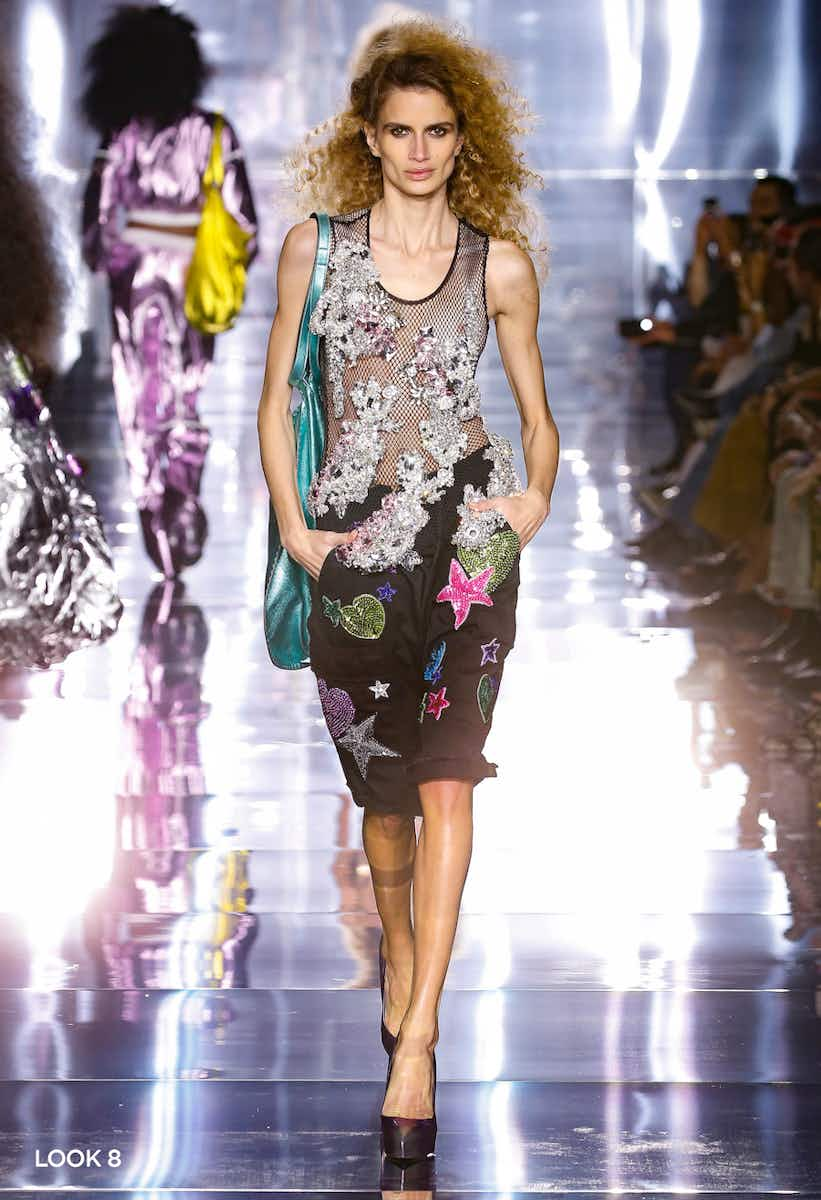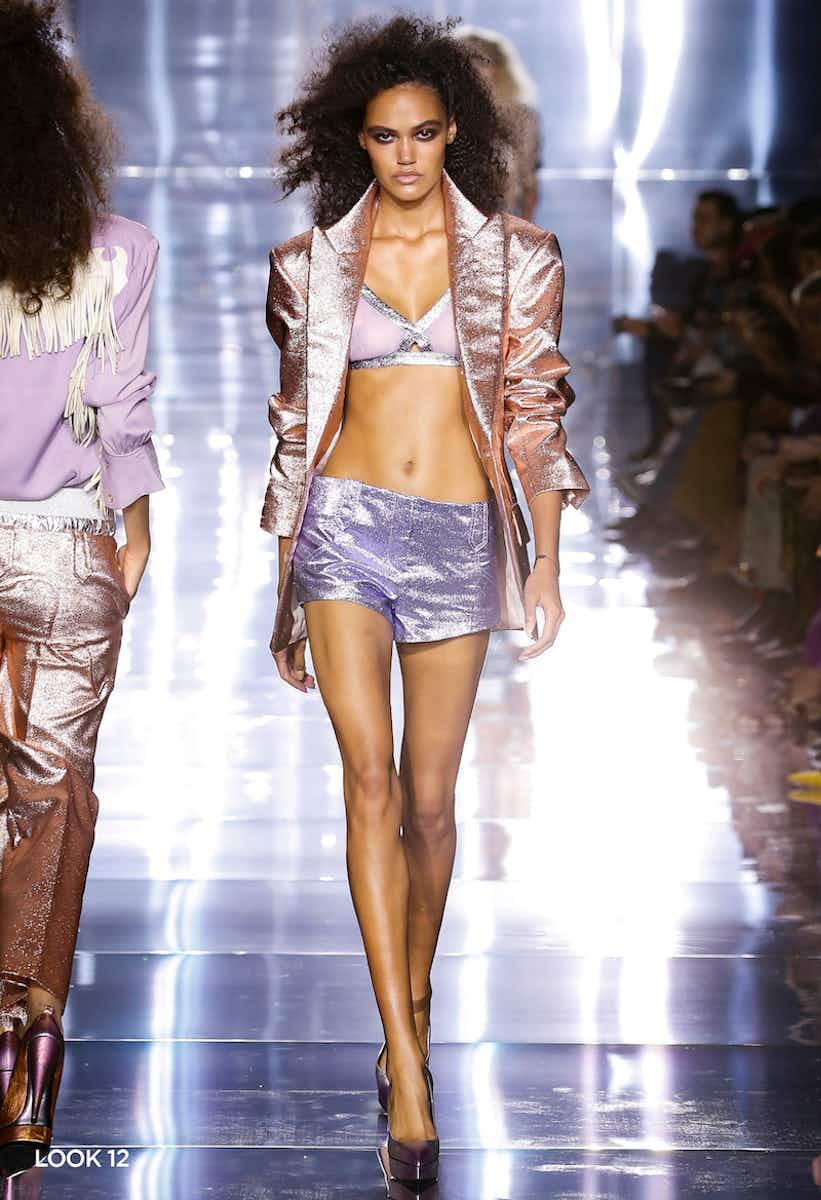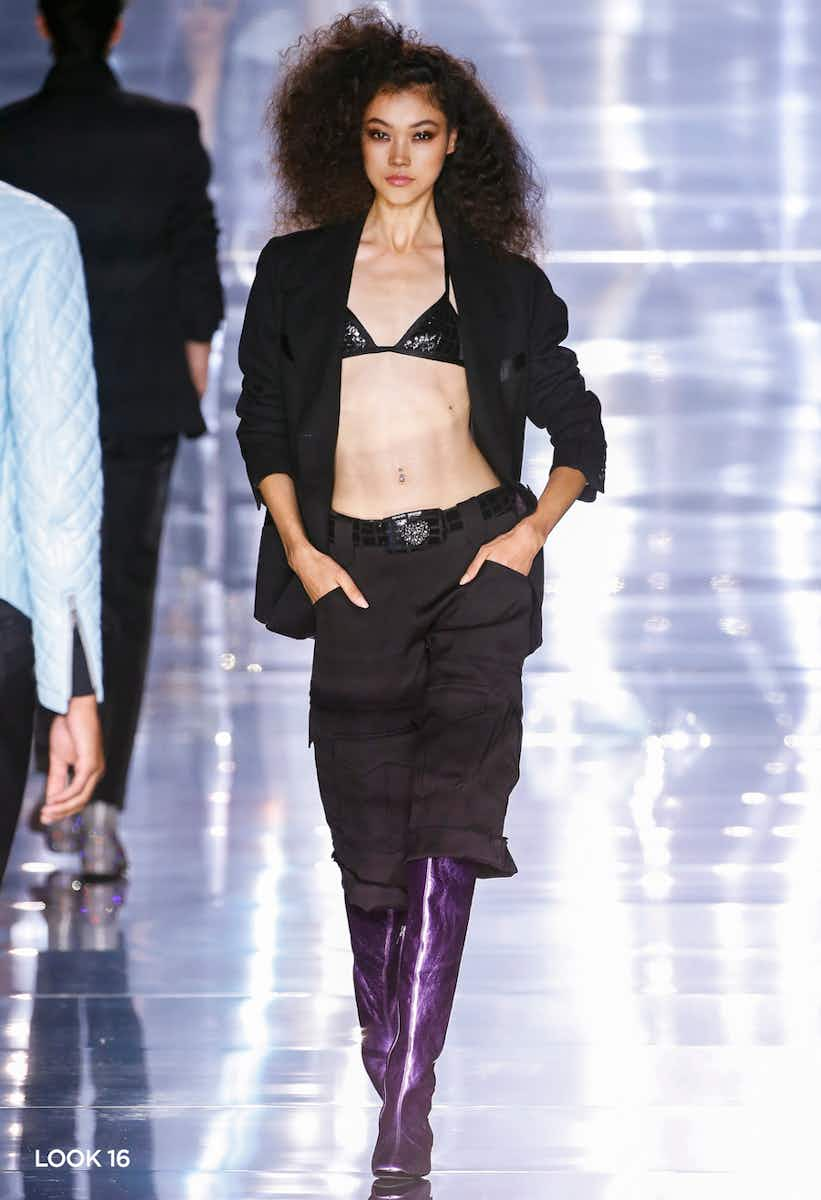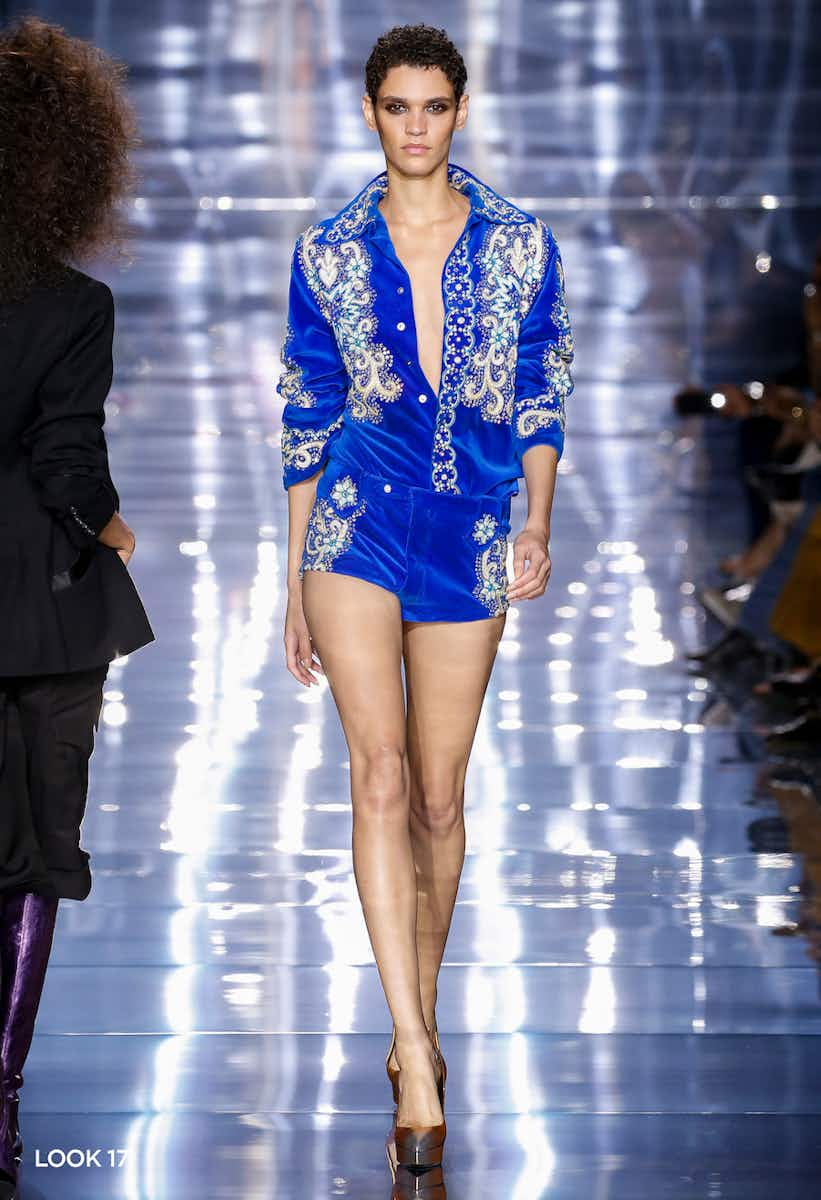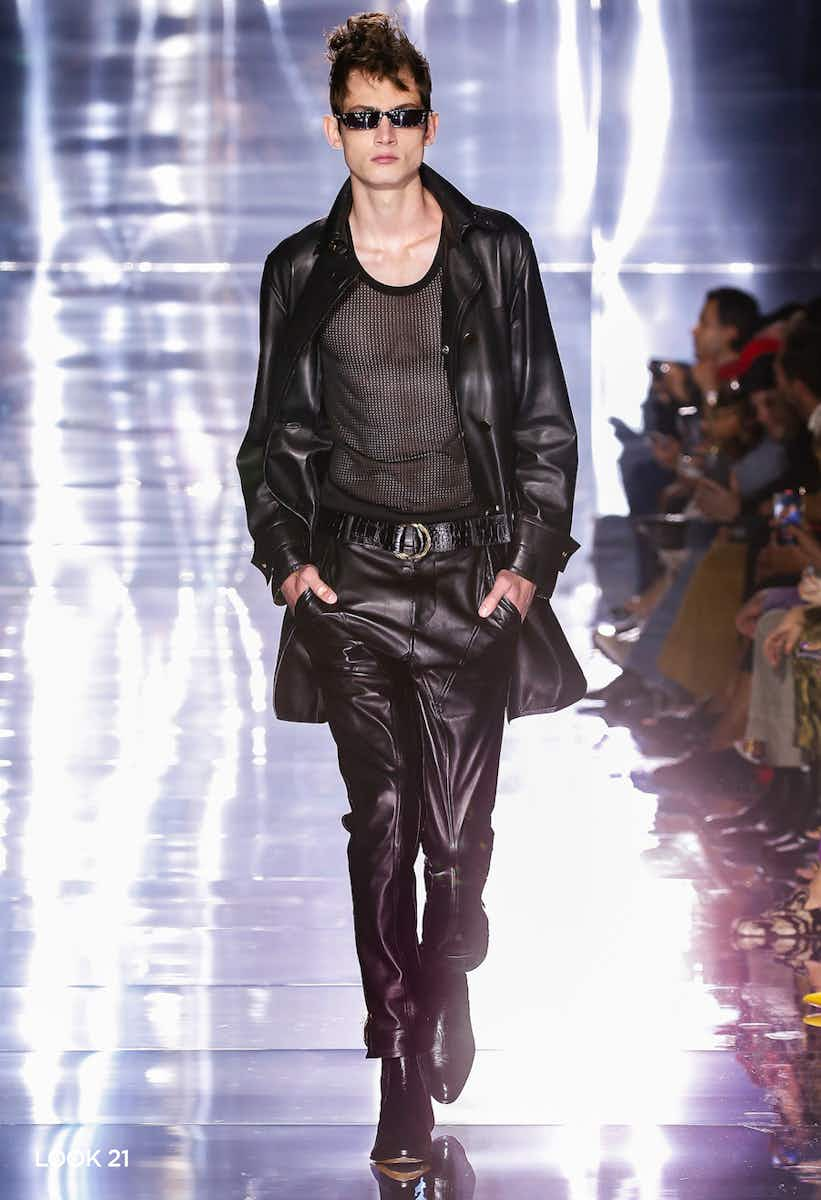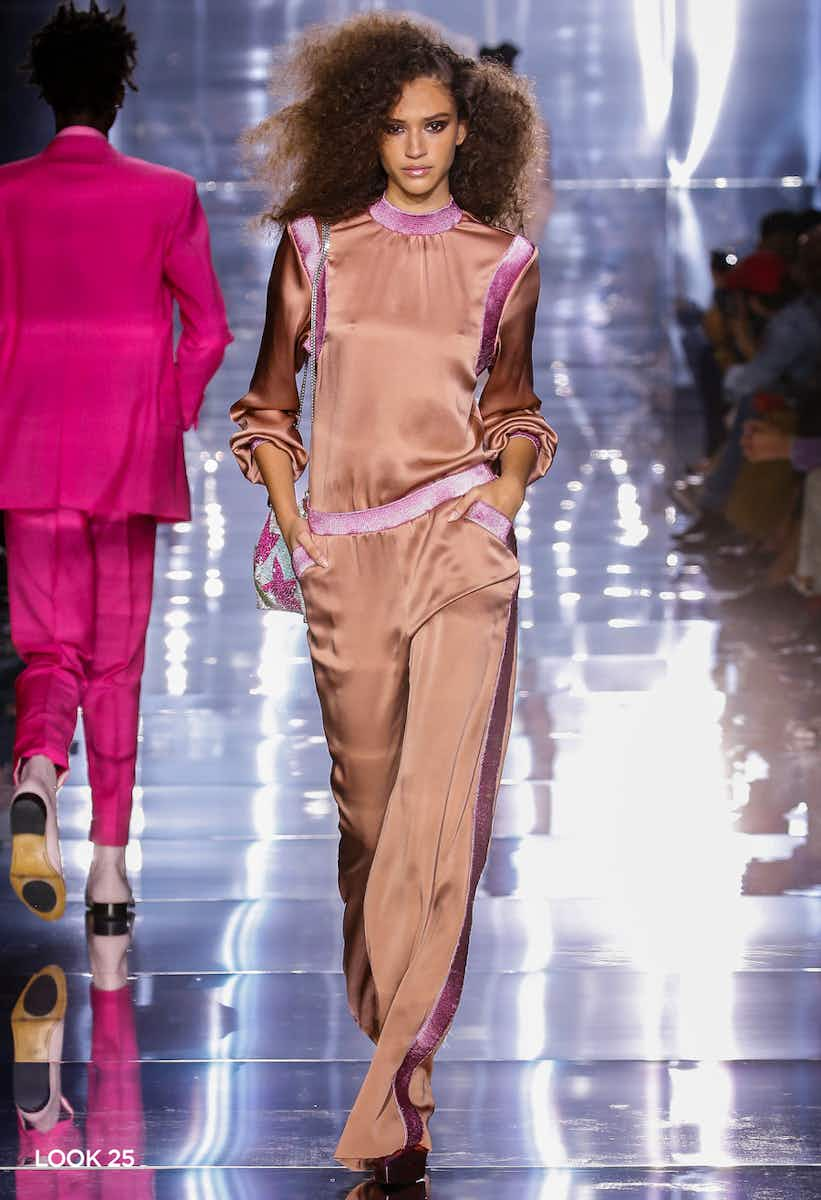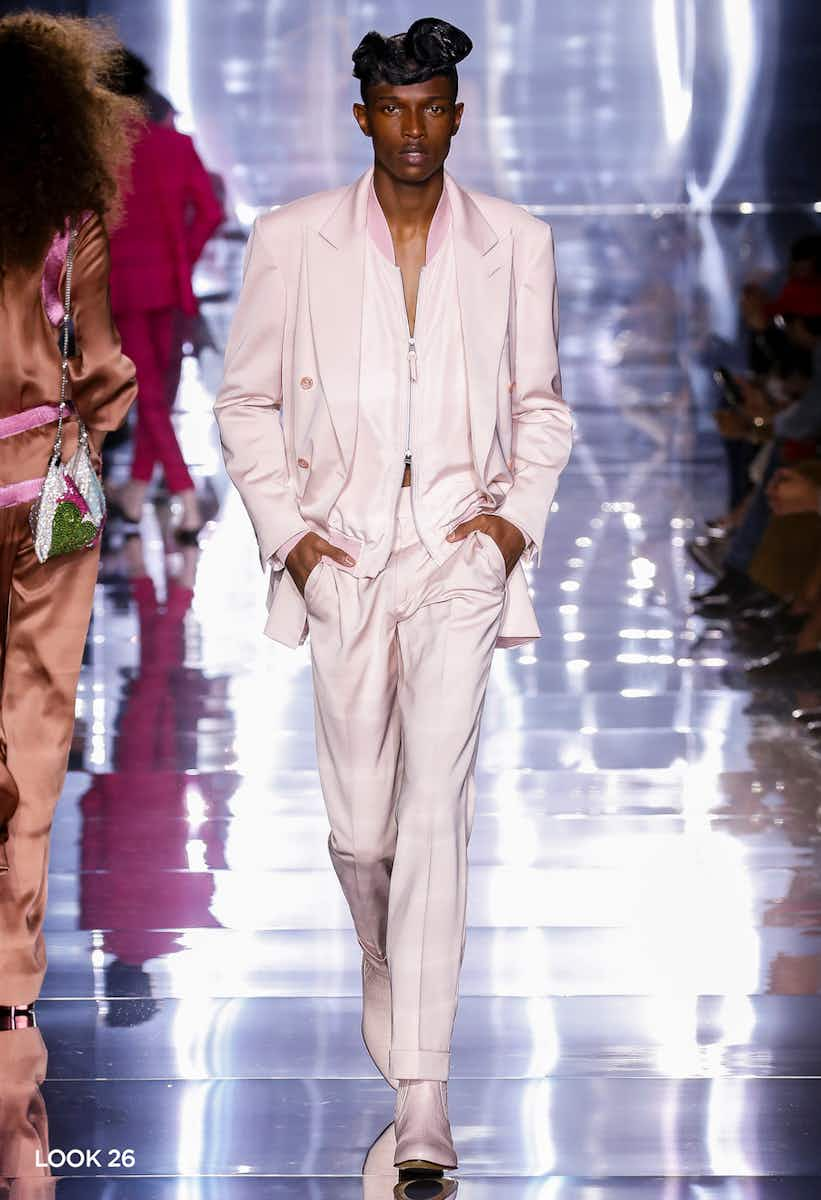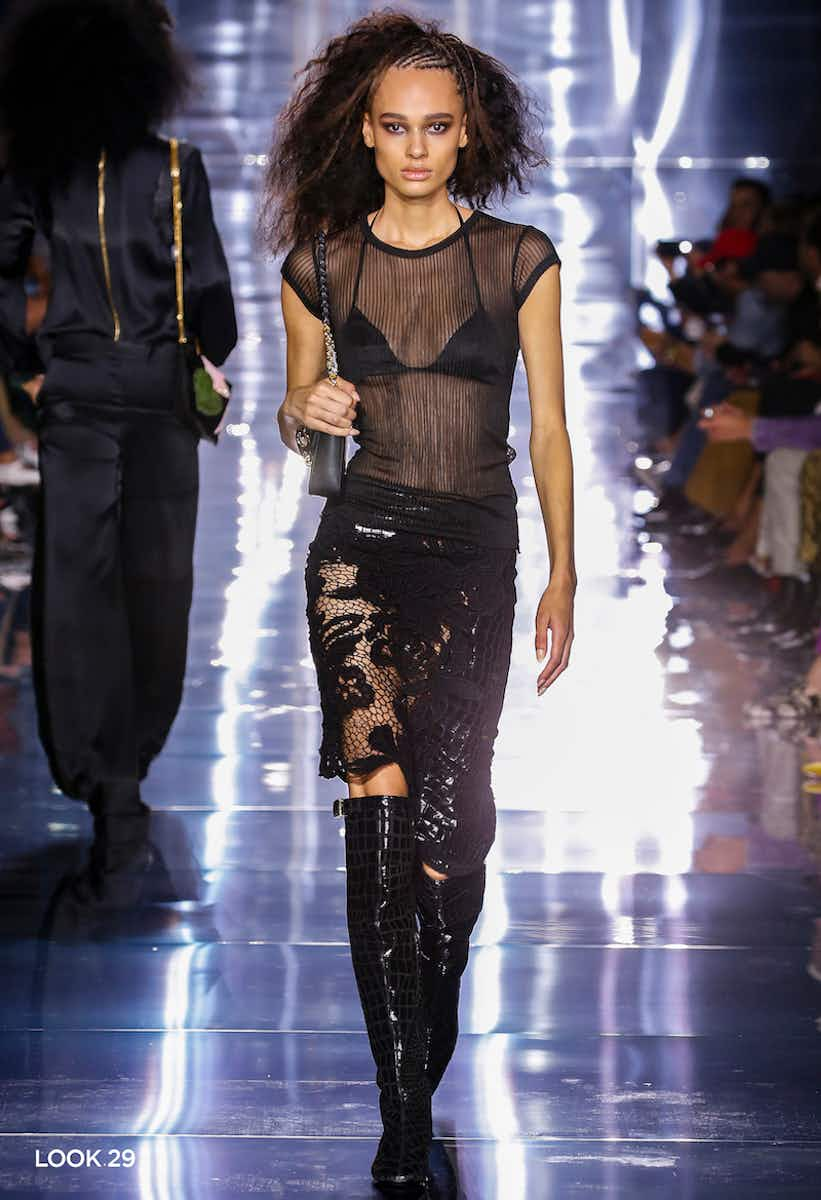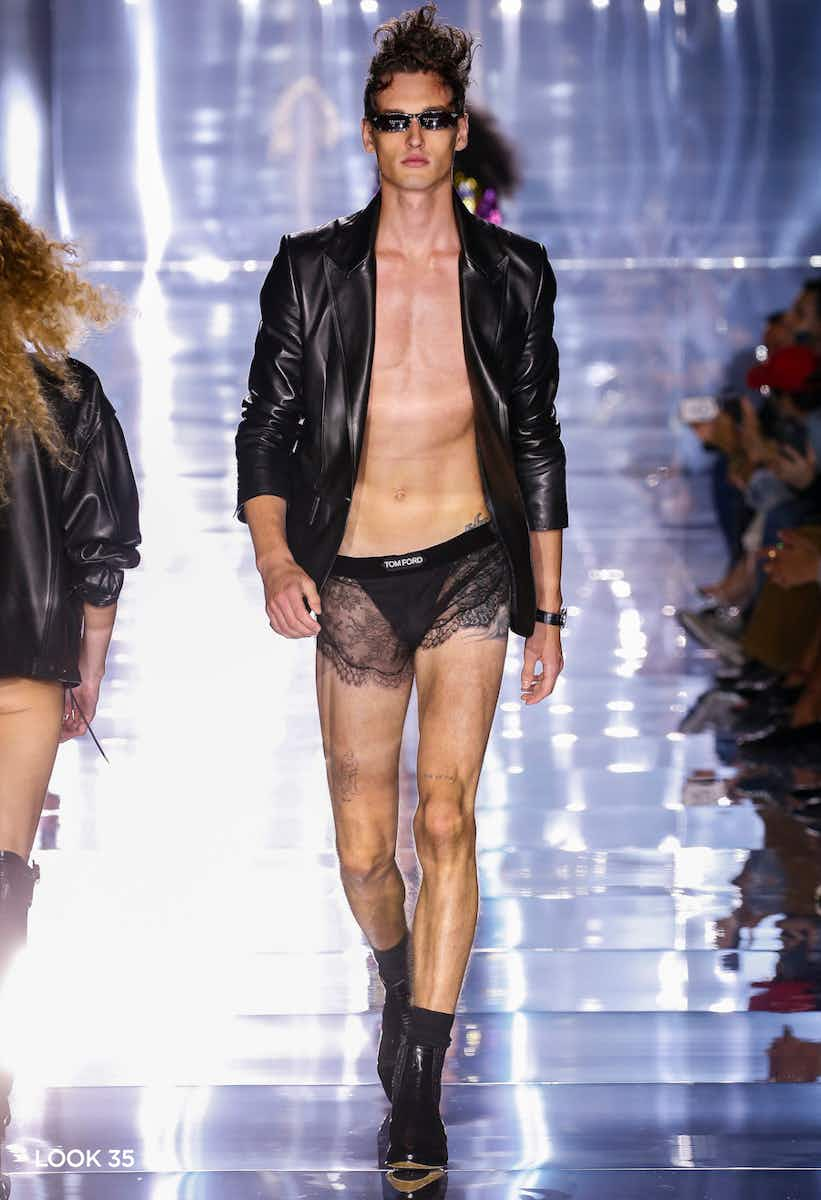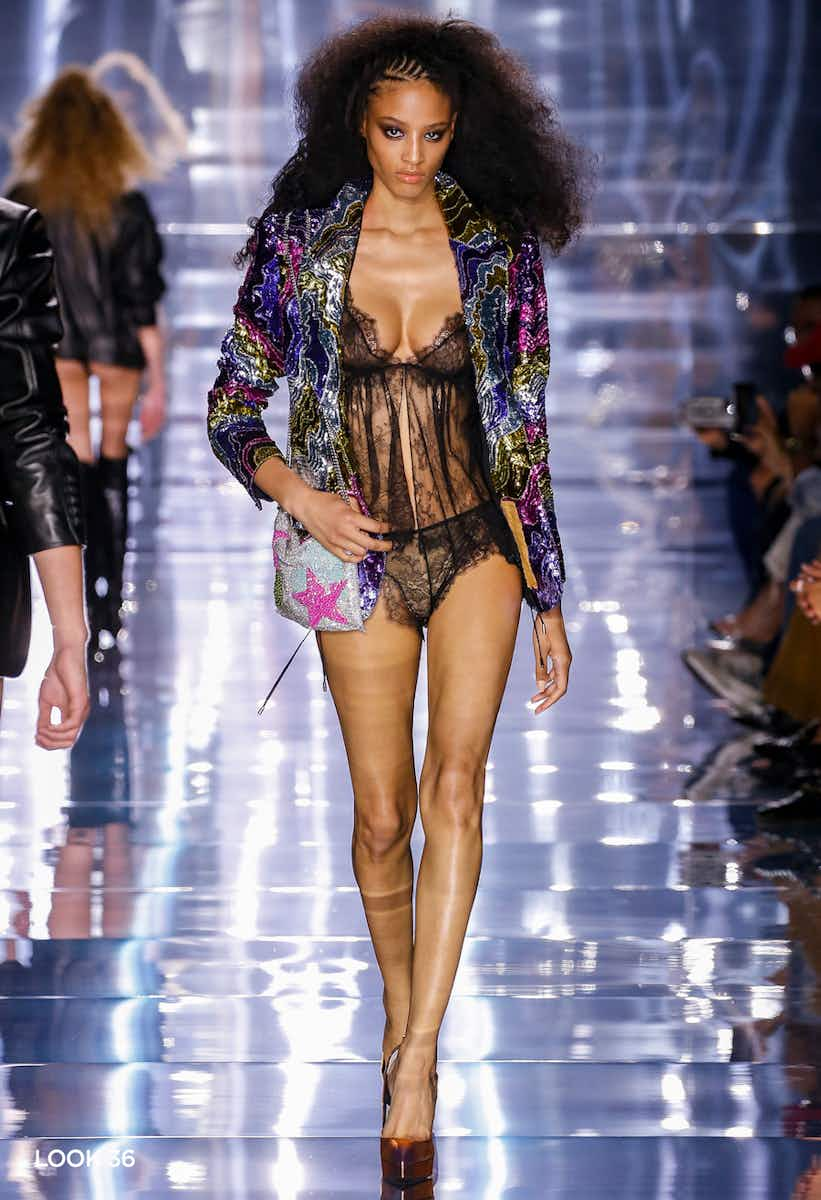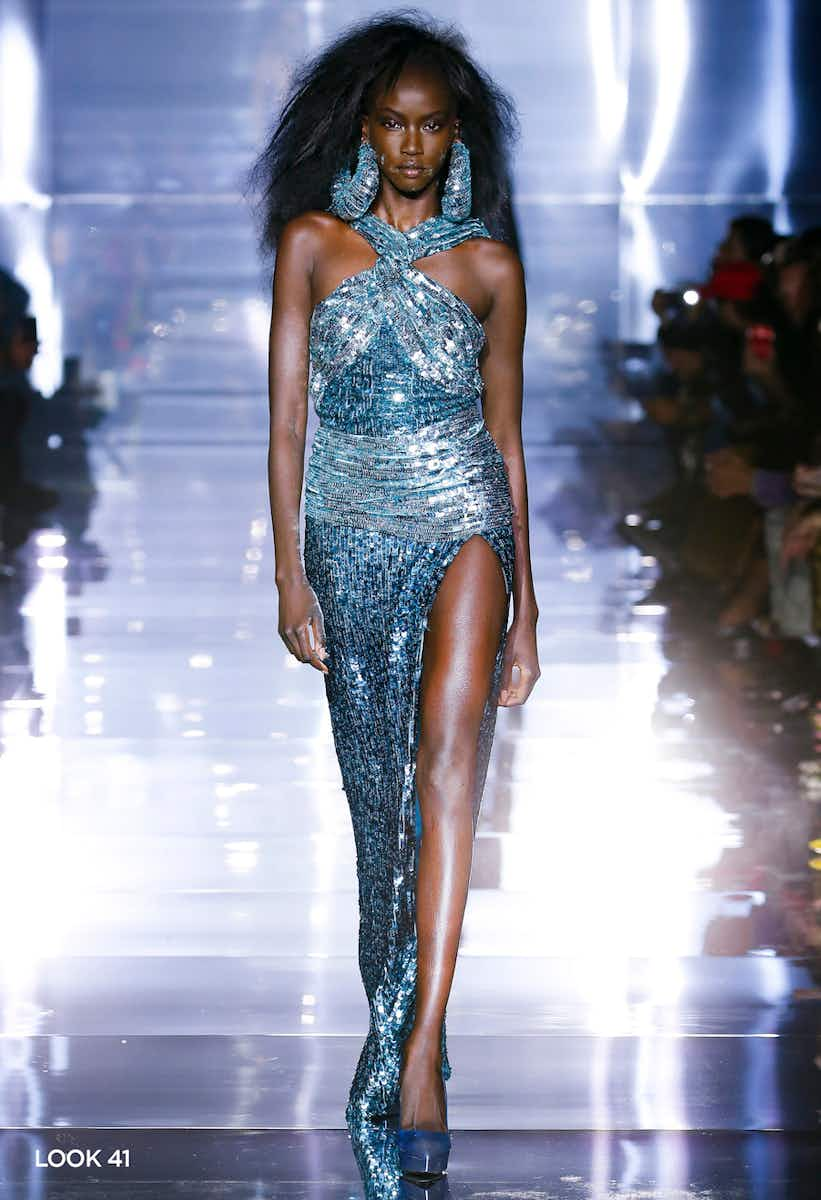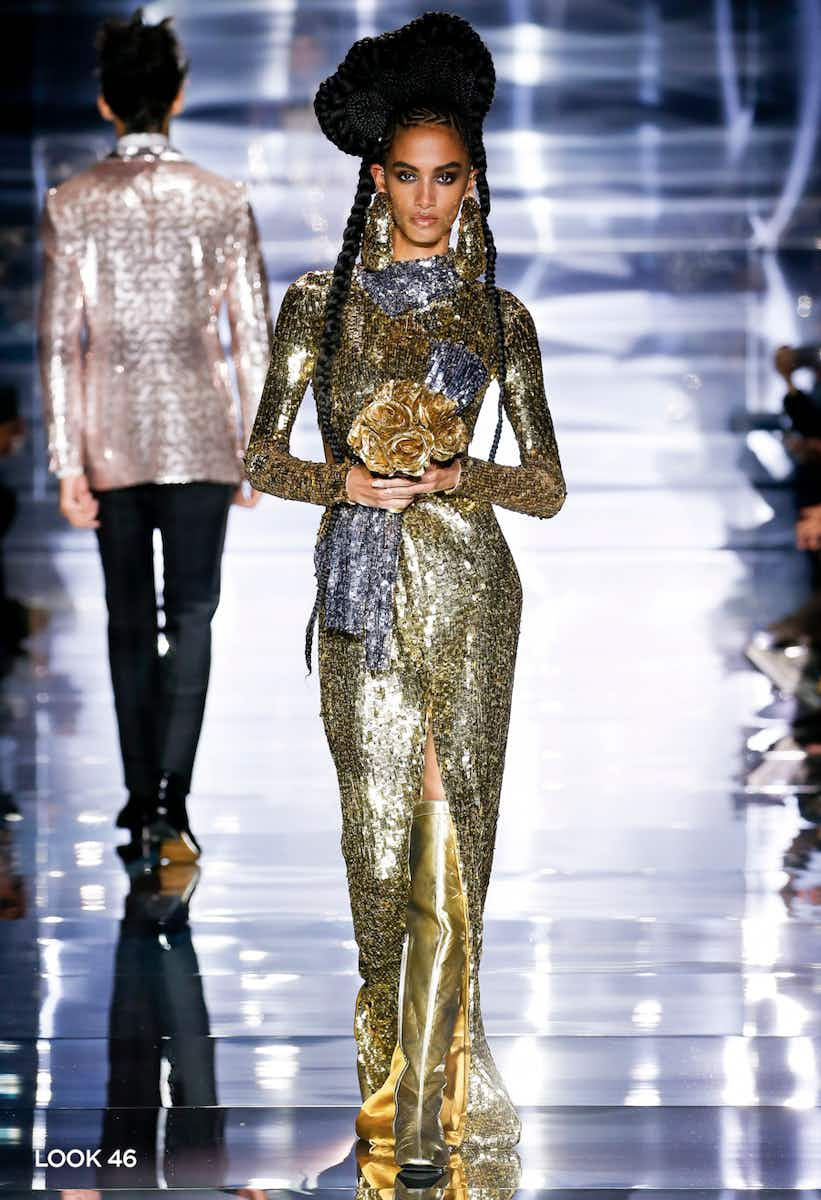 Manhattan was transformed into an ​"urban resort" for the Michael Kors SS23 show. Taking place in a mirrored room – which had the amusing effect of making dozens of fashion editors crane their necks to figure out which models were real and which were reflections – the space was decked out with palm trees as a live band performed covers of lounge‑y classics such as Abba's Fernando, Madonna's La Isla Bonita and The Doors' Light My Fire. The choice of music – which also included Boléro – was smart: these were ​"latin"-influenced songs, each written or made famous by non-latin artists. The effect was pure juxtaposition – something that continued into the runway looks where a kind of ​"laid-back glamour" as Kors put it, ​"a lot of elements that you normally find on holiday", contrasted with the sleek, urban show space. From there, models continued out onto the ​"ultimate runway": the street outside. The perfect wardrobe for your next destination holiday.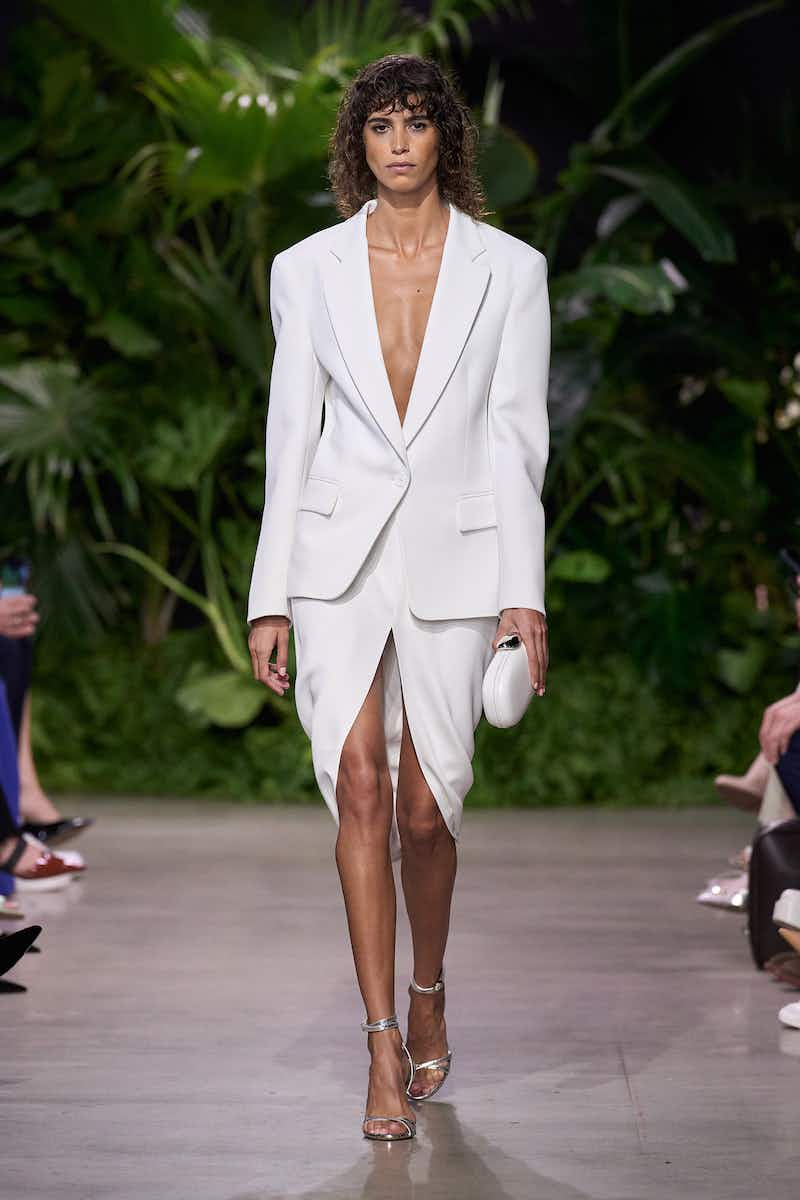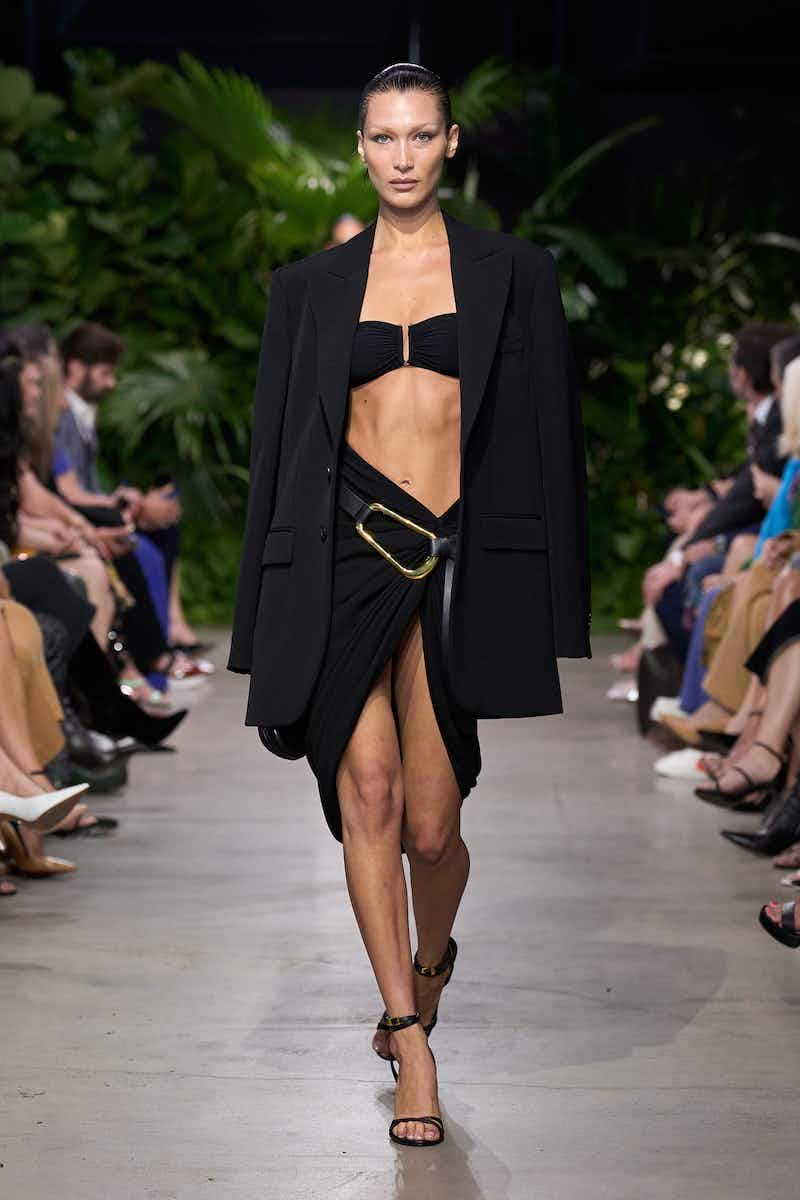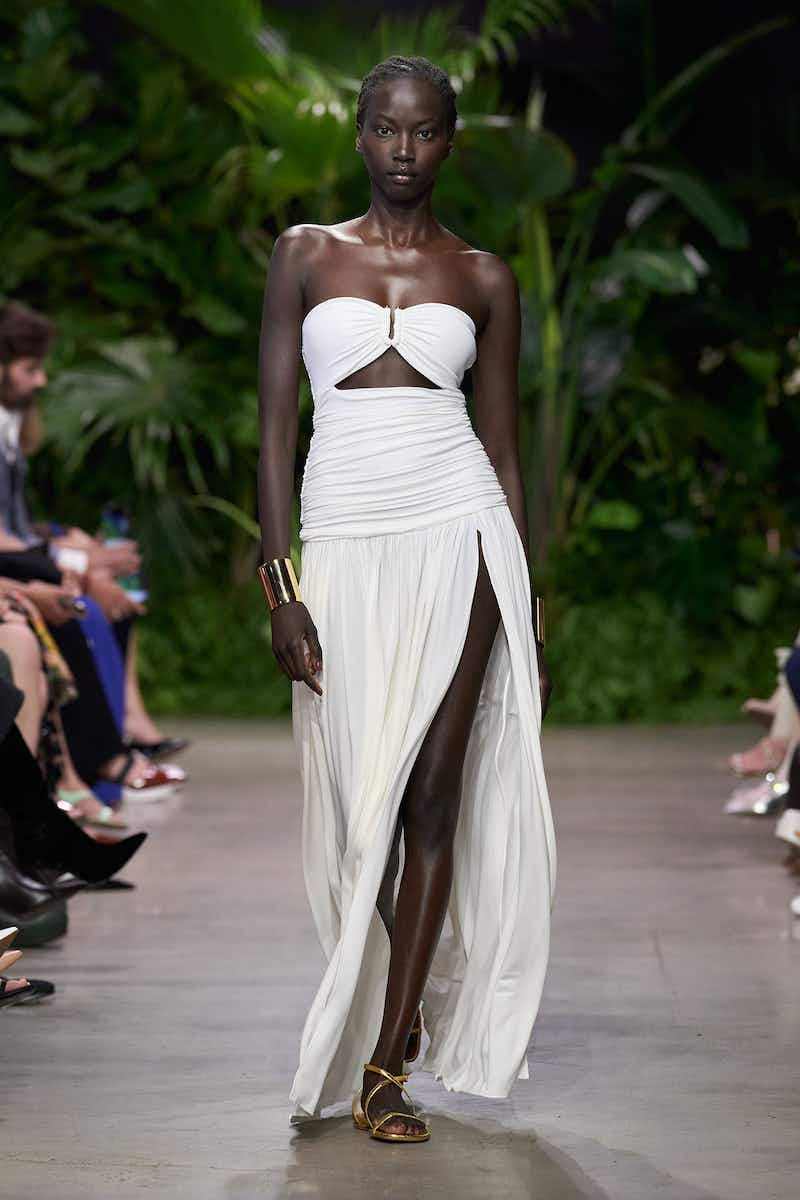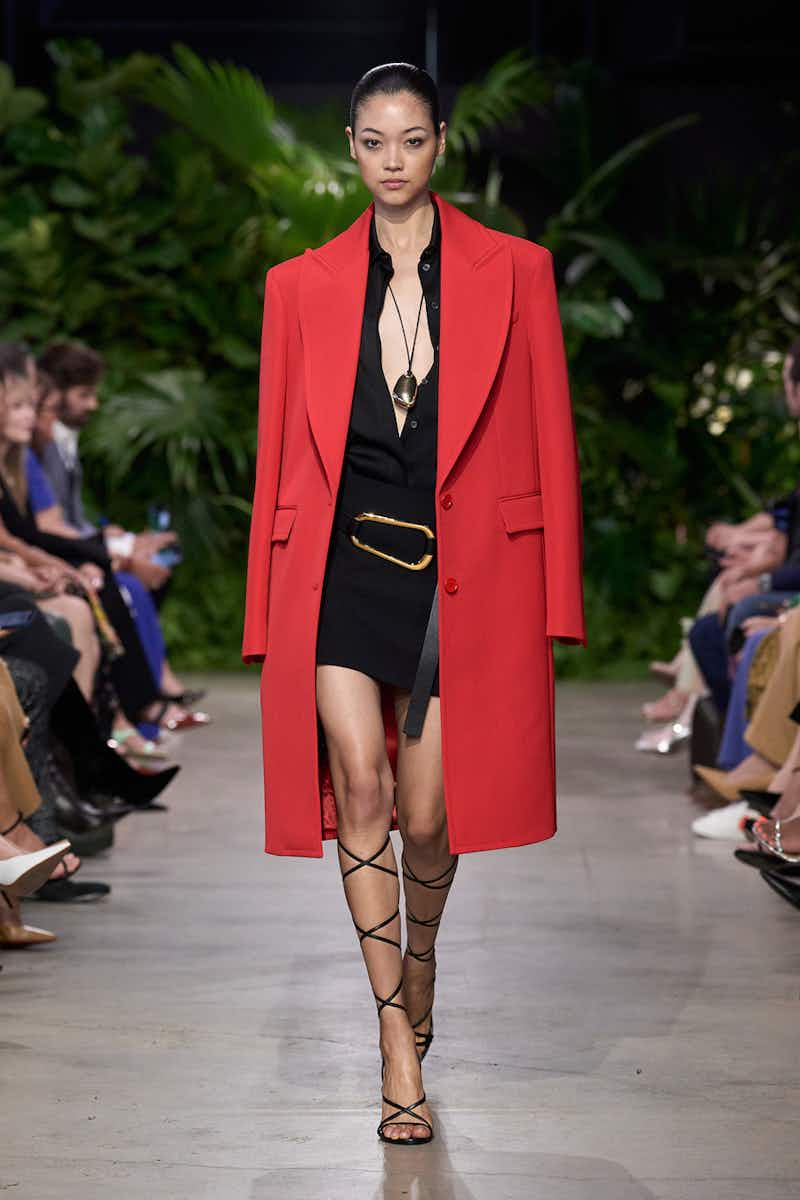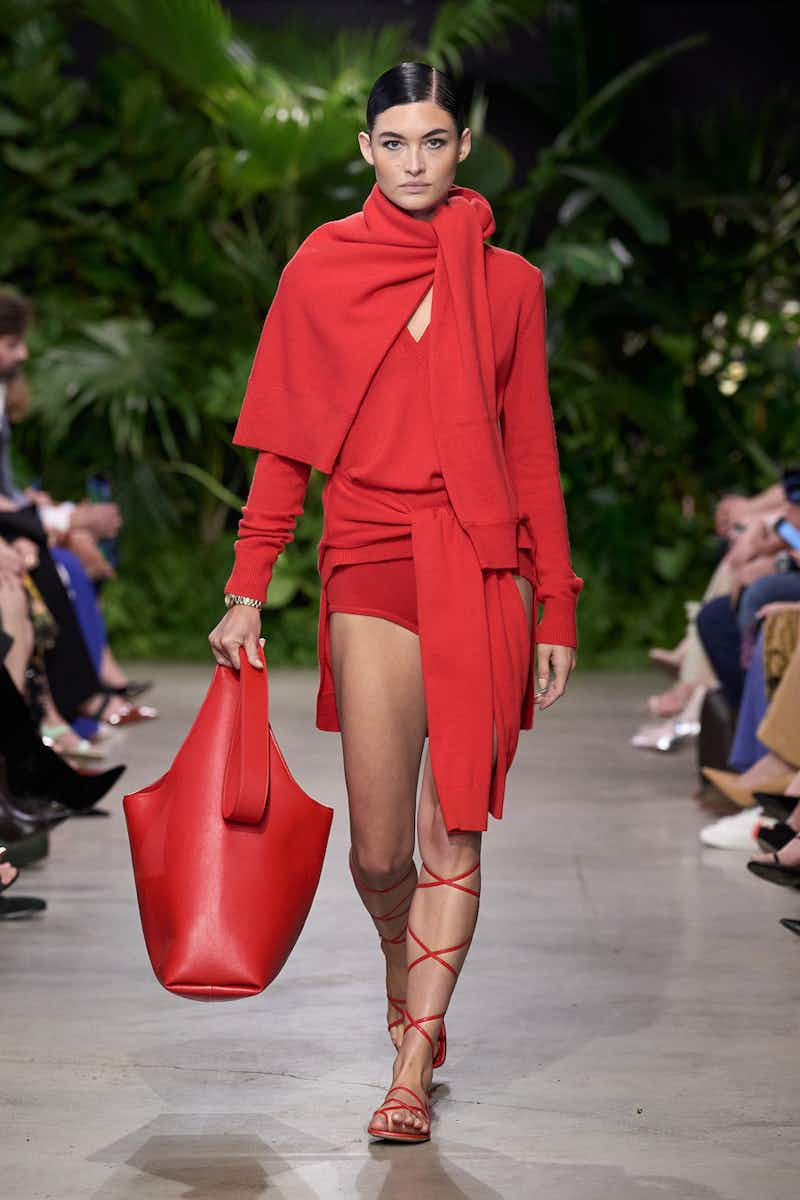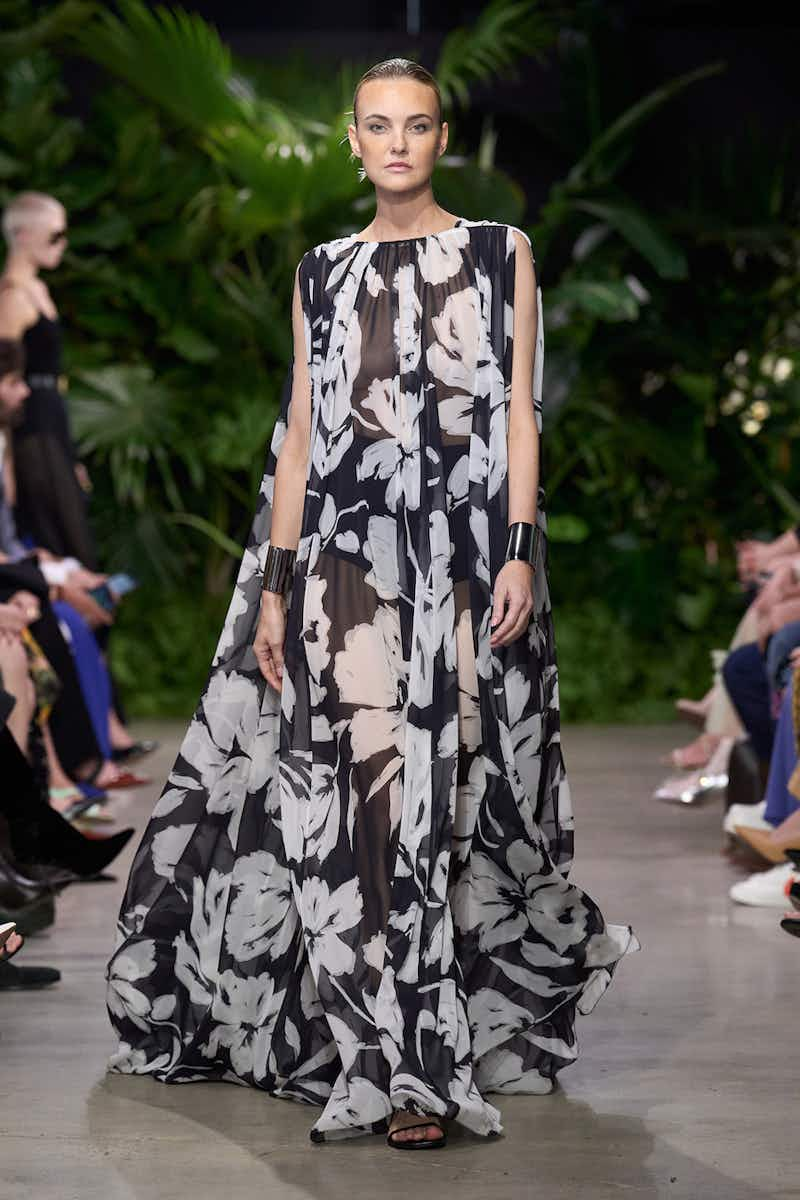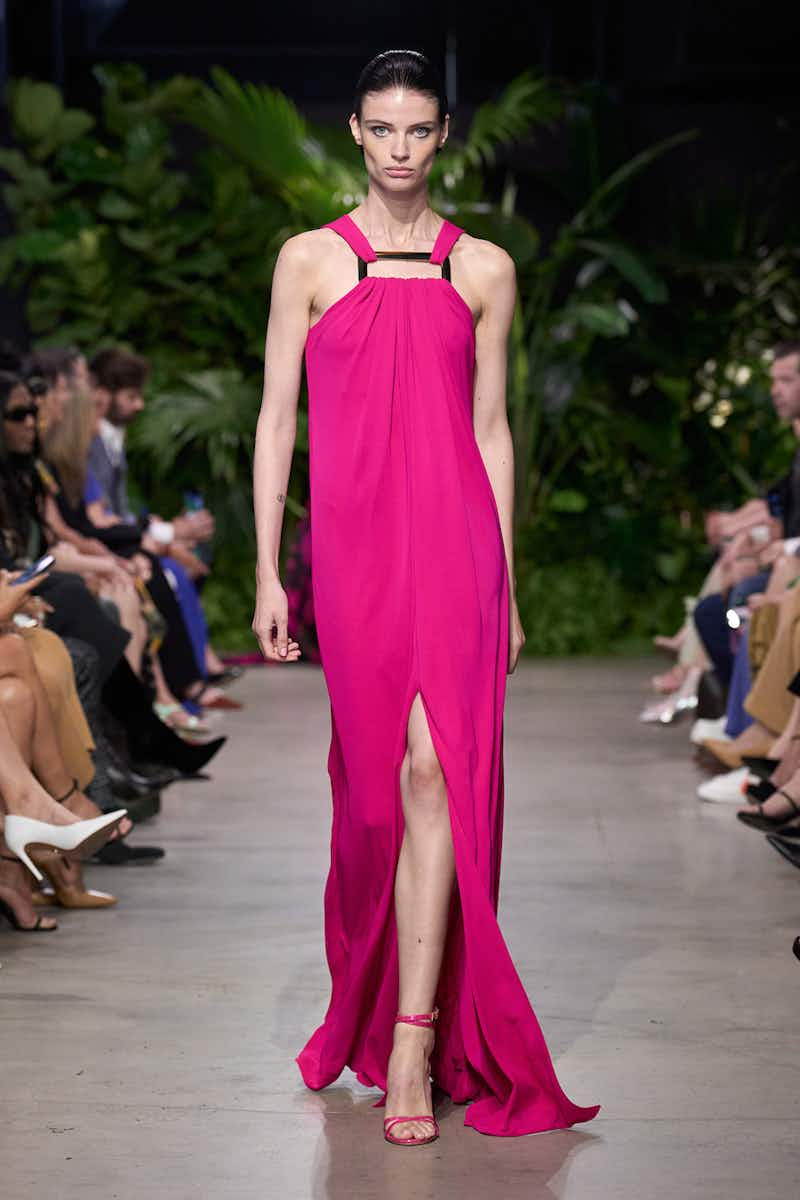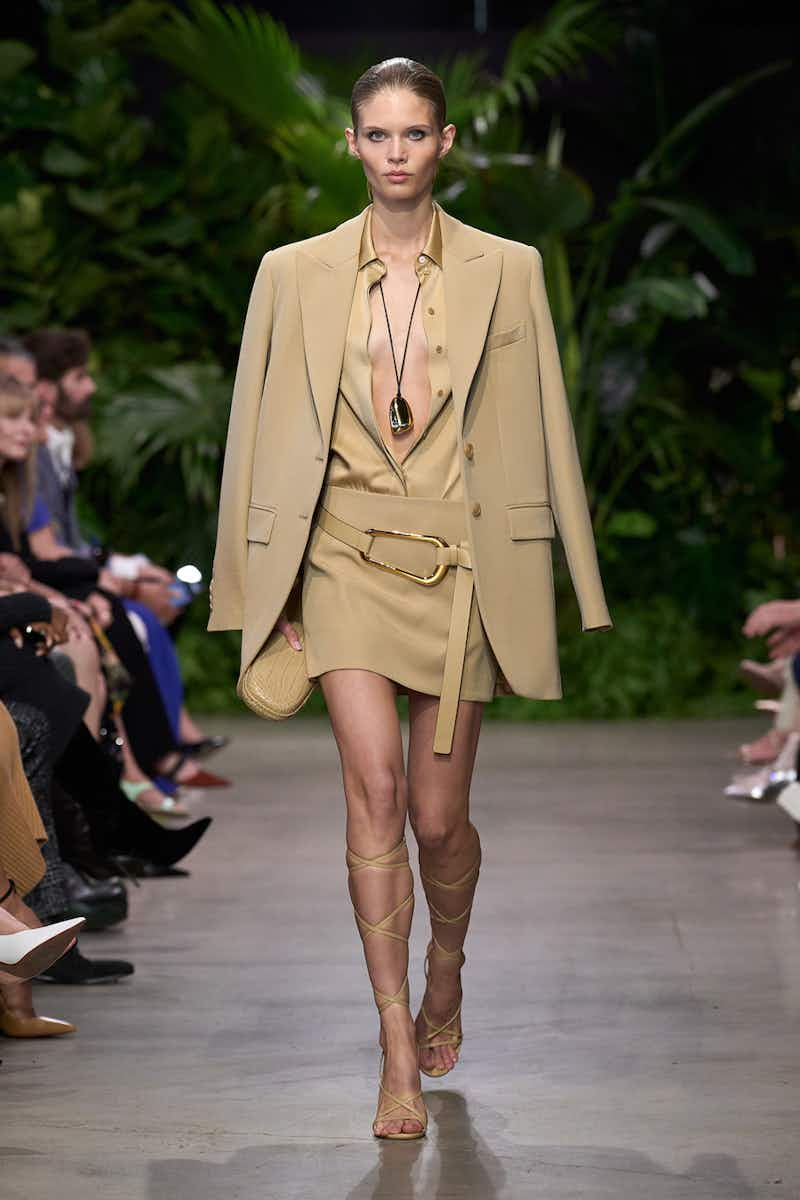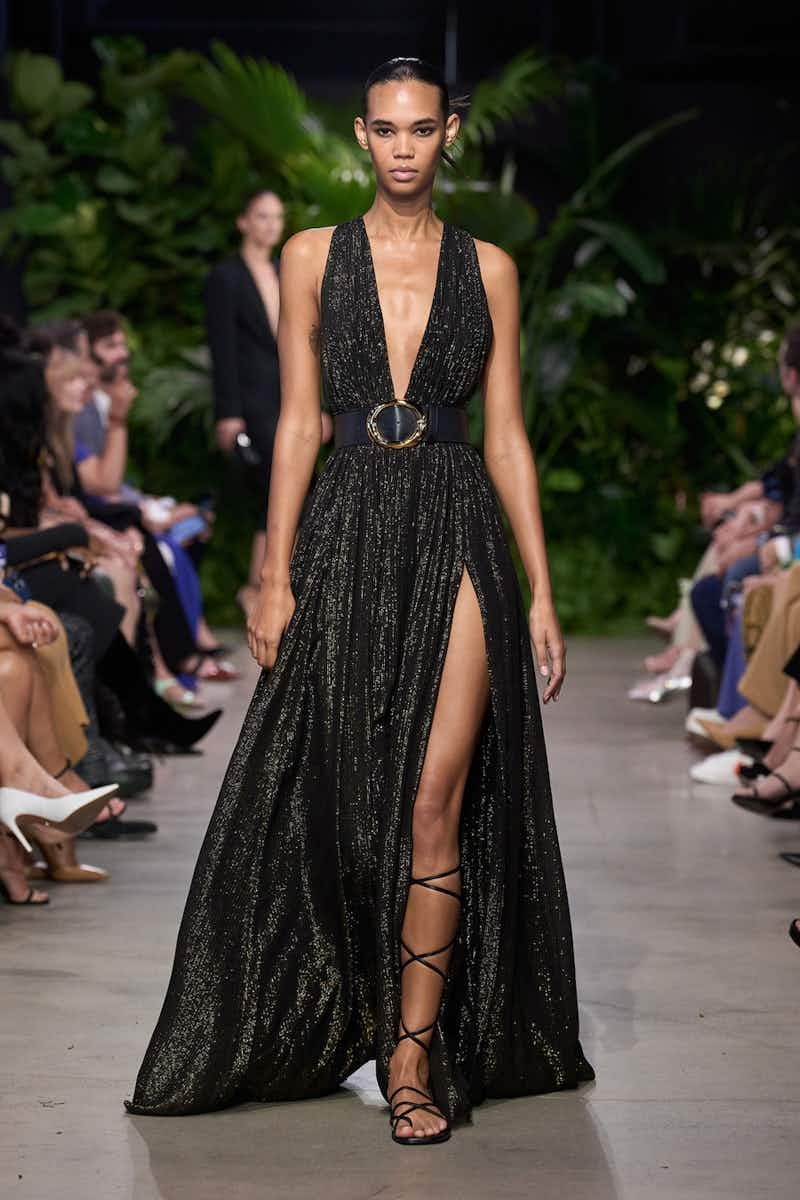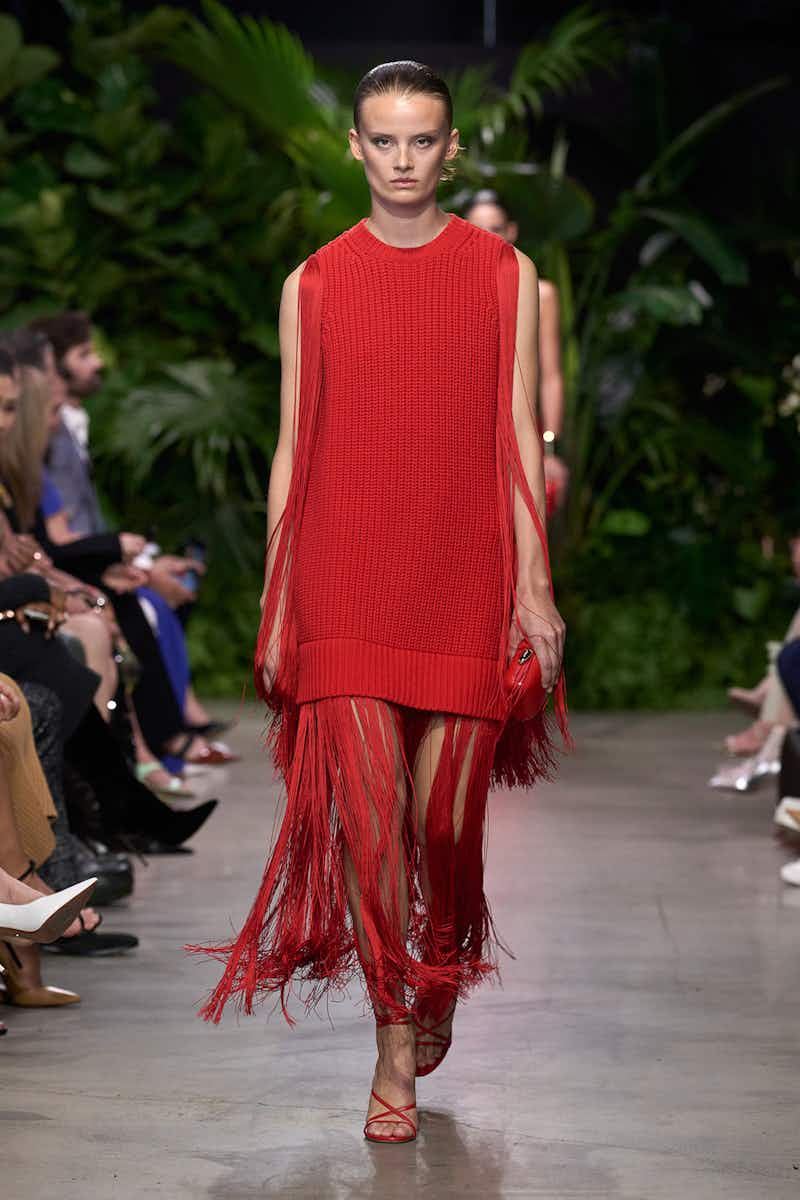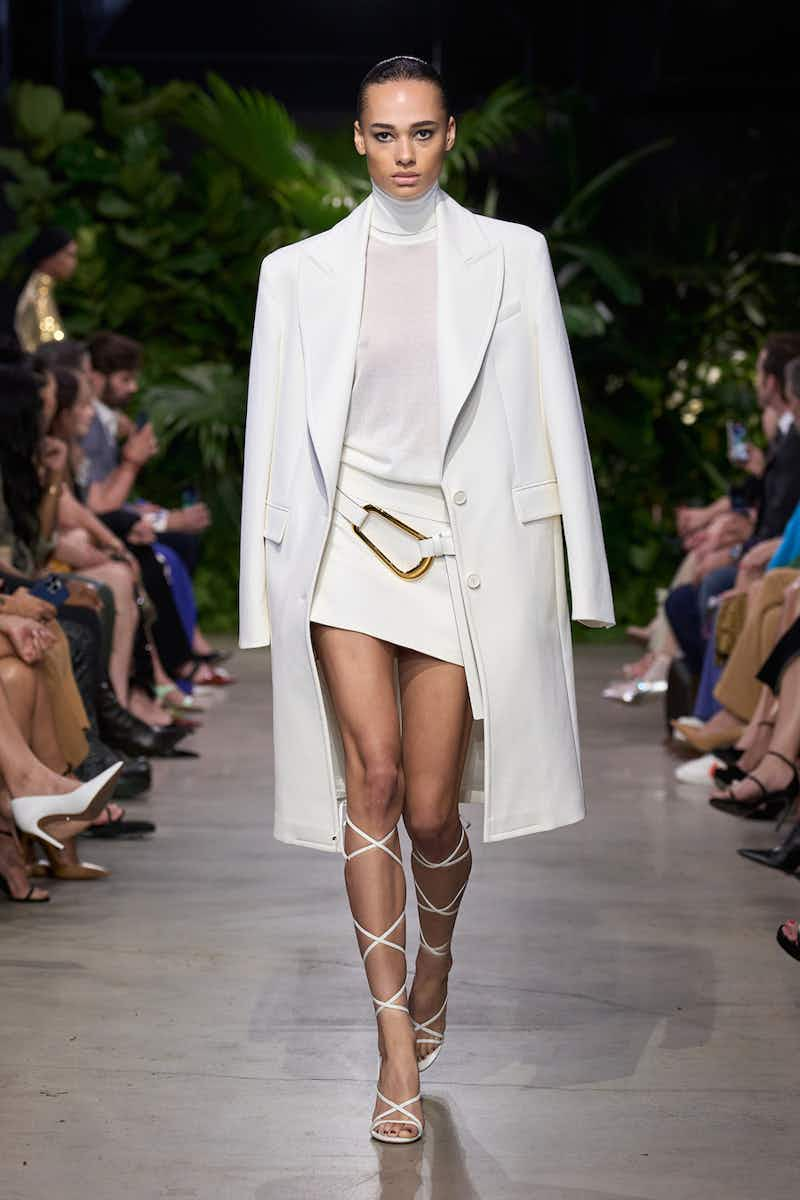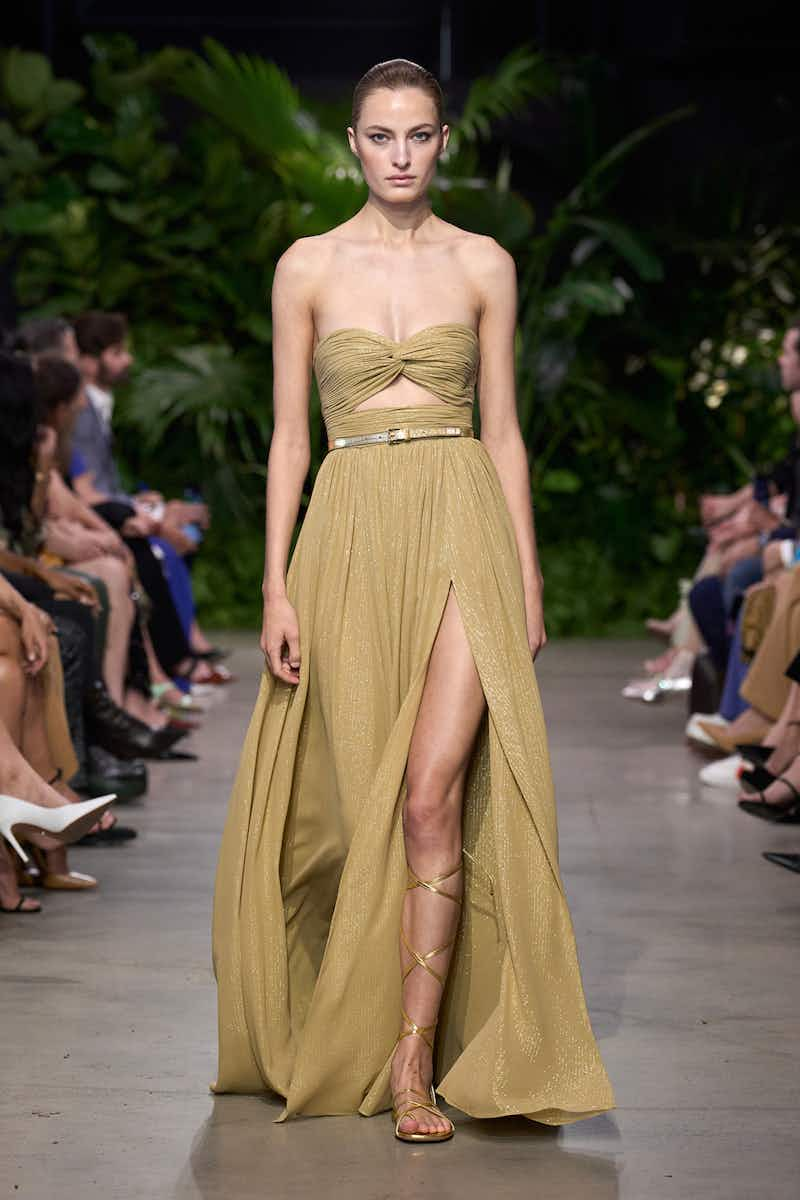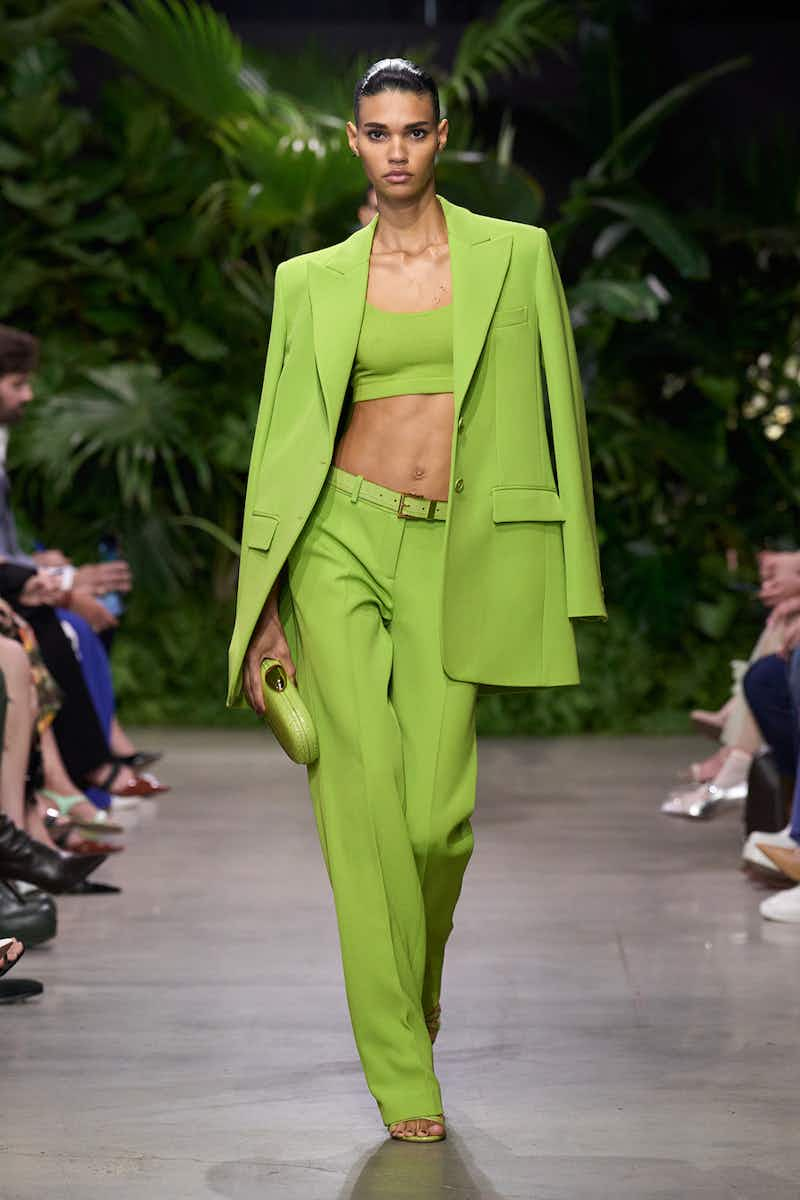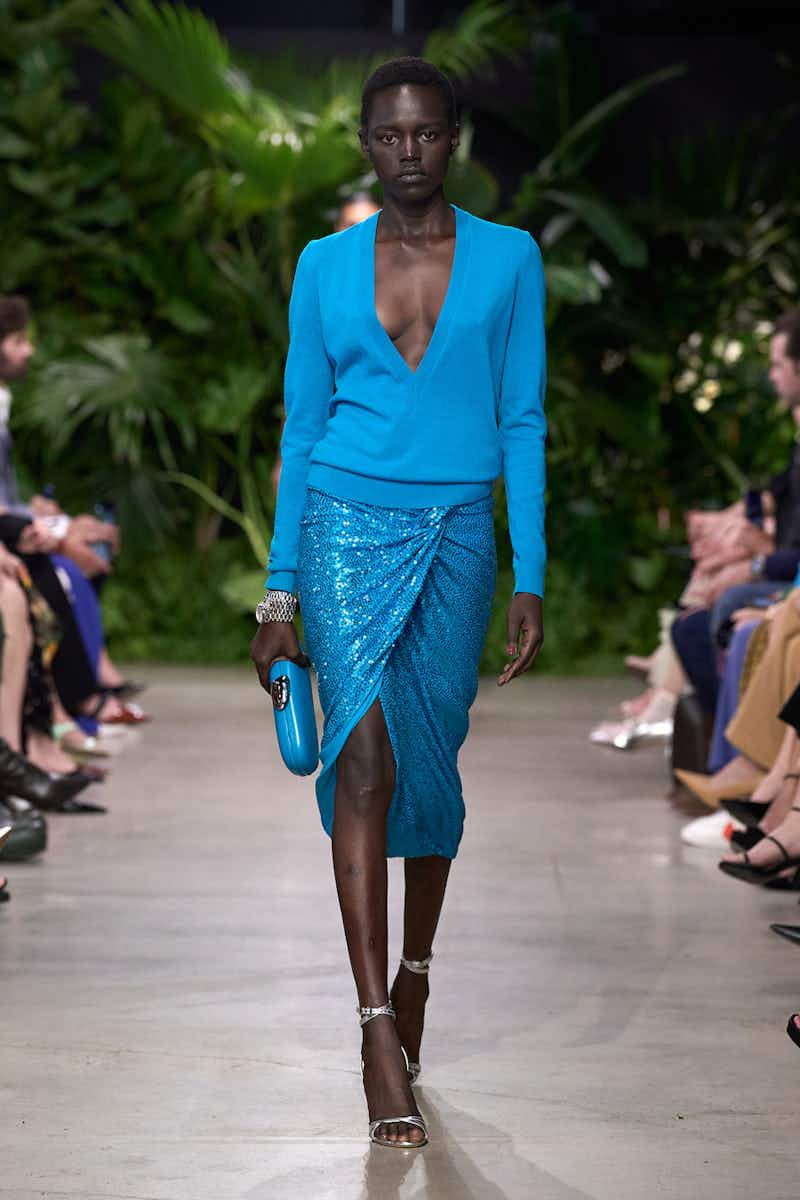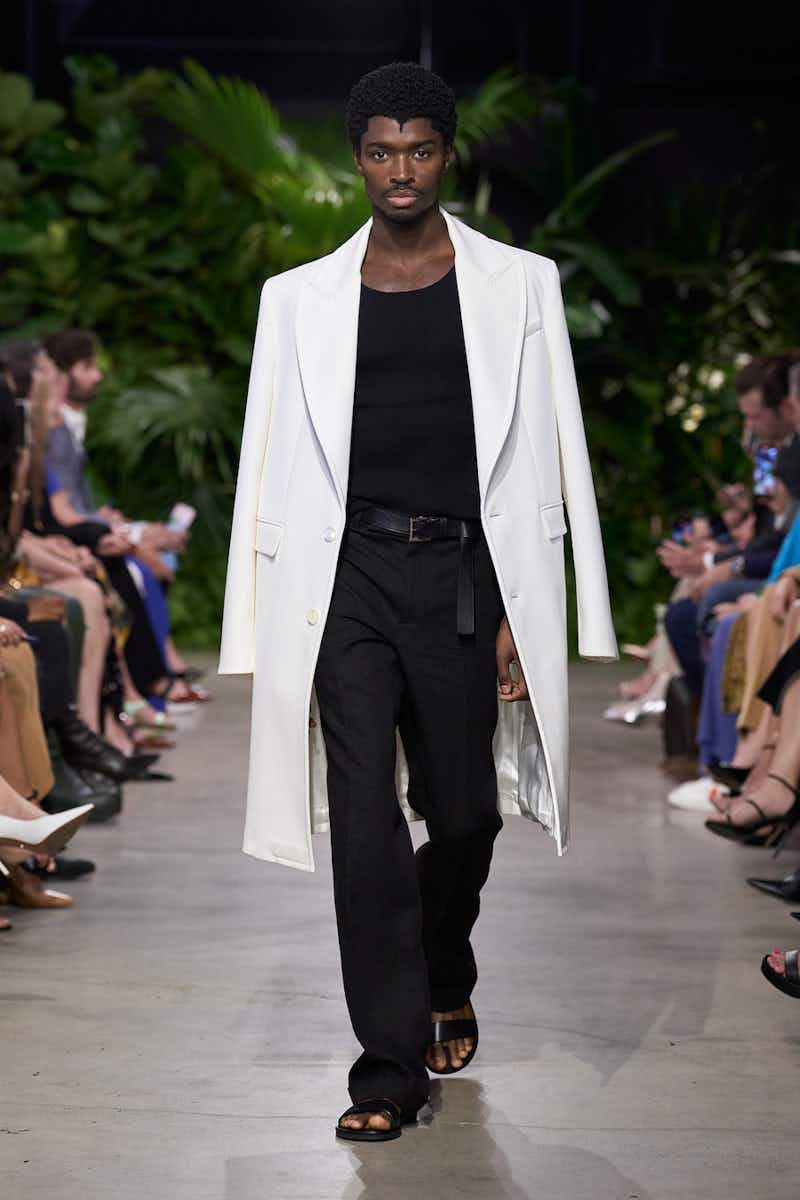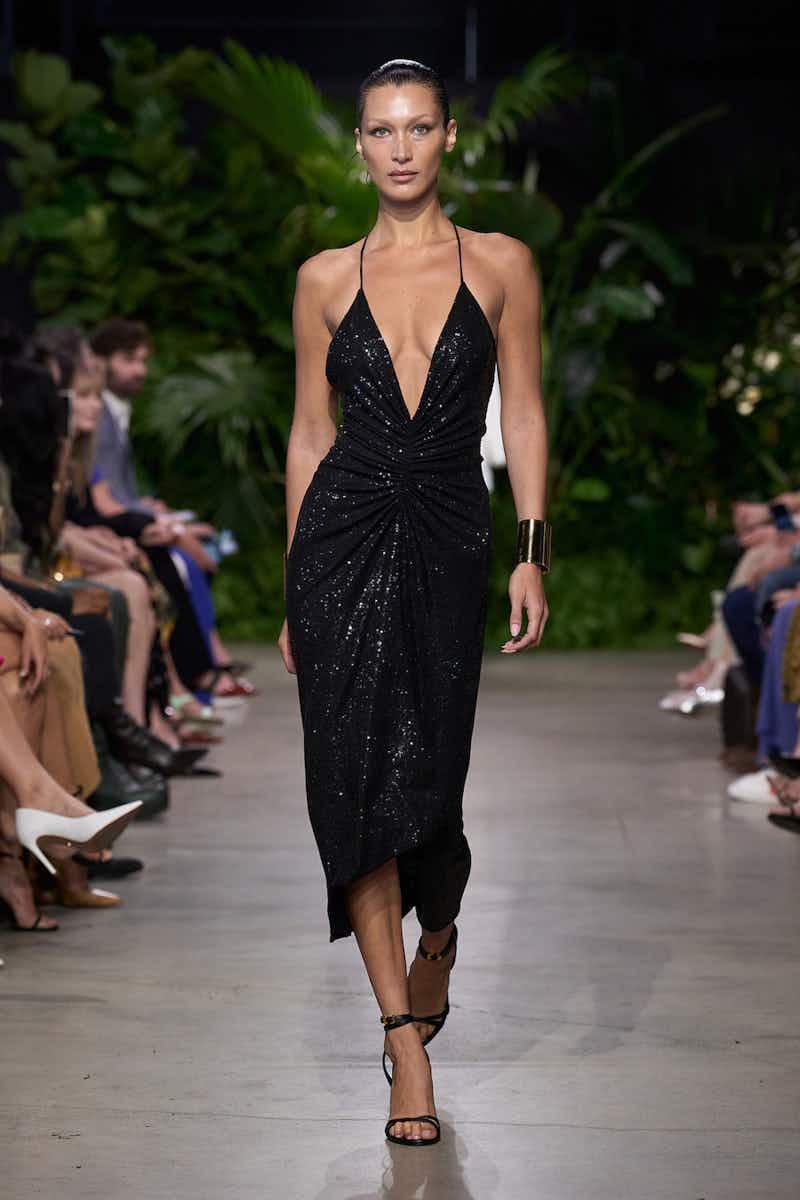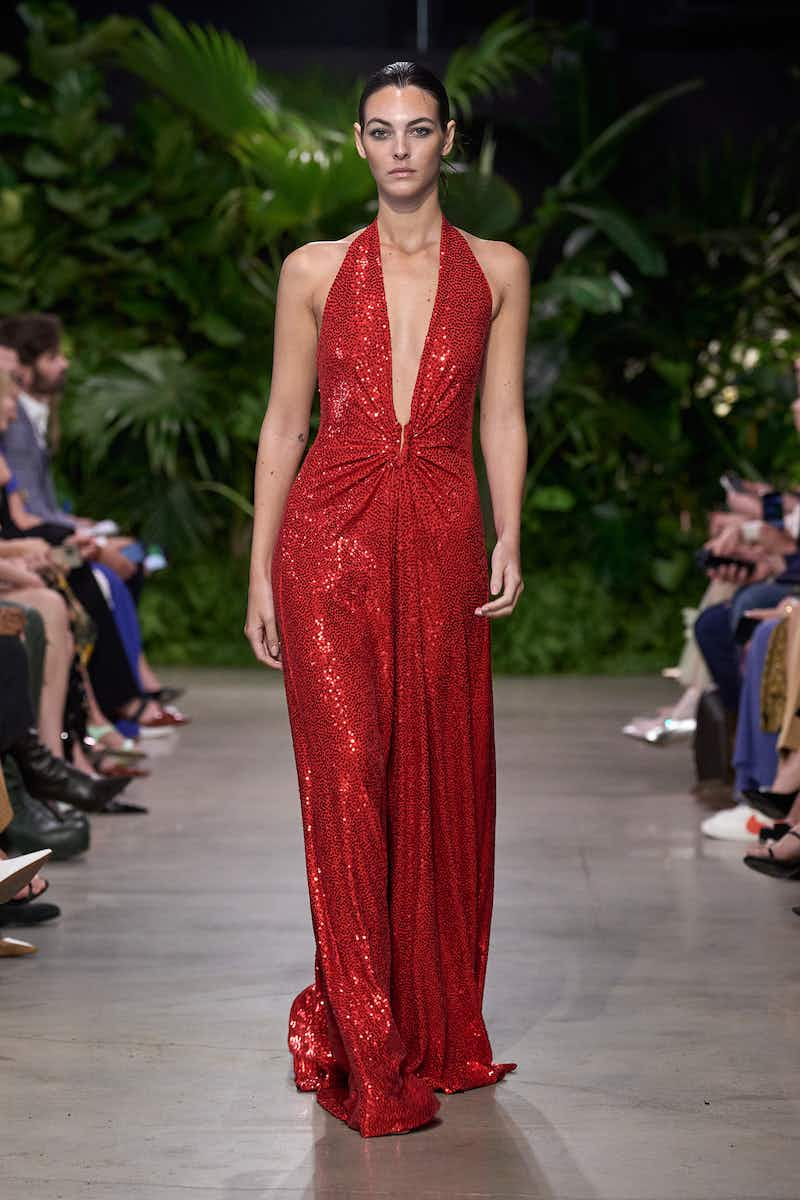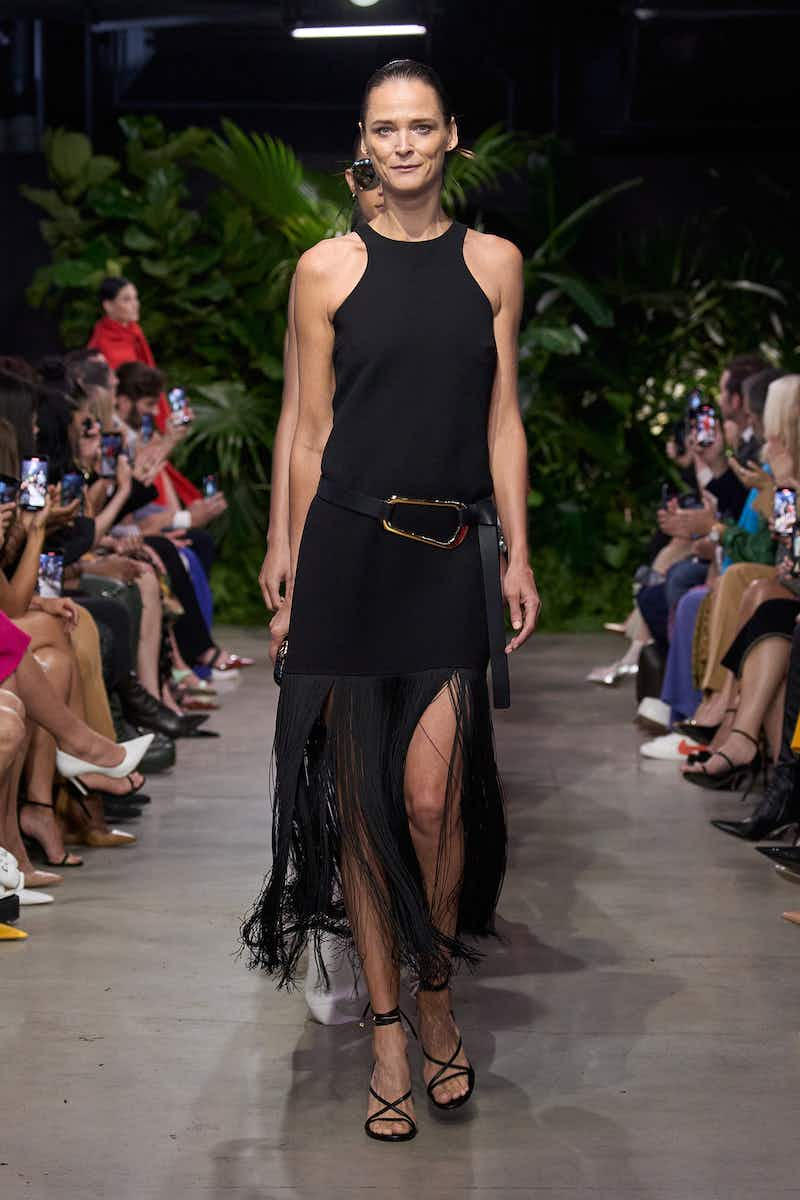 We did wonder who all the screaming girls were for outside of the Peter Do show on Tuesday. Turns out they were there for the stars of SM Entertainment, Korea's largest entertainment company, enlisted by Peter Do to model his first, highly anticipated men's collection (shown alongside the women's). They could, arguably, have been there for Do, too. The Vietnam-born designer, who was a co-winner of the 2020 LVMH Prize, has become a star name on the New York fashion week schedule, becoming a ​"new staple look in many women's wardrobes," as we put it in 2019. Now he's doing it for the guys, too. Think: sleek tailoring, sharp suiting, and simple, classic pieces.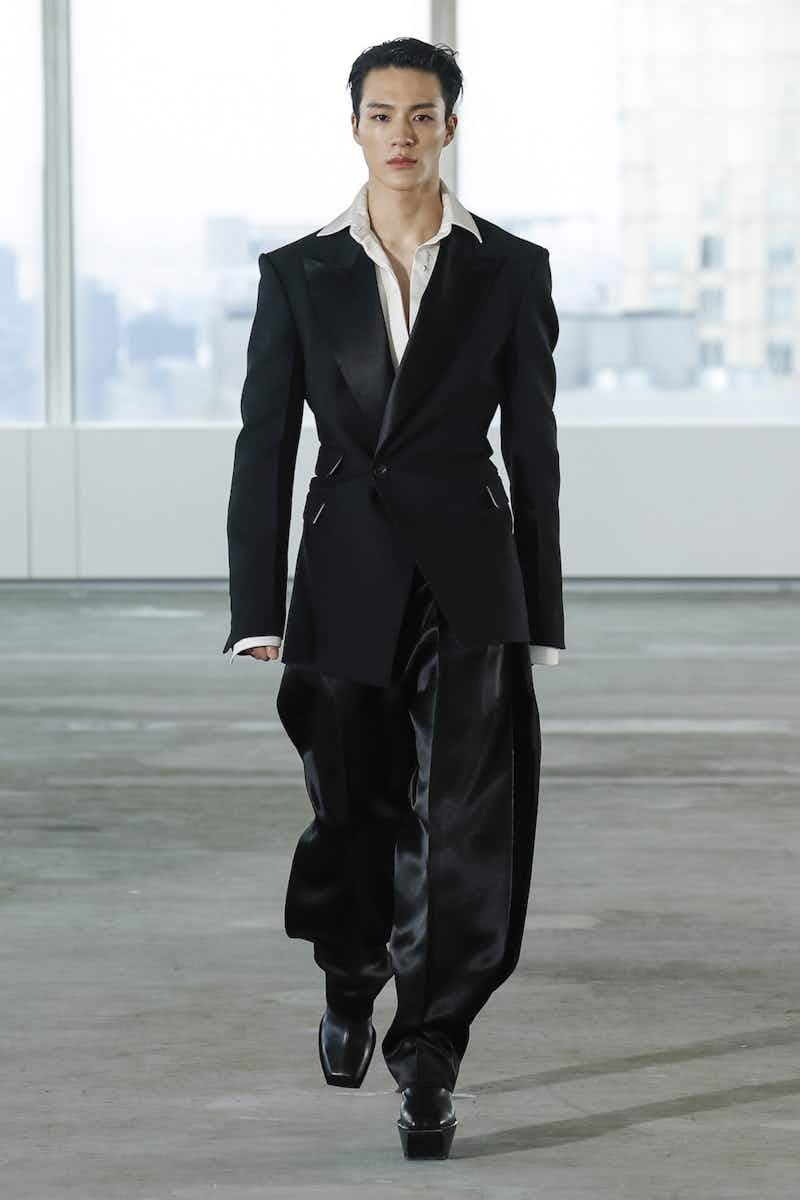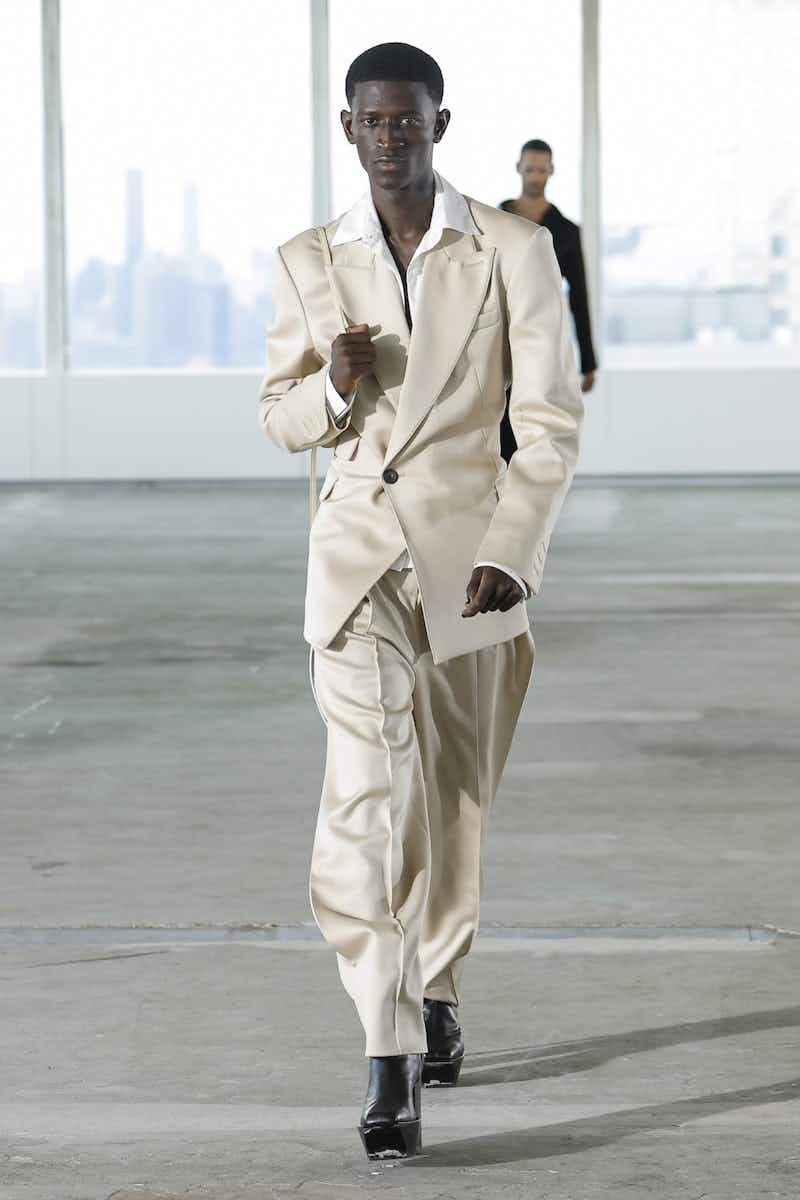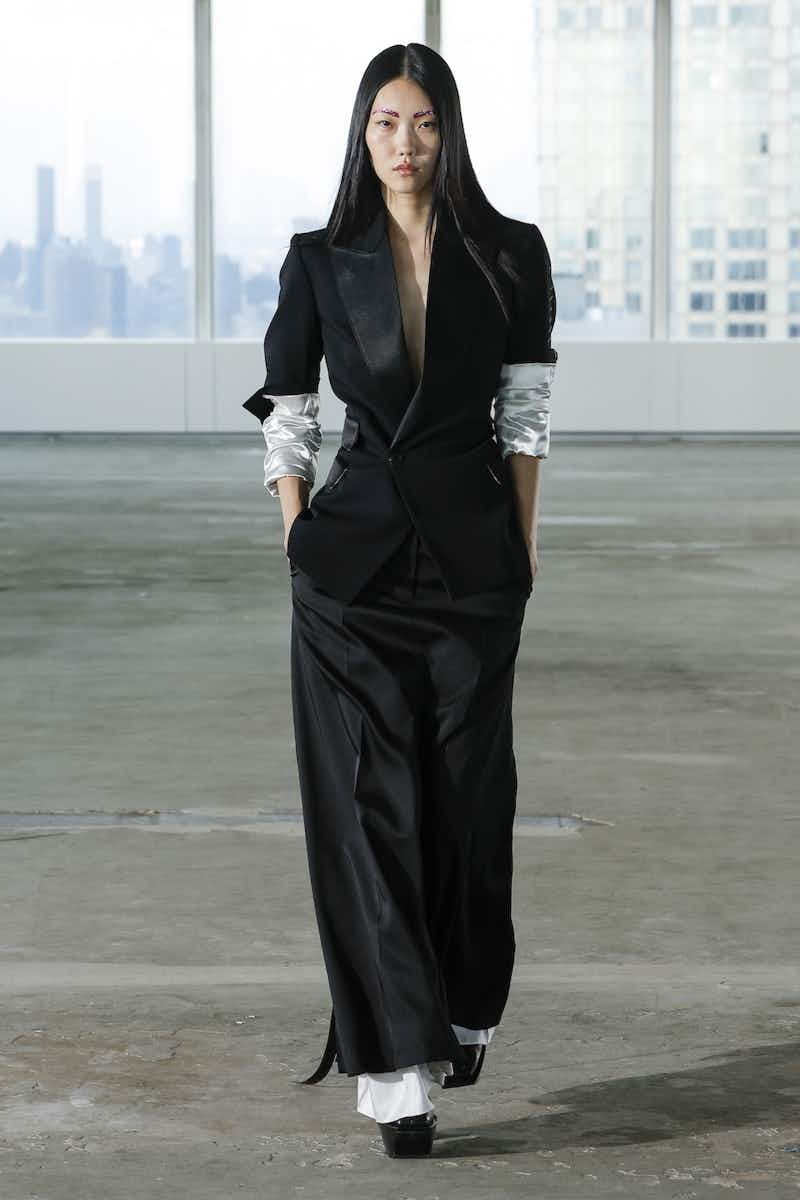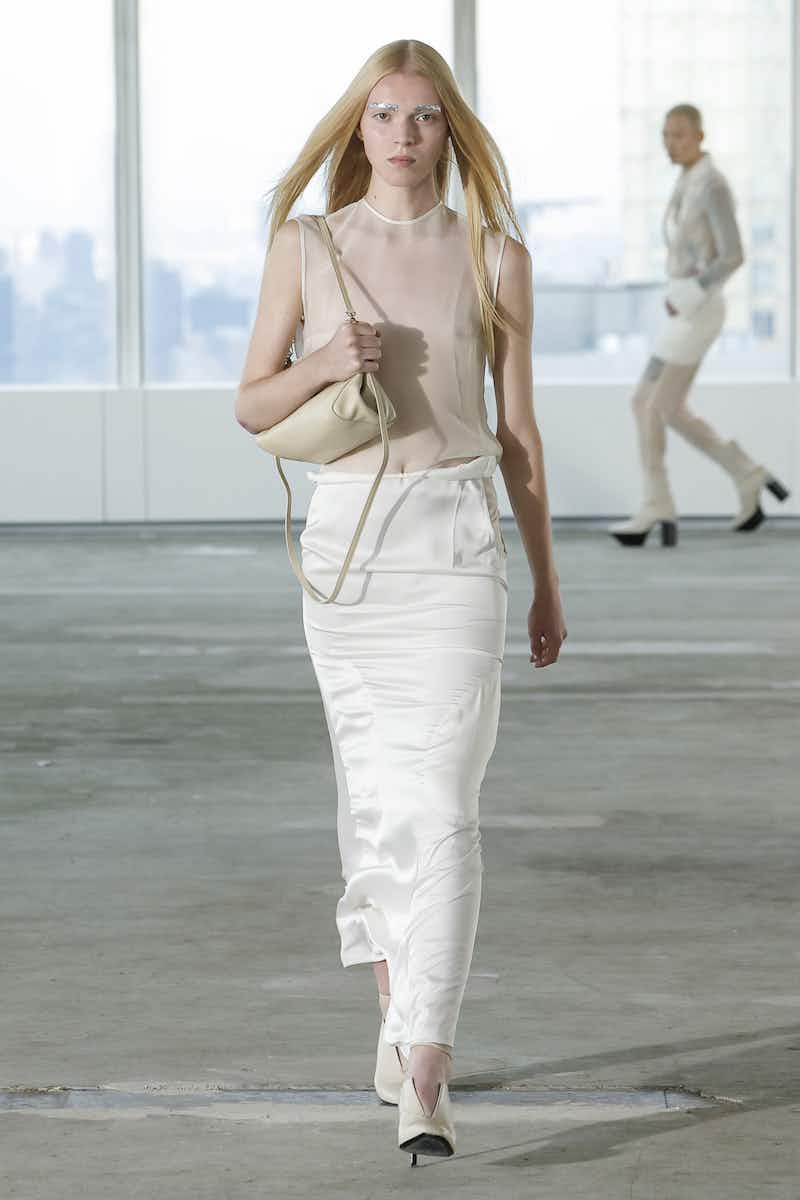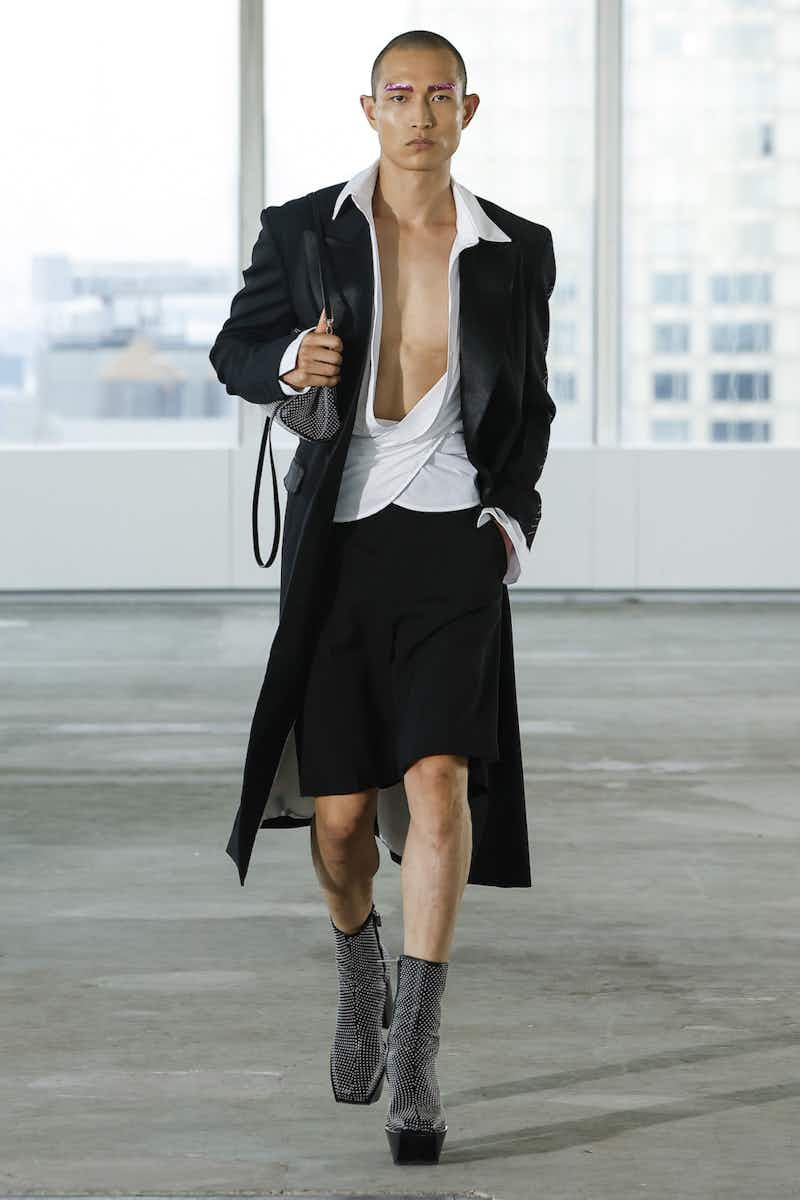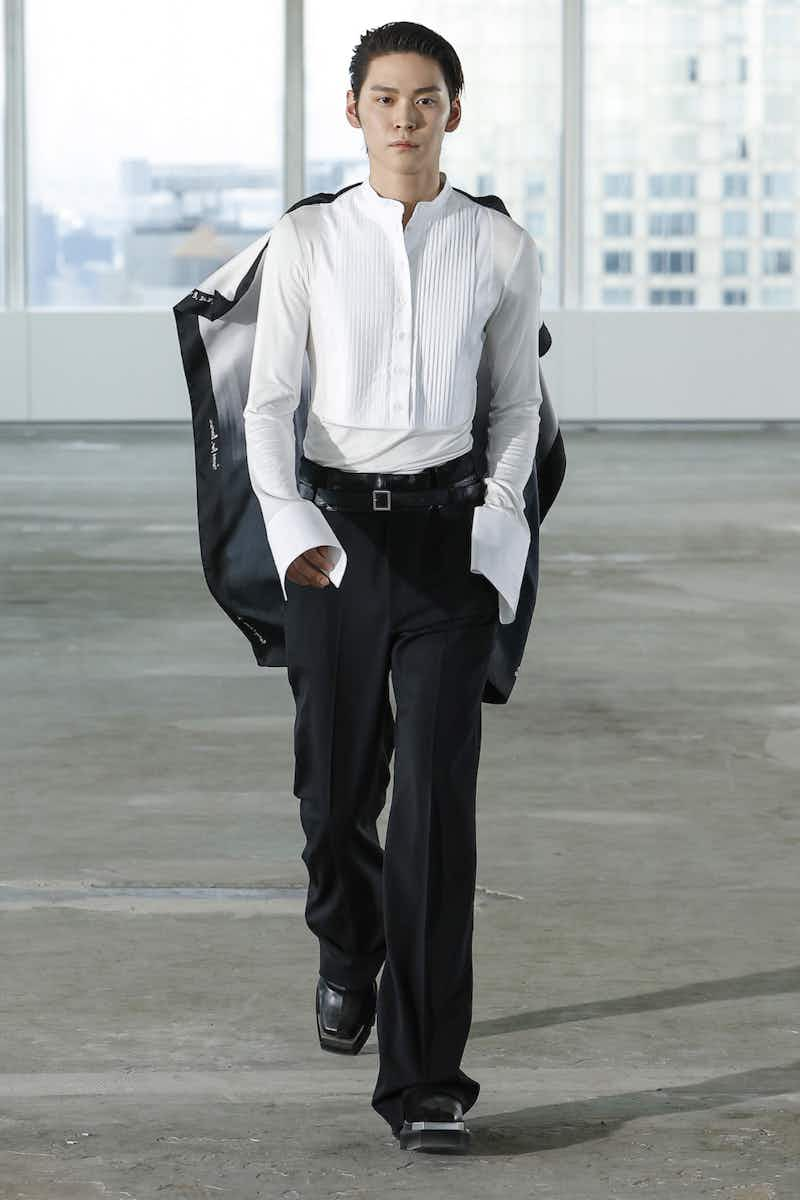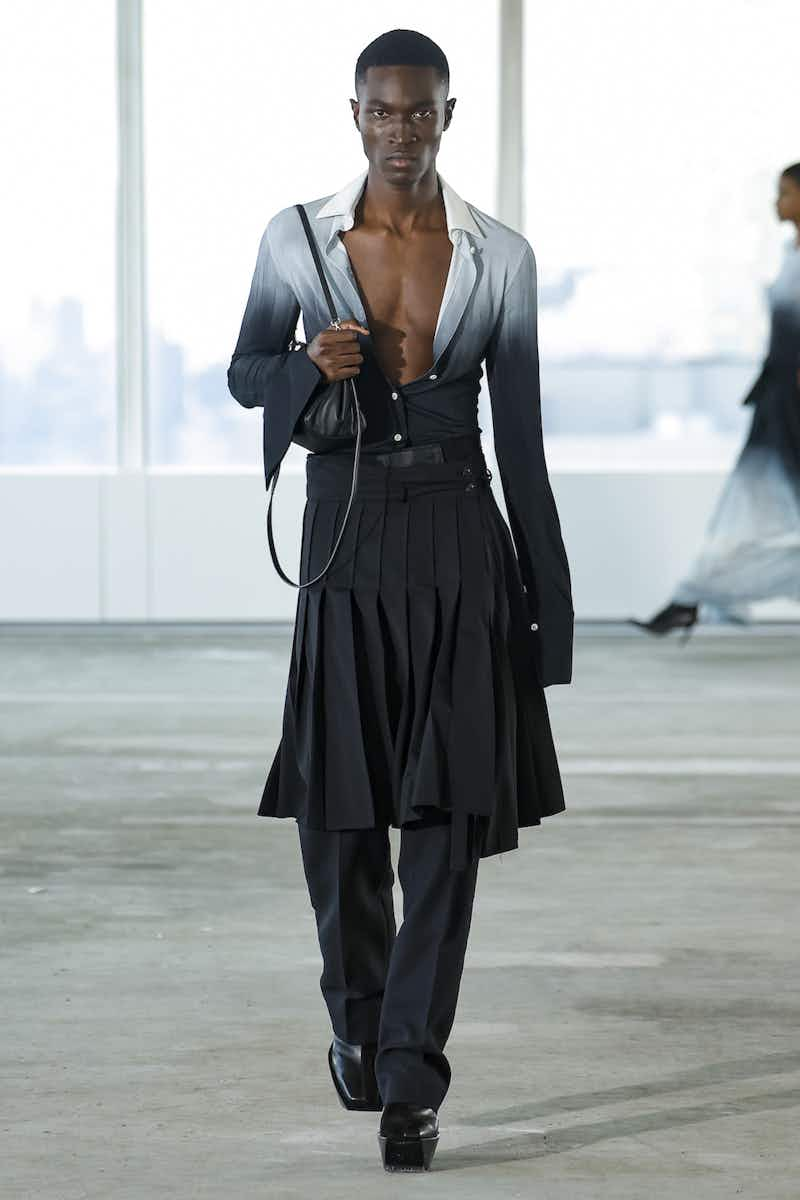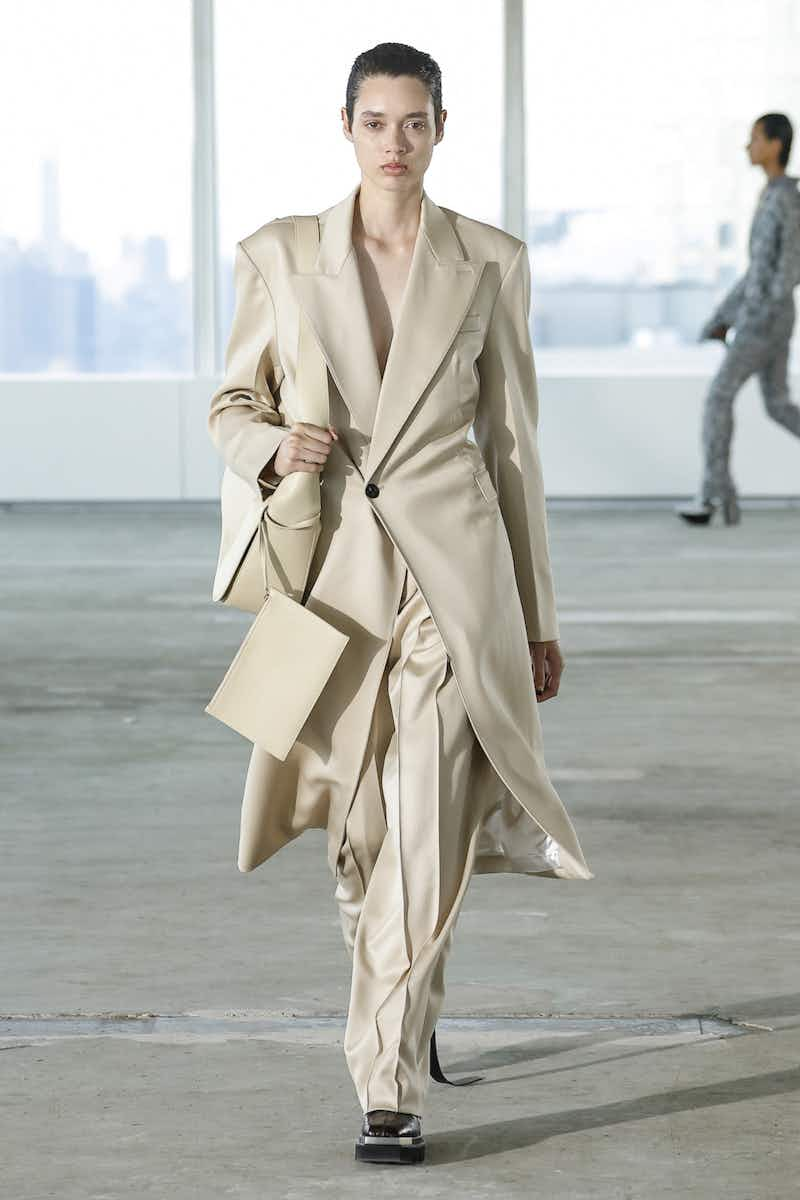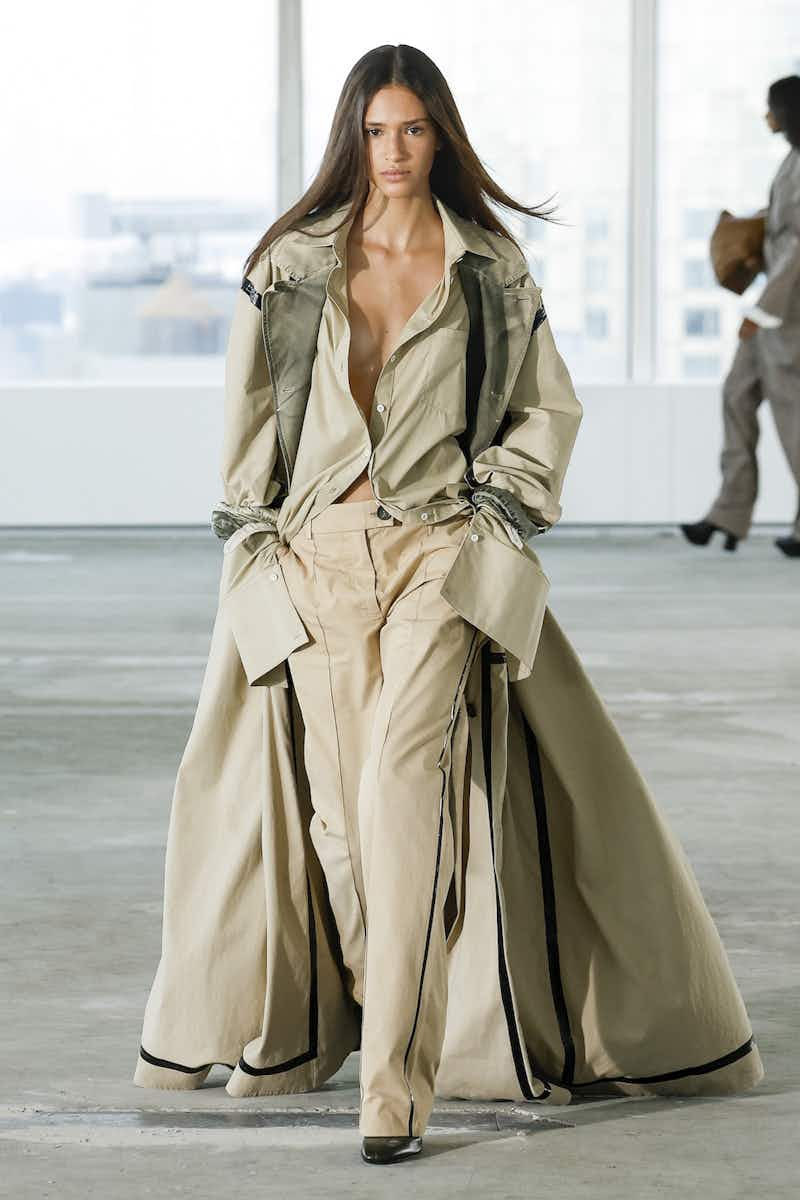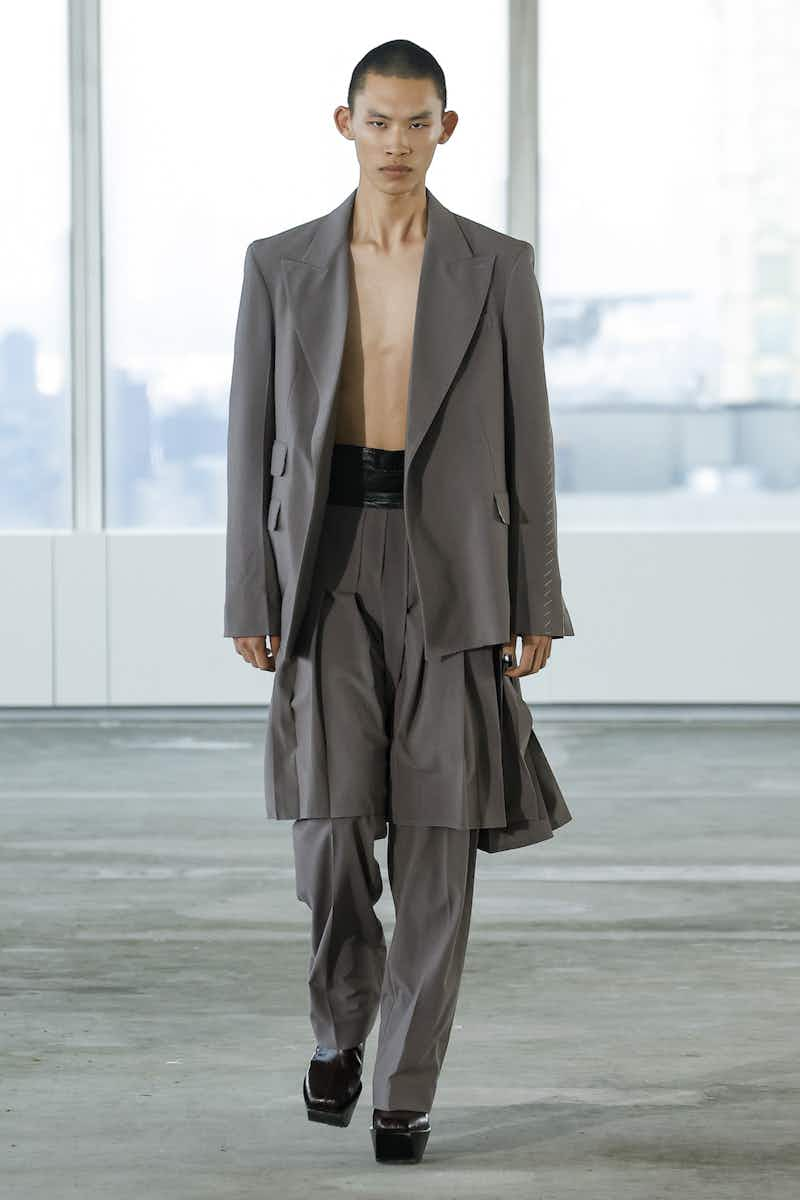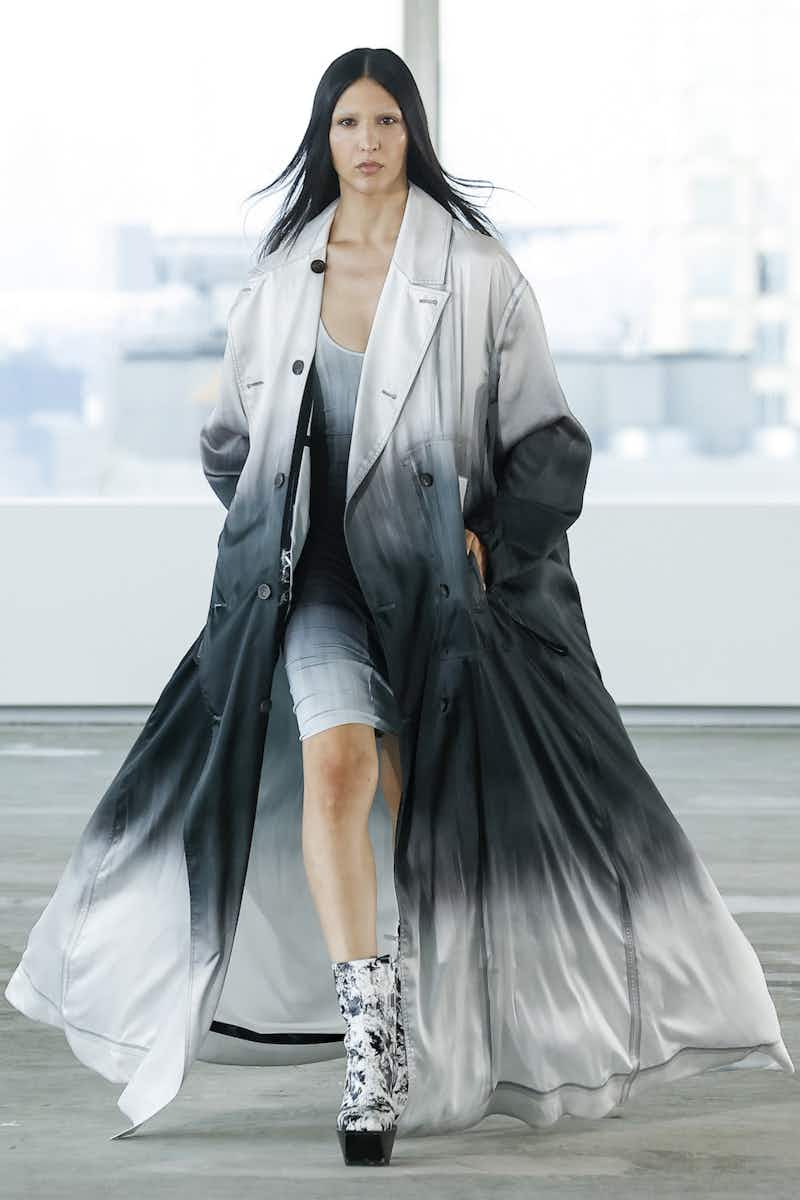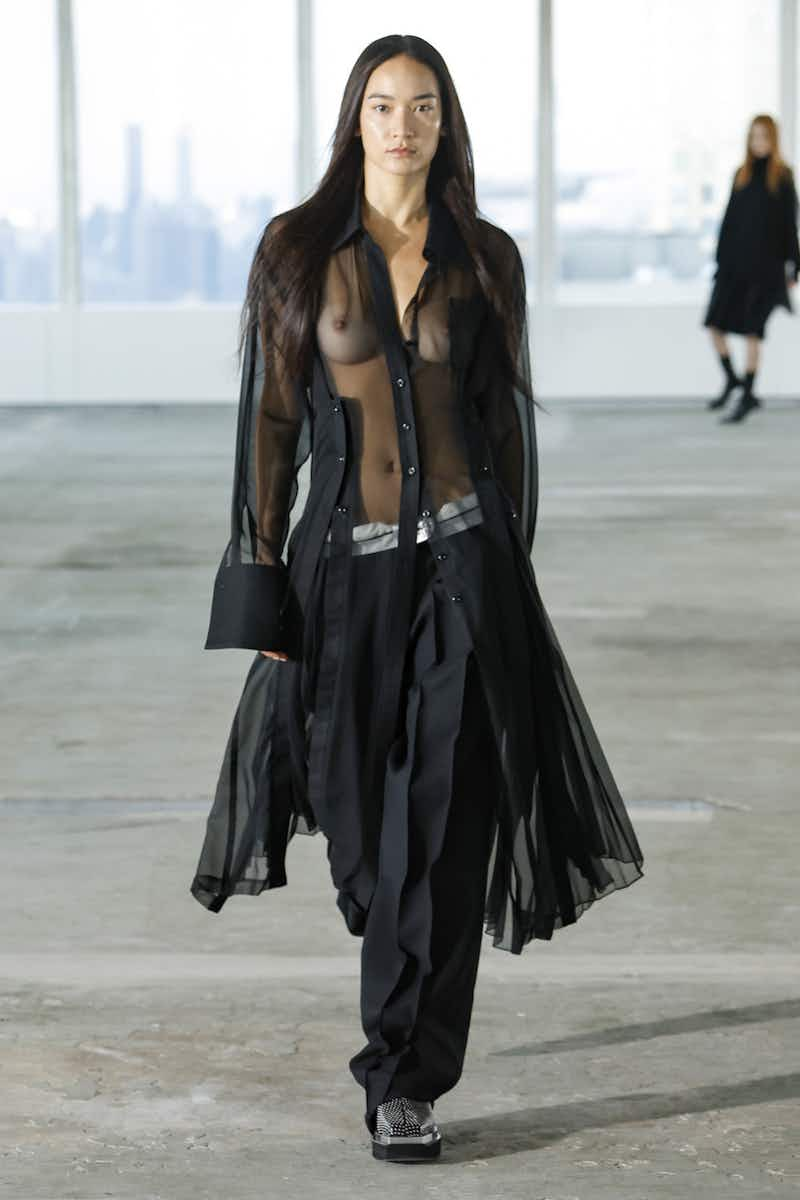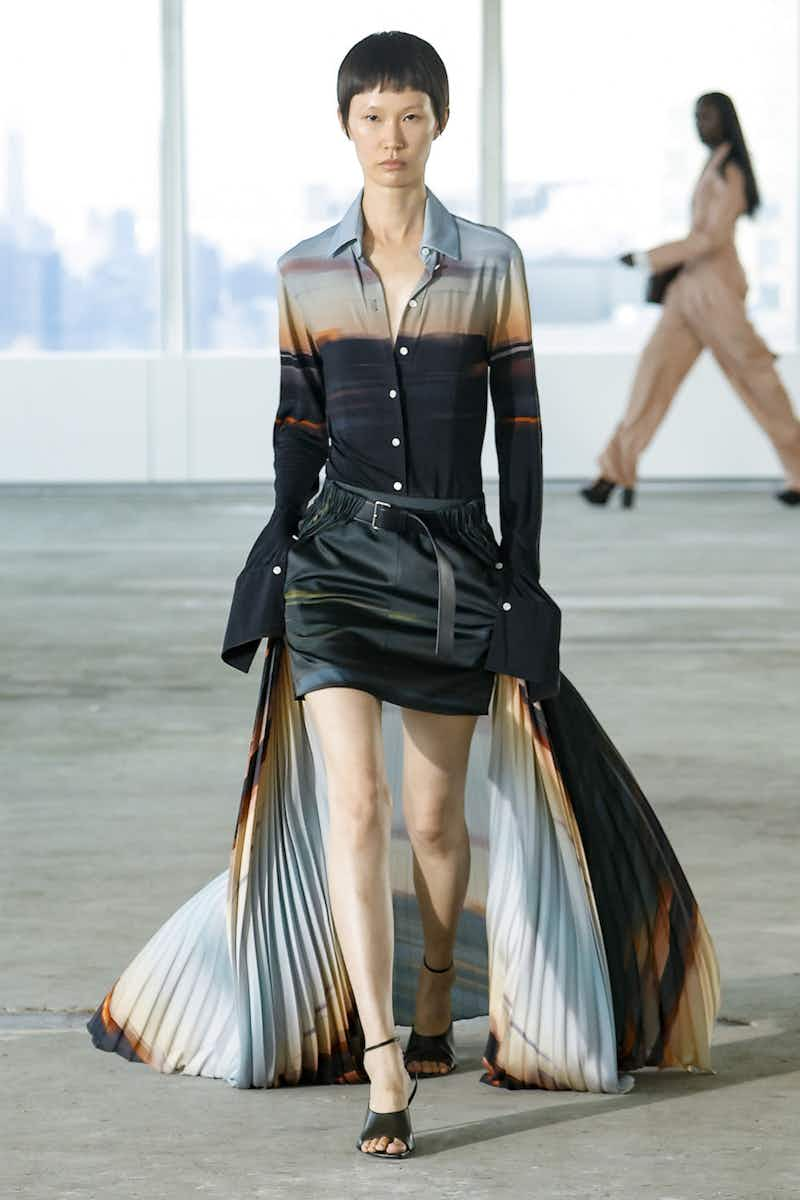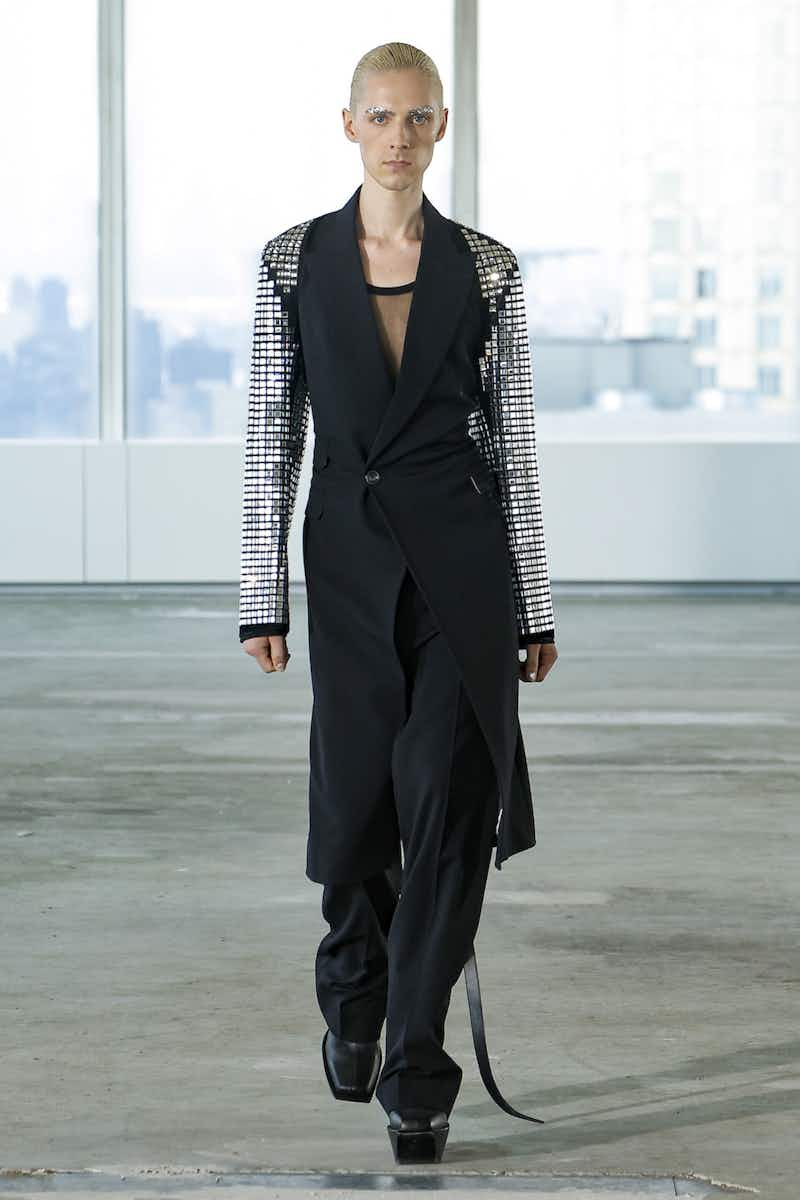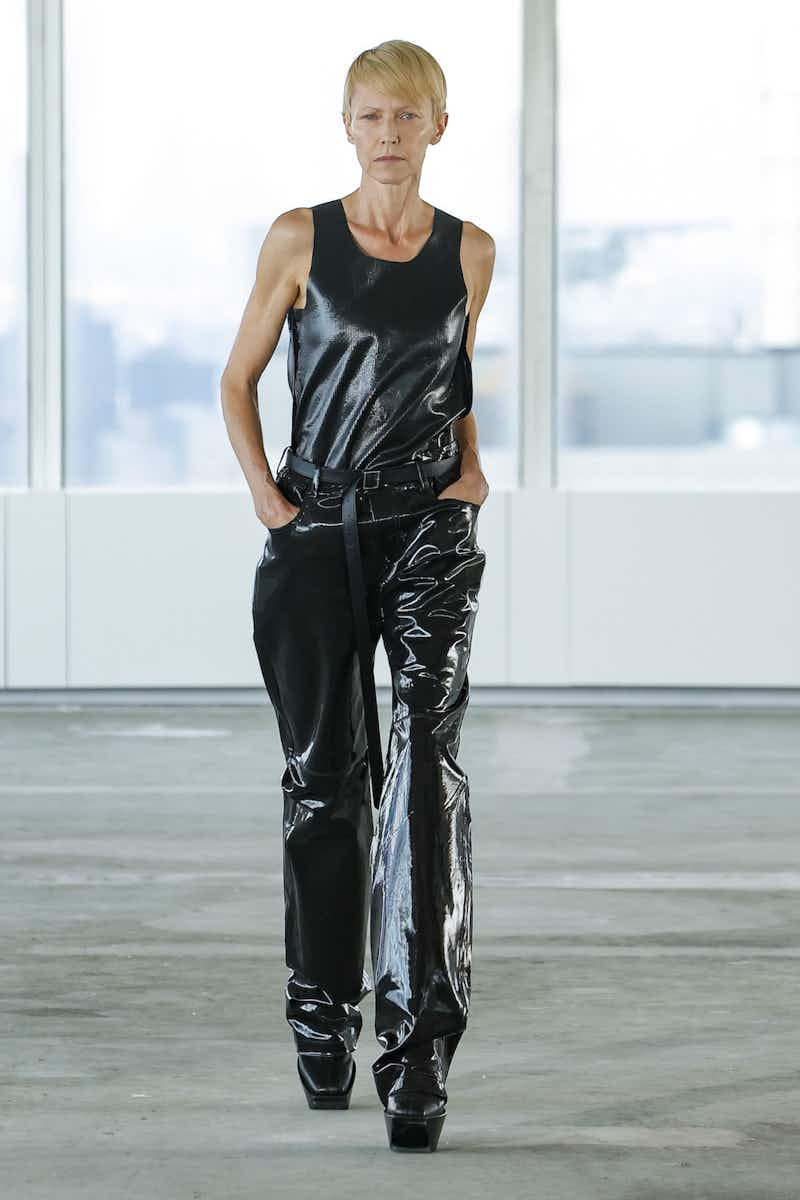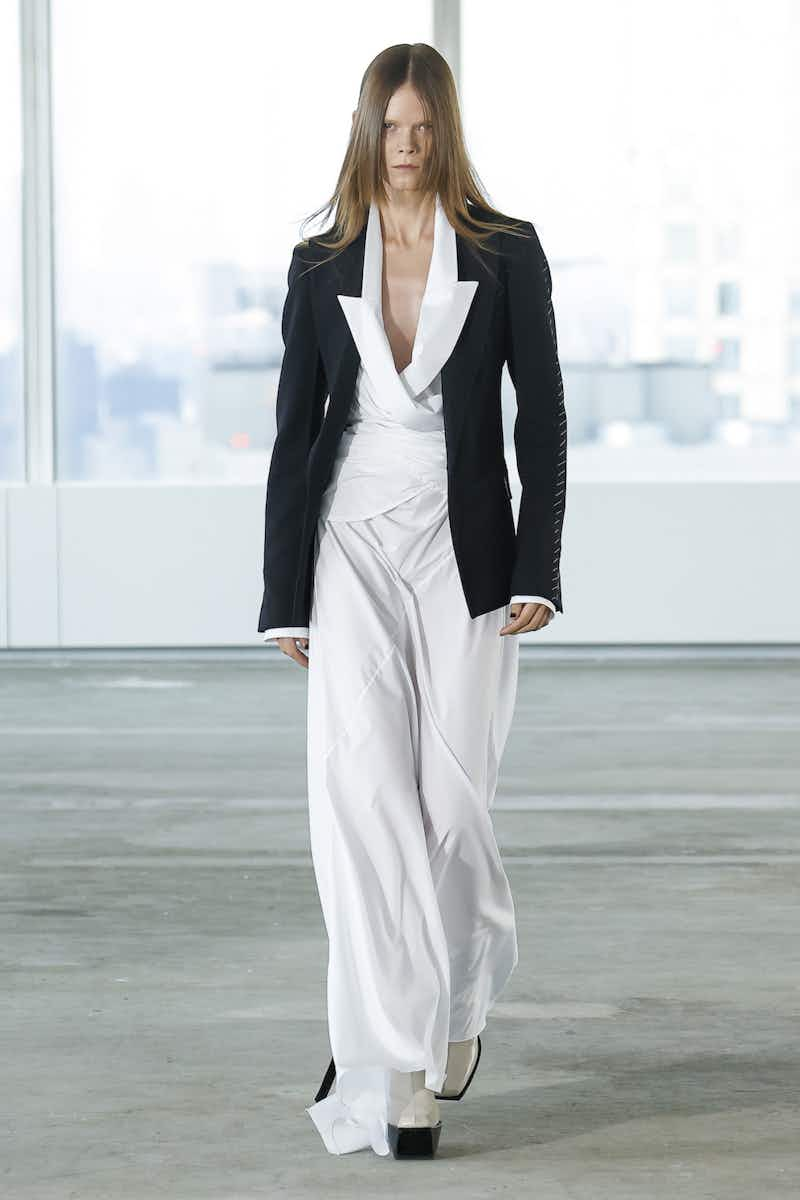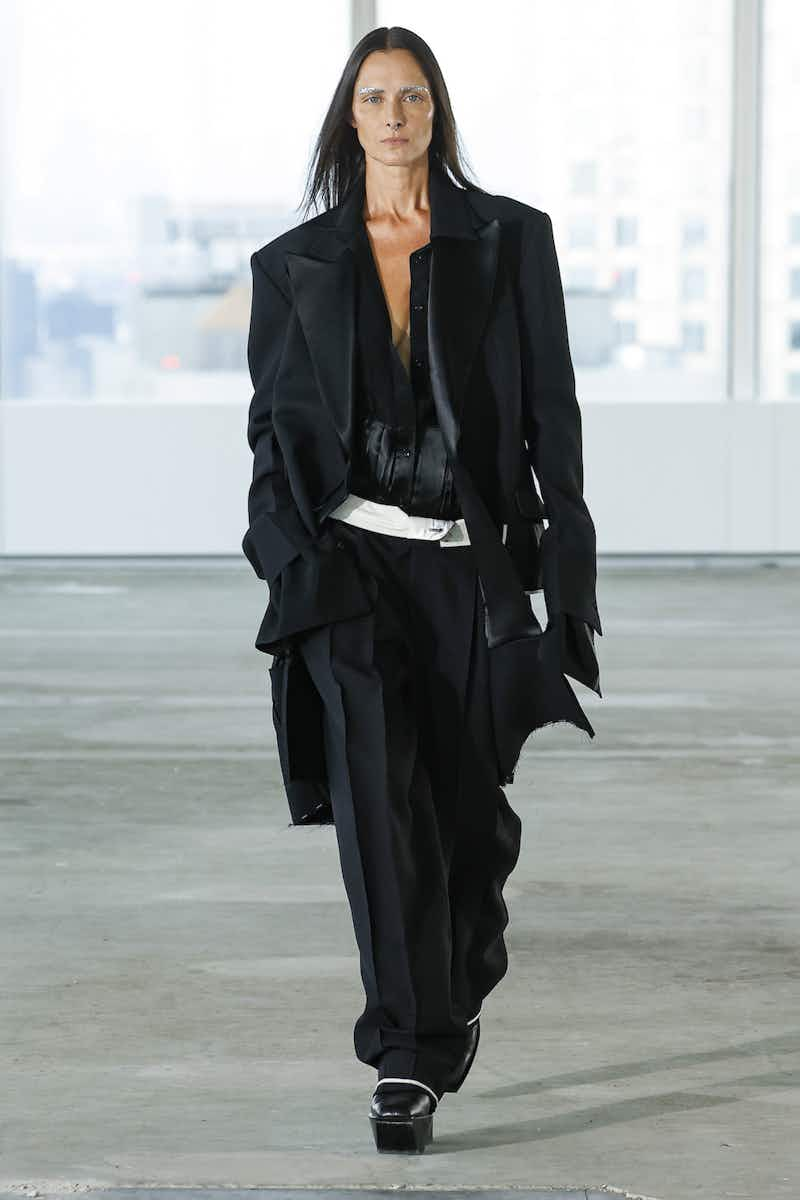 Lisa Rinna stole the show at PRISCAVera, which was full of humour, great casting (by London-based Madeleine Østlie) and sex-appeal. The Real Housewives of Beverly Hills star, who took to the runway in what MailOnline will undoubtedly call a ​"figure-hugging white dress", said that she planned to walk her first show ​"as if I had a shot of tequila" – a sense of fun and confidence we've come to expect from the brand founded by Prisca Vera Franchetti in 2015.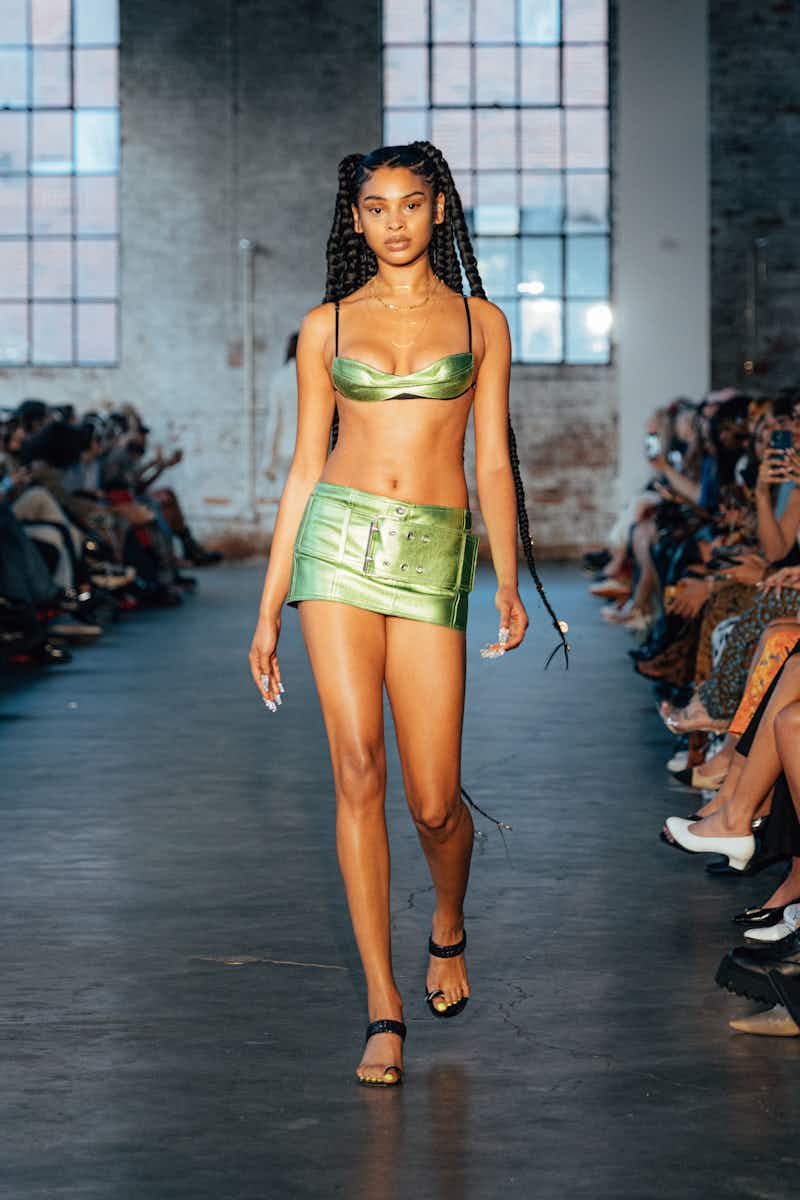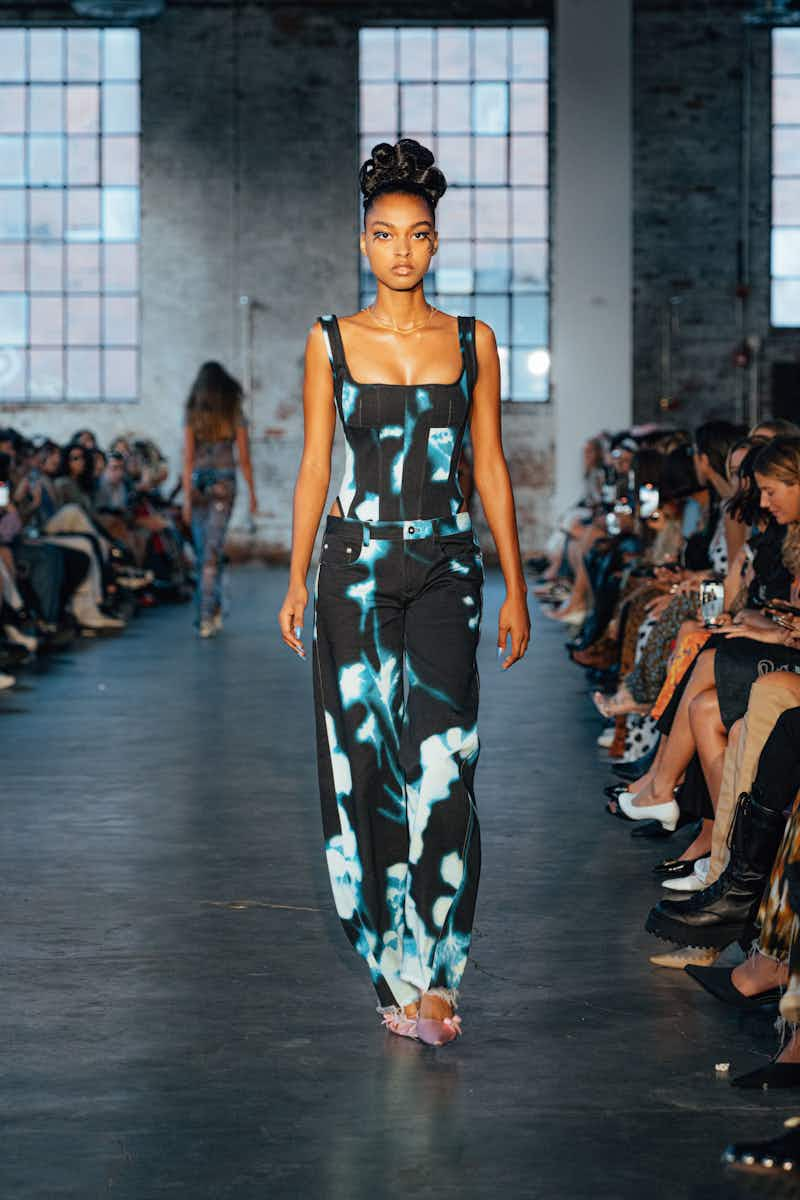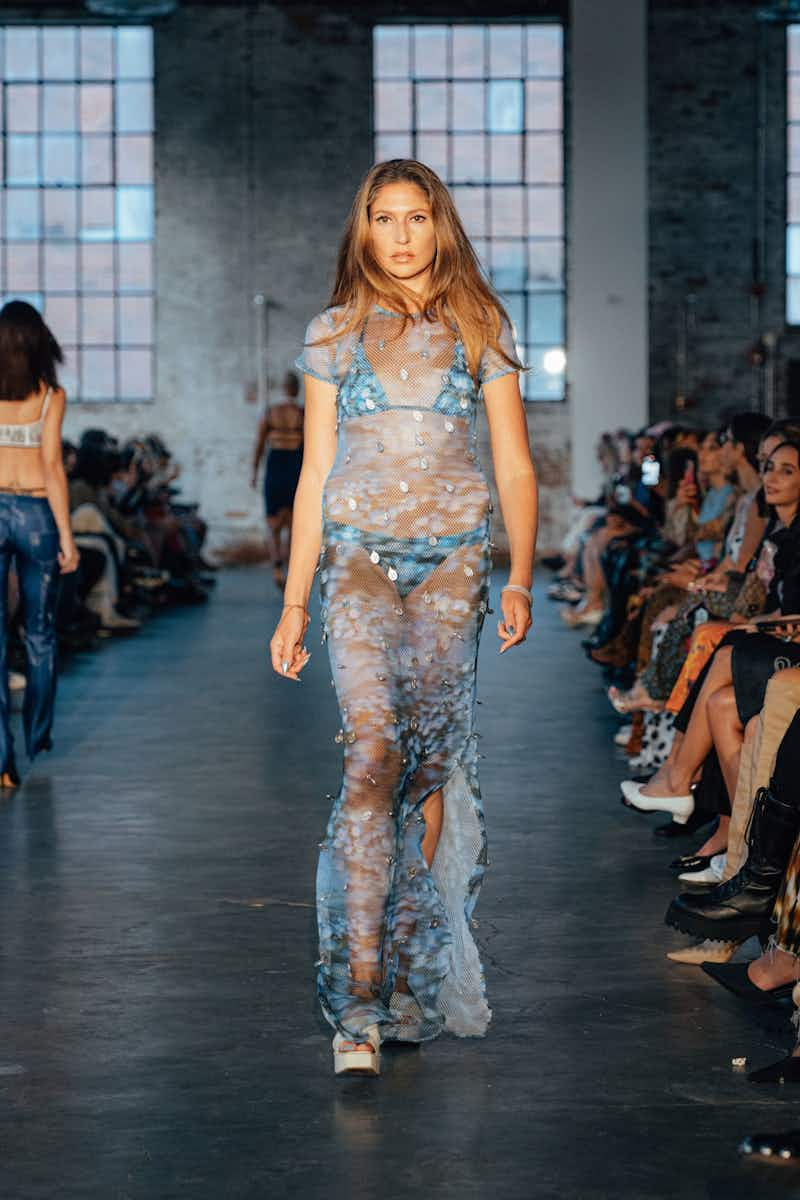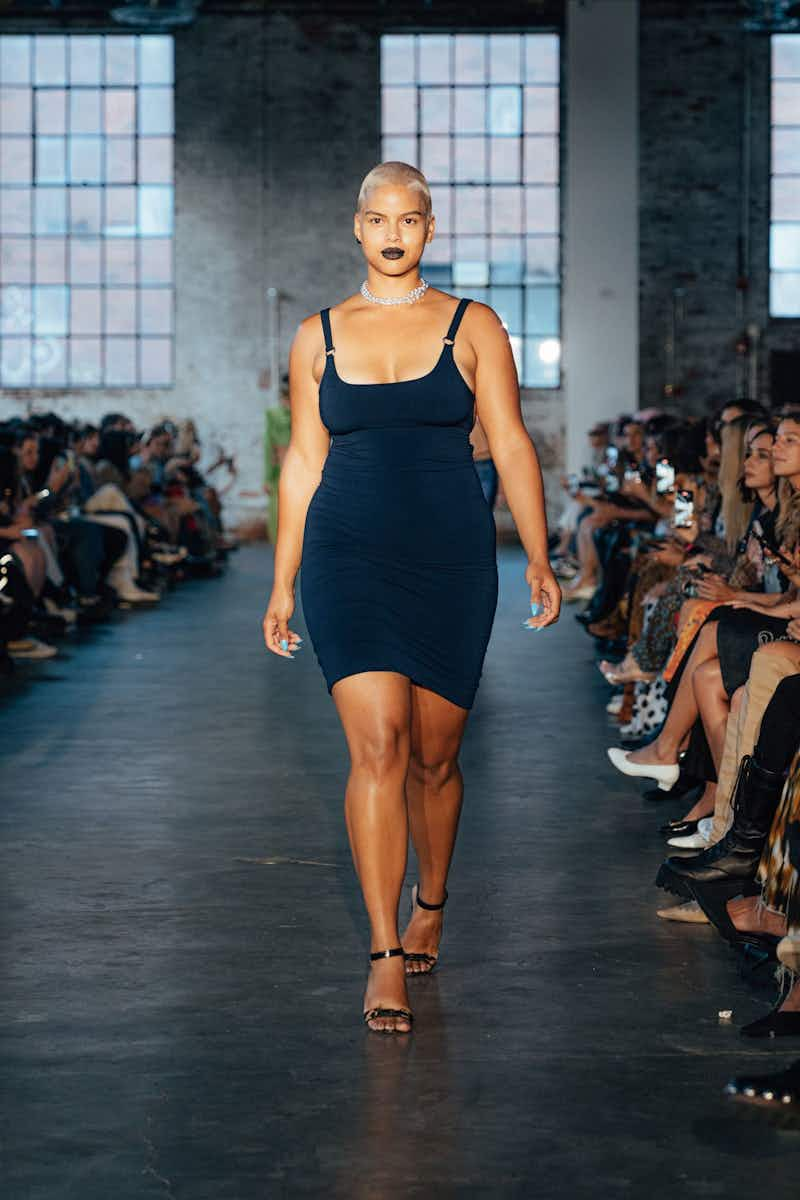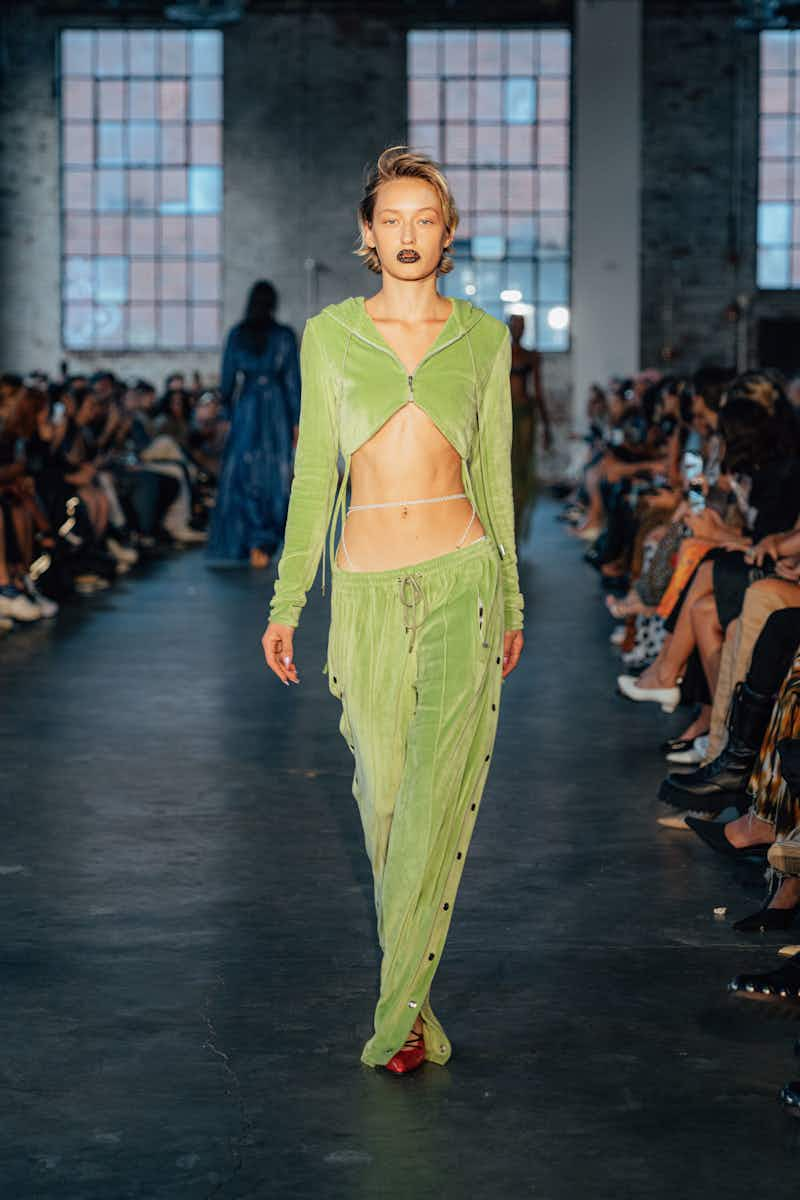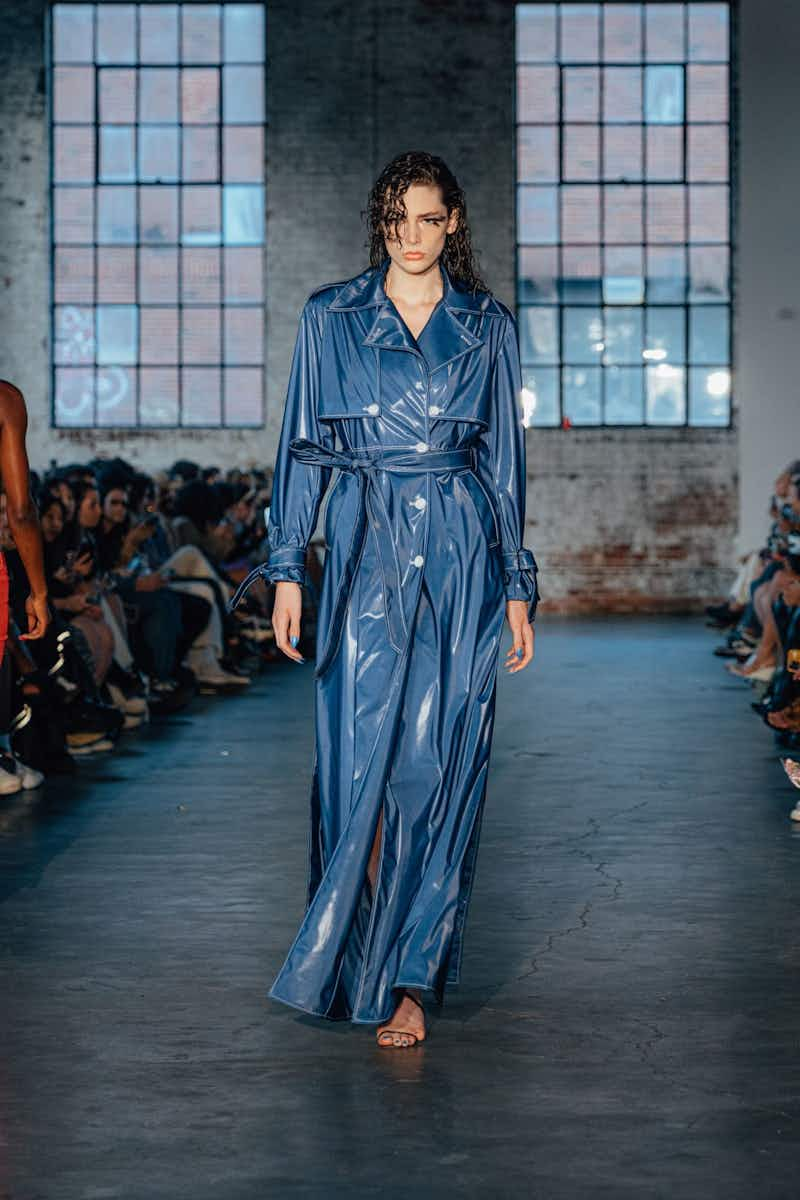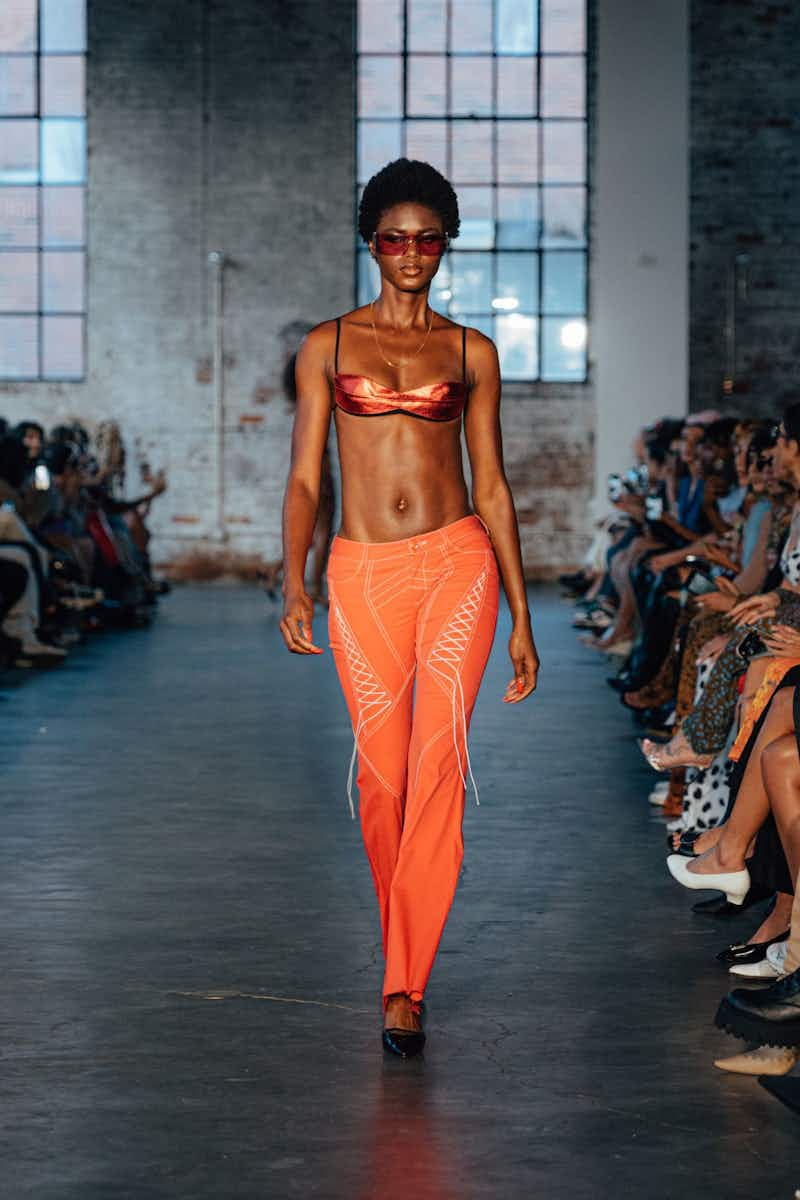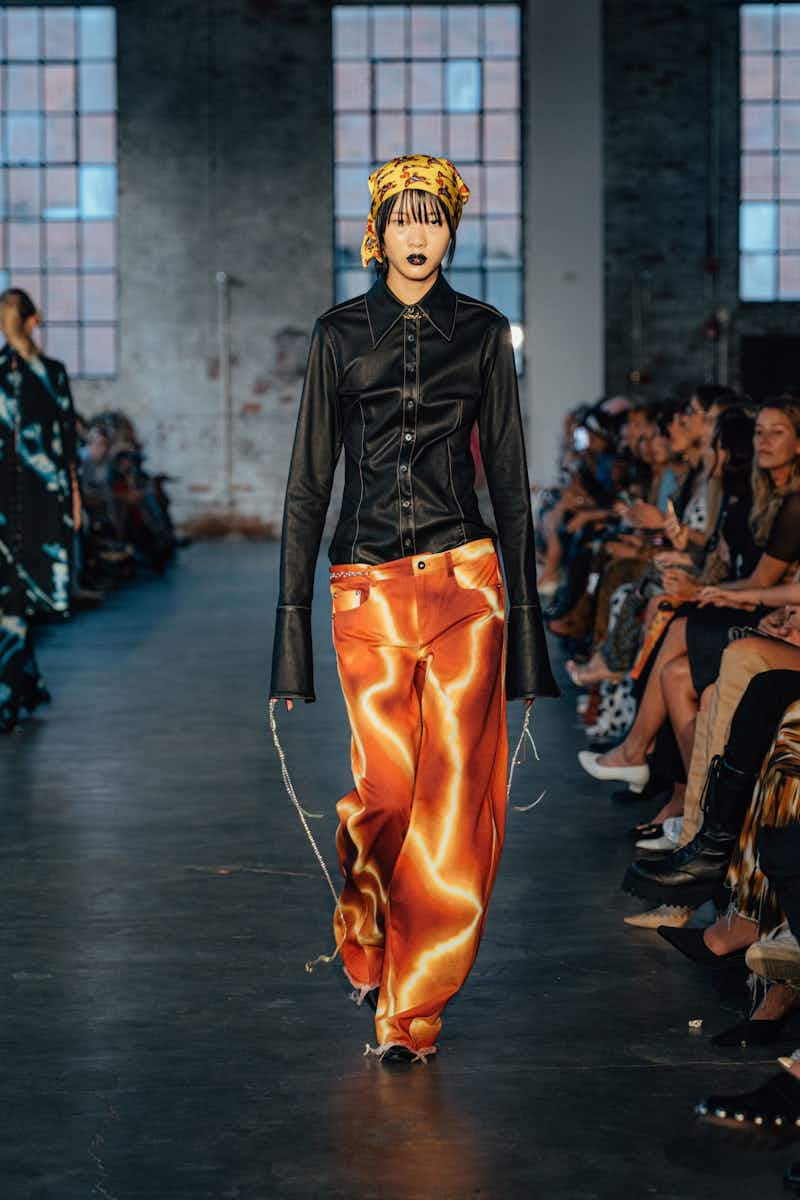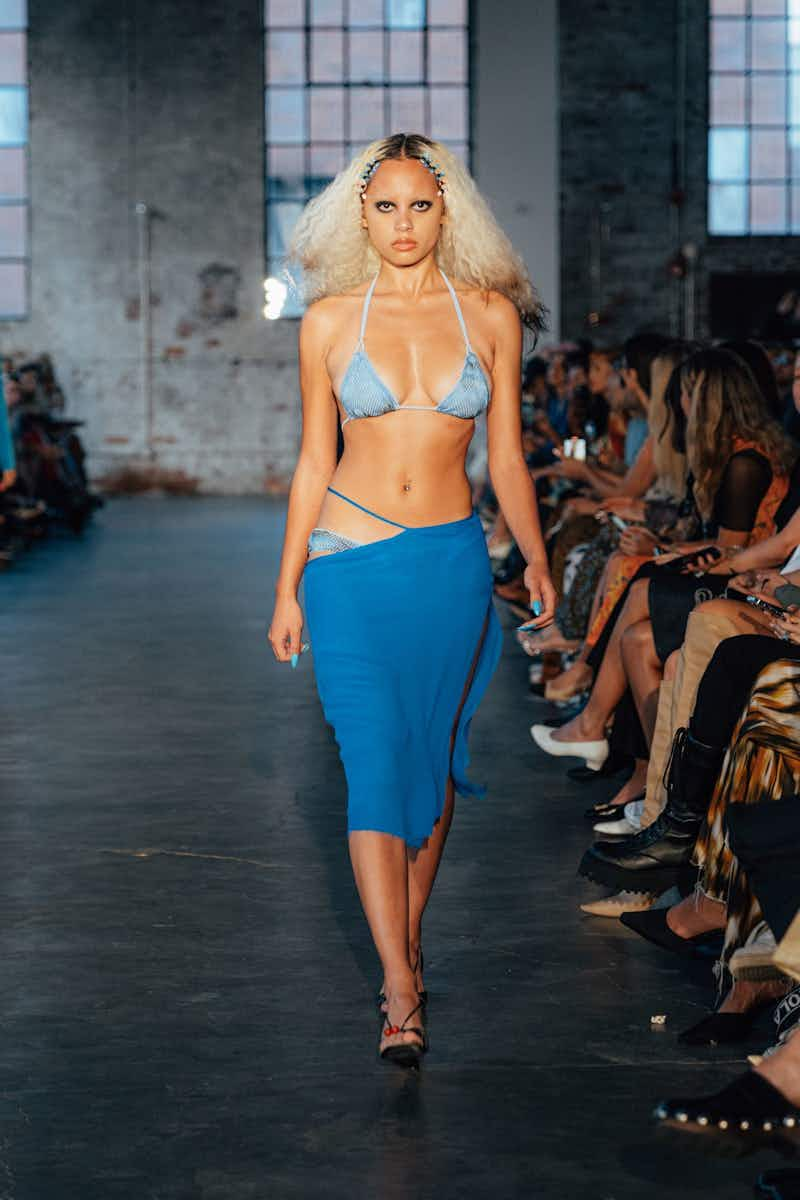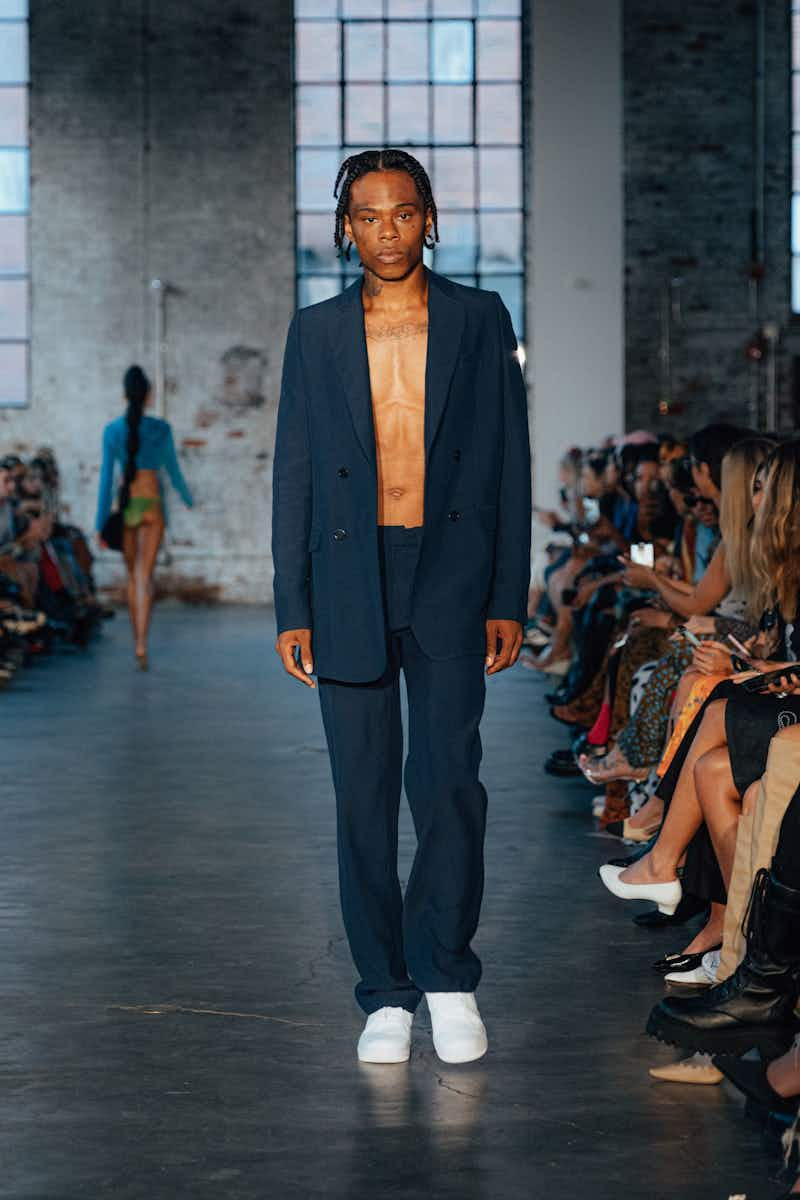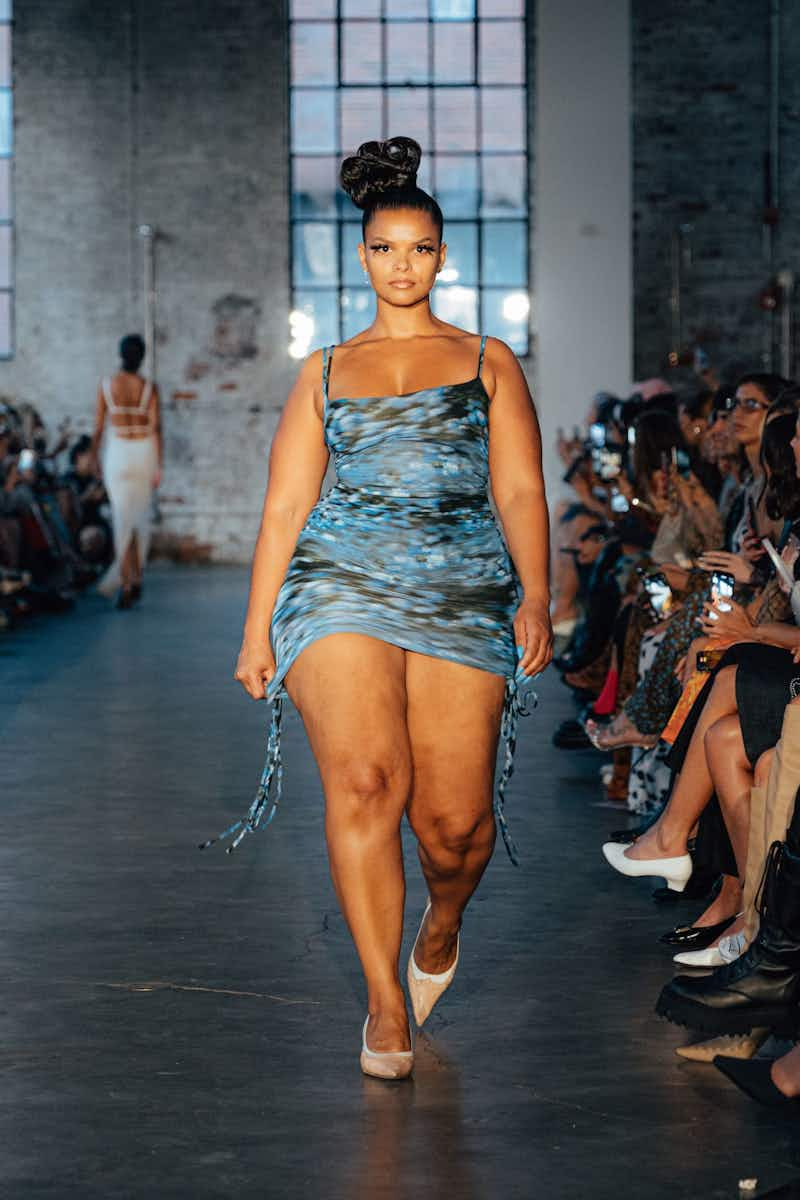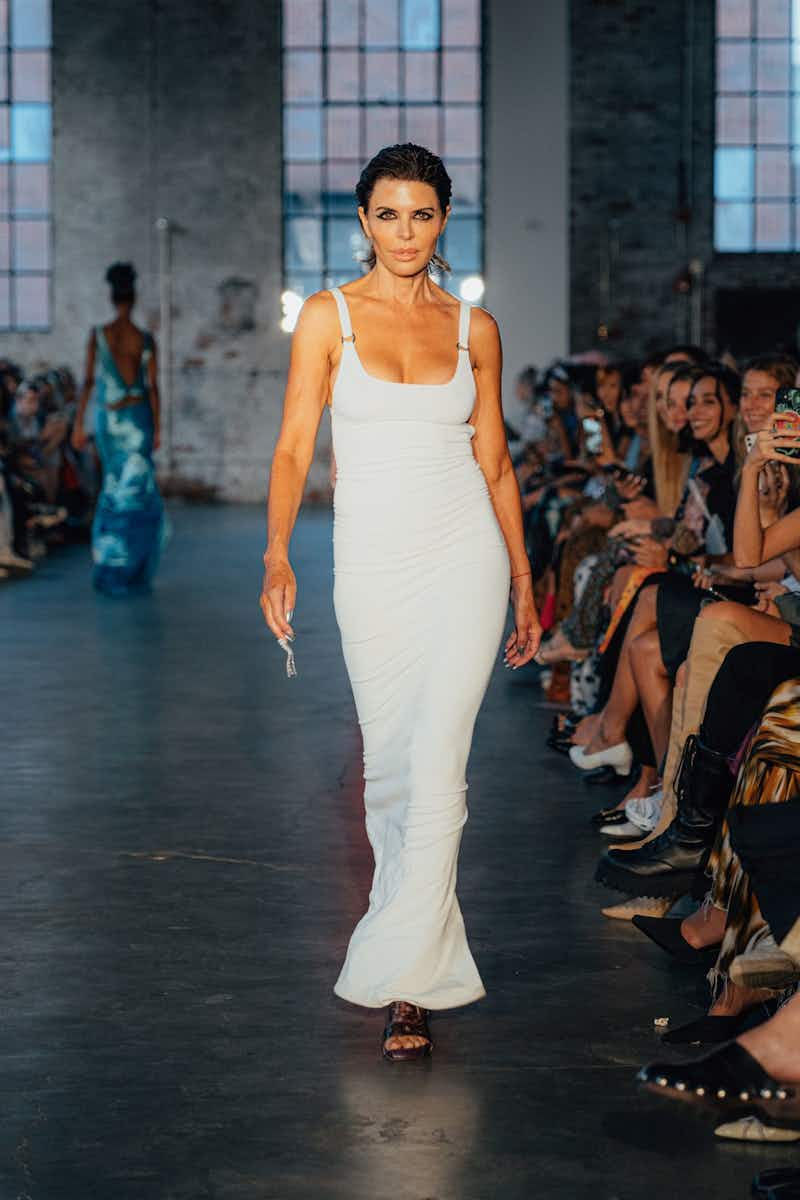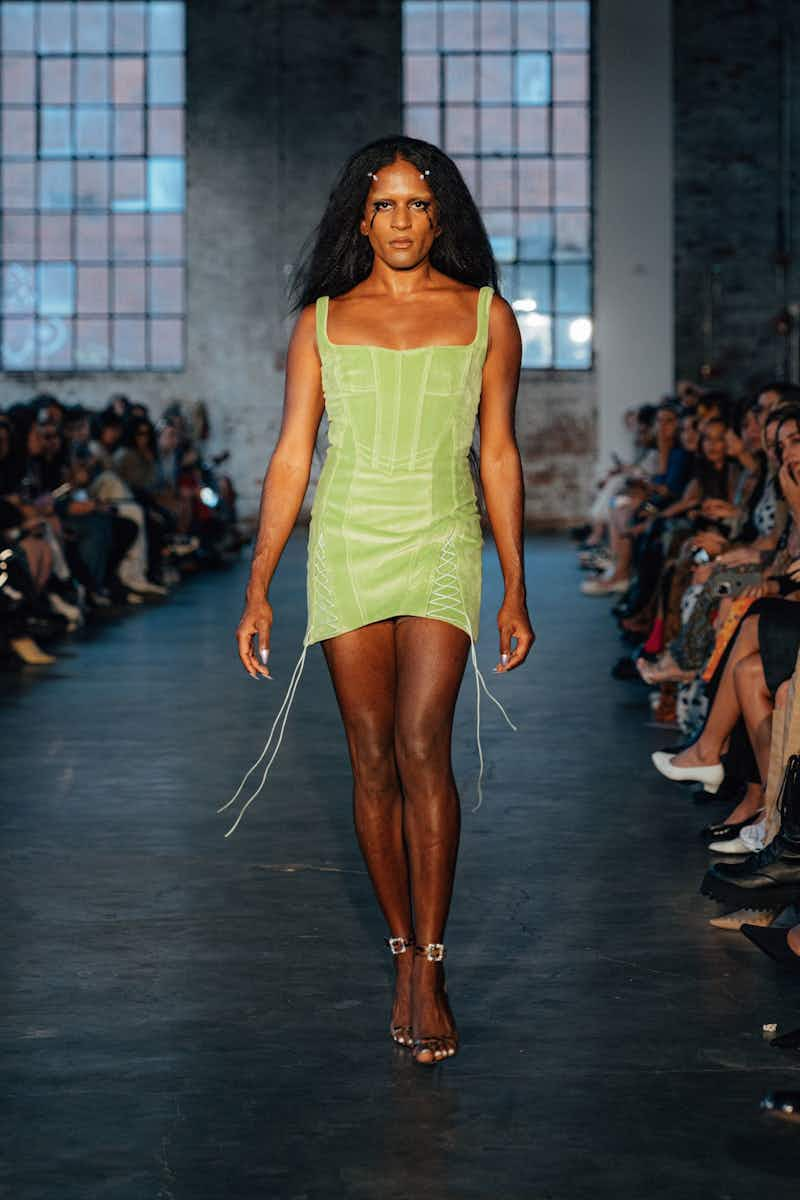 An imagined sunrise rose over an imagined pier upon a very real Park Avenue on Monday morning, as Stuart Vevers presented Coach's SS23 collection.

A Yorkshireman In New York, Vevers has spent the best part of a decade paying tribute to the brand's homecity, and this season was no exception. Opening on a beach-coloured pier, the set teamed with choreographed snapshots of life, mixing the city's past and present via a beatnik guitarist, a returning sailor, a young couple holding hands, and a group of voguing city kids.

Whereas last season was about imagining a place where ​"it's always the golden hour and things are happening," this season was all about the very American promise of potential.

"I imagined a Coach world inspired by New York City's piers, a place with a unique cultural legacy, and a unique feeling of possibility," Vevers said.

Those new possibilities extended to the clothes, too, where denim was ​"distressed", fisherman's jumpers ​"love-worn" and varsity sweaters ​"overdyed". The effect was pieces that were stretched and changed beyond all limitations. In the case of several bags – made from repurposed jackets and football leather – they were retooled into new pieces all together.

An updated version of the Tabby, made from a colourful jelly material, added bursts of pop, as did the presence of Lil Nas X, the brand's new global ambassador in his first-ever runway appearance. A vision of America's next gen, on a stage that paid homage to its past.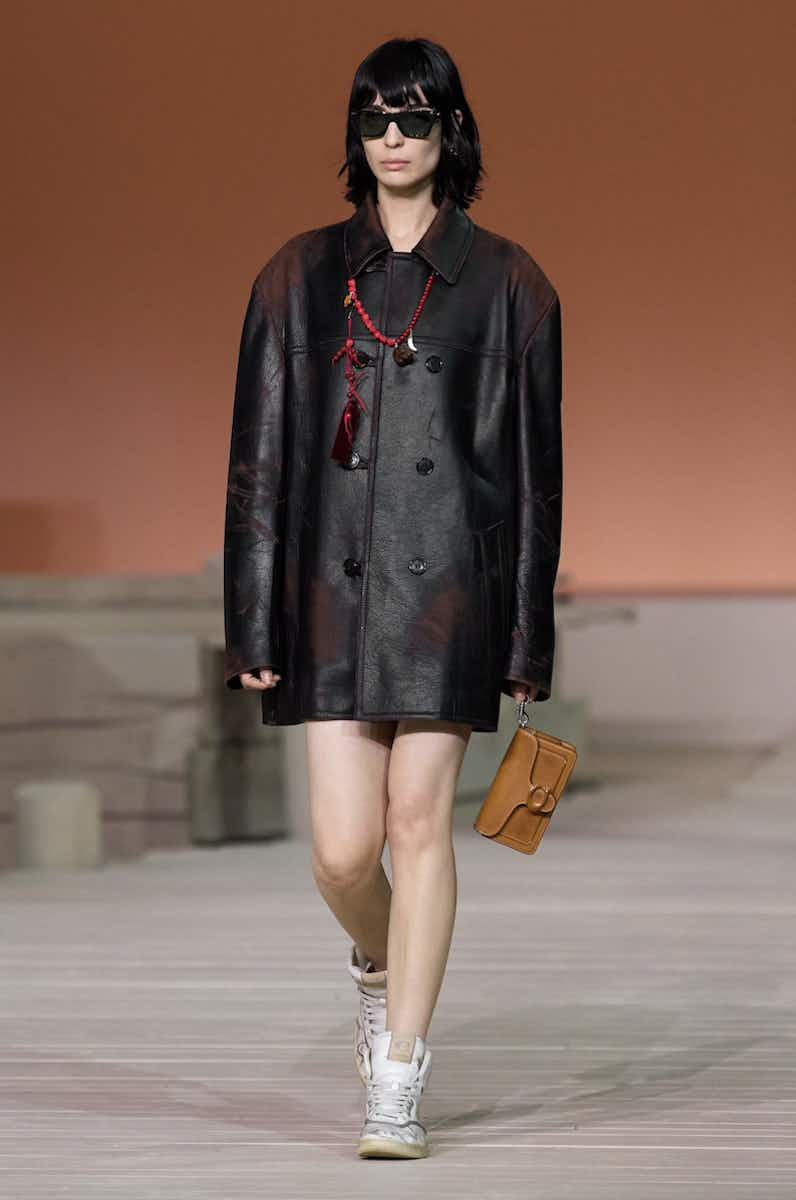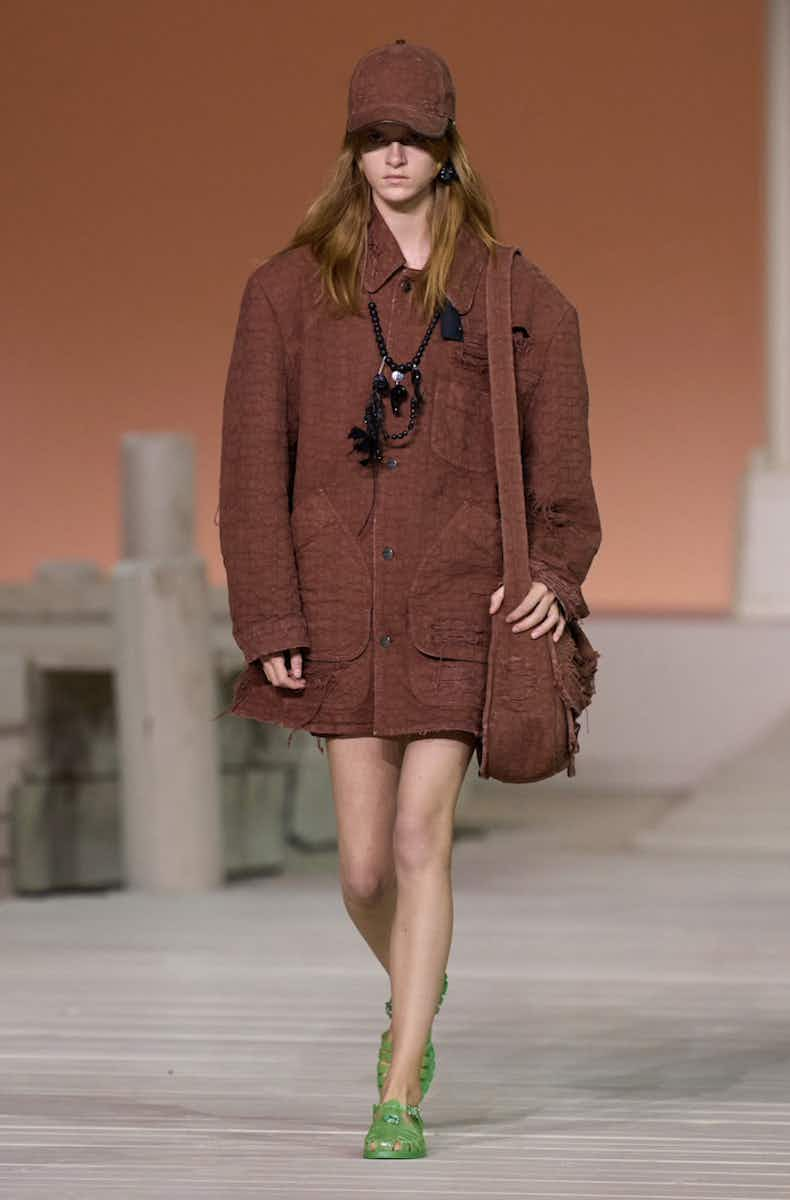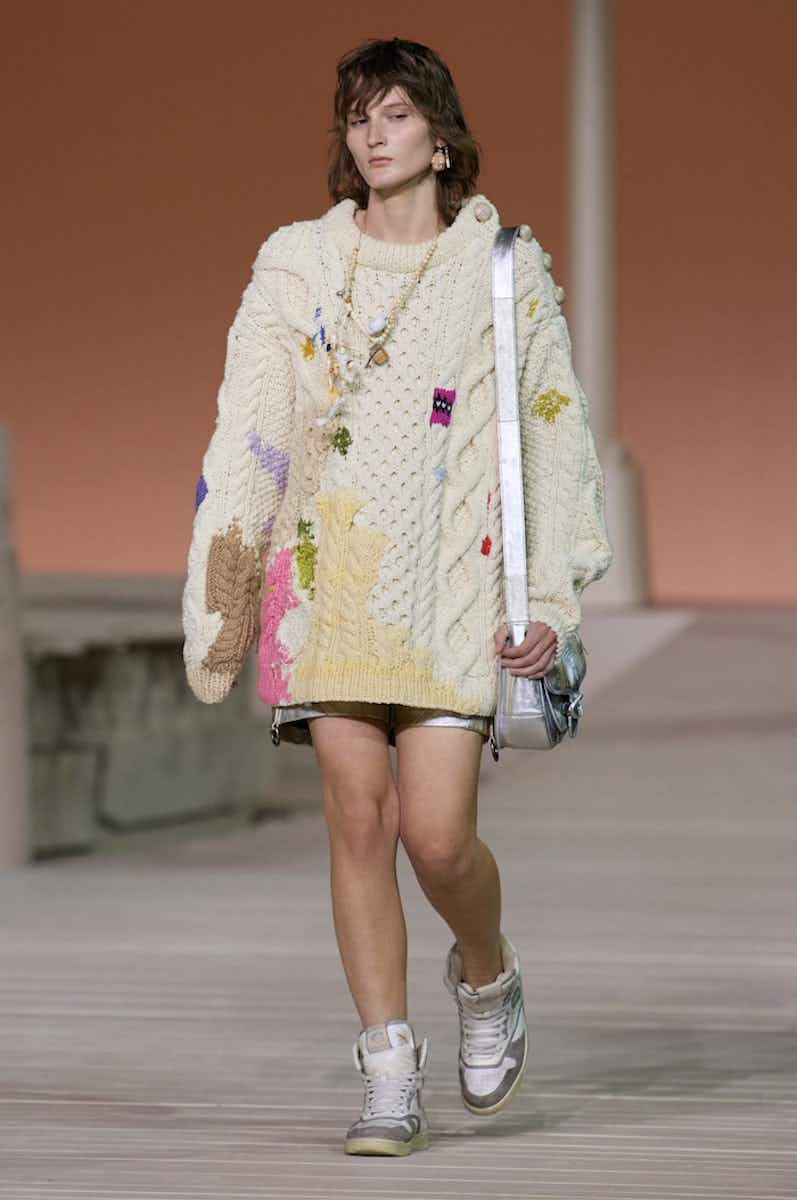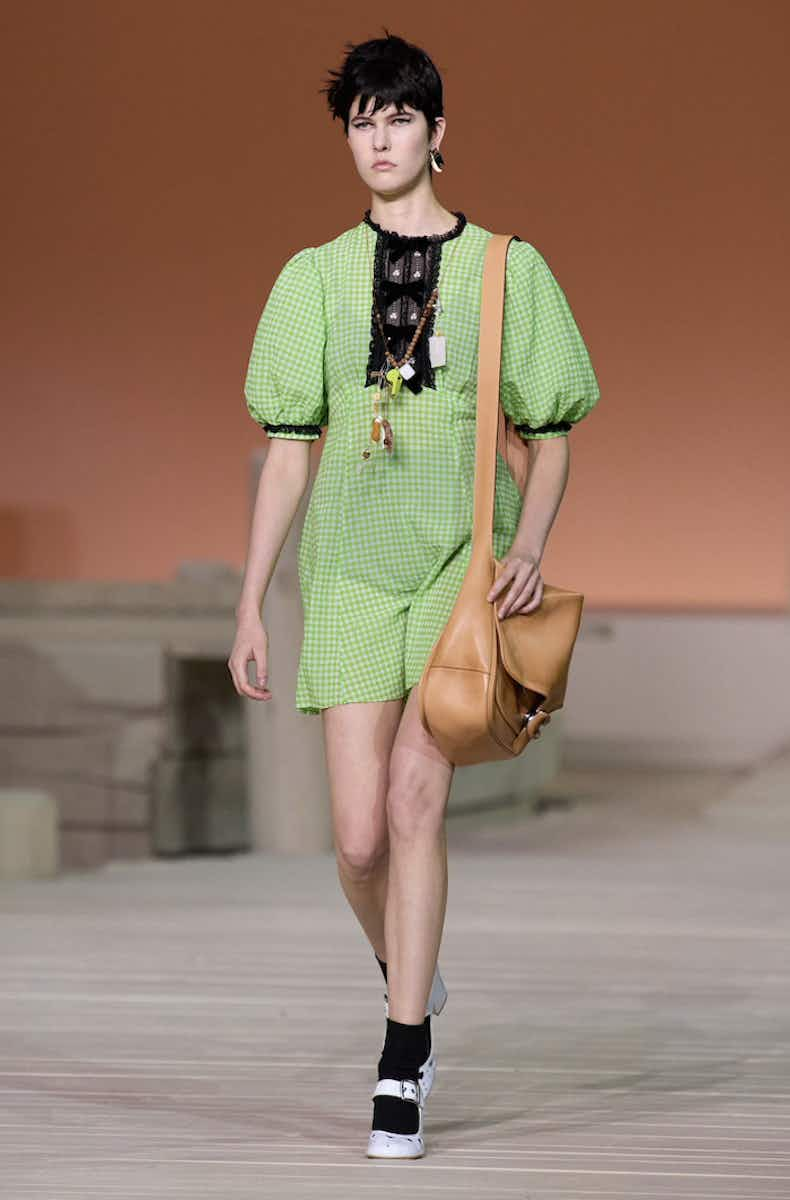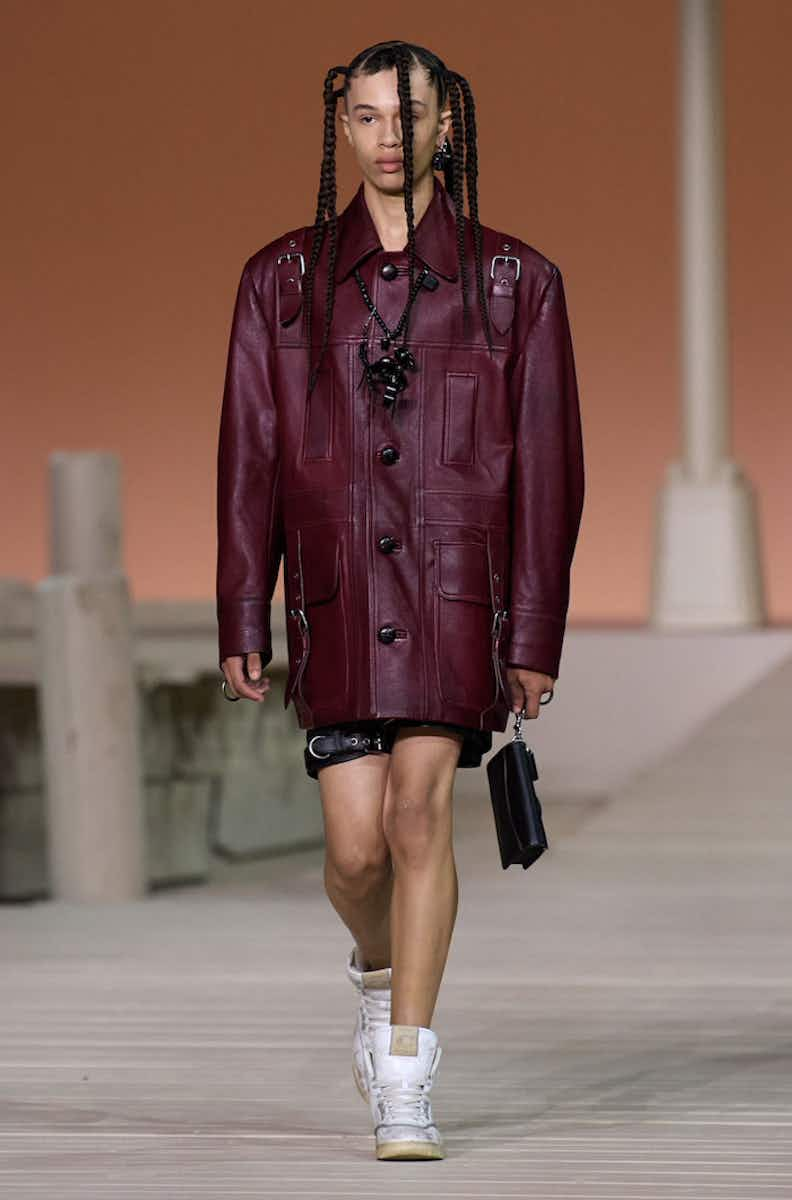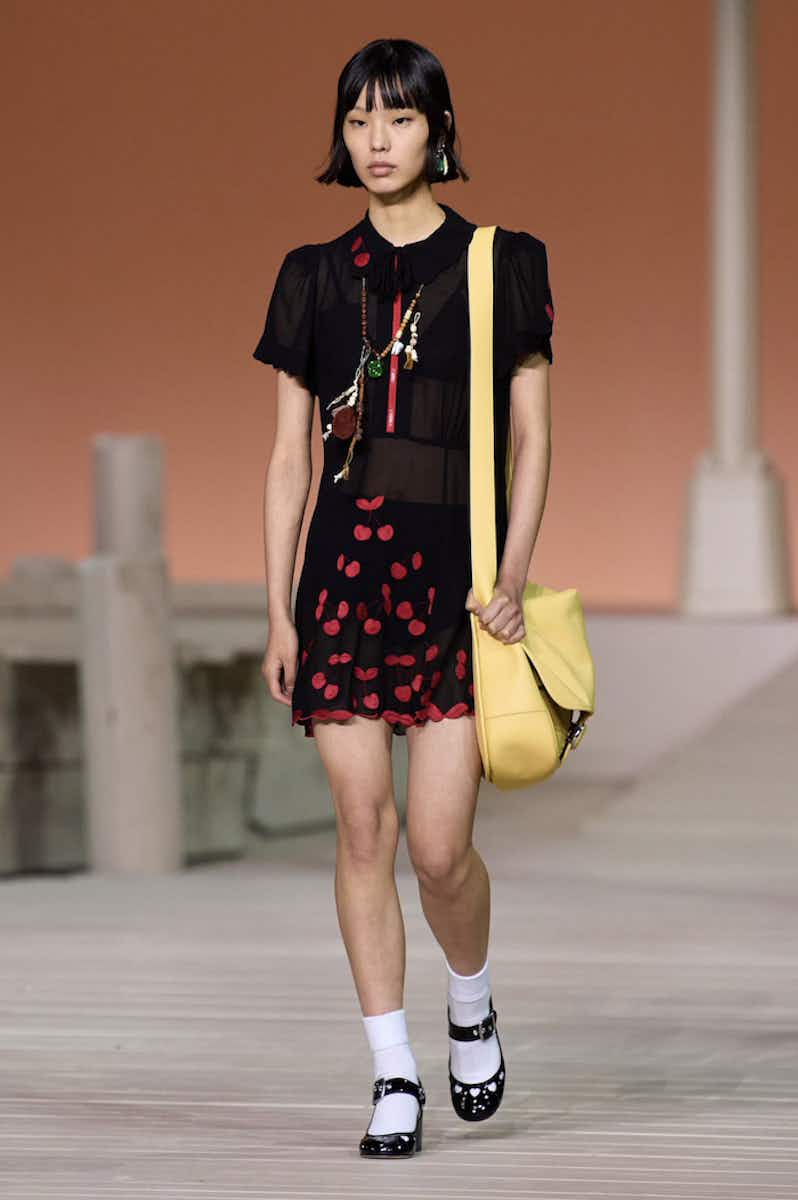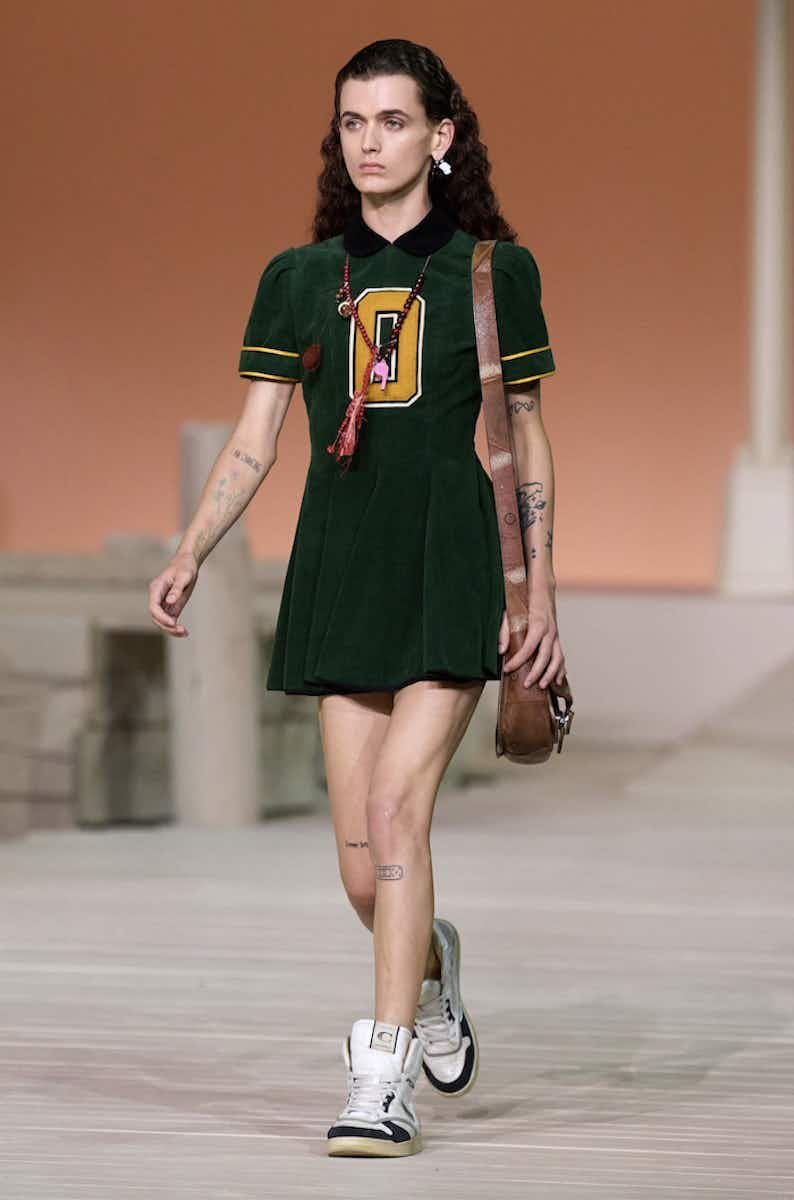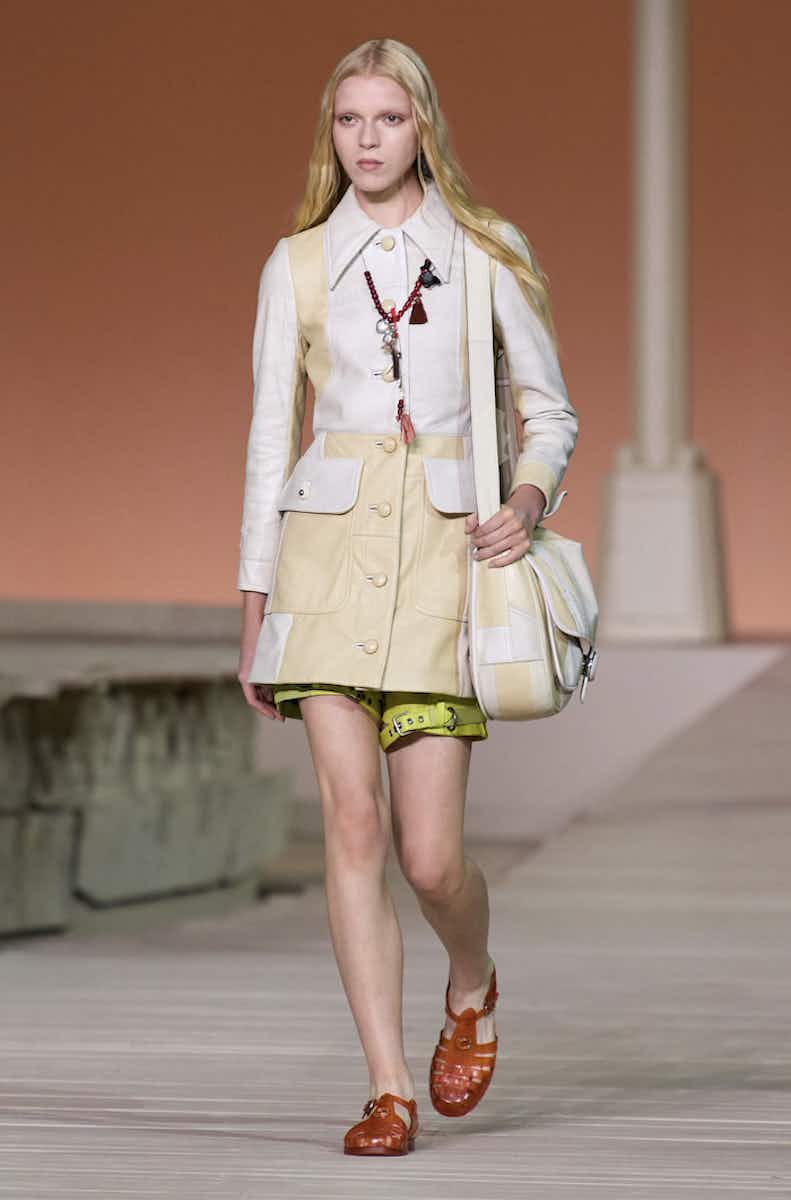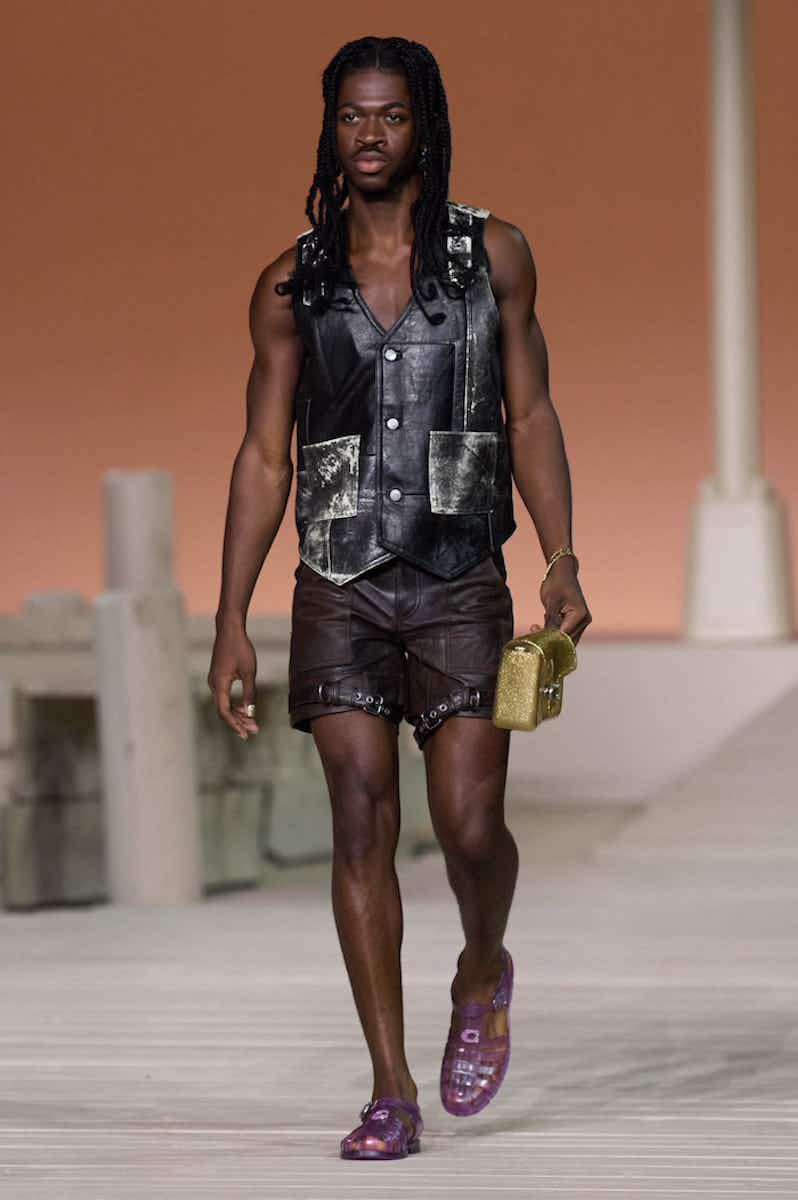 Often, what makes Maryam Nassir Zadeh's collections so compelling are the code-cracking nuances that slot together. Her designs are quietly, carefully considered, and sometimes unexpected; interpretations of sex are studied and romantic, her influences have, in the past, involved Carrie Bradshaw and the textures of a towel.

She's irreverent in her approach, making ordinary things like paper bags intriguing. And while existing in a world of well-read arty types, her instinctual, respectfully odd garment pairings transcend exclusivity – rather, they warmly embrace all. This season, MNZ's cool blue, stone grey and earthy palette mirrored that of her recent European and Middle Eastern trips, which she documented over the summer in lo-fi snaps of sunsets, city landscapes and cobalt seas. And it's a collection that feels as calming as taking a few weeks off, but with MNZ's curious eye, rocky mountainscapes become delicate, sheer tops creasing over the chest, or an amber leather bomber thrown over a whispy, knee-length duster, and waves – which she references in her show notes – are blue tank tops, a turquoise leather jacket and ghostly sheer dress.

But it's the moments that feel like undressing – white stockings, a one-legged trouser-skirt, shirts buttoned open – that play to Zadeh's strange, poetic understanding of turning fleeting moments into the main event. Here, the balminess of a holiday romance comes alive – and it's pretty intoxicating. TS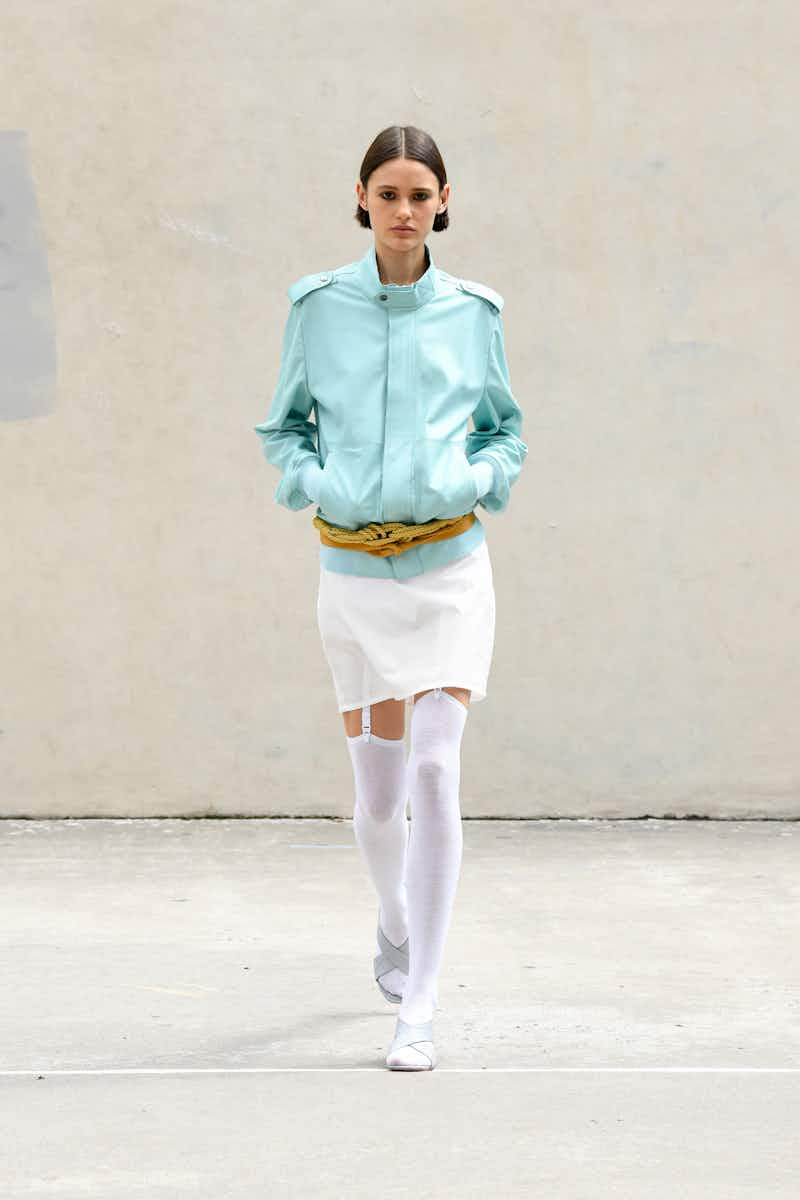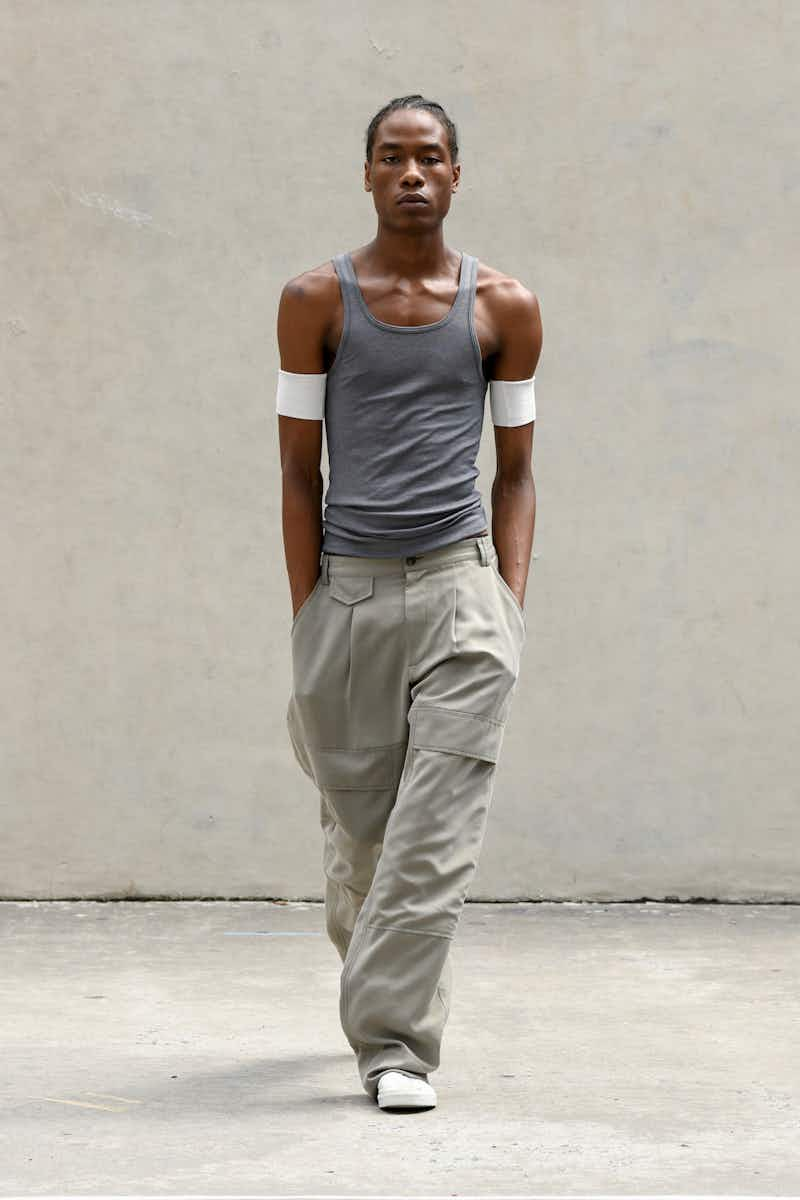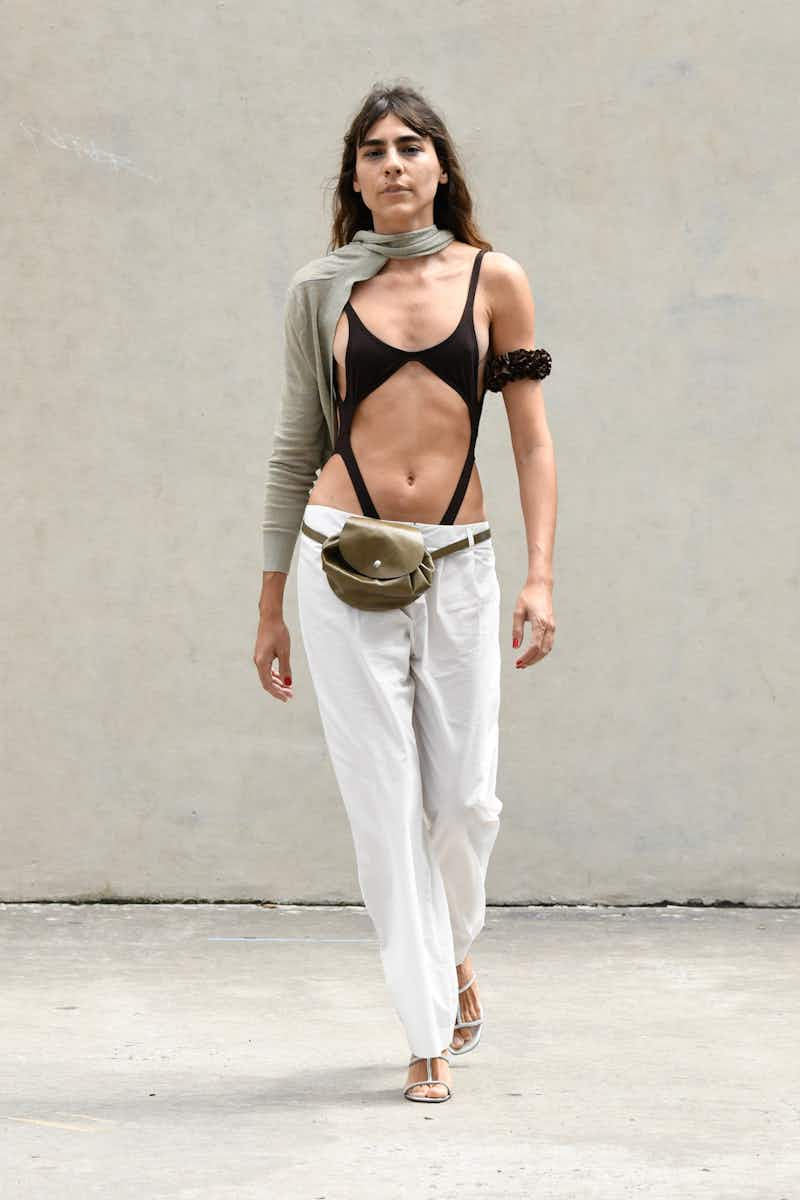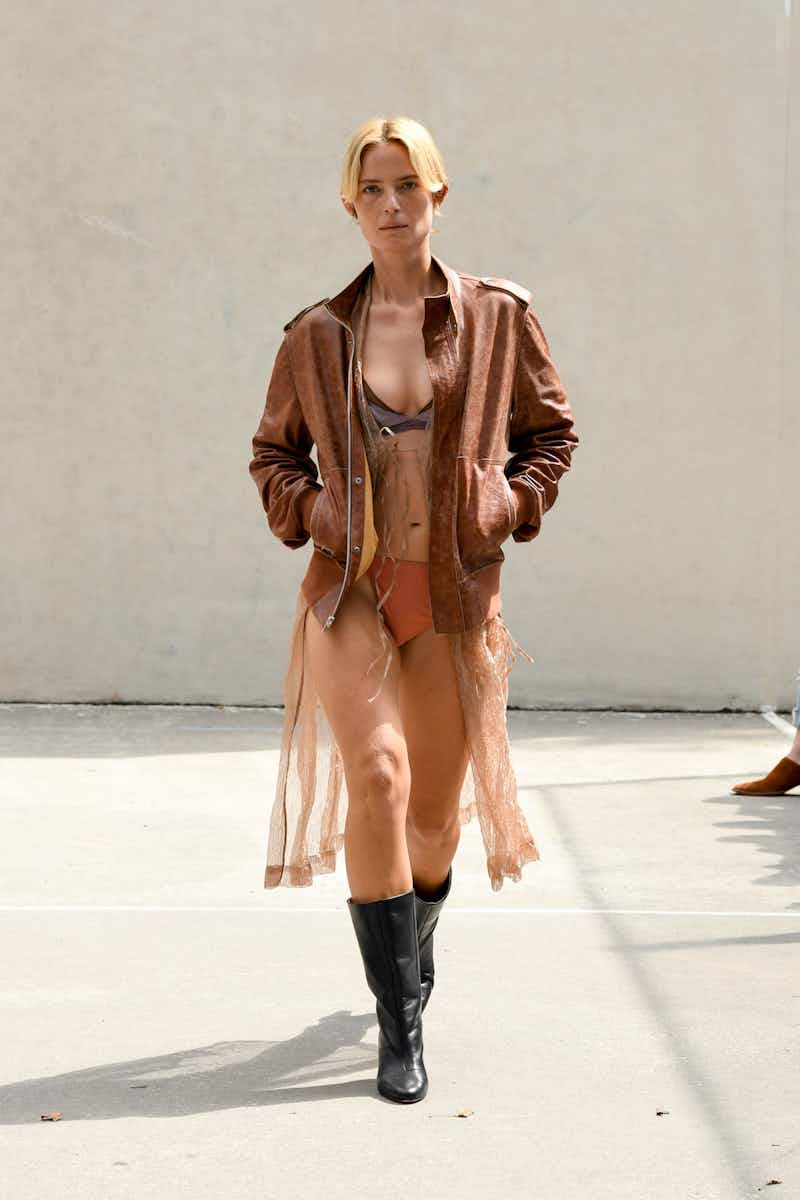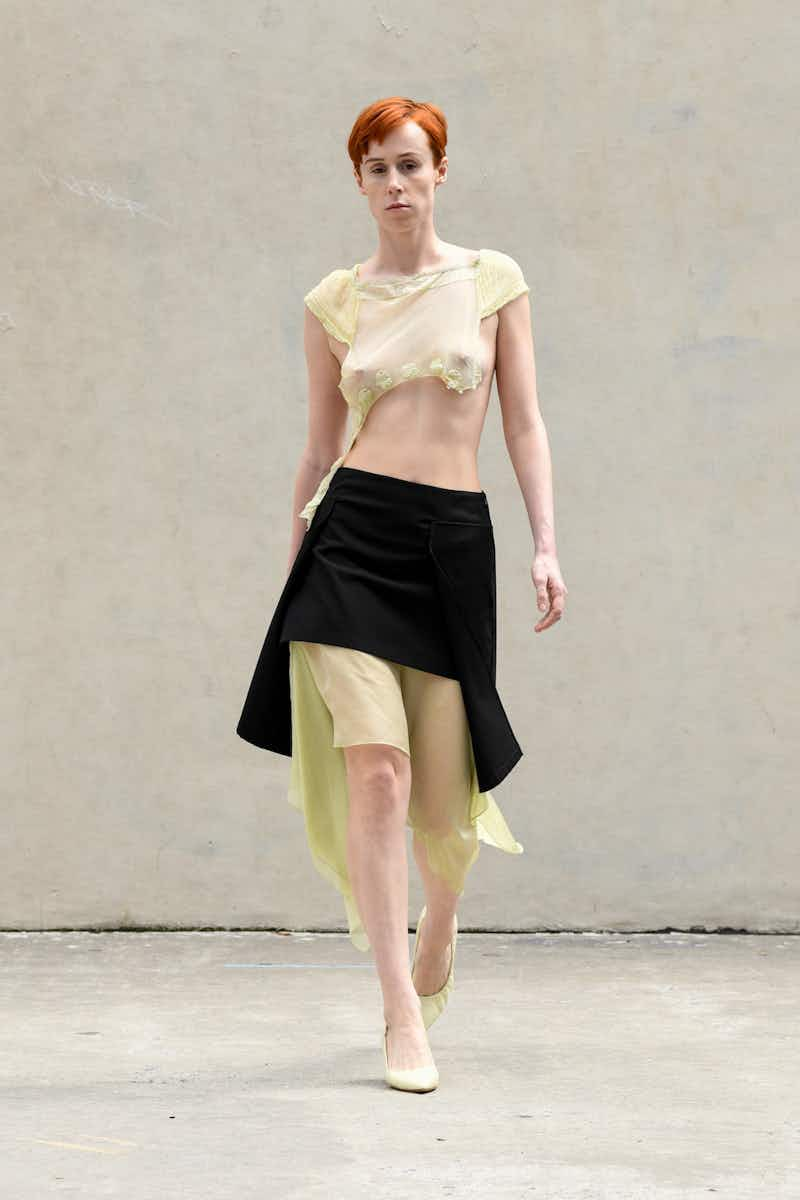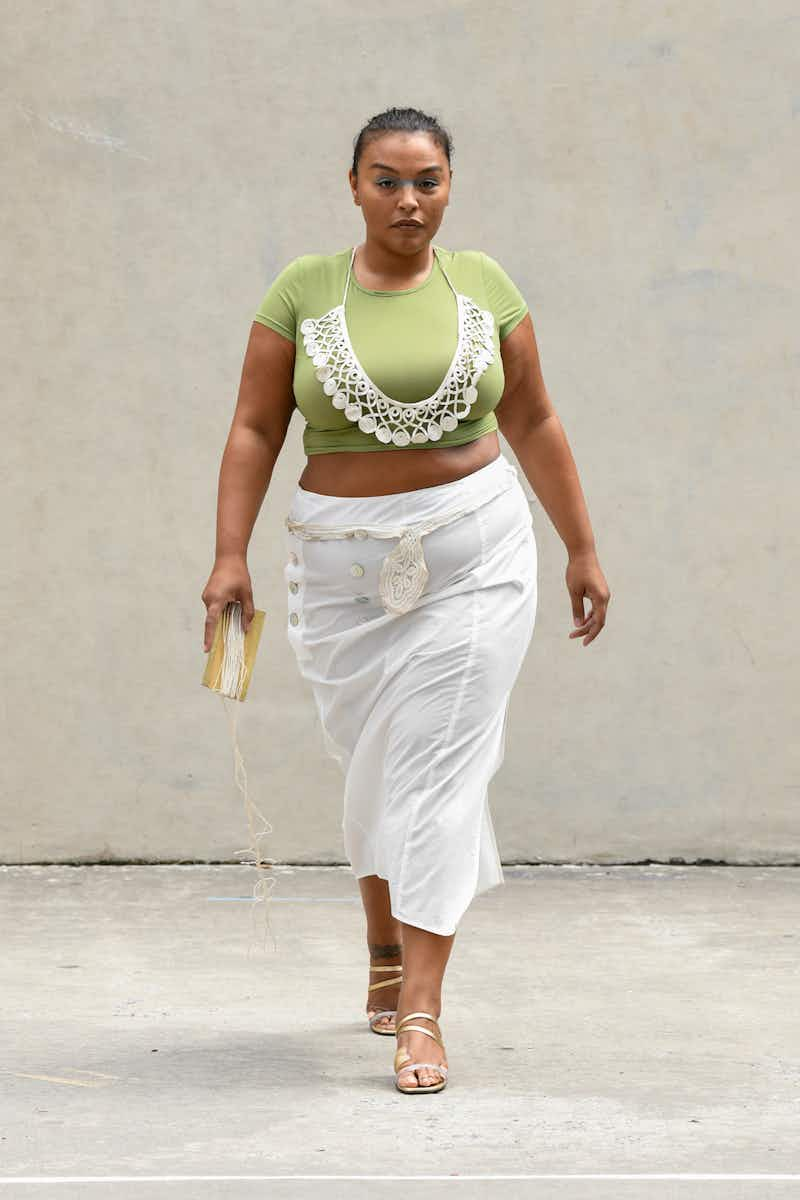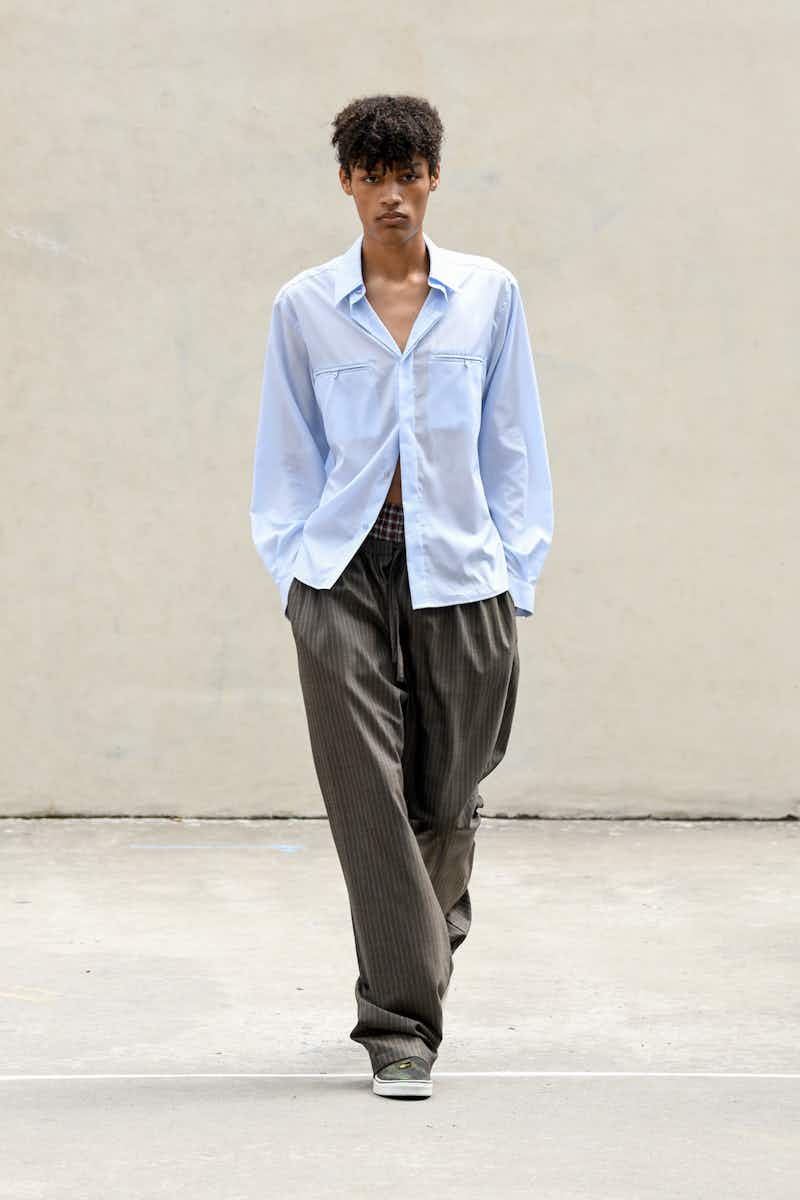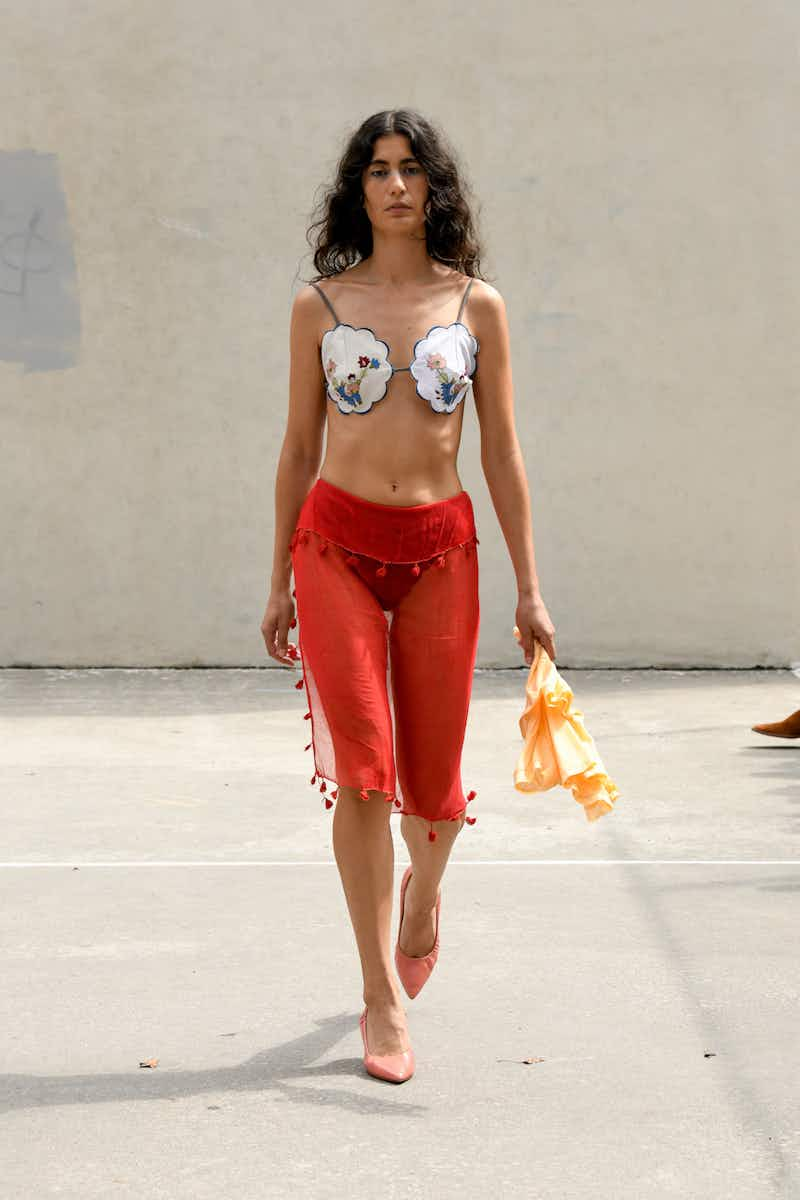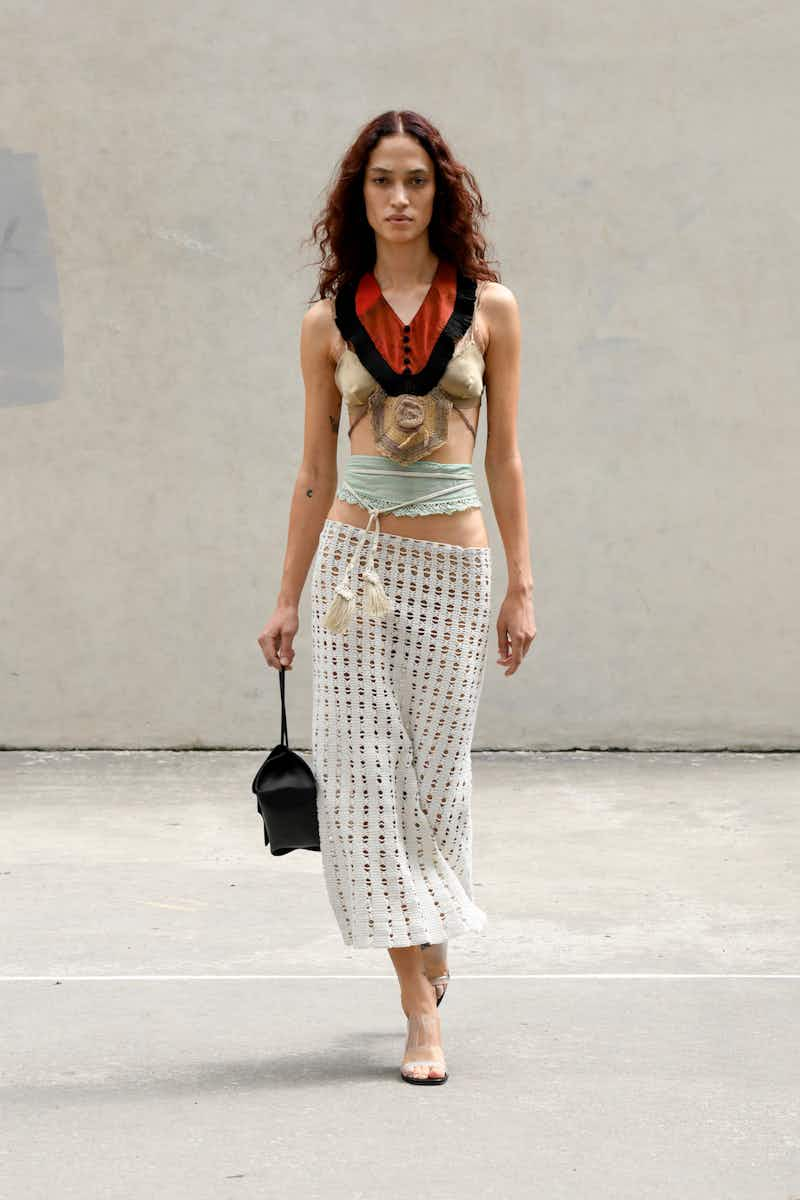 In 1970, Andy Warhol debuted Rain Machine (Daisy Waterfall), a mural of lenticular daisies, which saw real water cascade to form a wall of rain in front of it.

In 2022, Tommy Hilfiger made a (possibly unintended) homage to the work, in a show set beneath the great rainclouds of New York City, and which took inspiration from the artist's inside-out approach to creativity.
Taking place at the Skyline Drive-In movie theatre in New York's Greenpoint on Sunday night, the rain crashed down on a show space decked entirely in aluminium foil; a reference to Warhol's Factory studio, in which visitors could see works come together in real time.

Here, that coming together started with guests entering via the backstage hair and makeup area and continued outside where staff brushed away rain water from the runway, wiped down seats and handed out umbrellas to mega celebs including Kate Moss, Kris Jenner, Kourtney Kardashian and Travis Barker (names you could easily imagine a Warhol diptych dedicated to). However unintended the downpour may have been, the effect was to, almost literally, wash away the facade of a fashion show – revealing the intimate makings of it in the process.
So, too, did the casting feel like names fit for a Factory 2022. Cool girls Paloma Elsesser, Hari Nef and Julia Fox joined former-Interview editor Bob Colacello, as well as Warhol Superstar, Donna Jordan, to model a see now, buy now collection that debuted a new TH monogram – designed in partnership with Fergus Purcell (Aries, Palace) – as well as a gender-inclusive collaboration with British designer Richard Quinn.

Quinn's designs have often subverted expectations of high fashion, his use of interior patterns used to striking effect on the exterior of a garment; his silhouettes enlarged and exploded, again, displaying the Warholian workings of the piece. Here, he was deployed to breathe new life into old American archetypes, pulling them into the 21st century via a poppy, larger-than-life update (that was, rather fittingly, streamed via the very 21st century Roblox).

"We always want to refresh our collections and we always want to evolve," Hilfiger told THE FACE before the show. You get the feeling Warhol would have approved.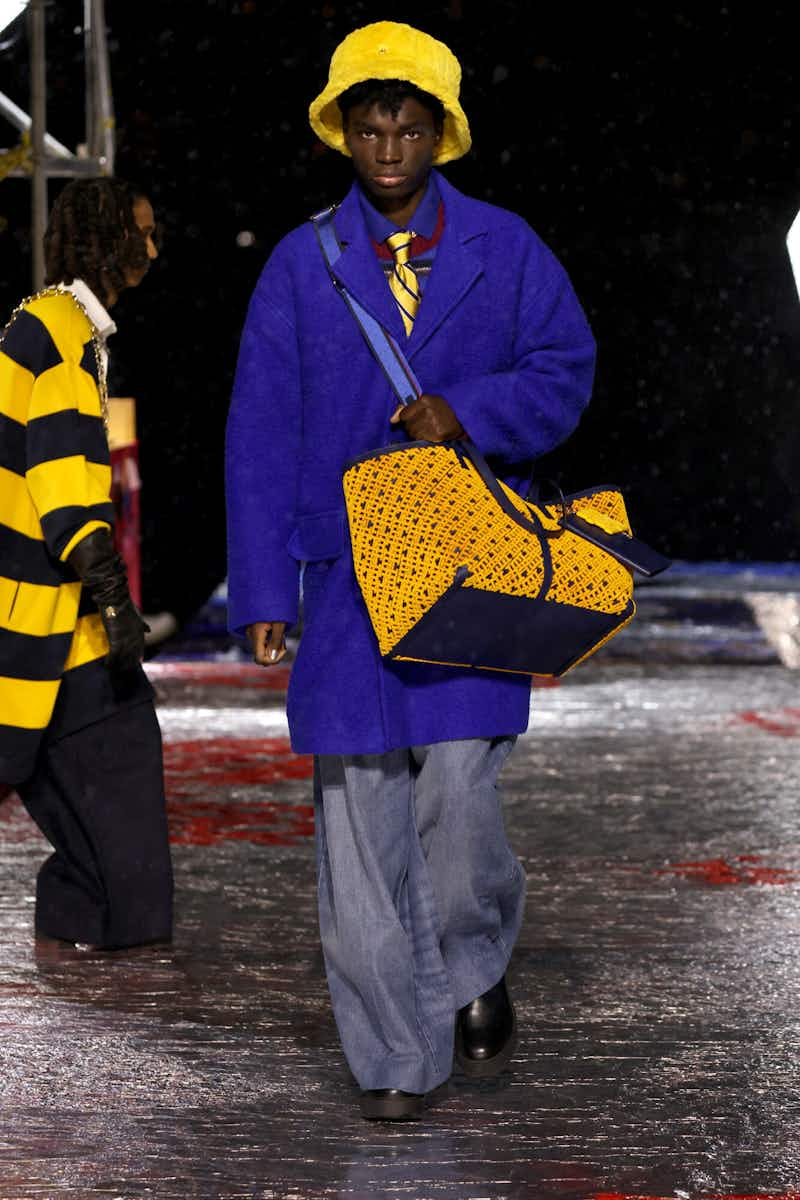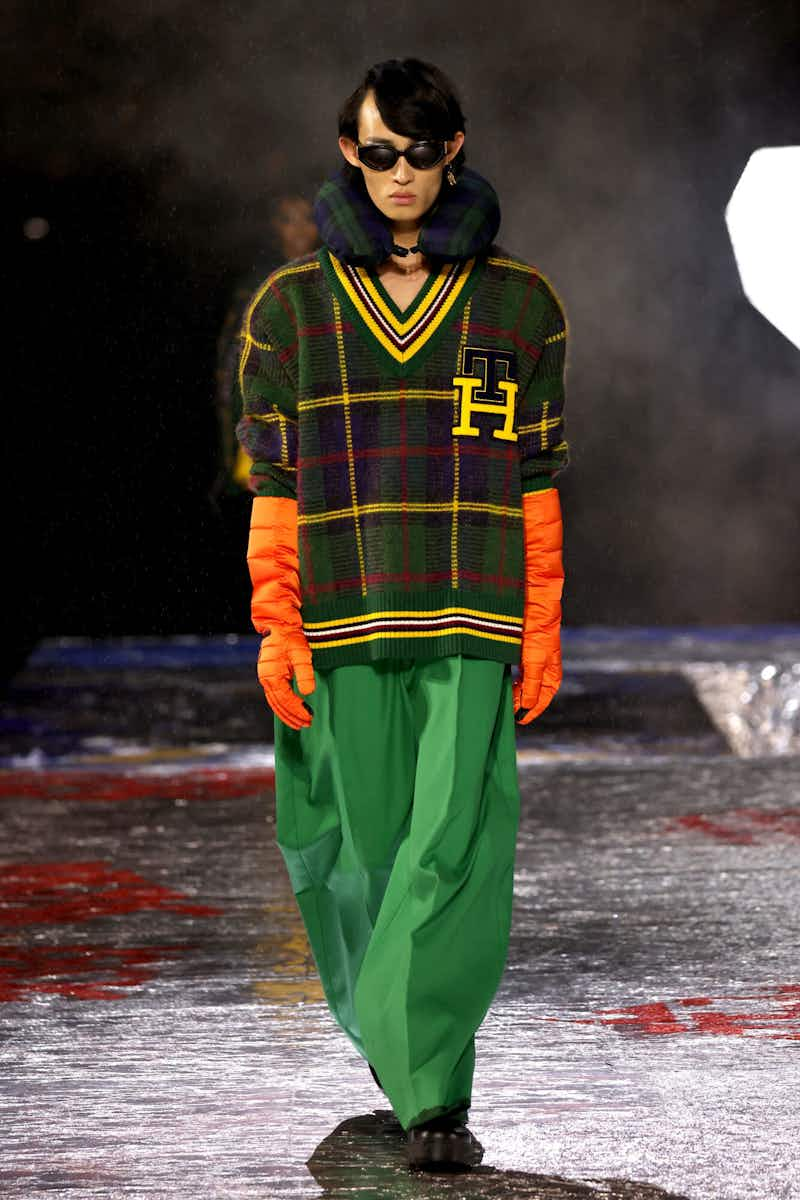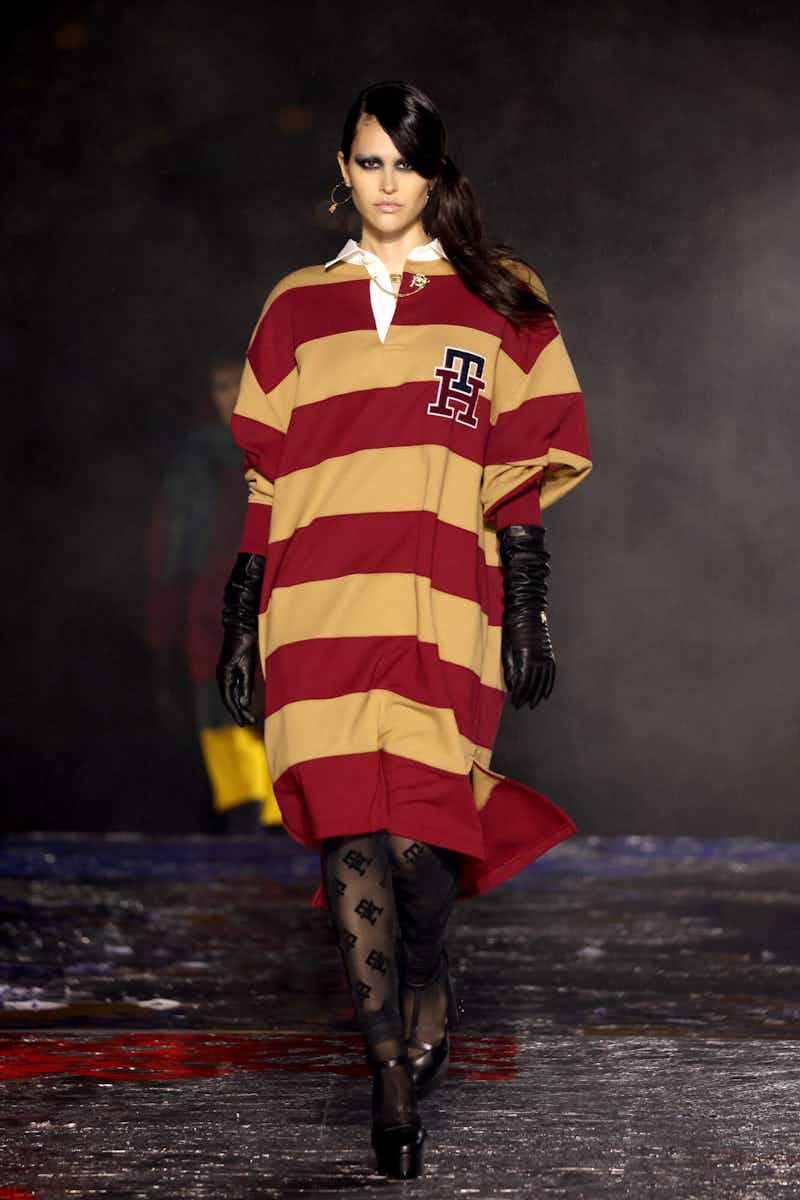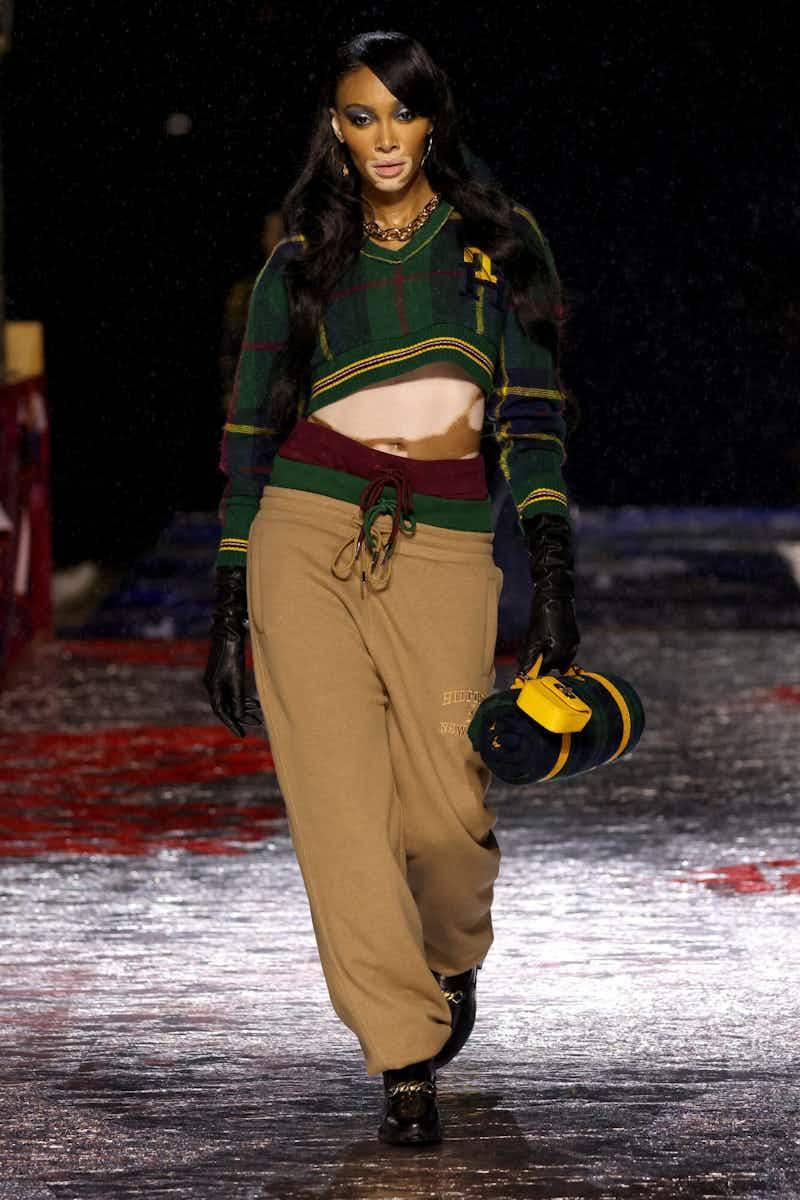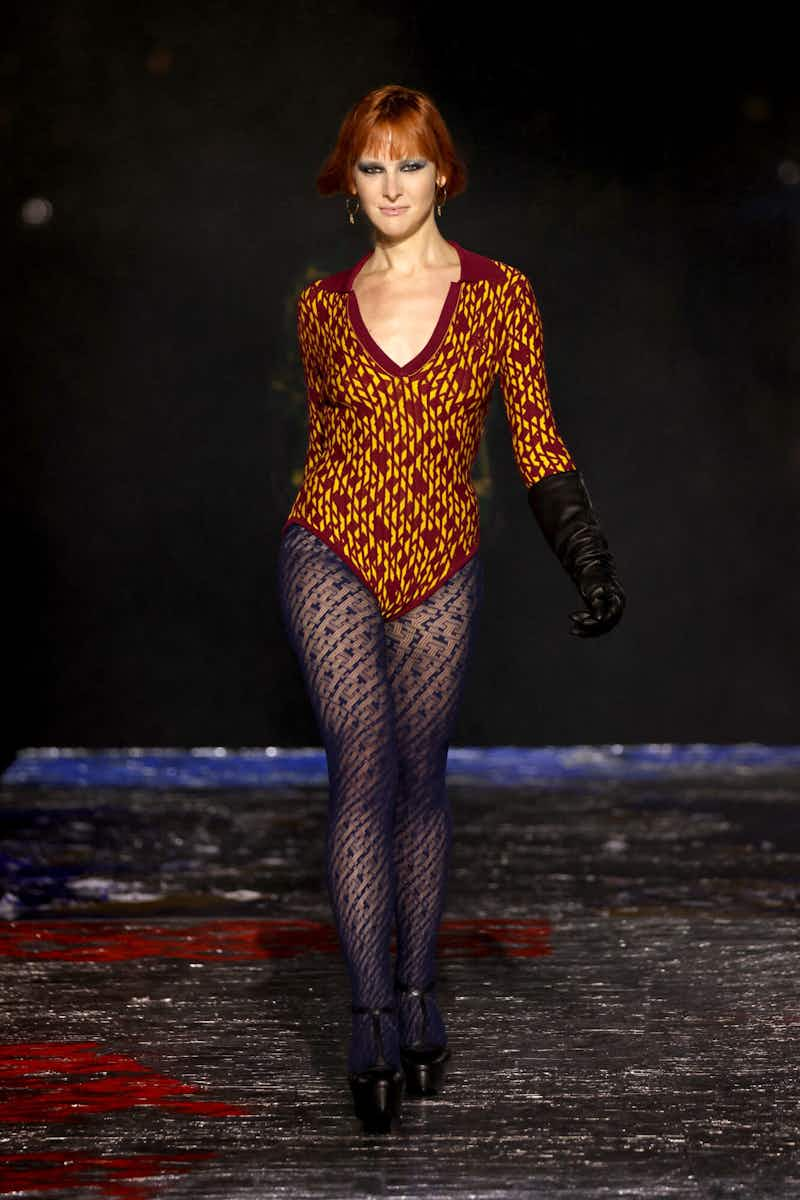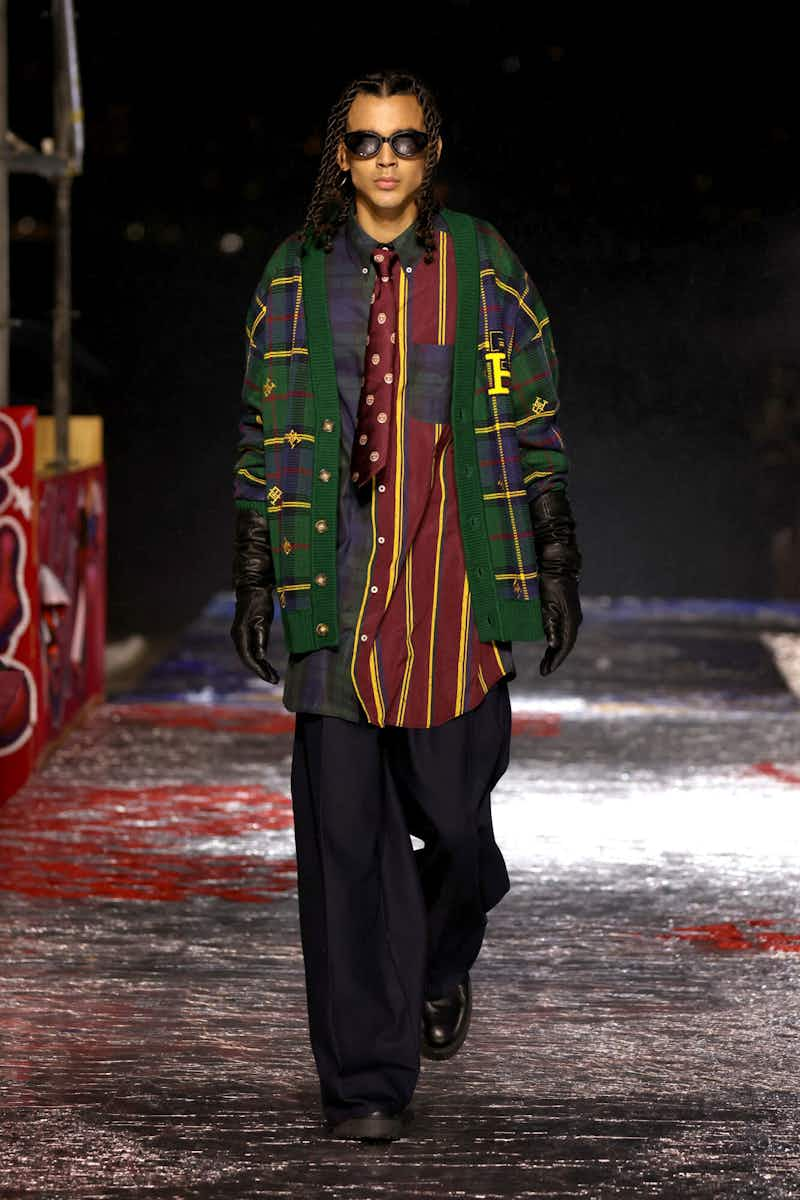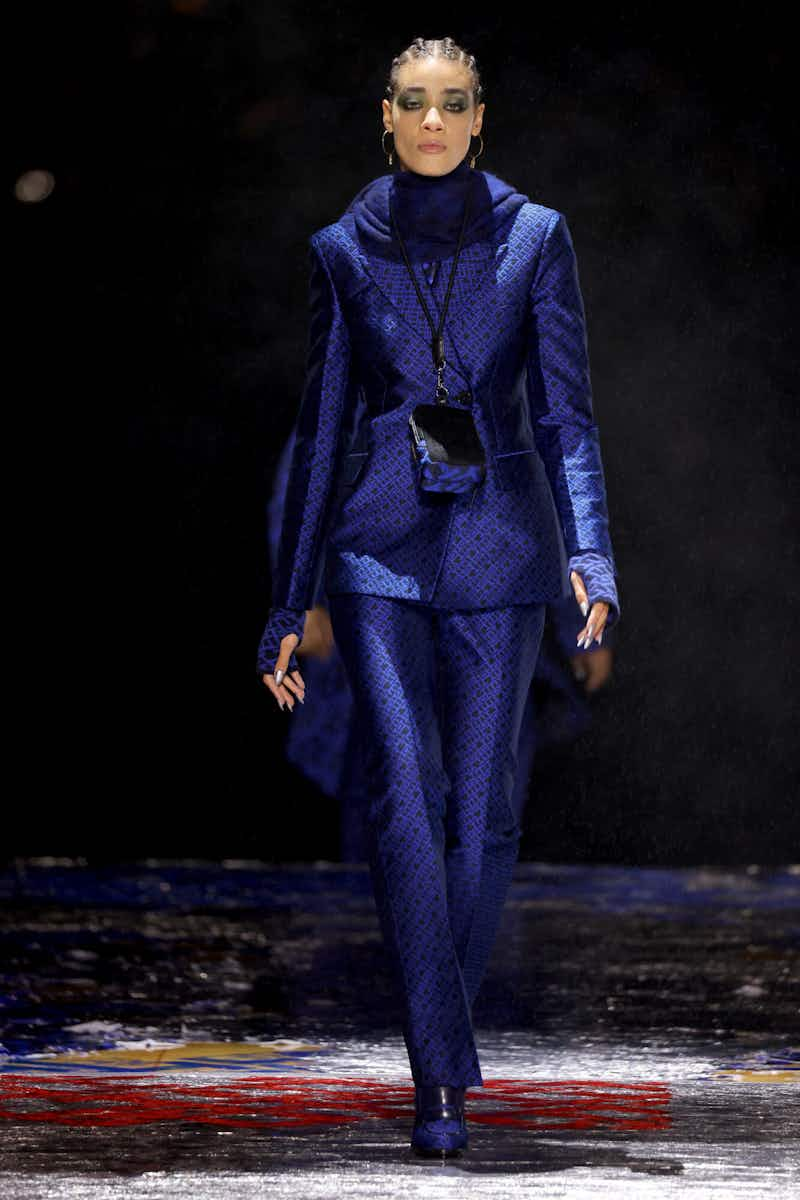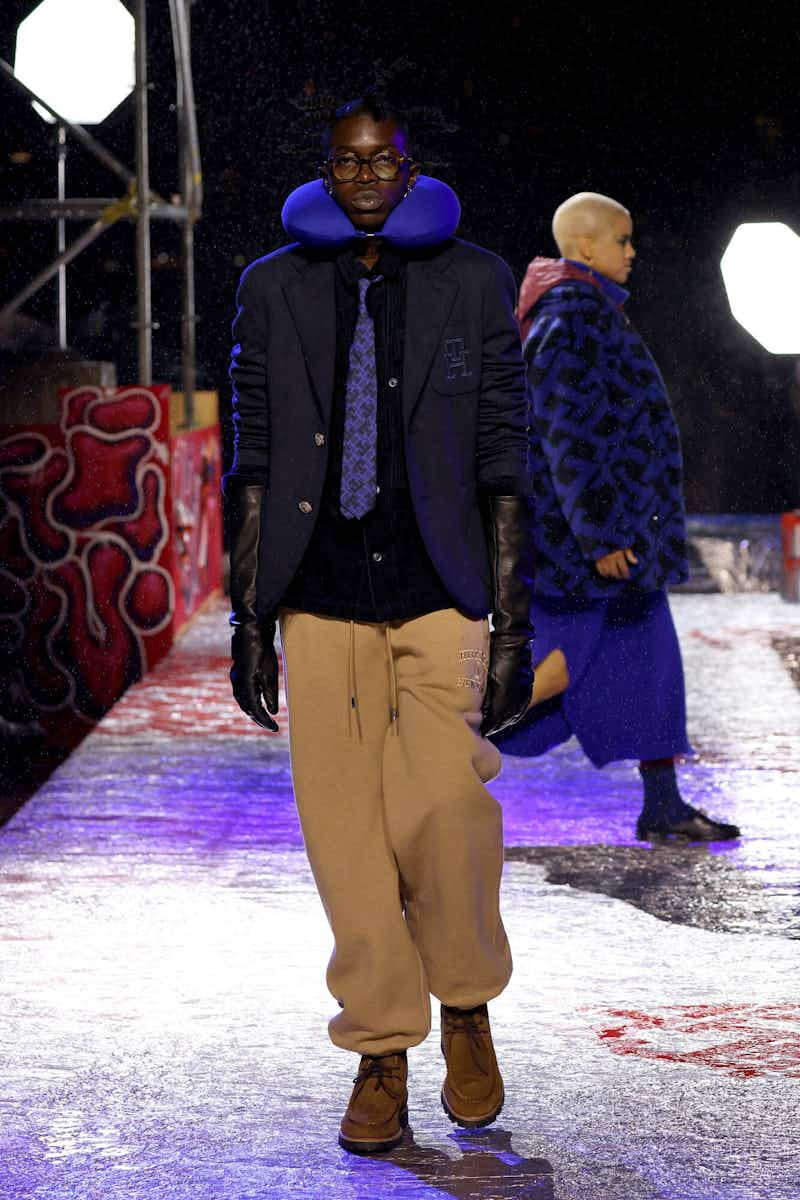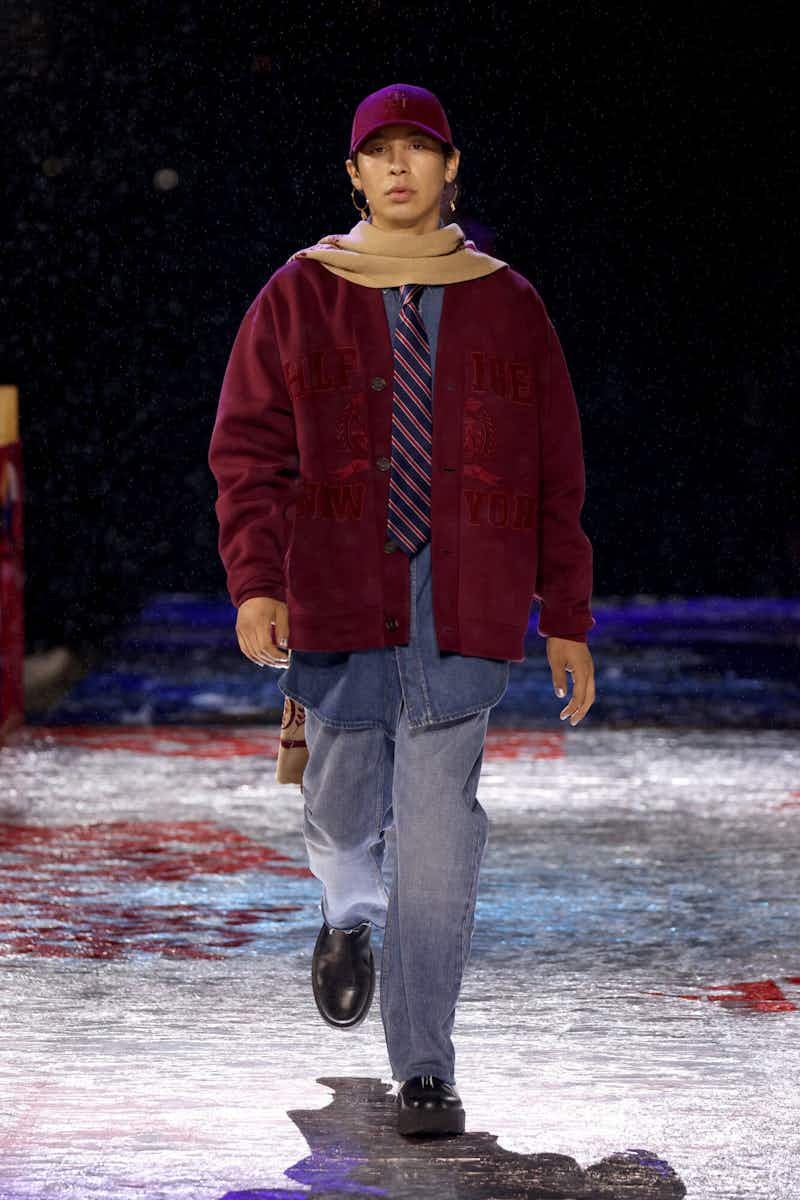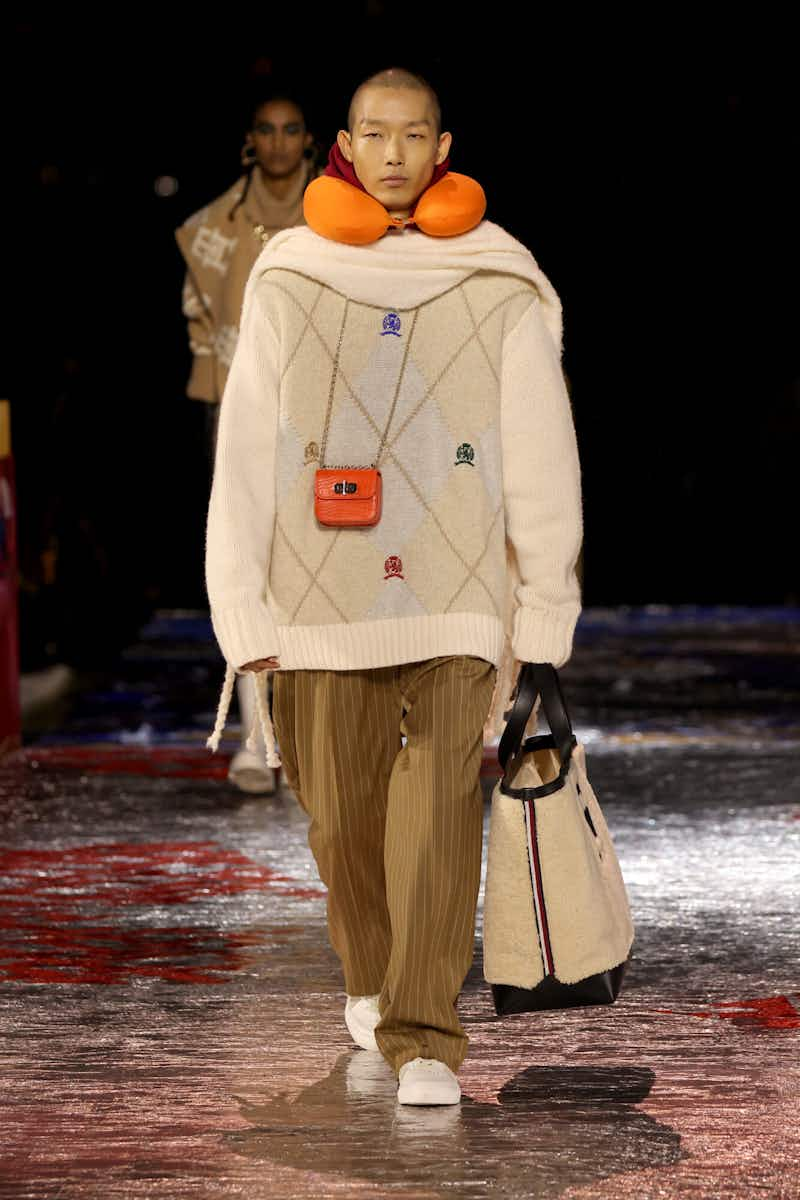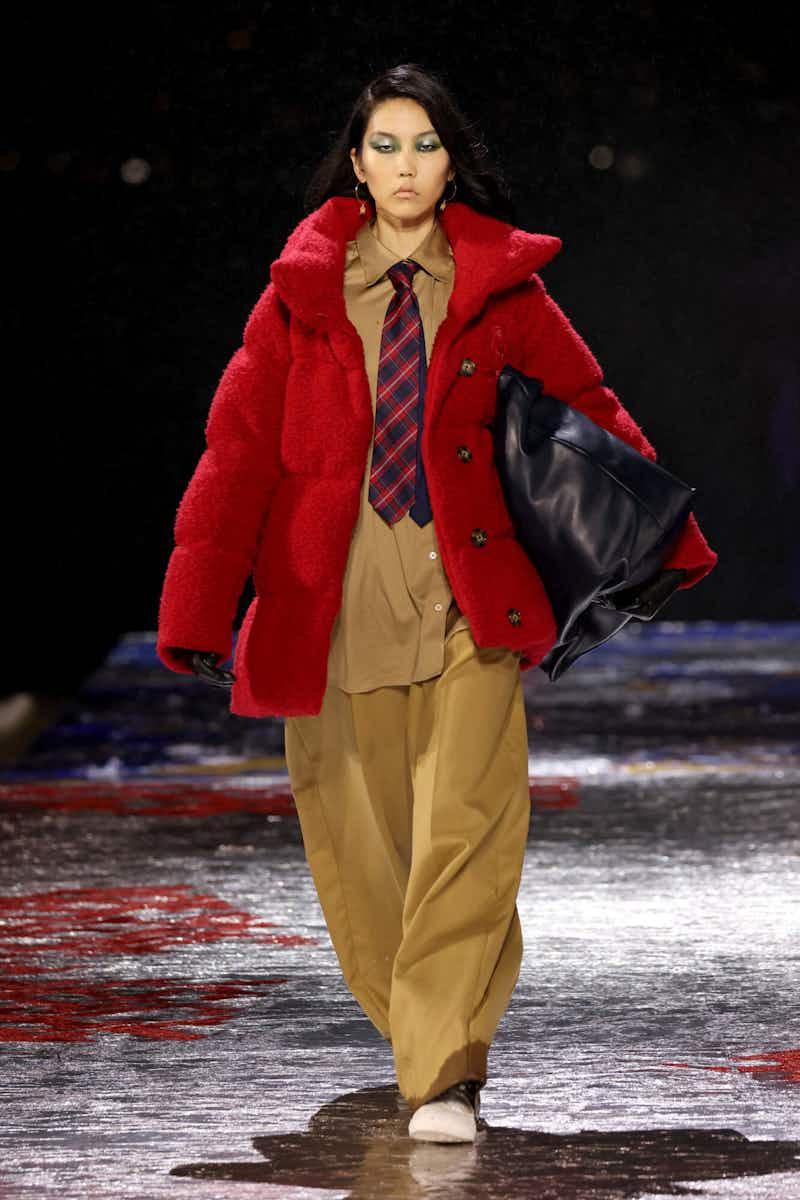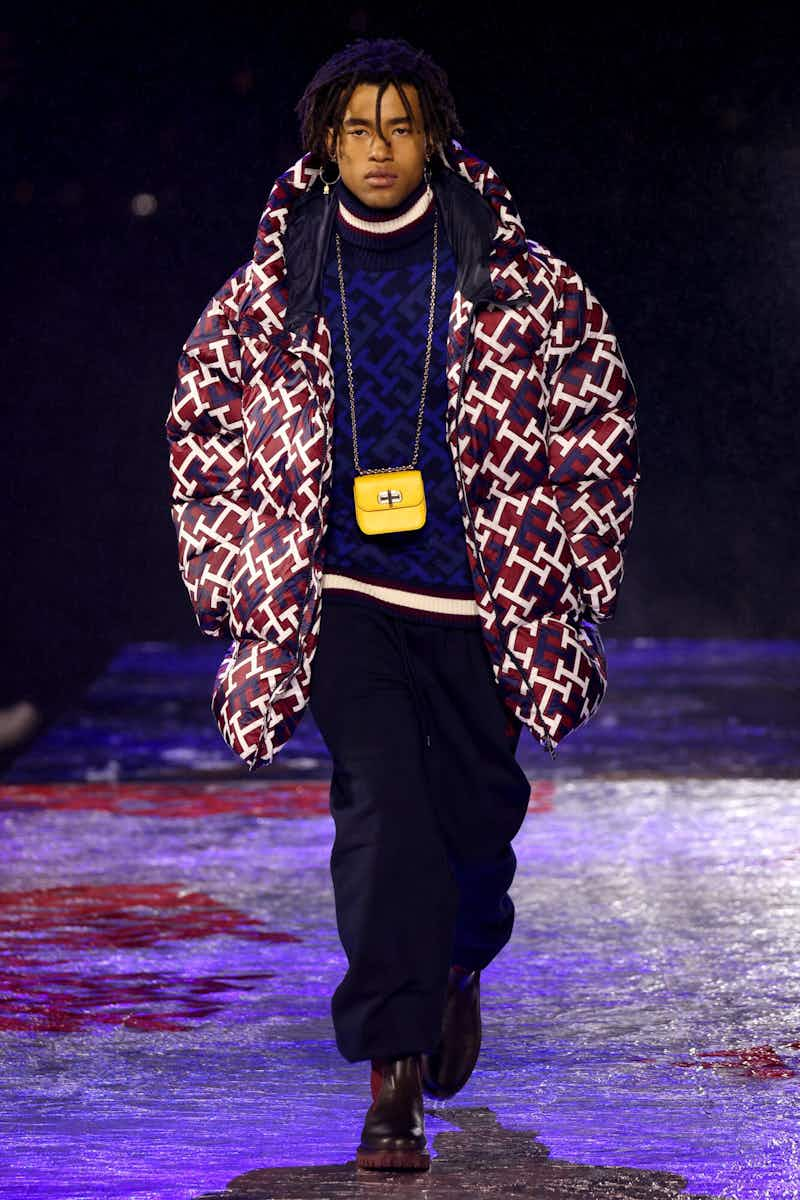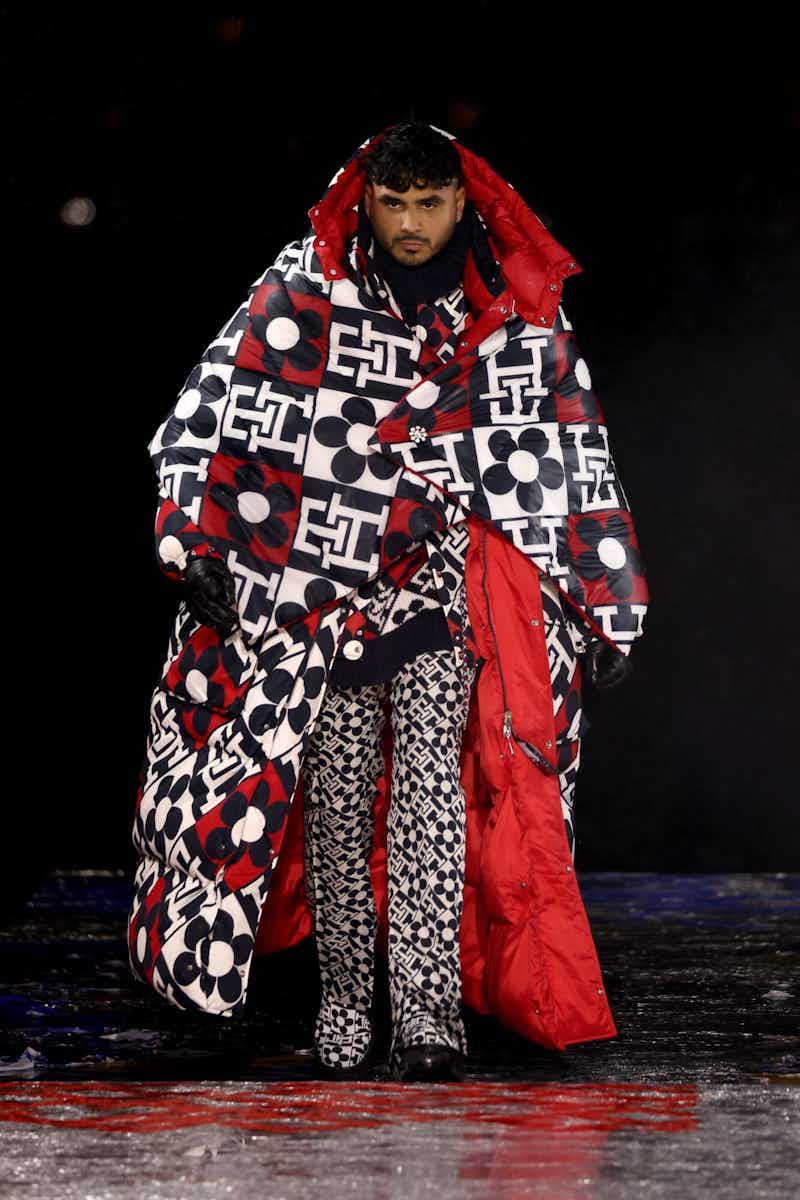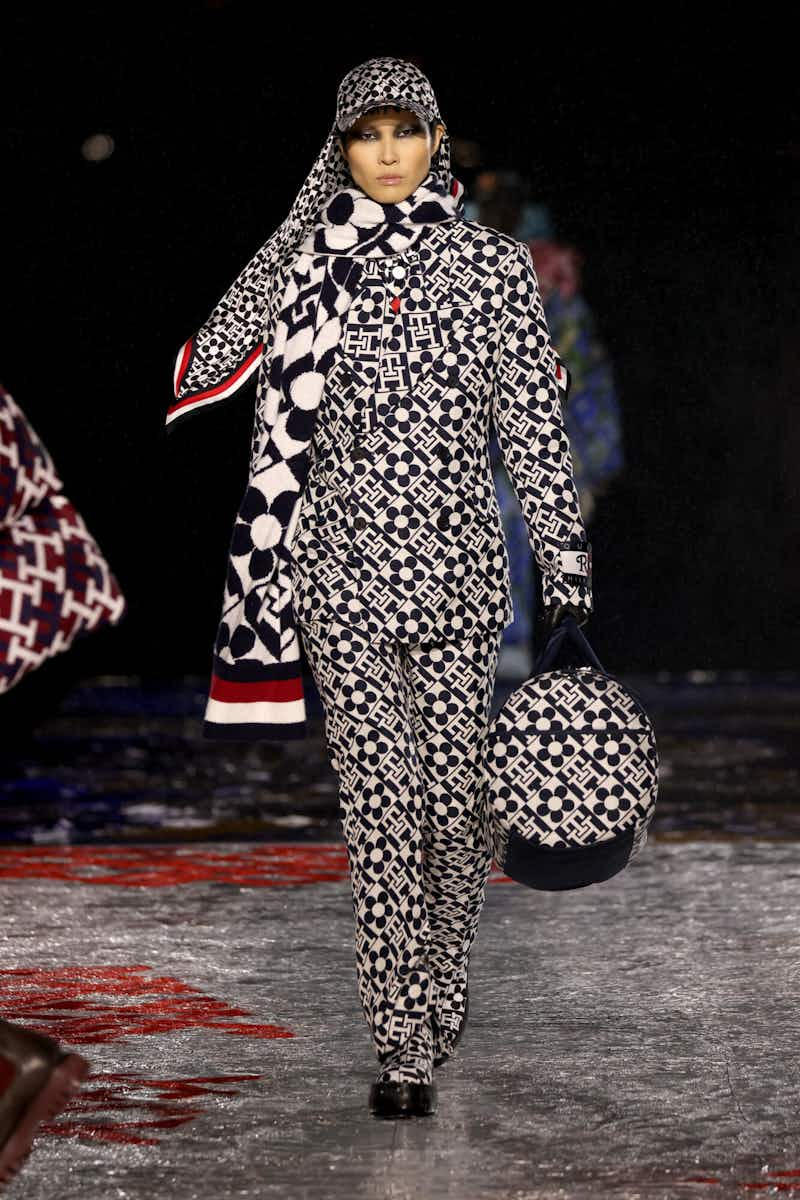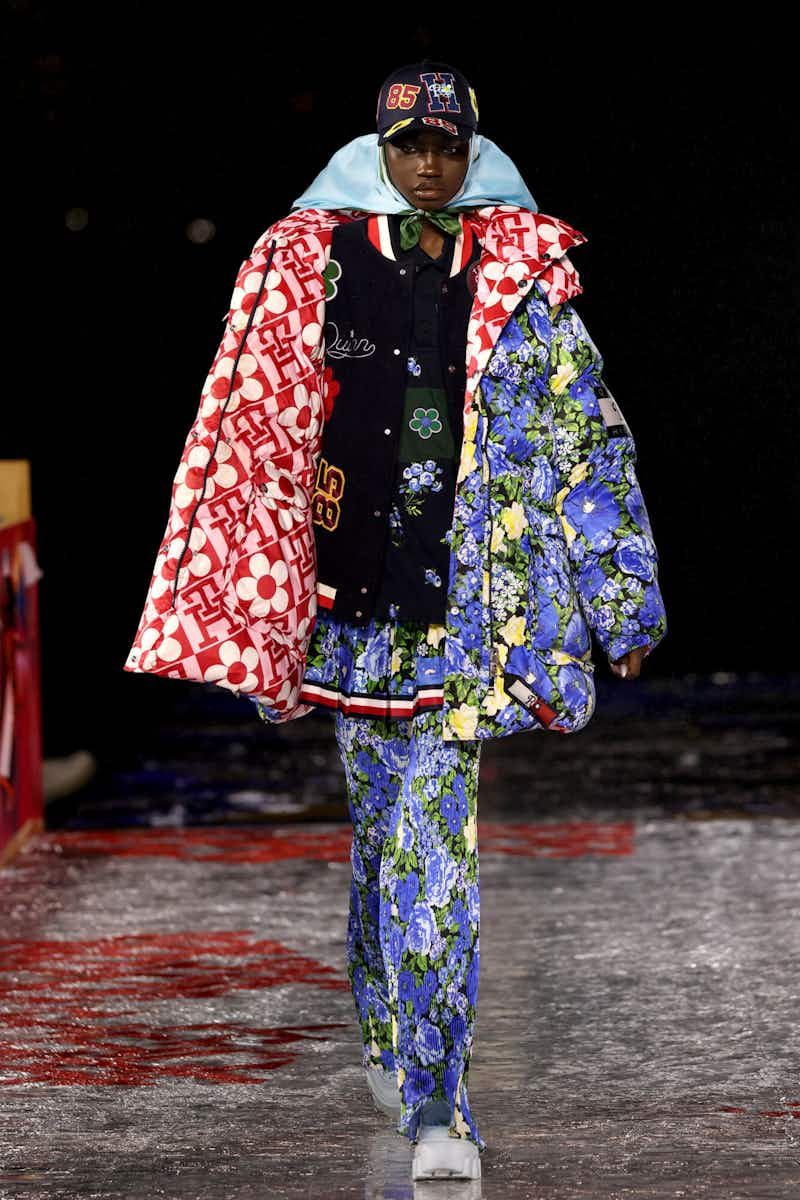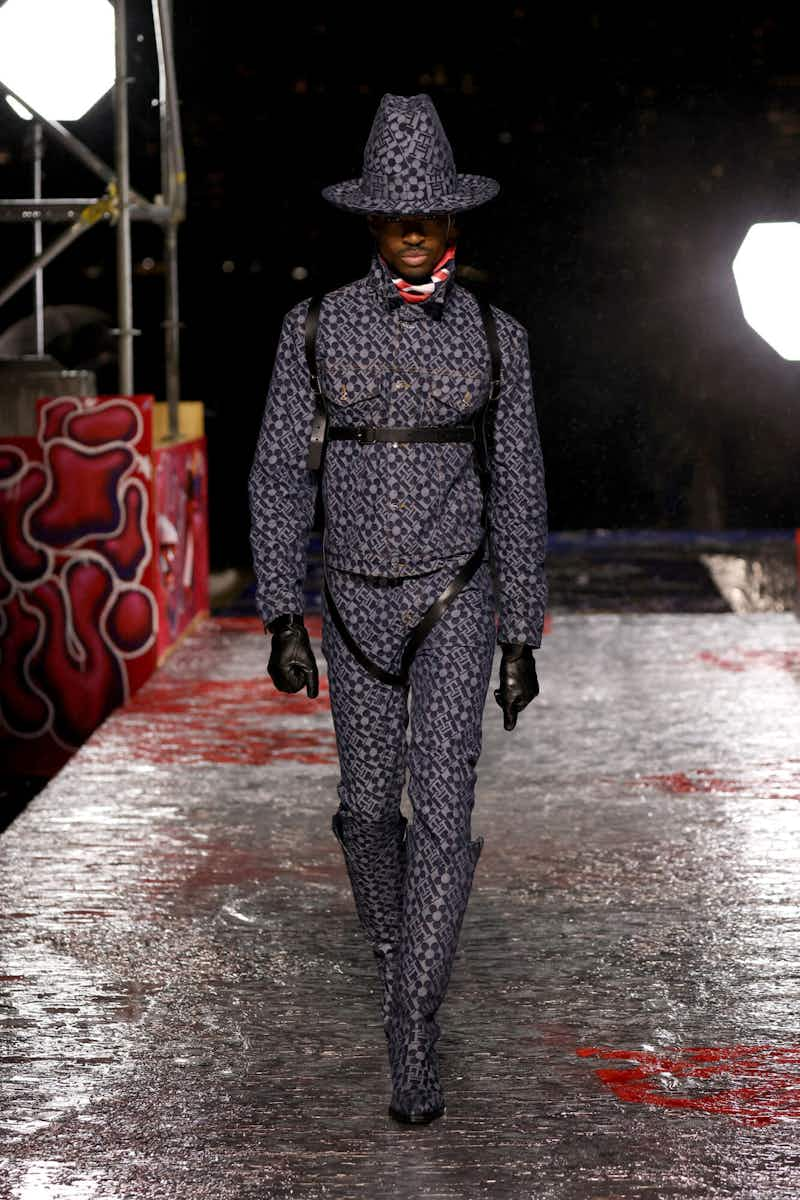 Back in 1997, Fendi's Baguette bag became a rip-roaring symbol of hedonistic excess and anti-functional cool. 25 years on, and Silvia Venturini Fendi's design reimagined itself for the digital age, as part of multiple guest designs from friends of the Italian house, and markers of the Baguette's enduring legacy.

With current artistic director Kim Jones joining forces with New York figures Marc Jacobs, Tiffany & Co. and Sarah Jessica Parker ("it's not a bag, it's a Baguette"), Fendi sent various iterations down the runway. There were ones coated with degradé sequins, lilac, baby pink, blood red, either swung defiantly from the hand, around the waist as a bumbag or, as it was originally intended, hands-free under the arm.

The Baguette – given its compact size compared to the bag's competitors back then – was never intended for practicality. Rather, it could fit a credit card, keys and a bit of gloss. The Baguette was, and still is, for light-handed party girls; one of the first bags to be the outfit – not just a part of it. But this decade's Baguette considers utility. Through Fendi's collaboration with Japanese luggage brand Porter, the bag becomes – for the first time – functional, in its light, hard-wearing bonded nylon coat, its new, oversized proportions, or clutches attached to the fronts of jackets. The party's not over, but in our ever-increasingly busy schedules, the Baguette finds new life, and meaning, all over again. TS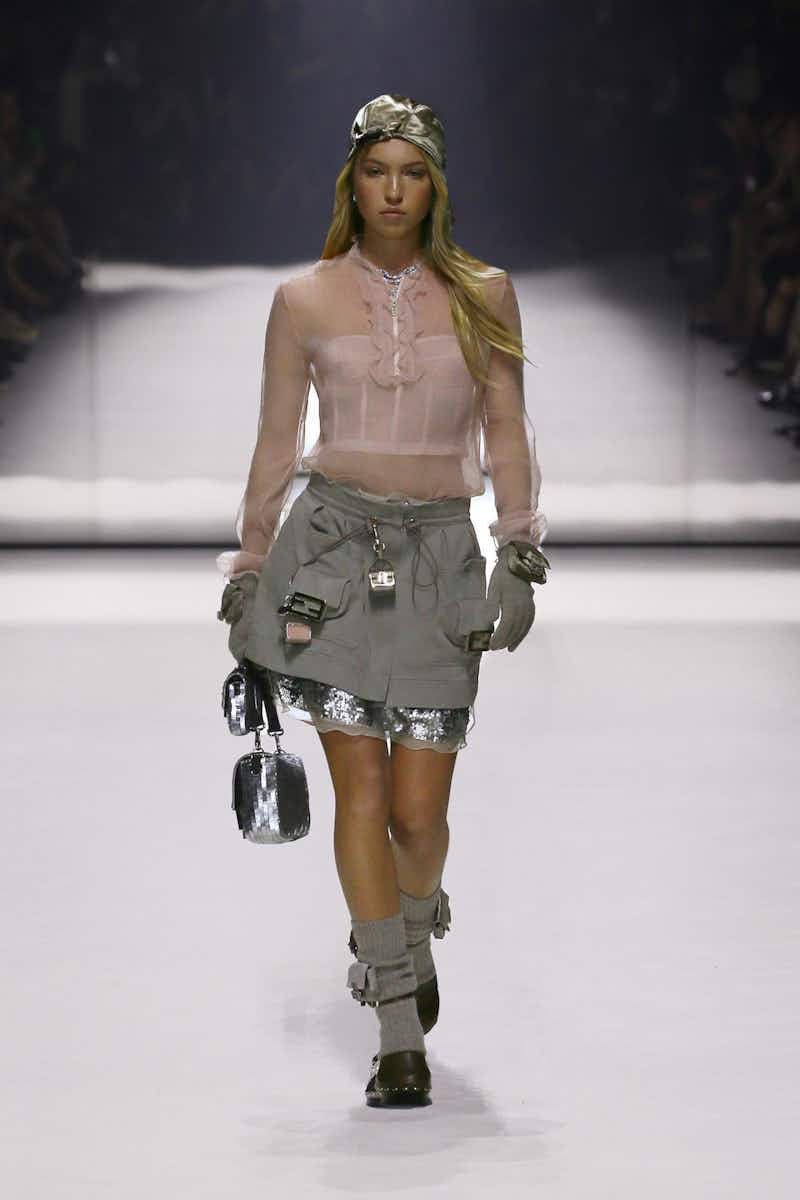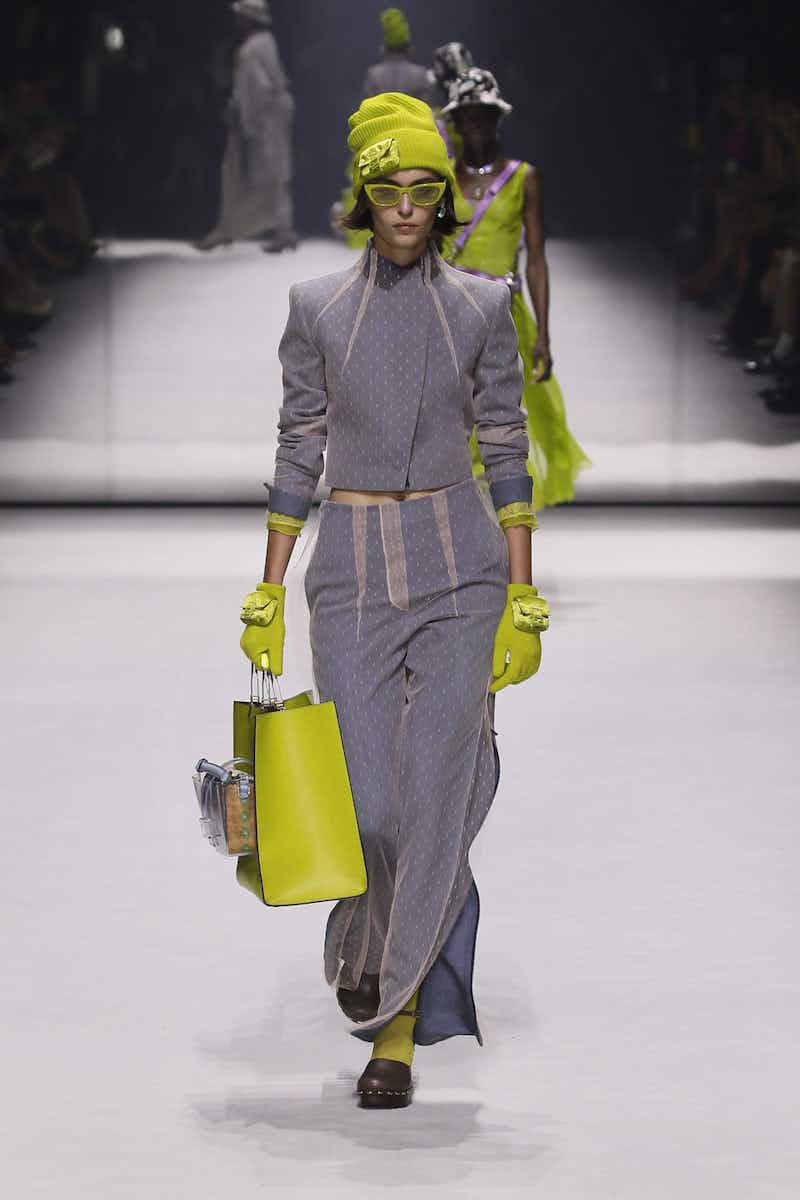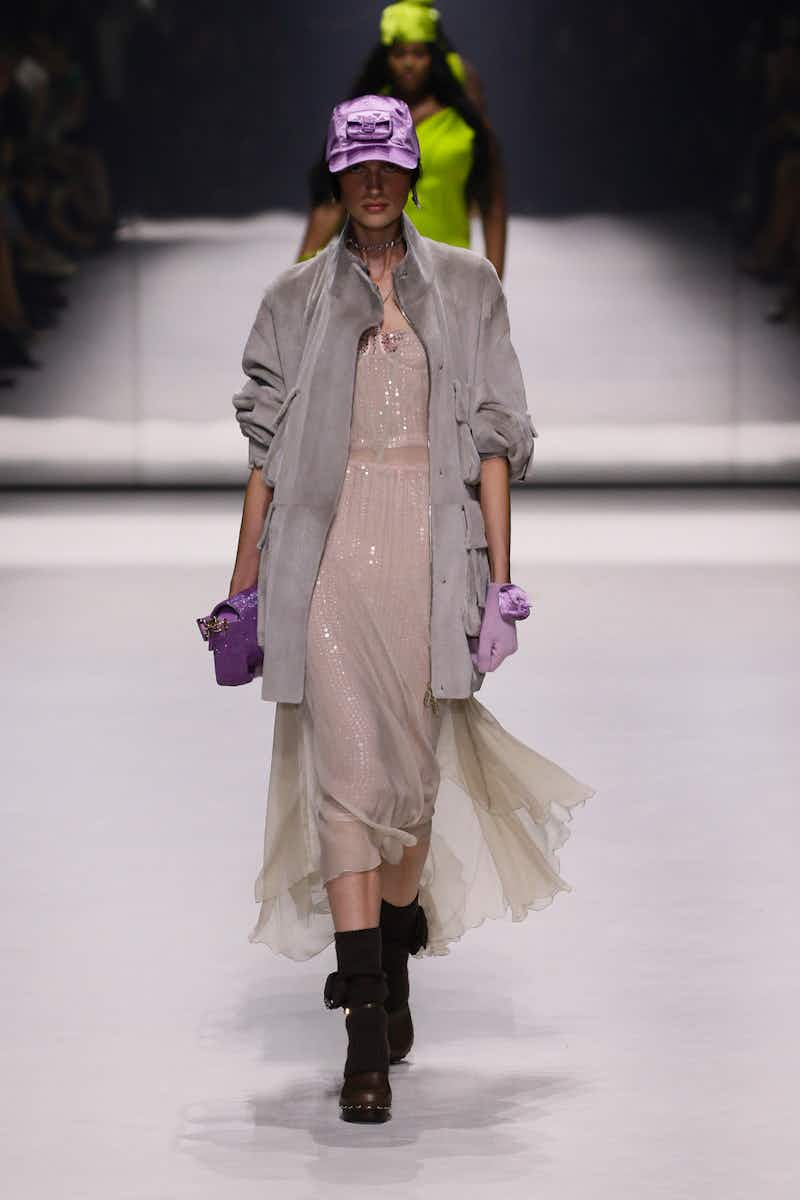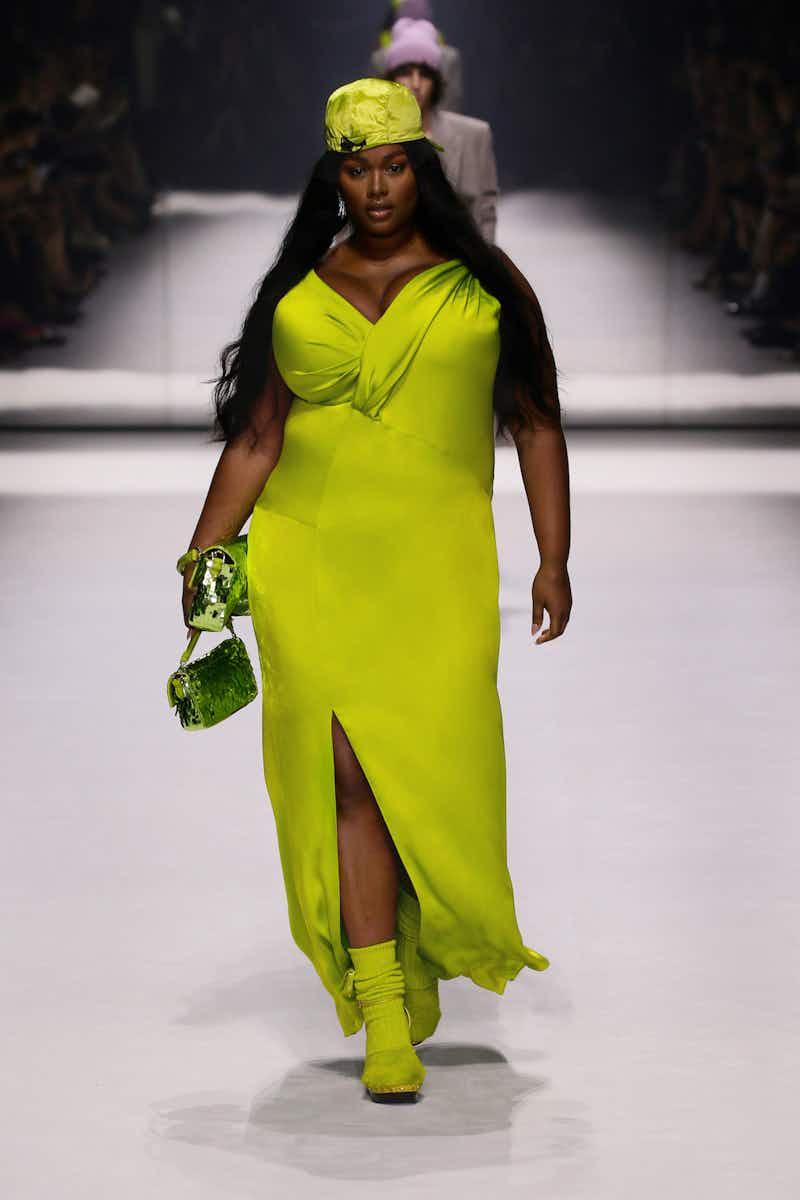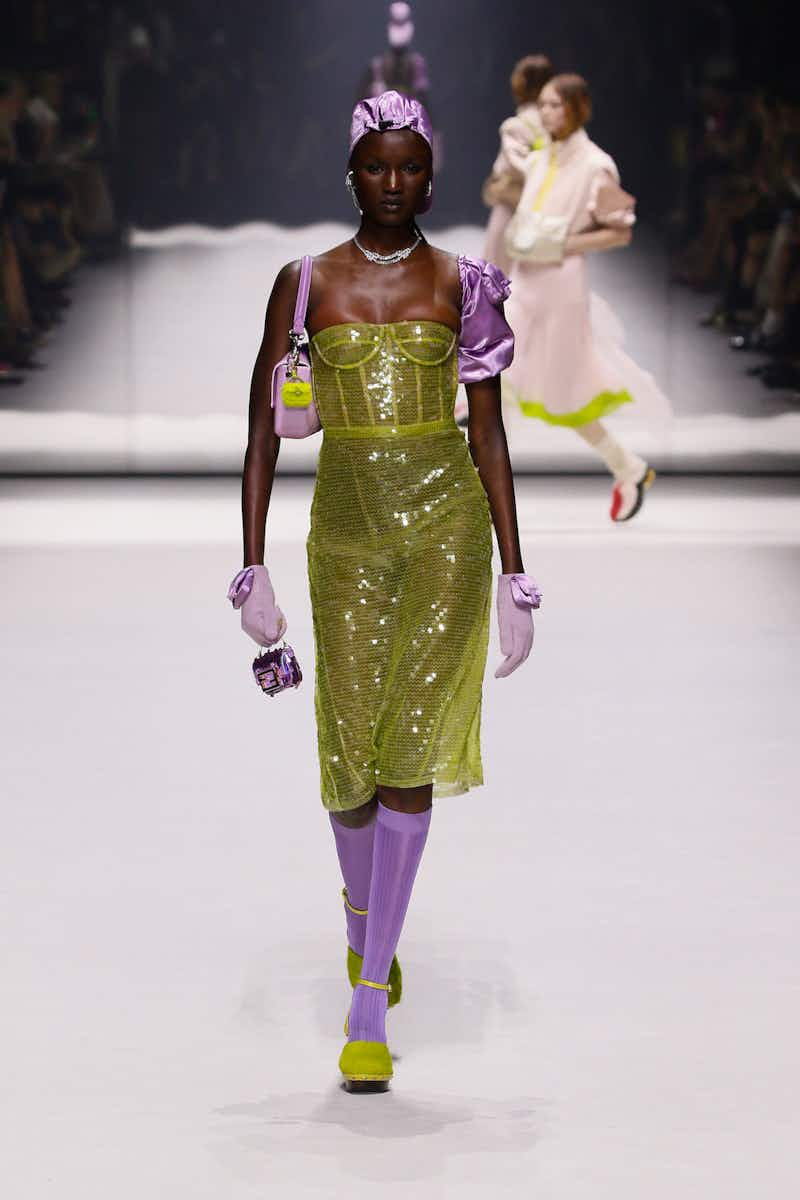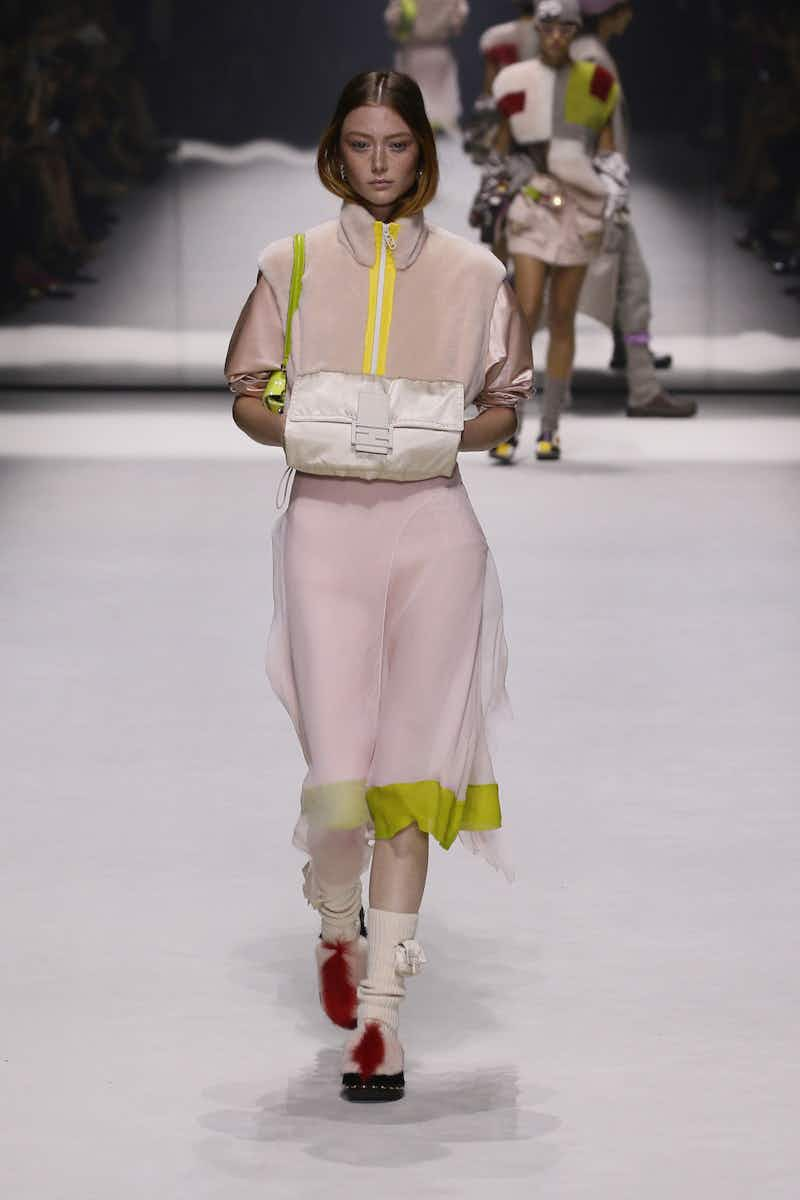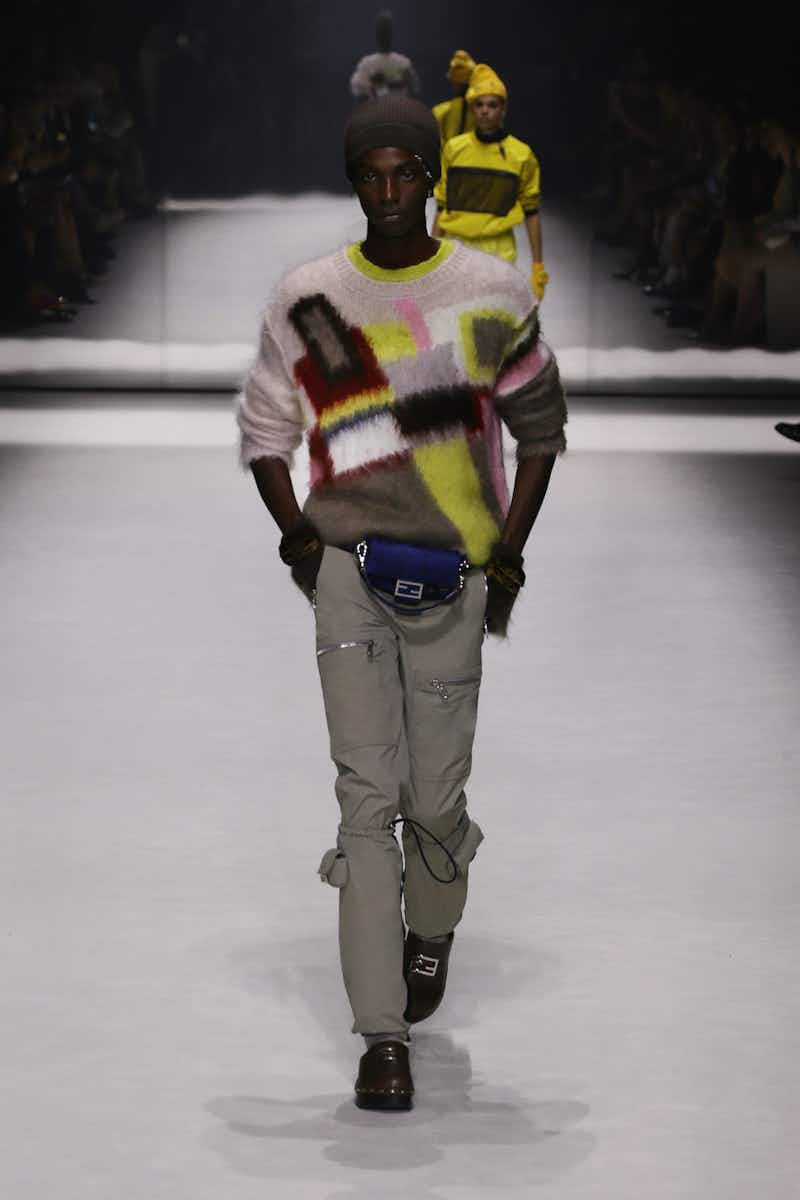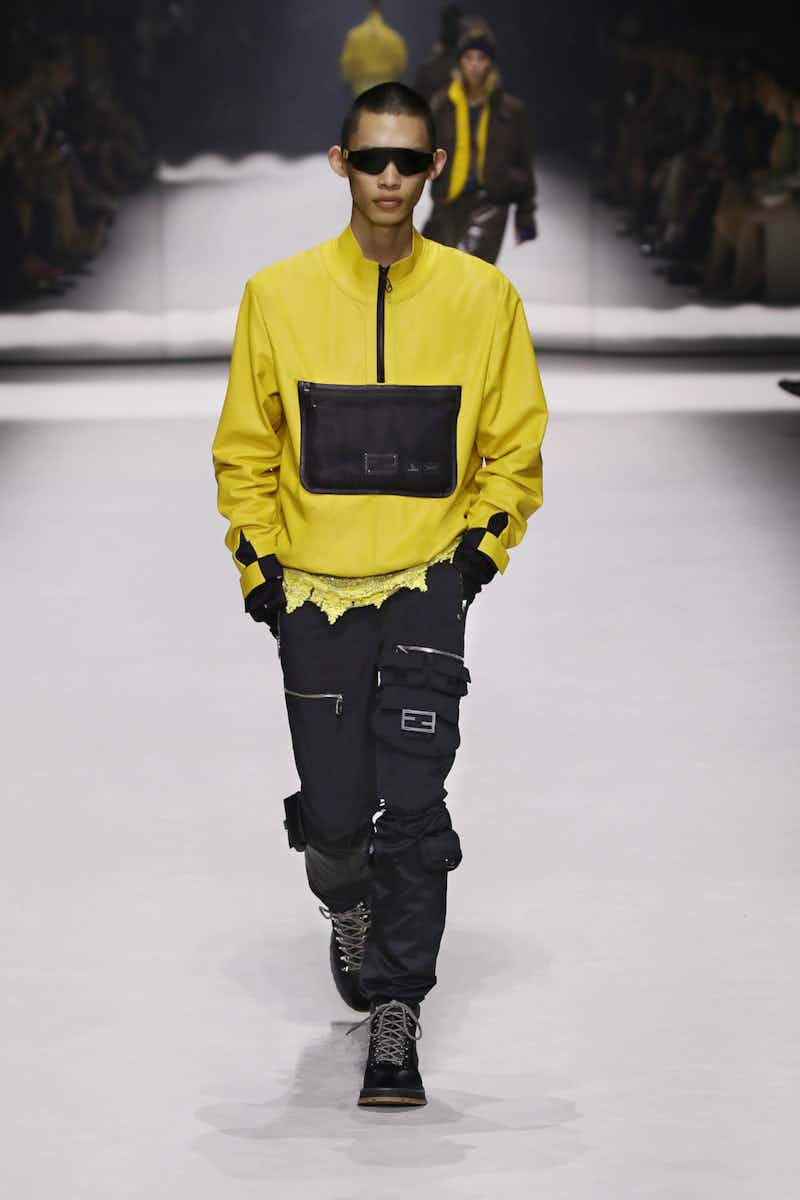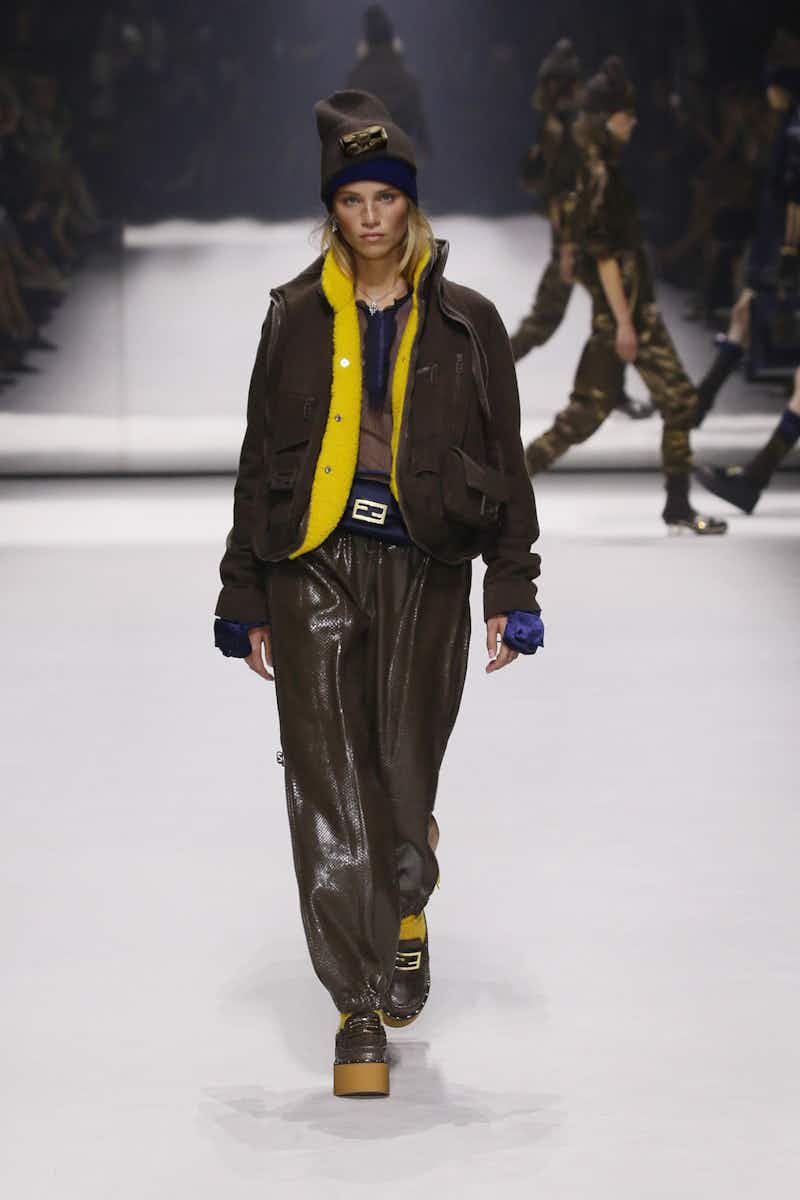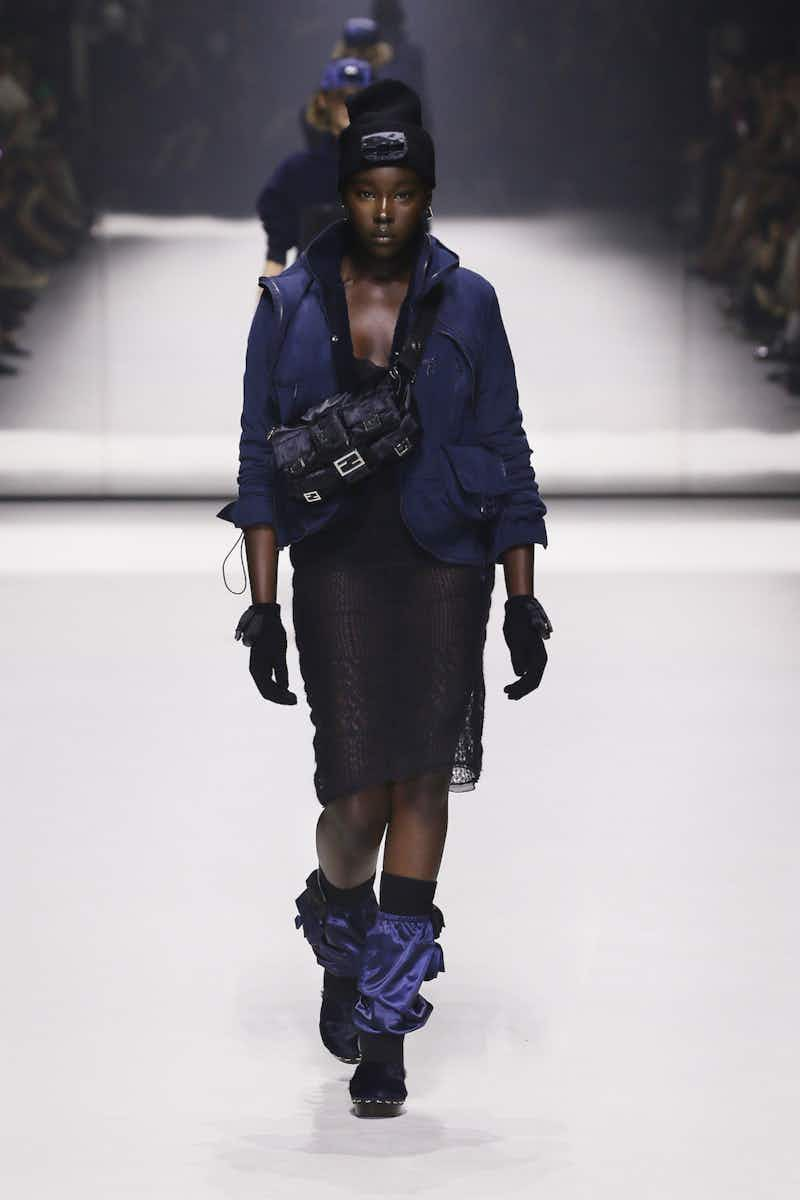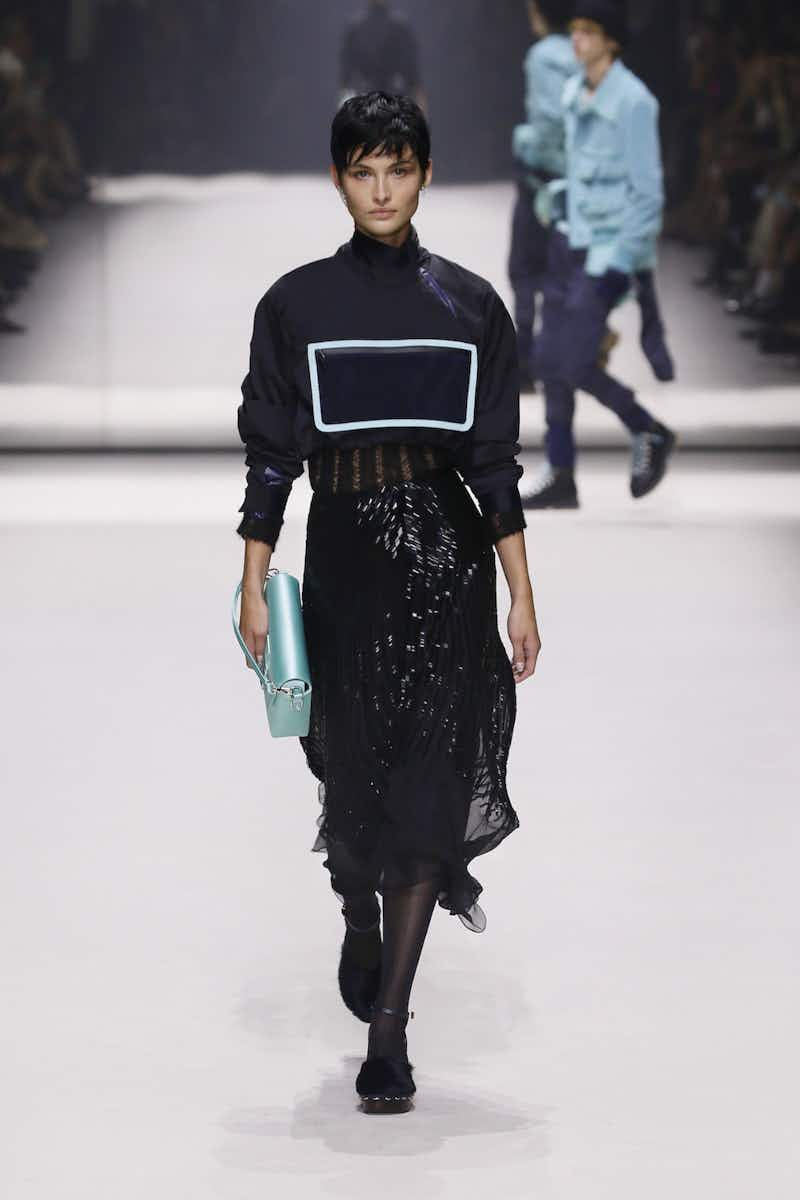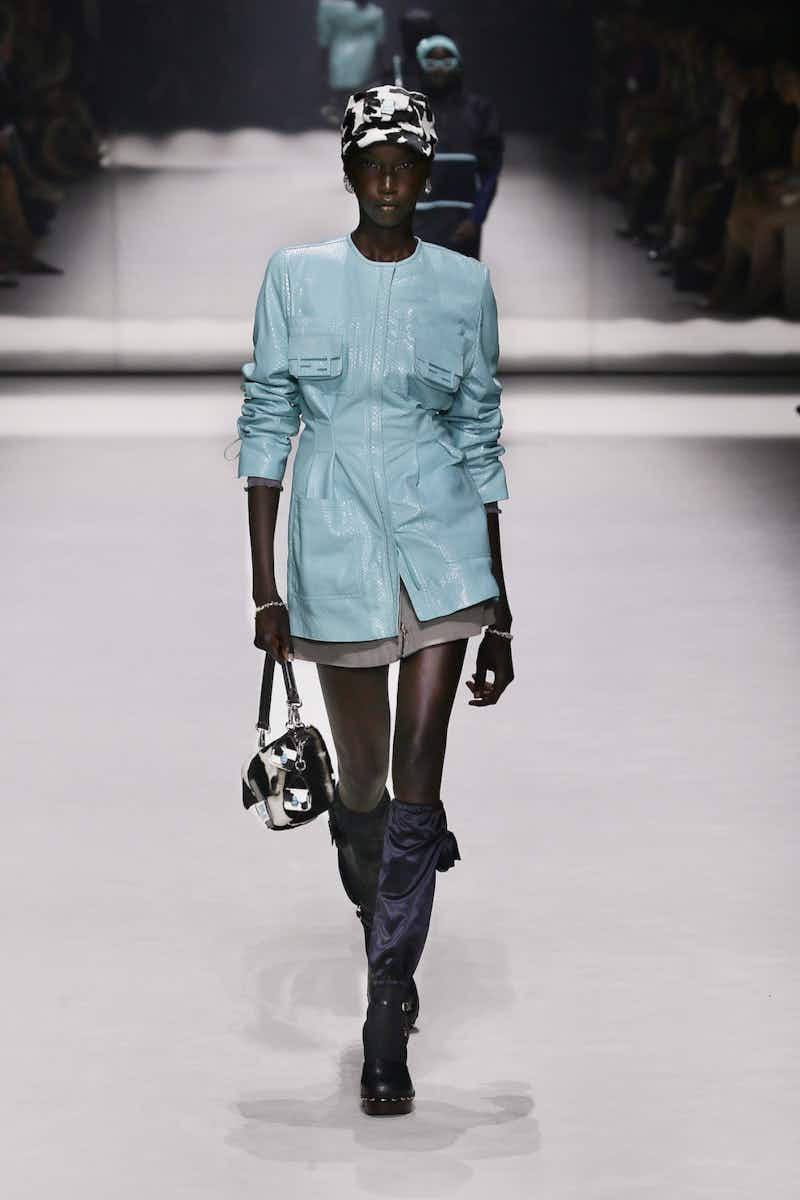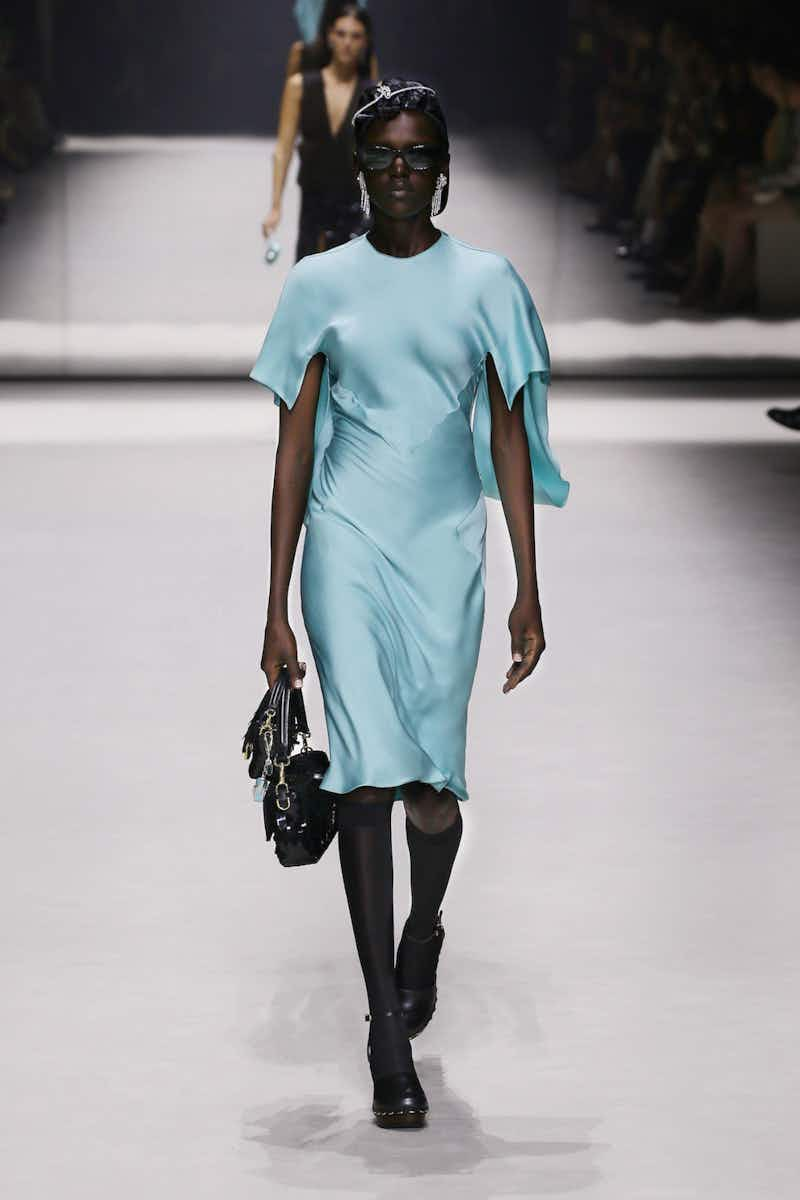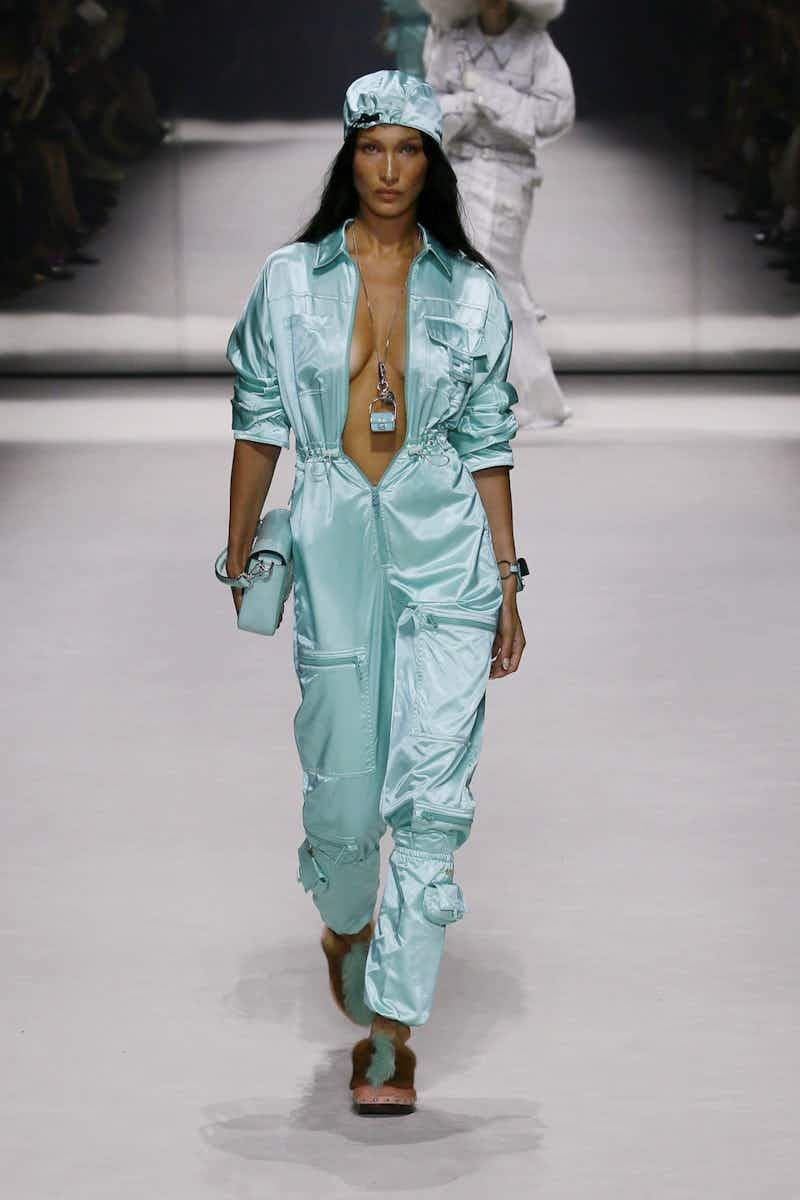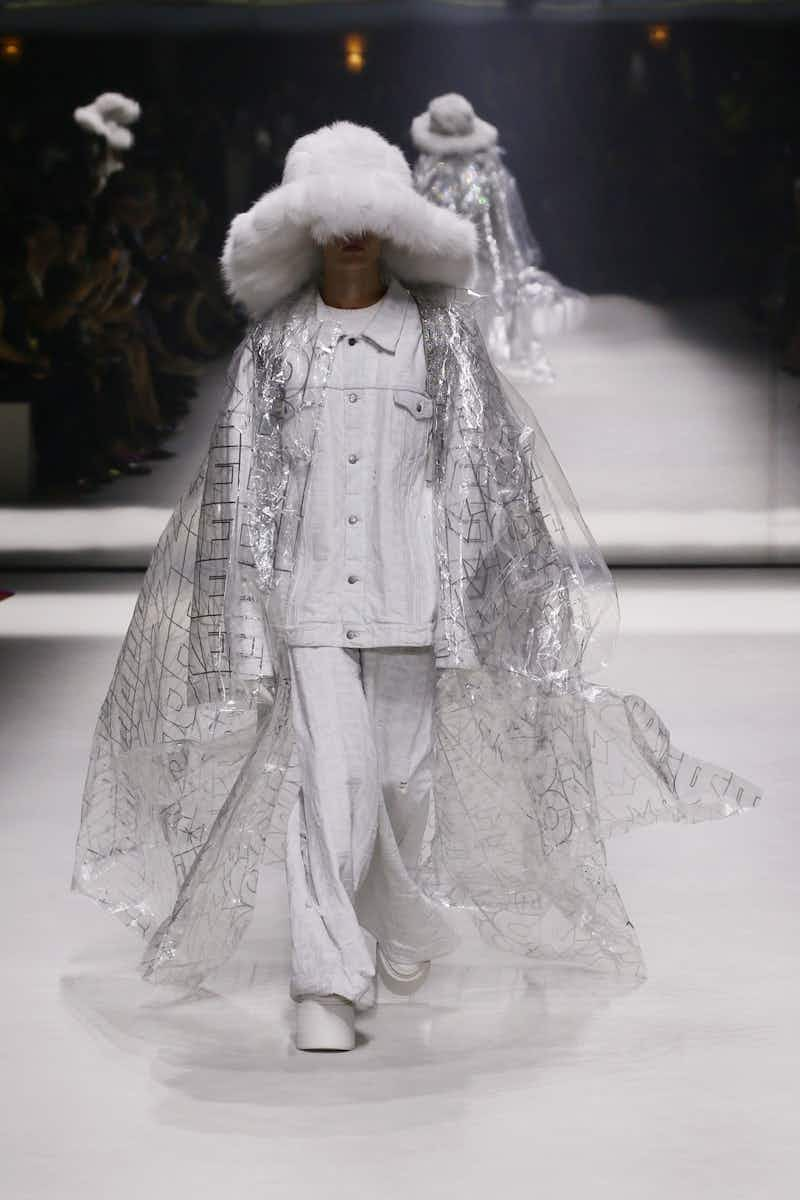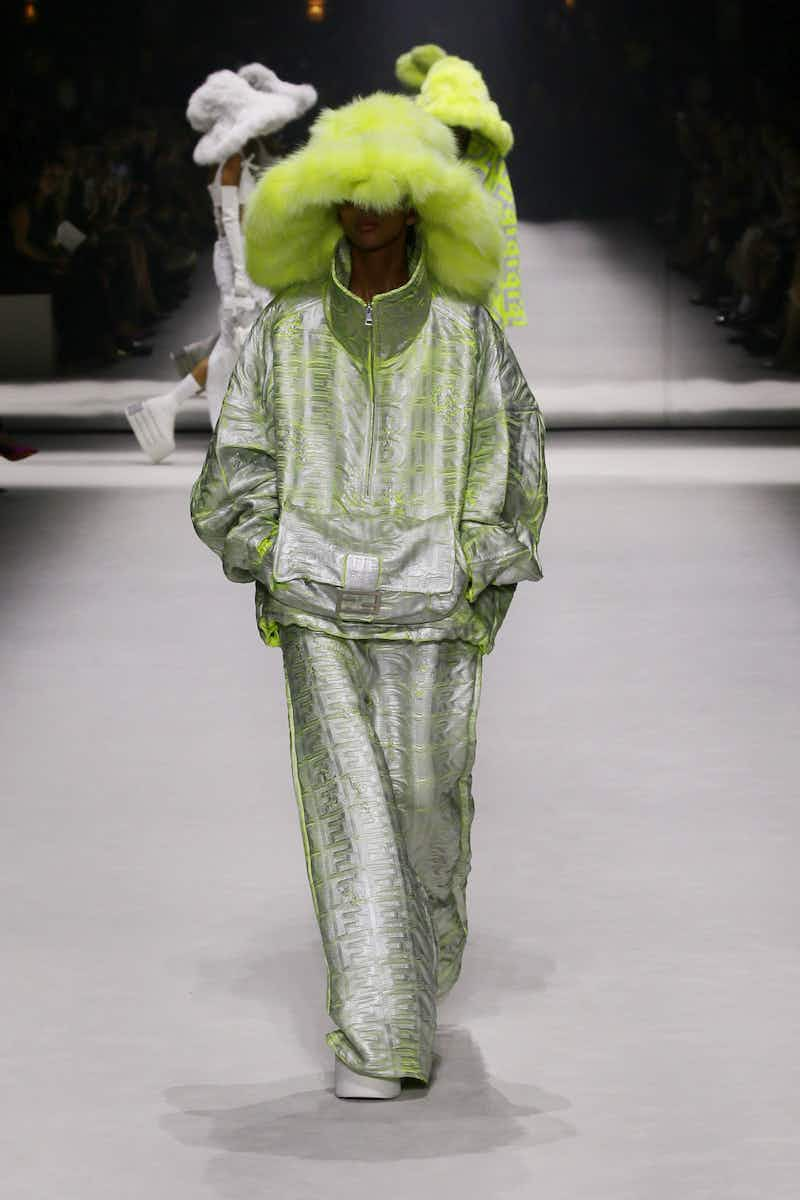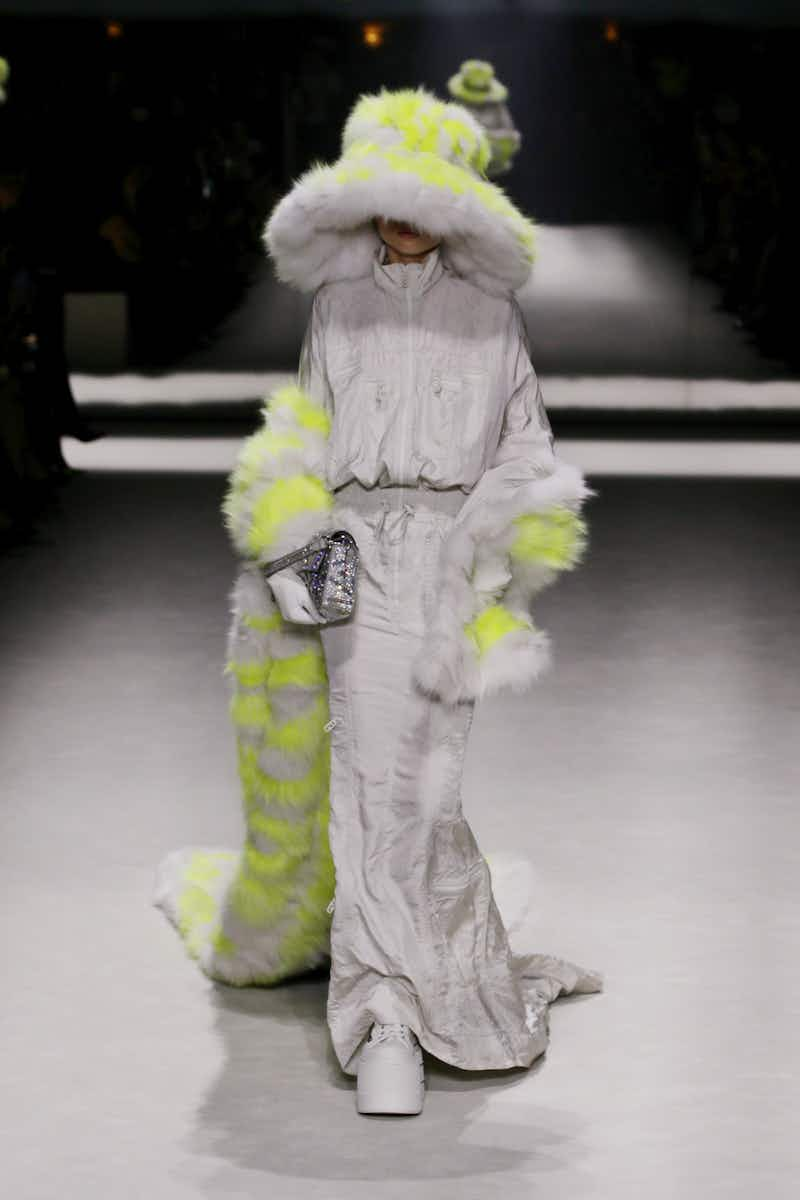 More like this