Off-White™ has officially launched _​LOGIC
As the cult label flicks the switch on its new collaborative offshoot, we speak to campaign stars Briana King, Duey Cartorze and Mali Mollie to hear how they defy logic.
As any respecting sneakerhead will know, one of Off-White™​'s most sought-after shoes is called the Out Of Office. We'd hazard a guess, though, that the brand has never ever set one.

Why? Well, Off-White™ never stops working; and this year has been no different. In 2023 alone, the label has linked-up with the likes of Nike, AC Milan and Mattel, made make-up maestro Isamaya Ffrench its beauty curator and previewed its debut collection from art and image director Ib Kamara, an intergalactic showcase that was less out of office and more out of this world.

Off-White™​'s output, though, never feels manufactured. It's a natural continuation of the blueprint that the label's late, great founder Virgil Abloh mapped out, synthesised to synchronise with the ever-changing beat of the streets.

Now, it's got a new collaborative platform to boot called _​LOGIC, which will see the off-beat brand hook up with compatible brands. Basically, it's a space for Off-White™ to produce even more dual-engineered projects, all filed in one folder.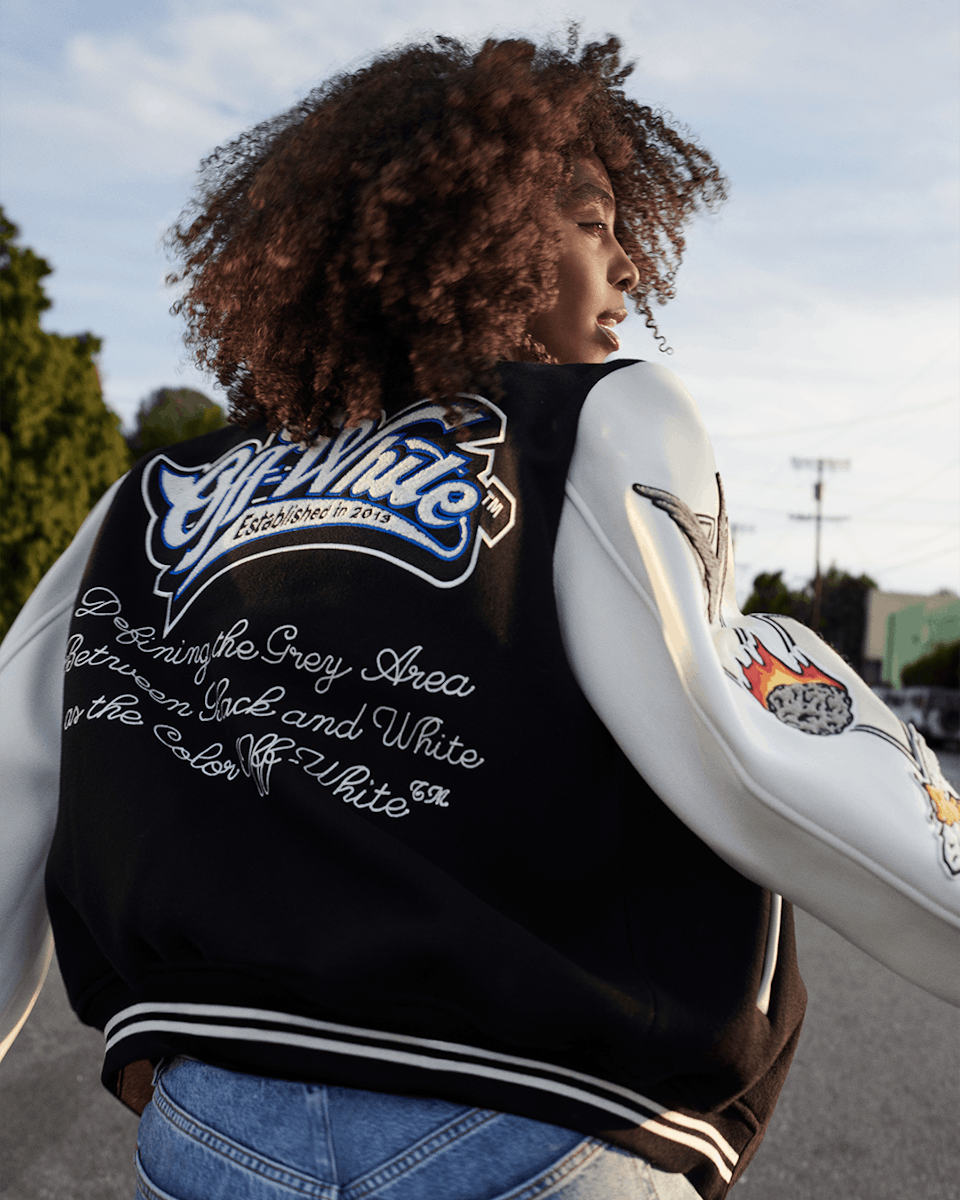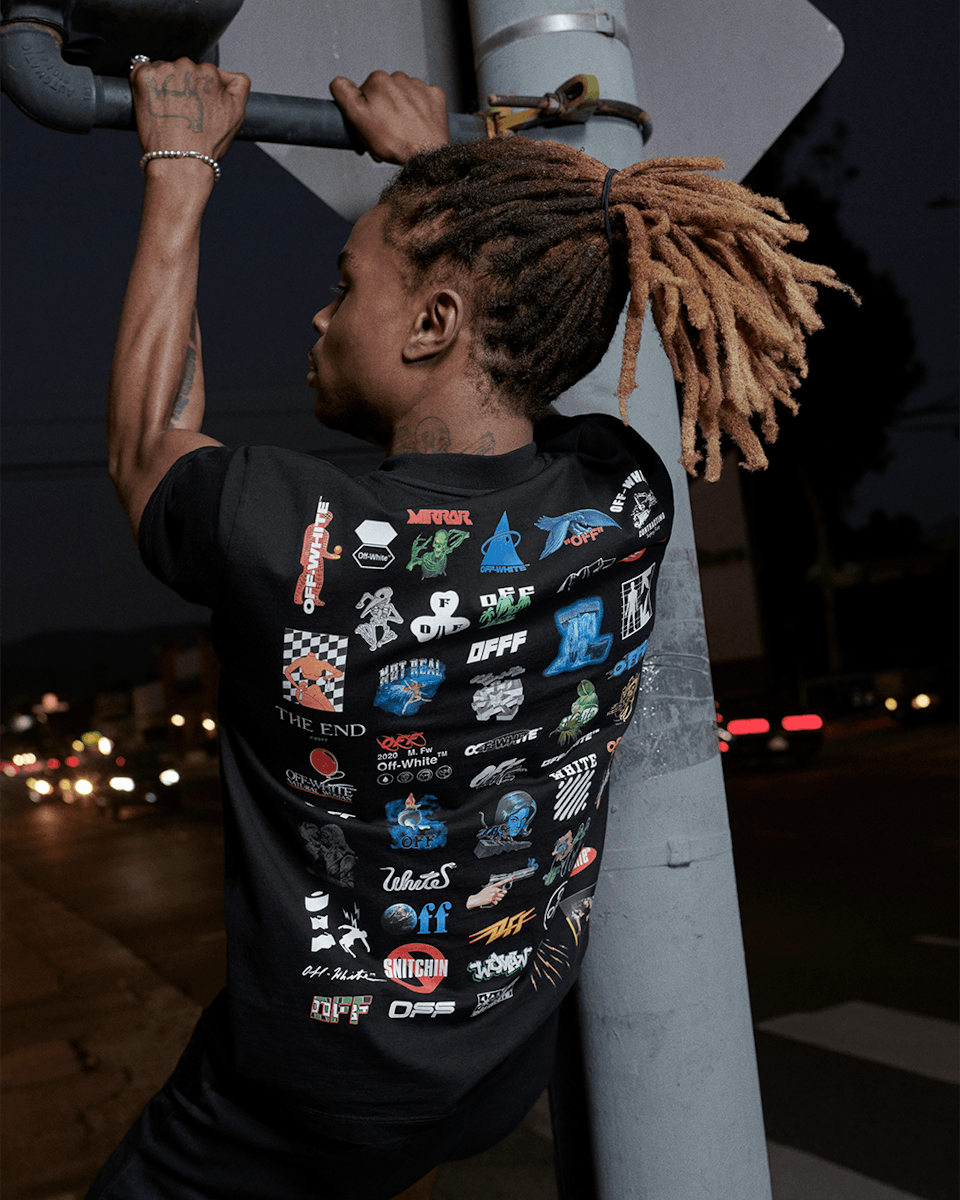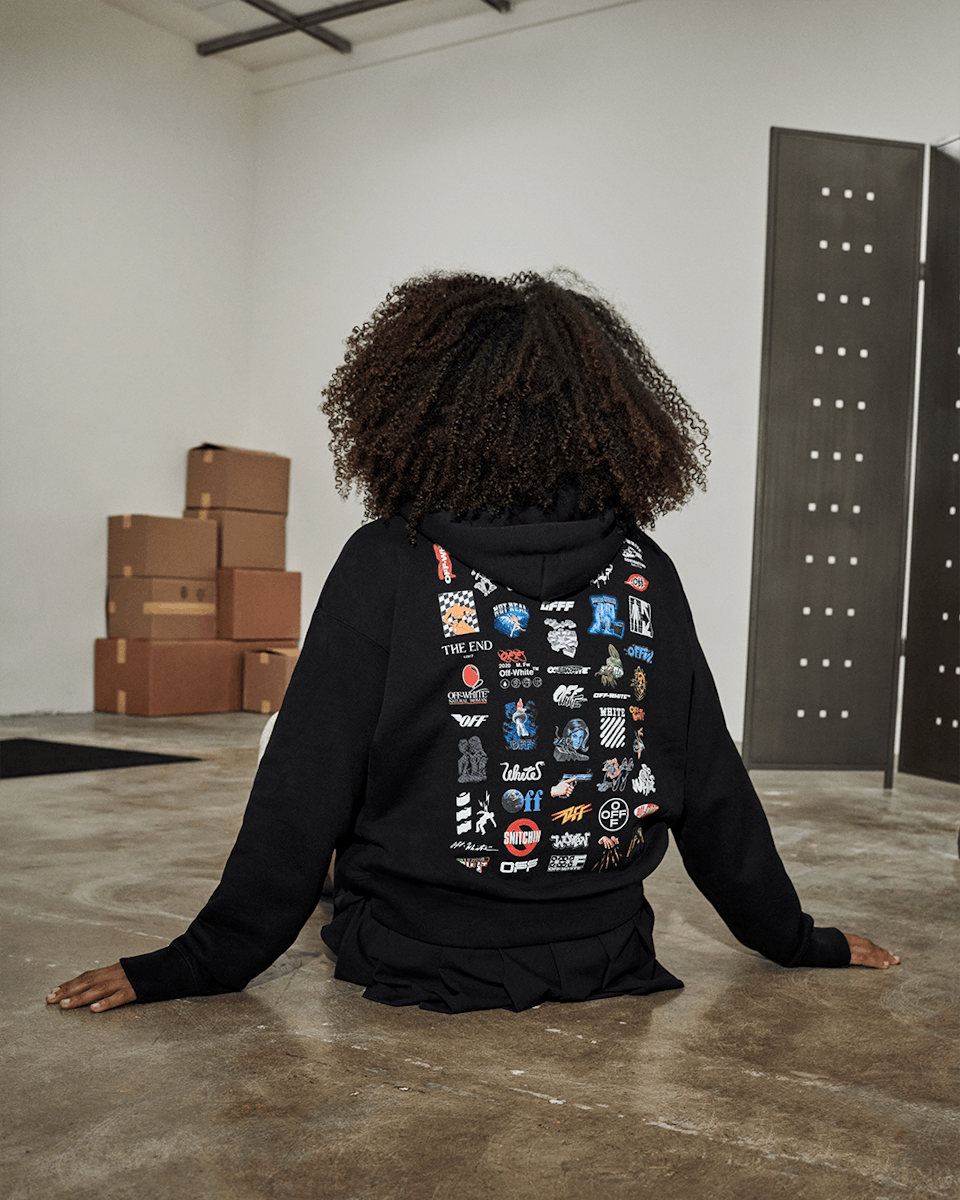 To start the process, Off-White™ has designed its own original _​LOGIC collection, inspired by archival motifs and past graphics. Available online now, our logical reasoning suggests that it's not going to hang around for long.
The capsule sees a range of black and white tees and hoodies emblazoned with logos, emblems and spell-out slogans, all encapsulating the brand's signature aesthetic. Best is the varsity jacket, covered front, back and sleeves with the hyperactive creativity of an art school student doodling after a triple espresso.

The Out of Office sneaker also returns in both a stripped-back monochrome version and embellished blue variant. And, if you're still WFH, Off-White™ has you (and your floor) covered with three new rugs typeset with the brand's fonts, plus a poster ready to decorate your at-home office.

The collection is also backed by a new campaign showing off the latest pieces where they're designed to be worn: on the road and in the studio. It stars three creatives who orbit the Off-White™ sphere – skateboarder Briana King, designer Duey Cartorze and model Mali Mollie (more on their many other talents later) – marking the start of _LOGIC's collaborative ethos.

THE FACE spoke to each of them to hear more about the project and their own trademark styles.

Whether you know them as Dieter Grams or Duey Cartorze, the Atlanta creative has made their name as one of NYC's buzziest fashion designers. Launching streetwear brand Bstroy with Brick Owens in 2013, Cartorze created a conceptual design style centred on bold graphics and edgy typography, winning the attention of Matthew Williams and walking for his label 1017 ALYX 9SM.

They also caught the eye of Virgil, modelling for Off-White™ and being enrolled in Abloh's ​"Post-Modern' Scholarship Fund alongside Brick Owens. ​"They [Grams and Owens] possess a poignant voice and high creative standpoint. They are two young black designers that fill a void in a space that can use their outlook," Abloh told THE FACE at the time.
What's Bstroy's mission? Has it changed during its decade in operation?
Bstroy is a design focused operation that creates from the perspective of the future in hopes of inspiring the future by doing so.
The brand describes itself as if it were an inevitable energy force – how did it come into existence?
Inevitably and out of necessity. In Atlanta there was a void for intelligent street-level intellectual expression.
You have tons of different projects on the go – why do you like switching between focuses?
So I can do as much as possible with my time on Earth.
_​LOGIC is all about collaboration, something you're most familiar with – what's special about a meeting of the minds?
Collaboration allows for people to make things greater than they could make on their own. The end product is more powerful because it incorporates only the best parts of the contributing components.
What have you done during your career that defied logic but paid off?
Exist.


Mollie Papouloute, also known as Mali Mollie, is a multi-talented model, musician and muse based in LA. Starting out by being snapped for swimwear and lifestyle brands, Mollie has moved into digital and print campaigns for buzzy labels including Bodega, Sky High Farm Workwear and SP5DER and hit the runway with Advisry. She also featured in the campaign for the Denim Tears x Virgil Abloh collaboration, showing off the handprinted ​"Message in a Tear" jeans.

This summer, Mali Mollie released her debut single Kalahari Sunshine, a retro, jazzy joint of Cali-via-Kalahari cool. She's also been sticking a load of funky demos on her Soundcloud that sound like they could have been made in the golden era of disco.

You've appeared in campaigns for the world's coolest brands. Do you approach each shoot differently?
Typically I like to understand the ethos of the brand. Sometimes that goes into the way I'll pose, my facial expressions or interaction with the set. There's so much that can be said in an image. I also like to consider how the clothing makes me feel and see myself as part of the whole creative team. There's always a bit of acting that goes into modelling. A bit of theatre. I absolutely love it.
How would you sum up your musical style?
It honours the past, my family and my own vision of where music can go. Throughout my entire life I've been exposed to so many styles of music: jazz and classical through my grandparents; funk, soul and salsa through my aunts and uncles; house, hip-hop and rock through my brothers. Music has always been a timestamp for me, to help remember special moments in my life. I think retro sounds can become futuristic when using them in a different way.
What does Off-White™ mean to you? What is its trademark value?
It created such a shift in the industry. I think Off-White™ bridged the gap between street style and luxury. I remember the first time I saw the quoted words when I was in high school. The brand truly challenged the idea of what luxury looks like and where high fashion could draw inspiration from. There has always been an intention to inspire and be an innovative brand.
How do you think _​LOGIC is set to change the game?
I think_​LOGIC will bring up a bit of nostalgia. A sort of nod to the first collection, and a reminder of the impact Off-White™ has had on the industry. I loved every piece from that first women's runway collection. The use of deconstructed denim and collared shirts. The nod to classic silhouettes and the clean colour palette truly set the tone of Off-White™'s introduction to the luxury world.
What have you done during your career that defied logic but paid off?
I think my entire career defies logic. It's taken me six years to get signed to an agency. I've heard ​"no" so many times throughout my modelling career in spaces that weren't ready for someone that looks like me. I am still on my journey. I have so much I still want to experience in my career and I look forward to creating and honouring my gift.

Briana King brings it. Starting out with music (just, you know, learning the flute, clarinet, piano, vibraphone, guitar and violin), she soon turned to modelling, moving to Australia with $200 in her pocket to pursue a full-time career when she was just 18. Why Oz? Because it was the farthest-flung English-speaking place she could think of.

Heading back to NYC, King picked-up skateboarding and spent hours every single day honing her tricks. It led to her starting a TikTok during Covid-19, which has amassed over 400,000 followers eager to learn how to land their first ollie. King also featured at the First Annual Abloh Skating Invitational last December, organised to celebrate Virgil Abloh's commitment to the scene.

You moved to Australia by yourself with a few hundred dollars. Do you like to push yourself to the max?

​I do love a challenge, I love doing the things that the world or my own thoughts may have made me doubt myself. I knew it was going to be extremely difficult but it taught me to take all my challenges day by day so I don't get overwhelmed by life itself.

How do skating and model interlink? Is there a connection between them?
All of life interlinks into what you love. I am blessed to be able to live a life that allows me to do everything I love and modelling, skating, spirituality and fitness is all one thing in my mind. It's all the things I love.

What was it like being part of the First Abloh Invitational and paying tribute to Virgil through skating? How did Virgil and Off-White™ influence the scene forever?

All of my friends and I were able to skate, eat, and live more together because of Virgil throughout the years so it was such a beautiful tribute to him and our friendships that brought us closer together because of Virgil and skating. The skateboarding community is family and the more time you get to spend with family the more love you get to receive. Love looks good on everybody.

Tons of people on TikTok have learned how to skate thanks to you – what's your top tip?
Skating is hard, be gentle with yourself.

Photographer Reto Schmid Digi Tech Aladdin Ishmael 1st Assistant Jordie Turner 2nd Assistant Dom Ellis Head of Production Adam Lilley Senior Creative Kieren Birtchnall Producer Christo Arsenio Stylist Julia Ehrlich Stylist Loren Robles Set Designer Zoe Hazlett MUA Jaime Diaz Hair Stylist Stephanie Smith