Singer and DJ Albertina on her top North London running route

Kitted out in On, the musician gives us her tips on how to party hard and train harder.
THE FACE has partnered with Swiss performance-wear brand On to explore how running can inform and enhance creative practice. Stepping out for a jog with four London creatives, we discovered what makes them tick, and how they strike the perfect work/​life balance.

There's a common misconception that working in nightlife leaves little time or energy for exercise, but for DJ and musician Albertina, running has recently become a mainstay in her weekly routine.
After suffering an asthma attack earlier this year, the 28-year-old Yorkshire native quit smoking and took up running in a bid to focus on her health. Thanks to an enduring fascination with dance, Albertina was already familiar with working up a serious sweat, but the meditative focus of running through the streets of London, and the potential to build endurance over time, came as a total revelation. ​"Even before I got into it properly, I was pushing myself and challenging myself," she explains, ​"it really has transformed my life!"

Now, between working on her burgeoning music career with producers like up-and-comer Jacob Samuel, and playing sets at some of London's hottest club nights under the moniker DJ JEWLI, Albertina's schedule is packed, to say the least. However, through running, she regularly creates valuable time to zone out and ruminate on ideas and upcoming projects – of which there are many.
When we meet, she is fresh from wrapping a short film in the wilds of Scotland to accompany her upcoming music release, Waiting 4 Life. ​"I can't say too much about it," she teases, ​"but it's my first real solo thing and we're going to be having a premiere soon for the film!" With her early influences ranging from reggae to electronic music, via the underground rave scene, Albertina is sure to deliver us an audiovisual feast.
Above all, she is keen to emphasise that running is quite literally a matter of taking things one step at a time. ​"I came last in P.E. I came last in everything growing up," she chuckles. ​"I never thought I would even be able to run a mile! But if you take it slow and distract yourself with music you can really surprise yourself!"
THE FACE took an afternoon jog with Albertina along Regent's Canal – sporting On's high-tech Weather Jacket and layered Running Shorts – to find out which film character is her running inspiration, and her ultimate motivation track.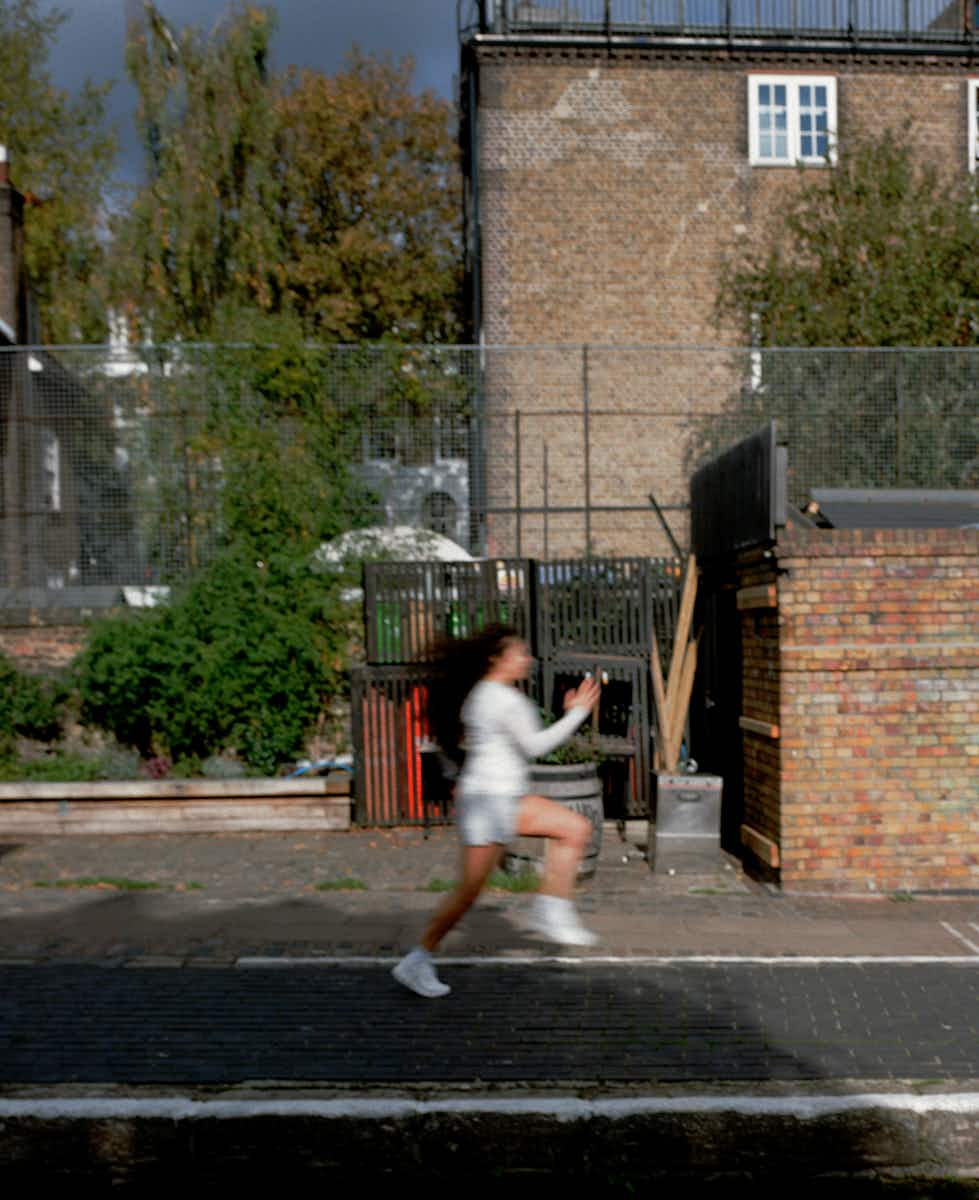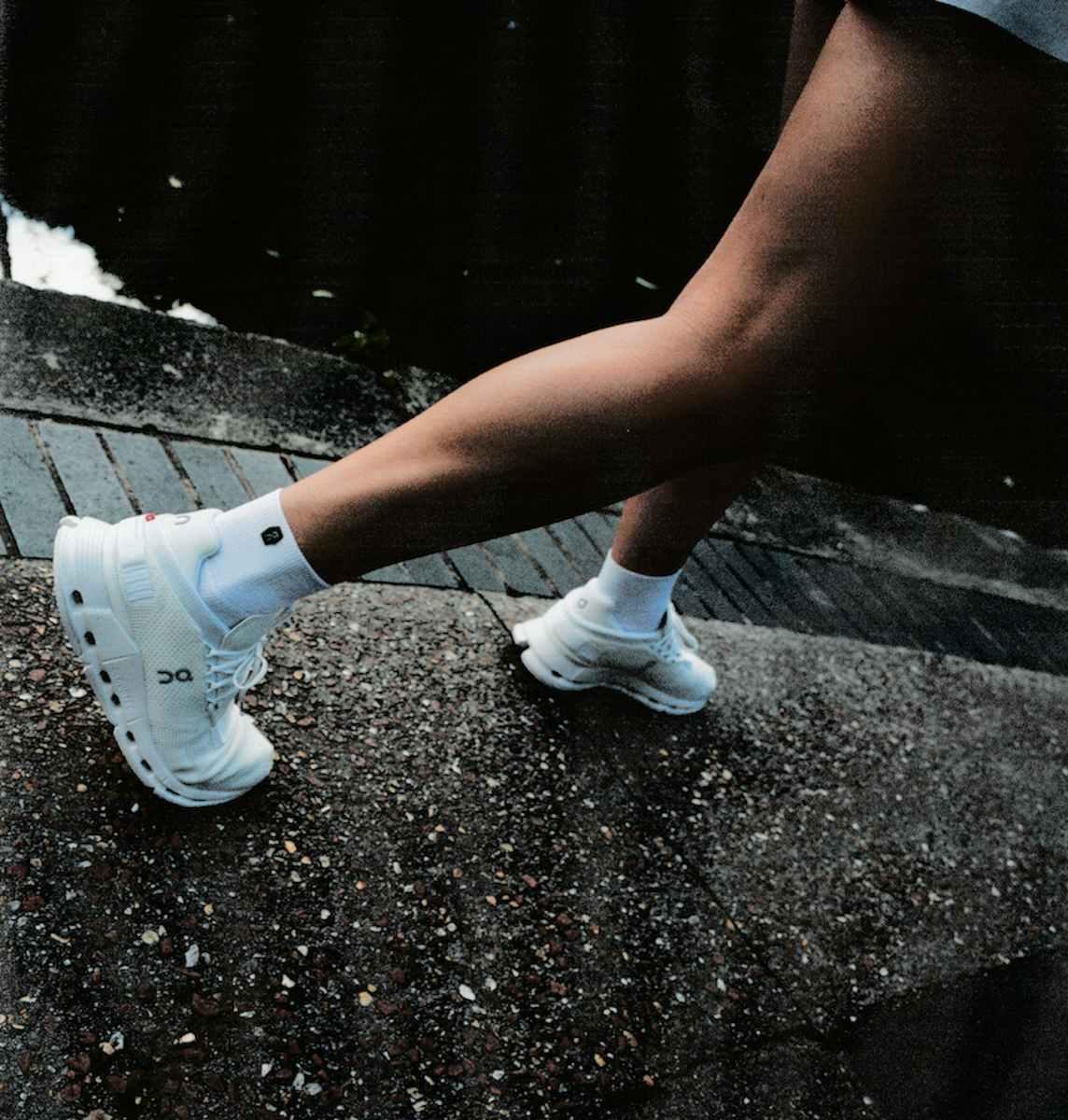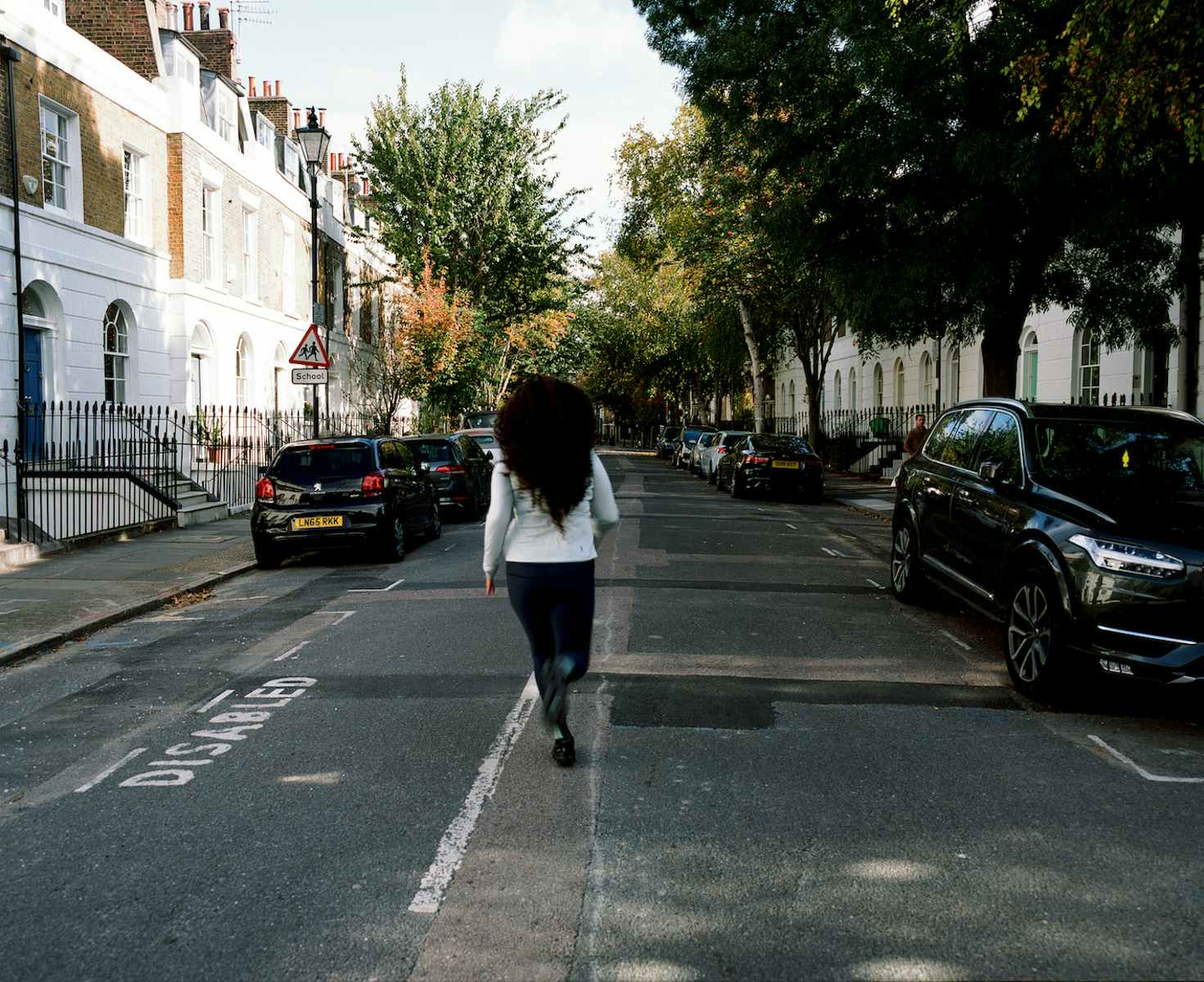 Hey Albertina, please introduce yourself and tell us a little about what you do.
I'm an artist, I sing and I also DJ under the name of DJ JEWLI. And I put on parties as well, and make films, and I'm a dancer!
You wear a lot of hats! Can you tell us a little about your relationship with running, how it began and how it fits into your routine now?
I've trained as a dancer for years and running was something I'd always been interested in. I actually had an asthma attack a few months ago and after that, I knew I had to quit smoking and find a new avenue. From then it's completely transformed my life. If I've done a run I know I've achieved something that day – even if that's the only thing! I like running on my own, I pretend I'm DJ Jungle Julia from [the Tarantino film] Death Proof. I like running around with my curly hair all out like I'm her.

Route: Chalk Farm to Exmouth Market [5km]
Click on the map markers to discover more
We asked you to share with us one of your favourite running routes in London, and yours passes through Camden and along Regents Canal. What drew you to start running there?
The canal boats there remind me of where I'm from – a little town in Yorkshire called Hebden Bridge. Being next to water is just really good for the soul and there are beautiful buildings around there too. You're getting a marriage of worlds, you're getting the city with a bit of nature. It's perfect.
Do you feel like running informs what you do creatively, or perhaps that it provides a necessary contrast to what you do? How does it fit in?
If I'm recording or mixing a track all day or if I'm sound engineering, I'm literally sat listening and I need a break in my head, maybe to listen to a song away from being sat down in one environment. I can listen to my songs as I run, I can listen to my mixes. For DJing, it's the best way to hear new music. If I'm running and I like moving to it, I'm like yes, this is gonna go off in the club!
Can you tell us about what you've been working on recently?

I've been shooting a film to accompany my next project, it's gonna be called Waiting 4 Life. That's with Lex Francis who's an amazing, up-and-coming director. The music is electronic R&B and I've been working with a great producer called Jacob Samuel, who's recently worked with Klein and some other amazing artists. I also just put on a party called Sweet 1 with [DJs] Anu and Hasani, it was at this amazing African joint in Peckham called Cool & Cozzy.
What influenced your running playlist? And if you had to choose one track to run to, which would it be?
So, the one that I really like, my favourite running track, is Go – Rework by Tomos. It says ​"Do something well, do something bold!" which is very motivating! The others are mostly R&B or Atlanta trap – songs that make you feel sexy! I like running to songs that are gonna make me feel like I'm in a movie.

On Set Producer: Katherine Bampton
Senior Project Manager: Victoria de Zanche
Branded Content Editor: India van Spall
Associate Creative Director: Clara Goodger
Art Director: Cara Shurey
Stylist: Rob Boyd
Stylist Assistant: Jon Wallner
Makeup: Marina Belfonse-Rose
Hair: Takuya Uchiyama

TALENT
Pasquale Daniel
Albertina (DJ Jewli)
Rob Boyd
Jade Jackman