Pharrell's larger than life Louis Vuitton debut

Kicking off PFW with a bang, Vuitton's new creative director picked up where the late, great Virgil Abloh left off with heavy codes of streetwear and an air of childlike wonderment. Plus the splashiest front row, like, ever.

What?
In the wake of Virgil Abloh, Louis Vuitton's new creative director of menswear, Pharrell Williams, stepped up to the plate, presenting a bright new future for the Parisian house. Sit up, take notes – it was big.
Where?
None other than the Pont Neuf, Paris' oldest standing bridge crossing the River Seine which guests were transported to via boat.
Who was there?
When it comes to front rows, LV wins the title for this year's most notable. Not only did Bey and Jay show face, but the latter performed post-show with Pharrell. Vuitton's newest face, Bad Gal RiRi, and hubby-in-waiting, A$AP Rocky, also attended in full-look drip, meanwhile Pusha T walked the show (alongside the likes of DJ and producer Hank Korsan and photographer Gabriel Moses) and rapped on the soundtrack.
What were the clothes like?
Virgil Abloh is a hard act to follow, and one whose indelible mark should be carried forward. Fortunately, Skateboard P did just that, picking up where Abloh left off with heavy codes of streetwear and an air of childlike wonderment. As part of this mission, Pharrell upped the graphic ante, introducing a new pixelated camo Damier print (he calls it ​"Damoflage") across leather hoodies, ghillie-style overcoats, and collarless blazers. Heck, even the LV coffee cup sleeve flexed the new design.
Elsewhere, tailored shorts were teamed with Mandarin blazers, the look dotted with heirloom brooches and miniature yellow LV keepalls that hung from belt loops. On foot, Mary Janes and ribboned schoolgirl socks softened the look for femme-dandy realness. Together, alongside Pharrell's impeccable use of the atelier – razor-sharp nappa leather suits, tonal camo tailcoats (without the tail) and meticulously embroidered kilts, for instance – the collection put naysayer doubts to bed.
Quite right, too. Remember, this ain't Williams' first rodeo. Aside from jewellery and sunglasses collaborations with Vuitton during the mid-'00s, he's kept one foot in fashion from the halcyon days of Y2K, founding Billionaire Boys Club with Nigo, churning out Bape collabs, and single-handedly making fedoras a thing in the mid-teenies. The difference now? He's armed with some of fashion's best pattern cutters willing to bring his visions alive. In 2004, we wanted the Baby Milo Pharrell tee. Now, we want LV's forest-green satin bomber and the matching tree-print shorts.
Perhaps the most ingenious aspect of his first outing was the playful use of house signatures. Behemoth Alma bags, diamanté checkerboards, croc-texture tailoring… The list goes on. Taking opulence to new heights and spinning it further with a sampled approach à la Virgil, such designs will no doubt become staples in celebrity stylist wardrobes. Indeed, those baseball jackets that read ​"LVovers" are what fire-emoji fit pics are made of. Sure, it was a lot, but it's Pharrell. He was never going to ease himself in, was he?
Any major pieces?
Hell yeah. Those chequered green berets were a brilliant blend of chic and ostentatious, while the camo teddy and plush monogram slippers would make one bougie bedroom setup.
Any major moment?
Besides the aforementioned, the Virginia-based gospel choir, Voices of Fire, singing their hearts out while the show crescendoed into yet more star-studded moments had every editor reaching for the Kleenex.
In two words?
Bling bling.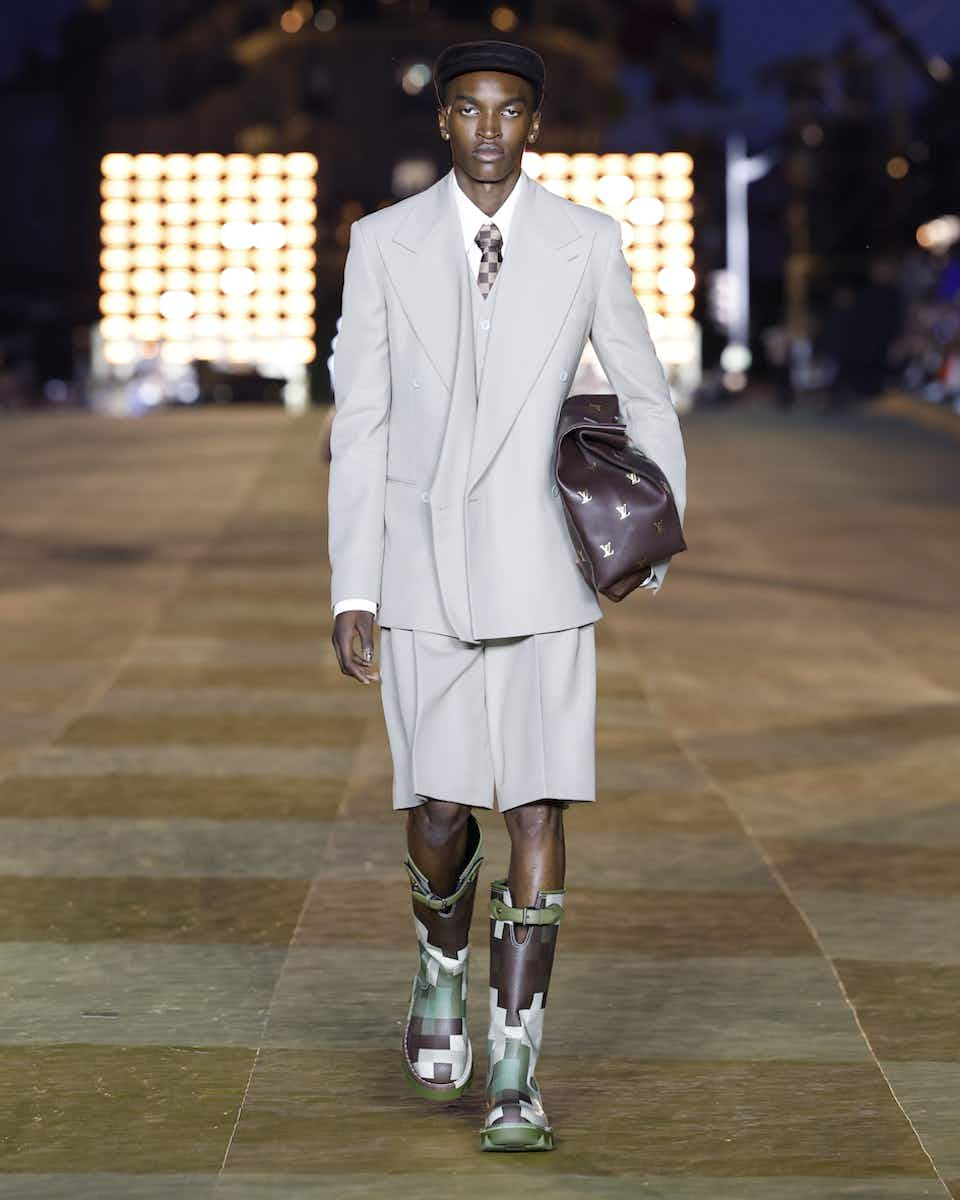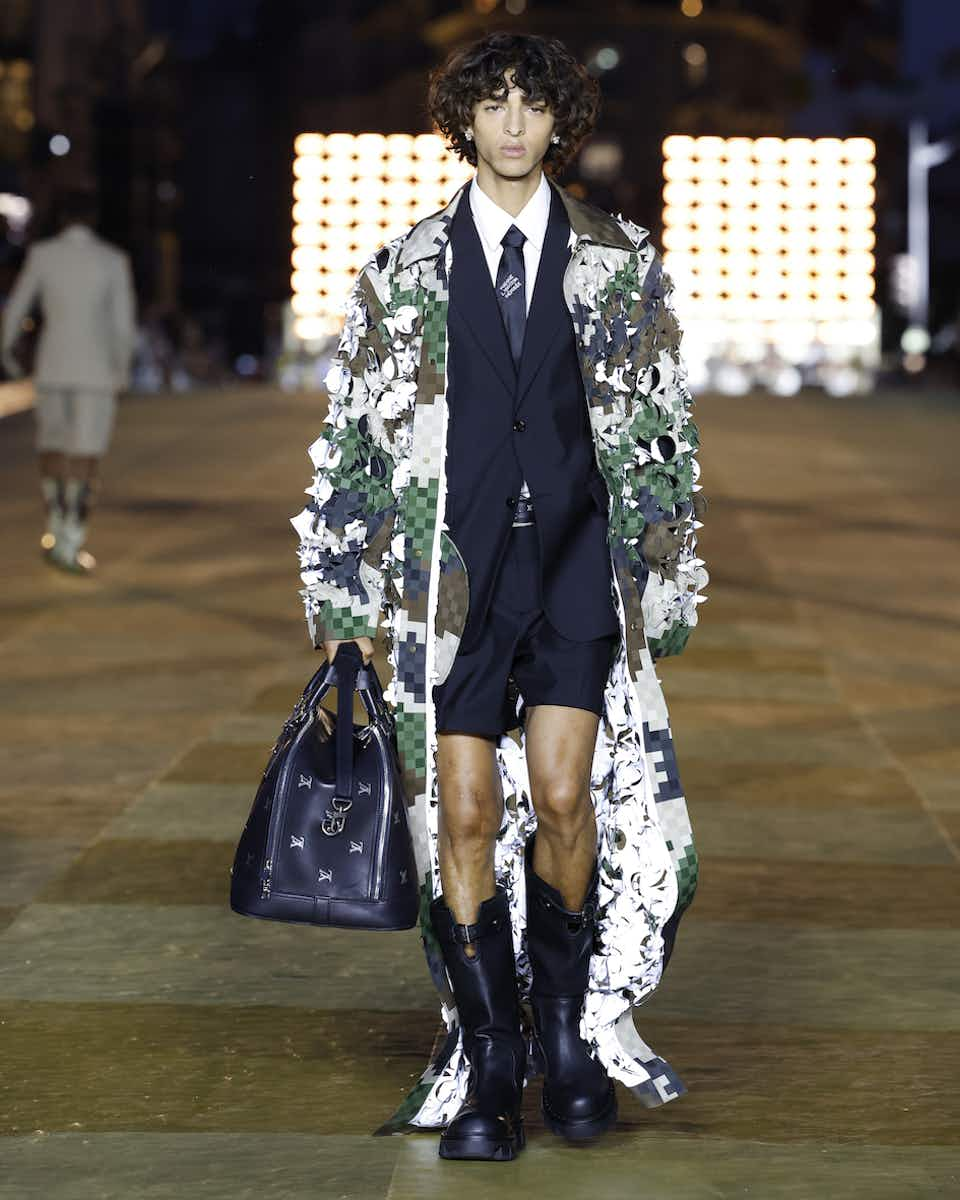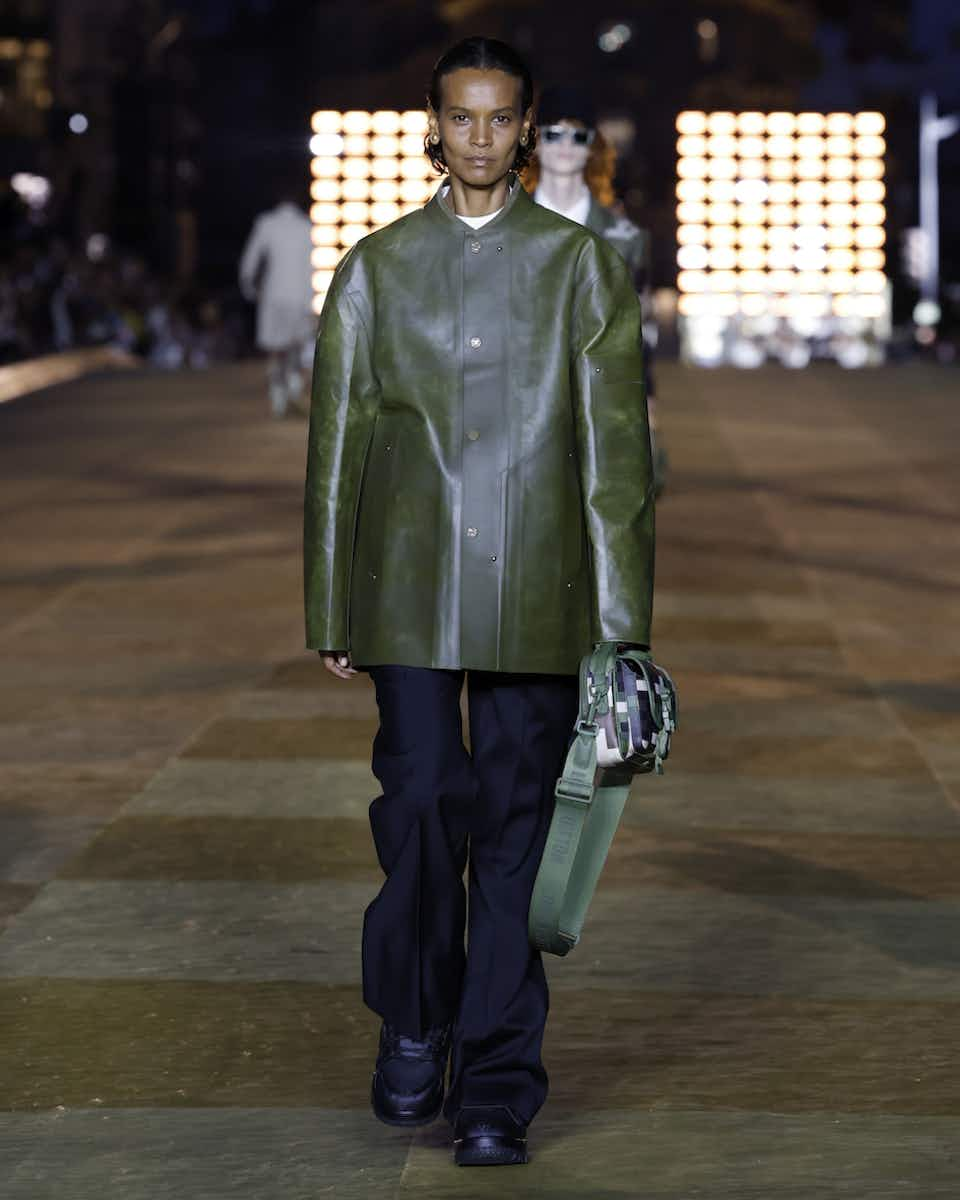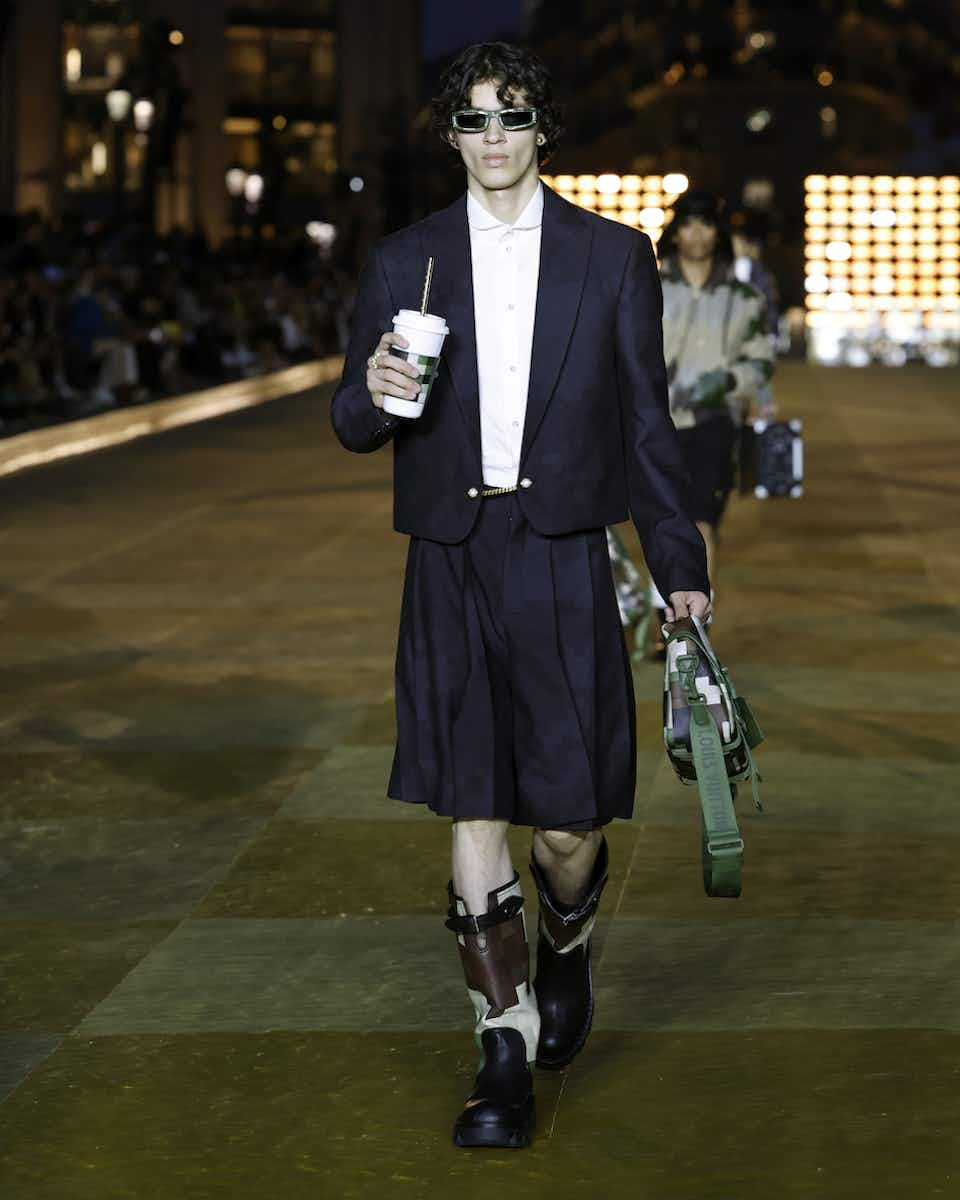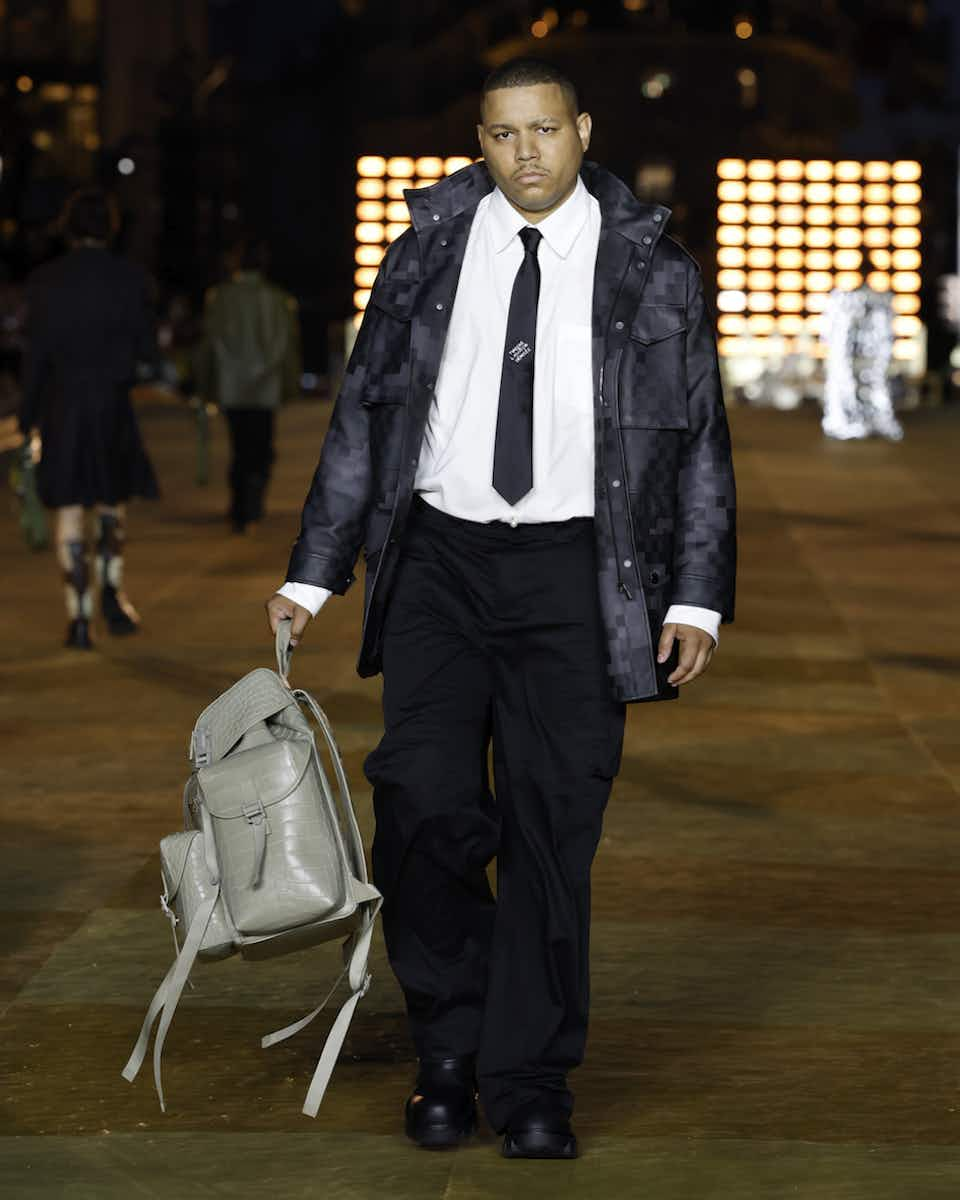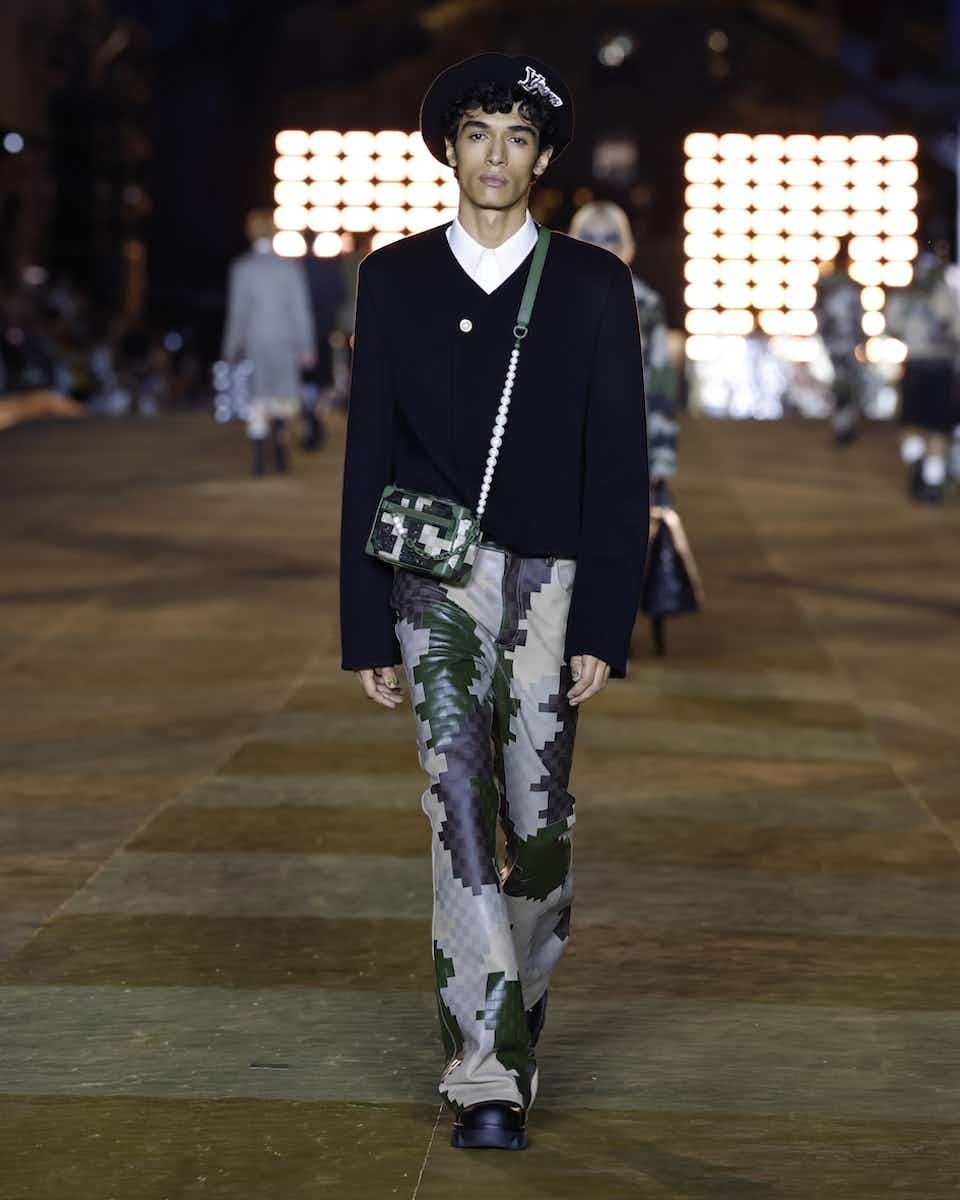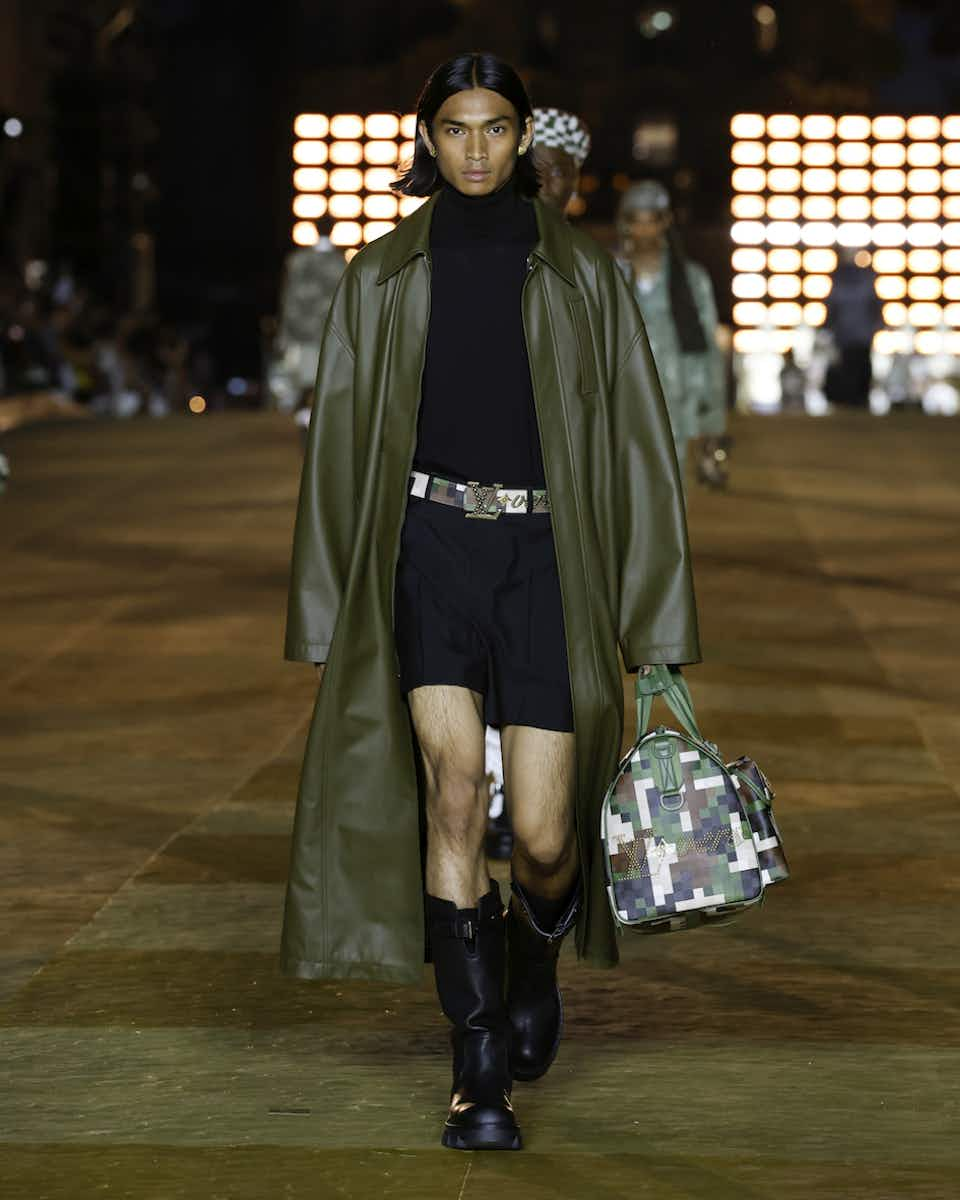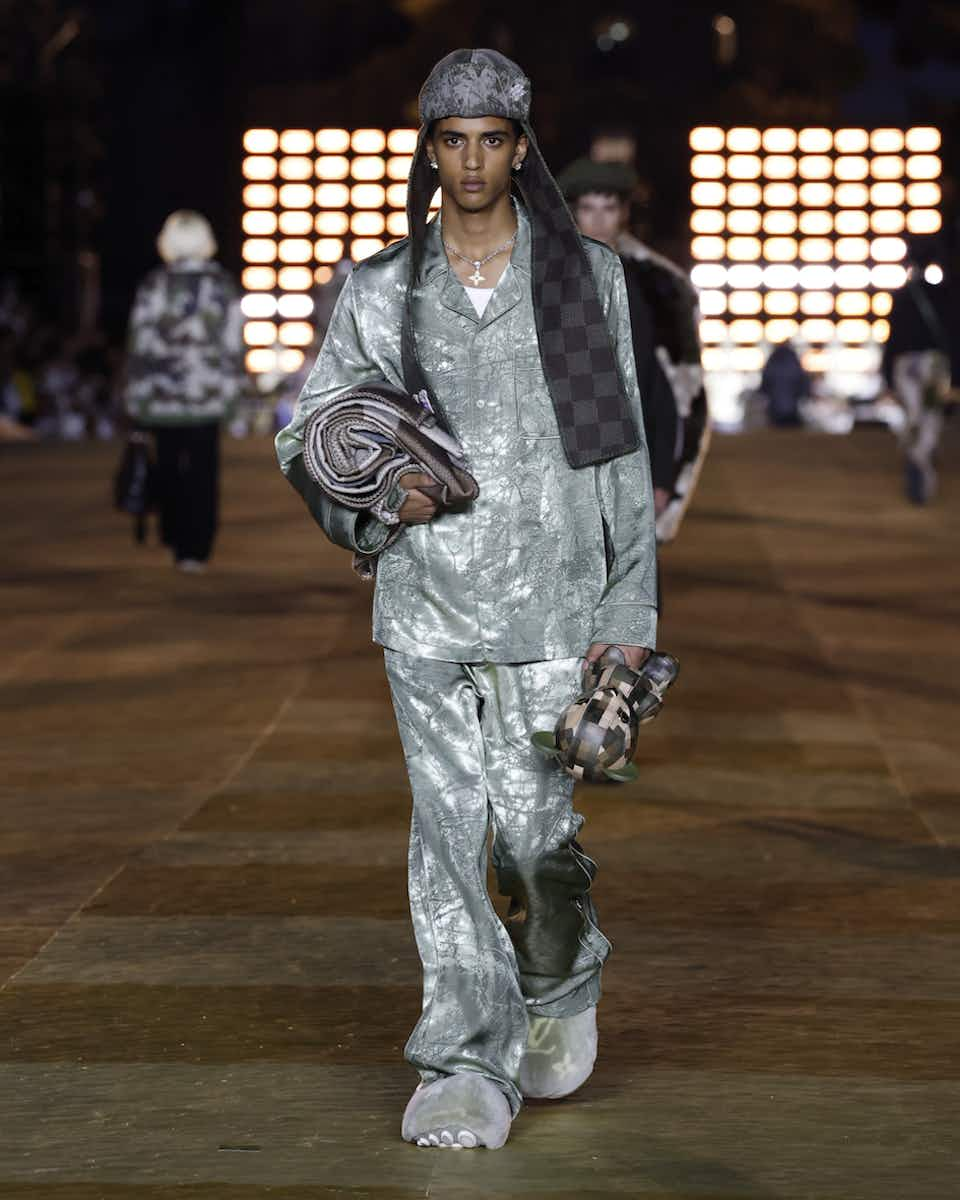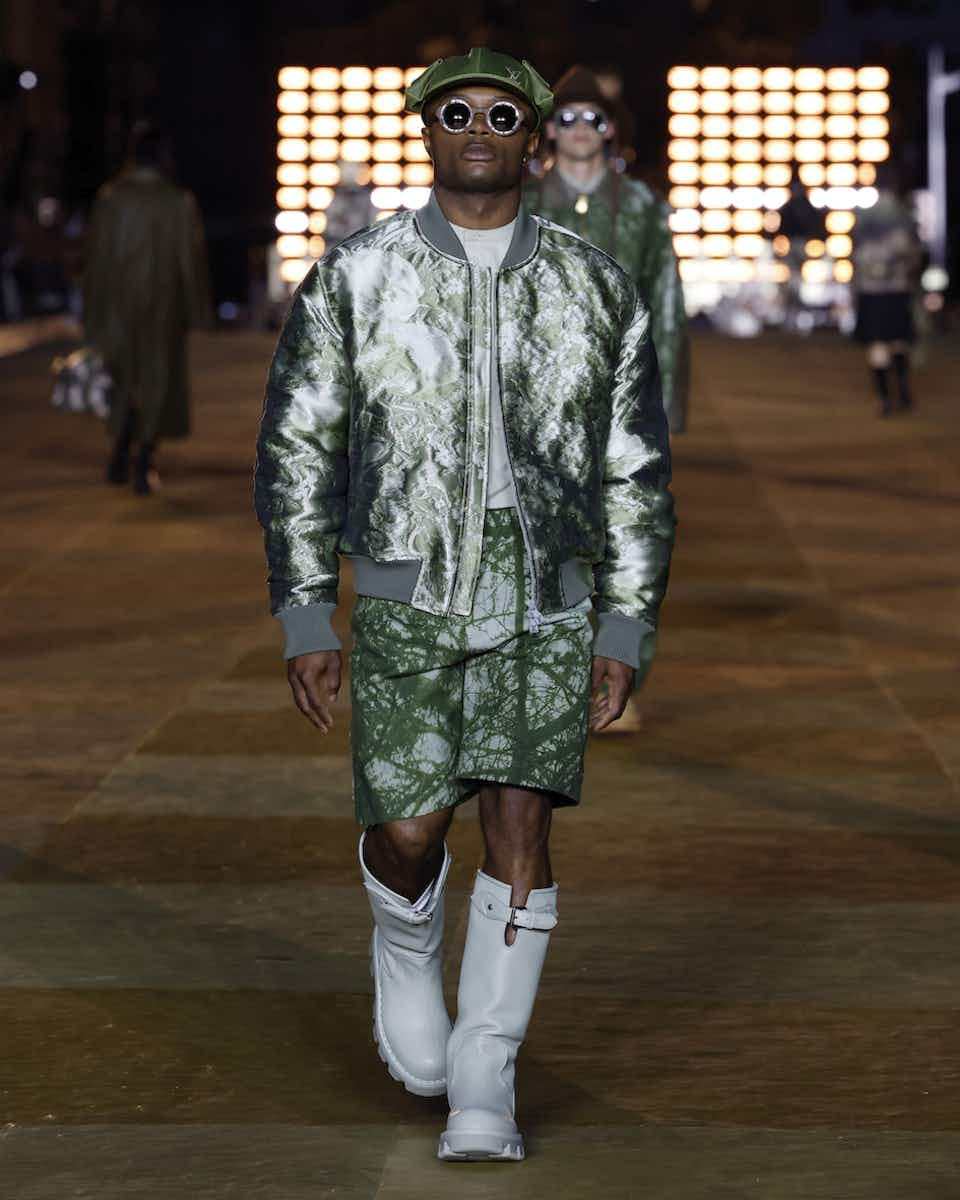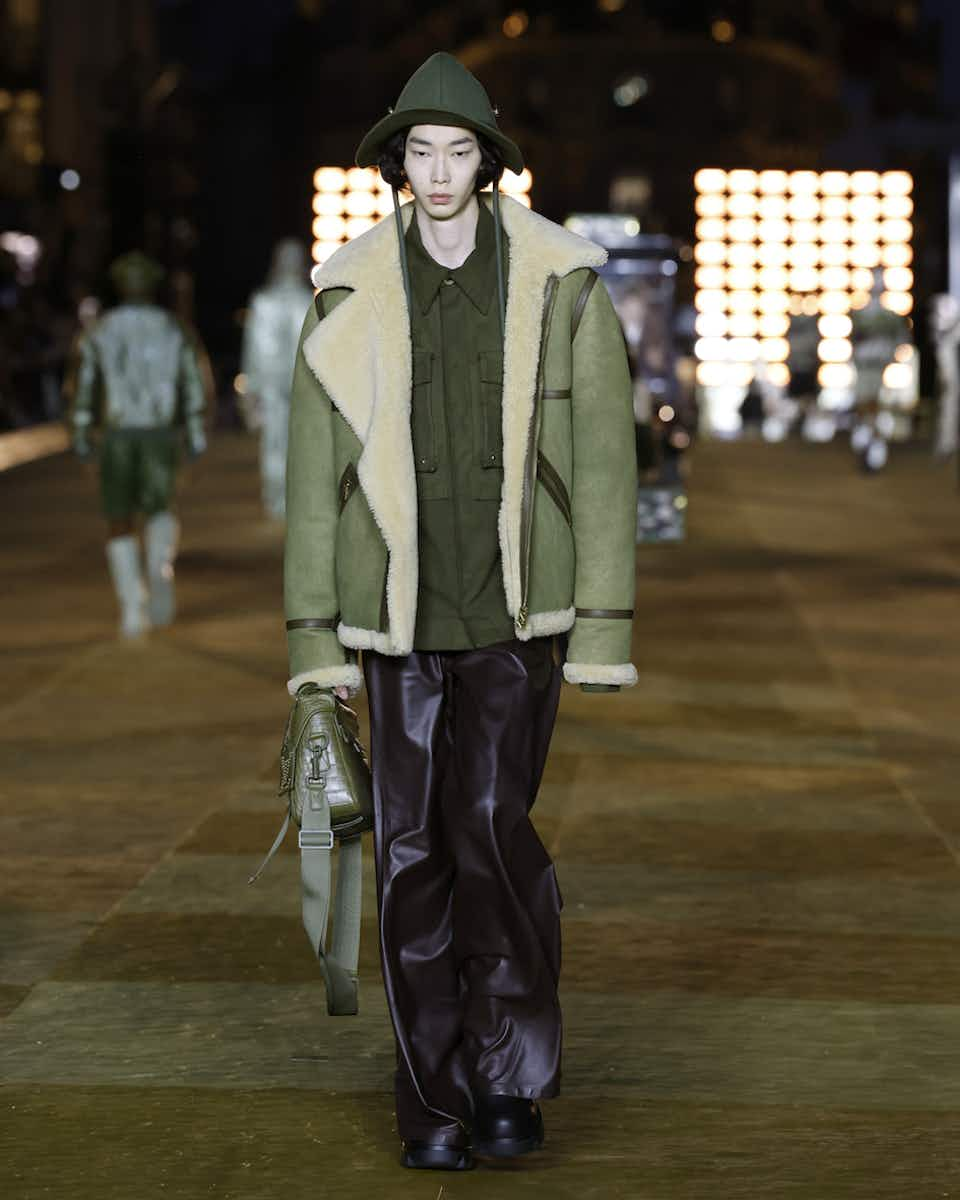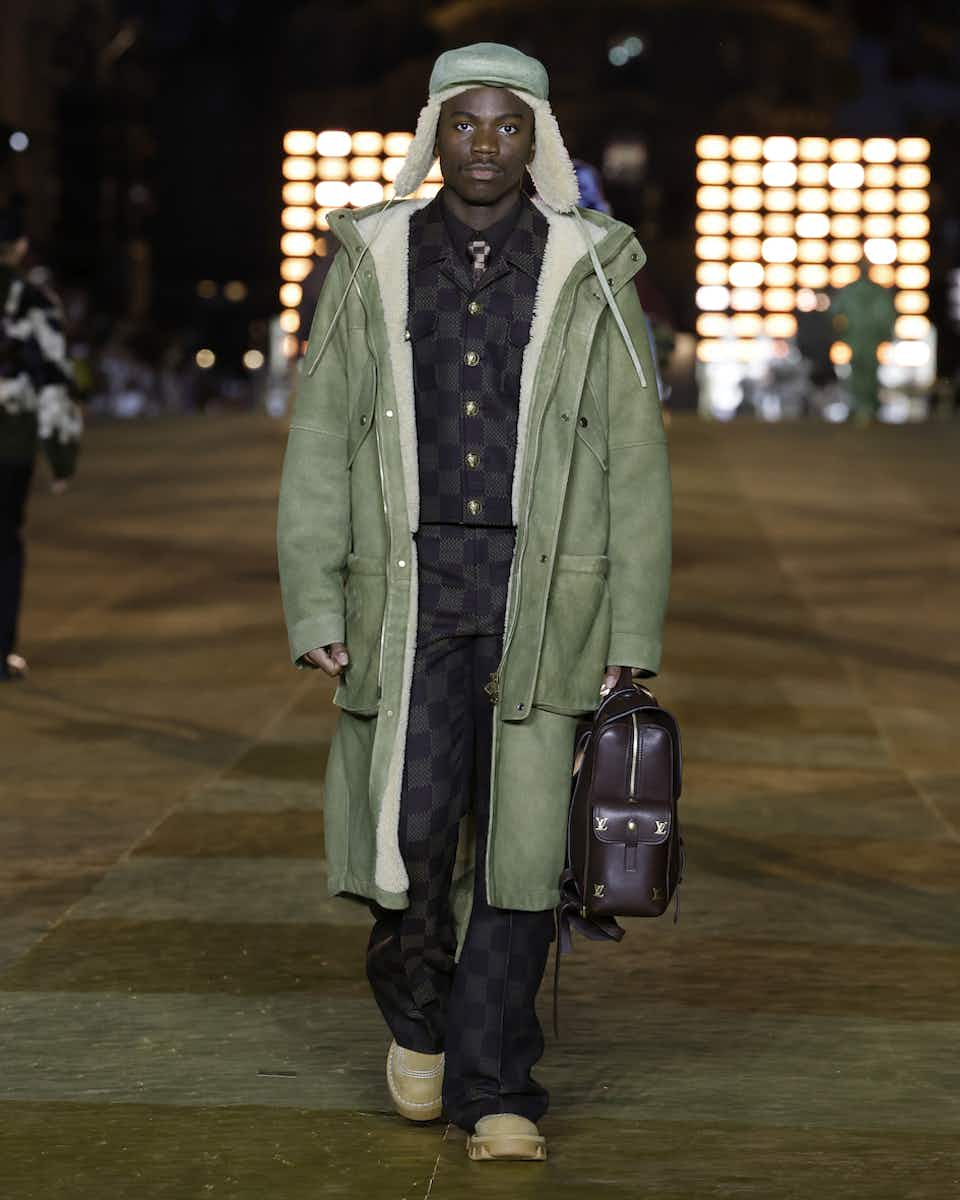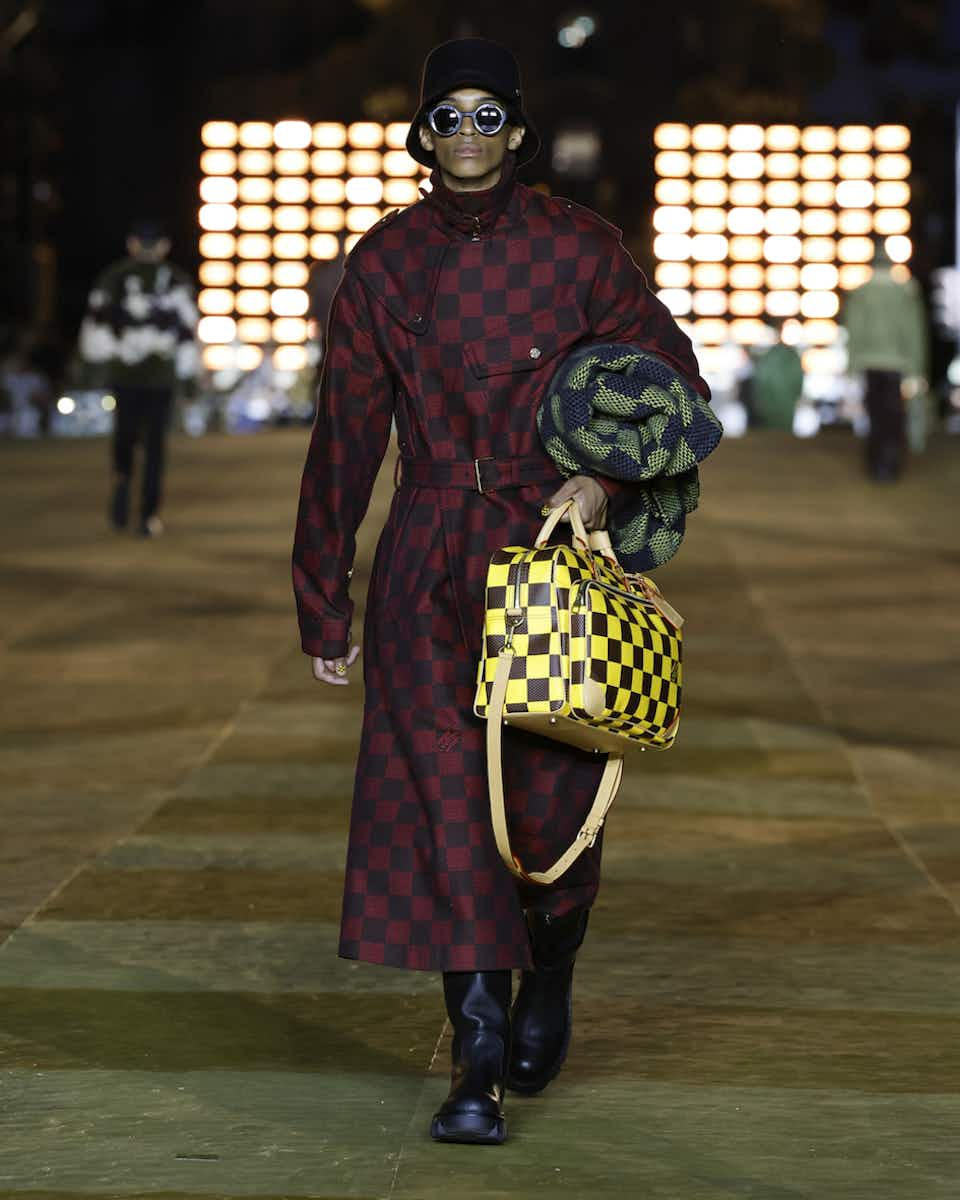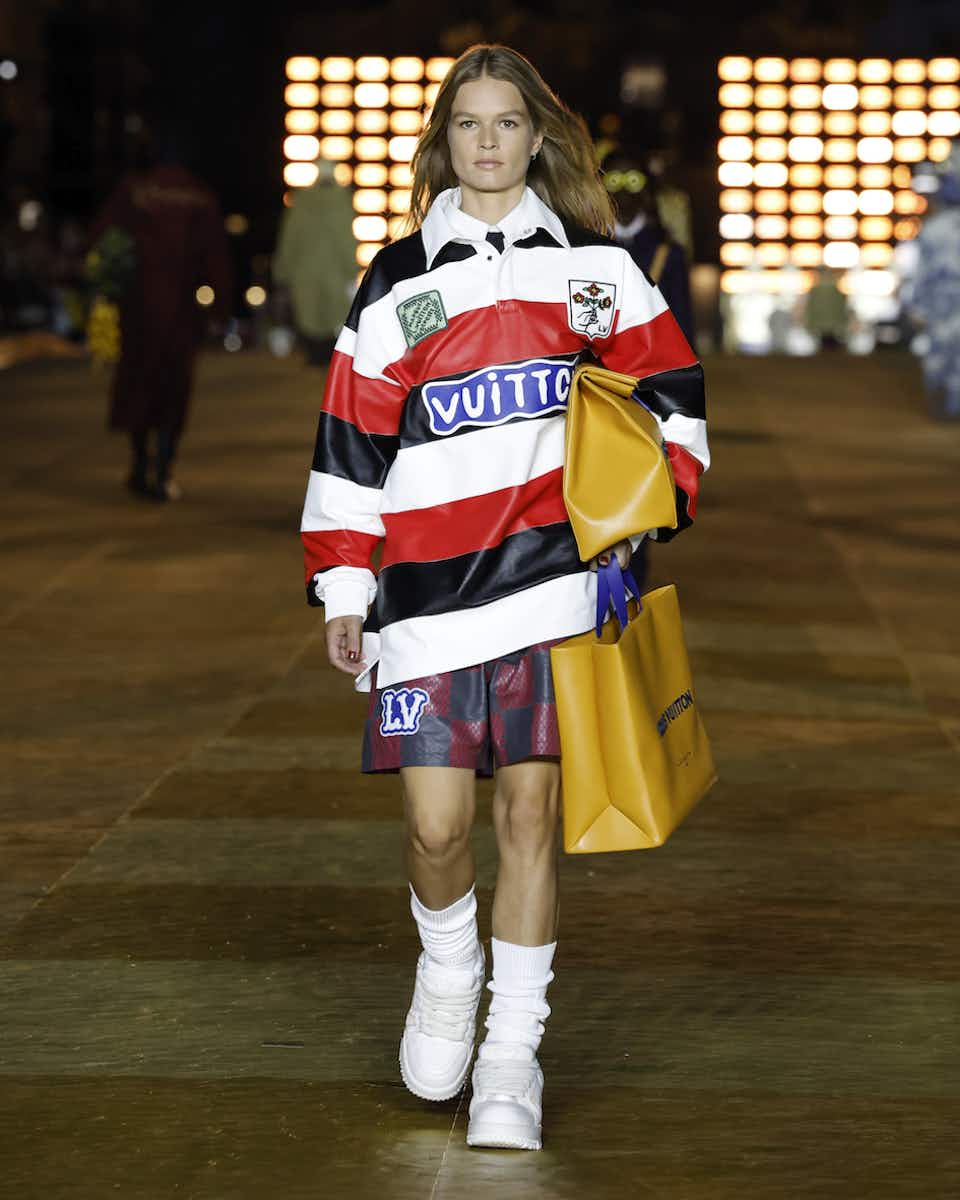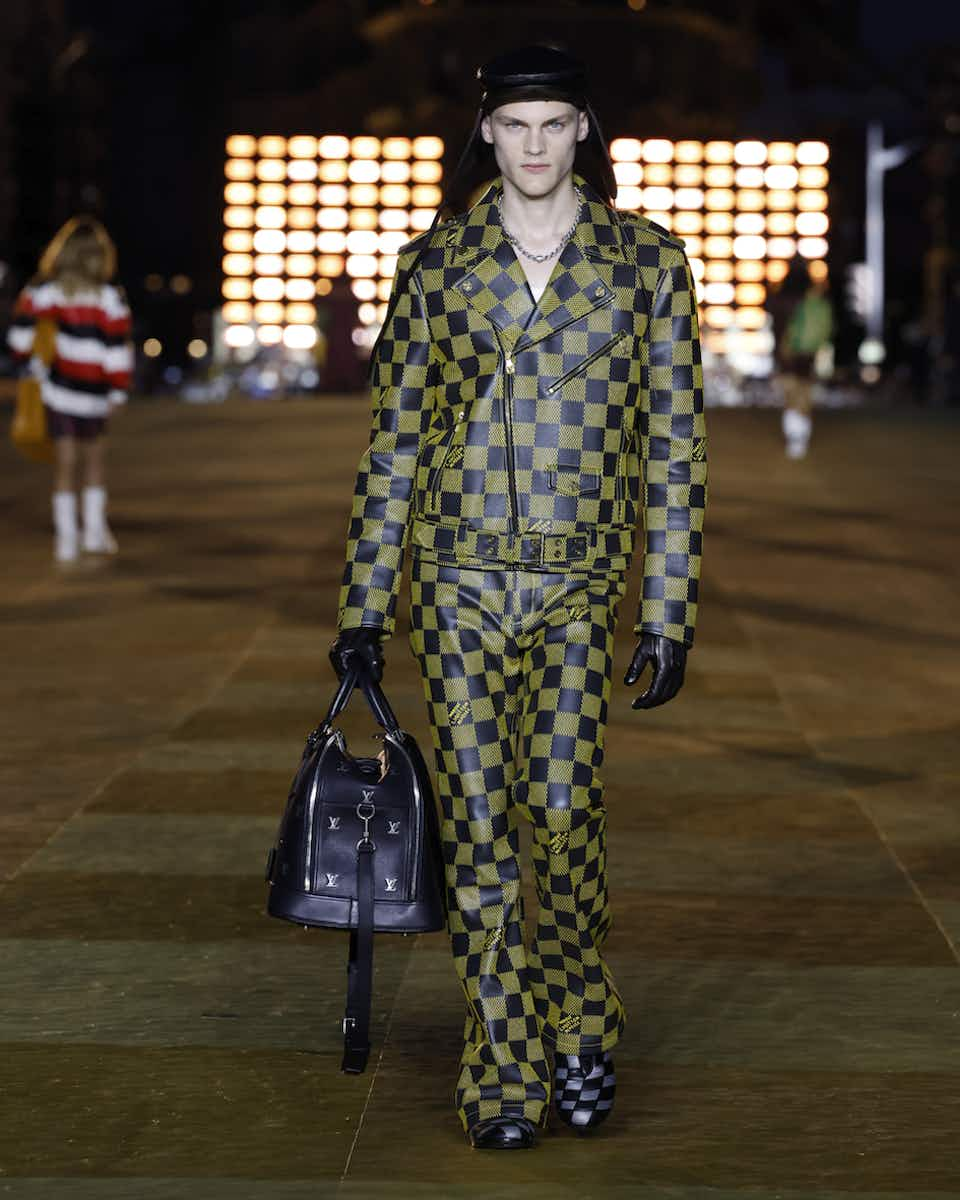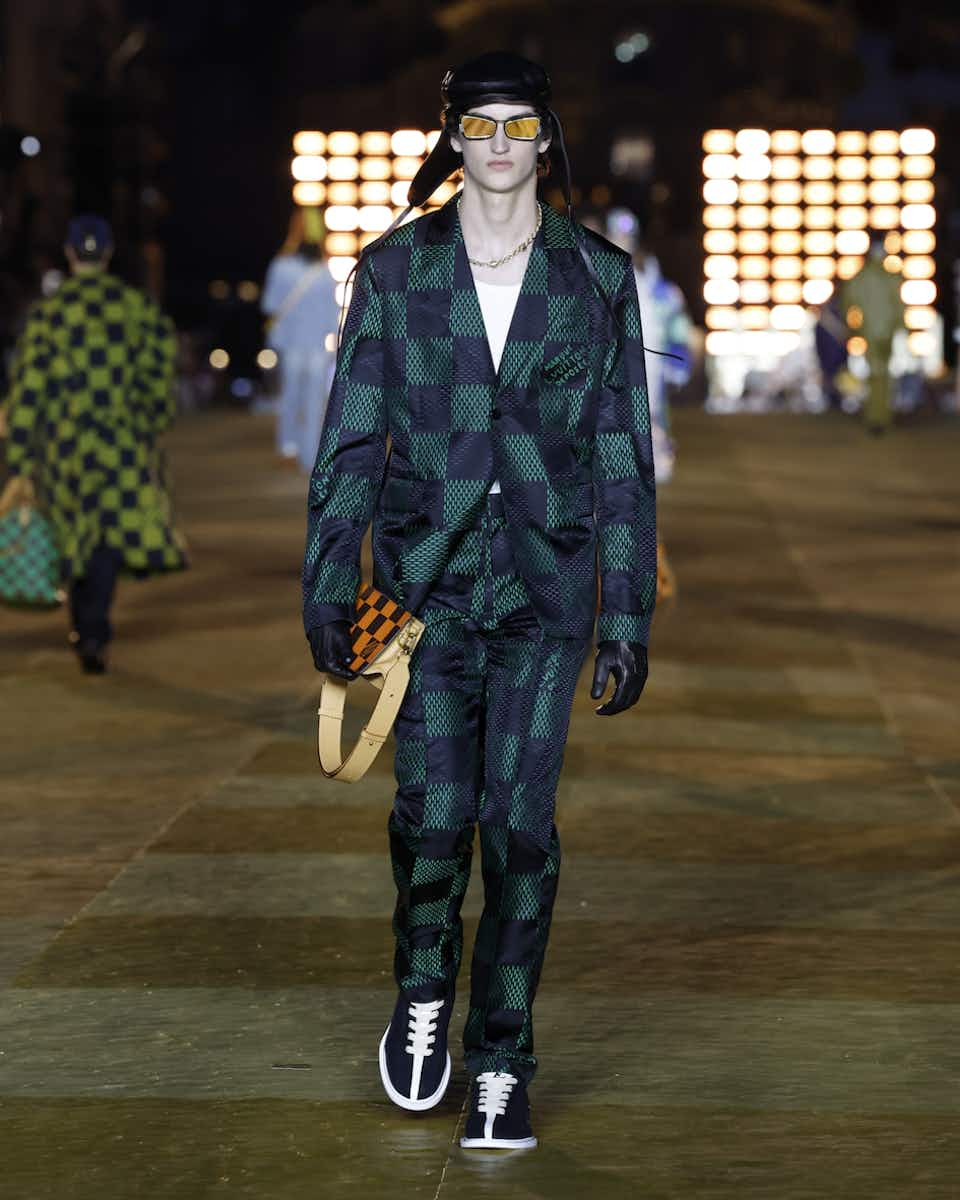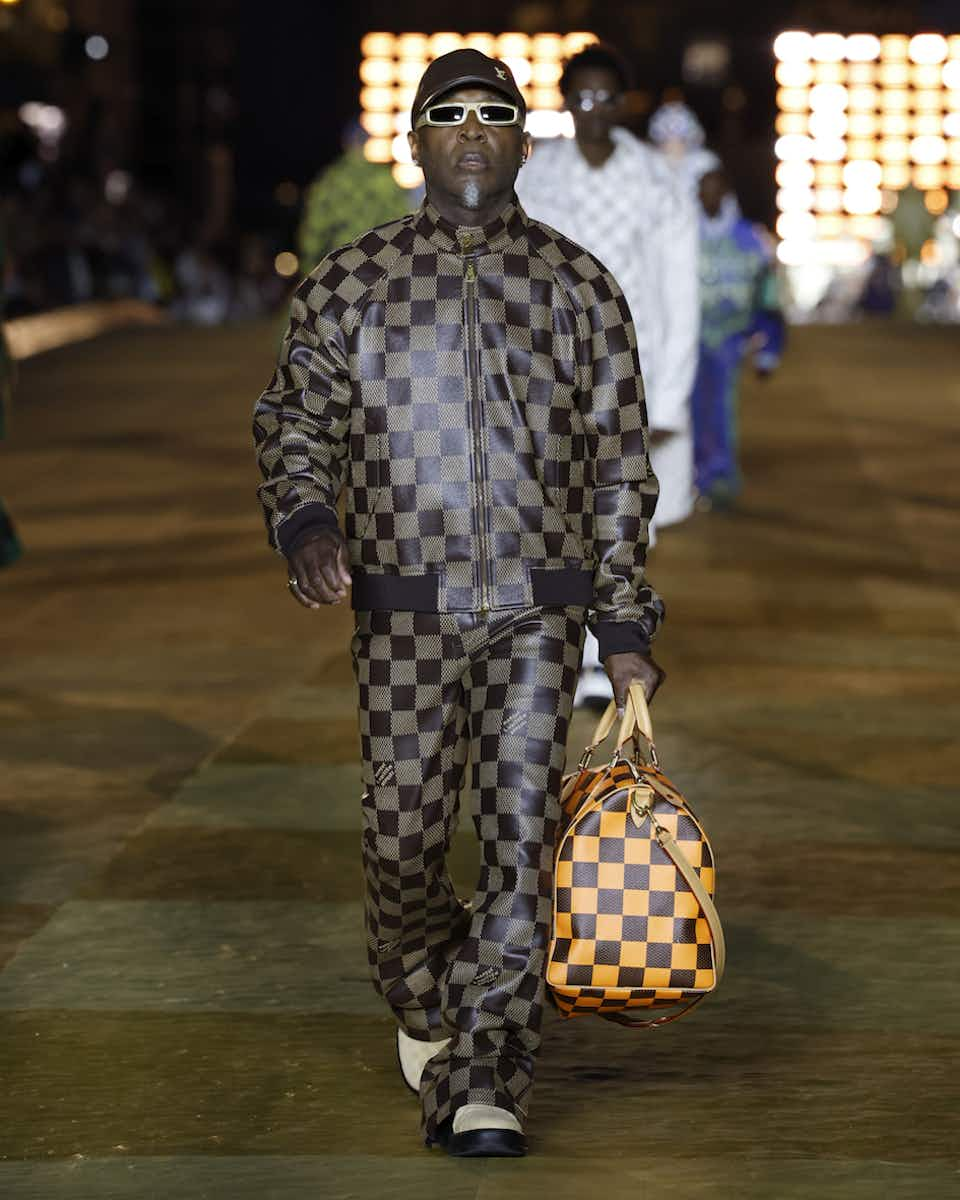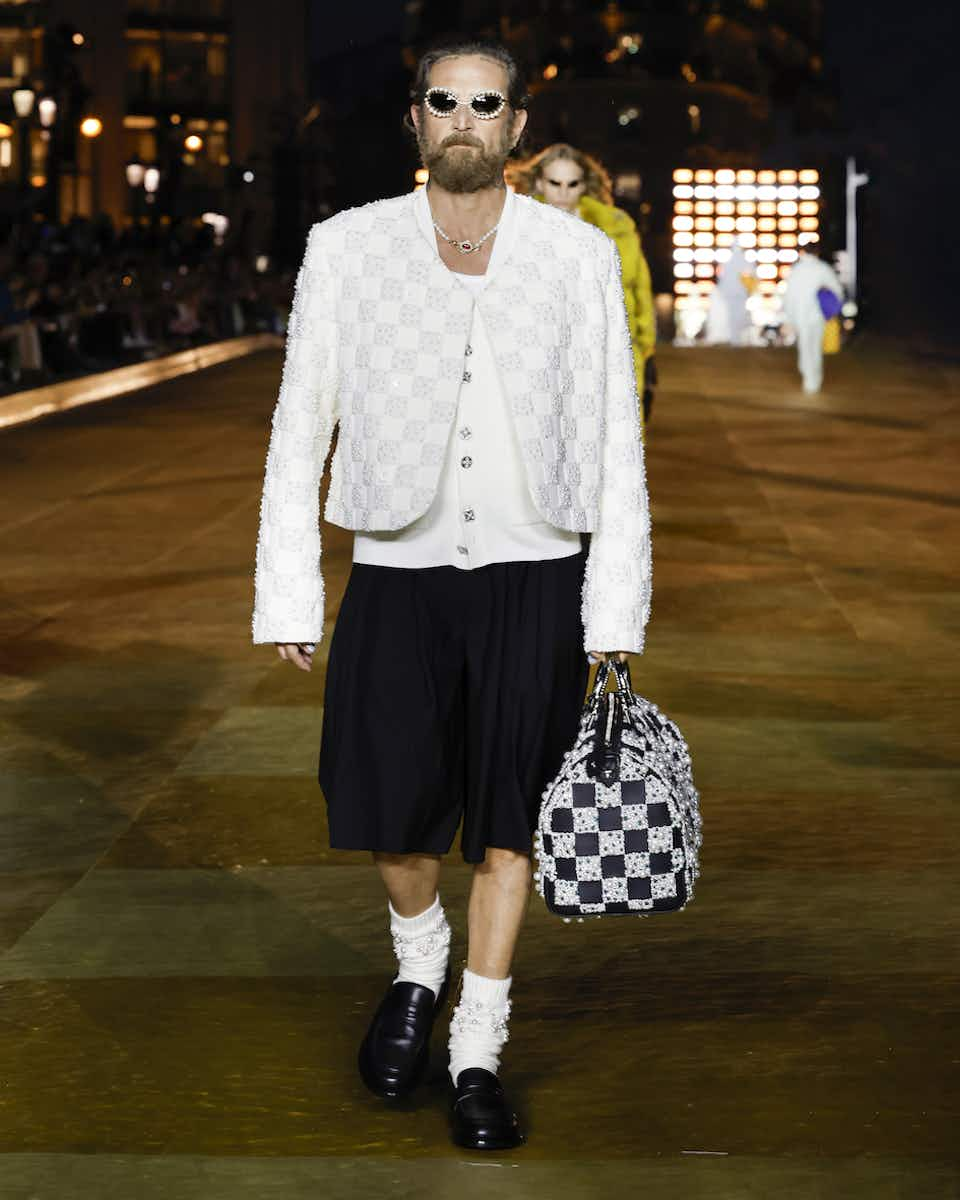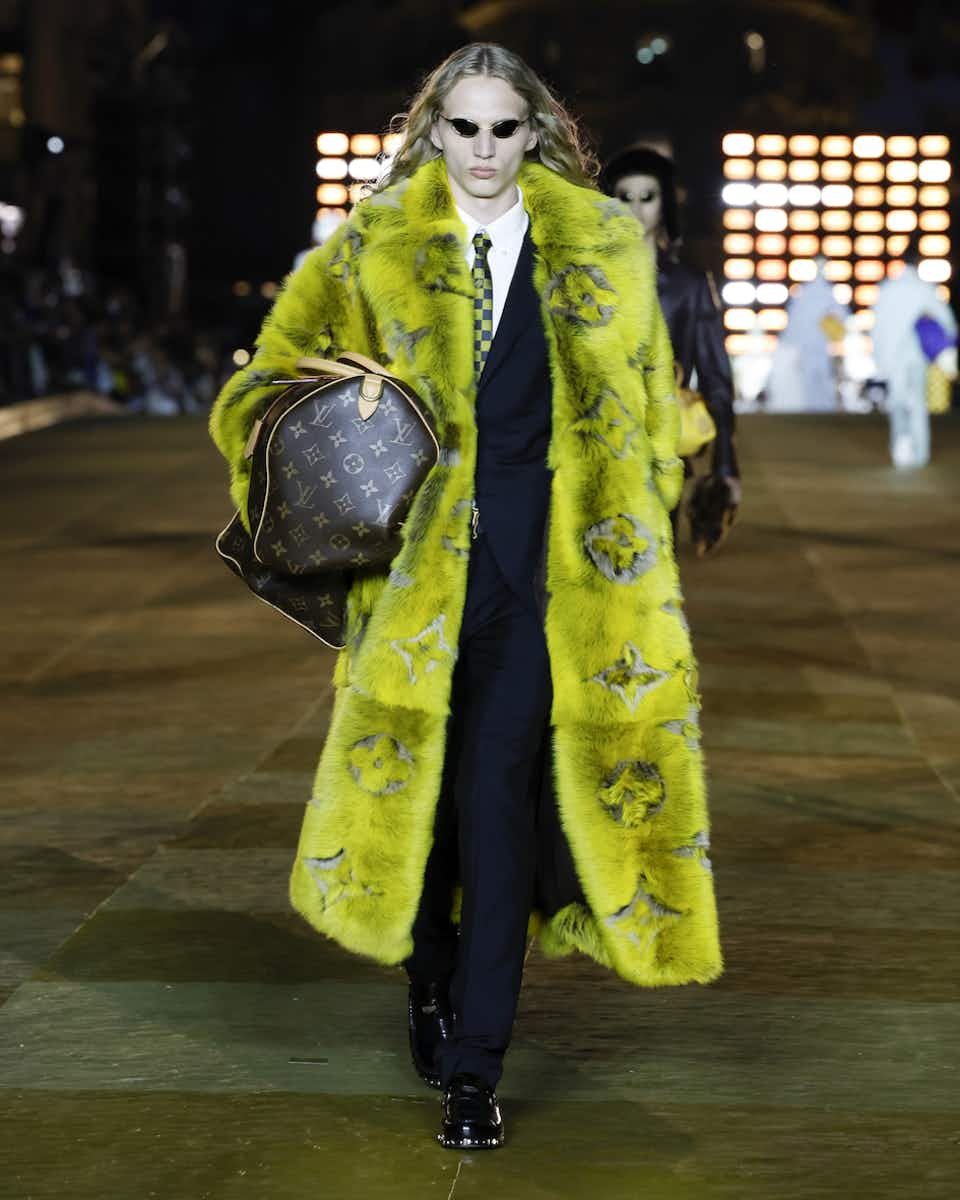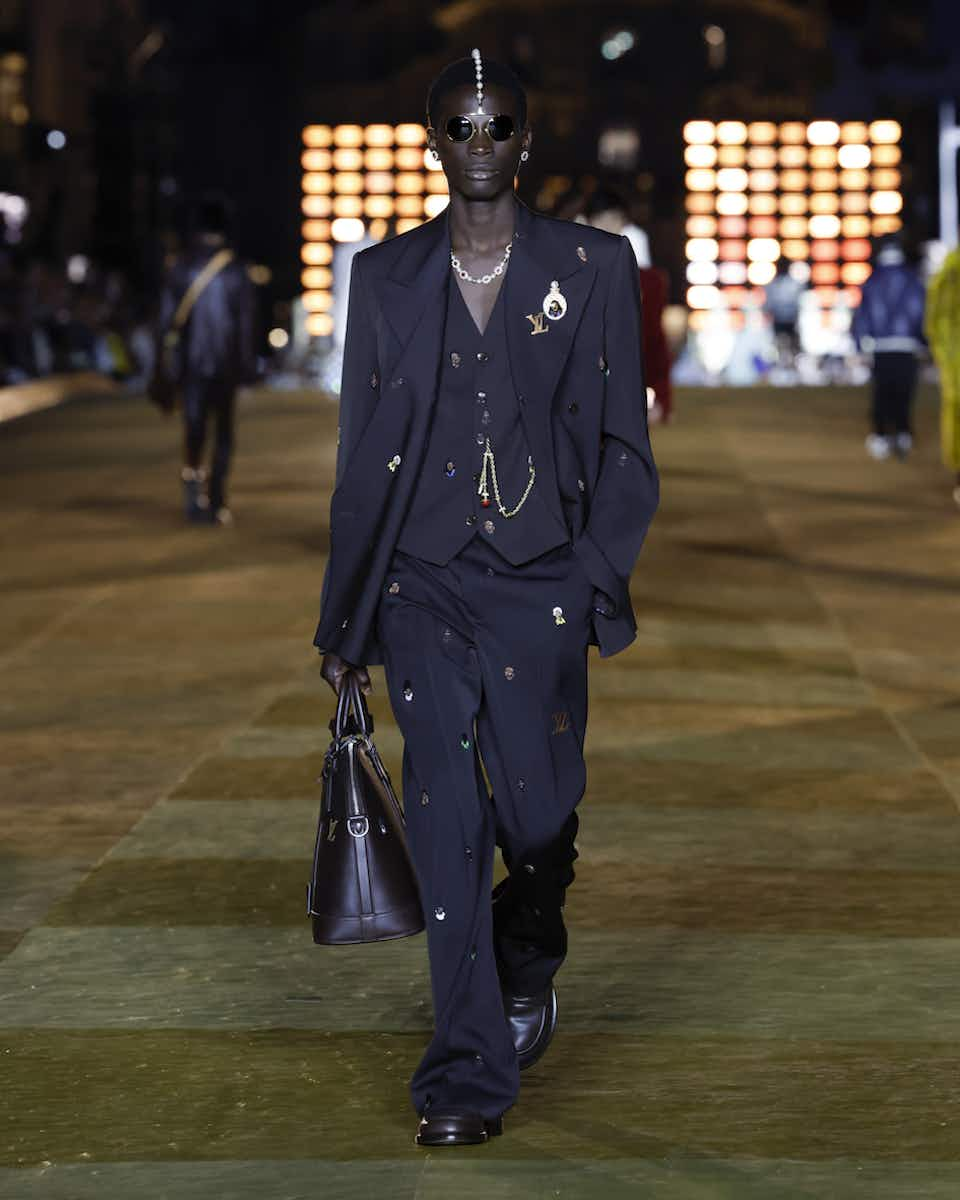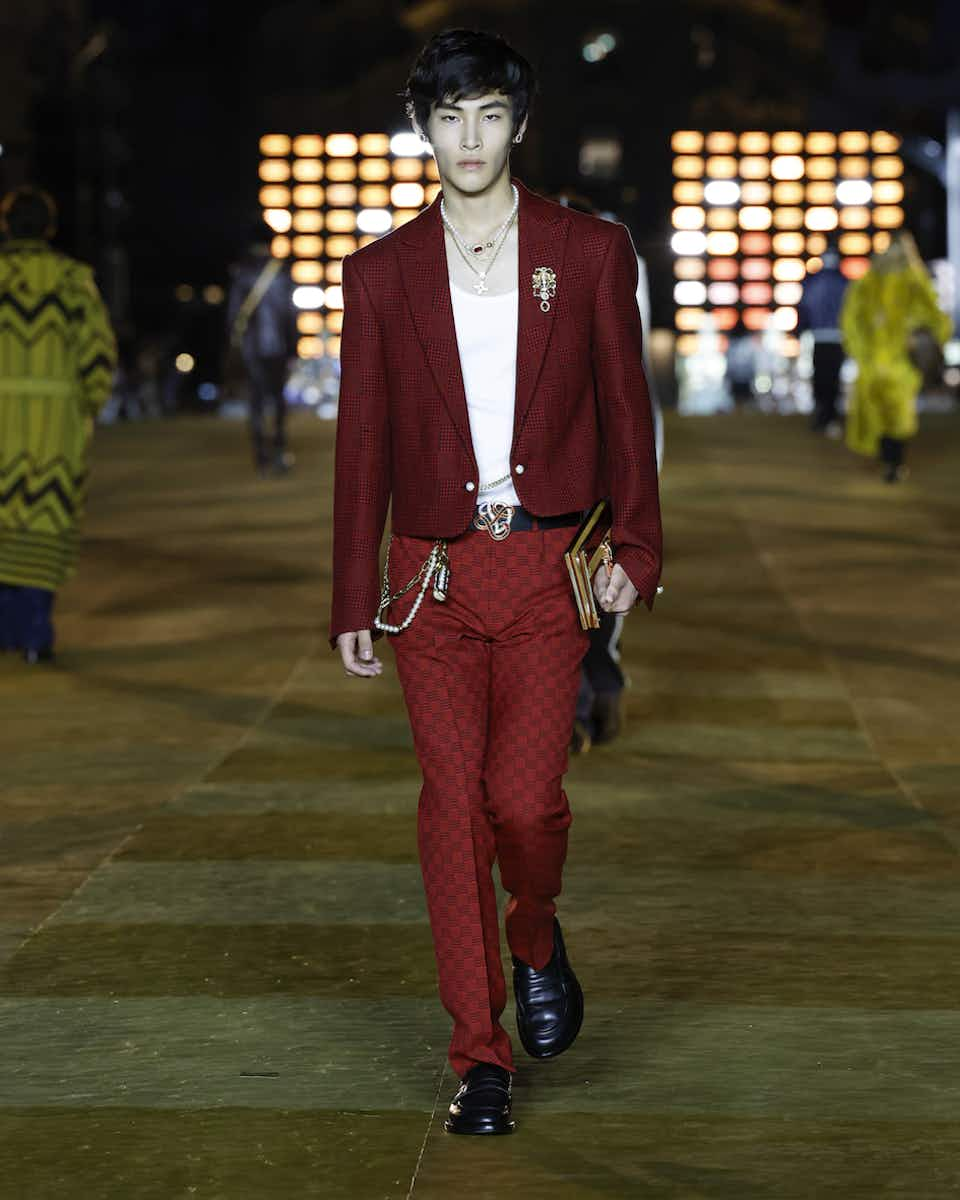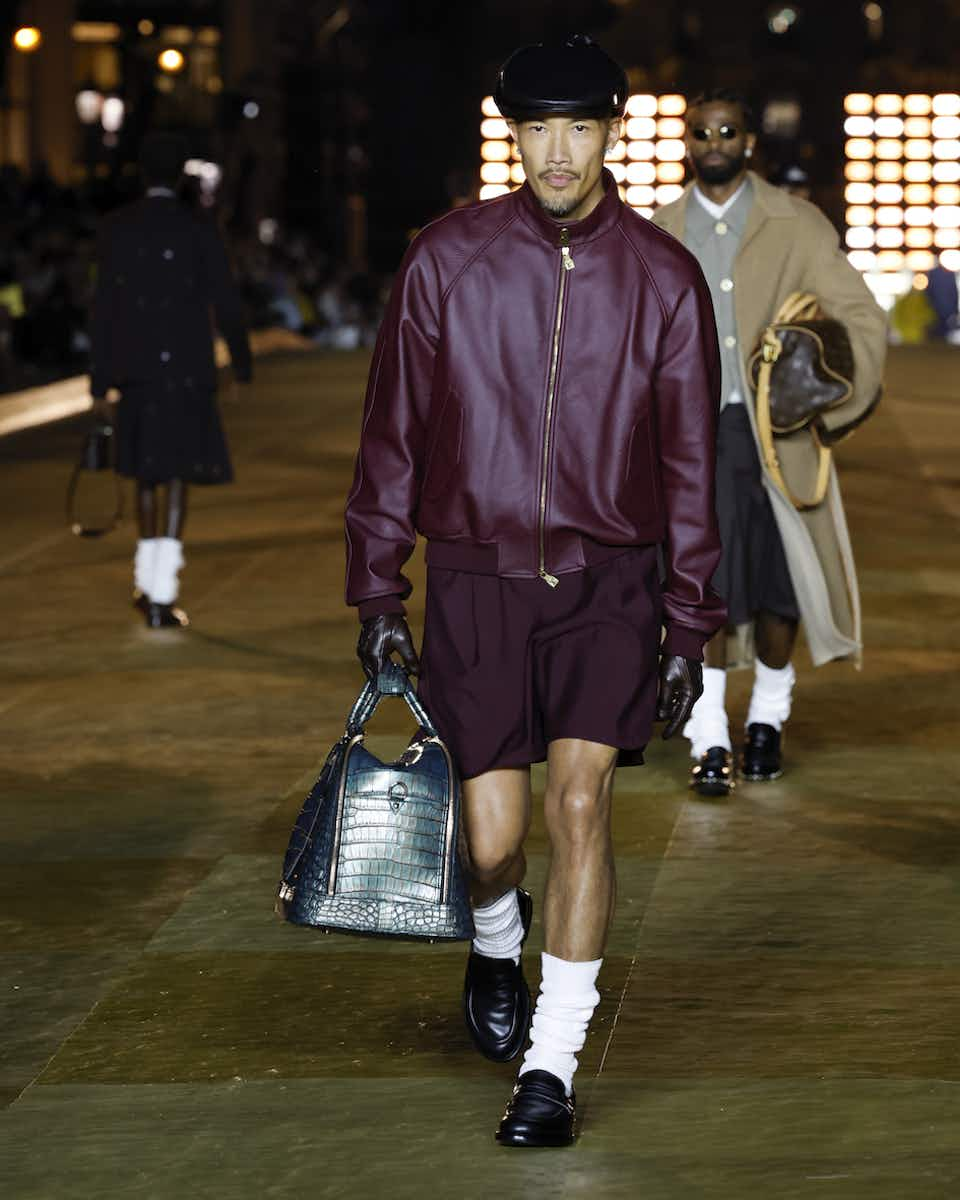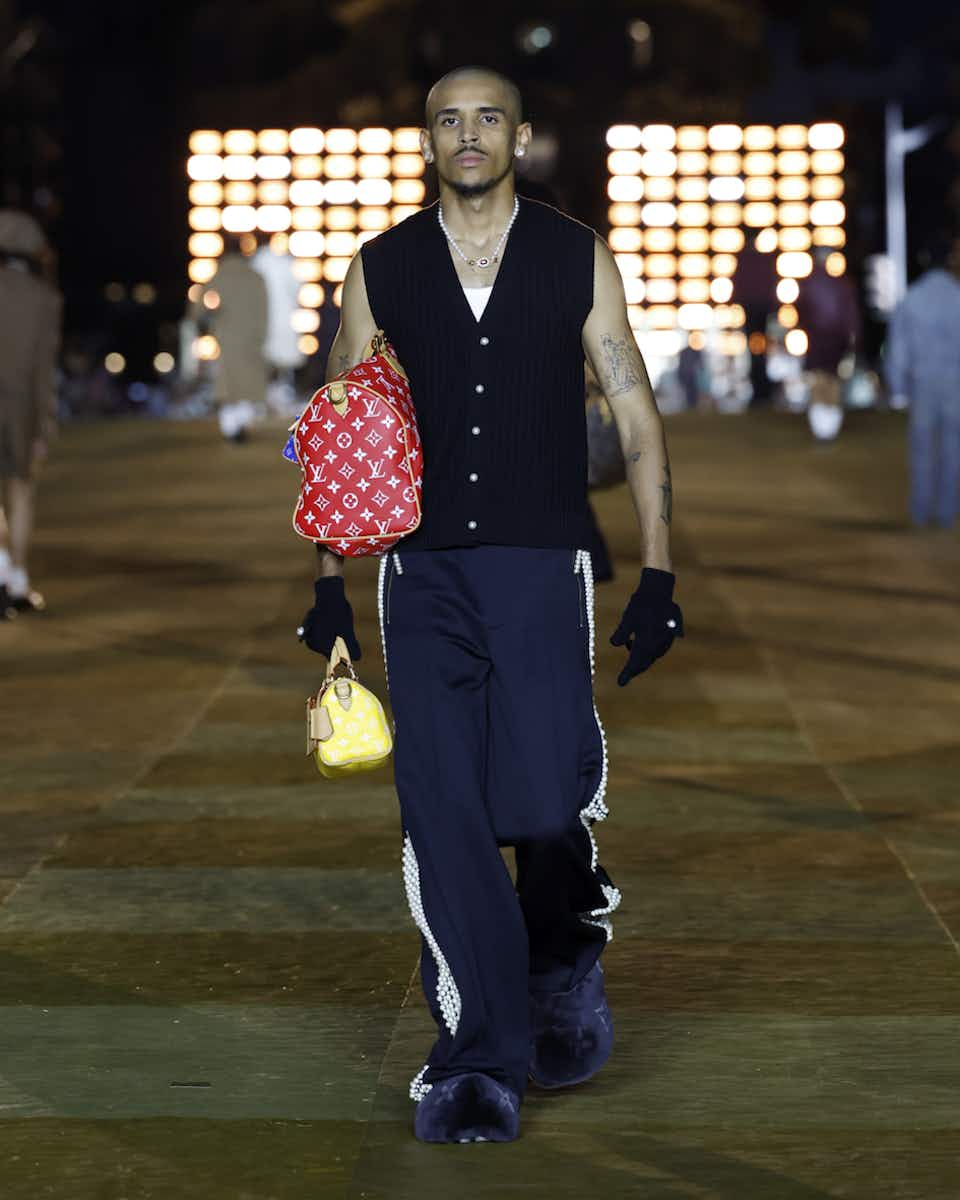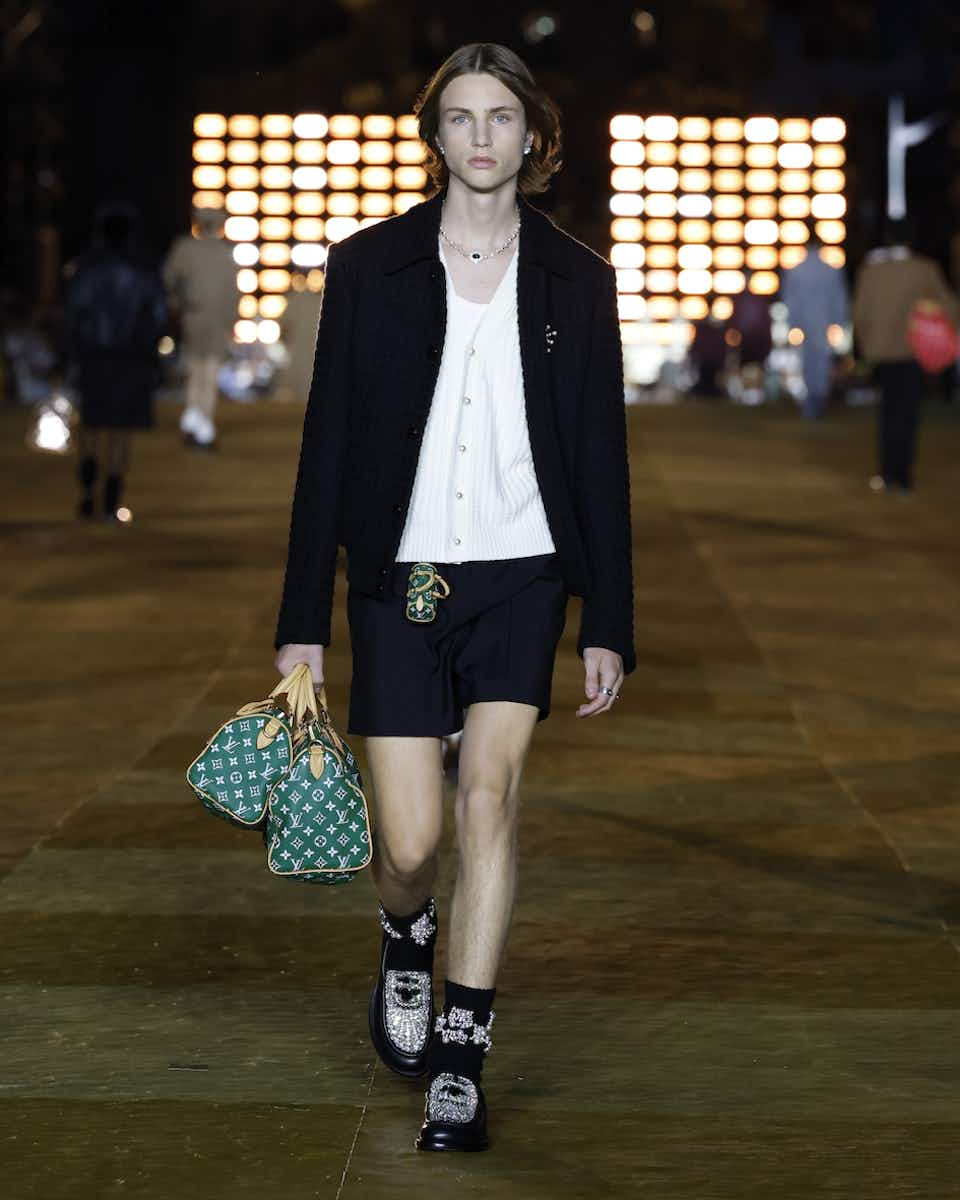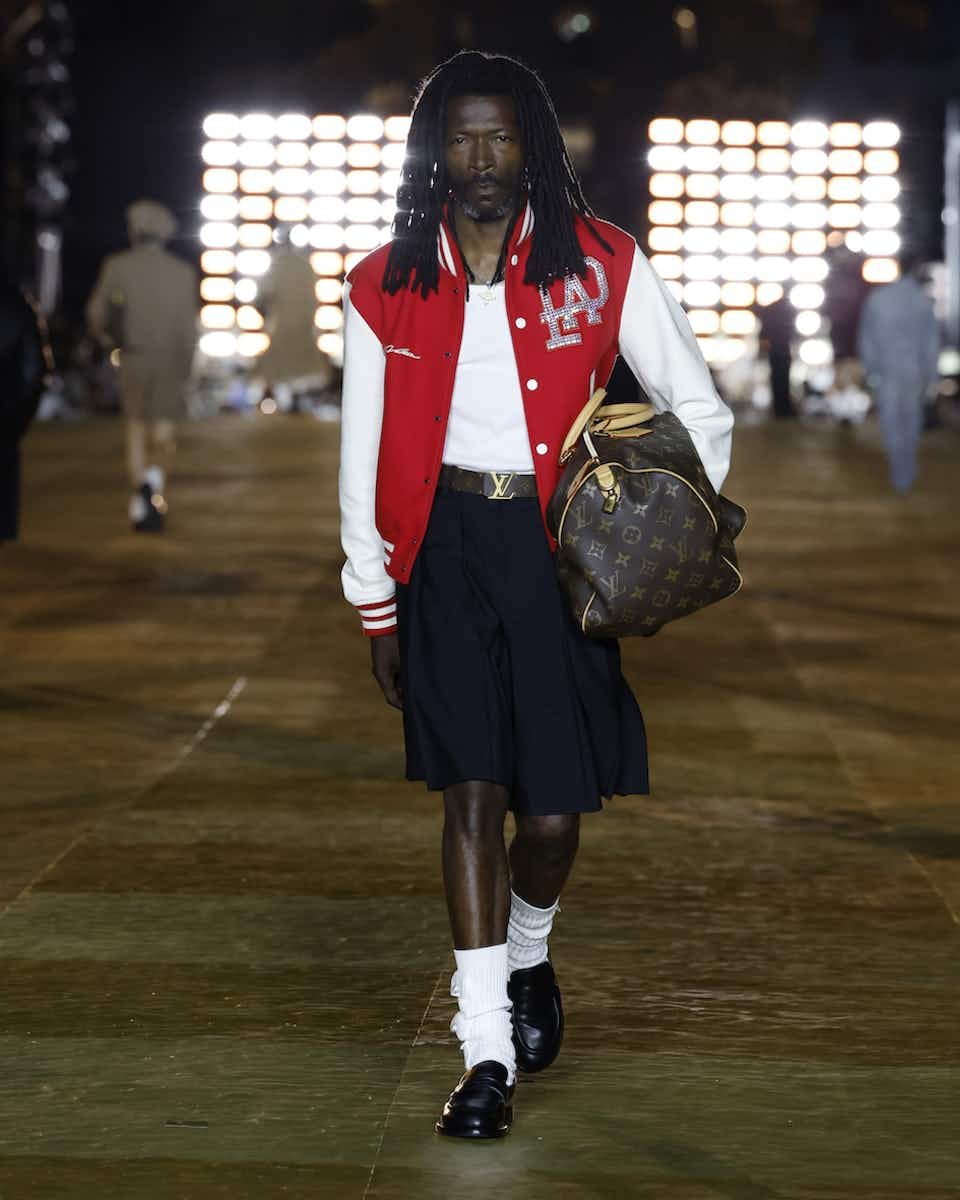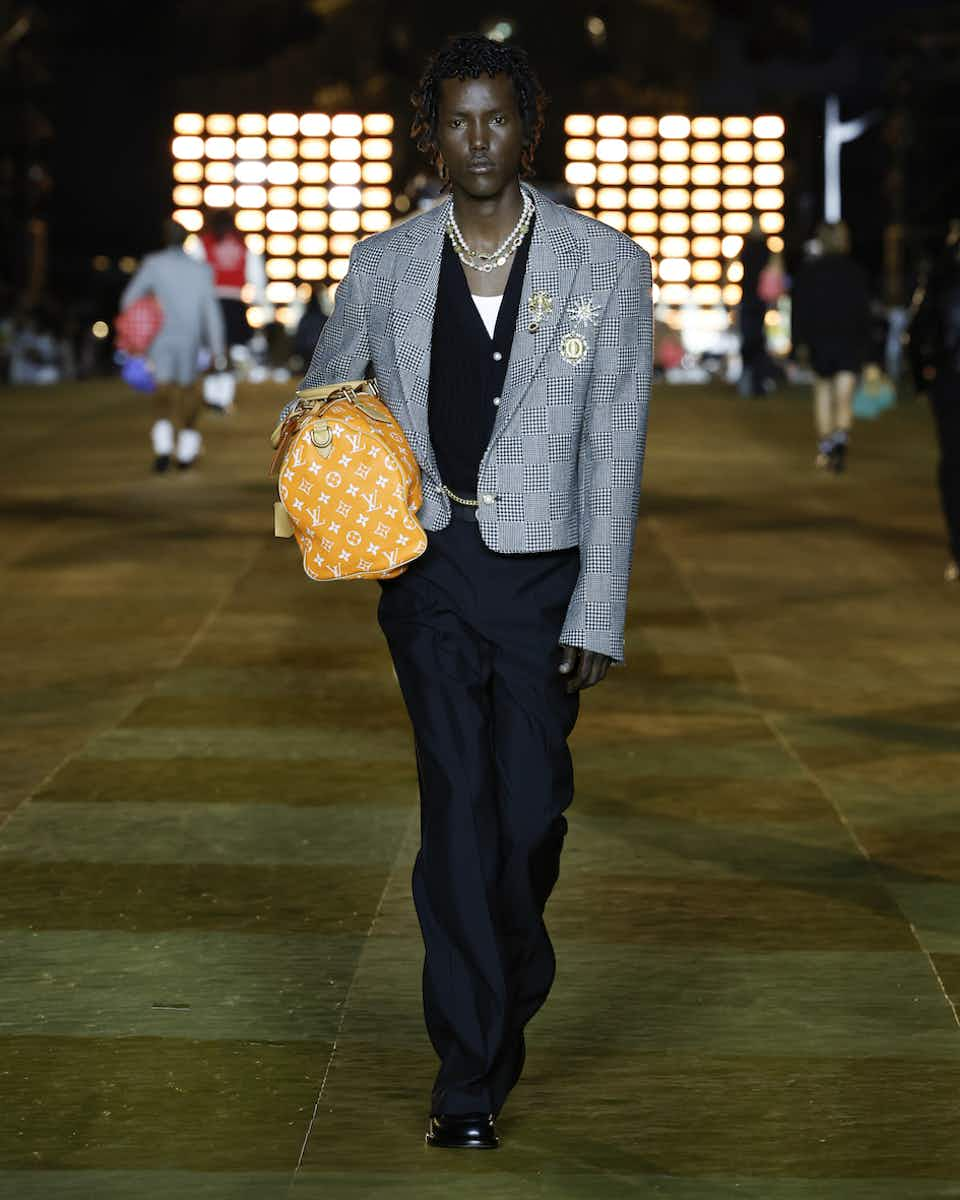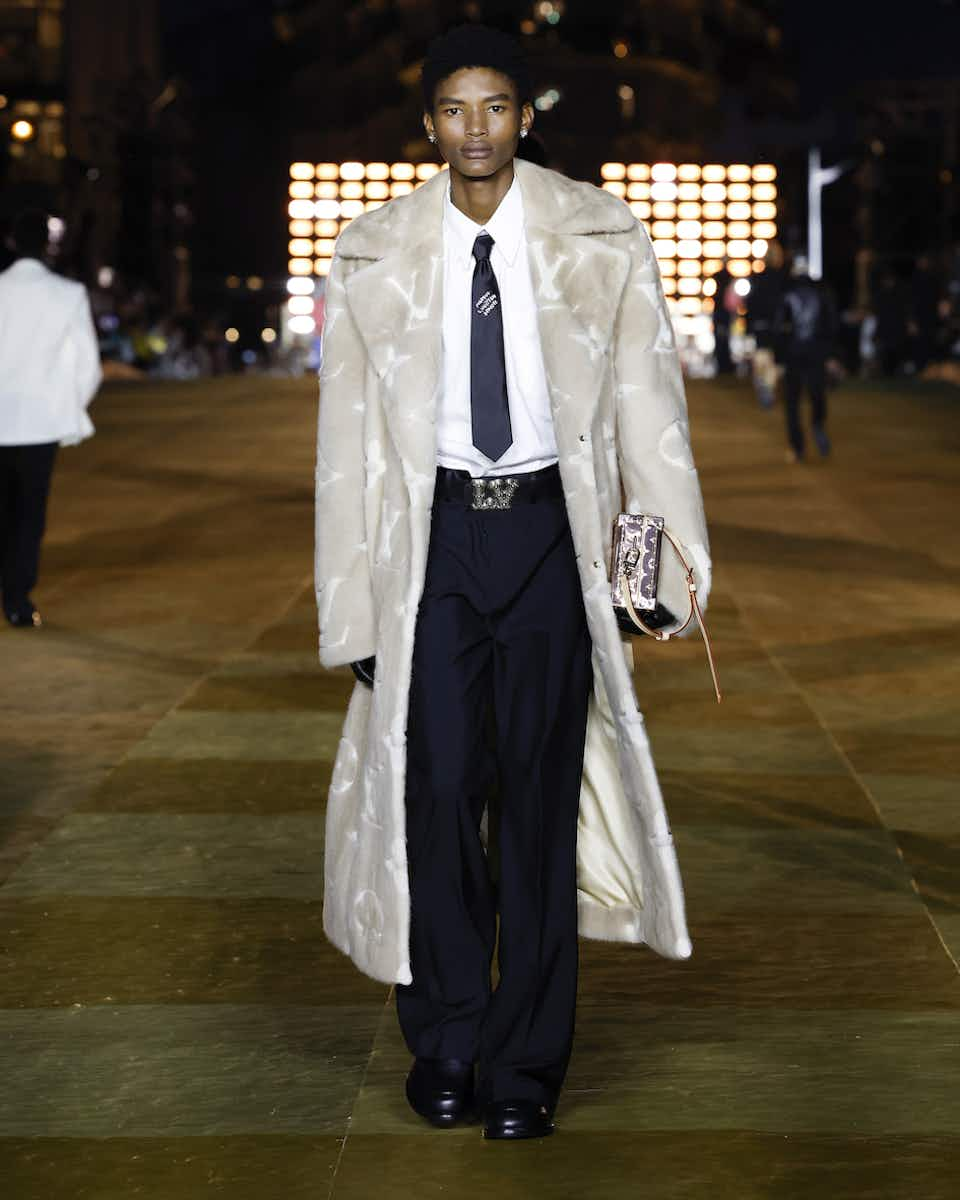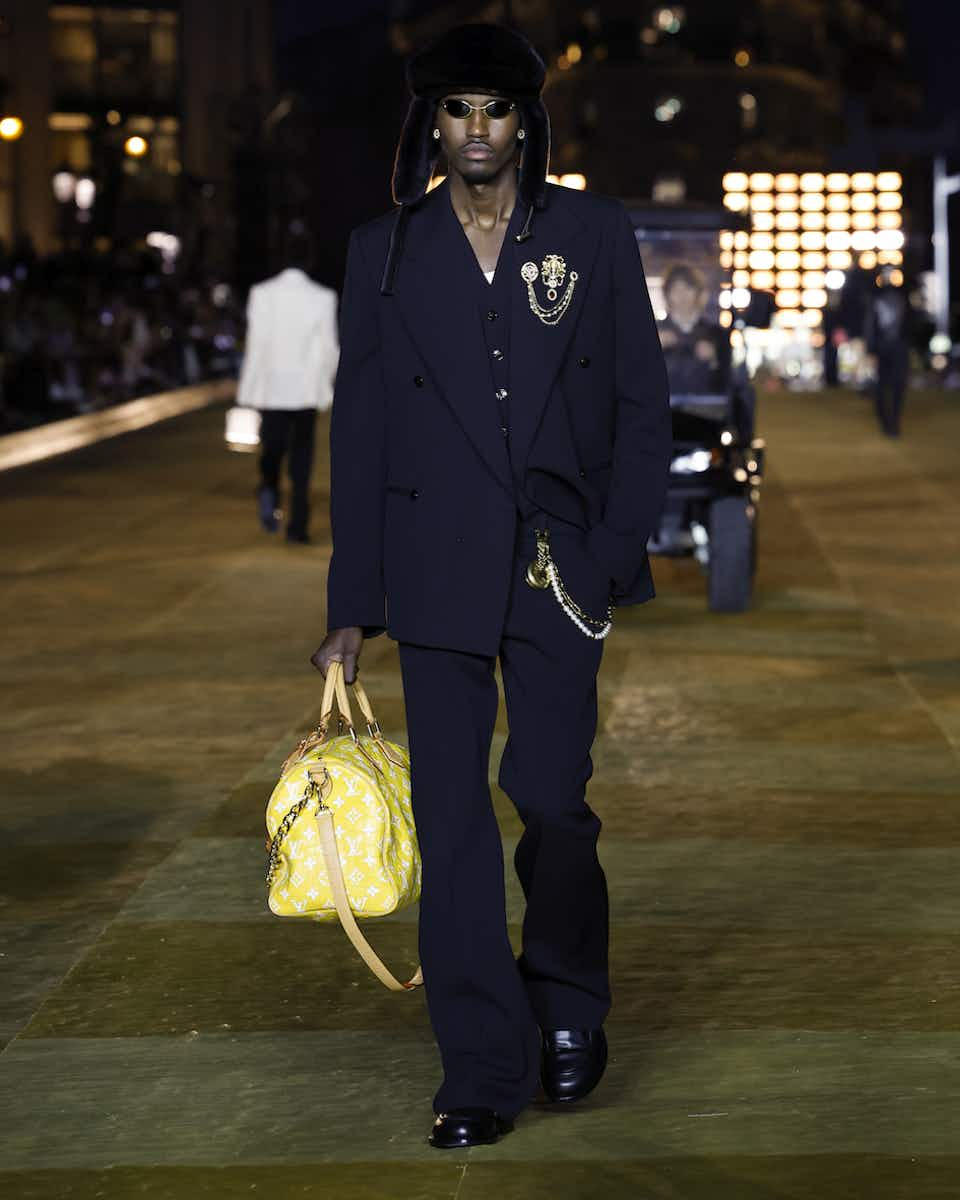 More like this