The low-down on Paris Fashion Week SS23
It's the final pit stop, starring: Vaquera, Saint Laurent, Acne Studios, Balmain, Schiaparelli, Rick Owens, Off-White, Loewe, Coperni, Andreas Kronthaler for Vivienne Westwood, Ottolinger, Balenciaga, Givenchy, Valentino, Stella McCartney, Louis Vuitton and Miu Miu.
PARIS

PARIS

PARIS

PARIS

PARIS

PARIS

PARIS

PARIS

PARIS

PARIS

PARIS

PARIS

PARIS

PARIS

PARIS

PARIS

PARIS

PARIS

PARIS

PARIS
The shows at Paris Fashion Week addressed a load of different current affairs this season: womanhood, technology, consumerism, individualism, gender politics, sexuality. It would've been rude not to, given the state of the world, right? As the final show of a bumper week, Miu Miu's SS23 collection tied it all together, with Miuccia Prada's transgressive take on function.

​"This is not an easy moment to create fashion," Miuccia wrote in the press notes. ​"For this collection, I wanted to explore the purpose of fashion, its reason." As mass consumerism effectively destroys the planet, Miuccia's response to the crisis was a considered, functional collection. ​"I am not anti-luxury, but I am anti-ostentation," she declared.
With this in mind, Prada's grounding in reality – designing function-first clothes for our hectic schedules – crossed over to Miu Miu perhaps more than ever before. Against a futuristic set that felt as though it had been inhabited by AI robots, the first few looks were superbly layered, with nylon tricot parkas cut to work as a dress or jacket, with added drawstrings at the hem for versatility. On mini skirts, leather coats and shorts, pockets weren't just a handy add-on, but rather a fundamental part of the garment, as large and protruding as a small bag.

And there was cotton – loads of it. But here, Miuccia layered the fabric on silks and cashmeres like a luxurious coating, subtly romantic as though the wearer had been caught mid-undress. The more decorative pieces, such as embroidered mid-length skirts, still stood by Miuccia's statement of anti-ostentation. Against wispy sheer fabric, sparkly embellishments retained a quiet confidence.
Carrying on the brand's co-ed offering, Miu Miu's menswear subverted traditionally tailored pieces, such as a blazer and trousers made from acid-wash denim (complete with lapels). Meanwhile, office friendly styles like high-waisted trousers, shirts and jackets become ultra-modern nylon parkas, loose-fit pleated trousers and crew necks.

The collection was luxury stripped back to its core fabrications. Forget ostentation – now's not the time. We're all too busy trying to save the world, right? TJ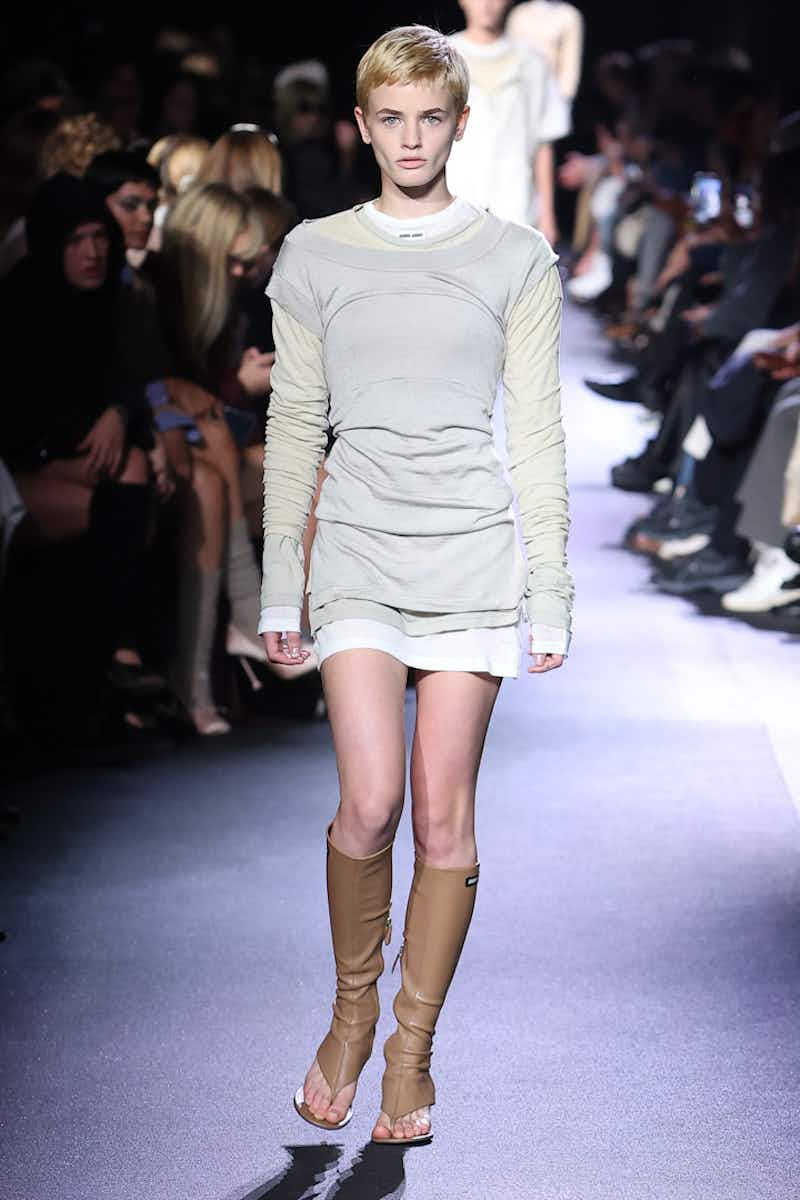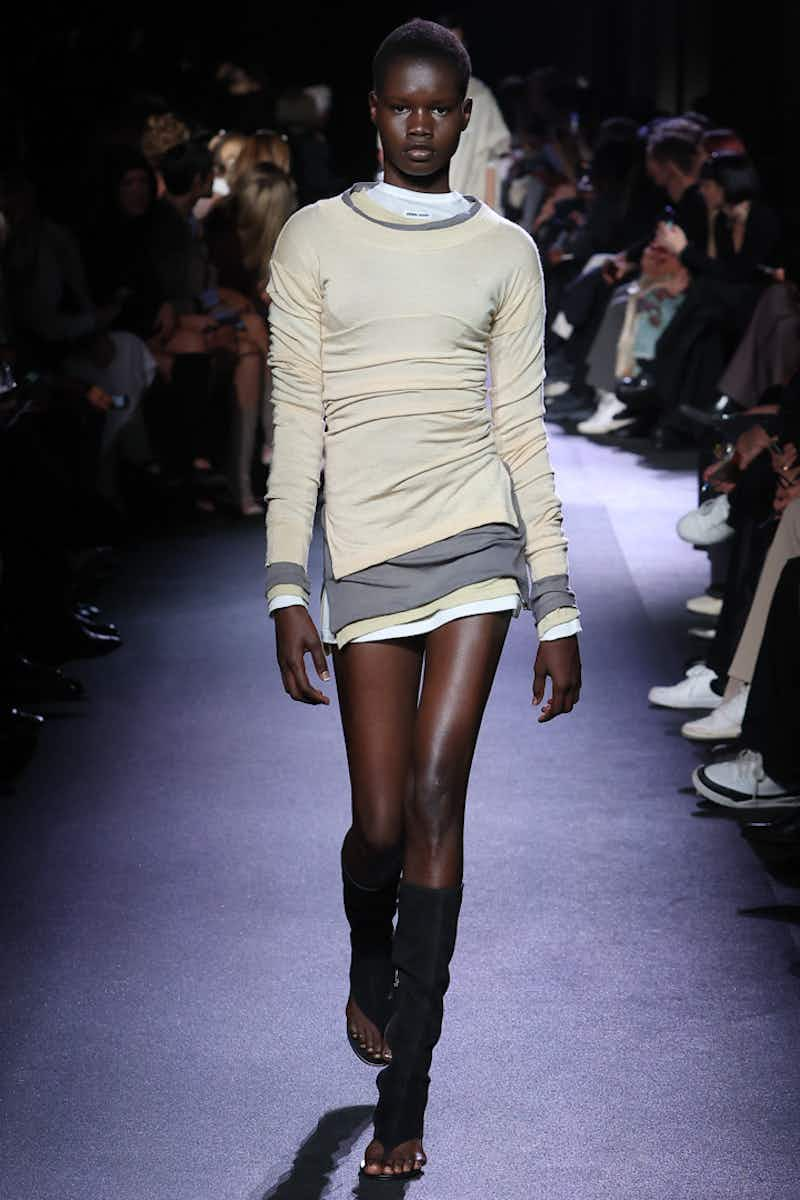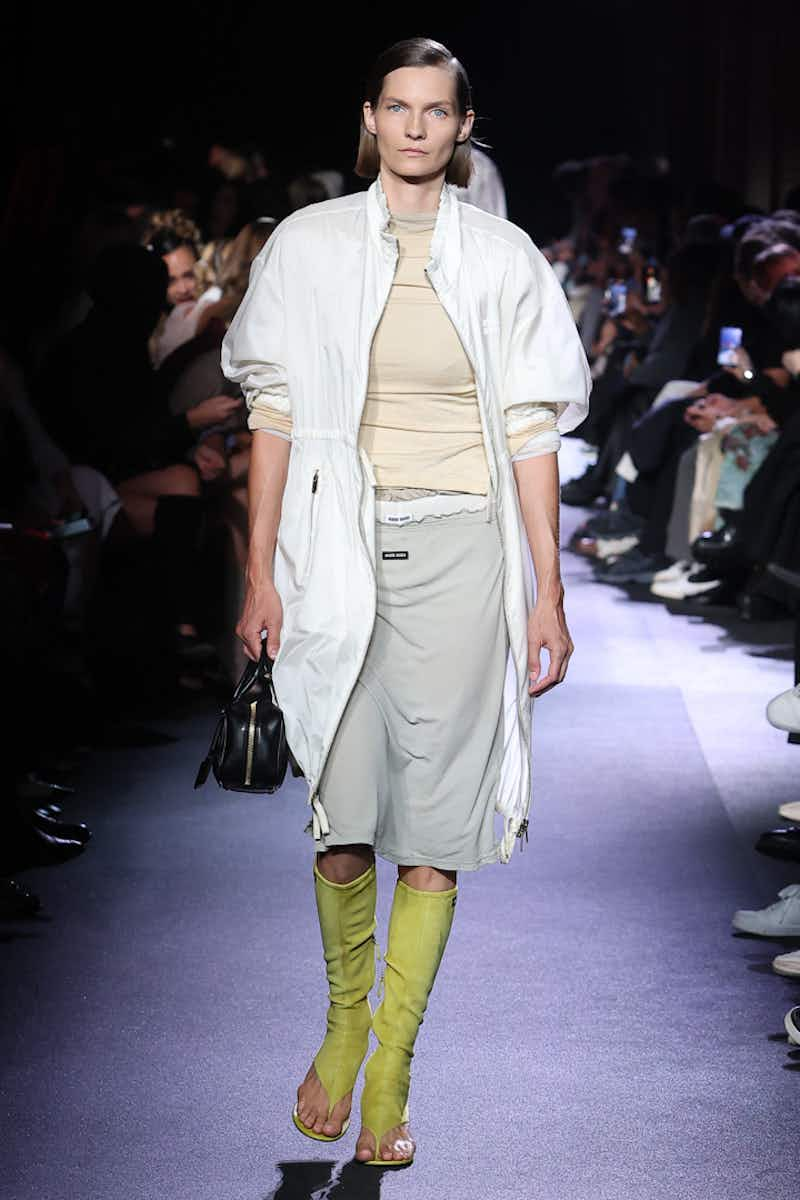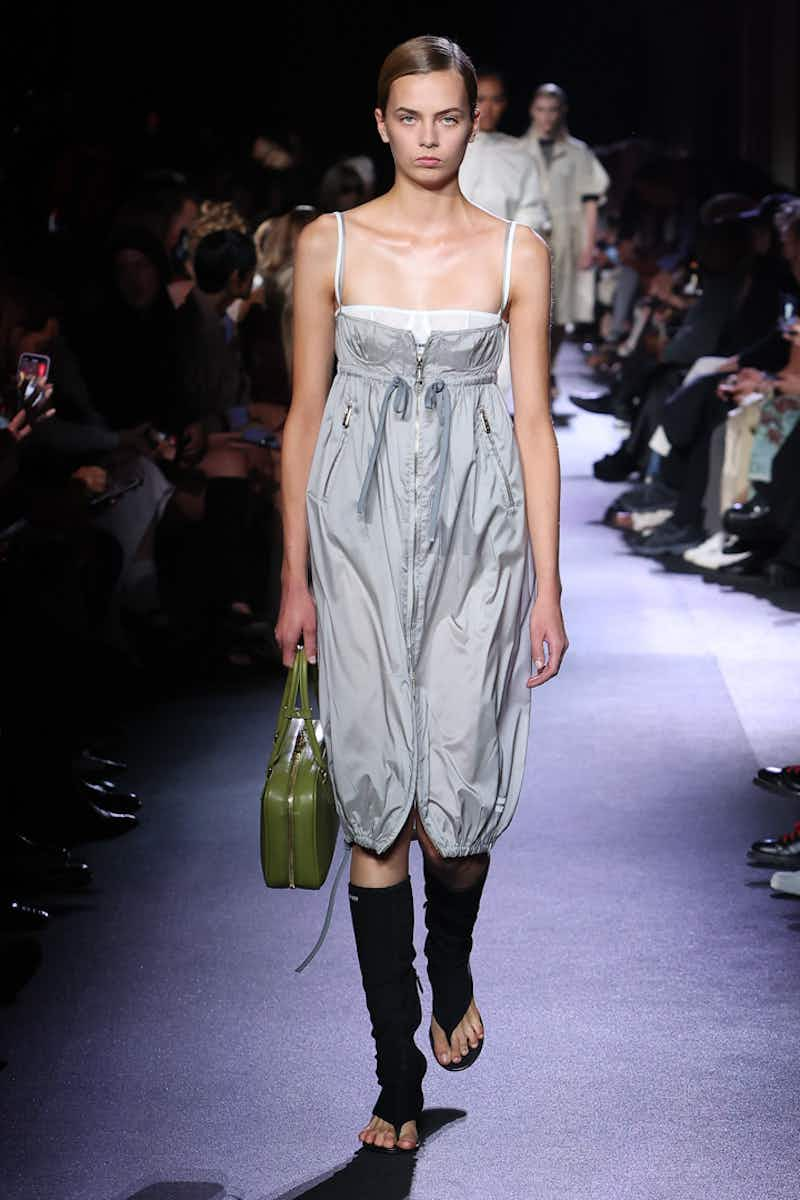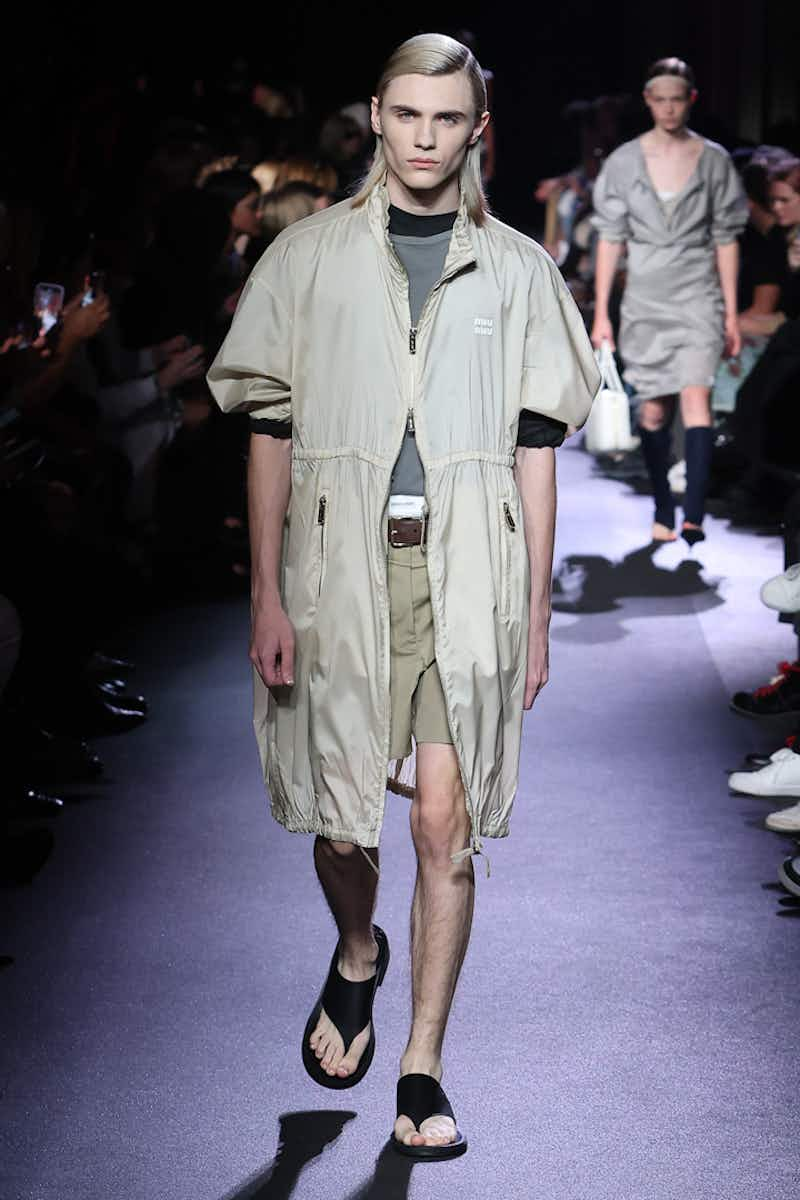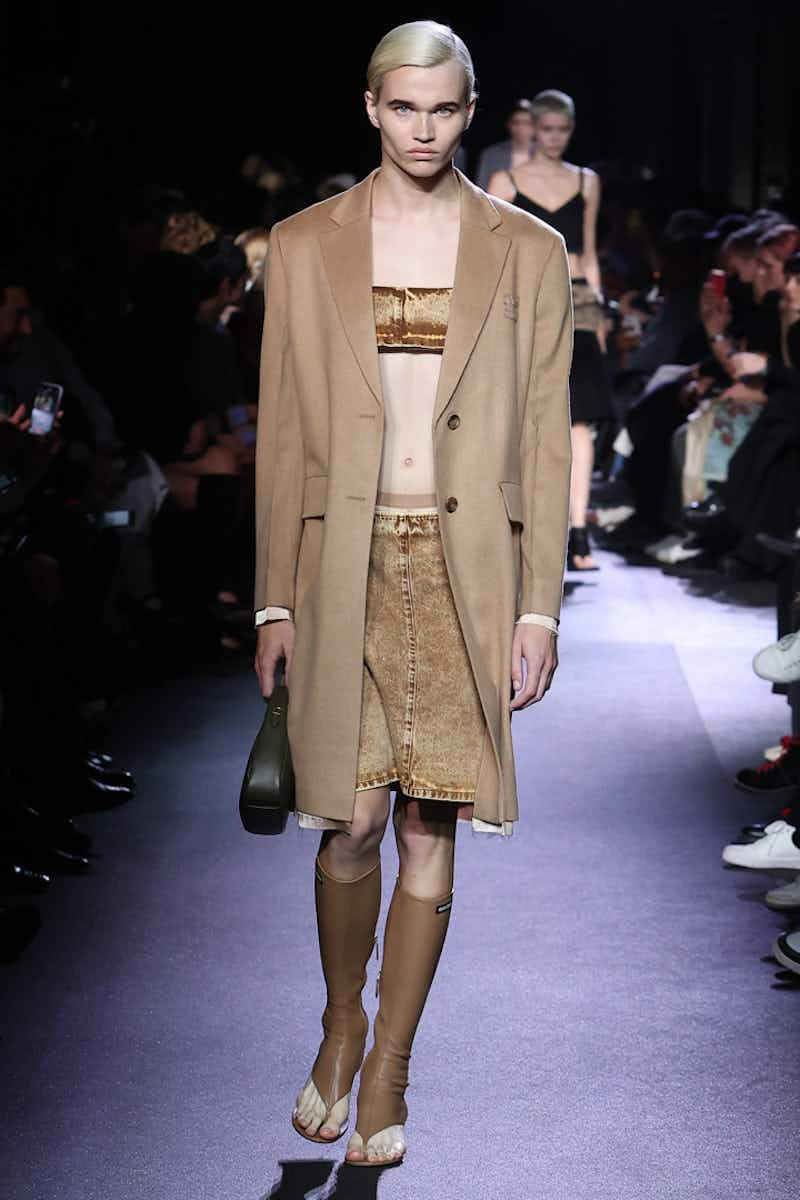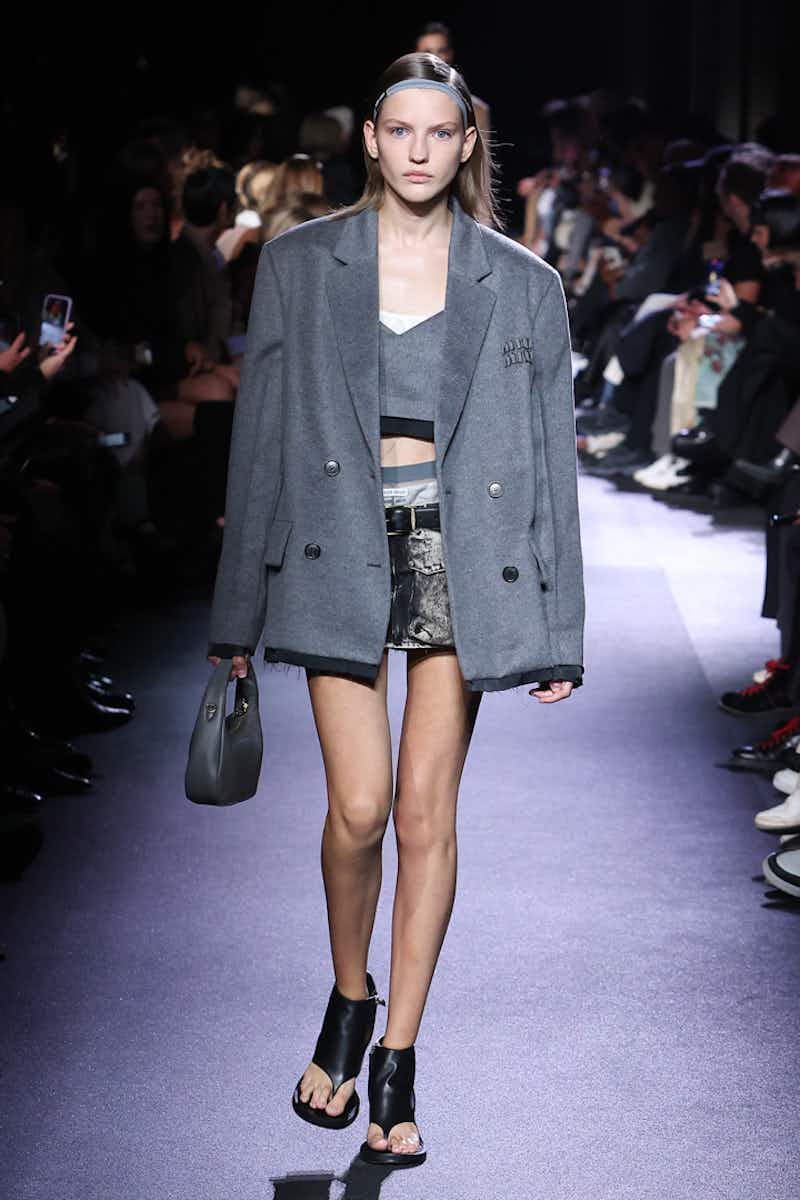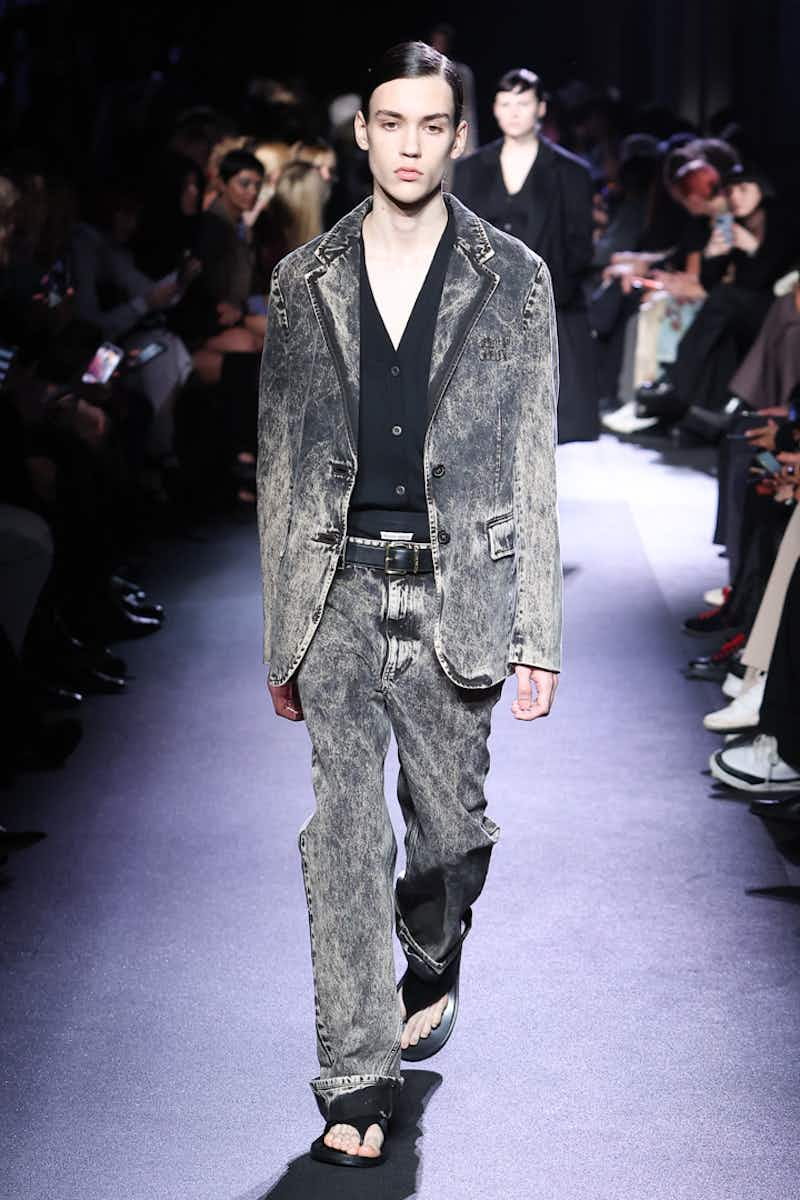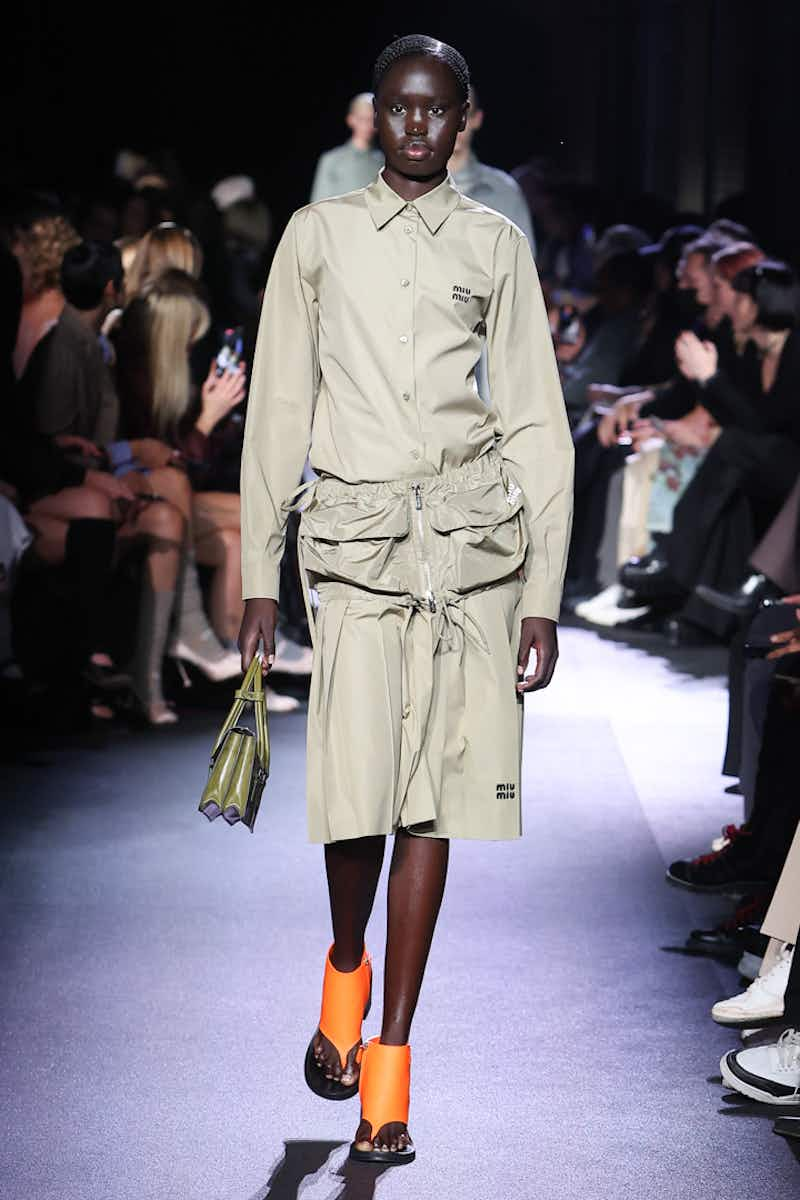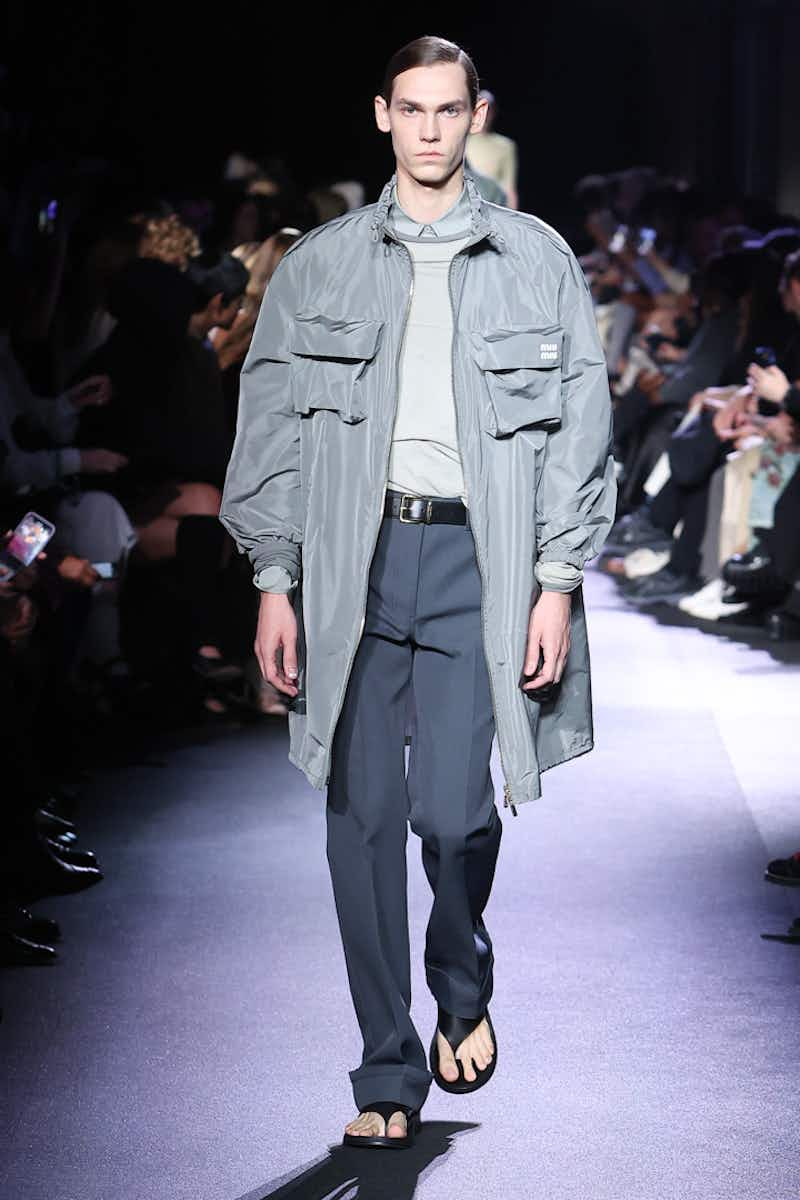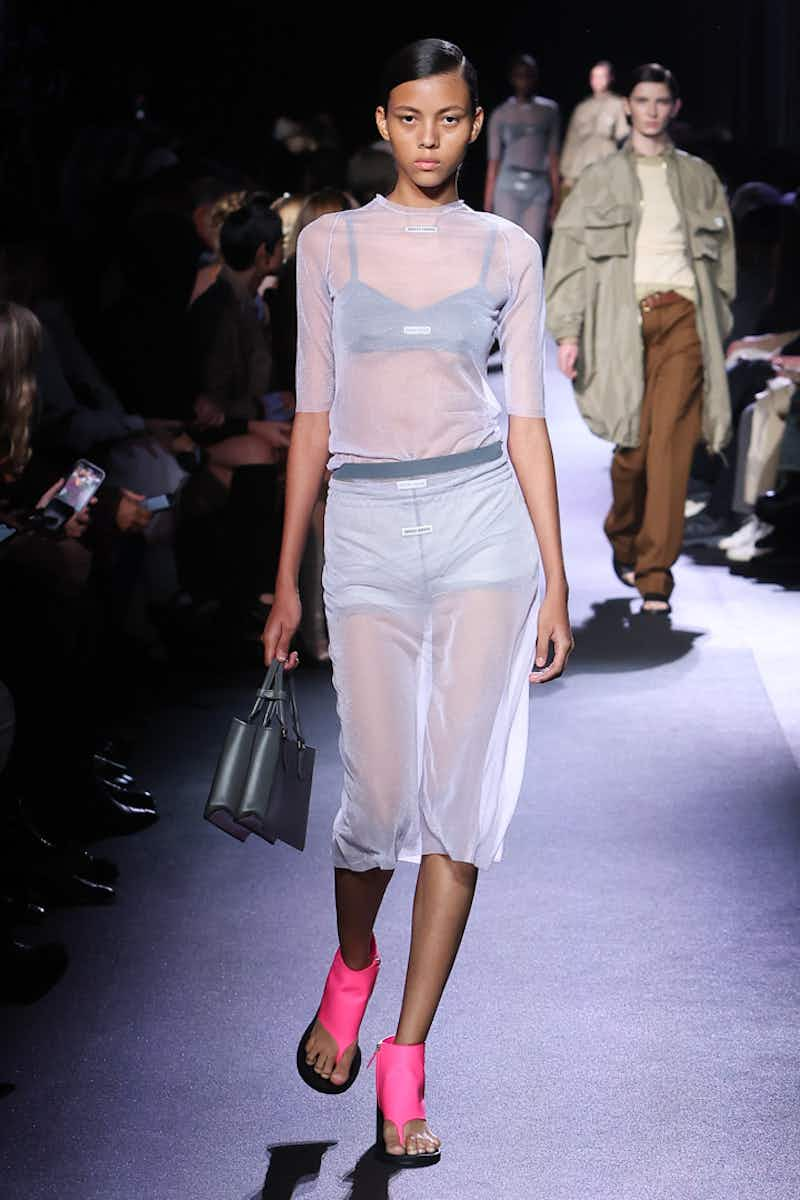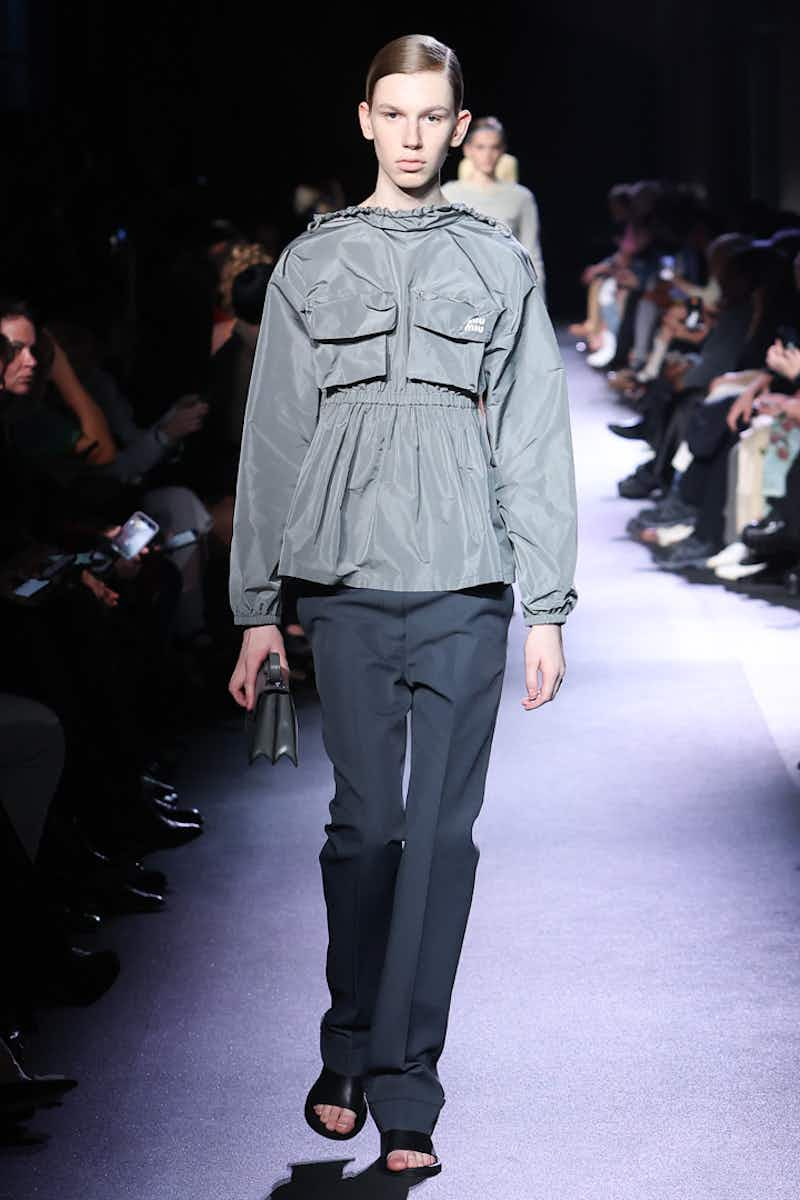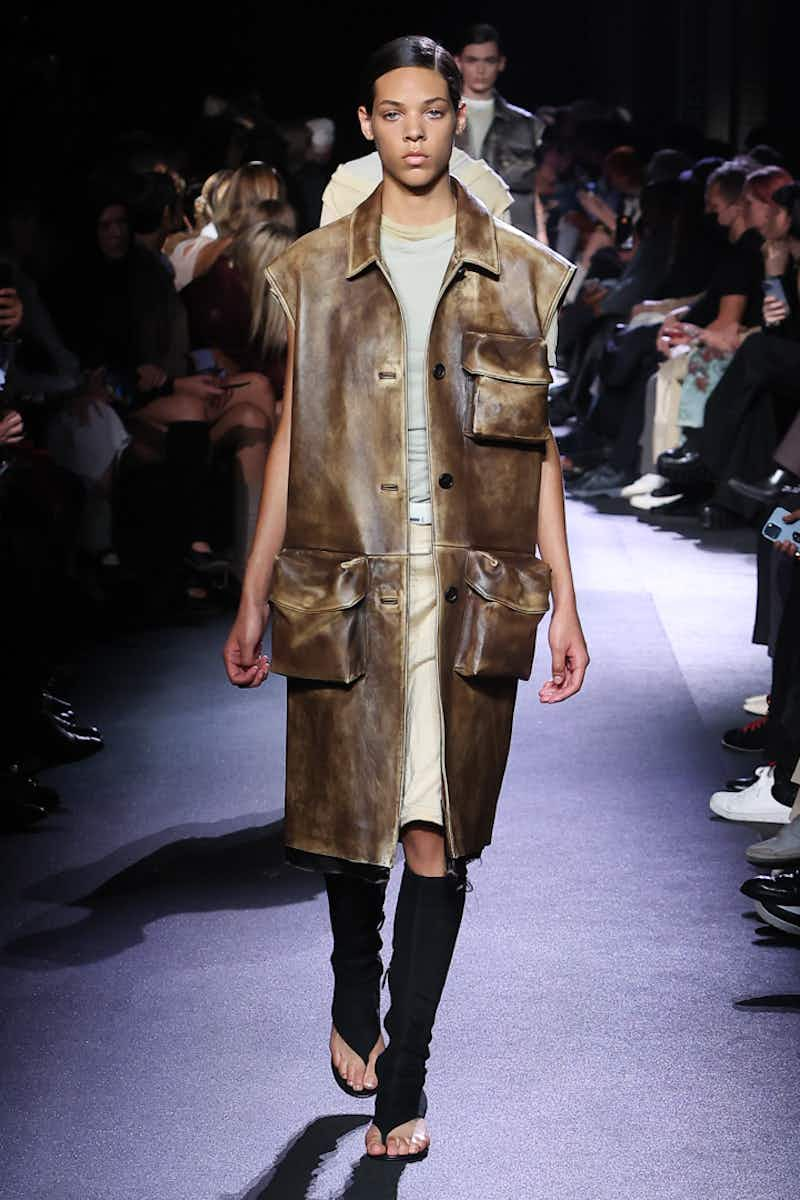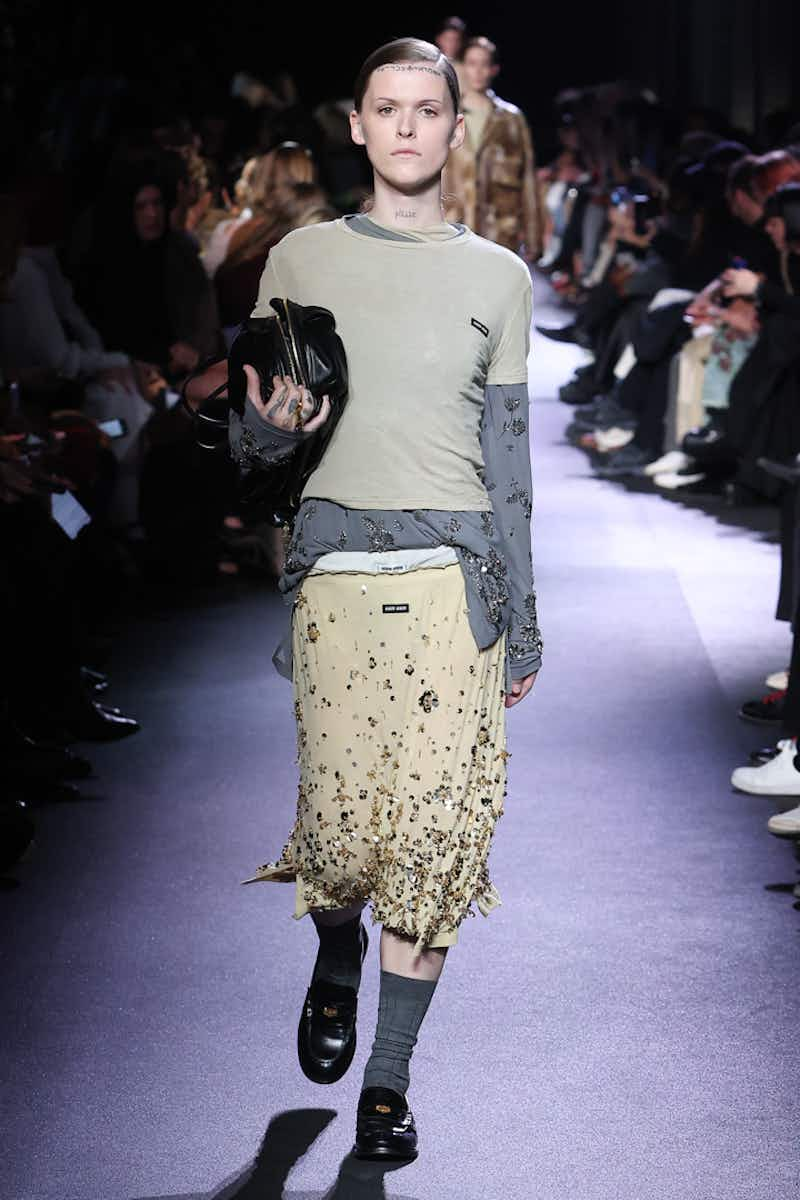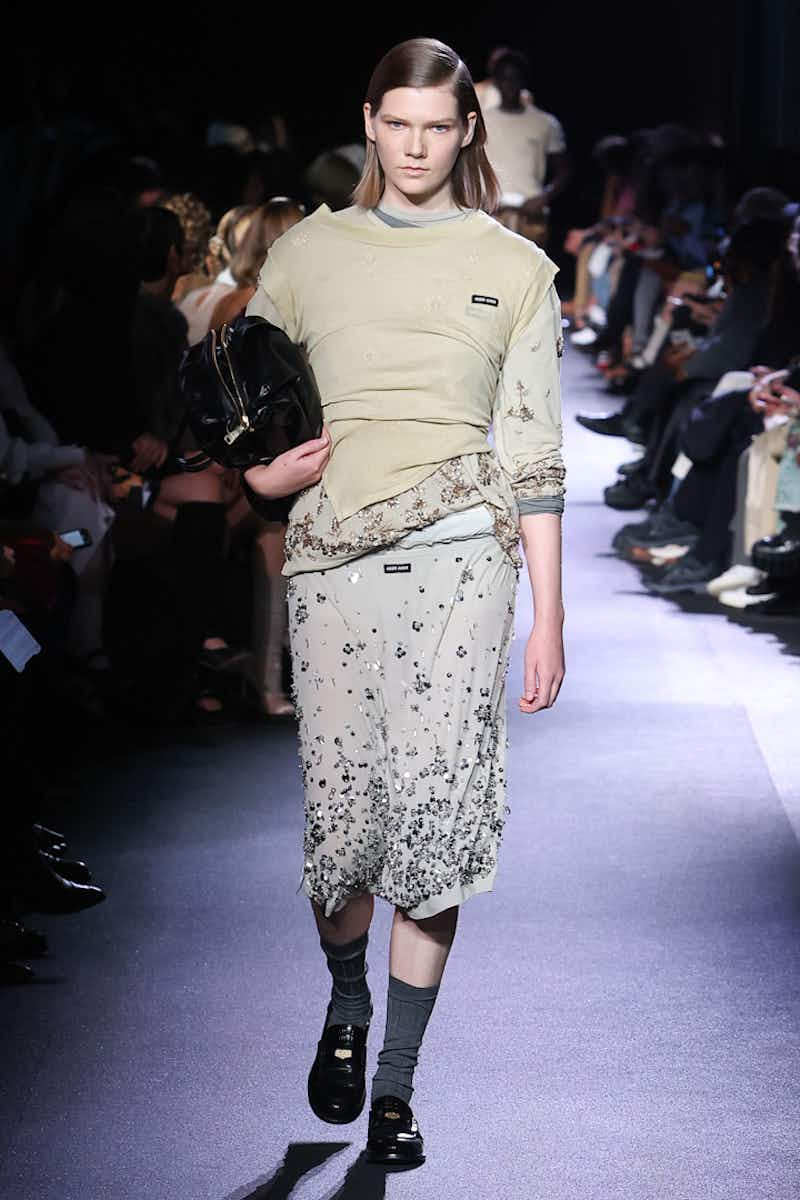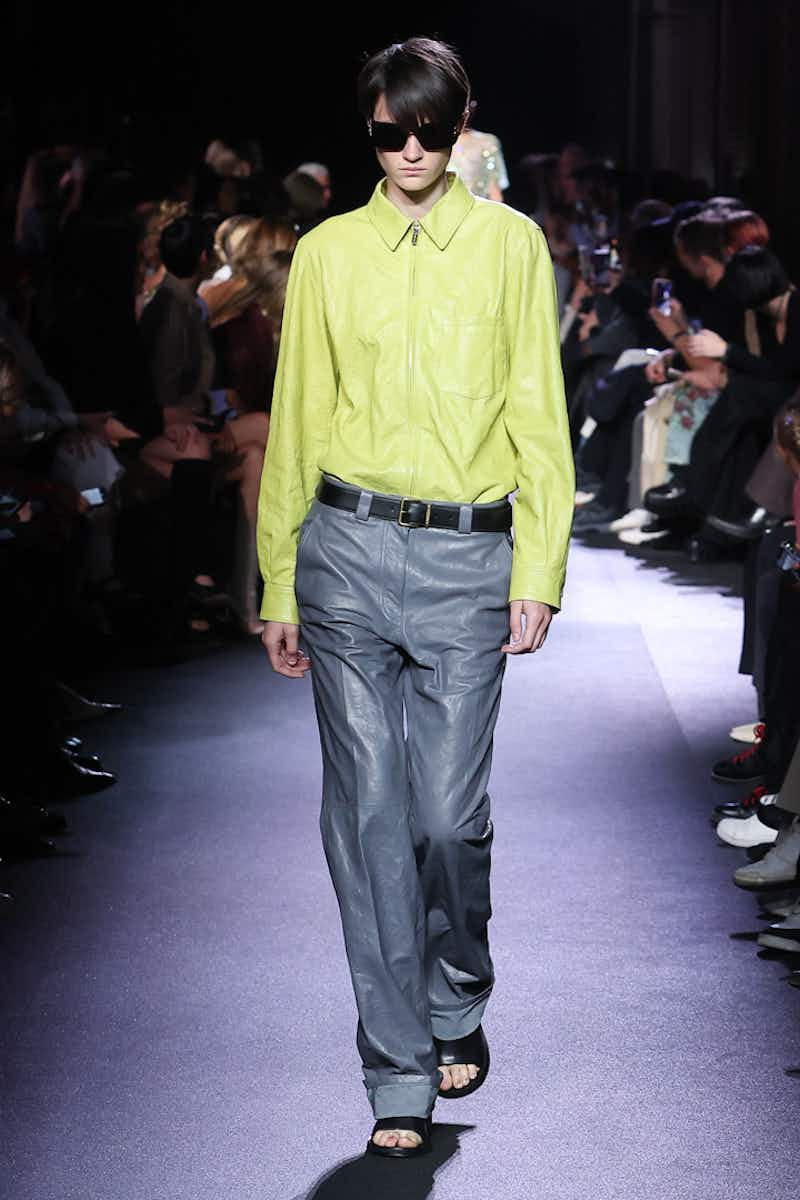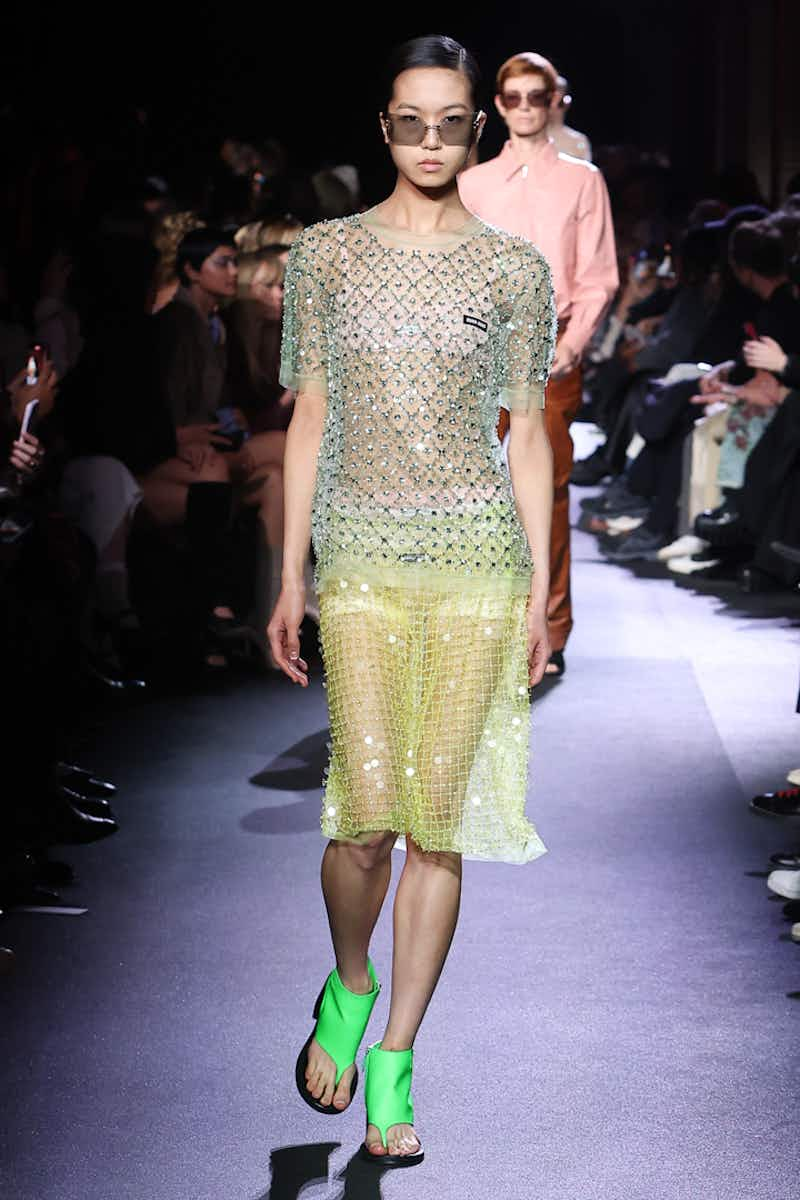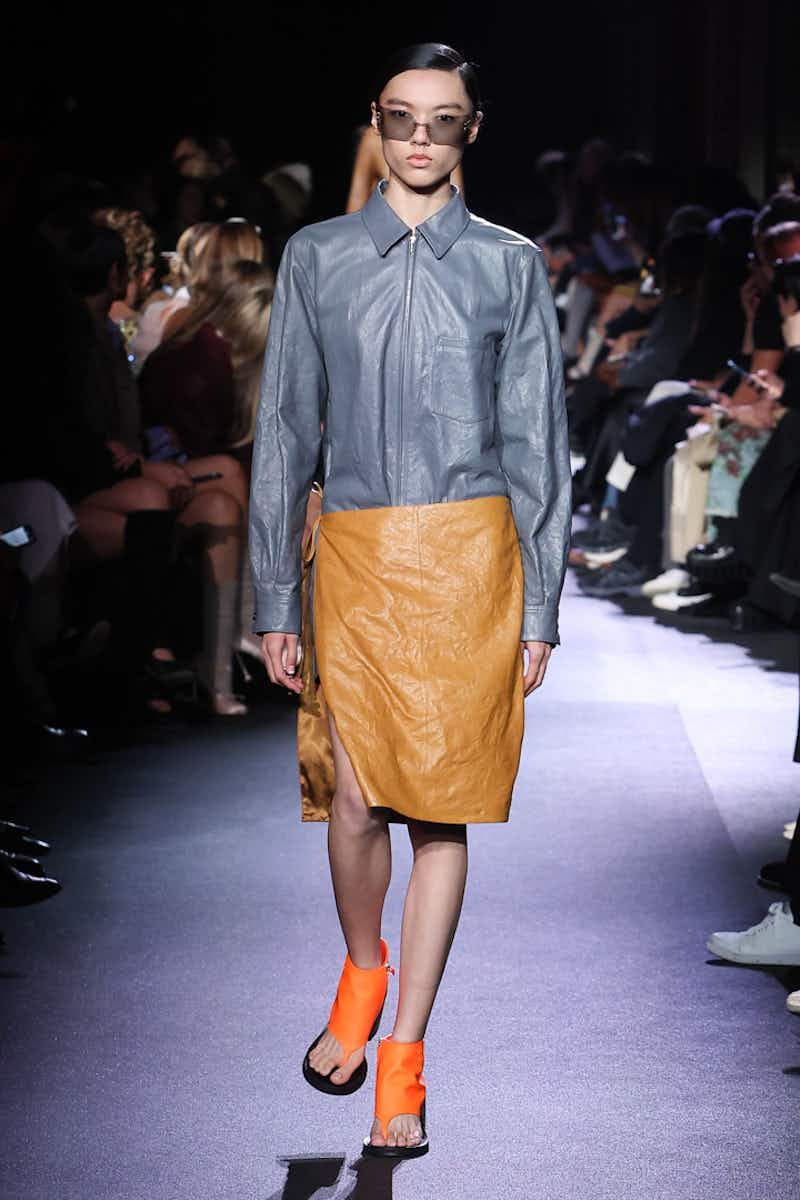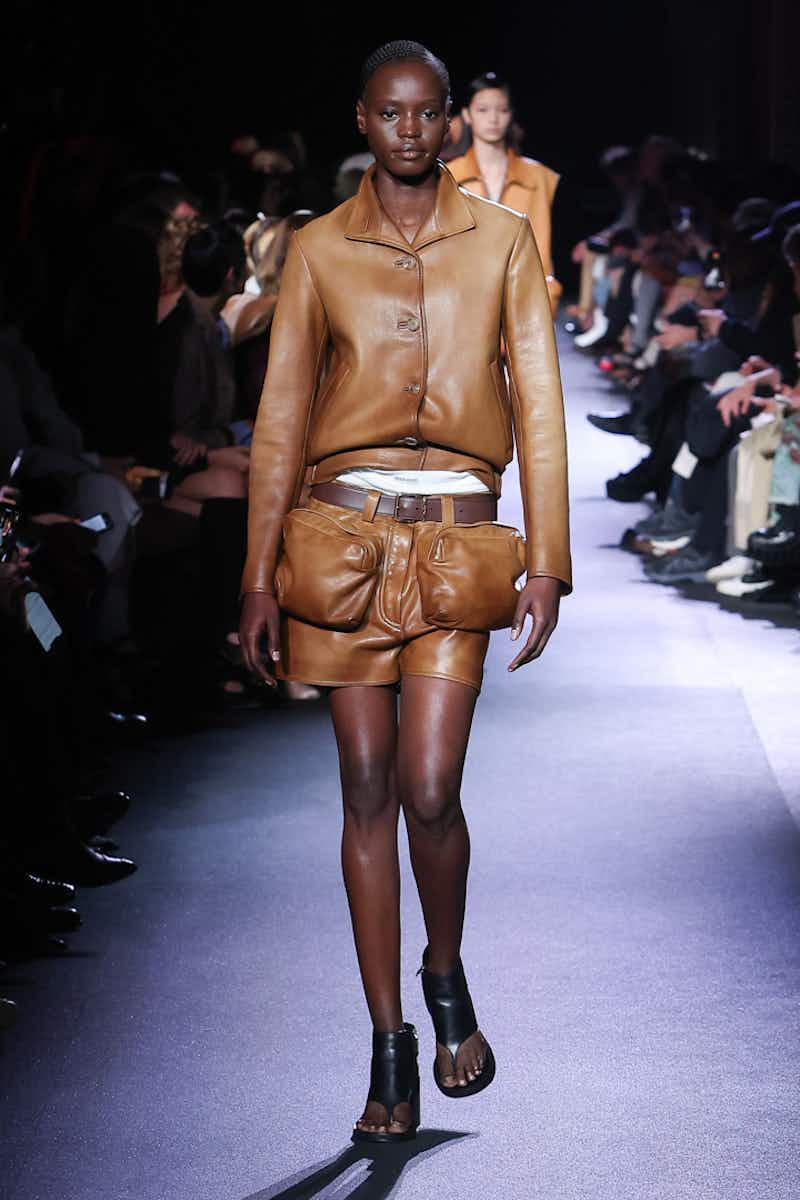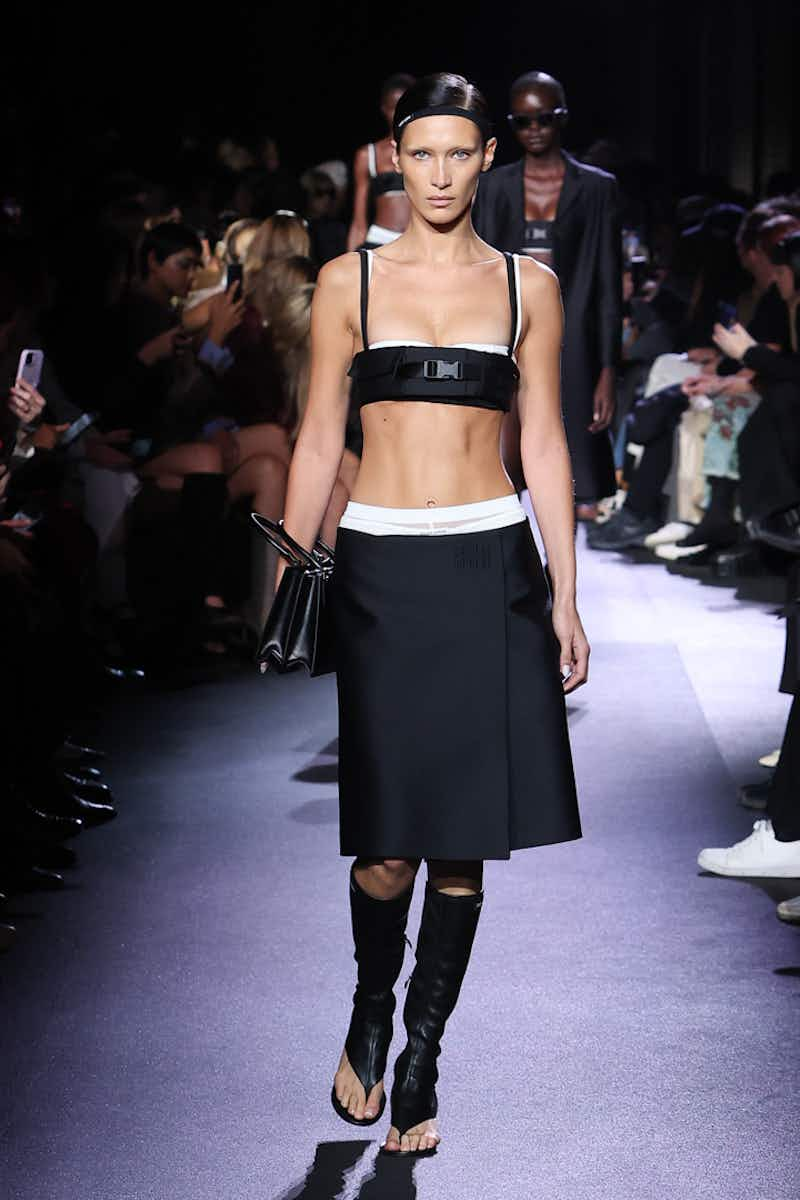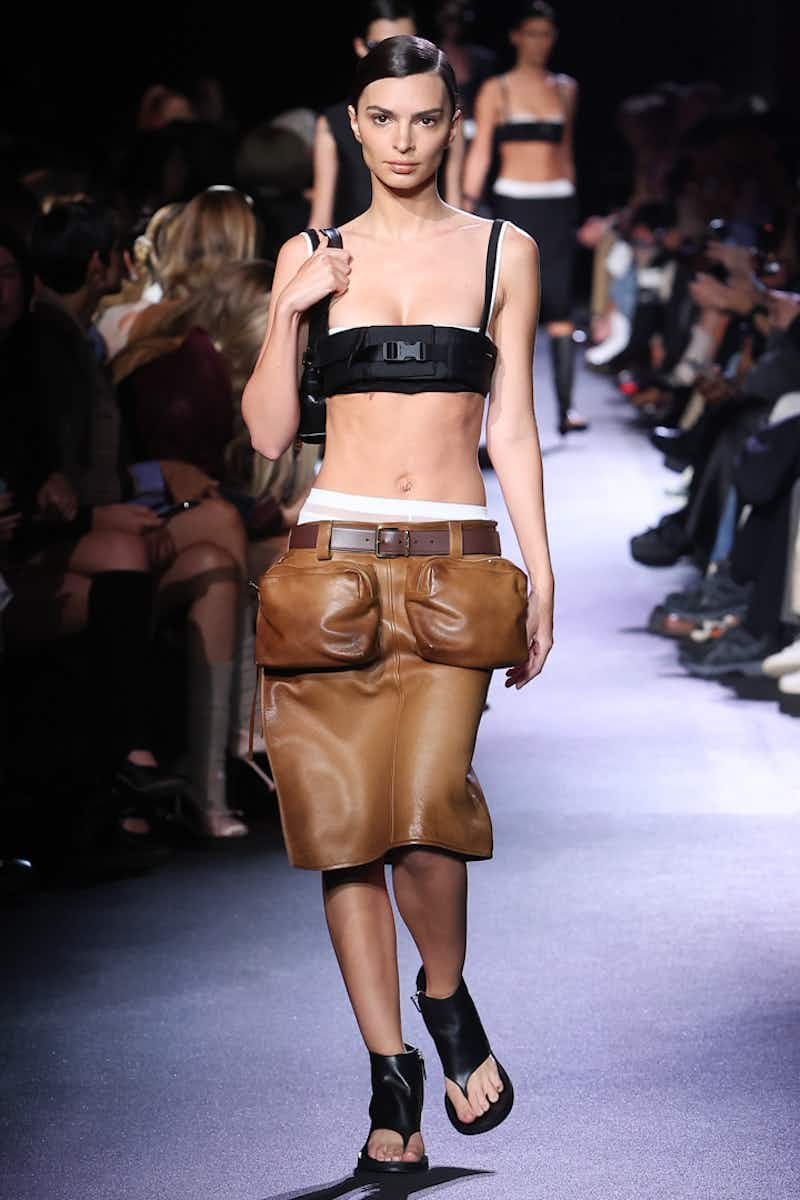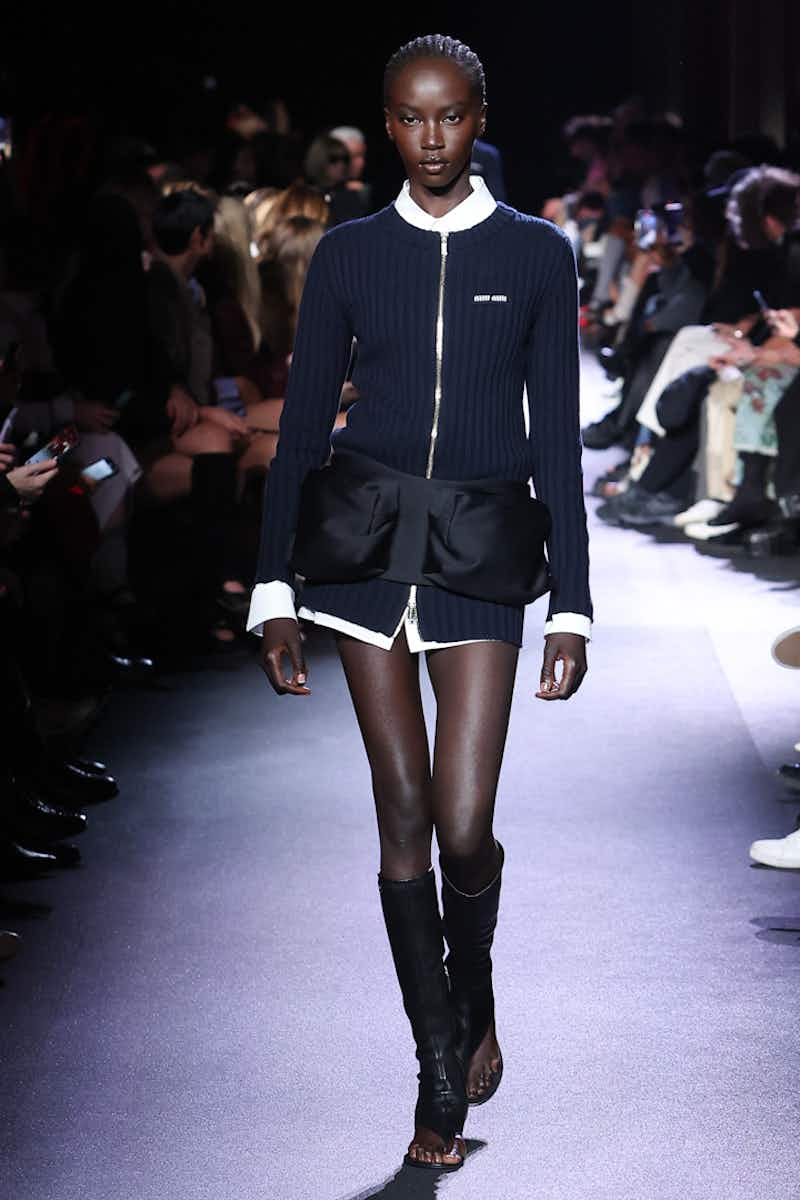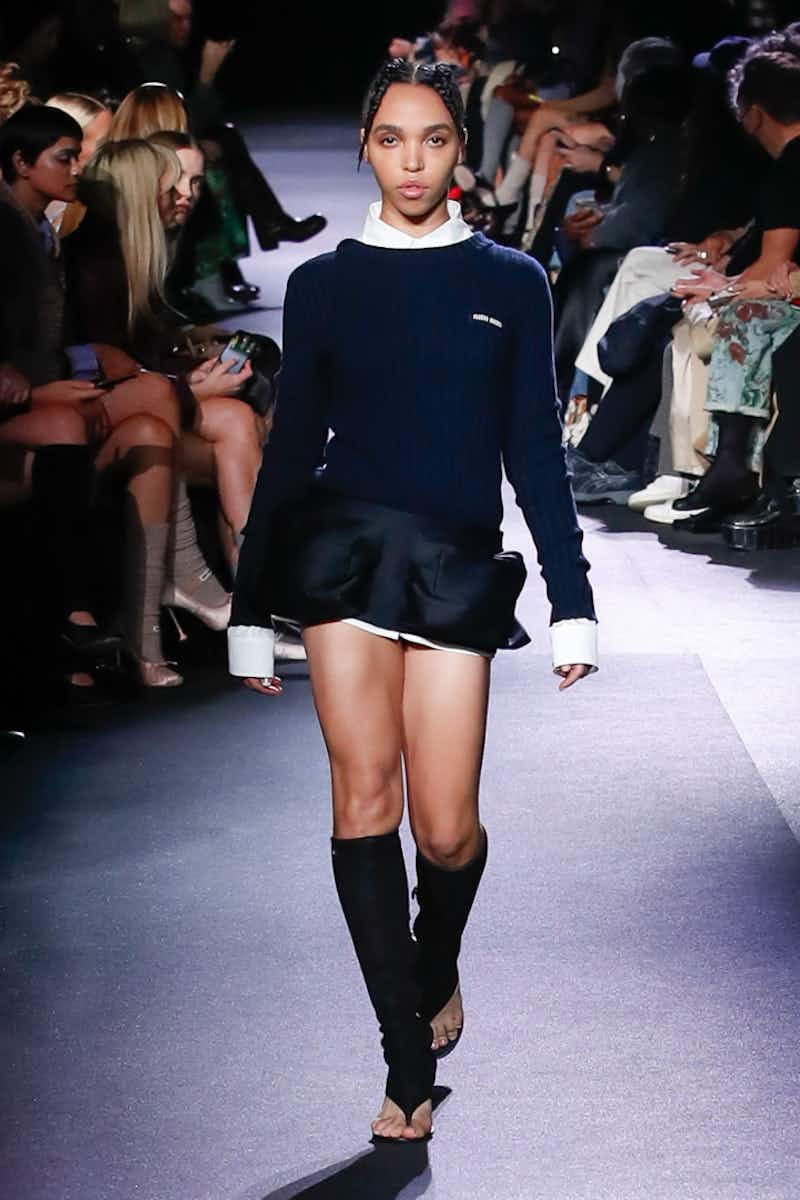 Walking to the high-octane ticking of Wamdue Project's King of My Castle, Louis Vuitton's models emerged from a massive sculptural flower created by artist Philippe Parreno, this season's guest designer for the show's scenography. For SS23, Nicolas Ghesquière paid homage to the strength of womanhood in the face of political upheaval. ​"Femininity is at the heart of the matter and Louis Vuitton joins the conversation," read the house's press notes. In the collection, details were blown way out of proportion. Zips were magnified, buttons made enormous, and these typically smaller details were also spotlighted directly on the fabric, with zippers and fastenings printed on tailored suits. In the first few looks, scuba-style rings protruded out of models' hips and necks as a sort of irreverent armour, taking up space in a crowded room. If some of the expansive proportions felt unsettling, it was all part of the exercise. Together with vague tiger prints, warped colours and clashing textures, Ghesquière reworked the codes of womenswear to trippy effect. Here, it felt like spectacular warning signs to not be messed with. TJ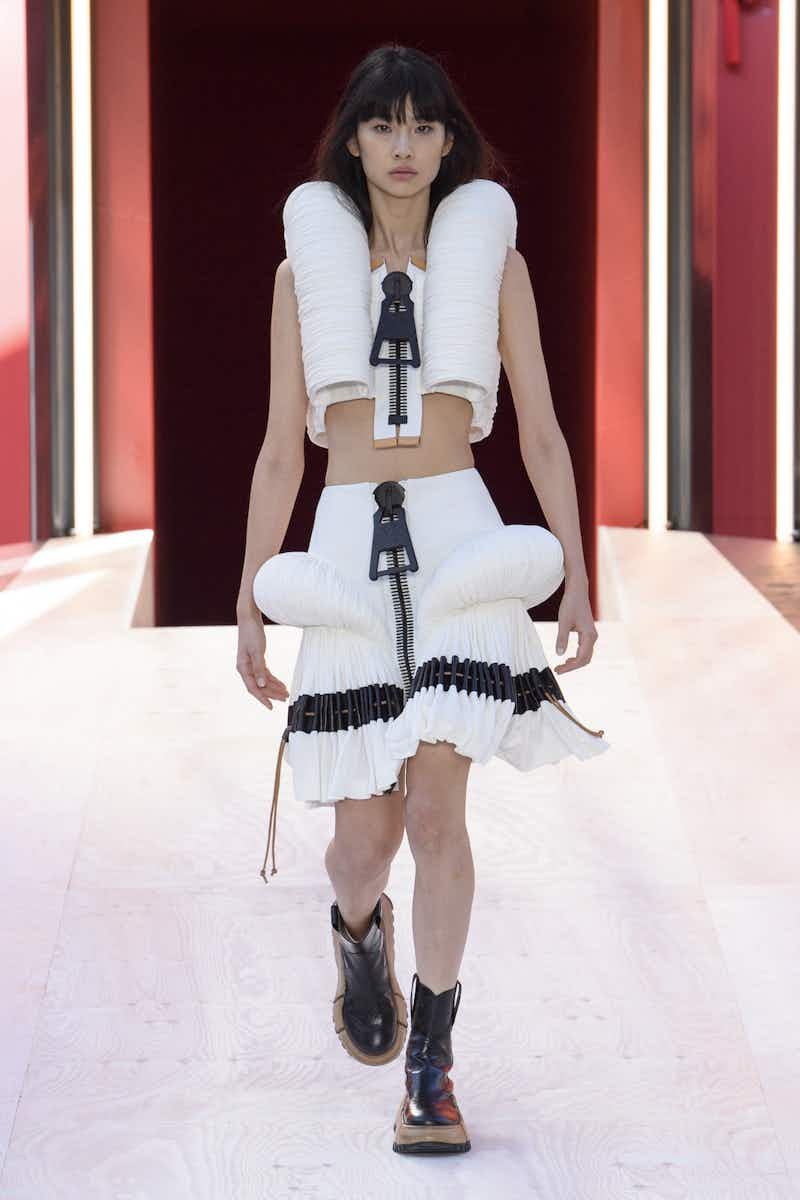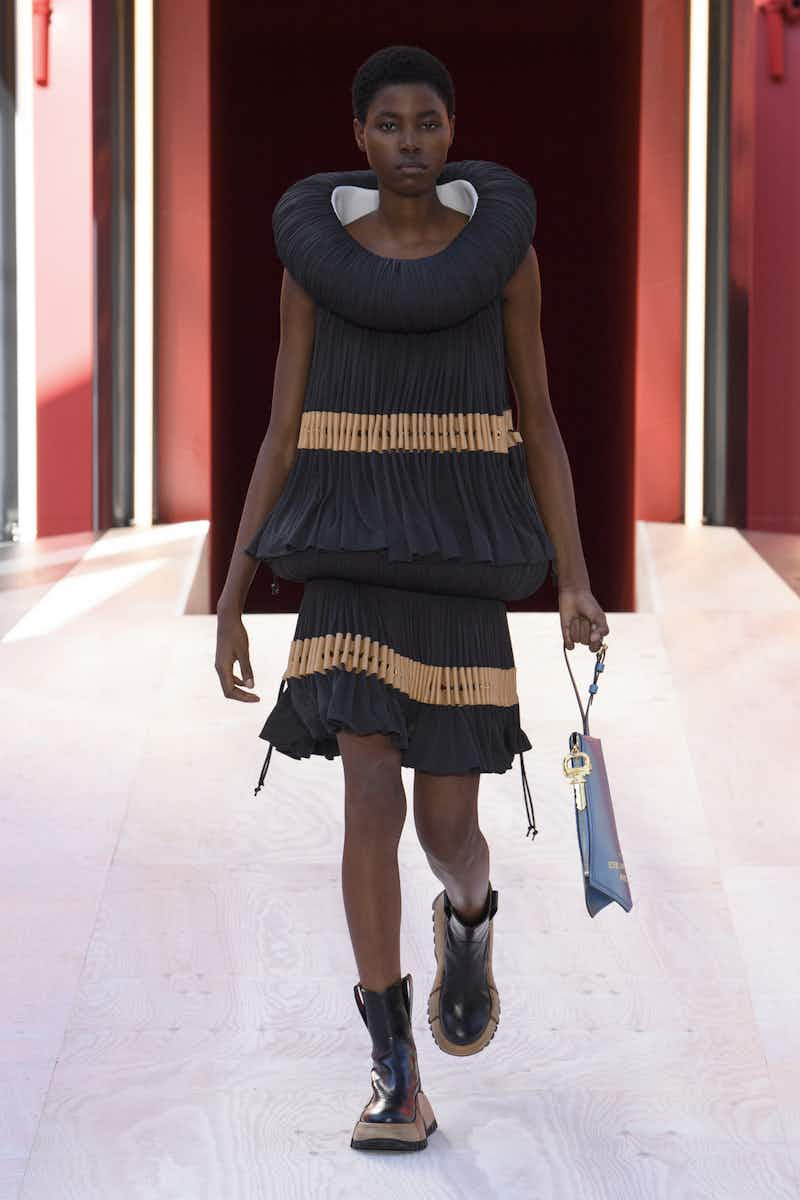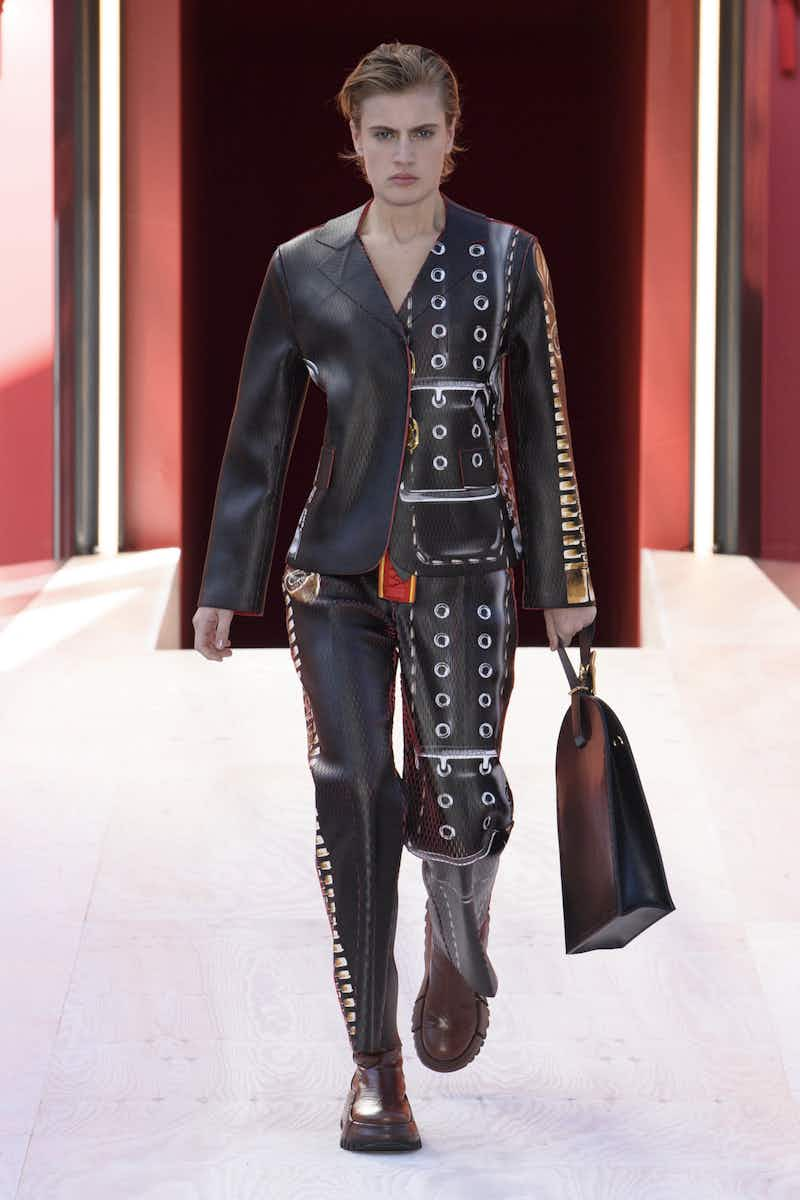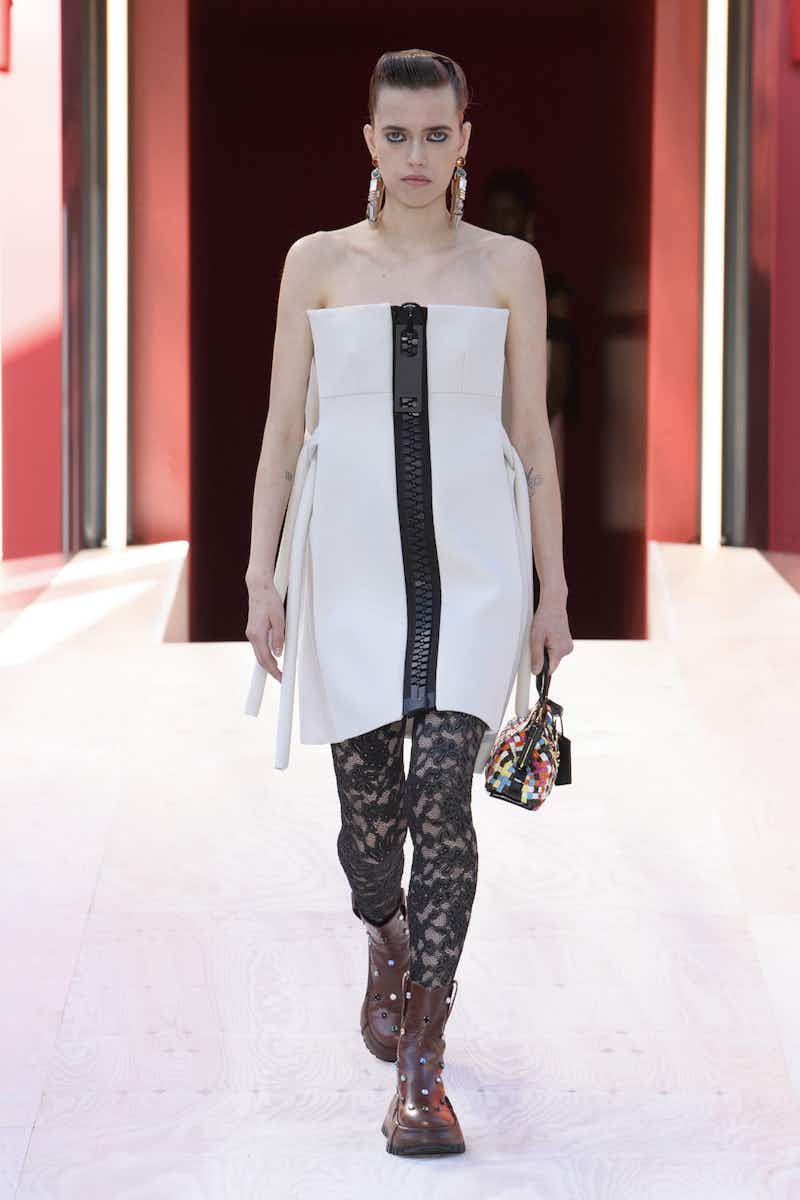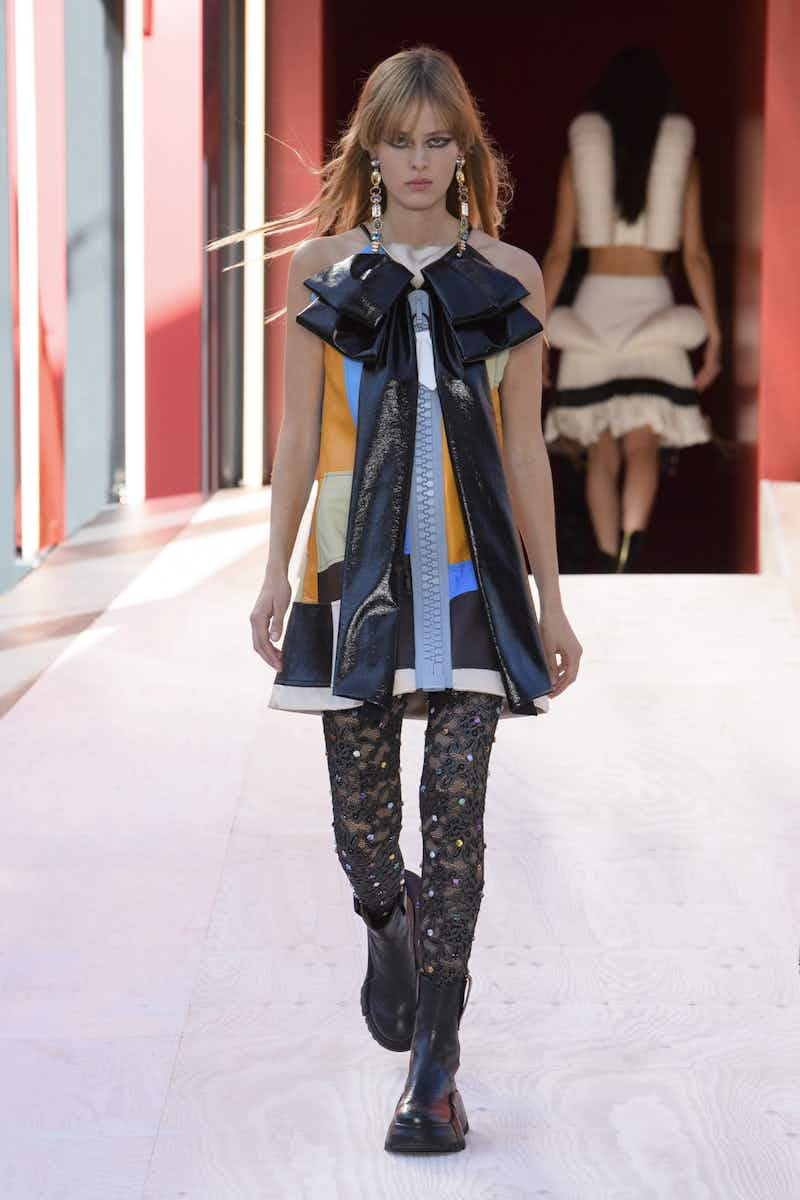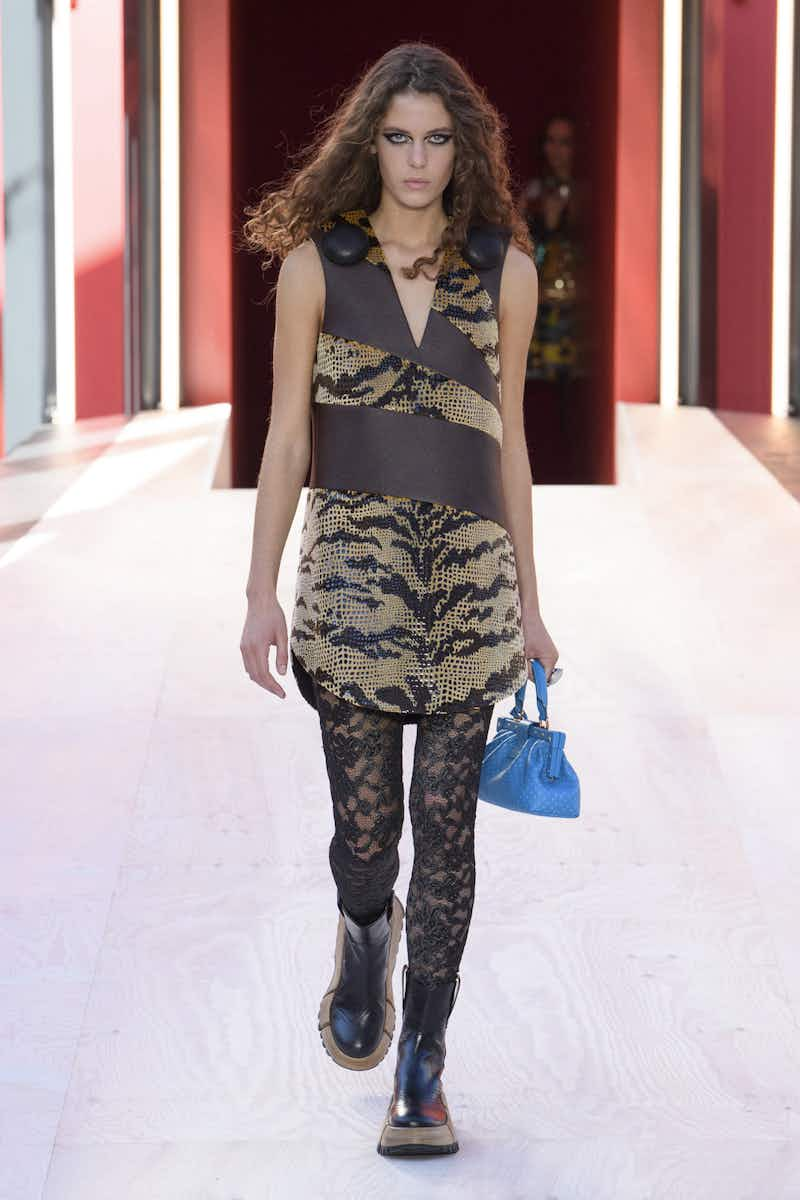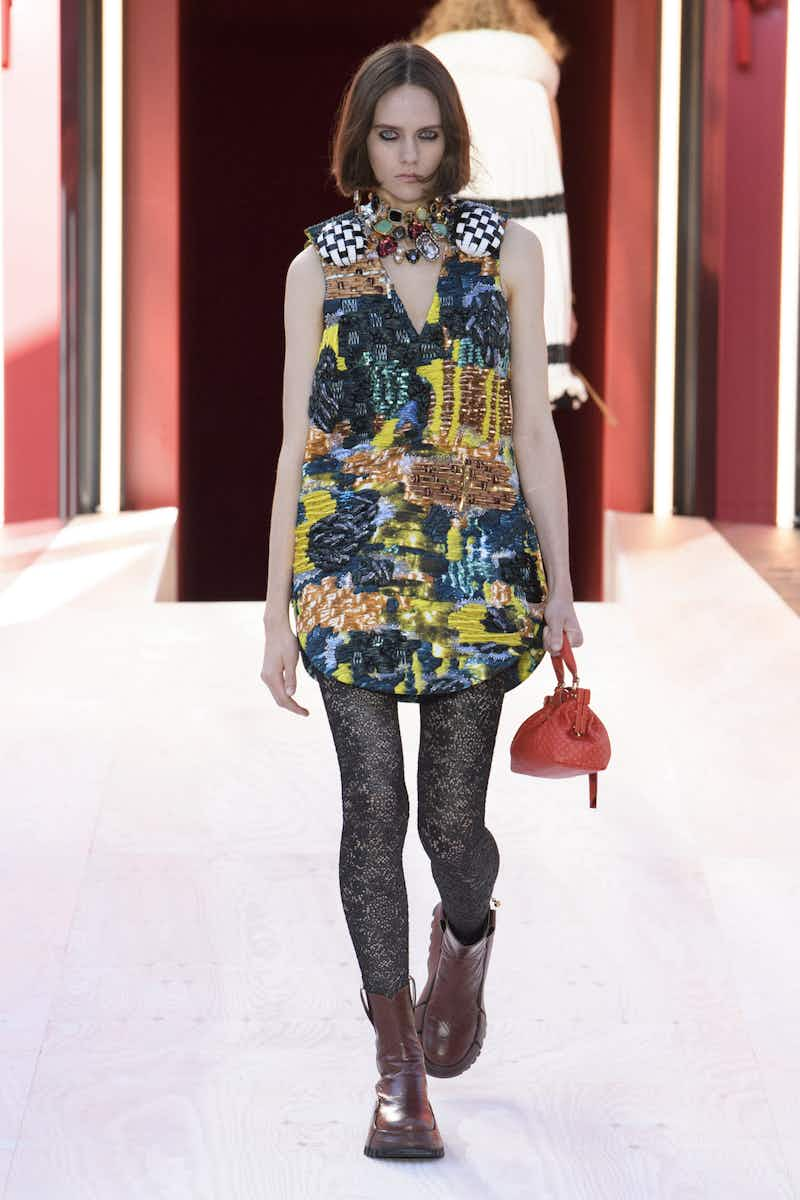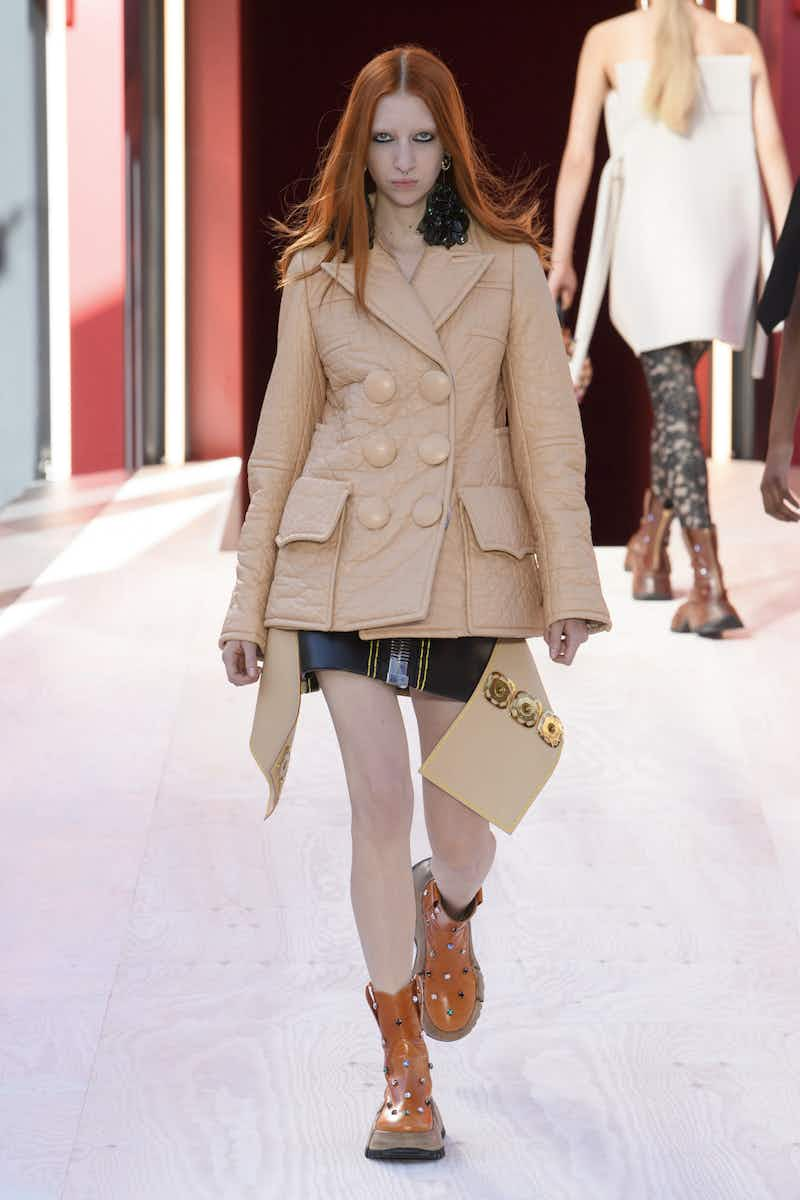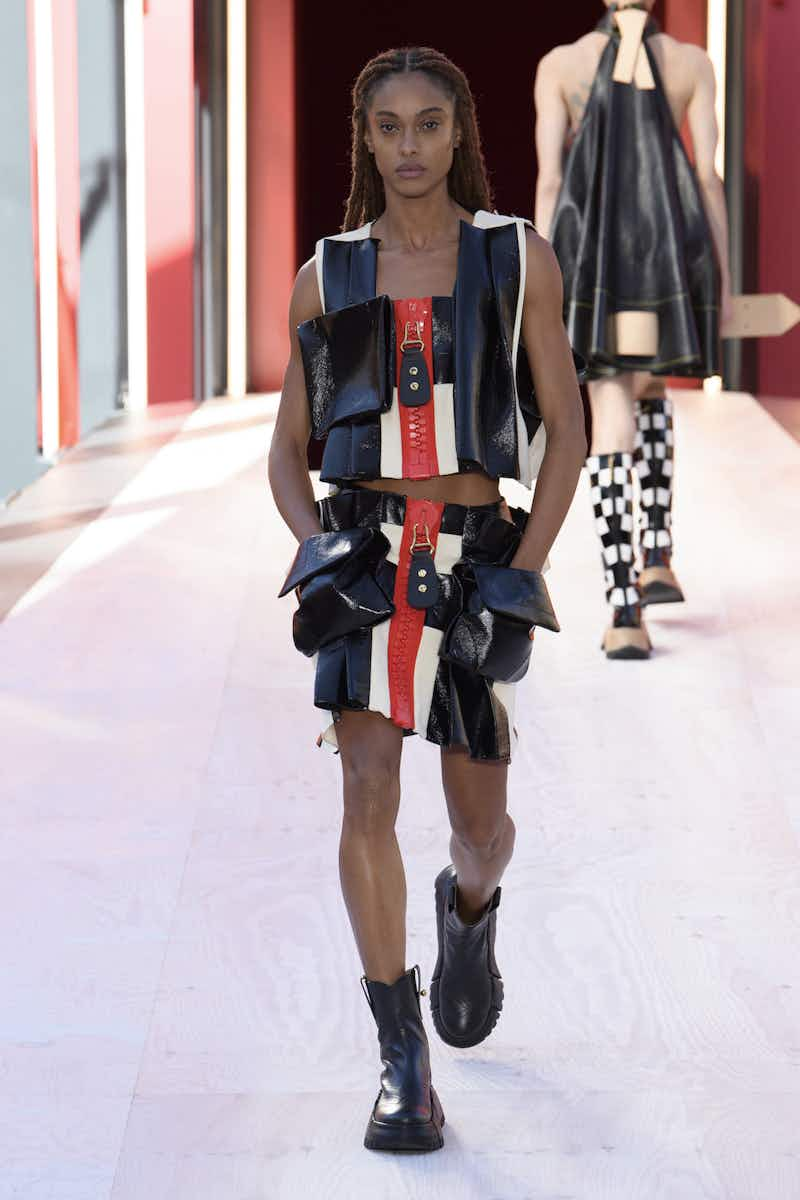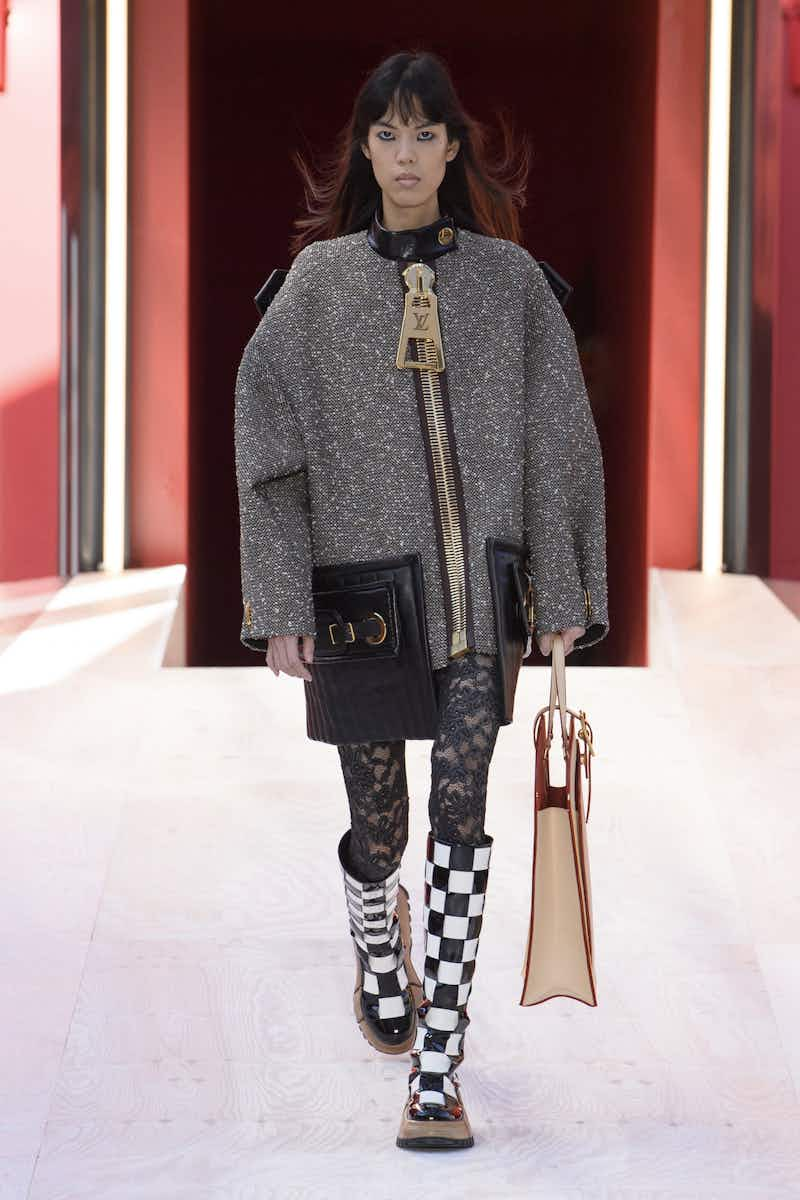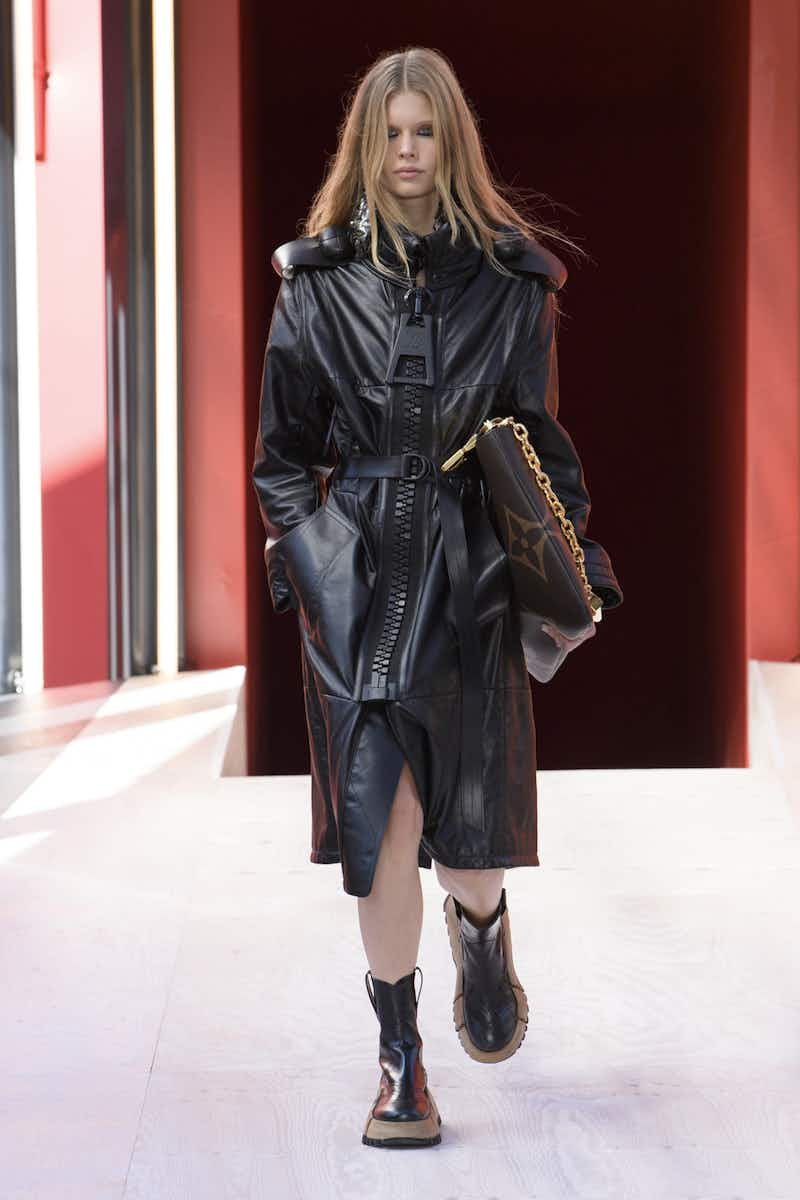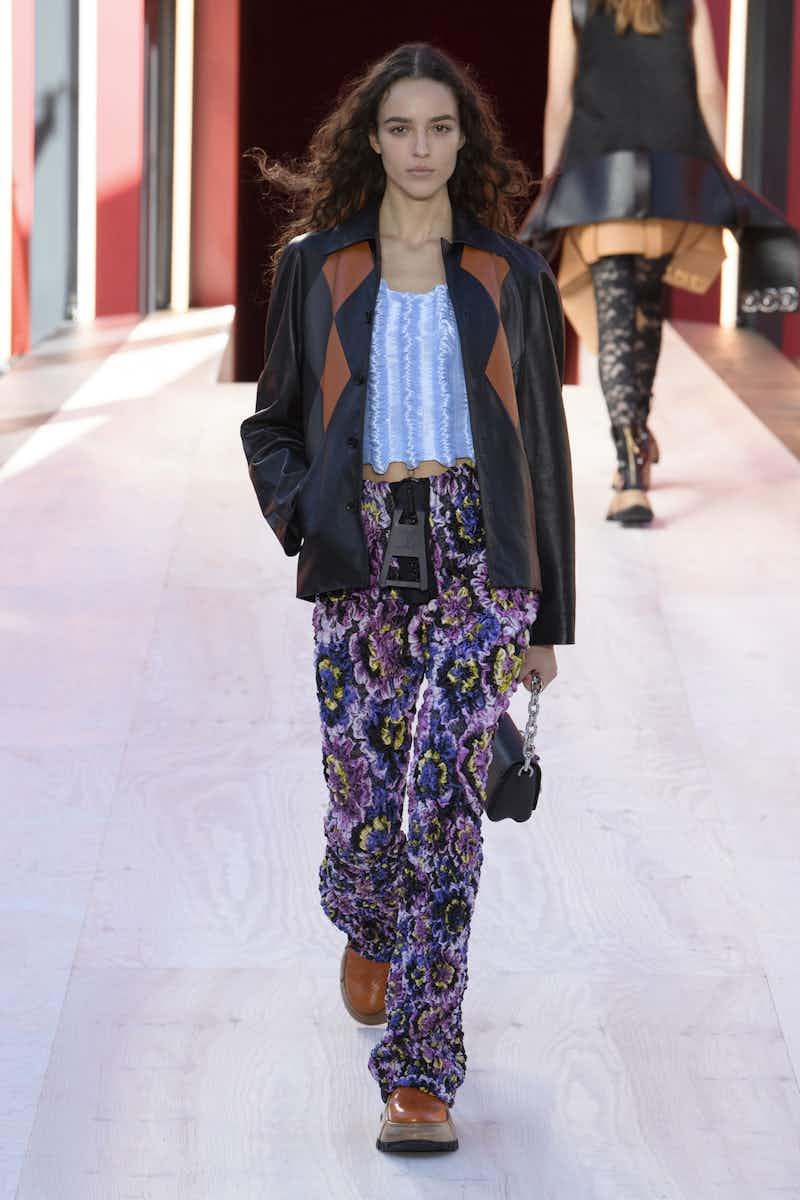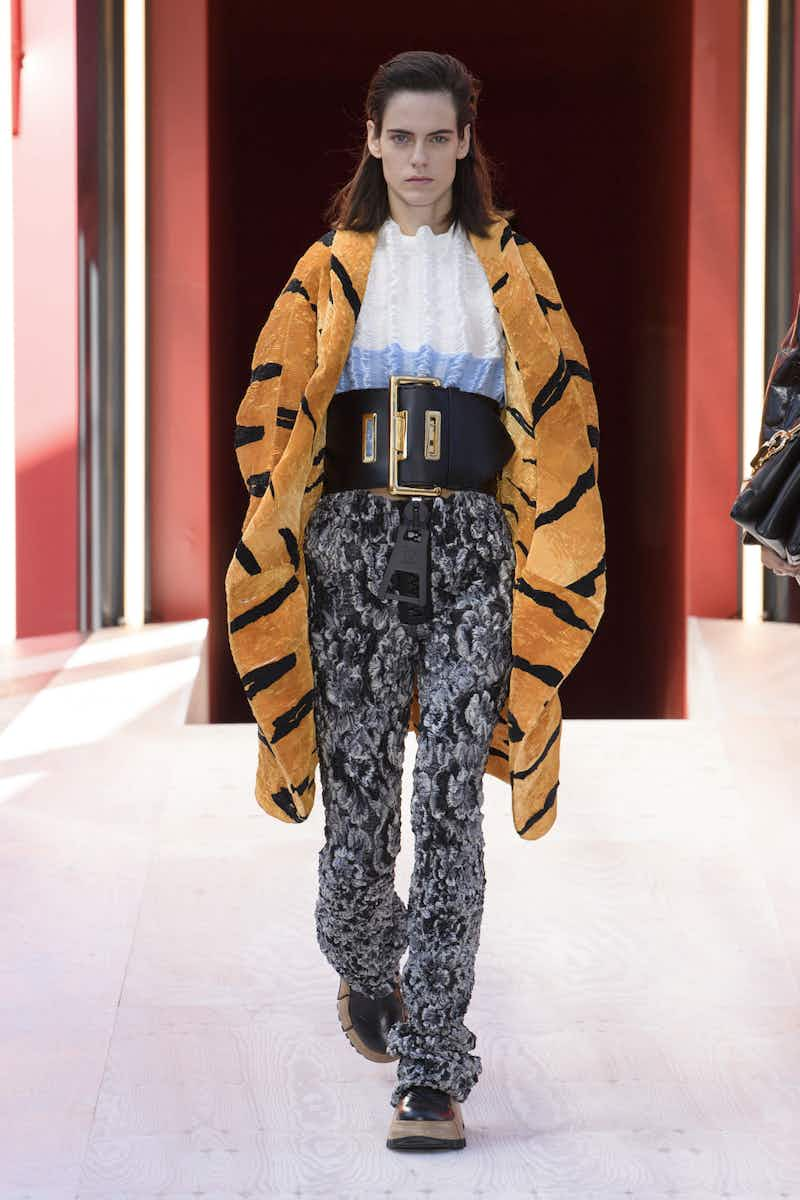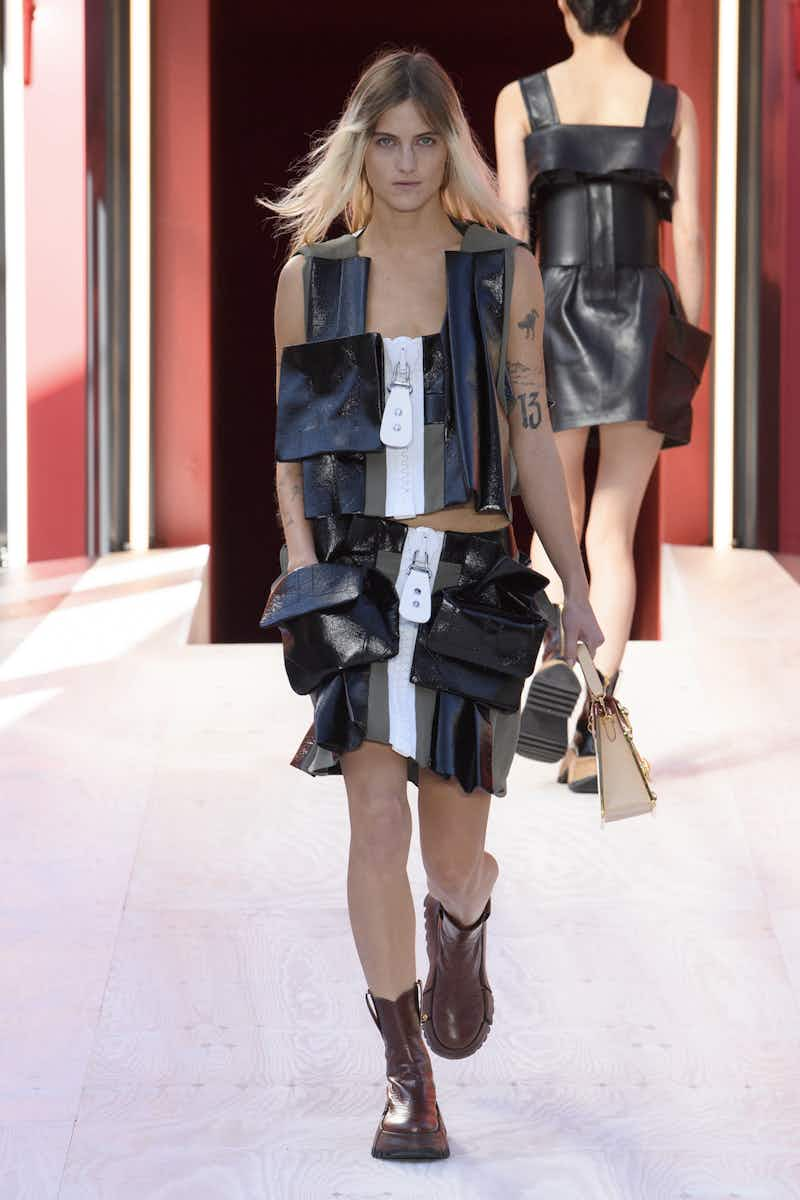 The bright primary colours on Stella McCartney's SS23 catwalk felt, at times, like a return to a primitive state, where bright colours and soft shapes welcomed a meditative, all-smiles state of play. The spirit of McCartney always has remained joyful, a much-needed antidote to the sludginess of the outside world. The designer has also always paid close attention to the wants and needs of the women around her. And while this collection had youthful spirit, it was undercut with powerful sensuality in leather biker jackets, limb-enhancing leggings and rugged denim.

The sweet-spot, though, was the tailoring that harks back to McCartney's early career in the late-'90s: slick pieces like a cropped blazer, a belly-skimming waistcoat worn with low-slung trousers, diamante crystal detailing and gold chainmail bodywear. The ​'90s and ​'00s are back (and have been for a bloody long time), but from McCartney, it feels like a wholesome look back at her storied past as one of Britain's leading designers and highly-referenced (ex?) party girls – not just a jump on the hedonistic bandwagon.
It being McCartney, subliminal political messages – whether about sustainability, consumerism or environmentalism – came through, too. The collection was made with 87 per cent conscious materials (the designer's ​"most responsible" output to date), while vegan leather was used on a pair of saucy chaps. Perhaps the most obvious statement, though, was on a jumper that had ​"Change the history" scrawled across it. We can't change history, but we most certainly can shape our future for the better. And have a good time while doing it. TJ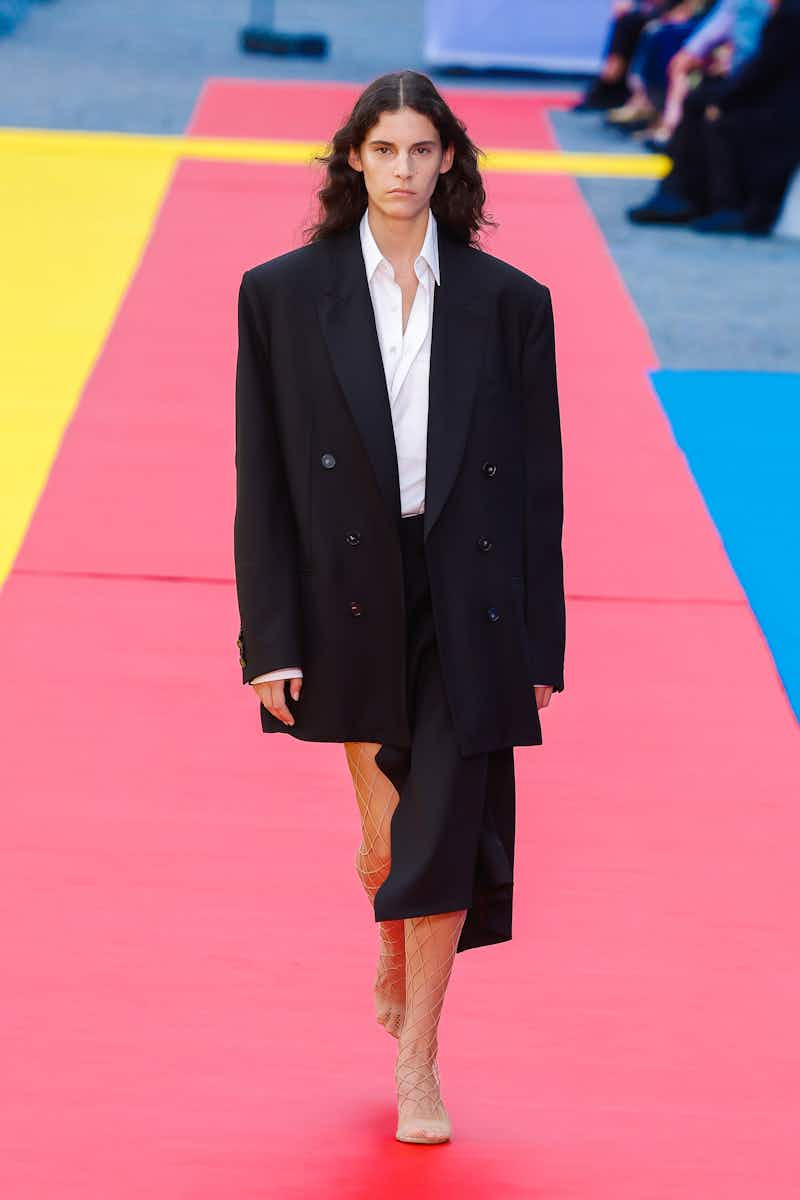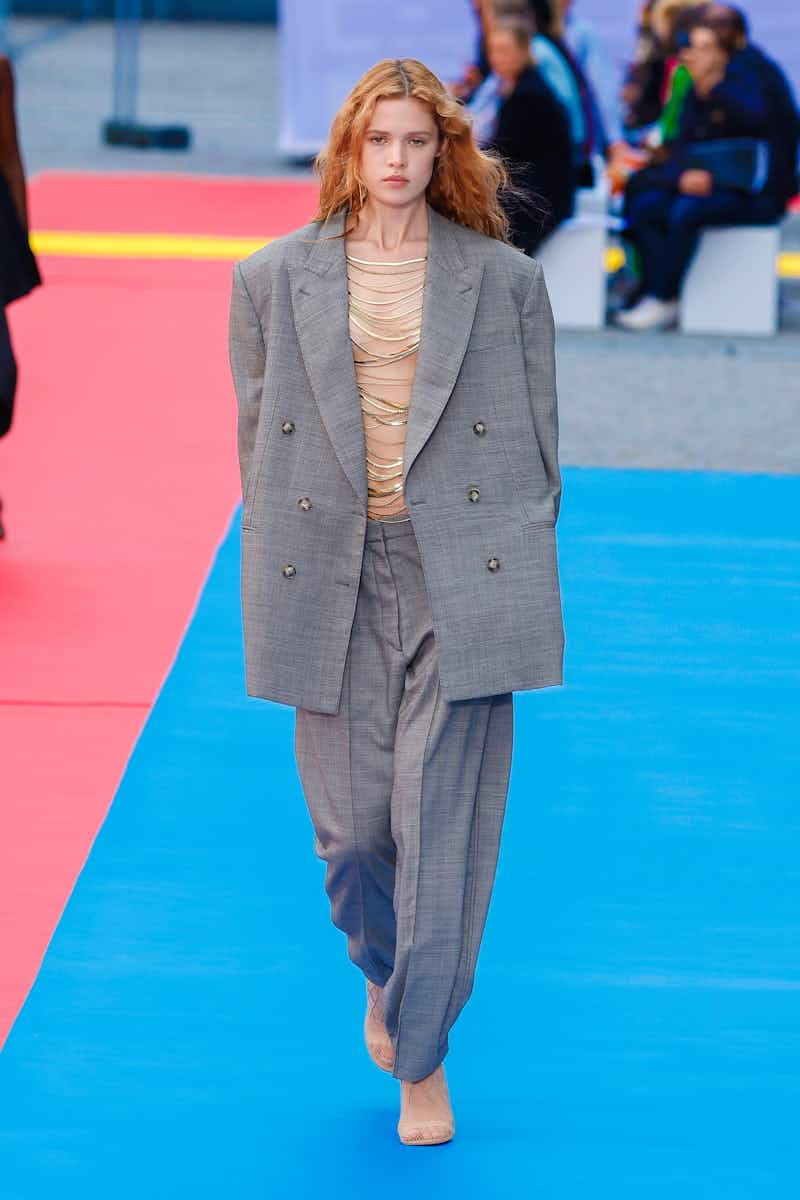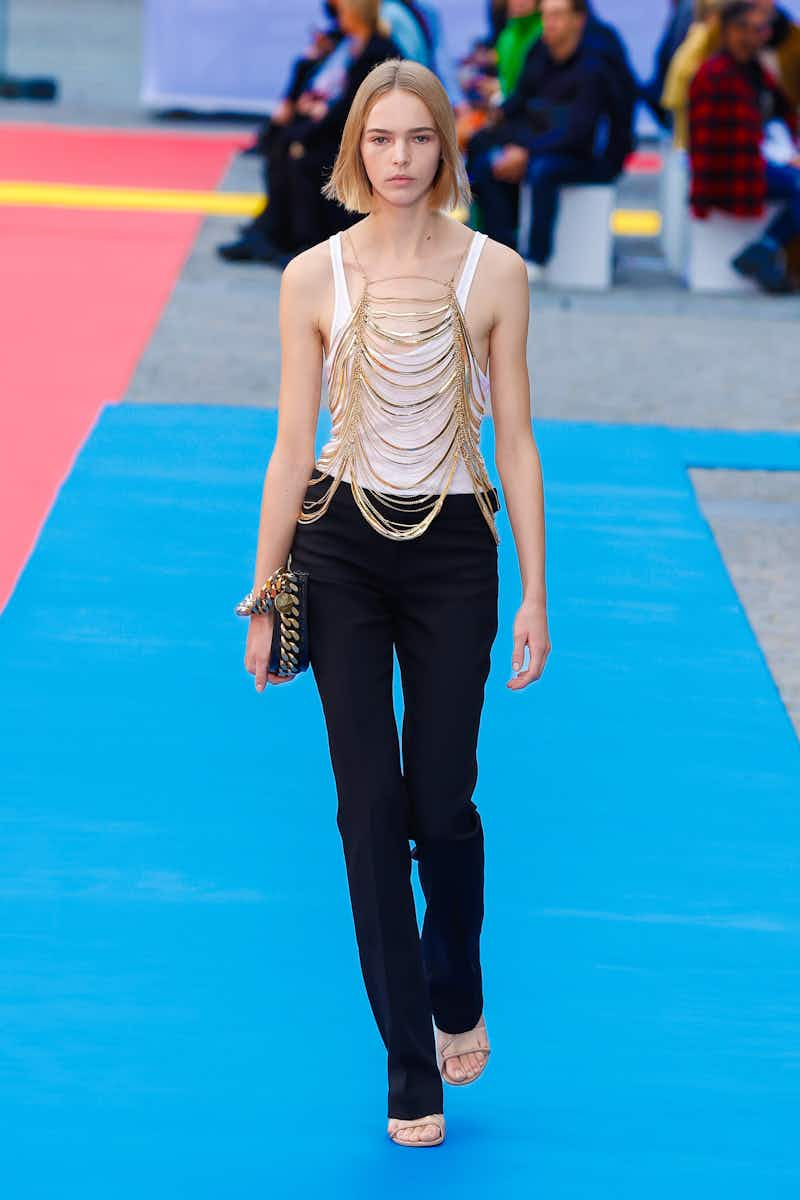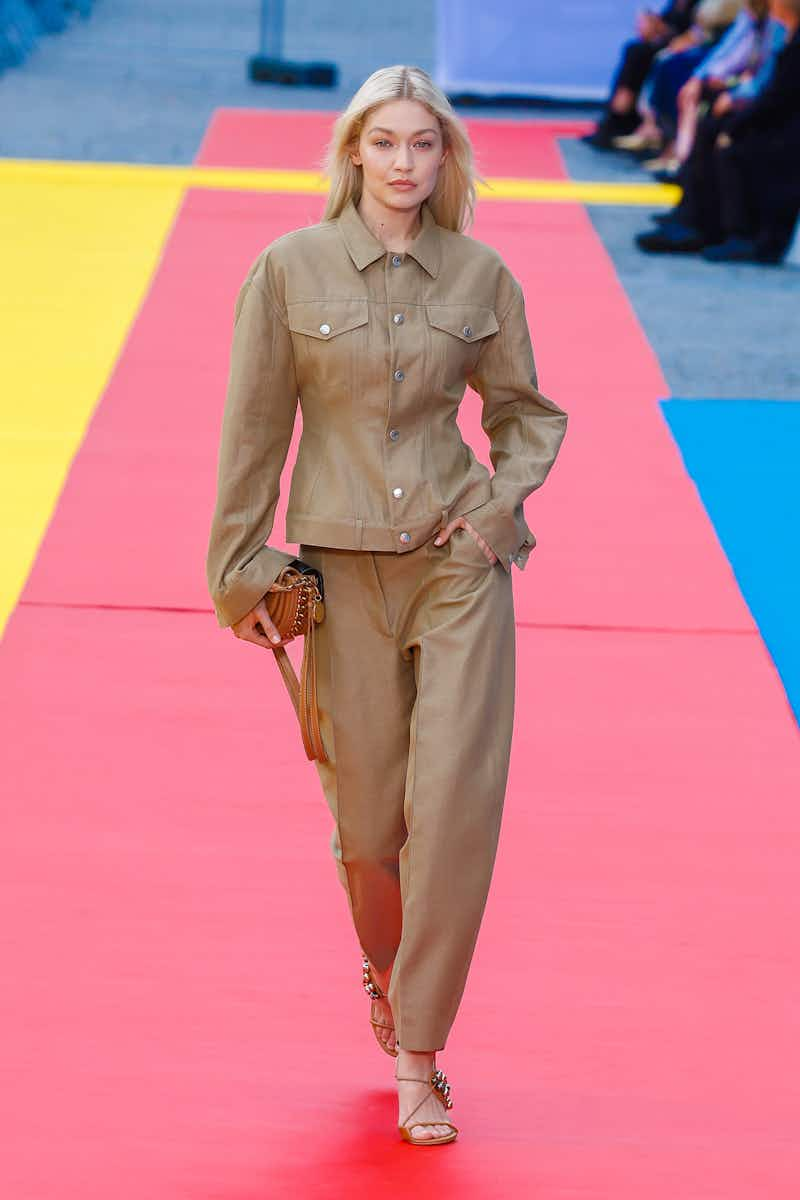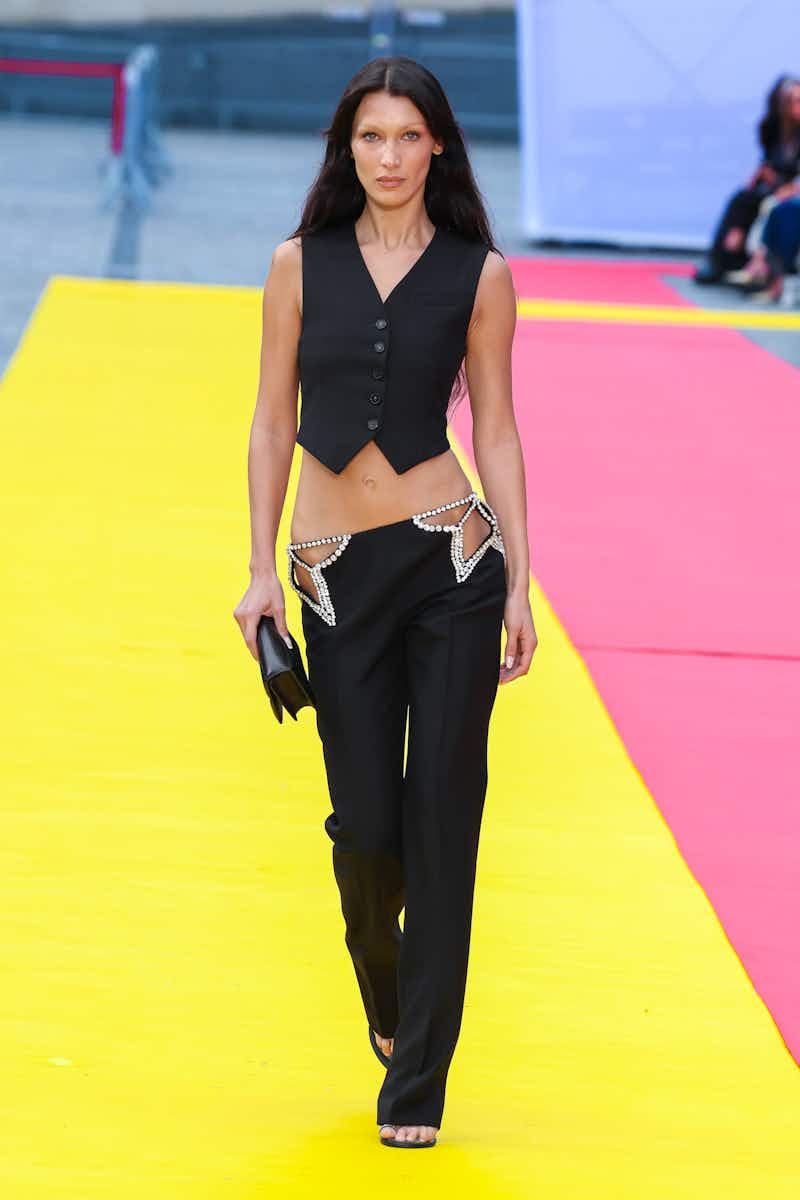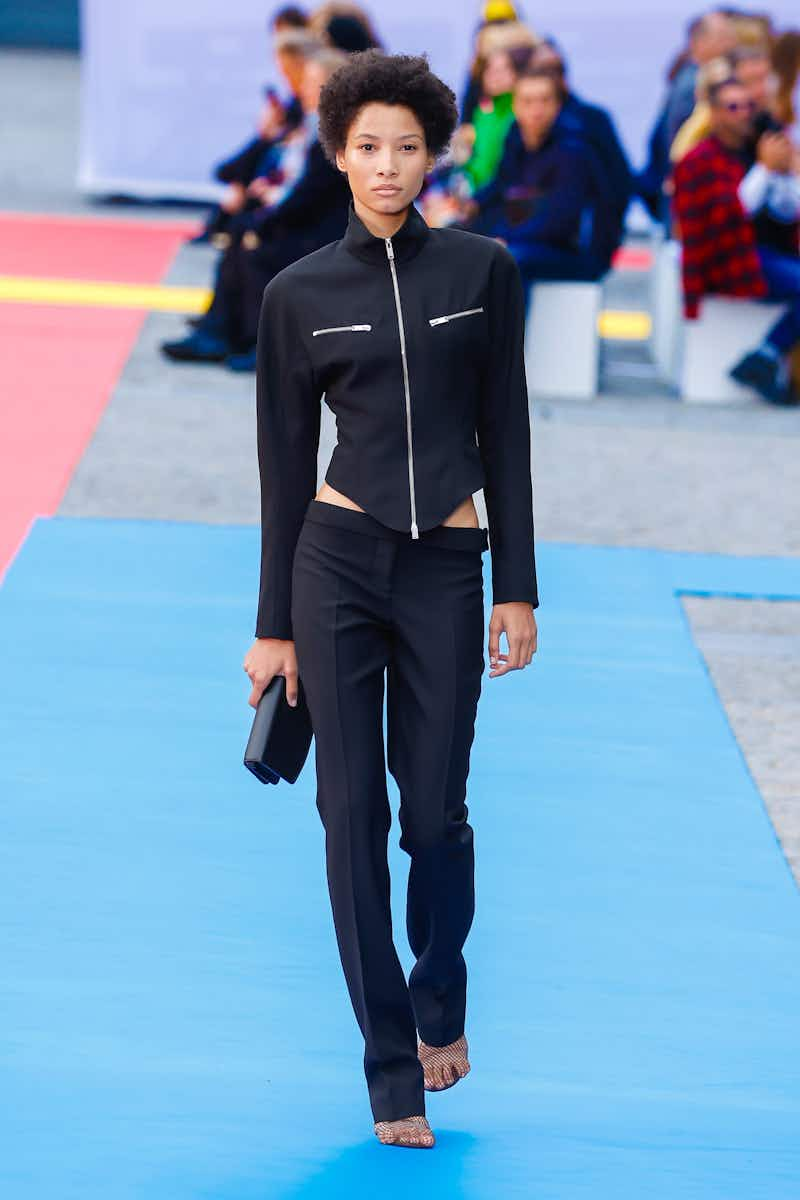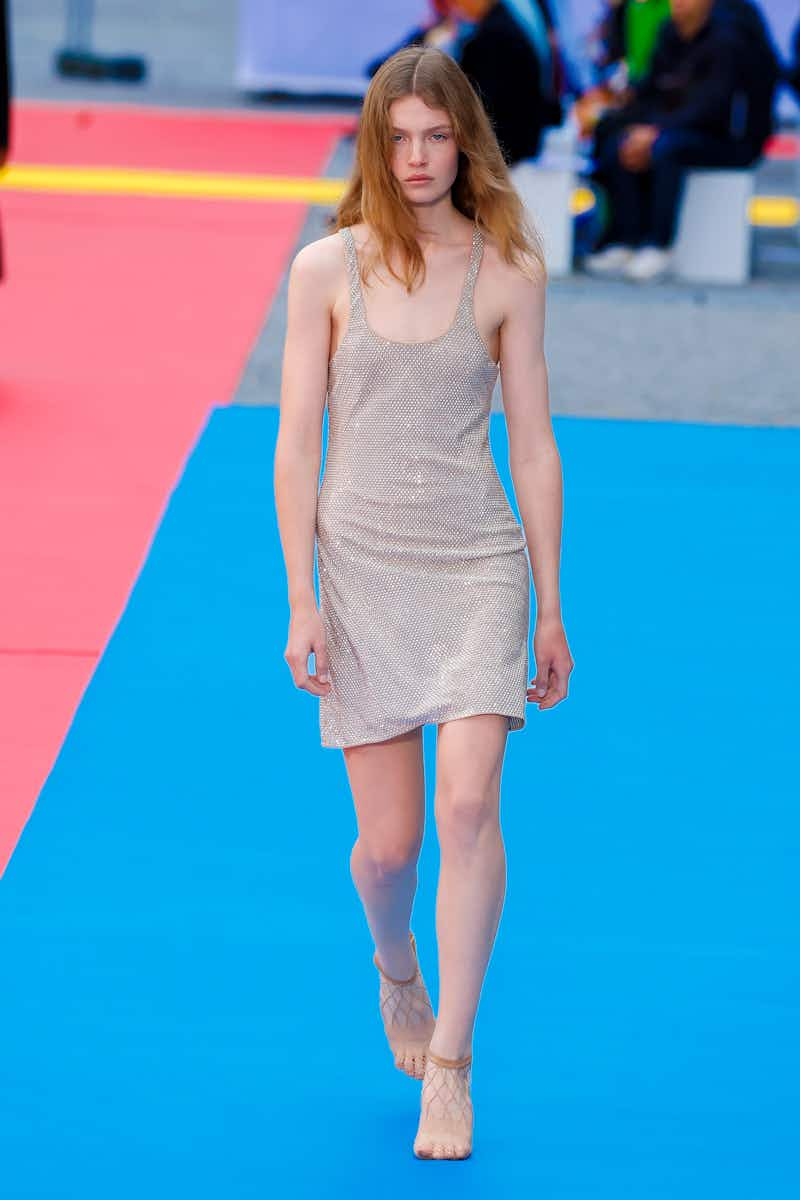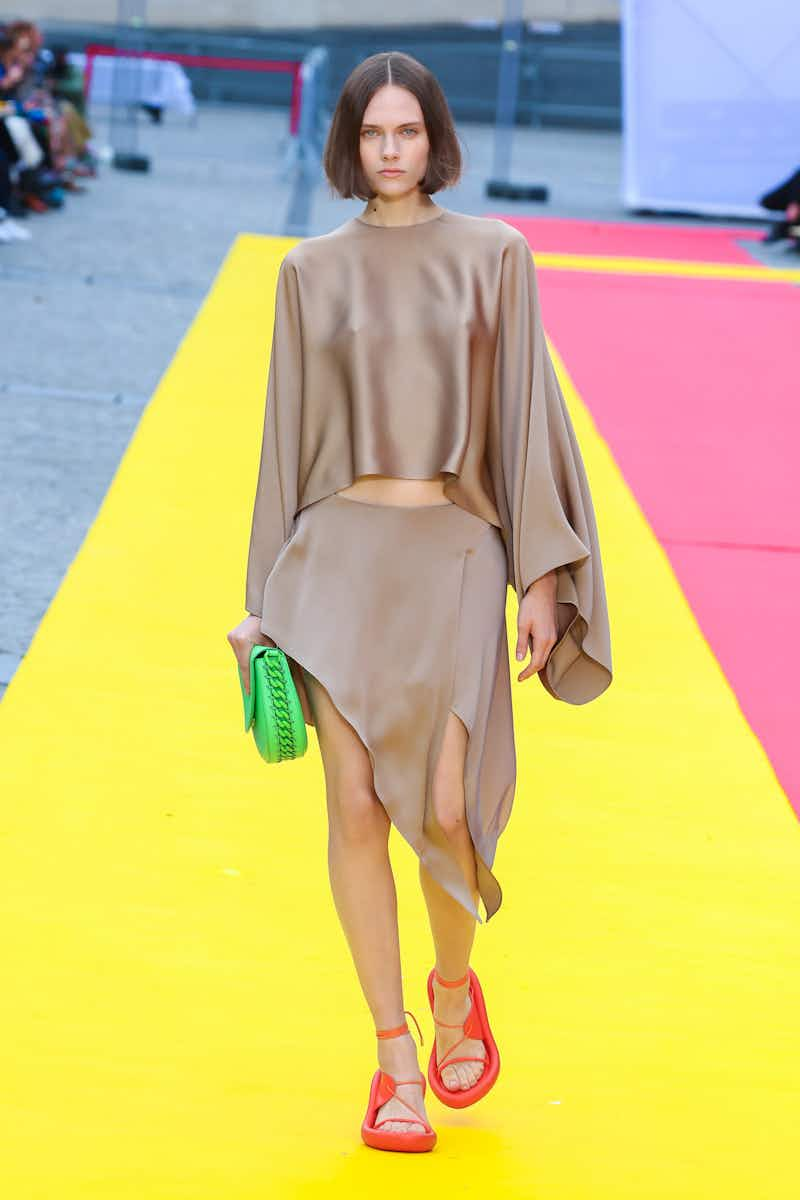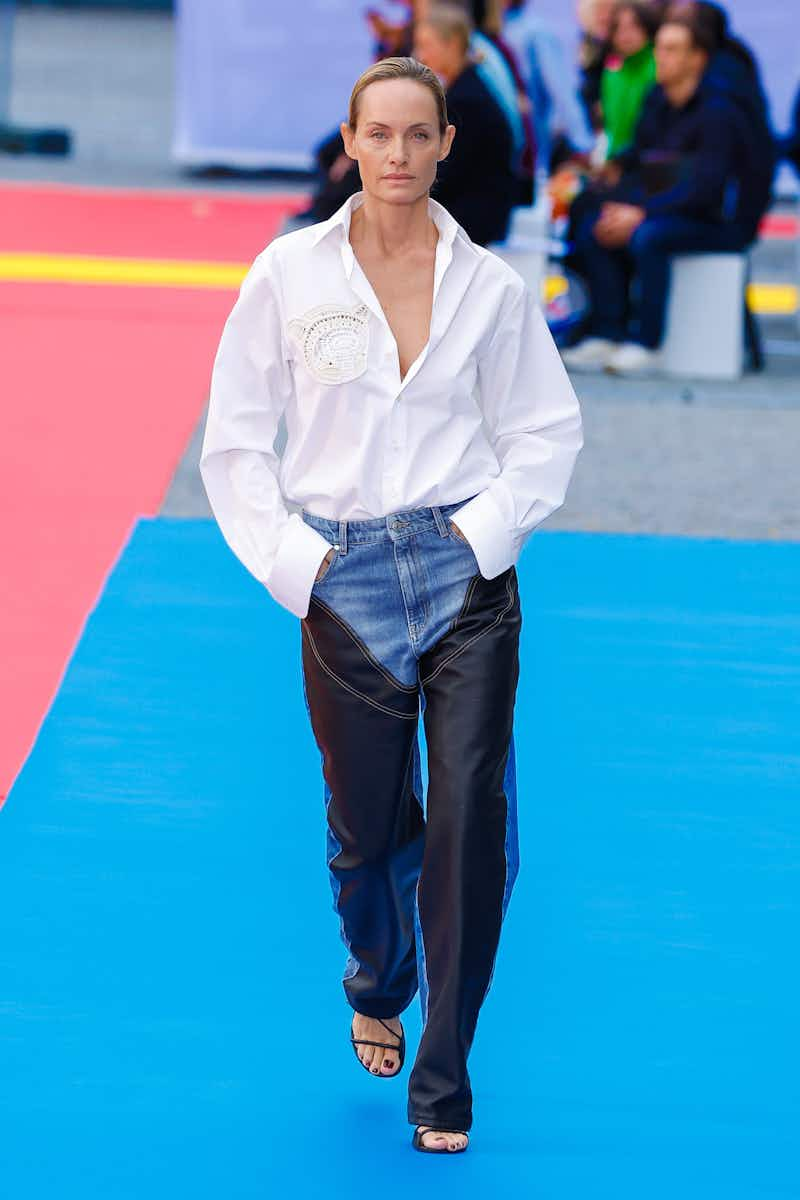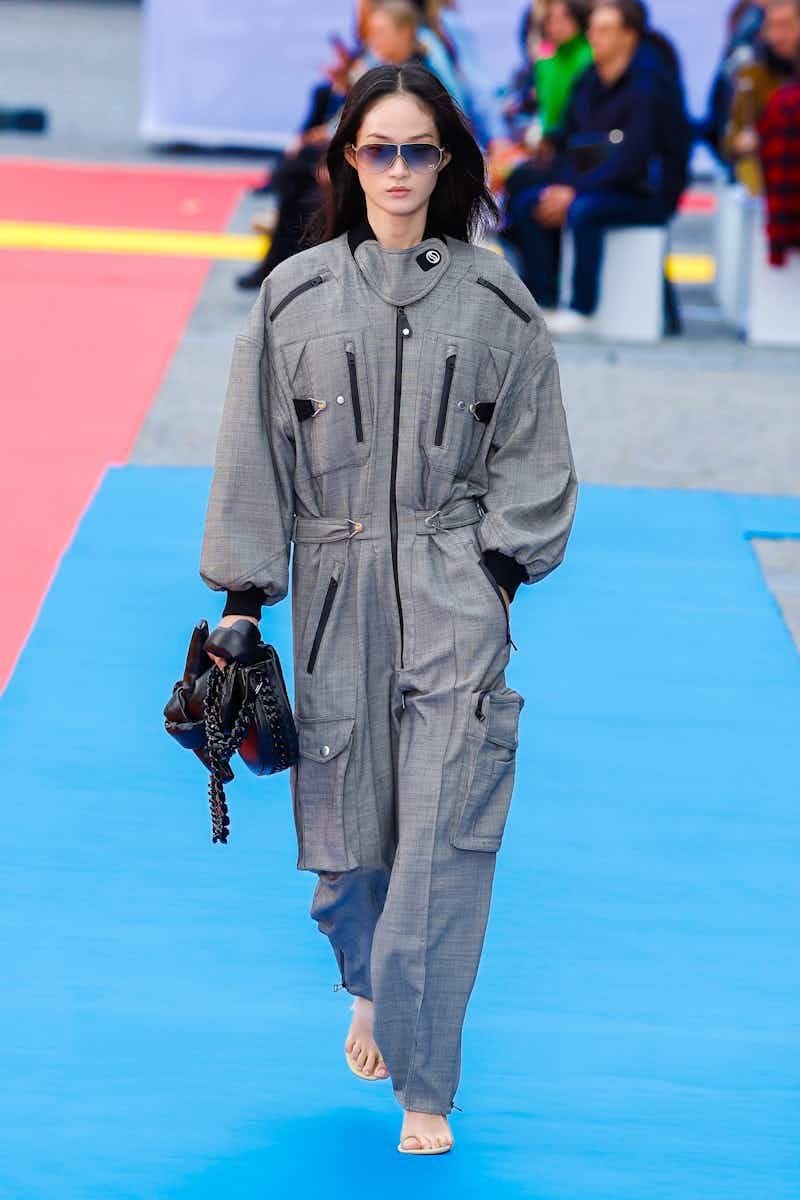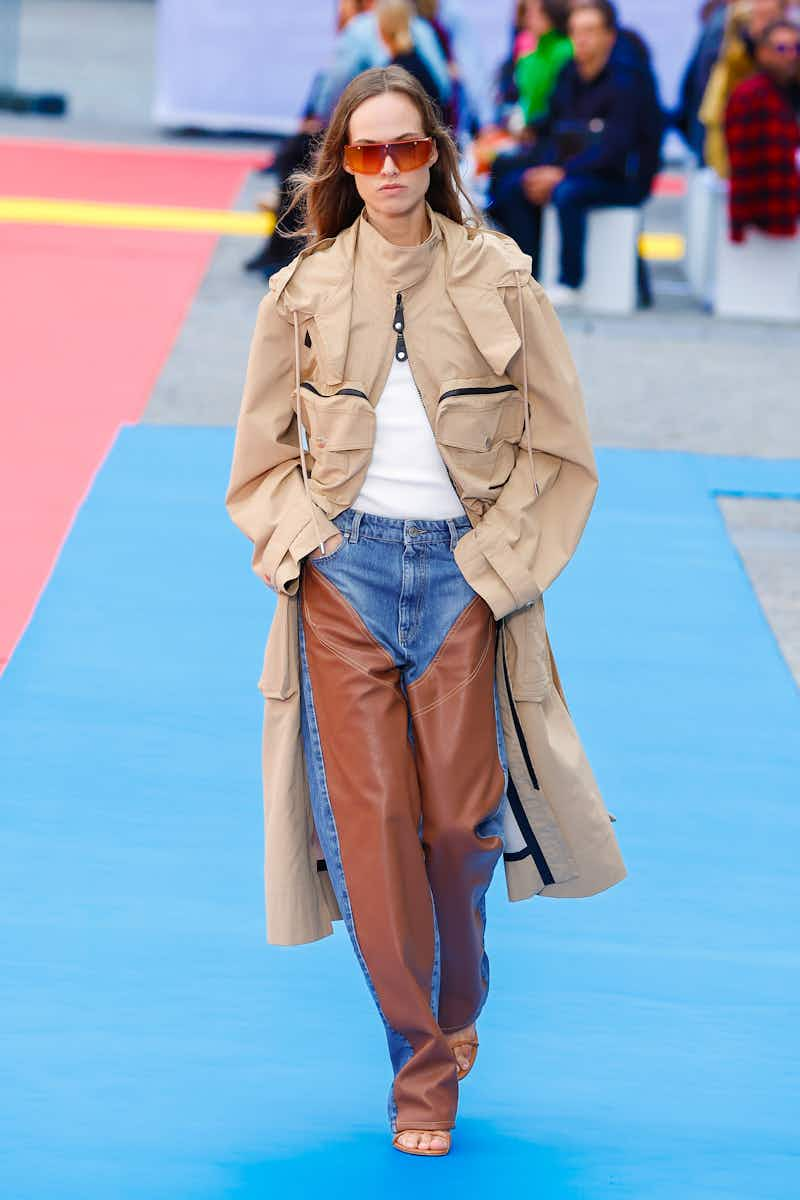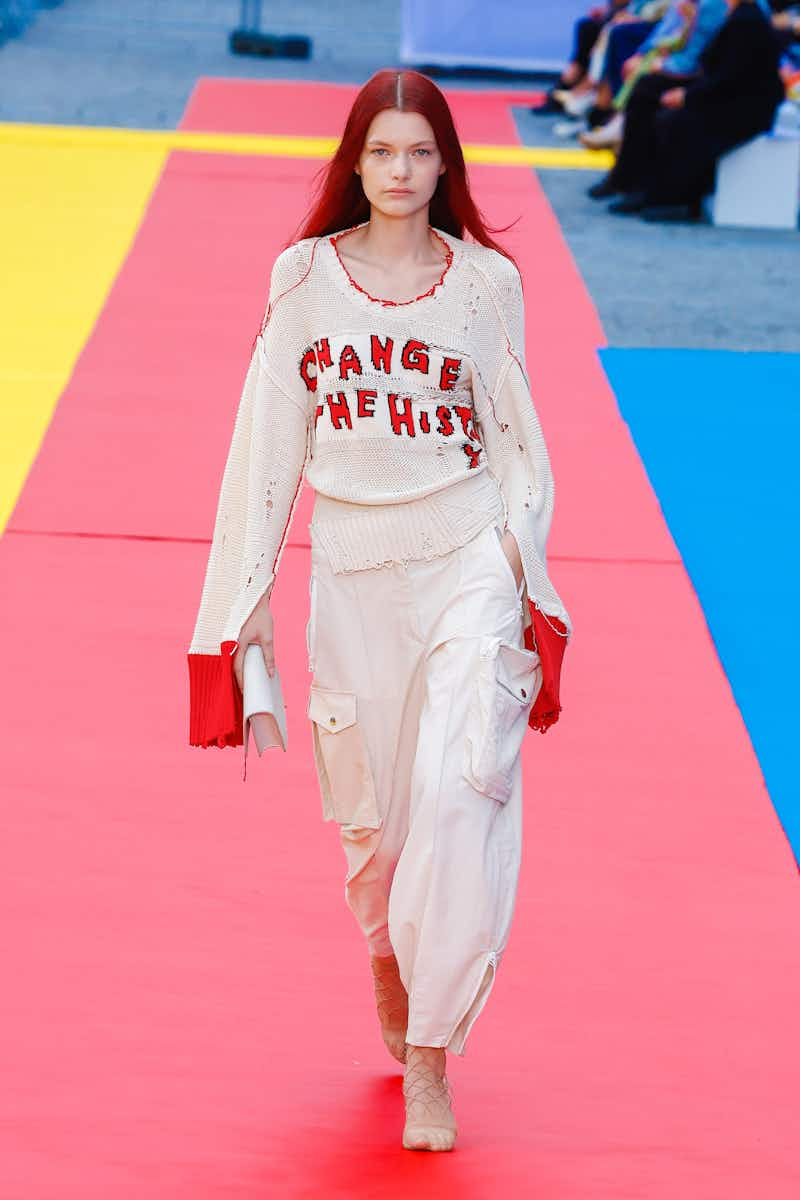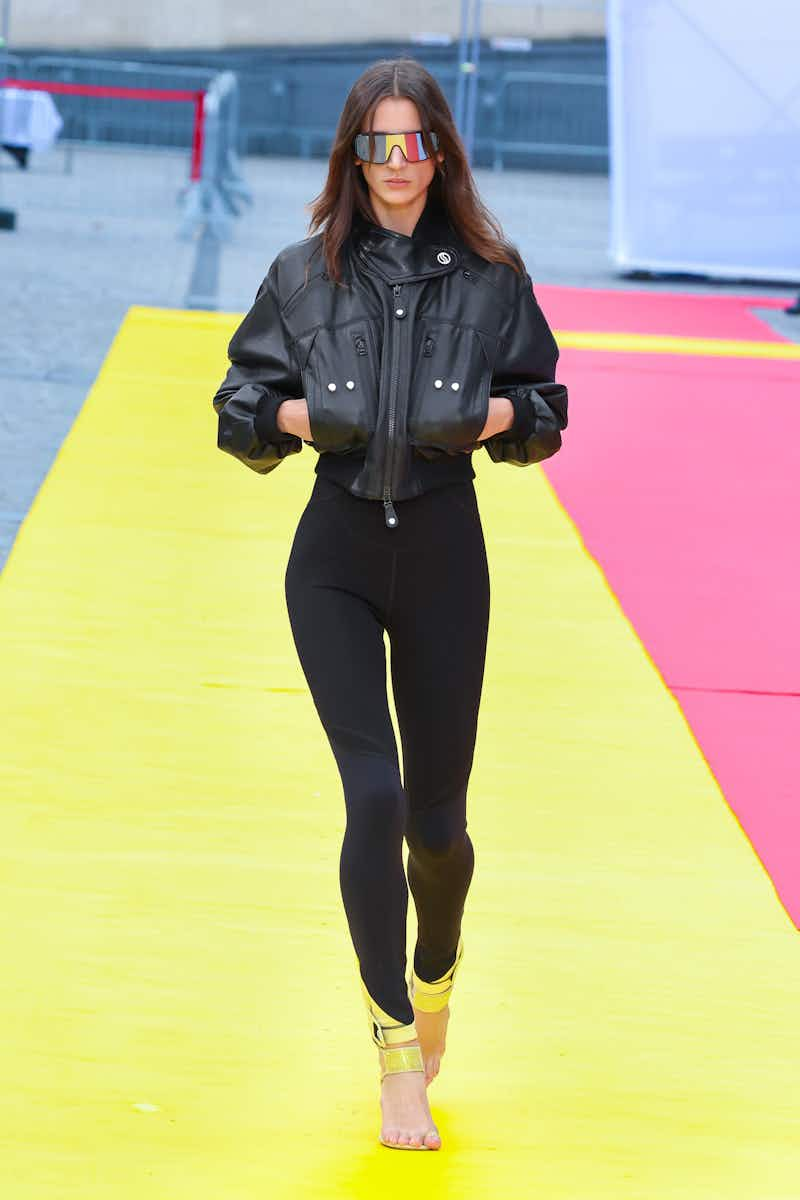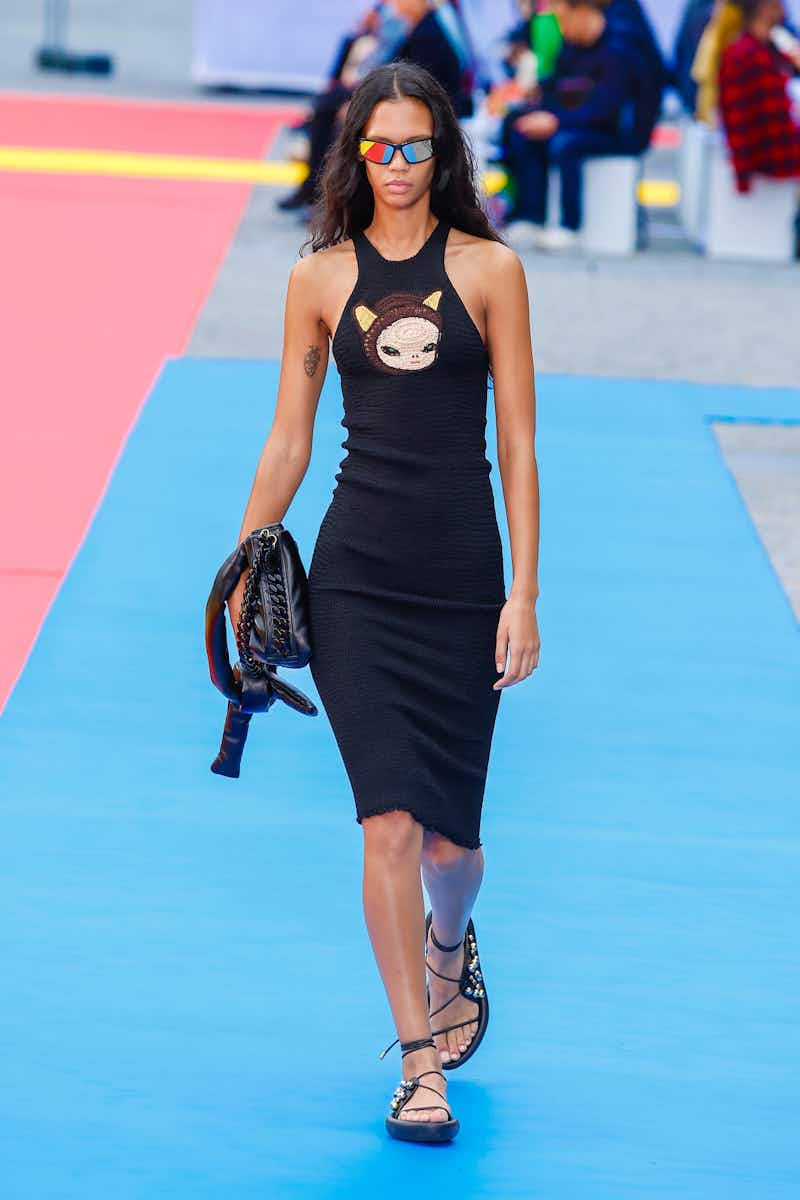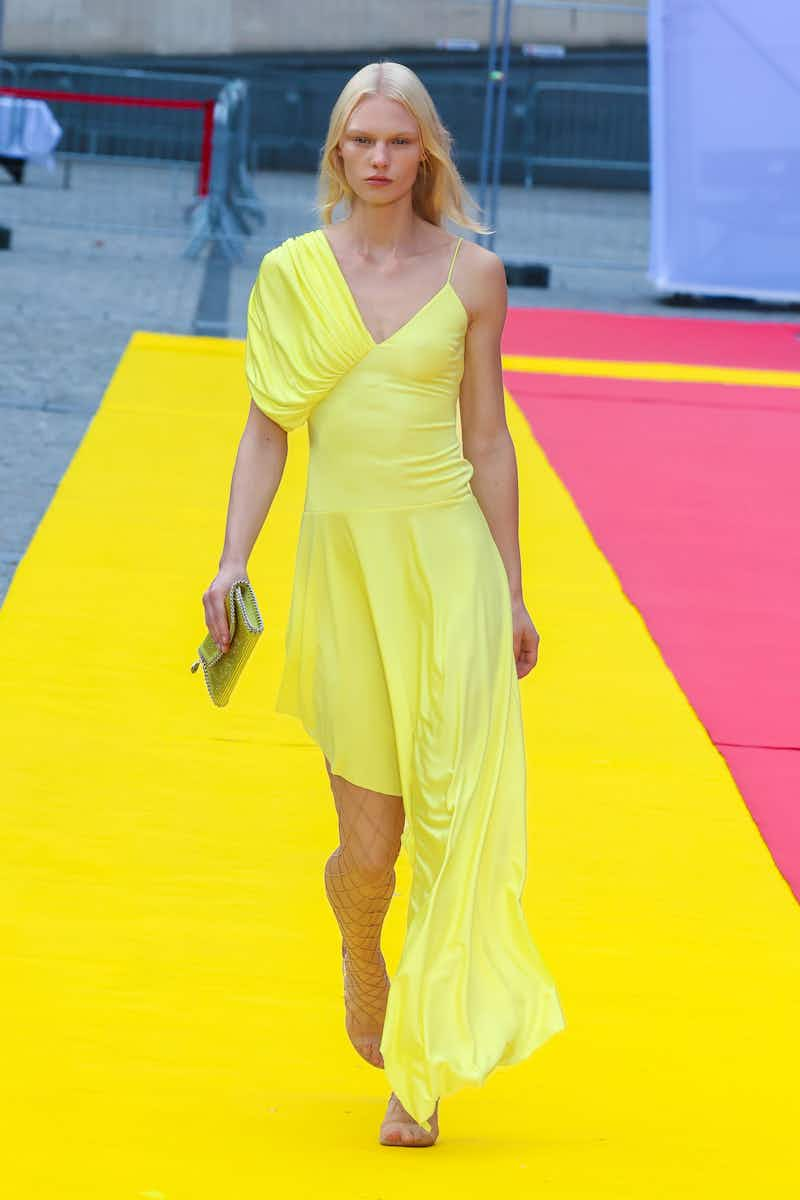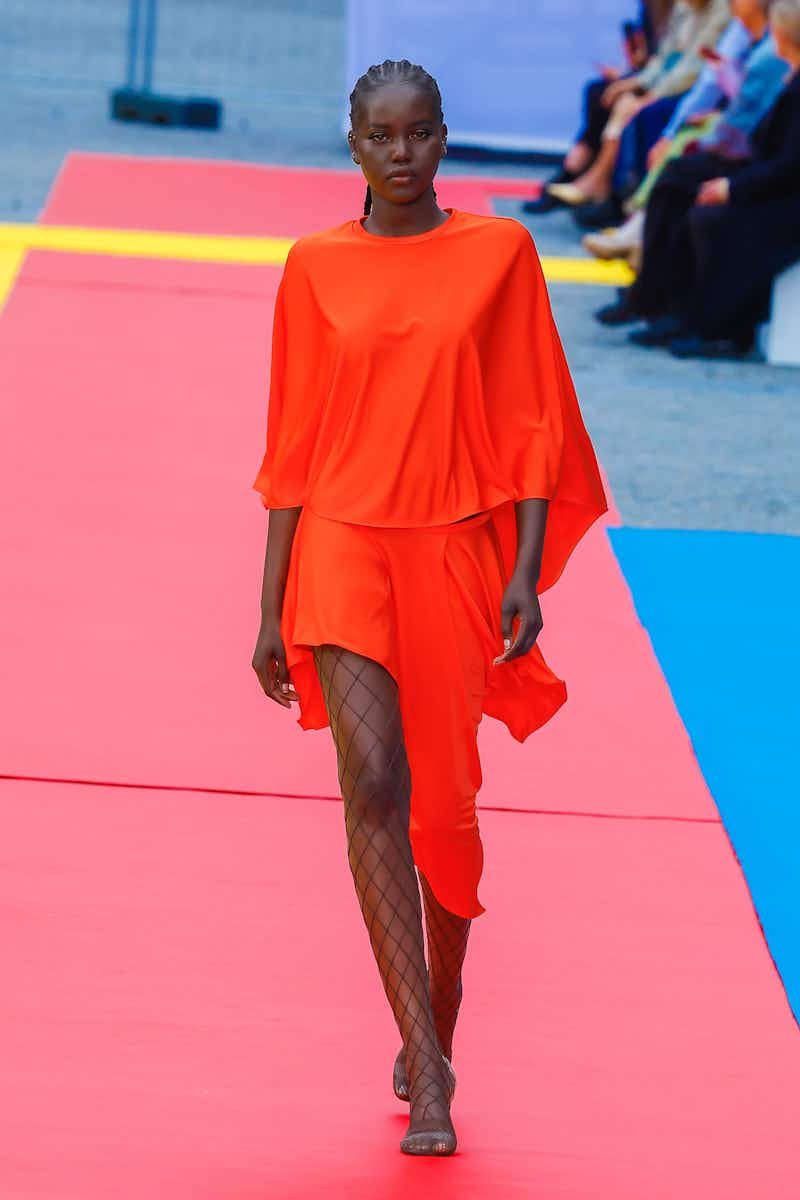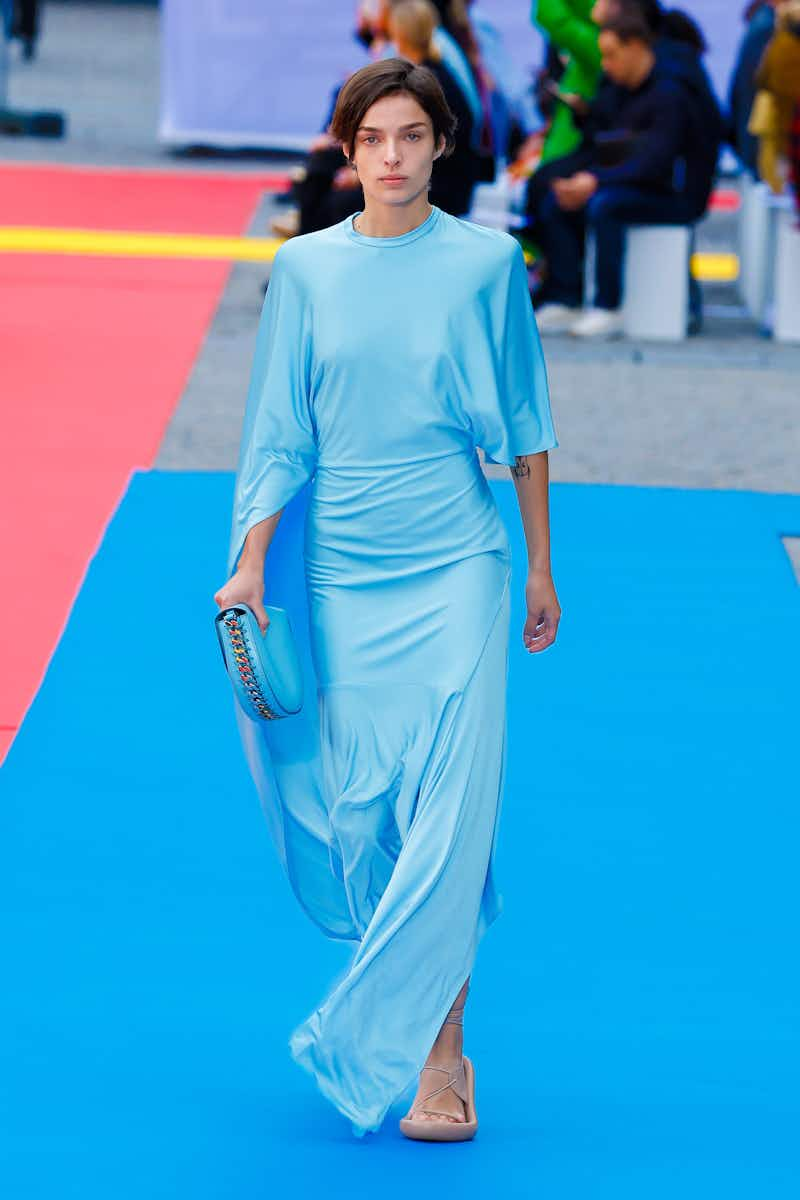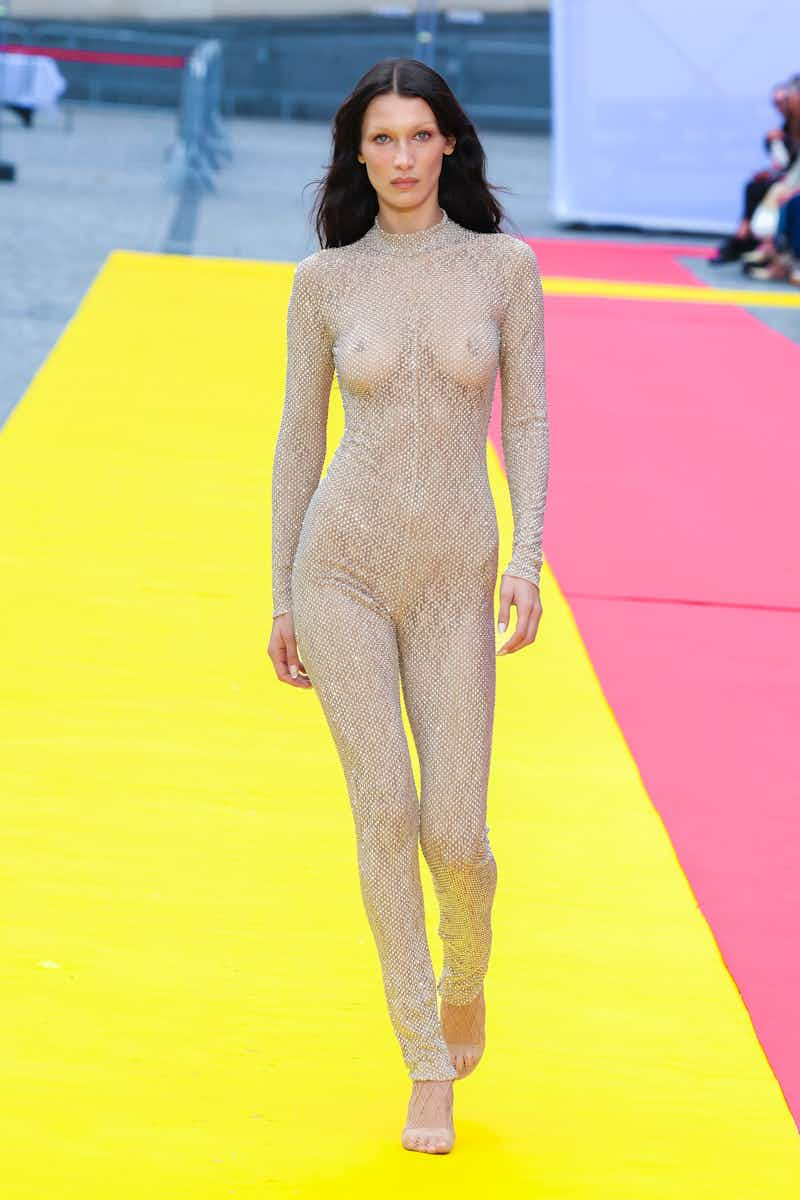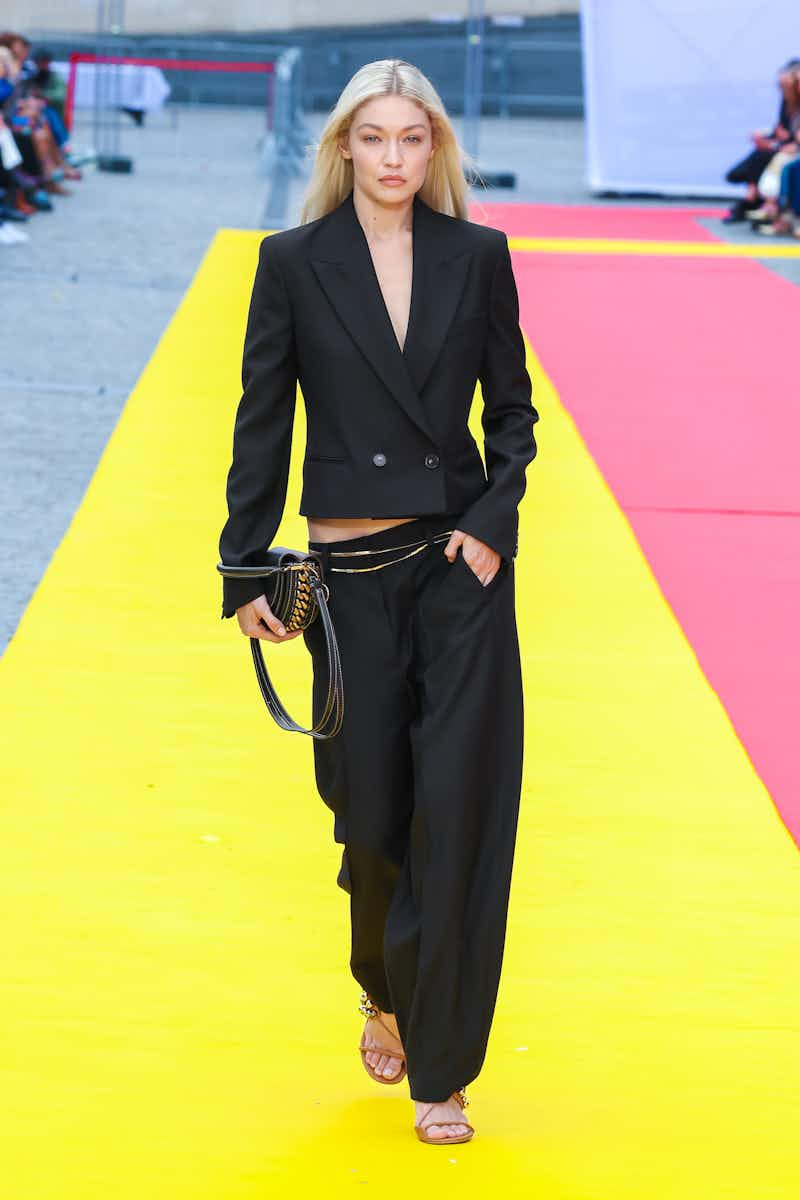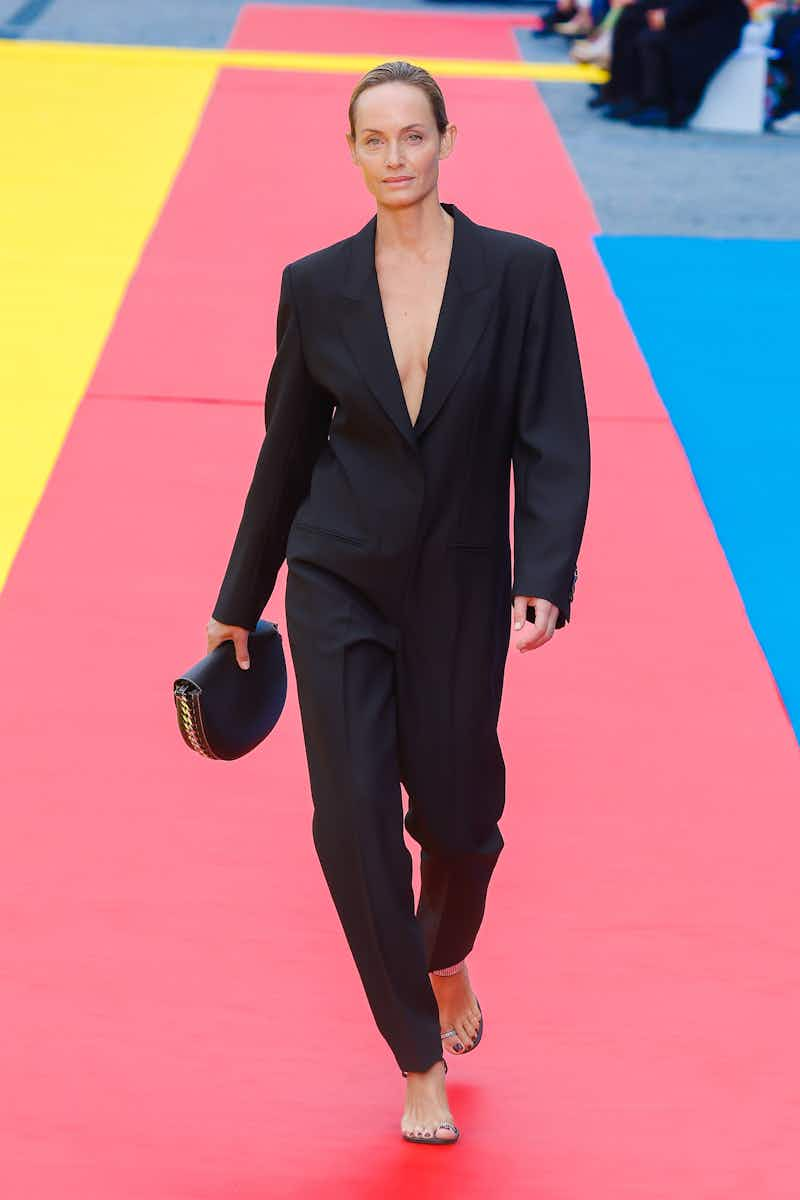 Celebrating Berlin-based label GmbH's five-year anniversary and off-the-back of their second celebrated collection for Trussardi, co-founders Serhat Isik and Benjamin Huseby put forward their SS23 twist on tailoring as oversized jackets, white shirts and leather hot pants dominated. Practicality was at the forefront of the collection with deep pockets adorning denim and leather minis, while footwear was comfy and designed for outdoor activities; gold thigh waders, FiveFingers climbing shoes and soft sliders. Tummy exposing bodysuits were worn with sarong-style skirts, but the most noteworthy looks were more fitting for winter climes. The dramatic faux-fur coats were styled with more leather hot pants for a theatrical close to the show. SW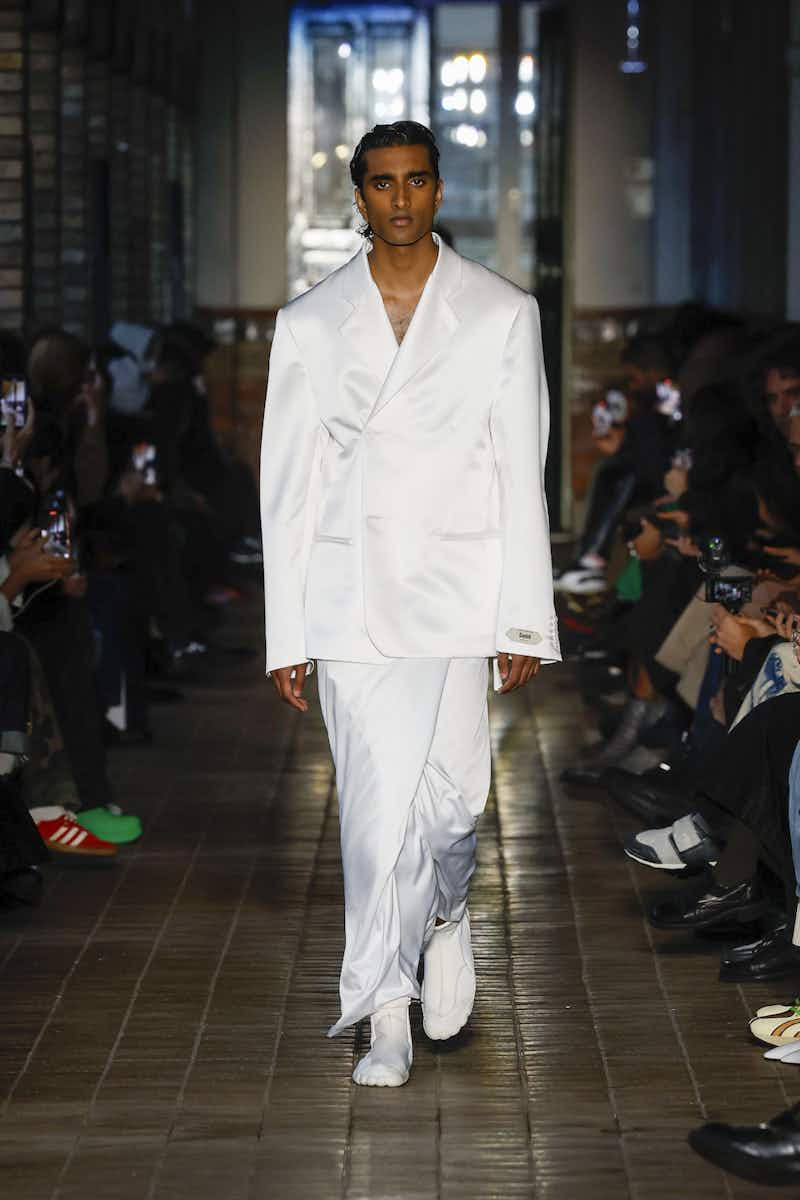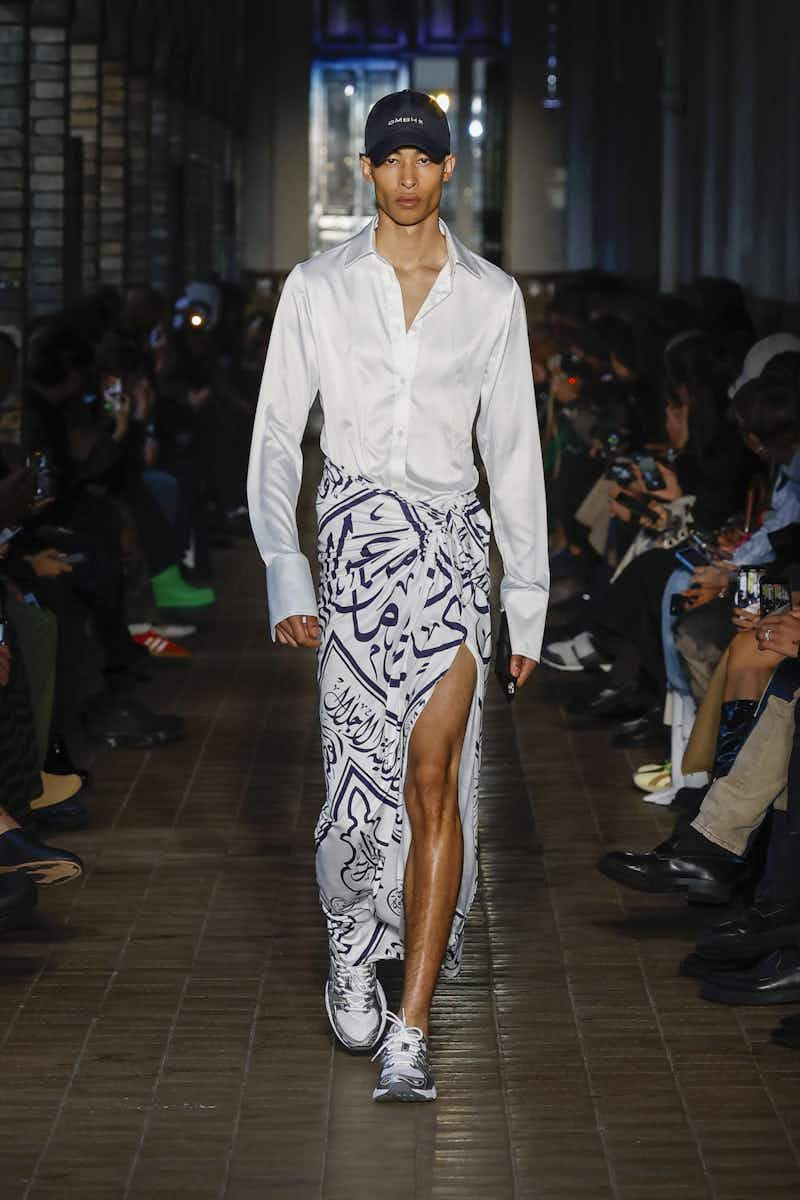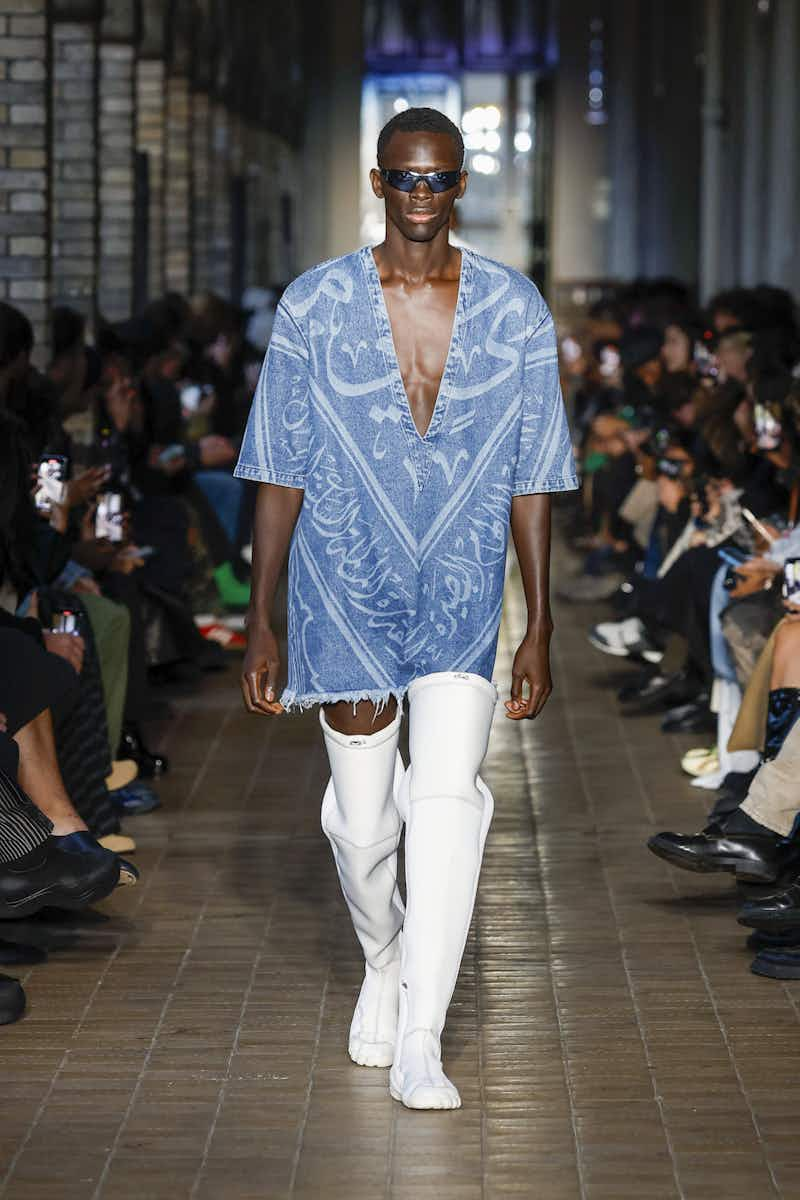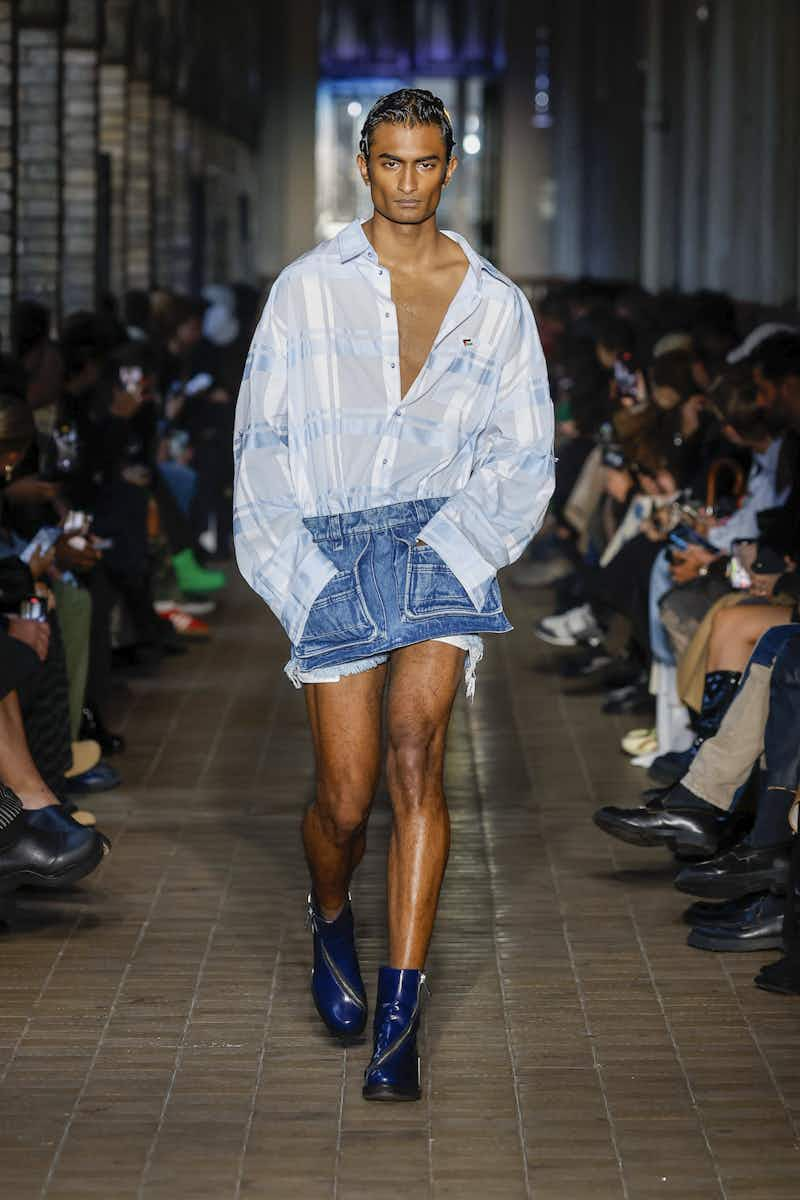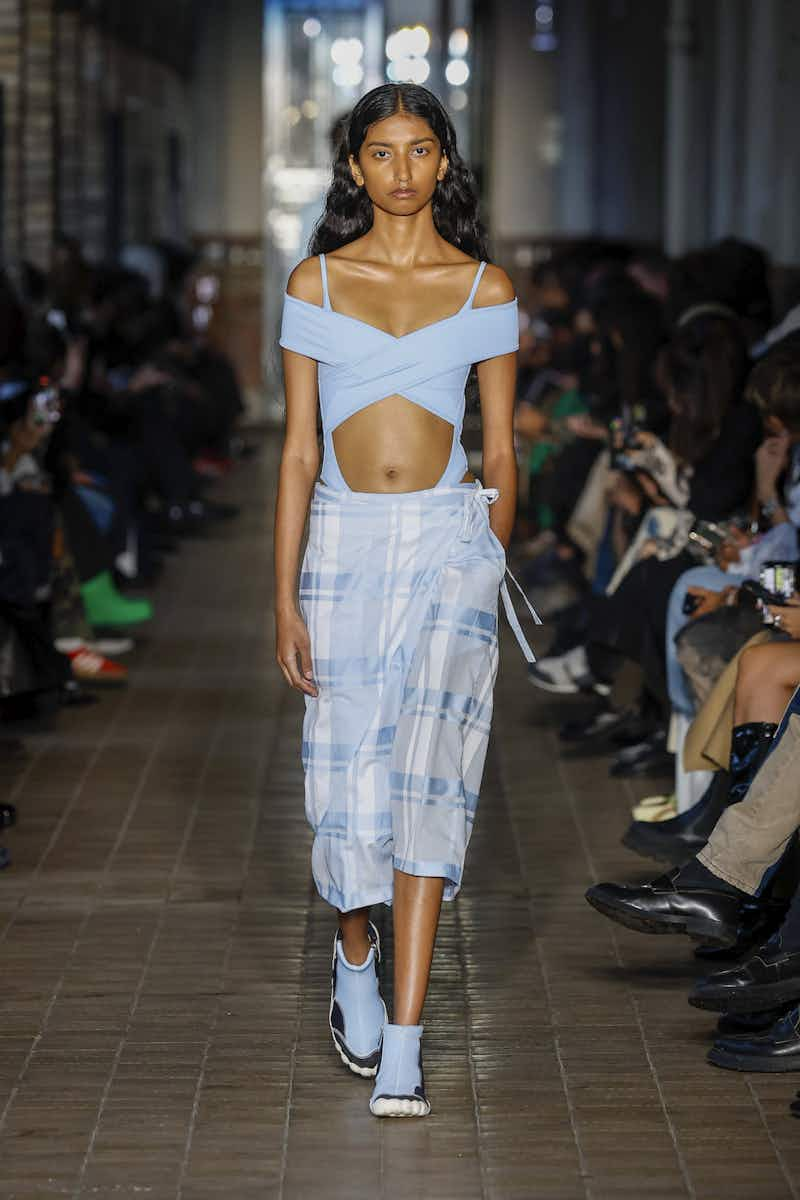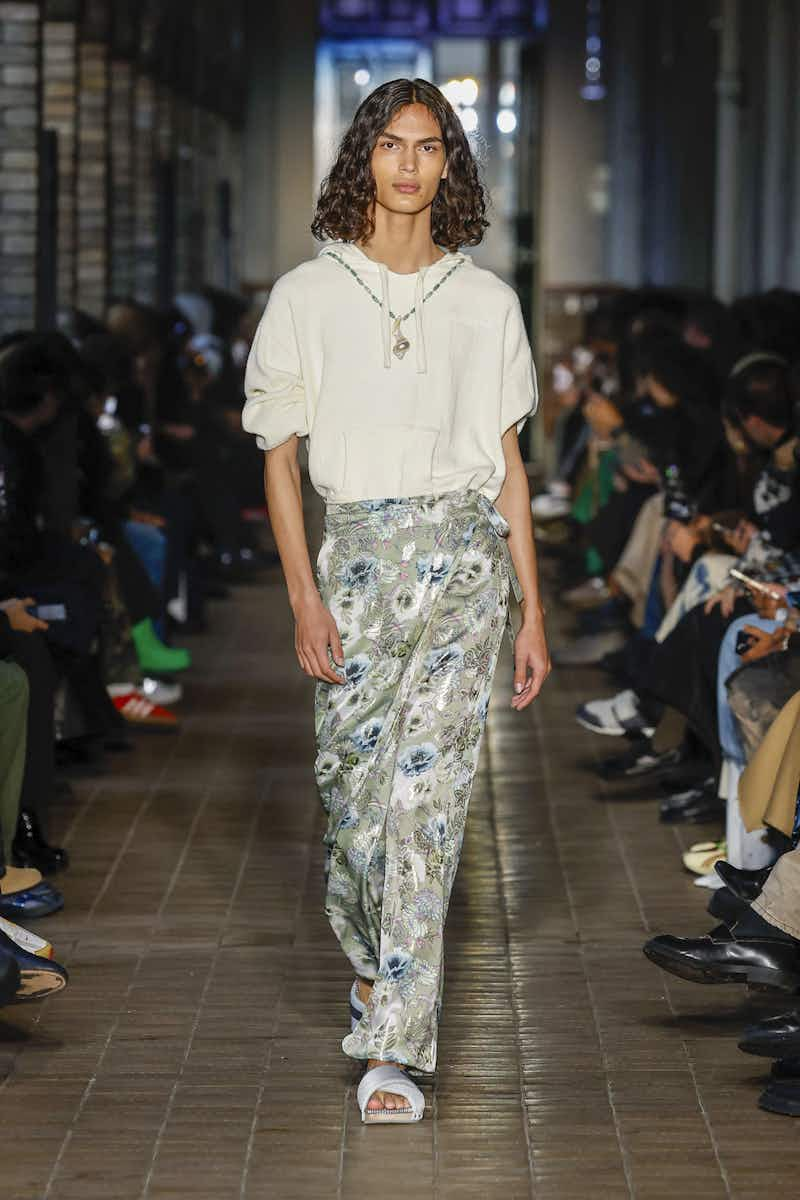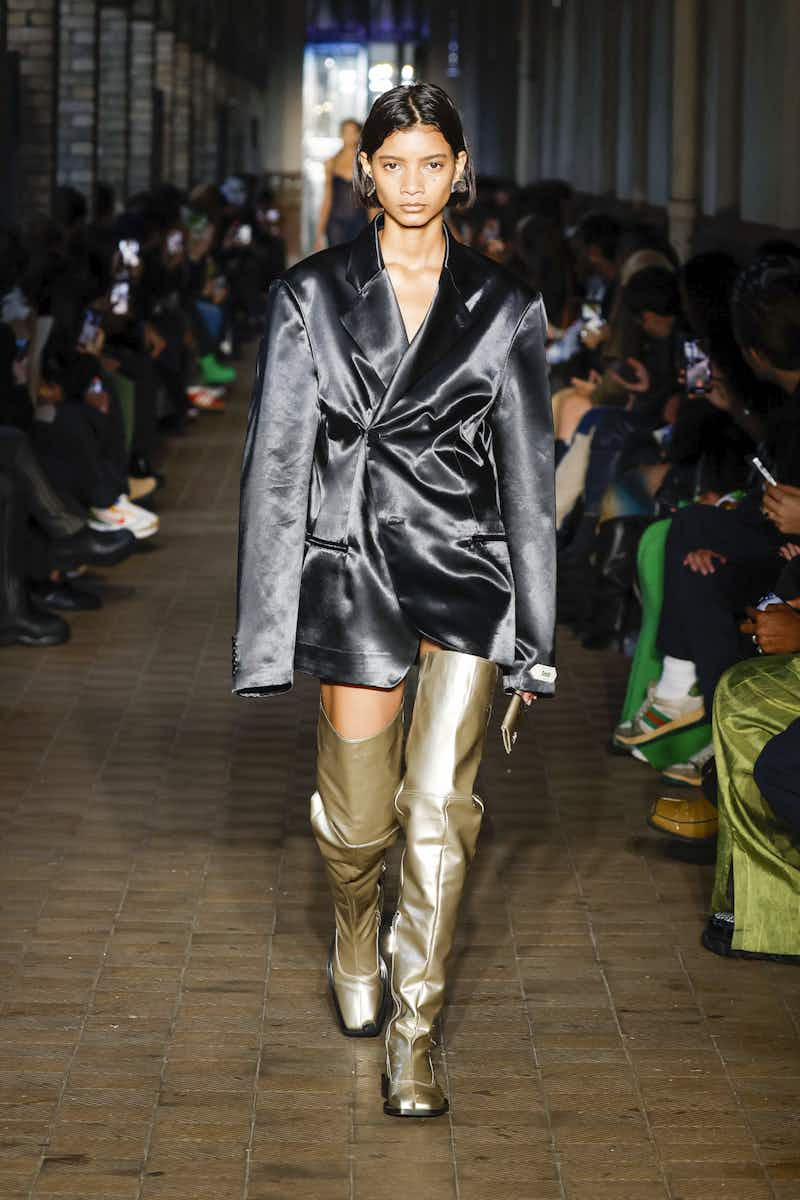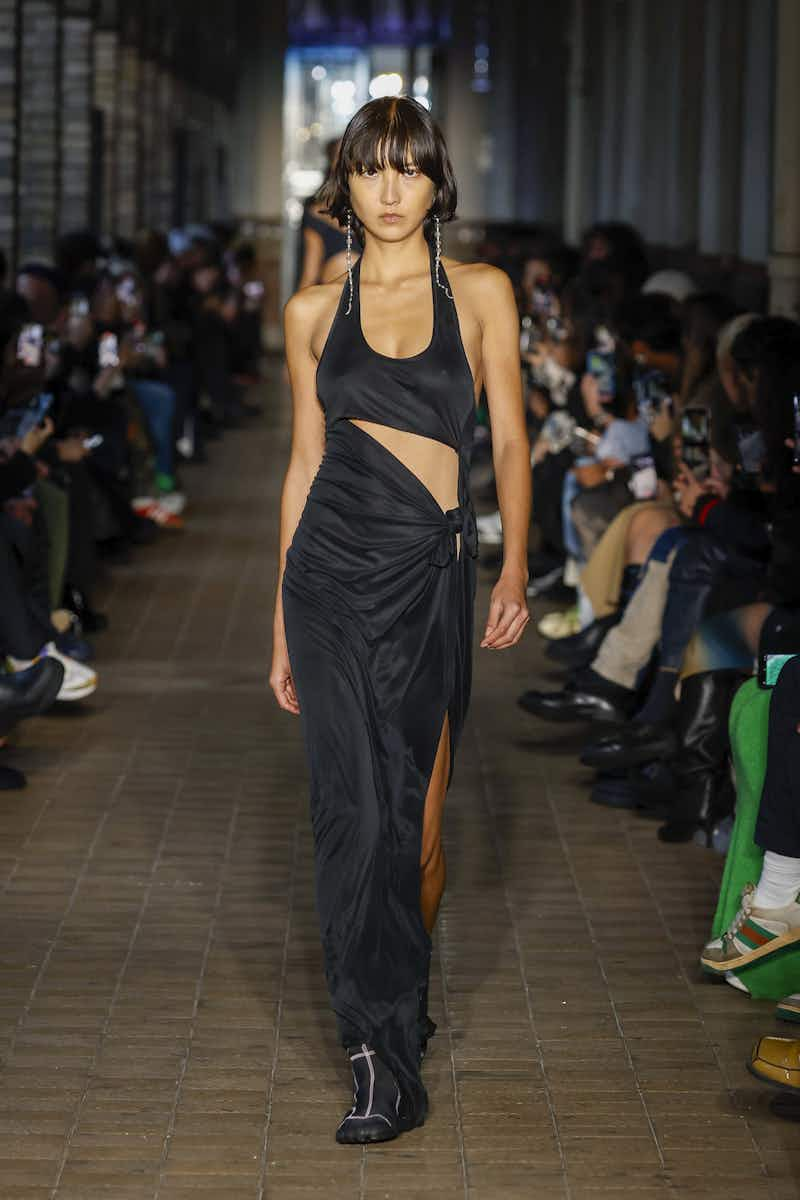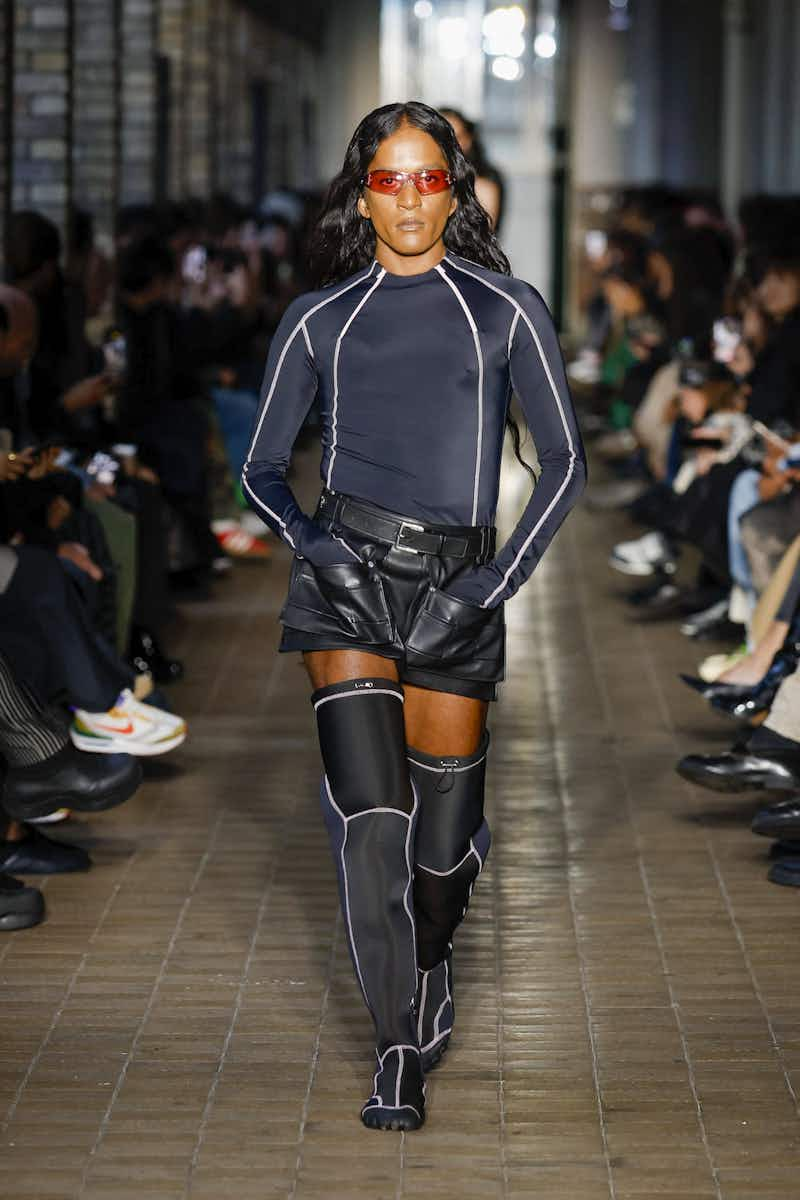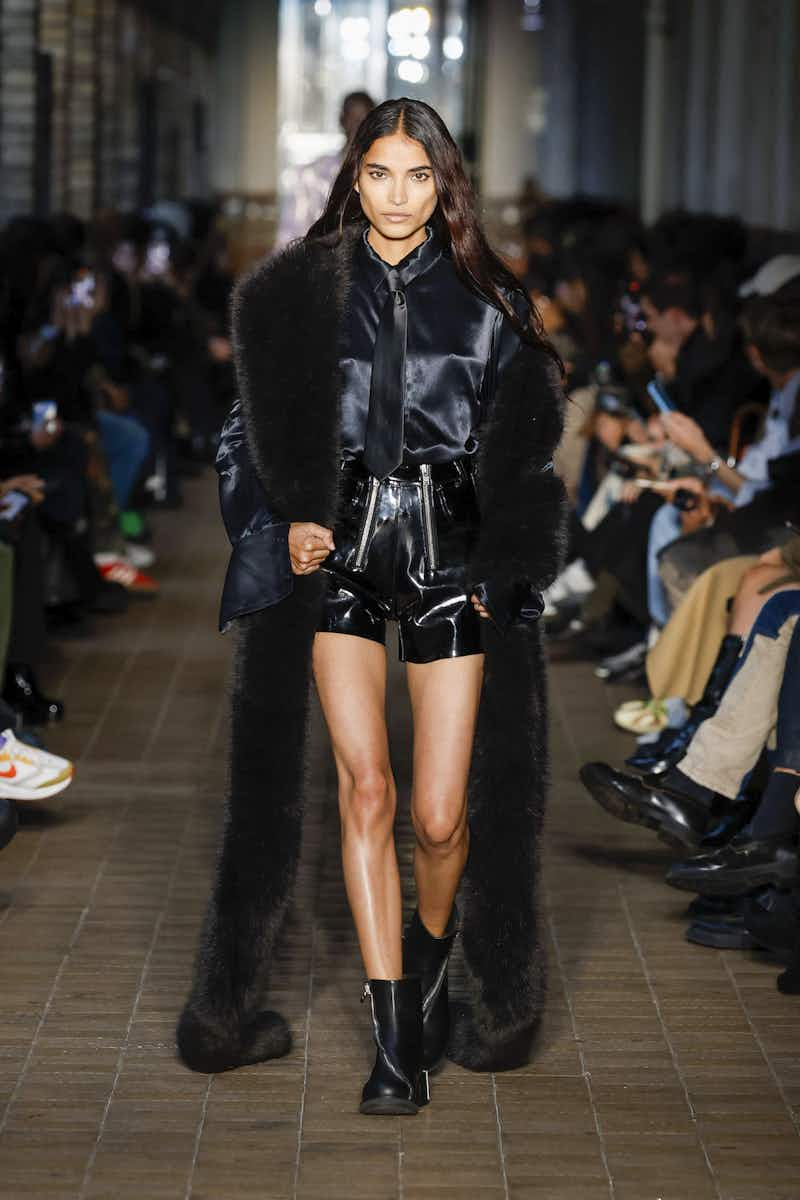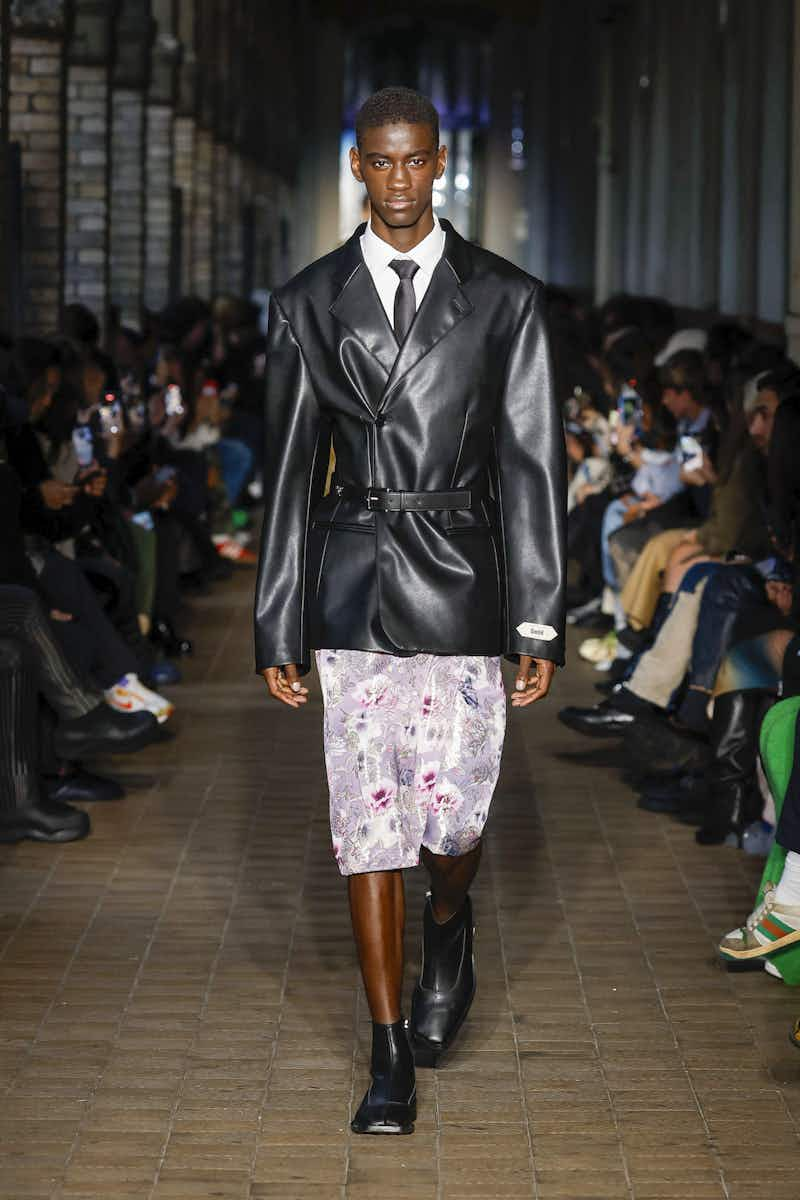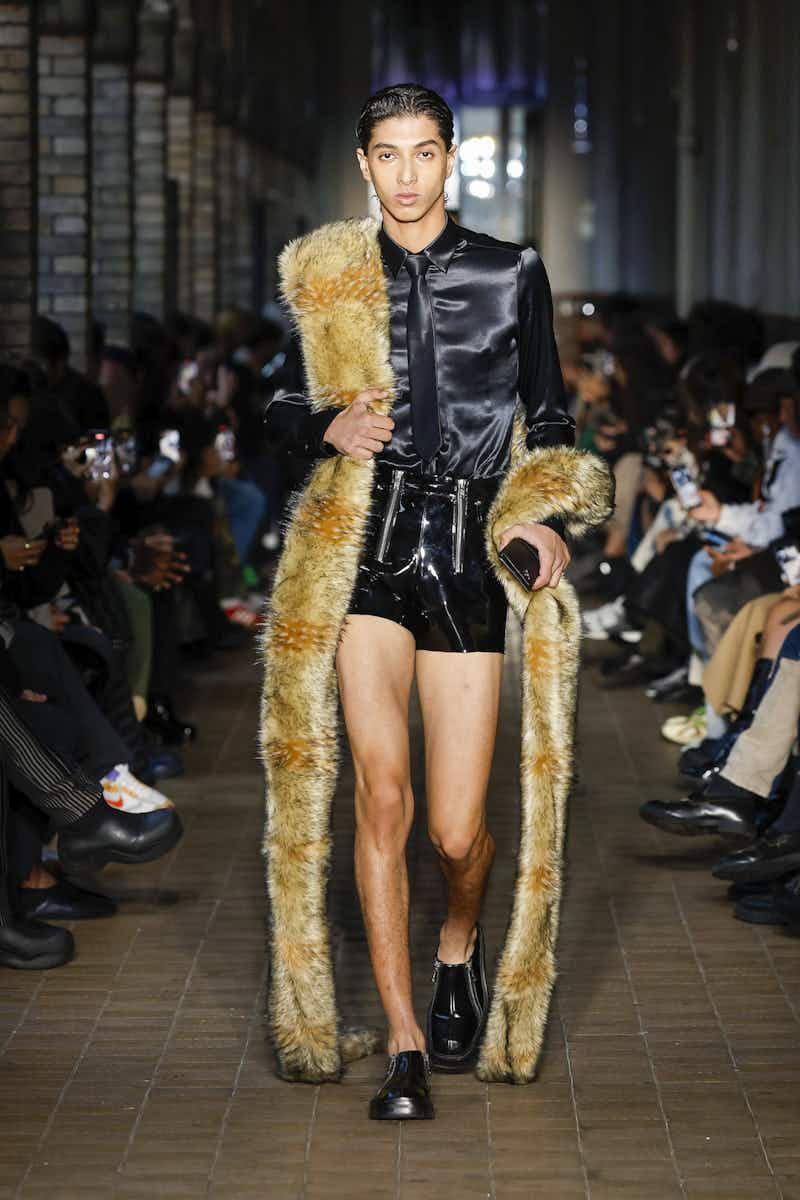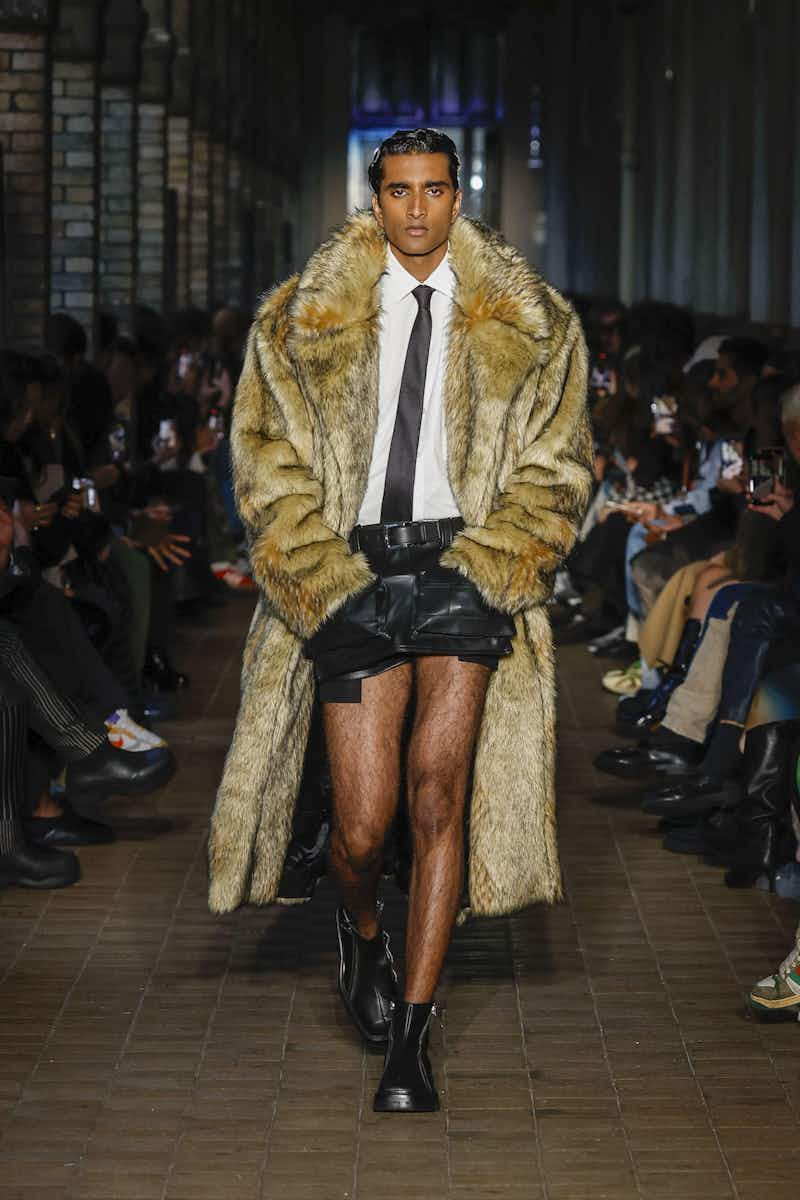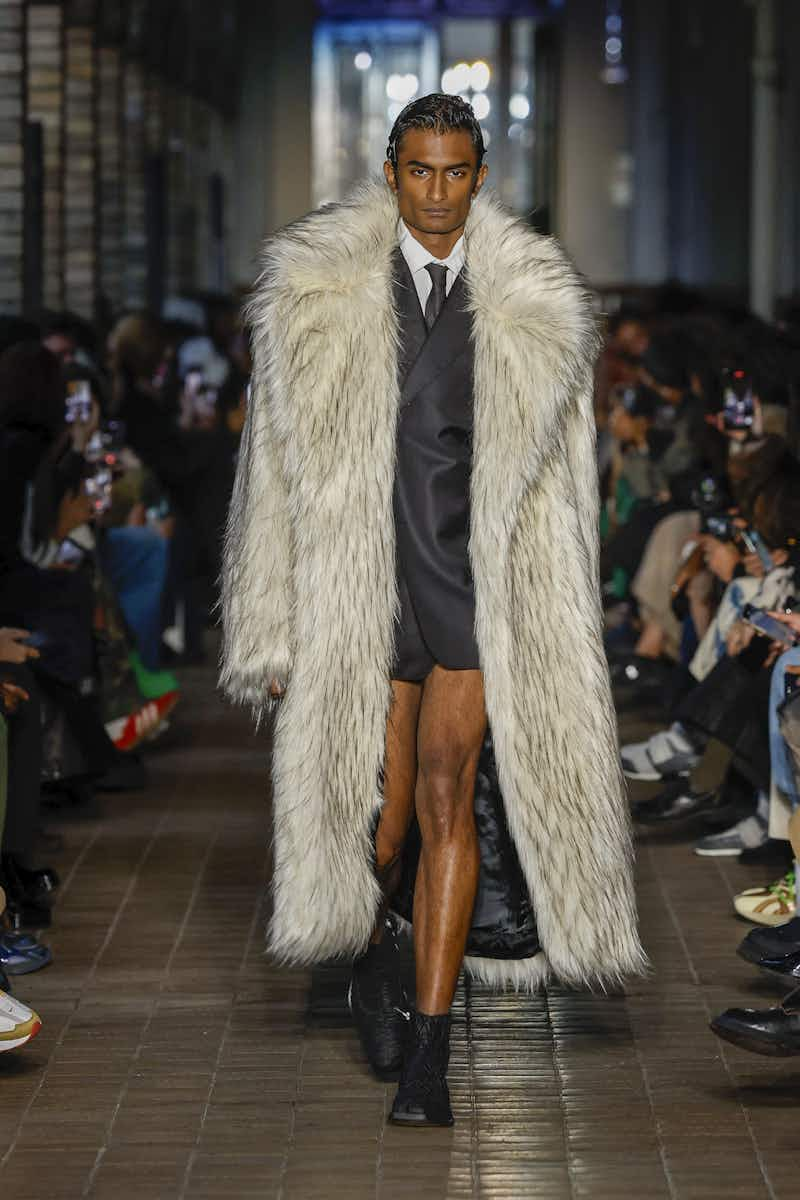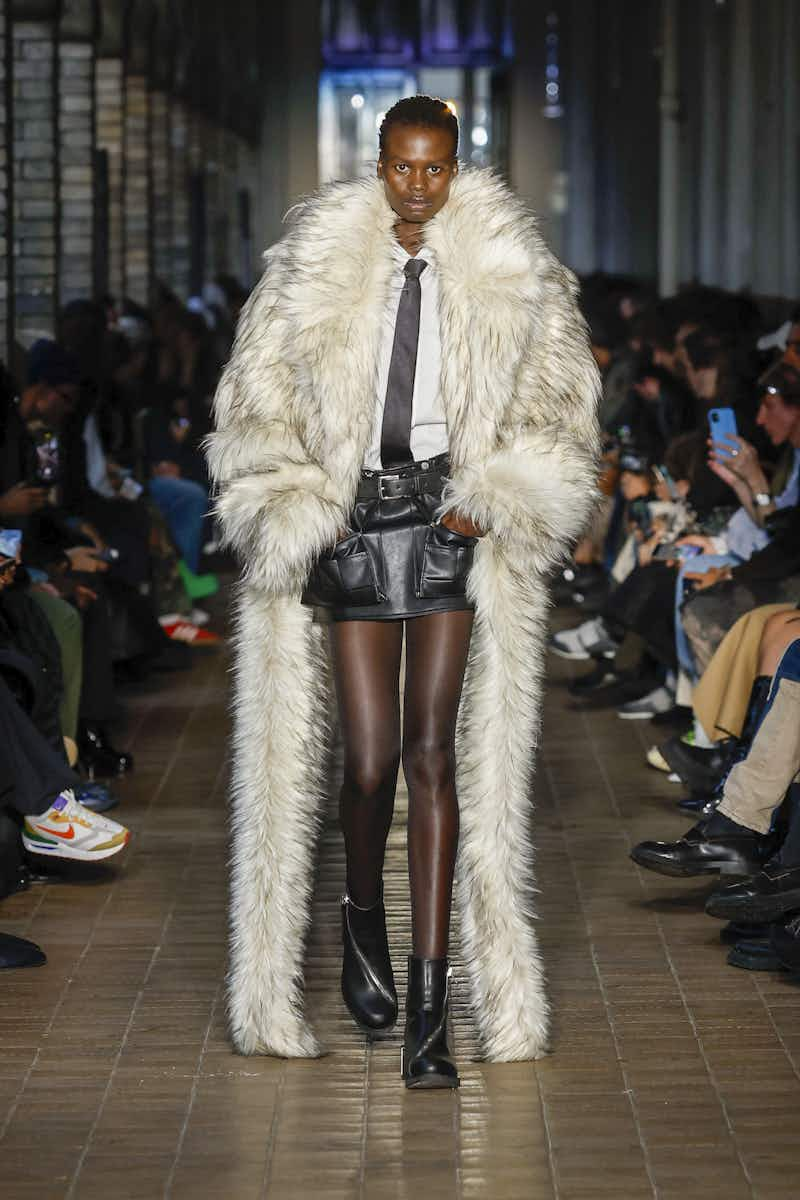 As the rain down-poured on the lush greenery of the Jardin des Plantes, and guests got wet, wet, wet, Givenchy's collection kicked off with ruched jersey and belt bralettes held together with handbag straps – the second collection of the day to work handbag details into clothing. Elsewhere, references shape-shifted from tulle suits and Renaissance-style ruffled chiffon to double denim and snug grey hoodies dressed up with shimmering blazers. A bleached denim bralette, low-rise maxi and matching handbag (worn by booked and busy Bella Hadid, of course) is sure to be a hit when the collection goes to retail. SW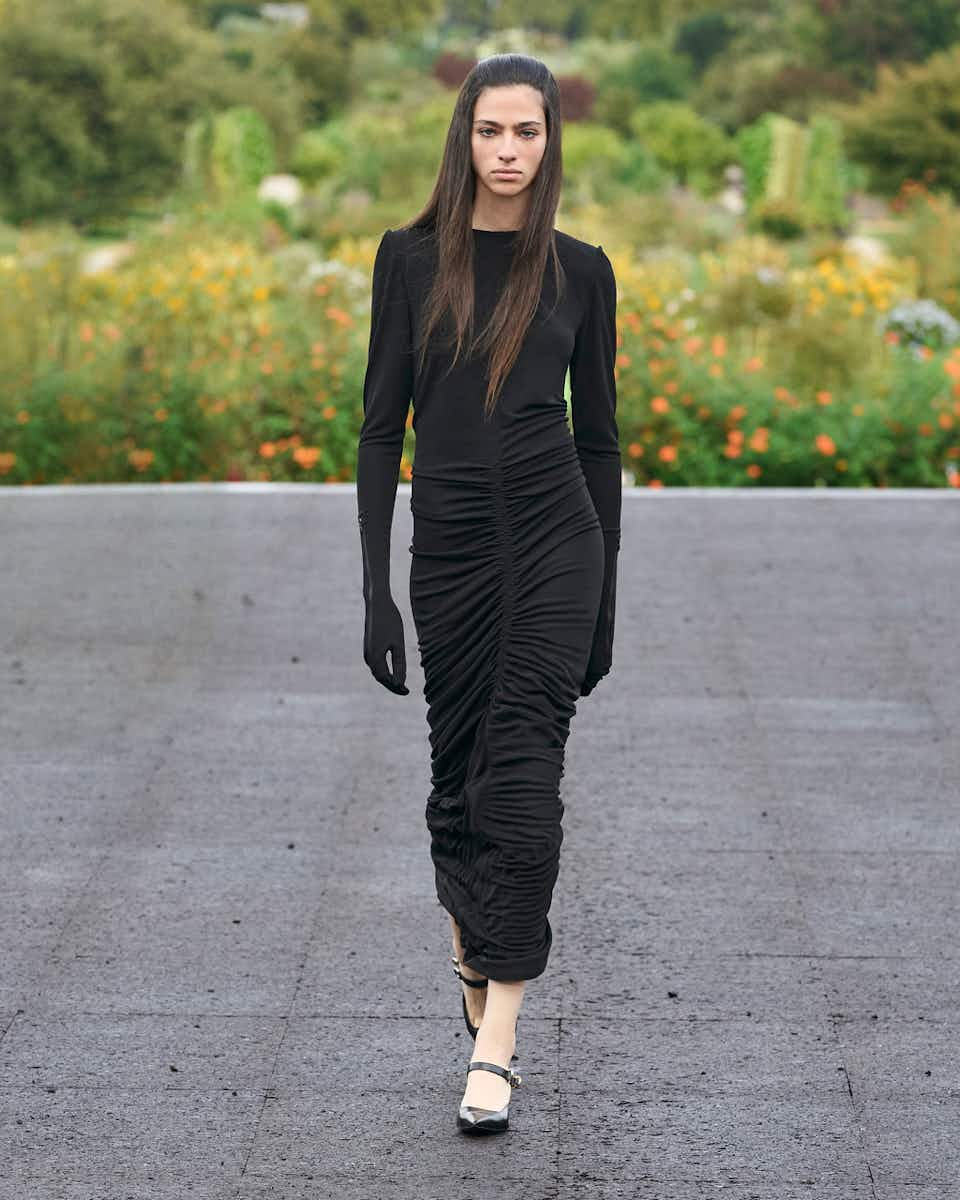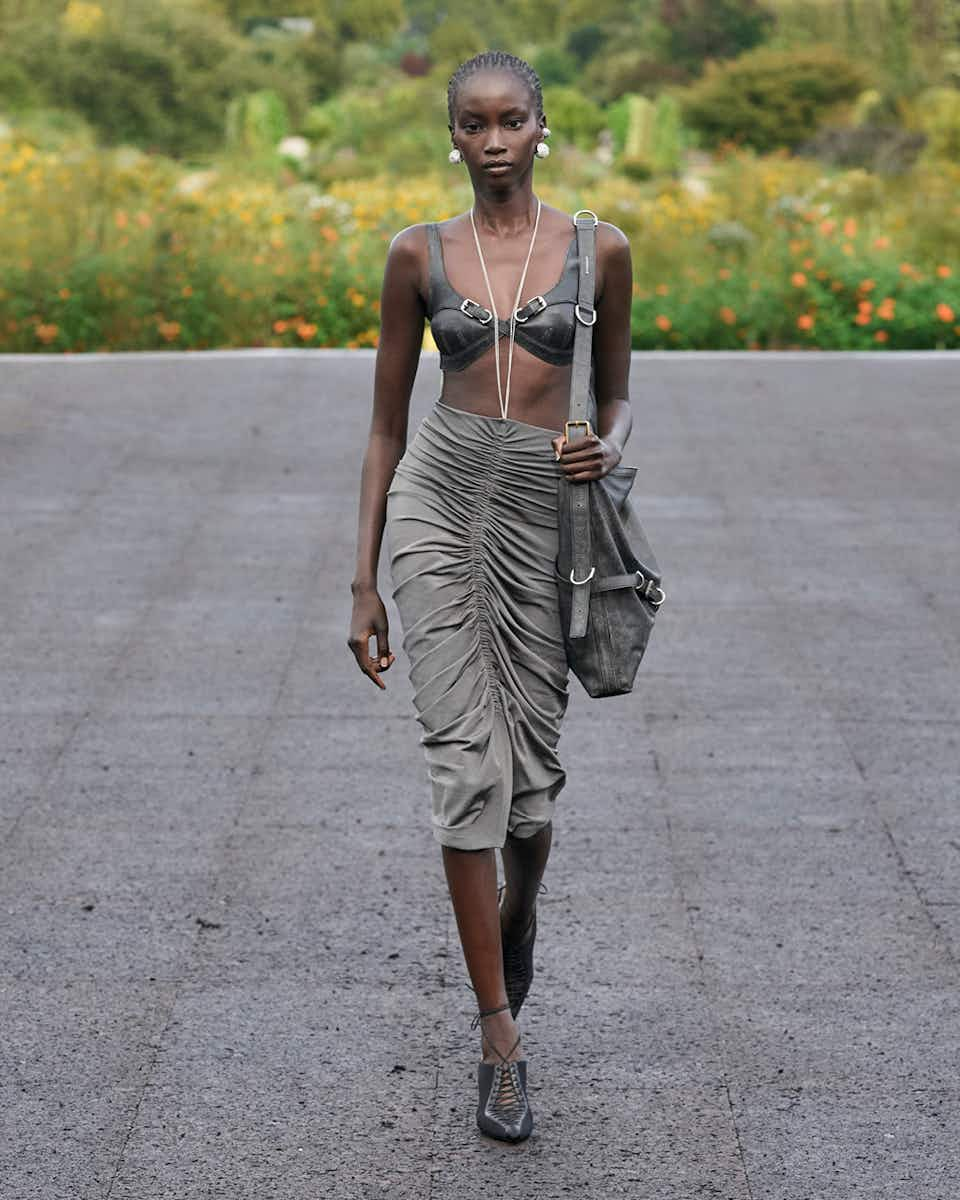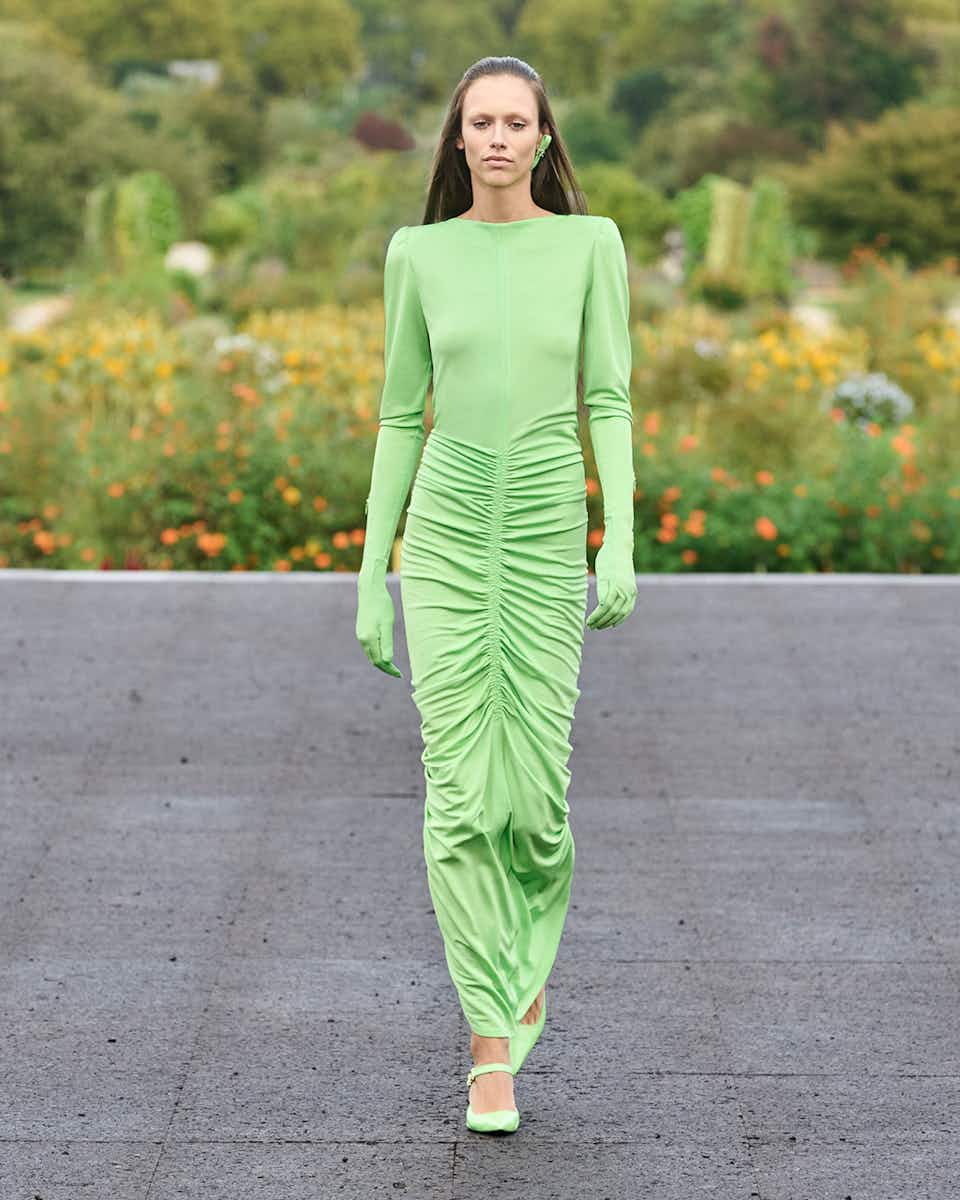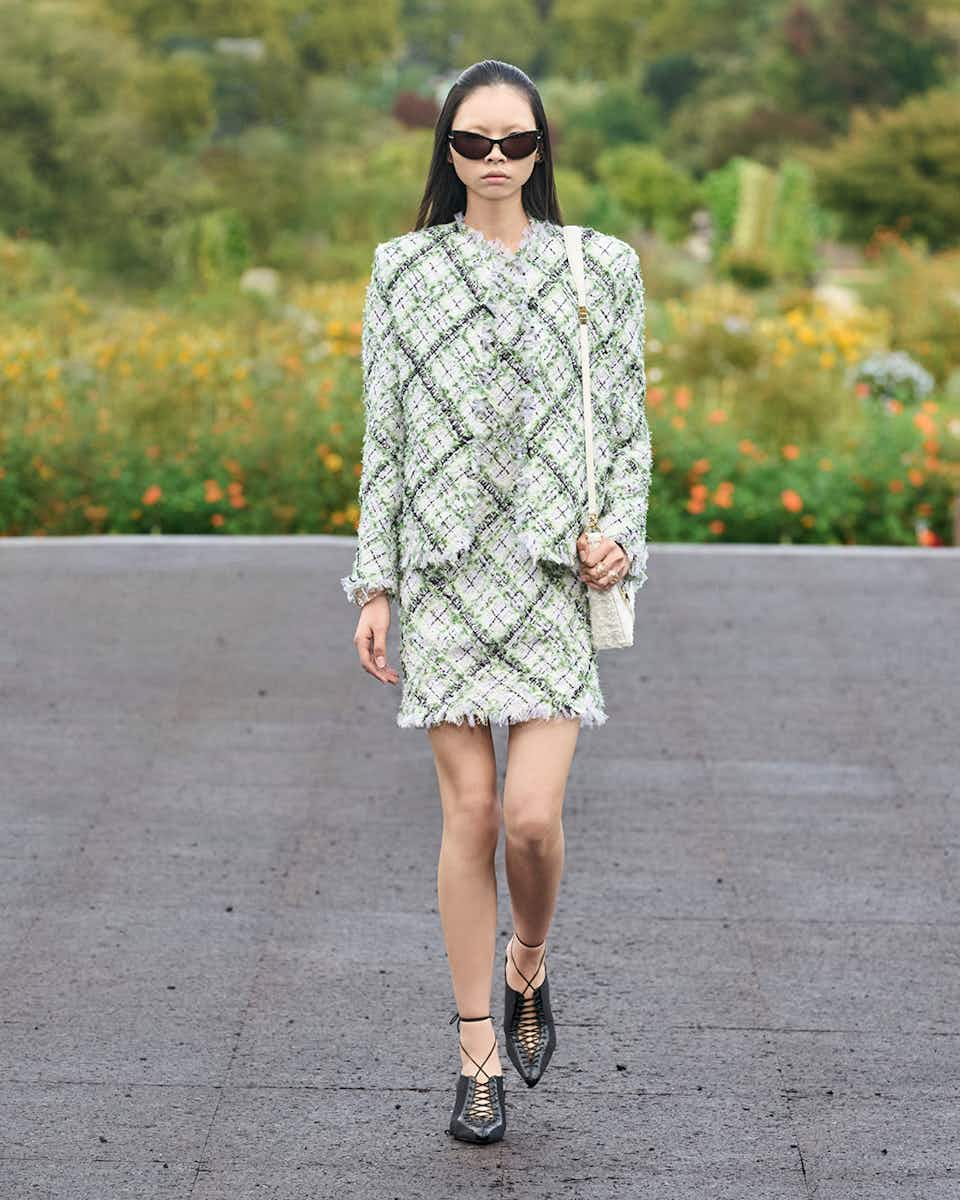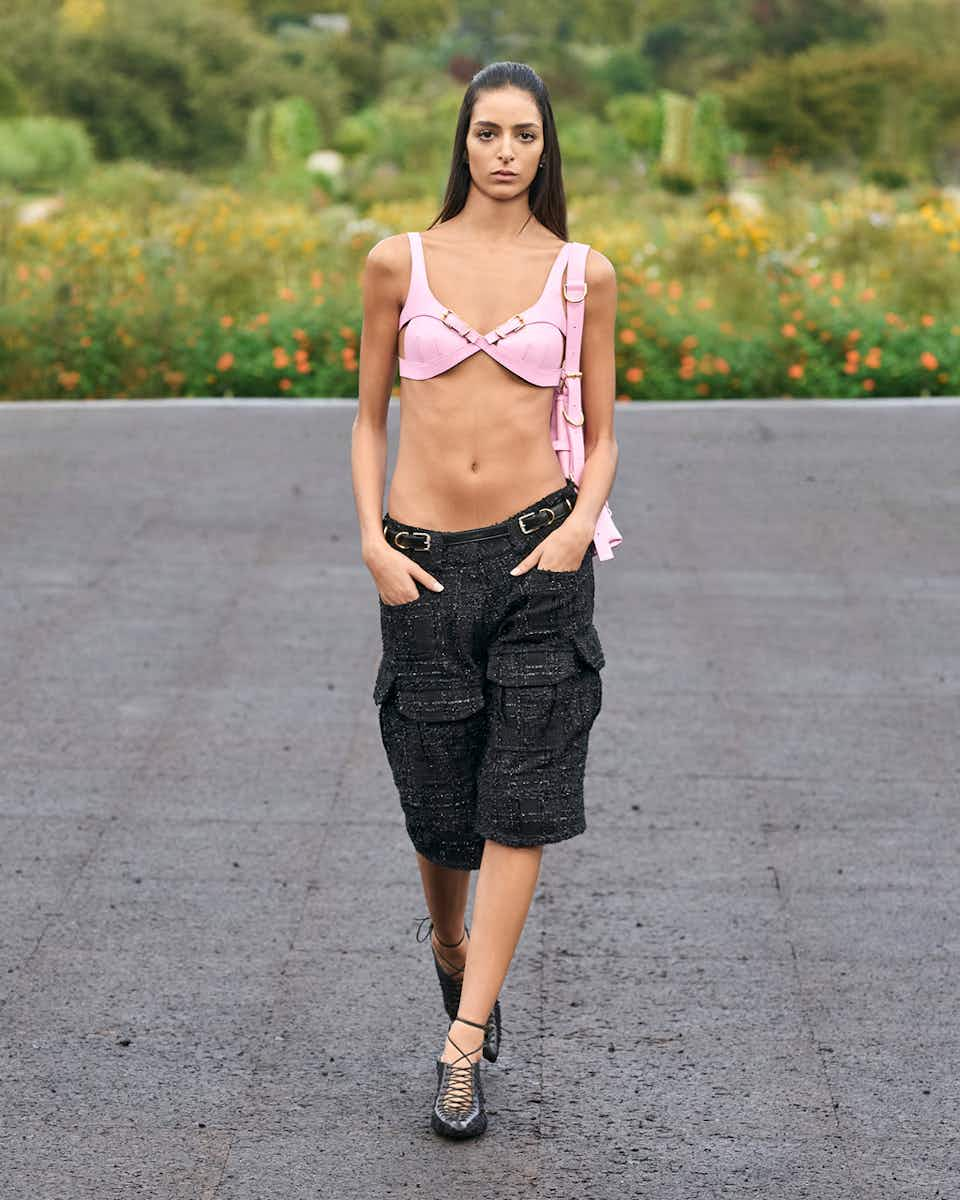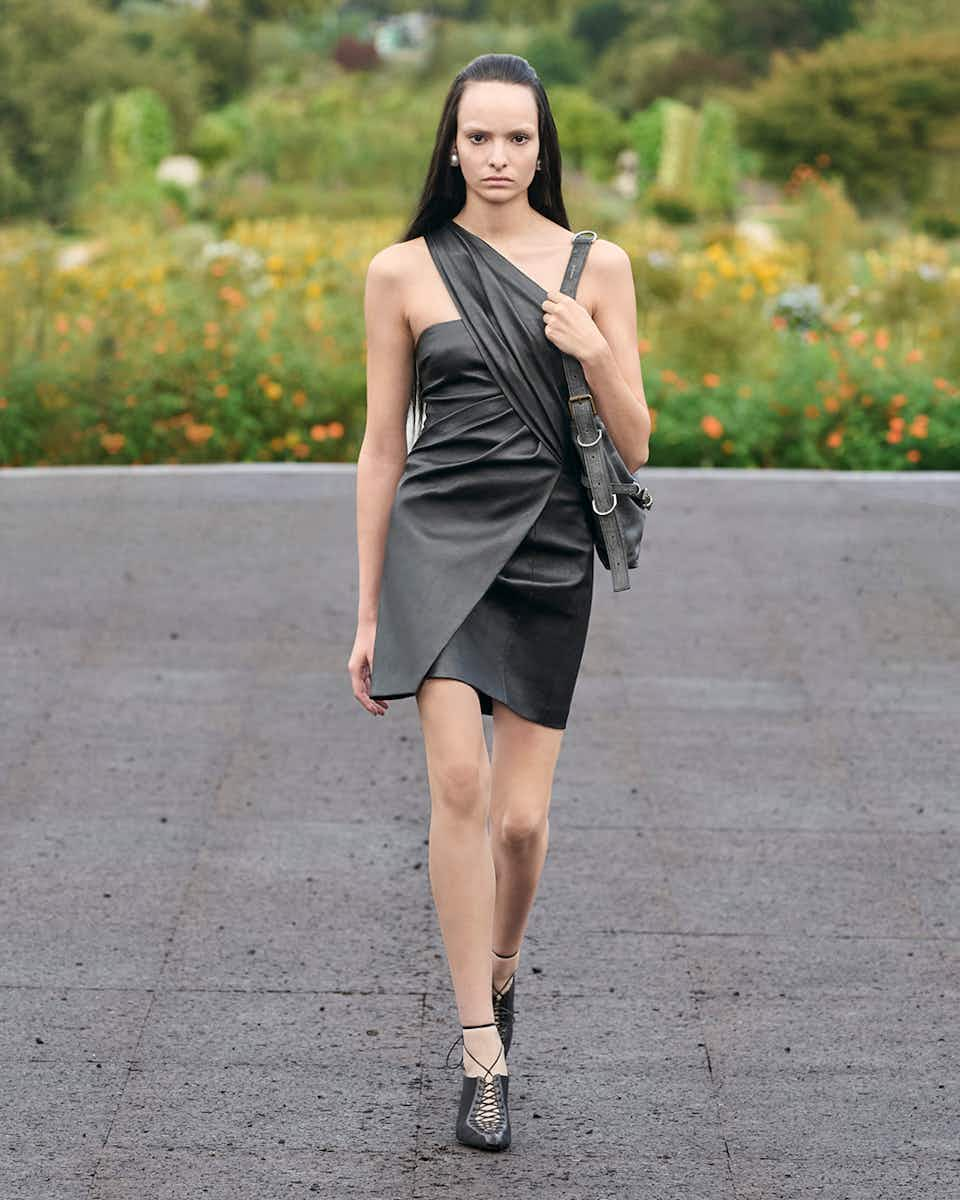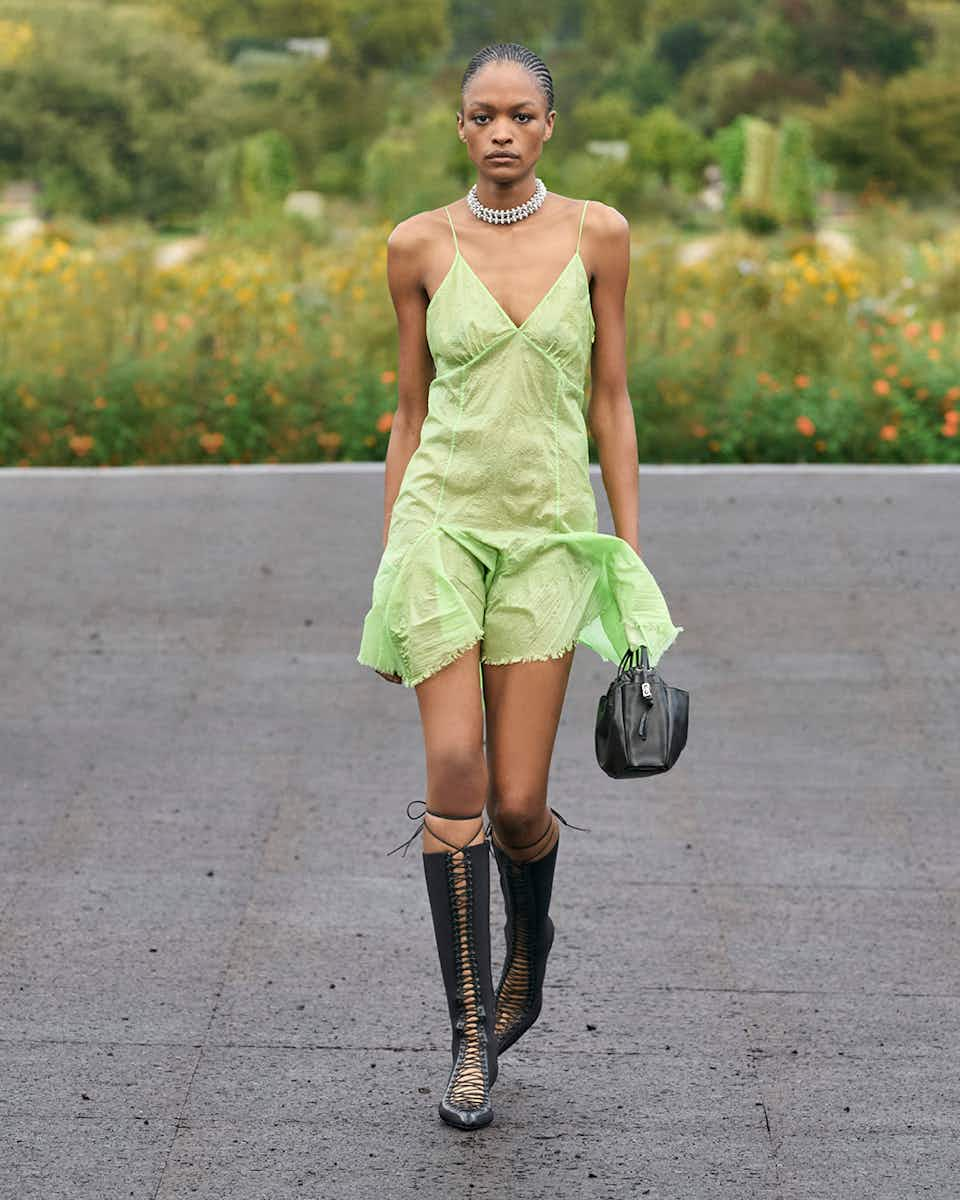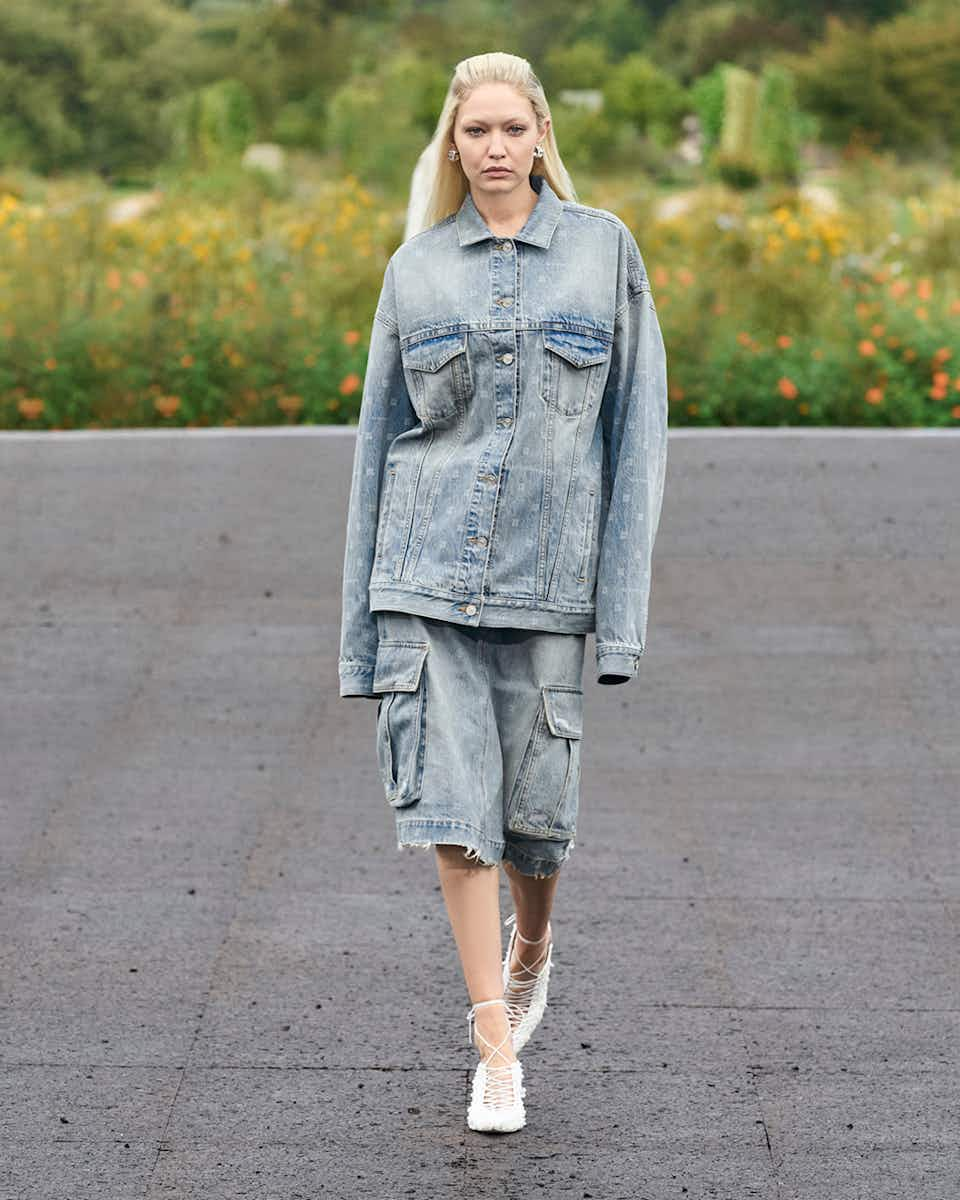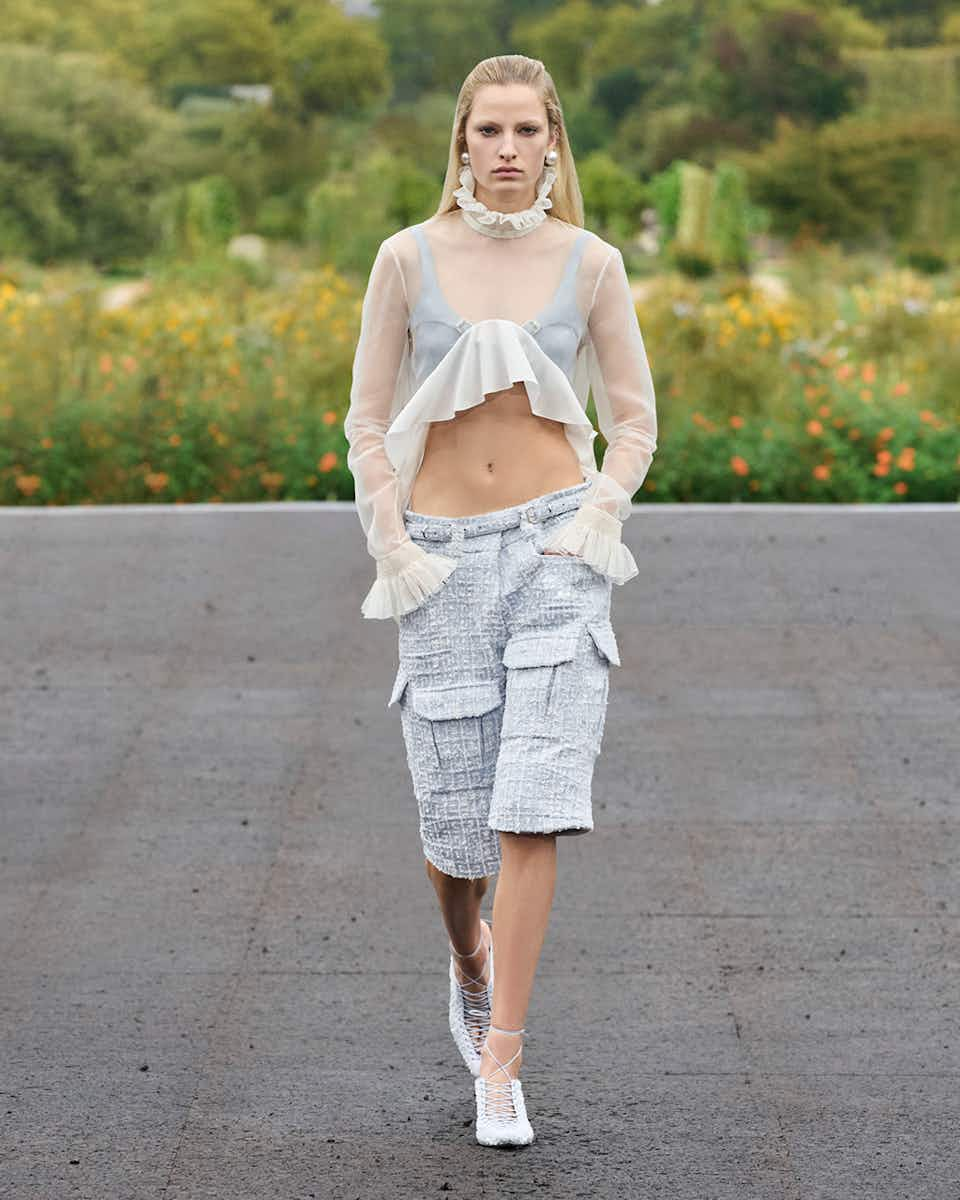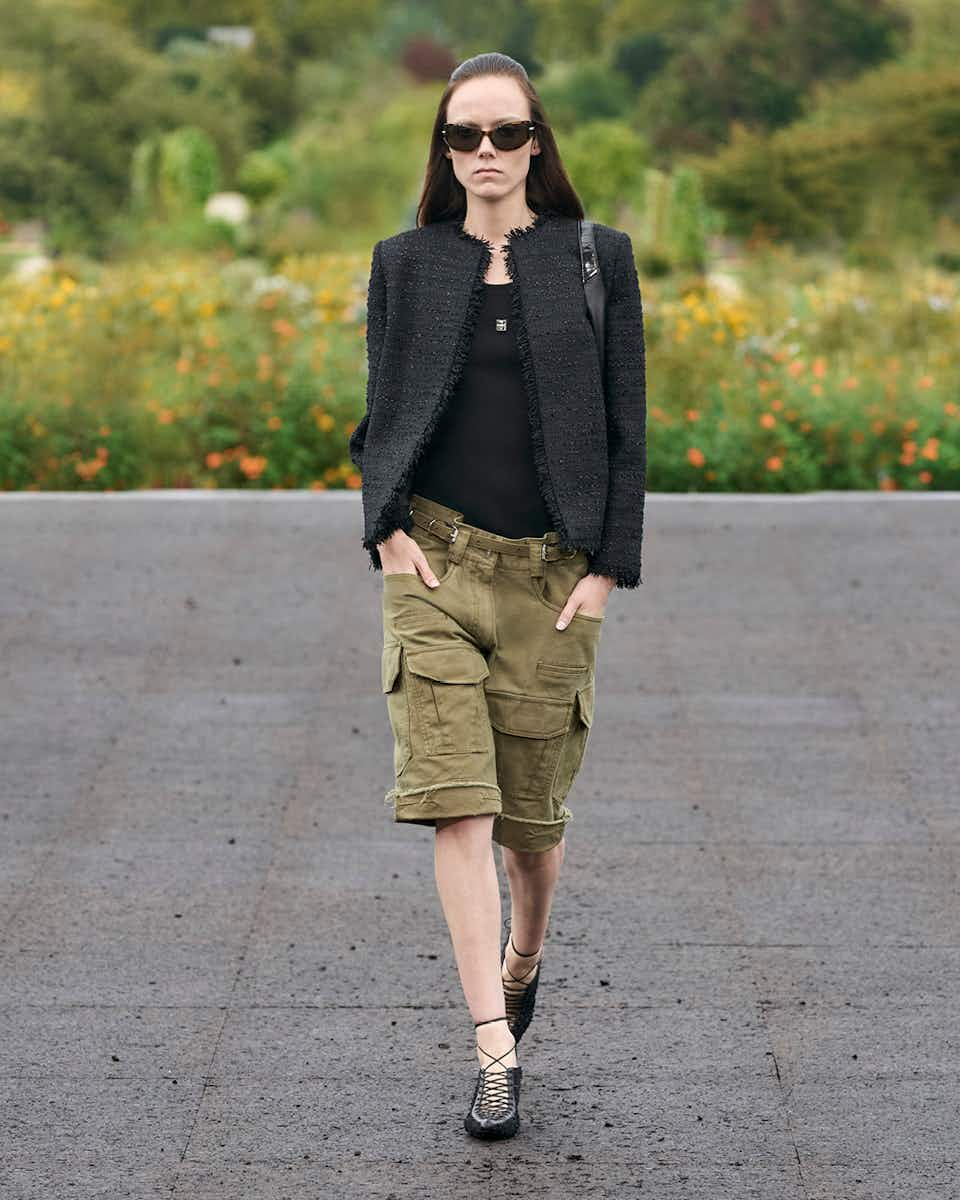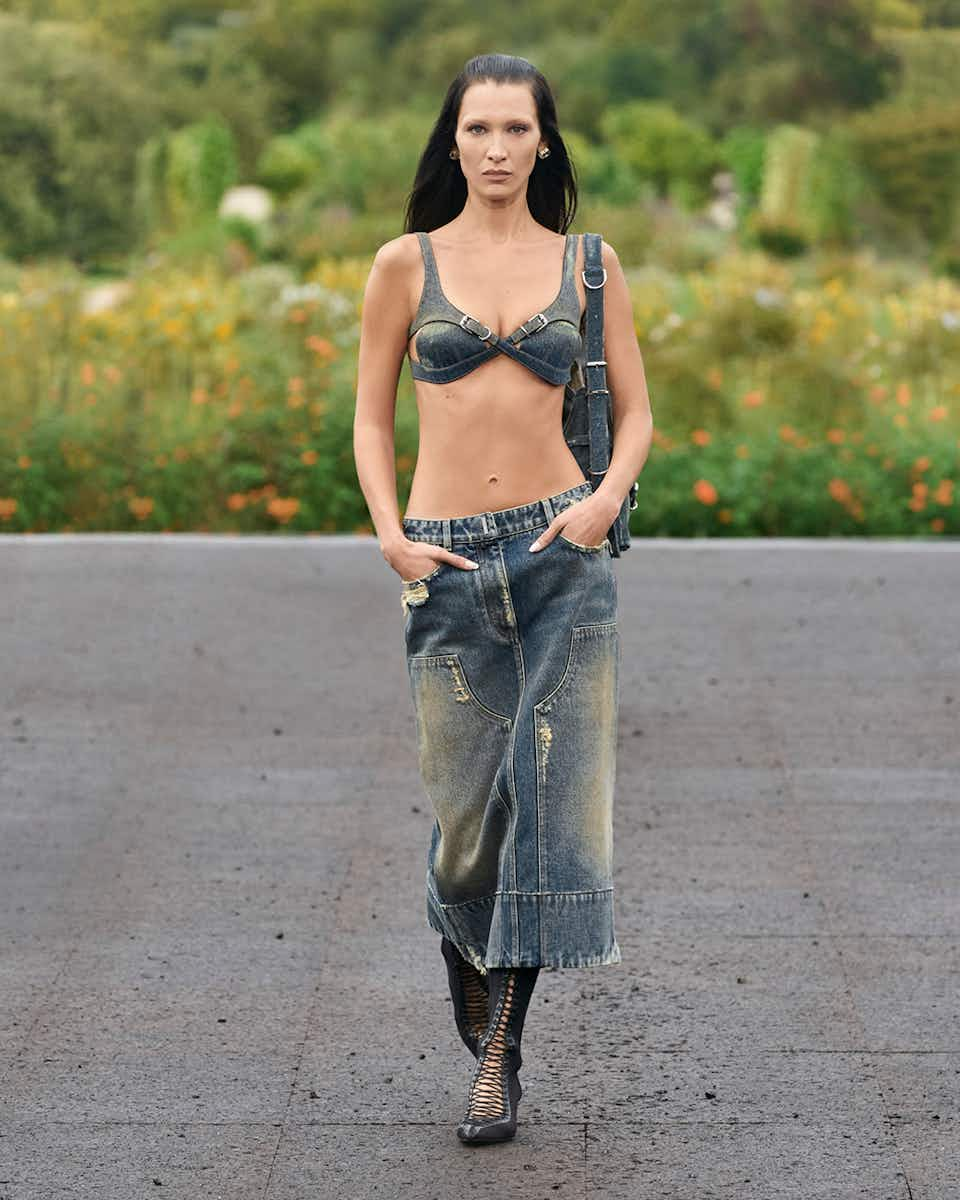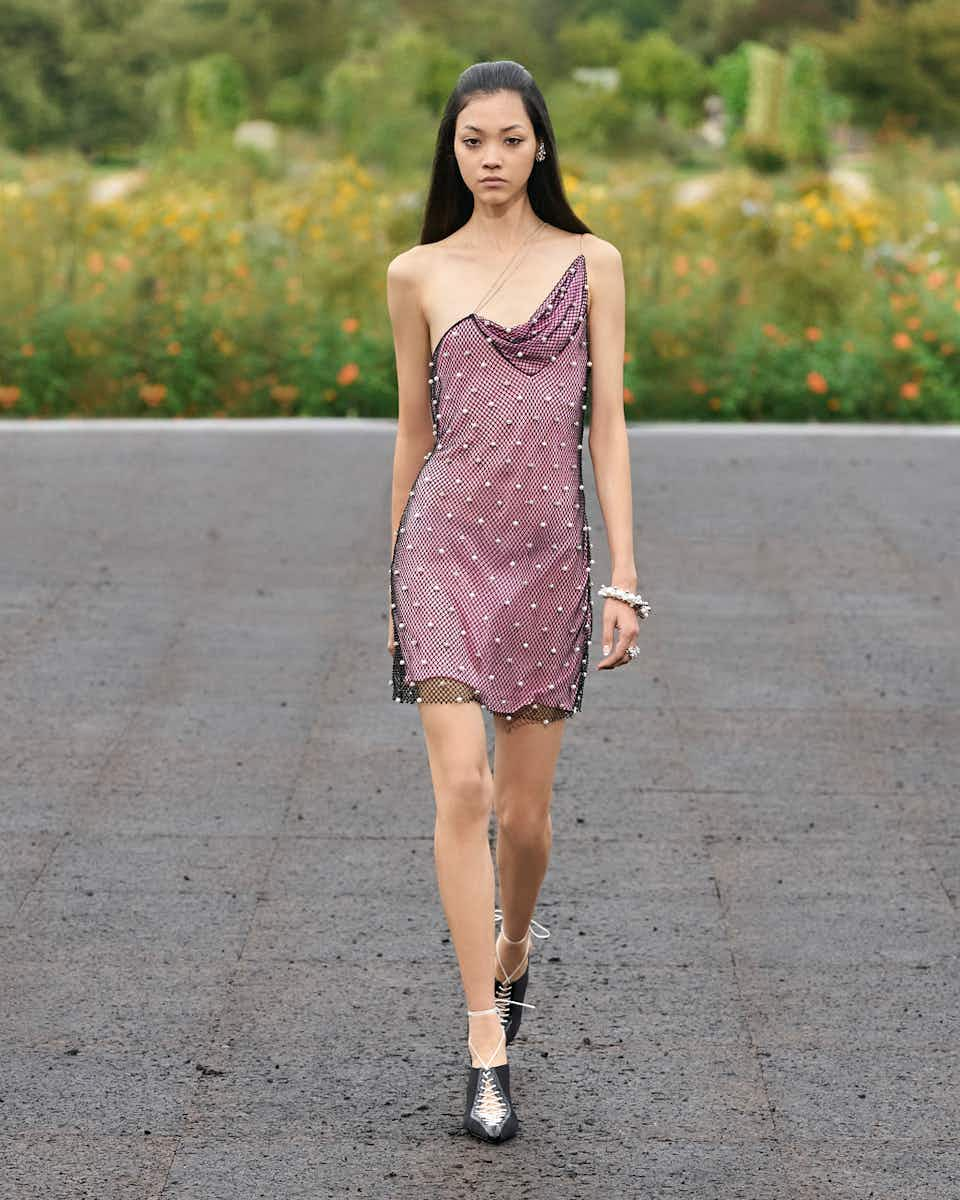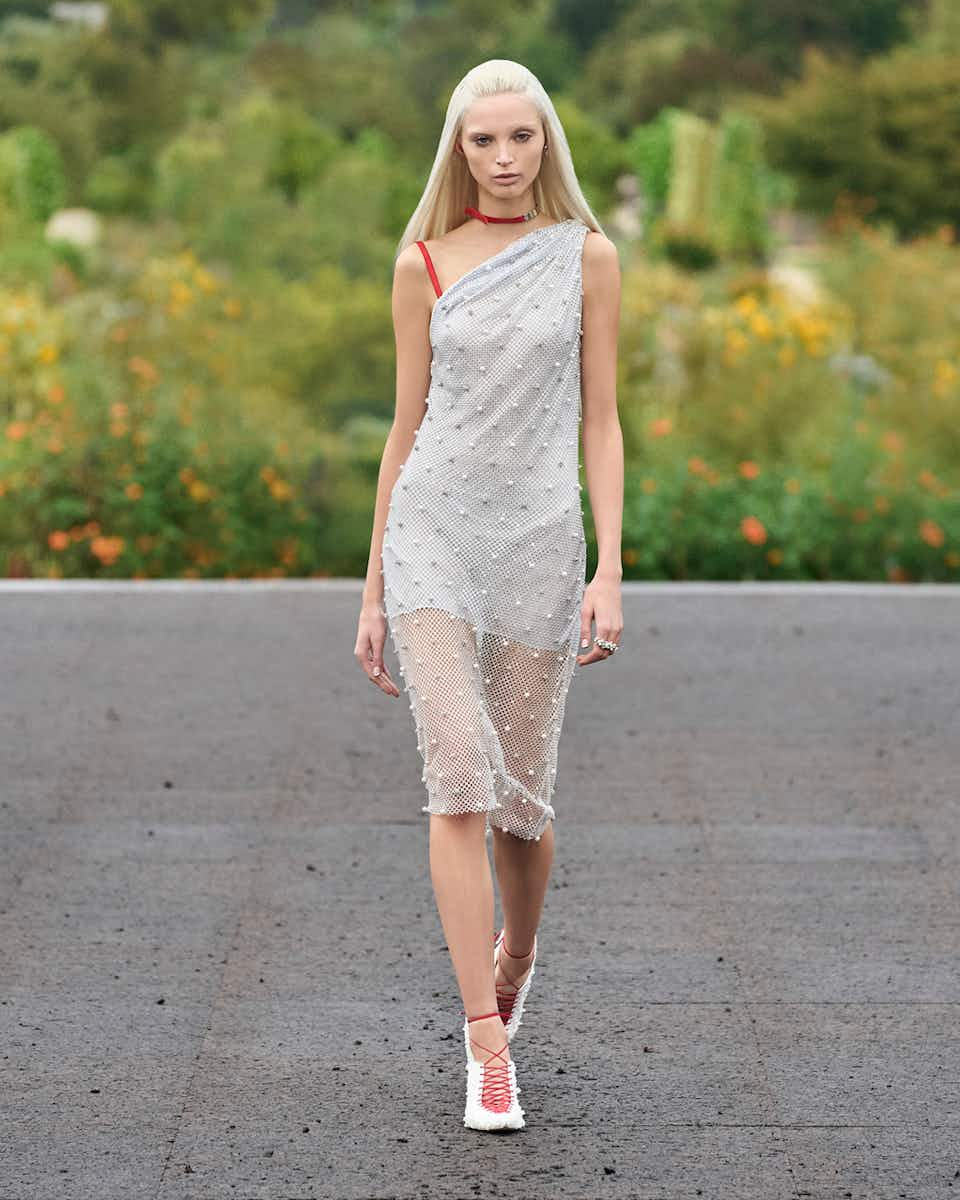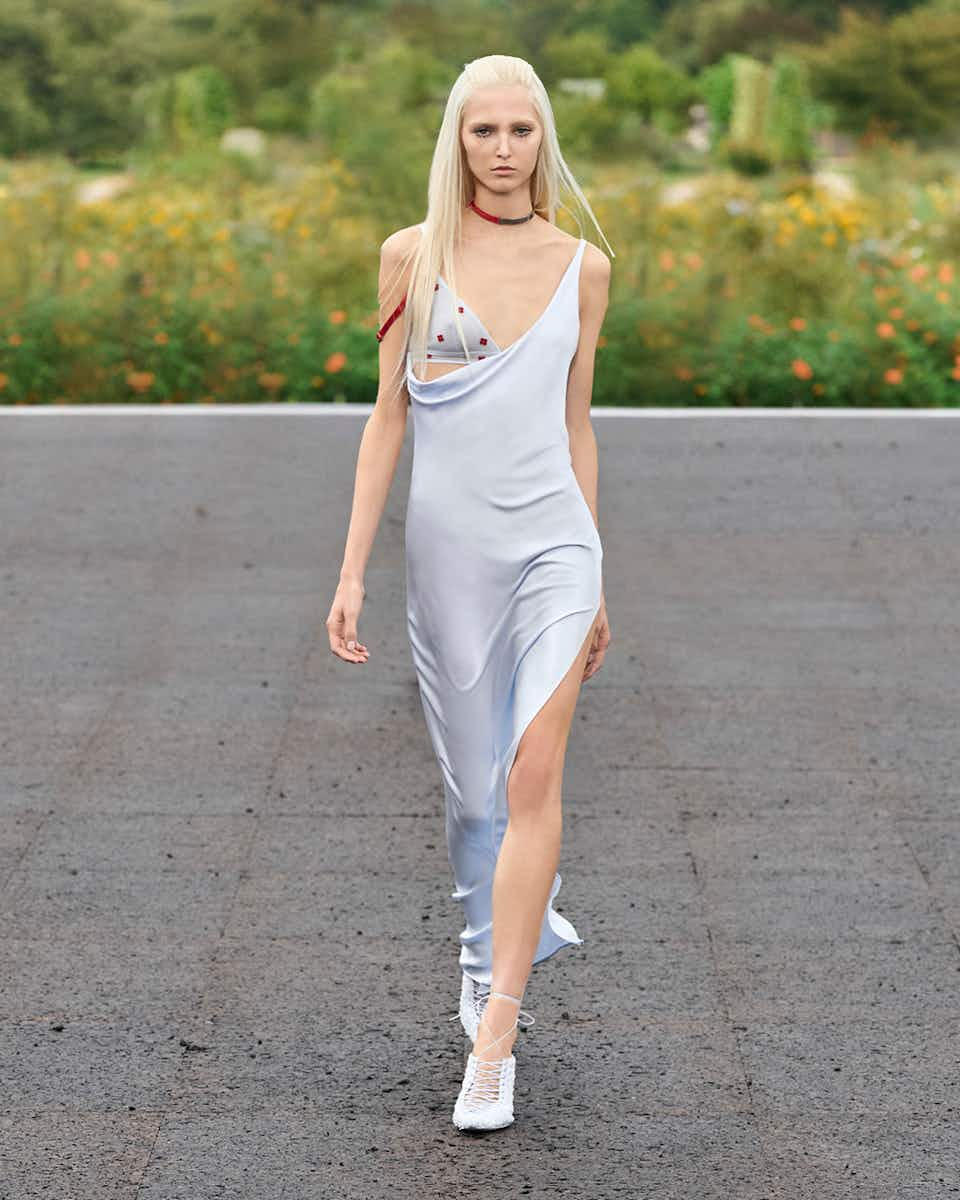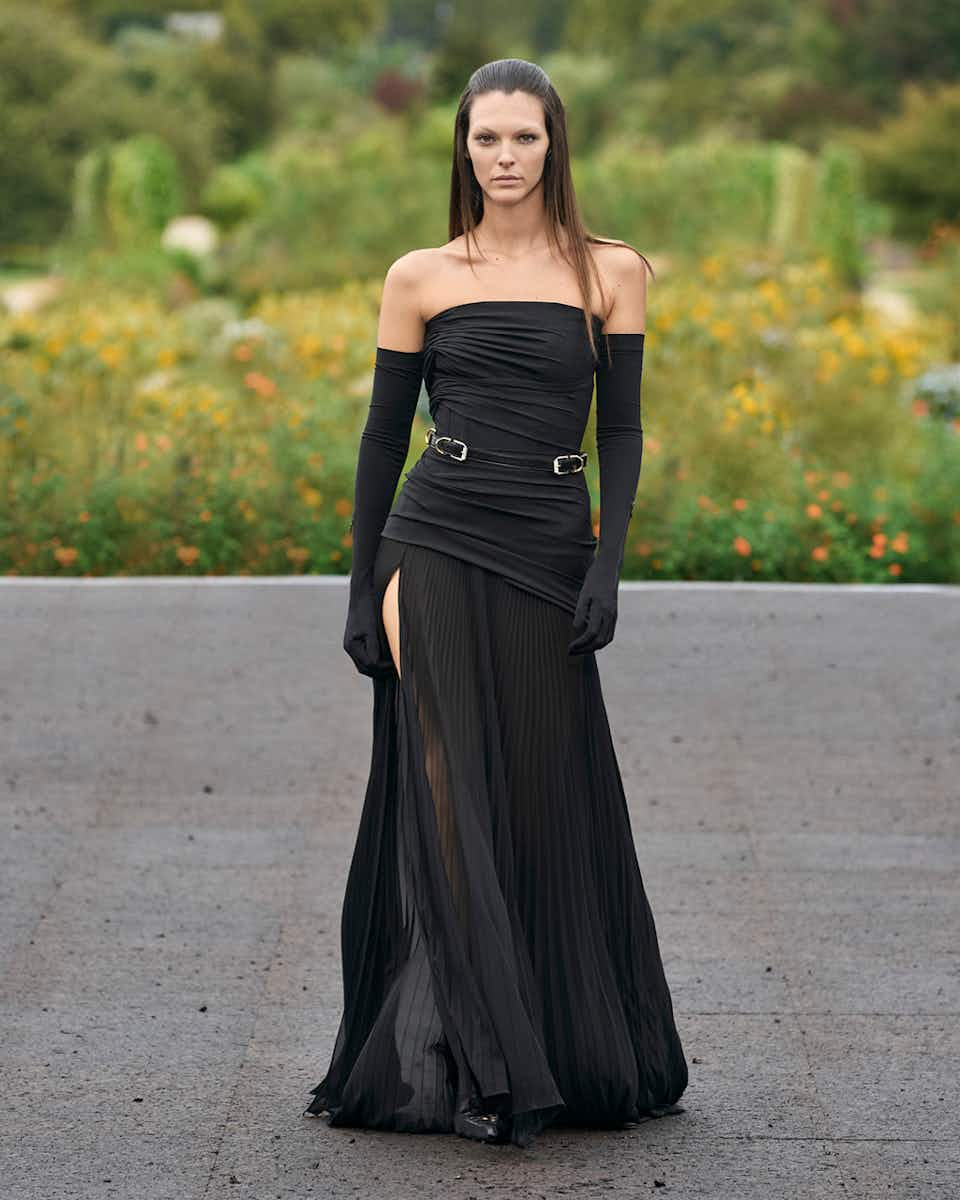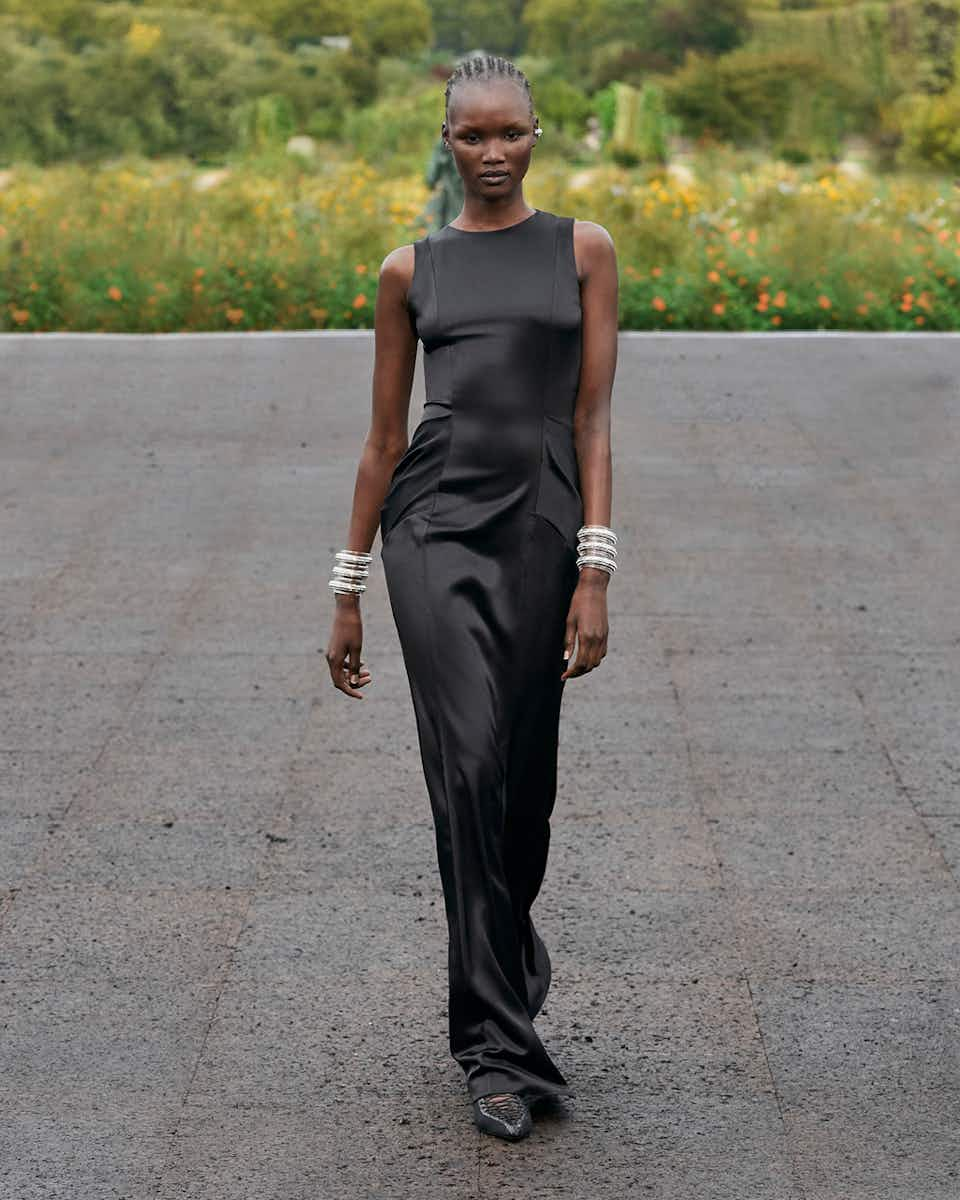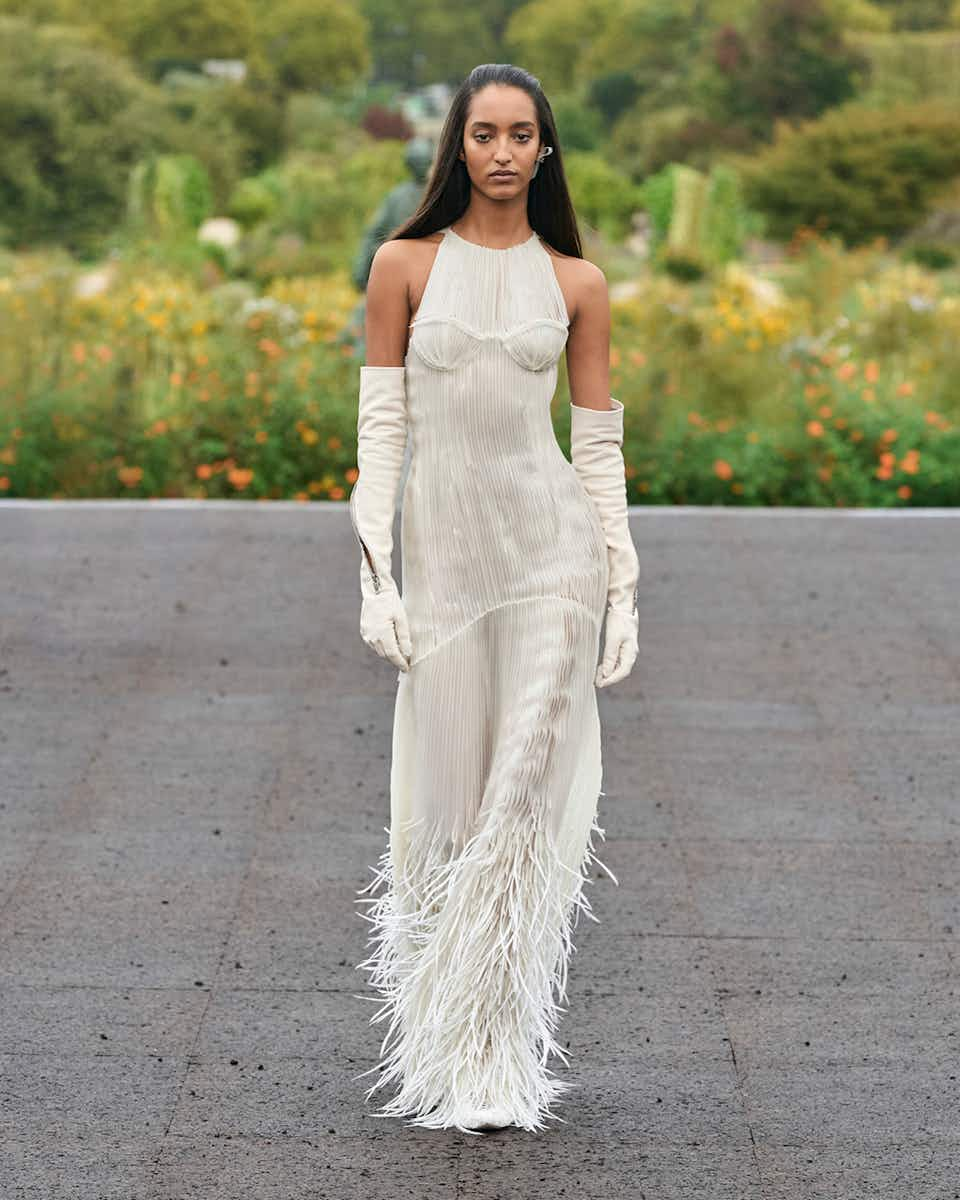 For SS23, Valentino launched their new logo monogram which touched almost everything, including models' faces in graphic head-to-toe looks. The crowd was a sea of head-to-toe hot pink, but this season Pierpaolo Piccioli took a more muted approach, at least in the opening looks. Against a soundtrack curated by Erykah Badu, fluid capes and boxy satin mini dresses gave way to dazzling sequins and striking sunny yellows. A heavily embellished pink bodysuit glittered like a mirror ball and feather boas peeped out from beneath trench coats. Shimmering gowns were the most memorable, but the show closed in more muted tones with a series of classic black dresses. And this season, the the house introduces its striking new monogram print, Valentino Toile Iconographe; on a nude dress, it almost bore an optical illusion against the skin with its criss-cross technique. With young Hollywood darlings like Zendaya and Florence Pugh sitting front row, there were certainly ample red carpet looks to choose from come awards season. Watch this space. SW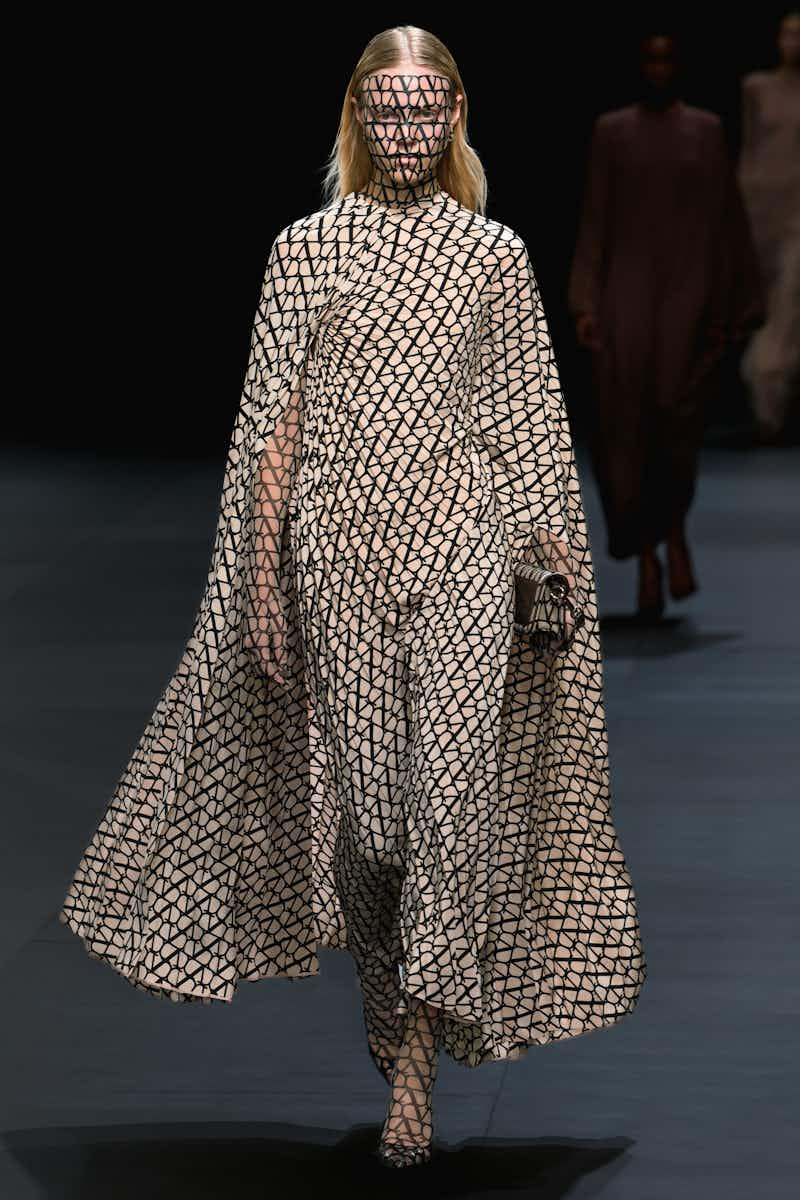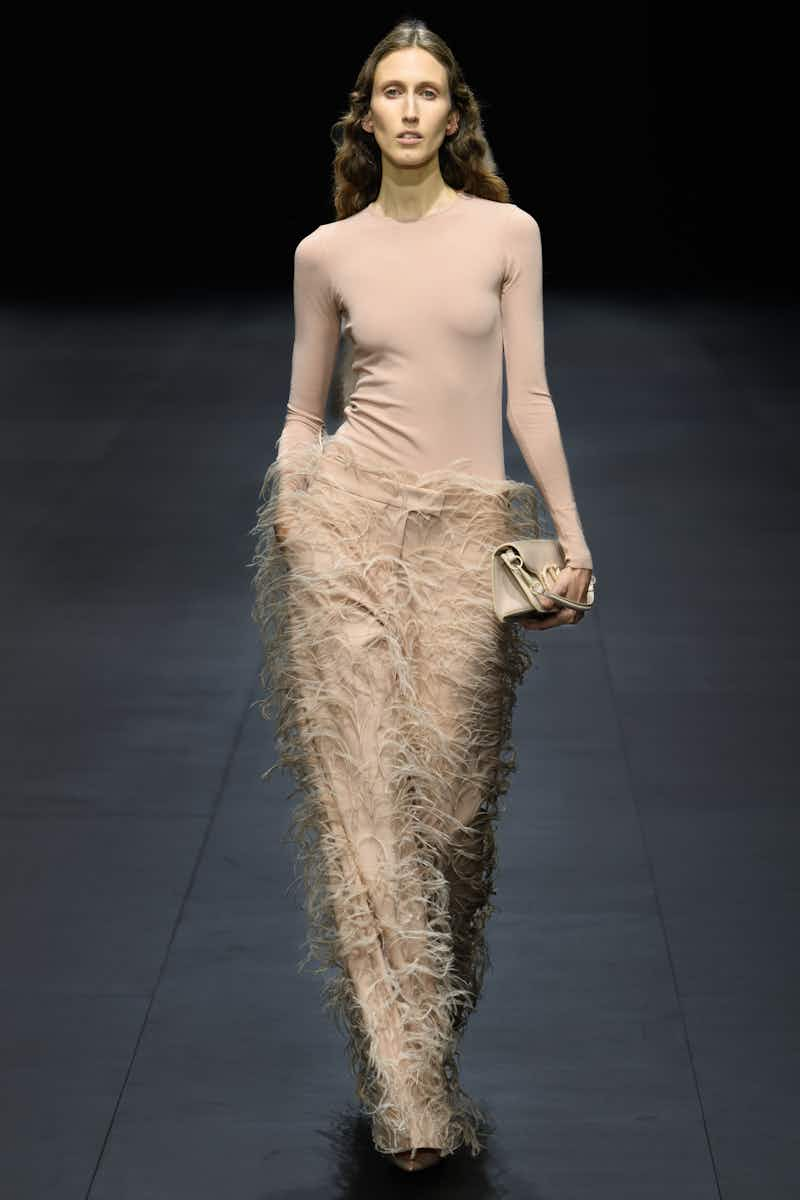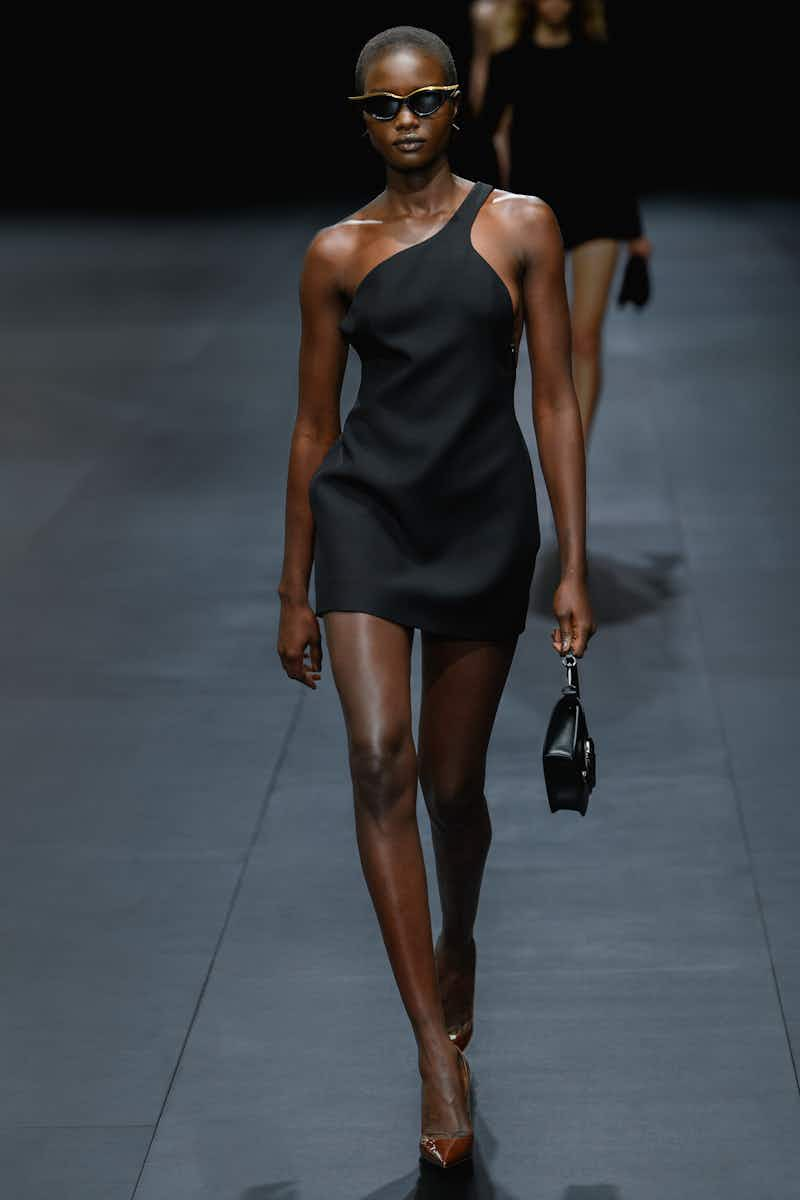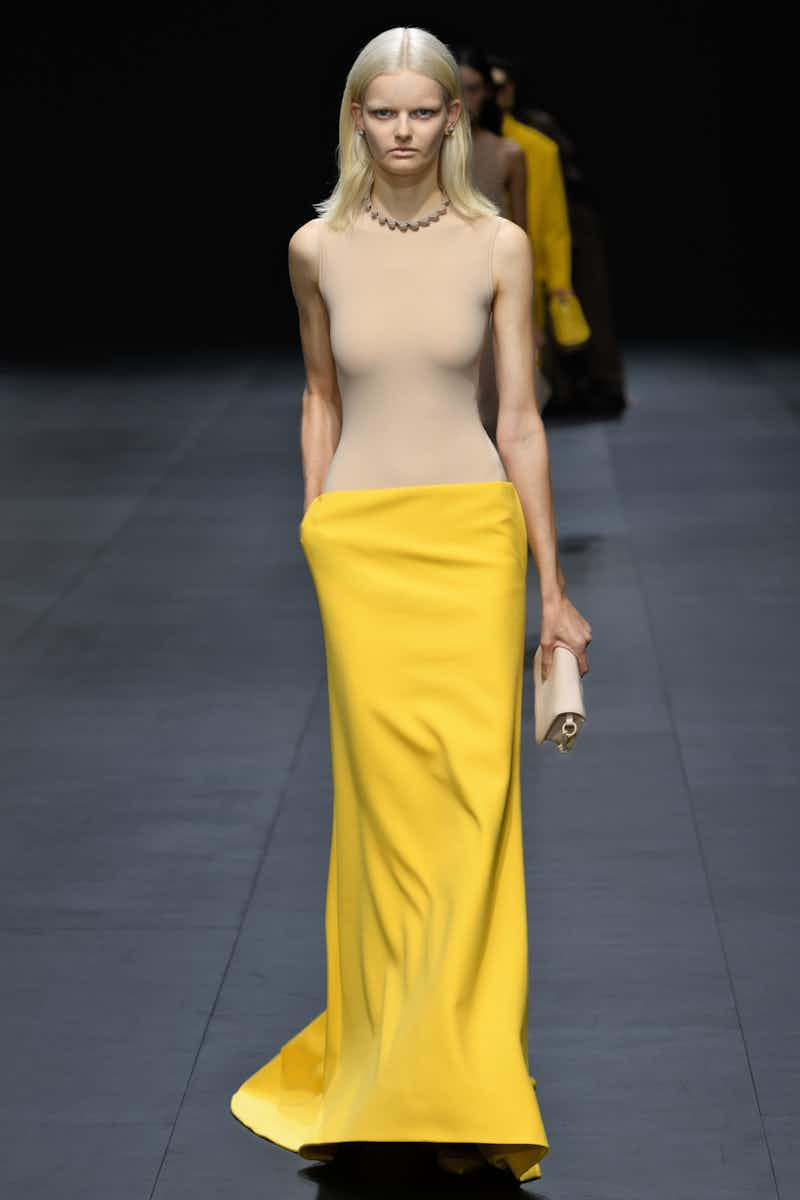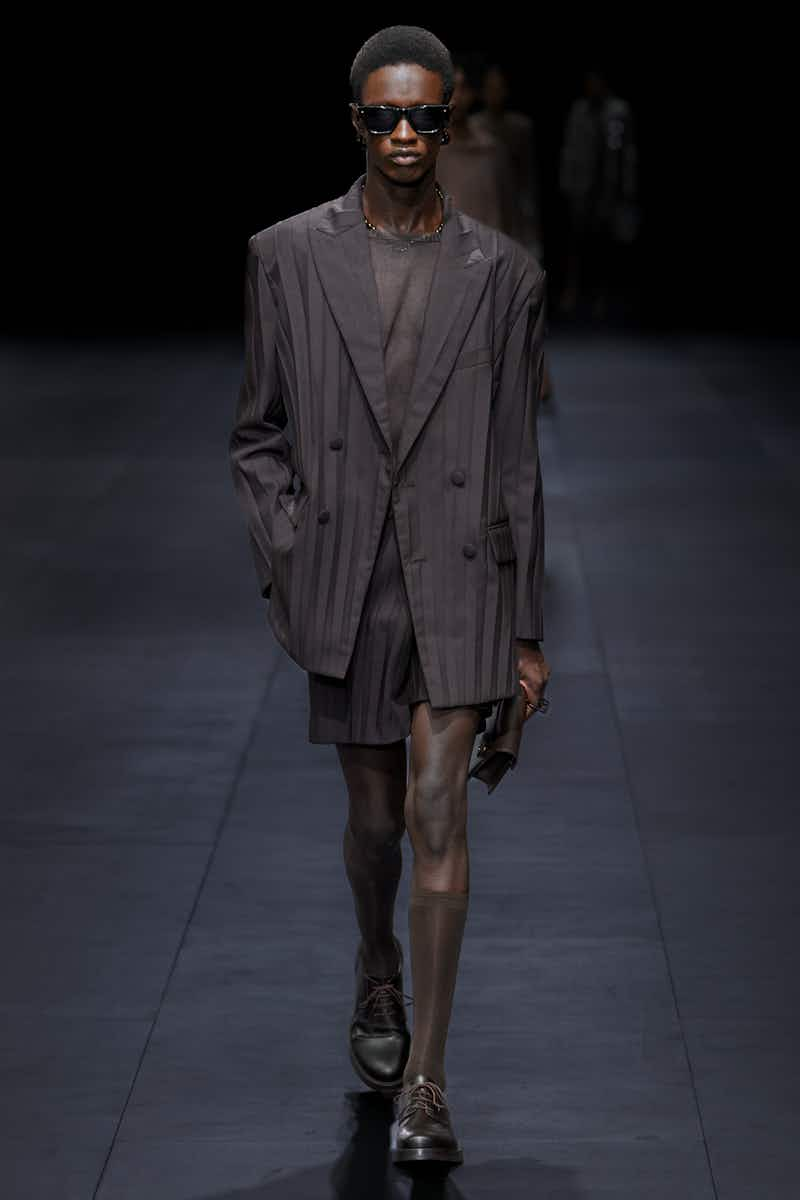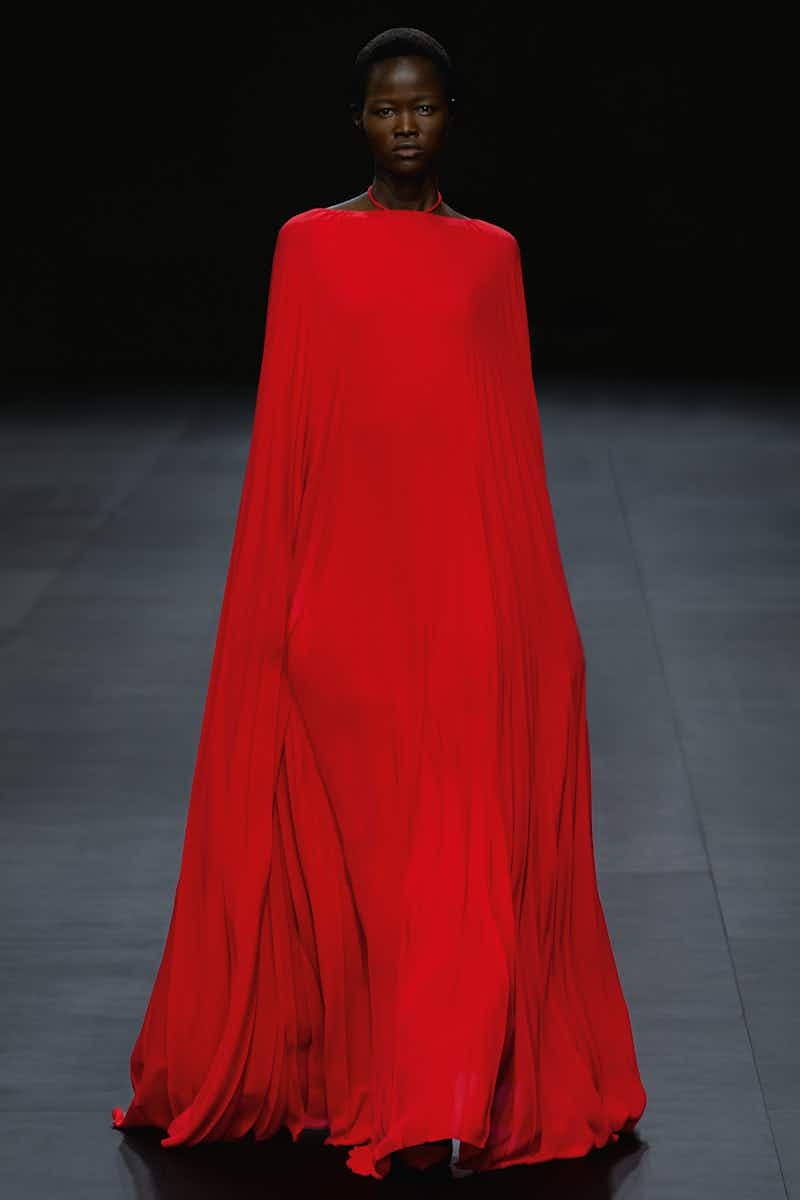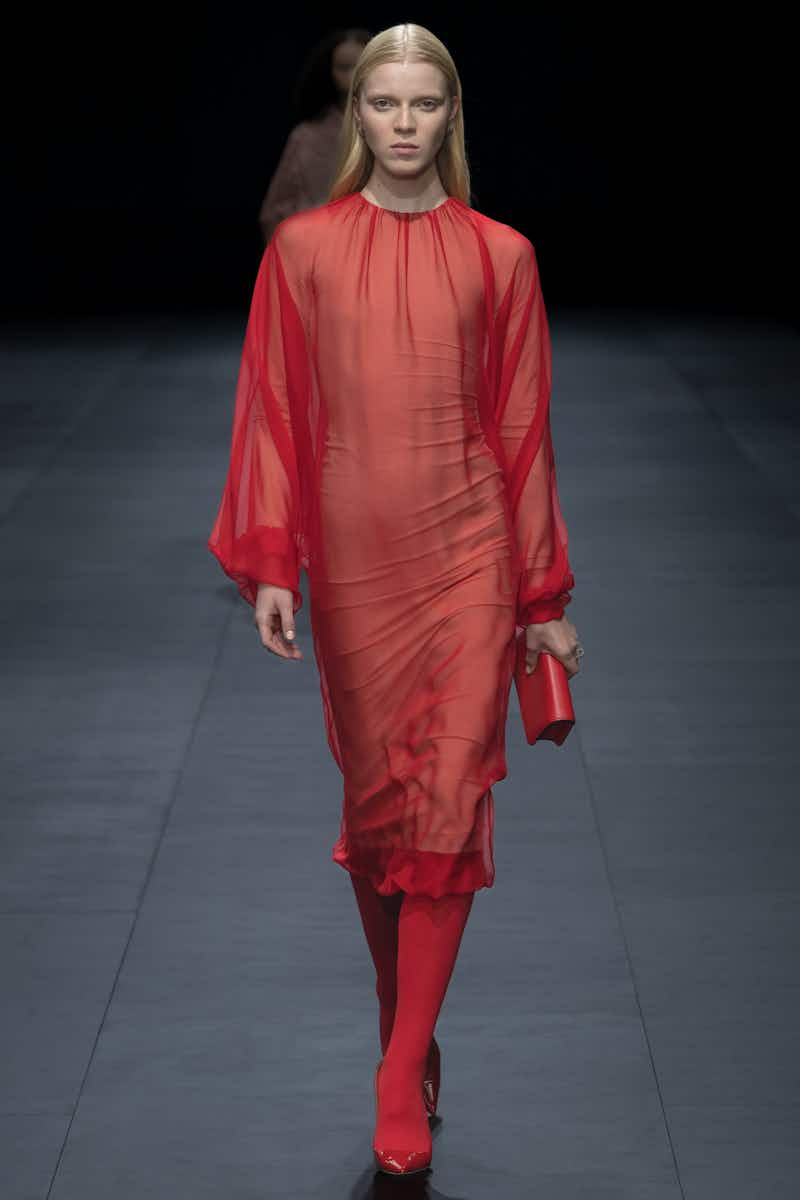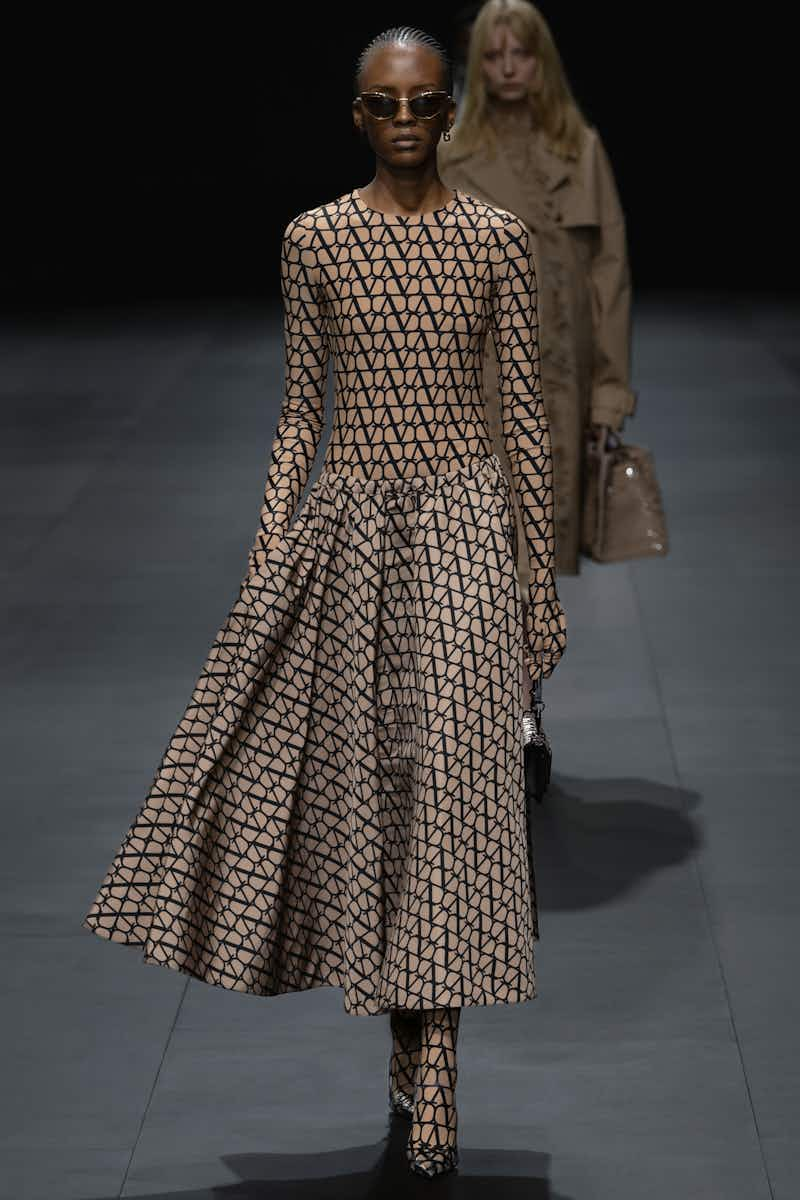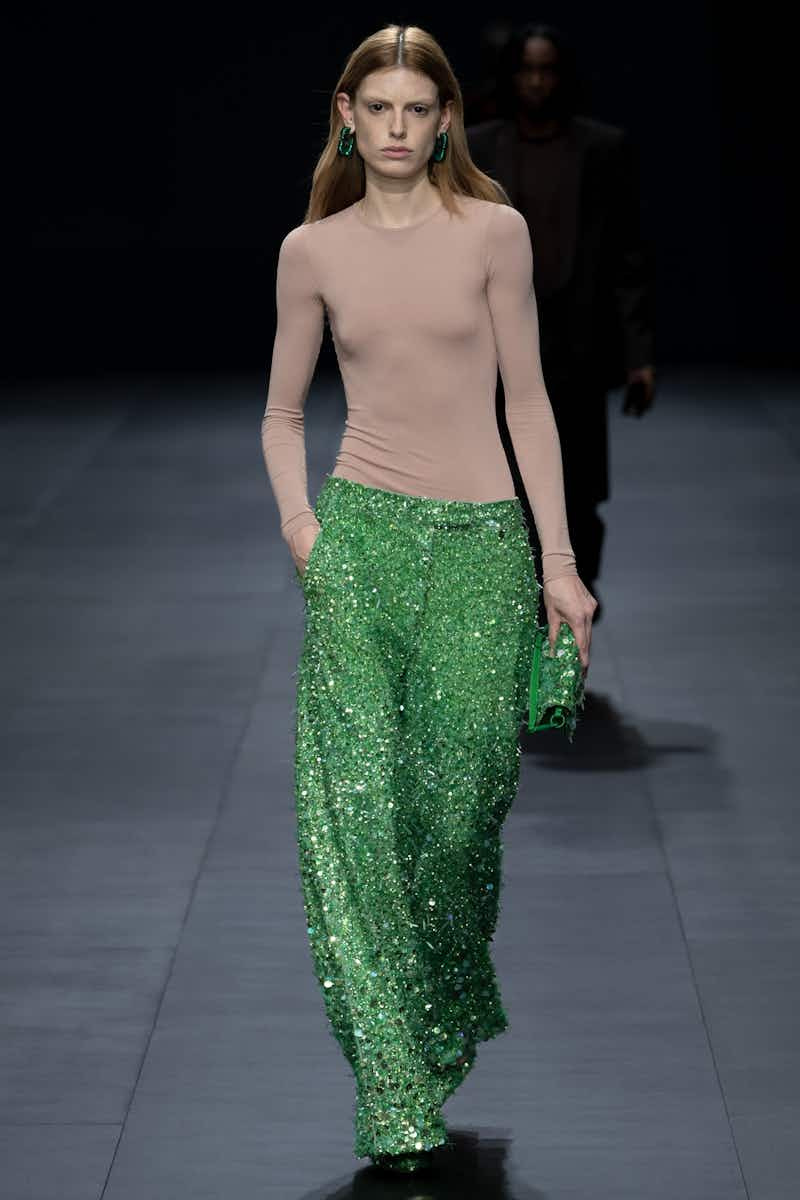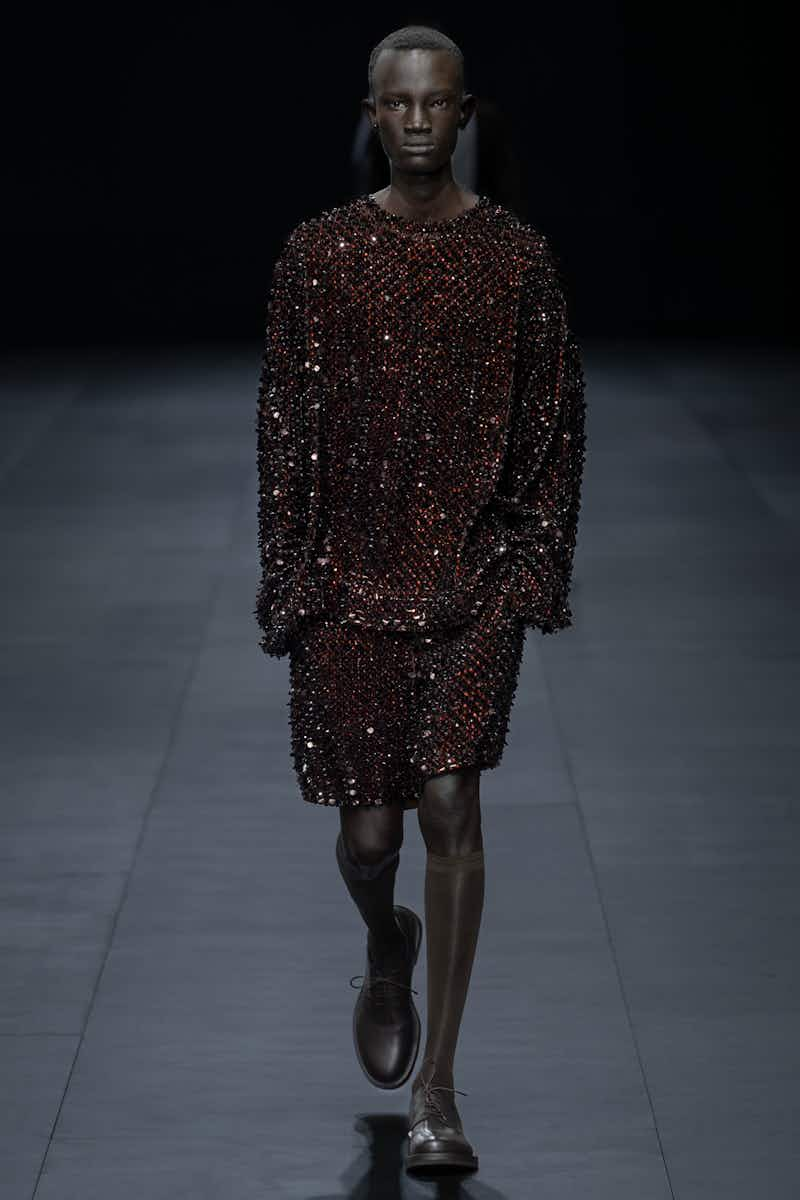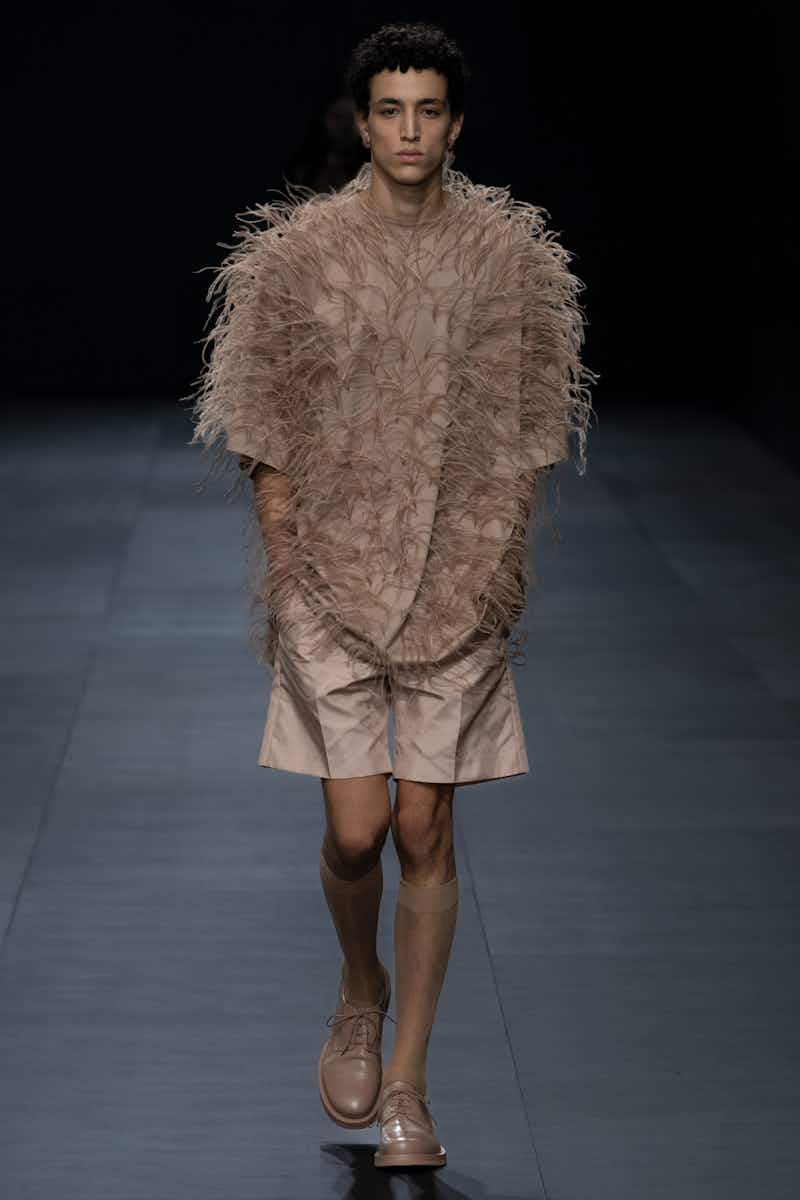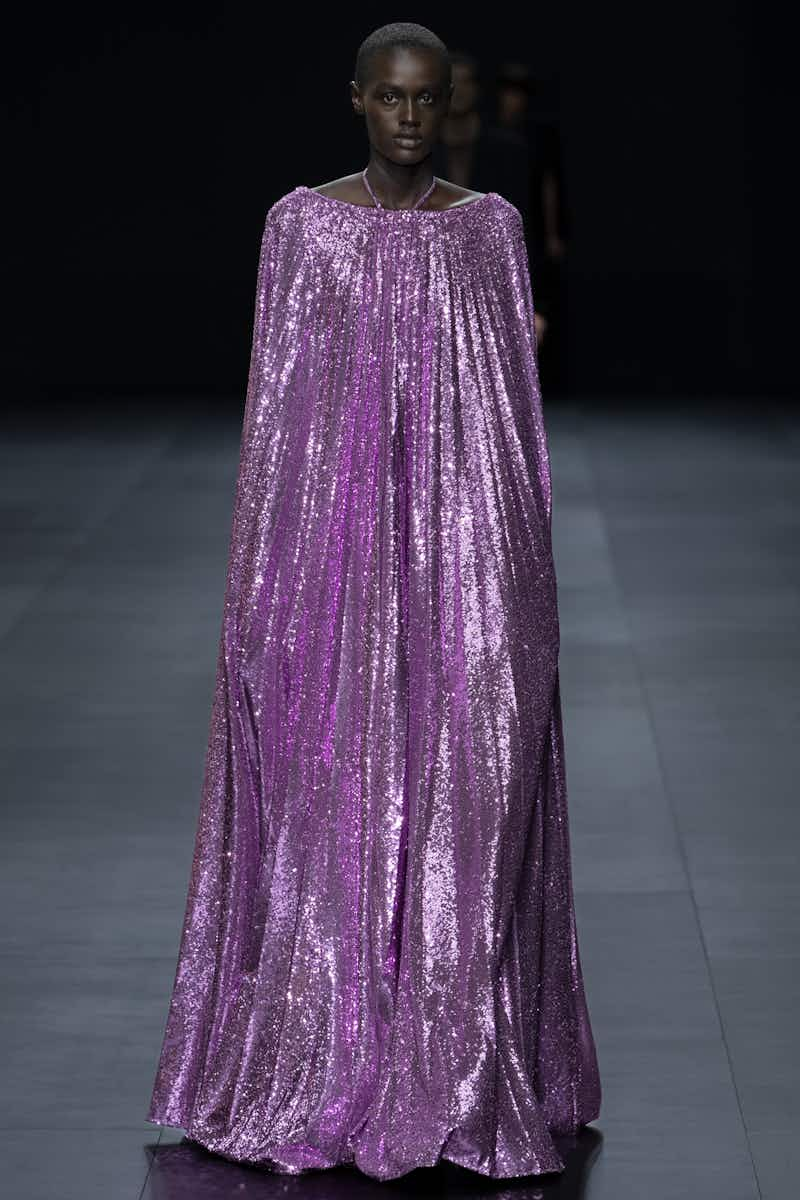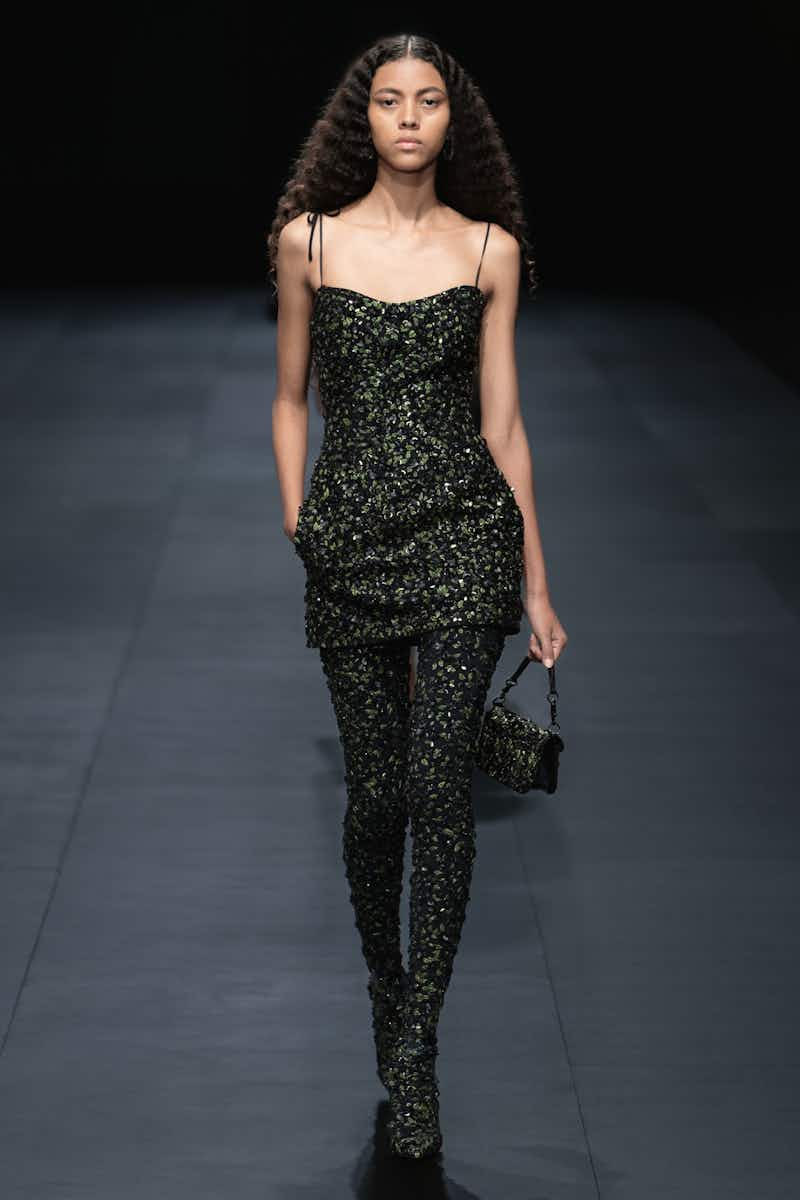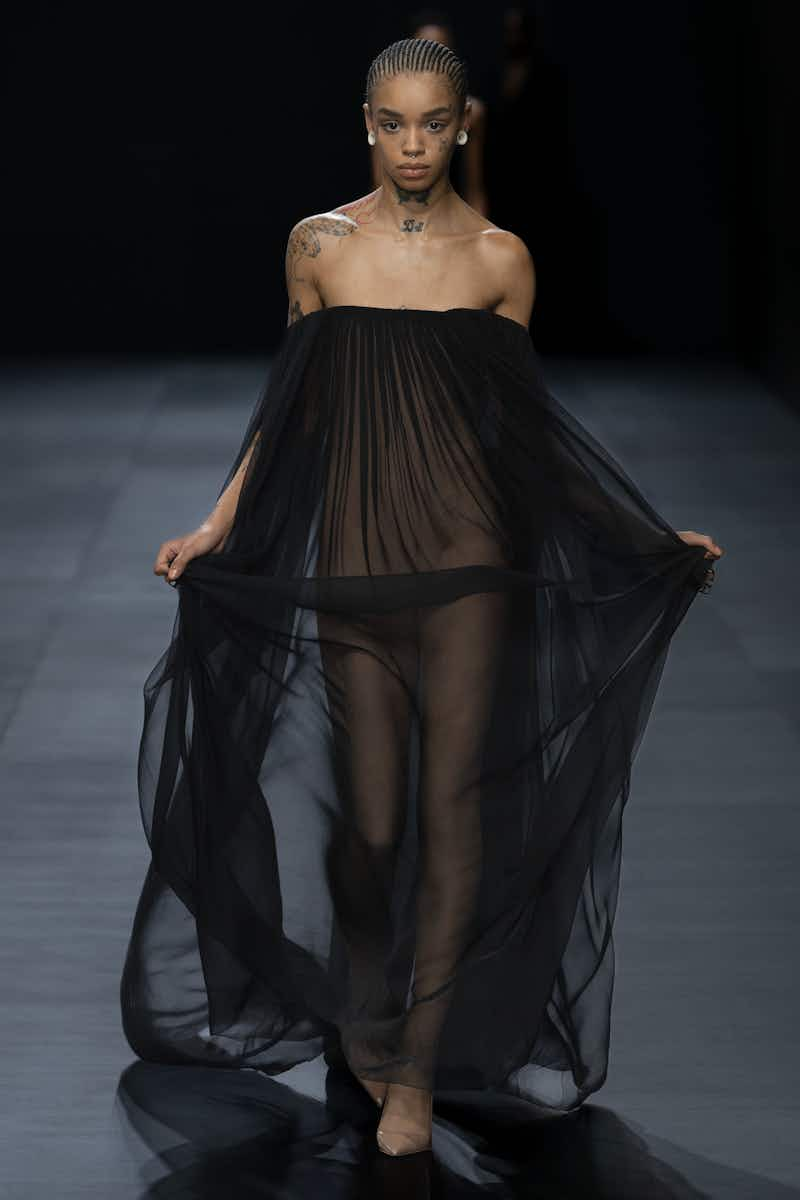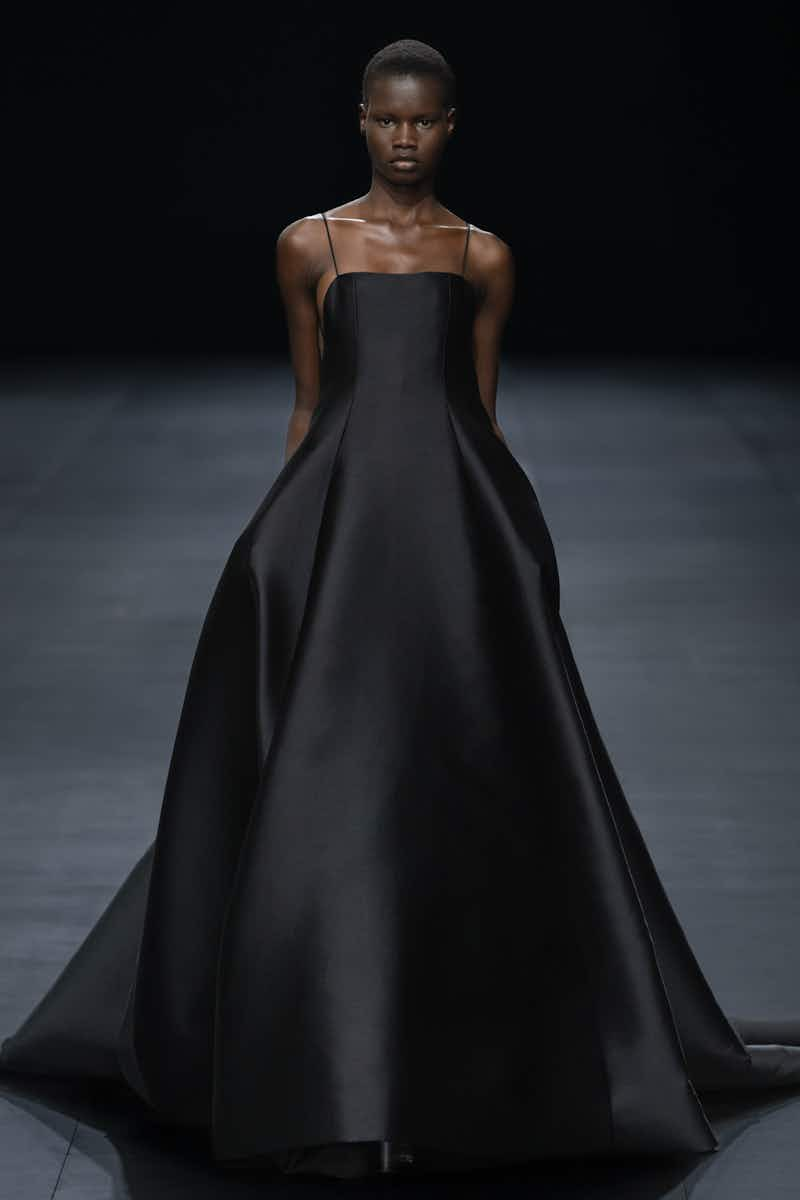 At Ottolinger, guests were seated on mattresses, putting them at risk of dozing off considering the rampant exhaustion towards the end of fashion month. But the high-energy sporty looks – accompanied by a heavy techno soundtrack – were designed to ward off drowsiness while barely-there tops and cropped biker jackets injected a dose of bad-girl sex appeal. The collection was a checklist of SS23 trends – low-rise leather, bleached brown denim and lashings of plaid are easy to imagine on fashion's favourite It girls very soon. Futuristic goggles complemented skin-tight stretch one-pieces. These are clothes for the active Ottolinger woman, whether she's headed to a workout class or jetting off abroad, suitcase in hand. SW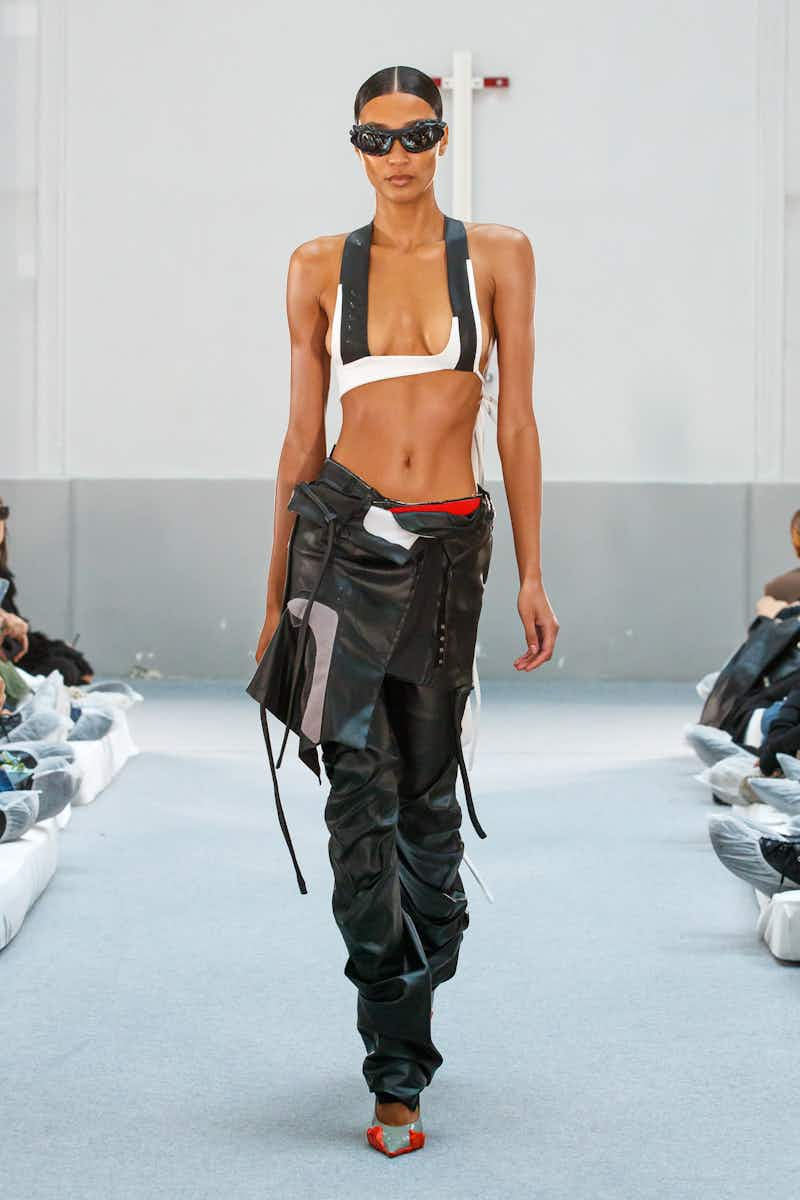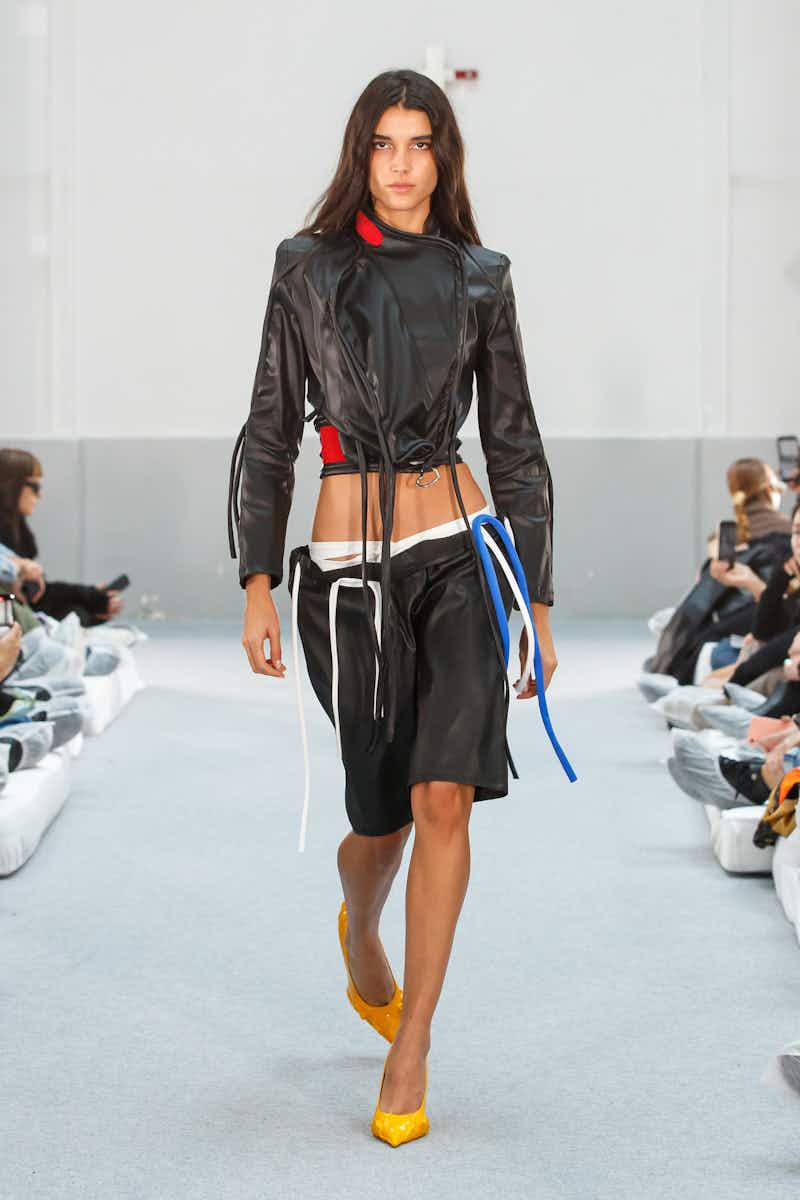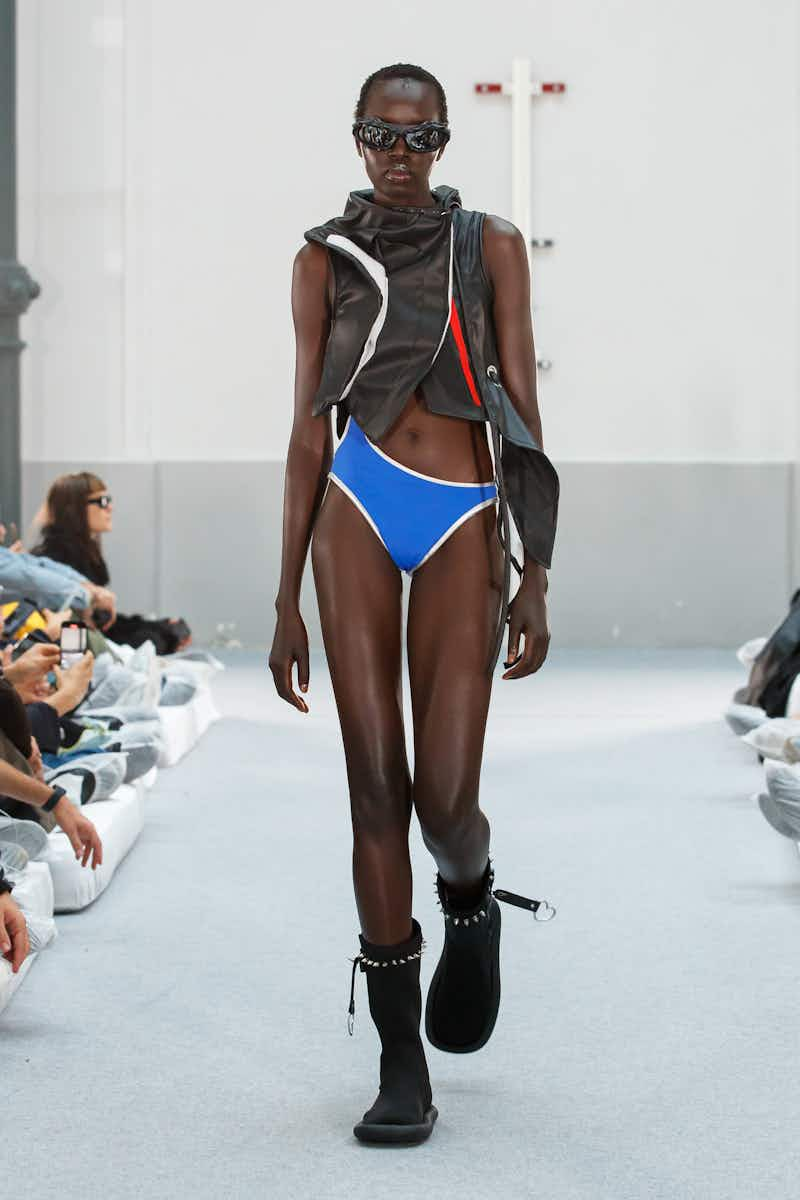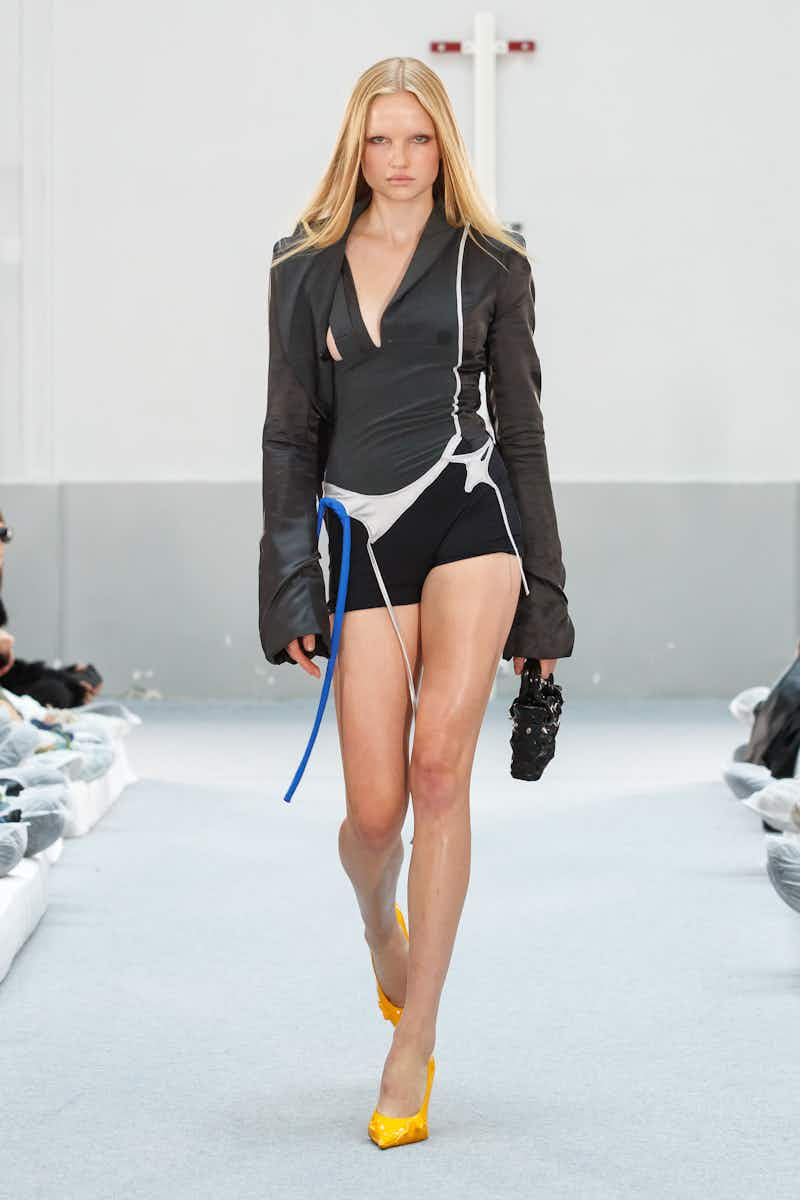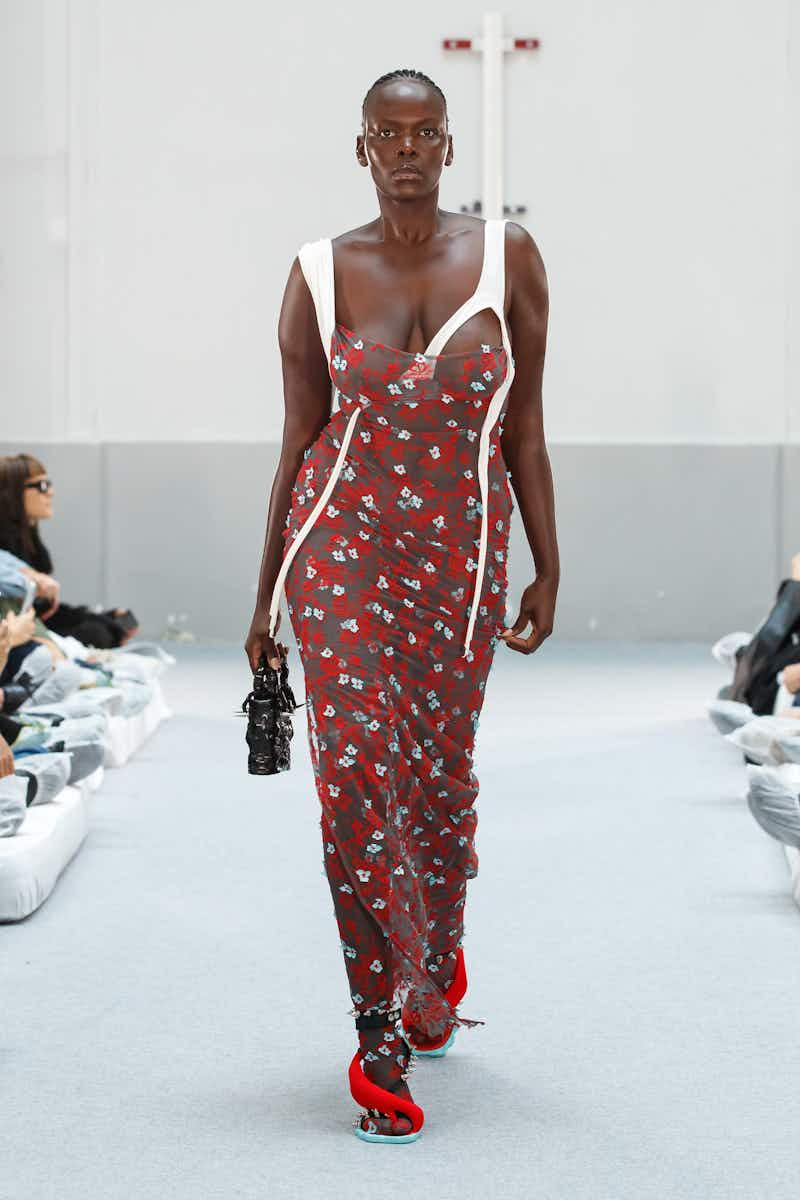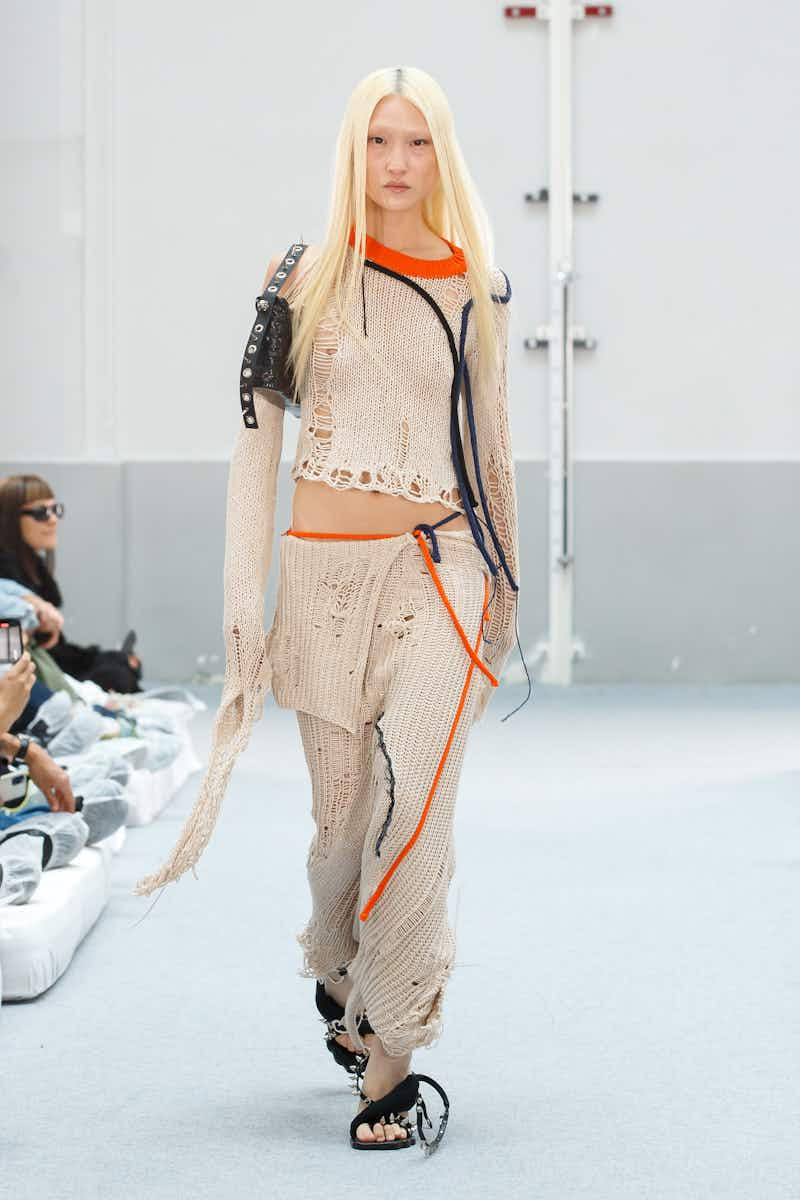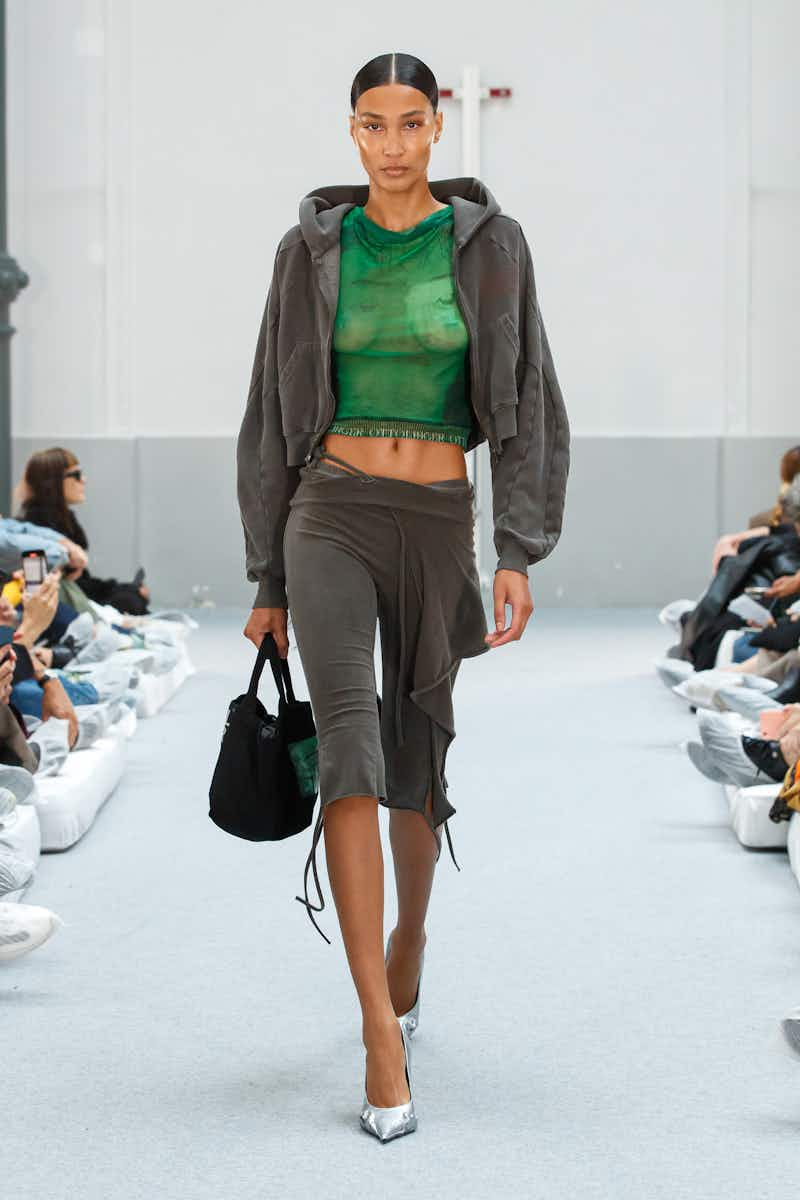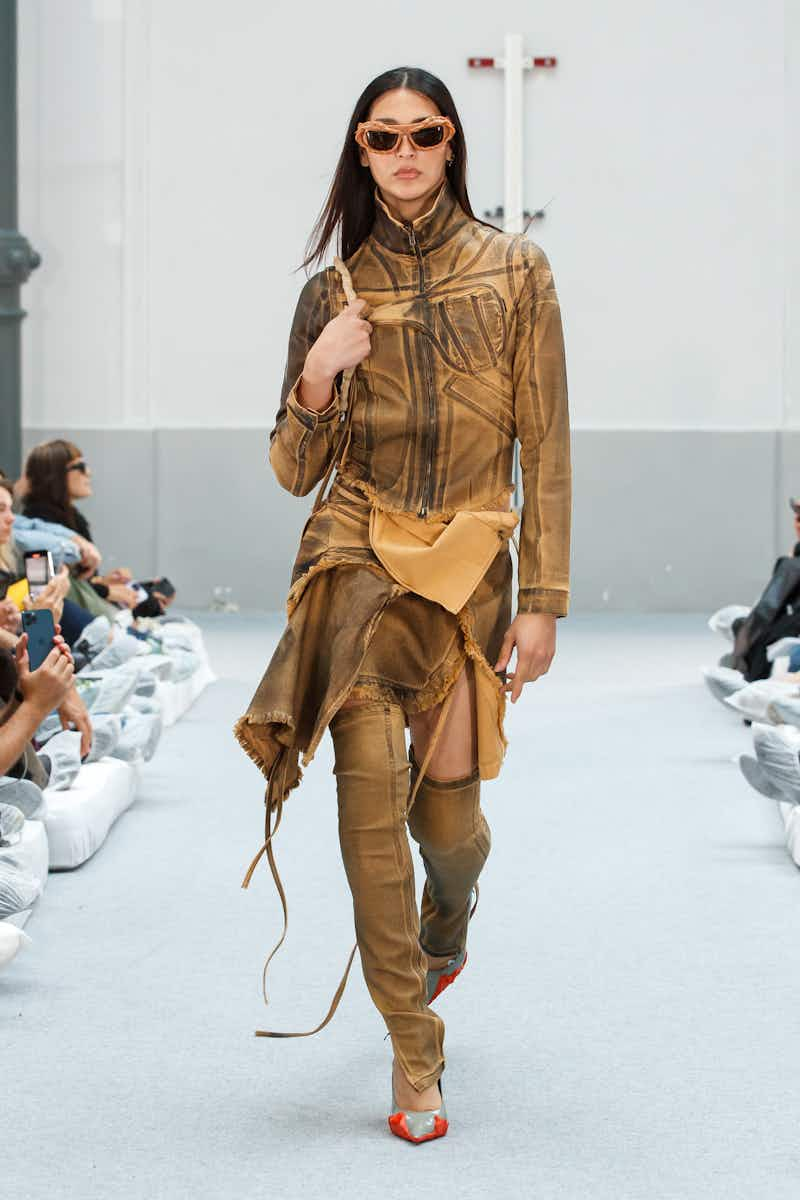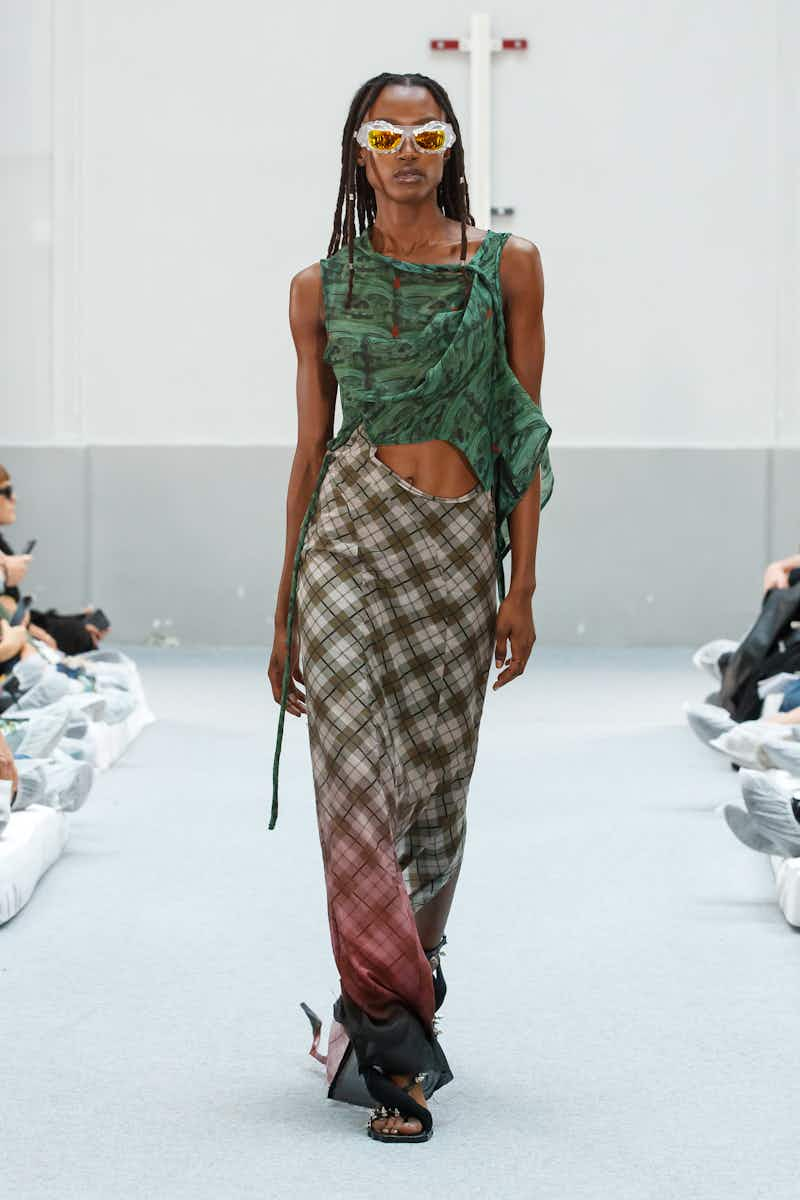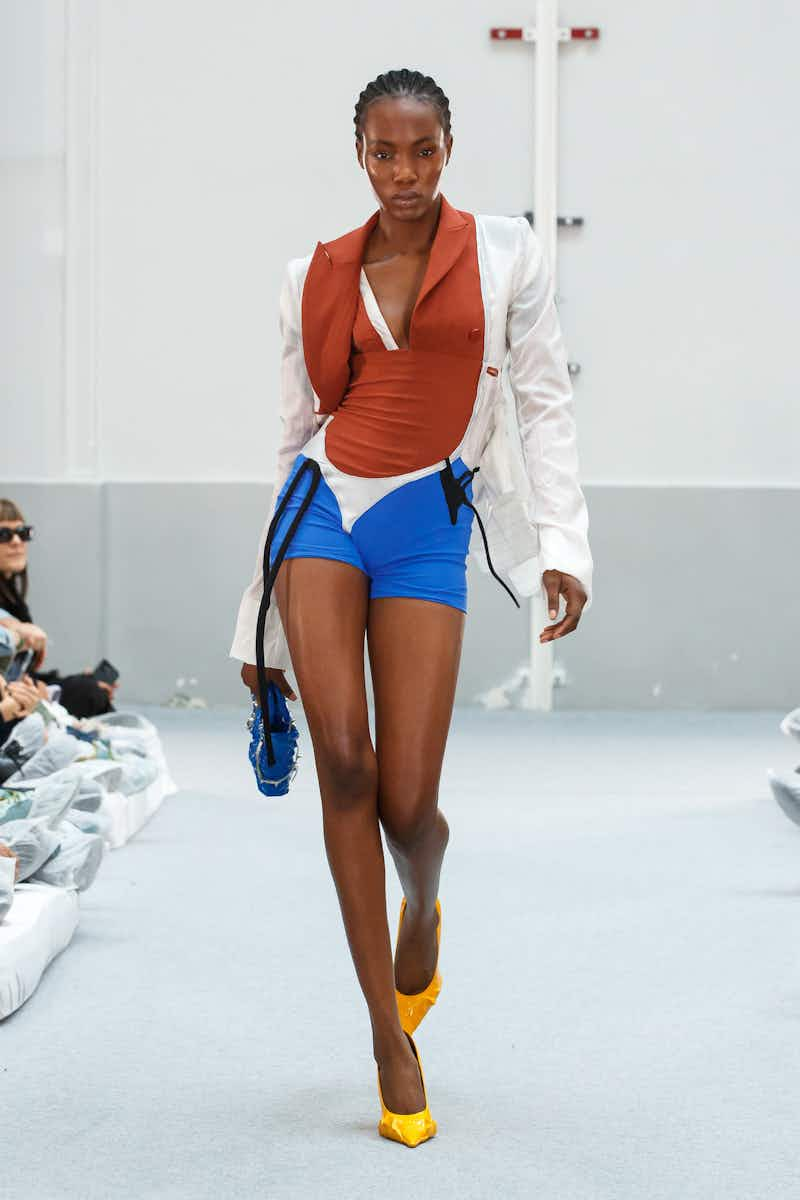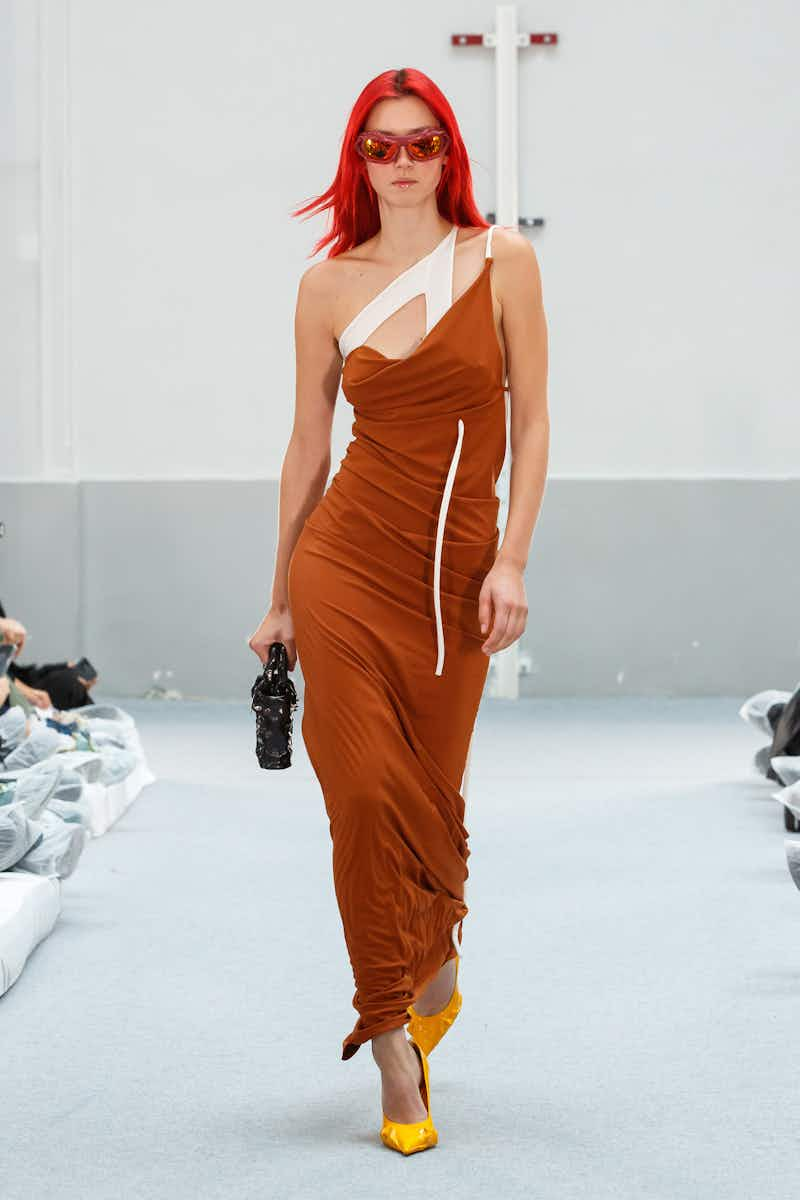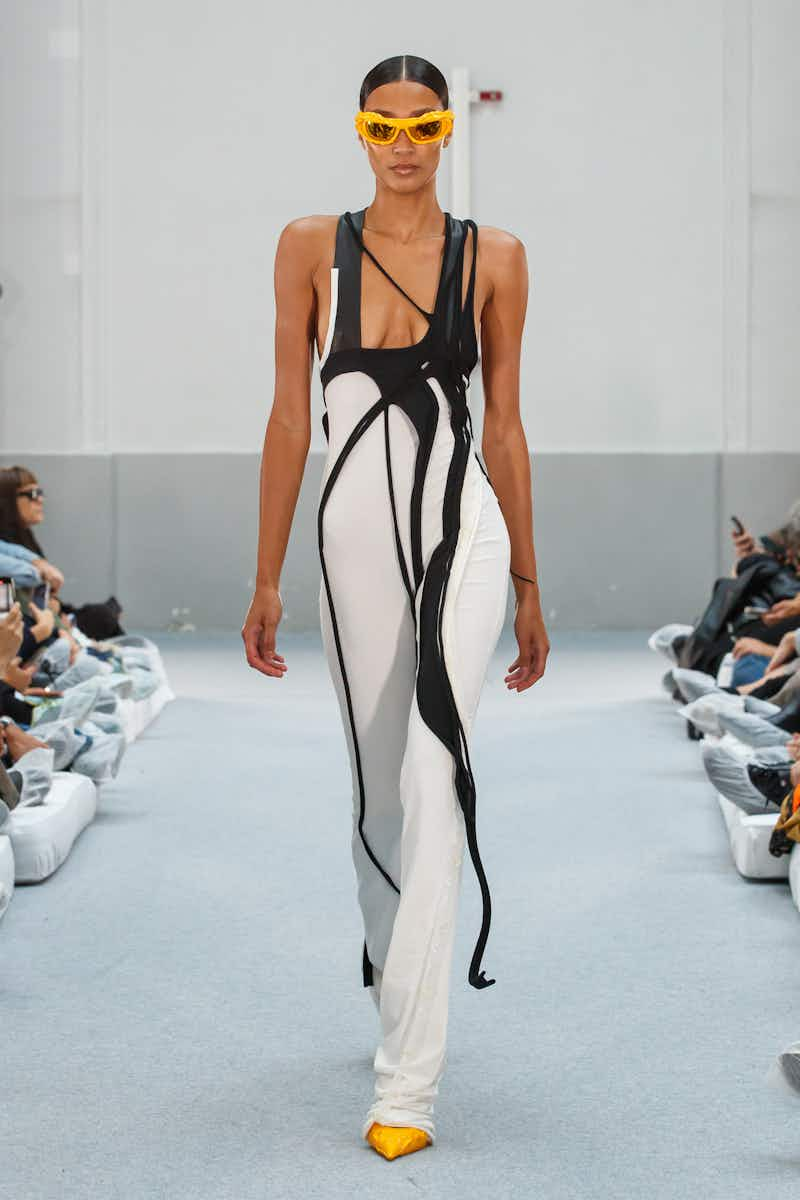 This season, fashion has been stomping it out. And at Balenciaga's gargantuan SS23 show on Sunday, models charged furiously through a muddy landscape, a metaphor for ​"digging for truth and being down to earth." They marched so angrily through the post-apocalyptic space that it didn't matter whether mud splashed up their white boots or hems of dresses – it was all part of it.
Leather was worn like armour in an ode to fierce individualism, and perhaps even a metaphor for fighting against conformity. Teddy bears, Lays crisp packet handbags and baby papooses indicated a more playful sensibility, but the overall feeling was one of confrontation, of getting back up when you've been knocked for being different.
The opening and closing of the show were equally meme-worthy, with Kanye, in his runway debut, emerging in all-black heavy utilitarian garb, largely obscured by the roomy military-meets-motocross look, but it didn't take long for guests to recognise him. Closing the show with a brilliantly idiosyncratic stomp was model and artist Minttu, hunched over and scowling in a leather gown made of repurposed Balenciaga bags with matching gloves that looked more like a kinky torture device.
"Fashion in its best case scenario should not need a story to be sold to someone," Demna wrote in the press notes. ​"You either like it or not." A staunch reminder to stay disruptive, value individuality and push against the grain. SW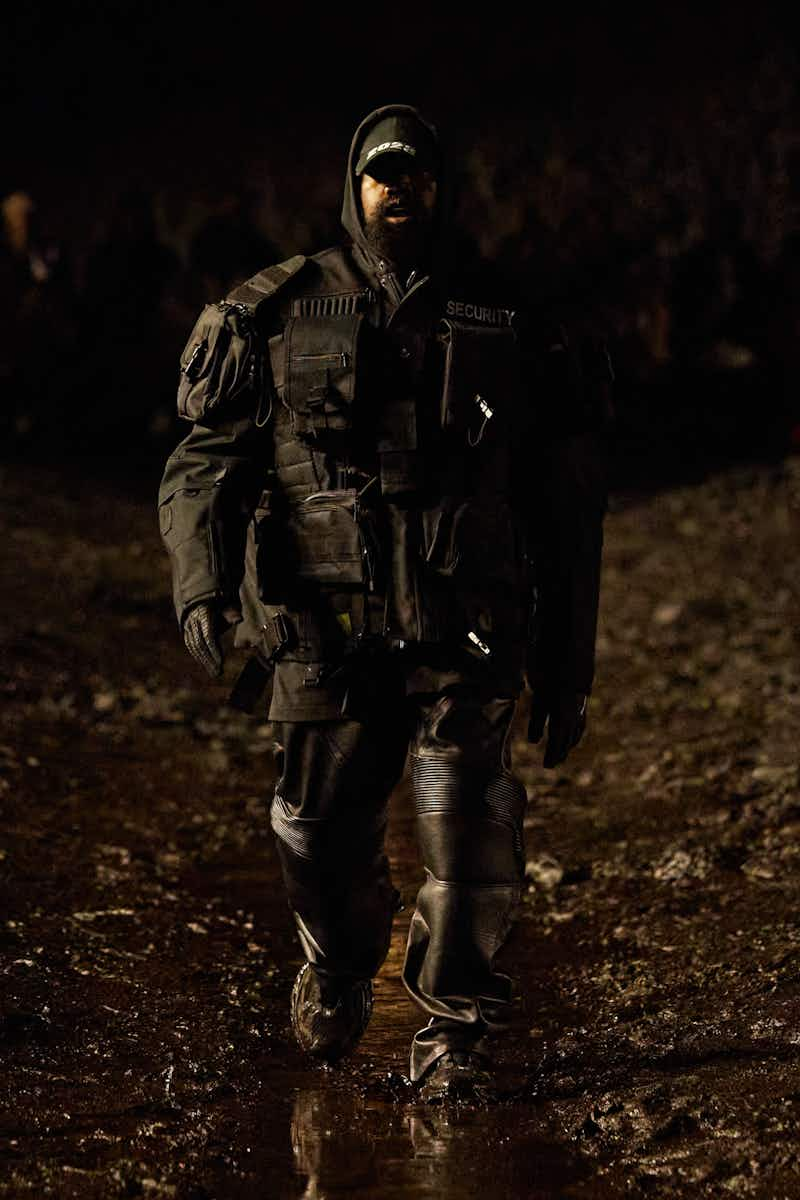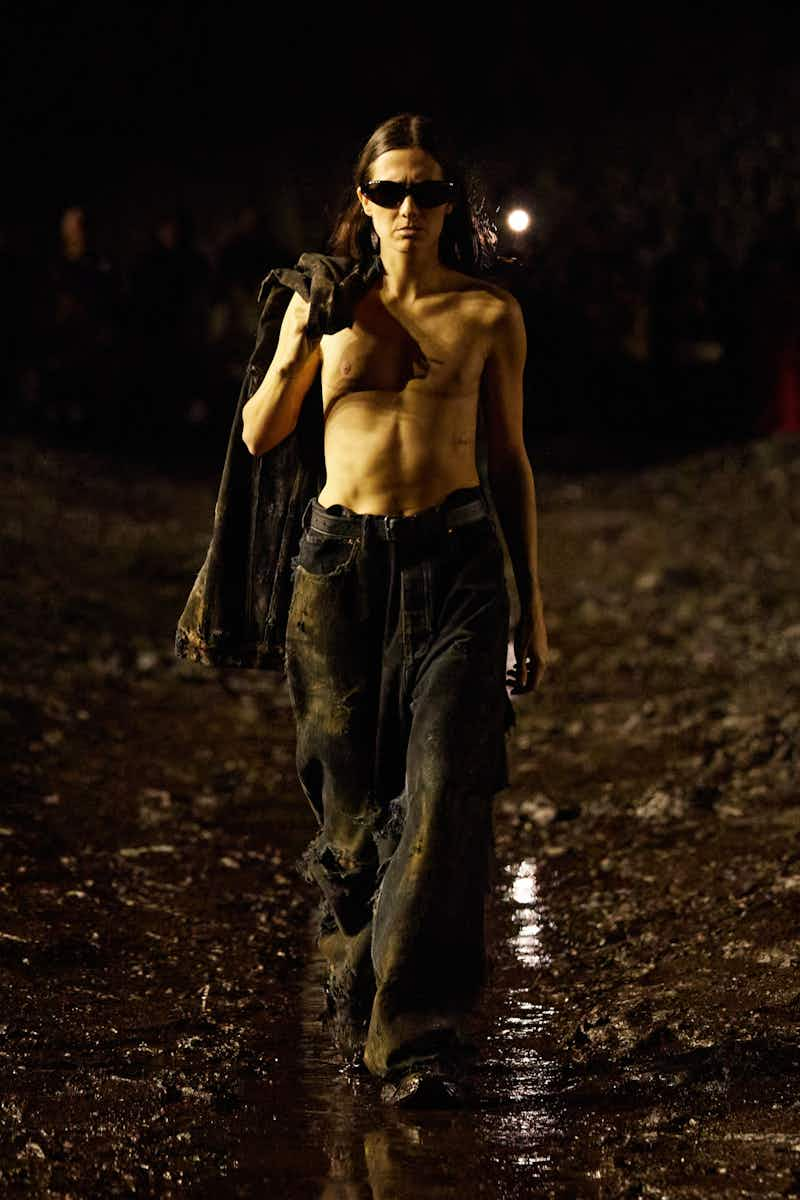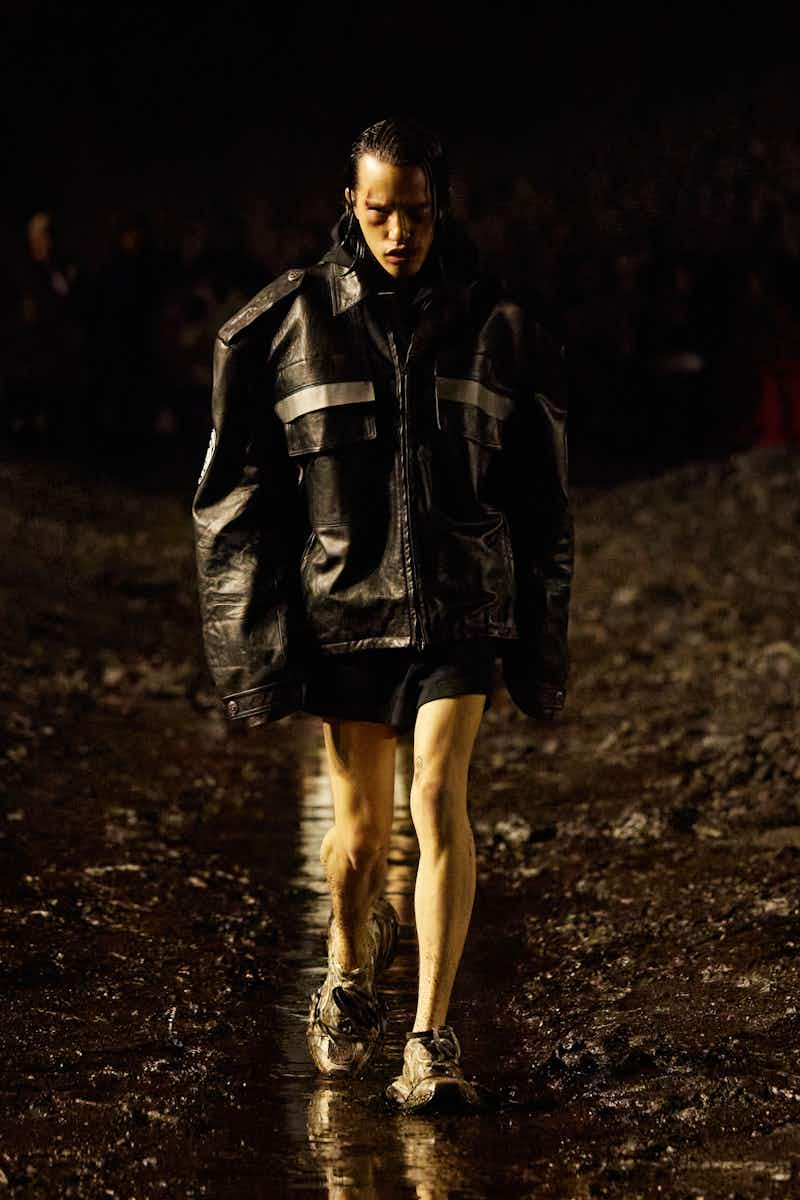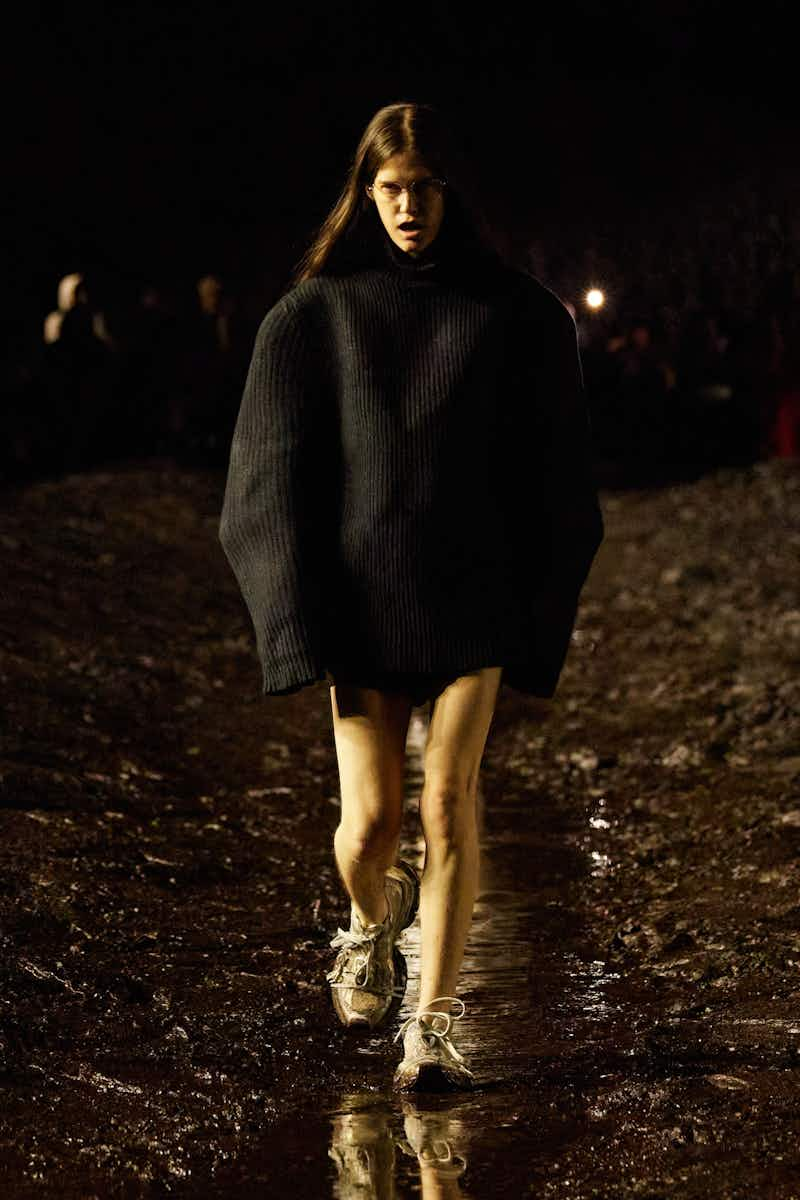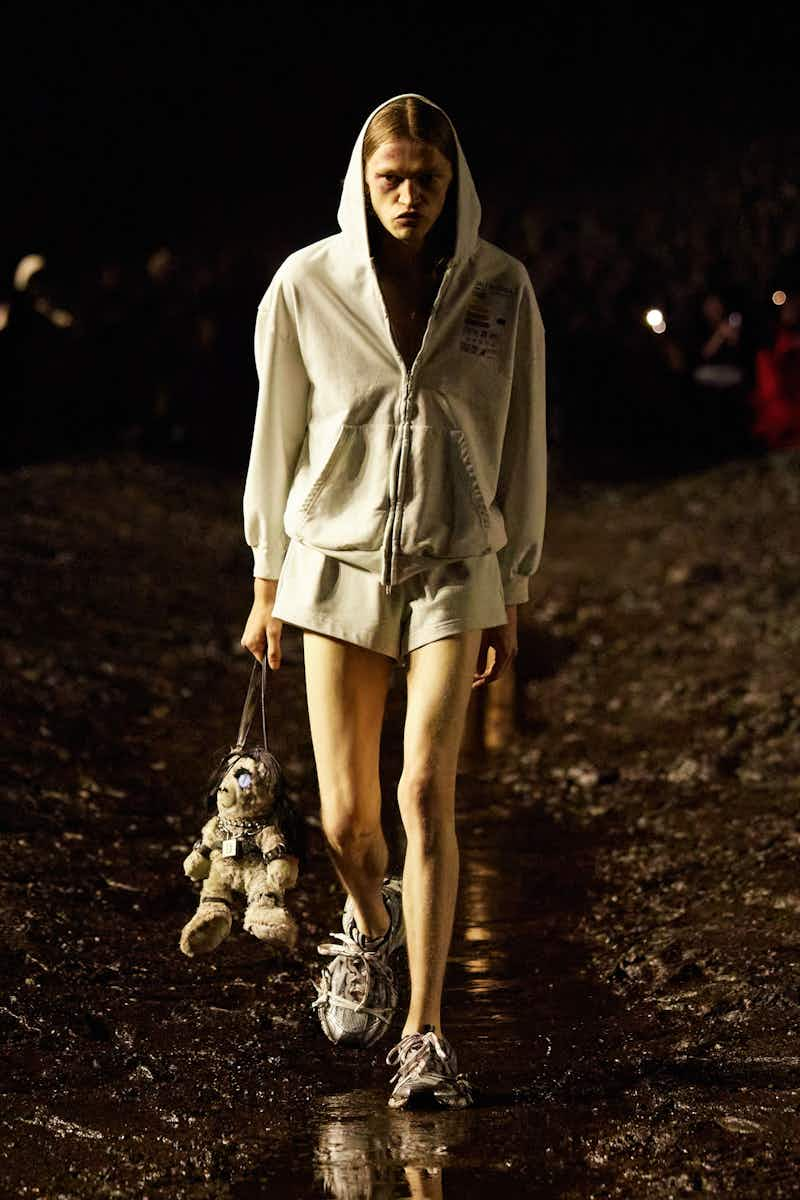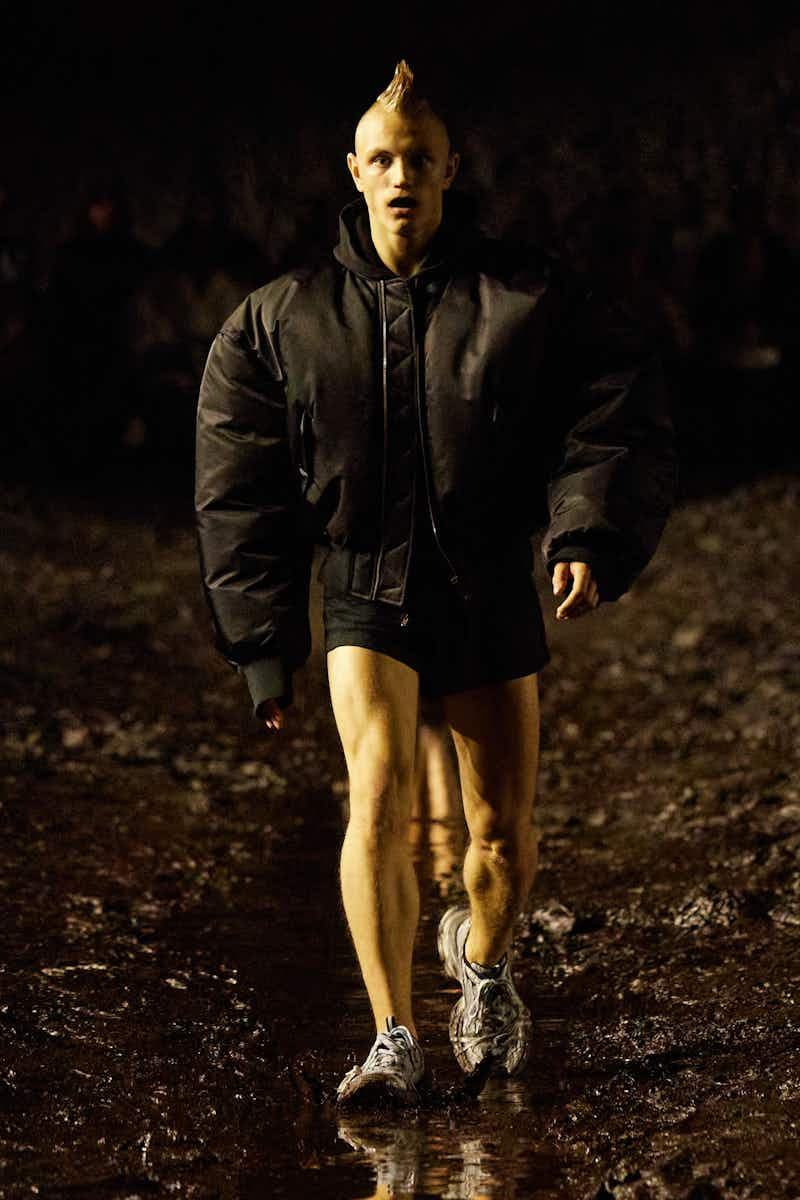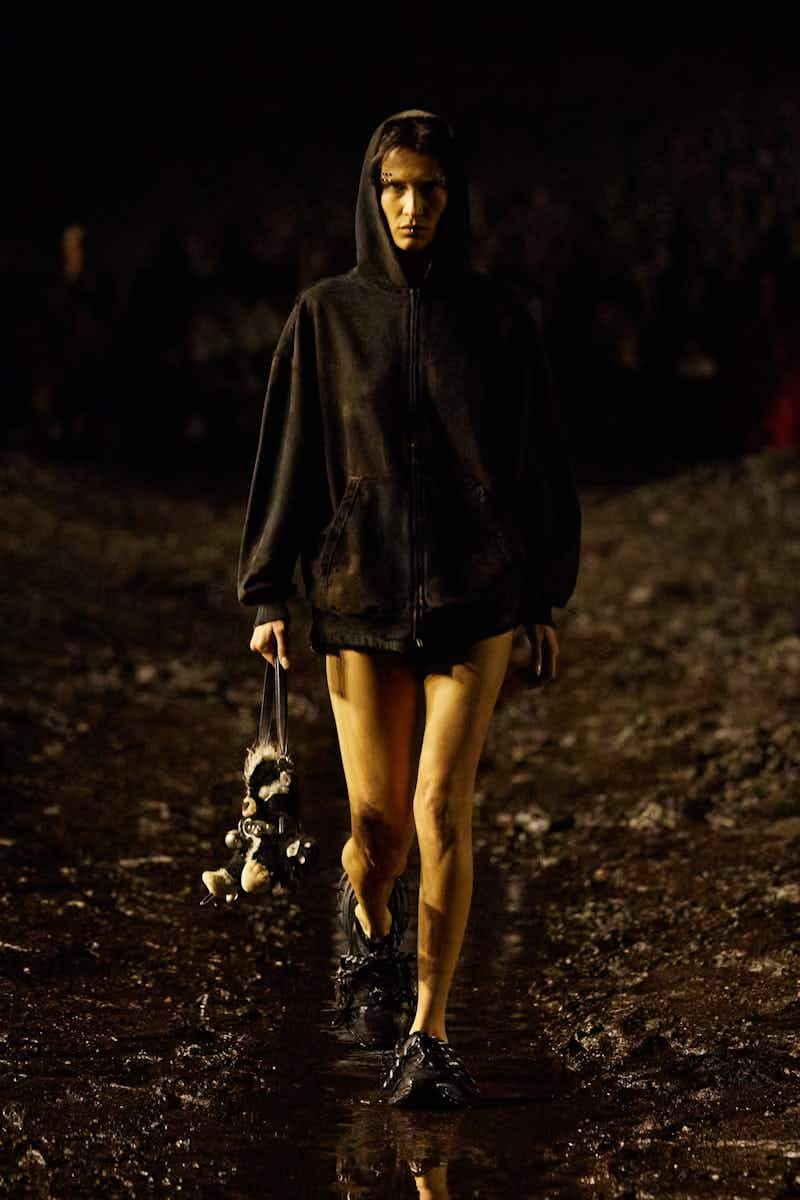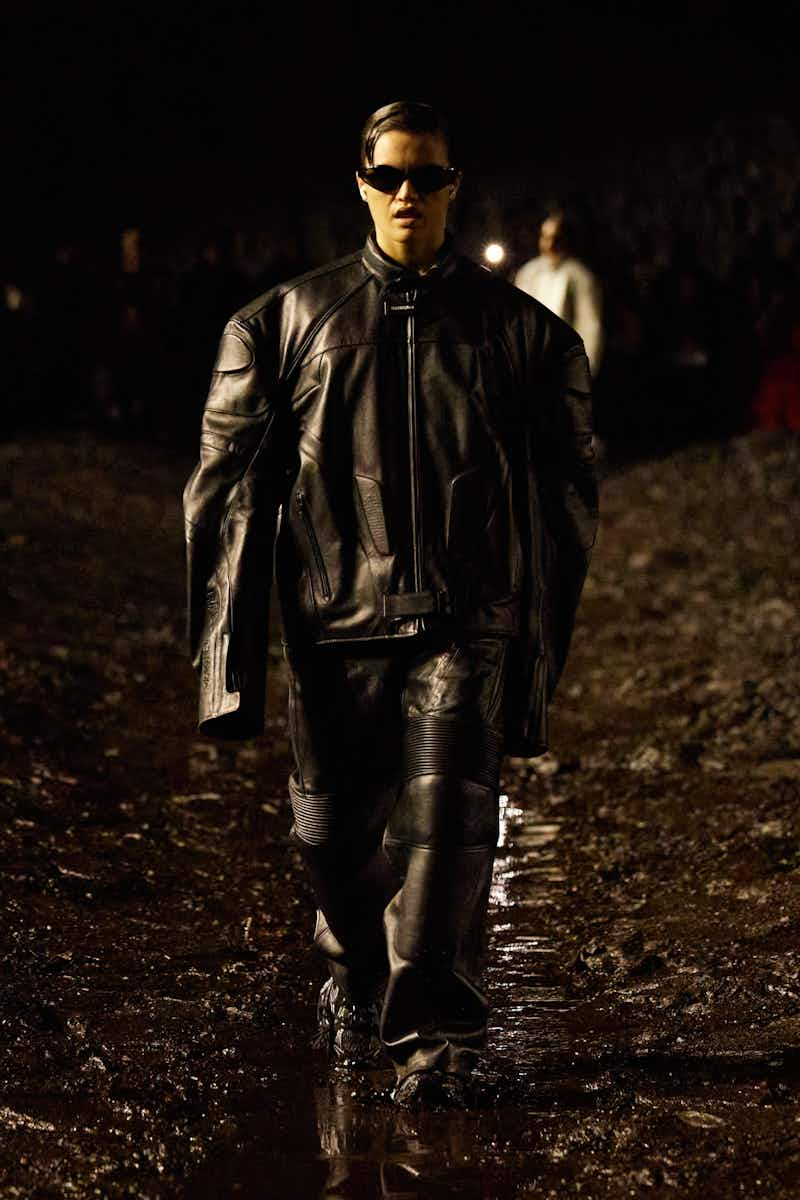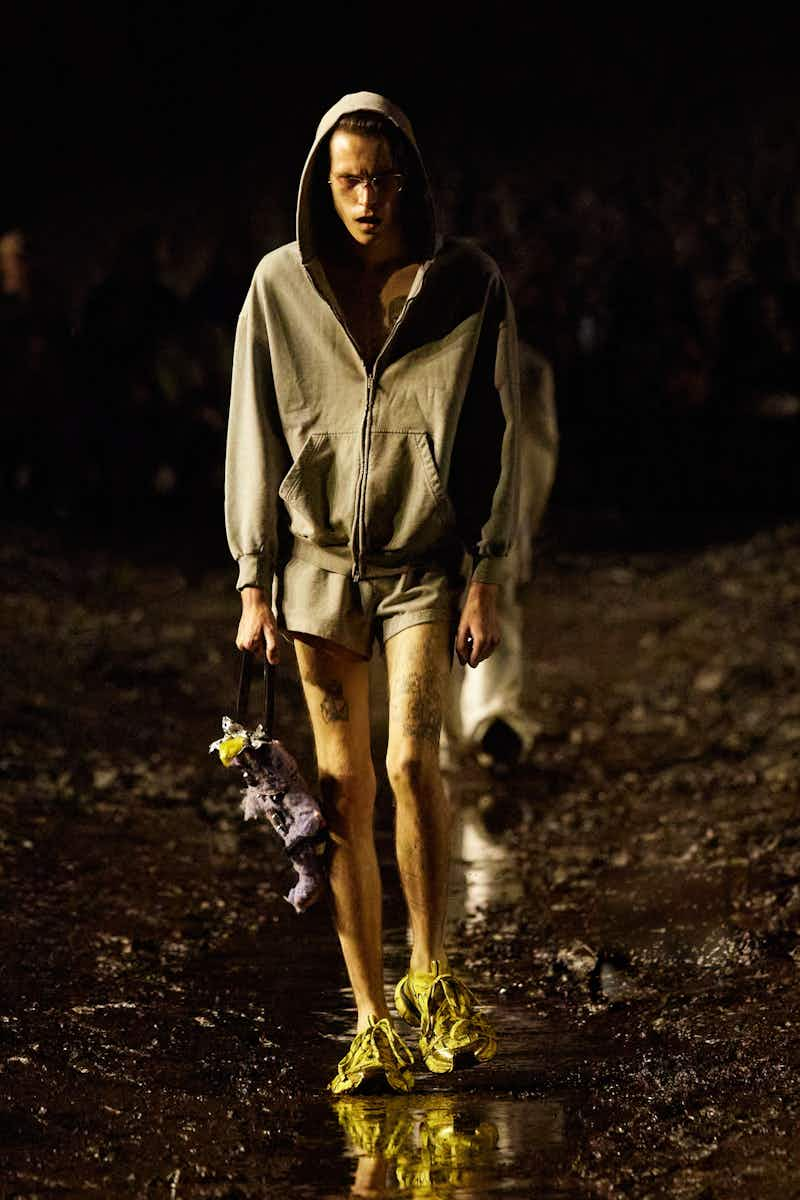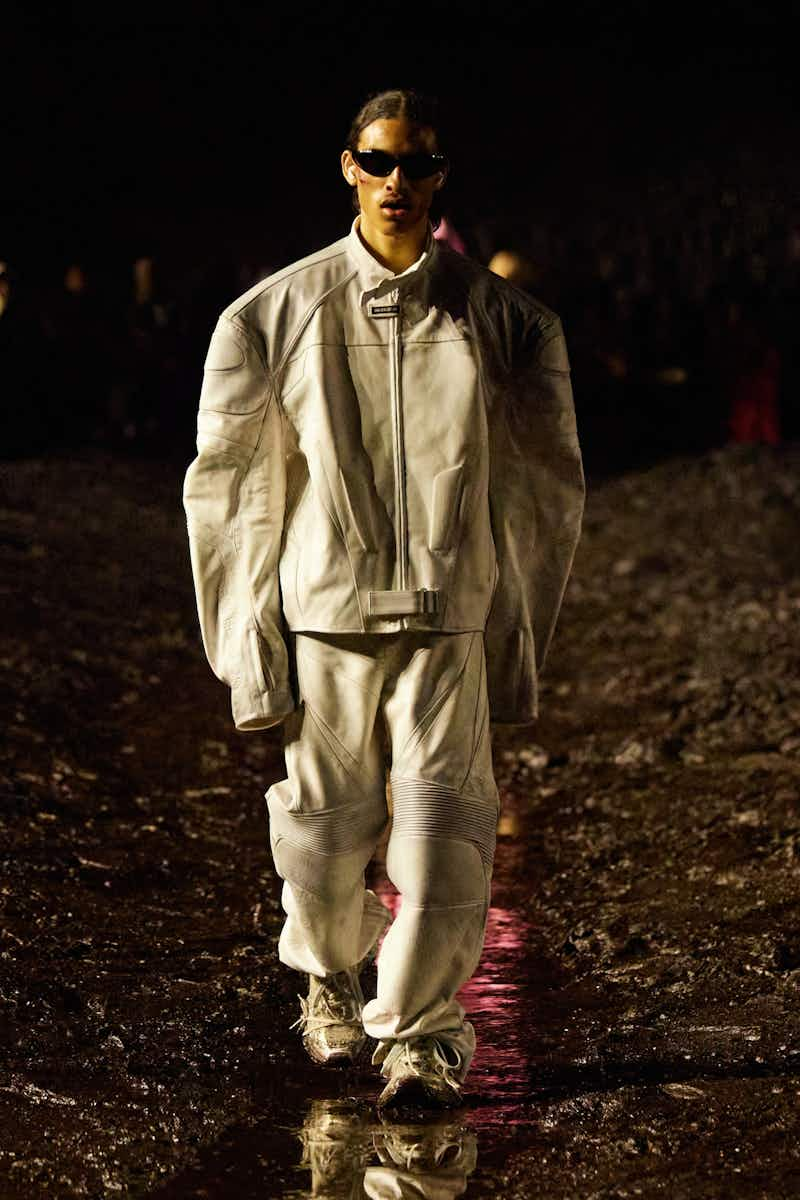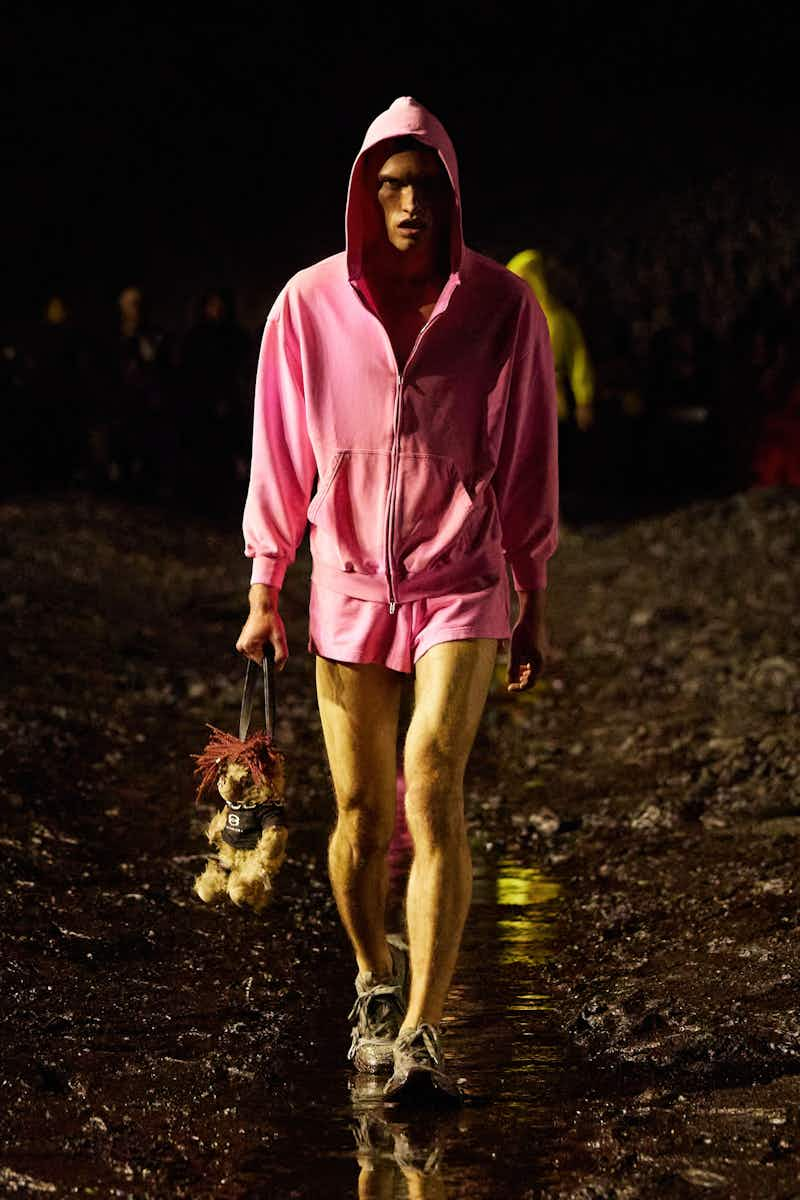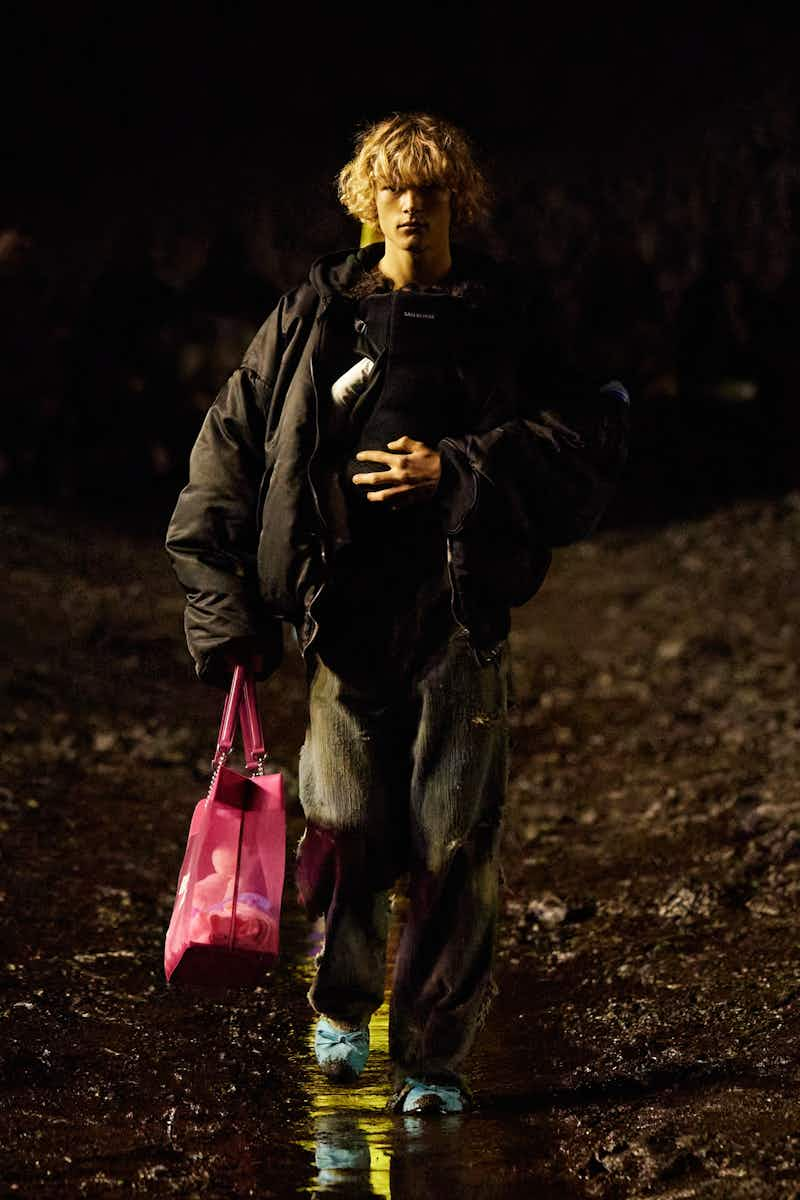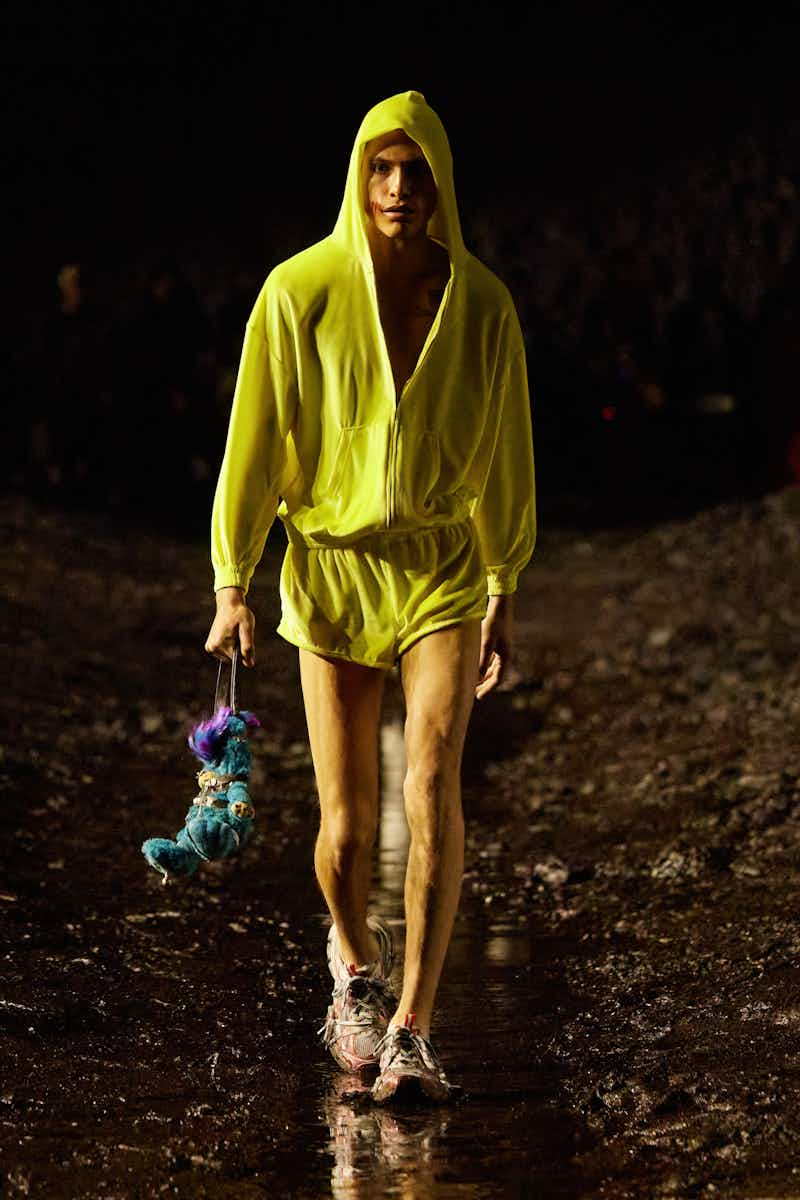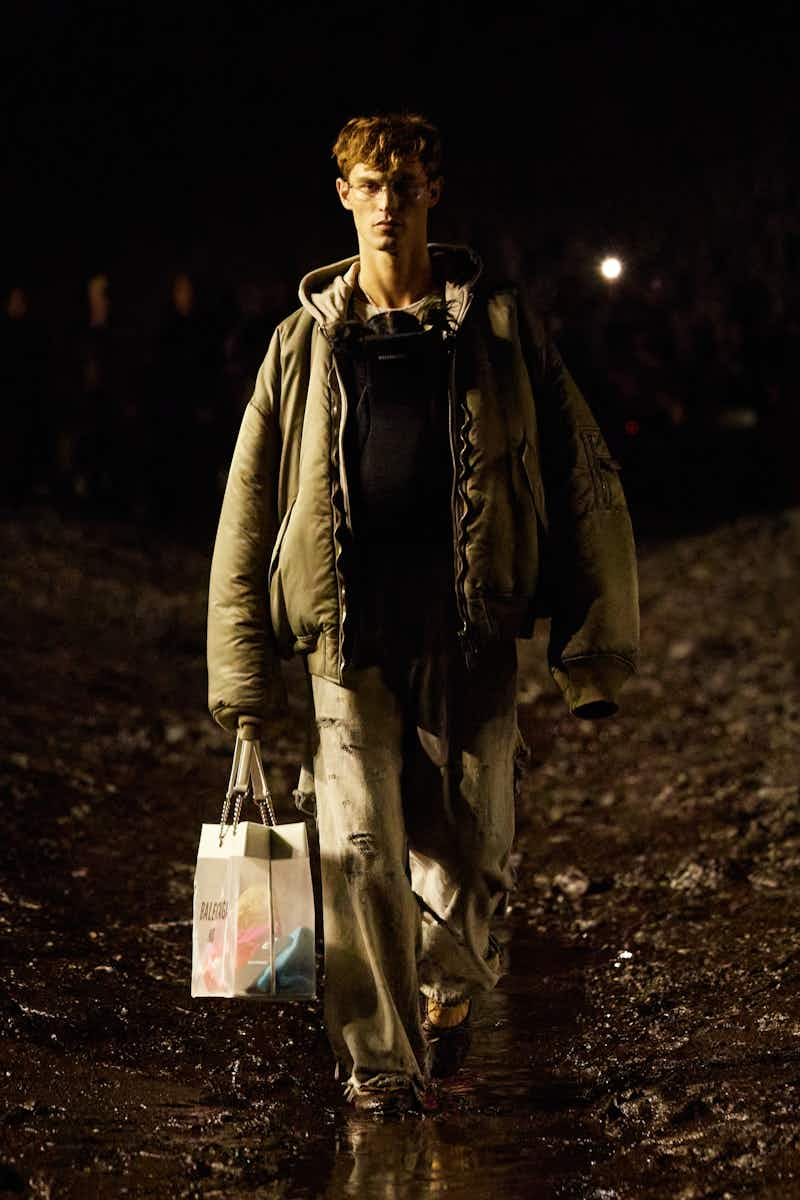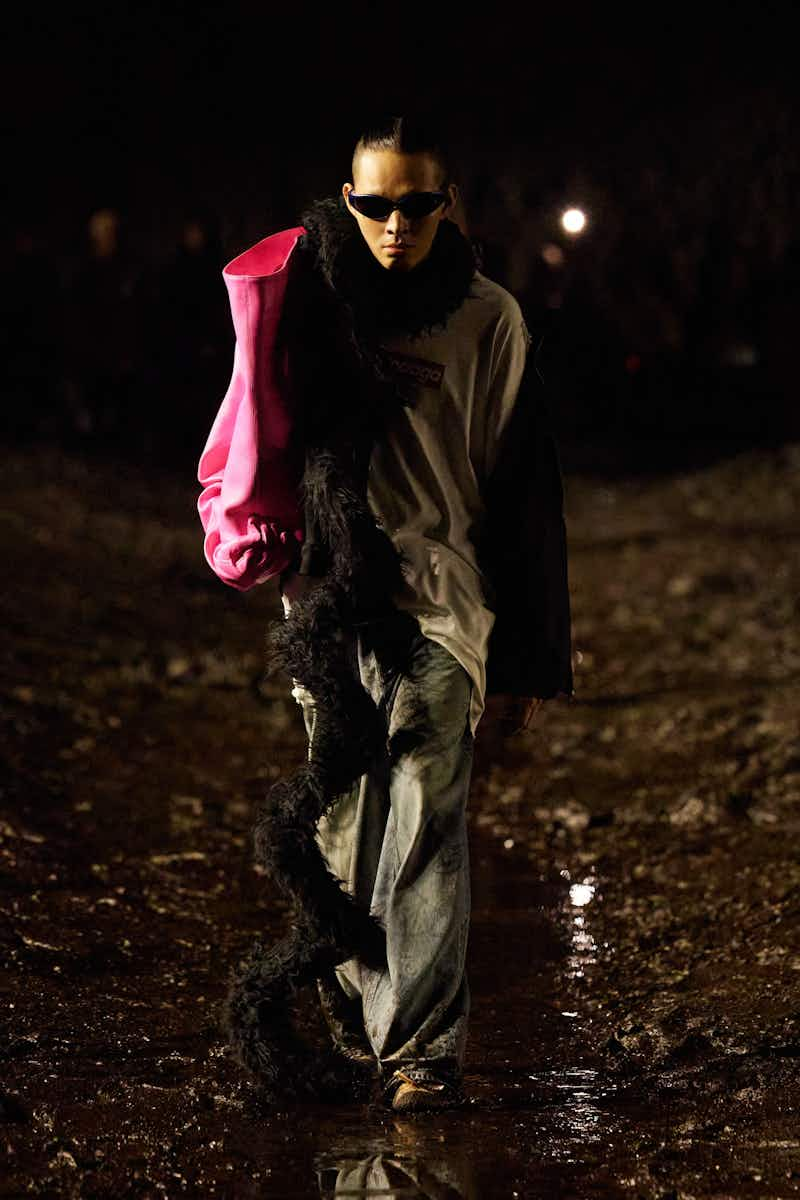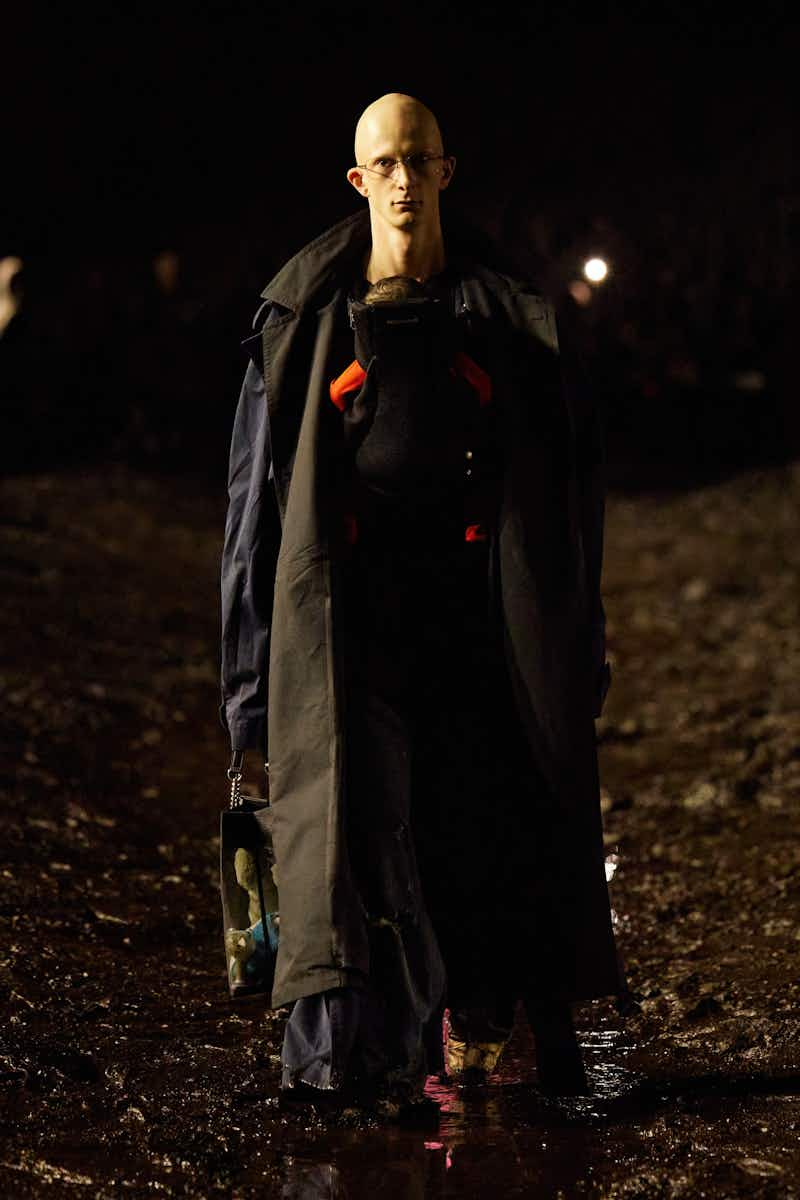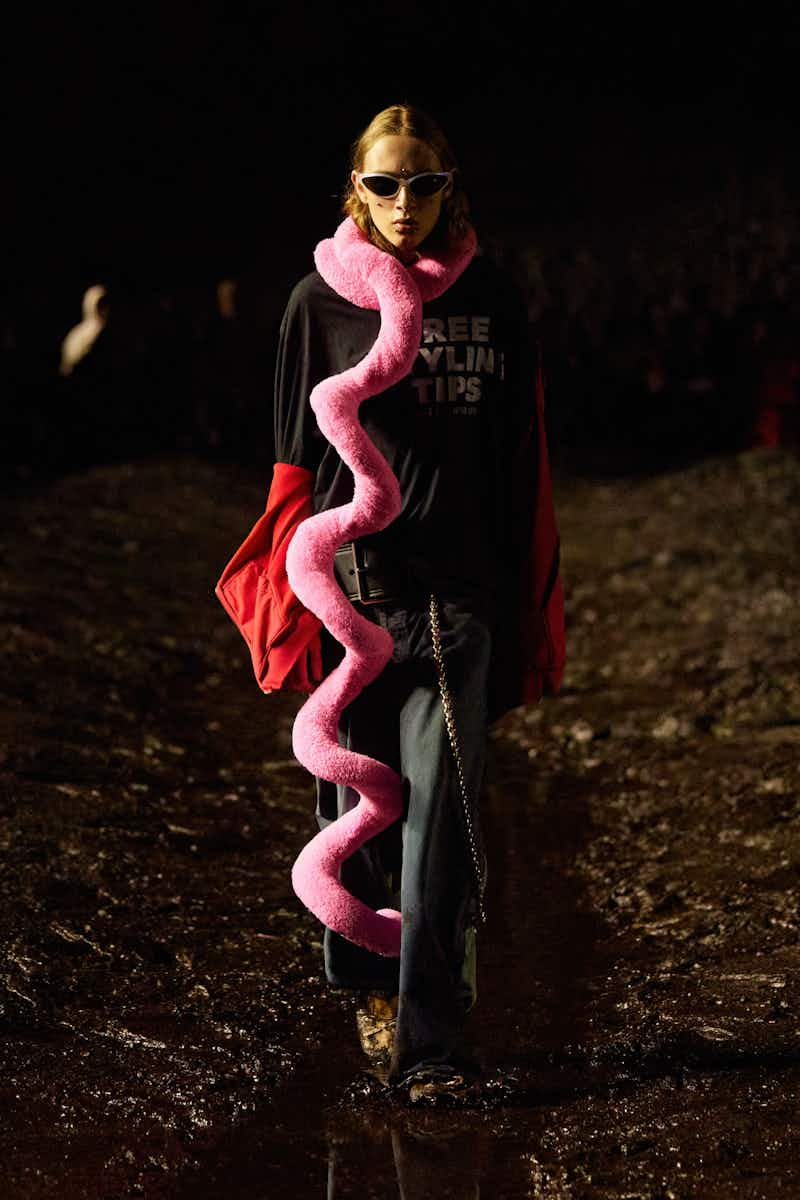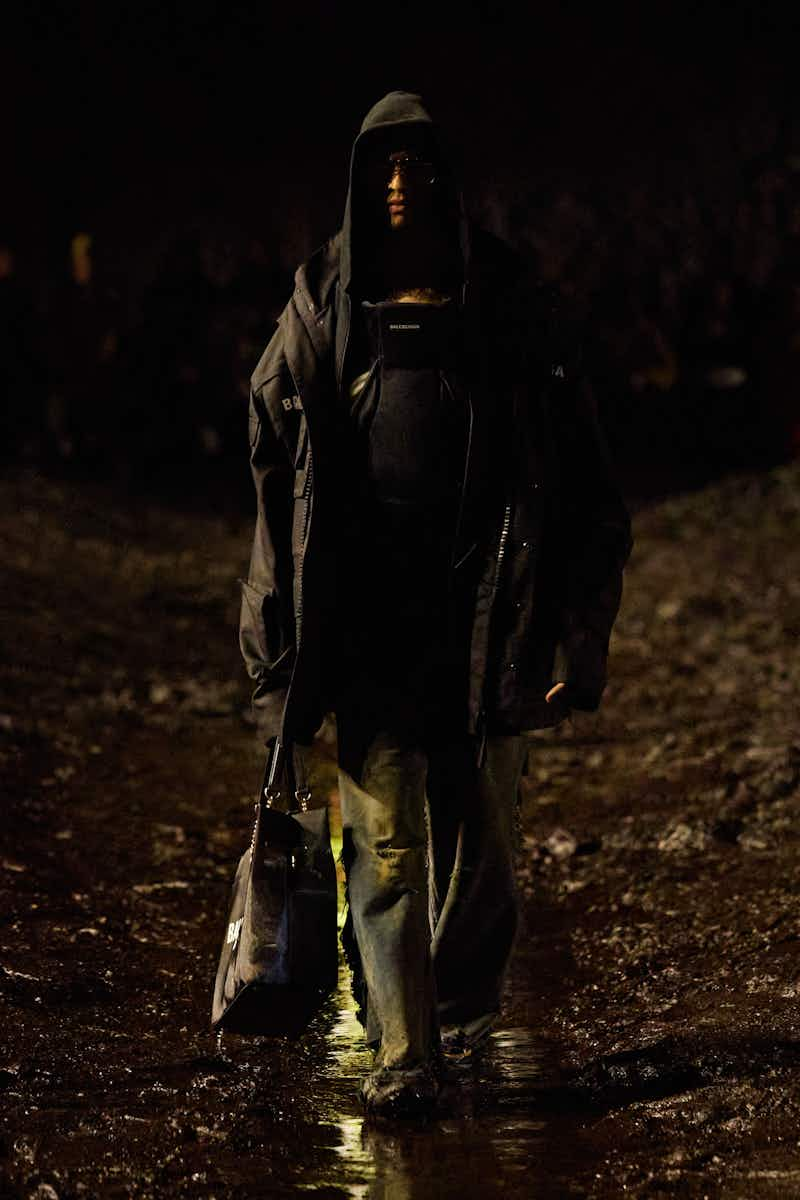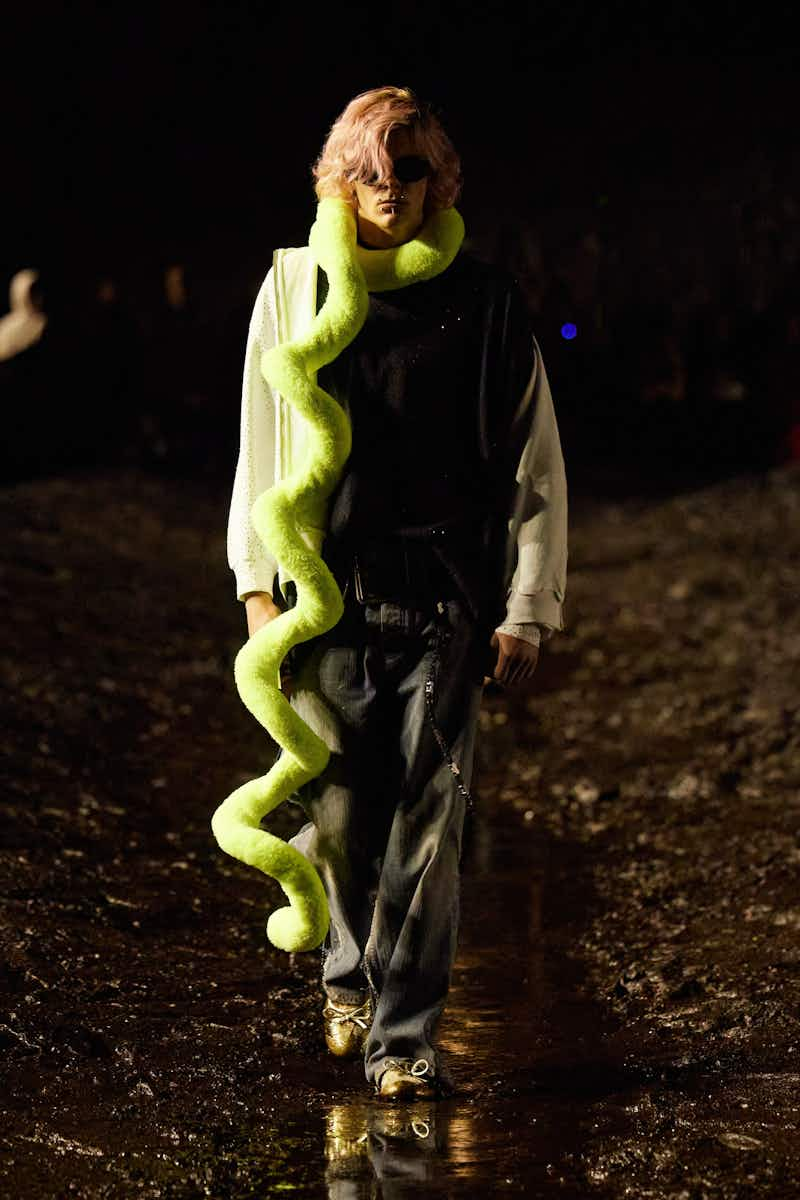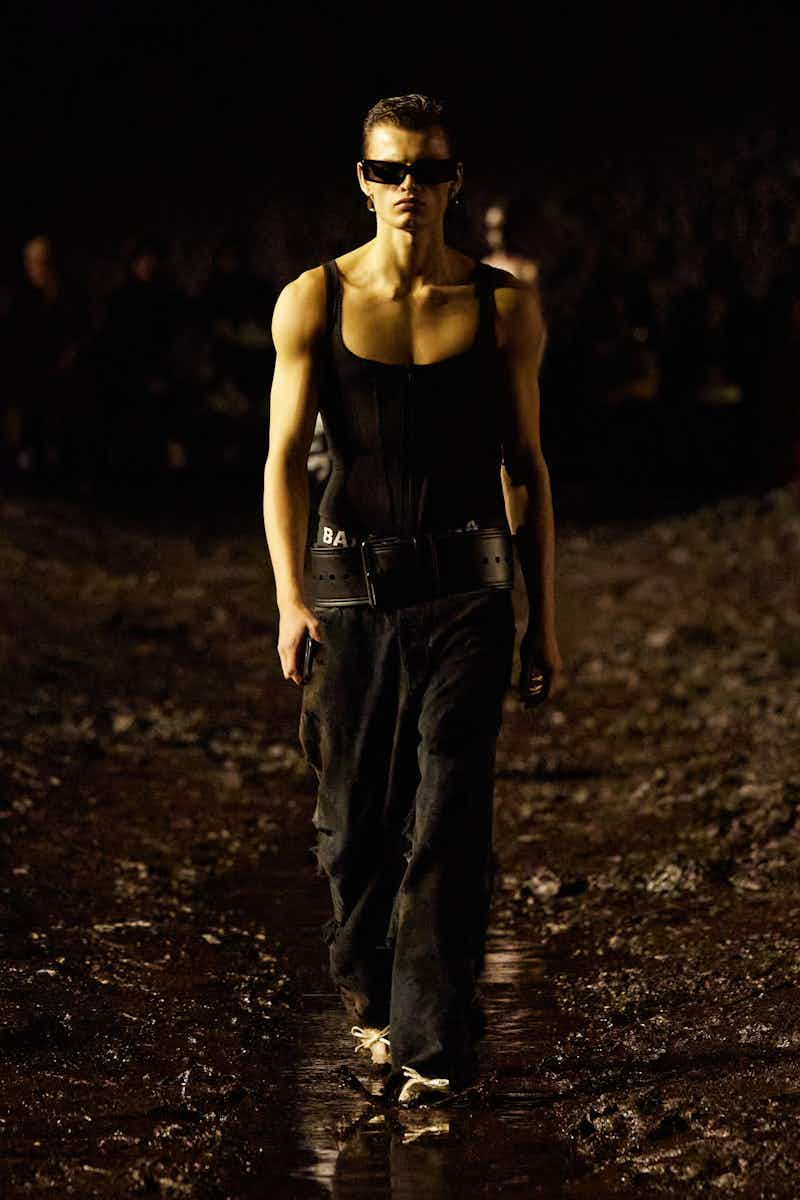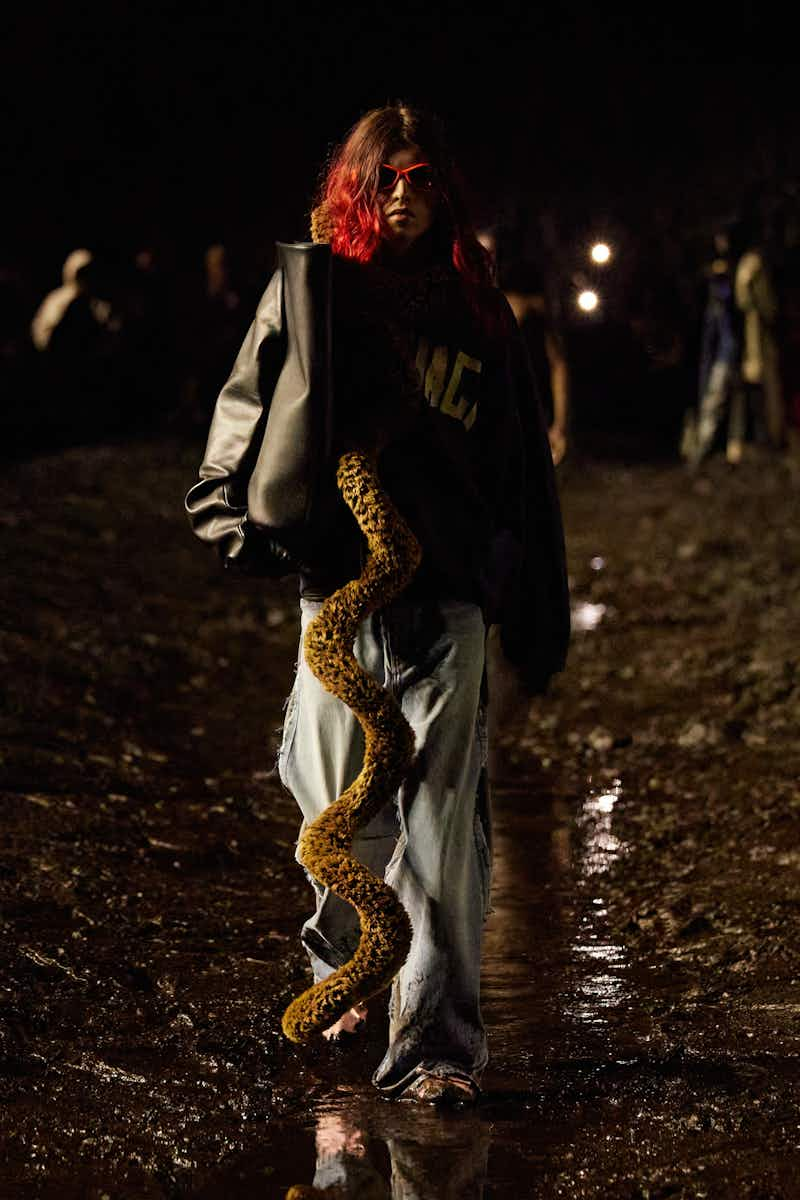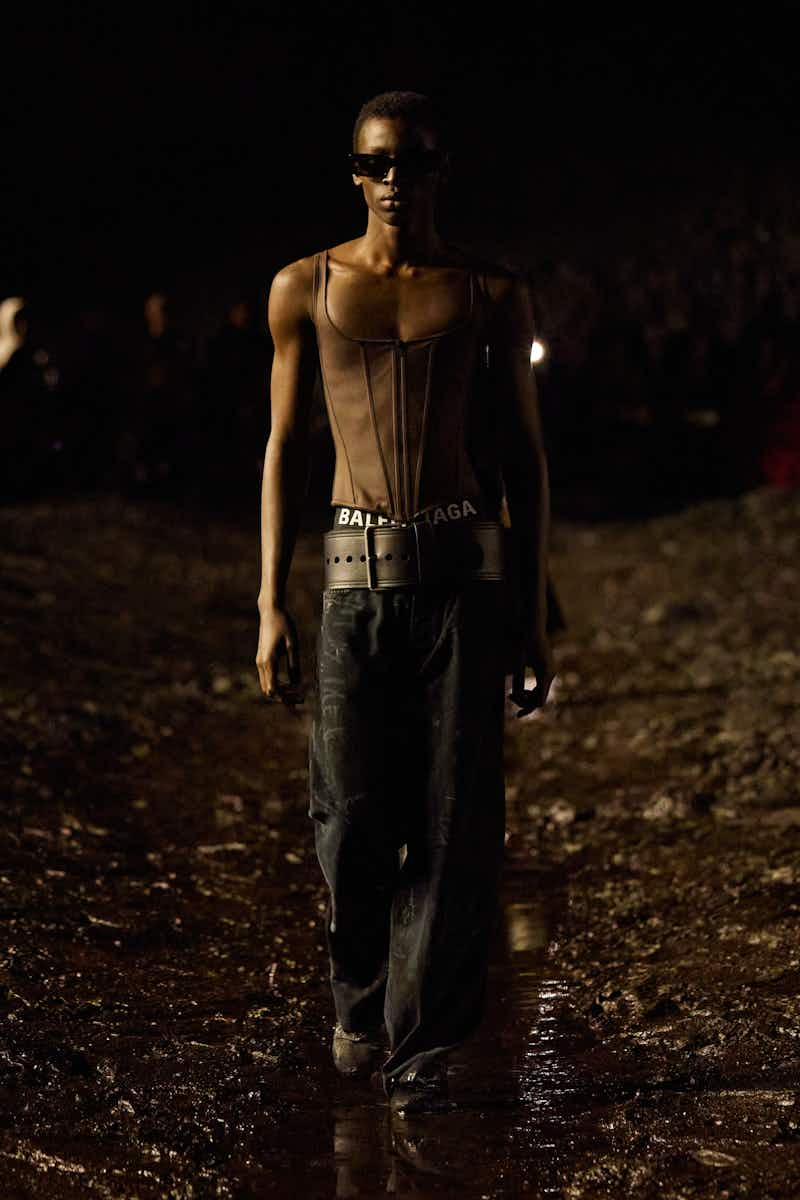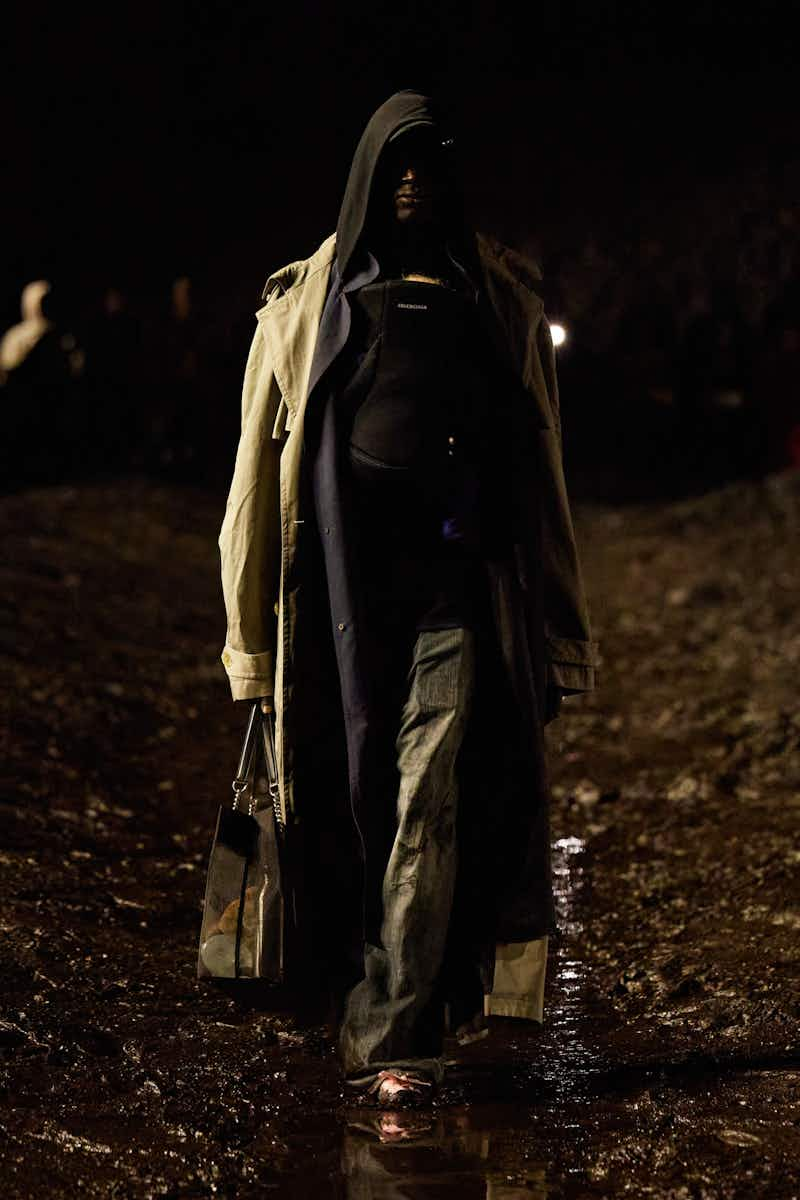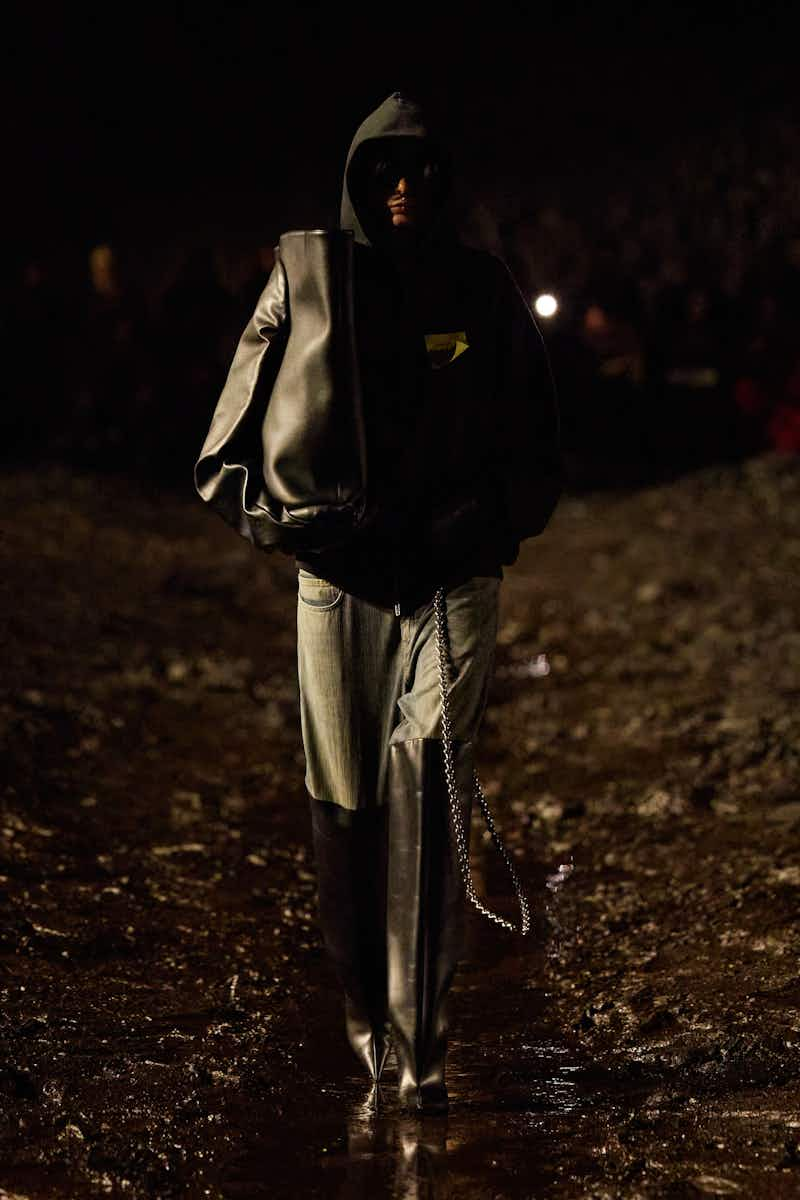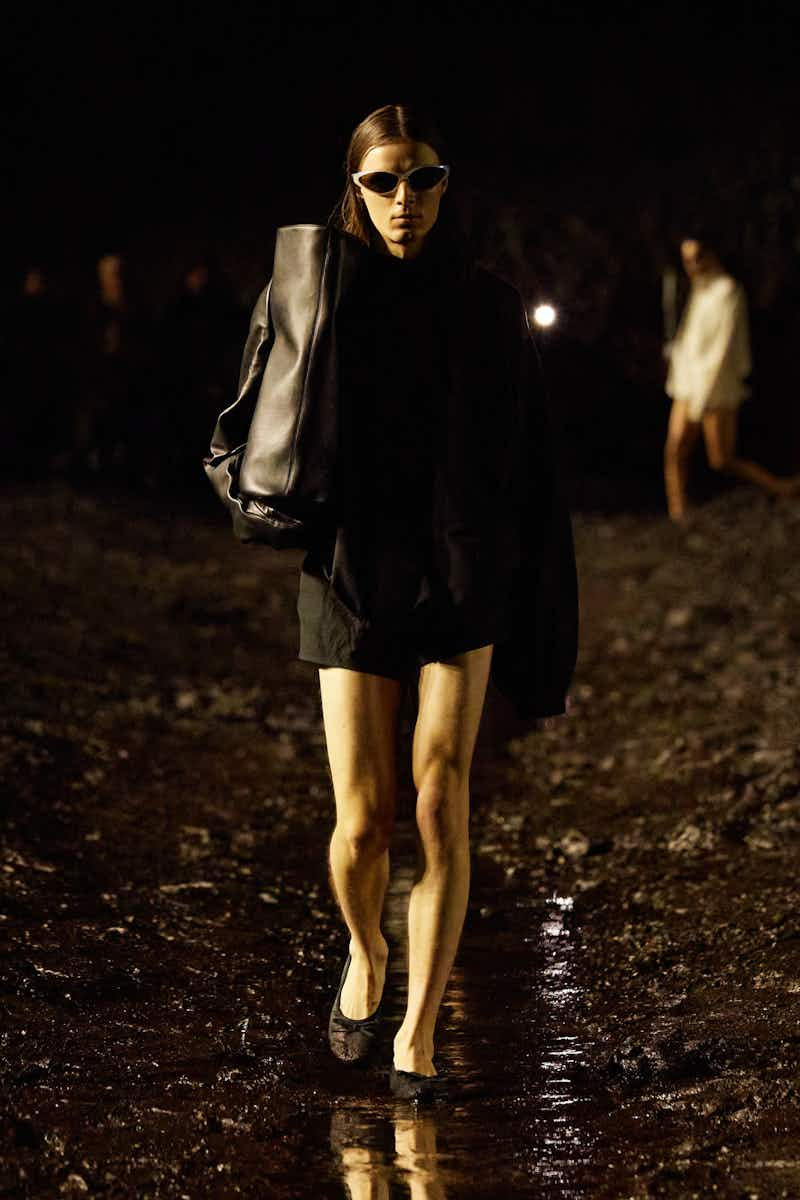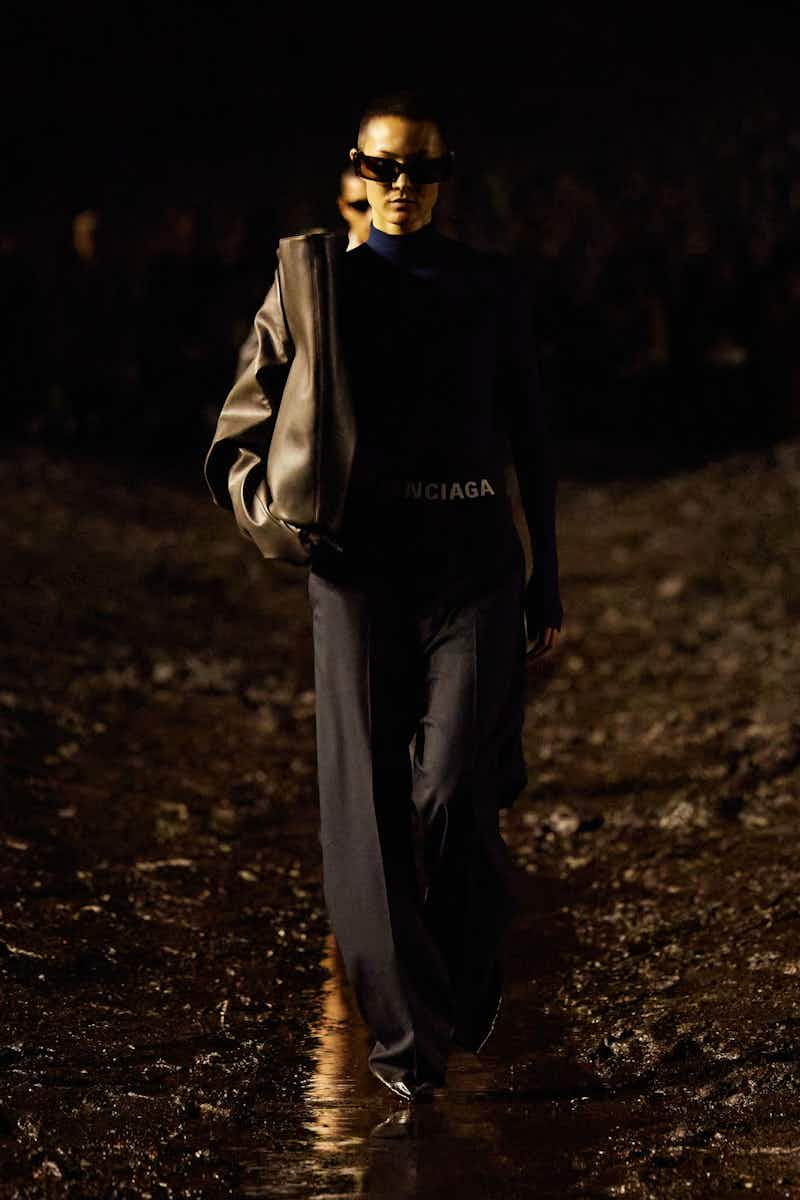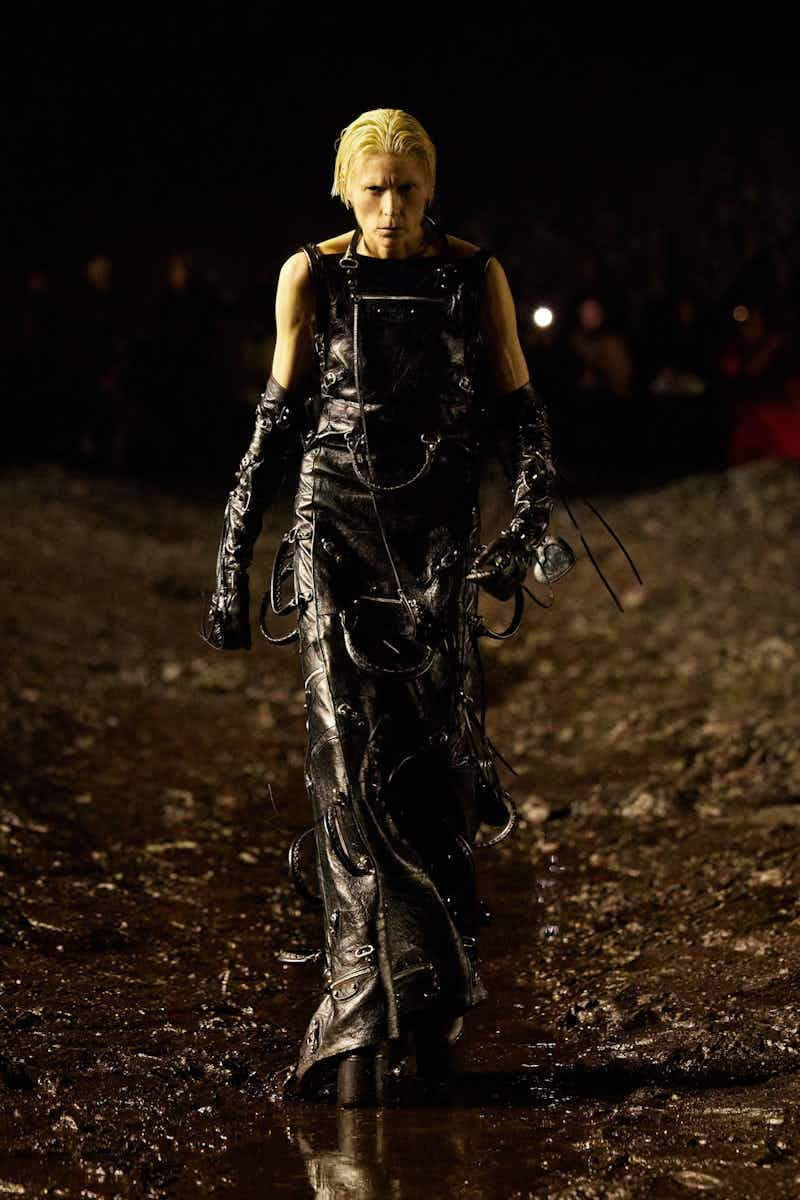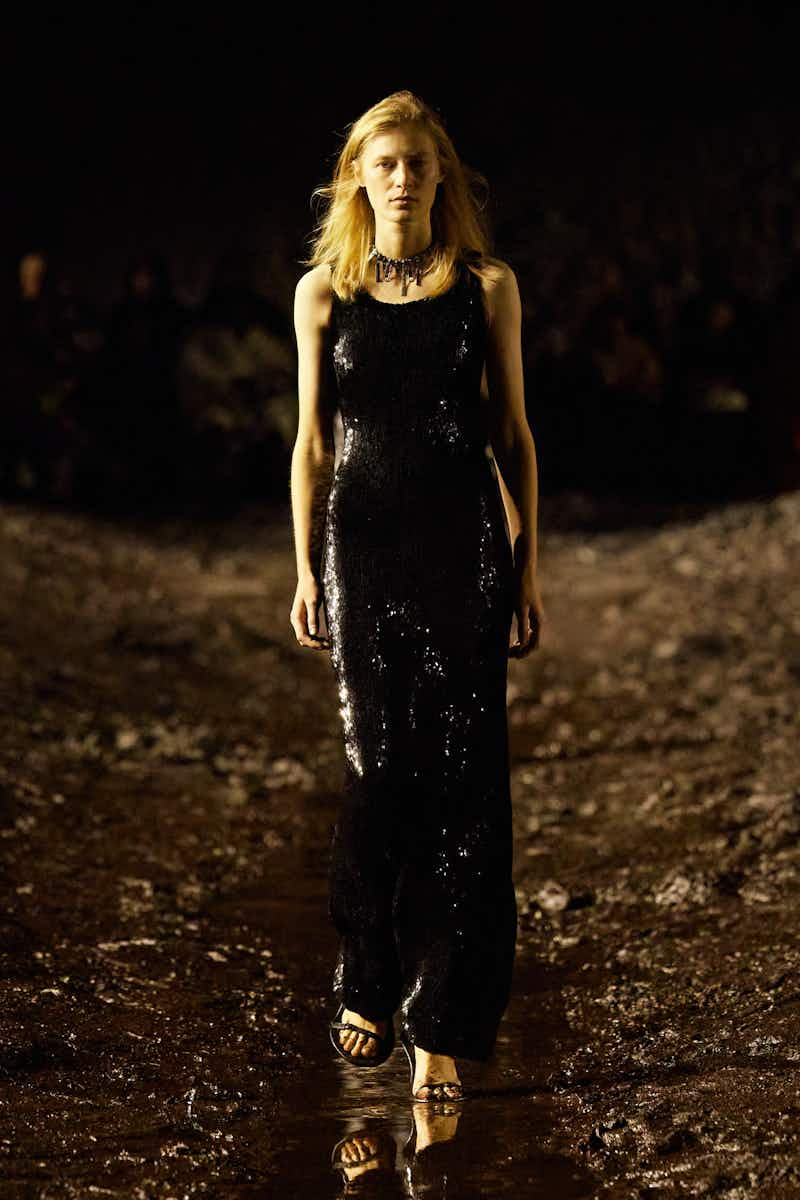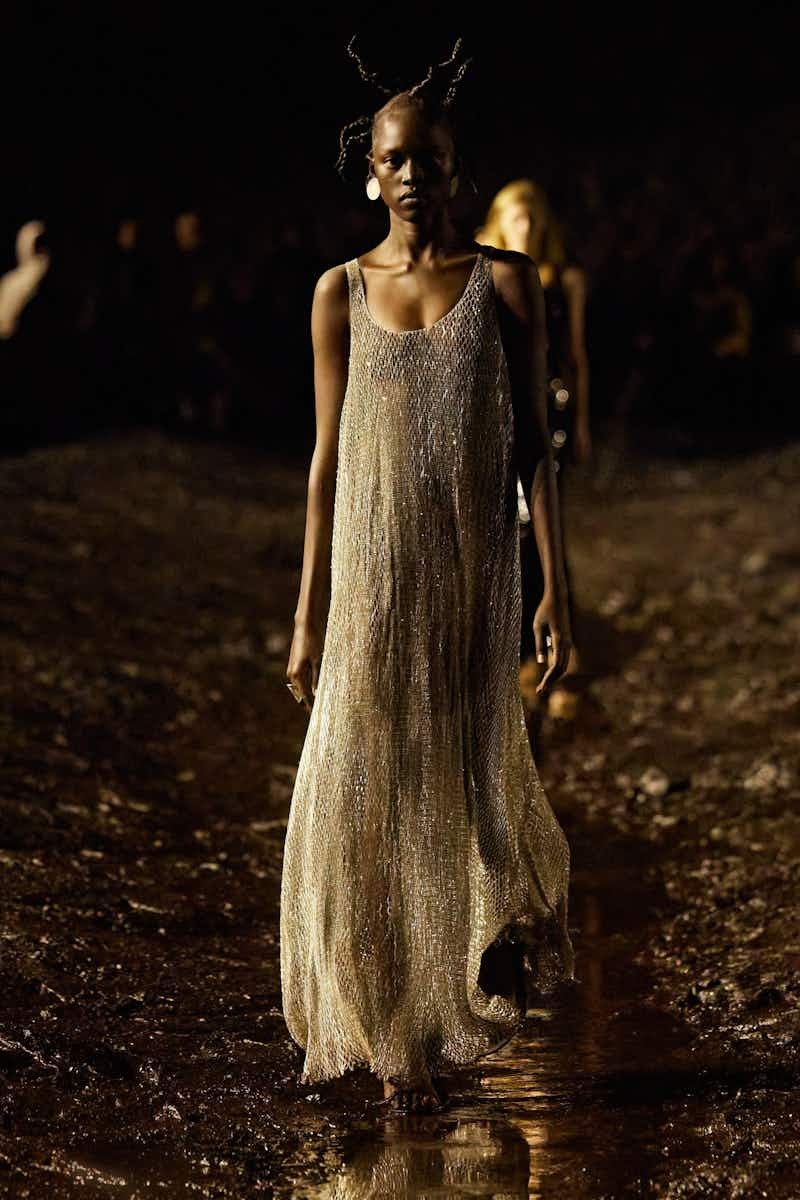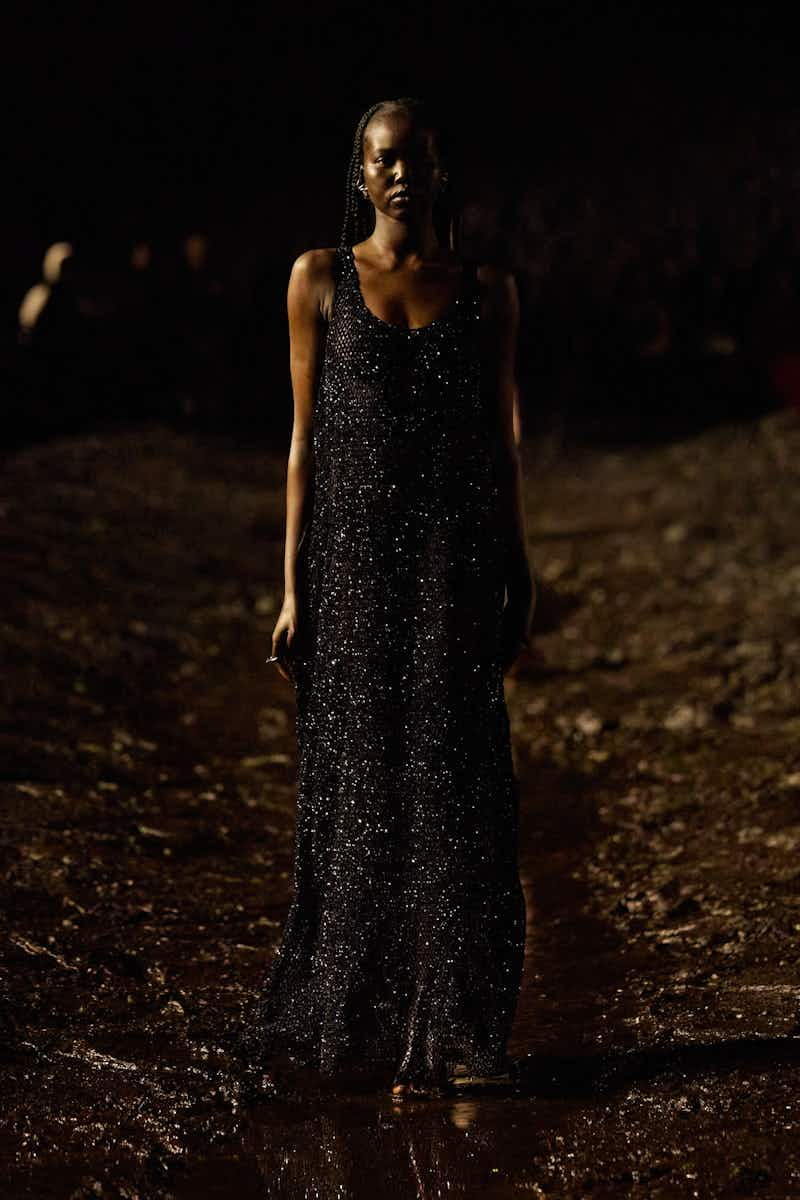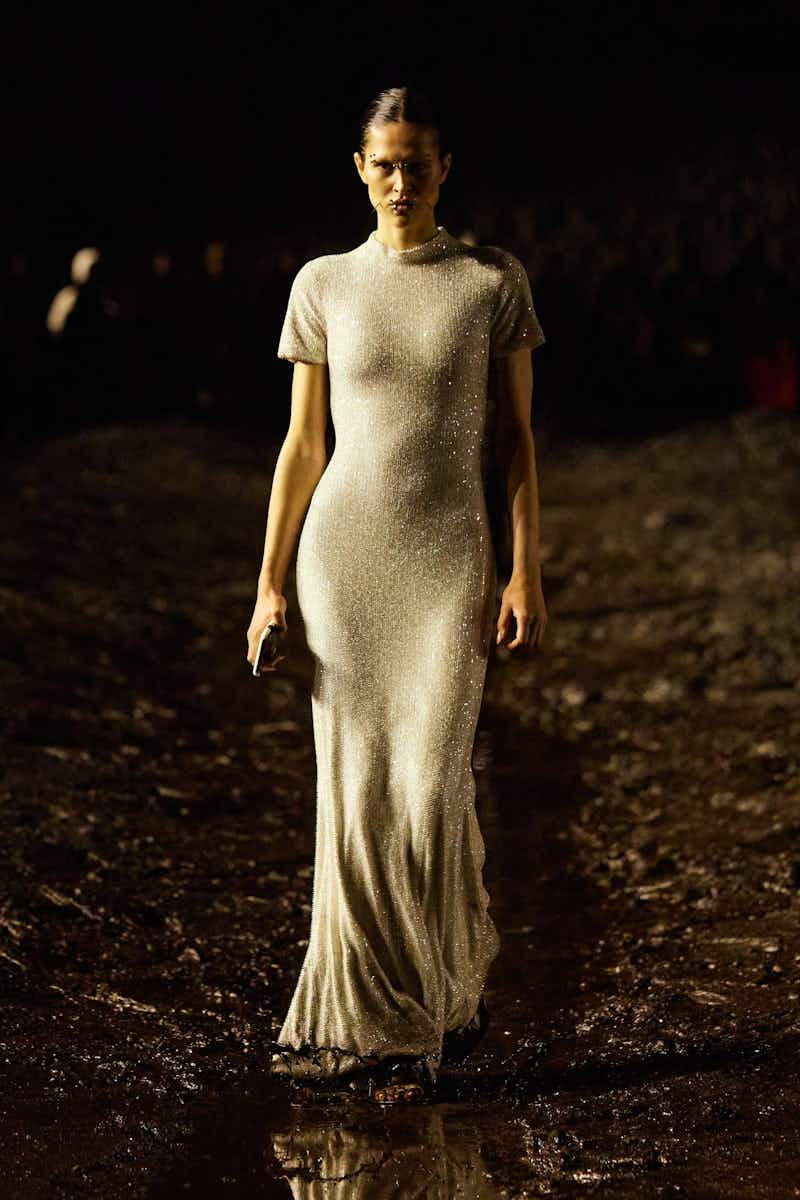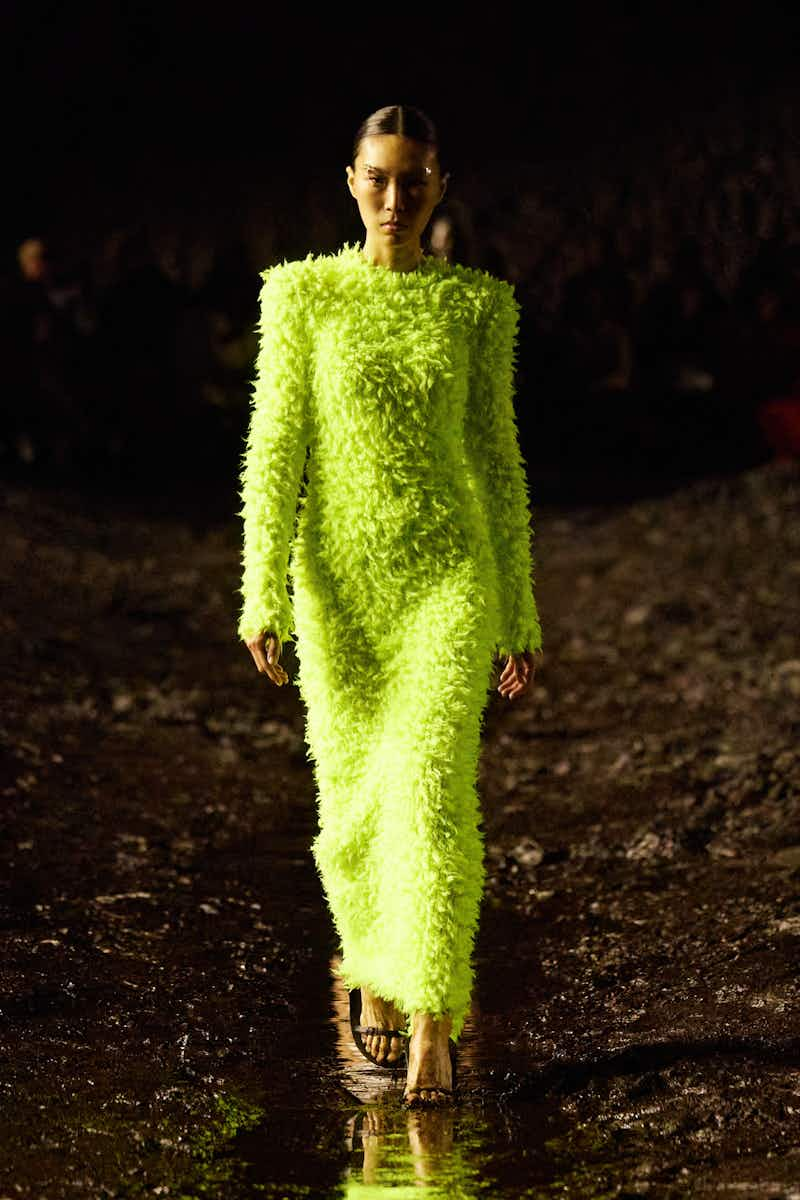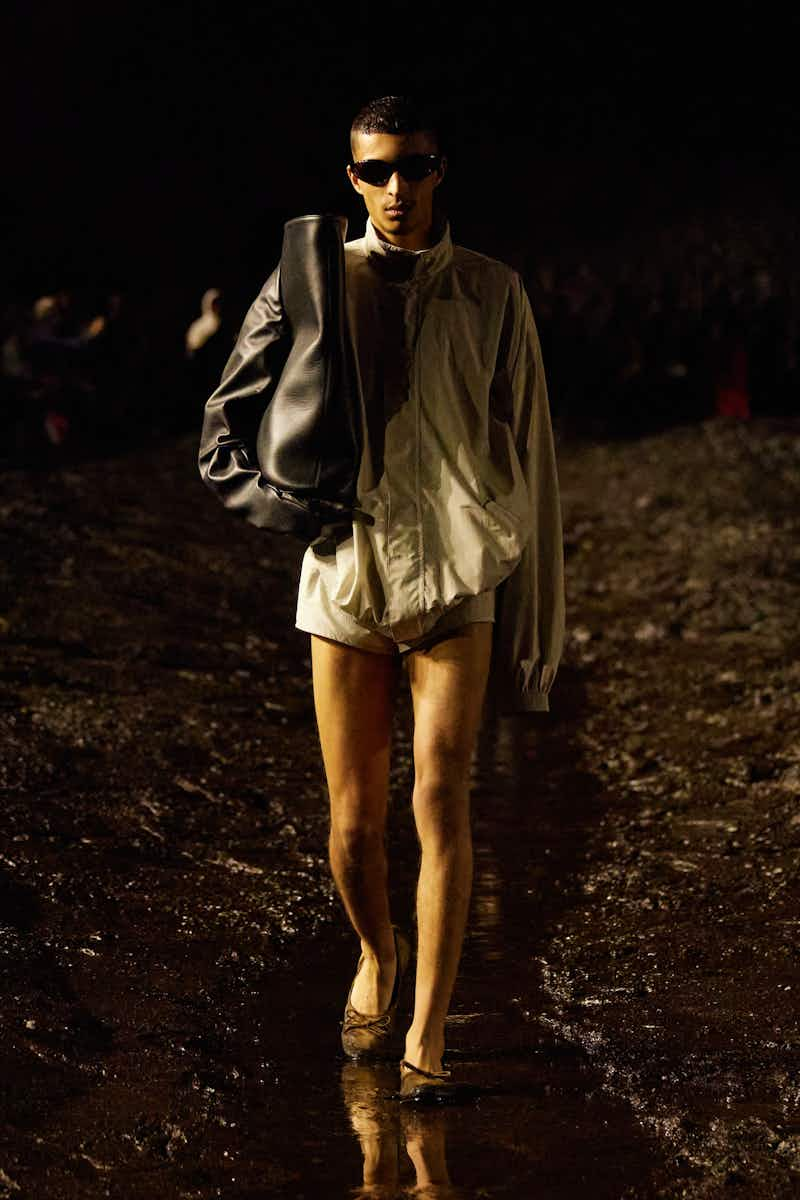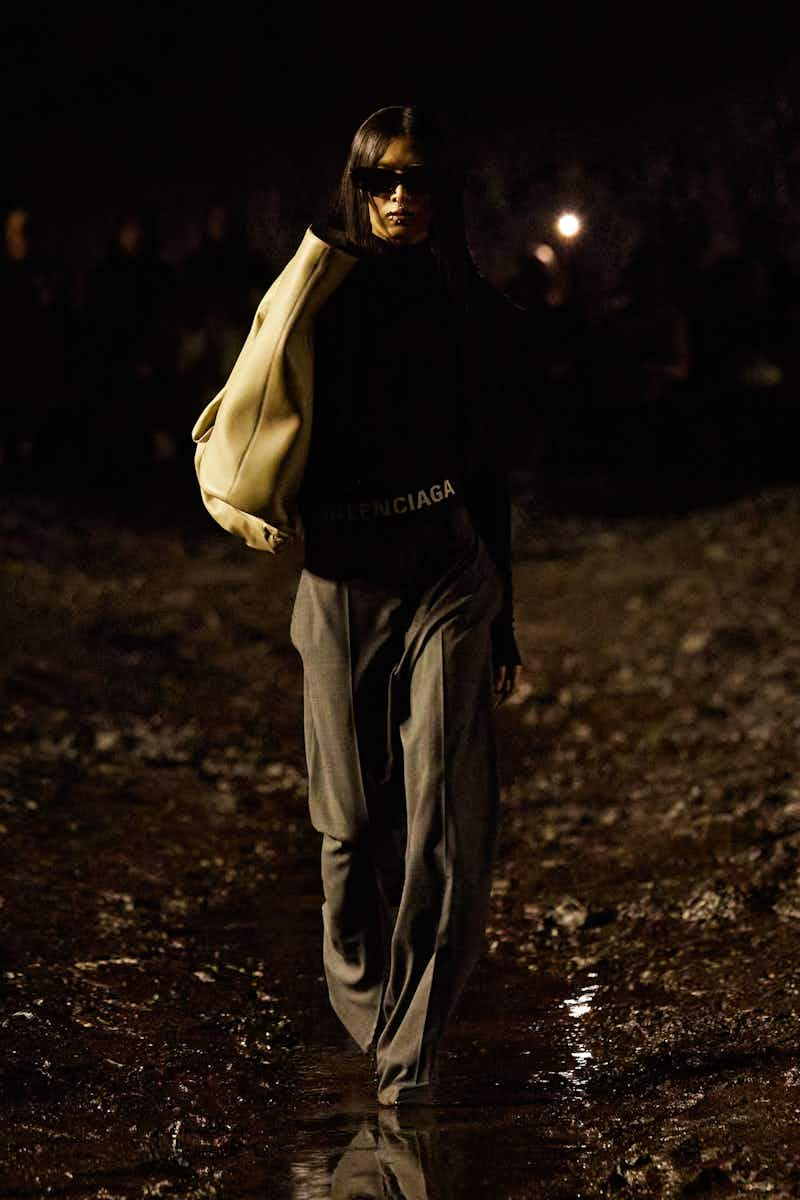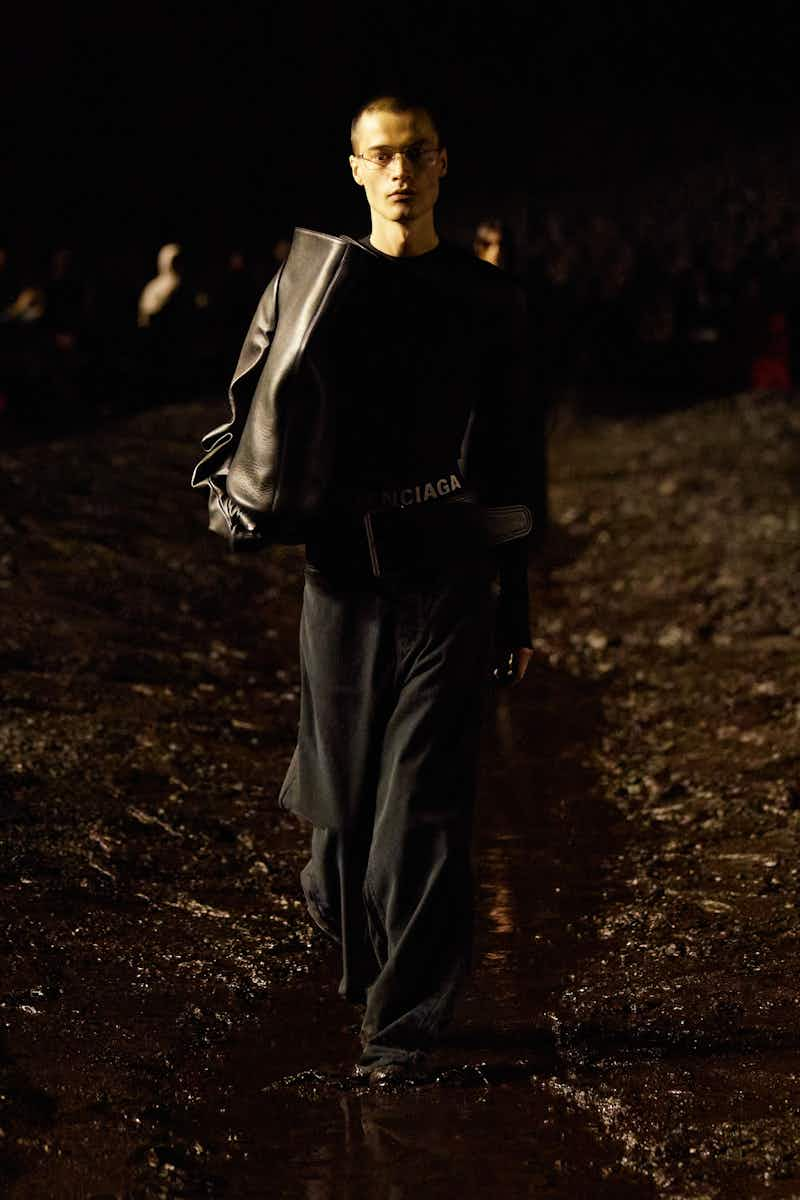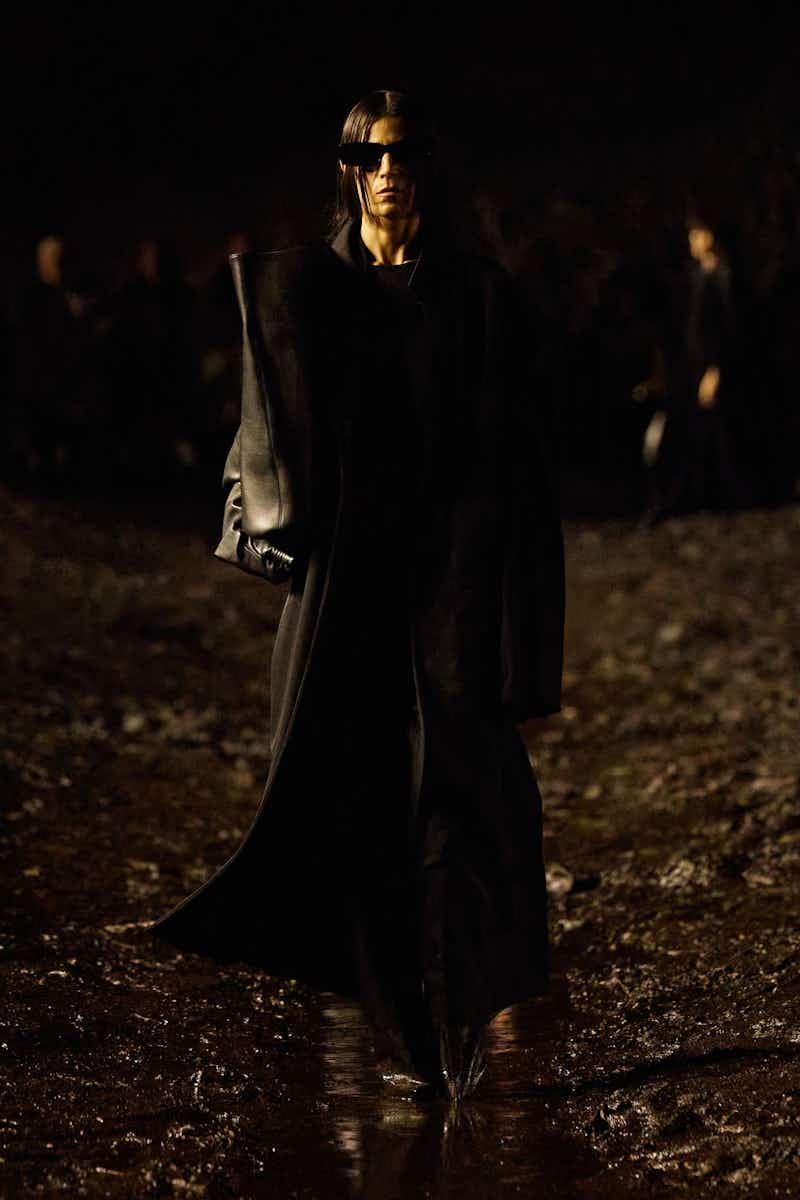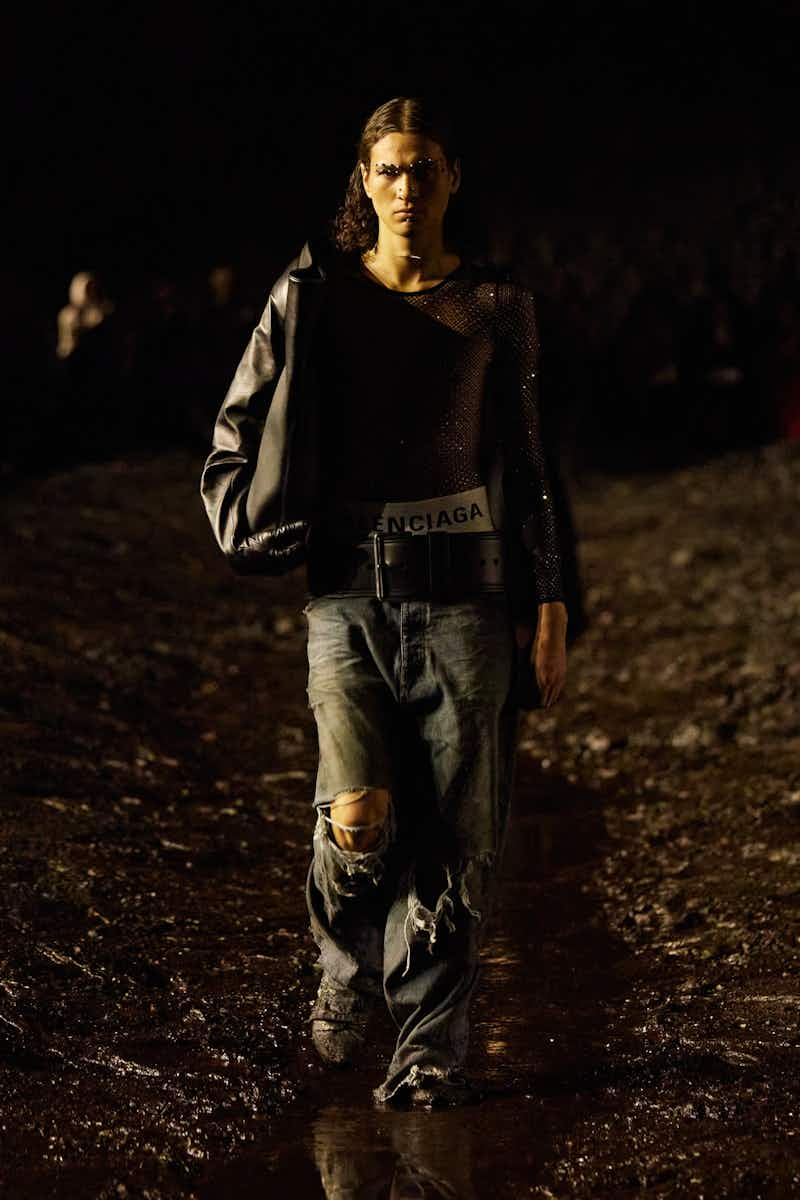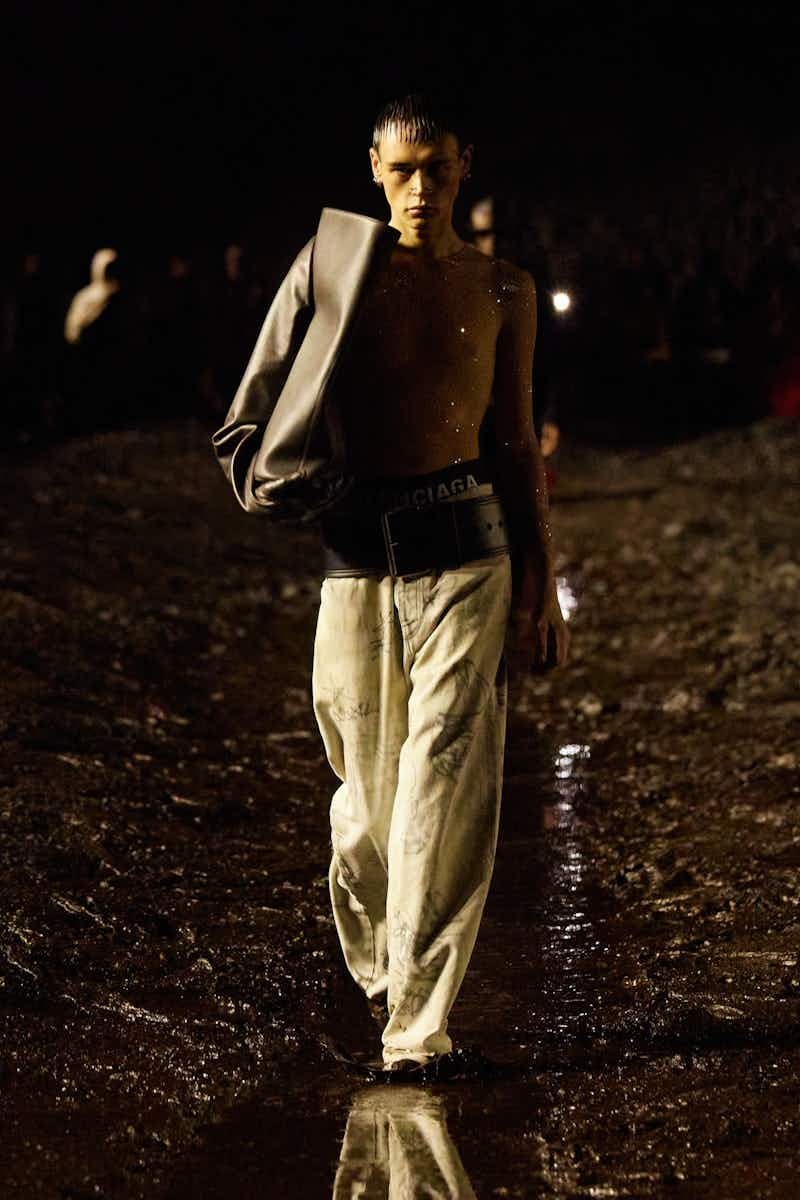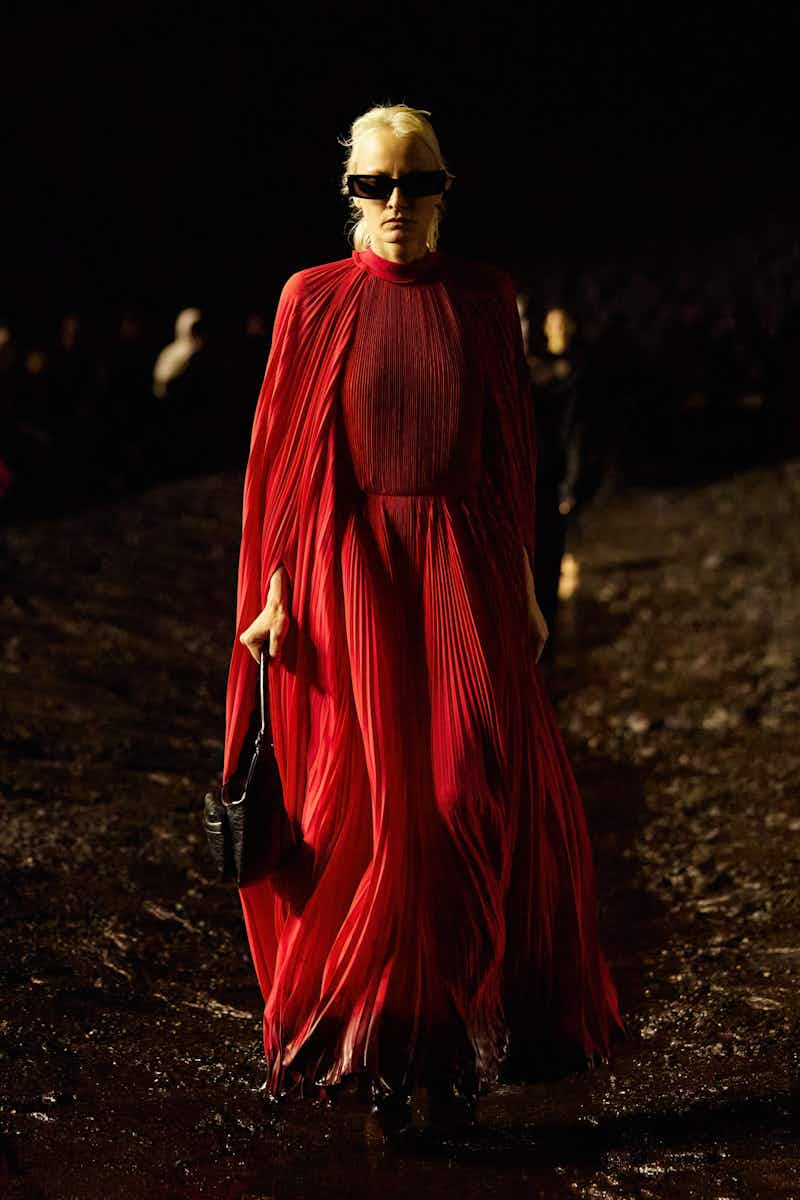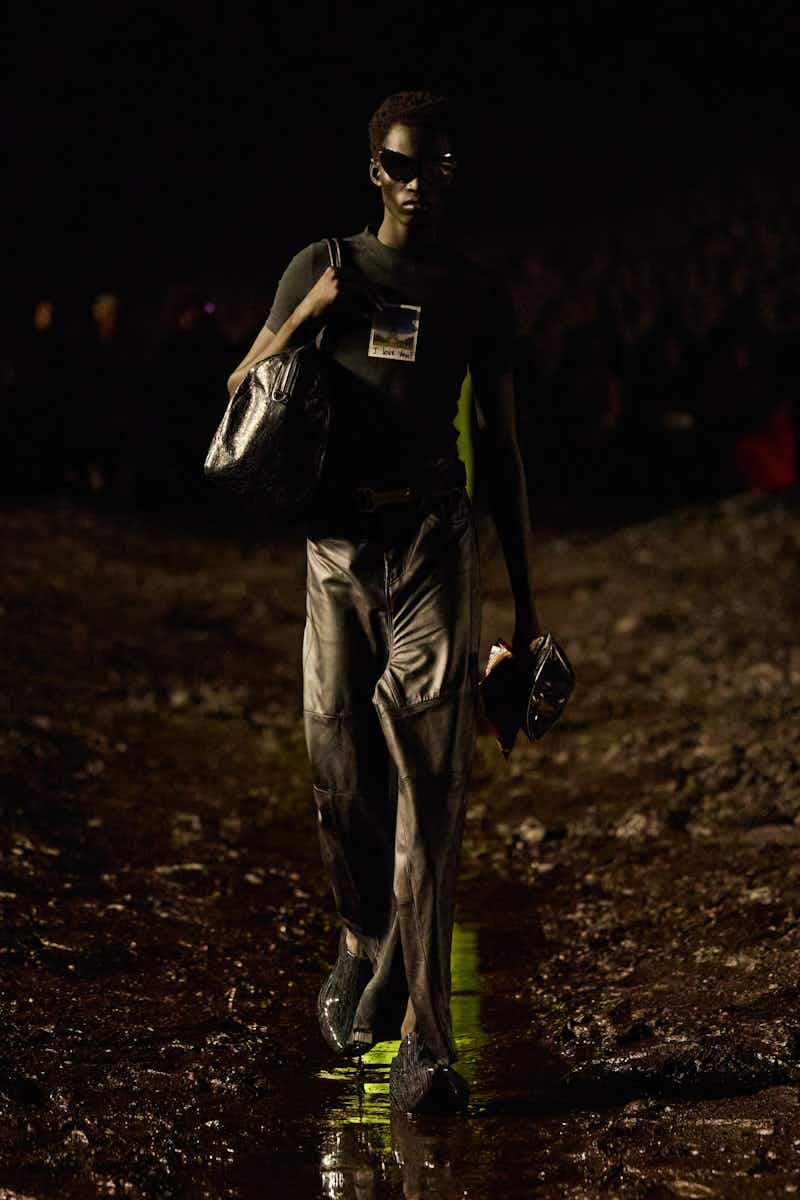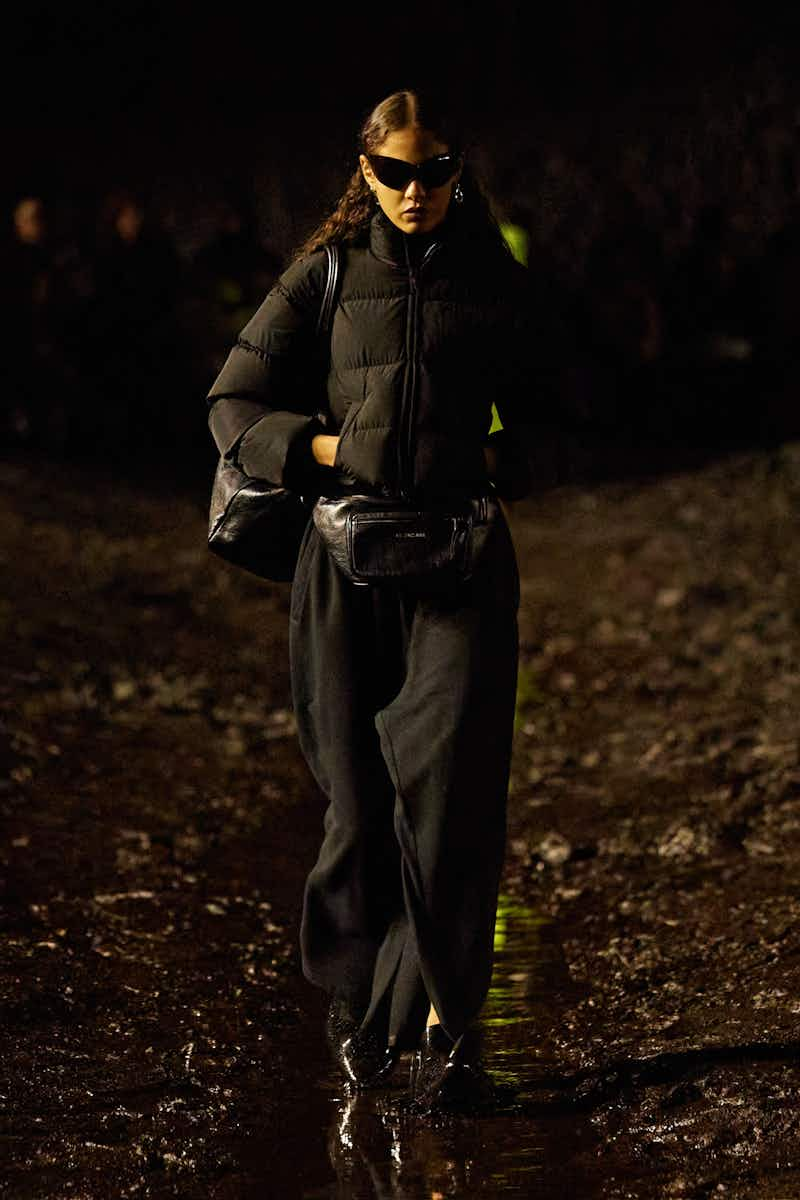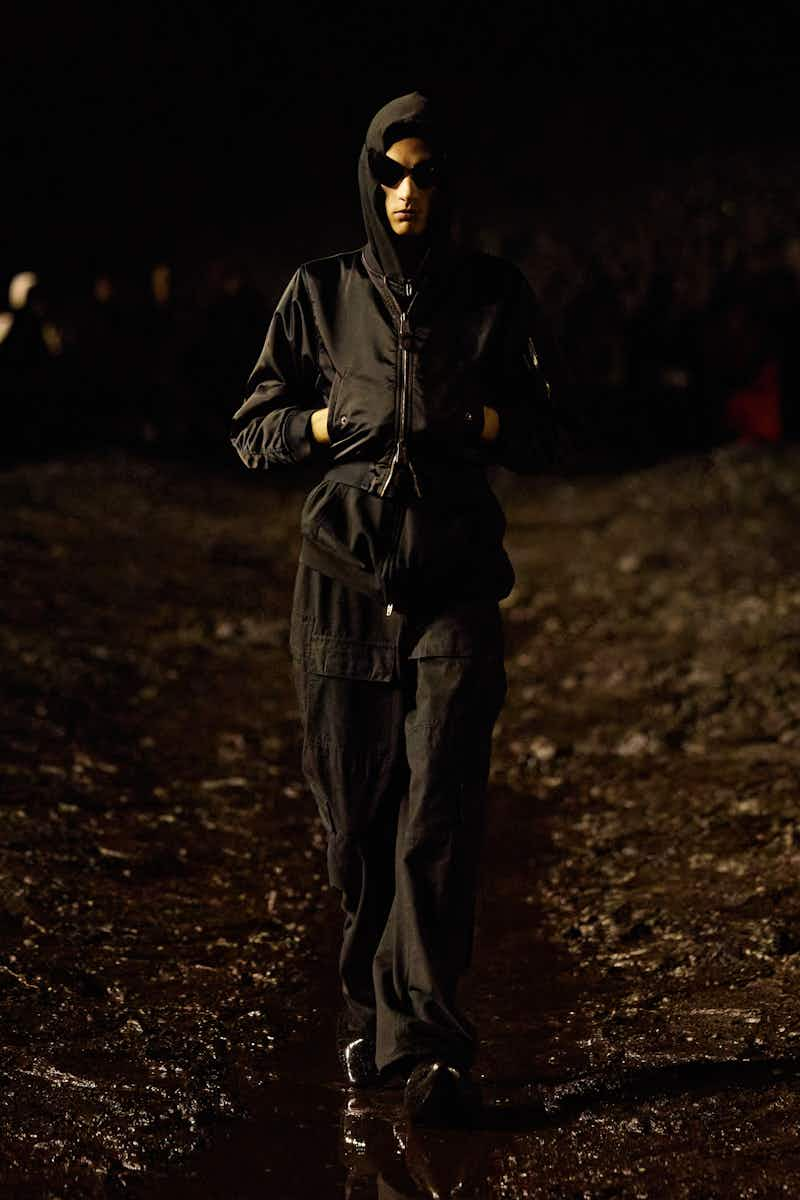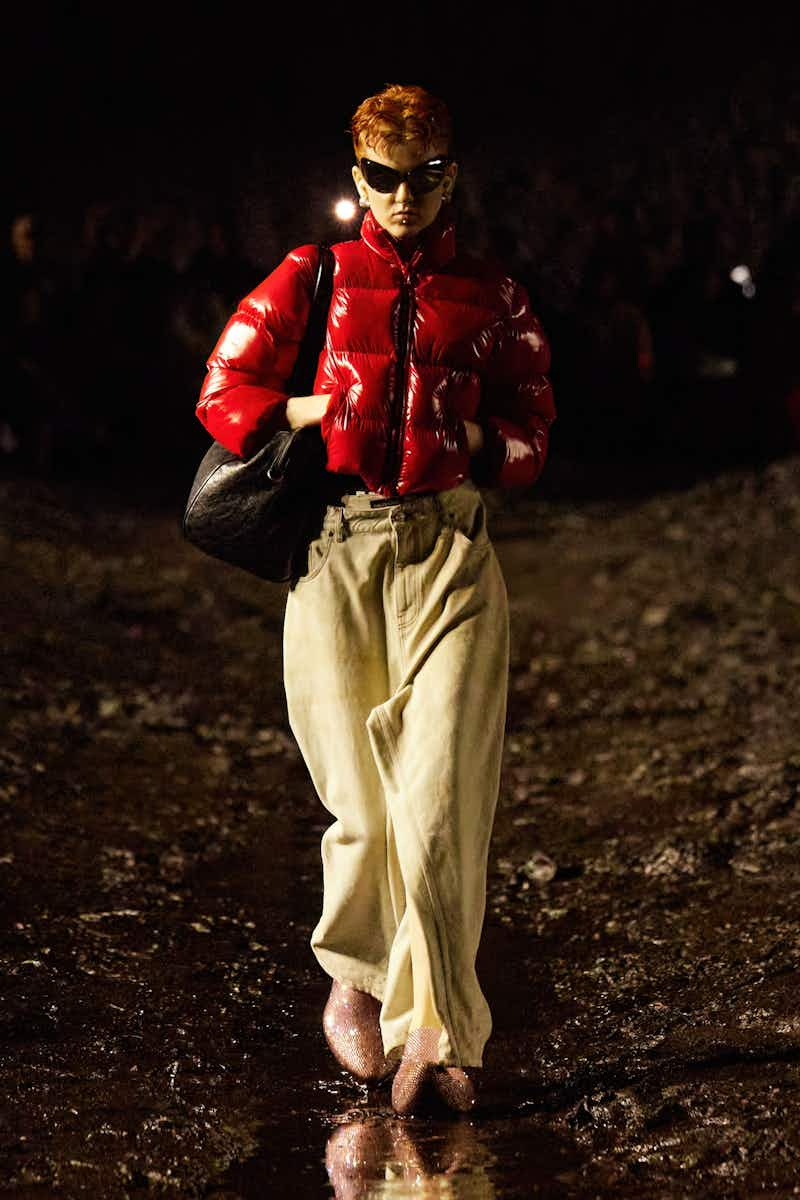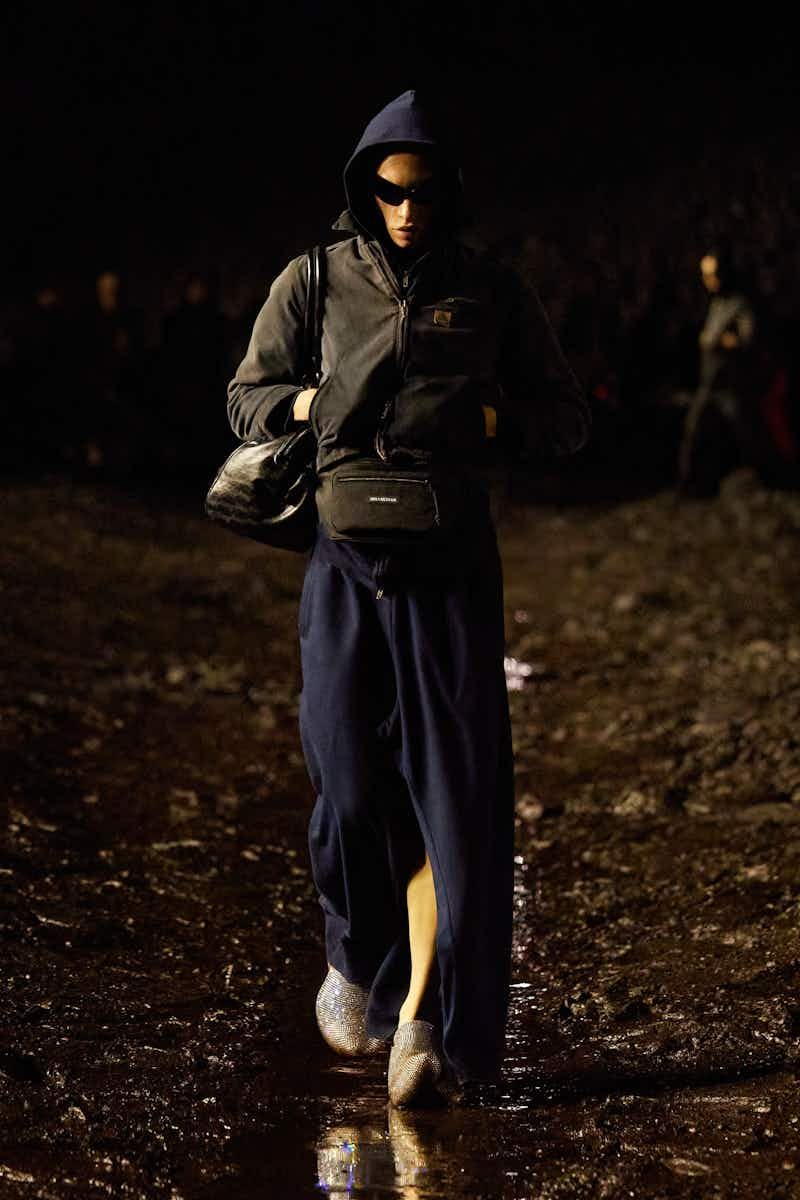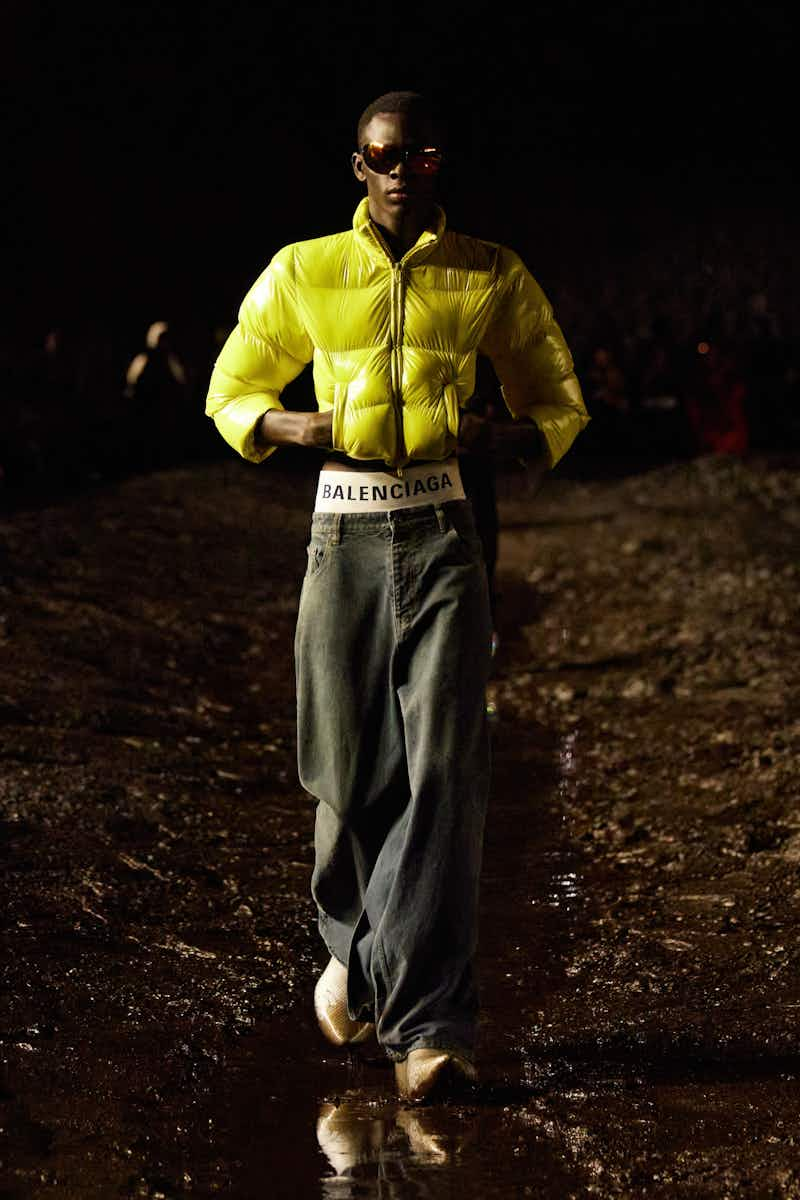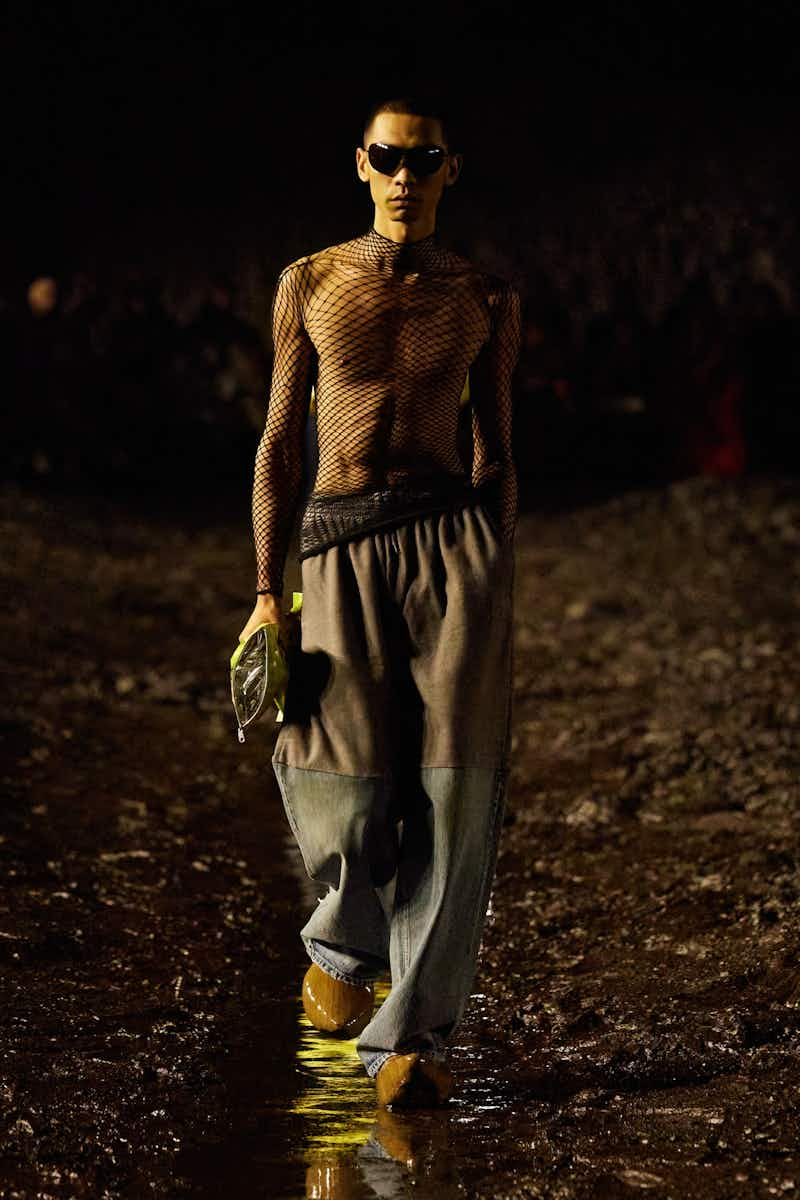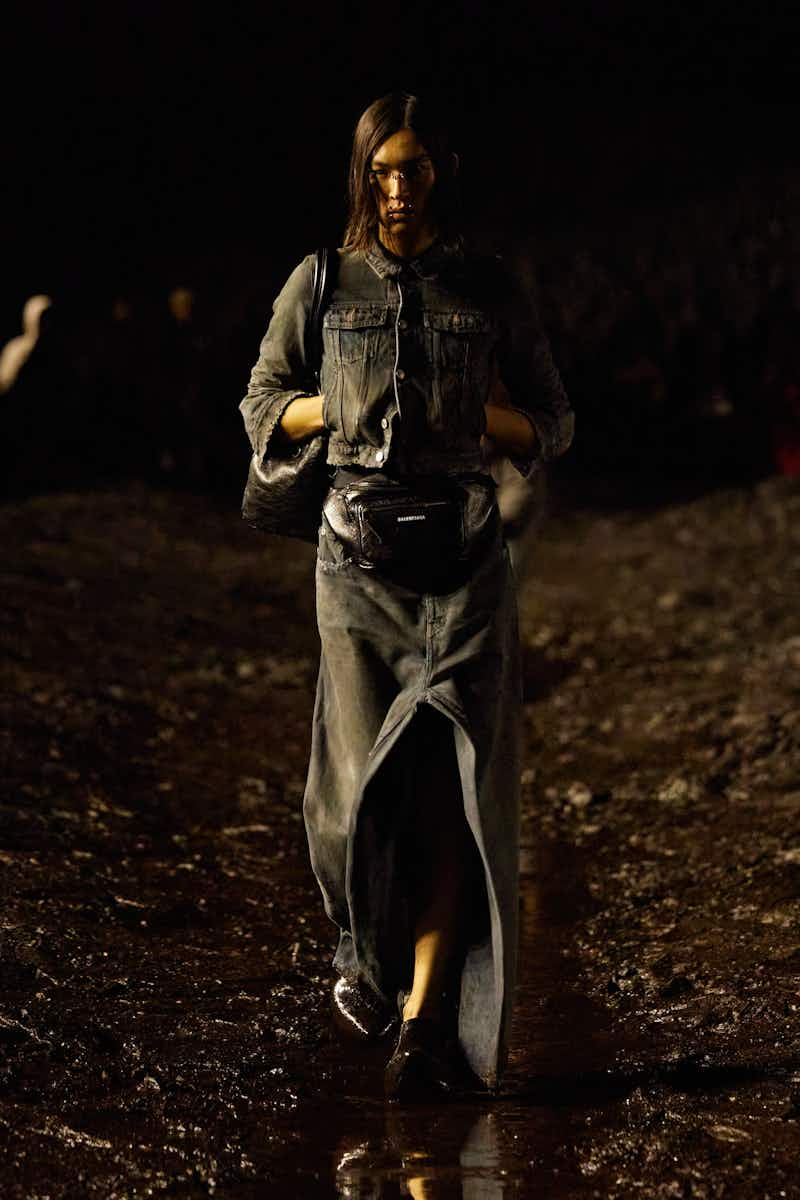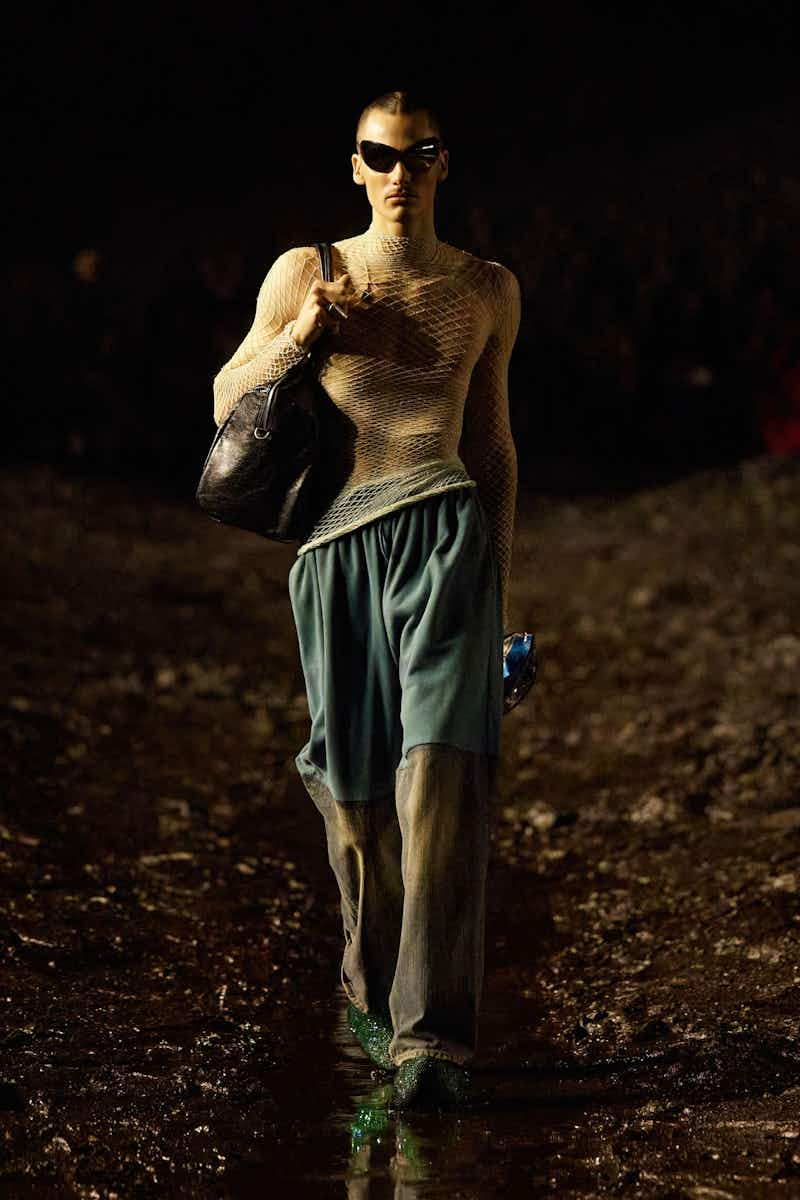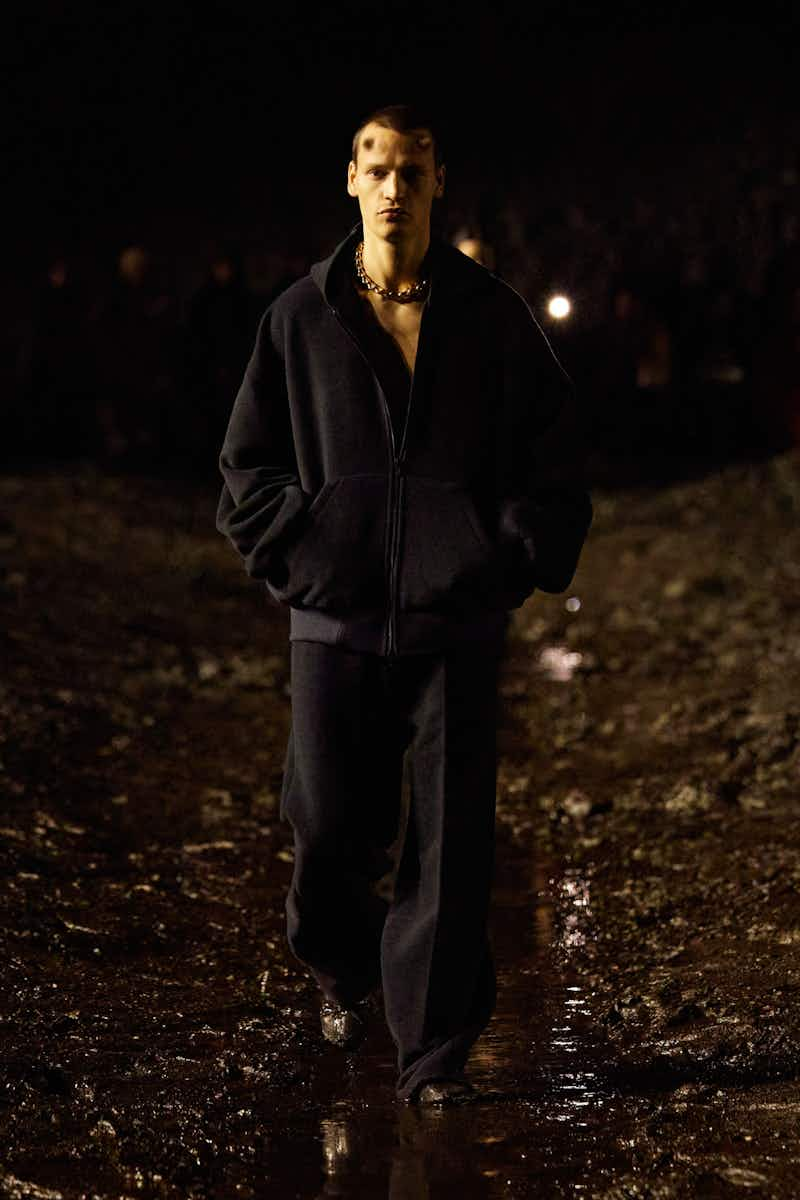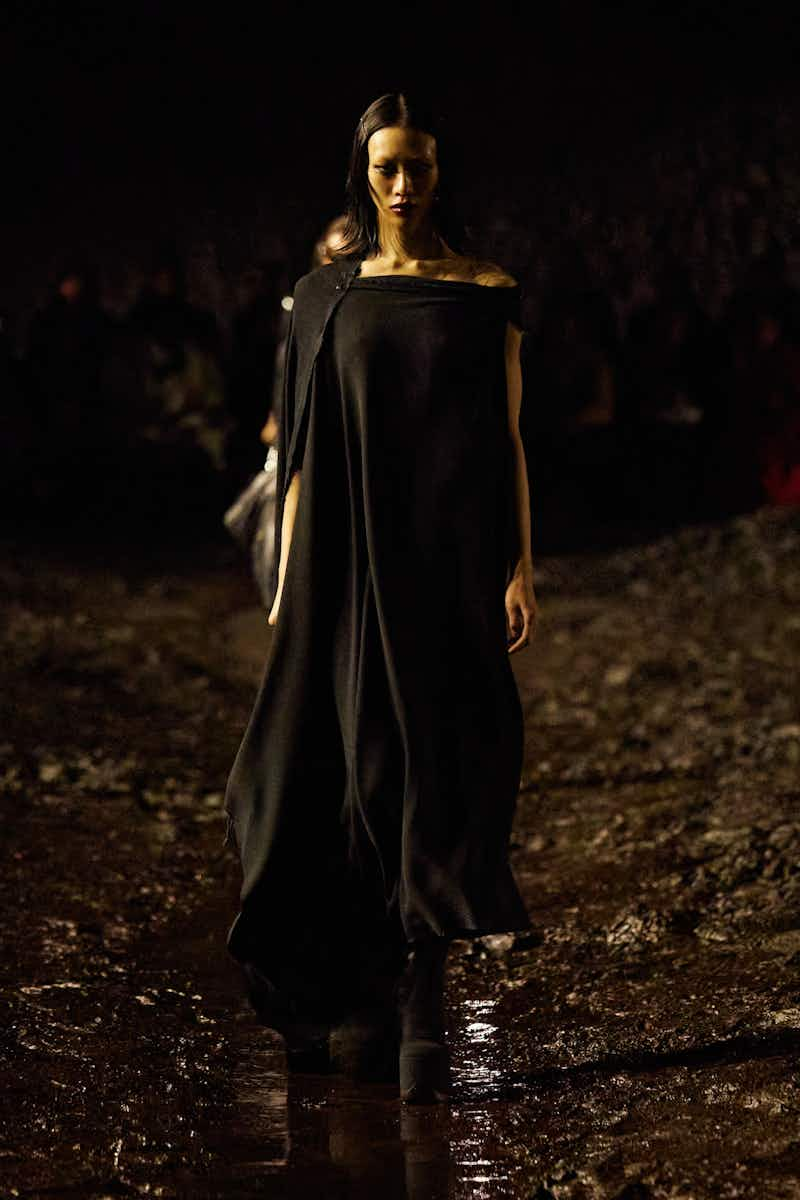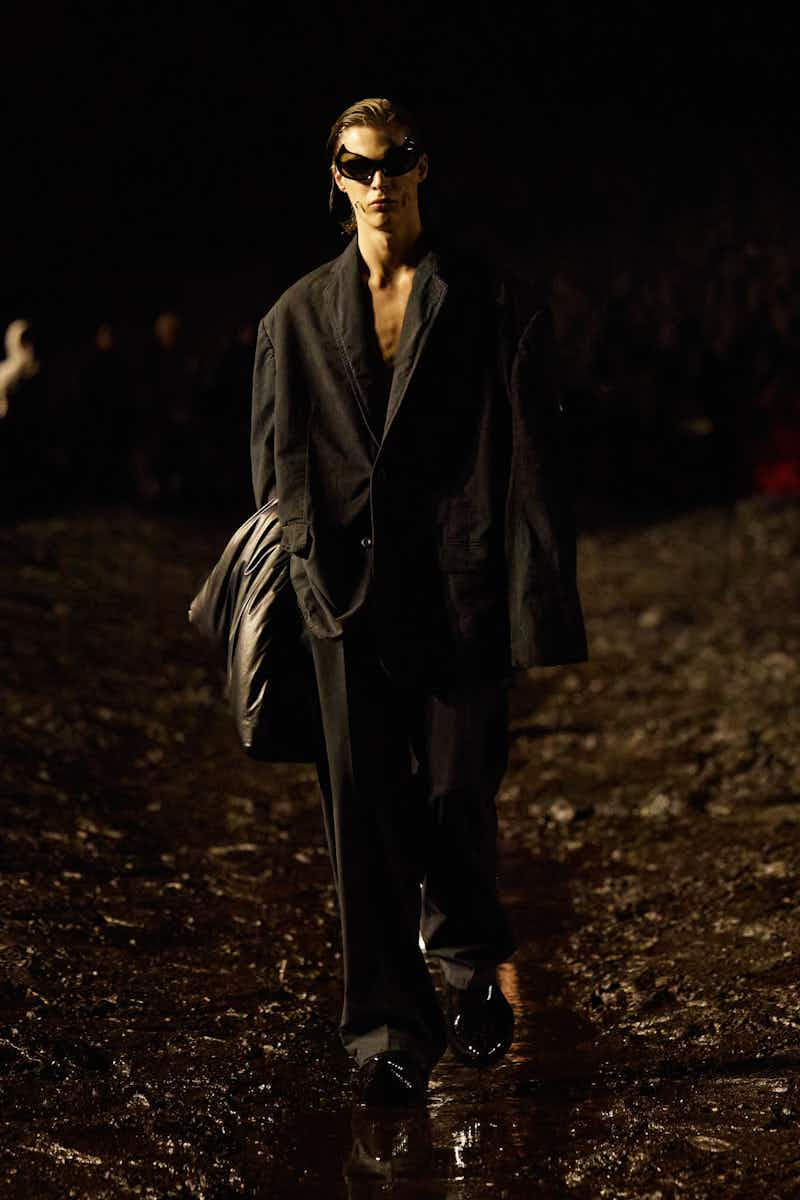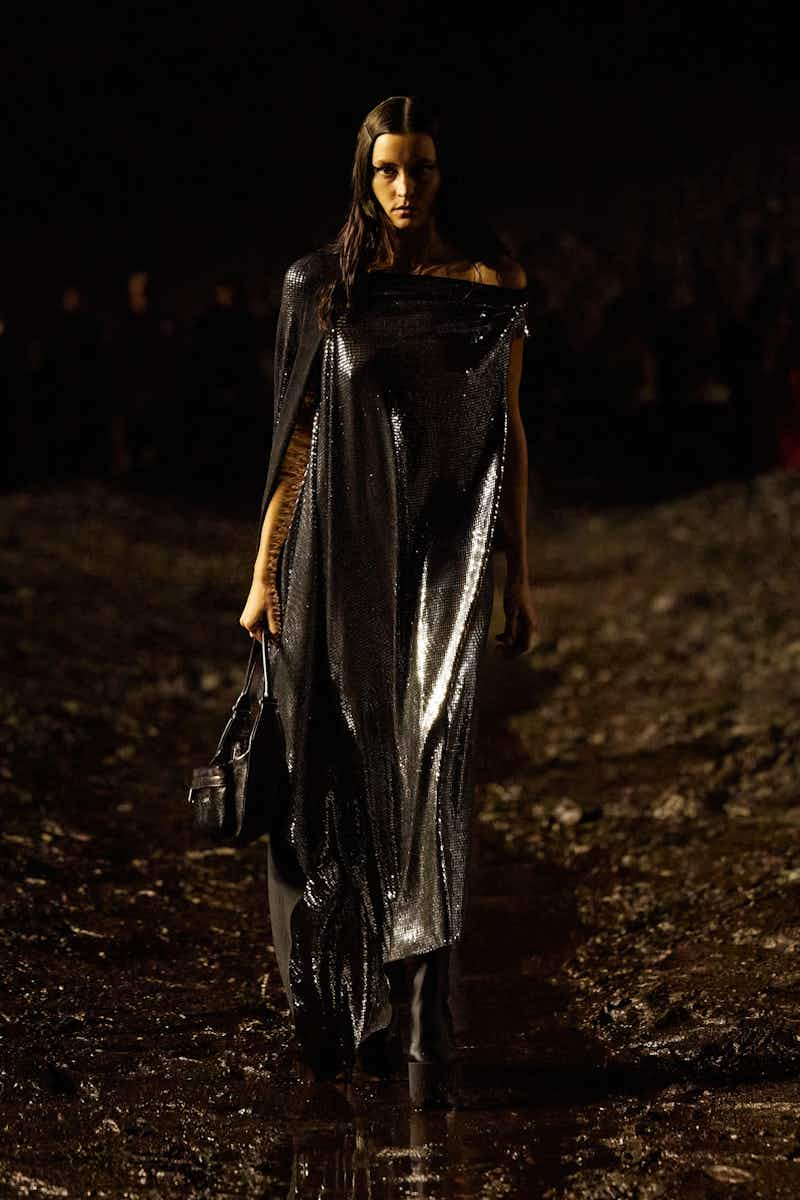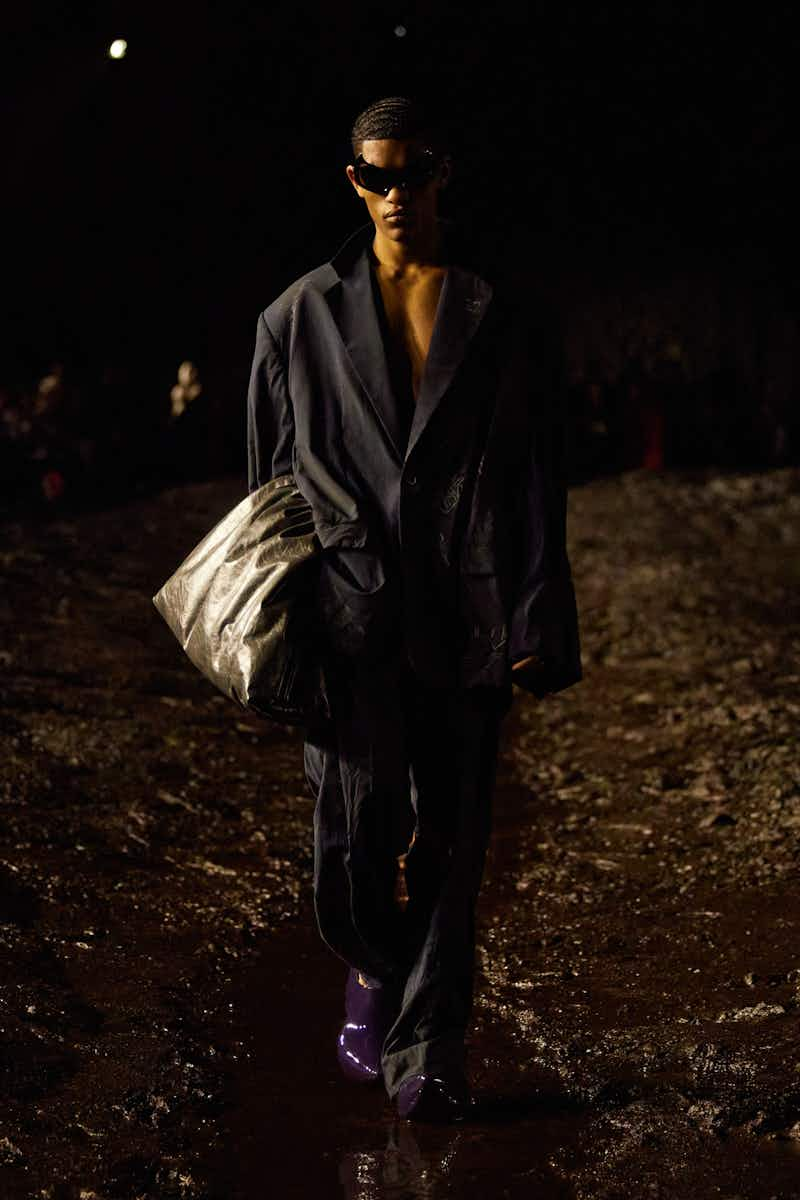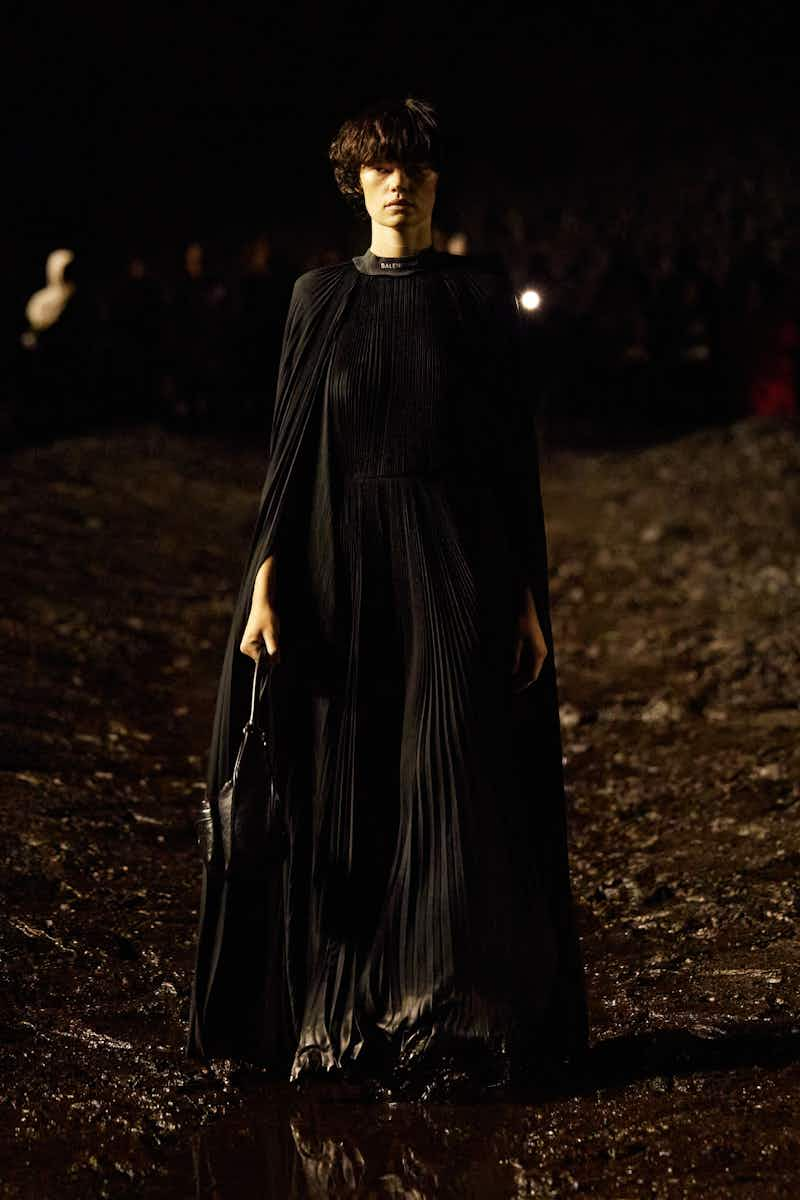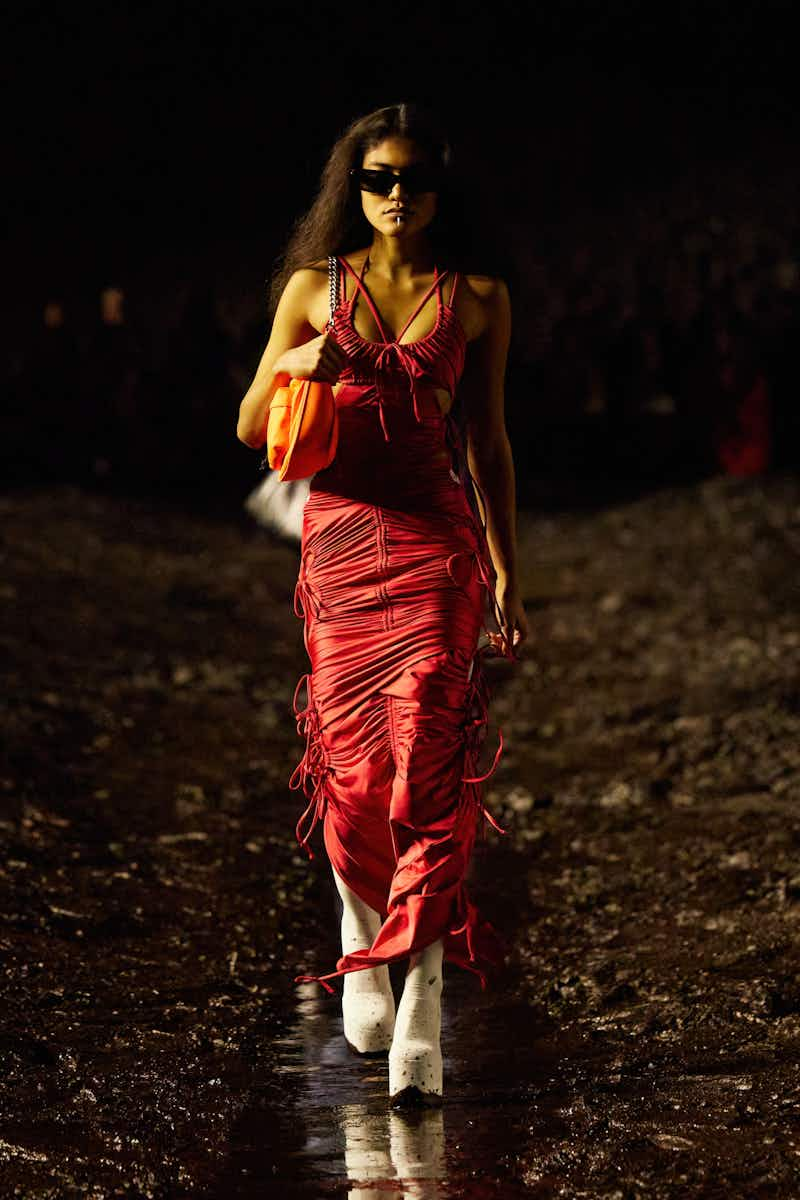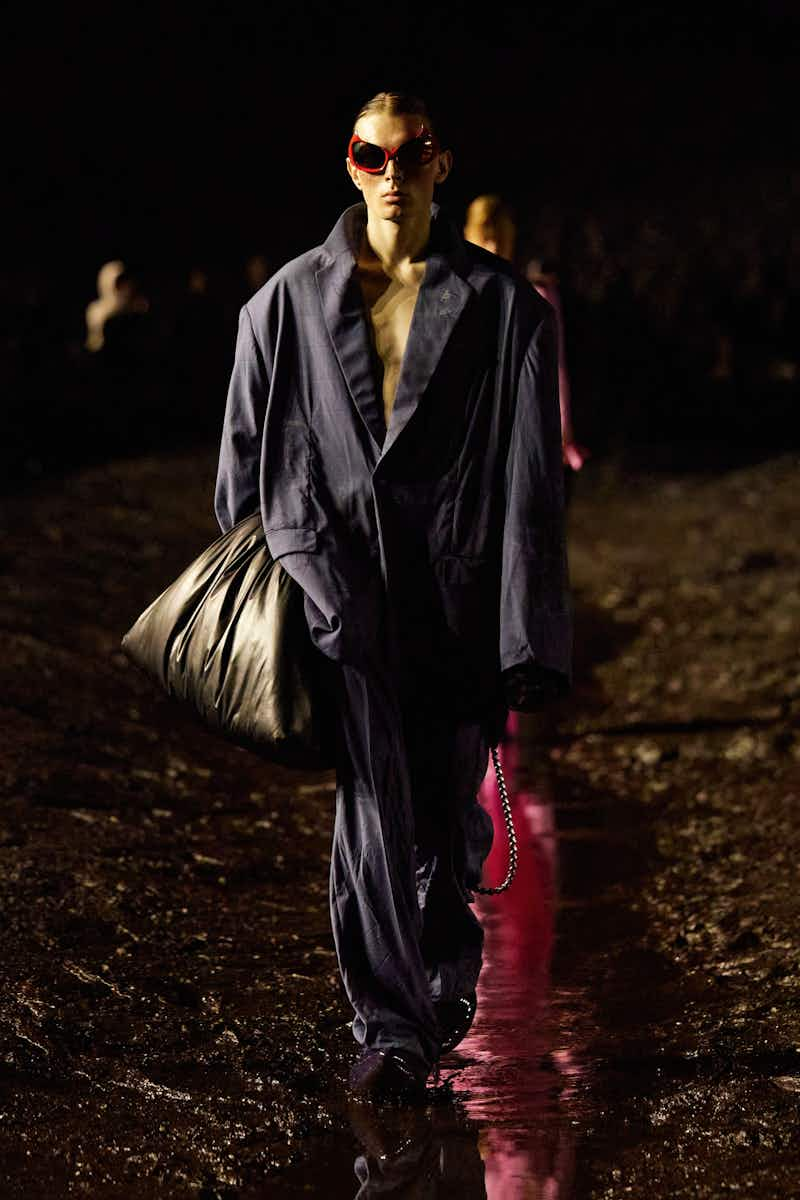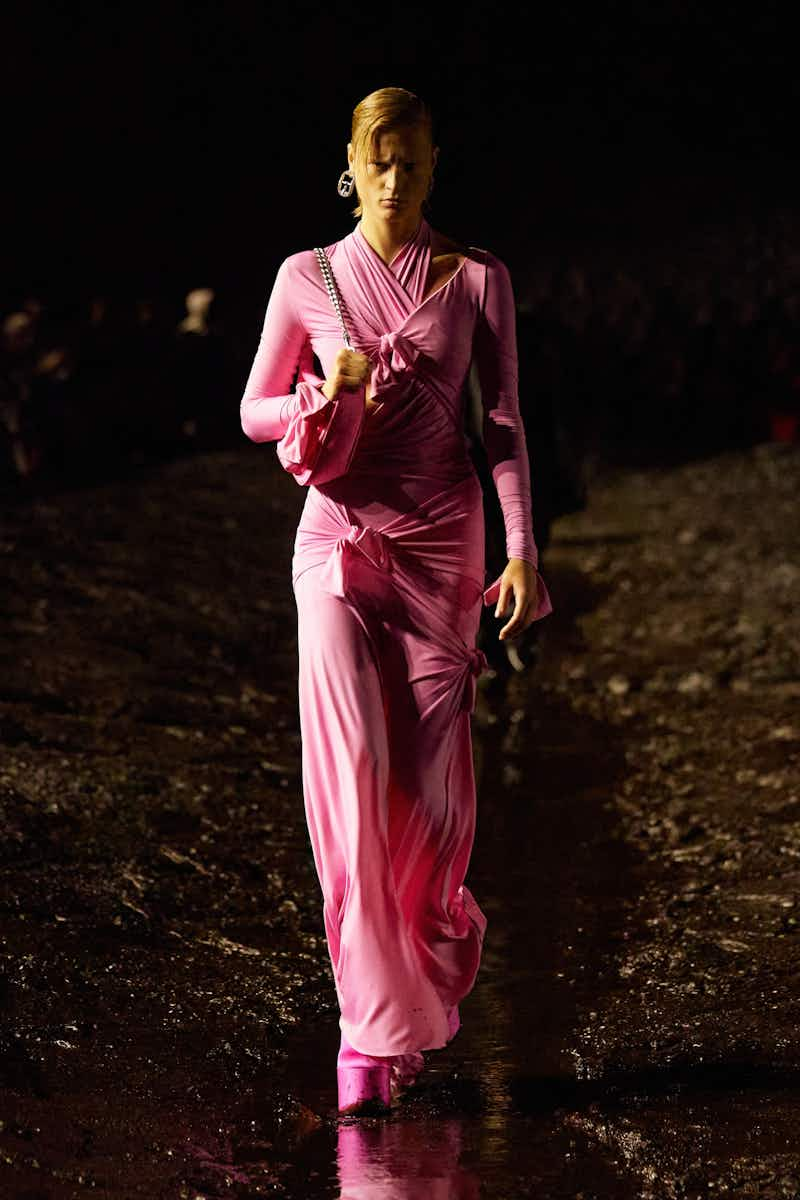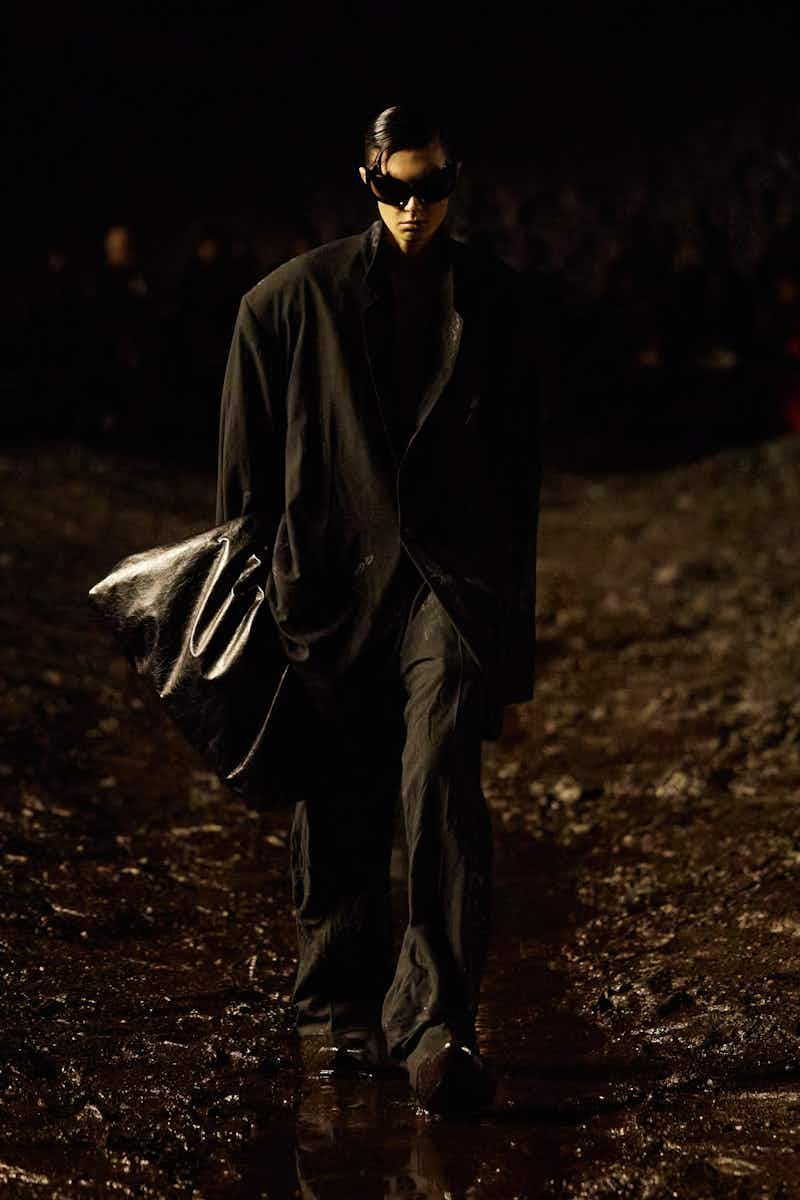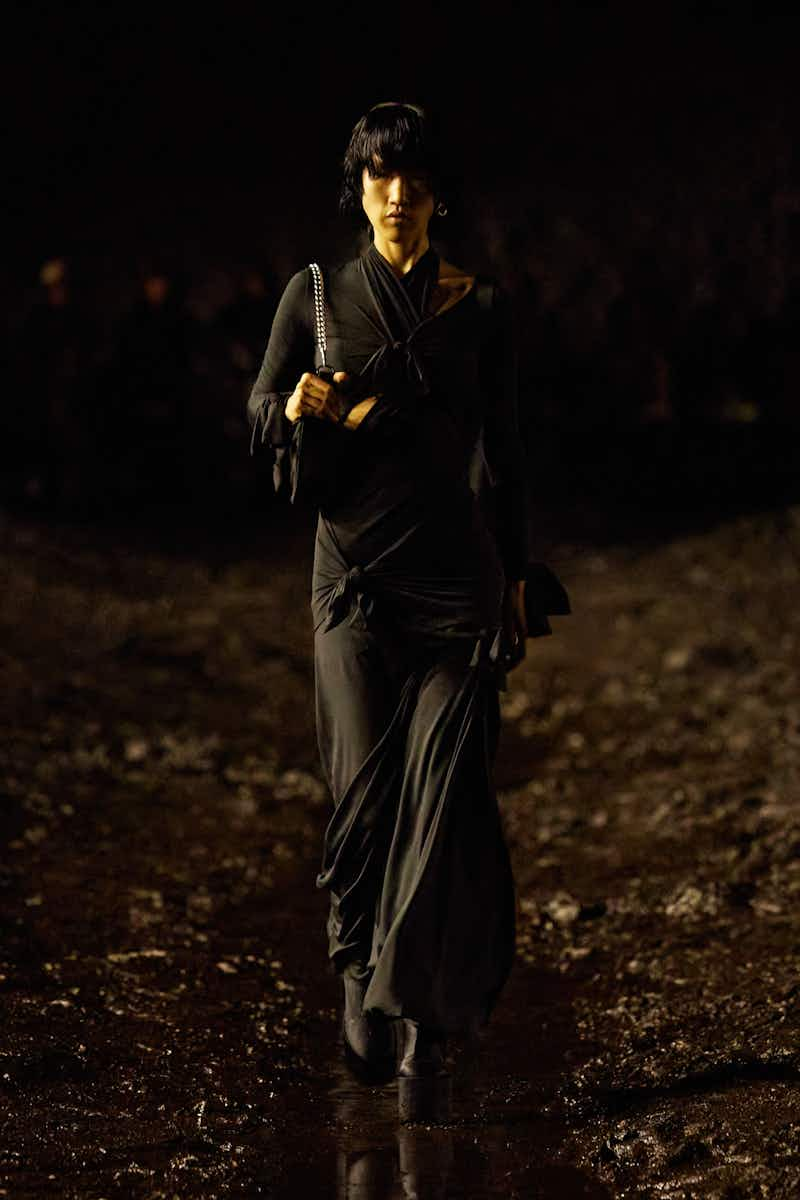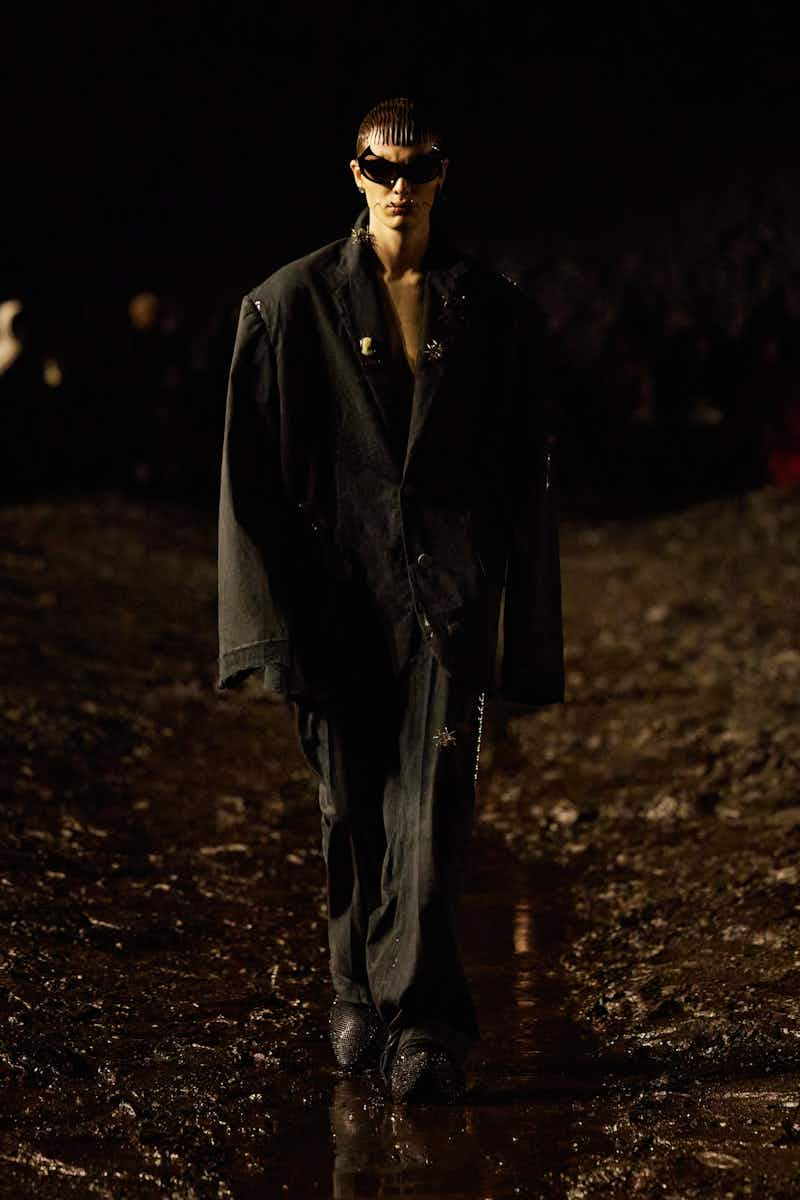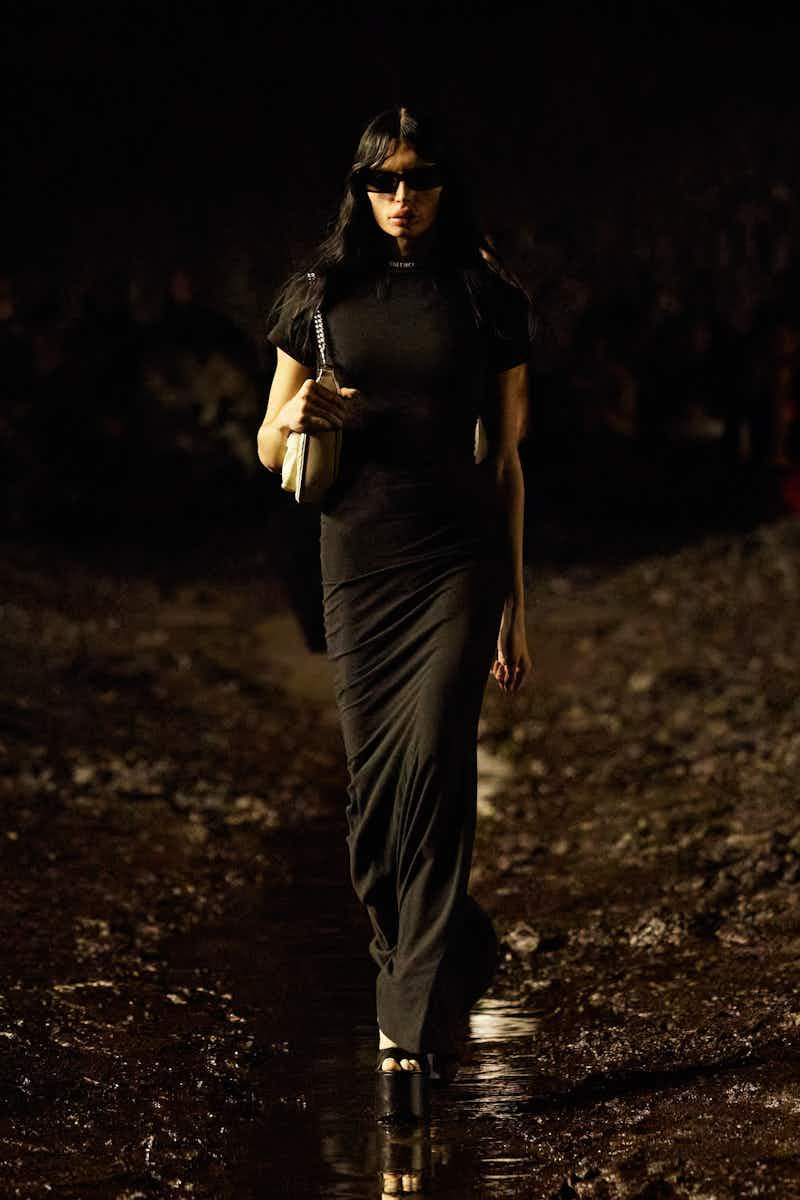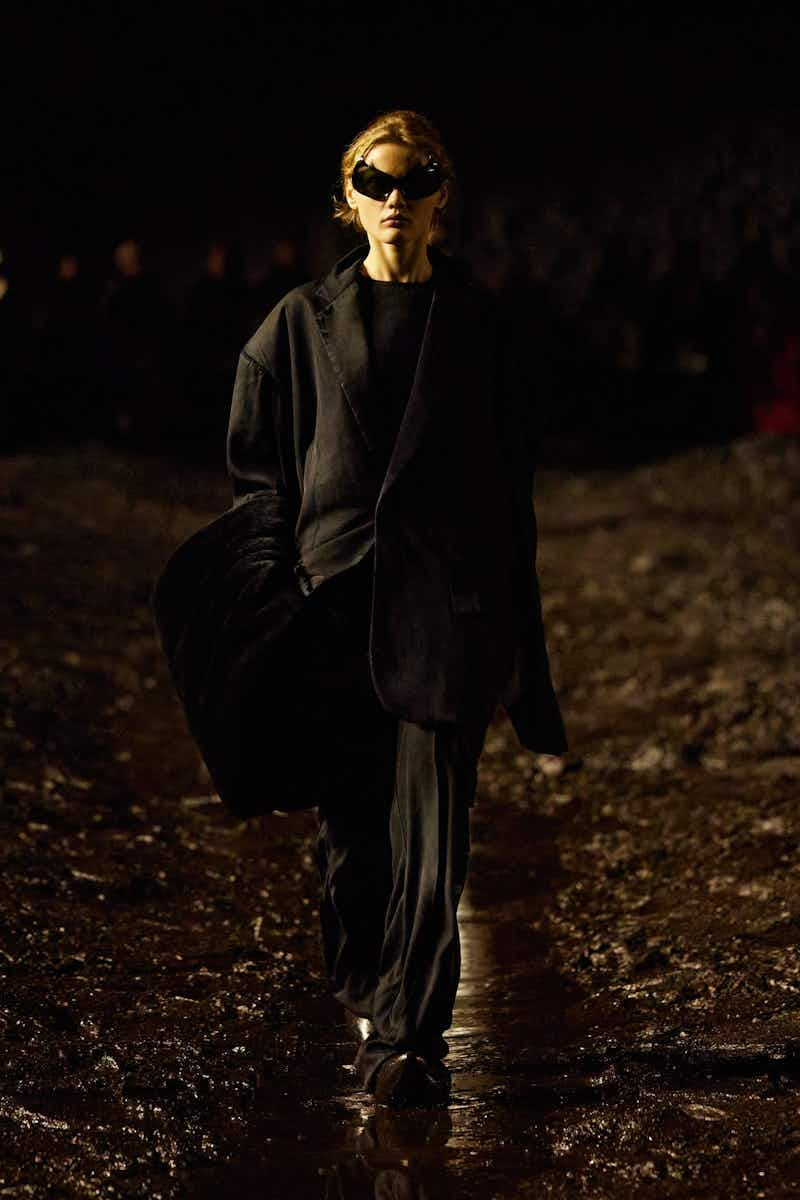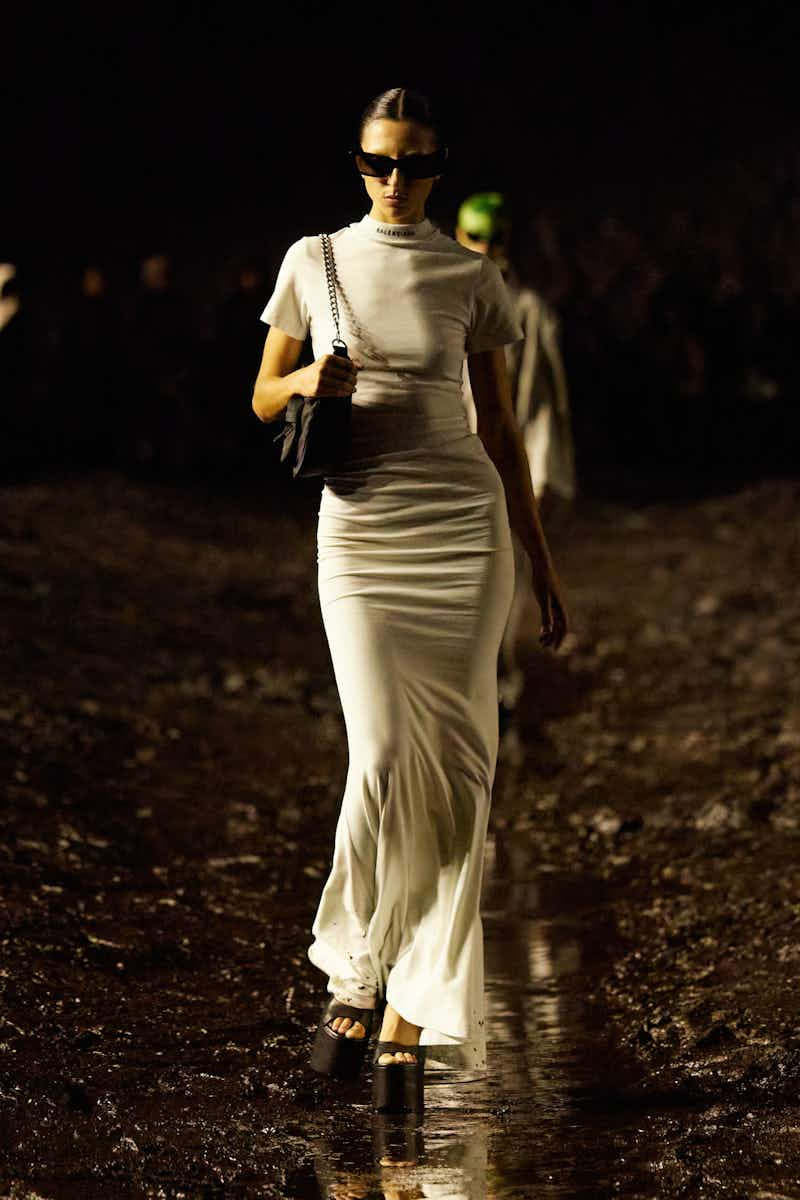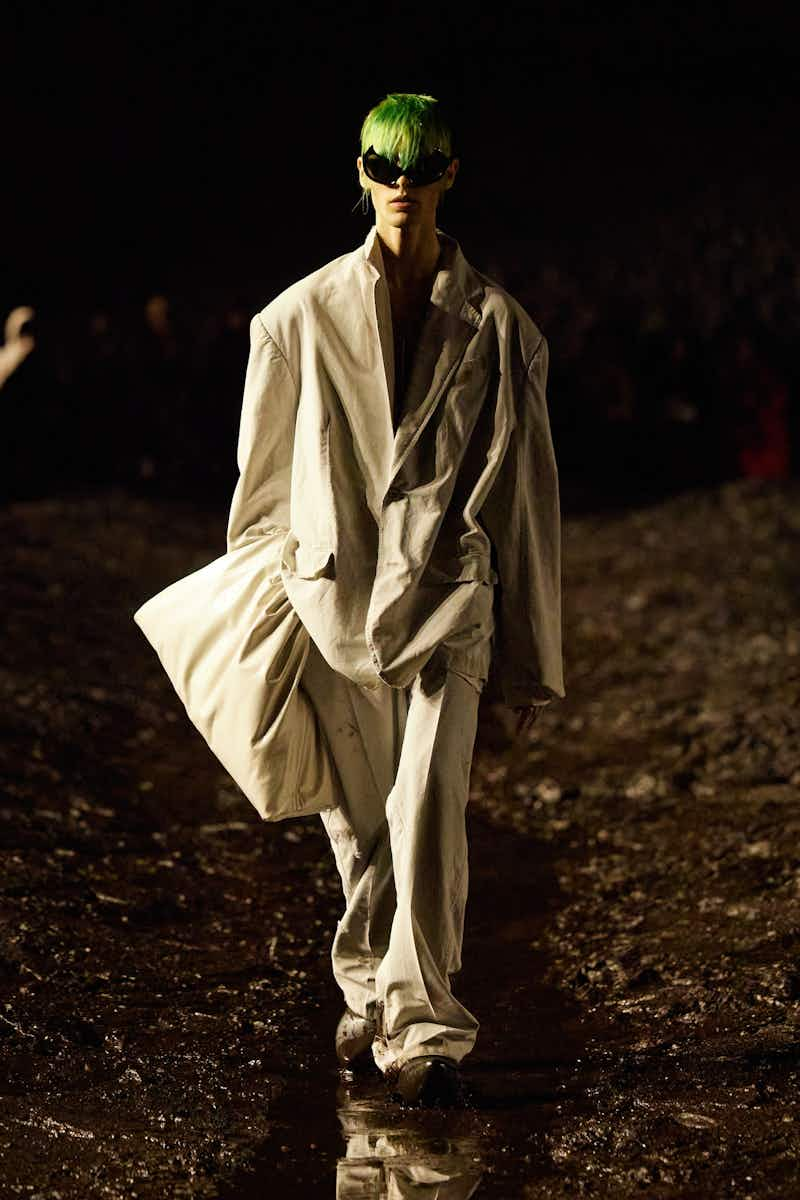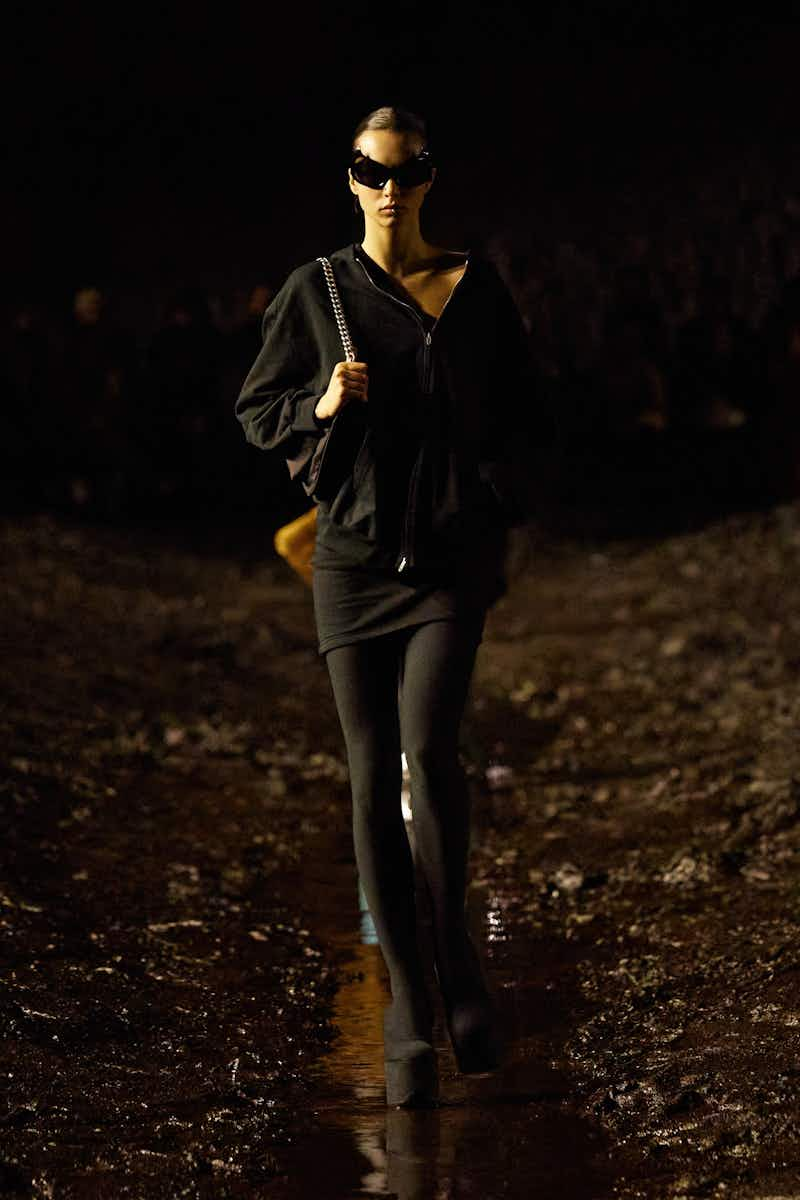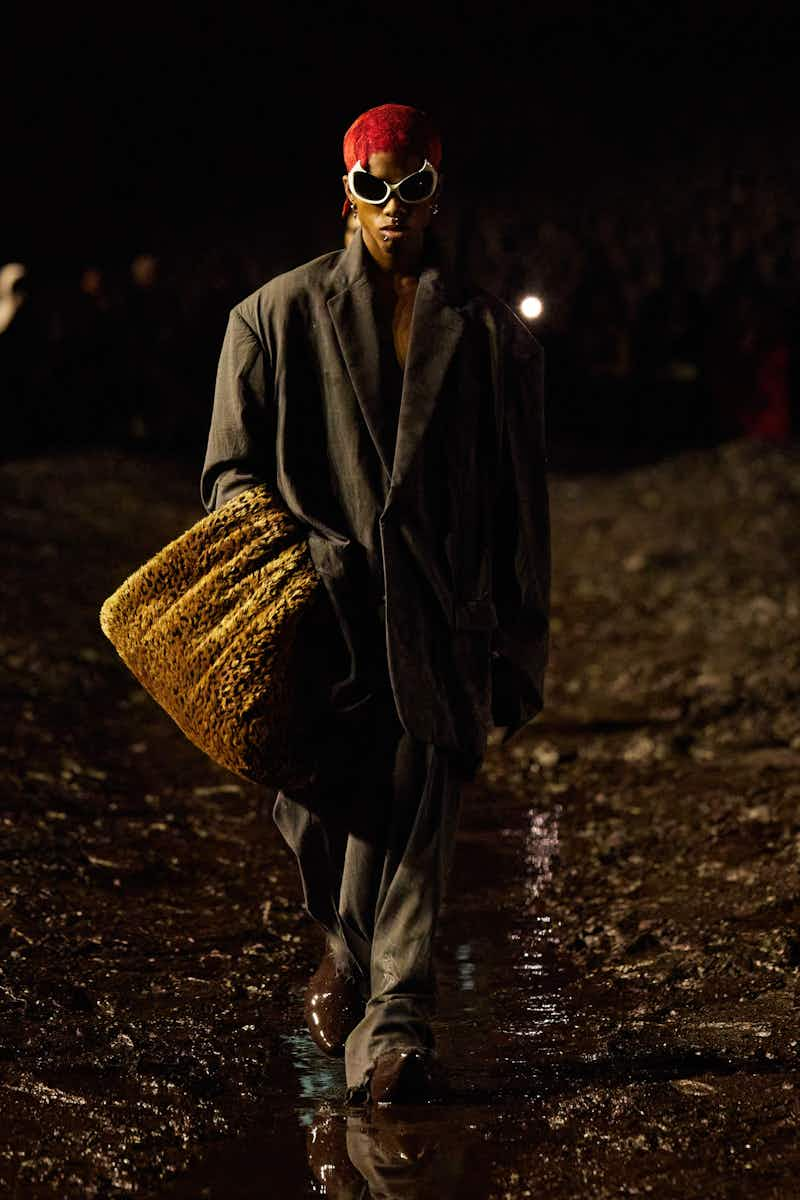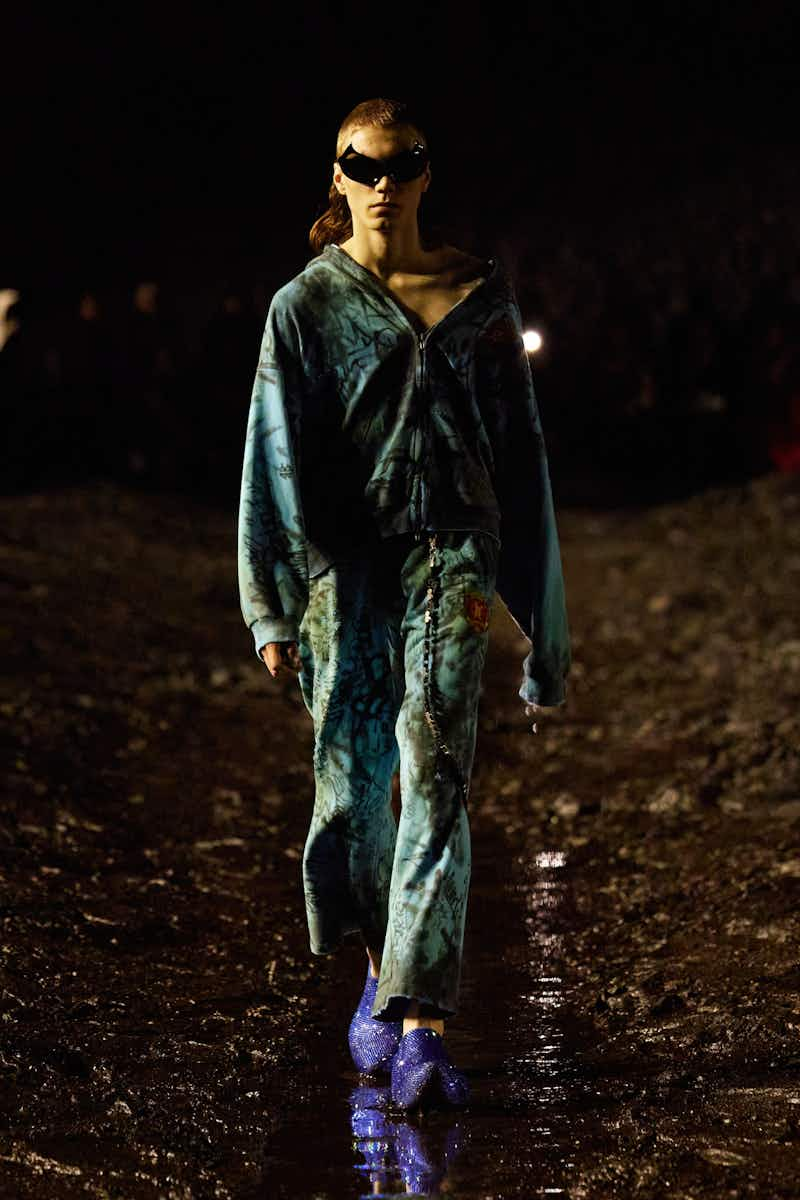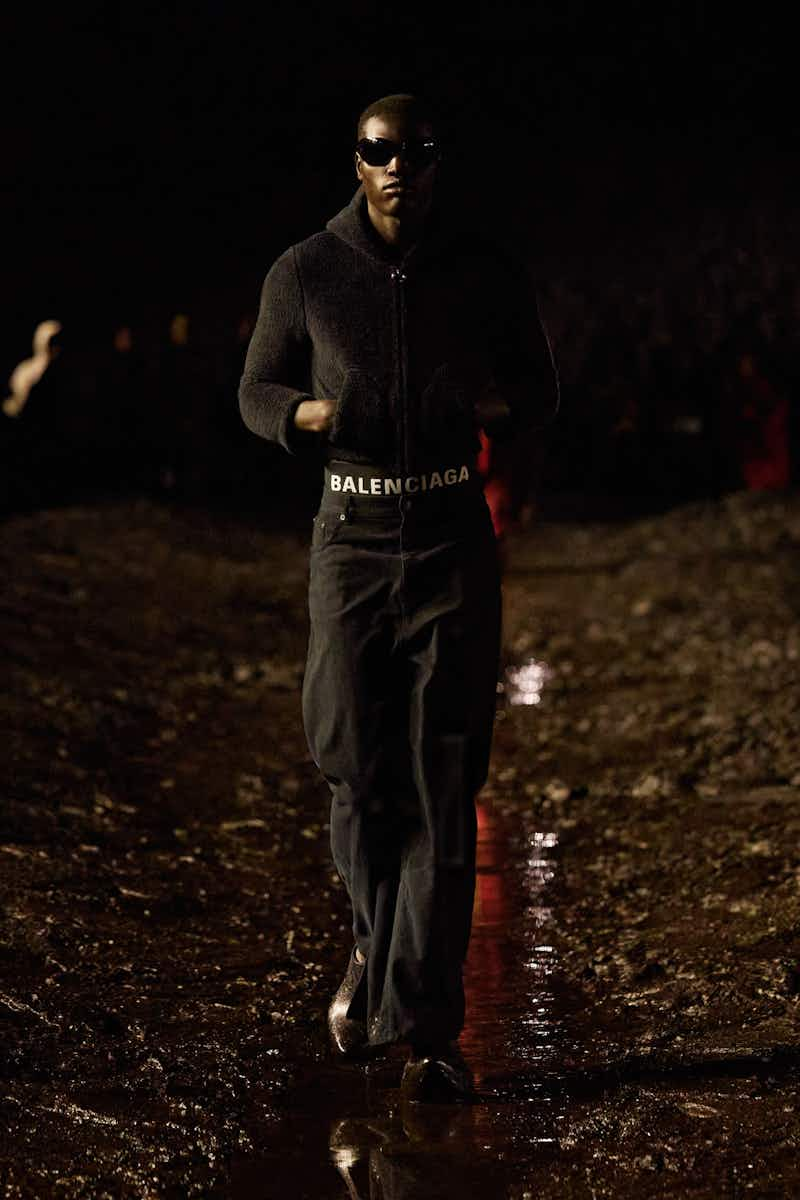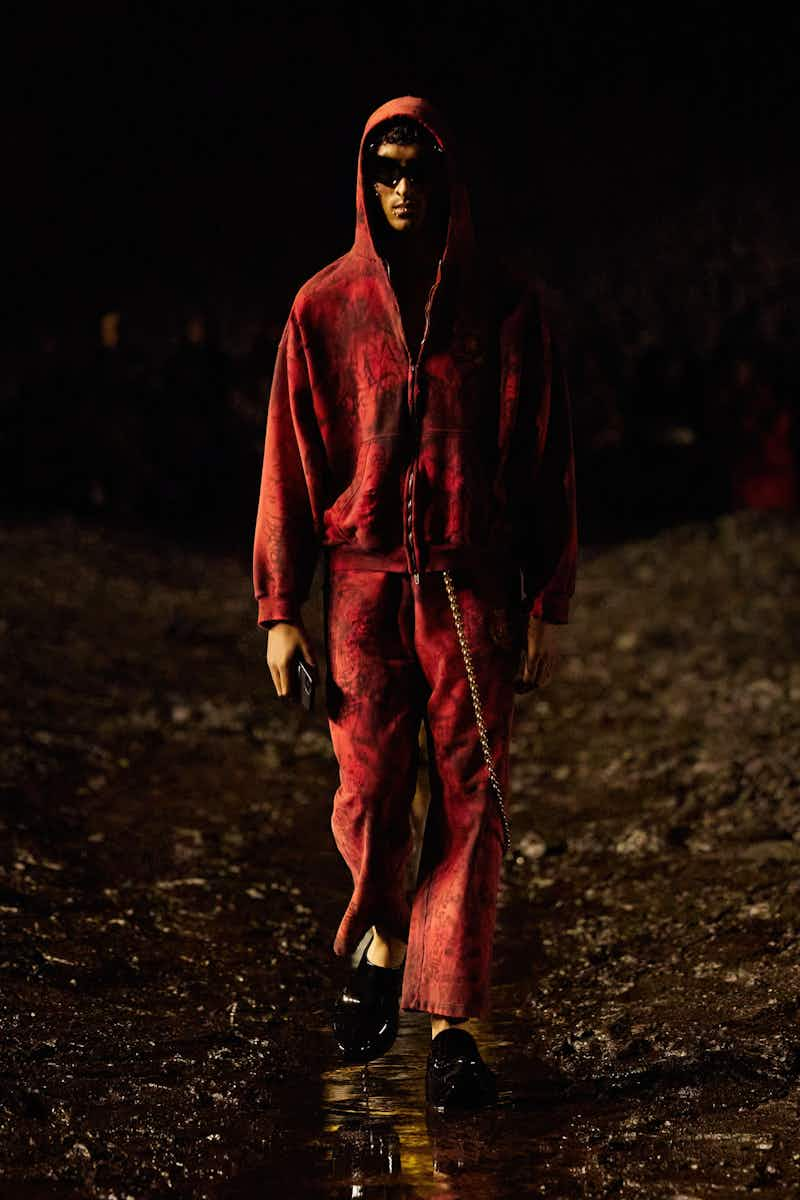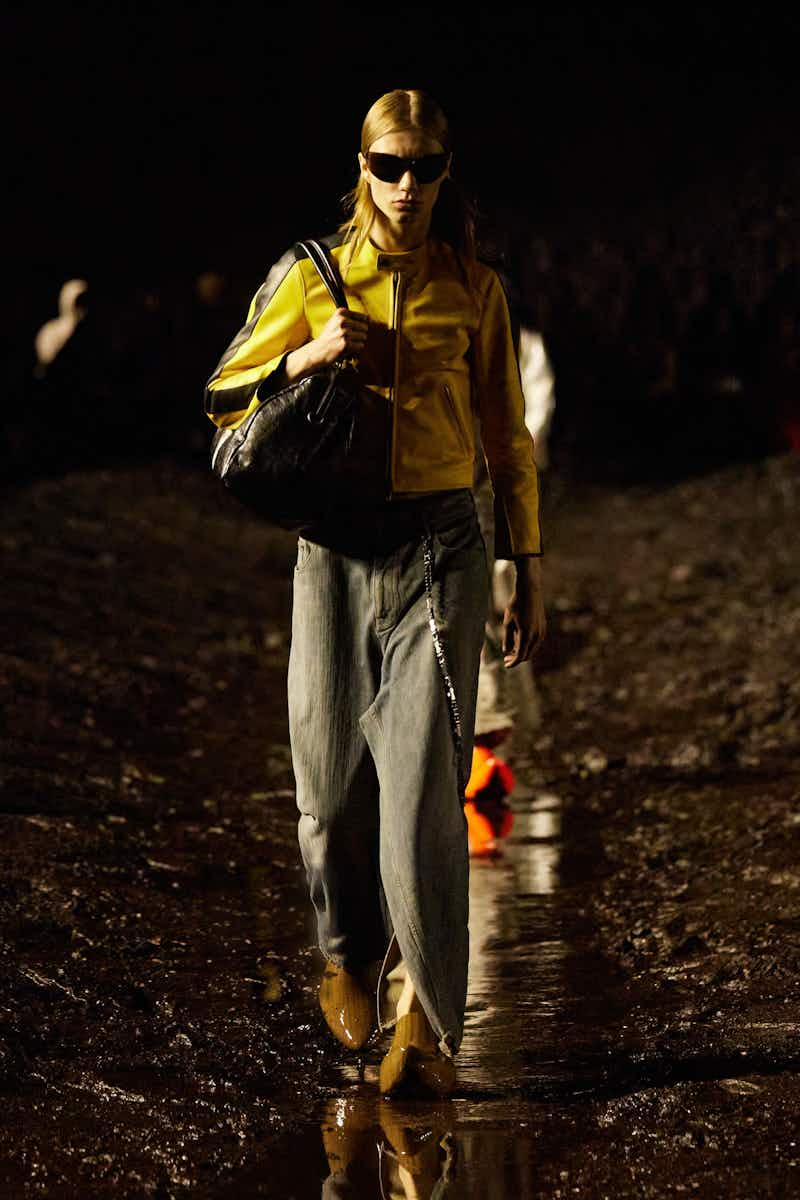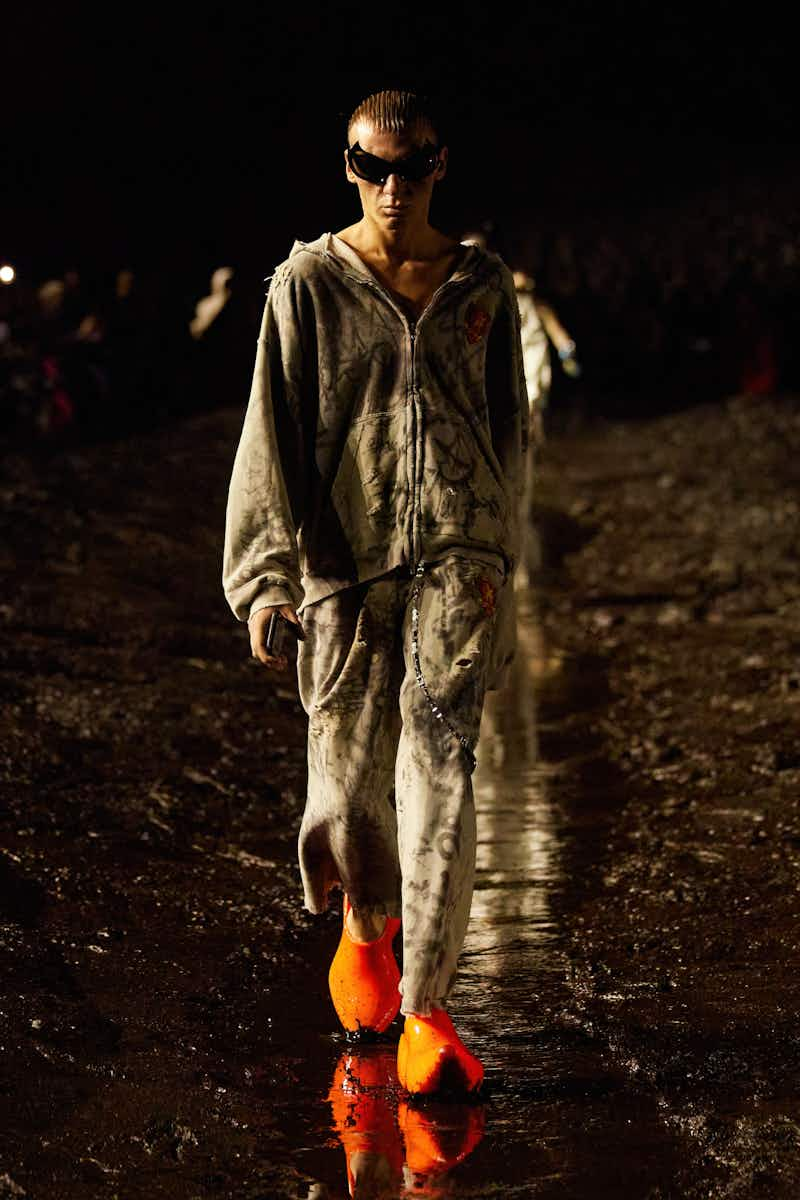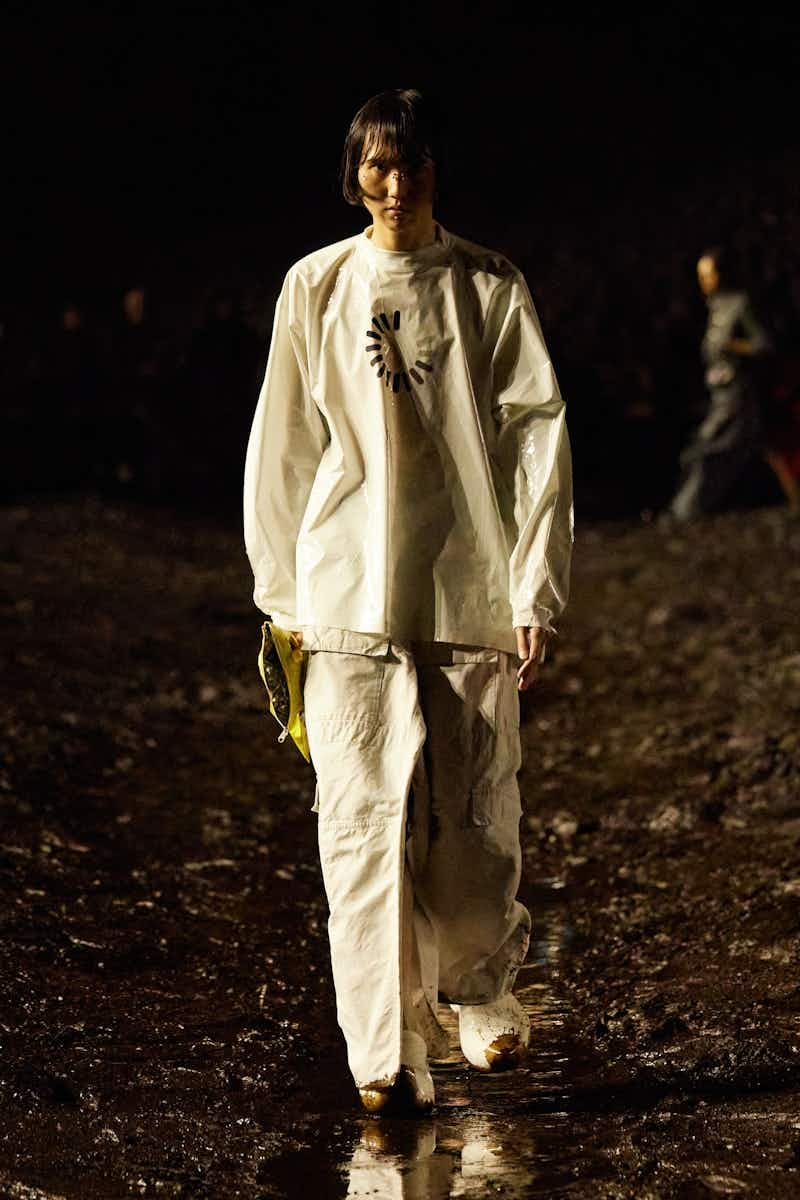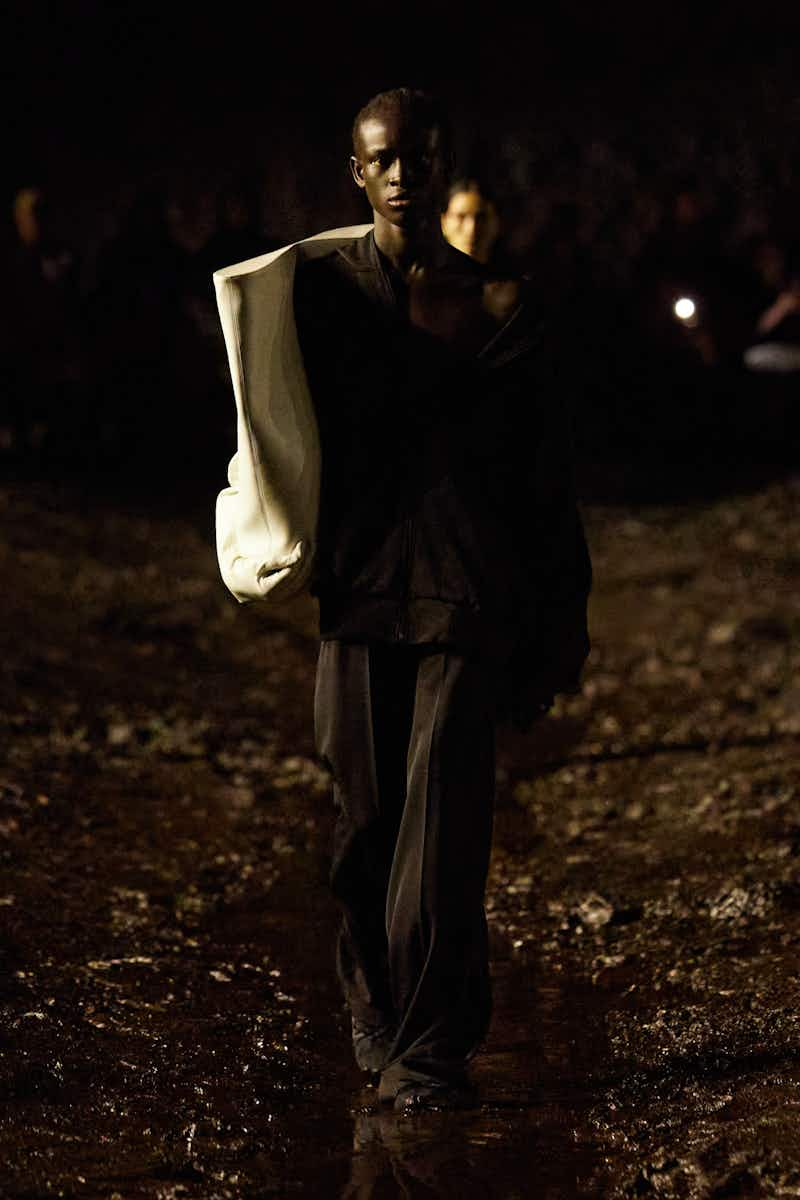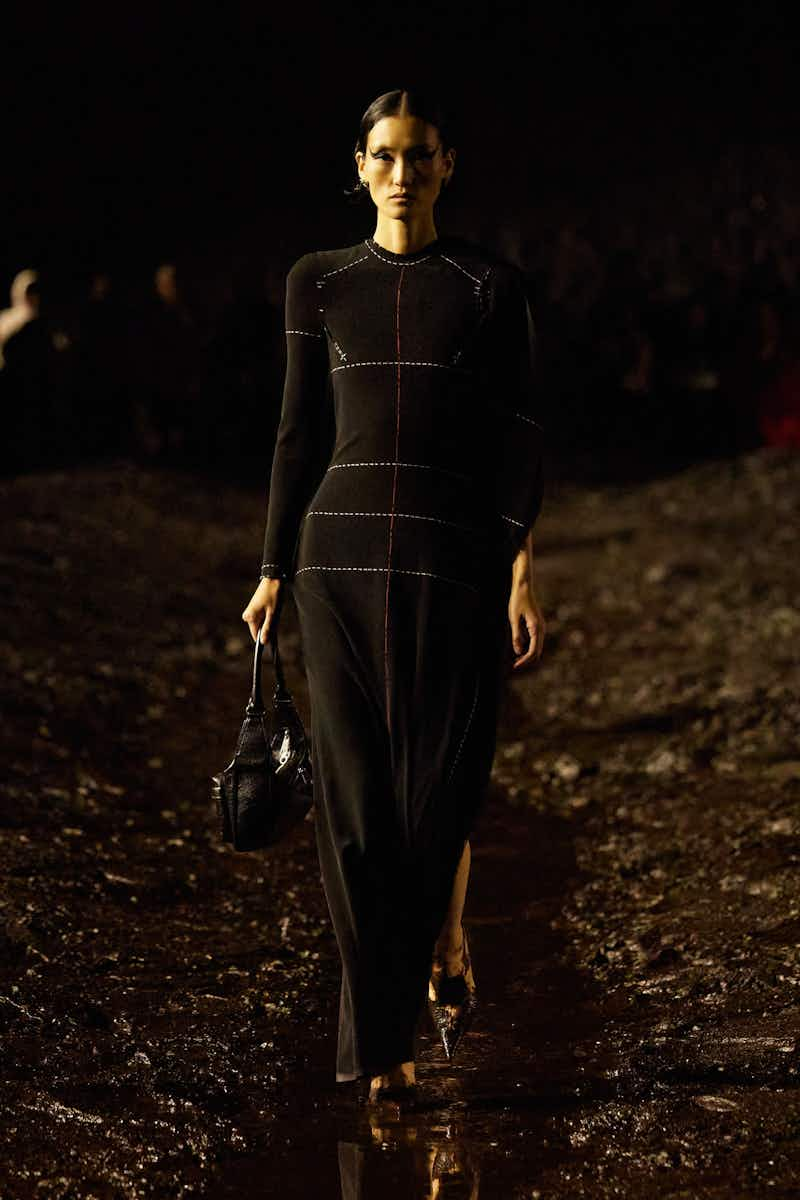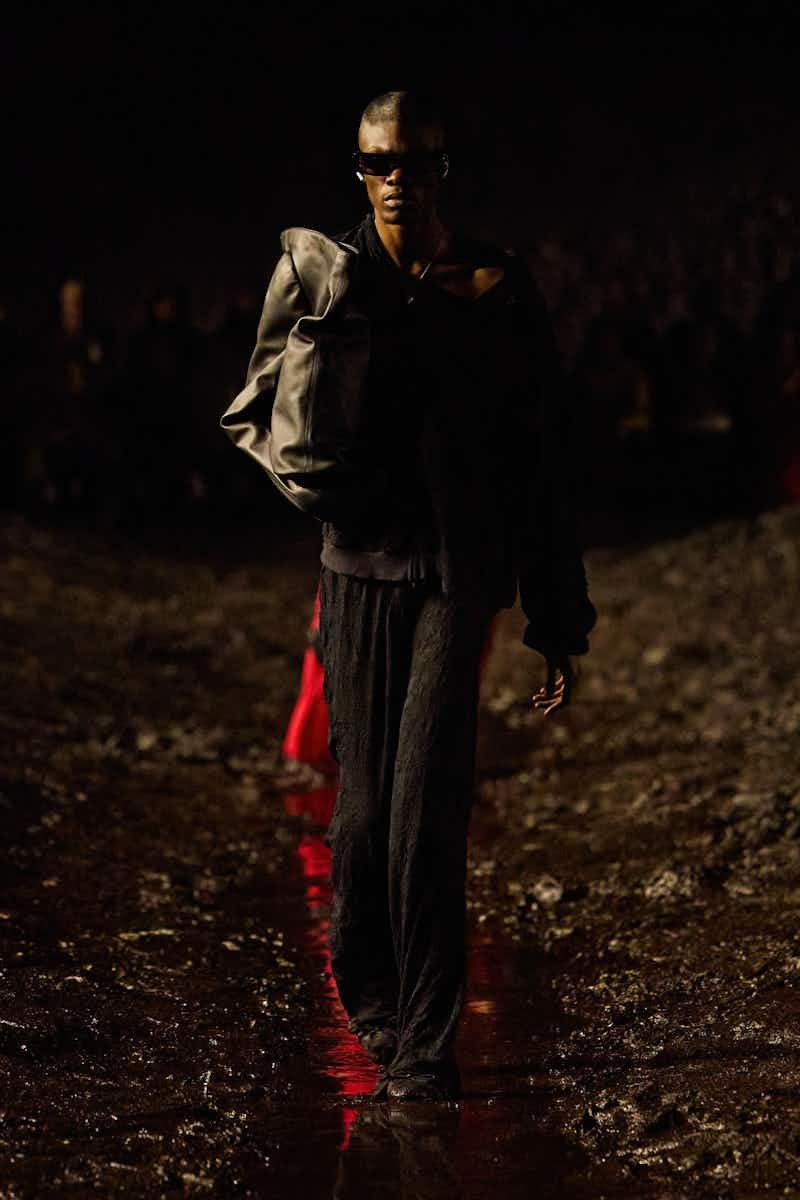 Inspired by the idea of a ​"desert rave", Hermès' SS23 collection reworked the brand's minimal, elegant aesthetic in burnt orange and scaley black leather designed for dancing ​'til dawn. While dresses were artfully cut-out to create geometric ​"H" for Hermès shapes, the collection was designed with easy comfort in mind, as any sensible person would prioritise when heading to a party in the middle of the desert. Utilitarian performance-wear details featured, such as dresses and skirts held together by rope, but it was the simpler pieces that held the fort. Effortlessly effeminate suede minis with woven crochet details and sensual deep red coords were made for the modern Hermès woman on-the-go. Sexy and versatile in equal measure. SW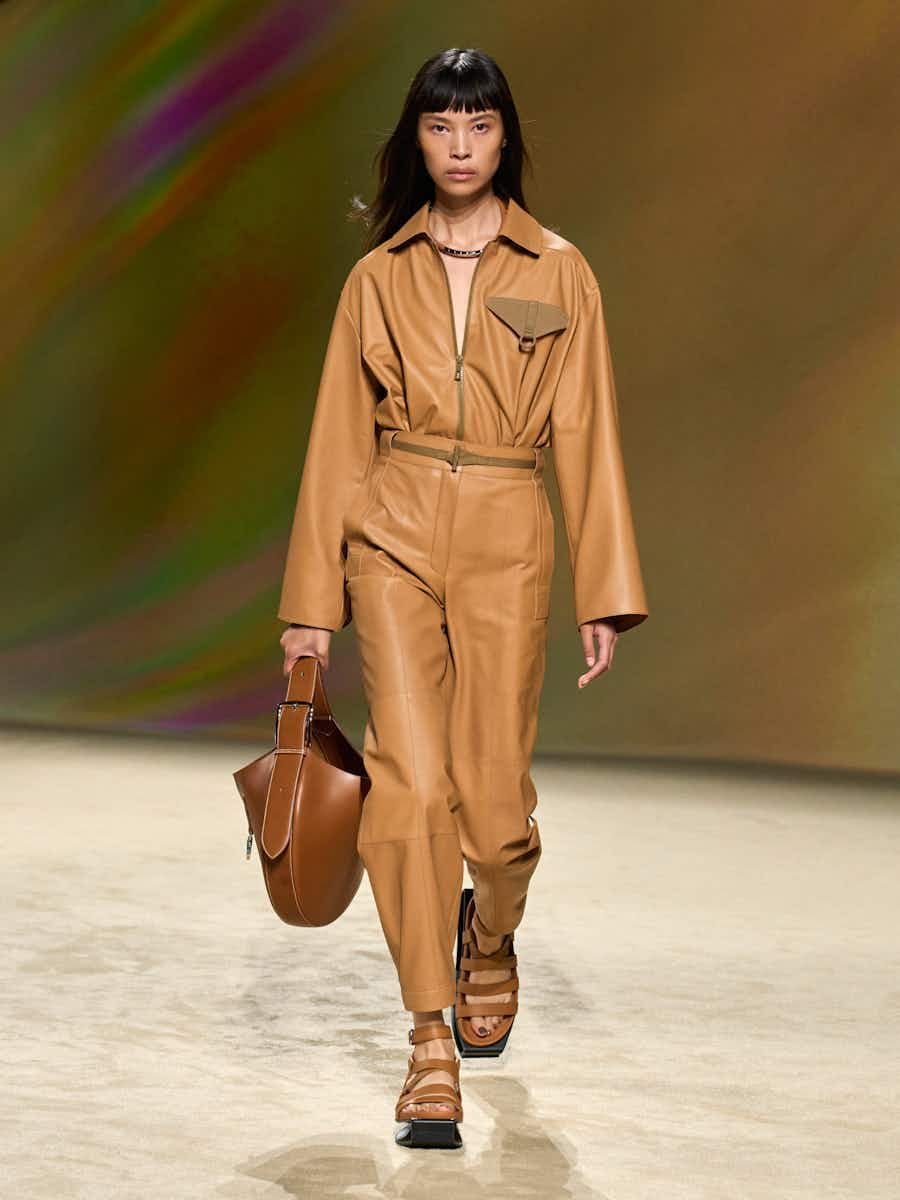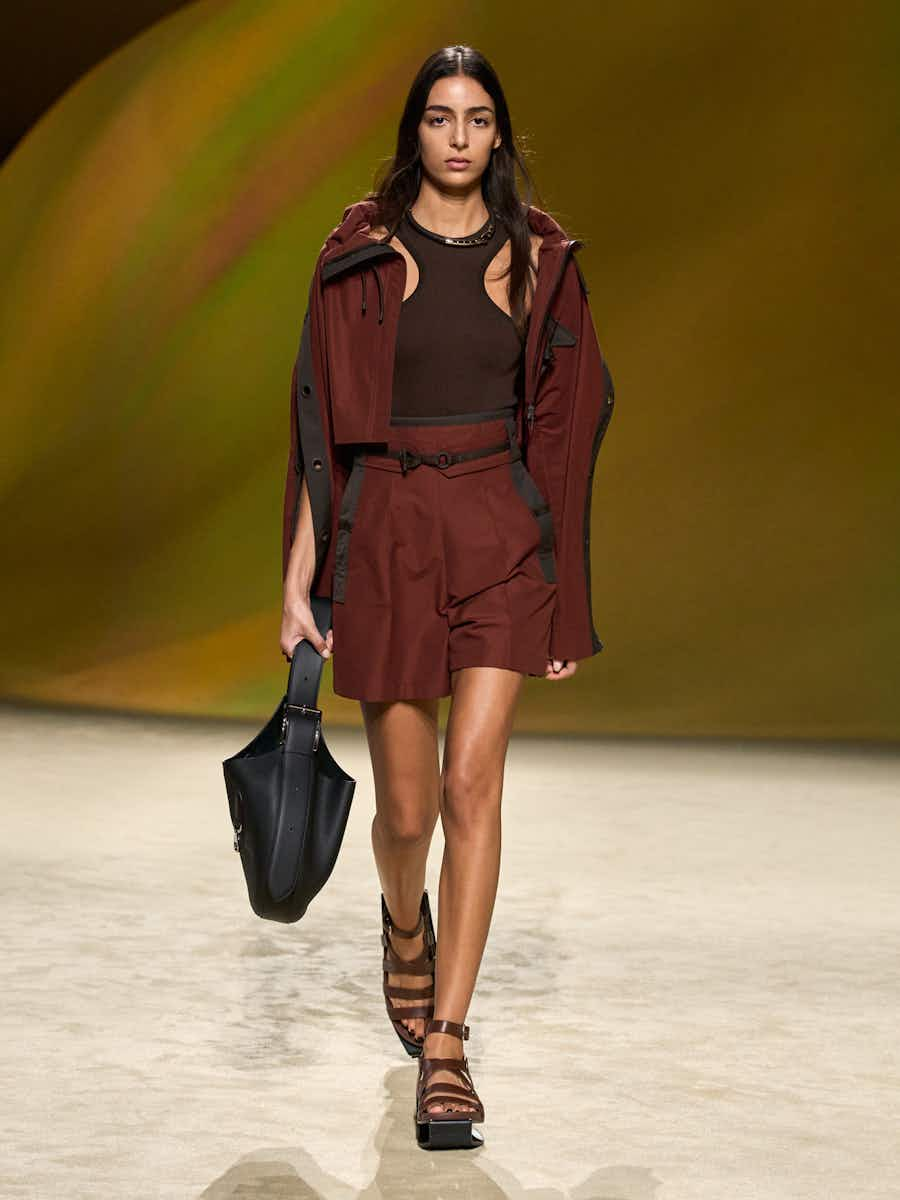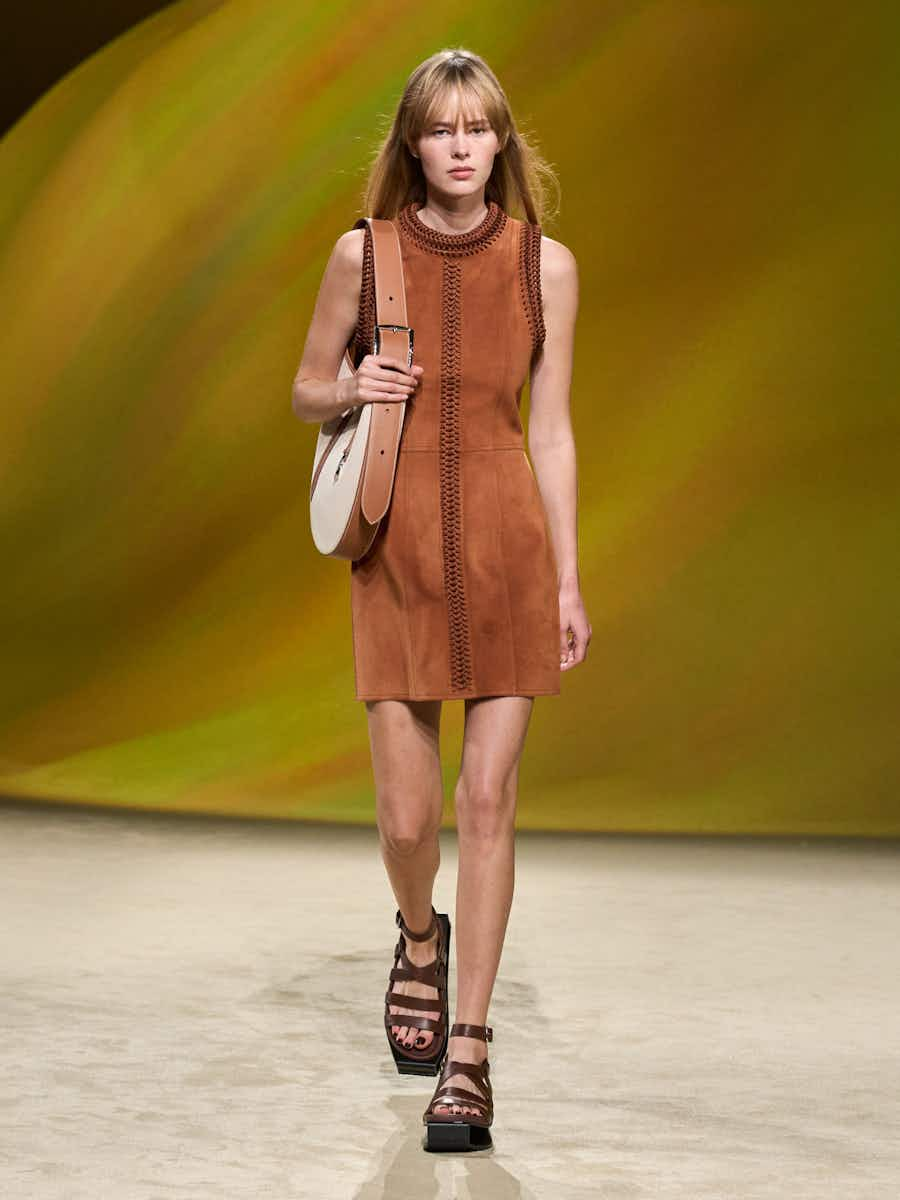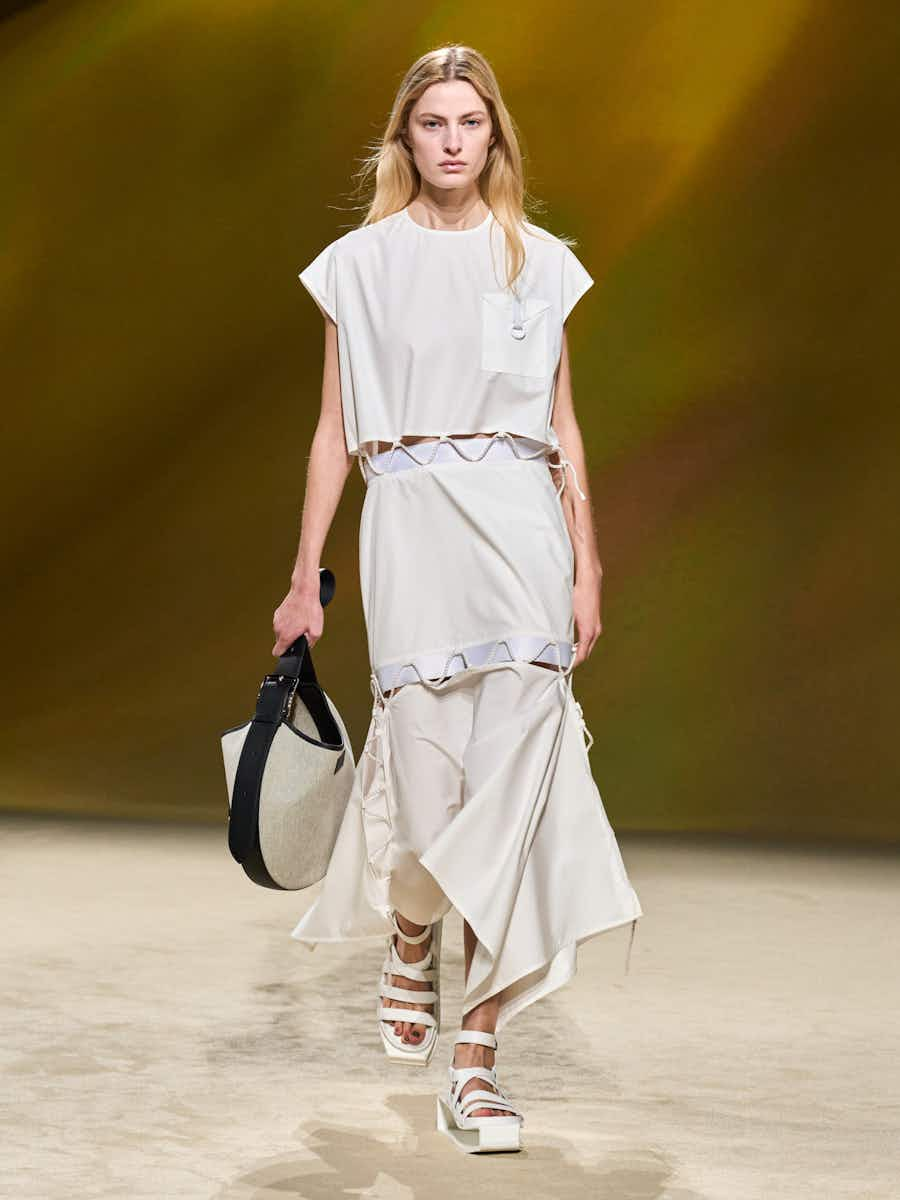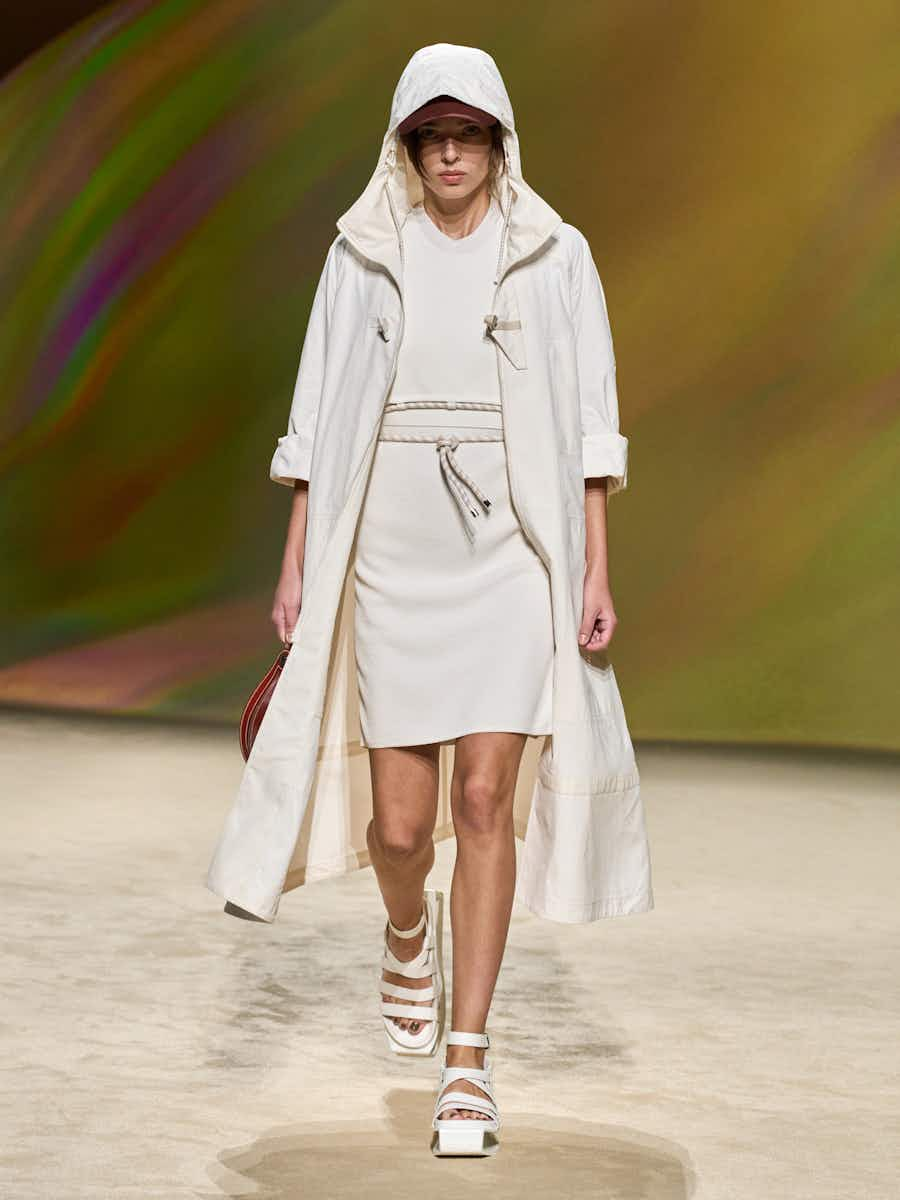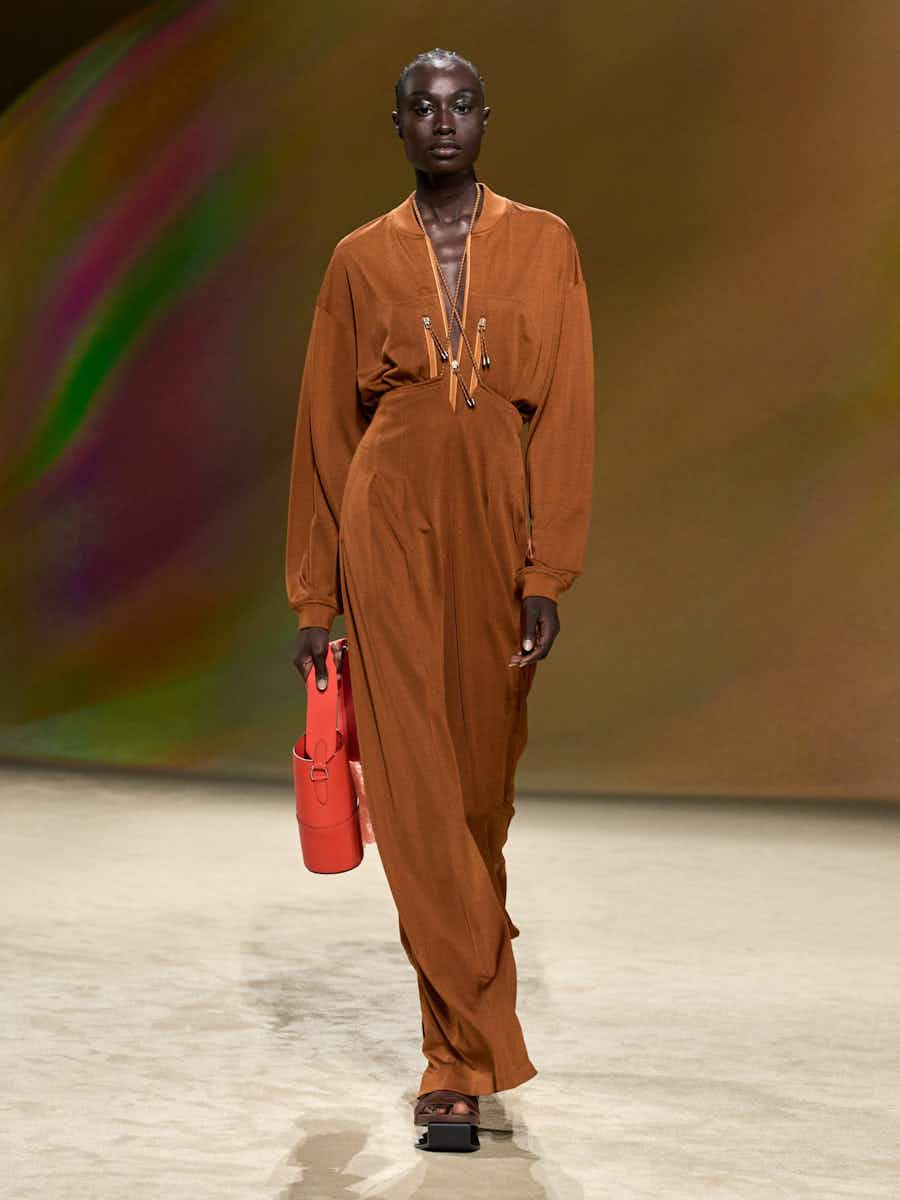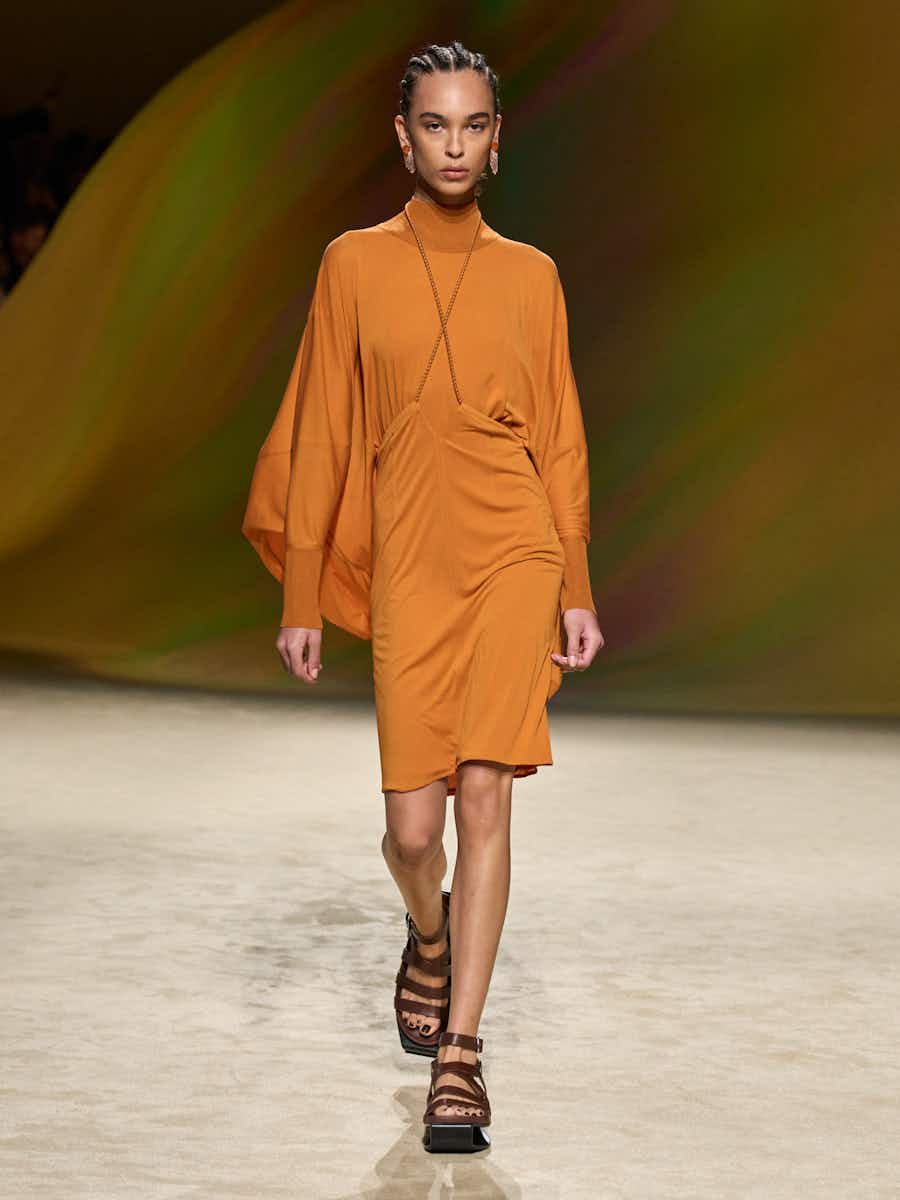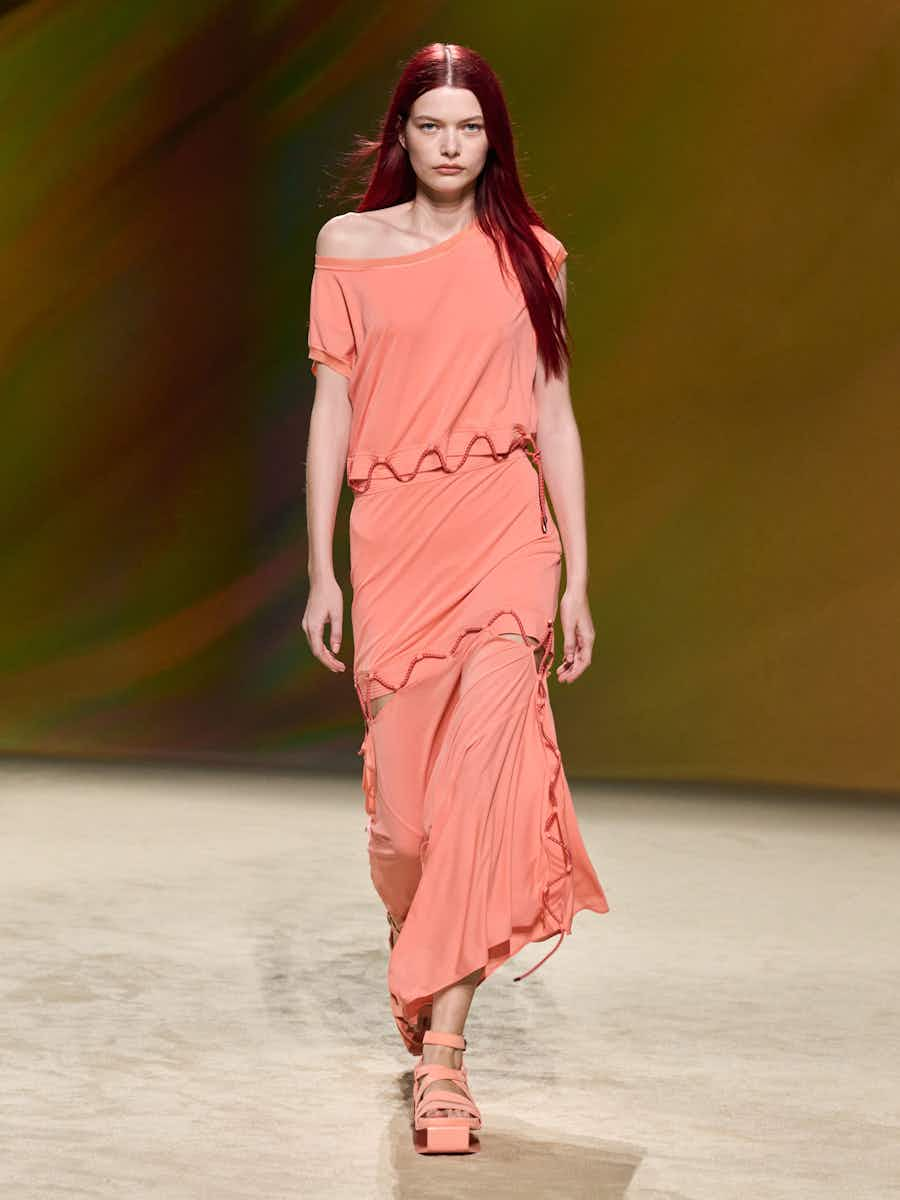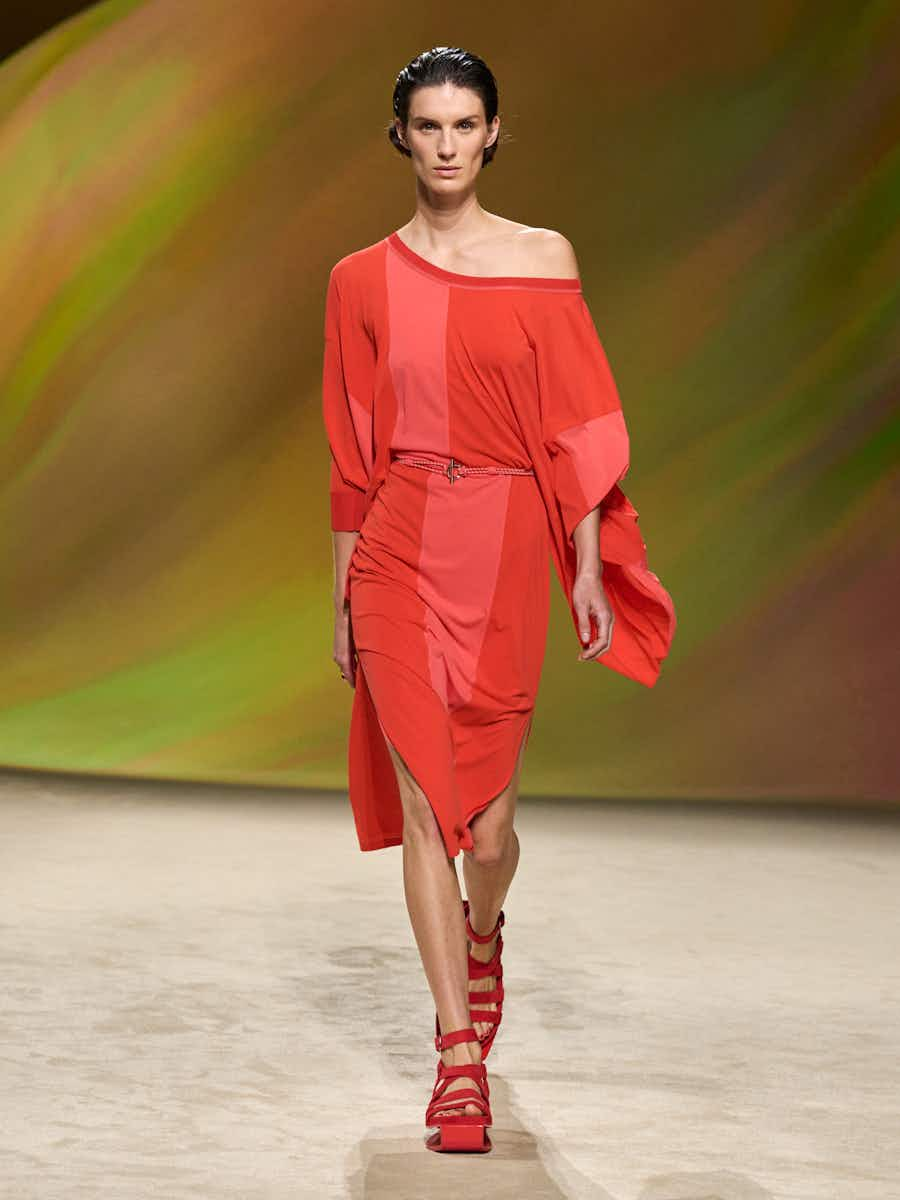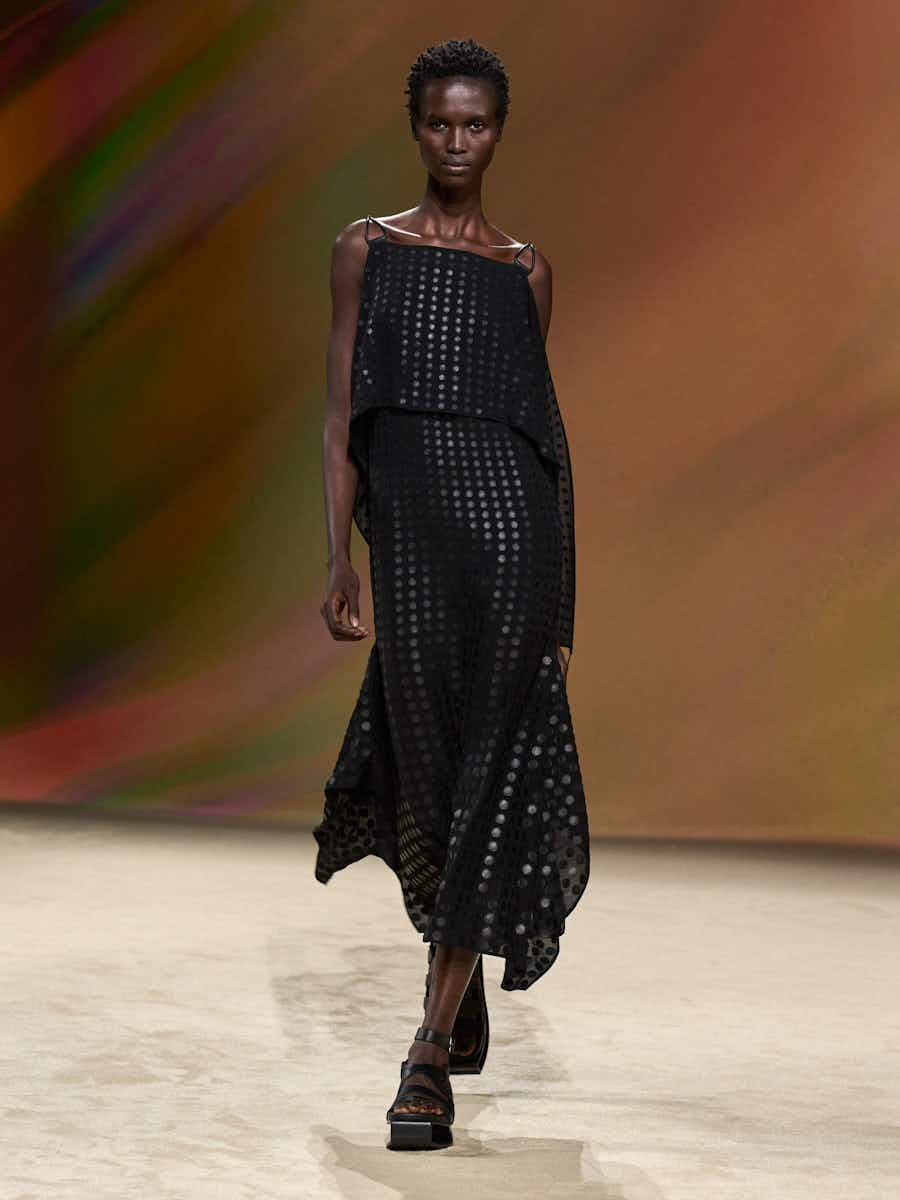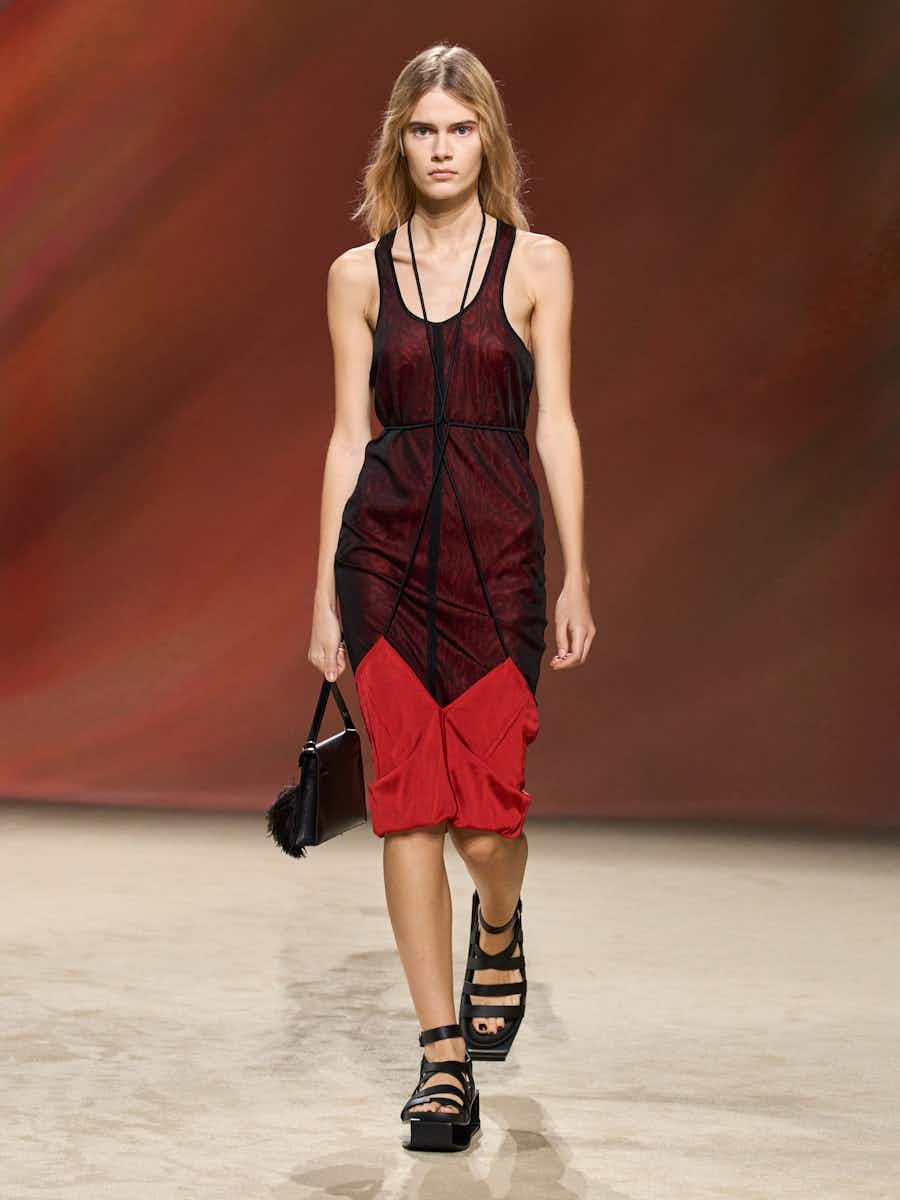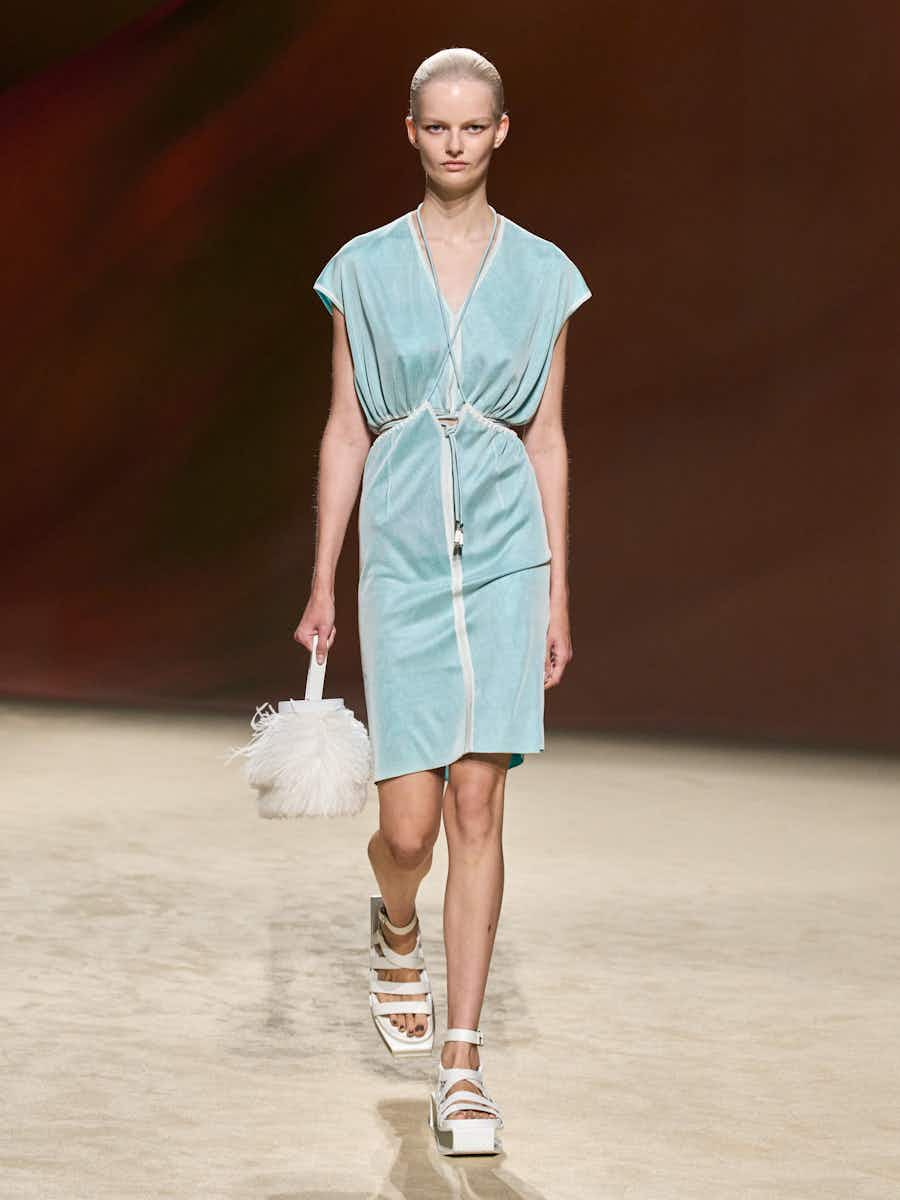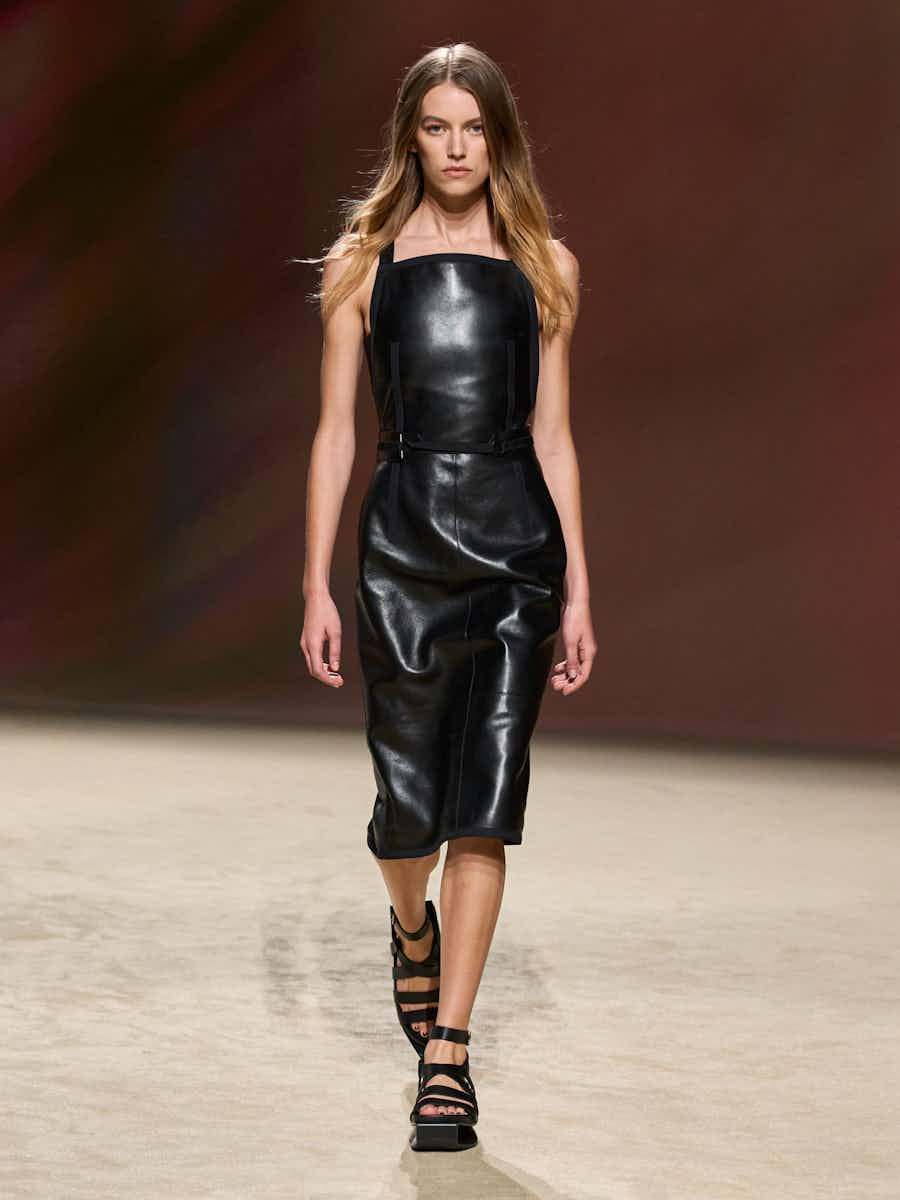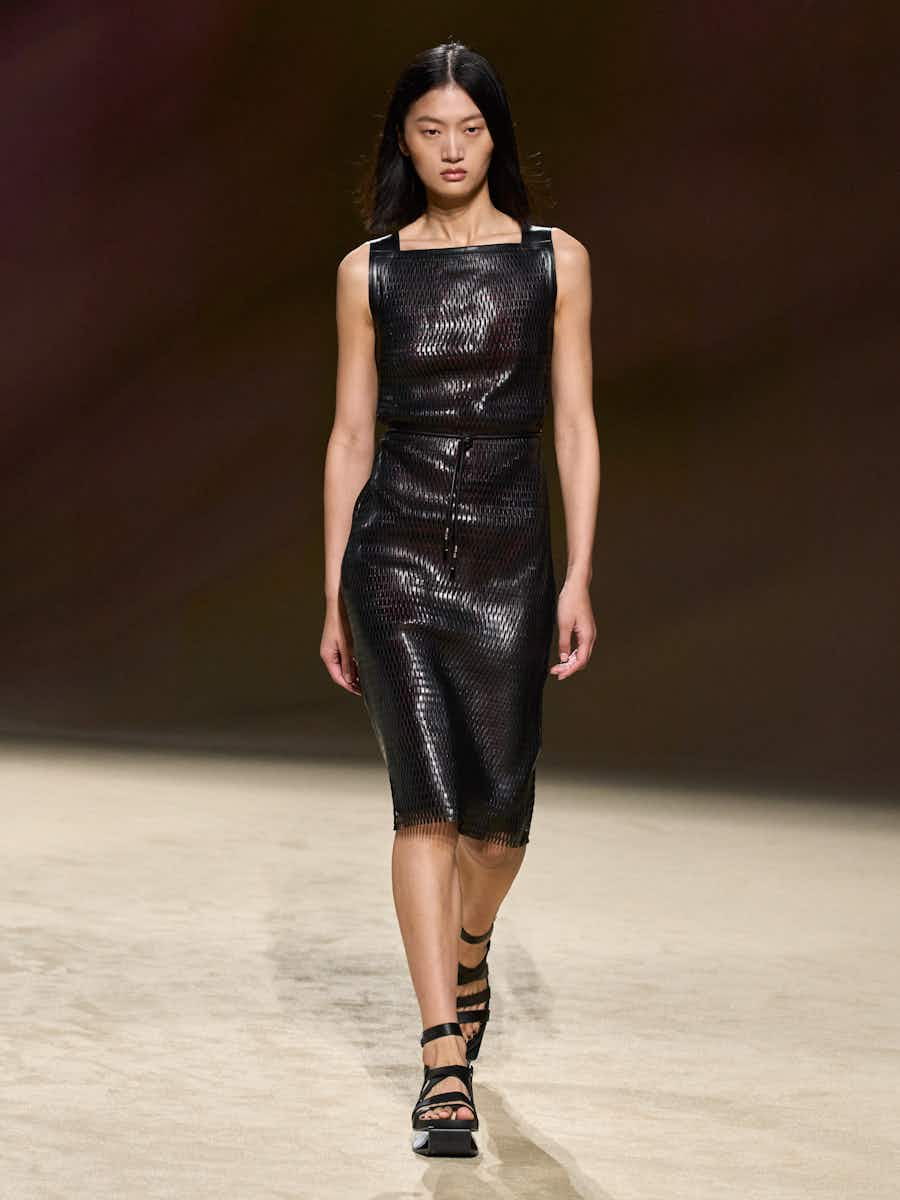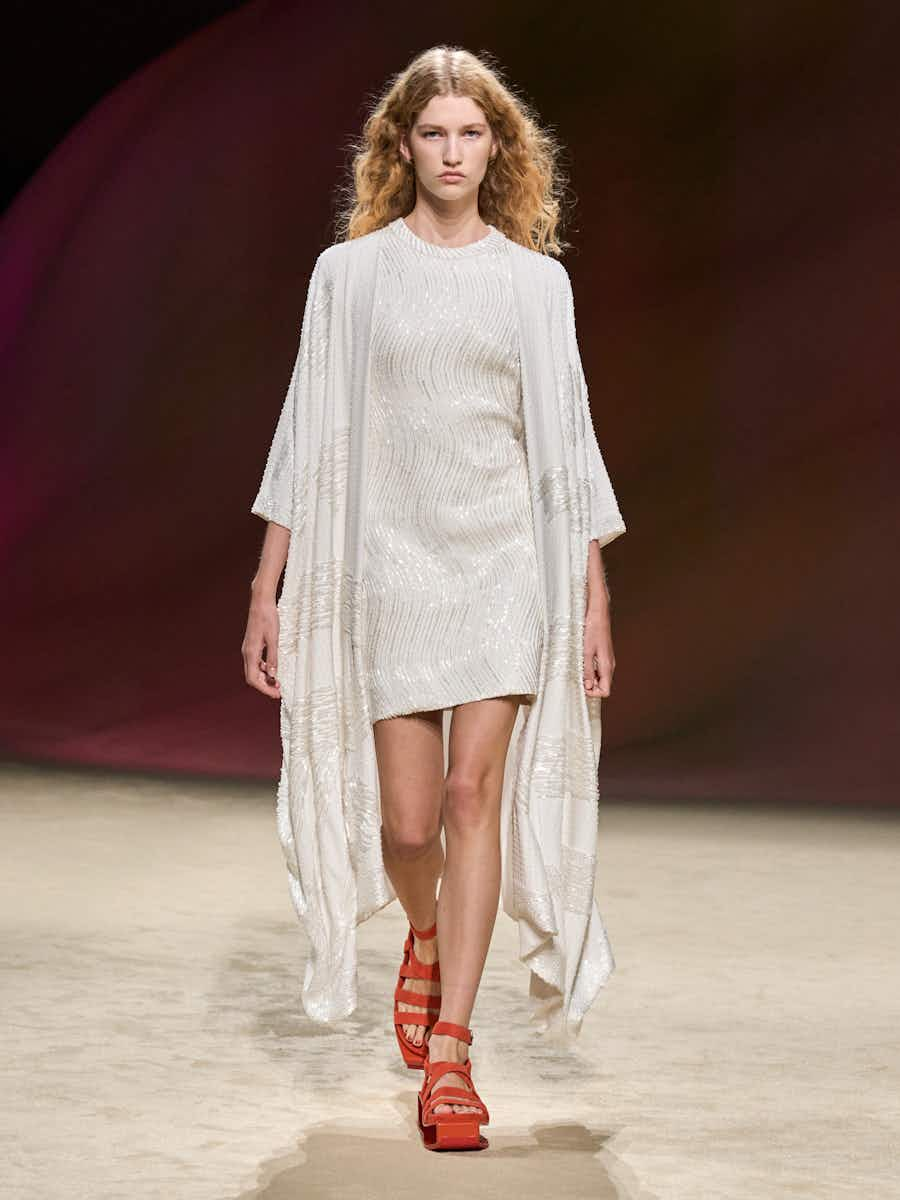 ANDREAS KRONTHALER FOR VIVIENNE WESTWOOD
Models at Vivienne Westwood's SS23 show teetered precariously atop soaring platforms, bringing to mind Naomi Campbell's infamous ​'93 runway fall. Thankfully, this season, none of the models took a tumble. Instead, the supermodel-studded line-up, including Bella Hadid, Georgia May Jagger and Irina Shayk, climbed onto the platform wearing a combination of PVC, pinstripes and knitwear all thrown together with a maximalist punk edge that felt like a return to the brand's rebellious origins. One look was even finished with an ambitious mohawk and bold anarchist ​"A" face paint.
Punk wasn't the reference here, though, but rather John Donne, the Renaissance poet. ​"John Donne understood that when we get dressed we ask something of the world," said Westwood's partner, in work and life, Andreas Kronthaler, who designed the collection while Westwood herself stayed in London to protest with Enough Is Enough campaigners against the cost of living crisis.
Kronthaler gestured to the brand's archive through punk tees, corsetry and, of course, super-chunky platforms. The show closed on a more feminine note with coquettish corsets and a frothy tulle detail gown, but these looks retained a sense of toughness, best exemplified by the boxing gloves that got a high fashion update for the final look. What a knockout. SW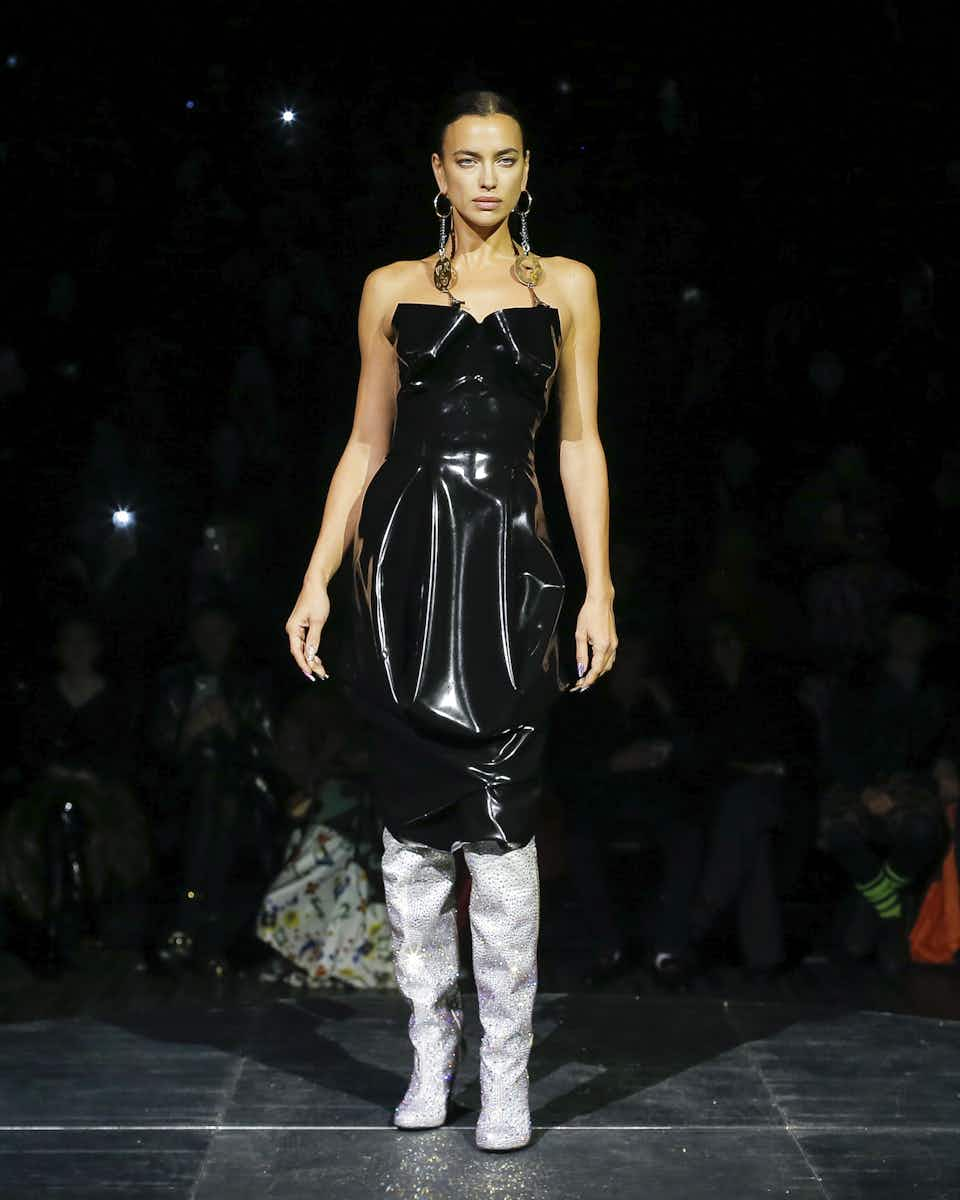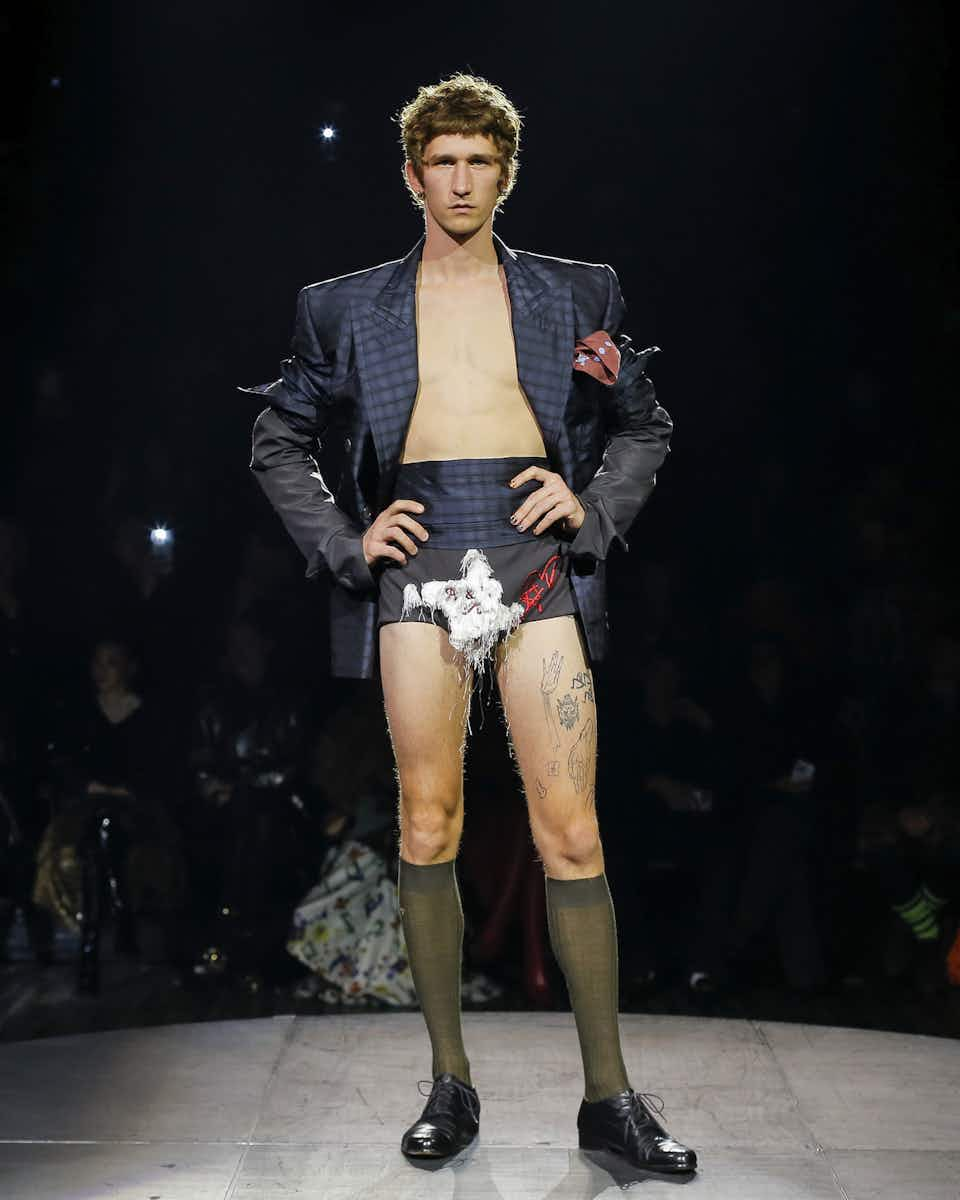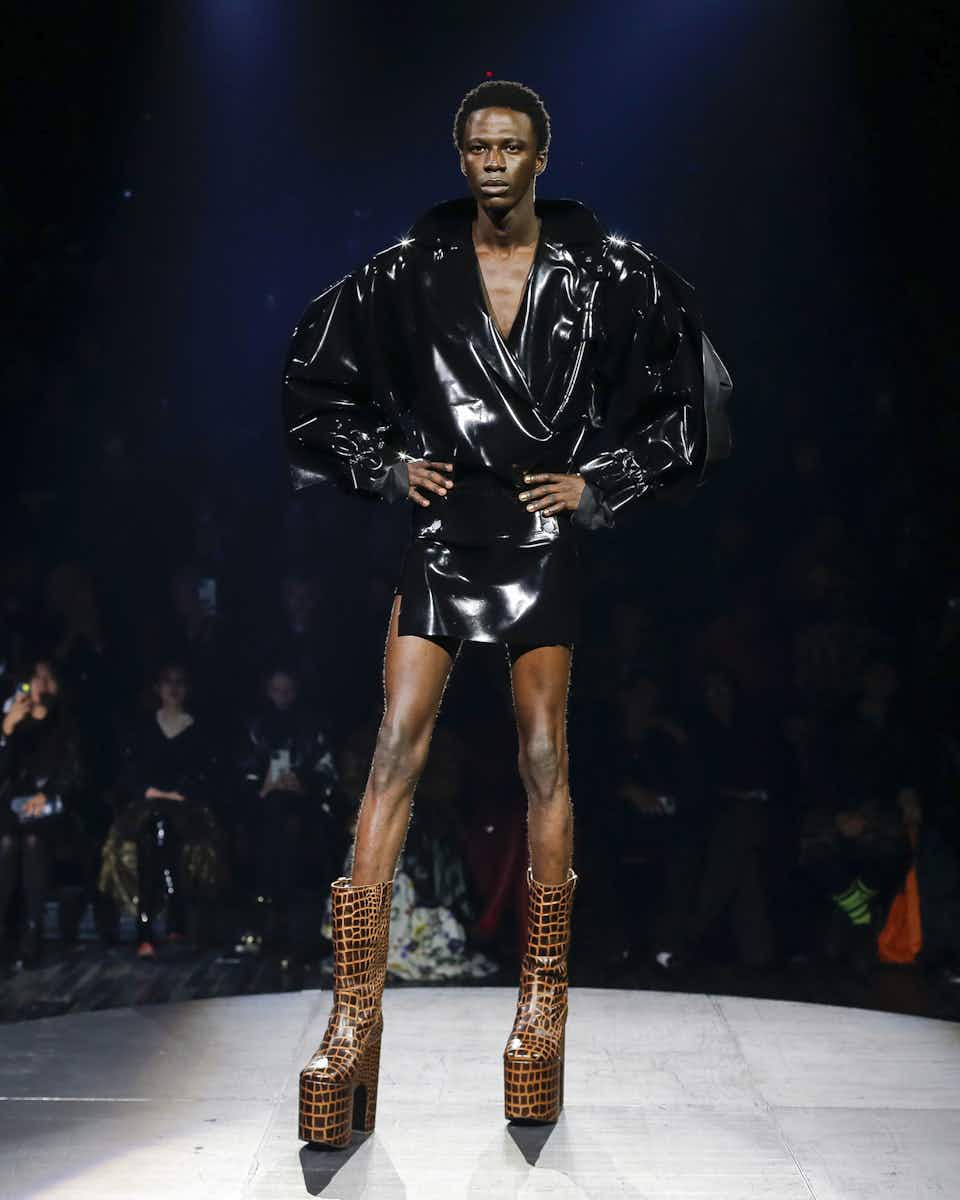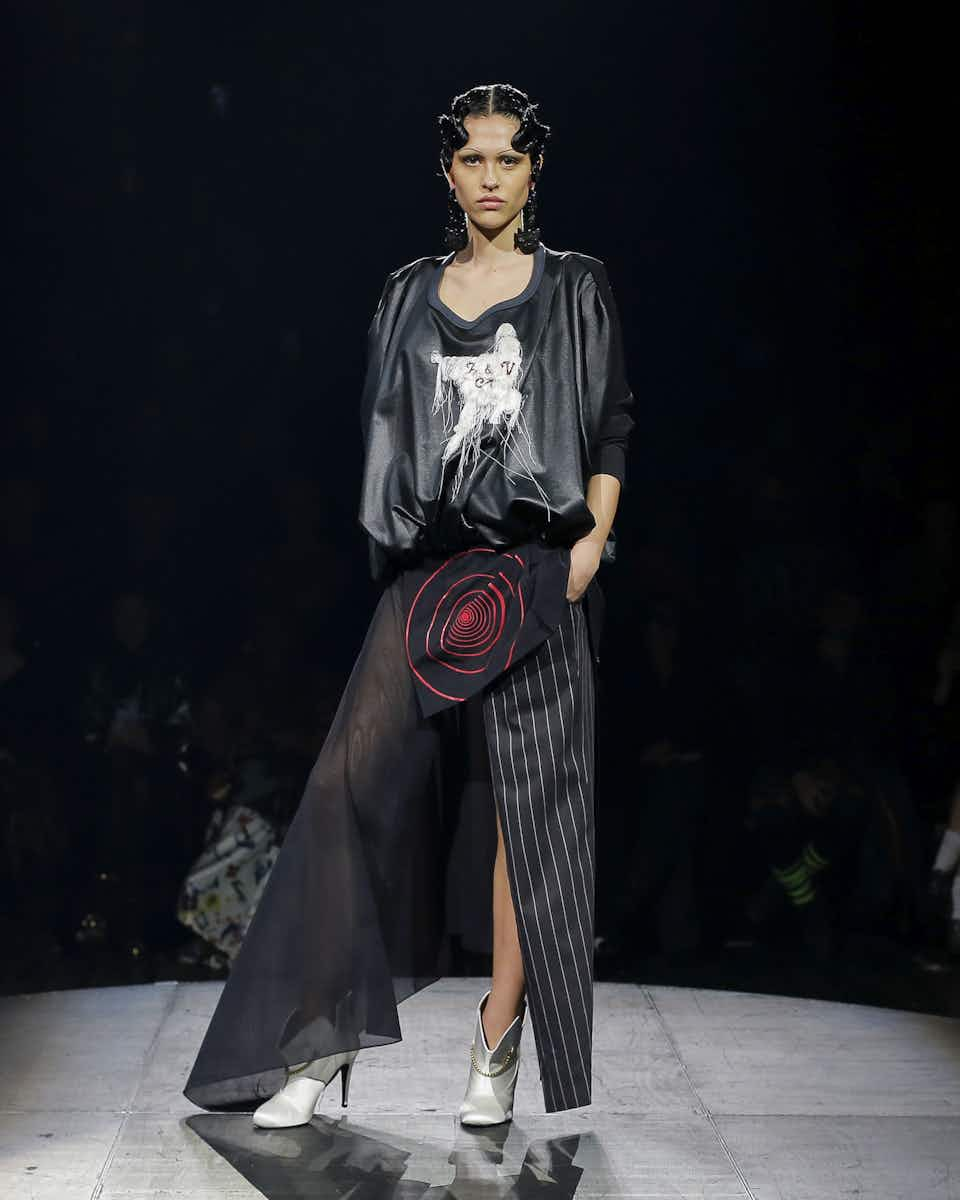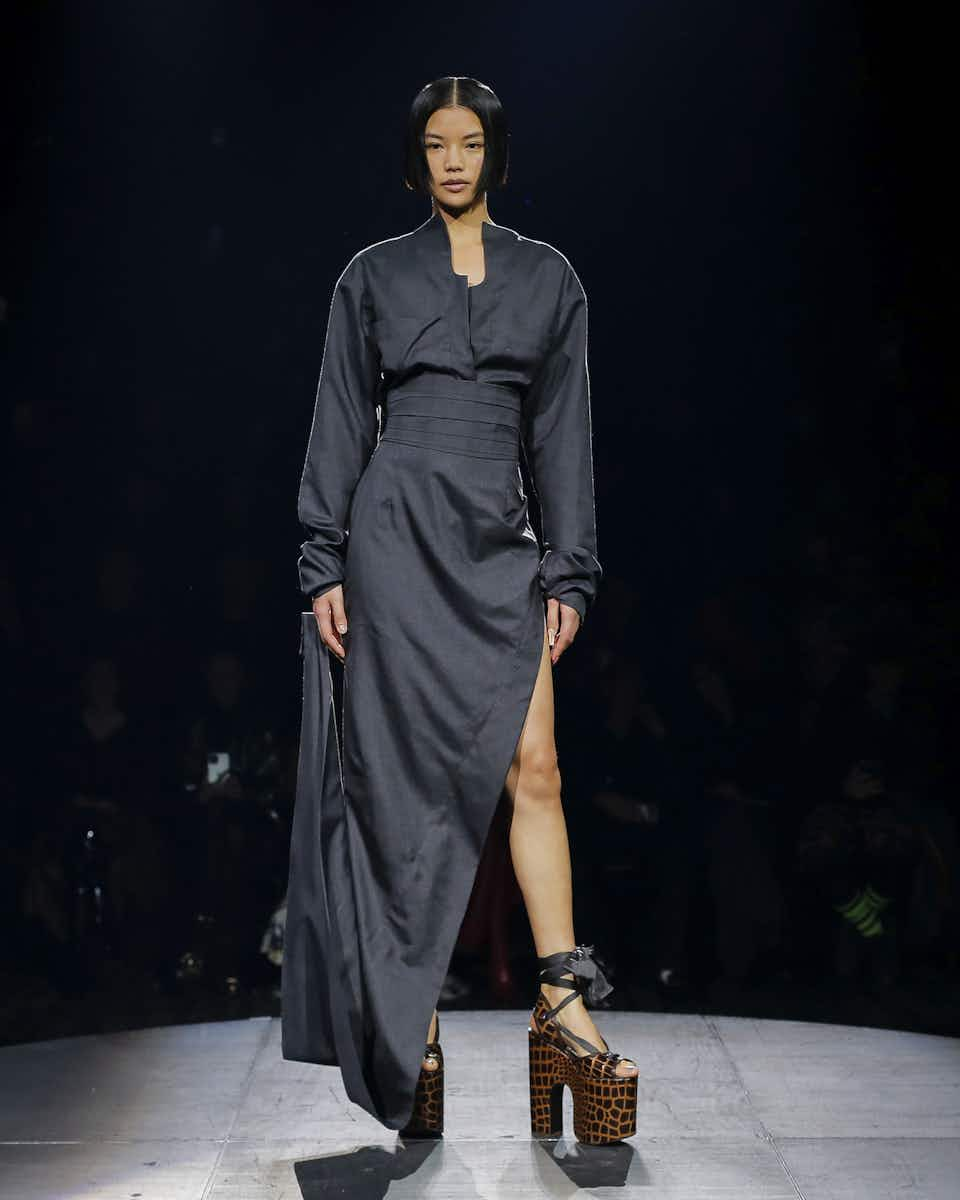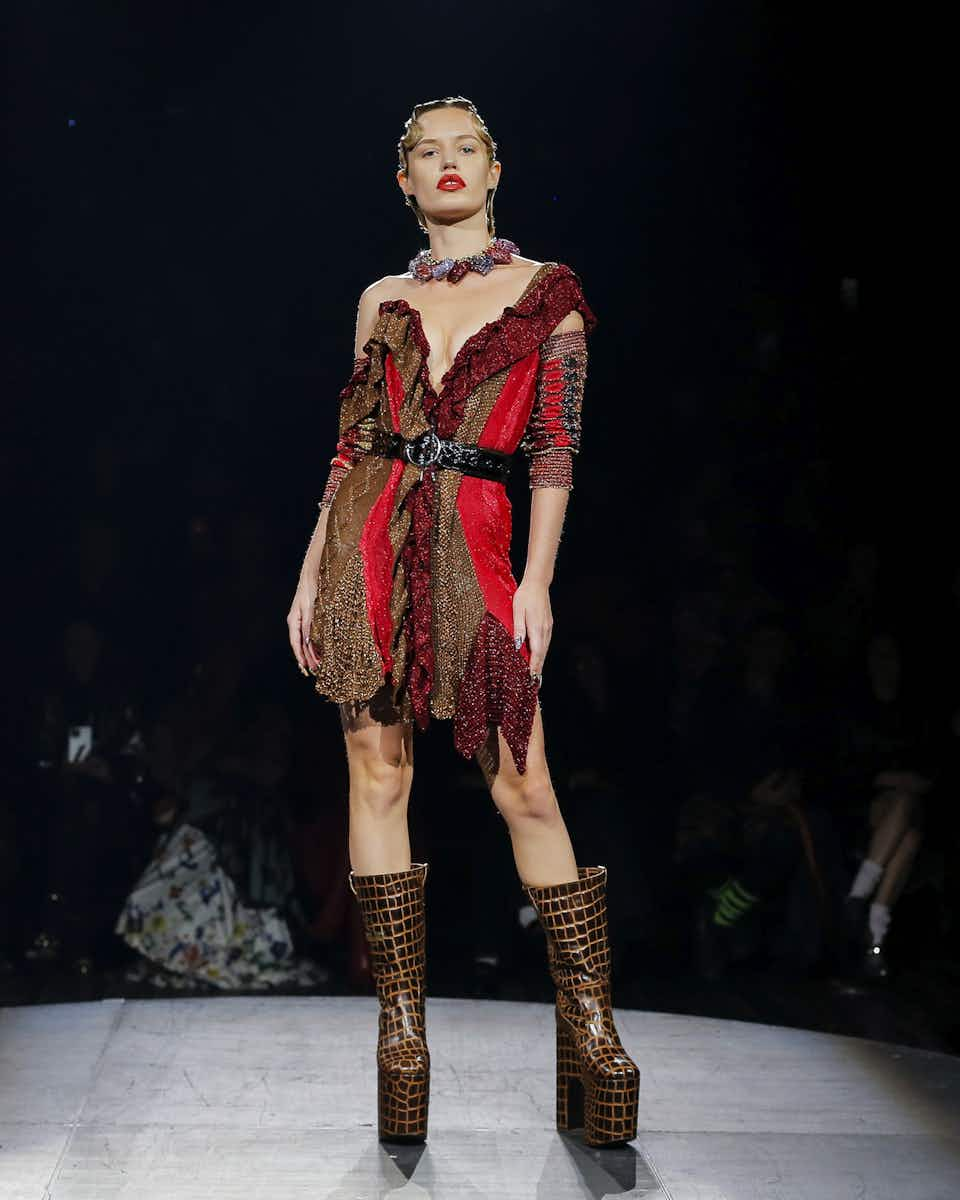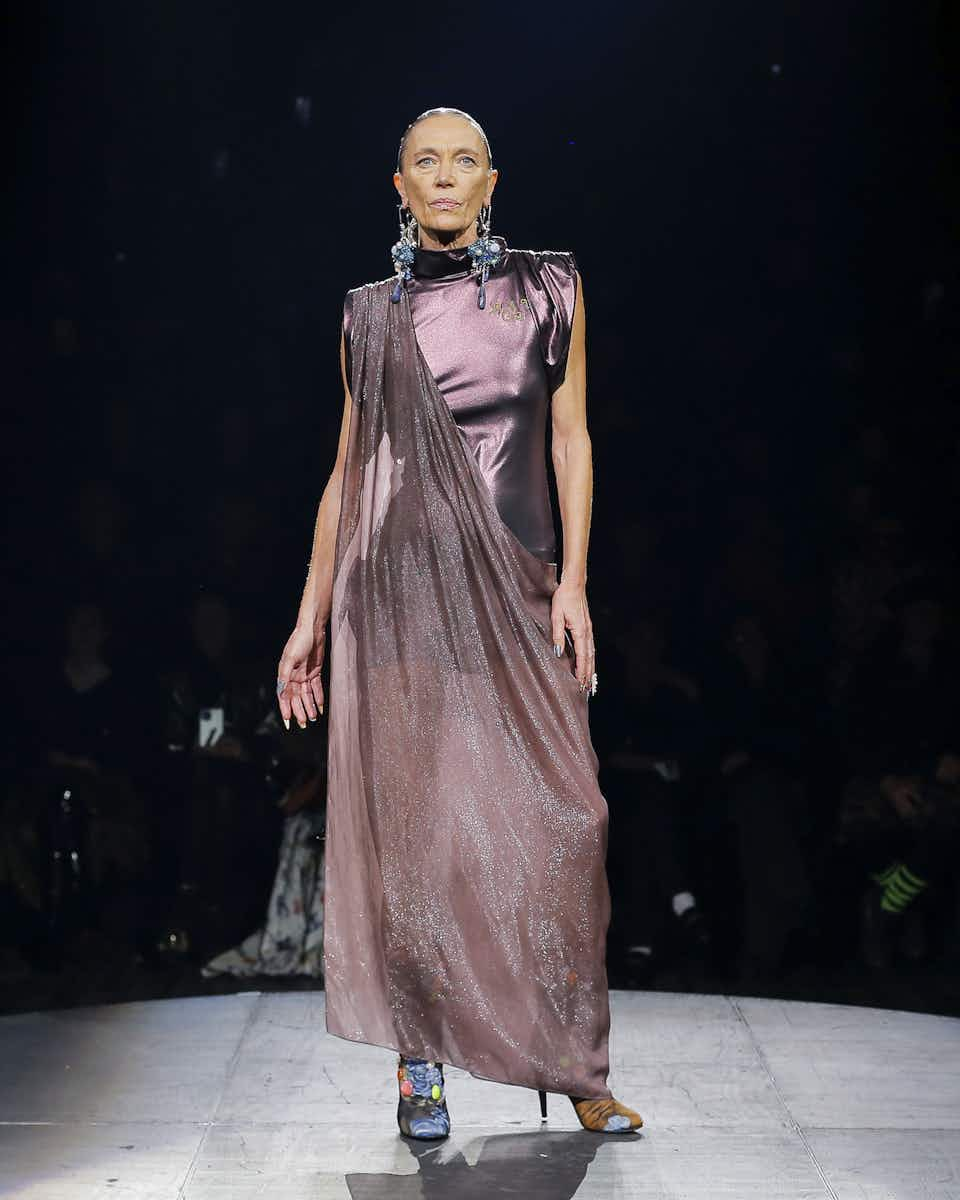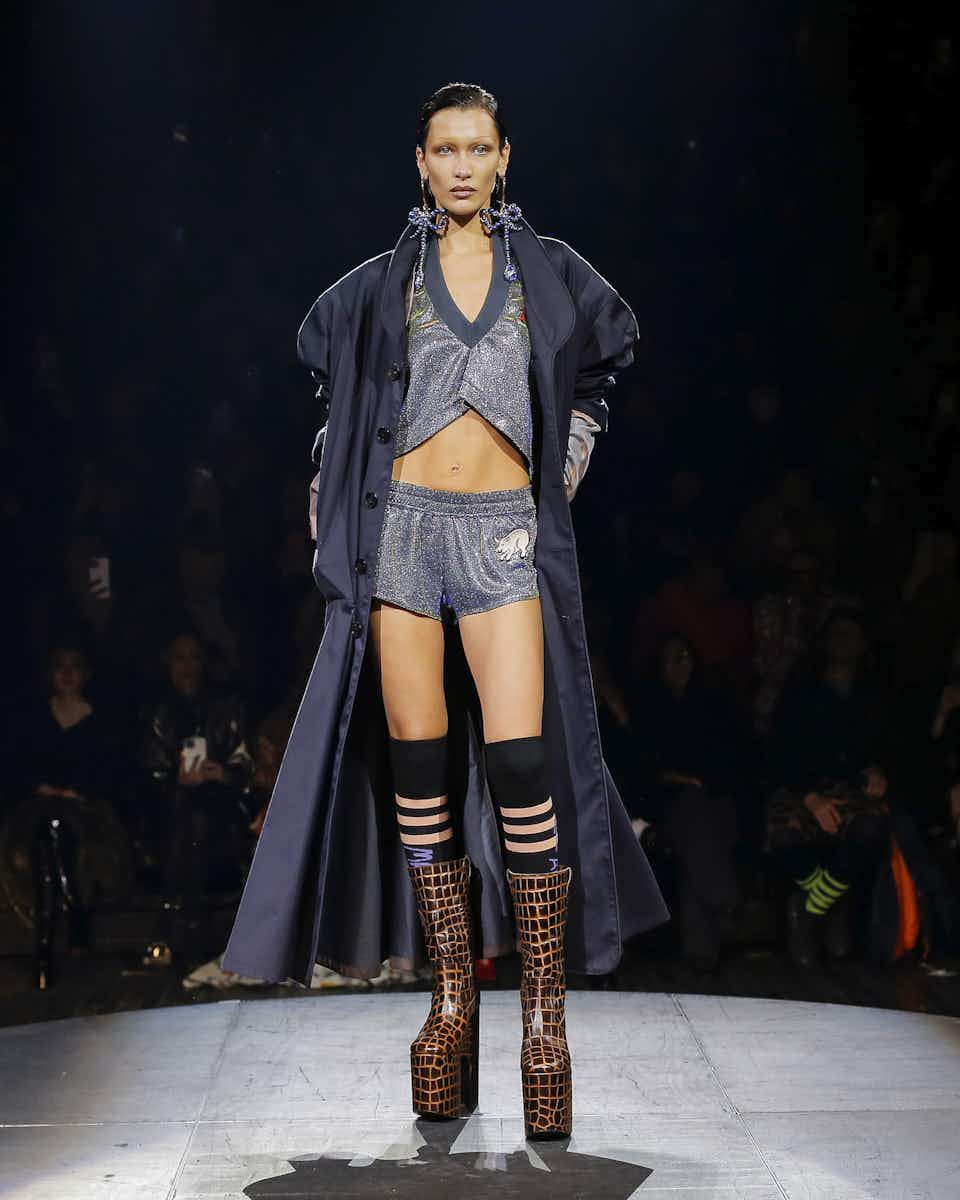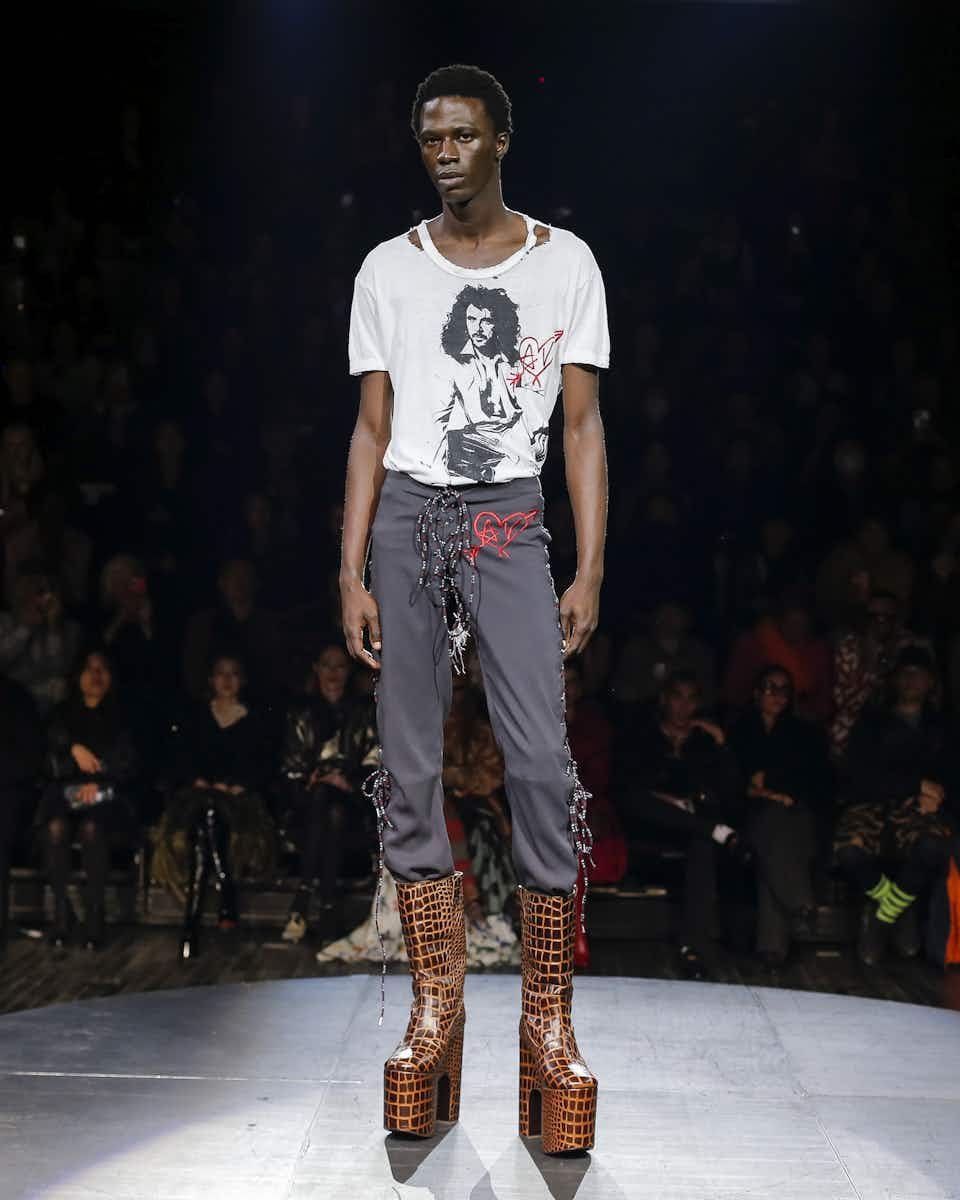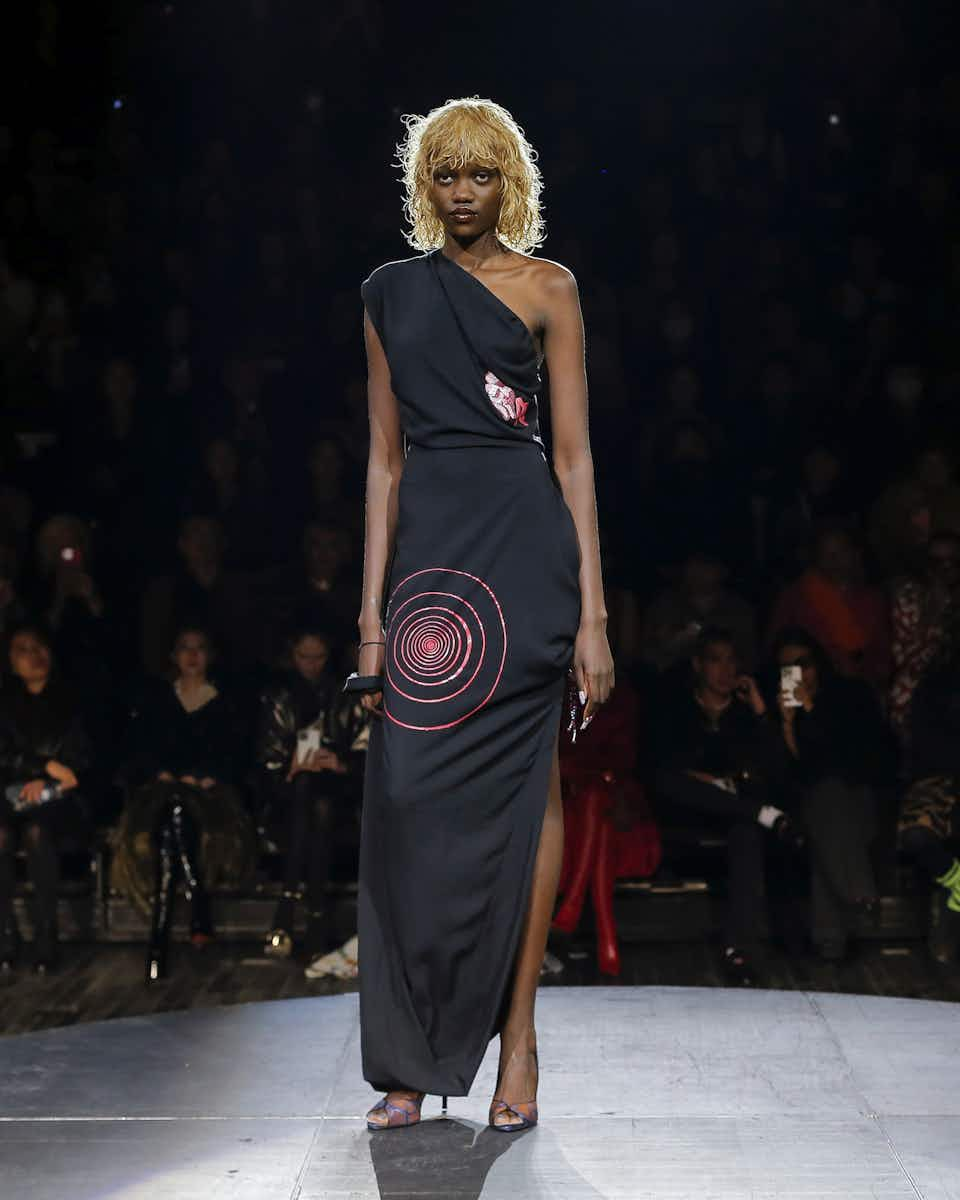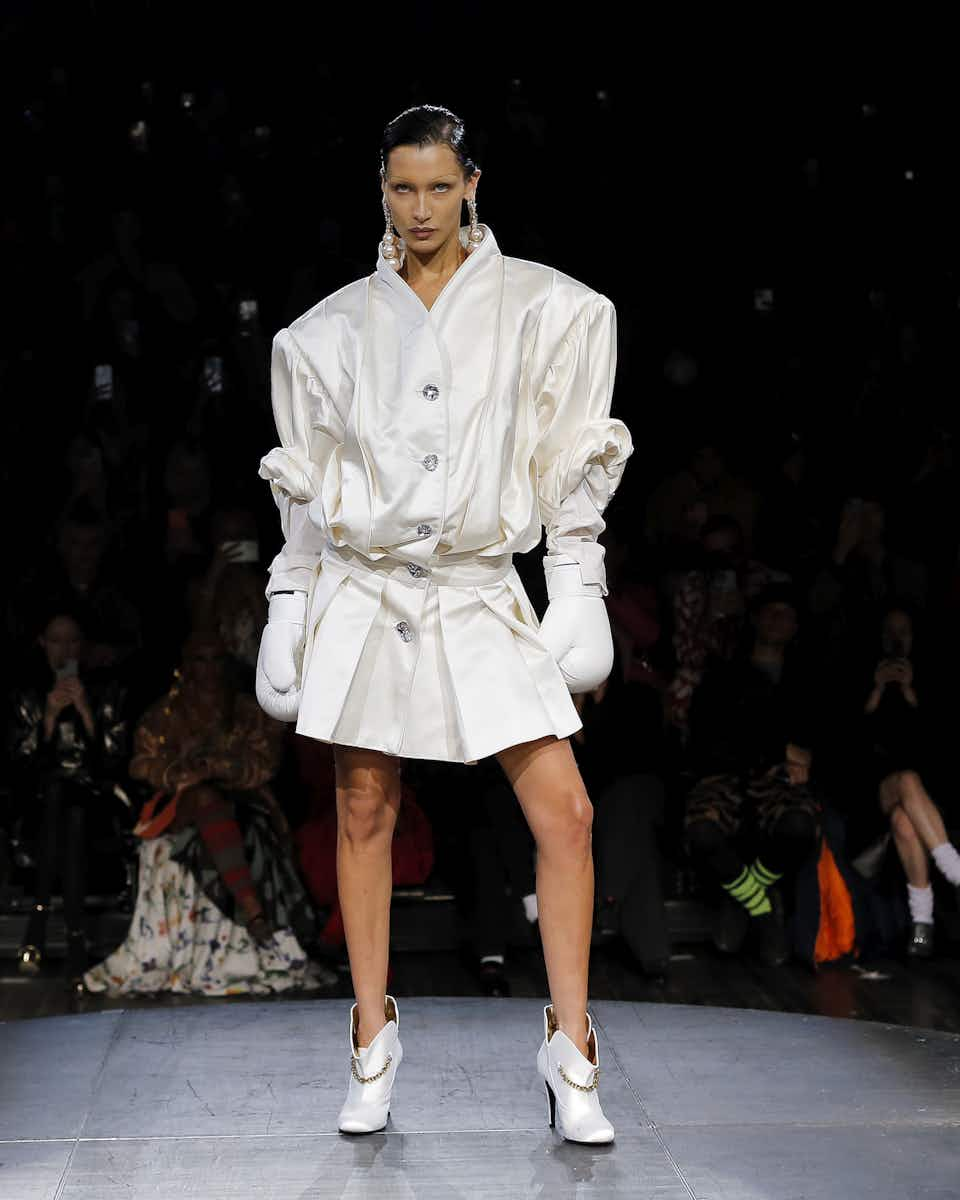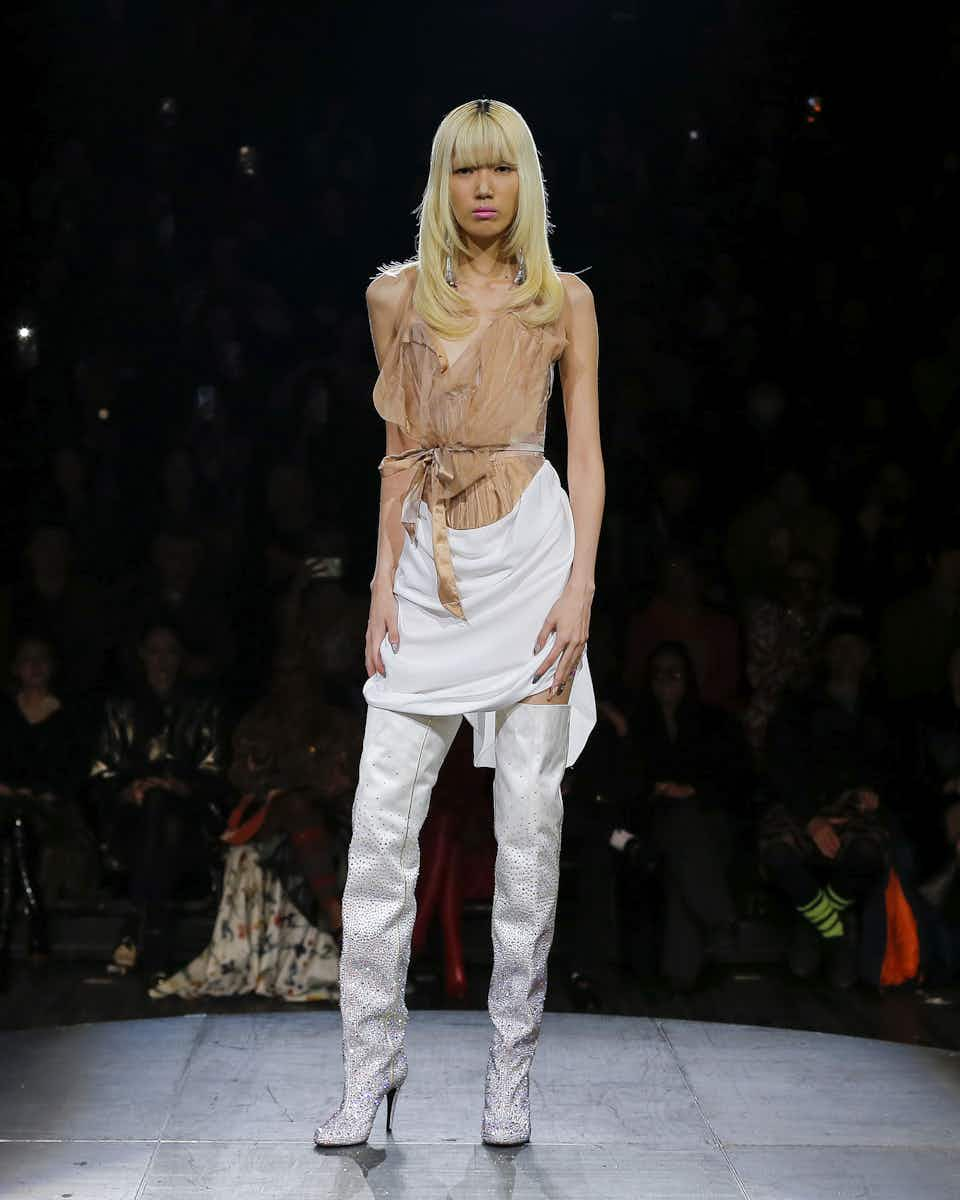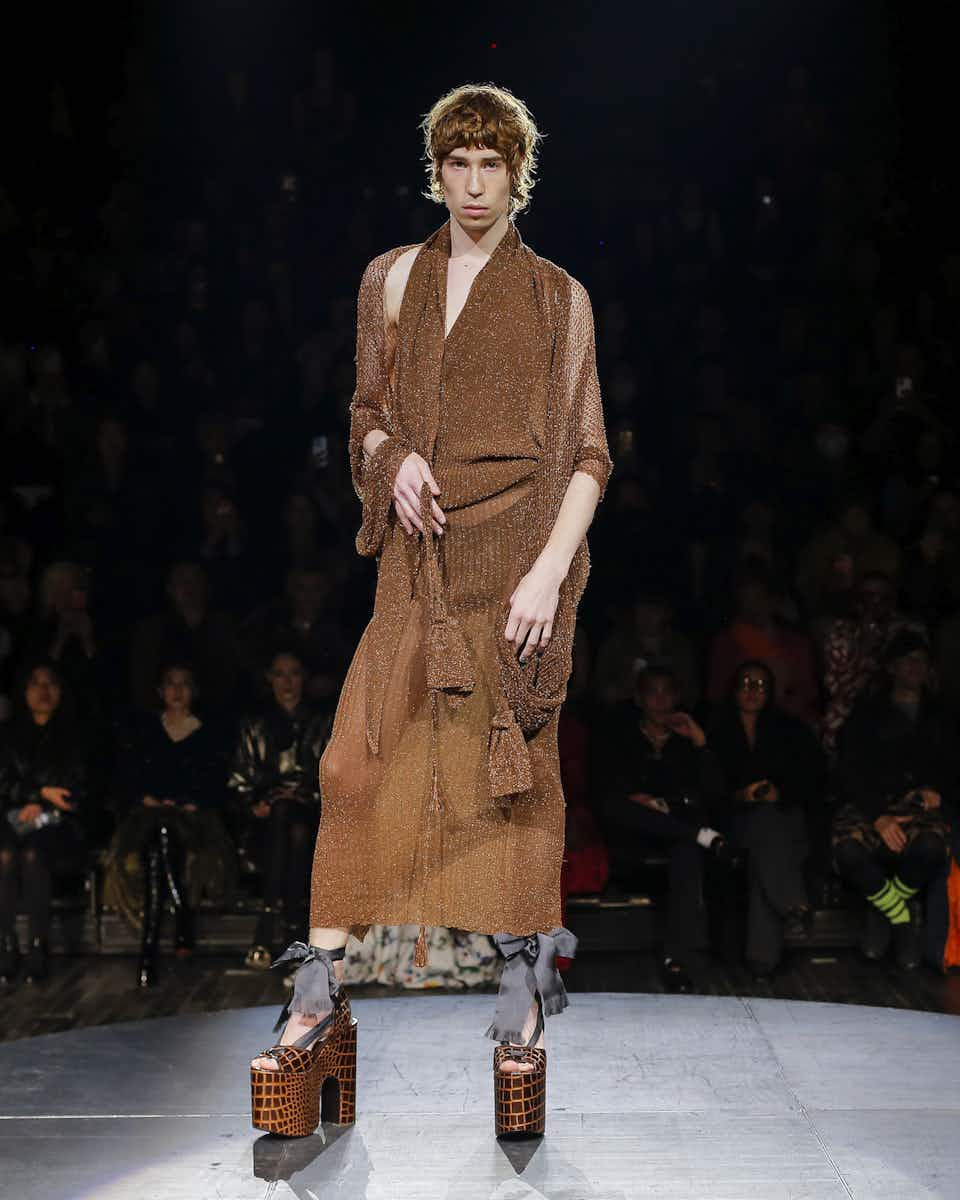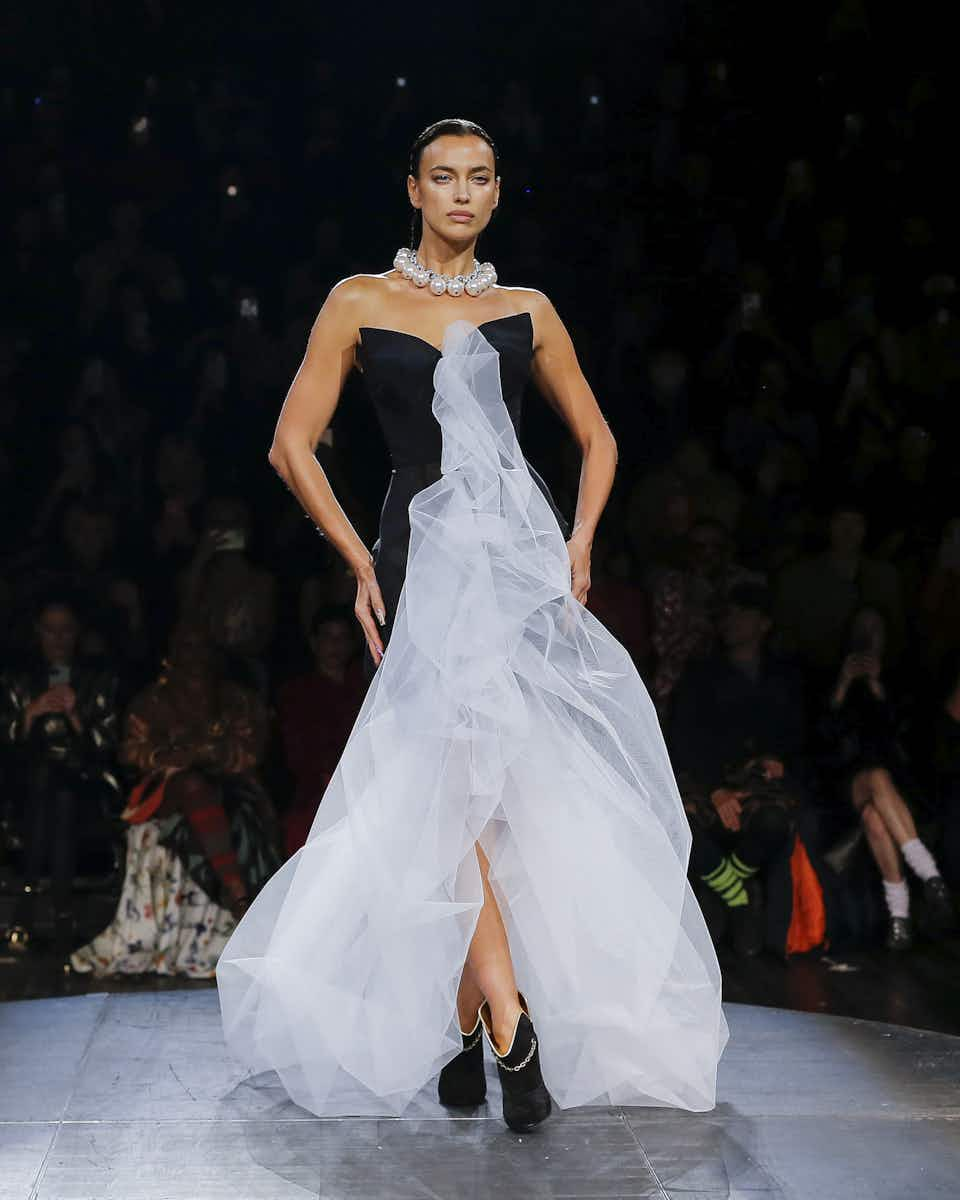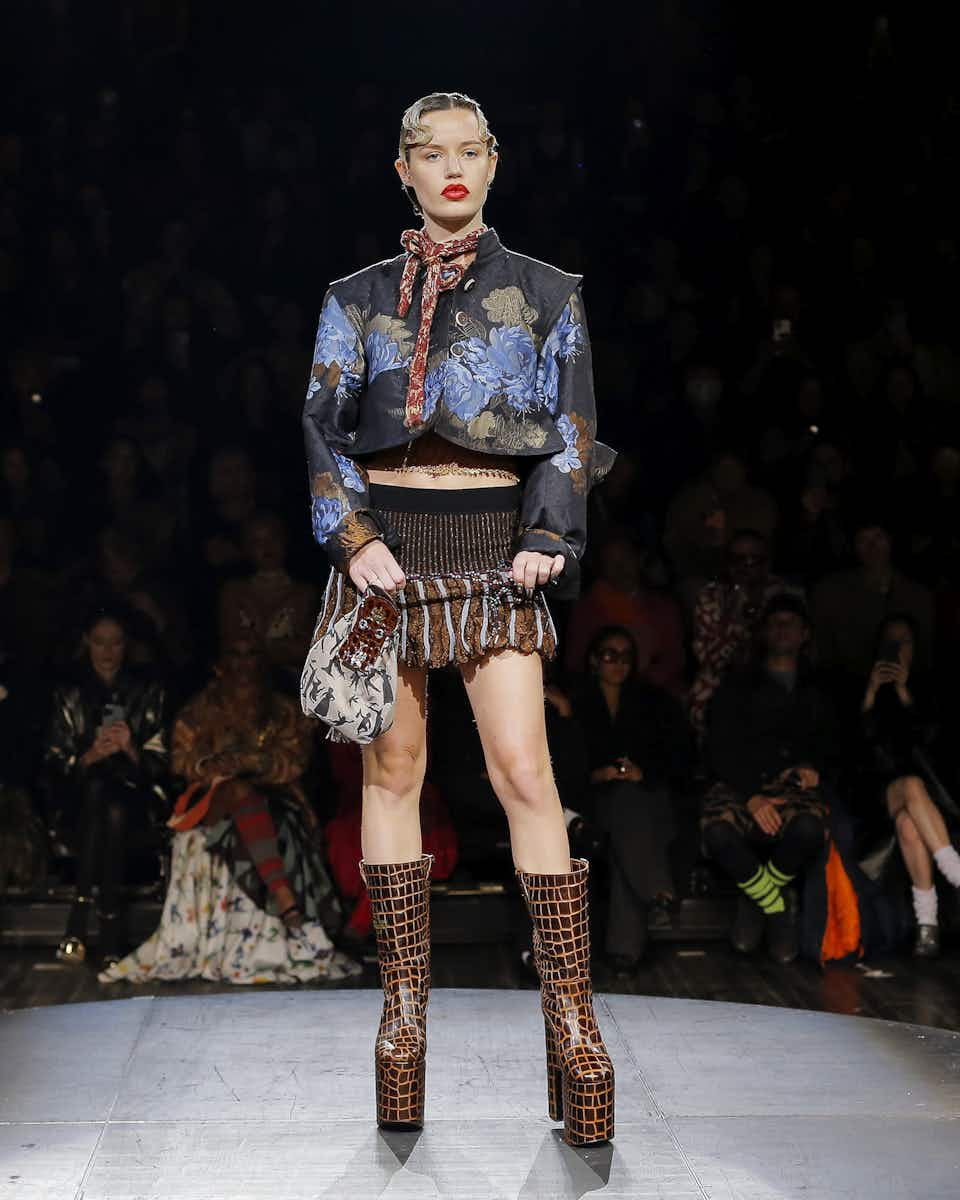 At Coperni, Sébastien Meyer and Arnaud Vaillant perfected the recipe for an instant viral fashion moment. Bella Hadid? Check. Naked dress? Check. Cutting-edge technology? Check, check.
As technicians sprayed Bella with white paint, it brought to mind Shalom Harlow being sprayed by robotic arms at Alexander McQueen's SS99 show, a viral event before ​"going viral" was really a thing. The whole process lasted around seven minutes after which Bella walked the runway, revealing that the polymer white paint had turned into a perfectly fitted solid jersey-like fabric. Cue the applause, and this fashion month's biggest jaw-dropper.
While the spray-on dress got everyone talking, the collection also featured a 1K solid gold Coperni Swipe bag that was melted down after the show. Elsewhere, dresses with thousands of pieces of embroidered glass made a twinkling sound as they moved and asymmetric tops and dresses were slashed and put back together with small metal wires.
It's doubtful that we'll all be spraying on our clothes along with deodorant any time soon, but that mesmerising Bella moment was the perfect embodiment of when fashion and tech meet: great spectacles can happen. SW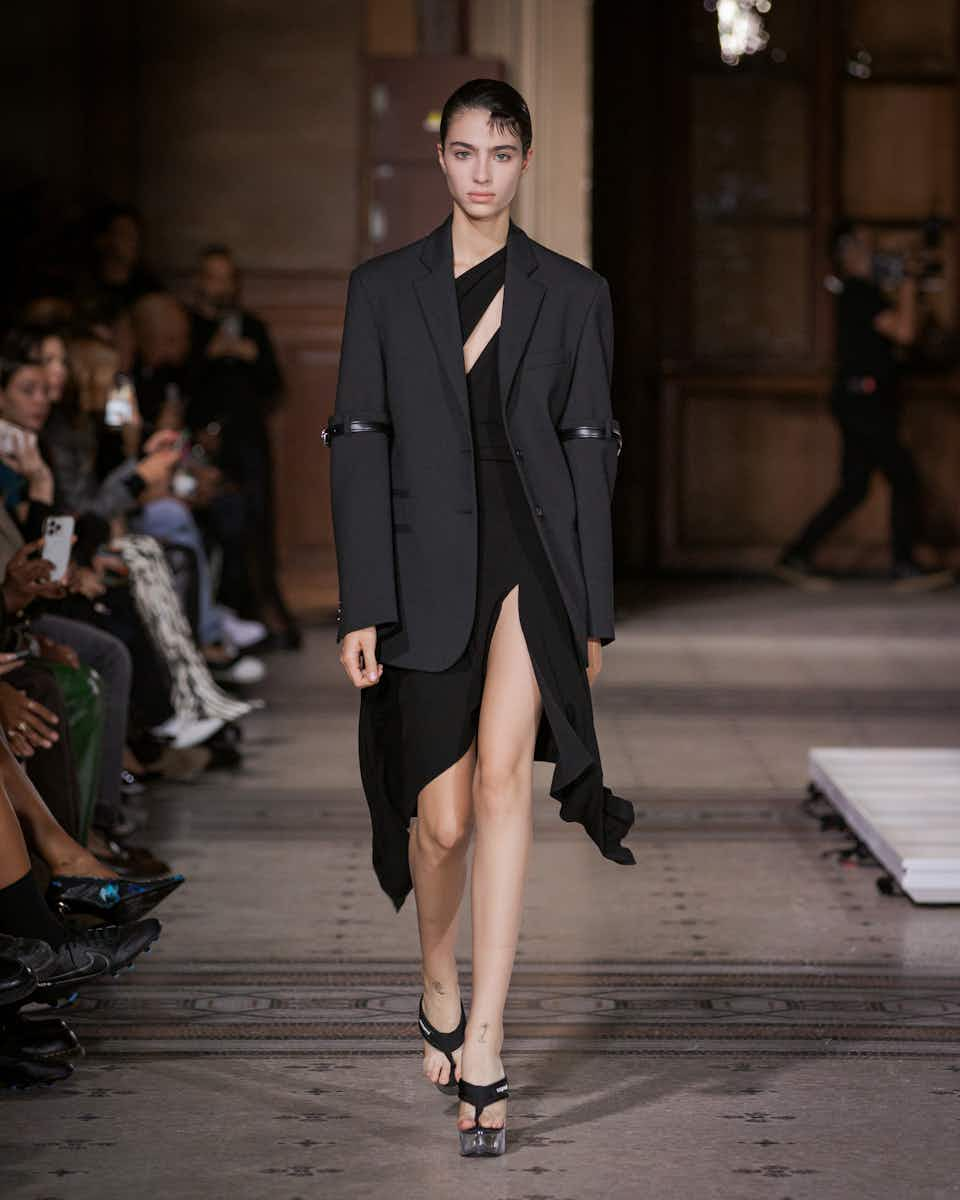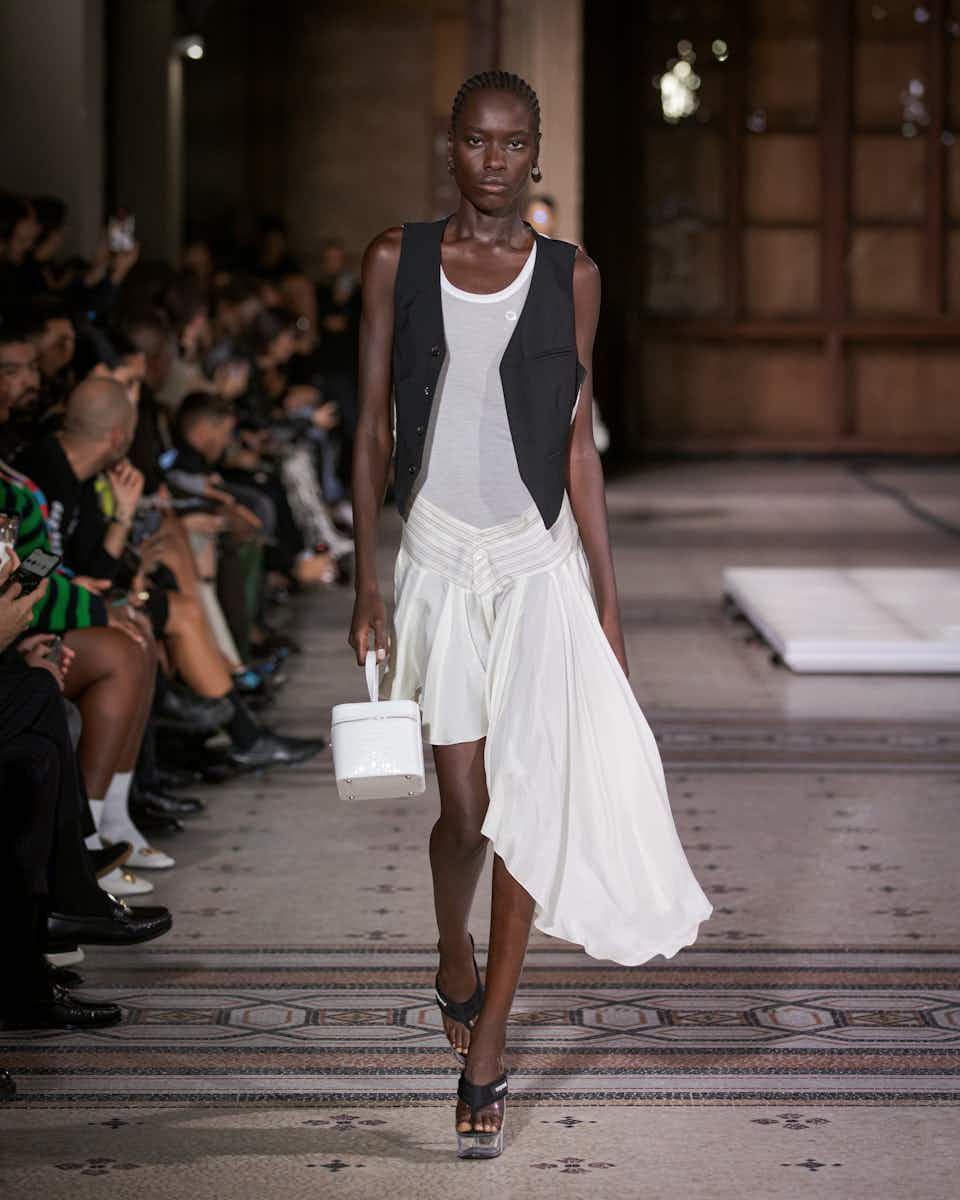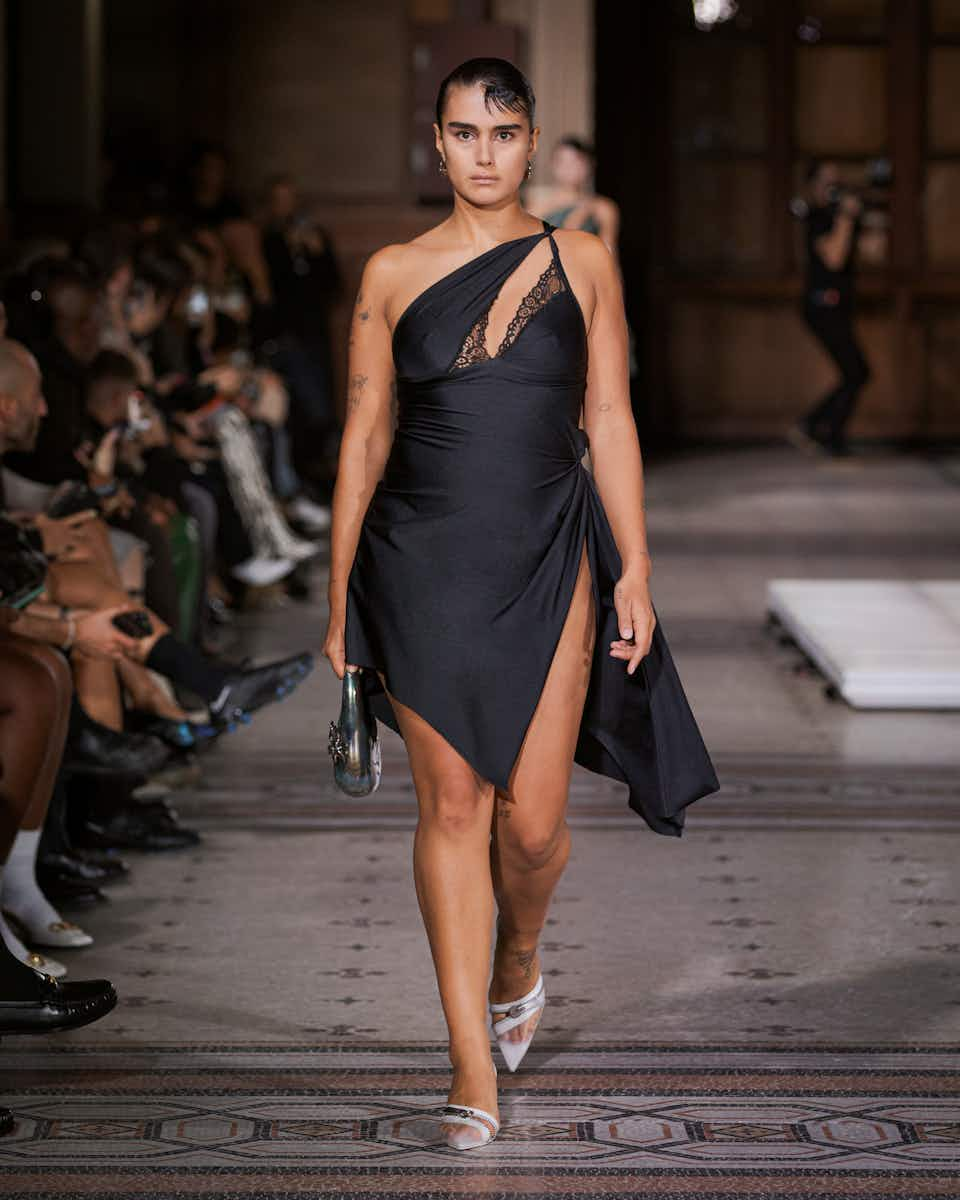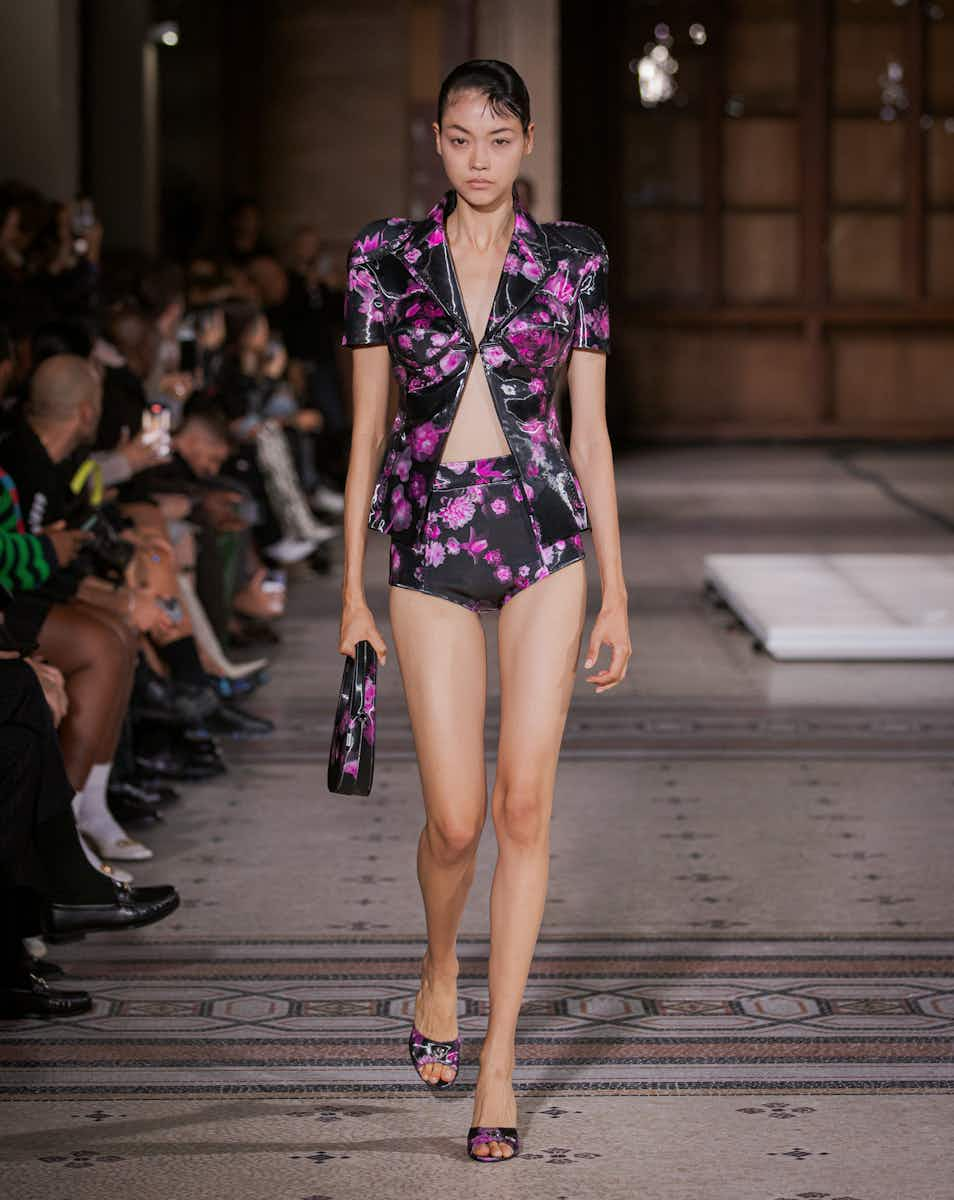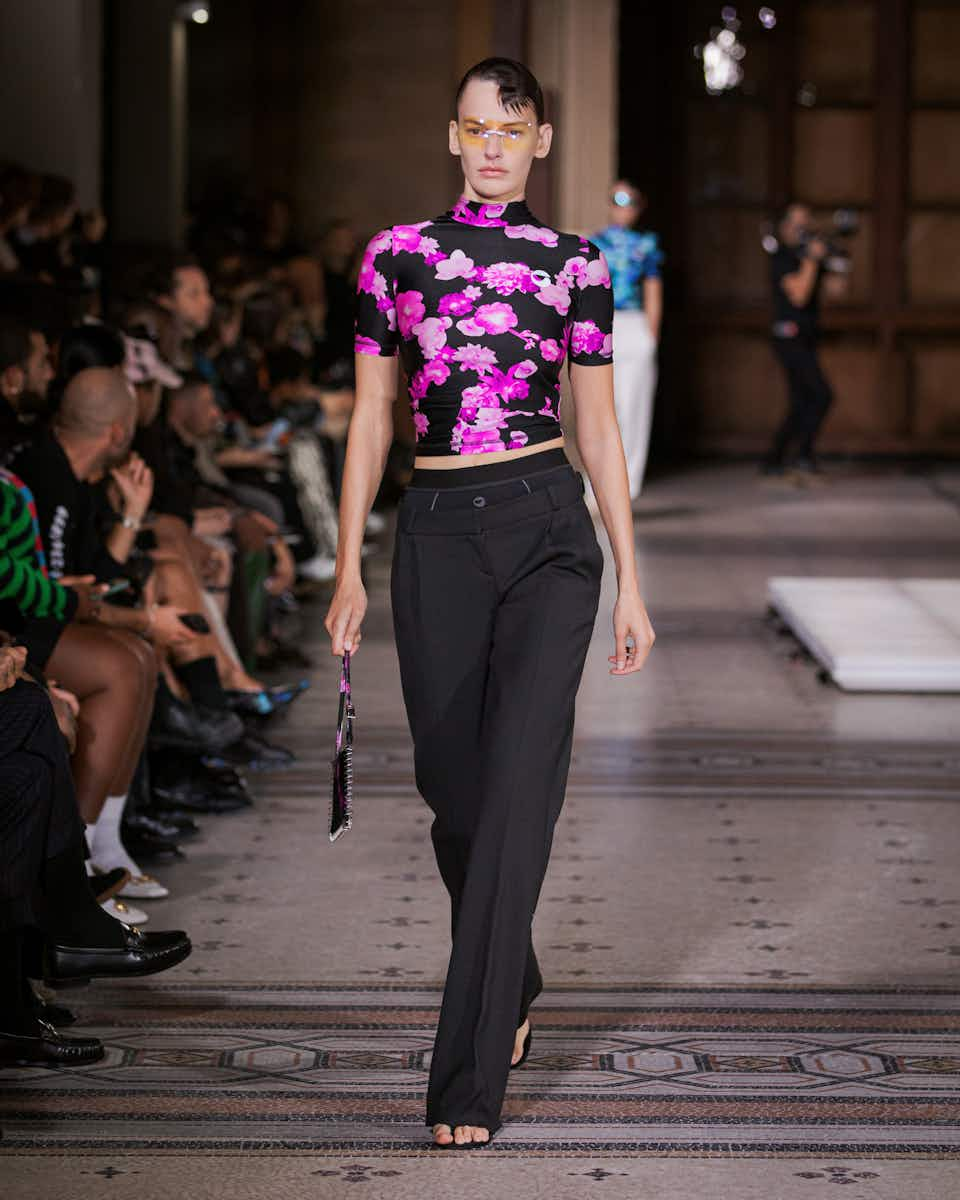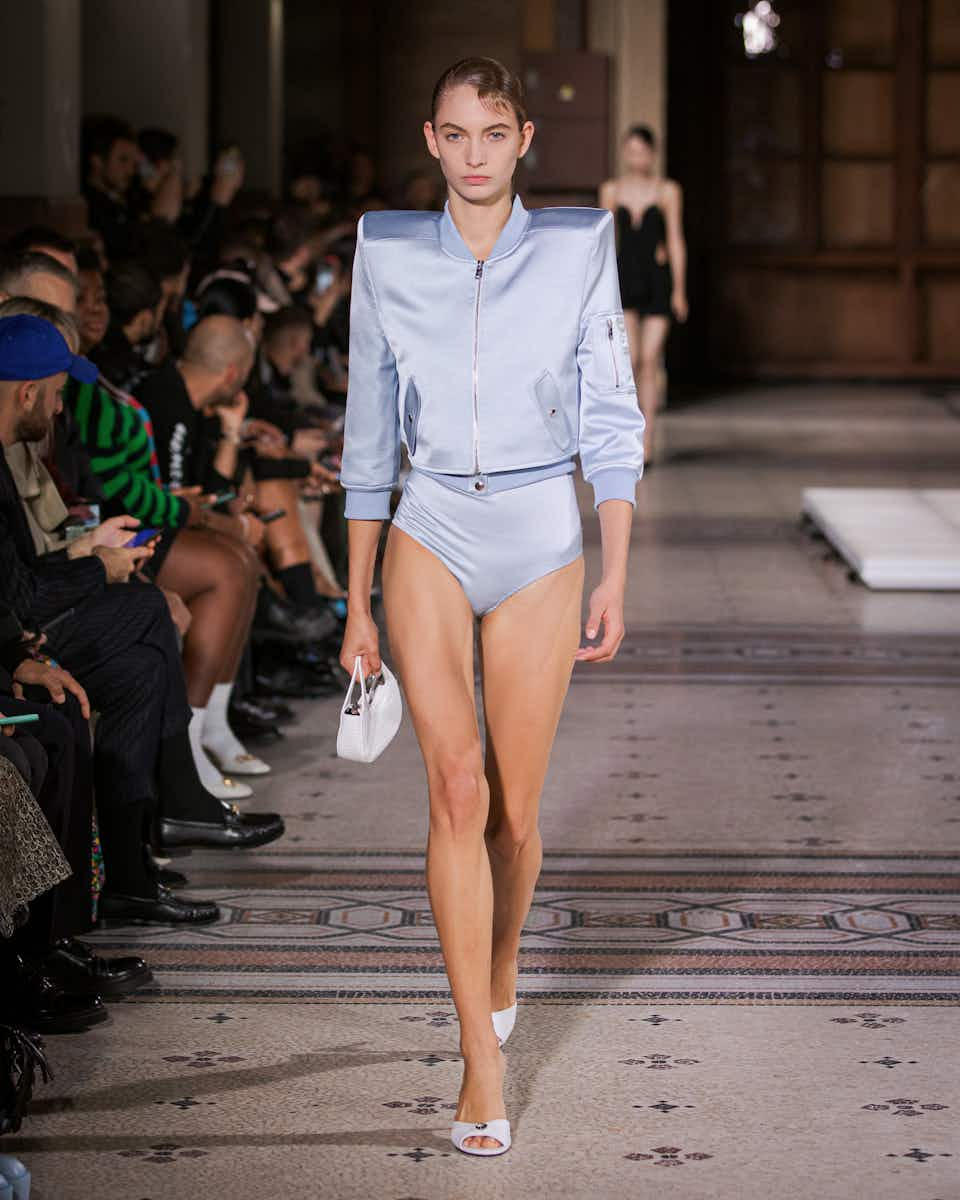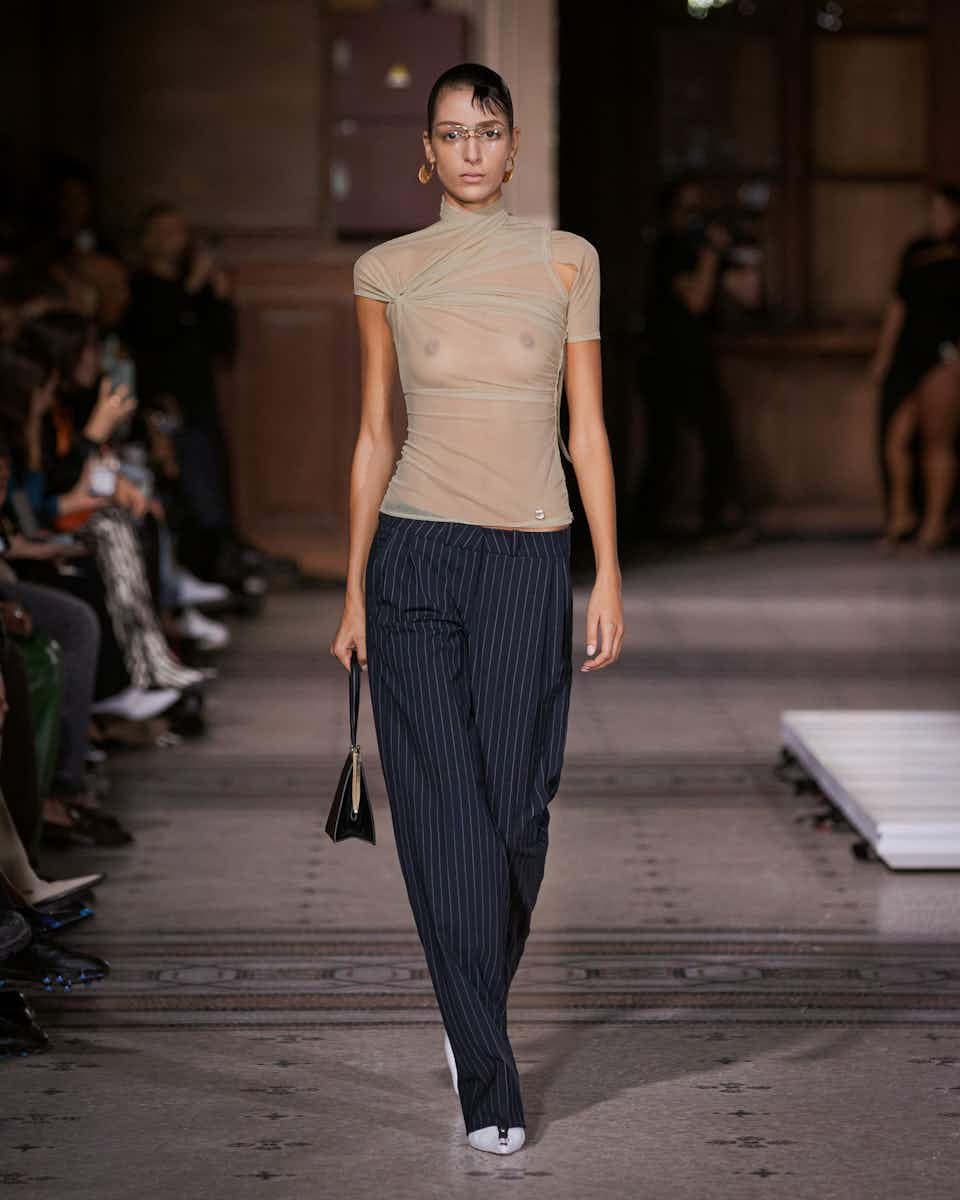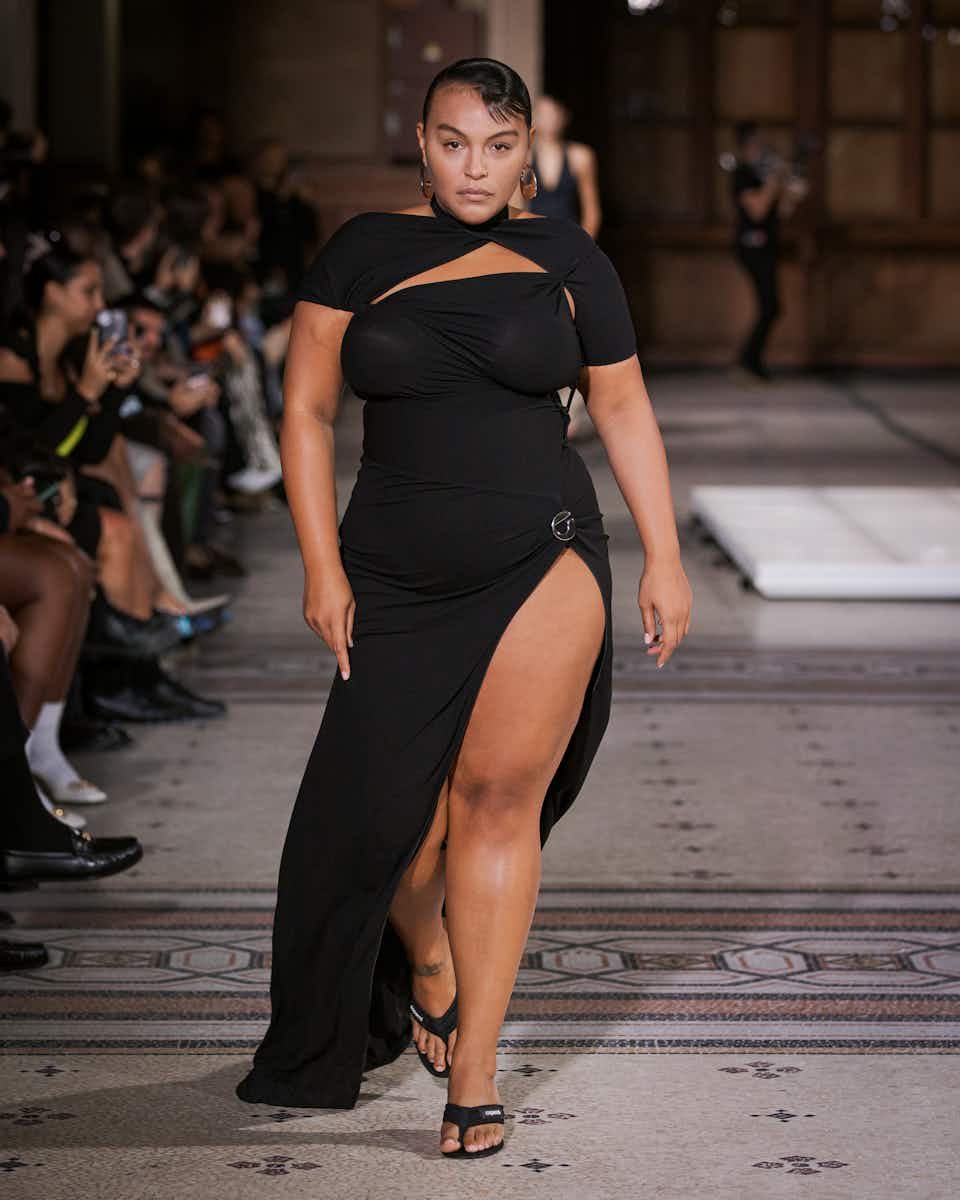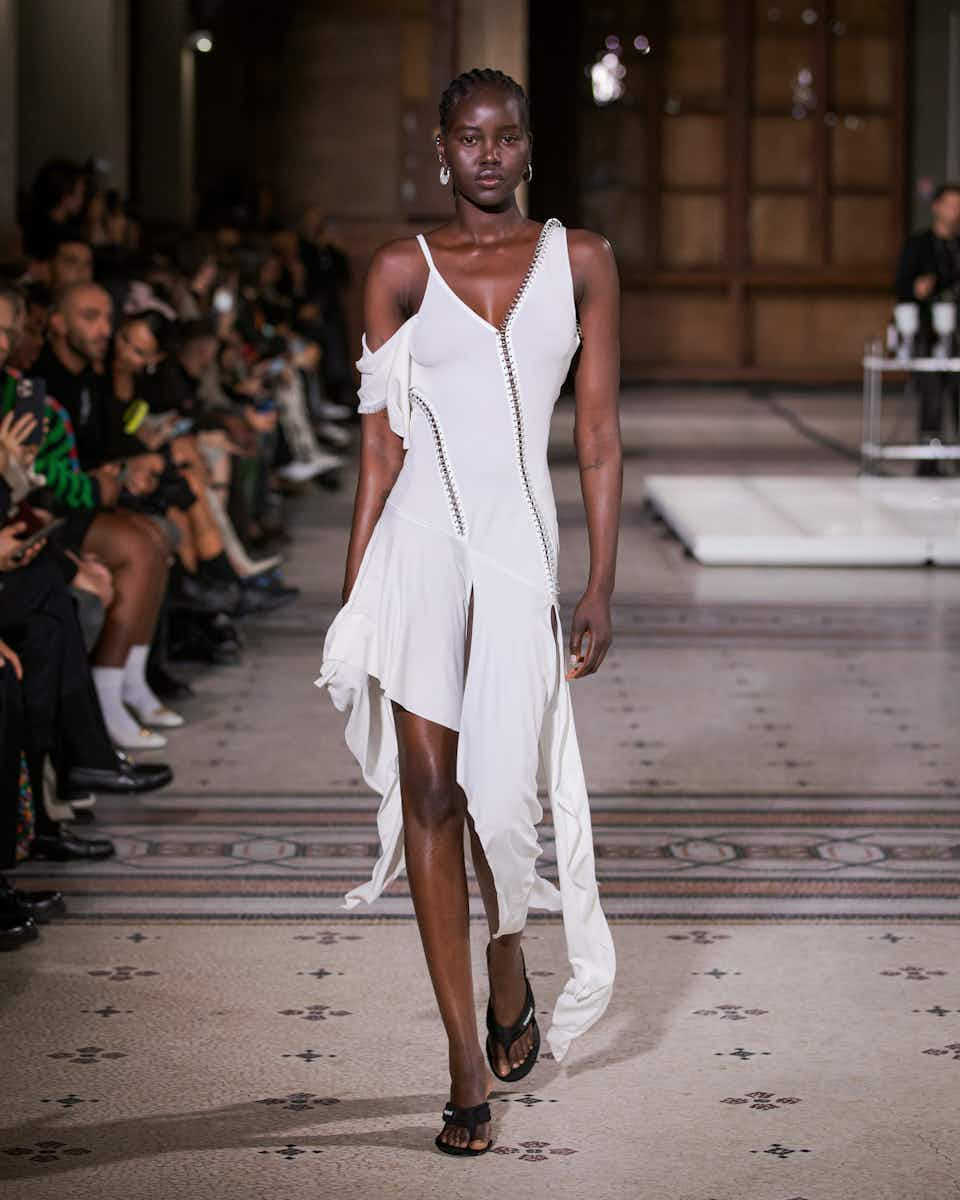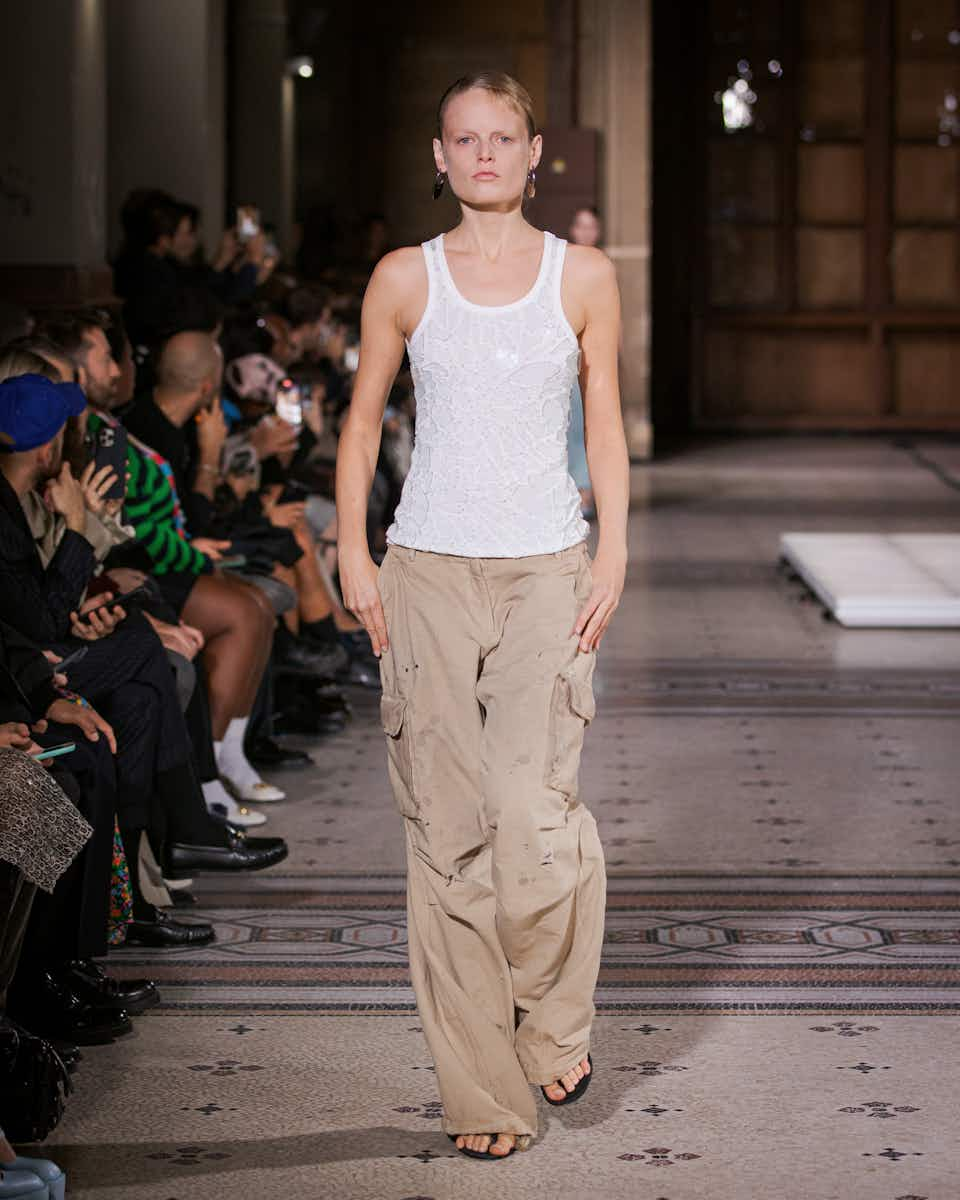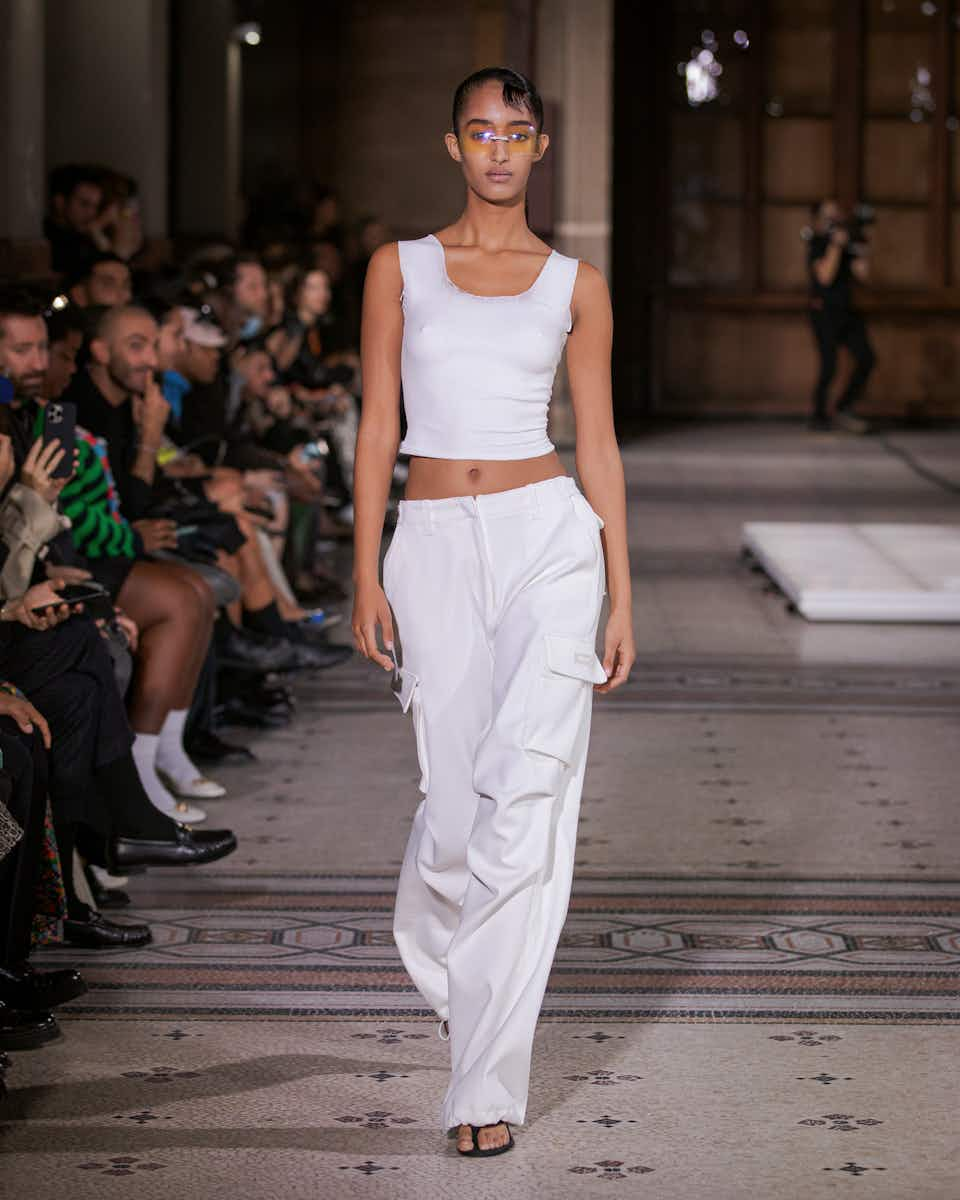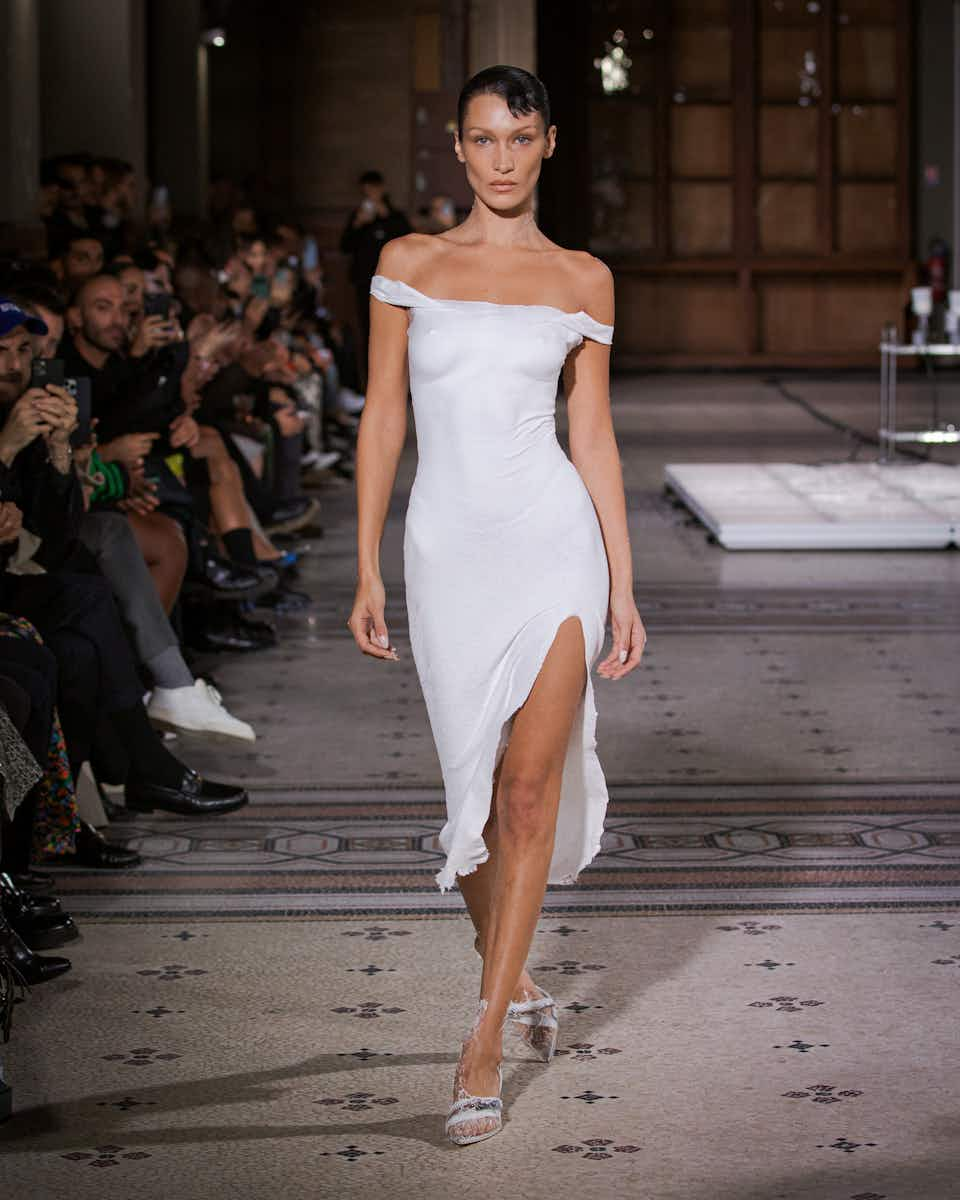 In the first collection since Issey Miyake's passing earlier this year, Satoshi Kondo paid tribute to the pioneering late designer, reworking the label's signature pleating and paying homage to the legacy of a trailblazing designer in an emotional ending.
The show, fittingly titled A Form That Breathes, involved clothes that were like moving sculptures, making their way through the haunting, dimly lit space. Signature pleating came in bulbous shapes while architectural blazers ballooned around the wearer. The opening looks were understated and refined with playful details in their construction, like wavy sleeves, draping and oversized shoulders. Rippled pleats were translated through subversive suiting and brightly coloured dresses, while crinkled jersey, knits and tulle were worked into surprising silhouettes.
Miyake loved the way pleated clothing moved with the human form, so, in a fitting tribute to the late designer, the show closed with dancers in pleated designs performing to the chaotic live piano music of composer Koki Nakano – a deeply moving finale. SW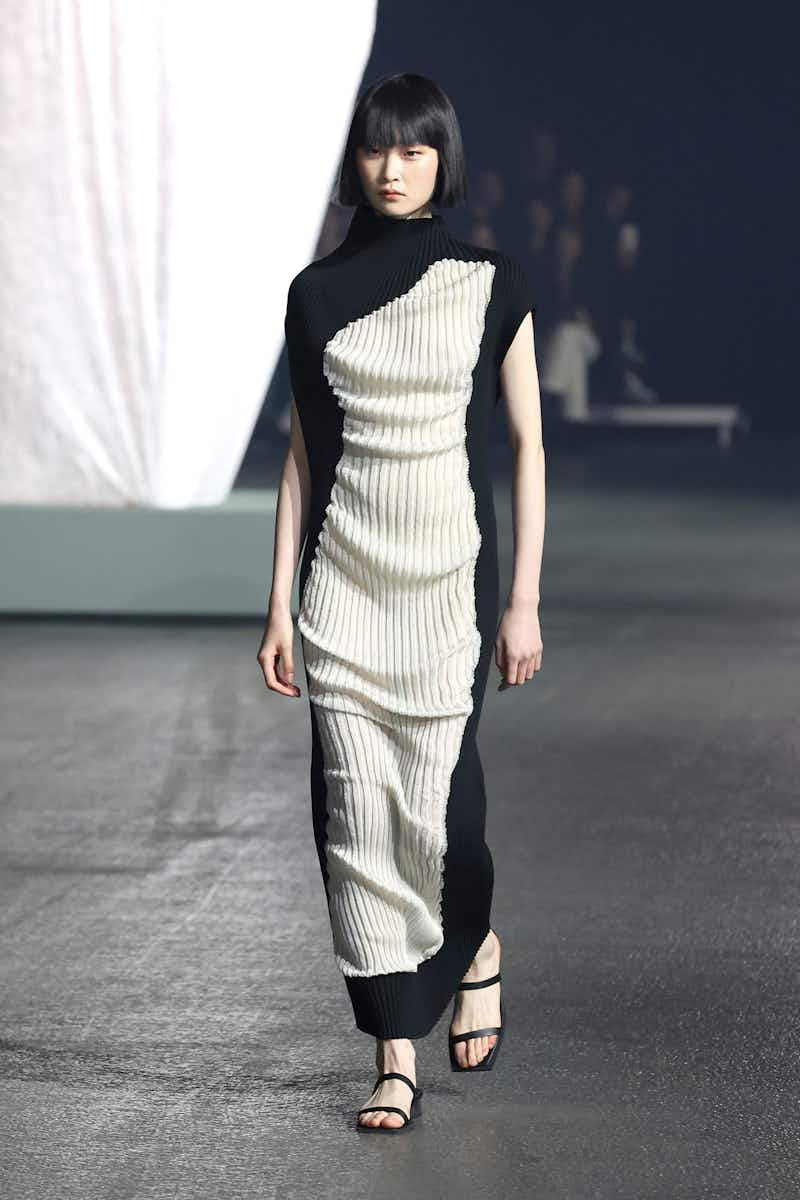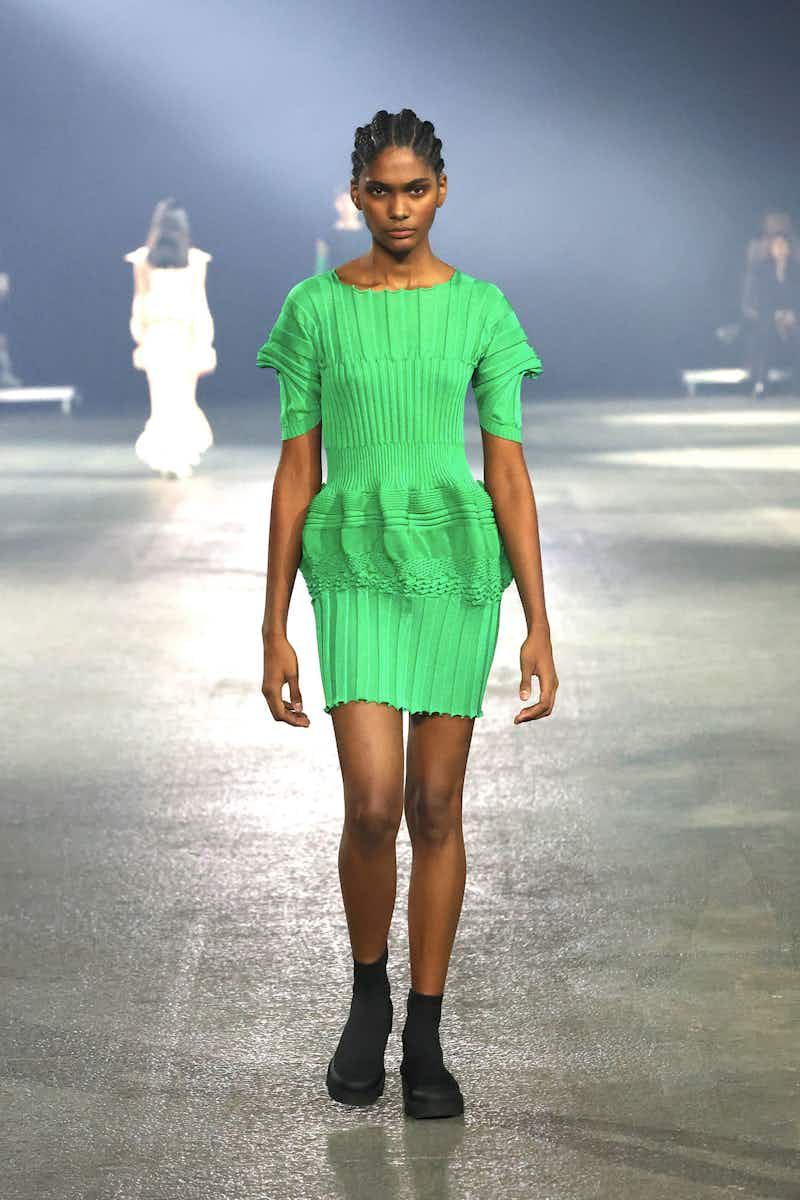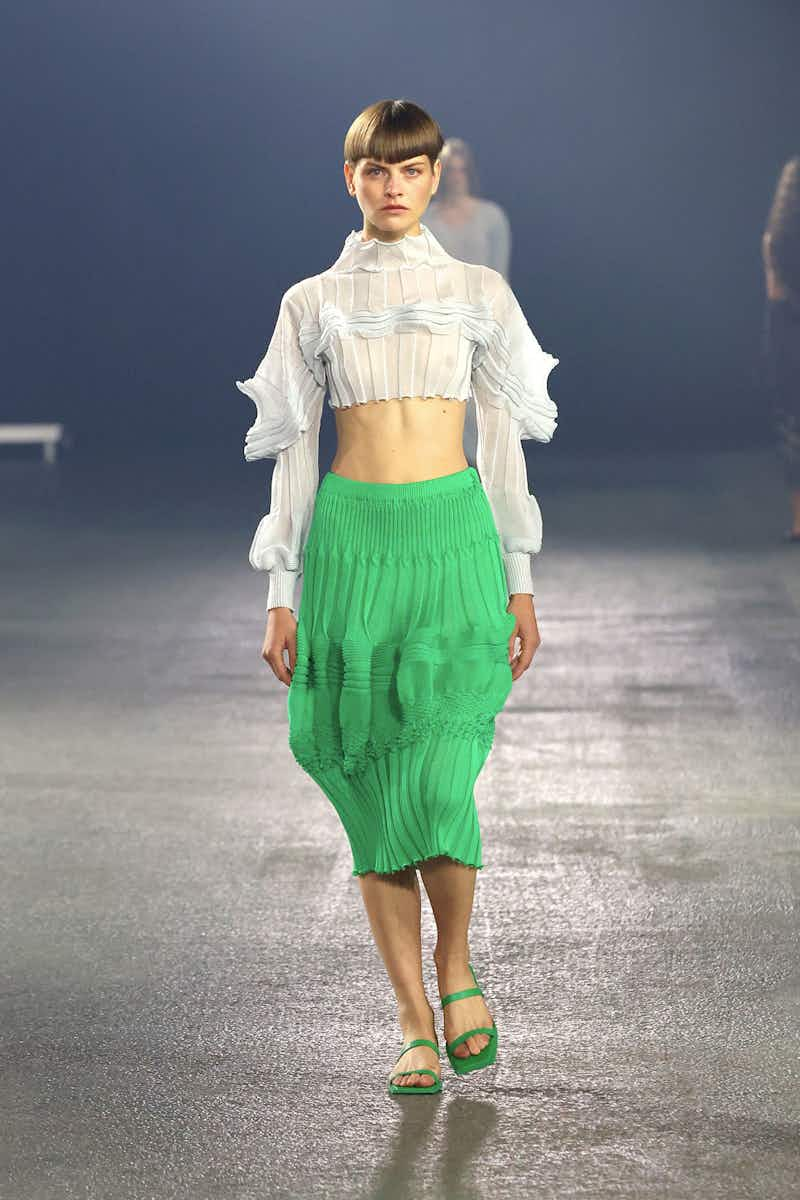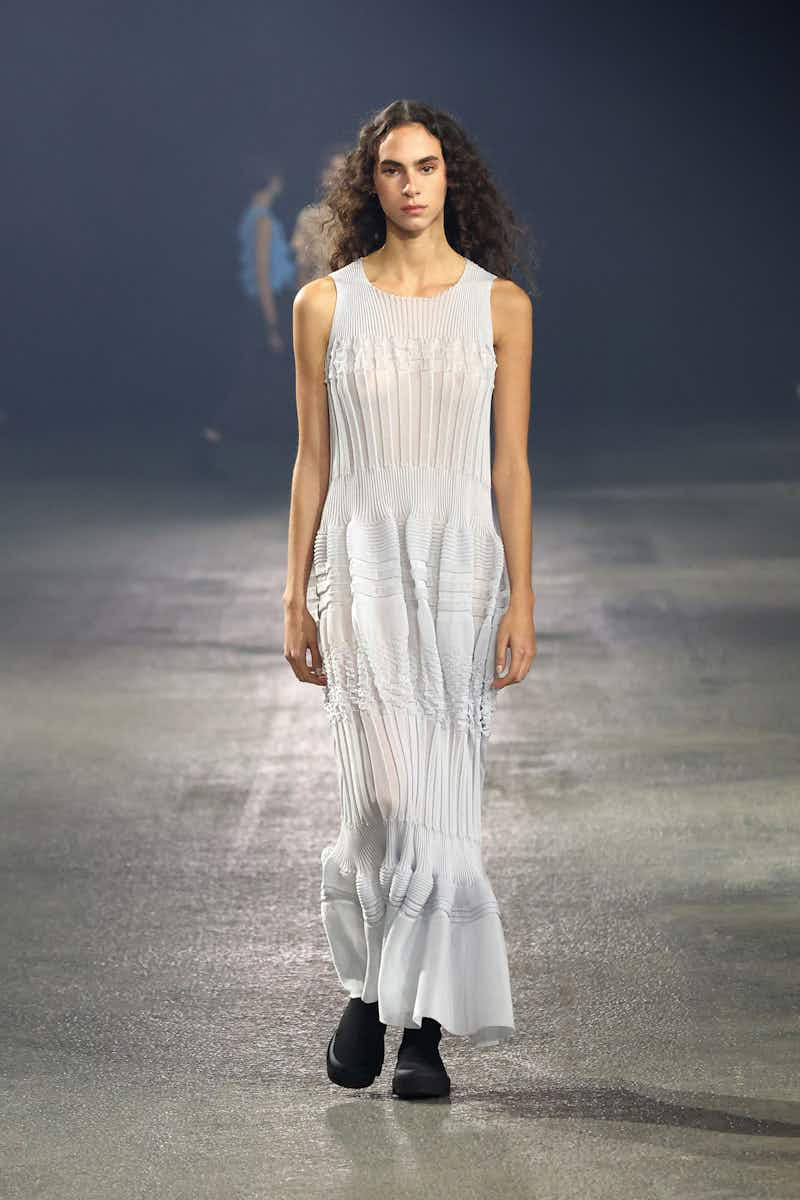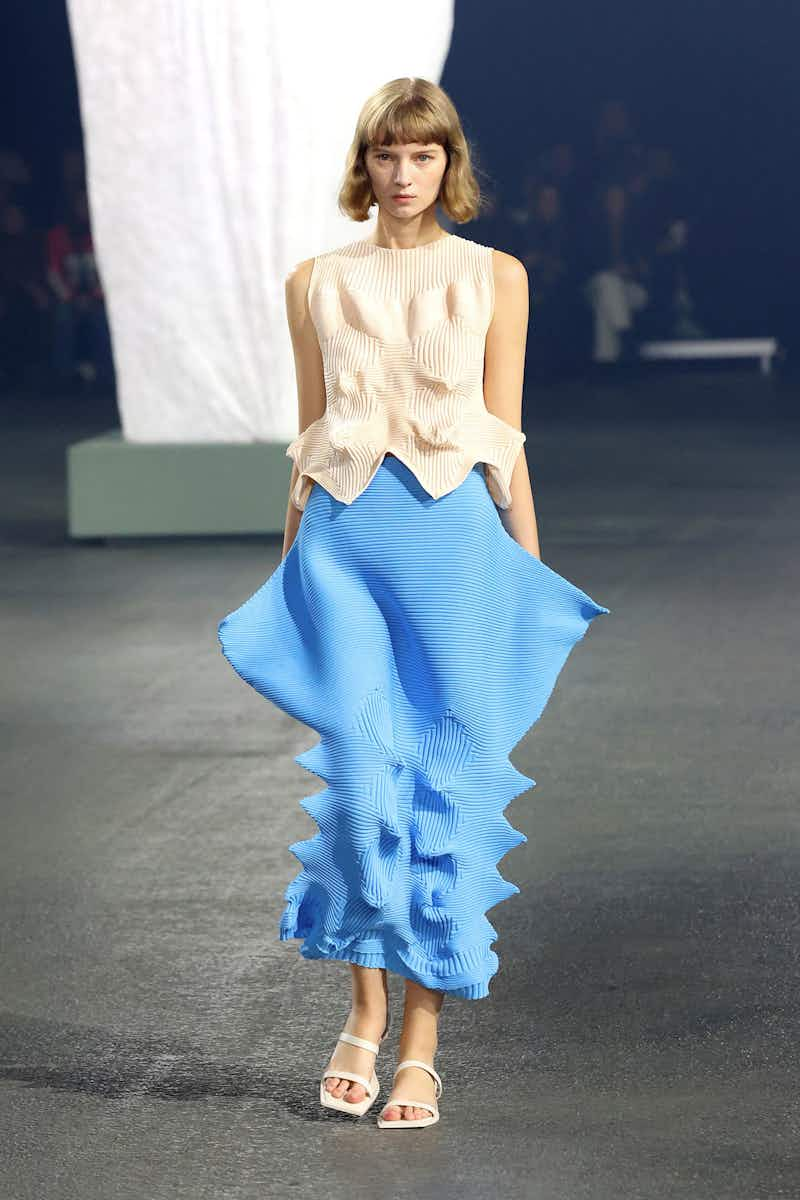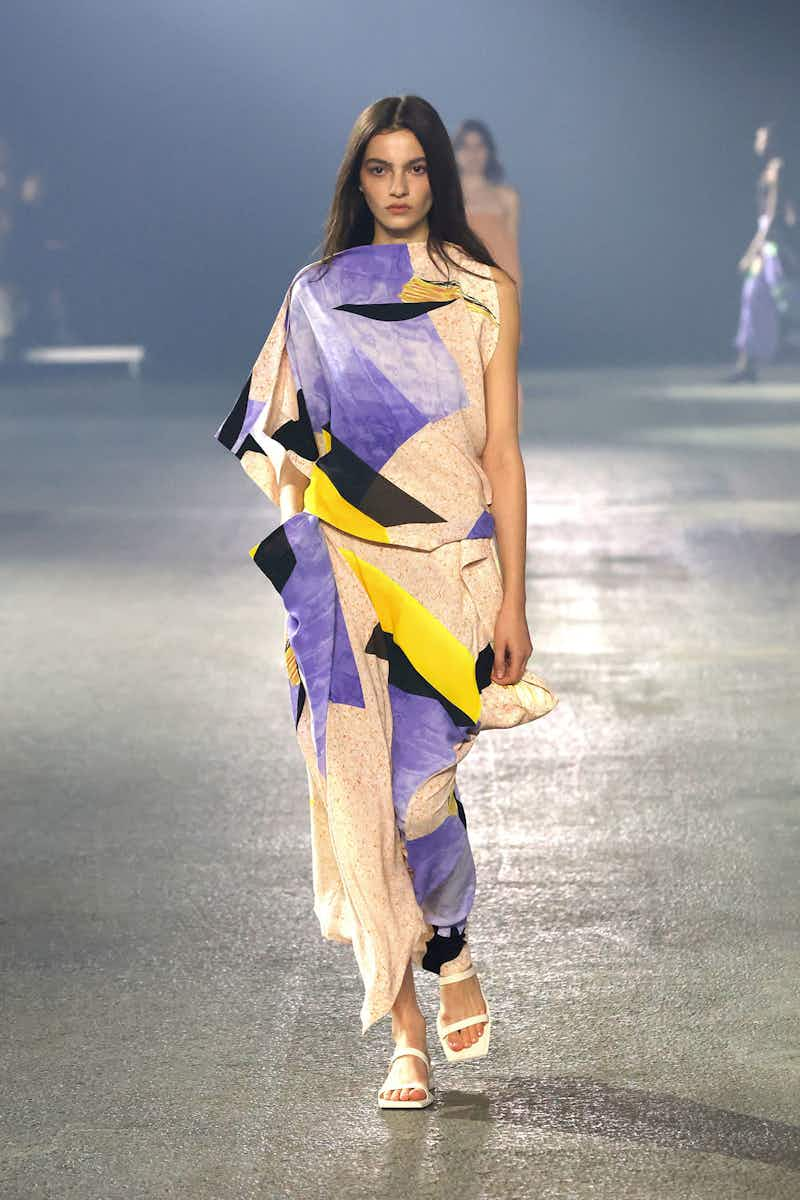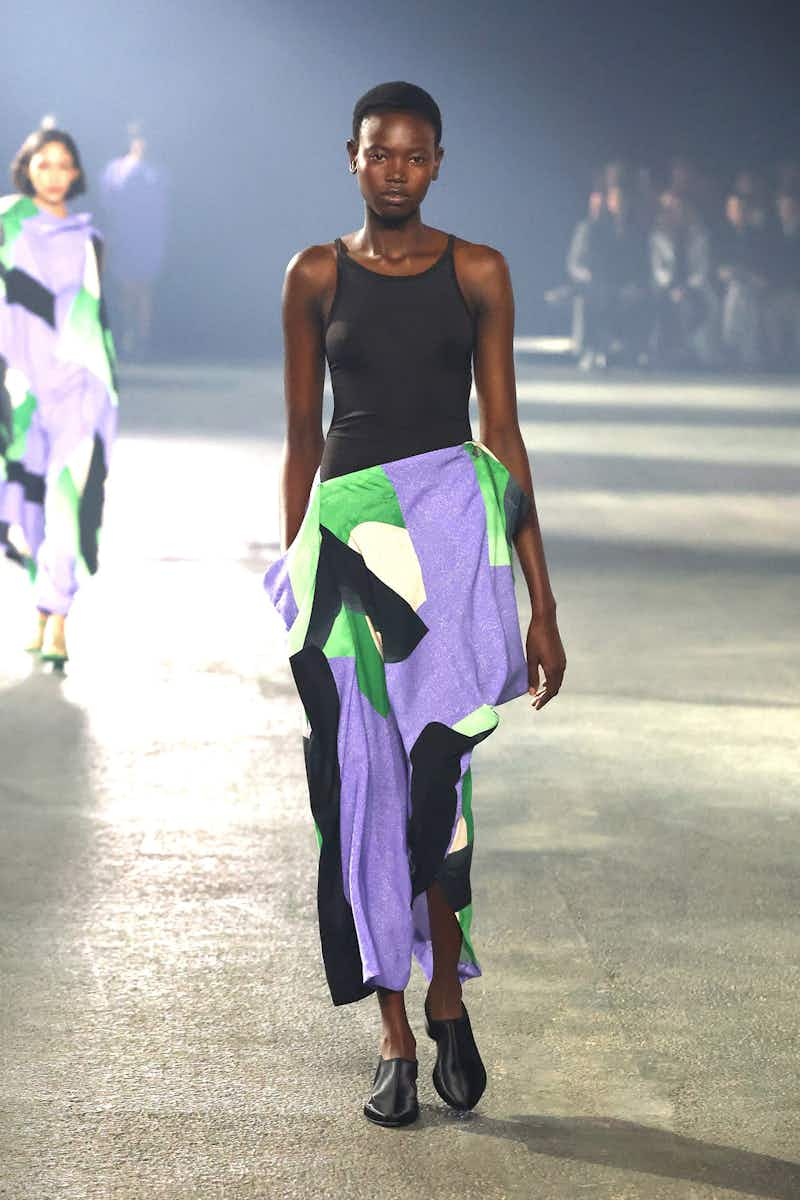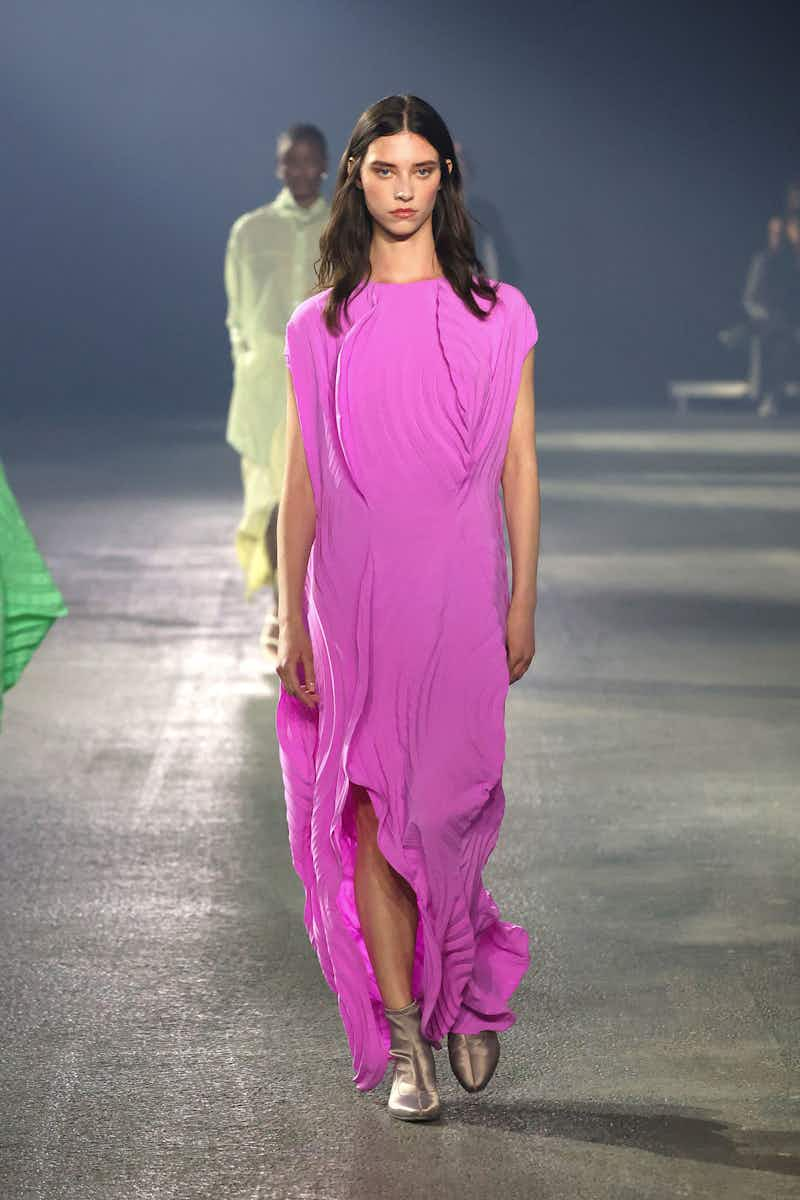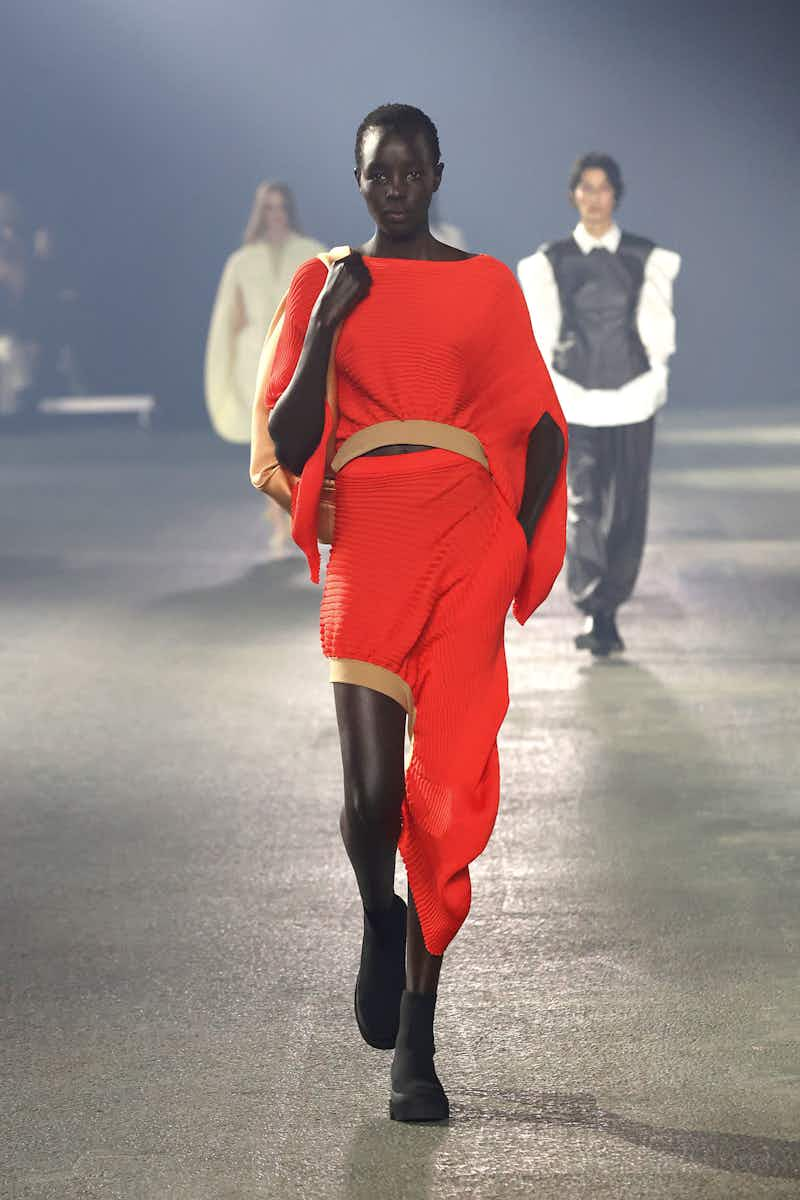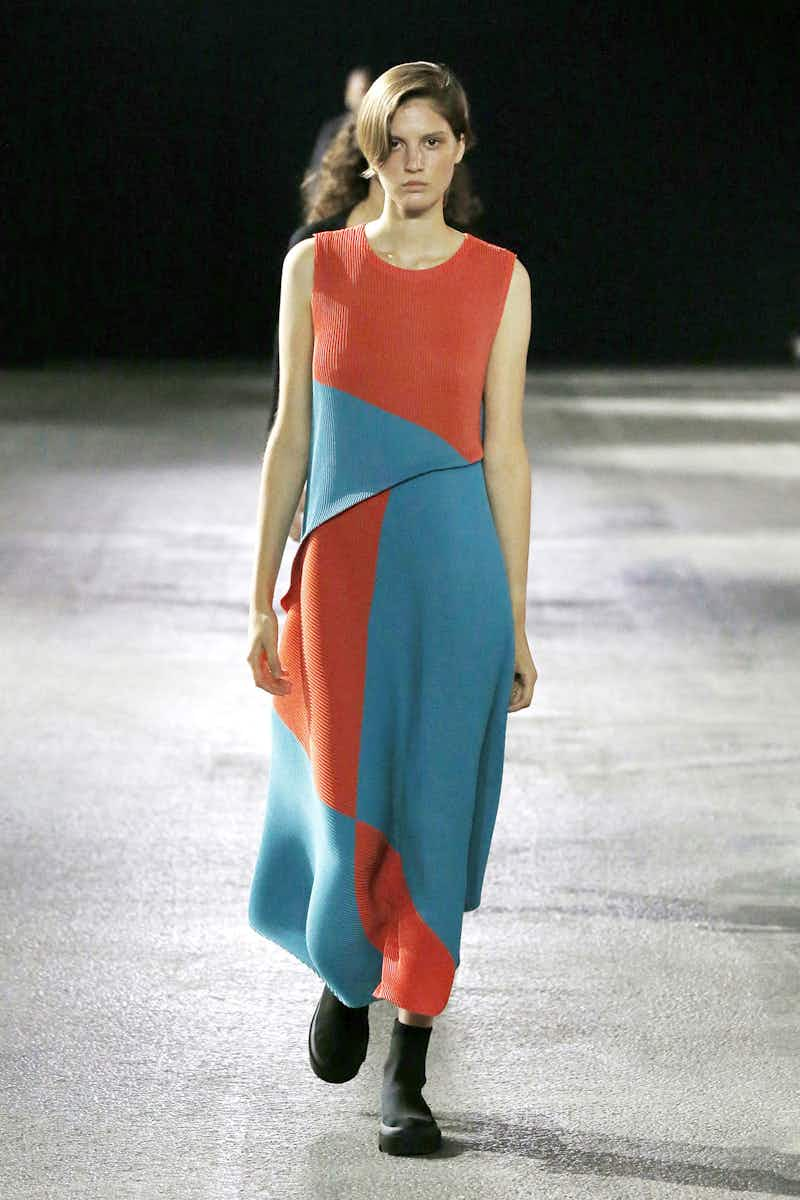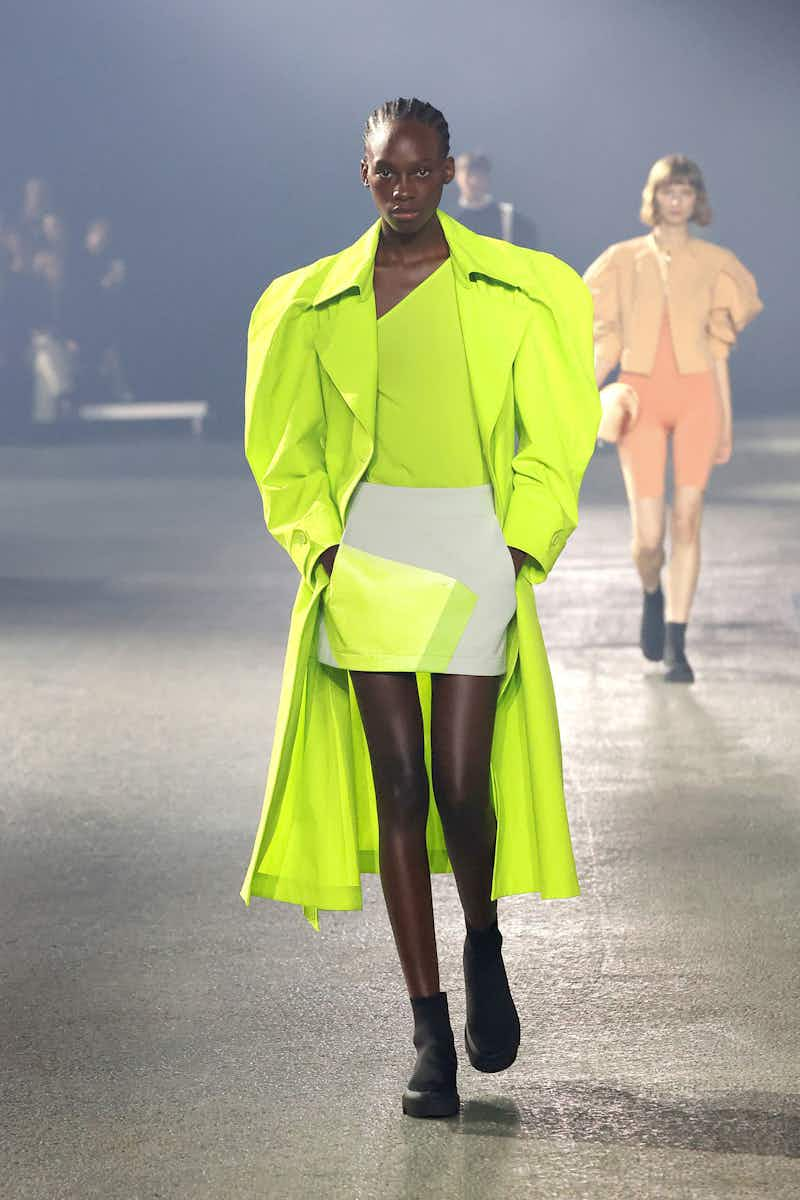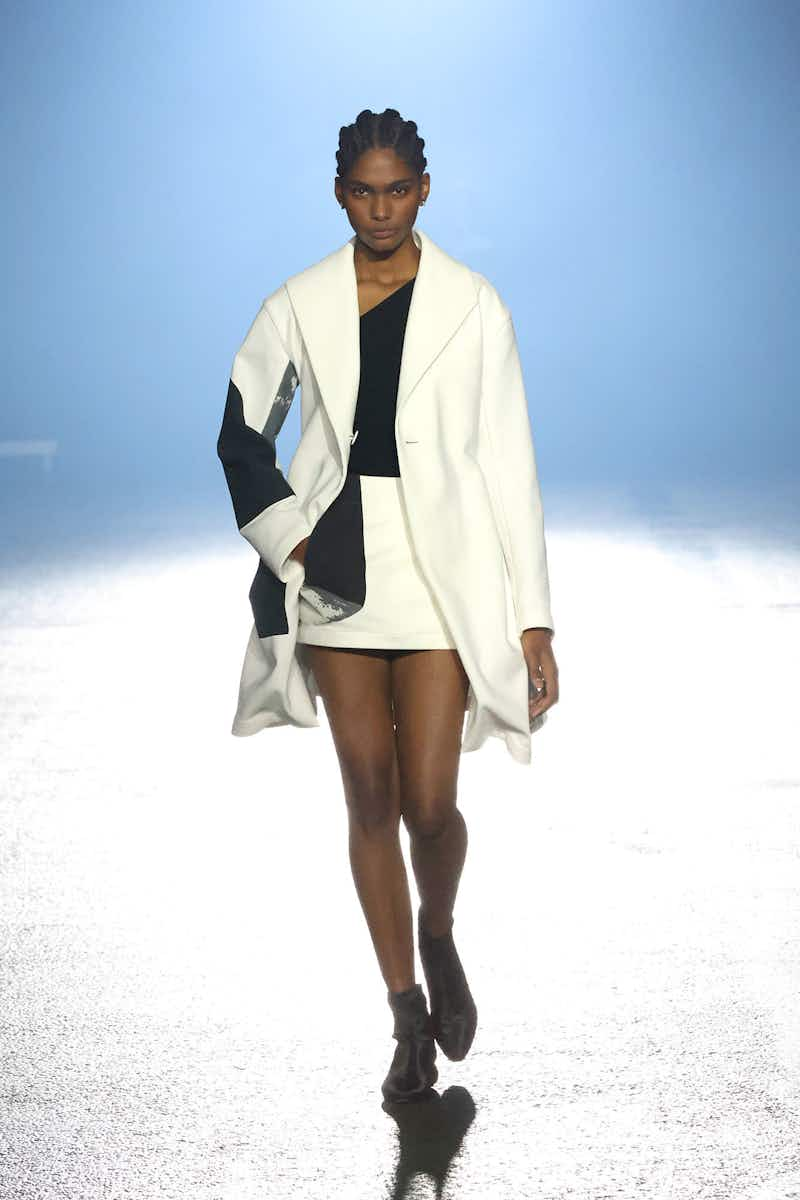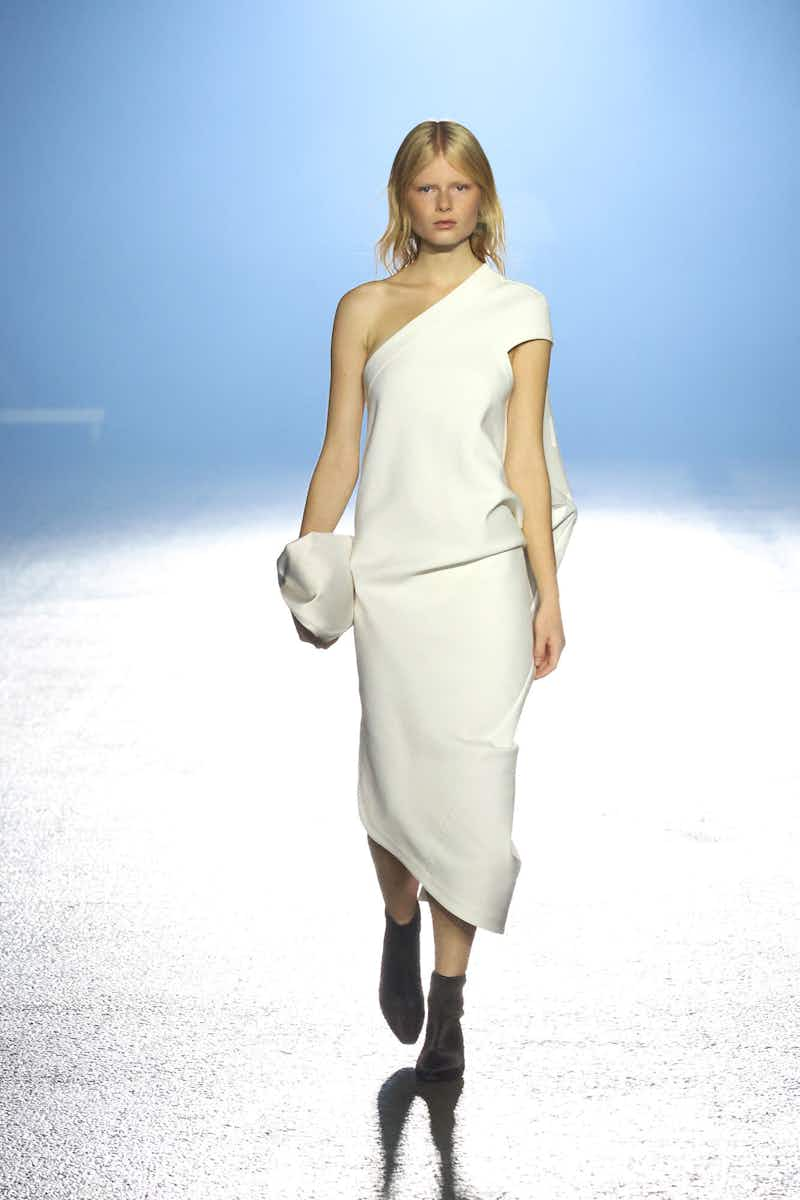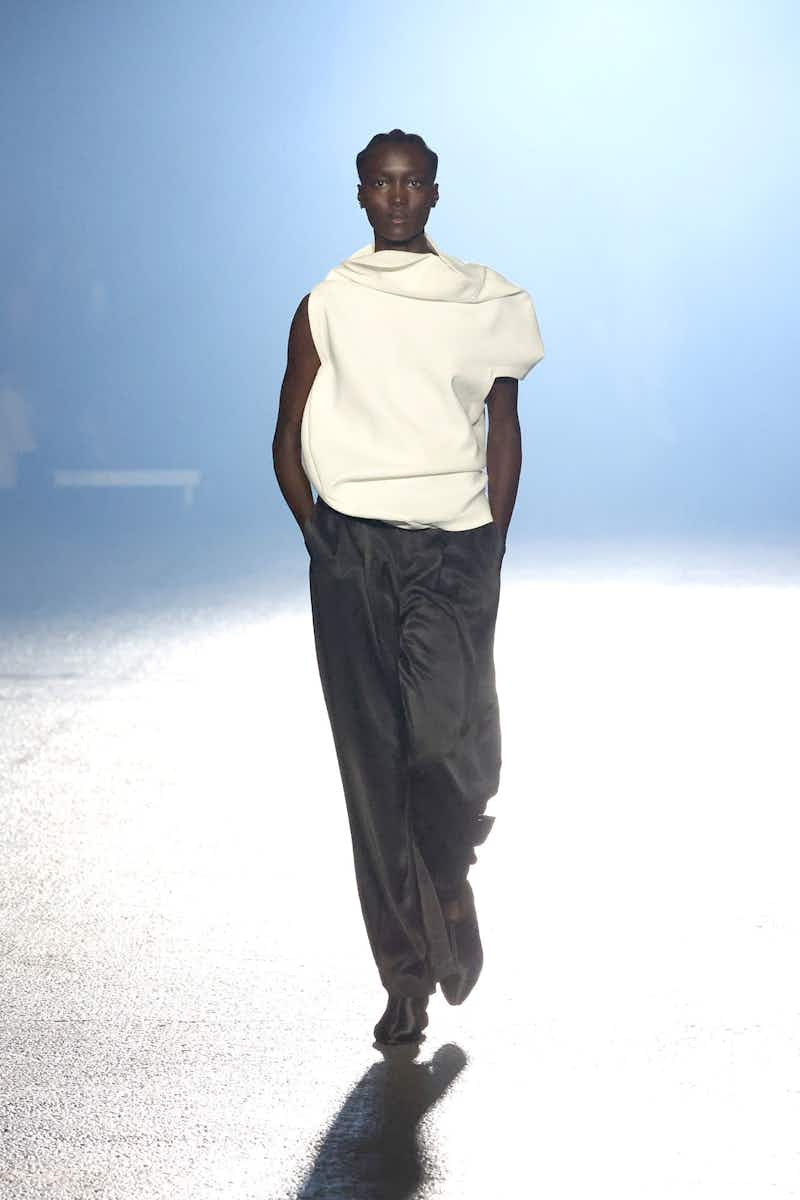 Anthuriums? For Spring? At Loewe, models emerged from below the runway like flowers sprouting from the earth in artfully constructed anthurium floral tops, or looks resembling glitchy video game graphics that reflected the sometimes jarring coexistence of nature and technology. The collection continued in this surrealist vein with shoes made from deflated balloons, cartoonish heels and dramatic, abstract silhouettes. Jonathan Anderson navigated the space between fantasy and reality, exploring natural things that look fake and striking a delightful balance between the bizarre and the beautiful. Fabrics were manipulated so that Habbo Hotel-esque pixelated pants were just as enthralling as elegantly positioned anthurium flowers. And that truly is groundbreaking. SW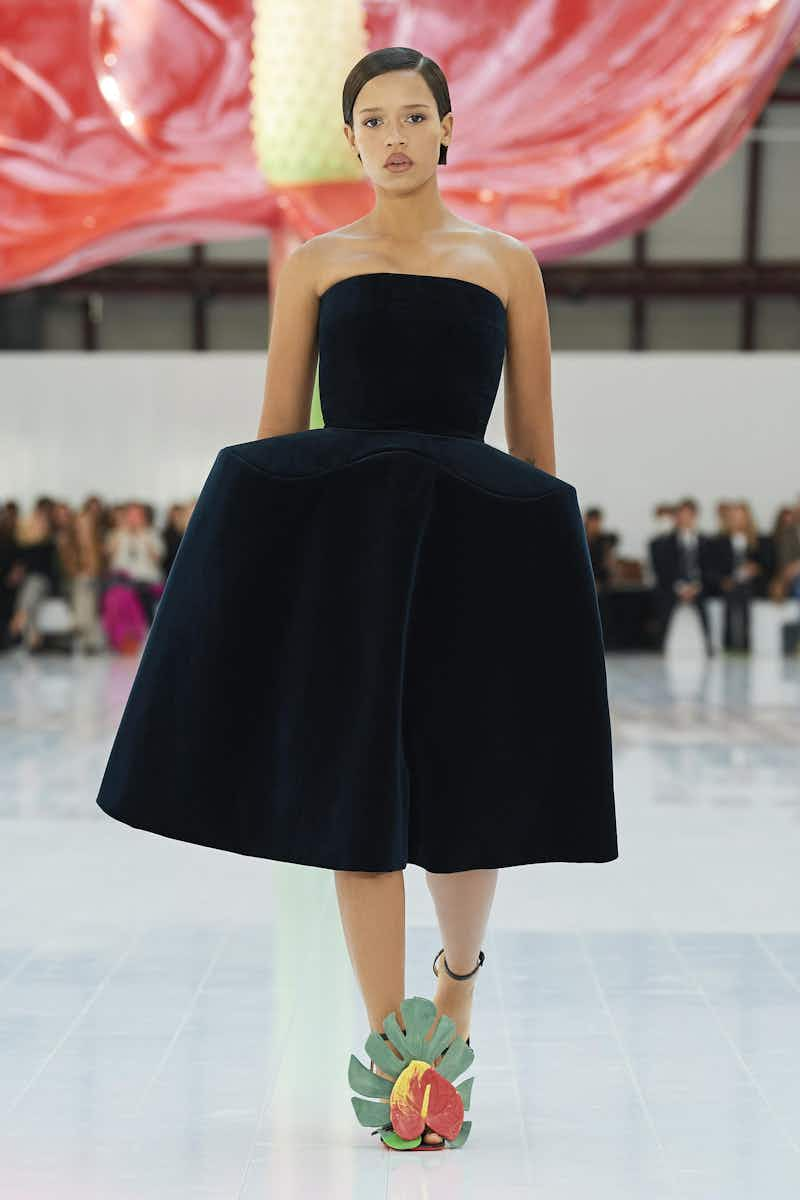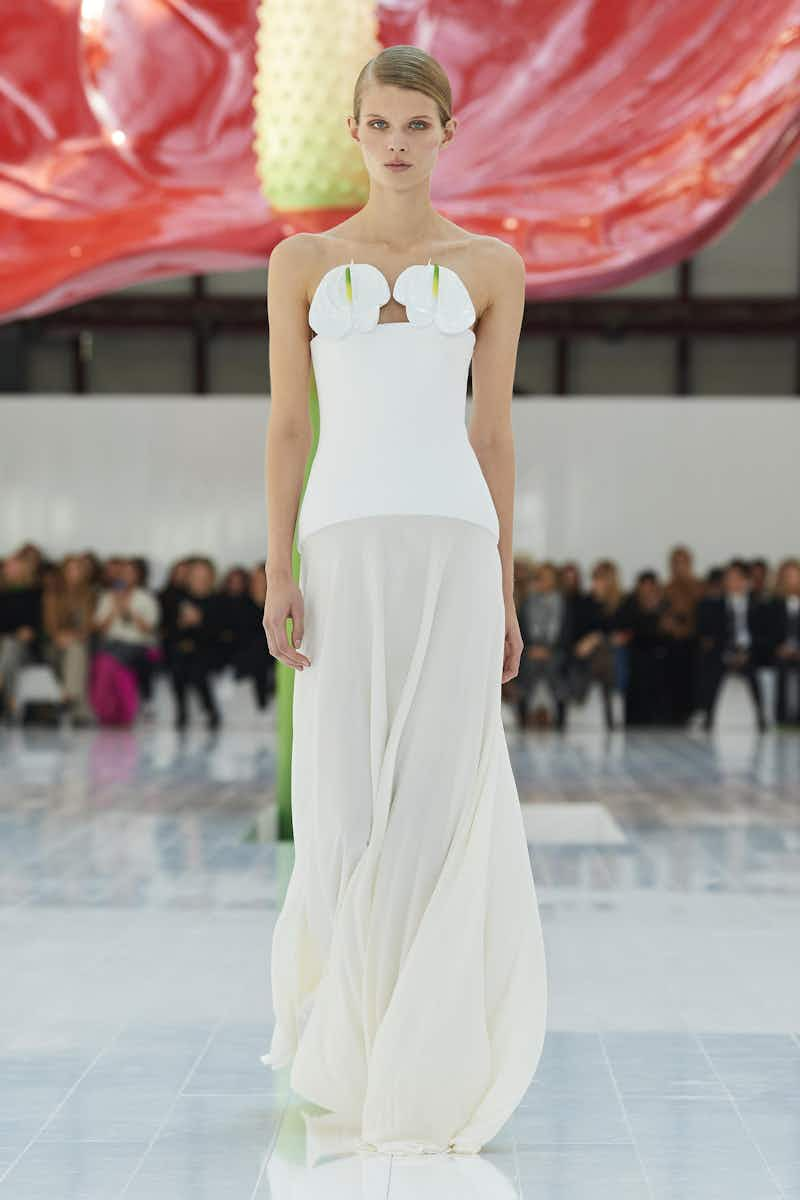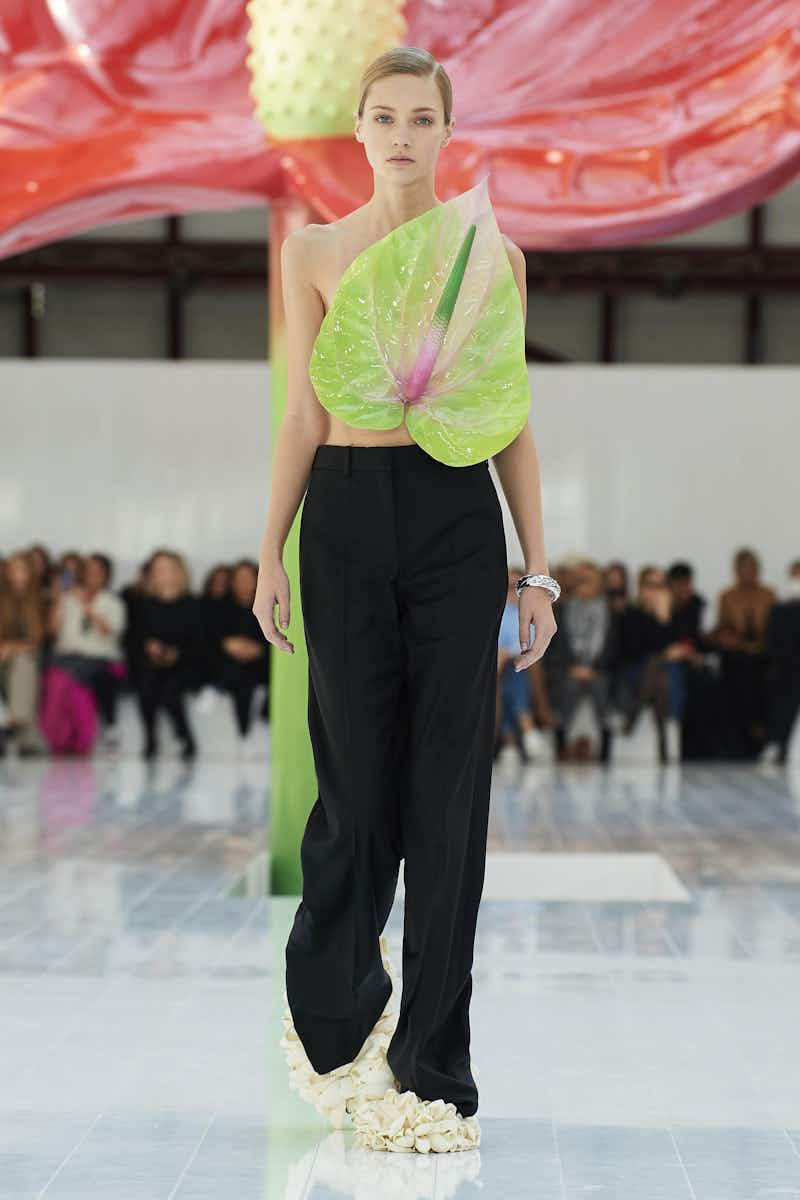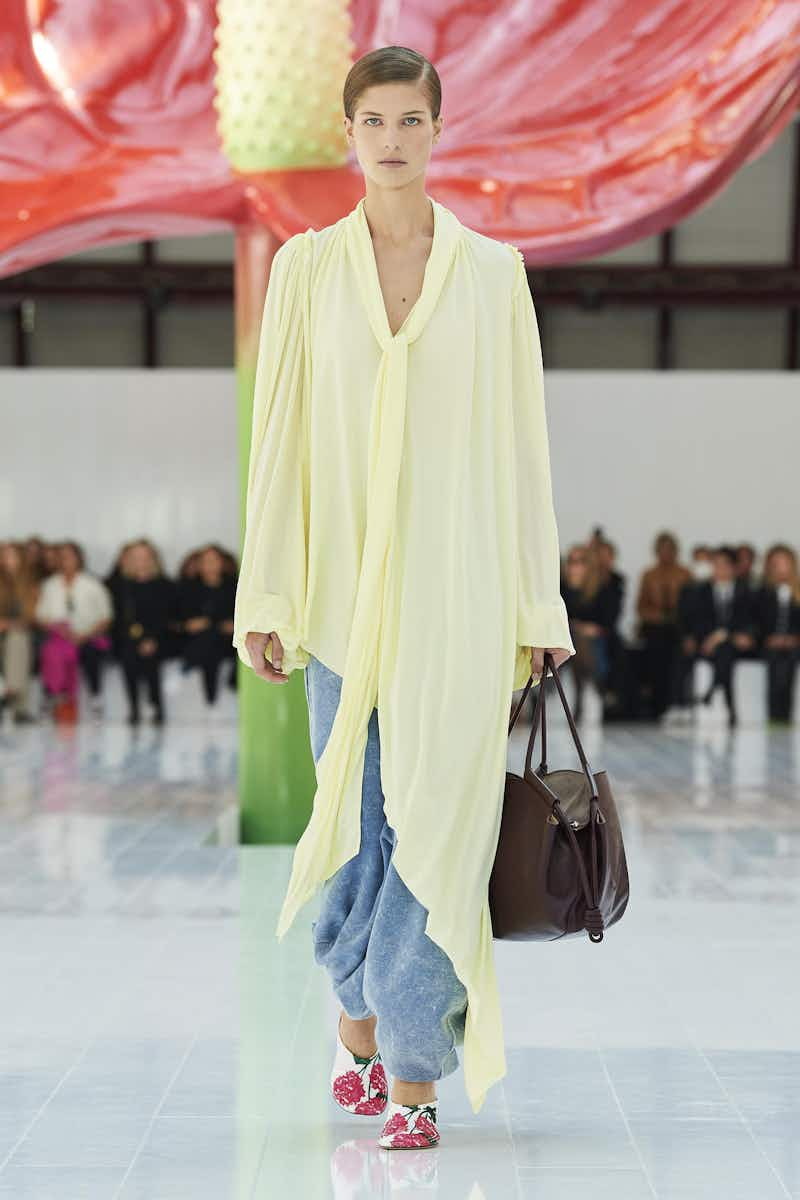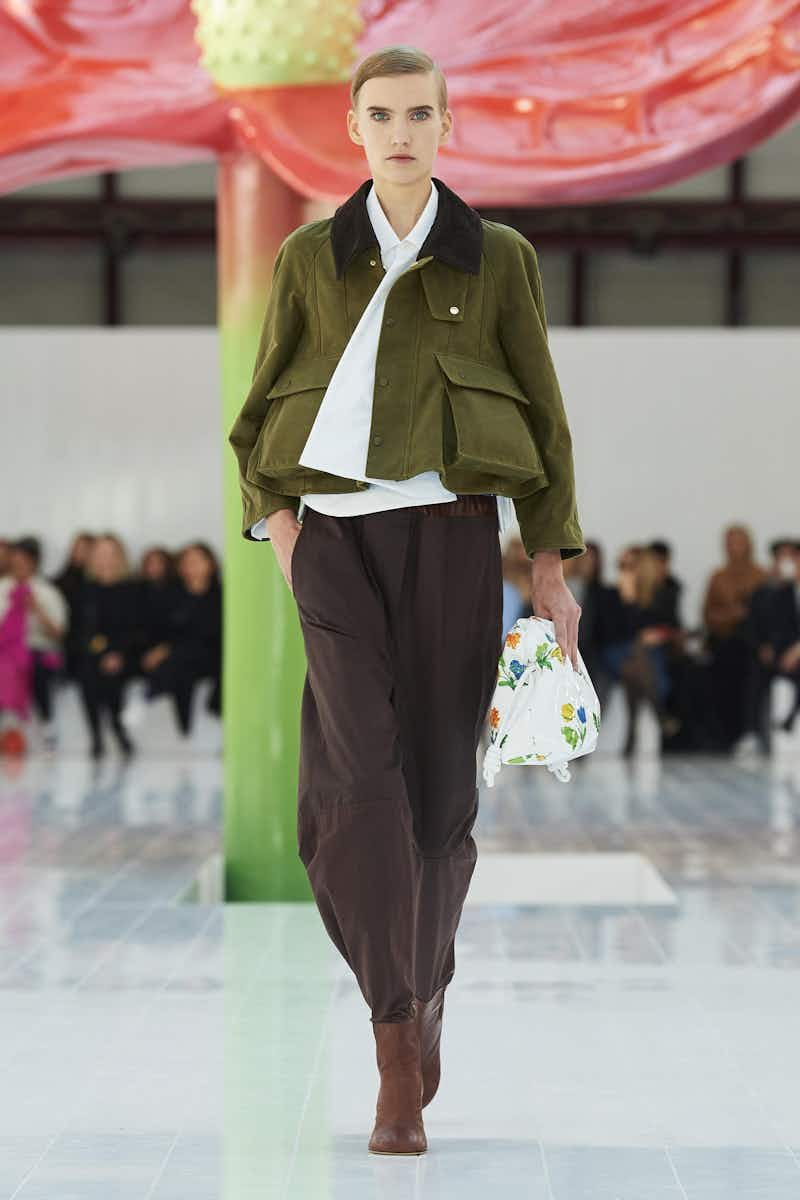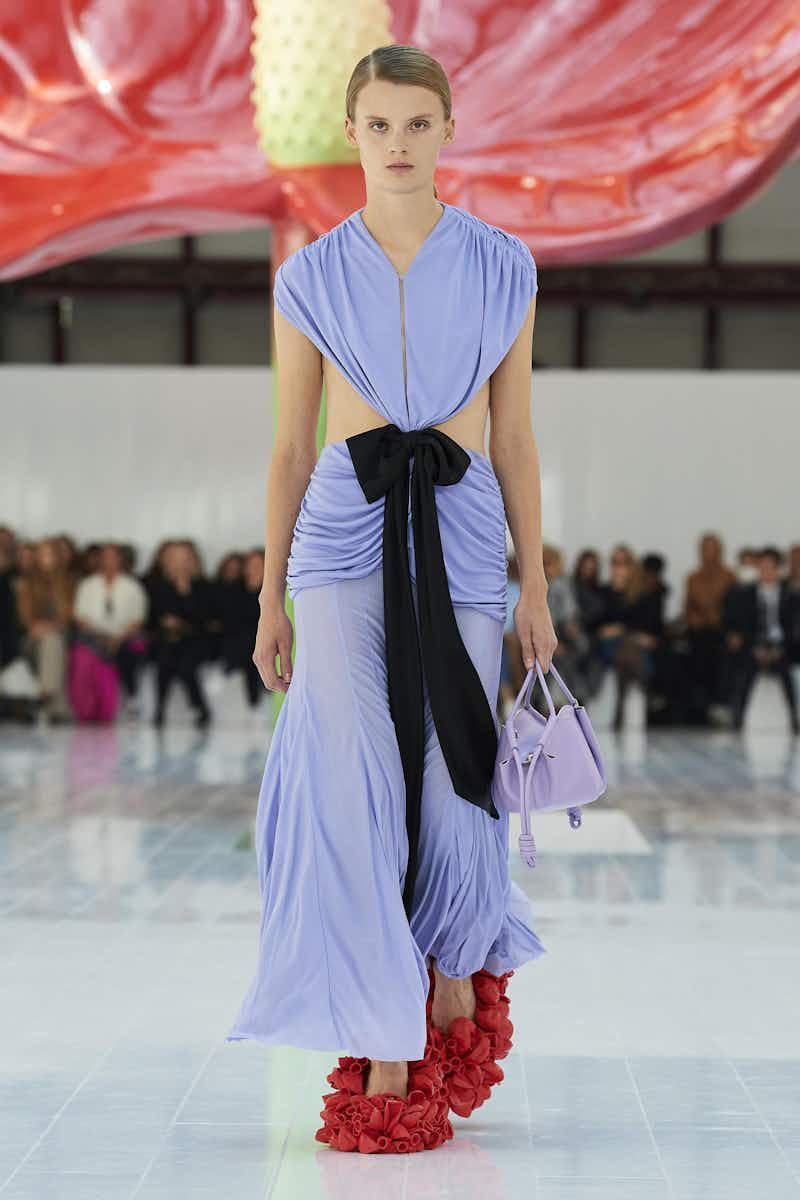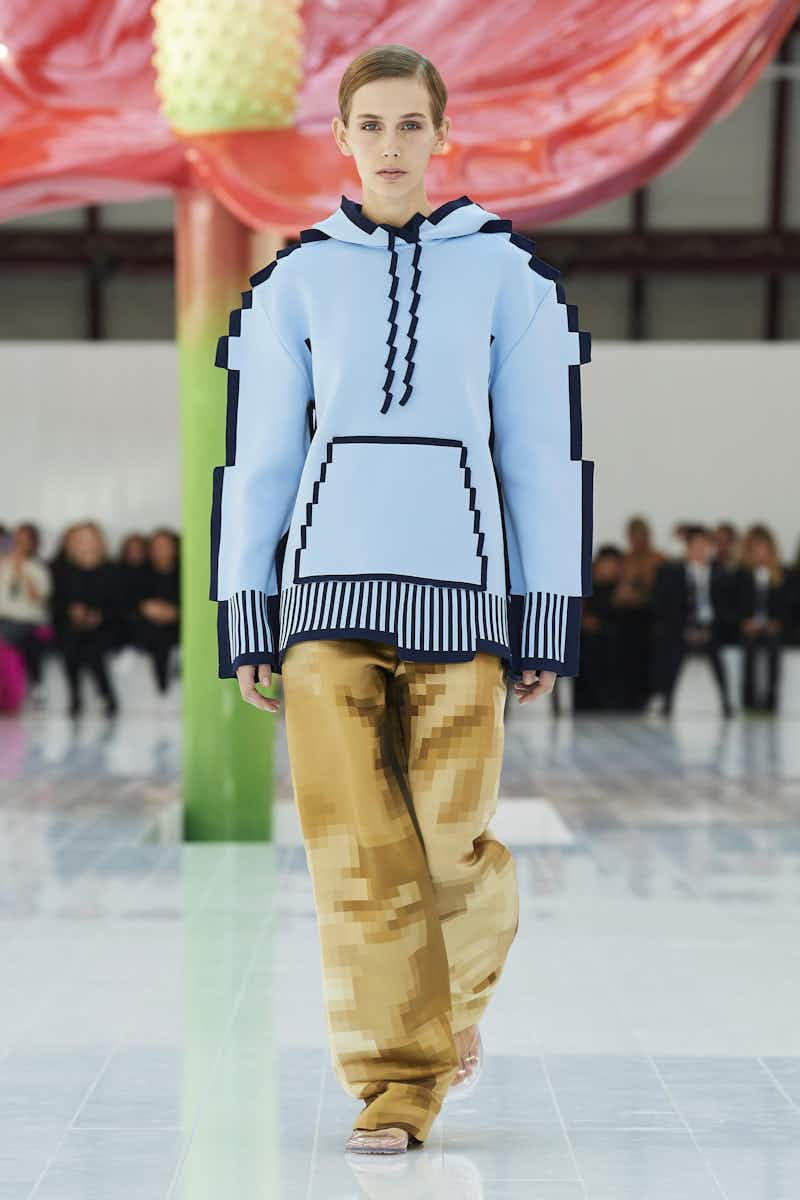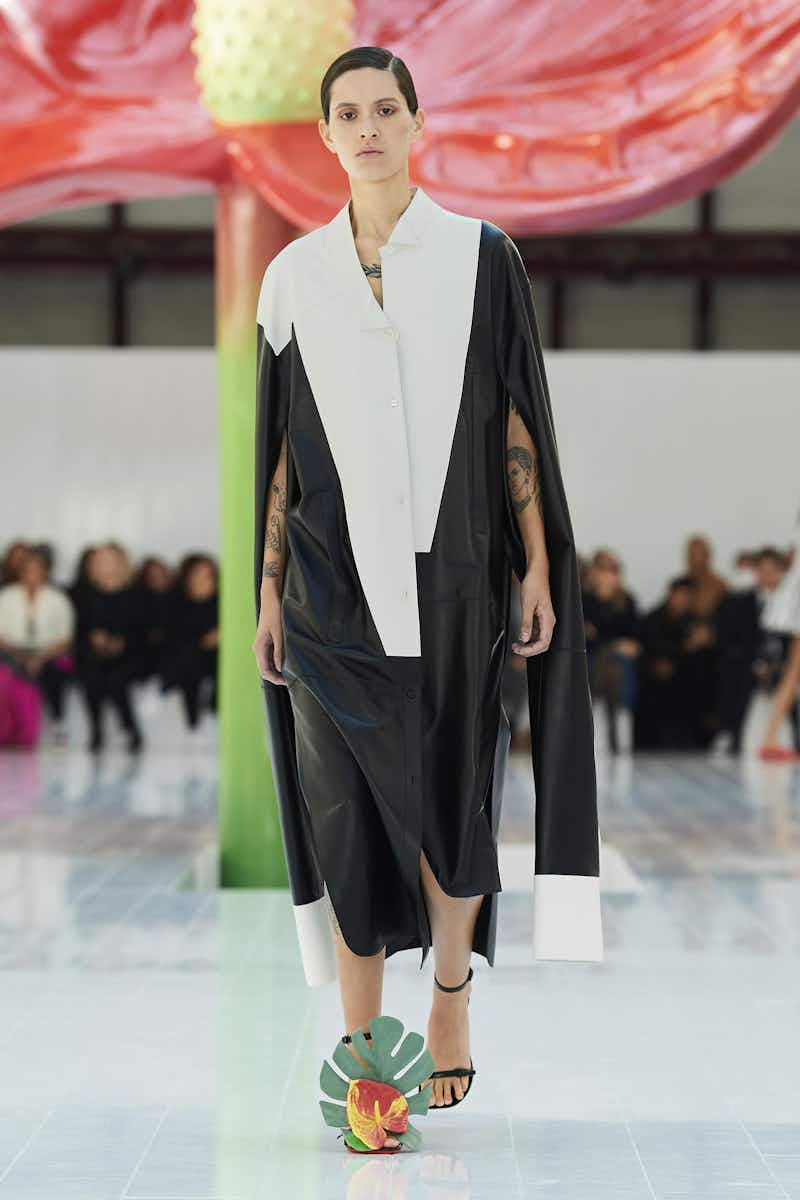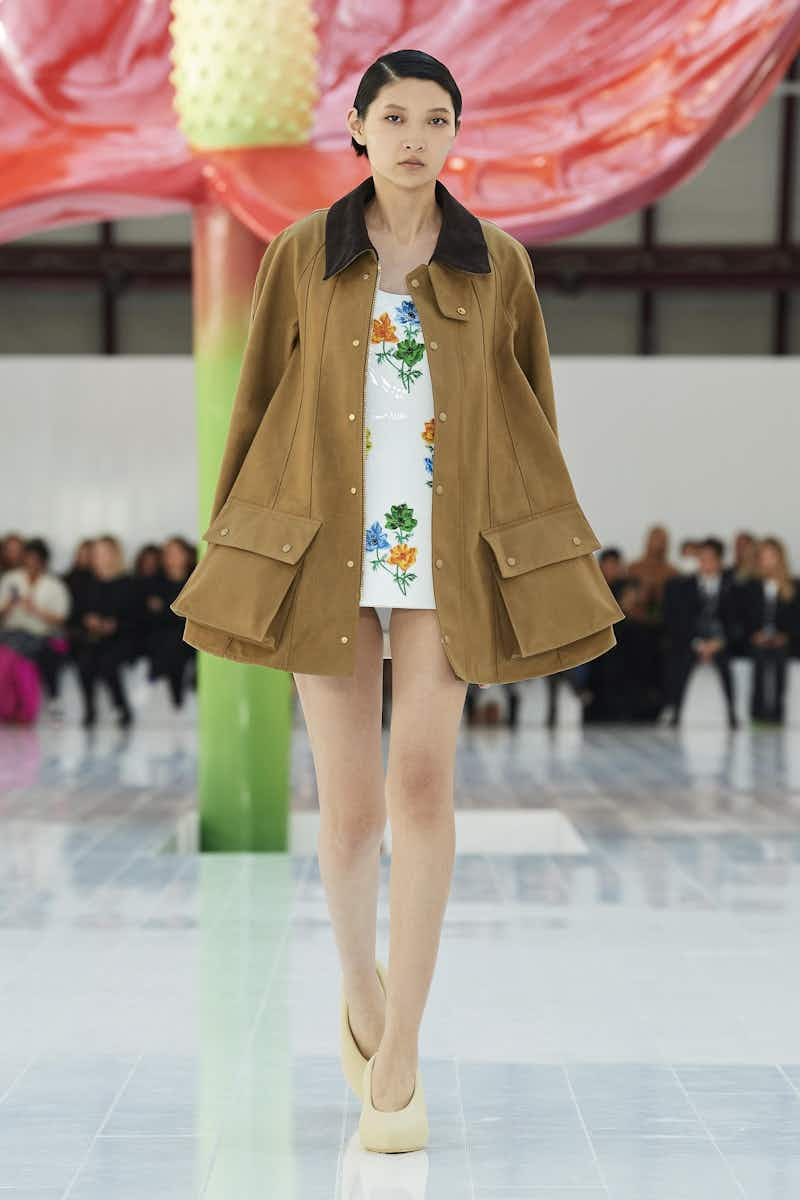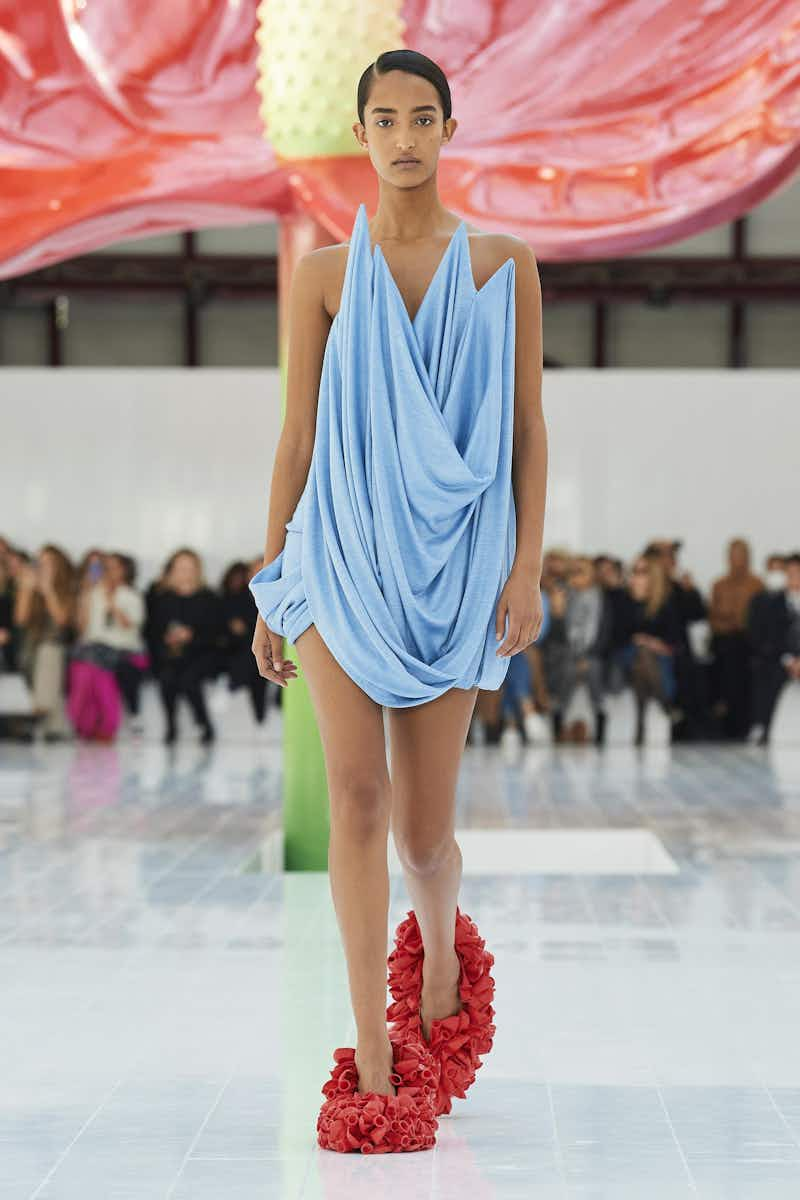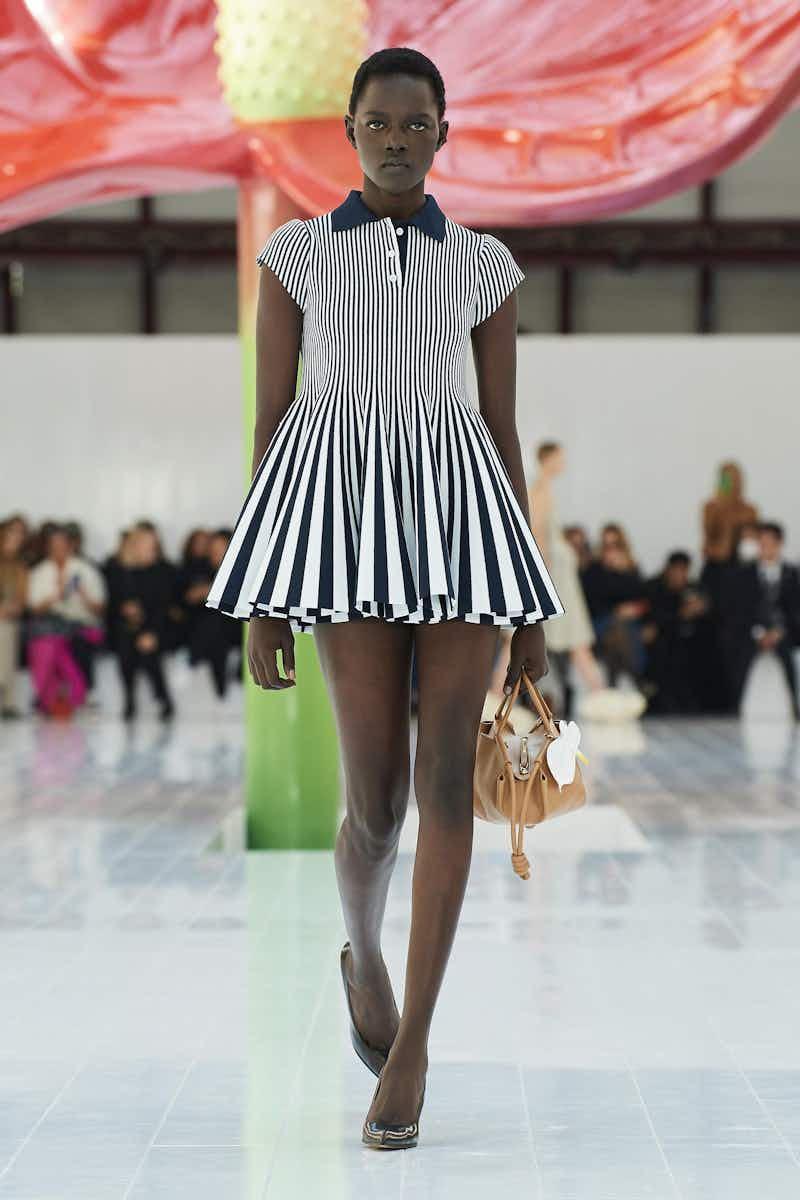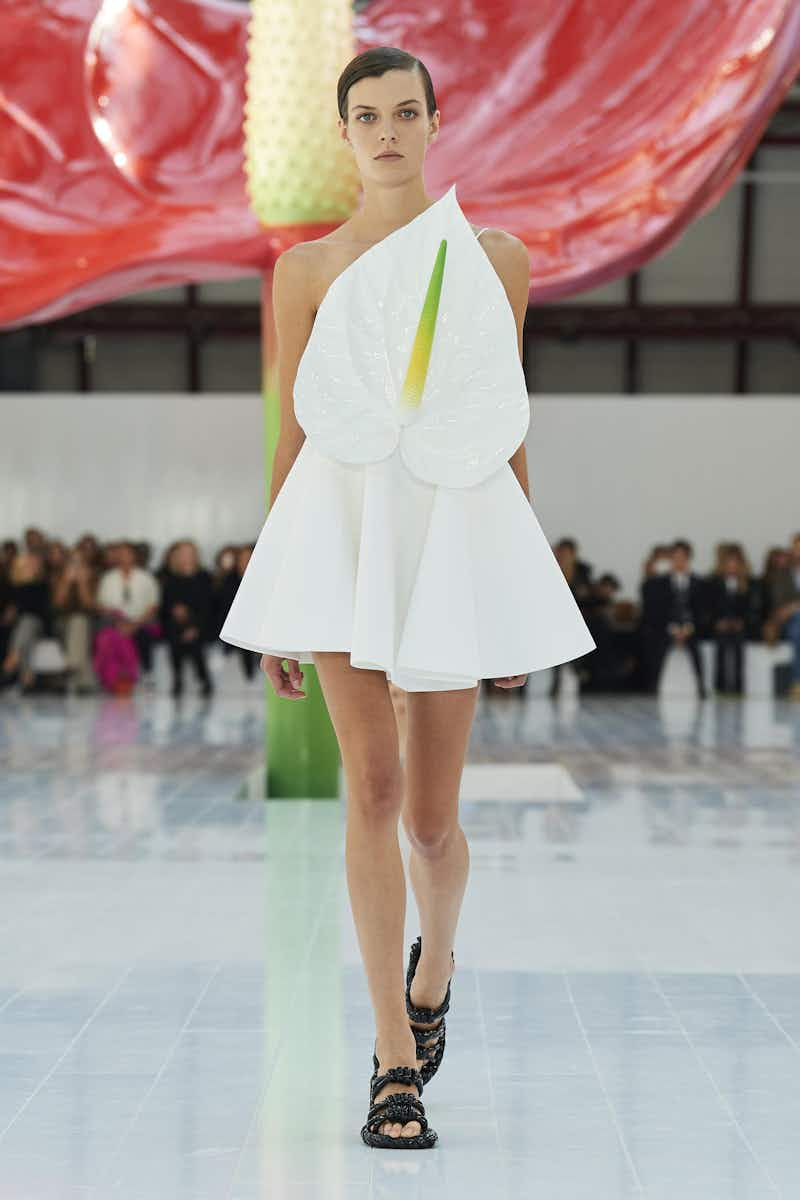 As the legacy of the late Virgil Abloh lives on at Off-White, this season, image and art director Ibrahim Kamara sought to ​"CELEBRATE" the work of his friend in a moving, high-spirited show. Abloh's lasting impact is seeped in narrative, from his fight for political injustice and vocal support of the Black Lives Matter movement, to his constant support for young, emerging talent. And much like Abloh's fight for inclusivity, Off-White's SS23 show explored the power of community, with the designer's friends and family eagerly gathering to watch the celebration unfold.
Walking on a vibrant blue carpet, models wore intricate African-influenced tribal prints decorated onto dresses, T‑shirts and long-sleeves, while anatomical styles – ​"six packs" embroideries on top of mesh fabric, holes cut in the torso and X‑ray prints on denim – pointed to individual autonomy.
A running theme in the collection was the recent overturning of Roe v. Wade in the States. T‑shirts that referenced neo-conceptual artist Jenny Holzer's 1986 work Abuse of Power Comes as No Surprise were a significant part of Off-White's protest. Here, the phrase was reimagined as ​"Abuse of Flower Comes as No Surprise", which was printed onto the Off-White's team's T‑shirts. ​"Today, we seek [Holzer's] voice as the overturning of Roe V. Wade signals yet another setback, with all proceeds of the T‑shirt sale donated to Planned Parenthood," Kamara says in the show notes. ​"Even when dreaming up new worlds, we must speak about the harsh realities of our present everyday lives." TJ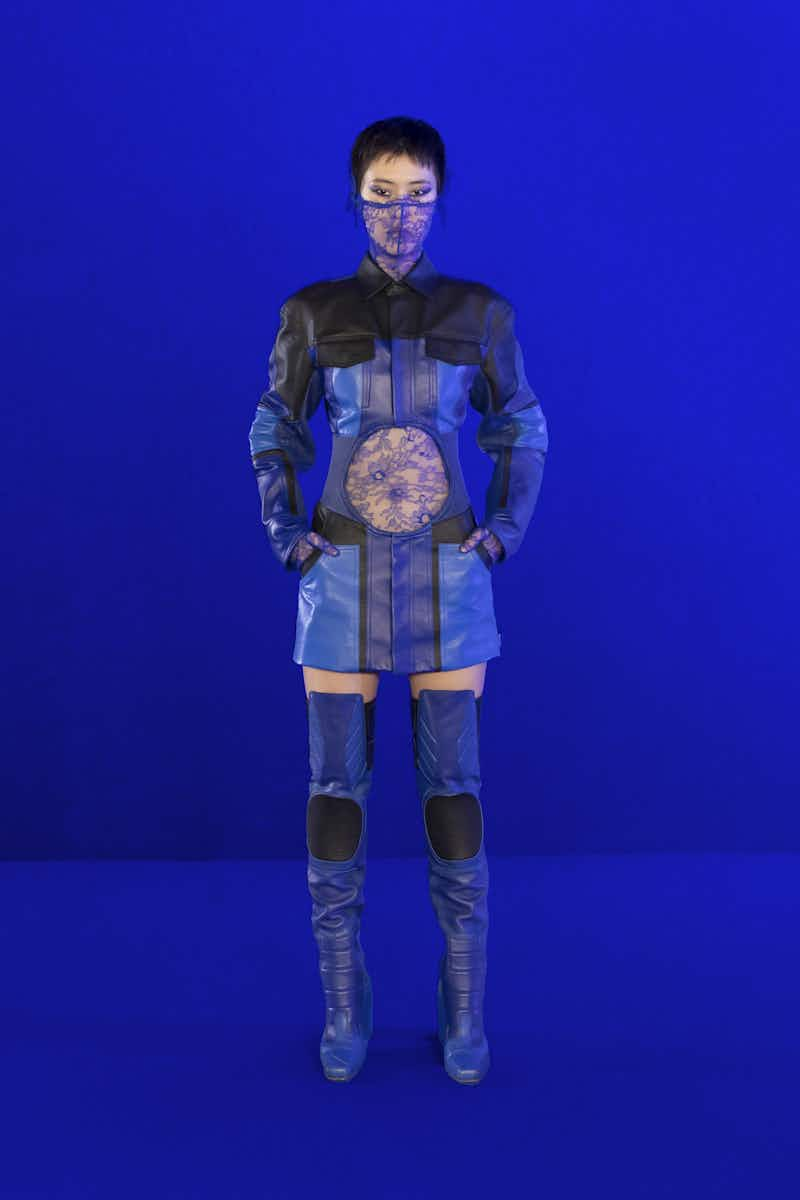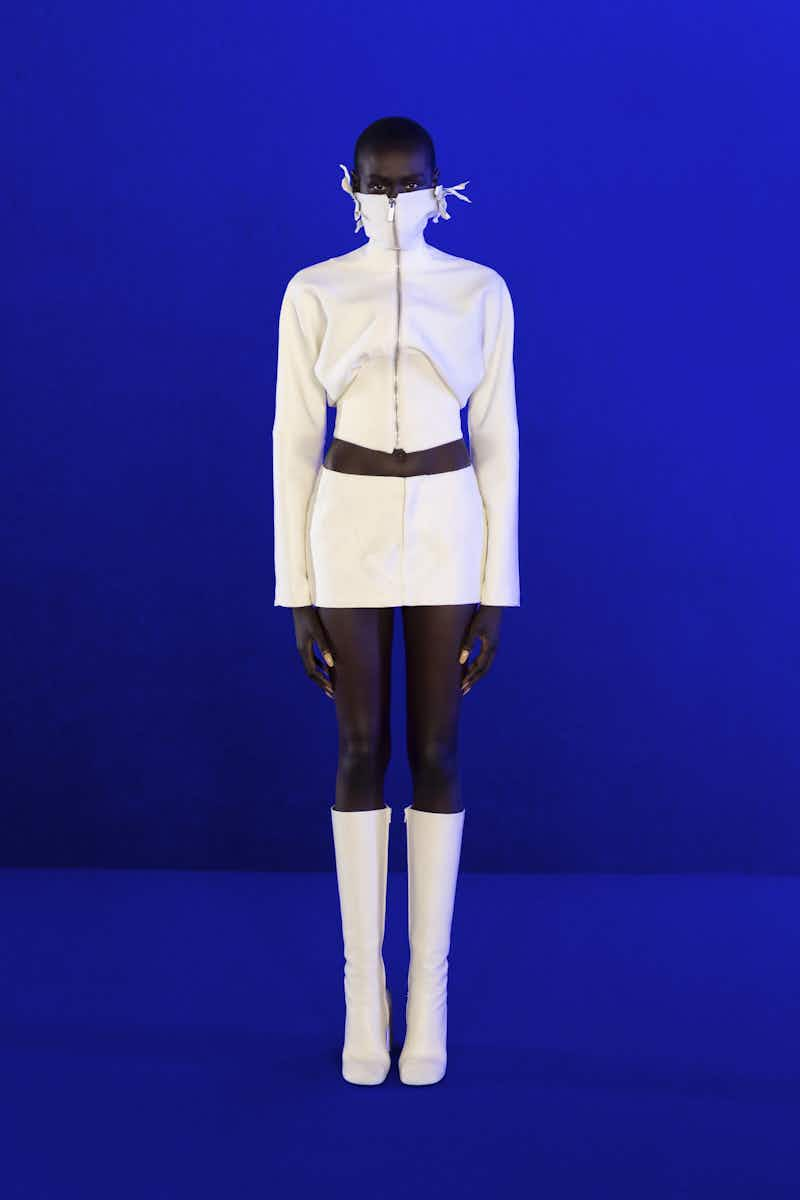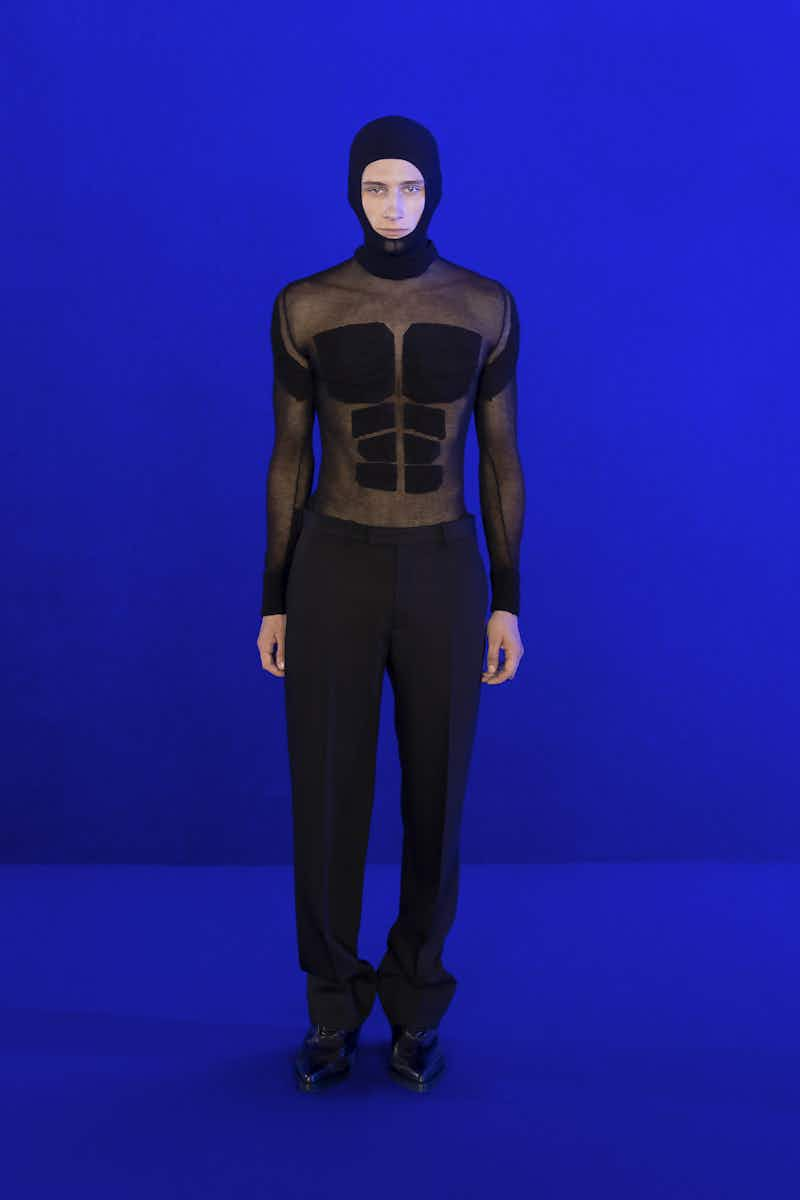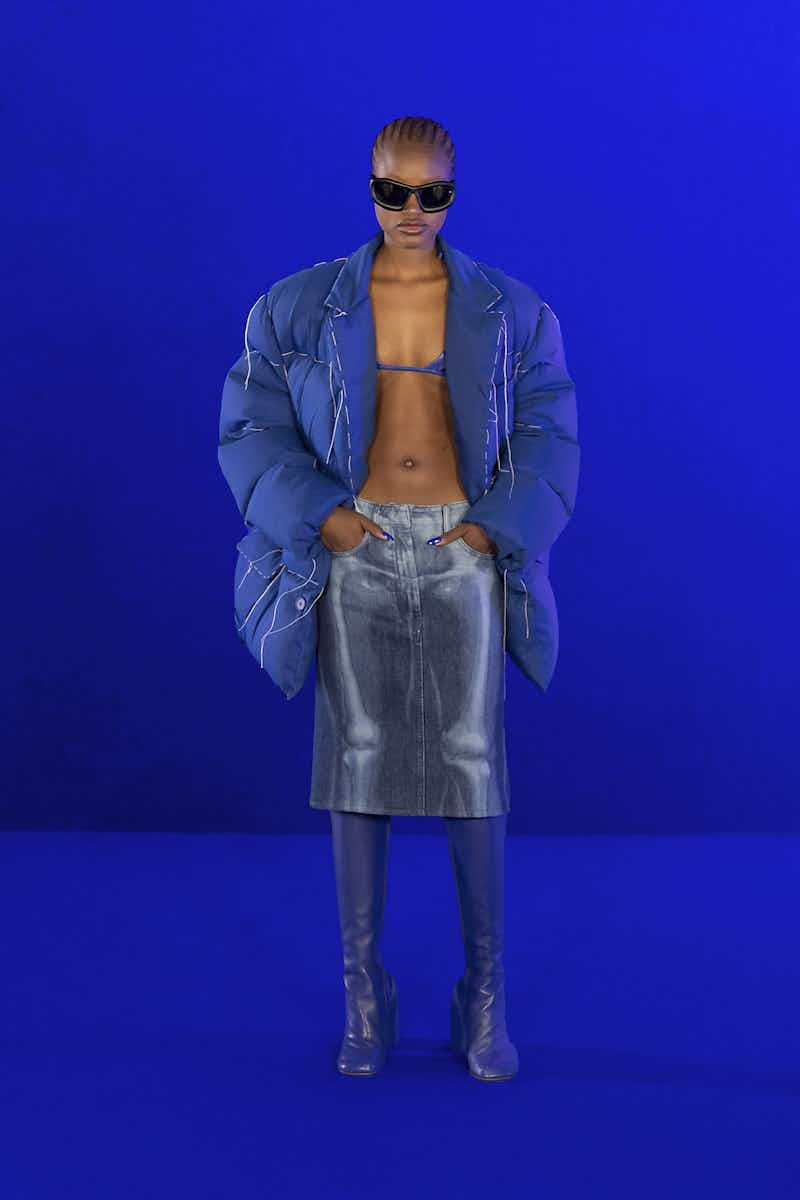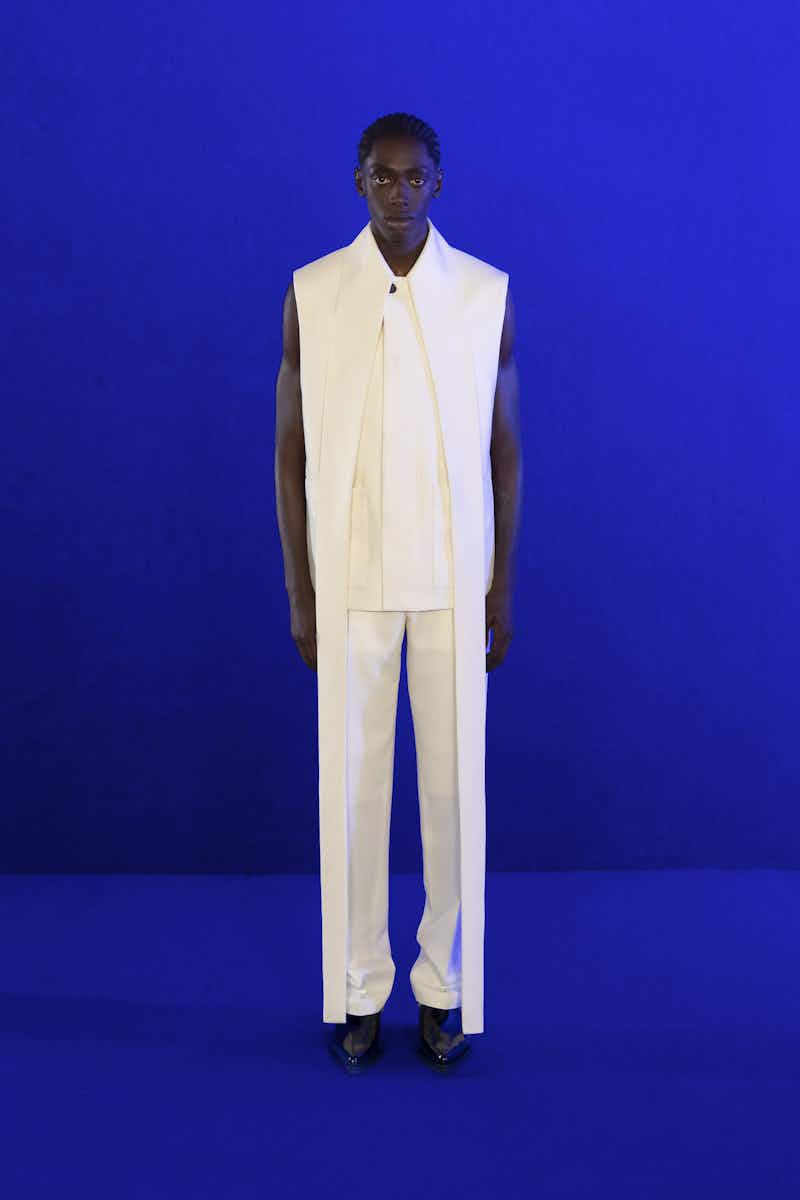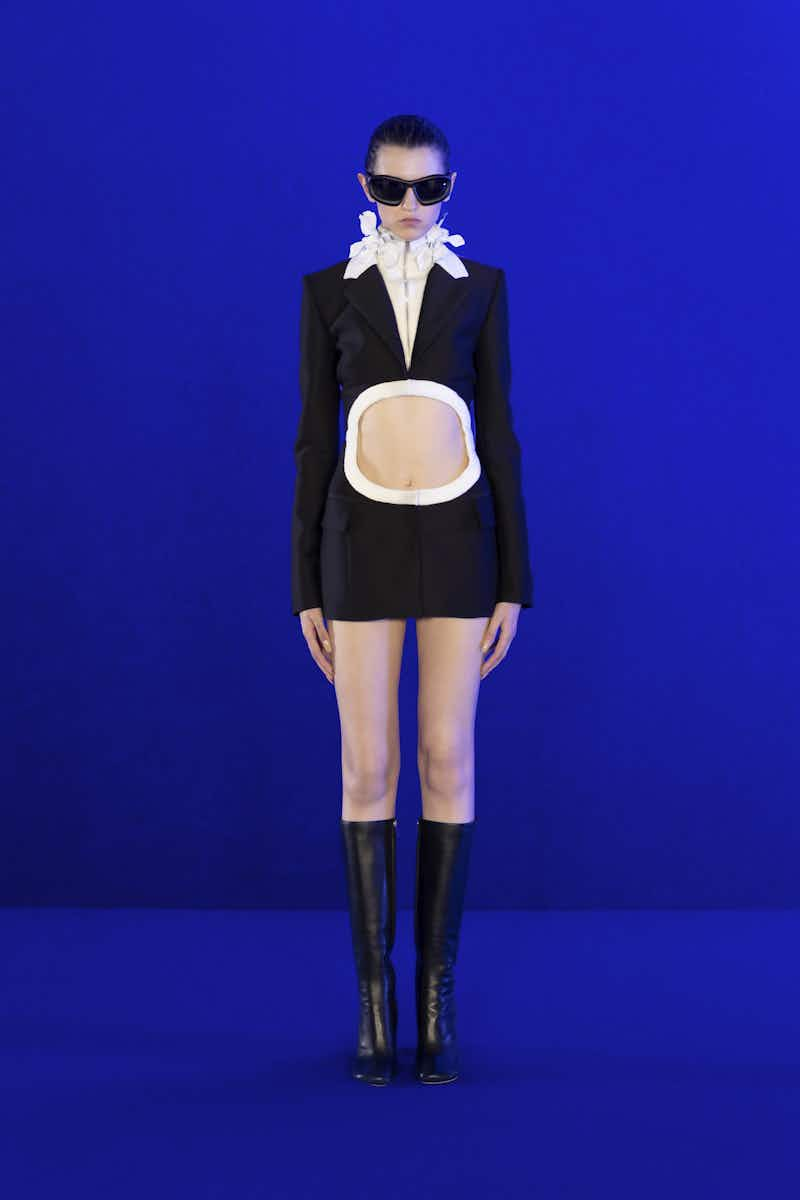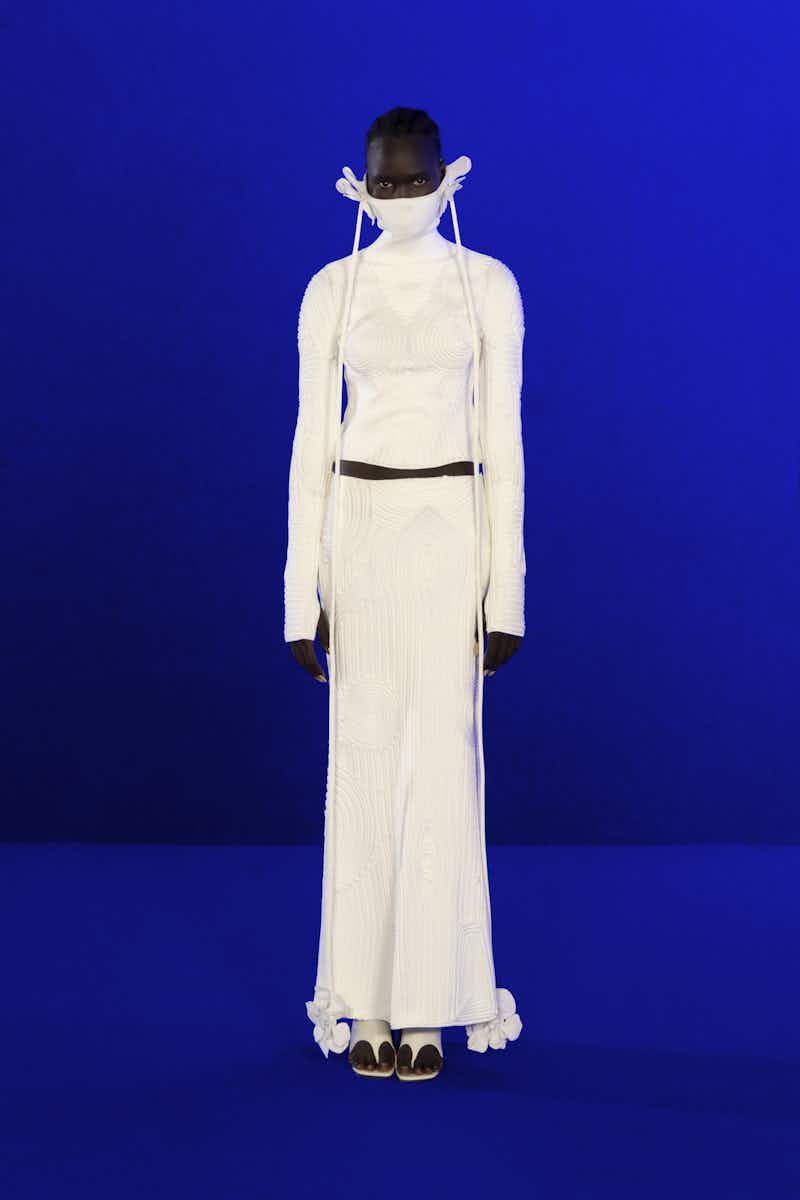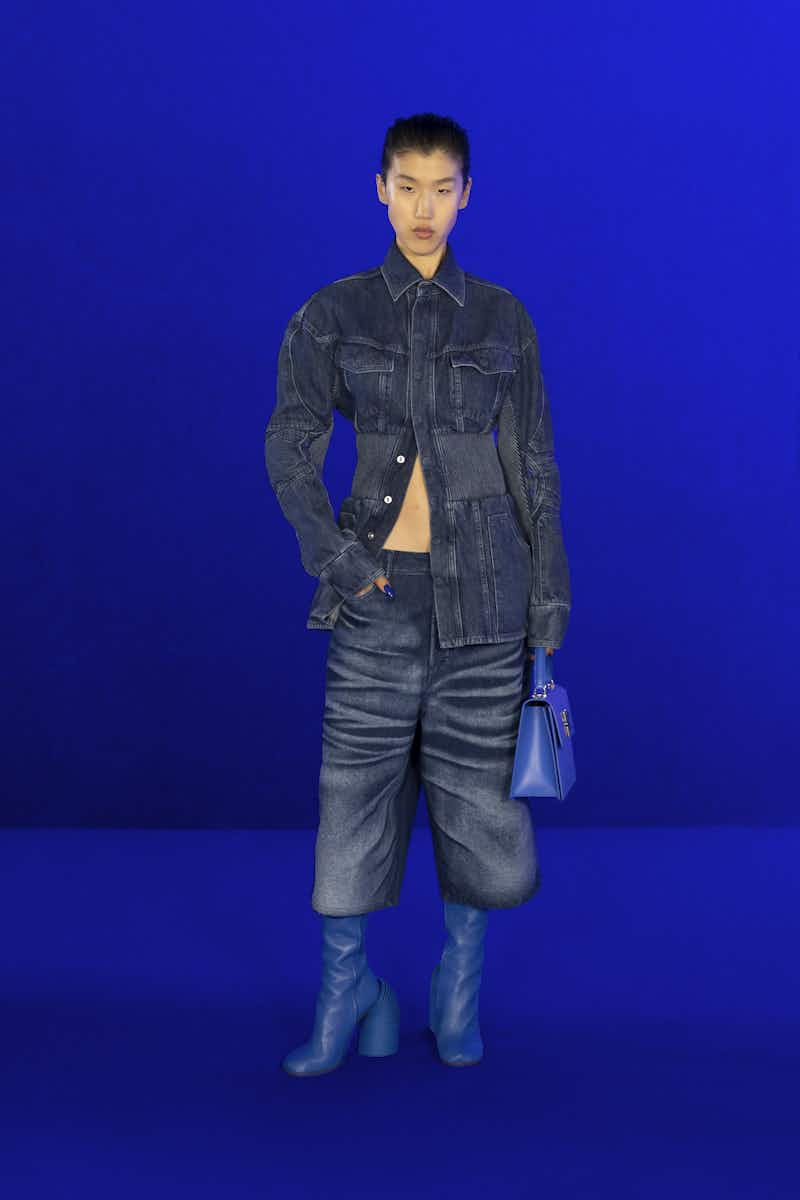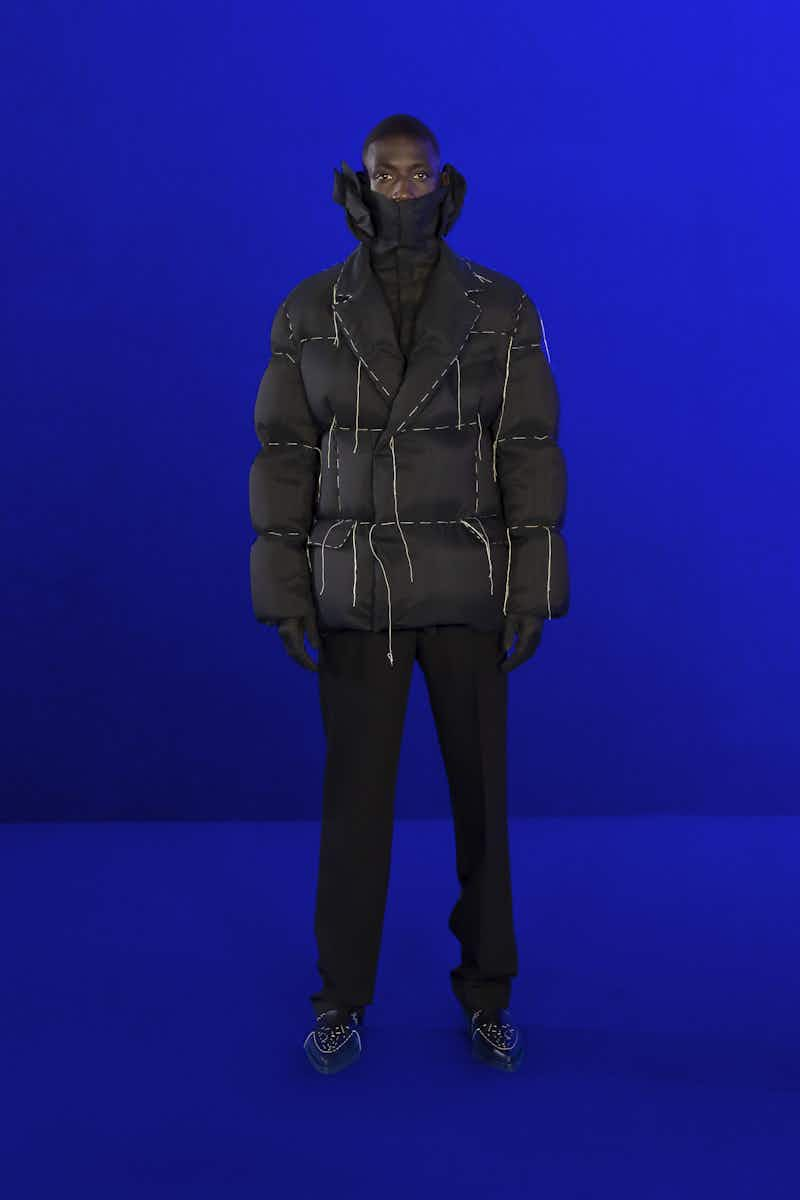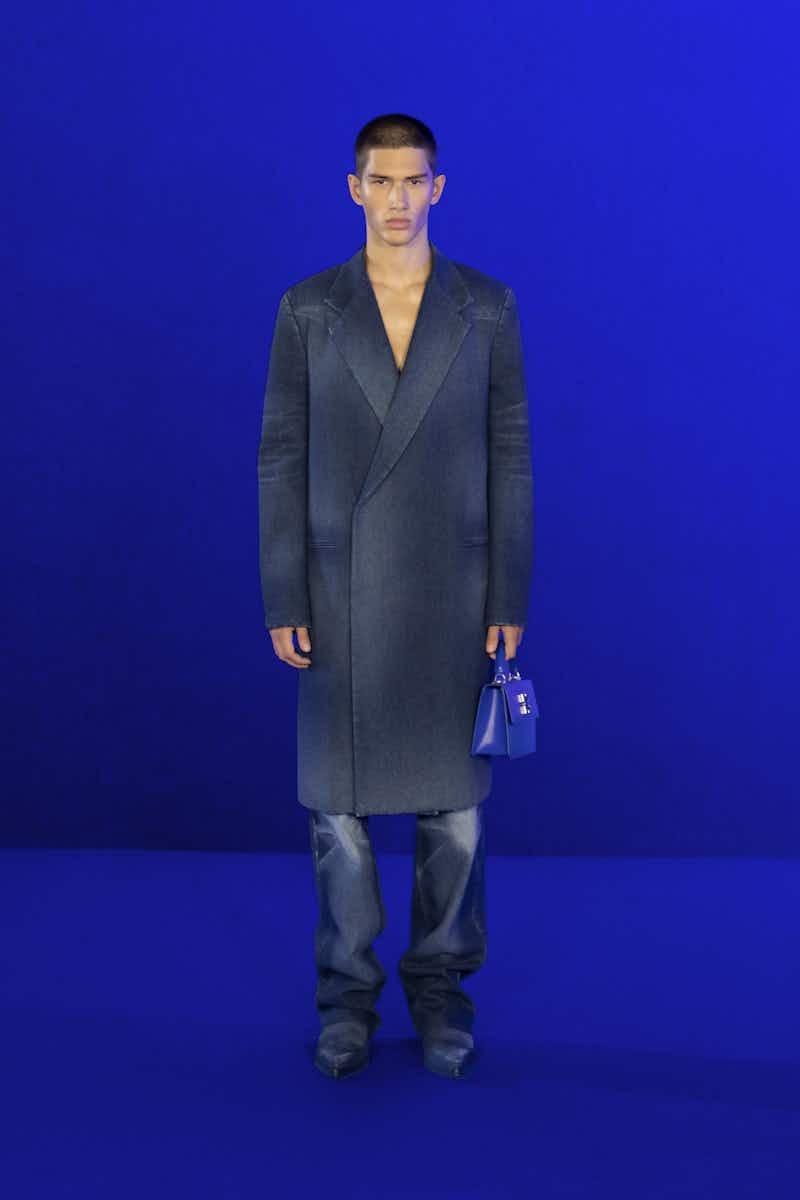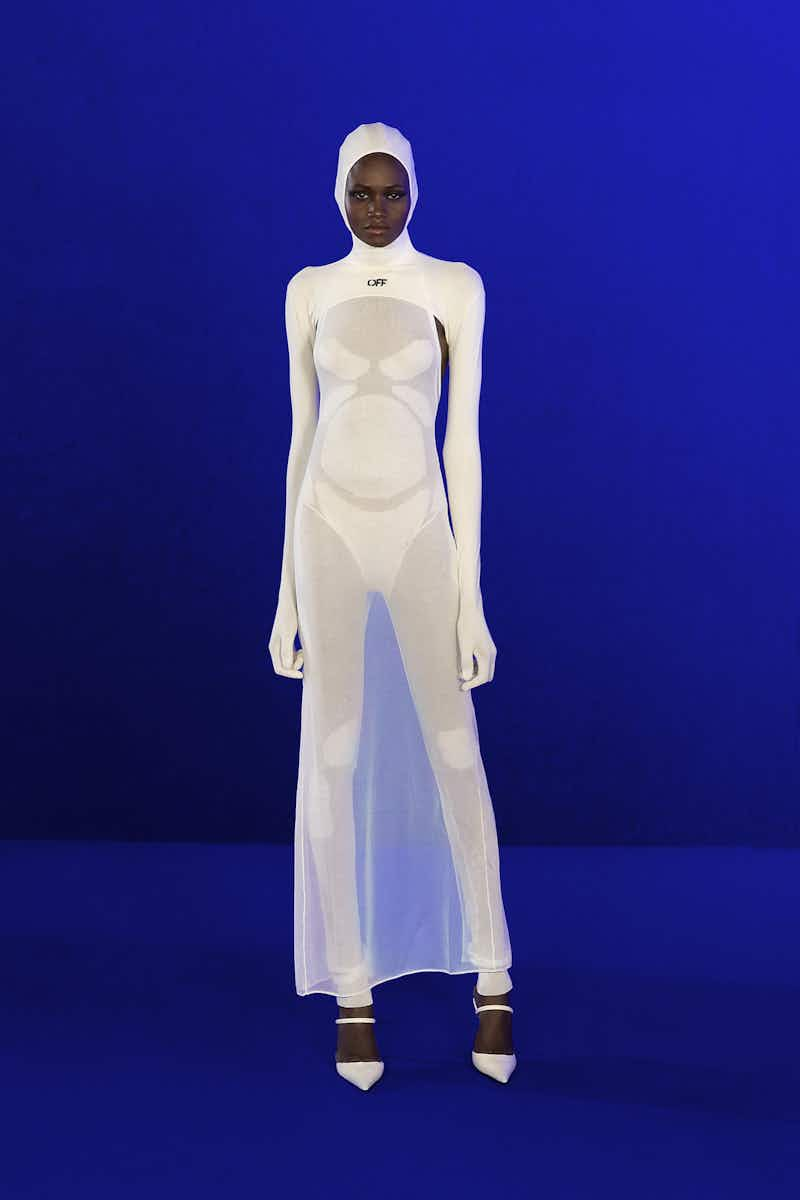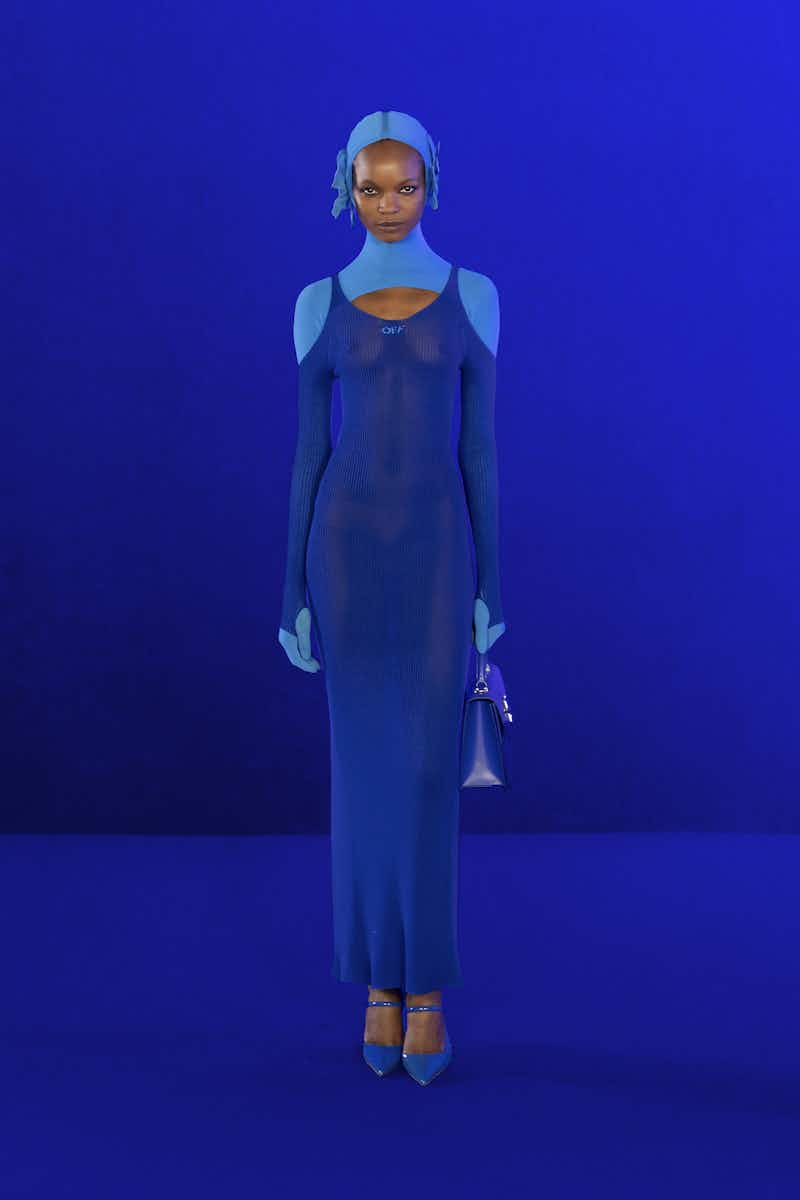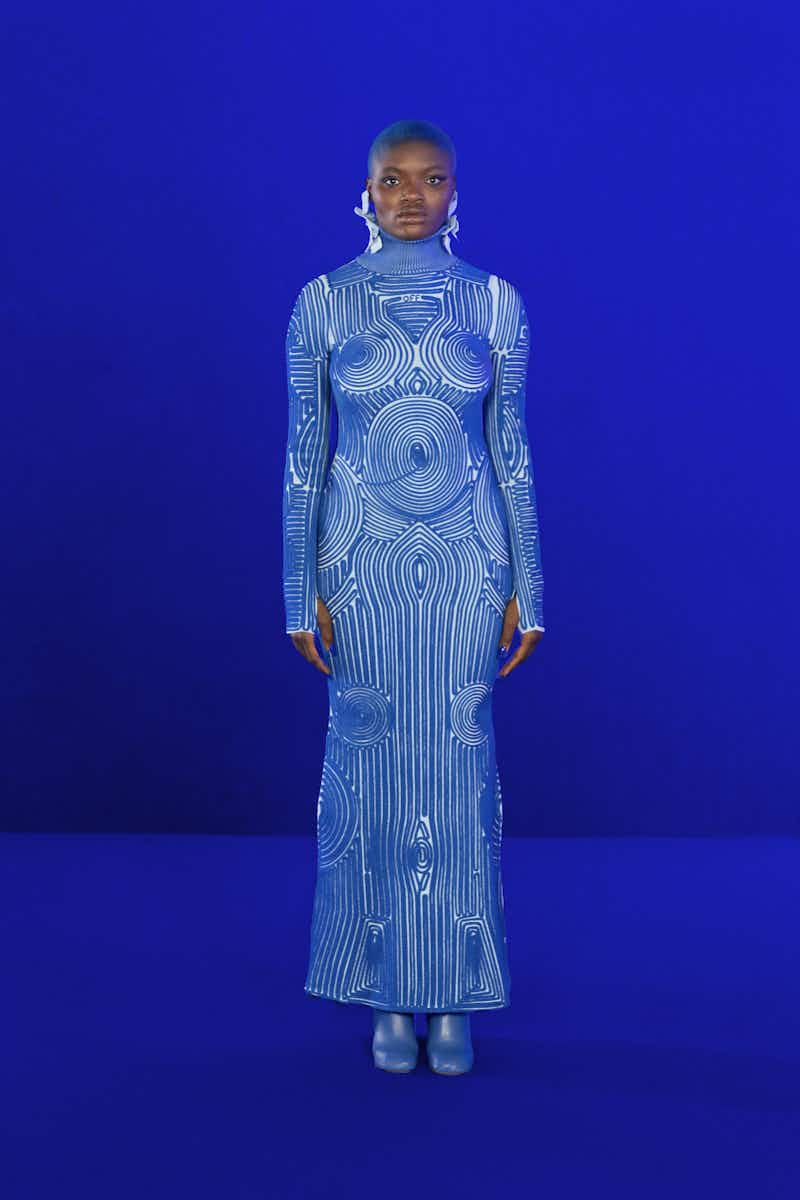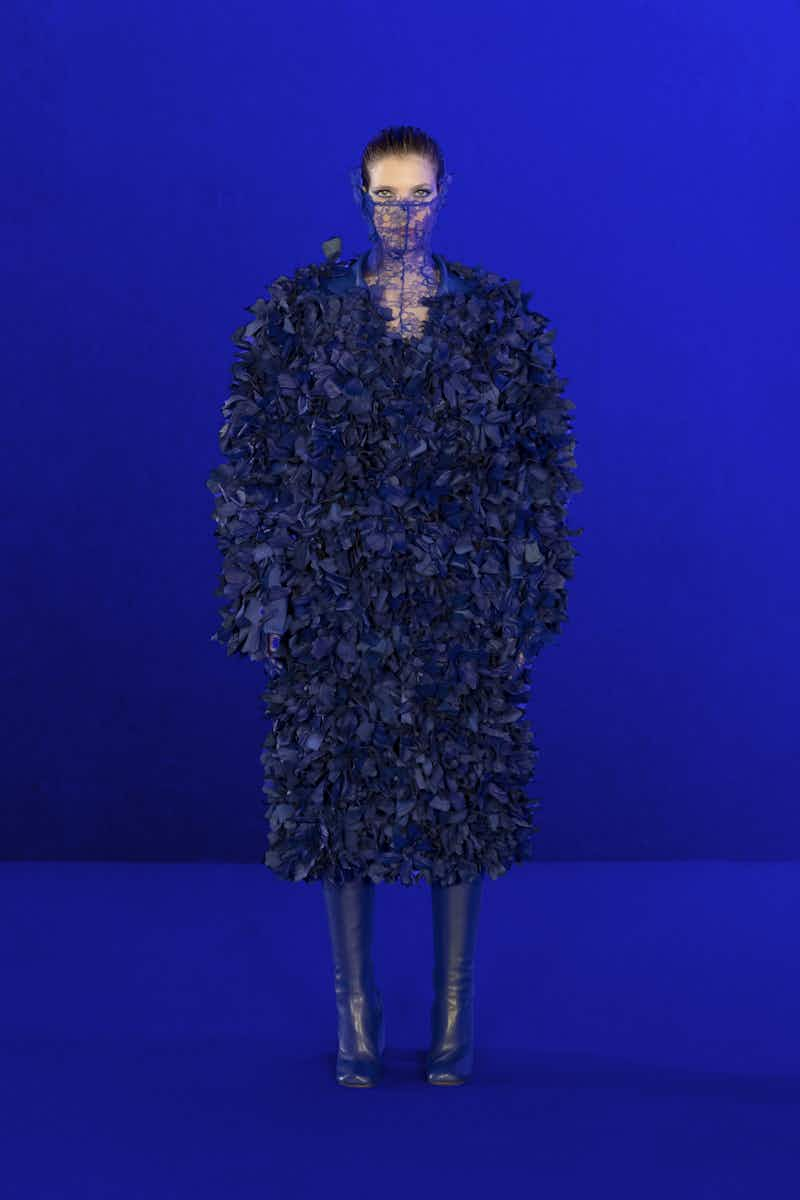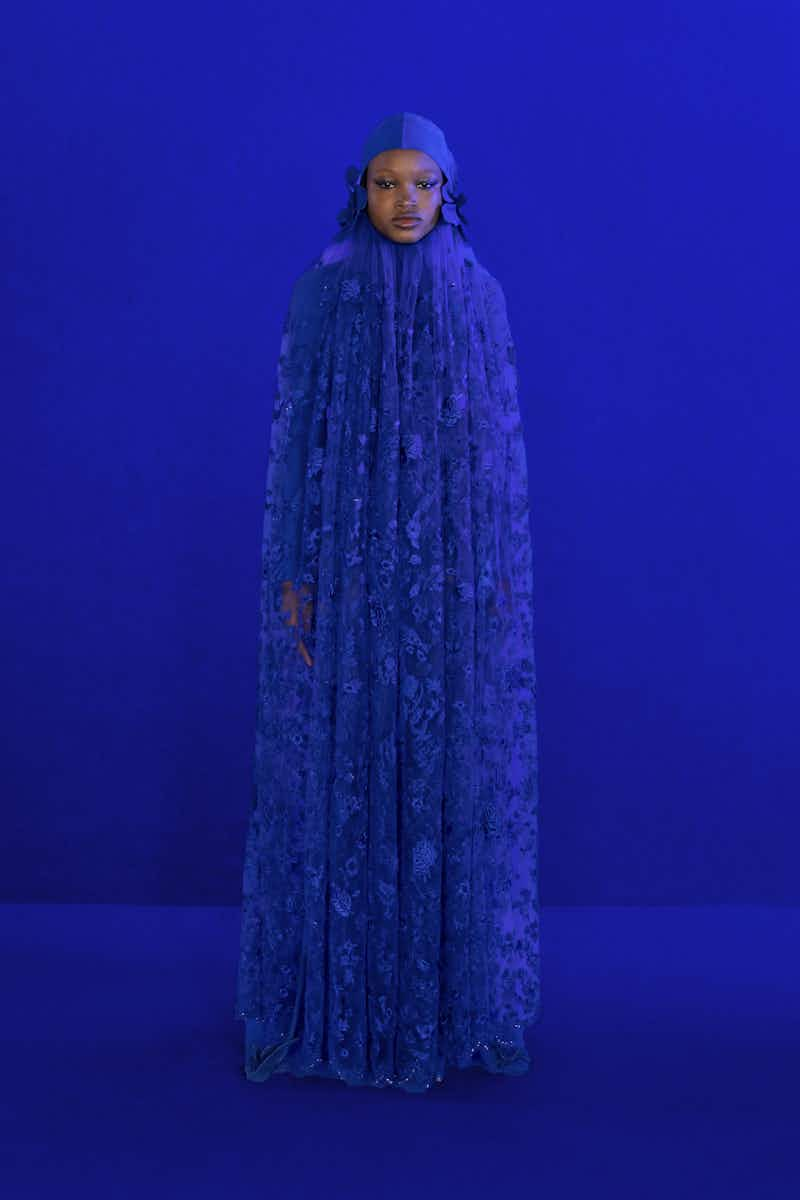 As the sun beamed down on the grandiose gardens of Paris' Palais de Tokyo, Rick Owens' reoccurring show venue, the fountain roared high while smoke poured through the audience filled with diehard supporters creating a more dystopian setting. Typically dark in nature, Owens' SS23 collection was peppered with unexpected moments of sweetness and light: bell-shaped frilled jackets, voluminous tulle dresses with exaggerated trains, babydoll mini-dresses in shocking pink and highlighter yellow diamond patterns, and structured insect-like dresses crafted from iridescent leather.

Backstage, Owens explained that he had been thinking about Egypt – the collection was titled ​"Edfu" after the Egyptian temple on the west bank of The Nile, a carry-on from his SS23 men's collection. It's fitting, then, that the scarab beetle — a symbol of rebirth and renewal — informed the structure of armour-esque black panelled bomber jackets with extended shoulders and neck pieces that shielded the wearer's face. This was by no means a collection built on escapism. Rather, Owens is facing the trials of the world head-on – and finding solace in survival.

"I don't see my sojourns to Egypt as escapism," Owens wrote in the press notes. ​"But as a way to remind myself to look at the big picture – and to admire what survives after countless wars." A message that, in these turbulent political times, feels exceptionally pertinent.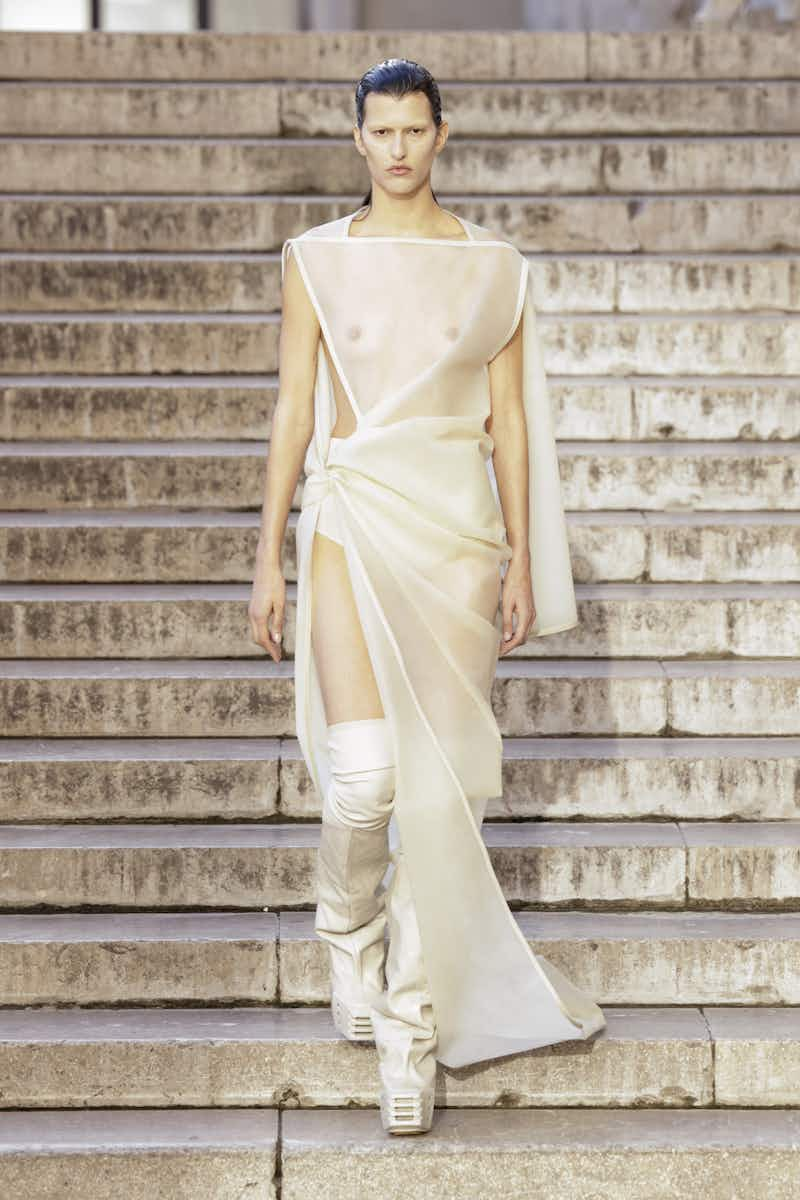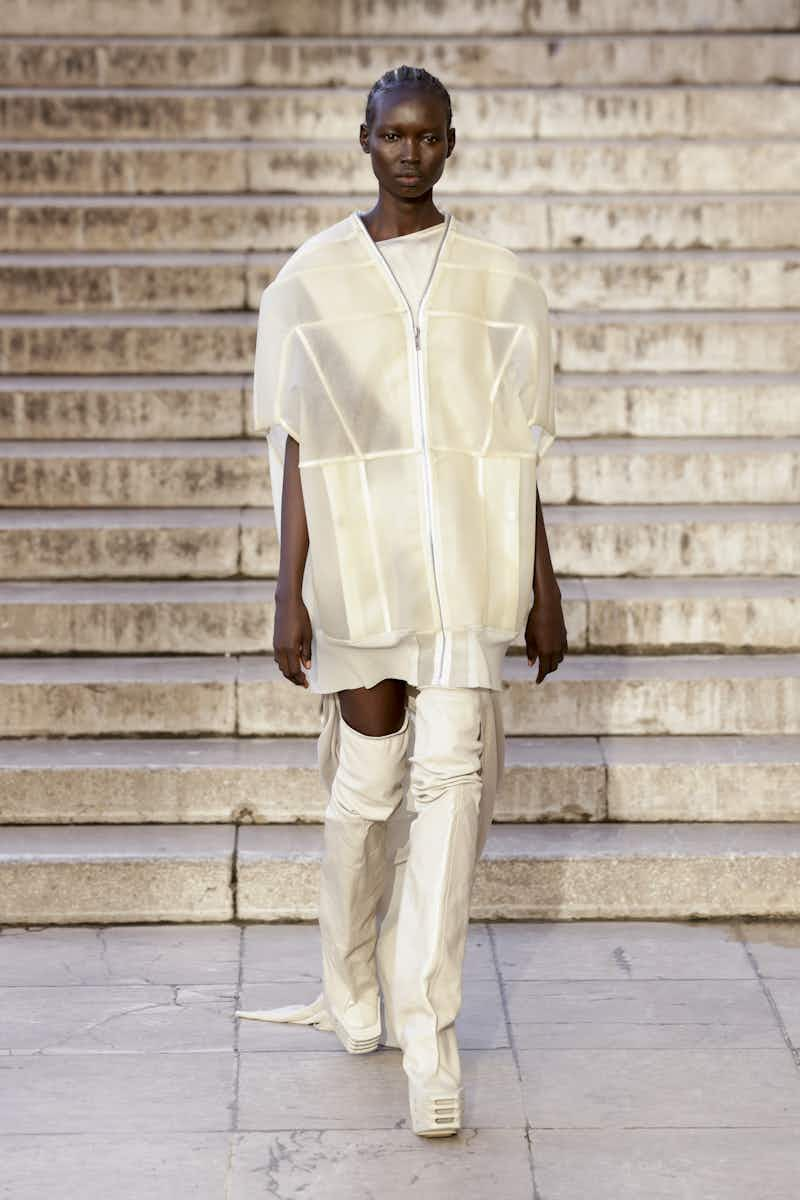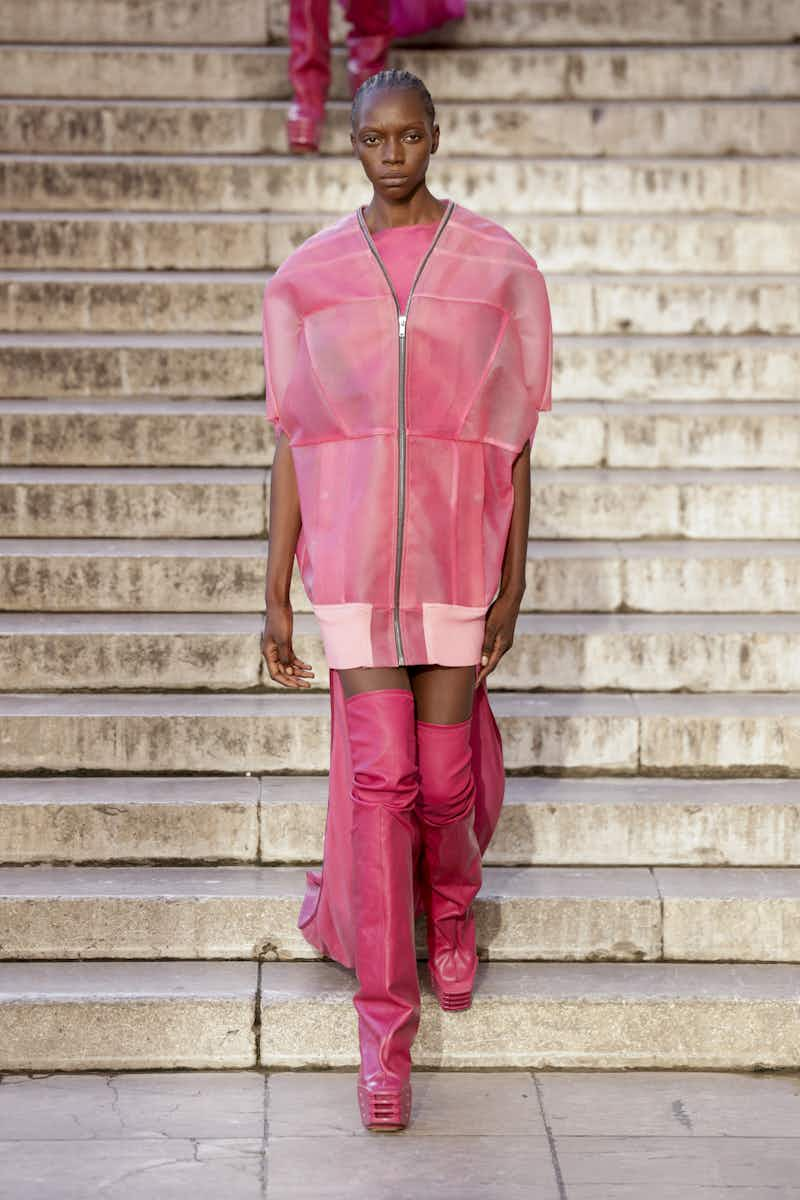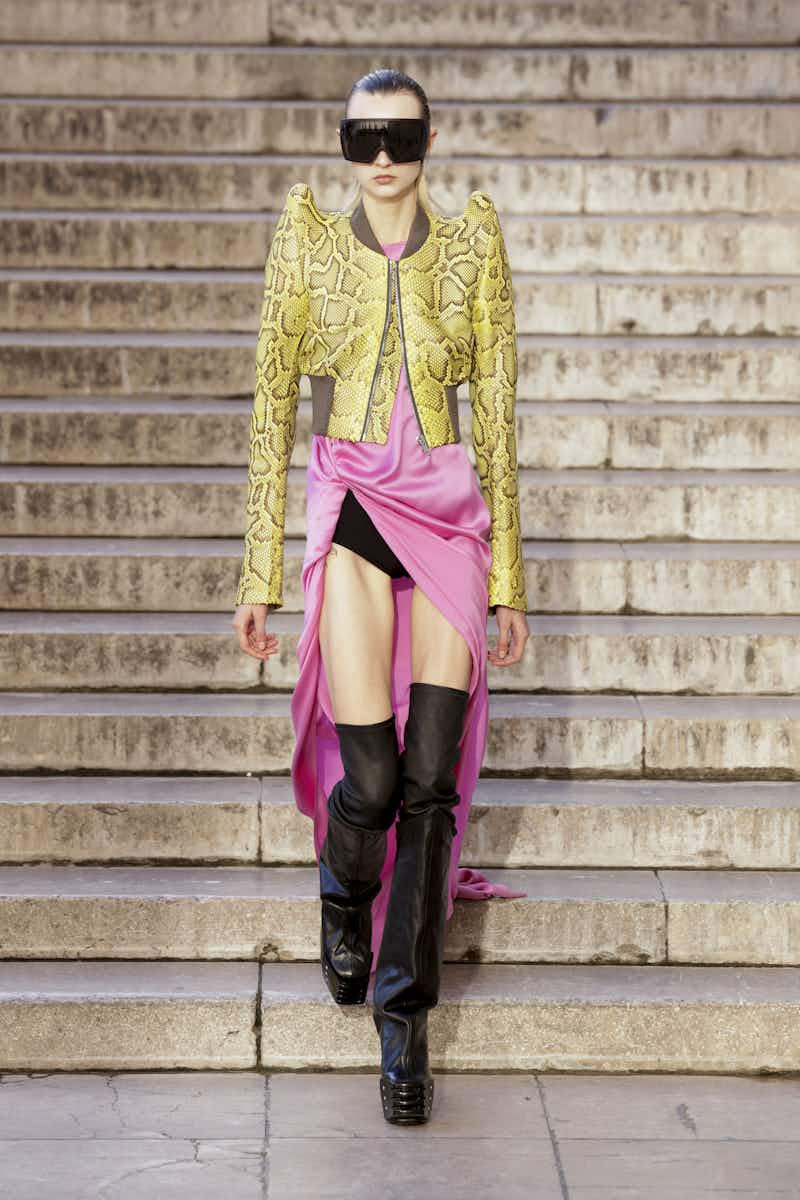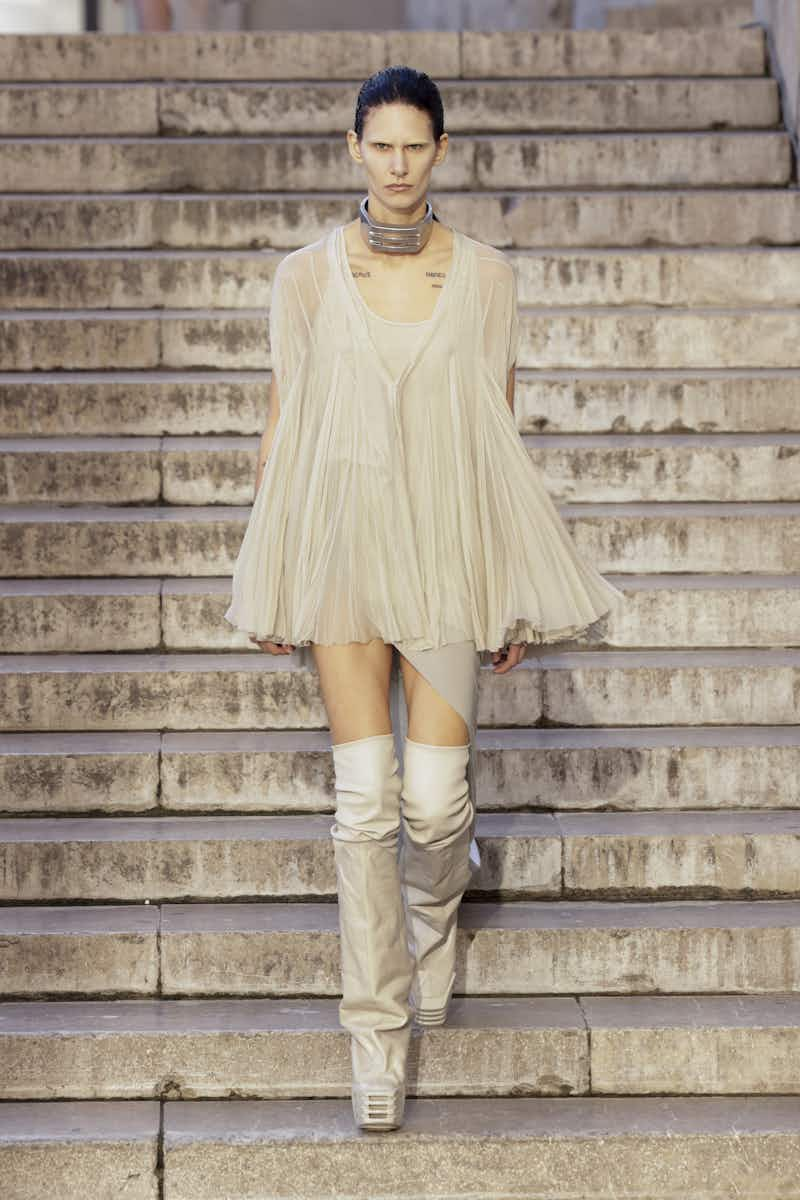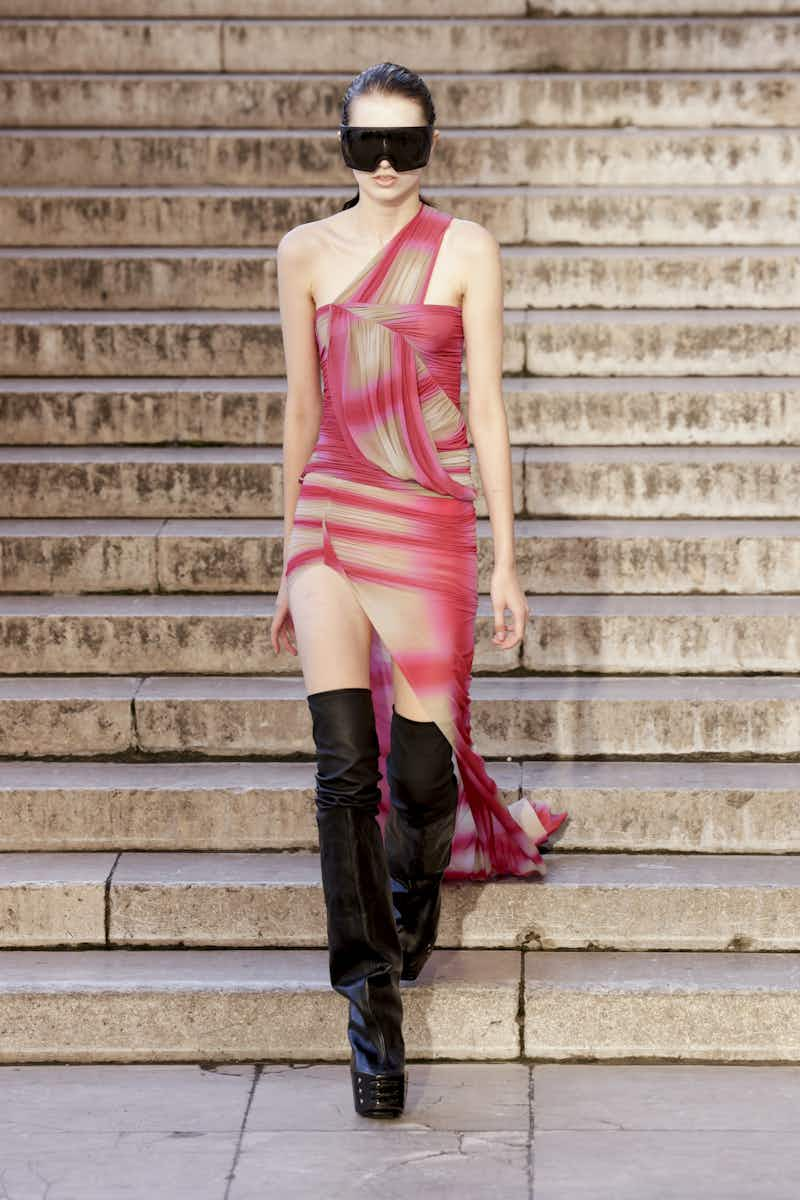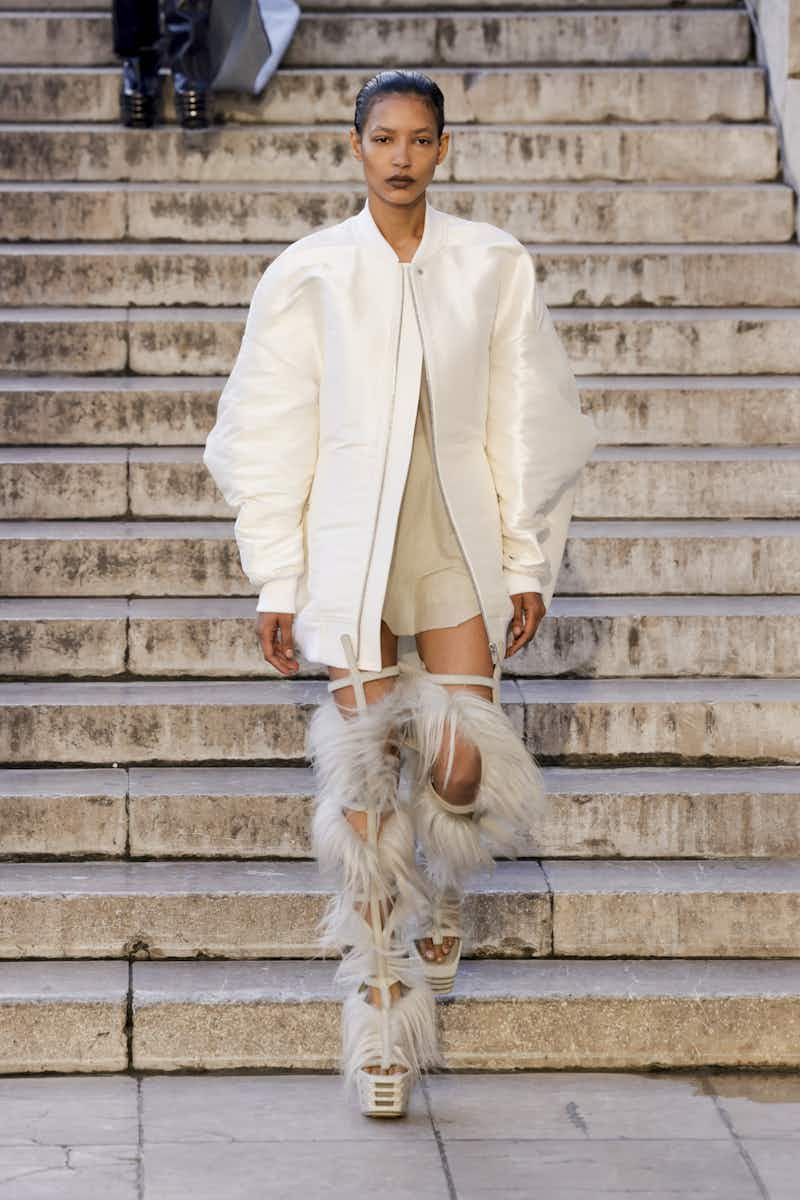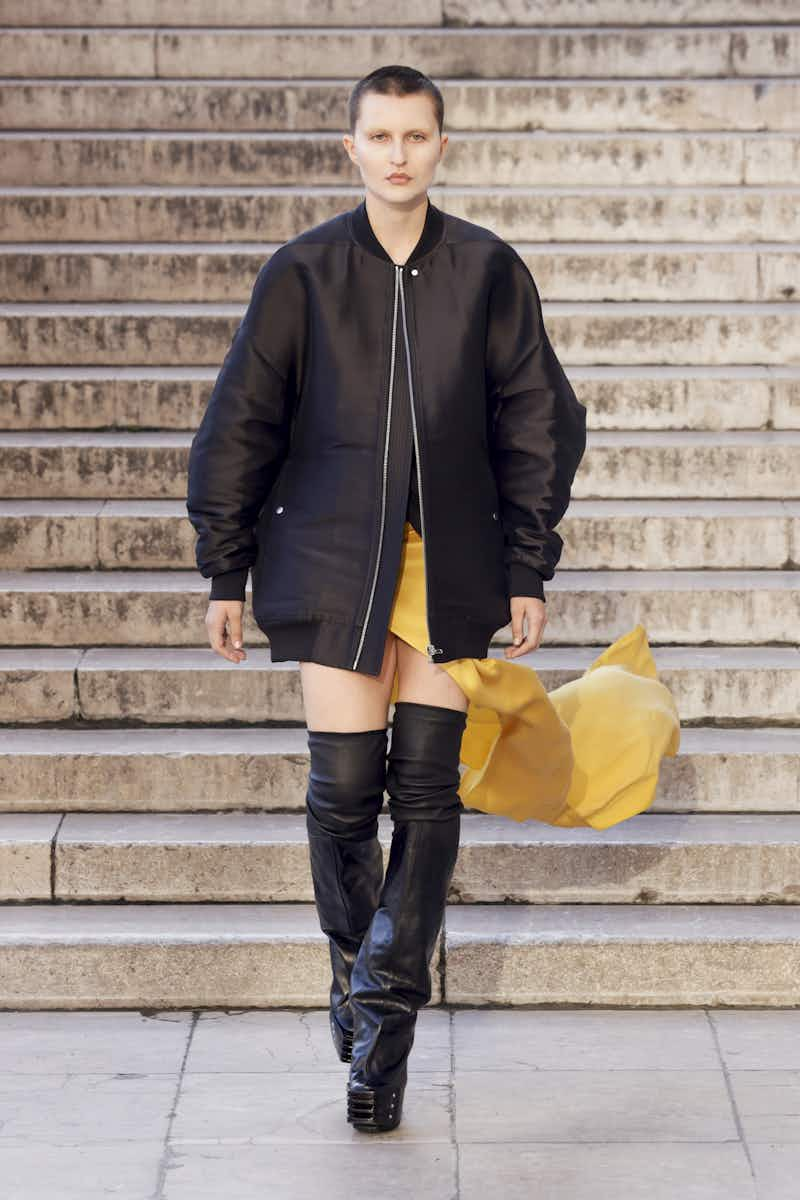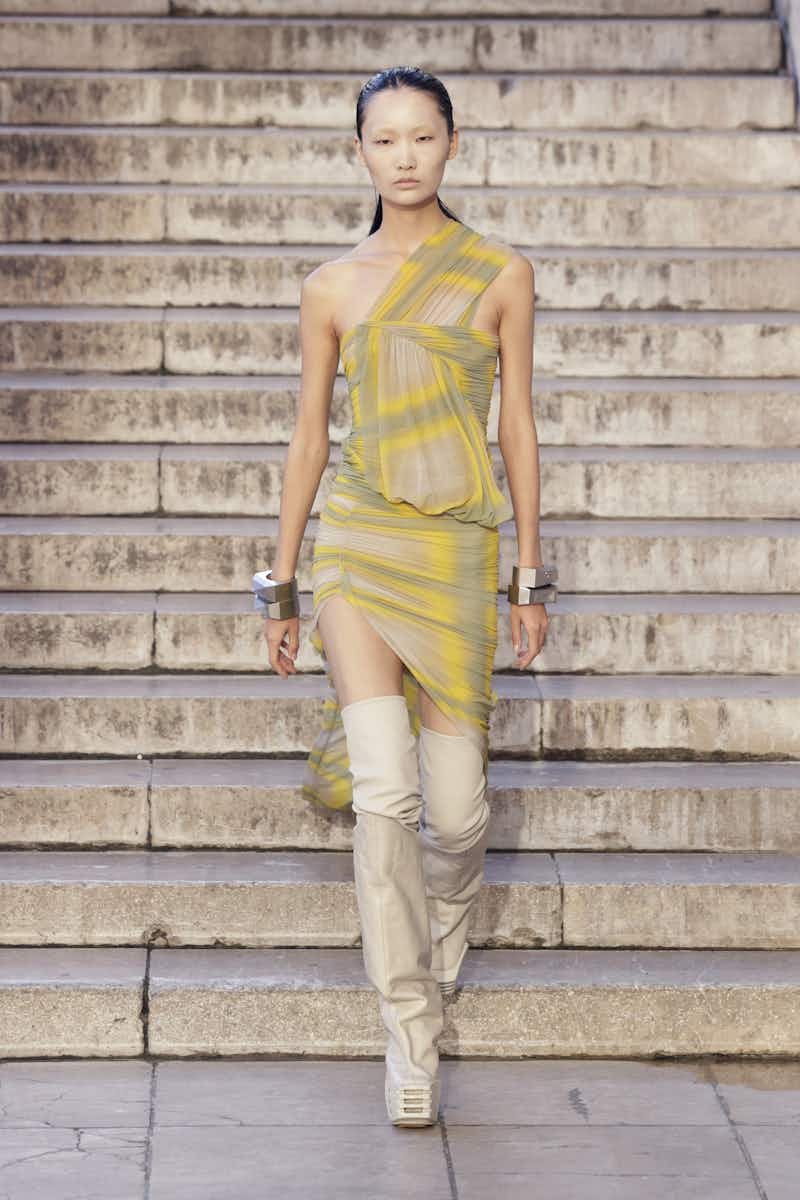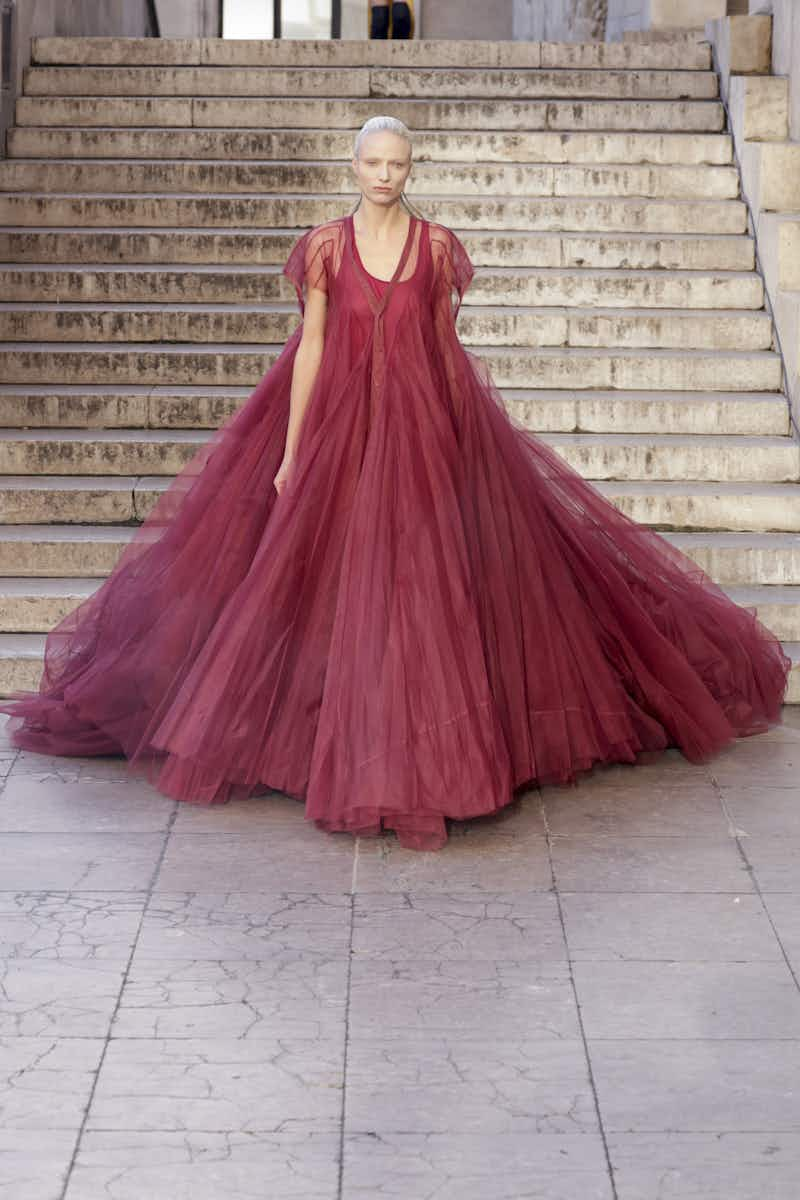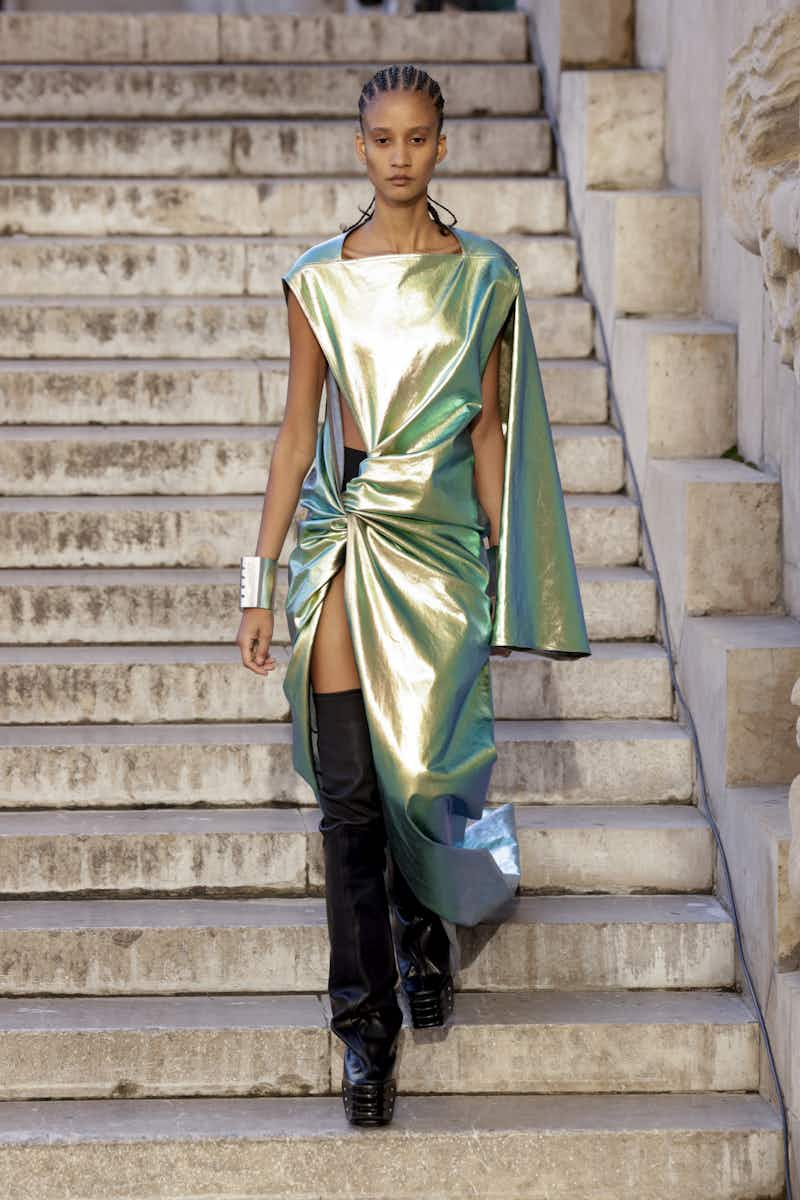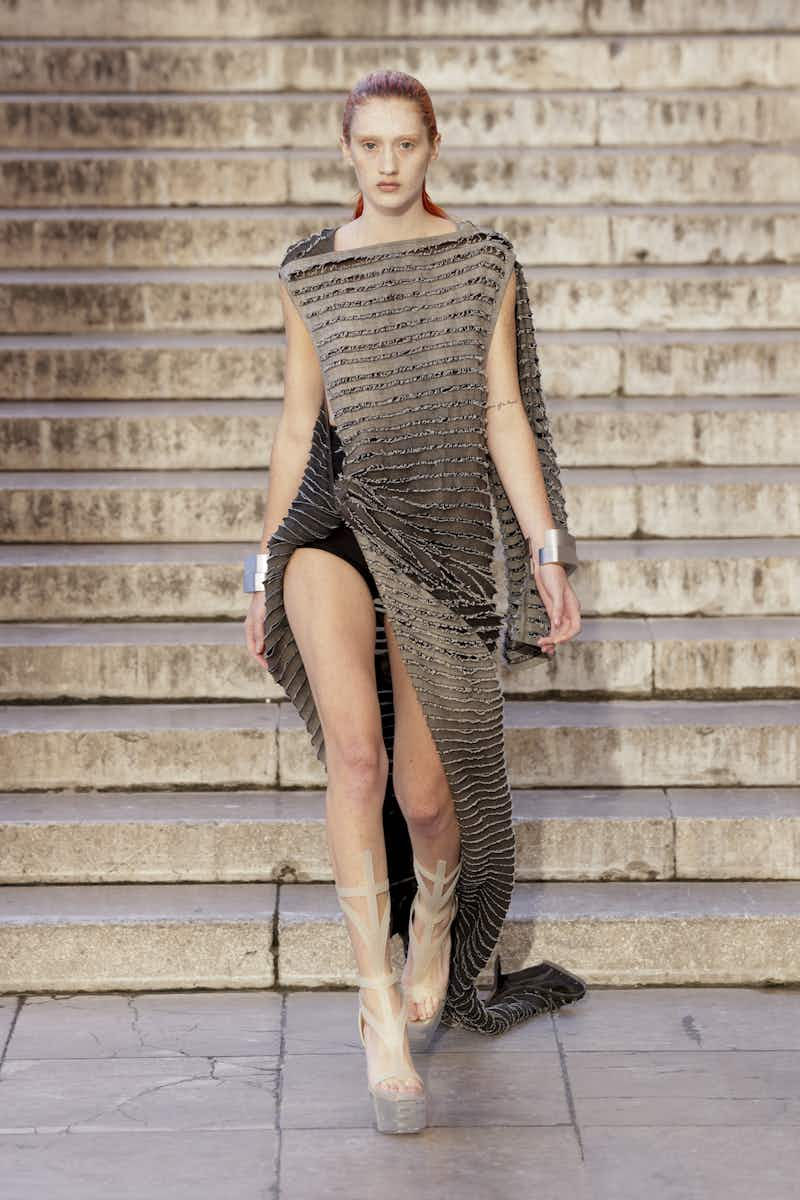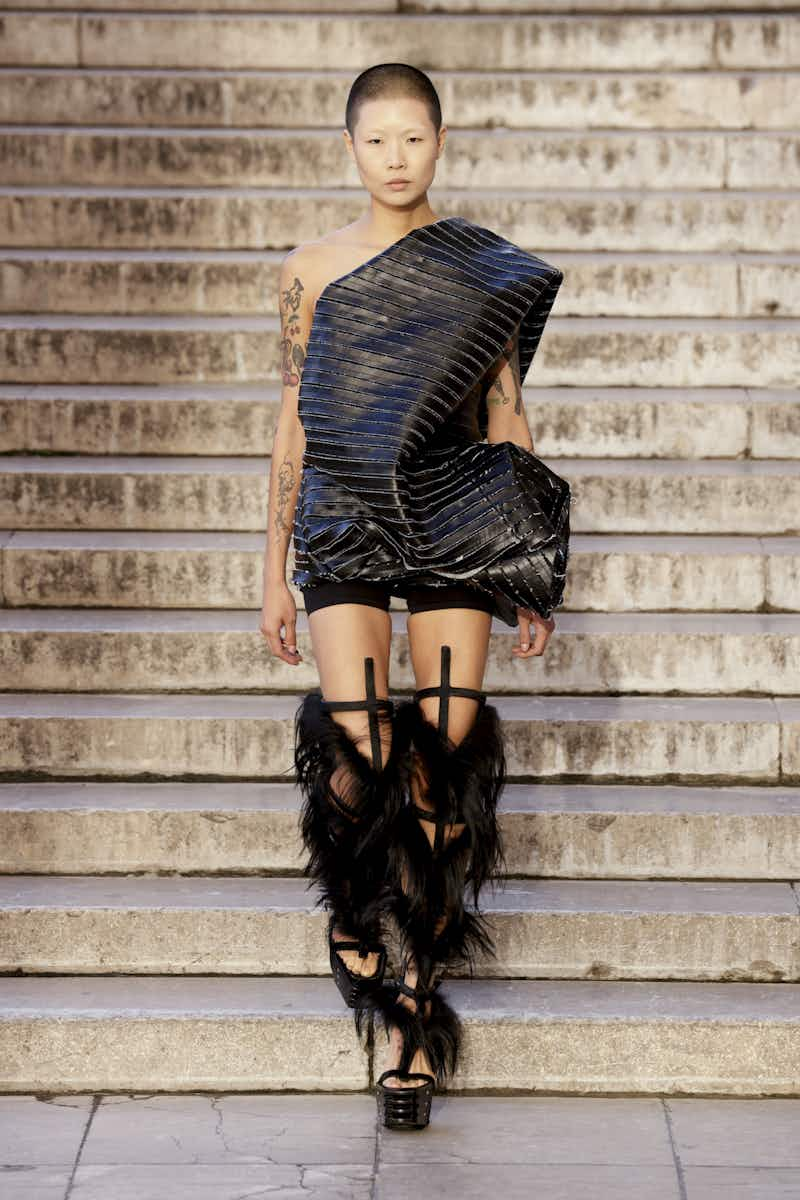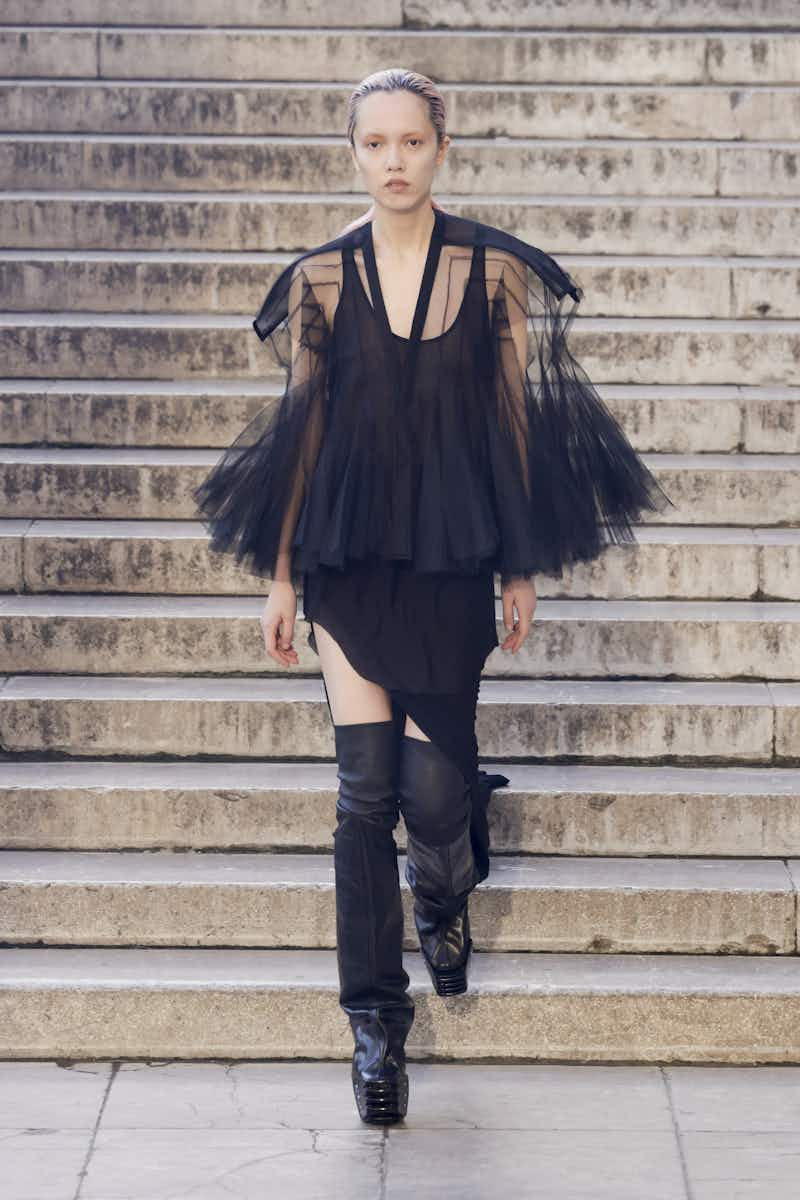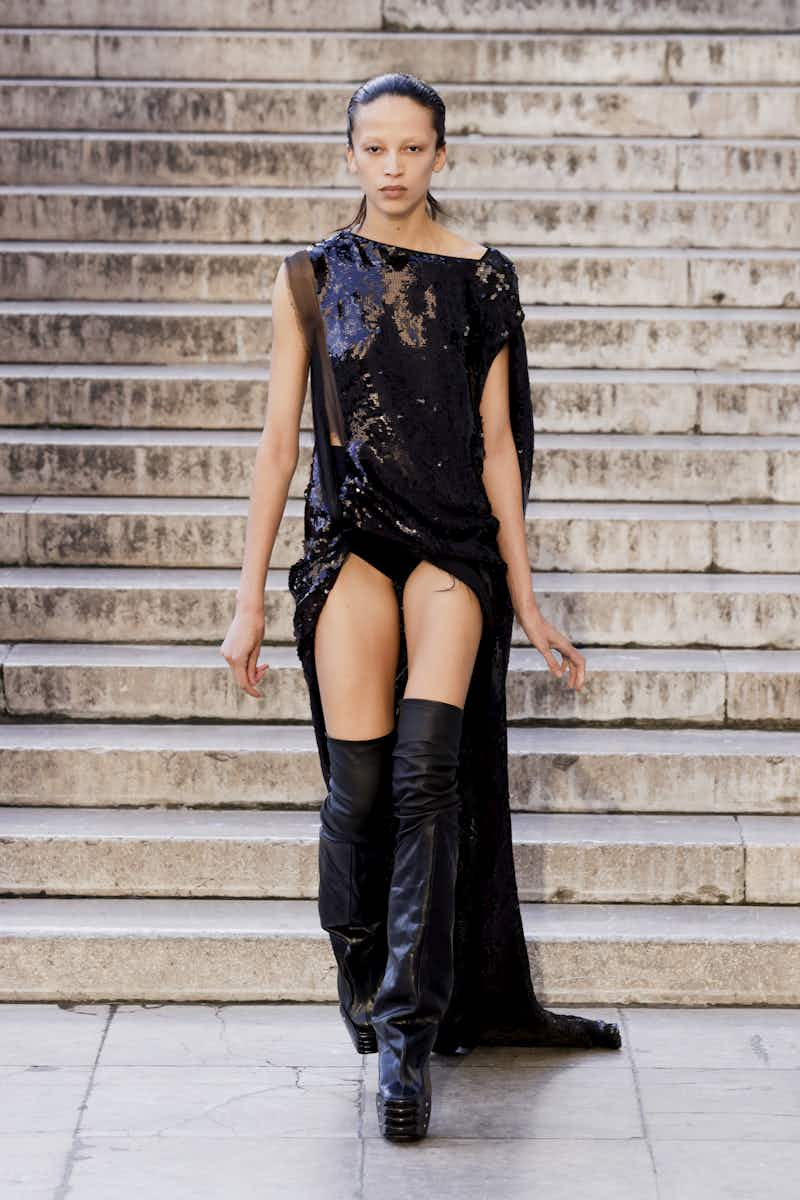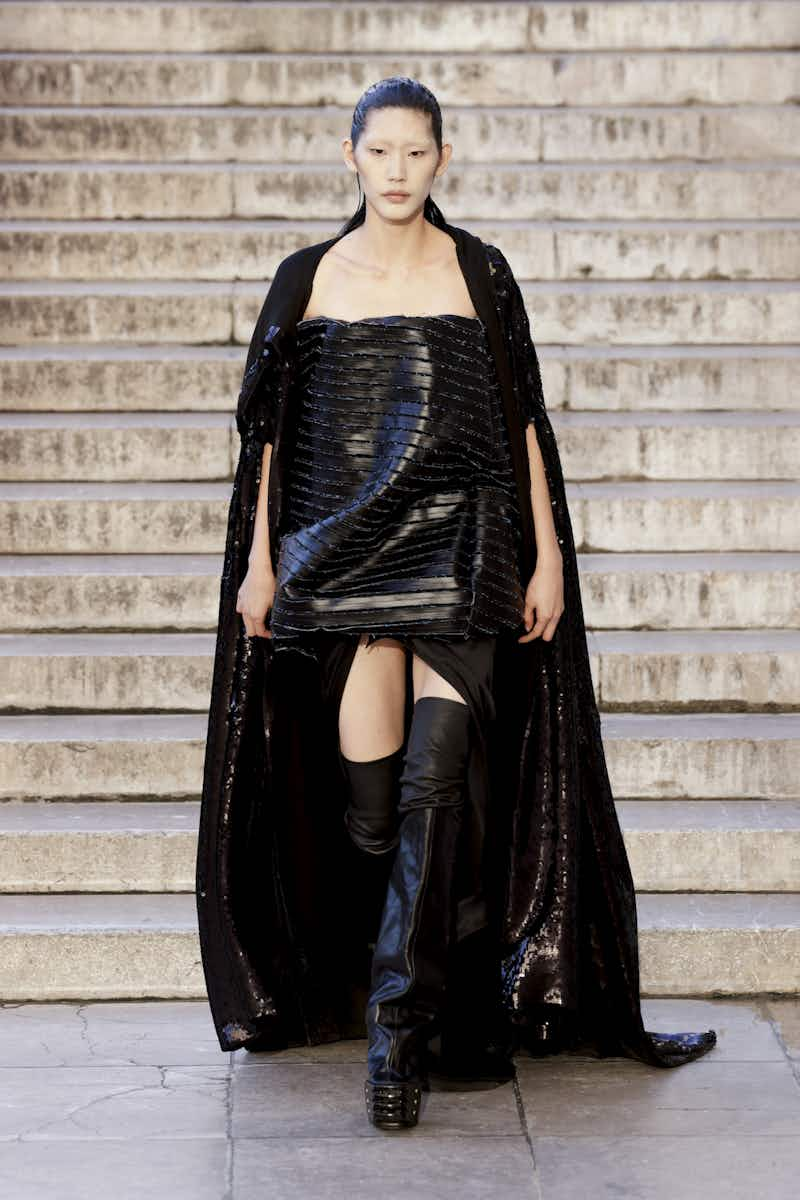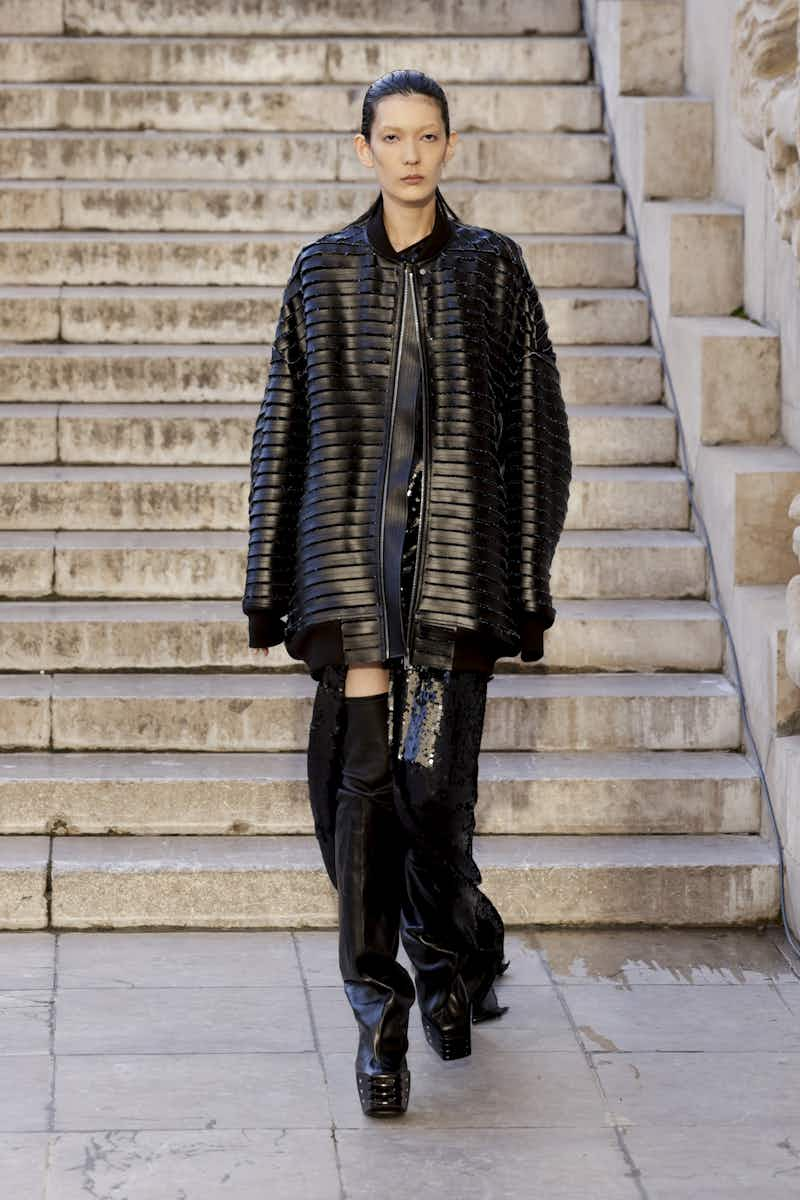 Schiaparelli has never been about ​"the everyday", transcending normality for the otherworldly. Creative director Daniel Roseberry's statement for the house's SS23 collection addressed this head on, unpicking the ​"everyday" promise of ready-to-wear. ​"I believe that everyone who creates ready-to-wear must and should ask themselves why they're making clothes at all; why the world needs another ready-to-wear collection." He's got a point. At a time when the industry should be promoting sustainability, some of the collections on show this season went beyond an already staggering 80 looks. Roseberry, however, wanted to make a smaller collection of clothes that were both everyday and extraordinary, for day and night, this world and another, able to exist either on the street or hung up in a gallery. Balancing fantasy with wearability, Schiaparelli's ready-to-wear could very well be mistaken for its couture offering: precise tailoring, trompe l'oeil, gold silk embroidery imprinted on the body, and takes on the human anatomy were all present. The more, ahem, ​"everyday" pieces (sorry, Roseberry) such as wool pencil skirts and crisp white cotton shorts, meanwhile, still looked at home alongside sumptuous evening gowns in satin and hammered silks, liquid viscose and highly inventive jewellery. Schiaparelli never was for the everyday. Here, Daniel Roseberry proves that timelessness is far more important – pieces that live on beyond a trend. TJ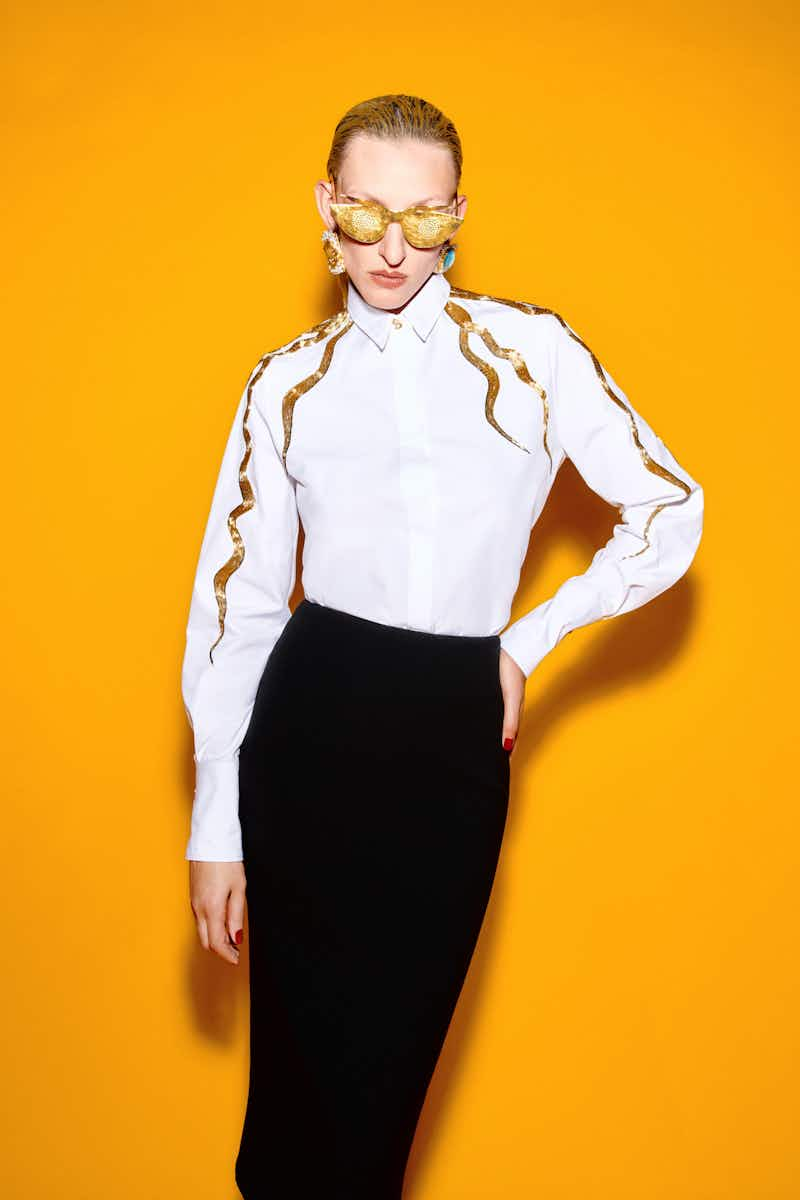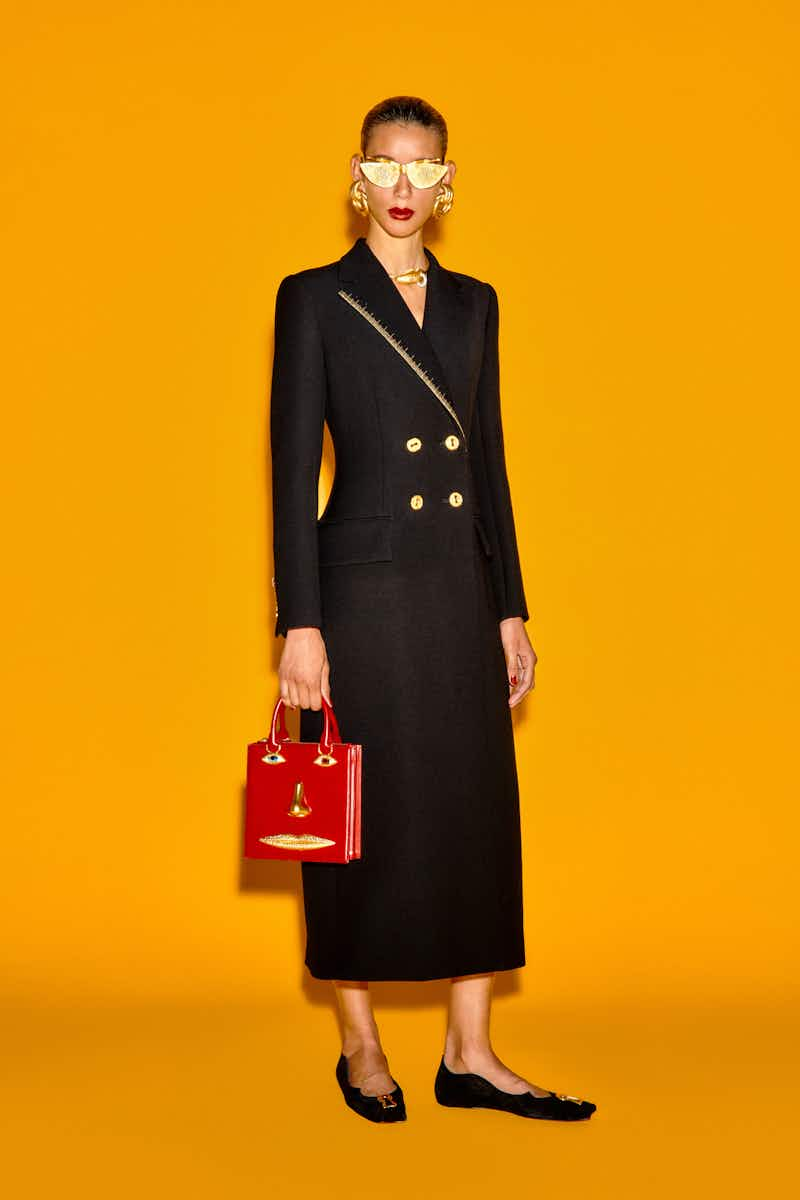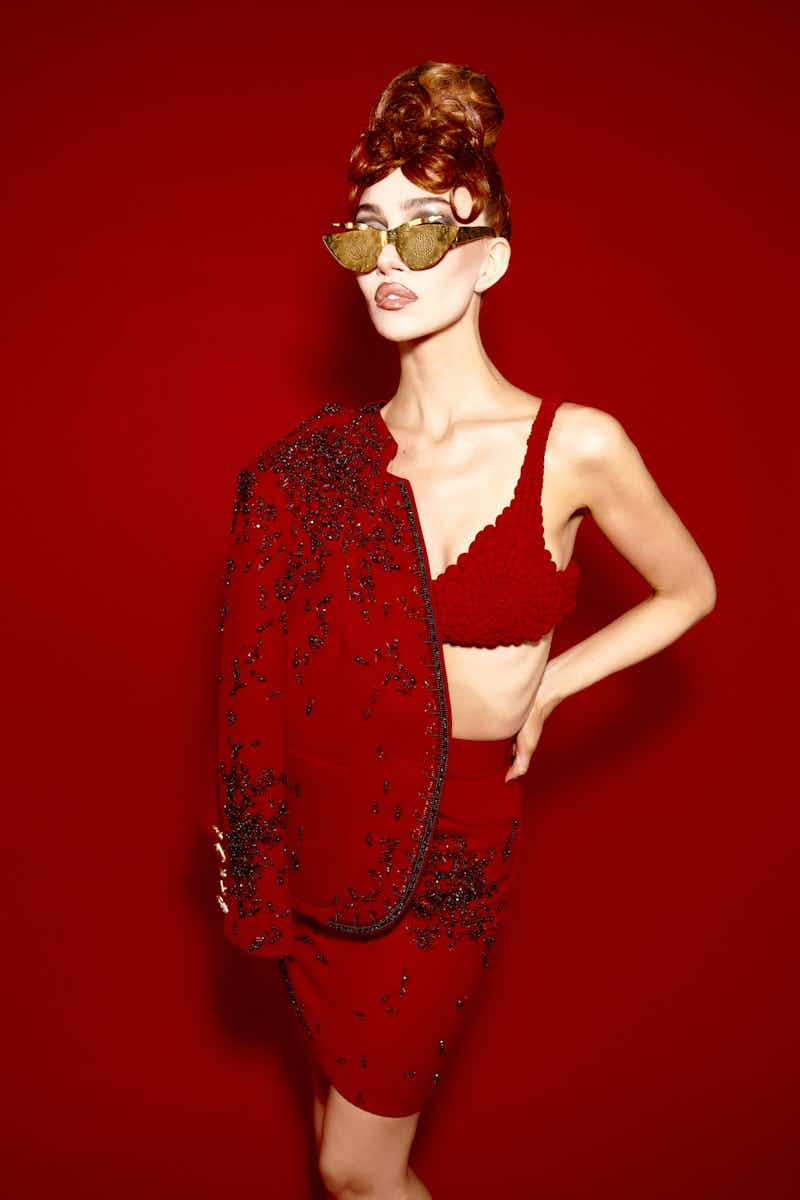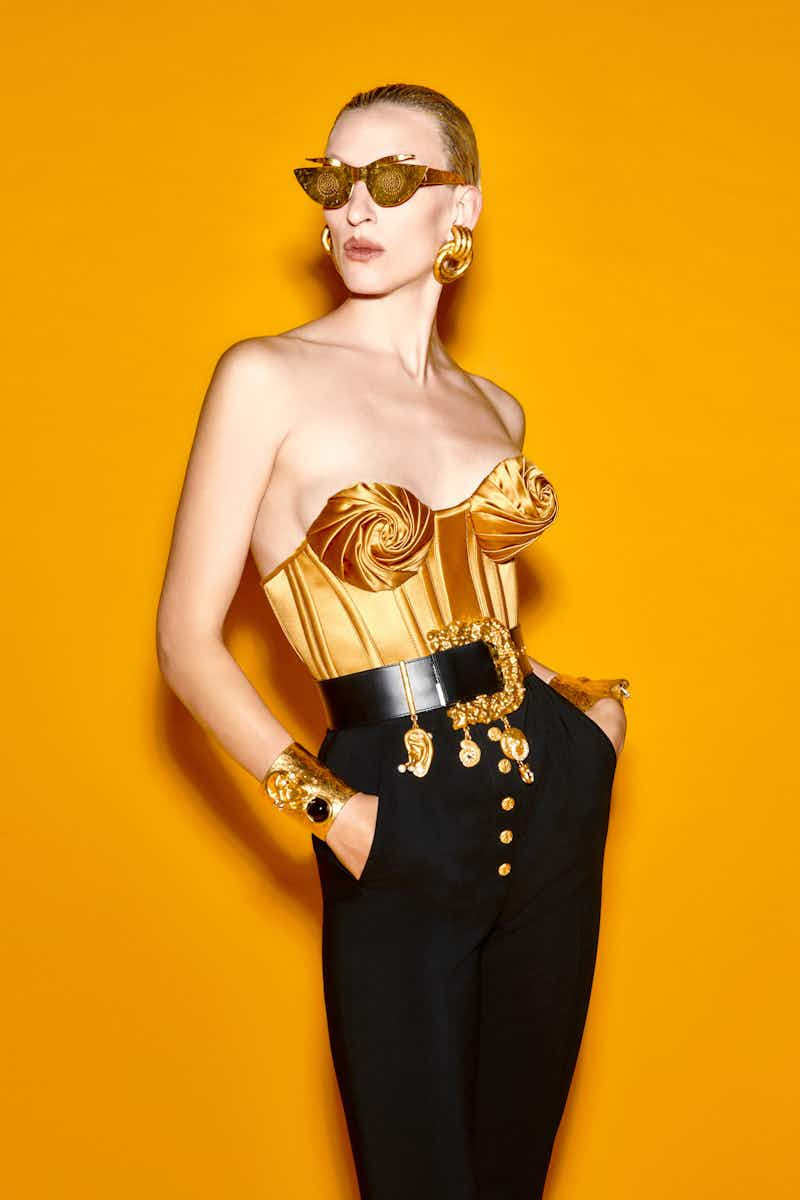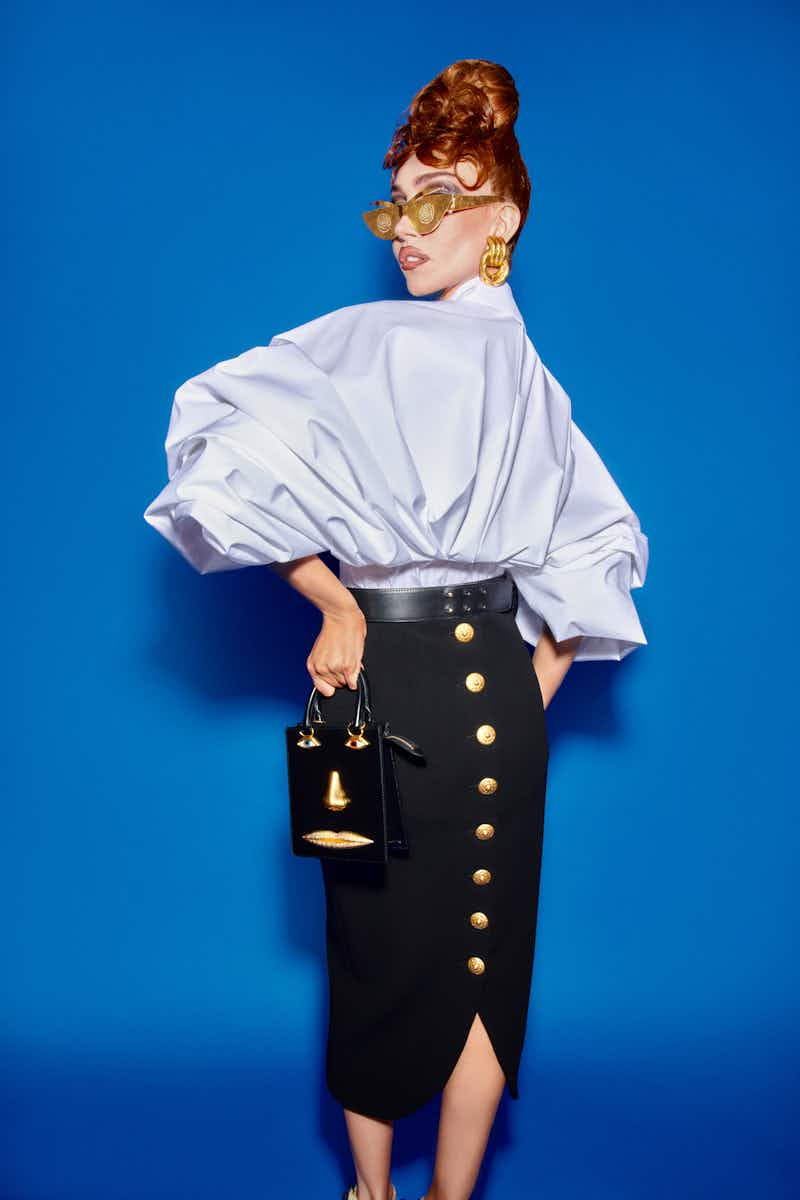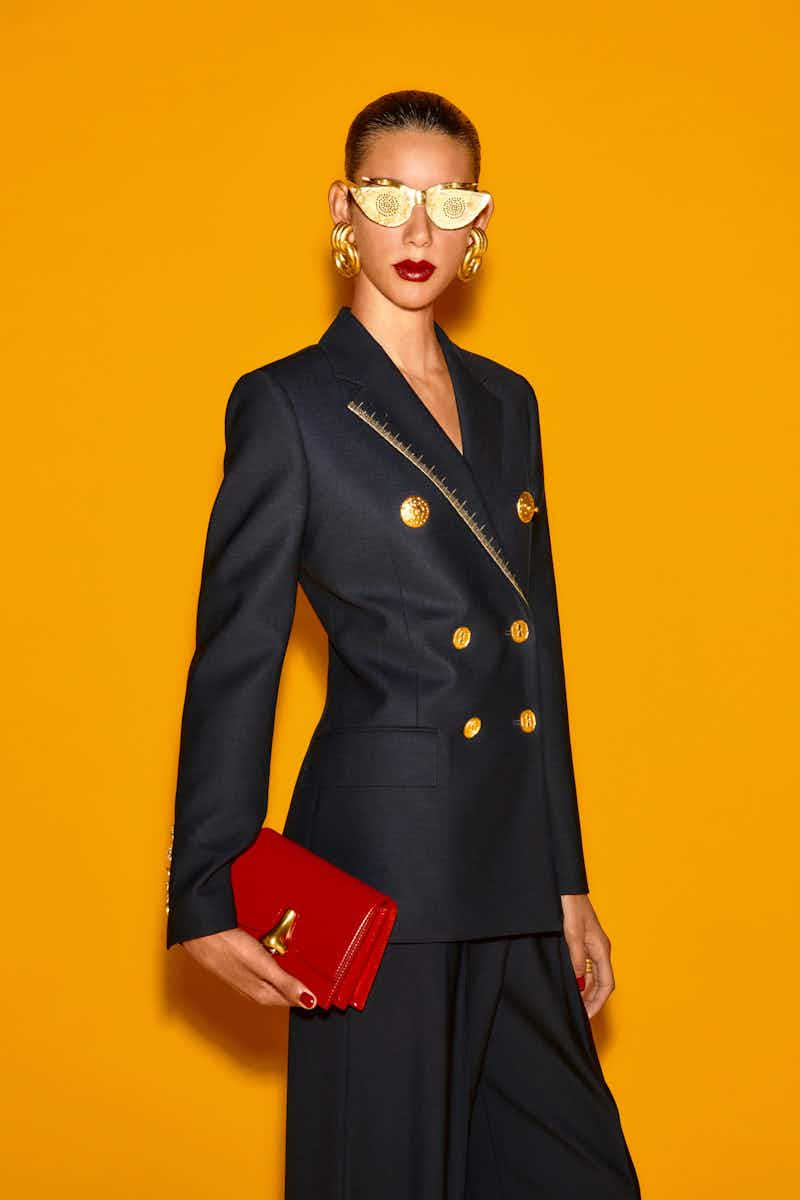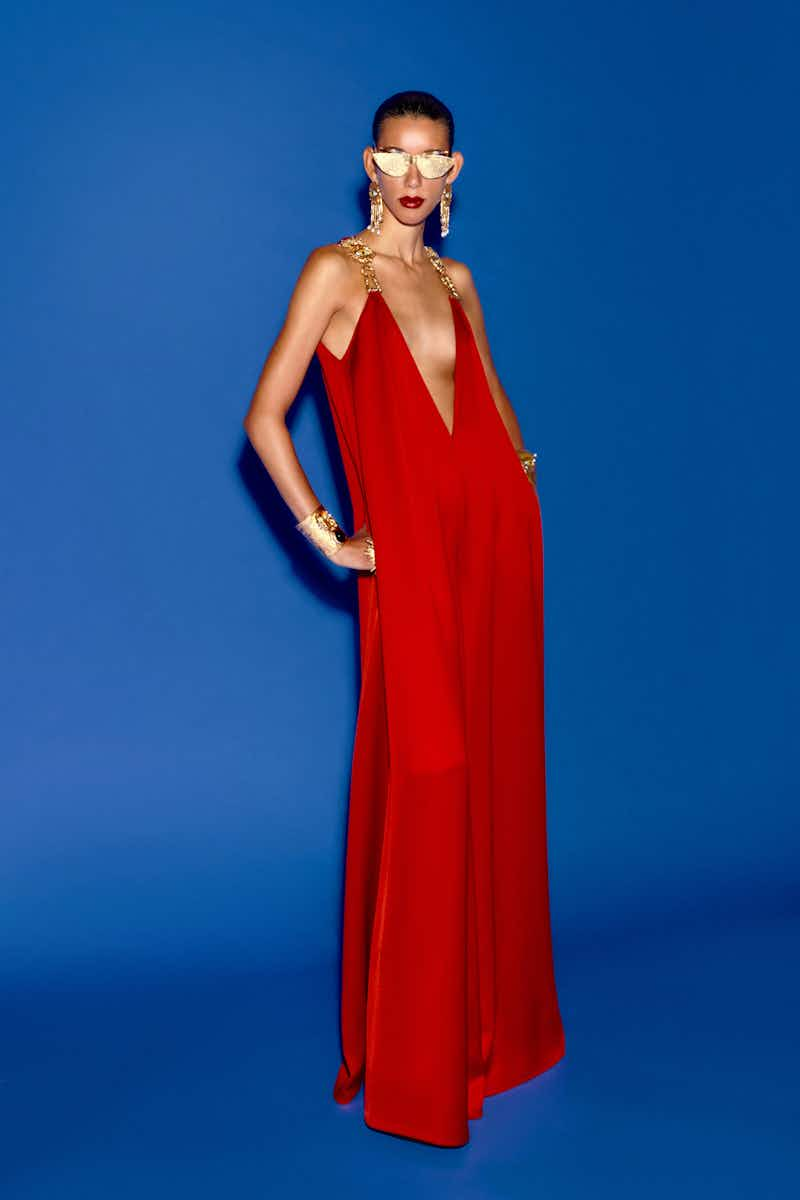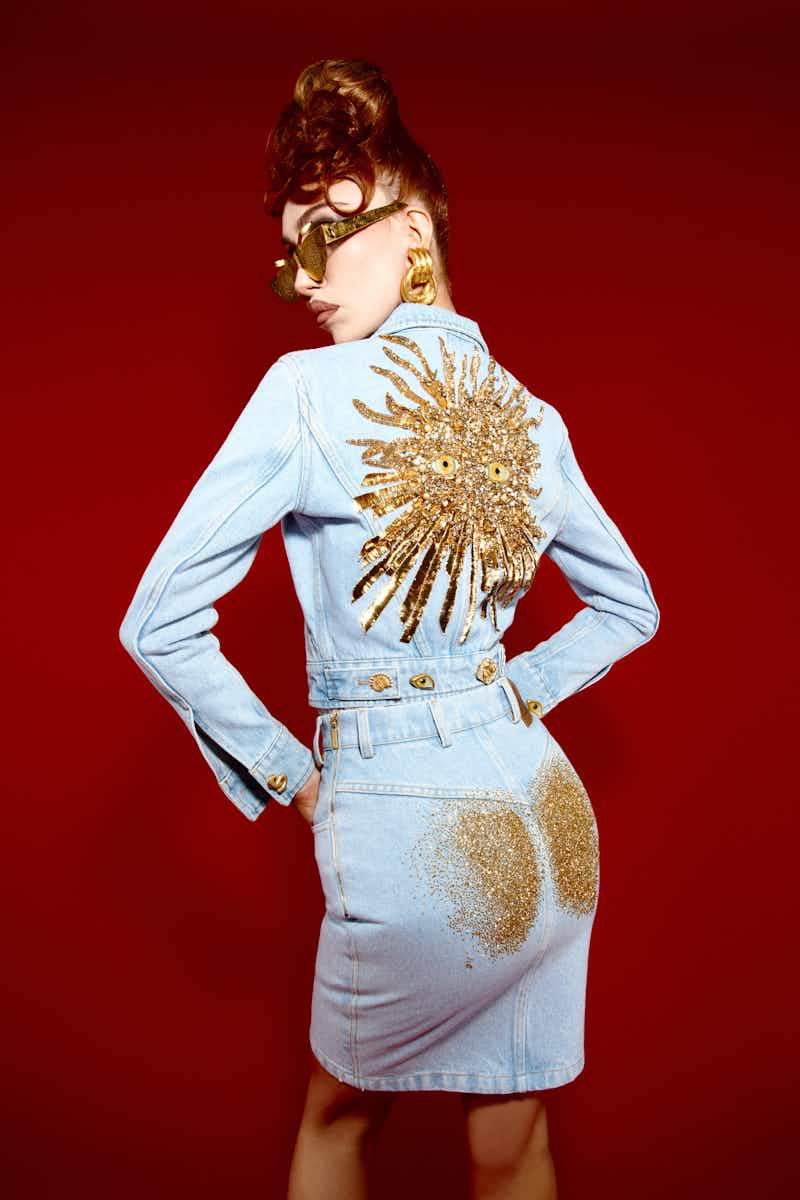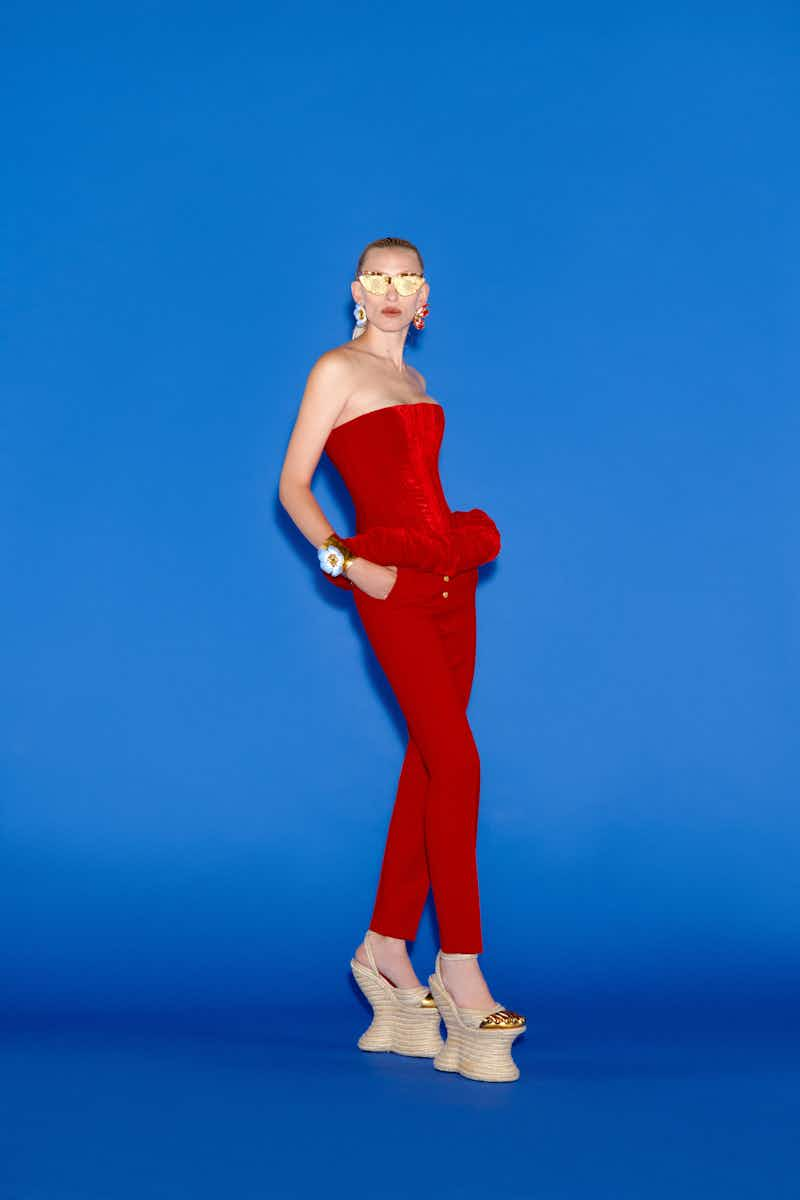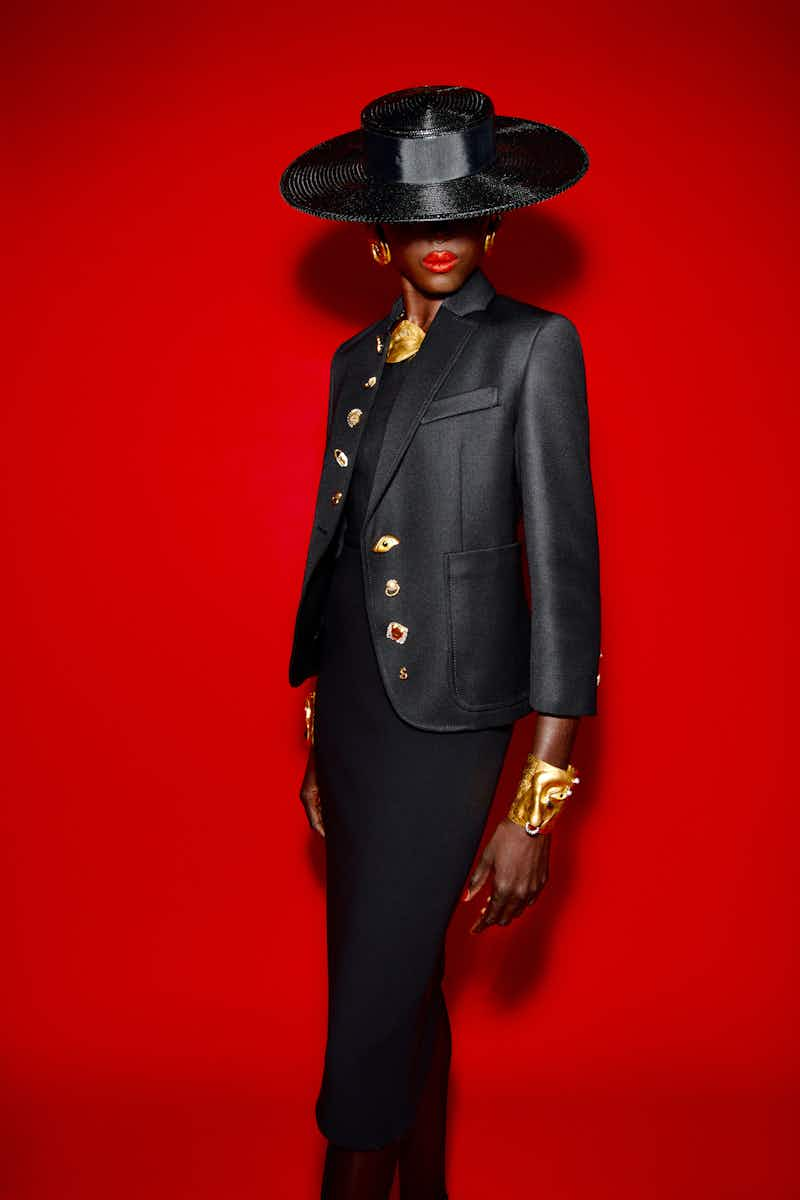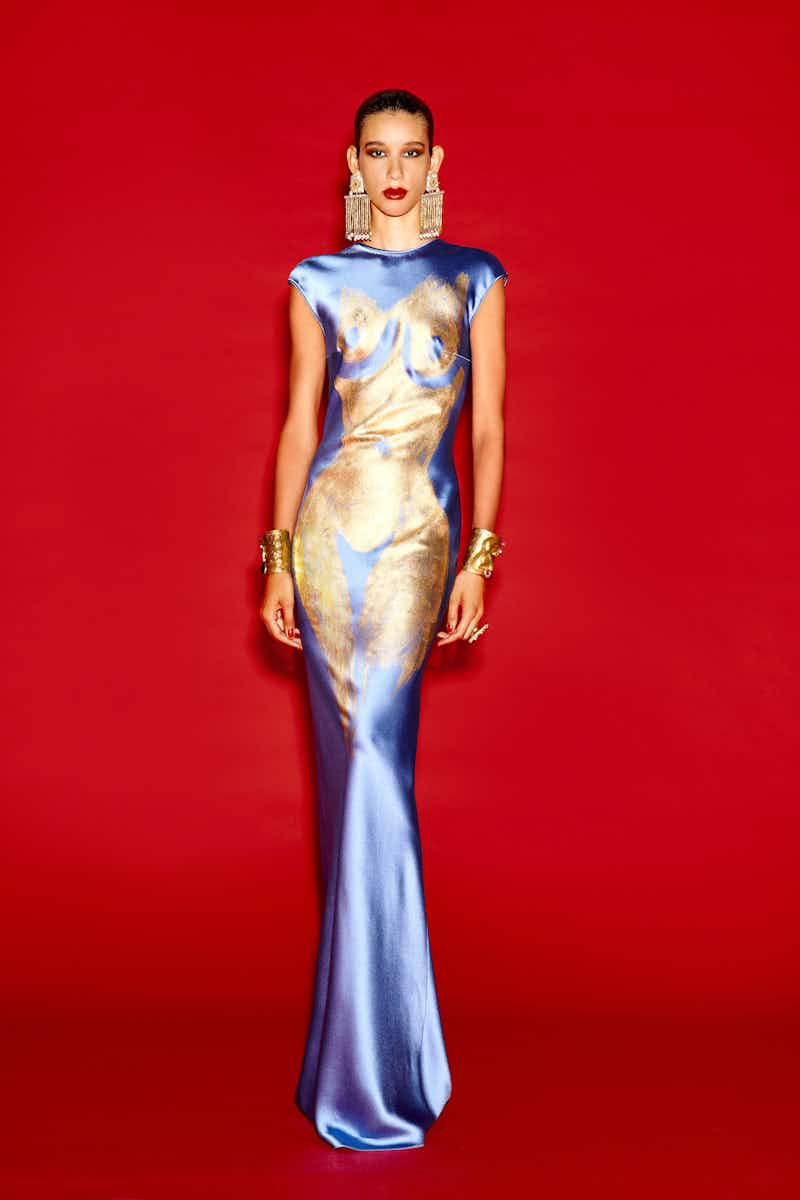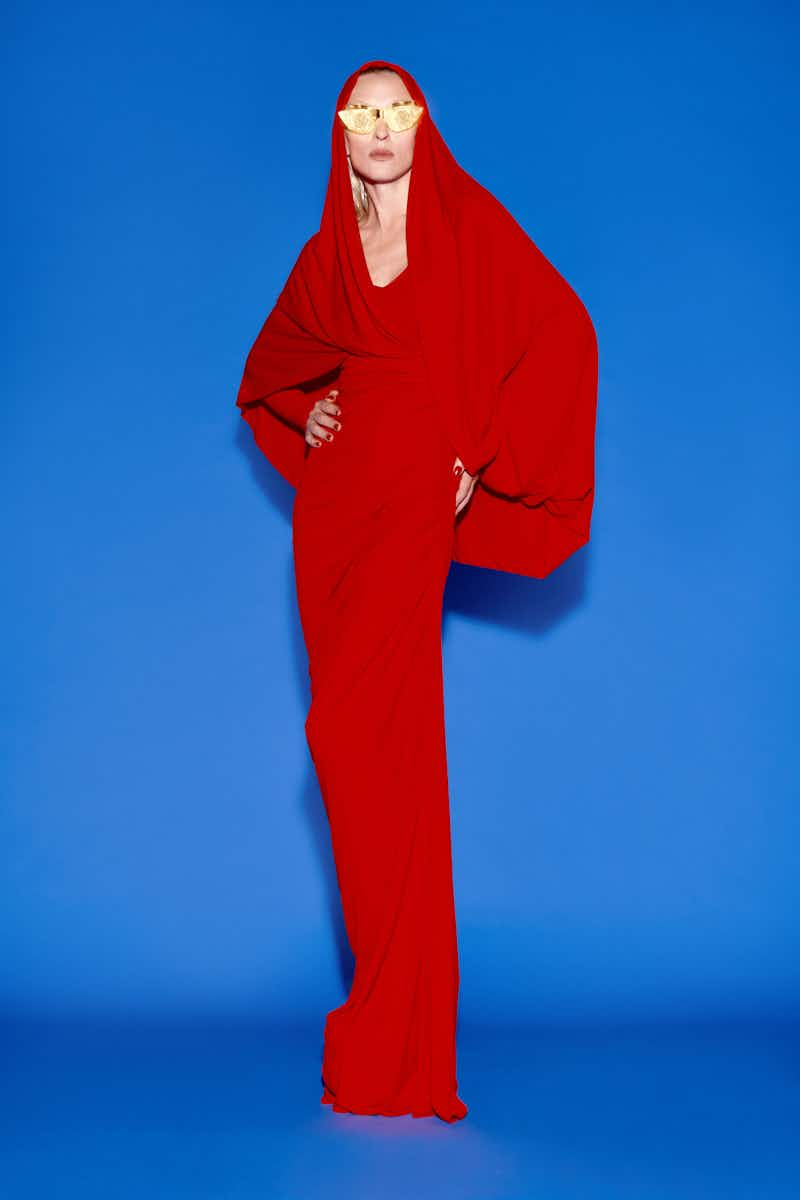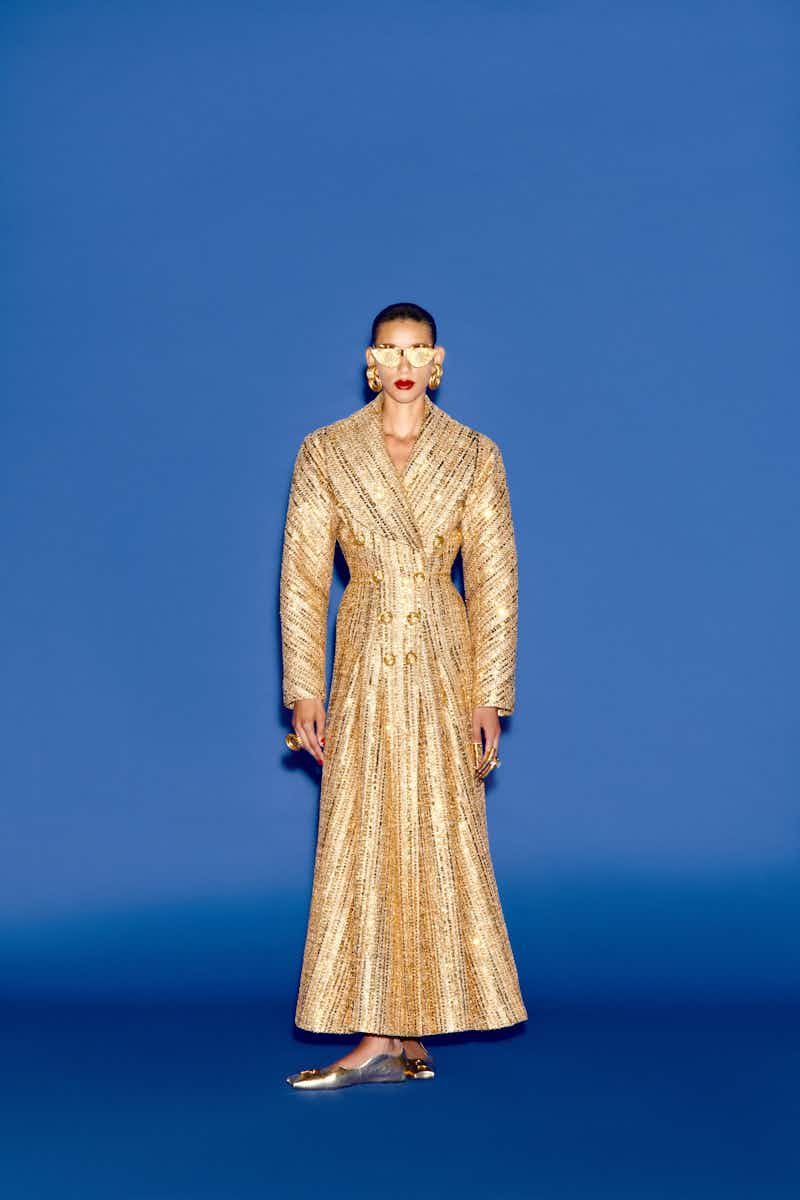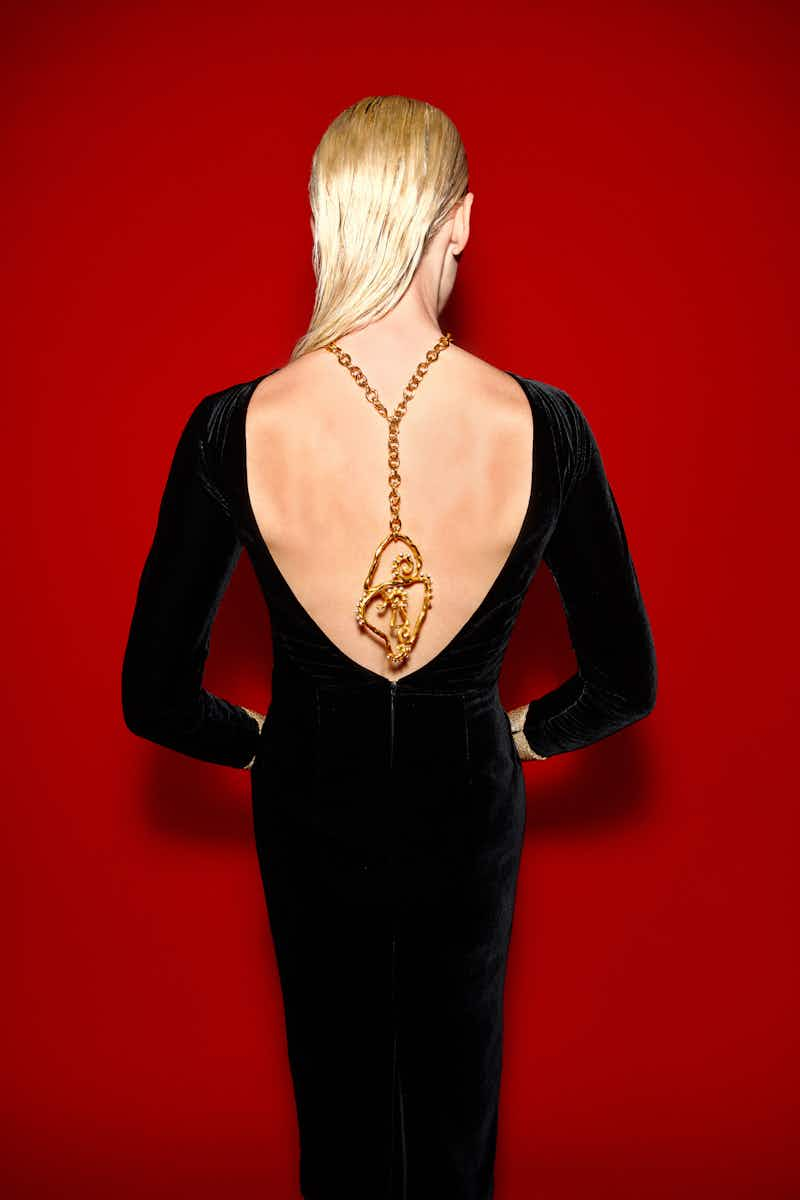 Looking back at the archives through rose-tinted sunglasses, Isabel Marant's SS23 show took it back to the brand's delicate aesthetic with a sprinkling of heady Y2K, unpicking staples of the past and reattaching them to contemporary trends. High on the natural beauty of Corrine Day's editorials, the collection was designed with versatility in mind, taking the Marant girl from office to club to cab to – based on the floatiness of the chiffon silk tops – bed, too. Metallic embroidery added a shimmer to the occasion while cargo pants and camo motifs – as worn by a fresh-faced Gigi Hadid – featured. Effortlessly effeminate, feather-light and shadowed by leather, it made for good times. KM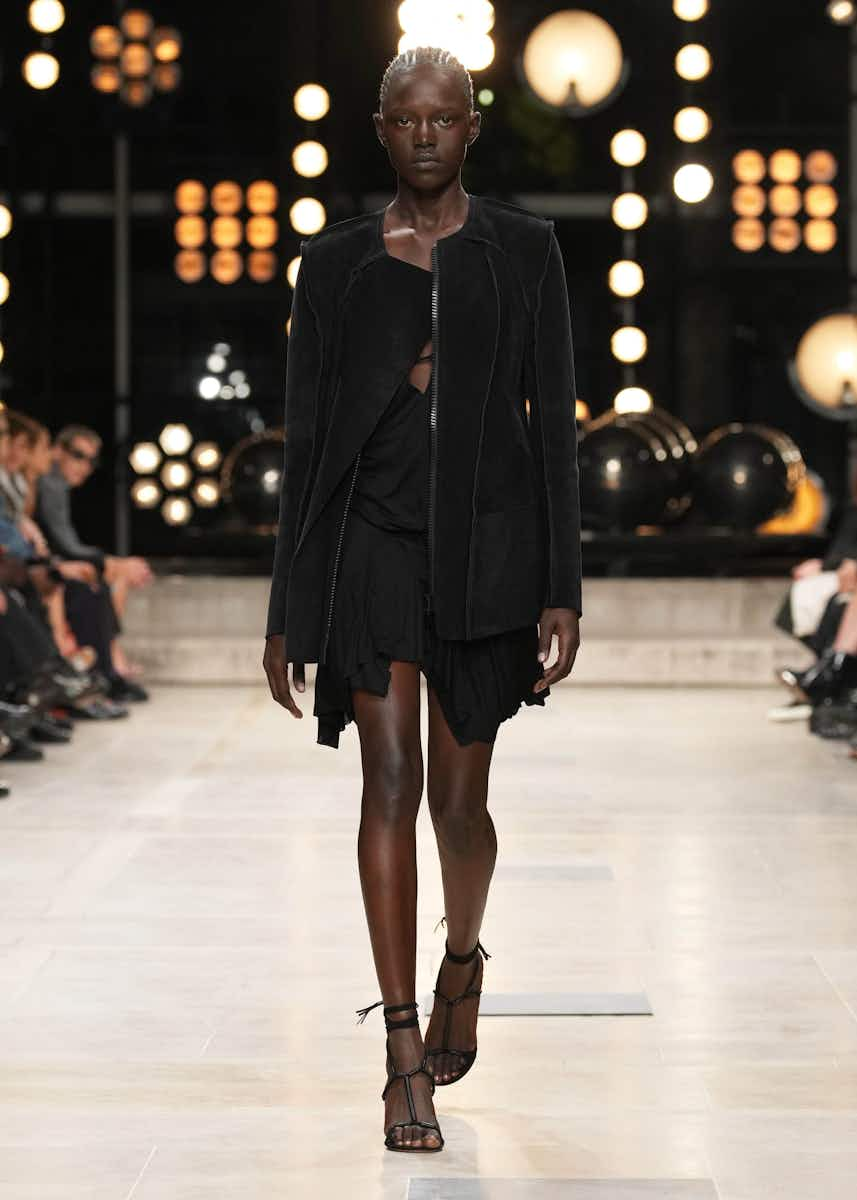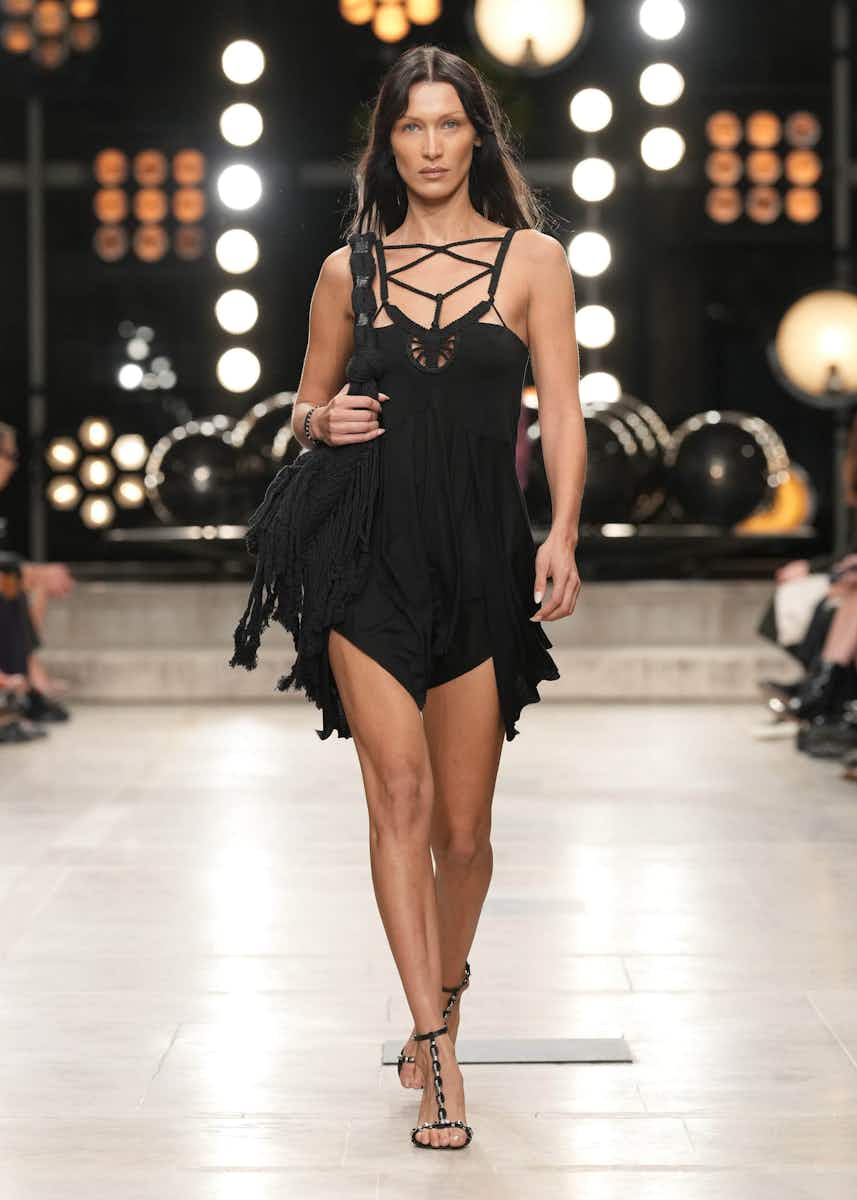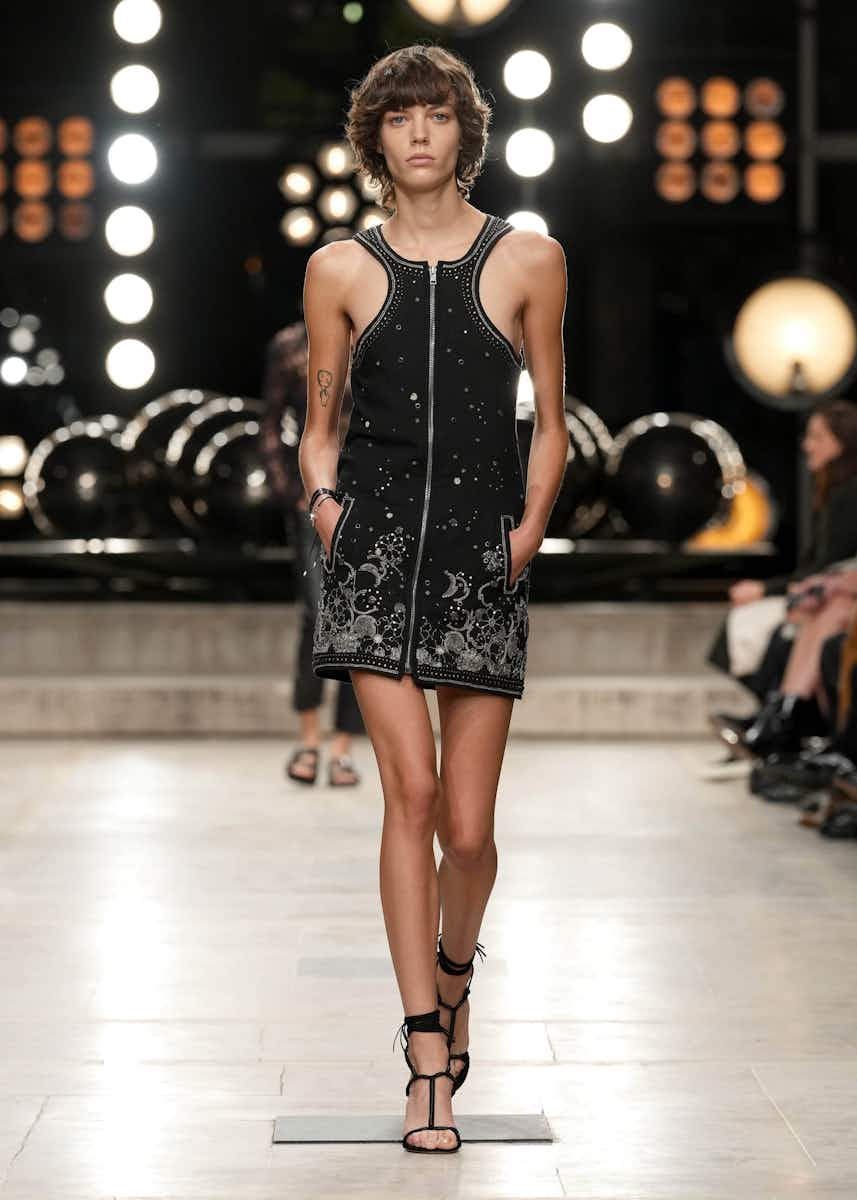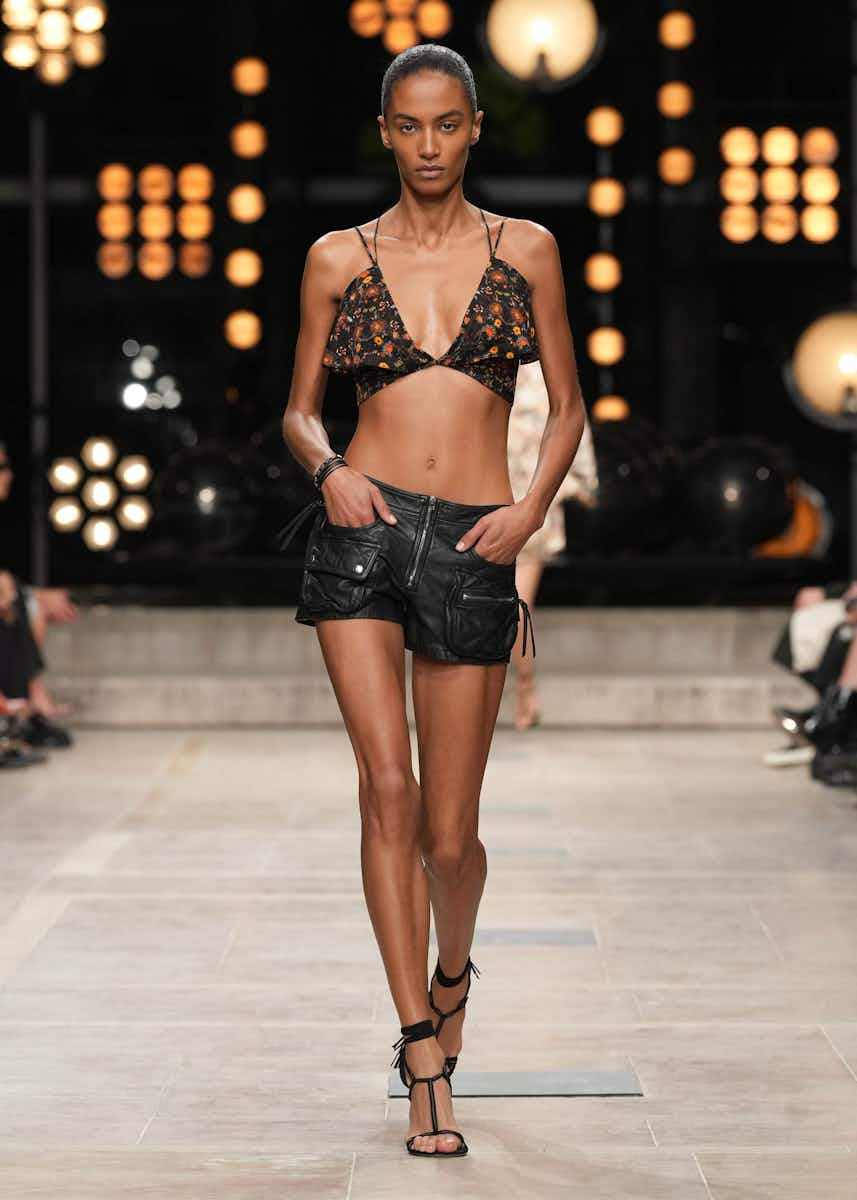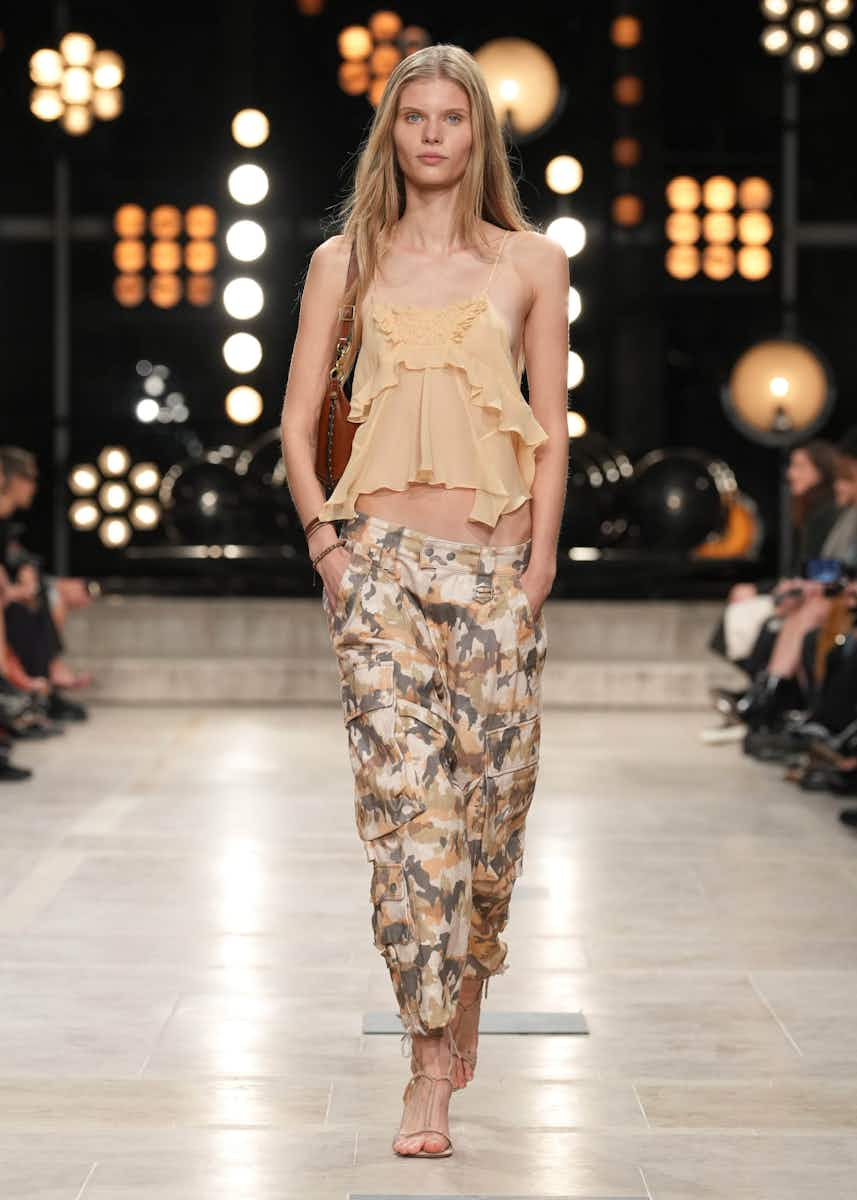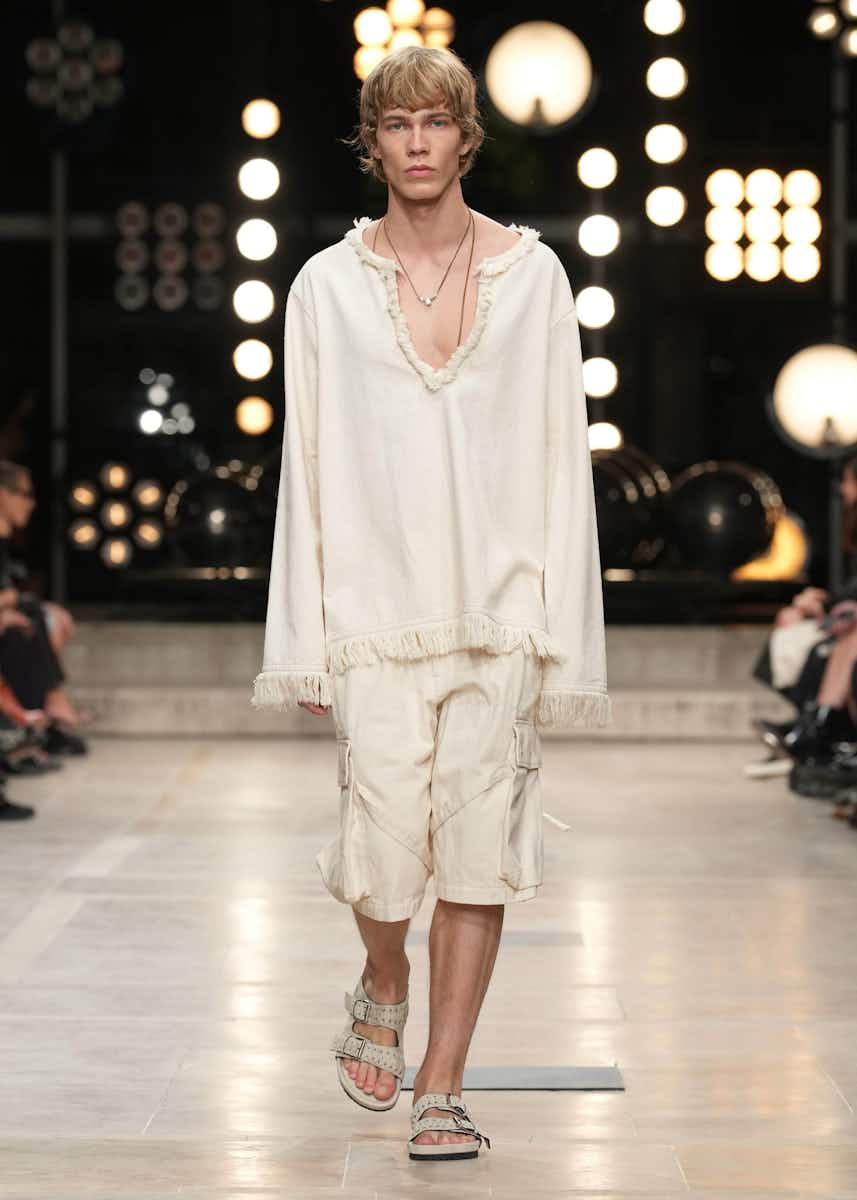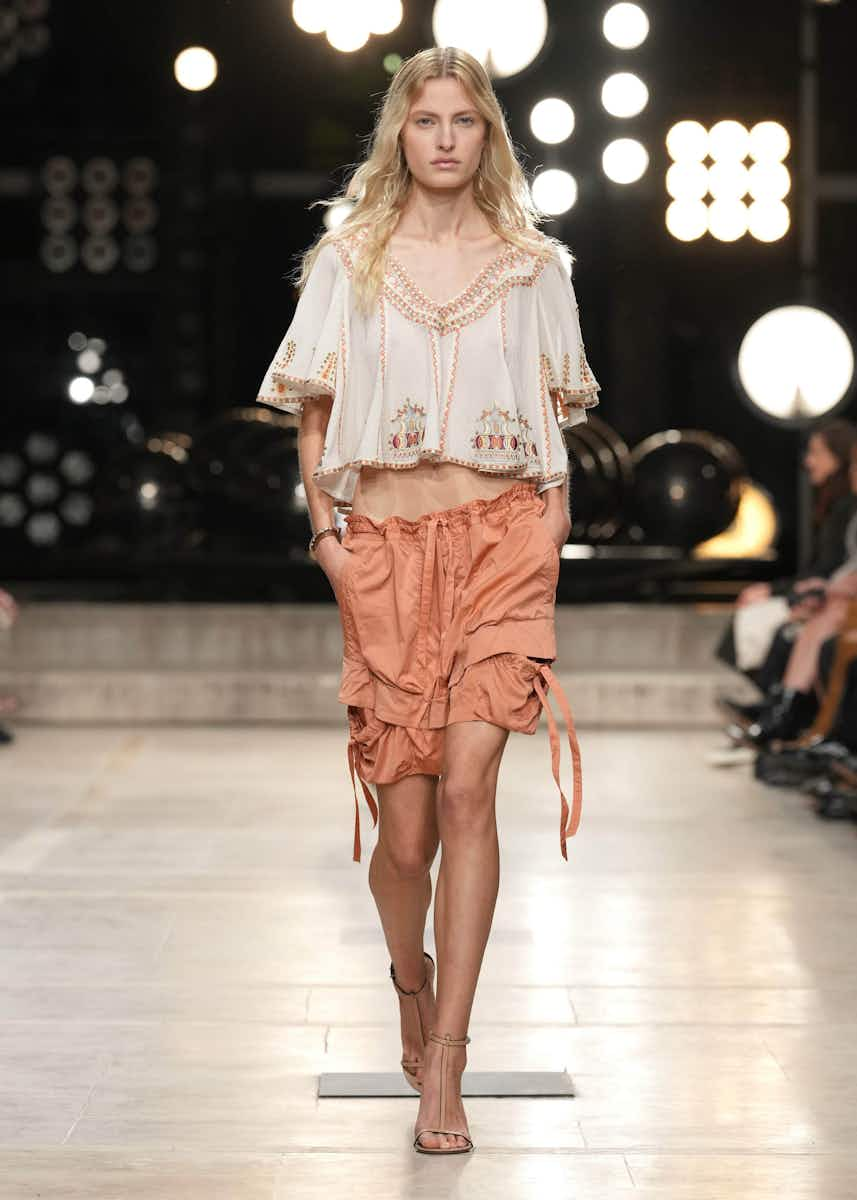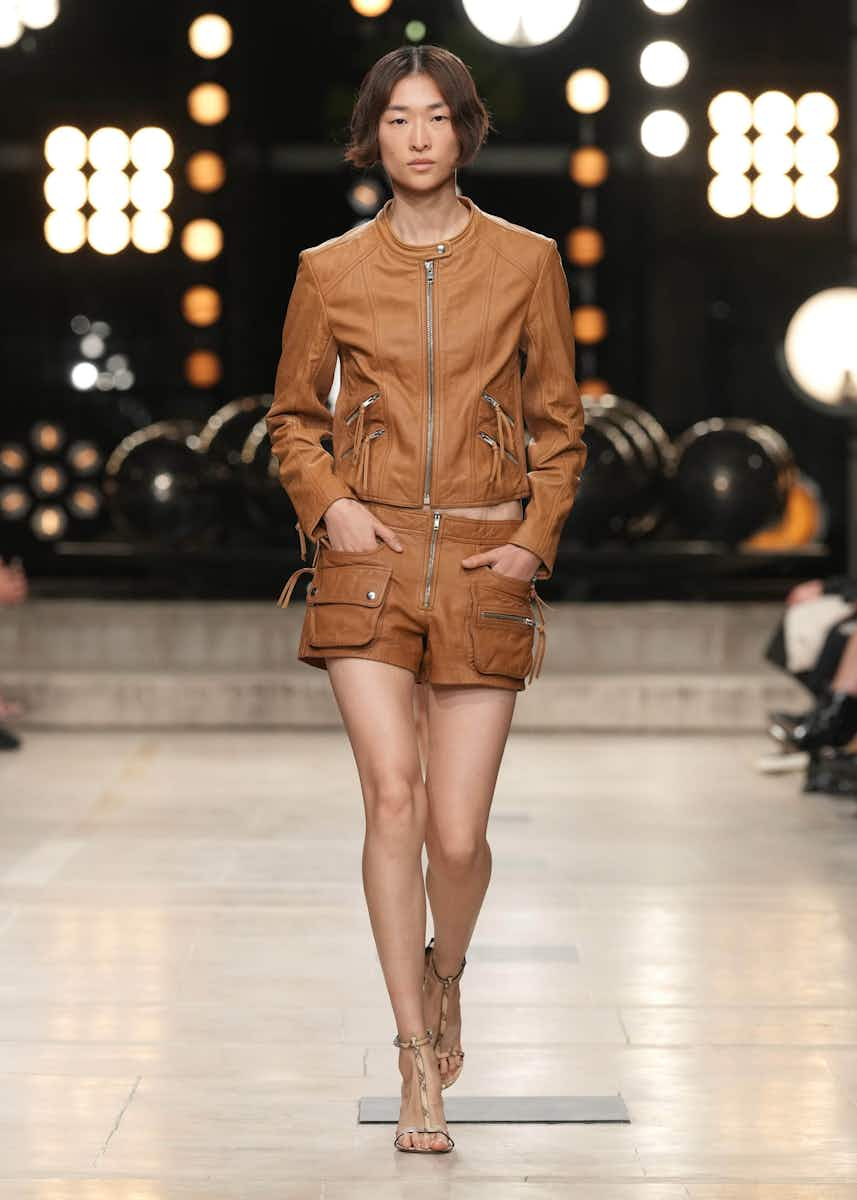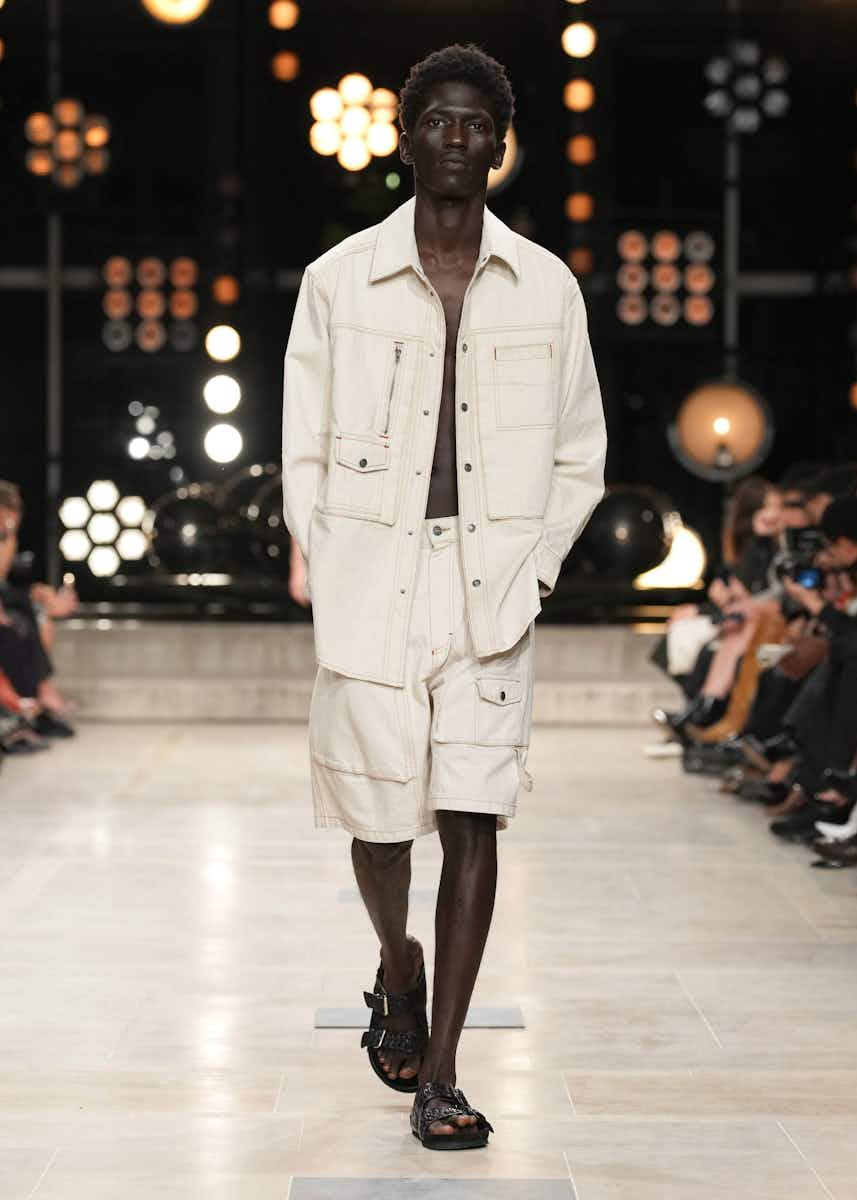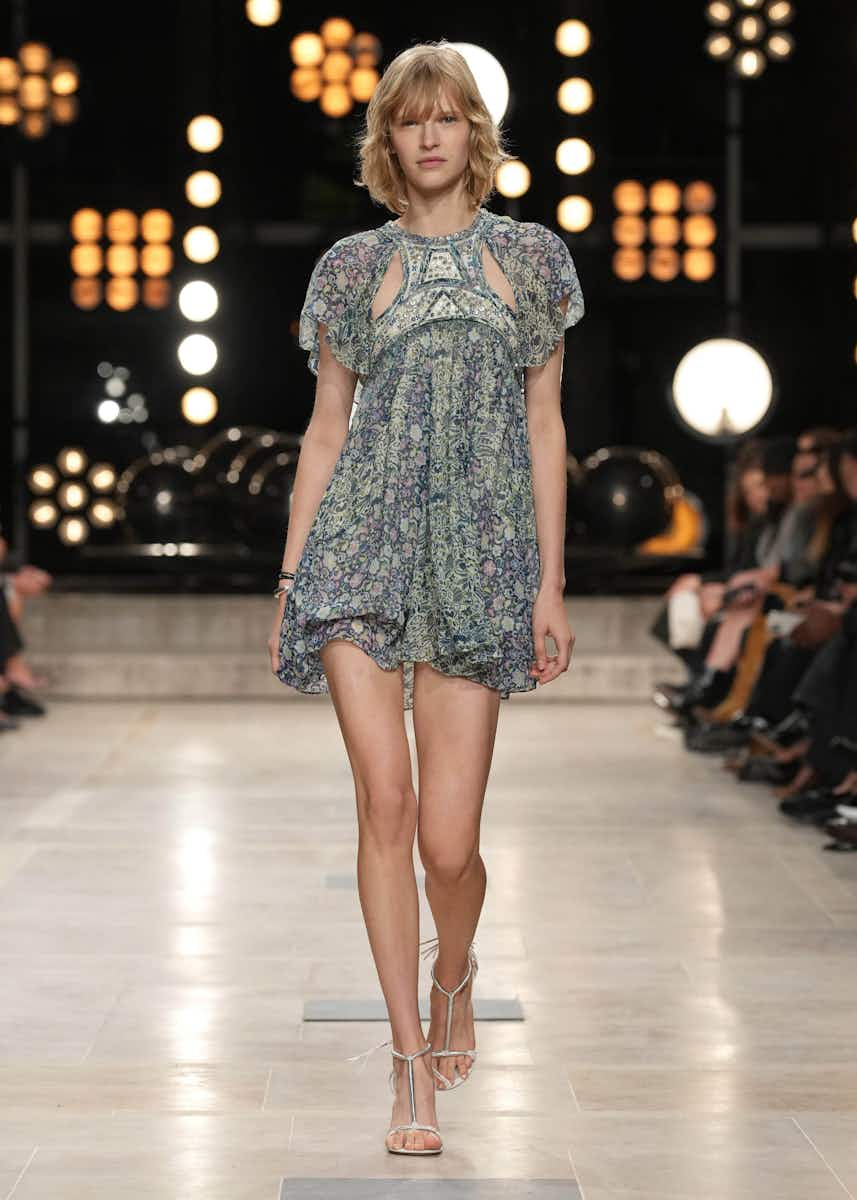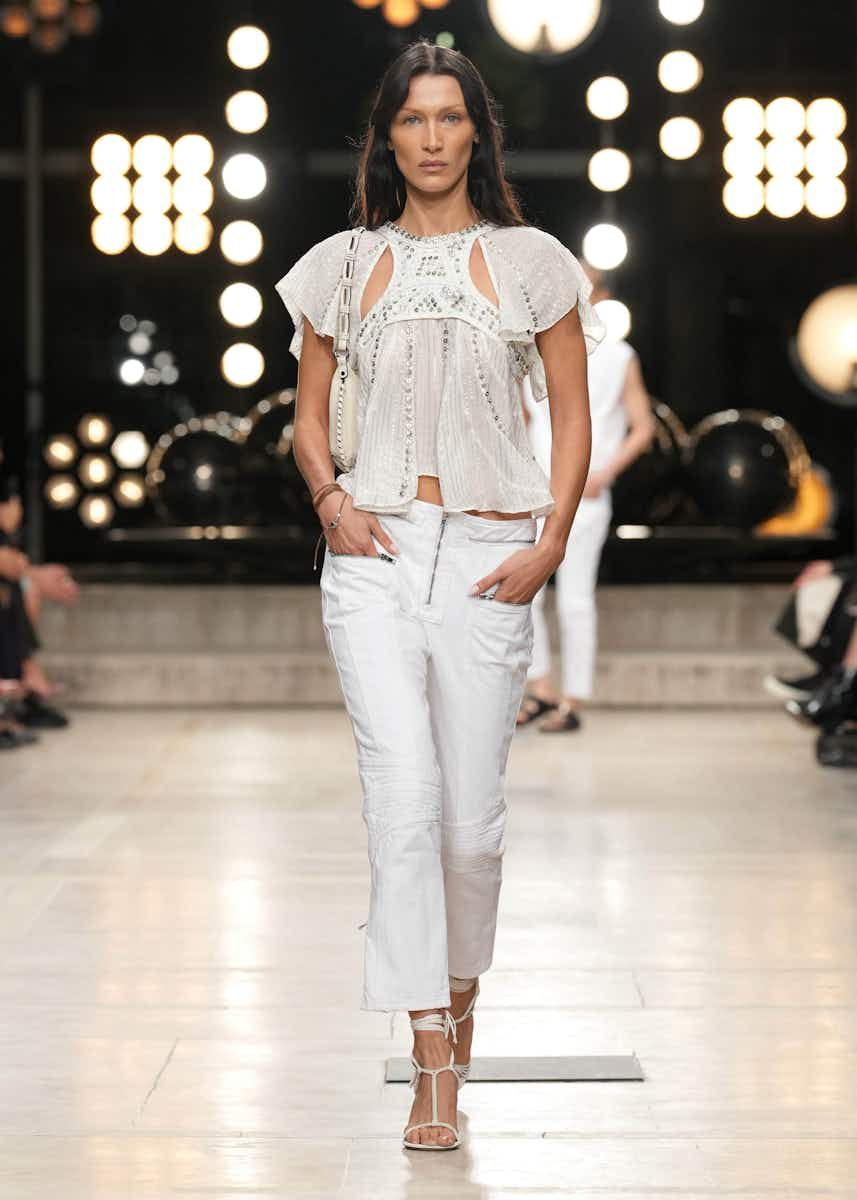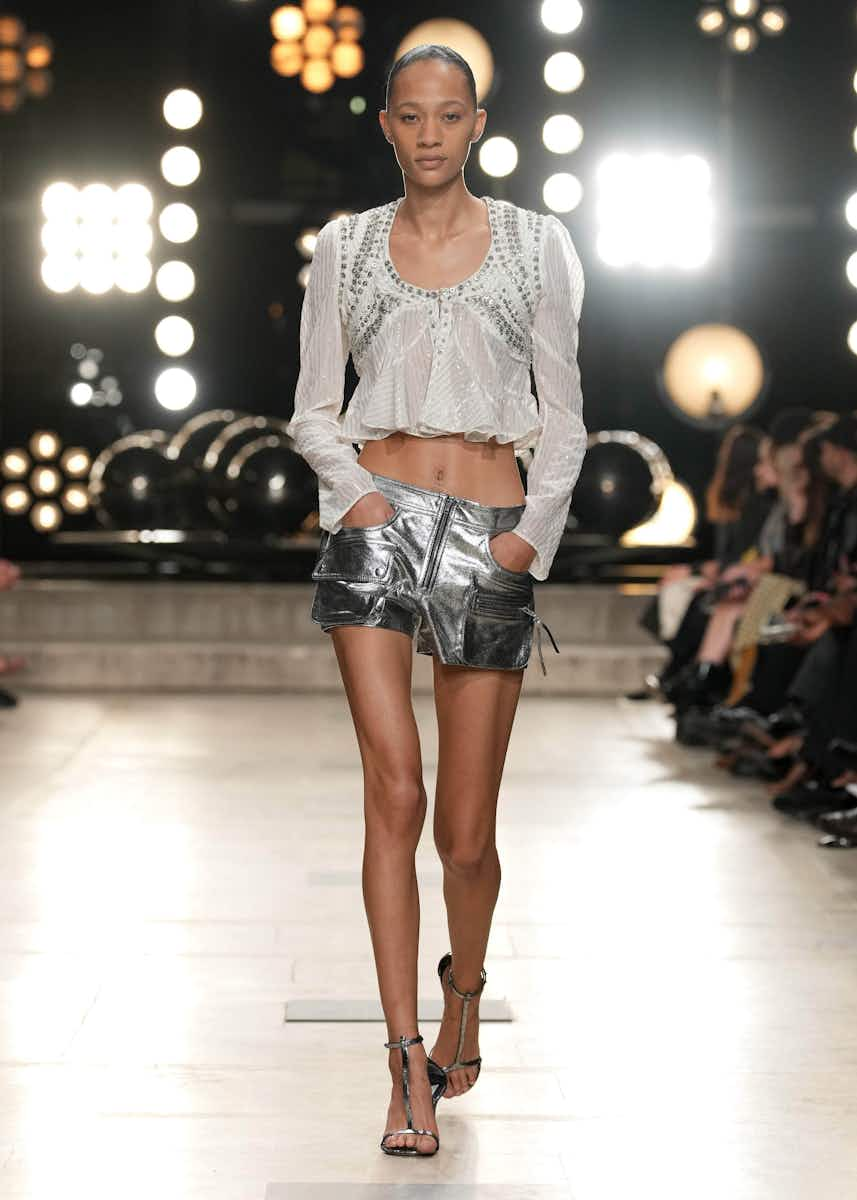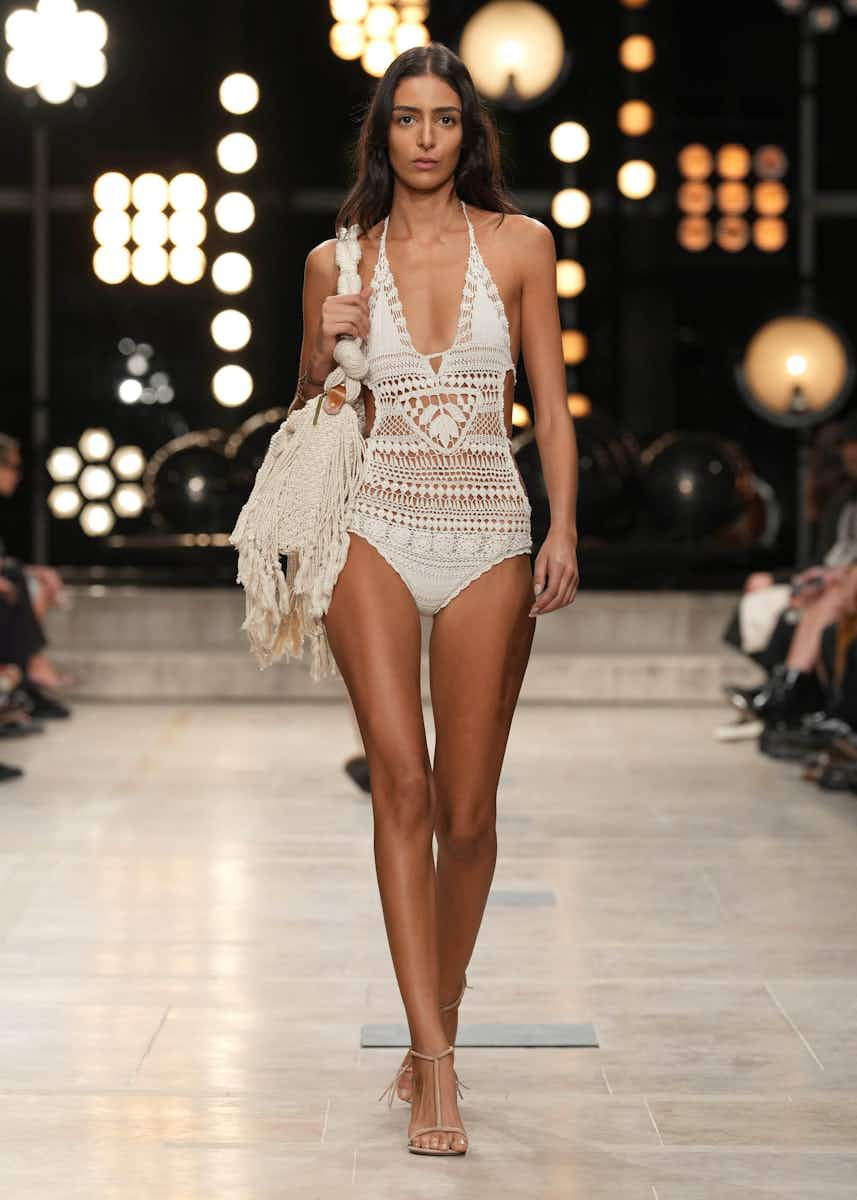 Balmain's SS23 show had the atmosphere of a rock concert, with the open to the public event taking place in a football stadium with fashion fans pressed up against the barrier, waving at cameras or holding phone torches in the air. A pre-show video of Cher kicked things off. ​"All of us invent ourselves," she said. ​"Some of us just have more imagination than others."
The opening look set the tone with an ambitious sculptural silhouette that would shapeshift throughout. The looks – a staggering 100+ – were technically impressive, and details like knotted fabric dresses, classical art prints, and chunky AF platforms were captivatingly beautiful.
To counteract some of the environmental impact of such a humongous offering, the closing couture segment was crafted largely from paper, banana and wicker, with some models teetering on in the restrictive fabrics. With the riotous crowd, architectural clothing and Cher's surprise IRL appearance at the end, this felt more akin to a bumper fashion festival. As with Diesel extending show invites to the public, perhaps this is a preview of more theatrical, inclusive fashion weeks of the future. SW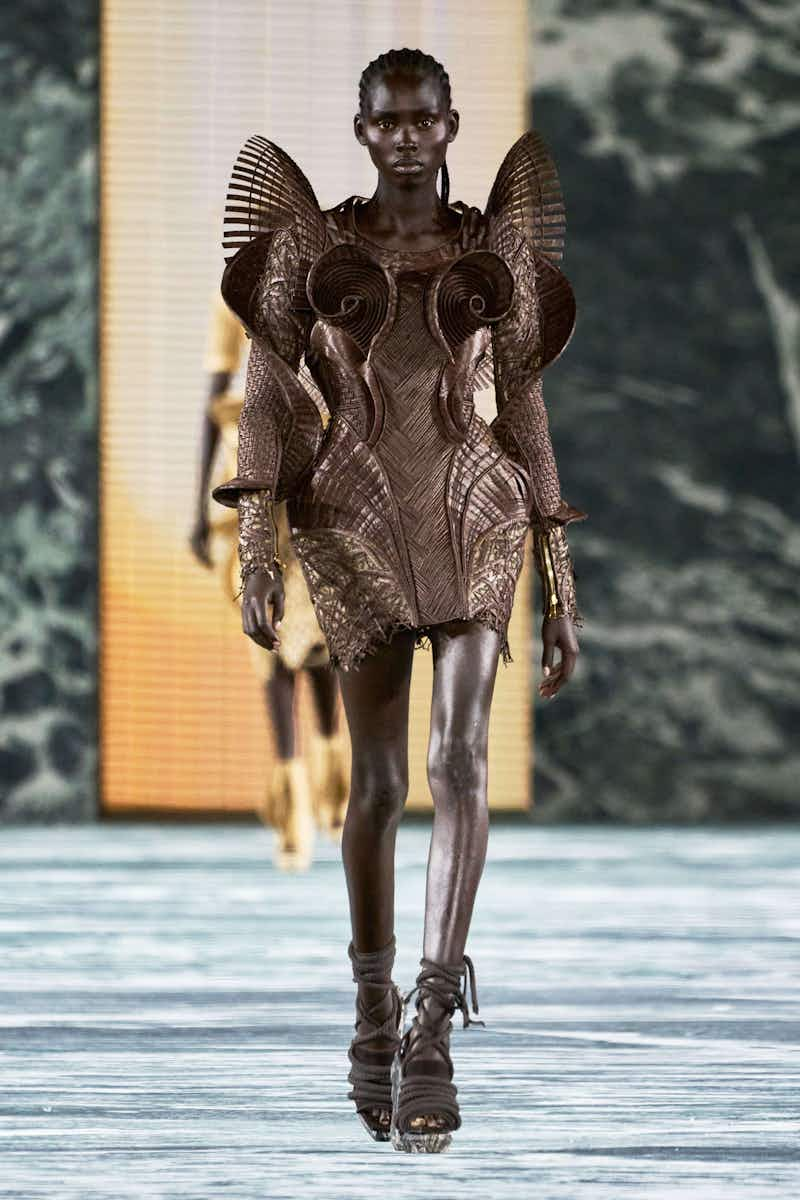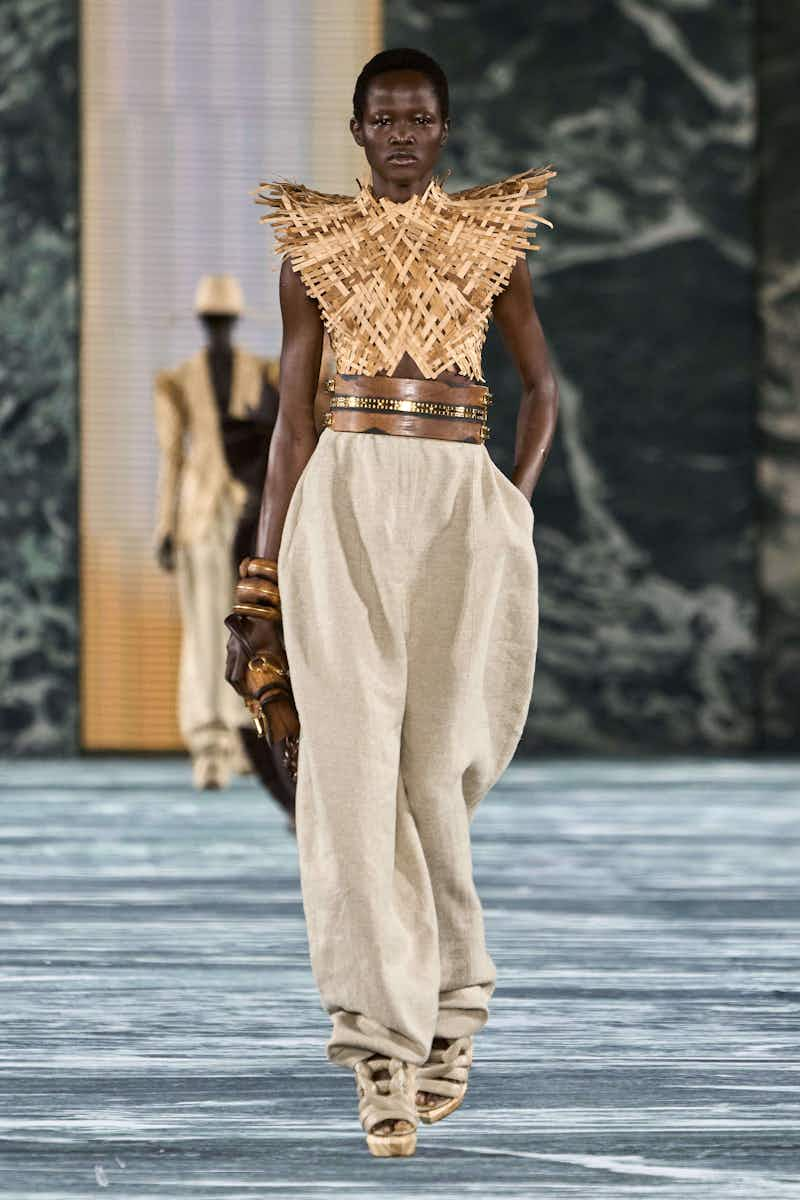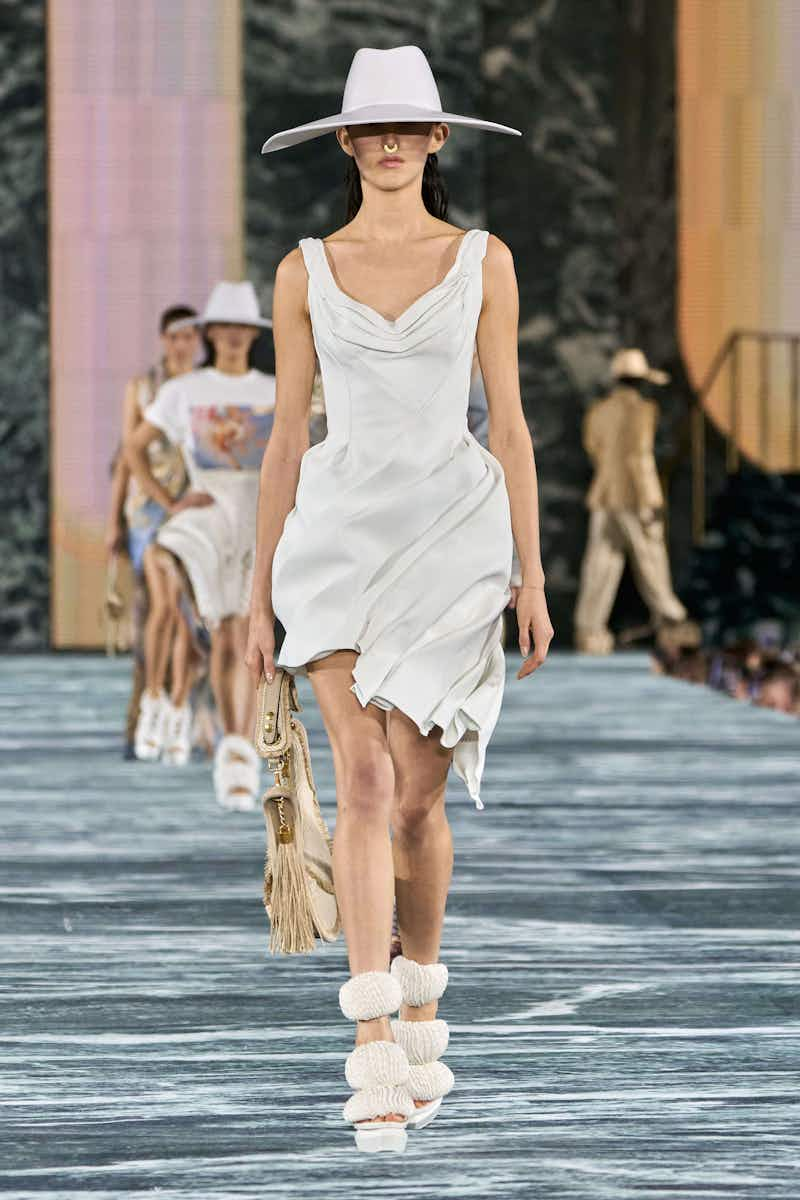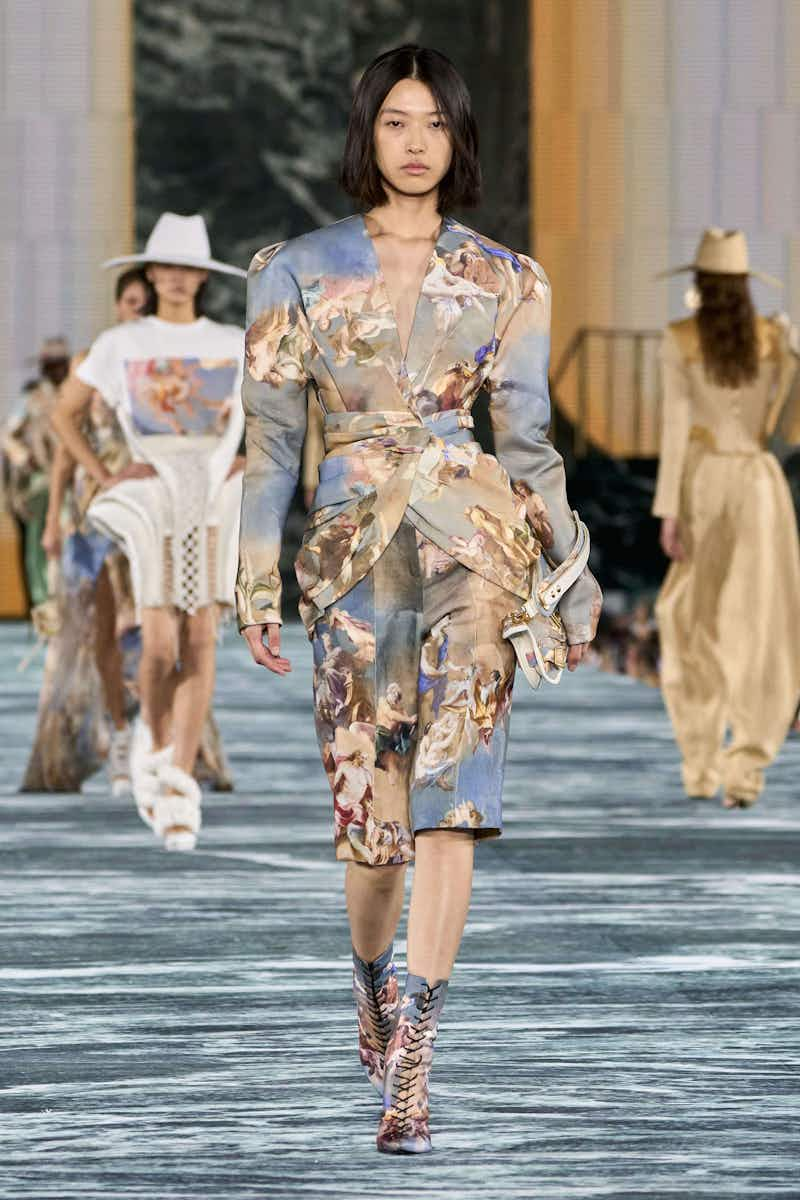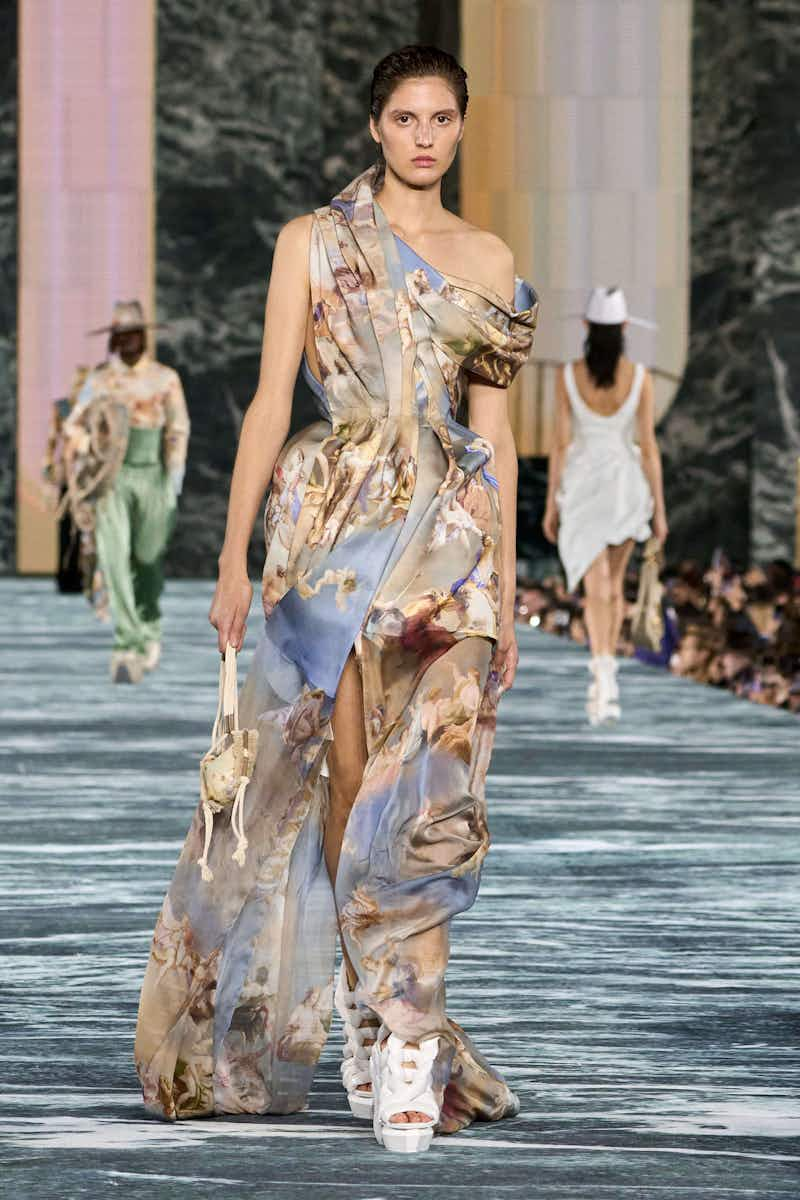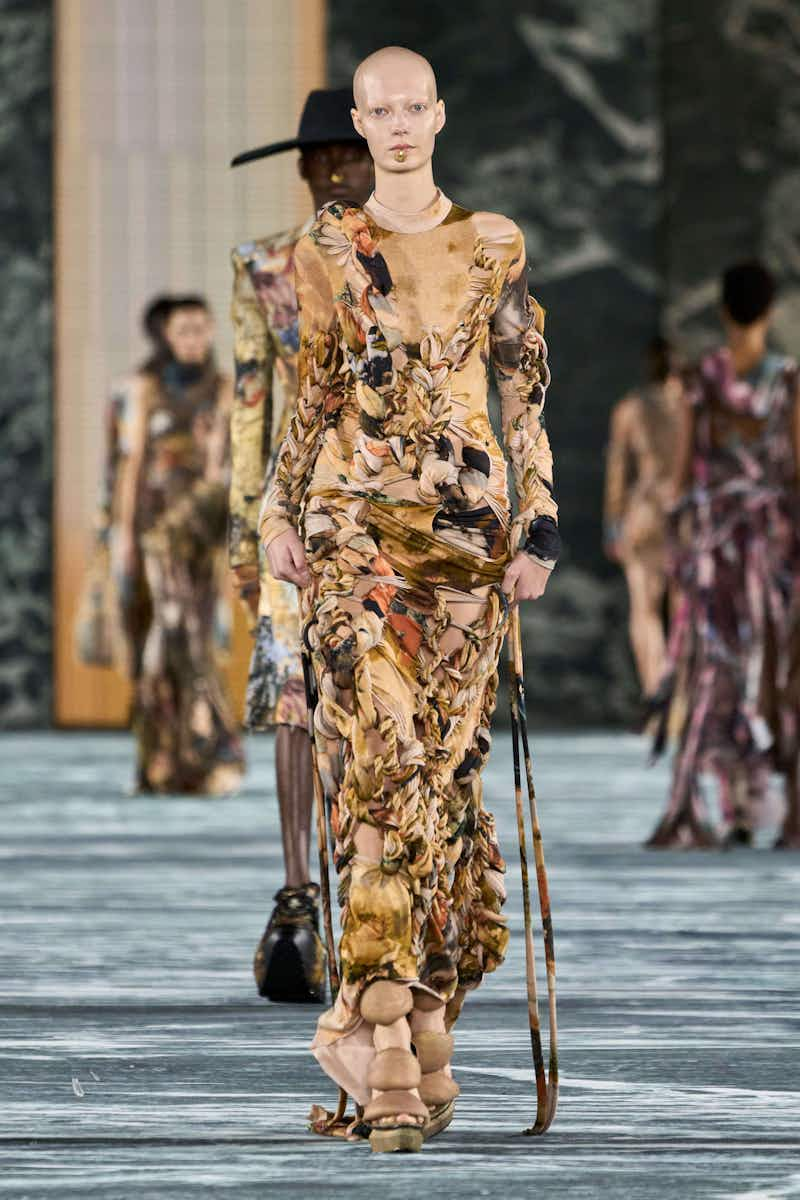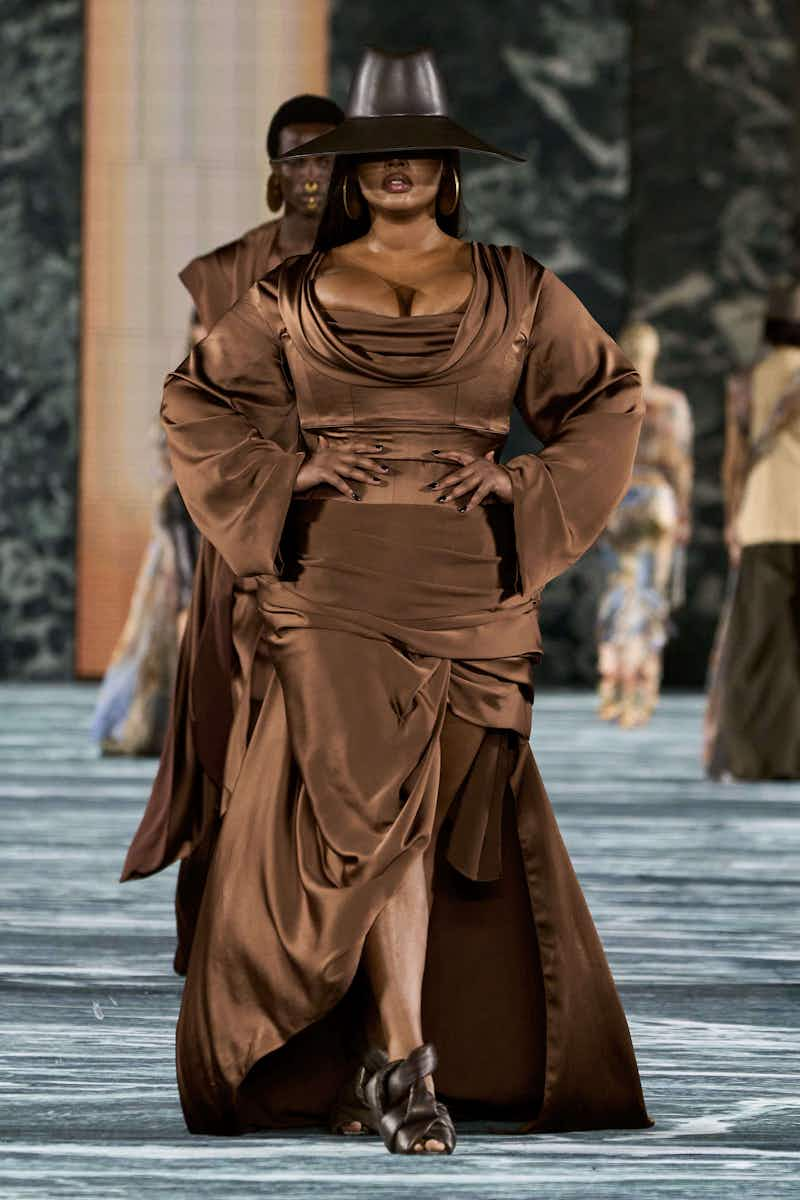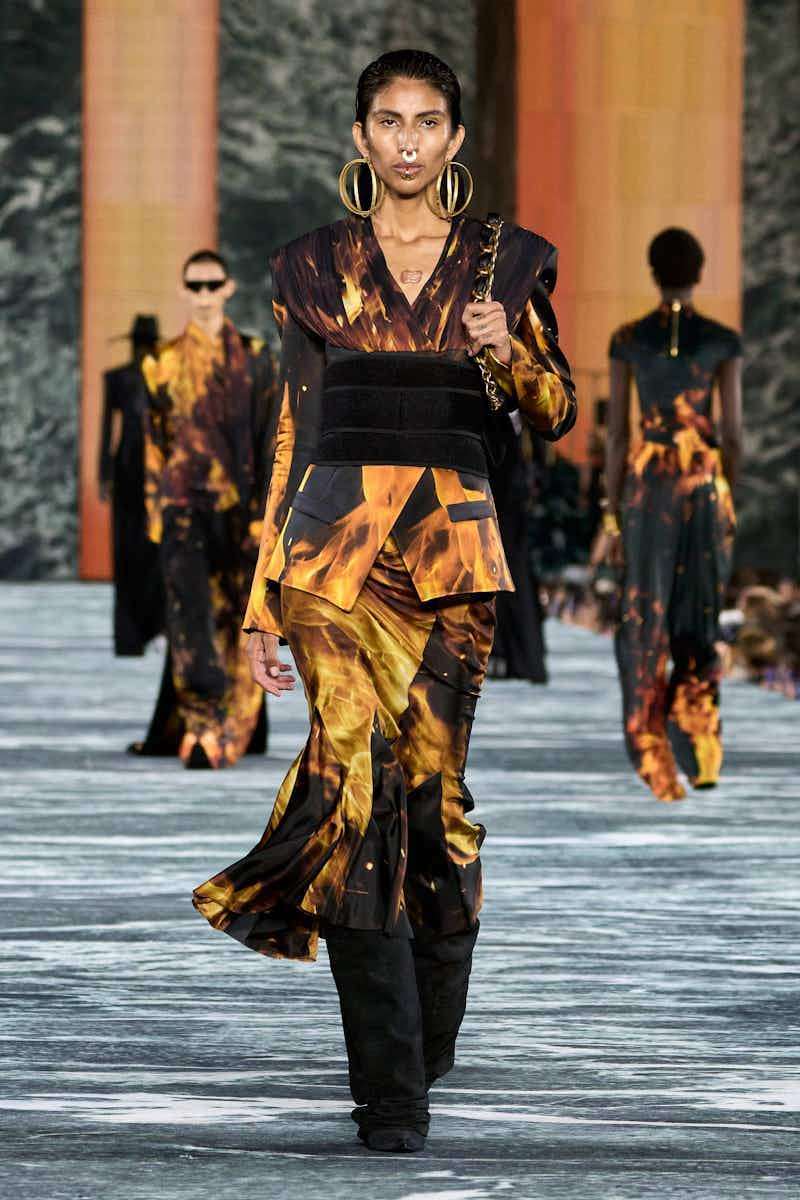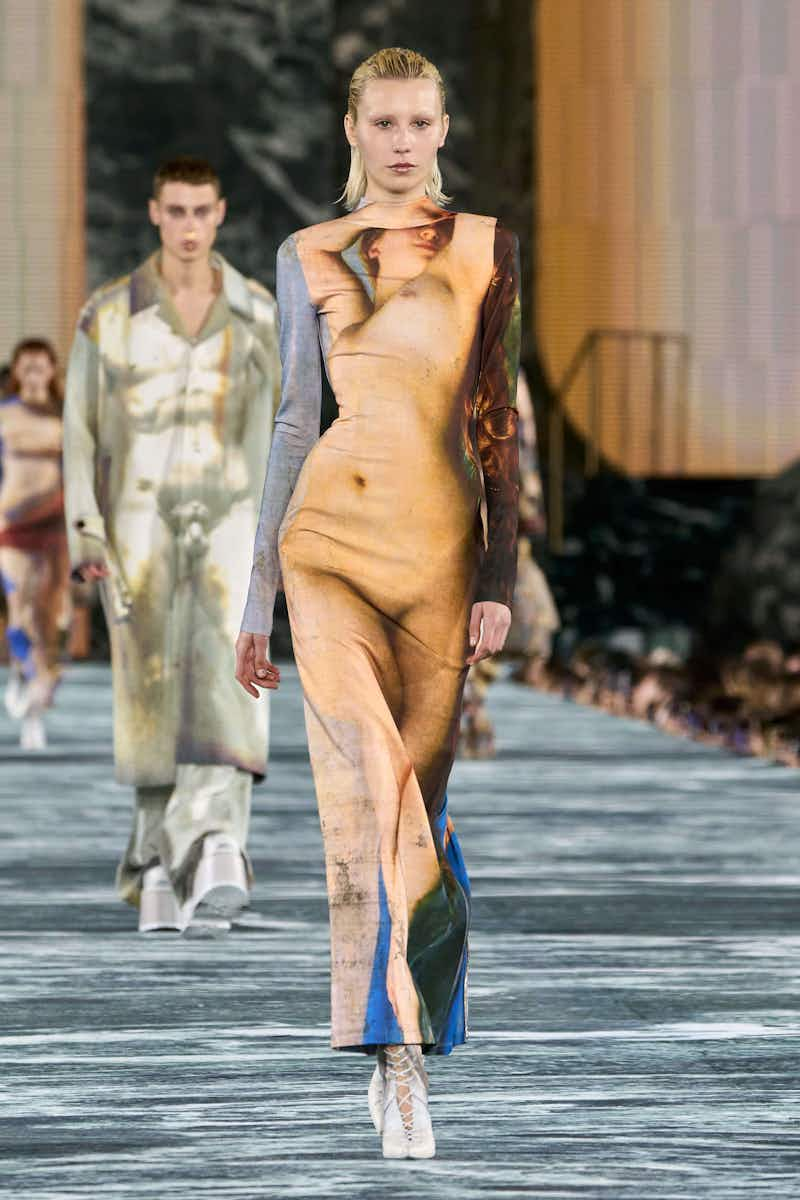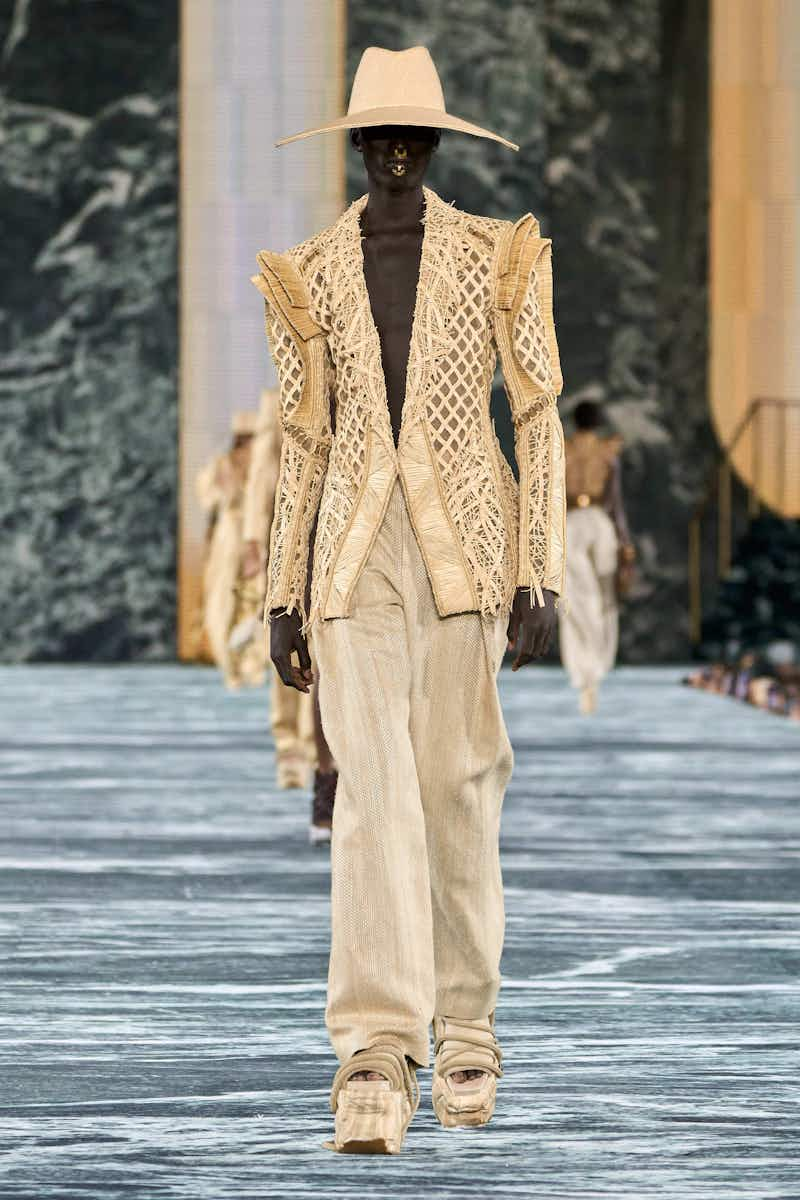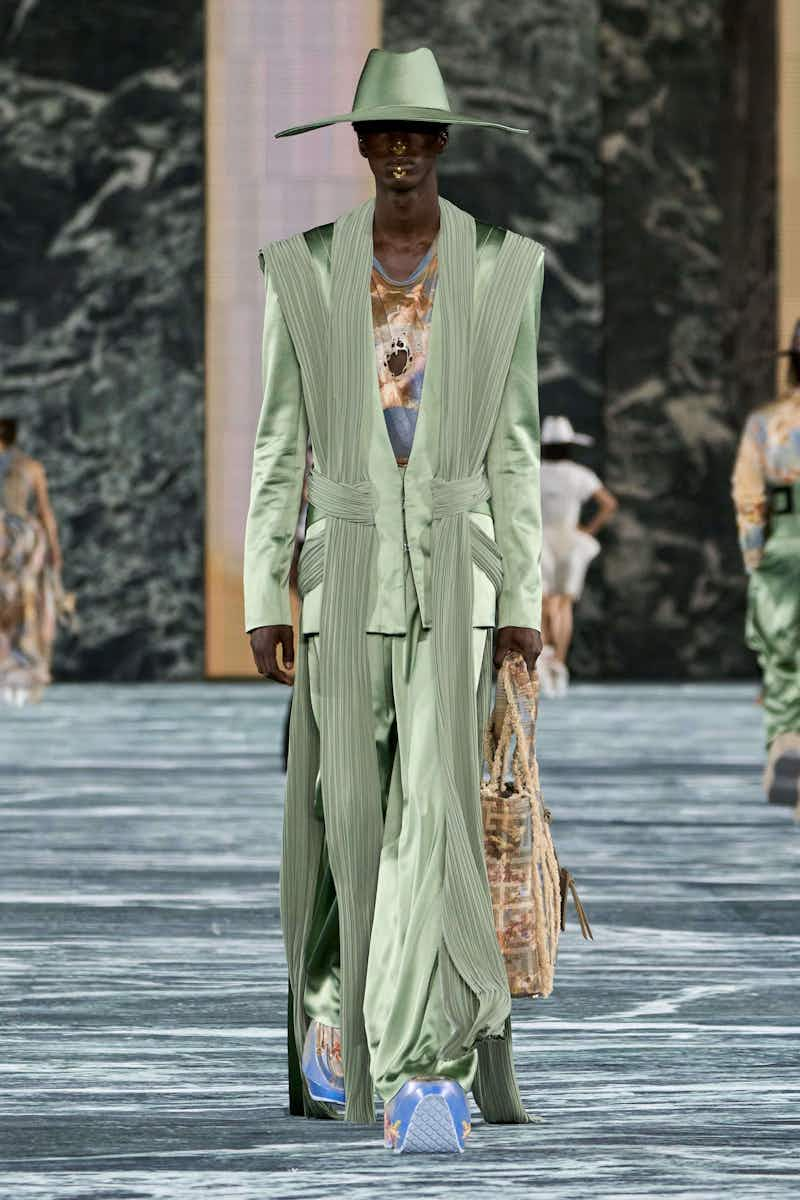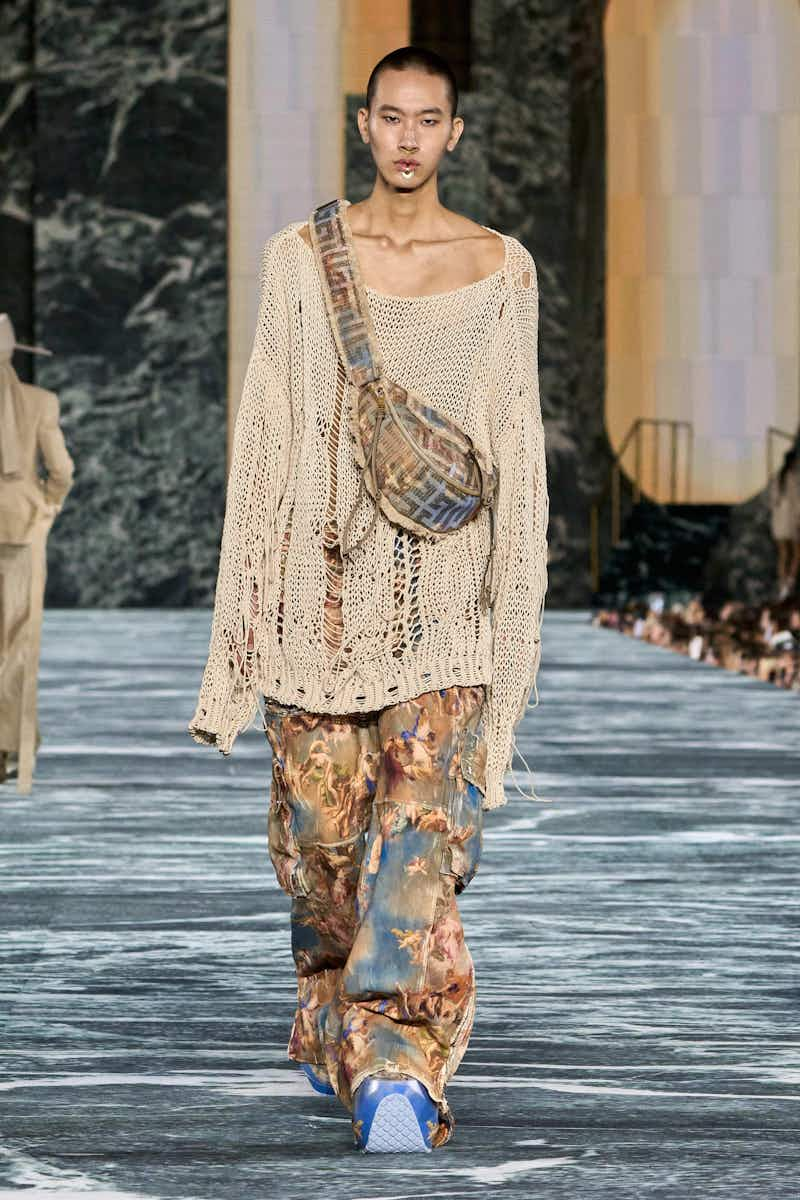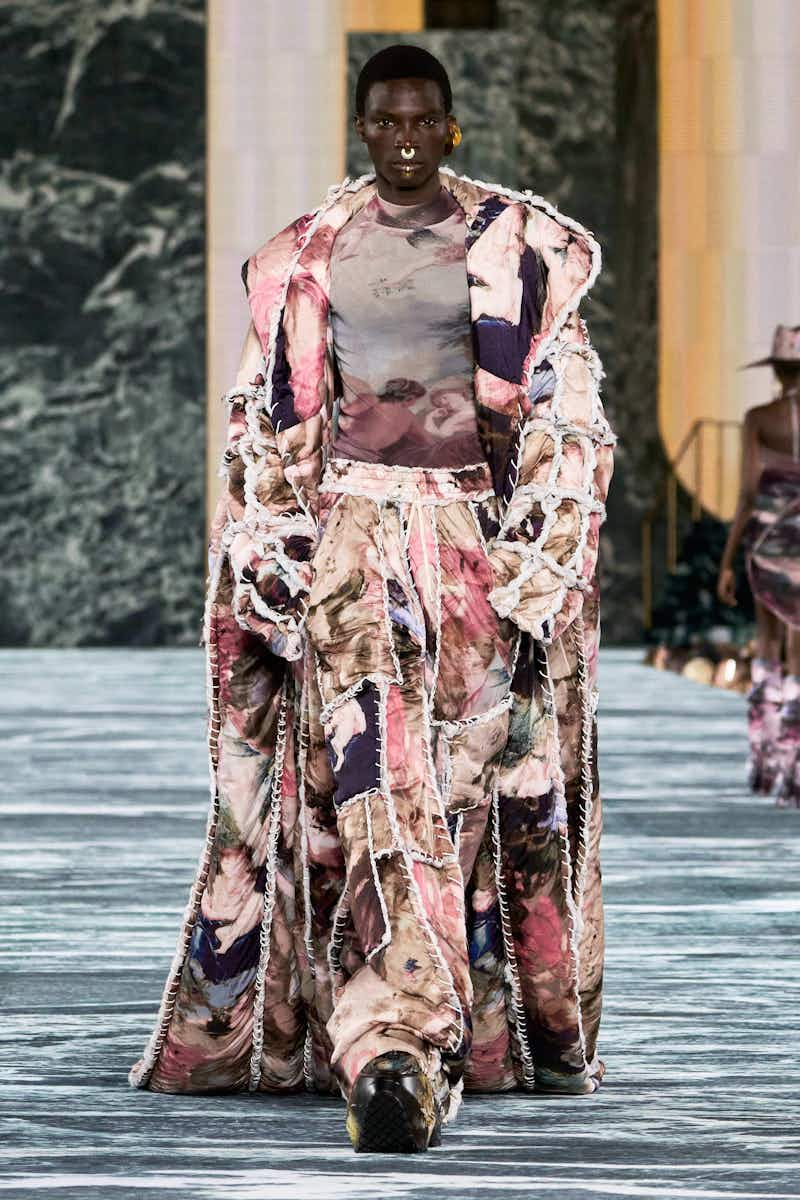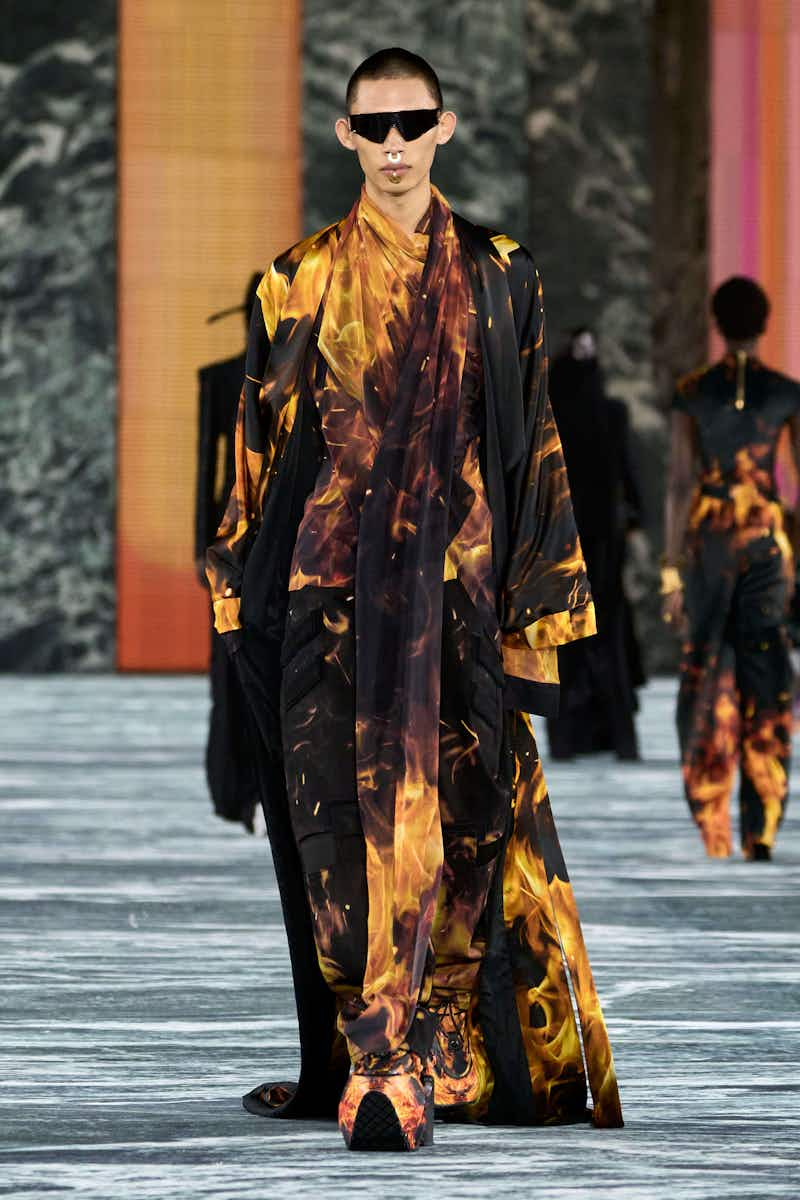 As the label ushered in its fifth anniversary, Ludovic de Saint Sernin's hedonistic brand of self-confident sexiness was celebrated in full force. The designer's now unmistakable tropes were present: slinky tank tops, LdSS diamante-embellished mesh pieces and distressed lace-up leather jackets and pants, all of which form something of a club-ready uniform. But there were new ideas aplenty.

Drawing upon his time spent worshipping the dancefloors of Berlin's cavernous clubs, LdSS introduced leather biker shorts and box-pleat micro and maxi skirts into the collection, each paired with matching boots and crystal underwear, designed to be on display. The show also marked the launch of the designer's first bag – the ​"Cleavage" – a sleek baguette defined by its curved shape and served in silver python and croc-effect finishes. The final looks deserve a shout out: a series of shimmering, asymmetrically draped miniskirts and bralettes crafted from high-grade crystal mesh that are destined for the dancefloor. BM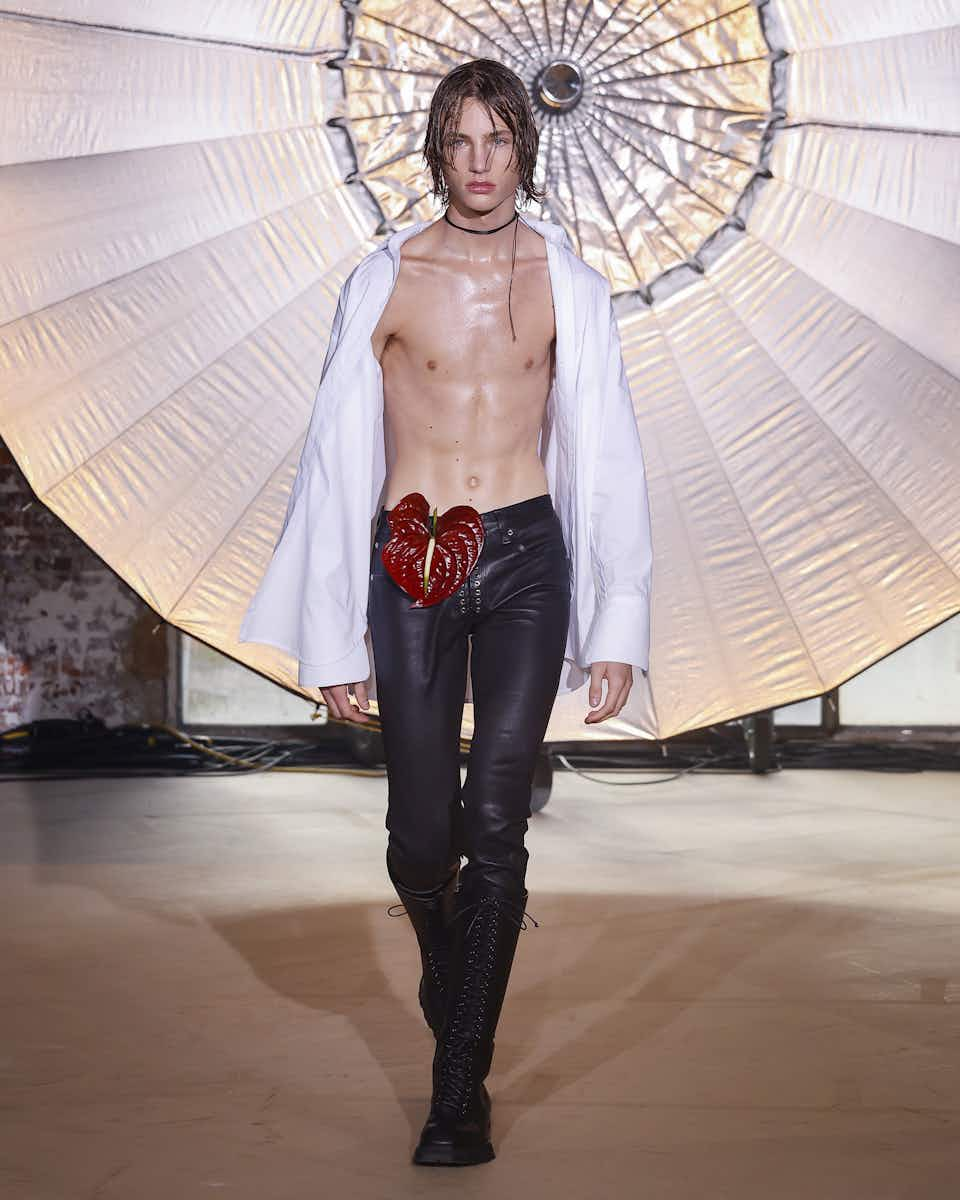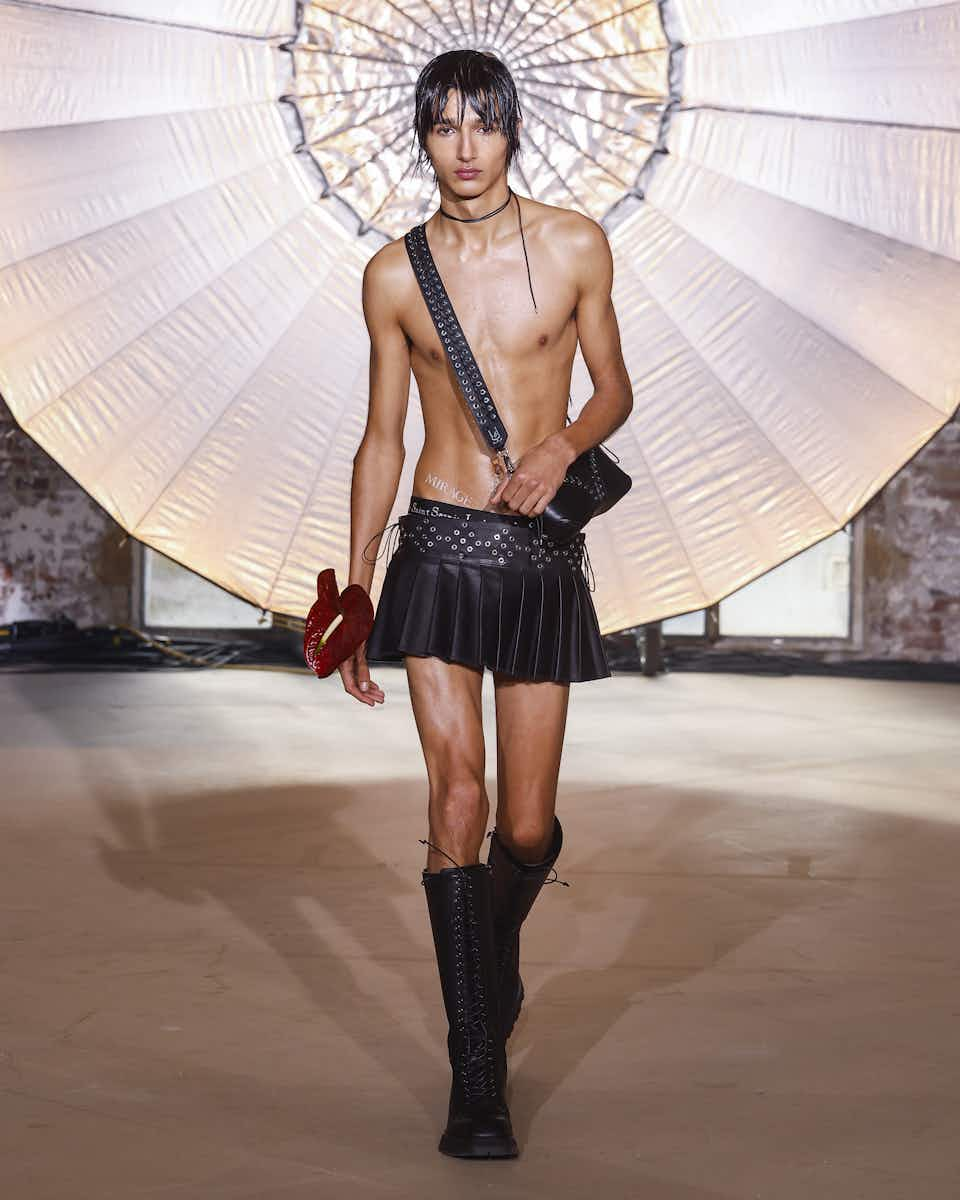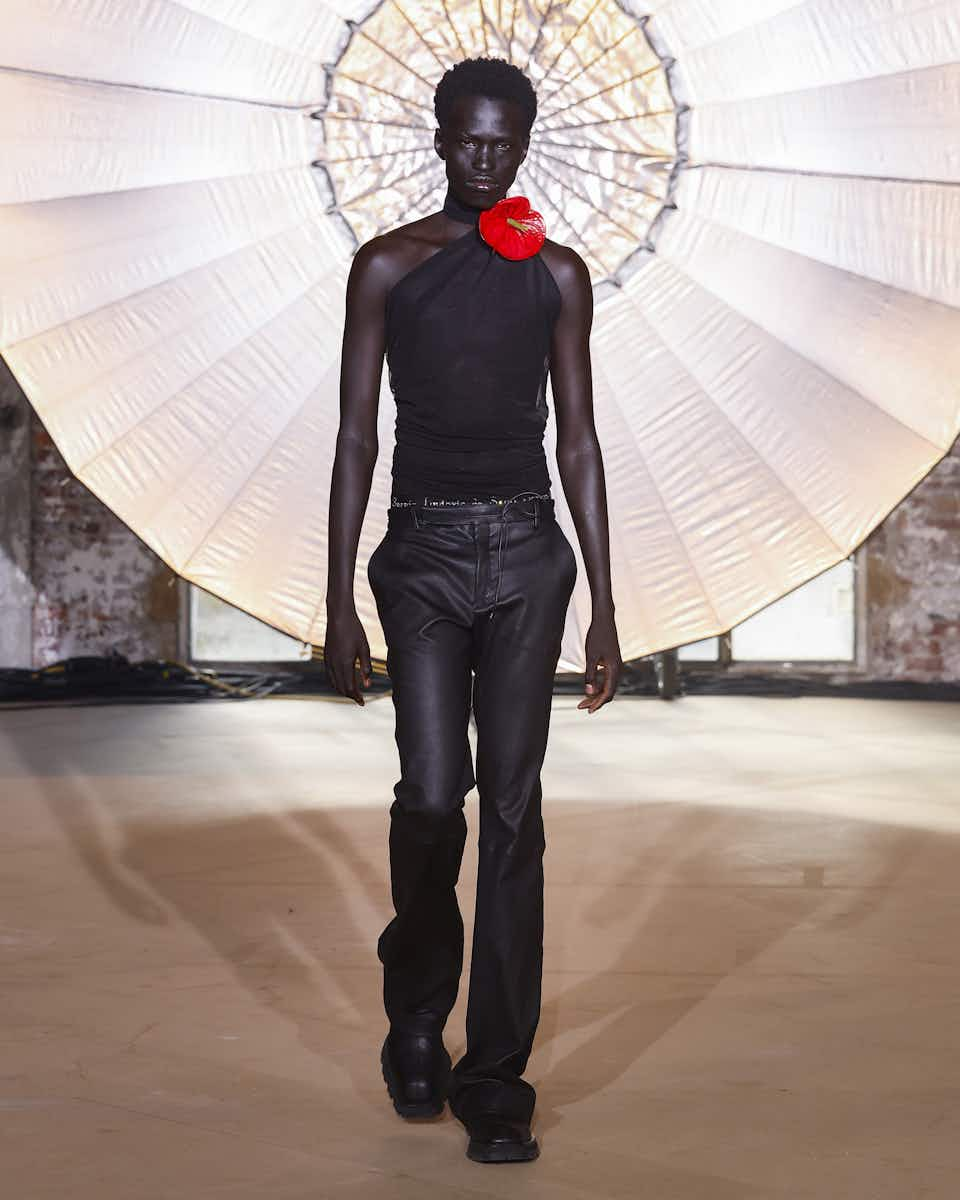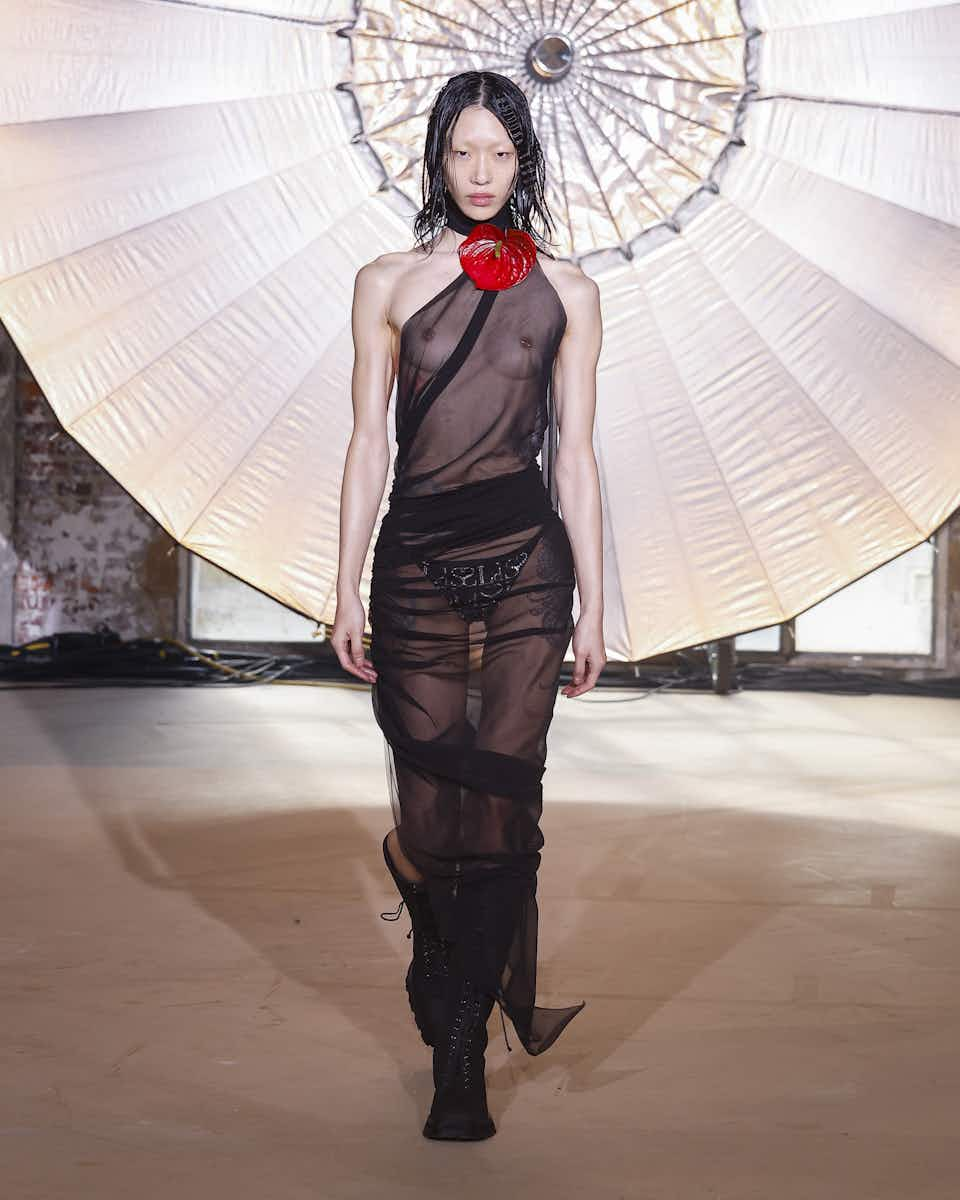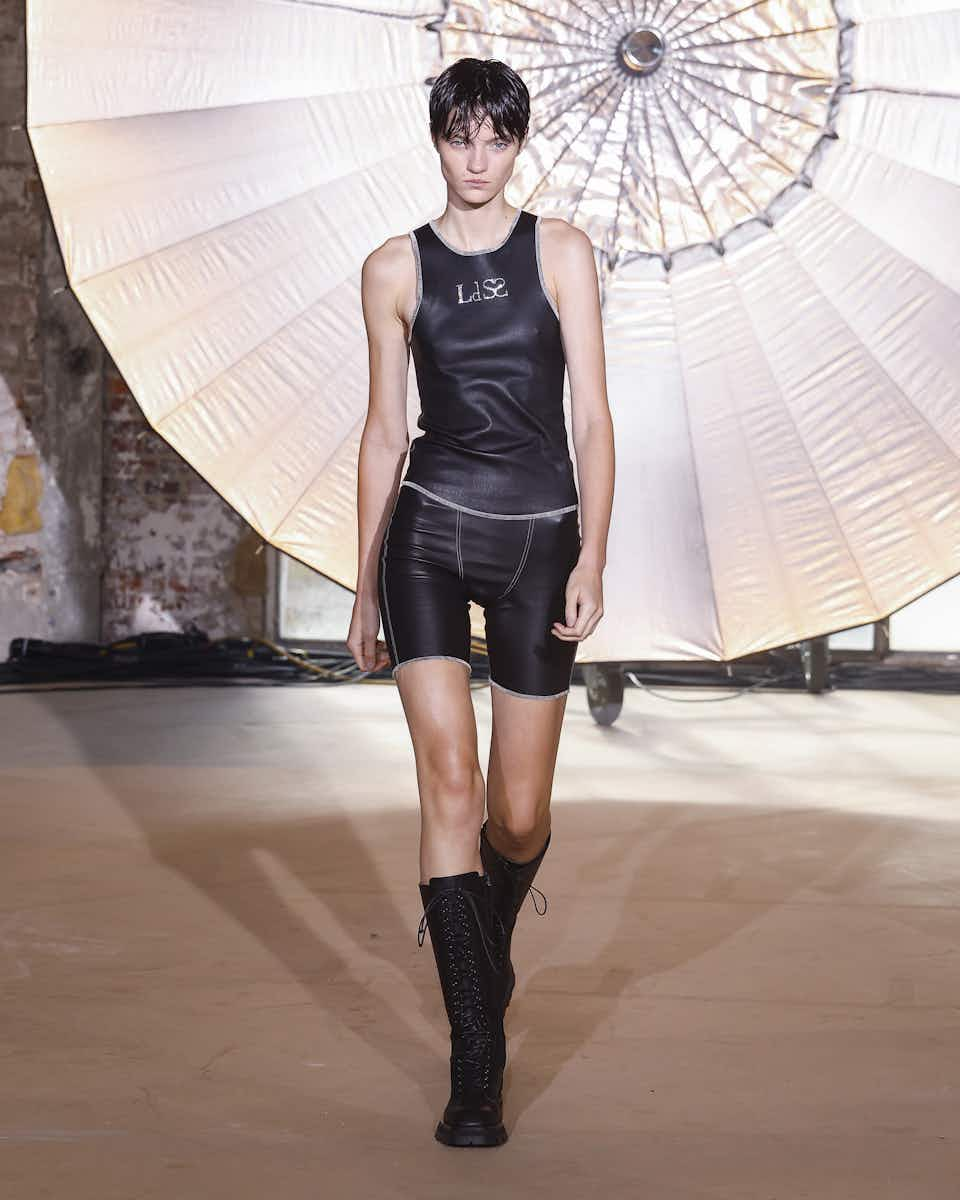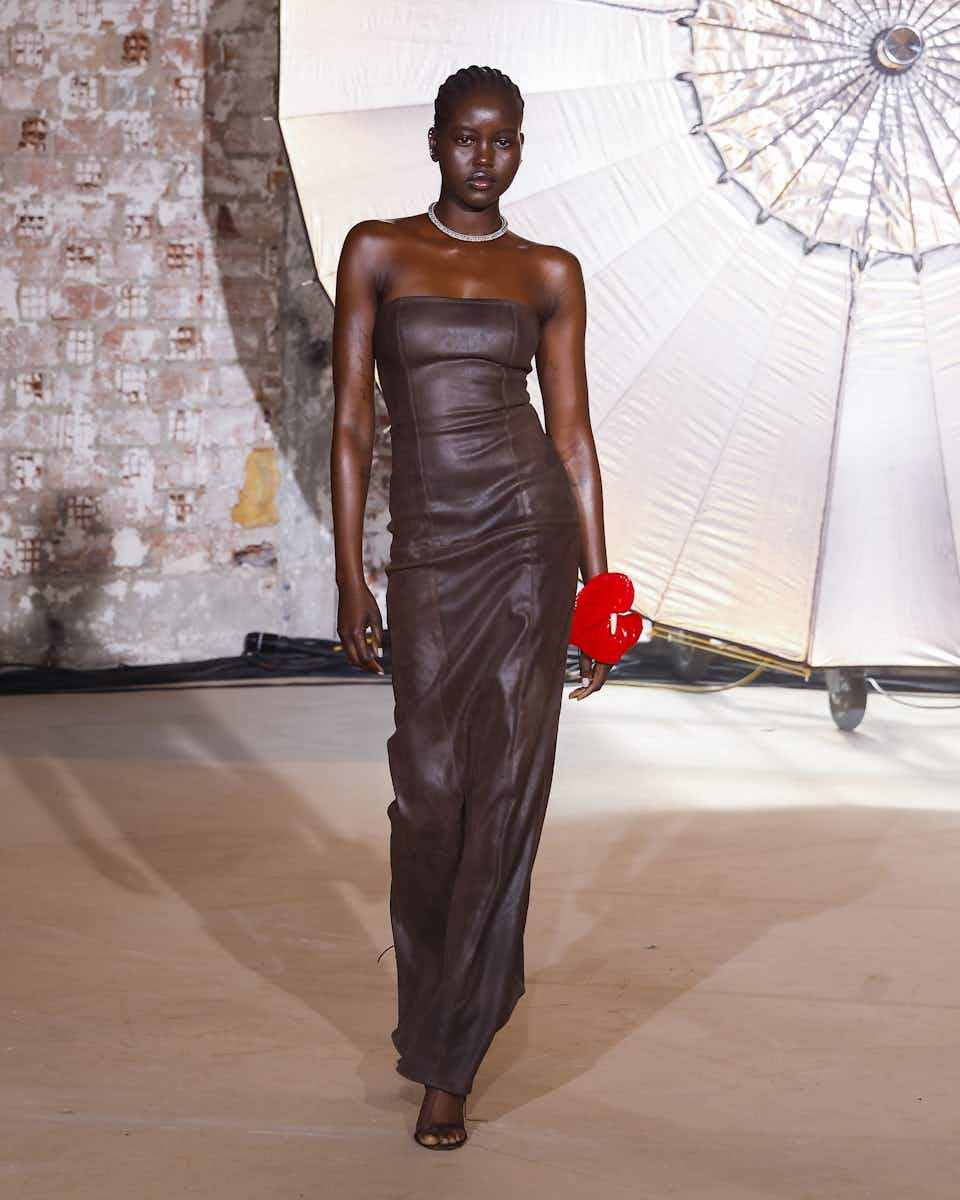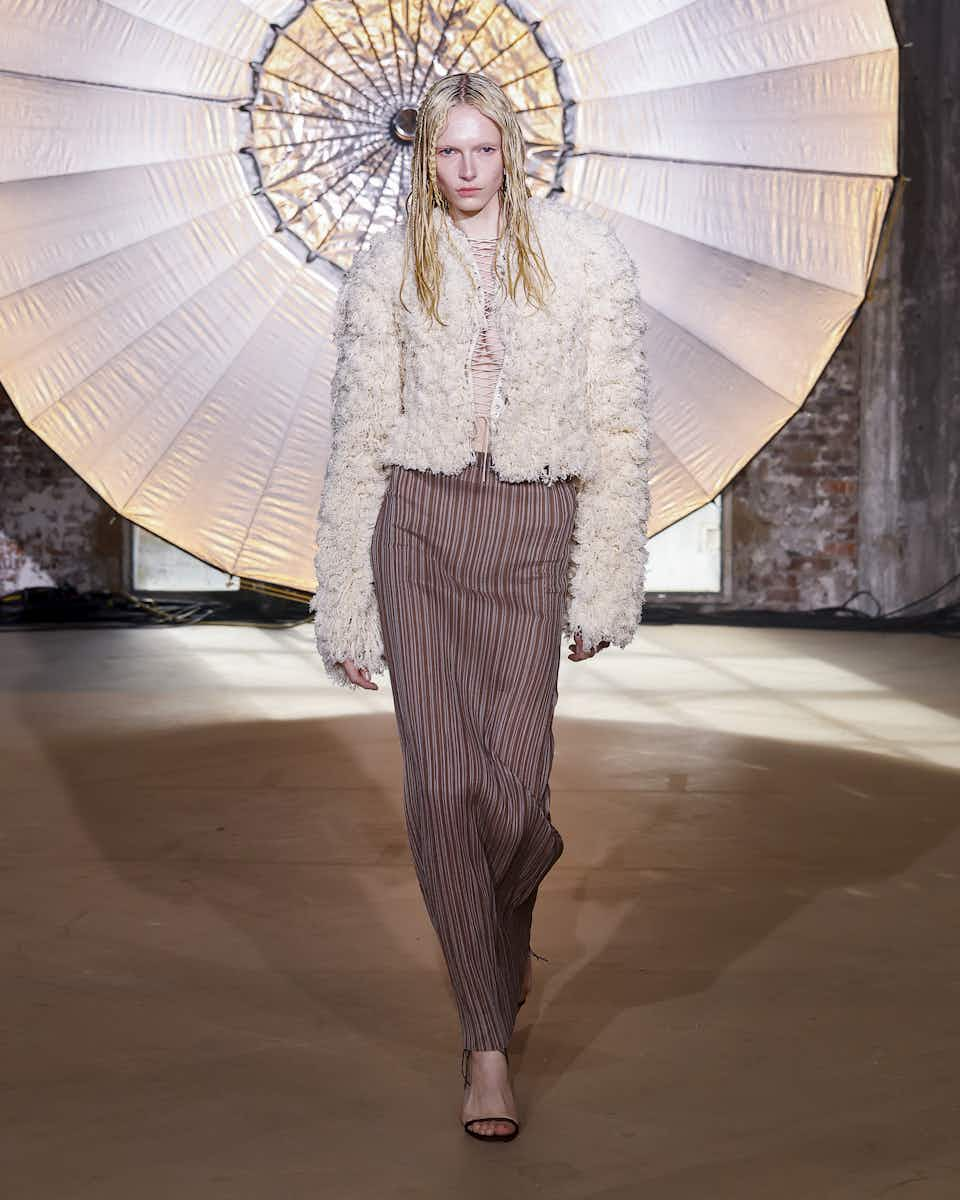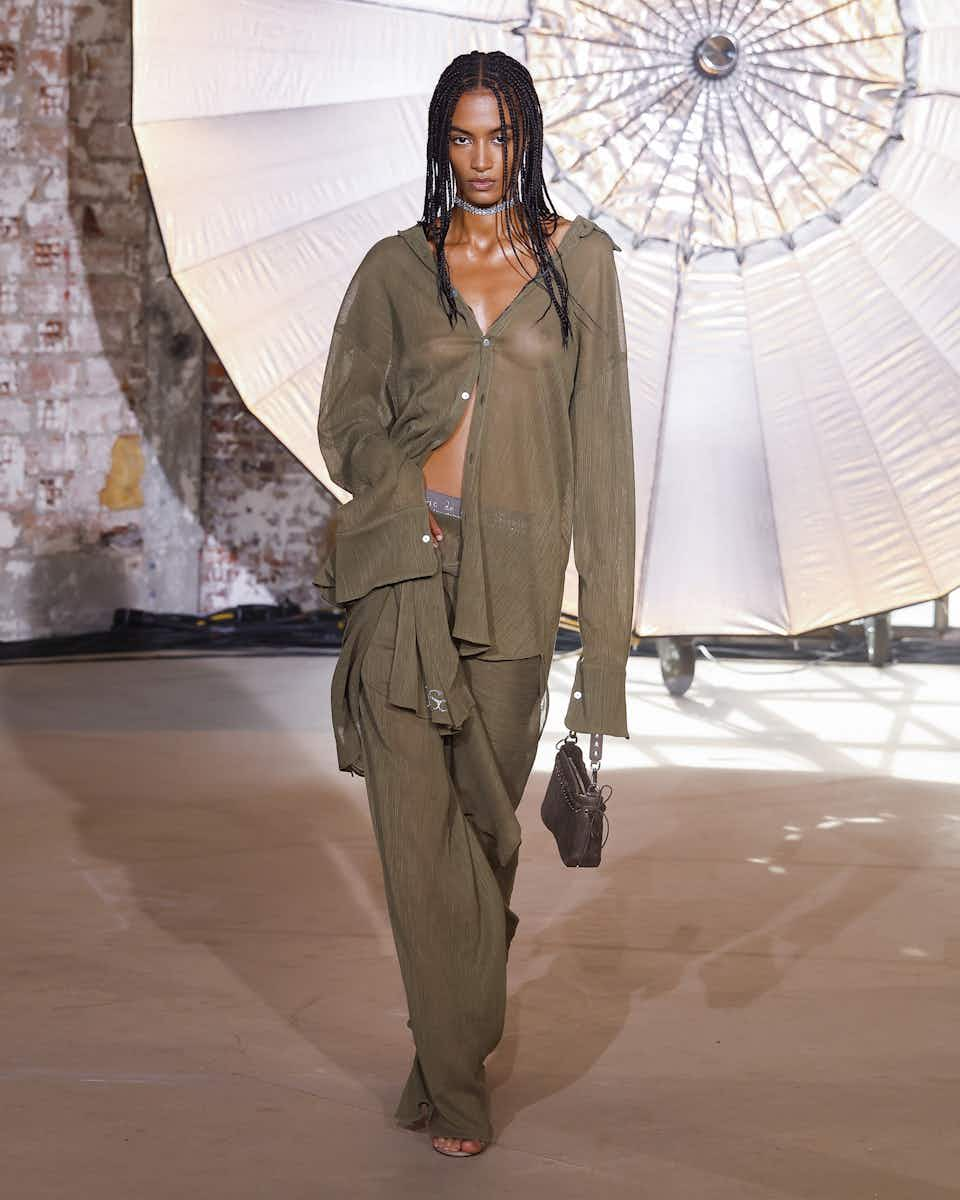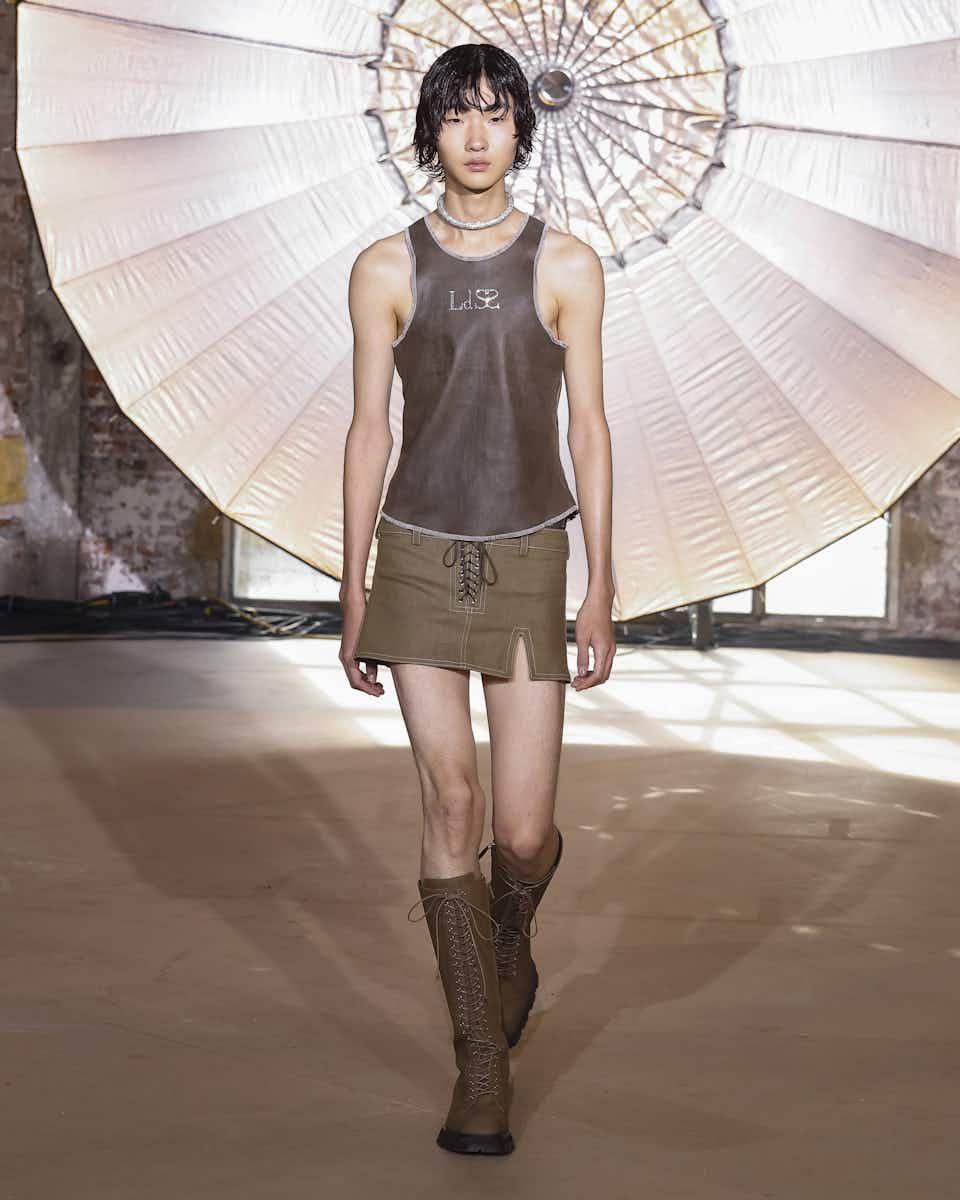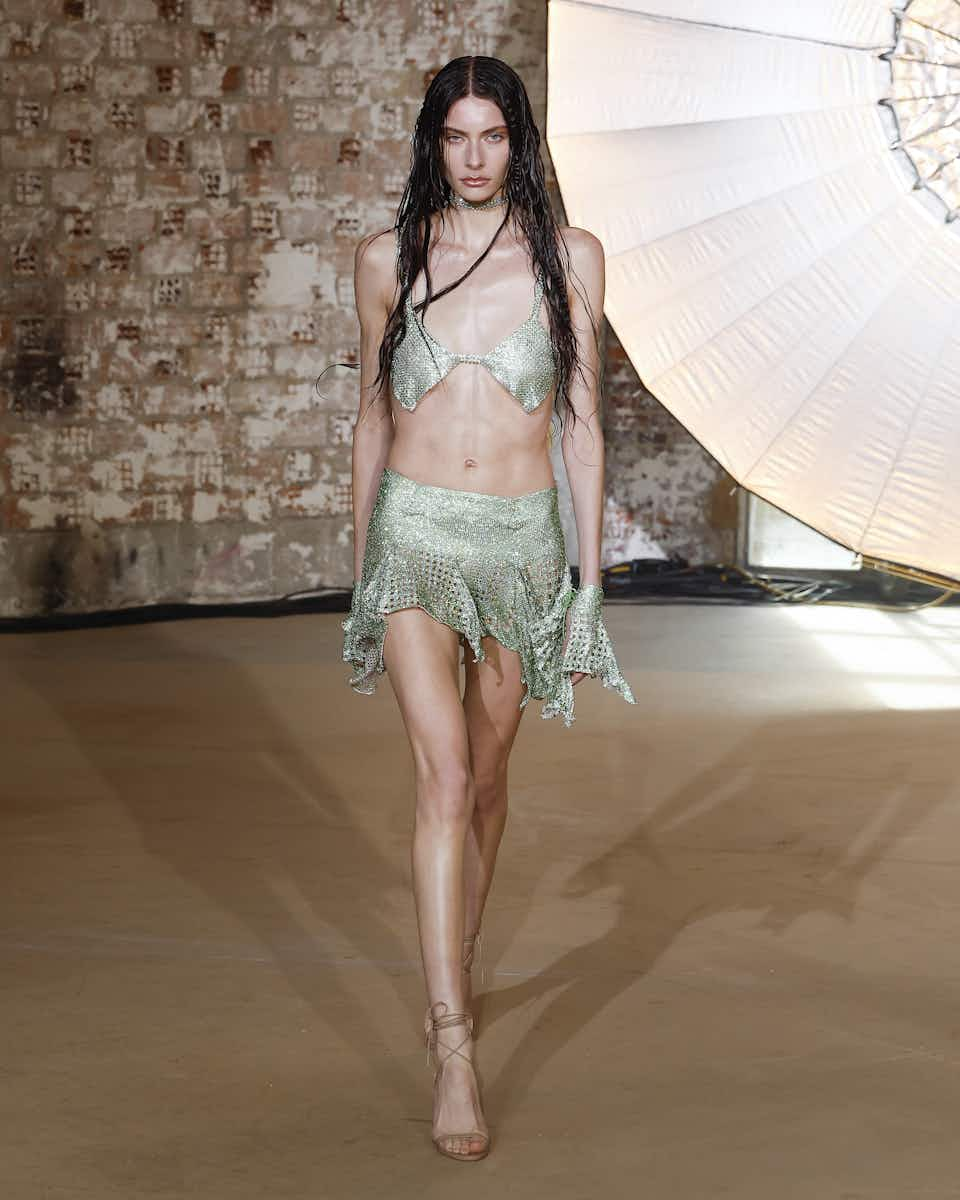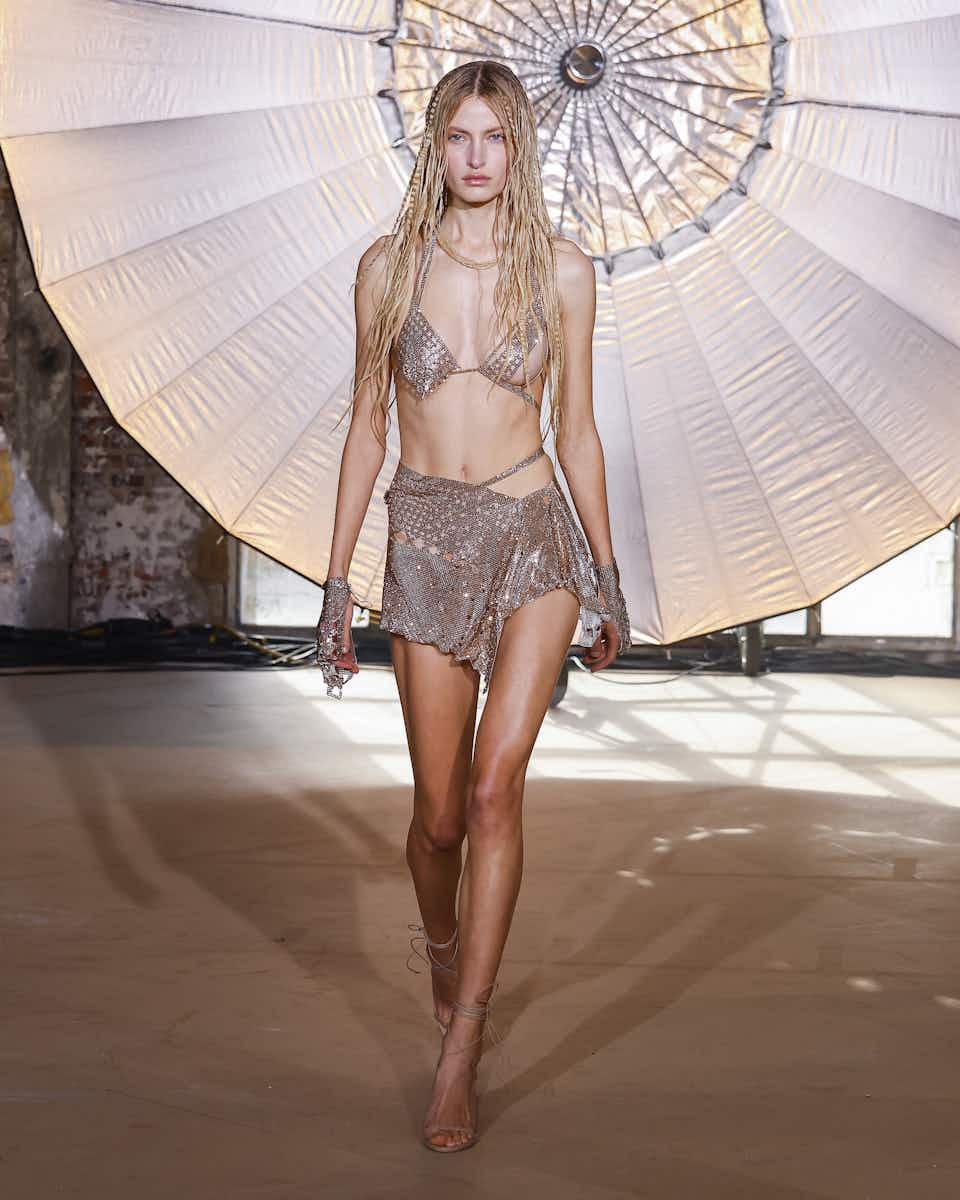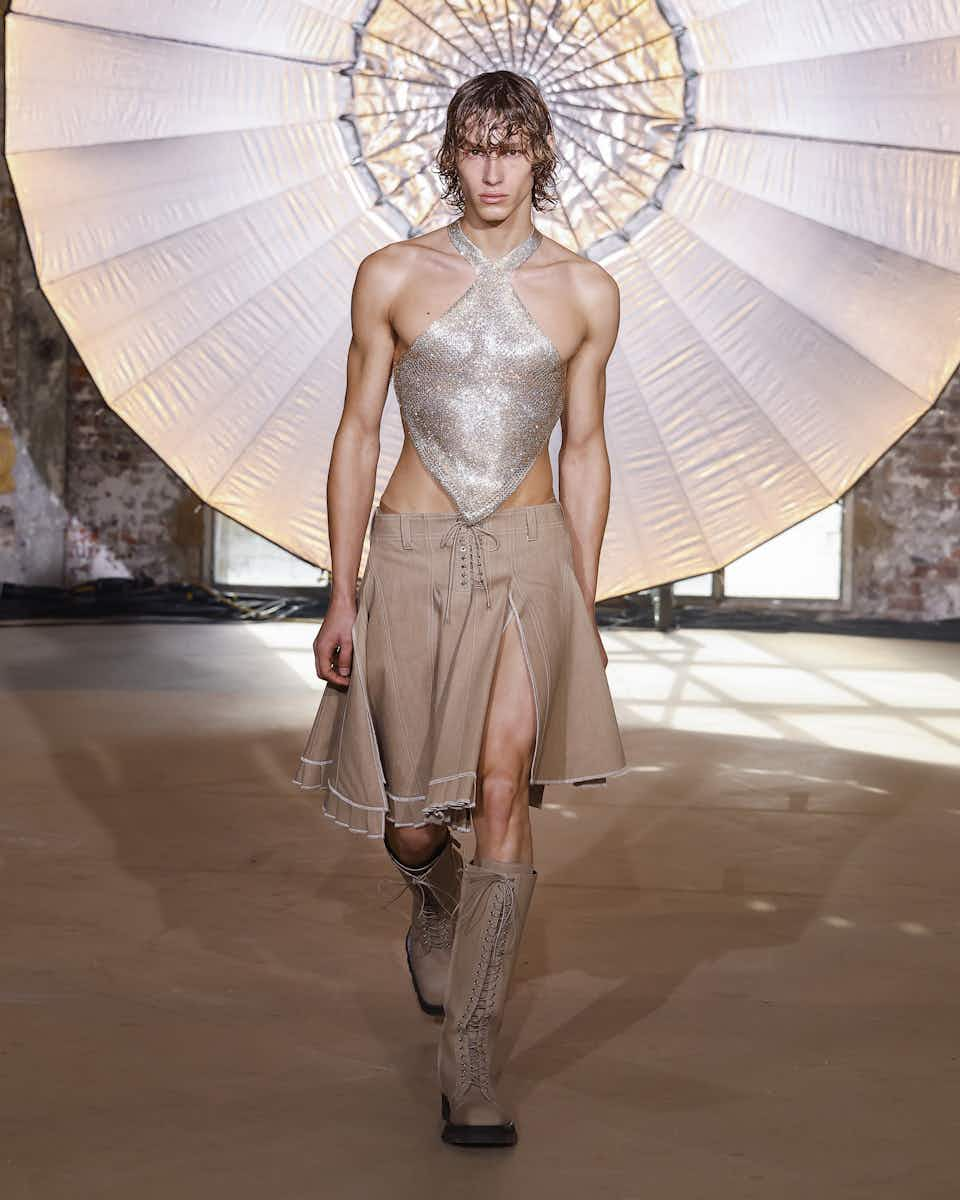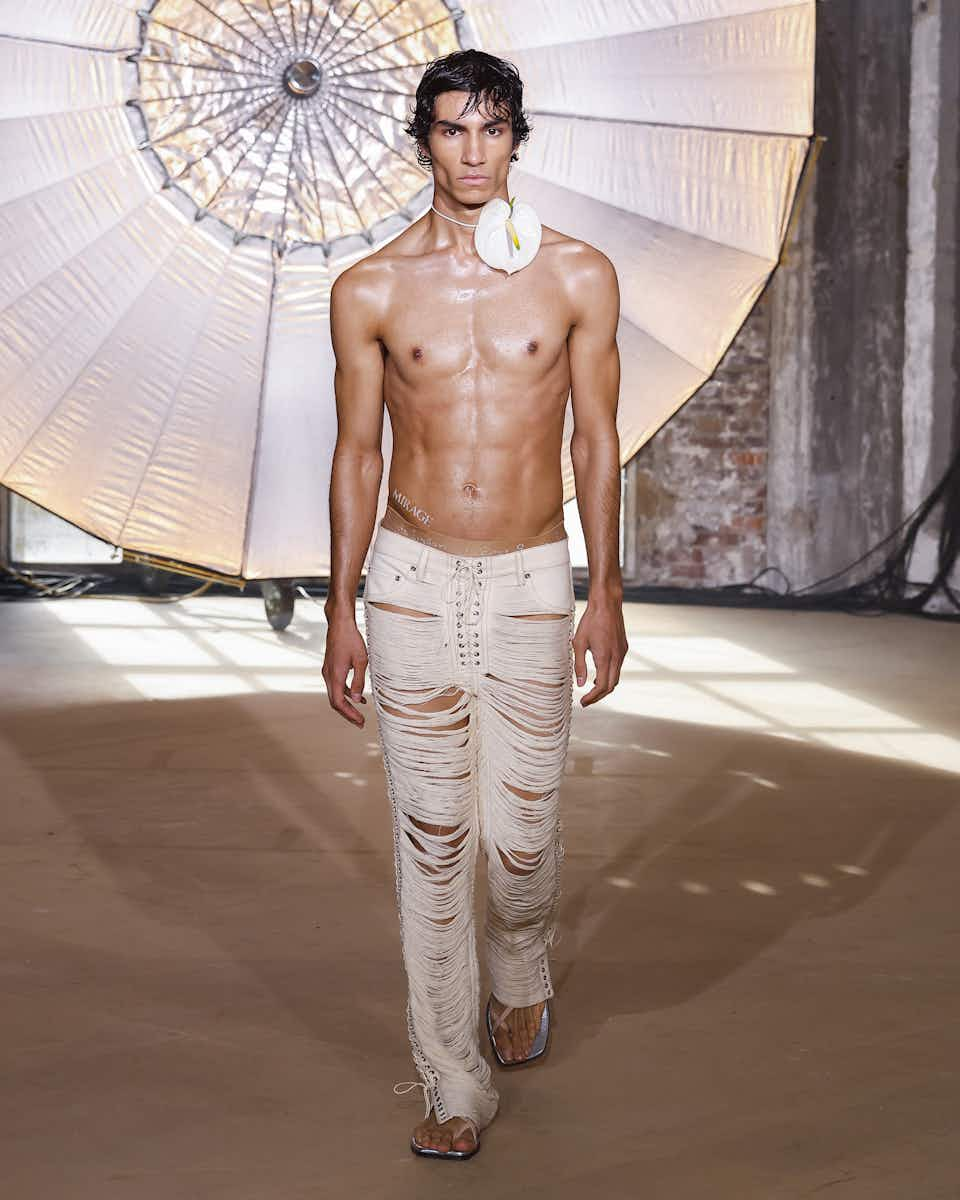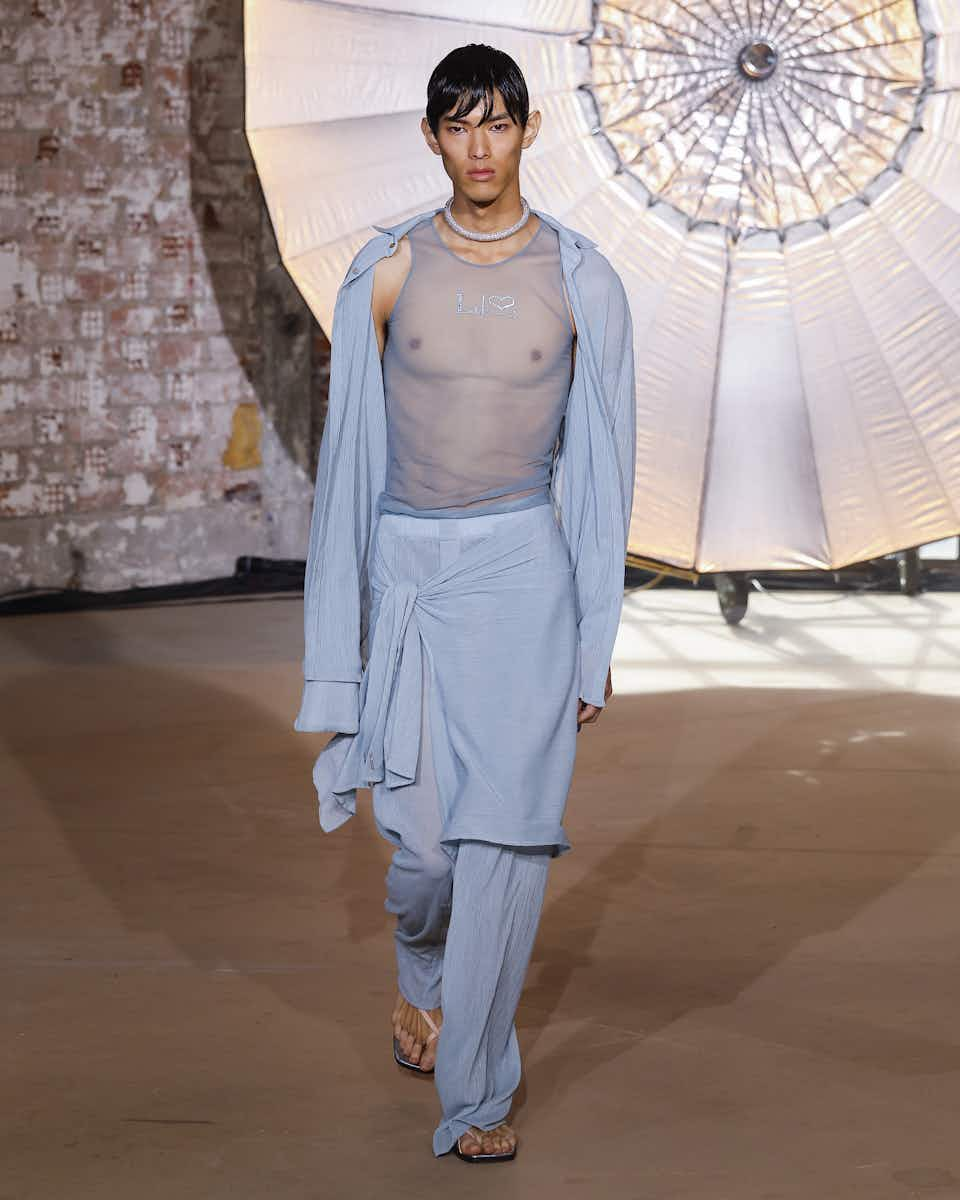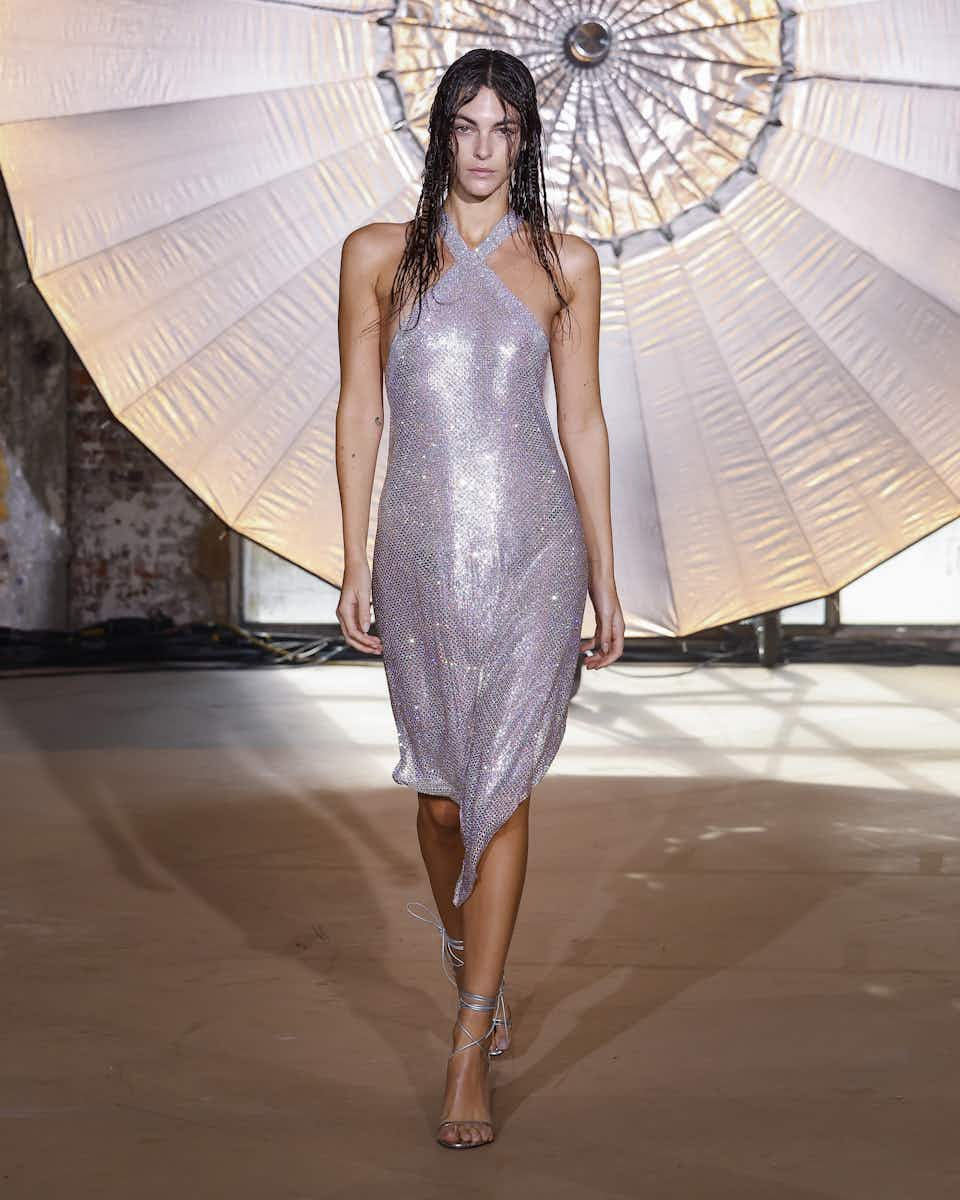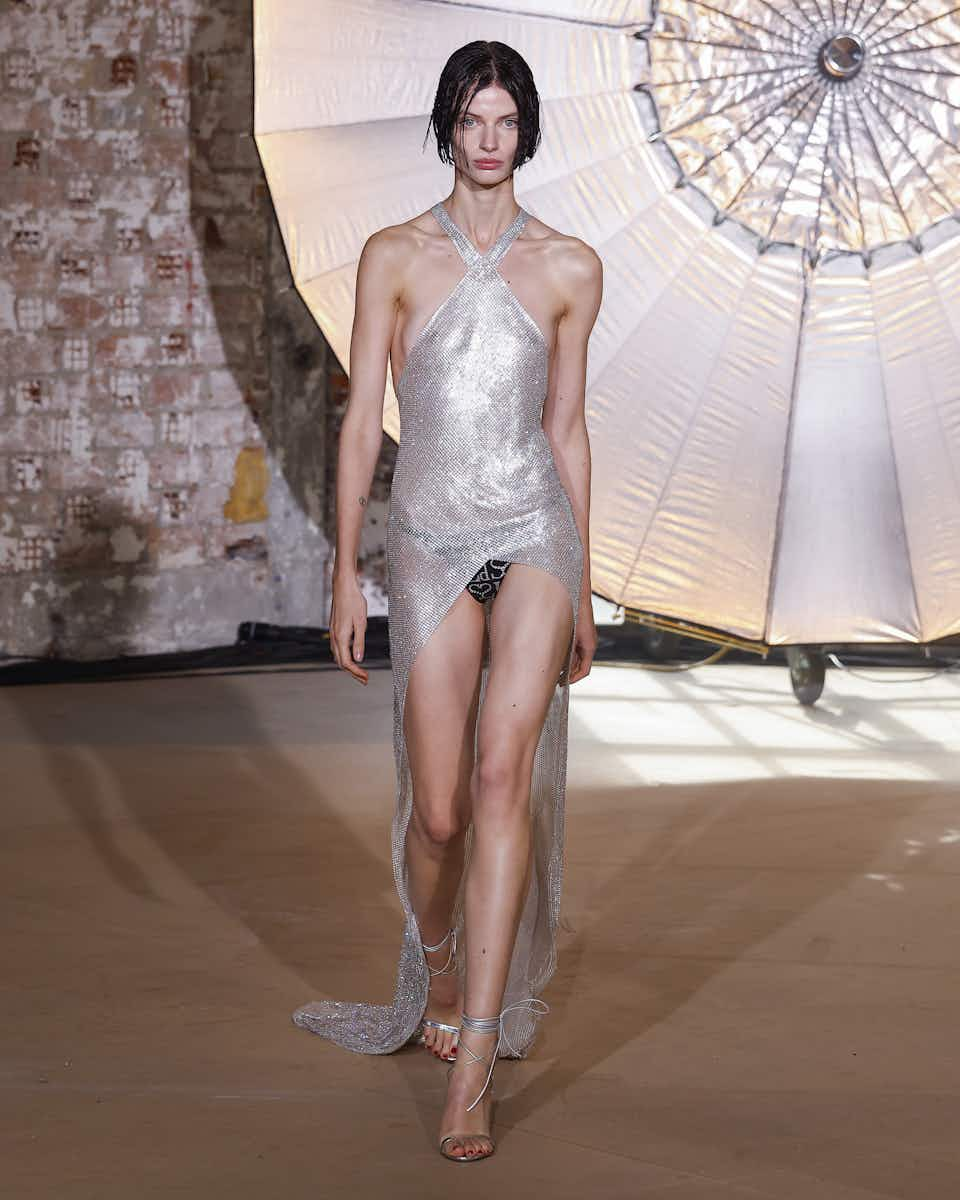 For their SS23 show, Acne Studios hosted a luxe satin slumber party complete with pink pillows, love heart prints, girlish silk bows – and Kylie Jenner. Accompanied by an ethereal soundtrack provided by a haunting live vocalist, harp and violin, the show encapsulated the dreamlike space between sleeping and waking. Sheer organza, masses of gingham and knit skirts with playful bouncy hems were a teenage dream, perfect for playing a sleepover game of dress-up. Pink silk bow nipple pasties were revealed beneath an open blazer, while satin suits and gowns matched the pillowcases that guests perched their bums on. Sweet dreams! SW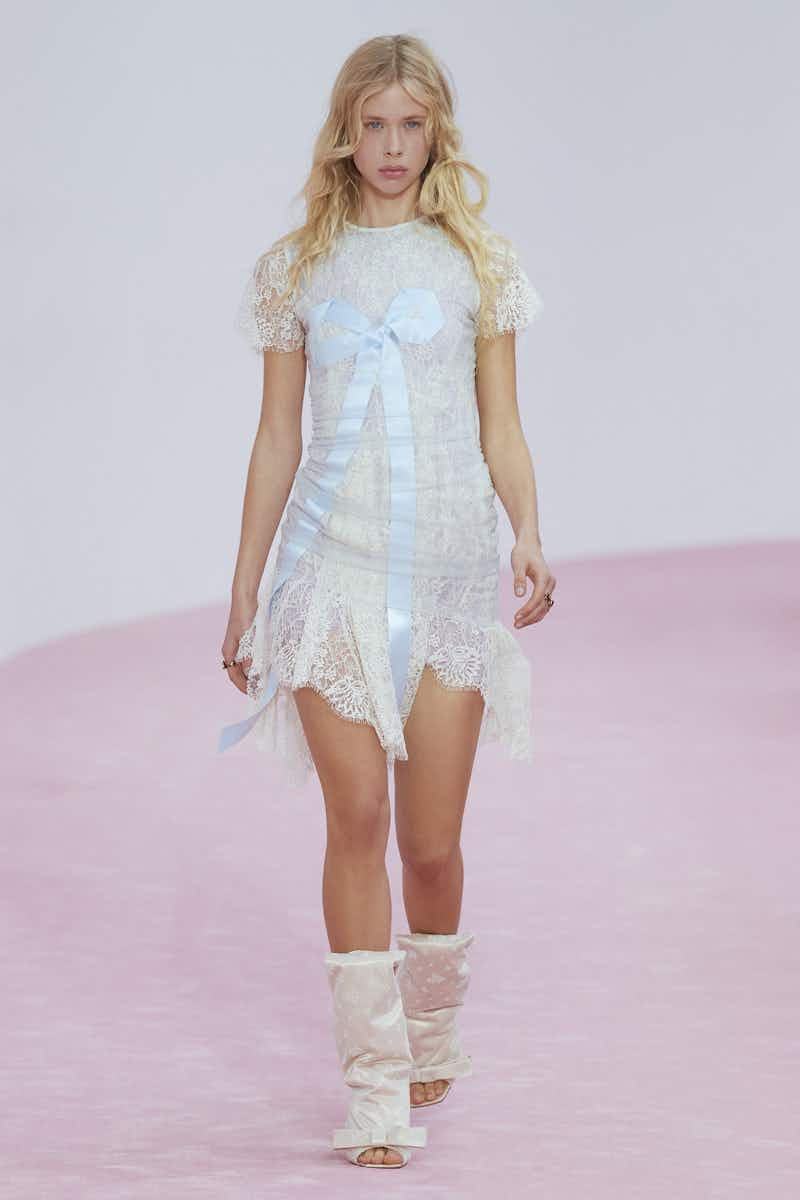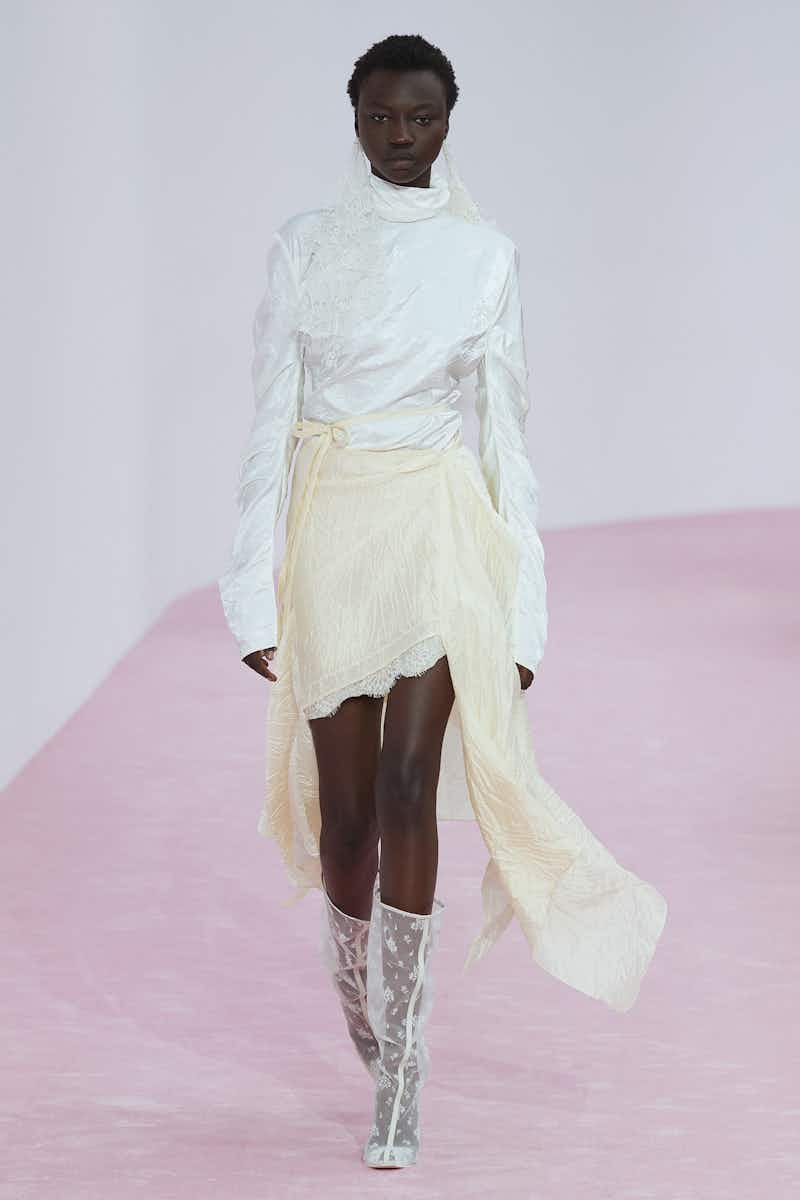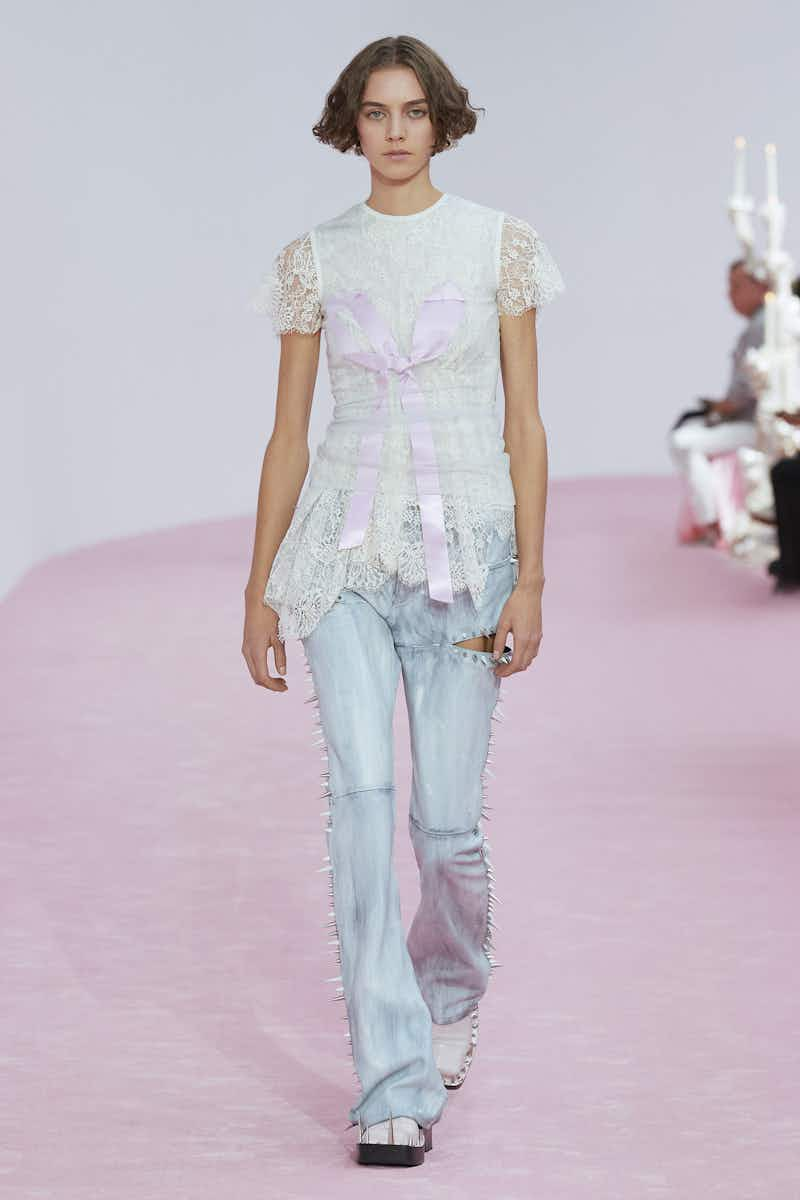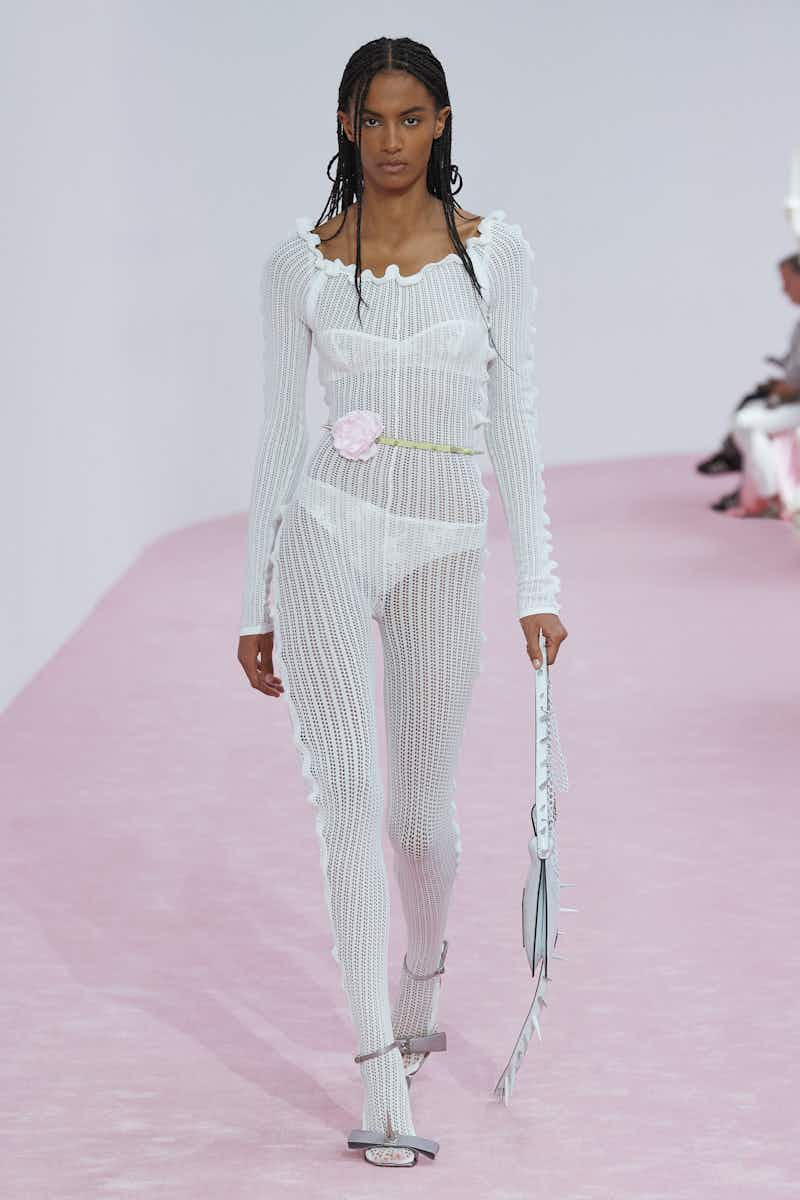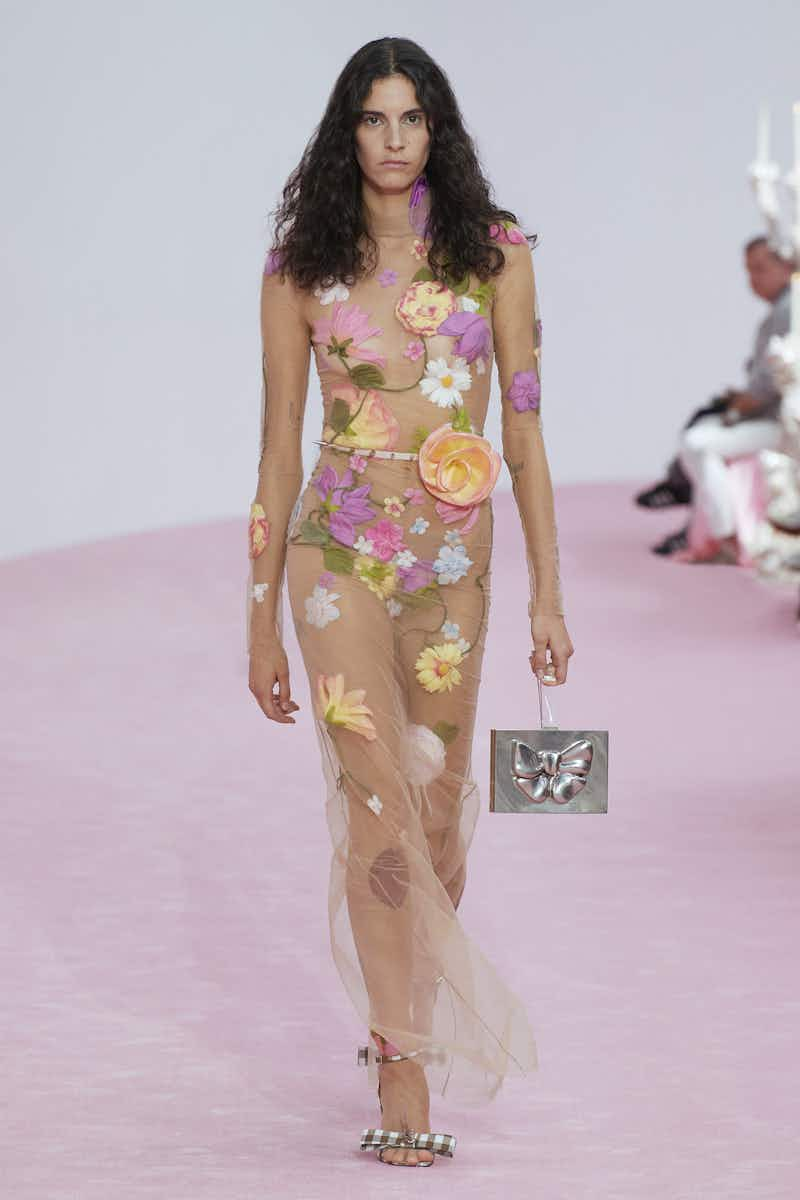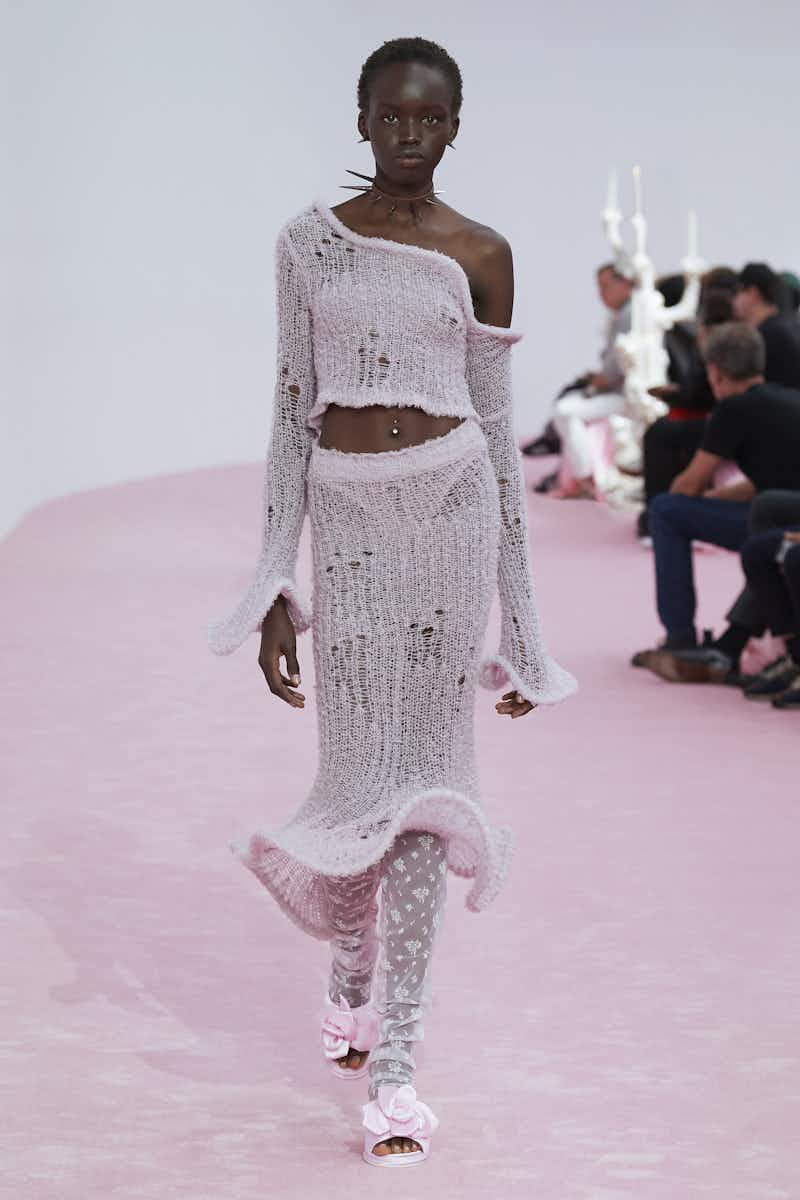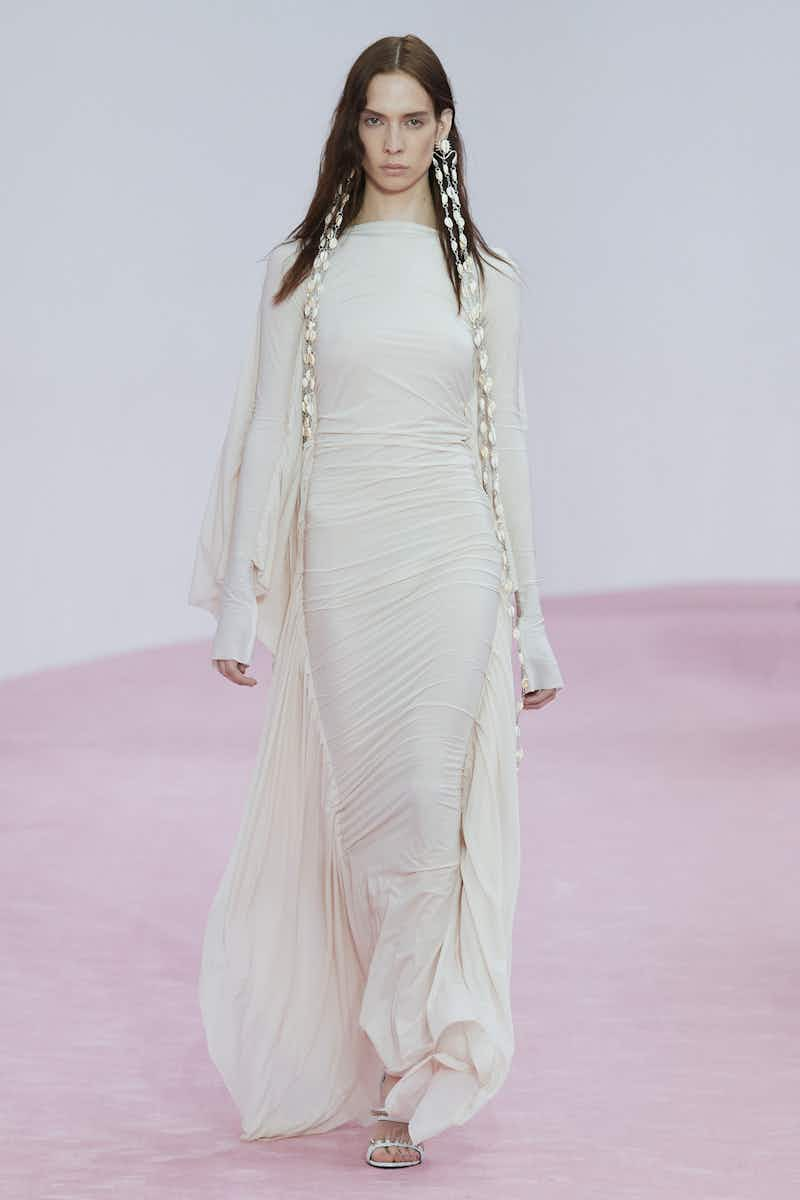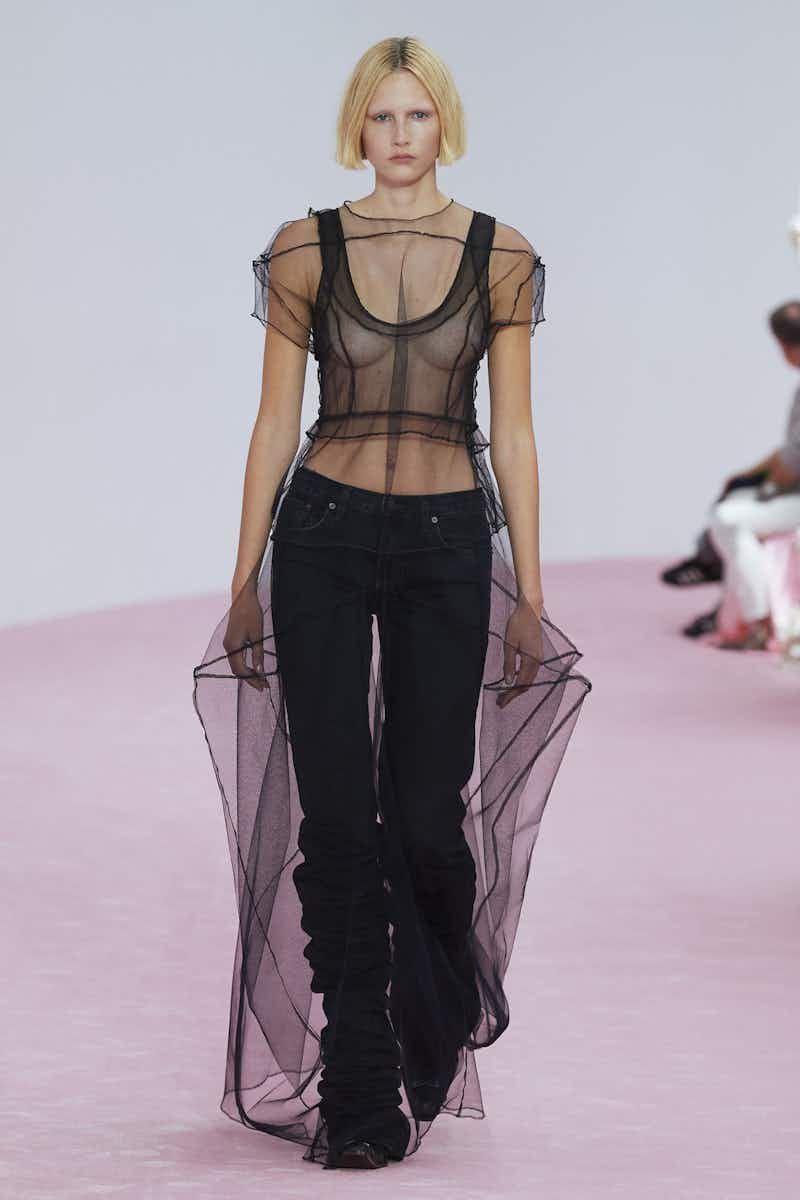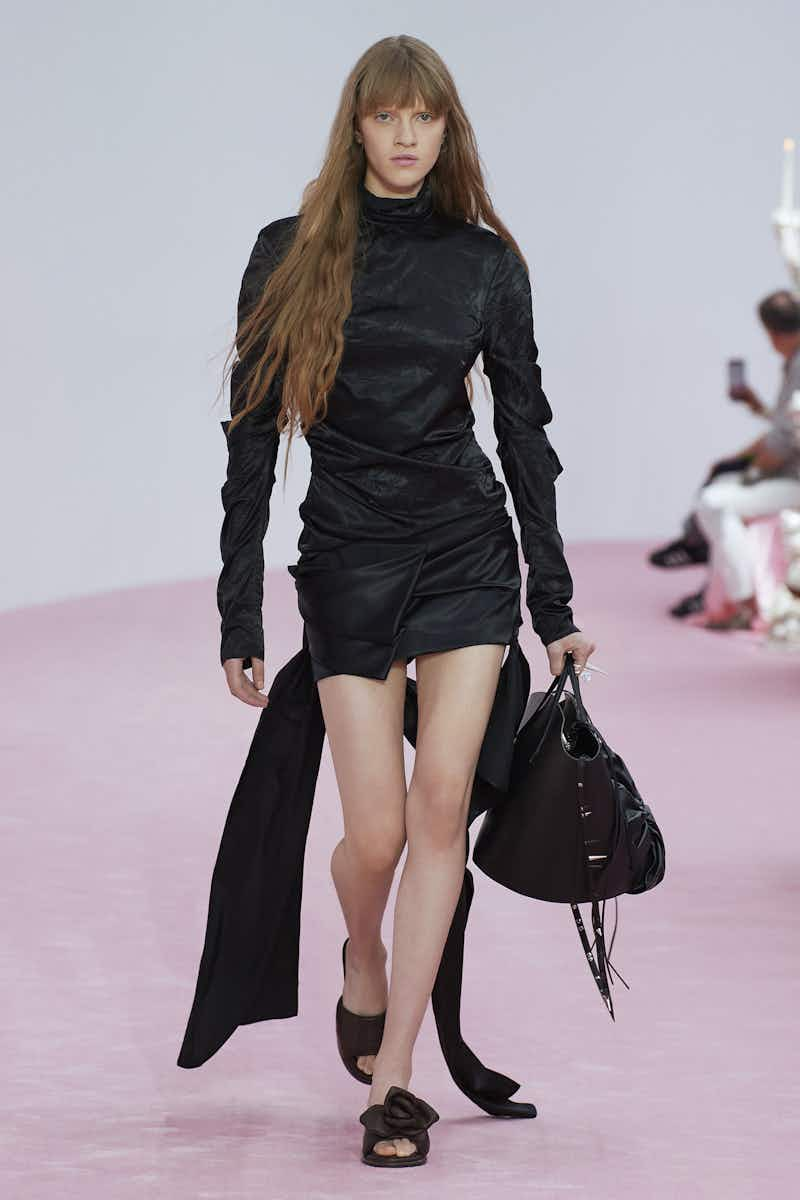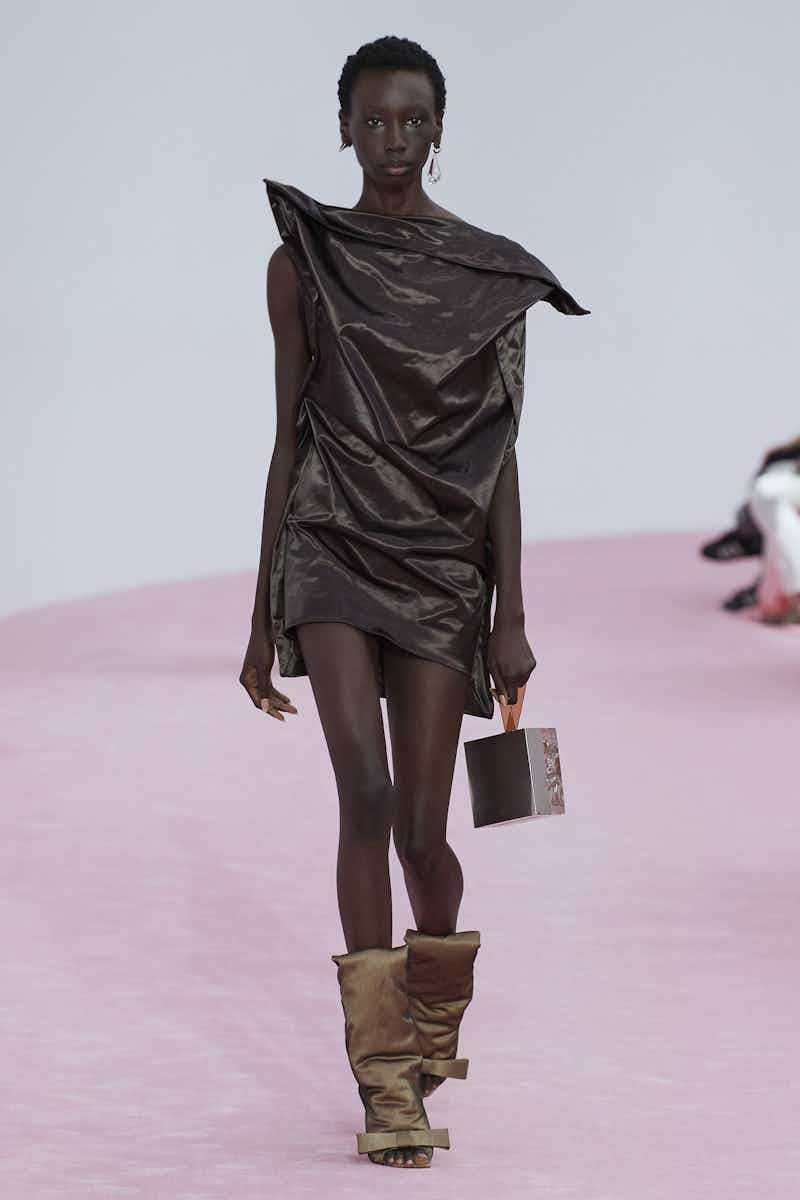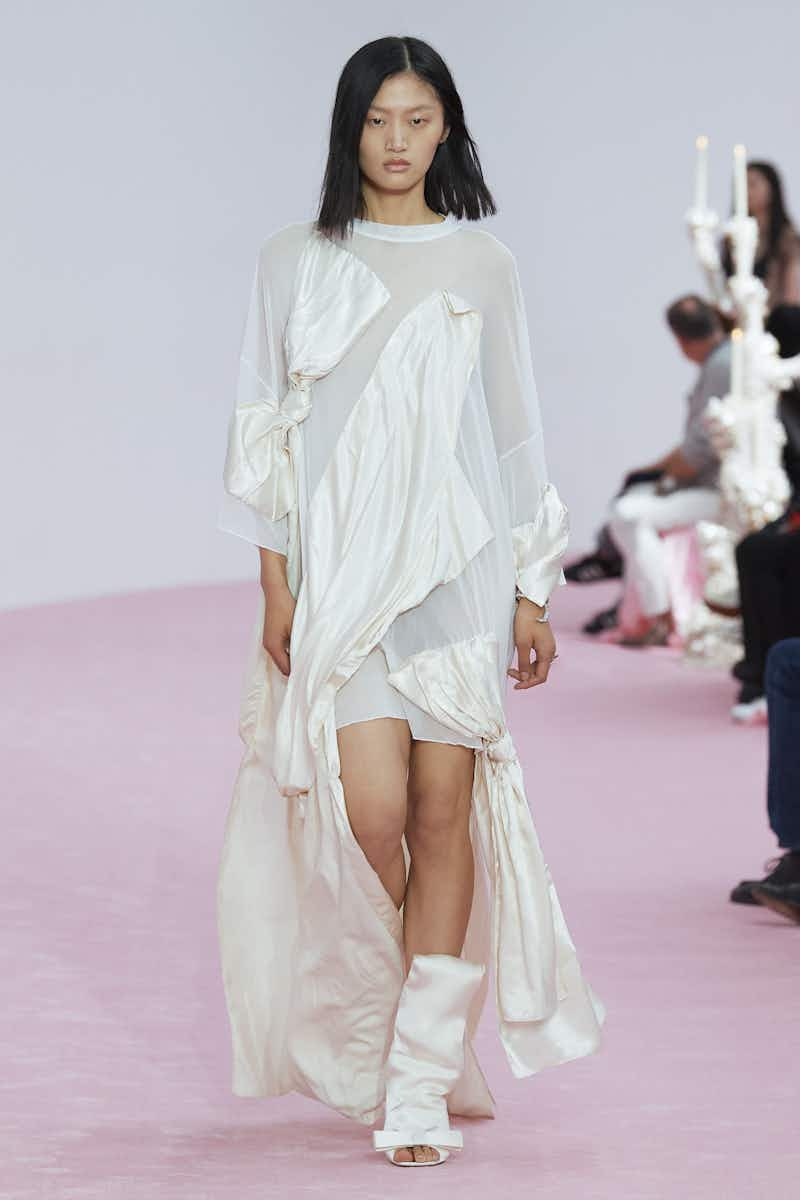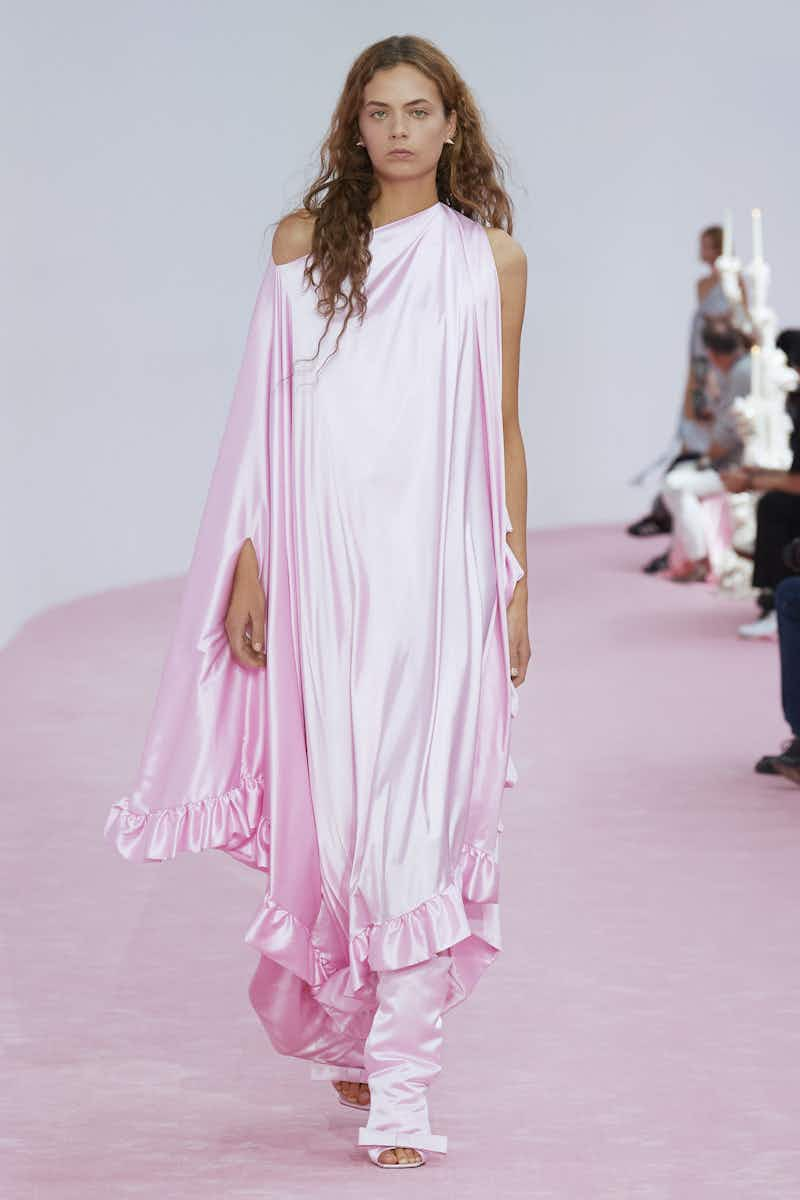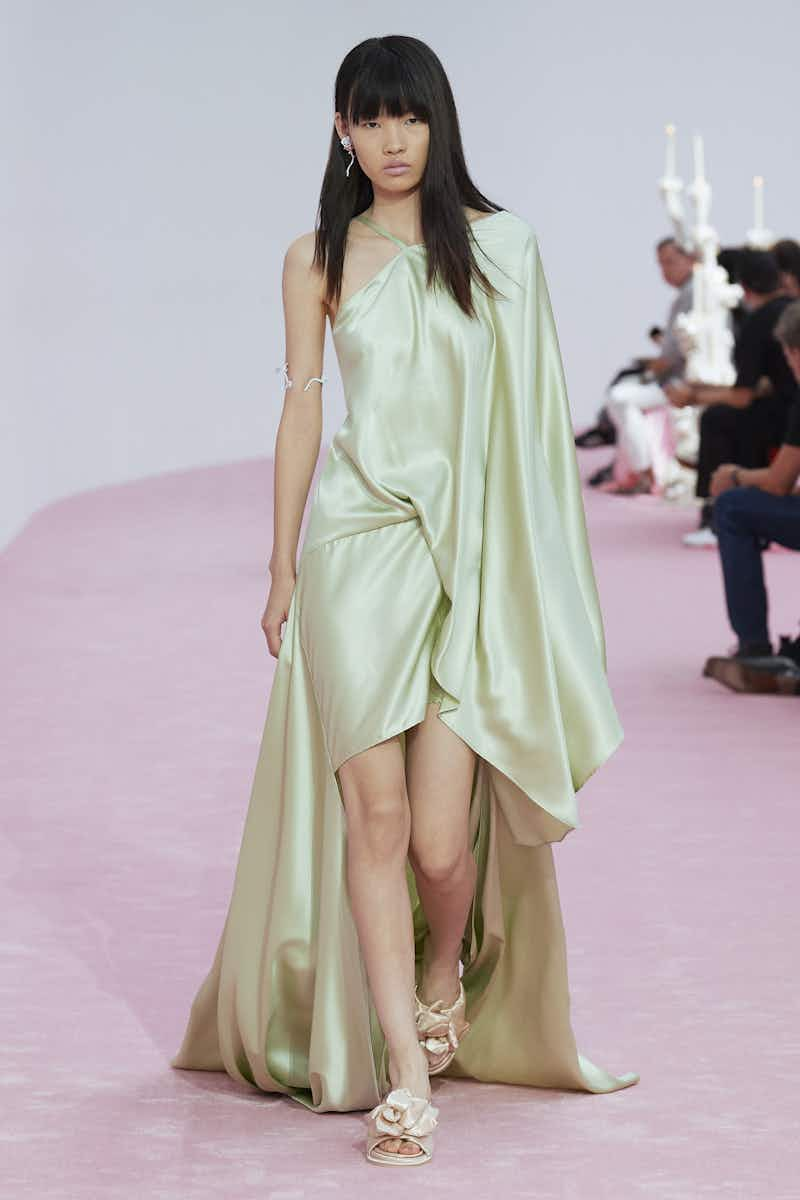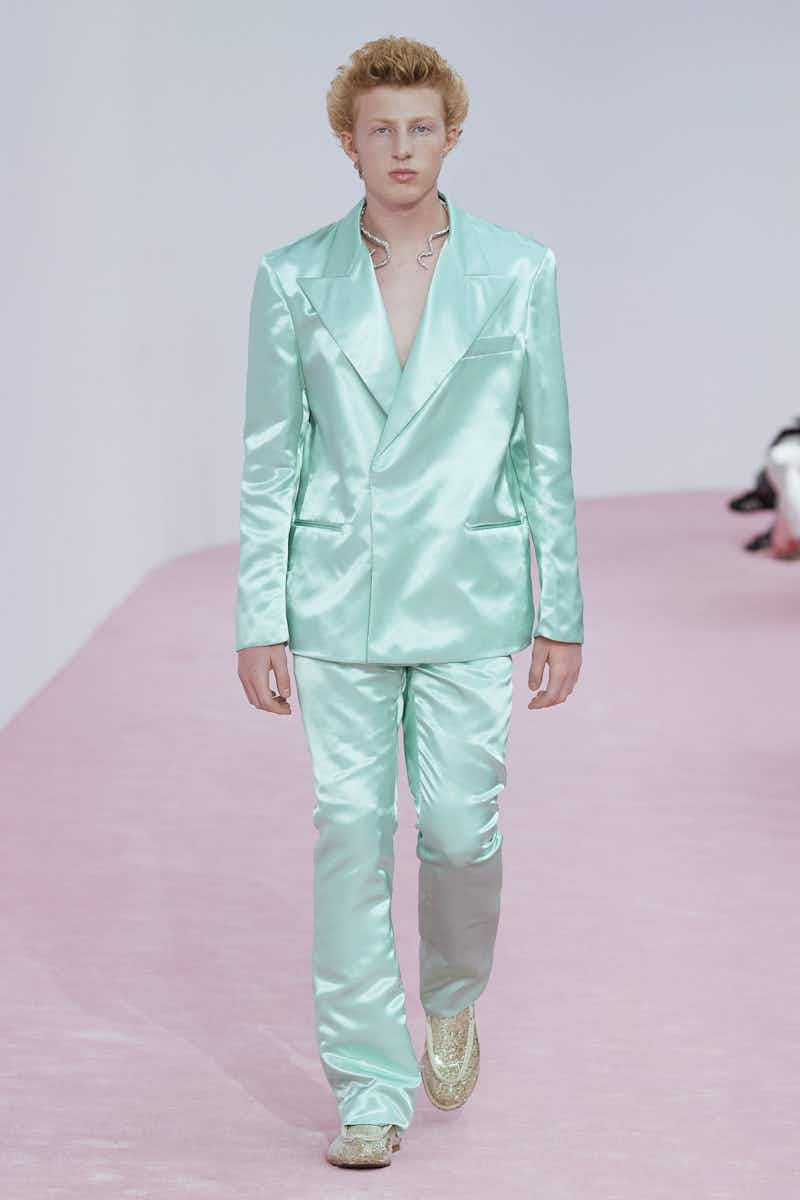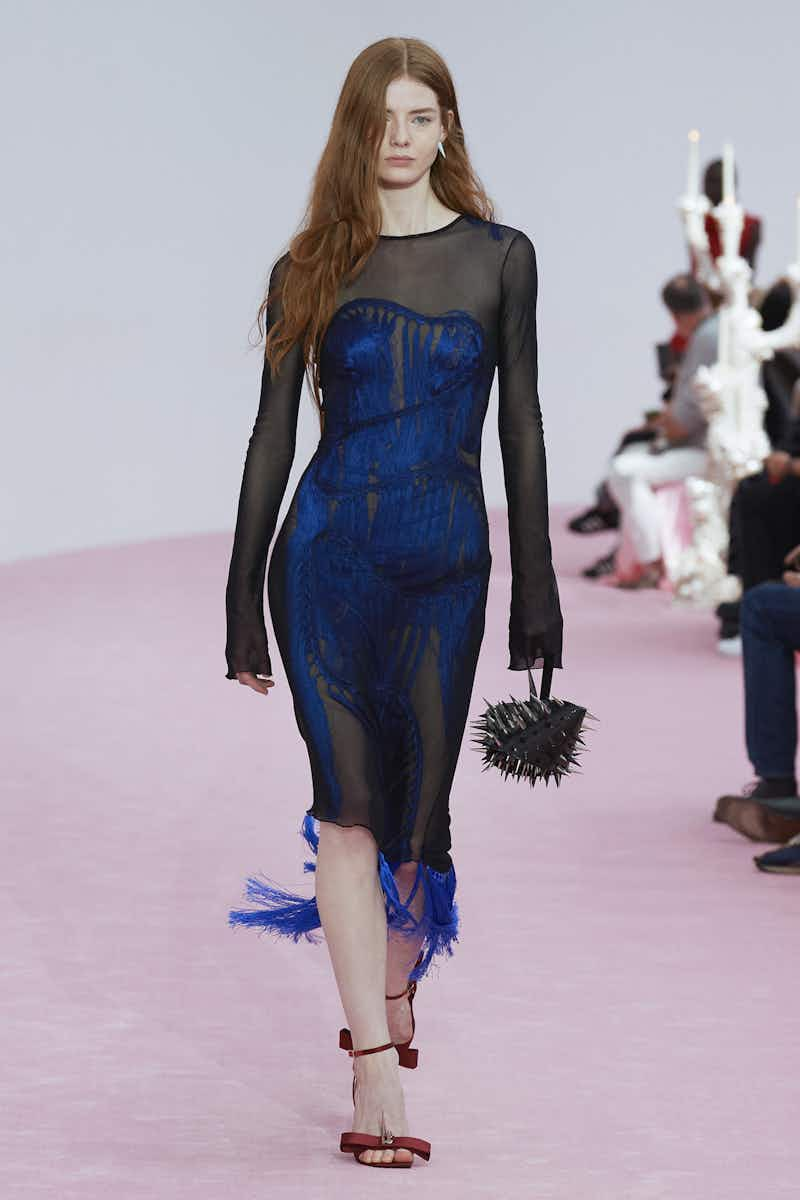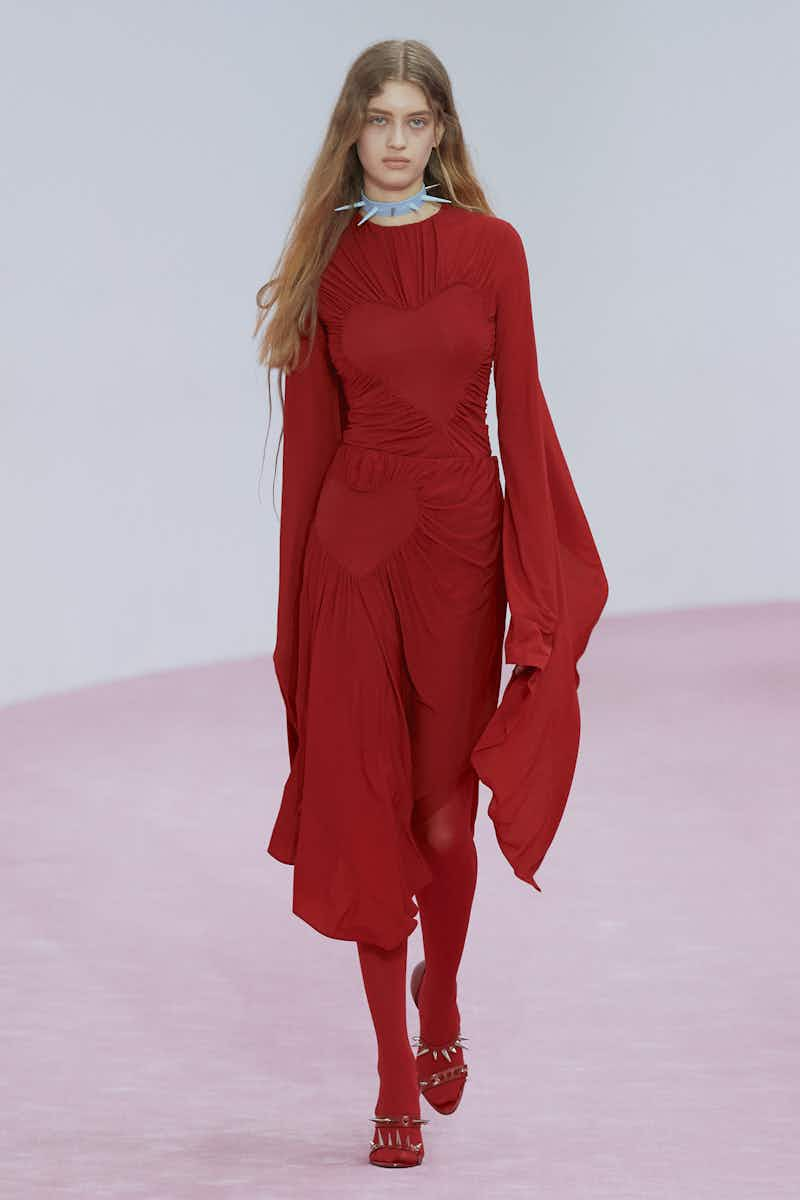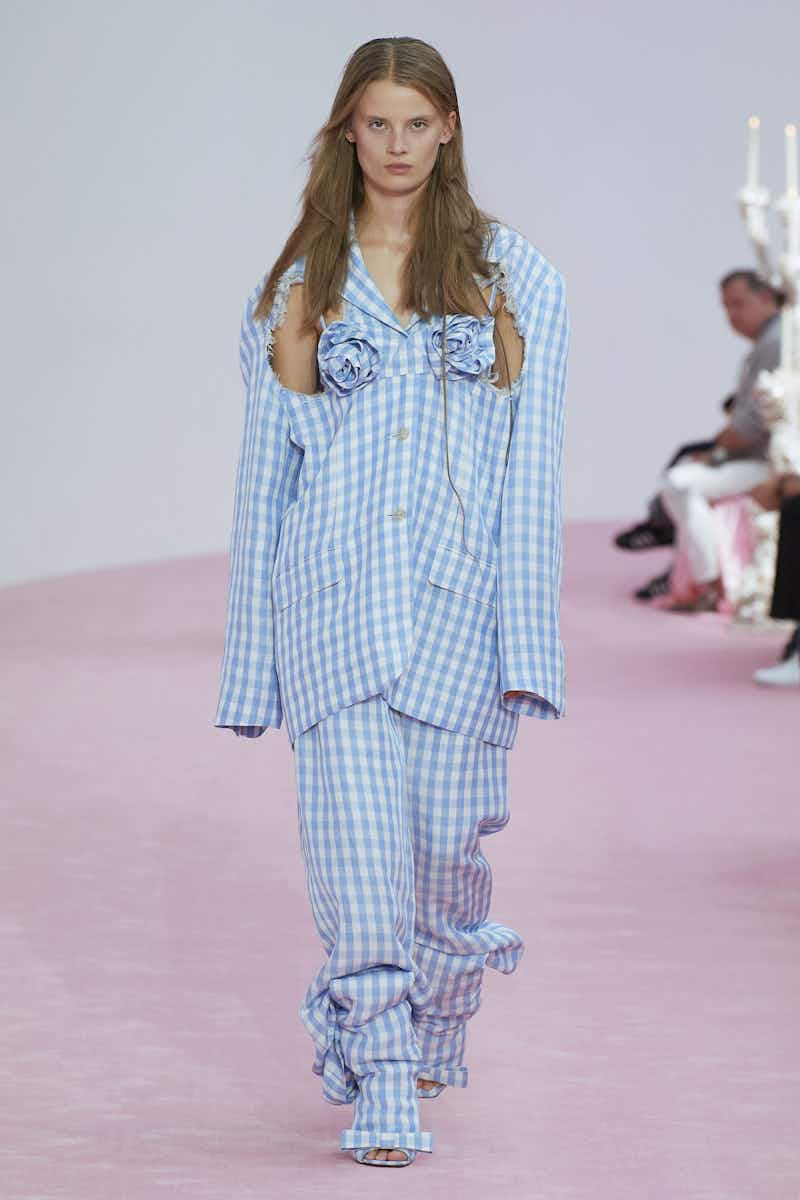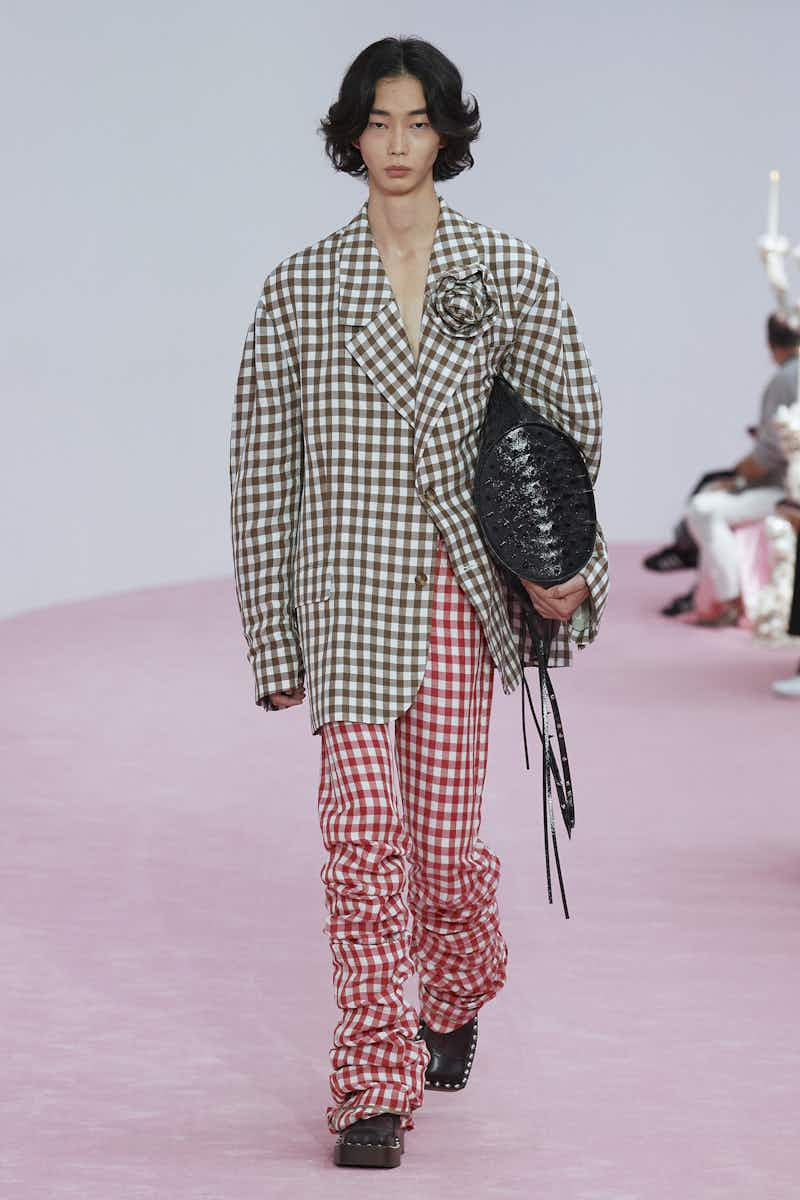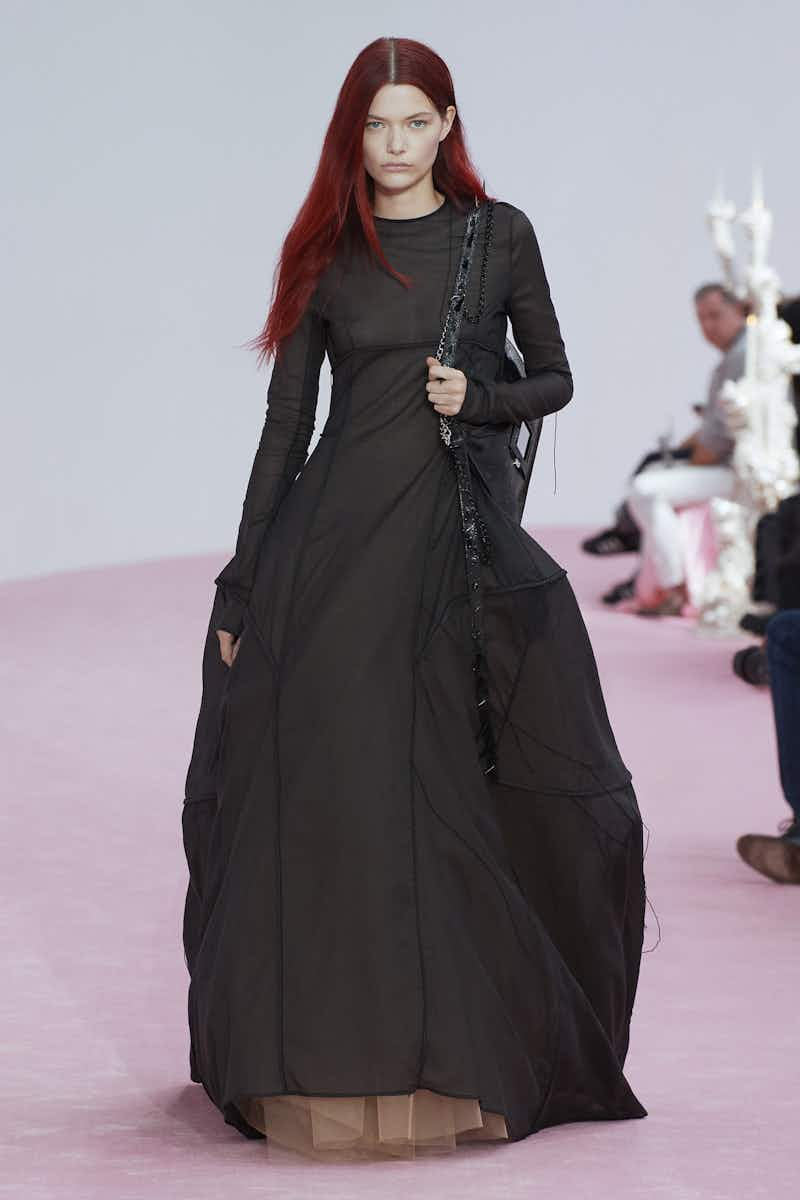 Courrèges put on the chicest beach party in town with bags, dresses and vests that resembled sea anemones and shell anklets that shook as models paced barefoot through the sand. Slingback sandals in hand, it was like walking back from a night spent dancing on the beach.

Nicolas Di Felice tapped into Courrèges' signature futurism with sci-fi-infused accessories like mirrored silver shades, statement metal jewellery and silver bodysuits that felt very Dune, especially when sand started pouring from the ceiling like a storm thrown up by a sandworm.

Sunset hued ombré dresses introduced a brightness to the otherwise neutral, monochromatic palette. Jeans, waistcoats and trousers were twisted into skin-baring shapes – thigh cut-outs, asymmetric unbuttoned jackets and angular denim refreshed classic silhouettes. Casual tees and slouchy jackets were also thrown into the mix, while Bella Hadid took jeans and a nice top to new levels in an ultra-sparkly cropped vest and denim combo, accessorised with anemone earrings perfect for greeting the sunrise post-beach rave. See you there.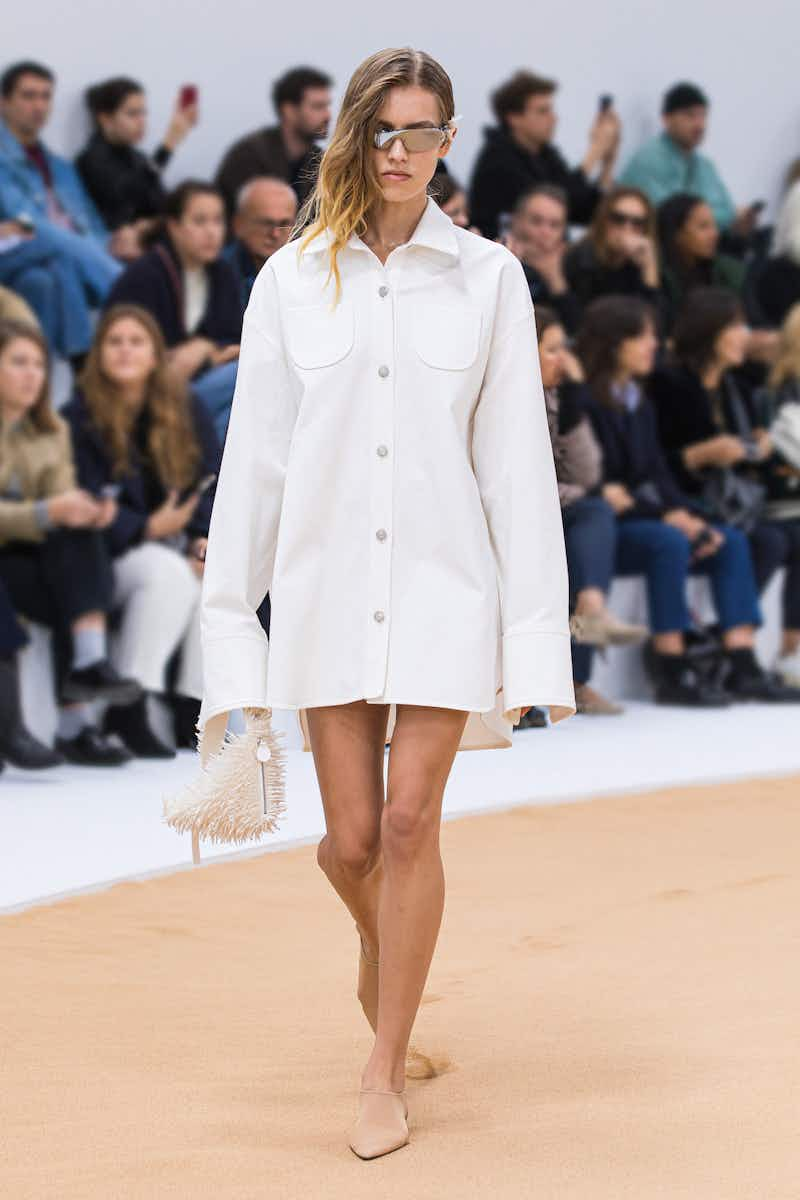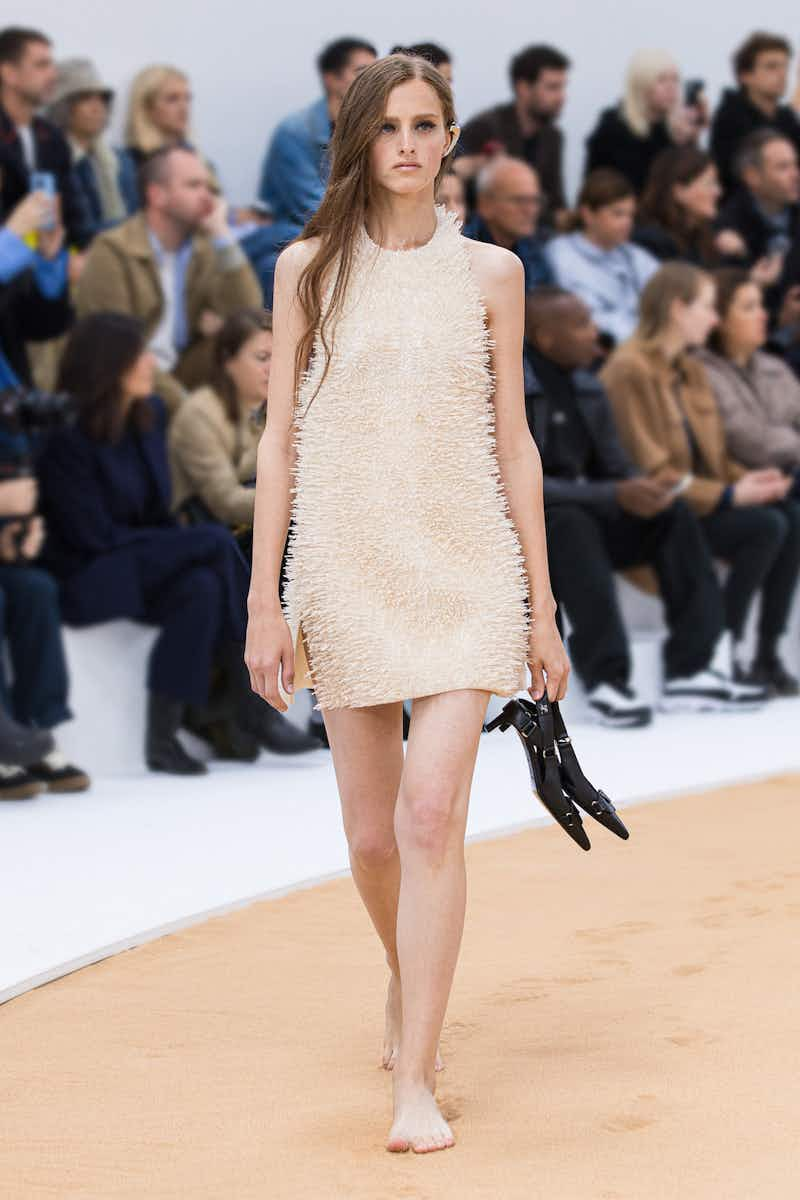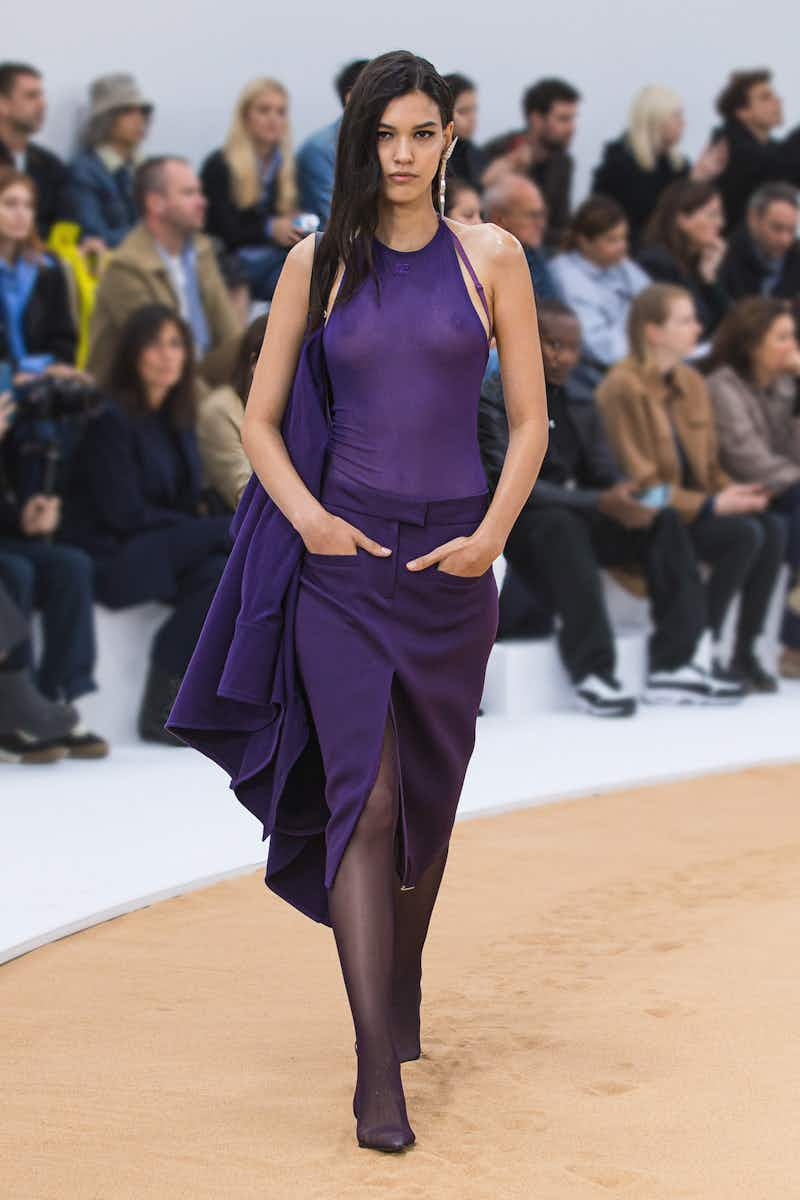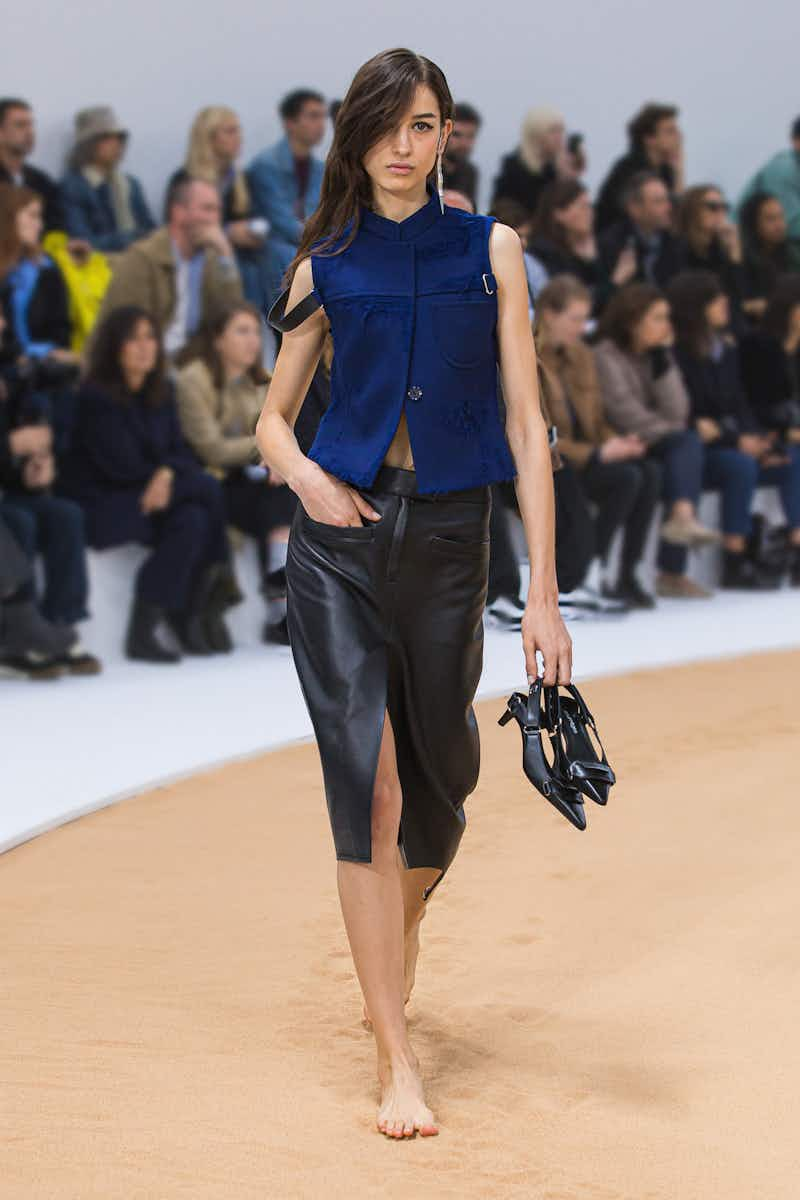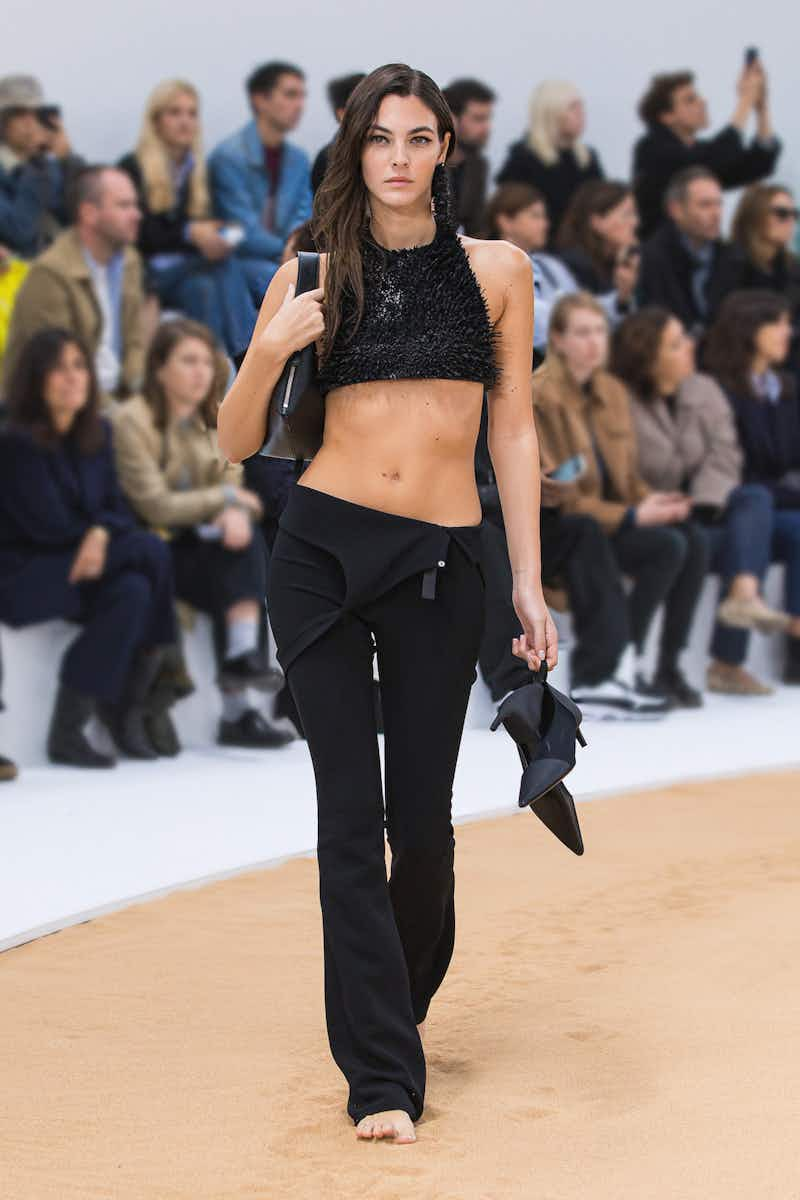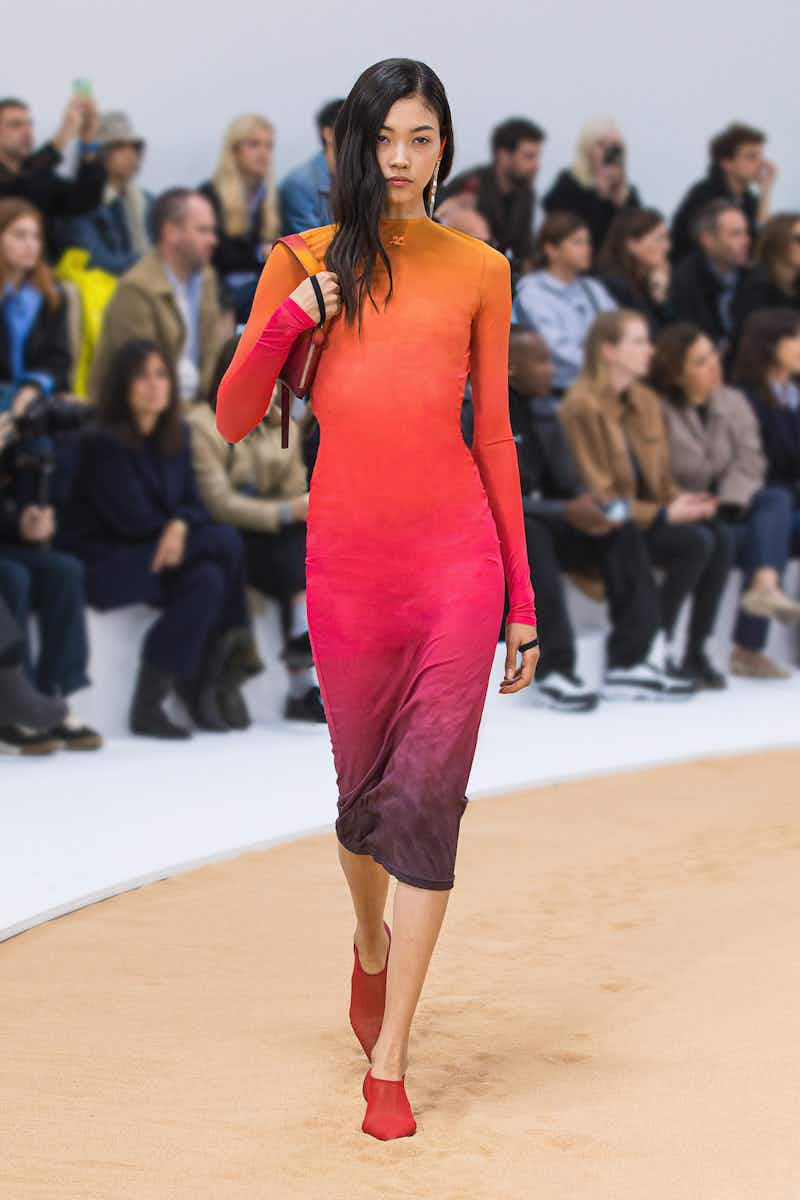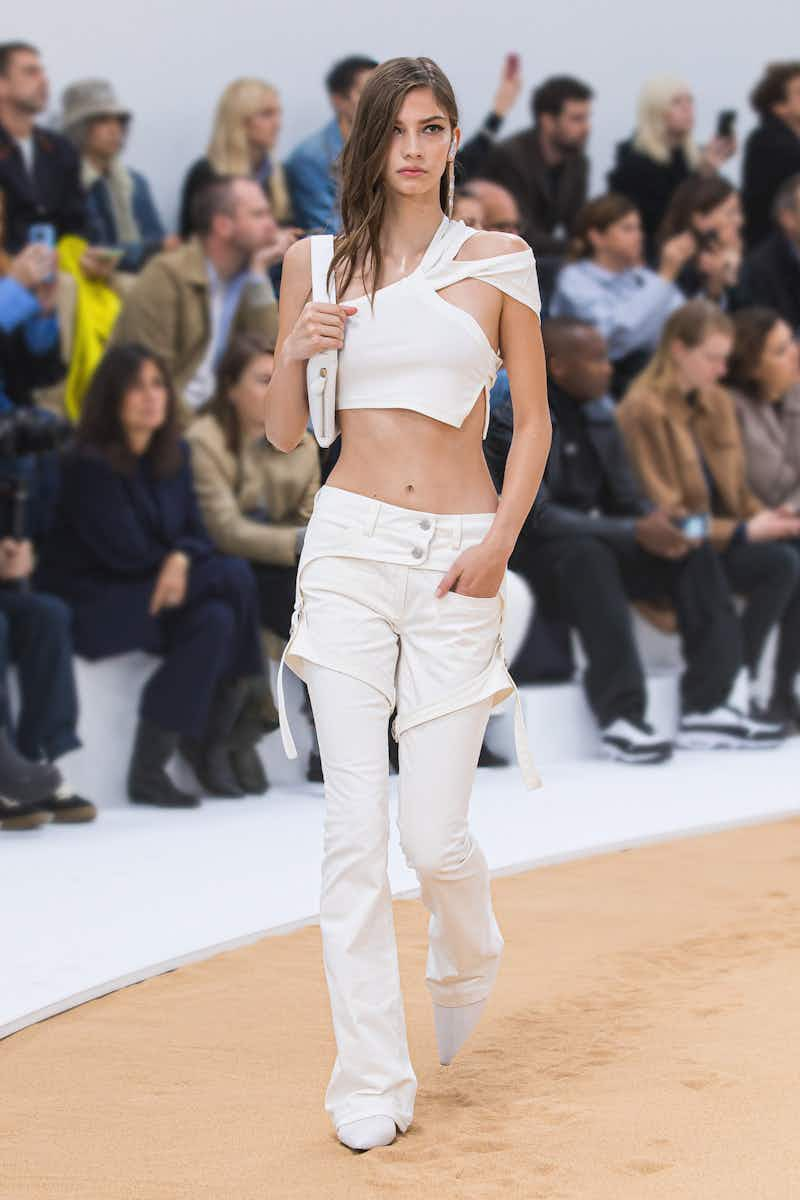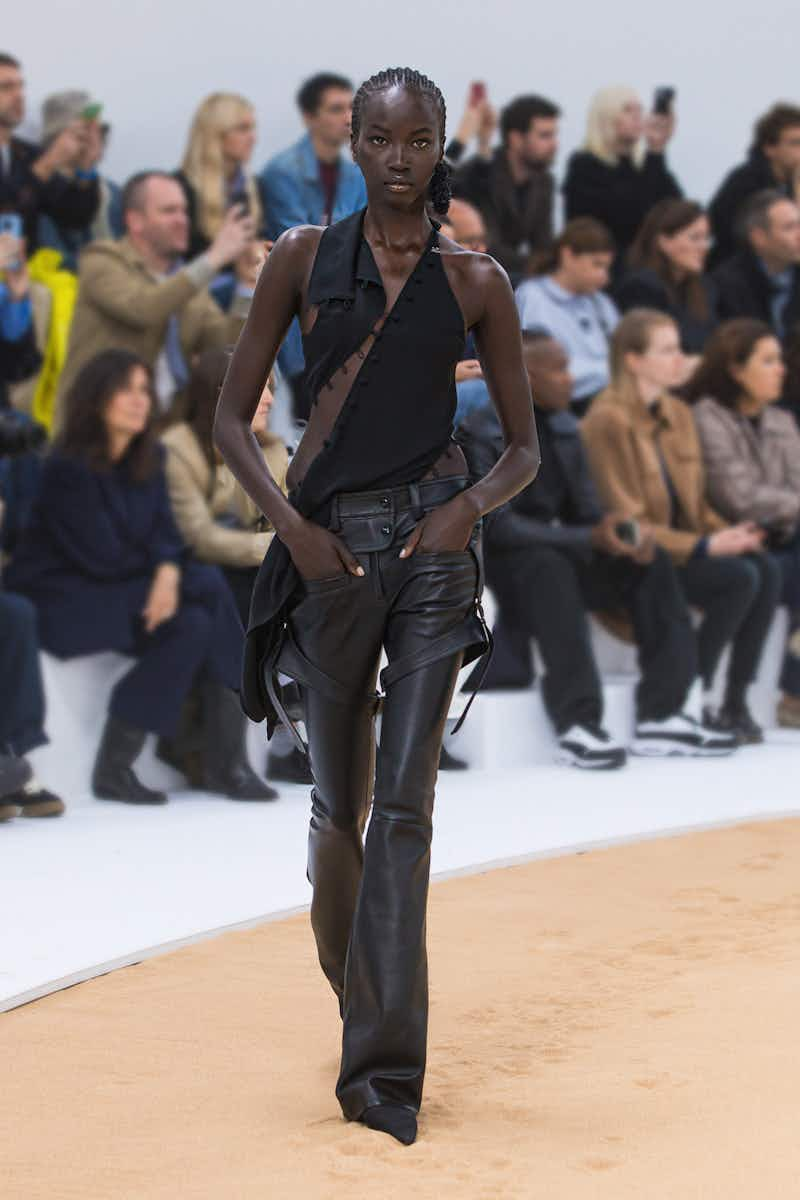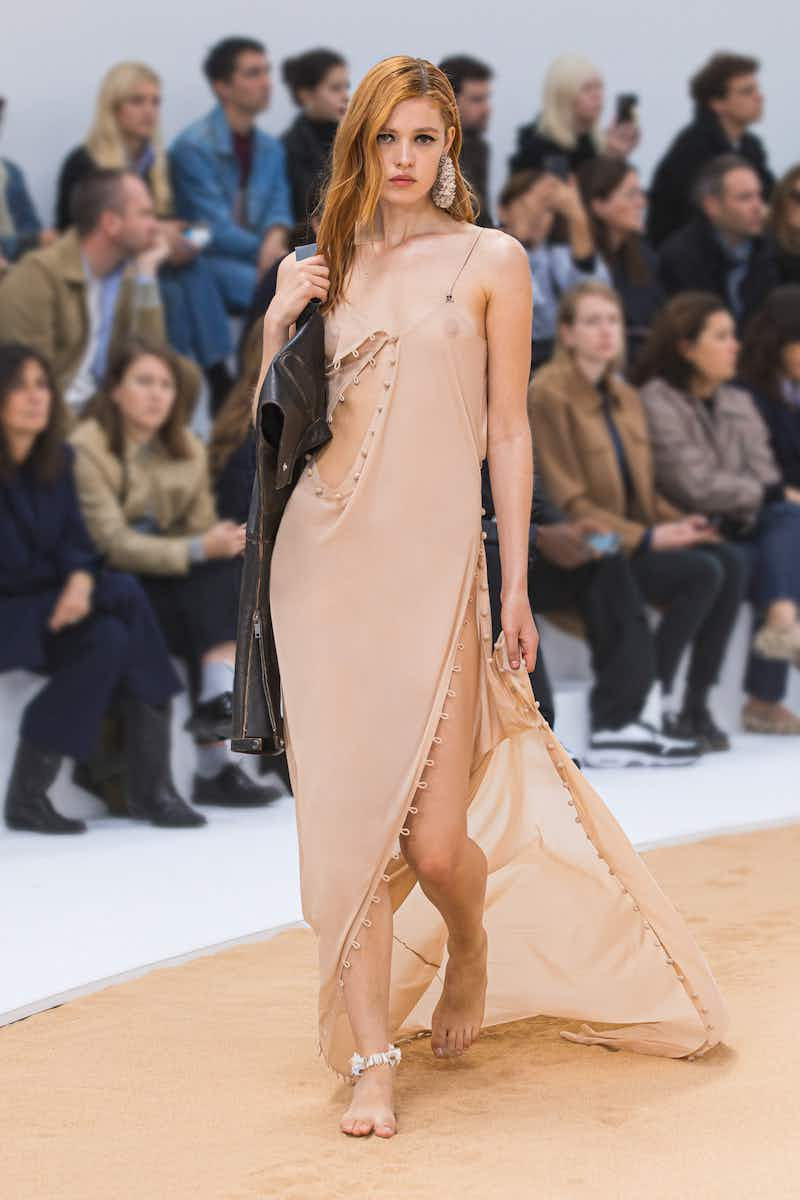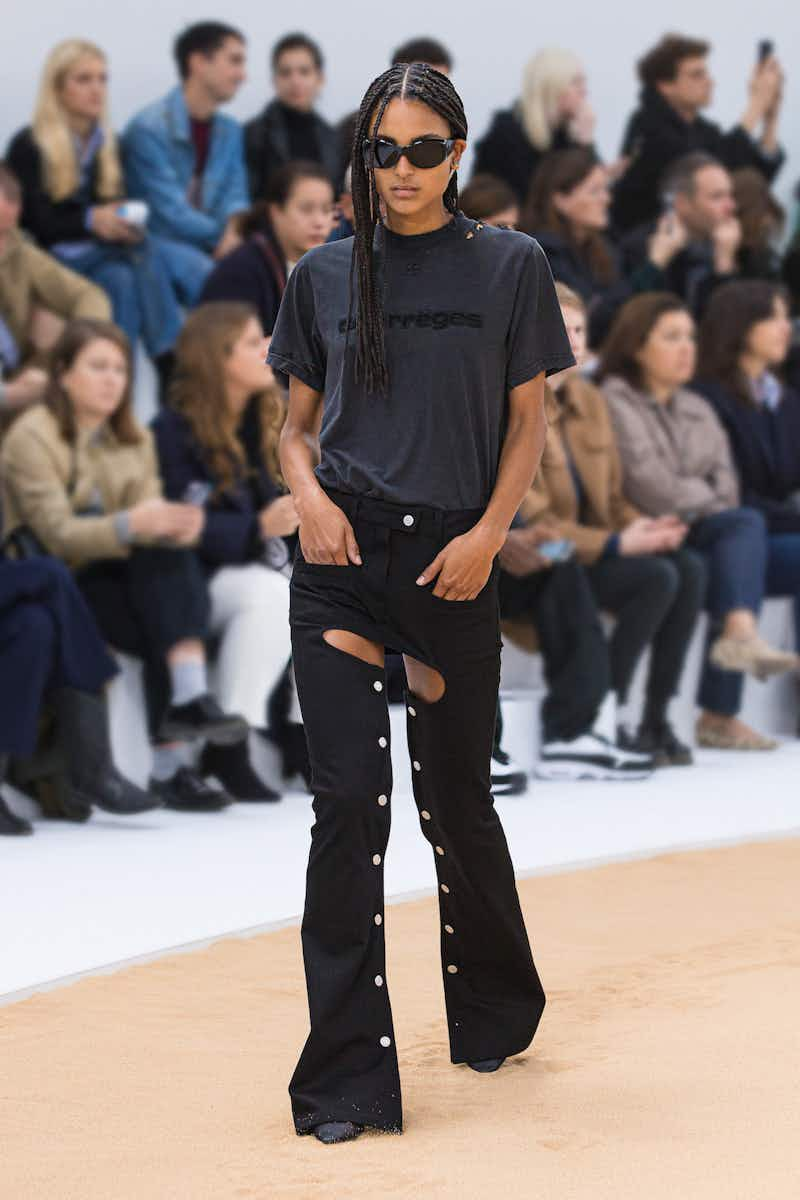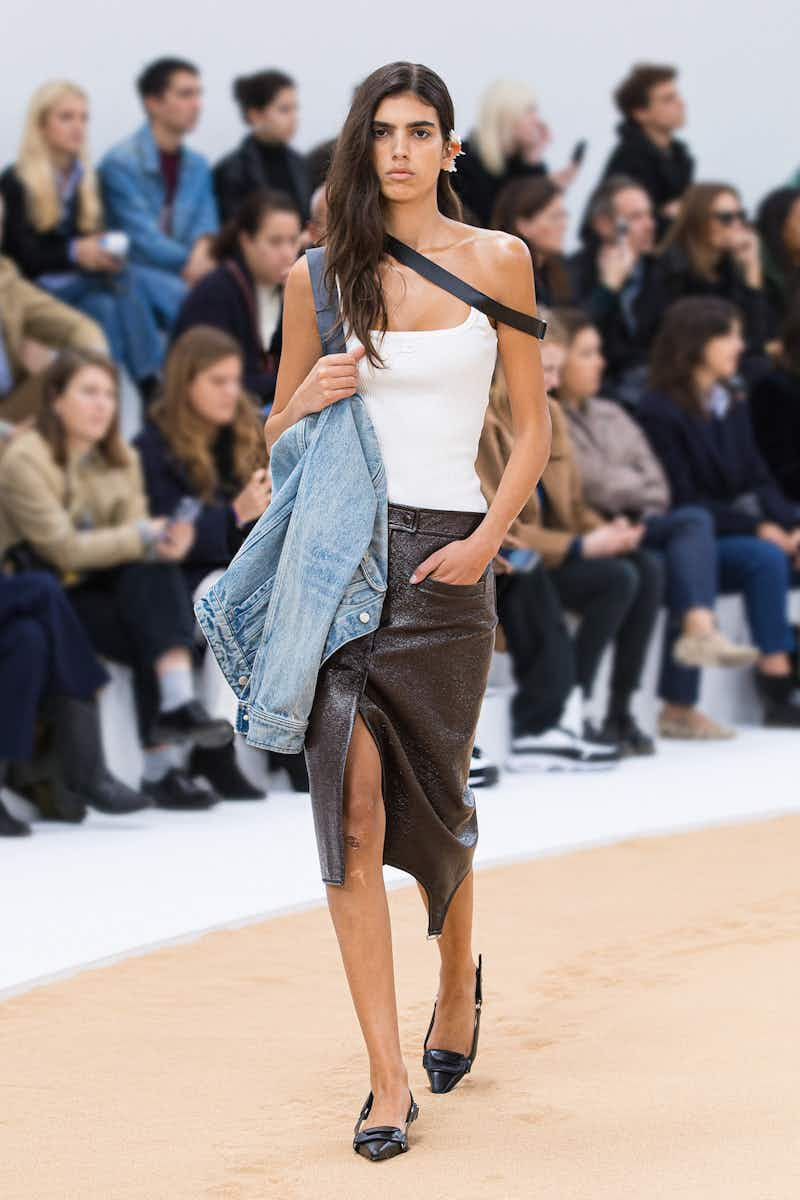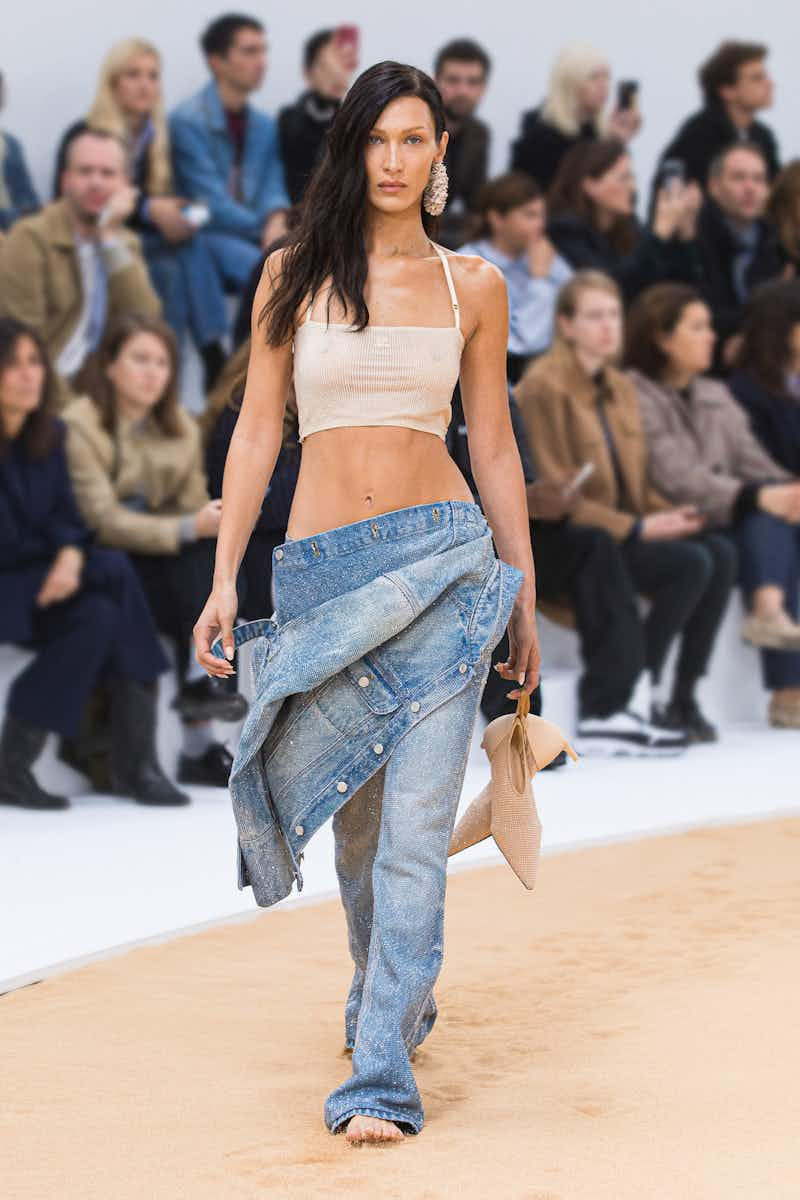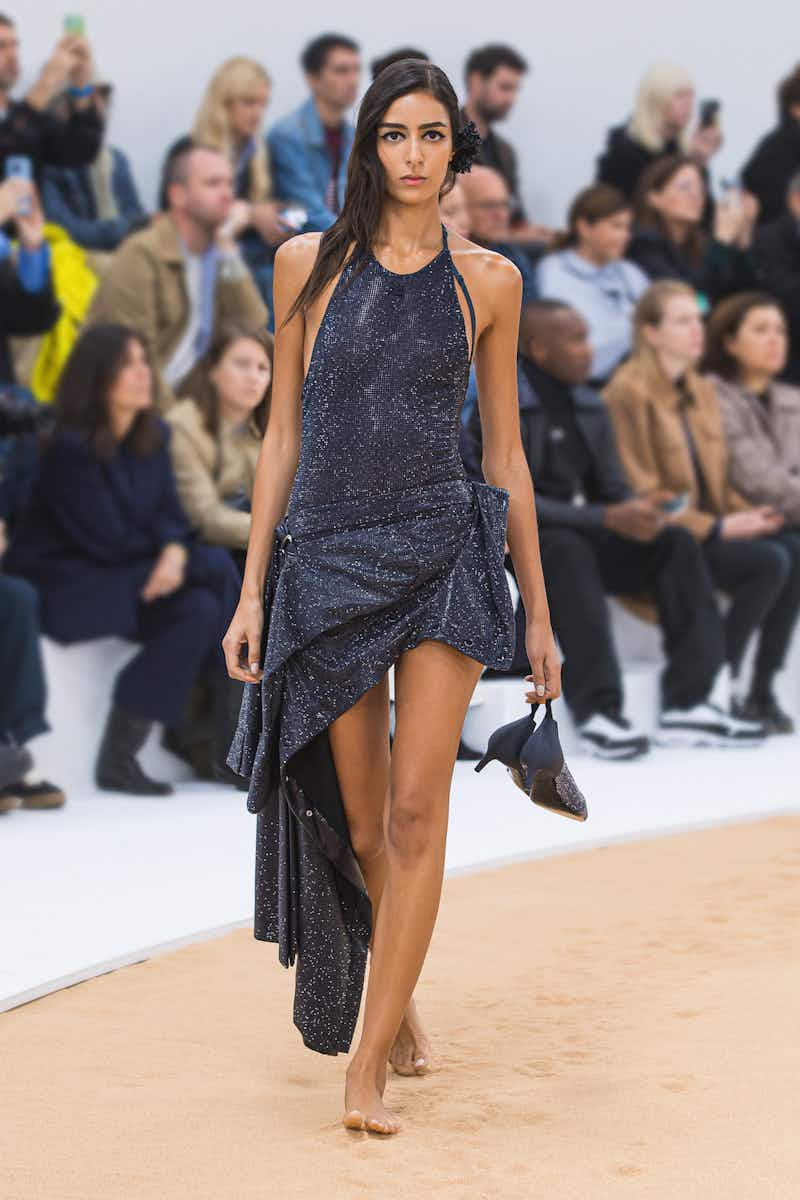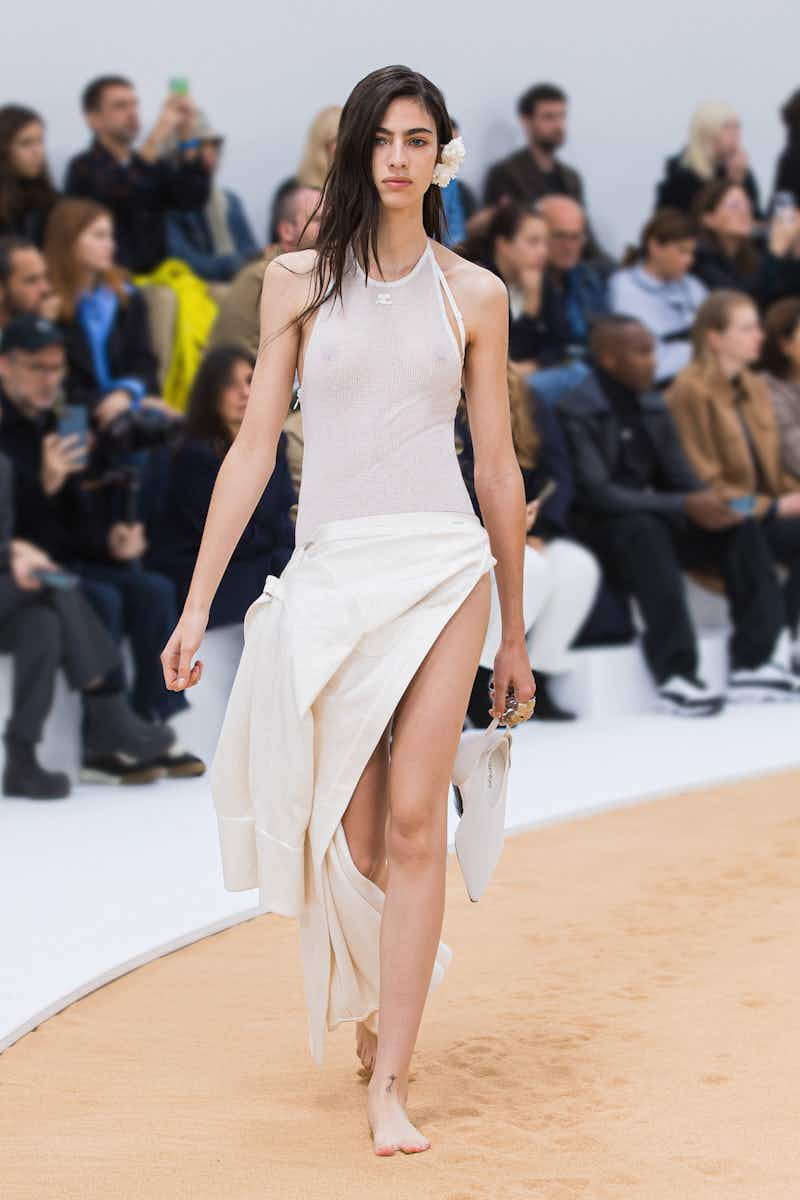 Through angular cuts, meticulous lines and a sculptural emphasis on the body, Anthony Vaccarello's Saint Laurent has been defined by a glamorous figure since his 2016 appointment. For his latest collection, the creative director referenced the tubular sheath worn by 1930s dancer Martha Graham – fabric that enveloped her entire body during her performance of Lamentation.

The piece's structure, with its hood, bandaging of the limbs and dress-like formation around the legs, was most prevalent in the first few looks, where soft fabric dresses clung to the body, some with attached hoods, others halted around the shoulders. Here, the body takes on a life of its own, either cocooned or exposed with a radical fluidity. It was reminiscent of the chiffon dresses Yves Saint Laurent presented in 1969, in collaboration with Claude Lalanne.

As with the house's latest menswear show in Morocco's Agafay desert (a transcendental place for Yves Saint Laurent), Vaccarello respectfully pays homage to Saint Laurent's history with this collection. But with buttery, angular leather trenches, cropped biker jackets and sheer dresses, Saint Laurent's SS23 collection – while steeped in ​'80s power dressing – still feels provocatively, mesmerisingly modern. TJ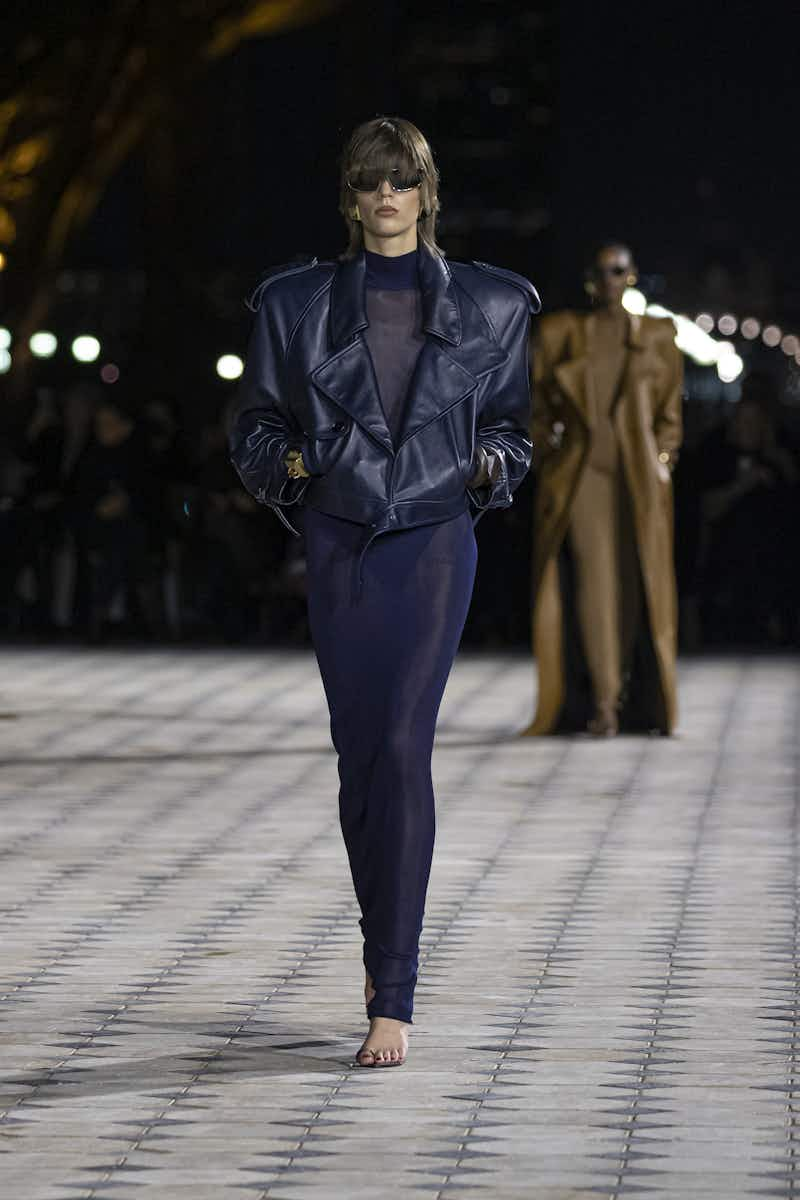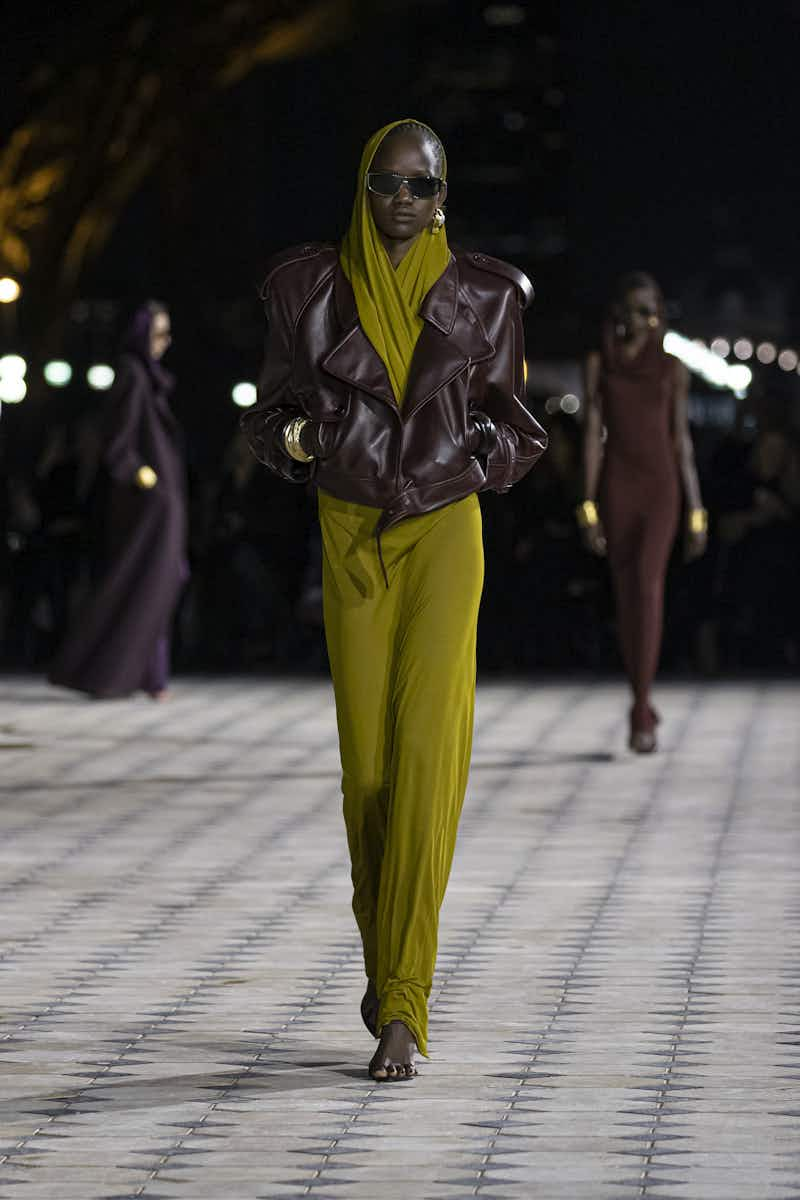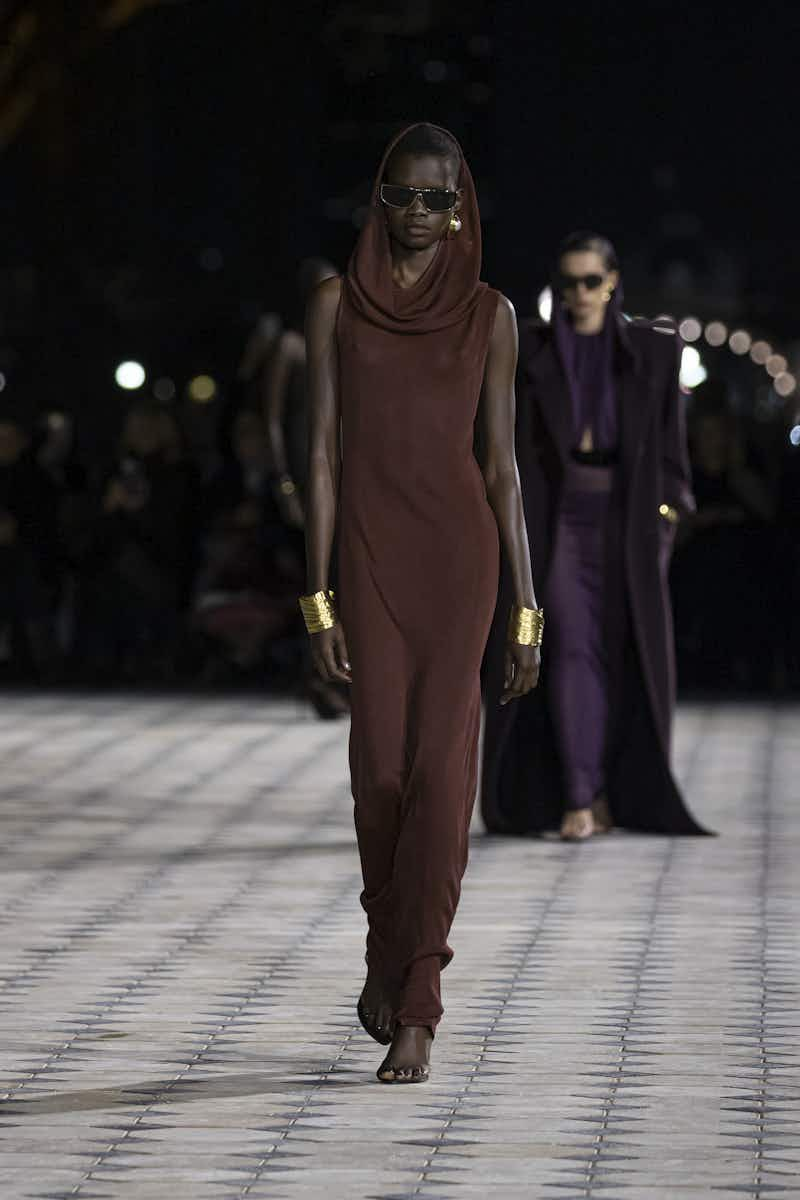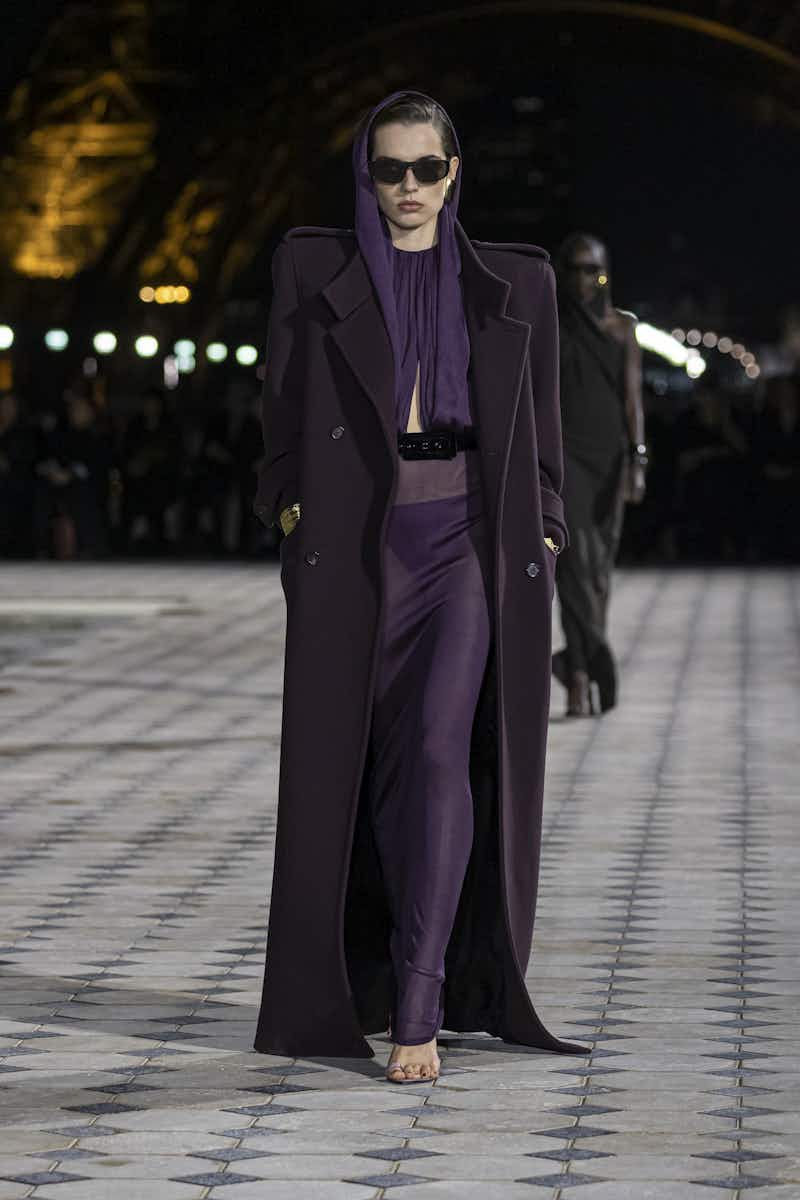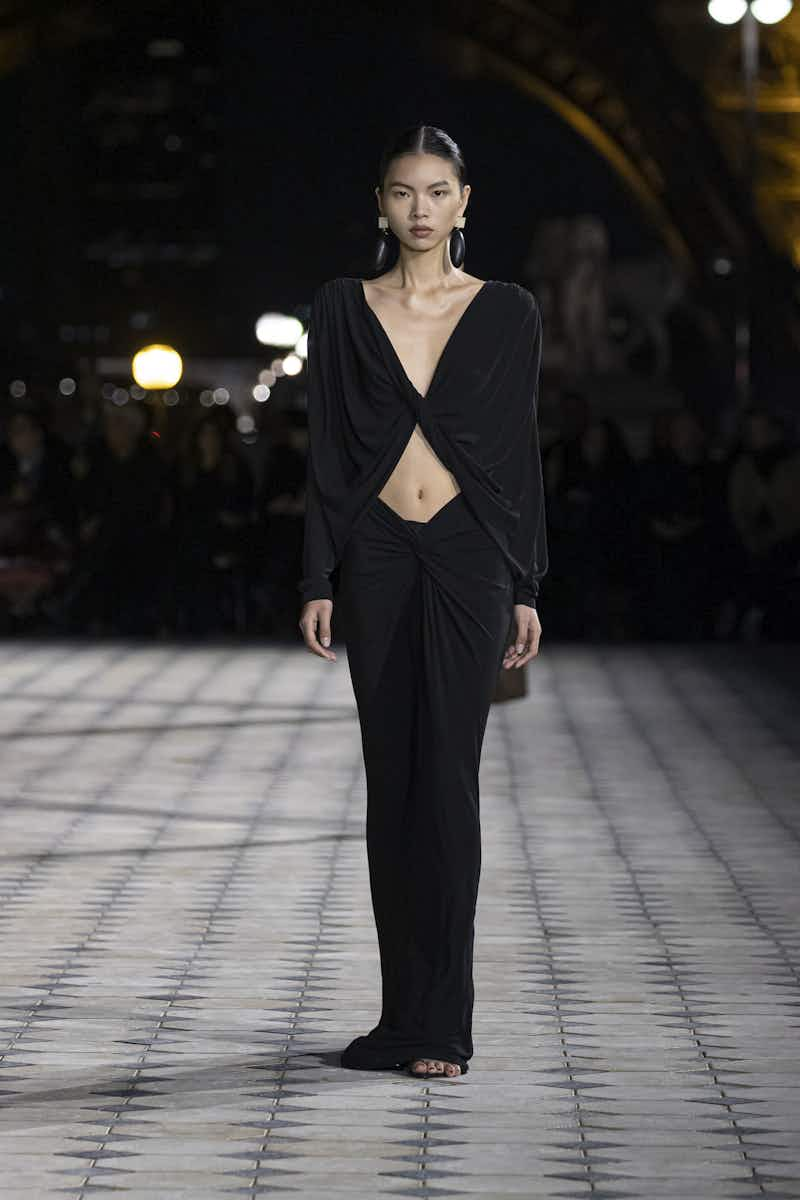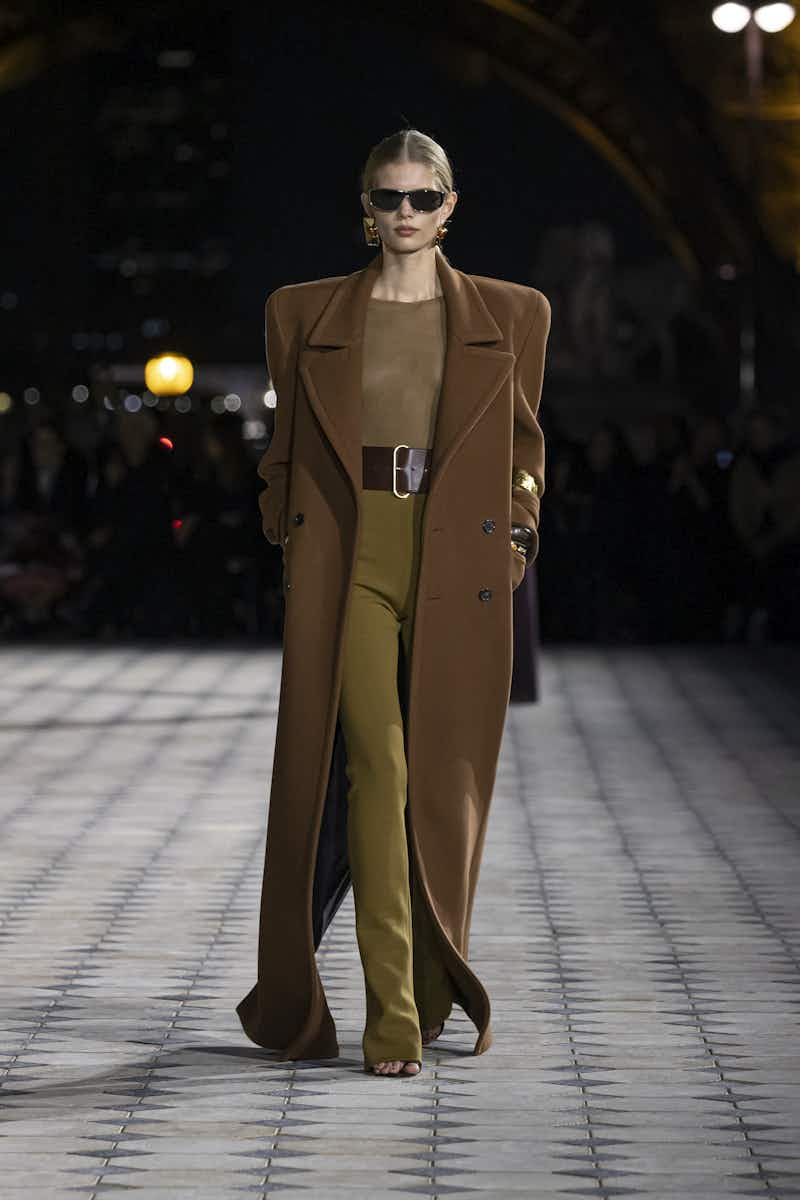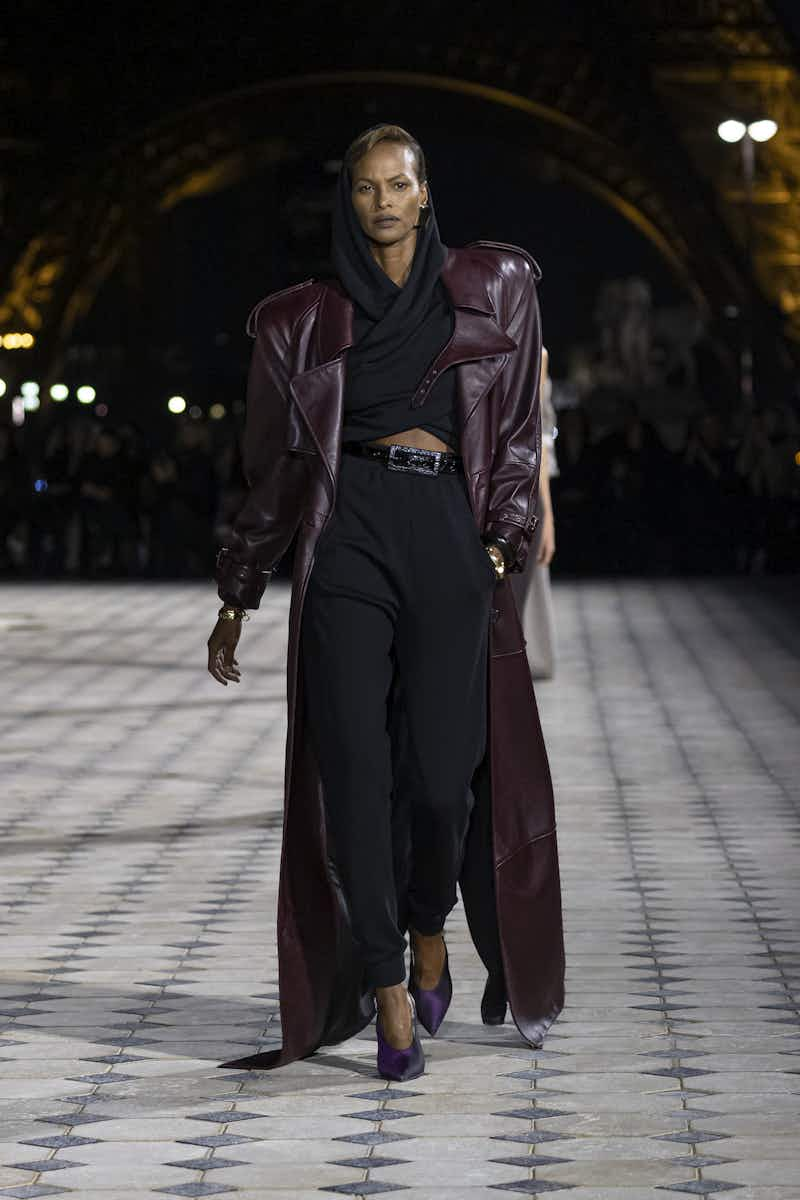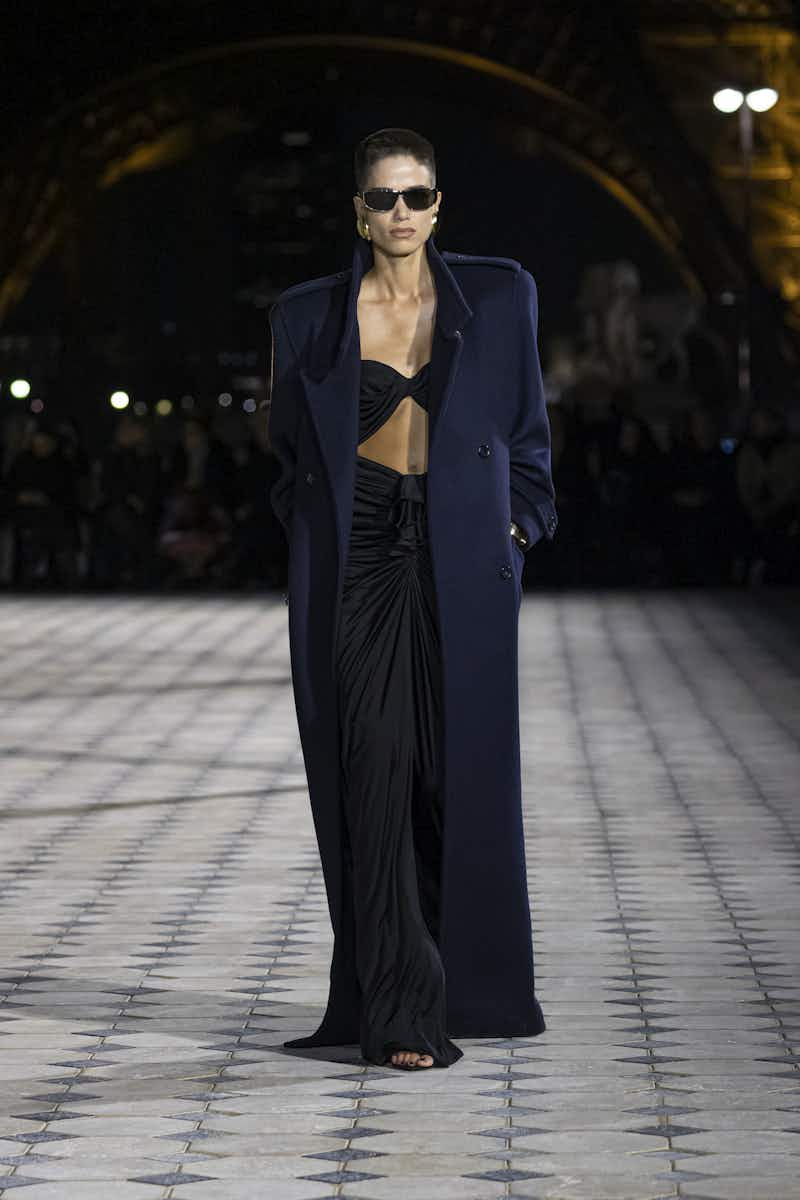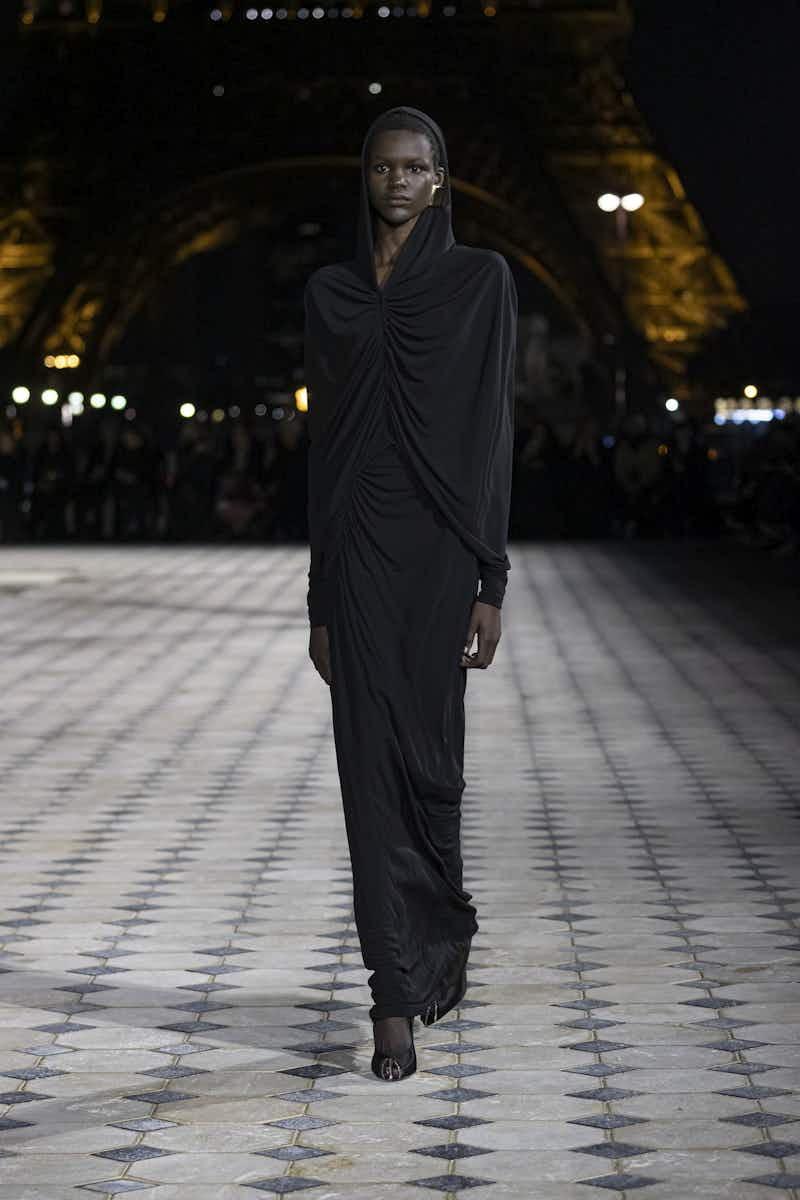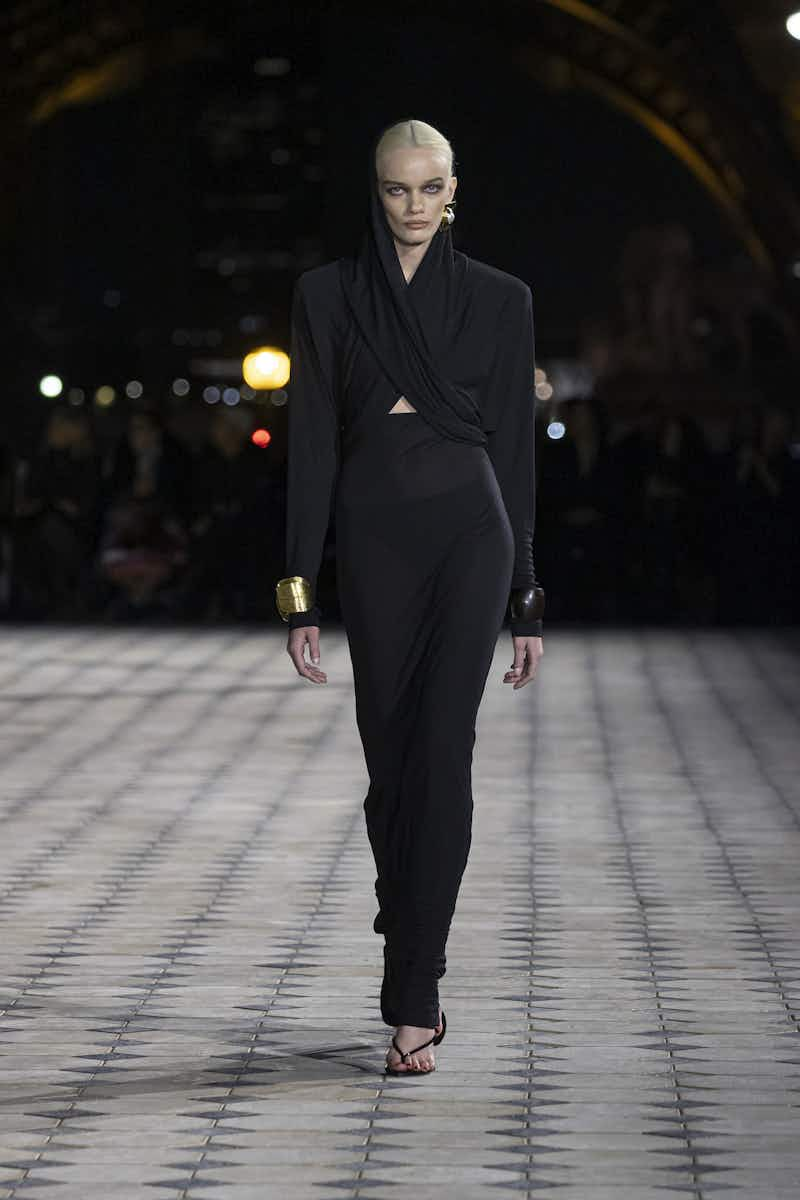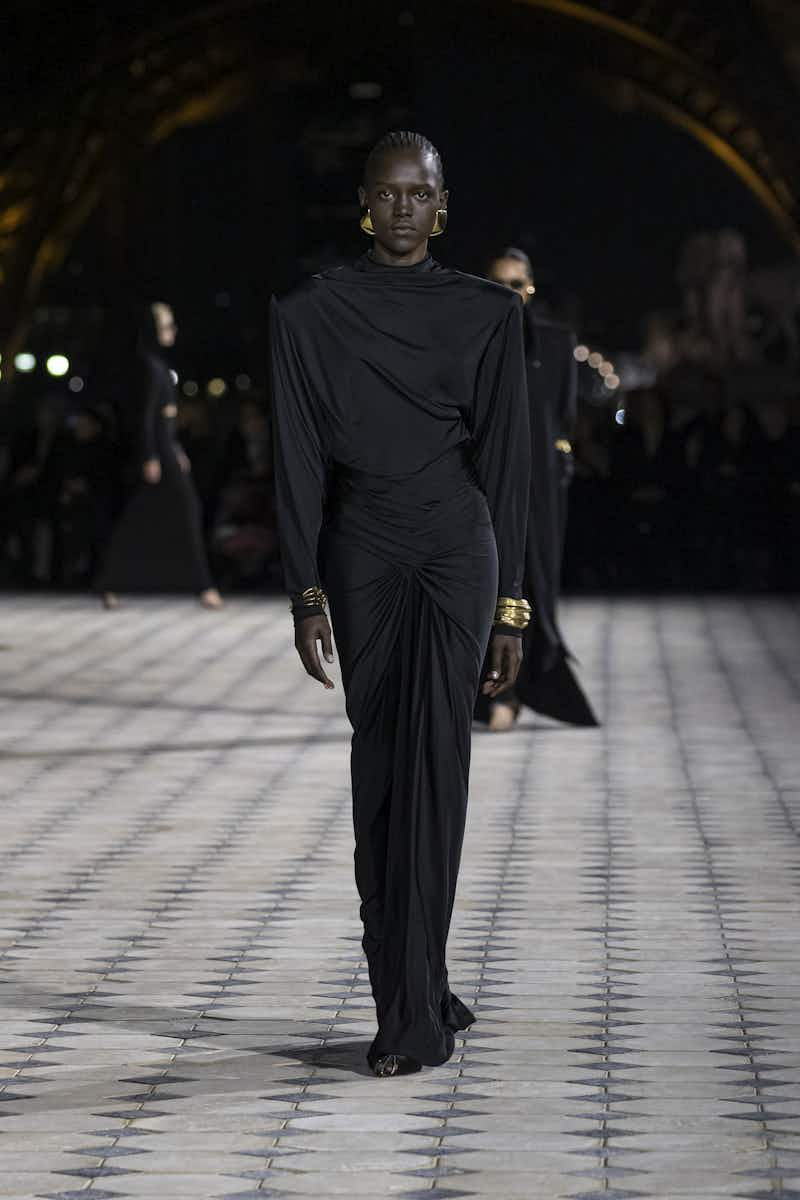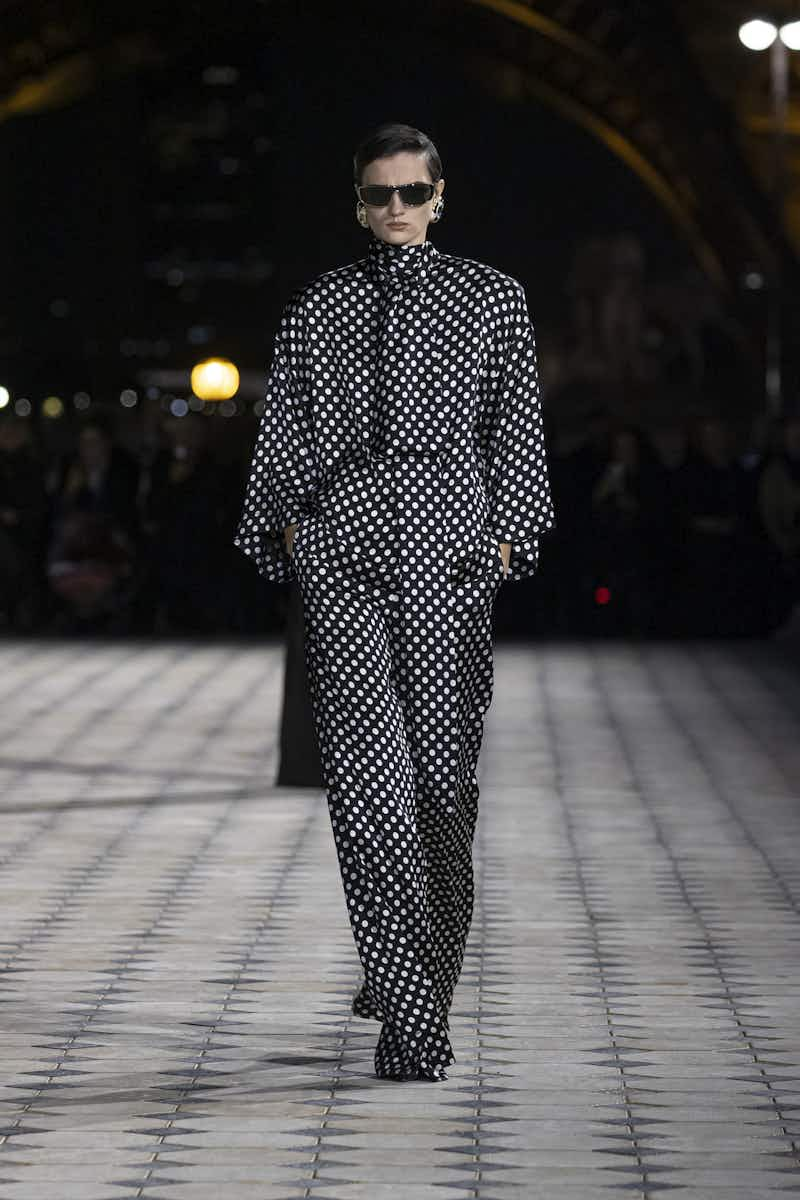 What does it mean to be American? Vaquera answered that question unapologetically for its SS23 show: stressed, anxious, confused and ready for a riot. The youth are disassociated, the never-ending stream of bad news is taking its toll. Sometimes, it feels like the only way to release built-up tension is by stomping ​'til your feet fall off – and so the models did just that (including Climax's Isabella Burley).

With society in a political chokehold, Vaquera took chaos to intense highs in a seductively theatrical show. Beneath the irreverent sailor dresses, ruffle skirts and Victoriana bridal gowns, harsh details were embedded in the maxed-out pieces, like tightly knotted ​"titty twister" tops, a cheerleader sweater oversized as though it had been pulled for miles, and obstructive tasselled belts that trail behind their wearers. Elsewhere, lingerie as outerwear, sailor hats and studded belts that spelt ​"I LOVE YOU" felt brilliantly, sneeringly playful, even sarcastic at times.

With US flags imprinted onto a bullet bra and draped defiantly over the chest in what was called a ​"stolen flag", it's easy to assume this was Vaquera's cheeky wink (or middle finger?) to the US and all its seemingly constant state political unrest. The New York brand is, after all, anti-establishment. A saucy deity in the name of generation alienation. TJ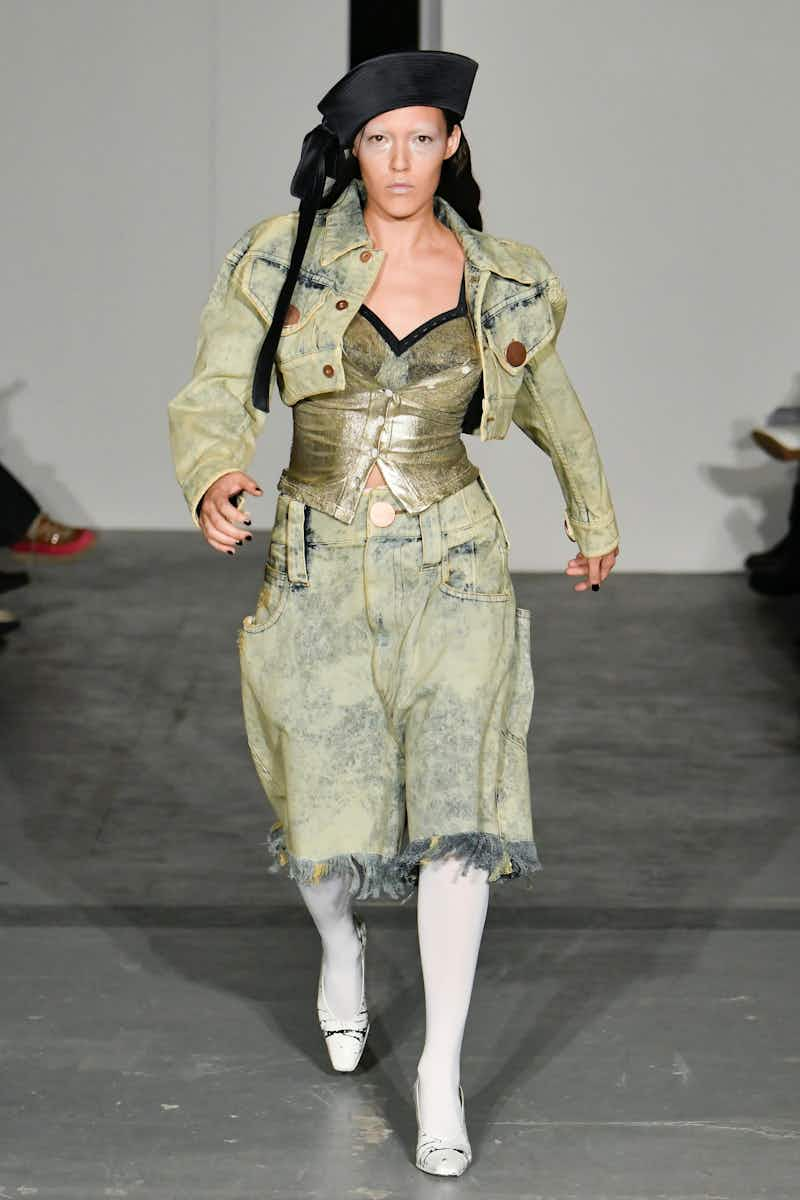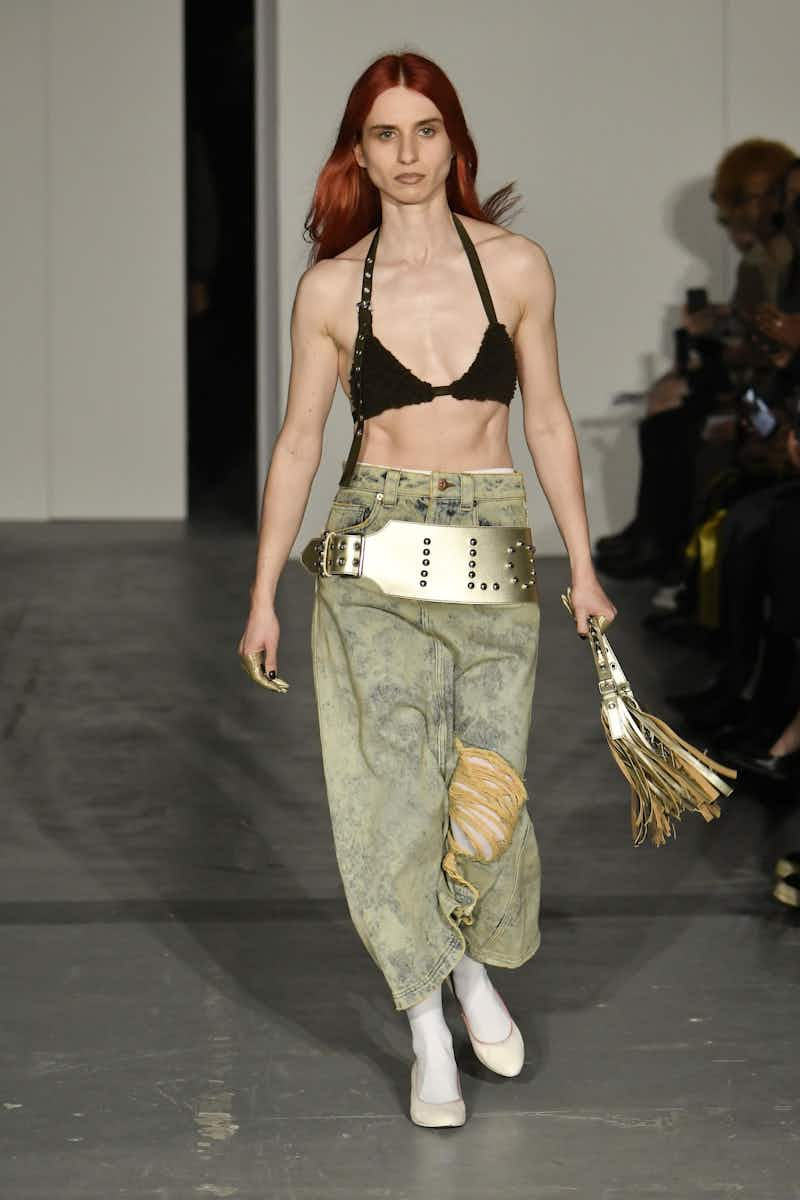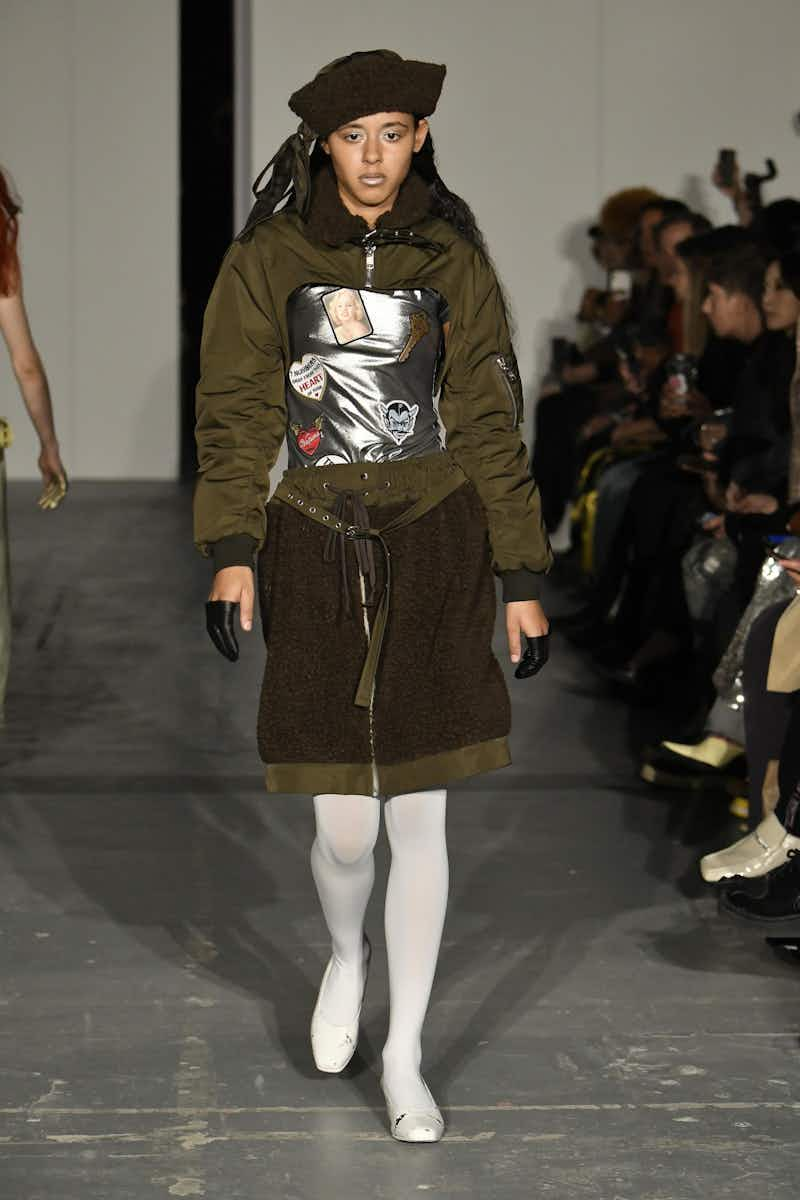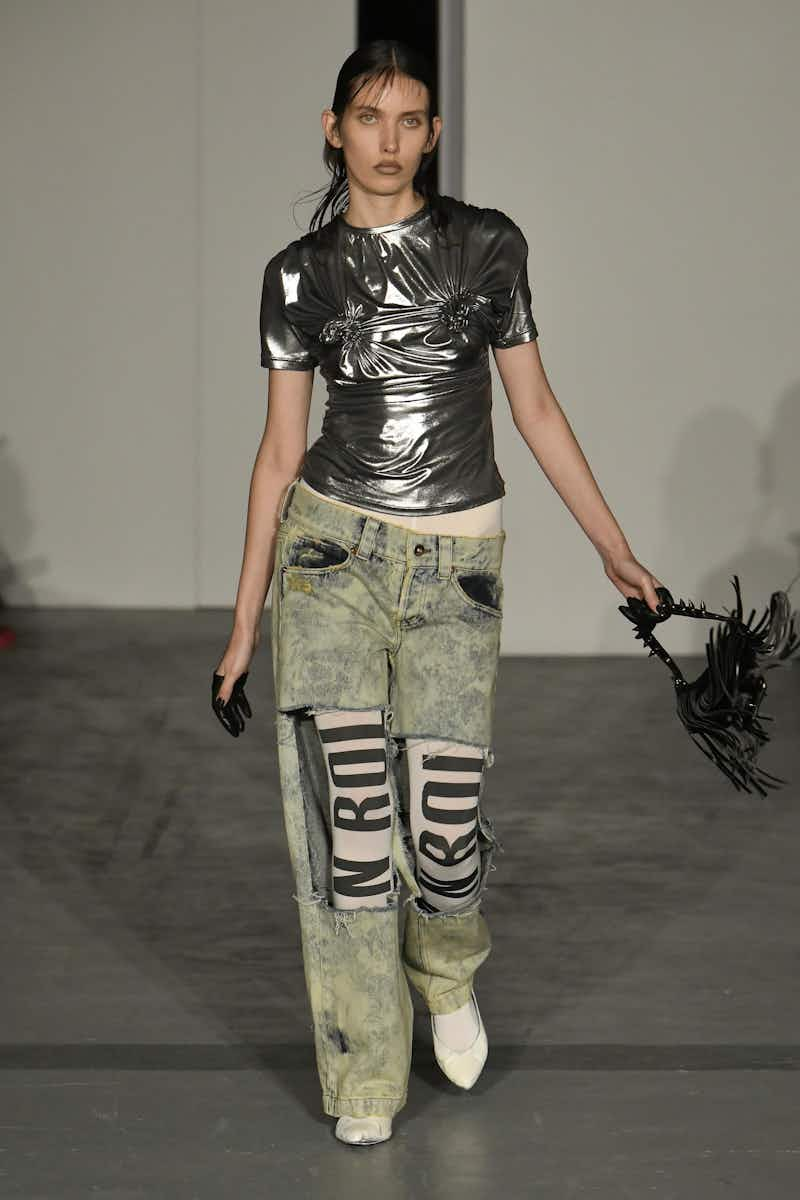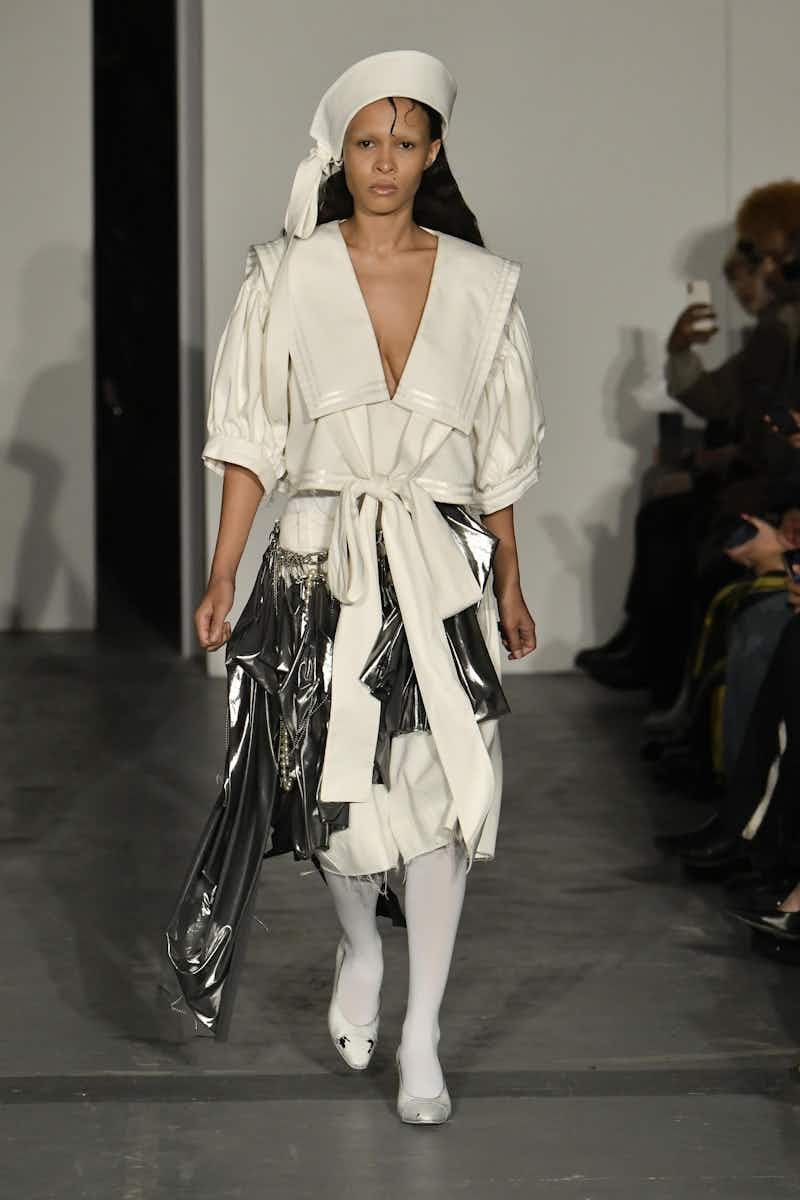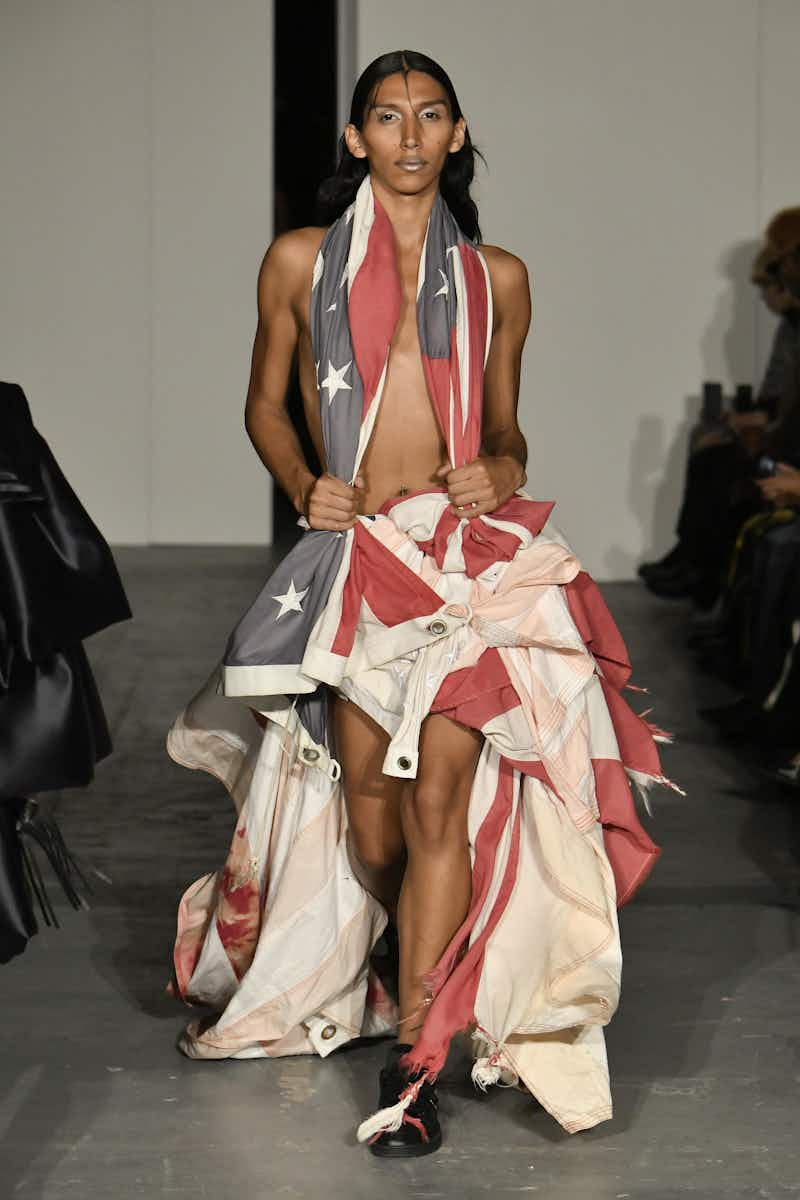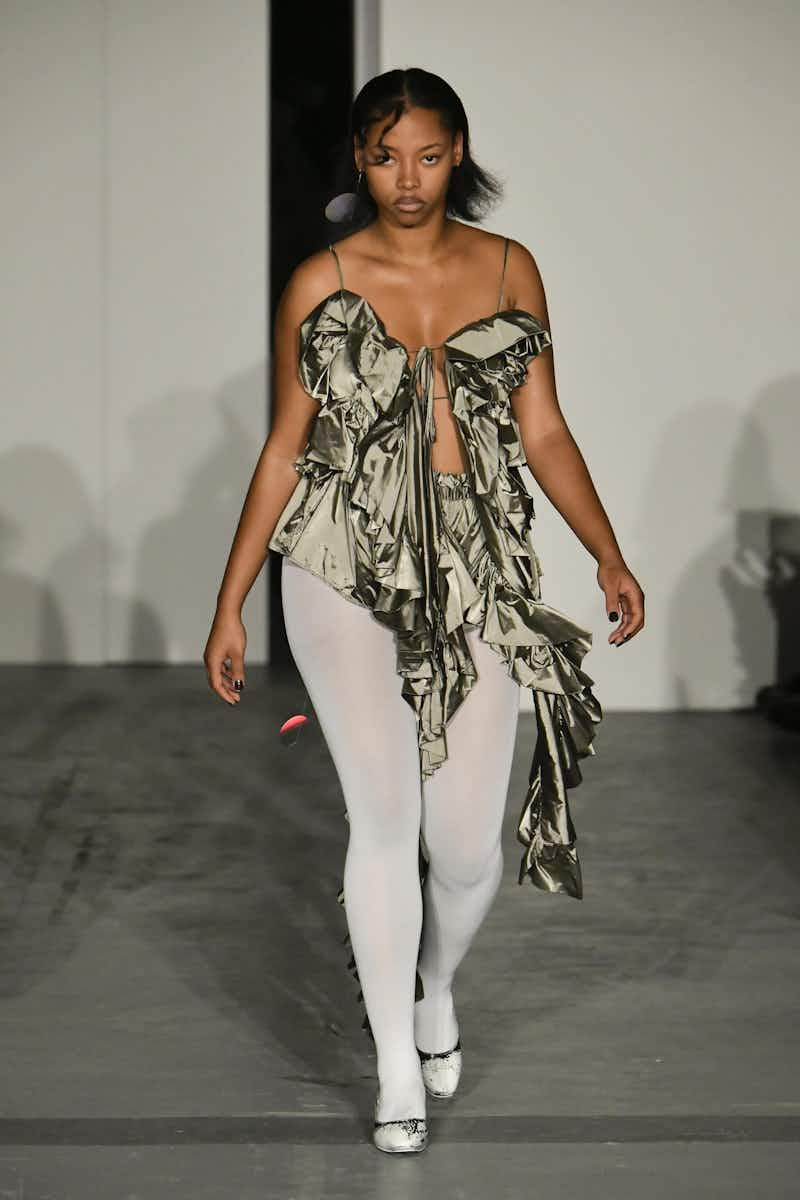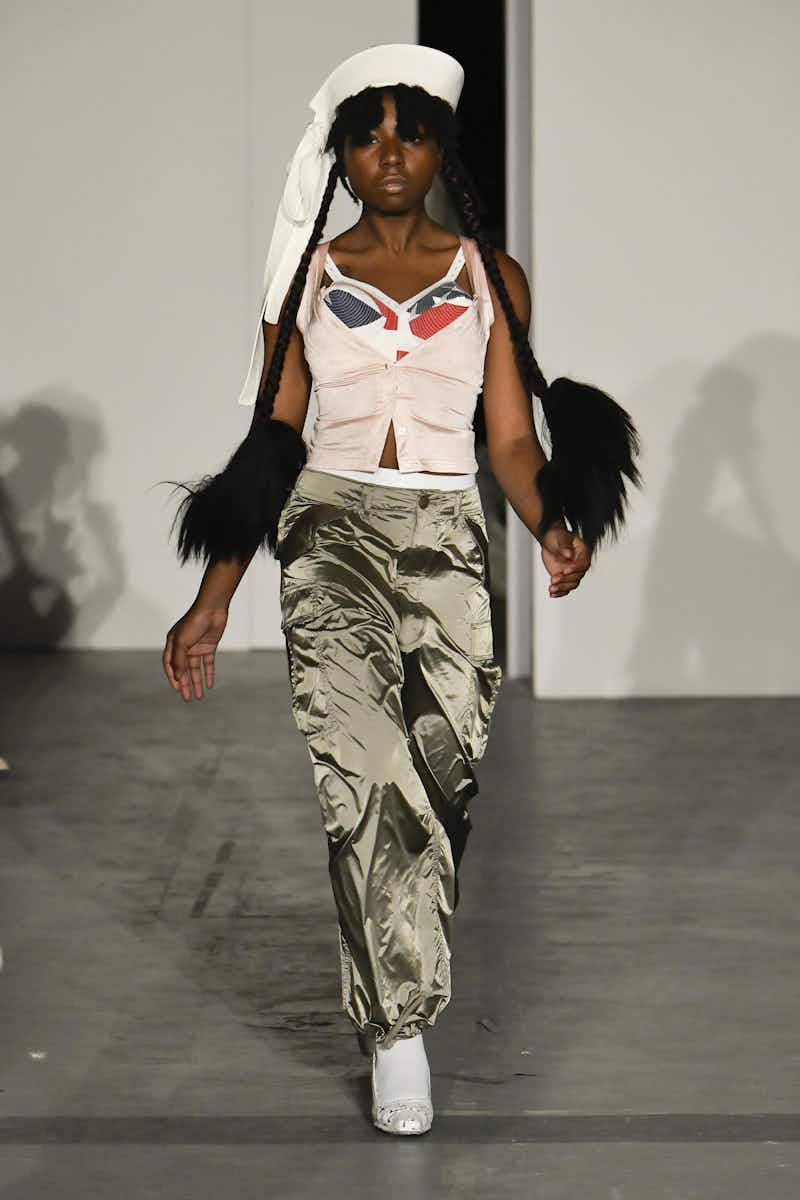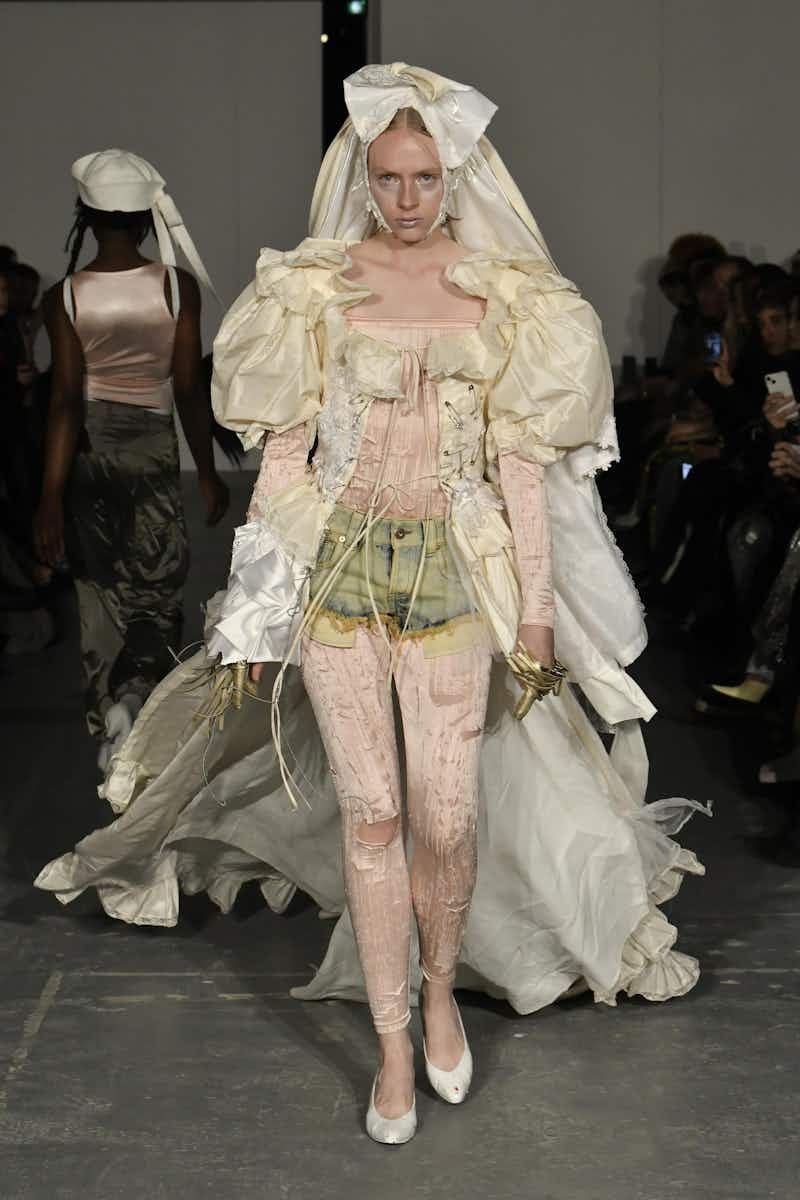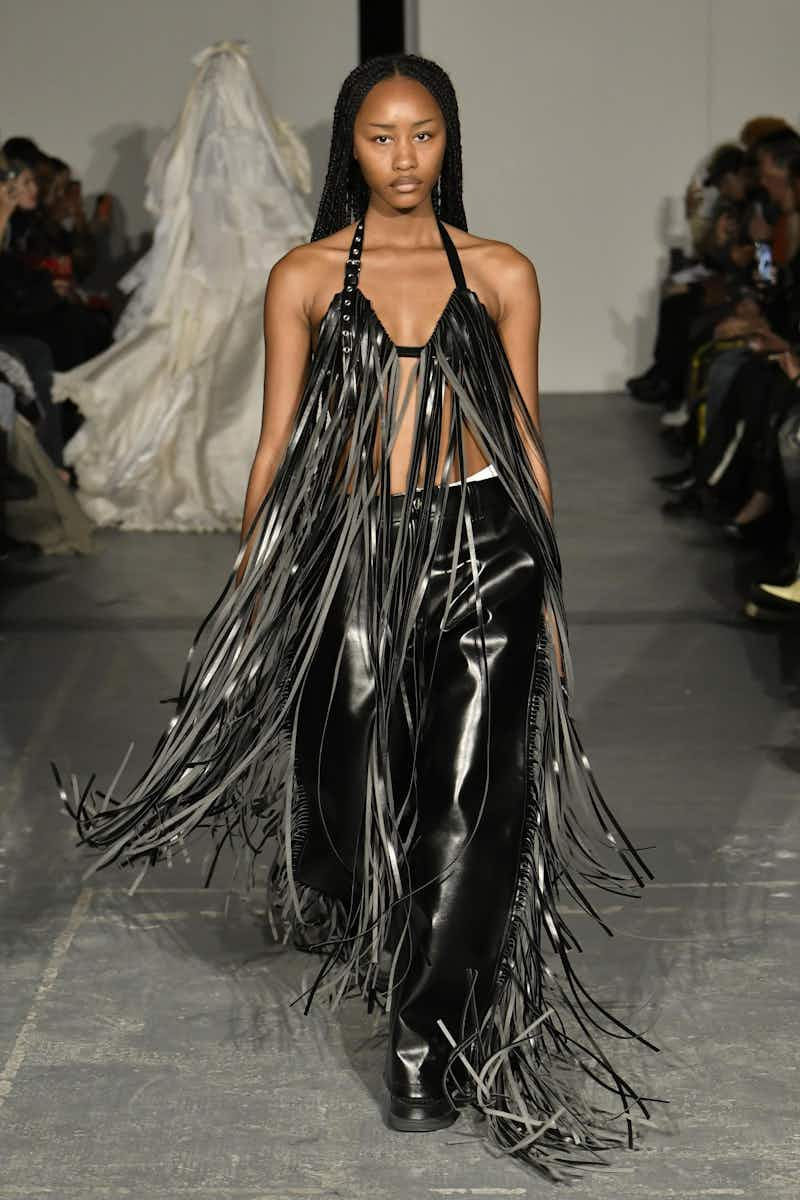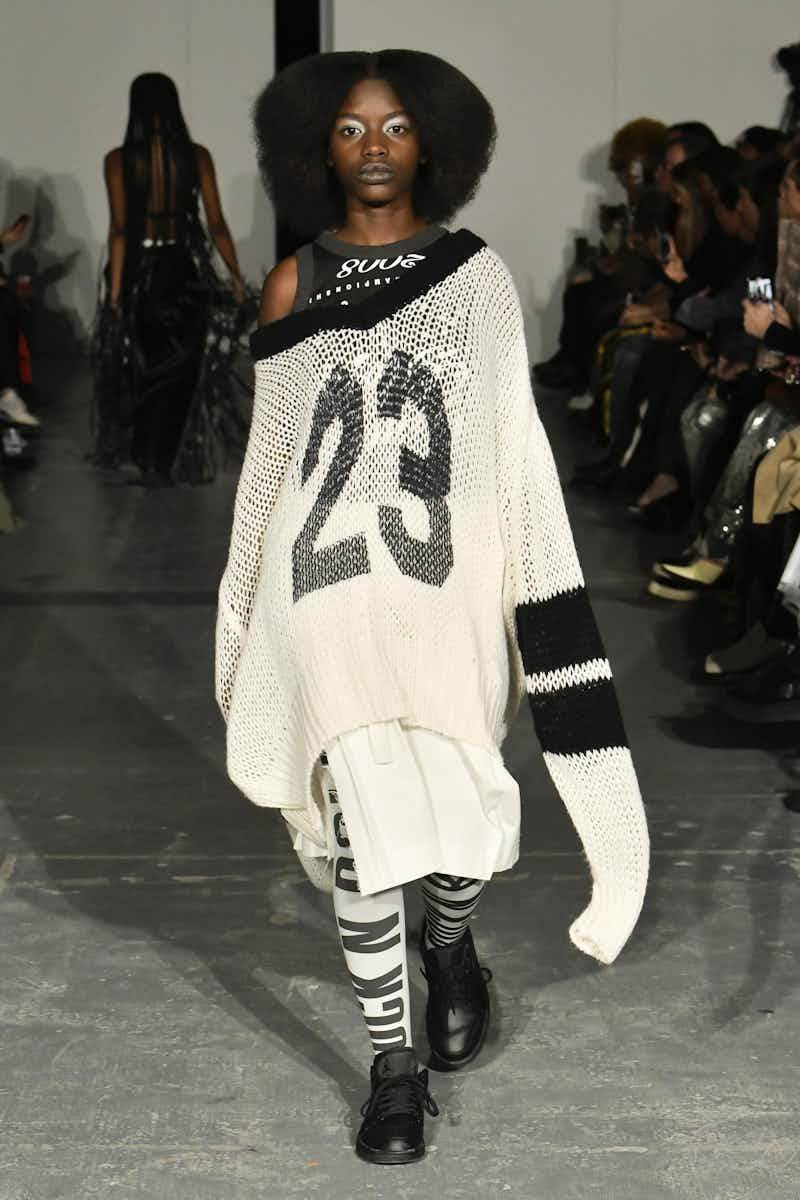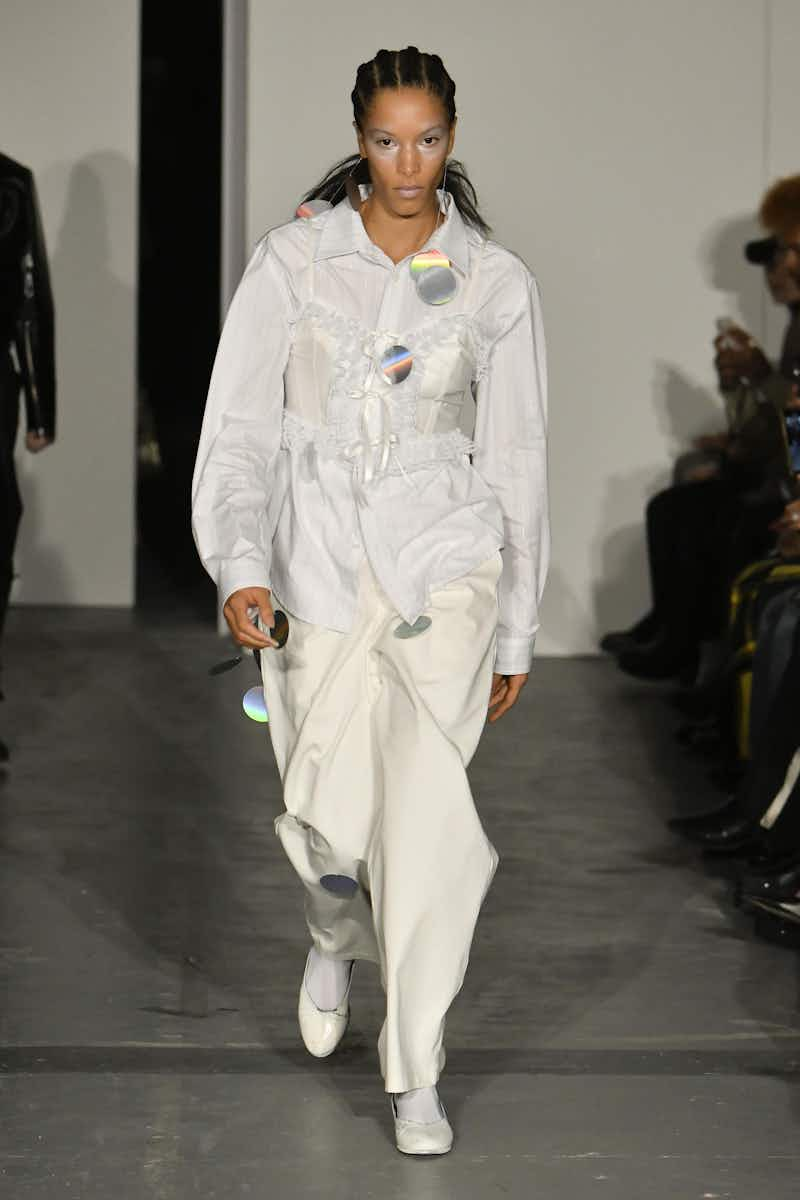 More like this