Prada embraces the art of living
Miuccia Prada and Raf Simons's second collection as creative directors sees the grandeur of cinematic glamour merge with a palpable optimism for a freeing post-pandemic world.

Back in September, the unveiling of Miuccia Prada and Raf Simons' first collaborative collection was the hottest (virtual) ticket of Milan Fashion Week, with both of their cult followings coming together to praise their vision of kaleidoscopic outerwear, punctured knits and padded kitten heels. Part of the fun of observing that first collection was to decode the various Prada-isms and Raf-isms that found themselves combining for the first time: a graphic retro print! Bold, manifesto-inspired text! More nylon than you can shake a stick at!
And with their second womenswear collection that premiered earlier today, it seems the pair have settled into their mutual groove even more comfortably. Broadcast from their base of the Fondazione Prada in Milan, the Rem Koolhaas-designed set of faux fur and marble created a luscious, textural backdrop so visceral it left you wanting to reach out and stroke – even if that won't be possible for now – while the throbbing soundtrack of minimal techno courtesy of musician Richie Hawtin felt optimistically club-ready. (Again, for that, we'll have to wait a little longer.)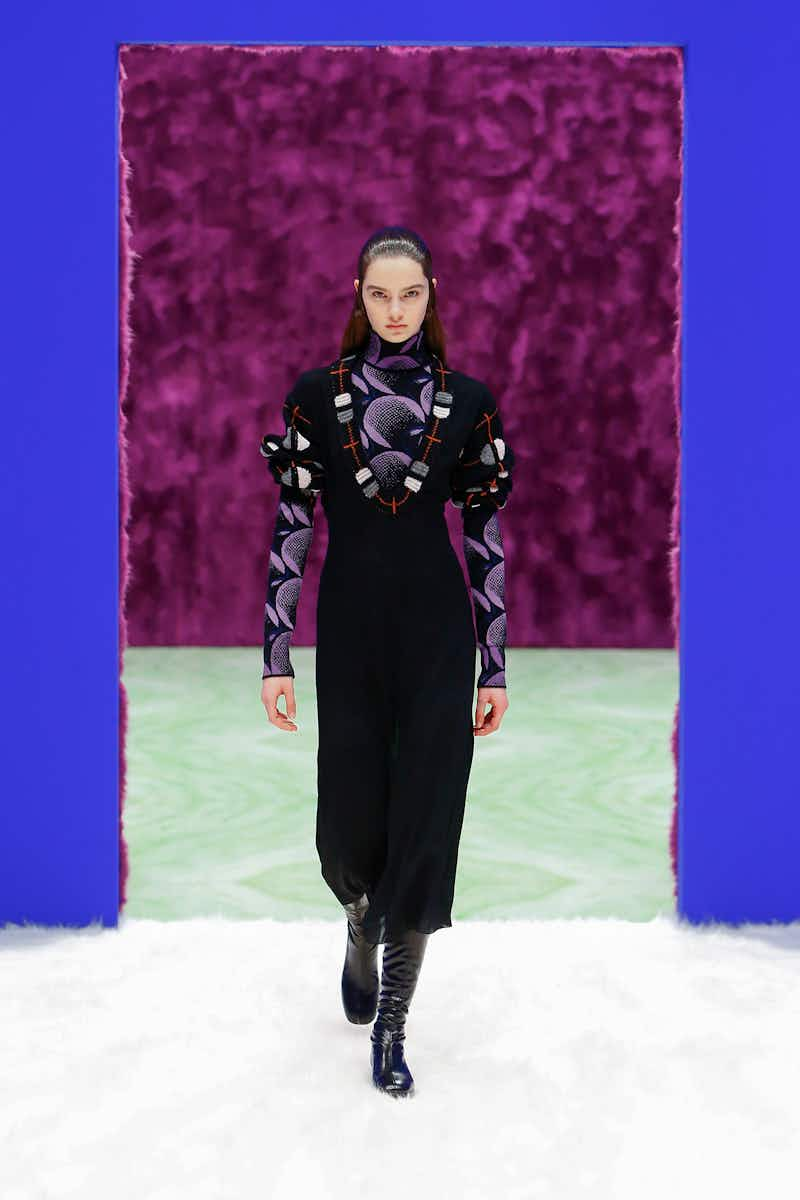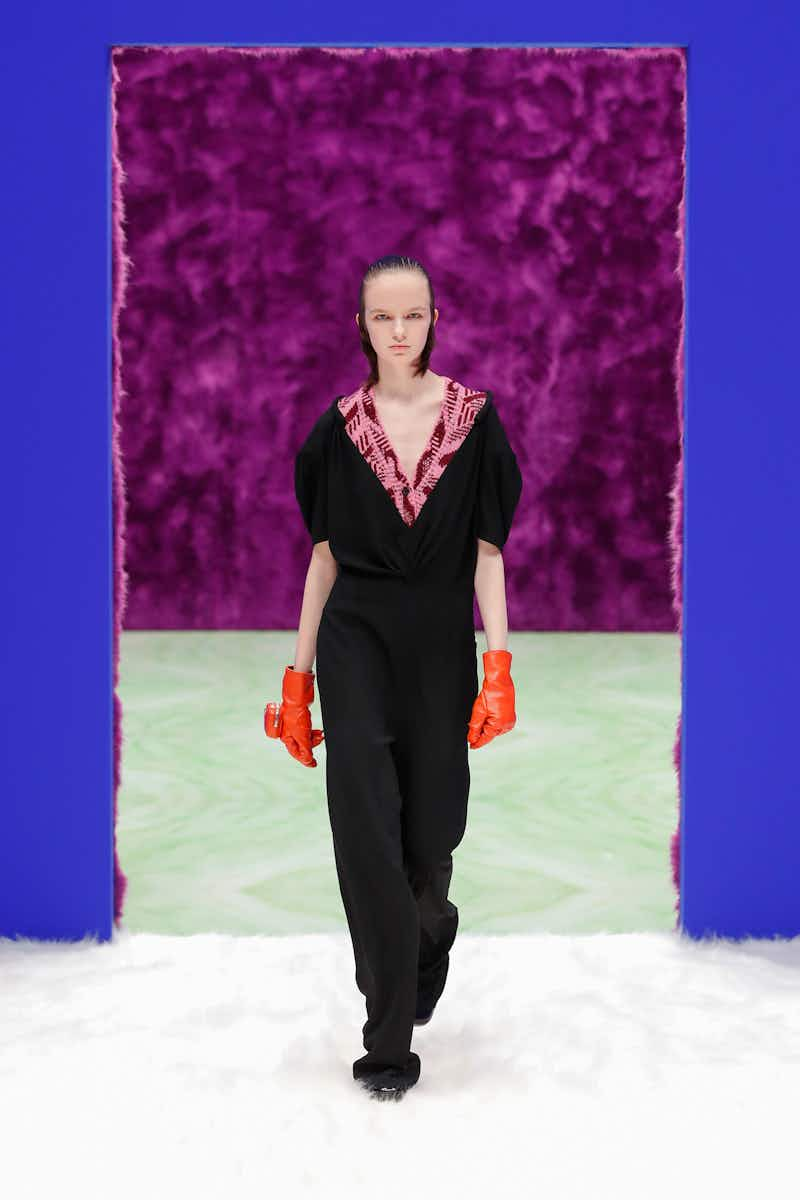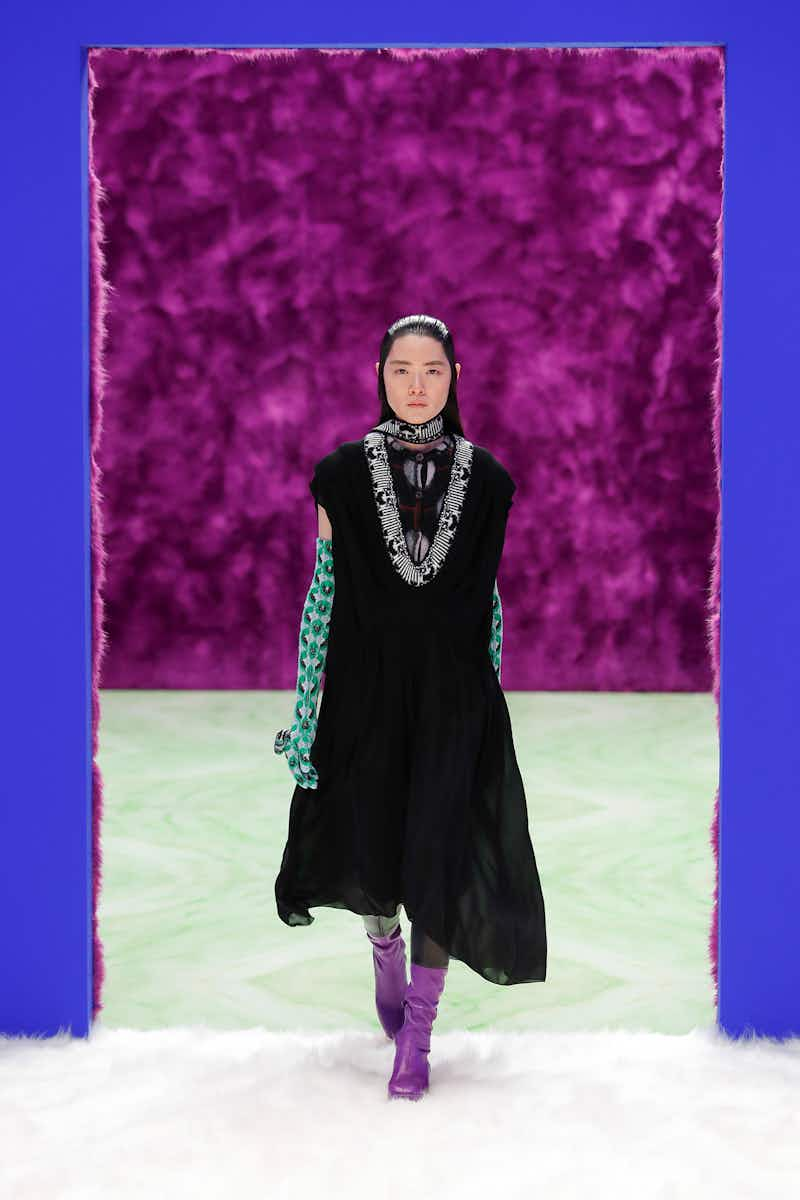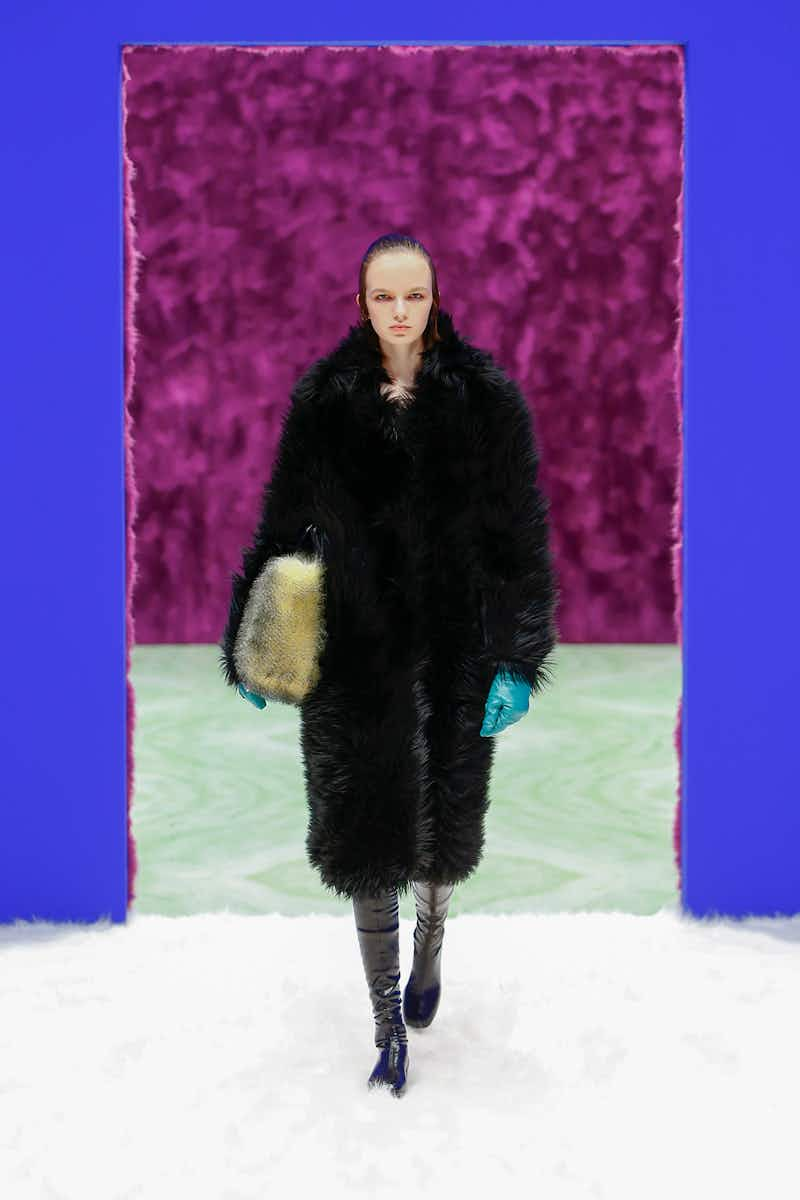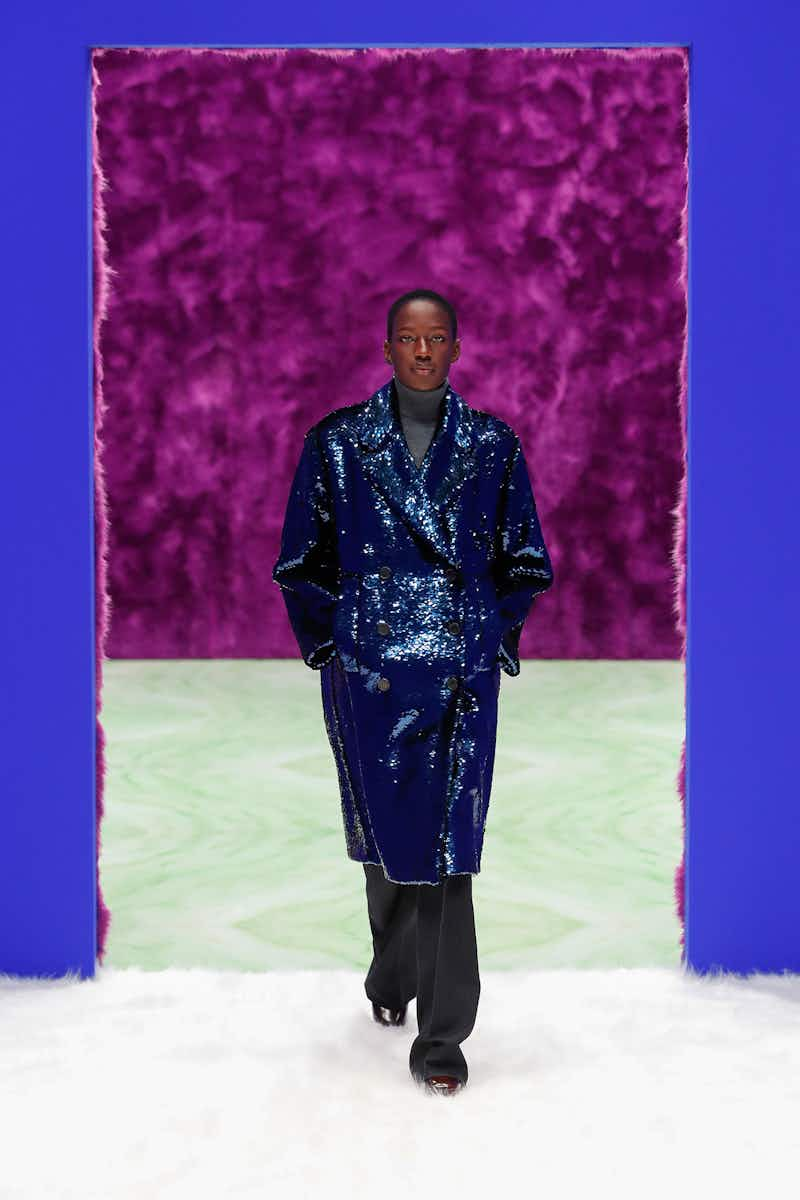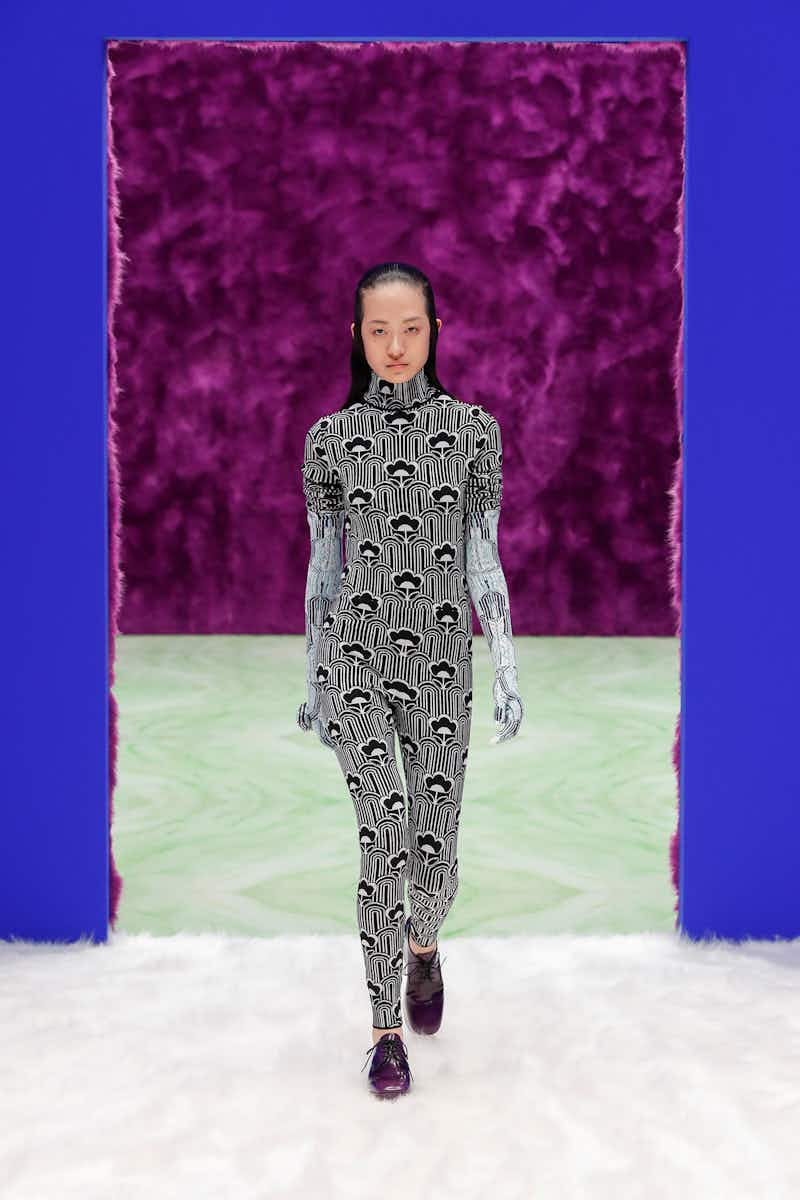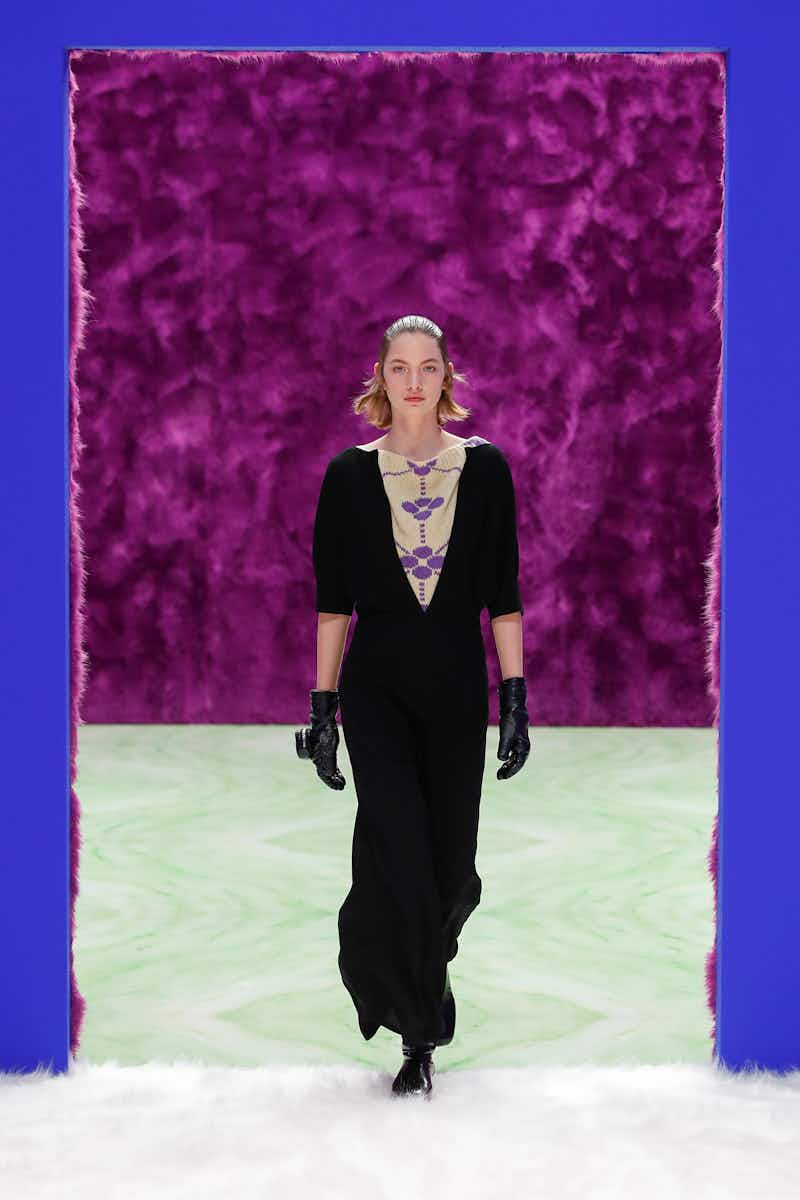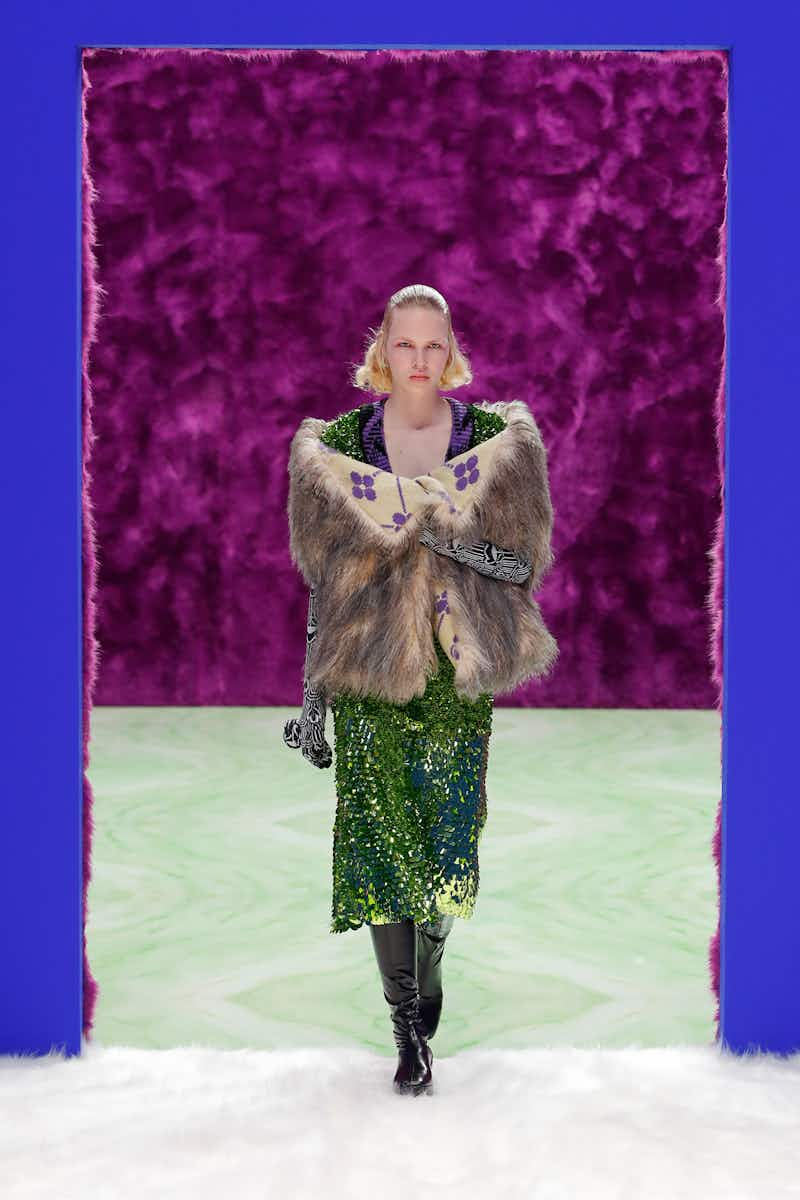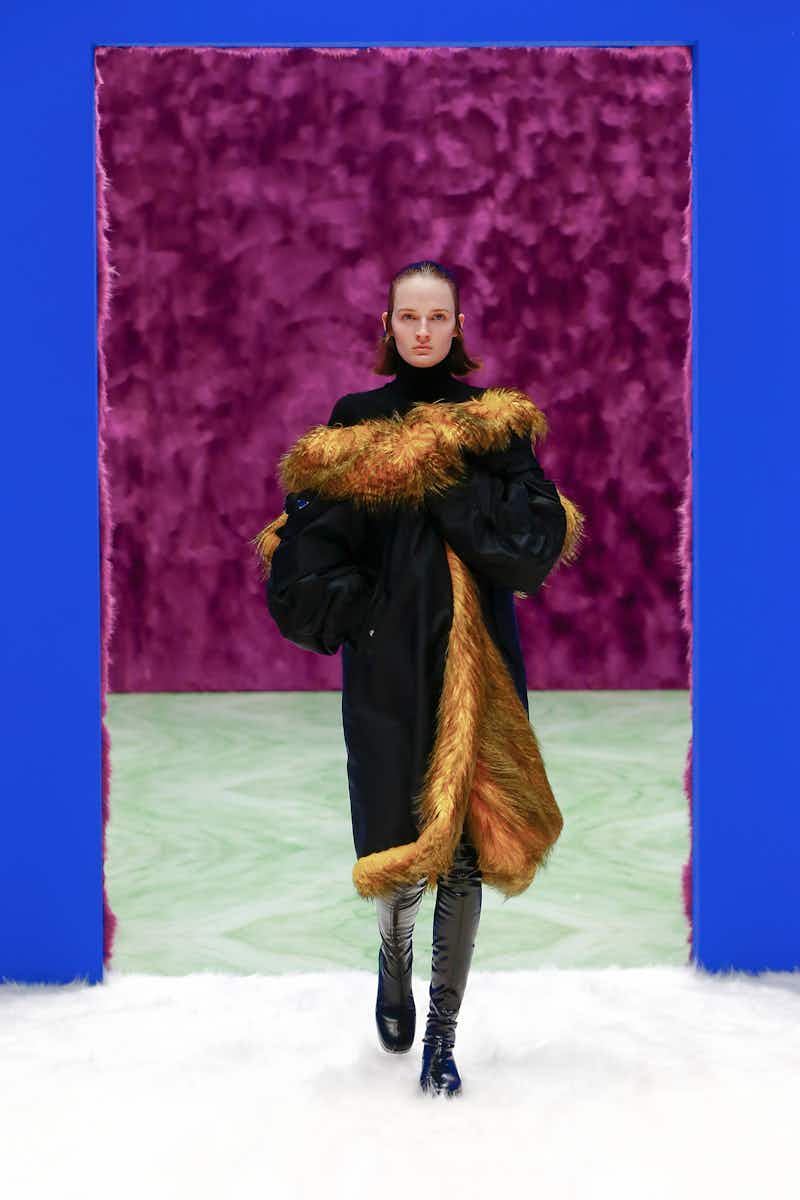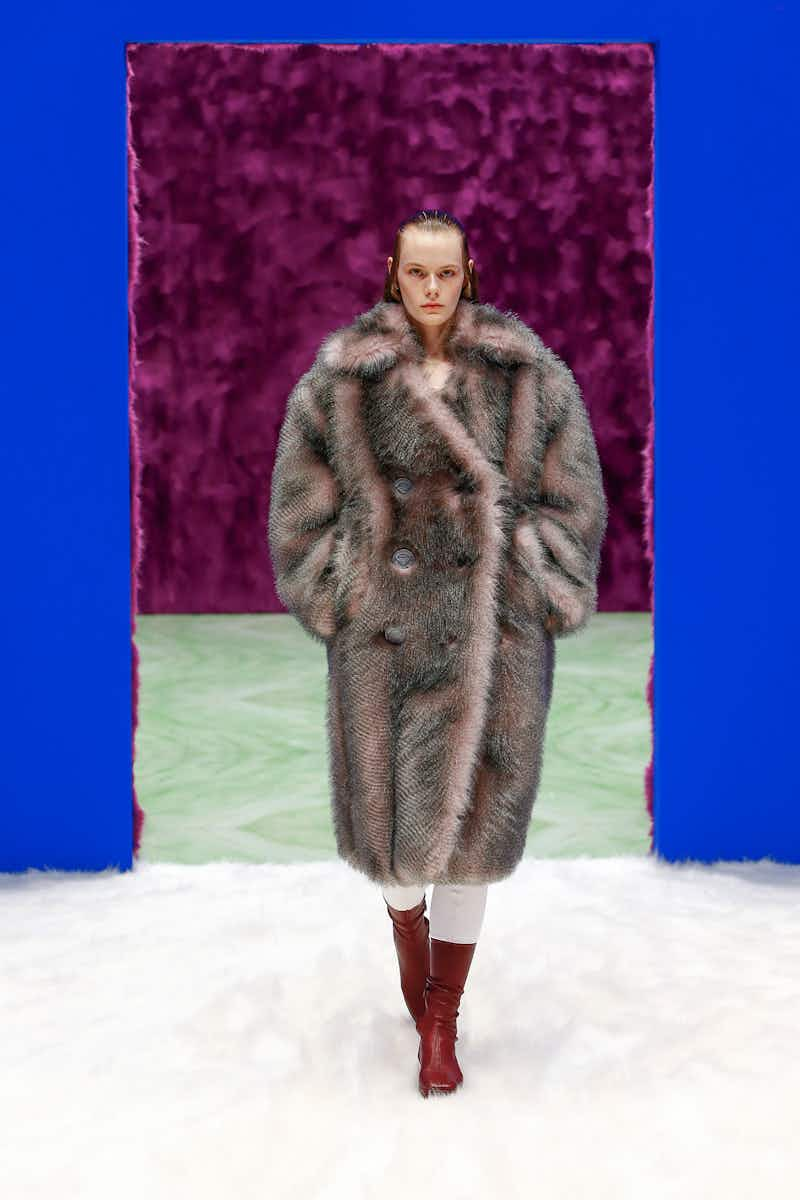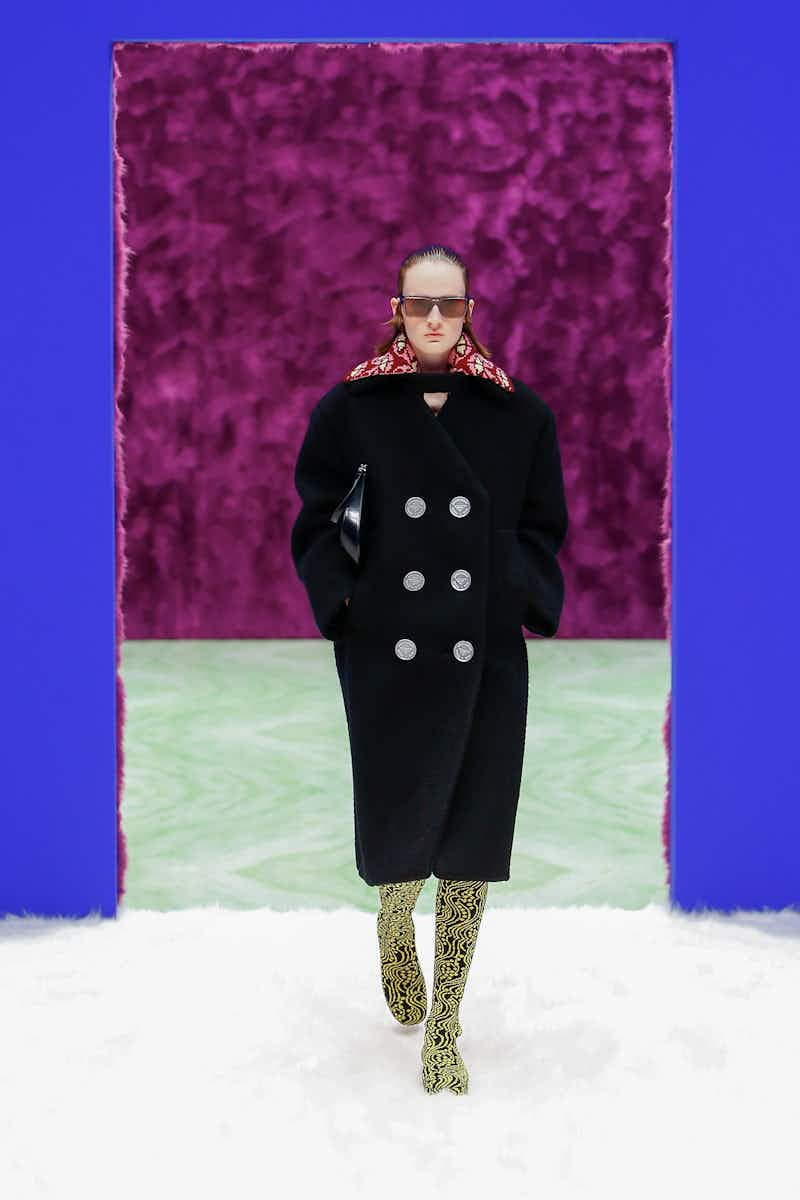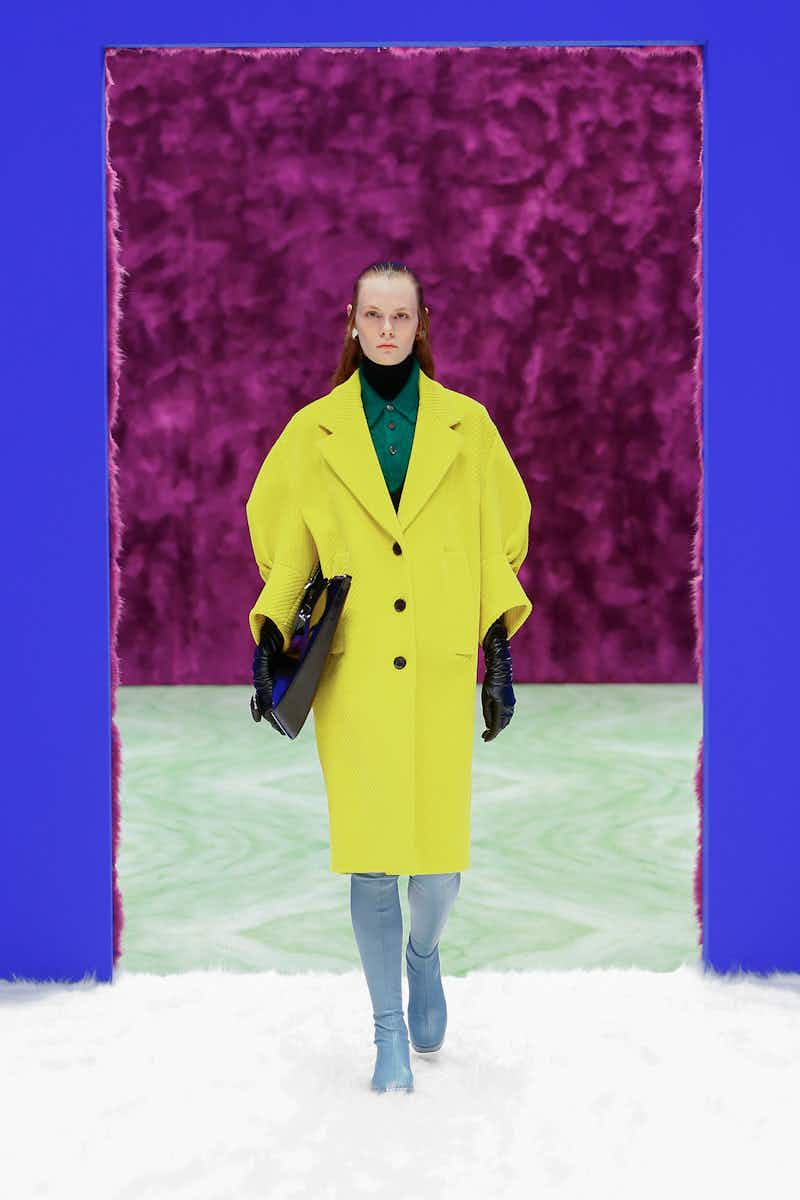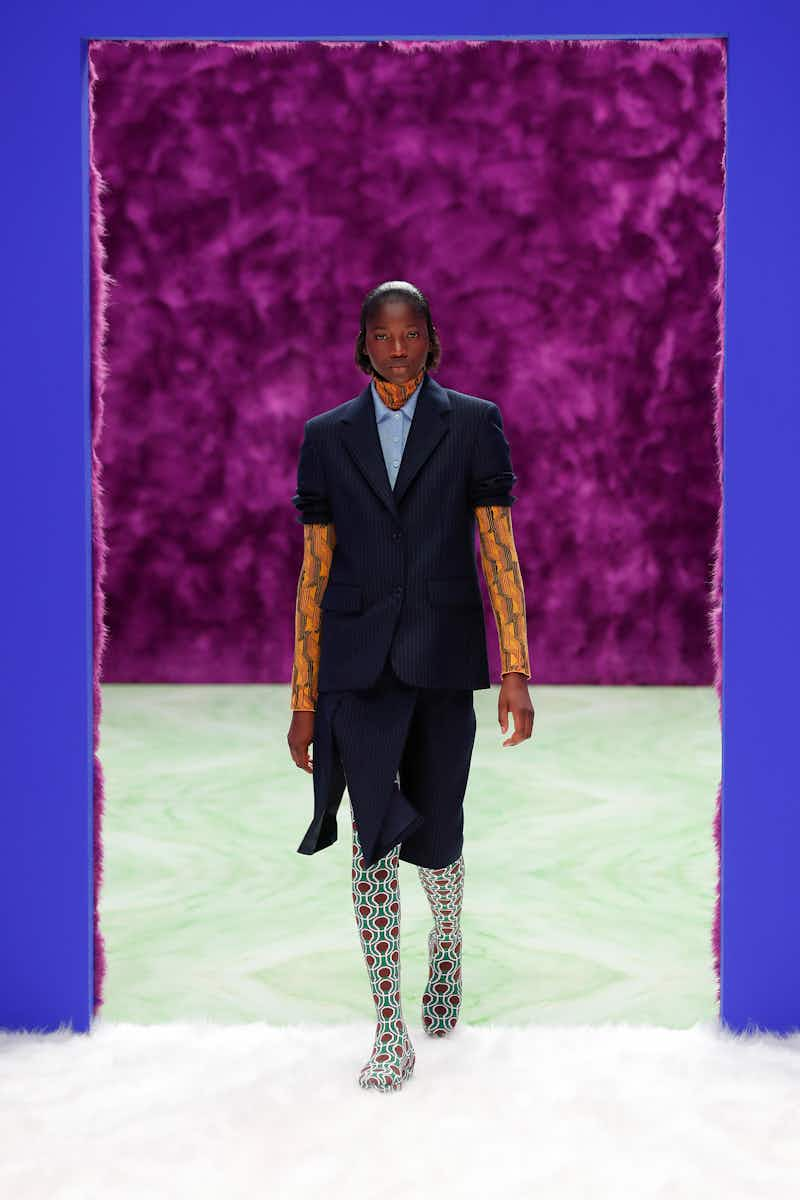 There were plenty of star pieces to be found for Prada obsessives: the return of the gloves from last season that come with tiny zip-up pouches attached; chunky printed boots with clog-like heels in a bold spectrum of colours; opera coats worthy of a Hitchcock heroine and jackets falling off the shoulders to be held in place with a single hand. A series of faux fur-trimmed shawls carried all of the dishevelled, cinematic glamour that is quickly becoming the duo's calling card, while bodysuits covered in Art Nouveau-inspired prints lent the collection an unexpected, if only slight, athletic edge, too.
In keeping with the pair's new tradition of hosting a post-show Q&A, this time the pair enlisted a number of starry guests and Prada superfans, including Marc Jacobs and Hunter Schafer, to talk through the collection, with conversation quickly turning to post-pandemic optimism and ​"the art of living", as Jacobs described it.
The final note of the collection, then? A series of overcoats covered in spangly sequins for anyone looking to add a little glitz to their wardrobe come the autumn. If there's one thing Miuccia and Raf know, it's how to put on a show-stopping finale – and with these lavishly sequinned coats and gowns, they have their eye firmly trained on embracing the art of living once again.


More like this