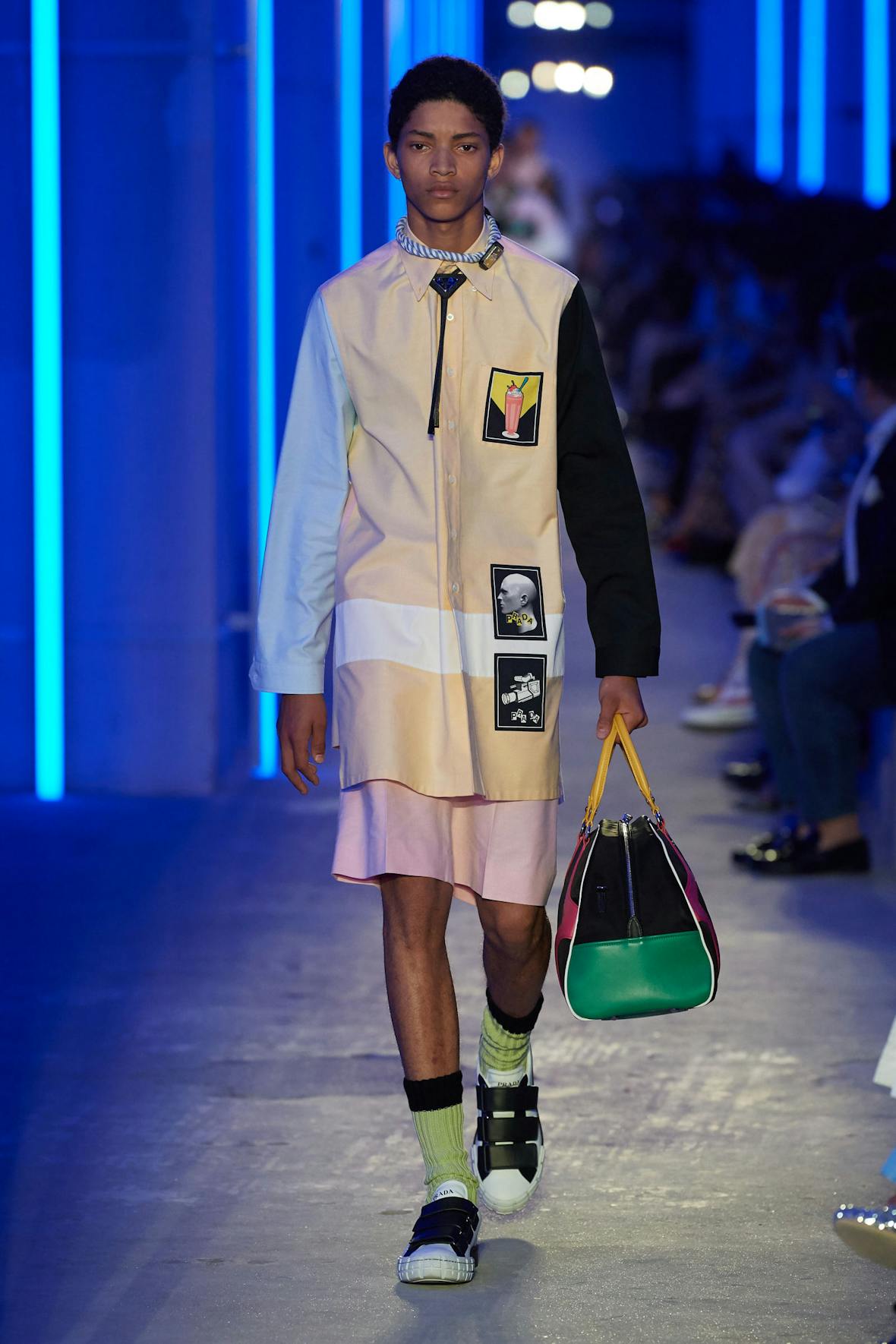 Pra­da takes on Shanghai
WHERE DID THE SHOW TAKE PLACE?
In a vast Tron-style, neon-lit old silo ware­house space in Min­sheng Art Wharf, East Bund, Shang­hai, Chi­na. Loca­tion set-up con­cept by OMA/AMO.


WHAT DID THE INVITE LOOK LIKE?
It came in phys­i­cal form on Pra­da baby blue, but you need­ed a util­i­ty Pra­da torch to read the instruc­tions to scan for a dig­i­tal QR code.

OF NOTE:
Nathan West­ling open­ing and clos­ing (his menswear debut), Frank Ocean FROW and Miuc­cia min­gling post-show. Also the gunk-green and goth-black lac­quer fetish cur­tains hov­er­ing clin­i­cal­ly through­out the venue.
WHAT DID IT SOUND LIKE?
Epic, atmos­pher­ic sounds to match the scale of the mon­u­men­tal ware­house. Sound­tracked by Fred­er­ic Sanchez who moved from Wiss­man & Boettcher's Son­nen­wind, Part 1 to Frankie Goes To Hollywood's Wel­come to the Pleasuredome.
WHAT WERE THE BEST LOOKS?
The vest-tabards and match­ing shorts in baby blue and white stripe, big black boots, cinch waist anoraks (in black and cher­ry red leather, killer kha­ki and colour blocks), soft Neopoli­tan knitwear, chunky cardies and easy, cropped dou­ble-breast­ed tai­lored jackets.









---