Raf Simons looks back to the offbeat future

One for the die hard fans, the designer's AW21 collection references his sci-fi past in oversized knitwear and impeccable tailoring. But his style diktats are, as ever, filtering downwards to define the next youth culture movement.

As the lights went up on Raf Simons' show yesterday, it was his encyclopaedic knowledge of film history that shone through first. There were the computer units straight out of Alien​'s Nostromo spaceship, industrial spiral staircases lifted from Fritz Lang's Metropolis, retro fonts nodding to Kubrick's 2001: A Space Odyssey: all references that Simons has touched on repeatedly in previous collections across the decades. But even given a legacy of paying homage to his favourite sci-fi flicks, this collection seemed to mark a new chapter for Simons – and, perhaps more interestingly, one that felt like a diversion from the work he's been doing with Prada over the past two seasons.
Despite an eternally laser-sharp focus on cut, shape and silhouette, this was a collection about excess – but Simons' own definition of the word. There wasn't a baroque curlicue or glittering crystal to be found here. Instead, his more austere and considered approach to exaggeration saw him take his tailoring and outerwear staples to their most extreme proportions. The standout looks? Quilted coats with bustle-like protrusions on the back (think: Marie Antoinette goes to Berghain) worn on top of oversized knits that looked deliciously snug, even when cinched at the forearm with stitched cuffs or jewellery details, or accented with neon gloves poking out from underneath.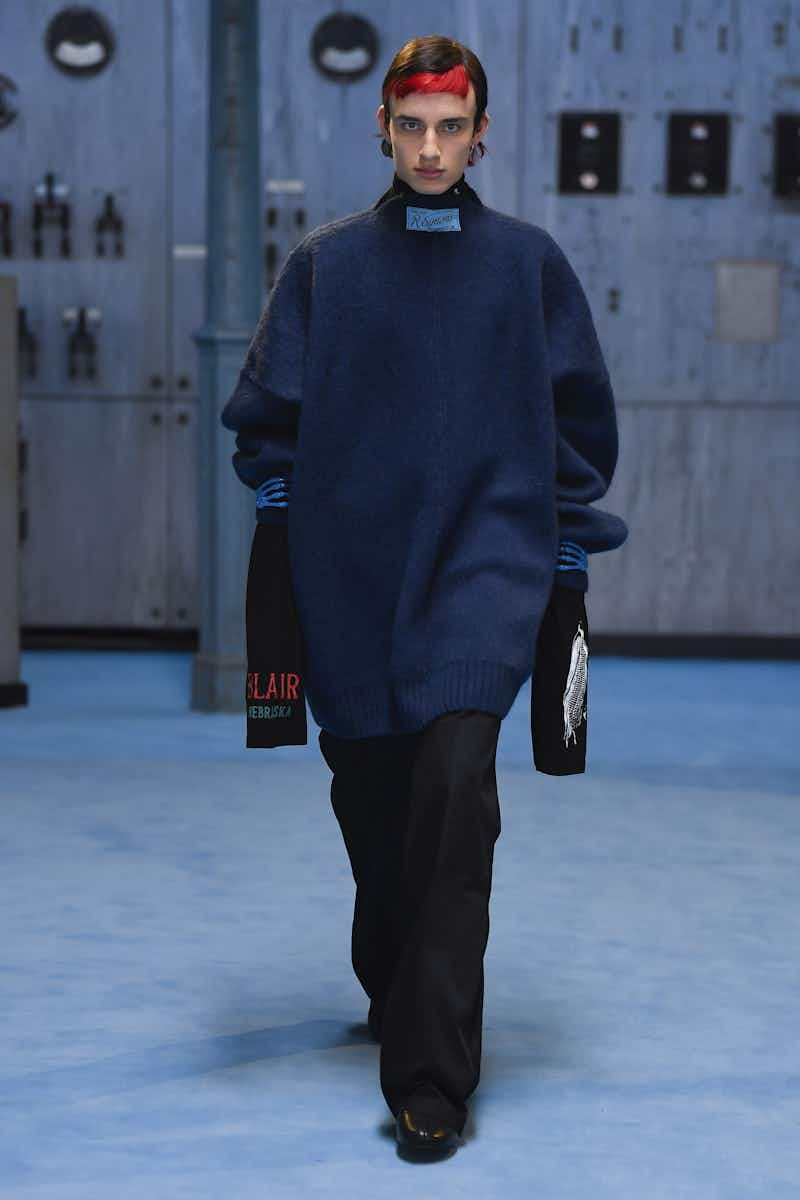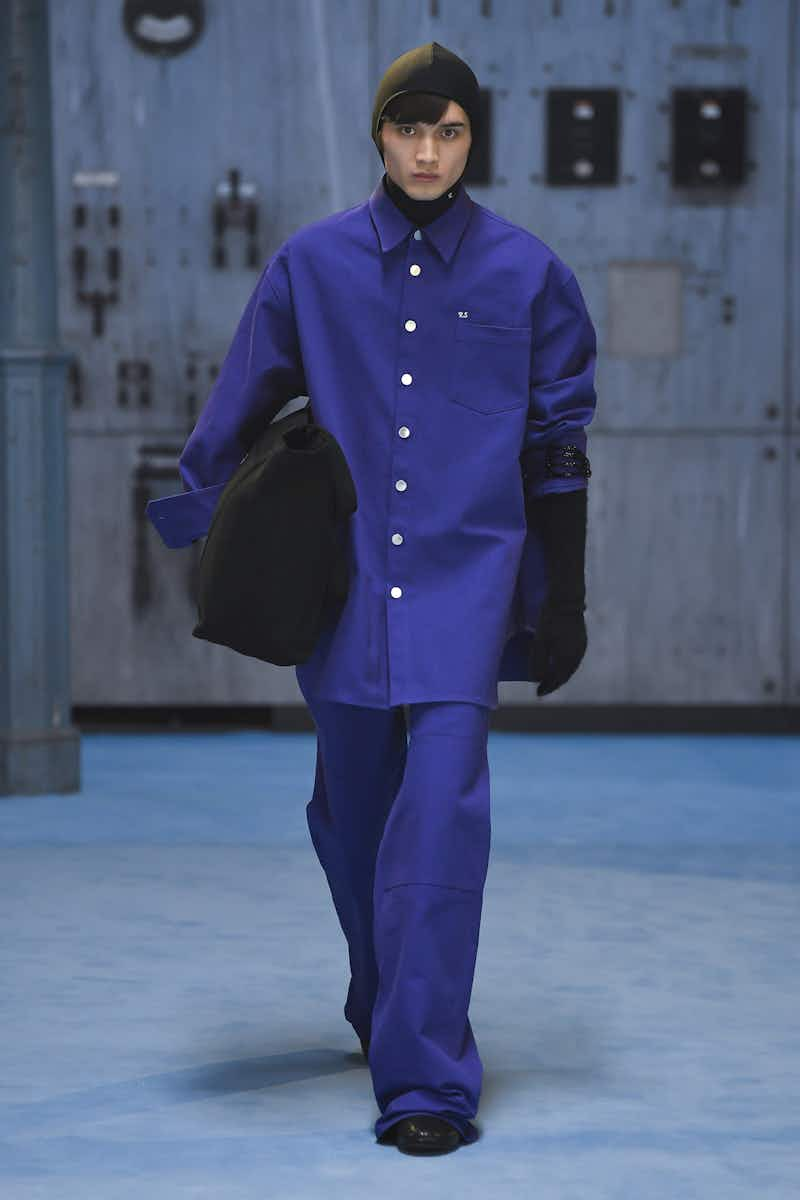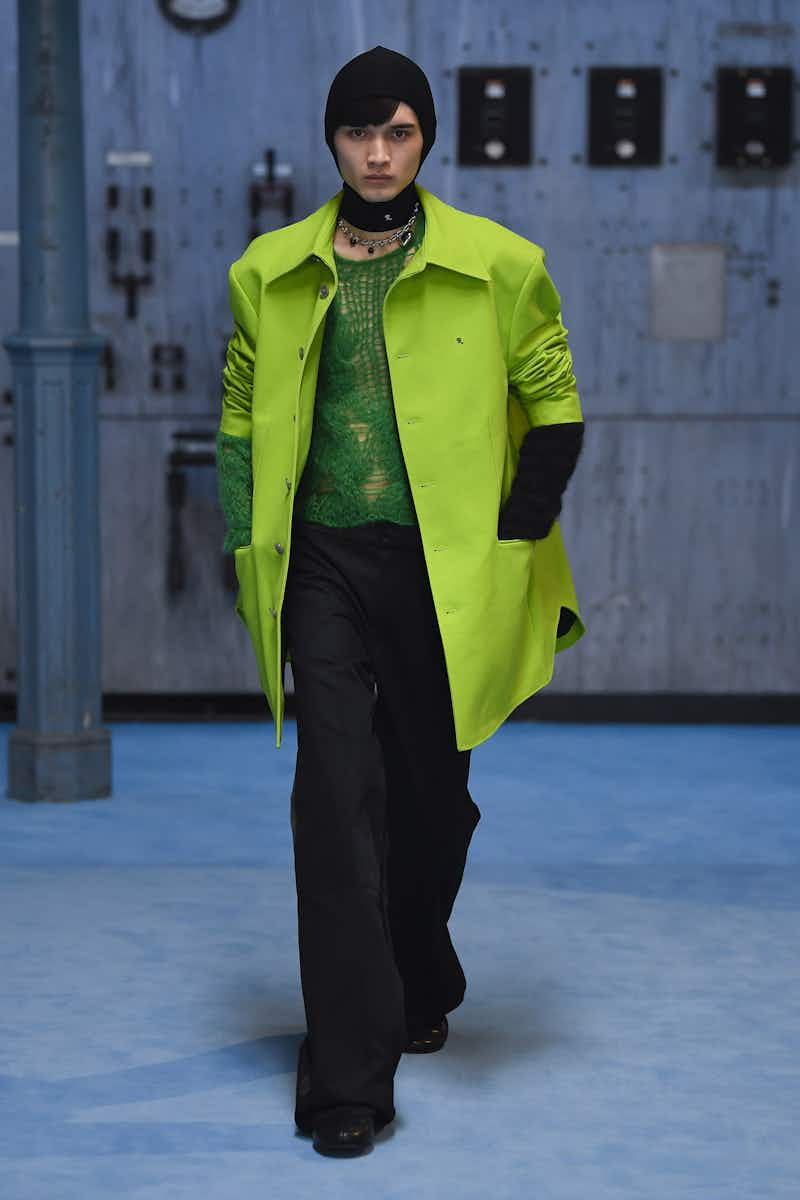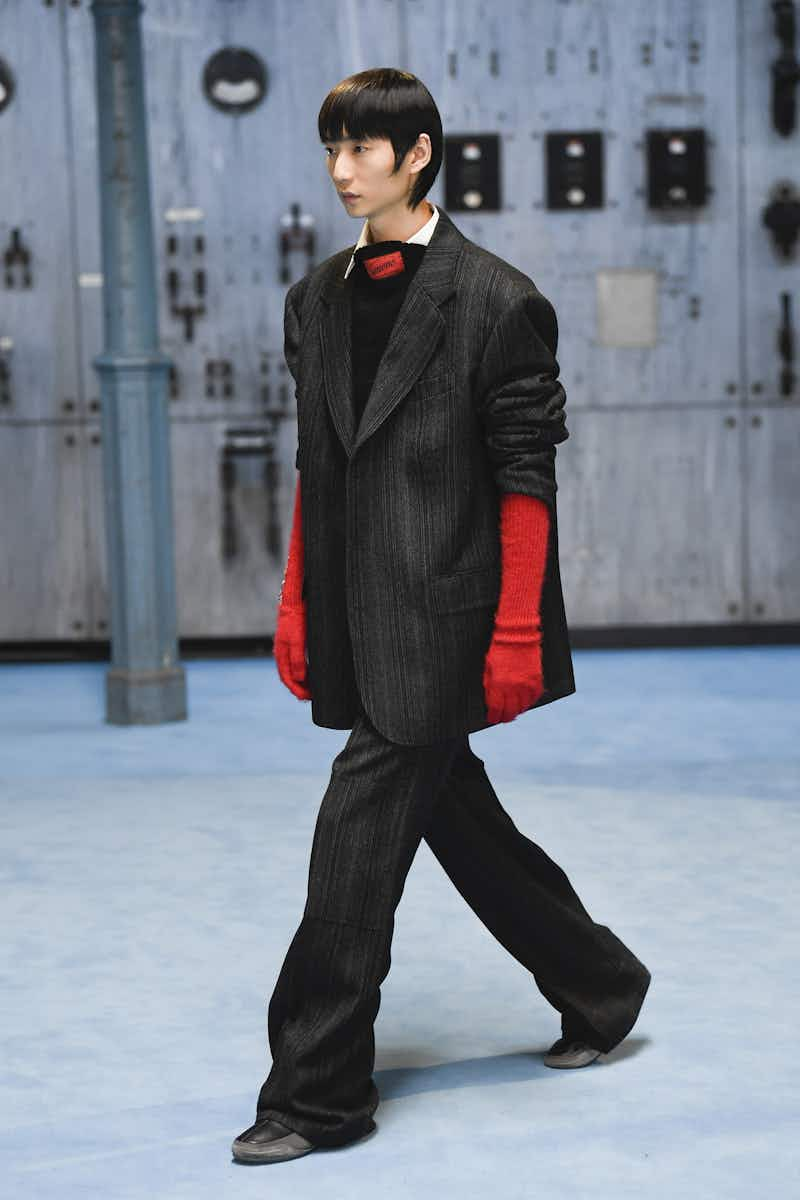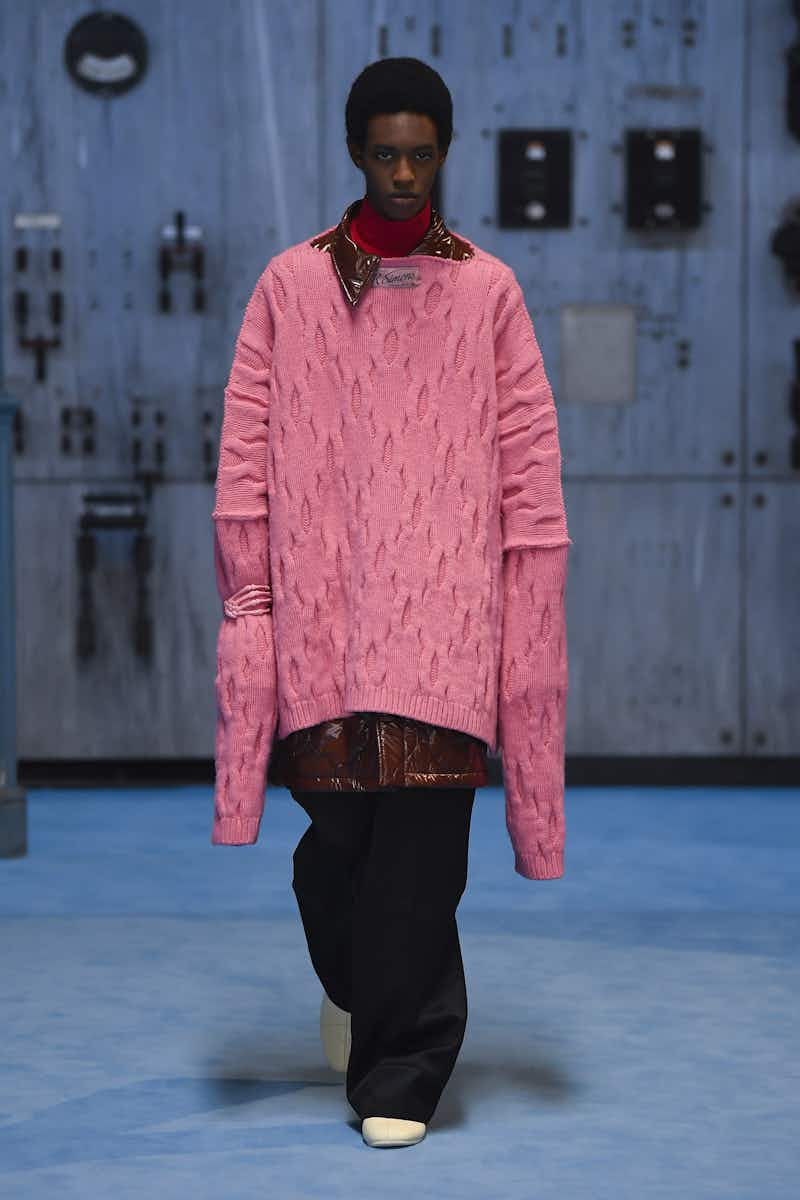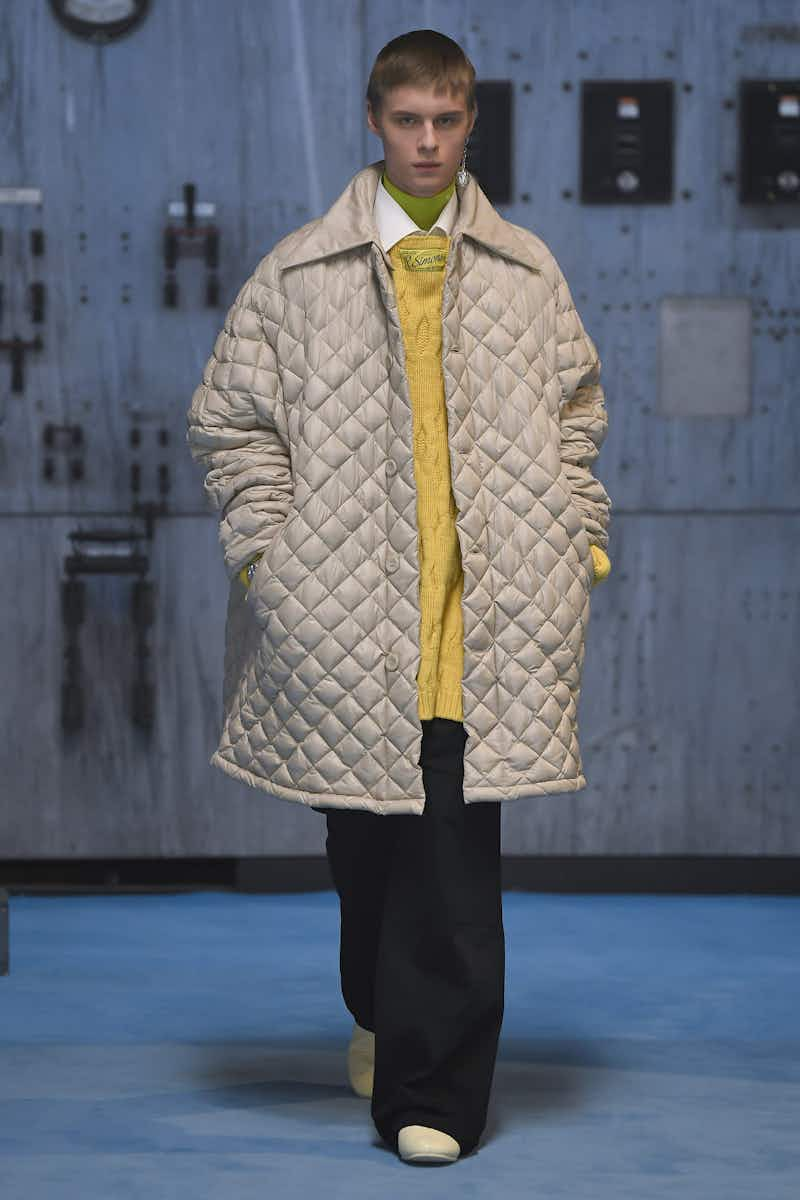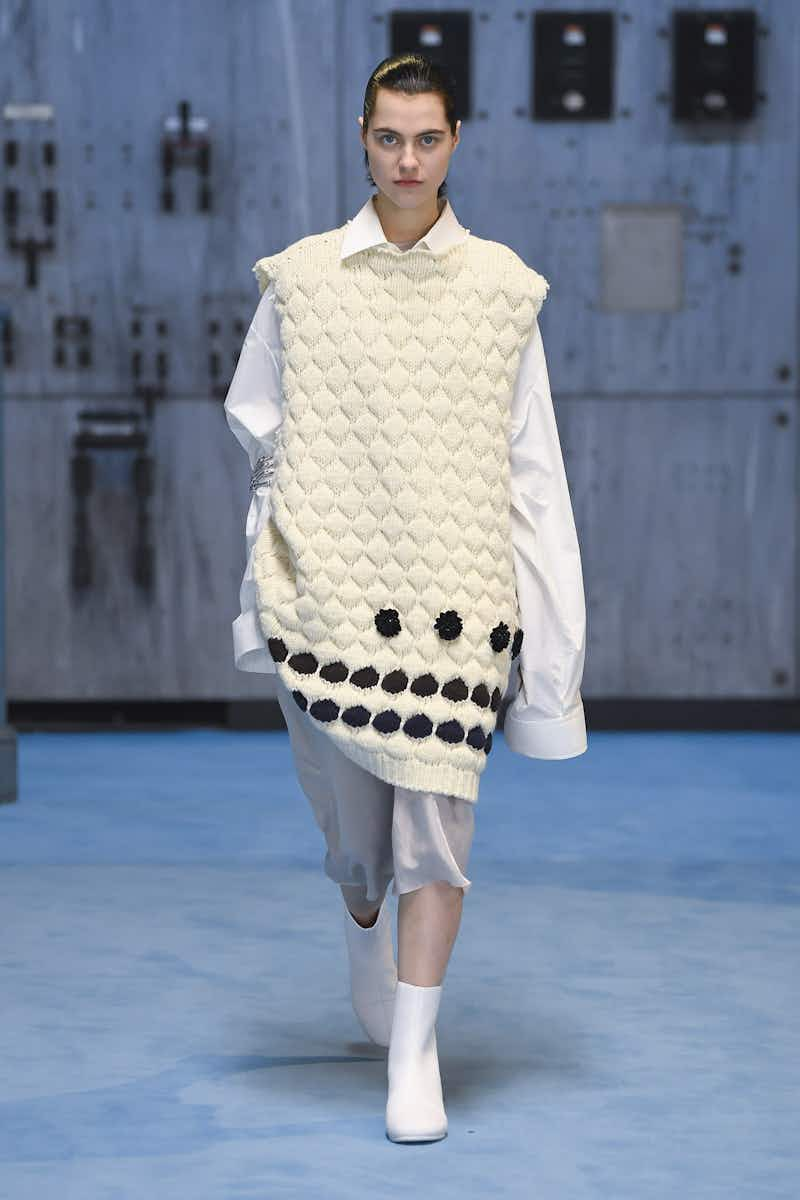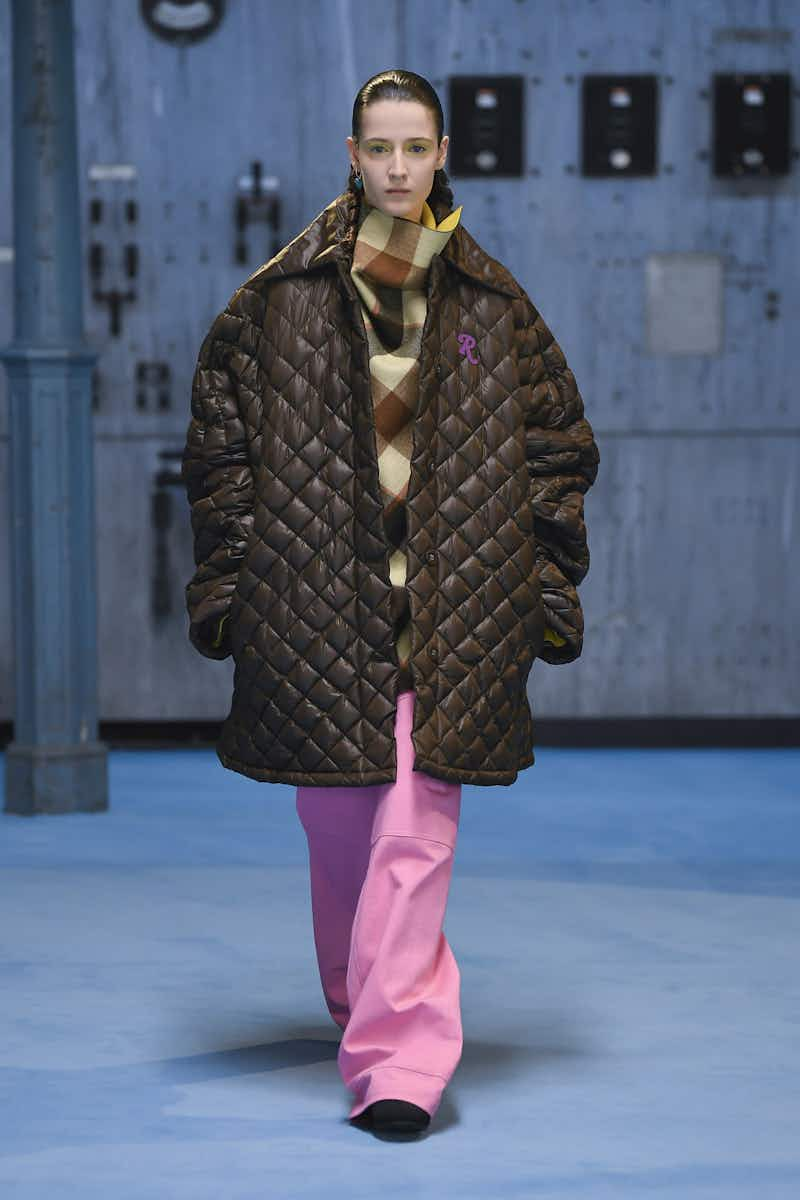 Another interesting touch was the attention given to his new logo motif, this time appearing as a vintage fabric label stitched onto the chest of all knitwear pieces – not dissimilar to the triangular plaque that has shown up in a similarly prominent position at Simons's new Prada home.
Every look seemed to channel his history of weird and wonderful design references, as if gently whizzed up in a blender. Most importantly, though, the exuberant pick-and-mix spirit of the collection and its lopsided, Frankensteinian proportions were just a whole lot of fun, ready to be worn by his loyal teenage fanbase, but just as appealing to an older generation ready to live their most spirited (and cosiest) life in one of his colourful knits.
It's easy to rely on Simons as a bellwether for where youth culture is moving next, given his constant dialogue with the community of friends, acolytes and tastemakers that surround him. But maybe it's time to look at Simons in a different light – as a designer who has moved up a notch within the industry, and whose style diktats are filtering downwards to define the next youth culture movement, instead of pulling up from it. It's beginning to feel that way. For now, though, this was Raf Simons putting his best foot forward: a perfectly-timed, future-facing, impeccably-tailored collection for the ages. And best of all, for all ages.

More like this