Richard Malone SS22: a night at the museum
Yesterday, the Irish designer presented a collection designed in collaboration with Mulberry at London's V&A museum, filled with luxurious fabrics, plenty of draping and a nod to legendary Renaissance art.

Since graduating from Central Saint Martins in 2014, Irish designer Richard Malone has established himself as a draping and knitwear wunderkind. With plenty of awards and accolades under his belt (the LVMH Grand Prix scholarship that same year, a Fashion East debut in 2015 and a Woolmark Prize nomination in 2020), if anyone can work and experiment with fabric and texture, it's Malone.
Often, his work is just as adjacent to art as it is to fashion. After all, an architectural jumpsuit by the designer was included in the Museum of Modern Art's Is Fashion Modern? exhibition in 2017 and is now part of its permanent collection. Fittingly, in collaboration with Mulberry, Malone's SS22 show took place in the middle of London's V&A Museum. Against a backdrop of 16th century Raphael Cartoons, which are considered to be some of the Renaissance's greatest works of art, Malone solemnly explored the tension between ​"good" and ​"bad" taste, and the grief of the last 18 months.
"People have experienced so much […] change," he wrote in the show notes. ​"The collection couldn't not confront it. For designers and artists, that's how you process something. What exists at the end of it, only you really know what you went through to get there. It then has a life of its own."
Instead of being guided by specific themes or references, Malone let the fabric do the talking and designed instinctively. There was no mood board for this collection. Rather, craft and process took centre stage, as deconstructed shapes and exaggerated silhouettes came alive on the body.
As a nod to the cloth worn in the Raphael Cartoons, there were swathes of flowing, luxurious fabric to play around with here. Many of Malone's garments were sculptural, as high-neck, ruffled vests were paired with pleated skirts over trousers, while a blood-red dress with material gathered softly around the chest gave the Cartoons' romanticism a run for their money.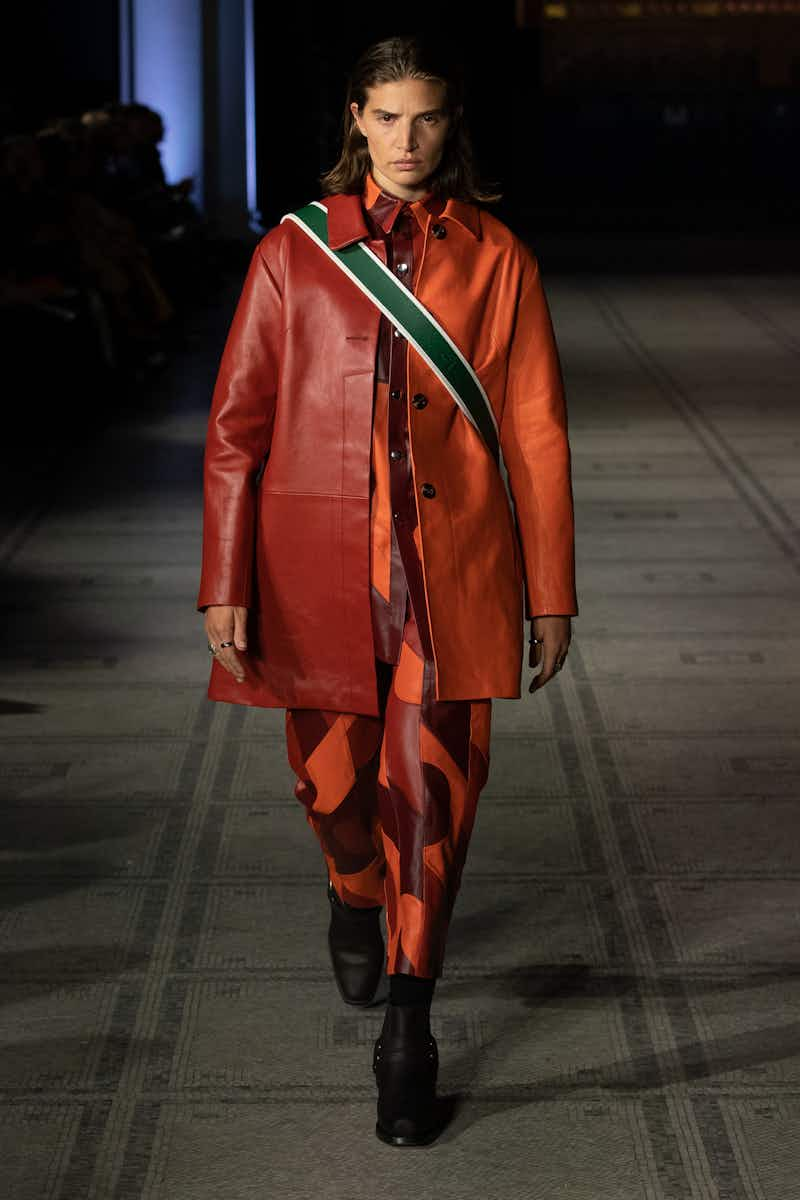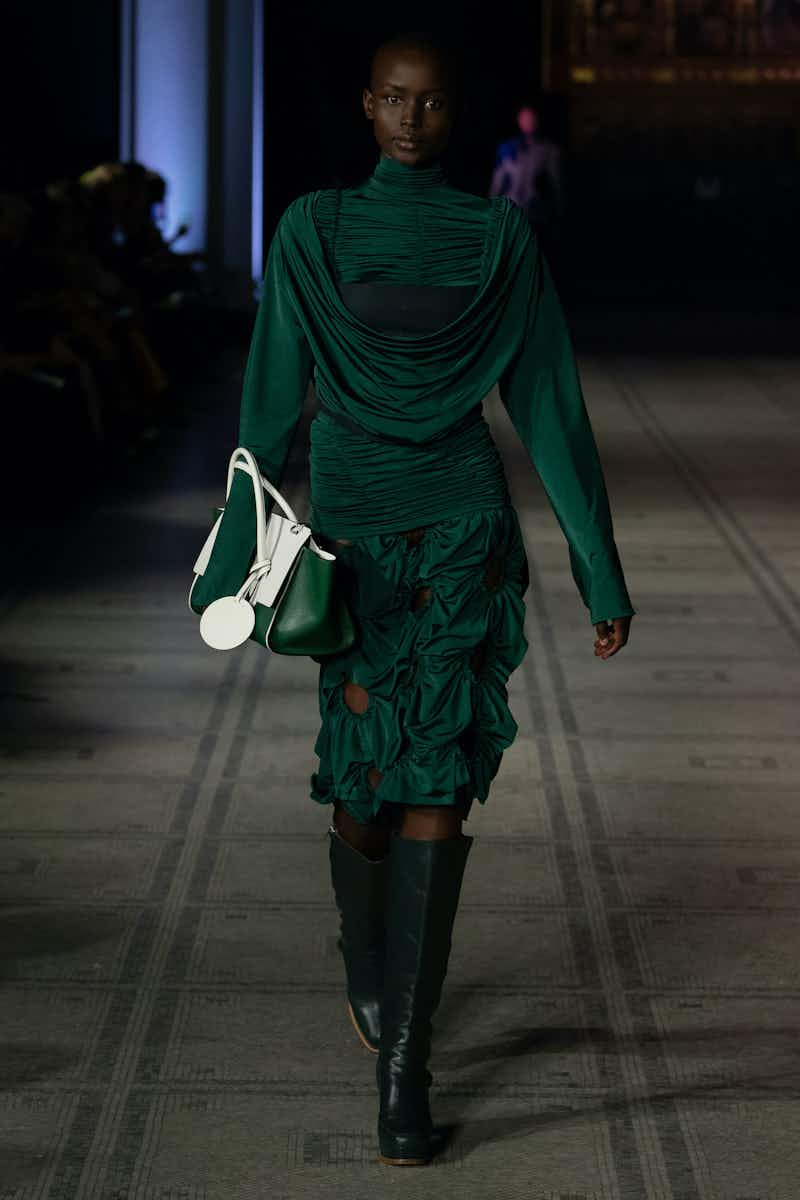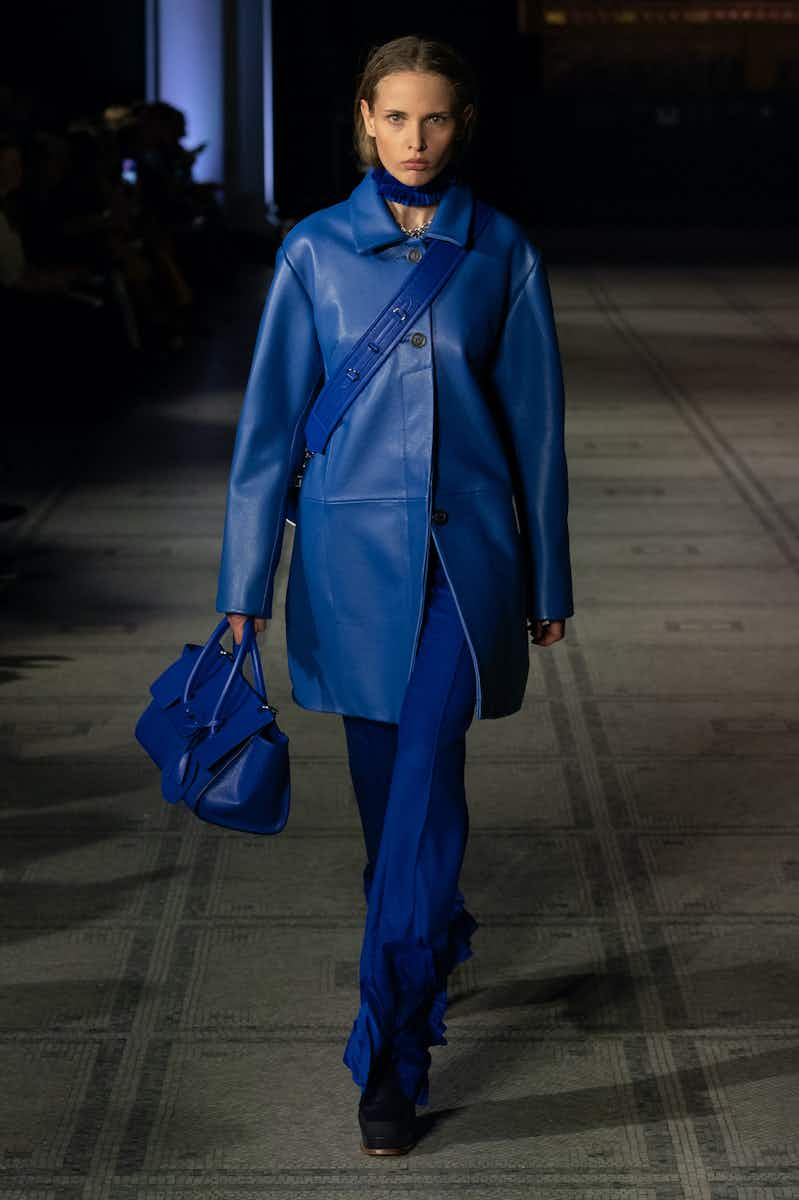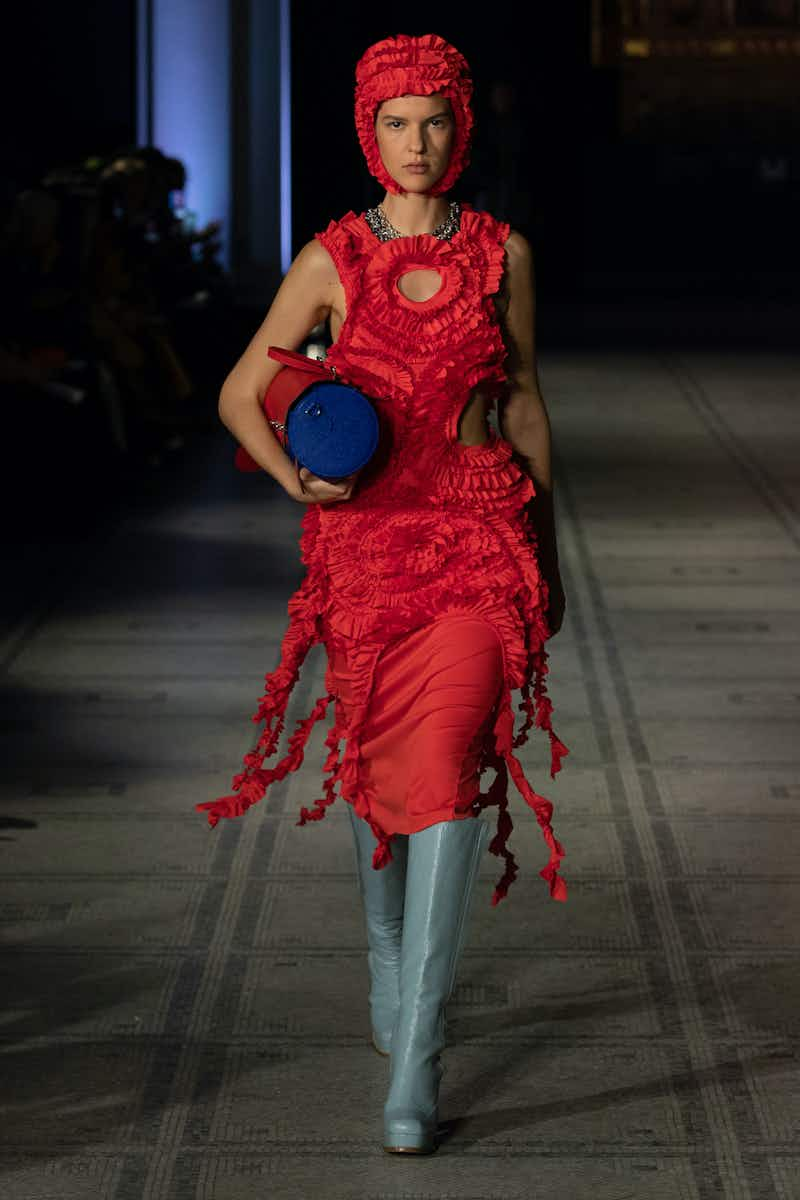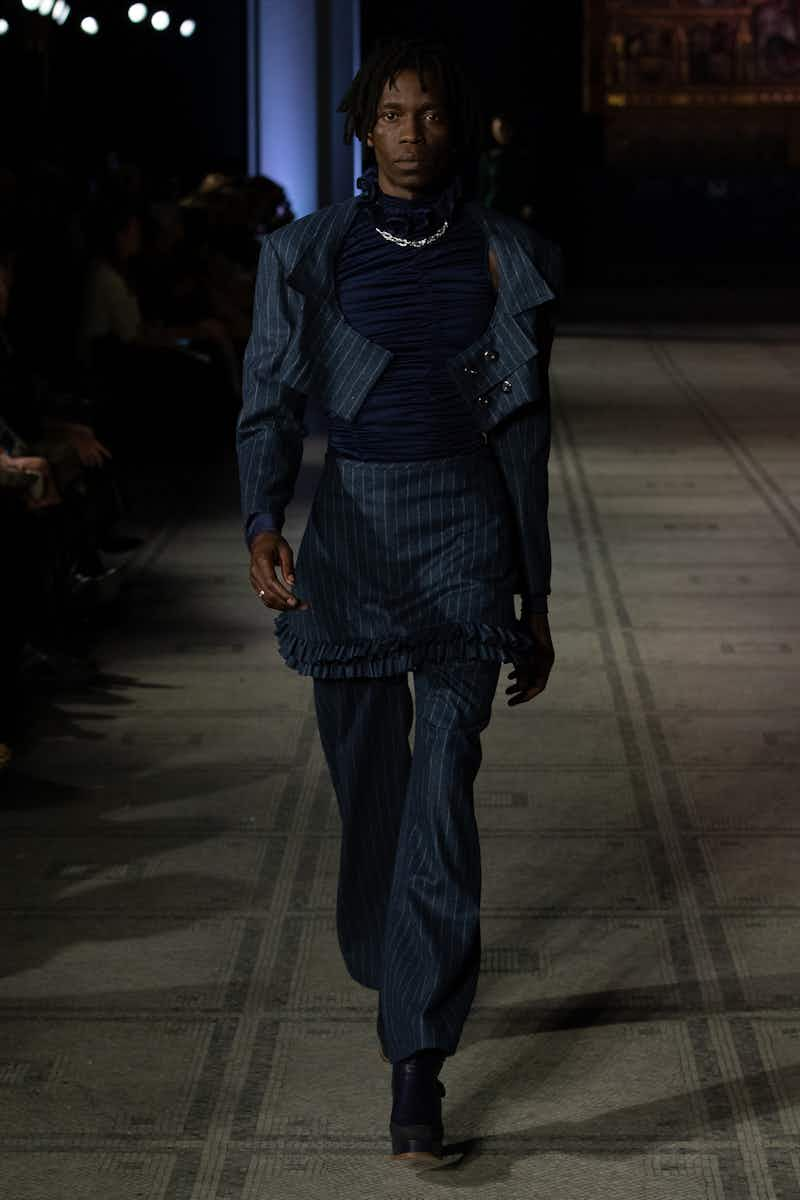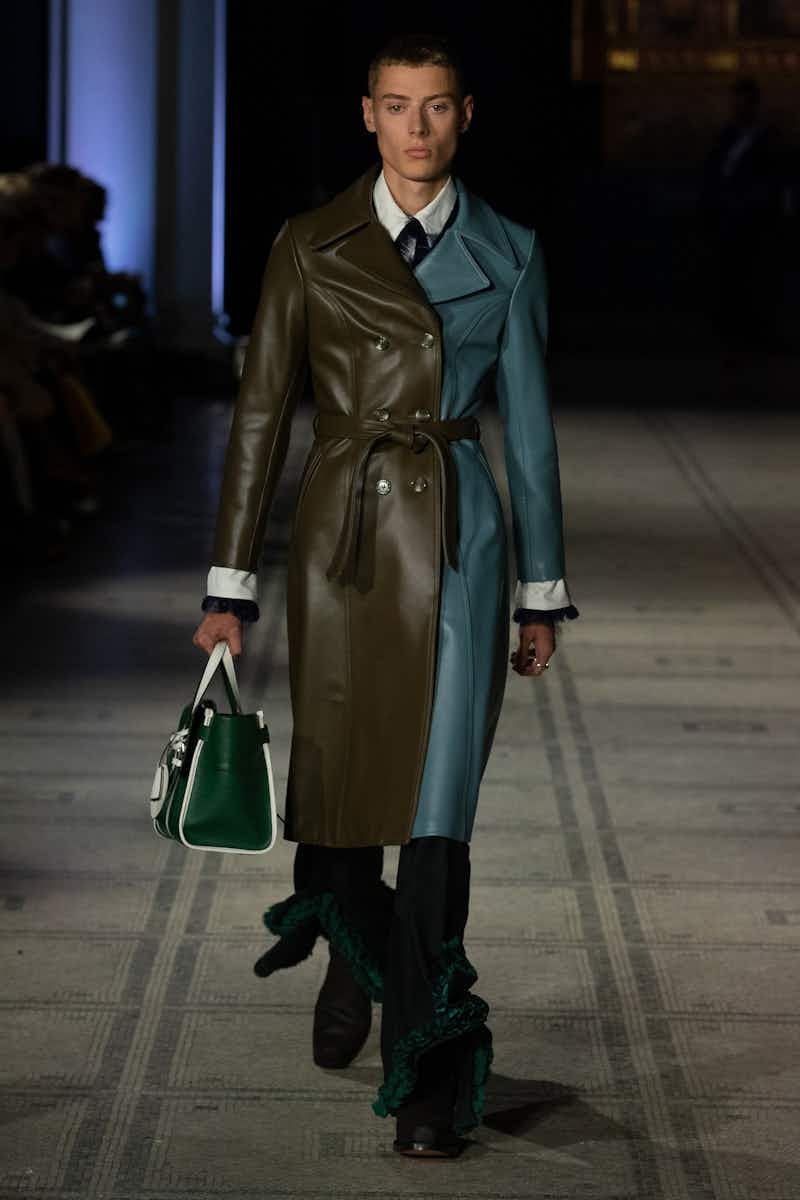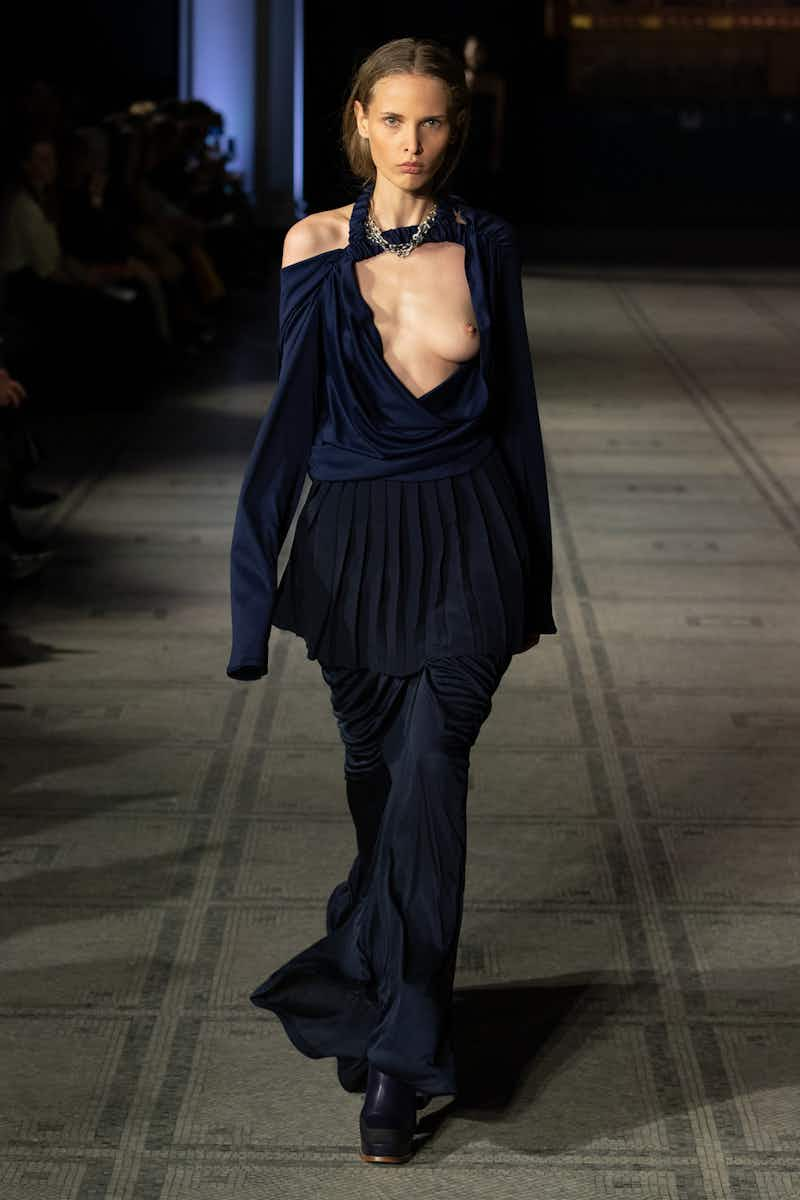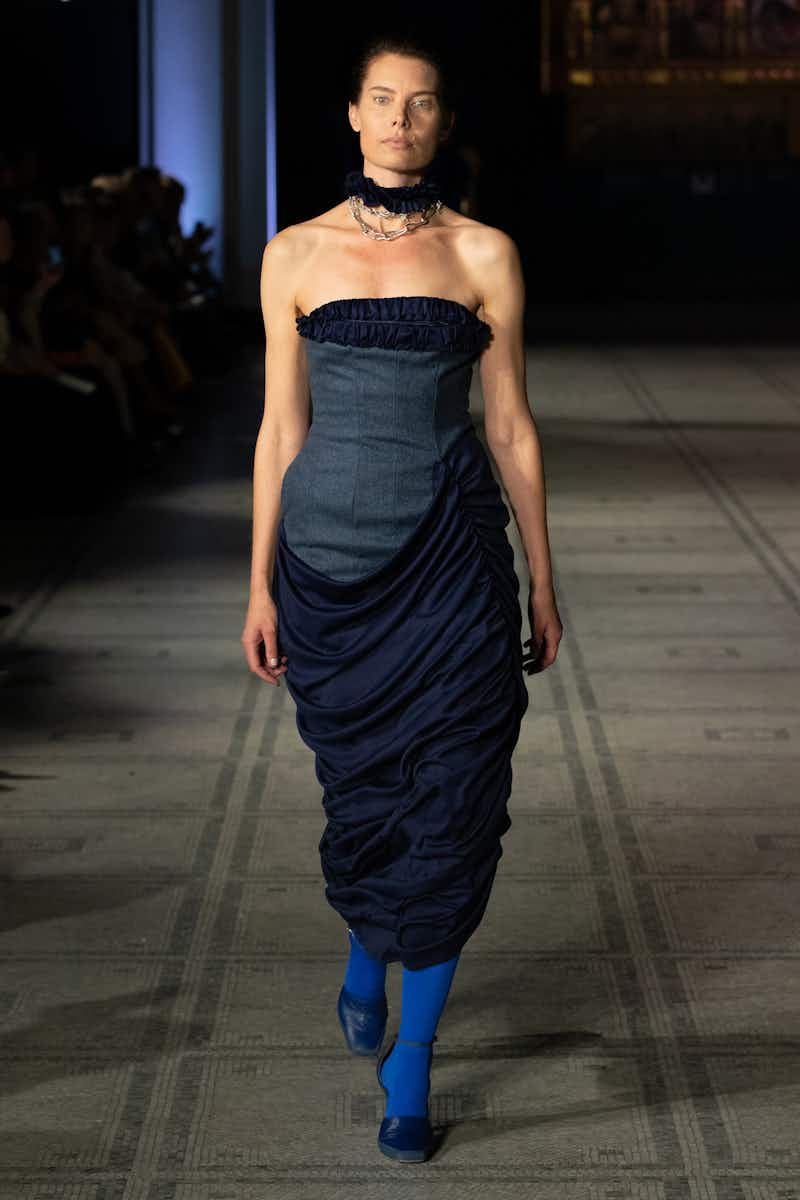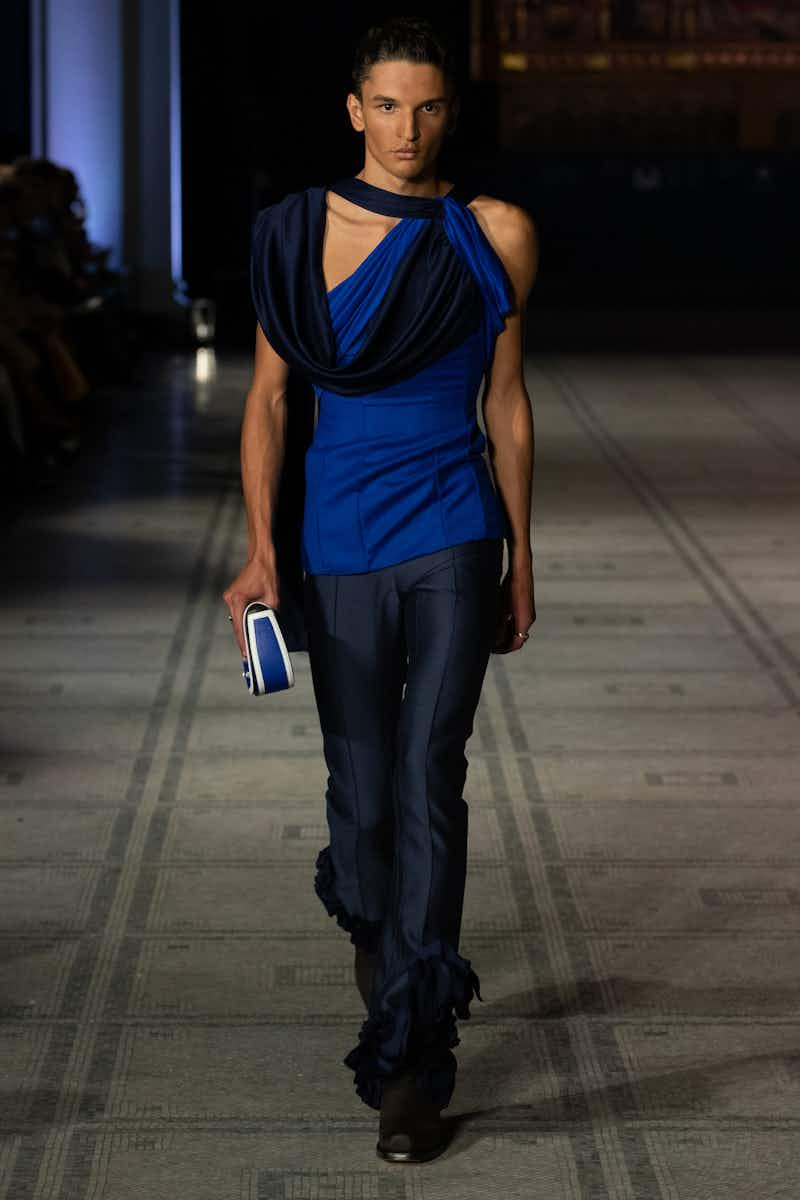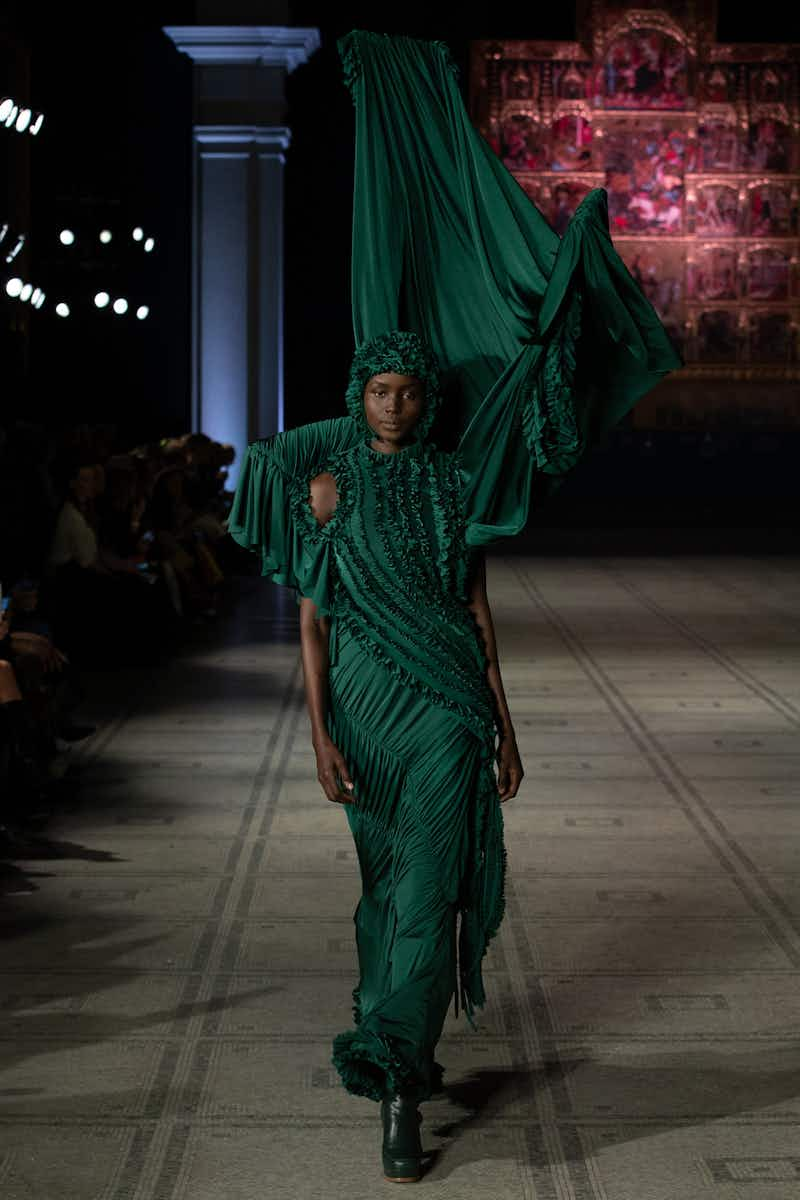 An emerald green get-up layered atop more draping and ruffles harked back to horse rosettes Malone and his grandmother would make together when he was a child, and boned bustier dresses with silky fabric cutting diagonally across the body cemented Malone's affinity for draping.
The closing looks were among the collection's most striking. In a continuation of Malone's chosen colour palette of electric blues and deep greens, the final three models came down the runway in sculpted one-piece garments. Structured shoulder and back pieces created a kind of mast around their bodies, bringing together all of the elements Malone introduced throughout the collection: masterful draping, ruffles leading into sensual ruching, bare shoulders and matching bonnets to boot.
As for the accessories, the designer reimagined Mulberry's Bayswater and Darley bags, which are already available to purchase. And lots of fabric doesn't necessarily equal waste – throughout his career, Malone has been a staunch advocate for sustainability in the fashion industry. Each accessory was made using Eco Scotchgrain and Gold standard leather, while recycled jerseys made up all of the collection's dresses.
Ultimately, working towards this show helped Malone confront and process the tumult of the last year. The result? A larger-than-life collection bursting with creativity, which merges heritage art with new-age fashion.


More like this