Stroke of genius

Prints are pushed to the max for Richard Quinn's latest vision in collaboration with fashion house Moncler.
Three days before his SS20 show, you'd expect Richard Quinn to have chewed his fingernails down to the quick with stress. Instead he's reclining on a saffron-coloured sofa at MatchesFashion's Carlos Place boutique, soft jazz playing in the background, fashion week guests toasting his wall-to-wall floral Moncler AW19 collection installation.
Quinn's riotous all-over floral prints have turned the traditionally black-clad fashion industry on to more-is-more pattern, scoring him the inaugural Queen Elizabeth II Award for Design from the Queen herself and his very own collaboration with Moncler's Genius project, where different designers apply their creative ethos to Moncler's outerwear expertise.
Here, Quinn talks collabs, speed and displays a very authentic-sounding Italian accent.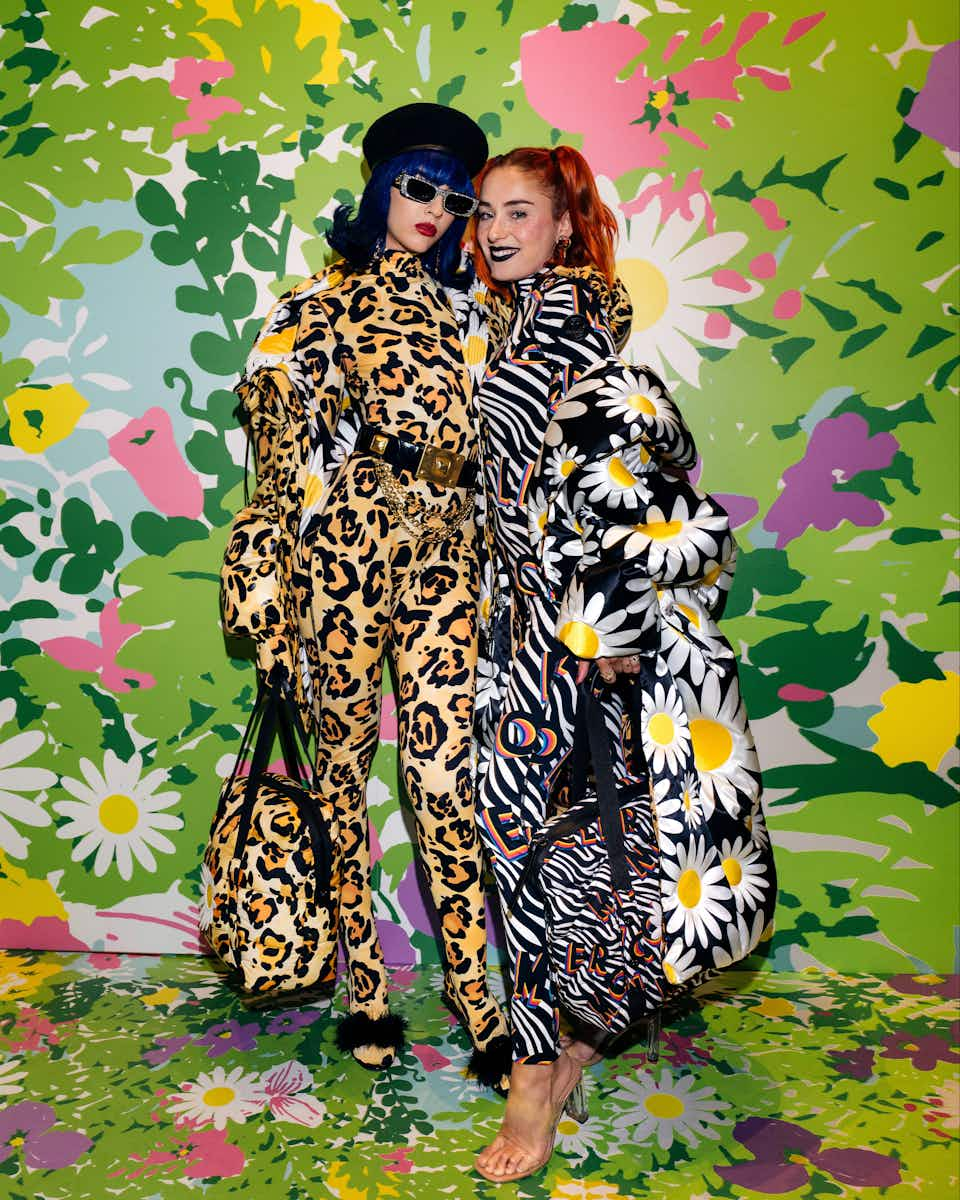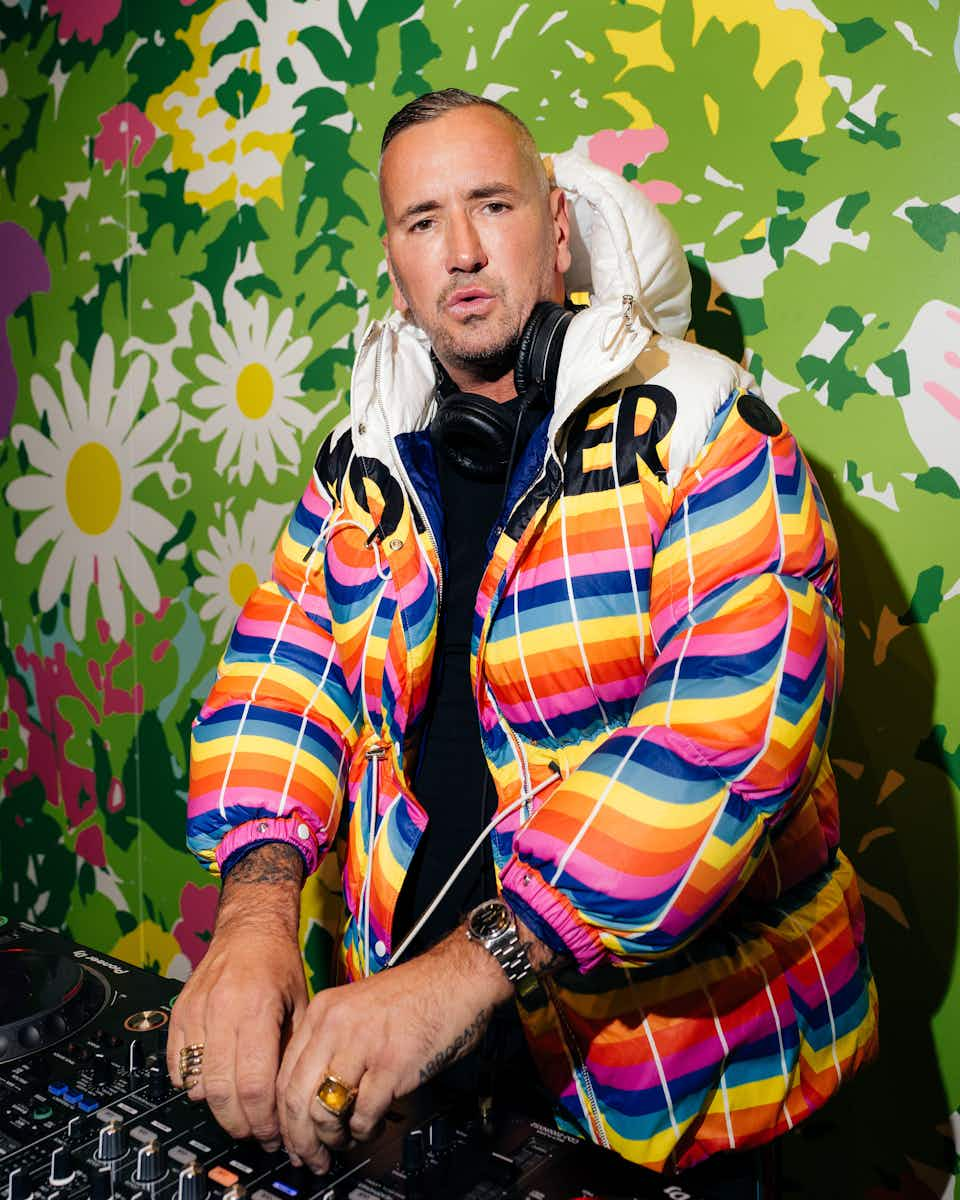 How did you translate the Richard Quinn look for Moncler?
I'm known for full floral printed looks. I really wanted to incorporate that — I didn't want to create something that wasn't the full vision, it'd be a bit weird if it was just a puffer jacket and a boot.
We did the Quinn hand coverings in technical fabrics – they work so well in an outdoor context. You could actually go skiing with them!
How tight was the brief?
I approached it completely free. Moncler are really open to having designers doing something different: that's what they want. I think that's why it's worked so well with Craig [Green] and Simone [Rocha] and [Pierpaolo Piccioli from] Valentino – their [Moncler collections] are so saturated in their visions.
You're part of the Moncler Genius project – do you identify with the ​'genius' label?
I definitely wouldn't call myself one. If I throw a ball of paper in the bin and then it goes in… that's when I'm like, ​"Genius!" More seriously, I think the concept of [the Moncler project] is the element of genius: how they present the collections, how they've brought in both high fashion people who have been around for a long time, and people who are starting out like myself.
What have you enjoyed most about making this collection?
It's been nice to work in a different context – it forces us to keep moving forward. Otherwise you'd just be a bit stagnant. We did a puffer jacket before, but it wasn't as technical as the ones they do, obviously. It was a learning experience for us in technical fabrics – how they do volume is completely different to how I would make it! Also, we learned how fast Moncler can do things.


What was it like working at Moncler speed?
Because everything for my own line is made in our studio, we're not waiting weeks on end for fabrics, but for a shoe or a bag, we would have huge hurdles doing that from London. At Moncler, they're very friendly and efficient. If you want a monogram on a zip, it happens very fast. We said we wanted [to show in] an arch covered in flowers, we gave them a small sample, and that's what actually happened. That's why we love working with them. They know the best way to do something – it's like a well-oiled machine. When we go there, we get loads done, have a really good time, eat loads of gelato at the airport and then come home!
What's your gelato flavour of choice?
I'm definitely a three scoop guy. I always put caramel on the bottom and work my way up!
Have you learned any Italian?
I actually dropped Italian, French and Spanish at school in Year 9. I was like, ​"I'm never going to need these." Cut to me in a Eurostar or the plane to Milan like, ​"I should have listened to my parents." I worked at Dior in Paris as a placement student for a few months, so I can almost get the gist of things in Italian. There's ​"allora", ​"pronta" [in an impressive Italian accent]… I really want to learn the language!

More like this