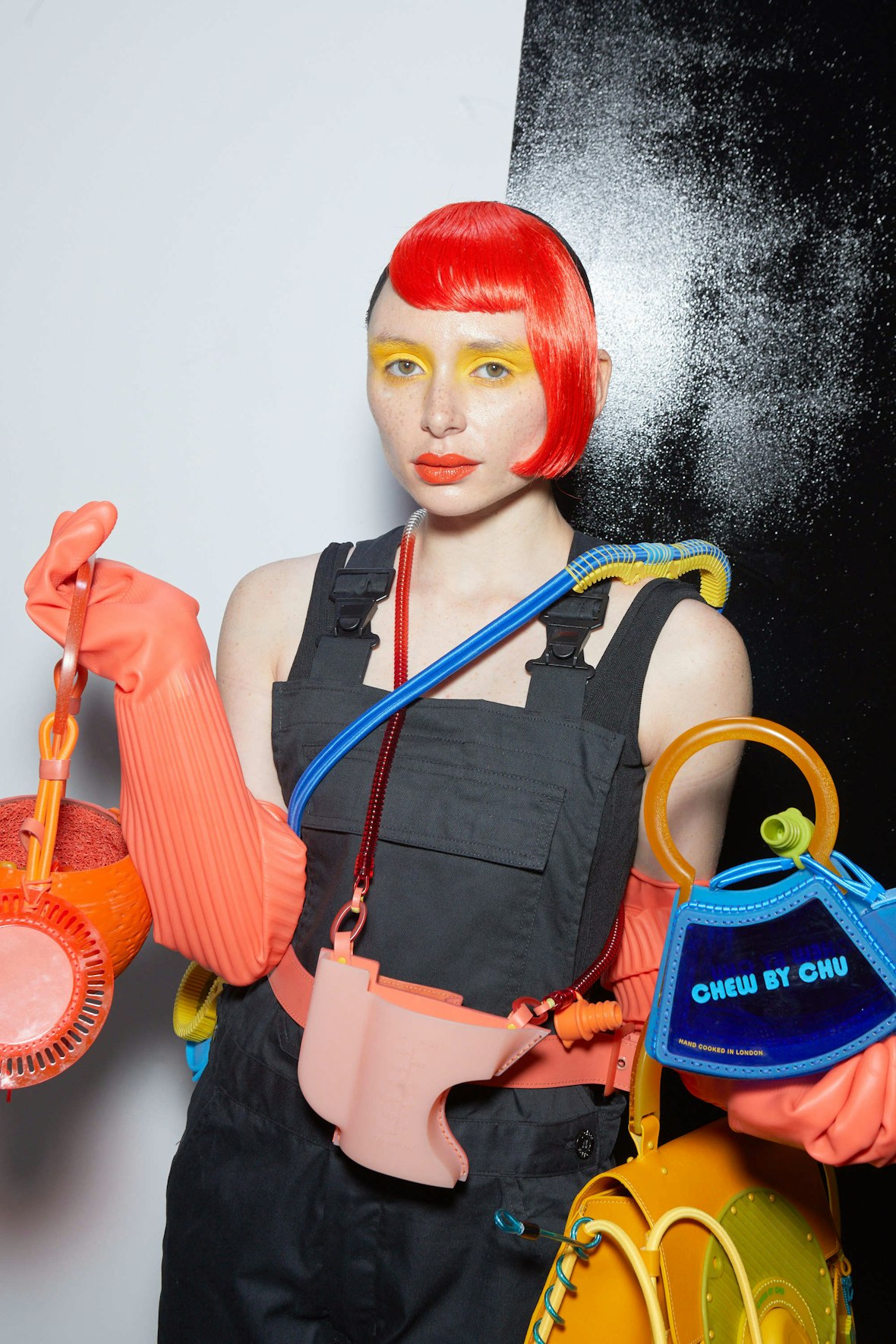 Youth in revolt: RCA's class of 2019
How is one to navigate the fashion industry in 2019? There's Insta-hysteria, fantasy-fuelled imagery and more-is-more messaging on one side. Then we have a darker mood on the other — if designers don't play catch up and help address the industry's impact on people and the planet, at a time when the UK Parliament have declared a national climate crisis, where does that leave us? Can fashion ever be a tool for social change? In response, The Royal College of Art's ​'emergency' show on Friday night (aptly titled All at Once) felt like a gigantic Fuck You to modern consumption; questioning the whole system and re-examining gender, politics and culture (both URL and IRL). ​"It was about making it feel real about what fashion is," explains Zowie Broach, Head of Fashion at the RCA. ​"Although fashion is understandably toxic to the planet it has the most power to protect, to be functional and poetic."
The staging, inside the Cork Street Galleries in Mayfair, was beautifully chaotic. The immersive event, which showcased the work of over 50 students across the RCA's MA fashion womenswear, menswear, knitwear, footwear, accessories and millinery, was a live game of fashion chess. Models rotated around the room. Music (obnoxiously loud, on purpose) pumped through the speakers, including Elton John's Don​'t Go Breaking My Heart, over-dubbed with someone shouting ​'Brexit' in parts. There was an acrobat performing throughout. Attention spans were tested, before the showcase graduated to a deathly silence at the end in the form of an anti-fashion statement. From the new frontiers of sustainability to designers blending our public and private selves — The Face speaks to four of the RCA's most promising MA graduates.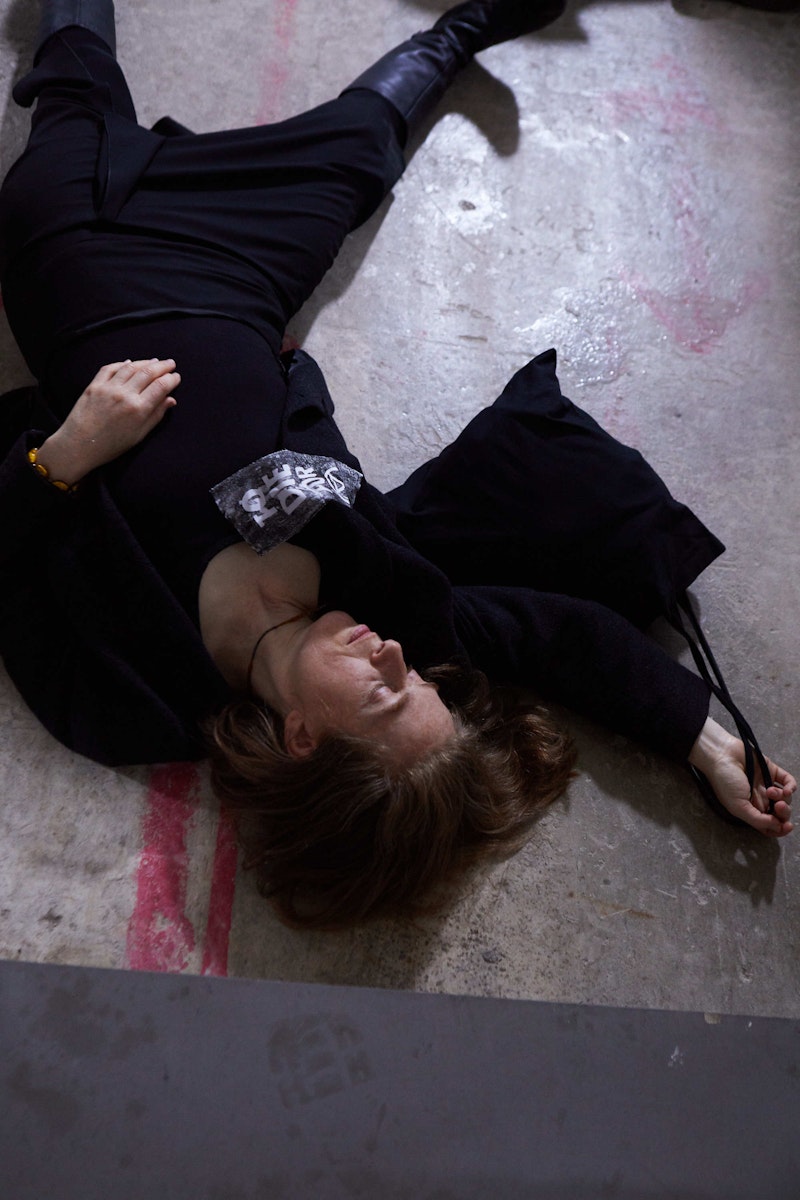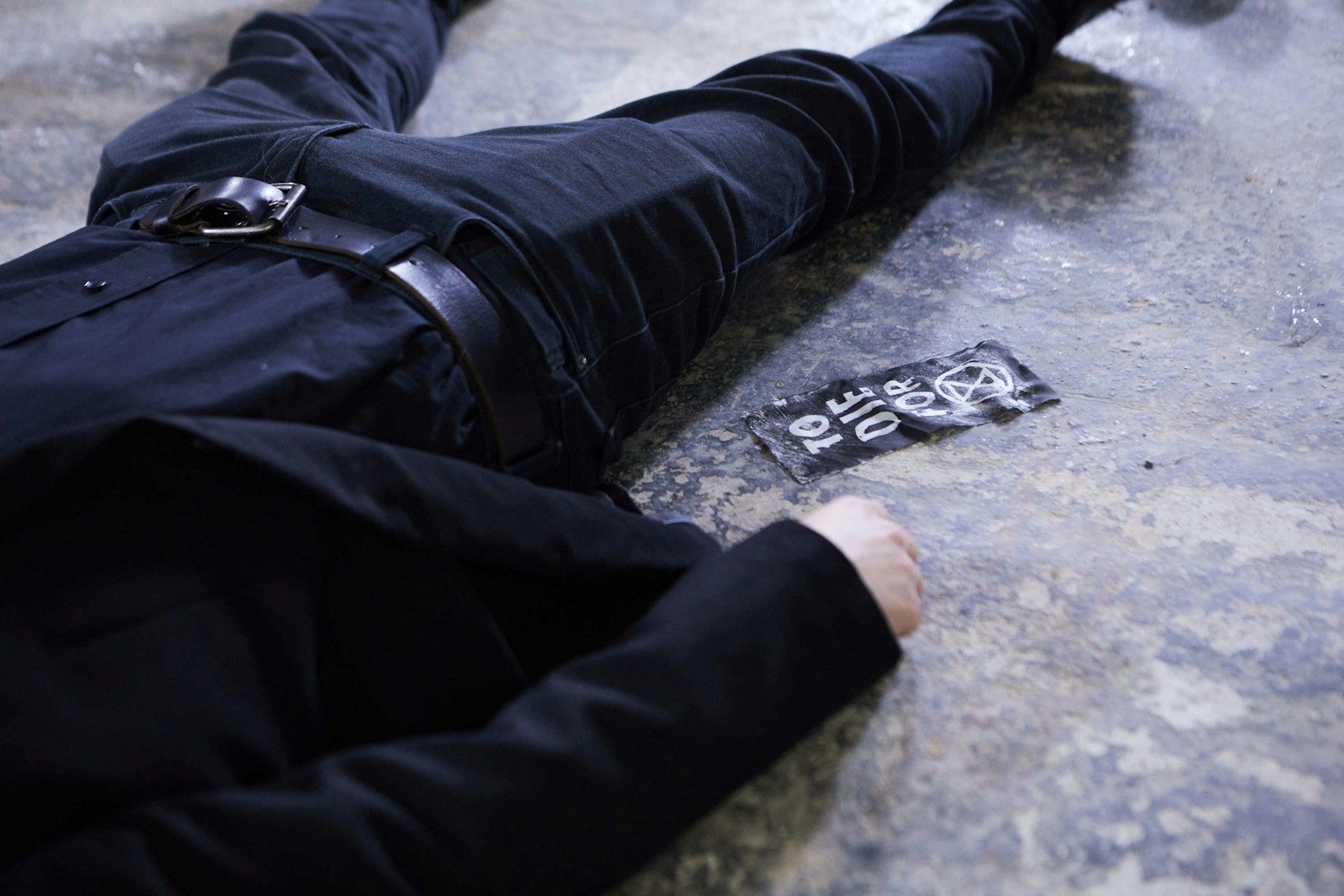 Is fashion to die for? This was the very real question posed by Danish-born MA fashion student and a member of Extinction Rebellion, who presented no physical collection, but a protest. Confronting ideas of overconsumption and the price we pay for what's on our backs, she stresses: ​"We're in an ecological crisis. I could no longer justify contributing to this, to use new materials. We don't need more clothes."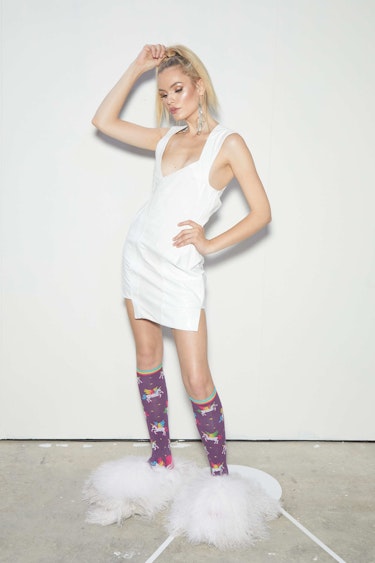 The 26-year-old designer presented her first collection called ​'Cumming of Age' (an exploration of the sexualisation of childhood in society today) at Middlesex University in 2017. Her RCA graduate designs trigger a debate about how we fashion our identity, both online and offline. ​"Instead of focusing on the cold nature of online dating, I was more interested in how people present themselves — how social media enhances self-engineering." This blurring of fantasy and reality is prevalent in her clashing designs, where high-shine, flesh-revealing apparel on the top half of the body are paired with PJ bottoms, non-IG worthy socks and fluffy slippers. Bedroom couture, it's a thing.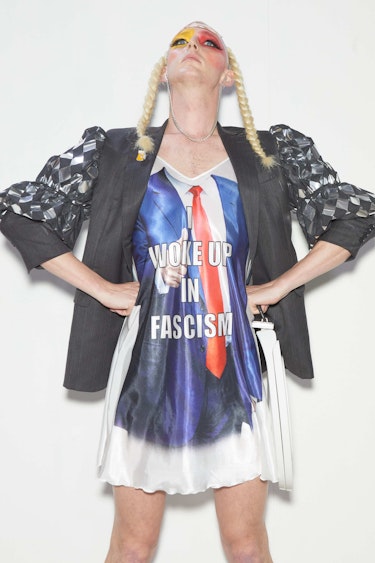 Célia Fröhlich
The Katharine Hamnett school of provocation is still alive and well 30 years on. Using the body as a billboard, Célia Fröhlich, founder of ABBILD STUDIO, is heavily inspired meme culture and her own upbringing growing up with a family of social workers. German-born Fröhlich questions political outspokenness through her playful, pantomime-like designs and performance art. For example, a nightdress, with an ​'I Woke Up In Fascism' slogan emblazoned across a picture of a Trump Suit. ​"I wanted to explore this idea of us being a bit asleep and not really waking up to what's happening in the world," she says after the show. Her accessories of choice? A toilet seat handbag and ​'isolation' headphones.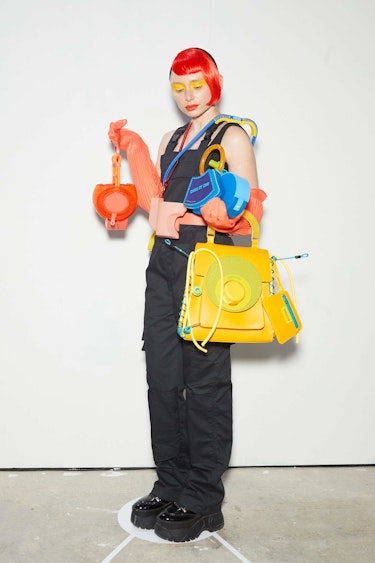 Clara Chu's handbag collection ​'CHEW BY CHU' is arm candy du jour, with a Nigella Lawson twist. The 24-year-old, Hong Kong-born designer turns homeware appliances and kitchenware (from ice-cube trays to cupcake moulds) into a tongue-in-cheek, oddly-beautiful belts and handbags. ​"I have also utilised existing household objects in each bag," Chu explains of her technical process. ​"Including water bottles, silicone cups, heatproof mats, ice-cube trays and jar openers etc. I engineered them into functional fittings that works like a bag fitting, lock, gadgets or hinges."
---