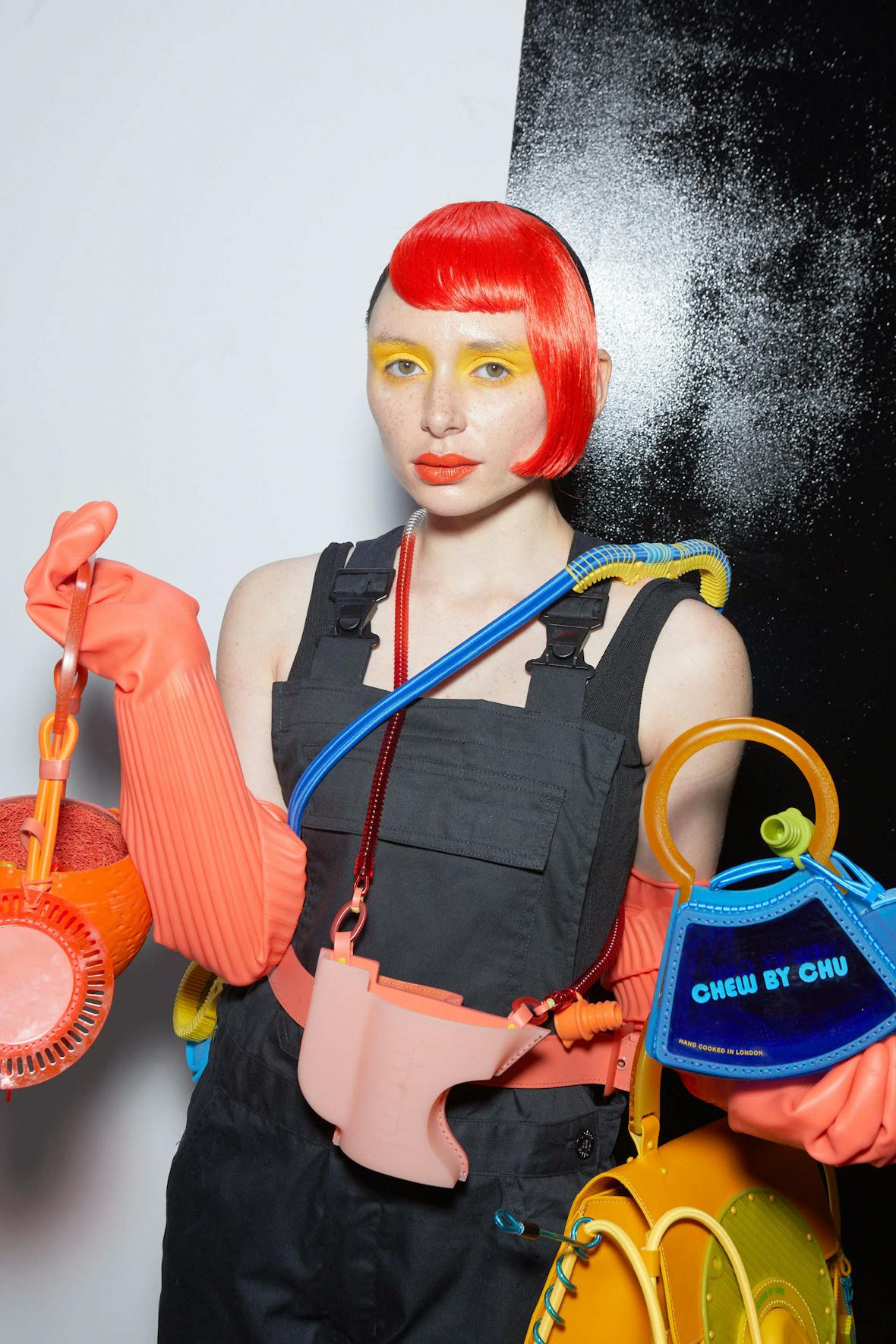 Youth in revolt:

RCA

's class of

2019
How is one to nav­i­gate the fash­ion indus­try in 2019? There's Ins­ta-hys­te­ria, fan­ta­sy-fuelled imagery and more-is-more mes­sag­ing on one side. Then we have a dark­er mood on the oth­er — if design­ers don't play catch up and help address the industry's impact on peo­ple and the plan­et, at a time when the UK Par­lia­ment have declared a nation­al cli­mate cri­sis, where does that leave us? Can fash­ion ever be a tool for social change? In response, The Roy­al Col­lege of Art's ​'emer­gency' show on Fri­day night (apt­ly titled All at Once) felt like a gigan­tic Fuck You to mod­ern con­sump­tion; ques­tion­ing the whole sys­tem and re-exam­in­ing gen­der, pol­i­tics and cul­ture (both URL and IRL). ​"It was about mak­ing it feel real about what fash­ion is," explains Zowie Broach, Head of Fash­ion at the RCA. ​"Although fash­ion is under­stand­ably tox­ic to the plan­et it has the most pow­er to pro­tect, to be func­tion­al and poetic."
The stag­ing, inside the Cork Street Gal­leries in May­fair, was beau­ti­ful­ly chaot­ic. The immer­sive event, which show­cased the work of over 50 stu­dents across the RCA's MA fash­ion wom­enswear, menswear, knitwear, footwear, acces­sories and millinery, was a live game of fash­ion chess. Mod­els rotat­ed around the room. Music (obnox­ious­ly loud, on pur­pose) pumped through the speak­ers, includ­ing Elton John's Don​'t Go Break­ing My Heart, over-dubbed with some­one shout­ing ​'Brex­it' in parts. There was an acro­bat per­form­ing through­out. Atten­tion spans were test­ed, before the show­case grad­u­at­ed to a death­ly silence at the end in the form of an anti-fash­ion state­ment. From the new fron­tiers of sus­tain­abil­i­ty to design­ers blend­ing our pub­lic and pri­vate selves — The Face speaks to four of the RCA's most promis­ing MA graduates.


Is fash­ion to die for? This was the very real ques­tion posed by Dan­ish-born MA fash­ion stu­dent and a mem­ber of Extinc­tion Rebel­lion, who pre­sent­ed no phys­i­cal col­lec­tion, but a protest. Con­fronting ideas of over­con­sump­tion and the price we pay for what's on our backs, she stress­es: ​"We're in an eco­log­i­cal cri­sis. I could no longer jus­ti­fy con­tribut­ing to this, to use new mate­ri­als. We don't need more clothes."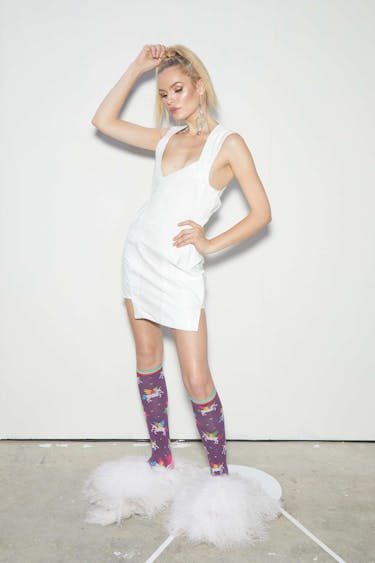 The 26-year-old design­er pre­sent­ed her first col­lec­tion called ​'Cum­ming of Age' (an explo­ration of the sex­u­al­i­sa­tion of child­hood in soci­ety today) at Mid­dle­sex Uni­ver­si­ty in 2017. Her RCA grad­u­ate designs trig­ger a debate about how we fash­ion our iden­ti­ty, both online and offline. ​"Instead of focus­ing on the cold nature of online dat­ing, I was more inter­est­ed in how peo­ple present them­selves — how social media enhances self-engi­neer­ing." This blur­ring of fan­ta­sy and real­i­ty is preva­lent in her clash­ing designs, where high-shine, flesh-reveal­ing appar­el on the top half of the body are paired with PJ bot­toms, non-IG wor­thy socks and fluffy slip­pers. Bed­room cou­ture, it's a thing.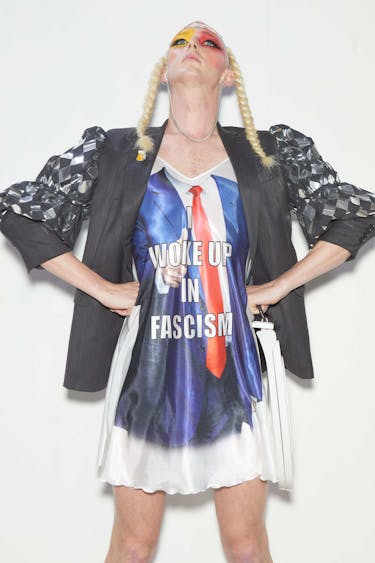 Célia Fröh­lich
The Katharine Ham­nett school of provo­ca­tion is still alive and well 30 years on. Using the body as a bill­board, Célia Fröh­lich, founder of ABBILD STU­DIO, is heav­i­ly inspired meme cul­ture and her own upbring­ing grow­ing up with a fam­i­ly of social work­ers. Ger­man-born Fröh­lich ques­tions polit­i­cal out­spo­ken­ness through her play­ful, pan­tomime-like designs and per­for­mance art. For exam­ple, a night­dress, with an ​'I Woke Up In Fas­cism' slo­gan embla­zoned across a pic­ture of a Trump Suit. ​"I want­ed to explore this idea of us being a bit asleep and not real­ly wak­ing up to what's hap­pen­ing in the world," she says after the show. Her acces­sories of choice? A toi­let seat hand­bag and ​'iso­la­tion' headphones.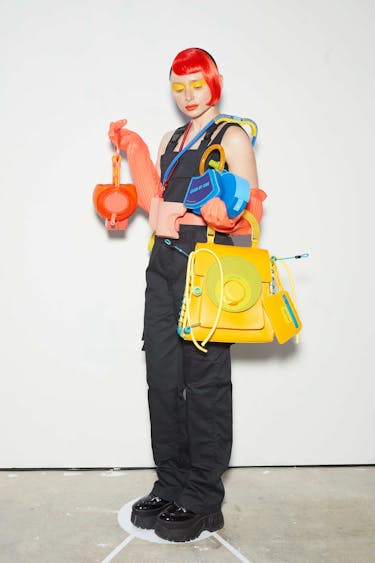 Clara Chu's hand­bag col­lec­tion ​'CHEW BY CHU' is arm can­dy du jour, with a Nigel­la Law­son twist. The 24-year-old, Hong Kong-born design­er turns home­ware appli­ances and kitchen­ware (from ice-cube trays to cup­cake moulds) into a tongue-in-cheek, odd­ly-beau­ti­ful belts and hand­bags. ​"I have also utilised exist­ing house­hold objects in each bag," Chu explains of her tech­ni­cal process. ​"Includ­ing water bot­tles, sil­i­cone cups, heat­proof mats, ice-cube trays and jar open­ers etc. I engi­neered them into func­tion­al fit­tings that works like a bag fit­ting, lock, gad­gets or hinges."
---