Shape-shifting jewels with a Y2K twist
Toronto-based designer, Steff Eleoff, sacked off her MFA in New York to pursue jewellery design – a decision that's proving worthwhile, one seductive piece at a time.
When 23-year-old Steff Eleoff set up her eponymous jewellery label just under a year ago, it was a happy accident. The MFA course she was taking in New York felt creatively unsatisfying – neither sculpture nor art history fed Eleoff's creative appetite – so she packed her bags and moved back to her hometown of Toronto, Canada. Once there, she spent time collecting vintage brooches and costume jewellery to make pieces for herself as an artistic outlet.
Little did Eleoff know this would soon turn into a full-blown studio practice. The designer now dabbles exclusively in gleaming silver jewels, each of them seductively winding around earlobes, fingertips and waistlines. There's a distinct and irresistible Y2K feel to them, which has been deftly translated into trippy, futuristic pieces with a mirrored finish.
"I joined a studio space [in Toronto], but the technicians would never let me use the equipment," she explains. ​"The pieces I brought in were made of unknown metals – they were plated, painted or set with fake stones. I also walked in there with a full set of nails on, so I don't think they took me too seriously!"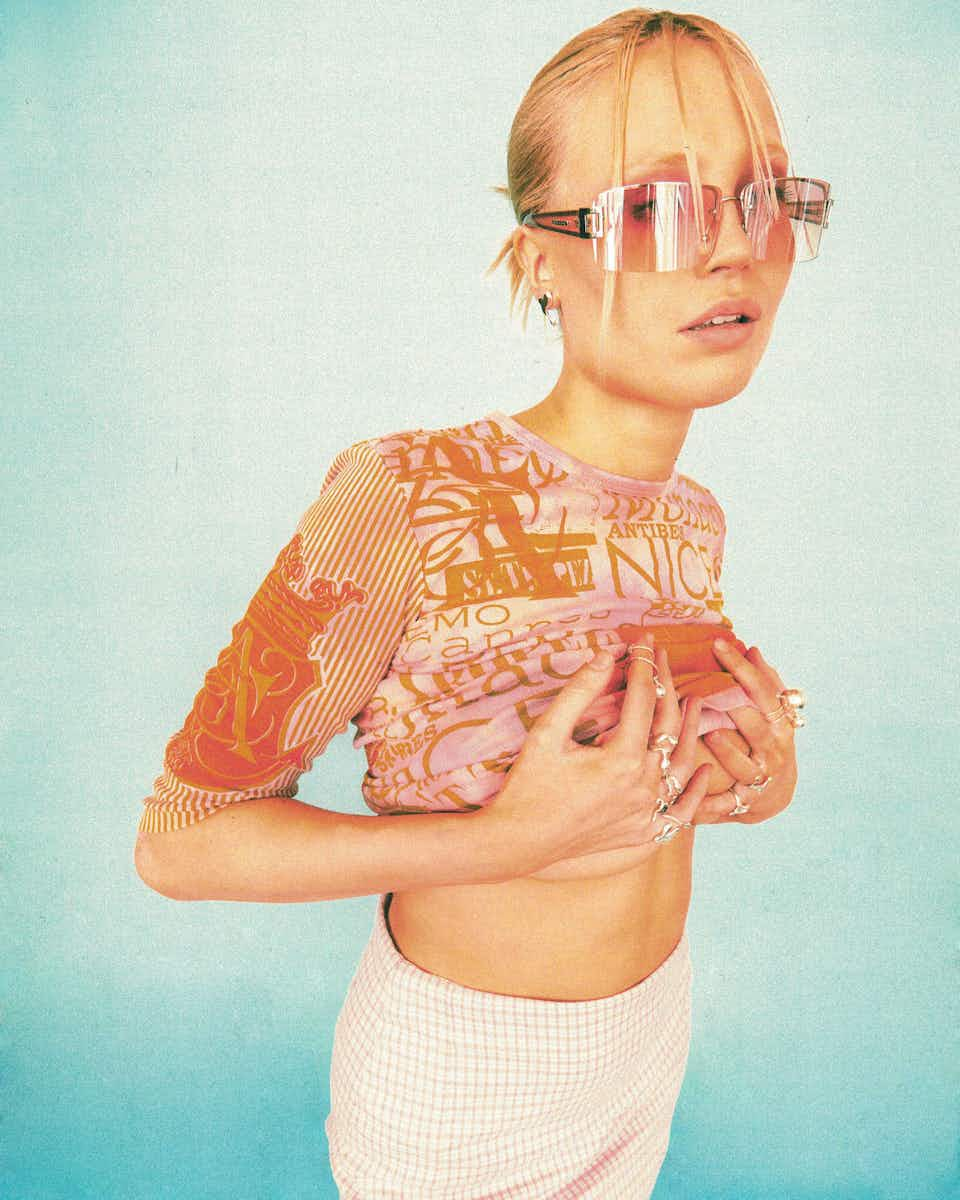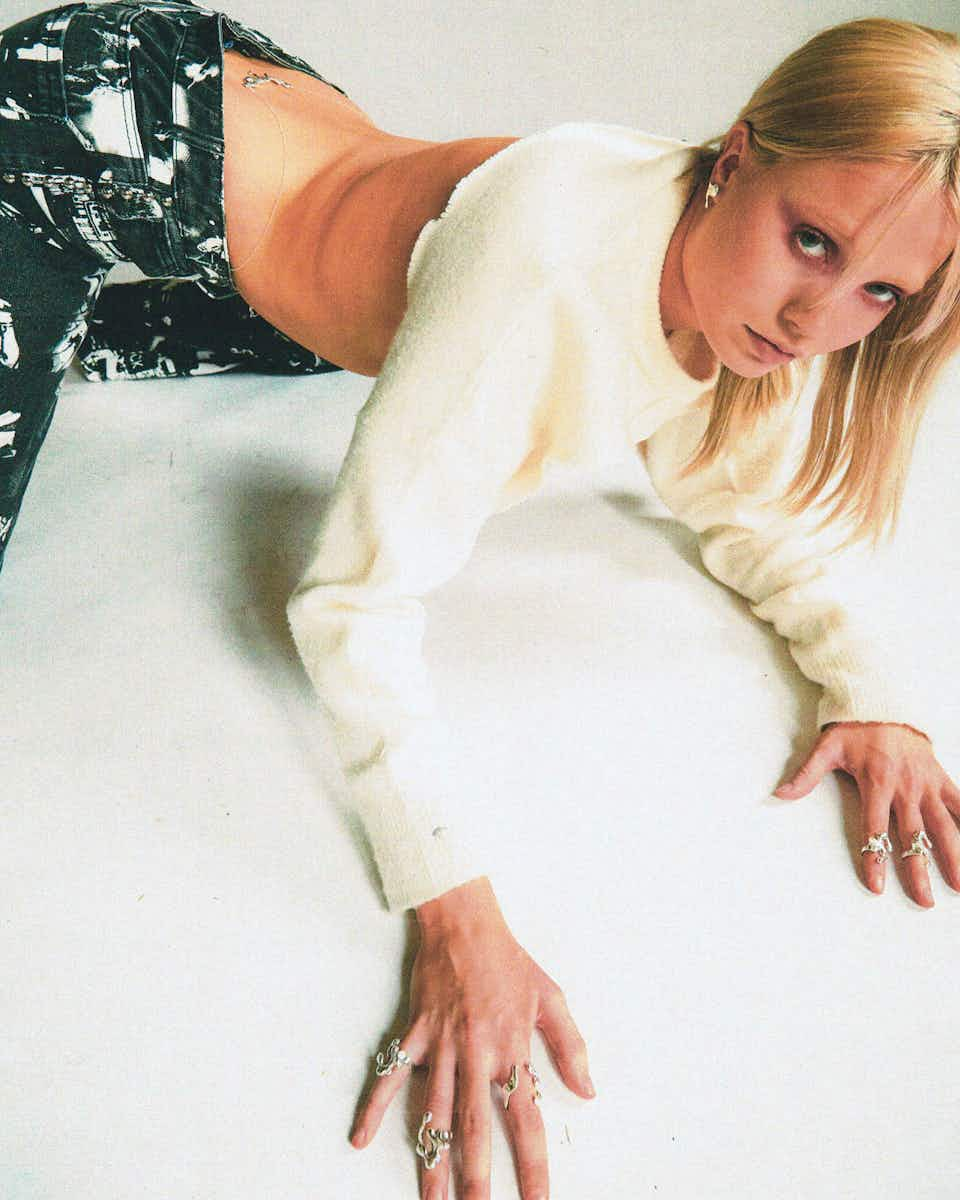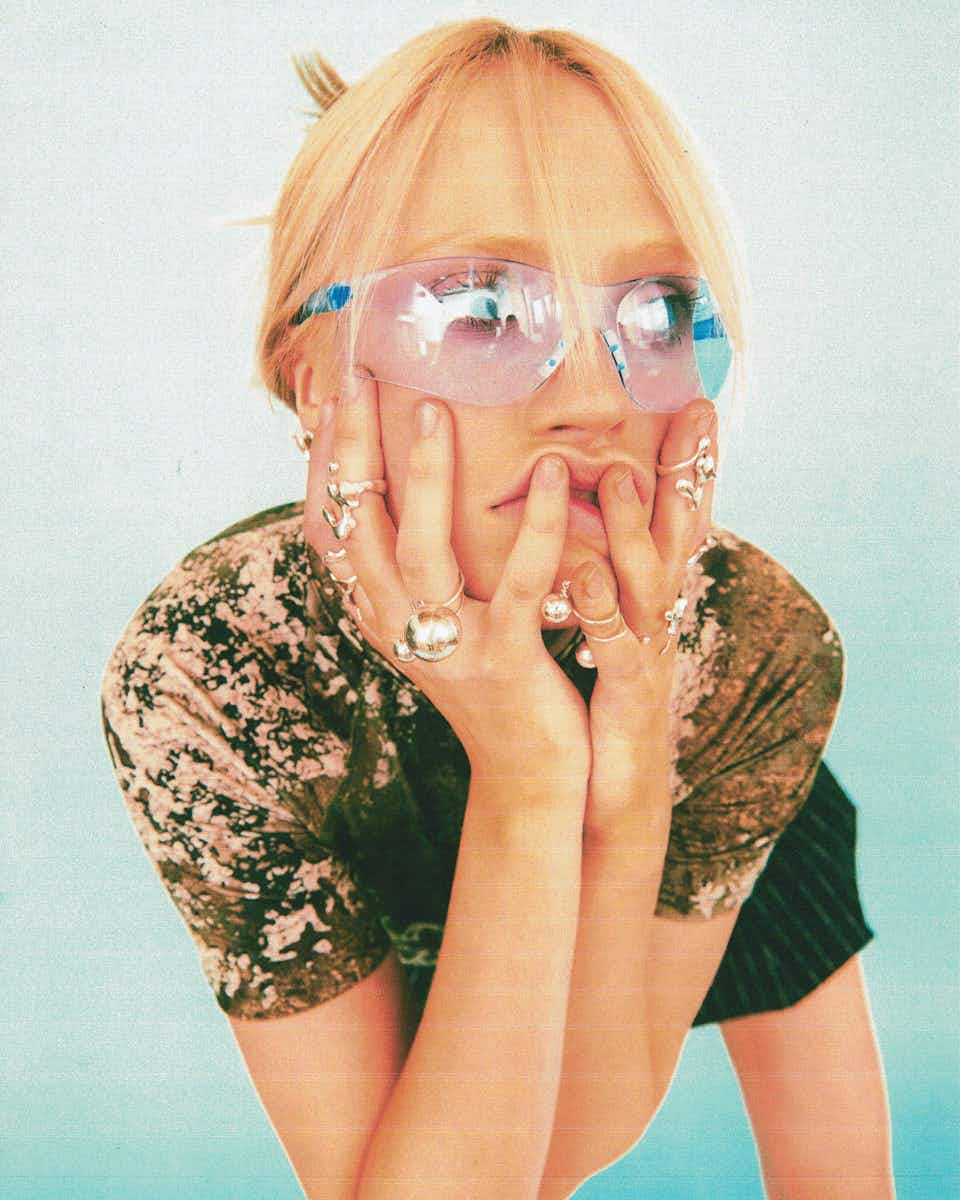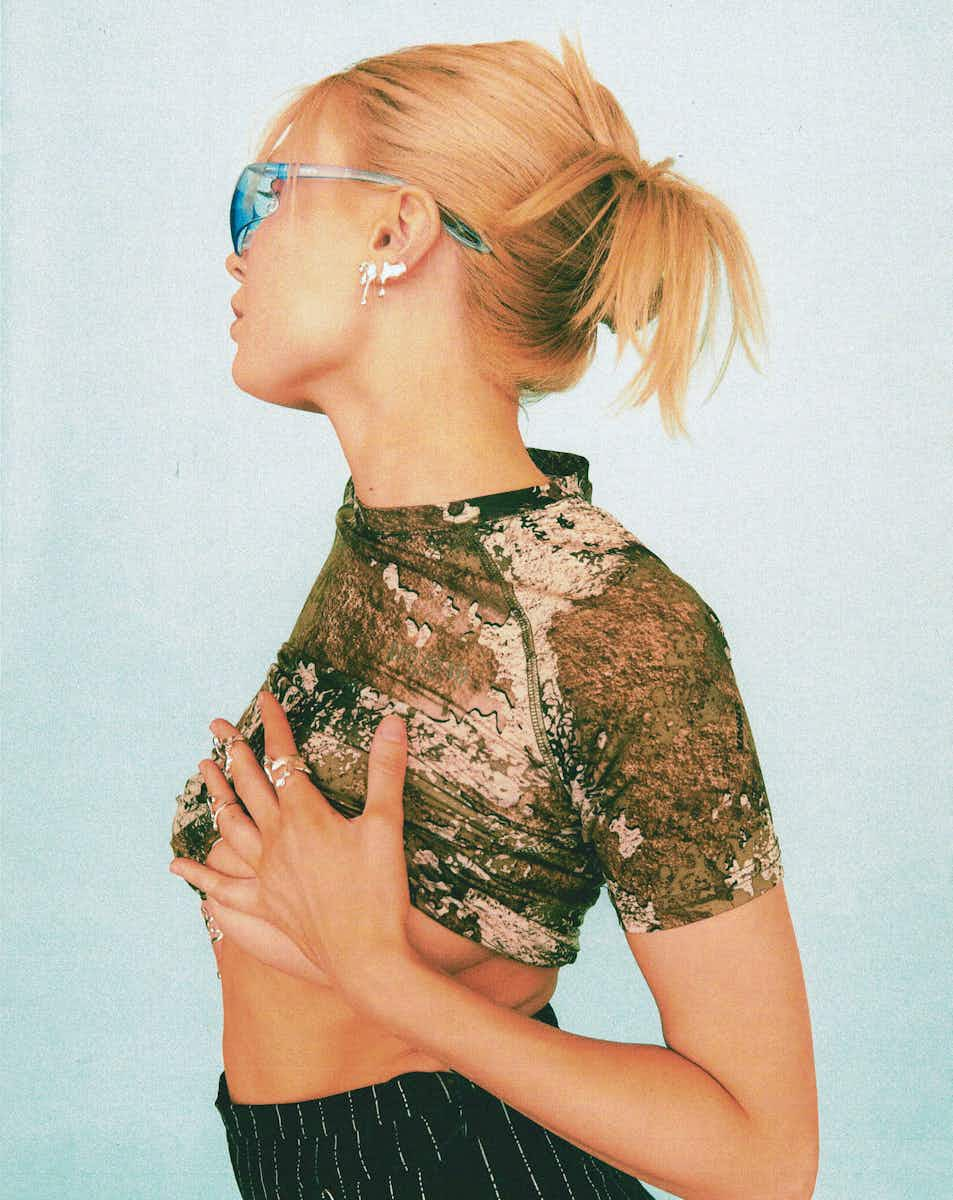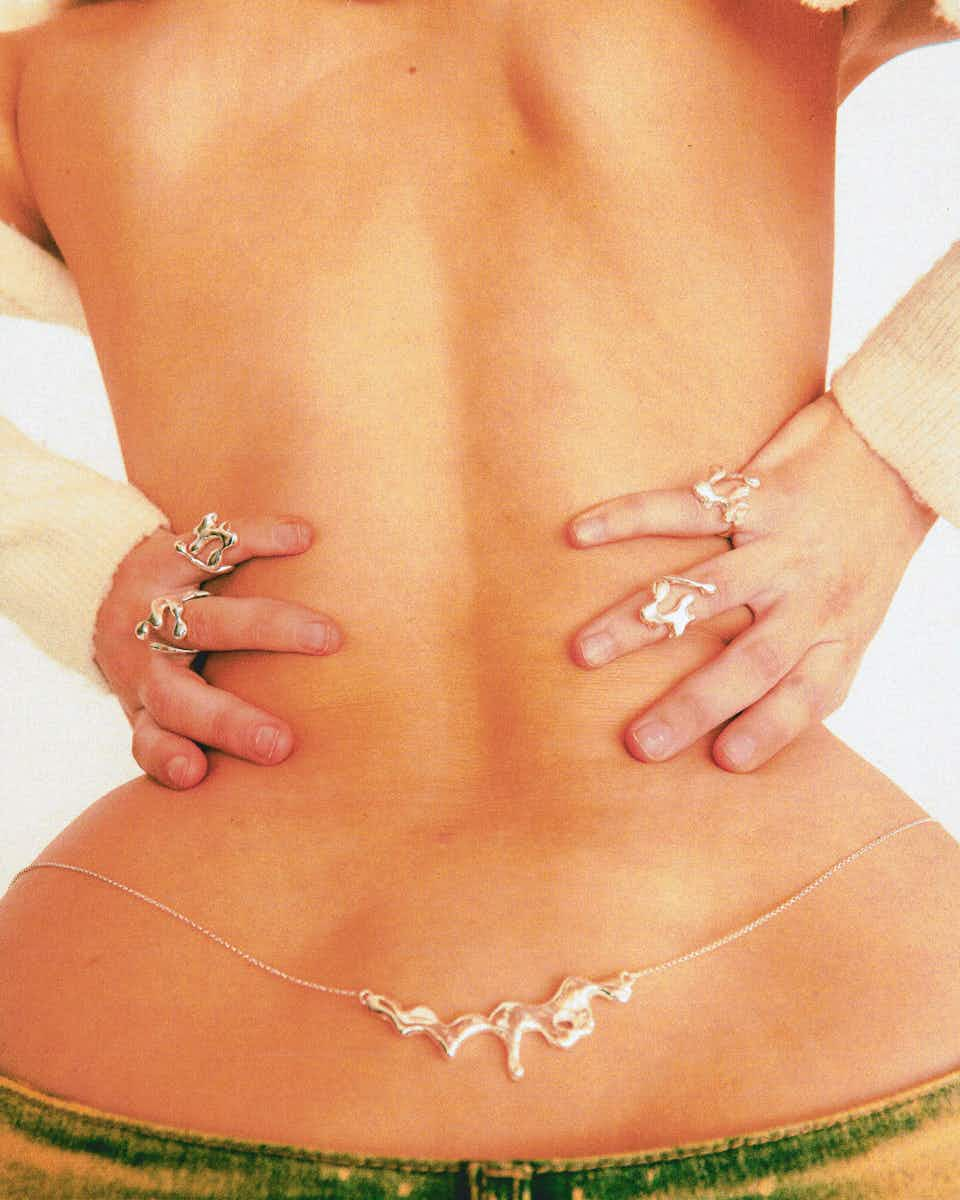 Eleoff had the last laugh, though. While she took a few courses to learn the basics of jewellery-making, her tongue-in-cheek sensibility is front and centre when it comes to her creative process.
"I'm a big believer in the ideology of play," she continues. ​"Play with your materials, with imagery, play with your designs and your drawings. Don't be afraid to experiment and play like no one is watching – because, in the beginning, no one is."
Eleoff's fine art background still influences the way she works – specifically, shapes in nature. ​"Any object with free-flowing lines and repetition, really," she says. ​"The patterns that rivers make, for example, the Nile River, as seen from space, play a big role in my designs right now. [But] nothing I've made has ever been envisioned from start to finish. We're just having fun!"
According to Eleoff, jewellery is just one piece of her creative puzzle. Eventually, she'd like to expand her vision into accessories, homeware and kitchenware, to name a few, in a bid to ​"translate the language of my pieces into other forms. My goal for now, though, is to design for a confident, liberated person – someone who's tired of the basics."

More like this