The best Halloween costume ideas for 2022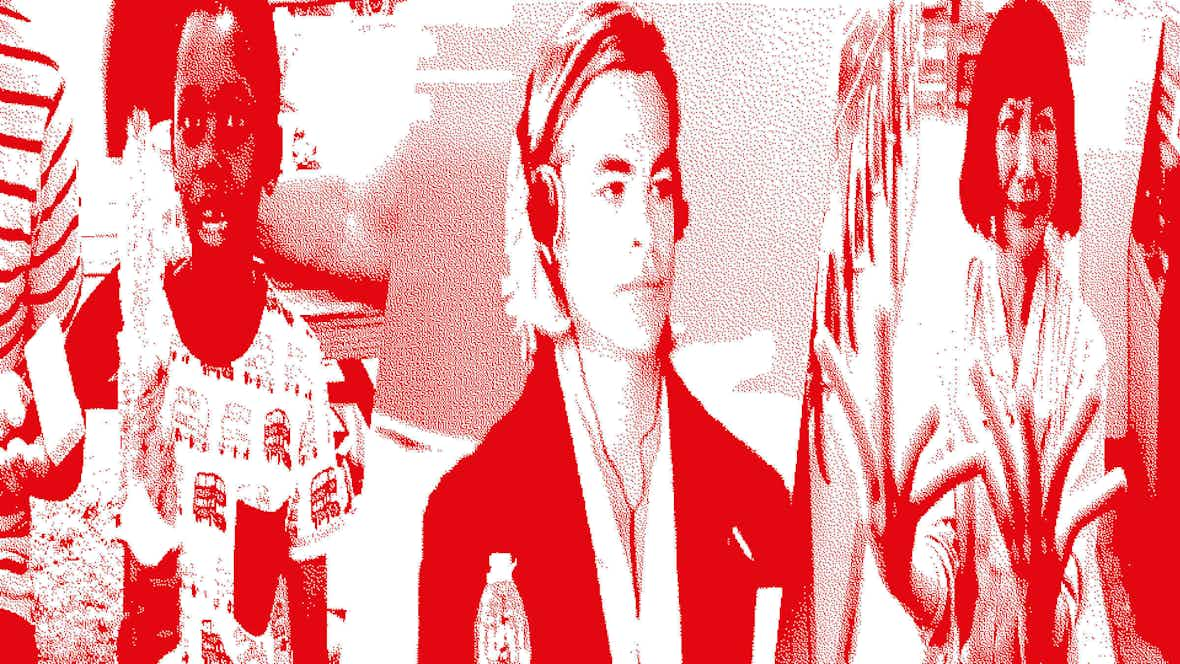 Get it right this spooky season.

The 31st is rolling around once again, but don't let the pressure of coming up with an original costume scare you. Shock all your pals by doing better than dabbing on some white face paint or plonking on a witches hat yet again this year, and select a look that none of your mates will have thought of (unless they read this list, of course). So step away from the cat whiskers and read our step-by-step guide to achieving each look.

Normally we'd call this look lazy, but what could be more scary than exiting Prime Minister Liz Truss dressed as a devil? In her mere 45 days as PM, the queen died, the markets crashed and the pound tanked, leaving us all a lot worse off. Pretty terrifying, huh? To make matters worse, we could have to have Boris Johnson running the country again – the greatest jump scare of all. In Truss's own words, ​"better the devil you know…"
What you'll need: Like Liz's six weeks in office – which is less time than Kim K's micro-marriage to Kris Humphries – putting together this look is quick. A red-horned headband can be purchased from any good fancy dress shop. Couple that with a red long-sleeved top and get fully into character by putting on a dazed stare and muttering about Beijing pork markets.
A hot dog finger person from Everything Everywhere All At Once
One of the stand-out features of this year's best blockbuster is undoubtedly the fictional parallel universe where everyone has hot dog fingers. Why do they have them? Doesn't matter. How do they function with flopping sausages on the end of their hands? Doesn't matter. All we care about is the fact it's funny. Sure, if you opt for this costume you'll have to spend all night getting other people to pour drinks into your mouth, but again, it doesn't matter. Commit to the bit and be the life of the party.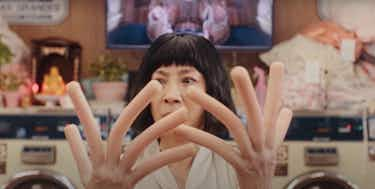 What you'll need: Your normal clothes and some hot dog finger gloves. Sadly, the official Everything Everywhere All At Once ones are sold out on the A24 merch shop, but don't worry, you can DIY it. First get craft putty and mould it into small sausage shapes. Then, grab some skin-coloured latex gloves, cut the fingers off a pair and fill them half-way with your little putty sausages. Once you've done that, put on another pair of skin-coloured gloves and slide your severed putty sausages onto each finger, securing with super glue. You might need a mate to help you out with this, and you'll have to wait until the glue dries before you take your sausage gloves off, but it will be worth it.
Following the release of that viral trailer for M3GAN, a film about an AI-generated doll gone rogue, it felt remiss not to include her in our Halloween costume round-up this year. She's got loads of attitude, Drag Race-worthy dance moves, and looks like a Madame Tussaud's rendition of Gossip Girl​'s Georgina Sparks. What's not to love?

What you'll need: A pair of round shades to condescendingly take off as soon as you set foot in your party/​club/​pub of choice and a painfully preppy school girl outfit consisting of a beige A‑line dress (preferably pleated), a pussy-bow blouse and sturdy Mary Janes (for all that dancing, y'see).

Seven-year-old Tariq warmed everyone's hearts this summer when he professed his love for sweetcorn on the internet series ​"Recess Therapy". As he puts it, corn is ​"a big lump with knobs" that's ​"got the juice", and that's why it's his favourite food. Cute and fairly easy to put together, this costume will be a wholesome addition to any Halloween shindig. We can't imagine a more beautiful thing.

What you'll need: A London souvenir T‑shirt, preferably with red cartoon buses on and, most importantly, a stick of corn. Bonus points for blacking out your front teeth with food colouring to show you've had a recent visit from the tooth fairy/​done a Jason Derulo.

Chris Pine at the Don't Worry Darling press conference
When Chris Pine turned up for a press junket for the film he was starring in, he probably didn't realise he was about to become an overnight meme. The Don't Worry Darling drama-adjacent star went viral for dissociating and zoning out during the conference where Harry Styles said the words: ​"My favourite part about the movie is that it feels like… a movie". Who can blame him? We've all been Chris Pine at some point.

What you'll need: Grab a pair of old school over ear headphones for the headset, tuck your hair (ideally trimmed into a shoulder-length bob) behind your ears, and pop on a suit with an unbuttoned shirt. Now pull your best bored face, and you're good to go.

If you've been paying attention to beauty trends this year, you'll know that glazed doughnut skin and nails are hot. Pioneered by Hailey Bieber, it's the ultimate dewy look: glazed, glassy skin is what you want to create that frosted feel. Just don't overdo it: go for shiny, rather than greasy. You want to look tasty, not sweaty.

What you'll need: Slap on an ultra-hydrating serum, moisturiser and a pearlescent primer to get the glazed face look. Nail-wise, a step-by-step guide can be found here. Then slick your hair back with a shimmery gel. Wanna go all out? Buy a box of Krispy Kremes and attach each ring to your outfit (don't ask us how, Google it) and you've got a ready-made end-of-the-night snack.

Emma D'Arcy saying "Negroni… sbagliato… With prosecco in it"
The House of the Dragon star sent the internet into a tailspin last week after revealing their drink order of choice in an interview with co-star Olivia Cooke. Something about their cadence, or ​"lilting, raspy voice", as FACE contributor Daisy Jones put it, made the queer community go, well, a bit mad. Jones also noted that D'Arcy's outfit in said video, a pink-on-pink shirt and tie combo, really shouldn't work, but it somehow makes this whole moment more… erotic. Let's give it a whirl.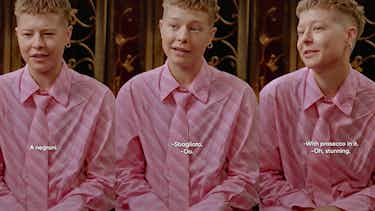 What you'll need: An oversized pink shirt, a pink tie, and a Negroni… sbagliato… With prosecco in it, in your hand, at all times.

Ah, Rodger. The angel-voiced, wholesome TikTok star serenading the world with baritone renditions of pop favourites. Unafraid to rap a Nicki Minaj cut or tackle Far East Movement's Like A G6, the middle-aged California man is continually slaying on the platform, leading to people making edits of him with Starbucks cups, IBS medicine and snacking on Oreos.

What you'll need: Throw on your dressing gown, then take a towel and whip your hair up into a turban. Pop on some gold under-eye masks. Grab some snacks – a bag of Doritos, maybe. To finish off the look, you'll need to belt out some pop classics: Christina Aguilera's Lady Marmalade, Lady Gaga's Judas or Addison Rae's 2 Die For. The choice is yours.

Couple's costume: Rihanna and A$AP pregnancy announcement looks
Leave it to RiRi to rewrite the rules of both pregnancy announcements and baby bump dressing. Walking around snowy New York with her belly out for some of the most staged pap shots in recent memory, this casual-but-not heralding of new life is matched only by the Star of Bethlehem. Oh, and her baby daddy A$AP Rocky was there too. If you're looking for a couple's costume this Halloween, then we suggest you pay tribute to baby Fenty and his parents.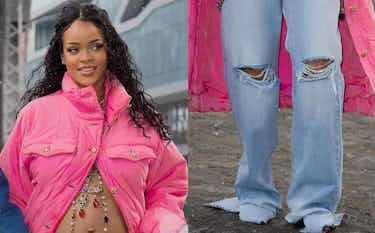 What you'll need for Rihanna: A longline pink puffer, the baggiest jeans you can find, and a maxed-out rosary pendant.
What you'll need for Rocky: Leather trousers, a V‑neck cricket jumper, a denim jacket and a black beanie.

More like this