The best hoodies to buy right now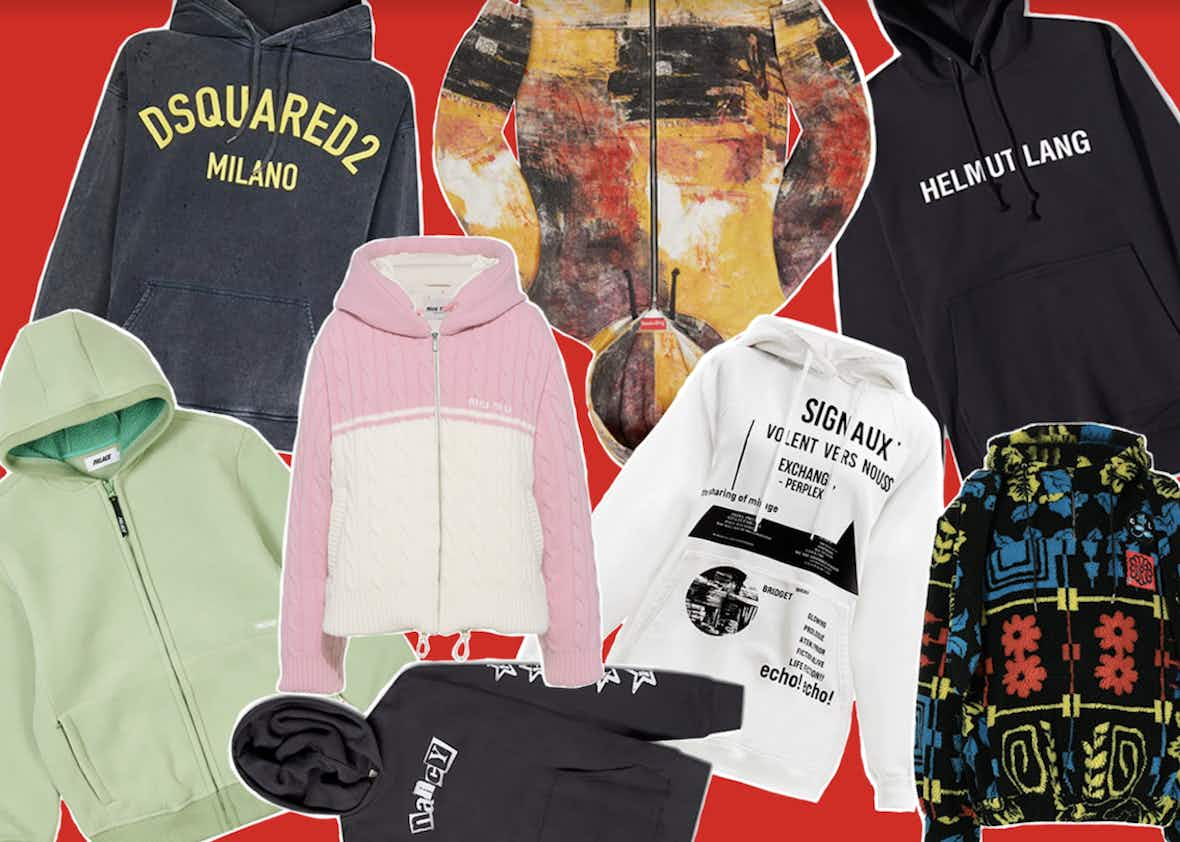 Pop your hood up with classics from adidas Originals and Palace, irreverent takes from Chopova Lowena and Jean Paul Gaultier x DSM, and high-end hoods from Prada, Miu Miu and more.

For ease, opt for a zip-up. They're easy to slip on and off, and there's no risk of ruining your barnet. Bonus points for exposing a slogan T‑shirt underneath – you'll have people asking what it says all day, so make it rude. Heaven by Marc Jacobs has an extra special zip-up on offer, made in collaboration with director Wong Kar-wai. Like his ultra vivid approach to romance (see: In the Mood For Love), the cropped hoodie features a pretty soppy slogan. Or you could keep it simple with one of Palace's zippies, such as this one made from thermal fabric for warmth. And if you're up for splashing out, Balenciaga x Adidas' collaboration is available on Matches for a very modest £875. Or save yourself £830 and go sans Balenciaga for 45 quid.
Heaven by Marc Jacobs
£230, dover​street​mar​ket​.com

Palace
£138, palaceskate​boards​.com
Balenciaga x Adidas
£875, match​es​fash​ion​.com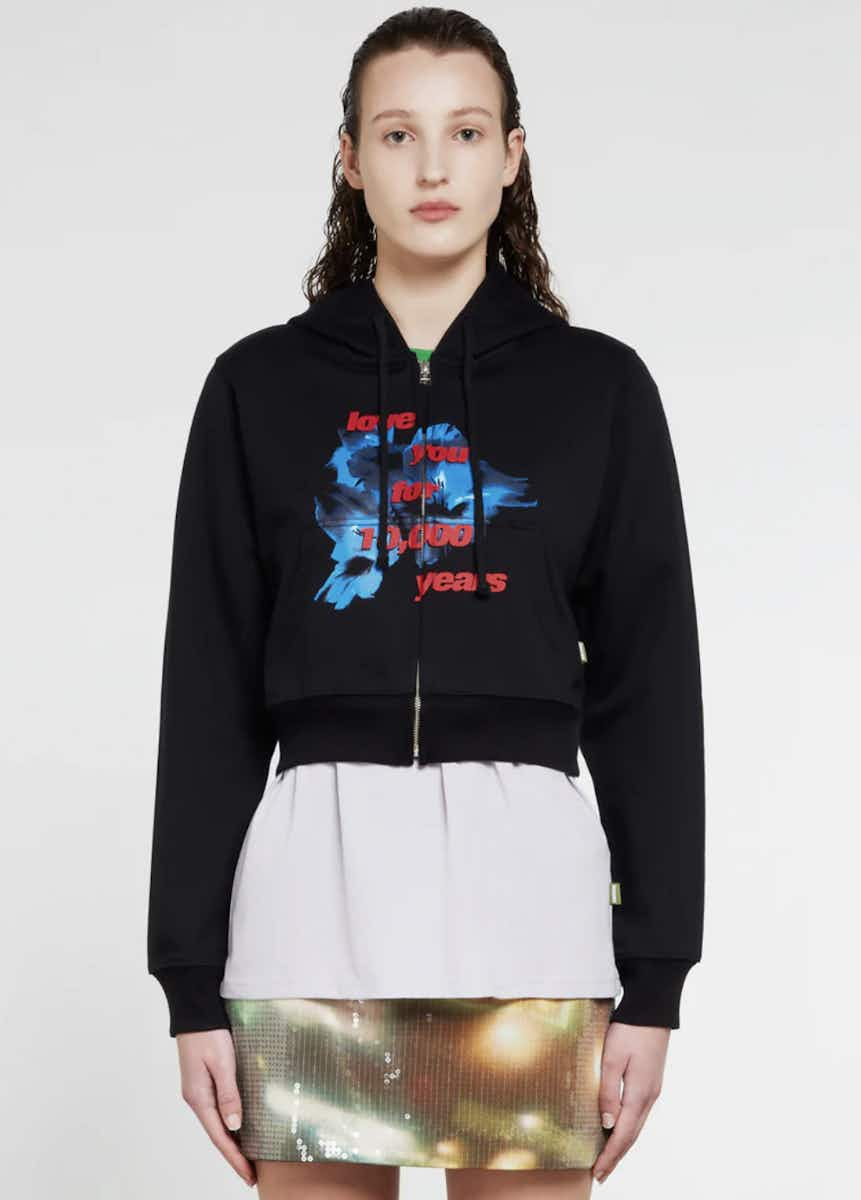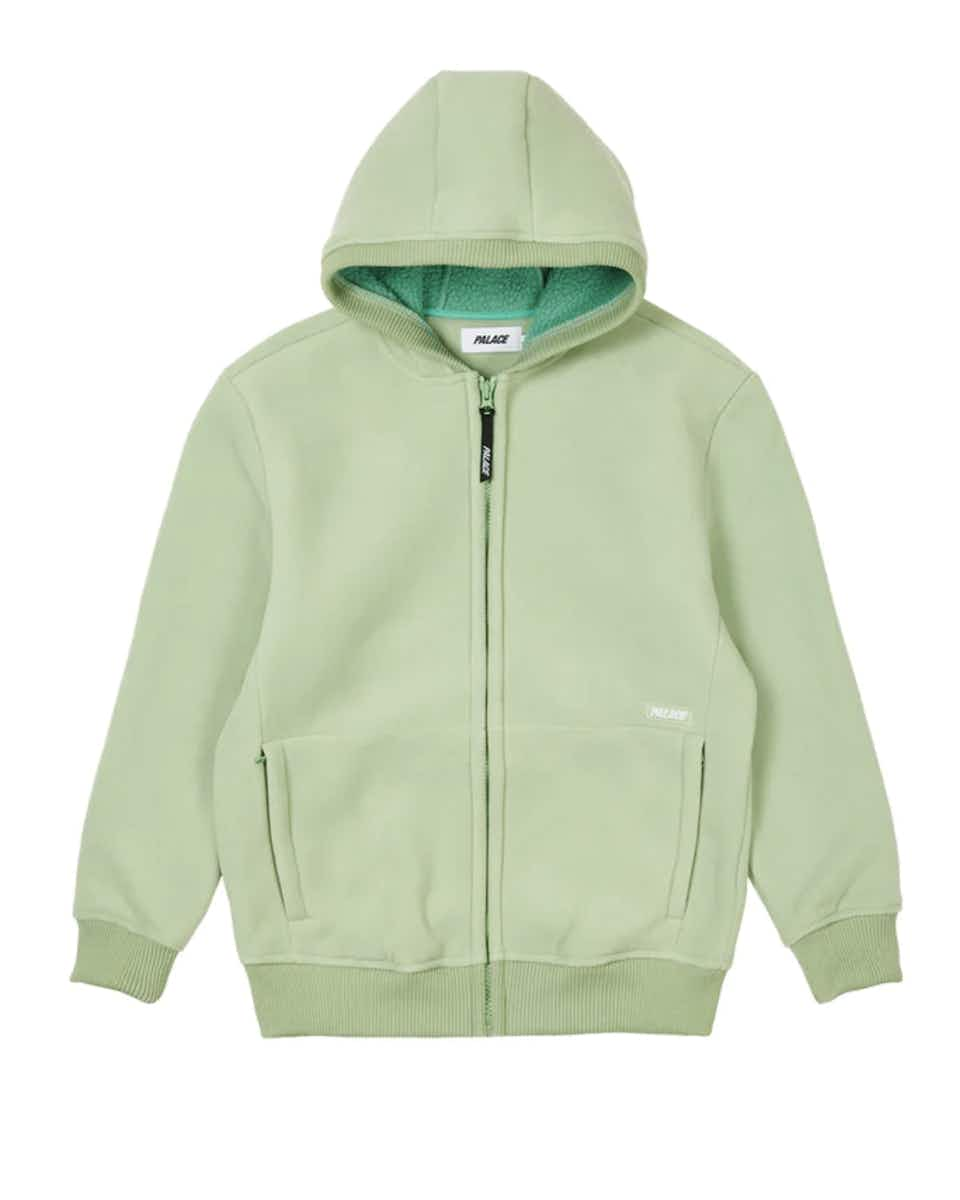 For hoods that speak for themselves
For the loud and proud, shut your trap and let a logo do the talking. Hoodies with a big fat logo are a failsafe way to pledge your allegiance to a brand. Who better to start with than Helmut Lang, via this characteristically modern, simple hoodie with the brand's logo splashed across? Independent brand Nancy takes much of its sartorial influences from punk, moshers and ​'70s slashers, and its take on the hoodie ups the attitude with a sly dig across the back: ​"You are shit". Absolutely appropriate for the office, a kids' birthday party, or dinner around the evil in-laws. And finally, Gucci goes big on the compliments while managing to get their logo on the front of a pullover, twice. Buy it and run.
Helmut Lang
£255, end​cloth​ing​.com
Nancy
£120, ln​-cc​.com
Gucci
£790, ln​-cc​.com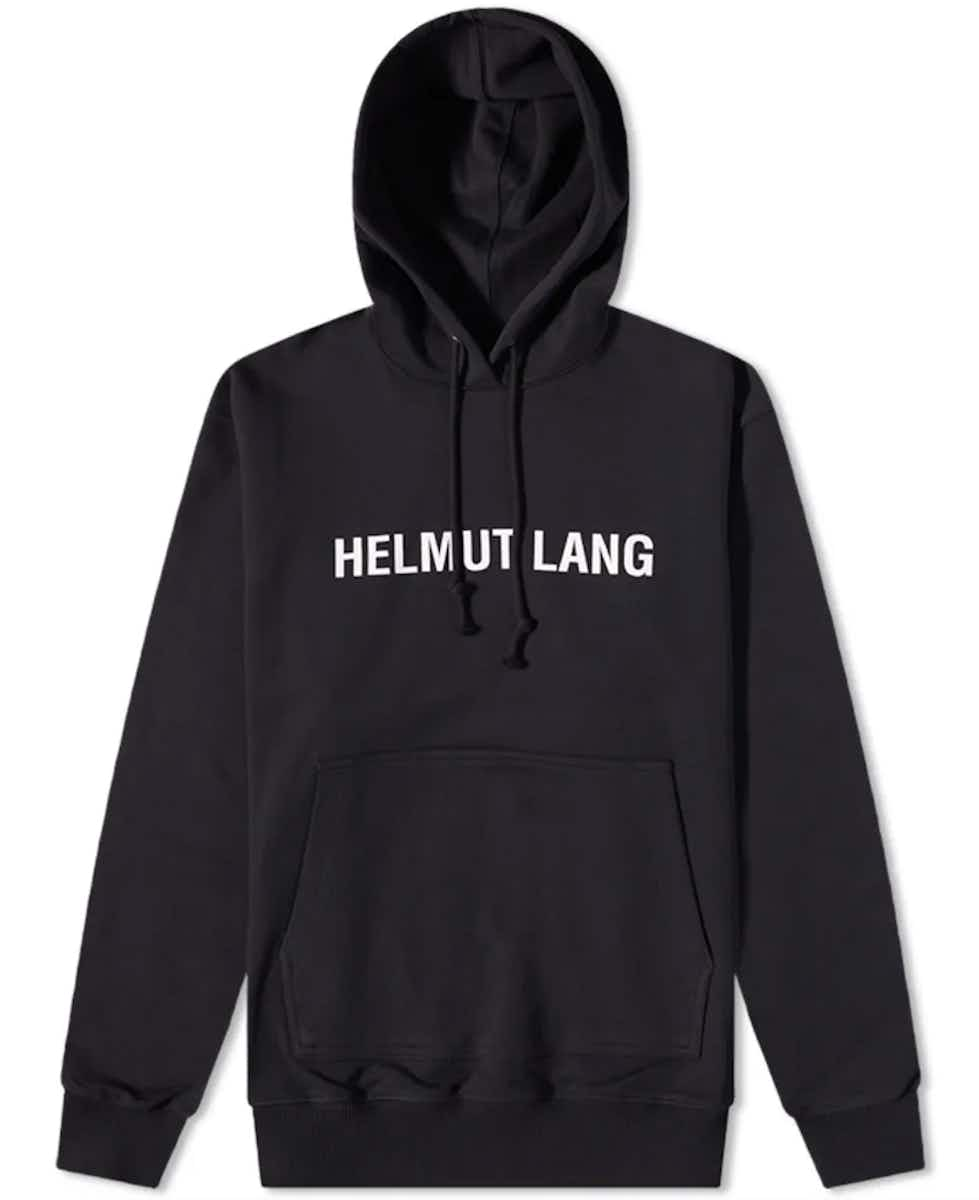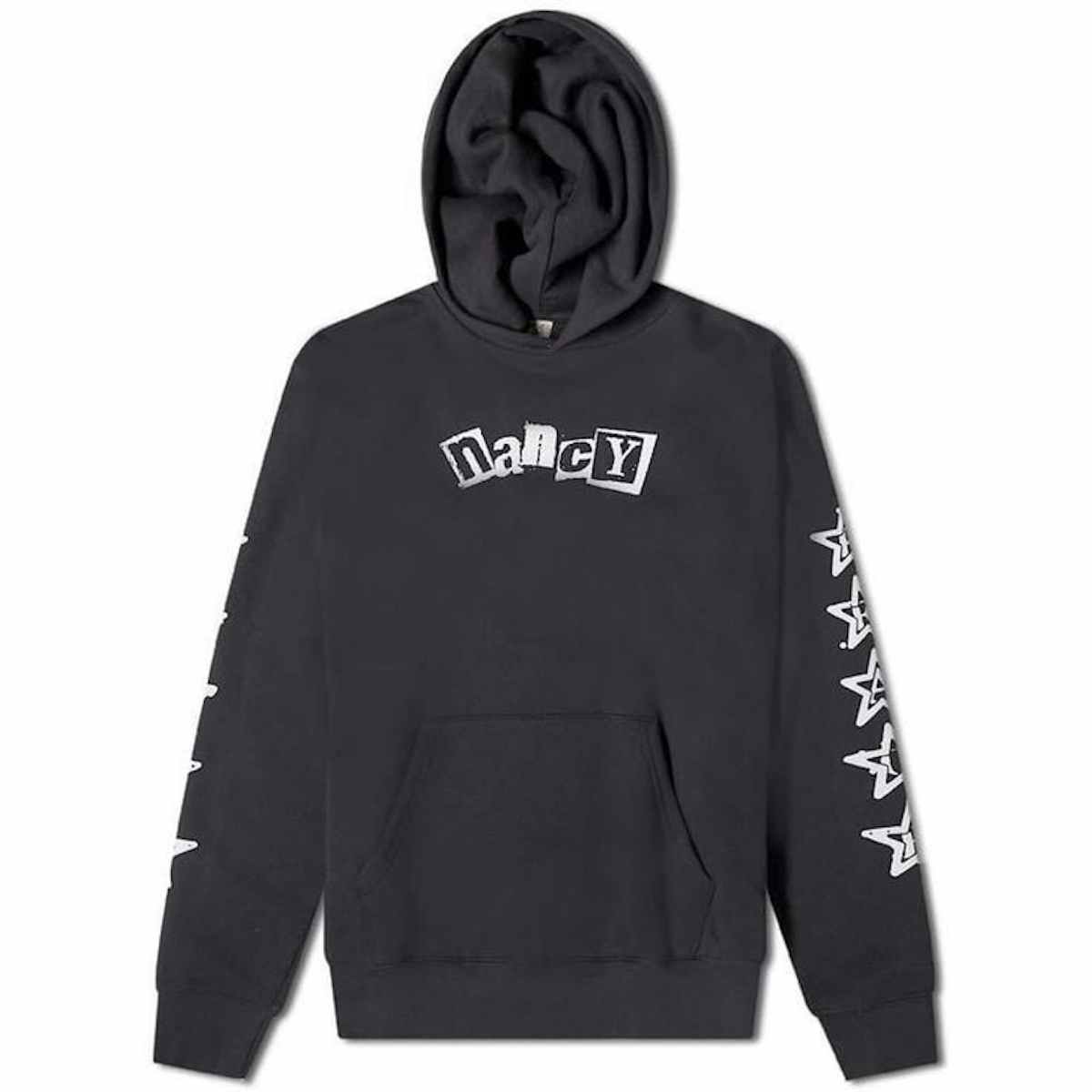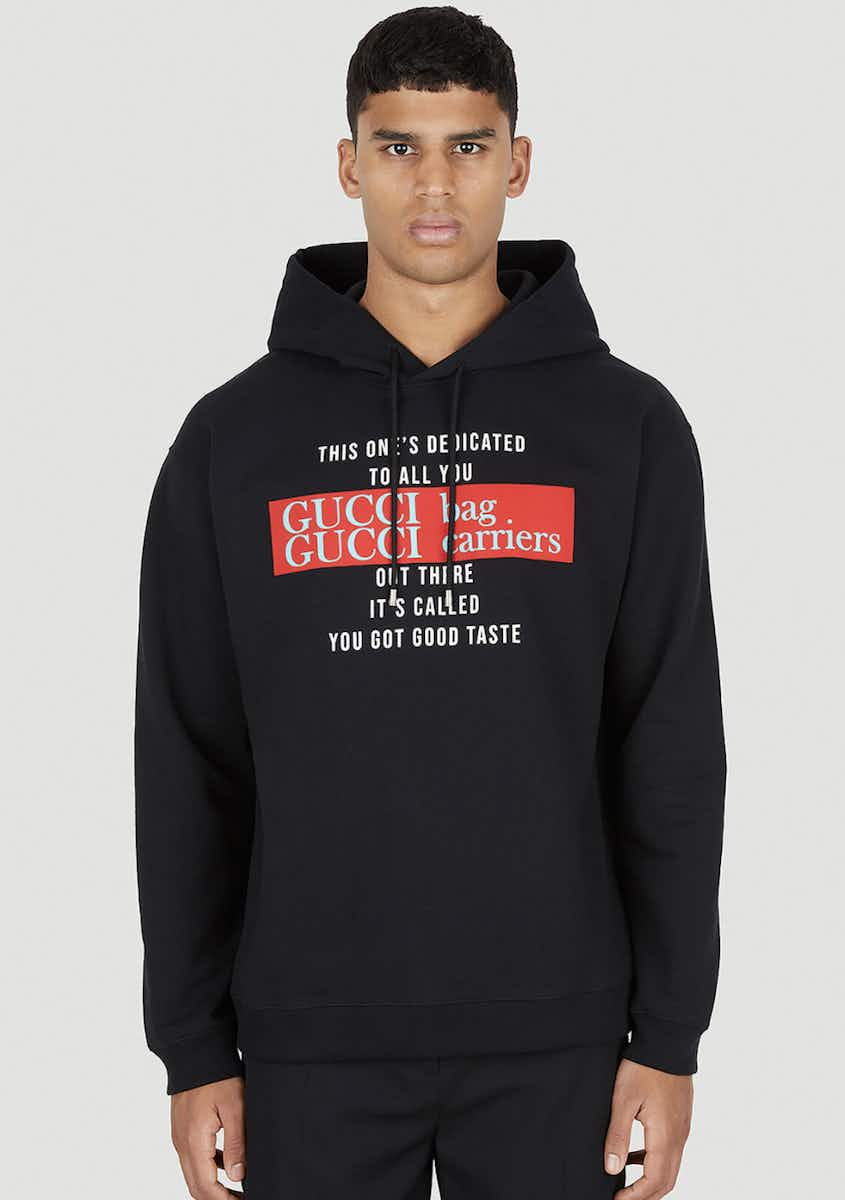 For anything but average hoods
While the humble hoodie might be an essential part of most of our daily wardrobes, there's no need to play it safe. Chopova Lowena goes large on florals with a fluffy, multicoloured fleece that embodies the brand's irreverent mash-up of youthful style. Supreme collaborates with artist Enoc Perez on a printed hoodie, leaning hard on his abstract style that's usually found on large-scale canvases. Then there's Jean Paul Gaultier's collaboration with Dover Street Market, involving leather racer jackets, archive print dresses and an oversized hoodie that hangs way over your hands. Gloves are overrated.
Chopova Lowena
£634 (sale), far​fetch​.com
Supreme
£106 (sale), supreme​.com
Jean Paul Gaultier x DSM
£390, dover​street​mar​ket​.com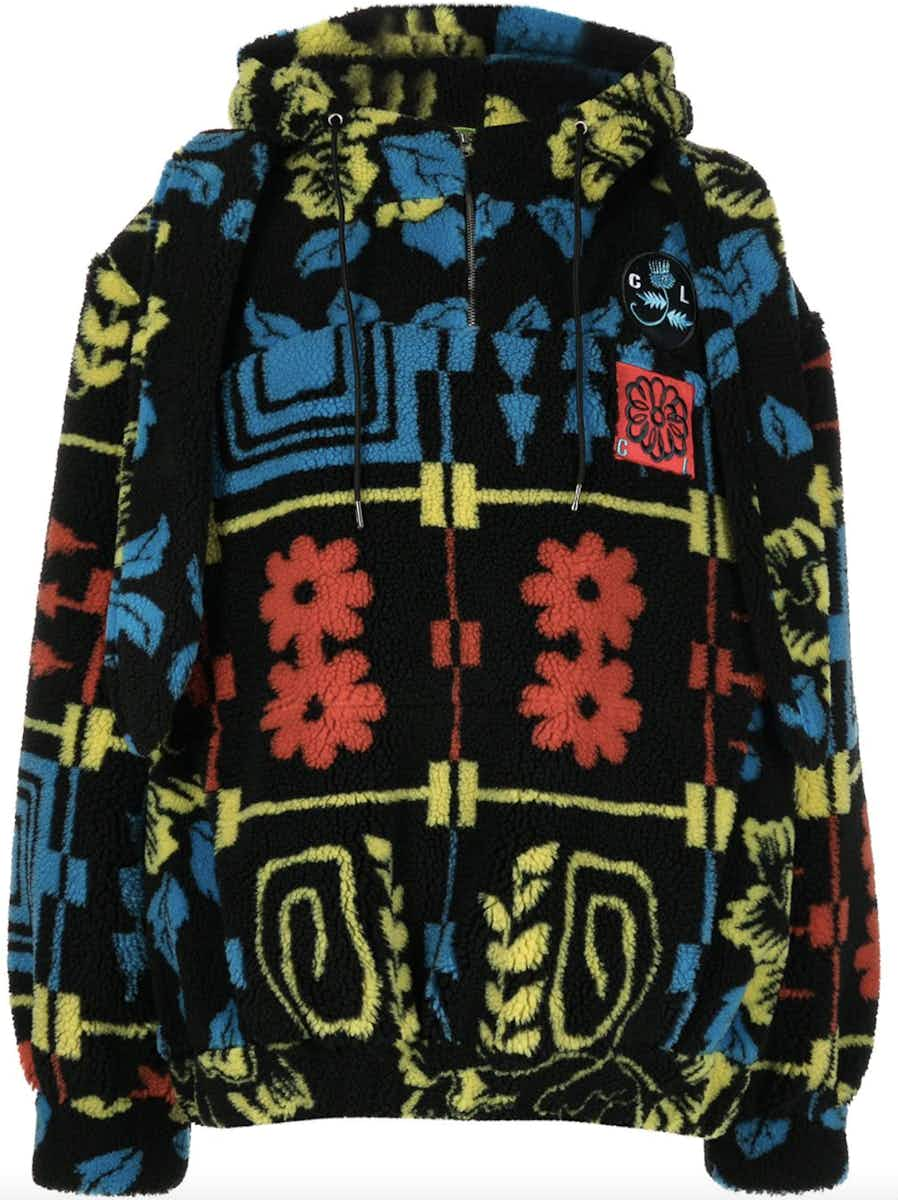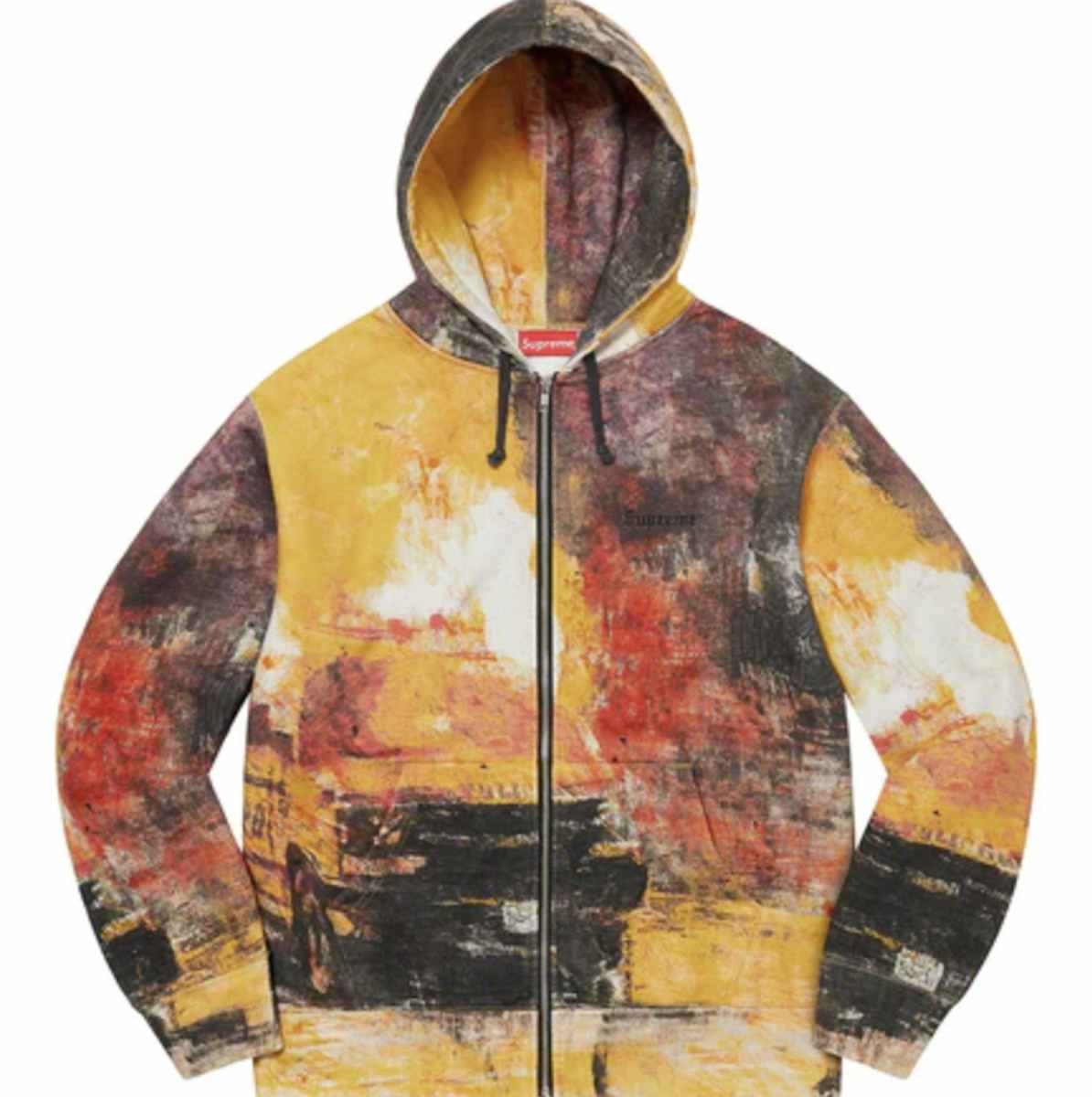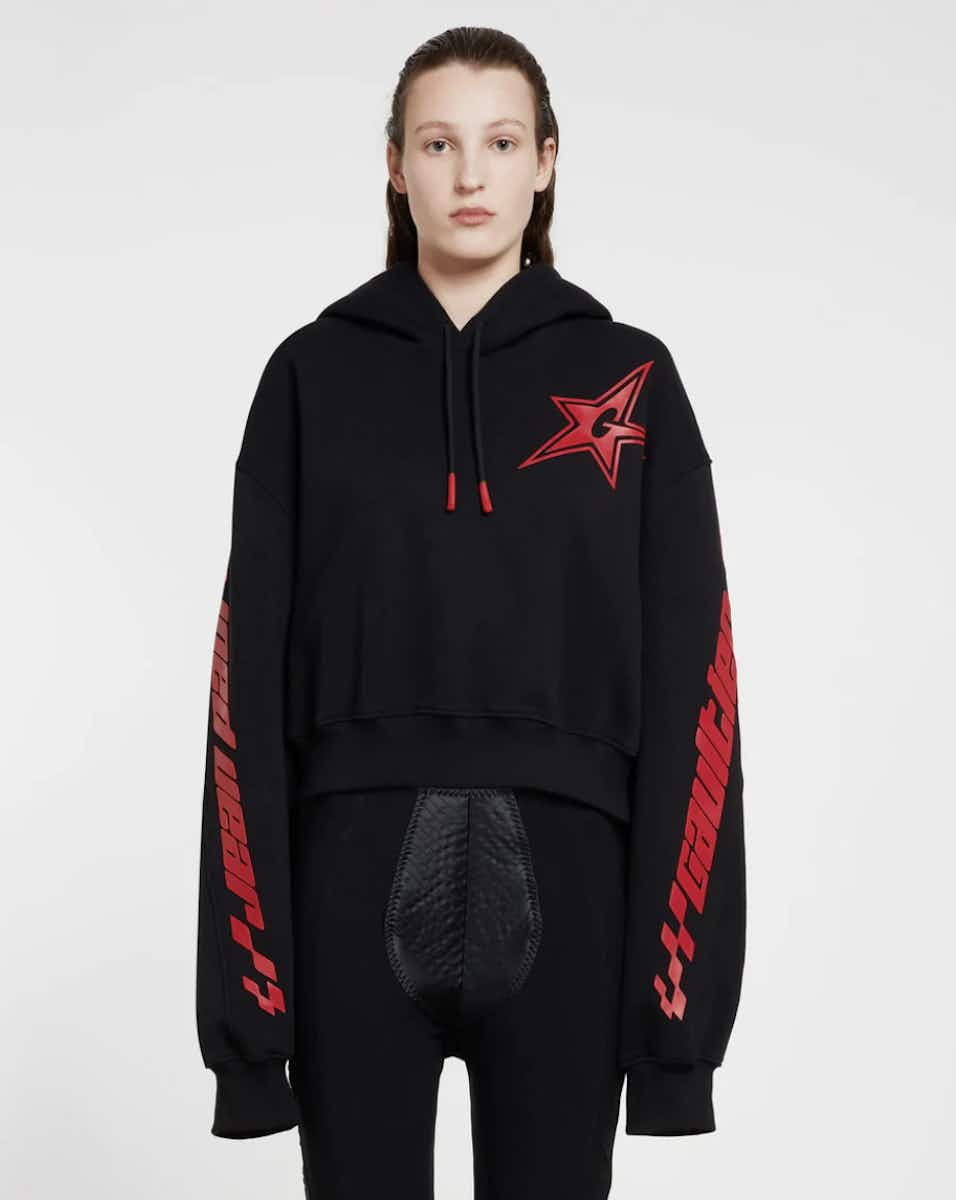 Forget lending one of these to your mate after a night out. These high-end hoods will last you a lifetime. Prada's white hoodie is a special one, printed with all sorts of slogans by Belgian artist Peter de Potter, a friend and long-time collaborator of co-creative director Raf Simons. Givenchy takes a hybrid approach, going for a goth-varsity style on a grey slim-fit hoodie that represents creative director Matthew Williams' tough-nut, dark-side approach to the French house's design. Or you could blow a couple of years' savings on Miu Miu's ultra luxurious cashmere and wool down jacket. Who needs to pay the rent, anyway?
Prada
£1,240, match​es​fash​ion​.com
Givenchy
£1,540, givenchy​.com
Miu Miu
£2,800, miu​miu​.com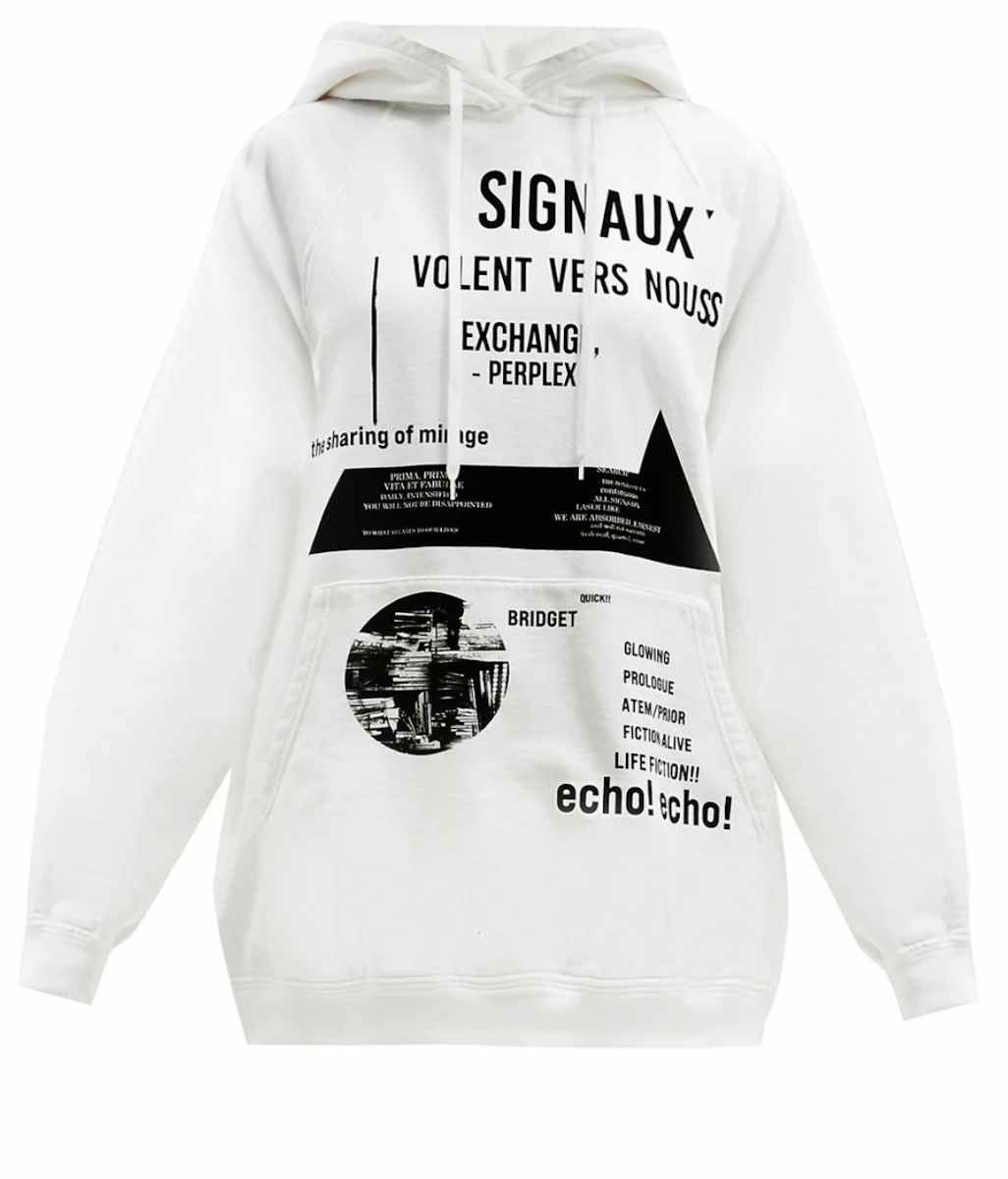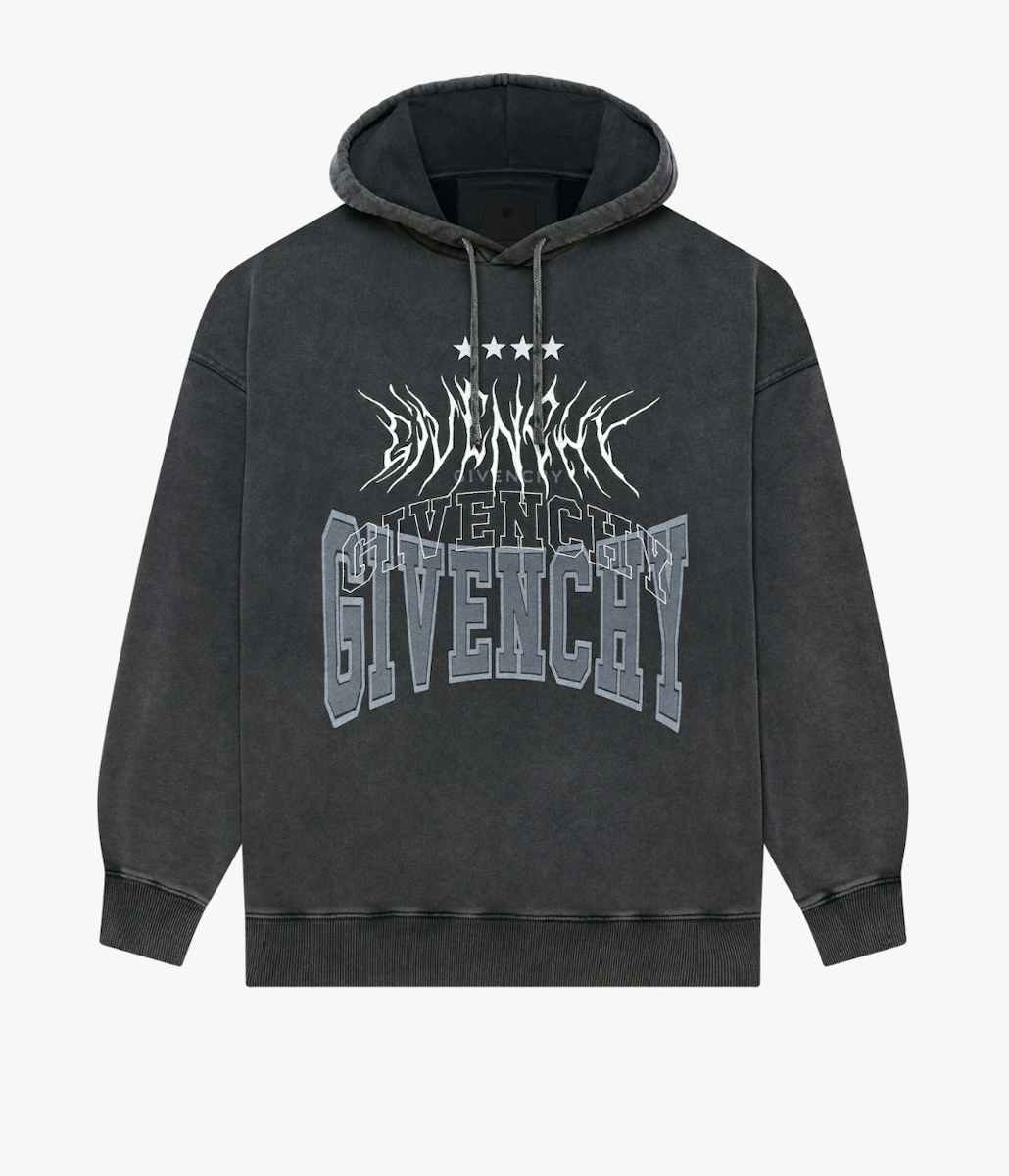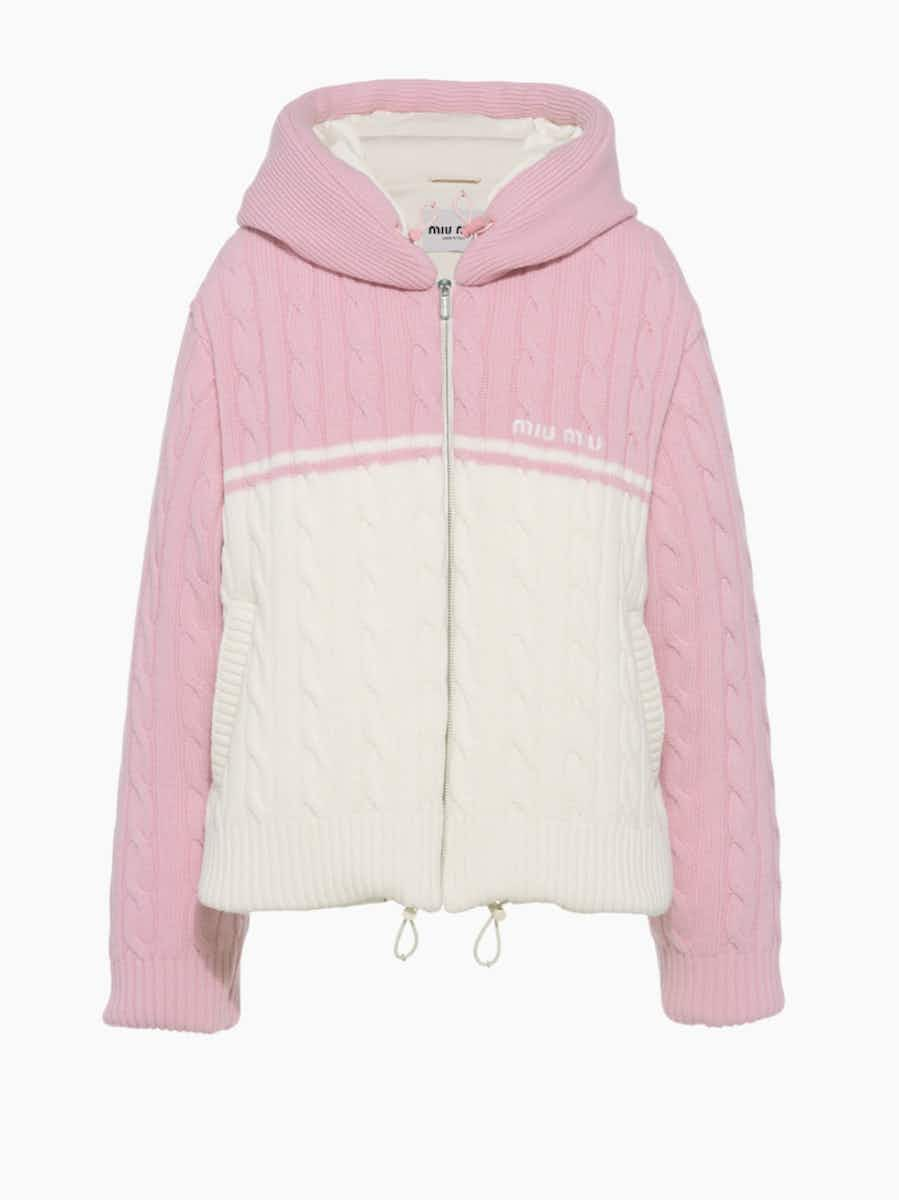 More like this