The hottest guide to Paris Fashion Week Men's

Big takes on: Bianca Saunders, Wales Bonner, Acne Studios, Courrèges, Homme Plissé Issey Miyake, Rick Owens, Givenchy, Dior, Isabel Marant, Ami and plenty more.

What?
Jonathan Anderson just made boring bonkers.
Where?
Inside a horse-riding arena in the Garde Républicaine's official building.
Who was there?
At this point, we're beginning to think Pharrell has employed full-time doppelgangers to attend every show on the schedule. That or he can levitate. Besides Skateboard P, Brian Cox who plays Logan Roy in Succession, Ozzie twink Troye Sivan and none other than K‑rap's finest, Taeyong, all rolled through.
What was the vibe?
Fashion shows often make us dream, think or fantasise, but only sometimes – just sometimes – do they completely upend our basic understanding of clothing. Succeeding in the latter and all of the above, Jonathan Anderson's latest Loewe collection was this season's visual mindfuck, serving up disco bankers and the sartorial equivalent of walking Tetris blocks.
There, inside the equestrian-training-hall-turned-runway, Loewe had transplanted American sculptor Lynda Benglis' gargantuan rock fountains. These dripped throughout the show while a recording of the artist discussing the wonders of scuba diving played out in the background. The sculptures served as visual cues, their silhouettes transposed onto the clothing that circled them. It soon became clear that liquidity – not the JP Morgan kind – as well as form and motion were the show's kernel codes.
As such, high-water (sorry) jeans and chinos came splashed (seriously, last one!) with glitter, elongated between the waist and crotch to comedic proportions. From our seats, the models' extremely leggy looks almost swam. This was fashion as illusion, or illusion as fashion.
Here, shearling collar jackets came with hems that were either rolled up or simply cropped and hidden under the guise of a fold – it was impossible to say. Arms disappeared into throw-t-shirt hybrids, dorky sweaters came with two layers of collar and zip, and thick fabric-shop hunks of curtain were pinned with giant needles to create today's jaw-dropping, camped-up rendition of the Balenciaga envelope dress.
Humour was everywhere, but never at the expense of craft. In fact, the two co-determined one another. Leather trousers morphed into suede, while denim jackets were taut across the top to create collarbone pleats as if they were too small. Of course, they fit like a glove. That was just it: these were clothes we know and expect, but Anderson had completely shaken their formal foundations, spawning fashion for a parallel universe. On this planet, the knotted clusters of sparkle and trousers that swallowed and became one with shoes are everyday garb. Life on Mars? More like life on Loewe.
In short:
It's Loewe's world, and we're just living in it.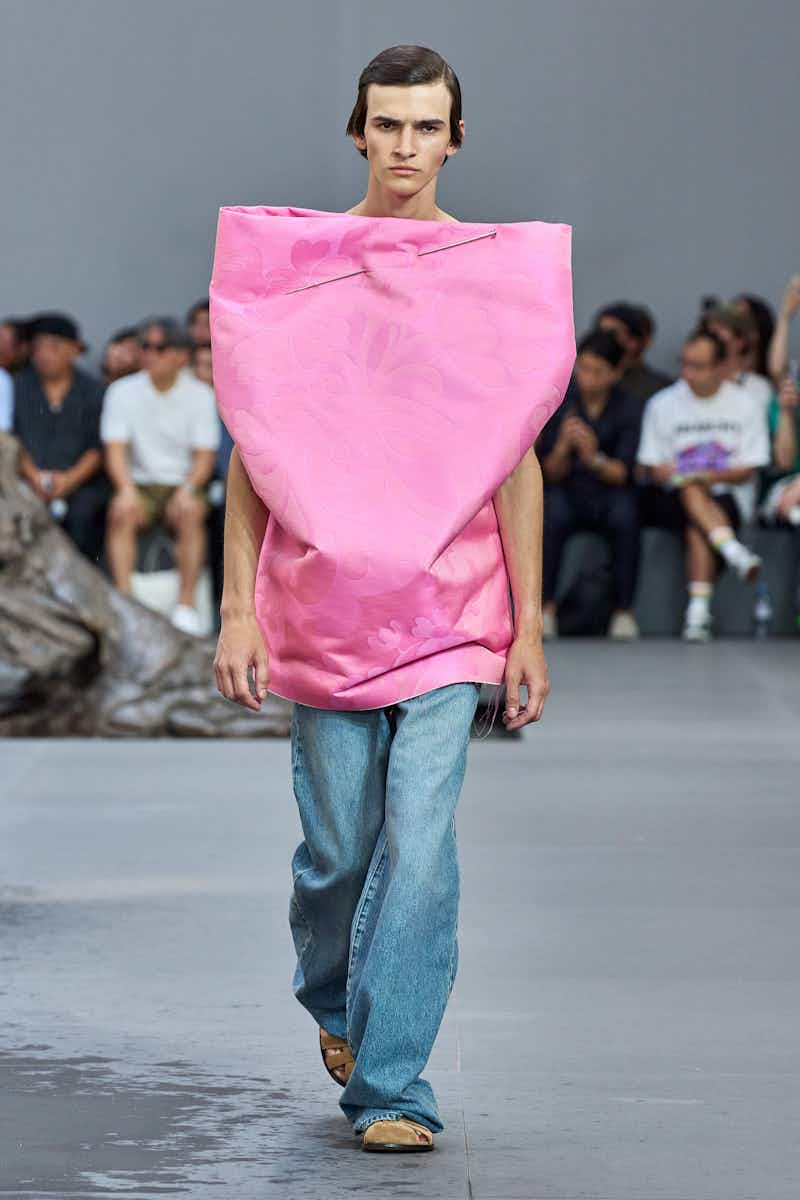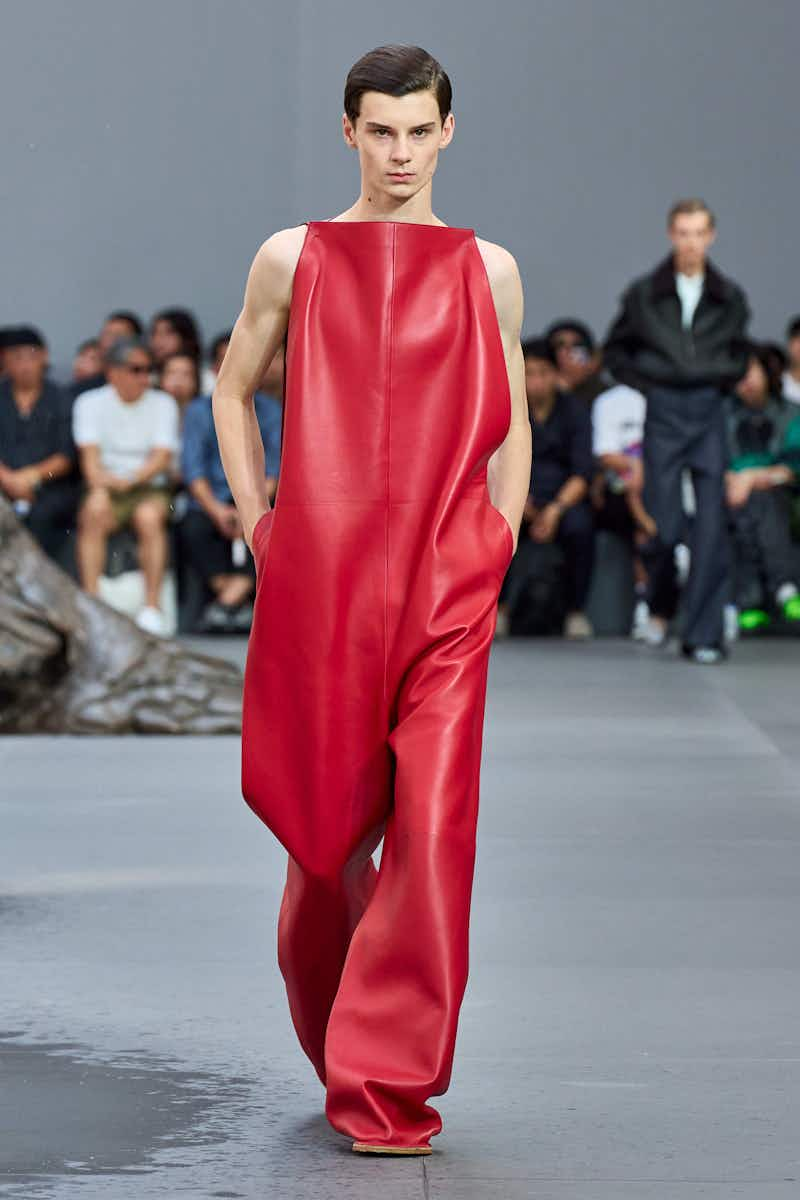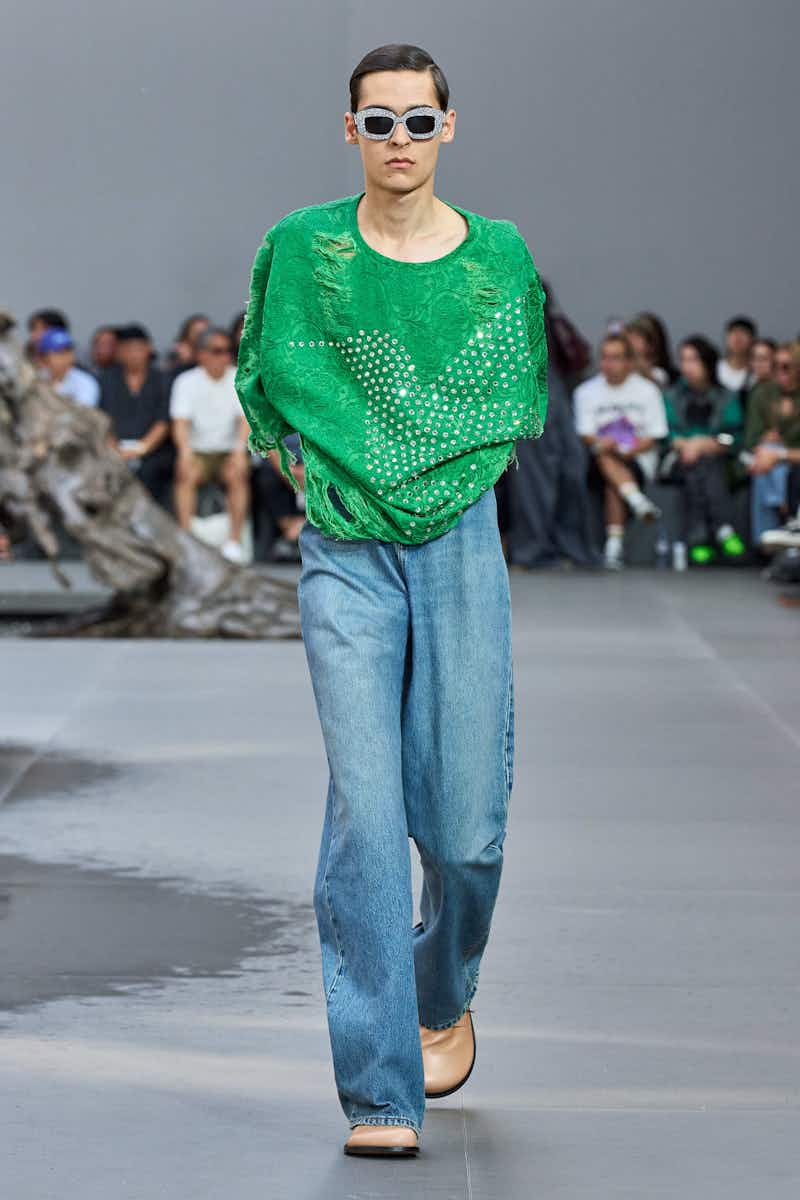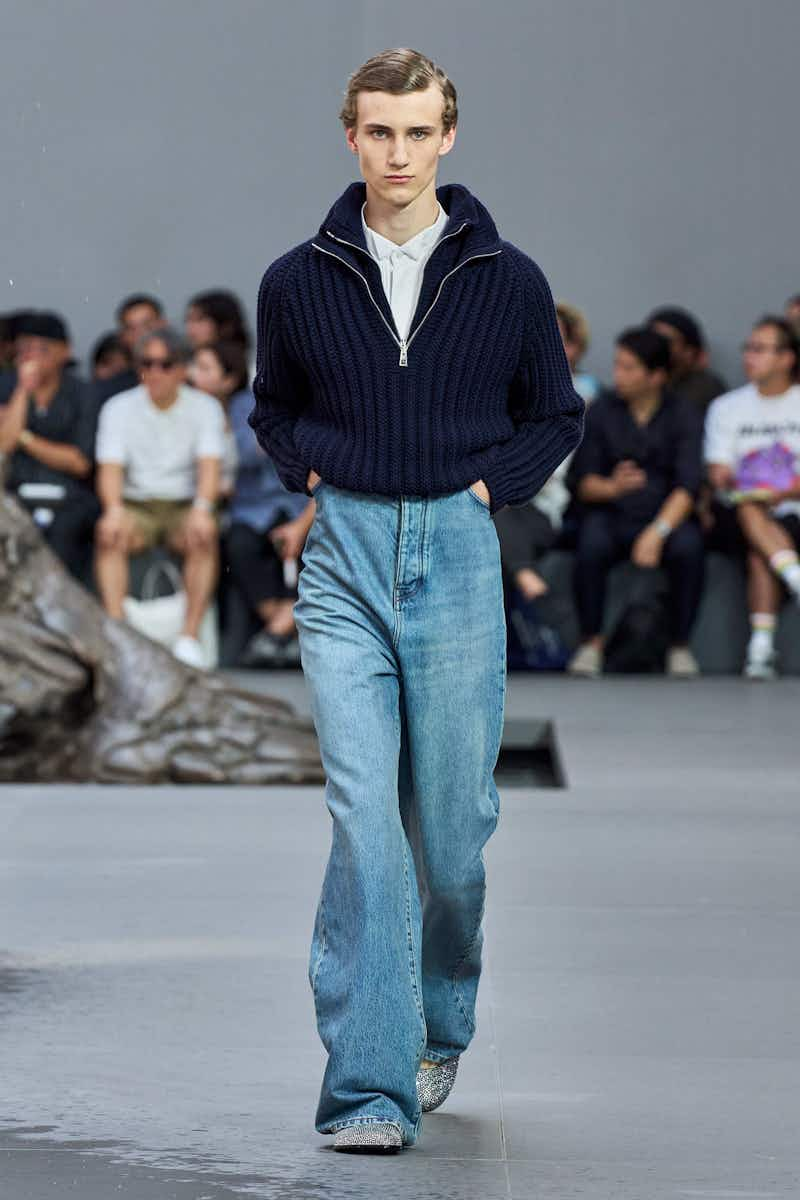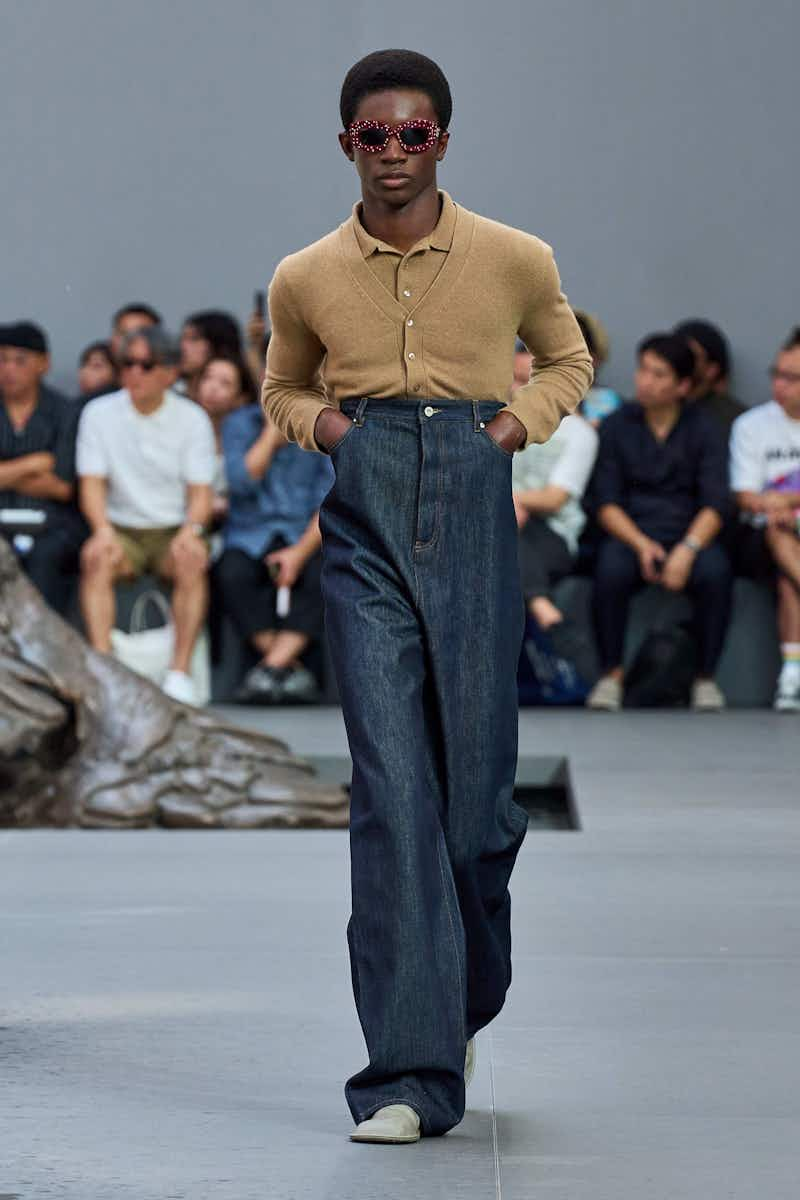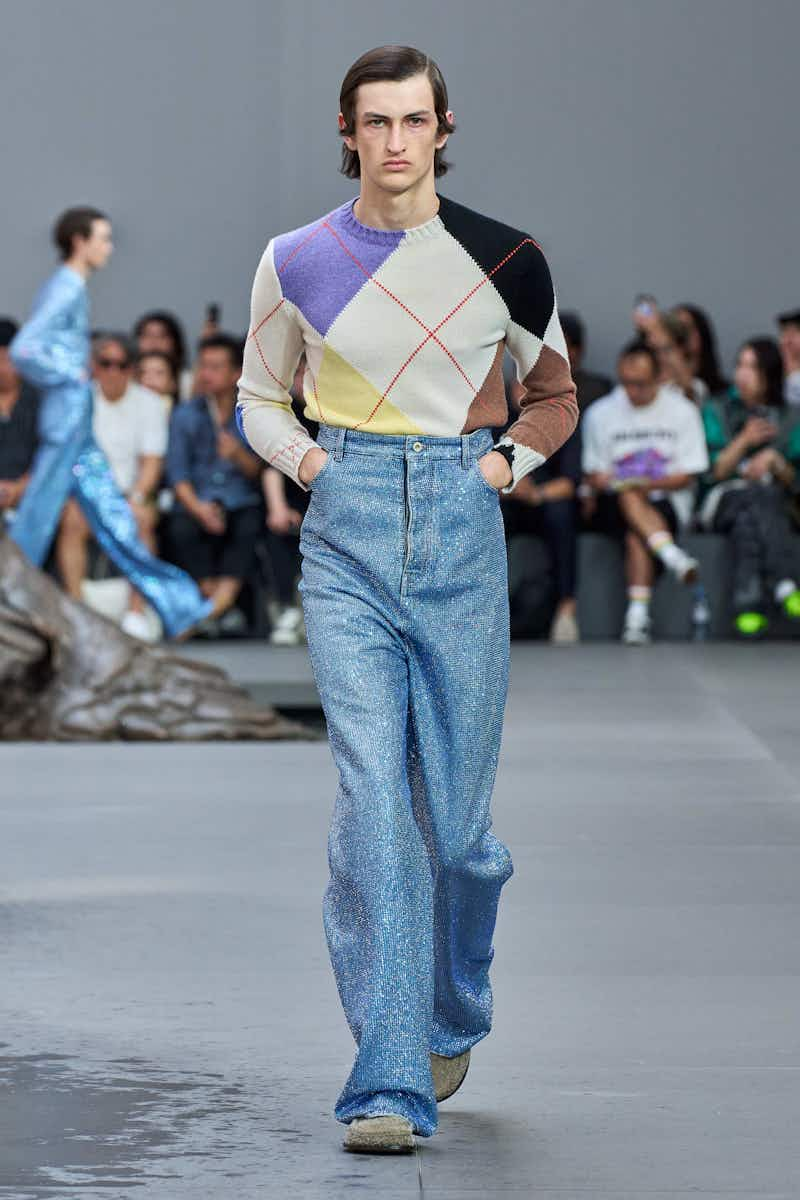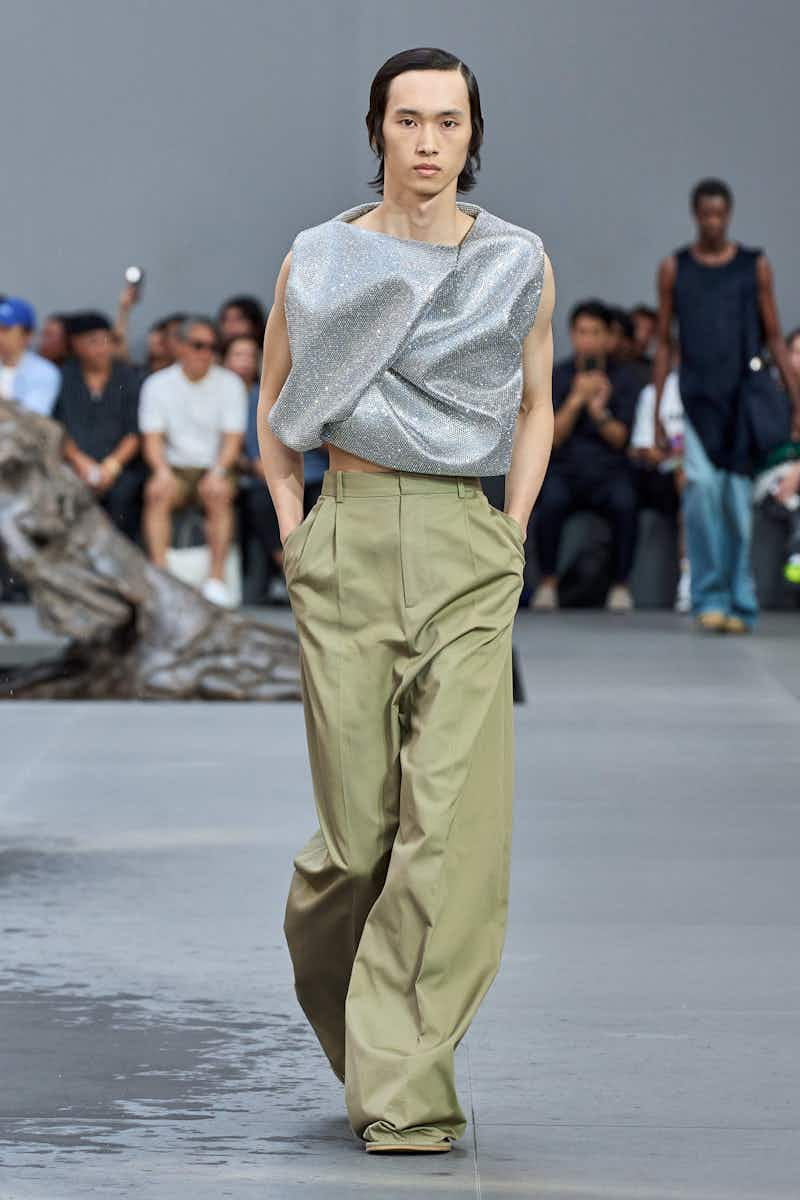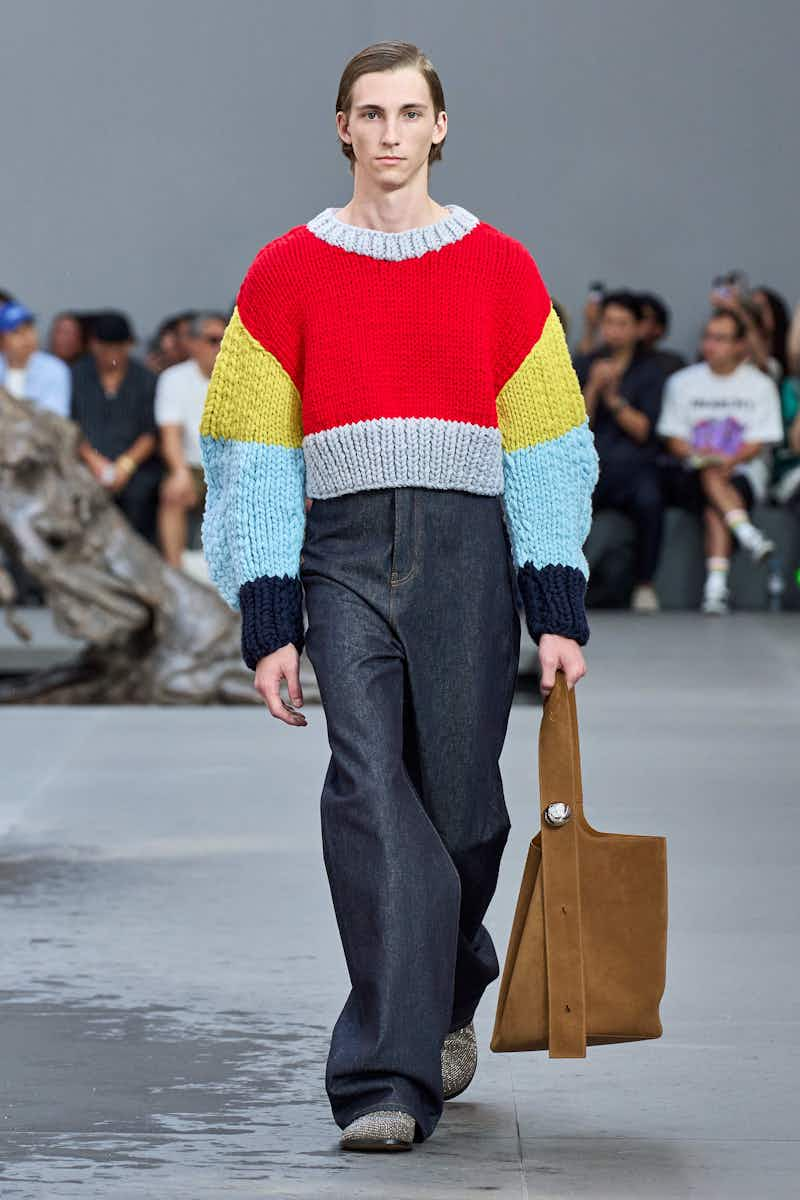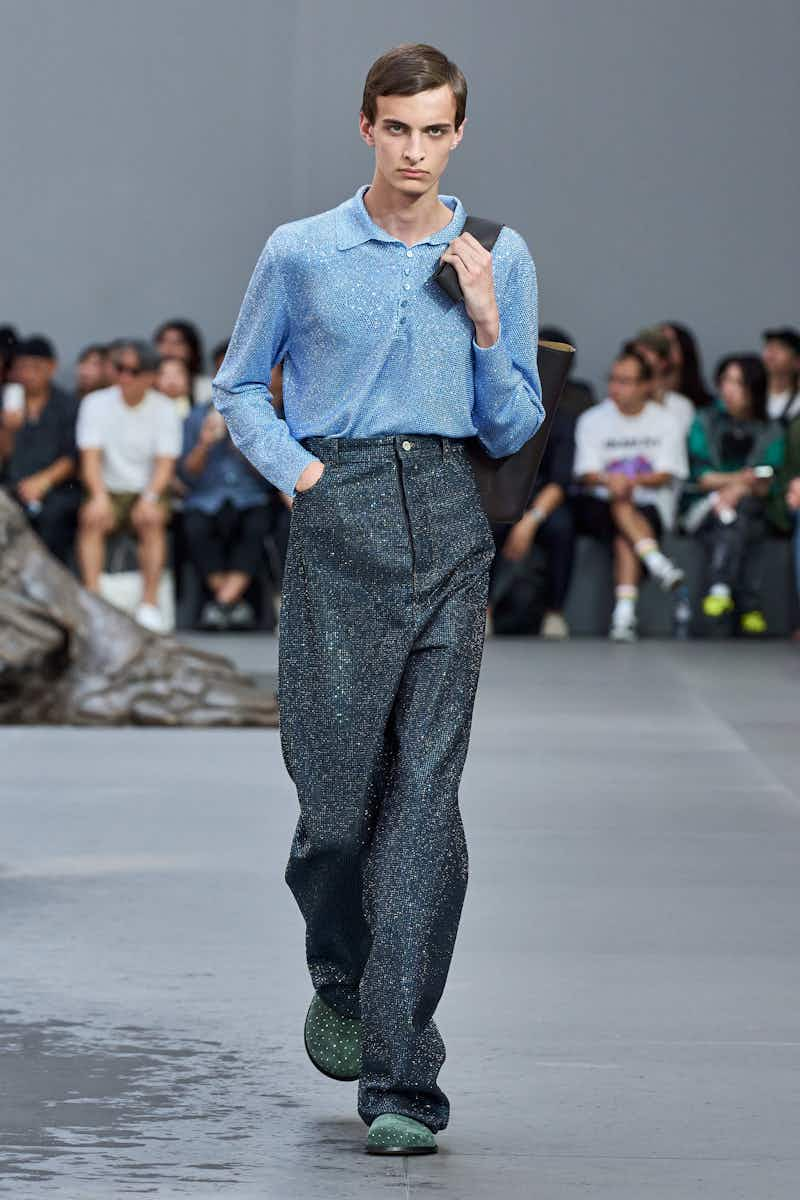 What?
Kiko Kostadinov's techy but tailored twist on druid drag.
Where?
Inside the lofty classrooms and hallways of a late 18th-century sixth-form college, Lycée Henri-IV.
What went down?
As is often the case with Kiko collections, this served as a weird and wonderful insight into the Bulgarian designer's labyrinth of references, interests and ideas. Here, the usual codes of sportswear surfaced in gorpcore bondage pants and blazers, blended with suggestions of mandarin and nehru jackets, plus his typically spritely embroidery. Indeed, Kiko is an eccentric. Reading his collections as if a clear narrative will unravel misses both the point and the fun.
Instead, one is better off observing his sartorial footnotes as part of a wider vision that revels in mystery. The mime-like make-up, for instance, could be a nod to the show's surroundings or, equally, the low-budget slap seen in Pier Paolo Pasolini's cult classic La Ricotta (1962), which Kiko showed alongside the clothes. Certainly, the pale pinks and golden yellows that pepped the collection's palette recalled the film's costumes, but again, it's Kiko. Our guess is as good as yours.
Carryover tropes from some of his mid-career collections appeared too, albeit reimagined. Jockey hats took a leaf out of the previous womenswear offering, arriving in salmon-hued knicker lace. Elsewhere, colour-blocked bodysuits came with his signature piping, updated with swaddled, mermaid legs. Again, hints of pagan or agrarian lifestyles, tweaked with a sporty and offbeat hand.
Throughout, trousers came finished with looping appliqué, while lapels were future-proofed with undulating curves and popper-action fastenings. So far, so Kiko. Pocket welts cut diagonally across the pec line, and cotton was darted or pleated into disarray. Sure, the cropped blazer cardigans, pintucked across the torso, hardly scream summer, but that's irrelevant. Kiko is for the achingly cool who flex but never explain.
Other highlights?
In a Kiko curveball, the designer decided to showcase his archive on a nonchalant set of rails, allowing guests to snap and pore through them. Being Kikolytes, we were engrossed.
In a word:
Kostadinovian.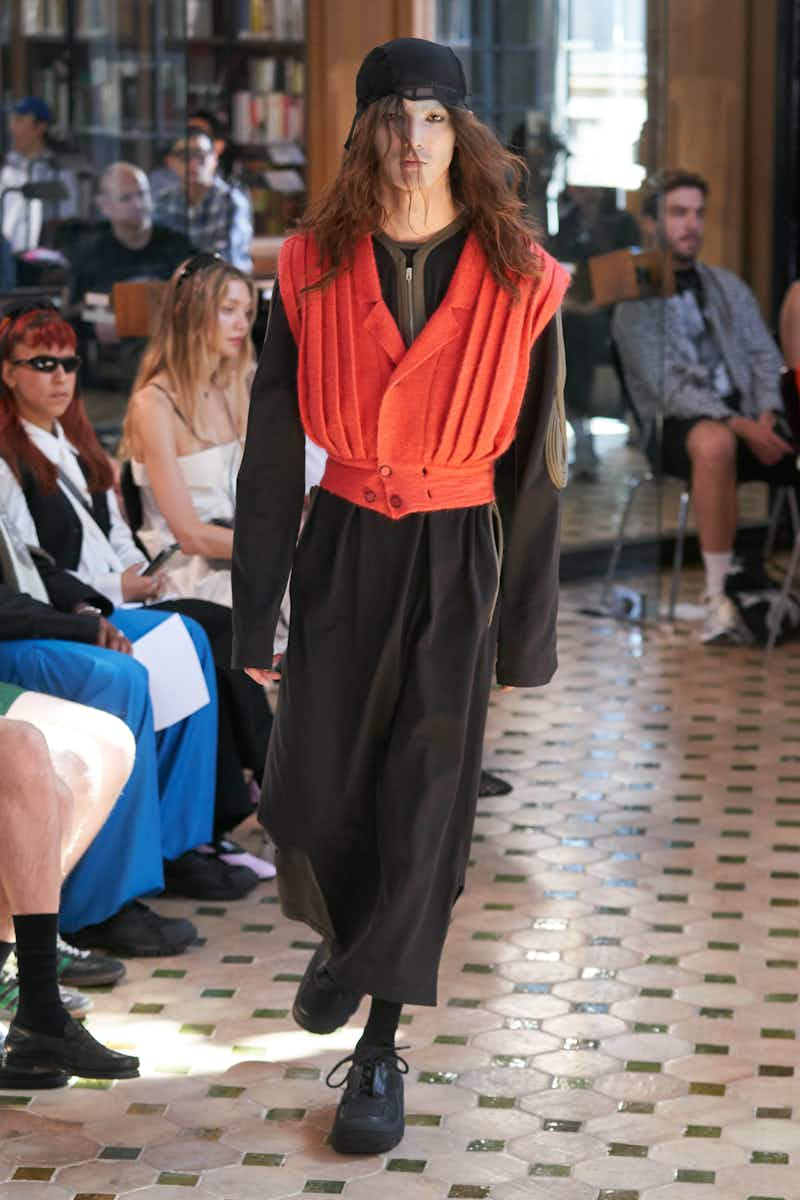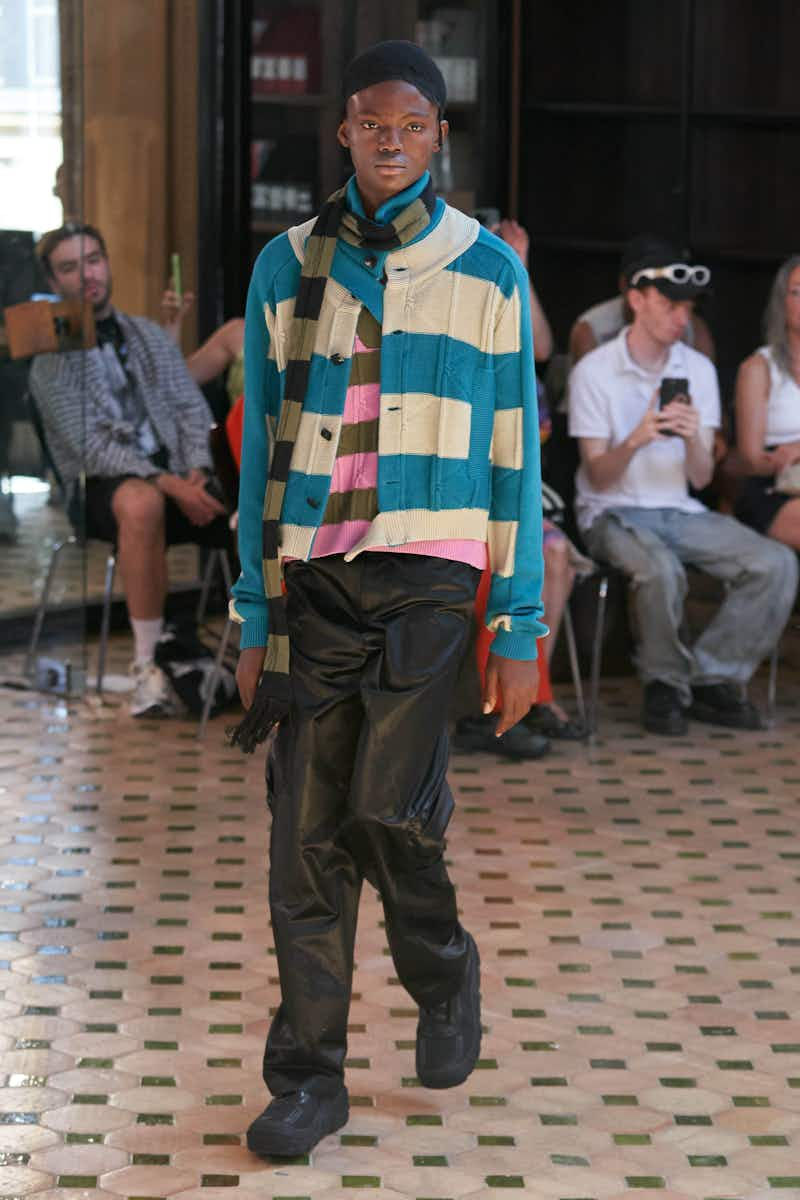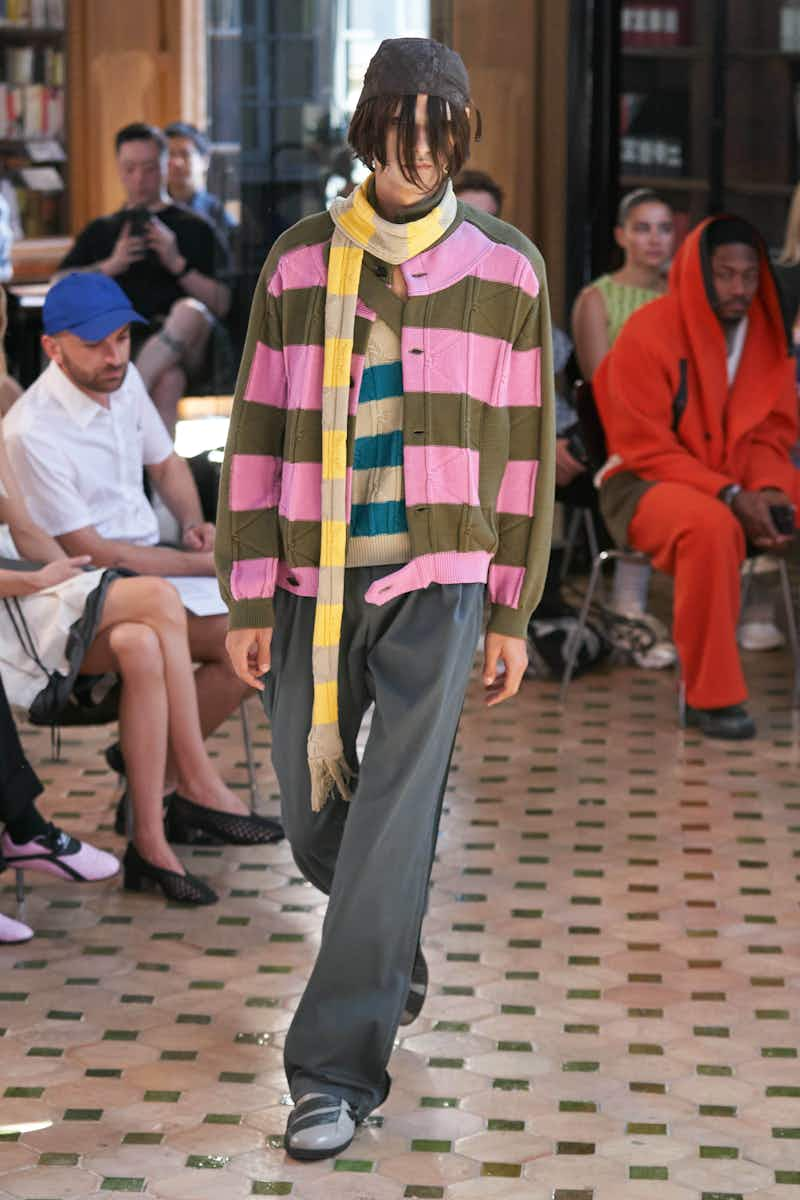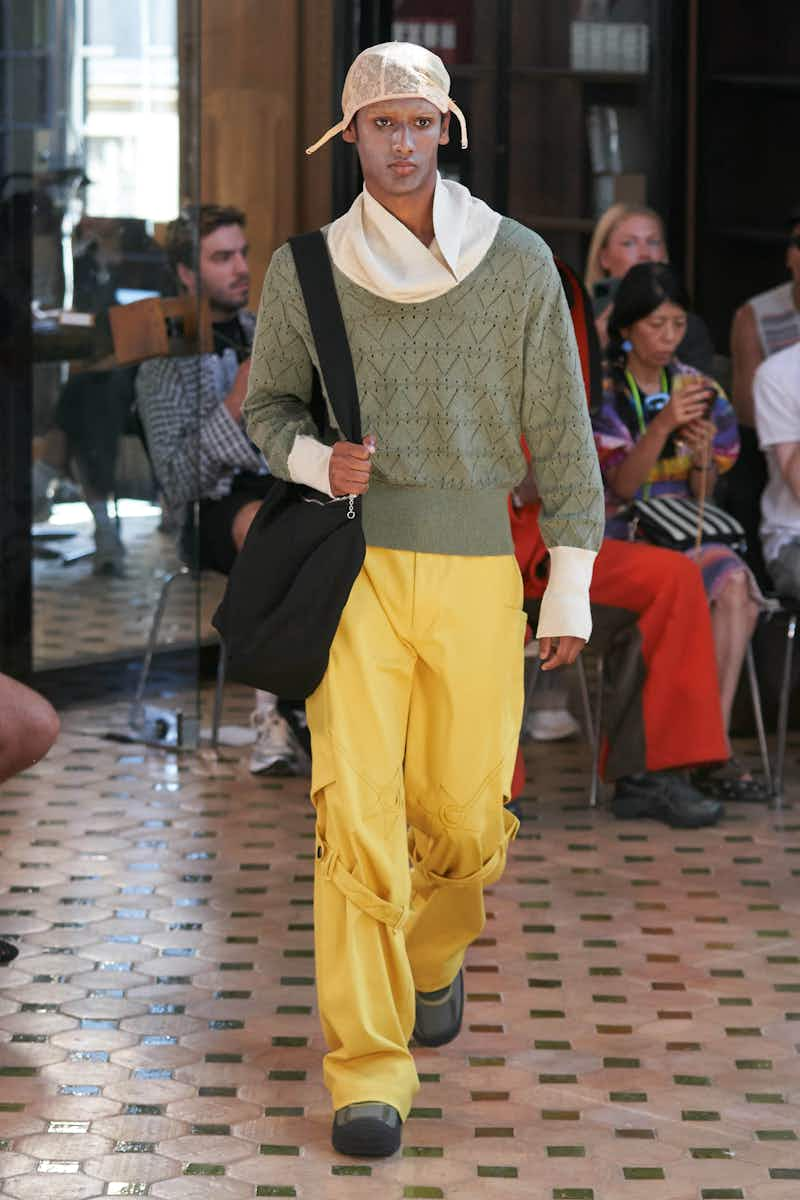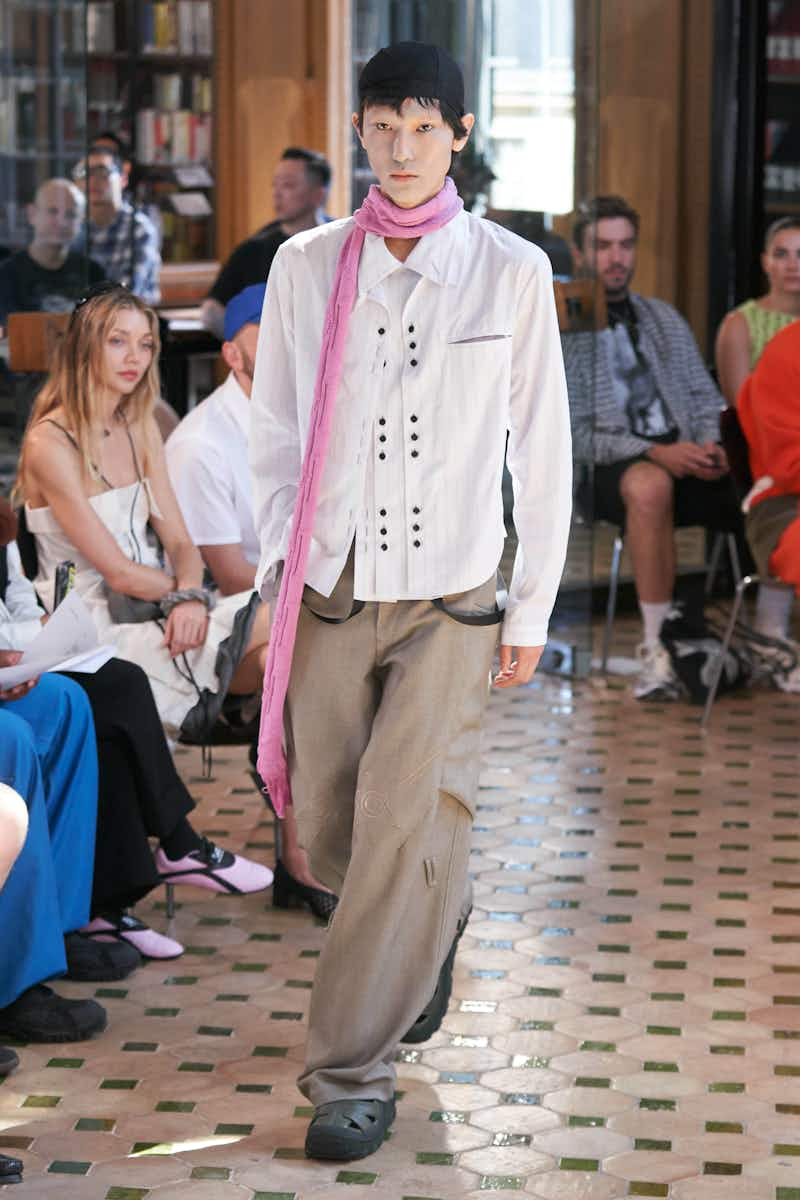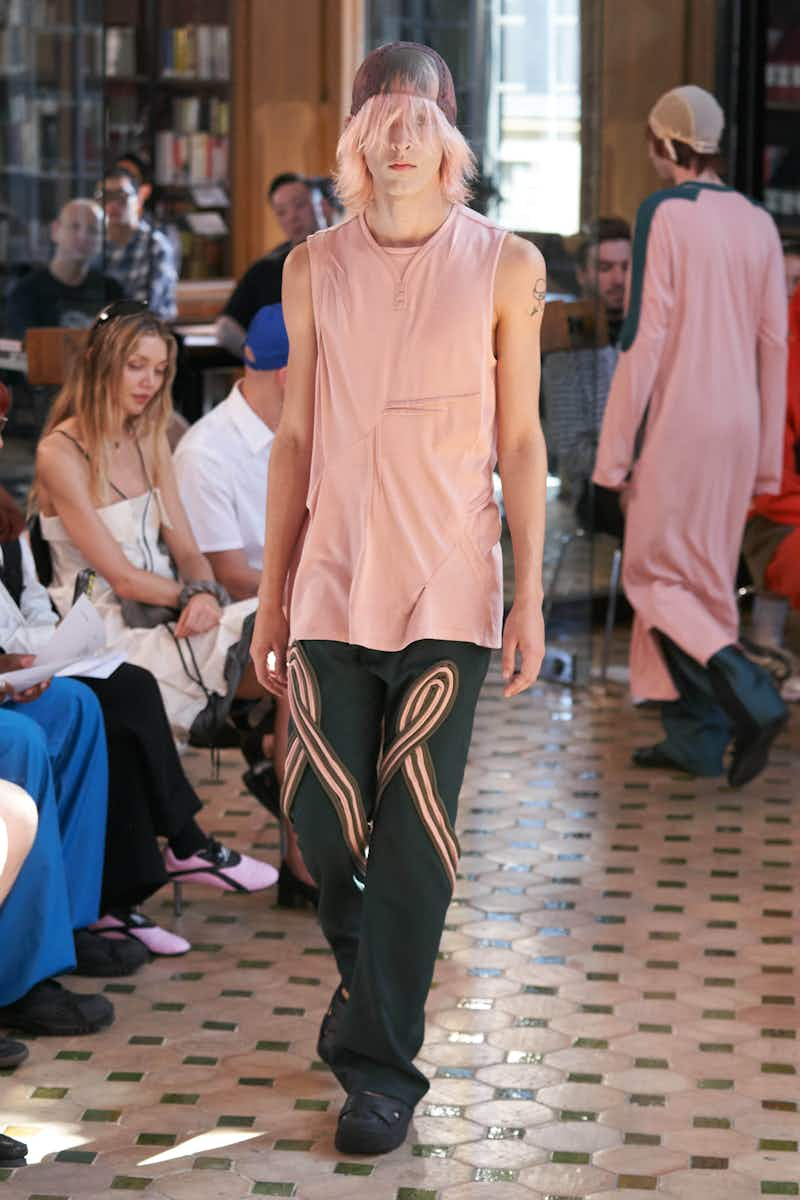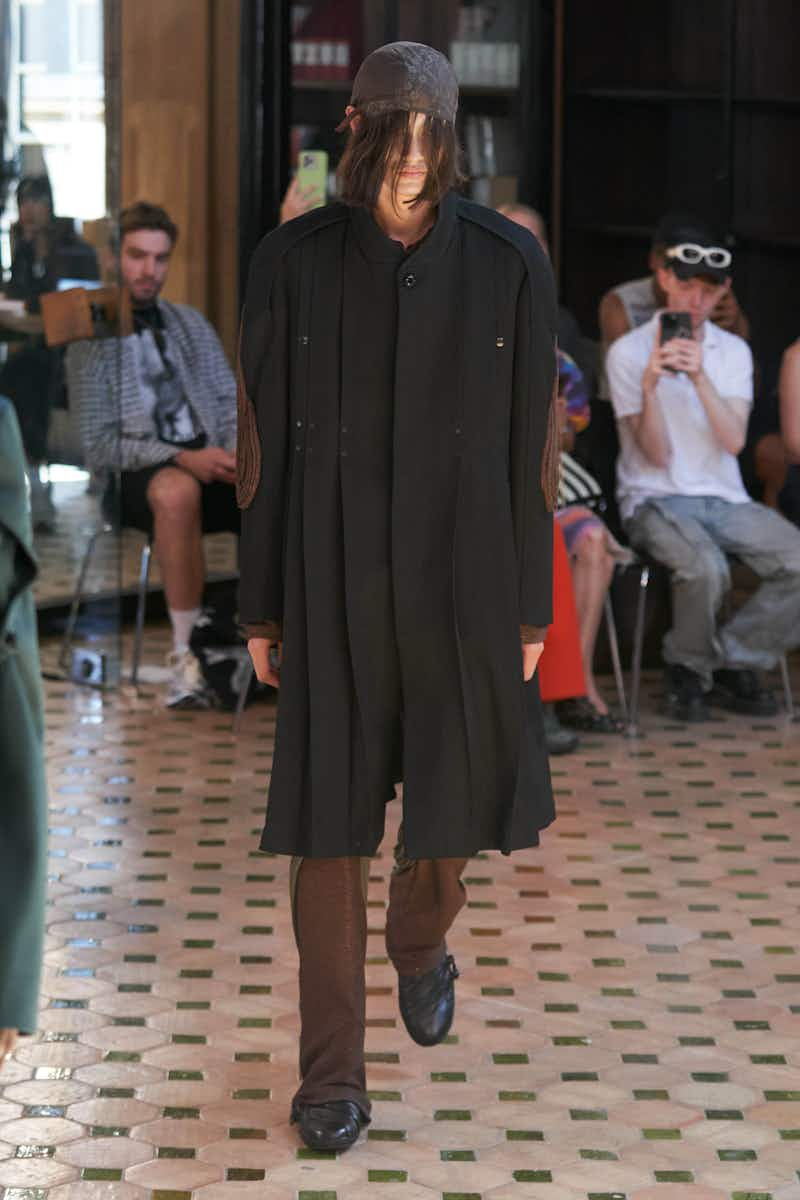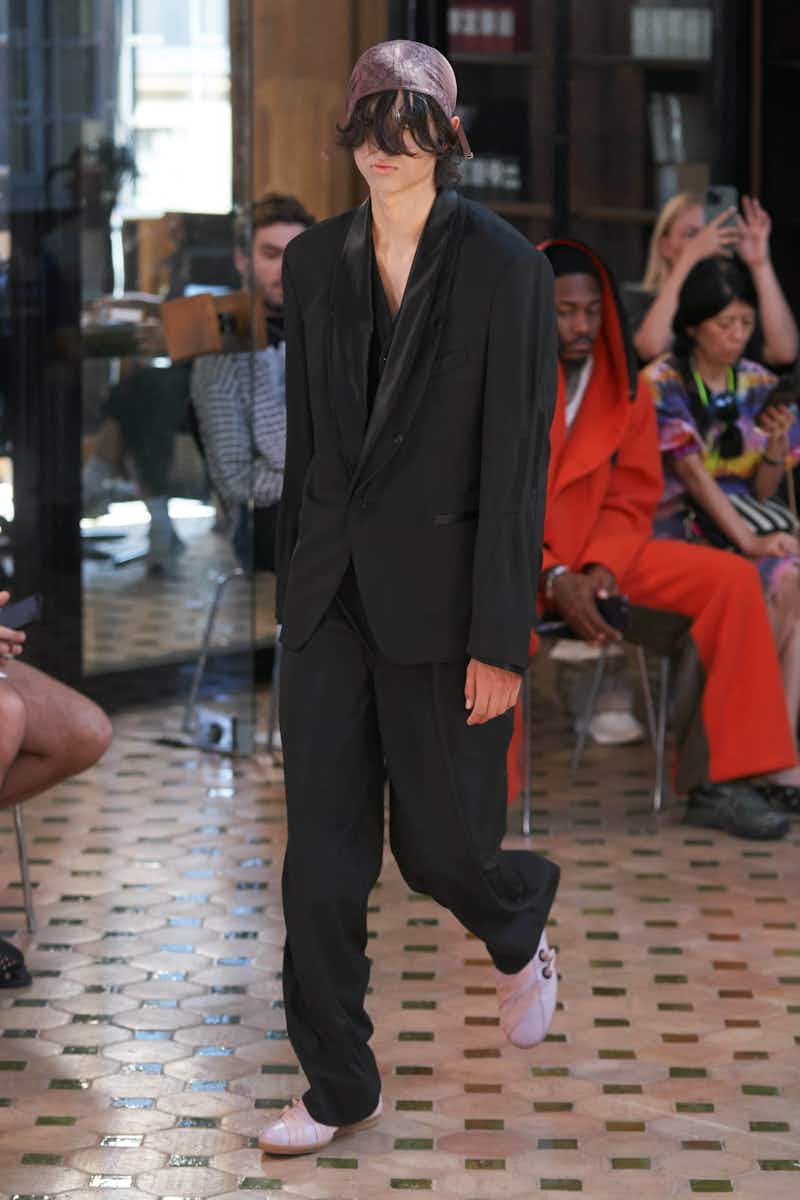 What?
Nigo closes the gap between East and West in his fourth collection for the LVMH-owned maison.
Where?
The Passerelle Debilly, a footbridge positioned – quite poetically – between the Eiffel Tower and the Palais de Tokyo.
Who was there?
Pharrell, Nigo's old pal, came through wearing one of the collection's pieces – a navy kimono-blazer – while Korean rapper Vernon followed suit in a buttery baseball jacket, seeing in his new role as Kenzo's global ambassador.
What was it like?
Now well into his stride, Nigo has made a major mark on the Kenzo brand, showcasing his ability to imagine old ideas anew. Looking closely at the late founder Kenzo Takada's oeuvre, which ended in 1999, Nigo approaches his job from a similar departure point, sitting at the intersection of global cultures.
For this occasion, he riffed on the Japanese music genre ​"city pop", a cultural transplant of R&B, disco and boogie from the Western world, reimagined through a Japanese lens during the ​'70s and ​'80s. So titled for its ​"metropolitan" appeal, the music's loosely defined sounds played throughout the show, mirroring the cultural crossover apparent in the garments.
Raw selvedge denim – a staple in Japan – was transposed onto European tailoring, appearing on blazers and skirts alike. Of course, this very breed of cotton came following the American explosion of jeans as workwear uniform. The Japanese took this design, upping the production quality and treating it less as a merely functional garment, and more a piece of craft.
Elsewhere, double-breasted pinstripe jackets ditched the lapels in lieu of ribbed kimono hems. Baker Boy hats were sized up to the nth degree, again playing with this notion of cultural borrowing and bettering. Indeed, if there's one country that does Americana better than America, it's Japan, where Harajuku boutiques specialise in only the most nuanced renditions of ​'50s pipeline workwear.
Other sartorial quips included the contrast piping prepster blazers that were fastened using obi belts and constructed with double-weave cotton typical to karate uniforms (gis). Two-tone ribbed turbans also felt like nods to Takada's cultural expositions. Meanwhile, the translucent knitted cardi dresses and chintzy rose-print blouses offered a concise example of what happens when Japan does Western and vice versa.
Of note?
The oversized khaki bucket hats, frayed at the edges, will be on every musician's head this time next year. You heard it here first.
In a word:
International.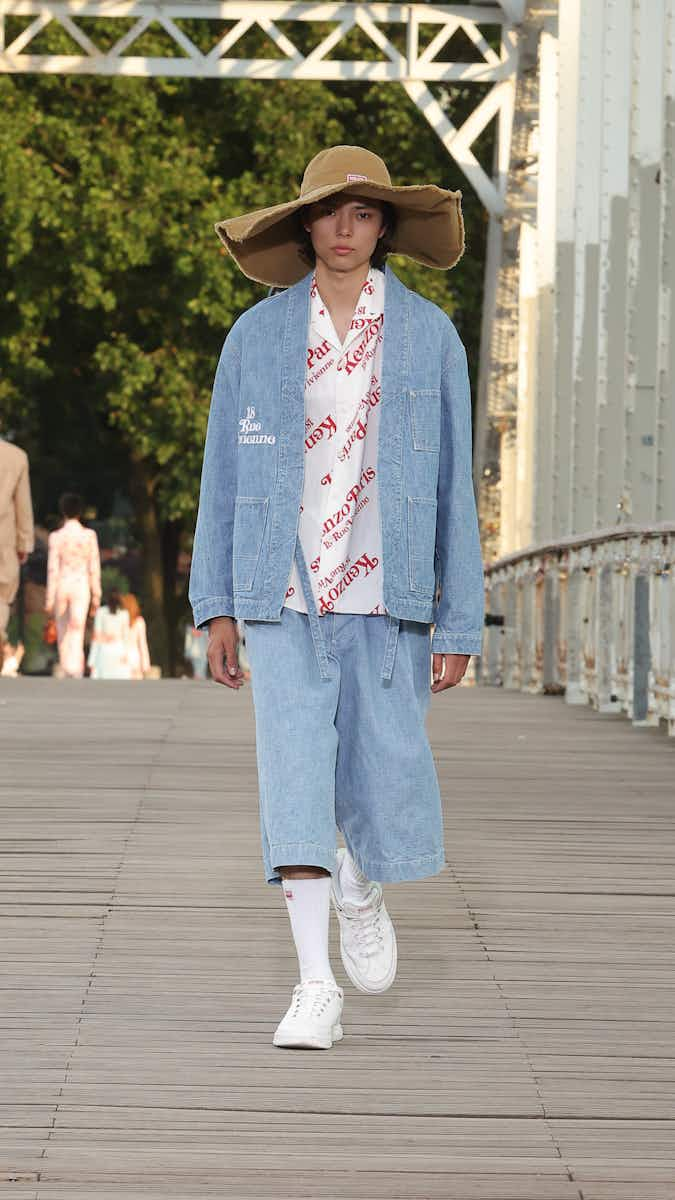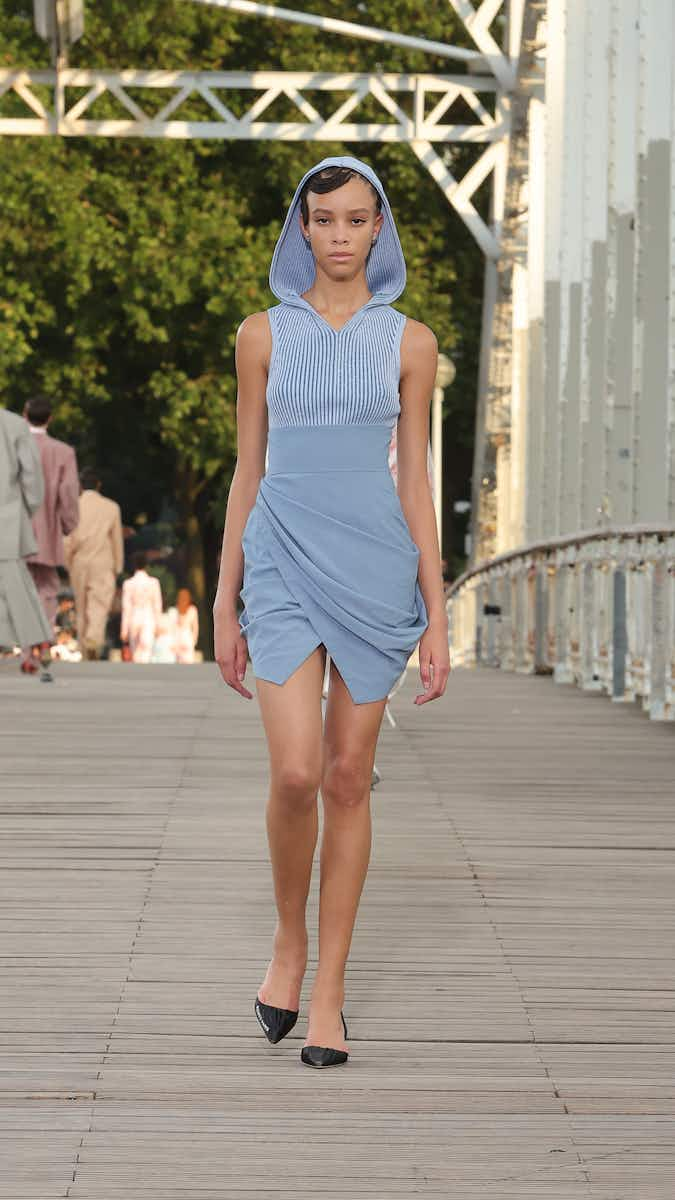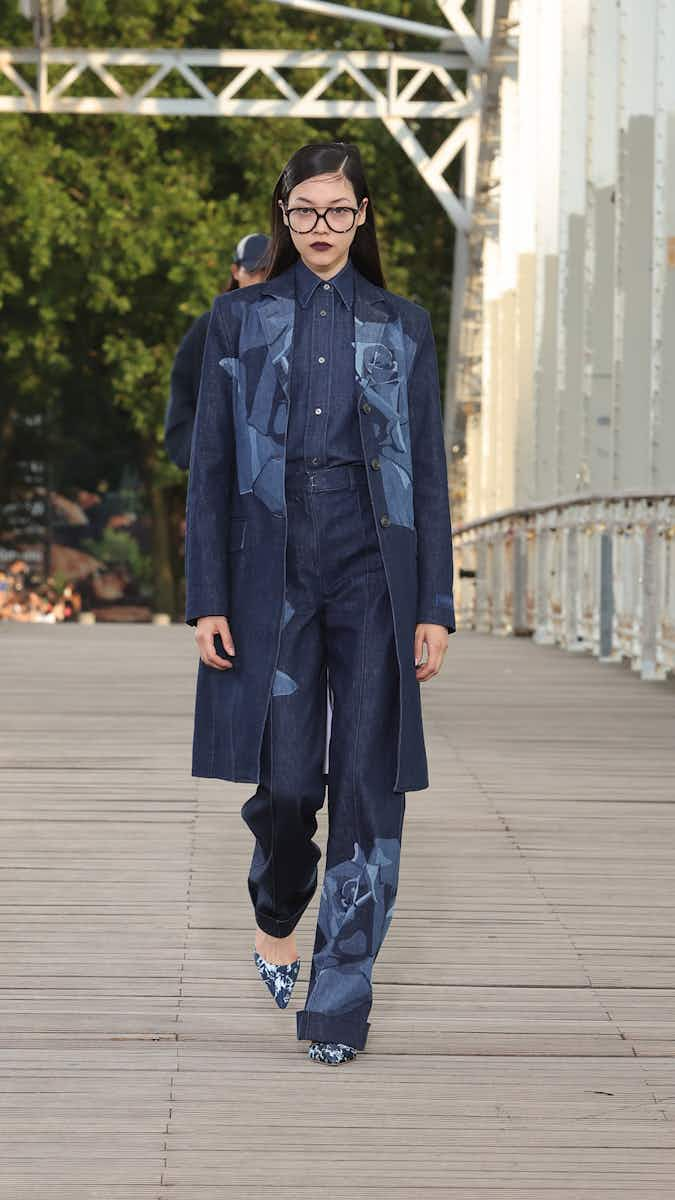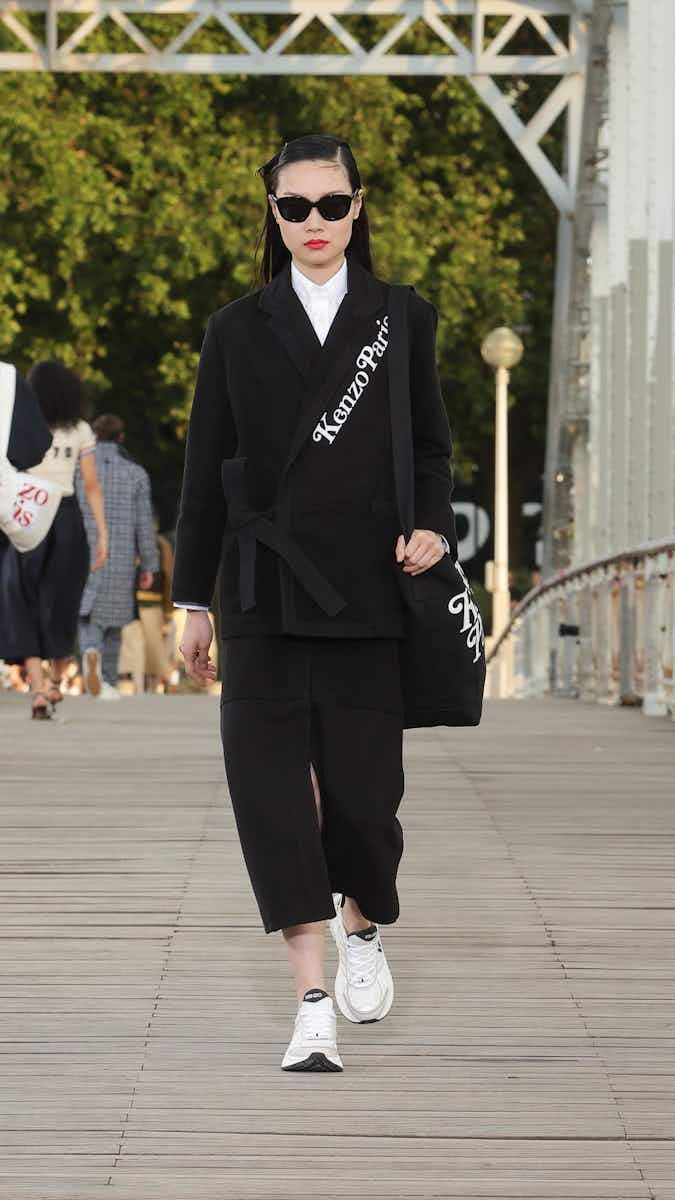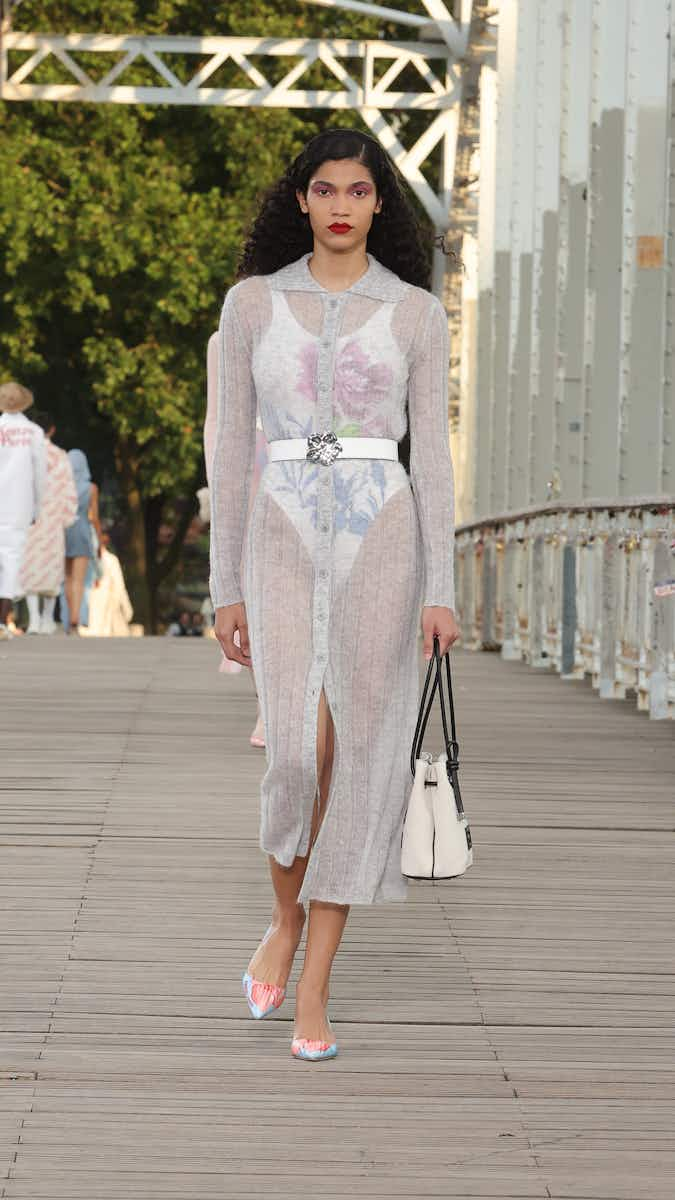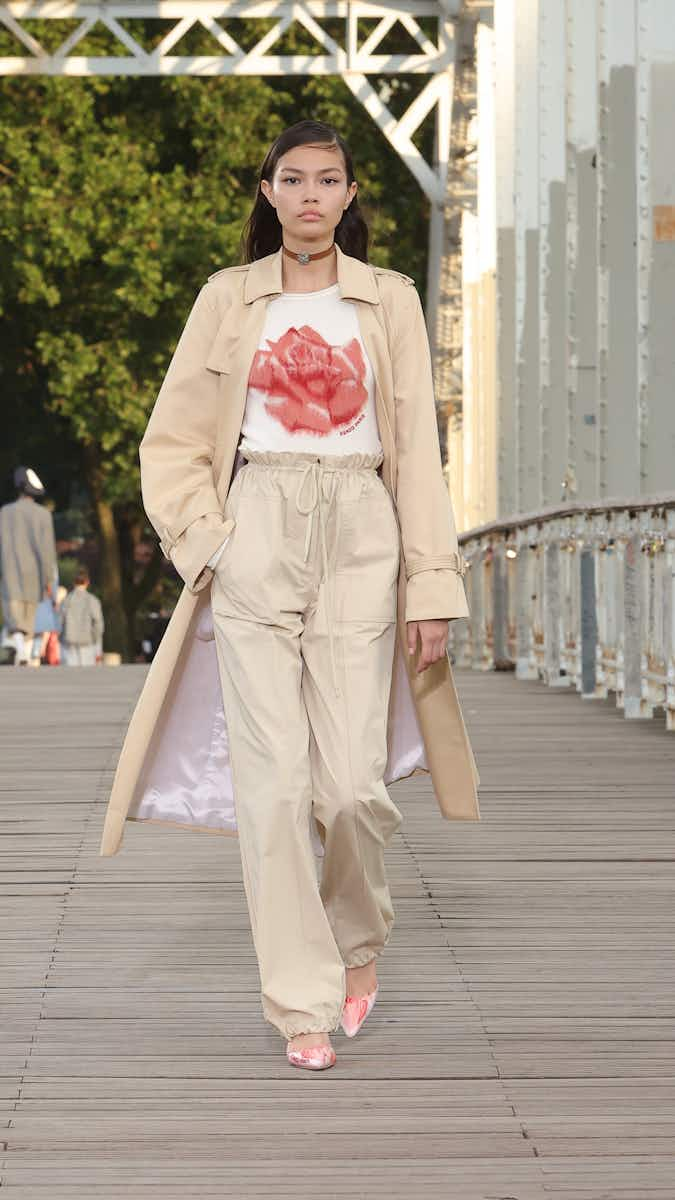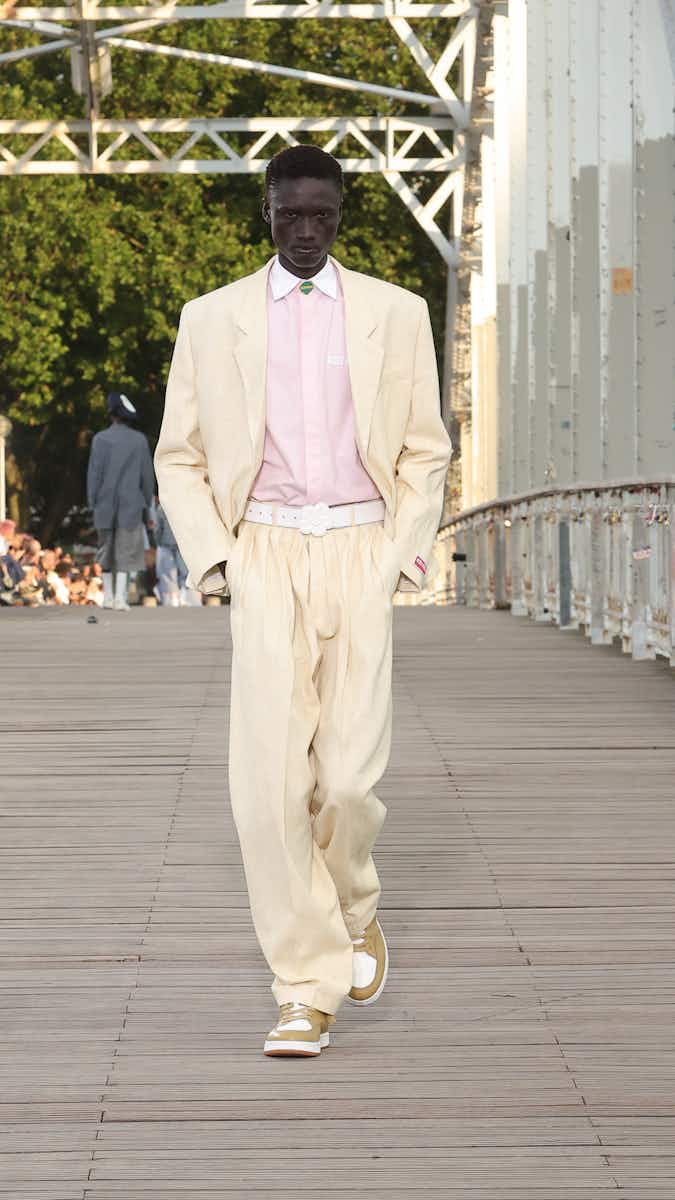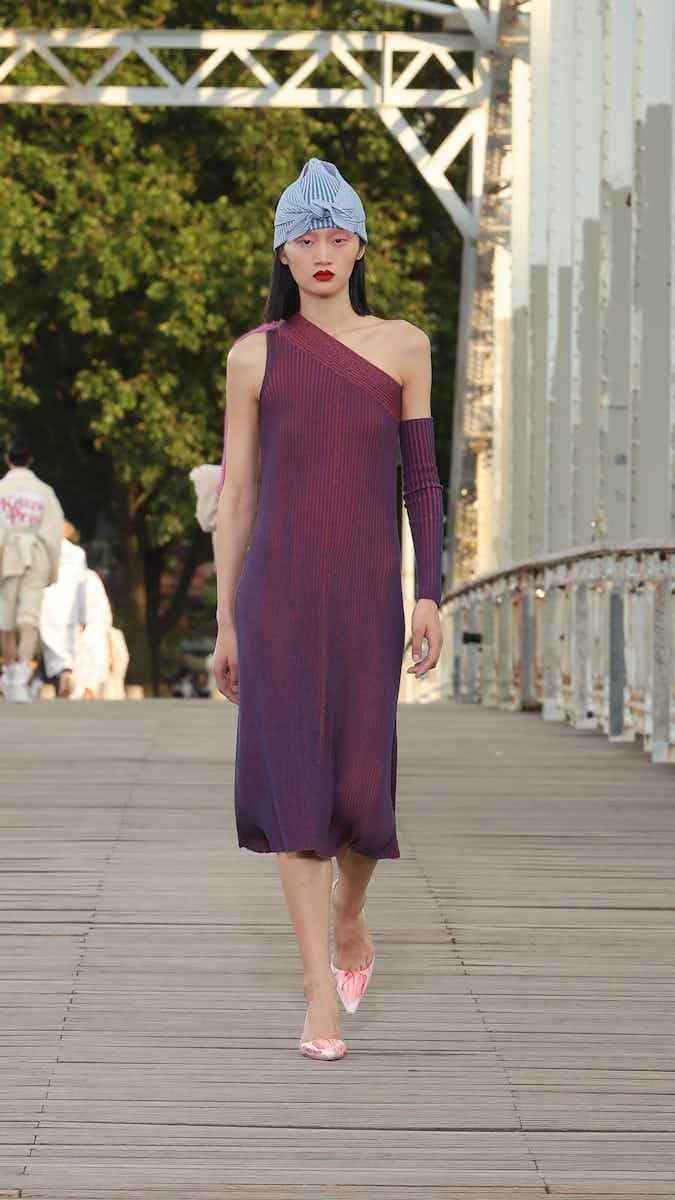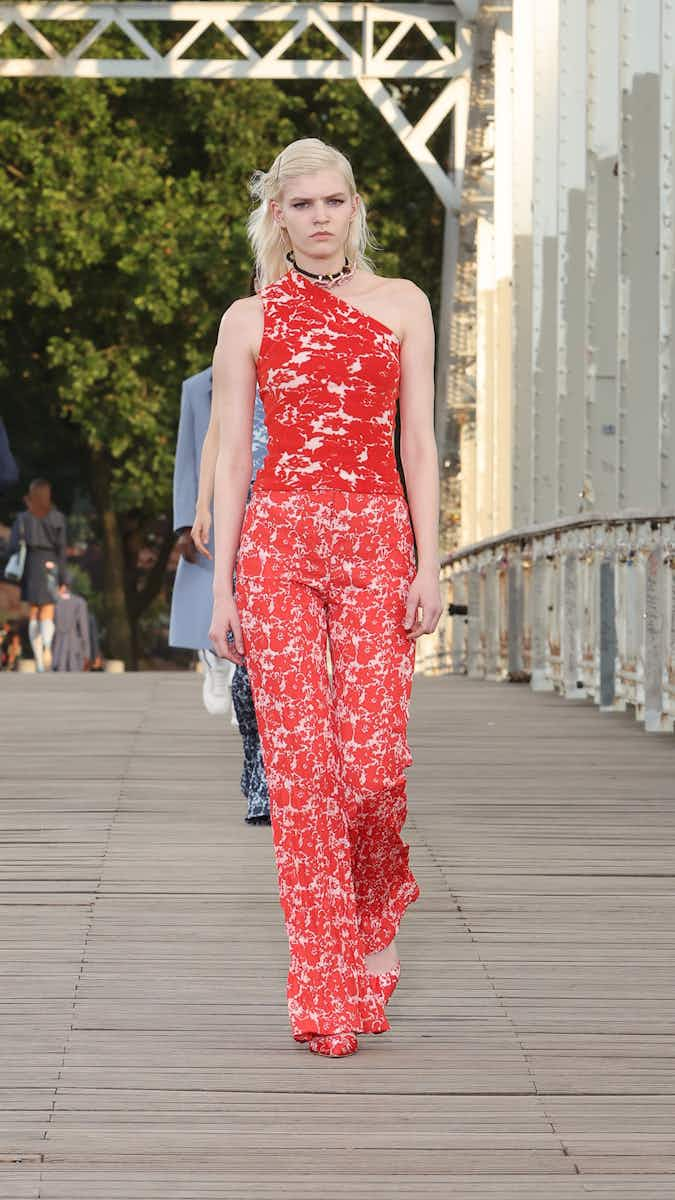 What?
Nineties minimalism gets a tailored update courtesy of Alexandre Mattiussi.

Where?
The Tennis Club de Paris, a stripped-back 1930s sports centre in the outskirts of the city.
Who was there?
Grammy-winning vocalist and former FACE cover star Halle Bailey, Manu Rios (Patrick Blanco in Elite) and Paris' OG gaulois gal, Catherine Deneuve. We also caught twink trio – diver Tom Daley and actors Noah Schnapp and Hunter Doohan – serving less-is-more chic from the front row.
What was the collection like?
It's all too easy to mythologise the ​'90s for its glamour and grit. Indeed, fashion heads will wax lyrical about the heady days of grunge, heroin chic and supermodels, failing to mention the minimalist undercurrents that made some of the era's greatest collections. It is these forgotten codes that Alexandre Mattiussi revives in his latest collection of tailored casuals and casualised tailoring.
Here, the austere settings and easy patter of producer Rone's soundtrack forced viewers to pay attention, indulging in the garments' exquisite simplicity. Opened by silver fox Vincent Cassel – who played Vinz in the 1995 cult classic, La Haine ­– the show pulled together a modular wardrobe of polished separates. Pinstripe blazers came with macho shoulders and a roomy chest, contrasted against brown leather mini-shorts or supple riveted chinos. The styling harked back to mid-nineties Prada, at once basic and meticulous.
Between the menswear and womenswear, there were subtle distinctions. The latter exuded a daintiness that's become increasingly scant on the runways, meanwhile the men's ensembles felt cute – almost twee, at points – with neat sweater vests in melange wool and collared dress shirts peeking beneath. The addition of a breezy double-breasted blazer appeared throughout, finishing the light-touch look. Even when this proposed man was clad in full leather, he still felt gentle, softened by the blue or creamy hues.
Elegance, it seems, is a long-term project for Mattiussi, not an overnight fix. As such, collections like this find their relevance less in garish displays of glitz or confrontational design, but instead their edited approach, building a lineage across the seasons. Of all the shows so far, this was perhaps the most cohesive, sticking to a brief and delivering. ​"I want to simplify the superfluous, so I can concentrate exclusively on the essential – and more specifically the collection, the wardrobe," said Mattiussi. ​"Everything else is a distraction."

The vibe?
A steely starchitect's wardrobe.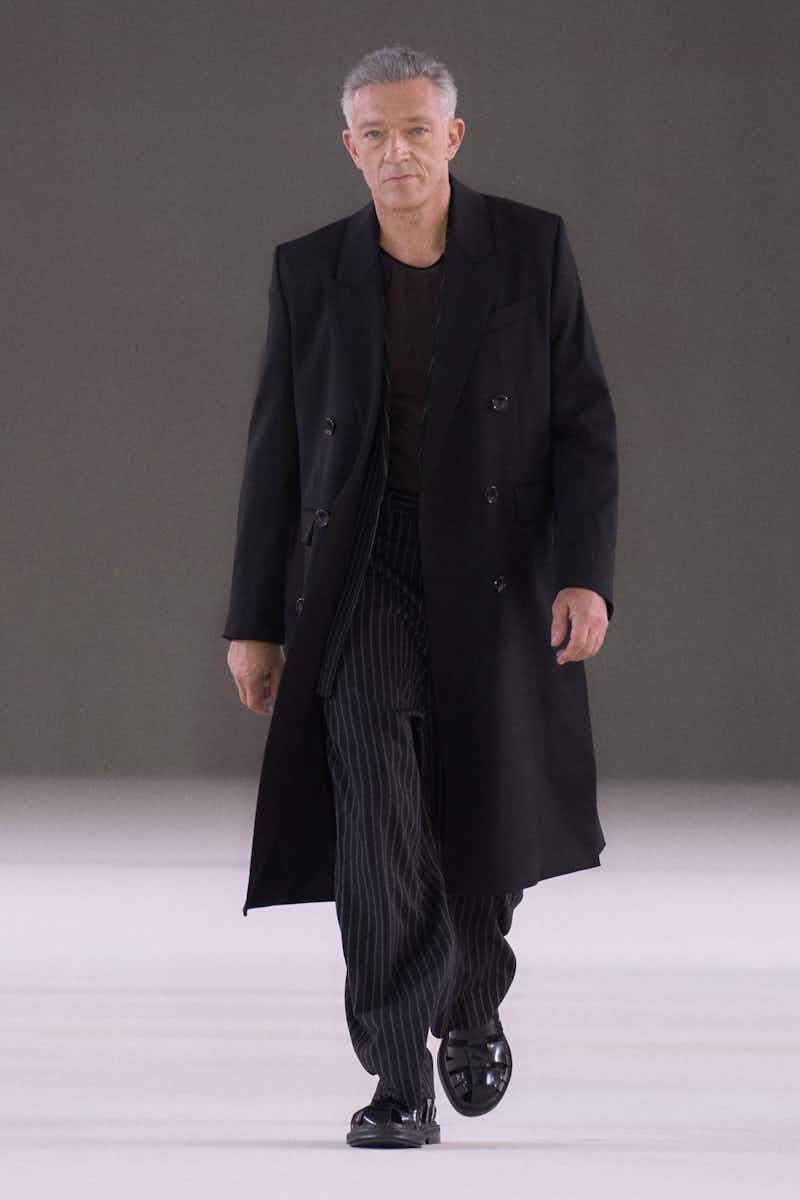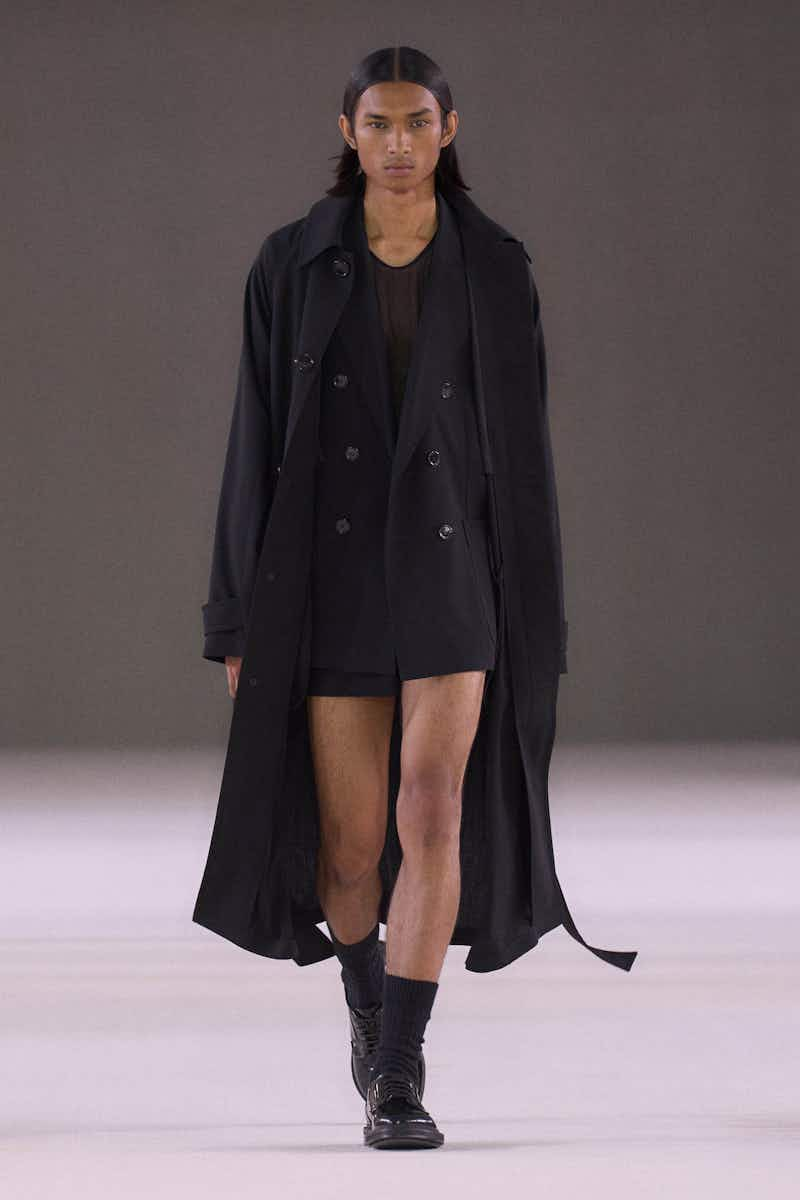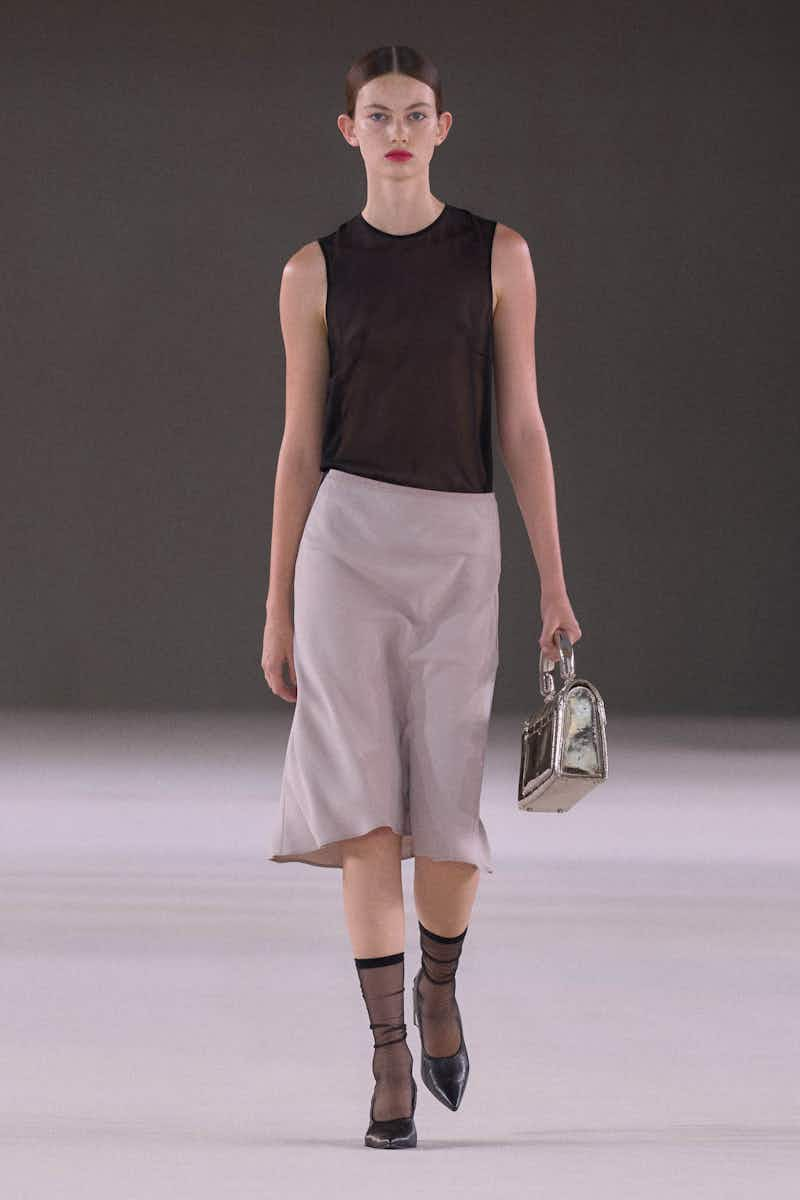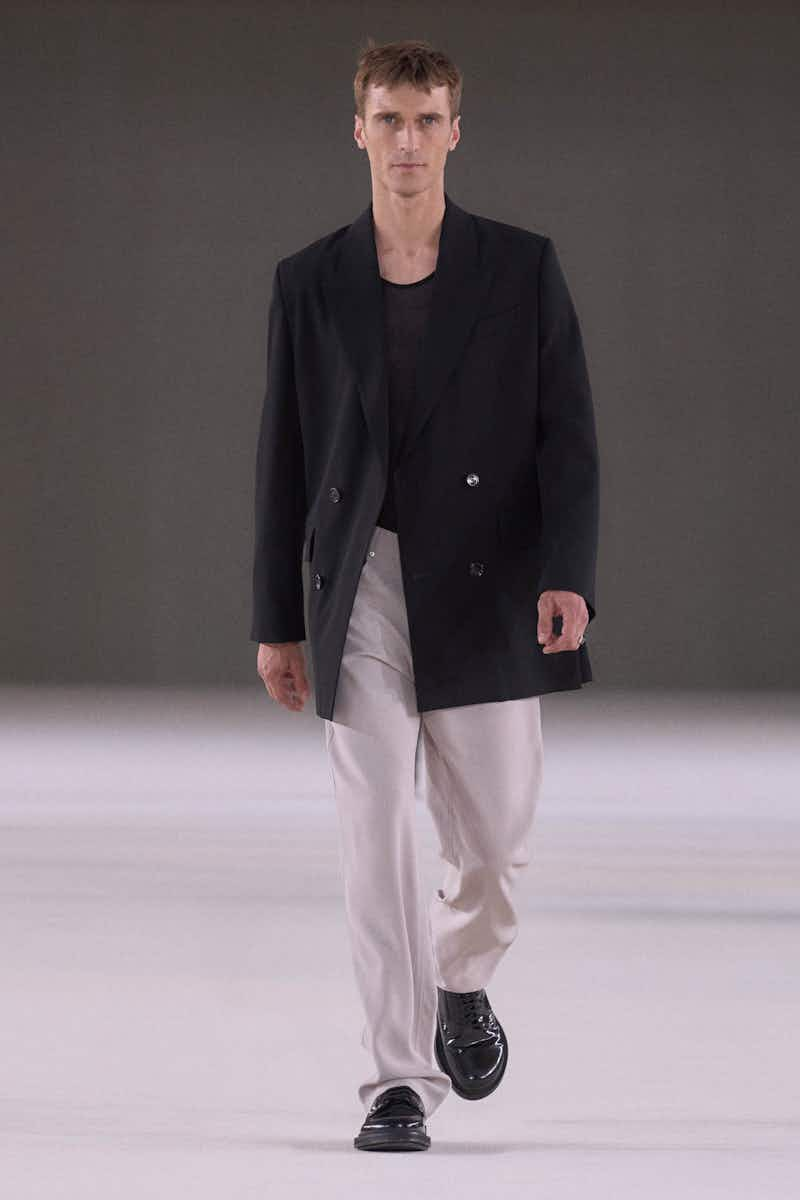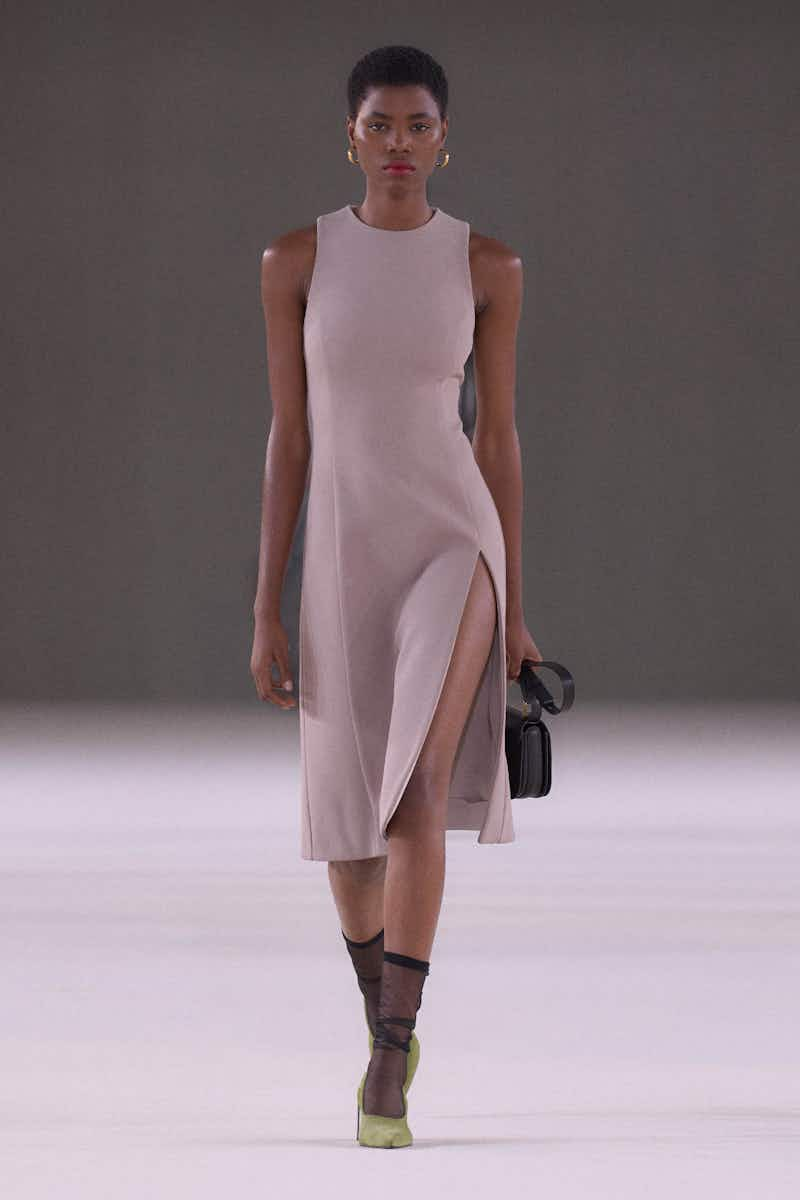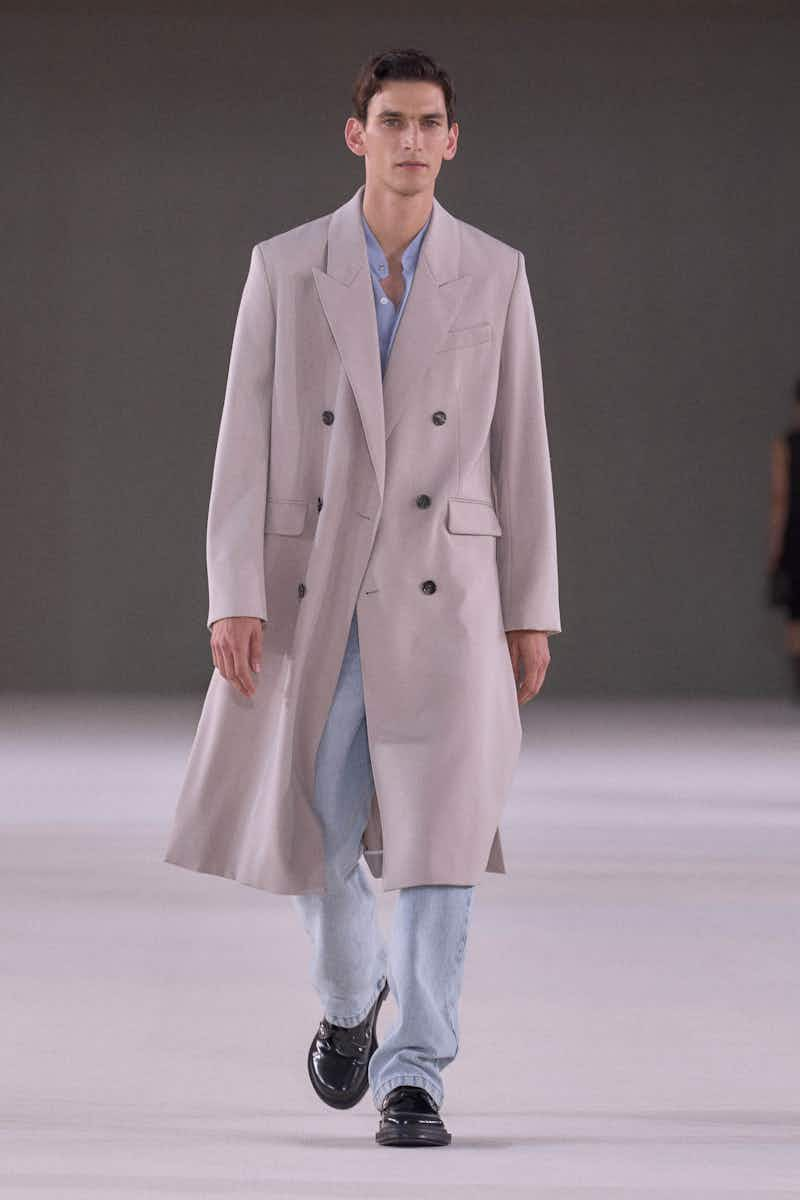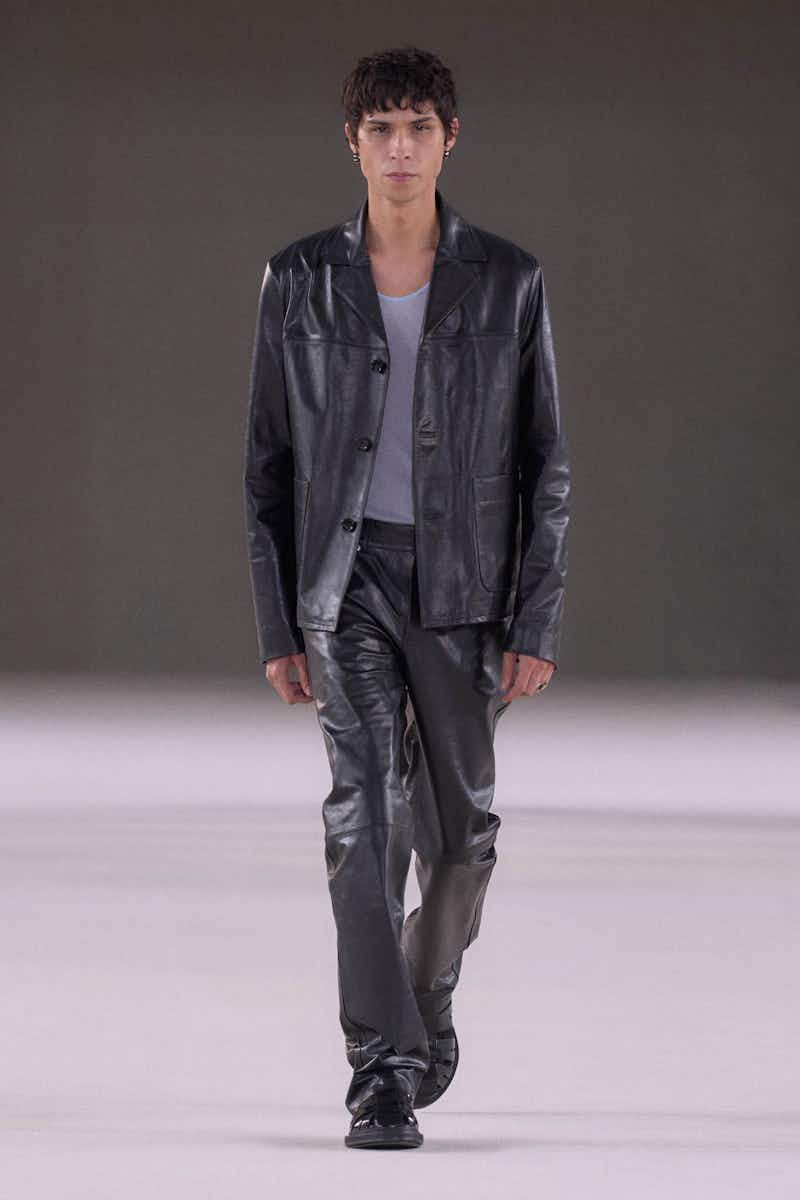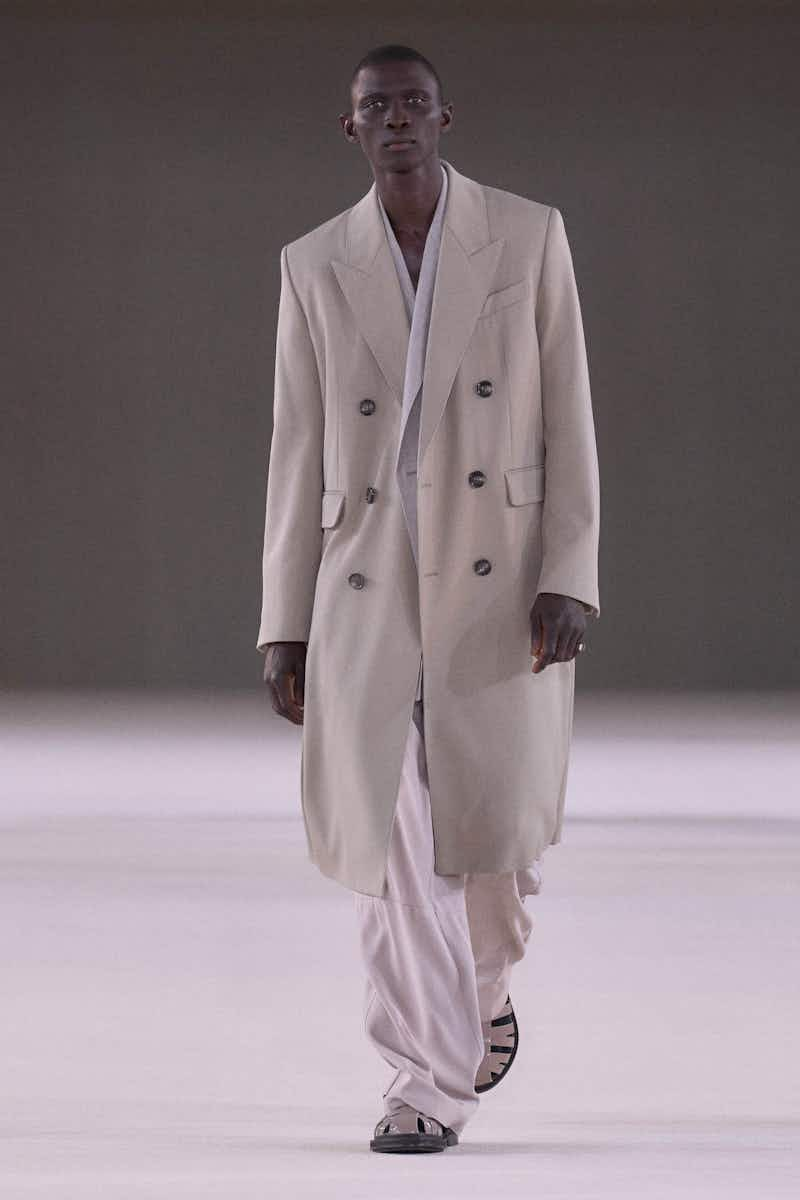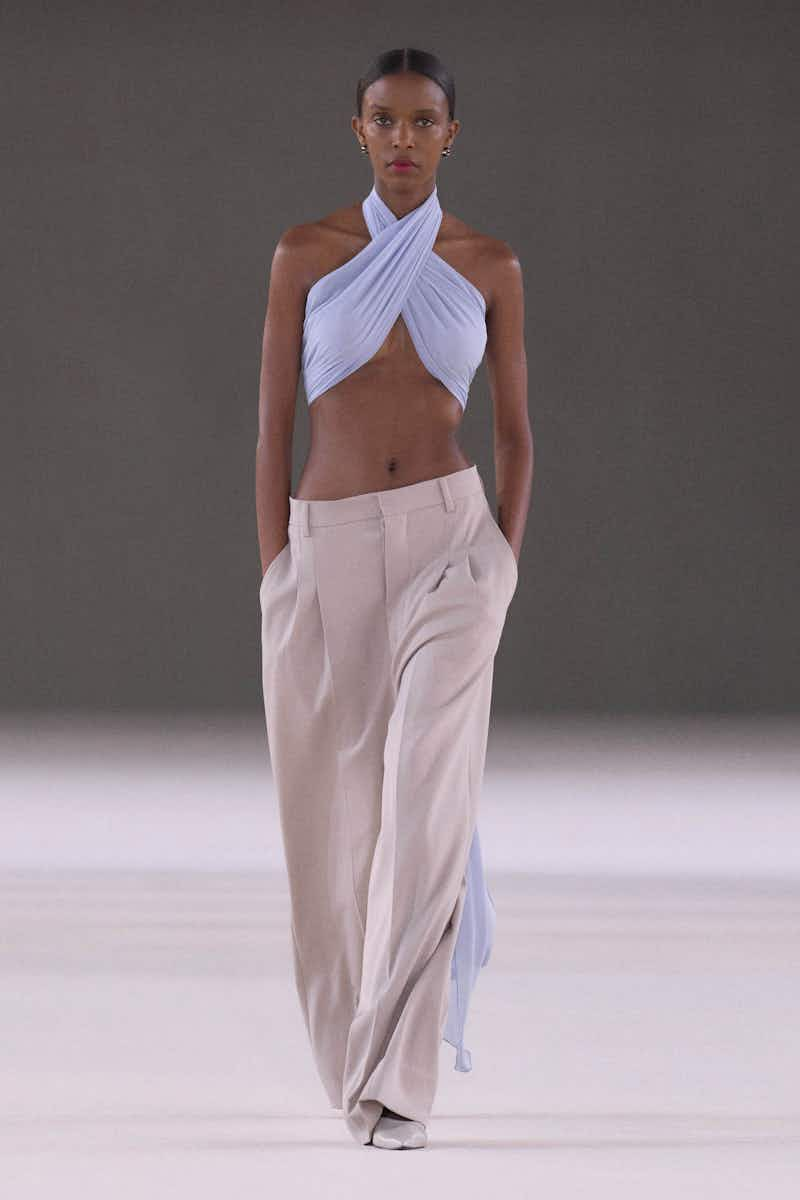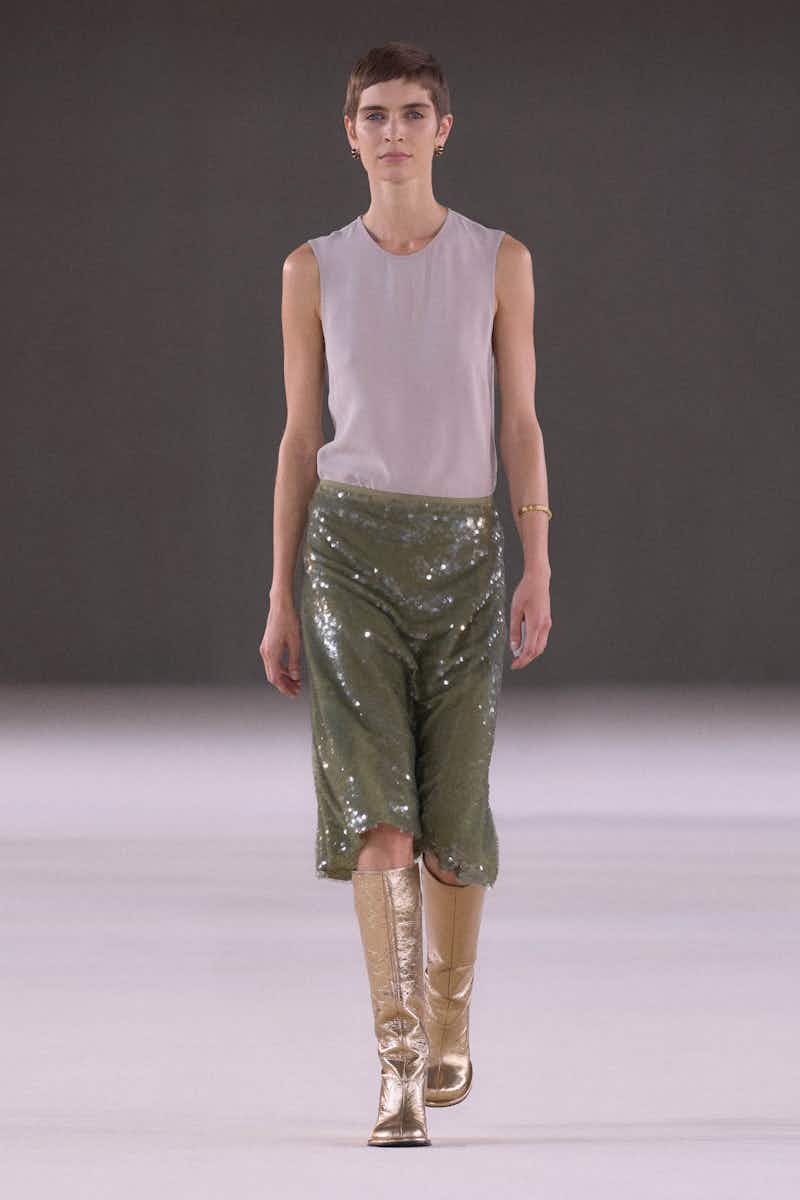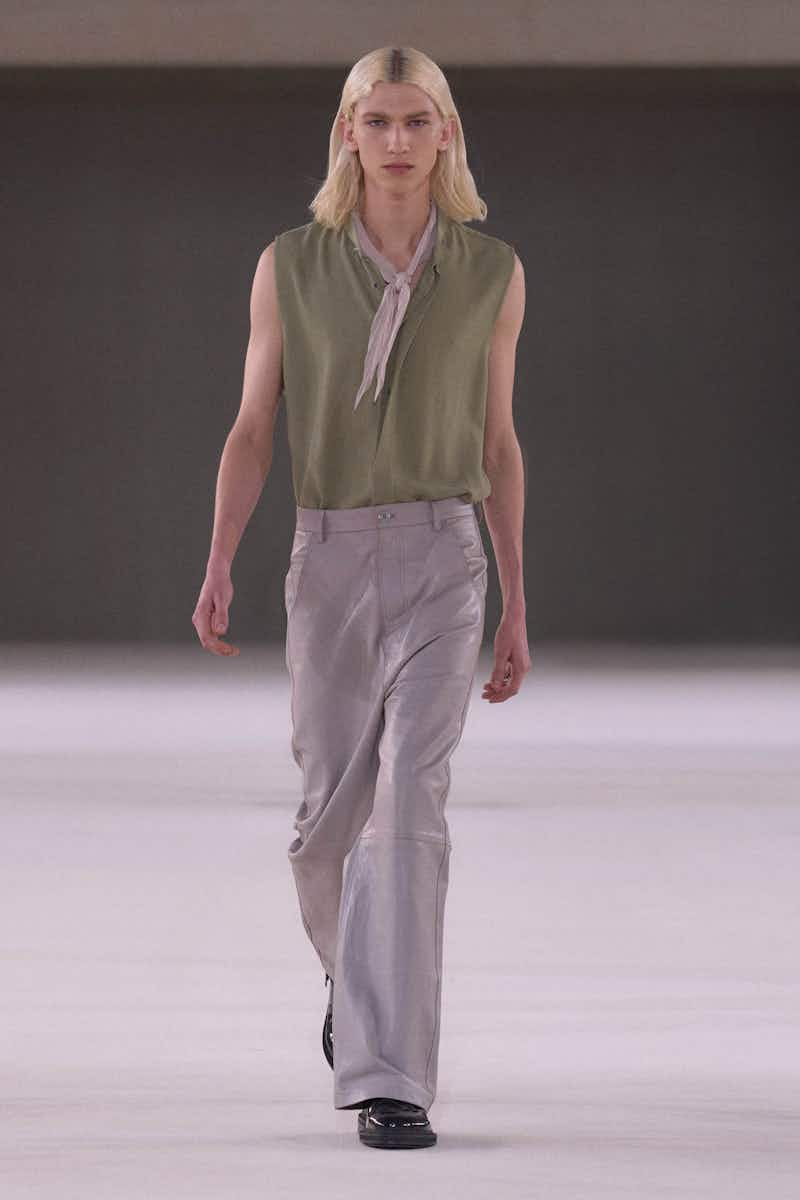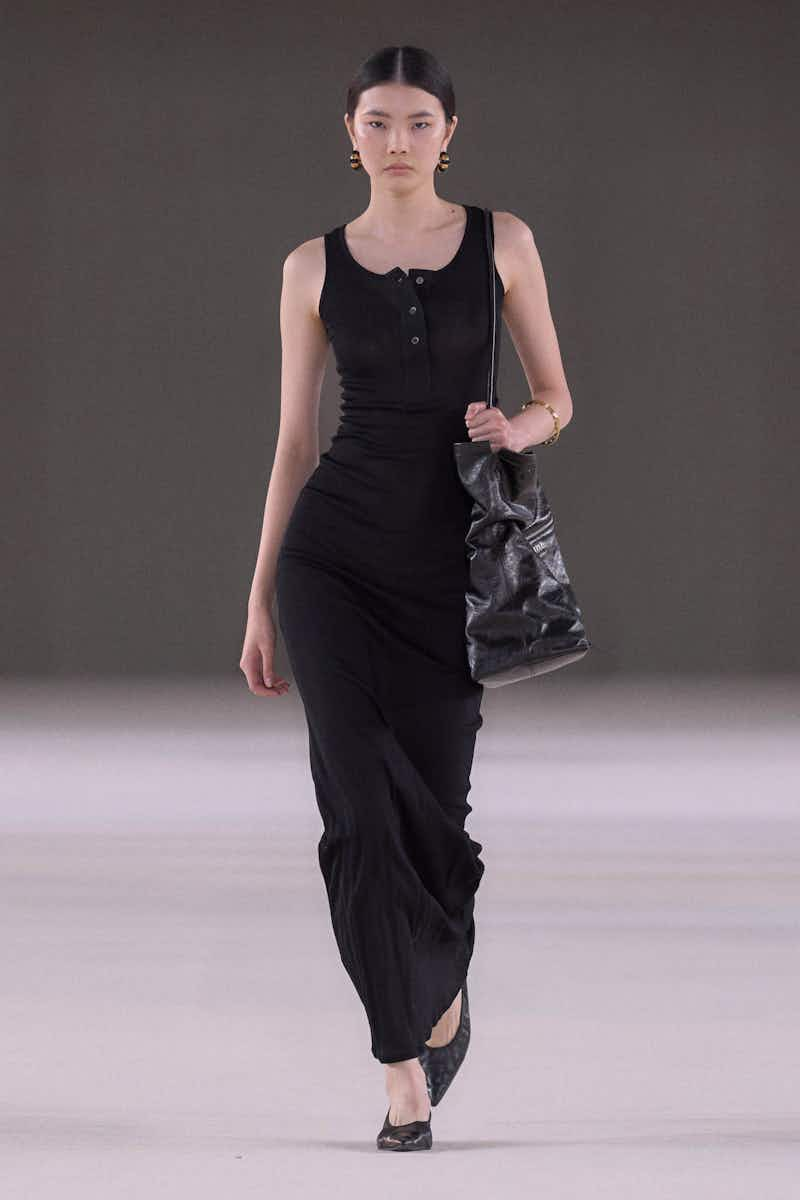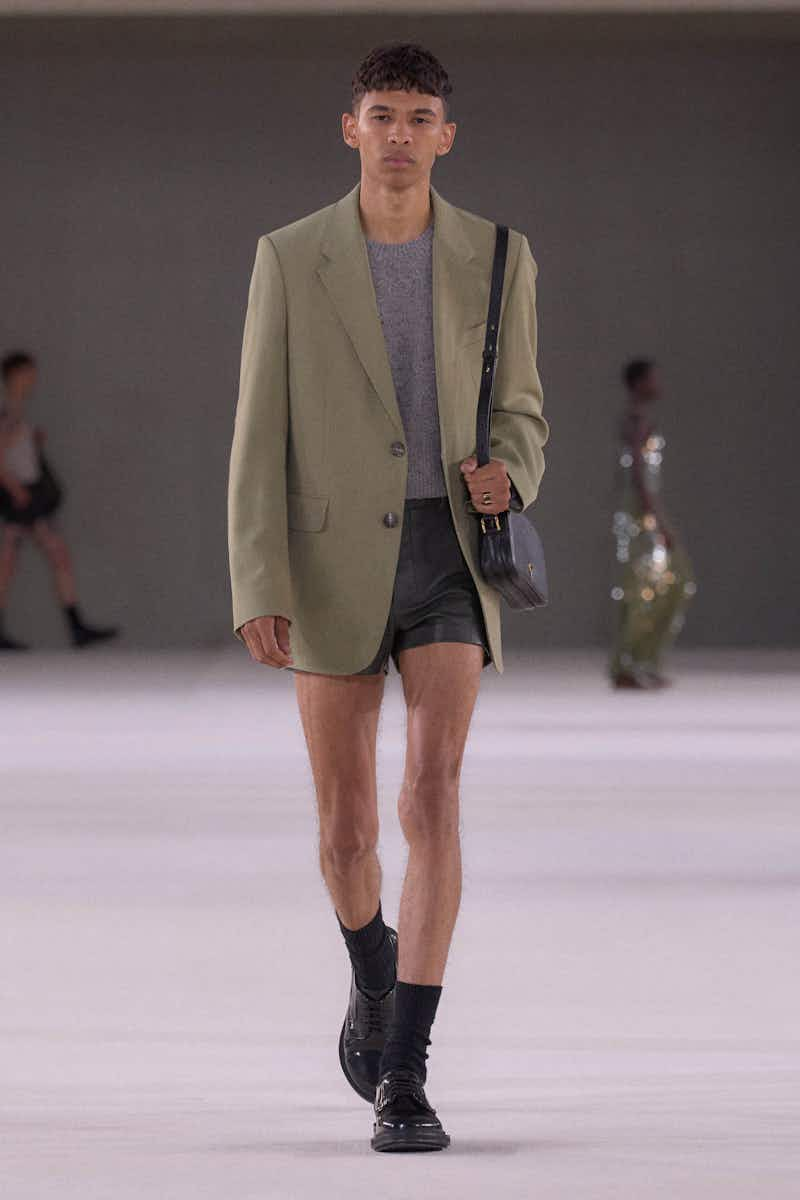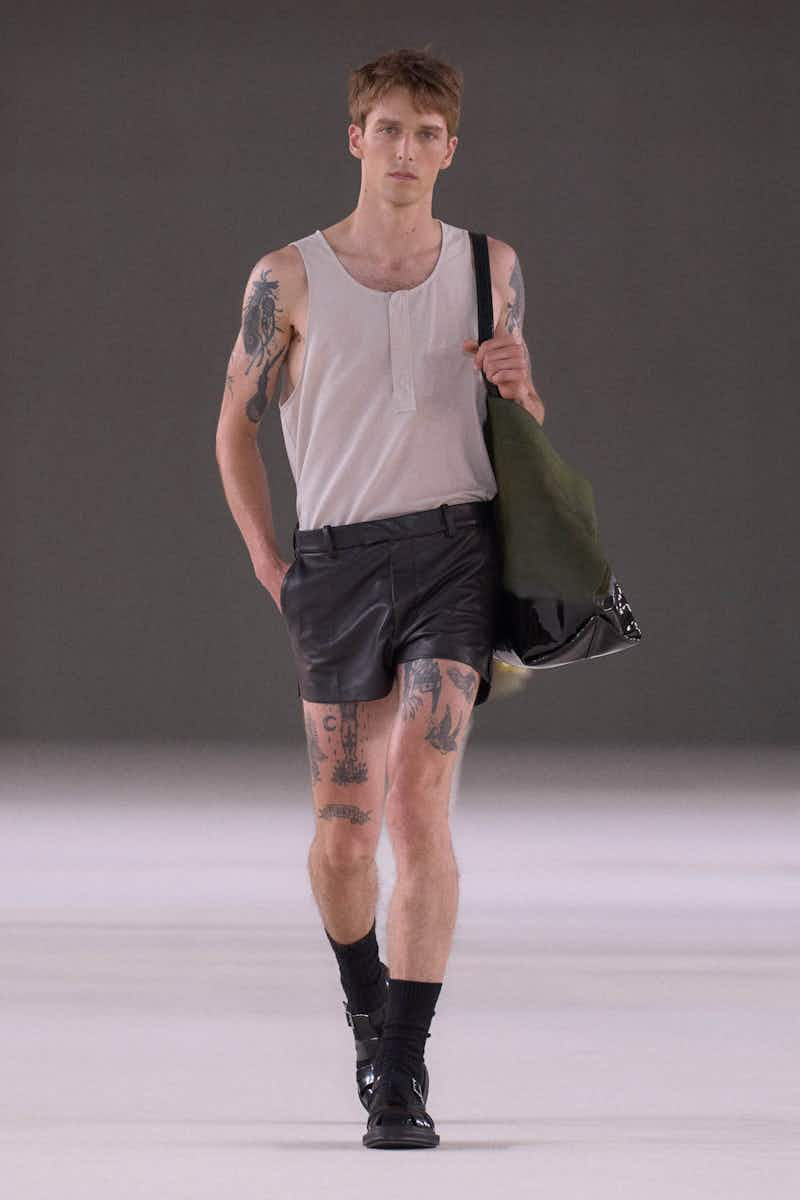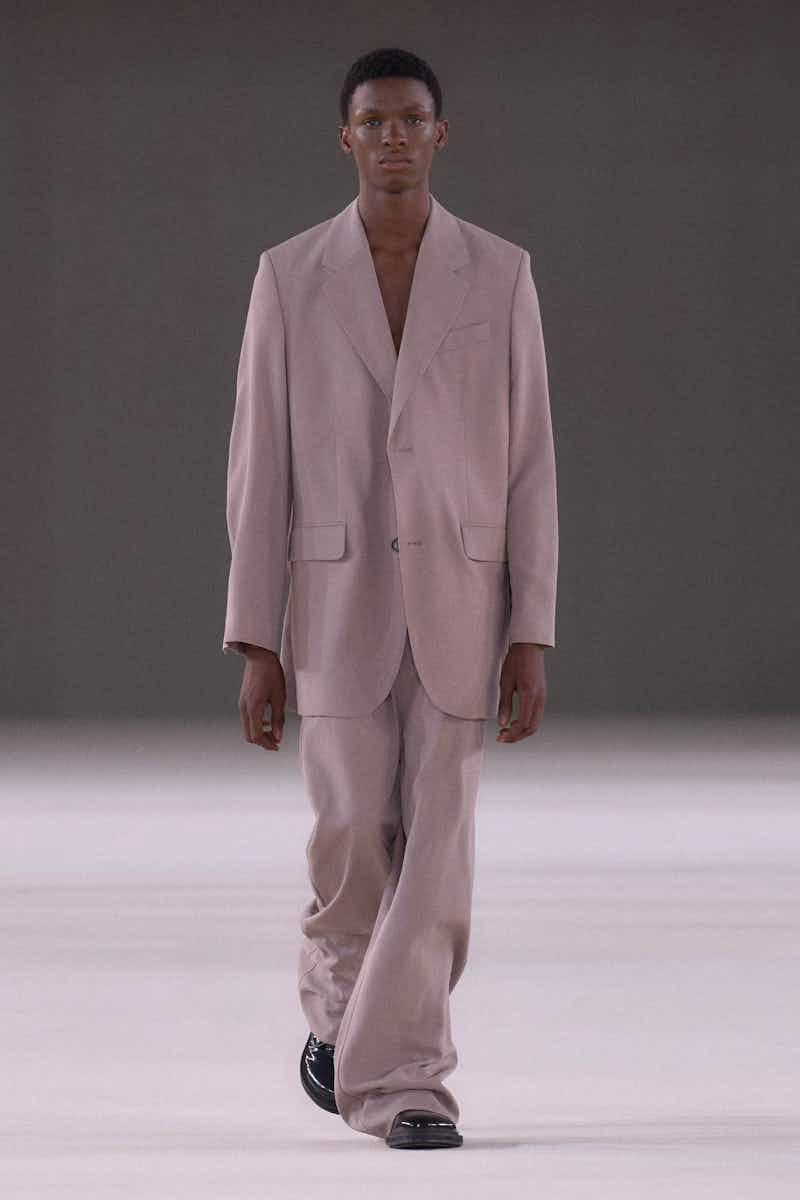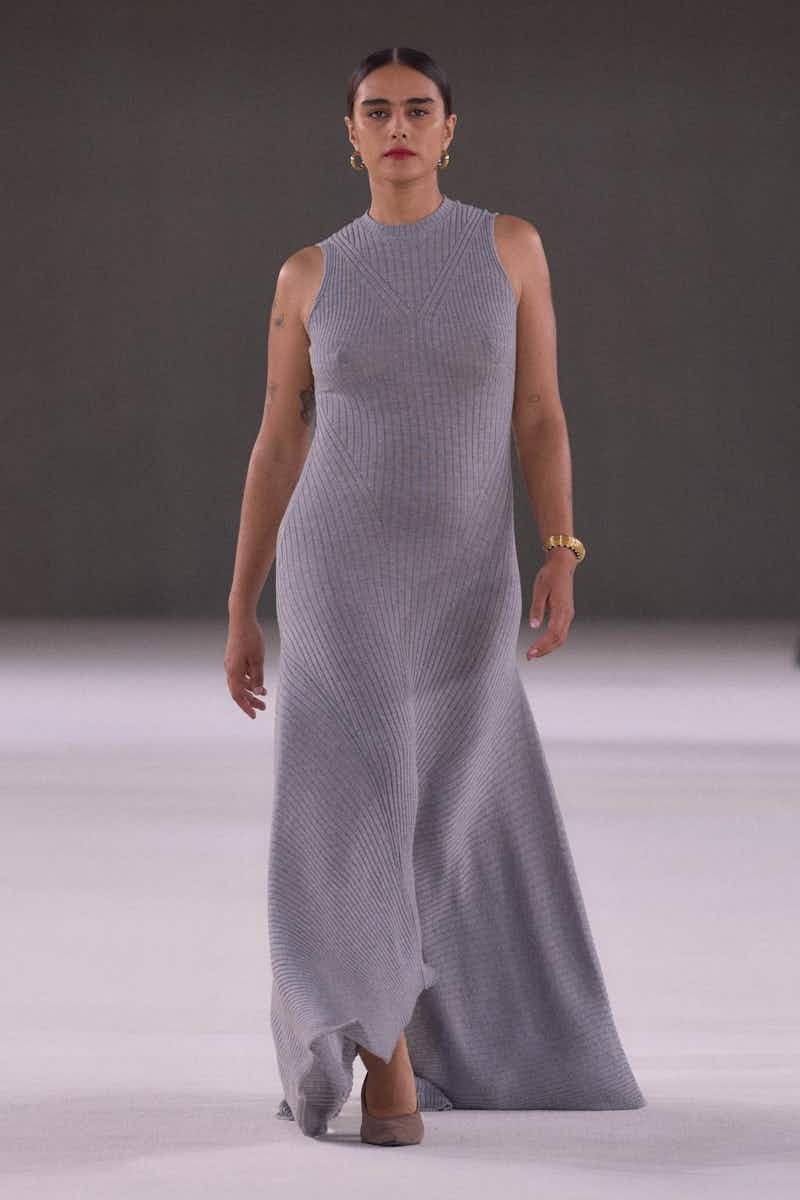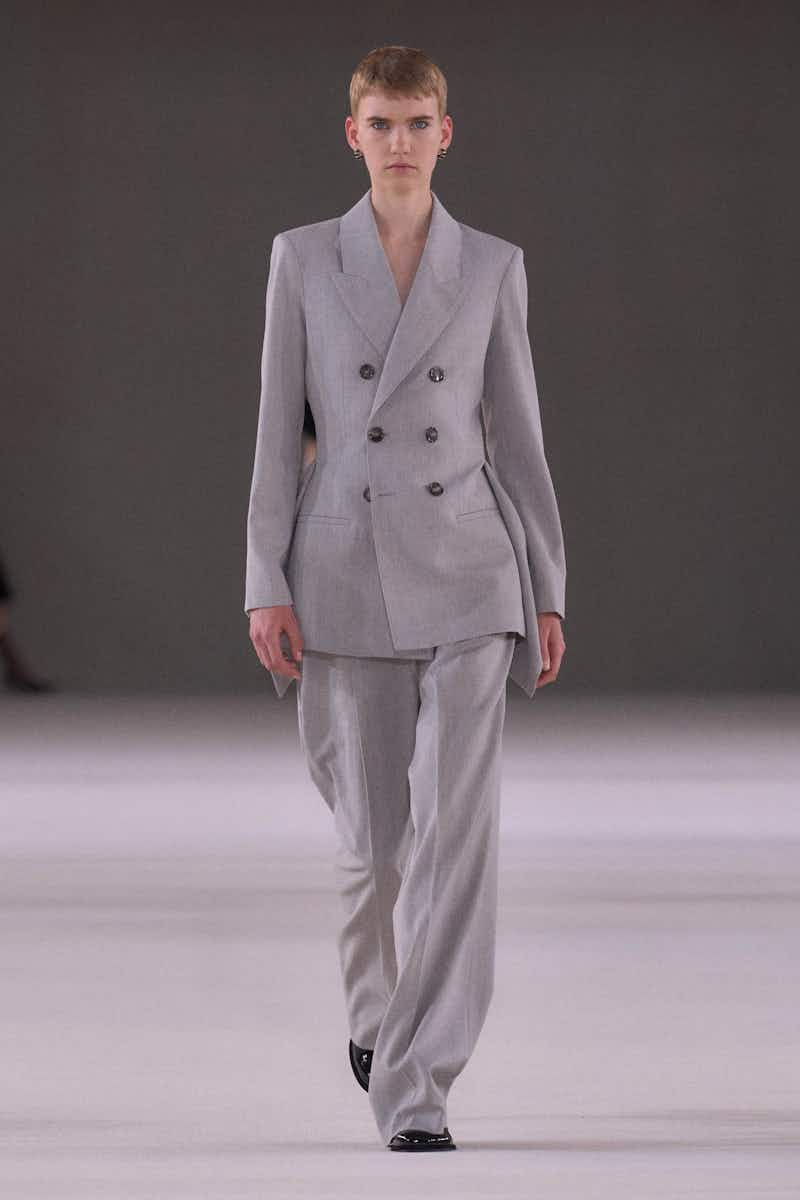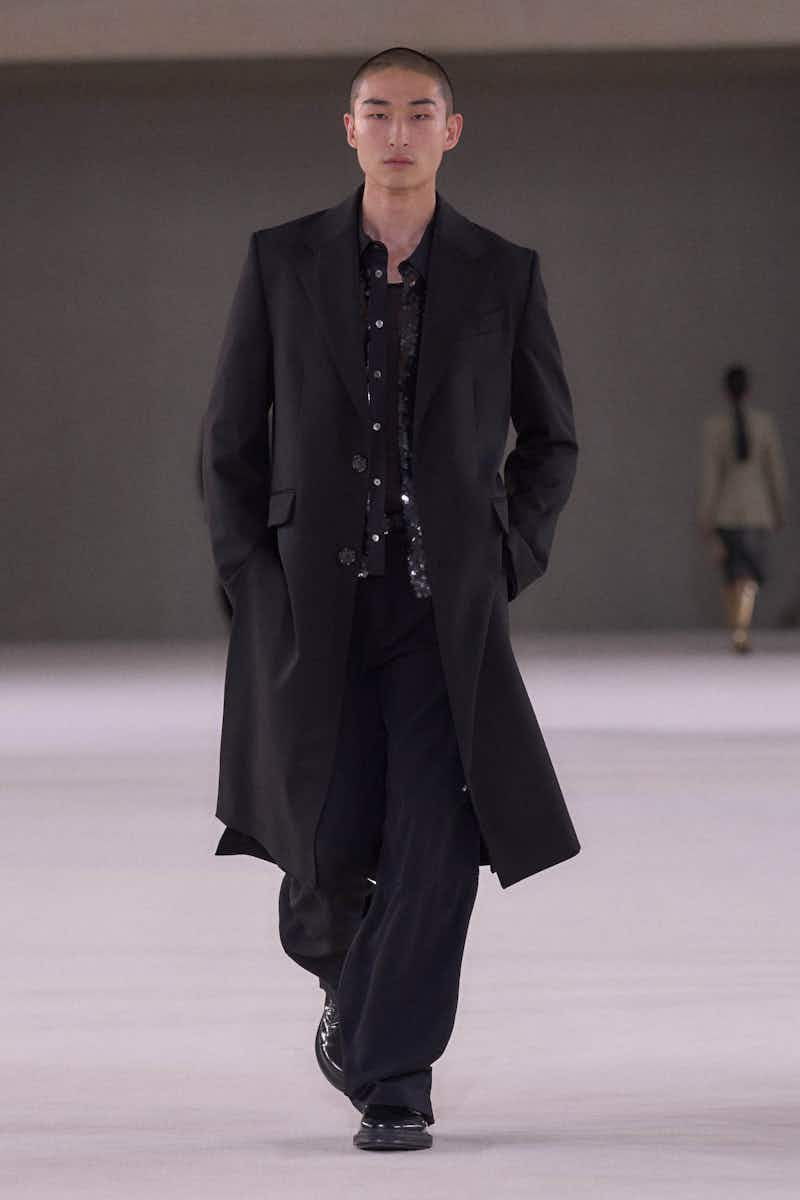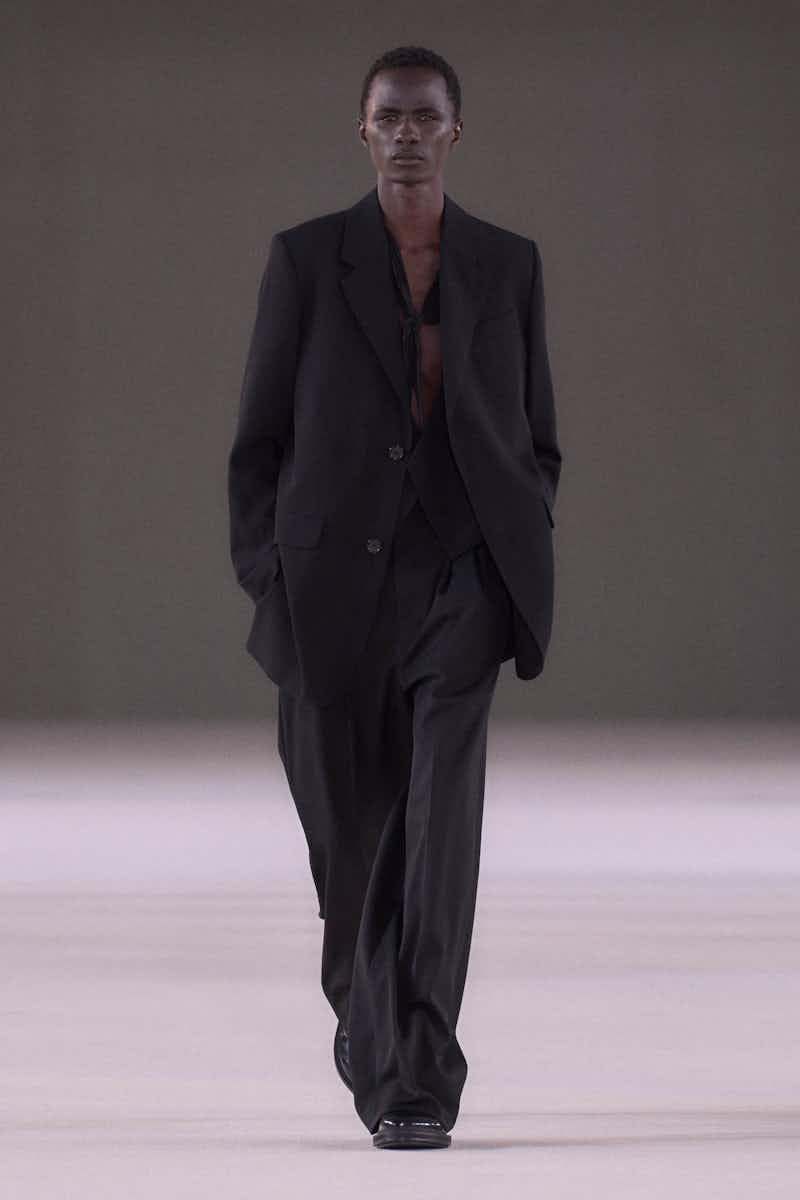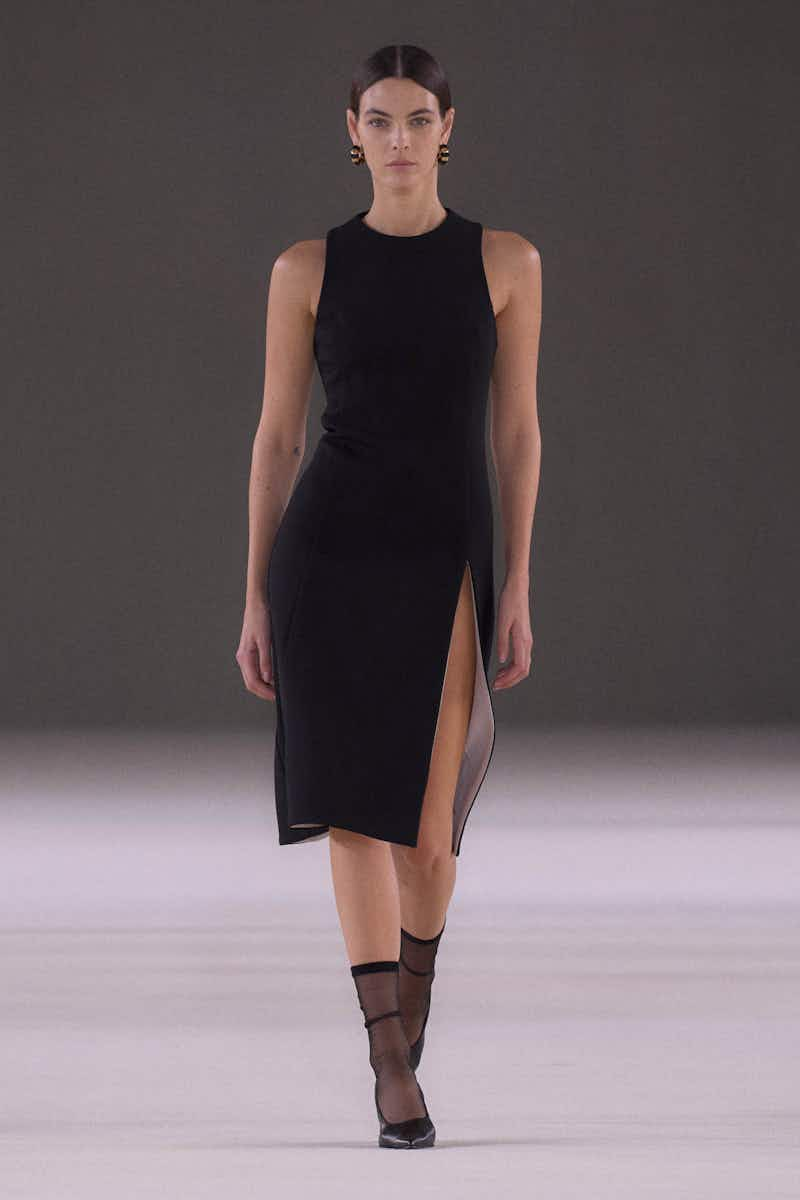 What?
Kim Jones celebrates his fifth anniversary at the Dior maison with the menswear equivalent of haute couture.
Where?
A futuristic hall in the École militaire, an 18th-century monument in the 7th arrondissement.
Who was there?
A better question: who wasn't there? From K‑pop star Cha Eun-woo and Colombian singer-songwriter Maluma to Winnie Harlow via HRH Princess Julia, the audience was a who's who from every chapter in Kim Jones' illustrious life. In fact, one of the FROW bleachers was lined almost exclusively with fashion's finest figures, namechecking Pharrell, Matthew M. Williams, Wales Bonner, Stefano Pilati, Jeremy Scott and Eli Russell Linnetz.
So, what did it give?
It's a cliché to say a collection looked back to move forwards, but this seminal procession did just that. Granted, Jones has been mining the archives from the moment he stepped foot in 30 Avenue Montaigne, but this offering encapsulated his tactful but tapped-in method better than any other so far. Where previous collections have honed in on specific skill sets – zeitgeist awareness, subcultural knowledge, tailoring, showmanship, craft ­– this collection acted more like a showreel of each, alongside Jones and his magpie mind.
Showmanship was ticked off first. Here, models literally rose from the ground, emerging like prototypes of Kim's sartorial vision. Stood on sterile tiling, the Dior boys filed down the runway one by one, each returning underground after showing their look.
Across the collection, particular materials and patterns took centre stage, riffing on house histories. Bouclé appeared across technicoloured overcoats and rich tonal suiting. The palette was delicious, merging tonal meringue two-piece with fluoro green polos, and contrast tweed with leopard print updates on the iconic saddle bag – that's your zeitgeist awareness.
Perhaps the most prevalent was the cannage pattern, a weave that backed the chairs at Monsieur Dior's first show in 1947. For this show, it splashed vested crop tops, knitted sweaters, rucksacks, hell, even the loafers. The result, rather than landing like a gimmick, felt like a rich but earnest nod to the house Jones calls home. Despite its heavy usage, it remained easy on the eye, rendered in dove grey, chocolate and cerise.
Elsewhere, brooches embellished lapels with fine jewels, or, in several cases, decked the garments completely, forming regal cardigans and polo shirts. Complementing this, millinery designed by Stephen Jones took the form of woollen hats, pinched at the top like rosebuds and iced with lilies and mother-of-pearl pins. These ticked off craft.
As for the tailoring (tick!), this moved away from the swaddling confections Kim's Dior has become synonymous with, swapping a svelte cut for something a little more prep-school. Downstairs, the trousers were cropped at the ankle and generously fitted, swishing in the same motion as the Oxford bags Northern Soulers wore in the ​'70s. There's your subculture.
With that said, the prim and sissy cardis felt boldly effeminate, akin to the pieces you'd expect from an early salon show. Clearly, this was intended. ​"Dior is an haute couture house. At the heart is silhouette, shape, technique, and fabrication of the very highest order," Kim explains in the show notes. ​"It's a culture we have inherited from womenswear past and applied to menswear present." Aha! That explains the Lady Dior letters transposed onto loafers, as well. Now, bring on the next five years.
Must-cop pieces?
The cannage-printed wayfarers would look hot AF in Beefa – or your Hackney flatshare. Plus, the oversized pearl earrings are perfect for seasoned softbois willing to take it up a notch.
In a song:
Primal Scream's Higher than the Sun, as remixed by the Orb, which, as it goes, was the show's soundtrack, showcasing Monsieur Kim Jones' crate-digging credentials.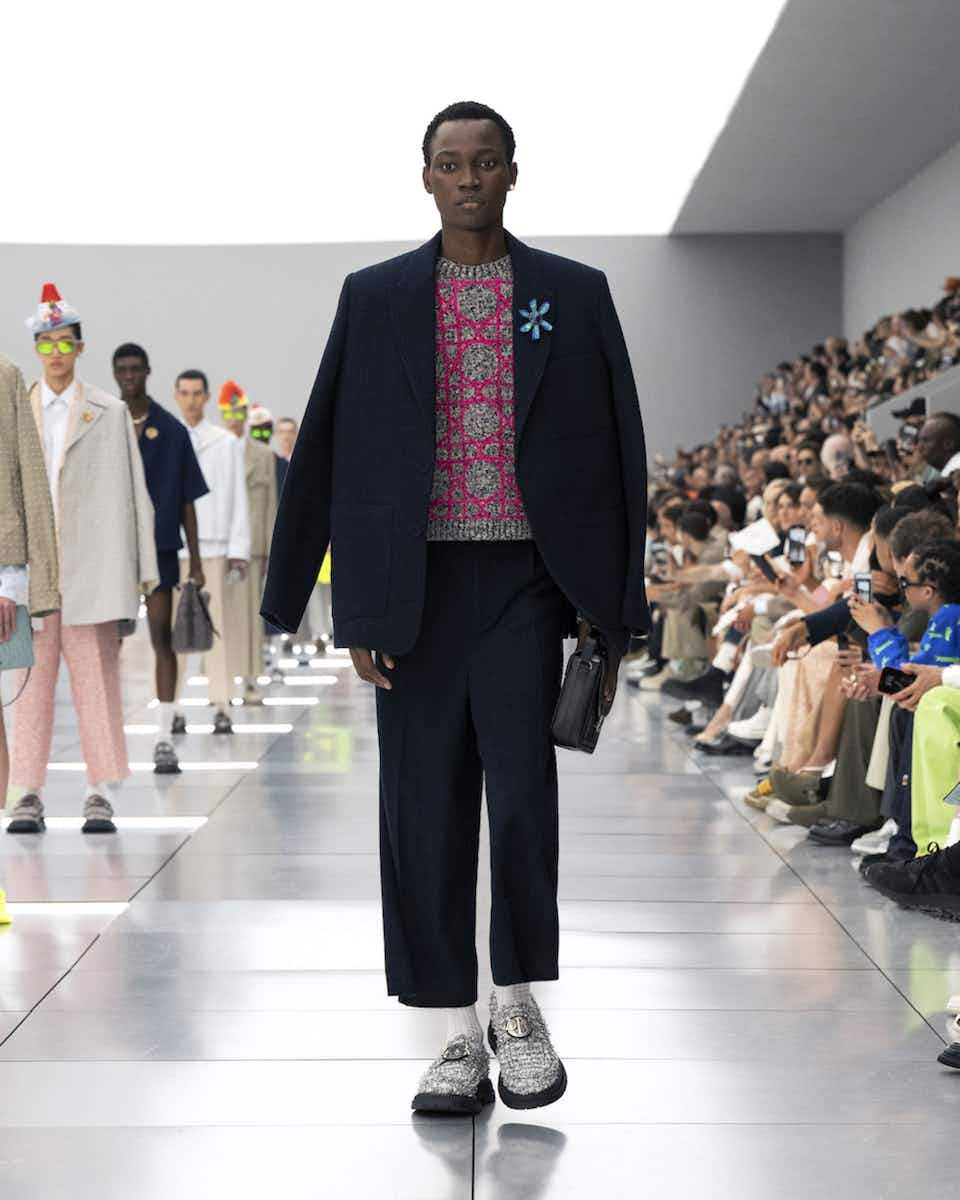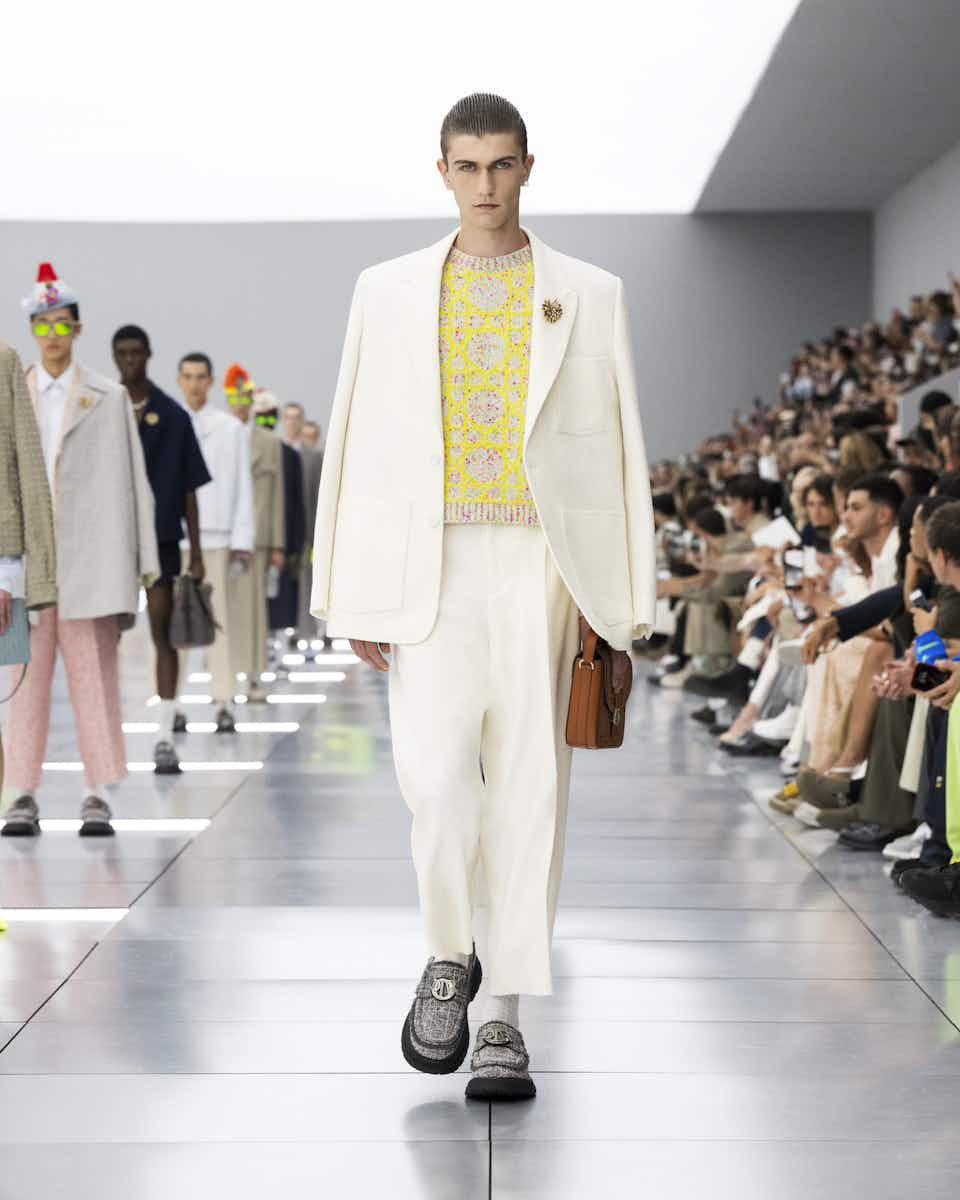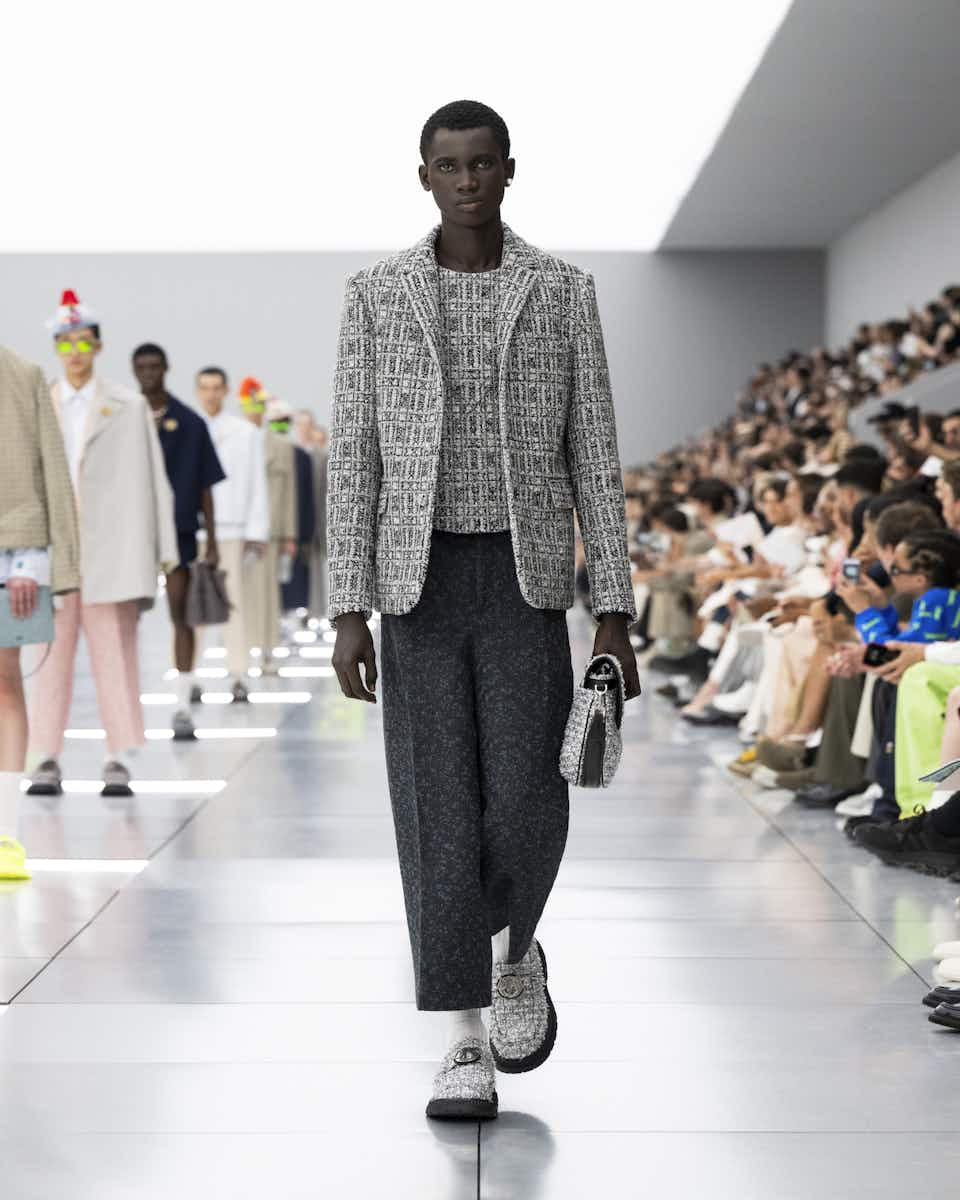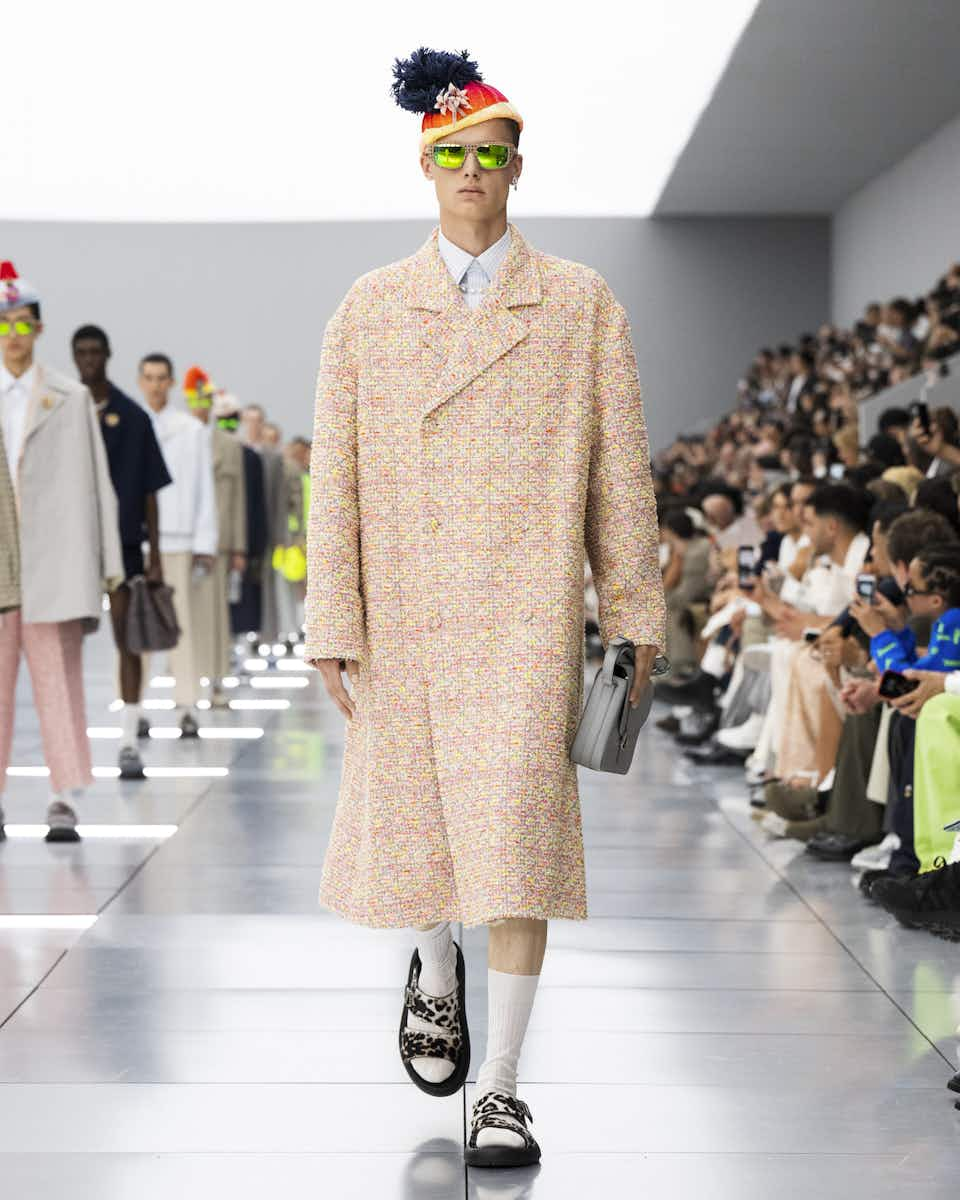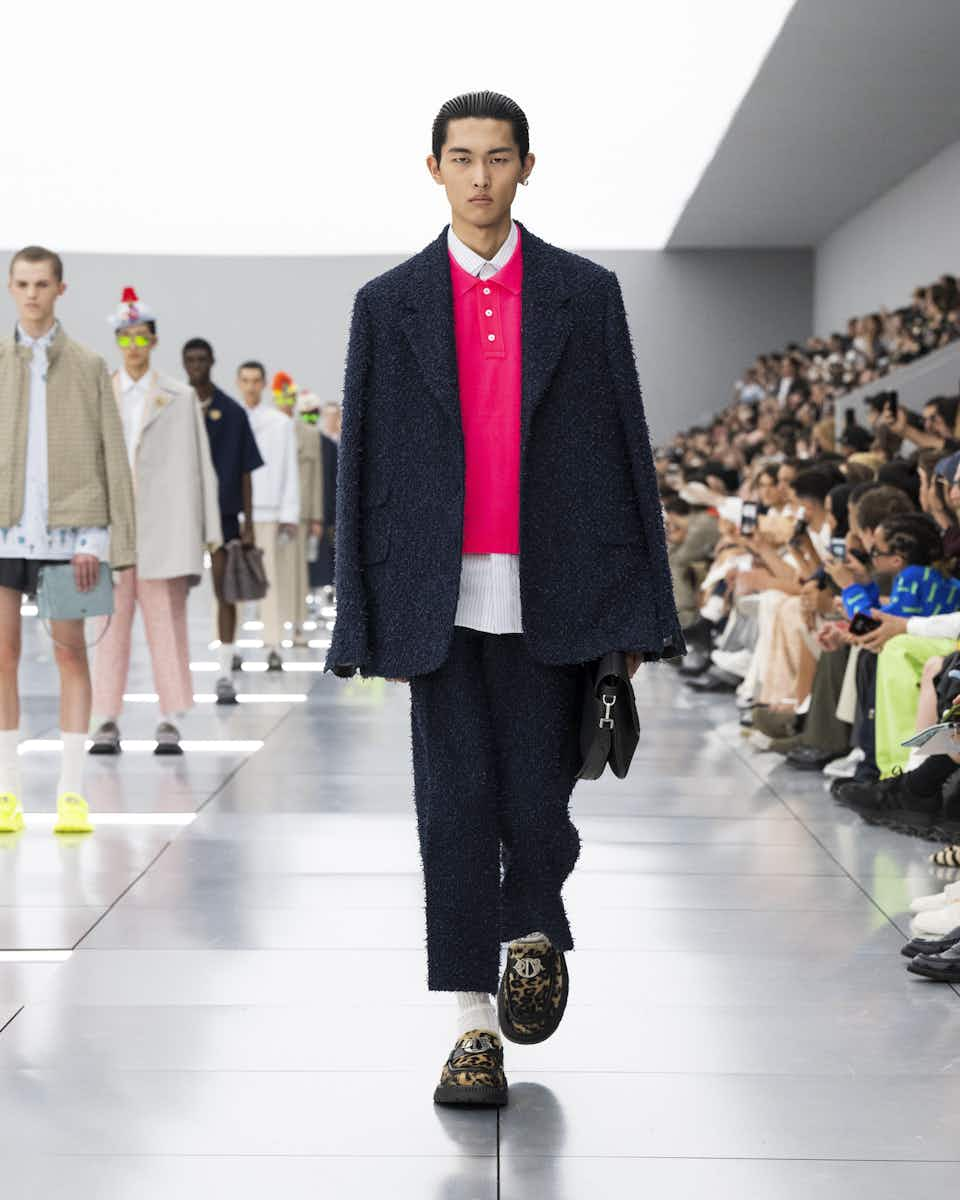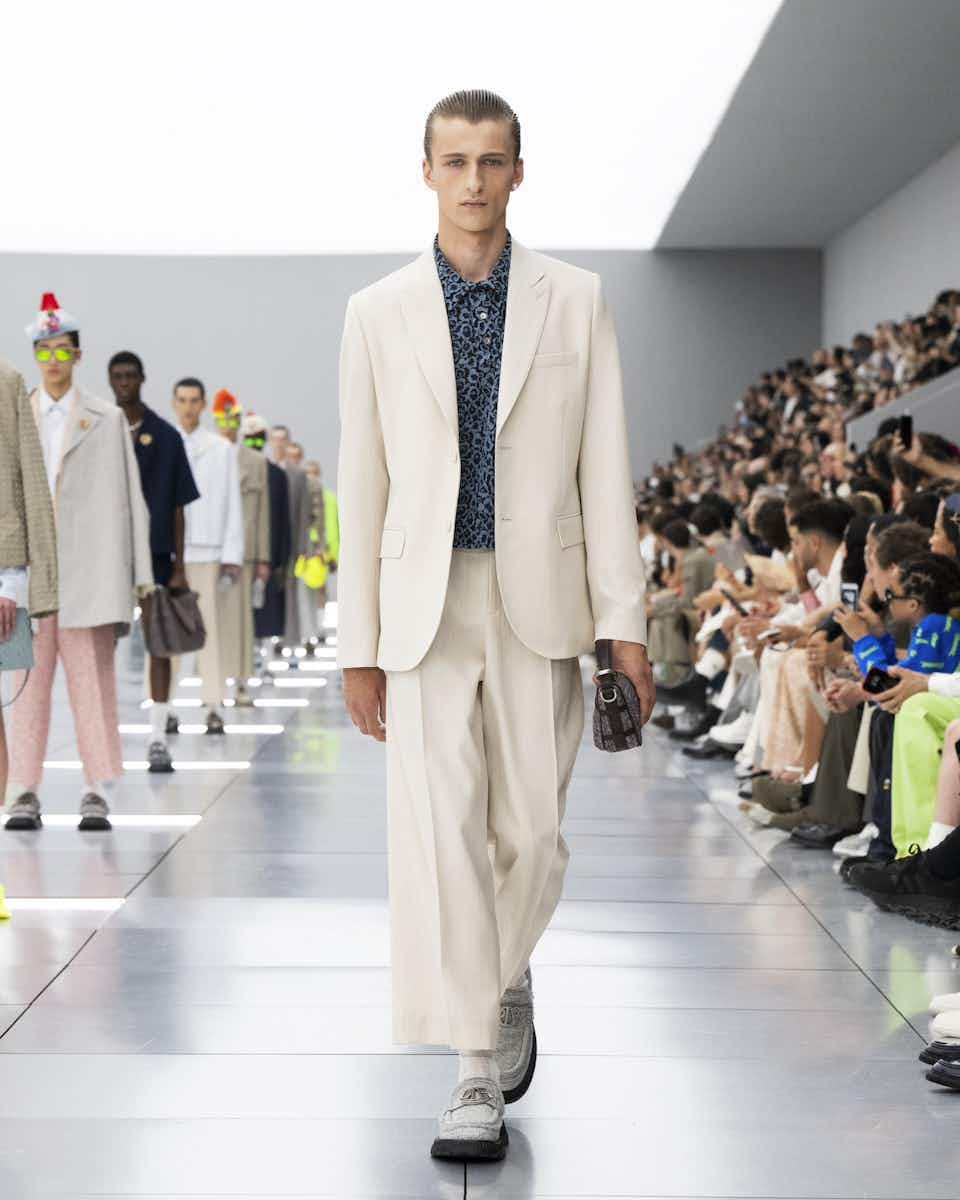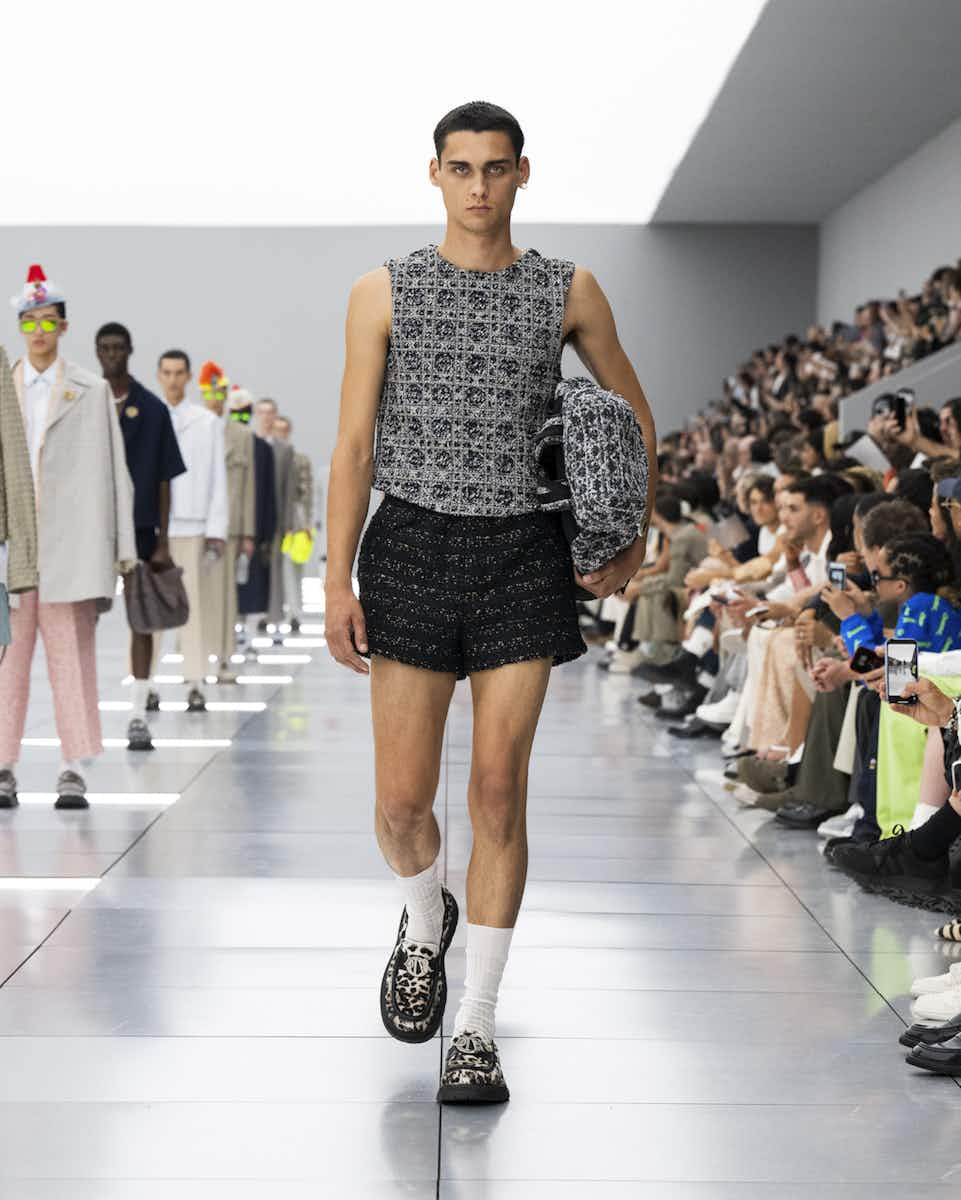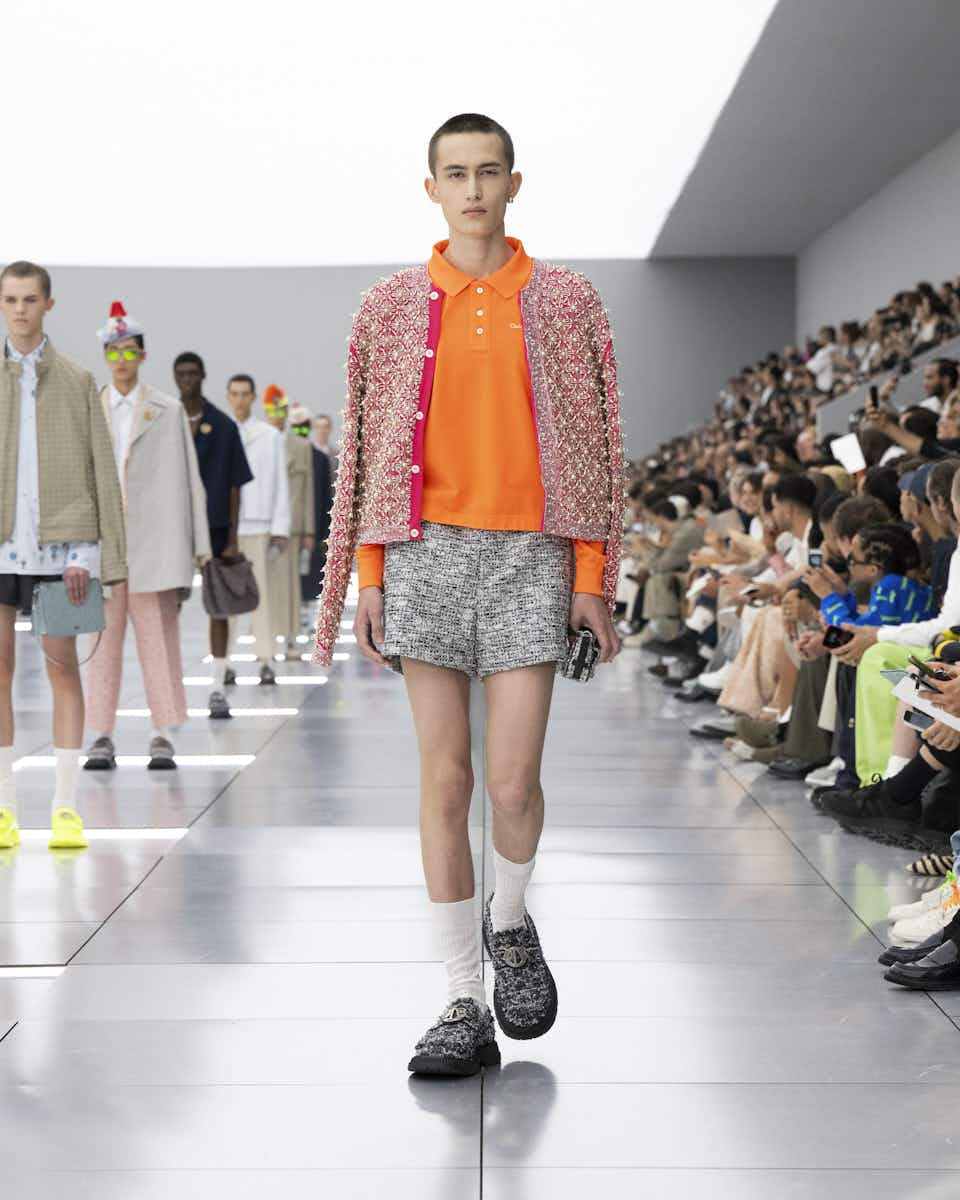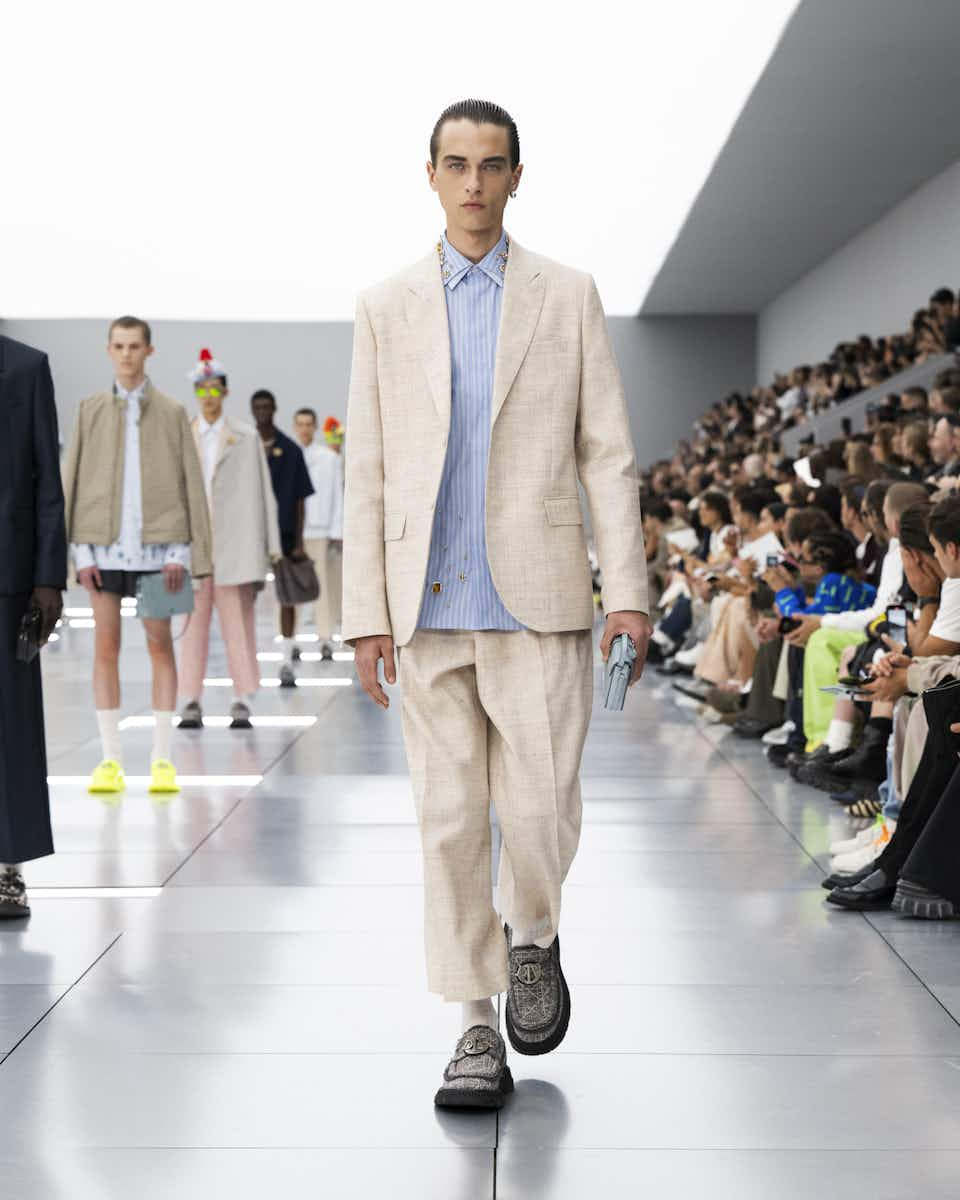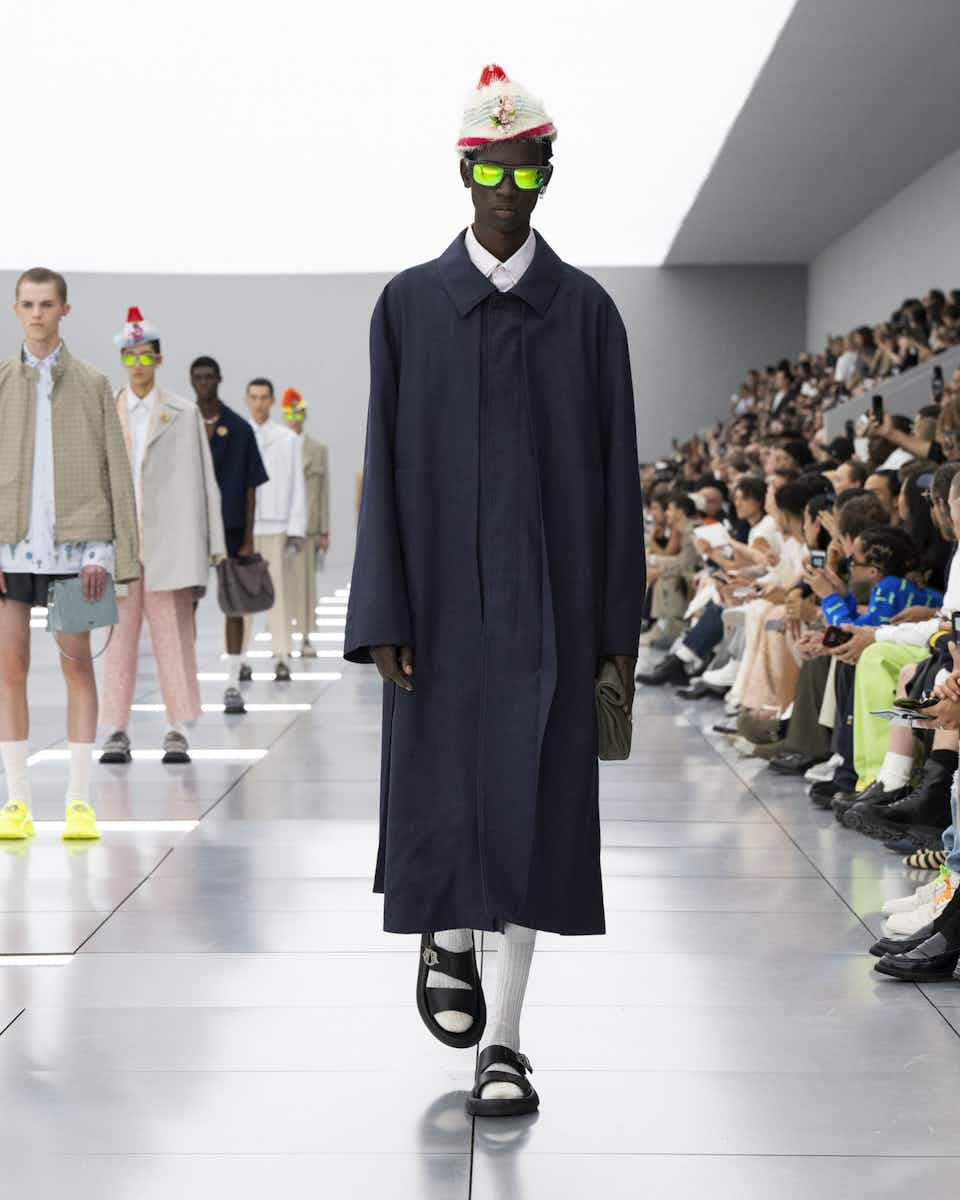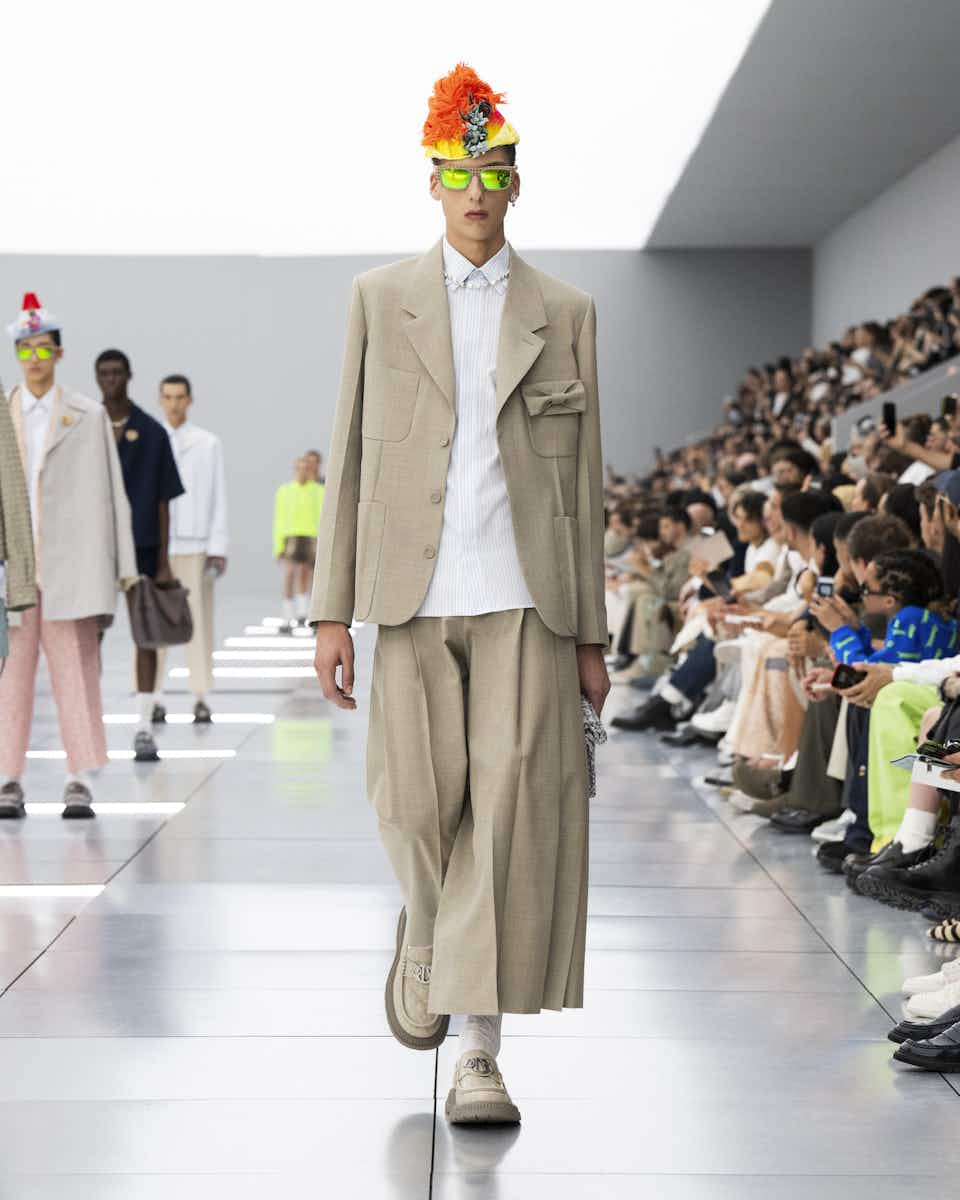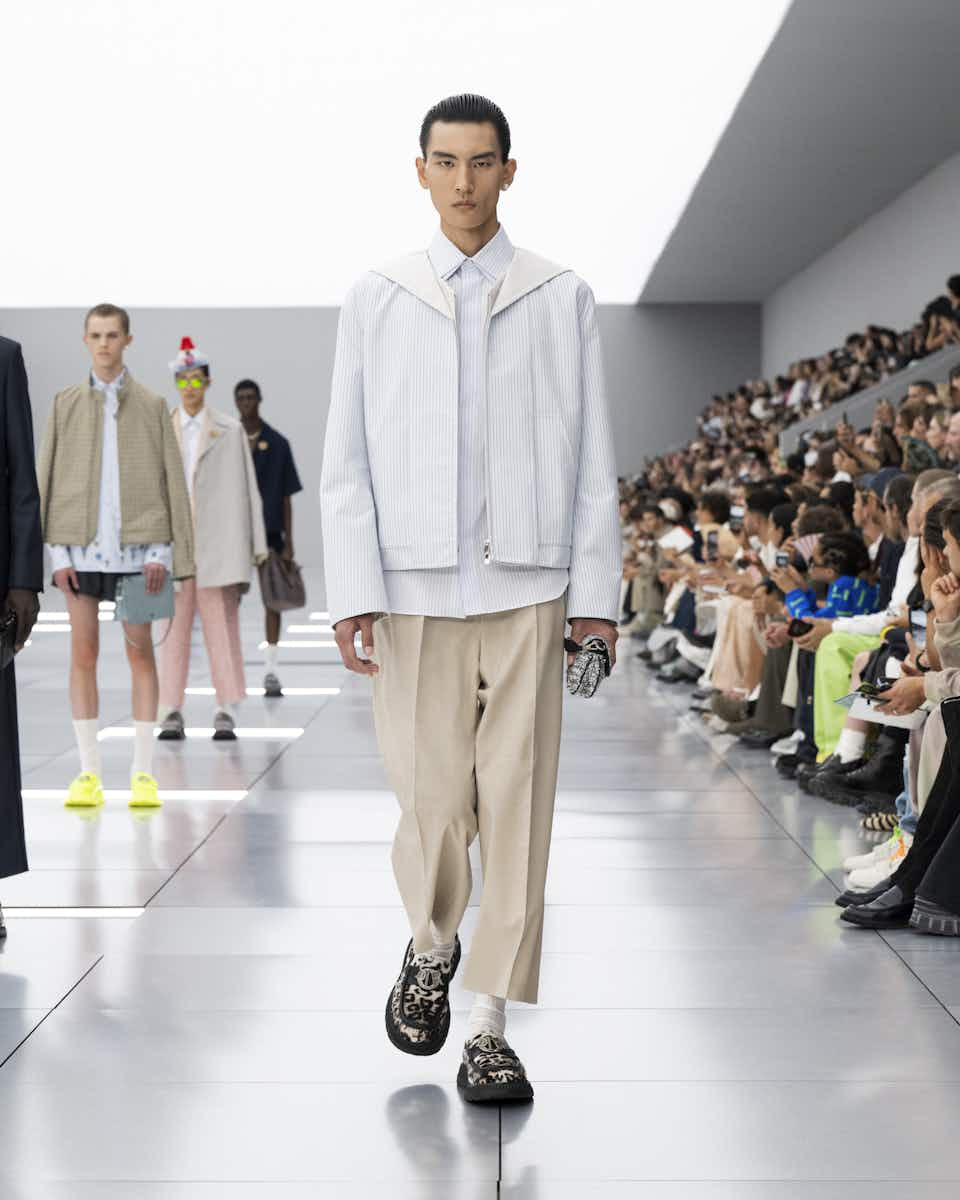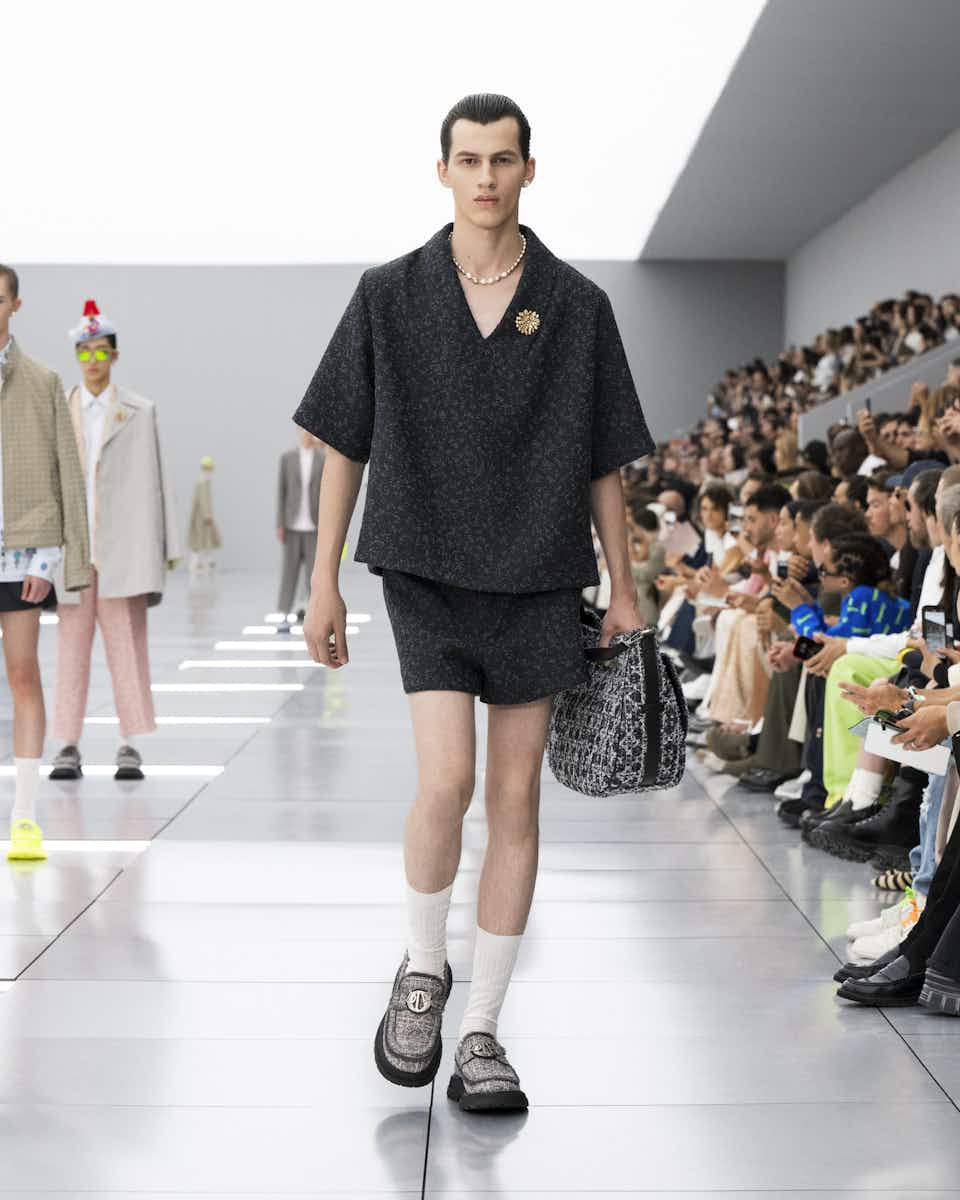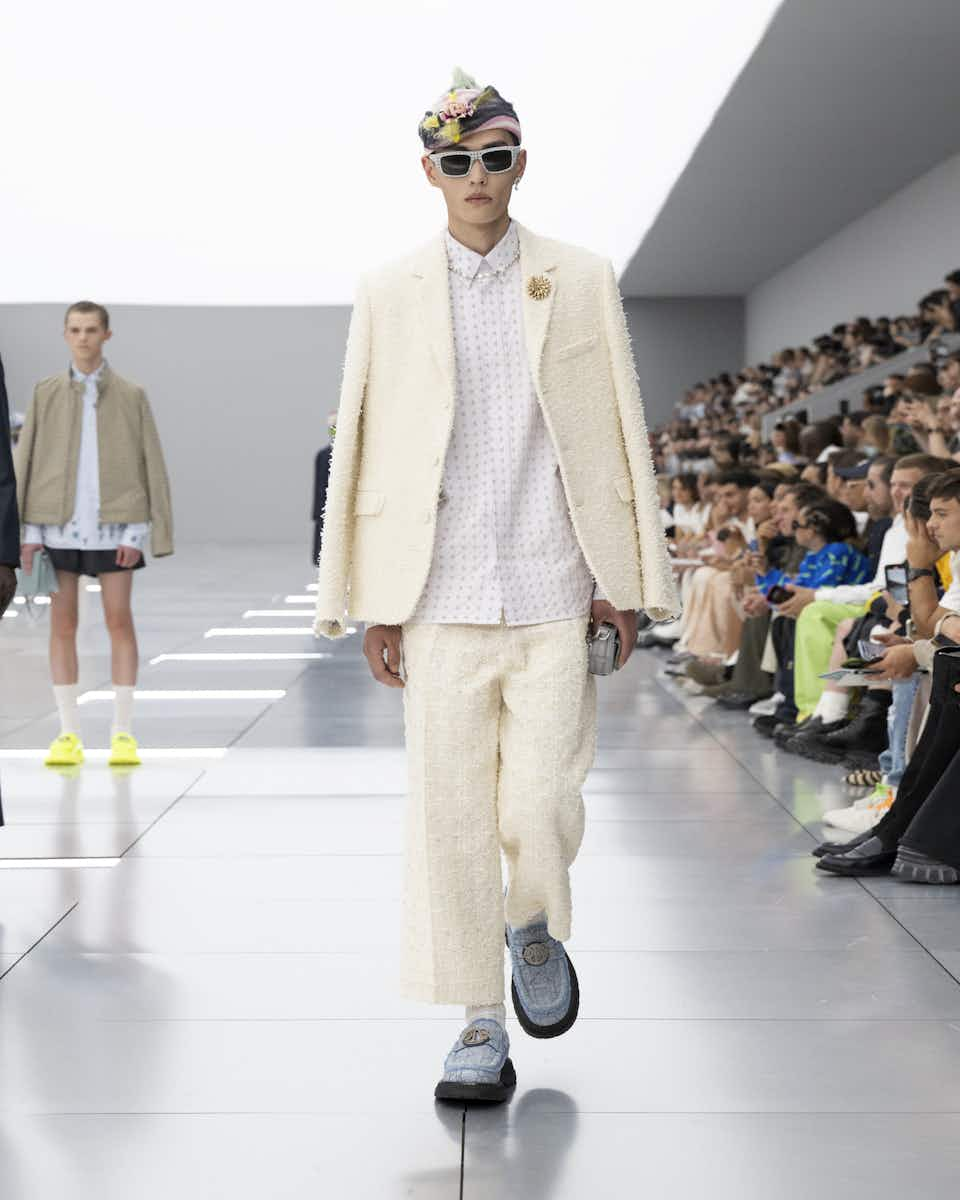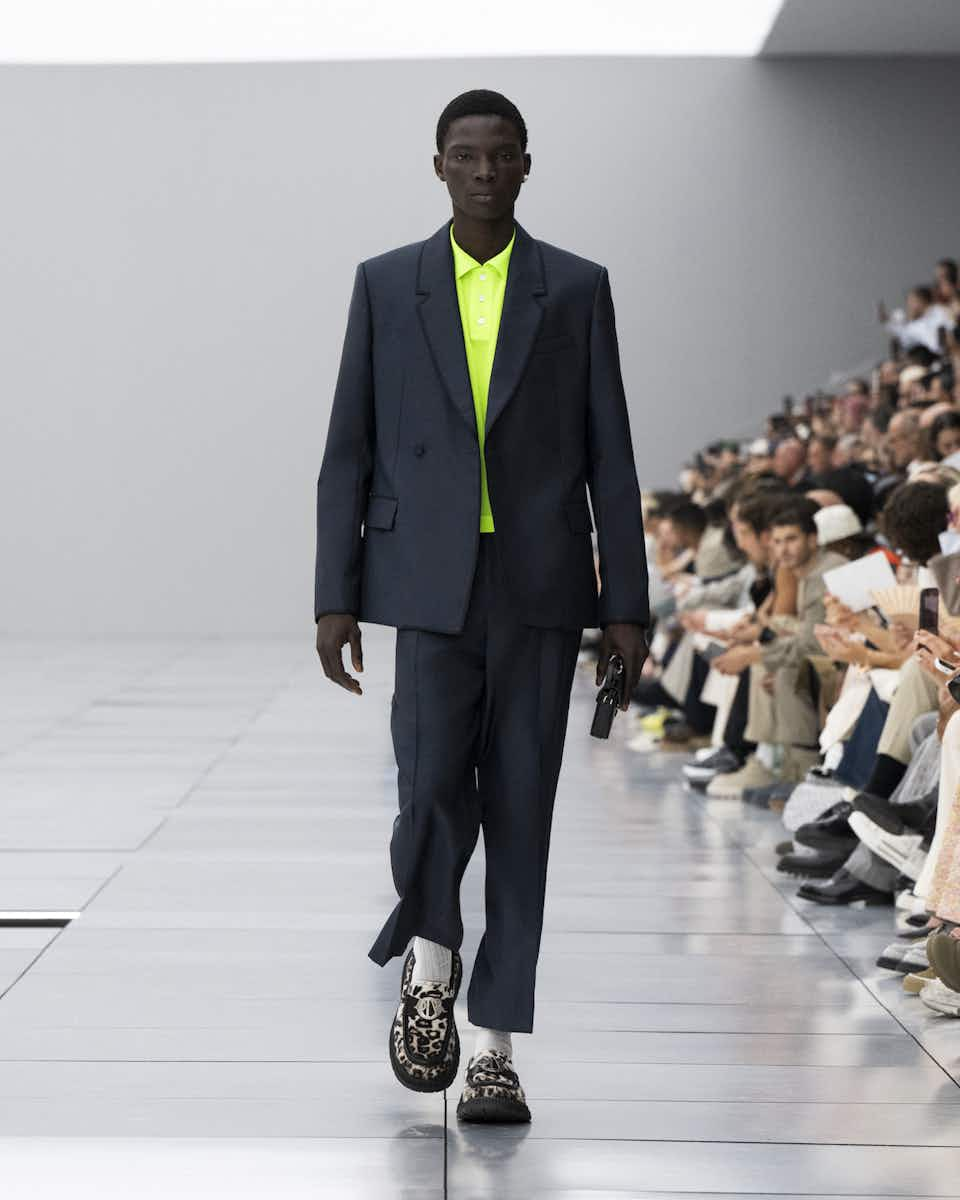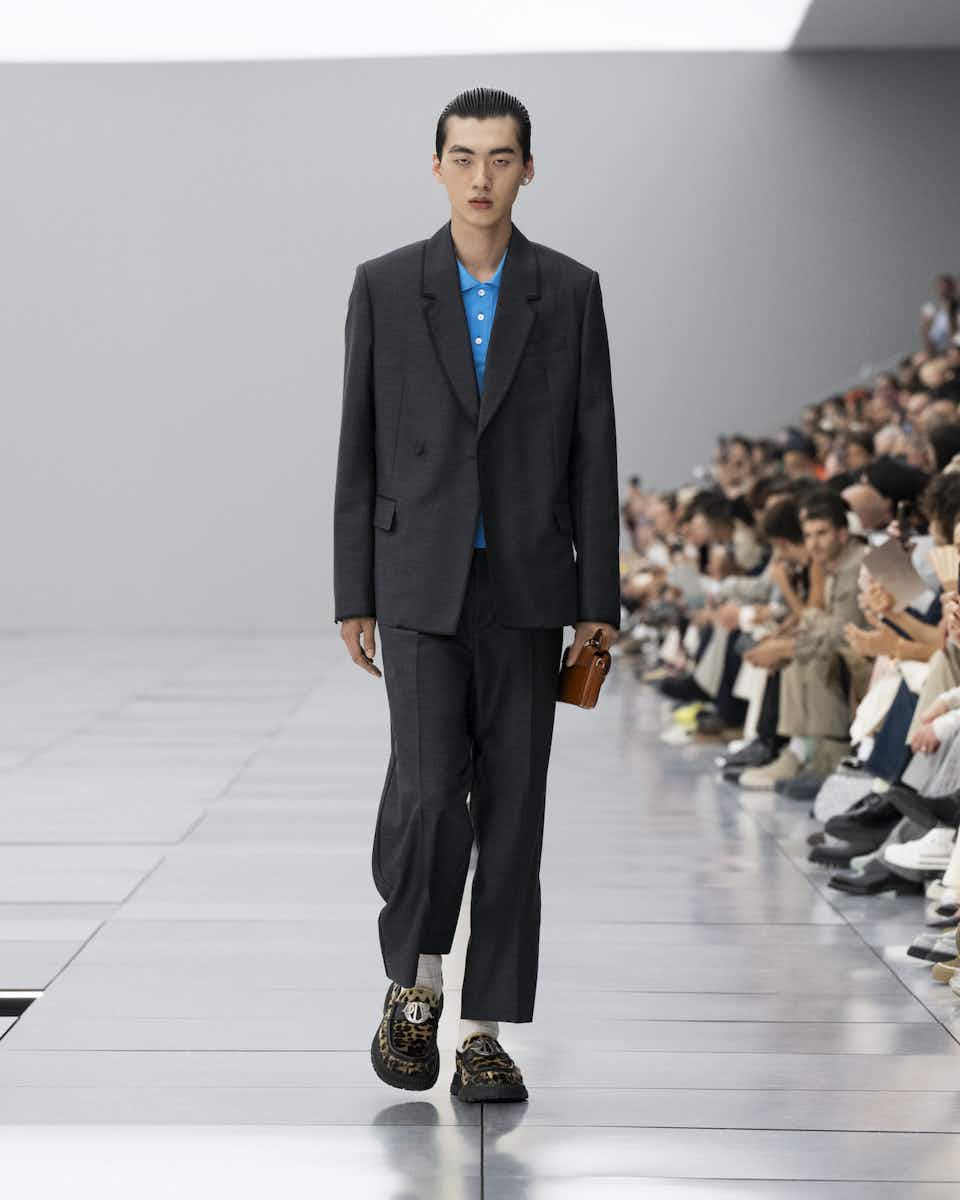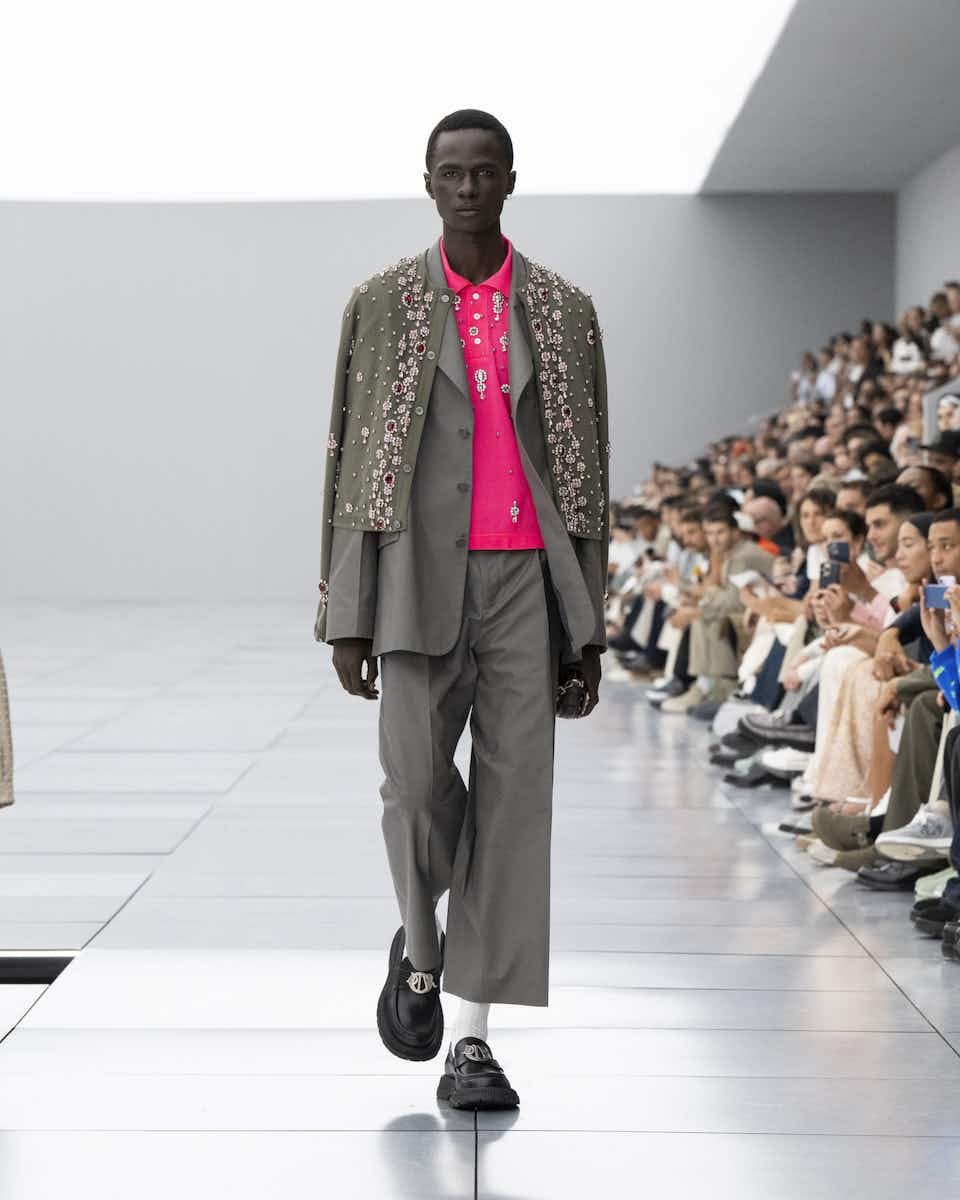 What?
Isabel Marant's uniform for the modern-day man about town.
Where?
In the atelier's light-filled showroom, complete with swanky Italian mid-century furniture.
What were the clothes like?
There are some fits that simply just work. You throw them on and boom, your mood changes. Such serotonin-inducing style is, of course, the lifeblood of Isabel Marant's eponymous label. Having made her name as the Parisian It-girl's official outfitter, she later branched out to menswear, debuting her first collection for SS18. Since then, she's kept both lines in close dialogue, presenting consistently flattering yet lightly directional clothing, season after season.
For SS24, she followed suit, offering up a versatile mix of athletic, sartorial and casual cuts spliced together in a laissez-faire manner. We're talking peach-yellow bombers teamed with pastel leopard print mohair knits, zesty summer shorts and fold-over combat boots. It's easy, and anyone can rock it. After all, that's the core USP in Marant's work: wearability.
If that sounds trite, then consider just how much of the runway caters exclusively to stick-thin frames. Add to this the sometimes intimidatingly avant-garde approach to silhouette designers favour and you might wonder: what can a reserved style savant wear when he's just going for a few pints at the pub?
In Marant's world, a refreshingly democratic aesthetic holds fort. Here, you can luxuriate in the ample girth of your white jean legs or a forgivingly straight cut double-breasted overcoat, safe from the ribbing of your provincial dad but unspeakably chic all the same. Sure, fashion is about fantasy, but it's worn in the real world. As such, Marant merges the two, presenting outfits that don't date. Sturdy, contrast-stitch work pants? Check. Thick overdyed quarter-zipper hoodies? Double-check.
As for that snow-wash denim bomber we're all ogling at – primed with elasticated waist and diagonal flap pockets – this remixes an ​'80s classic with contemporary tweaks, such as the double-placket front and patched panelling. Marry it with the front-seamed jeans and hi-top sneakers, and you'll be serving Marty McFly does Paris for the foreseeable.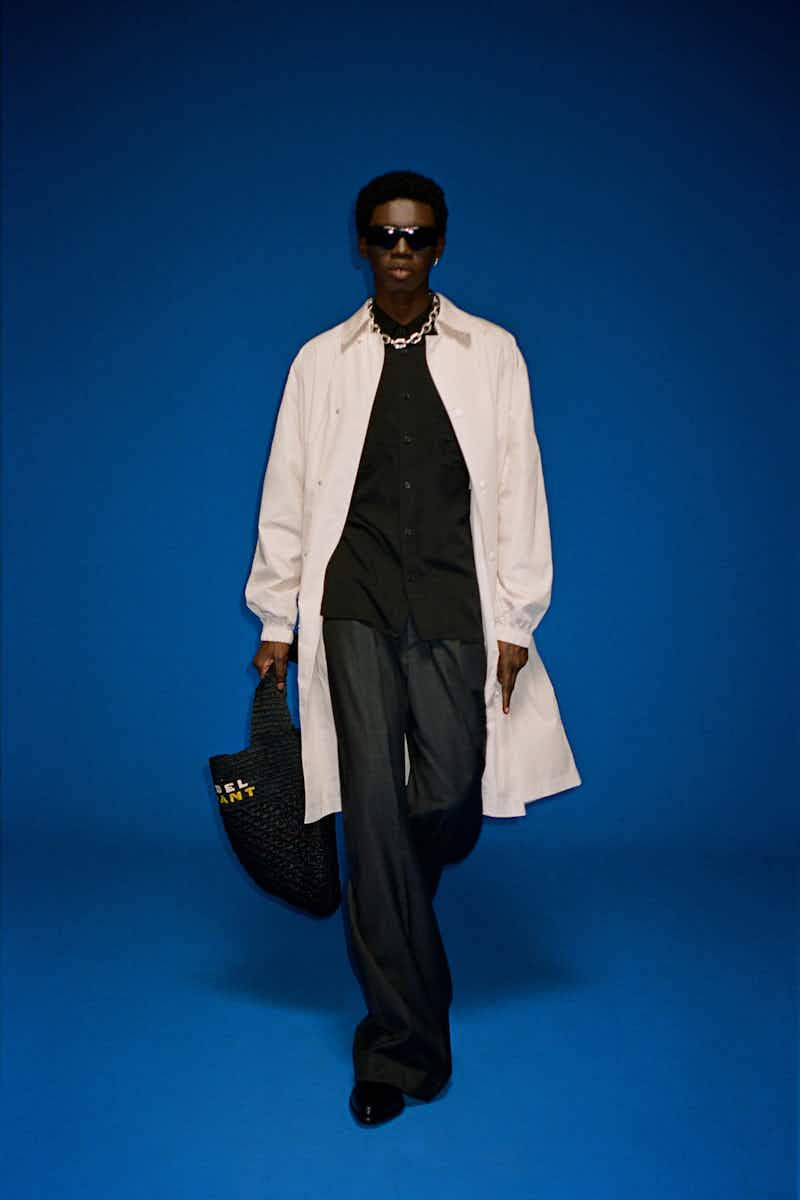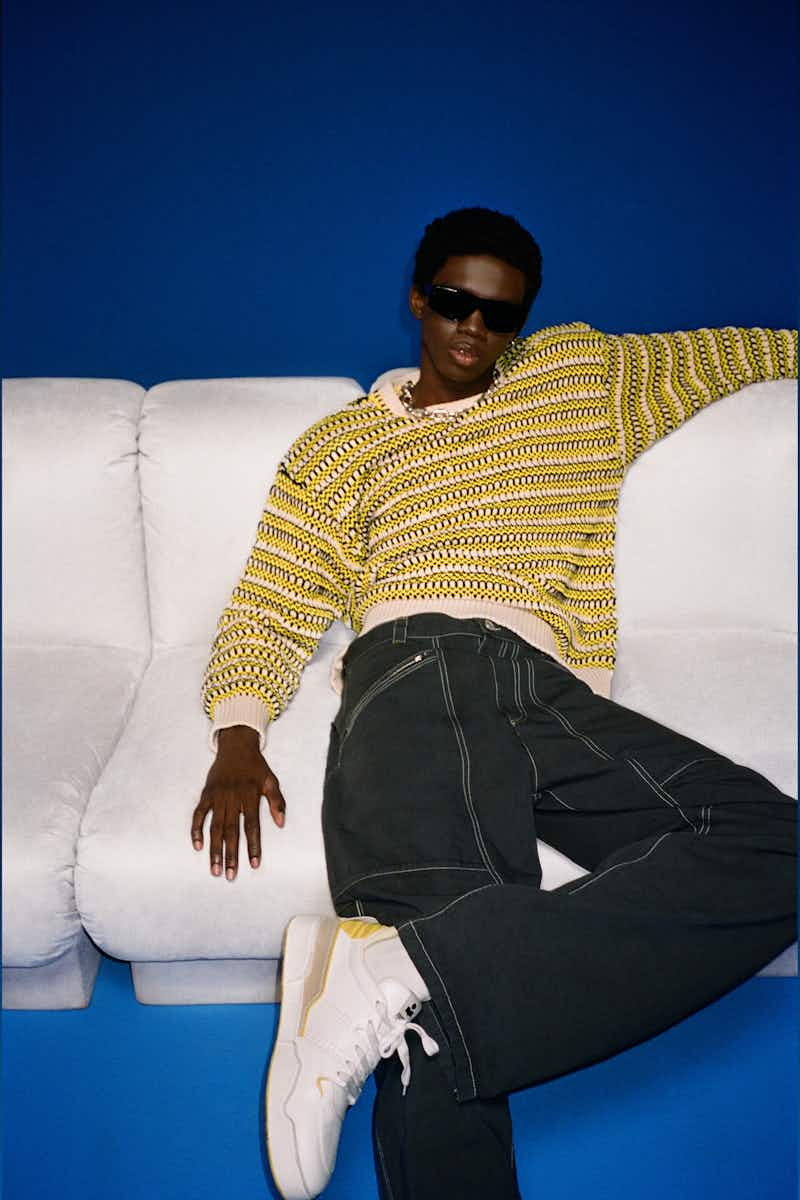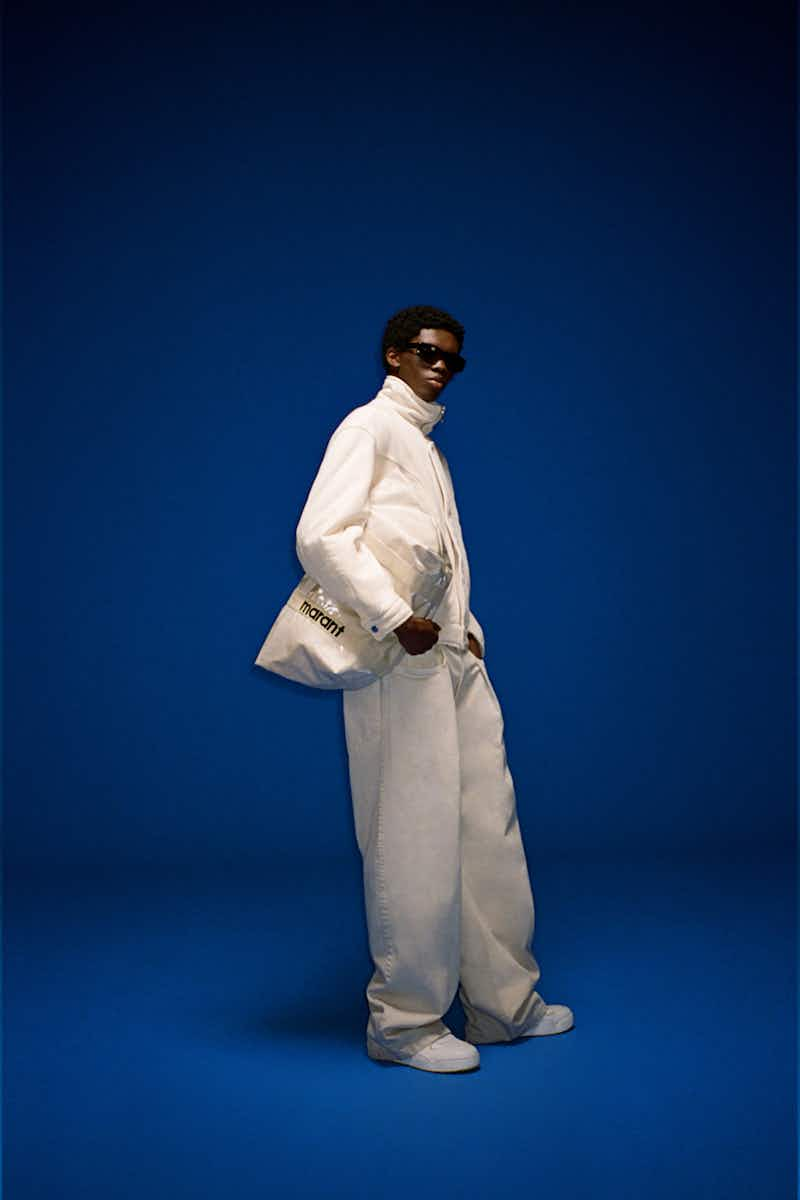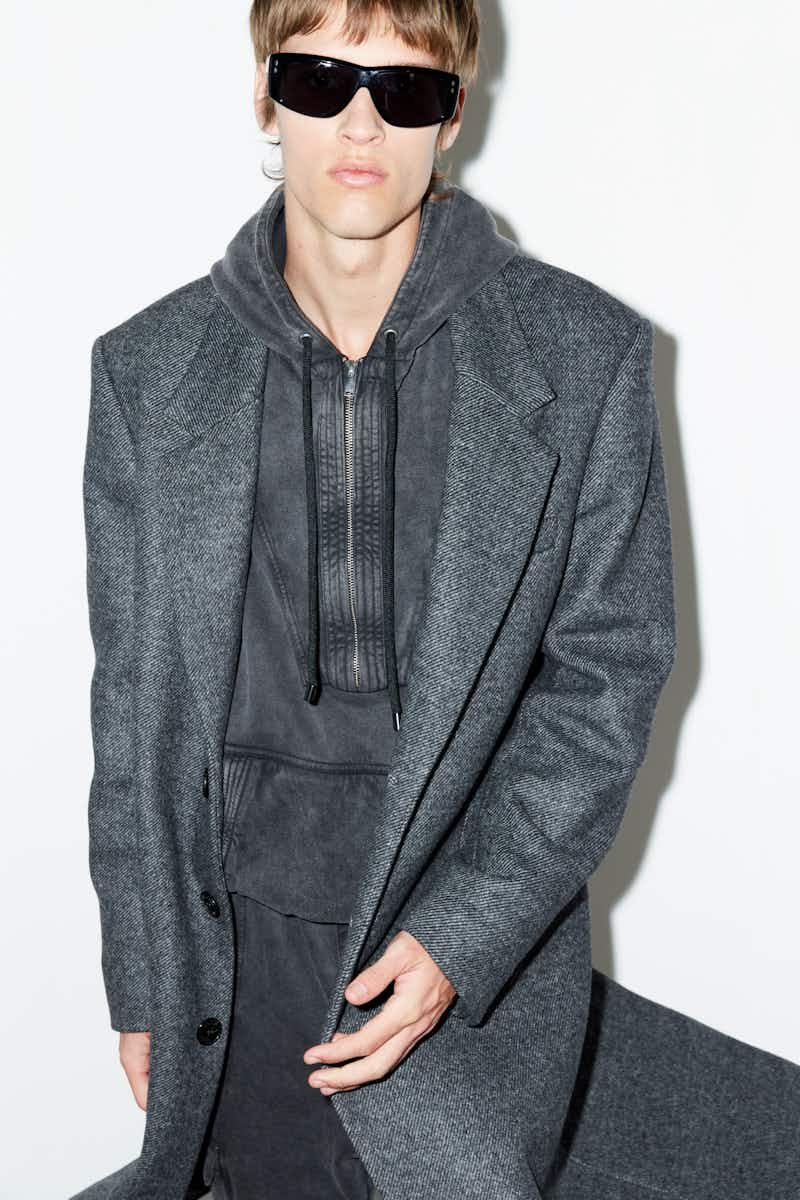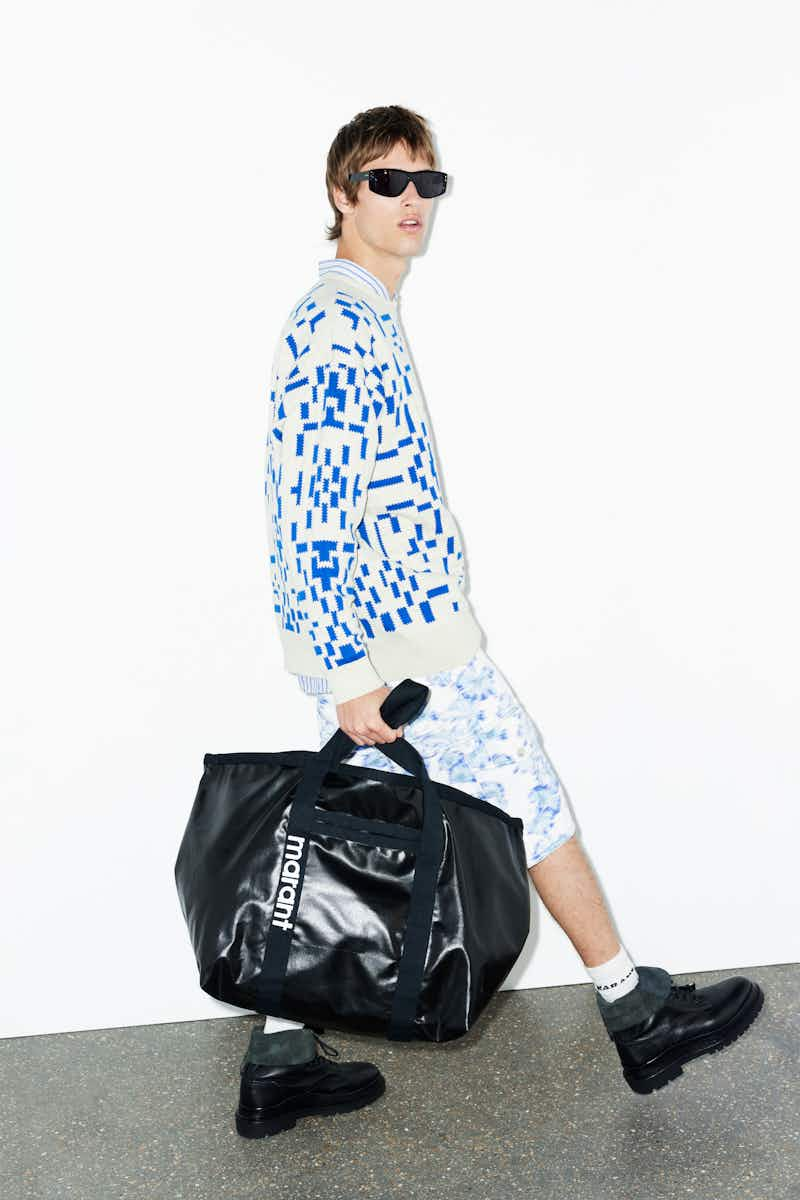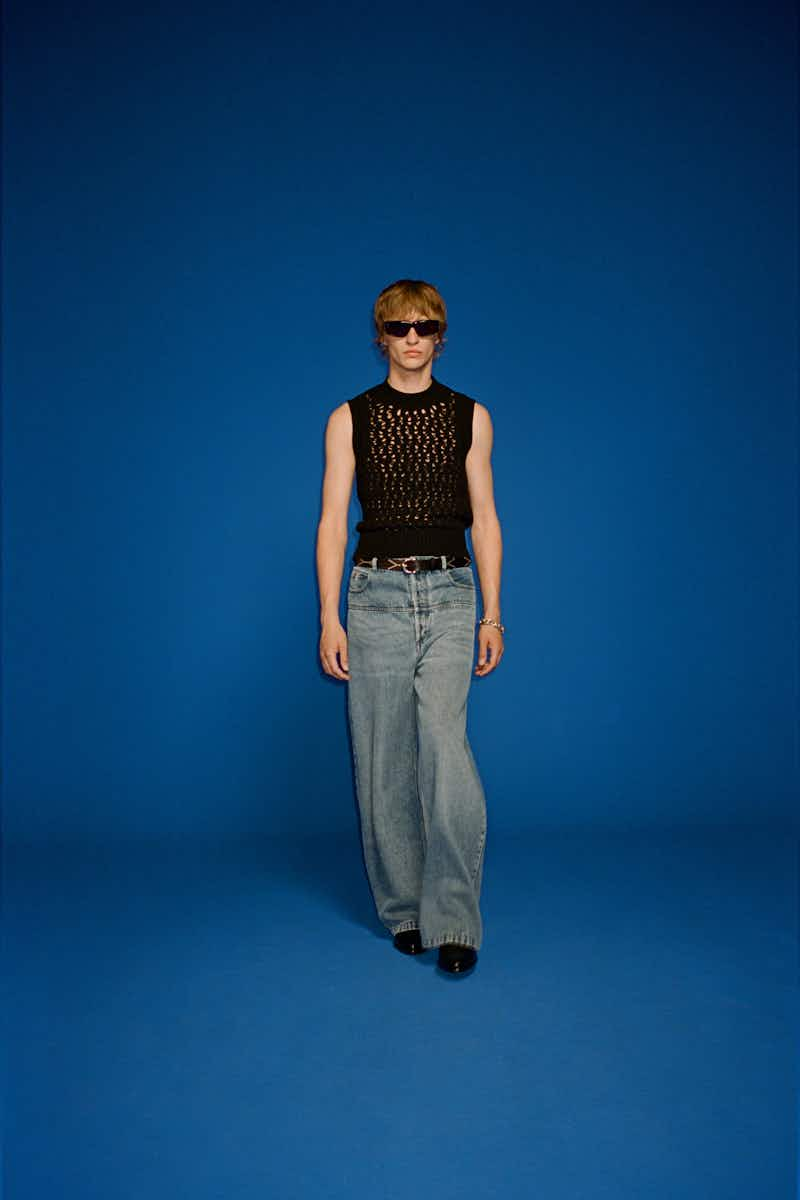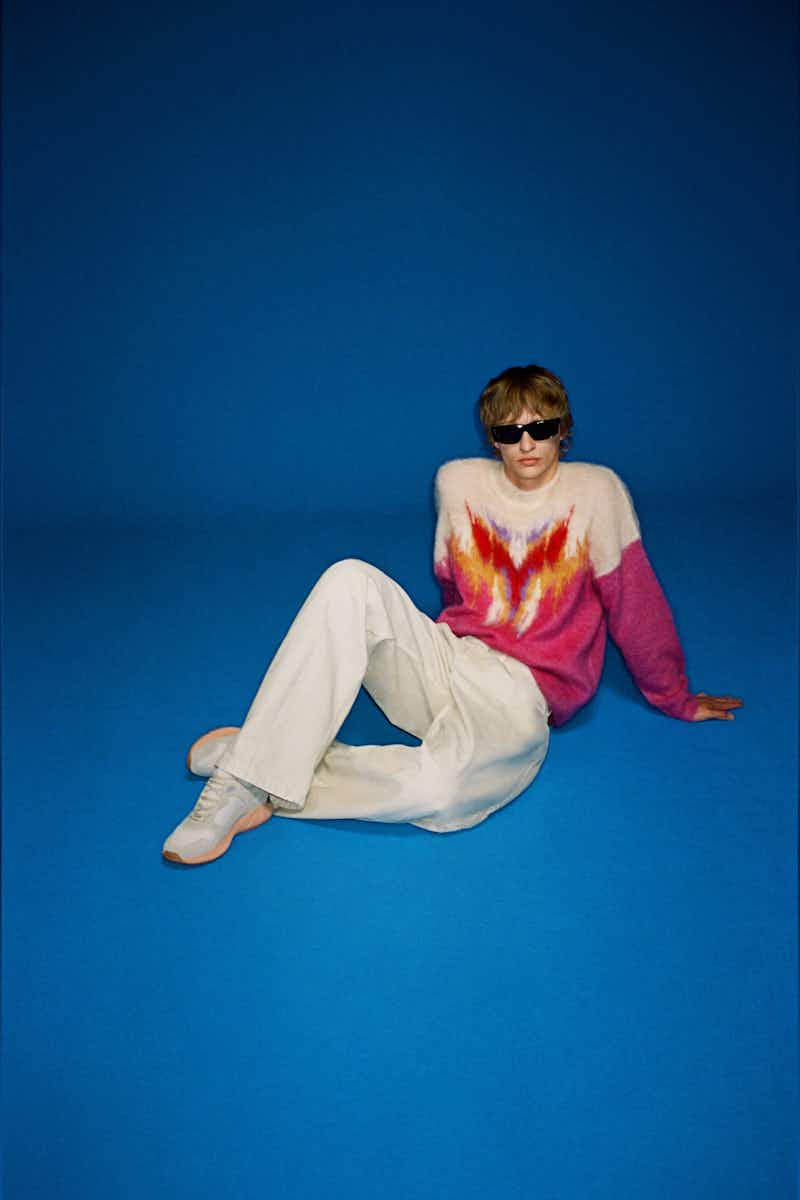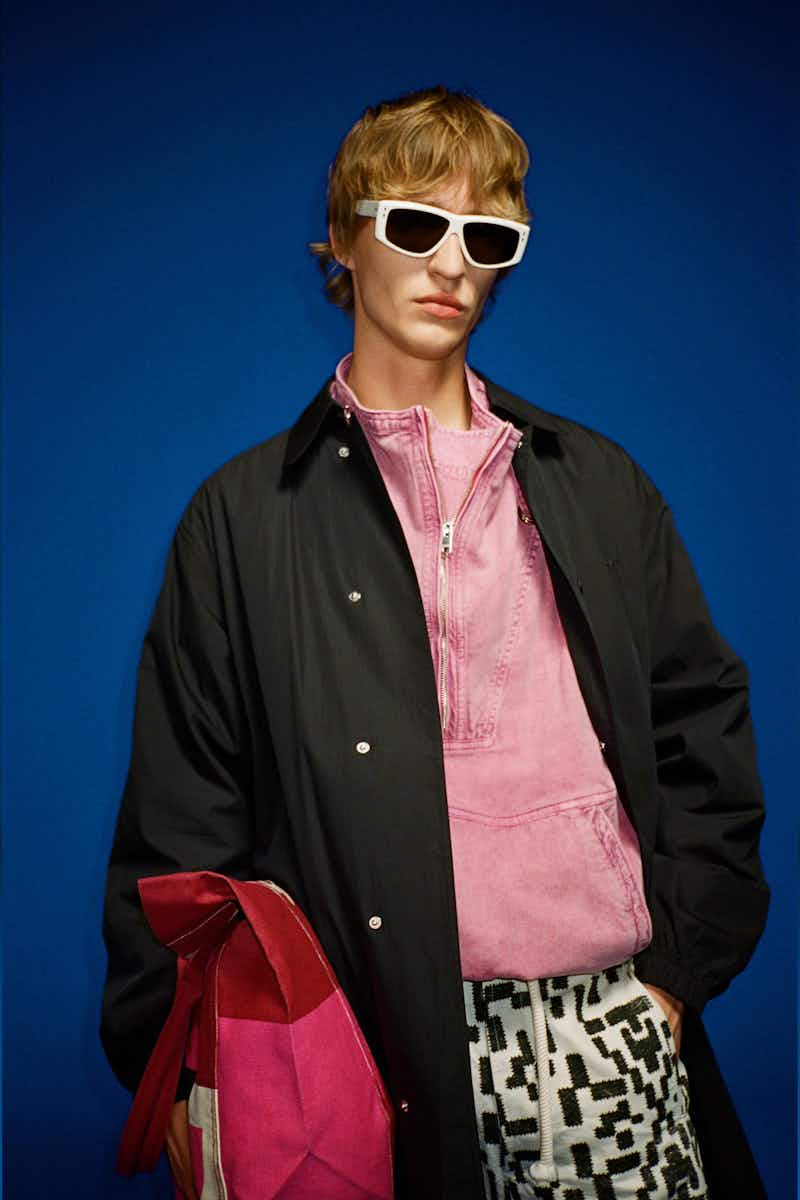 What?
Matthew M. Williams puts the luxury in less, using the restraint of uniform or dress codes to push his creativity.
Where?
The Hôtel des Invalides, a regal 17th-century structure in Paris' 7th arrondissement.
Who was there?
Jared Leto rocked up in the AW23 fur coat and nipped two-piece, meanwhile Rack City rapper Tyga and K‑Pop king Taeyang were swiftly snapped by the paps. Skepta, a big fan of Williams' work, also rolled by.
What went down?
Any show that's staged under this carved stone roof had better be luxe. Luckily, Matthew delivered. Presenting roomy tailoring that swished as models walked, the collection reimagined traditional tropes of dresswear, easing them for a fuss-free and approachable vision of elegance. Double-breasted jackets in angelic white or black came with hefty, peaked lapels and trousers that bunched generously at the shoe. Thrown in with black ties, grey overcoats and notably baggy fits, it harked back to old prep-school uniforms, lightly subverted with non-regulation Harrington jackets or satin zip-ups atop shirts.
Indeed, as the collection progressed, this school kid kicking out against the bondage of bourgeois education appeared in other sartorial rebellions. The oversized tape-seam coats in lurid yellow and black colourways that covered a tie and shirt below were a prime example. Elsewhere, the undersized 3M jacket felt like the ultimate uniform loophole. Technically it's grey, but it's flashy effect would bring any schoolmaster out in hives.
Later, archetypes of workwear were tweaked with cheeky details. The dickies-style shorts, for instance, were slashed across the knee and fastened too soon on the waistband, obscuring the flies beneath with loosely folded pleats. There were also the selvedge jeans and workboot combos accompanied with backward-facing bum bags and backpacks – yet another example of the tinkered uniform.
It wasn't all butch, though. Williams' dance with archetypes included a standout pink hoodie, reconstructed with feathered texture that, on first glance, looked like rosebuds. Perhaps, most transgressive, was the sergeant's coat, cropped high on the waist and finished with high-water trousers accentuating the bust. Sir, yes, serve!
Any highlights?
The white sleeveless jumpsuit cut a tight crevice neckline and finished with a seamless fly front extending to the crotch. If this level of finery continues, then a dedicated men's couture line should surely follow.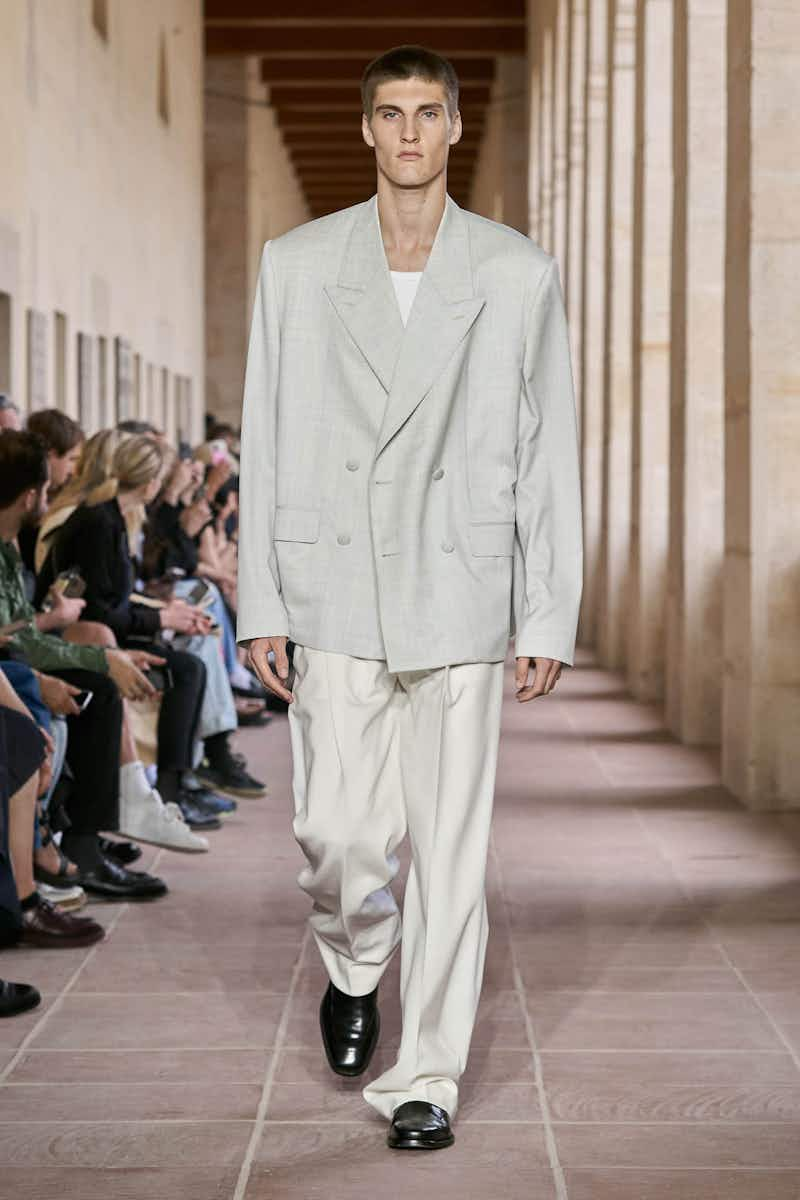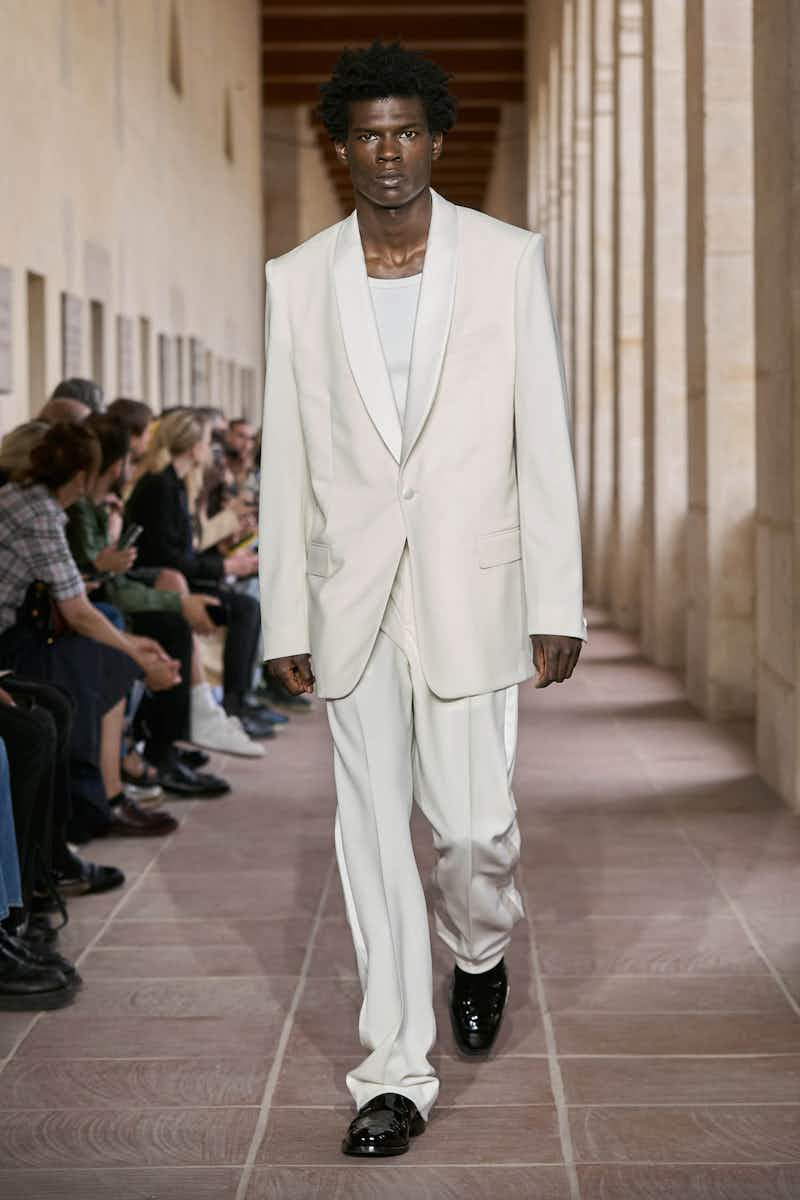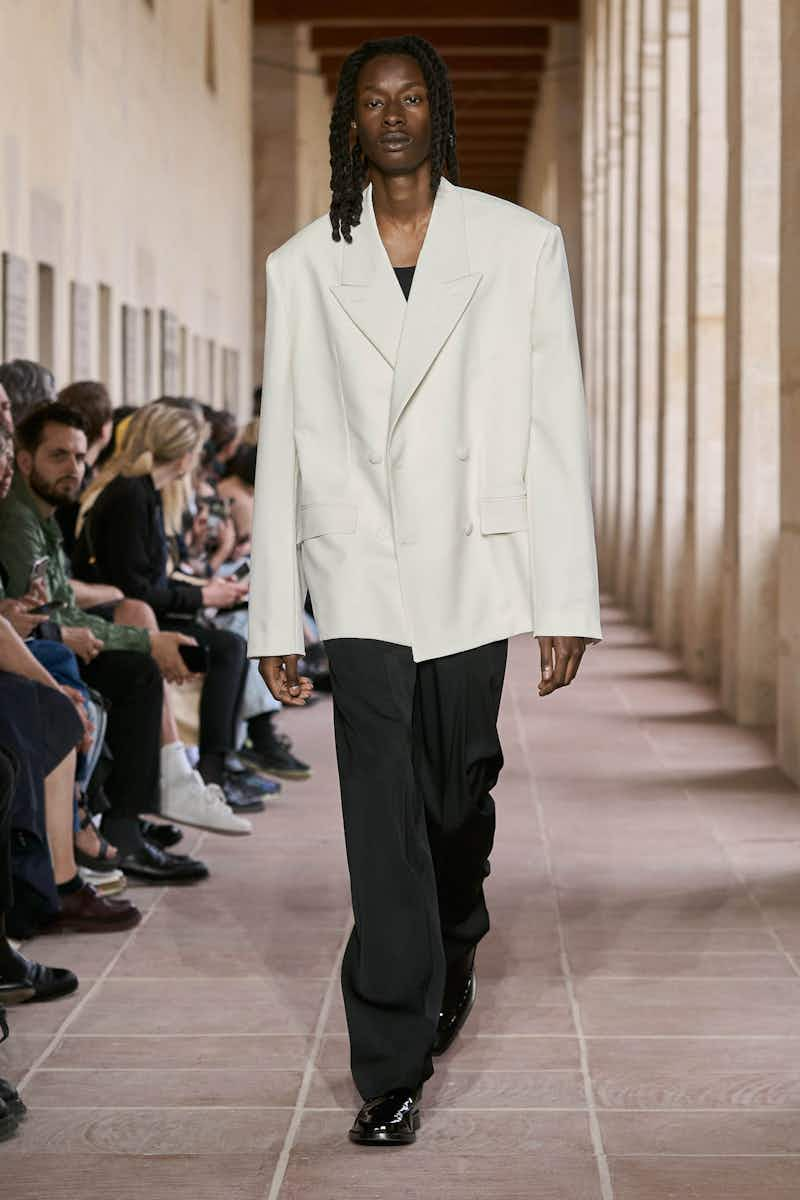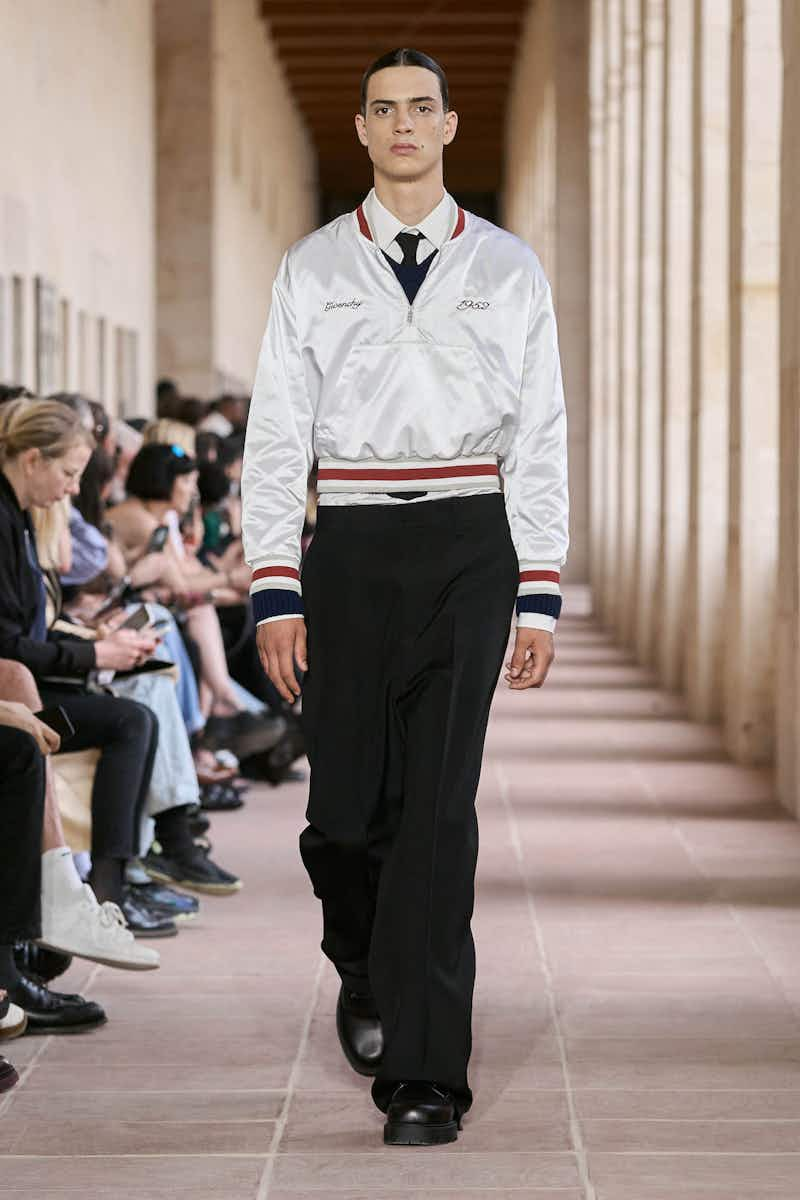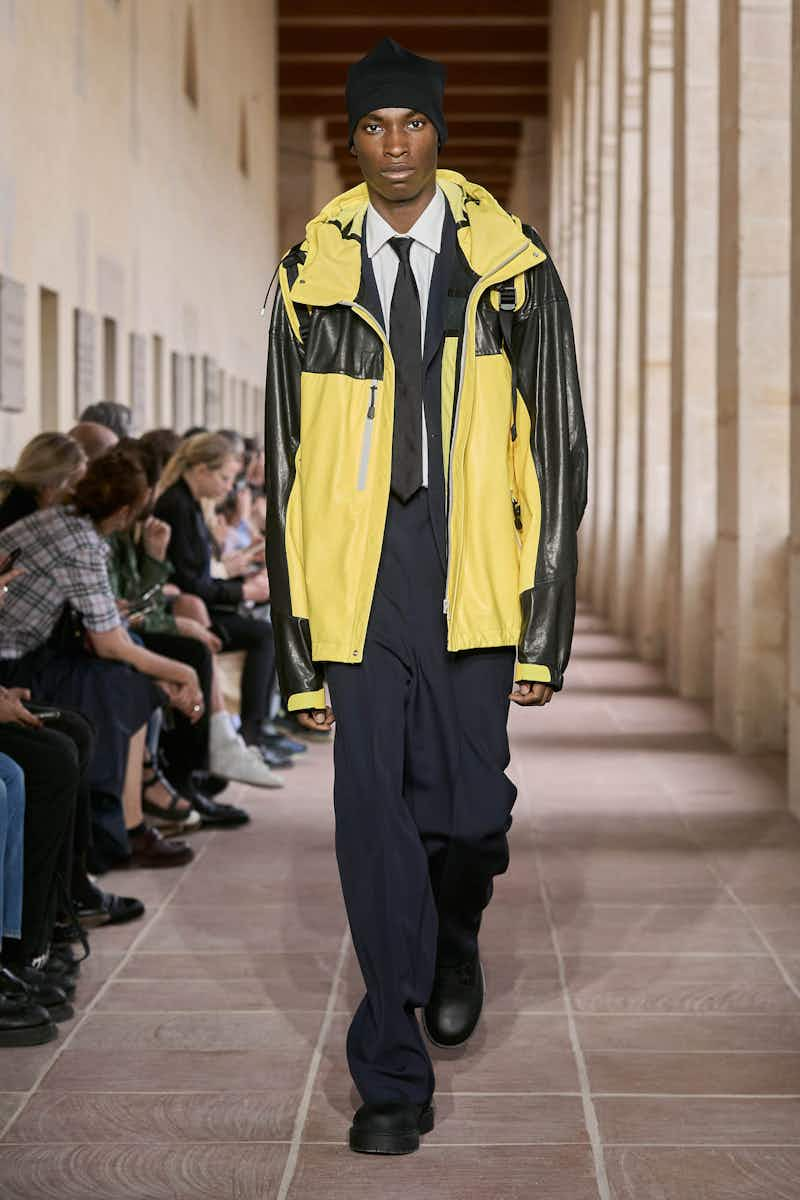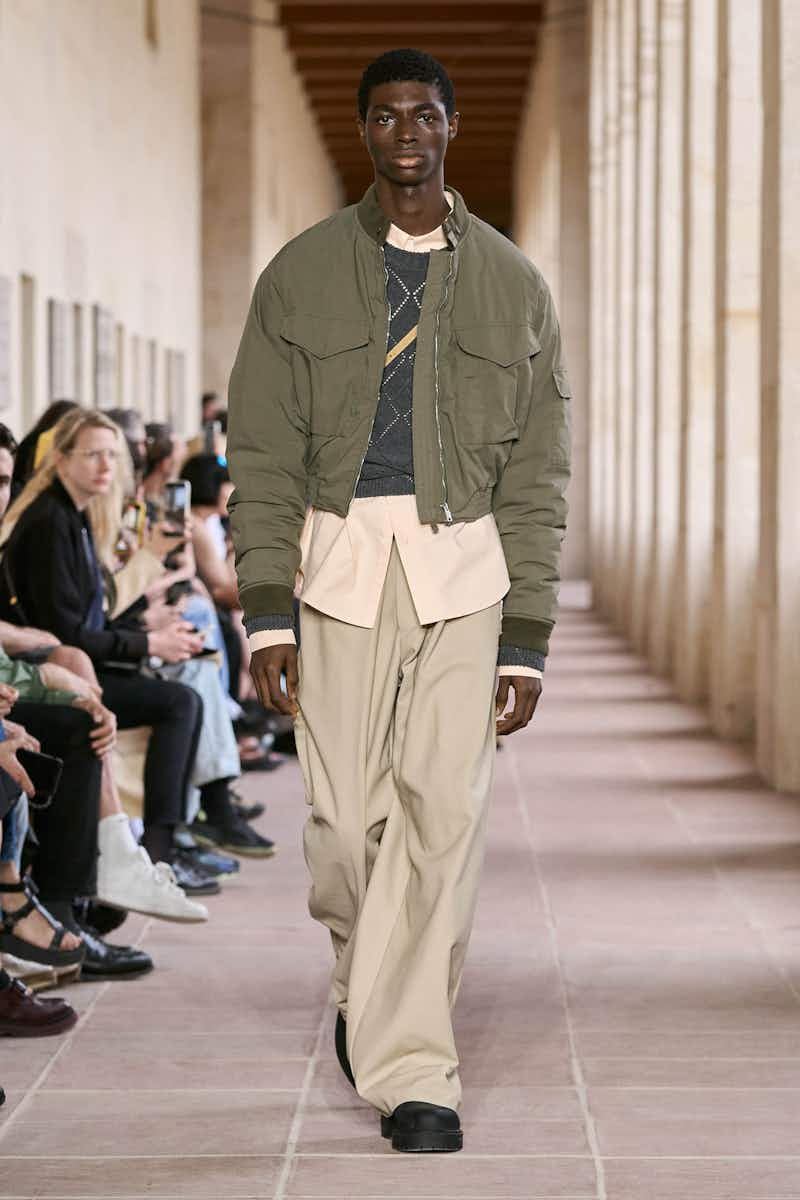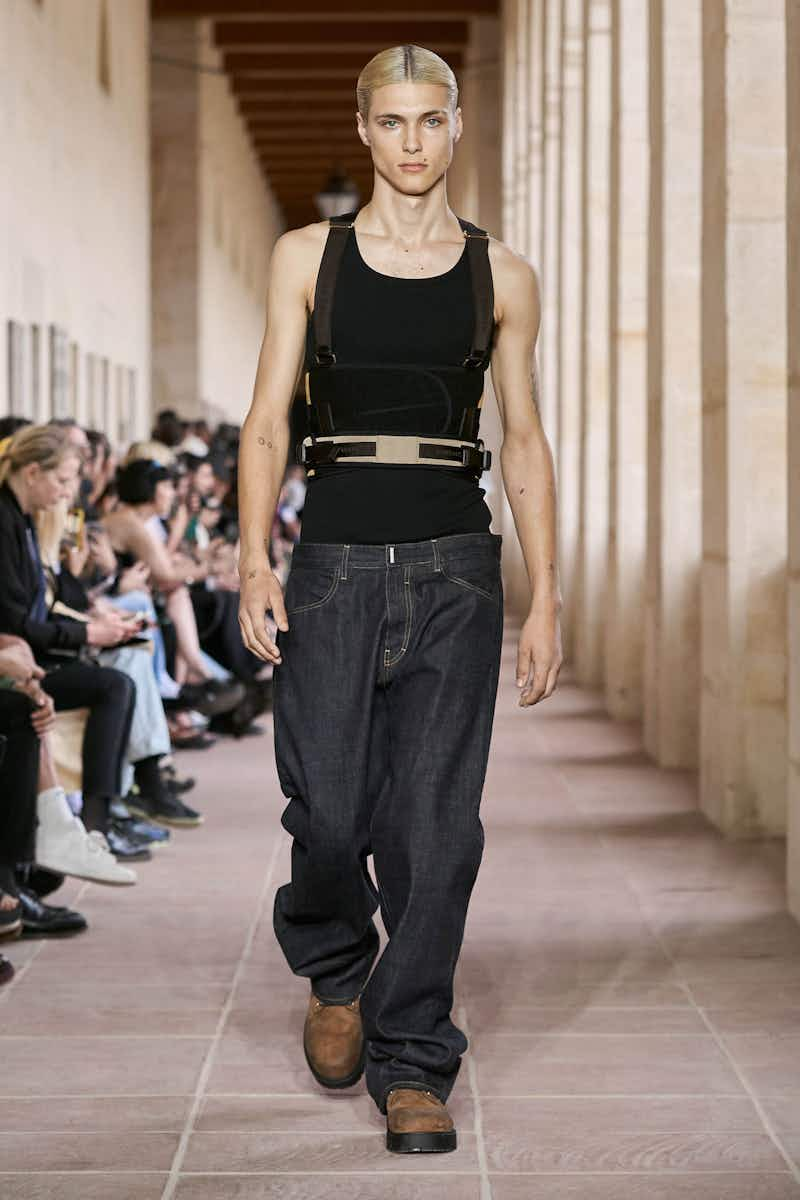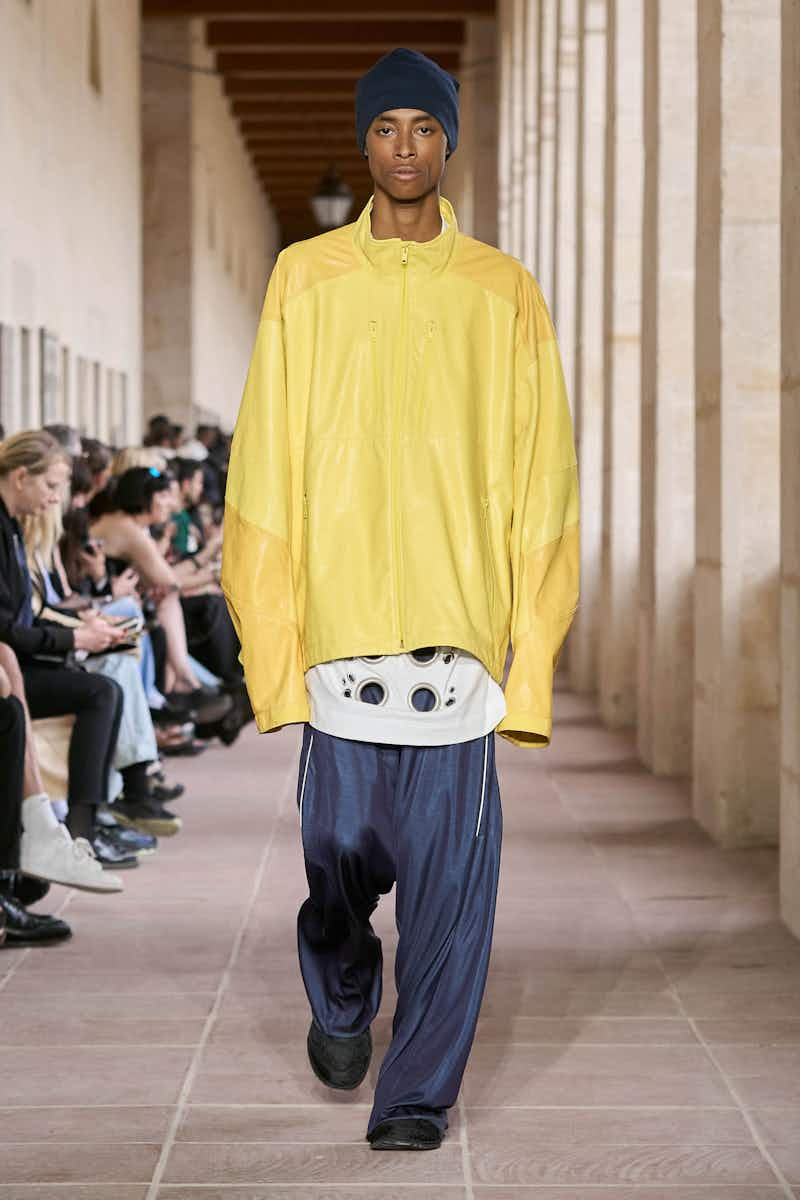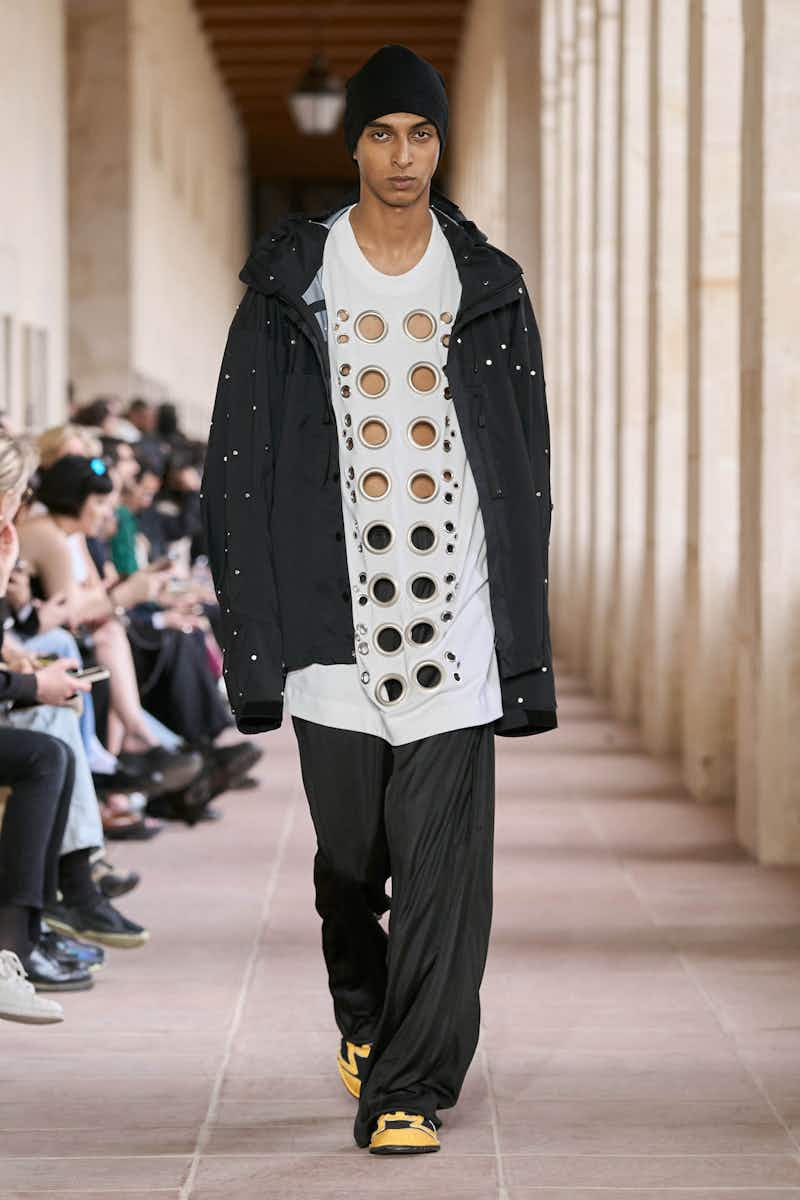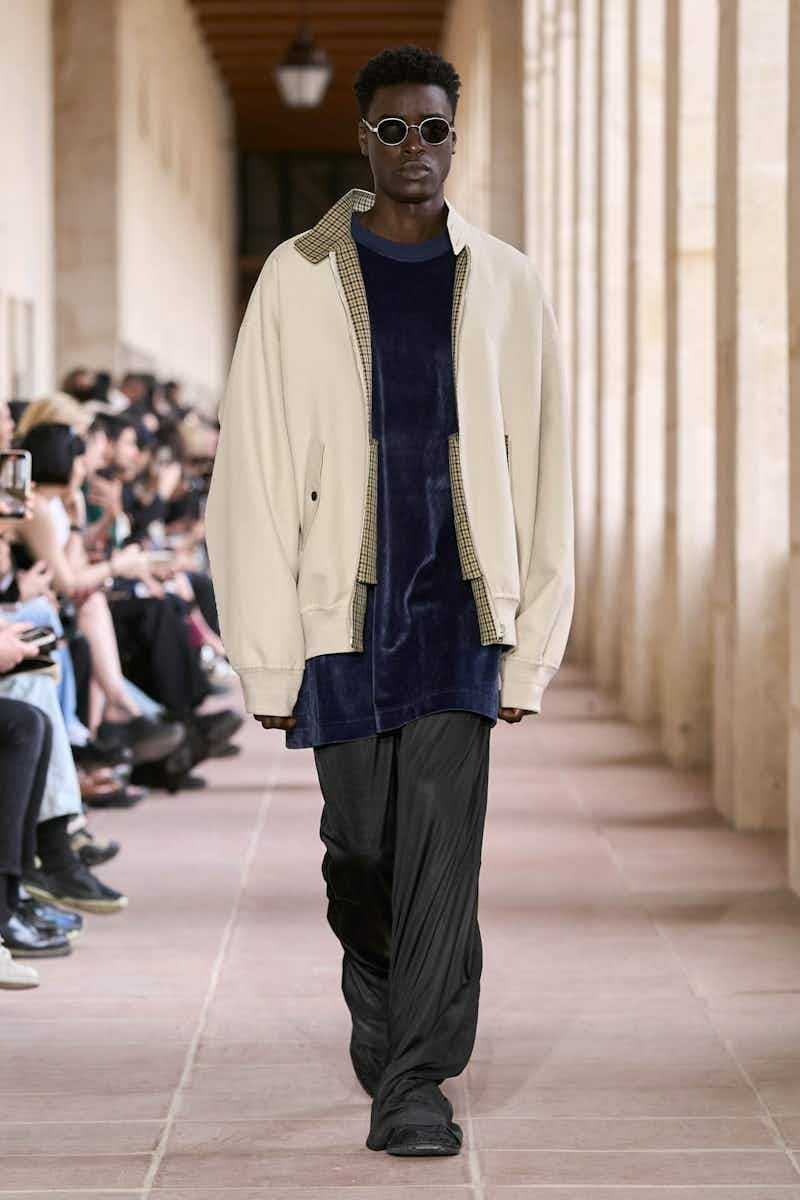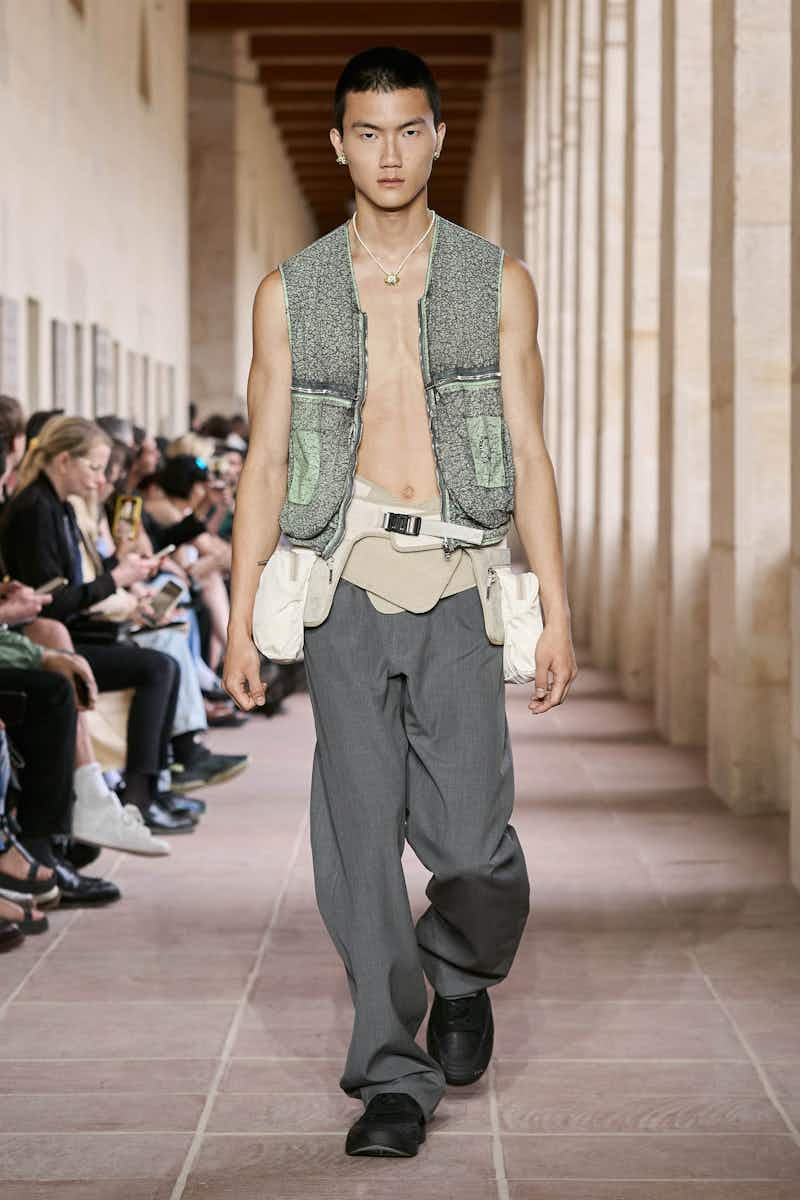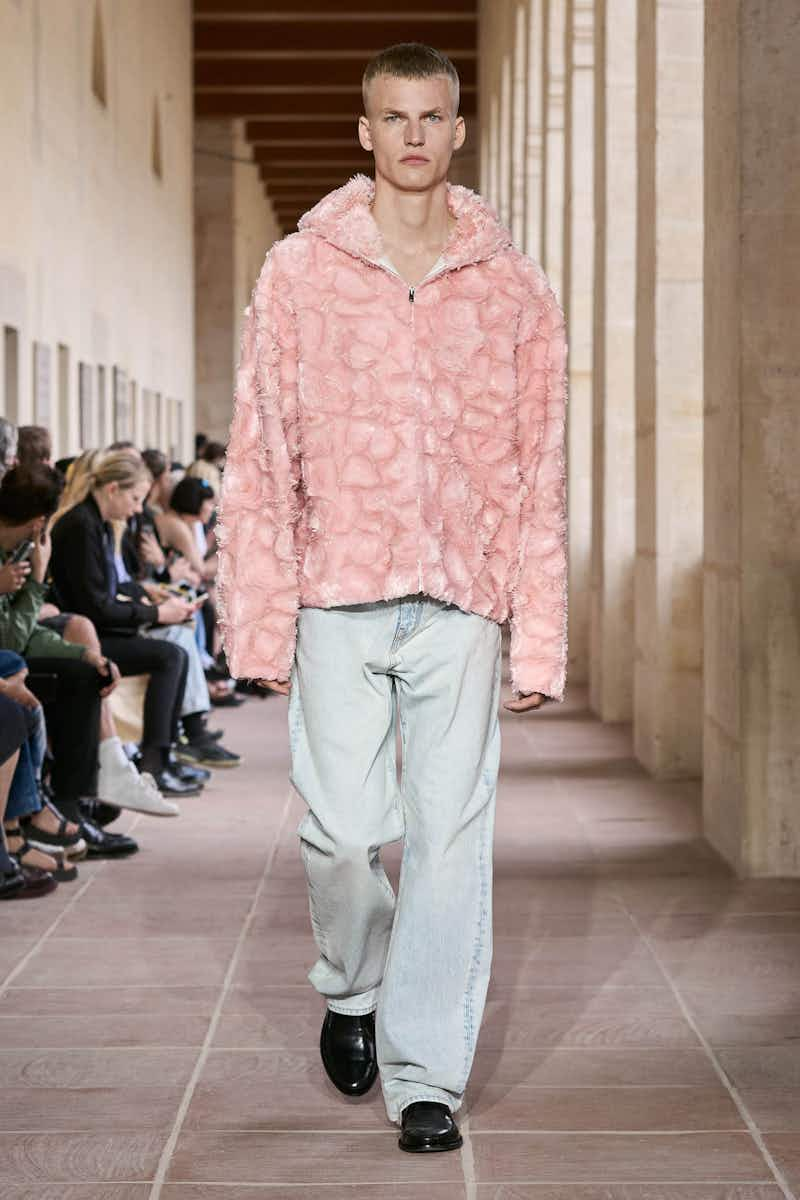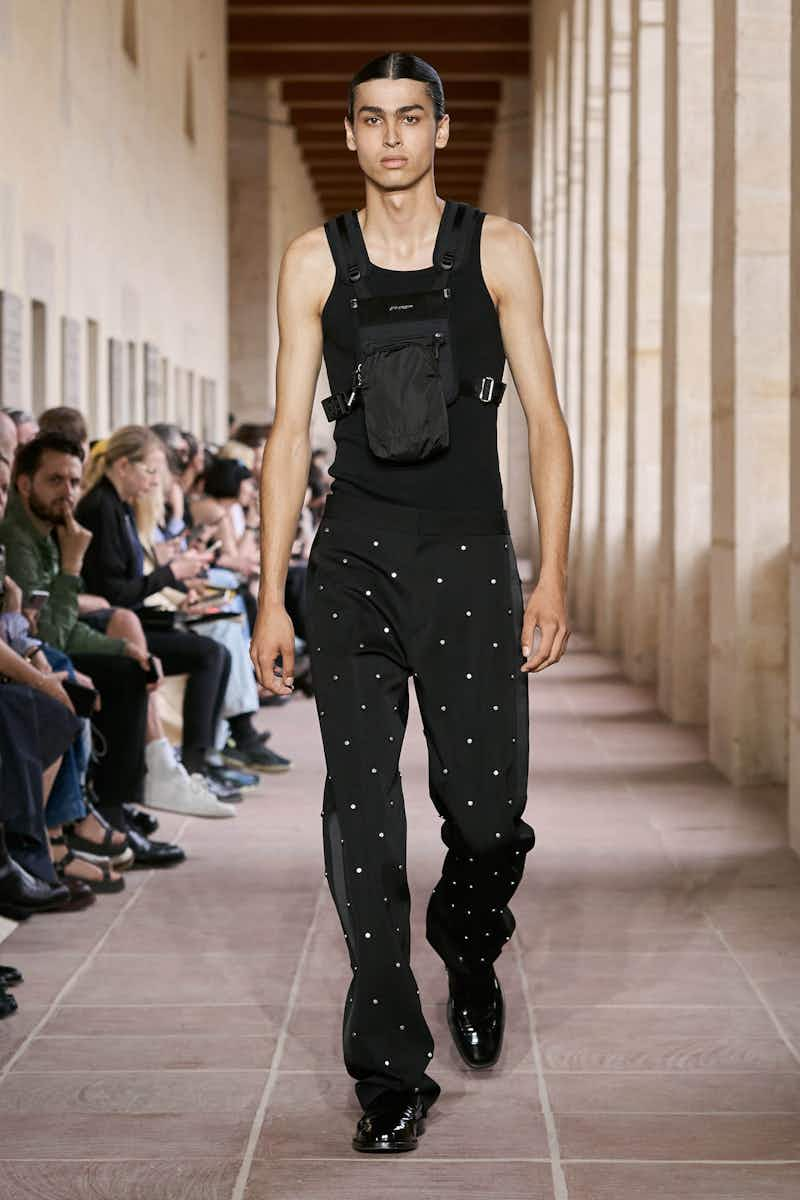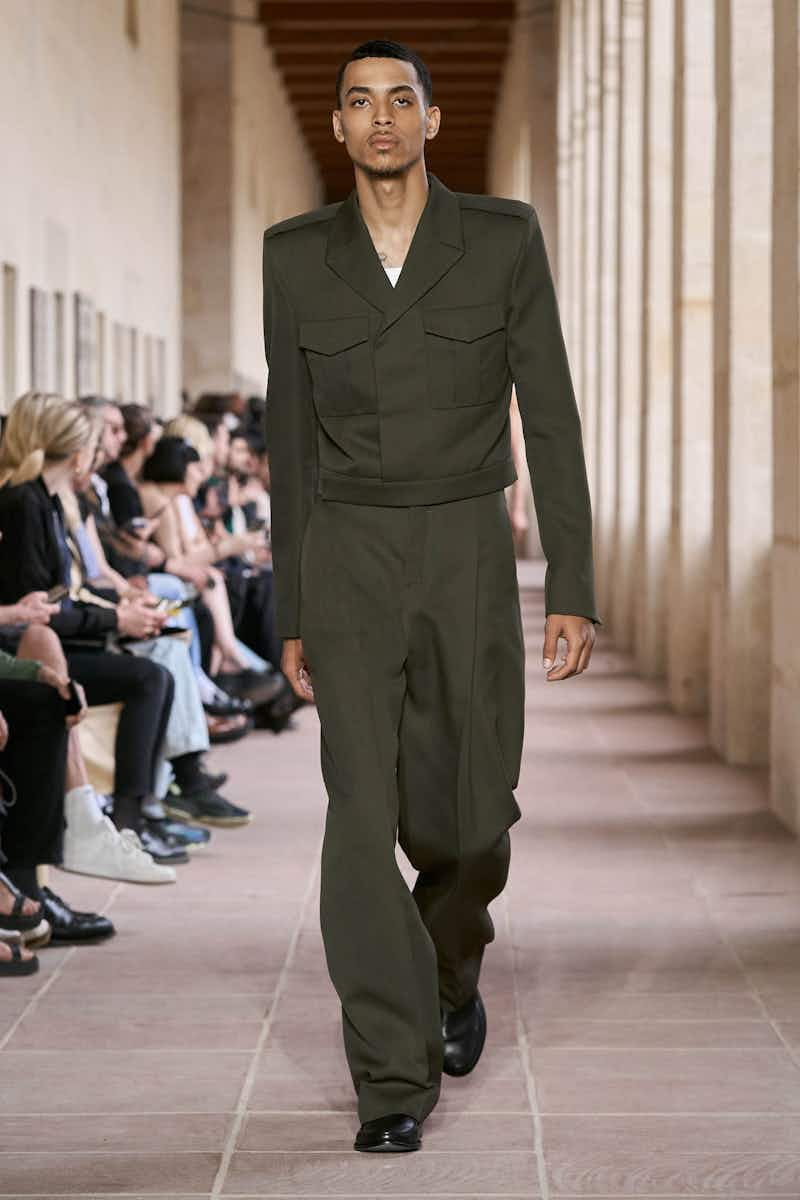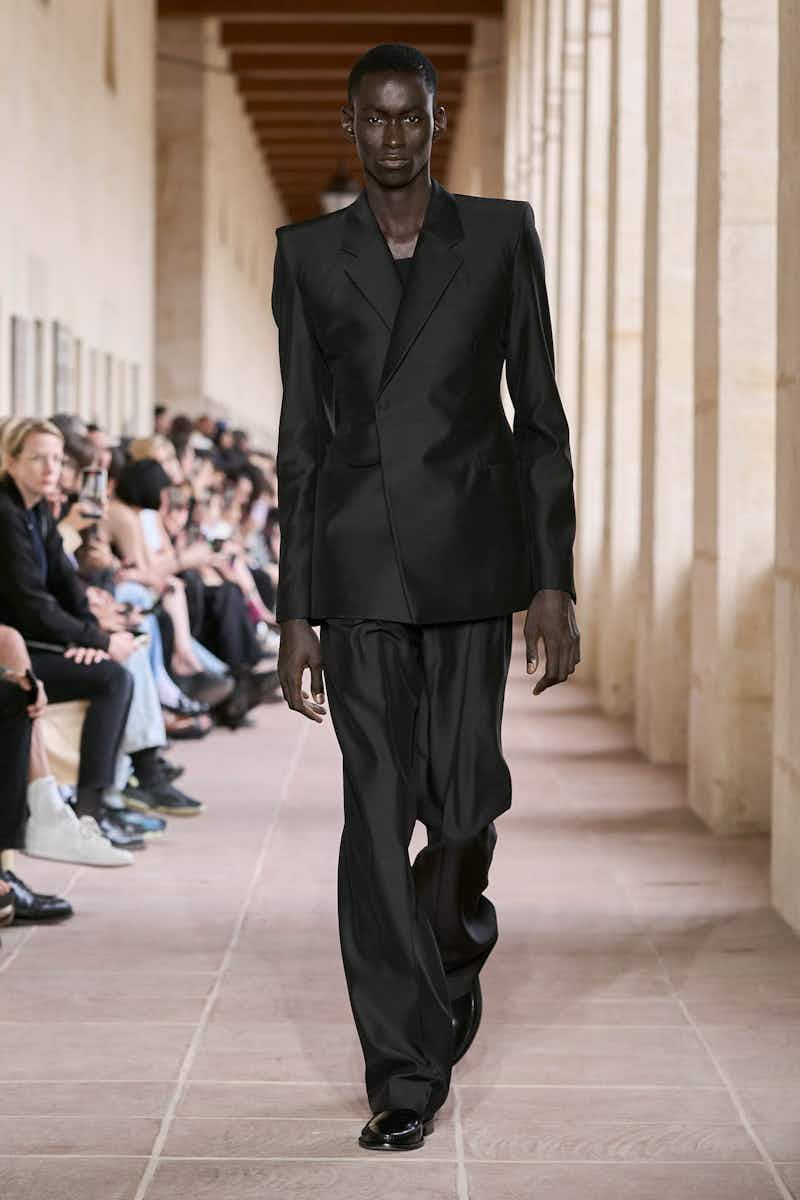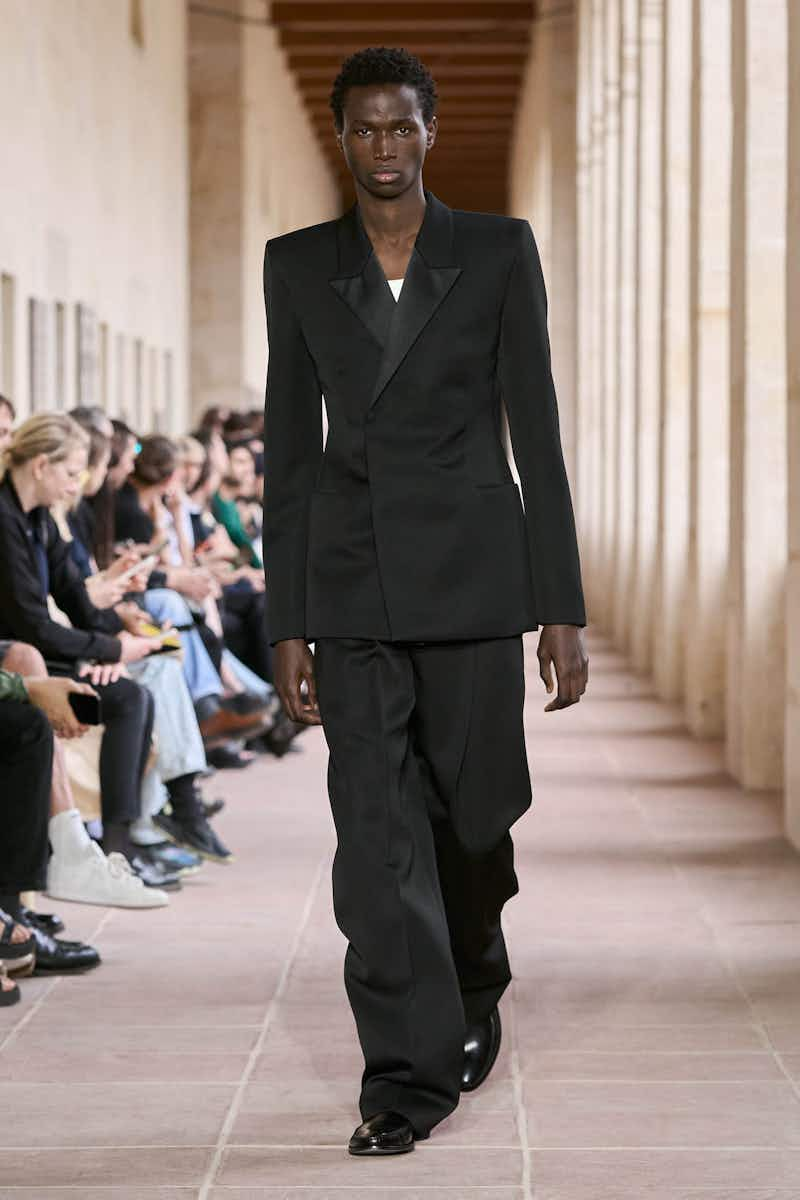 What?
The techno-goth's moody rendition of ​"summer" dressing, delivered in a strict palette of black, black and – you guessed it – more black.

Who was there?
Rap god Offset dropped by in full-look Rick. Plus, Estonian eccentric Tommy Cash joined the front row in a French mime outfit, swilling a jumbo glass of red vino throughout.
Where?
Palais de Tokyo's Greco-Roman fountain and stairwell, now a favoured stomping ground for Rick's productions.
What went down?
For anyone that remembers the swinging inferno balls from last year's outing, this was perhaps a cooler affair. That said – besides our unsinged eyebrows – it was no less wild. Throughout, multicoloured flares and the clattering sounds of Lil Texas fired away to the tune of 48 sliced and diced looks.
Opened by Rick's muse Tyrone Dylan, the show was envisioned as an antidote to the current threats our world faces, although – for Rick virgins – the dark and brooding atmosphere hardly gave an impression of optimism. What it did do, however, was rile up the fash-pack with a series of angular, trailing Mad Max-esque looks.
High-waisted suit trousers in satin bowed across the bum, sharpening into the knees and then flaring outwards to obscure the familiar perspex-heeled platforms. Meanwhile, blazer jackets constructed from triangulated panels were pointed at the shoulder, forming muscle-man caricatures, cropped at the navel in yet another androgynous tweak. You could see Rick and his doting fans in every look.
Later, the master of darkness gave us fragility, serving up ultra-sheer dresses with black piping that, from afar, appeared like the ghost of a scooping V‑neck. These morphed into heavy-combat skirting, with grunge trousers layered beneath. It was, in true Rick fashion, avant-garde, however, not without commercial appeal. On their own, these garments felt versatile, built for wearing wherever your day (or night) takes you. A sticky dancefloor, here; a red-carpet, there.
Any must-buys?
The welted leather trews overlayed with chaps were giving high-fashion leather daddy. As for those marabou gauntlet gloves? The unpractical accessory every kinkster needs.
A trend?
Black is the new black.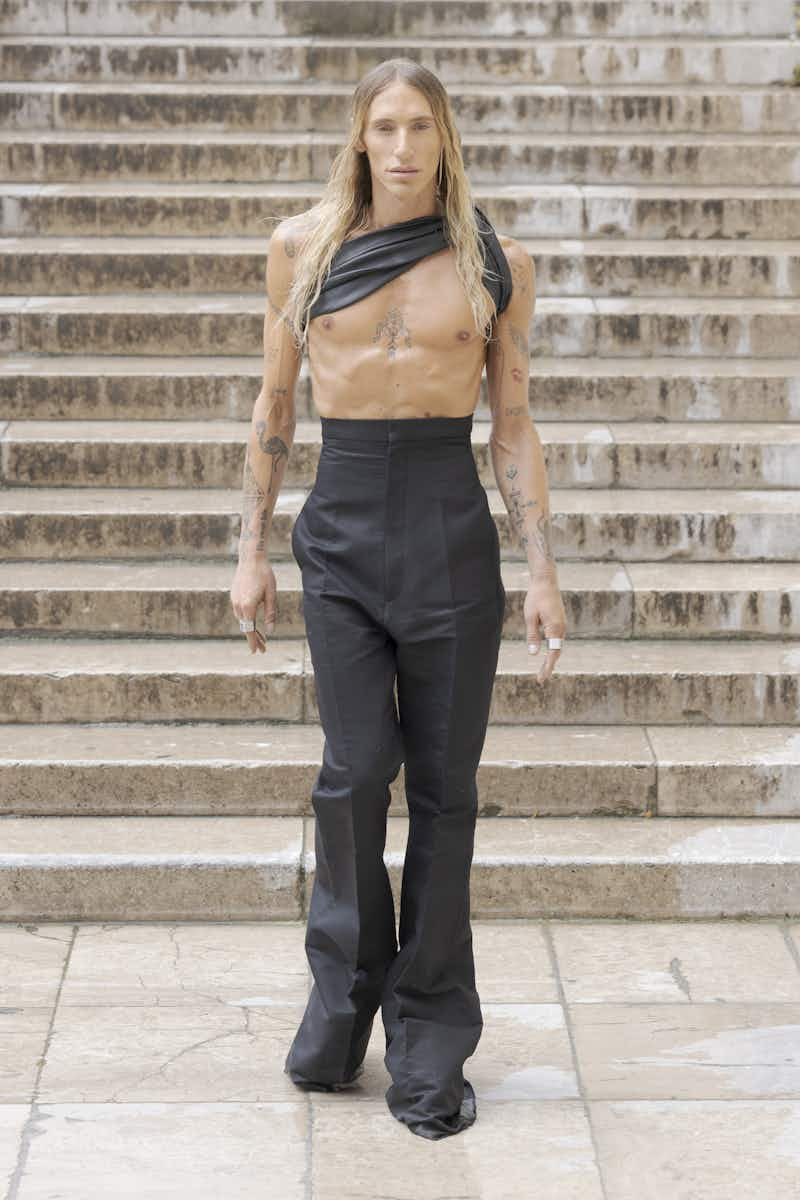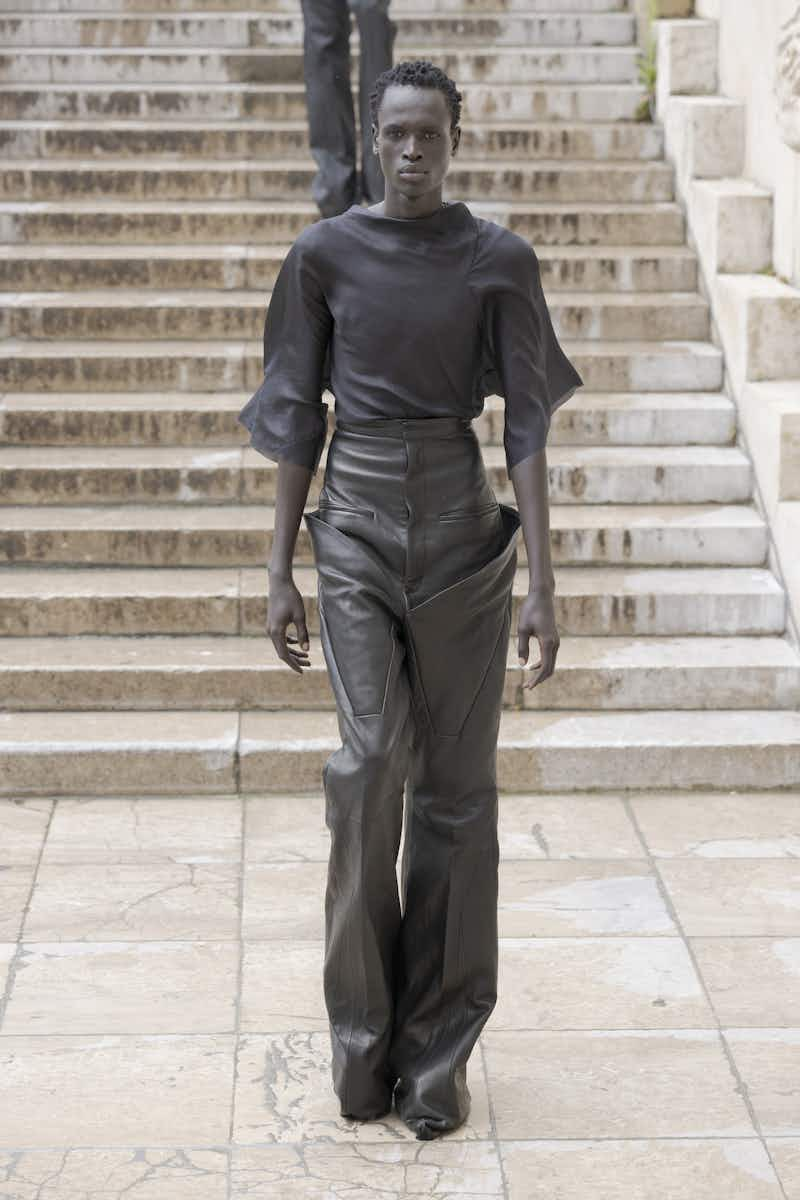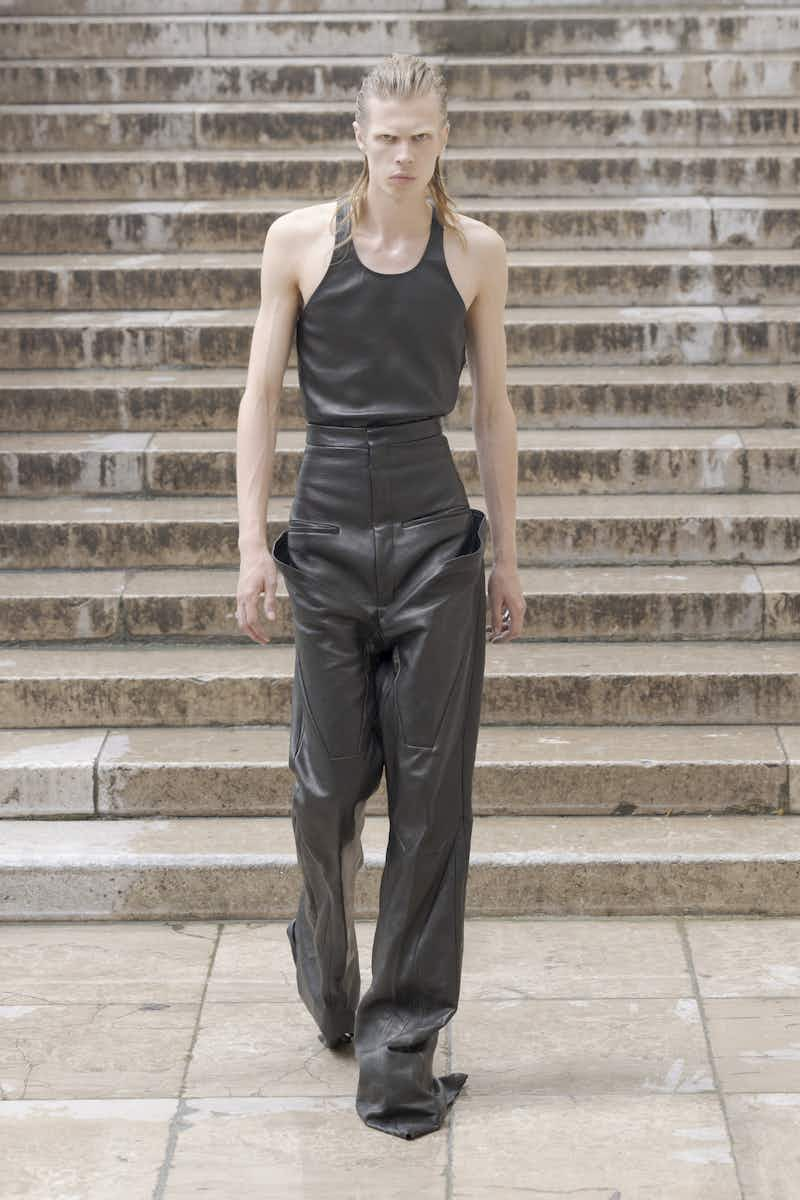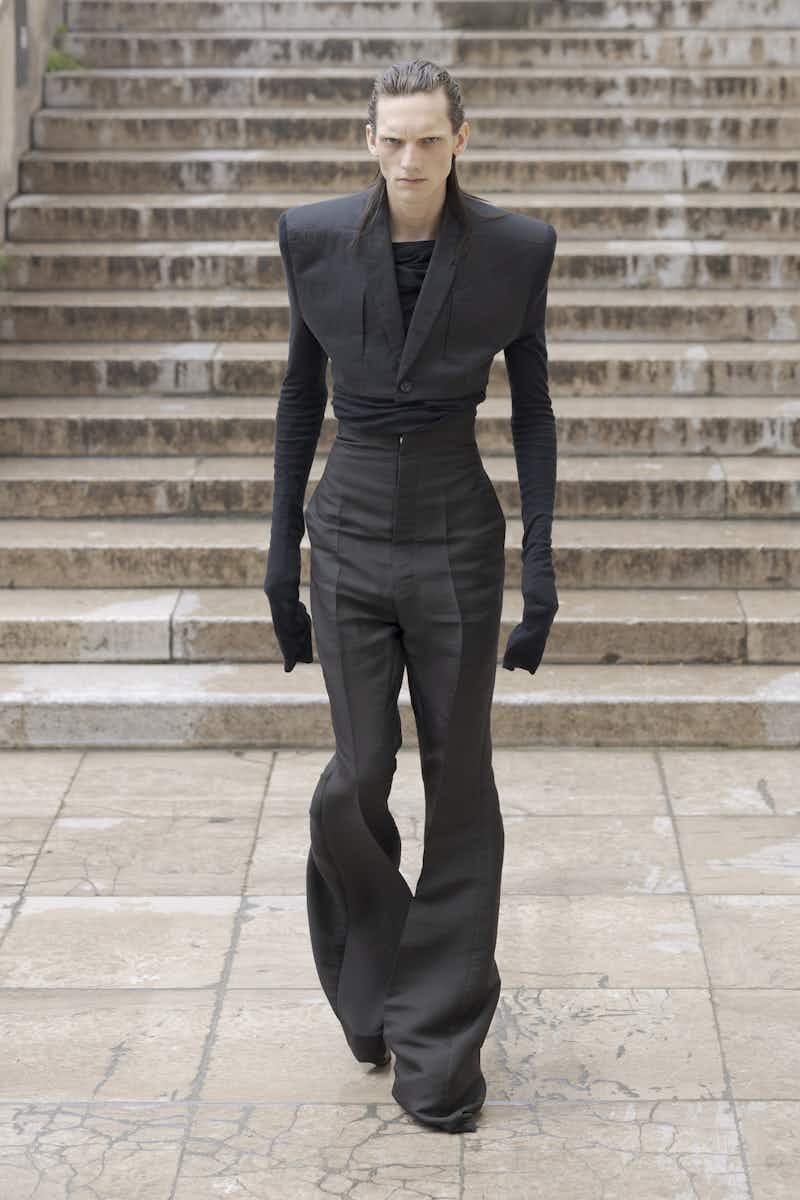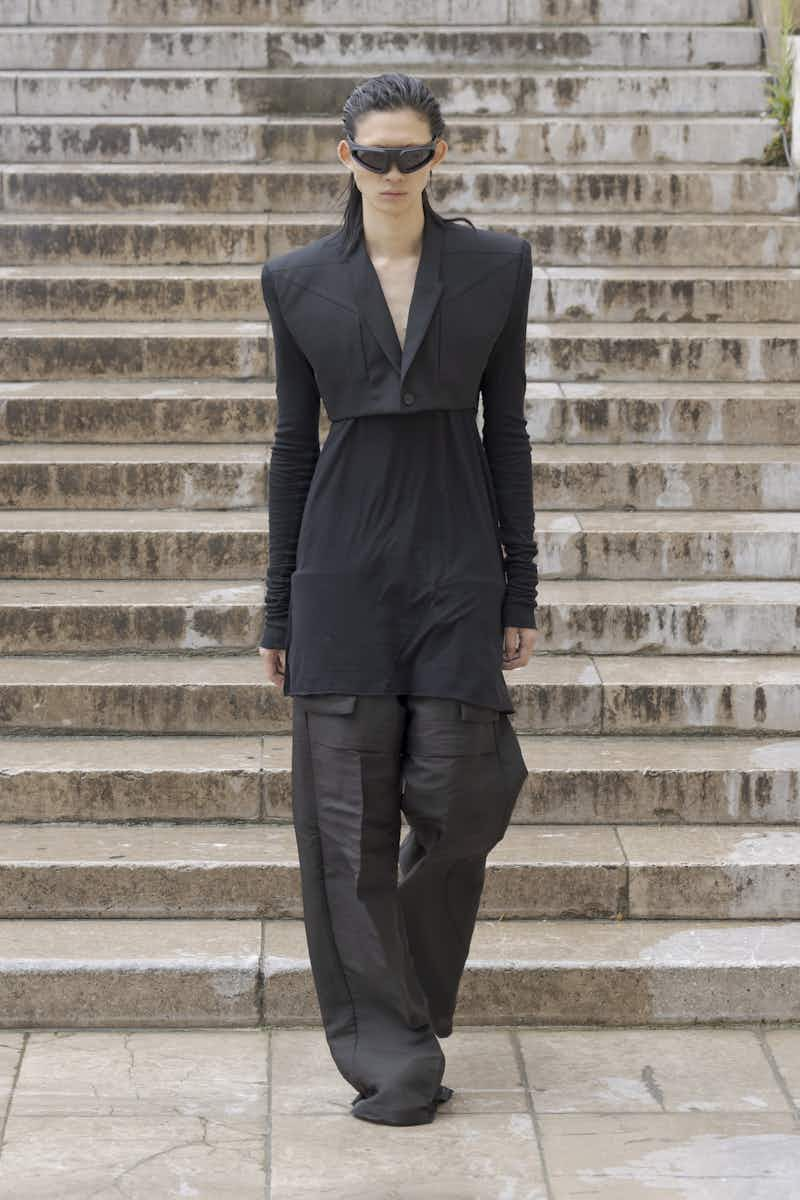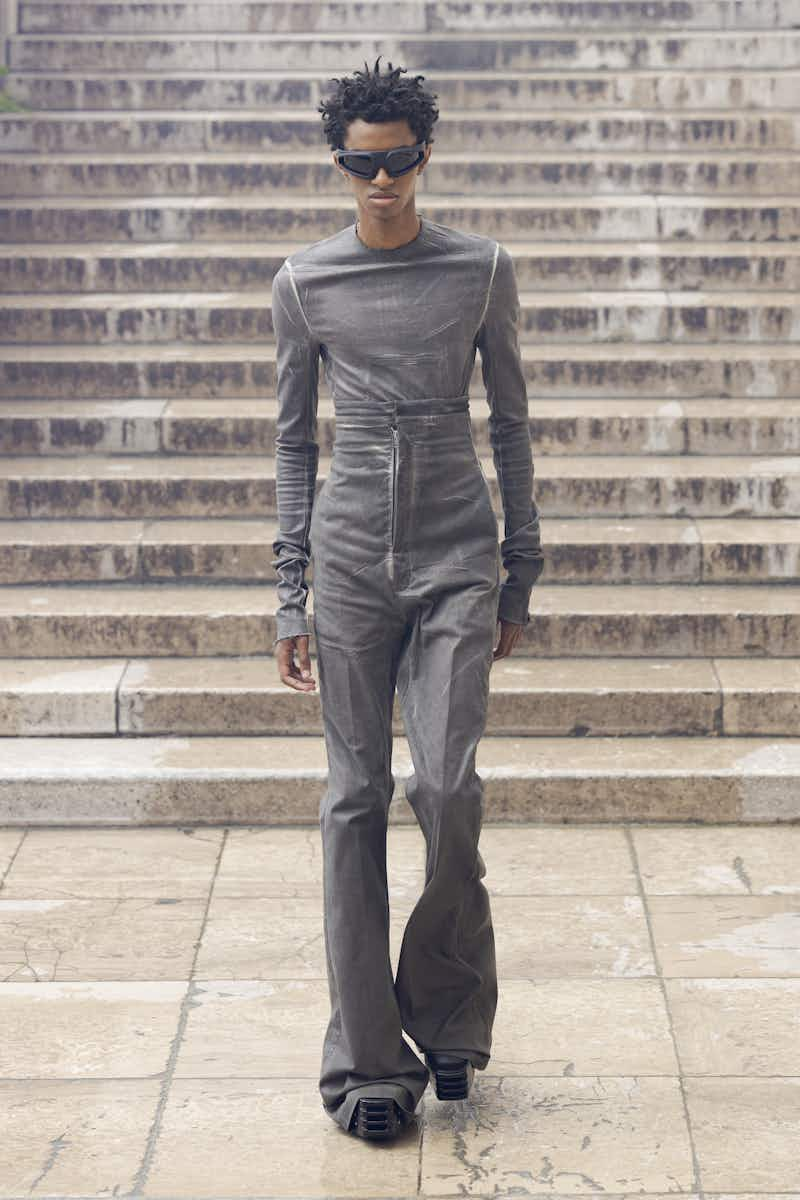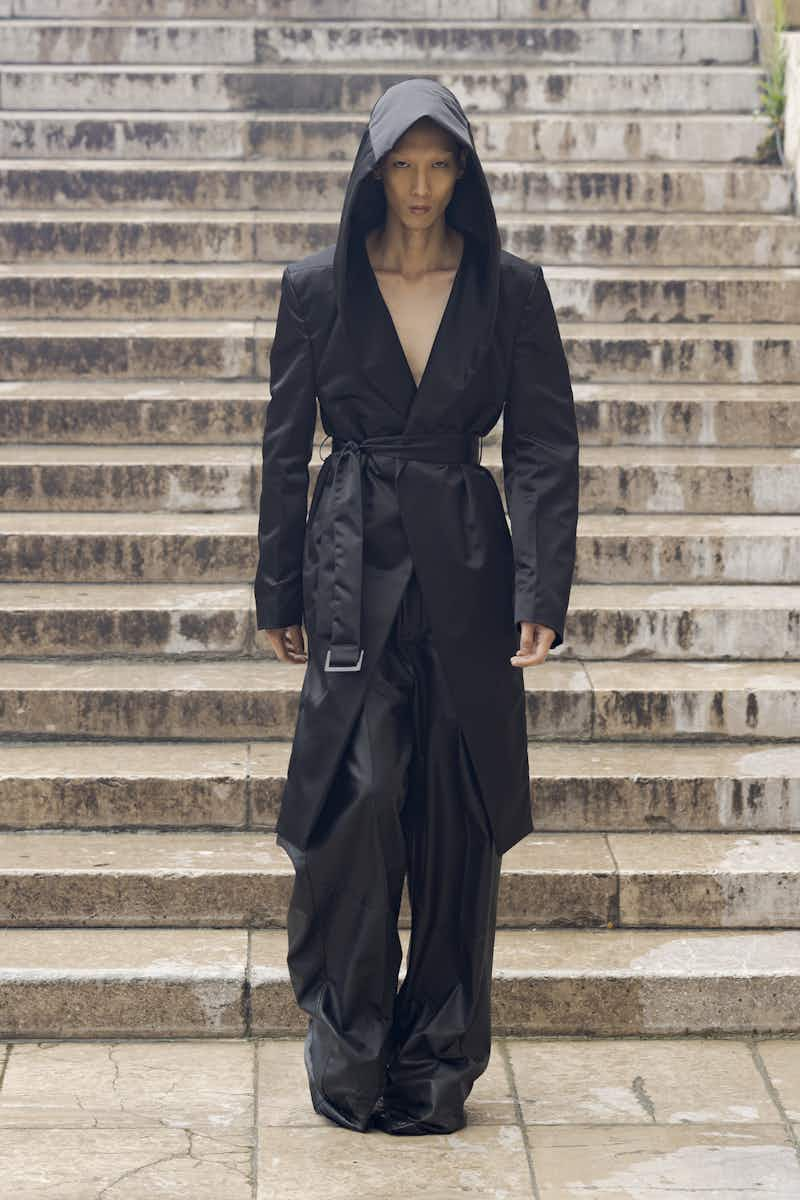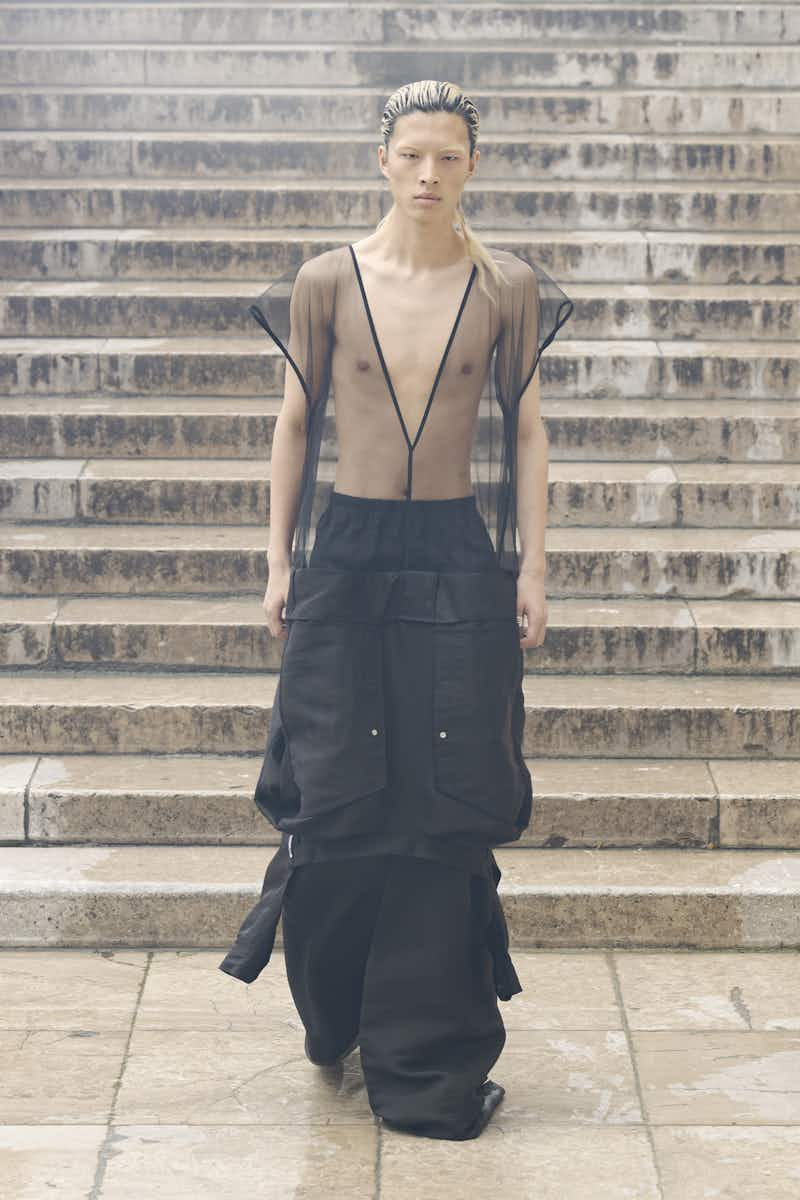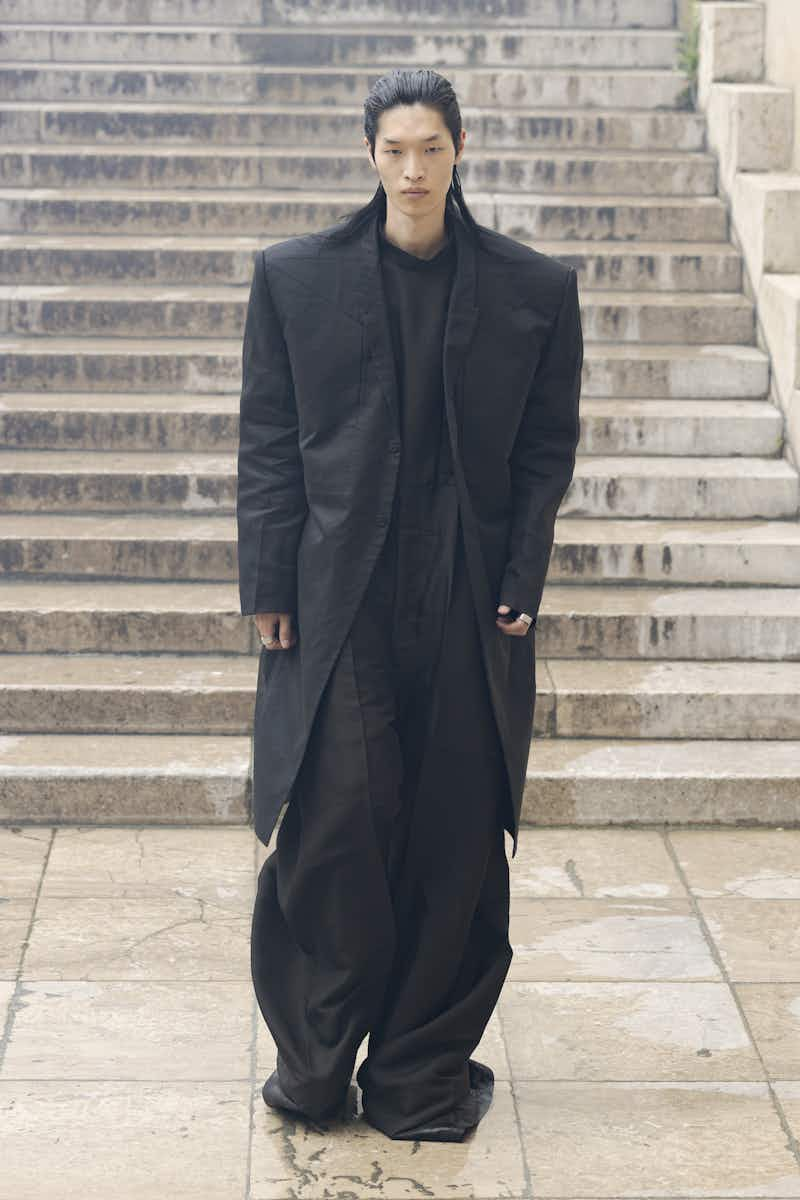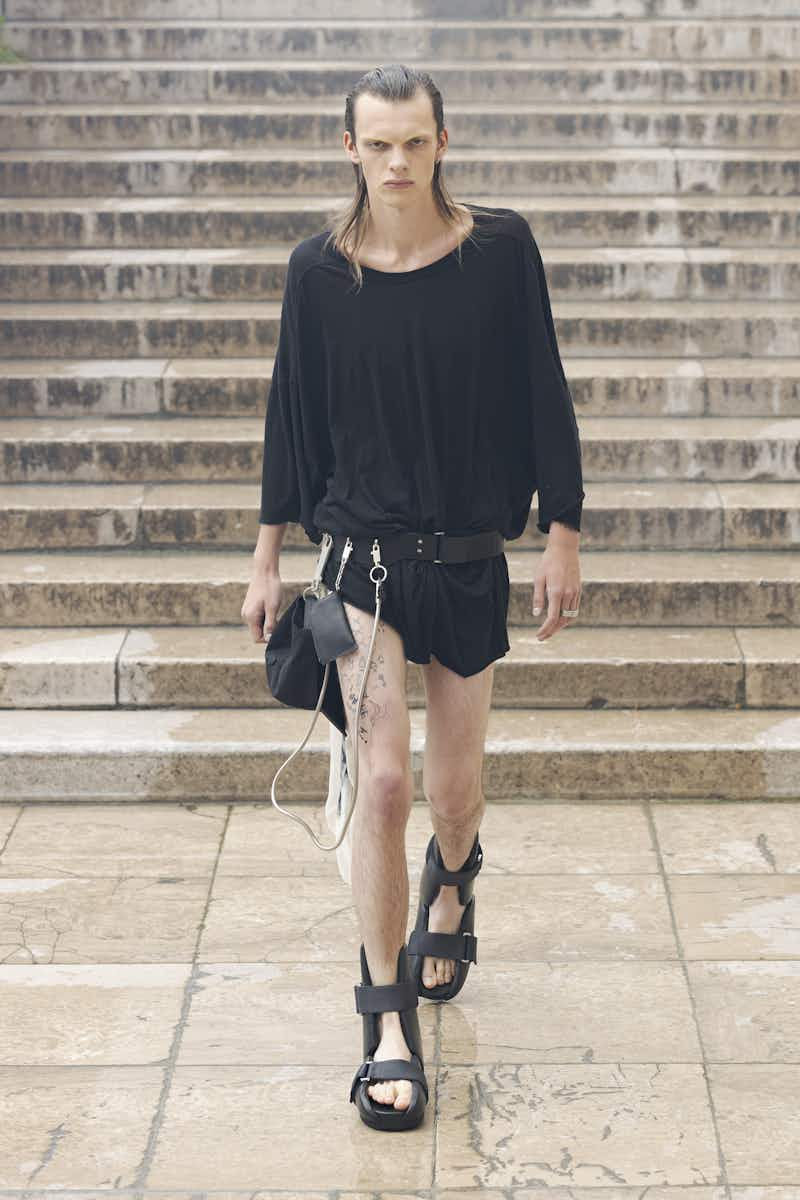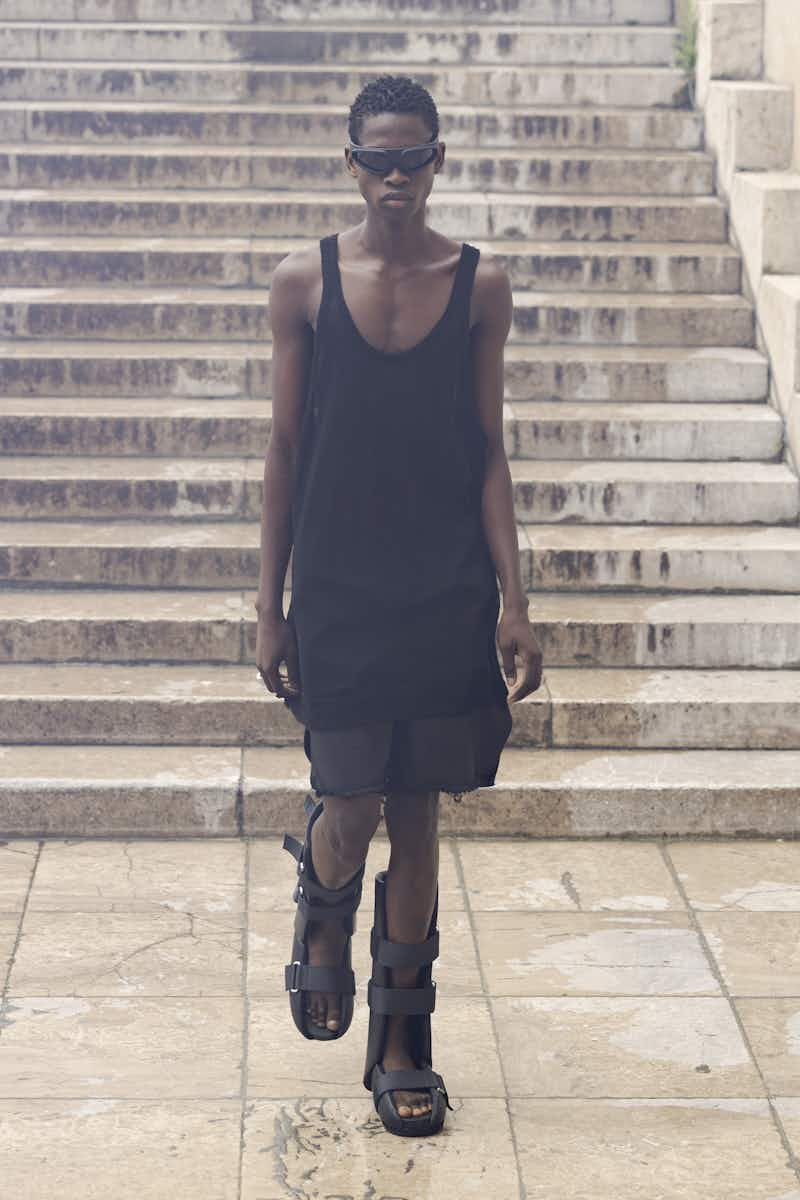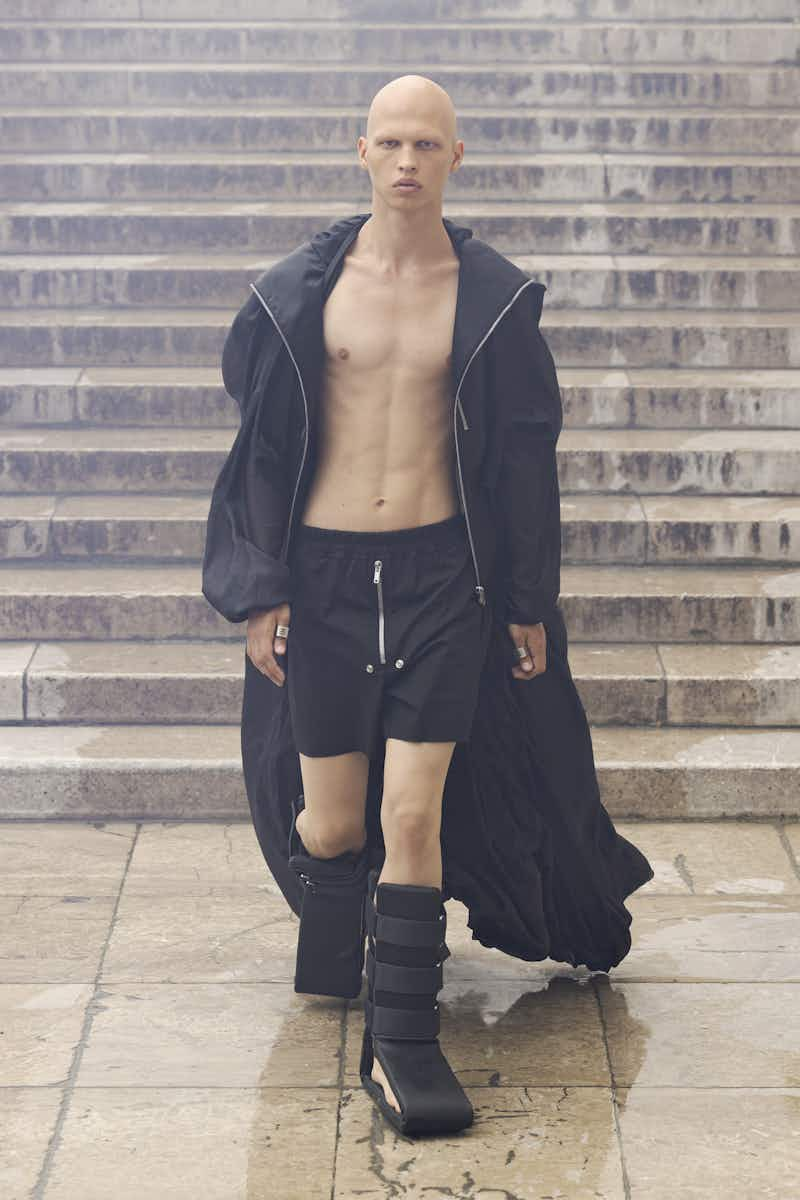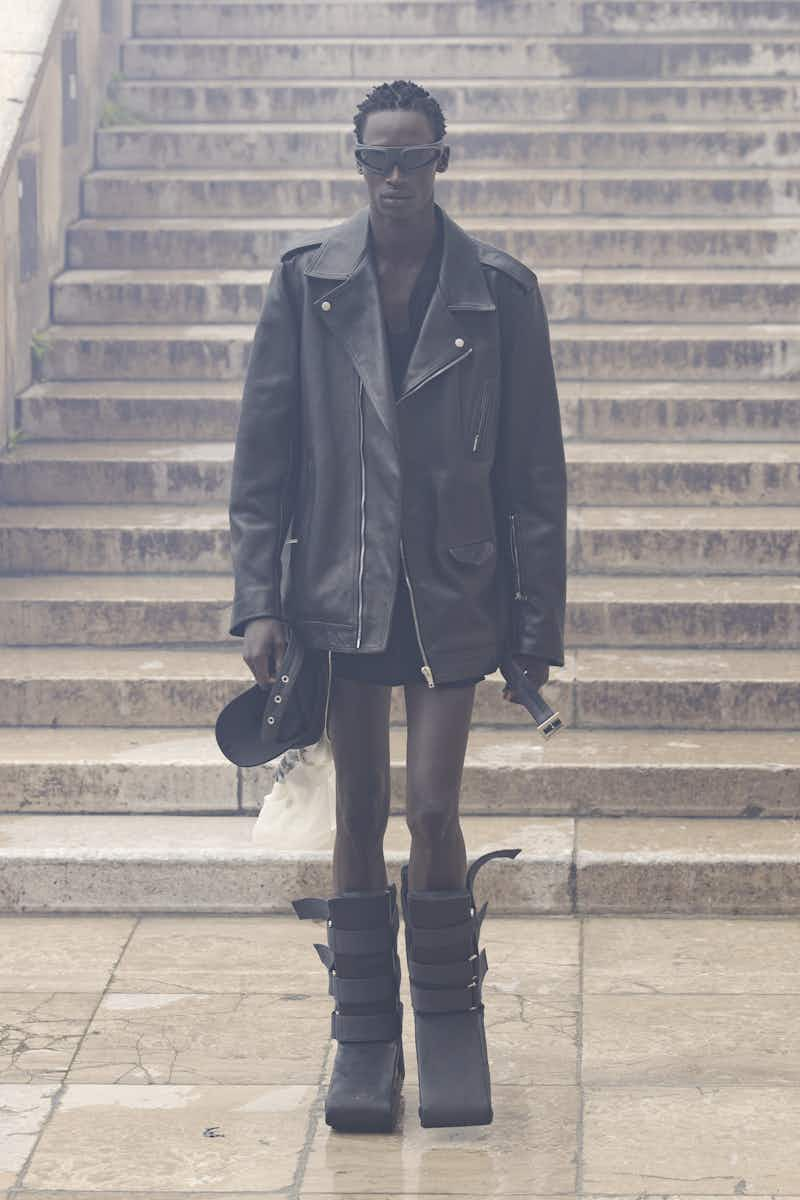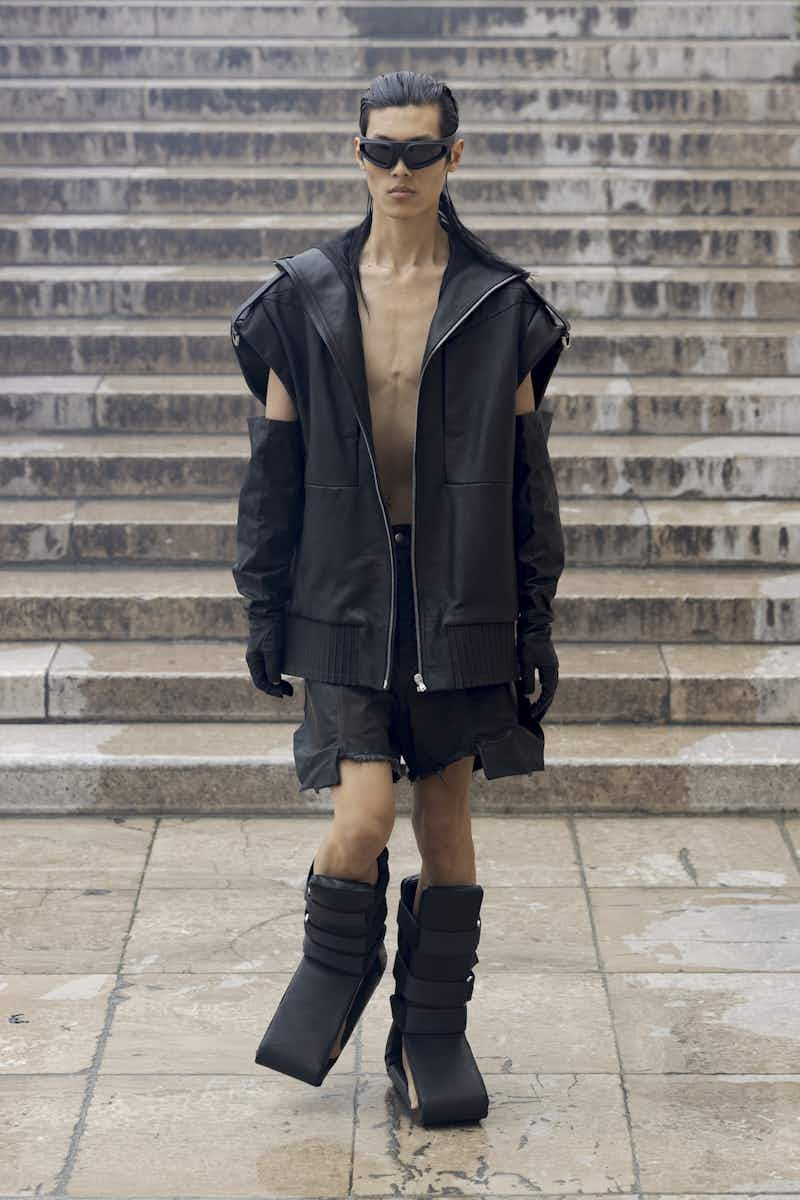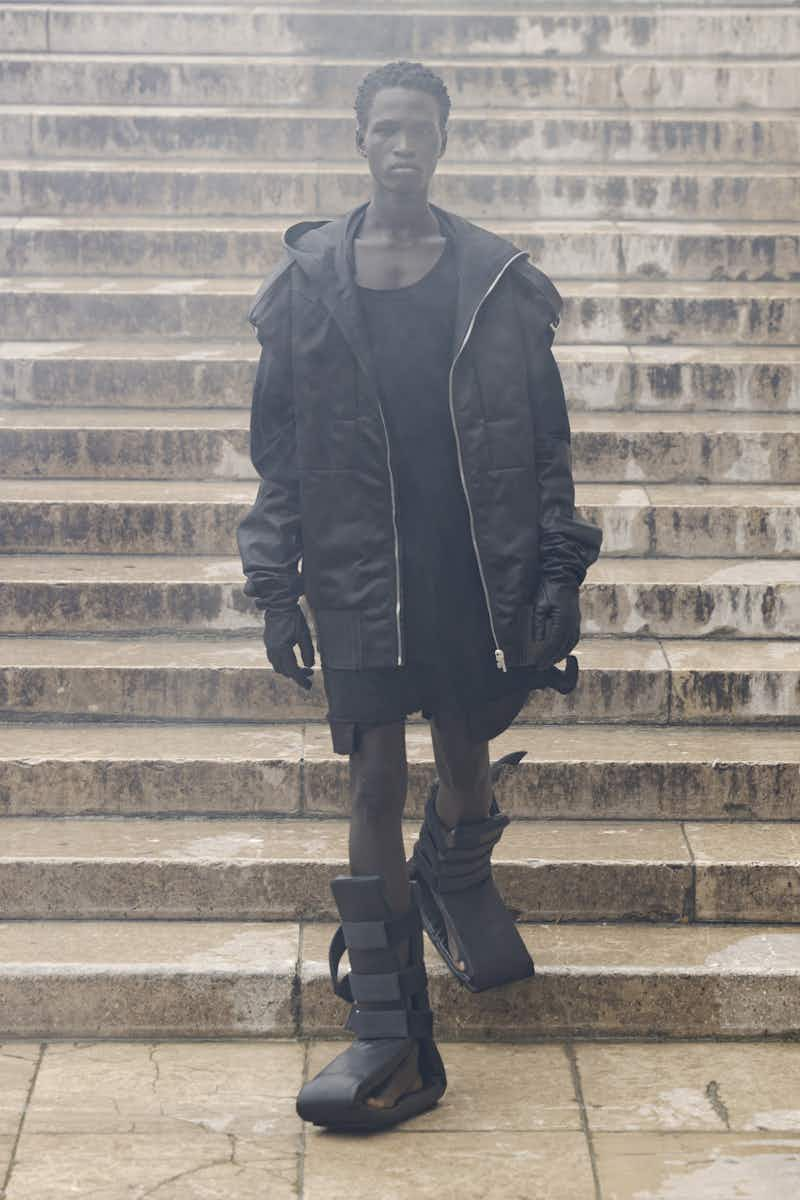 HOMME PLISSÉ ISSEY MIYAKE
What?
A call to slow down and inspect the clothes before us.
Where?
The Musée des Arts Décoratifs, one of the swankiest wings on the Louvre.
Why should I care?
It's fast approaching a year since Planet Mode lost one its greatest heroes, Issey Miyake. With that said, the namesake labels that survive him have done a stellar job in carrying his mission to make clothes rooted in function – not trends – forward. This SS24 collection for the Homme Plissé Issey Miyake line was no exception to the rule.
What was the show like?
Unfolding (literally) like a lesson in garment design, the show was initiated by three men unrolling a whole runway's worth of pleated fabric. From there, professional dressers made their way along the carpet, each stationing themselves at intervals. If you looked closely, you could see the carpet composed of two sheets of fabric between which lay garments. The dressers then cut out an allotted section each, unearthing the new season's designs.
The pace was slow and intentional, forcing an audience increasingly accustomed to celebrity and fashion entertainment to concentrate and maybe – just maybe – put their phones down. Eventually, each model paired with a dresser who carefully clothed them. Only then did the official show commence. Models began to walk, our eyes now trained to the minutiae of pleating and line that we so often miss.
Sleeveless dresses which, when flat, appeared rectangular, morphing into fluid, undulating cloth and gathering lightly between the thighs and cosying up to the waist. Culottes with notably larger pleats bounced and shimmied around the leg in a motion distinct to the tighter-pleated trousers in sunshine yellow, which instead swished and straddled the models' fine pins. It soon became clear the fashion press and influencers in attendance were not just passively consuming pretty clothes as they flashed by, but instead, engaging with how they work.
The use of painted and layered watercolours across the bodysuits further enhanced our sense of dimension, bringing the clothes alive. Granted, it's no far cry from what the eponymous designer had done himself, but that's the point. After all, clothing over fashion was his mantra.
In a few words:
Moving – in both senses.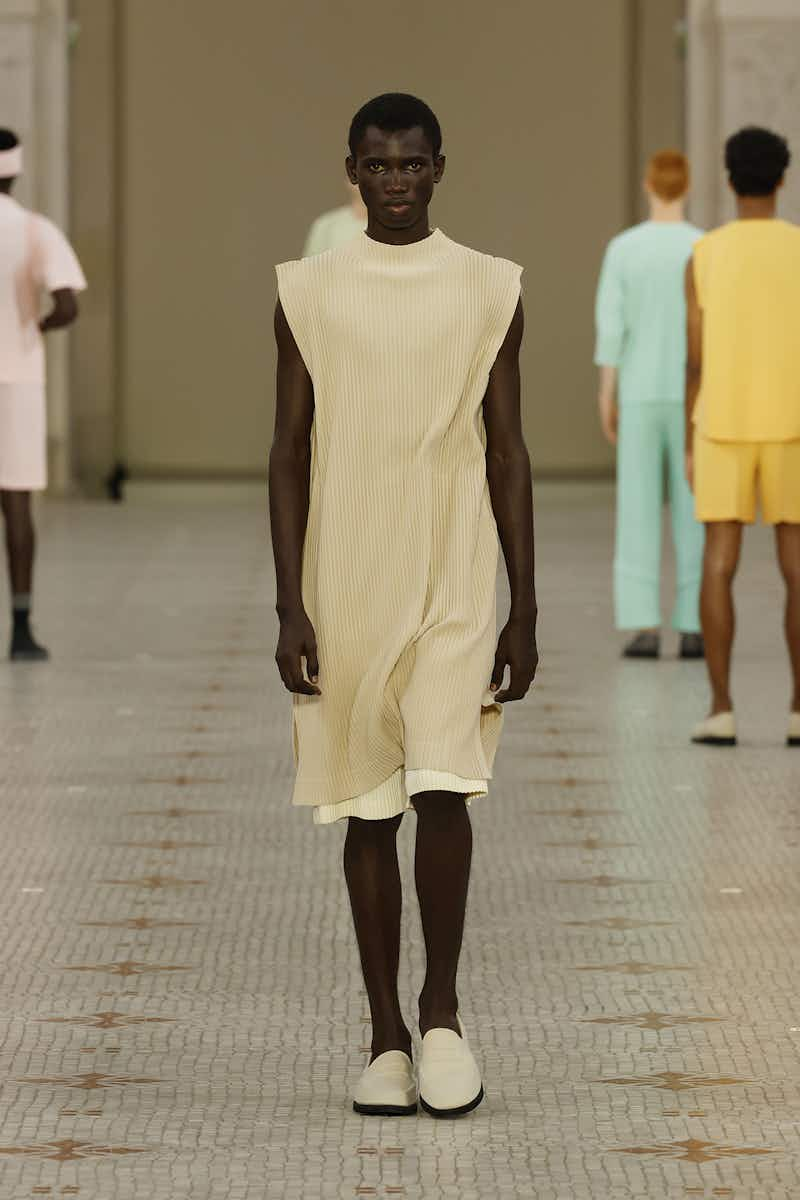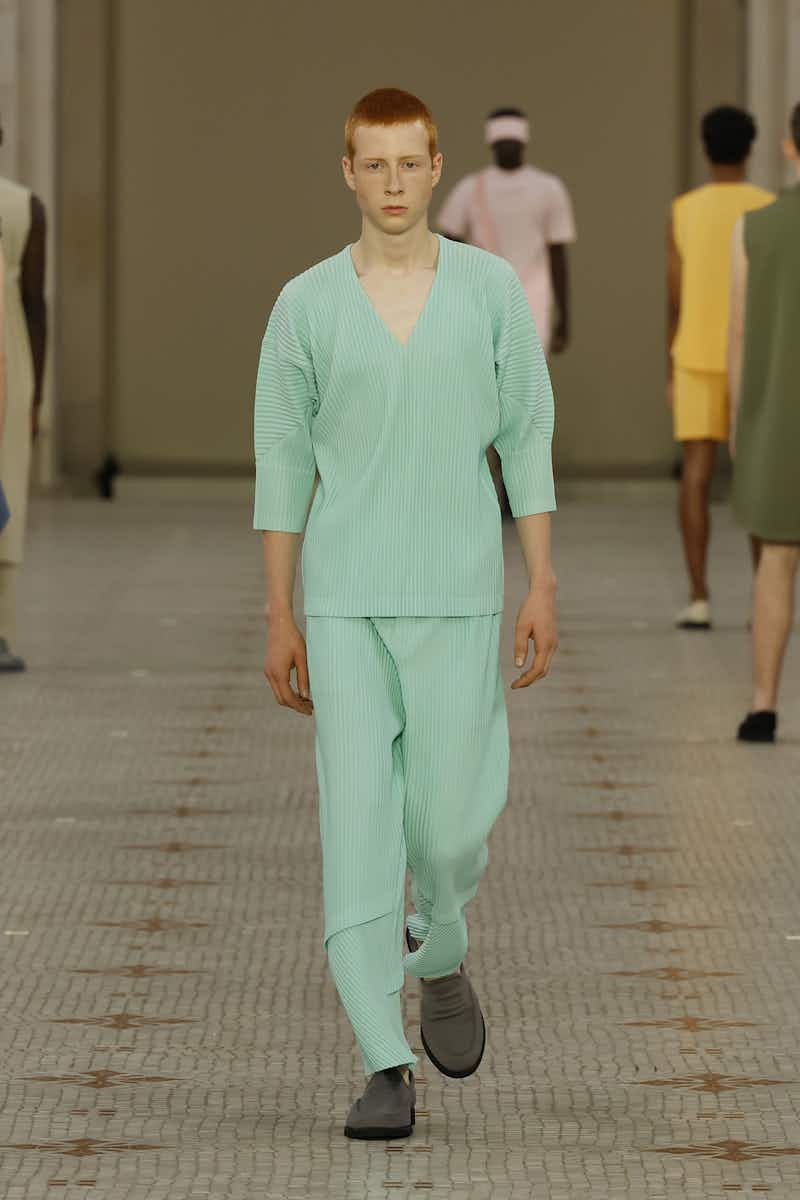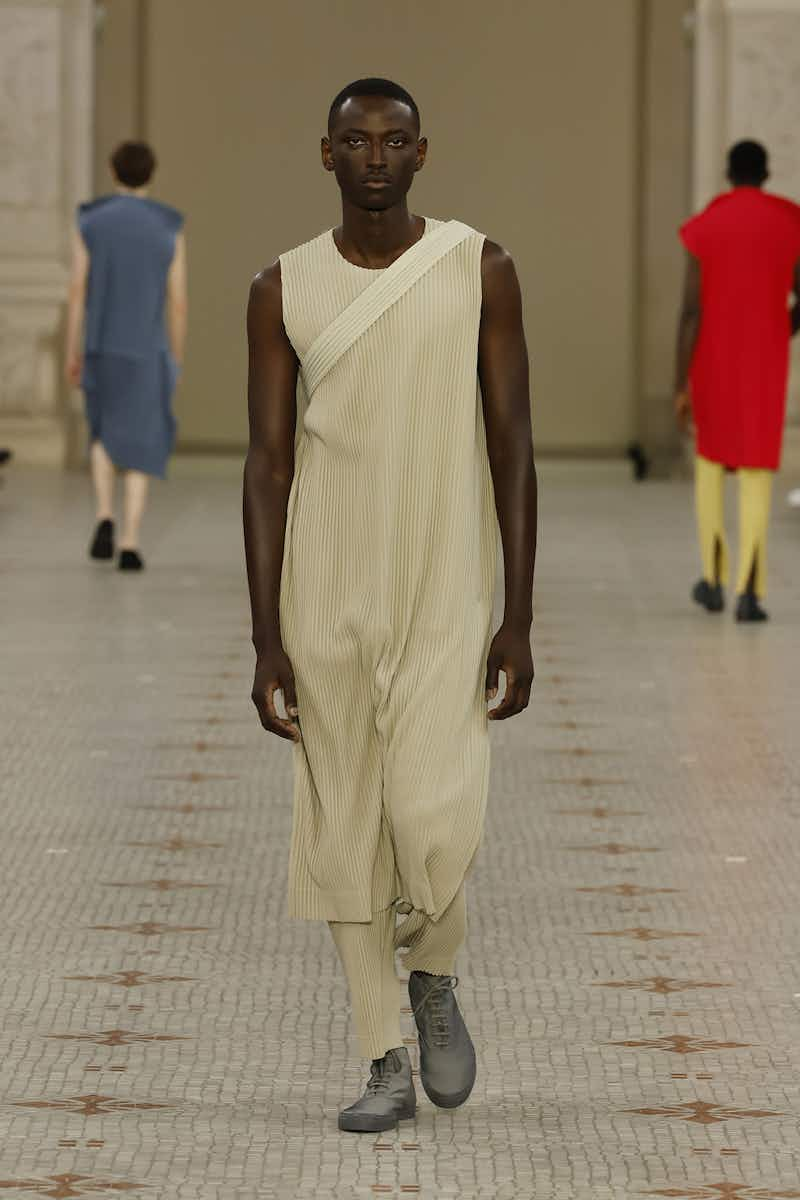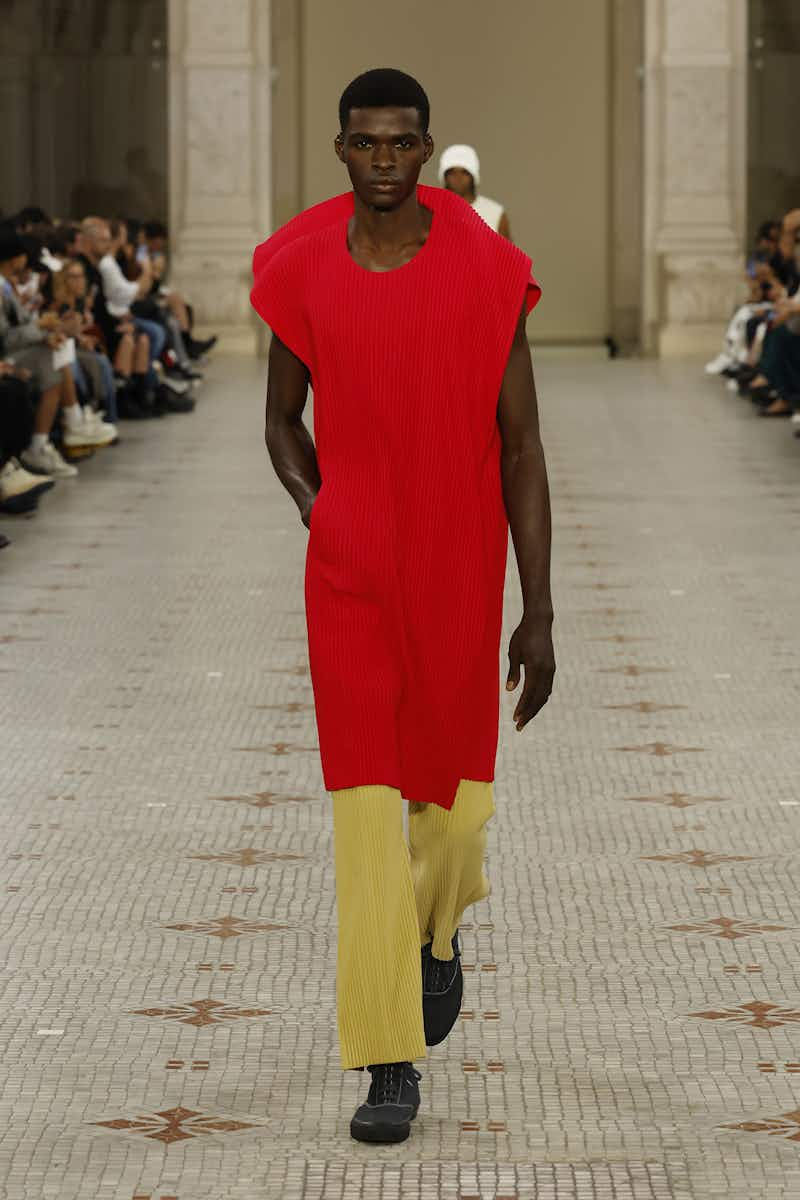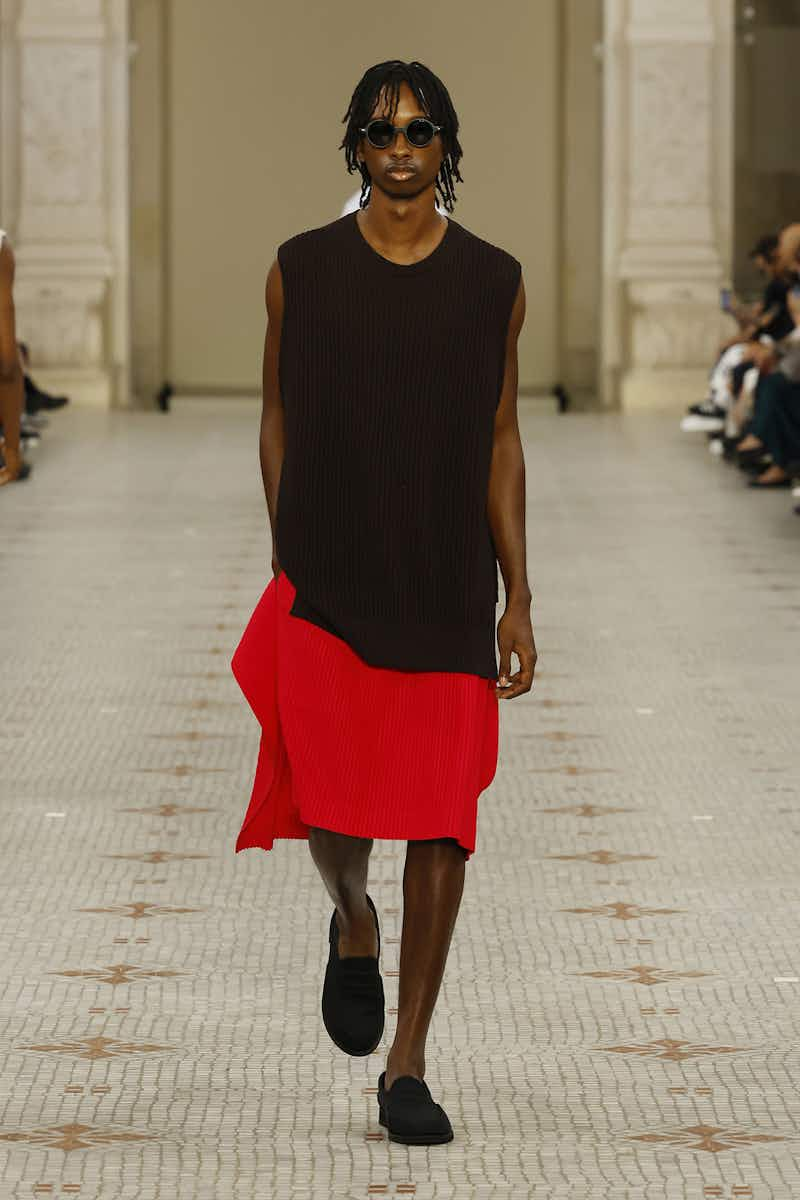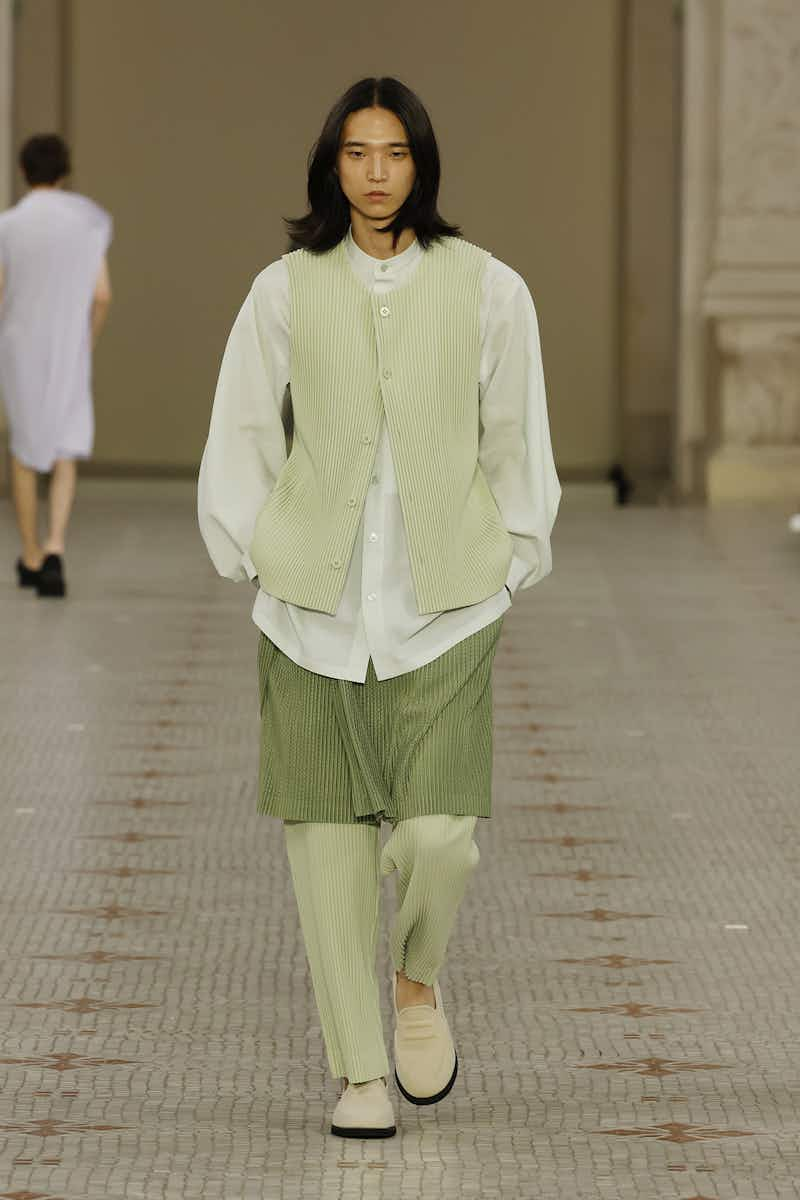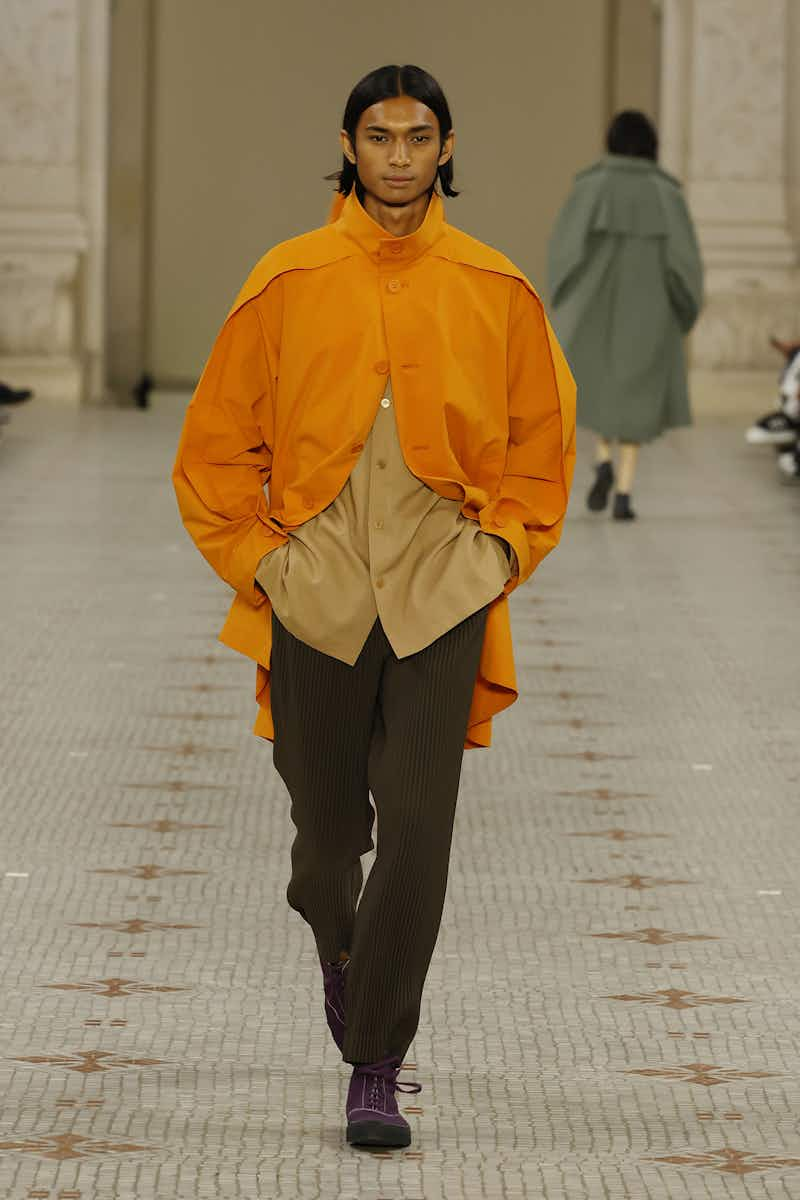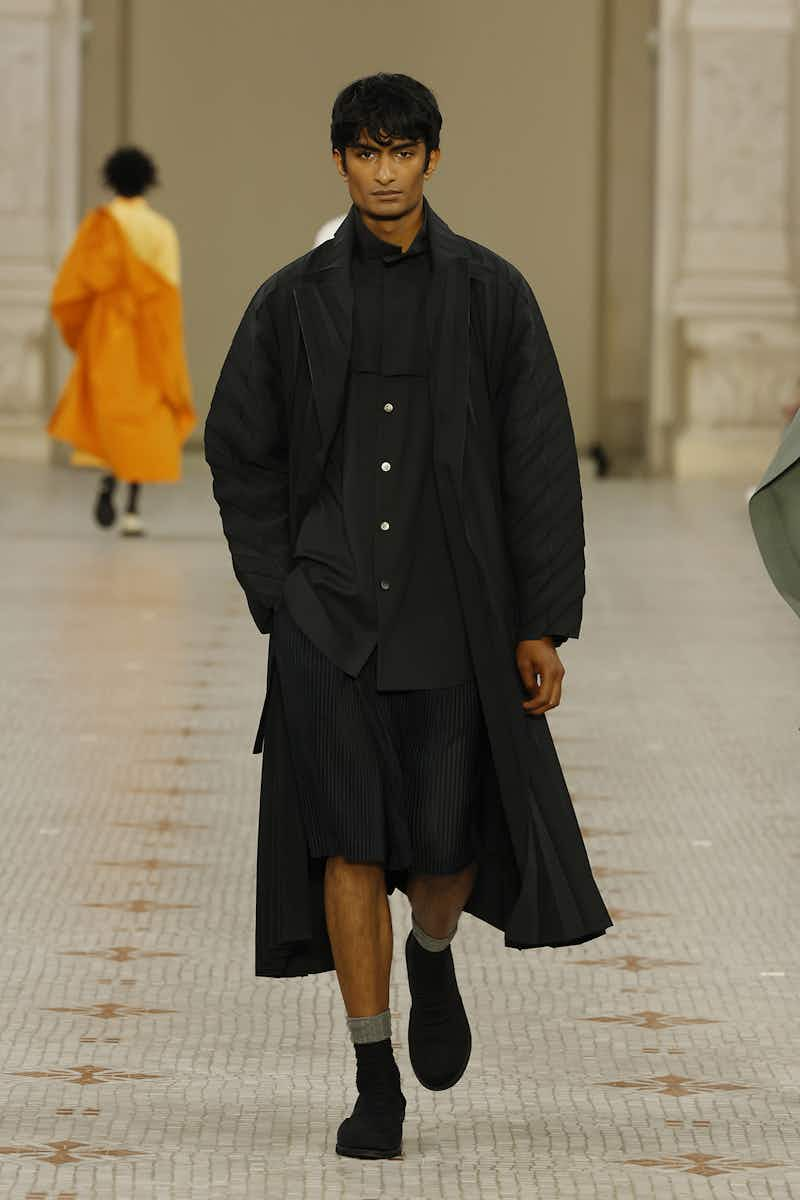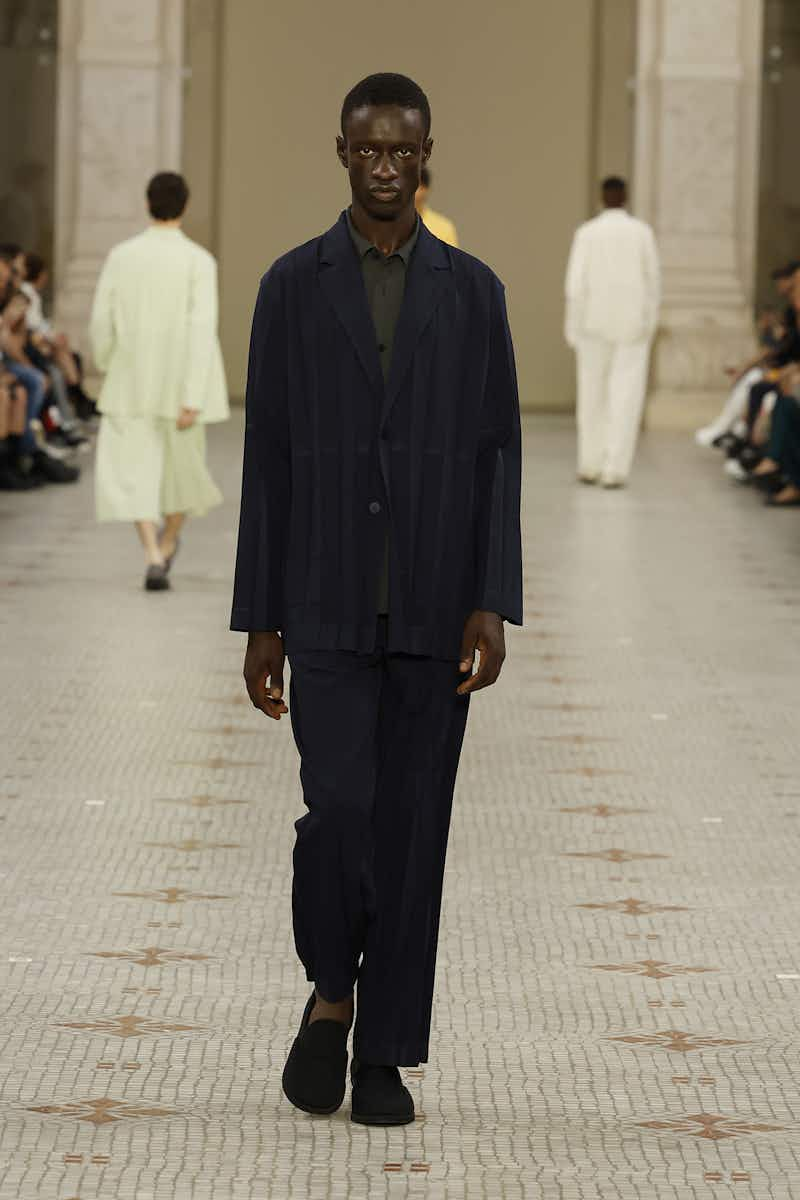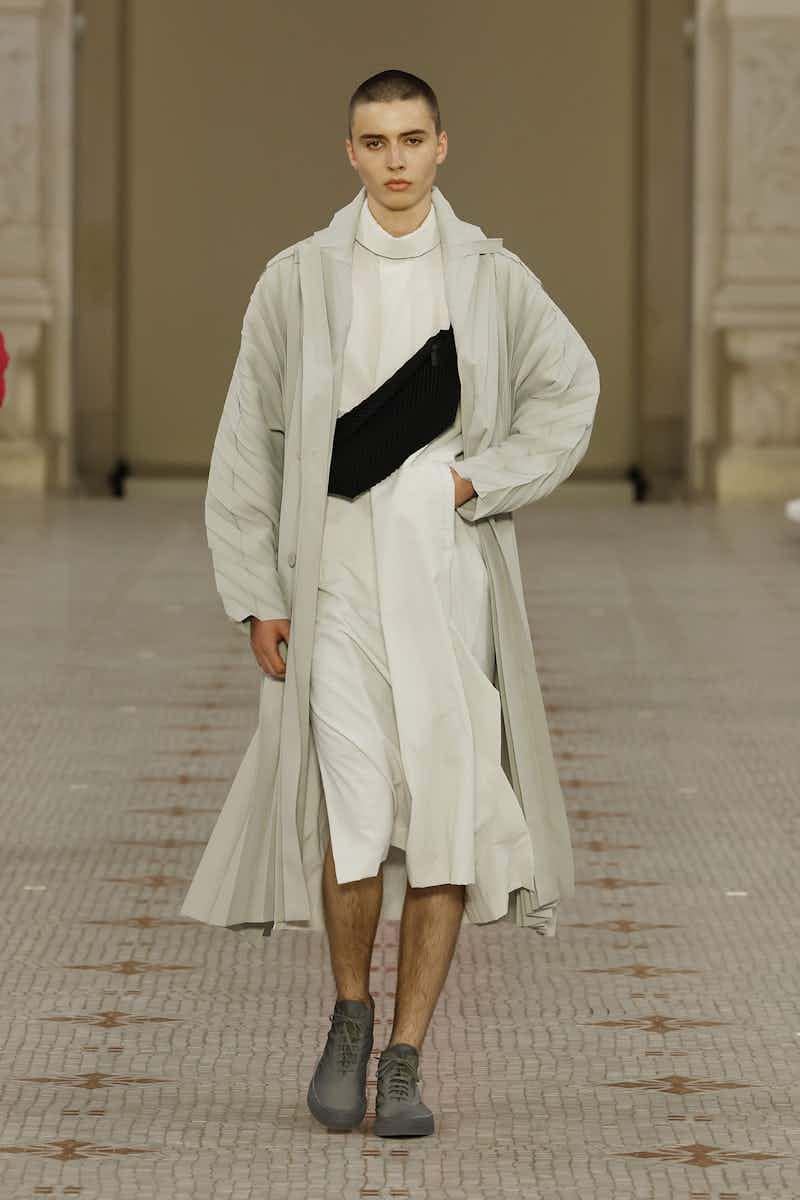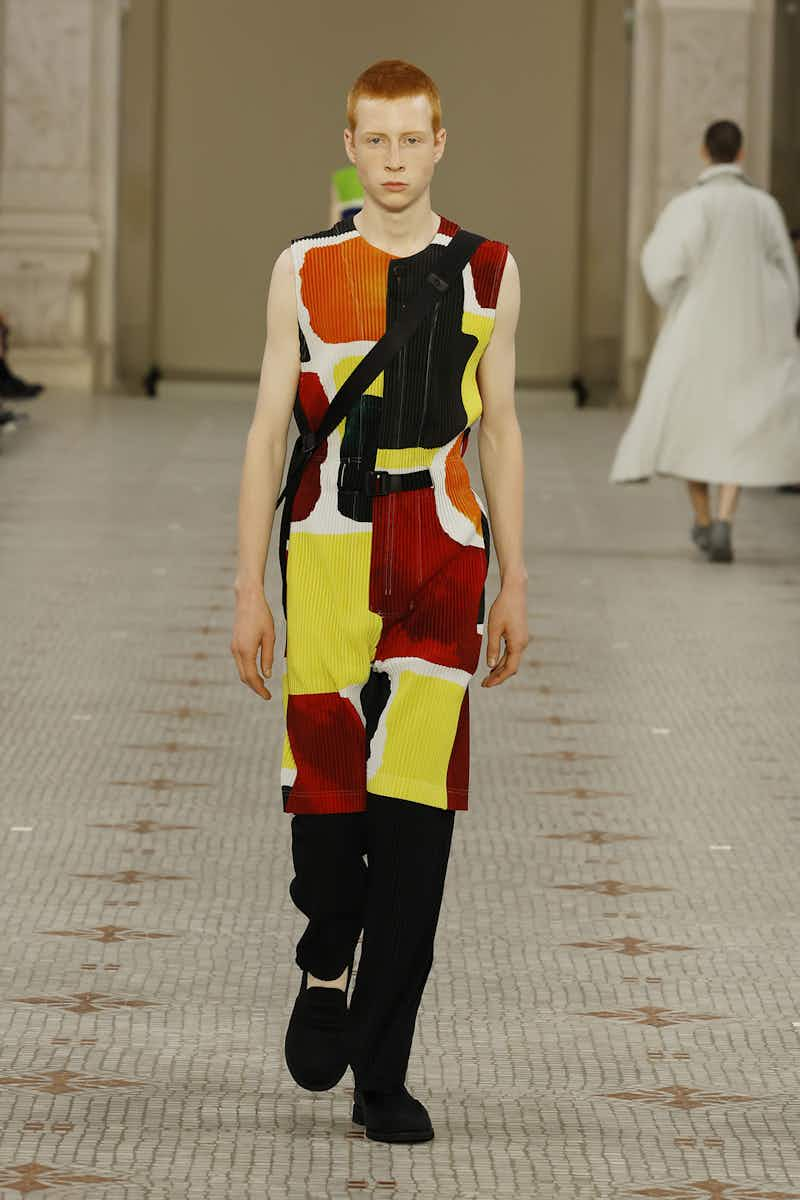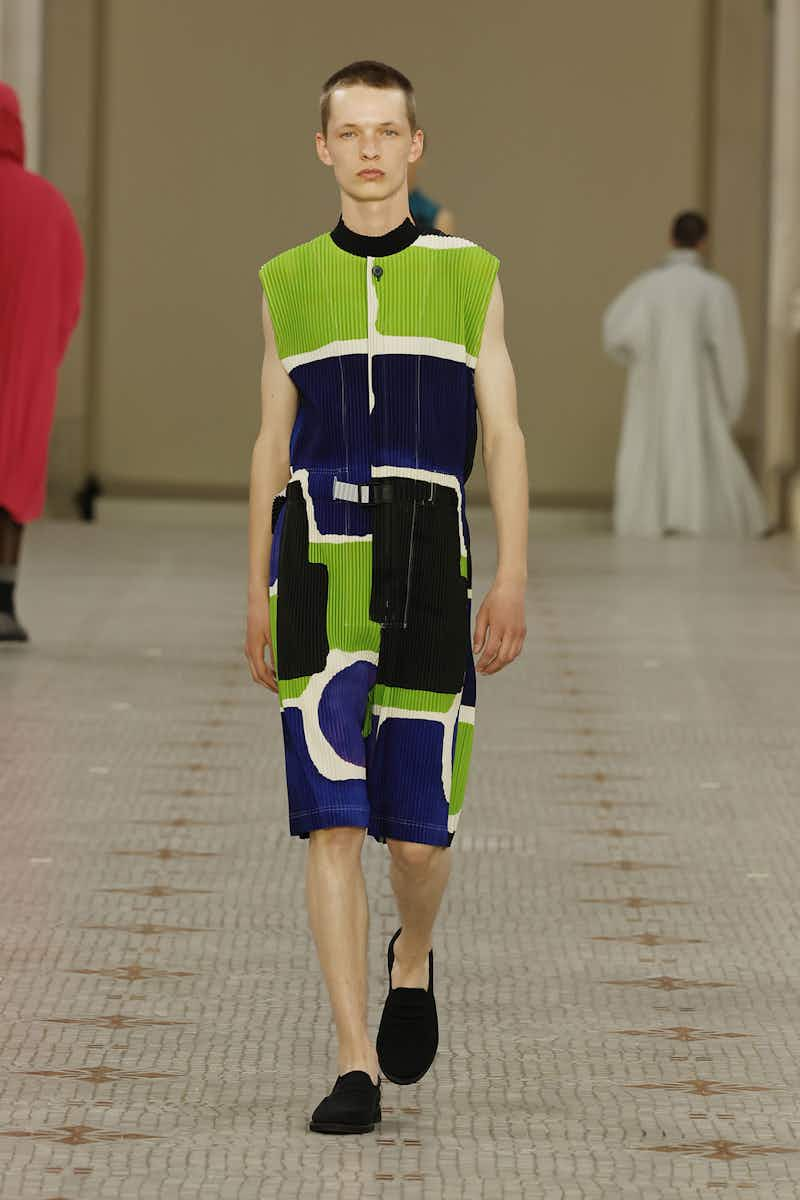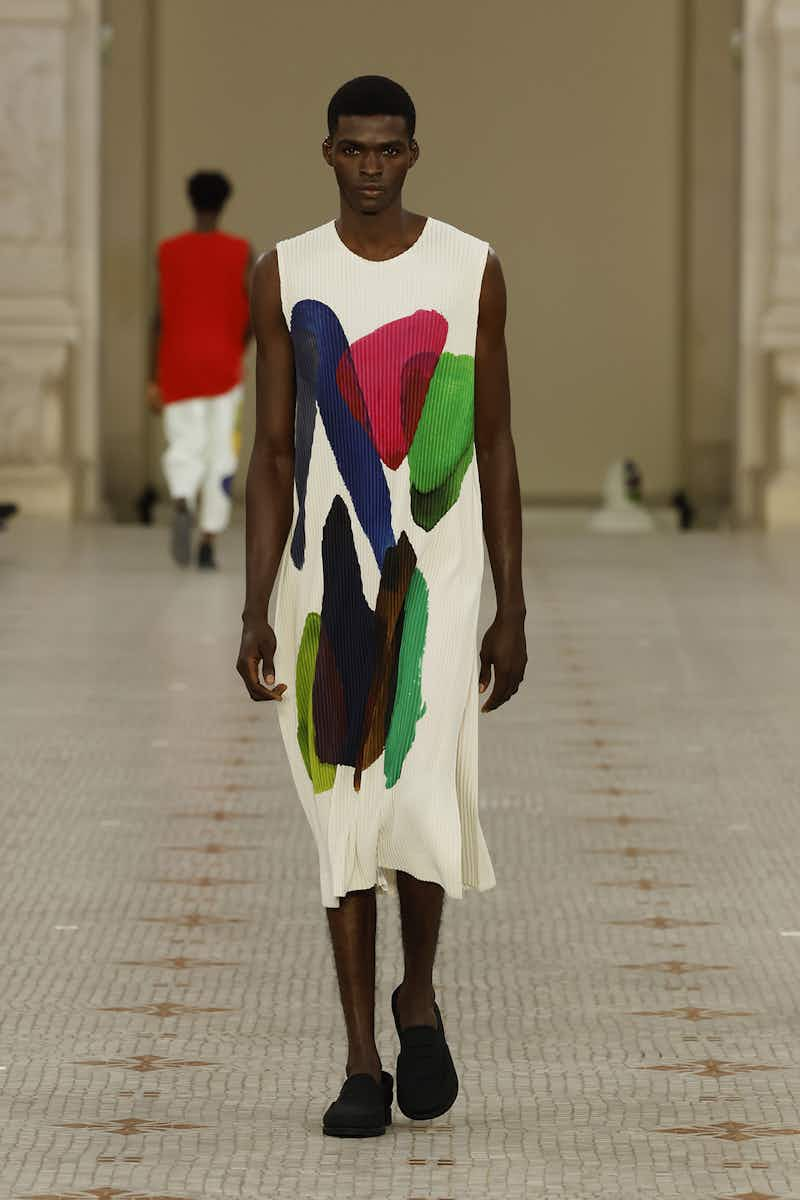 What did it look like?
Taking the helm at a house as storied as Courrèges is no small feat, especially when the maison has been dormant for decades prior. But, rising to the challenge, Belgian designer Nicolas Di Felice has cut and paste former codes into a sexy, contemporary format since September 2020. As such, the brand has become a mainstay among cool-cat professionals, striking a fine balance of Berghain nonchalance and the type of tailoring edgy gallerists don to summer garden soirées. A little bit arty, a little bit party.
Courrèges' last collection looked at the oddities of human behaviour, and adapted clothing to suit these. Coat torsos came cut with armholes to doomscroll at optimal speed, while jackets could be strapped to shoulders like a backpack, saving hours in the cloakroom queue. This offering, however, felt a touch more formal.
Sure, the belted leather trews with tassel zips and flies without plackets – ideal for darkroom efficiency – were ravewear embodied, but the heavenly hooded overcoats and exposed button jeans in white felt too loose for the night. Wholesome summer evening with a rosé in hand? That's more like it. And your lazy Sunday the day after the night before came courtesy of a mid-'00s denim skirt and flared jean combo, and thick woollen knitwear, sliced from the underarm to the hip.
Surprisingly, it was the great American road trip that inspired De Felice, who imagined young things ditching it all for life in the desert. Of course, these college kids – rocking cropped Courrèges campus tees and pinstriped jackets-turned-miniskirts – were not your average students. While the jackets slung over rucksacks felt typically collegiate, the knee-high go-go boots said otherwise. But who's surprised? De Felice's undergrads were always going to be edgier than a Harvard jock or sorority queen.
Certainly, Di Felice's Courrèges is his own, but it's also wisely reverent to the maison's originating codes, using them to new ends. The cubic silhouettes, surgical necklines and generous mid-riffs are all part and parcel of revitalising a name without forgetting its past. Here's to more where that came from.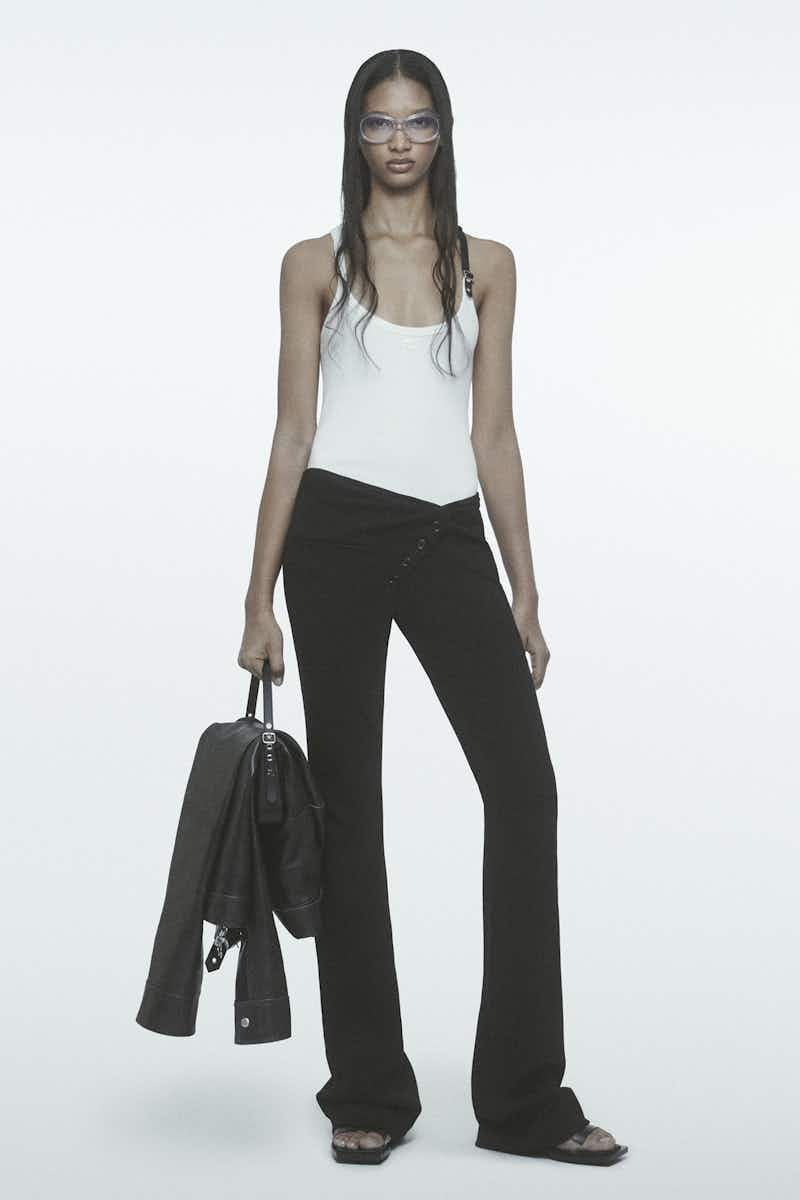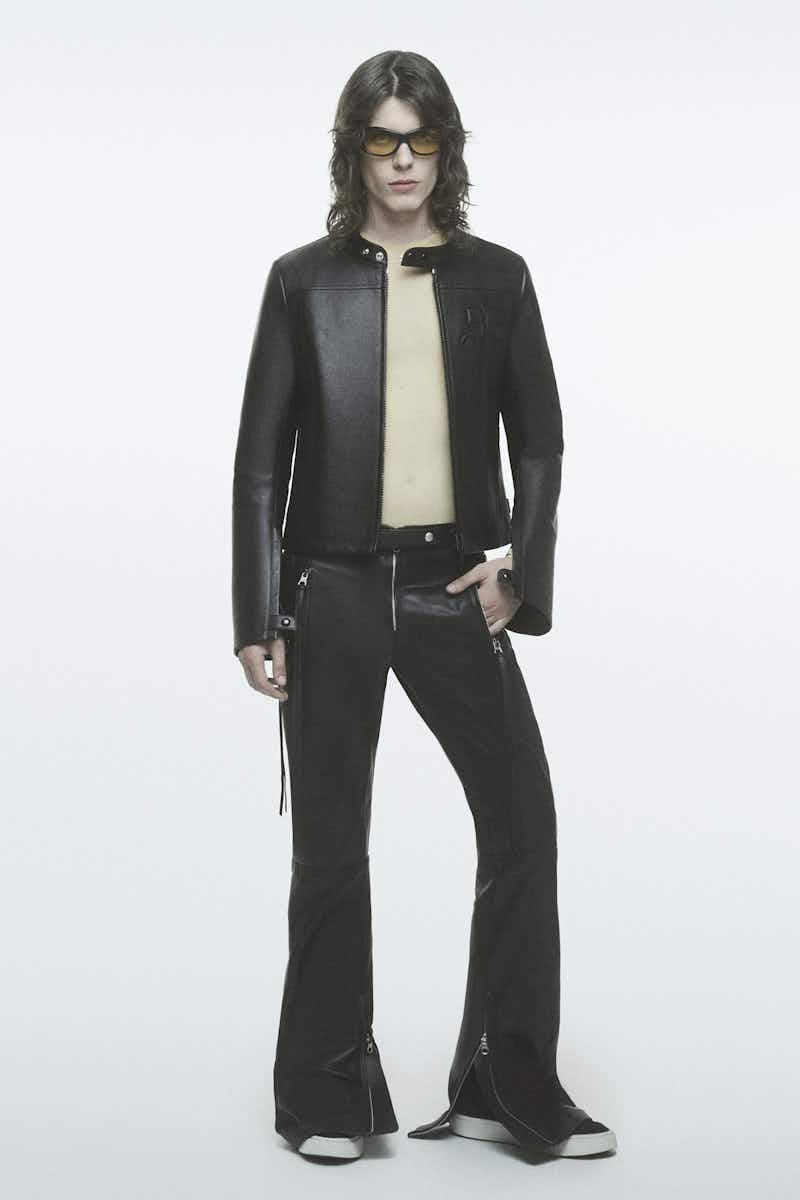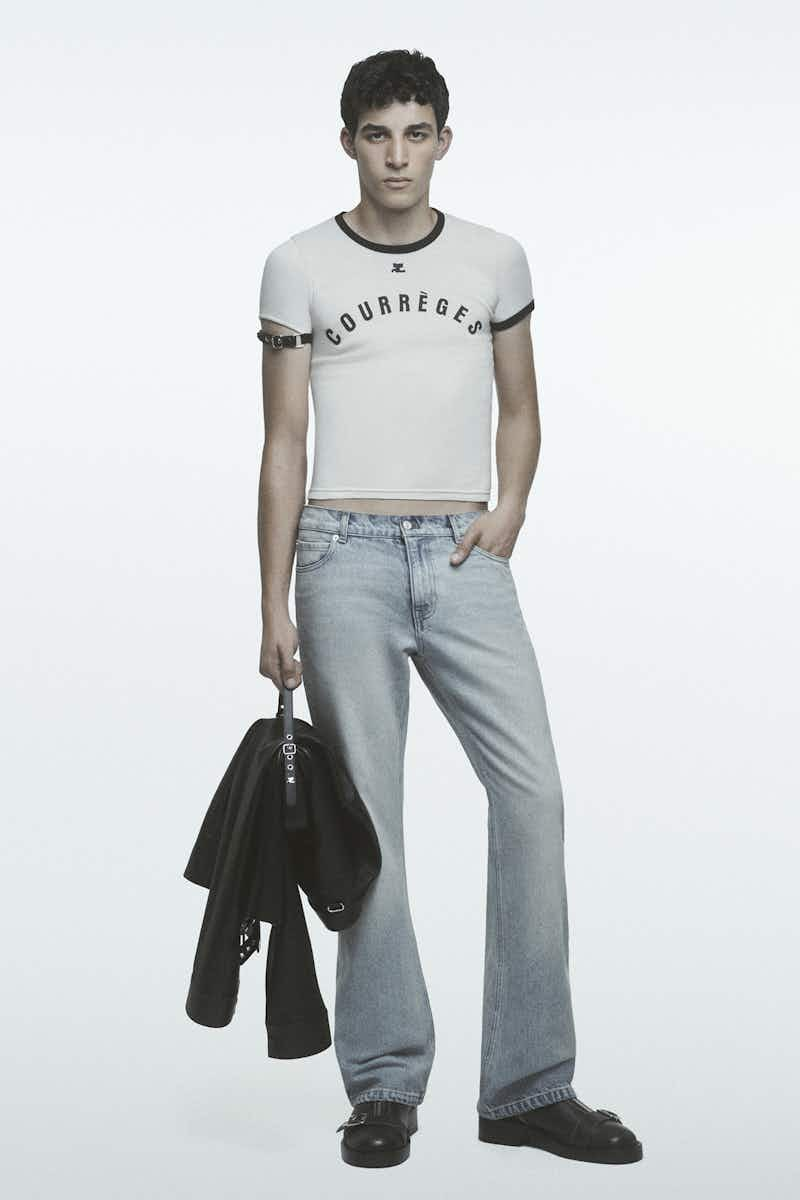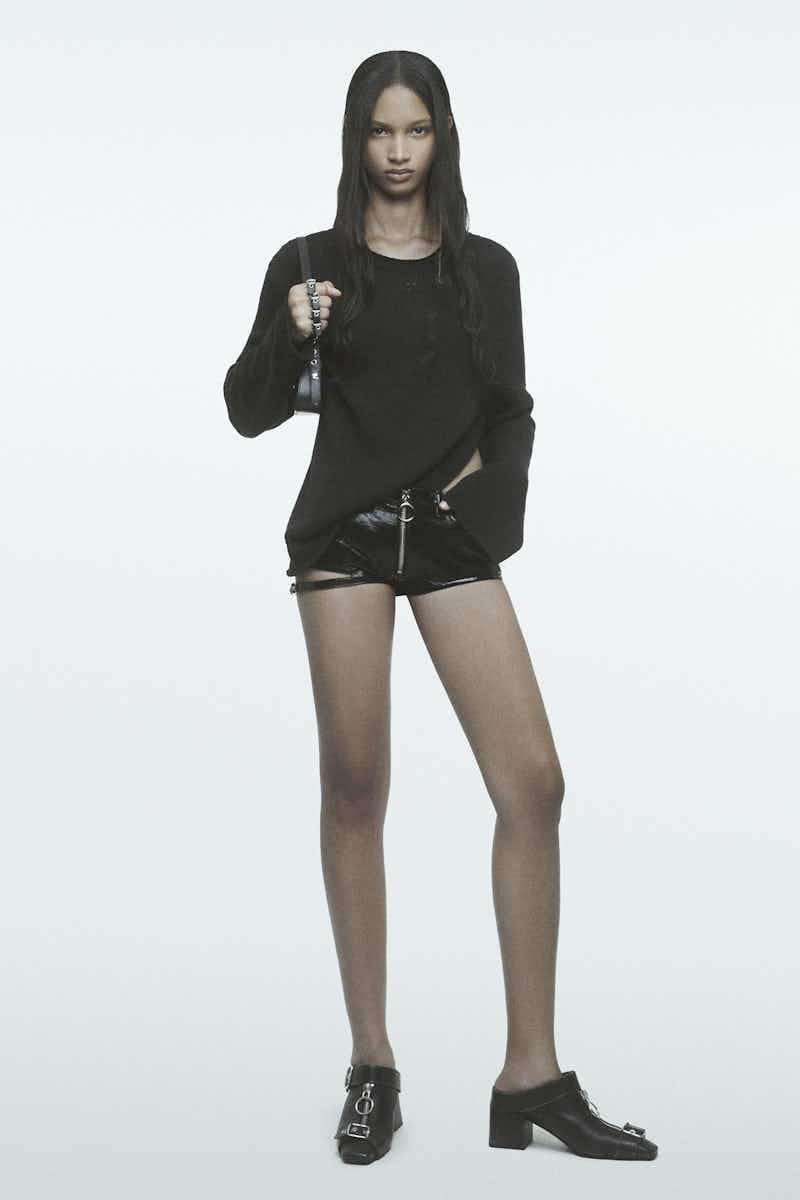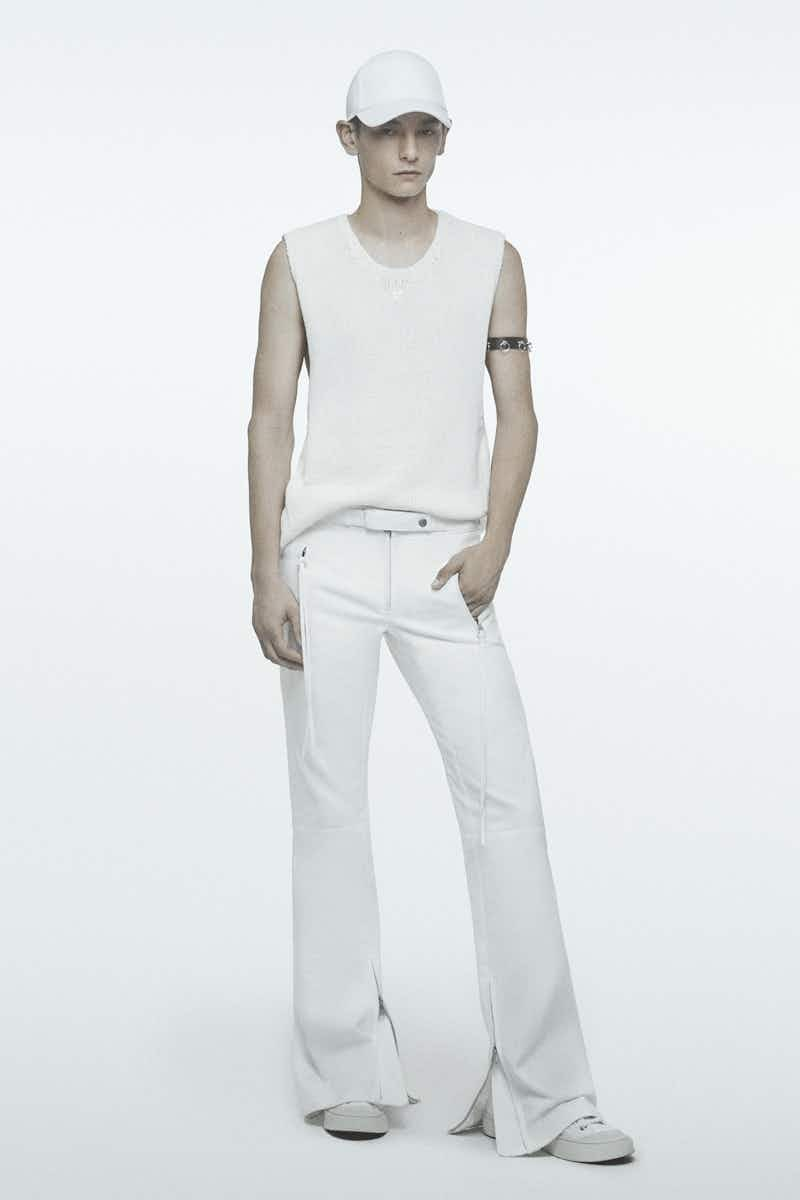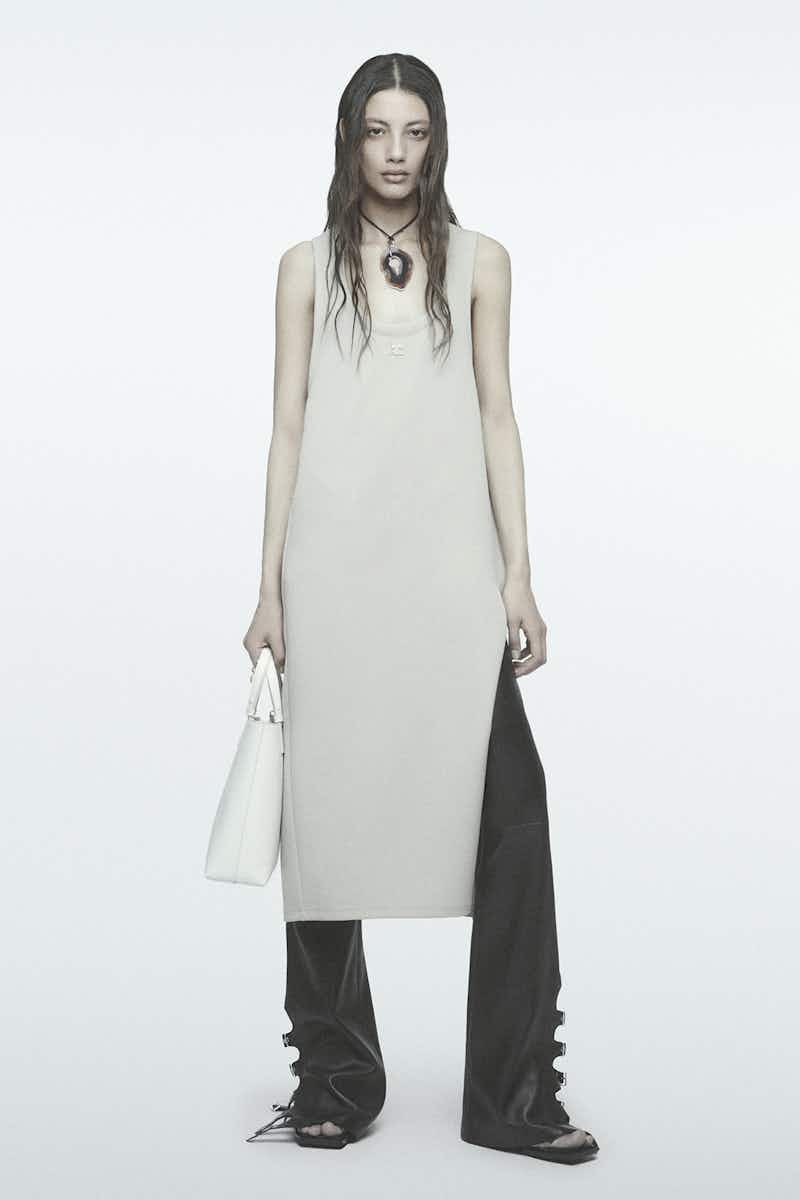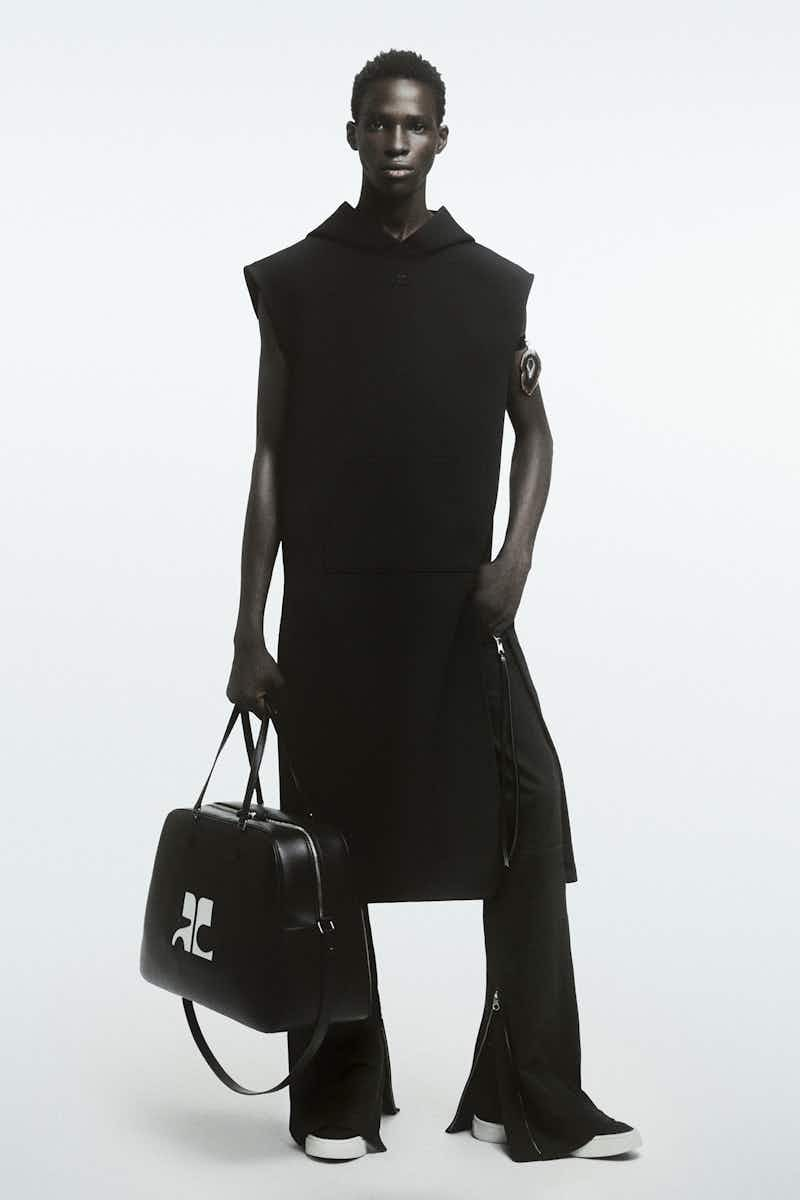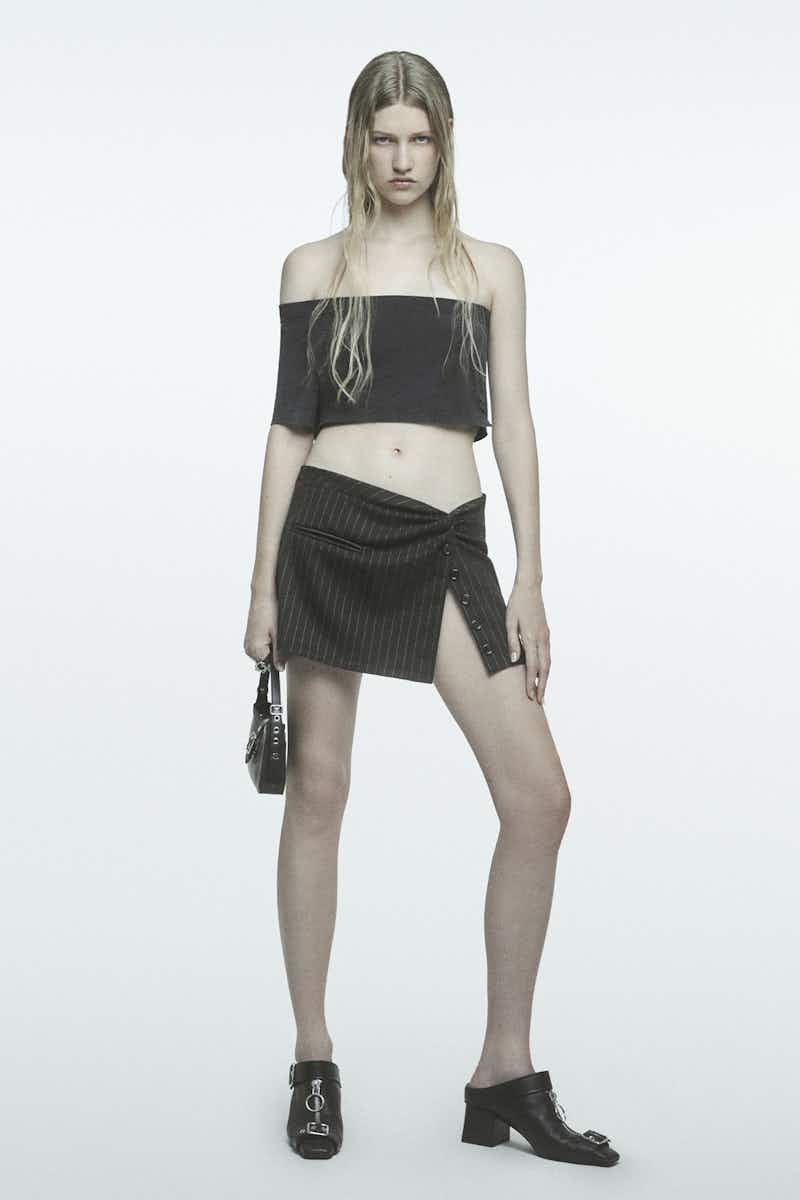 What?
The ultimate wardrobe for a fashion-forward gap yaaah.
Where?
The centre of Paris, inside a bright and airy event space lined with jacquard denim walls and a hotchpotch of travelling trinkets.
What were the clothes like?
If travel enriches the mind, then it also enriches your wardrobe. At least, Acne Studios' creative director Jonny Johansson's latest foray into the weird and wonderful world of big-city touring would suggest so. Inspired by a 17th-century tradition where young men would visit uncharted lands on the continent in the hope of becoming a better, more rounded person, Johansson took himself to Venice on a shorter jaunt, observing the curious ways his suitcase contents changed from start to finish.
"It reminded me that when you're travelling, you choose to pack your really personal garments, and these get mixed up with new-found pieces, maybe historical garments, or merchandise you bought from a tourist shop," he said. ​"You experiment with what you have in your suitcase – you feel kind of free to change your identity, and to be more eccentric with your style."
As such, his collection came together in a stylist's dream of flea-market finds and the wardrobe wildcards we save for getaways. Talismans knotted with keys, miniature baseball shoes and ratty clumps of hair punctuated the looks, while harnesses made from swaddled scarves and hippy-dyed patchwork jeans – complete with lacing at the sides – added further chaos to the mix. It was unequivocally a lot, but the pieces encouraged a fuck-it attitude to dressing, where thrown-on and lived-in become tools for self-discovery.
Like fashion's equivalent of psychogeography, his SS24 picked and assembled disparate items, each telling stories of the city. Two-tone velvet acrobat suits in pink and blue recalled riverside drinks at sunset. Elsewhere, the floor-grazing skirt printed with pale hairy chests spoke of steamier evenings. Meanwhile, the alluringly tacky belt buckles, powder-blue cowboy boots and burnt-brown corsets smacked of the willing experimentation that comes when we're on our holibobs. After all, who doesn't need a woven friendship bracelet and some overdyed laced flip-flops to spice up their journey?

Best bits?
The postcard print sarong – so kitsch it hurts. And that apron-style miniskirt, replete with belting and loops to hang your trucker cap and hand-sani from while pottering between towns.
The vibe:
Interrailing on acid.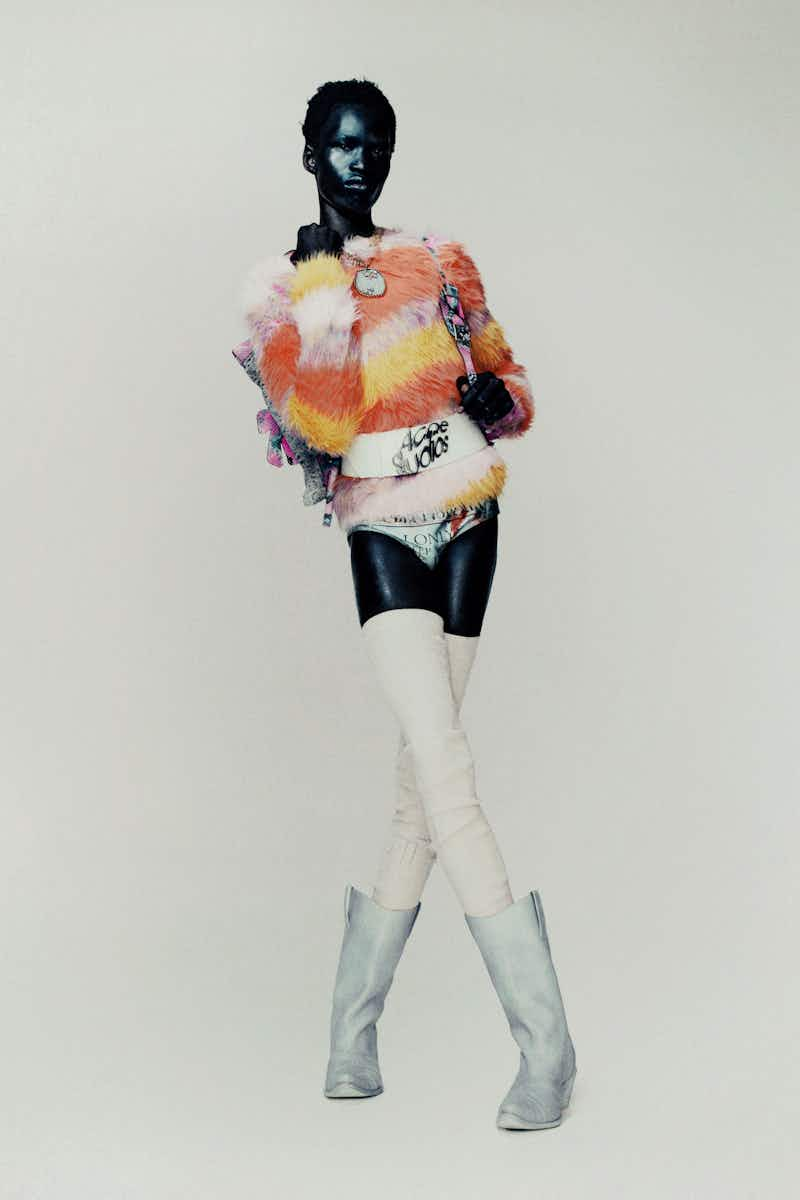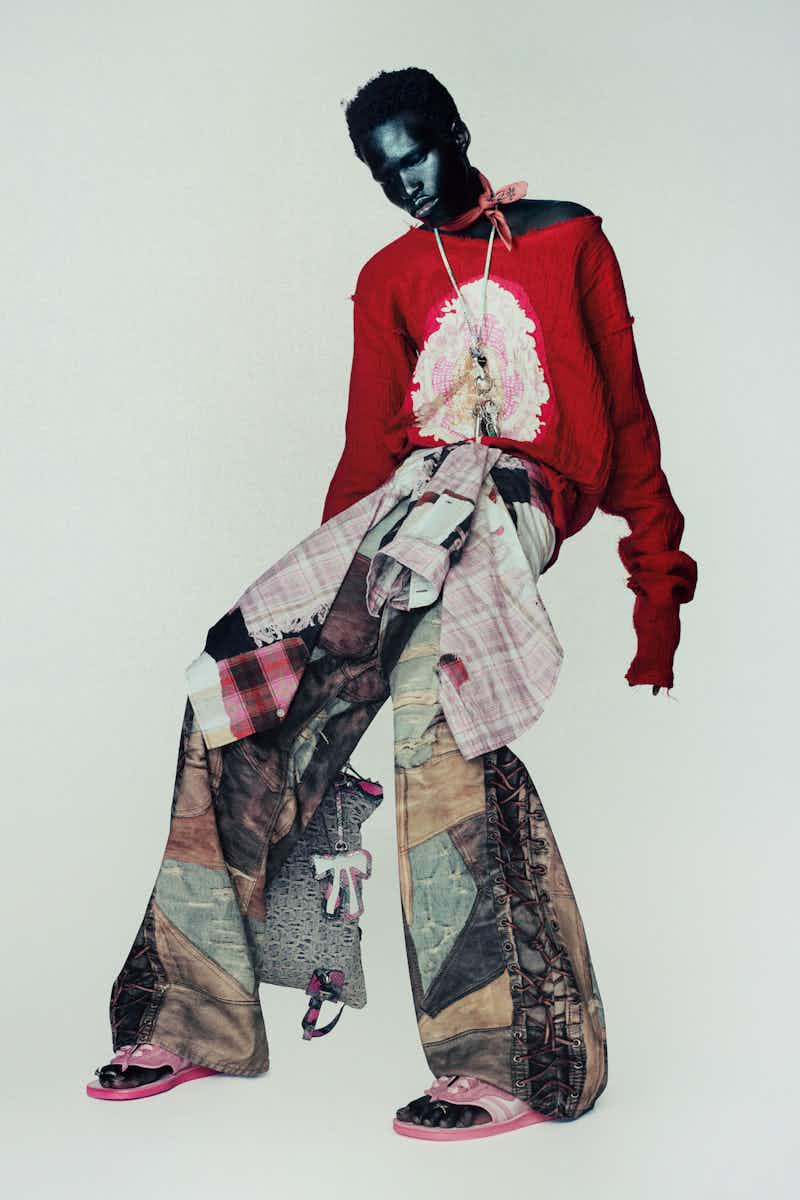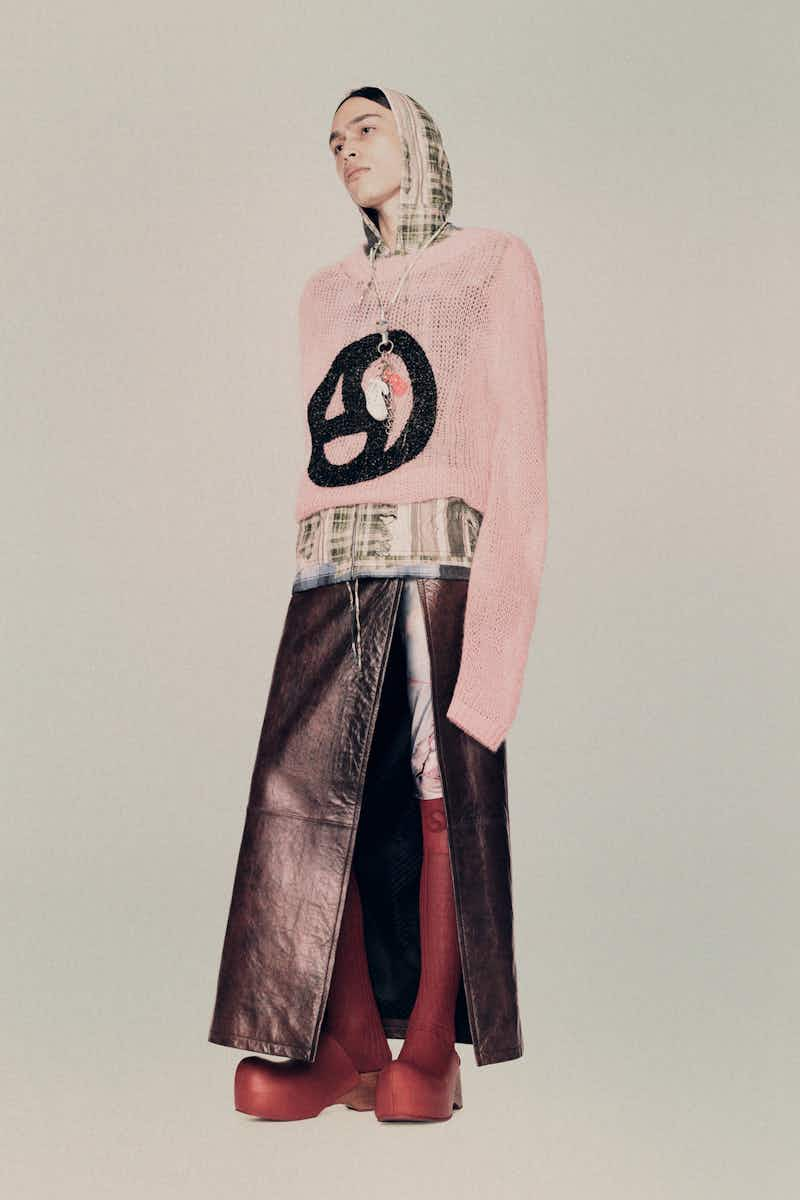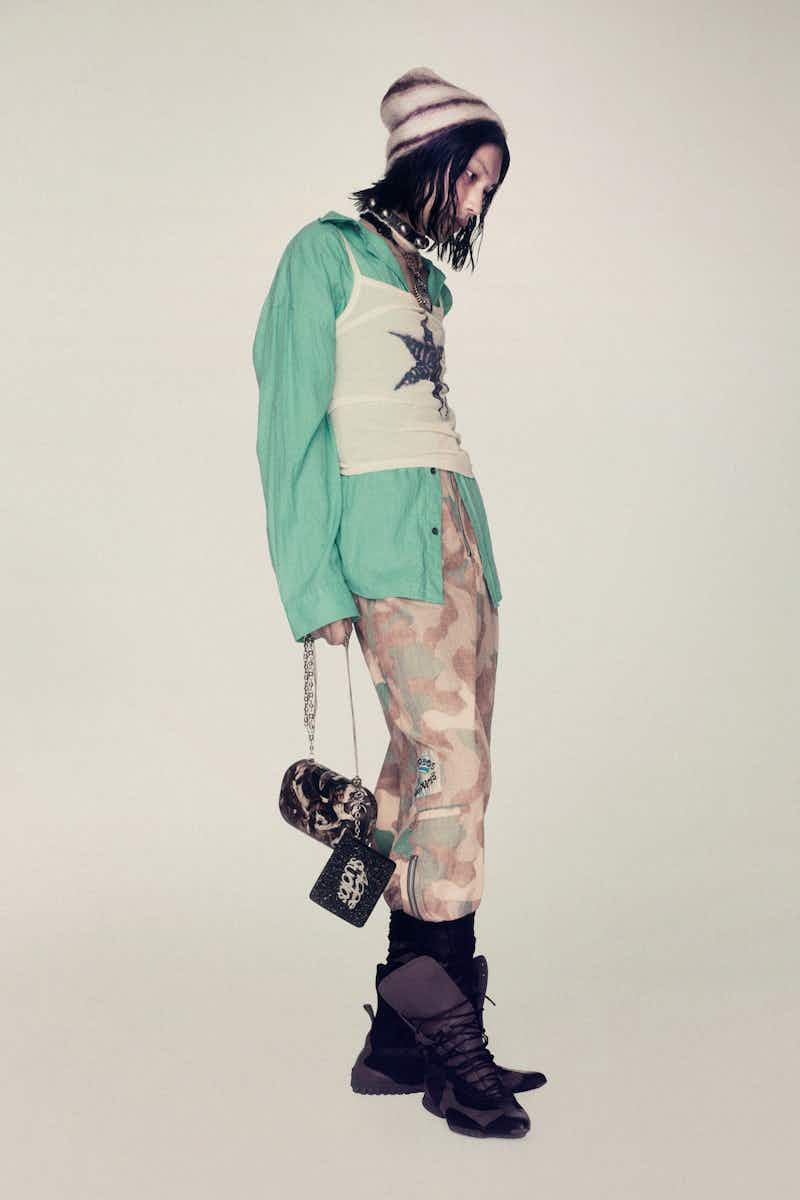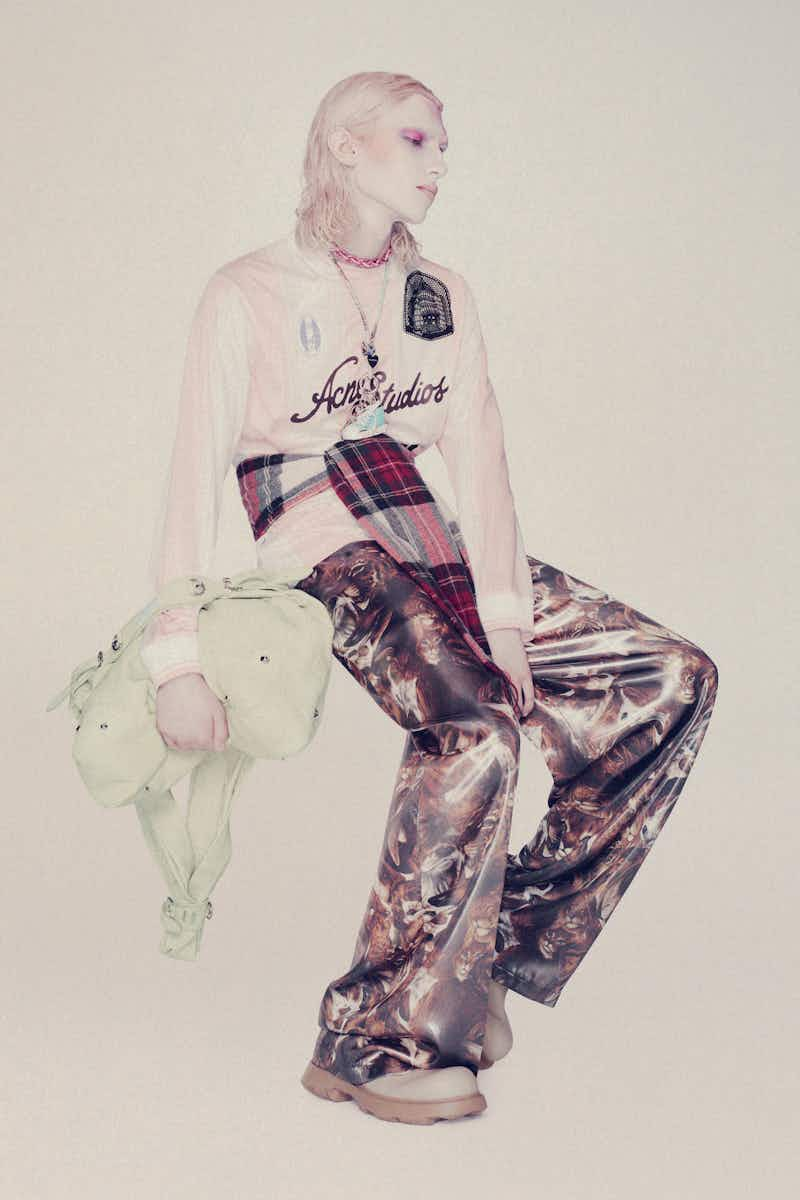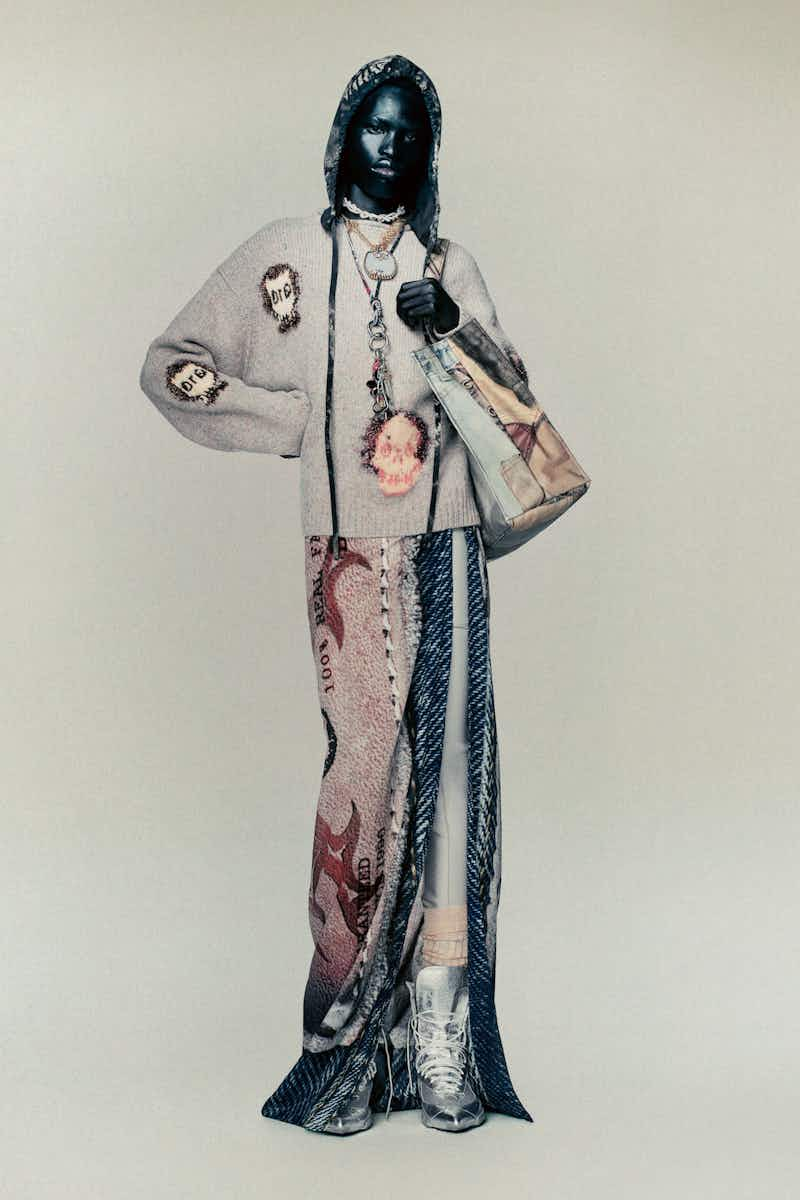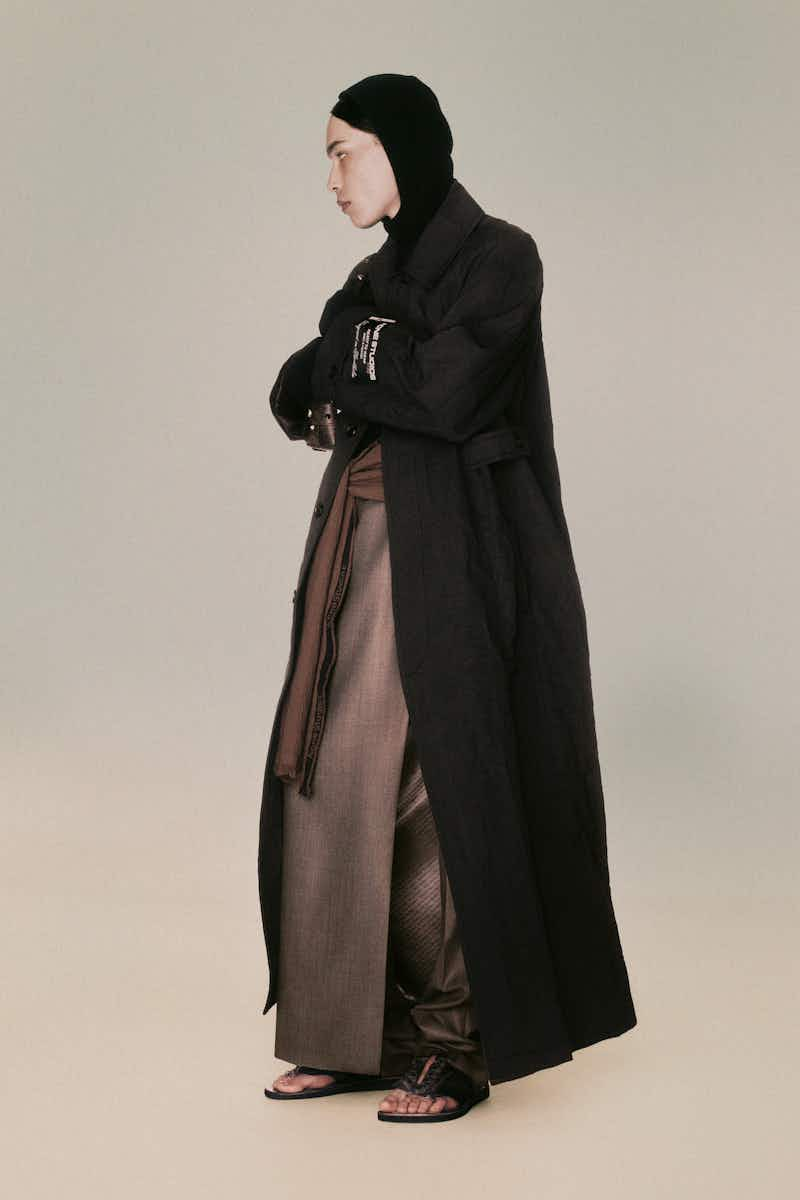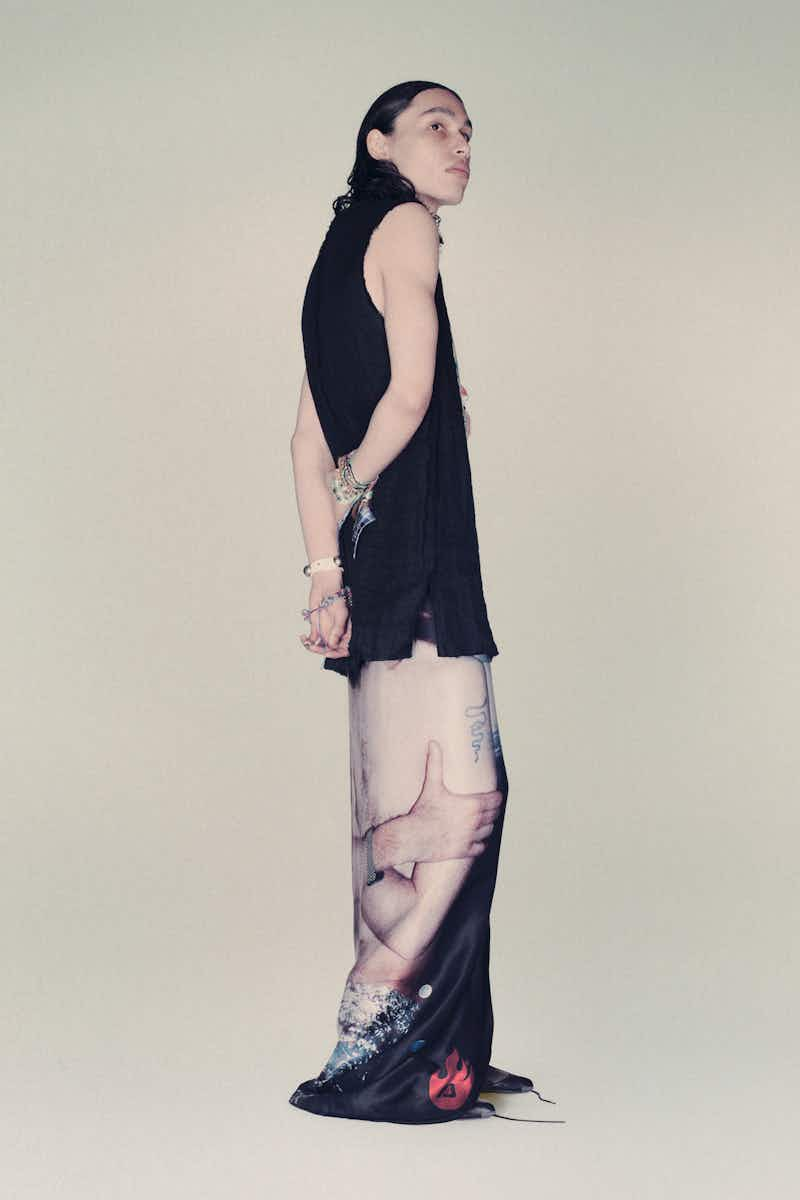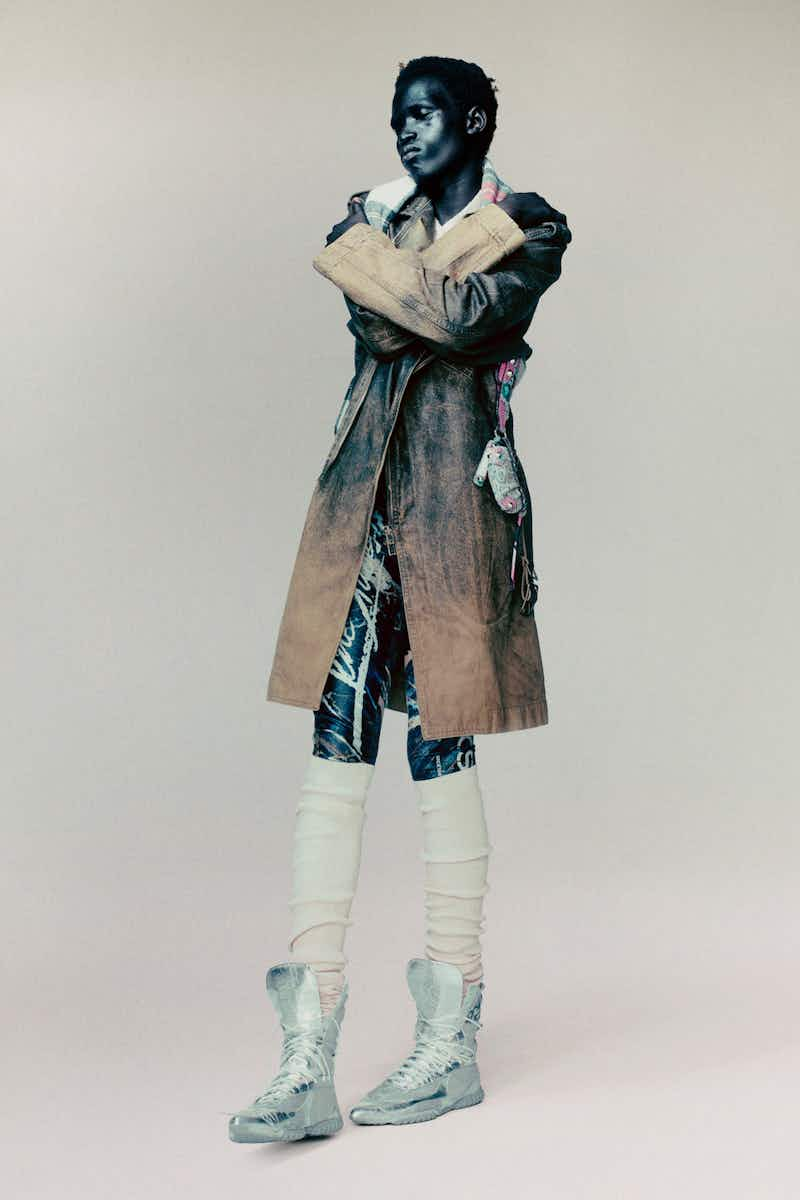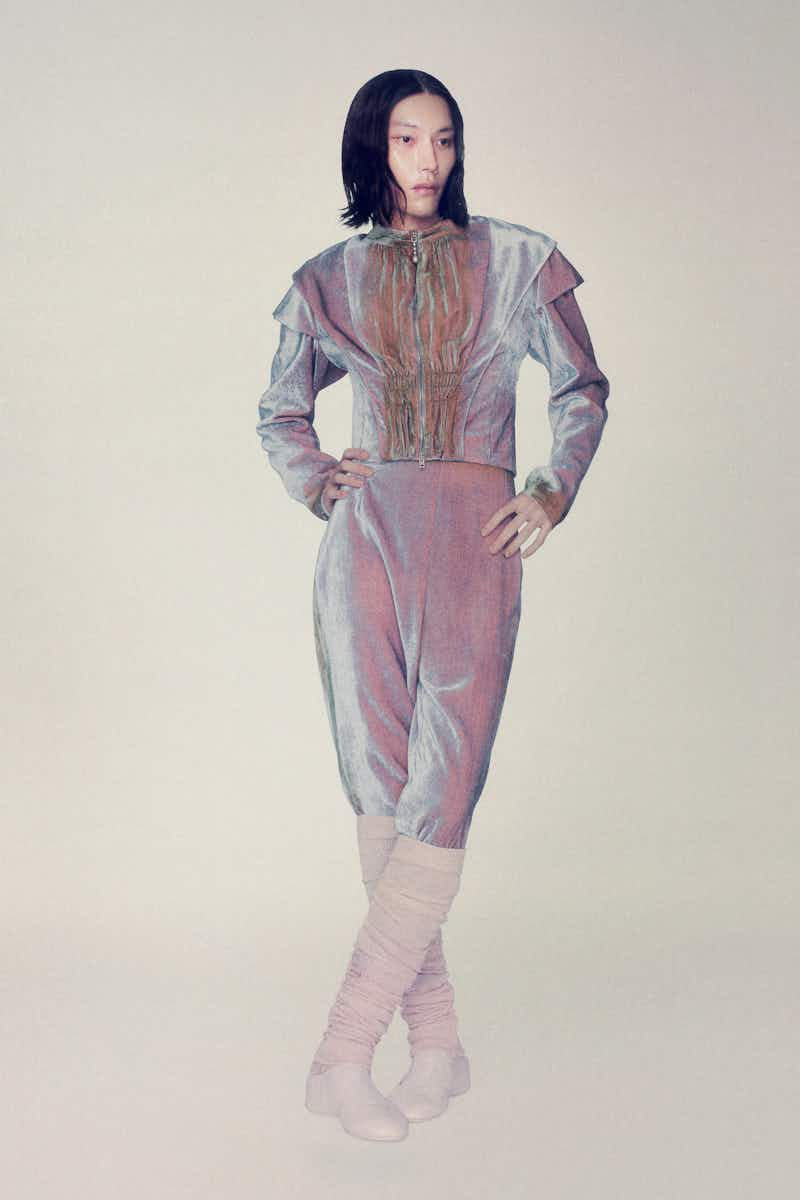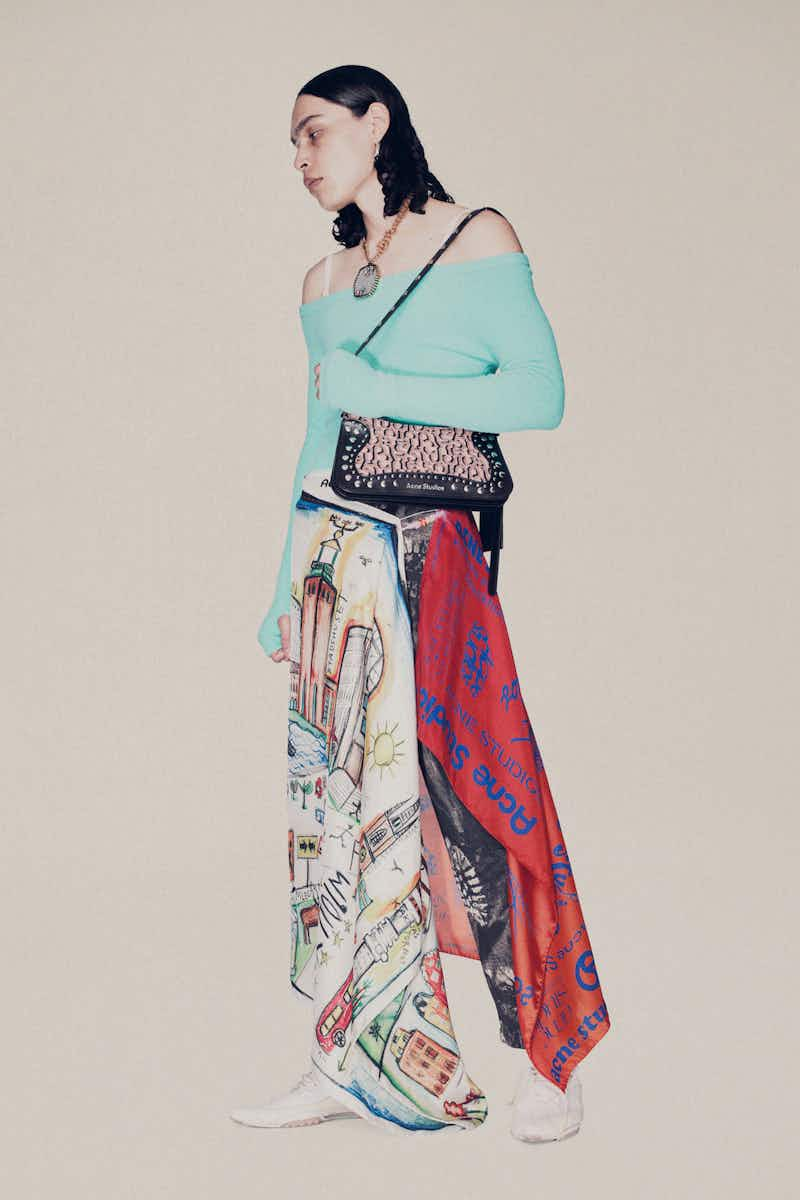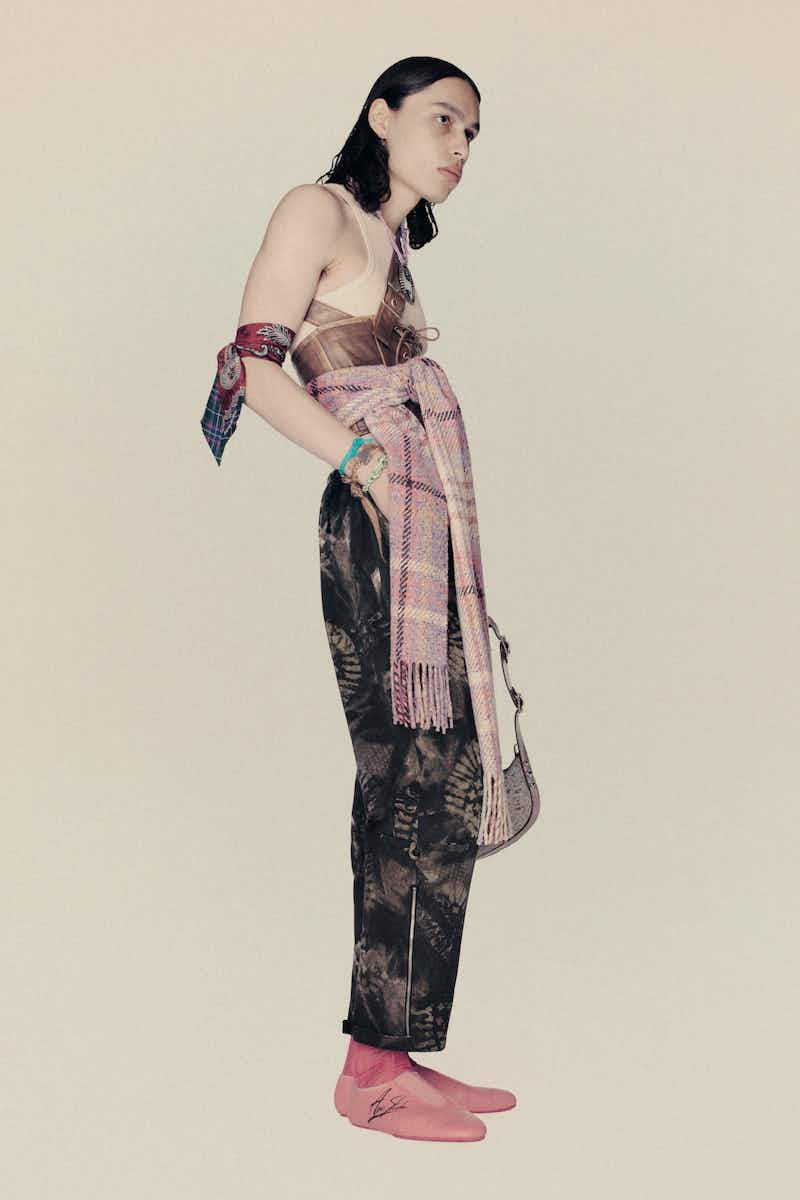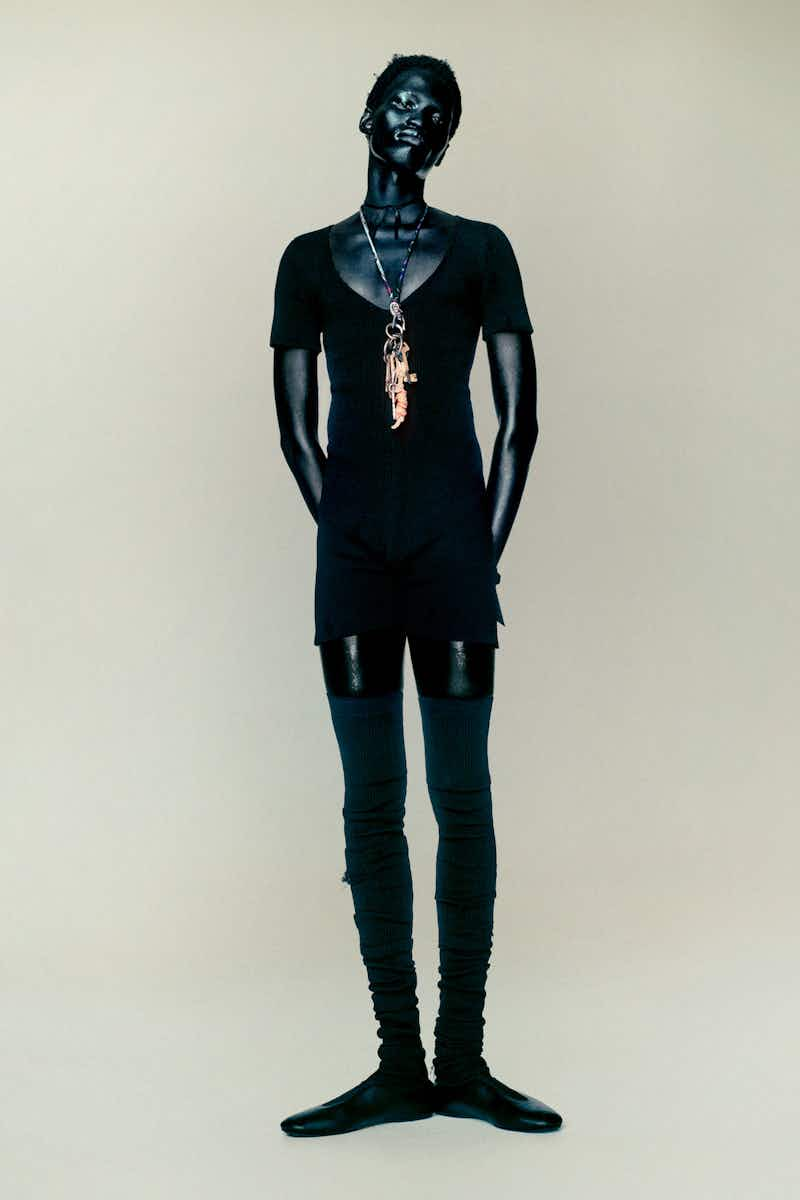 What?
Grace Wales Bonner continued to explore the Black diaspora through the medium of fashion, this time leaping into the stories of East African long-distance runners.
Who was there?
Spoken-word poet and model Kai Isaiah-Jamal graced the runway with their rapier-sharp cheekbones, meanwhile, Tyler, The Creator and F1-driver-turned-menswear-maverick Lewis Hamilton watched from the audience, dripped out in an AW23 suit.
Where?
A cobbled courtyard inside the Monnaie de Paris, a neoclassical minting institution.
What was it like?
Like all Wales Bonner outings, the collection read like a visual essay, recounting the triumph and resilience that carries athletes on their journey through a marathon. This spanned the hard graft of training as told in canary-yellow and green adidas Originals tracksuits, and the celebrations that follow a record-breaking win, as seen in the biscuit box-cut blazers and denim two-pieces, trimmed with her signature woollen stripes.
Sometimes, references to her theme were direct. The fluoro adidas Neftenga trainers, for instance, were a replica of Haile Gebrselassie's, worn when the Ethiopian long-distance track, road running athlete crossed the line at the 2008 Berlin Marathon. However, some influences were looser, and open for interpretation. Take the Savile Row tailoring, which came in raw silk, extending to double-breasted jackets and overcoats that teamed neatly with the toggled longline tunics – a staple in Bonner's lexicon.
Craft, unsurprisingly, remained a fil rouge, appearing in the floral macrame T‑shirt and runner shorts as delicate beading, while fishing net dresses were dotted with artisanal Ghanaian gems. Silver lame shorts, Velcro sneakers and an adidas Originals zip-up with cummerbund, silk-satin tux trousers and bejewelled UGG slippers arrived later, skewing any dress code for the better.
All the while, the soothing timbre of Ethiopian musician HaddinQo's masinqo – a traditional instrument from Ethiopian and Eritrean music – carried the models with grace, complementing what can only be described as a fashion-forward exercise in decolonial thought.
A standout piece?
The double-hemmed Adidas skirt in navy, complete with matching track jacket, is the ensemble par excellence.
In two words:
Easy, breezy.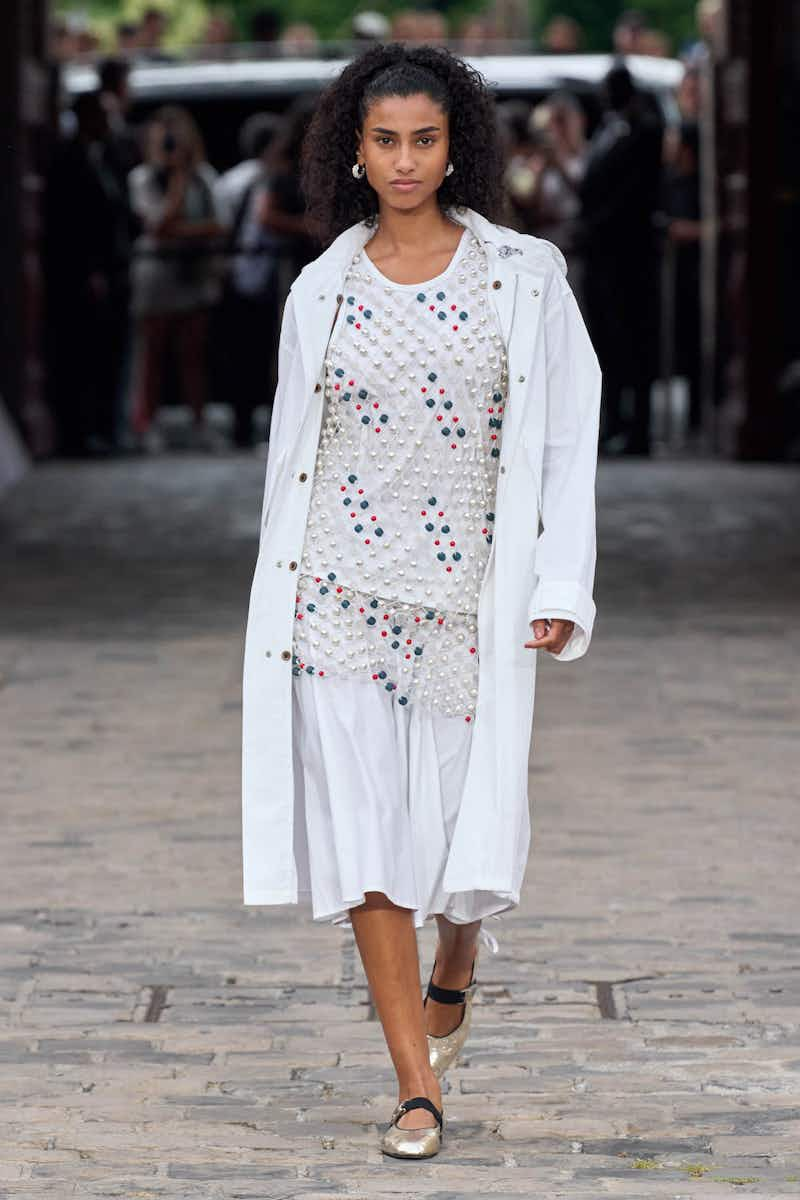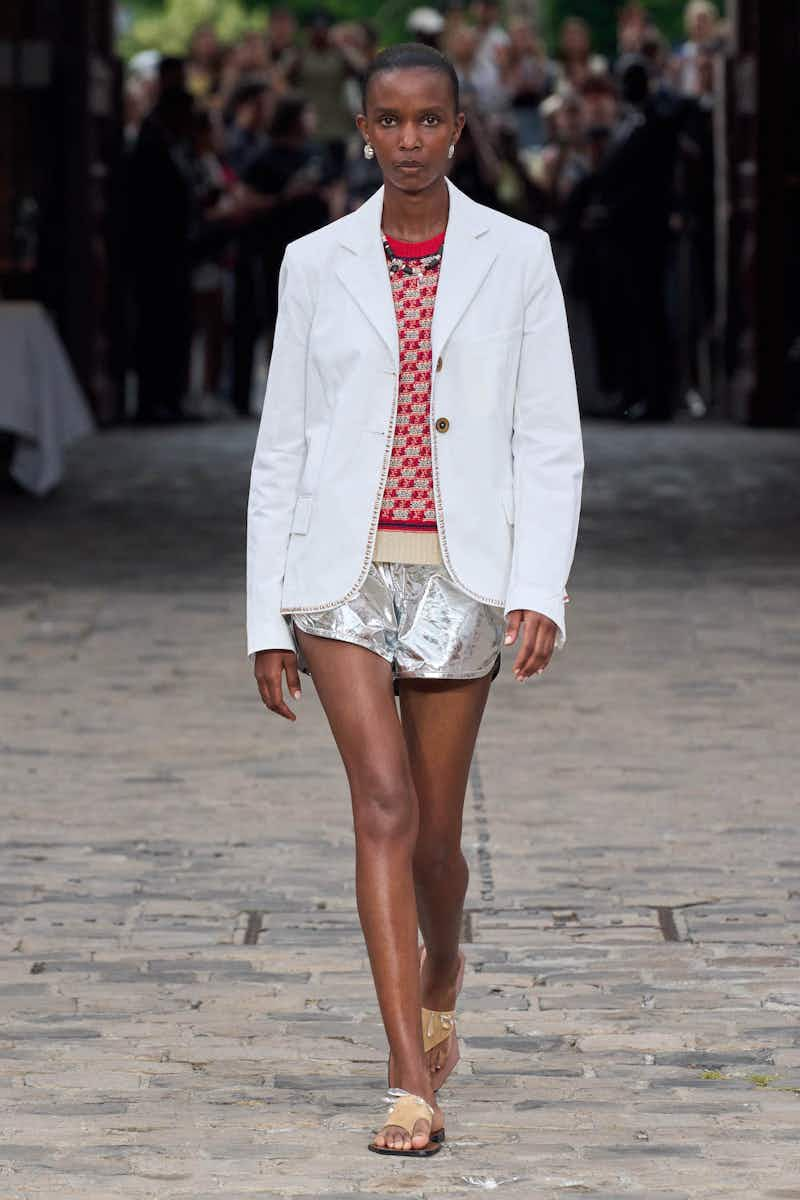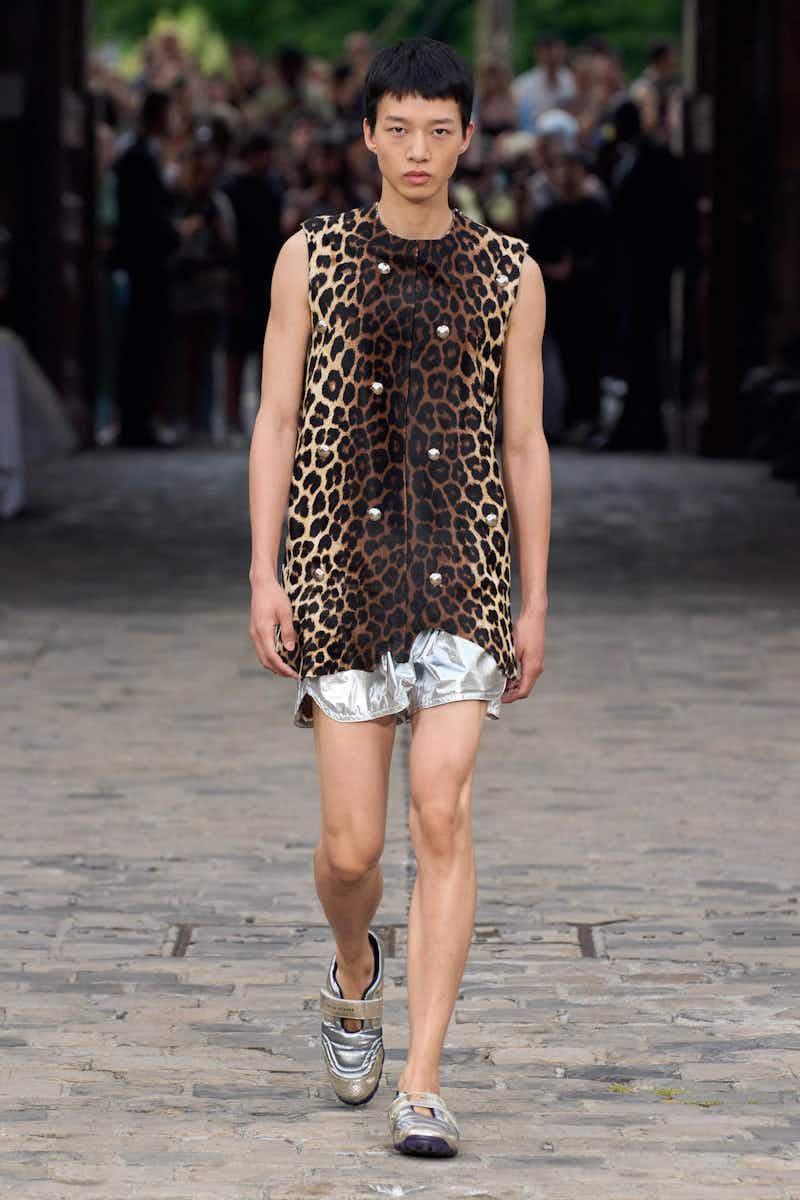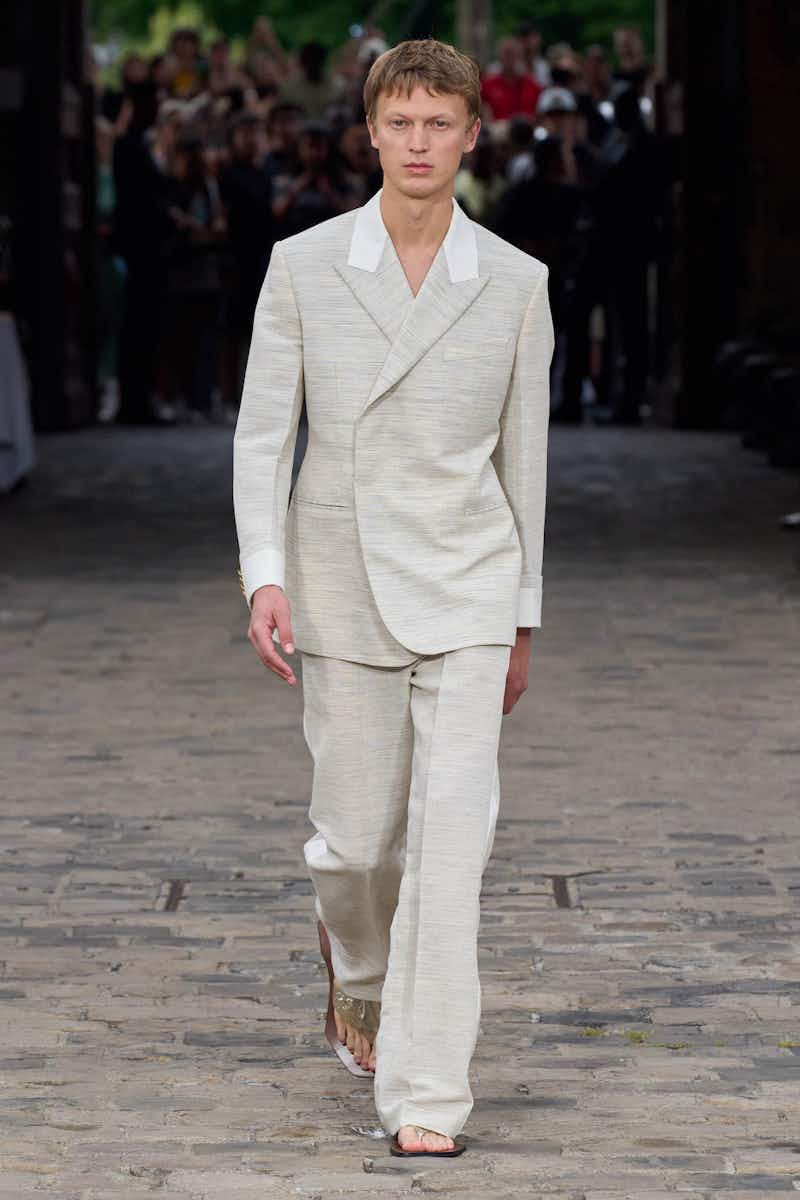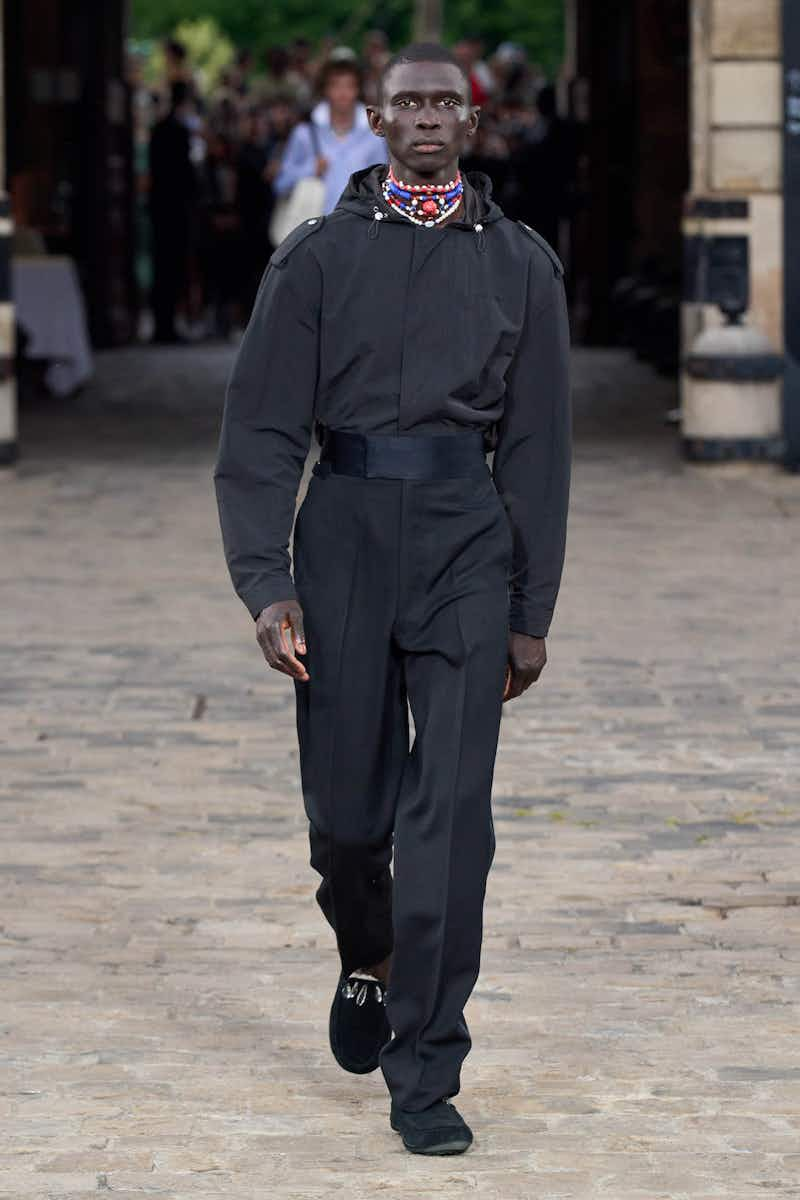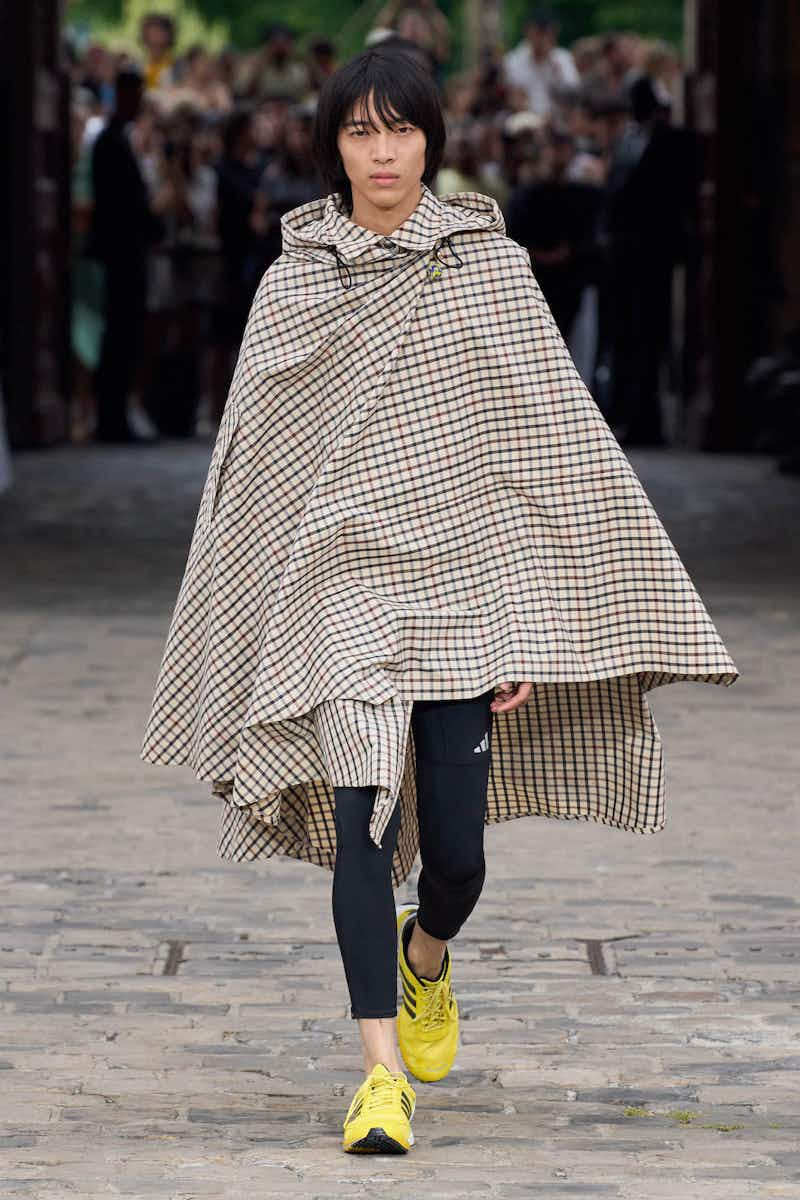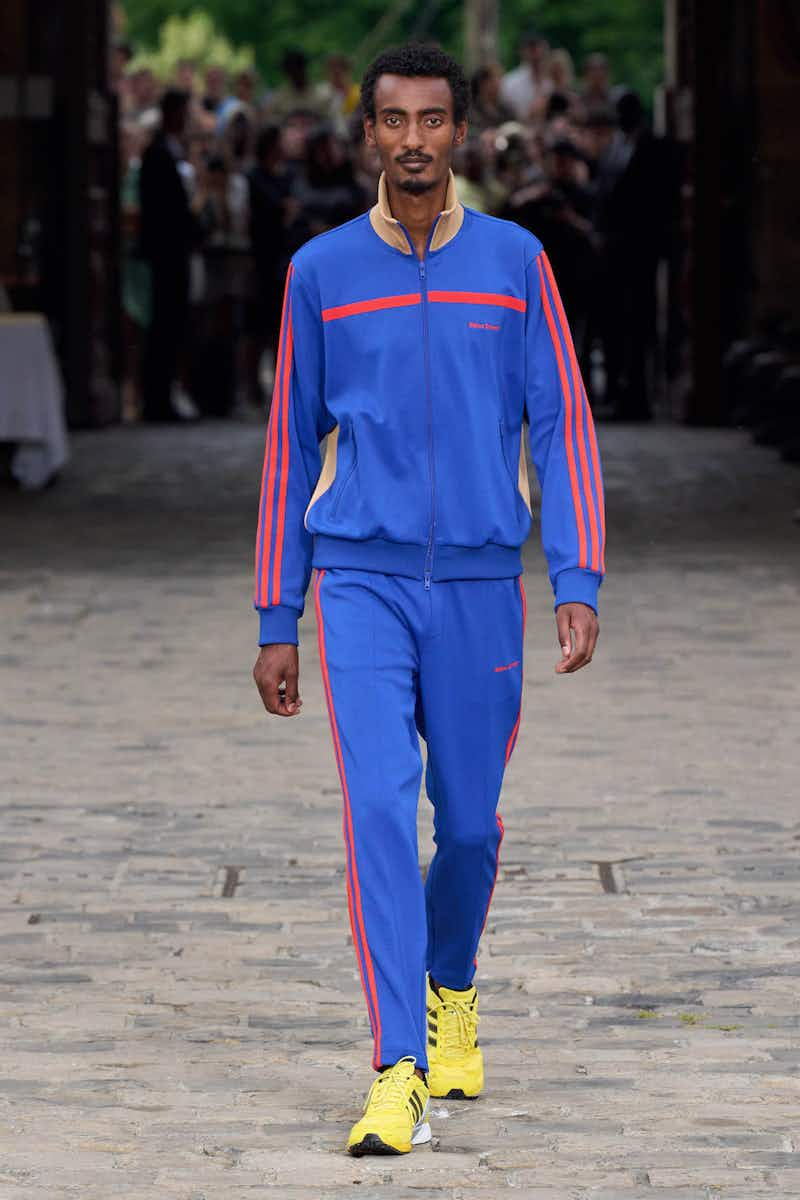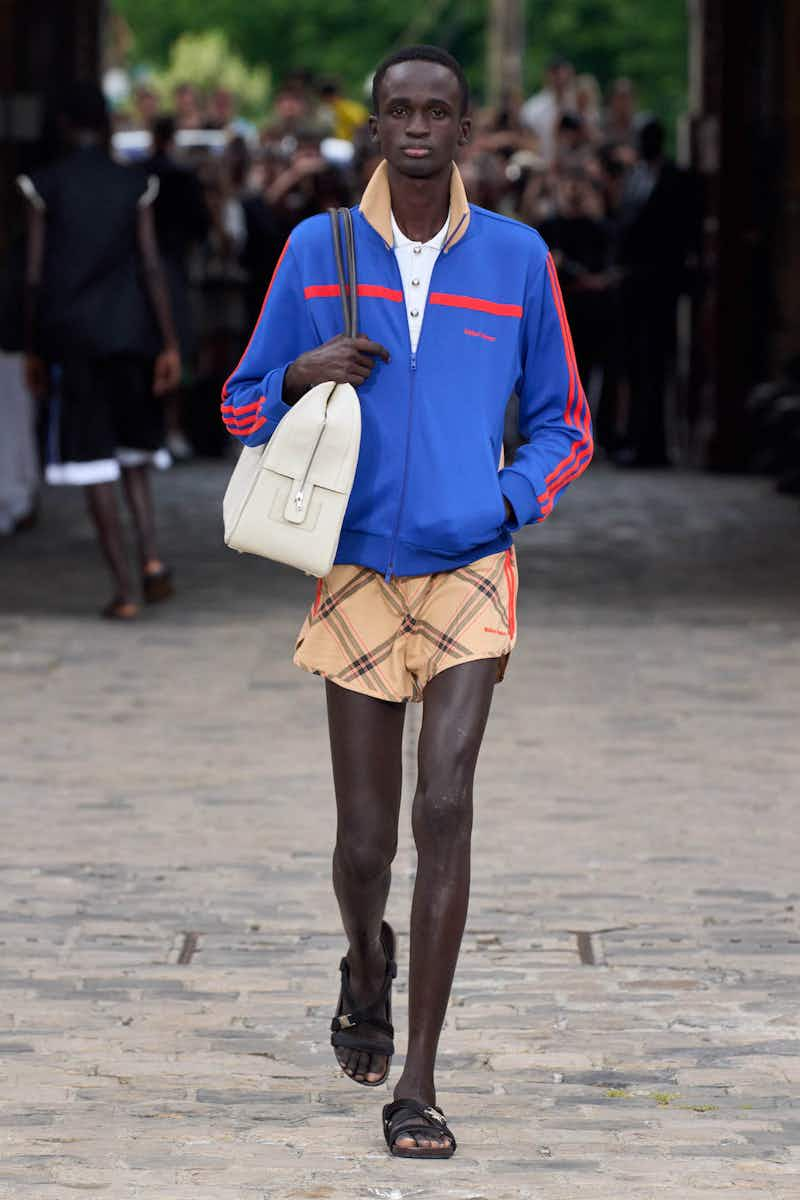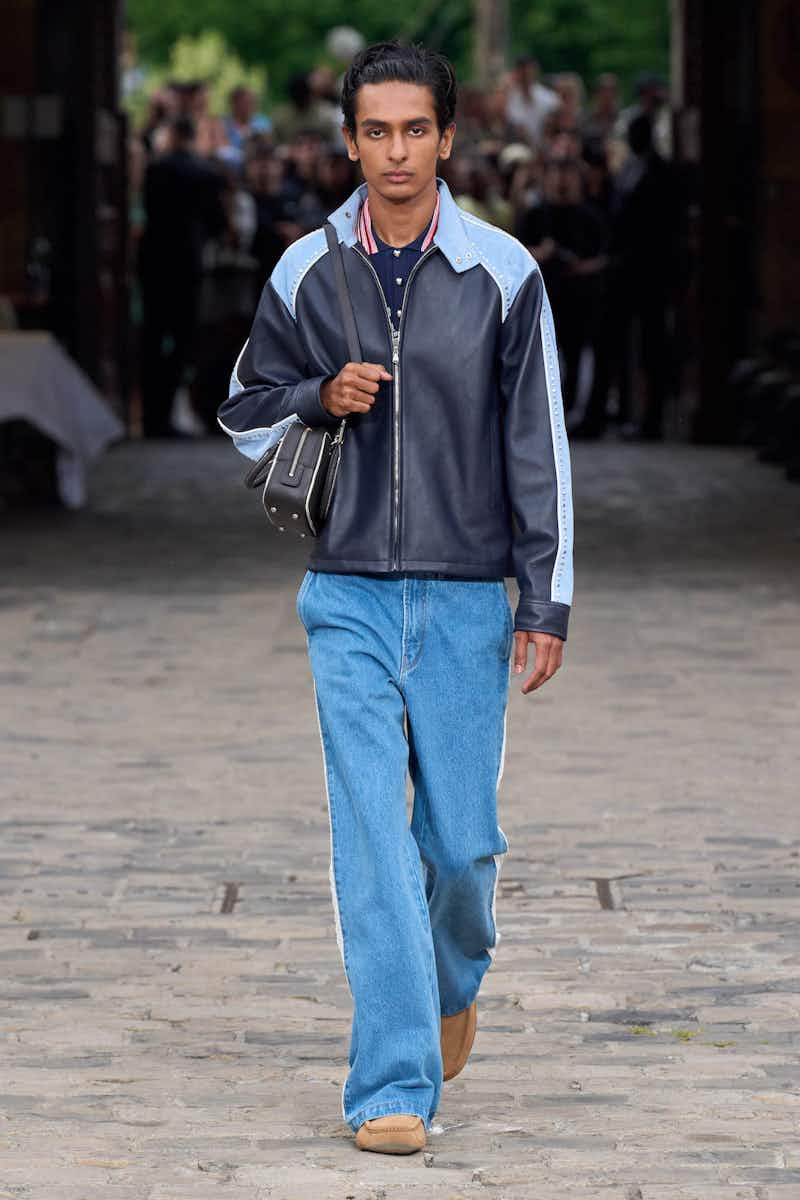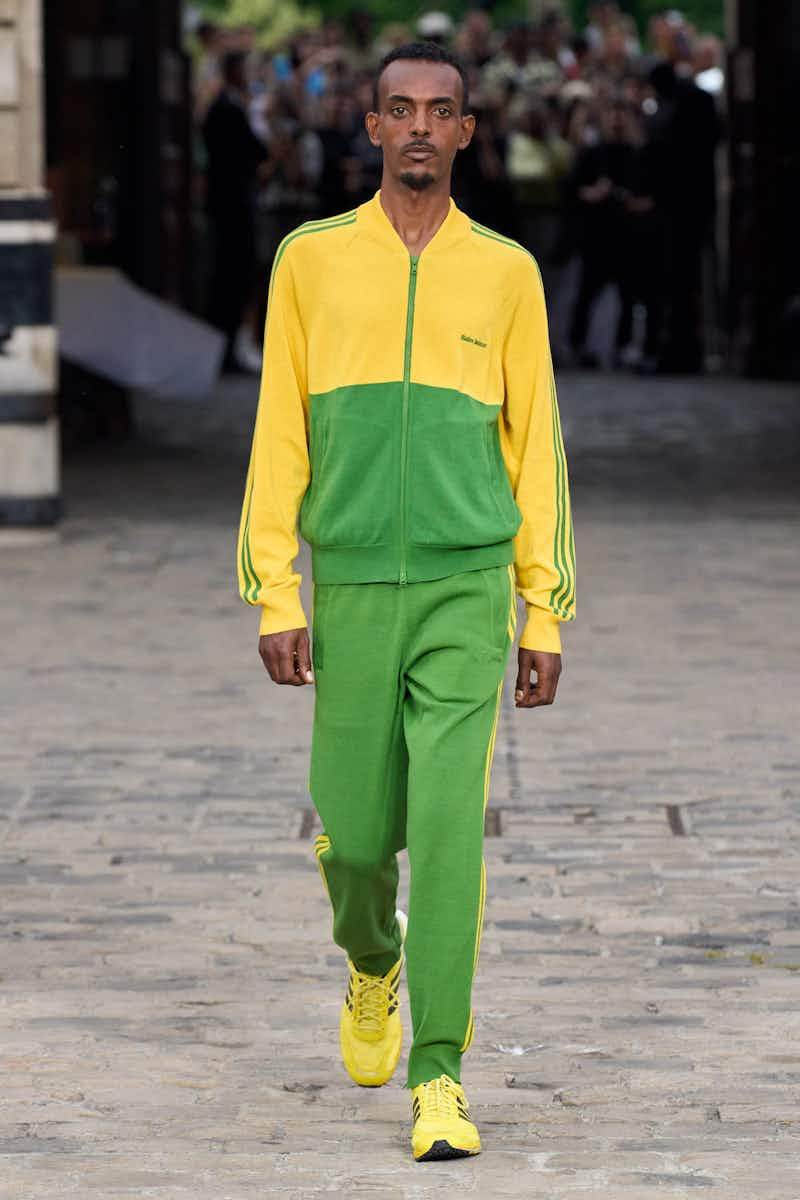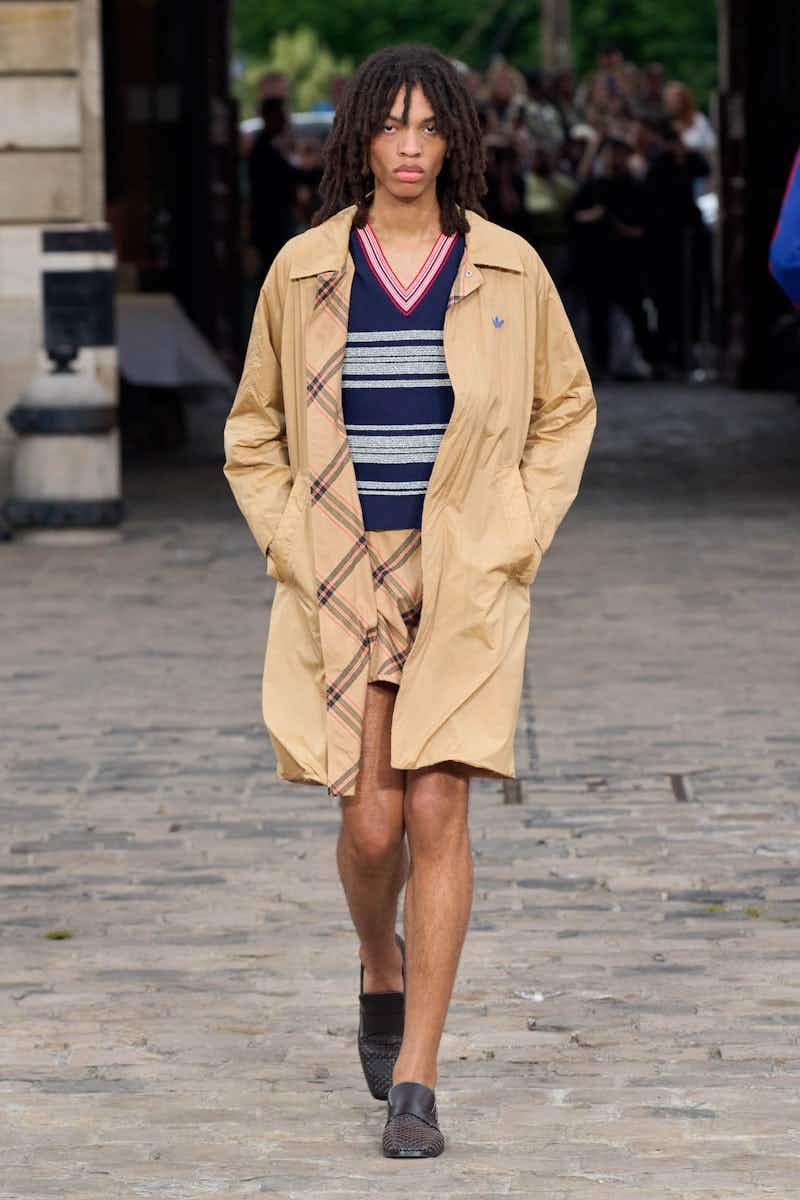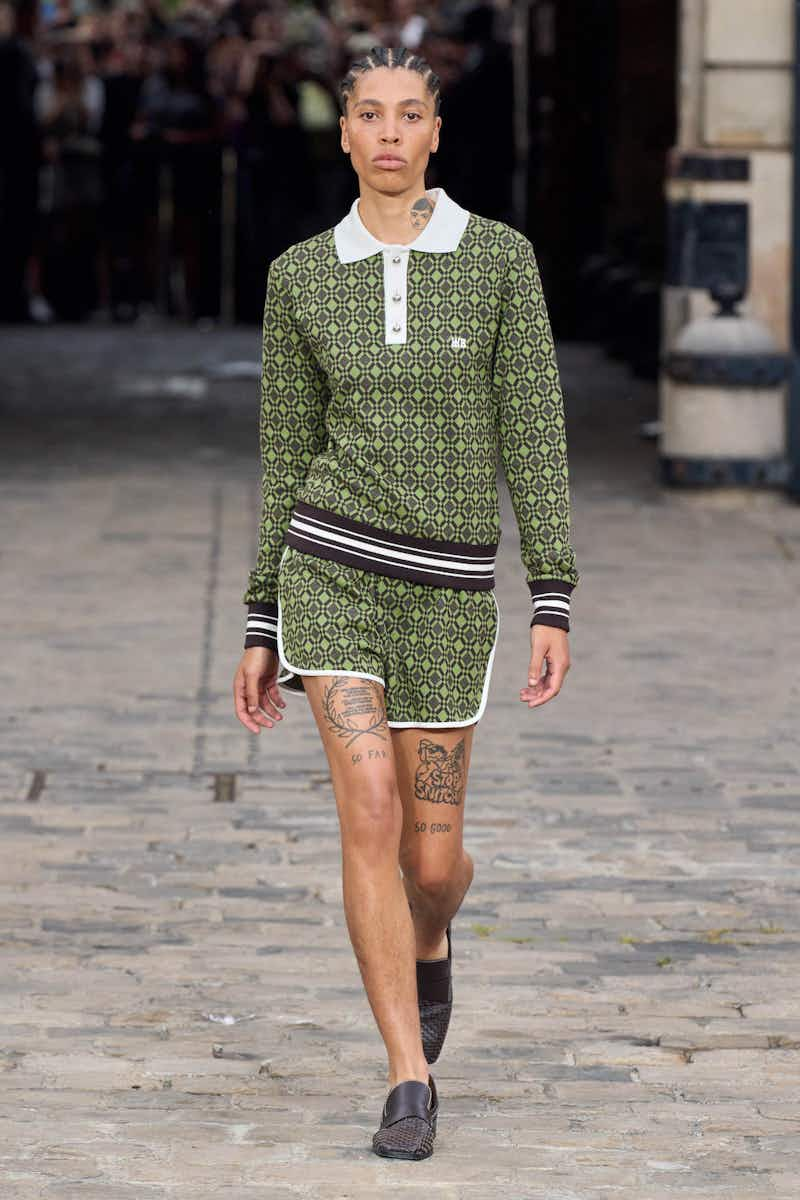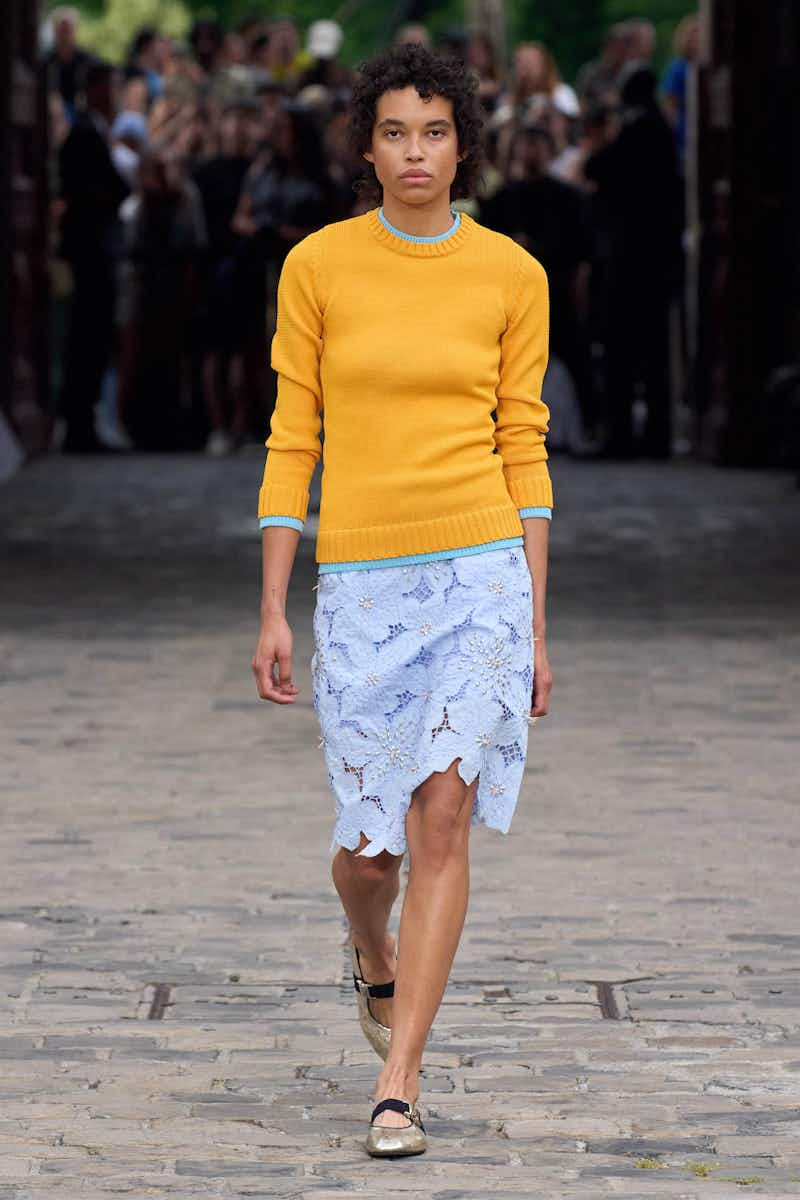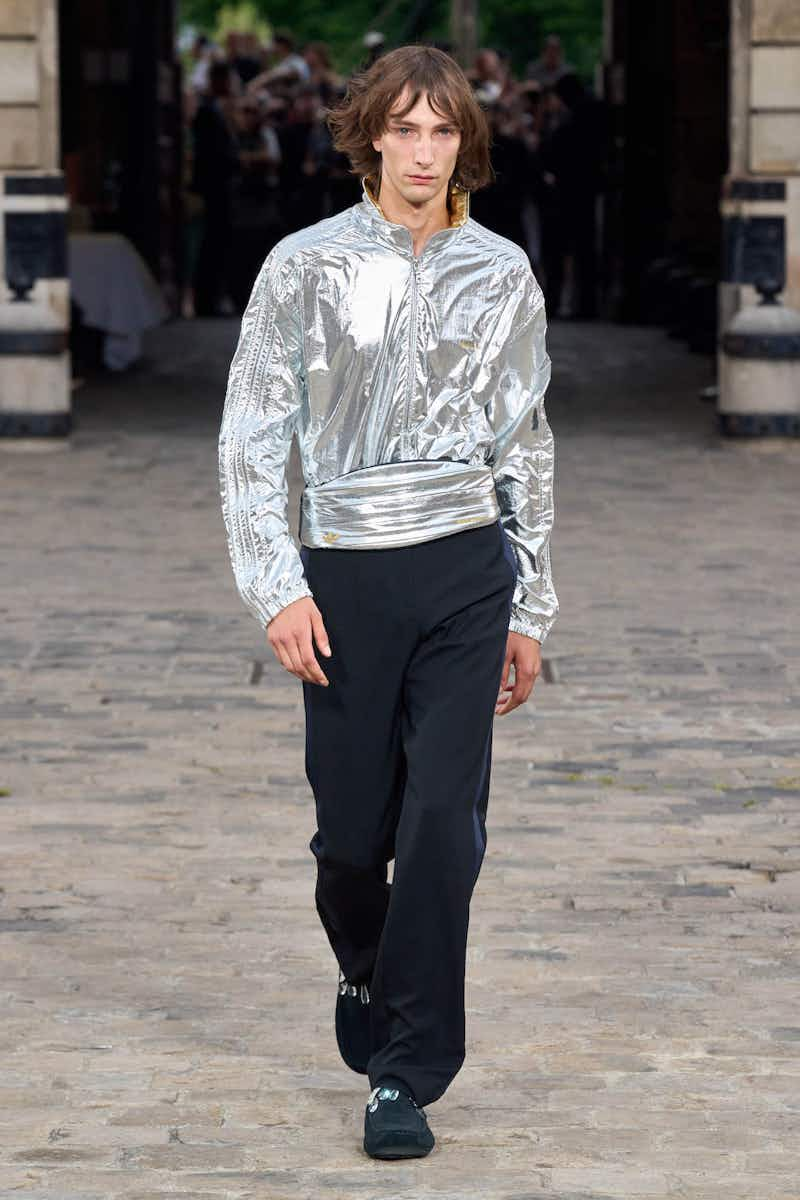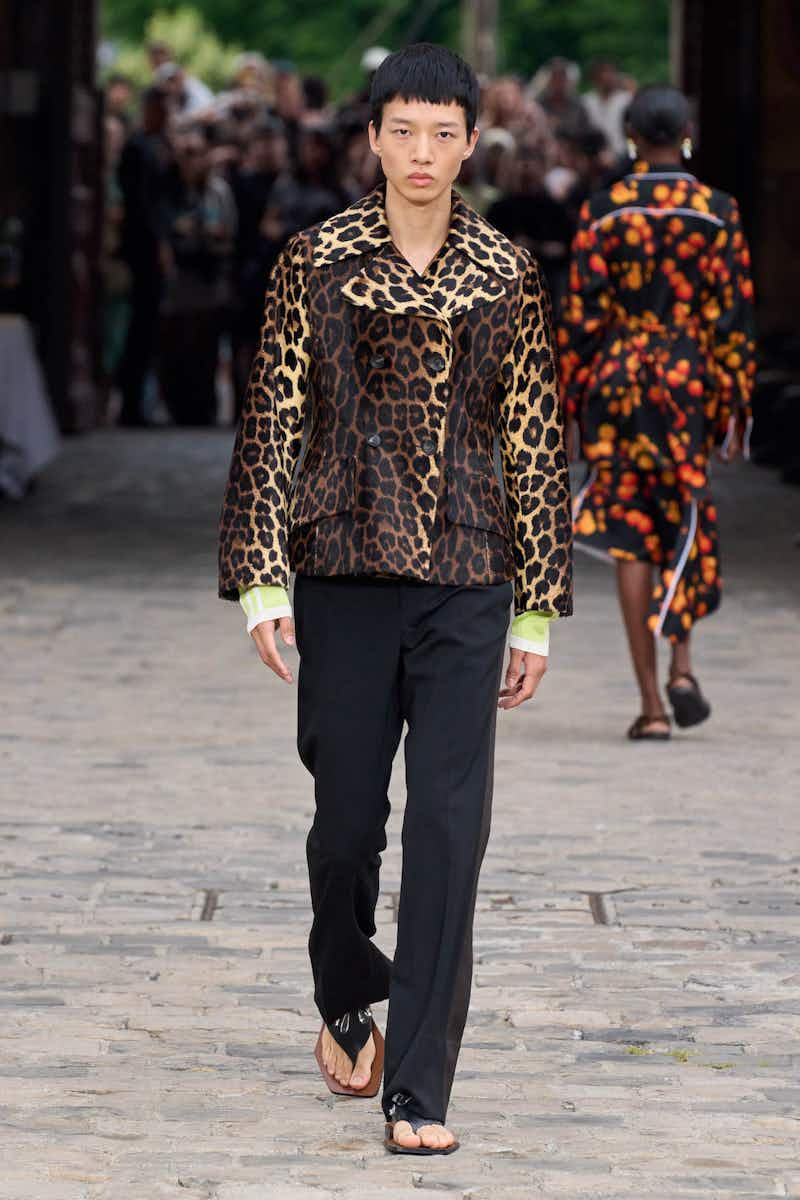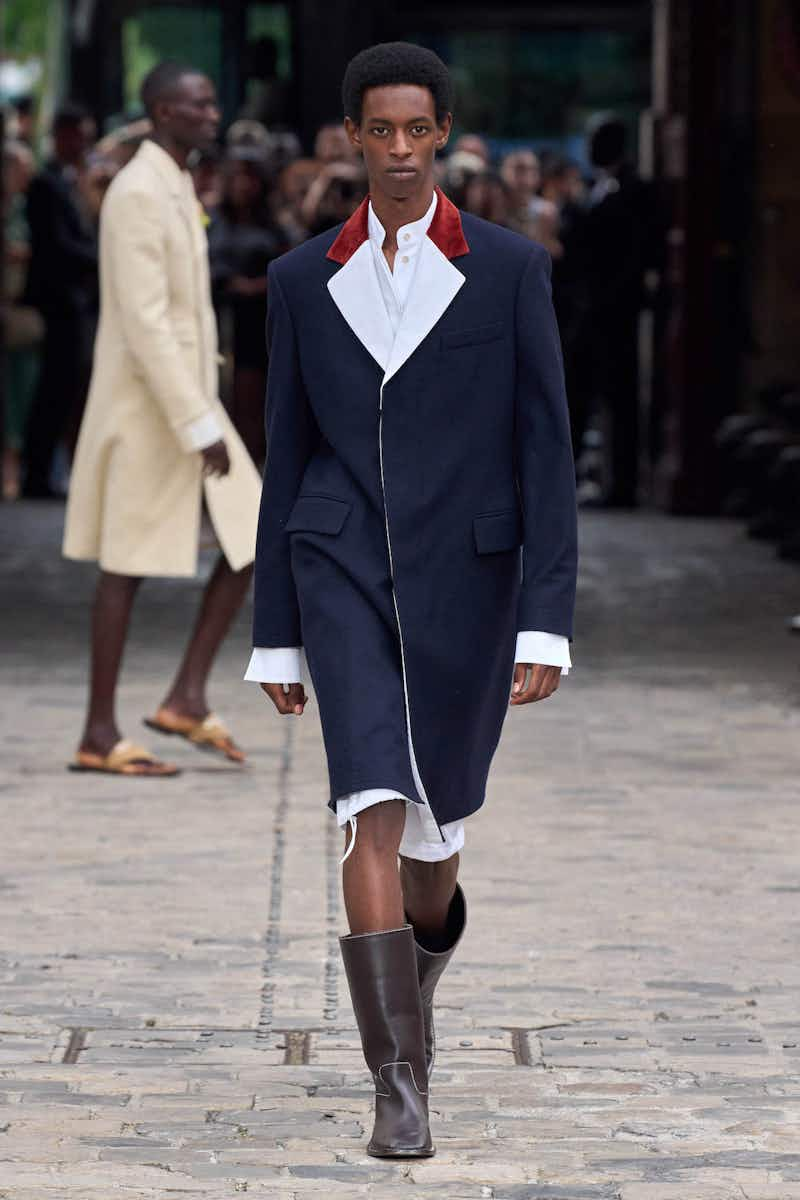 What?
Bianca Saunders' sartorial ode to the late producer and artist Lee ​"Scratch" Perry, produced in collaboration with menswear label Farah.
Where?
Deep inside the hallowed basement of Palais De Tokyo, Paris' bougiest art museum.
What was the presentation like?
A cool mix of interchangeable separates tweaked with feminine details, the collection took cues from Perry, whose first solo exhibition in the UK showed this year. The latter, made up of collaged found objects and imagery, informed Bianca's chopped-and-screwed approach.
As such, T‑shirts and shorts came in paper-like material, while belts appeared like cardboard cutouts. The room itself was dotted with a collaged installation of religious iconography, wildlife photography and gemstones in true ​"Scratch" fashion. In the background, spaced-out dub sountracked the clothing as models walked in choreographed sequence. Elsewhere, punky t‑shirt graphics that read ​"Who Jah bless no man curse," paid direct homage to the original ​"Upsetter".
Your usual Saunders signatures came in droves, with T‑shirts pleated from the shoulders or gathered on the flank. As always, it goes back to one of her earliest goals, which is to present a softer side to Black masculinity, as well as manhood more broadly speaking. Here, haphazard scoop necks plunging towards the pec line and shirts pulled taut across the chest with tape did the heavy lifting. Subtler tweaks, such as lightly meandering hemlines on jeans, emphasised the form with sensual caress.
At a time when many of London's designers are feeling the pinch, Bianca's rise and rise cannot be understated. Perhaps her success so far lies in her light-touch approach. Indeed, she strikes a balance between commercial nous and forward-thinking design. A classic crewneck sweater is doctored across the neckline, leather shoes unfold to reveal the upper foot, and shirts extend to knees just like the robes Perry favoured. It's simplicity with flourish, and clearly, it works.
Anything else we should know?
Bianca dove deep into Farah's ​'70s and ​'80s archives, riffing on the easygoing shapes and the grainy ​"hopsack" weave it built its name on.
In a few words?
Laidback – just like Lee.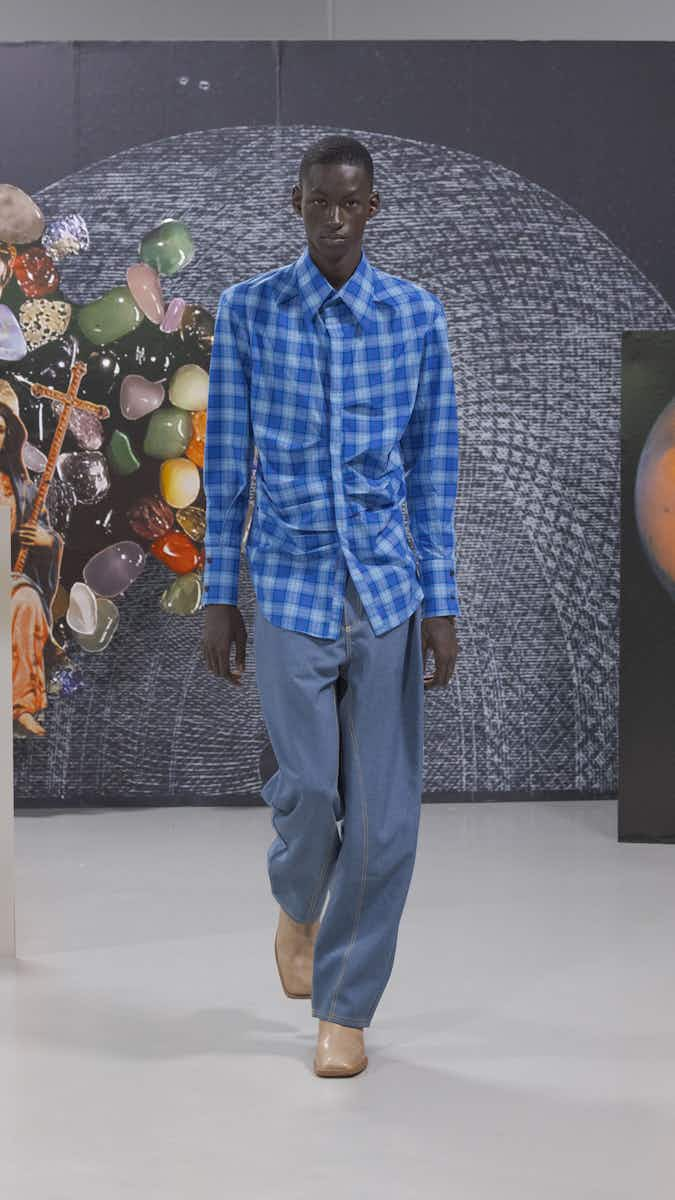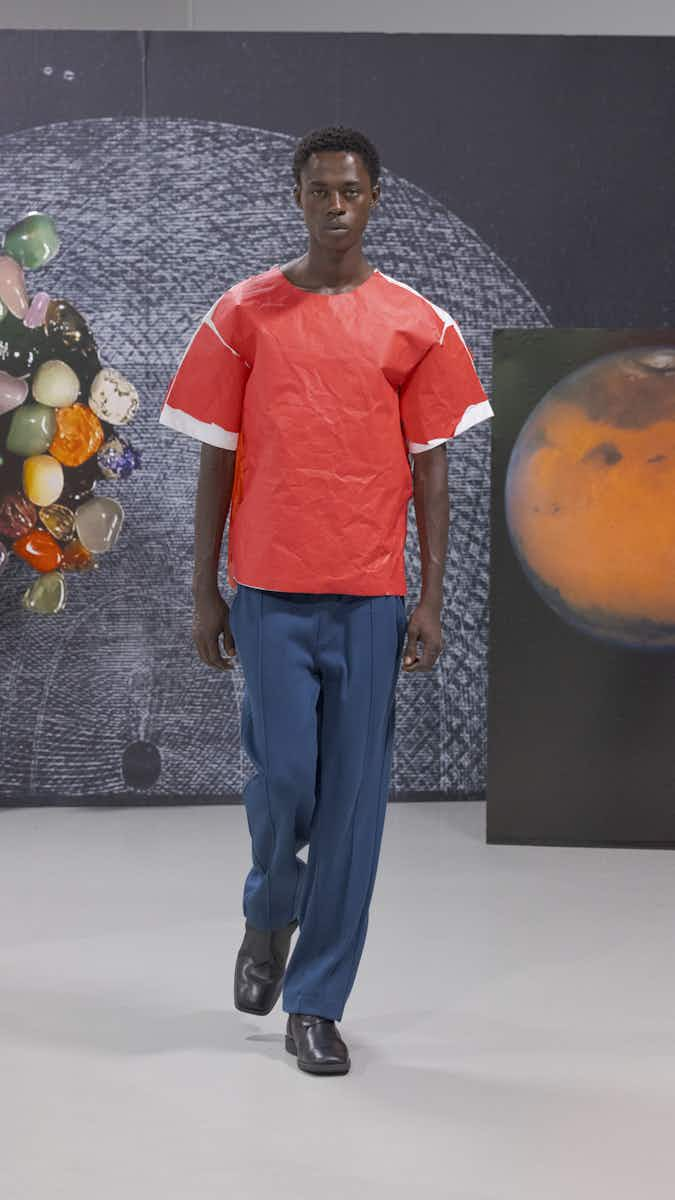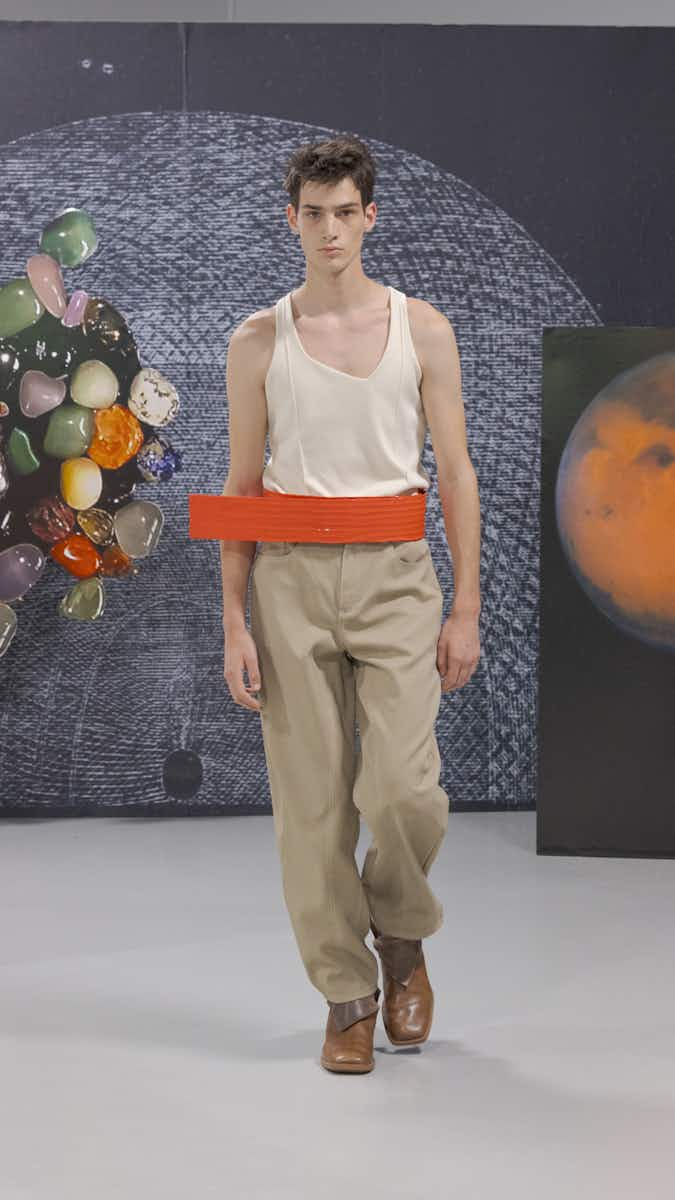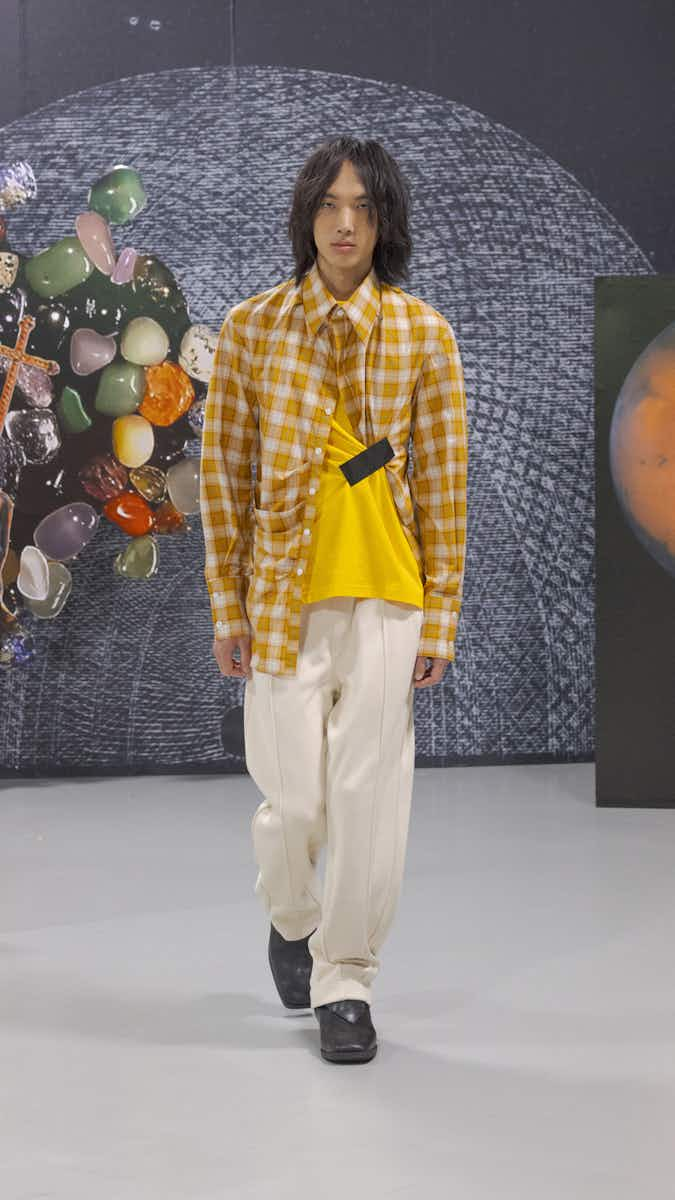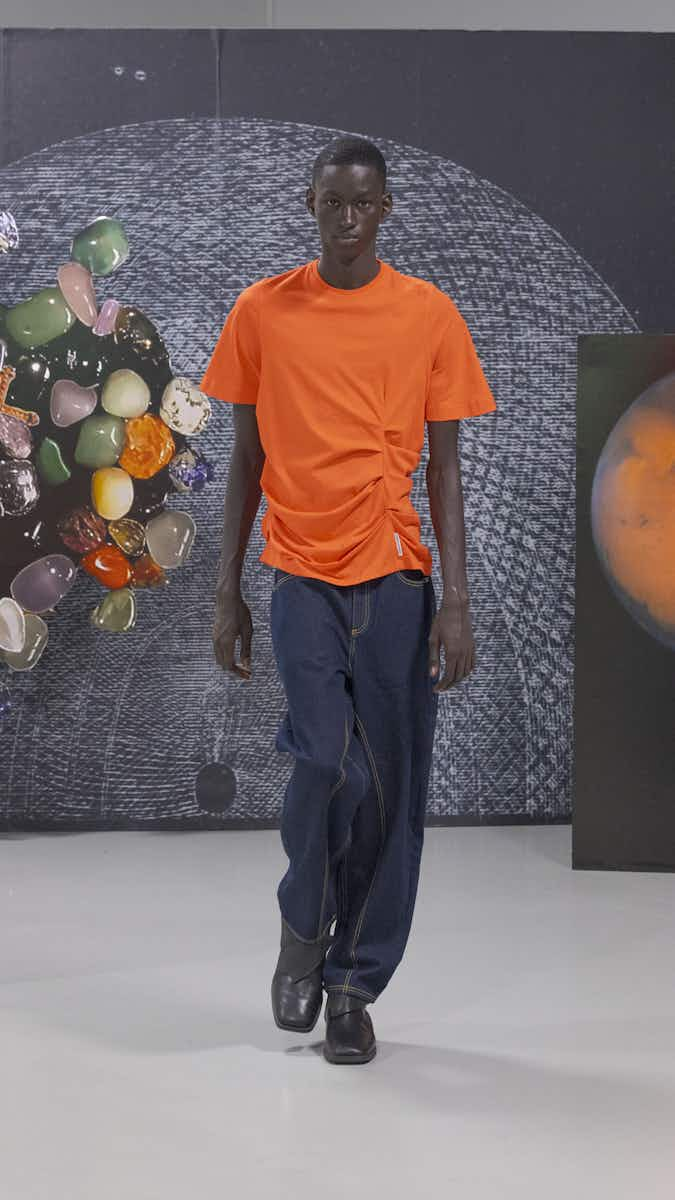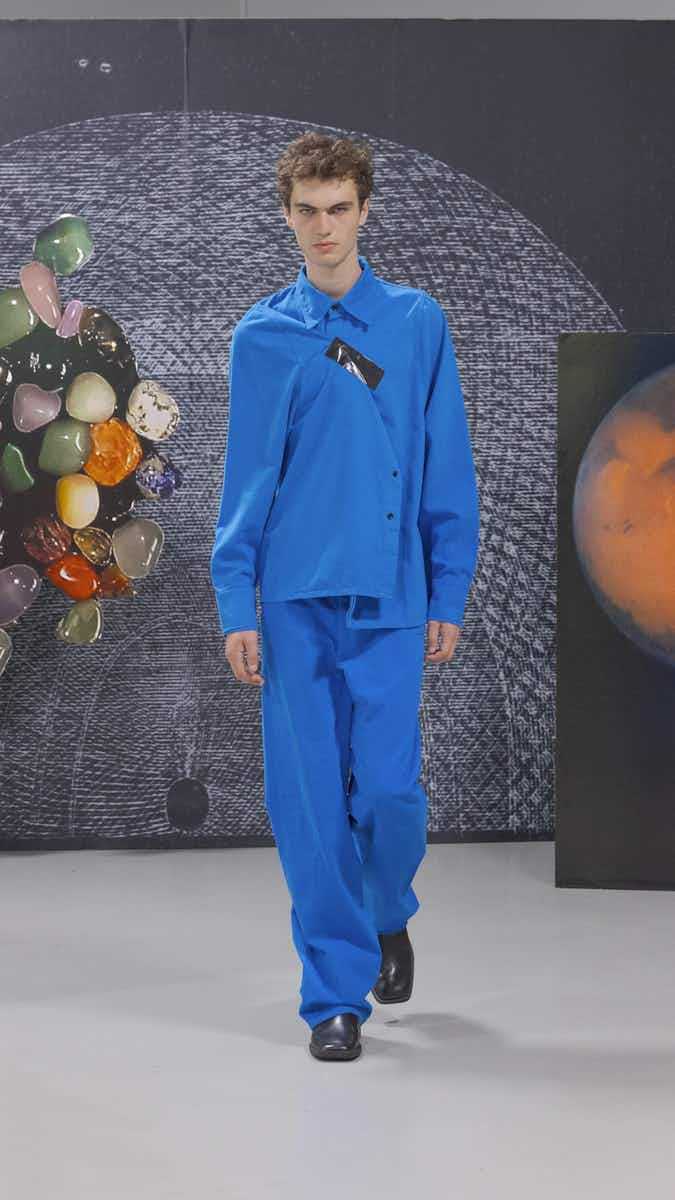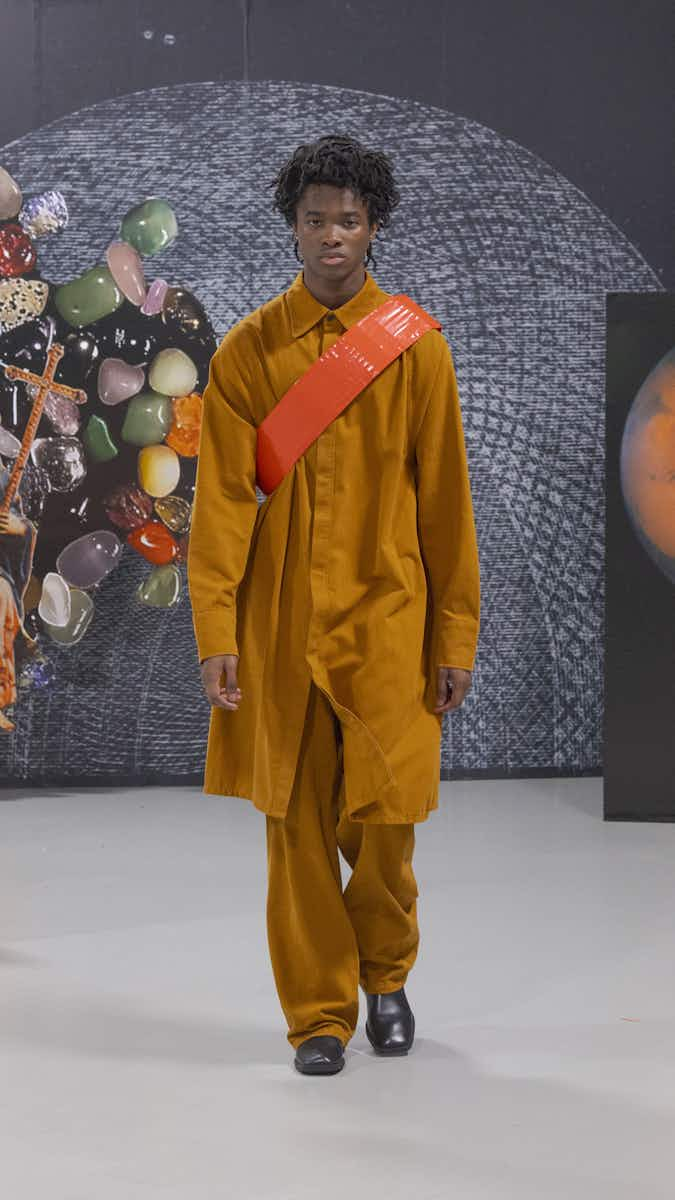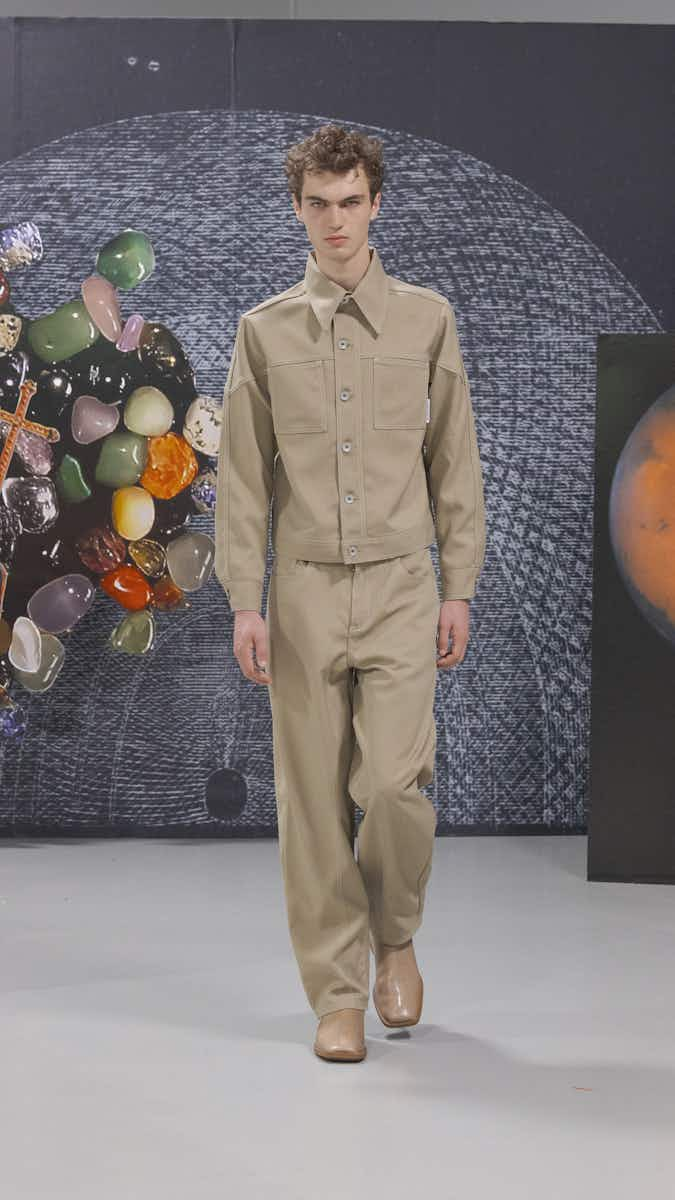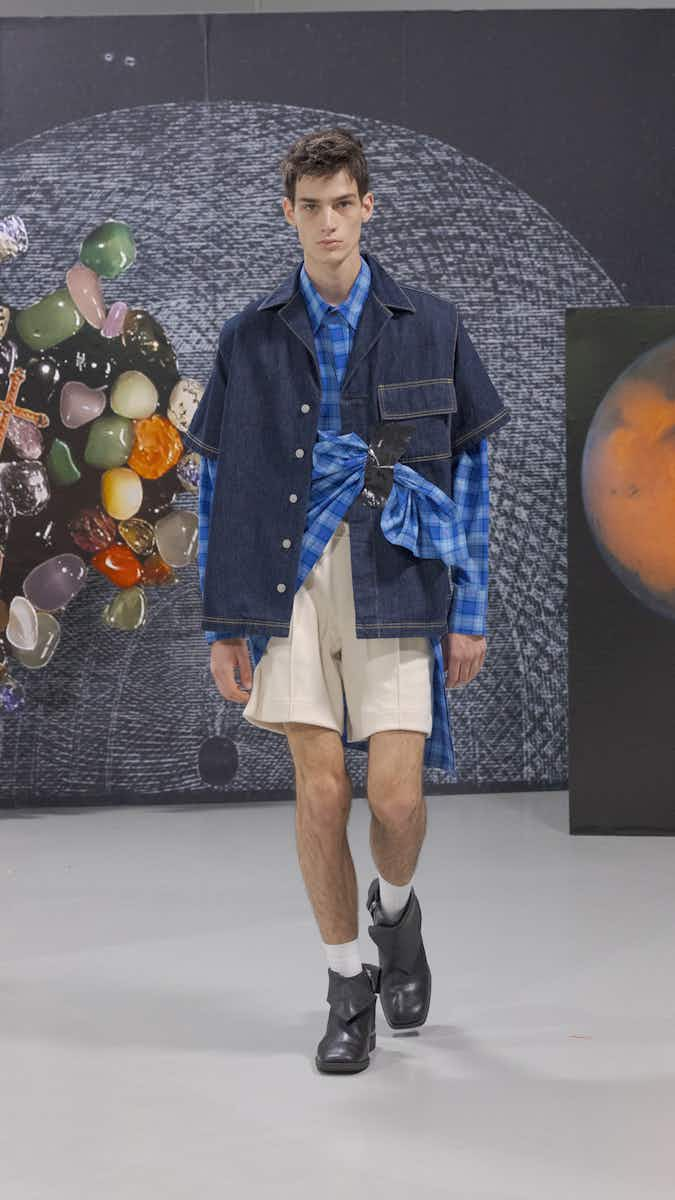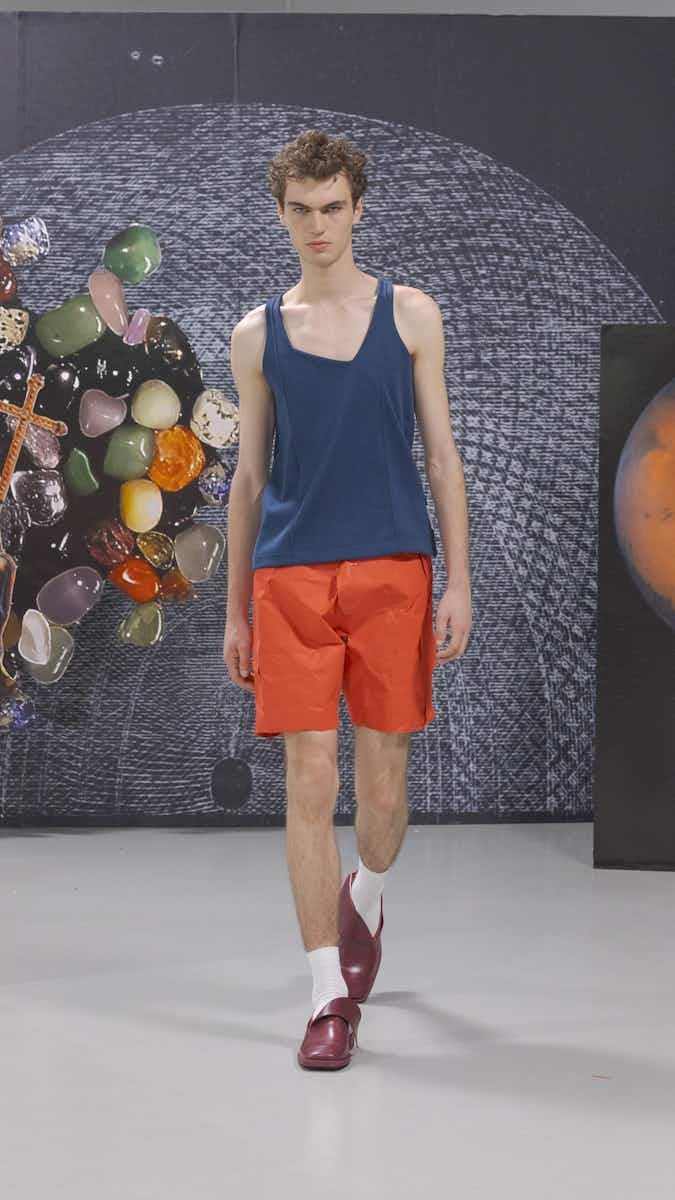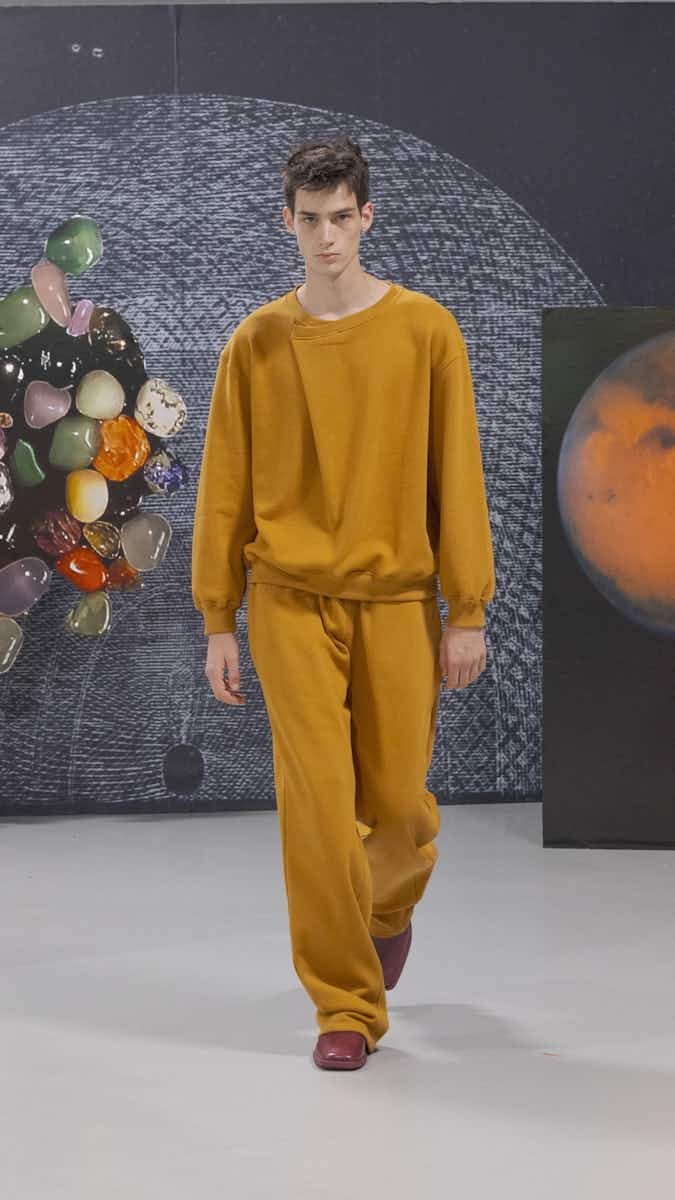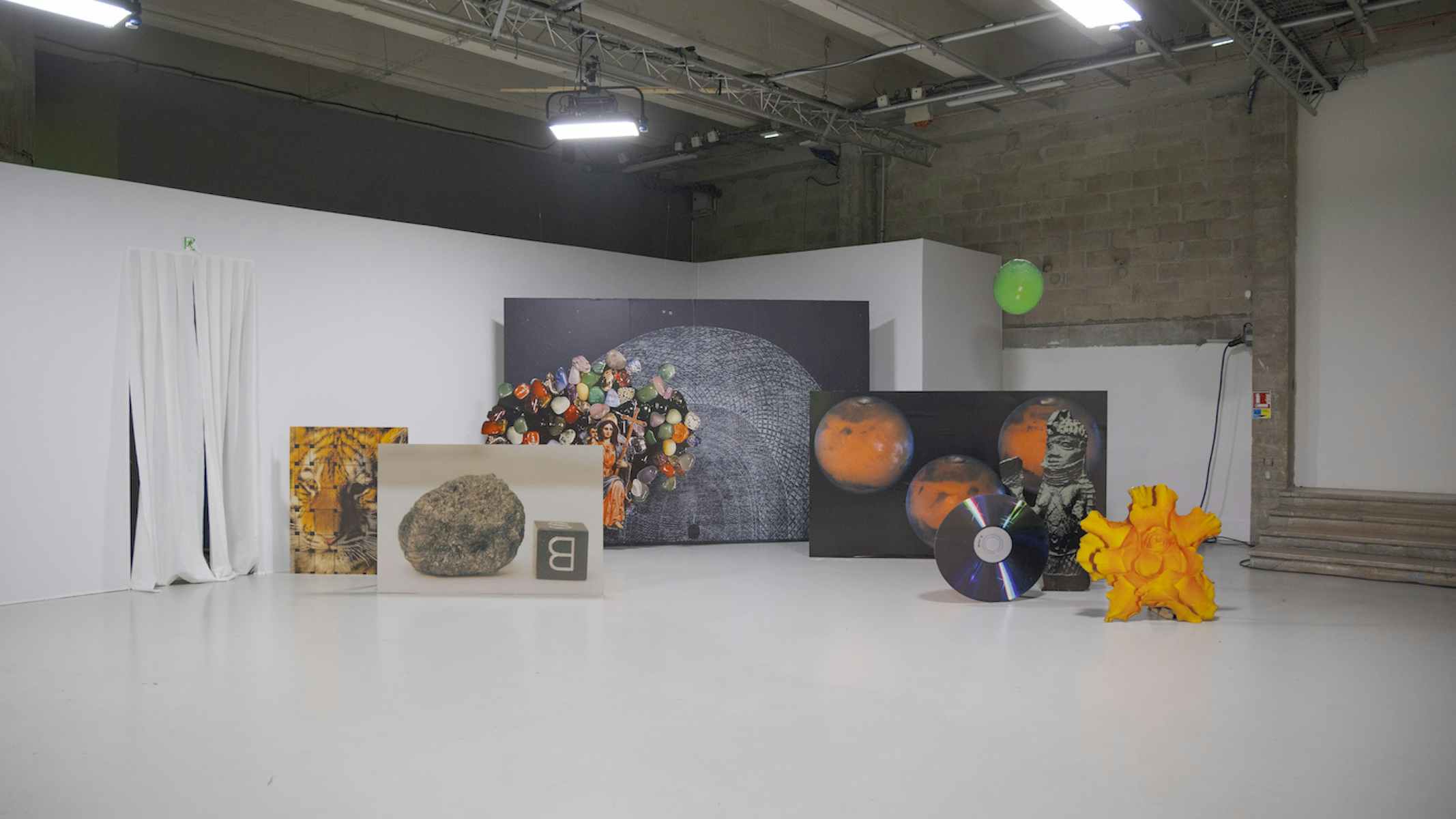 More like this