Too funky: the sex, glamour and seduction of Thierry Mugler
An all-out extravaganza, Thierry Mugler, Couturissime is the newly-opened exhibition charting the infinite possibilities of the Parisian couturier since his 1970s beginnings. Whips, chains and latex at the ready…

Hoards of studied street style and splashy défilés are on show during Paris Fashion Week, but the exhibition Thierry Mugler, Couturissime, opening at the Musée des Arts Décoratifs in the French capital last week, cuts through the sartorial happenings with unmatched maxxximalism.
It's a showcase of the French designer in a full extravaganza. There's prêt-à-porter and haute couture archives, custom theatre costumes and bold music video looks. Throughout his career, Mugler cleverly remixed references to vintage Hollywood, cyborg retrofuturism, flamboyant plumage, BDSM dungeons, glossy automotives, reptilian bestiaries and gender-bending mélanges. These unfurl here in themed clusters, expressed as sexy silhouettes, absurdist details and fever dream manifestations.
"My approach was to propose astonishment, discovery, plural kinds of beauty," Mugler said in an interview with Thierry-Maxime Loriot (curator and protean mastermind behind this and past exhibitions on Jean Paul Gaultier, Peter Lindbergh and Viktor&Rolf). ​"The idea was not to provoke, but to shock only in the best sense of the word…" If subversion wasn't the goal, the radical nature (and devious humour) of his late 20th century designs were nonetheless impactful.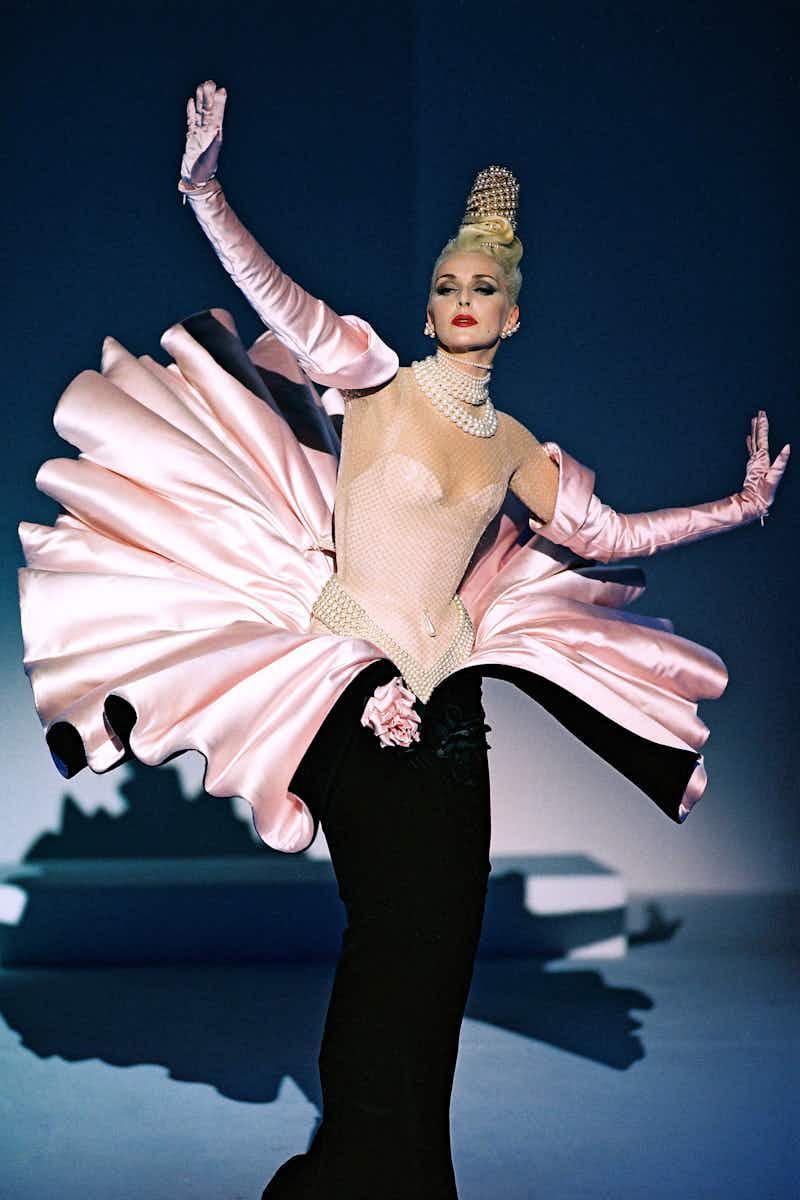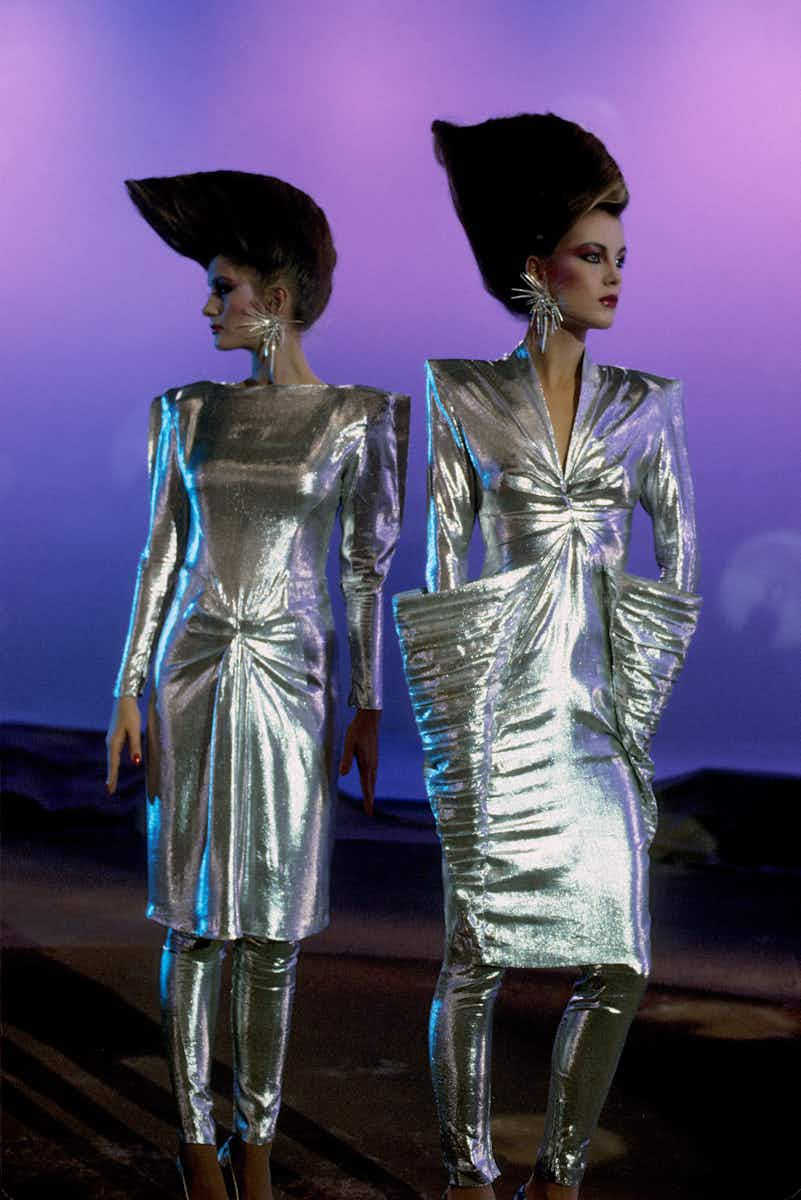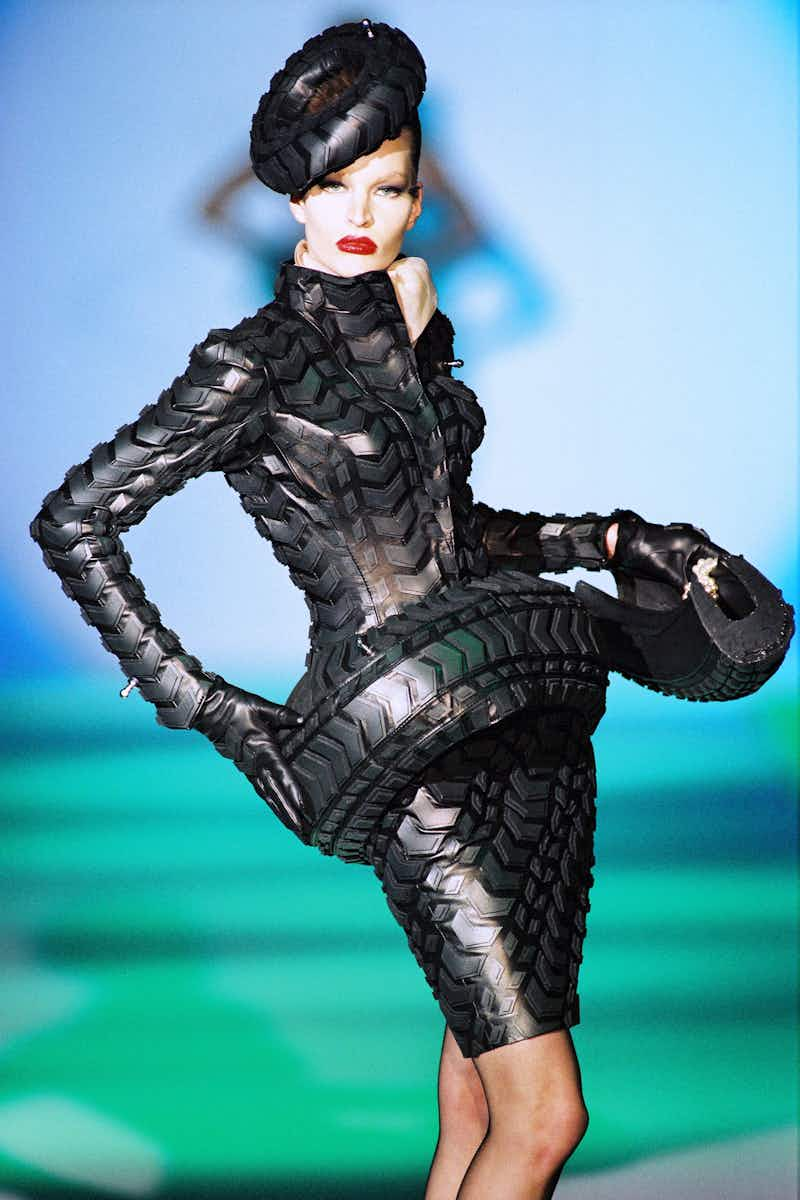 The exhibition begins with slinky, slithering contours: woman-as-creature transcending the human form, sprouting tentacles or claw outgrowths. Over two floors, visitors encounter wrought-iron crinolines adorned with sequins and crystals (SS92), fringed and pierced stamped-leather strapless dresses (SS94), crystal-embroidered bodysuits (SS98) and a plexiglass-and-chrome ​"Buick" bustier (AW89-90). Finally, the exhibition closes with Shakespearian grandeur via costumes for the Comédie Française's production of Macbeth (Mugler's budget in 1985 was the largest allotted since the troupe's foundation in 1680).
The show mise-en-scène is, fittingly, as over-the-top as the clothes themselves. Mannequins are placed in thrilling proximity to viewers with tantalizingly tactile textures; Swarovski crystal chandeliers by Tord Boontje glint in the moody lighting. Mugler told Loriot that ​"fashion is not self-sufficient; it has to be displayed in its environment."As such, each backdrop emphasises themes from the miscellaneous collections: shadowy woodlands, labyrinthine mirrors, starlit darkness, submersion under blue waters.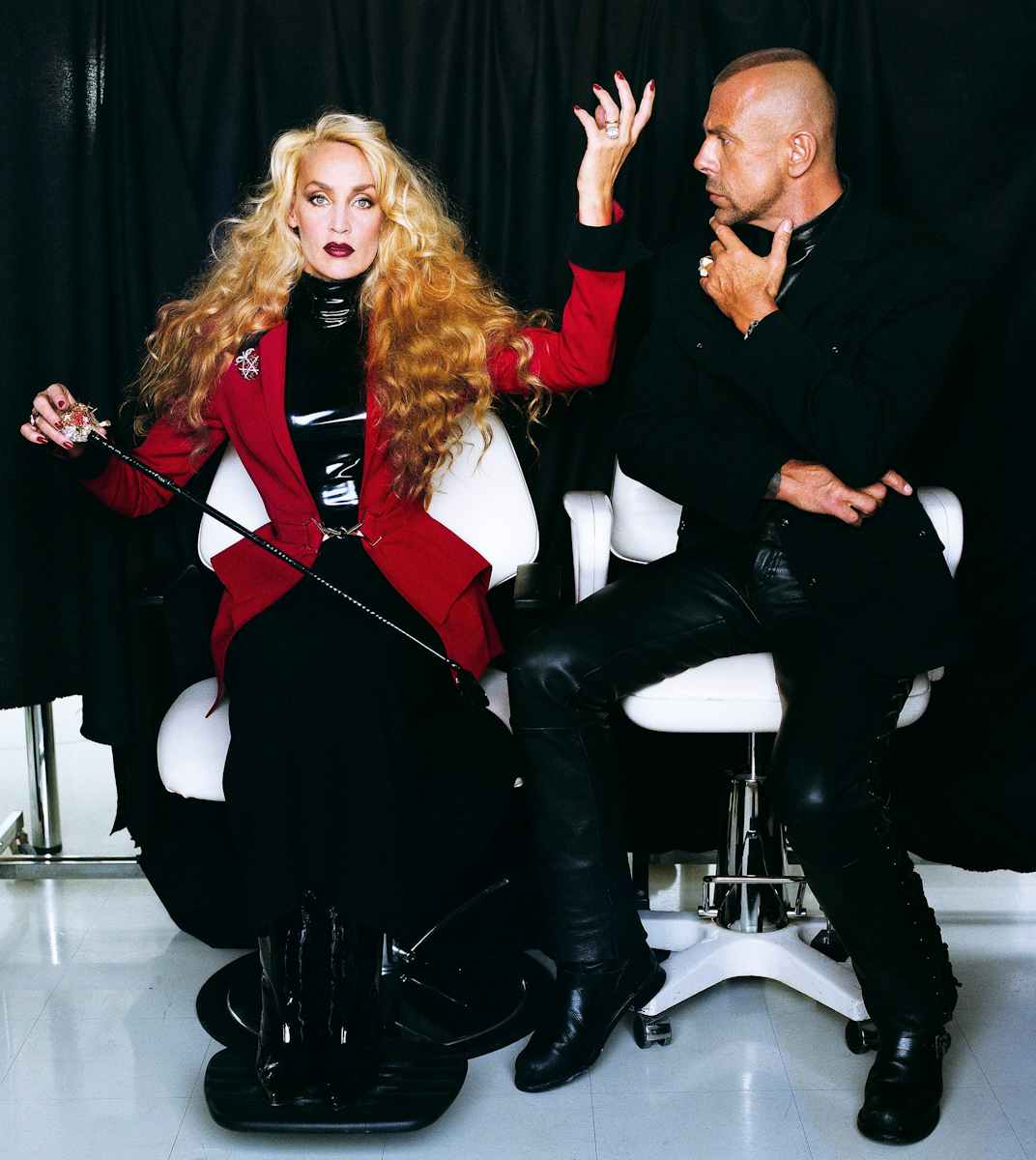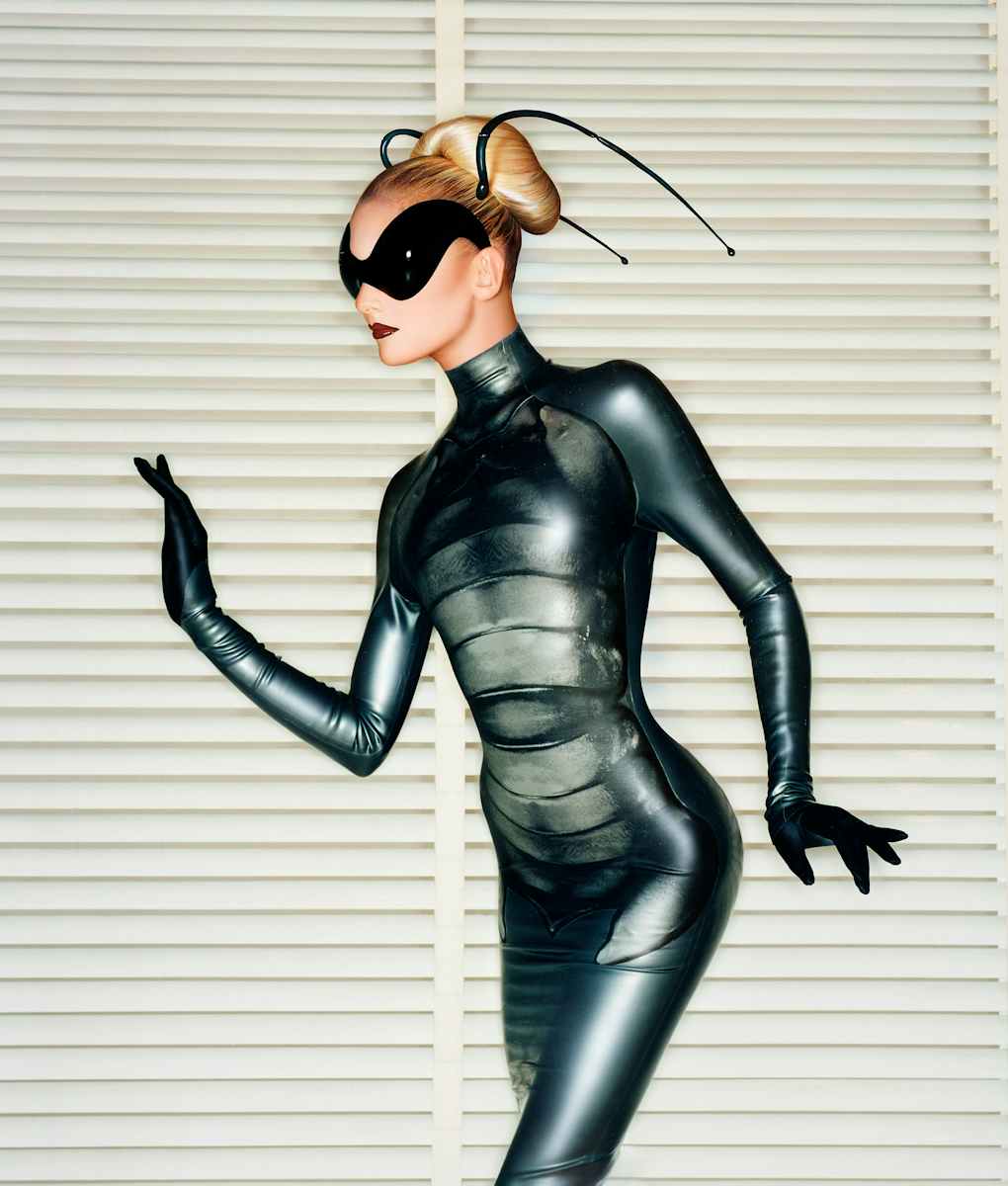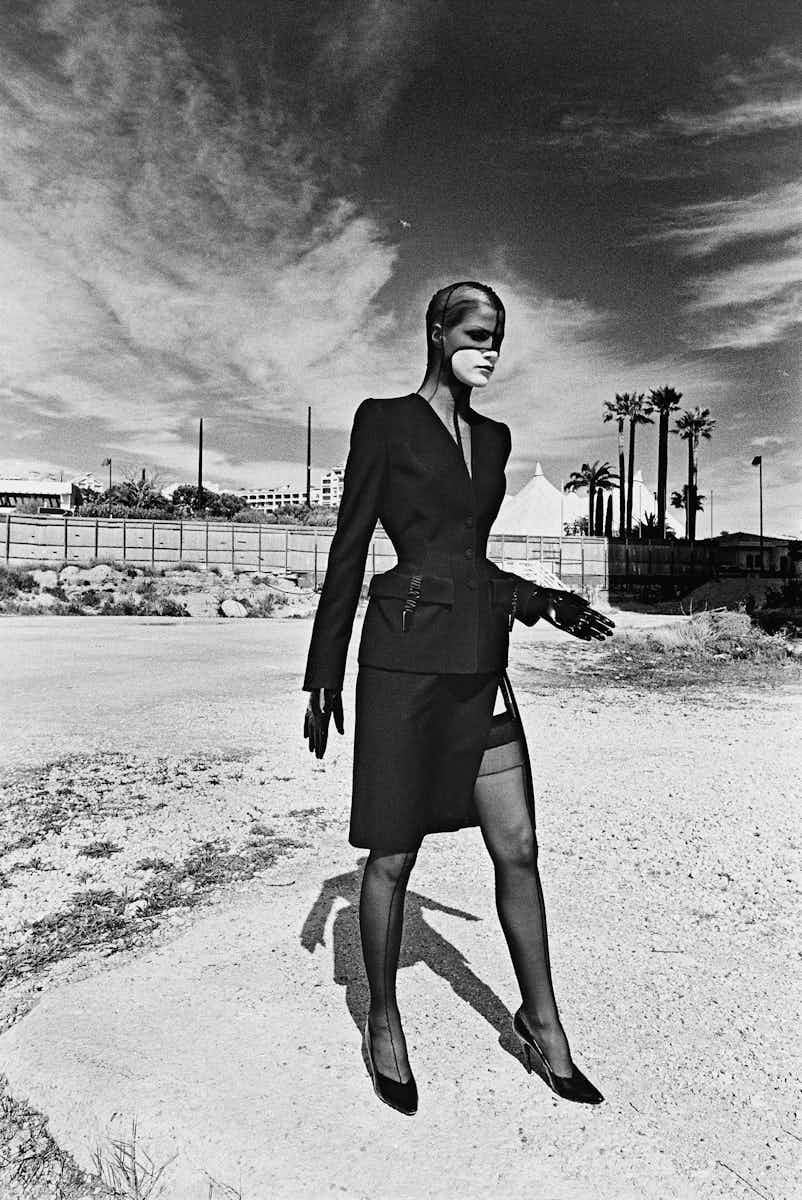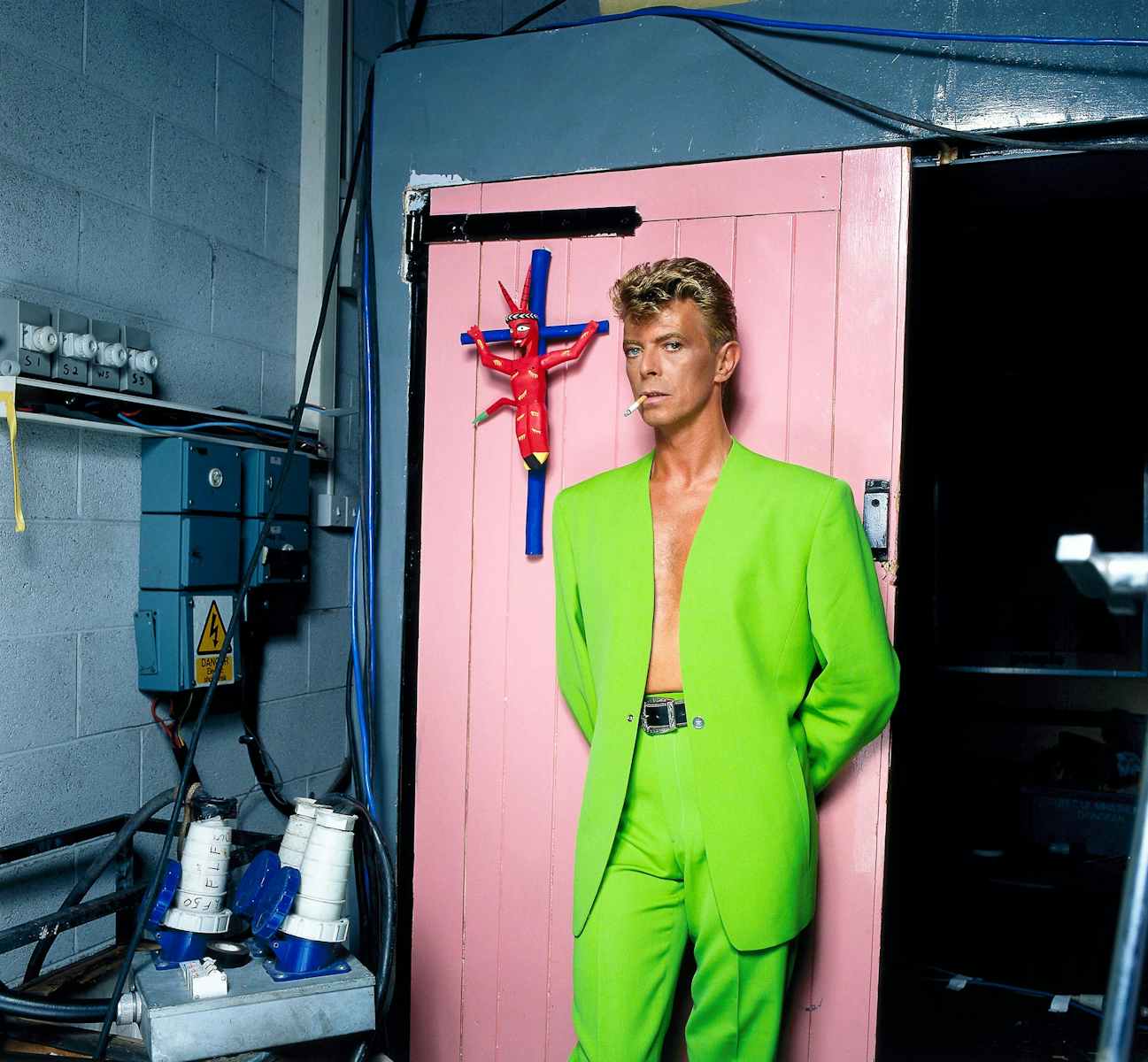 Drawn to contemporary ballet in his early years, Mugler worked as an independent stylist and sold his fashion sketches to other brands until founding his namesake label in 1973. His personal creative pantheon included Charles James, Jimi Hendrix, Cristóbal Balenciaga, Rudi Gernreich and Jefferson Airplane. He collaborated with Helmut Newton on his first ad campaign in 1976, but when Newton chided him for being too meddlesome during shoots, Mugler began overseeing his own. Some are on display here, such as photos featuring muses languidly draped off parapets and ledges of monumental urban structures, like the Chrysler Building or the roof of l'Opéra de Paris. Images by other lensmen highlight iconic Mugler moments: young, pouty Helena Christensen glinting in structured chrome (by Herb Ritts), or Mugler himself portrayed as a buff centaur (by Jean-Paul Goude).
Mugler's work seeped into pop culture. He created uniforms for the iconic Parisian discothèque Le Palace and costumes for the Cirque du Soleil in Las Vegas. He outfitted Beyoncé during her 2009 I Am… tour, David Bowie for Boys Keep Swinging in 1979 and, in 1992, George Michael's Too Funky music video starring a role call of ​'90s supermodels. More recently, the label has been sported by Kim Kardashian at the 2019 Met Gala and Cardi B at the 2020 Grammy Awards – just last week, Mugler professed his love for the rapper in an Instagram post. The exhibition highlights that while peak femme Mugler is a baroque glamazon in a bodycon carapace with a pinched waist, she also embodies a delightfully sly play on proportions, with a wink.


More like this