Think you can survive in the wild? Not without this how-to camping guide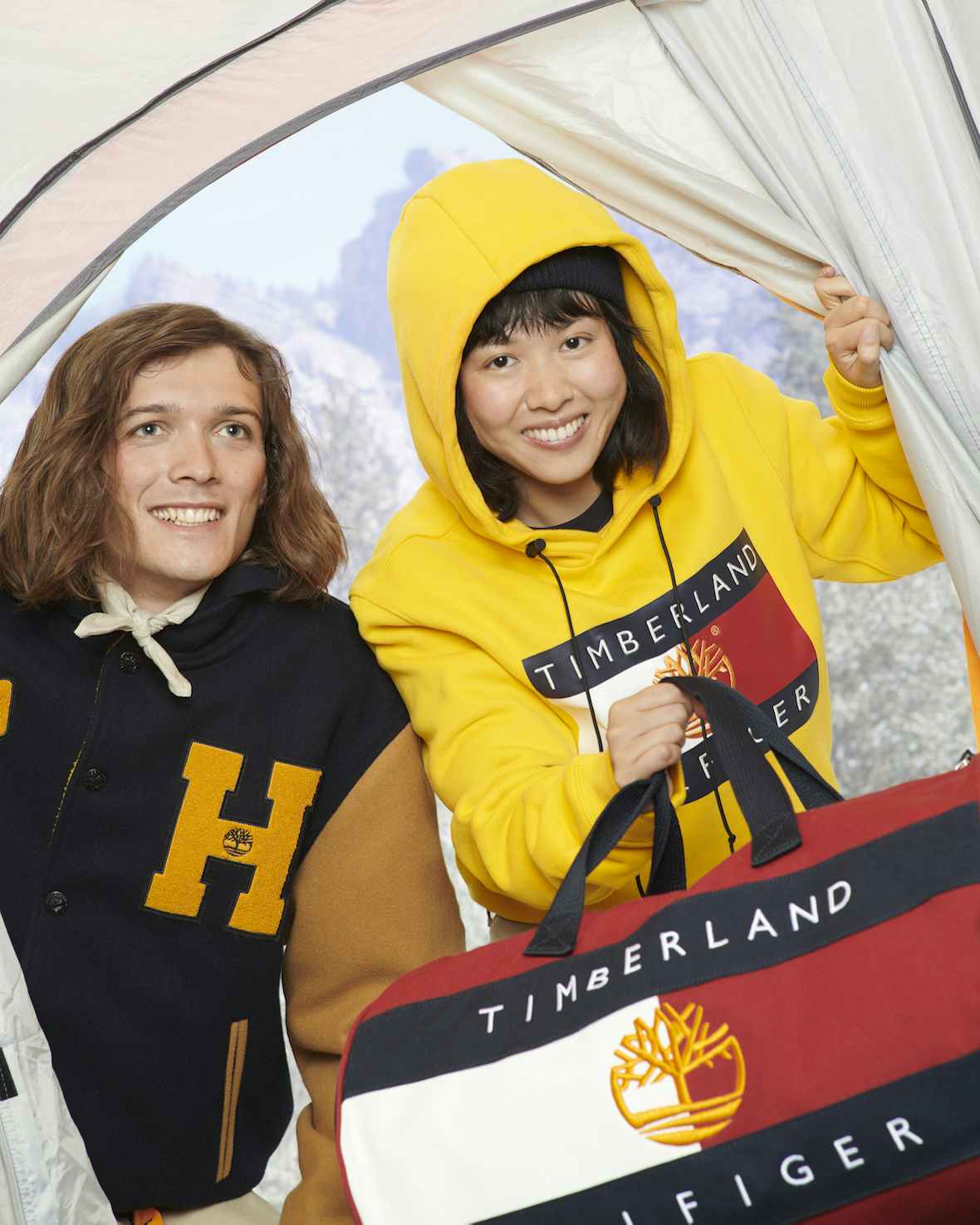 To celebrate the first-ever fashion partnership between Tommy Hilfiger and Timberland, THE FACE has created a beginner's guide to camping as modelled by Orienteer Mapazine founder Rory Griffs and forager Clytie BaoBao.
Mac and cheese; Kenan and Kel; Kourtney Kardashian and Travis Barker: all iconic partnerships of our time. And now, another will be added to their number, as two heavyweights of fashion and popular culture pair up for a game-changing collaboration: enter Tommy Hilfiger and Timberland.
For the first time, Autumn 2021 sees the two brands in a creative mash-up, as they launch two TommyXTimberland capsules – the first is available to shop on 26th October, while the second follows in November. These clothes, in the words of Mr. Hilfiger himself, relive ​"that optimistic, ​'anything is possible' energy of the ​'90s," while celebrating the hip-hop culture that invigorated both brands, and embracing contemporary concerns like sustainability and multi-functionality.
The first drop, which includes parkas, varsity jackets, zip-off pants, and of course a remixed version of the Timberland boot, is made up of outdoorsy essentials that'll have you immediately looking up the nearest campsite. So to celebrate its release, we got Rory Griffs – outdoor expert and founder of Orienteer Mapazine – together with artist and forager Clytie BaoBao and photographer Raphael Bliss, to shoot a beginner's guide to camping with a TommyXTimberland twist: because what's the point in looking the part if you've got no clue what you're doing?
Here's to the great outdoors – and to even better fits.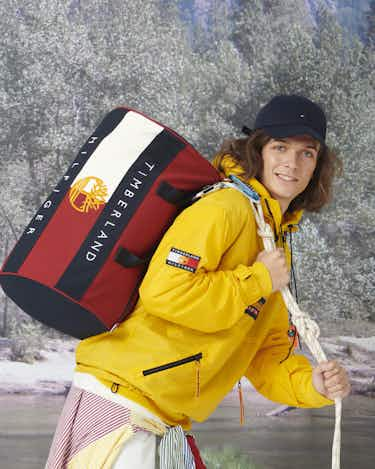 Step 1
As a wise man once said: "Welcome to the jungle" (or, more likely, a safe and well-monitored forested area). To survive out here, you'll need grit, determination… and a sensible collection of ropes and hammock hardware.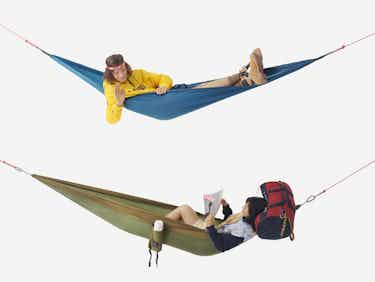 Step 2
Your hammock will be the spot from which you commune with nature, so choose its place wisely, young grasshopper. Consider the distance between the two ends, and use tree straps as well as buckles, you might do some damage: these oaks and pines are probably older than your nan, so just have a bit of respect, yeah?

Step 3
Throw your phone into a nearby rock pool – or at least, like, turn it off – and get ready to observe the hell out of the limitless beauty of the natural world. It's hammock time, baby!
NOTES ON (SETTING UP) CAMP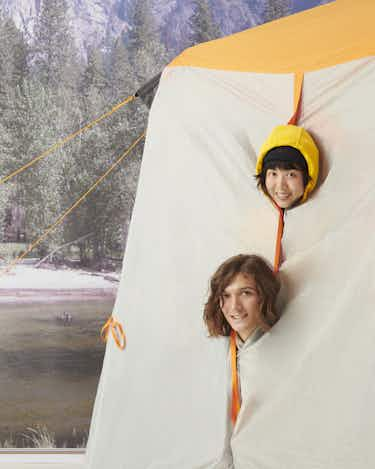 Step 1
Carry out an extensive vibe check on a) your campground and b) your tent-mate. You don't want to end up on soggy grass, or stuck with a snorer, after all.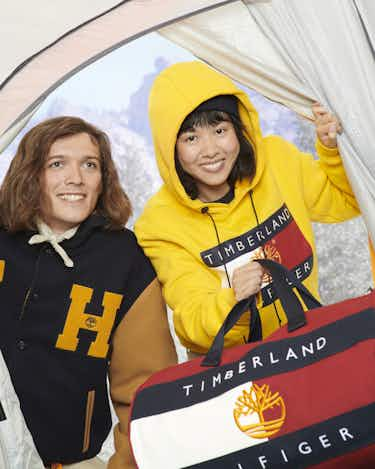 Step 2
Unpack your essentials: toothpaste, water canteen, the cuddly toy that you still travel with despite being in your late twenties. No, you're not "scared of the dark," Walter just loves camping, OK?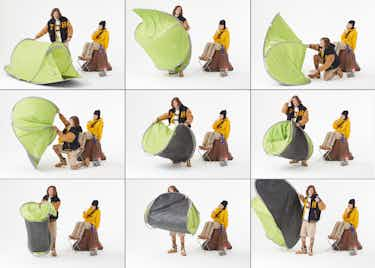 Step 3
Packing down a pop-up tent may be the equivalent of an hour's cardio in the gym, but the countryside should be left as you found it – which means no abandoned equipment rolling about like plastic tumbleweeds. Make like a generally well-reviewed US crime drama that ran for seven seasons between 2002 and 2009, and get going Without a Trace.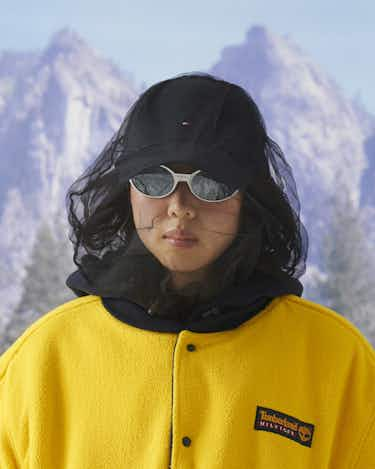 Step 1
Looking the part is important when it comes to catching fish. Not only will the right gear – like this fetching mosquito net hat – impress the fish (a famously stylish species); it'll also help you retain snooker player levels of concentration.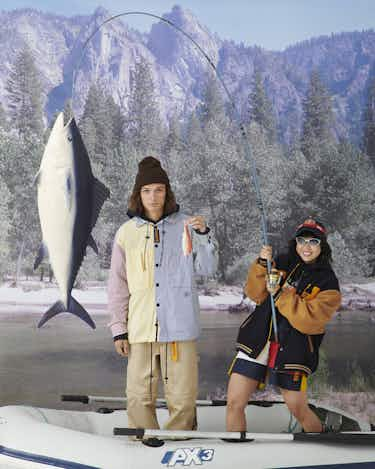 Step 2
Keep your eyes on the prize: humiliate your friends and show your dominance by making a trophy catch. Now who's the big fish?
Photo assistant: Arthur Comely
Head of Production: Rosanna Gouldman
Head of Project Management: Rachael Bigelow
Brand Partnerships Manager: Jocelyn Sital-Singh
Branded Content Editor: India van Spall
Jr Producer: Katherine Bampton
Creative: Clara Goodger
Creative Assistant: Cassandra Joseph
Set design: Phoebe Shakespeare
Set assistant: Molly Morphew
Background image: Bob Bampton
Stylist: Flo Arnold
Stylist assistant: Sam Riki Wright
Makeup: Ana Takahashi
Makeup assistant: Daisy Moore
Hair: Takuya Uchiyama
Hair assistant: Takumi Horikawa