Hardcore glamour revolution: how dressing up returned to fashion
Welcome to the Roaring Twenties. We got off to a slow start, and it's sure been a bumpy ride, but you've now reached your final destination: a full-blown fashion fantasy awaits. Prepare to dress up again because we're going out out. And we're going all out.
Taken from the new print issue of THE FACE. Get your copy here.
The United Kingdom is open. The controversial ​"Freedom Day" has passed, clubs have unlocked their doors for the first time since March 2020 and we're standing in the queue wearing unadulterated, outrageous, glamour-fuelled looks. Fashion is back in a big way. We're going places and you know what? When it comes to styling, absolutely anything goes!

Dressing for life, and the social events that lie ahead, has nothing to do with practicality and everything to do with mega-watt aesthetics. Luxury fashion houses are reporting a strong rebound in sales (LVMH and Kering are up between eight to 11 per cent on 2019's revenue). The likes of Maison Schiaparelli and Balenciaga are ensuring all eyes are on couture, the latter having returned to the schedule after a 53-year absence. Masks are off (within reason) and lipstick sales have surged by more than 80 per cent according to Forbes.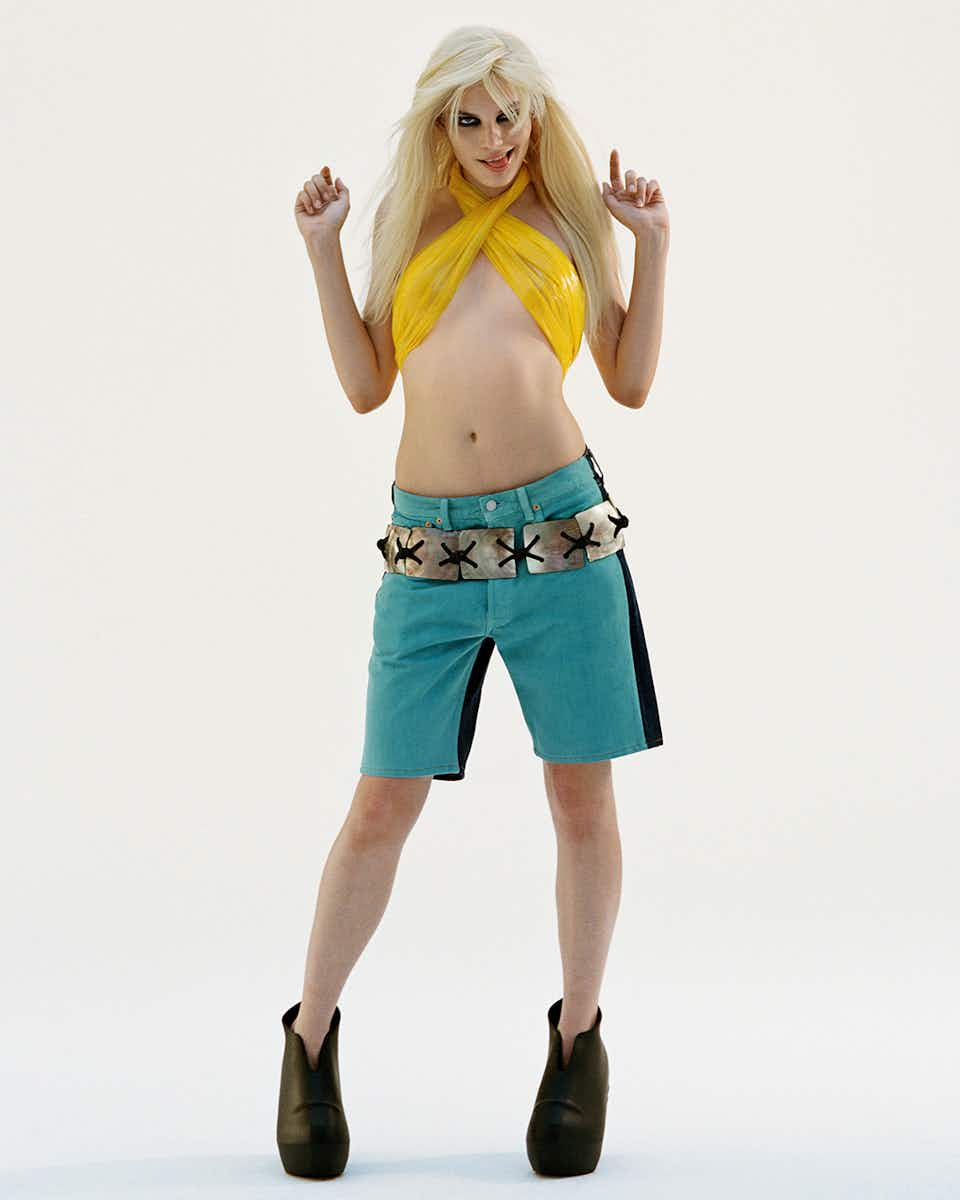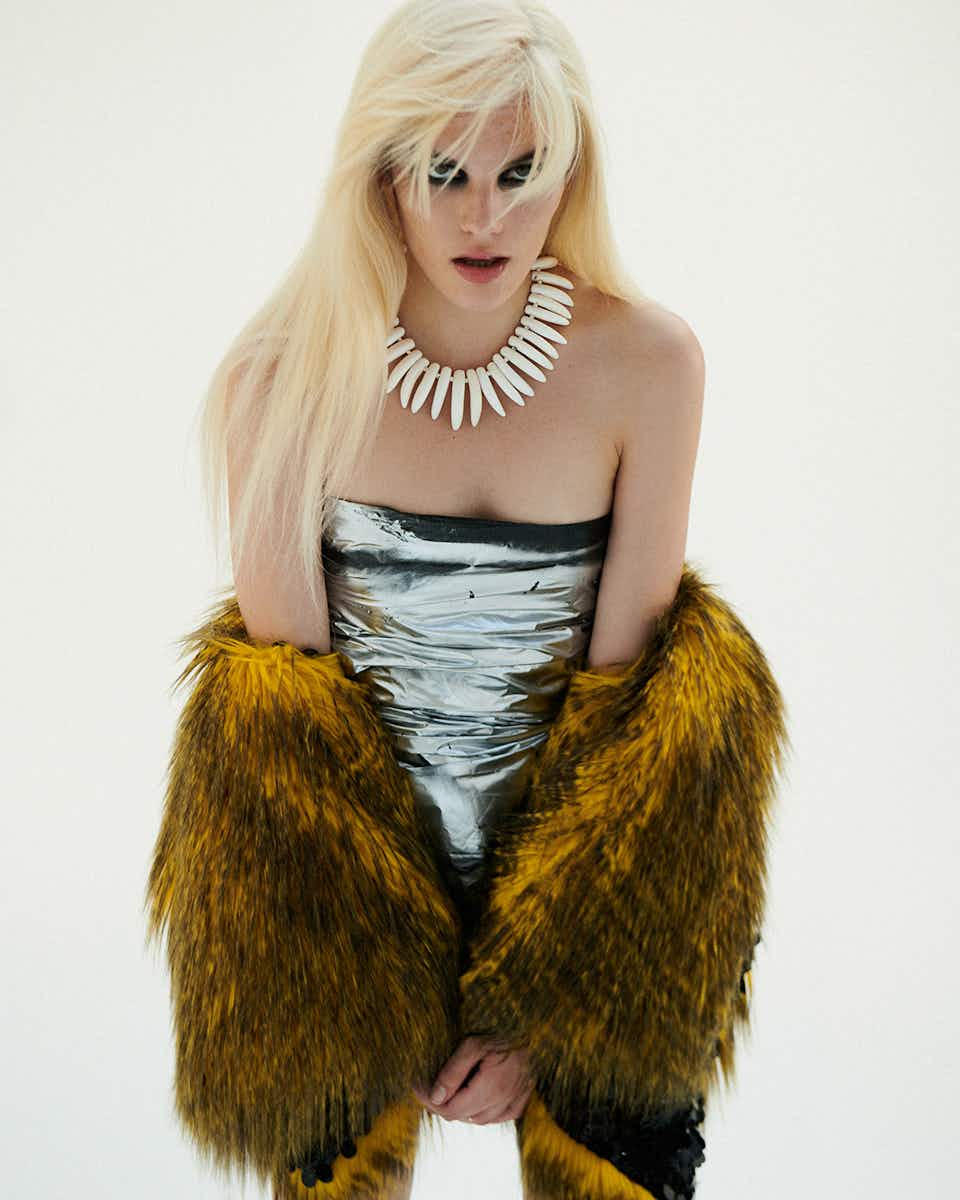 Glamour isn't just on the agenda; it is the agenda. And who can blame us? After a year and a half of stop-start lockdowns, activewear, sweatpants and Crocs, we're ready to break free from the constraints of WFH fits. Fashion's pandemic pivot left many of us feeling utterly and hopelessly lost and the hours, days and months spent confined at home brought about a full-blown identity crisis. By day 64 of sweatpants, I was left not only questioning my sartorial choices, or lack thereof, but also my purpose in life.
With nowhere to escape and little fantasy to seek, many found themselves living vicariously through the metaverse, knocking up imaginative high-fashion fits for their avatars to wear in social simulation games such as The Sims 4 and Animal Crossing: New Horizons. The latter became immensely popular around the world after it launched in March 2020, particularly with the fashion industry, thanks to its capability to not just customise a look, but to design one from scratch.
Less drawn to digital fashion alternatives, I scratched my style itch by rewatching fashionable films and TV shows: The Sopranos in its entirety (like many others), followed by Al Pacino, Sharon Stone and Robert De Niro's back catalogues: Scarface, Casino, Basic Instinct, Taxi Driver and The God­father trilogy. I found comfort in NeverWorns: the Instagram series in which US Vogue writer Liana Satenstein turned her closet clearout into full-blown, 45-minute-long episodes (inviting guests to pick out the most outlandish pieces that they've – drumroll, please – never worn). And while many perfected their banana bread, I spent my winter hours improving my favourites section on Vestiaire, adding gems to my watchlist on eBay and filling my Browns and LN-CC wishlists with clothes I couldn't, and still can't, afford.
Vestiaire reaped the highest conversion rate. With no trends to trial beyond the flat door, I started future-proofing my wardrobe by stockpiling archive pieces that I'd had my eyes on for years: a pair of towering square-toe Balenciaga platforms from AW16, a rectangular red PVC Helmut Lang bag from AW17 and timeless black Maison Margiela Tabi boots with red ­hologram heels.
The minute the mood began to shift, my hunt for everlasting wardrobe staples was paused with immediate effect in favour of big dresses and ostentatious accessories that command attention. Optimism! Energy! Revenge-buying! (Payback for the time and outfits lost to the pandemic.) The urge to throw on an outrageously short, frilly or bright party dress with tons of gold jewellery and stratospheric heels, book an Uber and totter into a club, any club, with just a clutch bag, mask and hand san in tow, had never been so strong.
Cue the AW21 womenswear shows: a dynamite line-up of sheer, sexed-up gowns festooned with frills and embellishments (Versace, Nensi Dojaka, Dior); bold patterned bodysuits (Prada, Maximilian, Rick Owens, Saint Laurent); shimmering, sequin-clad dresses (Gucci, Burberry, Moschino and Prada); shearling mules and thigh-high boots (Miu Miu, Fendi); sculptural gowns and adventurous silhouettes (Off-White, Marc Jacobs); and ­crystal-embellished look-at-me pieces (McQueen, Area and, of course, that Gucci x Balenciaga collab). The menswear designers were at it, too. Just take one look at Virgil Abloh's statuesque silhouettes at Vuitton or the neon chartreuse two-piece suit and bucket hat combo in Kim Jones' Cactus Jack Dior collection with Travis Scott for proof.
As we emerge from our bedrooms we're gravitating towards overt, rather than covert, clobber. The kind of looks that remain etched in your memory for years to come as nostalgic markers of milestone events. Such as, my 18th birthday: black shift dress with meringue-like baby-pink tulle ruffles. ­Twenty-first: a black vest top tucked into a heavily beaded and sequinned skirt that took up a kilogram of my luggage allowance for the flight to Ibiza. Thirty: pandemic purgatory. My birthday fell between Freedom Day attempt one (21st June) and two (19th July). I spiralled out of control at the mere thought of an occasion to get dressed up to the nines, ordering the party dress to trump all party dresses: an oversized black taffeta number – part afternoon tea at The Ritz, part ceremonial graduation gown – with gigantic ruffles and a voluminous shape designed by Patric DiCaprio, Claire Sullivan and Bryn Taubensee, the trio of designers behind avant-garde New York label Vaquera.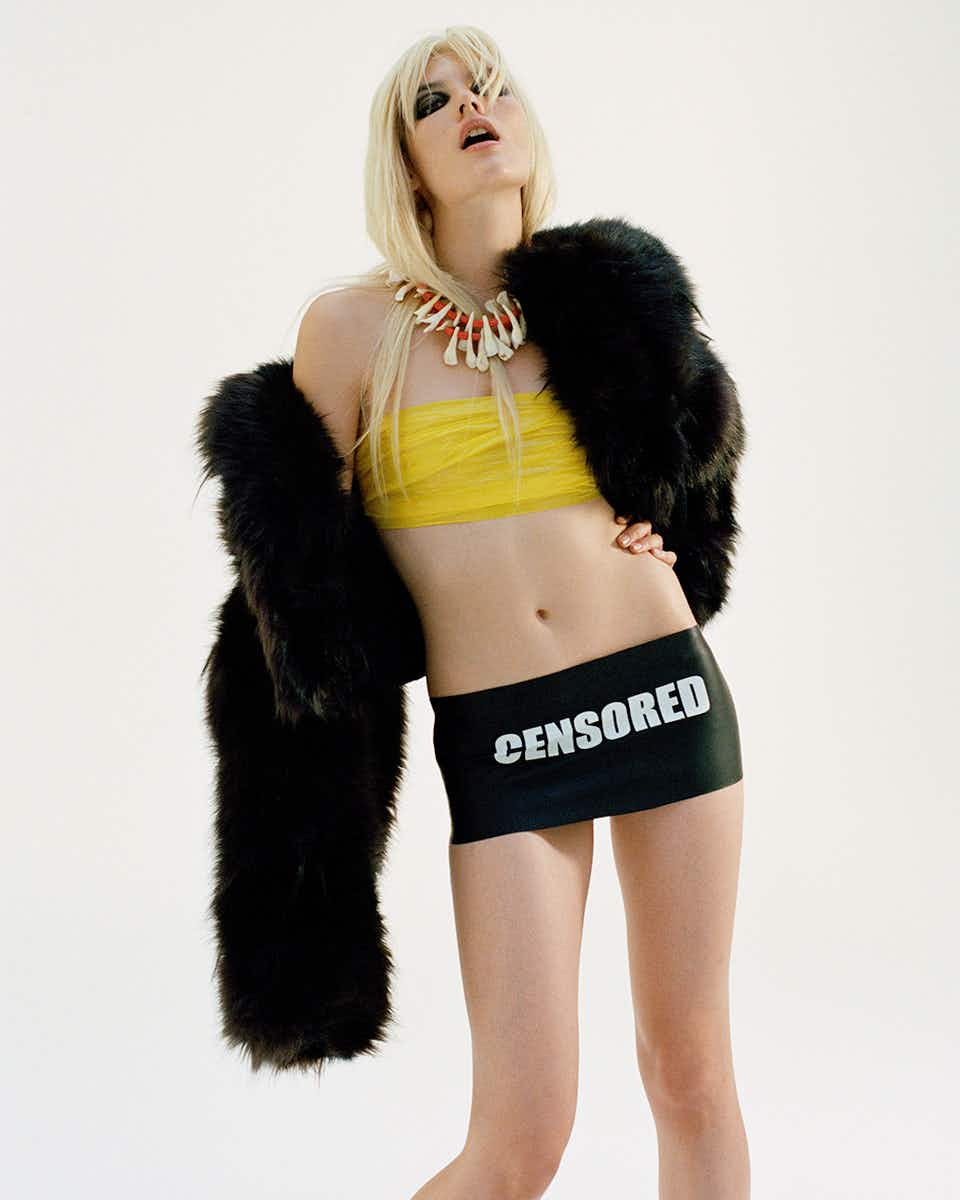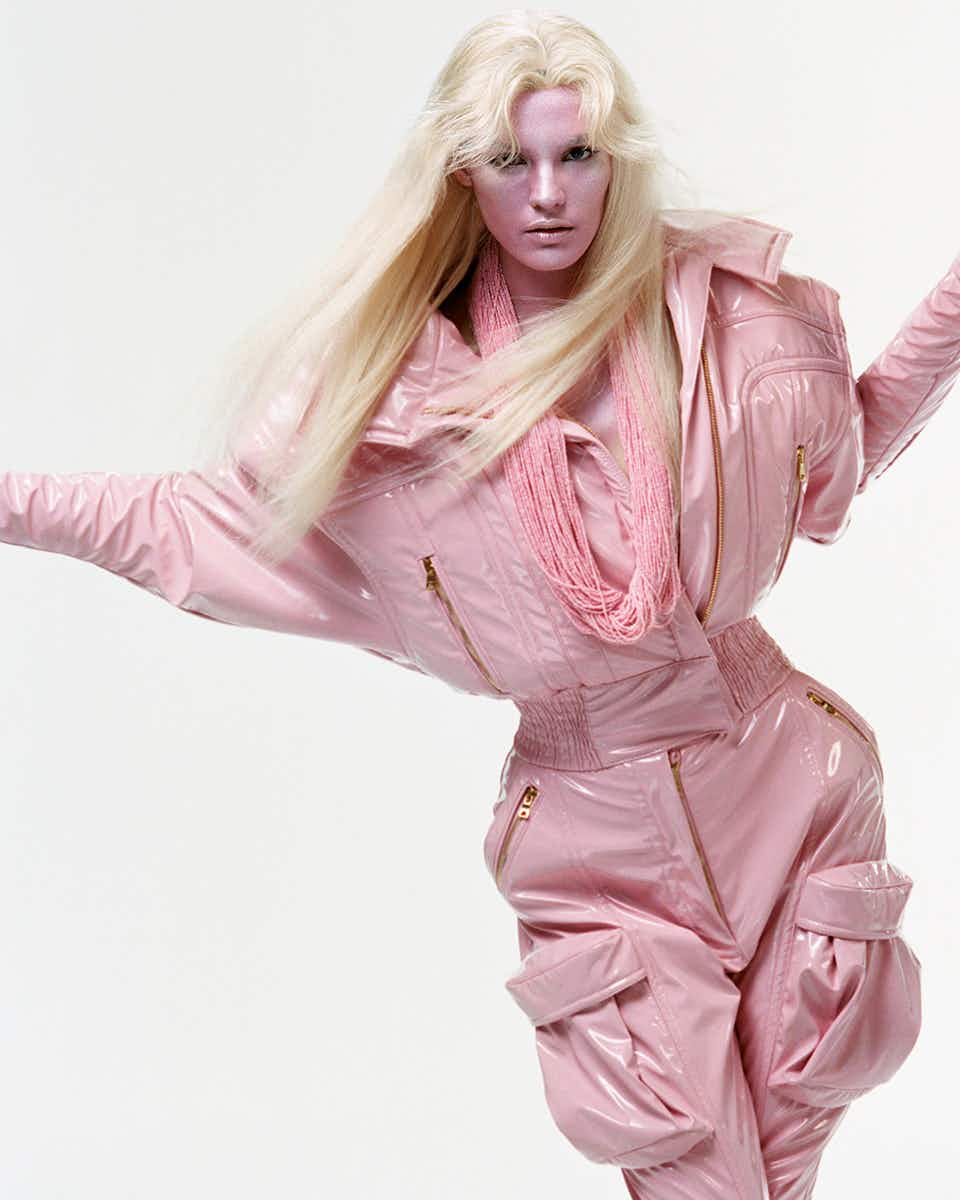 Cutting it loose from the Dover Street Market packaging was a rush in itself. The minute I'd swiped a knife through the parcel tape and unfolded the cardboard flaps, the dress quite literally sprung at me like a jack-in-the-box – the sheer amount of fabric makes it heavy to hold and even harder to pack. I slipped it over my head and onto my shoulders; it drowned me in fancy frills, doubling the circumference of my body immediately, leaving my limbs poking out from each opening like a scarecrow. But it felt so good. It was outrageous, extravagant and fabulous in equal measure and by far the best thing I've splurged on to date.
There's no playbook for dressing after times of crisis, but the proof is in the pudding: searches for metallic shades (43 per cent) and sparkly bras (37 per cent) have increased since the start of the year according to global shopping platform Lyst. The runways were, and soon the shops will be, awash with glamour. And we're all ready to double down on the attention-grabbing looks. Promise yourself one thing: that your future wardrobe will be the antithesis of your 2020 WFH rotation. Only wear the clothes that get your heartbeats racing. Sweatpants for never!
And if you don't agree, there's no judging. Perhaps the pandemic has widened the gap between formality and informality; the die-hard dresser-­uppers and those who genuinely enjoy comfort and dressing down. Or what if, just maybe, it isn't that deep? Would it be too hard to believe that after a painstakingly long, tough, boring year, we're just desperate to… get dressed up and go out into a brave new world. I, for one, am more than ready to ride the glamour wave into 2022 and beyond.
HAIR Louis Ghewy at M+A MAKE-UP Min Kim at Streeters MANICURIST Beatrice Eni at Saint Germain LIGHTING TECHNICIAN Ivory Serra PRODUCER Chloe Mina and Florence Norcereau at Loly Would PHOTOGRAPHER'S ASSISTANT Margaux Jouanneau and Corinna Schulte STYLIST'S ASSISTANTS Borys Korban, Hollie Williamson and Charlotte Buchal PRODUCTION ASSISTANT Valentine Verhague

More like this