Stories from Minneapolis
Two months after the death of George Floyd at the hands of the police and the protests that followed, we visit the city of Minneapolis to speak to the individuals and collectives calling for action, lobbying for change and rebuilding the city brick by brick with the goal of a positive and inclusive future. Dive into a day of stories that look at the activism, music and culture bursting forth from the city.
---
Music
Minneapolis-based, Sudanese-American artist Dua Saleh celebrates the most exciting performers coming out of their hometown.

Society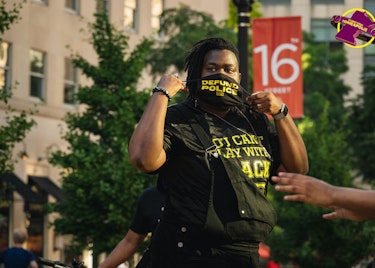 The co-founder of Minnesota-based non-profit Black Visions Collective tells us about fighting for Black liberation and the trans individuals leading the movement.
Society

One of the cultural hubs of Minneapolis is rebuilding after the riots, but some fear that outside investment will accelerate the neighbourhood's descent into gentrification.
Society
We ask MPD 150, a Minnesota-based collective who have been lobbying for its abolition since 2015.
Society

The non-profit collective with the distinctive yellow microphones are changing the rules of reporting - here's how.