Dua Saleh curates: Minnesota's best underground acts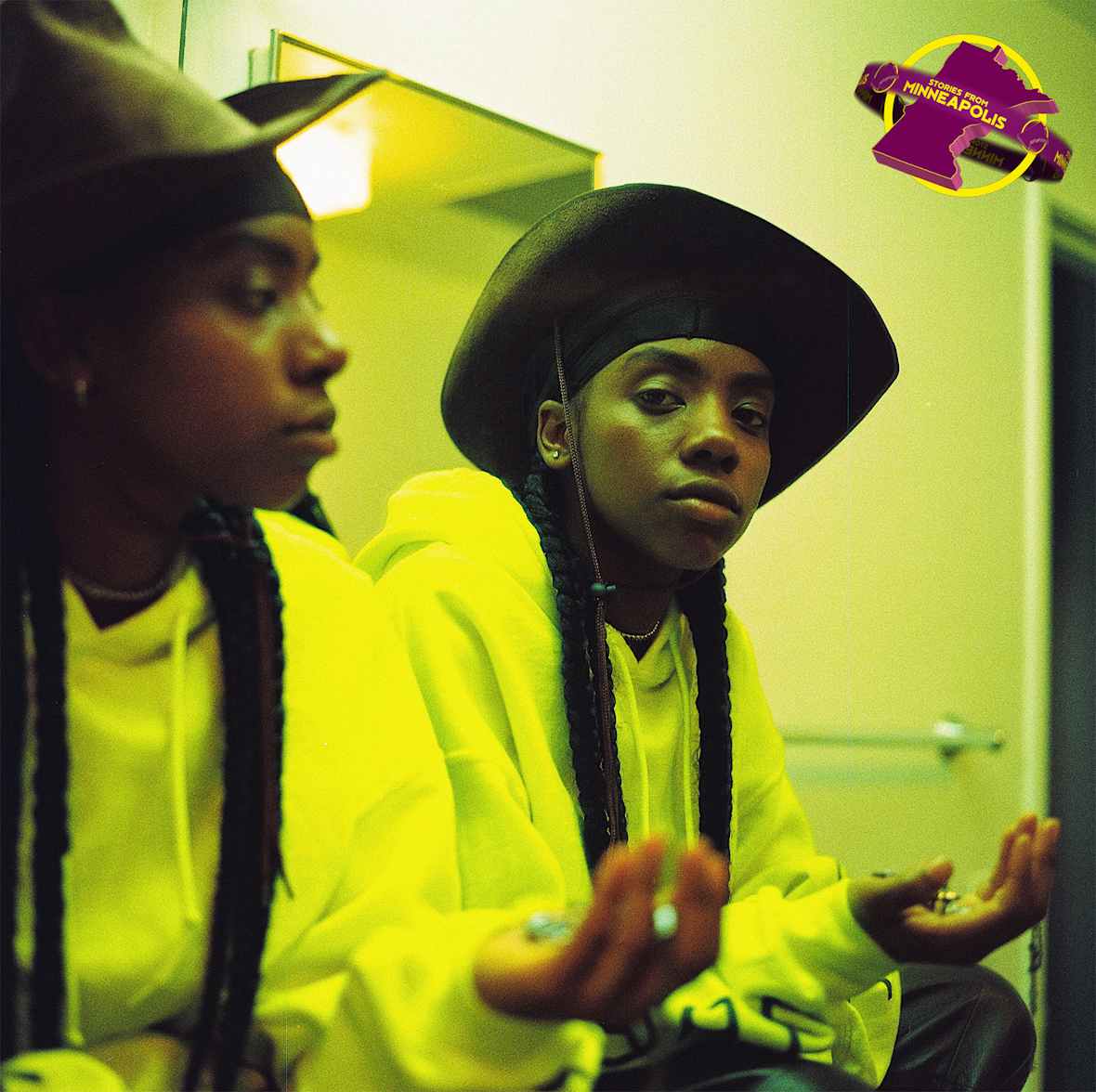 Minneapolis-based, Sudanese-American artist Dua Saleh celebrates the most exciting performers coming out of their hometown.

Two months after the death of George Floyd at the hands of the police and the protests that followed, we visit the city of Minneapolis to speak to the individuals and collectives calling for action, lobbying for change and rebuilding the city brick by brick with the goal of a positive and inclusive future. Dive into a day of stories that look at the activism, music and culture bursting forth from the city.
Dua Saleh is a Sudanese-American recording artist, poet, songwriter and actor based in Minneapolis, Minnesota. Having fled the Second Sudanese Civil War at five-years-old along with their family, Saleh lived in various US states before settling in Minnesota. Their most recent release, a six-track EP titled Rosetta, fuses hip-hop, pop and R&B with a rocky streamline throughout – Saleh's vocals are gritty, woozy and symphonic, exploring both religious and sexual tensions. Saleh is a practising Muslim and identifies as gender nonbinary.
Here, Saleh curates a list of their most inspiring Black artists from the place they call home: Minnesota.

I've always been drawn to the magic of live performances. The first live shows that I witnessed were singers, poets, and visual artists in Sudan – their presence was as much a part of my developmental upbringing as my own family. The emotive pull of their art emboldened me from an ancestral place.
Likewise, Minneapolis has a long history of live performances, carrying the legacy of one of our most iconic figures, Prince – but it doesn't end there. There are a whole host of inspiring Black artists from my city who have personally influenced me, and are included in my round-up of Minneapolis live performers, below. Most of these artists are in the shared trans or queer community so, naturally, we met in social settings, art spaces, and in organising safe space environments.
An artist that electrifies my spirit whenever she's on stage is Kamilla Love. I don't remember exactly when we met, but I'll never forget the first time I saw her perform. I still get goosebumps reflecting on the duality of her striking voice. She has a nectarous, tender singing voice which occasionally erupts into boisterous and playful rapping. She is one of my most frequently listened-to artists on SoundCloud. You can also hear her voice all over my DO IT LIKE DUA playlist – via her former artist name, Miehyk. Recently, Kamilla landed a song in the HBO film, Share, with the help of her longtime friend and producer, booboo. I know that she hopes to create more space for Black trans women like herself in the music industry.
booboo is another rising artist in the Minneapolis music scene. I first met booboo when she was a teen artist. We were both in shared organising spaces and occasionally would see each other at community events. I've watched booboo flourish as a non-binary Black trans woman, an interdisciplinary producer, and as a distinct musician. One of her main goals is to elevate the voices and visions of trans Black artists in Minneapolis and beyond. She has been working with artists from her community like Kamilla Love, Denaisha, Deka, and Izell Pyramid. Recently, she released a new, self-produced single U1. Her music is a great source of healing for me and has even helped me get through a dark period during the uprising in Minneapolis.
When I first entered the Minneapolis arts scene, I was a budding poet using performance art as a means of survival, and to pay my way through college. I met many young artists but Amir Khadar is one west African multidisciplinary artist that stunned me with their brilliance. Amir's main mediums are poetry, fibres, and digital art. For them, art is a space to practice radical imagination and facilitate healing as well as reflection. Afrofuturism, Black spirituality, syncretism, and beauty are constant themes in their work. I continue to be astounded by the ways they experiment with textures in poetry and visual arts. There have been many times that Amir's words have brought me to tears, or their visual art has left my mouth agape. I hope you dive deep into the spirit of this artist's mind through their work and are met with the same feelings that I still feel today.
Yoni Light is someone that uses the body as a means of expression and interrogation. She's a dancer, musician, actress, and activist, and we also met in a shared community. She is the artist that I've known for the longest time, and I have witnessed her develop from a young girl into one of the most captivating dancers that I've ever had the honour of watching. She dominates every stage with intoxicating charisma and an intricate level of emotional aptitude in her dancing. She is a co-founder of the nationally acclaimed hip-hop dance crew, New Black City. This crew is dedicated to using dance to garner social change – their motto is ​"changing the world one booty cheek at a time".
I've always admired the athleticism and physical stamina that drumming often requires – the heightened sense of bodily awareness in having deliberate control of arm and leg movements. One young drummer that I'm captivated by is Glory Yard. Glory is a Black Queer woman that uses both she/​her and they/​them pronouns. I've worked with Glory on stage before at live performances and she never misses a single beat. The technical skill it takes to do that effortlessly will always impress me. Glory's been drumming for 11-years now and has been riding a wave of momentum. Glory is well known in the arts scene in both her hometown of Brooklyn and here in Minneapolis. I've watched her play on Saturday Night Live with Lizzo, shows at First Avenue, and even at the National Association of Music Merchants. I feel really blessed to have been next to their immense talent up close.
Minneapolis has a tremendous yet complex art scene and there are a number of people that are absolutely instrumental in creating a new lane for people to model after. Cameron P Downey is one of the vanguards of the younger generation's art scene, particularly in her hometown, North Minneapolis. I was first introduced to her art before I met her in a social space. This is a testament to the gravitational pull that her art has in Minneapolis and across the country. As a student of visual art and environmental science, Cameron explores anti-disciplinary storytelling to create conceptual artworks through photography, film, body, sculpture, and otherwise. She aims to archive, interrogate, unfurl, and bring fantasy to the world.

More like this