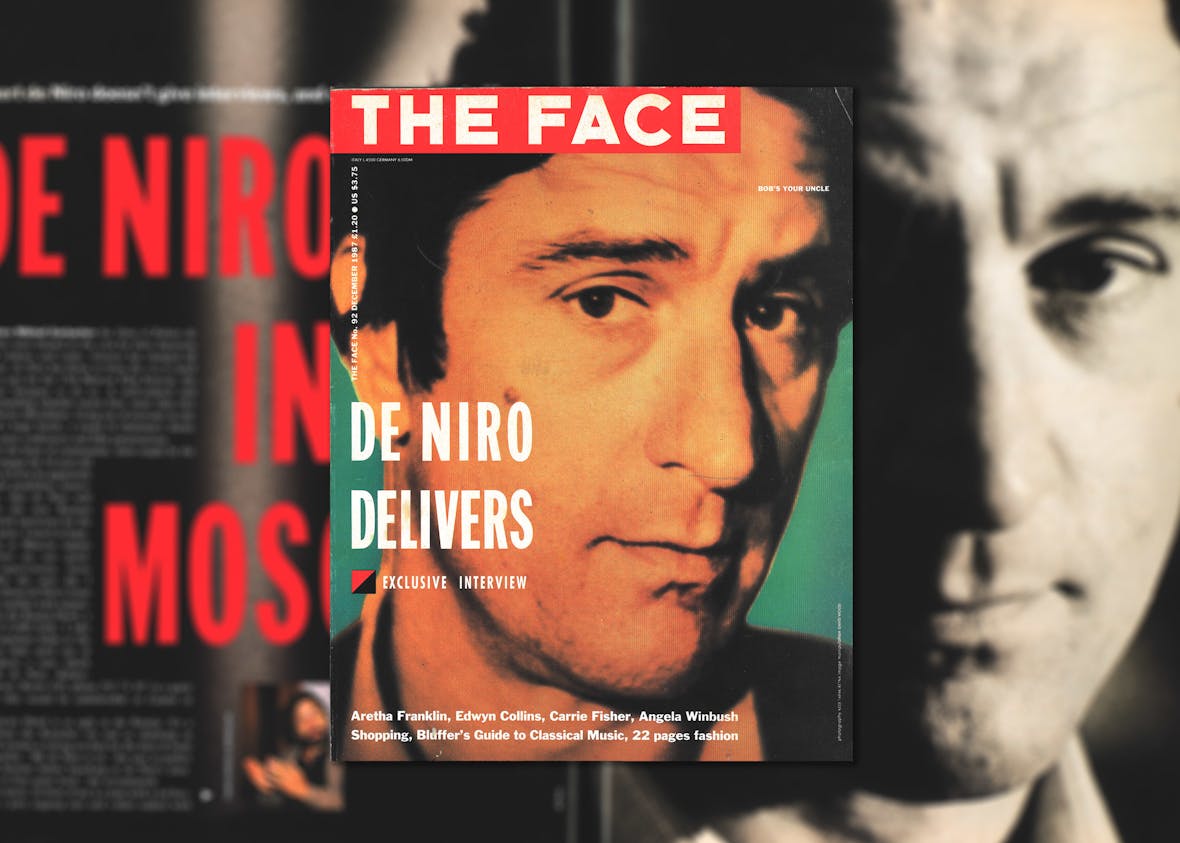 De Niro in Moscow
To cel­e­brate the long-await­ed return of The Face, we have select­ed a stand-out sto­ry from each year of our exten­sive archive, from 1980 to 2004.
How Wolfgang Wilke fooled a legend
"The sto­ry of how The Face land­ed one of its biggest celebri­ty inter­view coups is some­what murky. The noto­ri­ous­ly media-shy Robert De Niro usu­al­ly refused all inter­view requests. But while in Rus­sia act­ing as jury chair­man of the 15th Moscow Film Fes­ti­val, he was approached by an East Ger­man jour­nal­ist. Intrigued by the oppor­tu­ni­ty to dis­cuss with a reporter from behind the Iron Cur­tain his views on the dif­fer­ences between the East and the West, and his thoughts on social­ism, De Niro agreed to talk. In fact, the jour­nal­ist was West Ger­man writer Wolf­gang Wilke. He came up with the sto­ry about being from East Ger­many off the top of his head in order to secure his scoop, which he then sold on to The Face. Wilke admits his own decep­tion in the piece ('I imag­ine myself this poor, deprived boy from East­ern Ger­many'), detail­ing how he got De Niro's hotel room num­ber from a front desk naïve to the wiles of West­ern reporters and then charm­ing the man him­self. Else­where in the piece, De Niro even address­es the sub­ject of nev­er (usu­al­ly) talk­ing to the press, say­ing: ​'Why should I talk to jour­nal­ists who put stu­pid ques­tions to me? Peo­ple should go to the cin­e­ma, watch my movies and make up their own minds.'"
Robert De Niro doesn't give inter­views and shields his pri­vate life from pub­lic view. When he dropped his guard mak­ing a rare pub­lic appear­ance as jury chair­man of the 15th Moscow Film Fes­ti­val, enter­pris­ing West Ger­man jour­nal­ist Wolf­gang Wilke moved in to secure this exclu­sive glimpse of the reclu­sive leg­end of mod­ern cinema.
Before Mikhail Gor­bachev the films of Robert De Niro were banned in the USSR for their depic­tion of vio­lence and crime. Glas­nost has changed all of that: De Niro has flown in from the USA to head the jury for the 15th Moscow Film Fes­ti­val and the first for­eign­er to do so. A well-ordered and demand­ing sched­ule awaits him: more than two weeks of Sovi­et offi­cial­dom, liv­ing out of suit­cas­es in one of Moscow's huge hotels, a round of chair­man duties involv­ing press con­fer­ences and film presentations.
Here, in the heart of com­mu­nism, there might be the chance to engage the 44-year-old actor in an activ­i­ty he appar­ent­ly despis­es; the pos­si­bil­i­ty, how­ev­er remote, that De Niro will rec­i­p­ro­cate the new Russ­ian open­ness with inter­views for the atten­dant press. I trav­el in hope.
Arriv­ing at Moscow air­port the por­tents are not good. Checks, super­vi­sions, more checks. But the next day I man­age to obtain De Niro's room and phone num­ber with sur­pris­ing ease. In the Rossi­ja Hotel, a com­plex of 6,000 beds, I joke with the cor­pu­lent ladies at the recep­tion desk until one of them pro­duces a note which reads, ​'Mr De Niro, Robert, Hotel Moscwa, Room 410, phone 292 74 30' in a spir­it of Glas­nost that would be unbe­liev­able in Cannes or Venice.
The Moscwa Hotel is as ugly as Rossi­ja. It's a build­ing from the Kruschev era and as charm­ing as con­crete. A woman is sit­ting on duty by the door of room 410. She smiles. ​"Mr De Niro is in," she says in per­fect Eng­lish. I hes­i­tate before knock­ing at De Niro's door. ​"You have to beat quite loud," she recommends.
The door opens. In front of me is a man with a red face, dressed in a grey jog­ging suit and t-shirt soaked with sweat. ​"What do you want?" he asks.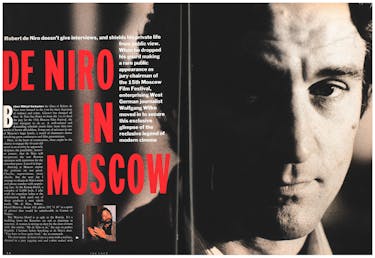 "I would like to talk to Robert De Niro," I reply and try to catch a glimpse of his room. ​"I am Robert De Niro," the man says. Pause. No comment.
"I don't want to dis­turb you. I can come by lat­er today."
"Why do you want to talk with me?"
"I'd just like to meet you. I am a jour­nal­ist. I'm from East Berlin and thought I could come and show you Moscow." What am I say­ing? East Berlin! I have been there only once. But I know he doesn't like West­ern reporters.
De Niro checks me out. He hes­i­tates. ​"What about East Ger­many?" he asks.
"It's great, although Moscow's more excit­ing." I talk about East Ger­many as if I've nev­er been to anoth­er coun­try and De Niro becomes more friendly.
"Call me tomor­row, per­haps we can meet. I got my fam­i­ly with me, my son and my daugh­ter. Just call, but now I have to get back to my training."
The next morn­ing he spends jog­ging, rest­ing at noon, watch­ing movies in the after­noon in his role as jury chair­man. When l see him again in the evening at an offi­cial event sur­round­ed by a crowd of peo­ple, he waves his hands and calls out, ​"Why didn't you call me?" Two days elapse. The chair­man is a busy man; I'm impressed by his busi­ness-like approach. Smart­ly dressed in suit and tie, the shy, cau­tious actor is a skil­ful chair­man of the jury; all diplo­ma­cy and professionalism.
"I came to Moscow," he under­lines at a press meet­ing, ​"because I got ner­vous from the ten­sions between the USSR and the USA. I felt threat­ened, per­son­al­ly; that's why I engage myself in mutu­al understanding."
The third day I man­age to talk to him on the phone. ​"Pass by for din­ner," he suggests.
The restau­rant of the Moscwa Hotel resem­bles an air­port depar­ture lounge. In one cor­ner of the huge hall, I recog­nise De Niro and his par­ty. At the head of the table there is Dri­na, De Niro's step­daugh­ter; a beau­ti­ful 19-year-old with a smile that reminds me of Sade. At her side is Raphael, De Niro's 11-year-old son, brown haired and dark-eyed. Oppo­site him is Dan, a 26-year-old Spring­steen look-a-like who works for De Niro as his per­son­al train­er. Raphael has pommes frites, Dri­na eats Borschtsch, the Russ­ian nation­al dish. ​"I don't like it," she moans. Only De Niro seems con­tent. ​"Dad­dy prefers veg­eta­bles," says Dri­na, ​"there you can't go wrong."
"You got an idea what we can do tonight?" De Niro asks. ​"I'd like to see some­thing new, maybe the under­ground. New York, too, is not that excit­ing if you show a for­eign­er only the Empire State build­ing and the Muse­um of Mod­ern Art."
For­tu­nate­ly, I had invit­ed Moscow jour­nal­ist Mikhail Siga­low to join us. Siga­low reels off the local ​'attrac­tions'; a punk con­cert in the sub­urb of Luzh­ni­ki, a heavy met­al con­cert in the Olympic Vil­lage, a Russ­ian rock­a­bil­ly group in the Blue Bird or the ​"U-Fontana", Moscow's best disco.
They set­tle for the rock­a­bil­ly group, Mis­ter Twister, at the Blue Bird. ​"Let's meet at nine at the hotel?" De Niro suggests.
The Blue Bird turns out to be a cross between a jazz club and a night­club. Dri­na is aston­ished. There are hun­dreds of peo­ple out­side, but inside there are emp­ty seats. ​"The Moscow under­ground is crazy," explains my col­league Mikhail, ​"the man­ag­er always has to reserve some tables for impor­tant appa­ratchiks, the nomenklatura-members."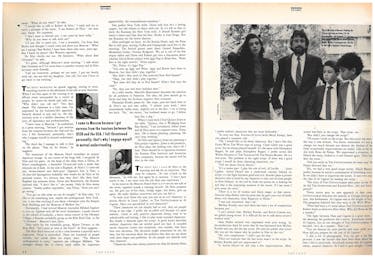 Dan prefers New York clubs. Dri­na tells him he's a bor­ing yup­pie, but she refus­es to dance with me. So it's left to Dan to show the Rus­sians the New York style. A blonde Russ­ian girl wants a dance and Dan does his best Rocky vs Ivan Dra­go, but the Rus­sians are the bet­ter dancers.
After mid­night we leave. At the Rossi­ja Hotel, only the Press Bar is still open, serv­ing Vod­ka and Champin­s­ki until five in the morn­ing. The fes­ti­val guests meet there; Ger­ard Depar­dieu, Men­achem Golan, Vanes­sa Red­grave. We sit at one of the few emp­ty tables and Dri­na and Robert get into a dis­cus­sion as to whether David Bowie played with Iggy Pop or Bri­an Eno. ​"Bri­an Eno is the right answer," Dri­na argues.
"No, Dri­na, it's Iggy Pop."
"You mix Iggy and Bri­an. Iggy and Bowie have been to Moscow, but they didn't play together."
"But didn't they send us that post­card from Red Square?"
"OK, but they didn't play together."
"But what did they do in Red Square? Didn't they tour the USSR?"
"No, they just had their hol­i­days here."
At a table near­by, Mar­cel­lo Mas­troian­ni dis­cuss­es the solu­tion for all prob­lems in Pales­tine. His idea; the Jews should move to Sici­ly and help the Sicil­ians improve their economy.
Nas­tassjia Kin­s­ki pass­es by. She stops, puts her head close to De Niro's ear and says soft­ly, ​"I admire your work," then imme­di­ate­ly walks away, slight­ly red in the face. I try to bring her back. ​"No," she resists, ​"my hus­band wants to fol­low him like a dog."

When I come back I find Quin­cy Jones at the table. ​"Quin­cy, this is Wolf­gang from East Berlin," I am intro­duced, before Jones and De Niro move to a sep­a­rate room. Dri­na says, ​"He is always phon­ing, plan­ning. He can't stop working."
De Niro and Quin­cy Jones are plan­ning a film project togeth­er. Jones is the pro­duc­er, De Niro plays the lead­ing role, that's all I hear. There should be co-oper­a­tion between the Russ­ian Film Insti­tute and Amer­i­can film com­pa­nies, because the movie will be shot in the USSR.
The next day I call De Niro in the morn­ing and ask for an inter­view. This time he con­sents. ​"At two o'clock in the after­noon," he tells me, but again he is cau­tious. ​"I don't have much to say. I am more into the job than into interviews."

In his room at the Moscwa Hotel there is a TV set on one side of the room; oppo­site stands a train­ing bicy­cle. De Niro pre­pares tea. He gets out of his chair, brings sug­ar, sits down, gets up again. He real­ly dis­likes inter­views and you can feel it.
"In both your films this year you star as an evil char­ac­ter, in Angel Heart as Louis Cyphre, in The Untouch­ables as Al Capone. Have you spe­cialised in evil characters?"
"These char­ac­ters are not sim­ply bad or evil, they are peo­ple liv­ing at the edge. I pre­fer the so-called evil because it's more real­is­tic. Good or only pos­i­tive char­ac­ters always tend to be unbe­liev­able and bor­ing, I like to play more round­ed char­ac­ters. But final­ly, it depends upon the script. A good writer describes real­is­tic char­ac­ters that are nei­ther good nor bad. A round­ed movie char­ac­ter is put into sit­u­a­tions, into trou­ble, that force him into deci­sions. His deci­sions might some­times be not the best but his reac­tions show the audi­ence that they are not alone with their hopes and prob­lems. So the peo­ple can iden­ti­fy with that character."
"Char­ac­ters that react always pos­i­tive are OK for fan­ta­sy films, I pre­fer real­is­tic char­ac­ters that are more believable."
"In only one film, Falling in Love (with Meryl Streep), have you played a roman­tic role…"
"Oh, I would like to do those char­ac­ters. But I don't like that Gone With The Wind type of act­ing. Clark Gable was a good actor, but he always played him­self. It's the same with Humphrey Bog­a­rt; he just plays Humphrey Bog­a­rt. I pre­fer actors like Wal­ter Hous­ton in The Trea­sure of the Sier­ra Madre. He is a real actor. The prob­lem is the right script. If there was a good script I would do those charm­ing char­ac­ters, too."
"Tell me about Angel Heart."
"It's a cameo part. I play the role of evil, of Lucifer… Louis Cyphre. Angel Heart has a tra­di­tion­al con­cept behind its script; it's the fight between good and evil. Rourke plays a pri­vate detec­tive who is hired by my char­ac­ter to take care of some peo­ple in New Orleans. In the end he finds the per­son he is look­ing for and that is the sur­pris­ing moment of the movie. If I say more I give away the story."
"There is a lot of voodoo and black mag­ic in that movie. Direc­tor Alan Park­er told the press that he gave you a lot of books about evil char­ac­ters, from Rasputin to Hitler."
"I was just inter­est­ed, that's all."
"Mick­ey Rourke once said there has been a lot of com­pe­ti­tion between you…"
"I can't answer that. Mick­ey Rourke, and Kevin Cost­ner too, are gift­ed young actors. It is dif­fi­cult for me to talk about actors I worked with."
"Alan Park­er seemed very impressed with your act­ing. In his pro­duc­tion diary, he wrote that he was fas­ci­nat­ed how Mick­ey Rourke and you did the last scene. He told the pub­lic that actors like you are the rea­son why he prefers to film in the USA."
"Oh, nice com­pli­ment. I didn't pay for that."
"There are rumours that the last scene wasn't in the script. So Mick­ey Rourke and you impro­vised it?"
"In Angel Heart we did only a few impro­vi­sa­tions. Most scenes had been in the script. That scene too."
"But didn't you change the script?"
"Of course I work on the script. But this scene was shot exact­ly the way it was writ­ten. You know, some­times it's not good to change too much because you destroy the rhythm of the play. Only occa­sion­al­ly impro­vi­sa­tions are use­ful. Like in the movies I did with Bri­an de Pal­ma. We impro­vised a sit­u­a­tion, then we filmed the scene, looked at it and learned again. Then final­ly we shot the scene."
"Did you work on The Untouch­ables the same way? Bri­an de Pal­ma direct­ed that too."
"No, we had a very good scriptwriter, David Mamet. He's per­fect because he writes a com­bi­na­tion of street slang and poet­ry. So we didn't have to impro­vise the scenes. It was even easy to get the idea of Al Capone by read­ing the script."
"The sto­ry of The Untouch­ables takes place in the Thir­ties. As did The God­fa­ther and Rag­ing Bull. Are you fond of that period?"
"Every movie gets its own approach to that time. The Untouch­ables describes the anar­chy in Chica­go dur­ing pro­hi­bi­tion, this law­less­ness. Al Capone was at the height of his pow­er. The gang­sters behaved like they were in the Wild West."
"There had been a TV ser­i­al about The Untouch­ables star­ring Robert Stack as detec­tive Eliot Ness. Why did Bri­an de Pal­ma do a remake?"
"The fight between Ness and Capone is a good sto­ry. Before the shoot­ing the pro­duc­ers did a sur­vey. Every­body remem­bered Al Capone, but no one thought of The Untouch­ables. So they decid­ed, ​'Let's do a remake.' That's all."
"You are famous for your pre­cise and exact work in act­ing. How did you pre­pare for the role of Al Capone?"
"I saw a lot of pho­tographs. You can get a lot from the pic­tures. I saw the movies that have been done about him and then I did it intu­itive­ly. Every­body knows that Al Capone was a robust, mas­sive char­ac­ter. So I had to gain weight. I could have tak­en a body­suit, but what should I have done with my face? So I did the weight thing although I didn't want to do it and, I promise you, I nev­er will do it again."
"In Rag­ing Bull, play­ing box­er Jake LaM­ot­ta, you also had to gain weight. How did you suc­ceed in chang­ing your appear­ance so that even friends did not rec­og­nize you?"
"I ate and drank 24 hours a day. Beer, milk and so on. You can't imag­ine what kind of tor­ture it was. I had to gain weight from 160 pounds up to 200. I couldn't breathe no more, I couldn't even close my shoes. Even friends did not rec­og­nize me. In Cannes, at the fes­ti­val, some peo­ple said, ​'Hey, there is Ser­gio Leone and James Woods. But where is Robert De Niro?' I was just stand­ing beside them."
"For Taxi Dri­ver, you worked as a cab dri­ver for three months, for New York, New York you learned to play the sax­o­phone, for The God­fa­ther you prac­tised Mafia dialects. After New York, New York, how good a sax play­er did you become?"
"I learned it, but in the movie a pro­fes­sion­al sax play­er was doing all the musi­cal parts. I had to train to get the tech­nique to make it look authen­tic. Only if you get into your char­ac­ter will peo­ple start to accept you seri­ous­ly. Oth­er­wise, the audi­ence will feel that there is some­thing wrong."
"You even took care of small­er roles. You did some cast­ing for Rag­ing Bull, it's said."
"That's right. If you cast the wrong char­ac­ters the whole movie may not work. For the role of Jake's wife Vik­ki, we found a girl in a New York dis­cotheque. She had a feel­ing and an aura you will sel­dom find among pro­fes­sion­als. Some­times ama­teurs are bet­ter to work with, because of their instinct."
"You like to play with amateurs?"
"I don't mind. If you are doing a the­atre play, it's dif­fi­cult. But in a movie you re-shoot the scenes. For me, cri­te­ria like inten­si­ty and cre­ativ­i­ty are very impor­tant, not ques­tions of pro­fes­sion­al­ism or unprofessionalism."
"Do you pre­pare for your new films with the direc­tor, or is it on your own initiative?"
"I do my research com­plete­ly alone. Some­times I take the direc­tor with me, to give him an impres­sion of my prepa­ra­tions. Michael Cimi­no and me walked through the work­er town­ships in Penn­syl­va­nia for The Deer Hunter. Togeth­er with Mar­tin Scors­ese I walked into box­ing fights for Rag­ing Bull. Although the fight­ing scene in the movie takes only 15 min­utes, we were work­ing on that scene for nine weeks. The chore­og­ra­phy was very dif­fi­cult and the posi­tions of the cam­eras were extreme­ly complicated."
"Did you learn this com­mit­ment at the actors' studio?"
"No, you don't learn that inten­sive work at school. They don't teach you the details. Alec Guin­ness, for exam­ple, impress­es through his care for details… wear­ing spe­cial shoes with a thick sole, chang­ing the way he walked."
"Have you learned from oth­er actors, too?"
"Mar­lon Bran­do, James Dean, Mont­gomery Clift, Geral­dine Page, Kim Stan­ley, Spencer Tracey, Wal­ter Hous­ton. Shall I name some more?"
"Who is your favourite actress?"
"Meryl Streep."
"Your favourite movie?"
"(long pause) The Searchers star­ring John Wayne direct­ed by John Ford."
"And which one of your own movies do you like best?"
"Maybe I'll tell you in ten years. I don't like to watch my own movies. I feel embar­rassed, like lis­ten­ing to your own voice the first time."
"How did you start your career?"
"ln the Six­ties I played some the­atre roles and Din­er The­atre. That means I walked in the restau­rants from table to table and played for the guests. Most actors don't like that, but for me it was an inter­est­ing expe­ri­ence. I got so many tips that I didn't wor­ry about hav­ing no job. My first movie I did with Bri­an de Pal­ma in 1968, The Wed­ding Par­ty. I had seen an adver­tise­ment in Show­busi­ness and I went into de Palma's stu­dio for the audi­tion and after that he called me."
"Is it true that you only received 50 dol­lars for that role?"
"Yes. I thought I was get­ting 50 dol­lars a week. But my moth­er, who signed the con­tract because I was under age, told me; ​'You get 50 dol­lars for the com­plete movie'. At that time de Pal­ma and me did kind of under­ground, low-bud­get movies. We had to work with lit­tle mon­ey and there was no dis­tri­b­u­tion of our films."
"Are you sat­is­fied with those ear­ly movies?"
"Espe­cial­ly with the movies I did with Bri­an de Pal­ma. We did the movies to have fun, there was not that big busi­ness atmos­phere like nowa­days in Hol­ly­wood. And, also he was the first direc­tor I worked with."
"When did you meet Mar­tin Scors­ese, the oth­er impor­tant direc­tor of your life?"
"We knew each oth­er from the streets of Lit­tle Italy in New York when we played there as chil­dren. In the begin­ning of the Sev­en­ties, we met again through a mutu­al friend. I was real­ly inter­est­ed in get­ting the role in Mean Streets but I couldn't make up my mind which char­ac­ter I should choose. I met Har­vey Kei­t­el, who played the role of Char­lie. He told me, ​'You are the one to play John­ny Boy.' Final­ly, I played that character."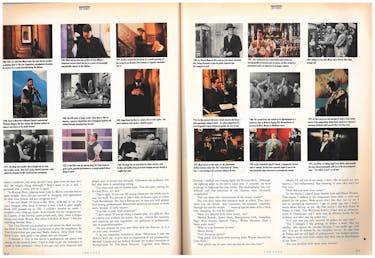 "How do you rate Scors­ese, with whom you did five movies?"
"It's fun work­ing with him. He risks more than any oth­er direc­tor and we under­stand each oth­er with­out discussions."
"Your movies have been crit­i­cised because of the vio­lence in them. The Rus­sians left the Berlin Fes­ti­val under protest because The Deer Hunter was shown in the competition."
"That's the way they felt at that time. Today it's dif­fer­ent. We made a film about a young boy whose heart and soul had been shaped by the Viet­nam war. For me this film is still an impor­tant expe­ri­ence and I'm glad I did the movie."
"Oth­er crit­ics claim that your role as assas­sin Travis Bick­le in Taxi Dri­ver cre­at­ed imitators."
"There are always peo­ple who jump with a tow­el from the roof because they think they are Superman."
"But in gen­er­al the films you star in are quite vio­lent. What is your posi­tion towards violence?"
"Movies are not real life, but show it. In Amer­i­ca there is more vio­lence than in oth­er coun­tries. Thus we have to get along with vio­lence, to find a way to han­dle it. Each cul­ture has its own way to han­dle that prob­lem. We have to respect that."
"I can imag­ine that you get a lot of offers to act, although your price is high. For 11 days of work­ing on the set of The Untouch­ables, it is said you were paid 1.5 mil­lion dol­lars. Besides the mon­ey, how do you choose your roles?"
"First the qual­i­ty of the script is impor­tant. It's dif­fi­cult to find a script with a good sto­ry, a begin­ning, a cen­tre and an end. Then the direc­tor is impor­tant. I have to talk with him a lot. I must be sure that I feel alright doing the movie. If you don't keep con­trol things get crazy. I once had that expe­ri­ence and don't want to have it twice. The job is tough enough as it is."
"Who is the direc­tor you are talk­ing about?"
"I'll nev­er tell in public."
"Do you impro­vise your roles?"
"If there is a good script, you don't need to improvise."
"Have you worked with a bad script, too?"
"Dur­ing the film­ing of New York, New York we found out that the script didn't work. The ques­tion is, ​'Why does it have to be that scene? Does it fit into the film?'"
"Only one of your movies real­ly flopped: Once Upon a Time in Amer­i­ca. Do you know why?"
"Dur­ing shoot­ing, I felt that this movie would not be a suc­cess. The sto­ry is too impre­cise con­cern­ing mod­ern Amer­i­can his­to­ry. Even for an Amer­i­can this project would be dif­fi­cult. And done by a Euro­pean like Ser­gio Leone, it became even more difficult."
"Every­body knows that you don't like pub­lic­i­ty. Do you suf­fer being pop­u­lar? Do peo­ple stop you in the streets?"
"Peo­ple recog­nise me. In New York peo­ple tend to be friend­ly but in Los Ange­les it's dif­fer­ent because every­body feels he is in the movie indus­try and tries to behave impor­tant. I only go to Los Ange­les when I am paid for it."
"If you don't like life in the pub­lic eye, why are you here?"
"I came to Moscow to see some movies I nev­er would have seen at home. And I always felt threat­ened by the fact that the USA and the USSR stand hos­tile against each oth­er in the world. How­ev­er, there are some sim­i­lar­i­ties in both coun­tries. We have to respect each other's style of liv­ing and cul­ture and try to under­stand each oth­er. Movies can help this understanding."
"Are you involved in politics?"
"No, not directly."
"You did Live-Aid."
"That's true, but that's all."
"What did you want to bring to the Rus­sians? Some Hol­ly­wood glamour?"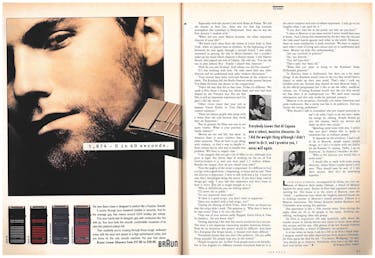 "In Amer­i­ca there is Hol­ly­wood, but there are a lot more things. If the Rus­sians would come to the USA they would have a chance to make up their own minds. That's why I took my chil­dren with me, because they should see how Moscow looks. I do the offi­cial pro­gramme but I like to see the oth­er, unof­fi­cial cul­ture, too. If young Rus­sians would vis­it the USA they would see that there is an under­ground too. We need more mutu­al infor­ma­tion and this only works by per­son­al contacts."
"Moscow is an excep­tion. Gen­er­al­ly you refuse inter­views and press con­fer­ences. But a movie star has to do pub­lic­i­ty. Did you choose the wrong profession?"
"Why should I talk to jour­nal­ists who put stu­pid ques­tions to me? I do what I have to do and don't waste my ener­gy by talk­ing. Peo­ple should go into the cin­e­ma, watch my movies and make up their own minds."
"Spend­ing some time with you, I notice that you don't always like to speak to celebri­ties but to ordi­nary people."
"It depends on the sit­u­a­tion. I had a job to do in Moscow, peo­ple expect cer­tain things, so I did a TV show with my fam­i­ly for the Russ­ian TV, say­ing, ​'Hel­lo, I am an Amer­i­can.' In Amer­i­ca, I wouldn't do this."
"Who is the direc­tor you would like to work with?"
"I would like to work with some young direc­tors, whose films I maybe haven't even seen. They should pass by and, if I like their movies, then let's do some­thing together."
Lat­er that evening, accom­pa­nied by Dri­na, we vis­it the home of Moscow faith heal­er Dshu­na, a friend of Mikhail Siga­low for many years. Ear­li­er De Niro had expressed inter­est in meet­ing her. Her house is in the cen­tre of Moscow, near the ​'Arbat', a pedes­tri­an zone where the bright­ly paint­ed hous­es are in strik­ing con­trast to Moscow's over­all grey­ness. Dshu­na is a Moscow insti­tu­tion. The for­mer Krem­lin lead­ers Brezh­nev and Cher­nenko were among her patients.
Her apart­ment is like a 19th cen­tu­ry salon. Even dur­ing the night there are 20 to 30 peo­ple in the room, drink­ing tea, talk­ing, exchang­ing ideas and gossip.
De Niro is inquis­i­tive. He asks ques­tions, talks about the voodoo scenes in Angel Heart and wants to know more about this woman and her arts. Old pho­tos of the late Russ­ian direc­tor Andrej Tarkovsky, a friend of Dshuna's, are produced.
It is late when we leave. I ask for a lift in De Niro's black limo. I imag­ine myself this poor deprived boy from East­ern Ger­many. De Niro opens the door for me. ​"You know, Wolf­gang," he says, ​"you should go to Amer­i­ca. Every­body there has a car like this. And even bet­ter ones."
---