Creepy clawries: meet the nail artists bringing the future to our fingertips
Life-size butterflies, floral ecosystems and deep-sea claws! Olivia Tonin, Elina Jung, Tomoya Nakagawa and Rohan Mirza dive deep into the creation of new-age nails.

Welcome to the nail art revolution. Long gone are the days of bland acrylic designs, run of the mill manis and block colour sets. Rather, the last few months have ushered an insatiable appetite shared by claw-seekers around the world for nails inspired by the cosmos, robots, otherworldly sea creatures and everything in between.
Olivia Tonin, Elina Jung, Tomoya Nakagawa and Rohan Mirza are just a few of the artists pushing the boundaries of traditional nail art, creating interplanetary claws dripping in jewels, chains, pearls and 3D plastic. Take a scroll through your Instagram Explore page – they're just as ubiquitous as a Kardashian's photo-ready pout, or, as it happens, fresh set of nails.
"Over the last 10 years or so, we've observed nail art becoming more mainstream, due in part to influencers like Kylie Jenner," Tonin says. ​"While we're certainly experiencing a period of late ​'90s, early ​'00s nostalgia, [the likes of] Jenner have been [called out] for taking style cues from primarily Black sex workers.
"Long nails have been at the centre of this conversation. I think their popularity has been compounded by the isolation of the pandemic, as nail technicians like myself have embraced the creation of more extreme looks on themselves, when they no longer had clients on which to work."
With each fingertip looking like its own ecosystem, these new-age nails look firmly to the future. Just don't ask if you can wash the dishes – or do anything else – with them on.

Olivia Tonin / Hotnails666420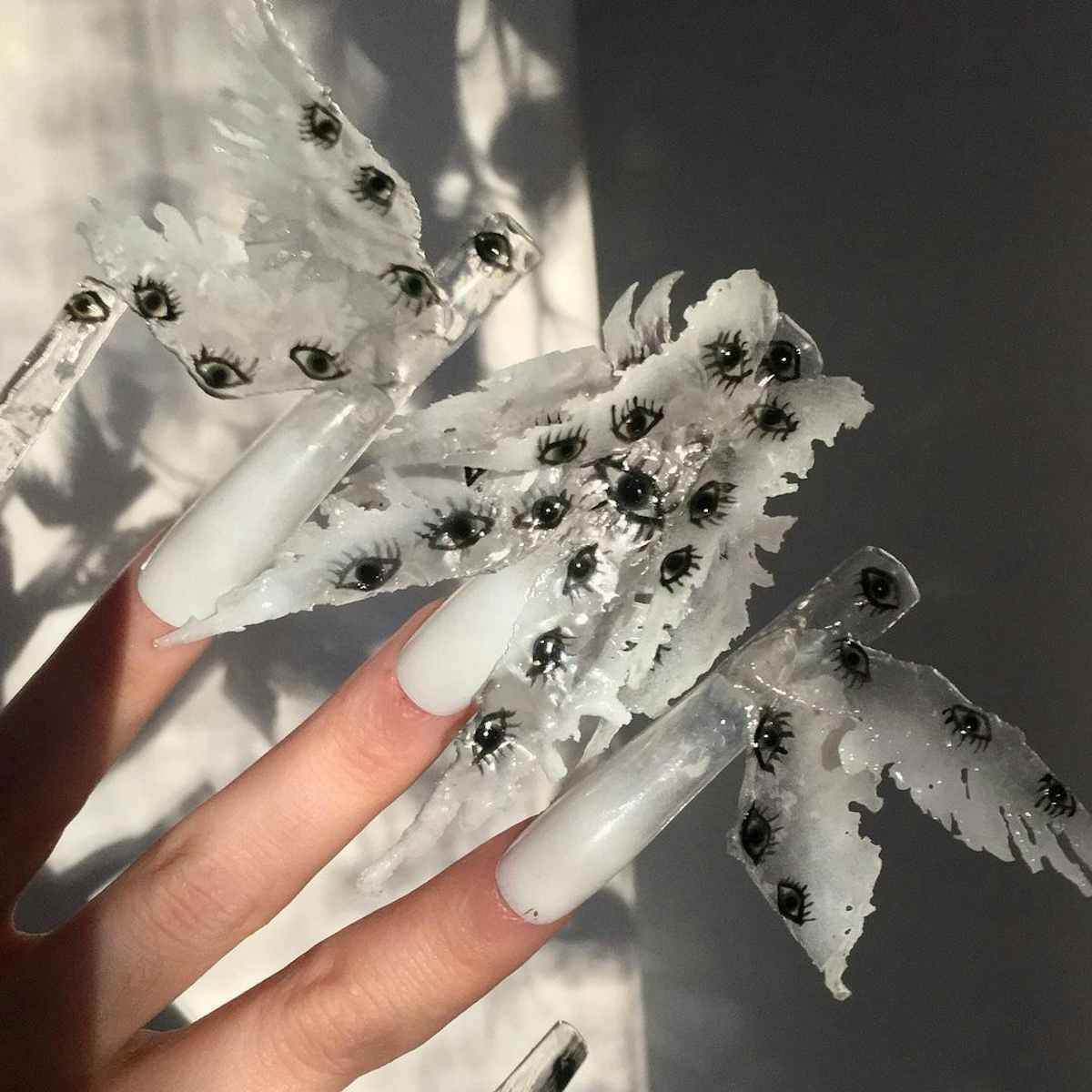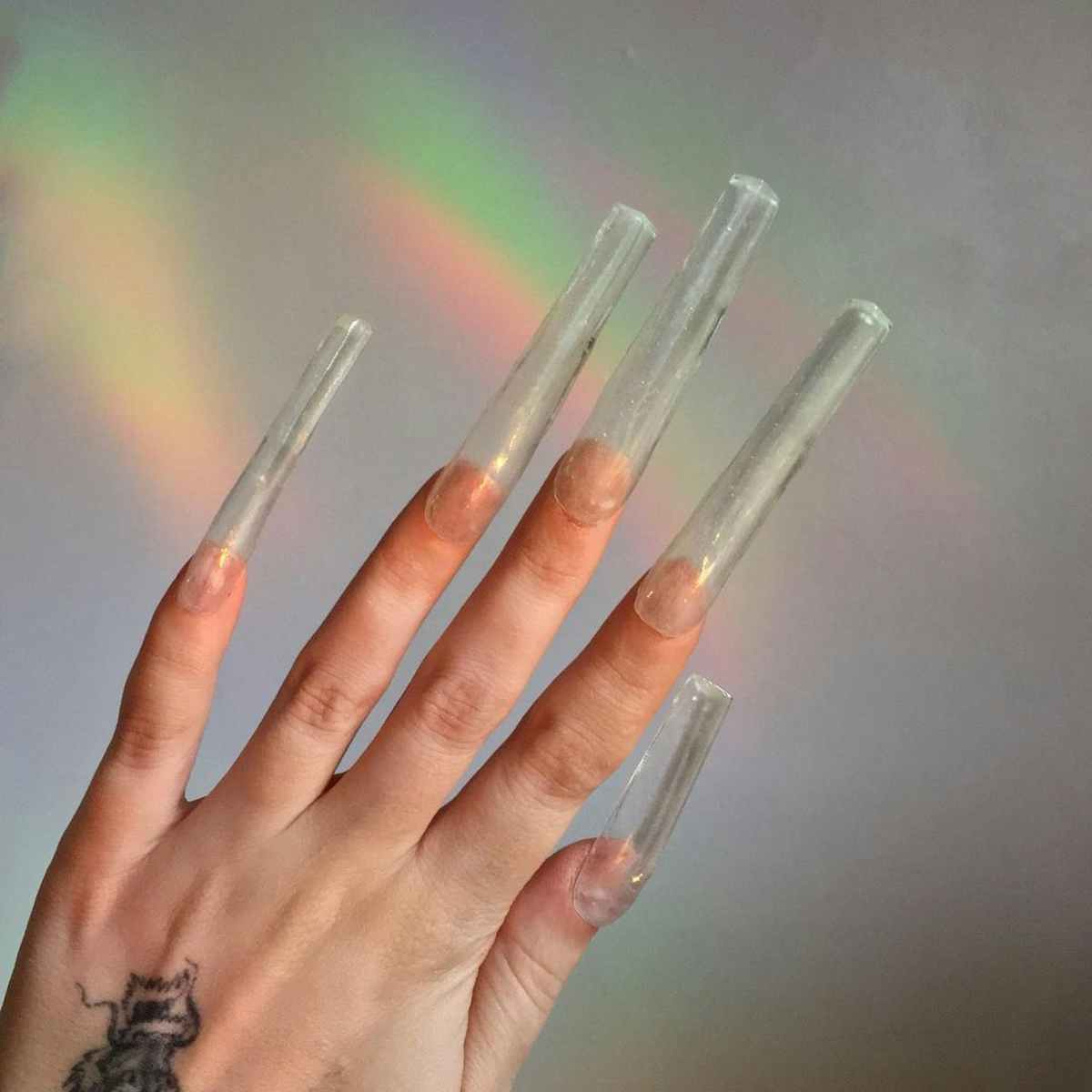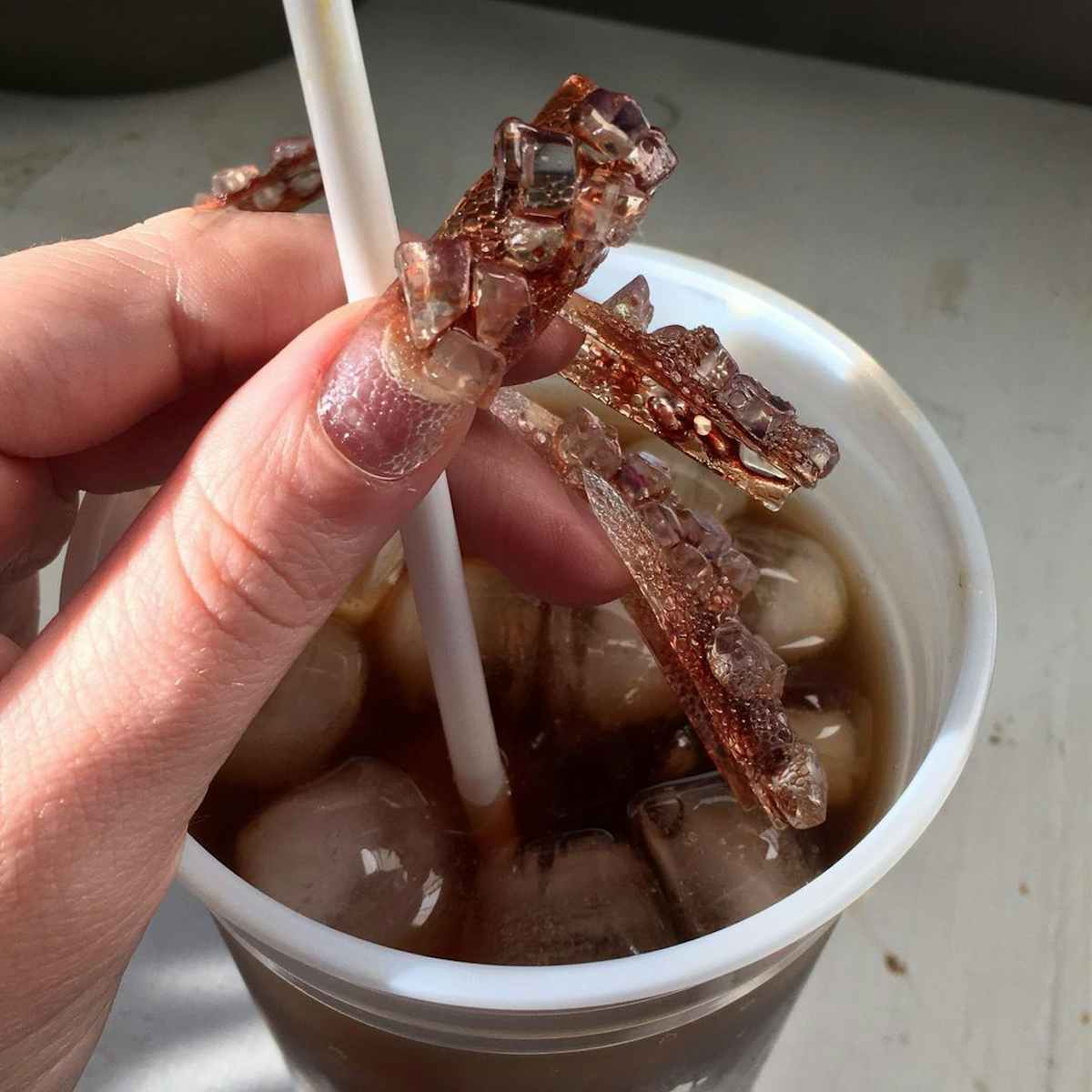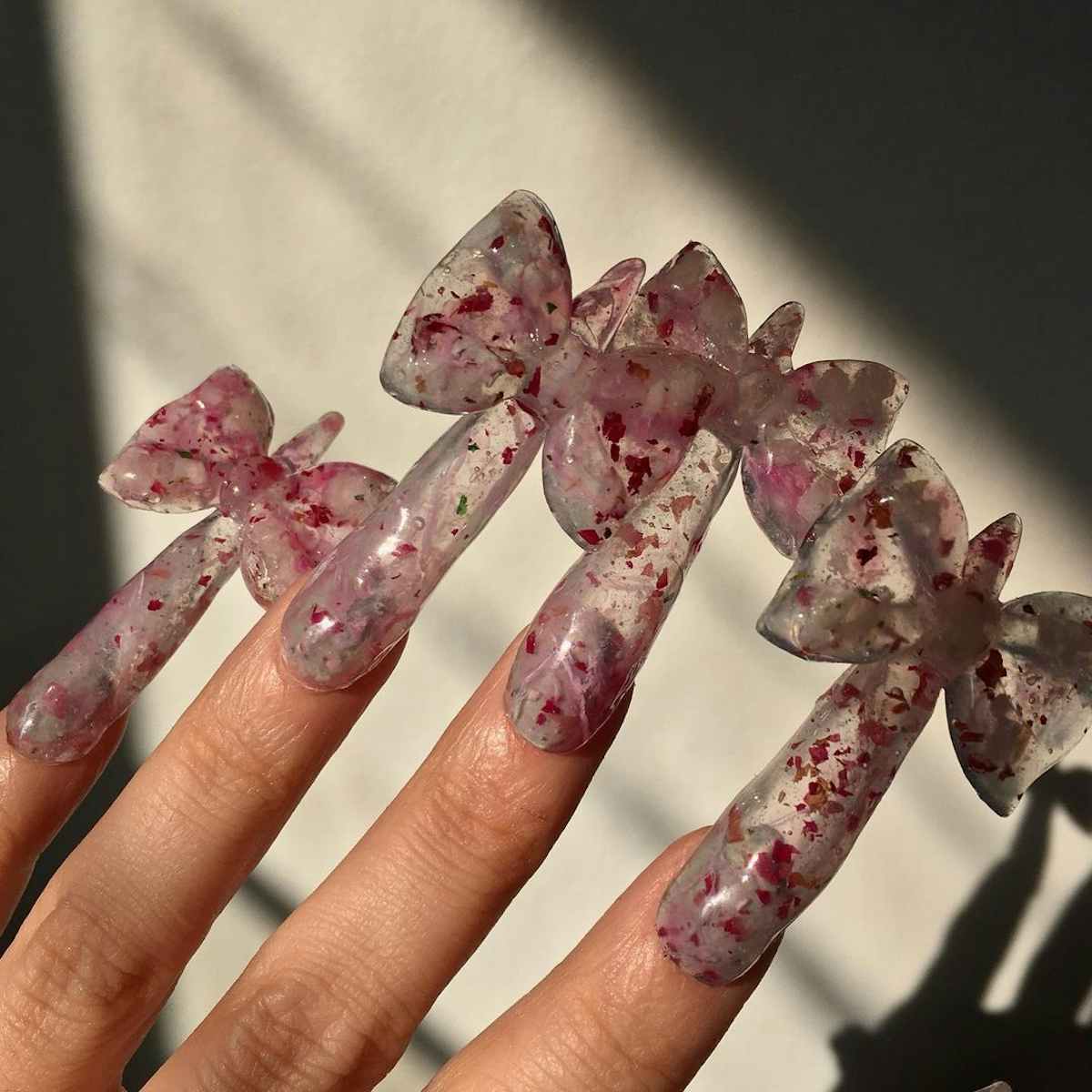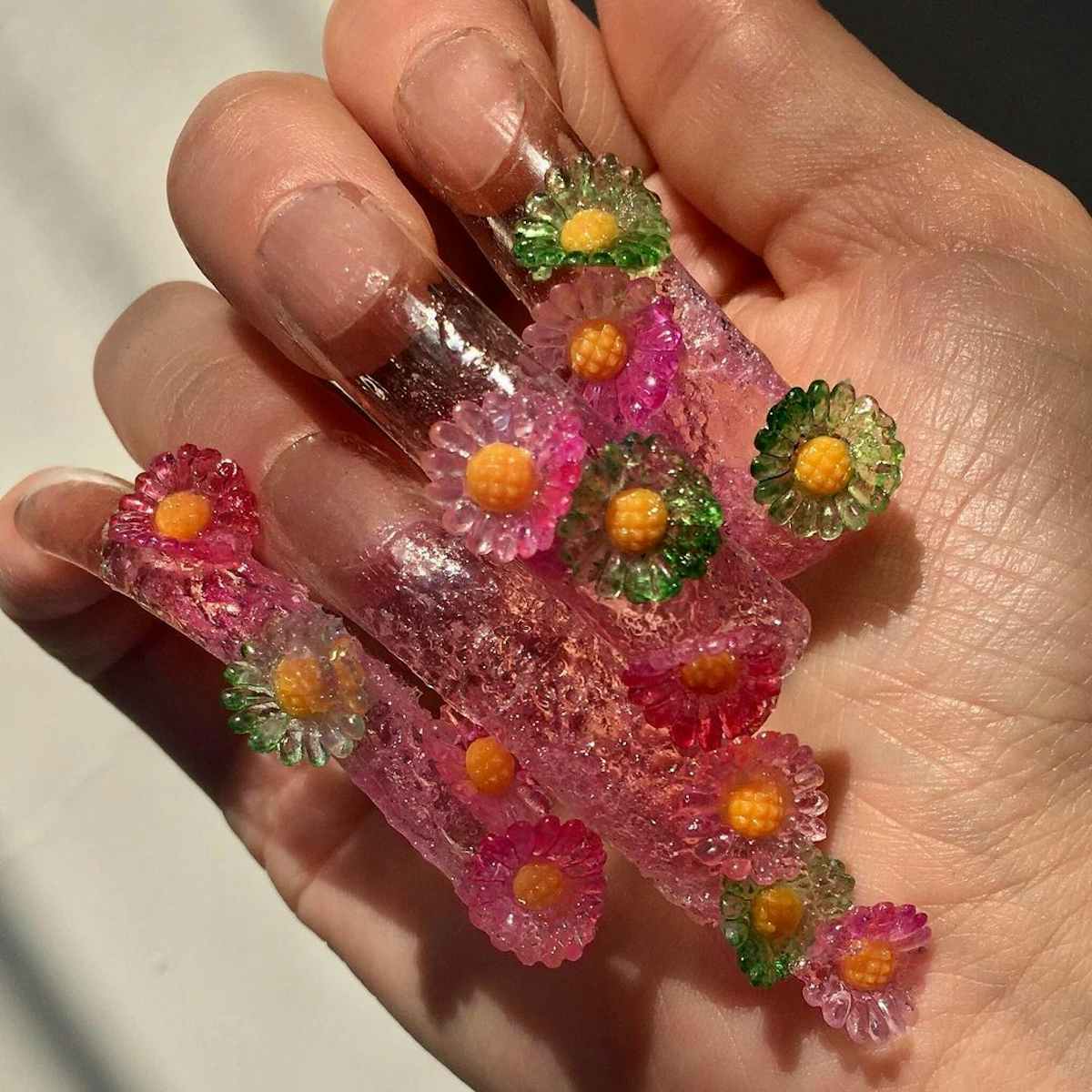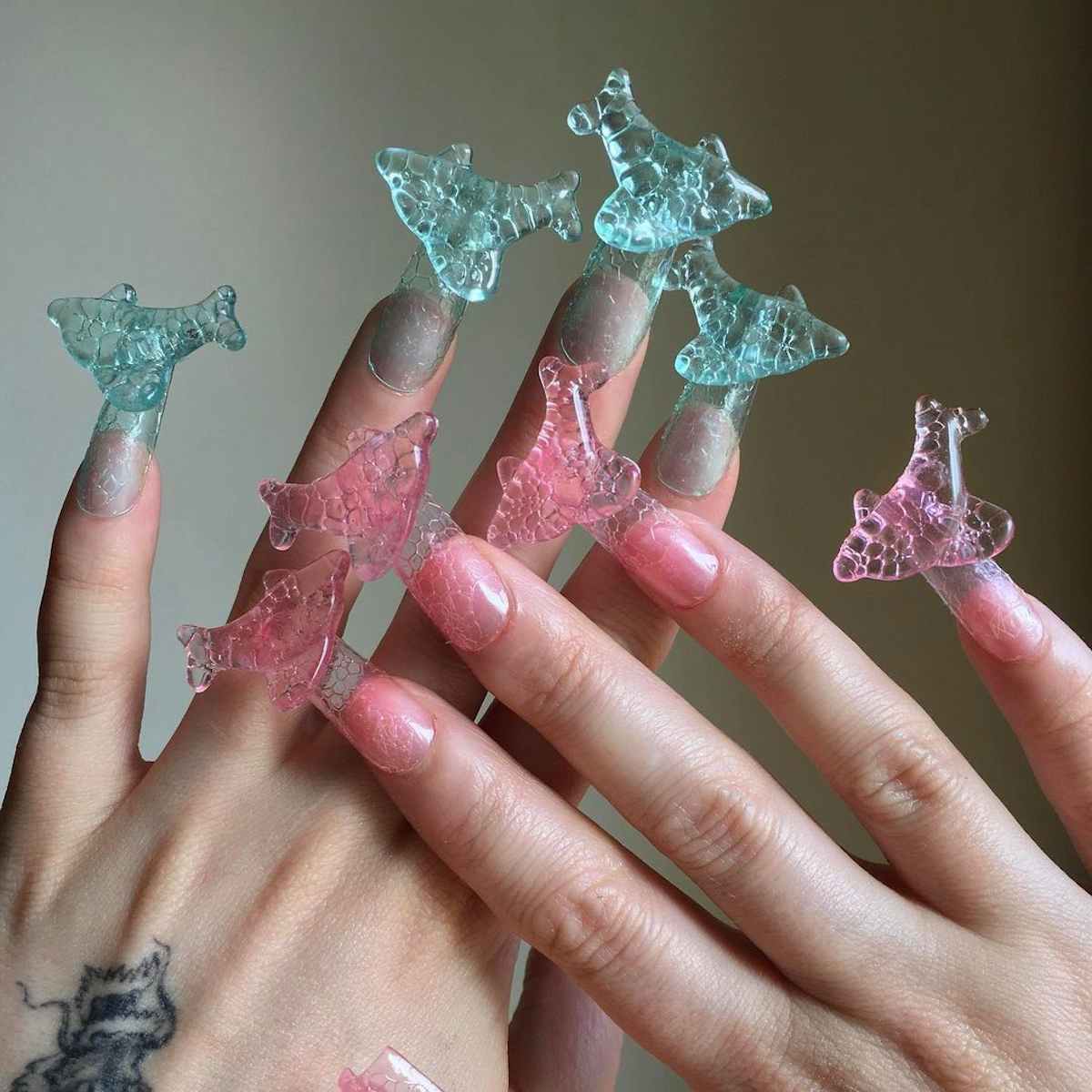 What is it about nail art that gets you going?
I'm originally from Montreal, but I spent 10 years in New York for school [and then worked] for six years as an exhibitions designer for a small museum upstate. Getting my nails done was something I'd done on and off my whole life, but after moving back to Quebec, an occasional splurge became inextricably tied to the new life I was building and the new changes I was making for myself. A year later, I enrolled in an artificial nail course. The pandemic started during the final week of class, so I was home alone with only myself to practice on.
What's the best thing about your job?
After graduating with five figure debt, I didn't believe it would be possible to make any money from art in a truly enjoyable way. Having it be my main source of income is a true blessing. It's solitary, meditative, ritualistic and fairly compensated – a dream. It's also extremely satisfying to be able to make money from my art outside of the gallery system.
Do you think of your work as art or an accessory?
I don't necessarily associate nail art with either of those words. For me, regardless of material, nail art is ephemeral. While most of my work is created in the studio and applied as press-ons, I accept the fact that nails often only exist for two to three weeks before being destroyed. If anything, I see them as cultural artefacts from a previous era.
Favourite set you've ever made?
I was recently inspired by two nail artists I saw arguing online about the origins of angels on nails, so I created a set based on the popular interpretation of Biblically accurate angels. It has 10 wings made from polygel, 37 hand-painted green eyes and it may be my magnum opus.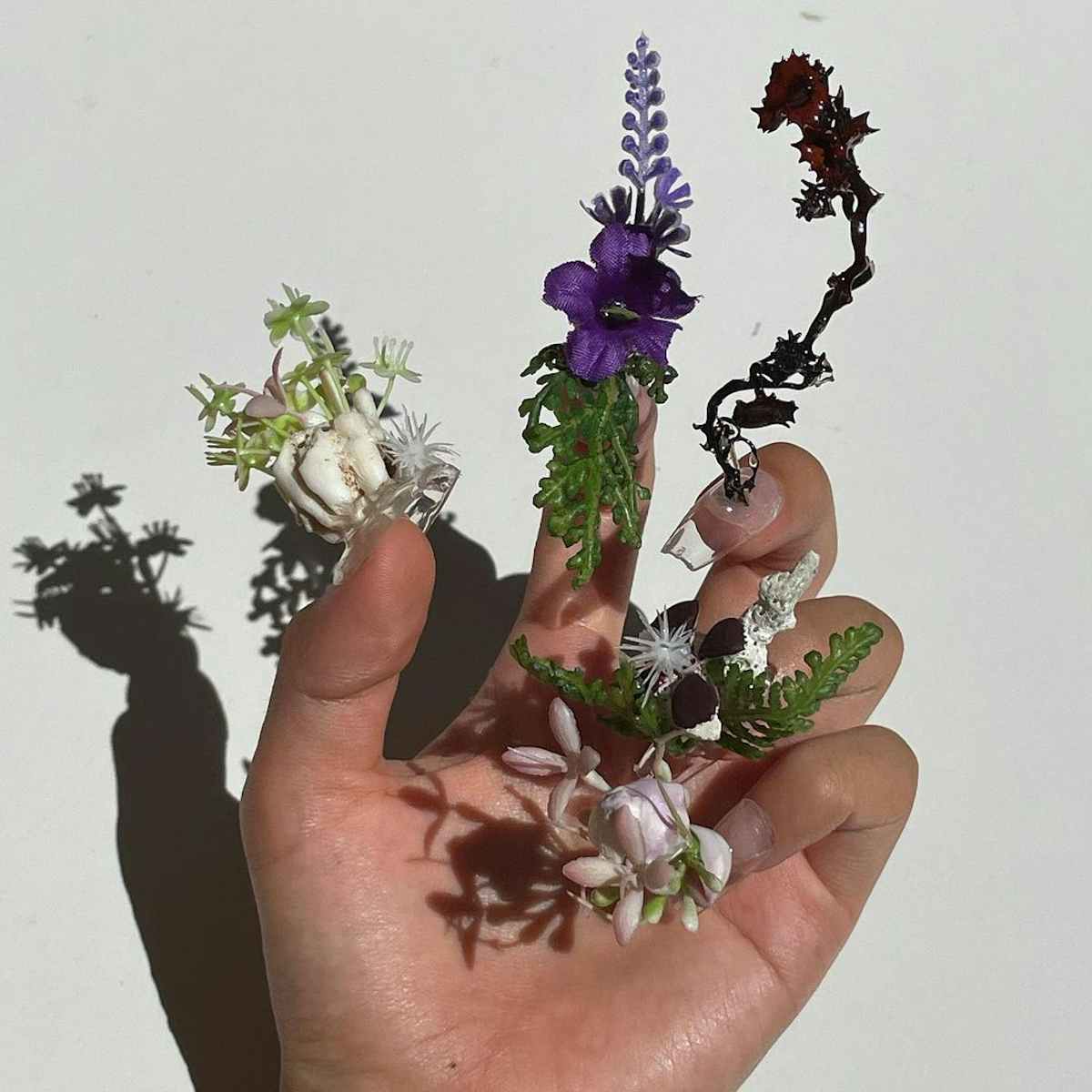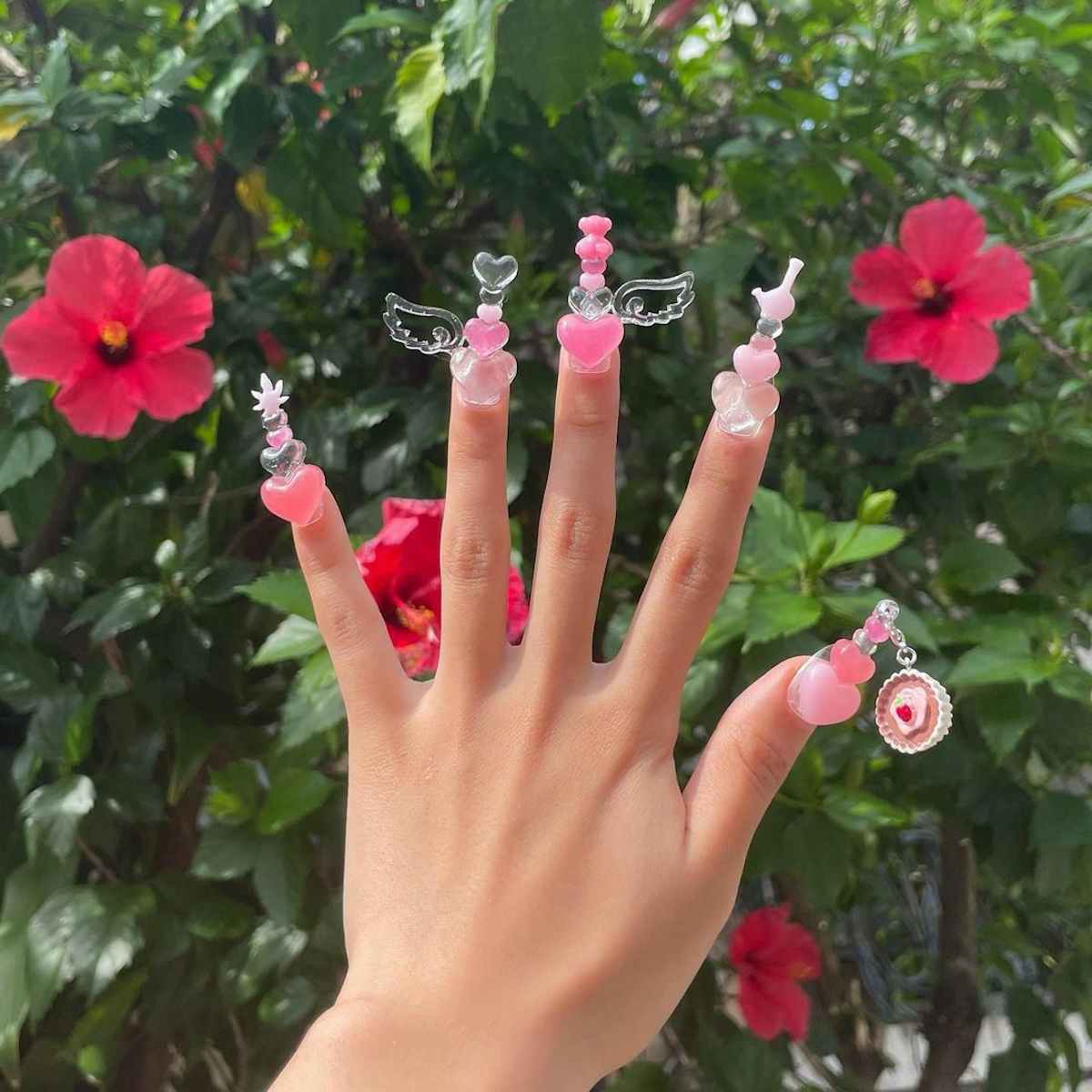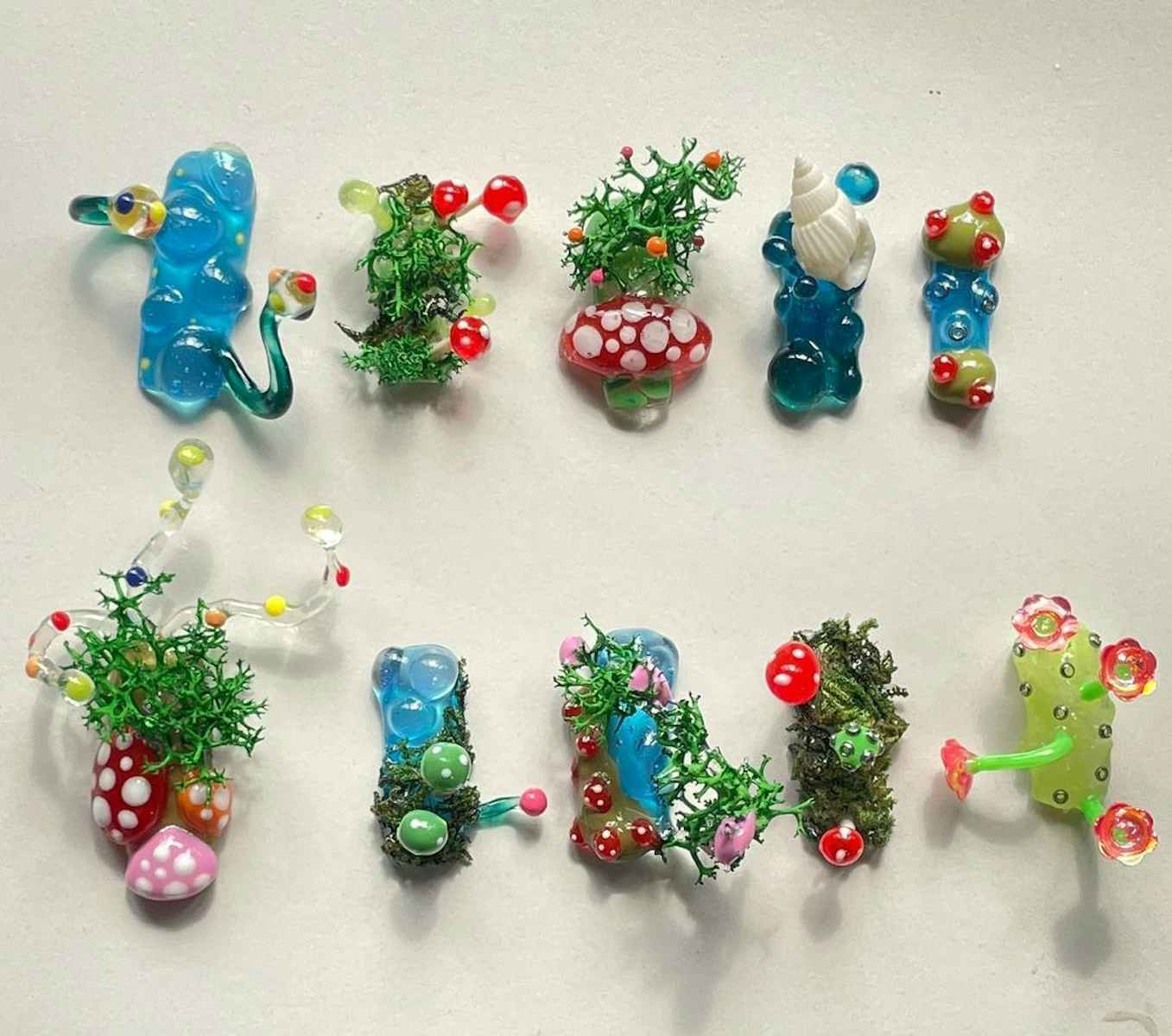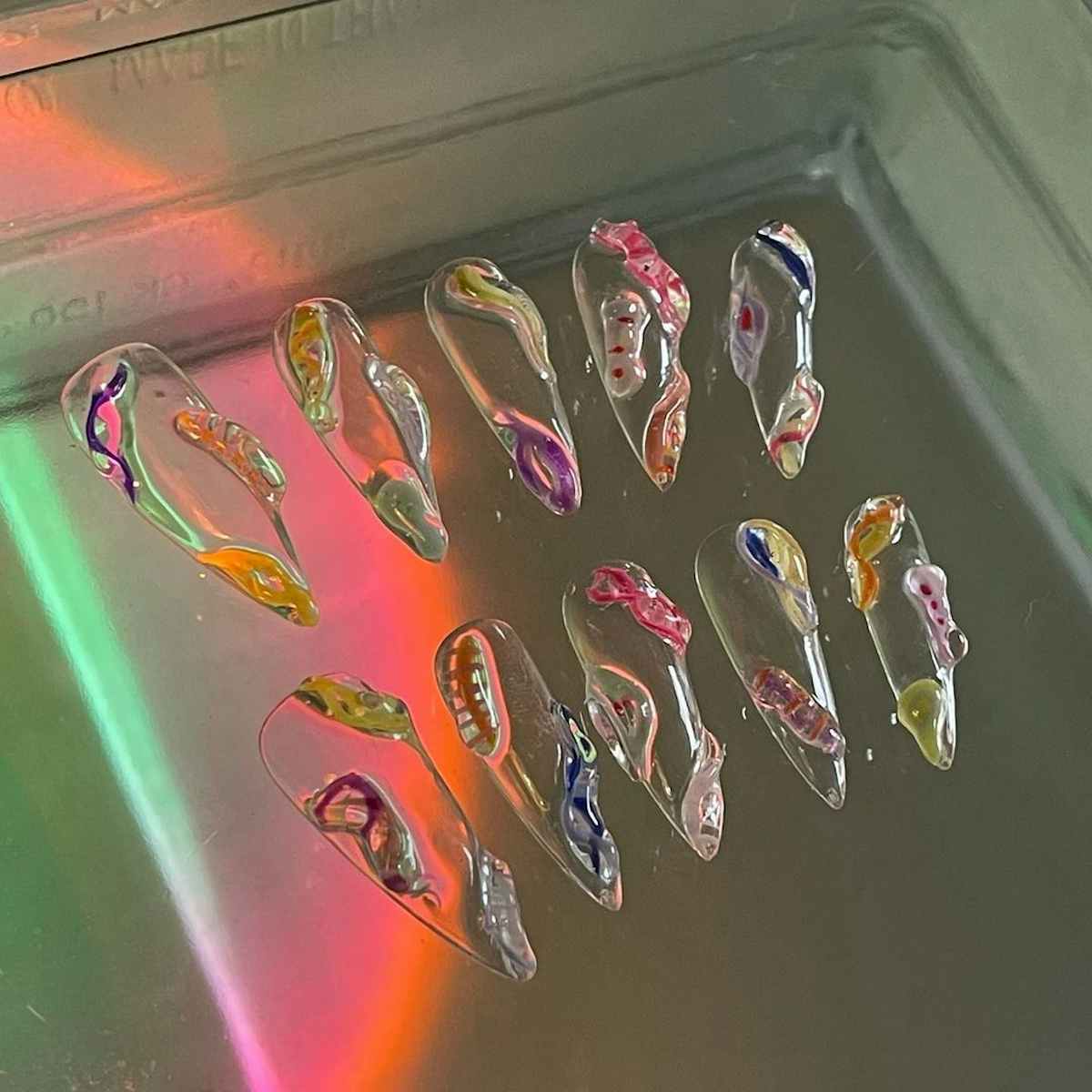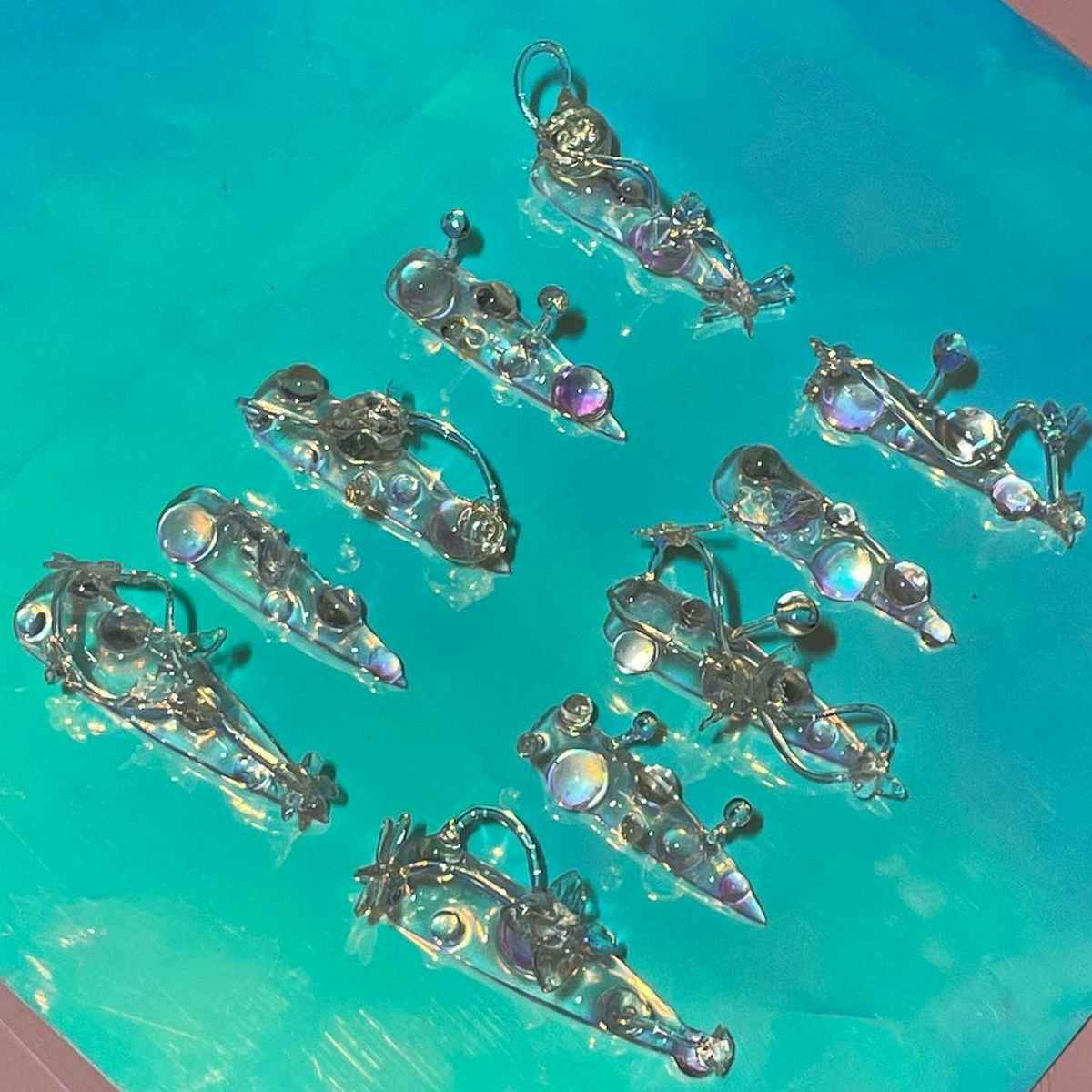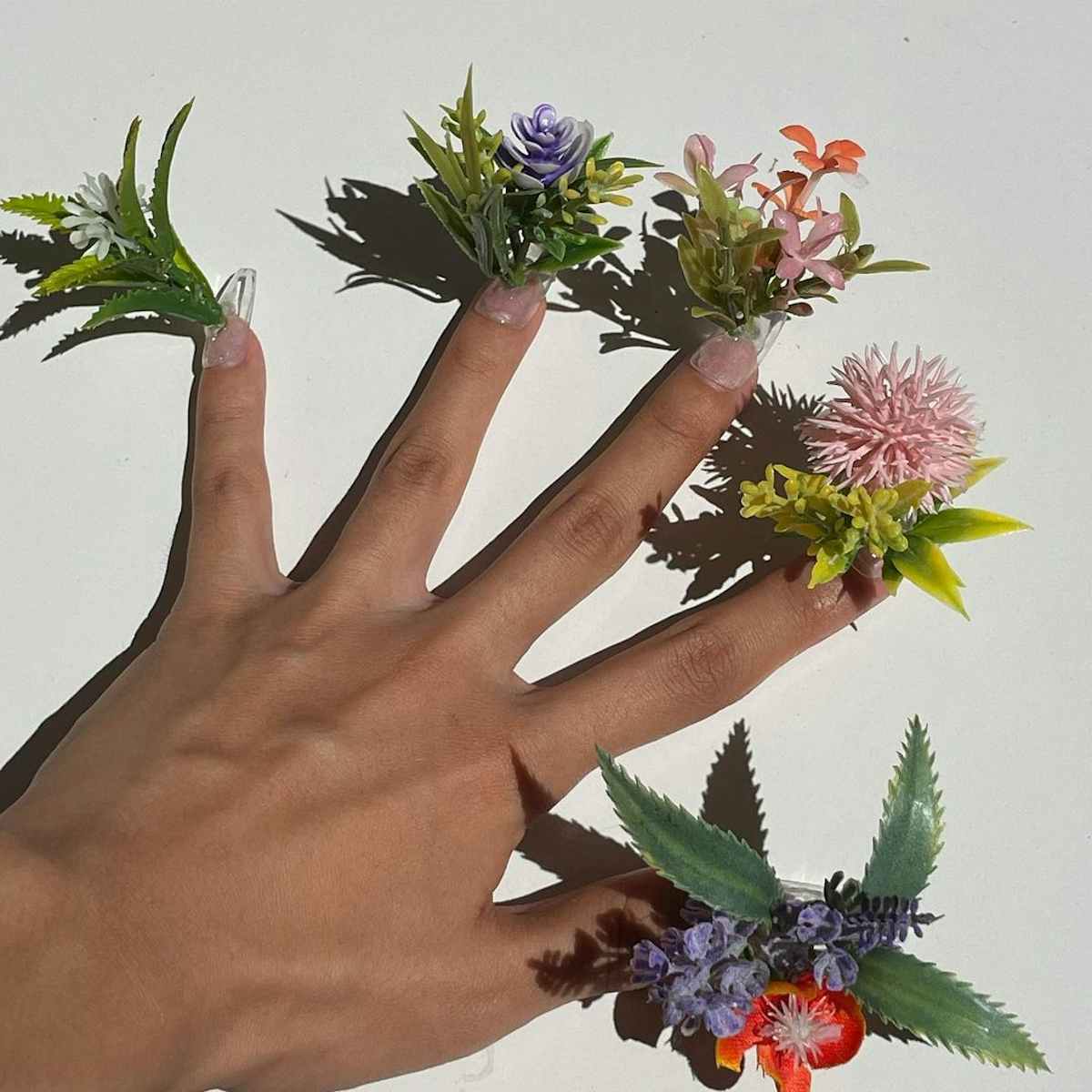 How long have you been creating nail art?
I'm 22-years-old and I started doing nails in the sixth grade! So almost 10 years, all the way from painting my friend's nails in my bed to where I am now. I never saw this coming, but I think I've come pretty far.
What inspires your work?
When I'm working on a set, I try to think of a hundred ways to execute whatever idea I have in mind. I don't limit my ideas. It can get to the point where I'm thinking about nails 24/​7. I'll try any pattern I come across: shoes, wallpaper, plants, mushrooms, paintings, hair clips, 3D pens, sea creatures… The weirdest stuff possible. There's an endless trial and error cycle before I can create something really innovative and new.
Talk us through the set that has flowers growing out of each nail…
That is definitely my favourite one, for L'Officiel magazine. I went to the local flower market to pick up fake flowers and leaves, and ended up making the ugliest set ever. I had to do it all over the night before the shoot and even burned myself – I call the wound my glory scar. The theme was from the film Annihilation, so I painted some of the flowers and shrunk some leaves before adding shells, corals and dried seaweed I'd handpicked at the beach. My friend even pulled an all-nighter with me, while I repositioned [everything] a hundred times over.

@elinails.co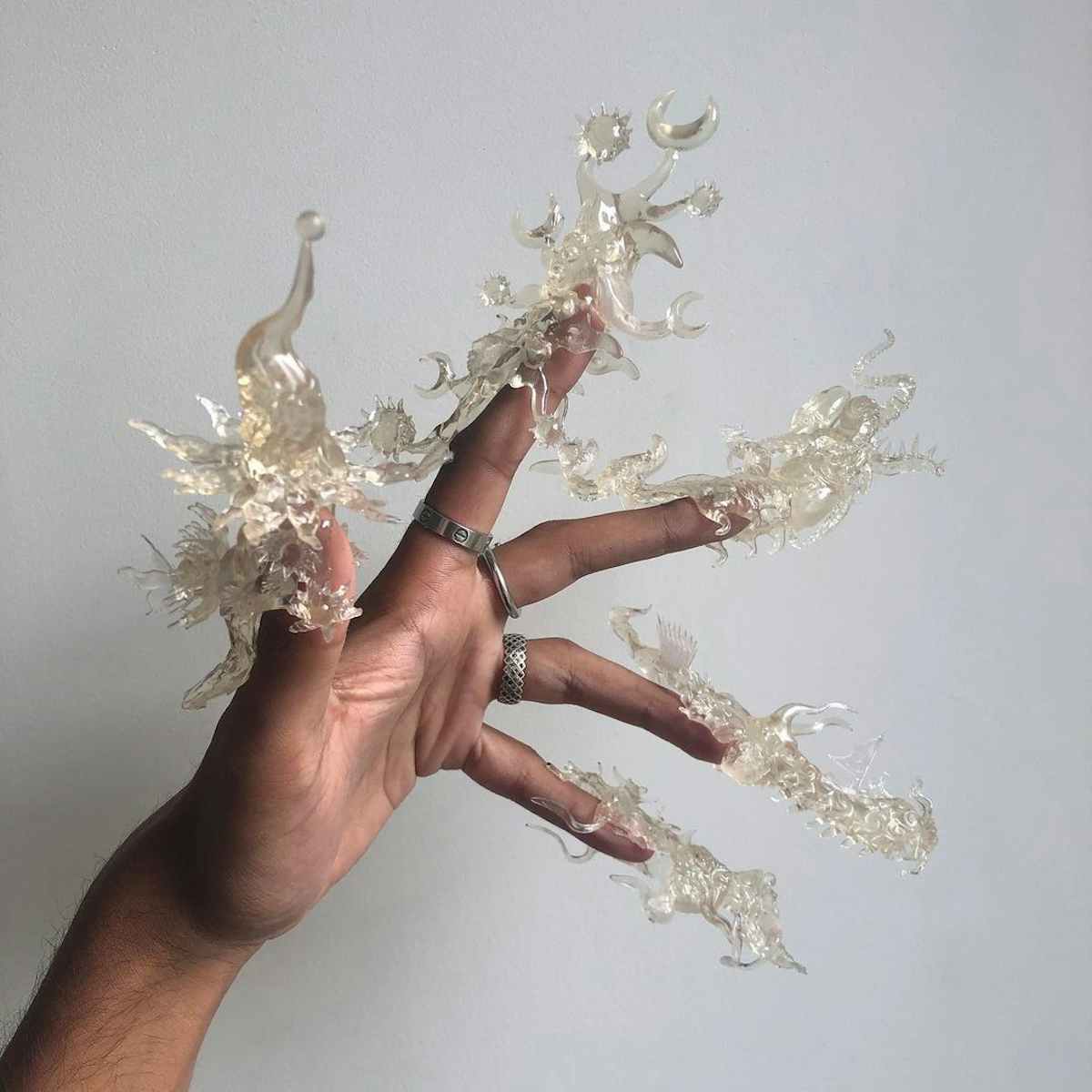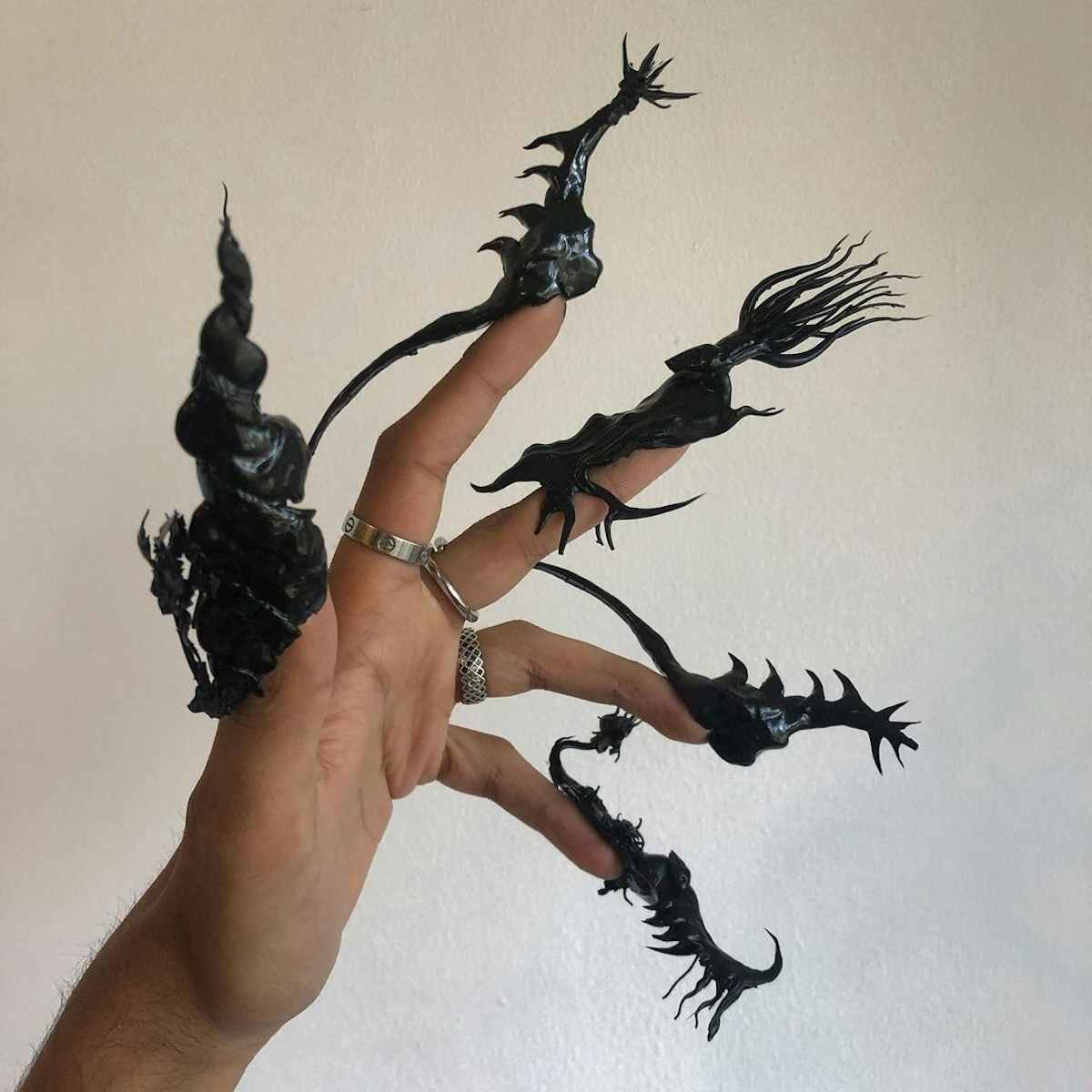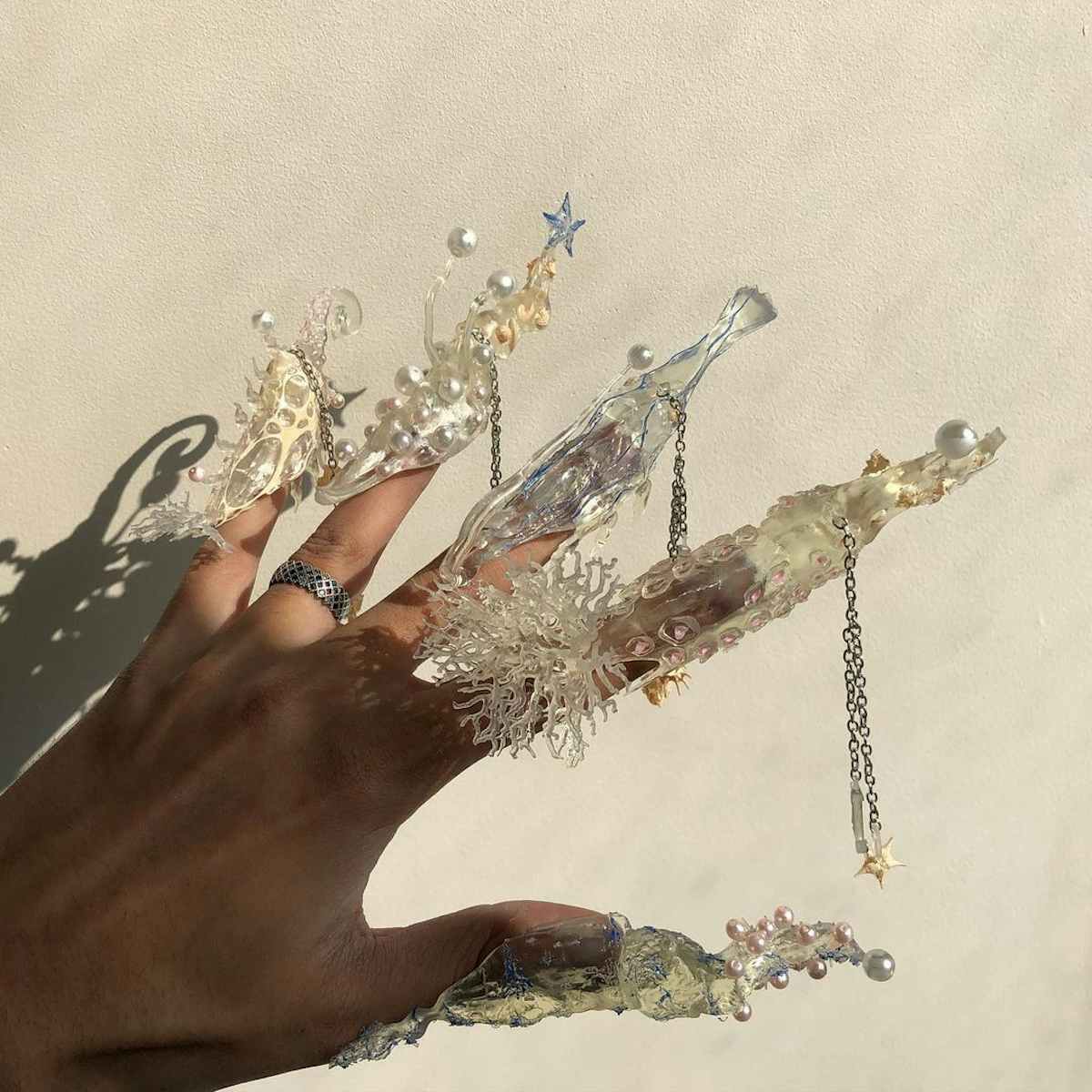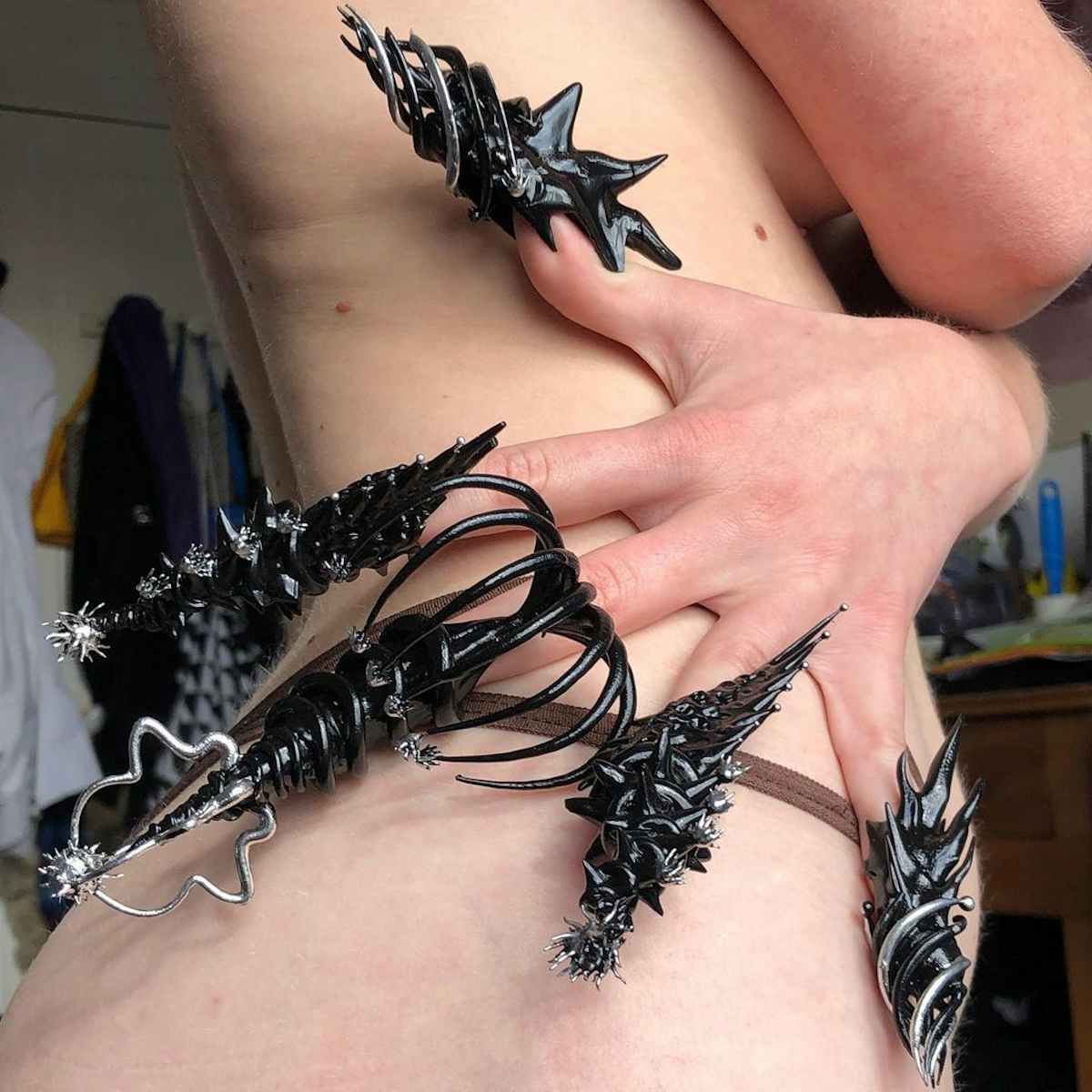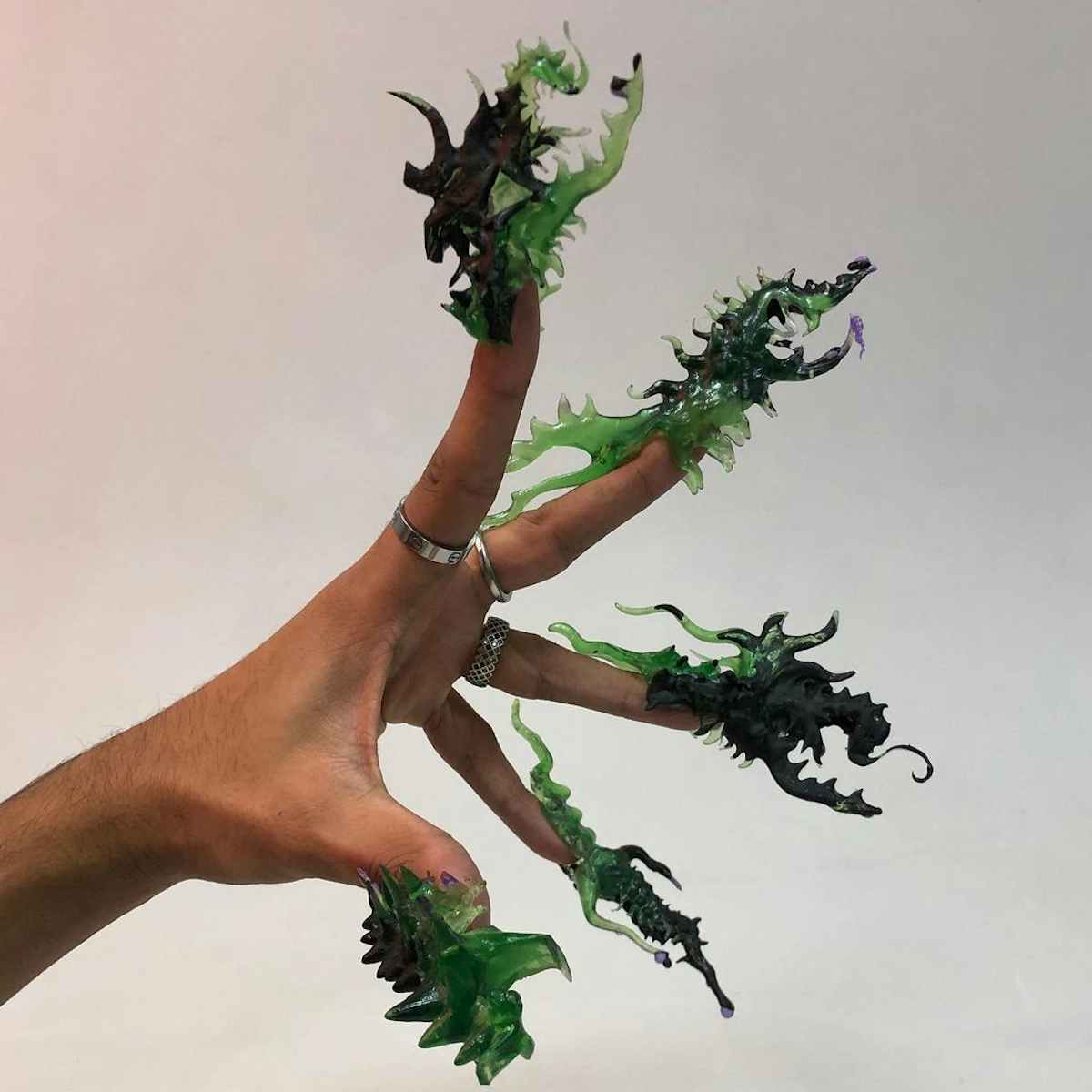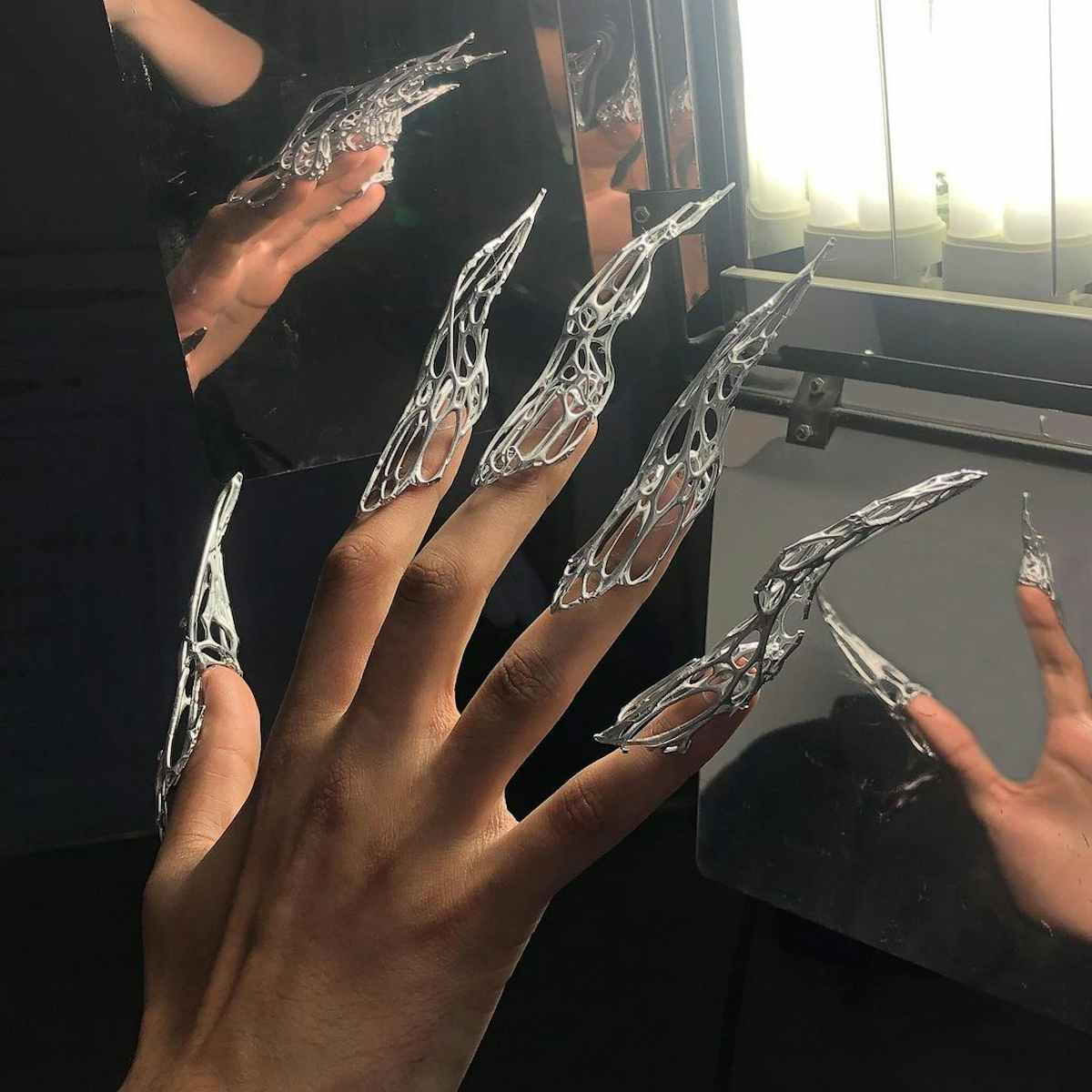 How did you first get into nail art and fashion?
I'm in my final year of studying fashion at the School Duperré Paris. A year and a half ago, I started making claws with a 3D printer, and my goal is to eventually merge 3D printing with textiles.
What inspires you?
My universe has always been about both human and alien creatures, hence my attraction to organic and unusual forms. Last year, my creations were inspired by marine and abyssal worlds, creatures we know little or nothing about. Now, I'm heading towards something more robotic, like human hybrids. Any sci-fi movie, book or video game [is hugely important] in my work.
What do you most love about what you do?
The fact that I can think of an object and have it made at home with an almost industrial finish 24 hours later, gives [my work] an infinite and dynamic sense of creativity.
Why do you think futuristic nails are having a moment right now?
More and more, accessories are becoming more important in fashion. Nails create a new silhouette, a new energy. The last two years have been complicated – people are now looking for something unreal, something other. They like the fantastical, the unusual, the innovative. As an accessory, claws aren't yet widely explored, but to me they're both pleasing and shocking.
What's your favourite set you've ever created?
The next one. It's always the next one.

@marierohanaa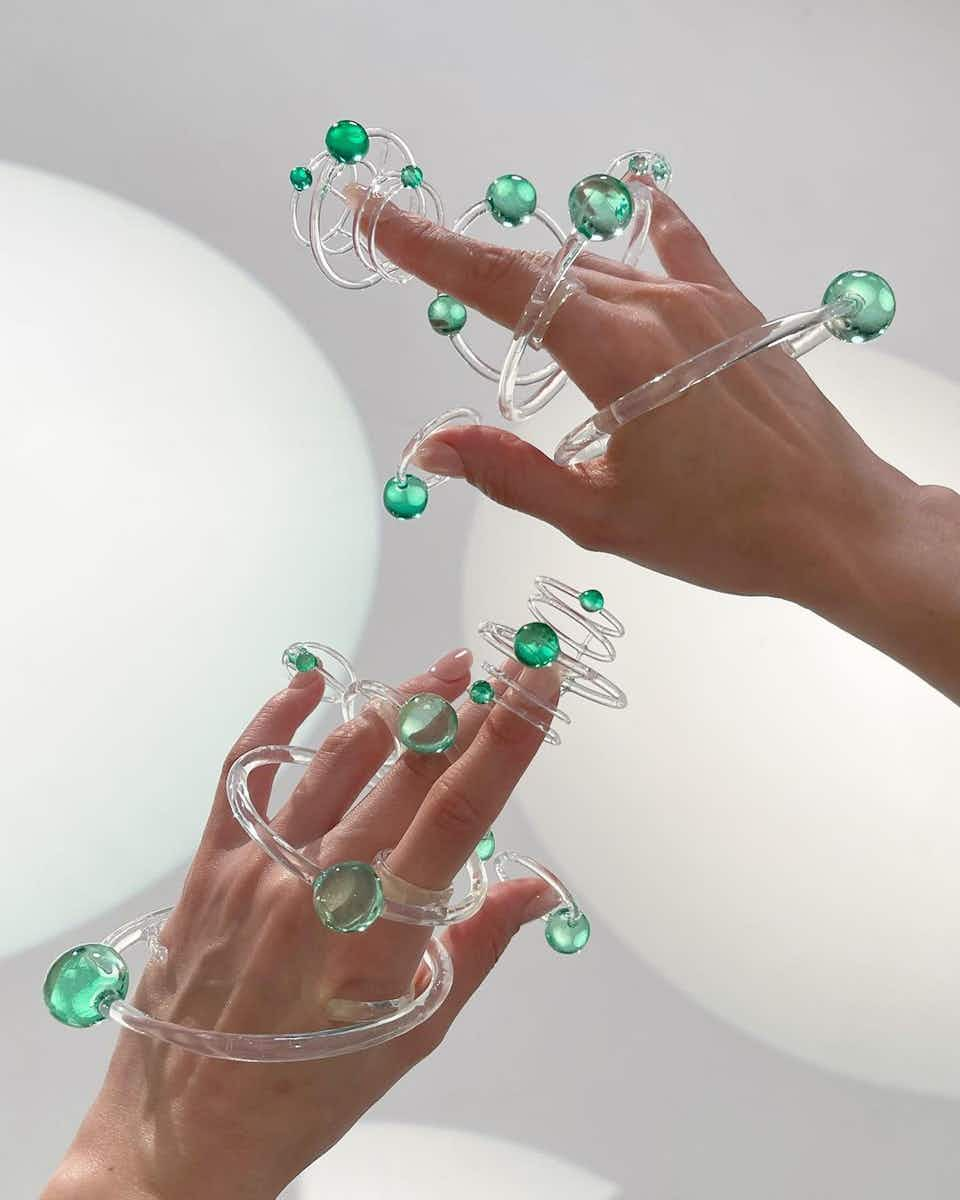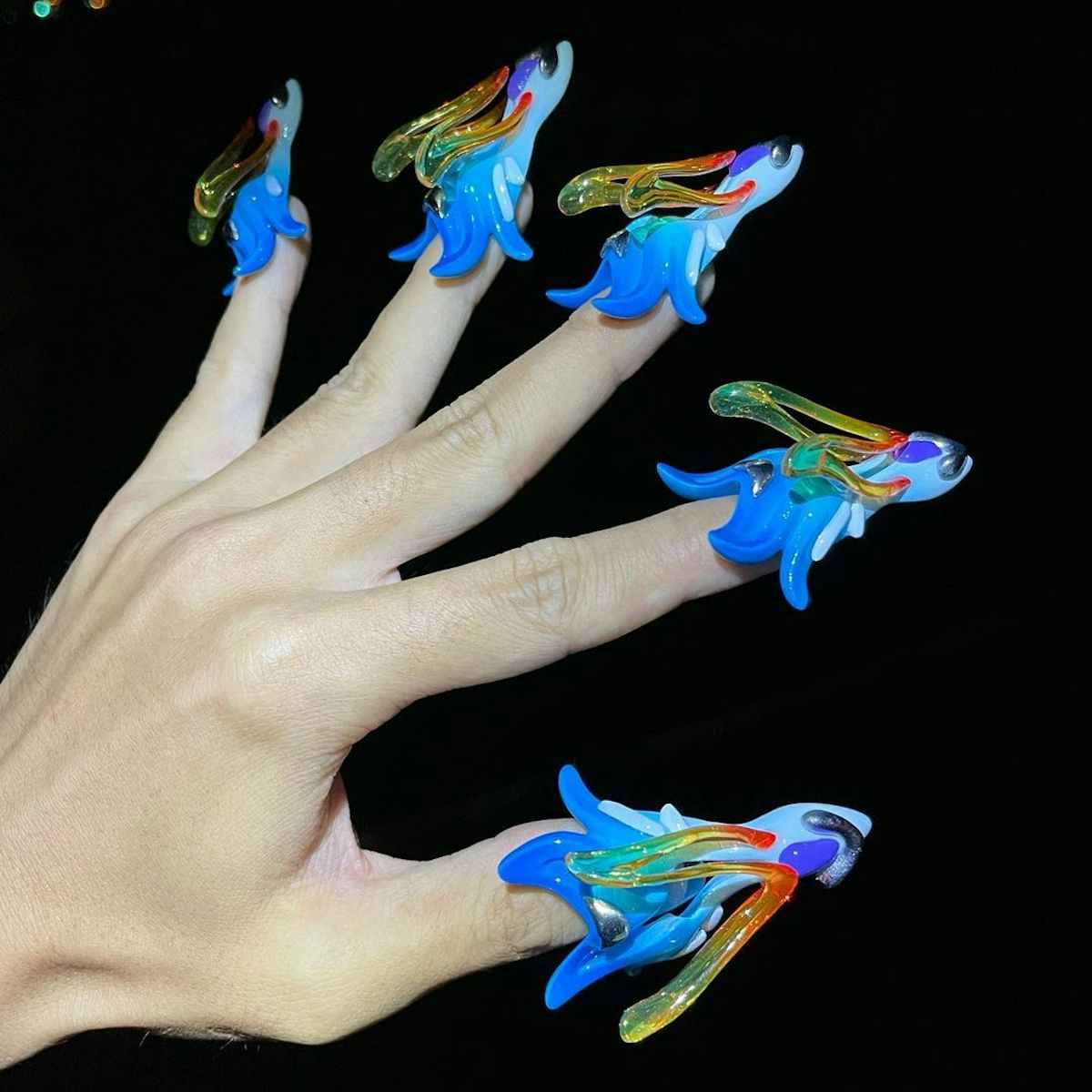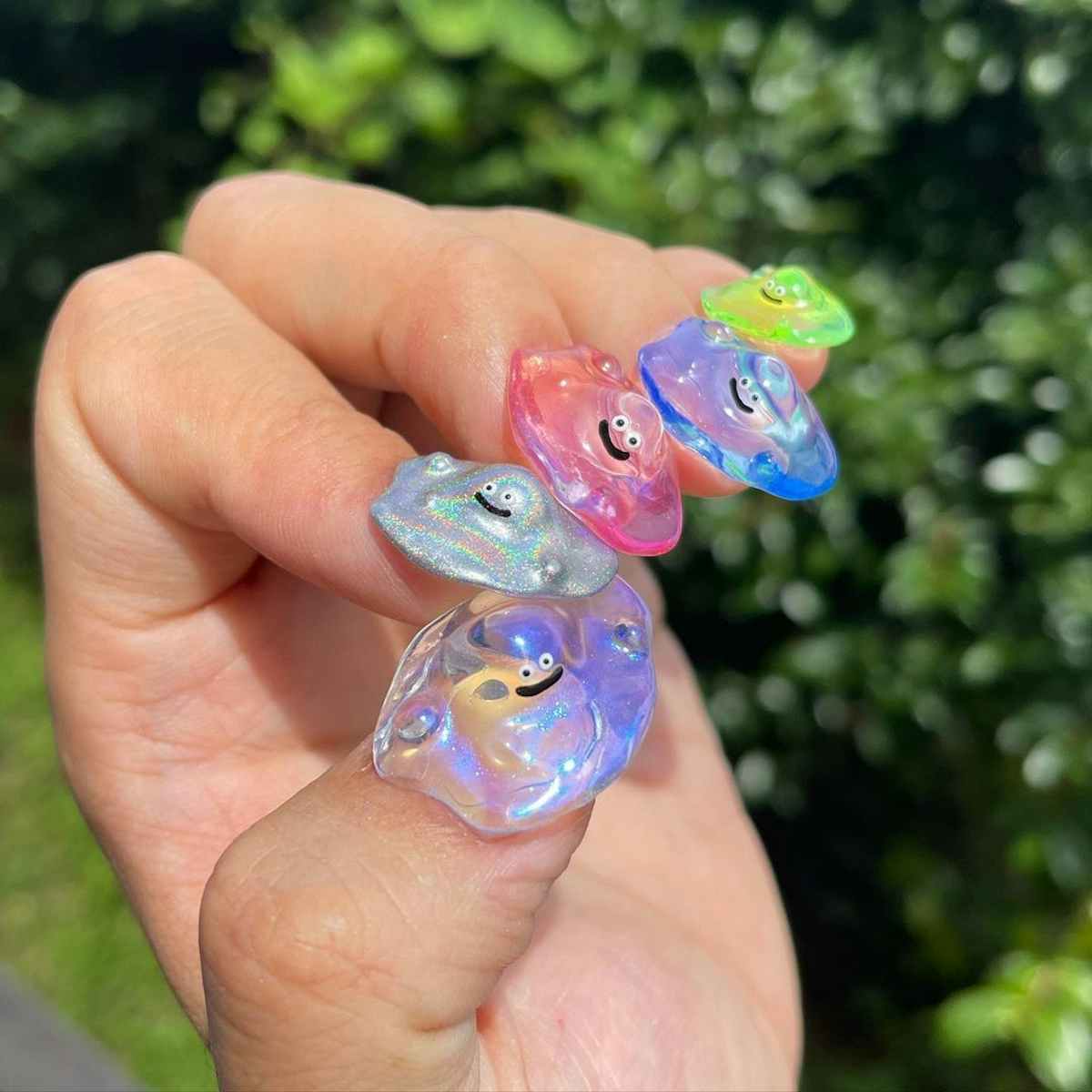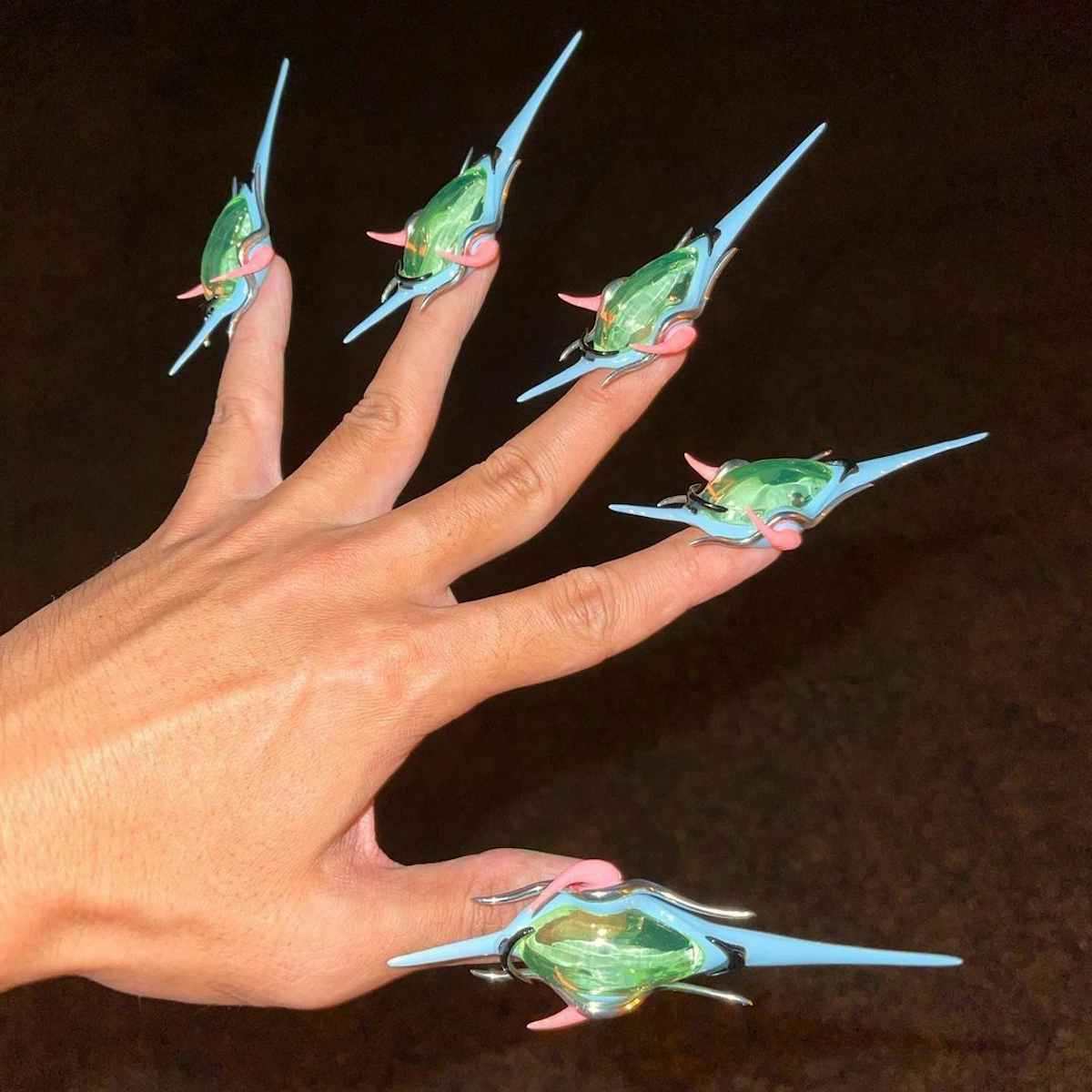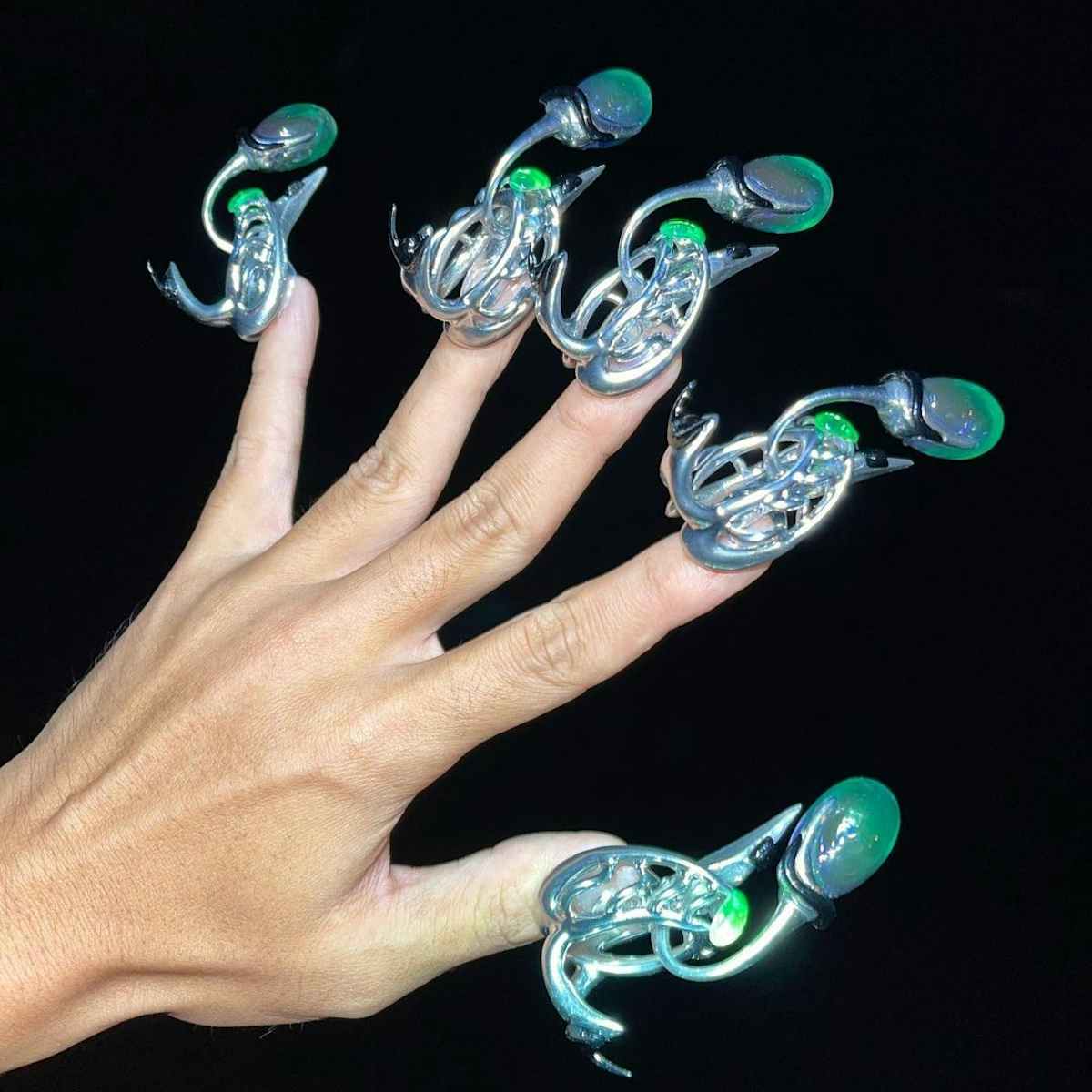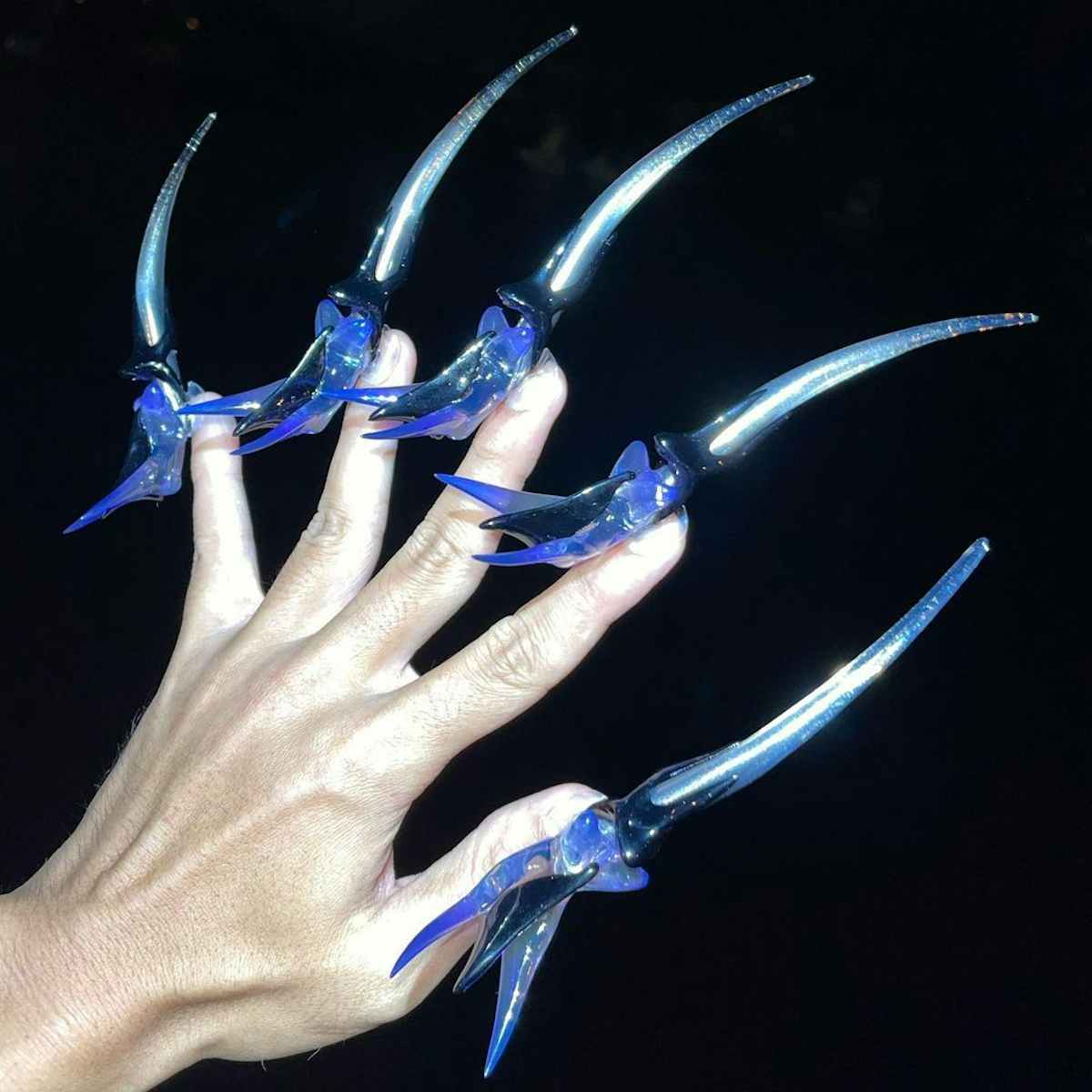 How long have you been creating nail art for?
I started in 2020 when I was in New York, so it's been a little over a year! I'm currently living in Atami, Japan. I'm just having fun creating.
Why is it important for you to use 3D techniques?
It helps me expand the range of my creative work – I like variety.
Why do you think people are loving futuristic nails right now?
Because they love and enjoy new things that they might not have seen before.

@tomonyan55

More like this