Nessa Barrett wears pheromones and fake freckles everyday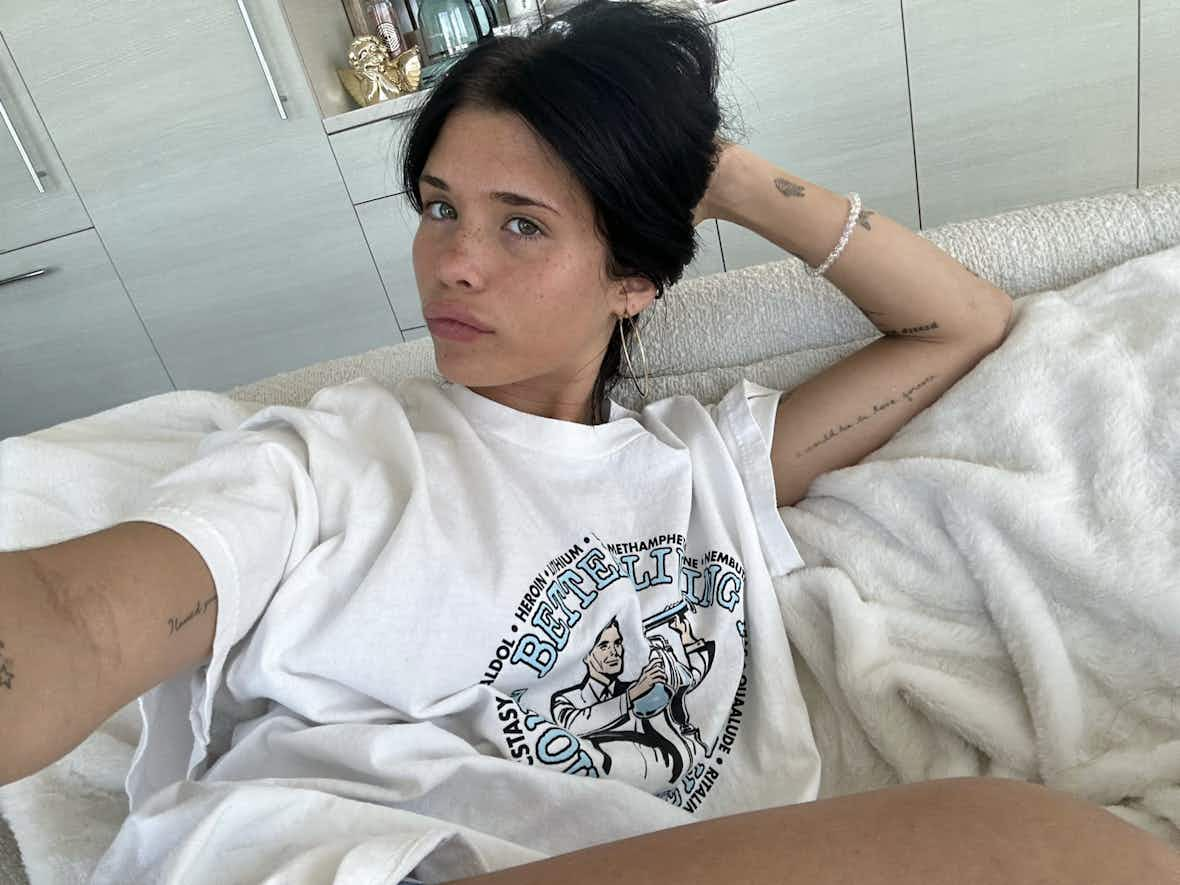 Daily Beauty Rituals: The LA-based purveyor of raspy, lovelorn next-gen emo takes us behind the scenes on her beauty routine.

Nessa Barrett is rewriting the rulebook for grunge glam.
Back in the heydays of angsty teen spirit, the likes of Courtney Love and Shirley Manson paired wine-stained lips with last night's mascara. But Barrett typically looks as though she's spent all day lapping up sun on a beach rather than a night necking pints in at the pub, all fresh-faced freckles and dewy skin.

Take the music video for her new single American Jesus, for instance, in which the 20-year-old singer adds to pop's age-old tradition of depicting young lovers snogging, riding motorbikes and throwing around cash out in the sticks. Barrett's perfectly dishevelled hair blows in the wind, the sun sets on her lightly bronzed cheeks and not a lick of mascara is to be found on those wistful doe eyes. ​"Pledging my allegiance to you /​Tell me you believe in me too, I do," Barrett sings as the pair get married under a rickety telephone mast.
And they say romance is dead.

The nihilistic love song is a slightly sunnier topic for Barrett. Since making it big on TikTok and landing a record deal in 2019, her raspy voice has been raking in fans with cheery tracks such as Pain, die first, i hope ur miserable until ur dead and la di die. And there's clearly an appetite for all the lovelorn doom and gloom. The next-gen emo singer-songwriter has racked up more than 20 million fans across TikTok and Insta, and is currently in the midst of a world tour.
And to top it all off, just last week, Barrett was announced as one of the new faces of SKIMS, alongside PinkPantheress, Ice Spice and RAYE.

How does Nessa Barrett keep her grunge glow while on the road, you ask? Well, we wouldn't recommend it, but apparently skipping SPF tops up that LA sheen…

The first thing I eat or drink when I wake up is…
Water! Staying hydrated is key.
The soundtrack to my morning routine is…
Sour Times by Portishead.
My go-to beauty hack for when I've pulled an all-nighter is…
Eye cream and blusher does wonders.
The product I'll reach for when I've got a pimple is…
Starface pimple patches are my favourite.
My favourite brand of sunscreen is…
Maybe I shouldn't expose myself right now, but I don't wear sunscreen.
My holy grail skincare product is…
Freck's Cactus Water toner and Rich B*tch moisturiser.
My best kept beauty secret is…
Blusher and faux freckles.
My first beauty-related memory is…
Using my mum's lipstick.

The boujiest beauty product I own is…
Chanel's serum foundation – my fave.
My favourite budget find is…
Aquaphor [Eucerin in the UK] for lips. No matter how chapped or dry your lips are, it always saves the day.
The face mask that never lets me down is…
Don't Look At Me from Lush. It's pretty but also exfoliates so well.
My signature scent is…
A perfume I've been wearing for years, but my personal secret. I also wear a unisex pheromone perfume oil.
TikTok made me buy it…
Ice rollers – I love them.
My evening skincare routine looks like…
I wash my face with PanOxyl and then I use the Dr. Dennis Gross exfoliating peel. I finish the routine with my Freck toner and moisturiser. Occasionally I do an exfoliating mask, maybe once a week.
The secret to a good night's kip is…
Any lavender mist or oil.


More like this