PinkPantheress: Obsessed With You
The first great TikTok artist has arrived. Building an army of devoted fans while maintaining mystique in an age of constant sharing, PinkPantheress draws on the past to create a sound that might just be the future.
Taken from the new print issue of THE FACE. Get your copy here.

There's a remoteness to PinkPantheress as she floats past the neon machines of Soho's Las Vegas Arcade. The breakout talent of 2021 is a few inches taller than you might expect from her TikToks, and her movements are languid.
"Oh my God," the 21-year-old curses blankly, navigating herself like a ghost around excitable kids to get to her game choice: the dance machine.
The ethereal clothes she usually wears suit her: long skirts and flowing sleeves. They match the almost-full moon eyes on a Victorian gothic face. But today PinkPantheress is dressed like the typical art school student that, away from the music industry buzz, she actually is – a ​'00s girl living in a 2020s world. She wears a pair of stonewash jeans with white Skechers, a metallic grey North Face jacket and has Bose over-ear headphones around her neck. Her braids are pulled back into a low ponytail. I wouldn't have recognised her as the most (justifiably) hyped artist of last year if I hadn't been looking out for her.

None of the teenagers in the busy Central London arcade recognise her, and that's partly by design. When we meet, the public might be increasingly well-versed in PinkPantheress' short, perfectly formed d'n'b‑shaped capsule tunes – her TikToks have 8.4 million likes, she has more than 6 million monthly Spotify listeners and some 40 million combined YouTube views. In December she was nominated for a Brit and in January she won the BBC's annual Sound Of poll (previous winners: Adele, Michael Kiwanuka, Celeste). But most people still don't know her real name (there is one now widely attributed to her on the internet, which she tells me is fake).

Anonymous and initially faceless, having not appeared clearly in the TikTok videos that launched her career, the plan was to build mystique while maintaining her privacy. If you want to see what she looks like today ("face" is the first additional term that comes up in Google Images when you search her name), study the cover of her October mixtape, to hell with it, her social media avatars or the pages of this shoot.

​"What's weird is that I don't think my face is necessarily out there still. It's out there if you want to look for it but it's not: ​'Oh, that's what PinkPantheress looks like,'" she says, grinning.
On the dance machine she taps a foot against the arrow pads to pick Shock, an edgy song by South Korean boyband Beast. She wins our battle yet seems unbothered to have done so. By the second round, despite both of us stubbornly refusing to take off our jackets, we've loosened up. I pick a fun, deranged club number which sounds like it belongs to her current collaborator and mentor, Danny L Harle. My round. For the best of three, she picks another K‑pop track: Orange Caramel's Magic Girl. It's saccharine with the vigour of a show tune.

She dances on the blue and pink squares, barely moving her long limbs at all. Between dances she does what she does every 30 seconds throughout the duration of our time at the arcade: retrieves her phone from her pocket and flicks through TikTok videos using her long, pale, pink nails.
She gives little away in the arcade and, like her hazy persona, seems to exist in a distant and referential world of her own. As we start to make our exit to a Starbucks over the road, I'm nearly up the stairs and out of the building when I turn around to find she has wandered off to a drumming game called Wadaiko Master. She doesn't look to see if anyone is returning to play with her. She's just nonchalantly patting on a drum with the sticks, oblivious to everything else.
It's perhaps no coincidence that PinkPantheress gravitated toward the only two games that involved her participation using other people's pop music. All of her sample-based tracks work like a conjured spell. They have the energetic signature of a melody looping once or twice until its magic has fizzled out by approximately the two-minute mark. You're left with the feeling of having heard a familiar incantation. Imagine the resonance when you hum or breathily sing along to your favourite songs, that airy sound of the vibrations in your skull. That's the PinkPantheress motif.

Like her emo influences My Chemical Romance and Paramore, she's in the business of misery. From its title onwards, to hell with it is a melancholic and teenage take on heartbreak. The opening number, Pain, uses the beat from a karaoke version of Sweet Female Attitude's Flowers, her ​"la, la-la-la-la, la-la" a half-remembered garage song writ morose. It barely begins before it closes with male vocals responding, pitched down and slower, as if they're a newly-ex boyfriend receding into the distance. All My Friends Know is a morning sky clearing like The Simpsons' credits, as birds tweet and she asks with blasé melodrama: ​"Did you ever want me? No worries if not." Just For Me, another obsessive love song addressed to an absent lover, may as well be Craig David covering an emo track (or the other way around).
"I created a form of d'n'b that's acceptable to listen to at home," she says when we eventually sit down for our coffees, noting that she doesn't party much or like to be out of control so doesn't go to raves. Regardless of genre, the nostalgic elements are inescapable.
"New nostalgia" was a turn-of-phrase hooked onto PinkPantheress from around the time she started making waves on TikTok in late 2020, but it's a label she now rejects. "'New nostalgia' is kind of insinuating that what I'm doing is new, when it's not," she says. ​"All of this music has been around for ages: it's d'n'b and jungle. It's not that I reject the nostalgia part of it. It's an oxymoron, too – new nostalgia."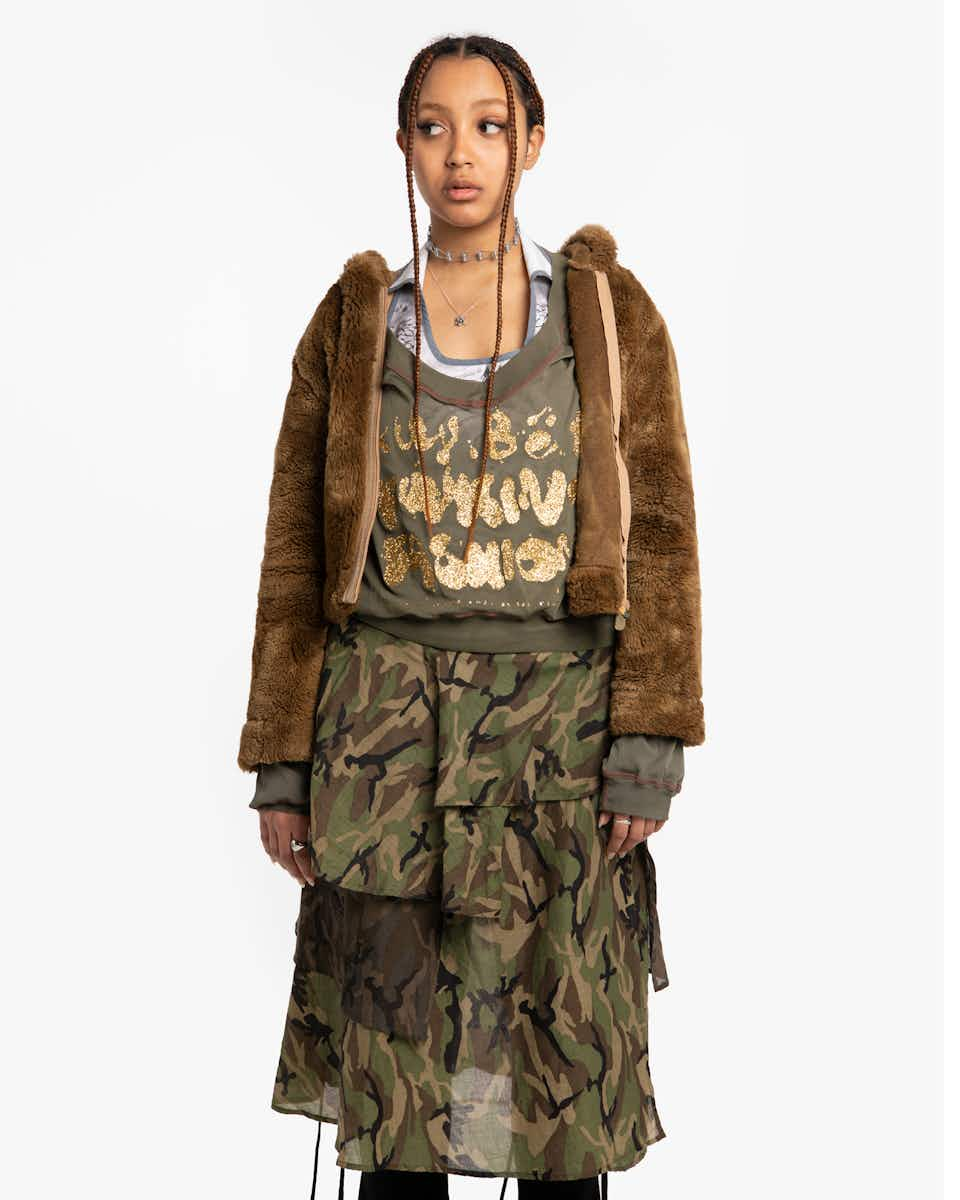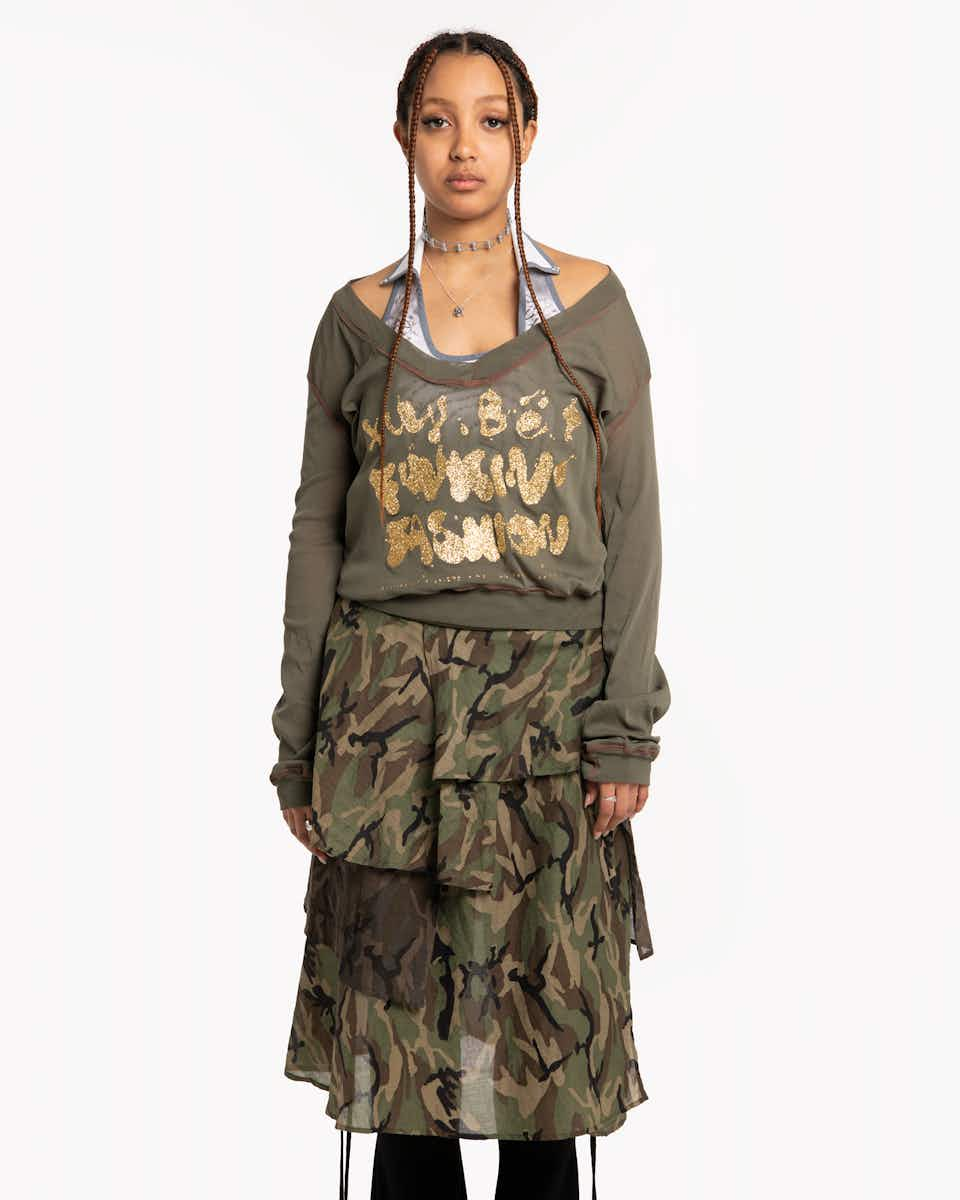 It takes a certain self-awareness to admit how reliant her work is on other people's. Maybe calling it ​"new" is a reach. ​"Literally my back hurts from the reach. There are better ways to describe my music." Like what? ​"It's a bit fluffy." How else would she describe her music? She holds her head poised, her doe eyes waiting for an answer to drop from the ceiling.
"Just alt-pop."
What PinkPantheress achieved in 2021 wasn't ​"just" anything: she arrived as the first great TikTok artist. While attractive influencers straddled modelling and pop-punk, and record labels scrambled to understand the platform's money-making algorithm, she knew how to craft and present a sound with deceptive simplicity.
She layered genres by stripping each of its cultural context in a sort of synthesised, shimmering package for those who missed them the first time around. This wasn't just one well-produced throwback, it was a rapidly growing and cohesive DIY body of work. Each track was surprising and came complete with an original, catchy melody and diaristic lyrics that hark back to the ​'00s indie colloquialism of Lily Allen or Kate Nash. By sparking excitement about what music can be in a tech-led youth culture while cloaked in mystery herself, she achieved what other emerging artists hadn't in a while. To critics, millennials and especially Gen Zers, PinkPantheress was undeniably cool.
It was barely 14 months ago, Christmas 2020, when she took some breathing space from her film degree at the University of the Arts London to post her first music on TikTok, under the name PinkPantheress: a pseudonym inspired by an answer she heard on British game show The Chase. That song was a snippet of a disco-funk throwback she'd written called Just a Waste, which sampled Michael Jackson's Off the Wall. The first one that did ​"really well" was January 2021's Pain, a track which would reach number 35 in the UK Singles Chart. A record deal, with Parlophone/​Elektra, swiftly followed, and her viral hits Break It Off and Passion were released by the label last summer.
She recognises that ​"it was quick. But I'm impatient and didn't want to wait around. I didn't want to be a ​'developing artist', I wanted to be developed." If a 15-second snippet got a positive reaction, she'd build it out to a short piece of work and release it to SoundCloud. ​"But I've never off-the-bat written a full-length song because I'm lazy and I really can't," she says, her eyes widening. To her, TikTok is an excellent way to know if music is actually good. If 15 seconds doesn't capture a teenager's imagination, a full-length track never will.
Born in Bath, her family moved to Kent when she was five. When she was 12, her statistics professor dad relocated to work at a university in Austin, Texas, meaning her parents' marriage morphed into a long-distance relationship. It's a romantic notion, particularly given that, eight years later, it's still working for them (her mum works as a carer, and she has an older brother).

​"When you're a kid it's just impossible to imagine your parents not together. So I think I was like: ​'Of course they're gonna stay together! Will they break up? No way!' But I don't know how they did it. I personally wouldn't be arsed, I'd just be like, ​'byyyye', or I would've moved with him." But in fact she's the reason they didn't all move with her dad: she wanted to stick with the friends and schooling environment she knew, and her parents acquiesced. That decision to stay in England would ultimately inform her artistry.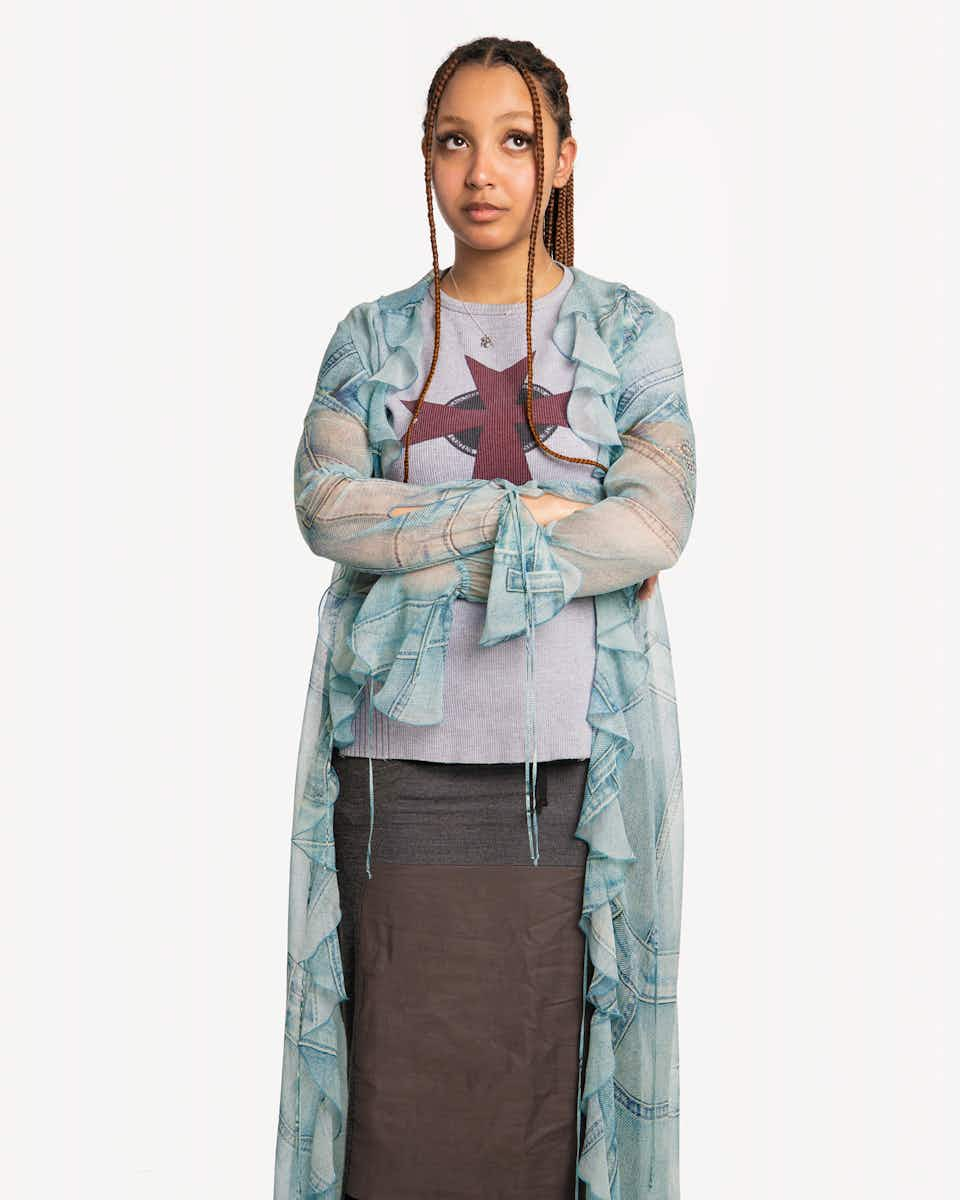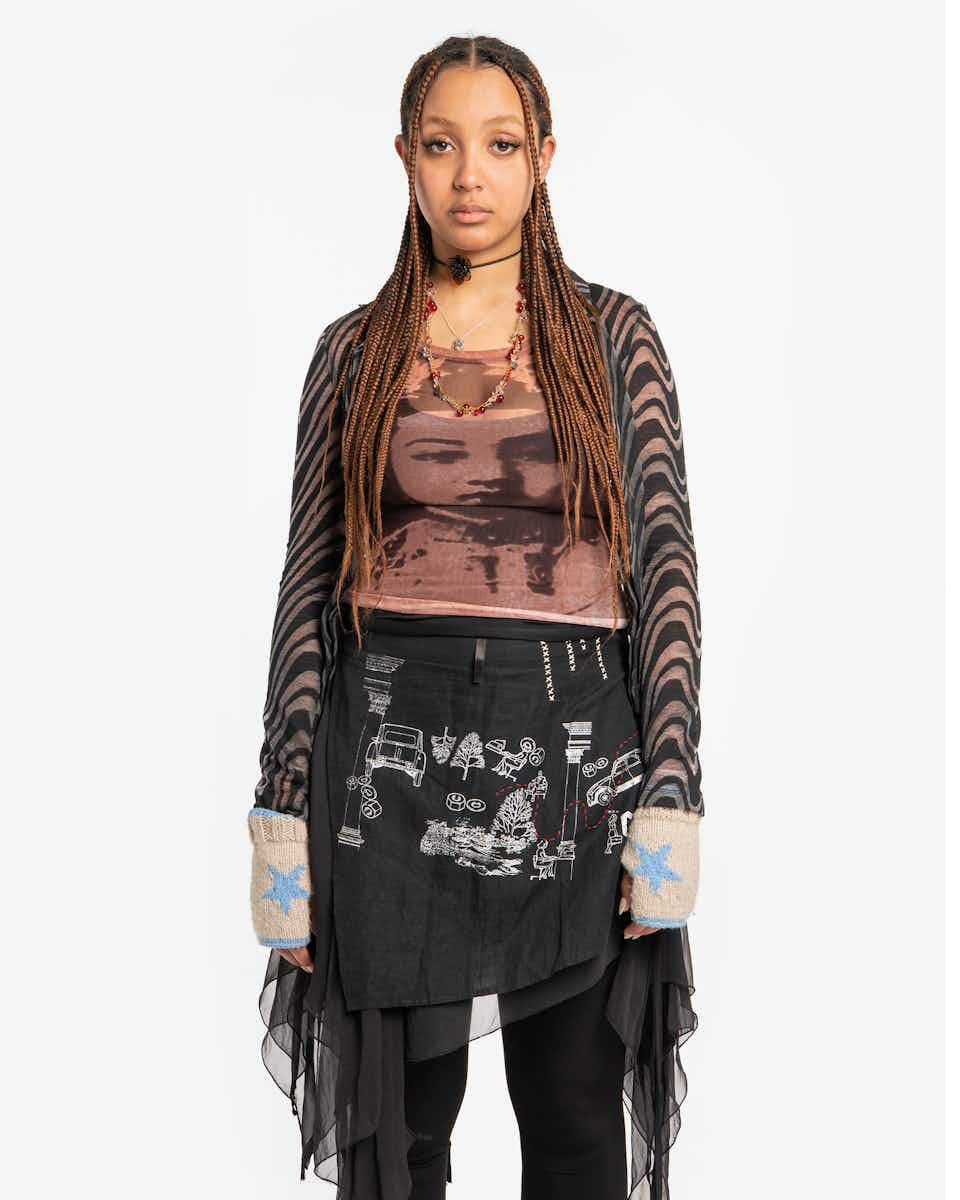 "I don't know if I would've been doing this if I had moved to America and been an American girl," she says. ​"I wouldn't have had the same influences, which led me to want to make the music I make now. I only discovered garage through friends from growing up here." Her brother – a sound engineer who calls during the interview to ask when she's coming home – was the first to inform her taste. After she spotted a vinyl copy of Tyler, The Creator's Wolf in his bedroom, she stole it to use as a prop for clout among her peers. She was baffled by the experimental music her brother made until, at 17, she began making her own work and asked him for help with the MIDIs and synths she'd grown up watching him use.
Typical of teens who grew up in isolated or suburban areas, intense internet fandom took hold of her. The discovery of emo giants My Chemical Romance in Year 7 served as a gateway to the ​'90s and ​'00s rock'n'roll hall of fame: Panic! At The Disco, Paramore, Linkin Park (whose guitar line on 2000 song Forgotten is sampled and looped on her track Last valentines), Slipknot and Blink-182. The fact that PinkPantheress doesn't think she would've been a rock fan had she lived through that era as a teen is revealing of both her macro culture consumption and output as an artist.
"I like being able to review things in hindsight, to catch up with things. I don't like having to wait for anything – ​'what's coming out next? What's the next thing?' – so I think it was good for me to have all [of those rock bands already] out for me, ready to digest and take in."
By Year 12, an appreciation of fashion meant her departure from emo fandom. ​"I wanted to dress cool, or try to dress cool, and I guess dressing emo did not align with that at the time." Amusingly, of course, that's now back in style, although she now describes her dress code as gothic and her favourite brand is Cop Copine. Last year she agreed to model for Marc Jacobs' Heaven collection (she and her mum adore Jacobs; Vogue called Heaven ​"teen dream fashion"). But she realised she hates modelling. This aversion comes down to control: you're sitting for someone else's vision.

"Naturally, when you start off doing everything on your terms, it means when something is not on your terms it feels like you're doing it against your will, even though you agreed to it in the first place," she says of modelling. ​"When it comes to pictures of me, I get nervous. I like being able to choose. More times than not I absolutely hate pictures of me that someone else has taken."
She uses Billie Eilish's baggy clothes era as an example of positively guiding the way in which people were able to view her body and degrade or judge her as a result.
"I'm not saying it's to do with insecurity of my looks or the colour of my skin. I just didn't want what I looked like – negatively or positively – to impact my music. So that's why first off I started [by] not showing my face." When she did eventually reveal herself, she was pleasantly surprised to find that no one particularly cared or had much to remark on. Comments about her racial identity were positive and she was pleased to join Willow Smith as a rare Black face in alternative music (her mum is from Kenya). ​"If you've earned a level of respect from the internet by offering them something worth offering, then generally they're not gonna say negative things about what you look like."

When required to stay still to answer questions, the dreamy PinkPantheress becomes fidgety. She scratches her neck, covers her mouth and pulls bashful smiles, cringed-out grins and eye-rolls. Whether she's embarrassed by herself, or finds you or the situation embarrassing, is irrelevant when the quality of her voice – as it is on record – is so calming. She's pleasantly sedating to be around.

Only twice during the two-and-a-half hours I spend with her does she become truly animated. The first time is when I tell her that I recently met the K‑pop band Monsta X. ​"Stop, stop, stop! I actually can't deal with that! Were they nice? Oh my God! I'm so jealous. Ugh!"
The second is when I mention that her supposed real name is now all over the internet, which has the effect on our interview of a twig snapping in an unoccupied forest.

​"People online can only take what you give them. So for as long as I do music, I can keep making up fake names," she says, laughing nervously. ​"I could tweet today that my actual name is Alice and people are gonna take that as verbatim."
It's little wonder there's such curiosity about The Real PinkPantheress. To hell with it ended up on many album-of- the-year lists for 2021. This despite its creator attempting to downplay its credentials. ​"I was trying to label it a mixtape because I didn't think it was developed enough to be an album. An album at 18 minutes? That would be crazy."
Despite the dwindling importance of the album as a format, PinkPantheress loves it, citing My Chemical Romance's records as an example of using a longer, more considered project to create a world. She just doesn't believe she's capable yet. ​"I want to be certain that it's going to be good enough before I release something so significant. Everything I've done up till now, it's all been to create a fanbase. That's the most important thing: to have fans. It was never just to have one moment."
Those fans look exactly how she envisioned them. They are adult, she says, with an Americanised emphasis on the second syllable, ​"the cool teenagers and young adults of London. Cool people. They're all cool." When asked if that's what she was going for, she replies: ​"Of course, that's what everyone wants, right? To say the music they're making is being enjoyed by cool people."
Her read on both counts is accurate. ​"She's the next person who feels relevant to us, plus she's opened all of us up to so much new music," 21-year-old PinkPantheress fan and fashion student Ali says. Nineteen-year-old Alex from London was at her gig at The Cause in Tottenham last November. ​"For me, she's inspiring [in] that you can just have one viral video of your art and get noticed," she says. ​"Also, she was the only one making cool music in 2021."

PinkPantheress' fanbase includes other cool individuals who happen to be other musicians. Central Cee sampled Just For Me on his 118-second autumn banger Obsessed With You (which was nominated for Song of the Year at last month's Brit Awards). ​"He's one of the only people I've ever seen who is an actual rock star. He's cool. He's got ​'it' whatever ​'it' is." Beabadoobee, too, is a fan, and vice versa. ​"I'd love to collaborate with her. She's another old school alt girl so it would make total sense."
Producer Danny L Harle, once a fan, is now a collaborator (they're unsure under what guise the music will be released). Since emerging as a key player in the PC Music label and col- lective, Harle has written and produced for the likes of Carly Rae Jepsen and Caroline Polachek, and has released his own euphoric dance music. A diehard TikTok aficionado, he discovered PinkPantheress organically via the algorithm.
"I just thought, fucking hell, she's done the thing that I've been trying to do my whole musical career," he says. ​"If there's anything I've ever prided myself on it's a certain melodic style and the singer had clearly written [the music] themselves and made an organic sound. I couldn't really believe it."
PinkPantheress and Harle are currently in writing sessions, during which he's imparted what she describes as invaluable career advice. As to what that wisdom is, Harle says: ​"It's just: concentrate on the music being good and don't be paranoid that this is all just hype. You're actually very good. That's something I wish that someone had told me early on. Because that is always the paranoia that completely consumes you when you become a hyped artist."
In the studio, Harle discovered that she wrote music the way she wrote her breakout singles: she likes to work with finished beats, attempting to recreate how she started out: singing over an existing track. Equally, where Harle has witnessed other TikTok artists fail by leaving the app and writing what we think of as proper – ie full-length – songs, PinkPantheress has succeeded by writing for the app, for our so-called shorter attention spans, and by taking into account how we listen to and consume music today.
"We have a strange nostalgic culture at the moment where we're stuck in the beginning of the 21st century in terms of what we think is normal," Harle observes of our shared understanding of what a musician does. ​"When in fact what PinkPantheress has done is drag us kicking and screaming into the age that we currently live in."

It's difficult to know how much of the contradiction – devouring nostalgic influences with a radically modern approach – inherent in PinkPantheress is unique to her and how much it reflects the turbulence of a self-conscious generation that speeds ahead while looking over its shoulder. Over our time together she repeats many times that she's lazy. Yet she's a self-made success story, one who in the early days of being on TikTok was creating a track per day.

More contradictions: she wants the recognition of a large fanbase but none of the inescapable trappings of having one. She sought out the immediate fame catalysed by TikTok's baked-in, turbo-charged virality, but also says: ​"I didn't want it to be zero to a hundred ​'everyone knows me now'. I wanted to do a slow progression, at my rate, with what I was comfortable with."
This is self-branding and success in the 2020s. ​"I'm not inherently cool: to be cool you have to be effortless," she says conspiratorially. ​"I'm trying to learn how to be effortlessly cool."
Question marks hover over what PinkPantheress will do next. She can't reveal much, partly due to the pandemic, partly to keep the mystique alive. She'll likely drop out from or defer her film degree at UAL because she's barely been attending – even before the TikTok fame, record deal, hit singles, Brits shouts and BBC poll victories she was a poor student, historically bailing on, or being late for, group participation. Film was only intended as a backup for her music career, anyway. An emo record is a fun idea to her, with a song sampling Paramore already due for release soon. She's booked to play Primavera Sound in Barcelona in the summer, a giant leap from November's micro-tour of cupboard-sized London venues.
But what she will say is: ​"If we're gonna call 2021 the origin year, I guess 2022 will be the development year. I think I called it the ​'step-up' year to someone the other day." Interview done, we leave Starbucks and stand in the artificially-lit Soho evening, blocking the doorway. She's going to visit her family, including her transatlantic dad, who keenly await her at home. Before she goes, her big eyes are sparkling and a parting request formulates on her face as she gathers the courage to voice it.
"I just wanted to ask," she says with an excitable grin, ​"can you call me a new name in this? Like, call me Alice. I wanted to ask in there but didn't know if you'd say yes. That would be cool."
HAIR AND MAKE-UP Karla Leon CASTING Sarah Small at Good Catch HEAD OF PRODUCTION Rosanna Gouldman PRODUCER Katherine Bampton EXACTITUDES' ASSISTANT Pluk Van Herwijnen TALENT Helene, Pluk, Evaluna and Luka c/​o Exactitudes TALENT Dio, Mickey, Ines, Rose, Sunita, Sam and Debbie at Anti c/​o Sarah at Good Catch DIGITAL OPERATOR Neil Bennett LIGHTING Federico Covarelli STYLIST'S ASSISTANTS Borys Korban, Hollie Williamson and Ruby Godefroy HAIR ASSISTANT Kreszend Sackey MAKE-UP ASSISTANT Ceren Yilmaz Dogan PRODUCTION ASSISTANT Chloe Slattery

More like this