Beabadoobee: the bubble grunge internet sensation
A 20-year-old star of the social media age, Beabadoobee is part of the first gener­ation to have near-instant access to endless socio-cultural archives, using them to create a look that is as much Smashing Pumpkins as it is Lizzie McGuire. She is yesterday, today and, probably, tomorrow. She is MEGA.
Arti­cle tak­en from The Face Vol­ume 4 Issue 005. Order your copy here.
All of a sudden – after three years of SoundCloud buzz, credible label-love, social media virality, a killer sample and a steadily climbing streaming count – Beabadoobee is massive.
You might have spotted some of the billboards for the 20-year-old Londoner's chart-crashing debut Fake It Flowers in October. The album rounded off a steady rise that began with the gently-strummed Coffee, self-released on SoundCloud in 2017, then absorbed by Canadian rapper Powfu's 2020 TikTok smash death bed (coffee for your head) – which at the time of writing has inspired more than 5.9 million videos on the platform.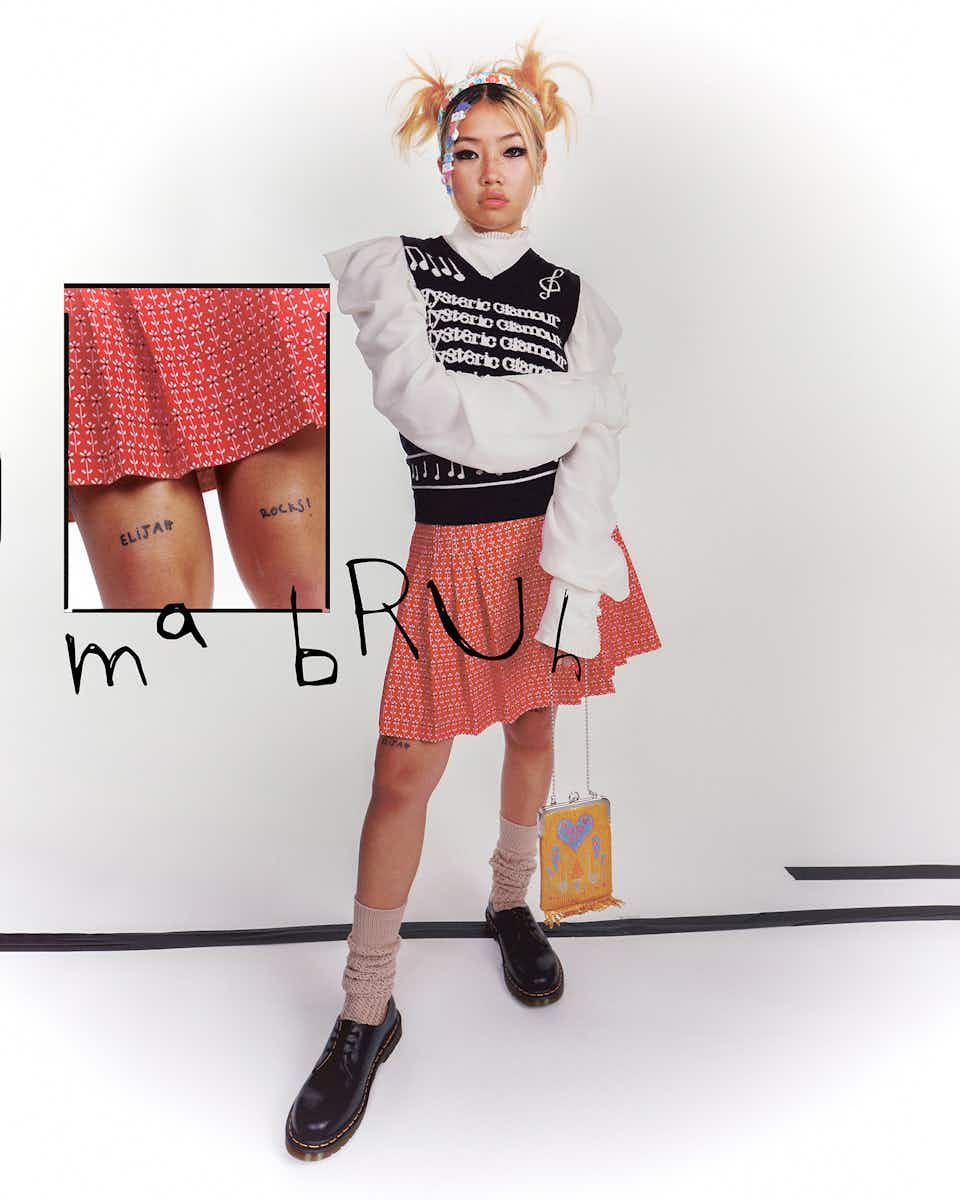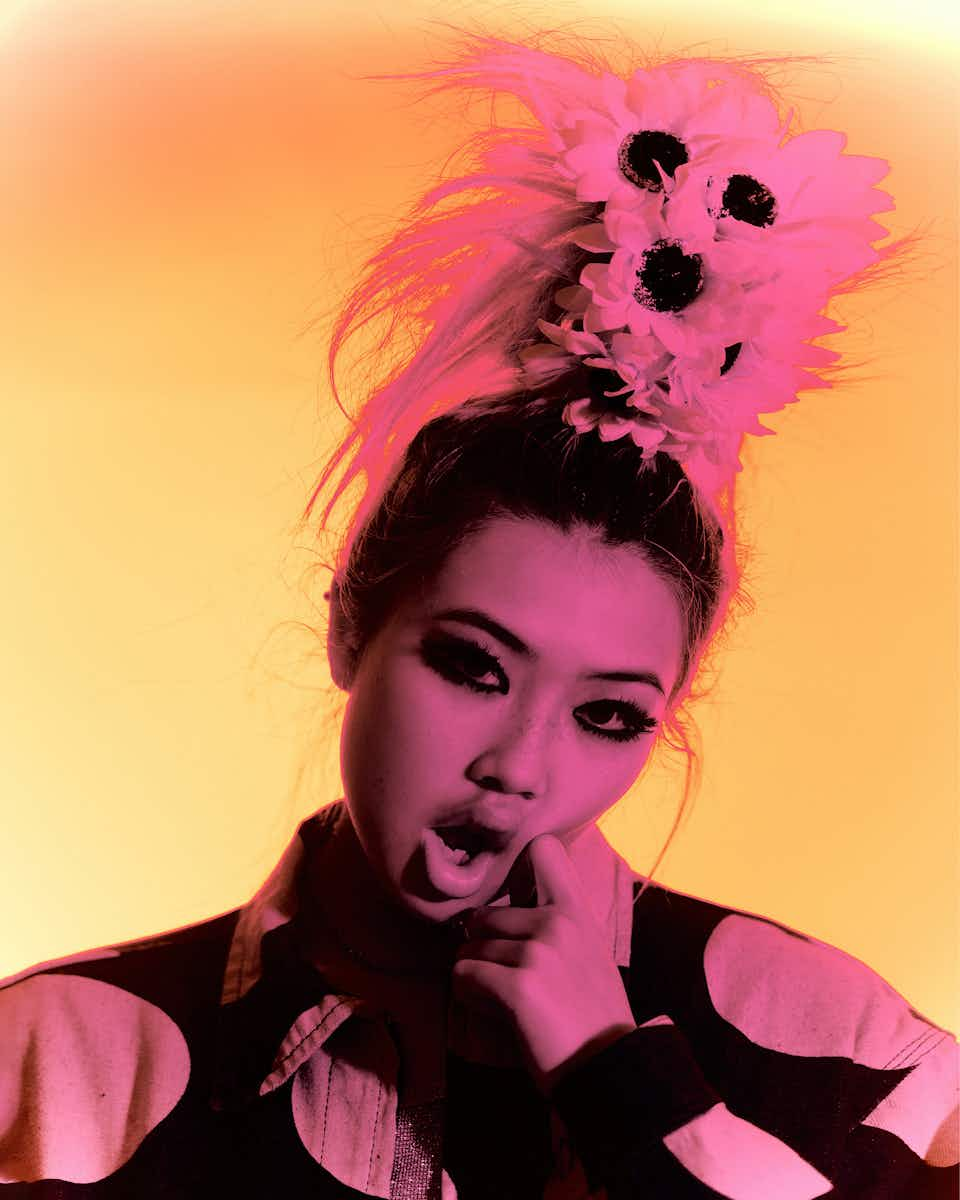 In the meantime, Beabadoobee signed to Dirty Hit (home to The 1975 and Rina Sawayama), developed a close friendship with Matty Healy, earned co-signs from Taylor Swift and Harry Styles (both congratulated her personally after she won the NME Radar Award in February), and became the fresh face of indie rock and an internet crush to hundreds of thousands of hormonal teens.
Today, Coffee sits at more than 50 million Spotify streams.
But while her story of app-fuelled fame couldn't be more contemporary, nostalgia is central to the world of Beabadoobee. As the first generation to have near-­instant access to endless socio-cultural archives at their fingertips, an infatuation with the ​'90s and early ​'00s has shaped Gen Z culture. From writing an entire album in her Tom-Hanks-poster-clad childhood bedroom to her thrift shop wardrobe, not to mention her fluctuating grunge hair colour choices, Bea's identity is grounded in an appreciation of her predecessors.
When we meet over Zoom in October, she explains that the bright red was inspired by Miki Berenyi from ​'90s shoegaze icons Lush, while the blue look was her way of ​"getting back into my Smashing Pumpkins roots". If she could live in a ​'90s romcom, she reckons it would have to be Sleepless in Seattle, You've Got Mail or maybe 13 Going On 30. She's unsure who would play her in the movie of her own life, ​"but I know that the guy would be played by Mark Ruffalo".
Bea's own influence on fashion and beauty is already a thing to behold. She's been dubbed everything from a ​"bonafide rock star" to a leader in the ​"bubblegrunge" genre. The fan-run @styleofbea Instagram account breaks down every single outfit. And in September she featured in Heaven, Marc Jacobs' latest gender-neutral, teen-angst-inspired diffusion line. With an aesthetic that harks back playfully to early-stage Lizzie McGuire – with a sprinkling of Janis from Mean Girls – her wardrobe meshes the feminine and masculine in perfect balance. This is a textured utopia where combat pants meet camisoles and skater skirts hide beneath ripped sweaters and T‑shirts.
She finishes it all with a helping of rainbow plastic jewellery and her statement black eyeliner. Oh, and if you didn't manage to get that all down, don't fear because the TikTokers are already on the make-up ­tutorials and her merch line offers you a slice of the tie-dye-filled land of her making.
"I didn't expect any of this to happen," she insists, taking a deep breath. ​"I just wrote songs because I had to. It was like therapy to me."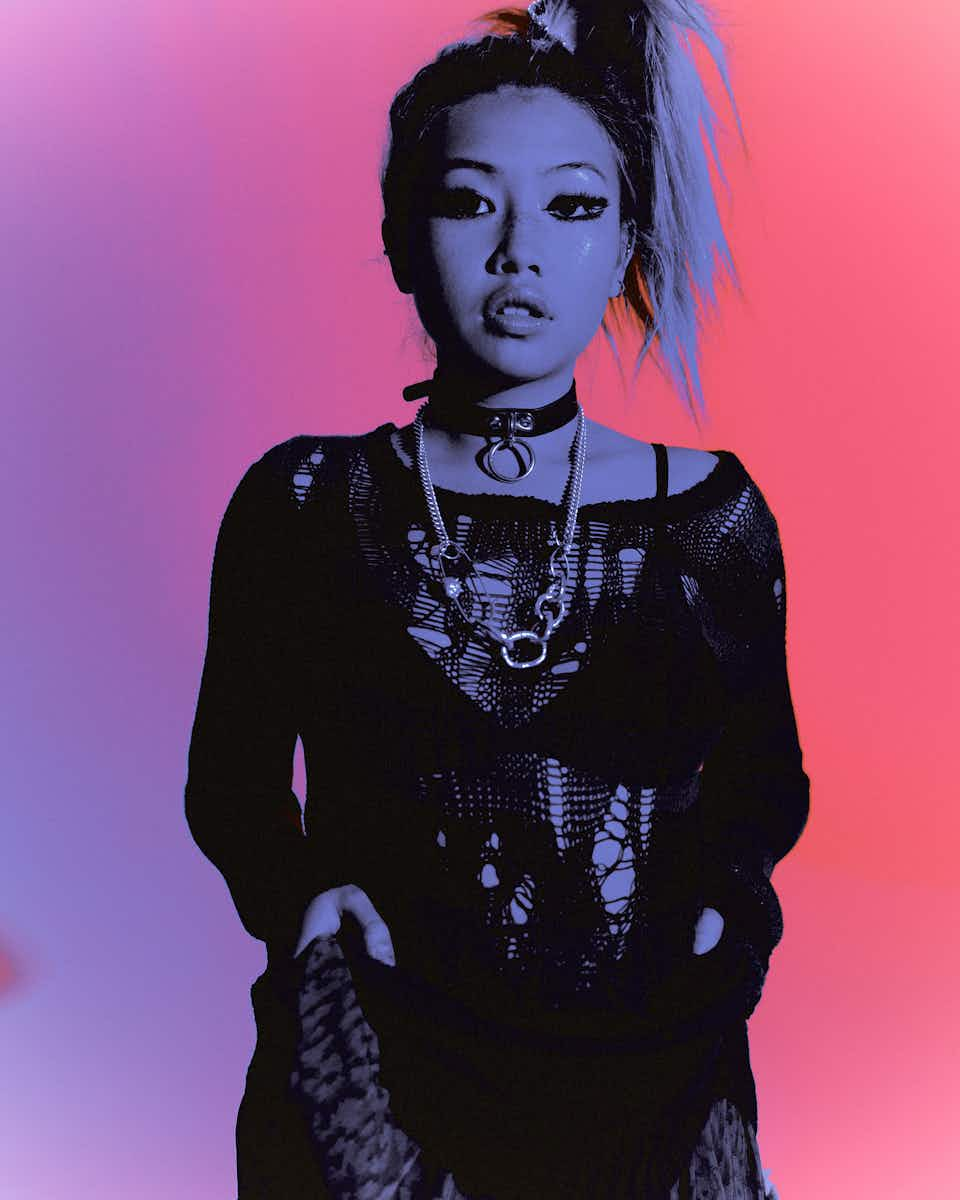 Born Beatrice Kristi Laus in Iloilo City, Philippines, her family relocated to West London when she was three years old. After a rocky few years as a complete outsider at her majority-white, middle-to-upper-class Catholic girls' school, Bea fell into a stoner crowd, started experimenting with drugs and eventually got kicked out at the end of Year 12. Since the age of 14, she's been attending therapy – something she passionately advocates.
"I think the idea of therapy is slowly becoming normal, which is great, because I think everyone should have a therapist, even if you're like the happiest person on Earth," she says, before pausing and adding "…if you think that."
For Bea, the process of creating has always been the catharsis, and music was her desired outlet. ​"I think it's OK and healthy to be selfish at times. If I wanna write a song and get everything off my chest and it can help me feel better mentally, I'm gonna do it."
On Fake It Flowers, she opens some painful wounds, with lyrics that explore everything from infidelity to addiction and childhood trauma. Emo Song sees her address a life-changing event of her childhood in more detail, also hinted at on Care, as she sings: ​"Nobody knows when I was young, I lost myself in cosmic dust." On the hazy Charlie Brown, she battles the urge to revert to old habits of self-harm. Instead, she tells me now, ​"I scream and it's like releasing that energy and burden off my chest."
After all the self-doubt and confusion of those school years, Beabadoobee has truly learned to love the power of her voice and embrace her imperfections over the last three years, whether she's screaming out emotions alongside the grunge-rock blast of her band in full force, or whispering them in her bedroom while strumming an acoustic guitar.
"After getting over this bridge of doing really bad stuff to help me get over feeling sad, music became the positive solution. I want people to take away that it's OK to be fucking loud, to whine, to be sad and cry about it and be annoying. You're a girl," she concludes. ​"You can do what you want."
Hair Kota Suizu, Make-up Vassilis Theotokis at Streeters, Production Rosanna Gouldman, Photographer Assistant Alex Gale, Stylist Assistant Hollie Williamson.

More like this