Just like Heaven: an exclusive look at the brand's new collection
To celebrate the launch of its latest collection, Isabella Burley, founder of cult book distributor Climax, speaks to Ava Nirui about the teenage fashion fantasia of Heaven by Marc Jacobs.

Taken from the new print issue of THE FACE. Get your copy here.

If I died and went to Heaven I would want to be with Ava Nirui. The visionary mind behind Marc Jacobs' wildly ­popular Heaven line, which launched last September, she orders drinks called ​"Little Zoes", loves The Walking Dead zombies at Universal Studios and has a doll called Cookie (who has two fingers, one leg and lives under her kitchen sink).
In the last year, Nirui, who was raised in Australia and is now based in New York, has cultivated a world like no other. Cynthia Lu from enigmatic label Cactus Plant Flea Market, artist Chris Cadaver and New York-based brand Happy 99 sit alongside cult icons such as film directors Gregg Araki and Sofia Coppola, and Placebo frontman Brian Molko. At the store in LA, kids come and hang out to discover artists, memorabilia, books (which she lets me curate under Climax) and new designers all under one roof. Together it adds up to a world only she could manifest. One that is ever-evolving, dynamic and freaky as hell.
Isabella: I've always wanted to know, what did your bedroom look like as a teenager?
Ava: I went through so many phases. One bedroom set-up that I remember vividly was when I would rip out all the pages of magazines like NME and THE FACE and tape them up on the wall to create wallpaper out of them. My mum was really pissed because I had stuck them on with really strong tape. It stripped the whole wall of the paint and was chipping when I pulled the wallpaper off.
Meredith! [Ava's mum]
I had a massive Pete Doherty poster and she was so disgusted by him. She was like, ​"He's a degenerate, you have to take that down." But wait, I want to hear about your bedroom. What was it like?
I went through really weird phases, too. I don't think I really had that many posters on the wall, but every summer I would make my dad repaint my whole bedroom because I would constantly change [my mind about] what colour I wanted. So at one time, it was bright pink, then neon green, which is so strange for an 11 year old.
That's so cute, very you.
Was that your first introduction to Marc Jacobs?
My aunts live in San Francisco and I would always come with my dad to the US on little vacations from Australia. I went to a thrift store and found this Marc by Marc Jacobs striped sweater. It was unbuttoned at the elbow, it had detachable sleeves, it was so cool. It was like 20 dollars or something. I remember feeling so fancy in that. And yeah, that was when I was maybe 14 or something. What about you, what was your first fashion purchase when you were a teen?
The one I remember the most is being at Dover Street, aged 17, and getting this pair of black Junya Watanabe platforms that were made of leather and had these leather whips at the back so every time you walked, it would whip the floor. They were so insane. But I still have them, I can't get rid of them.
You have to keep them forever now.

I'm in awe of what you've done with Heaven. It has this amazing collaborative spirit that's so open and giving. I just think that's what makes it so special. Having all of these ­individuals who do great things and you love what they do and they're a part of building this world of Heaven. It's not one thing, it's all of these things at the same [time].
It's really nice! My favourite part about Heaven and the process is working directly with friends.
Yeah.
That just makes things so much easier because you're not afraid of your friends. [Laughs]
No. [Laughs and makes monster noise]
When I first started at Marc Jacobs we were doing so many collaborations with people that took many different forms, from collabs with artists, ­designers, photographers, curators… I feel like everyone is super fatigued by the traditional set-up of a fashion collaboration in 2021. One-off collabs are also not what Marc ­Jacobs represents ­because he really cherishes his relationships with his friends, who he constantly collaborates with. So we thought we could create more of an ever-evolving universe out of these partnerships and contributions from friends and artists. Initially, Marc wanted to call the line ​"Trademarc", ­because so many things in his universe are word plays – like ​"Bookmarc" and ­"Marchives" – then one day I proposed Heaven to Marc as it was a word he used a lot to describe things he thought were cool. It was one of those inside jokes he had with all his friends like ­[director of Ford Models] Louie Chaban and [fashion designer] Anna Sui. He really liked the name so we went from there. It started a lot smaller than it is now, but has expanded in terms of the offering over the last year. Obviously, Climax was one of the first projects we did within Heaven.
I can't believe that was a year ago. Isn't that insane?
So crazy. Climax is such an important part of the storytelling and the narrative because the brand is so much about education. It feels so natural with you. I just want to work with you and other friends forever.
Same.

Someone like you, [designer] Elliot Shields and all of the other collaborators are so integral to the brand. You guys are the ones who are defining the brand because you're creating the artworks, curating, and more. And I'm kind of just like a vehicle to get these things made and put them out in a way that is true to all of your creative visions, if that makes sense.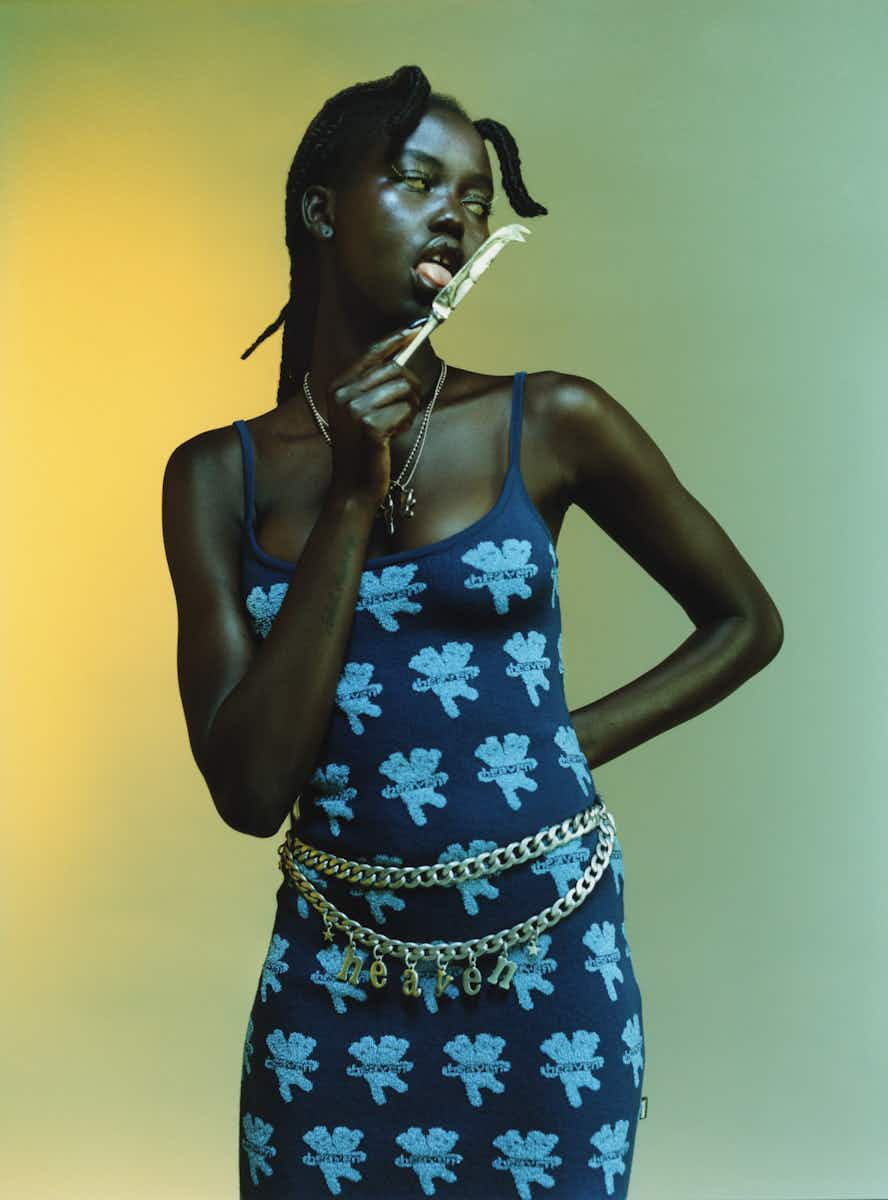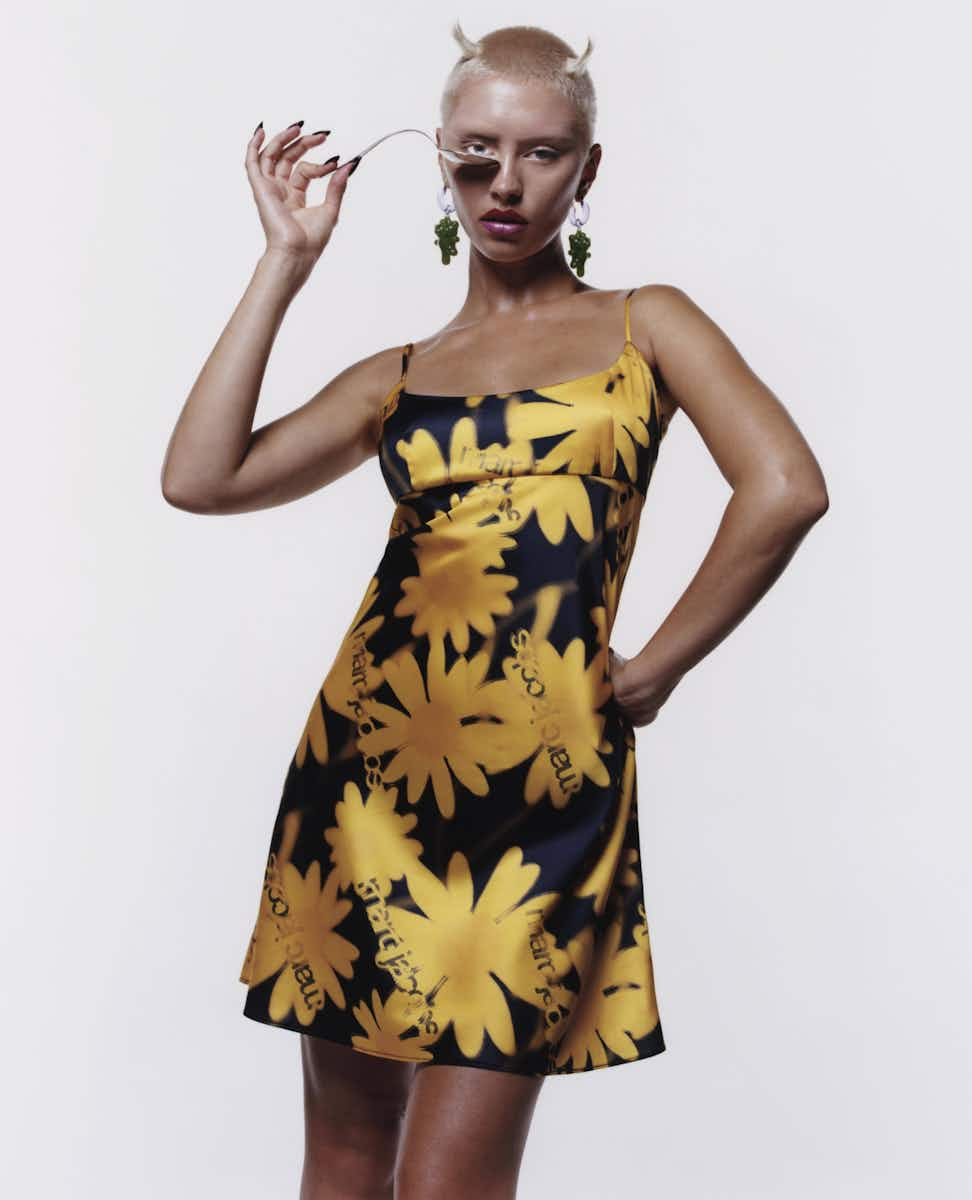 Well that's the thing, you're such an incredible curator.
It's also nice having Marc as a boss. He's such a freak for pop culture and such a fan of other creative people, whether they're established or up-and-coming. He's such a curious soul. He really deep dives and is a master of research. I think that's inspiring and it's so nice to have someone trust you and trust all the people you're bringing into the fold. Since I started, I've also really deep dived into Marc Jacobs research. The younger generation isn't fully aware of his brand history and that's the purpose of this project, to an extent.
Yeah, there's an educational side as well. I'm so jealous that I haven't been to the LA store because what you've done with that is what I think is the physical epitome of what we've just been speaking about. This idea of having designers like Mowalola, Claire Barrow… this amazing mix of, not just having these collaborators come and work for Heaven, but having them and what they do as an extension of Heaven.
The store is a completely new concept for Marc Jacobs. The store and the brand as a whole… There's something about Heaven that feels almost like a fan-art project in a way, ­because it is very radical for a brand that is corporate at the end of the day. But it still contains all these historical references and Marc-isms that make it feel like it works within the brand. But yeah, there's something very hacker and guerrilla about it. A lot of the brands that I had asked to be a part of the store were people I either know or who had contributed to the line, for example Cynthia [Lu] from Cactus Plant Flea Market, [LA clothing company] Online Ceramics, Claire Barrow, who is now doing some art for us for the next season, and your books for Climax, obviously. A lot of the props that are in the store, and the way that [the store] is decorated, is what I imagined Marc's teenage bedroom to look like. I found this old photo album of his from parties in the 2000s. I asked permission to display those images under the glass at the front desk where the cash register is and it all came together and became this dream space that's ever-evolving. The Marc stores in the early 2000s were so much about community. Like, the old Bleecker Street store was a gathering space for Marc, the employees, friends and collaborators. I really want to bring that back to the Marc Jacobs brand. I've worked in the store a bunch of times and I've noticed that a lot of kids will stay for an hour and read the books or speak to the store associates or sit on the floor and just talk to each other.

That's so cute. It feels like being inside of your [brain] and Marc's brain. All these things happening at once and it being this kind of sensory overload of different people's points of view but then having this overarching world of Heaven.
Me, you and all of our friends in our world all share one brain.
[Laughs] So true.
We all have this one mega brain. We all understand each ­other's references and everything slots together so nicely. But I also wanted to ask you about the Climax curations that you've made for us and [that you're] continuing to do now with the new collection – it's just like a dream curation. It's so rich and dense and there are so many amazing rare books; it's ­really incredible what you've created. What's in your mind when you're curating the selection of books?
It's so funny because I'm staring right now at the pile I'm getting ready for you and the September website launch. It goes from a Dennis Rodman VHS that is the most insane cover, he has green hair on a zebra-print background, he's topless and his nails are painted…
Wow.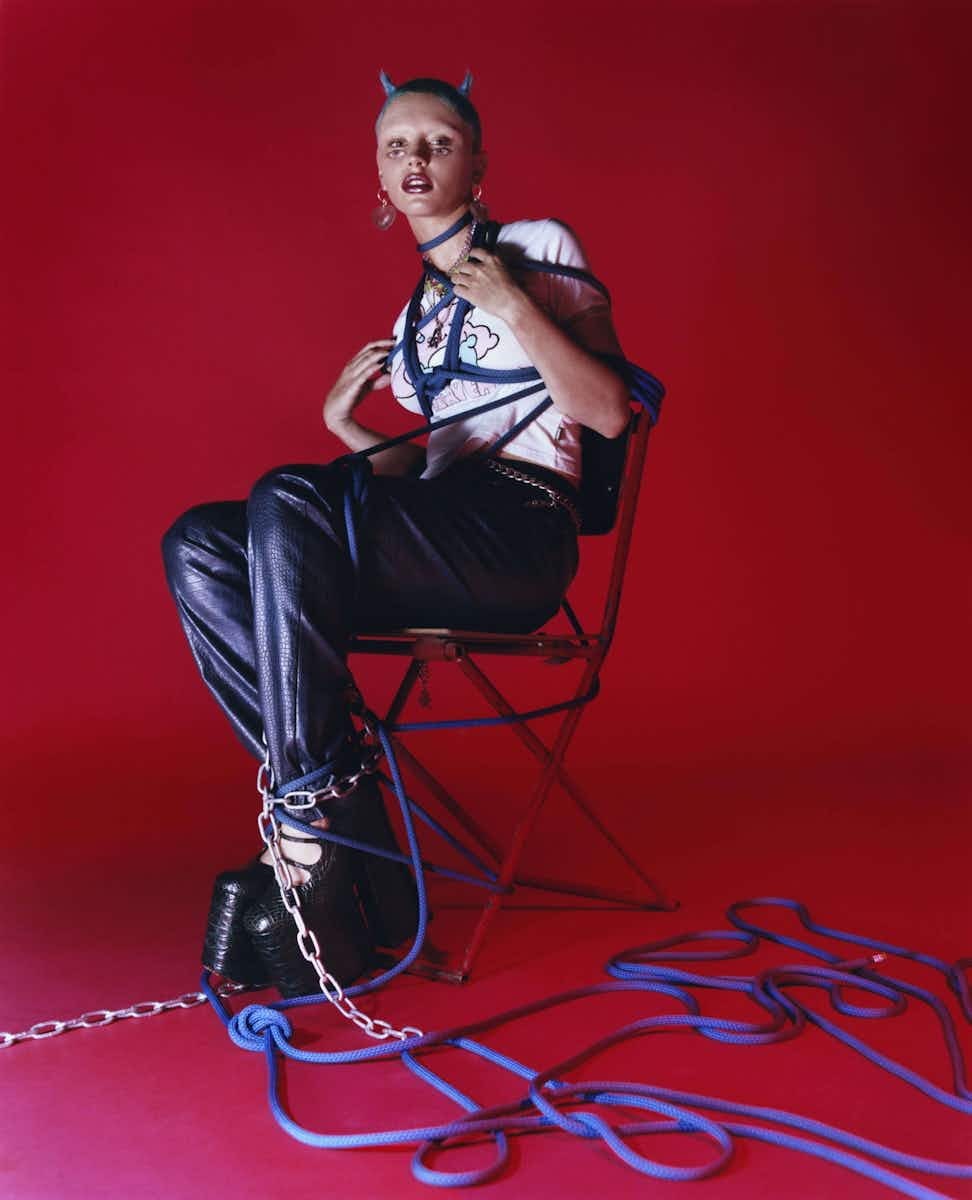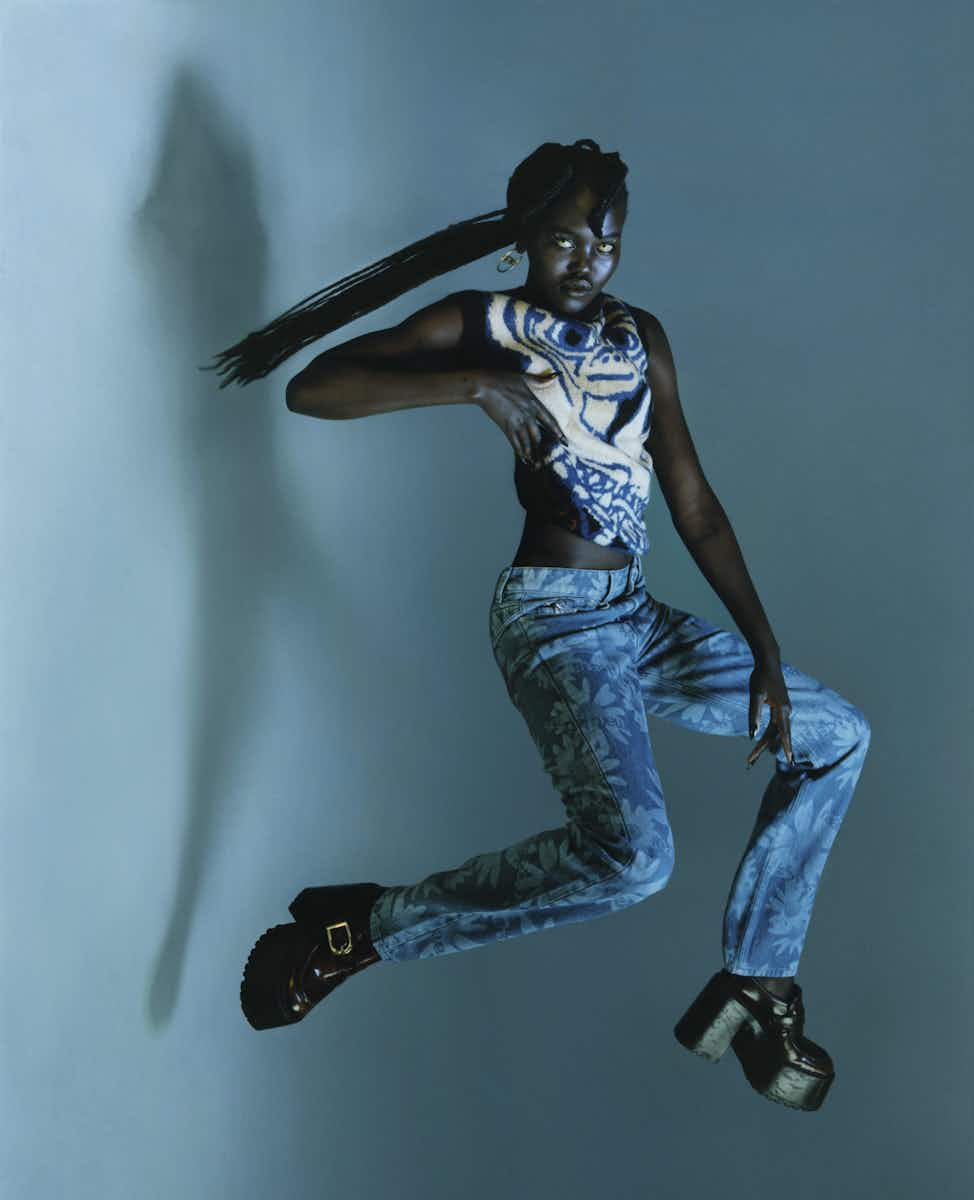 And then, underneath it, it's Martine Syms' book Shame Space, one on mysticism from the ​'70s and then the Happy Victims book on all these fashion obsessives in Tokyo. In a way, a lot of that curation comes from our relationship and references that we've shared with each other, things we've discovered together. Like that Happy Victims book, I remember you first talking about that when we were at Helmut Lang together five years ago, whatever it was. Or the Traci Lords issue of ­Details [from 1995] when we shot her or the Aphex Twin Chris Cunningham VHS, the Windowlicker one – all of these things that we've shared over the years. Things that I find, I'm like ​"Ava would love this" or ​"Ava would think this is funny" or ​"Ava would think this is cool". Or oh, if I was in person with Ava, I would want to show her this because maybe she hasn't seen it yet.
That's the big link between Climax and Heaven. The sense of discovery and constant learning. It's so cool seeing kids come to the store and look through the books and ask questions. It's nice to know that a lot of kids come in and when they leave they've learned something new, whether it's awareness of a new artist or designer. I think there's something really beautiful about that.
Yeah, that's so true. We didn't really speak about your boot­legging work and how that was the start of a lot of things, being the first form of expression in some way. How did that all come about? It's what started your relationship with Marc Jacobs.
To an extent, it does relate again to what I'm doing now.
Exactly.

I was making designer items more accessible for myself. I would make these one-off items inspired by various brands' iconography and it made me feel like I was a part of something. That's sort of what we're doing now with Heaven. There's something unofficial-feeling about the brand and it's a tribute to the foundations of Marc Jacobs and his legacy.
Totally.

All the projects that I've done have been really unplanned and improvised. That's the cool thing about it really, because anything that's too premeditated or organised ultimately limits the creativity of the project. That's why it feels so ​"bootleg" ­because we operate like a small brand. We don't comply within the same systems and processes as the Marc Jacobs commercial line. In my opinion, that's how we've achieved a sense of authenticity.
I also love the visual world you've created around Heaven with [photographer] Harley [Weir] and also the casting.
She's so good at turning people, especially celebrities, into characters. Breaking down the boundary between you and the subject to the point where it feels really intimate. She shot this past spring campaign for us – it's all very fantastical feeling – and now for this fall collection, the theme is superpowers.
The Stunt Girl tee image from last season…
Oh yeah, Brian Molko. Oh my gosh, it was a very exciting ­moment for me seeing those images. I'm so obsessed with him. I've always been such a fan of Placebo. He's such a freak in the best way possible. It was really exciting to have him be a part of it. And I knew intuitively – I hadn't asked Marc if he was a fan of his until the day of the shoot – I was like ​"Oh, by the way, we're shooting Brian Molko today."
Imagine if Marc had been like, ​"NO!!"
He was like, ​"I love Placebo, I was such a fan in the ​'90s." I knew that he would be into him because Placebo fits into that alternative world that Marc was very involved in in the ​'90s. I love the idea of mixing old icons with people who will essentially reach that icon level in the future. Obviously, Brian Molko is like this LGBTQ+ cultural icon and hero and then there's Kate Moss, who is a Marc Jacobs muse and a very close friend of his. And then Rex Orange County, who is so unique in his own way.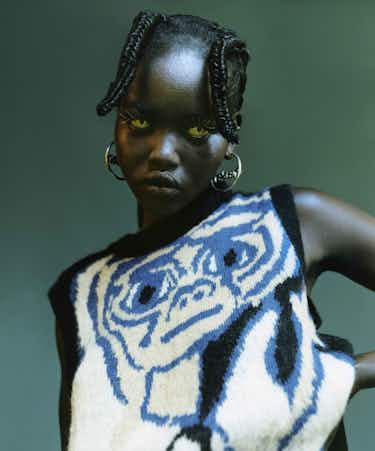 You worked with Sofia Coppola for this new collection, right?
We used stills from her film The Virgin Suicides. We've also worked with the artist Katherine Bernhardt, who contributed her paintings; they're re-imaginations of E.T. and Garfield.
Oh my God, that's so good. You know, I've never seen E.T. I feel like I grew up under a rock.
What?! That's crazy. Katherine Bernhardt and The Virgin ­Suicides are kind of like the anchors to the collection, but we've also received contributions from Cynthia Lu, Dom [Lopez] and Nathalie [Nguyen] from Happy99, Chris Cadaver and more…
What's your favourite Sofia Coppola movie?
Oh my gosh. I mean, I love them all. I love The Virgin Suicides. That was the first movie I saw [of Coppola's] when I was a teen.
I feel like it's also me and you bidding each other out on Sofia Coppola merch on Japanese websites.
I know, I'm like, ​"Who's fighting with me right now?"
And I'm like, ​"Cookie, did you bid on this?" And you said ​"No, I didn't bid on that one," and I'm like, ​"Oh OK, [that was] someone else."
Would you ever want to open a physical bookstore for Climax?
I would love to. I feel like I have five years left working in fashion and then I'm retiring and being the weird old lady who has a basement bookstore that no one comes into or buys ­anything from.
Wait, can I become your Hugh Grant?
Notting Hill is your favourite movie!
I love that movie. And you're working at the store and a celebrity comes in.
And you come in and you're, fuck, what's her name?
Julia Roberts.
You're Julia Roberts with your coffee and beret, and I'm the creepy man behind the desk.
I also love how his bookstore was specifically travel books.
Yeah, that's like mine, but just weird, sexy books.
[Laughs] Sexy books.
HAIR Shiori Takahashi at Streeters MAKE-UP Anne Sophie Costa at Streeters PROSTHETICS ARTIST Jordan Glanc at Streeters MANICURIST Edyta Bekta at Ofsubstance SET DESIGNER Alice Kirkpatrick at Streeters TALENT Adut Akech and Iris Law EXECUTIVE PRODUCER Joy Hart PRODUCTION CO-ORDINATOR Nerea Wallis PHOTOGRAPHER'S ASSISTANTS Alexa Hogan, Jordan Lee, Joe Reddy and Abena Appiah STYLIST'S ASSISTANTS Borys Korban and Hollie Williamson HAIR ASSISTANT Aya Kuraoka MAKE-UP ASSISTANT Hiromi Ilzuka SET DESIGNER'S ASSISTANT Sophie-Mai Wiggins PRODUCTION ASSISTANTS Sean Morrow and Simon Biu

More like this