Bacurau: Once upon a time in a Latin American Western

Exploring the brilliance of a film-festival-circuit favourite, from London to Recife, with its Brazilian co-directors.
Towards the end of blood-drenched, batshit Brazilian Western film Bacurau, a muscular lad called Pacote strides across to the slimy politician who attempted to bribe his community with highly addictive drugs. He ruffles his hair so demeaningly it's akin to a bare-fisted cavity search.
The gesture instantly struck a chord with the largely amateur cast who come from the same region in which Bacurau is set: the sertão, an arid, oft-maligned corner of northeastern Brazil that has long been one of the poorest in the country.
"When we were shooting that scene everybody got excited because they understood exactly what it was about," grins co-director Kleber Mendonça Filho when we meet at the London Film Festival. ​"They were like: ​'Fuck yeah!' It was emotional, and that defiance resonated with them."
But Bacurau, the toast of the festival circuit from Cannes (where it won the Jury Prize) to Toronto, is much more than a quaint art house fable about indigenous people fighting back. The 51-year-old's third feature, and first with Juliano Dornelles as co-director, is a schizophrenic modern Western punctuated with Black Mirror sci-fi and Jodorowskian surrealism (as practised by fellow Latin American filmmaker Alejandro Jodorowsky).
It's a nostalgic love letter to Filho and Dornelles's beloved nordeste home, a genre-defying creation of pure cinephilia and a stinging critique of Brazil's Trumpian president Jair Bolsonaro.

Named after a fictional one-street town in Brazil's version of the Australian outback, Bacurau is a human safari set ​"a few years" in the future. In a kind of lop-sided Hunger Games never short on black comedy, wealthy outsiders (both foreigners and those from megacity São Paulo) pay to hunt and kill innocent locals for leisure.
Following the death of the town's 94-year-old matriarch Carmelita, the trigger-happy invaders descend. The often graphic acts of violence that ensue make for a visceral retelling of Brazil's colonial history.
"It's absurd," agrees Filho of his country's troubled past. ​"Indigenous people have been mistreated and brutalised for 500 years."
Under Brazil's far-right president Bolsonaro, the situation has reached an historic nadir. Deforestation in the Amazon has spiked alarmingly (a planet-challenging disaster playfully acknowledged in the ambitious opening credits), LGBT communities have been demonised and, more directly for Filho – Bacurau required French investment – funding for the arts has been slashed.
"There's a kind of 1930s Germany vibe in all of this," he grimaces.
The dirt roads and dry shrubbery of Bacurau​'s scenery, however, are more evocative of 1930s Hollywood. The pair of directors saw plenty of parallels between that era's definitive American landscapes and their home.
"When we started to talk about Bacurau we knew it had to be a kind of Western – the horses, the confrontation, the scenery, the guns," chips in Dornelles, with the production travelling 11,000km to find the right setting. ​"And the sertão is perfect because of the isolation. The sunsets are spectacular and it feels a lot like south Texas."
That backdrop is exquisitely shot by cinematographer Pedro Sotero and, on top of it, Dornelles and Filho conjure a series of indelible images – green psychotropic drugs placed onto tongues, horses galloping through tungsten-lit streets, a dirt road lined with wooden coffins – as the plot unravels. Throughout, a friction emerges between the world these indigenous people are fighting for (sun-kissed, serene, timeless) and the disruptive powers they battle against (dark, violent, modern).
Drones hunt them in the skies, machines jam their phone signals and Bacurau itself disappears from Google Maps at the behest of their hunters. Is technology, then, something to be feared?
"Elections and the destiny of a country are being changed by technology – there's a lot of reasons to fear it," replies Dornelles. Then again, he adds, ​"I had a fear of technology the first time I saw Terminator."
In that sense Bacurau follows in the footsteps of Filho's previous films. In Aquarius (2016), a fiercely stubborn widow refuses to leave her apartment despite the threats of a property developer, while Neighbouring Sounds (2012) is another sprawling portrait of a Brazilian community struggling to defend itself against the dark forces of change.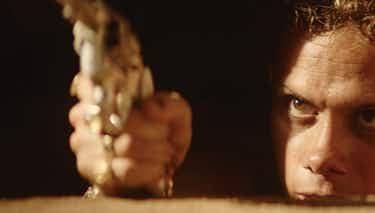 But the filmmakers eschew any main character in Bacurau and it's the motley community as a whole that leaves the lasting impression. At first Sonia Braga's fierce local doctor Domingas draws the attention, then at times its the infamous killer Pacote (Thomas Aquino), the bare-chested outlaw Lunga (Silvero Pereira) or the deranged German madman played by Udo Kier. But none are sustained in the spotlight.
"I really enjoy denying certain expectations in that sense," purrs Filho. ​"But the most important thing for me was that all of our characters must have very strong and memorable moments in the film."
It's a typically nuanced, intelligent take from the former film critic, who sprinkles Bacurau with cinematic references. For one, the village school is named João Carpenteiro, after John Carpenter, the filmmaker/​composer whose ghoulish electronic track Night also scores one violent scene. But the film's 132-minute run-time makes for a bric-a-brac of genres, pinballing intertextually from sci-fi to western and war film.

When we meet for a second time in Filho's hometown of Recife, in northeastern Brazil, the thread of film in their lives becomes clearer. The local São Luiz cinema, an Art Deco gem built in 1952, is awash with lively chatter during a film festival that the director organises each year. Young and old film buffs chew over new auteurs and black-and-white classics.
"I think cinema is full of memories which have made who you are," he reflects wistfully. ​"Bacurau is composed of many desires to re-assess deep-seated memories of film-going and cinephilia. But it is a very personal interpretation of the region and what it means for us and for Brazilian society."
The film touches on these delights, and also obliquely on the grave threats to that society: mass infrastructure development, forced prostitution, militia-led violence. But it does so with a gallows humour. Bacurau is defiant until the end. All of which ties into the mysterious meaning of the word bacurau itself.
"It's a bird that hunts at night," explains Filho. ​"But it's also a very local slang from here in the city of Recife. It's about catching the last bus home. Our last chance."
Bacurau is released in the UK on 13th March

More like this