Barton Cowperthwaite is an unstoppable primo ballerino
In the new dance murder mystery Tiny Pretty Things on Netflix, Cowperthwaite plays Oren, a workout-obsessed ballet mercenary who will stop at nothing to get his prize.
Oren is obsessed with his body in the gym-tanning-laundry way. He's always one bicep curl shy of splitting open his arm, catches his reflection in any surface, and comes off as the alpha ballerino at the Archer School of Ballet. But he's also someone ​"who struggles with body dysmorphia and eating disorders," says Barton Cowperthwaite, the 28-year-old actor who plays the jacked danseur étoile in new Netflix drama Tiny Pretty Things, a series he would quickly summarise as a ​"murder mystery in a ballet school".
That obsessive compulsion with weight and ability cuts close to the bone of reality, he tells me. More than any other sport, dance is one where a lot of focus is concentrated on how a body looks, regardless of its owner's gender. ​"I personally have not had that severe of an obstacle in that area, but I know a lot of people who have, coming from the dance world."
Tiny Pretty Things is a cast chock-full of explore page hotties who play cutthroat rivals by day, and randy roommates by night. At Archer, ambitious dancers are thrown into a choreographed soup of jealousy and ankle-breaking to win at all costs (in most of their sights: the lead role in the school's annual ballet production). Oren shares that same drive.
"He's really not sure of who he is, as a person, with his sexuality, how he fits into the dance world," Cowperthwaite says over Zoom. Even the most perfectly choreographed plans are scotched when a new student, Neveah, a girl from Compton, arrives on a scholarship with an undeniable natural talent that is seen as threatening to the others.

Oren is paired with Neveah for rehearsals, which exposes a crack in his power-couple fling with privileged ballerina Bette. All of this centre stage scrapping is set against a backdrop of murder, which Neveah's arrival is meant to distract from. Tiny Pretty Things is a habit-forming binge watch, offering viewers a look at the disturbed beauty of an elitist sport – a Black Swan with all of the tropes, cuts and rhythms of Euphoria. It should do for ballet what The Queen's Gambit did for chess.
To get the role, Cowperthwaite had to be a skilled dancer. He grew up in Denver, Colorado, and has been dancing since the age of 12. His brother was taking a hip-hop class, and being the only guy, asked if Cowperthwaite would join him. After six months, he switched sneakers for ballet slippers and fell in love.
"I remember my dance teacher asking me what I wanted to do when I grew up, this was when I was a sophomore in high school," Cowperthwaite recalls. ​"I told him I wanted to be an architect like my dad. And I'll never forget the look on his face, like, ​'We'll see about that.' It was just the way he looked at me and I was like, maybe I'm going to be a dancer."
As he makes his debut as a leading man in the ballet murder saga, Cowperthwaite explains how he channelled his pliés into a big role and what it was like to film those sex scenes.

Was there any stigma in Colorado about dancing ballet as a guy or did you not give a shit?
Absolutely. I was at a private middle school and it was weird because there was always required after-school sports. And so instead of the after-school sports, I got permission slips to do dance classes instead. So I was definitely an outcast in school. And I definitely was being treated differently by a lot of the guys. There was a bit of a stigma that we had to work through for a lot of years.
What is the pinnacle of ballet?
In America, it's being a principal dancer at a company like American Ballet Theatre, New York City Ballet or San Francisco Ballet – that would be the pinnacle of company ballet, being a prima ballerina.
And did you want that?
It's a good question. I at times have wanted that, just because it's unparalleled, the performance quality and ability of these artists. I've always been on a little more of a versatile track in terms of my training. I was taking a lot of different styles [of dance], and also my parents really wanted me to go to college. If you're going to be on track to make principal dancer, you have to join a company when you're 18, right? I was doing ballet class four days a week with tap and jazz and hip-hop sprinkled throughout. I ended up going to college and I was doing classical ballet there frequently at a professional level. But after that I ended up joining a company touring Europe with a contemporary production of Romeo and Juliet. I was fortunate enough to play Romeo, and it was a very versatile style of choreography, so it blossomed in a different way than what would normally result in becoming a principal dancer of a company.

Is ballet a rich man's sport?
A lot of people can see it as elitist. It is something that has traditionally been available to people who have more resources.
Did you have to struggle to get to where you were, or was it fairly easy for you?
I was very fortunate. Men in ballet are a commodity, so institutions tend to put men on scholarship more often. I was on scholarship throughout my early career. I was on scholarship in college. I wouldn't be where I am if it wasn't for the financial support that I received.
The premise of Tiny Pretty Things is that Neveah gets this scholarship to attend an elitist ballet academy. Did you ever notice people of colour receiving fewer opportunities to join these sports?
I think it's more true to where we are now in our present social situation, where institutions are making conscious choices to diversify. In this show, it's incredibly important to give people more opportunities who otherwise wouldn't have that. And so I think the show speaking to that is very truthful. And the character of the Neveah is an incredible dancer, and Kylie [Jefferson, who plays Neveah] is an incredible dancer. It tracks completely. She would be somebody who is absolutely scholarship worthy for an elitist institution.
How did you get cast in the role of Oren?
I was in China on tour with An American in Paris, the Broadway musical, and my manager sent me the information for the [audition]. I sent in my dance tape, and I was like, I don't have time to send you the actual self-tape because I'm understudying in the lead role and I'm learning an entire script for [Romeo and Juliet]. So a month later, [the casting director] comes back says, the show still wants to see your self-tape. I was like, OK, now I have time. So I put this tape together in Chongqing and sent it in.
The next day, I had a producer call-back on Skype, and – in my two and a half months of being in China – it was literally the only single hour that my WiFi had an uninterrupted connection. I read through the scenes, they had seen my dance tapes, and the next day I got the offer and I left tour from Beijing early to come back and start filming. It was insane.
What would you say it is about you that won them over?
I'm a very good dancer and I try to be a vulnerable, open human being, someone who knows that I have a lot of room to grow. Someone who knows that I learn a lot from working with others. When I was doing the interviews for the character, I understood a lot of what Oren was going through. I could speak to that at a personal level, and I think that they could see that and responded to that.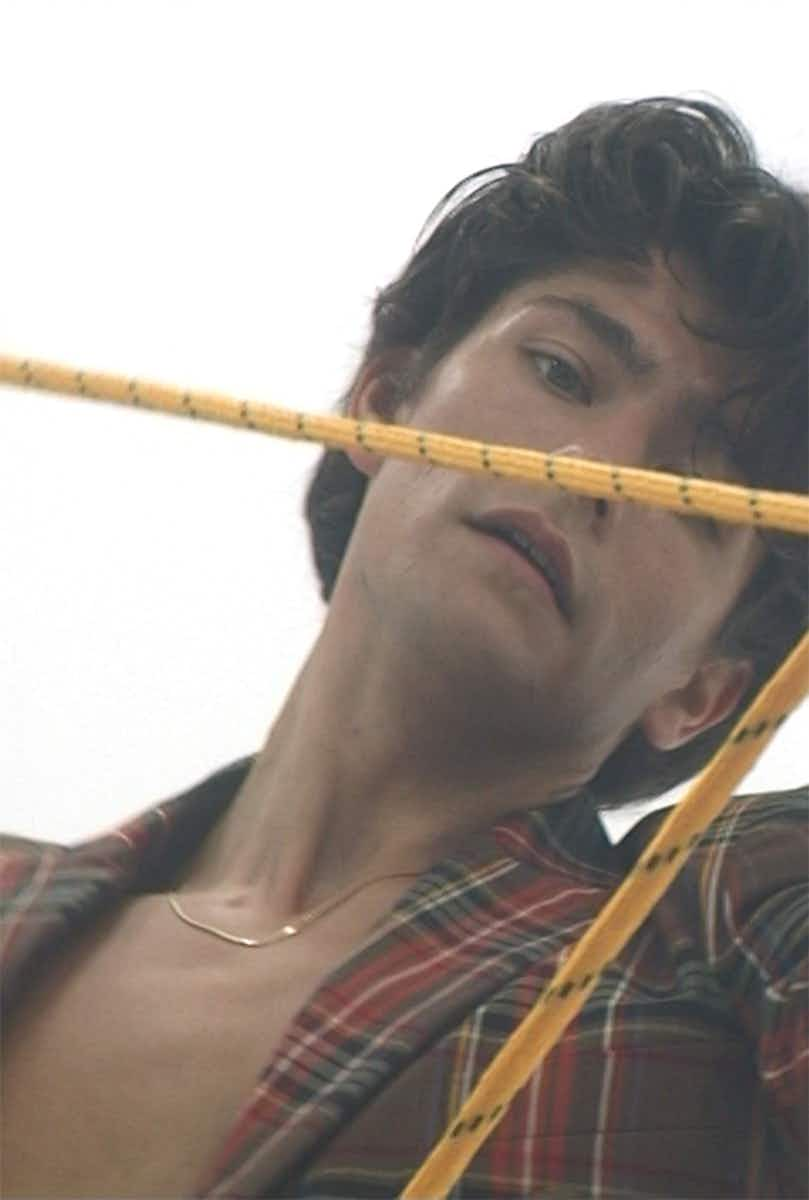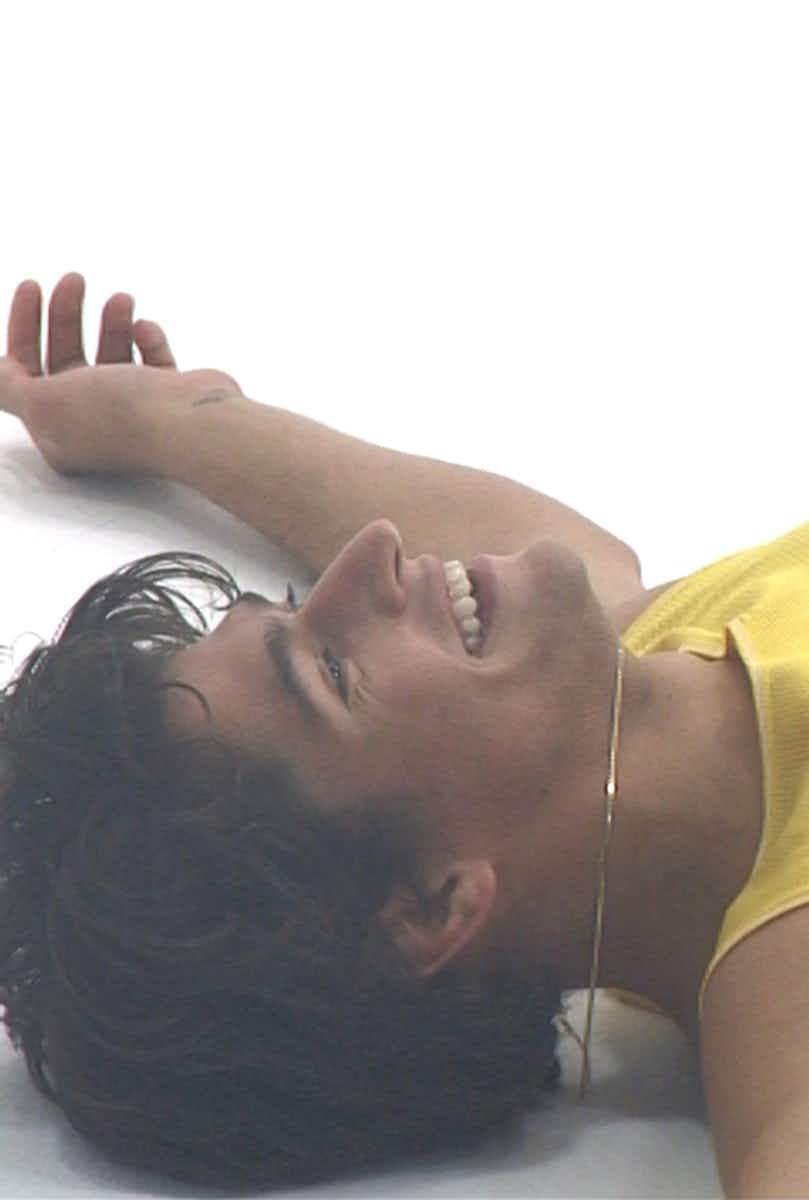 What scene were you most terrified to film?
The sex scenes.
Why?
I had never done that before. In ballets I played evil characters. I've done sexualised work on stage, but there's stuff that you just don't really know about. You watch sex scenes in films all the time, but you don't really know what it's like to be on set and to like have the cameras rolling and have the pressure on. It's expensive when most cameras are rolling, you have to know your lines and hit your mark and you have to be in a very vulnerable place.
What's going through your mind during those times?
Our producers and Netflix did a fantastic job of providing us with resources to make sure that we were comfortable. We had an intimacy coordinator, Casey Hudecki, on set with us all the time. She met with us before the scenes to make sure they were choreographed. It really is not as sexy when you're on set and the cameras are rolling. So what's going through my mind is, is there's safety if I need it? If I need to say pause or [that] I'm not comfortable with this, that I have the resources and the go-between. I felt safe. It was just, how can I be the most honest version of the character? What was going through my mind was what is going through Oren's mind?
I imagine you had to shoot those scenes over and over again.
Take after take with small adjustments; it's very strange. They can be fun, they can lead to a place where you're like in the groove, and sometimes it takes a little while to get there.
What is the most interesting aspect of the show for you personally?
What separates this show is the fact that all the lead actors are professional dancers. And everyone's doing their own stunts. As a dancer, I feel really excited to be able to share the art form on a global platform like Netflix. I'm in disbelief every day thinking about what this is gonna be like when it comes out.
Tiny Pretty Things is available now on Netflix


More like this