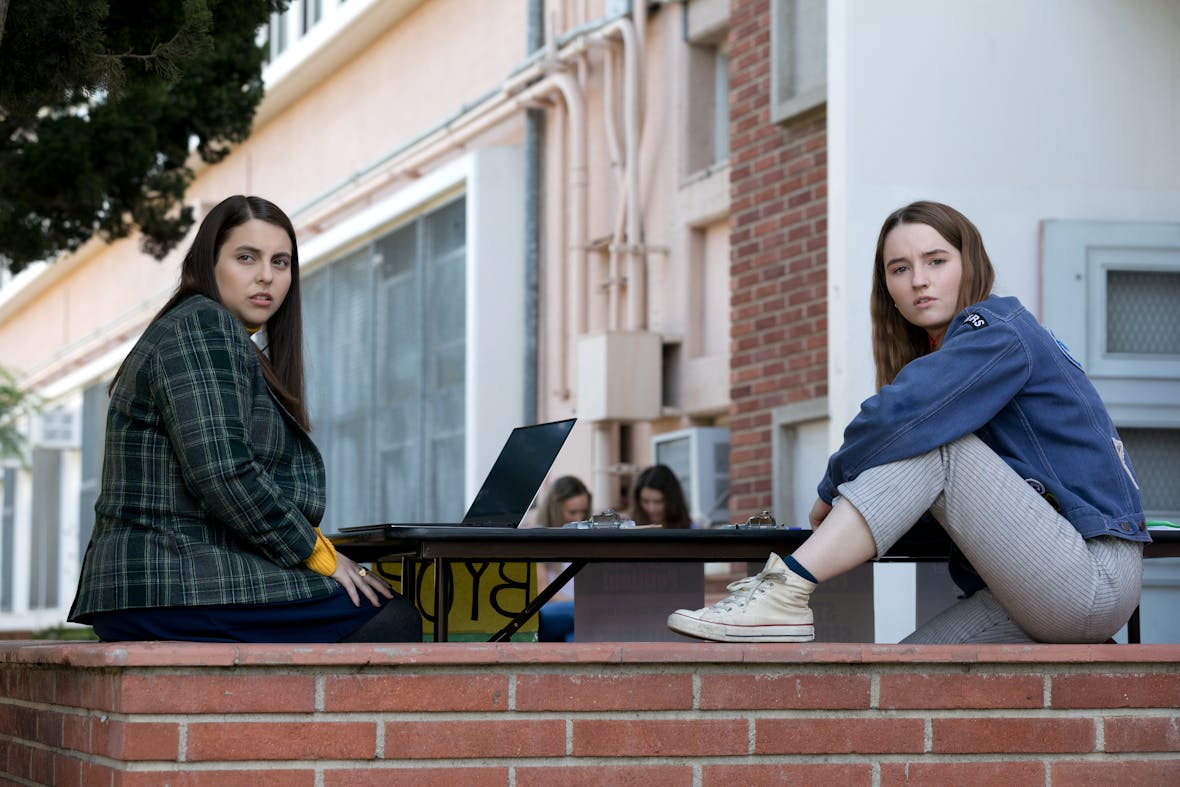 Beanie Feld­stein: Hollywood's new Type A gold­en girl
Beanie Feld­stein plays the best friend so well, it's easy to mis­take her for one. This may explain why, meet­ing in a Lon­don hotel to talk about her new film, I land on my mini break as the first top­ic of conversation.
There is a point to going on about Por­to (v. nice for a week­end away, would rec­om­mend). J.K. Rowl­ing lived there and the city is a trea­sure trove of Har­ry Pot­ter influ­ences from Hog­warts style archi­tec­ture and col­lege kids who wear capes in 25-degree heat (we got great weath­er, thank god).
"Oh my god, I'm tak­ing a pil­grim­age now!" exclaims Beanie, ​"I only came to the books when I was 20 when there was a class at my uni­ver­si­ty about Har­ry Pot­ter. But now I am an obses­sive." She did that for larks, not extra grades by the way. Sim­i­lar­ly, at high school, her idea of a sum­mer hol­i­day was the­atre camp, which she attend­ed for sev­en years.
We con­tin­ue talk­ing like this, trad­ing pop cul­tur­al favs like BFFs on Gilmore Girls, her favourite show. Beanie, 25, with a ful­some laugh and an easy famil­iar­i­ty, makes things com­fort­able like that. Charged with describ­ing her char­ac­ter in her lat­est film, she invokes the holy trin­i­ty of good girl geek­ery: Hermione Granger, Lisa Simp­son and Matil­da, of Roald Dahl's Matil­da.
The film, Books­mart, is about two over­achiev­ing best friends in L.A., smug in the knowl­edge they are bound for Ivy League col­leges while their basic school­mates are head­ing to nowheresville.
But in actor-turned-direc­tor Olivia Wilde's total­ly fresh teen com­e­dy, Mol­ly (Beanie's char­ac­ter) and Amy (the also mighty Kait­lyn Dev­er) are hor­ri­fied to dis­cov­er that the oth­er kids have also notched up excel­lent grades while par­ty­ing like filthy ani­mals. Incensed, Mol­ly and Amy embark on an odyssey to have the best last night of high school ever to hilar­i­ous, genre-redefin­ing effect.
It's a peach of a gig for Beanie, pitched exact­ly in her sweet spot of play­ing Type A, but make it fun­ny. Mol­ly is eye roll intol­er­a­ble but her friend­ship with Amy, who is queer, is where Books­mart​'s fun­ny bone meets its beat­ing heart. The film, by the way, wears its pro­gres­sive­ness super casu­al. It is nev­er, praise be the four female scriptwrit­ers, dry about sex­u­al­i­ty or any of the oth­er ways it leads the R-rat­ed teen com­e­dy out of the dark ages. Some of this, it turns out, is Beanie rel­e­vant. She has a British girl­friend; her queer iden­ti­ty, she says, a recent development.
Oth­er changes are afoot. Beanie Feld­stein always thought play­ing the side­kick was her lot. That was the sup­port­ing role in Neigh­bours 2, where she showed phys­i­cal com­e­dy chops rem­i­nis­cent of her broth­er (Jon­ah Hill – he doesn't go by the fam­i­ly name). She was hap­py, too, to be ​"side banana" (her words) to Saoirse Ronan in Lady­bird.
But lat­er this year, she takes the lead in How to Build a Girl, about a young writer from Wolver­hamp­ton who toughs it out in the male-dom­i­nat­ed music mag Lon­don. It meant nail­ing a Mid­lands accent and doing the kind of things the girls in Books­mart missed out on. ​"I had to be super brave," she says of the sex, drugs and rock ​'n' roll in the adap­ta­tion of Caitlin Moran's nov­el. ​"Gryffind­or-lev­el brave."
I'm not just say­ing this because I am now her best friend, but I sus­pect she'll come top of the class in that, too.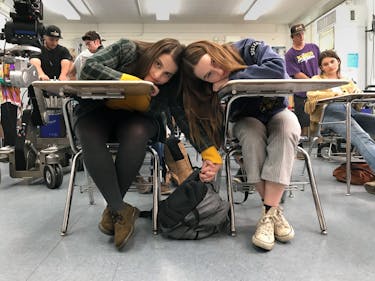 I love your ref­er­ence points for your char­ac­ter in Books­mart. She's Type A – is this you?
Oh, I def­i­nite­ly am a Type A per­son. Type A is very prac­ti­cal and con­trol­ling and a plan­ner. Maybe a non-Type A or Type B is a bit more loose and spon­ta­neous. I'm not real­ly any of those things [laughs]. But I don't have such an inten­si­ty about it as Mol­ly does. She's unre­lent­ing and prick­ly and fierce yet when she's with Amy alone she's so free and so lov­ing and so sup­port­ive and giv­ing. I loved that juxtaposition.
Why was she so prickly?
I have a lot of friends and fam­i­ly mem­bers who are very intense. And I was so fas­ci­nat­ed by their inten­si­ty grow­ing up and final­ly, I realised they are extreme­ly inse­cure and vul­ner­a­ble and that's their armour. They don't let peo­ple in because they are ner­vous. I was real­ly intim­i­dat­ed by Mol­ly at first and then when I realised all I had to do was expose her vul­ner­a­bil­i­ty. I feel much more com­fort­able in that space than a tough guard­ed space.
Why do you feel more com­fort­able there?
That's just who I am. I am a very open human, I should real­ly be more guard­ed [laughs]. I am very much like an open book, heart on my sleeve type of person.
What was impor­tant about this film for you?
It was so fresh to see two women at the cen­tre of a com­e­dy who were beyond over­achiev­ing and bright and yet nev­er com­pet­i­tive. And to see that dynam­ic between one queer girl and one straight girl at such a young age, I just had nev­er seen any­thing like it.
Did you dis­cuss how to approach that dynamic?
Absolute­ly. Amy's one of the two cen­tres of the film. And rep­re­sen­ta­tion is impor­tant but it's not only about doing it, it's about how you're doing it. Amy is not in the film to be the queer char­ac­ter. And she's not in the film to only be a rep­re­sen­ta­tion of sex­u­al­i­ty. We always say it would be the sev­enth thing you'd say about the char­ac­ter. She's an activist, she's going to Colum­bia, she's going to Botswana to make tam­pons, she's obsessed with Mol­ly, and oh yeah she's also queer and wants to hook up with this girl. That was also huge­ly impor­tant for me as some­one who is queer. I am in love with my girl­friend and I love her so much but my sex­u­al­i­ty doesn't define me. It's kind of the fifth thing I would say about myself, if not fur­ther down the list.
Grow­ing up as a queer per­son, I sought out gay nar­ra­tives in teen films and TV. Did you?
I have a sort of unique jour­ney in that way, in that I didn't real­ly care about any­thing roman­tic or any­thing like that grow­ing up but it wasn't until I met my part­ner now that I had this – oh, this is who I am – I'm mad­ly in love with this woman, this is who I am. So it's been a more recent moment for me and it wasn't that I wasn't say­ing any­thing in high school. It was just that I hadn't come to that real­i­sa­tion yet.
Well, con­grats!
Oh, thank you. Yeah, it wasn't that I was ever keep­ing any­thing in or not admit­ting some­thing to myself. I just hadn't fig­ured it out yet [laughs].
Can we talk about How to Build a Girl? How was Wolverhampton?
Well, I feel such a deep con­nec­tion to Wolver­hamp­ton. I met so many peo­ple in Lon­don who didn't even know where it was. I lived there for three weeks and I worked in a shop, this fem­i­nist utopia and co-op of 25 local female artists. They taught me how to use the reg­is­ter and they'd yell at me if I got my accent wrong, because I asked them to.
You've said you had to be brave for this role. How so?
My char­ac­ter starts as this real­ly kind, sweet, opti­mistic, young fresh spir­it, who goes through this intense jour­ney with hate. The movie is a lot about how hate can shape you and change you and age you. My char­ac­ter is a rock crit­ic on a music mag­a­zine and she feels pres­sured to become more hate­ful in her writ­ing. All the boys there say she's too nice, she has to be mean­er. She dyes her hair, adopts this pen name and becomes tougher. And she's also very promis­cu­ous and does all of these things that I would nev­er do [laughs].
You've had a cou­ple of con­ver­sa­tions with your broth­er in print on sim­i­lar themes. He strug­gled with…
Con­fi­dence…
You seem to have made a decision…
Not to be plagued by that.
Tell me about that decision.
You know you can have the same exact upbring­ing as some­one and yet leave ado­les­cence feel­ing very dif­fer­ent. We don't feel the same way about our­selves and he's very open about that. I always had such a sin­gu­lar pas­sion in musi­cal the­atre grow­ing up. I found a lot of con­fi­dence from per­form­ing because not only did I love it but I knew I could do it. But also I knew I didn't look like what soci­ety was telling me to look like. There def­i­nite­ly were some years where I was plagued by it but then even­tu­al­ly I was like I can't…I'm not even close to that. The fur­ther away you are from some­thing, the eas­i­er it is to let it go. I always knew I was beau­ti­ful, I thought I was beau­ti­ful and I wasn't real­ly plagued by that anymore.

Books­mart is in cin­e­mas 24th May.
---