Beanie Feldstein: how to build a star
The Lady Bird and Booksmart actor has played every kind of nice, but is set to reinvent that image with an adaptation of Caitlin Moran's rebel yell, How to Build a Girl, and as former White House intern Monica Lewinsky in American Crime Story.

"Are you talking about Cheer?" Beanie Feldstein shouts from her makeup chair in the corner of a Brooklyn photo studio, where she is having a Dynasty half-wig installed to heighten her already voluminous hair. The dress she's wearing looks like a flapper costume, strings of black beads dripping off of her. ​"I have something you have to see. C'mere, c'mere." Feldstein gestures with elbow-length gloves for a few of the crew on our shoot to stand by her chair. She holds up her phone, which has her name stickered on the back in red and white bubble font, and hits play on a celebrity Cameo video two friends purchased for her.
"Hey, Beanie girl!" says Jerry, the eternally joyful cheerleader from the Netflix documentary Cheer. ​"I just want you to know that I'm wishing you the best on your new big project at work. You're going to do phenomenal in that, and you're going to be a star in that, too."
"I got mat talk!" Feldstein interrupts, beaming. It's in reference to the peppy words of encouragement the cheerleaders on the show use to uplift one another during routines.
"I want you to know that you can get through anything," Jerry continues, ​"and you're gonna make this project your best one yet. Good luck!"
Feldstein is excited to share this. It's funny, because Jerry had exactly zero idea that the recipient of his video is the Lady Bird and Booksmart actor, sister to Jonah Hill and homing beacon for boisterous ADHD theatre hopefuls the world over. ​"I don't think he knows who I am, but that's OK," she says. What's more, the next project Jerry is (possibly, unknowingly) gassing her up for is the role of a lifetime: Monica Lewinsky in Ryan Murphy's anthology series American Crime Story. The 26-year-old has been cast to play the 22-year-old former White House intern whose personal life capsized when it was discovered she was jobbing on the side for then-49-year-old President Clinton.
"I can't say too much," Feldstein buffers, before saying absolutely nothing about the project. ​"We haven't started filming, so it's just not my life yet." So what can she say? ​"I feel immensely honoured to be playing someone that I have tremendous admiration and respect for, and I am so deeply honoured to be given the tremendous honour of playing her," she cuts herself short, laughing. ​"I think I used ​'honoured' 40 times in that sentence… but it's because I mean it!"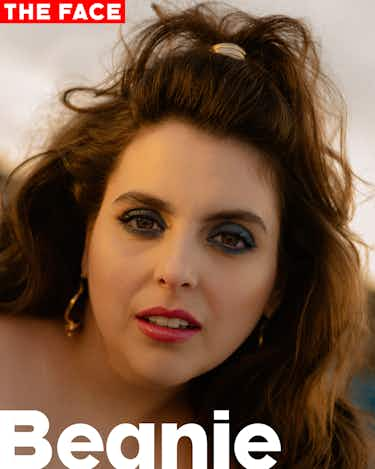 Production hasn't begun on Murphy's political whopper. If she has a script, she refuses to dish any details. At least she has the big hair down. Feldstein is in touch with the real Lewinsky, though they haven't met in person. And yes, she has read, listened to, and otherwise devoured all of the Lewinsky-related content you would recommend to her, thank you very much, including season two of Slate's Slow Burn podcast. ​"Everyone is like, ​'Have you read this? Have you listened to this?'" she says of the unsolicited help. And despite the mounting pressure to impersonate a situation, a person, that unraveled when she was only four-and-a-half herself, she's all three C's on the surface: cool, calm, collected. Lewinsky is a producer on the project, and Feldstein is ​"super excited" to work with her. ​"I mean, it's 50 times more than ​'super excited,' but I'm tremendously honoured."
Elizabeth Feldstein was born in the suntanned and sea-washed uppercrust of Los Angeles, but with New Yorker parents and a throat tickle to perform on Broadway, it was only a matter of time before she packed her bindle and headed to New York City. Her father was an accountant for Guns ​'n Roses, which sounds cool, but involved calculating tax receipts more than boozing on a tour bus. Her mother was a costume designer.
Her name, Beanie, came from her English nanny growing up, who would call her ​"Elizabeanie". Jonah suggested they shorten it. Beanie stuck, and solidified her name-in-lights destiny. A destiny she knew was within reach ever since her third birthday. ​"It was Funny Girl themed. But the invitation said, ​'Our Funny Girl's turning three.' I have a photo of me in the look if you want to see," she says, thumbing through her album at lightspeed to locate it, ​"Just so you have a visual." Dressed as Barbra Streisand's character Fanny Brice, she's couched in an undulating leopard print fur coat and matching hat, pearls bubbling out like Gatsby foam. I get a feeling that she has this photo on hand to show anyone who will ask, with the same amount of pride you would boast about your best Halloween costume.

The photo she produces exudes Hello, Gorgeous. Like a daguerreotype of young Hearst heiress Brigid Berlin, Feldstein's chin is cocked skyward in the photo, as if she was ready, aged three, to inherit the world. ​"I was much more ballsy, sassy and all-knowing when I was younger," Feldstein says. ​"It's natural, as you get older, to question that instinct a little bit. I kind of wish I still had it full-power…" She likes to think that she was meant to come of age in the ​'50s so she could have been a part of the golden era of Broadway musicals. Specifically, the year 1964. That is so she could have been a teen when Hello, Dolly!, Fiddler on the Roof, and Funny Girl all played nightly.
As Lady Bird was wrapping production, Feldstein's dream of time traveling back to the ​'50s came true, in a way. She was chosen for her Broadway debut, given the part of Minnie Fay in Hello, Dolly! opposite gay icon Bette Midler. Midler got her start performing to horny homos in towels at New York's Continental Baths, earning her the nickname Bathhouse Betty. Feldstein knows all about it as a Broadway historian, and asks if I've seen the videos of her performances veiled in a fog of gay steam on YouTube. ​"You get chills watching this young firecracker of a talent find this community that just adores her, and vice versa – it's so beautiful," she says. ​"She has always intensely loved that community, and is so obviously grateful for the dedication to her for decades." Eventually, perhaps, Feldstein will have that too.
She describes how Midler, on break between rehearsing scenes, would be miming exactly how she might open a purse. Acting alongside her taught Feldstein the value of hard work. ​"She has comedy coming out of her pinky finger," she says. ​"But then it's also the intense dedication that she puts into it that makes her truly the icon that she is. That really, really stuck with me."
At Cookshop, a Chelsea cafe that caters to all of Feldstein's many allergies (cats, dairy, wool, fragrance), she orders an iced tea and a kale-filled Grains and Greens bowl. She is wearing a playful black ASOS dress with little white dots all over, tights, Stella McCartney creepers, and a Rosie Assoulin bracelet spelling out her name ​"Beanie" in alphabet letter beads, in case you forget. But how could you? Feldstein – or can I call her Beanie? – is the ne plus ultra of nice. She's soaked silly with natural charm. The one who humbly announced herself in a custom Miu Miu gown at the Oscars ceremony recently, saying ​"I'm Beanie Feldstein" when she presented an award. The same one, again, who gives you a big hug when she has met you only once and it's just your second meeting. She does have much in common with the relentlessly positive Jerry from Cheer.
The nice-girl image that she has projected through the characters she's played in her upstart career – theatre-obsessed Julie in Greta Gerwig's Lady Bird, or the neurotic bestie in Olivia Wilde's comedy Booksmart – may be sandblasted away with her role as foul-mouthed rock music critic Johanna Morrigan in the forthcoming How to Build a Girl. Johanna is fierce. She is uncompromising. And she has lots of sex, some of it entirely solo. The Coky Giedroyc-directed film is an adaptation of the semi-autobiographical novel by Guardian writer Caitlin Moran, who grew up in a working class family in Wolverhampton, a small city in the Midlands, before her move to the Big Smoke. ​"Caitlin says it perfectly," Feldstein explains. ​"If you're 16-years-old, on a council estate, in a house where you don't have your own of anything, you've gotta kill the time." Acting out masturbation on screen wasn't something Feldstein was used to, but she does see the importance of not skirting around the topic. ​"The number of times I've seen, on literal 8pm network TV, [parents] knocking on the door and being like, ​'Billy, stop doing what you're doing in there!' You would never see that about Suzy, you know what I mean?"
Once Johanna moves to London, she lands a job at a weekly rock magazine. She adopts a pen name, Dolly Wilde, solidifying her transformation by ditching the ill-fitting, unflattering hand-me-downs for fishnets and eyeliner – tighter, lower, rock'n'rollier. The real challenge for Feldstein, however, was not in the sex stuff, nor in the revealing costumes (though she does admit they were ​"so outside my comfort zone"), but in pinning down the perfect Wolverhampton accent. ​"I knew that I could do it, which makes no sense, because I had never heard a Wolverhampton accent before," she says. ​"I couldn't have told you even where on a map of the UK it was, but I just knew her. I just knew her. This message of telling everyone, but specifically young women, that it's OK to try on different versions of yourself, rip one off, and start again – and that that is human, and important – was just so meaningful to me."
So Feldstein moved to Wolverhampton. It's 30 minutes outside of Birmingham, known best, if at all, for its 2009 Lonely Planet ranking as the fifth worst city on the globe (reportedly alongside ​"poverty-stricken slums in El Salvador and Ghana"). To underpin the teachings from her vocal coach, Feldstein worked at a local gift shop, trying on her Black Country twang for patrons browsing for mugs and greeting cards.
Much of How to Build a Girl was filmed in the old Central Saint Martins campus near Holborn. She says she could ​"feel the spirit" of former student Alexander McQueen. A lot of times, the ghosts of fashion past were the only people on set with her. ​"There were so many days when I was the only person, or me and the dog were the only ones on the call sheet. That was such a new experience for me, because I was so used to working with Saoirse [Ronan in Lady Bird], with Kaitlyn [Dever in Booksmart], and generating a scene within myself is a totally different experience," she says, between bites of quinoa and egg. ​"So I was so thrilled on the days I got to work with Paddy [Considine] or Laurie Kynaston who plays my brother, or Alfie Allen – anyone."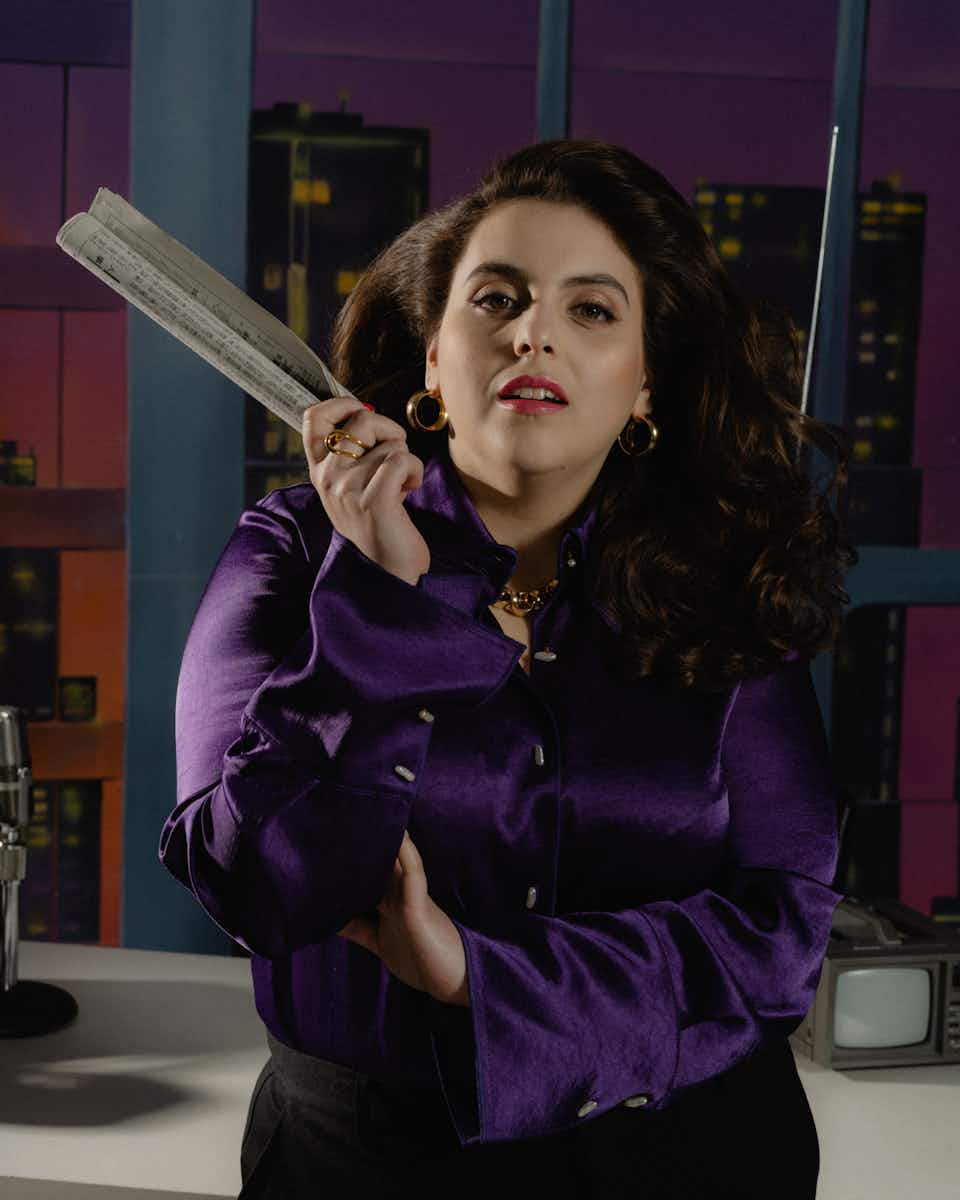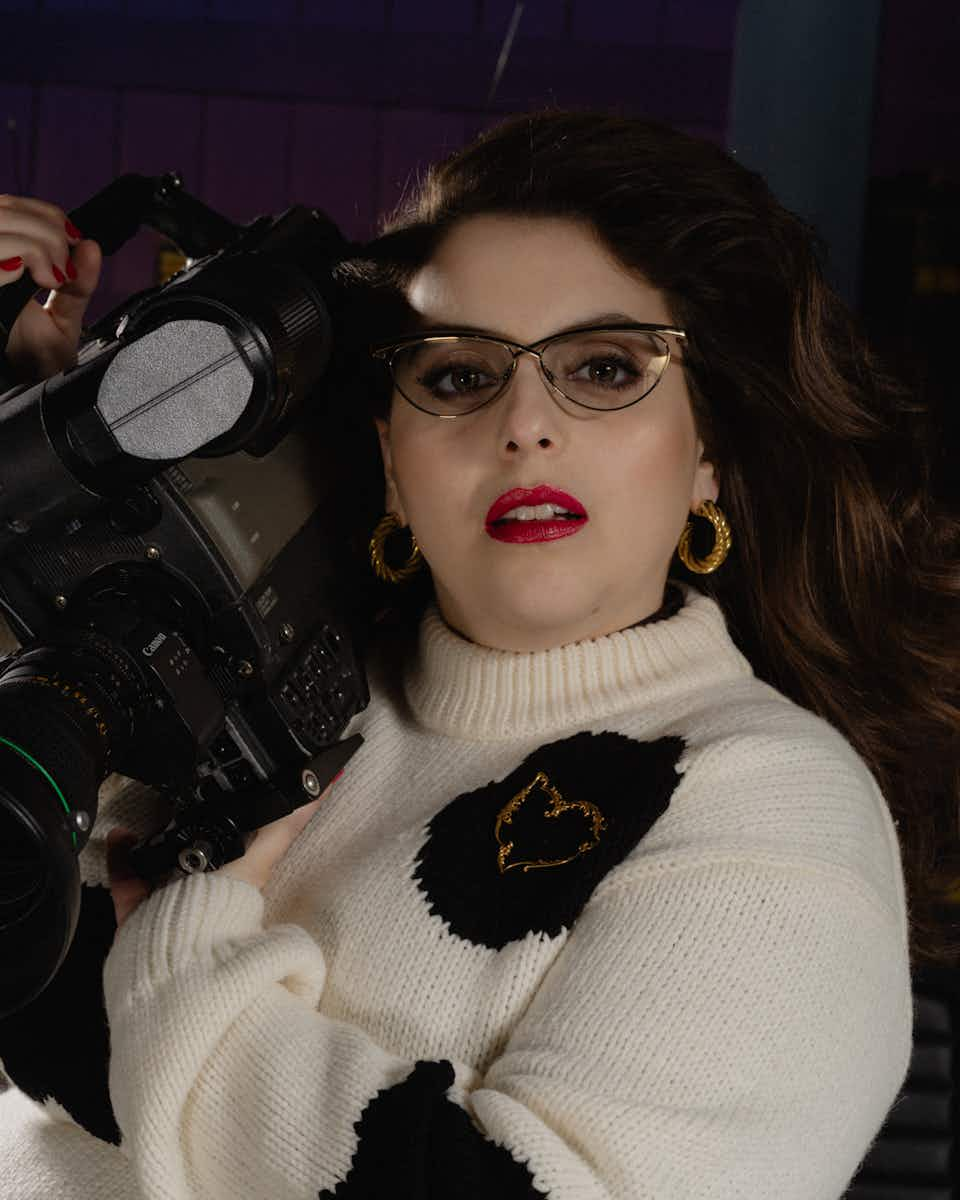 "Sorry," she apologises, trying to swallow. ​"This is like – there's so many seeds, it's a hard thing to eat." The waitress comes over to check on us and compliments Feldstein's gold hoop earrings. Feldstein tells her she bought them for a dollar, and the waitress, possibly embarrassed at having complimented the least expensive part of her outfit, says ​"Well, that was a well-spent dollar!" before turning on her heel back to the kitchen.
At this point, over the din of this Chelsea restaurant, as Feldstein untangles kale from quinoa and pumpkin seeds, only too happy to tell her where she bought the cute hoops, I wonder how much she is like her character Julie Steffans in Lady Bird. Unfailingly polite, a fierce theatre fan, and a deadlock perfectionist. ​"I always think Julie is the sweetest part of my soul," she says of her character. ​"Julie is just so pure, like my calmer, quieter, sweeter self." Since making that film, which was her breakout, Feldstein has been trying to recreate that camaraderie on other sets.
"I loved [my castmates] and that experience so much, it taught me that all I've ever wanted to do is to try to have a similar type of experience with a different story and different people, but with the same love," she says wistfully. ​"Watching Saoirse and Timmy [Chalamet] play Laurie and Jo in Little Women was so exhilarating, because you just know they're gonna work together forever. The reason that so many of us [in Lady Bird] have worked together multiple times is because when you find that connective tissue with someone, it's irresistible."

Feldstein empties a packet of organic sugar into her iced tea. She gives it a stir, telling me that she plans on spending the rest of her day working at The Wing, a mostly female coworking space where she sometimes strikes up a conversation with a stranger. She likes talking to strangers. Sometimes, she finds that connective tissue. Strangers approach her, ones who really connect with her characters. They make her proud to do her job. ​"The thing that is exceptionally moving for me is when teenage girls come up to me, just because so much of my limited, short working life has been stories for teenage girls," she says.
Even the name Beanie implies eternal youth. She could be a long-term adolescent forever, a Peter Pan for the feminist insurrection, playing to audiences with a lovable spunk and a Bette Midler work ethic. ​"I sort of see Lady Bird, Booksmart and How To Build A Girl as this trio of teenage movies that I get to be a part of, and not to say that I'll never be in one again, but," she says as she leans in, voice growing quiet, ​"I am turning 27."
Stylist Chapman Newnum Hair Peter Butler /​TraceyMattingly​.com, Makeup Gianpaolo Ceciliato /​TraceyMattingly​.com, Nails Shirley Cheng, Set Design Matt Cullen, Line Production Amy Kanagaki, Photo Assistant J Houston, Stylist Assistant Asafe Pereira, Production Assistant Elise Wilken.

More like this